Being one of the most visited cities in the world, Bangkok is famous for plenty of things. A synonym for delicious food, wild party nights, and authentic culture, the Southeast Asian megapolis is a beacon for all kinds of travelers. And indeed, no matter what your budget is, no matter how old you are and what you enjoy the most, Bangkok got you covered.
If you've set your eye on Thailand, but you're not sure if Bangkok is worth it, let me assure you – it is. The Kingdom's capital is one fantastic place that holds an entire universe inside of it, and one of the biggest mistakes you can make is skipping it for a few extra days on the beach.
From the vibrant nightlife to the diverse and exotic markets, prepare to be immersed into colorful chaos like no other because we're about to answer the question – what is Bangkok famous for.
Temples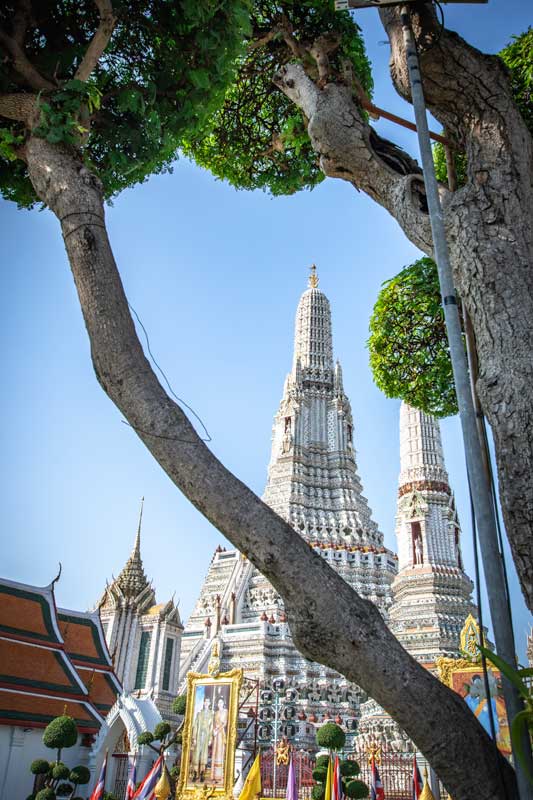 While Thailand's capital is known for its frivolous way of life, you may be surprised to find out that one of the top things Bangkok is famous for is the temples. In fact, the most famous temples in the country are right here in Bangkok. And let me tell you something, they're absolutely stunning!
The top 3 temples in Bangkok are Wat Phra Kaew (Temple of the Emerald Budha), Wat Pho (Temple of The Reclining Budha), and Wat Arun (Temple of Dawn). While visiting those three is a must-do, there are about 50 more scattered all around the city just waiting to amaze you (there's one ornamented with Pikachu and Batman).
Psst: I spent weeks exploring the miraculous temples of Bangkok. Make sure to check them out!
Street Food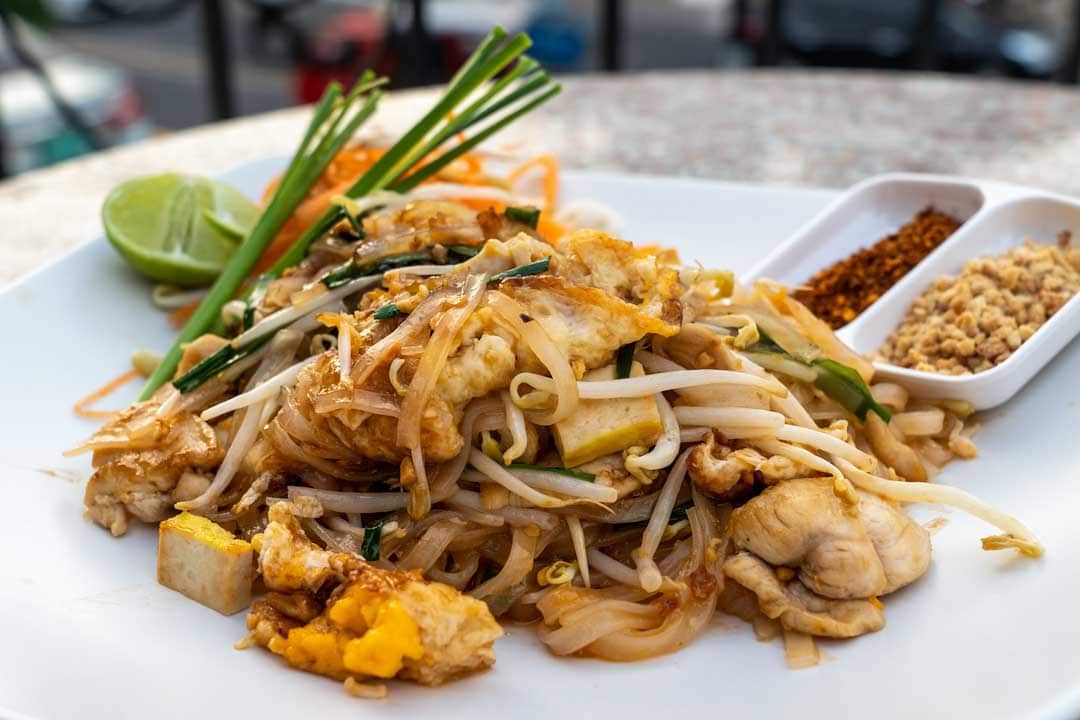 Ask a foodie what is Bangkok famous for, and you'll get only one answer – street food. That's because Bangkok is not only the capital of Thailand but also the world capital of street food.
I'm pretty sure that wherever you live, there is a Thai restaurant near you. And if you tried any of the dishes there, you already know how outstanding Thai cuisine is (unless you hate spicy food, in which case you better skip this one). Well, all the food you can find in a Thai restaurant is also sold on the streets of Bangkok. And it tastes better!
The top street food dishes you must try are Pad Thai (fried noodles), Tom Yum (sour soup), Som Tam (spicy papaya salad), Kuay Teow Reua (Boat Noodles), fried sweet potato balls, fried banana, coconut ice cream and my favorite – mango sticky rice.
Oh, I almost forgot, the Thai milk tea is really something incredible. I've no idea why this is still not a thing in the west, but until it makes its way here, you shouldn't miss the chance to enjoy it in Bangkok.
Malls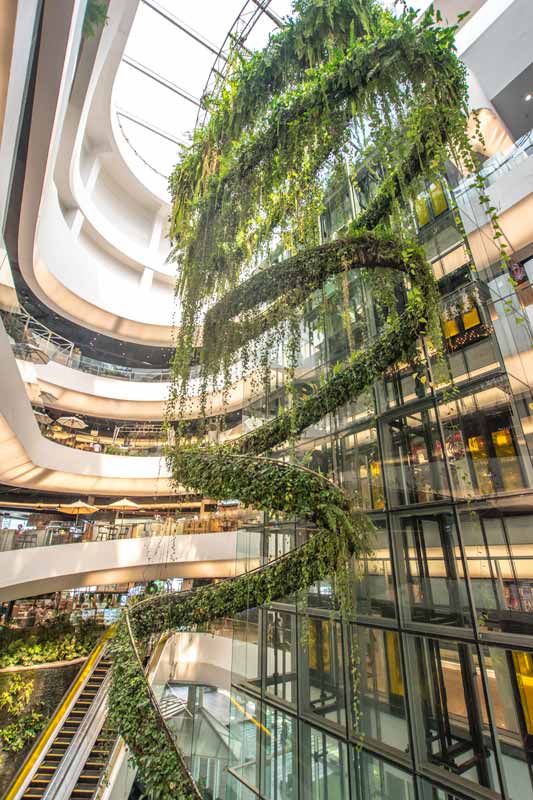 For the girls in Asia, there is only one answer to what is Bangkok famous for, and that is shopping. Yes, the capital of Thailand is renounced for its abundance of, well, pretty much everything.
Housing nearly 50 malls, Bangkok is indeed the heavyweight shopping destination champion of the region. Its trading centers are not only high in numbers but also quite distinctive from each other. There's a mall that sells only tech stuff (Pantip Plaza), a mall that feels like a street market (MBK), a mall with no stores but open levels (Siam Discovery), and a luxury mall full of marble and gold that also has its own floating market (Icon Siam).
And to top all of that, Bangkok pride itself on two of the top ten biggest shopping malls in the world – Central World and Siam Paragon. With so many options, it's not surprising you need a Bangkok shopping guide to find exactly which mall is the one you need.
See Also: What is Portugal Famous For?
Markets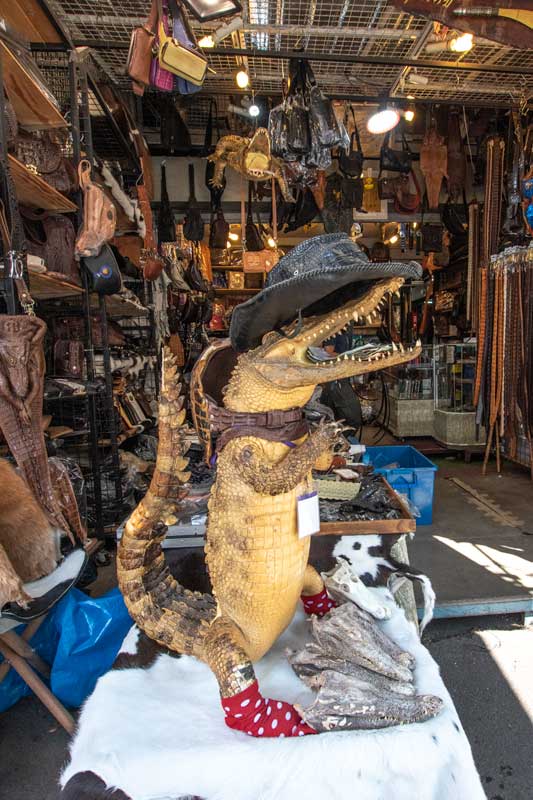 Since we already know that Bangkok is Southeast Asia's shopping capital and has a gazillion malls, would it be a surprise if I tell you there are a gazillion markets too?
Well, it's true, there are markets all around the megapolis, and most of them are ginormous. The biggest one by far is Chatuchak Weekend Market. Home to more than 15,000 stalls and 11,500 vendors, this market-Godzilla is divided into 27 sections, but that won't help you much. You're more than guaranteed to get lost in Chatuchak. There's no shame in that, though, because Chatuchak Market holds not only the title for grandest one in Thailand but also for the world's biggest weekend market.
The other popular markets in town are Pratunam Market (where everything is on sale), Rot Fai Night Market (there are two of them, both awesome), and Asiatique (right next to the river with a giant Ferris Wheel).
Grand Palace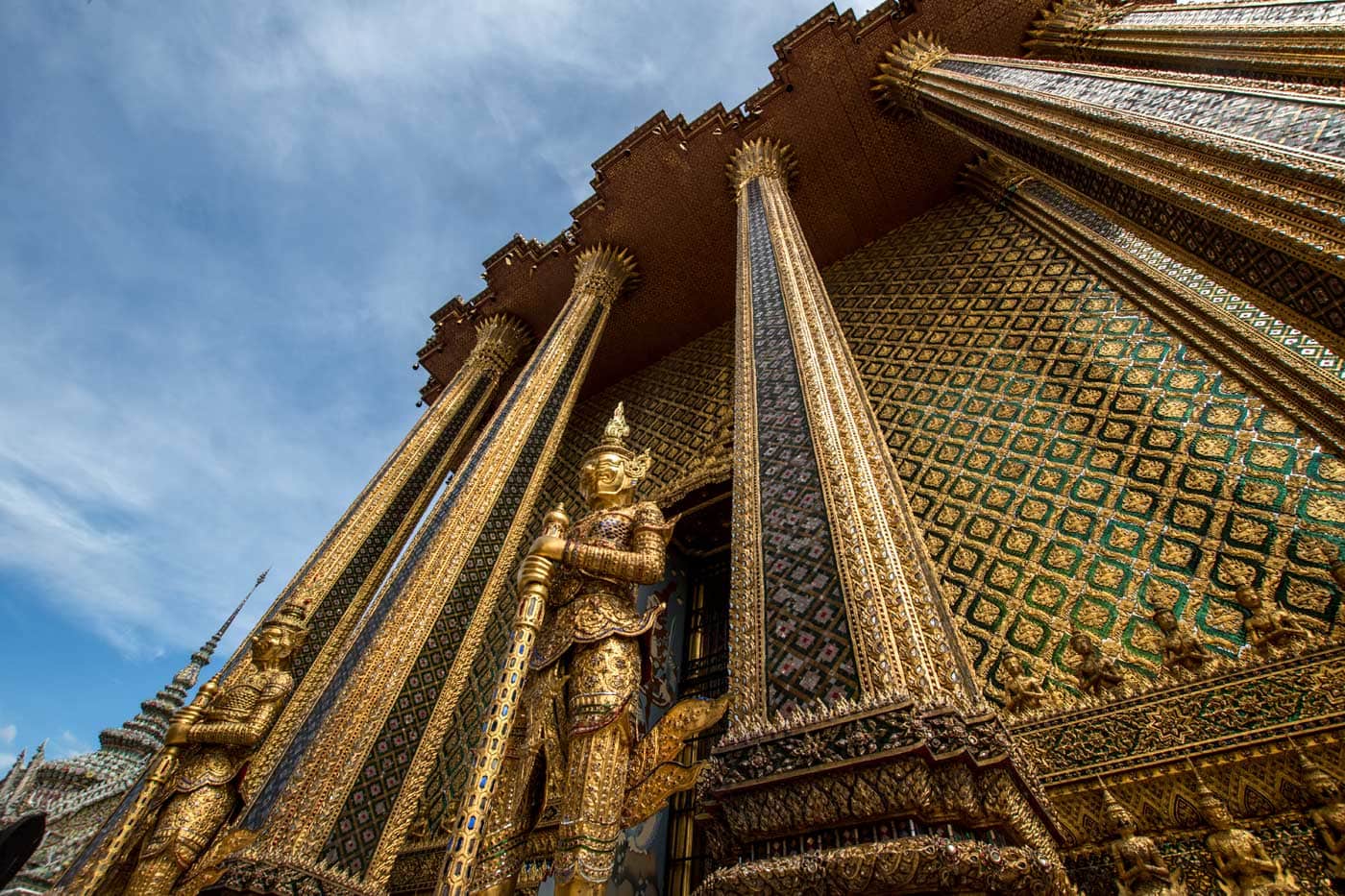 The biggest attraction in town and one of the top landmarks in Thailand, the Grand Palace, is to Bangkok what the Eiffel Tower is to Paris – a spectacular symbol.
Built in 1782, the opulent complex was home to the beloved Thai King and his Royal court for more than 150 years. Today it's a tourist attraction that amazes the visitors with authentic awe-inspiring architecture and the already mentioned temple – Wat Phra Kaew.
The Temple of the Emerald Budha is named like that because it's the home of a sacred emerald buddha statue. Considered one of the most important artifacts in the Kingdom, the Emerald Buddha is sculpted from a single emerald block and brings prosperity to the nation.
Buddhas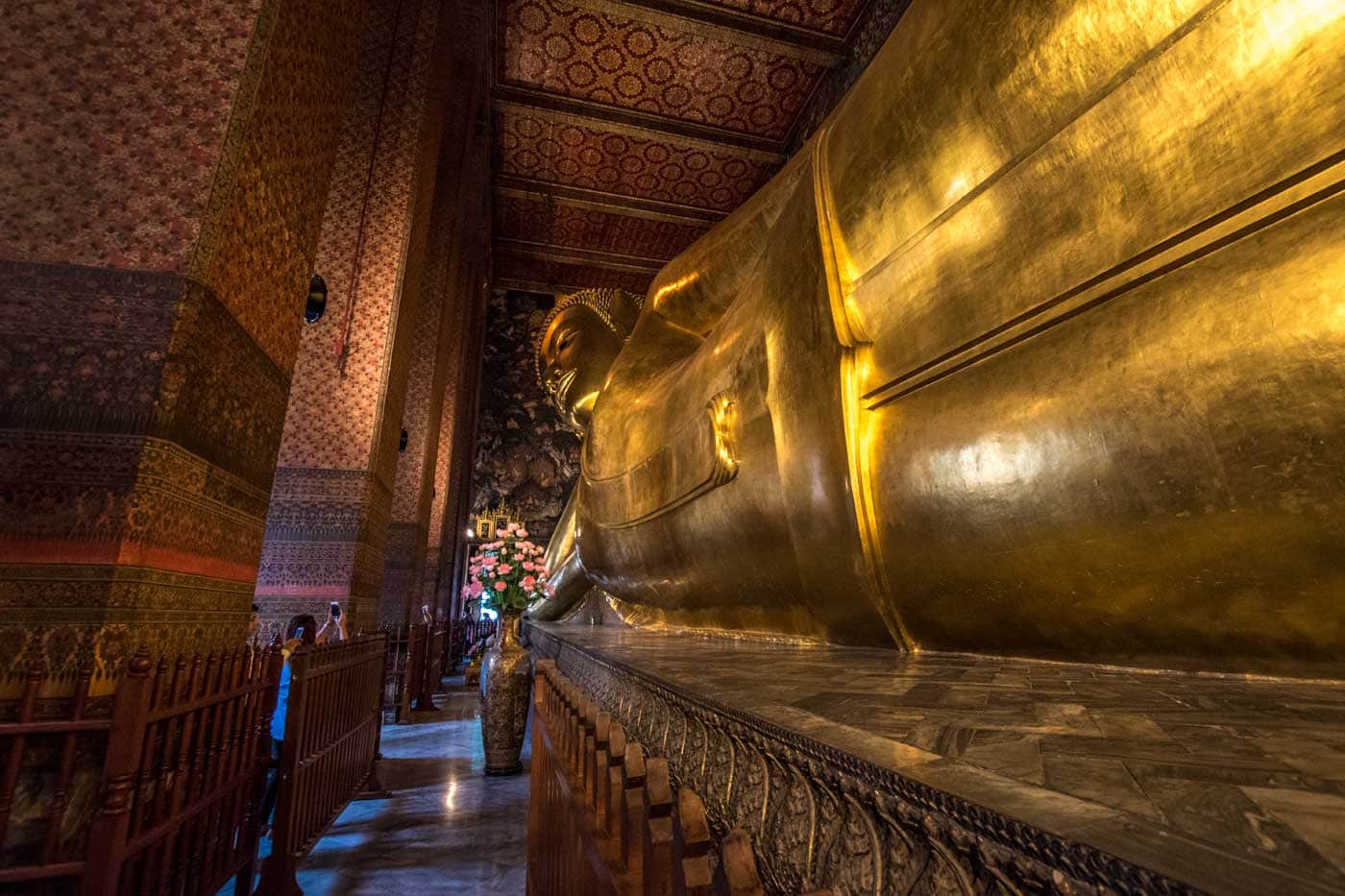 I already mentioned the Emerald Buddha of Wat Phra Kaew, but he is not the only famous Buddha in Bangkok. In fact, almost every temple has its own statue that is somewhat different than the others (okay, at least the most famous ones do).
In Wat Pho, we have the reclining Buddha – a giant figure that decided to take a break from the world and lie for a little bit. It has peculiar giant (and ornamented) feet and look great in photos.
In Wat Tramit, we got the Golden Buddha. The Golden Buddha is made entirely out of gold and was so well masked that it took centuries to be re-discovered.
There are also several giant Buddhas scattered around the city and a few extra-giant ones (like 50 meters /165 feet high) situated next to Ancient Siam (Muang Boran Ancient City).
Nightlife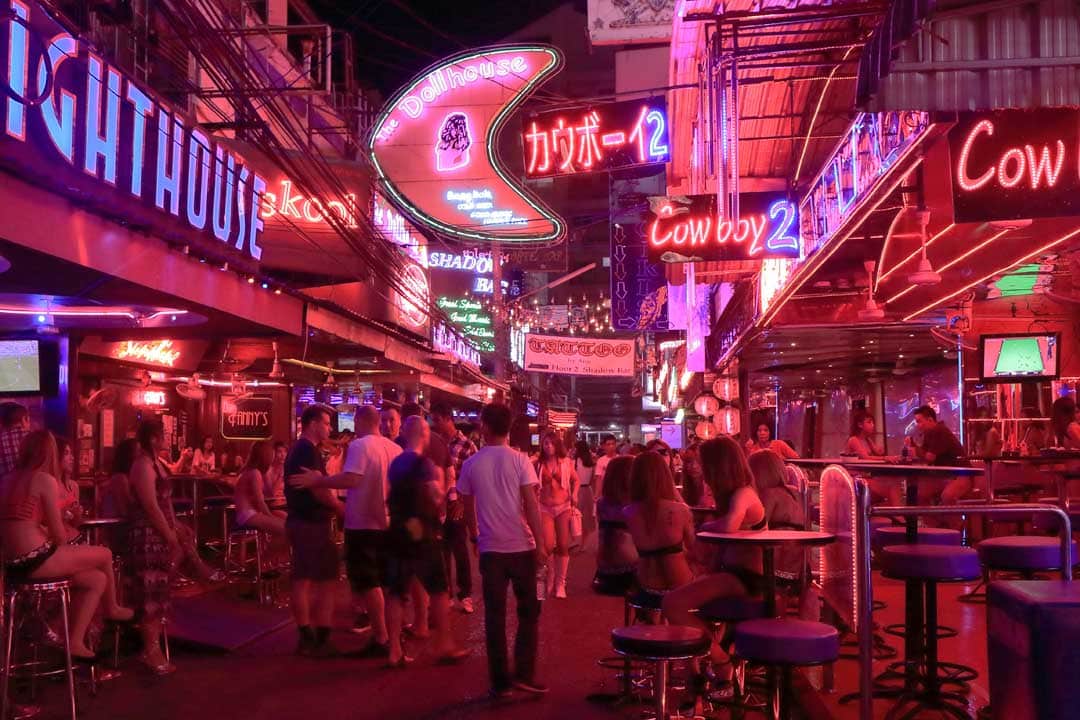 I'm sure I won't surprise anyone with this one, but yes, Bangkok is famous for its nightlife. Like world-famous. Being one of the world capitals of fun for decades, Thailand's central city gained some extra fame from the movie Hangover 2, leading to a fresh influx of party animals.
Speaking of nightlife, there are three types you can enjoy in Bangkok. There's the party nightlife, the cultural nightlife, and the red-light nightlife (If you've never heard of them, that's because I named them just now).
The party nightlife is in abundance. There are all sorts of bars and clubs, the most prominent ones being in the RCA (Royal City Avenue) area and around Khao San Road.
The cultural nightlife you can enjoy in Bangkok includes dinner cruises over the Chao Praya River, shemale cabaret shows, and Muay Thai matches.
The red-light nightlife, although something Bangkok is known for all around the world, is found only around few areas. If special massages, ping-pong shows, and go-go bars are your thing, you should go to Patpong in Silom or Soi Cowboy and Nana Plaza in Sukhumvit.
See Also: What is Morocco Famous For?
Thai Massages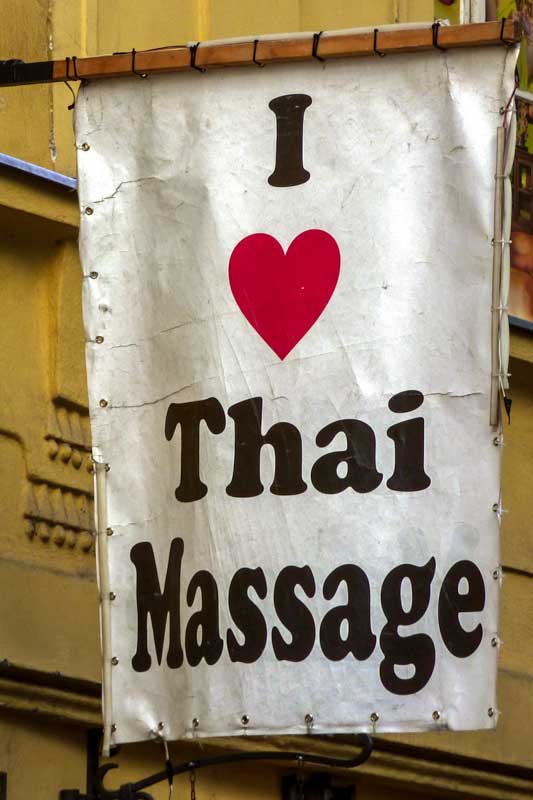 Although popular all around the country (well, it's Thai massages, not Bangkok massages), Thai massages are definitely something Bangkok is known for. Literally found on every street corner, there's nothing easier than getting a good massage. And if that's not enough, they are incredibly cheap too!
One of the reasons why Bangkok is the best place to get a Thai massage is because it's where the first massage school was founded. In fact, you can get a massage in the very same school today – inside the Temple of the Reclining Buddha, Wat Pho.
If you've never had one of those, however, I have to warn you – the Thai massage is not a relaxing one. It's a very physical activity, and if you are unflexible, you may found it pretty uncomfortable and even painful.
Public Transportation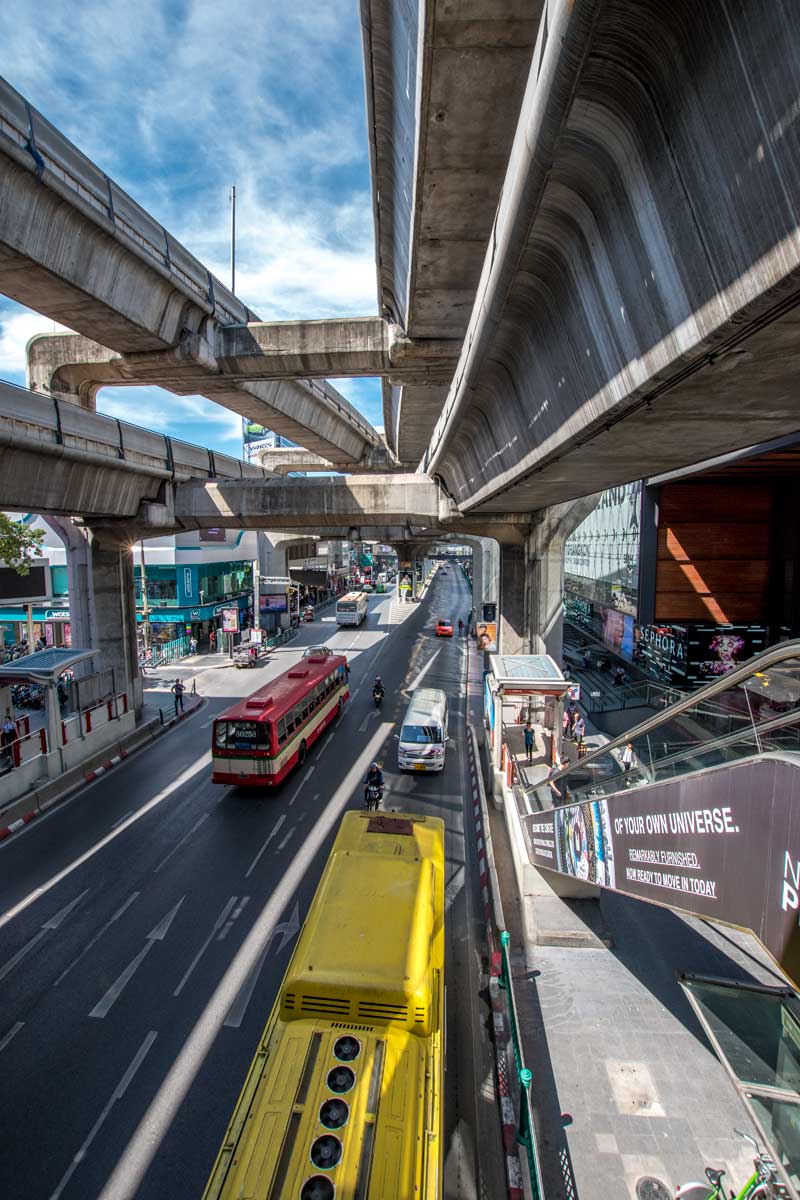 I bet you didn't expect that one, did you? But it's true, the public transportation in Bangkok is on another level. The giant megapolis population counts to almost 11 million people and keeps growing thanks to that.
But what do I really mean when I say Bangkok is known for its public transportation? Are their busses always on time or what?
Bangkok's public buses are definitely not always on time, but they are far from being the most efficient way of transportation there. In the capital of Thailand, you can get anywhere you want via anything you want.
Besides the above-mentioned busses, there is a well-developed subway system (MRT), a sky train (BTS), a rapid bus system (BRT), and even a public fast-boat system. And if this is not good enough, you can always get an inexpensive bike-taxi, rikshaw, or tuk-tuk (the latter two overprice a lot, though).
Sky Bars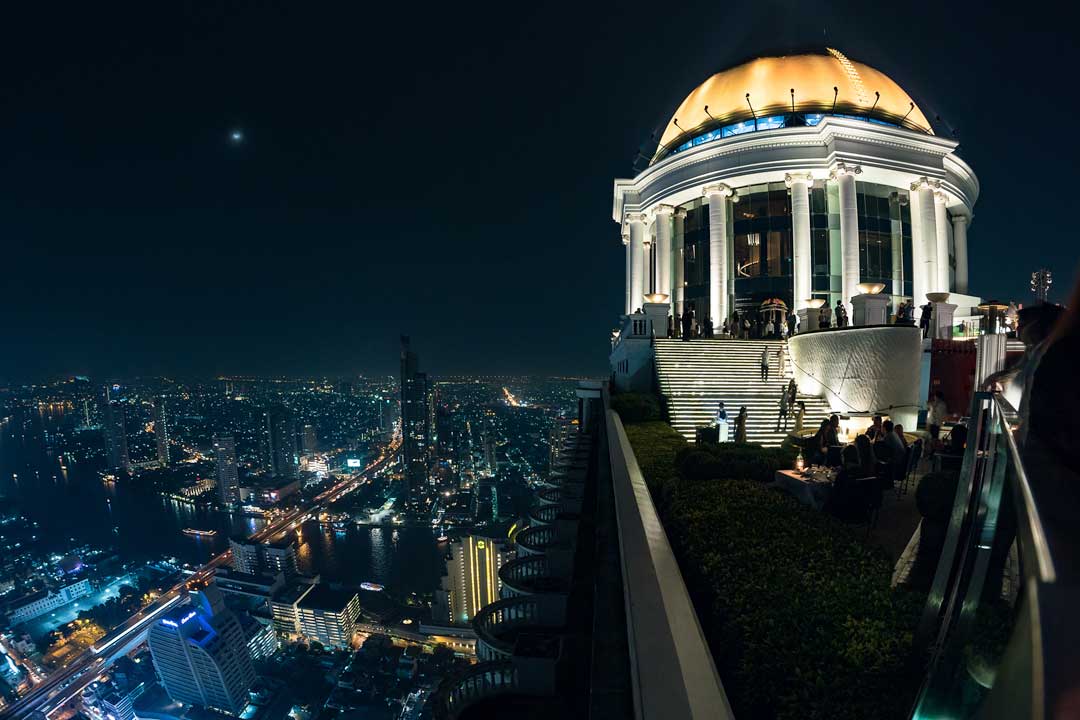 Bangkok rooftop bars are world-renounced. And no wonder, most of them are situated on top of skyscrapers, and the vista they offer is, as cliche as it sounds, breath-taking.
If you wish to visit one of those (and you should), you must have a reservation and also mind your outfit. The good bars have a strict dress code and won't let you inside in your vacation flip-flops.
The most famous sky bars in Bangkok are Lebua State Tower Skybar (featured in Hangover 2), Vertigo, Octave Rooftop Bar, and Above Eleven.
See Also: What is Dubai Famous For?
Floating Markets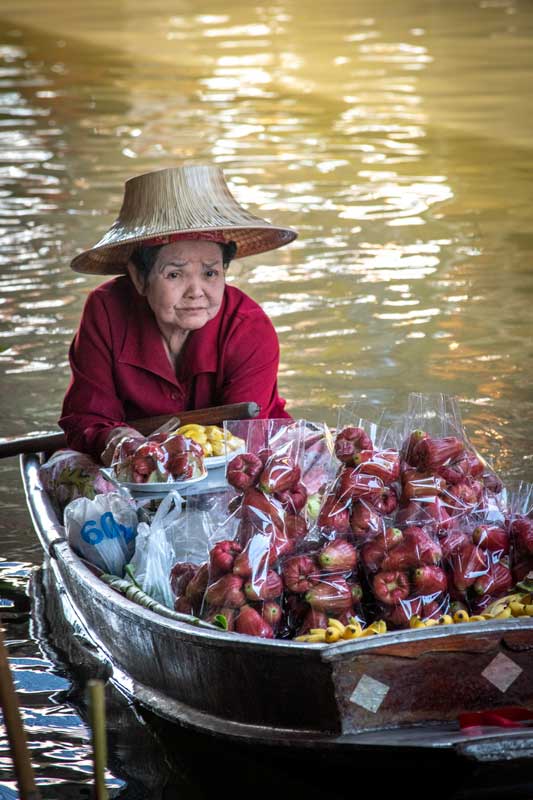 Wait, didn't we already covered the Bangkok markets? Yes, we did, but the floating markets are not your average markets. Once, when Bangkok looked more like Venice, the floating markets used to be the only available markets in town, but today they are more of a tourist attraction.
While there are some weekend floating markets situated in the city's suburbs, the most popular ones (Damnoen Saduak and Amphawa) are a little bit out of town. You can easily reach them via taxi or organized day tours, though.
The most significant difference between a floating market and a regular one is, you guessed that right, instead of shopping stalls, there are shopping boats. They sell mainly food and souvenirs and if you want to buy something you can either call from the shore or board another boat and go to them.
While many people dismiss floating markets as something that's no longer authentic but more of a tourist gimmick, I recommend checking them out. Yes, they're touristy, but they're also something you can hardly see anywhere else and make up for a great photo!
Chao Phraya River & Khlongs of Thonburi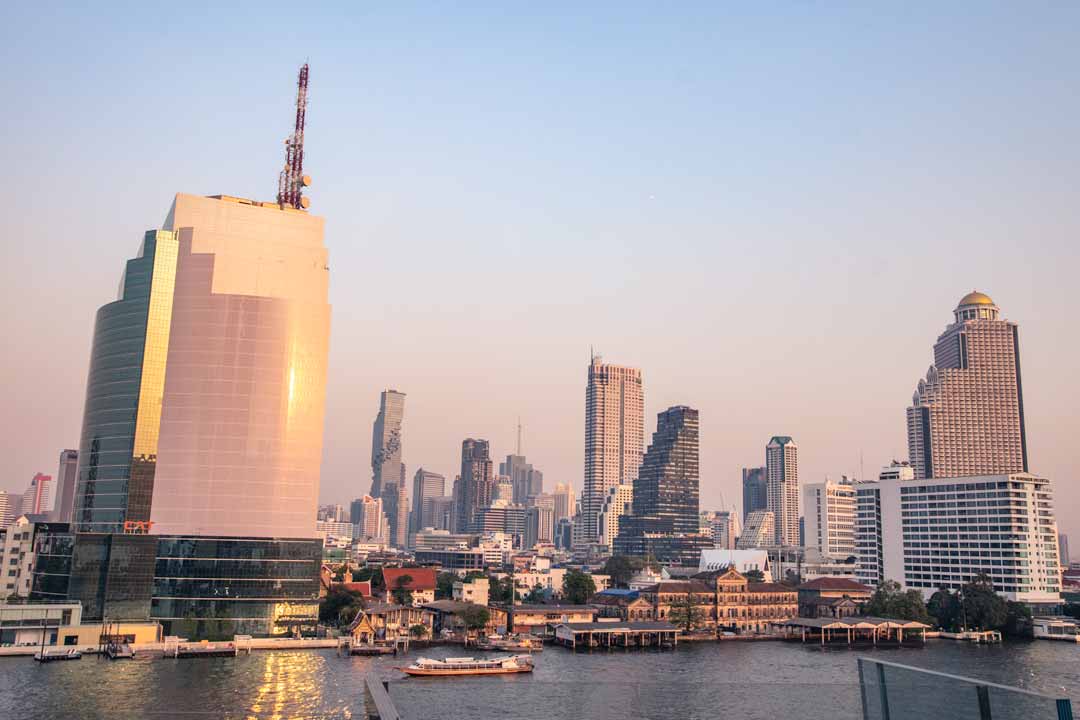 One of Bangkok's most distinctive traits is its picturesque river – Chao Phraya. Forner home to the city's first settlers, nowadays, Chao Phraya is surrounded by high-end hotels and shiny temples (including stunning Wat Arun).
What about the khlongs of Thonburi?
Thonburi is positioned on the Chao Phraya River's western banks and used to be the center of Bangkok. Back in those times, the city had few to none hard roads, and all the movement of people and items was conducted via water channels, also known as khlongs. While most of them are turned into streets today, you can still find a few authentic Bangkok khlongs around Thonburi.
City of Soi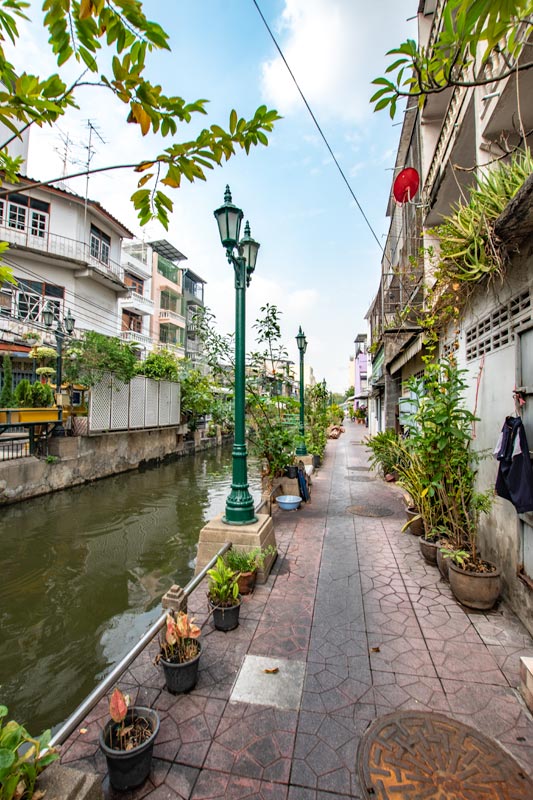 No, not soy like soy sauce. They may eat plenty of rice in Thailand, but I've never heard of them being famous for their soy production. Bangkok is known for its sois.
But what's a soi?
In Thailand's capital, only the big streets have names. The main road's branching off alleys are called sois, and they are numbered just like houses. Sukhumvit soi 3 means the third branching off Sukhumvit road.
While I don't recommend exploring the small sois after dark, some of the bigger ones are centered around specific themes and are worth checking out. Soi Cowboy is a red-light party soi, while Sukhumvit Soi 38 is known as a street food court.
Khao San Road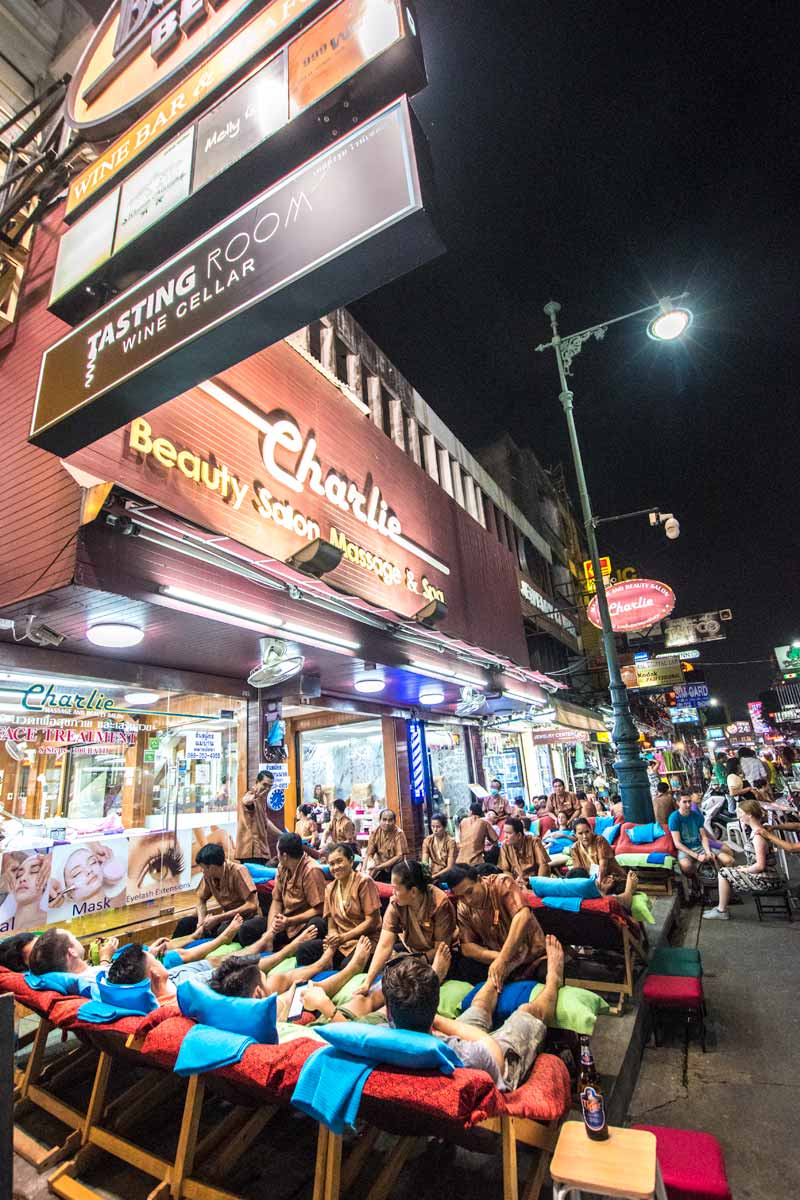 If you ask a backpacker what is Bangkok famous for, the answer will definitely be Khao San Road. Labeled the Mecca of the backpackers, the most famous road in Southeast Asia has always acted as a beacon for the frivolous souls who explore the world with nothing but a backpack.
Since Alex Garland's book, The Beach hit the shelves in 1996, Khao San Road gained thousands of extra visitors. When the book was turned into a Leonardo Di Caprio movie, the road became one of Bangkok's most prominent landmarks overnight.
Today Khao San Road features bars, restaurants, souvenir stalls, and currency exchange shops – everything a tourist can need. It's also the best place to get a foot massage right on the street or try fried scorpion and other insects (something only tourists do in Bangkok).
Lumphini Park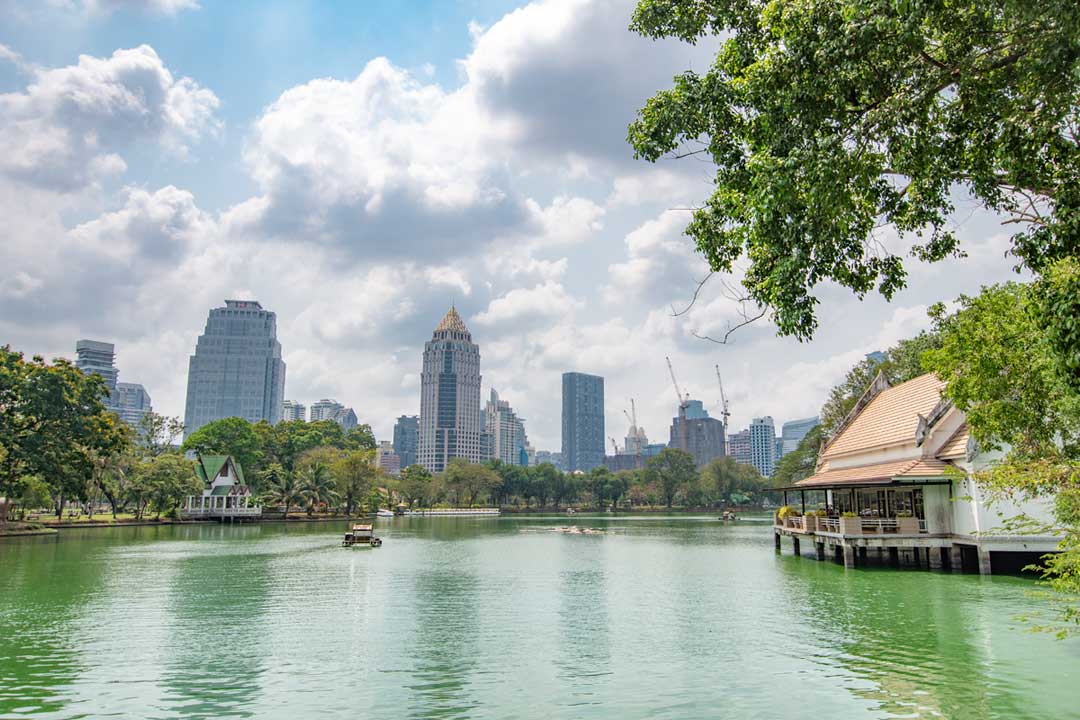 We cap the list of things Bangkok is known for with the lung of the city. Lumphini is a giant park situated in the Silom district and offers a much-needed break from the hustle and bustle of the chaotic Thai capital.
If you decide to go for a stroll, don't be surprised if you stumble upon giant dinosaur-looking lizards. The creatures I call Lumphini Dragons may look intimidating at first, but rest assured that they are very fearful and prefer to run away than attack you. Don't bother them though, they may be cowards, but I'm pretty sure their bite is not nice at all.
That's all from me, I hope now you know what Bangkok is famous for.
————————————
If you haven't planned your trip there yet, find out how I plan my trips!
————————————
I have 32 bucket list ideas for Thailand. See my impossible bucket list of 1700+ adventures!

Have you been to Bangkok?
---
Some of the above are affiliate links and I will earn a percentage of the sale if you purchase through them at no extra cost to you. This helps keep my site running – so thanks in advance for your support!