My Bangkok shopping guide is carefully designed, researched, and tested (on foot) to offer you the latest information about one of the biggest shopping hubs in the world.
I have to admit; I'm not a shopaholic. My guides are usually centered around city highlights, bucket list items, and adventures, not malls and markets. Spending quite some time in Bangkok, though, I figured out shopping is one of the city's most significant attractions. All types of shopping centers are scattered around the City of Angles, offering you everything you can imagine. Seriously, everything.
No matter if you're looking for cheap local clothes, Asian brands, or luxury Louis Vitton accessories, everything is just a quick Skytrain ride away. Options are vast, and malls often feel like labyrinths, so my Bangkok shopping guide is here to guide you around the best places in town and help you find exactly what you are looking for!
Which are the best places in Bangkok to go shopping?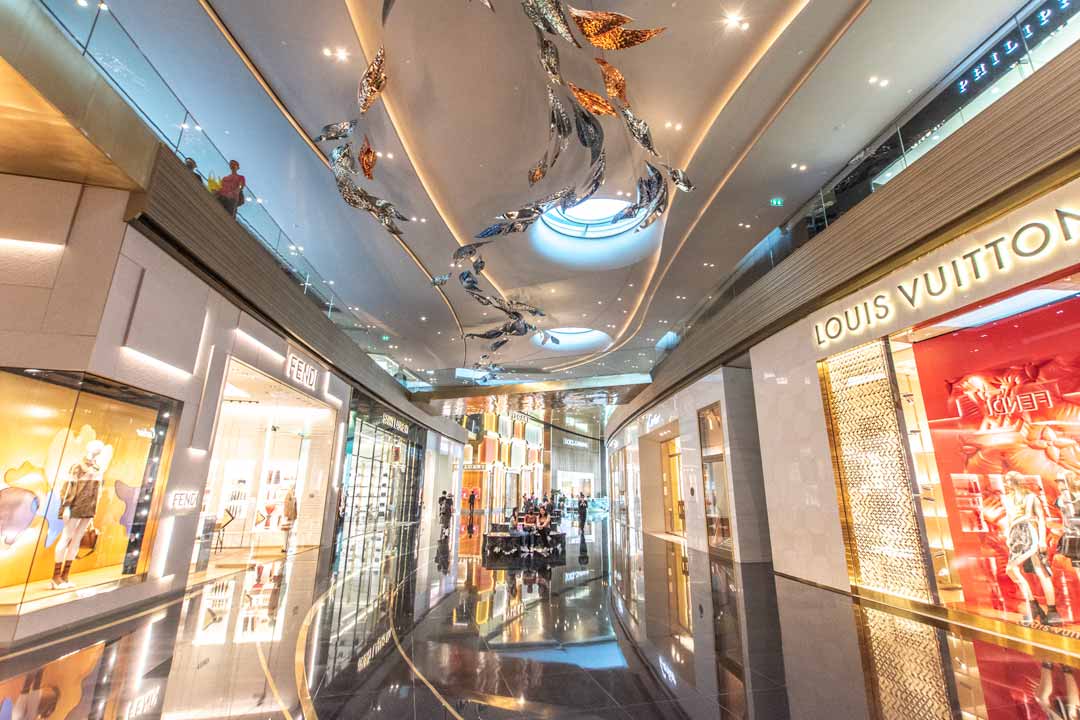 The best shopping places in Bangkok kinda depend on your taste and needs. The Siam area, with its countless malls, offers the biggest choice, but the Riverside and Sukhumvit areas give you more unique places with stunning architecture and exciting themes. Maybe you don't want to go to malls, and you want authentic Thai experience? The best shopping place for you would be the markets then.
Are you feeling overwhelmed already?
No worries, since you're a clever one and you managed to find this Bangkok shopping guide, it won't be hard to find the perfect place to shop until you drop and burn down those credit cards.
CastawayTip: Most of the more prominent Bangkok malls have free tourist discount cards that can save give you a 5-10% extra discount. Make sure to have your passport with you and check at information before you start your shopping spree.
See Also: What Souvenirs to Get From Bangkok
Bangkok Shopping in the Sukhumvit Area
Sukhumvit is one of the trendiest and most preferable tourist areas. I start with this neighborhood cause there's a big chance your hotel/Airbnb is located there.
Named after the famous Sukhumvit Road that goes through it, in Sukhumvit, you can find restaurants offering cuisine from all around the world, the best nightlife in town, and of course, some great Bangkok shopping centers.
EmQuartier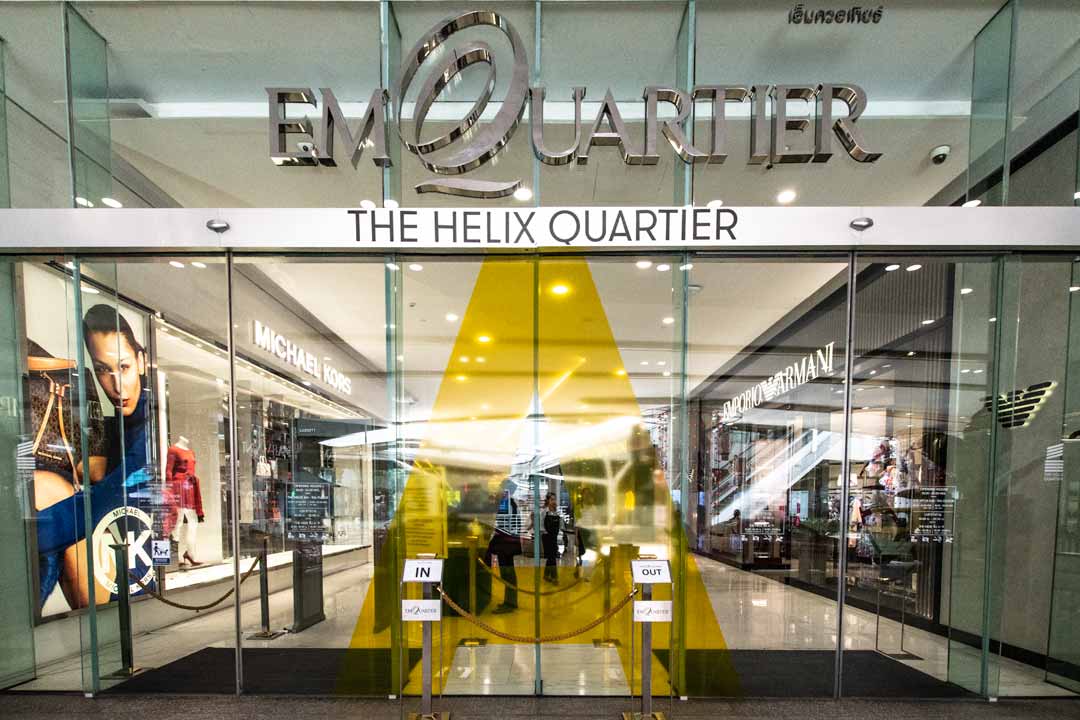 The first place on our Bangkok shopping guide is a bit of a confusing one. Situated right at the Phrom Phong BTS Skytrain Station, reaching EmQuartier is as easy as it gets. The complicated part is that the mall itself is divided into three different zones that kinda feel like three separate buildings. Once inside, though, navigating is way easier than it seems.
The Glass Quartier is the most modern-looking one and features mostly fashion stores. Between the Ground floor, the Main floor, and the 1st floor, you can find plenty of famous brands like Kate Spade, Balenciaga, Phillip Lim, and Dolce&Gabbana accompanied by beauty stores such as Sephora and M.A.C
The Waterfall Quartier is the least populated part of EmQuartier. It houses a big Gourmet supermarket and food area on the Ground floor with some clothing stores (Armani Exchange, DKNY, Diesel) on the Main floor. Almost nothing else on the higher levels except for the excellent Imax cinema on the 4th floor. It's named after the giant waterfall on its outer wall.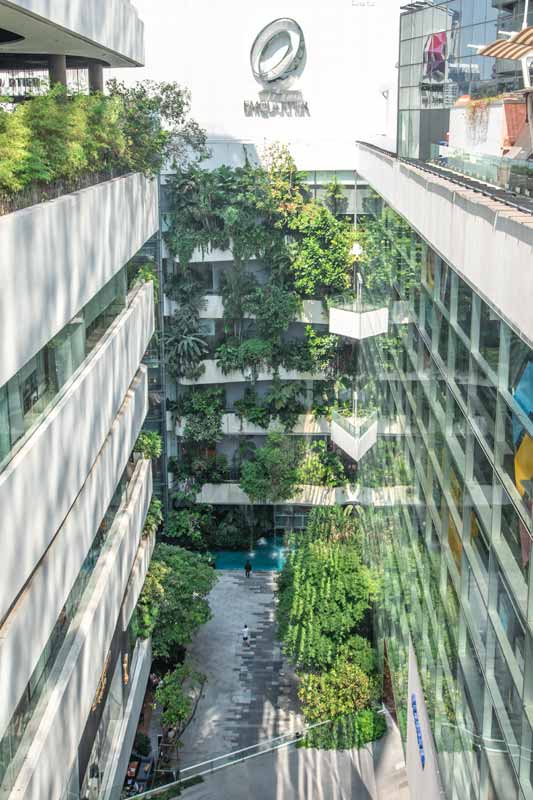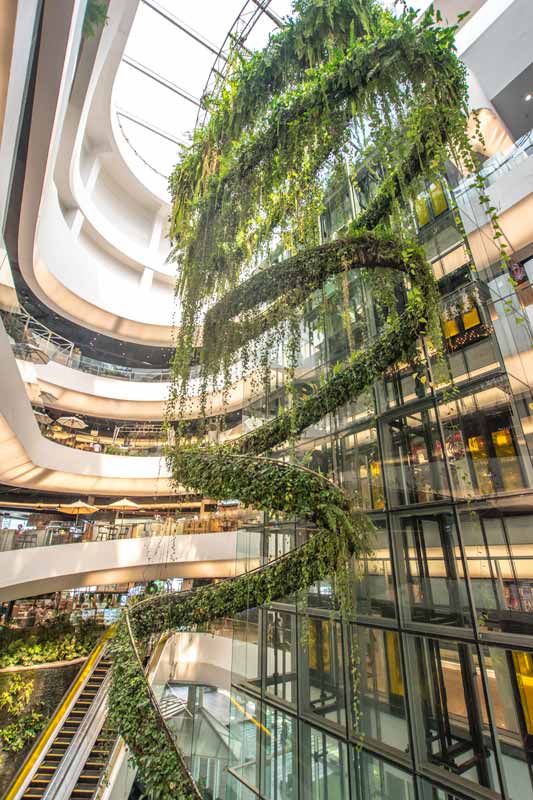 The Helix Quartier is the main part of the mall. Between the Ground floor and the 4th floor, you can find plenty of clothing stores ( Chanel, Jimmy Choo, Emporio Armani), camera shops (Sony), some tech shops, decoration places, and even dental and eye clinics. The main attraction is on the last floors of the Helix Quartier. On level 5, you find an impressive open terrace called "The Water Garden" that not only offers fantastic panoramic views of Bangkok but also has a living plant chandelier (not sure if it emits any light, but it's pretty cool). Floors 6 to 9 are connected via spiral walkaway and house the Helix Dining – more than 50 restaurants with fantastic food and views.
If you don't want to climb all the way up to Helix Dining, you can find fantastic food court on the basement levels of the Glass and Waterfall Quartiers.
Working Hours: 10:00 AM – 9:00 PM
How to get there: Get a BTS Skytrain to the Phrom Phon Station (exit 1)
See in Google maps
Emporium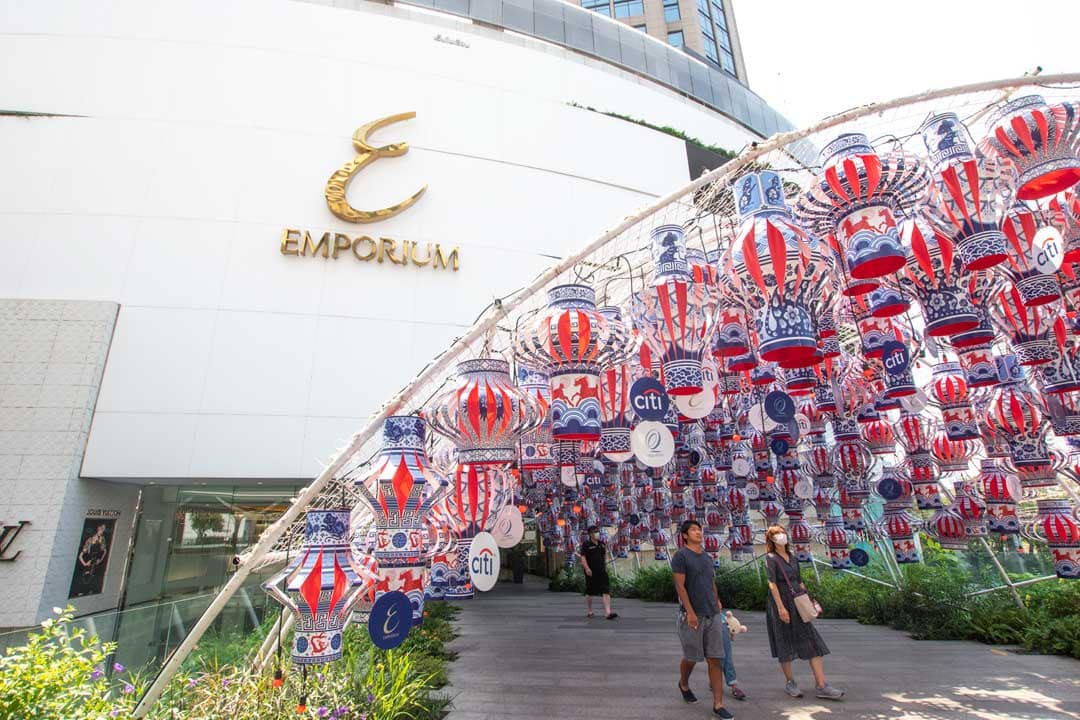 Right across to EmQuartier, there's another mall of the same chain – Emporium. Although built back in 1997, Emporium must have been recently renovated because it doesn't look old at all. Quite the opposite, the white and gold interior, the marble floors, the smooth music, and the waterfall in the middle just scream new & classy (in the most sophisticated way you can scream).
Don't think the mall offers just luxury items, though. While the main two floors do have high-class stores, the rest of the shopping complex has plenty of regular-prizes goods. A big sports area, a toy area, and an overwhelming food court make Emporium an excellent place for the whole family (even if you can't afford a Louis Vuitton bag).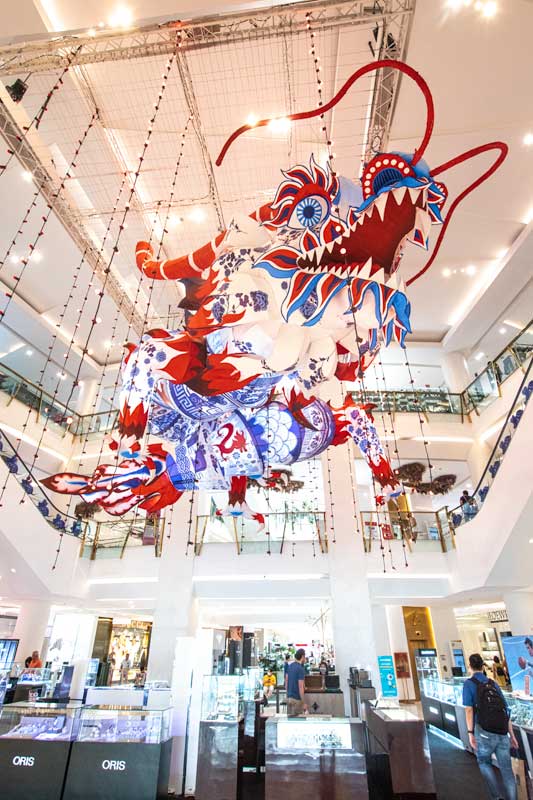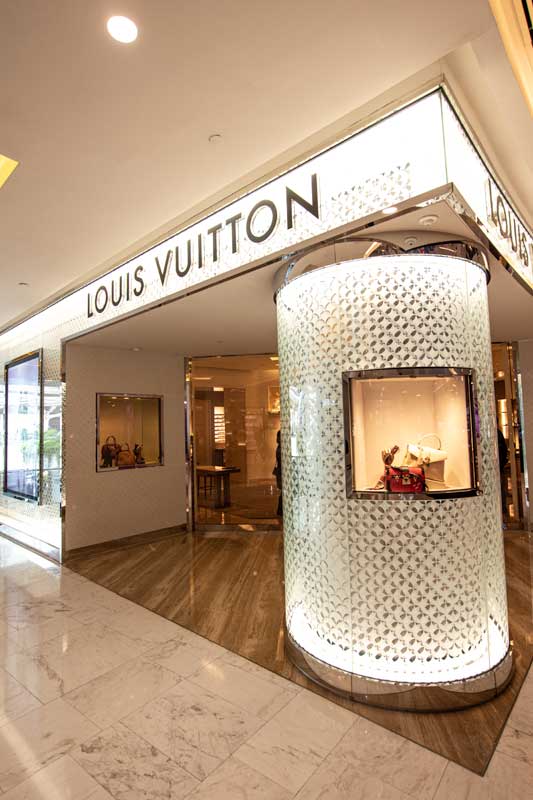 Every floor (beside the top one) combines regular stores with a differently themed open area (no walls between shops).
Basement (B)– Open area selling underwear, no other stores
Ground (G) – Luxury stores: Dior, Tiffany, Bottega, Rolex, Omega
Main (M) – Luxury stores: Louis Vuitton, Cartier, Gucci, open area selling mostly cosmetics, watches and perfumes
1st Floor – Thai designer shops, Lacoste, the open area is selling bags and shoes, Jewelry shops (Swarowski, Pandora)
2nd Floor – Sports Mall area (Adidas, Nike, Under Armour, Puma, NB), camera shops, outdoor shop, open area with men fashion (Tommy Hilfiger, VANS, Nautica, Brooks Brothers, Replay)
3rd Floor – Electronics, gadgets, house appliances, open area with toys and school supplies
4th Floor – House appliances, decoration, wine shop, the open area is a food court (Japanese, Indian, Thai, Vietnamese and western restaurants), supermarket
5th Floor – Cinema, design center, culinary school
Working Hours: 10:00 AM – 10:00 PM
How to get there: Get a BTS Skytrain to the Phrom Phon Station (exit 2)
See in Google maps
Terminal 21 Bangkok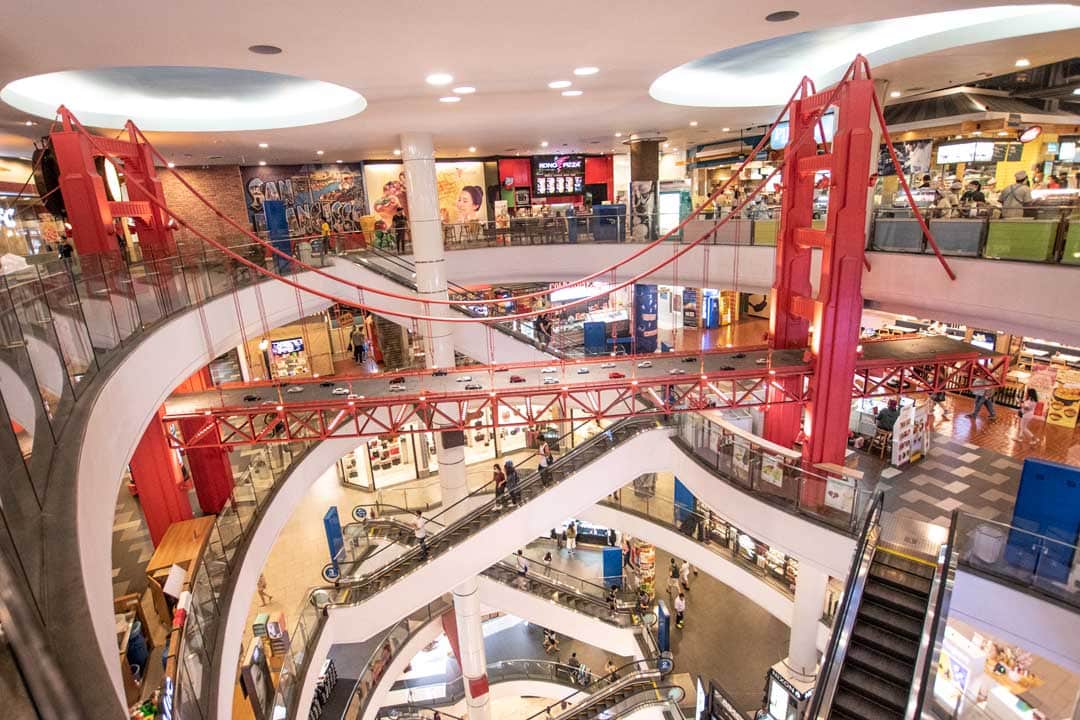 Terminal 21 is one of my favorite places to go shopping in Bangkok. Opened in 2011, this mall is absolutely the coolest one in town. It's one of the few places I recommend visiting even if you don't care about Bangkok shopping.
So why is it so good?
Because every level is themed after a different city. You can look for clothes in Rome, Paris, Tokyo, and London, scout for souvenirs in Istanbul, or stuff your mouth within any of the international restaurants in San Francisco. Even the escalators (designed as airport gates) and the doormen (dressed as pilots) are part of the theme.
There aren't many popular brands inside Terminal 21, which makes it perfect for exploring and finding some hidden treasures and souvenirs.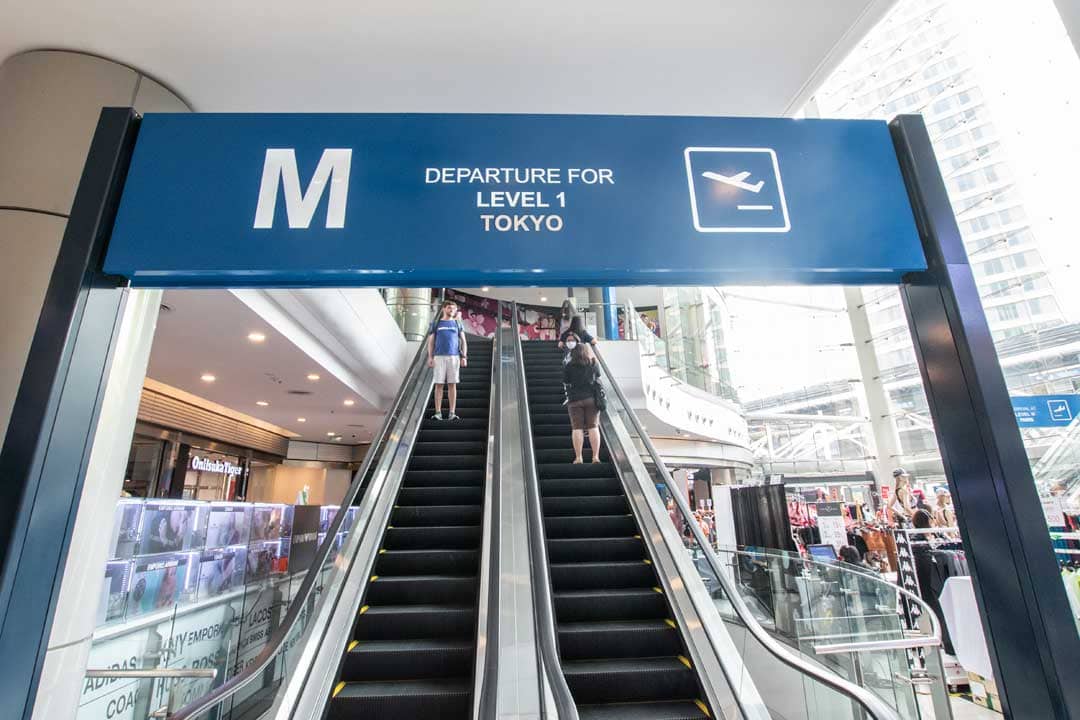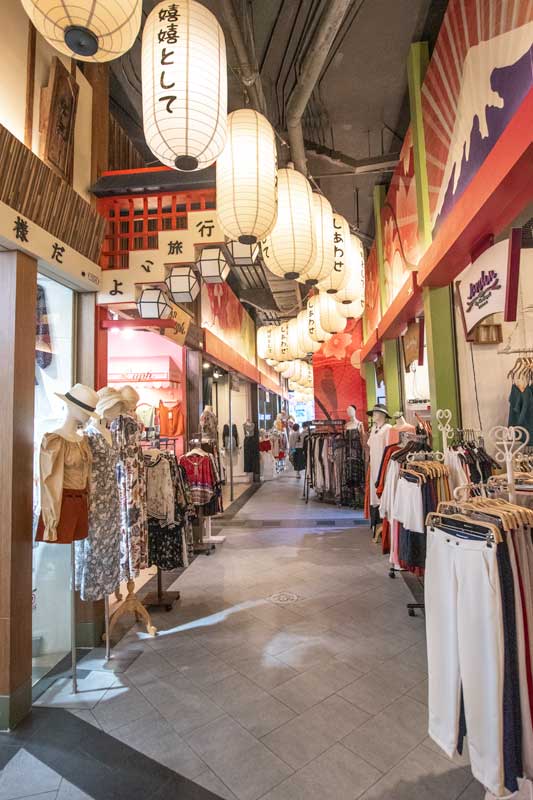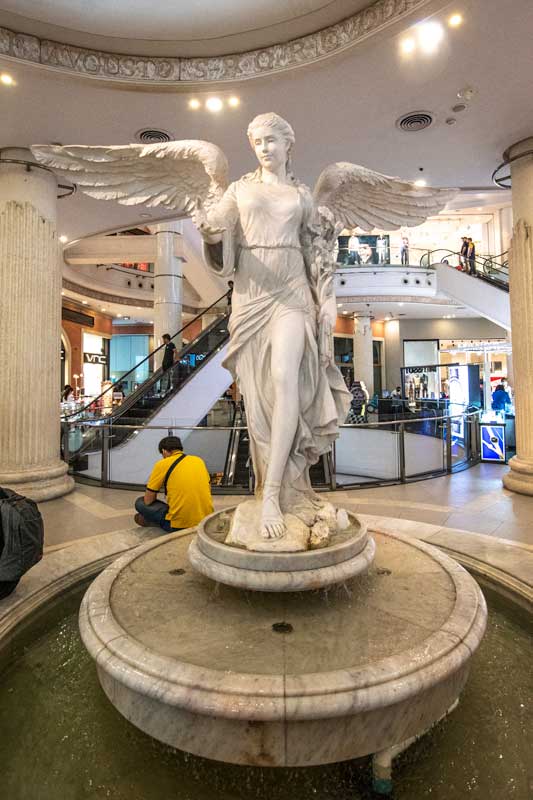 Carribean (B) – small food court, Gourmet supermarket, banks with ATMs, tourist SIM card stalls
Rome (G) – Brand level – Lacoste, Levis, Guess, Mango
Paris (M) – Mostly cosmetics and women stores – Laura Mercier, M.A.C, Origins, Victoria Secret, H&M, Bangkok Bootery (crocodile leather accessories)
Tokyo (1) – From this level up, the mall is designed to have small alleys with brands you've never heard of (fitting with the theme of the city). Tokyo shops are all about women fashion with a single lane filled with nothing but underwear stores. There's also a Body Shop, iBeats, and a sports store (and two giant sumo wrestlers) on this level.
London (2) – All London streets are dedicated to men's fashion. From suites to funky t-shirts, there are all sorts of gems here. You can also find an outdoor survival shop and sports stores (and a giant red bus and red phone cabin).
Istanbul (3) – Around the exotic Istanbul alleys, you can find all sorts of hand-made souvenirs, jewelry, and aroma shops (some cool chandeliers and dervish dancers too).
San Francisco City Street (4) – SF is home to dozens of restaurants offering cuisine from all of the cities on the lower levels (yes, even some London food) and plenty of other cuisines from all around the world.
San Francisco Pier 21 (5) – SF pier is home to the Terminal's food court. Plenty of other restaurants, too, including KFC. Don't miss to take a photo of the Golden Bridge.
Holywood (6) – A cinema (duh), fitness center, small entertainment area (with PS4's), and a few mobile phone shops.
Working Hours: 10:00 AM – 10:00 PM
How to get there: Get an MRT (metro) to Sukhumvit Station or BTS Skytrain to the Asok station
See in Google maps
See Also: How to Spend 2 Days in Bangkok
Where to stay if you want to shop in the Sukhumvit Area
Tints of Blue Hotel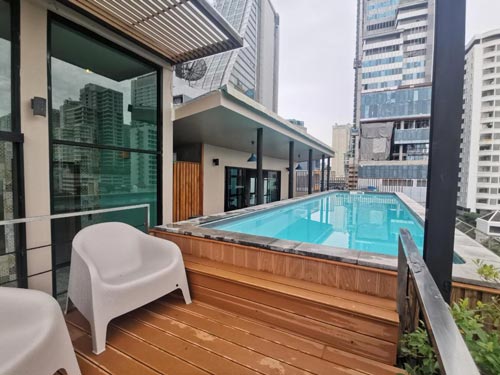 Clean, spacious rooms with balcony and fast wi-fi, private kitchen, an outdoor pool and free breakfast. Sounds amazing, right? Beside that Tints of Blue Hotel offers reasonable prices and one of the best location in the city – right behind Terminal 21, Asok BTS station and Sukhumvit MRT station. Unquestionably one of the best-located hotels in Bangkok.
Check the latest prices
You can also check out my Where to Stay in Bangkok Guide and find more accommodation options alongside useful tips about the city districts.
Bangkok Shopping on the Riverside
The riverside is full of stunning skyscraper-hotels and is one of the most picturesque parts of town. It's also home to two of the best spots on my Bangkok shopping guide.
Asiatique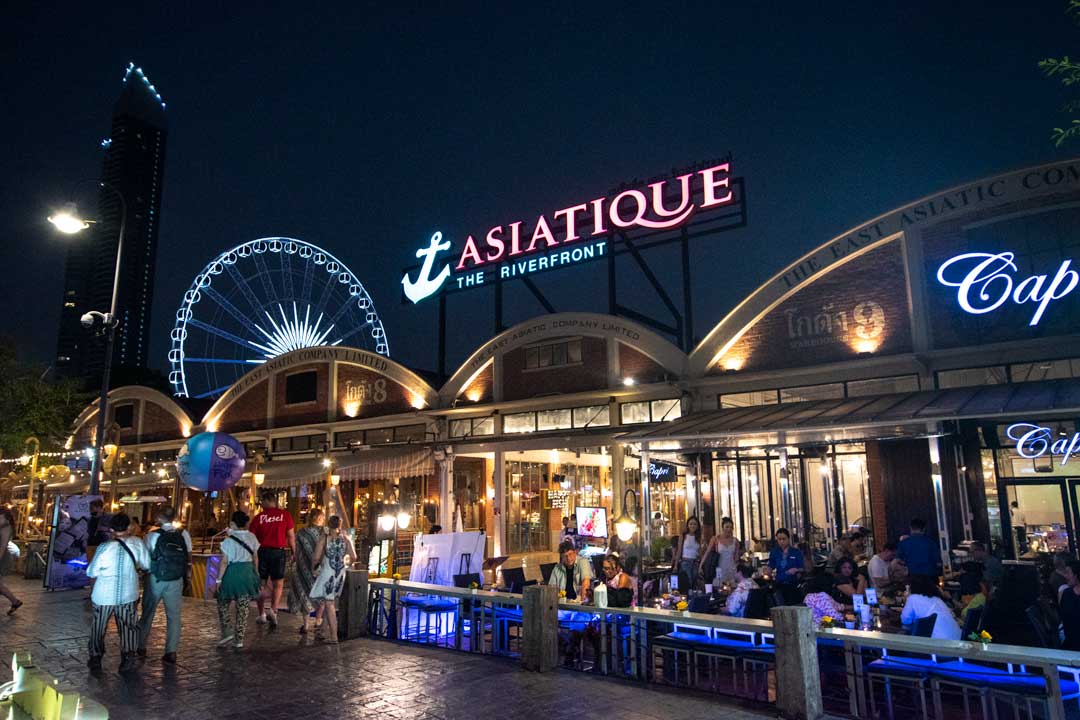 Asiatique is the ultimate mixture of a mall and market. Located in a former trading port, this shopping complex features more than 1500 stores and restaurants housed in old warehouses and divided into four districts.
Charoenkrung District
Charoenkrung is the market-ish district. It's located in warehouses 1 to 4 and offers more than 1000 stalls with street food, souvenirs, local fashion, smoothie boots, and everything else you can expect from a Thai night market. It's also where you can find the Muay Thai fights, the Calypso Cabaret, and the Thai Puppet Theatre but more on that later.
Town Square
Town Square is literally a town square with a tower, a clock, and everything. It's a small area in the middle of the complex with only two warehouses. Number 5 offers fashion and beauty stores, while number 6 is full of restaurants.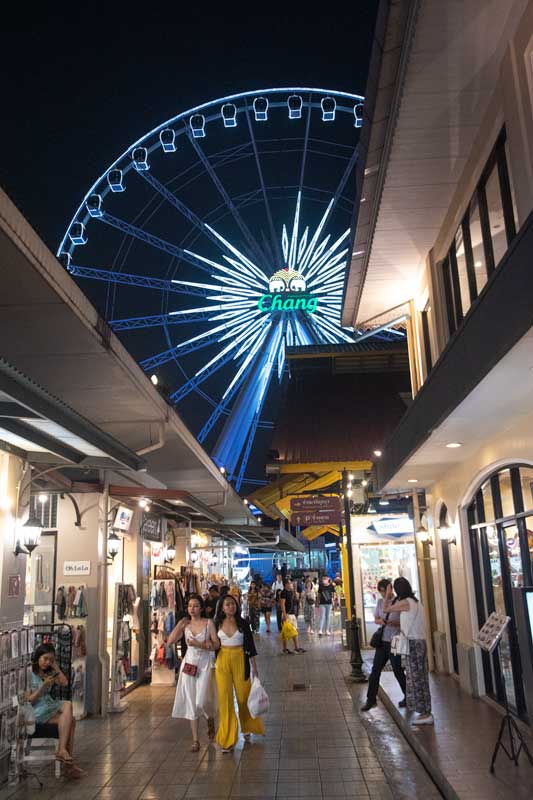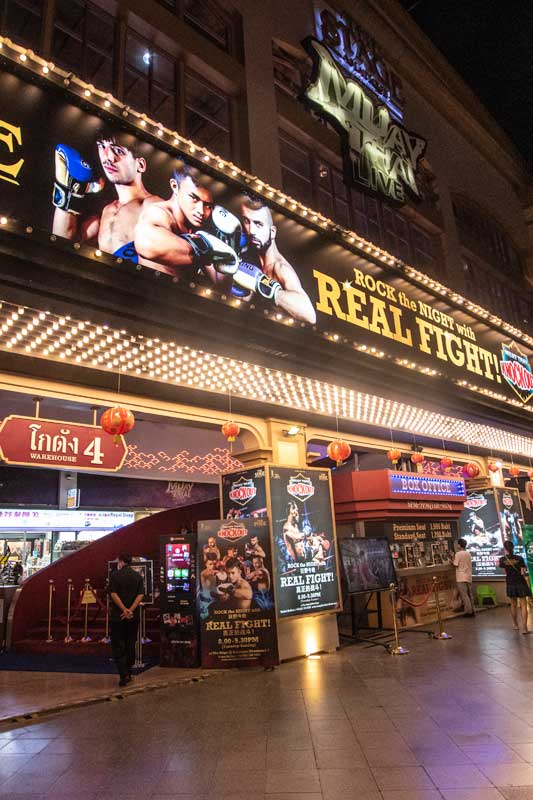 Factory District
The Factory District (warehouse 7 to 10) is housed in a former sawmill, and it's the mall-ish part of Asiatique. Plenty of Thai fashion stores combined with international dining options and local restaurants.
Waterfront District
The Waterfront District is the area next to the Chao Phraya River, and it consists of gourmet restaurants and wine bars. Perfect place to enjoy the sunset.
Now the thing that differentiates Asiatique from the other markets and shopping complex is its shows and giant Ferris Wheel. If you want to visit any of them, I highly recommend booking them online. Not only you're guaranteed a seat this way, but it's also way cheaper.
Calypso Cabaret Show
World-famous cabaret performed by Bangkok's talented ladyboys. Fun, colorful, and a great way to immerse yourself into the colorful Thailand culture. Getting the ticket online also gives you the option of spectating a Khon dance performance – a traditional dance initially reserved for the royal court.
Check out the online ticket price
Joe Louis Thai Puppet Theatre
A traditional Thai puppet show combined with a live performance act. It's a little bit short (around half an hour), but it's definitely fun and educational. Make sure to visit from Friday to Sunday to watch a Hanuman: Great Warrior performance, based on an ancient Hindu legend.
Muay Thai Live: The Legend Lives
A Muay Thai show that will teach you more about the traditional Thai fighting style. Seasoned professionals will demonstrate 8 of the most dangerous techniques of Muay Thai. After the demonstration, you can spectate real Muay Thai fights – a Thailand bucket list item for sure. The online ticket is way cheaper here, and you can combine it with a massage, dinner, boat cruise, or a Ferris Wheel ride.
Check out the online ticket price
Asiatique Sky
The giant Ferris Wheel of the complex. If you want some cool panoramic shots of the river and the city skyline, this is the place. Especially good at sunset.
Price: Adults – 450 THB (14 USD) ; Children – 250 THB (8 USD)
Working Hours: 5:00 PM – 12:00 AM
How to get there: Get a BTS Skytrain to Saphan Taksin station (exit 2) and walk down to the Chao Phraya's Central Boat Pier. Follow the signs to the Asiatique free shuttle boat
See in Google maps
Icon Siam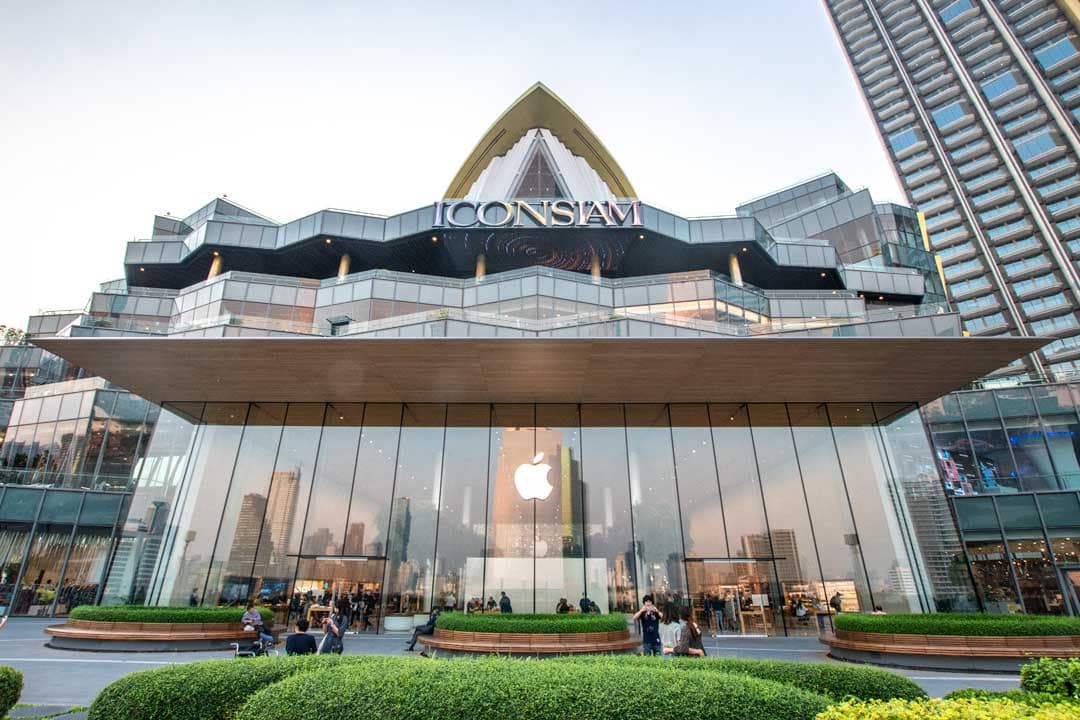 The latest and greatest of all Thai malls, Icon Siam, was built in 2018 with the sole purpose of giving you the ultimate shopping experience. To be honest, malls usually don't impress me much. I'm not a shopaholic, so the sight of Prada stores and sale signs is not something that gets me excited.
Icon Siam, however, really dropped my jaw to the ground. The place is just incredible and features stuff I've never anywhere else.
The experience starts right as you enter. The Ground level greets you with a line of restaurants and cafes situated around impressive earth-ish decoration. (I'm talking plants on the ceiling and the walls and super cool 'walls' made of water droplets). Keep exploring the floor to find SookSiam – a night market inside the mall. Seriously, a real night market with souvenirs and street food from all over Thailand. There's even a tiny river and boat-stalls in one area, making it a floating market. The place is soo neat and tourist-friendly. If you hang long enough, you may also enjoy a dancing performance.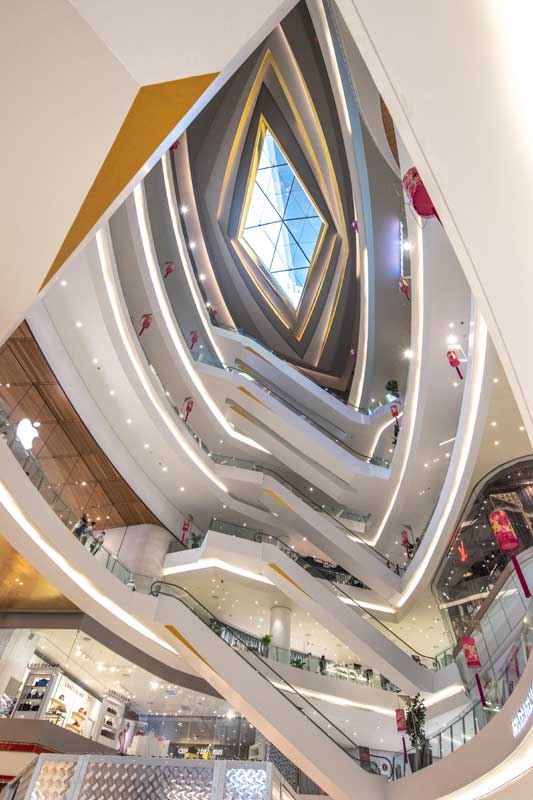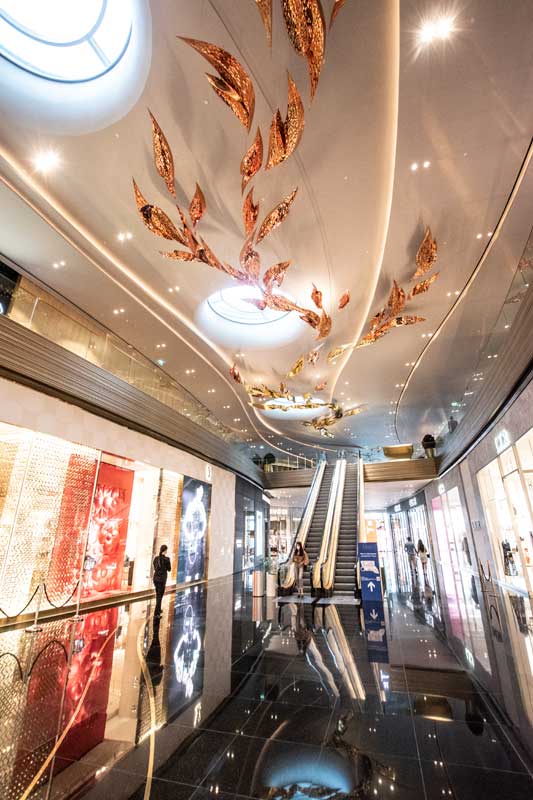 The upper level is the luxury one and damn, it's luxury as hell. White marble, gold linings, and futuristic design made you feel like walking around an Arabic sheik private space station or something.
The last highlight of Icon Siam is on the 2nd floor, where Thailand's first official Apple store is leading you to a vast park terrace with an excellent view of the river and the fountain show in front of the mall. Did I forget to mention that? Yes, there are fountain light and sound shows at 6:30 PM, 8:00 PM, and 9:00 PM.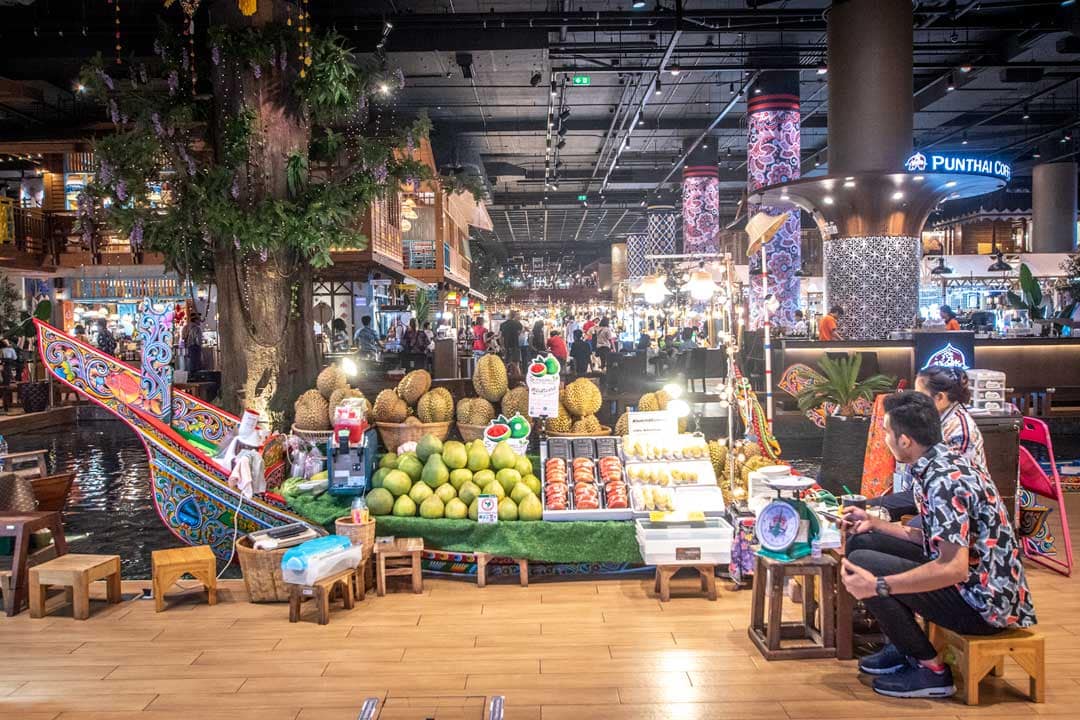 Ground Level (G) – Restaurants and coffee shops, SookSiam market with street food and souvenirs
Main Level (M)– Gucci, Cartier, Louis Vuitton, Versace, Prada, Chanel, YSL, Giant 3-level-high HM store.
1st level – Lacoste, Phillipp Plein, Jim Thompson, Maserati and Rolls Royce saloons, Siam Takashimaya (icon siam's open store area) offers women fashion.
2nd level – Asian brand stores, sports store, G-Shock, Official Apple store with a fantastic terrace. Siam Takashimaya offers jewelry.
3rd level – Timberland, BMW, Rayban. Siam Takashimaya offers fashion and shoes. Giant sports area in the middle (IconActive) featuring every famous sports brand (Adidas, Nike, Under Armor, Reebok, etc.)
4th level-Camera stores (Sony, Banana, Big Camera Gallery), mobile shops (Ais, Dtc). Siam Takashimaya offers toys. IconTech (tech products) and IconCraft (souvenirs and decoration) in the center of the floor. Also a small food court.
5th level – Clinics, spa, barber, IconEducation (school supplies and kid's playing area) Women Club and IconCraft (aroma stores, fashion, cosmetics) in the middle of the floor.
6th level – restaurants, Icon Cineconic cinema, and an entertainment park (Superpark Thailand). Great terrace at the Tasana Nakorn restaurant.
There are also supposed to be two more levels housing a fitness and the Riverbank Museum, but at the time of my visit, they were still closed.
Working Hours: 10:00 AM – 10:00 PM
How to get there: Get a BTS Skytrain to Saphan Taksin station (exit 2) and walk down to the Chao Phraya's Central Boat Pier. Follow the signs to the Icon Siam free shuttle boat.
See in Google maps
See Also: What Temples to See in Bangkok
Where to stay if you want to shop in the Riverside Area
Oriental Heritage Residence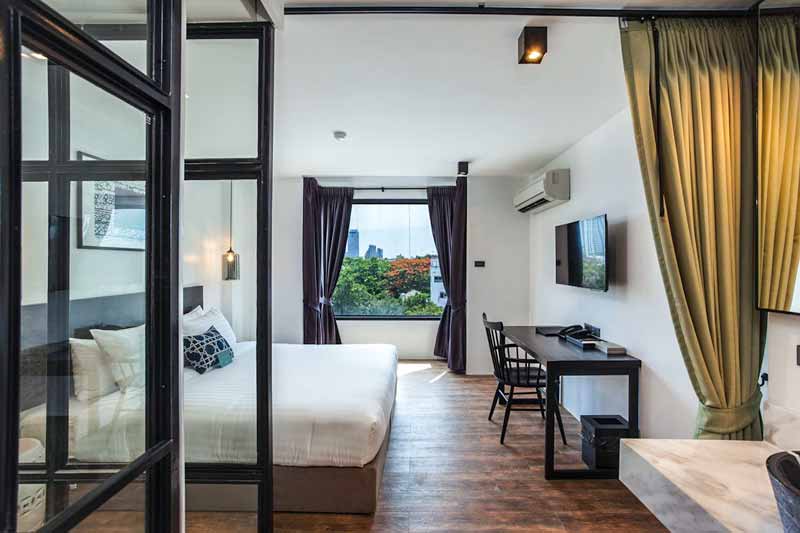 A boutique hotel with reasonable prices, fast wi-fi, and great breakfast. It's located right next to the Central Boat Pier, so getting to the shopping centers (or anywhere else around the river) would be as easy as Sunday morning. You also have a BTS station at your front door so you can continue your shopping spree around town.
Check the latest prices
You can also check out my Ultimate Bangkok Areas Guide and find more accommodation options alongside useful tips about the city districts.
Shopping in Bangkok's Siam Area
Siam is the ultimate district to go shopping in Bangkok. In a relatively small area, there are more than a dozen malls and markets. Here are the best options:
Siam Paragon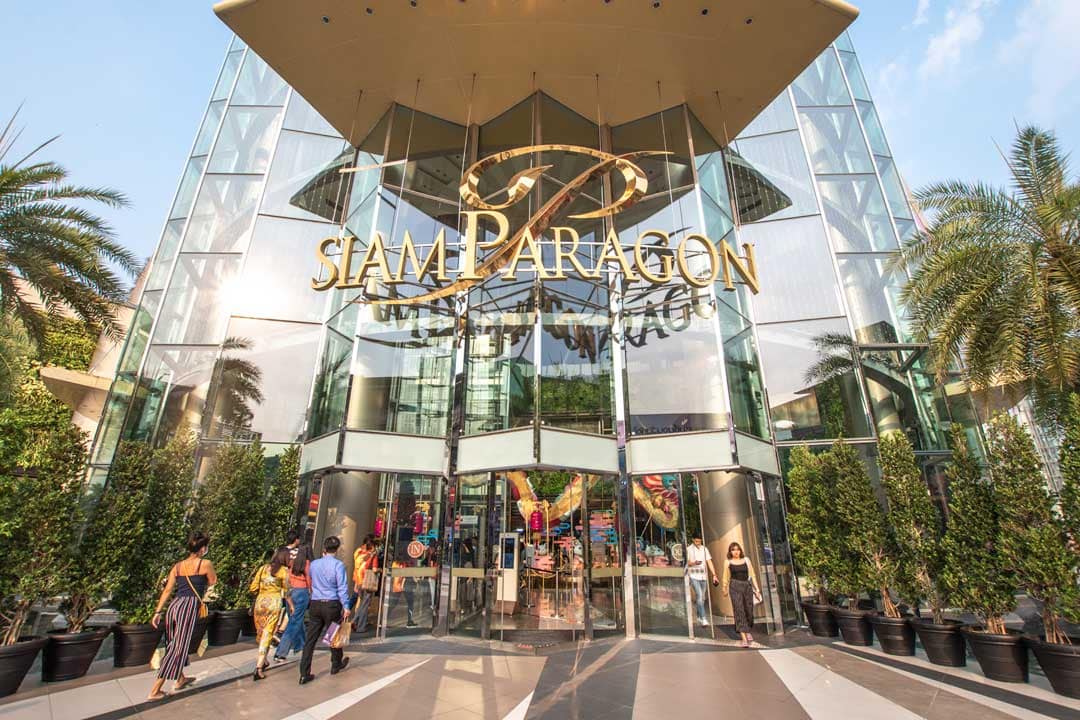 There are three Siam malls just outside of the Siam BTS Skytrain station. The flagship of the triplets is Siam Paragon.
As customary to most big Thailand malls, every floor has a combination of stores and a big open area department store featuring multiple brands. The open areas have different themes on every level.
In Siam Paragon's basement level, you can also find a fabulous aquarium – Ocean World. If you decide to visit it, I strongly suggest booking an online ticket. More often than not, Klook offers a way lower price.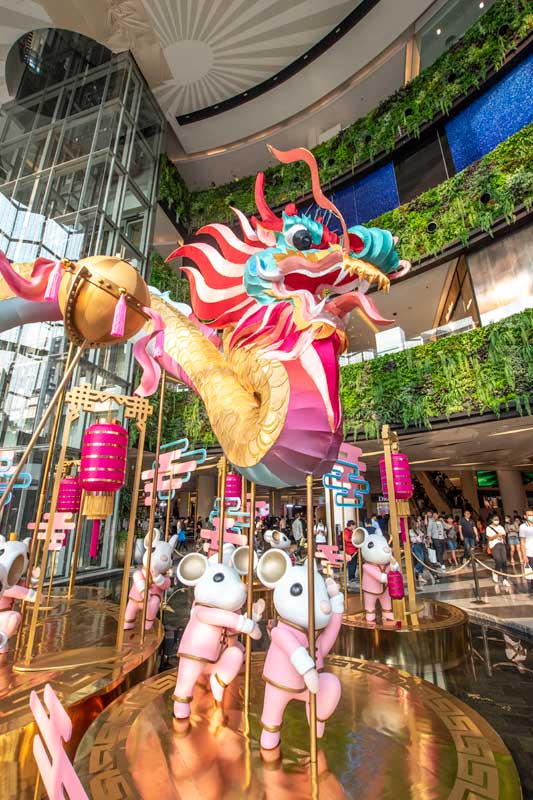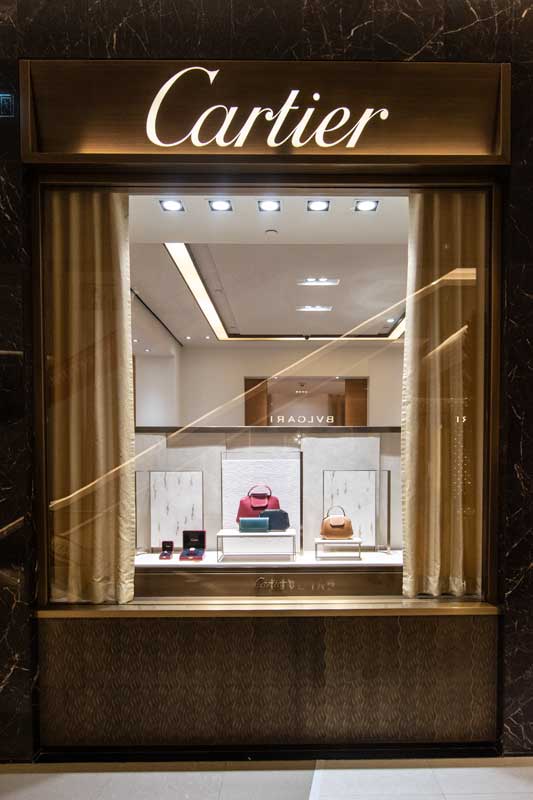 Basement floor (B) – Ocean World
Ground floor (G) – Gourmet Paradise – a large food court, cafes, and a Gourmet supermarket.
Main floor (M) – The Luxury – world-recognized luxury brands such as Louis Vuitton, Prada, Cartier, Gucci, Valentino. The open department store features women's shoes, bags, jewelry, and cosmetics.
1st floor – Fashion Venue – more affordable brands like HM, Zara, and Gap. More jewelry and perfumes plus a Starbucks. The open department store features women's fashion.
2nd floor – Lifestyle & Leisure – this is the men's floor. You can find fashion stores like Levis, Tommy Hilfiger, and Fred Perry alongside Rolls Royce, Mclaren and Jaguar car saloons, a few guitar shops, and even a Lego shop. The open department store features men's fashion and sporting goods.
3rd floor – Living & Technology – Plenty of tech stores (including an Apple reseller store), furniture and decoration stores, and the Kinokuniya bookstore. The open department store features children's clothing, toys, and lingerie.
4th floor – Edutainment & Food Passage – This floor features a small food court, a few banks, and mobile phone shops and a big gym. The open department store offers home entertainment electronics, auto accessories, kitchen utensils, and a large area dedicated to exotic souvenirs. A bit more expensive than the one on the markets but definitely better quality ones.
5th floor – Cinema – top-notch Imax theatre, a bowling alley, and a karaoke.
Working Hours: 10:00 AM – 10:00 PM
How to get there: Get a BTS Skytrain to Siam station
See in Google maps
Siam Center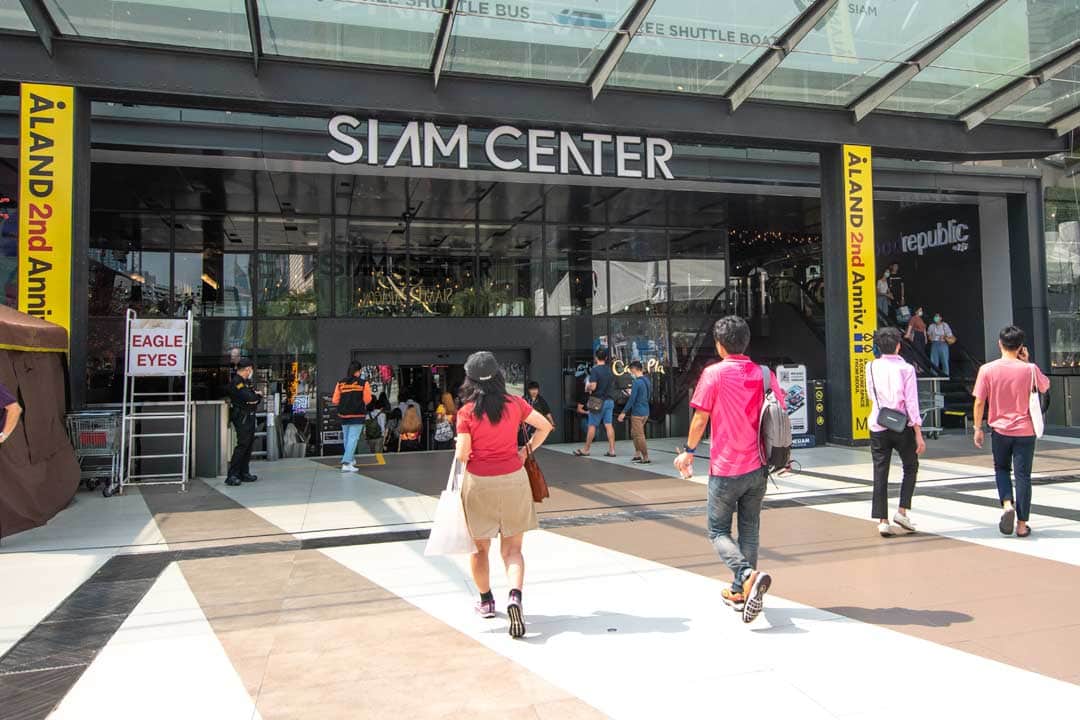 This one was on the verge of being excluded from my Bangkok shopping guide. How come? Well, Siam Center doesn't offer anything unusual. Its biggest asset is its location (and the fact that you can't get lost inside). Situated right between Siam Paragon and Siam Discovery, you have to go through it one way or the other, so why not having an idea what's inside anyway?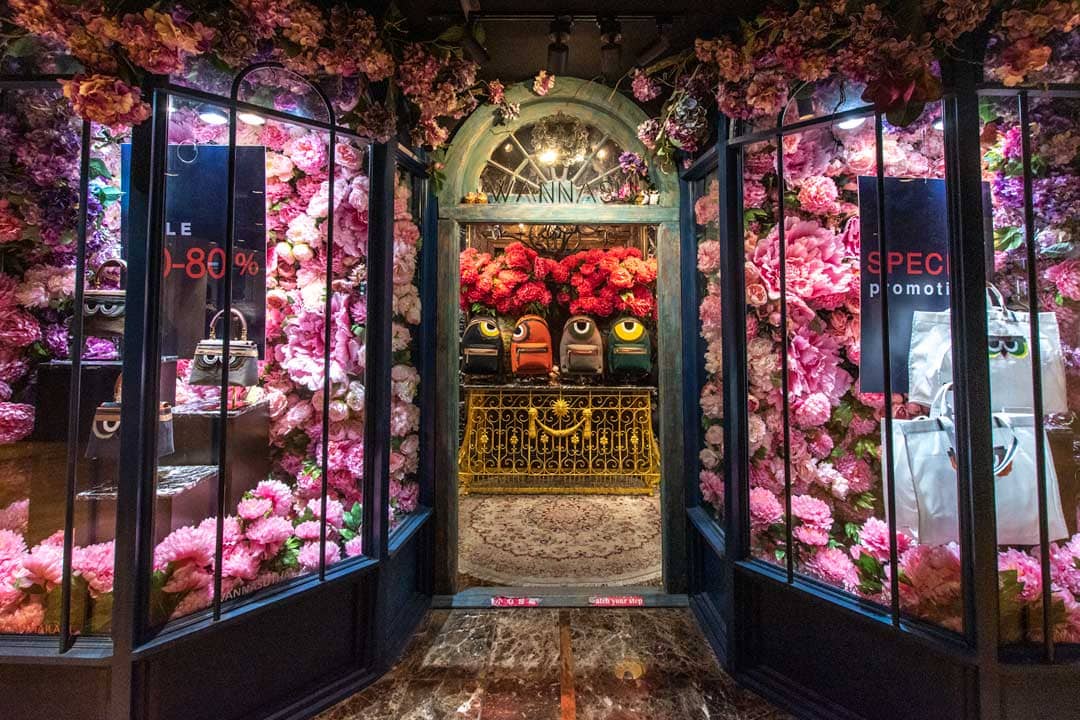 Ground floor (G) – Fashion Avenue – as the name suggests, mostly fashion stores (Armani Exchange, Pull&Bear, LYN, Vicotria's Secret), a few cosmetic stores (Sephora, M.A.C, Este Lauder) and a couple of sports stores (Adidas, Under Armour).
Main floor (M) – Fashion Galleria – mostly Thai brands, fashion, and shoe stores.
1st floor – Fashion Visionary – Thai cosmetic brands, more elegant Asian fashion boutiques.
2nd floor – Food Factory – The regular food court.
Working Hours: 10:00 AM – 10:00 PM
How to get there: Get a BTS Skytrain to Siam station
See in Google maps
See Also: The Best Instagram Spots in Bangkok
Siam Discovery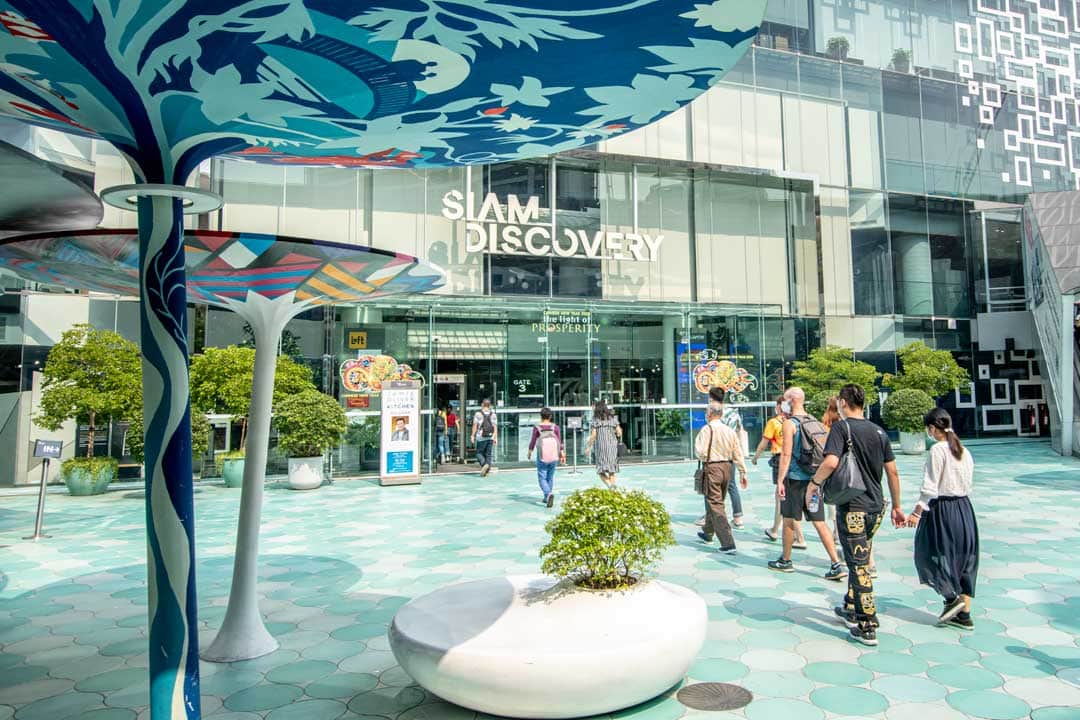 The third Siam mall on my Bangkok shopping guide is called Discovery, and it's the coolest triplet. It's designed by a Japanese company, and instead of typical stores and shops, it offers open shopping areas with different themes. Each floor is called a lab and has thousands and thousands of products on display. There are few stores scattered between them, but the best deals are in the open spaces. Siam Discovery is also the home of Bangkok's Madame Tussauds museum.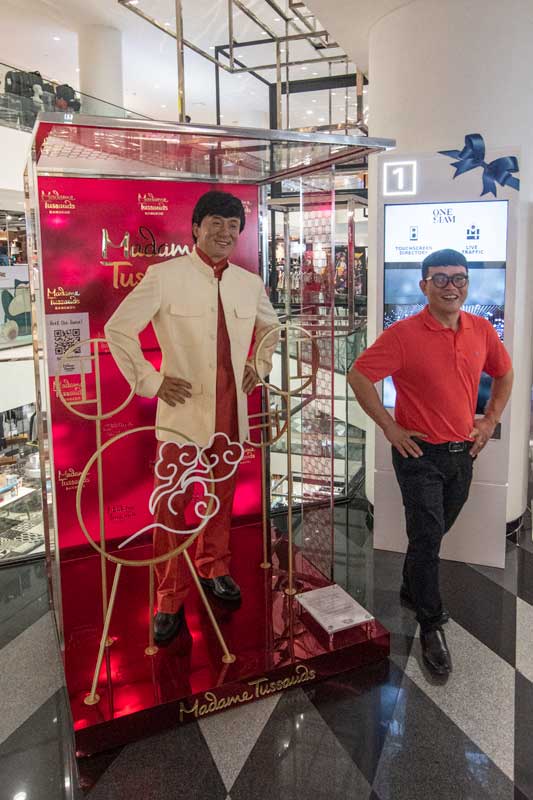 Ground Floor (G) – Her Lab – This is the women's fashion floor. Here you can find world-renounced brands like Tom Ford, CK, Victoria Beckham, Karl Lagerfeld, and DKNY alongside jewelry and shoes. There's also a personalized Converse studio and the Jamie Oliver's Kitchen restaurant.
Main Floor (M) – His Lab – On the men's floor, you can find Alexander McQueen, Balenciaga, Armani Exchange, Diesel, Oliver Spencer, Brook Brothers, etc.
1st Floor – Street Lab – Obvious from the name, this floor offers mostly streetwear. You can pick from Vans, Lacoste, Fred Perry, Levis, Ripcurl, Converse, and Fjällräven, among others.
2nd Floor – Digital Lab – This floor is dedicated to small electronics and gadgets. You can find GoPros, earphones, Fitbids, all kinds of phone accessories, and an Apple reseller store here.
3rd Floor – Creative Lab – The creative lab is one big furniture store. A bit like IKEA but with an Asian twist.
4th Floor – Play Lab – this floor offers a small food court, ecotopia – a natural cosmetics and health store, souvenirs, and the Madame Tussauds museum. If you 're interested in the museum, I strongly suggest getting an online ticket. They are almost always discounted, and you're guaranteed to save some bahts.
5th Floor – Retail Innovation Lab – A virgin fitness and a co-working space.
Working Hours: 10:00 AM – 10:00 PM
How to get there: Get a BTS Skytrain to Siam or National Stadium stations
See in Google maps
Central World Bangkok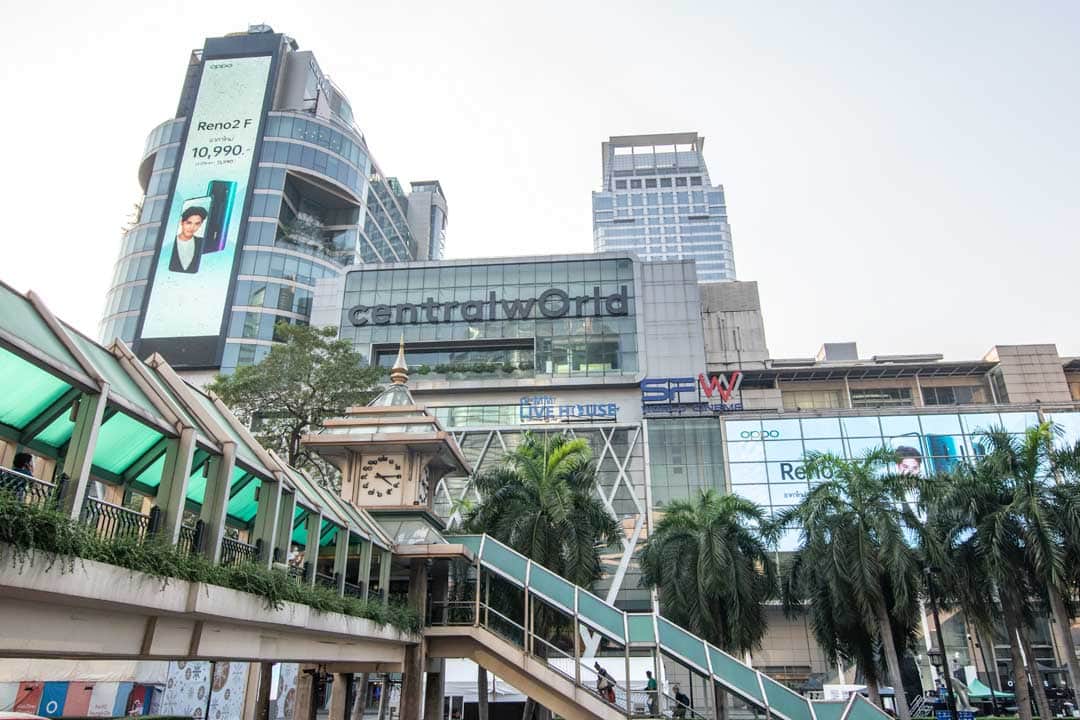 Central World is located very close to Siam Paragon and is one of the biggest malls not only in Thailand but in the world (number 6th in the world). The place is just massive, and getting lost in it is almost a guarantee.
Looking back, I've found out I used Central World more than any other mall in Bangkok. You can find anything you need there and their food court and supermarket are the absolute best. From time to time, you can even stumble upon some pretty cool events (first time there I got a Japan expo).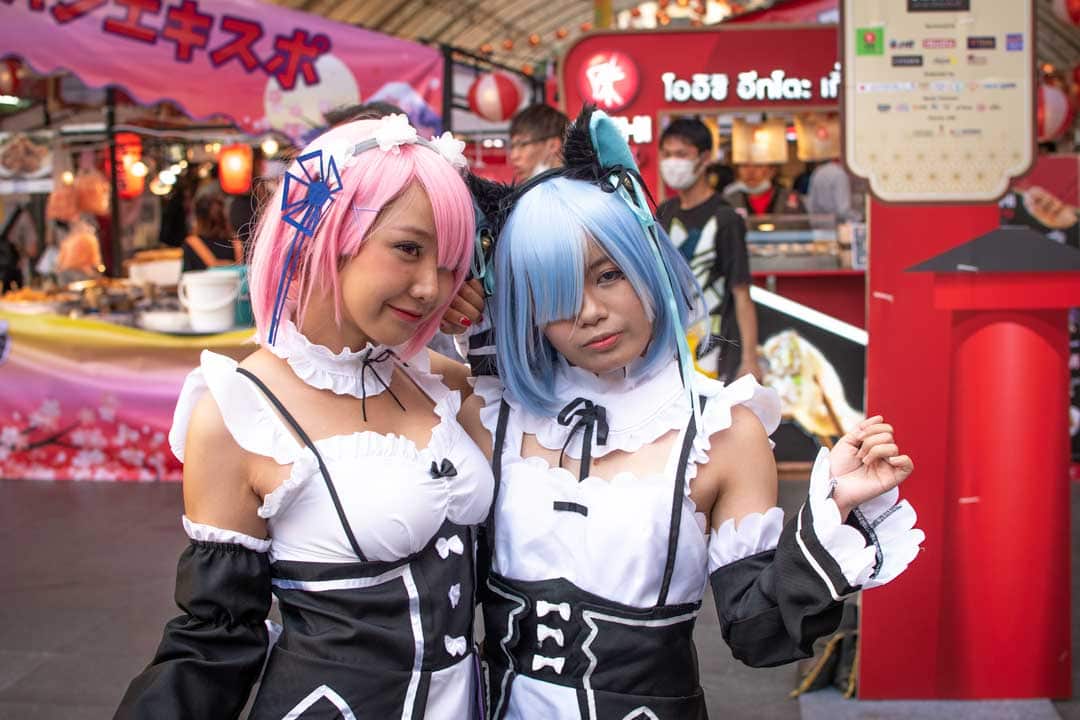 I'm not sure if my Bangkok shopping guide can help you navigate Central World. Even if you know there's an H&M store on the 1st floor finding it would still be a tough task but anyway here's what I have:
1st floor – world-famous brands like Michael Kors, Calvin Klein, H&M, Jim Thompson, Starbucks, ice skating rink, the Groove – restaurant area.
2nd floor – Mostly women – Zara, Sephora, Aldo, baby stores, more of the Groove restaurants
3rd floor – men – sports stores (Adidas, Nike, Asics, Uner Armour) + Bangkok's biggest sports store (Super Sports). Fitness center, Northface, Levis.
4th floor – electronics, mobile stores (dTac, ais), camera stores (Sony, World Camera, Nikon), banks, Dji store, Apple reseller store
5th floor – souvenirs, some more banks, beauty salons, home decoration stores.
6th floor – children products, ToysRus, book store, family restaurants
7th floor – World cinema, Food World (food court), best supermarket in Bangkok
8th Floor – Thailand Knowledge Park, cinema, beauty saloons
Working Hours: 10:00 AM – 10:00 PM
How to get there: Get a BTS Skytrain to Siam or Chit Lom stations
See in Google maps
MBK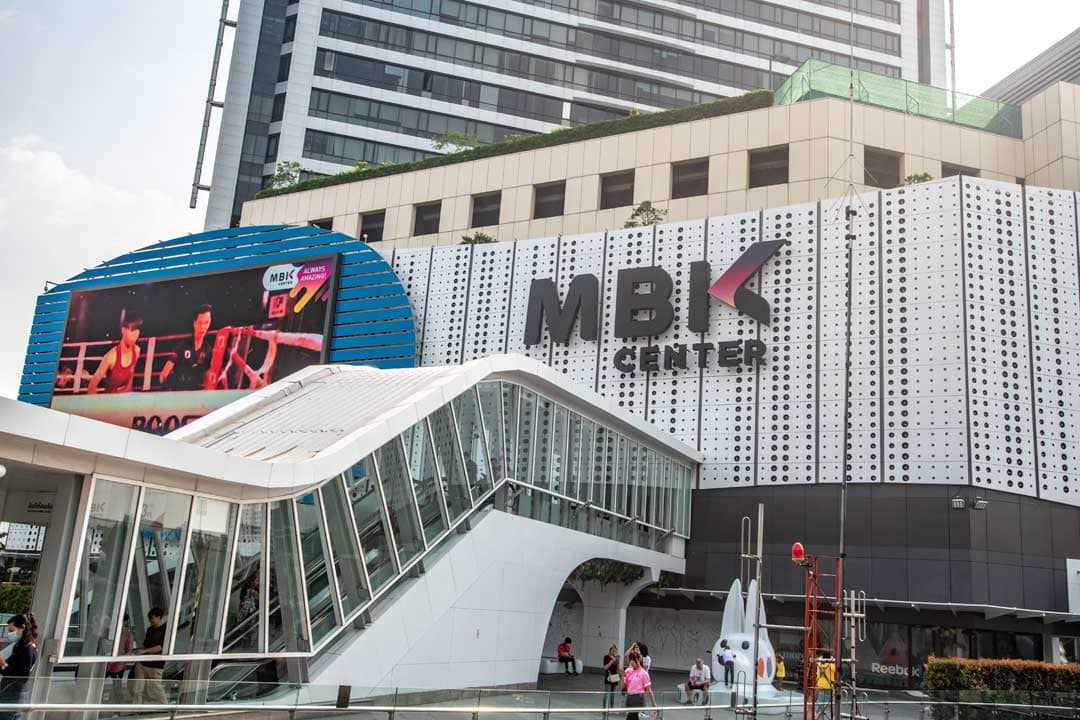 Opened way back in 1986, MBK is the oldest mall in Bangkok, and you can quickly tell that once you're inside. From the outside, it may look like a typical modern shopping center, but the reality is that MBK is a market inside a building. Even though exploring MBK is not the most pleasurable experience, this legendary place is famous for its wholesales and low prices, which earned its position on the Ultimate Bangkok shopping guide.
Keep in mind that during the weekends, MBK is swarming with local shoppers looking for a good deal. Also, the market rules apply with full strength there, and bargaining is expected.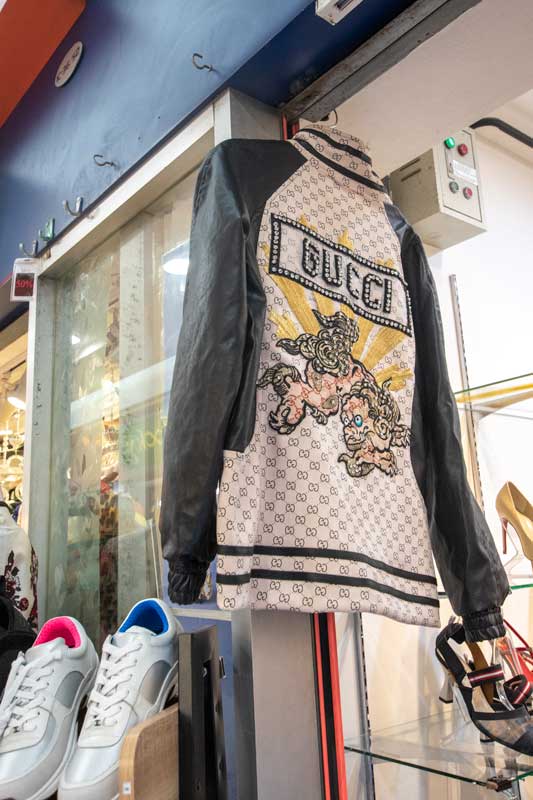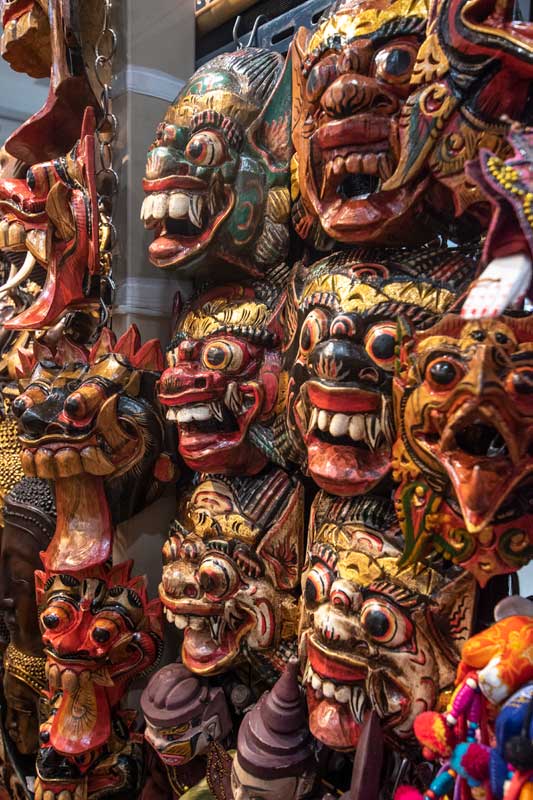 Floors 1 to 3 – the ultimate market mall. Thousands of shops selling souvenirs, local clothing, fake western clothing, gold, and aromas. You can also find some legit stores like Under Armour, Converse, and Samsung. Fast food joints – McDonald's, Burger King, KFC.
4th floor – mobile phones and accessories. Literally hundreds of stalls selling phone accessories, Sim cards, phone repair, and everything phone-connected.
5th floor – furniture stores, Bangkok Post and camera stores (Sony, Nikon, Big Camera, Canon)
6th floor – back with the street market vibe. Mostly souvenir stalls, also luggage storage place and a food court
7th floor – entertainment center with cinema, bowling alley, karaoke, and arcade games
Working Hours: 10:00 AM – 10:00 PM
How to get there: Get a BTS Skytrain to Siam or National Stadium stations
See in Google maps
Pantip Plaza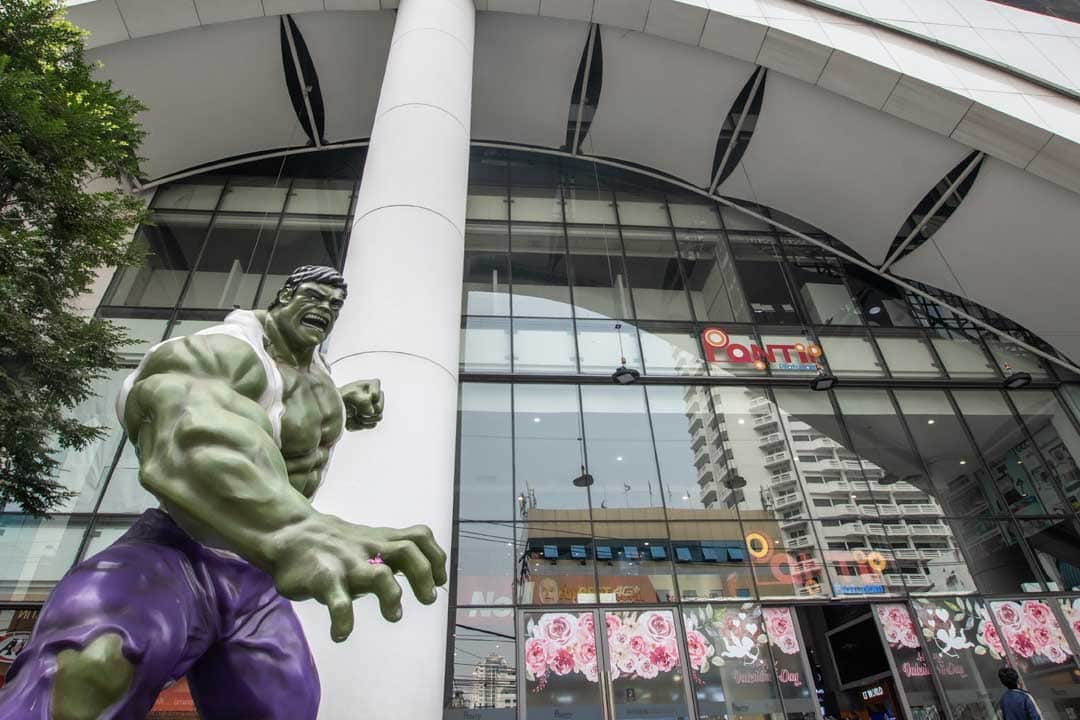 Pantip is the tech mall in Bangkok. It's the best place if you need a laptop, headphones, camera, or any tech accessories. There are also all kinds of games and movies (original and not so original copies). The highlight for me was the highly-detailed comics and movie character models. Even though their price was astronomical (1000+ USD) and the transportation would've been a pain in the ass, It was hard to restrain myself from getting one. The place is the absolute geek heaven!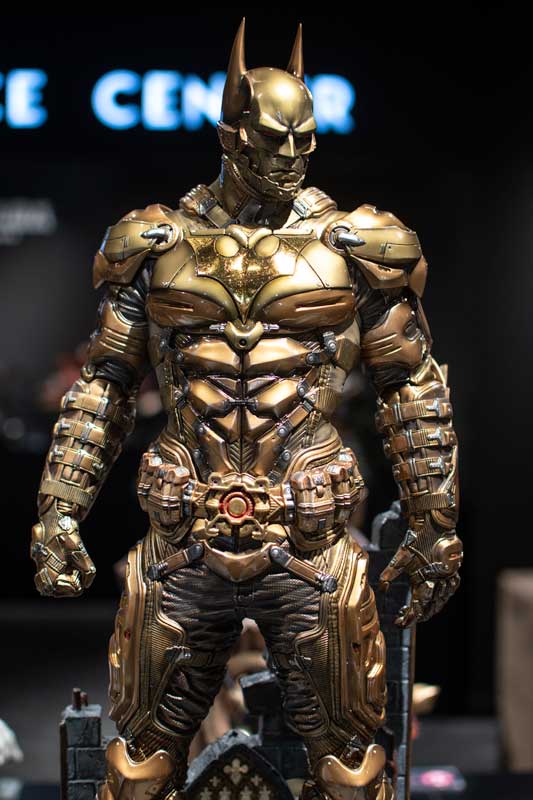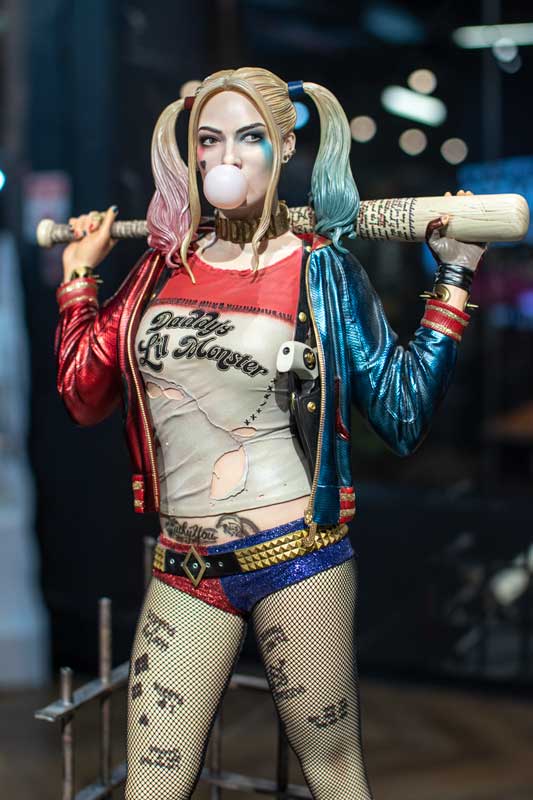 Although most floors looked similar in Pantip plaza, I managed to find some consistency
Ground floor – open area selling everything. Laptops, projectors, printers, games and movies, headphones, cameras, and even some clothes.
1st floor – Mostly phone vendors. You can get a new phone, a fake phone, get your phone repaired or unlocked, or get a new SIM card.
2nd floor – besides the usual tech stores, here are the character models I mentioned. If you can afford it, you can get a detailed model of Batman, samurai Batman, golden Batman, the Avengers, Harley Quin, etc.
3rd floor – mostly computers and IT accessories
The 4th and 5th floors are empty
Working Hours: 10:00 AM – 9:00 PM
How to get there: Get a BTS Skytrain to Ratchatewi or Chit Lom stations and walk around 10 mins
See in Google maps
Platinum Fashion Mall Bangkok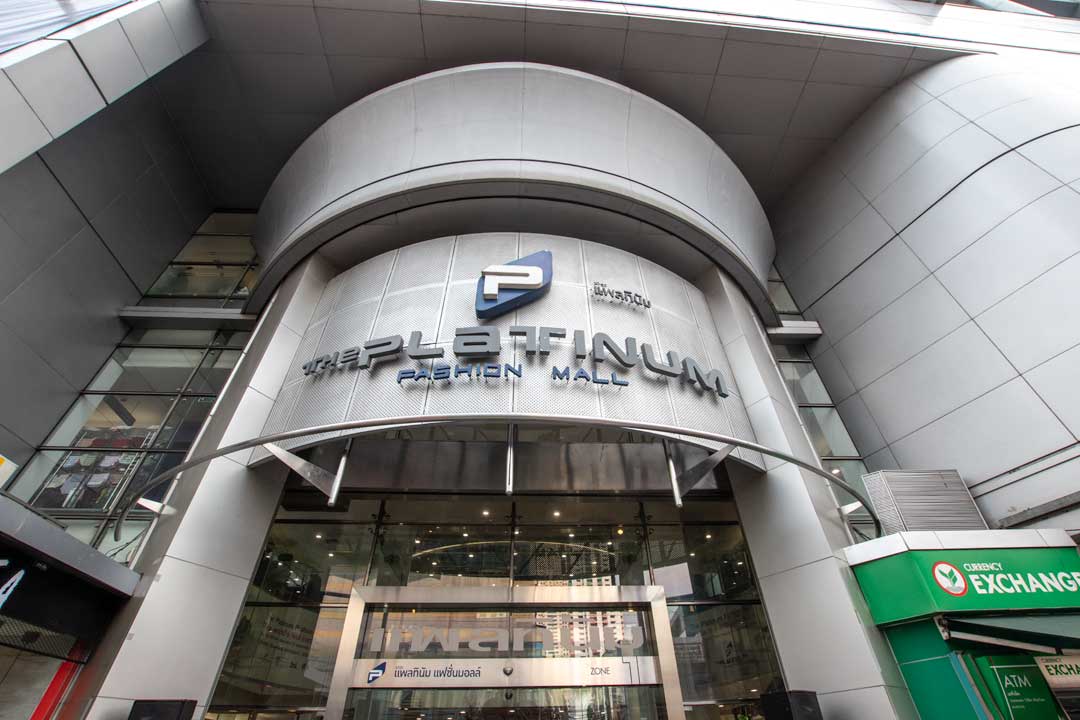 Located right next to Pantip Plaza, Platinum Fashion mall is an exciting place to go shopping in Bangkok…if you're a lady. If you're a guy, there's barely anything for you there.
As the name suggests, this mall is all about fashion. You may find the occasional souvenir stand, but it's mostly women fashion stall after women fashion stall. Local Asian brands and counterfeits are all around this shopping center, and almost every store is on sale. Just like MBK, this mall is more of a market than a mall, so you can put your haggling skills to the test. Also, if you buy more than one piece, you usually get an extra discount.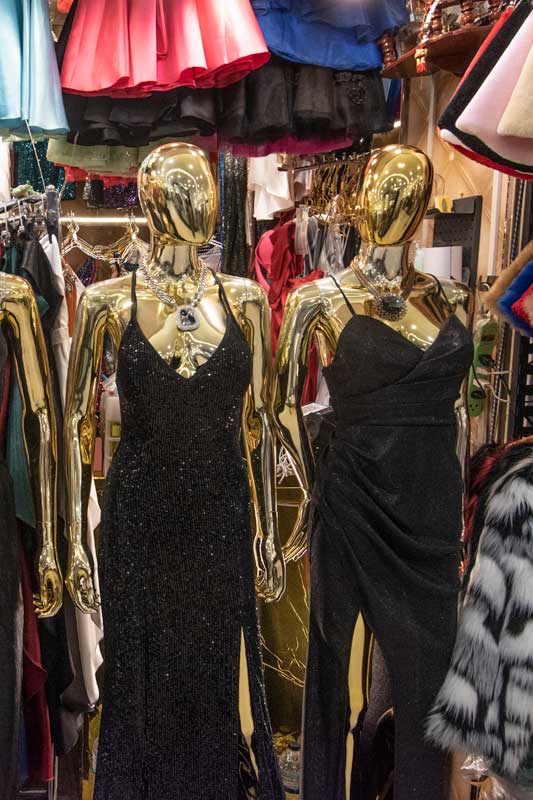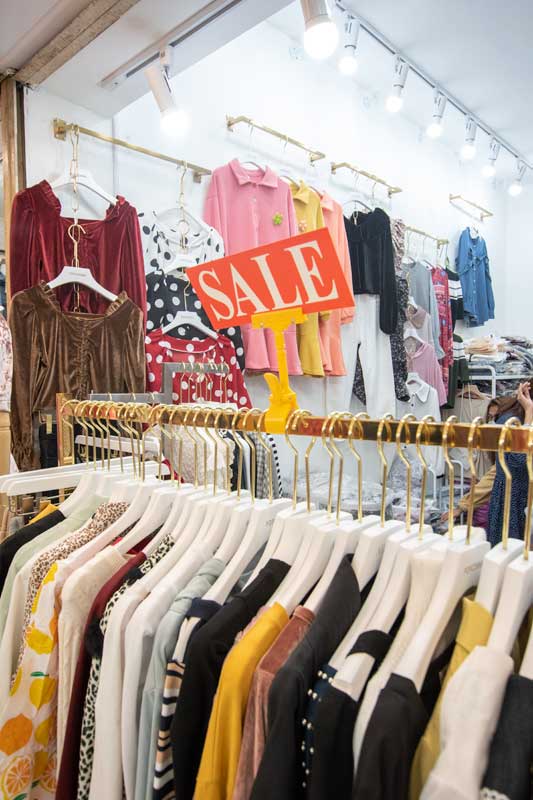 Ground floor to 2nd floor – women's fashion
3rd floor – women's and men's fashion
4th floor – men's fashion & accessories
5th floor – children clothes & accessories
6th floor – food center and mobile accessories
Working Hours:
Monday, Tuesday, Thursday & Friday: 9:00 AM till 8:00 PM
Saturday, Sunday & Wednesday: 8:00 AM till 8:00 PM
How to get there: Get a BTS Skytrain to Ratchatewi or Chit Lom stations and walk around 10 mins
See in Google maps
Where to stay if you want to shop in the Siam Area
Stylish boutique hotel with beautifully decorated rooms and a fantastic roof lounge. Daraya also has excellent massage services, top restaurant, great location (next to a BTS station), and a staff that speaks excellent English (something quite rare in Thailand). Honestly, I can't think of one thing that can make this hotel better.
Check the latest prices
You can also check out my Ultimate Bangkok Areas Guide and find more accommodation options alongside useful tips about the city districts.
Market Shopping in Bangkok
Shopping malls are great and everything, but my Bangkok shopping guide can't be complete without adding a few markets, right?
Chatuchak Market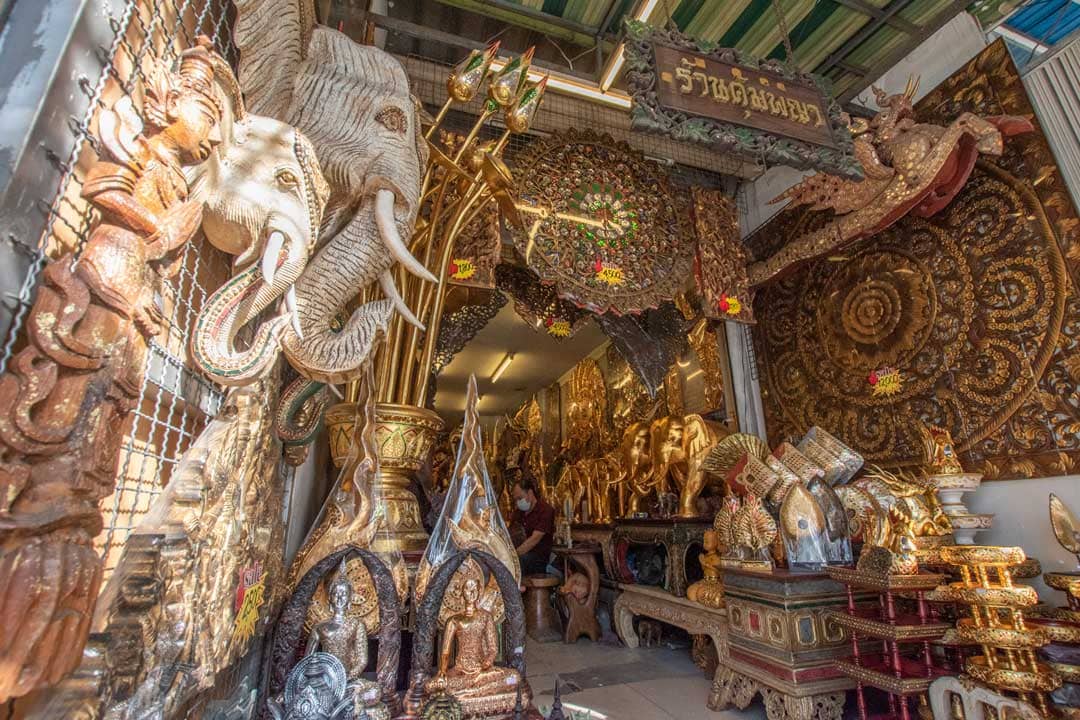 I've been to some of the biggest markets in the world. I've explored Khan el-Khalili bazaar in Cairo, Istanbul's Grand Bazaar, and Morocco's souks. With so much experience under my belt, I can safely say, Chatuchak is in a league of its own. With 15,000 stores and over 200,000 visitors weekly, the Chatuchak Market is one big chaotic place where you can find anything. From tasty Chinese pancakes to stuffed crocodile wearing red socks and a cowboy hat this weekend market is the ultimate shopping paradise.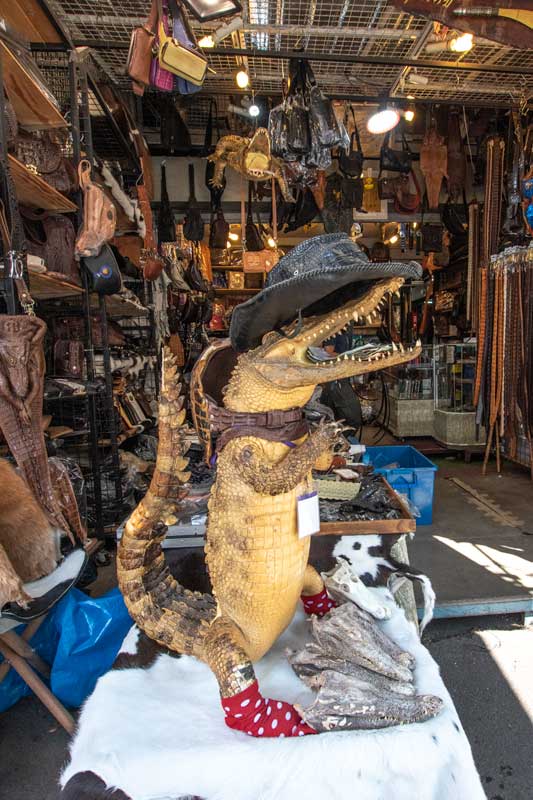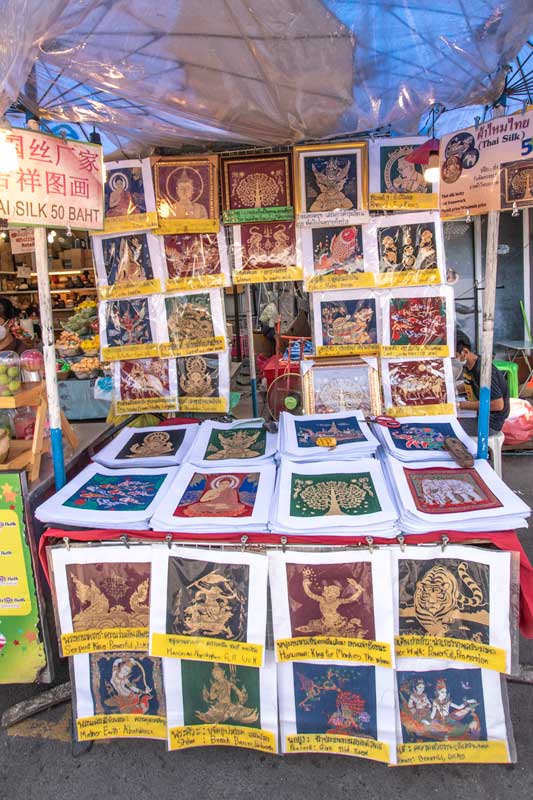 Put on your most comfortable shoes, brush up your haggling skills, and don't be afraid to get lost (cause you eventually will).
Working Hours:
Wednesday and Thursday 7:00 AM-6:00 PM (Plant section only)
Friday 6:00 PM-12:00 PM (Wholesale only)
Saturday and Sunday 9:00 AM-6:00 PM (Whole Market open)
How to get there: Get a BTS Skytrain to Mo Chit Station or MRT (metro) to Chatuchak Station
See in Google maps
Pratunam Market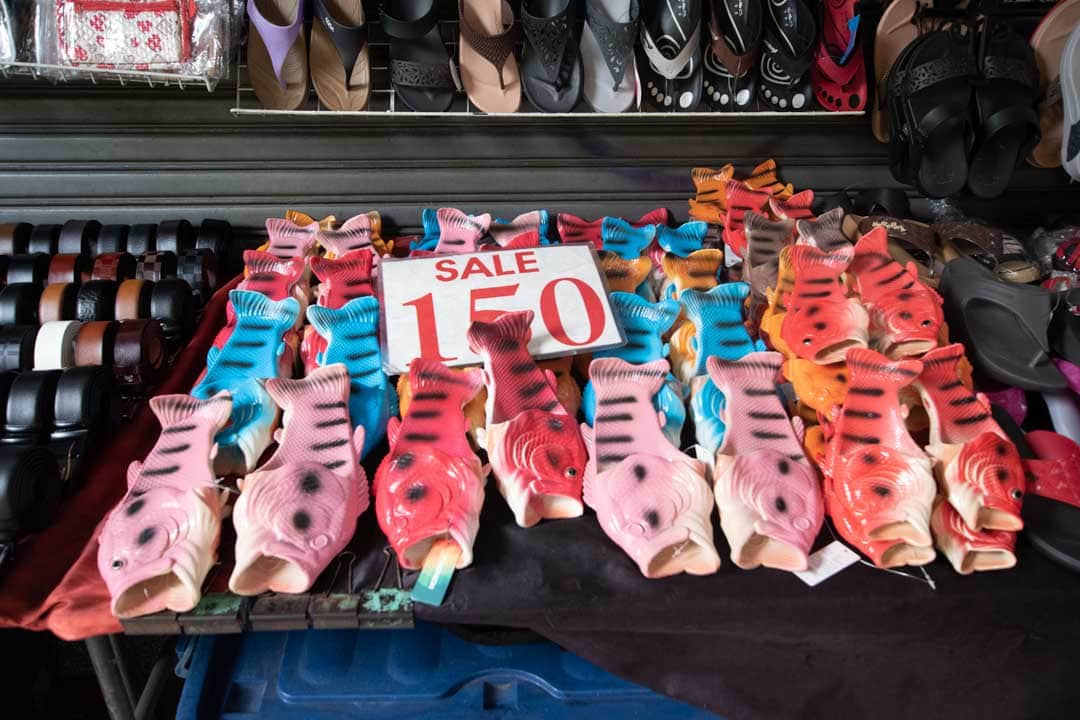 This market is more of a local hidden gem. Famous for its wholesale options, Pratunam is focused entirely on fashion. From local brands to brand imitations, the market has plenty to offer. Although most of the prices are already low, as customary to all markets, haggling is expected.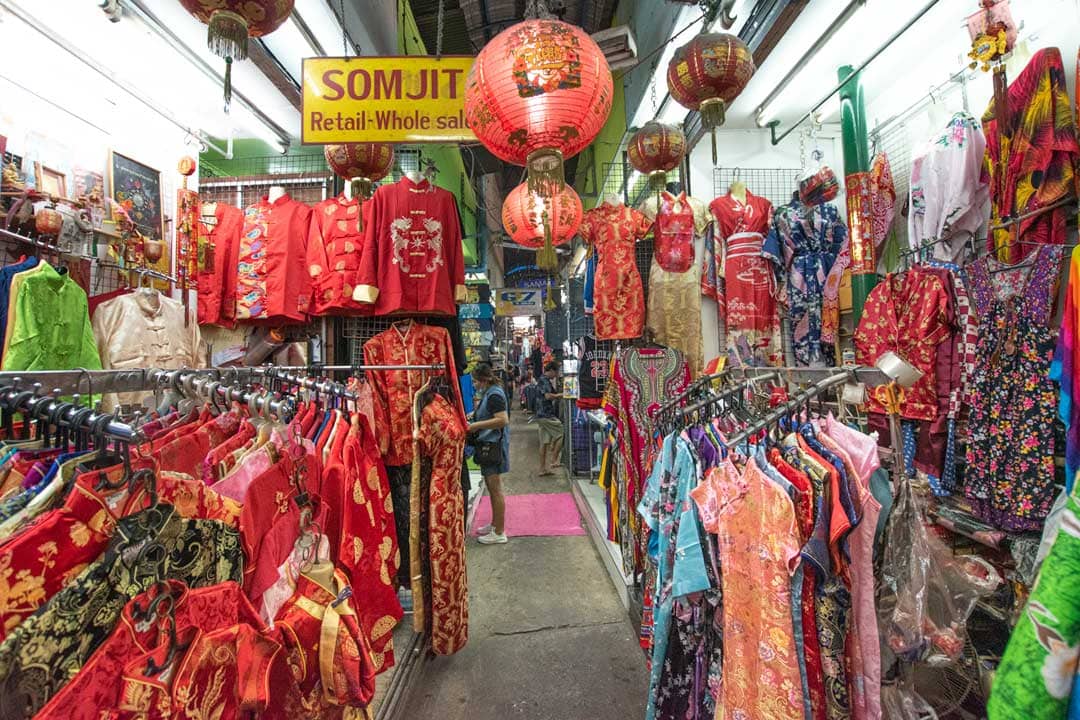 Pratunam is located close to the Siam shopping centers and can easily be included on a shopping spree day. You can find the wholesale stalls all around the Indra hotel.
Working Hours:
Pratunam Morning Market in front of Baiyoke Building is open from 4:00 AM to 9:00 AM
Pratunam Day Market in front of Baiyoke Building is open from 7:00 AM to 3:00 PM
The market inside air-conditioned mall is open from 11:00 AM to 4:00 PM
Pratunam Night Market is open from around 7:00 PM to 3:00 AM

How to get there: Get a BTS Skytrain to Ratchathewi or Chit Lom stations and go on foot from there
See in Google maps
Rot Fai Night Market 2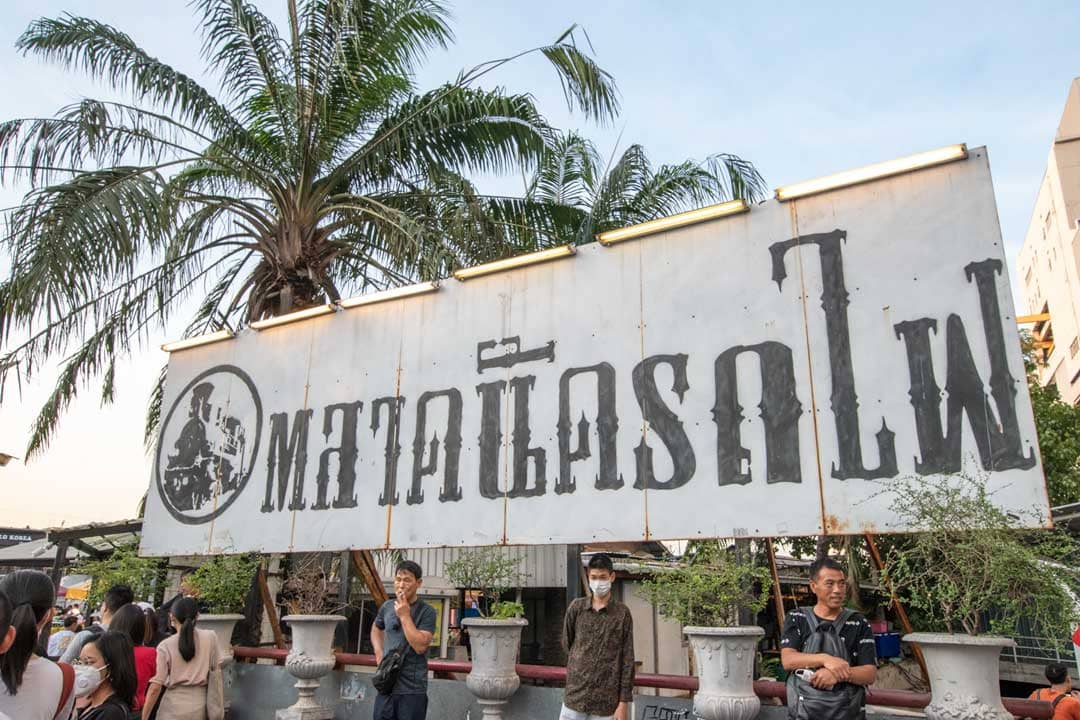 The new train (no trains there, no idea why it's called that) market is a smaller version of the original Rot Fai Market, and it's my favorite night market in town. So why is this one on the list but not the original? Well, the original is located really far away, and it's more focused on local customers. At the same time, Rot Fai 2 is more tourist-friendly with hundreds of restaurants, thousands of stalls, and has the biggest durian shopping scene I've seen in Thailand. Seriously, you can find durian treats on every market, but there are dozens and dozens of stalls in Rot Fai.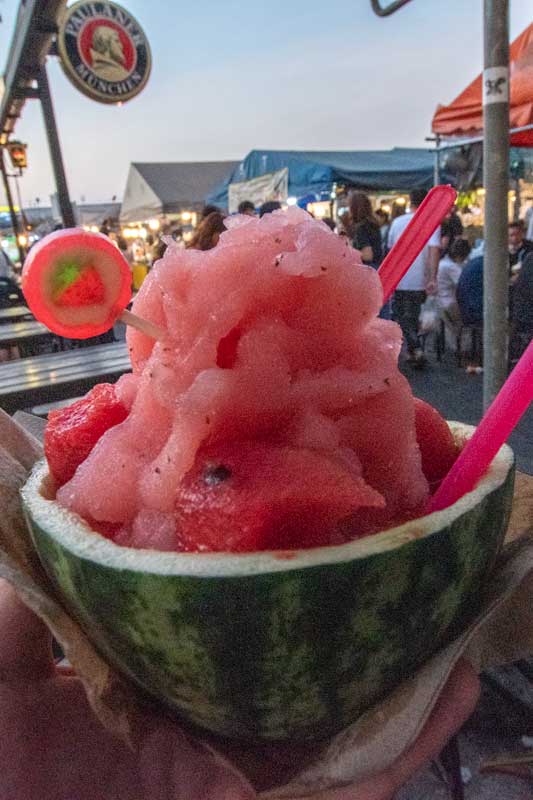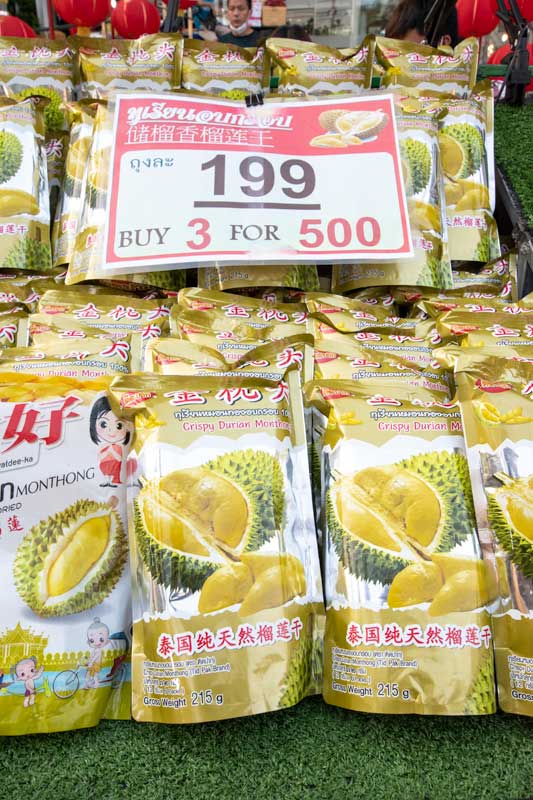 Make sure also to try their signature watermelon smoothie. It's served in mini watermelon rind, it's enormous, and honestly, it requires some effort to be completed. Heavenly delicious and refreshing, though.
Working Hours: Thursday – Sunday 5:00 PM to 01:00 AM
How to get there: Get an MRT (metro) to the Thailand Cultural Centre station.
See in Google maps
That's all from me, I hope you enjoy my Bangkok shopping guide.
————————————
If you haven't planned your trip there yet, find out how I plan my trips!
————————————
I have 32 bucket list ideas for Thailand. See my impossible bucket list of 1700+ adventures!

What's your favorite Bangkok shopping place?
---
Some of the above are affiliate links and I will earn a percentage of the sale if you purchase through them at no extra cost to you. This helps keep my site running – so thanks in advance for your support!