The things Morocco is famous for are both colorful and exotic enough to guarantee that a journey to the mystical Northern African kingdom would be a memorable one.
If you are a Disney's Aladdin fan and want a taste of the romantic Arabian culture, Morocco is your country. The confusing medinas, the overflowing souks, the food, the clothing, everything feels so much Aladdin-like that no other nation can come even close.
Aladdin's home city, Agrabah, is actually made to mimic Baghdad. Since I doubt a lot of you fancy a trip to Iraq and quite frankly, Baghdad today is not the romantic Arabian city it used to be, there's no better place for Middle Eastern adventures than Morocco.
From the Sahara Desert's never-ending sands to the magnetic Marrakech medina, dust off your flying carpet because we're about to go deep and find the answer to the question – what is Morocco famous for.
Spices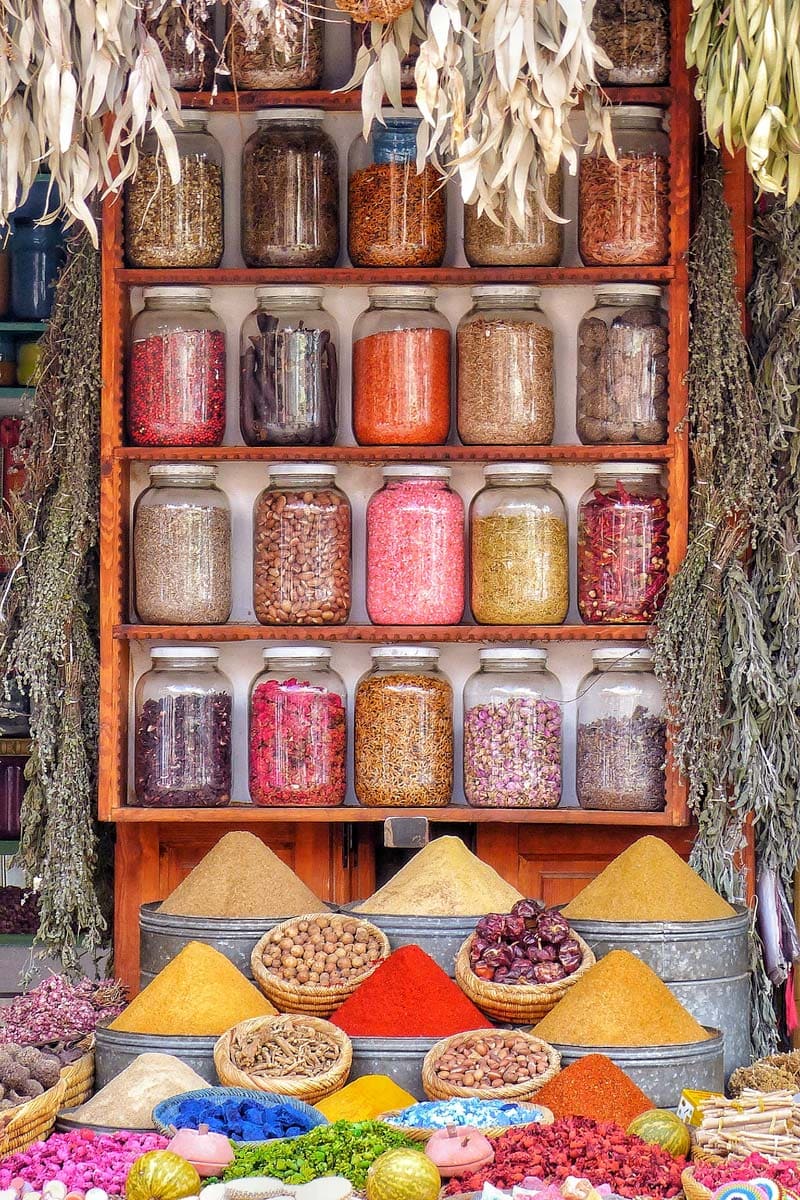 Spices hold the essence of Morocco. While in most countries spices are all about taste and smell, the Moroccans have added a third dimension to them – looks. Yes, Moroccan spices taste good, smell good and look even better.
Brightly colored and carefully arranged, the spices stalls are among the most photographed attractions in the country. Complemented by (in most cases) an exotic moustached, turban-wearing salesmen, it's easy to see the appeal of this fascinating combination.
Some of the spices Morocco is famous for are Saffron, Paprica, Cumin, Cinnamon, White Pepper, and the unique Ras el hanout – a mix the locals like to use on almost every dish.
Sahara Desert
The biggest, most popular, and, if you ask me – most enchanting desert in the world – Sahara is a bucket-list material destination that should be visited at least once in life.
The desert is enormous. It stretches over 11 countries, one of them being Morocco. While only a small part of Western Sahara (officially) belongs to the kingdom, Morocco is still considered the best country to experience the magnetic desert. How come? A few things, actually.
Moroccan Sahara is as safe as it gets, something not that prevalent in Africa. It has also been a popular tourist attraction for years, so the Moroccan Berbers have developed plenty of tourist packages making it easily accessible. Last but definitely not least, this part of Sahara (especially around Merzouga) is one of the most picturesque places imaginable.
Countless dunes disappearing on the horizon, silky red sands under your feet, camel caravans, billion stars every night, combined with authentic and peculiar hosts – the Berbers, give you the most perfect desert combination on the globe.
Atlas Mountains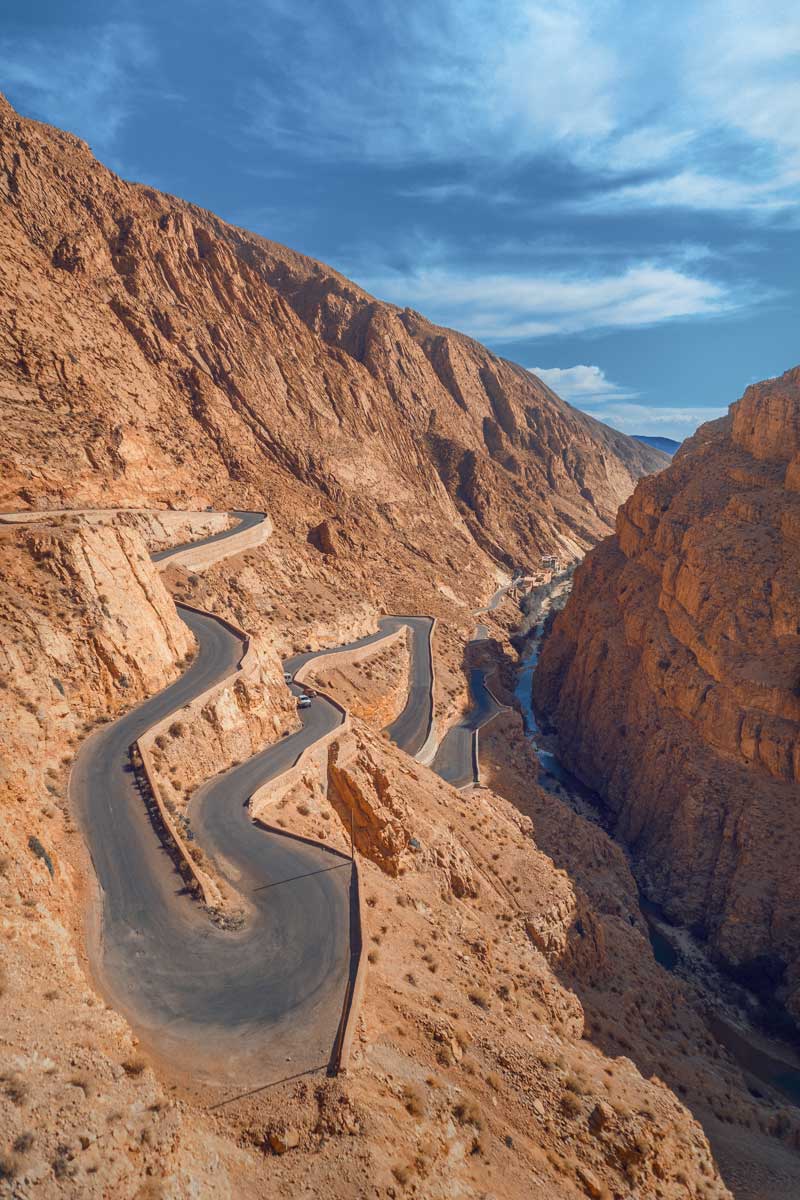 Not nearly as extensive or as popular as Sahara, imagine my surprise when I asked a local What is Morocco famous for, and I got the answer – the Atlas Mountains.
I was aware of them, of course, but in my mind, they were never the highlight of the country. For some reason, I've always imagined Моrоcco as a desert-dominated state, and it turned out, the majority of the country's landscape is a mountain one.
Psst! I've got plenty of other curious facts about Morocco. Don't miss them!
The Atlas Mountains are the country's dominant mountain range, featuring the tallest peak in Northern Africa – Mount Toubkal (13,665 feet / 4,165 meters).

To fully explore the Atlas Mountains, you'll need more than two weeks, but be sure it will be a journey like no other. The mountains are famous for their always-changing landscapes, oases, peculiar natural life (including the cute but conniving Barbary macaques), and incredible landmarks like the UNESCO-recognized Ait-Ben-Haddou and the breath-taking Todra Gorge.
See Also: What is Portugal Famous For?
Marrakech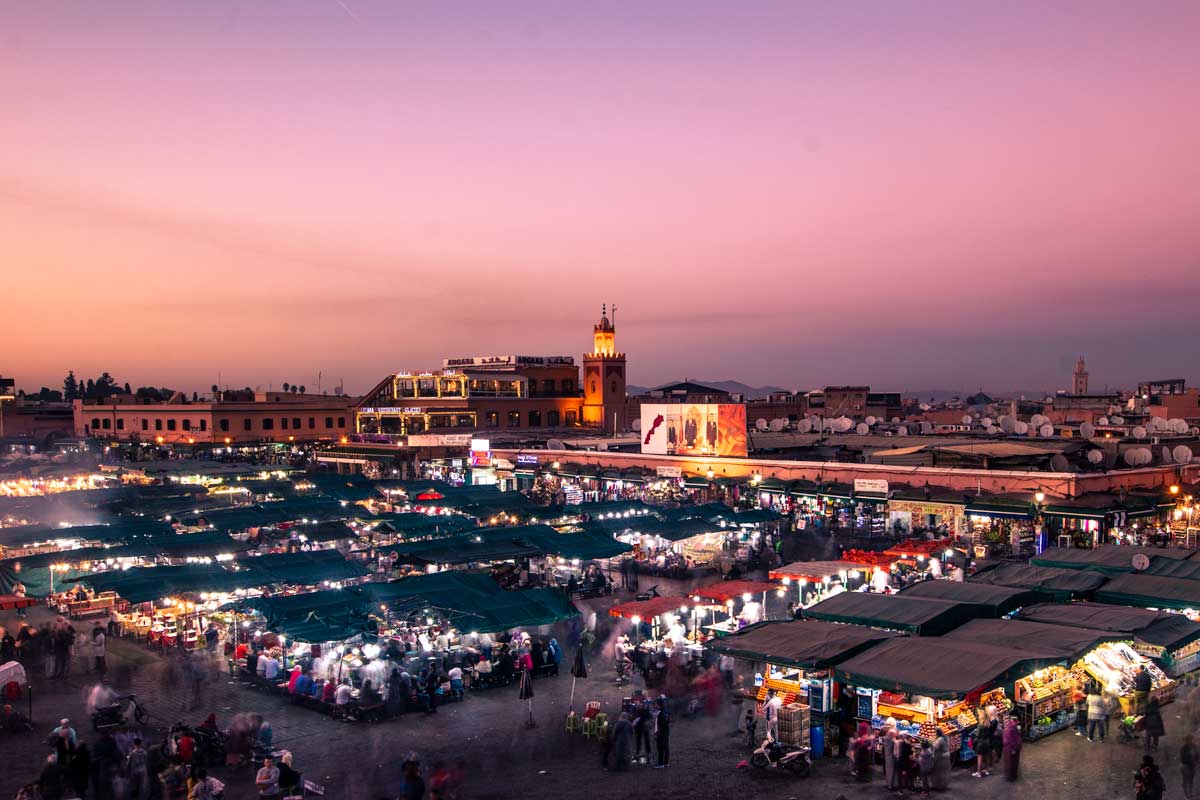 Ah, Marrakech! One of the most mystical and romanticized cities on Earth. When talking about what Morocco is famous for, we simply cannot look past the Red City.
Easily the country's most popular destination, Marrakech is visited by nearly 3 million tourists per year. With plenty of things to see and do (and not to do) such as Djemaa el-Fnaa square, Majorelle Gardens, Saadian Tombs, The Badi and Bahia Palaces, and Koutoubia Mosque, Marrakech is out there competing with the most exciting cities in nearby Europe.
Psst! Check out everything Marrakech is famous for!
If you're planning a trip to Morocco, Marrakech should be the cornerstone of your journey. Not only will your flight probably land there, but it's also situated somewhat in the middle of the country, making it a good starting point to the other top destinations in Morocco (like Fez or Essaouira).
Chefchaouen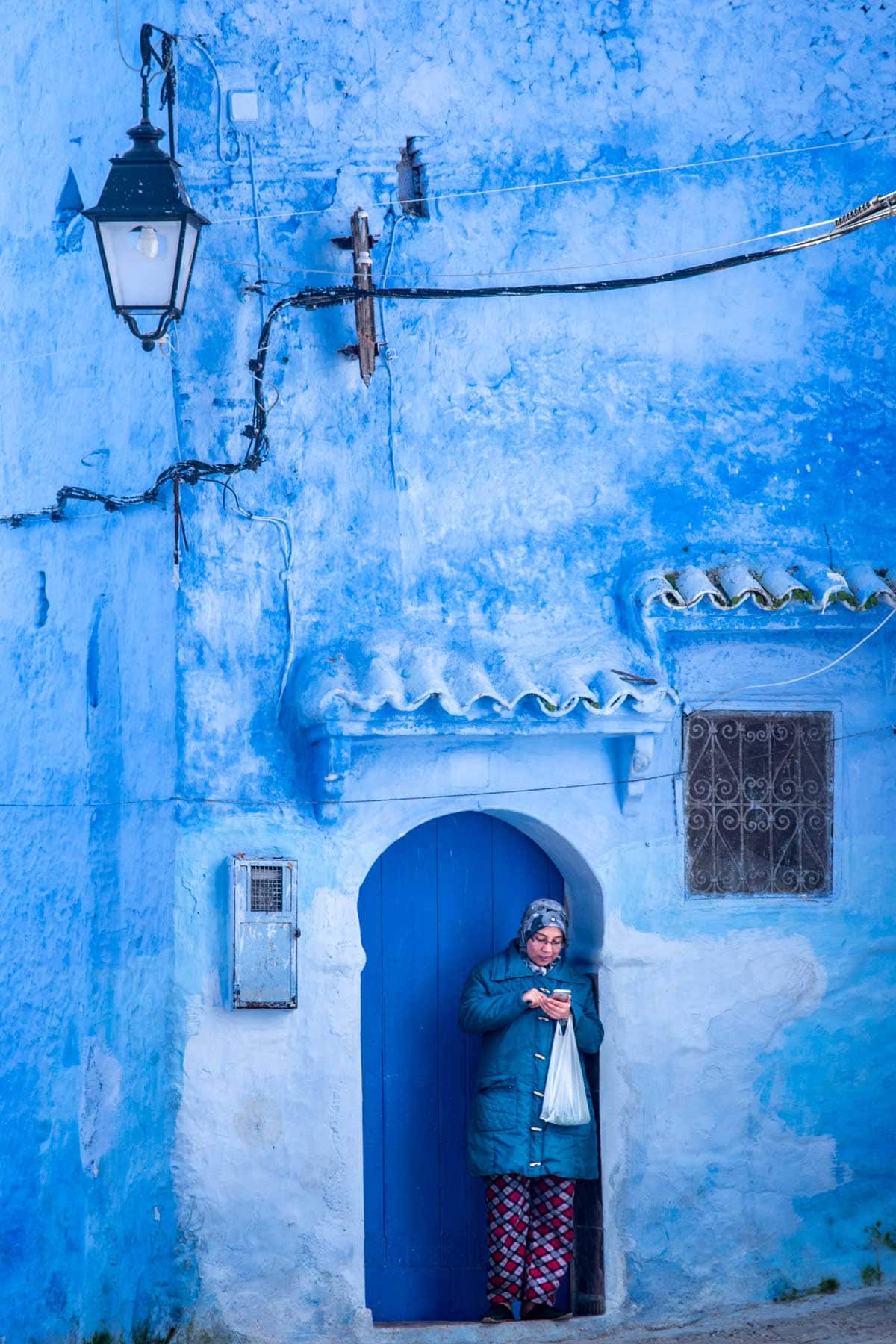 If you ask an Instagrammer what Morocco is famous for, the answer you're gonna get is Chefchaouen.
Chef-cha-chu-what?
The hard-to-pronounce mountain town is one of the most peculiar and photogenic cities on the planet. The Blue Pearl of Morocco gained worldwide fame since the whole town is painted in baby blue color.
Yes, everything in Chefchaouen is blue. Streets are blue, shops are blue, doors are blue, food is blue, ok maybe not the food, but everything else really is blue. You've probably seen some Chefchaouen pictures on Instagram, and you may be a little bit skeptical. I can see why. Plenty of places that look magical online are quite disappointing in real life.
Well, Chefchaouen is not one of these places. The small mountain town is a unique experience, and if you have the time, I urge you to spend a couple of days there and explore it at dawn. The eerie blue streets, free of tourists, are a treat like no other!
Medinas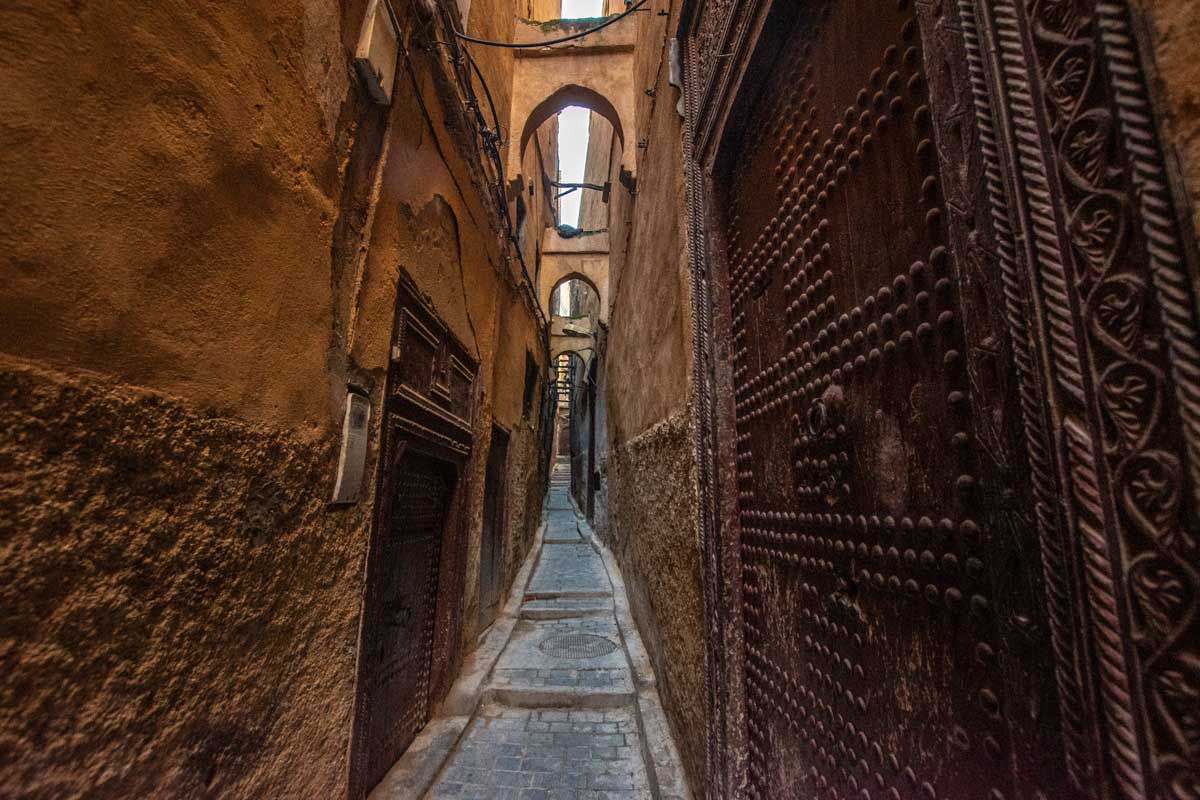 The medinas are my favorite part of Morocco! But first things first, what exactly is a medina? The old walled parts of the Northern African cities are called medinas. Once they housed the entire town, today they are just a quarter but still the most enchanting historical quarter there is.
Have you seen a rat maze? The ones with just enough space for the rat to move and countless different turns? Well, imagine the same thing but for humans. This is what being in a medina feels like – navigating a giant rat maze.
Don't worry that you're gonna get lost. That's a certain thing. Getting lost in a medina, however, is just a new way to find hidden treasures and experiences; all you have to do is keep walking in a particular direction and not mind having no idea where you are.
See Also: What is Greece Famous For?
Souks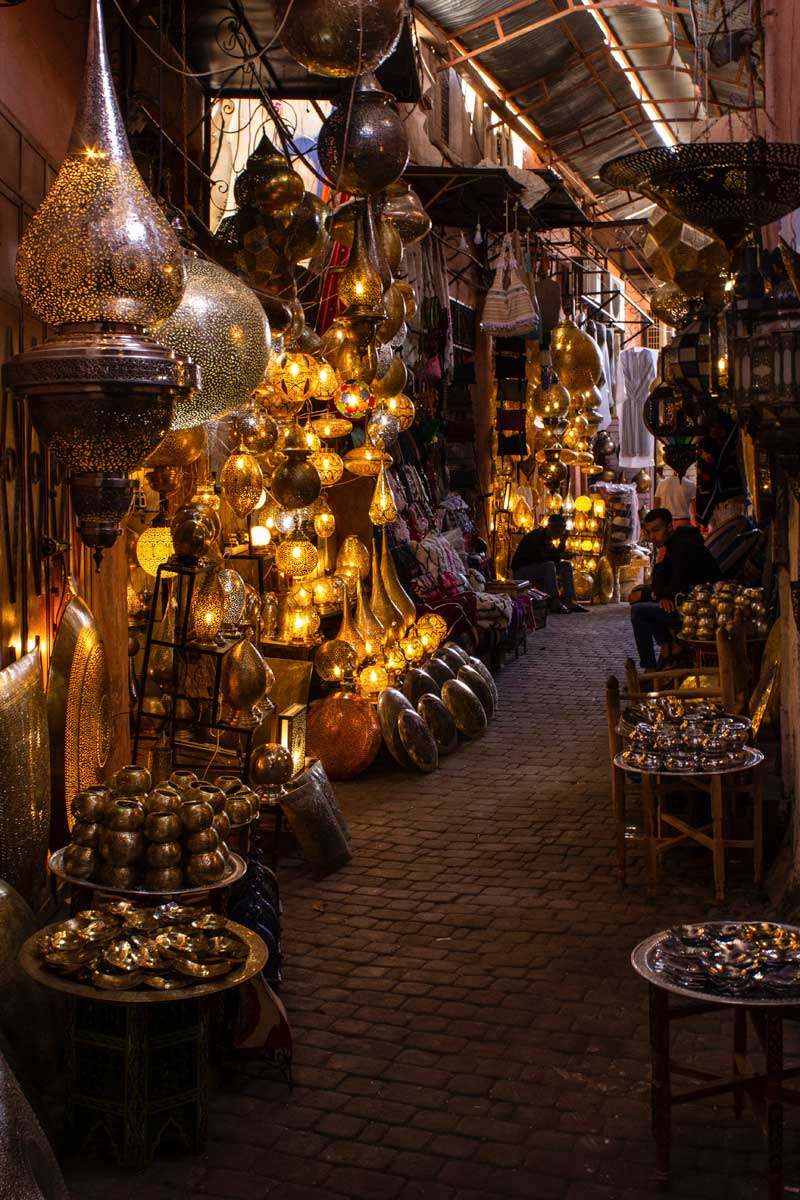 Speaking of medinas, we can't miss the souks. Undoubtedly one of the things Morocco is known for, a souk, is the medina's market.
The remarkable thing about those markets is that although at first, they may seem chaotic, in reality, they are well-grouped and organized according to the products they sell. Once you get comfortable navigating the maze, you can find everything Moroccan there. From countless lamps and lanterns to Berber carpets and tourist souvenirs such as babouches (shoes) and other leather goods, the souks are a one-of-a-kind journey for travelers.
Just don't forget to haggle. Some of you may feel uncomfortable haggling, but you have to remember this is more than just a custom in Morocco; it's something mandatory and expected. Therefore, the price of the items is ridiculously inflated. Even if the stated price does not bother you, keep in mind that a good haggler may reduce the cost by more than 50%.
Riads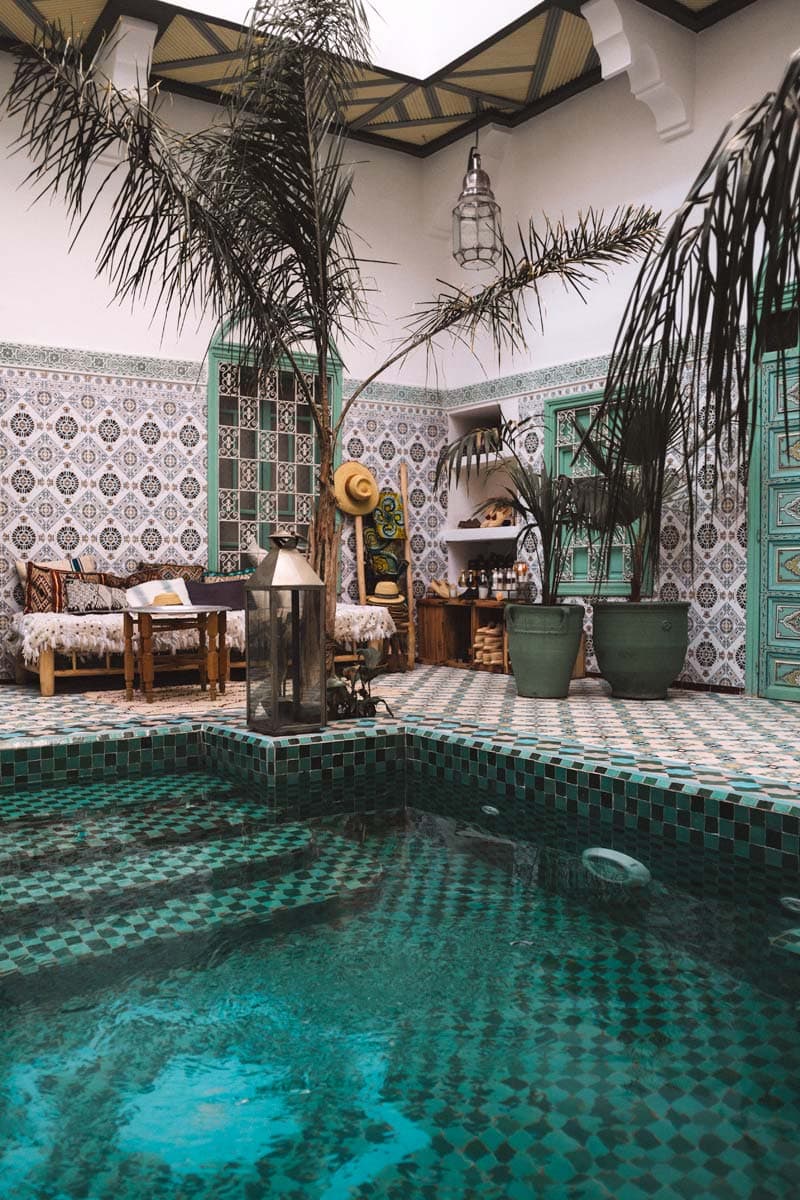 Have you seen a Moroccan house? Probably not. That's because most Moroccans don't live in houses but in riads.
What's a riad?
Deriving from the Arab word ryad (meaning garden), the riads are townhouses built around an inner courtyard or, well, garden. They look a bit shabby from the outside, but their interior is entirely the opposite – opulent and well-crafted.
Since in most parts of Morocco, the weather is warm all year round and mercilessly hot in the summer, riads are designed to keep cool. That's pretty awesome if you visit during the hot months but if you're somewhere north during the winter (December – February), better make sure your riad has a heater. Trust me, the Moroccan houses work pretty well keeping cool, which does not combine well with low temperatures.
Moroccan Food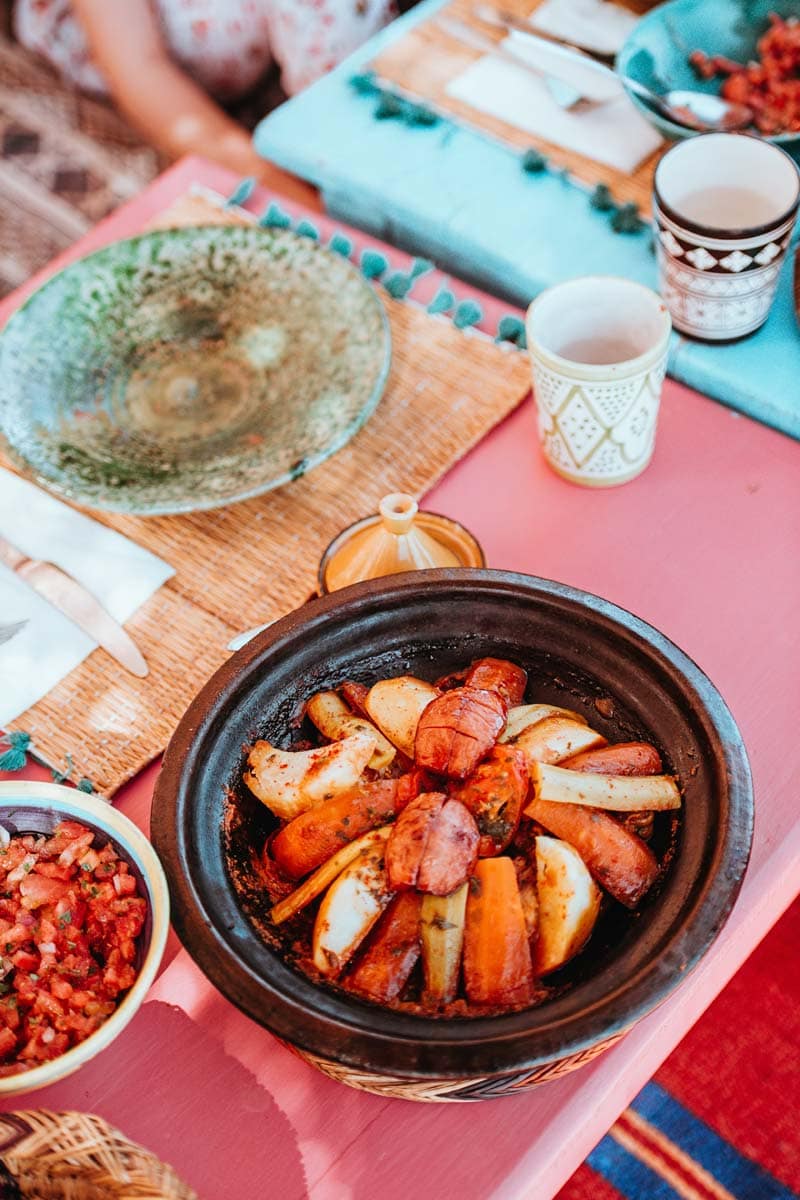 Before my journey there, I asked a foodie friend who used to live in Marrakech, what is Morocco famous for? His answer was tagine. The second one was camel meatballs. While I knew what meatballs are (although I didn't think they made them from camels, too), I had never heard of tagine (yeah, not a foodie here).
It turned out tagine is some sort of a stew that is a prime example of the world-renowned Moroccan cuisine. And it's pretty delicious. I dig a bit deeper into the Moroccan food scene, and guys, if you're like me and you didn't know about it, you should definitely try it right now! Moroccan dishes are fantastic!
Besides the tagine, the most famous Moroccan specialties are:
B'ssara (breakfast bean soup).
Fish chermoula (in the coastal cities).
Kefta tagine (tagine with meatballs).
Couscous (fine wheat pasta).
Makouda (deep-fried potato balls – a legendary street food).
See Also: What is Spain Famous For?
Mint Tea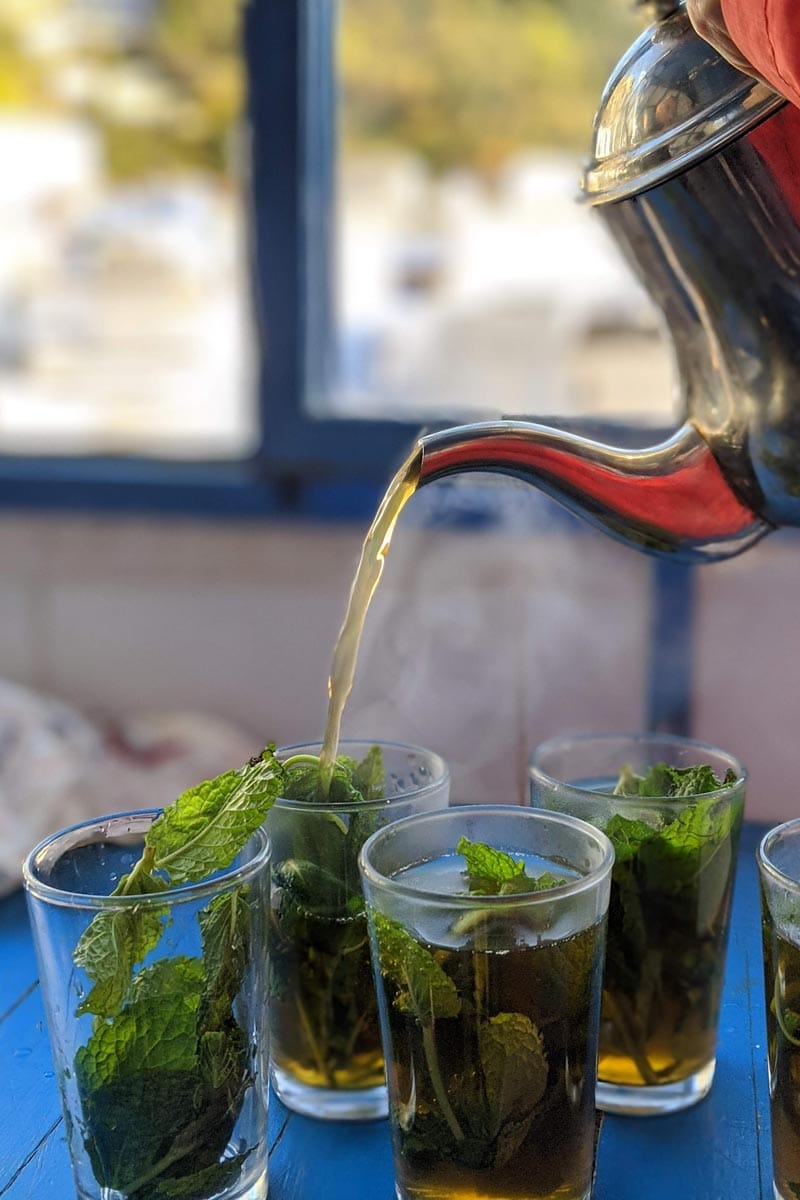 Mint tea is popular all around the world. The Moroccan mint tea, however, is more than just a tea. Moroccan mint tea is an emblem of the country.
Since Muslims are not allowed to drink alcohol, they nicknamed their tea- Moroccan whiskey and drink it all the time. Seriously, all, the, time! Early in the morning, there are kids distributing tea around the merchants. At lunch, they have tea with their meal. In the afternoon, they drink tea to refresh themself. I haven't been to a Moroccan home at night, but they probably have tea before going to bed too.
Why is mint tea so popular in Morocco? Well, it is robust, refreshing, versatile, and simply delicious.
If you need only one answer to what's Morocco famous for, mint tea is probably the best one. It's pretty widespread globally, tastes incredible, and I'm pretty sure most people are familiar with it.
Castaway Fact
When you get your tea, you may notice the waiter lift their hand while pouring it. This is a local ritual and a sign of respect. The higher the pot, the bigger the respect (therefore deserving a larger tip).

Argan Oil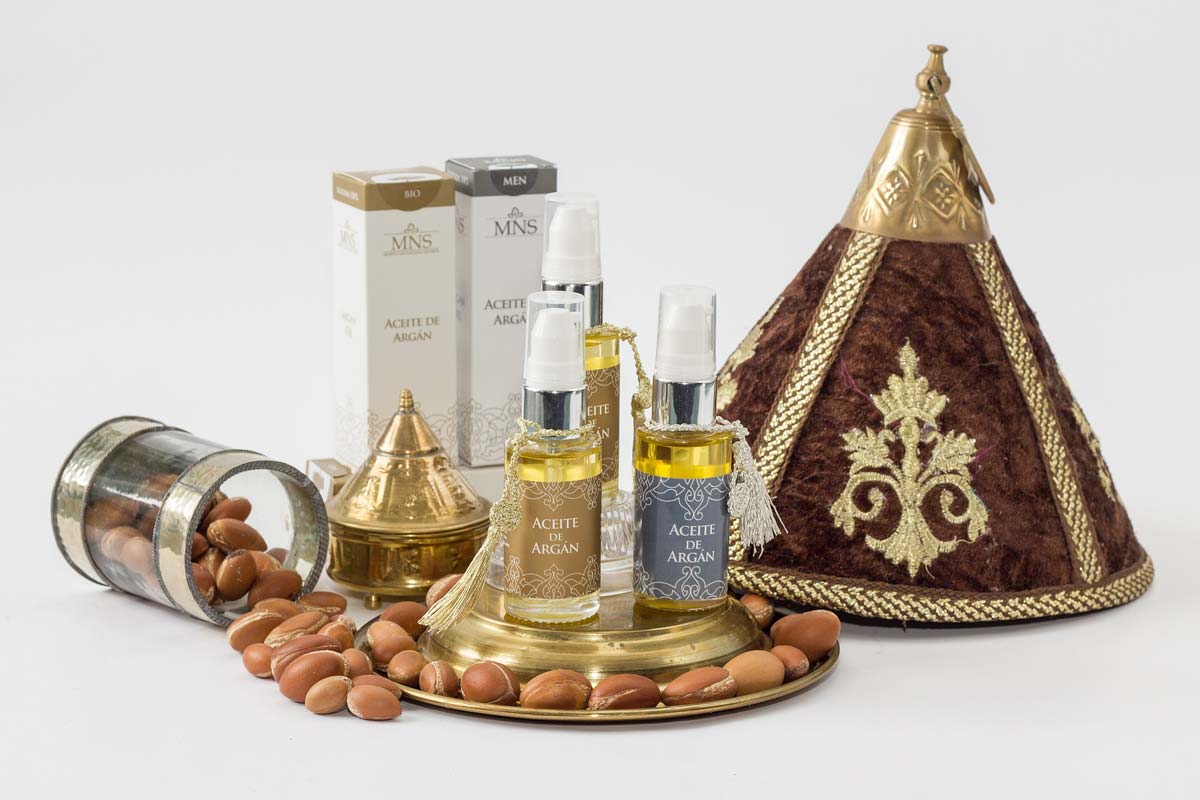 What Morocco is famous for among girls (especially the ones with nice hair) is argan oil. The south region of the country is exceptionally rich in argan trees, and it's a great place to buy natural argan oil made in the traditional Berber way.
Nicknamed Morocco's liquid gold, argan oil is to Moroccans what olive oil is to Italians. They use it for beautifying, culinary, and even medicinal purposes with great success.
Cats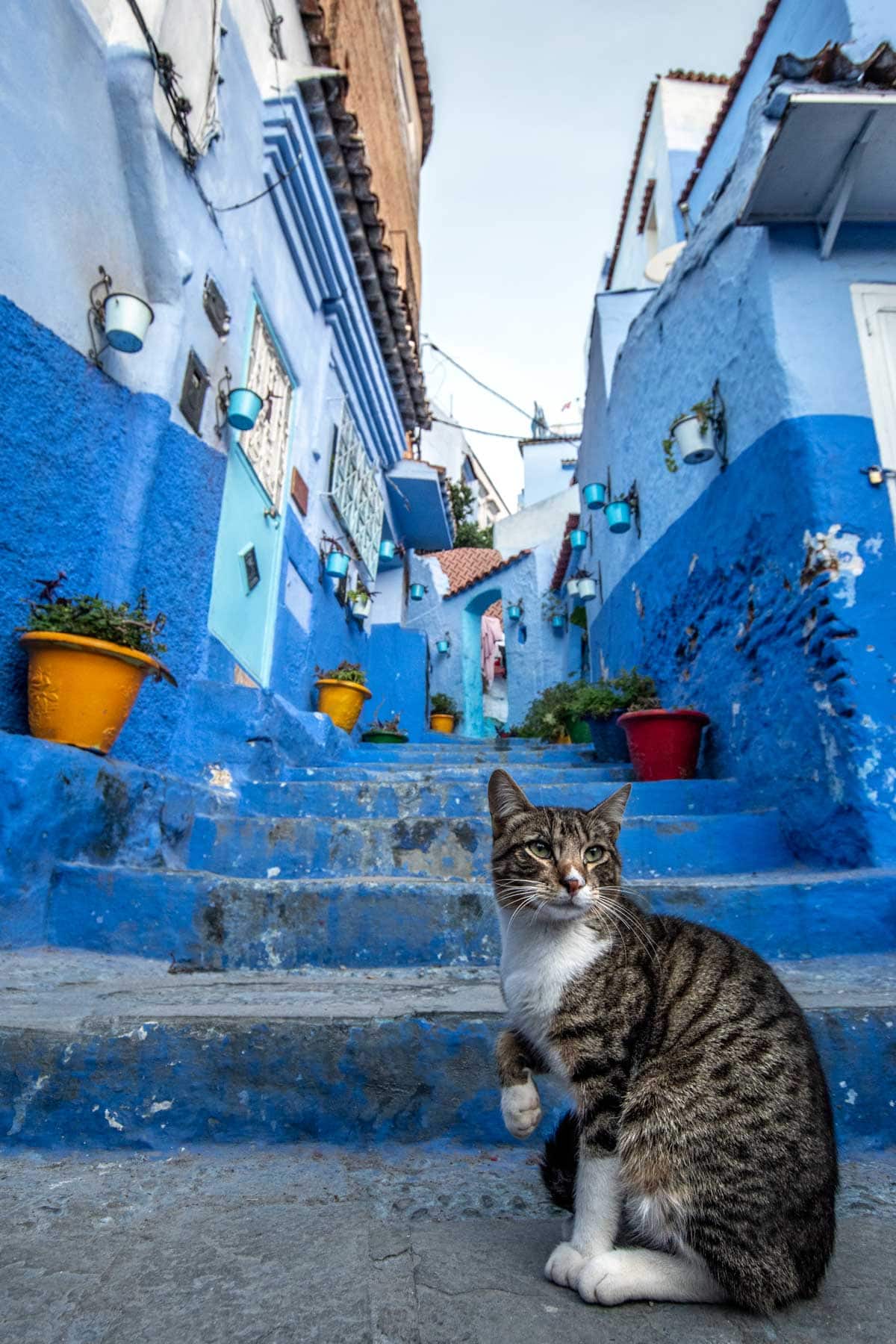 Yup, cats! Internet's favorite animal is also Morocco's favorite one too(no, it's not the camels. They may be useful but have a horrible temper). No matter the city or area you are in (even in the desert ones), there are numerous cats. All the locals seem to love them and take care of them.
Contrary to that, there are hardly any stray dogs. When I asked what's the reason for that, the answer I got was quite interesting. It turned out, according to the legend, a cat saved Islamic prophet Muhammad from a snake. Some striped cats are believed to bear the prophet's fingers' mark, making them even more admired.
Since cats are also useful against the rat armies living in the medinas, their populations were left to grow undisturbed, reaching the staggering amounts we see today. If you're allergic to cats, Morocco is not your country.
See Also: What is Dubai Famous For?
Hammams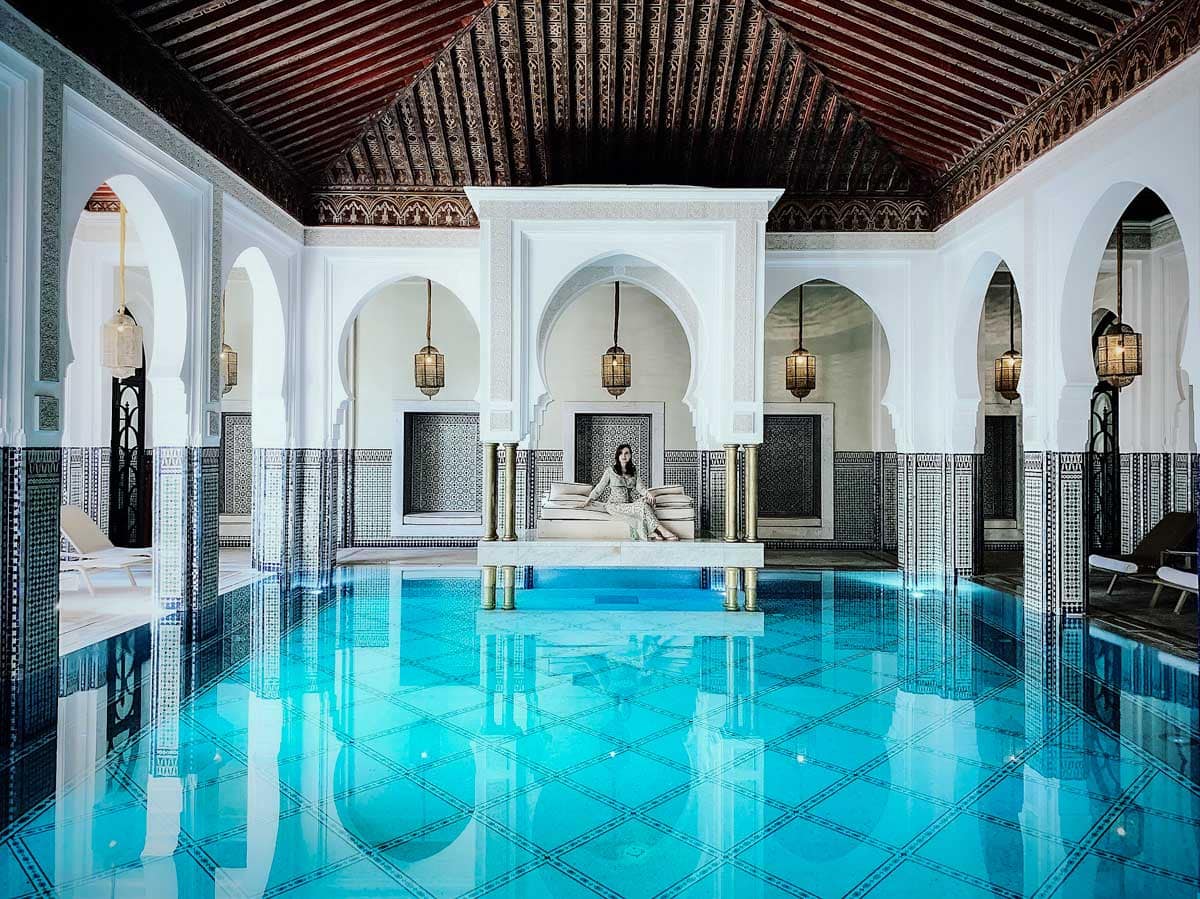 I have to admit; hammams are not the first thing that comes to my mind when I think about things Morocco is famous for. I mean, I've only been to a regular western SPA twice in my life, and I didn't even want to go!
Traditional Moroccan hammams, however, are incredible, even for someone like me. Taking place in a steam room and lasting up to 1,5 hours, the hammam experience is quite relaxing and relatively cheap. No wonder plenty of Moroccans visit them on a daily basis.
Even though pampering with top Moroccan cosmetic products sounds like something more fit for the ladies, I'm sure plenty of gentlemen would enjoy the experience, especially at the end of their trip.
The Casablanca movie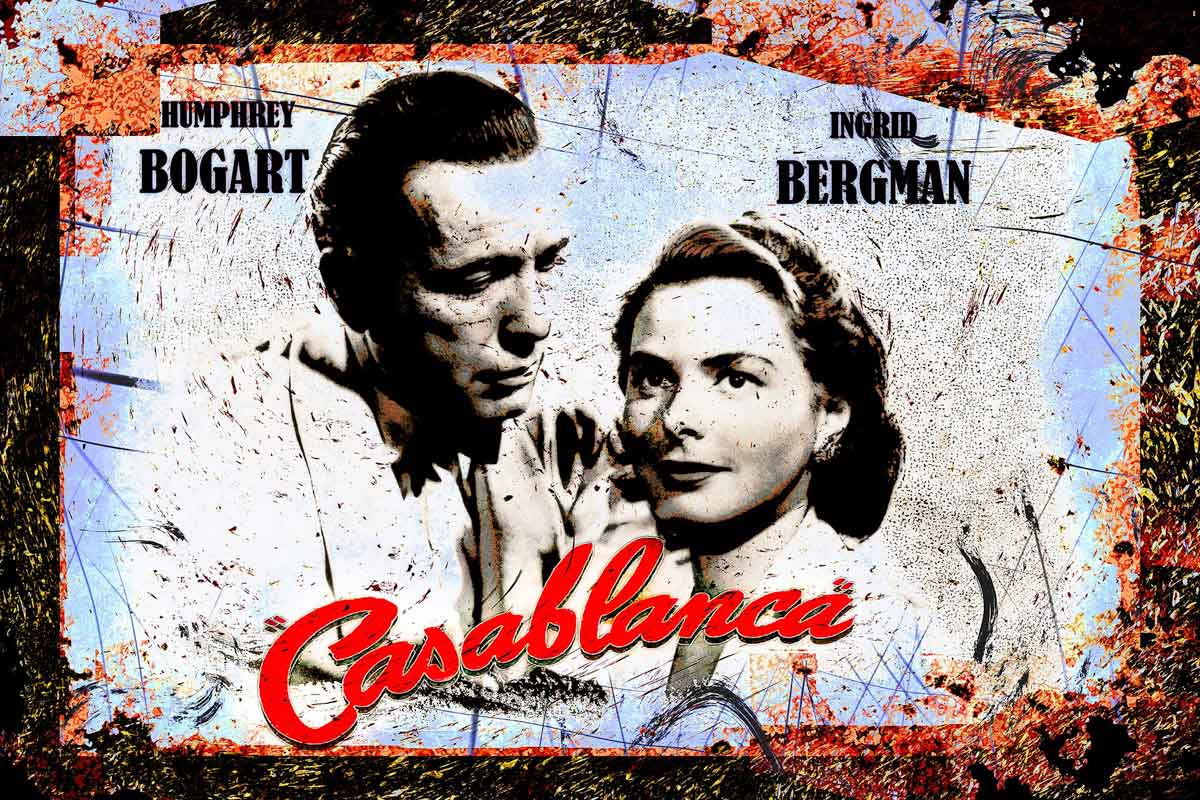 Casablanca is one of the biggest and most developed cities in Morocco. It's also the name of one of the most classic movies in history.
An all-time fan favorite, Casablanca features Humphrey Bogart and Ingrid Bergman and is considered one of the best romantic dramas ever. The city nowadays, however, has nothing in common with the one in the movie (which was not shot in Morocco but a Warner Bros studio). There's indeed s Rick's Cafe that looks like the one in the film and sells Casablance-themed souvenirs, but that's pretty much it.
If Casablanca is on your Moroccan itinerary, make sure to check out its most prominent attraction – Hassan II Mosque. The only mosque that allows visits of non-muslims, the giant temple is one of the biggest Moroccan landmarks.
Djellabas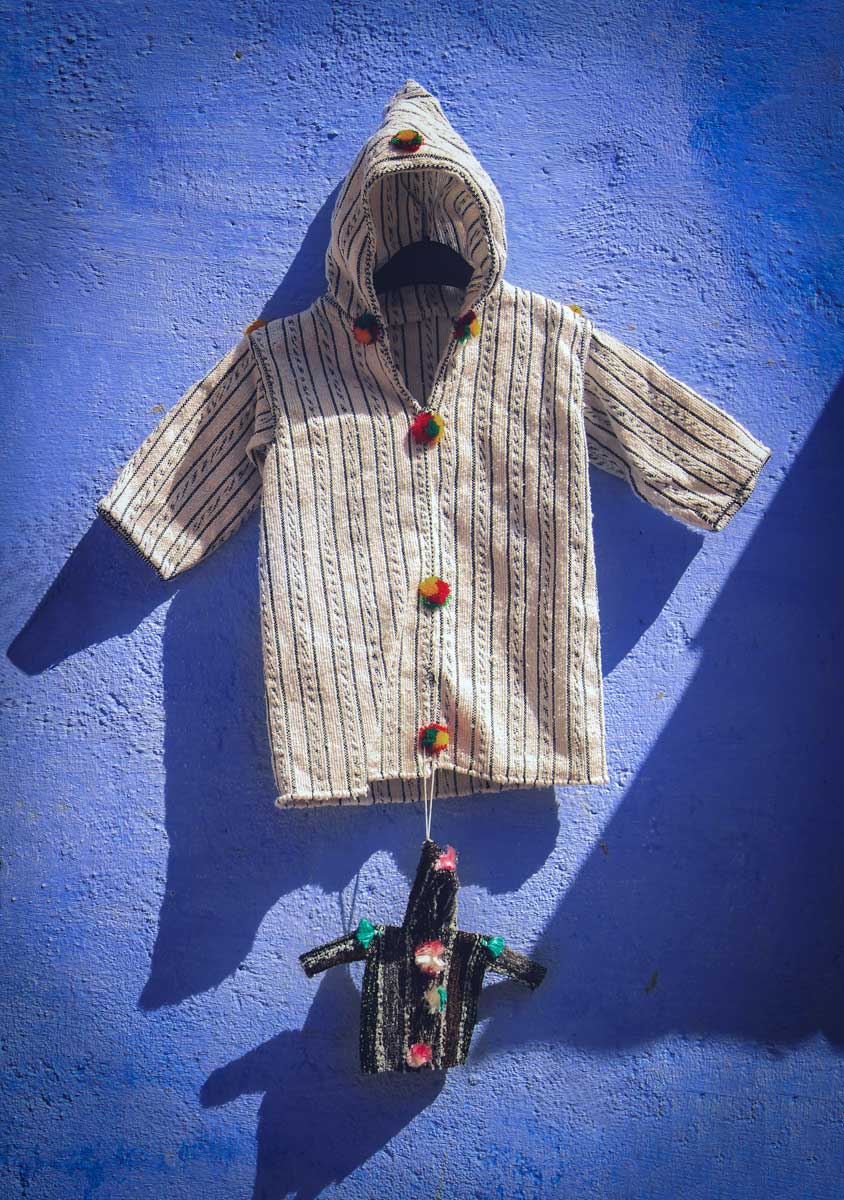 The last thing Morocco is famous for is djellabas.
Jelly-what? I've no idea what that is.
Djellabas are traditional Moroccan dresses worn by men and women alike. At the moment you set your foot in the country, you're guaranteed to see djellabas. They're just everywhere.
Most of the djellabas the locals wear are custom-made. Don't think of that as something fancy. They just buy a piece of cloth and take it to the tailor. No need to do that if you just want a djellaba souvenir, though. Although the ones created for tourists are not as fine-made as the local ones, they make a wonderful gift.
I love the djellabas because they give the locals that element of authenticity. Especially in the winter when they feature a giant Jedi-like hood.
That's all from me, I hope now you know what Morocco is famous for.
————————————
If you haven't planned your trip there yet, find out how I plan my trips!
————————————
I have 14 bucket list ideas for Morocco. See my impossible bucket list of 1700+ adventures!

Have you been to Morocco?
---
Some of the above are affiliate links and I will earn a percentage of the sale if you purchase through them at no extra cost to you. This helps keep my site running – so thanks in advance for your support!