In search of the best area to stay in Bangkok, I had to spend quite some time exploring this vibrant megapolis and changing at least a dozen hotels. I'm not complaining, though. The "City of Angels" is one of the most colorful and fun places in the world, and it's not surprising it ranks number one for foreign visitors year after year.
Finding where to stay in Bangkok, however, can be a bit overwhelming to the average tourist. The capital of Thailand covers 1600 square kilometers and has countless hotels, guesthouses, BnB's, and hostels.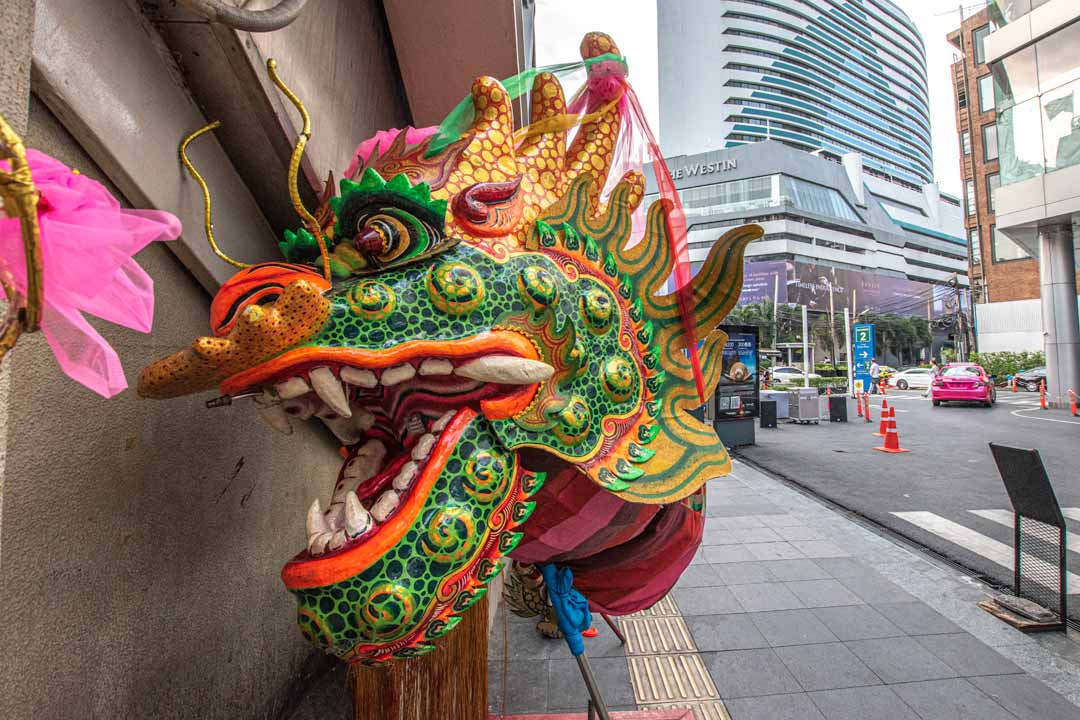 Bangkok is a city I've been to quite some times. I've checked all the areas and tested plenty of hotels there. I even lived in Bangkok for a month so that I can explore this monster of a city in detail. All the accommodation options below are there because I genuinely believe they have a lot to offer. None of the recommendations are sponsored. I've paid out of my own pocket for every hotel I've stayed in Bangkok.
When I search for a place to stay, my main concern is the location. I like to explore cities at dawn, and I want to have quick access to public transport.
For you, it may be important to be inside party areas or to have an outdoor pool. Maybe you care most about the view, or you want a big shopping center next to your hotel. And because everyone has its own style of travel, preferences, and budget, there is no ultimate best area to stay in Bangkok. Nope, no one-size-fits-all neighborhood.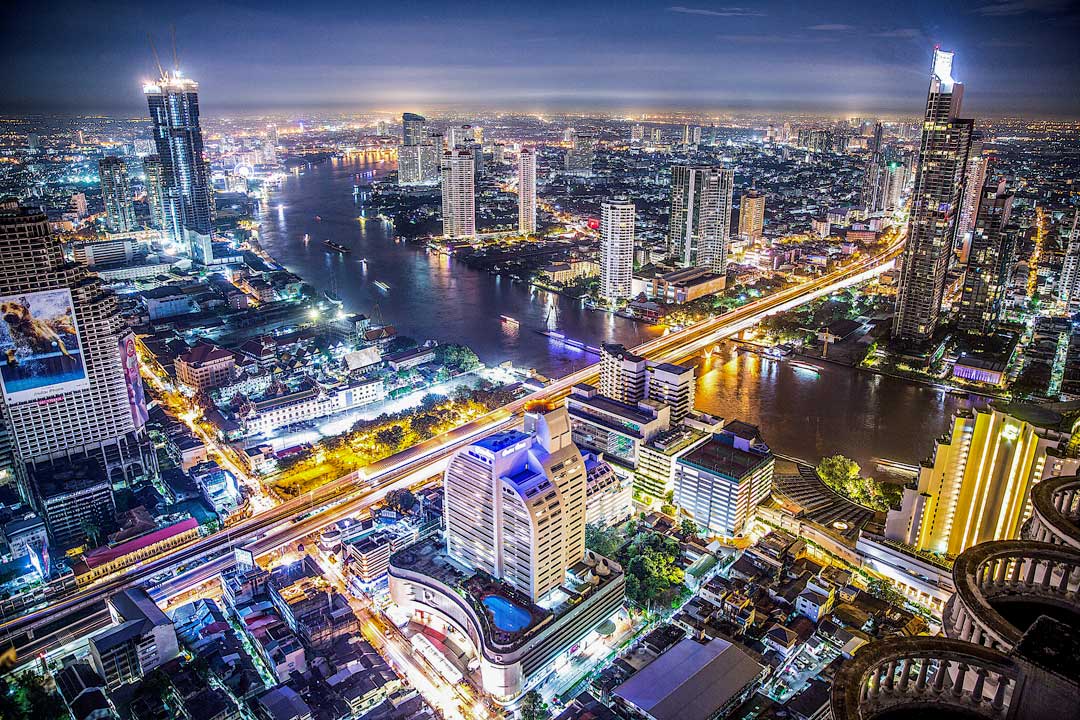 No matter the traveler you are, though, there is a best area to stay in Bangkok for you. How do I know that? Because if you know where to search for it, Bangkok can offer you everything.
In this post, I'll try to explain all the districts worth considering for your accommodation option. I'll detail their highlights, give you my honest opinion on their pros and cons, and give you some hotel suggestions.
Are you ready to begin planning your Bangkok adventure?
Let's go!
The Old City (Rattanakosin Island )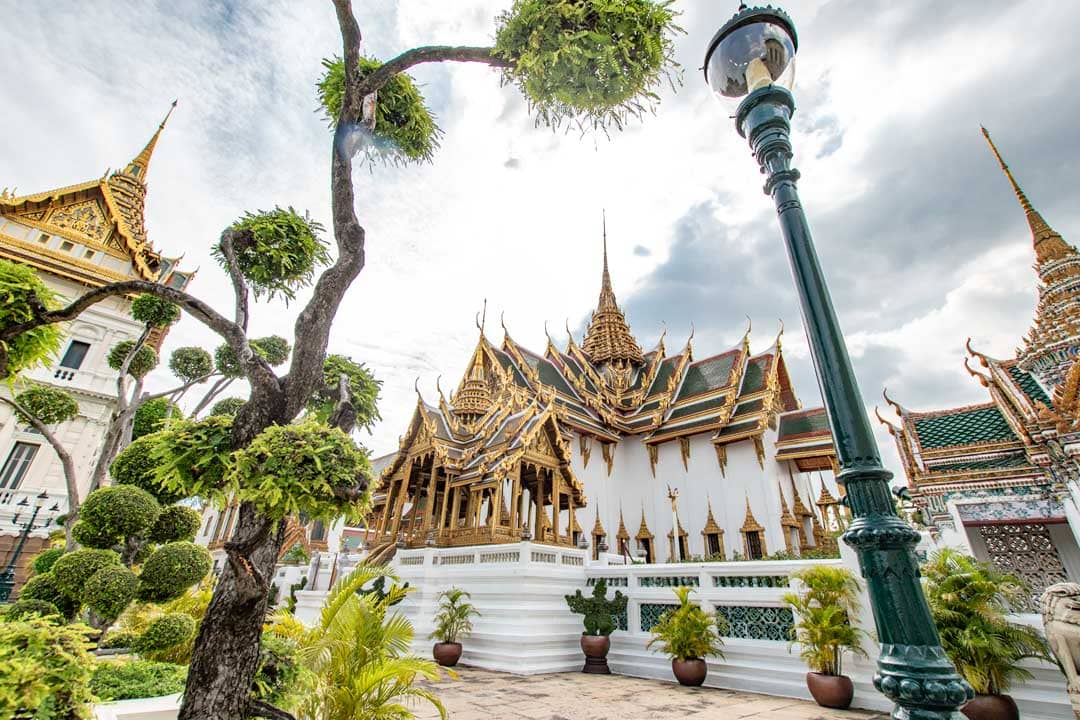 The Rattanakosin Island area is an excellent mixture of touristy and historical. 250 years ago, when Bangkok became the capital of the country, Rattanakosin Island was the fortified center of the city. Boarded by the Chao Phraya River on the east and surrounded by man-made canals (khlongs), this is the area to go if you want to explore Buddhist Temples and feel more authentic city vibes.

It's also one of the areas with the most affordable accommodation options (especially around Khao San but more on that later). If you have a large budget, the hotels on the river shore will offer plenty of luxury options with stunning views.
I have to point out that the Riverside and Khao San are a bit different than the other parts of the Old City, so I have to separate them as different areas.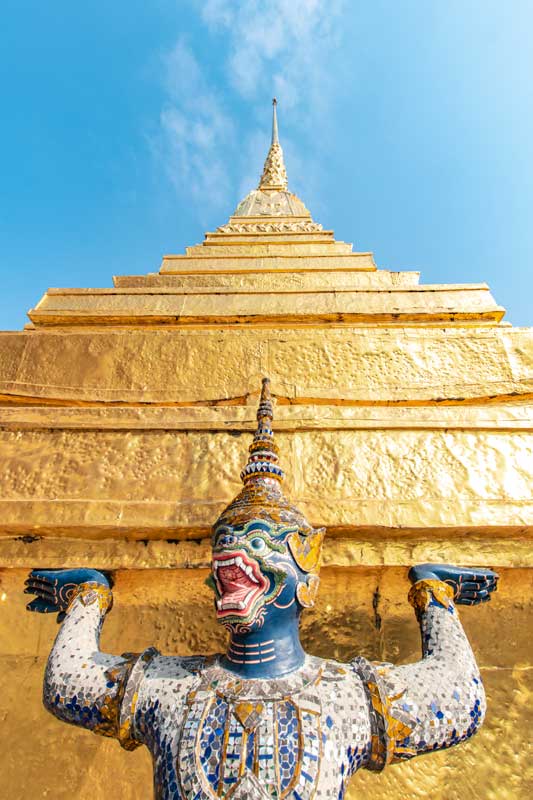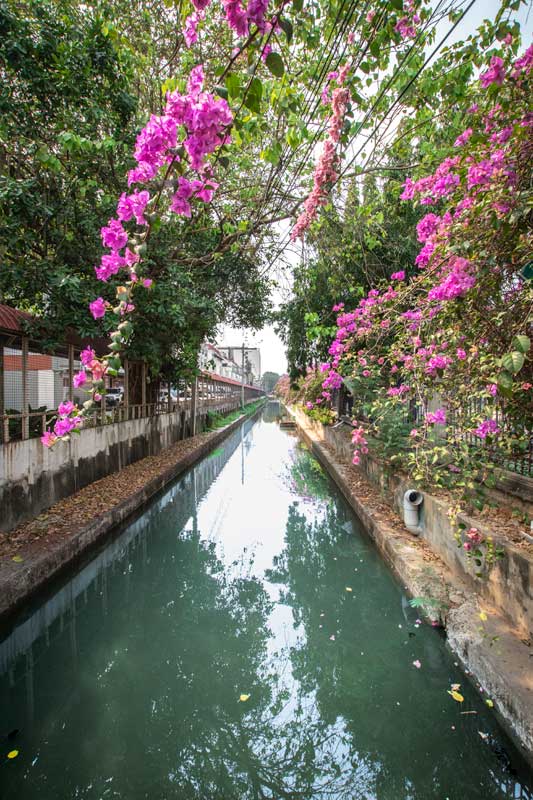 What to see and do in Bangkok's Old City
The Grand Palace is Bangkok's biggest attraction and one of the most prominent landmarks in Thailand. It's a complex of picturesque buildings that includes the Temple of the Emerald Buddha – the most sacred temple in Thailand and home to one of the most revered Buddhist relics (the Emerald Buddha statue).
Right next to the Grand Palace, Wat Pho is famous for its giant reclining Buddha. It also features beautifully decorated pagodas (few of them massive) and a center where you can get one of the best Thai massages in the country.
A great way to see some of Bangkok's most significant highlights from another perspective. Most of the cruises also offer live shows and a buffet meal. I recommend doing a cruise in the evening. Smoothly drifting under the lights of skyscraper-hotels and Buddhist temples is a very relaxed and romantic experience.
Here's a great one with dinner included
A sort of off-beaten attraction, the amulet market is precisely what you think it is – a market for Buddhist amulets. It's not very touristy, and if you're lucky, you can get a magical souvenir at an excellent price.
There are dozens of other stunningly beautiful temples in this area. I don't suggest visiting them all, of course (unless you're planning to spend a month in Bangkok), but there are quite some few worthy of your attention. You can see details and photos of the best ones in my Ultimate Bangkok Temple Guide.
Is the Old City the best area to stay in Bangkok?
It's an excellent place for budget travelers and first-timers. Especially for first-timers in Asia. You get all the perks of the big city complemented with plenty of Asian charm and cultural sites. The big minus of the Old City is the transportation options. No BTS Skytrain station and only one MRT (metro) station in the south end of the island. You're forced to use taxis and tuk-tuk (Asian tricycles), which can be quite annoying at times.
Pros:
Multiple cultural highlights, good budget accommodation and restaurant options, more authentic feel
Cons:
Limited transportation, quiet nightlife, no prominent shopping centers
Where to stay in the Old City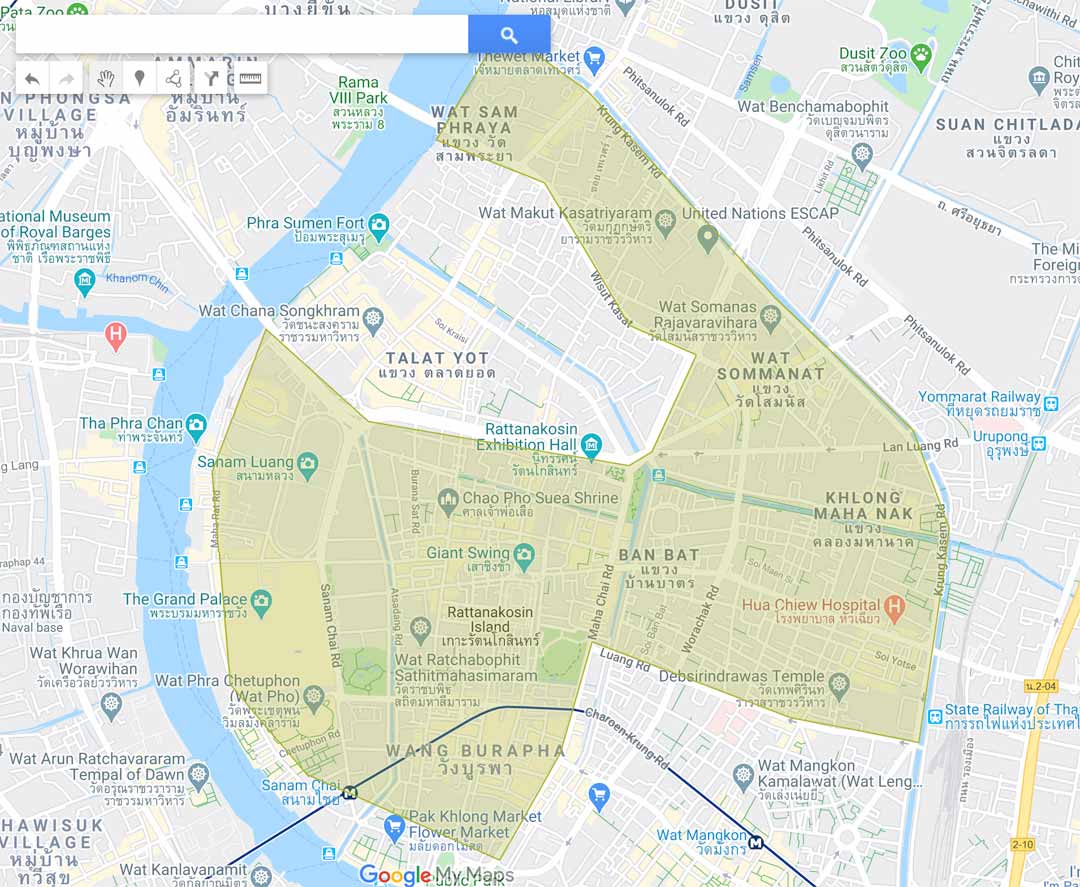 Best High-end hotel in the Old City
1905 Heritage Corner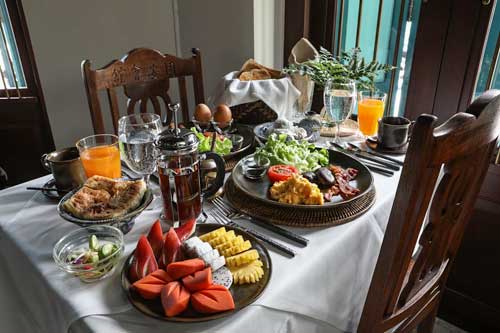 Since you chose a character-rich area full of history, its only fitting the luxury suggestion to be a character-rich 19th-century teahouse. Located just a short walk from the Grand Palace and Wat Pho, this lovely boutique hotel is brilliant in every detail. You won't get the polished luxury experience of a 5-star skyscraper hotel, but you'd get an authentic atmosphere and truly one-of-a-kind experience. A great base to uncover the hidden treasures of Bangkok's historic center.
Check the latest prices
Best mid-range hotel in the Old City
Siri Heritage Bangkok Hotel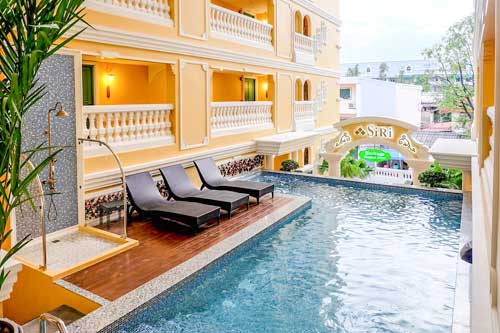 400 meters away from the Grand Palace, a beautiful outdoor pool, gorgeous rooftop terrace, and quite reasonable prices. Sounds pretty good, right? Siri Heritage is an excellent family hotel with a great buffet breakfast and well-trained staff that can even assist you in finding suitable city tours.
Check the latest prices
Best budget hotel in the Old City
Issara by D Hostel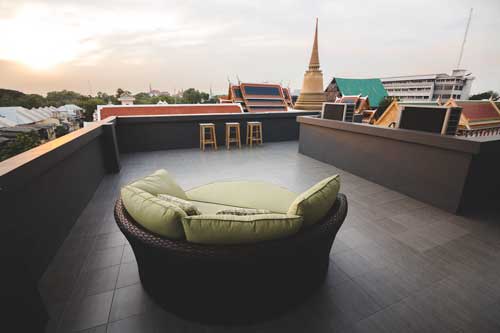 Spotless hostel, ideally located in the heart of Bangkok. You got the Grand Palace and Wat Pho 5 minutes away from you and an MRT (metro) station 10 minutes away. Beautiful view of Wat Rajabopit from the rooftop terrace, buffet breakfast, and flexible check-in times. The bunk beds are incredibly affordable, and even the private rooms are cheap enough to suit most budgets. A top budget spot in the middle of the Old City!
Check the latest prices
Best Airbnb in the Old City
Antique House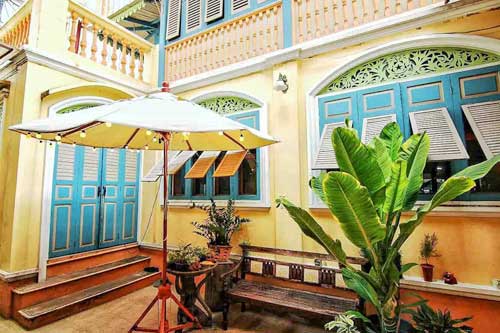 To explore historic Bangkok in style, you need a historical base. This 100-years-old house is definitely one. It's located behind a Thai restaurant and has lovely decoration and a cute house cat. You got a well-working AC, shower cabin, queen-size bed, and a lovely superhost to give you tips about the city. The combination of classical charm and great value made this house the best Airbnb in Old City, Bangkok.
Check the latest prices
If you're new to Airbnb, you can register through my Castaway Link and get 40$ off your first booking!
See Also: How to Spend 10 Days in Thailand
Khao San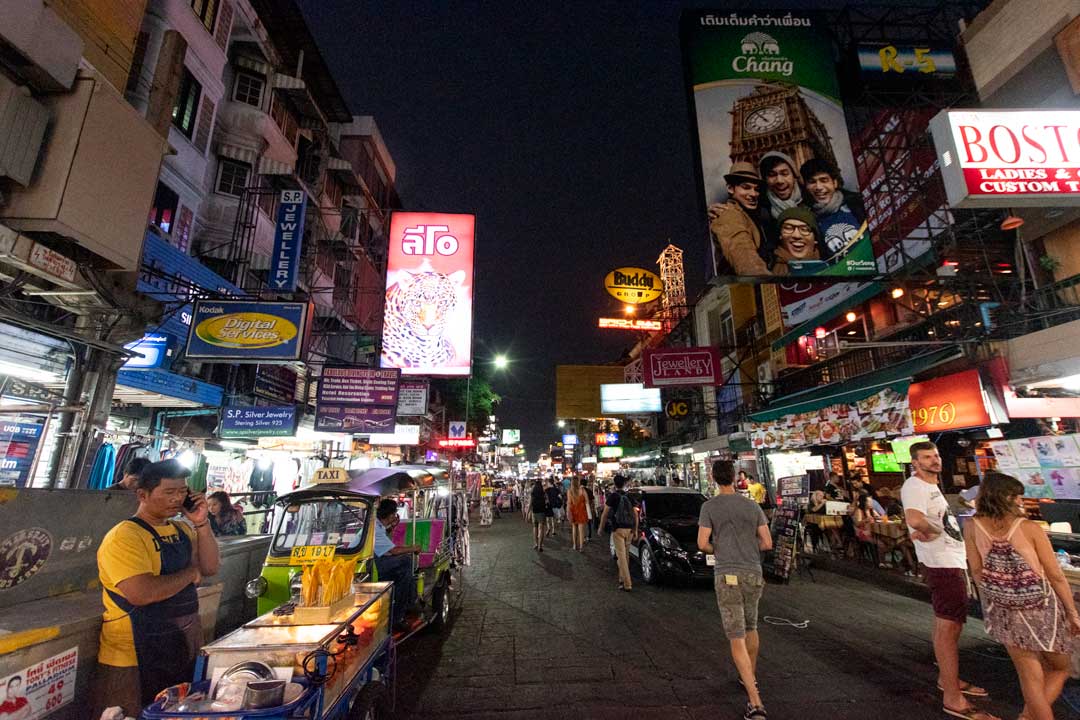 While technically part of Rattanakosin Island, Kaho San is an area of itself and attracts a totally different type of travelers. The most famous road in Thailand and probably the most famous in whole Southeast-Asia, Khao San, was made famous by the book "The Beach" and later even more by the Leonardo Di Caprio movie. It was described as the "Backpacker's Heaven" there, and even though the place had become way moire touristic since those times, it still offers some of the best budget accommodations and food in the city.
What to see and do on Khao San Road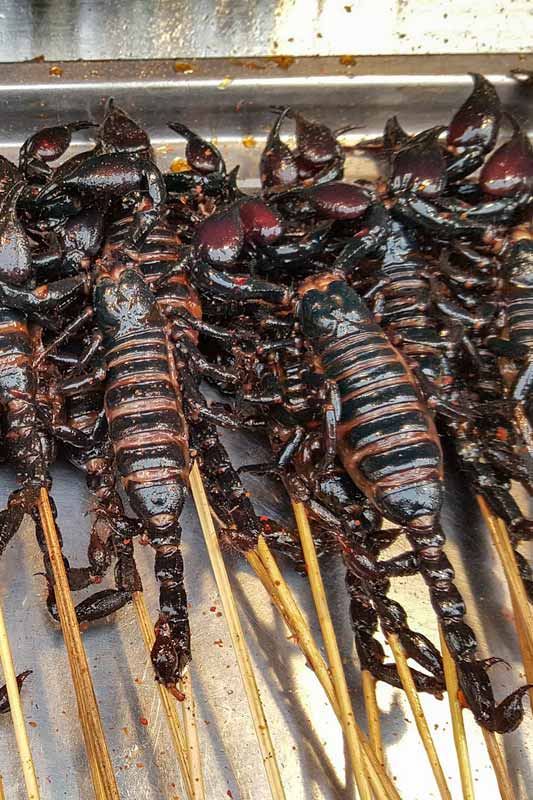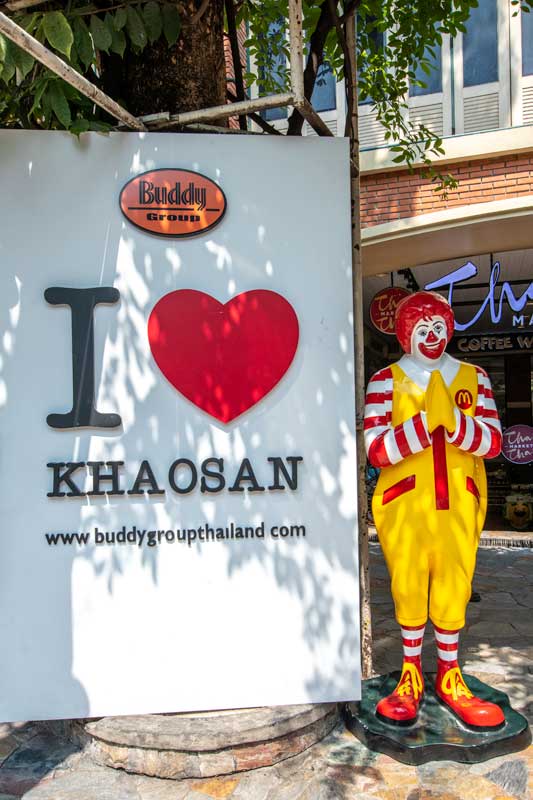 Khao San is perfect for solo traveling, as meeting new people from all around the world is effortless there. You can also get buckets of alcohol (literal buckets, don't expect high quality though), eat scorpion on a stick or other insect delicacies (which only tourists eat and are hard to find anywhere else), get a cheap foot massage on the street or just get a beer and enjoy some people-watching.
Is Khao San the best area to stay in Bangkok?
Are you a backpacker, a solo traveler, or a party animal? Then yes, Khao San is the best area to stay in Bangkok for you. International and local street food is easy to find, the road itself (and the ones around it) has infinite bars and turns into a night market in the evenings.
Pros:
Cheap accommodation options, plenty of other travelers, big nightlife scene, within walking distance of the Grand Palace and Wat Pho
Cons:
A bit touristy, no good transportation options, very loud at night
Where to stay near Khao San road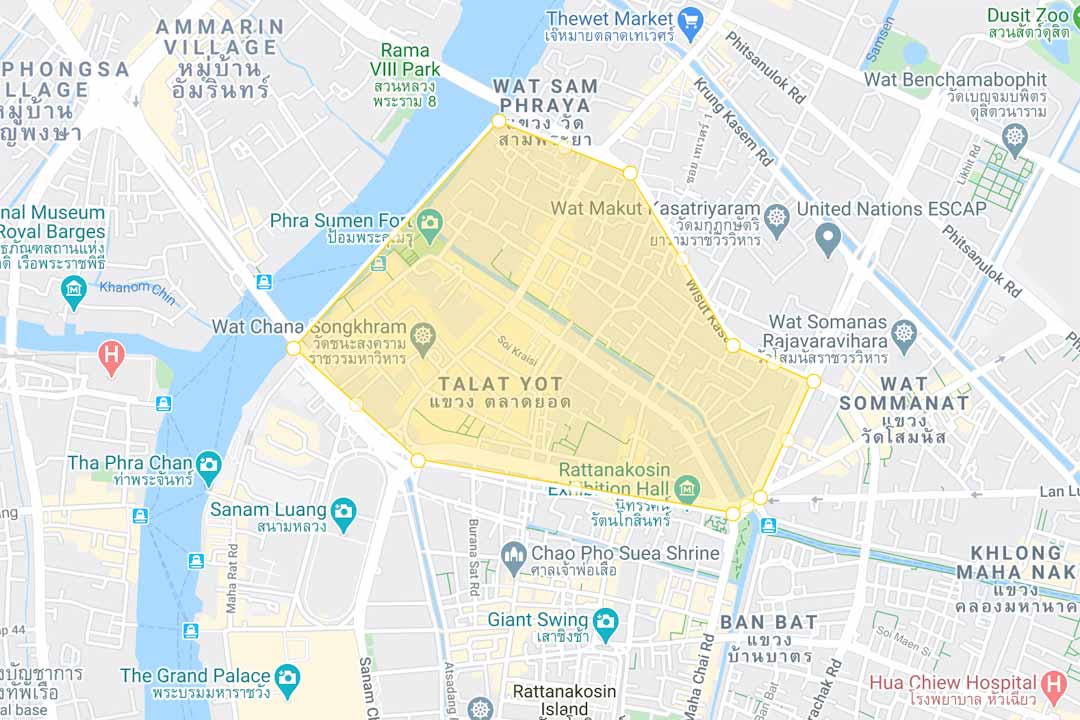 Best high-end hotel in Khao san
Riva Surya Bangkok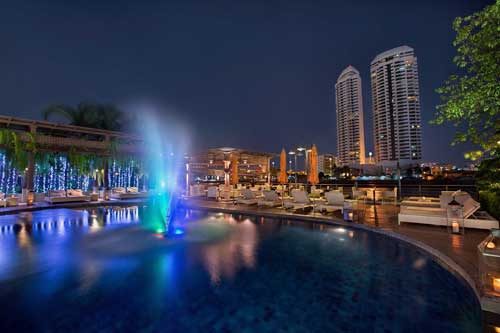 Looking for a luxury place on Khao San is an uncommon decision, but there is one hotel that stands above the rest in this category. Riva Surya is situated right on the Chao Phraya River and offers spacious modern rooms with a stunner river view. It's 5 minutes away (on foot) from Khao San Road, and right next to a boat pier, so your transportation is sorted out. You can also count on a delicious buffet breakfast (seriously delicious) and a world-class spa (didn't try this one but everyone who did was raving about it)
Check the latest prices
Best mid-range hotel in Khao san
Thanabhumi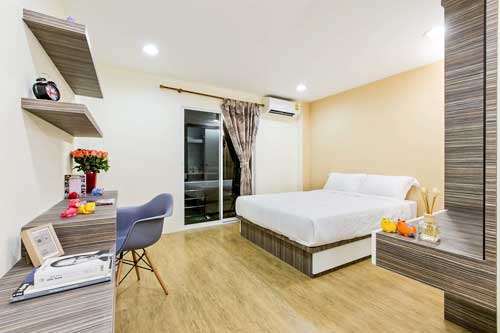 Thanabhumi is an upscale guesthouse located just minutes away from Khao San Road. It offers cozy and inexpensive AC rooms, some of them with a great view, others with a balcony. It has very kind and understanding staff and also 24hrs of free snacks and drinks.
The bathrooms are clean and spacious, and there are washing machines on the ground level. Basically, everything you need at a great location for a very reasonable price. One of the best-value accommodations in Bangkok.
Check the latest prices
Best budget hotel in Khao san
Tales Khaosan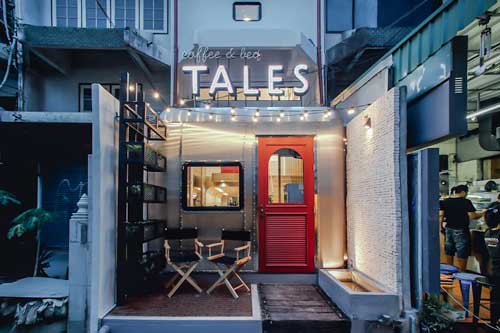 Tales is positioned just 5 minutes away from Khao San Road in a surprisingly quiet alley. It's decorated to look like a train station, and every bed is a train cabin. Clean, modern with great staff and really low prices, Tales Khaosan, is undoubtedly one of the best budget places to stay in Bangkok.
Check the latest prices
Honorary mention
Old Capital Bike Inn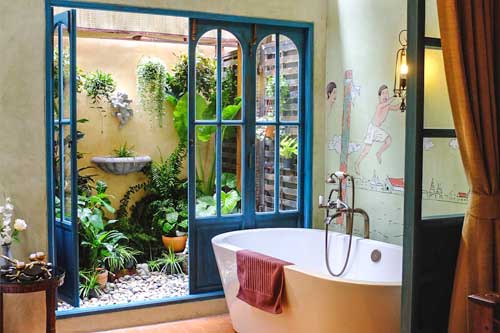 This place is in a weird price category that's slightly above middle-range (for me at least) but not really luxury. The place is absolutely gorgeous, though. As the name suggests, bikes play an essential role in this inn. You got chandeliers made of bike tires and vintage bikes in all the rooms.
Obviously, the interior is the biggest highlight of the inn. Every room is unique, with beautiful wall paintings and decorations. If you think it fits your budget, you're gonna enjoy this place a lot.
Check the latest prices
Riverside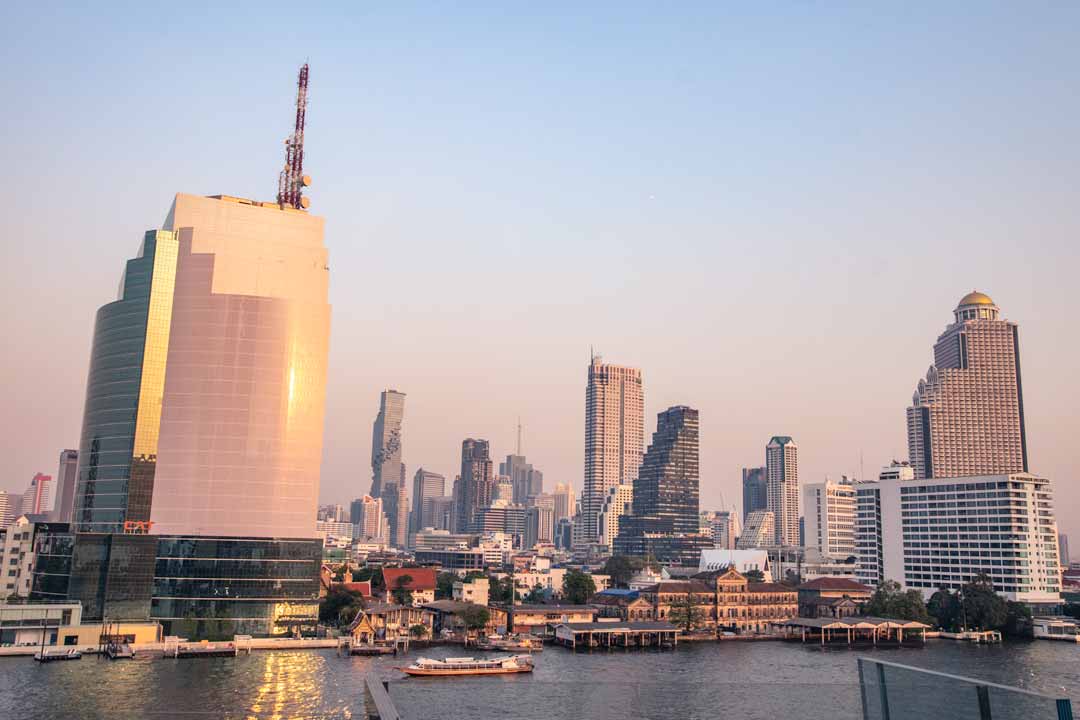 The Riverside not really a neighborhood, but it's quite a unique area to stay. On both shores of the Chao Phraya River, you can find fantastic accommodation options with one-of-a-kind views. There are also plenty of cute cafes located on the coast, especially across Wat Arun, that make your morning coffee a memorable event.
The Riverside area is all about the views, but it also offers the best shopping mall in the city – Icon Siam – and one of the best night markets in town – Asiatique.
On the western side of the river, you can find the Thonburi neighborhood. Due to its late inclusion to the city (1981), this neighborhood is still quite undeveloped and a great place to feel the authentic Thai life.
What to see and do on the Riverside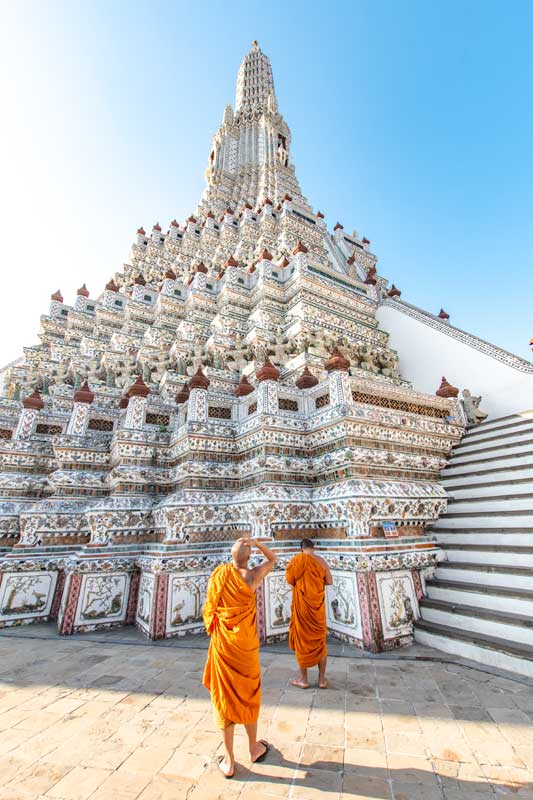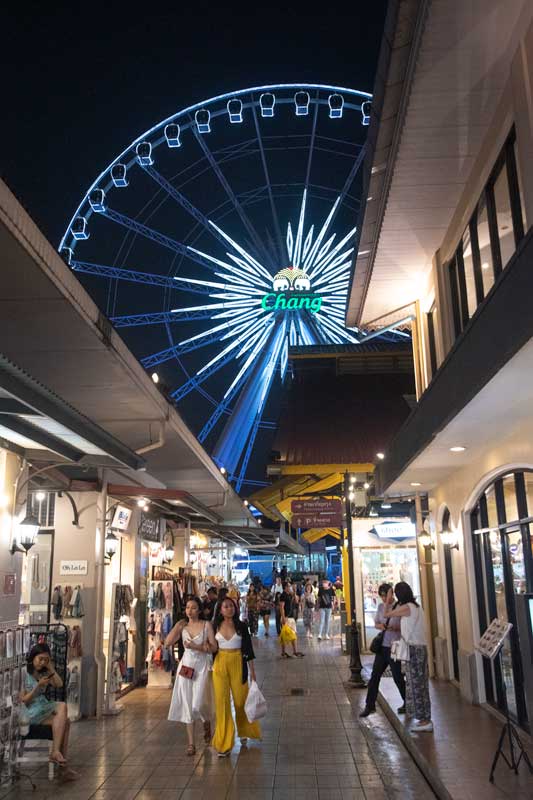 The Temple of Dawn is one of the most picturesque Bangkok temples. Refurbished continuously to keep its sparkling-white color, Wat Arun is beautiful from the inside but also afar. One of the best ways to spend your evening in Bangkok is to have dinner or a drink somewhere across the temple at sunset – just magic.
The latest and greatest mall in Bangkok. Icon Siam offers all the luxury brands you can think of, an indoor night market, and an official Apple store with a kick-ass panoramic terrace.
Lovely night market to have dinner or shop for souvenirs. It also has a giant Ferris Wheel, live Muay Thai matches, and a famous ladyboy cabaret show.
The weirdest museum in the country by far. If you have a strong stomach, Siriraj Medical Museum is housed in a working hospital and exhibits some creepy medical stuff such as babies in jars and a mummified body of a cannibal.
Is the Riverside the best area to stay in Bangkok?
Riverside is the perfect place to enjoy the authentic side of Bangkok while staying in a top-notch hotel. It's great for first-timers who are not on a budget. Since you have the best mall and one of the best markets close to you, there's no real need to explore Bangkok's more modern areas like Siam or Sukhumvit. If you decide to do so, however, the above mentioned top-notch hotels have a boat shuttle that will take you to the BTS Skytrain station in no time.
Pros:
The most scenic area in the city, top shopping center, surrounded by authentic neighborhoods
Cons:
Hotels and restaurants are more expensive, limited transportation options – you need to take river ferry's to get anywhere, and there's only one BTS Skytrain station (Saphan Taksim)
Where to stay on the Riverside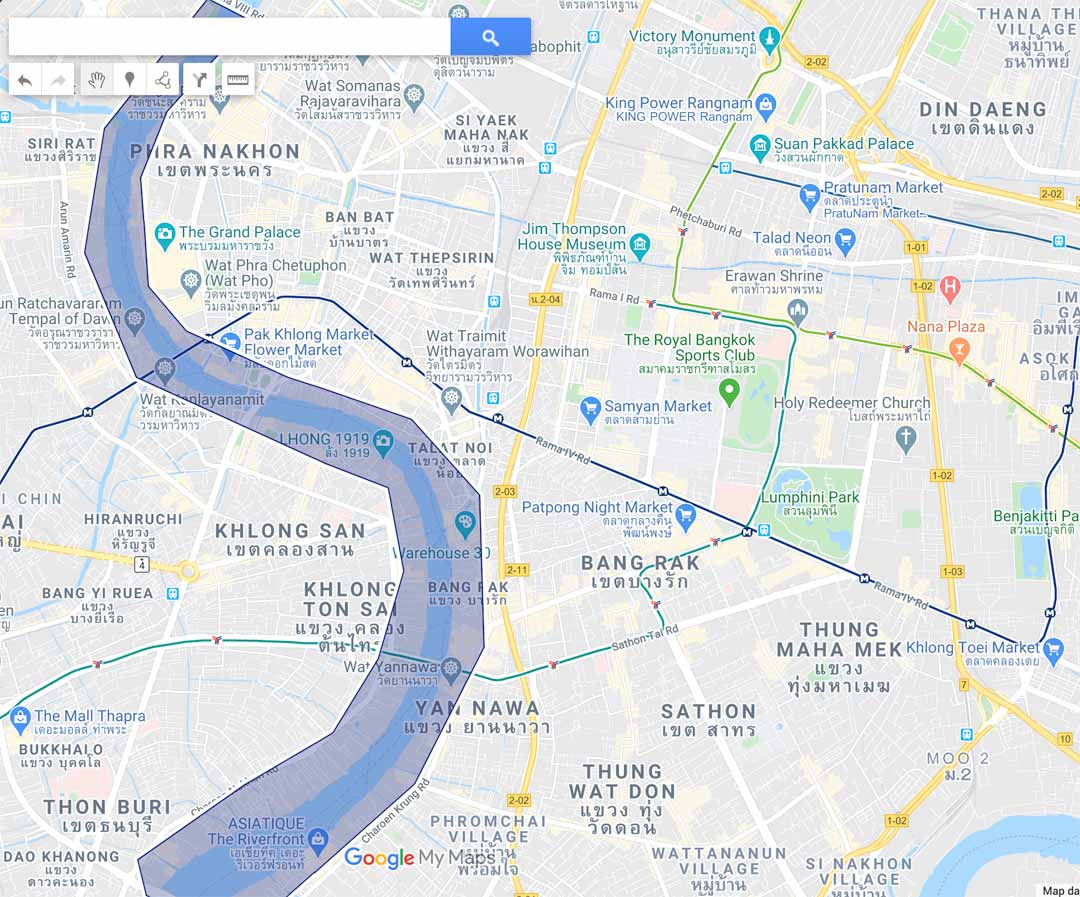 Best luxury hotel on the Riverside
Sala Arun or Mandarin Oriental Bangkok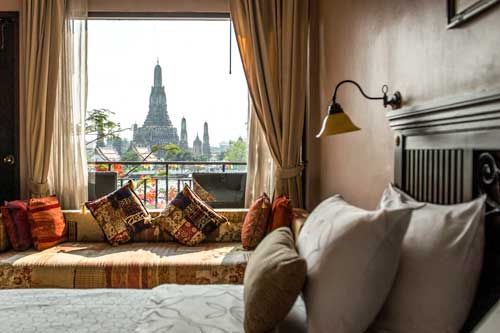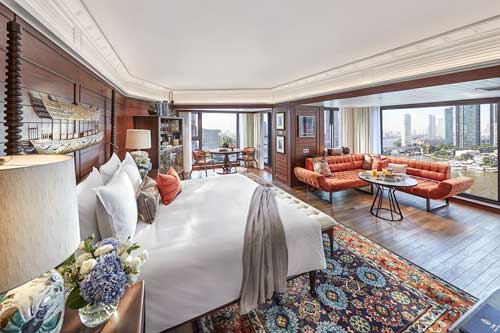 I couldn't pick between those two. The best luxury hotel on the Riverside depends on your view of luxury. Talking about the view, Sala Arun is all about it. There's no marble, gold, or opulent decoration in this hotel. Instead, you get a room with a view to Wat Arun. The whole hotel is an authentic Bangkok wooden house and has a great restaurant and rooftop terrace.
The Mandarin Oriental is the other type of luxury. You don't have the gorgeous Wat Arun out of your window but high-class luxury apartments, a world-class spa, huge marble bathrooms, and some of the best service in the country. Both places are totally worth their price.
Check the latest Sala Arun prices
Check the latest Mandarin Oriental prices
Best mid-range hotel on the Riverside
Oriental Heritage Residence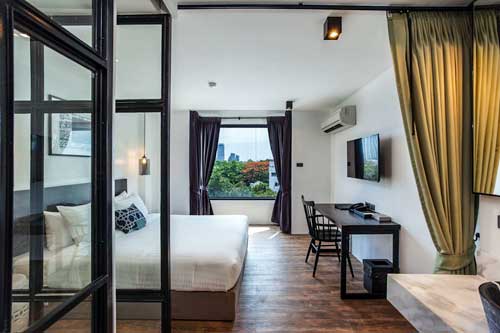 A boutique hotel with reasonable prices, fast wi-fi, and great breakfast. It's located right next to the Central Boat Pier, so getting to the shopping centers (or anywhere else around the river) would be as easy as Sunday morning. You also have a BTS station at your front door so you can explore the other parts of Bangkok.
Check the latest prices
Best budget hotel on the Riverside
Bangkok Saran Poshtel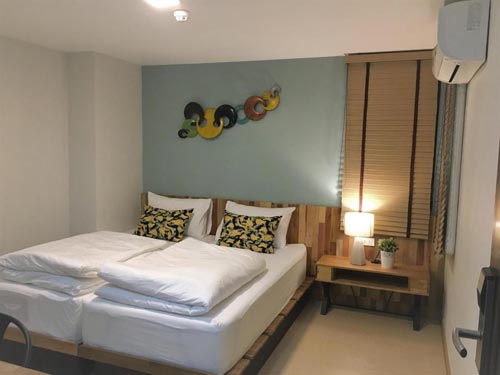 The Riverside is not really the best place to look for budget places, but Bangkok Saran Poshtel is really one that is worth a mention. Located on the east shore of the river, this place is right nextto a ferry stop. It's incredibly inexpensive, and while the bathroom is shared, you have a private room. Some other extras include friendly hosts, clean, large rooms with good mattresses, AC, luggage storage, airport transfer, late check-out, complimentary breakfast, and free cold water. Amazing value here!
Check the latest prices
See Also: How to Spend 2 Days in Bangkok
Sukhumvit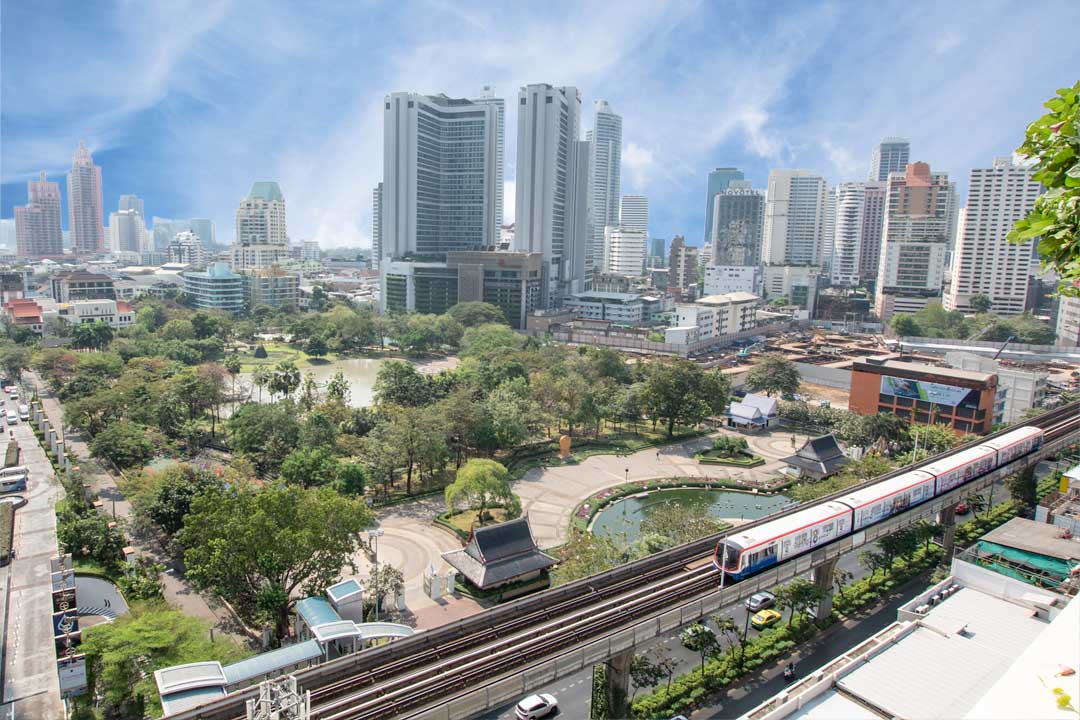 Sukhumvit is the upscale modern area of Bangkok. Skybars, fashion malls, world-class restaurants, trendy clubs, and even red-light districts are what make this neighborhood into one of the most popular tourist and expat areas in town. It's named after the longest road in Bangkok – Sukhumvit Road (18km), and the best way to navigate it is to use the soi numbers (side alleys that branch off the main road).
Traffic there is horrible, but the BTS Skytrain runs literally the entire road, and you can connect with the MRT (metro) at the Asok station, so you basically have easy access to all of Bangkok.
While there are no major highlights in Sukhumvit, the convenient transportation options, the various food scene, and the (usually) fast wi-fi hotels makes it my favorite Bangkok area (I'm writing this post from an Airbnb in Sukhumvit right now).
What to see and do in Sukhumvit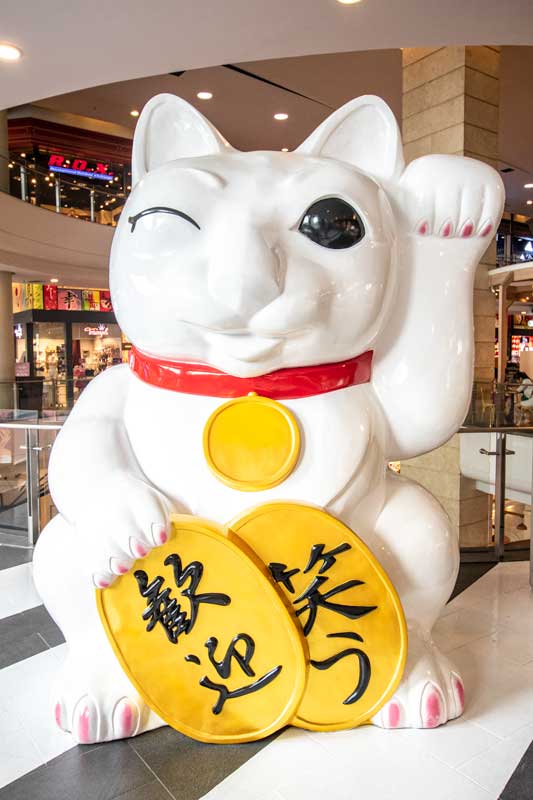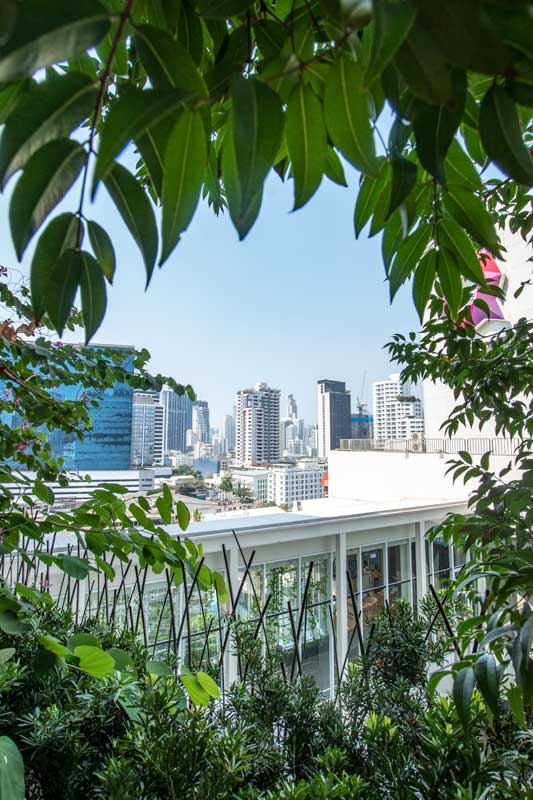 One of the coolest malls in the city, Terminal 21, has seven floors named and decorated after different world cities. You can look for clothes in Tokyo, shop for souvenirs in Istanbul, or have a nice dinner in San Francisco all in the same building. Even the escalators are made to look like airport boarding gates.
One of the best rooftop bars in town, Octave, has three levels. One level is a restaurant, the second one has a pool, while the top one offers a 360-degree view and the highest party spot in the city.
Benjakitti and Benchasiri parks
Bangkok is a very chaotic city, so having a green space to kick-out a little bit is a great luxury. Sukhumvit has two of them, the large Benjakitti and the small Benchasiri parks. They both have a lake, an open gym, and plenty of places to lay down and release some stress.
Soi 28 is one of the richest street food alleys you can find while soi 11 is the place you want to go for the best nightlife in Bangkok.
Is Sukhumvit the best area to stay in Bangkok?
If you want to have easy access to all of Bangkok, explore Bangkok's party places, and have infinite numbers of dinner choices – Sukhumvit is the best area to stay in Bangkok. The negatives are that accommodation and restaurants are upscale and expensive, and there are a few red-light areas. Although they are easy to avoid, I don't consider Sukhumvit the best district for a family vacation.
Pros:
The area with the best public transport, world-class restaurants, vibrant nightlife, plenty of shopping centers.
Cons:
More expensive, has red-light districts and alleys, non-authentic at all
Where to stay in Sukhumvit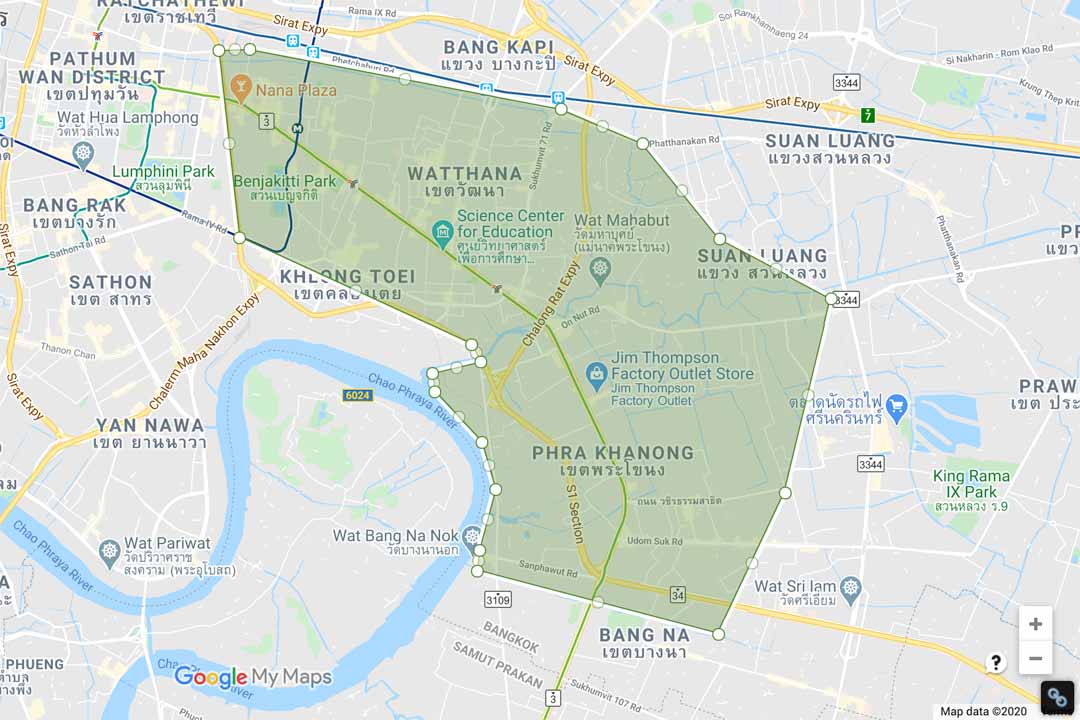 Best luxury hotel in Sukhumvit
Grande Centre Point Hotel Terminal 21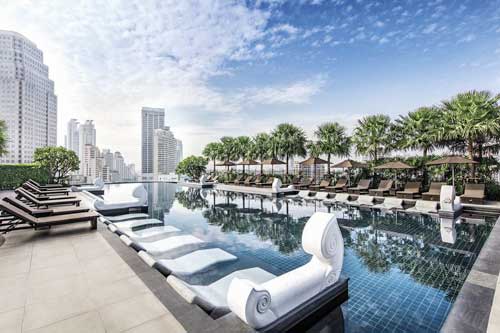 Picking the best luxury hotel in Sukhumvit is not an easy one. Plenty of options with great rooftop pools, classy rooms, and lick-your-fingers breakfast. The reason I picked the Grande Centre Point hotel is that it has all of the above 5-star hotel perks, but it's also located right next to the Terminal 21 shopping center. Not only a great place to do some shopping but also a direct connection with the BTS and MRT stations there.
Check the latest prices
Best mid-range hotel in Sukhumvit
Tints of Blue Hotel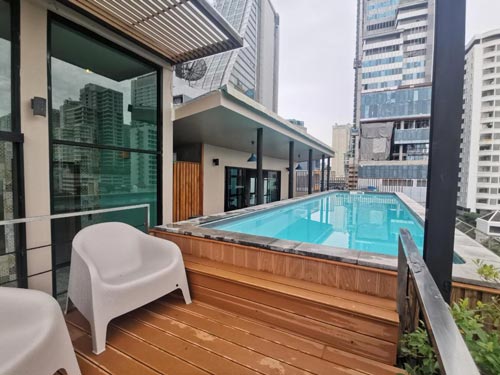 Clean, spacious rooms with balcony and fast wi-fi, private kitchen, an outdoor pool and free breakfast. Sounds amazing, right? Beside that Tints of Blue Hotel offers reasonable prices and one of the best location in the city – right behind Terminal 21, Asok BTS station and Sukhumvit MRT station. Unquestionably one of the best-located hotels in Bangkok.
Check the latest prices
Best budget hotel in Sukhumvit
Park Plaza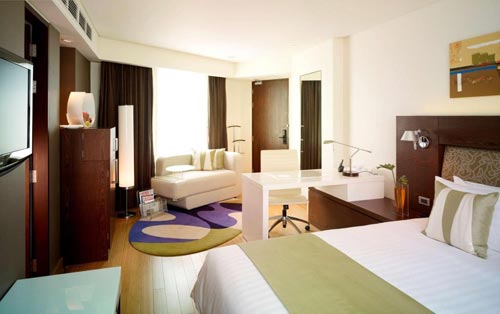 Sukhumvit is not rich in budget places, but Park Plaza Hotel is definitely worth checking out. Located right on the Asok BTS/Metro station, this hotel has single and separate bed options, spacious rooms, well-trained staff, and a rooftop pool. Seriously, you can't ask for anything else from a budget place.
Check the latest prices
Siam
Siam is the other modern area in Bangkok, but while Sukhumvit is focused on nightlife and restaurants, Siam is focused on shopping. The density of shopping malls here is absolutely insane. In a few-hundred-meter radius (around the Siam square), you can find 5 of the biggest malls in Bangkok (one of them is actually the 6th biggest mall in the world). The neighborhood is the epitome of the phrase – shop until you drop.
What to see and do in Siam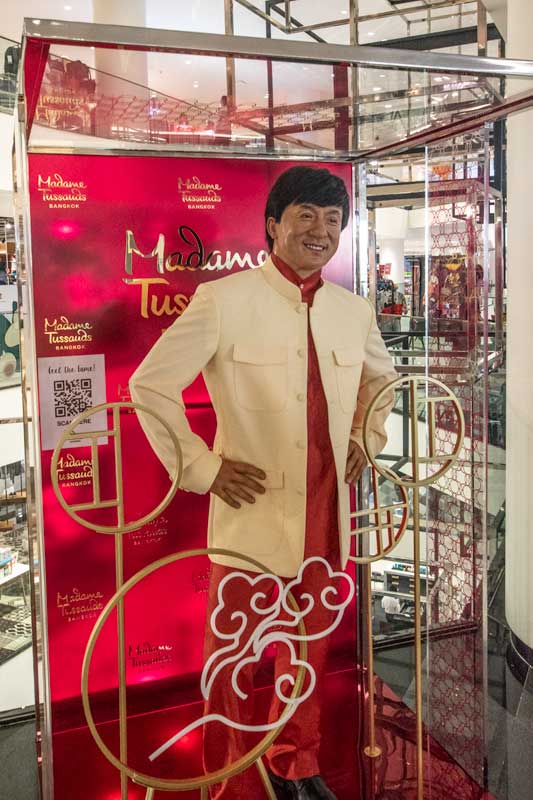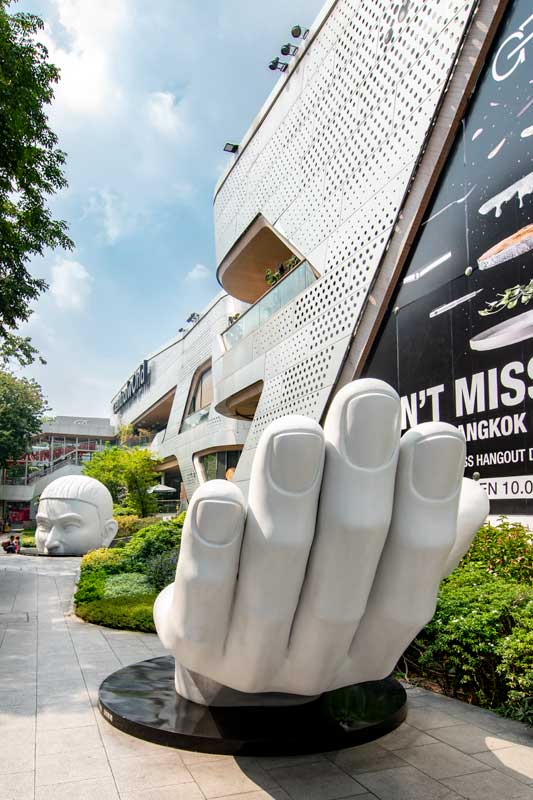 Shopping is the reason most people choose to stay in Siam. The best malls are Central World, Siam Paragon, and Siam Discovery. You can also go and search for bargains in MBK or watch free Muay Thai matches in front of it (every last Wednesday of the month)
Bangkok's Madame Tussauds museum is located inside Siam Discovery. If you haven't been to one of those, Madame Tussauds museums offer wax replicas of famous people. They are quite fun and great for photos.
For the Bangkok one, make sure you get an online ticket (way cheaper).
Jim Thompson House is a house-museum that used to belong to the famous British entrepreneur Jim Thompson. He is renowned for revealing the quality of Thai silk to the world and is hugely respected in Thailand.
A curious shrine located on the sidewalk and quite popular among the locals in the area. No matter the time of the day, the shrine would have some Thais offering tributes and praying for blessing.
Is Siam the best area to stay in Bangkok?
Are you coming to Bangkok intending to burn your credit card limit? Siam is the absolute best area to stay in Bangkok if you're into shopping. The district is also very family-friendly and has convenient BTS Skytrain stations.
To get familiar with all the best shopping centers in Bangkok, you can check out my Ultimate Shopping Guide (yeah, I do have one of those and it's awesome).
Pros
Modern area, plenty of shopping complexes, well connected via BTS Skytrain, family-friendly
Cons
Non-authentic, quite busy in the weekends, hard to find street-food since most people eat inside the malls
Where to stay in Siam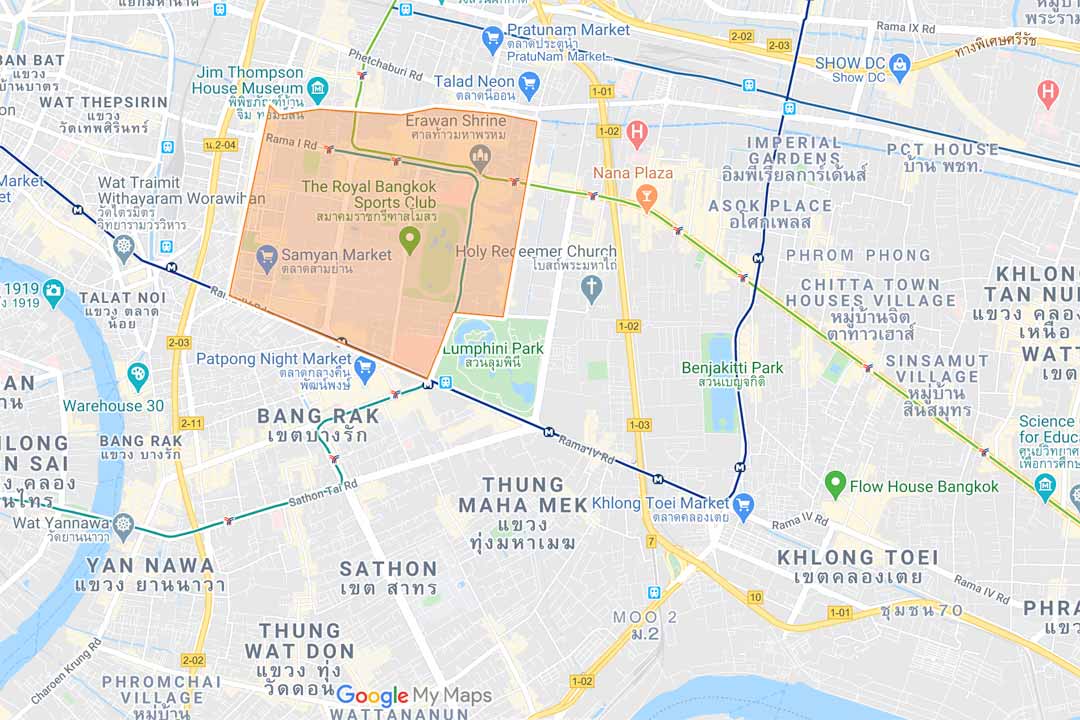 Best luxury hotel in Siam
Siam Kempinski Hotel
Siam Kempinski is one of the most luxurious hotels you can find in Bangkok. It's an absolute stunner of a building with only one minus – it's so lovely you won't want to leave it at all. Every room is a modern masterpiece, and the bathrooms have these huge tubs you can spend hours in. The hotel property has multiple pool and bar areas, a gym, and a world-class buffet breakfast. And if you decide to leave it and check other stuff in town, Kempinski has an excellent location close to BTS stops and the Central World shopping mall.
Check the latest prices
Best mid-range hotel in Siam
Daraya Hotel
Stylish boutique hotel with beautifully decorated rooms and a fantastic roof lounge. Daraya also has excellent massage services, top restaurant, great location (next to a BTS station), and a staff that speaks excellent English (something quite rare in Thailand). Honestly, I can't think of one thing that can make this hotel better.
Check the latest prices
Best budget hotel in Siam
Siam Stadium Hostel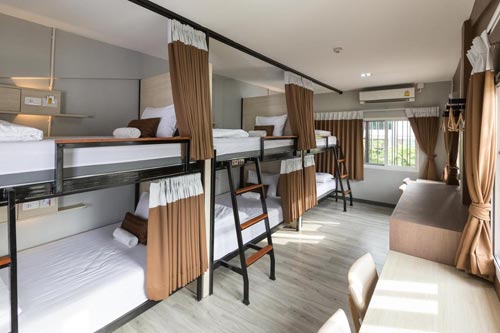 One of the most impeccably clean hostels I've been to, Siam Stadium Hostel is close to the giant malls in the area and the Siam BTS station. It offers a modern interior, complimentary cold water, and 7-Eleven right next door.
Check the latest prices
Silom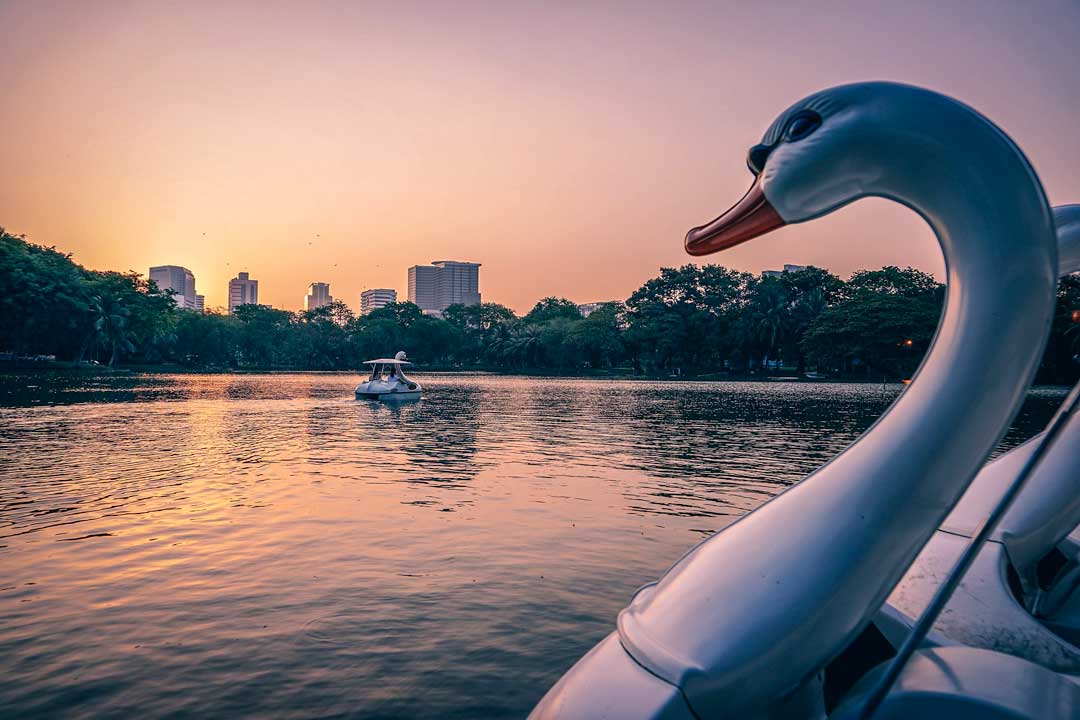 Silom is the financial and business district in town. It has plenty of nice hotels, and it's a blend of modern and authentic Bangkok. It's home to Bangkok's biggest park- Lumphini, and has both BTS Skytrain and MRT (metro) running through it.
Silom is one of the best areas to stay in Bangkok at any time of the year, but it's especially good during Songkran in April when the Silom Road becomes the biggest water-fight arena in the world.
On the negative side, while Silom has a little bit of everything, it does not excel in anything. Nightlife is better in Sukhumvit, and shopping is way better in Siam. There are little to no temples and cultural sights, so you can't compare it to the Old City at all. Silom is also home to the original red-light district in Bangkok, and you can expect some suspicious-looking guys offering you ping-pong show tickets all the time (don't follow them, it's a scam).
What to see and do in Silom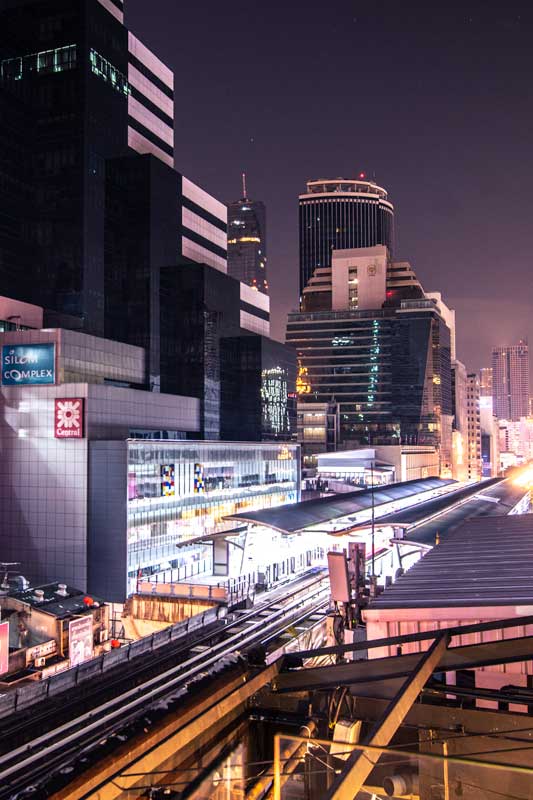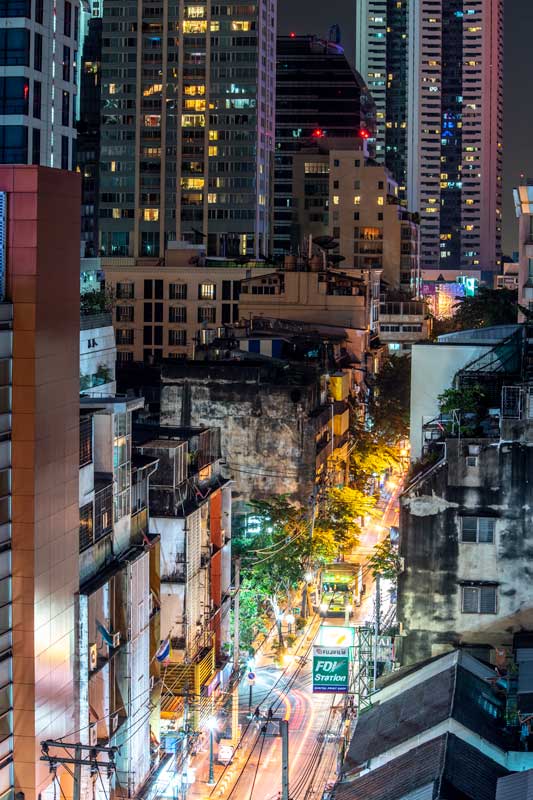 The best place in Bangkok to kick-out the stress. You can also take a swan-boat around the lake or sit on a bench and do some people-watching or lizard-watching. What? Yes, there are some weird lizards that look like tiny Komodo Dragons. They are harmless, though, so no need to run in panic when you see them.
Songkran is an absolute madness on Silom Road. Get yourself a nice water gun and be part of the biggest water-fight in the world.
This rooftop bar is a popular one because it was part of the "Hangover 2" movie. If you're a fan of the "Hangover" series, it's a must-see for sure (quite pleasant even if you're not a fan).
Famous night market offering mostly souvenirs and tourist trinkets. A good place to buy some fake Ray-Bans or a Gucci Bag.
Is Silom the best area to stay in Bangkok?
Silom may be the best area to stay in Bangkok for quite a lot of you.
The place has authentic Thai restaurants, various accommodation options that are not as expensive as the ones in Sukhumvit and an excellent public transport connection (both BTS and MRT).
Pros:
Authentic restaurants, good nightlife scene, moderate accommodation prices, well connected via public transport, has the biggest park in town
Cons:
Does not excel in any category, not very family-friendly
Where to stay in Silom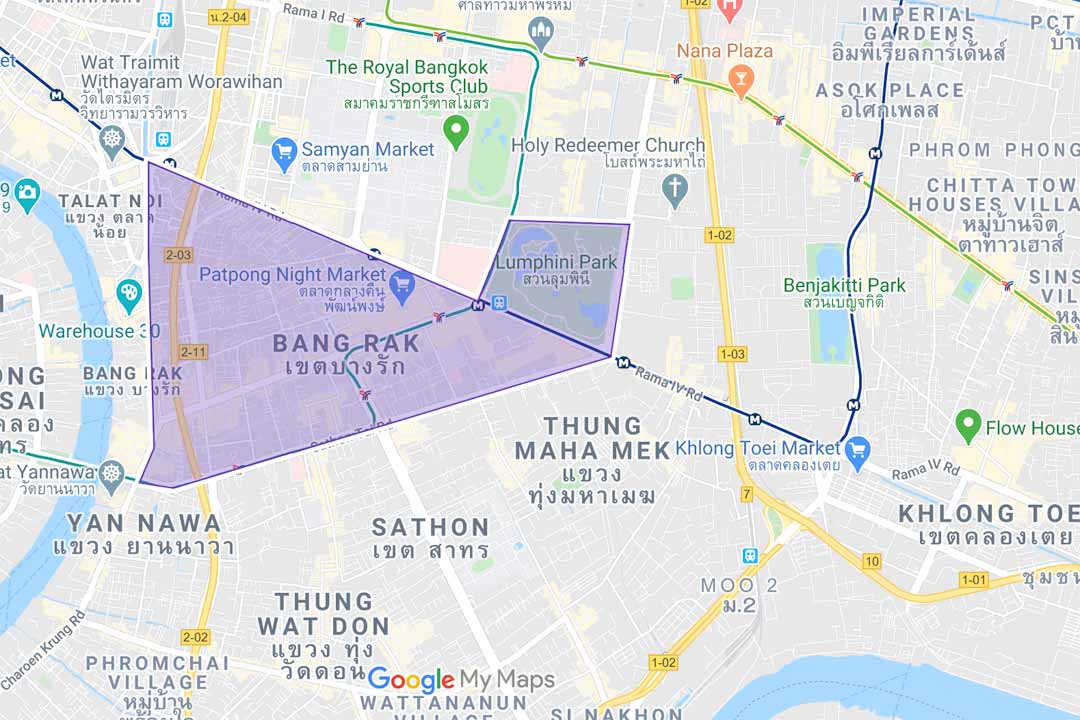 Best luxury hotel in Silom
Bangkok Marriott Hotel The Surawongse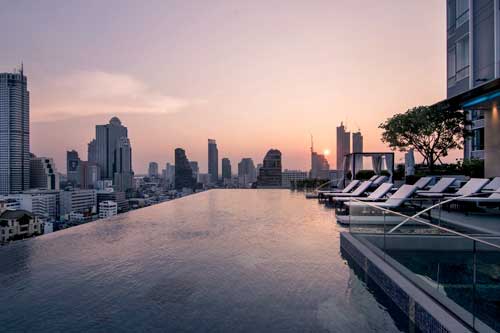 The best 5-star hotel in Silom offers clean and modern rooms with great views. And if you like the view from your room, just wait until you get to the rooftop where a majestic infinity pool and one of the best bars in Bangkok are waiting for you.
The hotel also offers a fantastic buffet breakfast, fitness center, spa, and everything else a 5-star should possess.
Check the latest prices
Best mid-range hotel in Silom
Urban House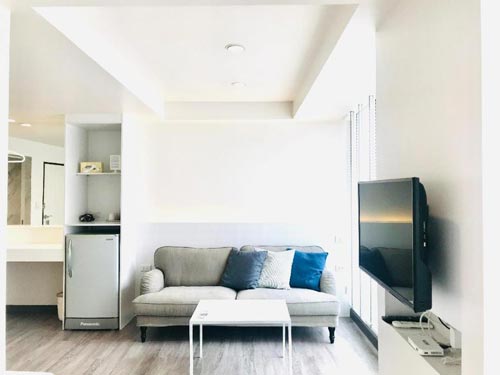 Modern apartment with all the luxuries you can think of, including an extra comfy bed, friendly host, AC, spacious room, Bangkok's biggest park right next to you, and many public transportation options.
Check the latest prices
Best budget hotel in Silom
Kinnon Deluxe Hostel Coworking Cafe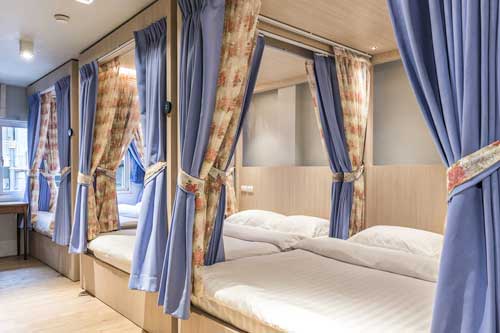 Situated between BTS Skytrain station and an MRT (metro) station, having fast wi-fi, multi-choice breakfast, and dorm rooms with large double beds, it's not a surprise this hostel rocks a whopping 9.5* from 1100+ reviews. It just has everything the budget traveler needs!
Check the latest prices
Chinatown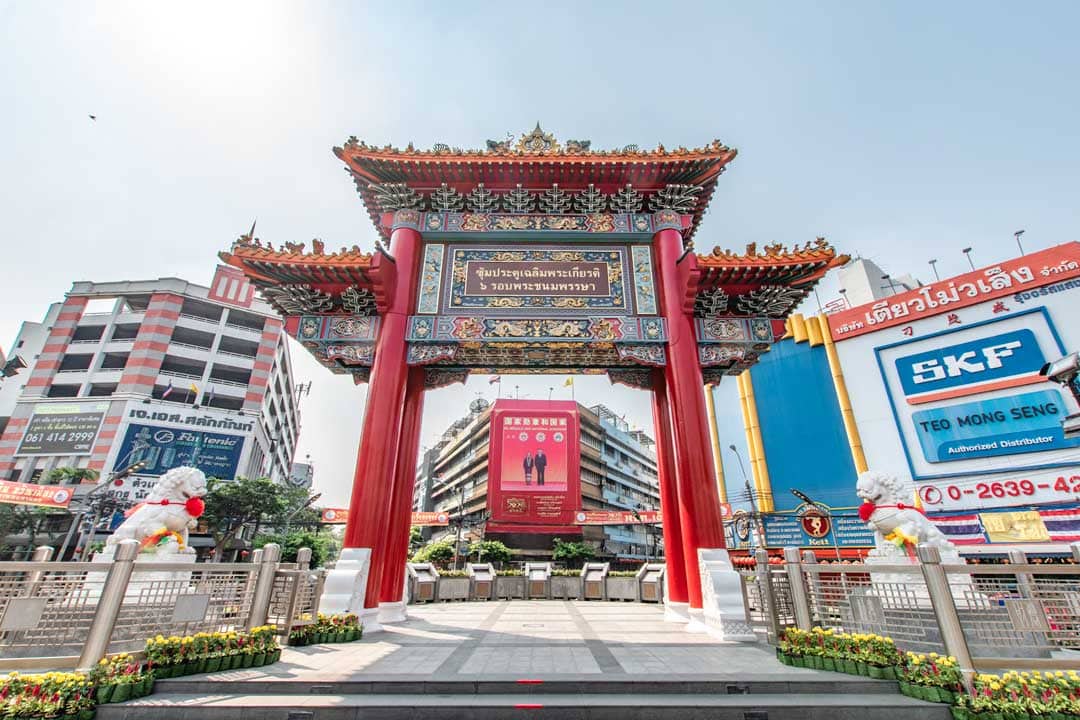 Bangkok's Chinatown is one of the oldest districts in town and also one of the biggest Chinatown areas in the world. The first Chinese merchants settled in the area back in 1780, and to this day, Chinatown is bursting with authentic sounds, smells, and experiences.
The area is centered around the Yaowart road and is famous for its gold shops, pawnshops, and street food. It's not very touristy which (depending on the kind of traveler you are) could be a good thing or a bad thing.
While Chinatown offers some of the best budget options in town, you have to keep in mind that staying there is not for everybody. The area is very chaotic, most of the buildings are old and run-down, and English is not widely spoken. If you care more about the authentic experiences, though, all those things are simply part of the fun.
What to see and do in Chinatown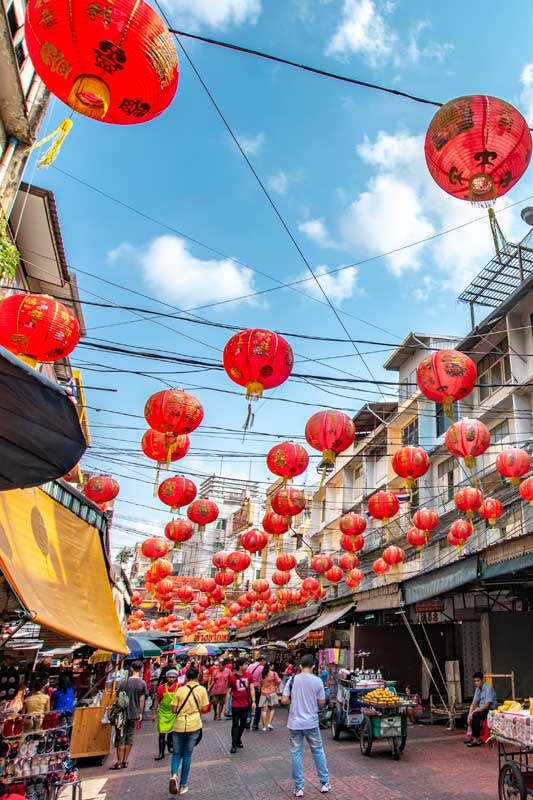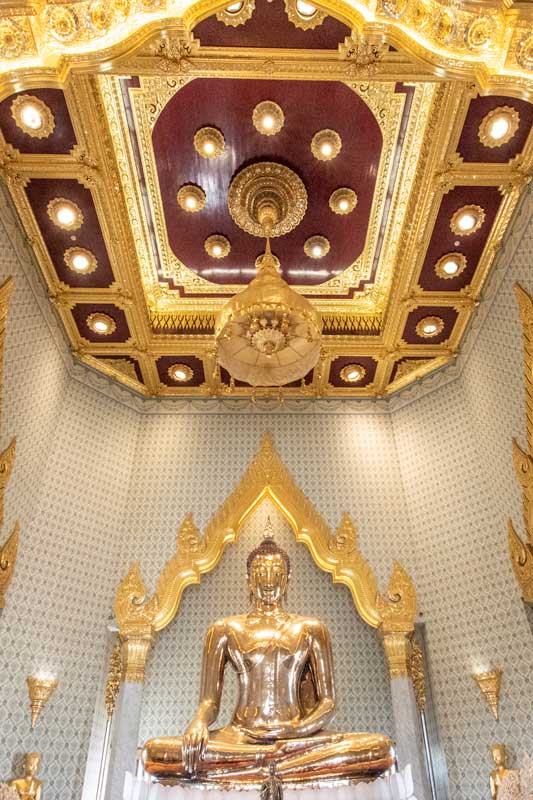 The Temple of the Golden Buddha is undoubtedly the biggest attraction in Chinatown. As the name suggests, a giant 5.5 tons golden Buddha statue is the highlight of this small temple. While almost every temple in Bangkok has a gilded giant Buddha, this is the only one with a real gold-one.
The main road in Chinatown is a great place to find some of the world's best street food. Explore when the sun goes down to be immersed into the genuine Asian atmosphere.
the largest and most famous Chinese Buddhist temple in Bangkok is designed a little bit differently than the typical Thai temples. The place is bursting with people during the Chinese holidays and especially during the Lunar New Year.
Is Chinatown the best area to stay in Bangkok?
If you're after raw snd authentic Asian experiences, Chinatown is absolutely the best area to stay in Bangkok for you. It has countless street food stalls and some of the oldest buildings in town. It's also connected with the other parts of Bangkok via MRT (metro) stations.
It's not for you if you're are looking for more refined restaurants and accommodation.
Pros:
Very authentic, plenty of budget options, excellent street food
Cons:
Chaotic, English is not widely spoken, western restaurants are hard to find, run-down buildings
See Also: The Hidden Gems of Bangkok
Where to stay in Chinatown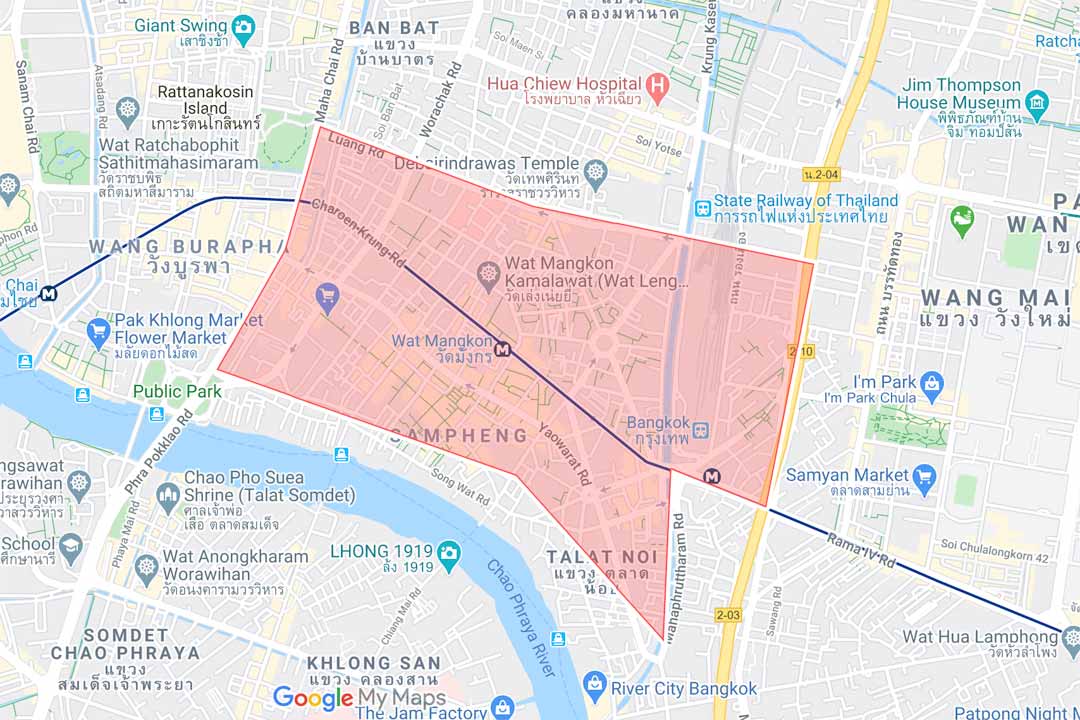 Best luxury hotel in Chinatown
Shanghai Mansion Bangkok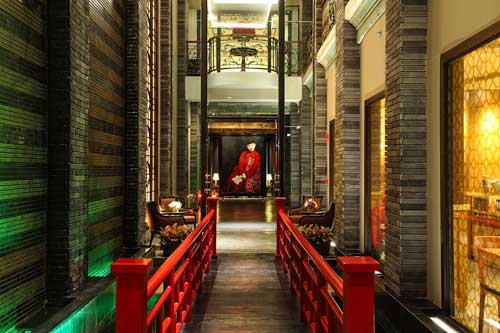 Chinatown is not really the place to go for a high-class luxury hotel experience. The Shanghai Mansion, however, is as close as it gets. Decorated like an early 20th-century Chinse home, this hotel has truly a stunning interior. They may not have a pool, but they have a great indoor garden and a complimentary experience for every night you spend there. Also a very good restaurant in case you get sick of all the street food around Chinatown.
Check out the latest prices
Best mid-range hotel in Chinatown
The Unforgotten B&B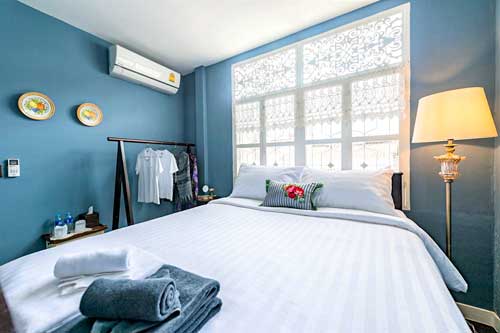 With its very well decorated comfy and spotless rooms, this B&B is a real gem. Ideally located (right next to an MRT station and a train station), with kind staff and delicious Thai breakfast. You can also pick a room with a balcony (and a garden) for a superior experience. An unforgotten B&B indeed.
Check out the latest prices
Best budget hotel in Chinatown
Tiny Taladnoi Hostel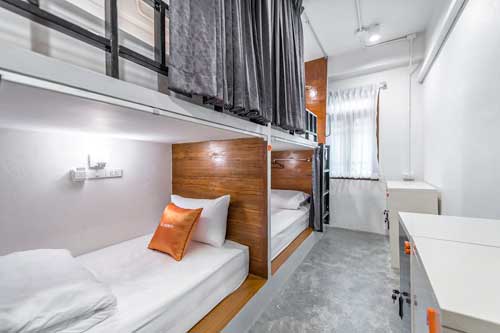 The best budget place in Chinatown is hard to pick, but for me, it's the Tiny Taladnoi Hostel. Great location close to MRT, train station and a boat pier, you are as well connected as possible. If bunk beds are not your thing, you can also get inexpensive private rooms. There's a good AC, more than decent breakfast, very kind owner, and as a bonus – a few cute cats.
Check out the latest prices
Pratunam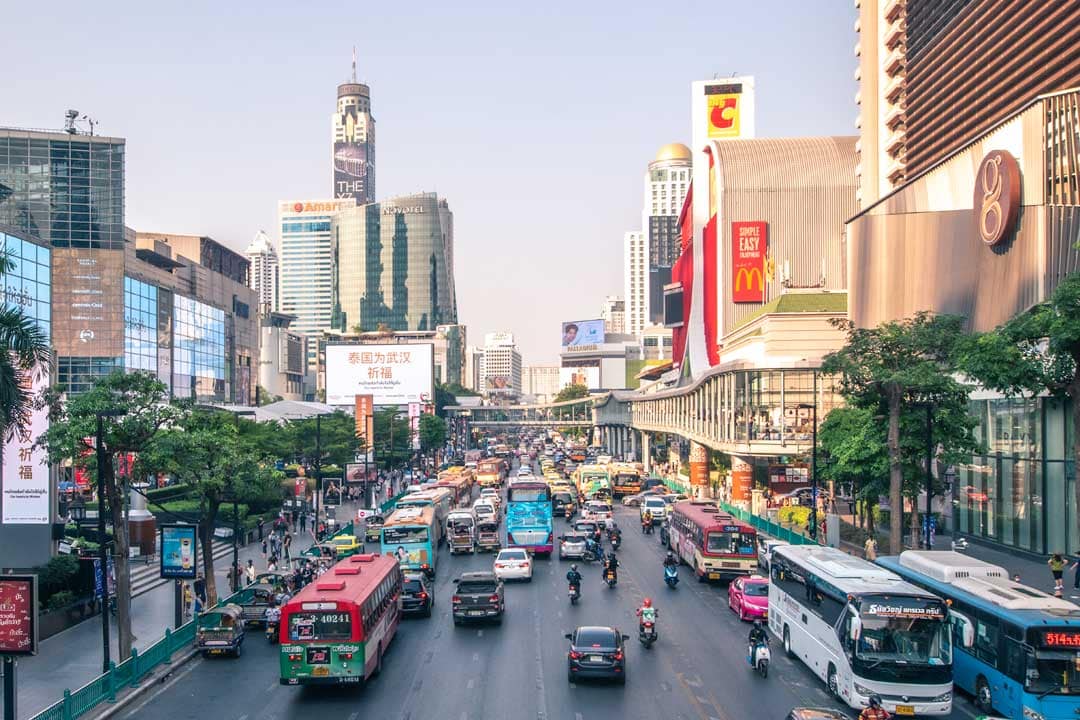 Pratunam is like Siam's little brother. Located in a walking distance from it, Pratunam also offers plenty of shopping opportunities. Unlike Siam, however, the area is more authentic, the shopping centers are more Thai style than western, and the accommodation is a little bit cheaper.
While there's no BTS station in Pratunam, there are plenty right next to the area, so getting around won't be an issue. It's also very close to the airport train.
What to see and do in Pratunam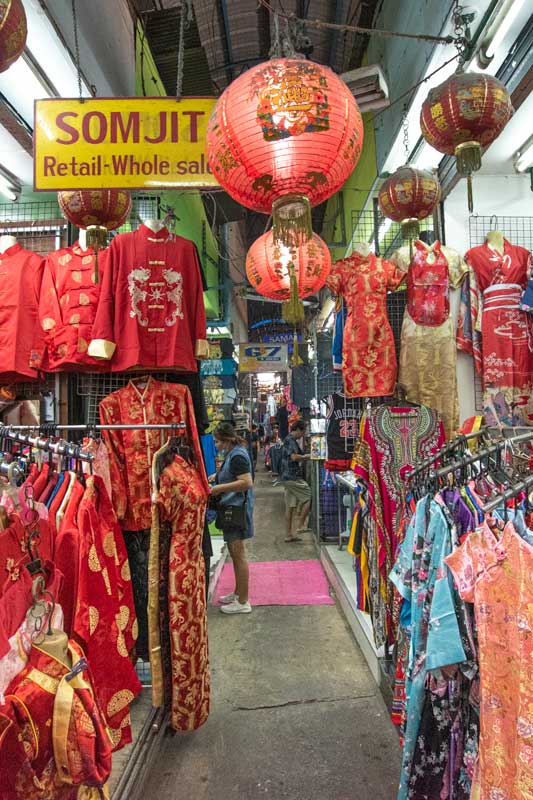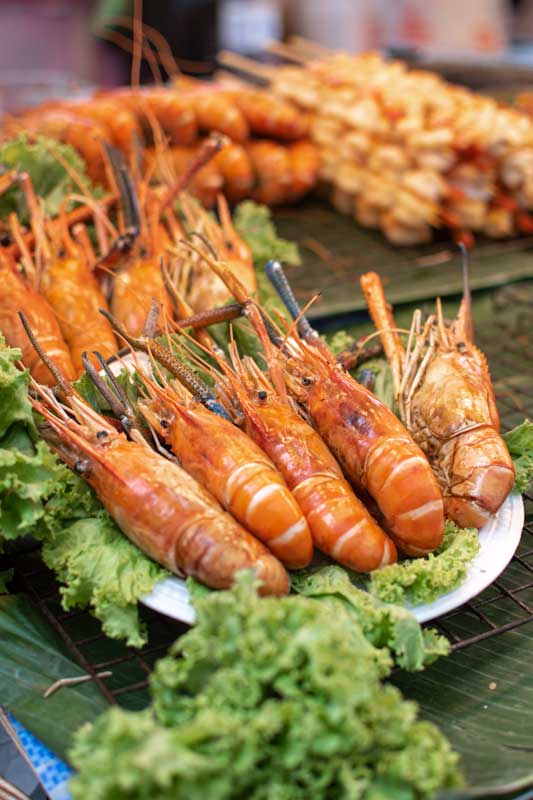 The Pratunam Market is a local favorite. It's mostly a fashion market that is famous for its wholesales. You can find both local products and well-known brands fakes there, all at an excellent price.
A military monument that is nothing special to see, but it's a great place to find cheap and tasty street food. Really one of the best street food places in town.
Pantip Plaza is the "nerd" mall of Bangkok. Inside, you can get all sorts of electronics, cameras, laptops, accessories, phones, original (and not so original) games and movies. Whatever tech you need, Pantip Plaza has it.
Is Pratunam the best area to stay in Bangkok?
If you're coming to Bangkok for shopping, but you don't want to pay extra to stay in Siam, Pratunam is the best area for you.
Pros:
Great markets, moderate prices, close to plenty of BTS stations
Cons:
Bustling area with plenty of traffic, not that touristy hence less restaurant and accommodation options
Where to stay in Pratunam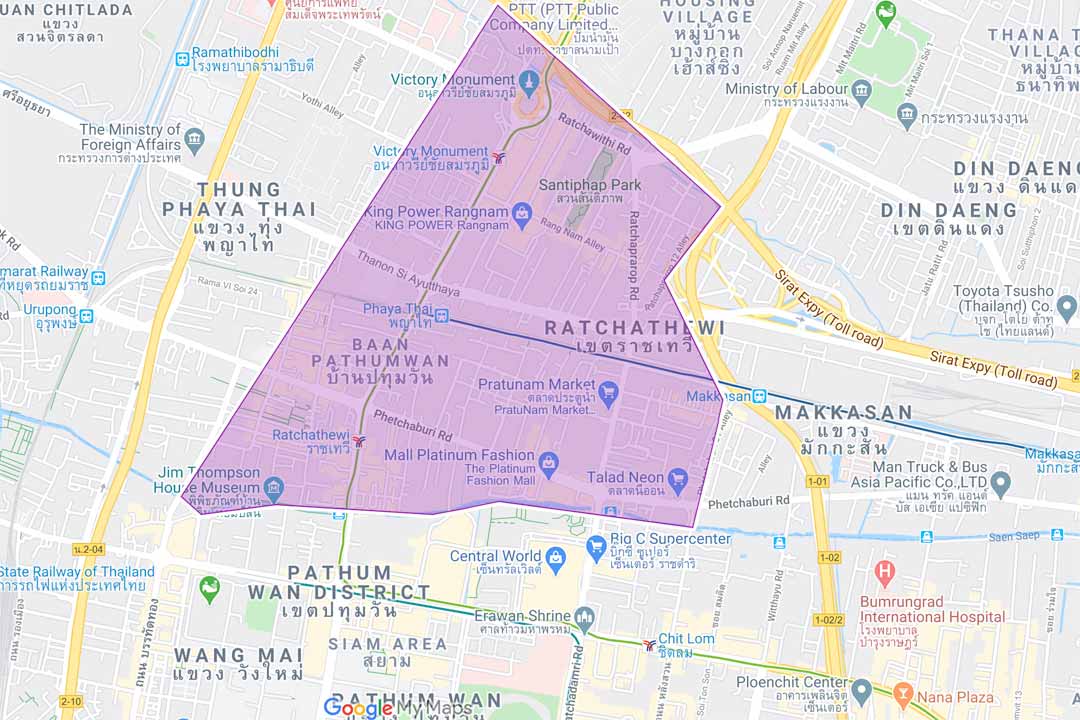 Best luxury hotel in Pratunam
VIE Hotel Bangkok, MGallery
This 5-star hotel is ideally located right next to the Ratchathewi BTS station and 500 meters away from Siam Discovery and Jim Thompson House. Speaking of Jim Thompson, all rooms are decorated with its trademarked Thai silk and feature 2 TVs, a working area, and a spacious bathroom with a tub.
IE hotel also has an outdoor pool and a top-notch spa. Considering everything that offers, the hotel is on the cheap side for such luxurious accommodation and can be considered a fantastic value.
Check the latest prices
Best mid-range hotel in Pratunam
Sukhon Hotel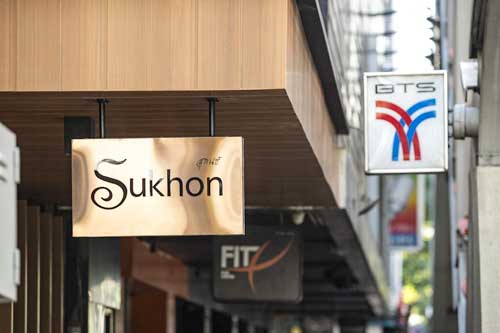 Located right on the exit of the Phaya Thai BTS station, Sukhon hotel is perfect for town exploration and for easy access to the airport (Phaya Thai is also the last station of the Airport Railway Link). The hotel has modern and clean rooms (some of them with a lovely city view), a fridge, a safe and a tv. The staff also goes above and beyond to make your stay a pleasant one. If they hear you leave to the airport via ARL, they won't only show you the way, but would also insist to help you with the luggage all the way to the station.
Check the latest prices
Best budget hotel in Pratunam
Pinto Hostel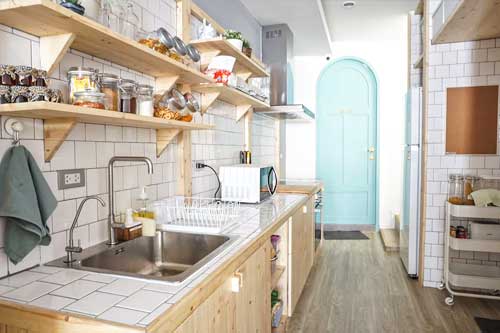 A nice and clean hostel where everything seems to be made out of wood. Pinto is a favorite among Pratunam travelers, rocking an impressive 9.6 grade (out of 700+ reviews). Some of the biggest perks of the hostel are its location (close to BTS Ratchathewi station), the breakfast, the awesome staff, and the free coffee and cookies.
Check the latest prices
Suvarnabhumi Airport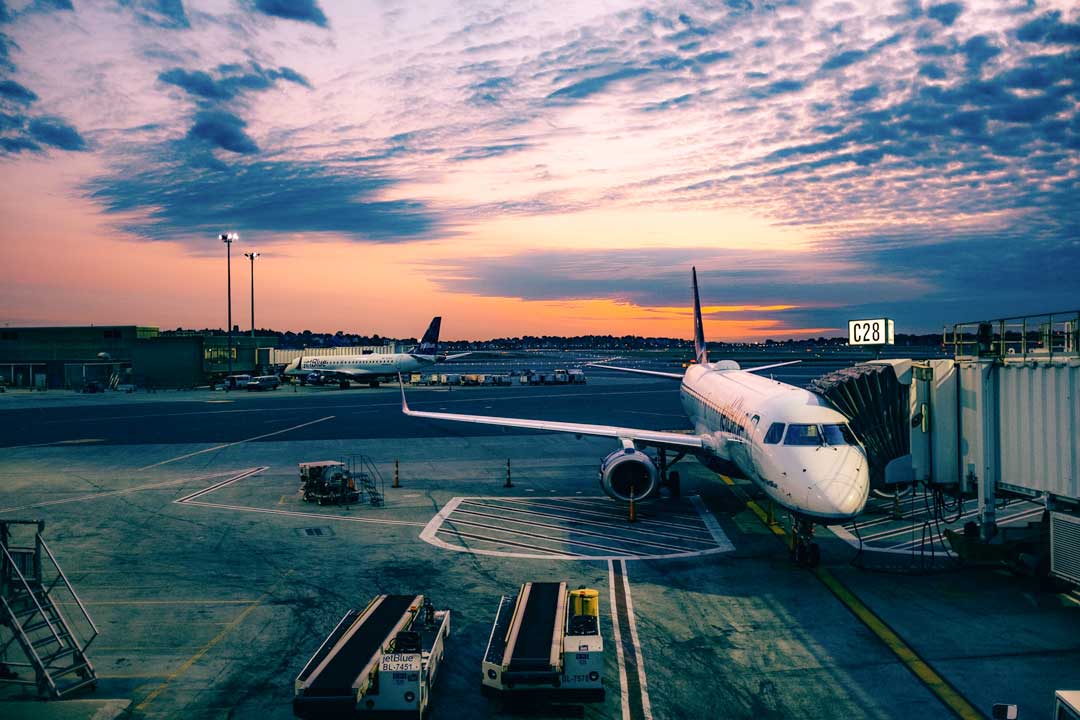 The only reason you should stay around the airport is if you really have very little time in Bangkok. I've met plenty of people who neglected Bangkok during their Thailand travels, which is a big mistake, in my opinion. If, however, you already have your tickets and you have just one night (or a few hours) in the capital of Thailand, staying somewhere around the airport is definitely your best area to stay in Bangkok.
Where to stay near Suvarnabhumi Airport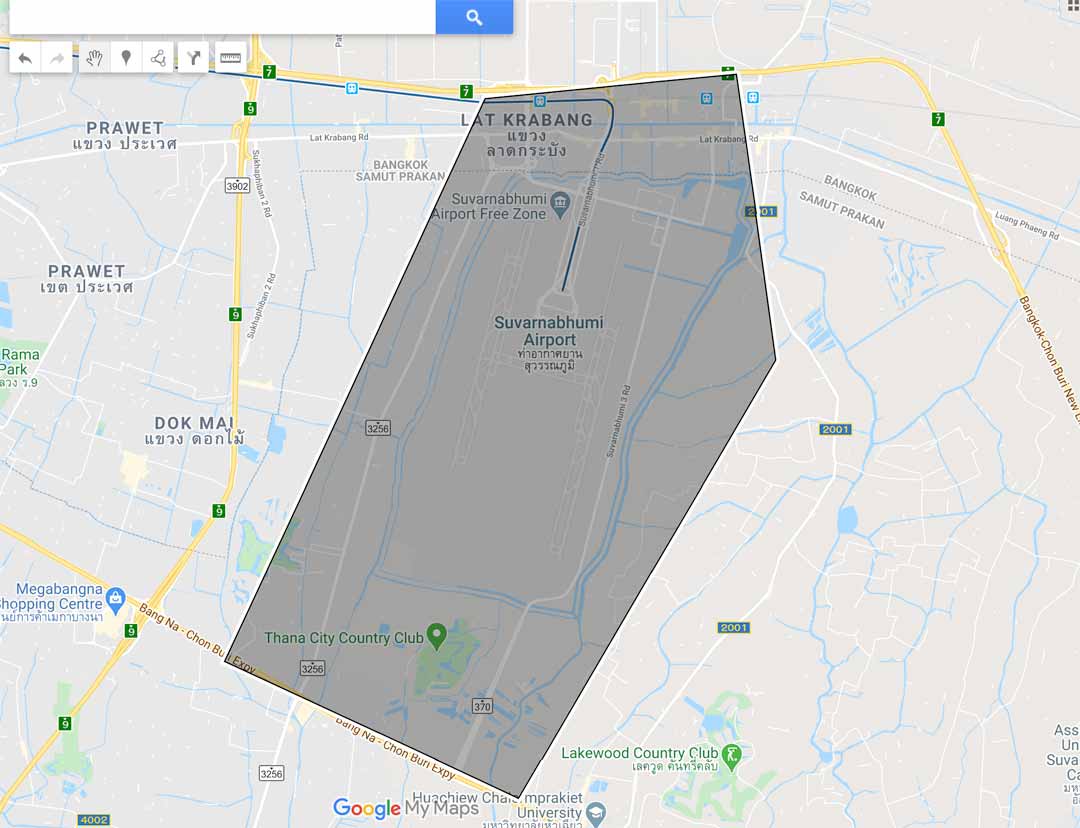 Best luxury hotel near Suvarnabhumi airport
Summit Windmill Golf Residence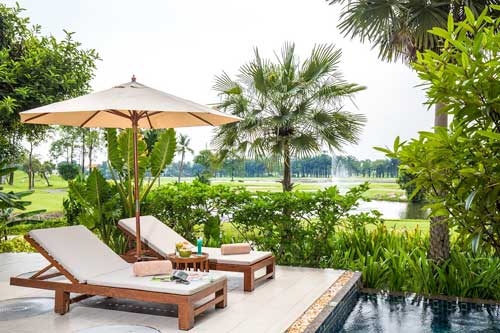 A five-star hotel located right across Suvarnabhumi Airport. A very luxurious place that is quite inexpensive for all that it offers. The best feature of the spacious rooms is the french windows that reveal an astonishing garden view. If that's not enough, you also have a nice balcony to enjoy the park around you.
Your room is basically a tiny apartment with a living room that even has a washing machine. It comes with the regular perks of 5-star hotels such as a swimming pool, gym, and a free airport shuttle.
Check the latest prices
Best mid-range hotel near Suvarnabhumi airport
Pimthong Place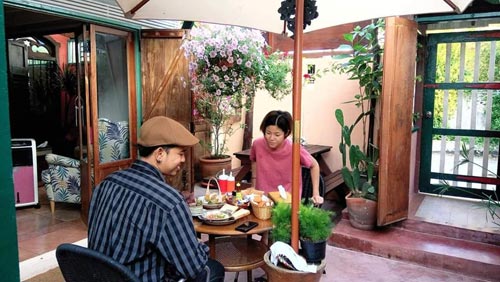 Pimthong Place is one of the best places you can find near the airport. Offering a traditional Thai interior in an authentic neighborhood, rooms with terraces, home-cooked breakfast, and polite and helpful hosts, this place is one of the best-value spots in the city.
Check the latest prices
Best budget hotel near Suvarnabhumi airport
MORN-ING HOSTEL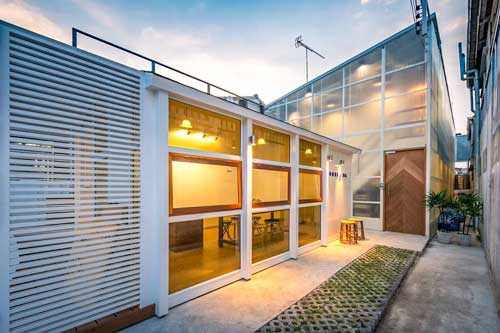 Just a few km away from the Suvarnabhumi, the Morn-ing Hostel is the perfect airport budget option. You have a lot of room options, private bathroom, breakfast included in the price (they can pack it up if you have an early flight) and an airport drop off. There's nothing more a budget traveler can ask for.
Check the latest prices
Bangkok Areas Map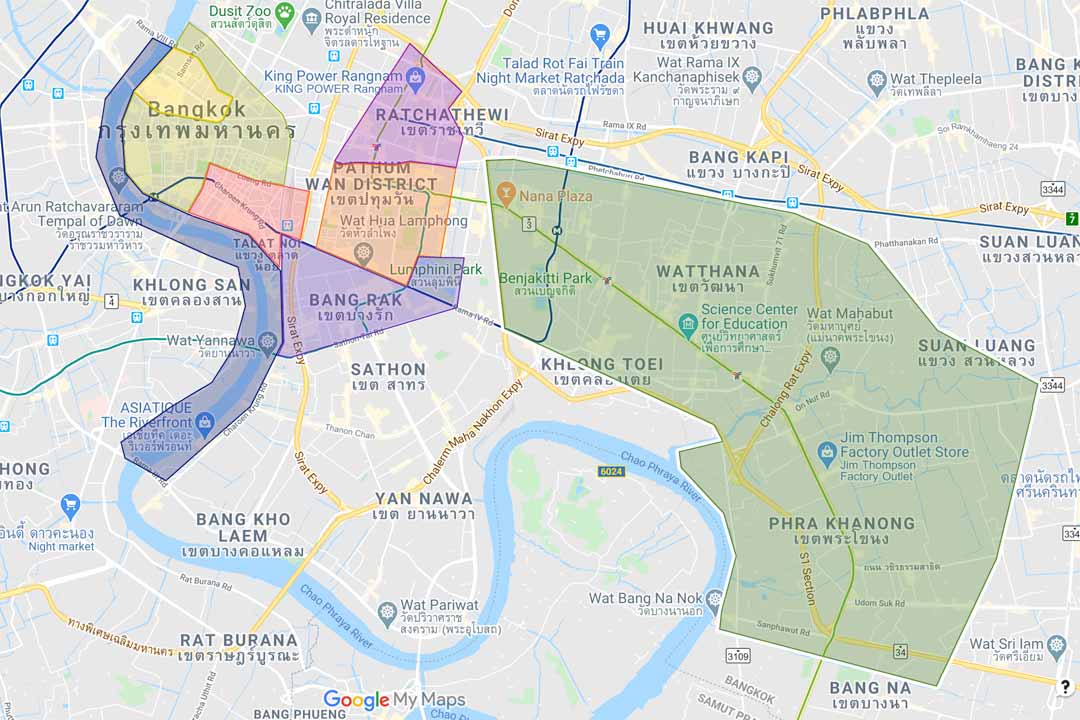 That's all from me, I hope you find the best area to stay in Bangkok and have a wonderful trip!
————————————
If you haven't planned your trip there yet, find out how I plan my trips!
————————————
I have 32 bucket list ideas for Thailand. See my impossible bucket list of 1700+ adventures!

Do you have a favorite Bangkok hotel?
---
Some of the above are affiliate links and I will earn a percentage of the sale if you purchase through them at no extra cost to you. This helps keep my site running – so thanks in advance for your support!