Few cities in the world are as remarkable and idealized as the city of lights is. Planning a journey to the capital of France leads to such levels of inspiration that you need some Paris quotes just to stay sane until your flight.
Yes, Paris is one of the most sought-after travel destinations and a gathering point to some of the brightest minds there are. It has been like that for hundreds of years. No city on the globe has been home to that many writers, painters, and artists. No city comes even close.
Being the favorite town to plenty of word masters, it's not a surprise there are countless quotes about Paris. Here I collected the ones that inspired me the most or reveal the soul of the city of love (yes, Paris has plenty of nicknames).
I hope you enjoy them as much as I enjoyed collecting them!
Famous Paris Quotes
You've probably heard them already because the following 20 quotes about Paris are the most famous ones out there. Being famous is not a sin, though, and there was no way I leave them out of my collection.
1 – "Paris is always a good idea."
― Audrey Hepburn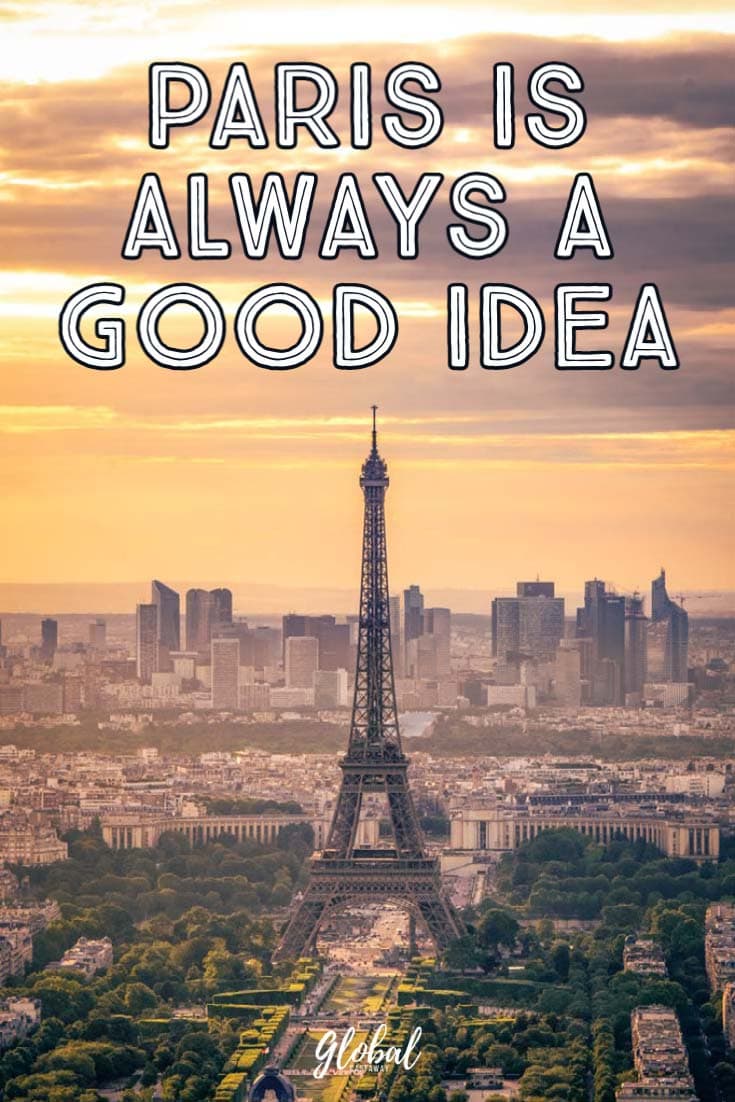 2 – "A walk about Paris will provide lessons in history, beauty, and in the point of life.
― Thomas Jefferson
3 – "She wanted to die, but she also wanted to live in Paris."
― Gustave Flaubert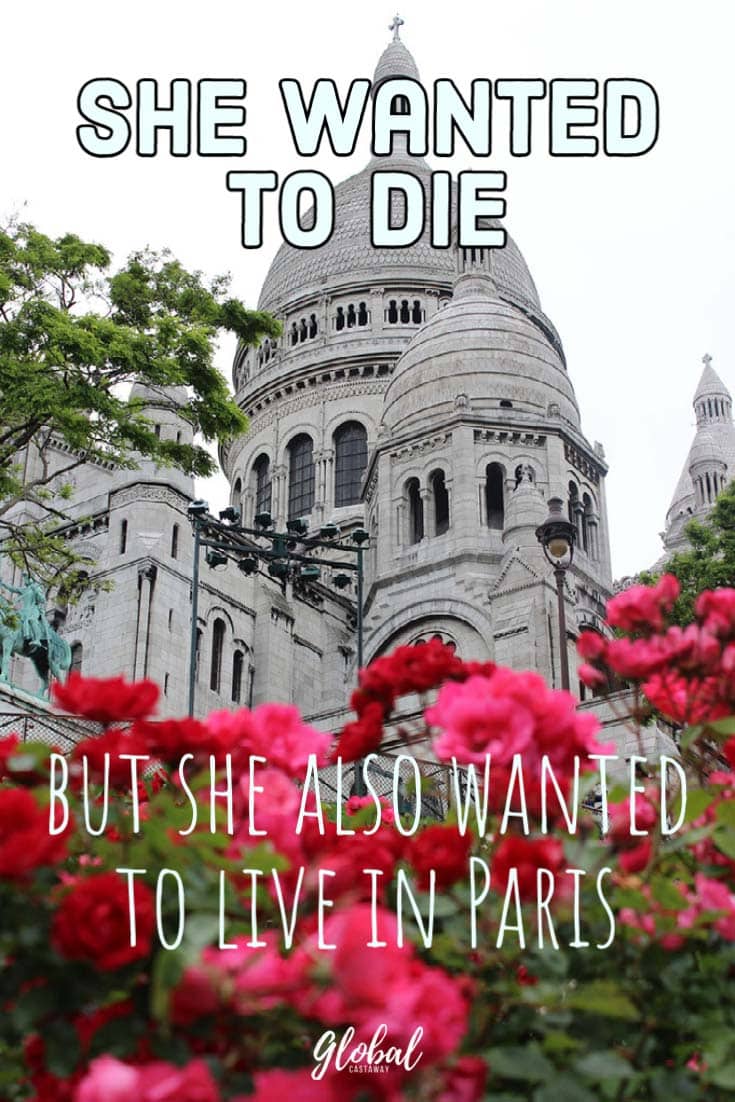 4 -"Just add three letters to Paris, and you have paradise."
― Jules Renard
5 – "When good Americans die, they go to Paris."
― Oscar Wilde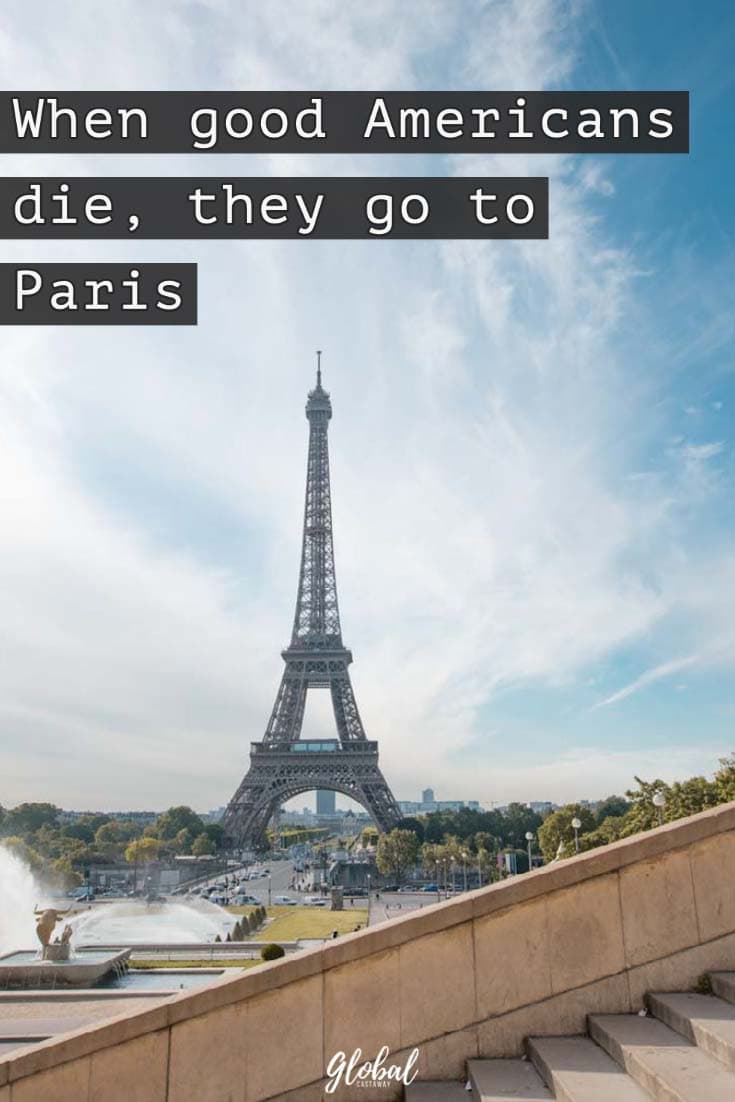 6 – "Paris, I believe, is a man in his twenties in love with an older woman."
― John Berger
7 – "London is a riddle. Paris is an explanation."
― G. K. Chesterson
8 – "I'm not a complicated girl, she laughed, I just want to run away with you, rob a bank, fall in love and eat ice creams in Paris."
― Michael Faudet
9 – "A bad day in Paris is still a good day anywhere else."
― Unknown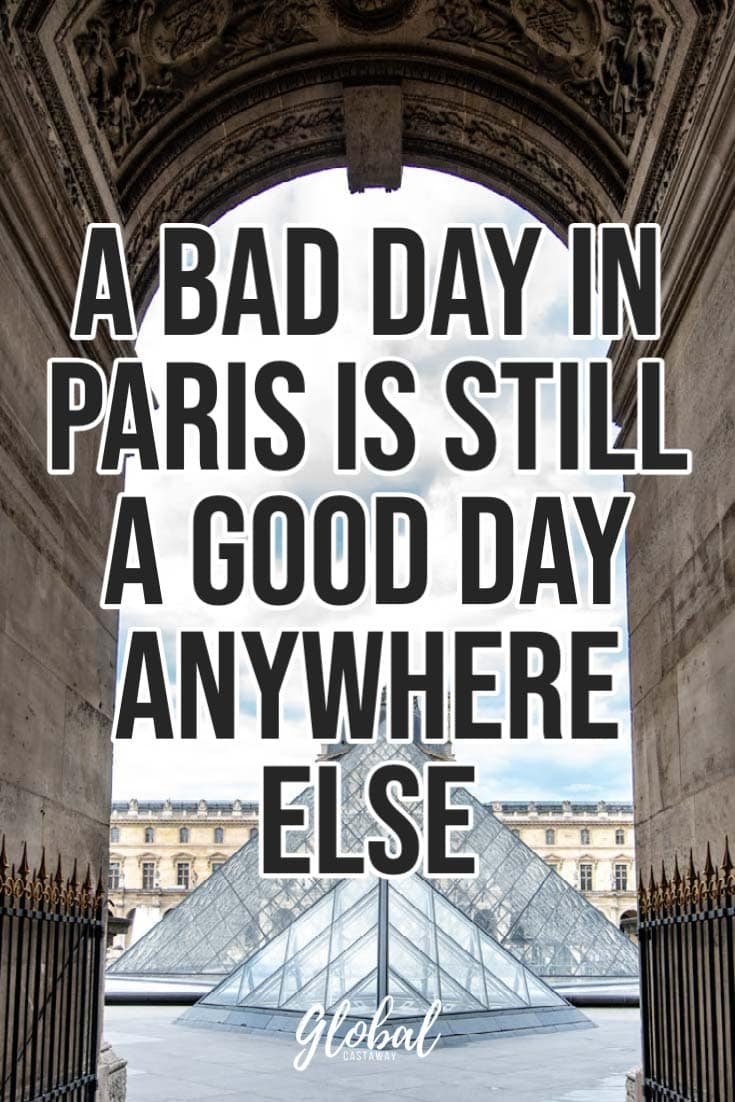 10 – "We'll always have Paris."
― Humphry Bogart, Casablanca
11 – "There is but one Paris and however hard living may be here, and if it became worse and harder even – the French air clears up the brain and does good – a world of good."
― Vincent Van Gogh
12 – "There should be a name for the syndrome that occurs when you're in Paris and you already miss it."
— Rosecrans Baldwin
13 – "I guess it goes to show that you just never know where life will take you. You search for answers. You wonder what it all means. You stumble, and you soar. And, if you're lucky, you make it to Paris for a while."
― Amy Thomas
14 – "If you have ever walked in Paris, you will see that Paris will ever walk in your memories!"
— Mehmet Murat Ildan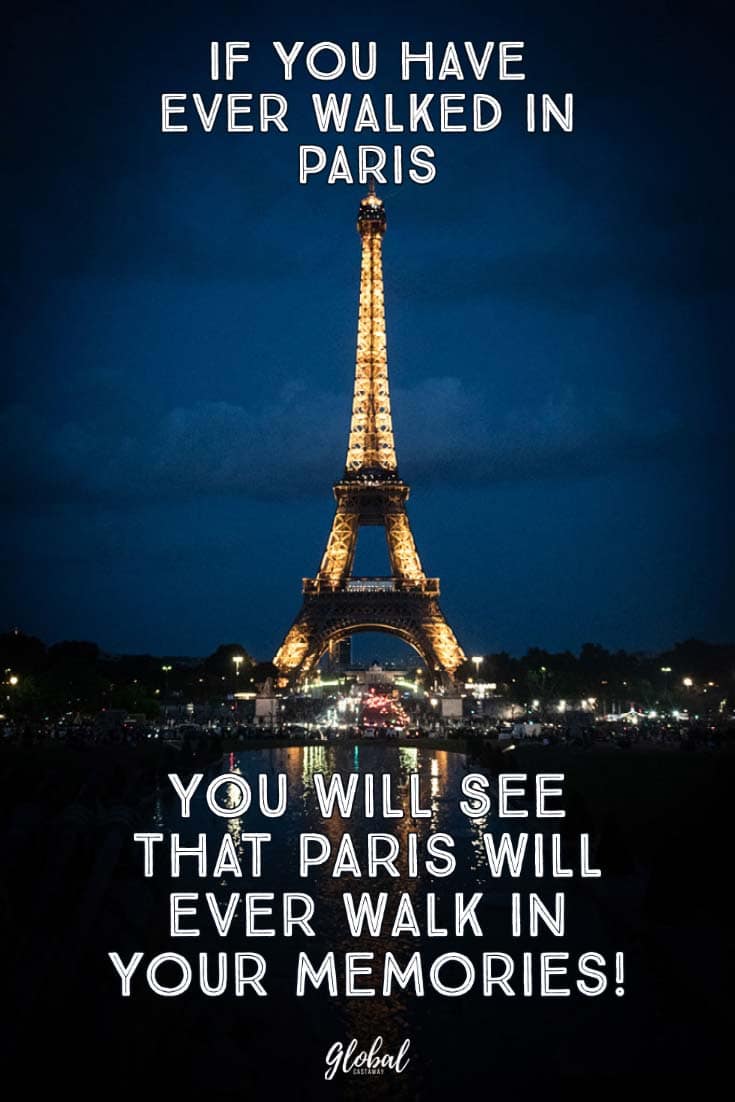 15 – "When Paris sneezes, Europe catches a cold."
― Klemens von Metternich
16 – "It's true, you never forget your first love, and, for me, that will always be Paris."
― Caitriona Balfe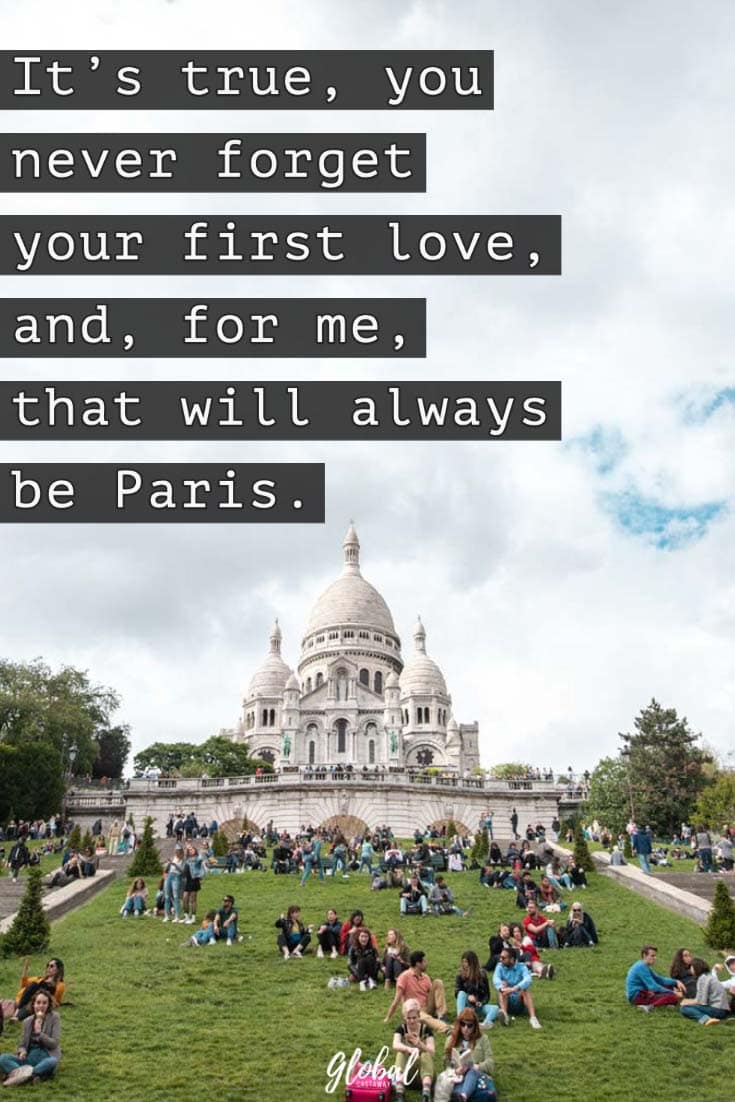 17 – "You'll have to fall in love at least once in your life, or Paris has failed to rub off on you."
― E.A. Bucchianeri
18 – "The objects of which Paris folks are fond– literature, art, medicine, and adultery."
― Mark Twain
19 – "To be a Parisian is not about being born in Paris, it is about being reborn there."
― Sacha Guitry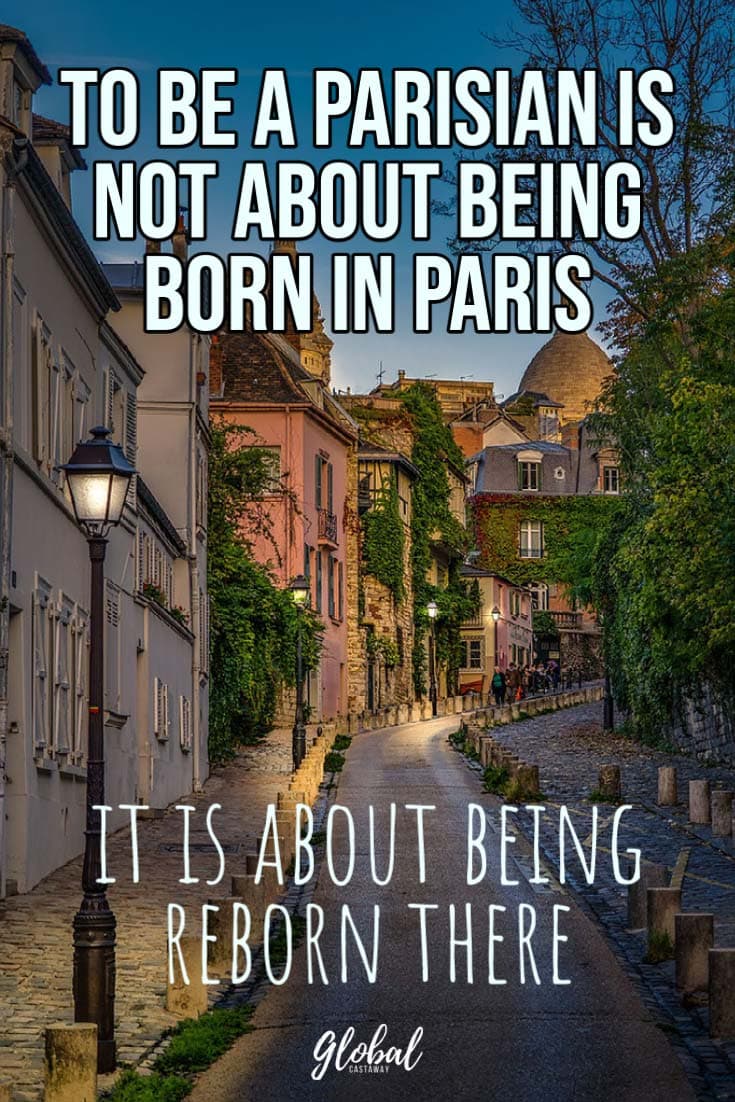 20 – "Though you may leave Paris, Paris never really leaves you."
― Janice Macleod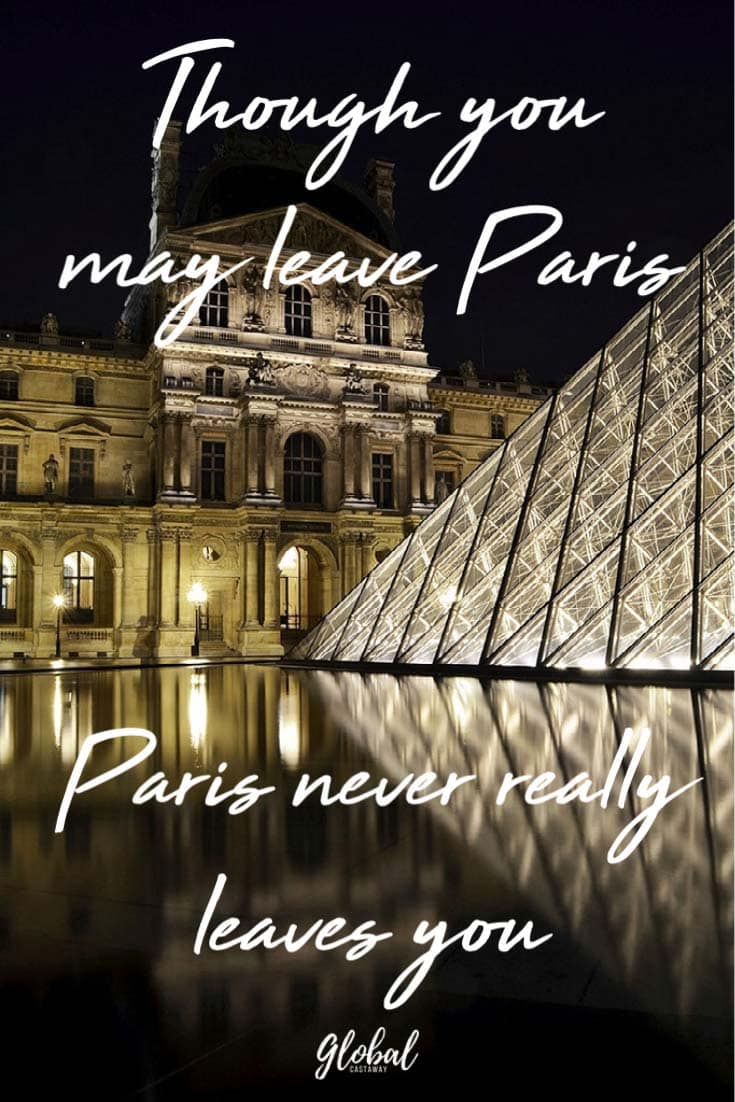 Short Quotes About Paris
If you are searching for an Instagram caption, the following 21 Paris quotes should do the trick. All you need is a sweet Eiffel tower picture, and you're guaranteed hundreds of likes!
21 – "Paris is a city where time is best to spend doing nothing."
― Erich Maria Remarque
22 – "The chief danger about Paris is that it is such a strong stimulant."
― T.S. Eliot
23 – "In Paris, our lives are one masked ball."
— Gaston Leroux
24 – "It's Paris. You don't come here for the weather."
― Adrian Leeds
25 – "In Paris, everybody wants to be an actor; nobody is content to be a spectator."
― Jean Cocteau
26 – "Paris is not a city; it's a world."
― King Francis I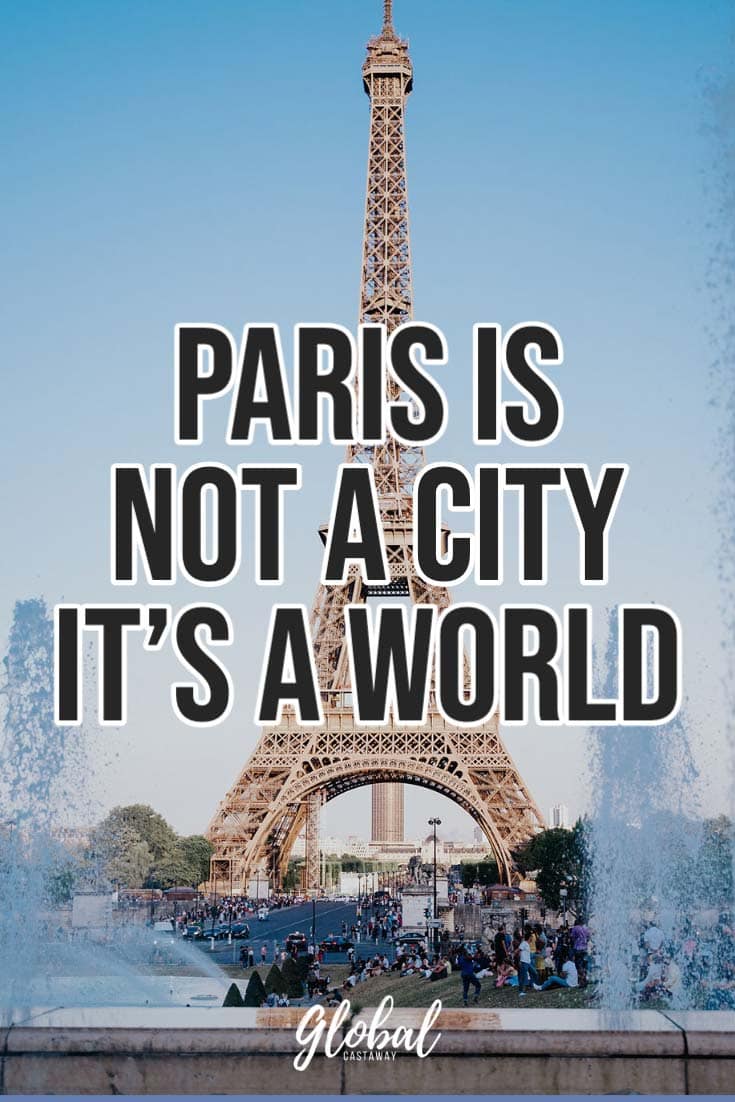 27 – "To know Paris is to know a great deal."
― Henry Miller
28 – "I fly to Paris and discover how to make love to God."
— Ann Voskamp
29 – "If you're going to be sad, you might as well be sad in Paris."
― Gossip Girl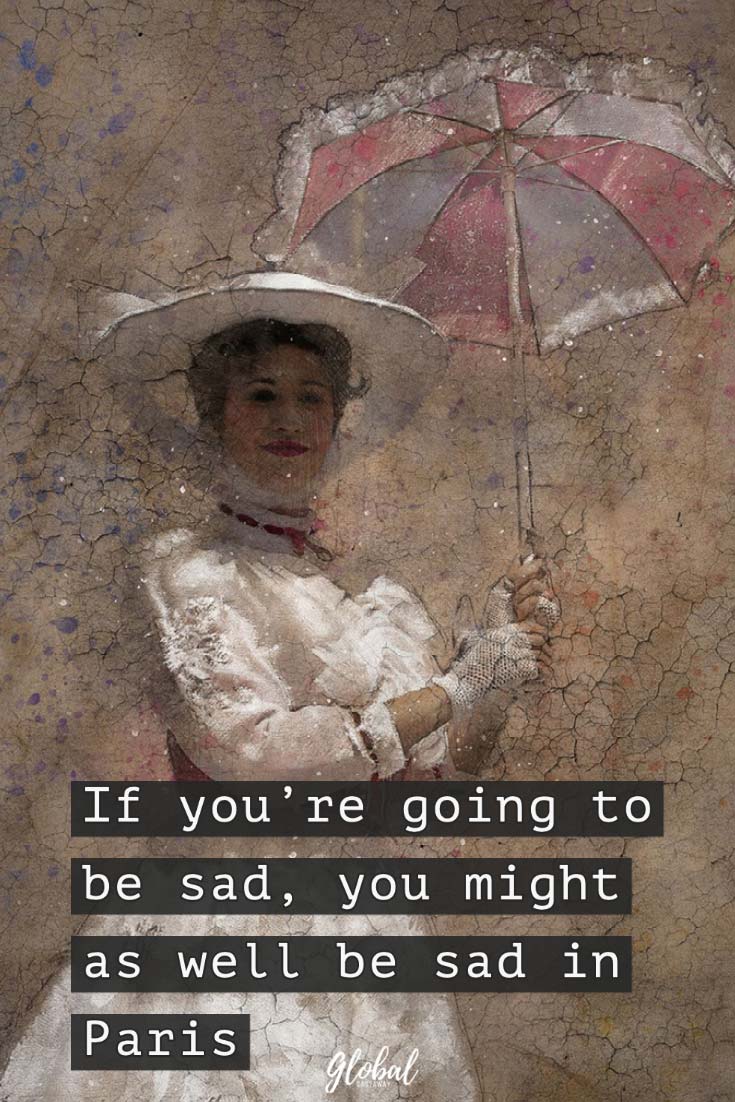 30 – "An artist has no home in Europe except in Paris."
― Friedrich Nietzsche
31 – "Paris holds the key to your heart."
― Anastasia
32 – "Secrets travel fast in Paris."
― Napoleon Bonaparte
33 – "America is my country, and Paris is my home town."
― Gertrude Stein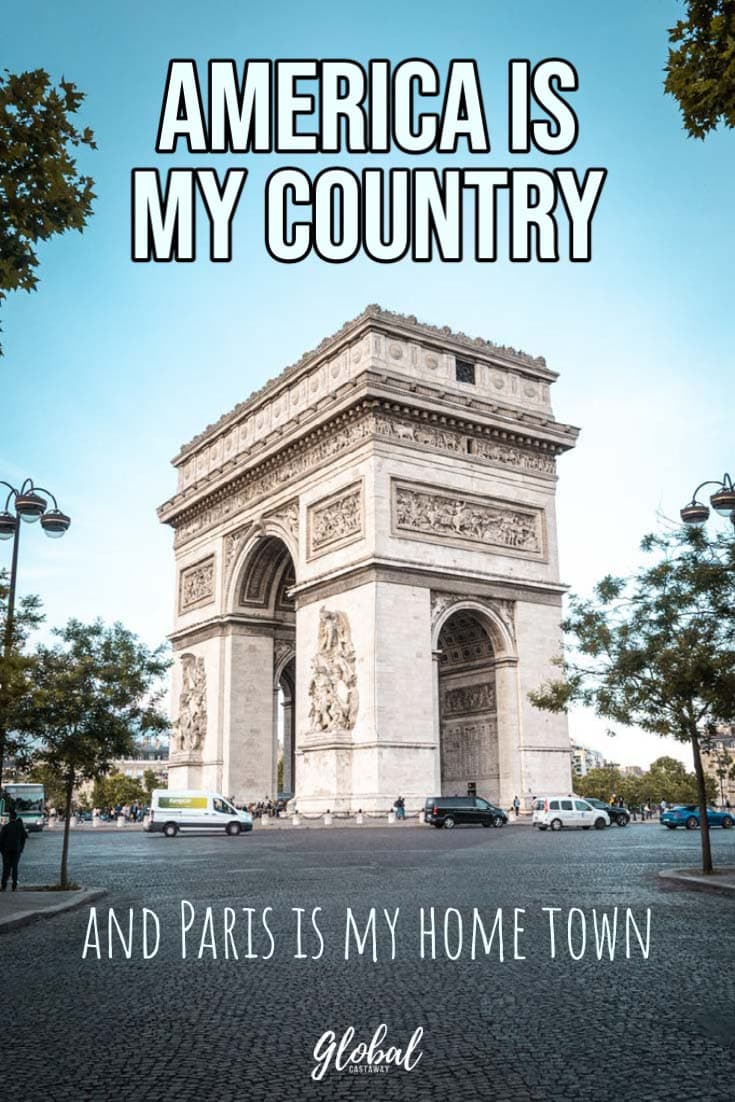 34- "Paris was a museum displaying exactly itself."
― Jeffrey Eugenides
35 – "Paris is so delicious they should call it the City of Bites."
― Audrey Hepburn
36 – "It's Paris, everyone's serious about dinner."
― Mindy, Emily in Paris
37 – "Paris is a divine section of eternity."
― E. E. Cummings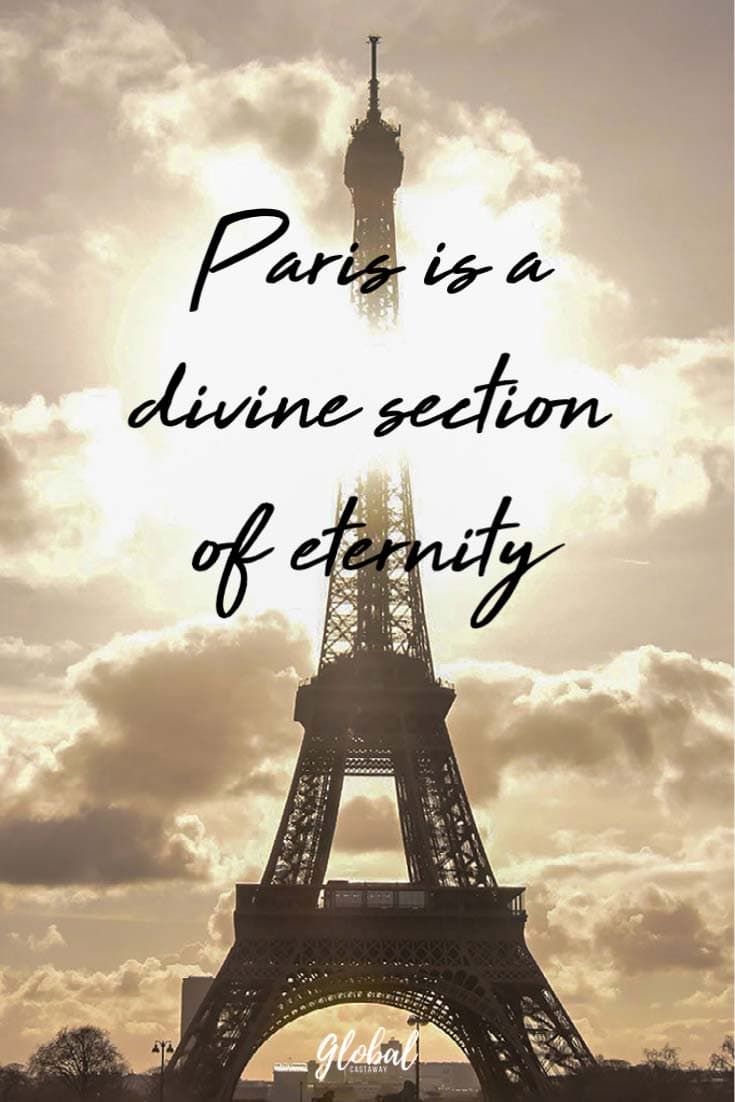 38 – "Lunch kills half of Paris, supper the other half."
― Charles de Montesquieu
39 -"Paris at night is a street show of a hundred moments you might have lived."
― Courtney Maum
40 – "Paris was where the twentieth century was."
― Gertrude Stein
41 – "Paris – There you can be whatever you want to be. Totally yourself."
— Langston Hughes
Hemingway's Paris Quotes
Ernest Hemingway is one of the most notable authors of the 20th century. He spent quite some time in the city of lights, and judging by his works, he adored Paris more than anything.
42 – "But Paris was a very old city and we were young and nothing was simple there, not even poverty, nor sudden money, nor the moonlight, nor right and wrong nor the breathing of someone who lay beside you in the moonlight."
― Ernest Hemingway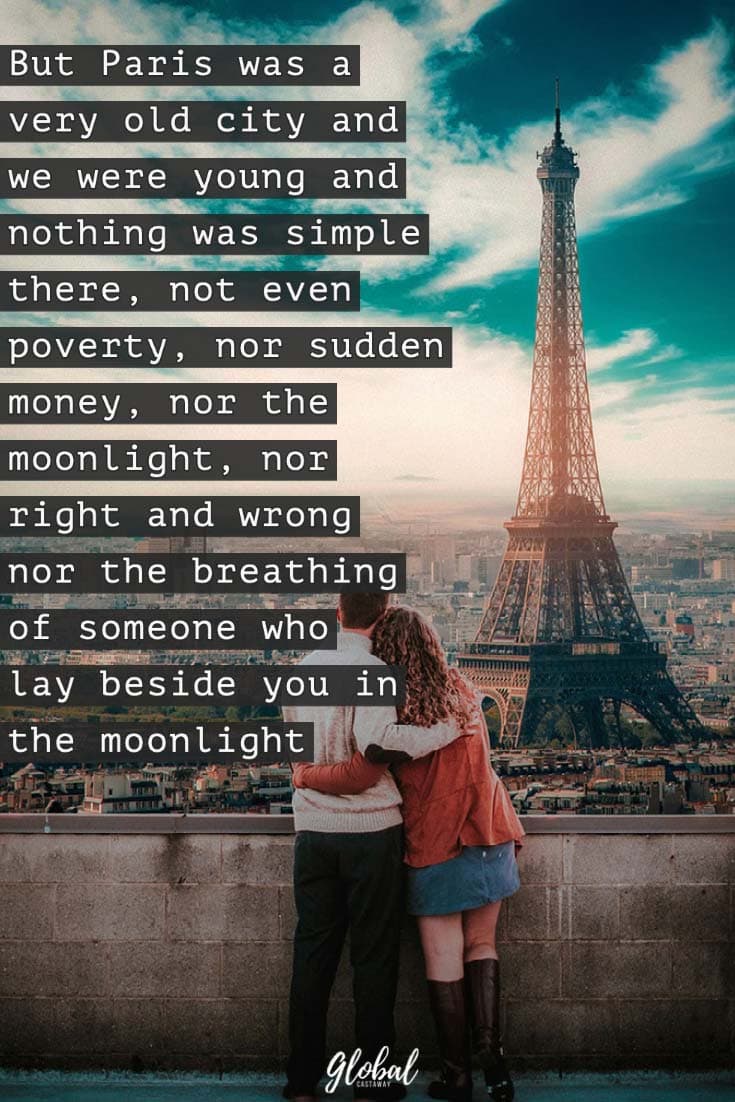 43 – "There are only two places in the world where we can live happy: at home and in Paris."
― Ernest Hemingway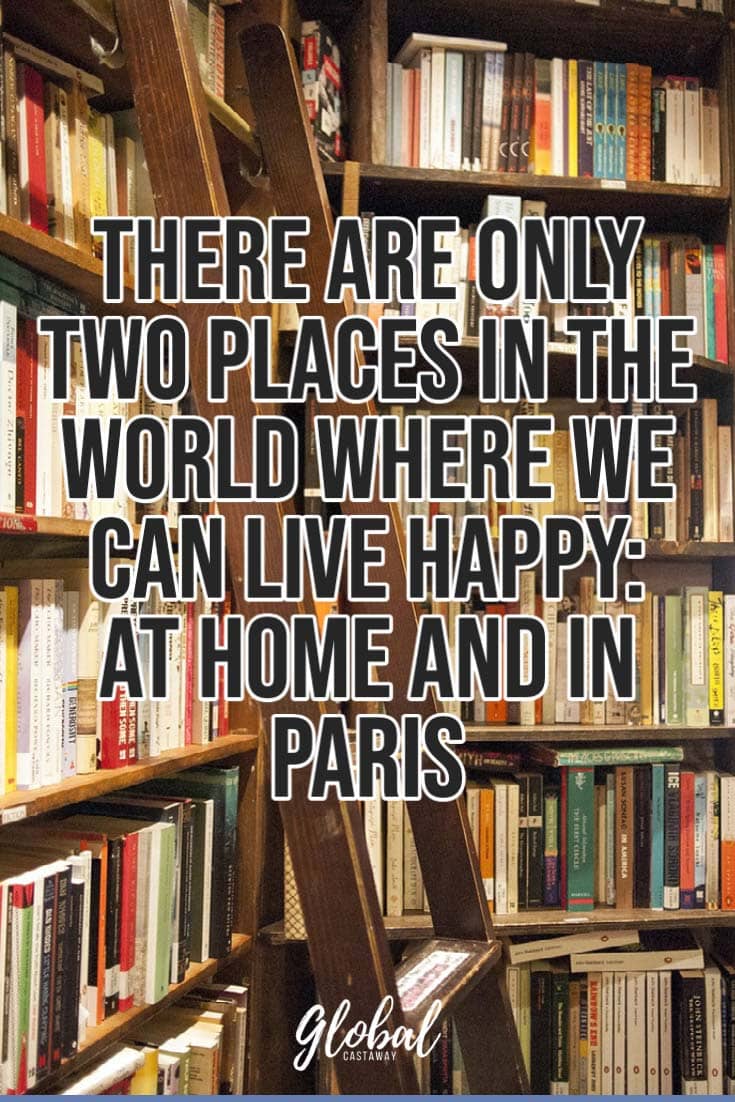 44 – "Paris is so very beautiful that it satisfies something in you that is always hungry in America."
― Ernest Hemingway
45 – "If you are lucky enough to have lived in Paris as a young man, then wherever you go for the rest of your life, it stays with you, for Paris is a moveable feast."
― Ernest Hemingway
46 – "I've seen you, beauty, and you belong to me now, whoever you are waiting for and if I never see you again, I thought. You belong to me and all Paris belongs to me and I belong to this notebook and this pencil."
― Ernest Hemingway
Victor Hugo's Quotes About Paris
Victor Hugo is the most celebrated French writer. The author of Les Misérables and The Hunchback of Notre-Dame spent most of his life in the capital and produced some of the most memorable Paris quotes.
47 – "To err is human. To loaf is Parisian."
― Victor Hugo
48 – "He who contemplates the depths of Paris is seized with vertigo.
Nothing is more fantastic. Nothing is more tragic.
Nothing is more sublime."
― Victor Hugo
48 – "Breathe Paris in. It nourishes the soul."
― Victor Hugo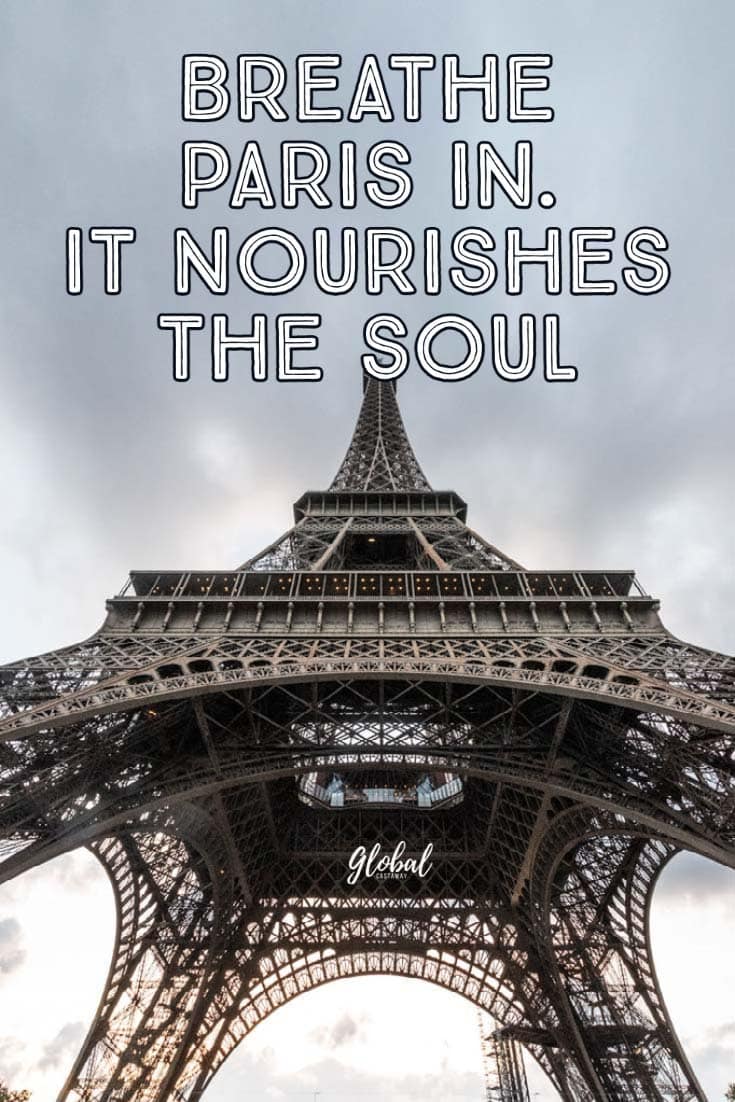 49 – "To study in Paris is to be born in Paris!"
― Victor Hugo
50 – "The Parisian is to the French what the Athenian was to the Greeks: no one sleeps better than he, no one is more openly frivolous and idle, no one appears more heedless."
― Victor Hugo
More Quotes About Paris
And if you can't find anything inspirational up there (you're a tough nut, aren't you), I've got some additional Paris quotes that should do the trick.
51 – "Paris is a heaven for all women's obsessions: hot men, great chocolates, scrumptious pastries, sexy lingerie, cool clothes but, as any shoe-o-phile knows, this city is a hotbed of fabulous shoes."
― Kirsten Lobe
52 – "Like a book on a shelf I'd waited years to open, Paris had always been waiting for me…"
― Louisa Deasey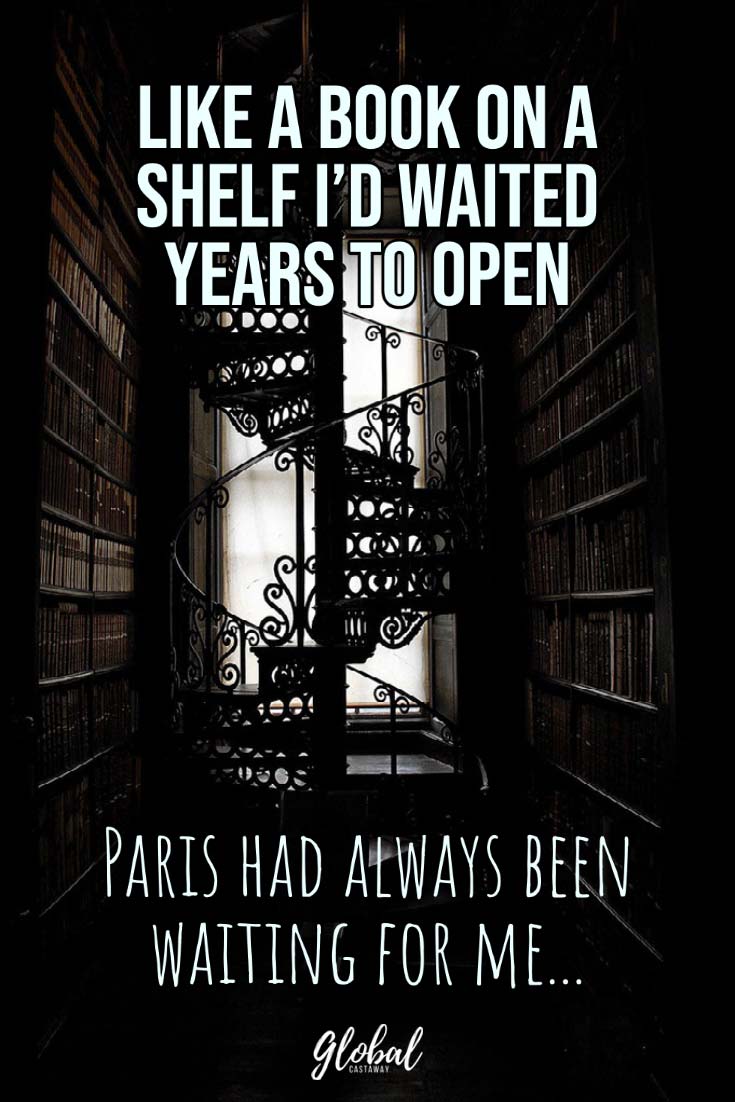 53 – "You can't escape the past in Paris, and yet what's so wonderful about it is that the past and present intermingle so intangibly that it doesn't seem to burden."
― Allen Ginsberg
54 – "La Vie En Rose. It is the French way of saying, 'I am looking at the world through rose-coloured glasses."
― Audrey Hepburn
55 – "I had forgotten how gently time passes in Paris. As lively as the city is, there's a stillness to it, a peace that lures you in. In Paris, with a glass of wine in your hand, you can just be."
― Kristin Hannah
56 – "Though I often looked for one, I finally had to admit that there could be no cure for Paris."
― Paula McLain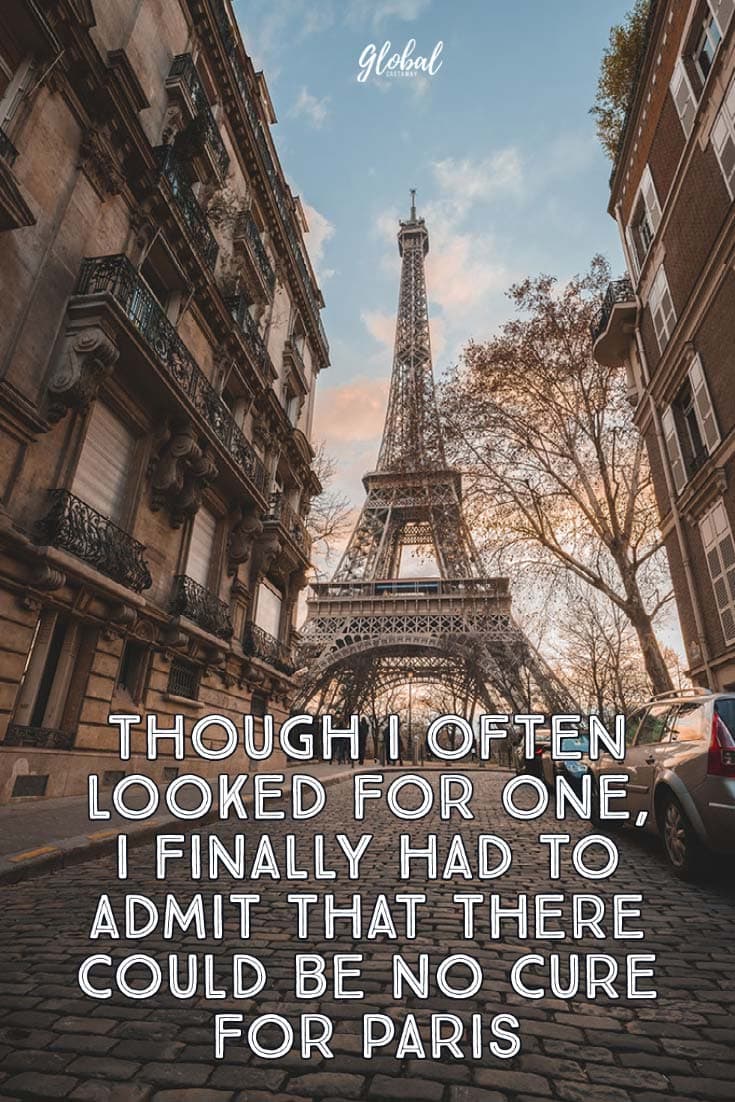 57 – "Paris is a woman but London is an independent man puffing his pipe in a pub."
― Jack Kerouac
58 – "Whether you like it or not, Paris is the beating heart of Western civilization. It's where it all began and ended."
― Alan Furst
59 – "Paris at dawn is one of those rare cities where you get the impression that something worthwhile could actually happen to you."
― Pierre Assouline
60 – "Even the pigeons are dancing, kissing,
going in circles, mounting each other.
Paris is the city of love, even for the birds."
― Samantha Schutz
61 – "That Paris exists and anyone could choose to live anywhere else in the world will always be a mystery to me."
― Marion Cotillard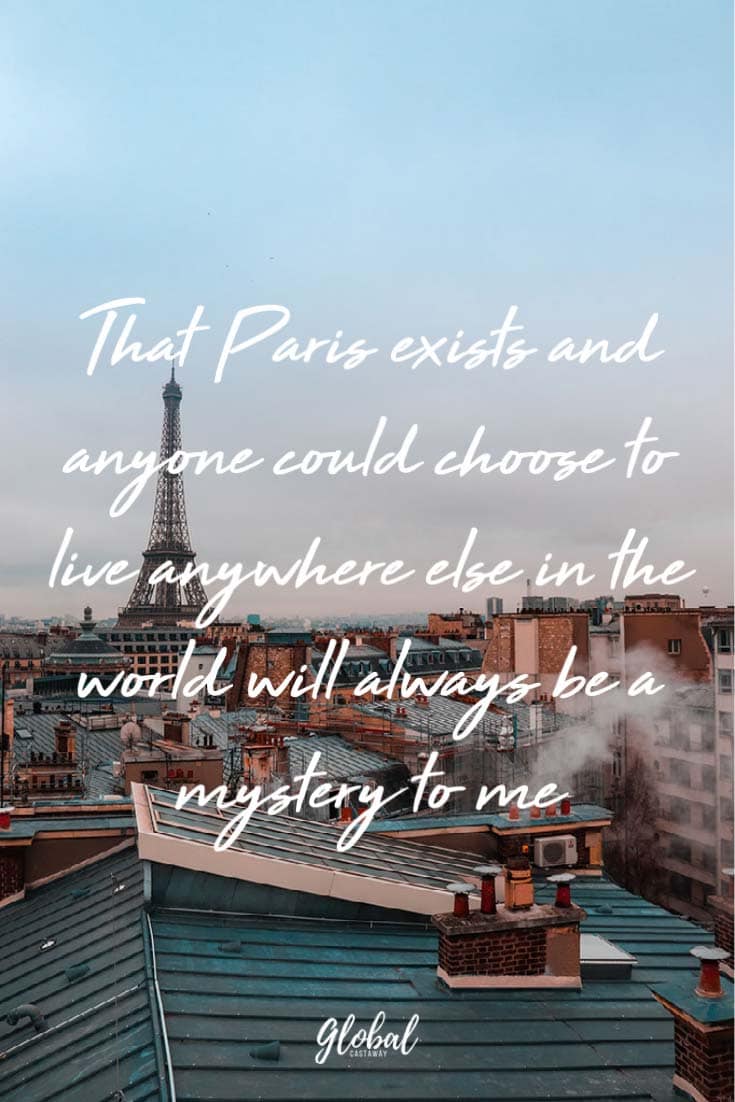 62 – "Sitting there, alone in a foreign country, far from my job and everyone I know, a feeling came over me. It was like remembering something I'd never known before or had always been waiting for, but I didn't know what. Maybe it was something I'd forgotten or something I've been missing all my life. All I can say is that I felt, at the same time, joy and sadness. But not too much sadness, because I felt alive. Yes, alive. That was the moment I fell in love with Paris. And I felt Paris fall in love with me."
― from the Paris Je T'Aime movie
63 – "I think Paris smells, and not just sweet but melancholy and curious, sometimes sad but always enticing and seductive. She's a city for all the senses, for artists and writers and musicians and dreamers, for fantasies, for long walks and wine and lovers and yes, for mysteries."
― M.J. Rose
64 – "I know so much is going to happen here, but I just don't know how. It feels like Paris is full of so many adventures just waiting to be had."
― Rachel Kapelke-Dale
65 – "Le seul vrai langage au monde est un baiser — The only true language in the world is a kiss."
― Alfred de Musset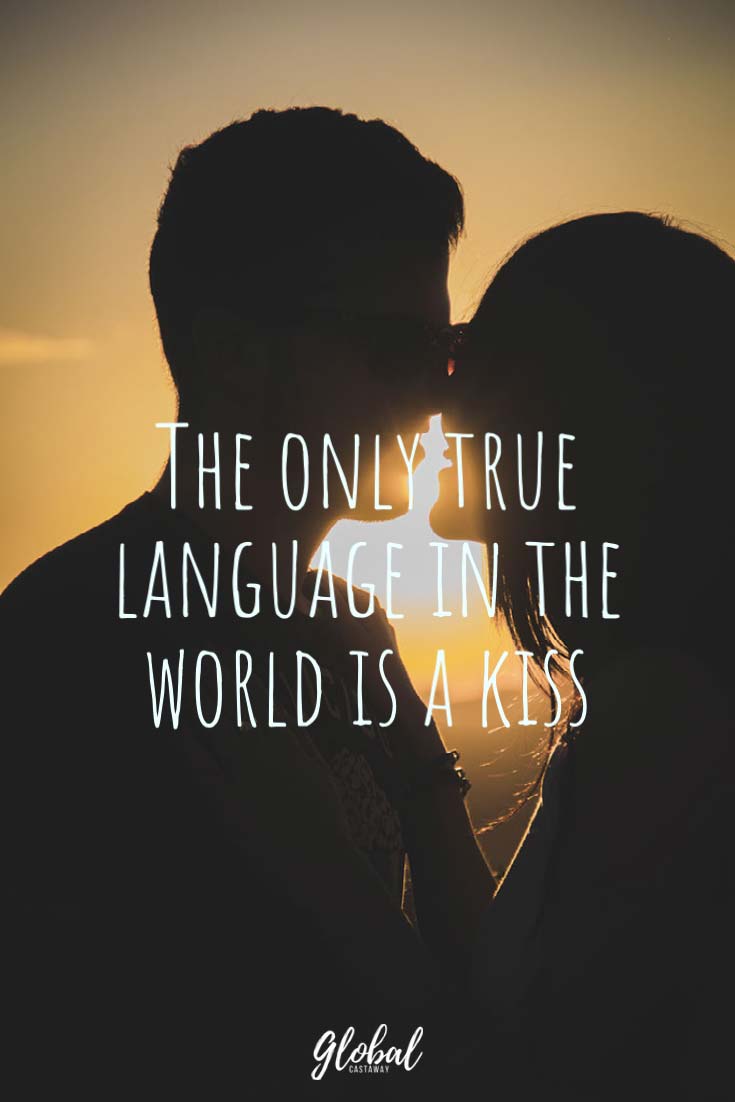 66 – "The whole of Paris is a vast university of Art, Literature, and Music… it is worth anyone's while to dally here for years. Paris is a seminar, a post-graduate course in everything."
― James Thurber
67 – "Of course, I think of the past and of Paris, what else is there to remember?"
— Djuna Barnes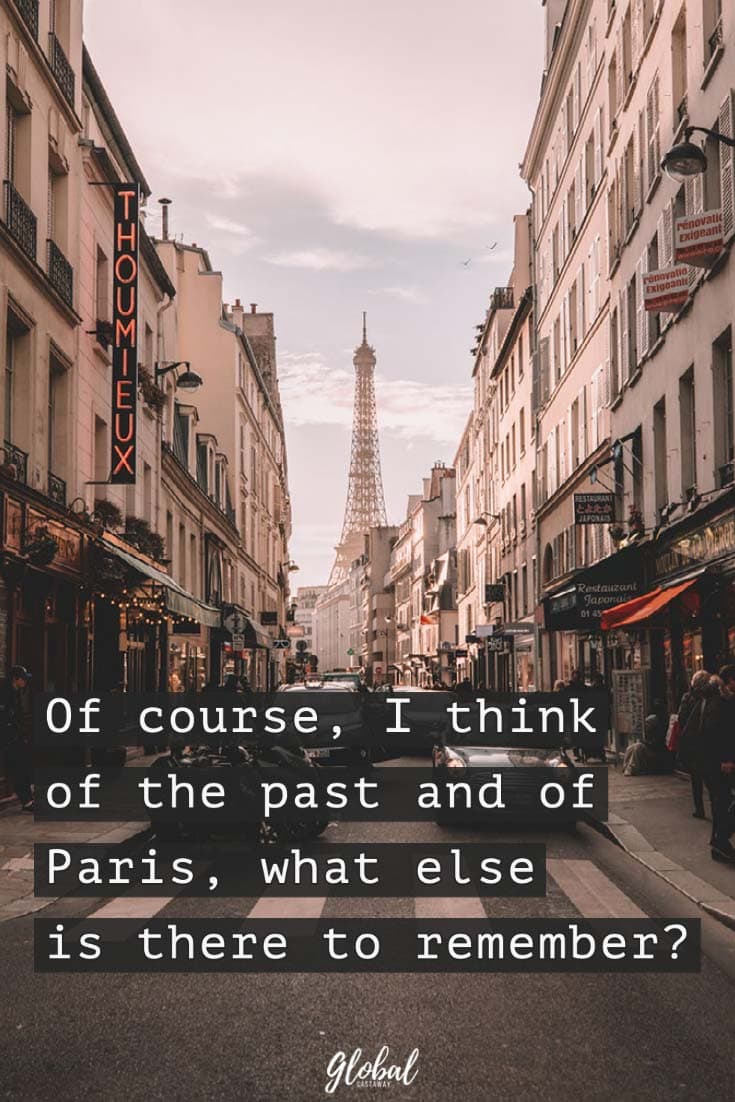 68 – "Paris is loath to surrender itself to people who are in a hurry; it belongs to the dreams, to those capable of amusing themselves in its streets without regard to the time when the urged business requires their presence elsewhere."
― Julien Green.
69 – "The best of America drifts to Paris. The American in Paris is the best American. It is more fun for an intelligent person to live in an intelligent country. France has the only two things toward which we drift as we grow older – intelligence and good manners."
― F. Scott Fitzgerald
70. – "Paris is the City of Light, of love, of beauty, of romance and of hope over fear, gratitude over cynicism and light over darkness. The light must, has before and will always prevail. I stand with the City of Light now and forever."
― Doni Belau
71 – "I like The Eiffel Tower because it looks like steel and lace."
― Natalie Lloyd
72 – "Paris is a place in which we can forget ourselves, reinvent, expunge the dead weight of our past."
― Michael Simkins
73 – "Yet with these April sunsets, that somehow recall My buried life, and Paris in the spring, I feel immeasurably at peace, and find the world to be wonderful and youthful after all."
― T.S. Eliot
74 – "There's something about Paris, people just don't have anything else to do there but love each other."
— Louis Garrel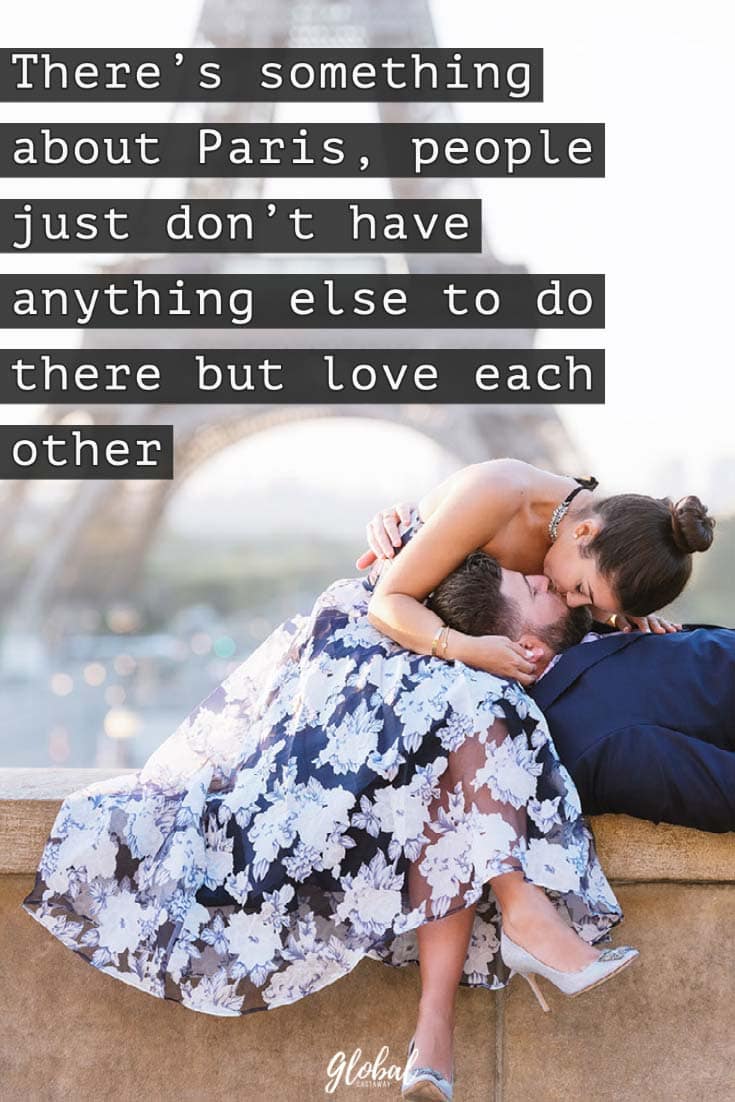 75 – "For in Paris, whenever God puts a pretty woman there, the Devil, in reply, immediately puts a fool to keep her."
― Jules Barbey d'Aurevilly
76 – "People wonder why so many writers come to live in Paris. I've been living ten years in Paris, and the answer seems simple to me: because it's the best place to pick ideas."
― Jeffrey Eugenides
77 – "Paris is the only city in the world where starving to death is still considered an art."
— Carlos Ruiz Zafón
Now I know those are not all quotes about Paris. If I list them all, you would have to read this post for hours. The 77 quotes here are my personal favorites, but I'm pretty sure I've missed some good ones. So if you have any suggestions, don't be shy and share them.
If you are still planning your trip to Paris, make sure to check my detailed Paris itinerary guide that will save you hours and hours of waiting in lines. On the other hand, if you're not that into pre-designed itineraries, see what the city of light is famous for and plan your perfect Paris adventure.
Wait, I have another idea. You can also copy my magnificent Paris bucket list and see if you can complete it all while in town. I promise tons of fun with this one.
And if you need some extra inspiration, you can check my mountain, adventure and travel quotes collections or the Rome and London ones. You can also have a laugh with these 25 fun Paris facts.
That's all from me, I hope you enjoyed my collection of vivid Paris quotes!
————————————
If you haven't planned your trip there yet, find out how I plan my trips!
————————————
Those quotes pushed me to embark on a quest around the world. See my impossible bucket list of 1700+ adventures!

What's your favourite travel quote?
---
Some of the above are affiliate links and I will earn a percentage of the sale if you purchase through them at no extra cost to you. This helps keep my site running – so thanks in advance for your support!