With over 20 million travelers per year, the capital of Thailand is the most visited city in the world. And while most of those travelers end up seeing the same attractions, this post will take you to another journey – the journey of Bangkok off the beaten path.
Don't get me wrong; most of the famous city attractions are totally worth a visit too, but there are so many others who are as impressive as them ( if not even more) but somehow manage to stay under the radar.
I've spent a month exploring those hidden gems, and I'm ready to take you around the most non-touristy things to do in Bangkok. From a creepy museum and airplane graveyard to the David Beckham Temple and a condom restaurant, here's Bangkok off the beaten path.
Note: Honorary mention for the jungle inside the city – Bang Krachao, the lovely Chao Phraya island – Koh Kret, and the cultural area of Huai Khwang and its market. While all those places are off the beaten path indeed, they lacked that top attraction that would land them a spot on the list.
Another popular "off beaten" places and activities you won't find here are Lumphini Park, Rod Fai Market, watching a Muay Thai game, or riding a Tuk Tuk. Why is that? Because they are quite popular for a long time now and definitely does not fit the other ones here.
Ancient Siam (Muang Boran Ancient City)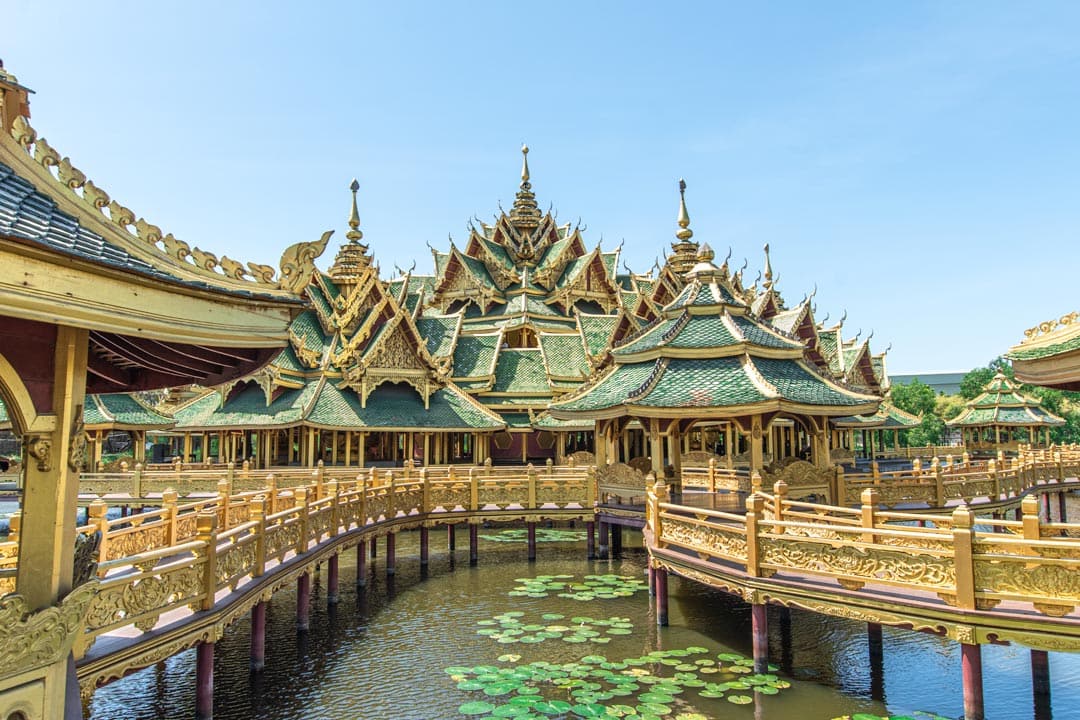 How did this place stayed under the radar is somewhat baffling. A giant open-air museum park, shaped in the form of the kingdom and featuring 116 structures of Thailand's most famous monuments and architectural wonders. Oh yeah, they are also lying in their correct place geographically. How cool is that?
You won't enjoy present monuments but also historical masterpieces long lost in time (like the former Grand Palace of Ayutthaya destroyed in 1767).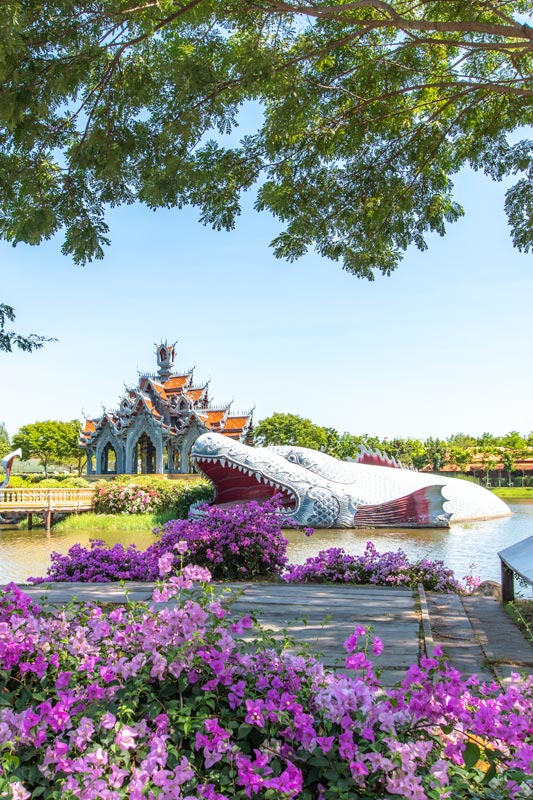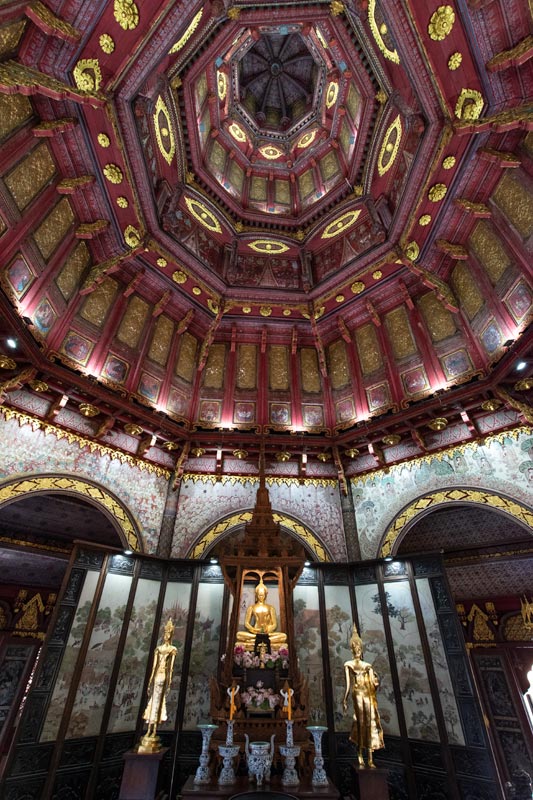 A curious fact about Ancient Siam is that the museum was initially supposed to be a golf course. After it's creator start researching Thailand's most prominent monuments and found out a lot of them were left in decay, he decided to change it to an open-air museum, thus preserving the treasures of Thailand.
The biggest reason Ancient Siam is part of my Bangkok off the beaten path list is due to its location. To reach the park, you need to take the BTS sky train to its last stop – Kheha station (exit 3)- and get a taxi afterward (or walk a few km). If you visit during the weekend, there's a shuttle provided from the station to the park ( 9:30 AM and 12:30 PM).
Working Hours: 9:00 AM – 6:00 PM
Price: 700 THB (20 USD).
The online ticket is much cheaper, especially combined with the Erewan Museum.
See in Google Maps
Erawan Museum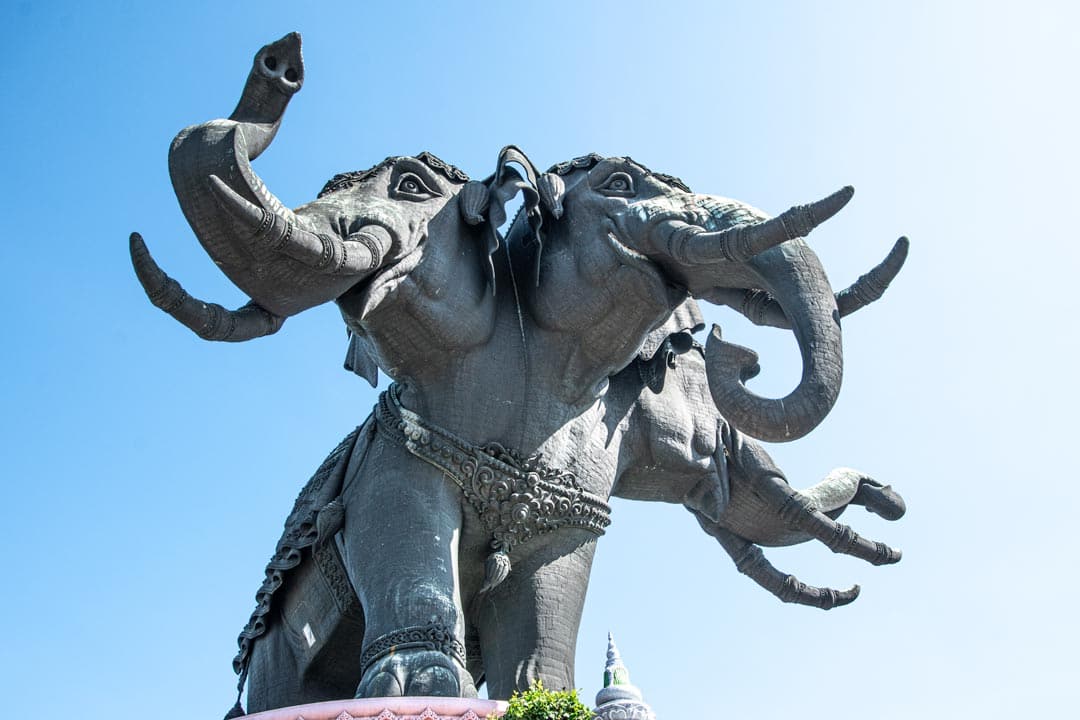 Created by the same eccentric Thai businessman (Lek Viriyaphant) as the Ancient Siam park, the Erawan Museum and its 43-meter-tall-three-headed elephant are hard to miss.
The place is visually stunning and I strongly recommend including it in your Bangkok itinerary. I'd go as far as saying that this is the most instagramable place in all of Bangkok. Not just the giant elephant but also the pinky structure underneath it, the antique-looking curved stairways inside and the zodiac-glass-ceiling are all genuinely on a fairy-tale picturesque level.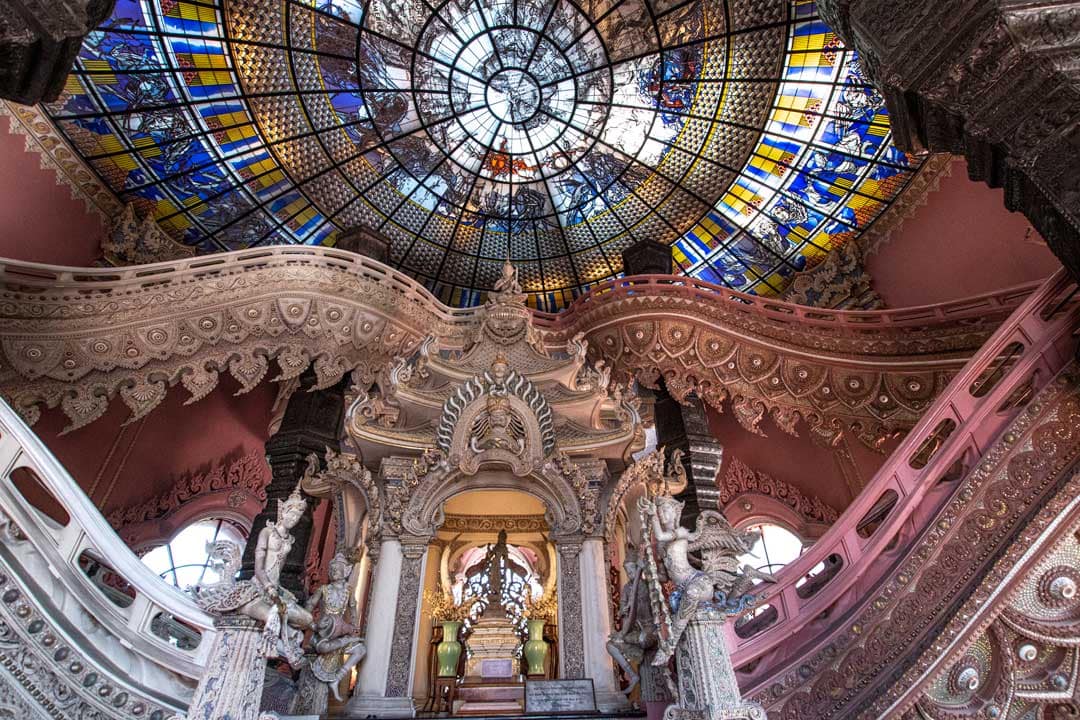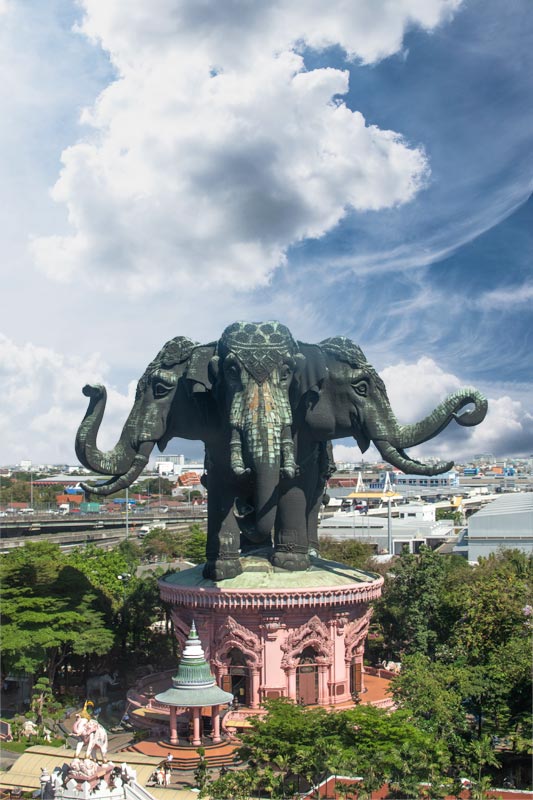 The museum itself is not just in the pink construction but mostly inside the elephant. It's named after Erawan – a white elephant with 33 heads that can travel freely in the realm of the Earth and Heaven. It's also used as a vehicle by the Hindu's highest god – Indra (don't take Indra as an example here, riding elephants is really bad…even if they have 33 heads).
The museum is divided into three main levels representing the underworld, earth, and heaven and features precious antiques from all around the country.
Working Hours: 9:00 AM – 6:00 PM
Price: 400 THB (11.40 USD).
The online ticket is much cheaper, especially combined with the Ancient Siam park.
See in Google Maps
Wat Pariwat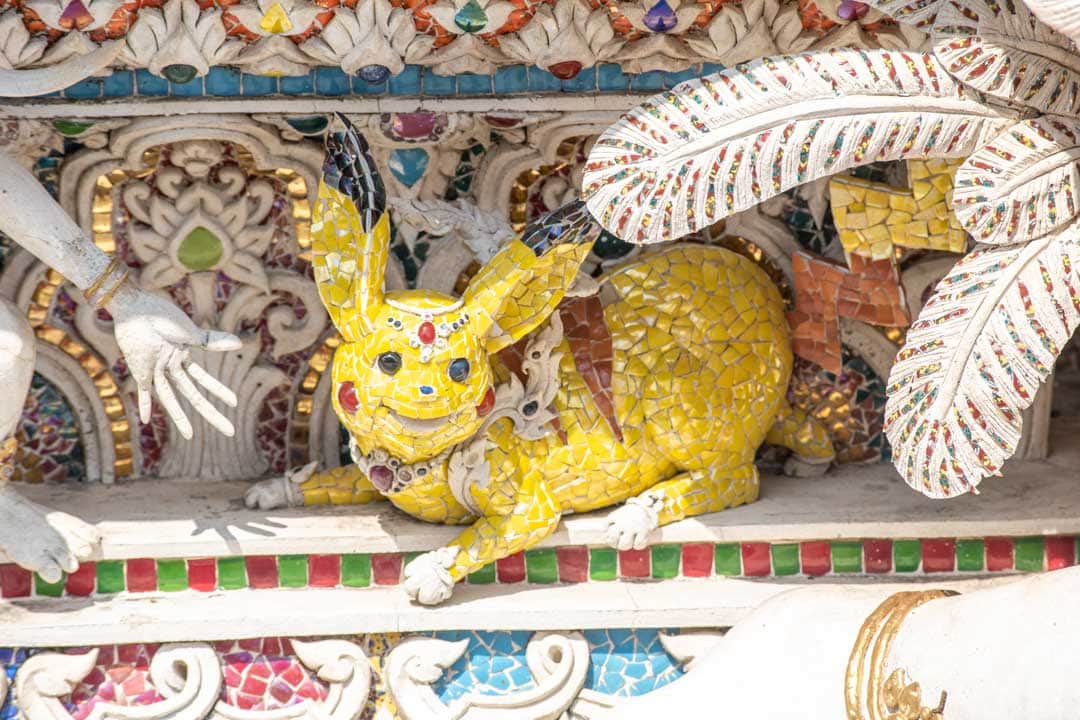 Wat Pariwat may not be as grand or as lavish as some of the Royal Temples, but it's undoubtedly the most curious one.
It may be a Bangkok off the beaten part attraction nowadays, but a few years ago, the temple hit the mainstream news when someone found out there's a David Beckham sculpture carved into its alter. The building with it is mostly closed though, but no worries, the sanctuary inside the closed court offers way more than a former Manchester United player.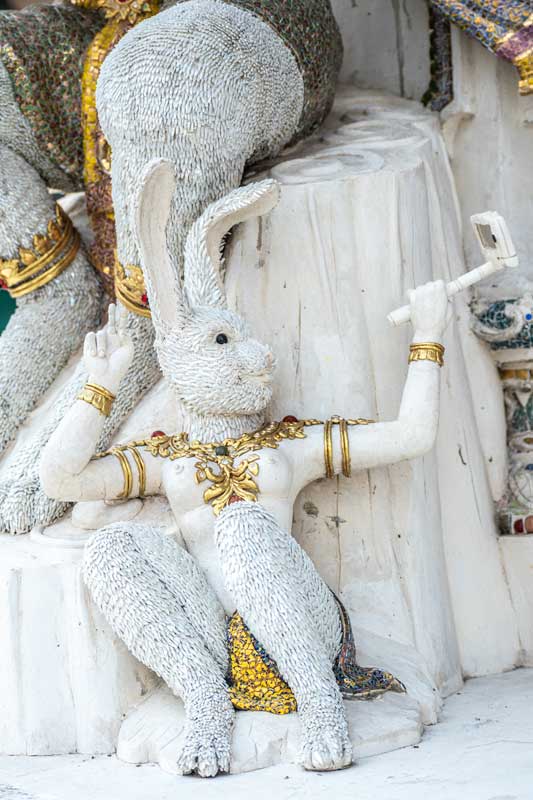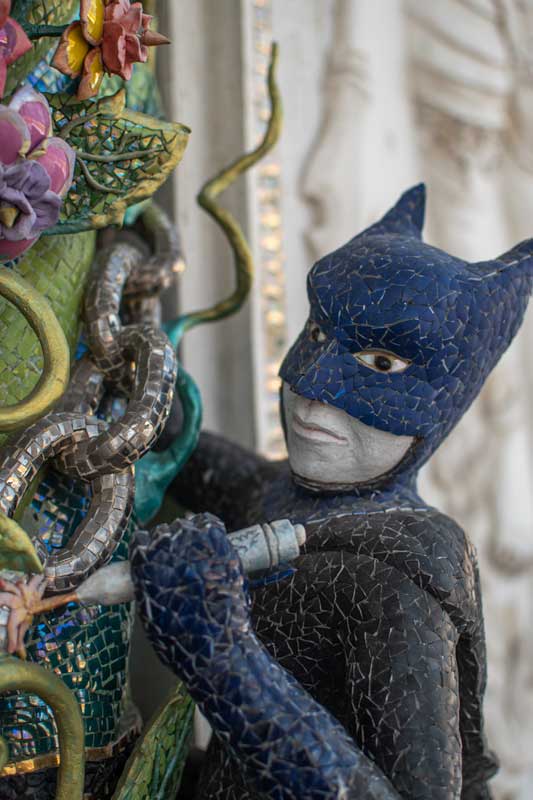 Here's a little game – I challenge you to find Pikachu, Batman, Barak Obama taking a selfie, Captain America, Mickey Mouse, Spider-Man, Dobby the House Elf and a mural portrait of Alber Einstein. There are plenty of other curious characters in Wat Pariwat guaranteeing your fun time there. Blending modern icons with Buddhist temples is not something new in Thailand, and you can see it in several other sanctuaries, including the magnificent White Temple of Chiang Rai.
As I said, Wat Pariwat may not be the most opulent Thai temple but would definitely be the best conversation-starter back home.
The temple location is a bit away from the main city but it's not hard to reach at all. Take the BTS Skytrain to Chong Nonsi station and transfer to BRT (bus rapid transfer). The BRT has a stop right in front of the temple (even named after it).
Working Hours: 8:00 AM – 6:00 PM
Price: Free
See in Google Maps
See Also: The 21 Very Best Temples in Bangkok
The Airplane Graveyard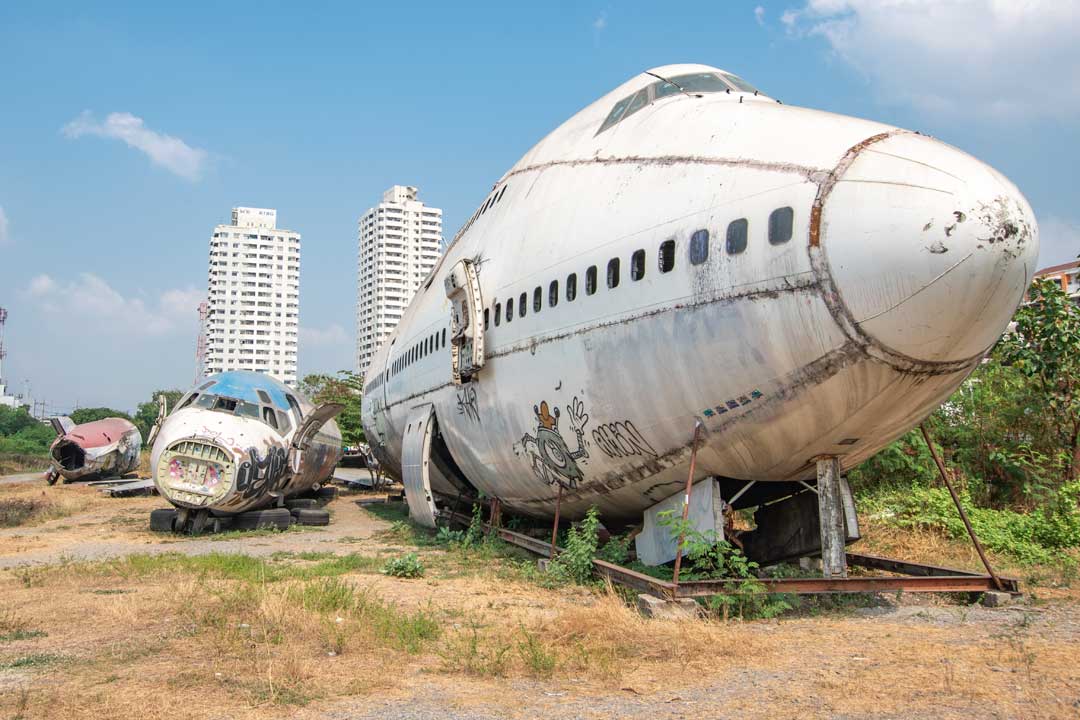 Have you ever wanted to sit in a plane's cockpit? Well, Bangkok has the perfect place for that. The plane is a bit vintage though…it's actually just parts of a plane…in a graveyard.
Don't get discouraged, though, as the place is pretty cool to explore, and it's perfect to have some cool Instagram shots.
It's situated a bit far from the city center, but it's easy to reach via public transport (in this case – boat). The last stop of the route – Wat Sriboonreung – is located just a few minutes away from the planes.
Have in mind that the place may look deserted, but actually, there's a Thai family is living in one of the planes and charging an entrance fee. In my case, it was 400 THB (13 USD), but I guess this can vary a lot.
Working Hours: 9:00 AM – 6:30 PM
Price: 400 THB (11.40 USD) but could vary
See in Google Maps
The Street-food Street
It's not a secret that Bangkok has one of the best street-food scenes in the world. Everywhere you go, you can find pad thai stands, meat-on-a-stick grills, or fresh fruit vendors. To get the next level authentic street-food experience, though, you need to visit Petchaburi Soi 5.
Unanimous to the tourists, it's one of the locals' favorite places to get some dinner.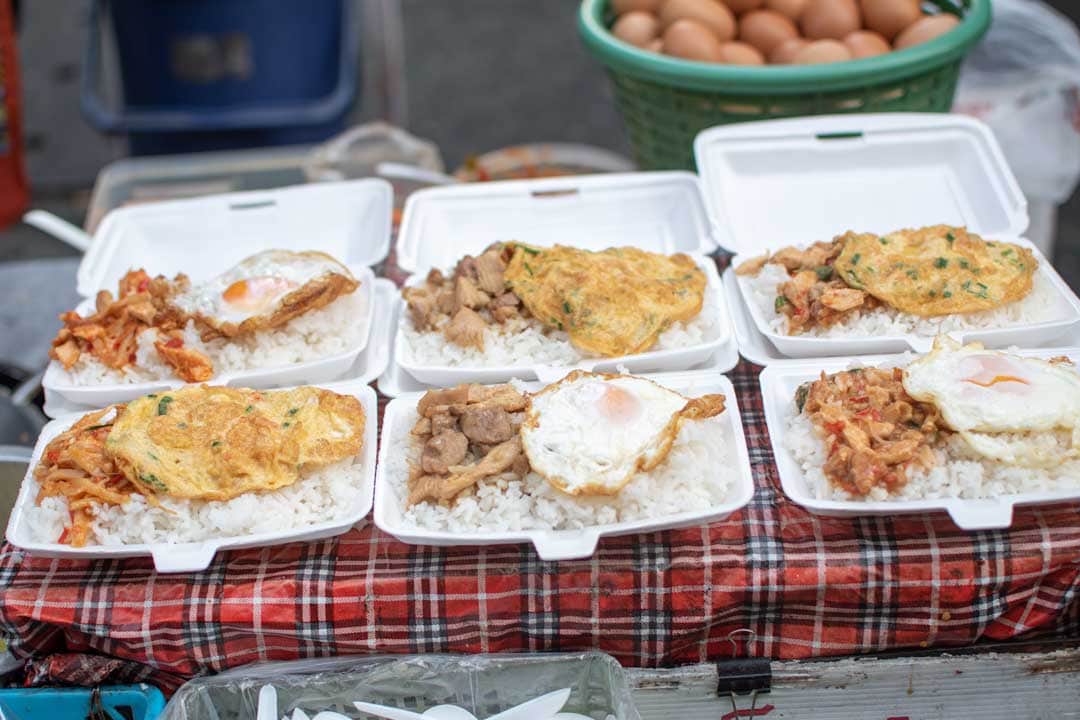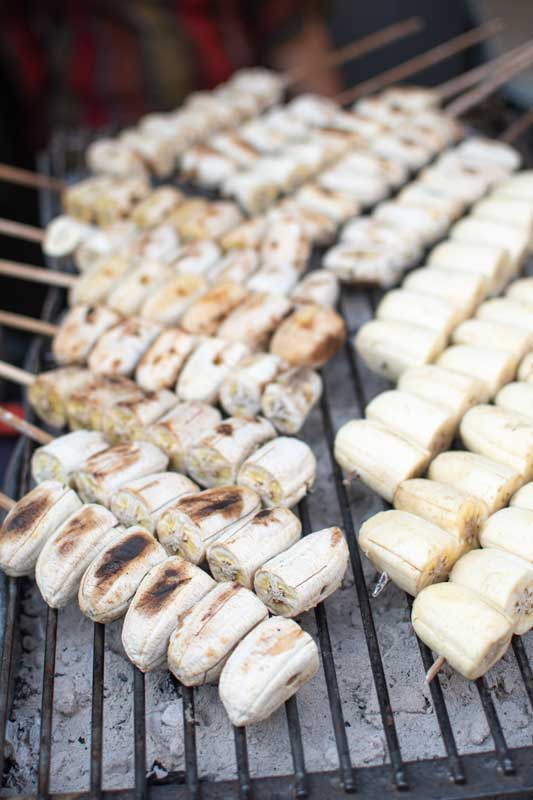 According to the famous street-food YouTuber Mark Wiens, Petchaburi Soi 5 offers the best Pad Thai, the best Khanom Krok, and the best Thai tea in the city.
Have in mind that this is a place where people usually go for dinner, so the alley starts filling up with food vendors after 4:00 PM.
Working Hours: After 4:00 PM
Price: local prices
See in Google Maps
Siriraj Medical Museum
The creepiest place on my Bangkok off the beaten path list is a medical museum housed in a working hospital and showcasing deformed babies, skulls of murder victims, and the mummified body of a Bangkok's very own cannibal.
Siriraj is actually the name of the hospital, while the exhibition inside is divided into few museums. The most gruesomes are the Parasitology Museum (displaying organs infected by parasites) and the Congdon Anatomical Museum (here are the babies in tubes).
If you think your stomach can handle such sights, the museum is definitely intriguing and something hard to see elsewhere.
Working Hours: 10:00 AM – 5:00 PM; Closed on Tuesdays
Price: 200 THB (5.70 USD)
See in Google Maps
The Amulet Market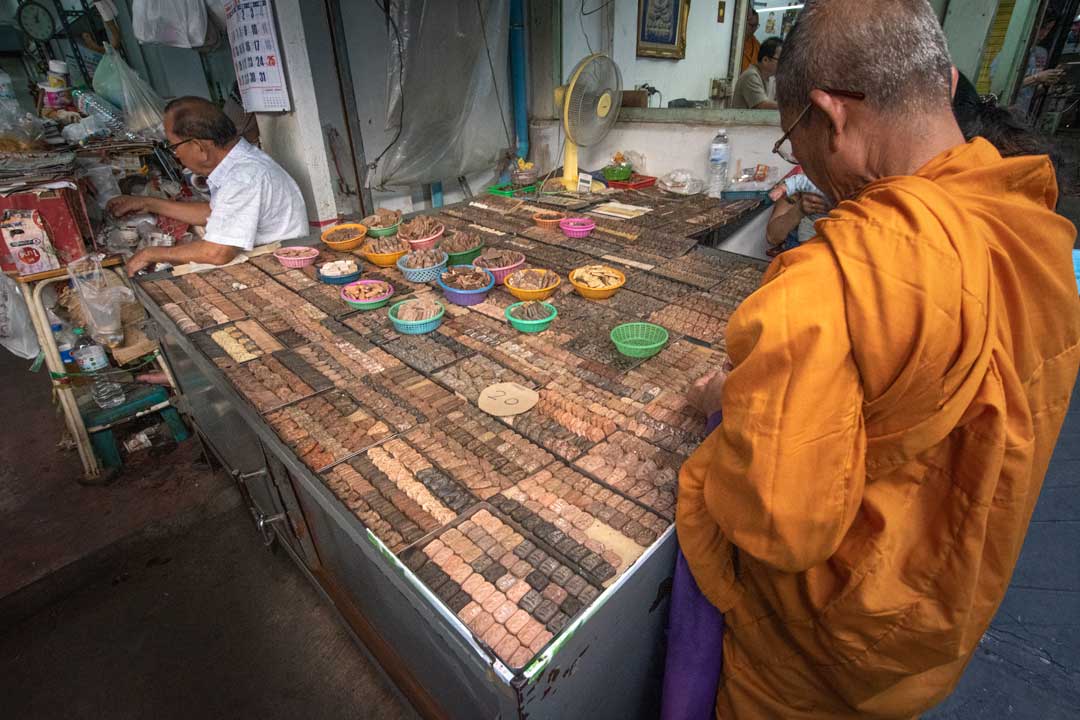 Located close to the Grand Palace, this authentic market has hundreds of thousands of amulets to show. Unlike the Chatuchak market, you won't find many tourists there. Most of the people buying amulets are either collectors, monks, or people with dangerous careers (such as motorbike taxi drivers).
You can't really buy an amulet, though. Being a sacred item, the Buddhist amulet can't be sold or purchased and can only be 'rented' indefinitely.
The bad thing is that it's virtually impossible to distinguish the real charms from the fake ones (unless you're a specialist). My best suggestion for amulet-enthusiasts would be – find a stall where the monks are buying from and make your choice there.
Working Hours: Most stalls are open between 9:00 AM and 4:00 PM
Price: Various
See in Google Maps
See Also: The Best Bangkok Souvenirs
Wat Phra Dhammakaya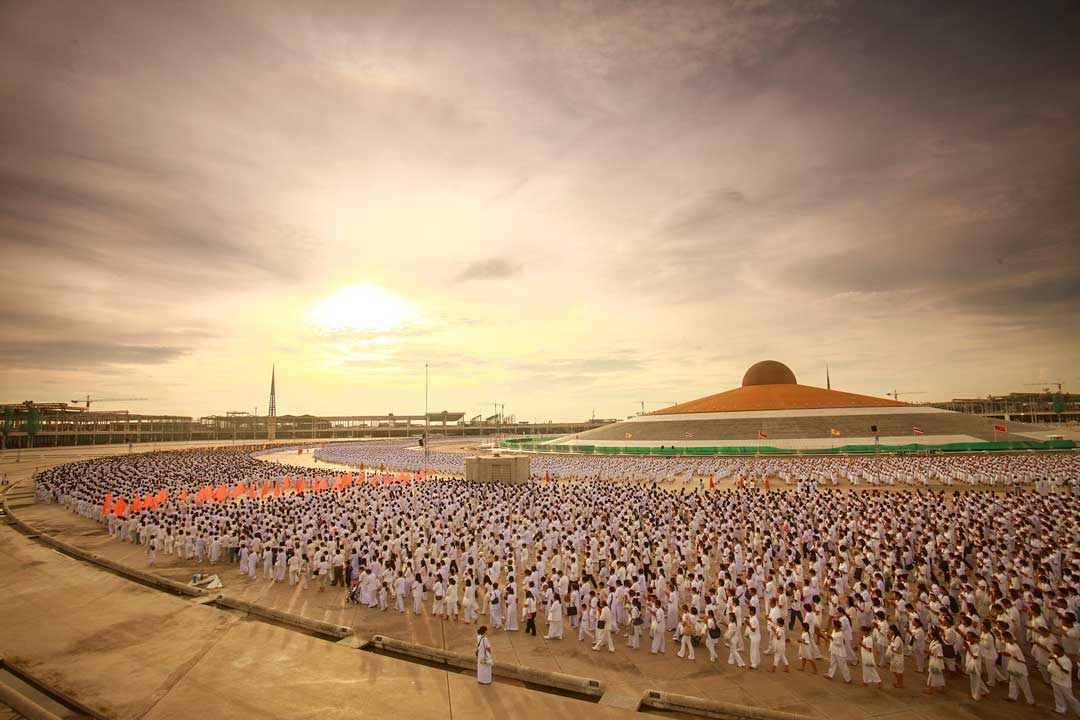 Wat Phra Dhammakaya is one of the biggest Buddhist temples in the world, but it remains relatively unknown to the average tourist. Established in 1970, the temple is owned by the Dhammakaya Movement, which is quite controversial in Thailand. It aims to adapt traditional Buddhist values within modern society by using the latest marketing techniques and technology. It also interprets Buddhist doctrines in a way that made a lot of people angry and even led to a government shutdown.
Now, why would you visit such a place?
Because it's absolutely enormous and nothing like the other Buddhist temples in Thailand.
The main building – The Dhammakaya Cetiya, looks like the love-child of Indonesia's Borobudur Temple and a flying saucer. It also has 300,000 Buddha statues on its roof and another 700,000 inside. Yeah, my numbers are correct, Wat Phra Dhammakaya literally has a million Buddha statues.
Situated 25km north from the Don Mueang airport, reaching the temple is only possible via taxi or the temple's direct shuttle. Check out shuttle times here.
Working Hours: 24hrs
Price: Free
See in Google Maps
Bangkok Canals
Taking a cruise boat on the Chao Phraya River is definitely not an off the beaten path Bangkok activity. Taking one on Bangkok's canals, however, is definitely on the list.
Once upon a time, the capital of Thailand used to be like Venice. Multiple canals crossed the city, and boats were the natural way of transportation. Nowadays, most canals are turned into streets, but few of them still cross the city and even offer public transport.
If you went to the airplane graveyard, you've probably seen one of them already. If not, you can simply pick a canal from google maps and get on the public boat (ticket cost less than 20 THB) or get a guided tour that will teach you more about the local way of life.
See Also: Where to Stay in Bangkok
Wat Samphran Dragon Temple
Located a little bit out of Bangkok (the Nakhon Pathom province), the main highlight of this temple is not the temple itself but the giant dragon circling a pink tower that's next to it. When and why it was built remains an enigma.
The dragon itself is hollow, and if you visit on Sunday, you can go inside it for a journey straight to the top of the tower.
While visually stunning, Wat Samphran is located in a galaxy far away from the city, thus acquiring the status of a Bangkok off the beaten path attraction.
Working Hours: Weekdays – 9:00 AM – 5:00 PM | Weekend – 6:00 AM – 6:00 PM
Price: Free
See in Google Maps
Chao Mae Tuptim Shrine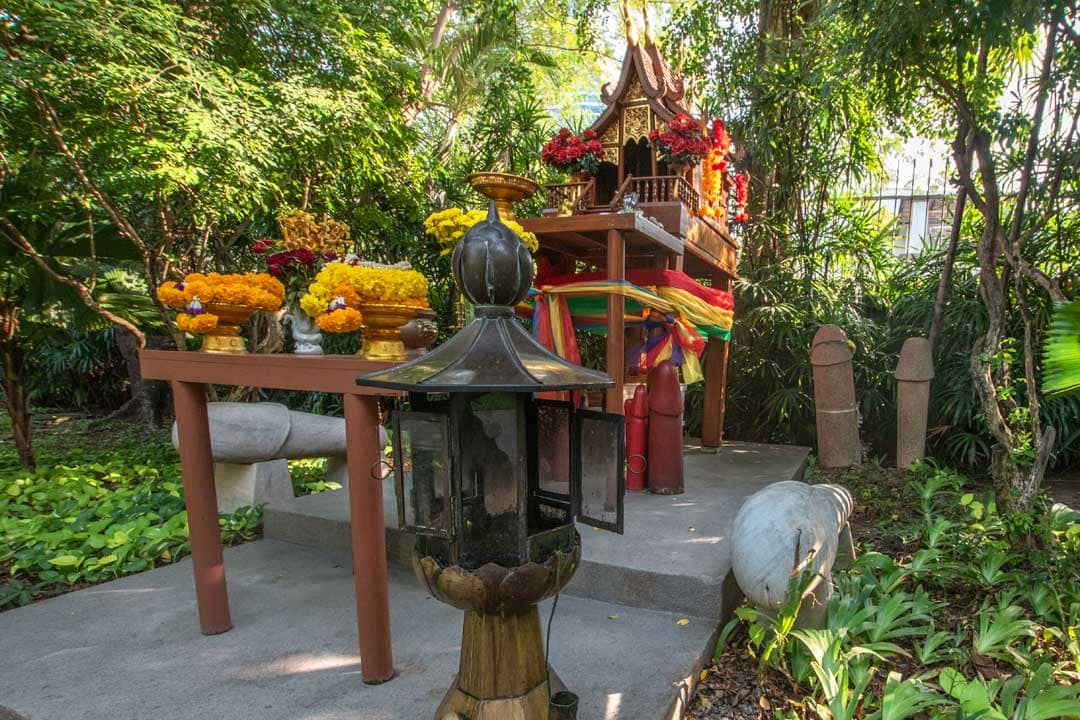 The Chao Mae Tuptim Shrine, also known as the Penis Shrine, is located in the business district of Bangkok inside a private park. It may look odd to us, but in Thailand, the phallus is considered to be a symbol of good luck and also a representative of fertility.
The shrine is named after a Chinese goddess who is said to bestow blessings on those who worship her.
Supposedly, the shrine is so famous that women from all over the country visit it, hoping to get pregnant. During my venture there, though, there wasn't a single soul to be seen.
Price: Free
See in Google Maps
See Also: The Best Landmarks in Thailand
Cabbages and Condoms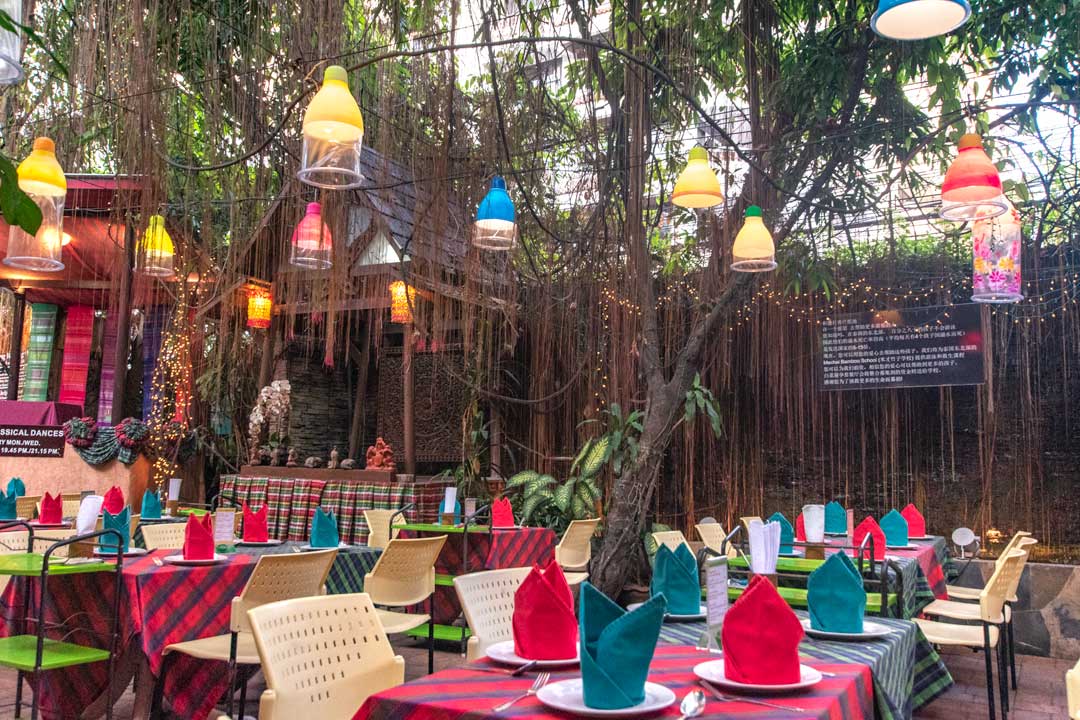 A quirky non-profit Bangkok restaurant that highlights a big issue using fun practices. Located near the Asok BTS station, Cabbages and Condoms will greet you with a condom-themed souvenir shop, condom dressed mannequins, and condom covered lights.
At the end of your meal, instead of a mint, you're gonna get…yup you've got that right – a condom.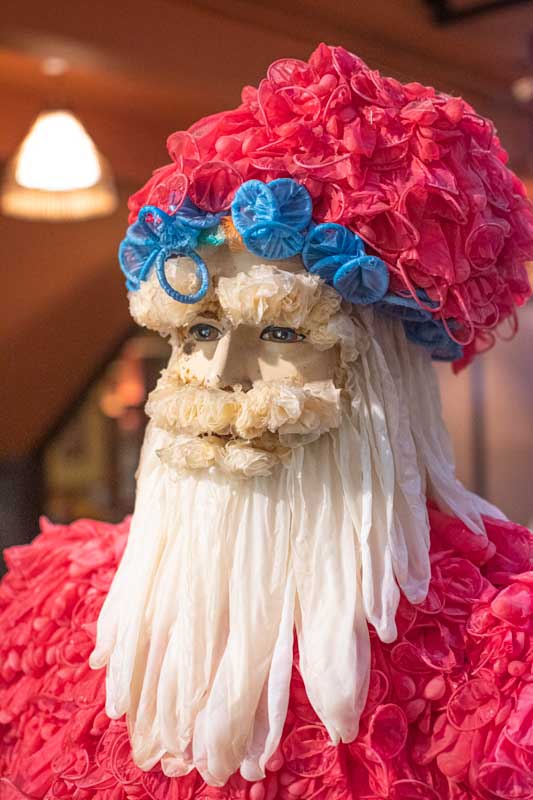 Condoms aside, the restaurant has quite a pleasant atmosphere and very reasonable prices. The food is delicious, and all profits go towards supporting development programs initiated by the Population and Community Development Association (PDA).
The perfect place to get some great Thai food, do a good deed, and take a selfie with condom-dressed Santa.
Working Hours: 11:00 AM to 10:00 PM
Price: Reasonable
See in Google Maps
That's all from me, I hope you enjoy Bangkok off the beaten path.
————————————
If you haven't planned your trip there yet, find out how I plan my trips!
————————————
I have 32 bucket list ideas for Thailand. See my impossible bucket list of 1700+ adventures!

Have you been to Bangkok?
---
Some of the above are affiliate links and I will earn a percentage of the sale if you purchase through them at no extra cost to you. This helps keep my site running – so thanks in advance for your support!