I wanted to start this post telling you that 'there are X amount of temples in Bangkok,' however, finding out the exact number is impossible. The Bangkok temples are merely countless.
While some of them have become major tourist attractions, they are all operational and have Buddhist monks living on their compounds and performing their monk duties.
Don't believe me? Get up early (around 4:30 AM) and take a walk around Bangkok's Old City. You'll see plenty of them leaving their temples to perform tak baht – their daily alms ceremony where they collect food and bless the locals.
You can't go to the City of Angles and not visit a temple. It doesn't matter what type of tourism you're into; you need to visit at least two temples on any Bangkok itinerary. Even more, if you can. Hell, I can name as much as five temples in Bangkok that are unmissable attractions for me. They are opulent, they are exotic, and they are just sooo picturesque!
Must-see Temples in Bangkok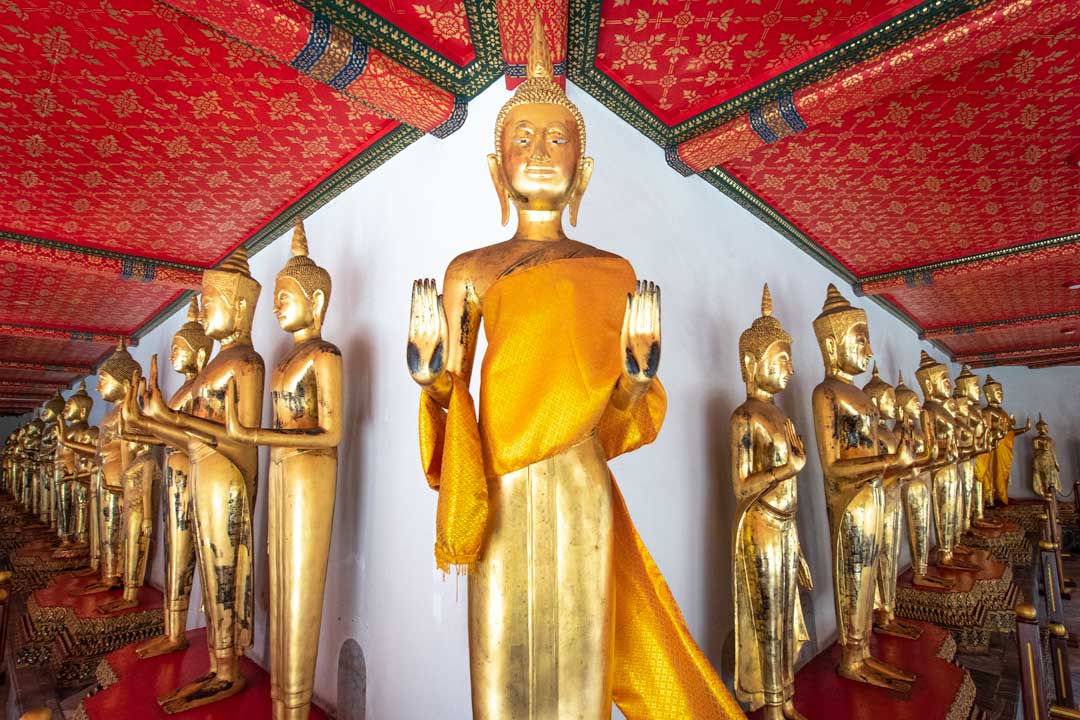 As mentioned above, I believe five Bangkok temples are the absolute must-sees. Don't try to visit them in a day, though. Even if you manage to do it, you won't enjoy it at all. Temple fatigue would set up after the second one.
Since all of them are popular tourist attractions, you better get there early in the morning. That way, you'll escape some of the tourist hordes, and also enjoy cool weather (as much as possible in Bangkok).
Wat Phra Kaew (Temple of the Emerald Buddha)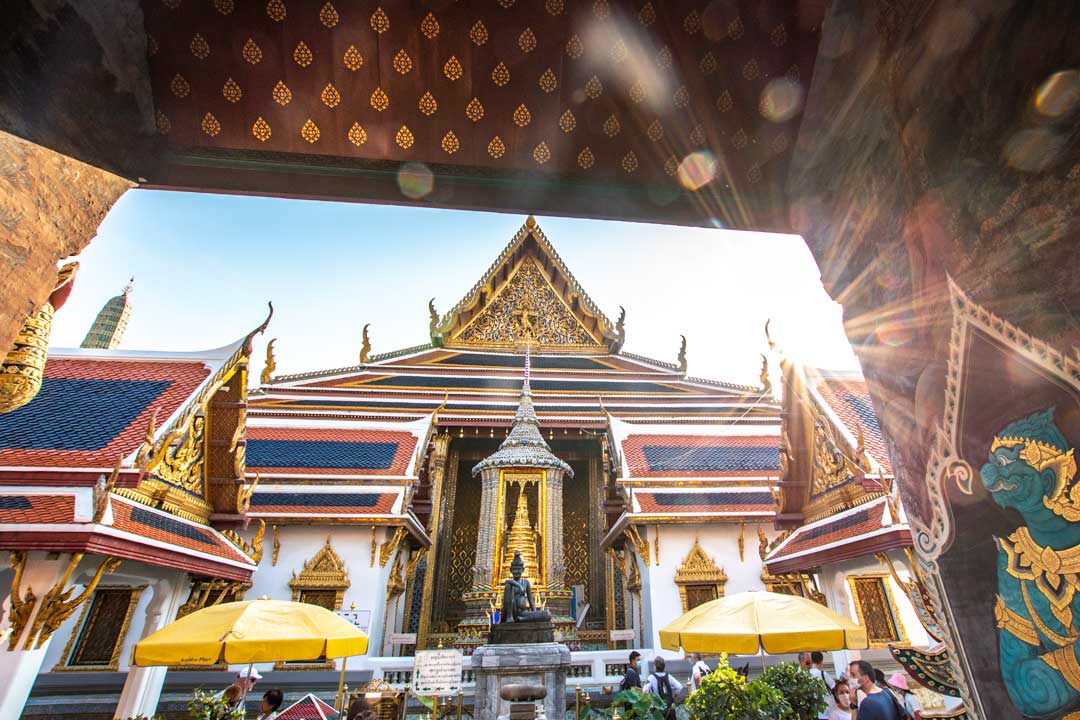 Wat Phra Kaew or the "Temple of the Emerald Buddha" is considered to be the most sacred temple in Thailand and an attraction you should definitely have on your Bangkok itinerary. It's situated in Bangkok's historic center, within the premises of the Grand Palace, and it's most prominent feature is (as you've probably guessed) a 66cm (26in) emerald Buddha statue.
According to the legend, the Emerald Buddha originated in India, and it's prophesied that it brings "prosperity and pre-eminence to each country in which it resides". The statue is carved from a single jade stone, and it's deeply revered in Thailand as a protector of the country.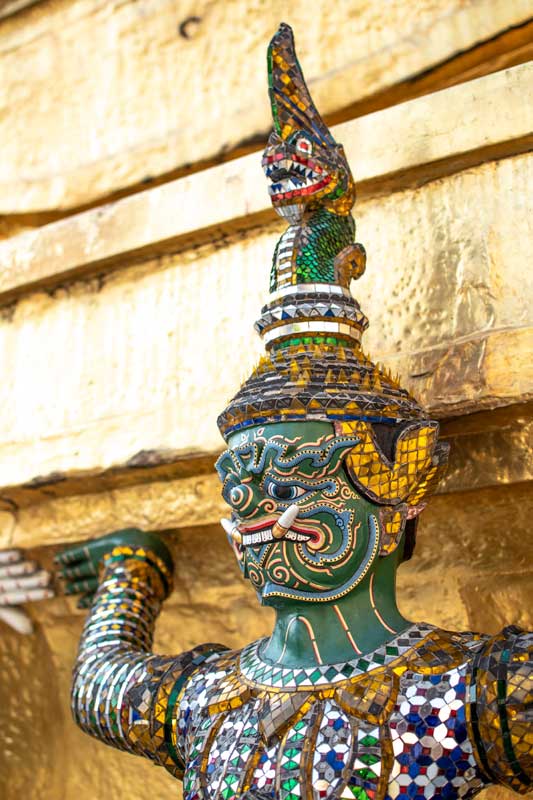 Other notable features of Wat Phra Kaew are the 5-meter tall yakshis (mythical giants) guardians, the gigantic golden chedis, and the Ramayana murals covering the 2km-long compound wall.
If you decide to visit Wat Phra Kaew, have in mind that the temple closes early (3:30 PM), and you must dress appropriately. While in many of the other temples, the dressing rule is not strictly enforced, the Grand Palace security won't allow you in with any kind of shorts or revealing tops. There is a shop you can get the needed clothing (elephant pants/vests), but the prices are double the ones outside.
It's also the most expensive temple in the country, setting you back with 500 THB (16 USD) for an entry ticket.
Price: 500 THB (14 USD)
Open: 8:30 AM until 3:30 PM
See in Google Maps
Wat Pho (Temple of the Reclining Buddha)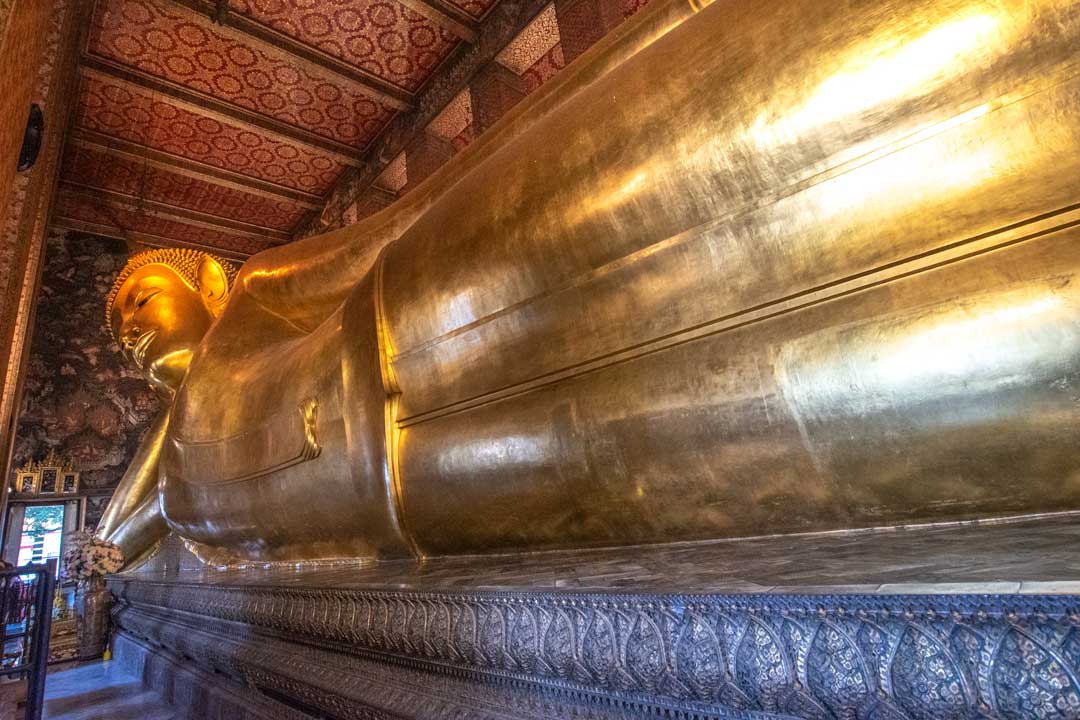 Located just behind the Grand Palace, Wat Pho is another of the must-see temples in Bangkok. The highlight of Wat Pho is a gilded 46 meter-long statue of a reclining Buddha ( you've probably guessed that one too). And while the reclining Buddha is impressive, most people tend just to take a look at it and skip the other parts of the temple complex. I urge you not to do that. There are plenty of other exciting aspects inside Wat Pho.
In the main sanctuary, you'd find 108 wish-granting bowls. To make them work, buy a pot of change, make a wish, and put a coin in every bowl. If you manage to put a penny in all of them – your request will come true.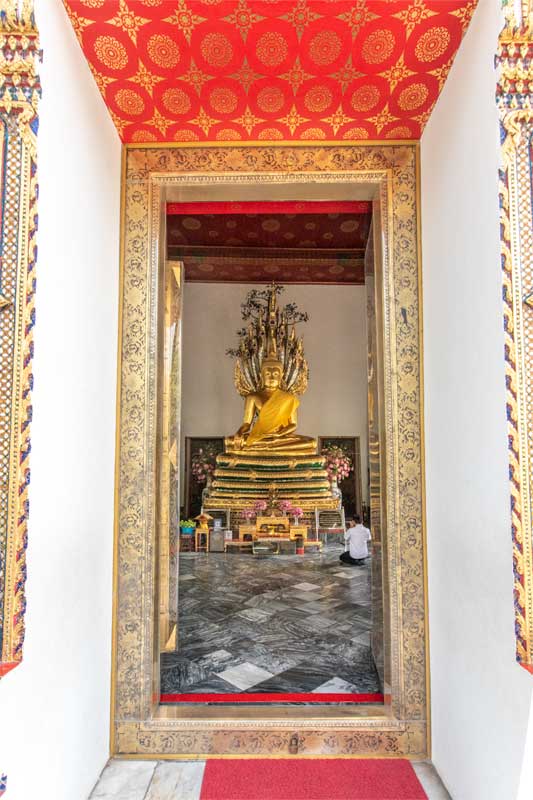 Further into the complex, you can find 91 chedis ( 4 of them huge) and the first Thai massage school. They still practice today, so if you're looking for an excellent Thai massage, it can't be more authentic than the one in Wat Pho.
Price:
200 THB (5.75 USD)
Thai massage 30 minutes for 260 THB (7.45 USD)
Thai massage 1 hour for 420 THB (12 USD)
Foot massage 30 minutes for 280 THB (8 USD)
Foot massage 1 hour for 420 THB (12 USD)
Guided tour (including Wat Arun) – Check here
Best temples tour – Check here
Open:
Temple: Daily from 8:00 AM to 6:30 PM
Massage: Daily from 8:00 AM to 5:00 PM
See in Google Maps
See Also: The Best Area to Stay in Bangkok
Wat Arun (Temple of Dawn)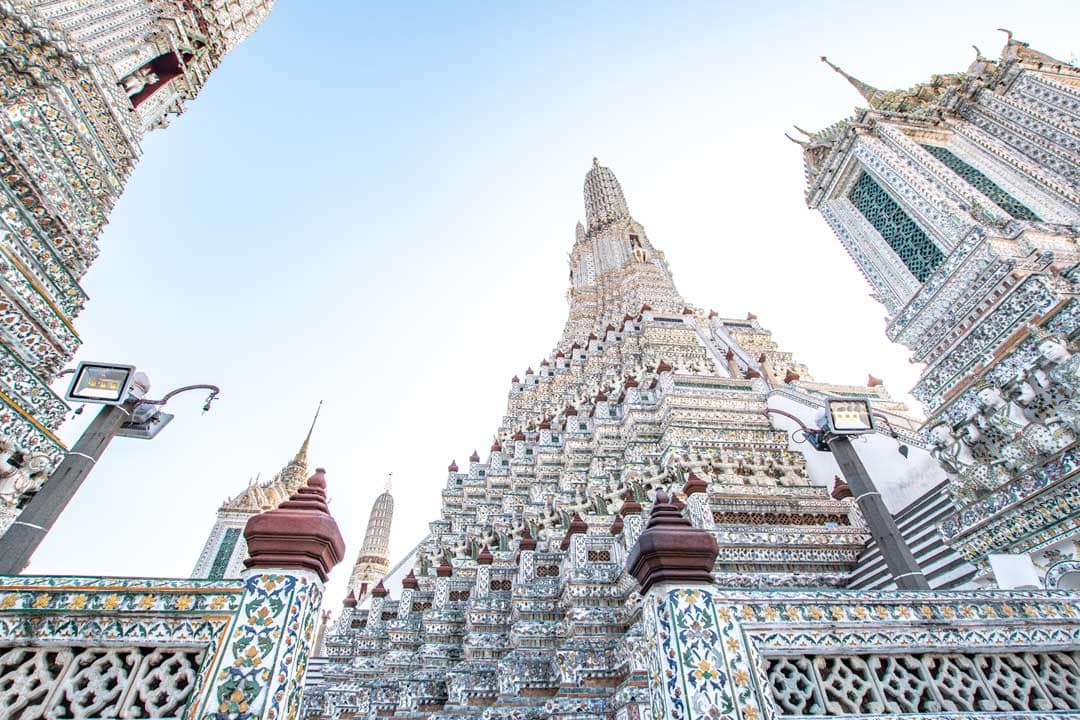 Wat Arun is one of the most beautiful and photogenic temples in Bangkok. Located on the Thonburi side of the Chao Phraya River, the temple is easy to reach via ferry (that costs only 3 THB).
Wat Arun has a Khmer design featuring a giant 70-meter-tall prang tower in the middle with four smaller towers around it. The whole temple is encrusted with colorful porcelain and refurbished continuously to keep its blinding white color. If you dare, you can climb the steep central tower and enjoy a beautiful view of the river and the Grand Palace.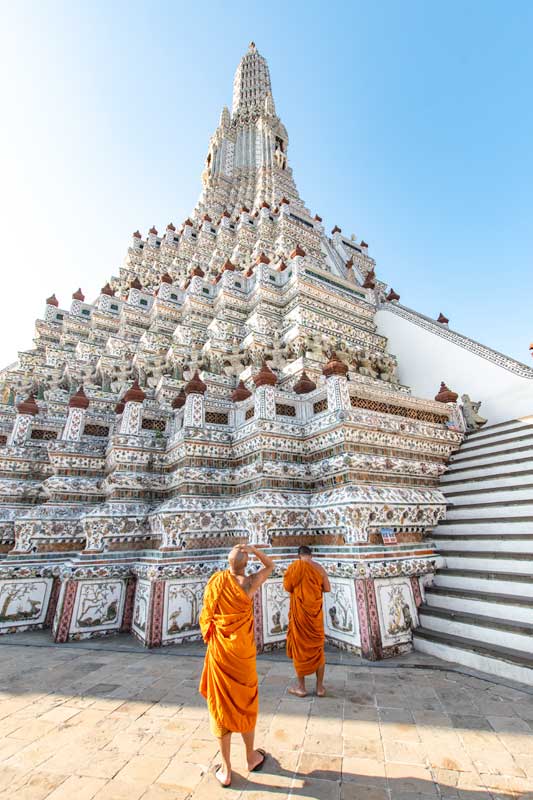 The Temple of Dawn is indeed stunning at dawn, but also not to be missed at dusk. Enjoying dinner on the other side of the river with a view of the golden lights of Wat Arun is truly a bucket list Bangkok activity.
Make sure to also check the smaller sanctuaries in the Wat Arun complex.
Price: 100 THB (2.90 USD)
Open: 9:00 AM until 6:00 PM
See in Google Maps
Wat Traimit (Temple of the Golden Buddha)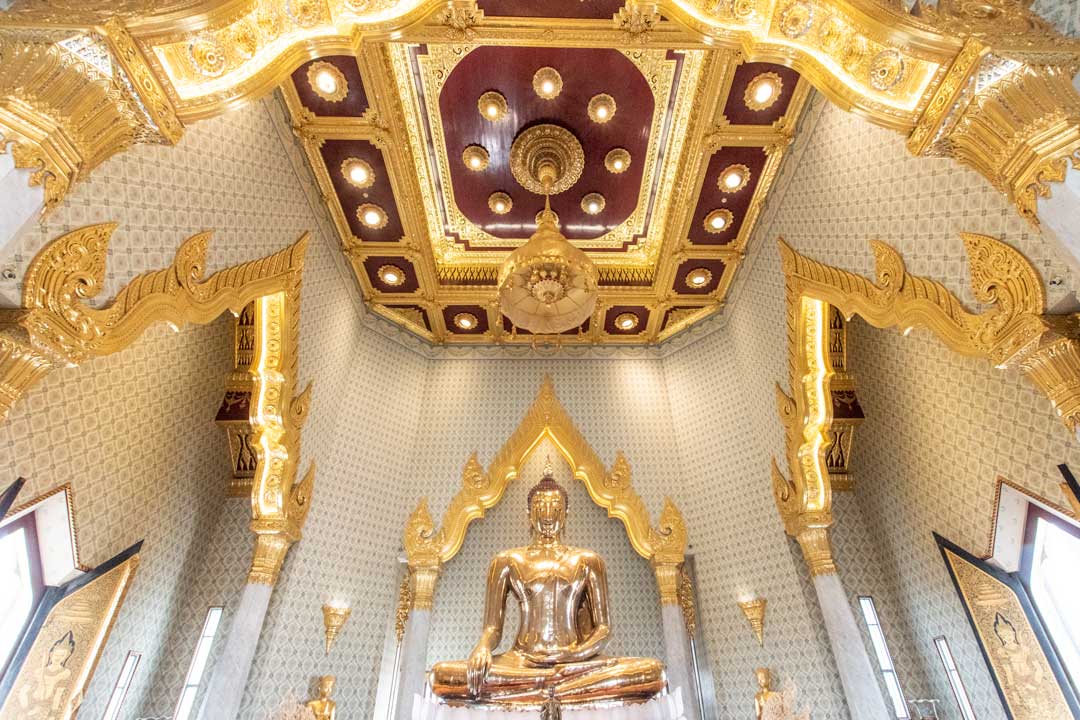 This one is not as grand as the previous three, but it has something they all lack – a real golden Buddha statue. And it's not a small one, the golden Buddha of Wat Tramit is 3-meter-high and weighs 5.5 tons!
A curious thing about the statue is that even though it's considered to be created around the 13th century, it was only found in 1955. Cleverly hidden in an unimpressive coating of plaster, the statue looked just like a thousand other Buddha figures until it was dropped by an incident and forced to reveal its golden core.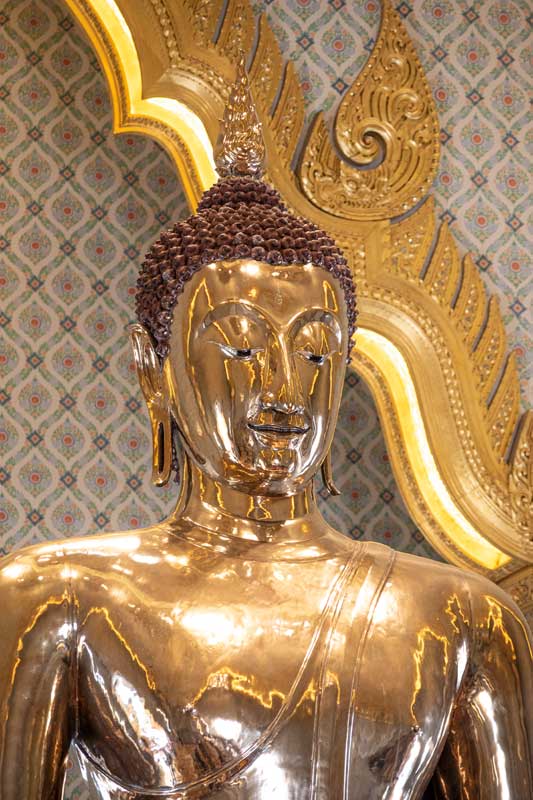 Price: Temple – 100 THB museum + 40 THB for the Golden Buddha (total – 4 USD)
Open: 8:00 AM to 5:00 PM (museum closed Mondays)
See in Google Maps
Wat Saket (Golden Mount)
Wat Saket is a little bit different than all other temples in Bangkok. Located on a man-made hill in Bangkok's Old City, Wat Saket would require you to put a little effort and climb over 300 (tiny) steps to reach its marvelous golden stupa. As you can imagine, the temple also offers lovely panoramic views of the city.
A curious fact about Wat Saket is that it used to be a dumping ground for the 18th-century plague victims. Today at the base of the temple, you can find their cemetery covered with overgrowth trees.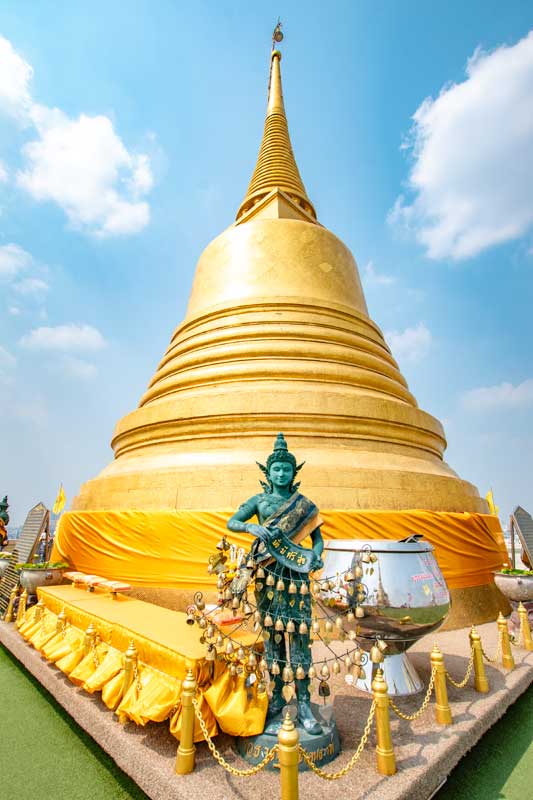 The temple is a definite must-see in November when the golden stupa gets draped in red, and the monks host an impressive Loy Krathong fair.
Price: 50 THB ( 1.40 USD)
Open: 7:30 AM until 7:00 PM
See in Google Maps
Old City Bangkok Temples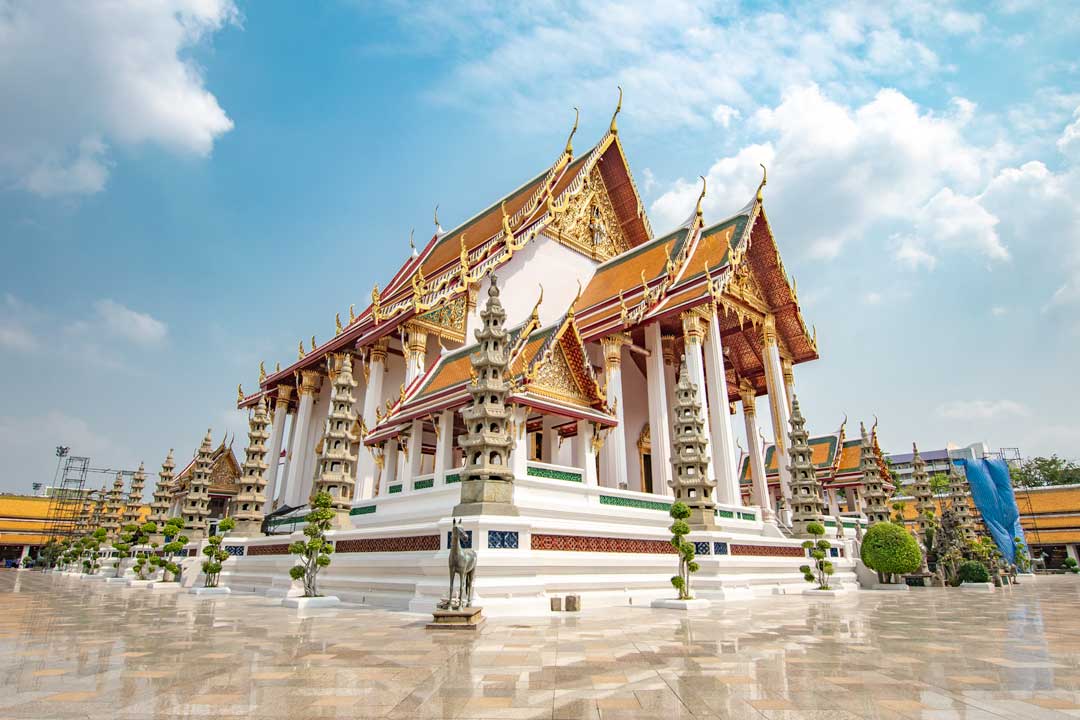 If you have more time on your hands or you simply enjoy the must-see temples so much you want to explore more, those are the other top Bangkok temples in the Old City area.
Wat Mahathat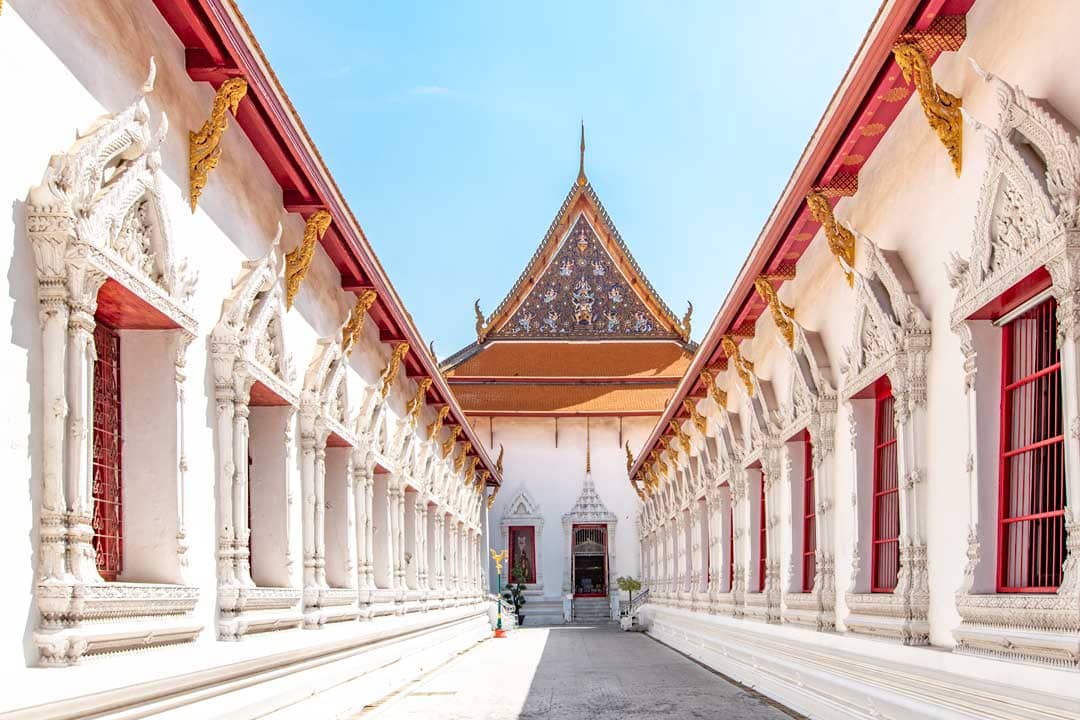 Built during the Ayutthaya era, Wat Mahathat is one of the ten Royal Temples in Bangkok. It's located very close to the Grand Palace, but unlike it, there are barely any tourists to ruin your experience. The main highlights of the temple are the two sanctuaries with giant gilded Buddha statues and relics. There's also a pretty big amulet market in front of it.
Wat Mahathat is also a place you can learn Vipassana Meditation. English sessions are available daily and last about 3 hours.
Price: 50 THB ( 1.40 USD)
Open: 7:30 AM until 6:00 PM
See in Google Maps
See Also: The Best Bangkok Souvenirs
Loha Prasat (The Metal Castle)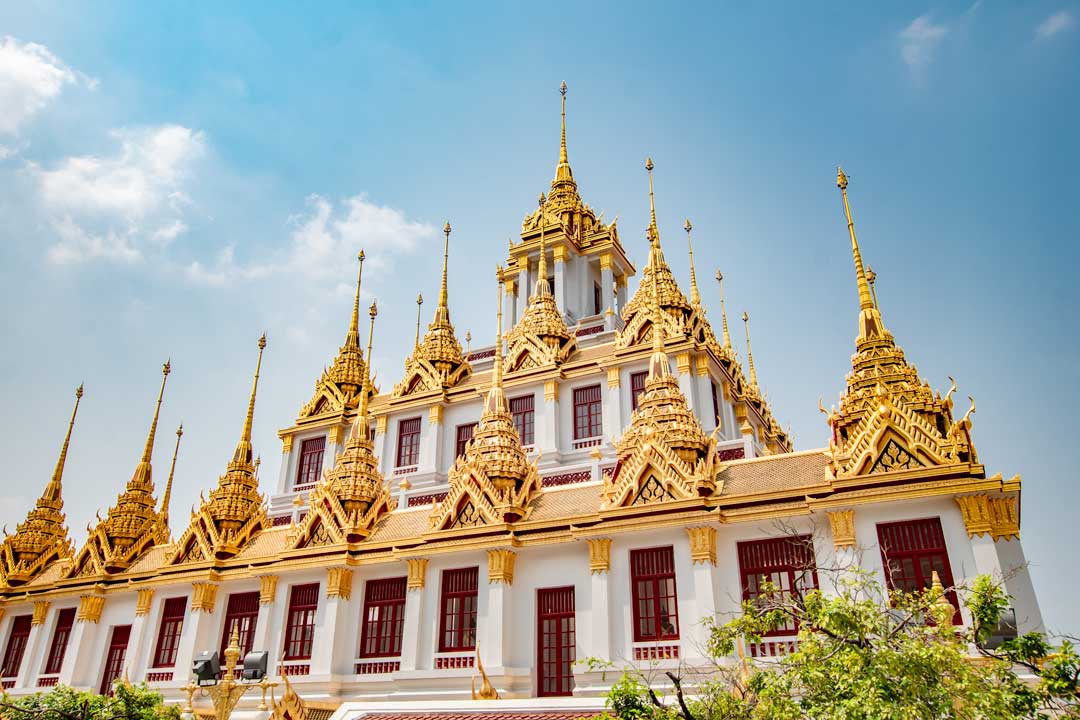 Loha Prasat is located within Wat Ratchanadda grounds, and it's currently under consideration to become a UNESCO World Heritage Site. Loha Prasat's architecture is genuinely like nothing else in Bangkok. Actually, it's like nothing else in the entire world! The exterior of the Metal Castle has 37 black metal spires symbolizing the 37 virtues that are required to reach enlightenment while the interior is like a multi-leveled labyrinth.
It's believed only two buildings of this type have ever existed. One 25 centuries ago in India and one in Sri Lanka. None of them survived to this day.
Price: 20 THB (0.57 USD)
Open: 8:00 AM until 5:00 PM
See in Google Maps
Wat Suthat (The Giant Swing)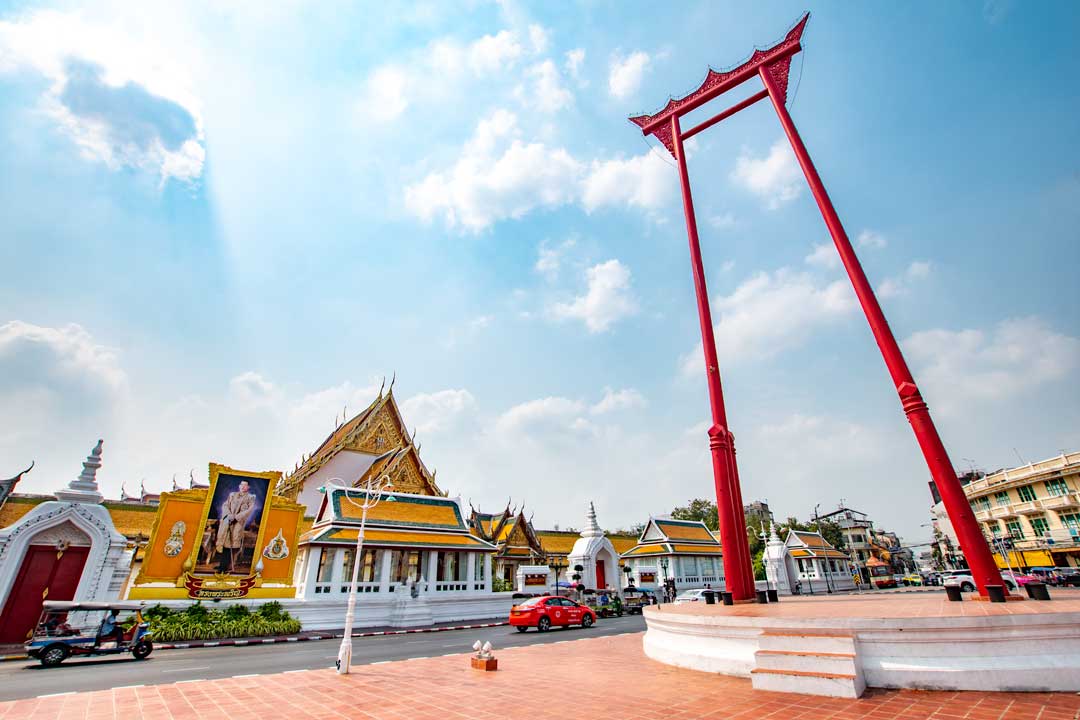 Another member of the Royal Temples in Bangkok, Wat Suthat is most famous with the giant red swing in front of it. Constructed in 1784, the giant swing used to be a place where the locals celebrated Triyampavai-Tripavai, where young men would ride the 21-meter-high swing, trying to grab a bag of silver. After a few fatalities, the ceremony was discontinued in 1935.
Don't skip the temple, though. Its sanctuaries are quite picturesque,
their giant Buddha is bigger than the regular ones, the main prayer hall houses another 156 Buddha images, and it's usually free of tourists.
Price: 100 THB ( 2.90 USD)
Open: 8:30 AM until 9:00 PM
See in Google Maps
Wat Lak Muang (City Pillar Shrine)
Located just next to the Grand Palace, Wat Lak Muang is highly regarded by the locals but often overlooked by Bangkok's visitors.
No matter the time of the day, you can be sure there would be Thai people praying there.
According to their beliefs, to symbolize the stability of power, a city pillar needs to be installed upon the establishment of a new city. That is why Wat Lak Muang was the first building constructed by King Rama I when he made Bangkok the capital of his country.
Price: Free
Open: 6:30 AM until 6:30 PM
See in Google Maps
Wat Ratchabophit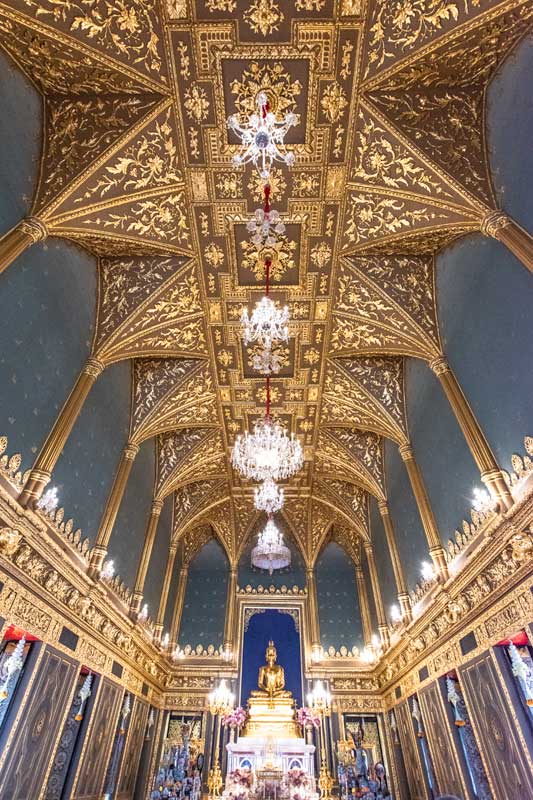 Located right next to the Grand Temple, Wat Ratchabophit is a gorgeous 19th-century Buddhist temple with an Italian interior. Yep, you've read that correctly – Italian.
Its creator – King Rama V – was so impressed with the European architecture he saw during his trip to the continent, so he decided his new temple is going to have some European vibe.
Besides the mandatory giant Buddhas, the temple also houses a Royal cemetery containing the remains of King Rama's relatives.
Price: Free
Open: 6:00 AM until 6:00 PM
See in Google Maps
Wat Ratchapradit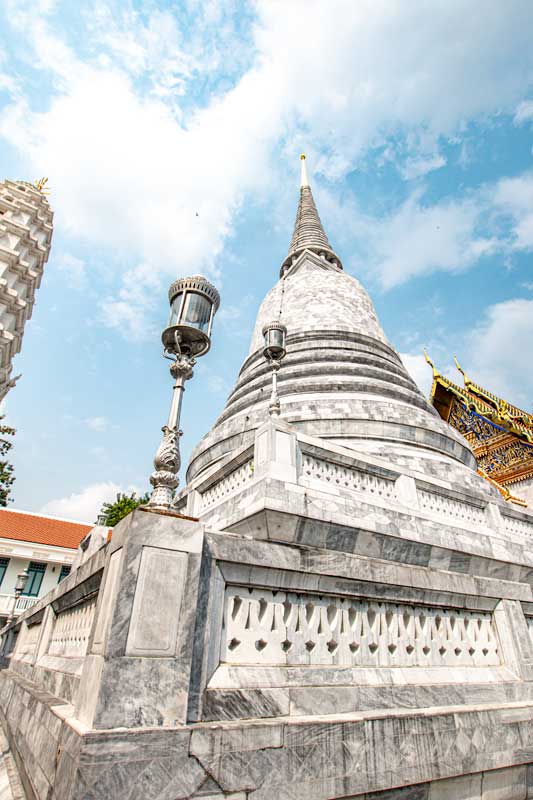 A small but majestic Bangkok temple located just a bridge away from Wat Ratchabophit. One of the city's biggest secrets, you'd hardly stumble upon any other tourist there.
The striking structure is made of grey and white marble with golden rosettes ceiling and opulent main door full of gemstones. Legend says if you touch the door, you can expect a significant wealth to be coming your way.
Price: Free
Open: 8:00 AM until 6:00 PM
See in Google Maps
See Also: The Ultimate Thailand Travel Guide
China Town Temples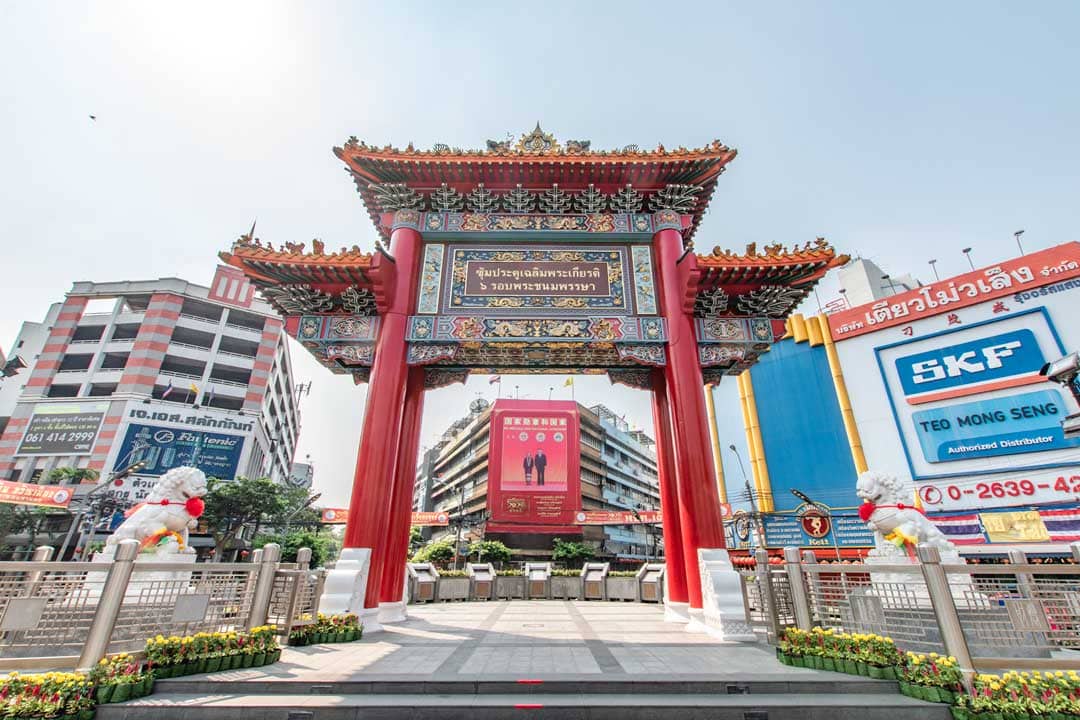 Wat Mangkon Kamalawat (The "Dragon Lotus" Temple)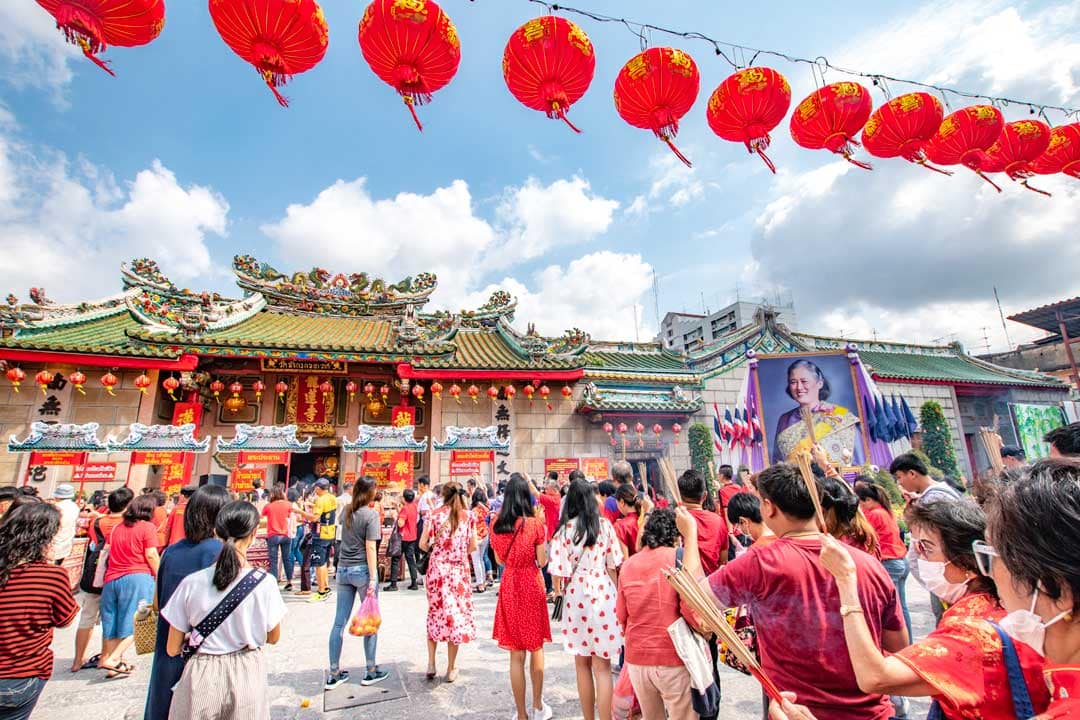 Located in the middle of China Town, Wat Mangkon is the most important Chinese house of worship in town. Built 150 years ago, the temple was used as an introduction of the Mahayana Buddhism in Bangkok. As expected from a Chinese temple, it's decorated with plenty of animal, floral, and dragon motifs.
If you happen to be in town during the Lunar New Year, you should definitely pay a visit and see all the local Chinese population making offerings in Wat Mangkon.
Price: Free
Open: 6:00 AM until 6:00 PM
See in Google Maps
Wat Chakrawatrachawat Woramahawihan ( I dare you to say it)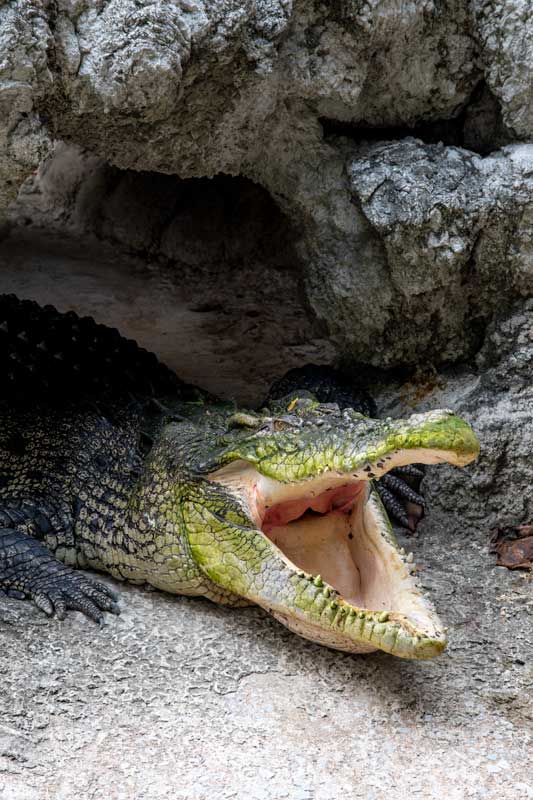 Located very close to Wat Mangkon, this is one of the most unusual temples in Bangkok. The temple grounds are nothing spectacular, to be honest. They are not bad but far away from the opulent wats in the Old City.
The biggest attraction is the crocodiles. That's right. Wat Chakrawatrachawat has a small area with a few living crocodiles. Sadly, they are not living in the best conditions possible. (their pool is tiny, and the containment space is insignificant), but at least they are not turned into bags and belts like most of their compatriots in Thailand.
Price: Free
Open: 8:00 AM until 6:00 PM
See in Google Maps
Wat Ratchaburana
You want a temple where you'd be on your own? Wat Ratchaburana is a great candidate. Located right next to China Town, this second-class temple offers a lucky Buddha statue, a gorgeous green stupa, and well-ornamented sanctuaries. It's not among the best temples in Bangkok, but it's undoubtedly among the most serene ones.
Price: Free
Open: 8:00 AM until 6:30 PM
See in Google Maps
See Also: The Hidden Gems of Bangkok
More Bangkok Temples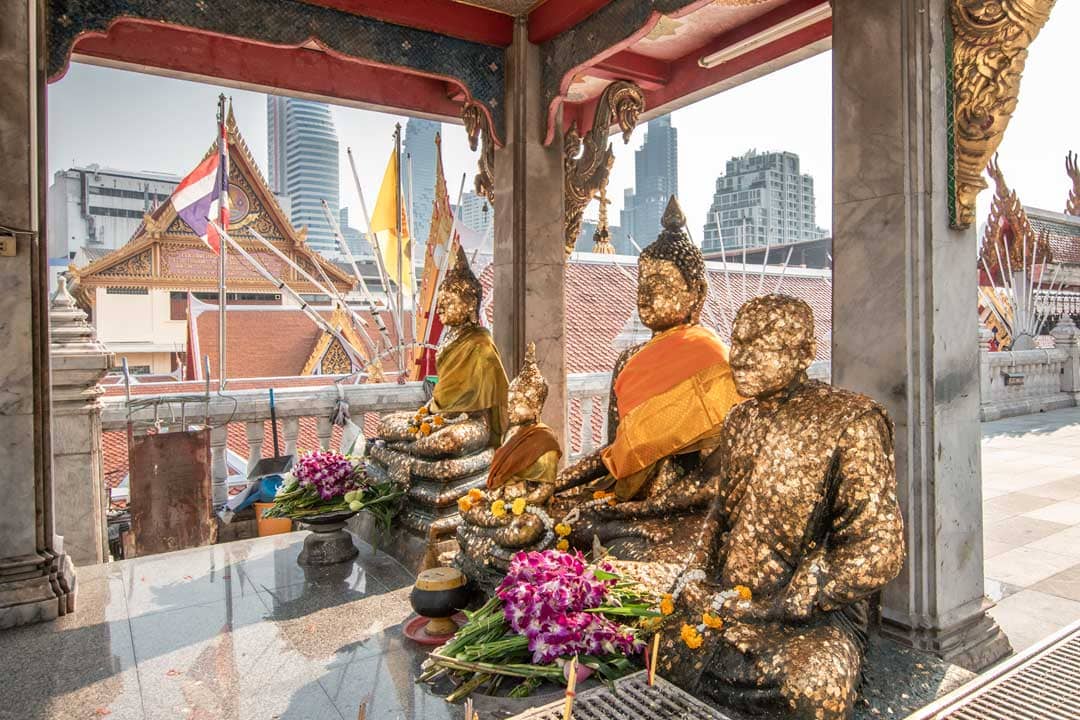 Scattered all over town, those temples are not as popular attractions as the Old City ones. If you make an effort to find them, though, I'm sure you'll enjoy every single one of them.
Wat Benchamabophit (The Marble Temple)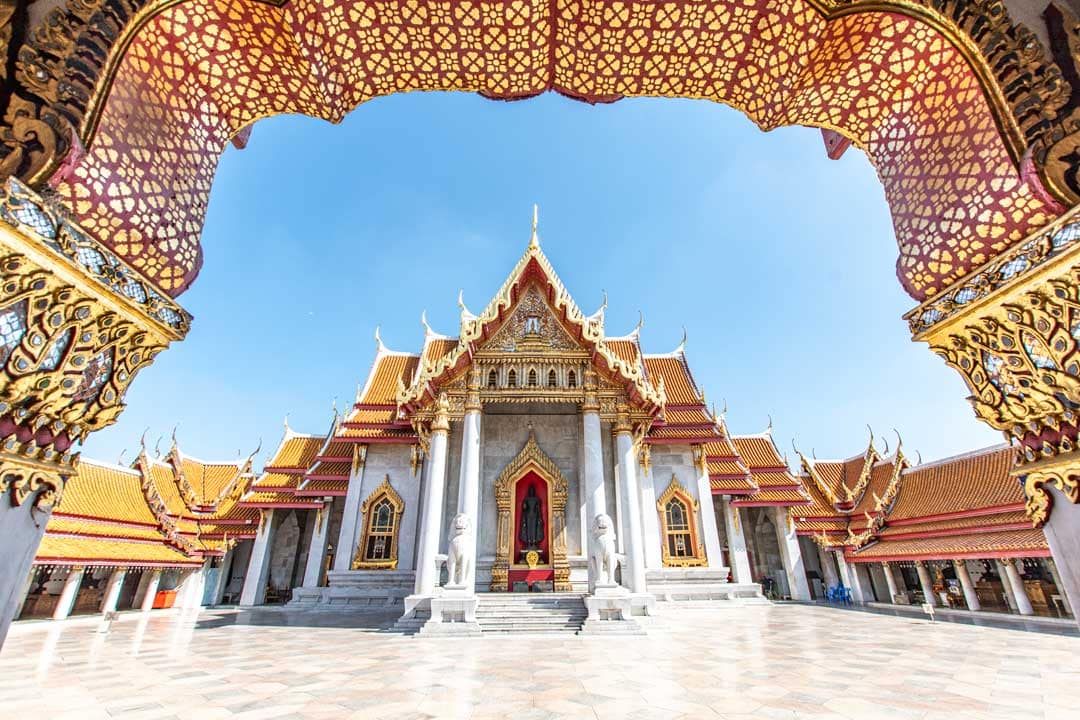 Nicknamed the 'Marble Temple', Wat Benchamabophit is one of the most picturesque temples in Bangkok. Its name comes from the main temple's outer walls that are entirely covered by Italian marble.
While quite famous, the temple is situated quite far from the tourist areas and public transport, so it's not very crowded. It's easy to find the courtyard empty and take an excellent Instagram shot.
The temple is so photogenic that it's even engraved on the 5 baht coin.
Price: 50 THB (1.40 USD)
Open: 8:00 AM until 5:30 PM
See in Google Maps
Wat Pathum Wanaram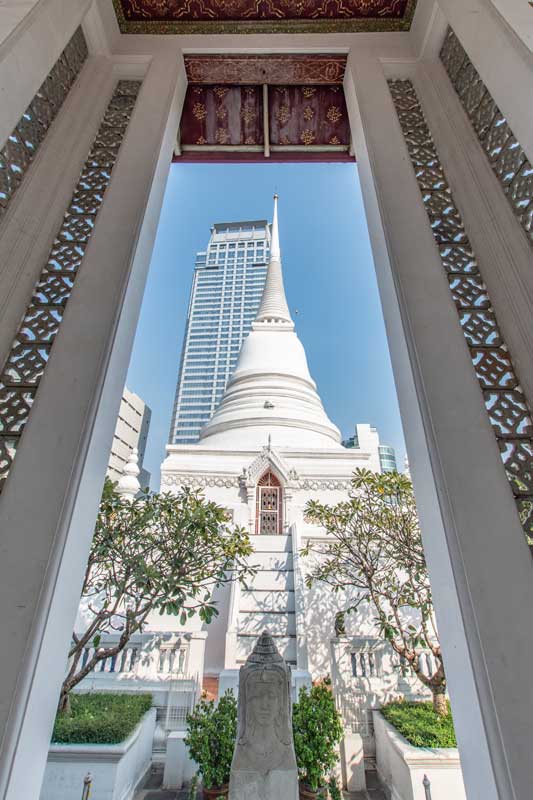 Built by King Mongkut in 1857, this temple used to be surrounded by canals and rice fields. Today, it's surrounded by malls and skyscrapers.
One of the very few temples in the Siam area, Wat Pathum Wanaram, offers a welcome retreat from your shopping spree. It's also dedicated to famous Buddhist monks with their life story and achievements described on signs around the complex.
Price: Free
Open: 9:00 AM until 5:00 PM
See in Google Maps
See Also: Biggest Landmarks in Thailand
Erawan Shrine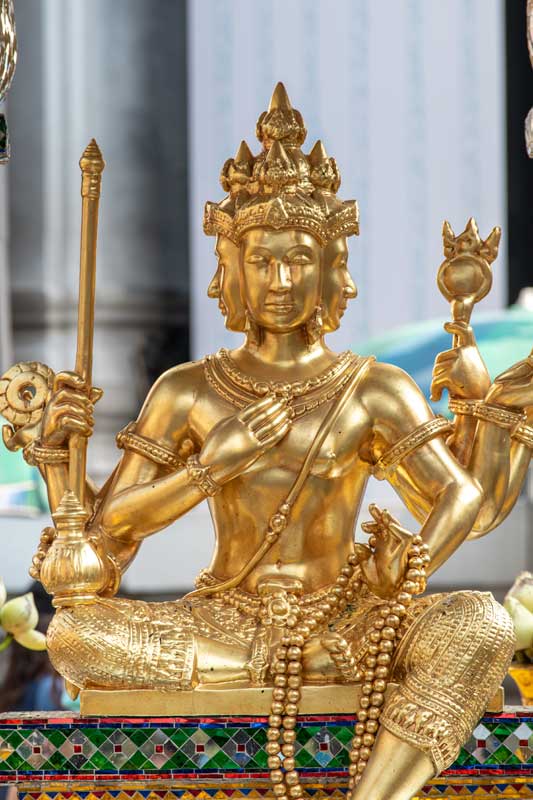 As the name suggests, Erawan is not really a temple but a busy sidewalk shrine. Located in the business part of town, the main attraction of the shrine is a gilded statue of Phra Phrom (the Thai version of the Hindu god Bhrama).
It's a very popular religious site, so you can always see the locals burning incense, making offerings, or receiving a blessing from a traditional dance troupe there.
Price: Free
Open: 6:00 AM until 11:00 PM
See in Google Maps
Wat Hua Lamhong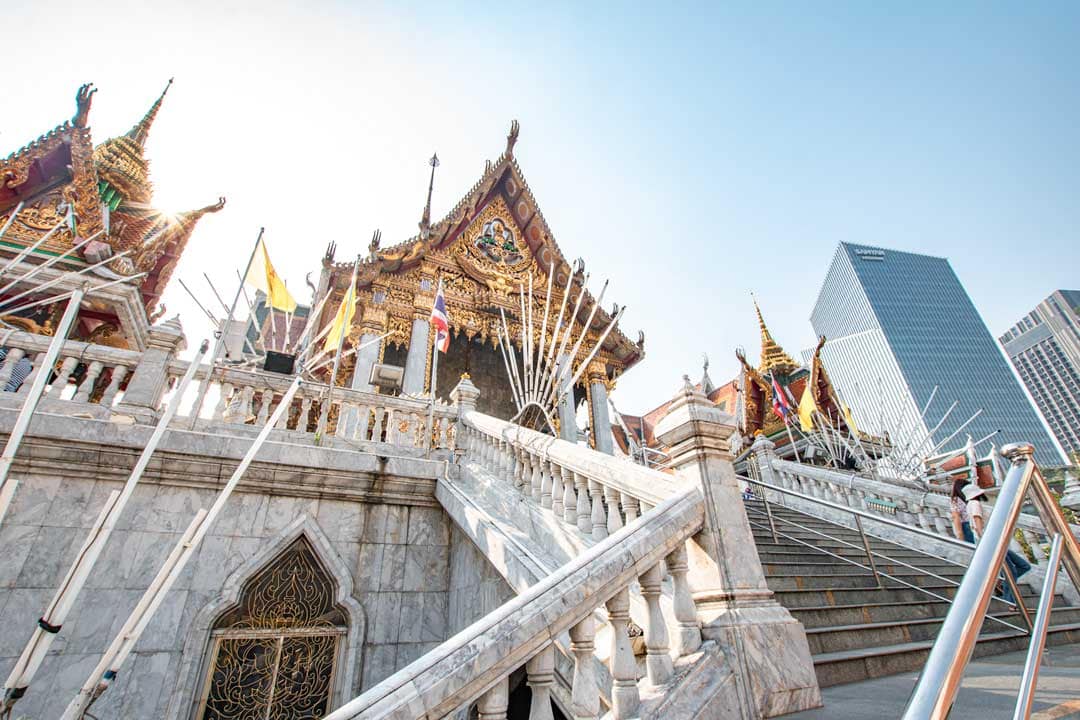 Wat Hua Lamhong is located in the Lumpini district, just meters away from the Sam Yan MRT station. You won't find many tourists here. What you'll find are Bangkok locals looking to make merit. Because Wat Hua Lemhong is all about making merit.
You can do it in a few ways. The most popular one is to donate some bahts for coffins for people who can't afford one. You can also buy food for animals or pay to release some pigeons free (which will most likely return to their cages later but whatever).
A curious temple that gives you a glimpse of Thai people's beliefs and their way of life.
Price: 50 THB (1.45 USD)
Open: 24hrs
See in Google Maps
See Also: The Ultimate Bangkok Shopping Guide
Curious Temples in Bangkok
The next three Bangkok temples are quite unique and noticeably distinctive from anything else in the city. If you're into off-beaten peculiar attractions, those are the ones for you.
Wat Phra Dhammakaya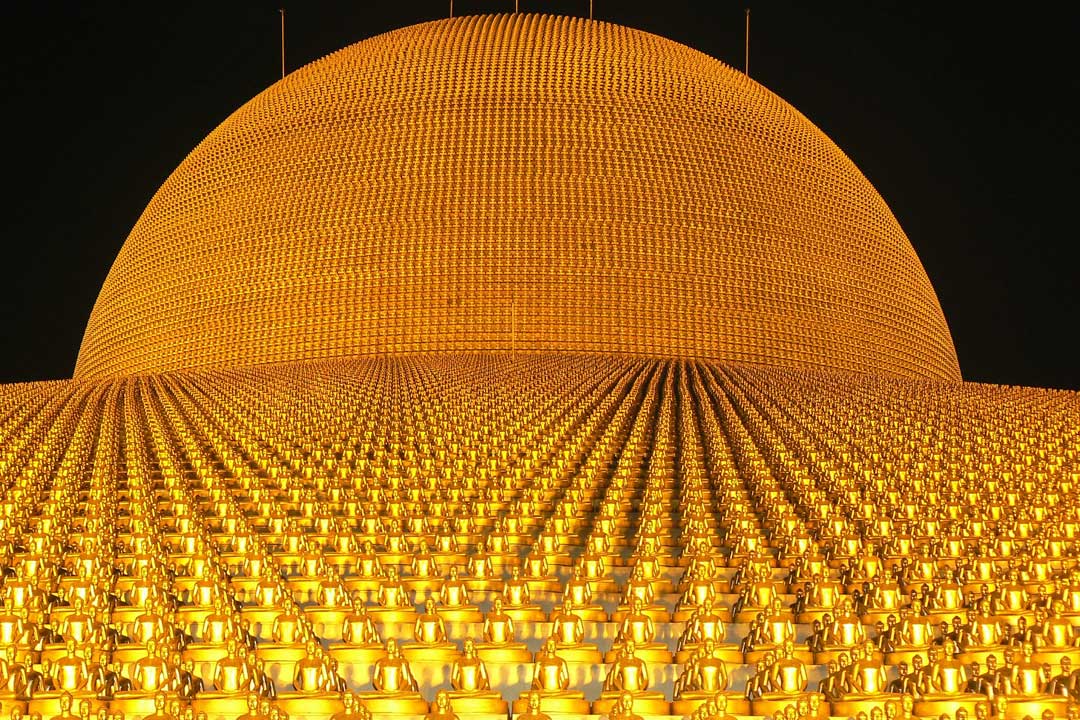 Wat Phra Dhammakaya is a relatively new temple that has become some kind of an enigma. Built in 1970, the temple is the best-known and the fastest-growing temple of the Dhammakaya Movement. It aims to adapt the traditional Buddhist teachings with modern society.
Unlike the other Buddhist temples, Wat Phra Dhammakaya's buildings lack almost any ornaments. Their philosophy is centered around cleanliness and order, and if you want to visit, you'll have to change into all-white clothing representing that.
The highlight of the temple is in the center – The Dhammakaya Cetiya. Designed as a modern stupa, the building looks like a crossover between Indonesia's Borobudur Temple and a flying saucer. Its exterior holds 300,000 buddha statues (yup, 300.000!) while another 700,000 are said to be inside. Seriously, a temple with million statues. And what's more impressive is every one of them has a donator's name engraved on it. The temple is subject to a lot of controversies, with many locals not approving the size of it, the size of its followers, or their way of funding.
Price: Free
Open: 24hrs
See in Google Maps
Wat Bang Phra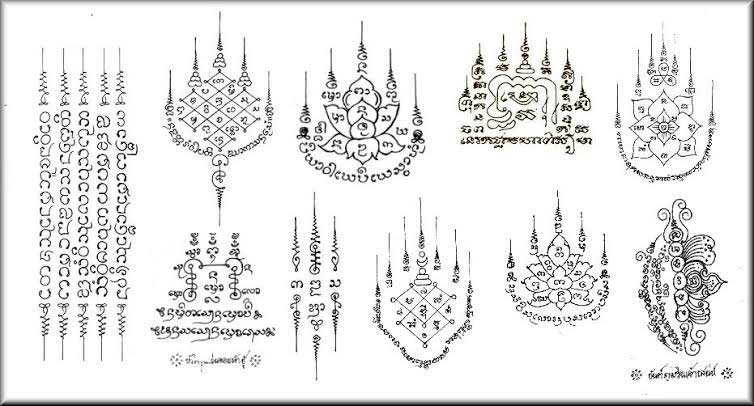 Not precisely in Bangkok but close enough to qualify for this post, Wat Bang Phra is the best place in Thailand to get an authentic Sak Yant tattoo.
If you ready to do it, get up early, and try to be at the temple around 8:00 AM. You may have to wait in a line and assist the monk by holding steady the person in front of you. Once your turn comes, give the monk your offering (you can get that in front of the temple) and prepare for a magical tattoo.
Reaching the temple in time and finding the exact tattoo hall is not an easy job, so if you're serious about it, I strongly recommend booking a trip with a local guide and transportation (that's what I did, and it was a top-notch experience).
Price: temple – free; tattoo offering – around 100 THB (2.90 USD)
Open: 6:00 AM until 11:00 PM; closed on Thursdays
Guided Trip: See the price here
See in Google Maps
Learn more about Sak Yant
Wat Pariwat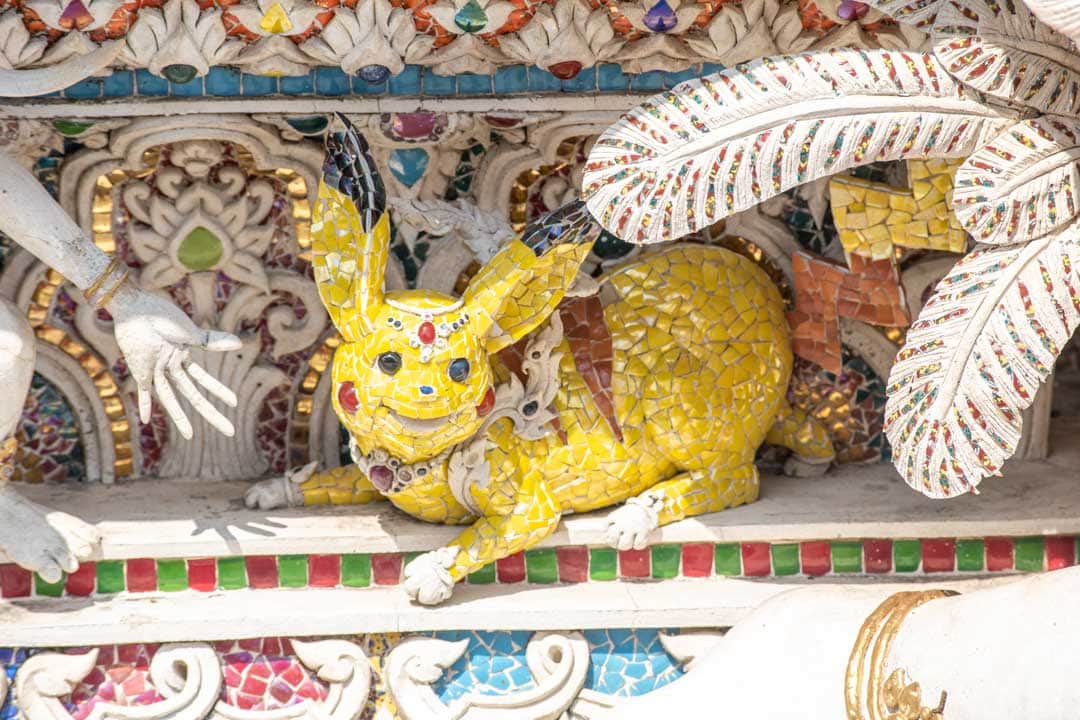 At first glimpse, Wat Pariwat is just like any other Bangkok temple – opulent with detailed ornaments and god statues. If you look at the details more vigilantly though you'll find that among the mighty warriors and mystical creatures, there are also some modern icons.
If you want to see Pikachu, Captain America, or Obama taking a selfie engraved into a real Buddhist temple, Wat Pariwat is the place.
Price: free
Open: 8:00 AM until 6:00 PM
See in Google Maps
That's all from me, I hope you picked the best temples in Bangkok.
————————————
If you haven't planned your trip there yet, find out how I plan my trips!
————————————
I have 32 bucket list ideas for Thailand. See my impossible bucket list of 1700+ adventures!

Which Bangkok temple is your favorite?
---
Some of the above are affiliate links and I will earn a percentage of the sale if you purchase through them at no extra cost to you. This helps keep my site running – so thanks in advance for your support!