Being one of the world's top vacation spots, Dubai is famous for many things. For the last 20 years, the emirate rulers made their goal to turn the city into one of the most modern places on the planet, an epitome of luxury and glamour.
Yeah, we all know that, but since you are here, I guess you are more interested in the exact details. I mean, everybody knows there are excellent hotels and malls there but which ones go beyond the standards and shape the face of Dubai?
From the tallest building on Earth to the serenity of the desert, it's gonna get hot and shiny because we're about to find out exactly what Dubai is famous for.
Burj Khalifa and the Fountains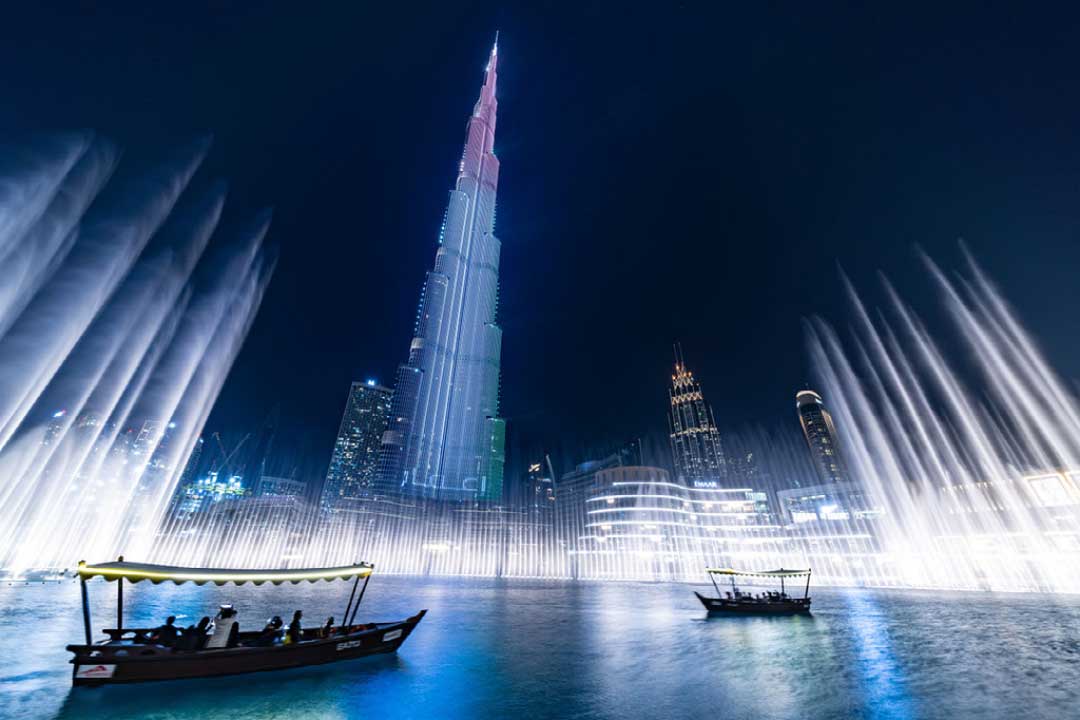 We can start with nothing else but the most prominent symbol of modern Dubai – Burj Khalifa. Finished in 2009, the skyscraper is the tallest construction on the planet, rising to the unbelievable height of 828 m (2,717 ft).
Named after Abu Dhabi's ruler and president of the United Arab Emirates, Sheikh Khalifa ibn Zayed Al Nahyan, Burj Khalifa is the center of Downtown Dubai. It's such a strong representation of Dubai's vision that visiting the emirate without climbing to the top is like visiting Paris and not climbing the Eiffel Tower.
While the view from the top is breathtaking, the biggest highlight of Burj Khalifa for me is its fountains. Performing every night, the dancing fountain show complemented by the Burj Khalifa light show is such a fantastic experience that can easily claim to be the best free show in the world.
Fun Fact
Since Saudi Arabia started building a taller skyscraper, Dubai is already ready with the plans for the next tallest building on the planet. It's under construction right now.

Dubai Mall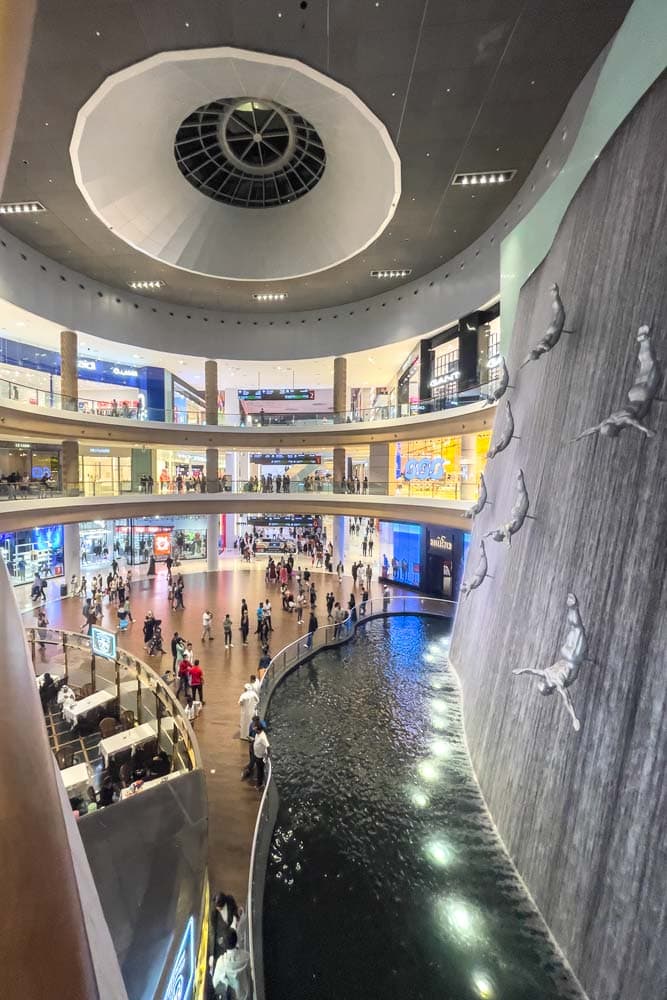 Let me start by saying I'm not a big fan of malls. For some reason exploring malls tires me more than a heavy gym workout. However, when we're talking about the things Dubai is famous for, we can't just skip Dubai Mall.
This behemoth of a trading center is the second-largest mall (after the Iran Mall) worldwide, and navigating it without a map is pretty much impossible. I kid you not, to have any chance to find anything inside, you need to download a particular app that has a digital map to guide you around. Otherwise, you could spend hours just looking for the exit.
Opened in 2018, Dubai Mall offers (besides the unlimited number of stores) a chilly waterfall area, a traditional souk area, a real dinosaur (its skeleton), a giant ice rink, a zoo, and one of the best aquariums in the world.
Burj al Arab and Luxurious Hotels
Before Burj Khalifa, Dubai was famous for Burj al-Arab. The ultimate luxury hotel that uses real gold for its interior and is shaped like a sail was completed in 1999 and signalized the change of Dubai – from a modest middle eastern pearl-diving town to a luxury and futuristic tourist hub.
More than 20 years later, Burj Al-Arab is still one of the tallest, most opulent hotels in the world, but today it's joined by other can't-believe-this-is-real hotels, the most notable of which is the Atalantis.
Situated on the crest of the Palm Jumeirah island, Atlantis has stunning views of Dubai's landscape, underwater rooms, a ginormous aquarium, and an incredible water park (that includes a shark tank slide, but more on that later)
Honestly, if there's just one answer to what Dubai is famous for, luxurious hotels would probably be my pick.
Lost Chambers and Giant Aquariums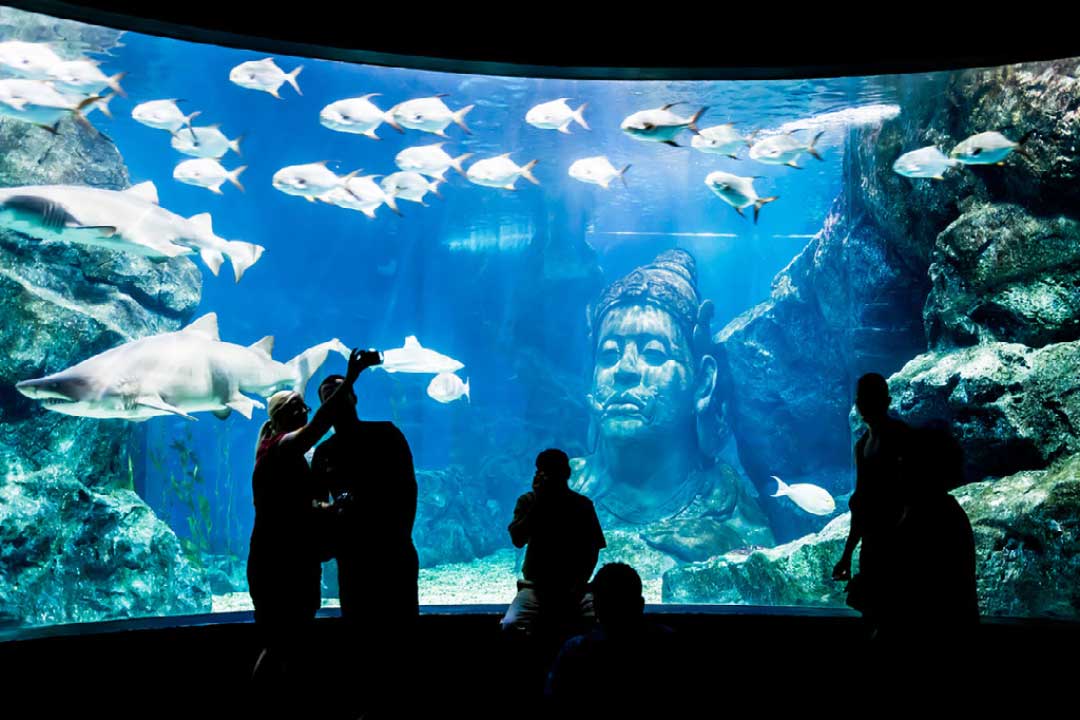 Lost Chambers is the aquarium of the above-mentioned Atlantis hotel and is one of the things Dubai is famous for on Instagram. Featuring gigantic tanks with floor-to-ceiling glasses, this aquarium is just made for photos. But, of course, that's not everything it's perfect for.
Home to over 65,000 marine animals, this place really makes you feel like you've discovered Atlantis. And if you want the ultimate experience – The Lost Chambers gives you the opportunity to go snorkeling or scuba diving inside the aquarium!
This appears to be a regular thing in Dubai since the other aquarium in town, the Dubai Mall Aquarium, also offers it. Speaking of the Dubai Mall aquarium, this one is even bigger than the Atlantis one. Actually, it's bigger than any other aquarium in the world besides the Georgia Aquarium in Atalanta.
It features a water tunnel, a penguin zone, shark zone, glass-bottom boat rides and is complemented by a zoo! Obviously, Dubai is investing a lot in marine life and aquariums, so it's not surprising that they are one of the things Dubai is known for worldwide.
Palm Jumeirah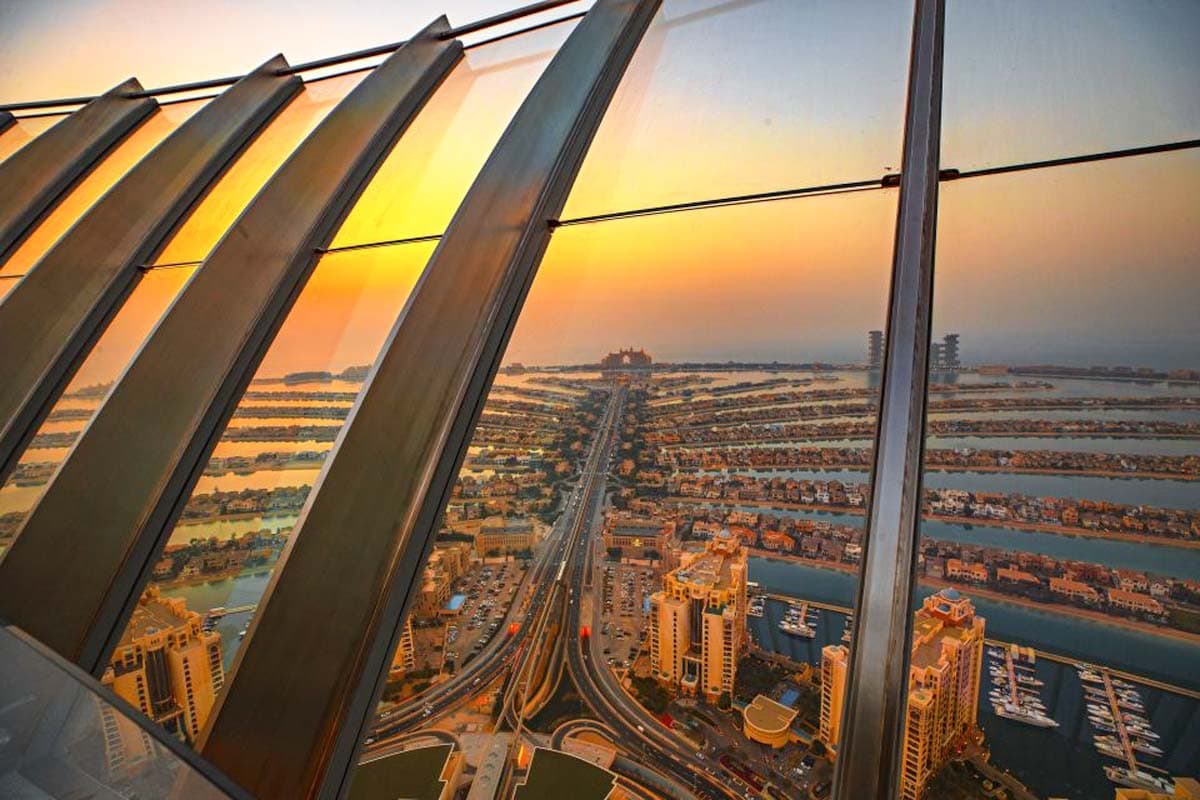 I remember the first time I read the news – "Dubai is building an island"
I was like, "What? I thought only nature can do that."
Today, many years later, I'm still amazed such a thing exists. Palm Jumeirah is an artificial palm-shaped island that houses some of the most luxurious properties in the emirate. Like one of my guides said while showing me where Leonardo di Caprio lives – "The Palm is the richy rich area of Dubai".
Opened in 2009, Palm Jumeirah is not the only artificial island in Dubai; there's one more Palm that is ready, one under construction, and an island archipelago shaped like the world's continents.
The Desert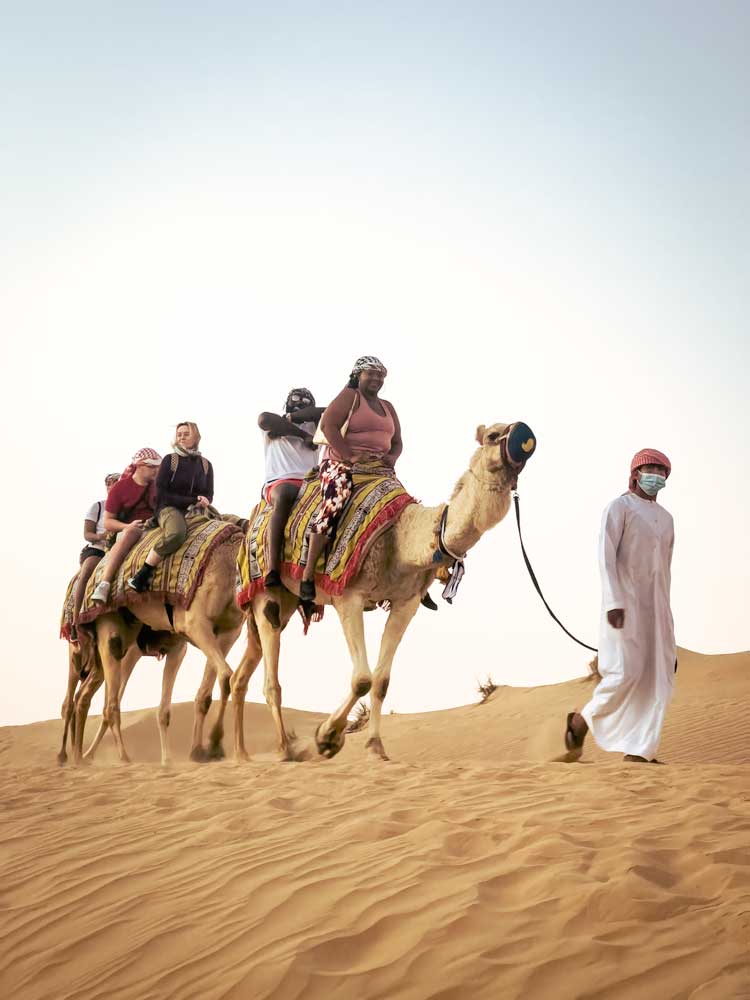 Many people would be surprised if you answer to 'what is Dubai famous for?' is 'the desert'. Yet, the Dubai desert tours are the most in-demand ones in the emirate, and they are always highly rated.
Yes, Dubai today is known more for its skyscrapers than its nature, but it's still built over a desert. And the desert is one of those landscapes that you simply can't help but fall in love with (that unless you find yourself lost in it, then it sucks).
Dubai desert tours won't show you the Berber way of life but will let you enjoy all types of activities, including quad-bike rides, camel rides, sandboarding, dune bashing, desert camp shows, rich buffets and stuff like that. No wonder a desert tour is on the list of every Dubai visitor.
See Also: What is Marrakech Famous For?
Ski Dubai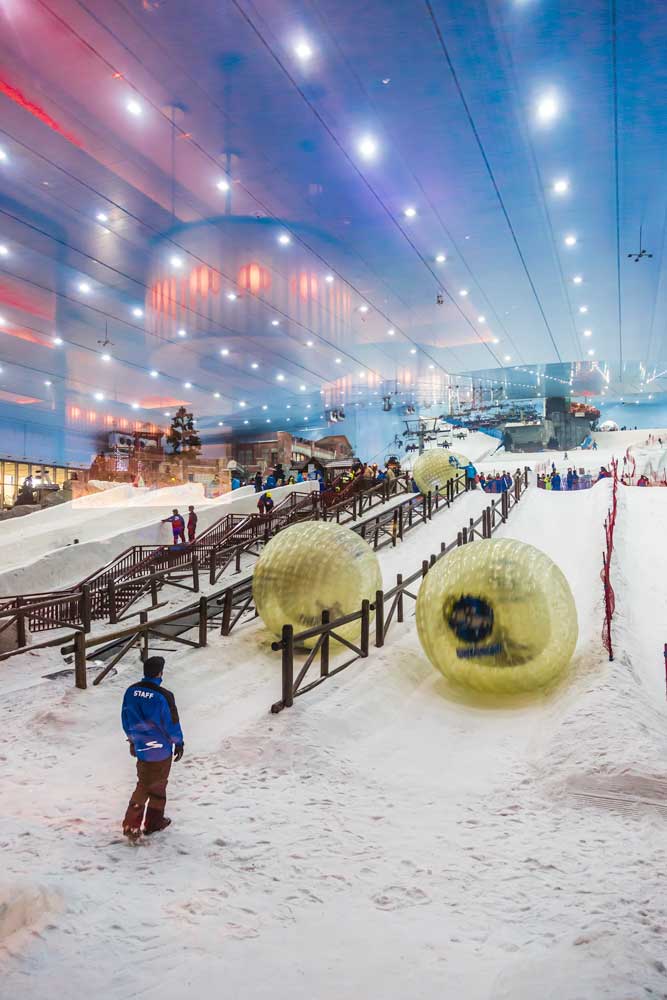 Dubai is the only place on the Arab peninsula you can go ski. No, there isn't some hidden snowy mountain in Dubai; you go ski in the mall!
How crazy is that?
In 2005, Dubai shocked the world by introducing a 22,500sqm (242,187sqft) ski zone inside the Mall of Emirates. It's one of the most peculiar attractions I've ever seen and one of the most visited indoor activities in the country. Ski Dubai features an 85-meter-high indoor mountain (equivalent to a 25-story building) with five slopes for all ski and snowboard enthusiasts. There's also a giant snow park area with sled and toboggan runs, giant snowballs, an ice cave, and a body slide slope.
And to make the place even more fun, they have cute penguins that are let out of their encloser several times a day!
Theme Parks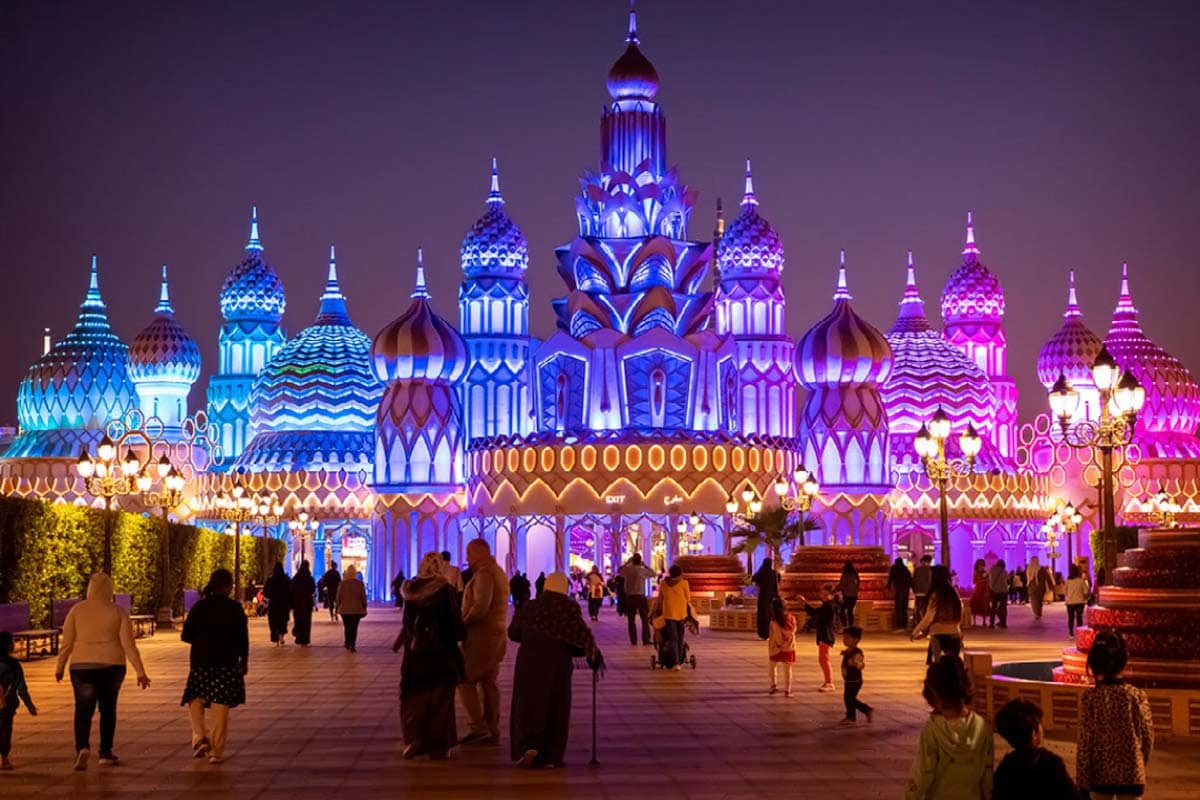 Dubai is known to be not only a playground for grown-ups but also a magic land for kids. No, there's no Disneyland (yet), but there are so many theme and water parks you simply don't need one!
One of the most prestigious water parks on Earth, Aquaventure, has found its home next to the luxury Atlantis hotel and features hundreds of slides, the most impressive one going under the aquarium's shark tank!
There's also the biggest indoor theme park in the world, IMG Worlds of Adventure, the Indian dream – Bollywood Parks, a Legoland, Motiongate (that houses 27 themed rides from Lionsgate, Sony Pictures, and Dreamworks), a VR park, a gaming-inspired park (Hub Zero) and more than 30 others! Don't quote me on this one, but I'm pretty sure there's no other city in the world with so many theme parks.
See Also: The Ultimate Dubai Itinerary
Shopping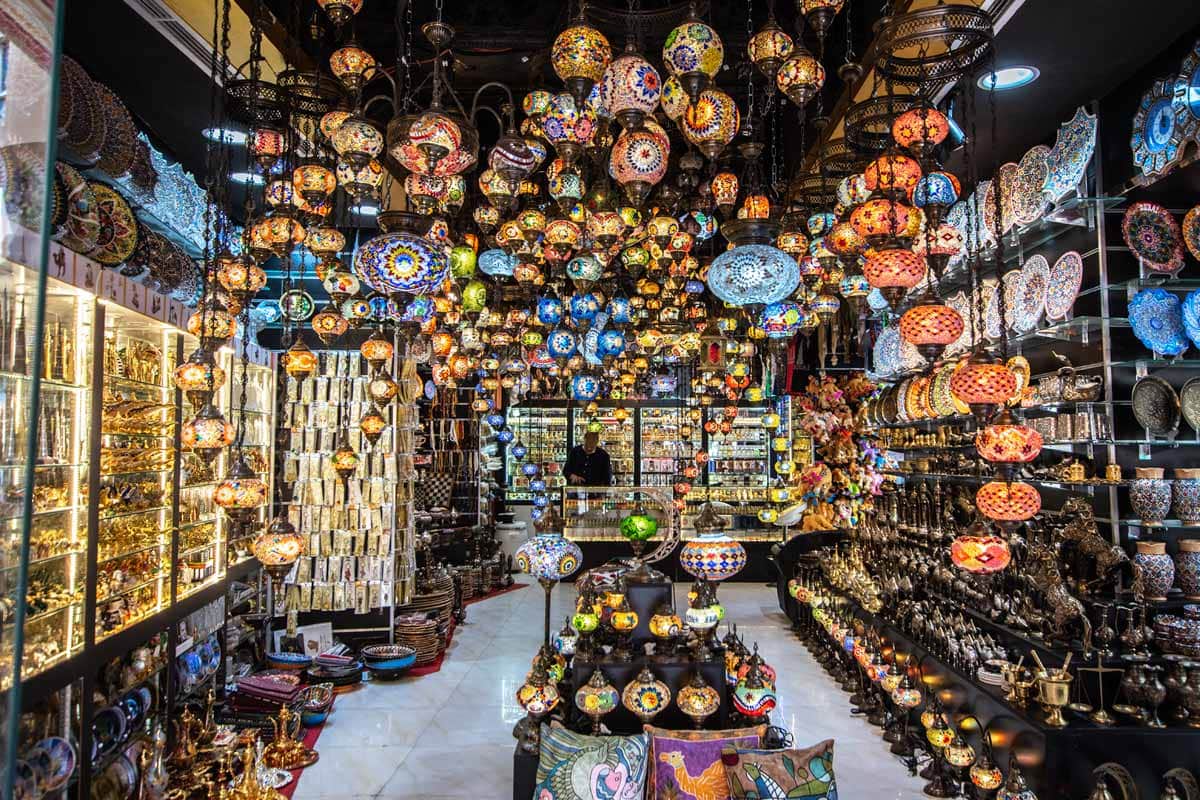 This won't surprise anyone, but yeah, Dubai is known for its shopping. It was a pretty easy guess since I already talked about some of the ginormous shopping centers in the emirate.
What I haven't talked about yet, though, are the souks. The original Arabian markets may be long gone from modern Dubai, but since the emirate is adamant about displaying their culture to the world, they did their best to refurbish them back in action. While the place feels a bit artificial, the shopkeepers trying to get you inside their store are just like the ones you can find in Marrakech or Istanbul. The gold souk is also a world-renounced bazaar due to the high quality of the goods there.
Futuristic vision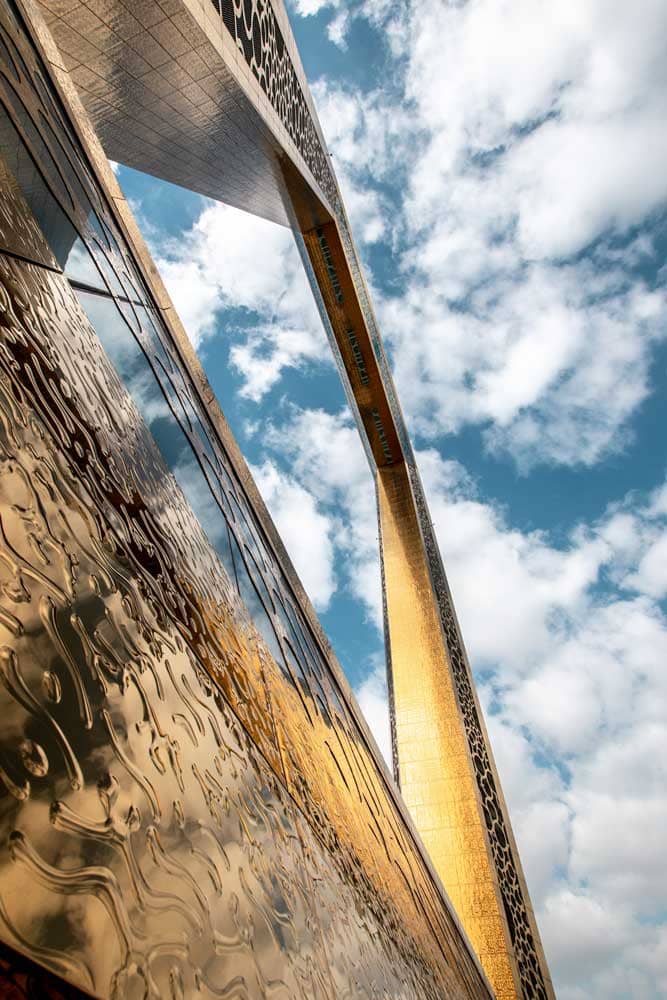 Pushing boundaries is the motto of the emirate, so it's no wonder the next thing Dubai is famous for is its futuristic vision. From the robot guides in the Dubai expo to the self-driving taxis waiting to go into operation, if there's an innovation about to happen, you can bet your arm and leg Dubai will implement it.
One of the city's newest attractions is the Museum of the Future which not only looks futuristic but is also about to show you how Dubai will look in a few years. Another city attraction, the Frame of Dubai, also has a presentation about the city in the year 2050, and all I can say is it's mind-blowing.
Burj Khalifa will be one of the smallest buildings in 2050, tube public transport around it, flying taxis, robot servants… it's jaw-dropping. It looks like something straight taken out of a Star Trek movie, and you know what the craziest part is? I'm pretty sure they are going to make it a reality.
See Also: What is Morocco Famous For?
Restaurants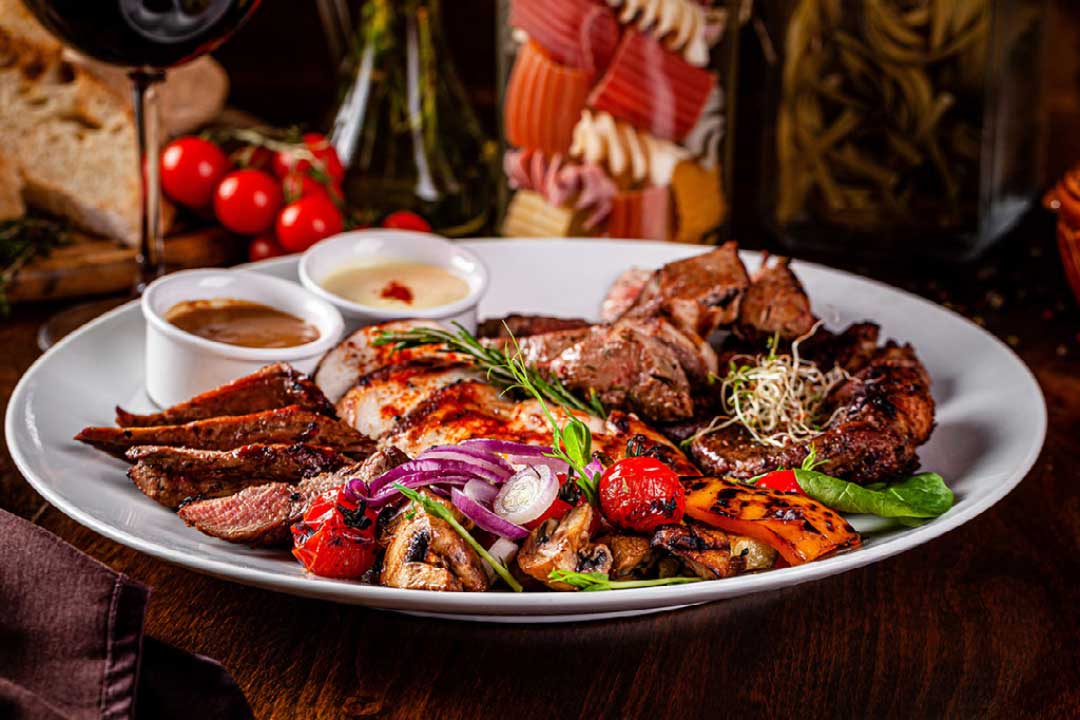 You would expect a contemporary place like Dubai to have food from all over the world, right? And you'll be right. The next thing Dubai is known for is its restaurants.
You can find chains from everywhere there. No, seriously, I mean everywhere. You get all the American ones; you get Little Bangkok and other Thai ones, countless Italian places, African food, Indian food, South American food, guys I really do mean everywhere! Actually, there are so many options it's hard to find the places that sell local Arabian food (they exist, though).
And if you've gone to Dubai to taste the best of life, there are also 11 restaurants run by Michelin chefs.
Medjool dates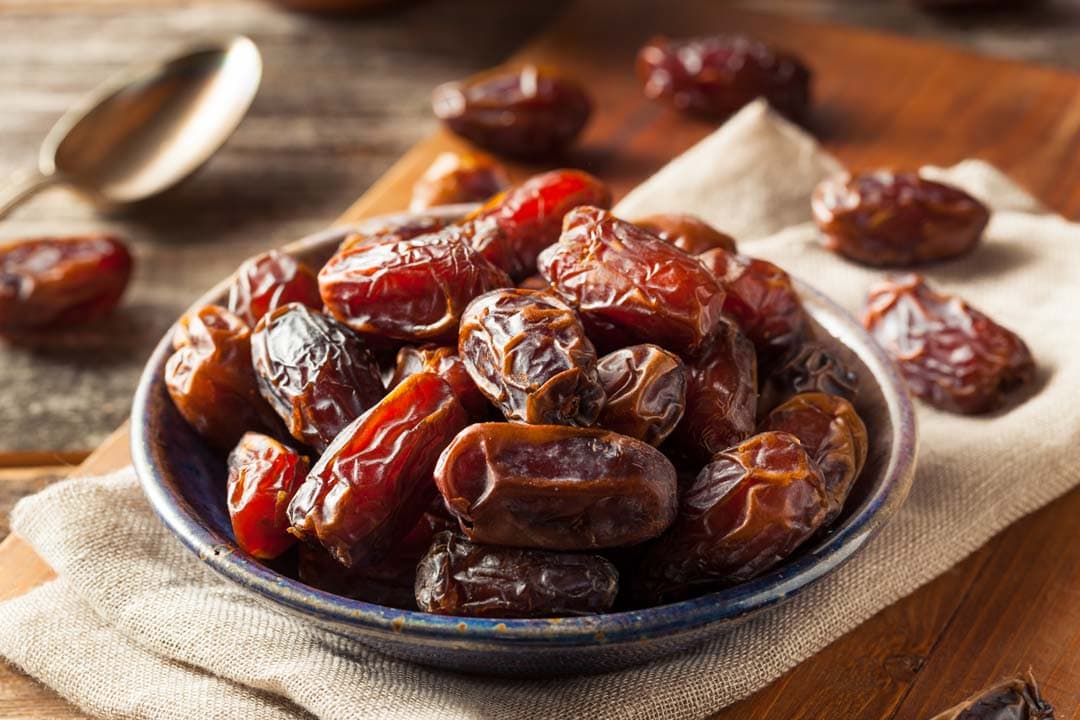 Medjool dates are a kind of date that is popular for its inherent sweetness. They are bigger, darker, and have a more caramel-like flavor than other common varieties such as Deglet Noor. They are tropical stone fruits with a solitary pit surrounded by edible flesh.
Medjool dates are native to Morocco and are derived from the date palm tree (Phoenix dactylifera). They are presently produced in warm parts of the United States, the Middle East, South Asia, and Africa. Therefore, it comes as no surprise that they are a delicacy also in Dubai.
Beaches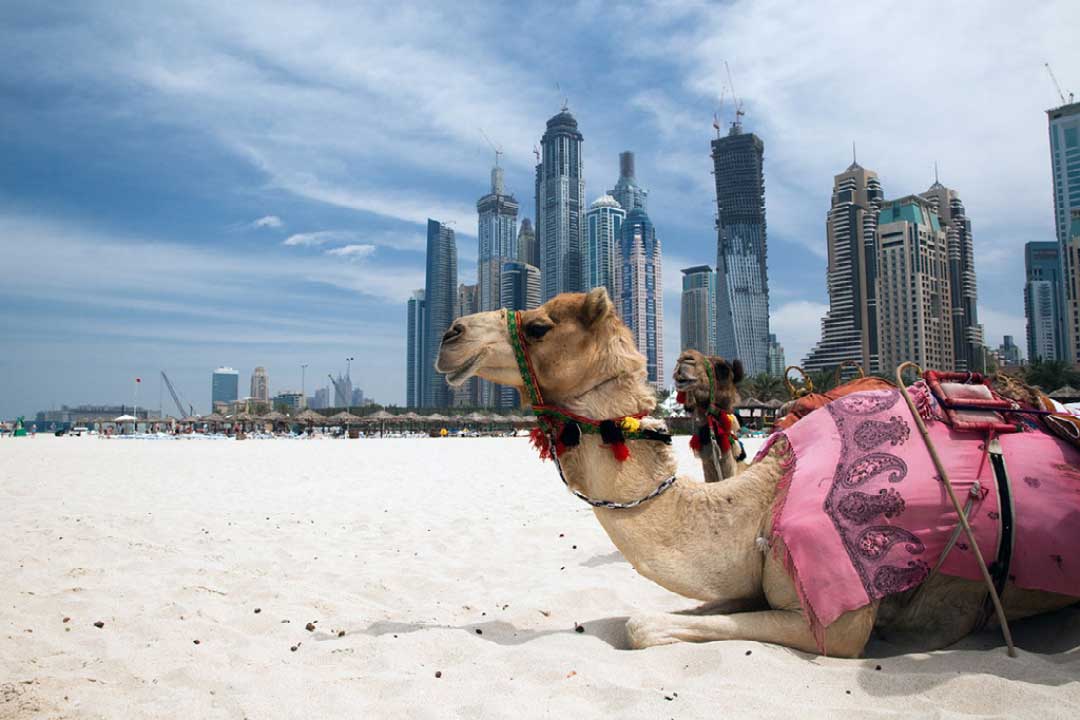 If you ask some Instagram models what is Dubai famous for, the answer would be only one – beaches (some may say Miracle Gardens, but it'll be mostly beaches).
No matter how many skyscrapers, hotels, theme parks, and aquariums there are, the sunny weather and golden beaches would always be a magnet for tourists. And Dubai has them both.
If you want to have an excellent bronze tan and combine it with the perfect picture, the best choices would be Jumeirah Public Beach, Burj Al-Arab Beach, or Atlantis' WHITE Beach.
That's all from me, now you know everything Dubai is famous for and it's time to catch the plane and see it in person.
————————————
If you haven't planned your trip there yet, find out how I plan my trips!
————————————
I have 7 bucket list ideas for UAE. See my impossible bucket list of 1700+ adventures!

Is Dubai on your bucket list?
---
Some of the above are affiliate links and I will earn a percentage of the sale if you purchase through them at no extra cost to you. This helps keep my site running – so thanks in advance for your support!