So instead of going straight to Thailand's beaches, you've decided to spend 2 days in Bangkok? That's a great decision! Bangkok is one of my favorite cities on Earth. It simply has everything. Opulent Buddhist temples, vibrant nightlife, world-class restaurants, lick-your-fingers street food, you name it, Bangkok has it.
The only problem about spending 2 days in Bangkok is that the City of Angles has too many amazing things to see and do; therefore, a couple of days won't be enough. It's enough, however, to see the biggest highlights, taste the spirit of Bangkok and develop a strong desire to return as soon as possible.
Two Days in Bangkok Day 1 – Iconic Landmarks
On the first day of our 2 days in Bangkok, we're about to explore the most significant attractions in the city – two mythical temples and a legendary South-East Asian street.
Grand Palace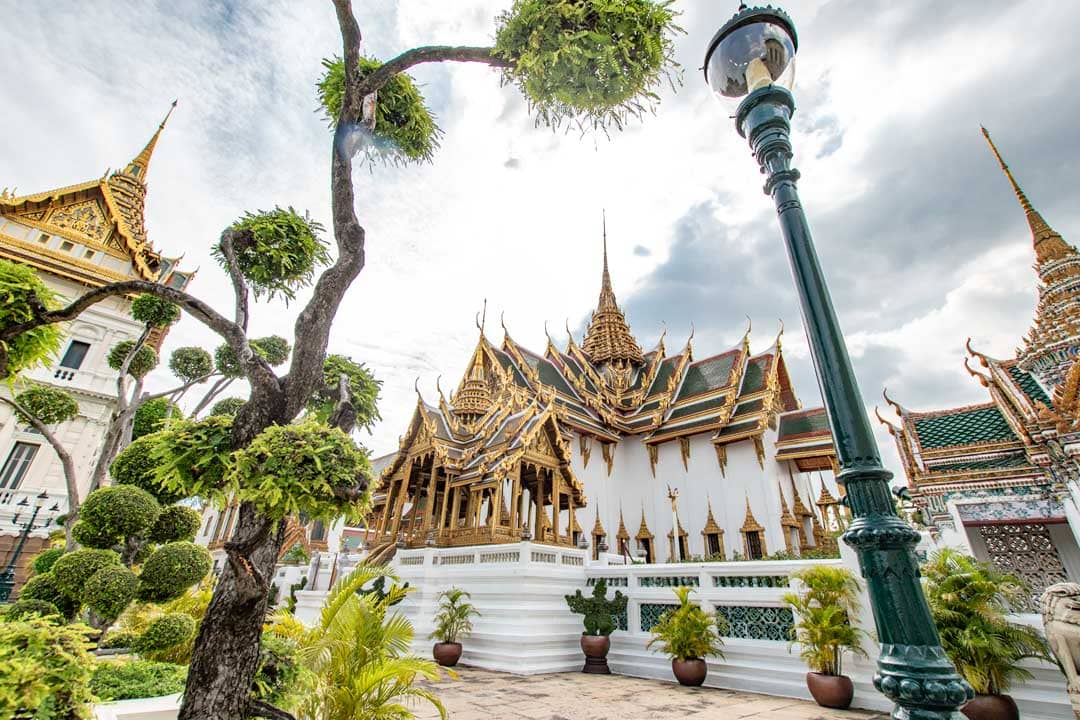 The Grand Palace is the most notable attraction in Bangkok. Visiting the capital of Thailand and skipping the palace is like visiting Paris and skipping the Eiffel Tower. You just have to see it.
The Grand Palace is a compound of buildings, each one of them – beautiful and captivating. The biggest star is Wat Phra Kaew or the "Temple of the Emerald Buddha". It's the most sacred temple in Thailand and home to a magical Buddha statue made of (yes, you probably guessed that) emerald stone. Exploring the Grand Palace is like exploring the magical land of Oz – an unmissable experience.
I recommend going there early in the morning and be among the first visitors. Not only you'll have a somewhat peaceful Grand Palace experience, but you'll also have enough time to check everything. Make sure you wear proper clothes, or you will be forced to buy something to cover yourself. Shorts, skirts, skinny tops, naked shoulders, and tight sporting clothes are a no-no.
Price:
500 THB (14 USD)
Guided tour – Check here
Best temples tour – Check here
Open:
Daily from 8:30 AM to 3:30 PM
See in Google Maps
Wat Pho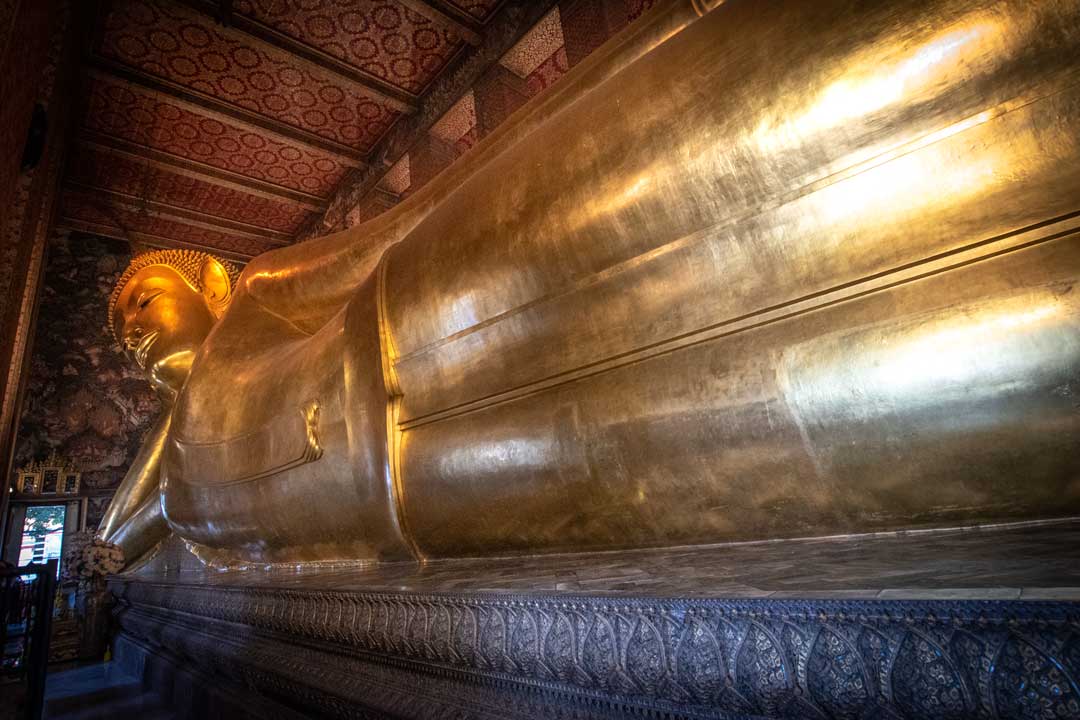 The second most famous temple in town, Wat Pho is also known as the Temple of the Reclining Buddha. Why is that? Because there's a giant reclining Buddha statue inside, of course. But don't think even for a minute that's all there is in Wat Pho. Once you're done marveling at the statue, get a bowl of change and put a coin in each of the 108 pots inside the sanctuary, getting yourself a potent Buddhist blessing in the process.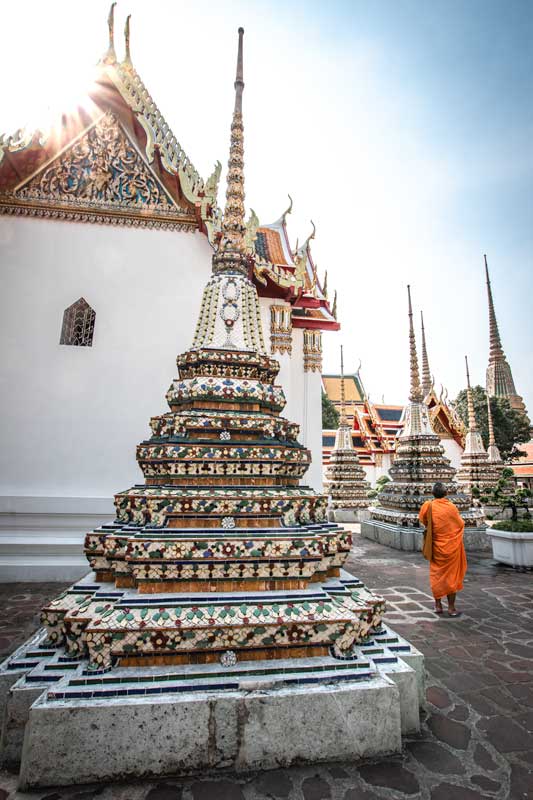 After you're done, get outside and take a selfie with the tophat guardians of the Marco Polo gate before continuing your exploration with the giant King chedis in the courtyard. Last but not least, Way Pho is home to one fo the best Thai massage schools in the country. After exploring two enormous temple complexes, there's nothing better than an energetic massage to get your strength back.
Price:
Temple: 200 THB (5.75 USD)
Thai massage 30 minutes for 260 THB (7.45 USD)
Thai massage 1 hour for 420 THB (12 USD)
Foot massage 30 minutes for 280 THB (8 USD)
Foot massage 1 hour for 420 THB (12 USD)
Guided tour (including Wat Arun) – Check here
Best temples tour – Check here
Working Hours:
Temple: Daily from 8:00 AM to 6:30 PM
Massage: Daily from 8:00 AM to 5:00 PM
See in Google Maps
See Also: The Best Temples in Bangkok
Khao San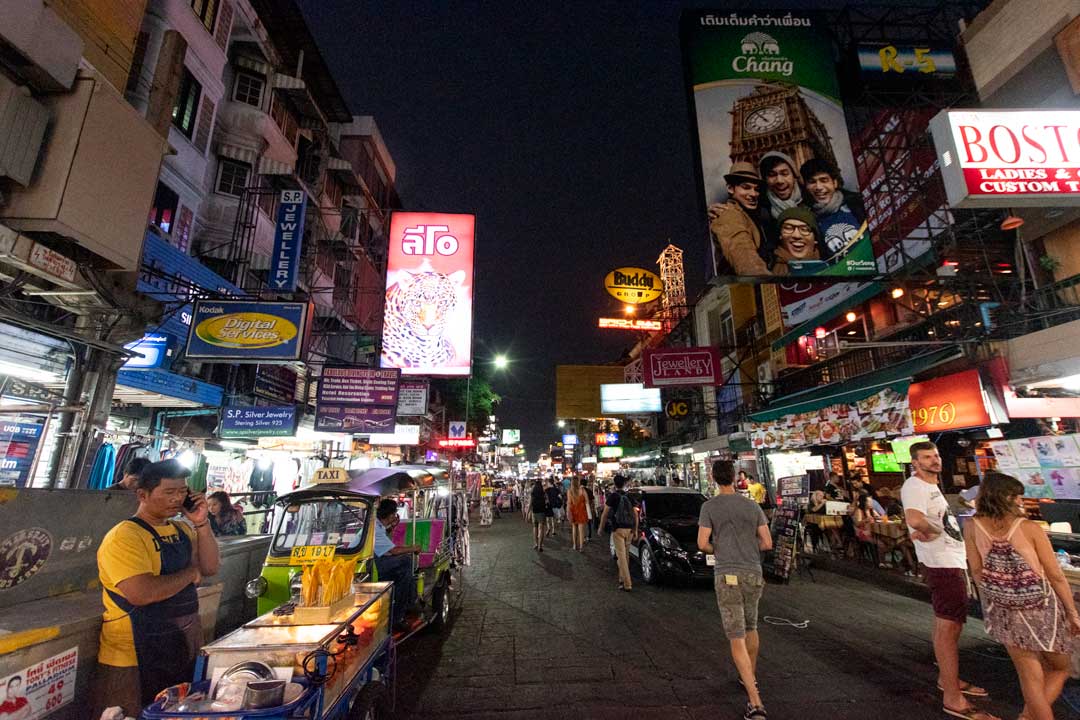 The most famous street in South-East Asia, Khao San Road was already a renowned backpacking spot before Alex Garland's book – "The Beach" made it a legendary one. It's a bit touristy and crowded today, but it's still an integral part of Bangkok you just have to see. If you've checked both temples recommended on this 2 day Bangkok itinerary, and stopped for regular breaks and meals in-between, it should be an early evening when you reach Khao San – the best time of the day.
After dark, the road becomes a night market, perfect for souvenir hunting and Pad Thai tasting. Or you can try something more exotic like a scorpion on a stick, fried cockroaches and crocodile meat. Get yourself a foot massage on the street and head to one of the bars to cap this fantastic day with a beer (or two).
Two Days in Bangkok Day 2 – Picturesque Wonders
The second of our 2 days in Bangkok will be spent around some of the most picturesque locations in town. We have one more temple today, a real Jurassic Park, a magical market and a bar above the clouds. Exciting, right?
Pssst! If you want to find the best Instagram photos, I have the perfect post for you – The Best Photo Spots in Bangkok.
Wat Arun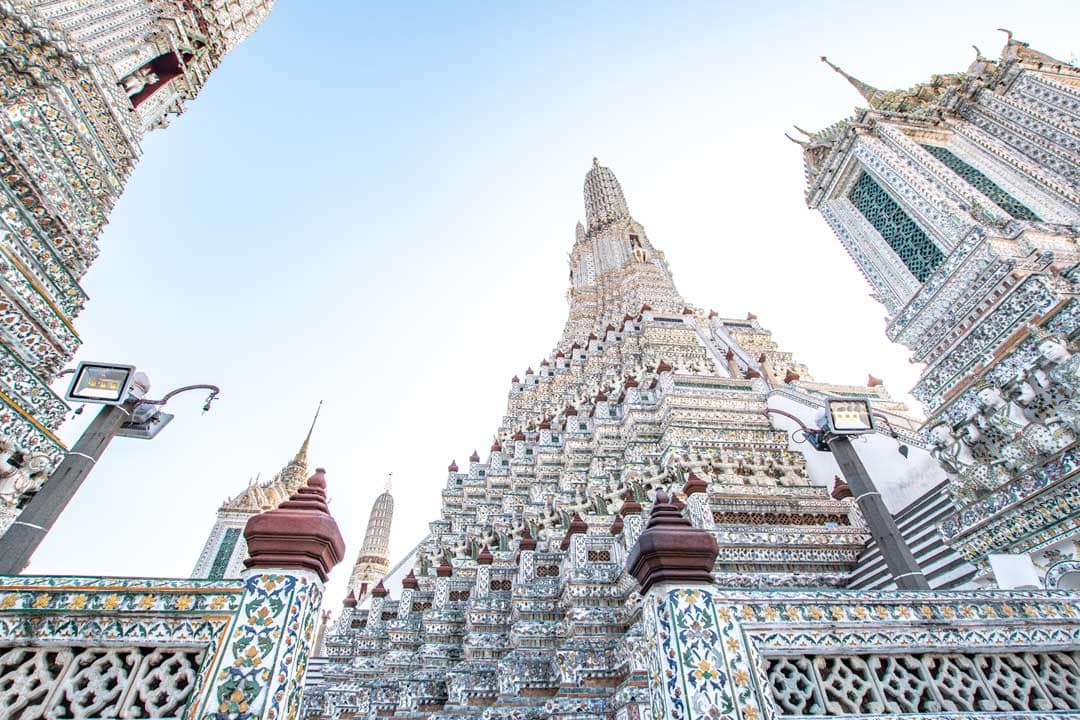 The second day of our 2 day Bangkok itinerary begins with…a beautiful temple. I know we already saw two shrines yesterday, but this one is smaller, incredibly picturesque, and requires you to cross the river to reach it (and that's a cool experience).
Wat Arun or the Temple of Dawn has a Khmer design featuring a giant 70-meter-tall prang tower in the middle with four smaller towers surrounding it. The whole temple is encrusted with colorful porcelain and refurbished continuously to keep its blinding white color. If you wish, you can climb the central tower and get an excellent panoramic view of the river.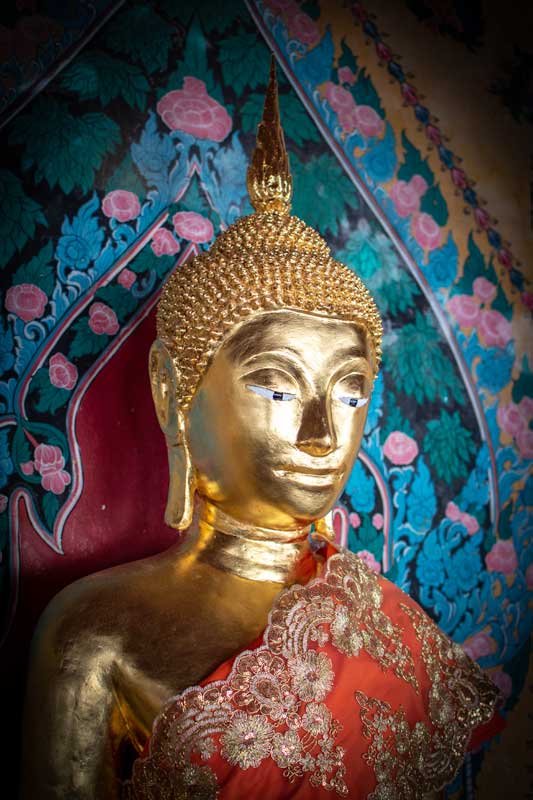 Make sure to check out the area around the main sanctuary as well. Fewer tourists and hidden gems await you there (such as the ordinary hall and its two demon guardians).
Price:
100 THB (2.90 USD)
Guided tour (including Wat Pho) – Check here
Best temples tour – Check here
Working Hours:
Daily from 9:00 AM until 6:00 PM
See in Google Maps
Castaway Tip
To reach Wat Arun, you need to cross the Chao Phraya River. The easiest and cheapest way is the public ferry that costs only 3 THB (0.09 USD) and stops in front of the temple. You can take it from the Tha Tien ferry terminal.

Amulet Market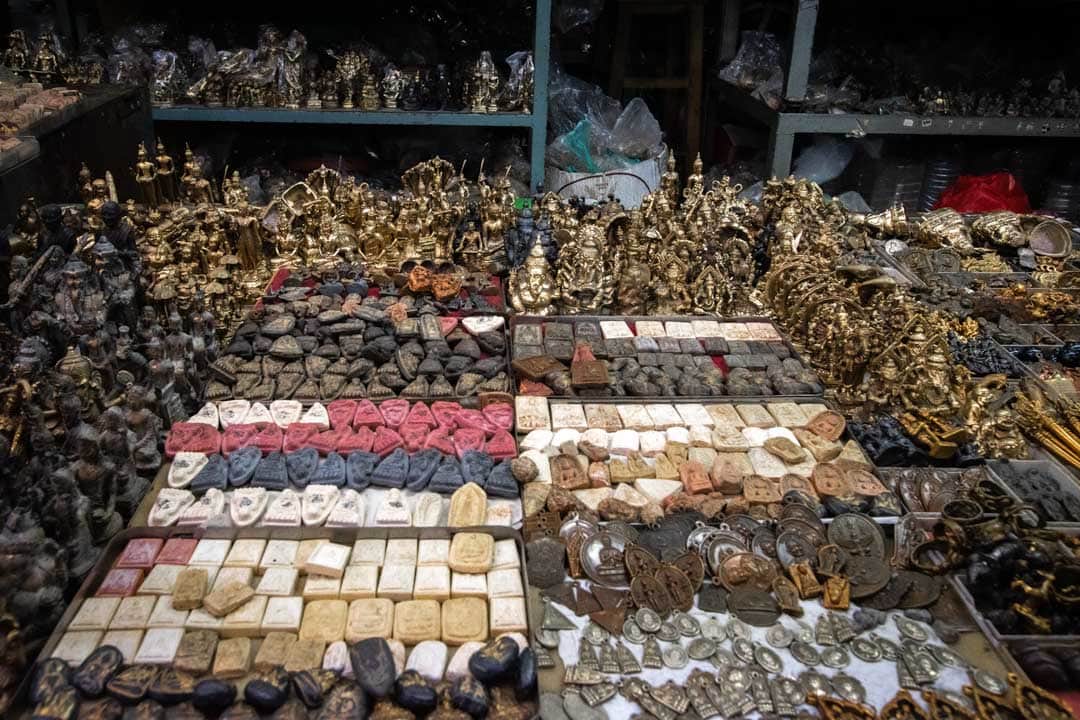 Our 2 days in Bangkok continue with a market that sells magical souvenirs. The amulet market is located around 1km away from the Tha Tien terminal. You can reach it by express boat (get off at the Maharaj terminal), tuk-tuk (they are very overpriced in that area), motorbike taxi, or you can simply walk to it.
The market has dozens of stalls, all offering one thing – Buddhist charms and amulets. They are made of various materials in different sizes and shapes, and they all serve a different purpose. To better your chances of getting a real one, buy from the stalls you see monks around.
Price: Various
Working Hours: Most stalls are open daily between 9:00 AM and 4:00 PM
See in Google Maps
Psst! I have a whole post dedicated to the best Bangkok Souvenirs. Check it out!
Lumphini Park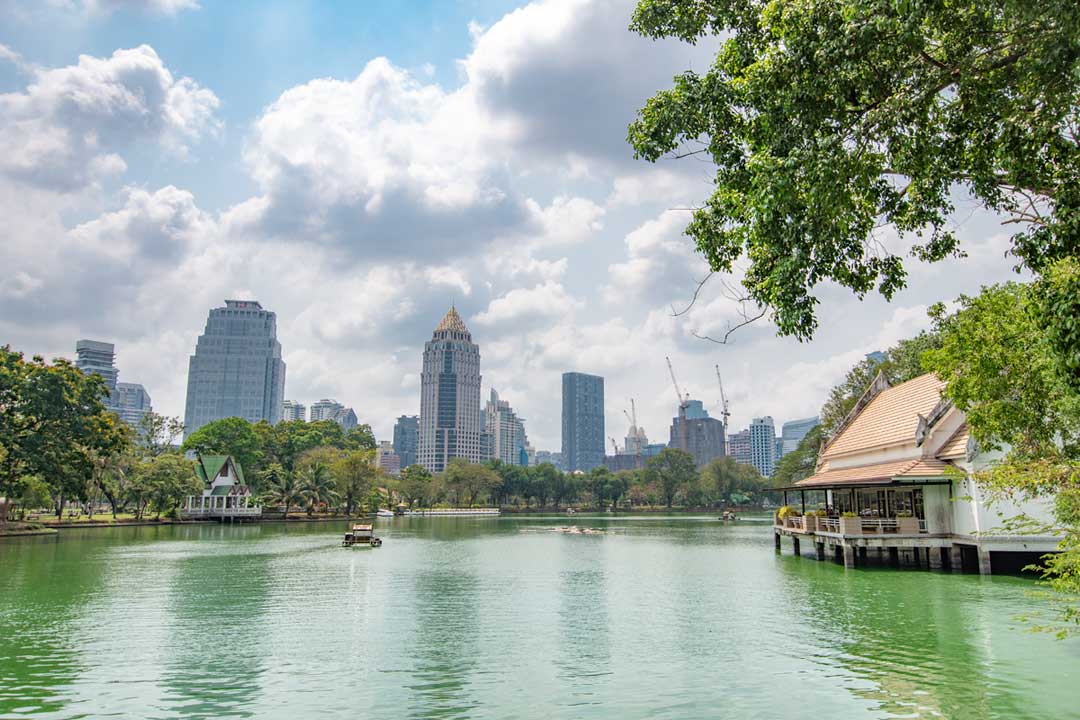 Once you're finished with the charms, make your way to the nearest MRT station (Sanam Chai) and take the subway to Lumphini park (Si Lom Station). Being the largest park in Bangkok, Lumphini is a welcome break from the hustle and bustle of the chaotic megapolis. An ideal place to have a picnic under a tree or rent a swan-boat and explore the lakes.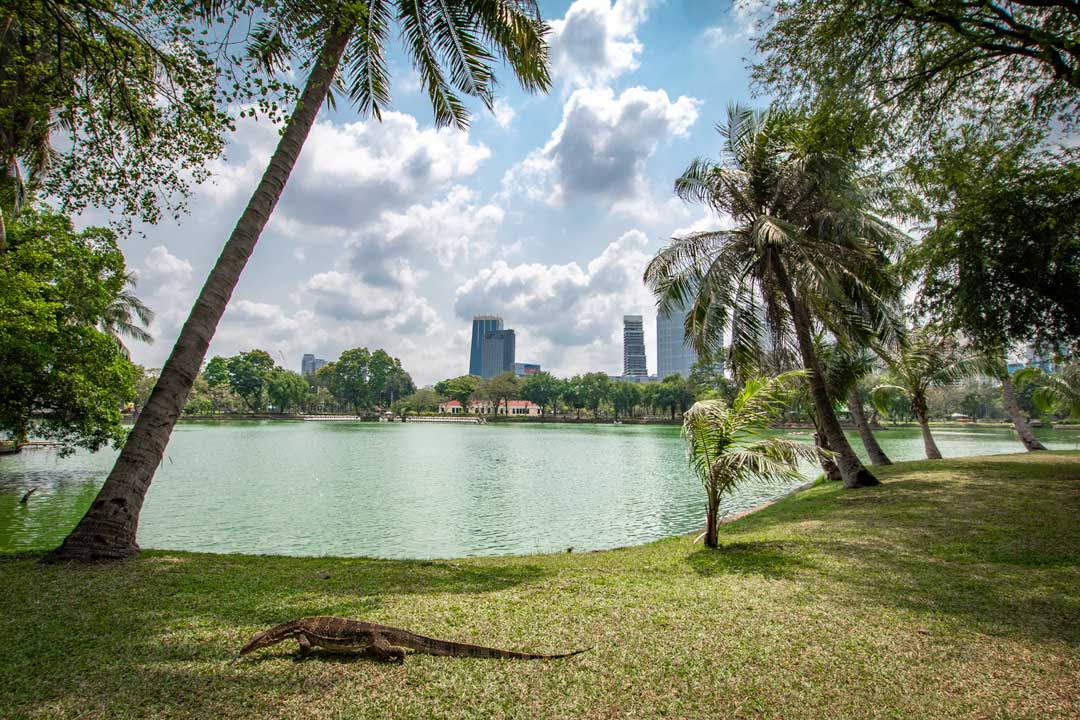 What sets Lumphini aside from the other parks and gives it an extra dose of awesomeness is its inhabitants. Have you seen a Komodo Dragon? Probably not, they live only on a couple of islands in Indonesia.
The Komodo Dragons are gigantic carnivore lizards that look like something straight out of a Jurassic Park movie. Why am I talking about them now?
Well, Lumphini has a population of lizards that look just like the Komodo Dragons. Yes, they are smaller, but in this case, smaller still means 2-3 meters long! And, they are not in a cage or a zoo, they are roaming freely around the park. Even though the Lumphini Dragons are supposed to be completely harmless, better not provoke them or get too close.
Price:
Free
Working Hours:
Daily from 4:30 AM to 9:00 PM
See in Google Maps
See Also: The Ultimate 5-Day Singapore Itinerary
Lebua Sky Bar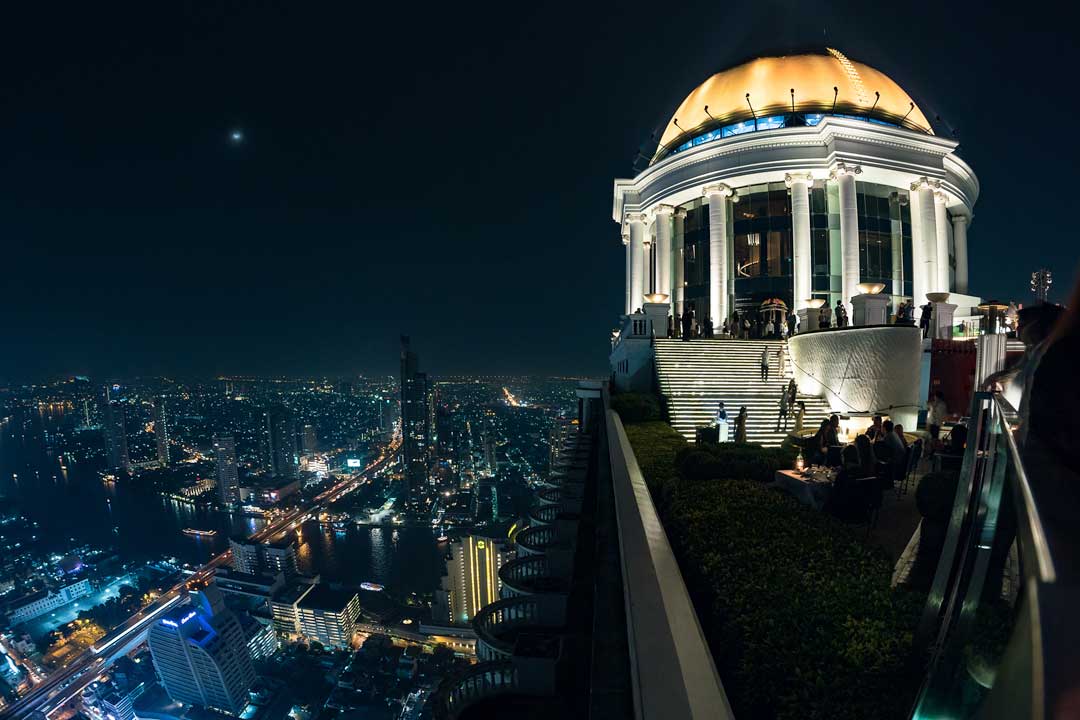 The last place on our itinerary is a bar where we'll end our 2 days in Bangkok with style. Make your way to the Lebua hotel (nearest BTS Sky Train stations are Surasak and Saphan Taksin), get up to the 64th floor, and see Bangkok in a way you've never seen it before.
Located 250 meters above the City of Angles, Lebua Bar was featured in the movie "Hangover 2" wich cemented its place as the most prominent sky bar in the city. Make sure you wear appropriate attire since the bar has a strictly enforced "smart casual" dress code. Get a table at the side, get yourself a drink, and cherish the last moments of your 2 days in Bangkok.
Prices: Since it's the most famous sky bar in Bangkok, the prices are a bit inflated. You can also make a reservation with an included round-trip transfer from your hotel.
Open: Daily from 5:00 PM to 12:00 AM
See in Google Maps
More than two days in Bangkok
You fell in love with Bangkok, and you want to spend more time there? Or maybe you don't like something on my itinerary. Don't fret; there are plenty of other things to see and do in the capital of Thailand.
Chatuchak market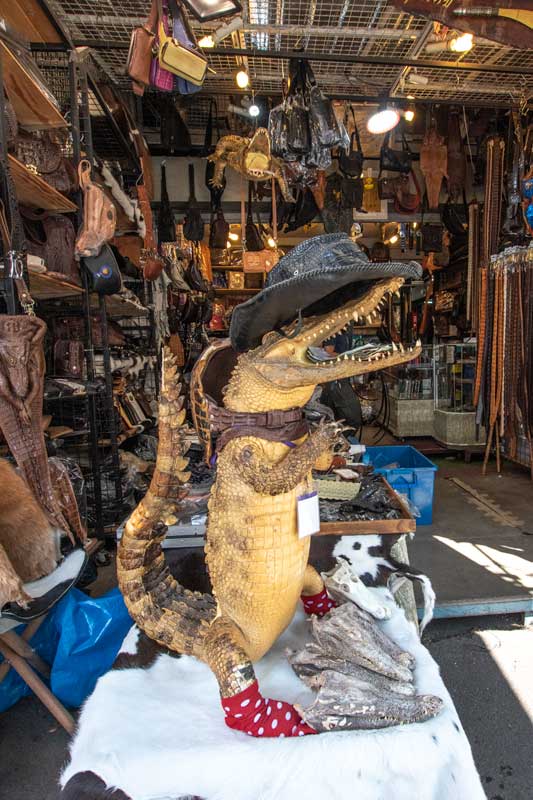 The biggest weekend market in Bangkok, with over 15,000 shops and 200,000 weekly, Chatuchak is one colorful mayhem where you can find anything. It doesn't matter if you're looking for a cool souvenir, inexpensive clothes, tasty thai food, a random wedding photo or stuffed crocodile with red socks, you can find it there.
Why is it not in the 2 day Bangkok itinerary?
Chatuchak is big and pretty far away from the other attractions, so exploring it would take a whole day. With only two days, there are better things to see.
Price:
Depends on your bargaining skills
Tour including Khlong Lat Mayom floating market – Check here
Working Hours:
Wednesday and Thursday 7:00 AM-6:00 PM (Plant section only)
Friday 6:00 PM-12:00 PM (Wholesale only)
Saturday and Sunday 9:00 AM – 6:00 PM (Whole Market open)
See in Google maps
Erawan Museum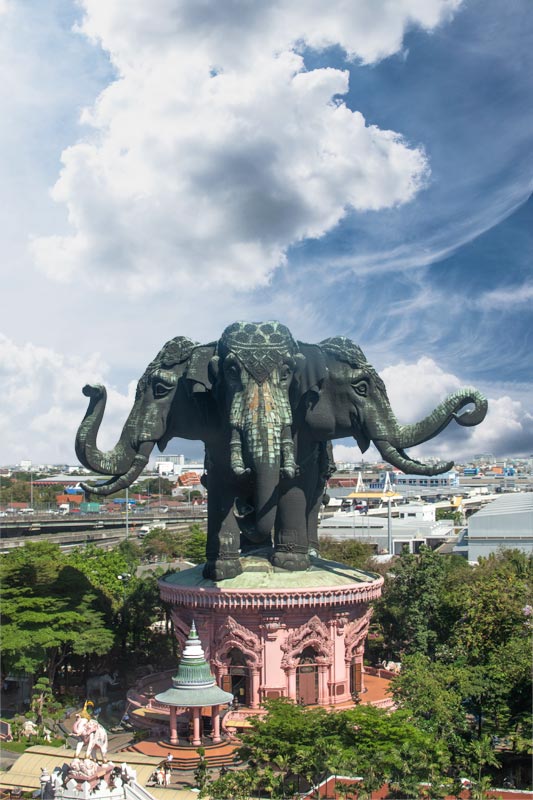 A beautiful pink base with a 43 meters-tall, three-headed elephant on top of it. Sounds cool, right? And when you go inside, you can actually climb inside the elephant! The Erawan Museum is more of an Instagram spot than a museum, but if you have enough time or for some reason, you're in the area, you should definitely check it out.
Why is it not on the main 2-day Bangkok itinerary?
The place is really, really far away and you don't want to waste that much time traveling with only 48hrs in town.
Price:
400 THB (11.40 USD); The online ticket is much cheaper, especially combined with the Ancient Siam park.
Working Hours:
Daily from 9:00 AM to 6:00 PM
See in Google Maps
Ancient Siam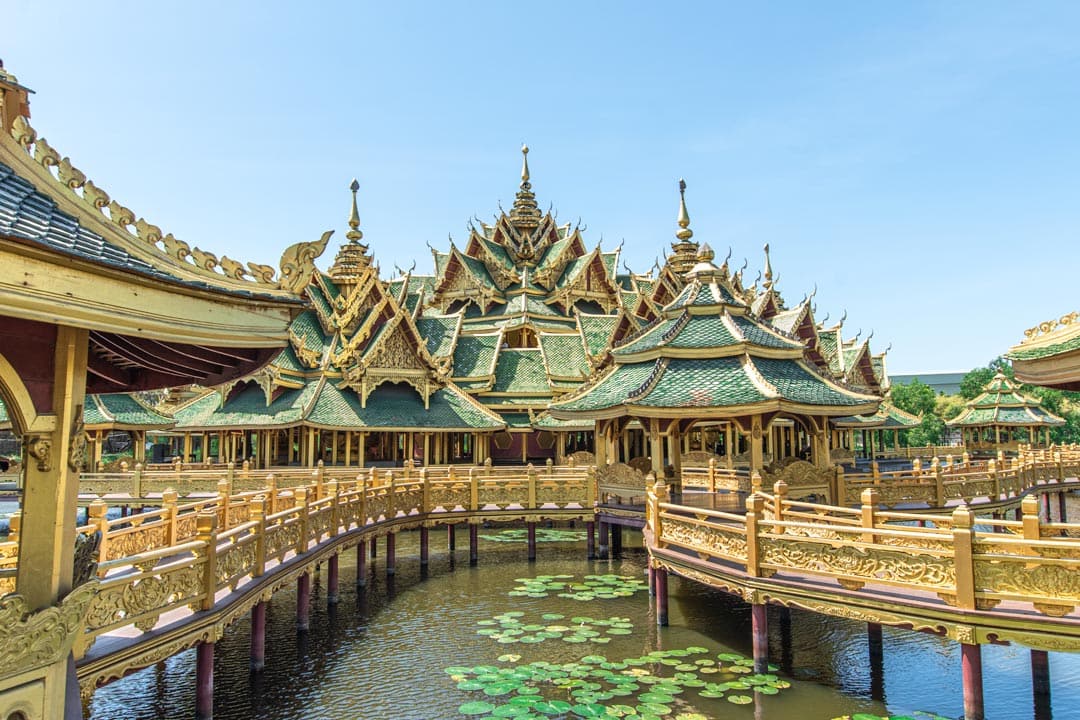 Ancient Siam, also known as Muang Boran Ancient City, is a giant park-museum that features 116 structures. Some of the buildings are duplicates of popular landmarks, others are long lost masterpieces, but the best are the creative designs.
If you end up visiting Ancient Siam, make sure you go early in the morning and go straight to the Pavilion of the Enlightened and the Sumeru Mountain. The pavilion is so beautiful I consider it to be one of the most fascinating and picturesque buildings in the whole of Thailand!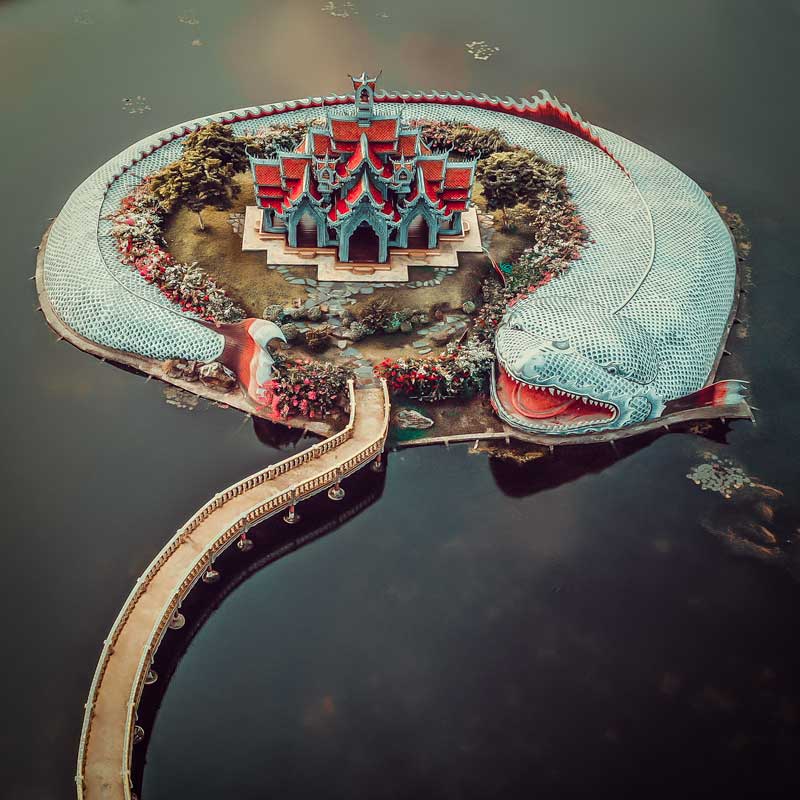 Why is it not on the main Bangkok itinerary?
Ancient Siam is so far away that I'm not even sure if it's in Bangkok. It's also humongous, so you'll end up spending a whole day there.
Price:
700 THB (20 USD); The online ticket is much cheaper, especially combined with the Erewan Museum.
Working Hours:
Daily from 9:00 AM to 6:00 PM
See in Google Maps
See Also: Bangkok off the beathen path
Jim Thompson House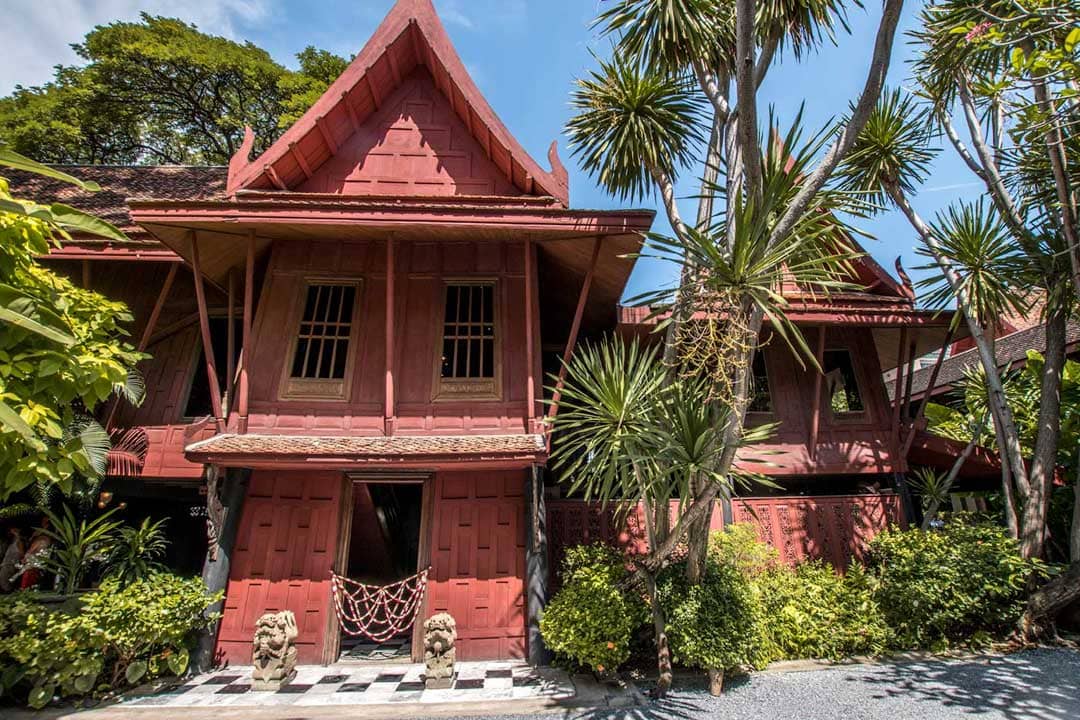 The Jim Thompson House is a house-museum in central Bangkok. It's the former home of the American businessman and architect Jim Thompson (obviously), who started the Thai silk industry after World War II. The jungly compound is not only picturesque but also houses Thompson's splendid Asian art and antique collections alongside his personal belongings.
Why is it not on the main Bangkok itinerary?
It's a little bit out of the way, and if you're not a history or architecture enthusiast, you'd probably find it boring.
Price:
200 THB (5.75 USD)
Tour including Baan Krua weaving community – Check here
Working Hours:
Daily from 9:00 AM to 6:00 PM
See in Google Maps
Golden Mount (Wat Saket)
Wat Saket is another famous Bangkok temple. Since it's built on top of a man-made hill and features a giant gilded stupa, it's nicknamed – The Golden Mount. Visiting it requires a little bit of effort (300 steps), but reaching the top of the temple will reward you with a marvelous view of the area. It's a definite must-see in November when the golden stupa gets draped in red, and the monks host an impressive Loy Krathong fair.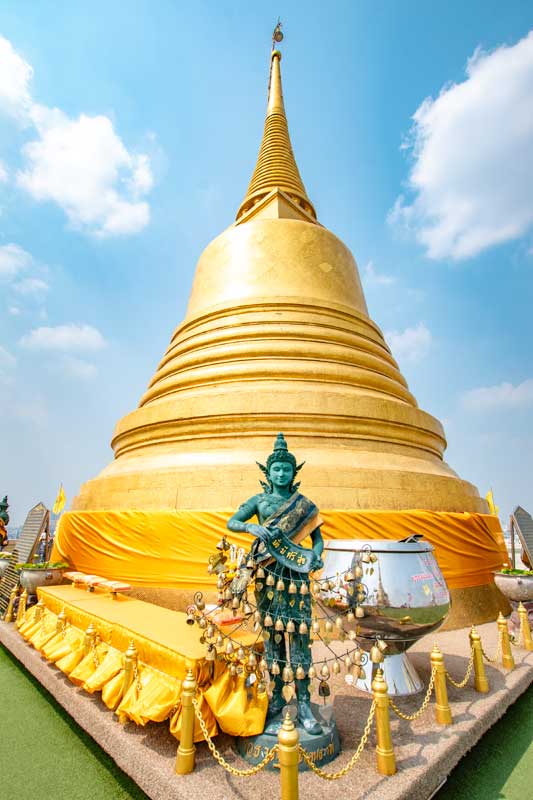 Why is it not in the 2 day Bangkok itinerary?
There are already three temples on the itinerary.
Price:
50 THB ( 1.40 USD)
Working Hours:
7:30 AM – 7:00 PM
See in Google Maps
Chinatown and Wat Traimit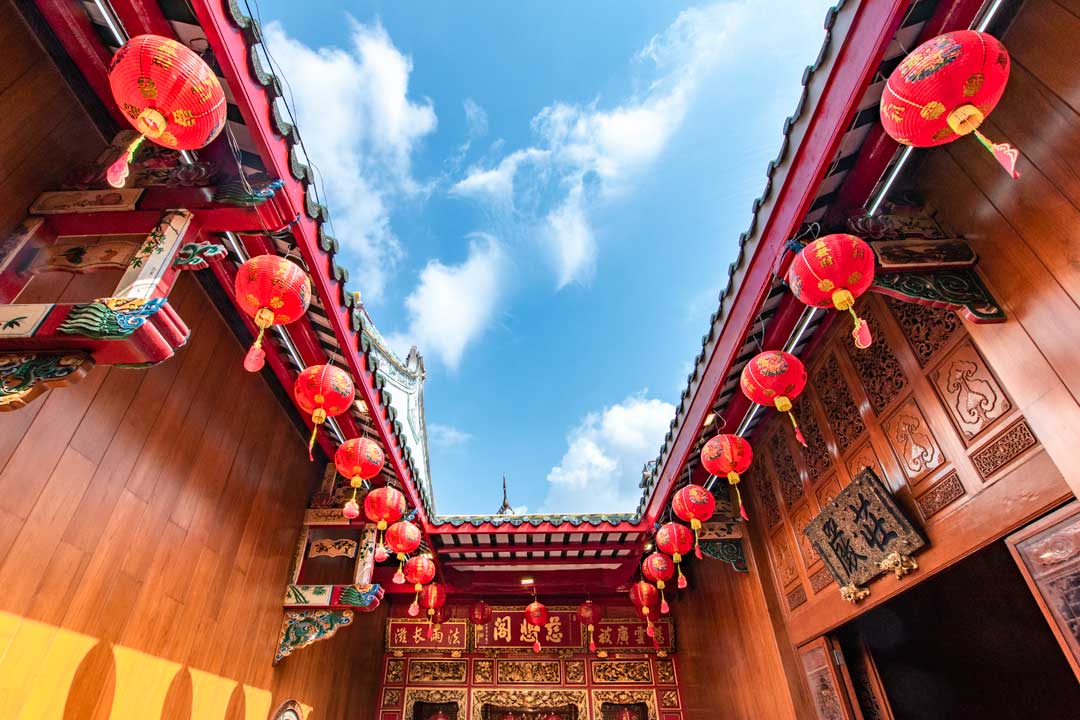 Bangkok's Chinatown is among the oldest districts in town. It's a very eye-catching and exotic neighborhood that is centered around the main road – Yaowarat Road. If you're looking for authentic Asian experience, this is the place to find it.
Wat Traimit is the most significant temple in Chinatown. It's also known as the Temple of the Golden Buddha because, yes, you guessed that right, there's a golden Buddha statue inside. Unlike the other golden Buddha's around Bangkok, this one is not just gilded, but it's made out of pure gold.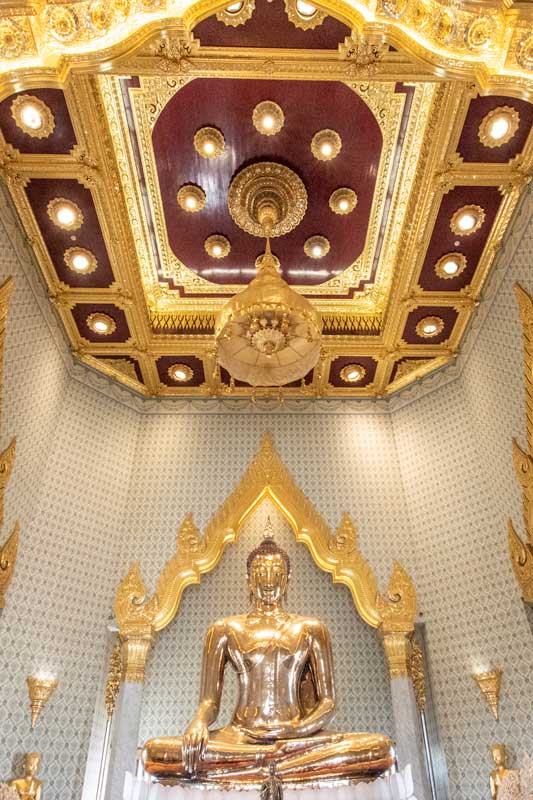 Why is it not on the main 2-day Bangkok itinerary?
Chinatown and its authenticity are not everybody's cup of tea. As for Wat Tramit, we already have three other Buddhist temples on the itinerary.
Price:
Temple – 100 THB museum + 40 THB for the Golden Buddha (total – 4 USD)
Working Hours:
8:00 AM – 5:00 PM (museum closed on Mondays)
See in Google Maps
Watch a Muay Thai Game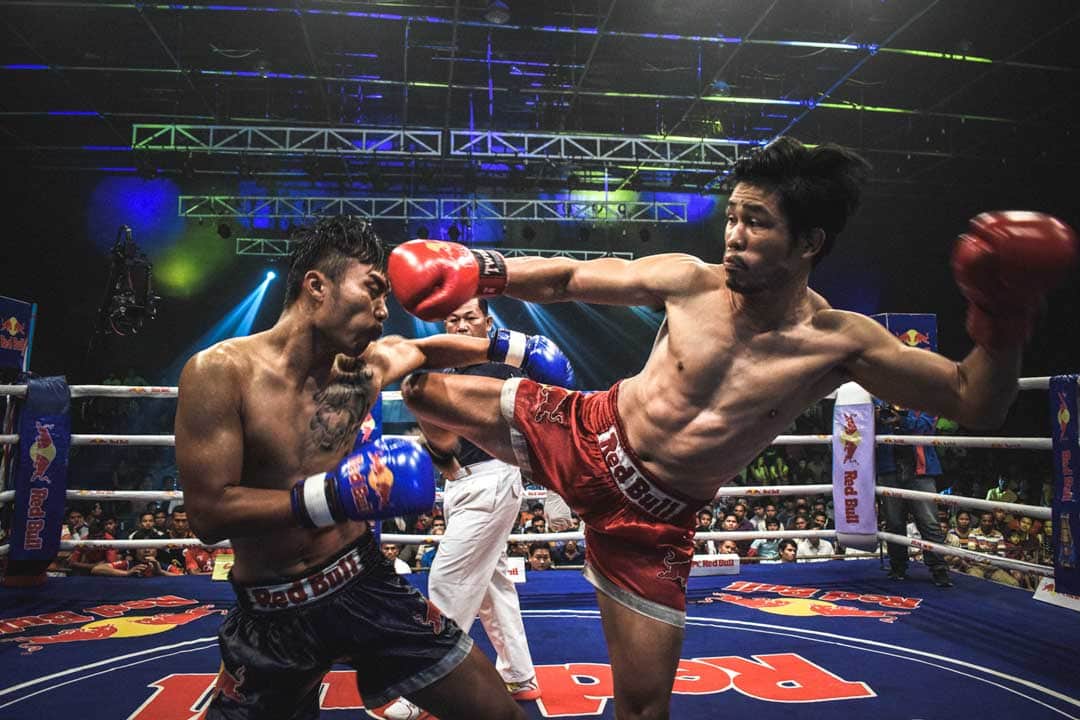 Muay Thai is the traditional Thailand combat style. It's also known as the "art of eight limbs" as it is characterized by the combined use of fists, elbows, knees, and shins. It's much more attractive than regular boxing and a must-see for every UFC fan. One of the best places to enjoy Muay Thai fights is the Ratchadamnoen boxing stadium.
Why is it not on the main Bangkok itinerary?
Fighting sports are not for everybody.
Price:
Vary; Get a VIP ringside ticket here.
Working Hours:
Fights start at 6:30pm. Check the official site for dates
See in Google Maps
Go on a River Cruise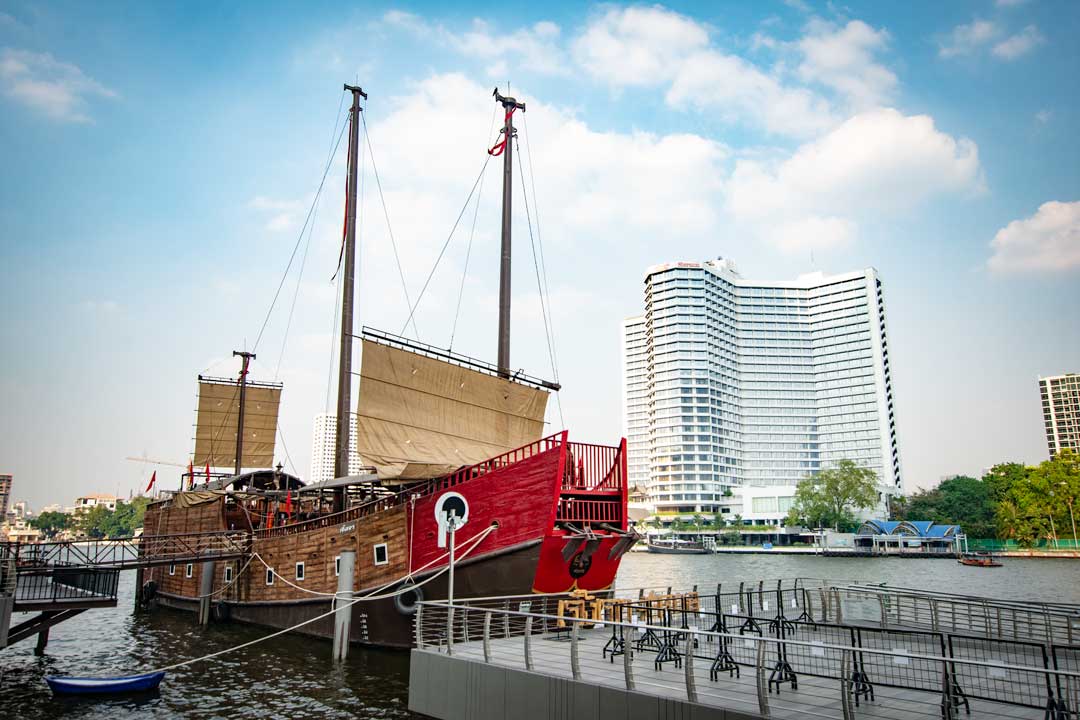 Lazily cruising on the Chao Phraya River at sunset, enjoying a drink, or dinner while observing the night-time Bangkok coming into life is one of the most relaxing and pleasureful experiences in town. Just make sure you pick a good and reputable cruise, so there are no bad surprises.
This is a great cruise option with a rich buffet and lavish deck tables.
Why is it not on the main itinerary?
It was a coin-toss between the cruise and the sky bar, but eventually, I decided that some people may have a problem with boats, so I picked the sky bar.
Go Shopping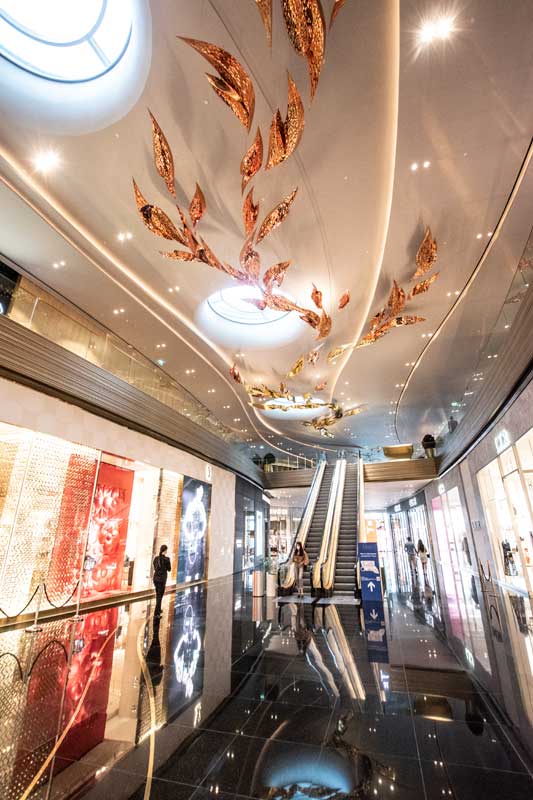 Believe it or not, shopping is one of Bangkok's biggest attractions. The capital of Thailand is home to countless malls and markets suited for all types of shoppers. If you visit Bangkok with the idea to shop until you drop, Central World (6th biggest mall in the world), Icon Siam (the most glamorous mall in town), and Terminal 21 (a curiously themed mall) are my recommendations.
Why is it not on the main itinerary?
Unless you visit with the sole intention of shopping, you can spend your time better than roaming around malls.
Psst! I have a detailed Bangkok Shopping Guide that explains in detail all the best shopping places in town. Check it out!
Bangkok tours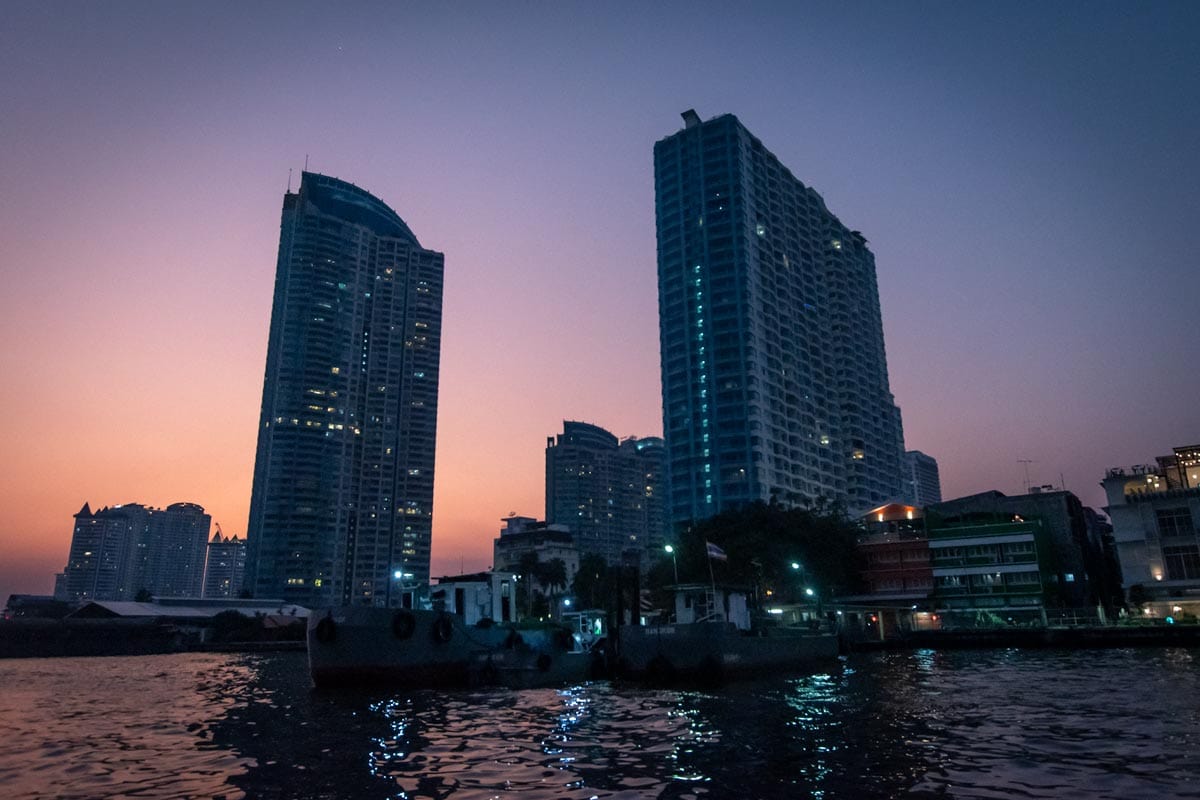 Enjoy Bangkok after dark, starting with some of the best temples in town. Explore with a knowledgable guide and enjoy a river cruise, a flower market, and various off-beaten Bangkok monuments. Finish the evening with dinner in Chinatown. An action-packed itinerary that is totally worth its price.
Thailand's dishes are world-famous, and there's a good reason for that. This tour will take you around a historic Chinatown neighborhood and will teach you more about the tastes and influences of the four regions of Thai cuisine. But don't think this is some sort of a school trip. Skip dinner because on this tour, you'll taste plent of Bangkok'g best streetfood stalls, all reccomended by a Michelin Guide.
This one is a bit on the expensive side, but it's totally worth it. Join a professional guide and explore the best Instagram Buddhist temples in Bangkok. You will certainly get some incredible shots for your IG grid.
See Also: Best Way to Spend 10 Days in Thailand
Bangkok Day-trips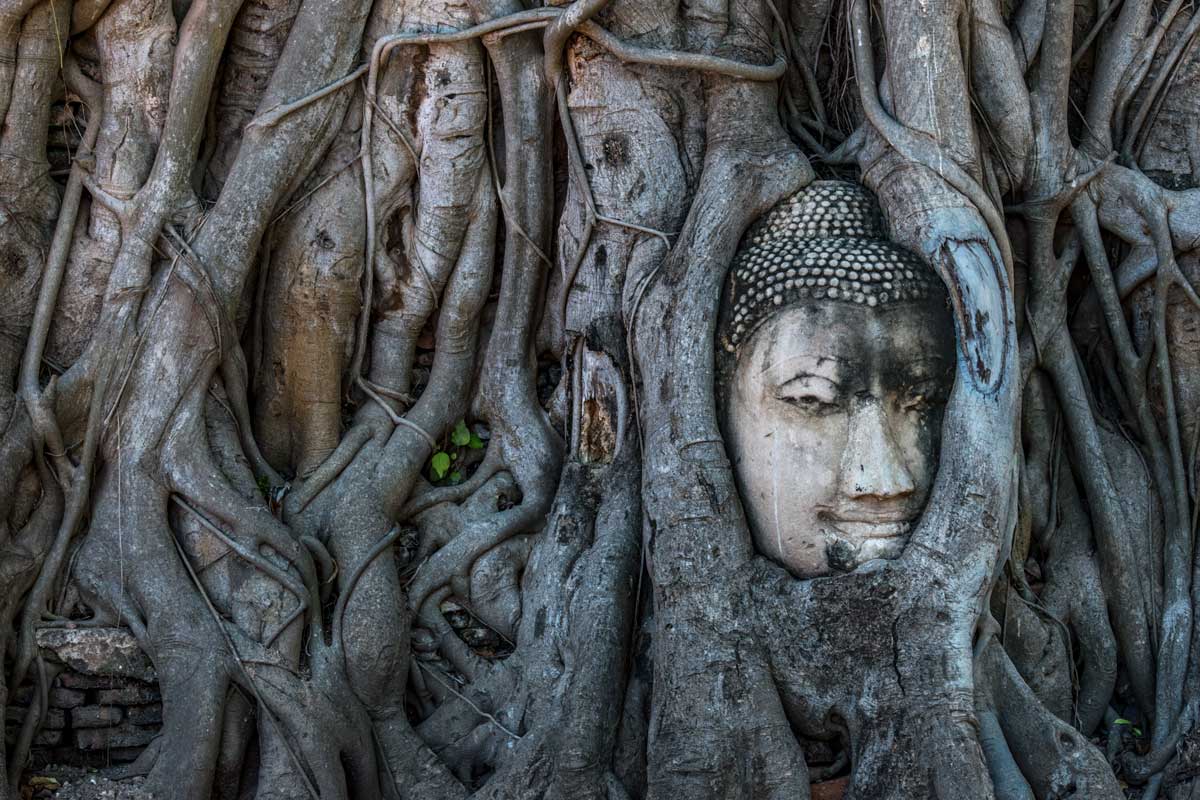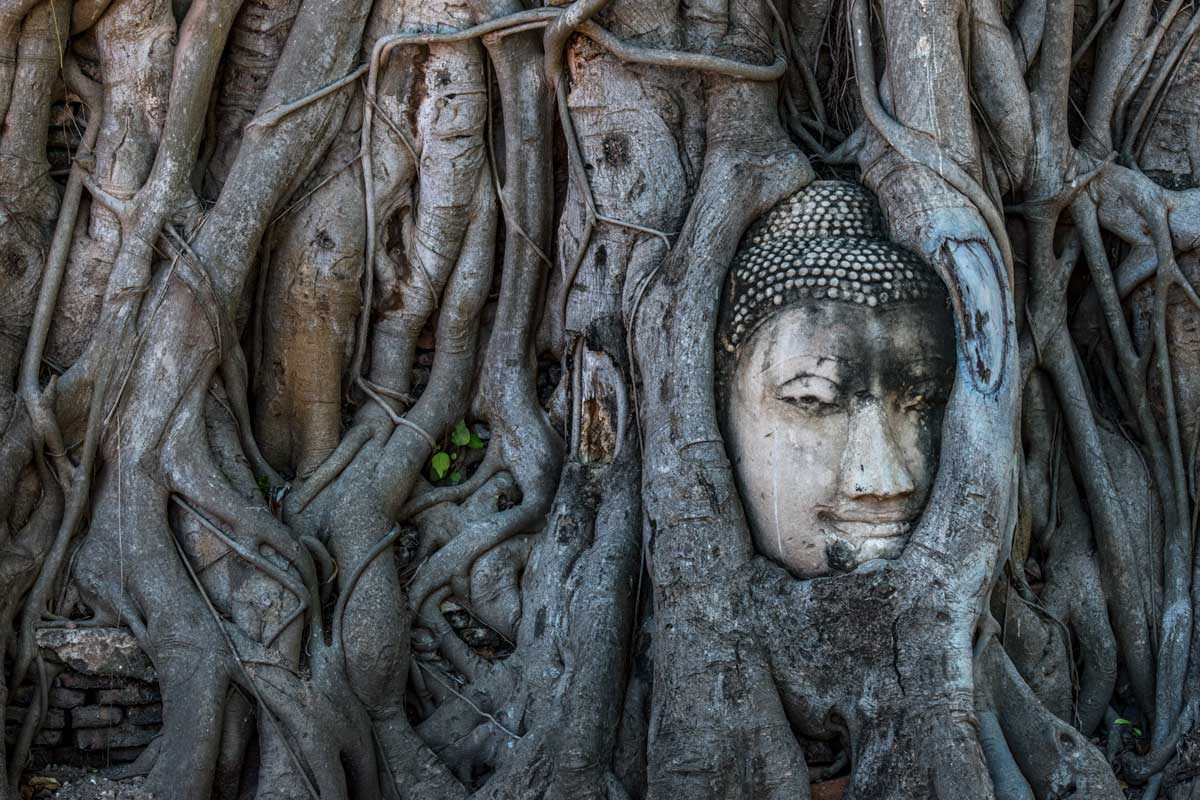 The ancient capital of Siam, Ayutthaya, is just 1 hour away from Bangkok. Mystical ruins, ancient temples, and the most photogenic Buddha head in the country await you on this popular day-trip.
The Damnoen Saduak floating market is the most famous one around Bangkok. It's colorful, exotic, picturesque, offer plenty of shopping opportunities, and is just around 1.5 hours away from the city! This tour will not only take you around the stunning market but also includes the Maeklong Railway Market and a even board the famous train that goes through the stalls. Worth every buck!
Located around 2.5 hours away from Bangkok, Kanchanaburi is known for its infamous Burma Death Railway. A perfect day-trip for history buffs with plenty of gorgeous nature spots, including a national park with 7-tier waterfall and emerald pools. Since this day trip is extra awesome it includes a visit to an elephant sanctuary!
Bangkok FAQ
When to Visit Bangkok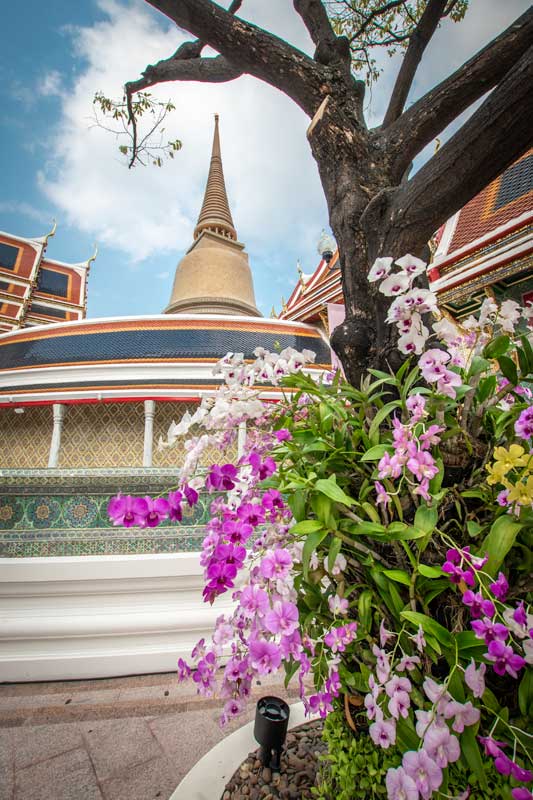 Bangkok enjoys a tropical climate and is warm all year round. The rainy season lasts from July to October, and if you are looking for smaller crowds and cheaper hotels, that's your time. Even though it's a "rainy" season, there won't be non-stop showers but more of a drab weather with the occasional afternoon storm.
The dry season goes from November to July, but the good weather window is November – February (daytime temperature under 30°C/86°F). You may also plan your visit for April when Thailand celebrates Songkran (Thai New Year).
Where to Stay in Bangkok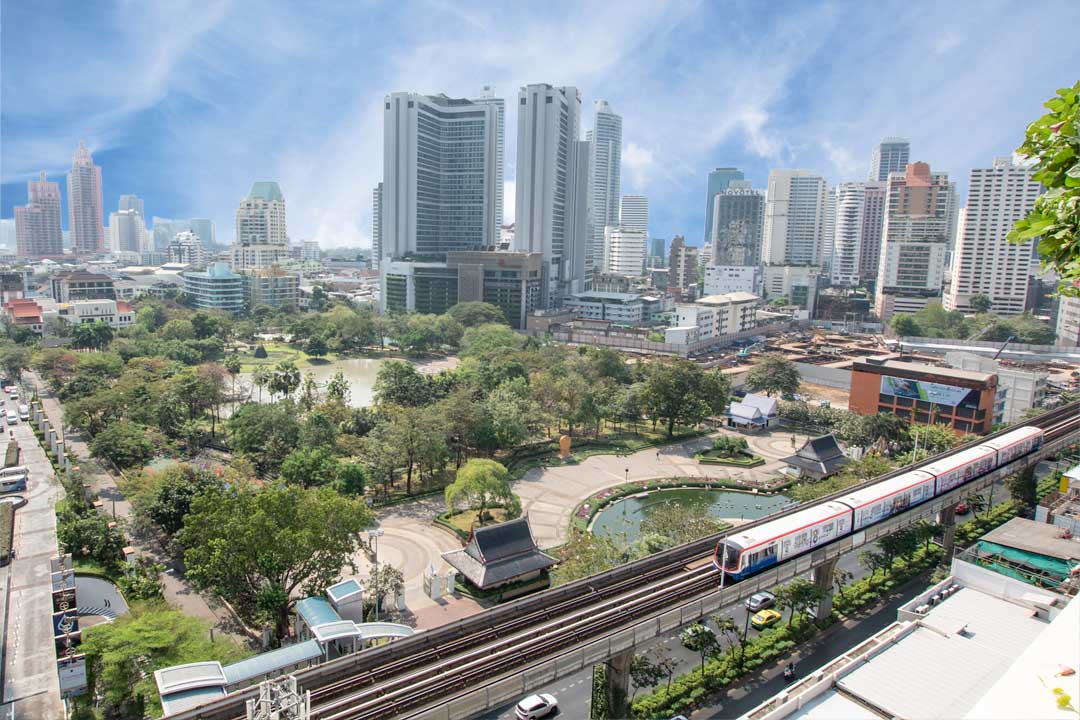 The best place to stay in Bangkok depends mostly on your reason to visit the city. I have a humongous Bangkok neighborhood guide that explains in detail the pros and cons of the most popular areas in Bangkok and includes my best hotel recommendations.
For the 2 Days in Bangkok itinerary, I would suggest the Oriental Heritage Residence. This mid-priced boutique hotel offers fast wi-fi and great breakfast. It's located right next to the Central Boat Pier and a BTS station, so all the itinerary attractions are close and easy to reach.
Check the latest prices
How to Get Around Bangkok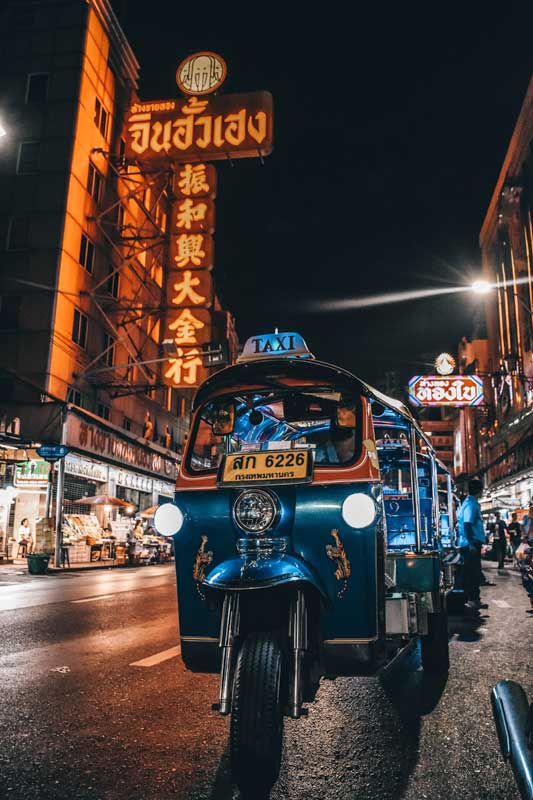 And if you want to reach everything in this vast metropolis easily, you can rent a vehicle. The most significant advantage is that you can also check the city's outskirts, like floating markets and Ayuthaya, without paying for tours. Discover Cars will help you find the best rent-a-car option in Bangkok. Just keep in mind that in Thailand, they drive in the left lane of the road.
If driving is not your thing, the city has one of the most developed public transportation systems in Asia, so getting around it is not hard at all. The most popular are the BTS Sky Train and the MRT Subway services that cover most of the city. For smaller distances, you can take a Grab (Thailand's Uber), motorbike taxi or a tuk-tuk (always negotiate the fare before you get in one of those).

There are also public boat transfers, public buses, and a rapid bus system BRT. I recommend taking taxis only as a last resort (they always try to overcharge you).
How to Reach the Bangkok Center From the Airport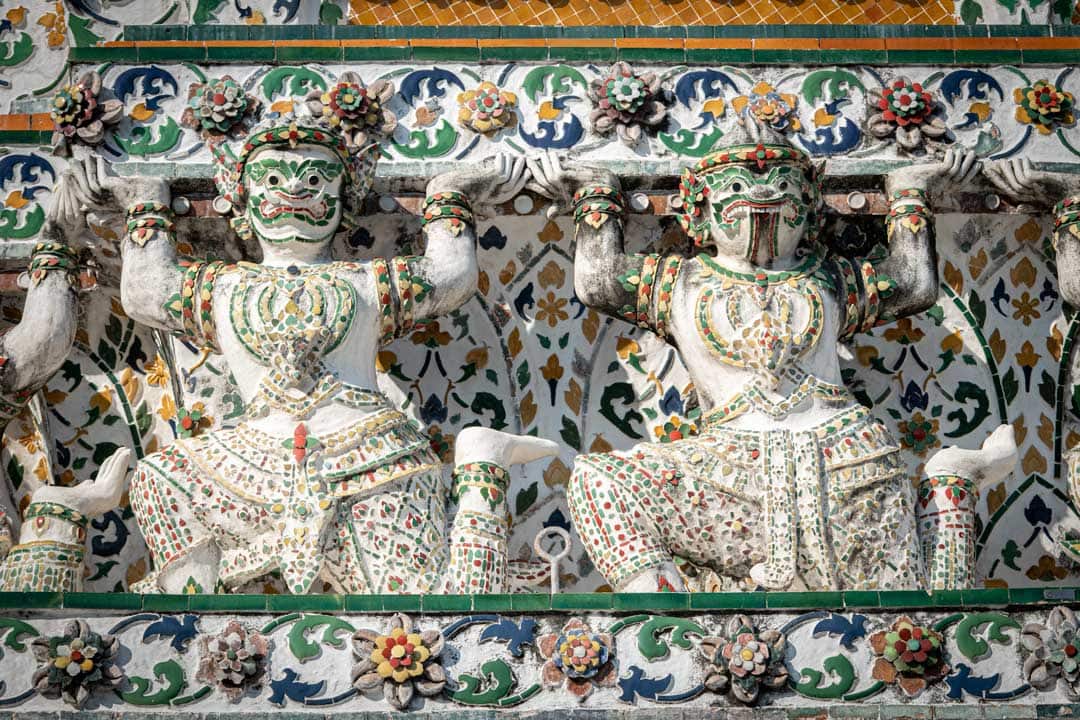 The easiest option would always be to rent a car that will wait for you at the airport. It takes some extra time to fill out paperwork, but you can drive straight to your hotel without navigating an unfamiliar city's public transportation or paying extra for a driver. Discover Cars is the place to compare all rent-a-car providers in Bangkok and get a sweet offer. The offers they manage to find are often ridiculous (like 50 USD total for 4 days in London)
From Don Muang airport you can take a taxi (prepaid at the terminal so no possibility of overcharging) for around 400 THB/ 12 USD, the A1 bus to Mo Chit Station (30 THB/ 0.90 USD) or the express bus to Khao San Road (150 THB/ 4.50 USD).
From Suvarnabhumi interational airport, the fastest and most convenient way is to use the ART Airport Railway Transfer. The station is inside the arrivals terminal, and it takes around 20 minutes to get to the city (45 THB/ 1.30 USD). Of course, there are plenty of taxis at the Suvarnabhumi airport, but they are not prepaid, so there's a big chance the driver would try to overcharge you. Also, Bangkok's traffic is horrible, so the taxi would take twice the time.
Is Bangkok Safe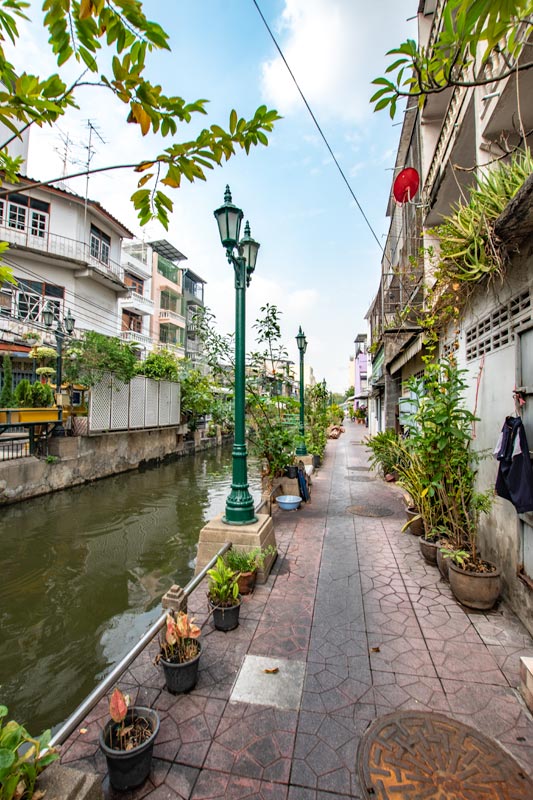 As far as big cities go, Bangkok is a pretty safe place to be. There are tourist police everywhere, and violent crimes are rare. The things you have to be vigilant about are pickpockets, bag snatchers, and petty scammers.
The most famous Bangkok scams involve a friendly local who tells you a particular landmark is closed and offers you a visit to another one nearby. The other "landmarks" are usually a gem or suit shops. Not a harmful scam but undoubtedly annoying.
Before you visit Bangkok, make sure you are prepared with excellent travel insurance. As the recent events taught us, anything can happen, and to know you have yourself covered gives you a tremendous relief that lets you enjoy your travels to the max. I currently use HeyMondo for my travels because they have proven themselves to me more than once over the years. The link above will give you a 5% discount, but If you have another favorite provider, that's ok. Just make sure you have one because you never know what may happen..
Where are Bangkok's Red-Light Districts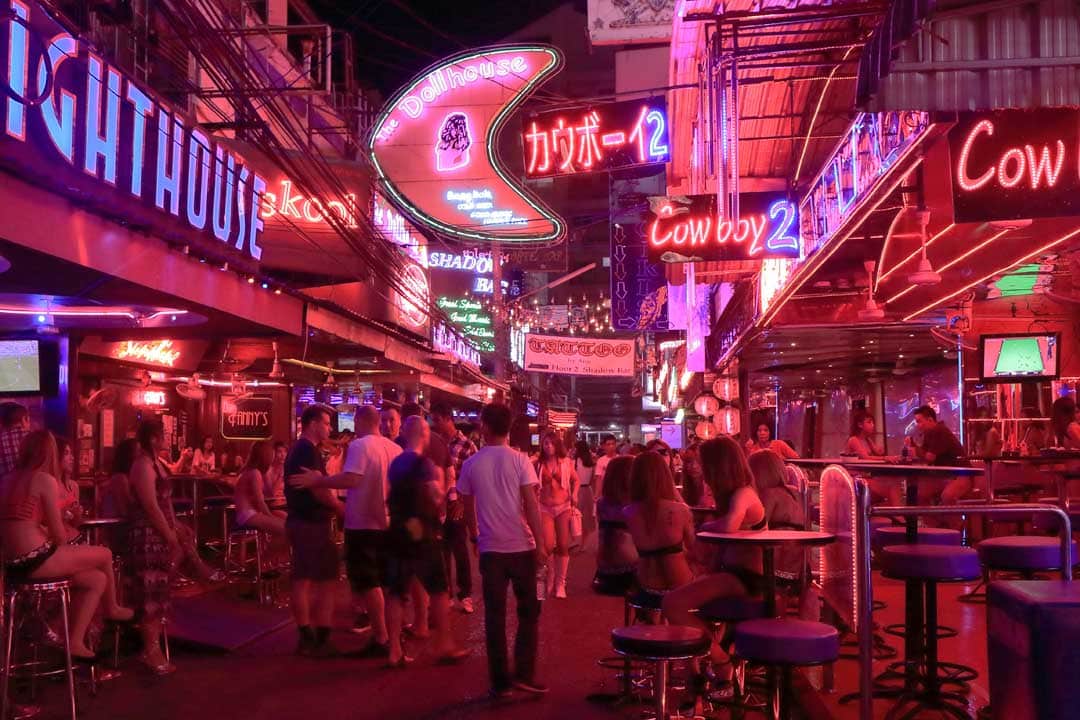 There are three Red Light districts in Bangkok. Even if you don't plan to visit them, it's good to know where they are (so you can avoid them). Patpong is situated in Silom while Nana Plaza and Soi Cowboy are in Sukhumvit (right next to Sukhumvit Road). If someone in these areas stops you and offers a ping-pong show, don't follow him. It's another popular Bangkok scam that ends up costing you quite a lot of bahts.
Bangkok Map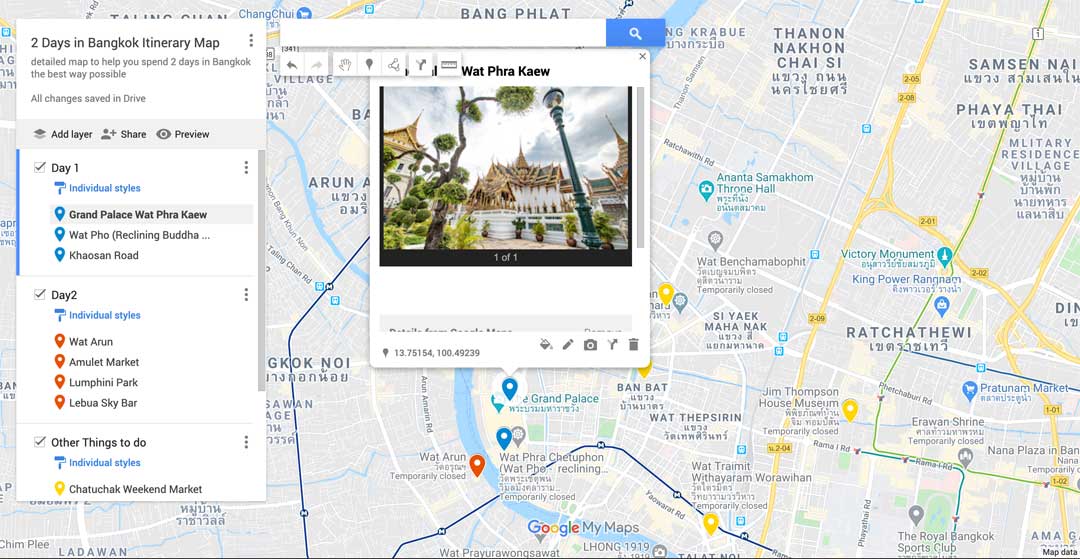 That's all from me, I hope you enjoy your 2 days in Bangkok!
————————————
If you haven't planned your trip there yet, find out how I plan my trips!
————————————
I have 32 bucket list ideas for Thailand. See my impossible bucket list of 1700+ adventures!

Is Bangkok on your bucket list?
---
Some of the above are affiliate links and I will earn a percentage of the sale if you purchase through them at no extra cost to you. This helps keep my site running – so thanks in advance for your support!