You're about to spend 4 days in Paris? You're one lucky fella! "City of Lights", "City of Love", the "Fashion Capital" of the world, no matter how it's called, Paris is one of those special places everyone has on their bucket list. And trust me, there's a good reason for that!
No matter what kind of traveler you're, this beautiful city got you covered. From tiny alleys soaked in history to world-renounced marvels of engineering, from croissants and macarons to high-end French cuisine, from Luis XIV to Napoleon there is so much stuff going on in the French capital that seeing it all in a single visit is plain impossible.
Spending 4 days in Paris, however, should give us just enough time to check out the biggest highlights and immerse into that world-famous Parisian spirit.
I bet you have at least one friend who's been to Paris and didn't like it. This should not discourage you. Paris is not an easy city to explore. The must-see places are plenty, the metro system is confusing, and the tourist hordes are massive! If you go there unprepared and spend most of your time waiting in line or trying to figure out how to get from the Eiffel Tower to the Louvre, chances are you won't enjoy your vacation much.
Don't worry, though. Stumbling on this 4 Days in Paris guide means you are doing your homework properly and the chances are high you're gonna enjoy the City of Lights to the max!
Enough hyping, let's start guiding.
Here is the ultimate 4-day Paris itinerary!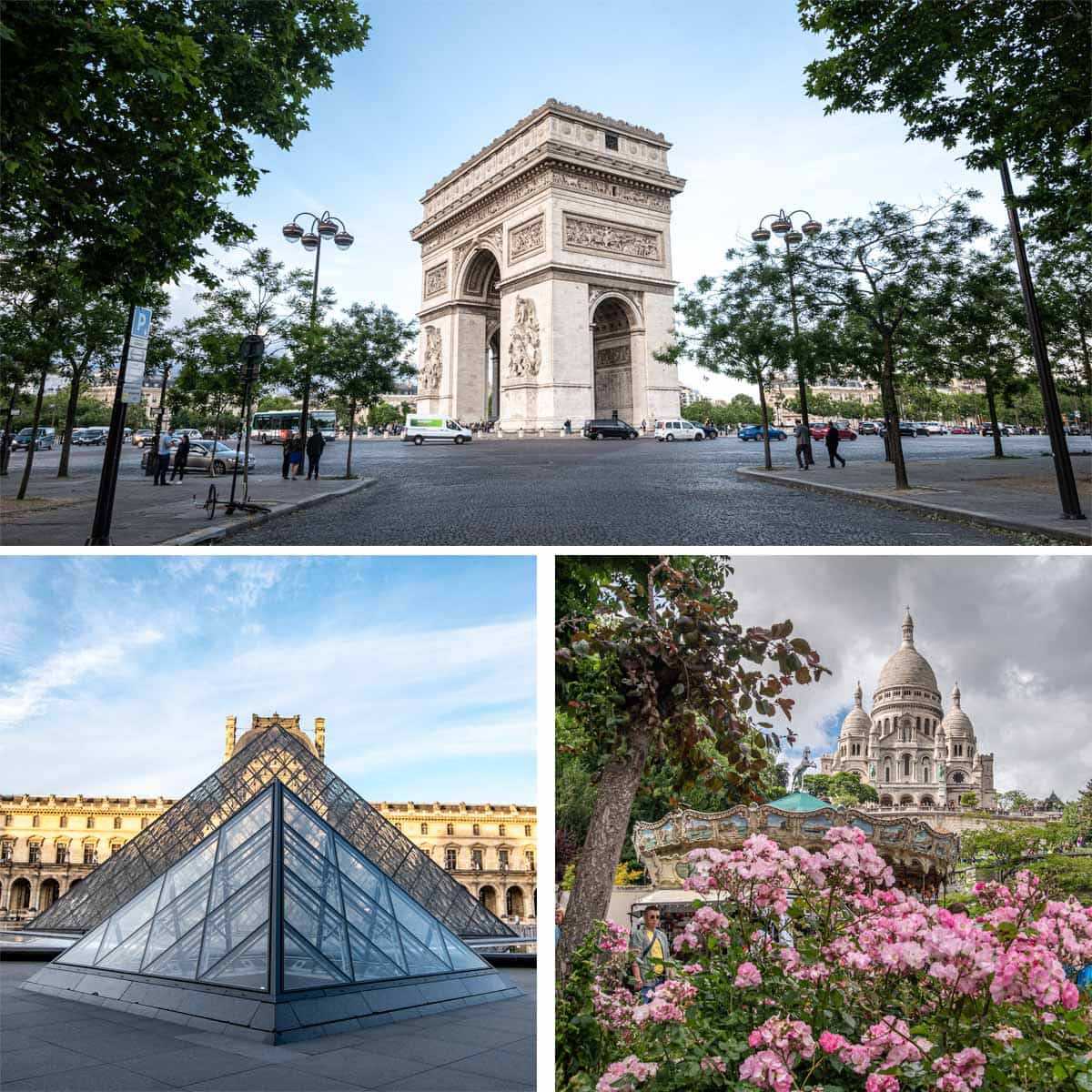 Four Days in Paris – Day 1 – Global Icons
For our first day in the city, we're going to explore the major highlights. And there is no bigger highlight than our first stop of the day:
The Eiffel Tower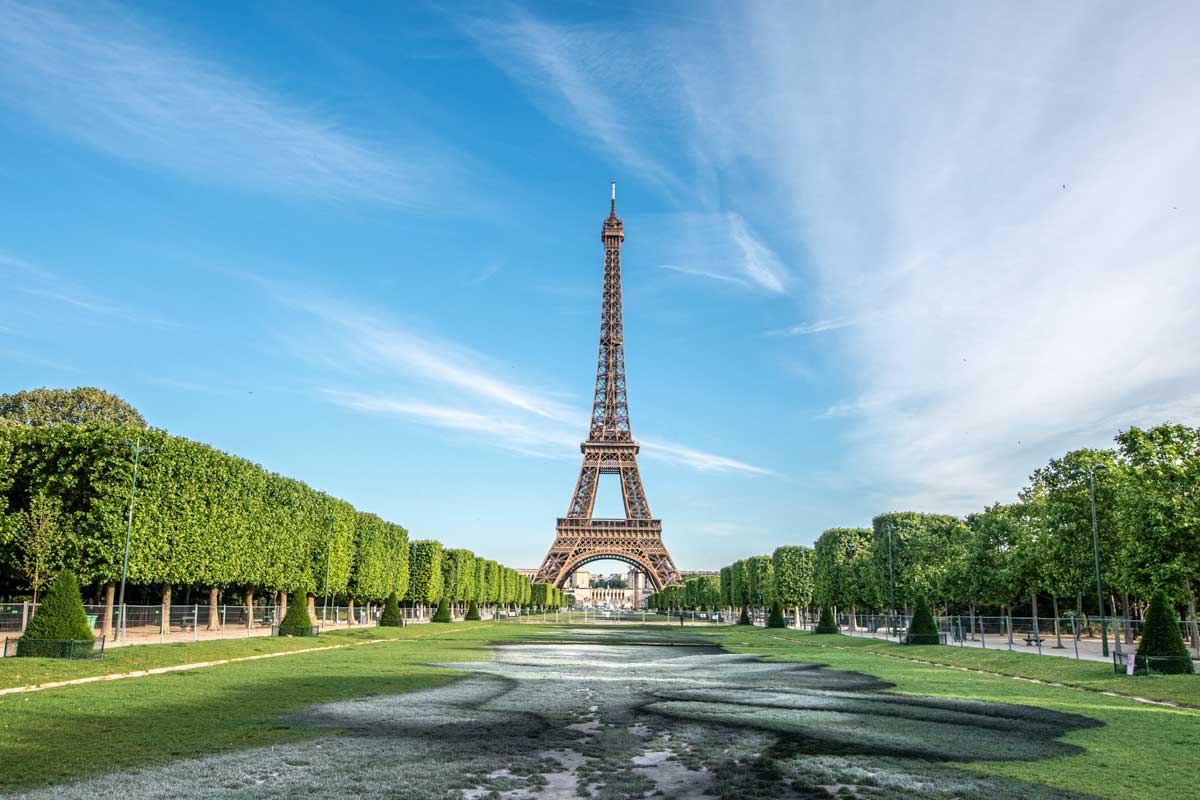 Built for the 1889 Exposition Universelle, the idea behind the Eiffel Tower was to celebrate the 100th anniversary of the French Revolution. It took only two years of construction, and with its height of 312 meters (1024 feet), it was the tallest building on Earth at the time.
A curious fact about the Eiffel Tower is that the Parisians hated the idea of it. They even went on strikes around the city to stop the construction that was feared will ruin the beautiful landscape of Paris. Things cooled down when Gustave Eiffel promised the tower would be decommissioned after 20 years.
Thanks to the invention of the radio waves, however, after 20 years the Eiffel Tower was not torn apart but instead turned into one of the first radio broadcasting towers in the world.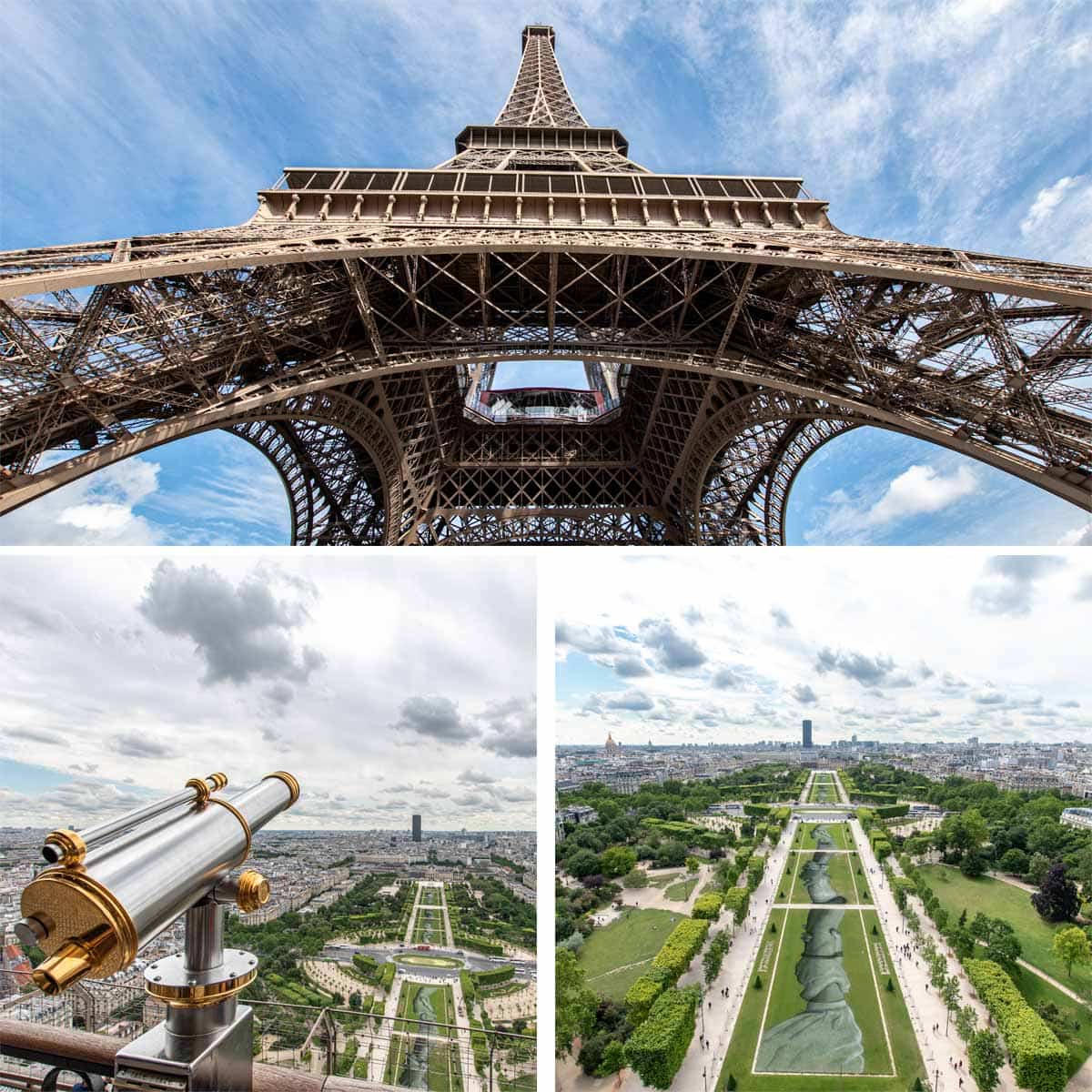 Today the globally recognized Eiffel Tower is the first item on every Paris bucket list hence attracting massive hordes of tourists.

To avoid spending half of your first day waiting in lines to get up, you need to prepare your entrance. There are two queues you need to worry about. The first one is the security line to enter the Eiffel Tower area. If you go there at 9:00 (when it opens) there would already be an hour-long queue waiting. How to avoid this? Get your skip-the-line ticket and went straight through the fast line.

Once inside the area, there is another line, depending on the way you're gonna get to the top. The options are:
– Using the elevator
This is the most expensive option, and you'll have to wait a while to get inside the elevator going up and eventually down. It stops at all three levels of the tower.
– By foot
The cheapest option allows you to only go to the first and second levels of the tower. There are 328 steps to the first floor and another 346 to the second, making it a total of 674 steps climb. Since the steps are quite small and you get a break exploring level 1, the climb is not as hard as it sounds.
– Combined
With this option, you get to the second level on foot and get the elevator to the top from there. Considering the fact that the "Foot only" ticket couldn't be bought online (this you can't skip the first line) and it won't get you to the top (the top is overcrowded and nothing special but still), I consider this to be the best option.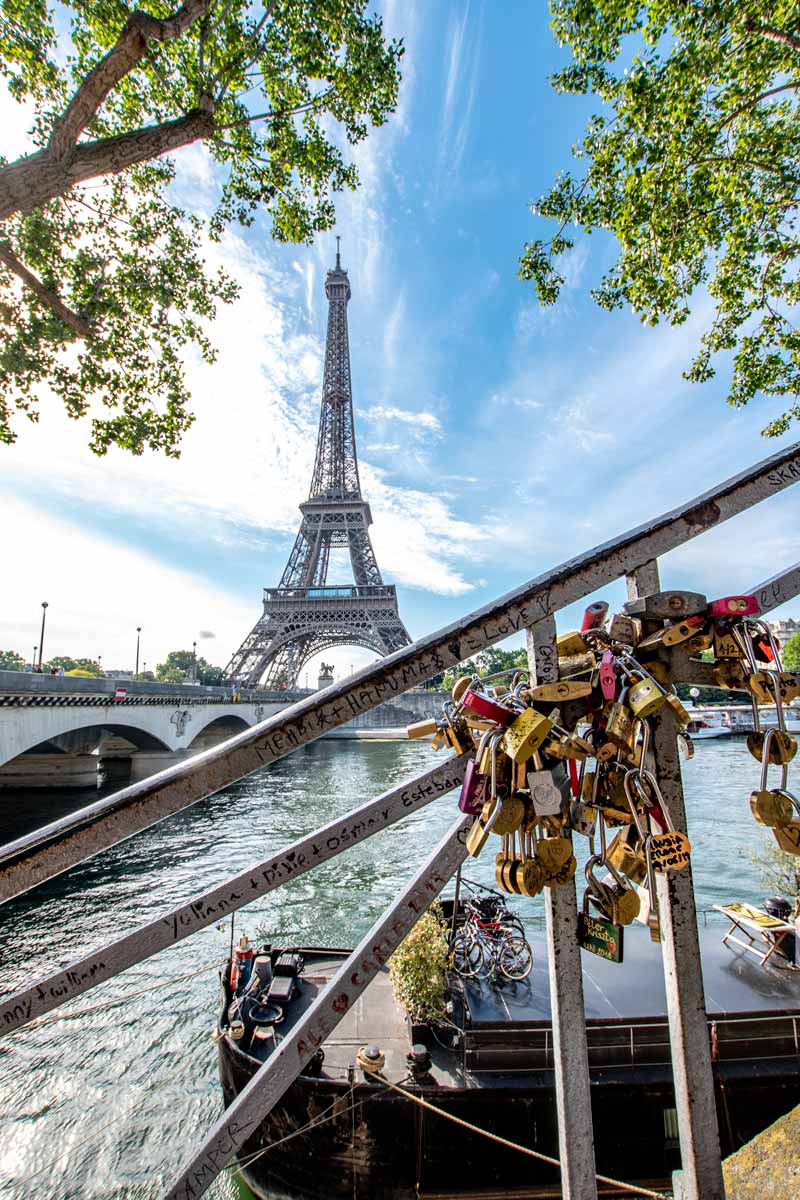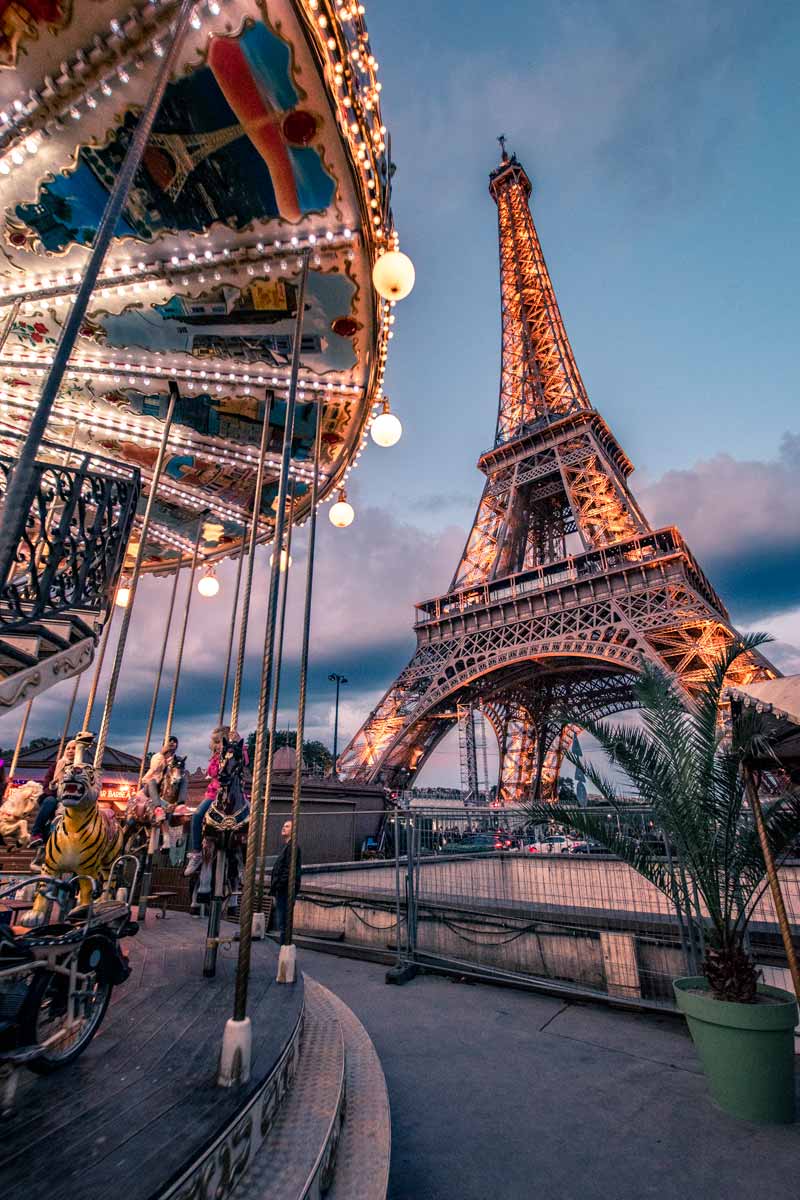 Castaway Fact
With almost 7 million visitors per year, the Eiffel Tower is NOT the most visited monument in Paris! It actually ranks fourth behind Notre Dame Cathedral, the Louvre, and Sacre Coeur Basilica.
Check out more interesting Paris facts
Photo Tip
To get the best shot of the Eiffel Tower you need to cross the Seine where you'll find the Trocadéro Gardens. To get the best Instagram shot, get there early in the morning.

There is a big chance the official tickets are not available for the time slot you need. In this case, your best option is getting a guided tour that will not only give you priority access but will also teach you a ton of fun stuff about the Eiffel Tower and its history!
Castaway Tip
If you want to have a picnic under the Eiffel Tower, I suggest going first to the nearby Rue Cler. Being one of the best French food streets in town, strolling around Rue Cler choosing picnic supplies is an experience by itself (a tasty one)

Arc de Triomphe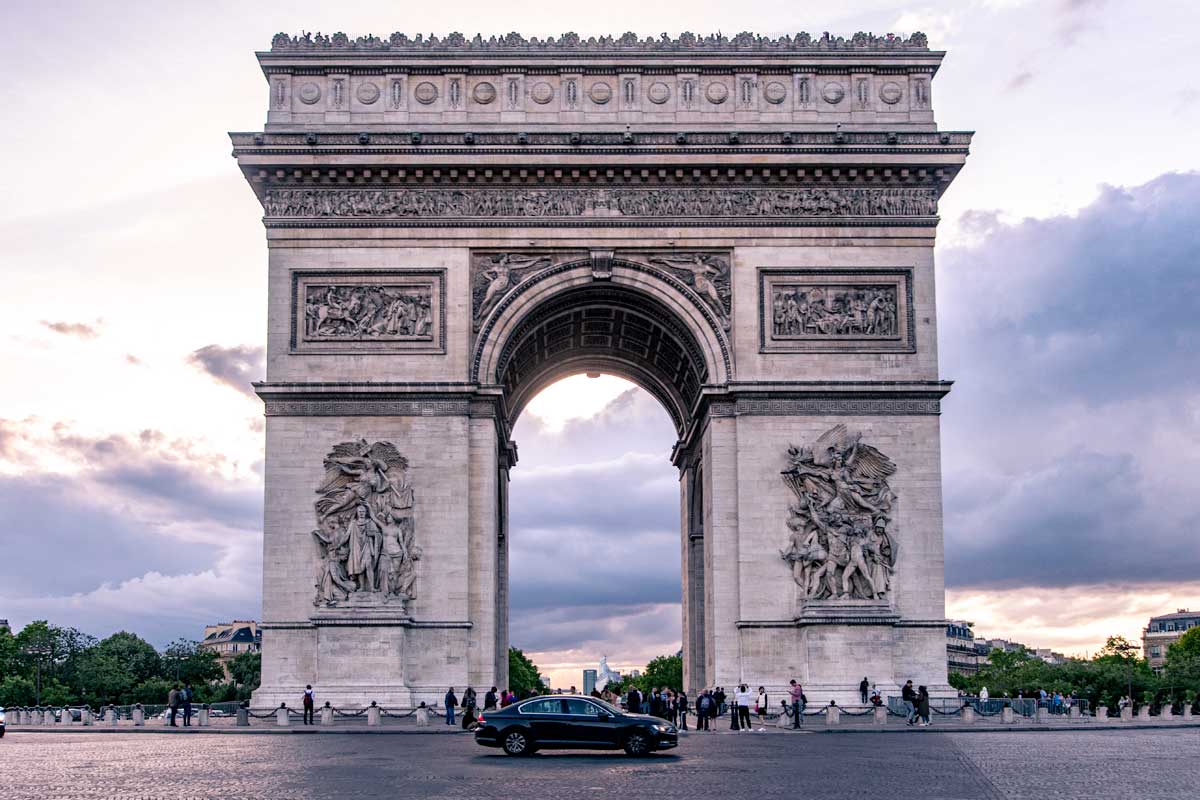 Next on the list is another global symbol – Arc de Triomphe!
Commissioned by Napoleon himself, the arc was built to celebrate his victory at Austerlitz. So what is there to see here? Beneath Arc de Triomphe, there is the tomb of the Unknown Soldier with an eternal flame on it. If you happen to be there at 6:30 PM, you can see the flame being rekindled.
Not a lot of people are aware that you can actually climb to the top of the arc. When you go beneath the arch, you quickly realize it, but it's already late. The queue for the tickets is as long as the Eiffel Tower one, and the arc allows only a limited amount of people inside.
To save yourself some time and still enjoy the glorious panoramic view, prepare yourself with the online skip the line ticket. It's not only the same price, but unlike the other prebooked Paris tickets, this one is valid for a whole year.
Working Hours:
1 October – 31 March
Mon-Sun
10:00 AM -10:30 PM
1 April – 30 September
Mon-Sun
10:00 AM -11:00 PM
Prices:
Regular – 13 EUR
Online priority ticket (same price)
Castaway Fact
Arc de Triomphe's facade is calligraphed with all French battle victories and the names of the generals who won them

Champs Elysees + Pont de l'Alma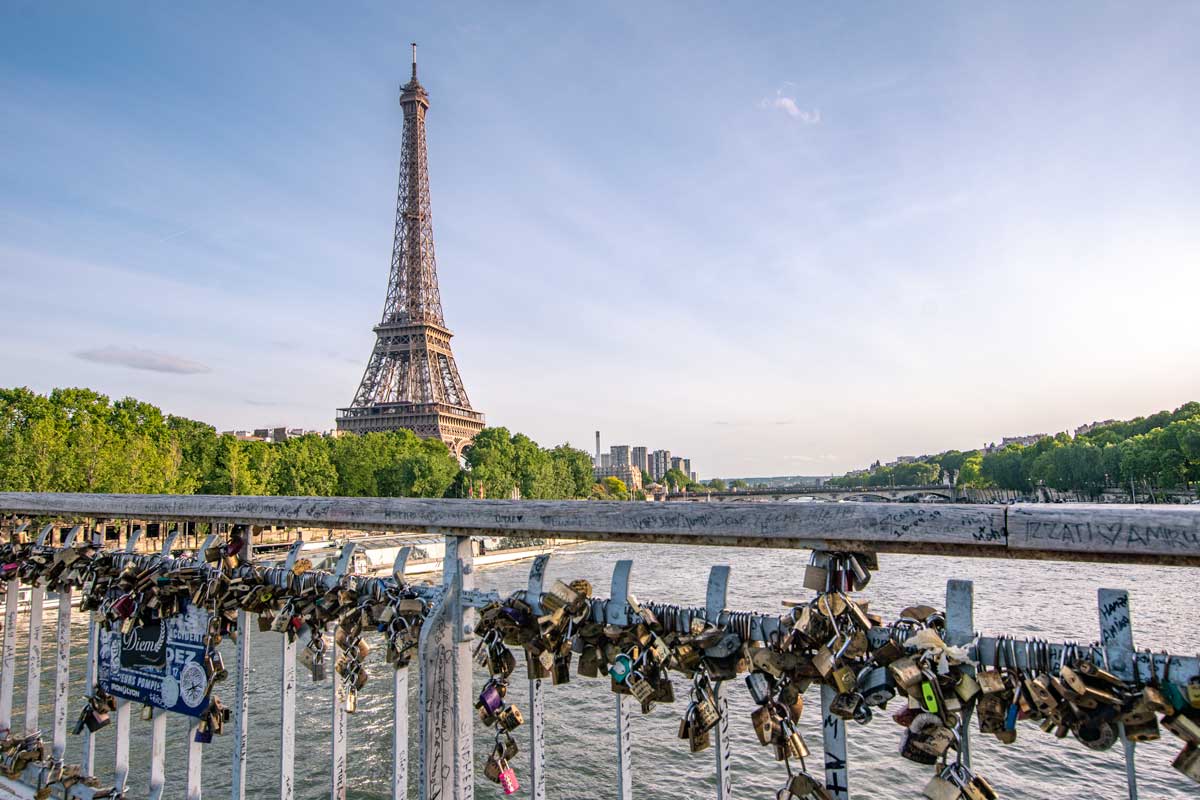 When you get enough from the arc, make your way down to the most famous and luxurious street in France – Champs Elysees.
Featured in many movies and songs (ohhhh Shan ze lizeeee) the avenue is considered the second most expensive in the world (Bond street in London beats it). The impossible to pronounce name translates to Elysian Fields referring to the afterlife heaven-like place in Greek mythology.
Spending a lot of time on Champs Elysees is not healthy for your credit card balance, so make the right to George V Avenue and go straight to the Pont de l'Alma. This bridge gives you a perfect photo op with the Eiffel Tower in the background and the Seine River in the front. Take your shots and cross the river to find our next stop.
Castaway Tip
If you want to shop, but you're more of a mall person, forget Champs Elysees and go to The Galeries Lafayette. This upmarket French department store chain is the biggest one in Europe, and its flagship store is on Boulevard Haussmann in the 9th arrondissement.

See Also: 3 Days in Rome – All You Need to Know
Branly Museum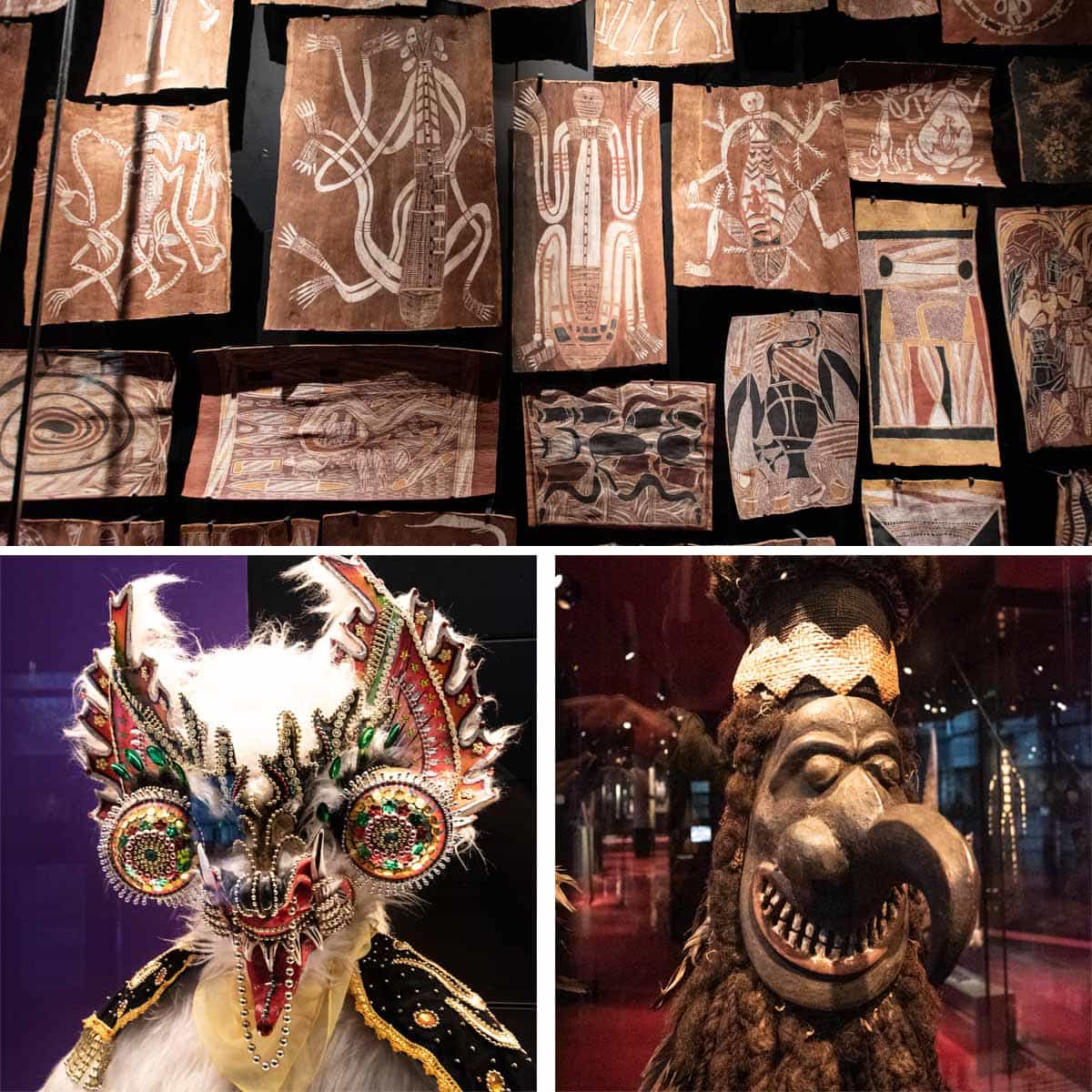 Here's the best place to warn you about something. This 4 day Paris itinerary features a lot of museums. Since Paris has so much art and history to offer, I just can't skip so many treasures and claim to have the perfect itinerary.
The Branly Museum (Musée du Quai Branly – Jacques Chirac) is the first one I'm about to show you, and it's by far the most underrated one. Rare to find on any other Paris itineraries, the museum offers an impressive collection of indigenous art and cultures of Africa, Asia, Oceania + the Americas. France used to be a major colonizer, so having a museum of this type is not surprising at all.
And since the museum is not among the most popular Paris attractions, the lines are short, and there's no need to prebook anything. Just go there and enjoy the weird masks, totems, and costumes. They even have an Easter Island Moai Head!
Working Hours:
Tue, Wed, Fri, Sat, Sunday: 10:30 AM – 7:00 PM
Thursday: 10:30 AM – 10:00 PM
Monday closed
Prices:
Permanent collections
Regular 12 EUR / Reduced 9 EUR
Banks of Seine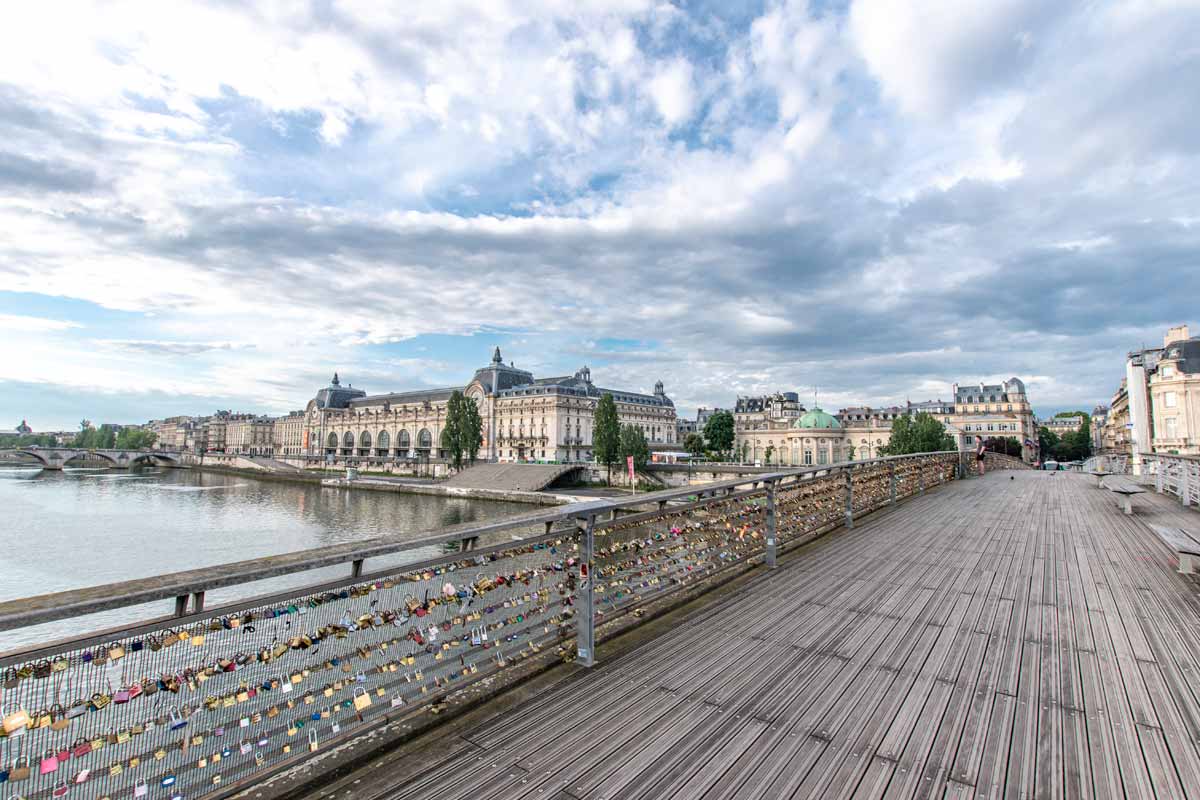 The first of our 4 days in Paris is about to end, and you're probably tired. A great way to relax before going back to your hotel is a walk alongside the banks of Seine. Unlike many other famous rivers, the banks of Seine are kept nice and tidy, giving both locals and tourists a perfect place to relax and enjoy a romantic sunset.
My advice is to follow the river on the way to the Eiffel Tower and see the light show after dark (on every hour, the tower starts to sparkle!). If the weather is good, you can also get a bottle of wine (beer) and sit at Trocadero. The atmosphere is magic!
See Also: What NOT to do in Paris
Four Days in Paris – Day 2 – Treasures of Paris
Our 4 days in Paris continue with full steam. On day 2 we have a jam-packed itinerary that's about to uncover City of Love's hidden and not-so-hidden treasures.
The Louvre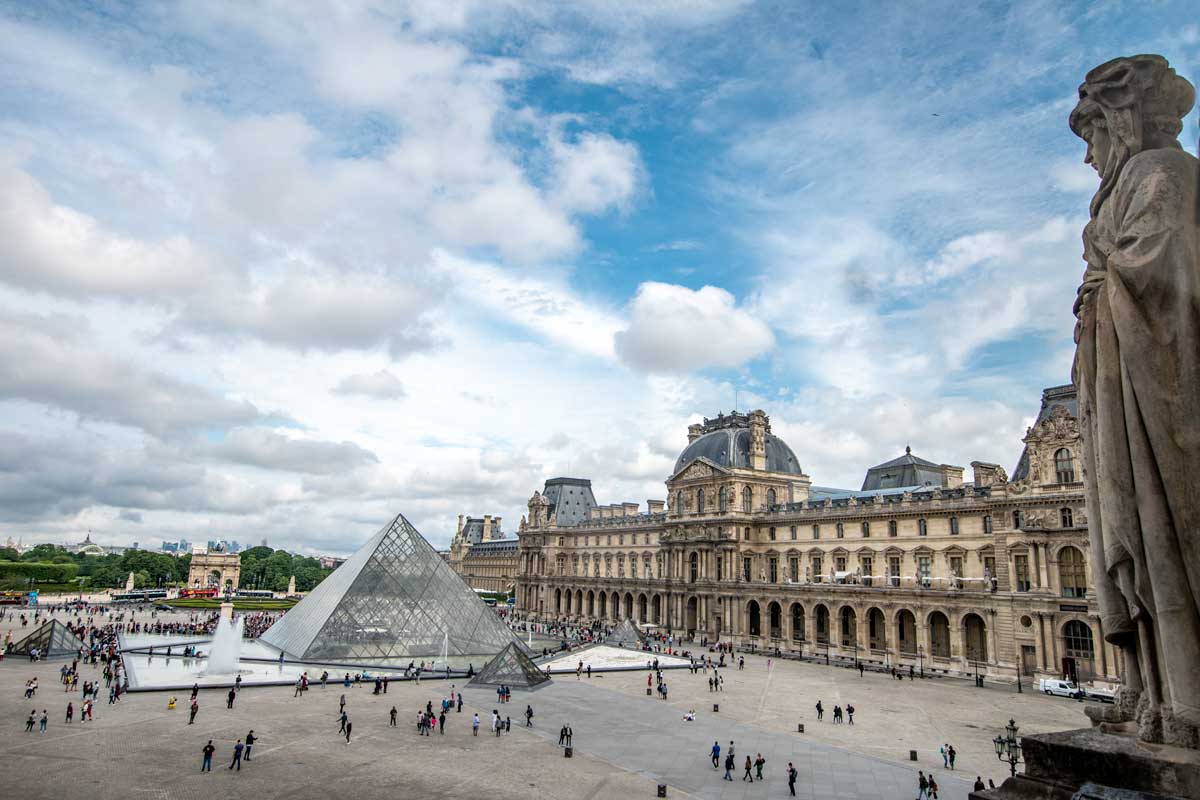 What better place to start our treasure hunt other than the most impressive treasury in the world?Transformed from a 13th century fortress into a gigantic palace, The Louvre Museum is so big and has so much to see that if you spend just 30 seconds on every artifact there, you'd need more than 120 days to see them all. They also have tens of thousands of items not on display, but that's another story.
So how do we see all of that in a day? We don't. If you try to do it, not only you won't succeed, but you'll get so burned out that you'd hate the place. The best thing to do is to mark the things that most interest you and try to find them.
My advice is to go to the heavyweights first – Mona Lisa, Venus de Milo, and The Winged Victory of Samothrace (they are close to each other). Then decide if you're most interested in Egyptian antics (Great Sphinx of Tanis), Mesopotamian artifacts (The Hammurabi Code), paintings ( Liberty Leading the People), sculptures ( Psyche Revived by Cupid's Kiss) or lavish interiors (Napoleon's apartments). Pick one, maybe two, and go for it. Once you feel overwhelmed by culture, it's time to leave.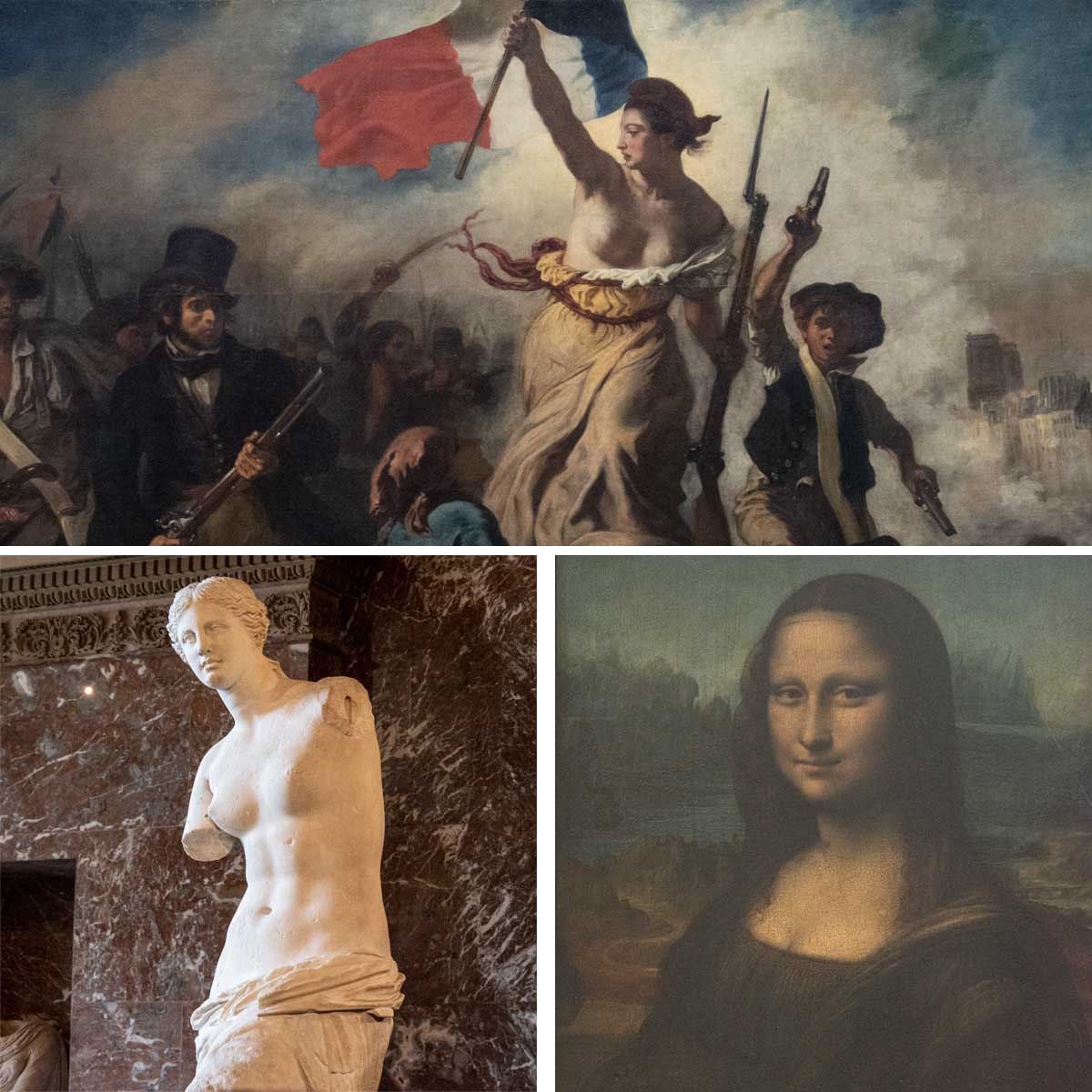 Currently it's impossible to buy tickets at the gate so online booking is mandatory. If you want to have a chance to explore Mona Lisa in piece, just get the earliest one possible and pick a side entrance (it should be mentioned on your ticket, I used the Richelieu Gate). Show up just 30 minutes before opening, and you're guaranteed to be among the first to enter the museum!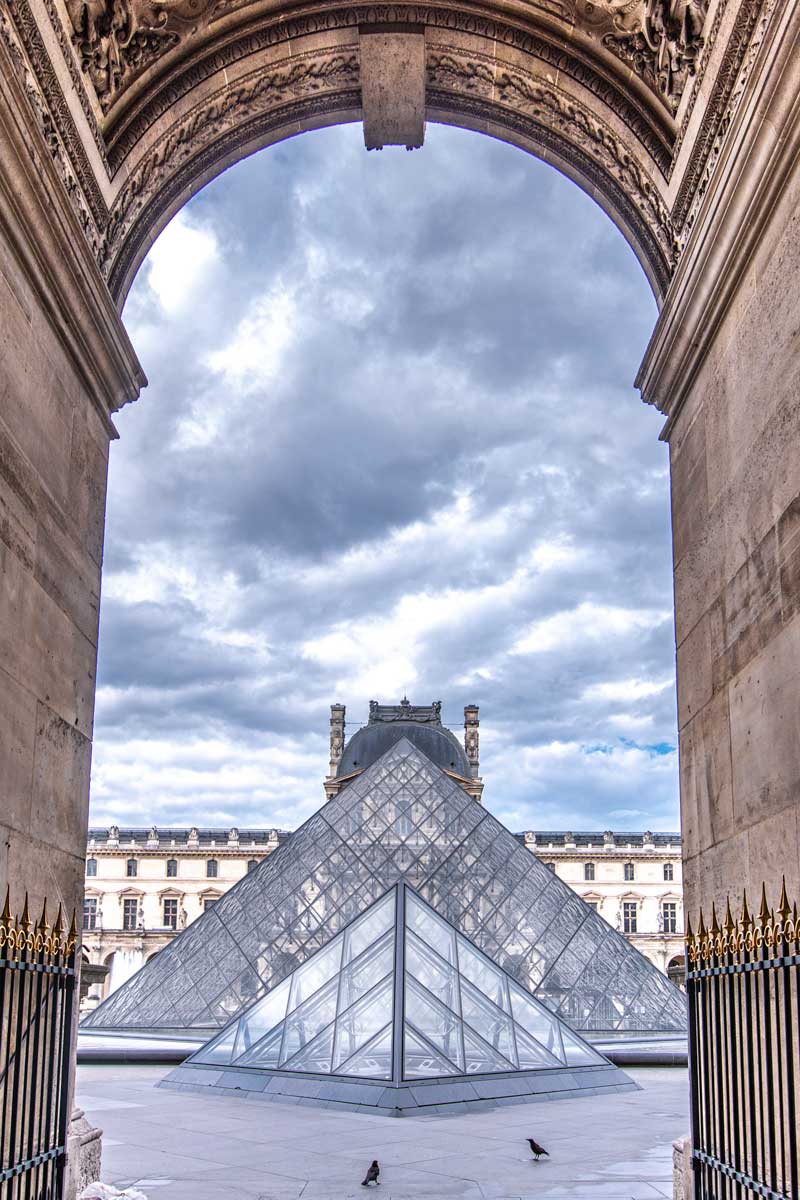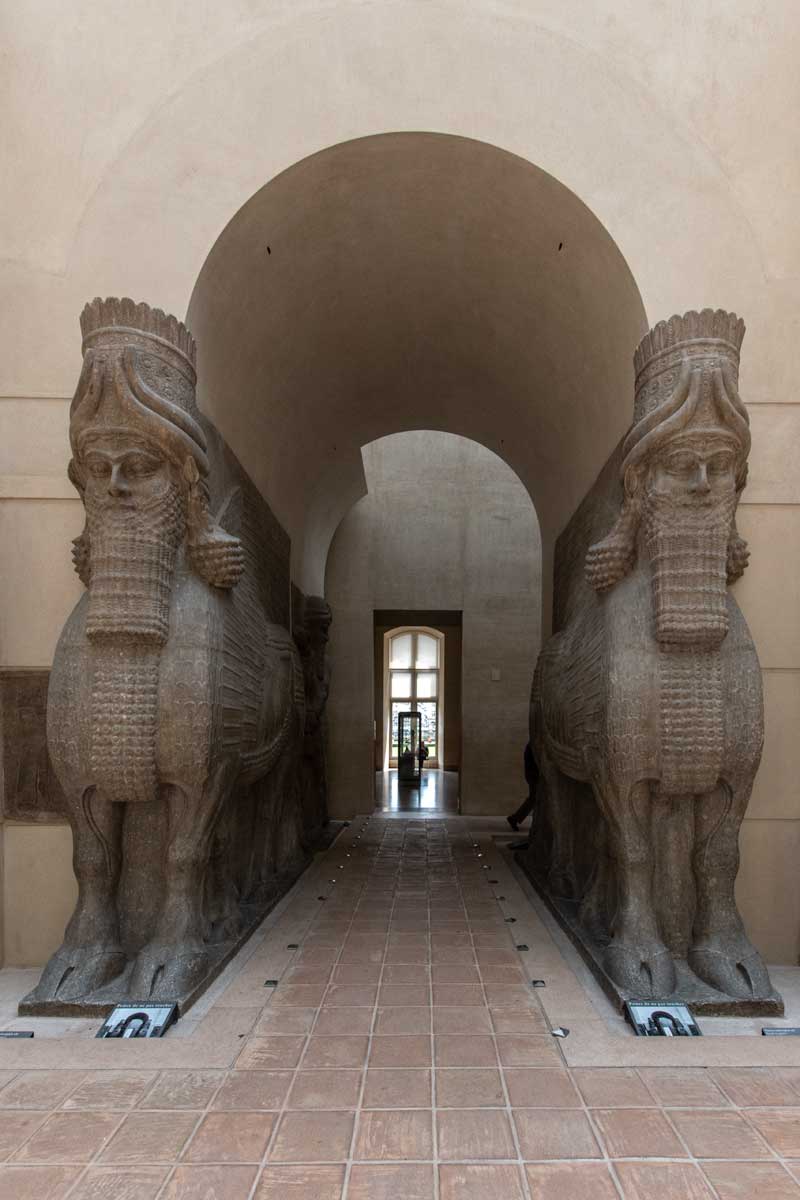 Castaway Tip
On the way to the Louvre, go through the Pont Alexandre III bridge. It's a Paris landmark and one of the most beautiful bridges globally.

Jardin du Palais Royal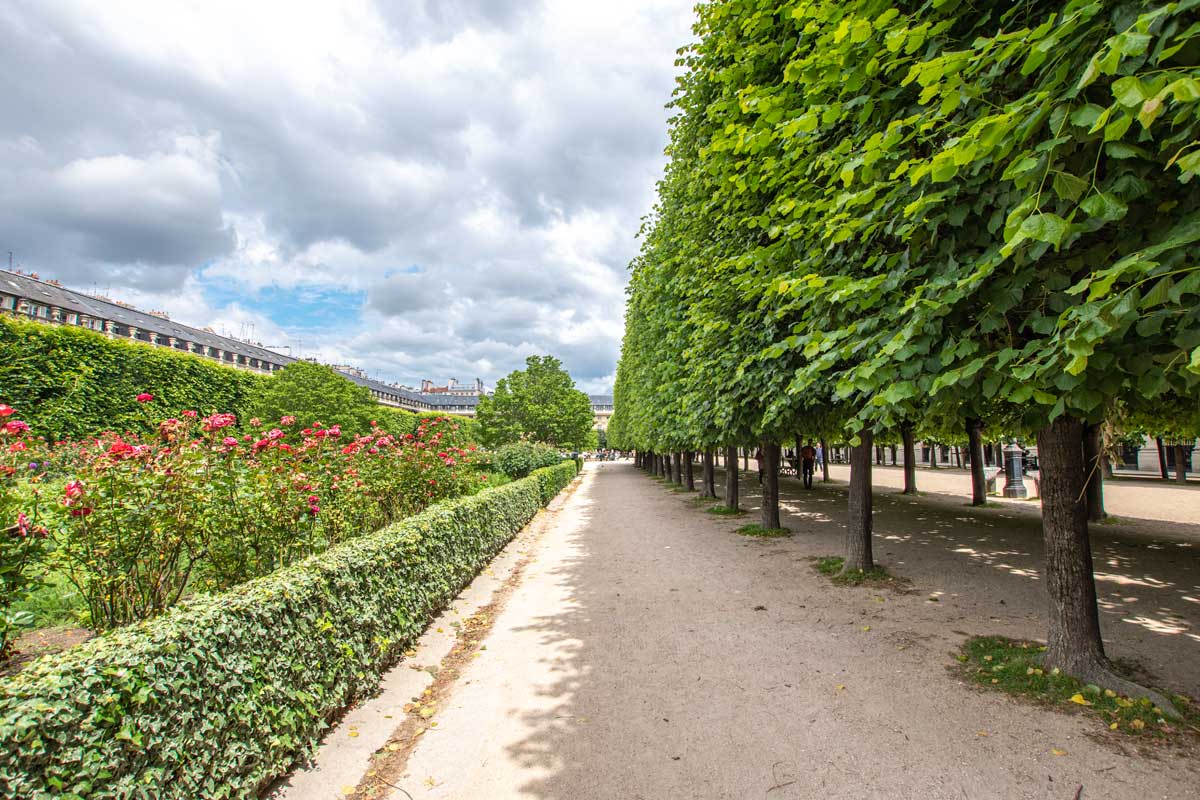 Once you're out of the Louvre, you're a little disorientated, so you need a refresh. Luckily one of Paris' hidden gems is right next to you.
The Royal Palace Garden is one of the very best places to kick back and recharge your batteries.Surrounding an 17th century palace, It's also home to Buren's Columns, a curious art installation that gives an excellent setting for a cool Instagram photo.
Sainte Chapelle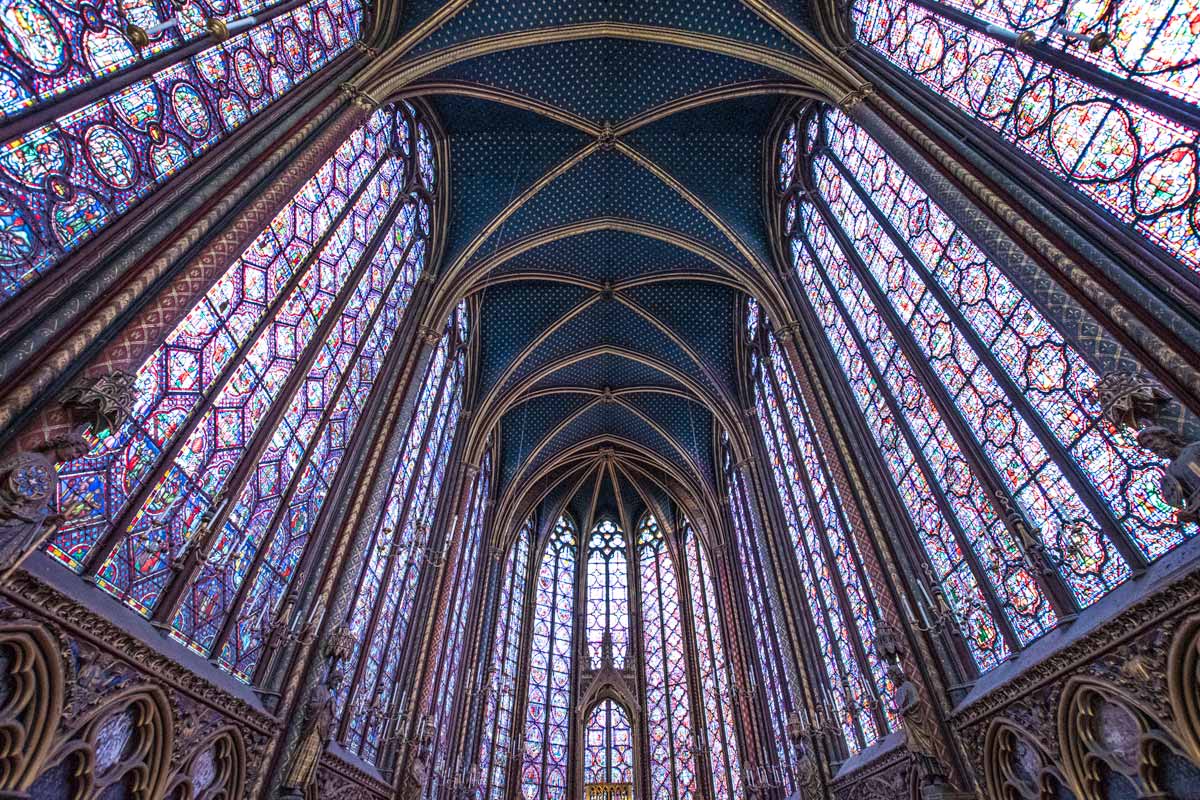 Don't get too comfortable inside the Royal Gardens cause we still have a lot to explore today. Our 4 days in Paris continue with one of the most beautiful churches in Europe – Sainte Chapelle!

Constructed in only seven years, the gothic-styled chapel was built to host Christ's Crown of Thorns – one of the most important relics in the world. Today, the crown is hosted in Notre Dame, but millions of people still go to Sainte Chapelle to see its magnificent interior.
While the first floor looks decent, the real magic is the second one. Fifteen enormous stained glass windows surround you while a large rose window dominates the wall behind. I've been to many holy places around the world and trust me, Sainte Chapelle has no equivalent!

Sainte Chapelle may not be among the most famous attractions in Paris, but you shouldn't underestimate the lines (I did, and it was stupid). Yes, there are two lines before you enter the chapel. First, the security line and then the ticket line. It took me a little bit more than an hour to get inside. What you should do is get the online priority ticket (same price) and don't waste your precious Paris time watching somebody's back.
Castaway Tip
To reach Sainte Chapelle, go through the Pont Neuf bridge. Although its name translates to New Bridge, it's the oldest standing bridge across the river Seine.

Notre Dame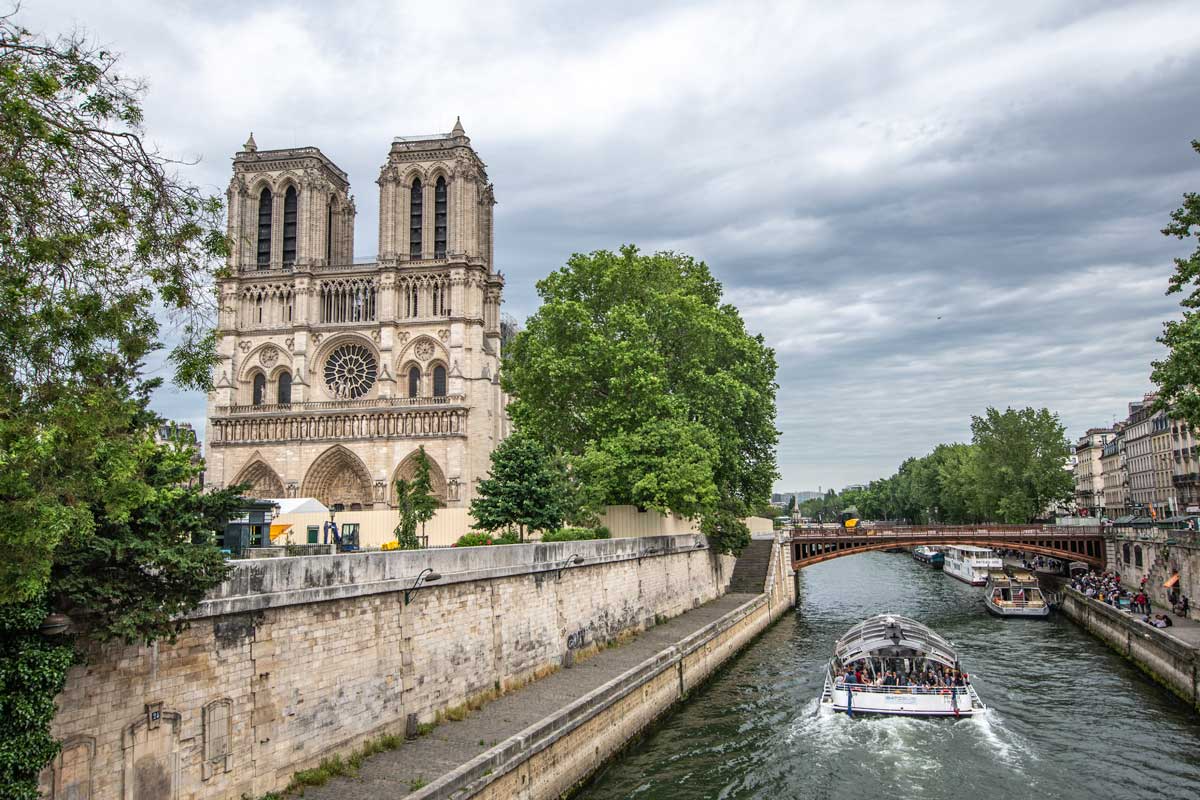 The most famous religious building in France and another symbol of Europe, the Notre Dame is just a 10-minutes walk from Sainte Chapelle. In a city full of gothic cathedrals, this is THE chrurch of churches. While operational it was more visited that the Eiffel Tower itself!
Sadly, due to the devastating fire on April 15, 2019, the cathedral is closed until second notice, but you can still go around it and enjoy the magnificent architecture from the outside.

To donate towards its restoration or to check for updates, see the official site of Notre Dam.
See Also: How to Spend 3 Days in Lisbon
Shakespeare and Company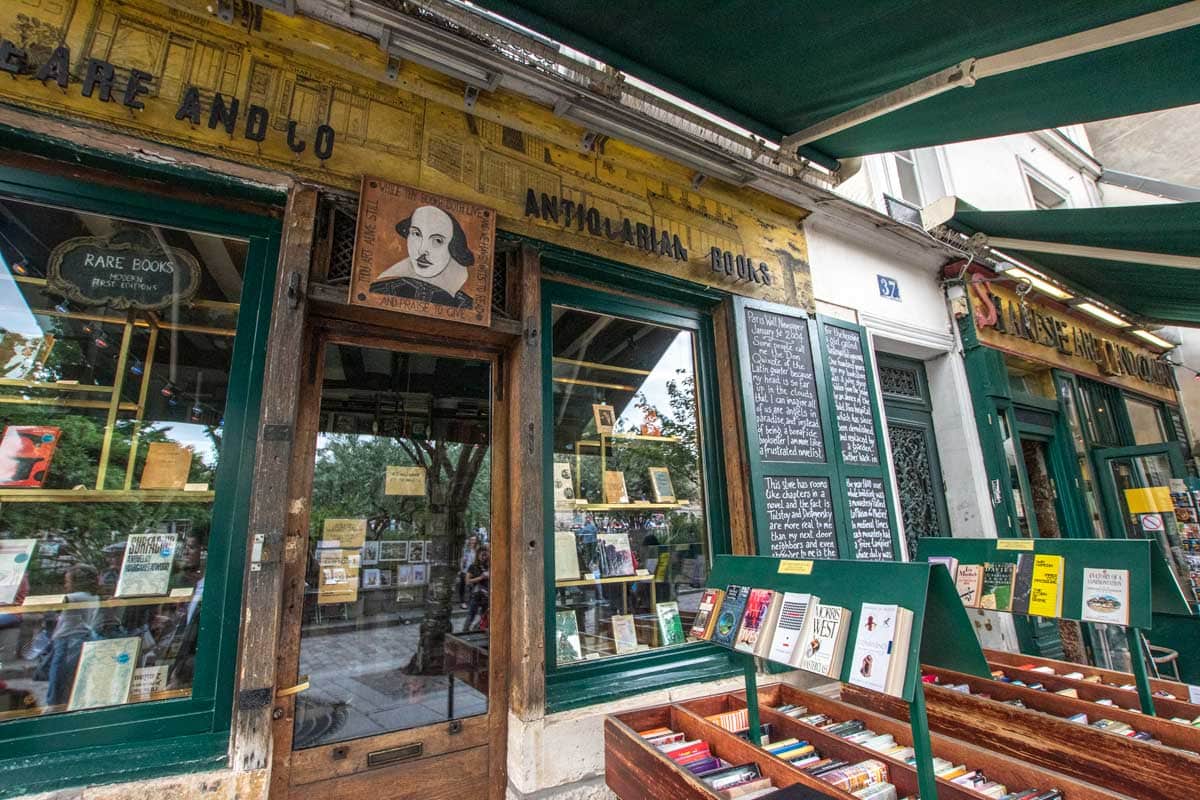 Located just 5 minutes away from Notre Dame is my favorite hidden treasure of Paris – the Shakespeare and Company bookstore. I'm not sure if it still qualifies for a hidden gem actually, the place is buzzing with people, but even all that interest can't take away this vintage bookstore's charm.
The popularity of Shakespeare and Company comes from the fact that it was the informal living room (and sometimes bedroom) to revered figures in contemporary literature such as Ernest Hemingway, F Scott Fitzgerald, Jack Kerouac, and all others from the lost generation.
Shakespeare and Company is still privately owned and run by the daughter of George Whitman – the American-born proprietor who made the shop what it is today.
"I like people to open the door the way they open a book, a book that leads into a magic world in their imaginations."
Working Hours:
Mon to Sat: 11:00 AM – 7:30 PM
Sunday: 11:30 PM – 7:30 PM
Prices:
Free
Jardin du Luxembourg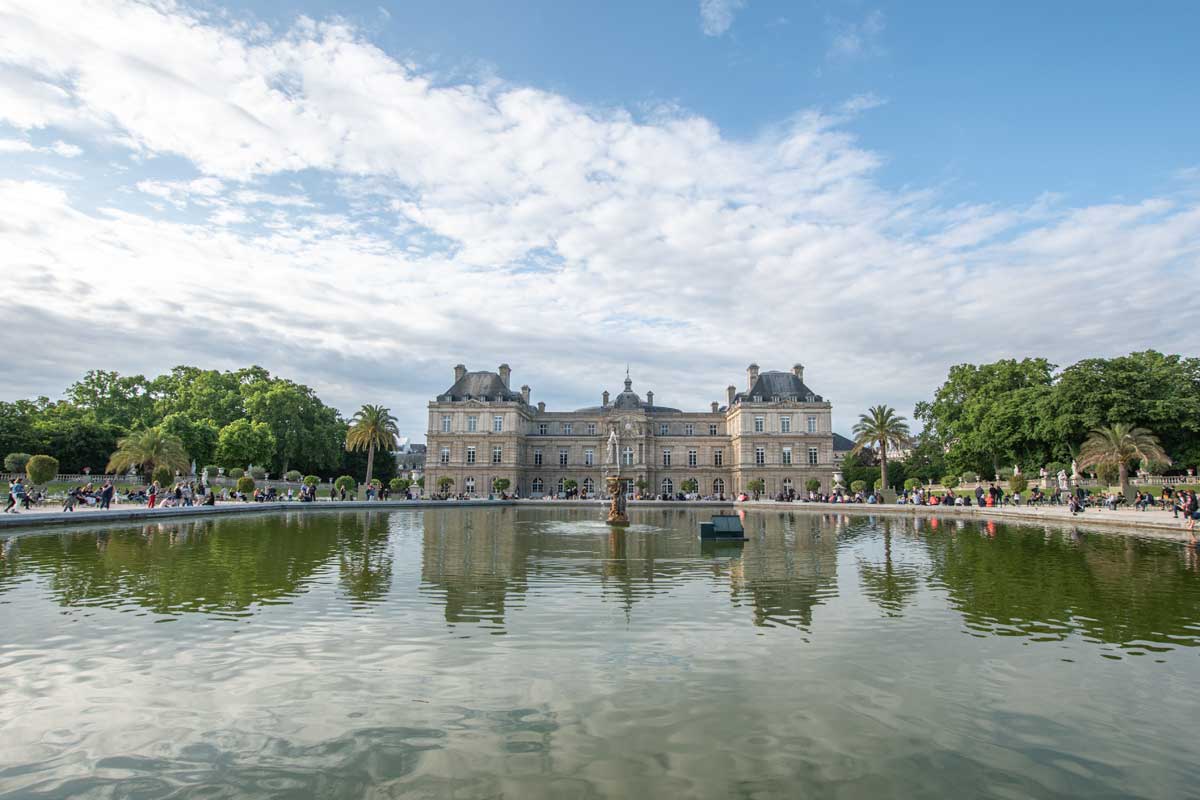 The day is slowly going down, and I bet you're tired (the Louvre tends to do that). Resist the temptation to sit in one of the cute little cafes and instead go to a supermarket to stock with some picnic supplies cause the next stop on our 4 day Paris itinerary is the most beautiful garden and a popular spot for relaxation – the Luxembourg Gardens.
Created in 1612 by Marie de' Medici the Luxembourg Gardens park is one of the most relaxing places you can spend an afternoon in (I'm not ashamed to admit I had a little nap there). Even if it's full of people, there will always be a bench or a chair for you to enjoy a bit of fresh air.
Montparnasse Tower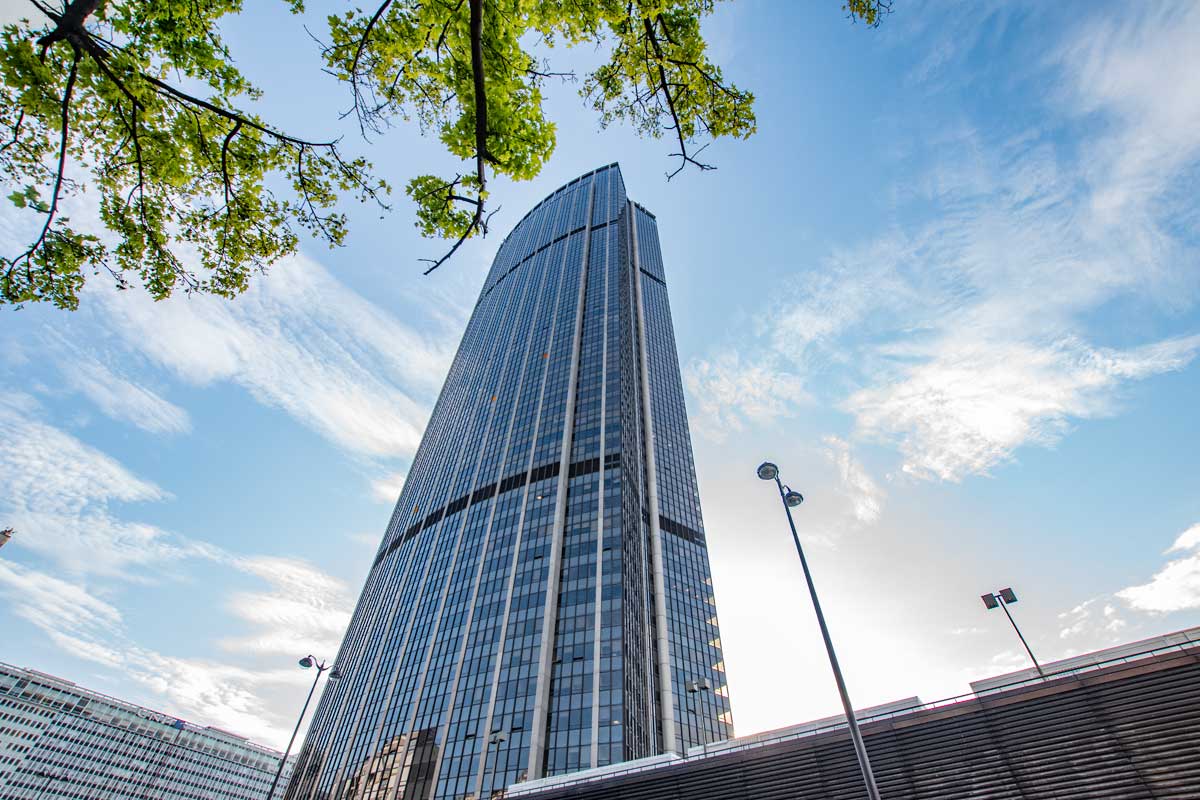 The second of our 4 days in Paris will end with the best view in town. What, you thought the best view is the one from the Eiffel Tower? While the view from there is pretty spectacular, to claim to be the best view in Paris you need to have the Eiffel Tower on the horizon too, right?

So the best view in Paris is not the one from the Eiffel Tower but the one from the observation deck of the Montparnasse Tower – a 210 meters tall office building located just 10 minutes away from the Luxembourg Gardens.
There's no better place to watch the sunset in Paris.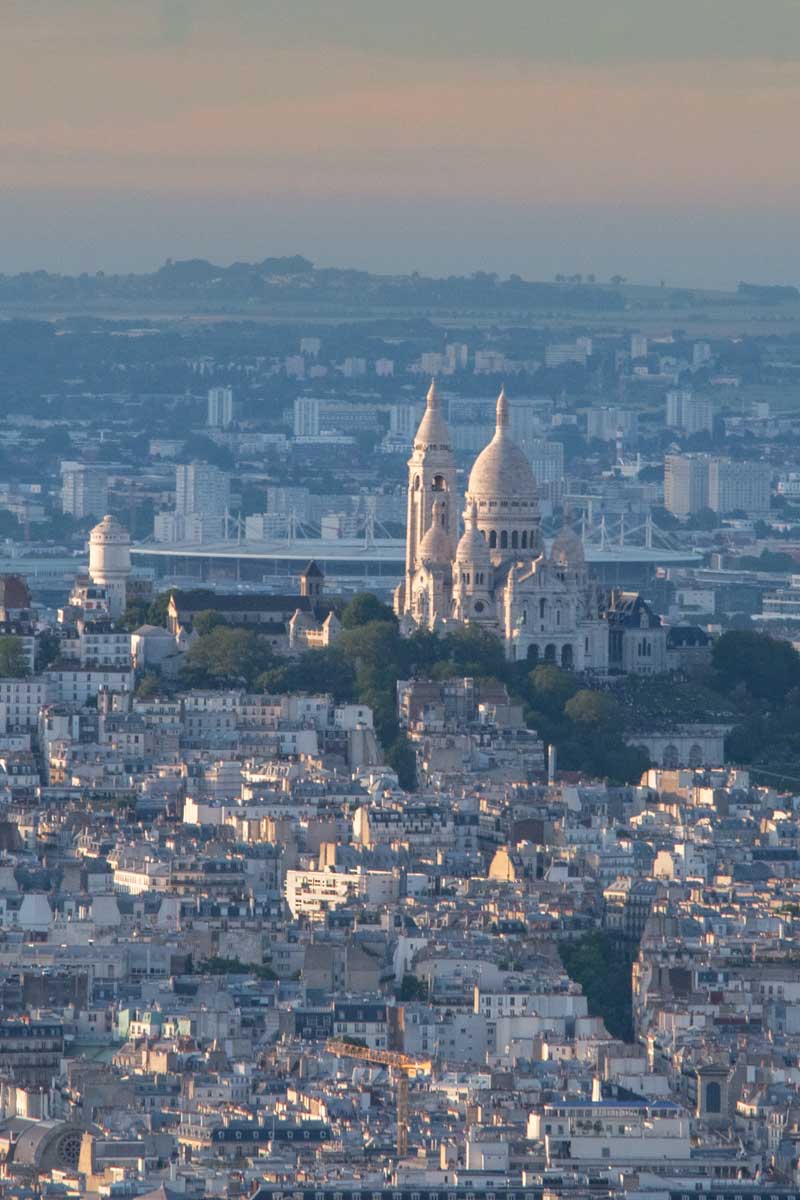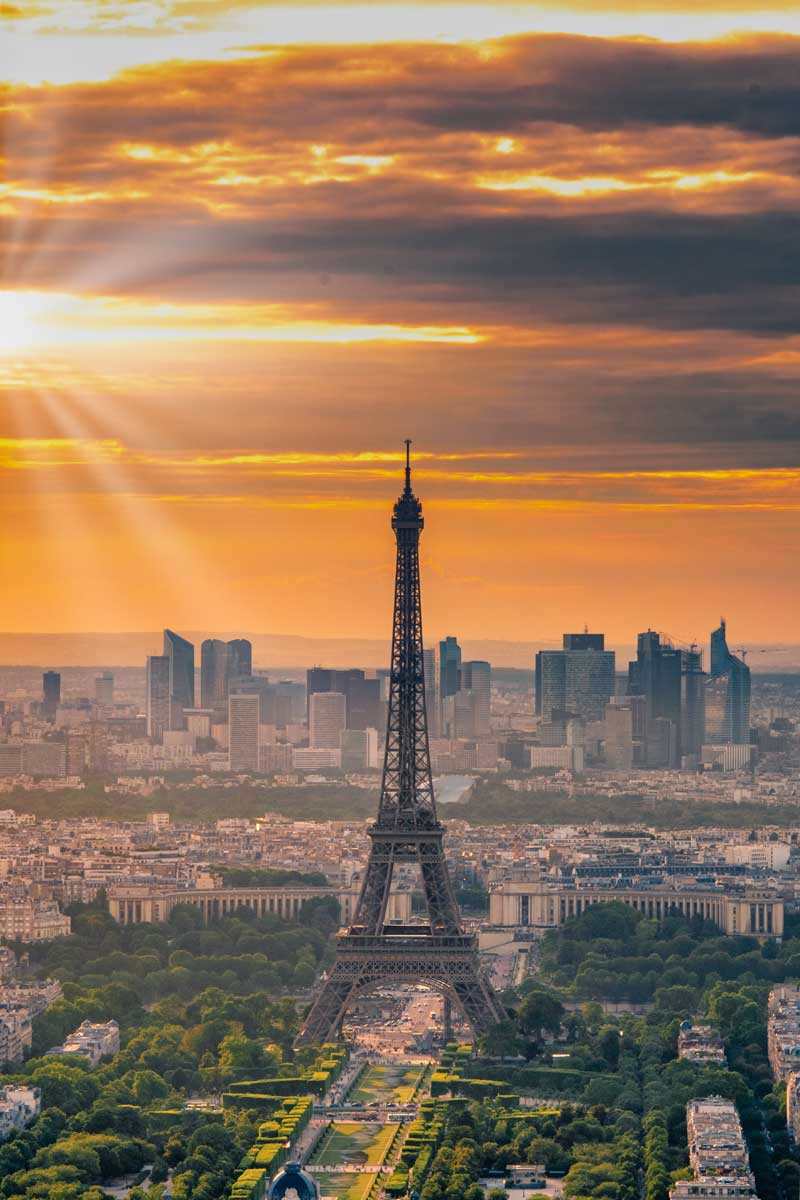 Working Hours:
1 April – 30 September
daily: 9:30 AM – 11:30 PM
1 October – 30 March
daily: 11:00 AM – 10:30 PM
Prices:
Regular ticket at the spot– 13.50 EUR
Online ticket (more expensive but makes it easier to pick a good time slot)
Night & Day ticket valid 48 hours for 2 visits from the date of your choice. – 22.50 EUR
See Also: How to Spend 2 Weeks in Europe
Four Days in Paris – Day 3 – Recharge
After an intense day 2, our 4 days in Paris continue with a recharging day. It's not like we won't do anything on day 3 it just won't be jam-packed as the day before. If you're well prepared (and I know you will be), you can sleep a bit more today and still waste minimum time on queues.
Musee d'Orsay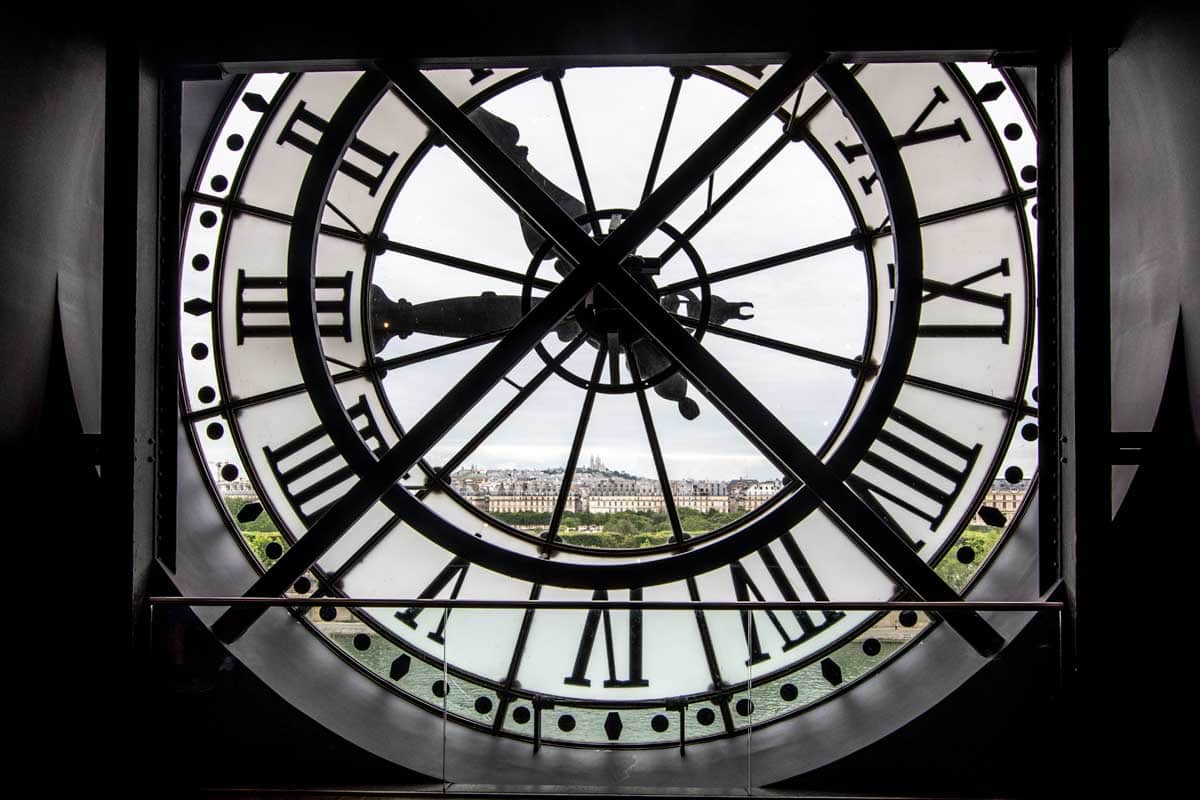 The second most significant art museum in town, Musee d'Orsay would be THE museum to visit in almost any other city on the planet. Unlucky for it, it happened to be right next to the biggest and most famous art museum in the world (the one you got lost in yesterday) so it kind of stays in its shadow.
Housed in the former 100 years old railway station – Gare d'Orsay, this museum displays the biggest collection of French impressionist and post-Impressionist masterpieces in the world.
Here are some of the artists Musee d'Orsay displays: Monet, Manet, Degas, Renoir, Cézanne, Seurat, Sisley, Gauguin, Van Gogh. And not some random paintings but their very best works!
Exploring this museum seriously raised my bar for art museums. It's hard to explain the whole experience, but if impressionism is your type of art, Musee d'Orsay will give you one of the most pleasurable museum visits of your life. A train station worth a visit indeed!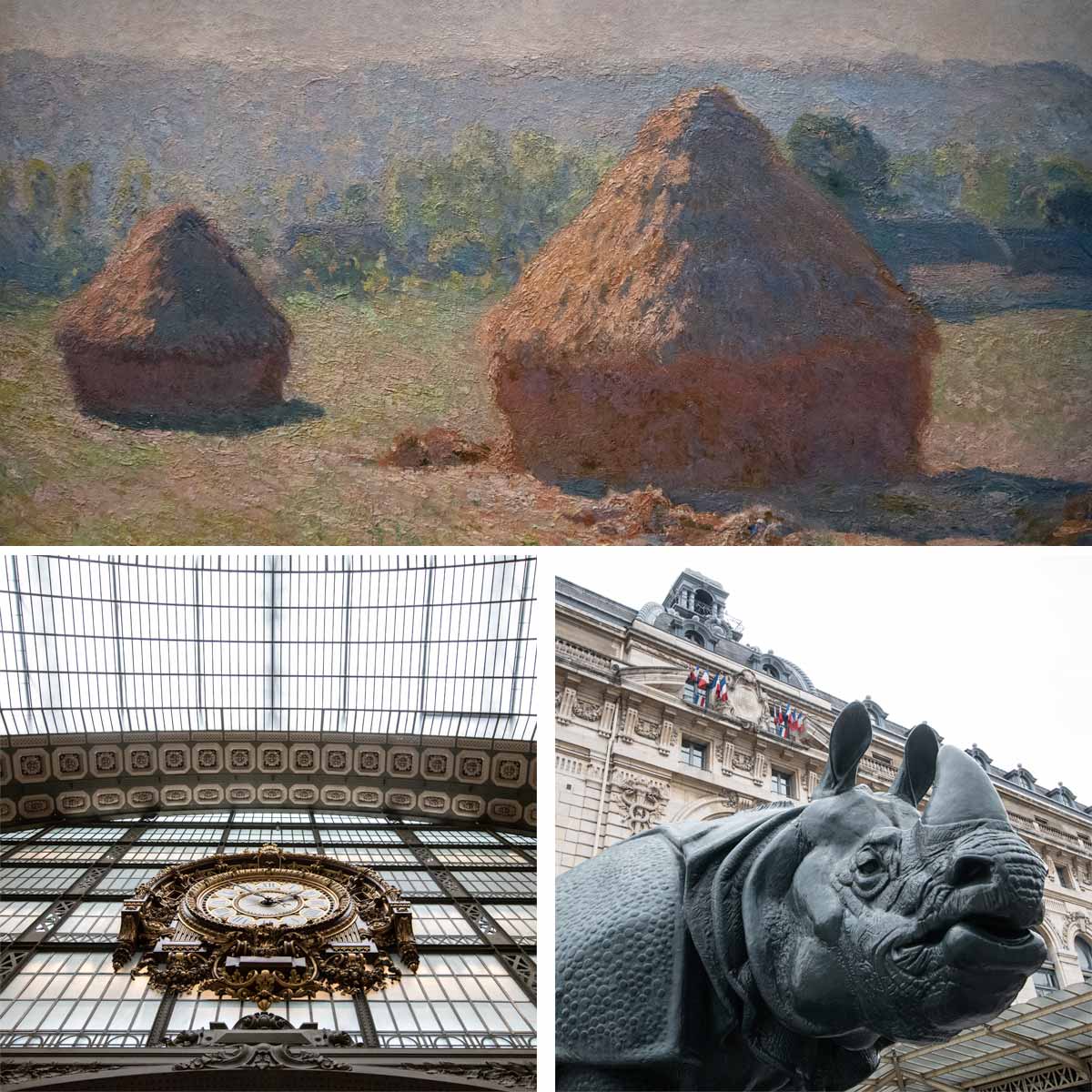 Why did I mention you can sleep a bit late today? Are there no lines for Musee d'Orsay? There is a line of course (duh, we're in Paris) and it's not a little one. But there is also a fast priority line you should be in. Just get the combined Musee d'Orsay and Musee d'Orangerie online ticket and save yourself the annoying wait.
Musee d'Orangerie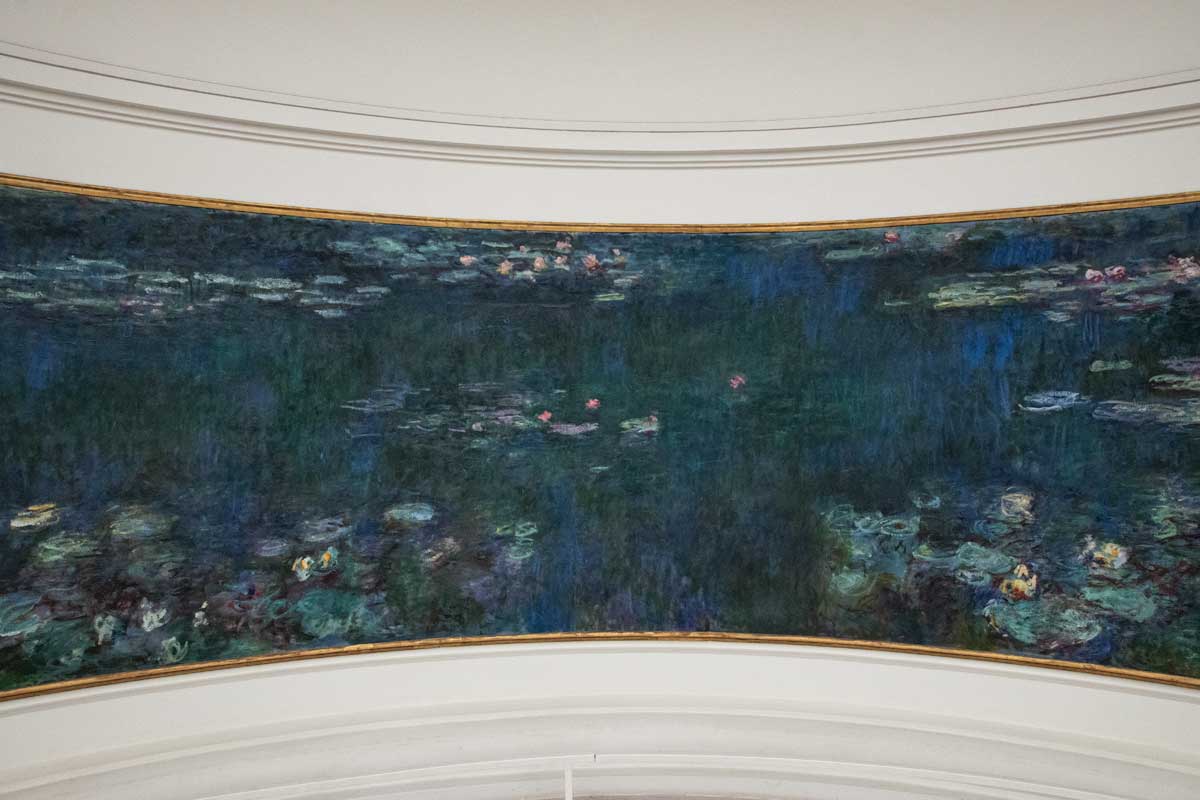 Ten minutes away from Musee d'Orsay is our next stop for the day and the last museum on our 4 Day Paris itinerary – Musee d'Orangerie. If you followed my advice, you already have a ticket so skip the long line and go for the little one (if there is any at all).
Unlike the other museums we visited in Paris, Musee d'Orangerie is quite small. It consists of two levels. The bottom one feature some impressionist masterpieces (which I suspect, the nearby Musee d'Orsay didn't have a room for). The main reason for our visit is on the upper floor where two oval-shaped rooms (forming the symbol of infinity) displays Claud Monet's biggest masterpiece – The Water Lilies! Created at the end of his life, The Water Lilies are a series of paintings depicting the artist's flower garden at his home in Giverny.
Impressionism is a form of art that is hard to describe by words, but for me, the sense of calmness and tranquility projected by these paintings can rival the best natural sights I've seen.
Castaway Fact
Even though he made over 250 Water Lilly paintings, only eight are exposed in Musee d'Orangerie. Claude Monet himself picked the paintings, their positions, and the lightning.

Place de la Concorde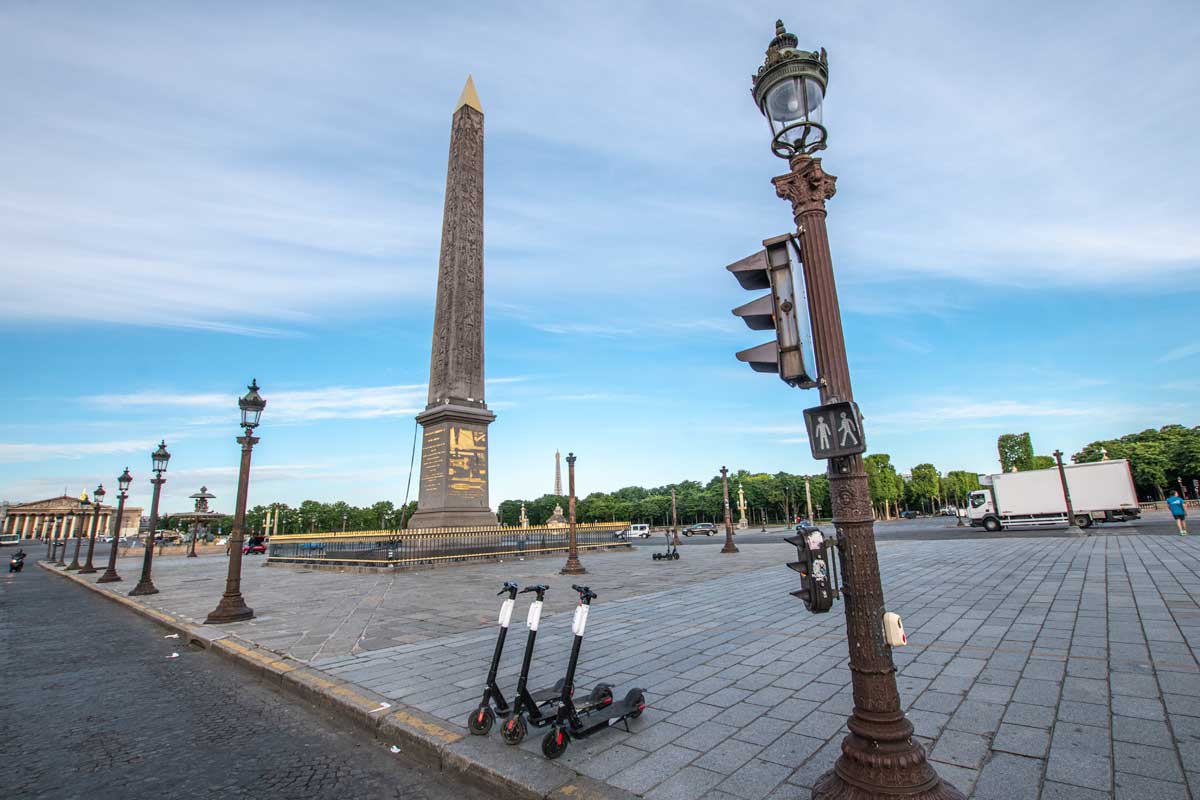 Right in front of Musee d'Orangerie, you'll find the biggest square in Paris – Place de la Concorde.
Dating back to 1748, the square used to be called Place Louis XV (when it was housing a statue of the king). It was renamed to Place de la Révolution (when the statue was torn down) and became the public spot where the new revolutionary government executes the French royals (such as King Louis XVI and Queen Marie Antoinette).
Today the square hosts a glorious fountain and a genuine Egyptian Obelisk. If you visit during autumn or winter, there's also a big Ferris wheel there.
Castaway Story
When I was in Egypt, the locals seemed bitter about the obelisk. Apparently, the French tricked them by taking Karnak Temple's most prominent obelisk in exchange for a clock that's not even working (now in the Alabaster mosque).

Jardin des Tuileries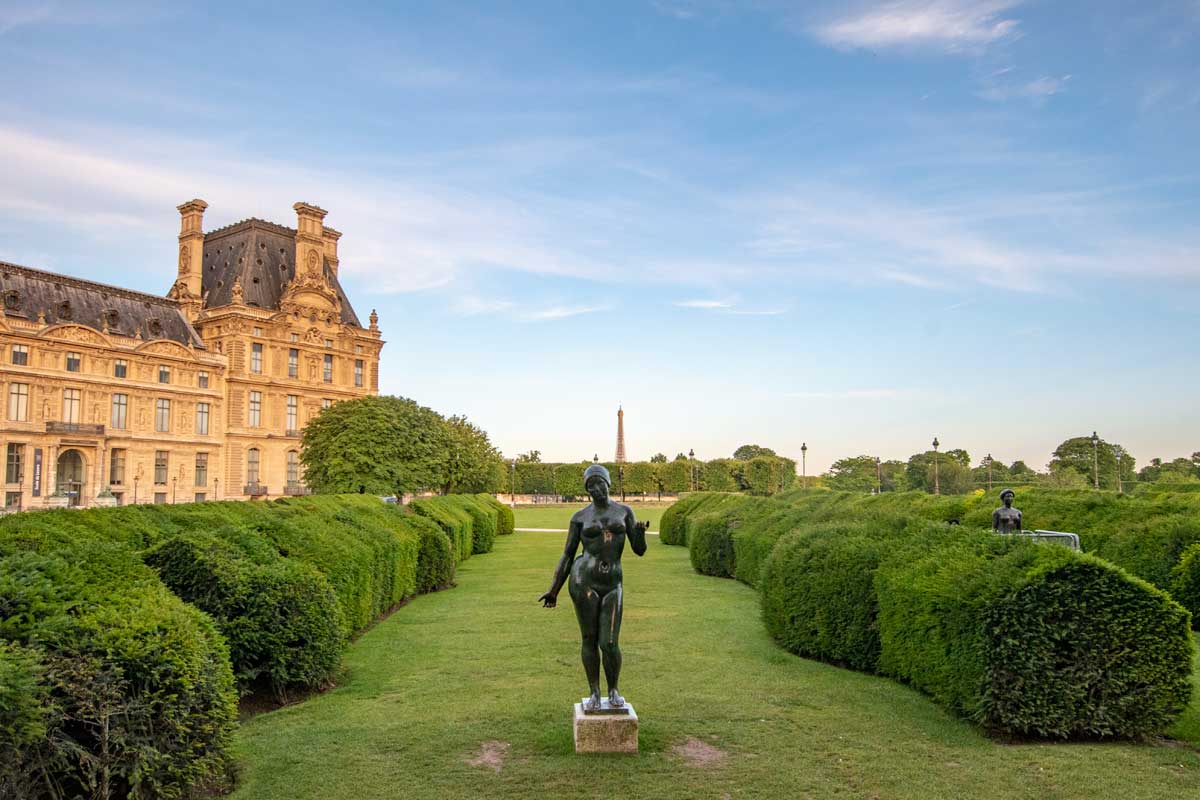 As I promised, we continue with the relaxing itinerary by going straight to the Tuileries Garden.
Shaped by the famous gardener of King Louis XIV, this public garden offers two ponds with many benches and chairs (yes, parks in Paris also have public chairs. It's incredibly convenient!), perfect to kick back from the intense sightseeing of the last three days.
And since it's Paris and nothing in Paris is just average, the gardens also feature some statues made by the art-titans Maillol, Rodin, and Giacometti.
See Also: The Ultimate Brussels Travel itinerary
Seine Cruise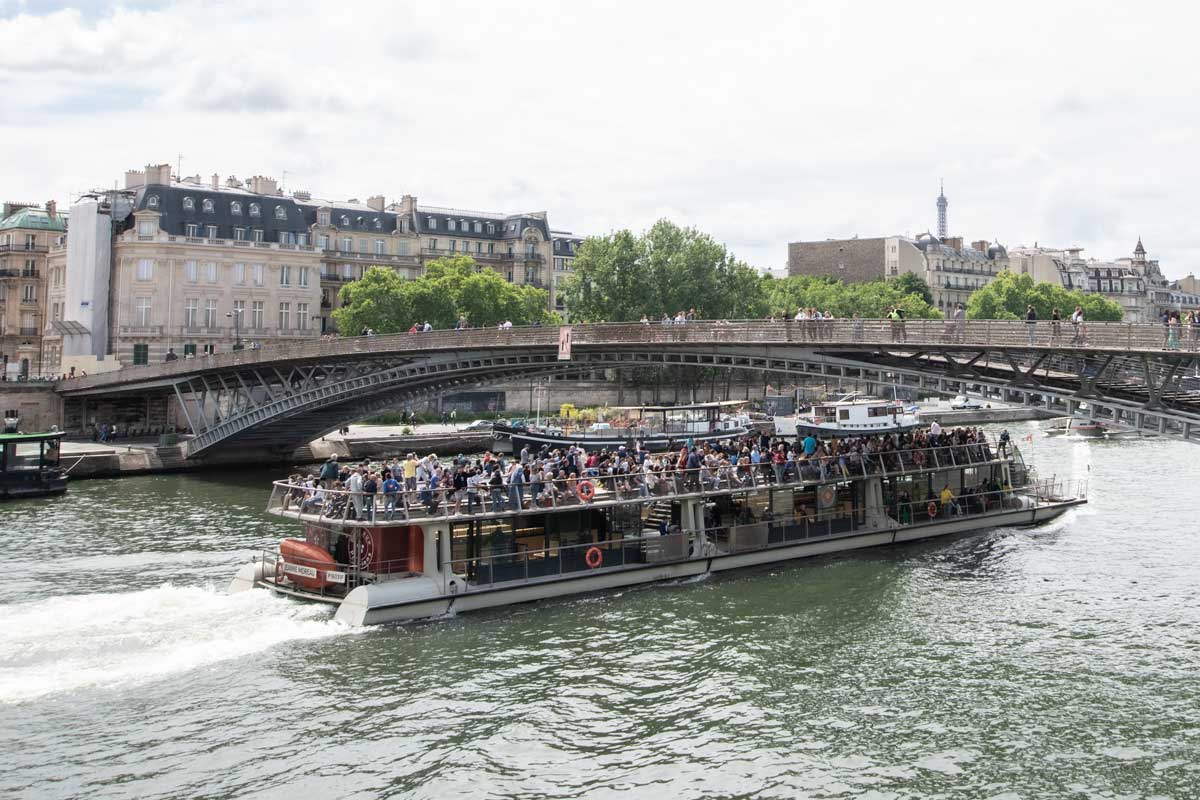 The last activity on our recharge day is, again, a lazy one. It's day 3, and you've already seen the biggest highlights of Paris but seeing them from a boat that slowly floats around the Seine river is like seeing them for the first time.
The regular river cruise will present plenty of photo opportunities while the night one will show you why exactly they call Paris – "The City of Lights".
If you want the most premium experience, get the cruise with the French Dinner included. Definitely one of the top romantic things to do in Paris!
Castaway Tip
Check out the weather forecast before you book a boat. Depending on the weather, decide what type of ship you need (you don't want an open one if it's cold and rainy, right?)

Four Days in Paris – Day 4 – Old Paris
On our last day in town, we're going to explore some of the old parts of Paris. I mean, I know that almost everything in Paris is old, but those places have kept their vintage spirit alive and, as cliche, as it sounds, will transfer you back in time.
Paris Catacombs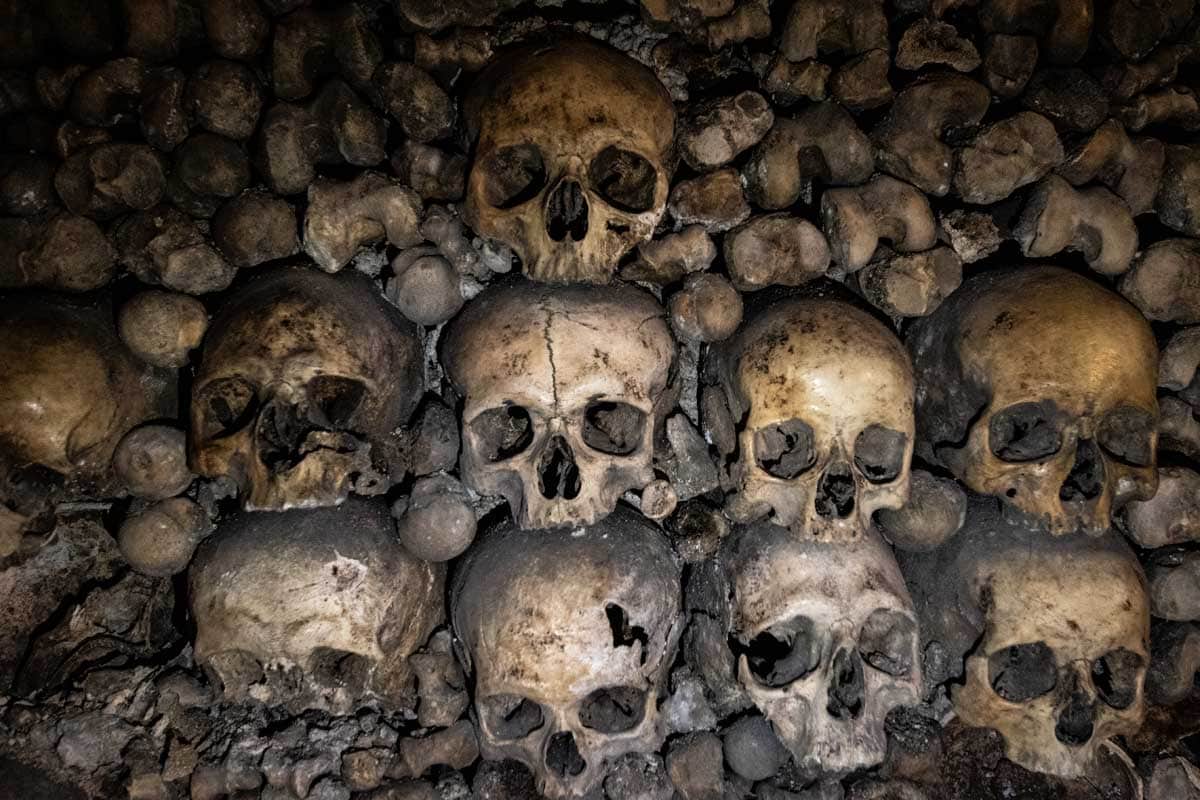 An underground tunnel of death spread 20 meters beneath the streets of Paris, the catacombs hold the remains of several million (!) people.
A walk around them is like no other. Few dozen chambers filled with thousands and thousands of bones. The walls are built by bones, there is an altar built by bones, there's even a heart made of bones. The whole catacombs experience is surreal.
Walking around so much death, really makes you put things in perspective and appreciate life.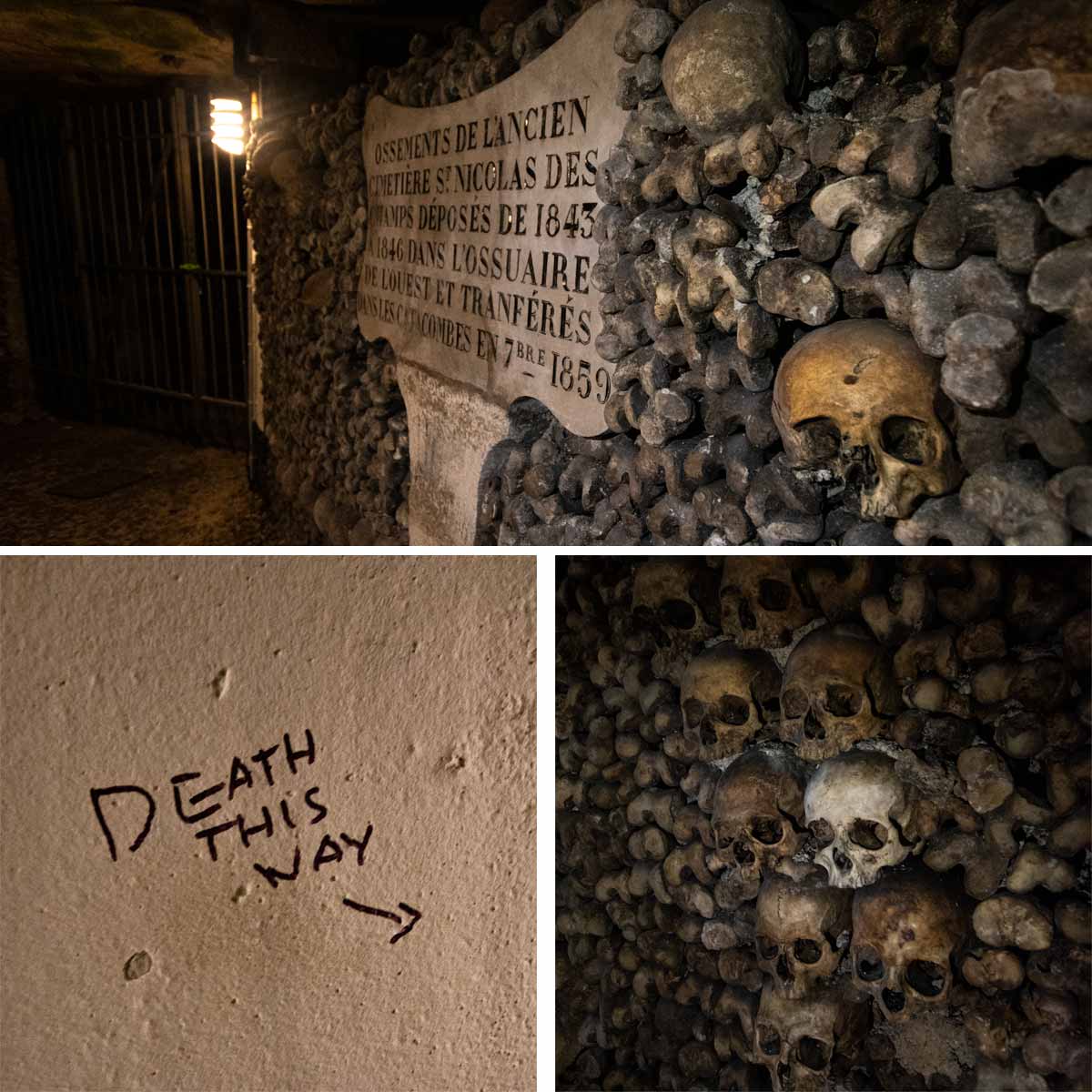 Even though the place is fantastic, I almost left it out of my 4 day Paris itinerary. How come? No, I didn't get chased by a ghost, nor did I got creeped out too much. The experience is top-notch but to enter the catacombs…well, that's pure hell. Something I didn't know before I visit (hello, a professional traveler here) is that the catacombs are famous for having the longest line of all Paris attractions!

So here I am, excited to explore the veritable labyrinth of bones, getting on the line without even seeing the entrance. And I wait… and wait…and wait some more. It took me 3 and a half hours to get inside! Absolutely ridiculous.
Why is the queue so big? The catacombs are a major attraction, and many people want to see them. Only 200 people, however, are allowed down there, and no one gets in before someone gets out. Also, there's a priority line that gets to enter with…well…priority.
So after waiting on the longest line in the world, my advice is – either get the priority ticket or skip the place. The catacombs are genuinely great, but the three hours + waiting is just not worth it. The other option is to go an hour before they open. You'll still have to wait, but at least you know it's just an hour.
Palais Garnier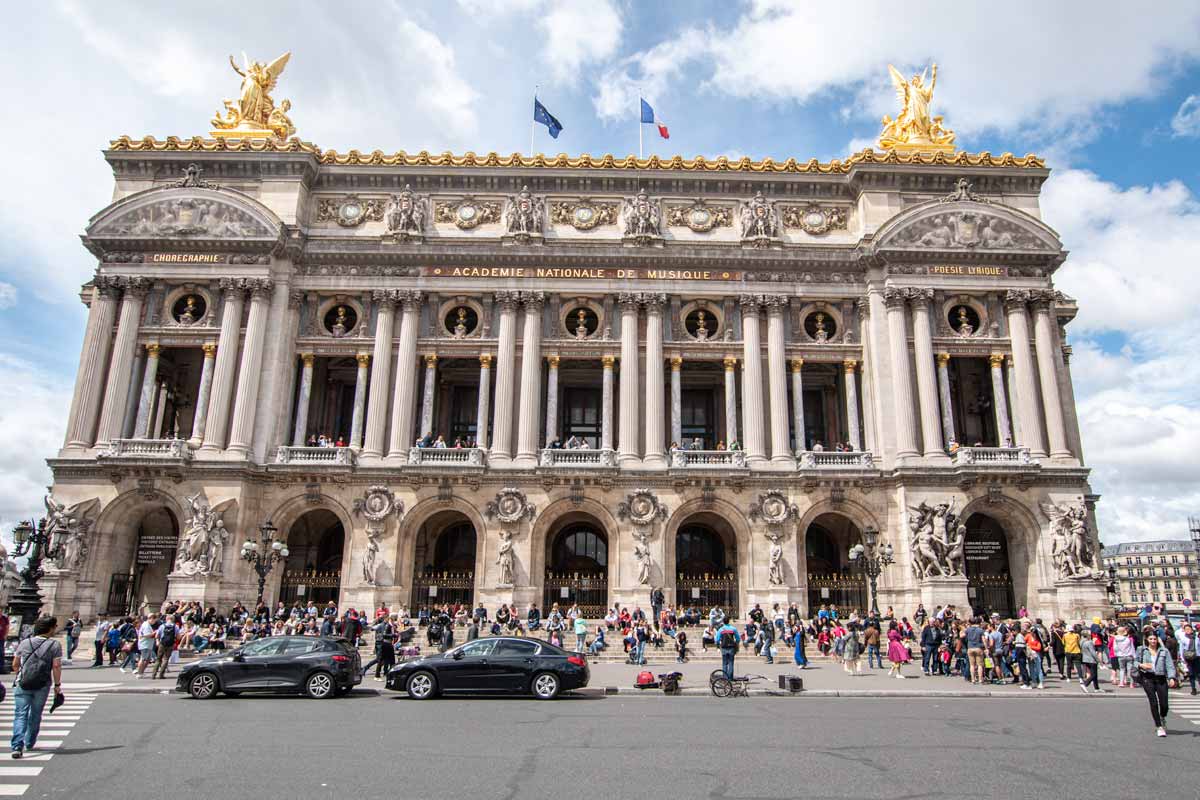 If you've read any of my other guides, you probably noticed I love to include European operas in my itineraries. Well I couldn't skip one of the most famous opera houses in the world, right?
So our next stop is the Paris Opera, also known as Palais Garnier!
Is it really a palace? No, but the opulence of the building is so rich that it was deemed the Palace of Garnier (its creator).
There is no need to buy an incredibly expensive opera ticket to enjoy the opera house's interior as Palace Garnier offers visitation tickets too.
Castaway Fact
An incident in 1896 where one of the chandelier's counterweights broke free killing a concierge inspired the legendary gothic novel – The Phantom of the Opera.

Montmartre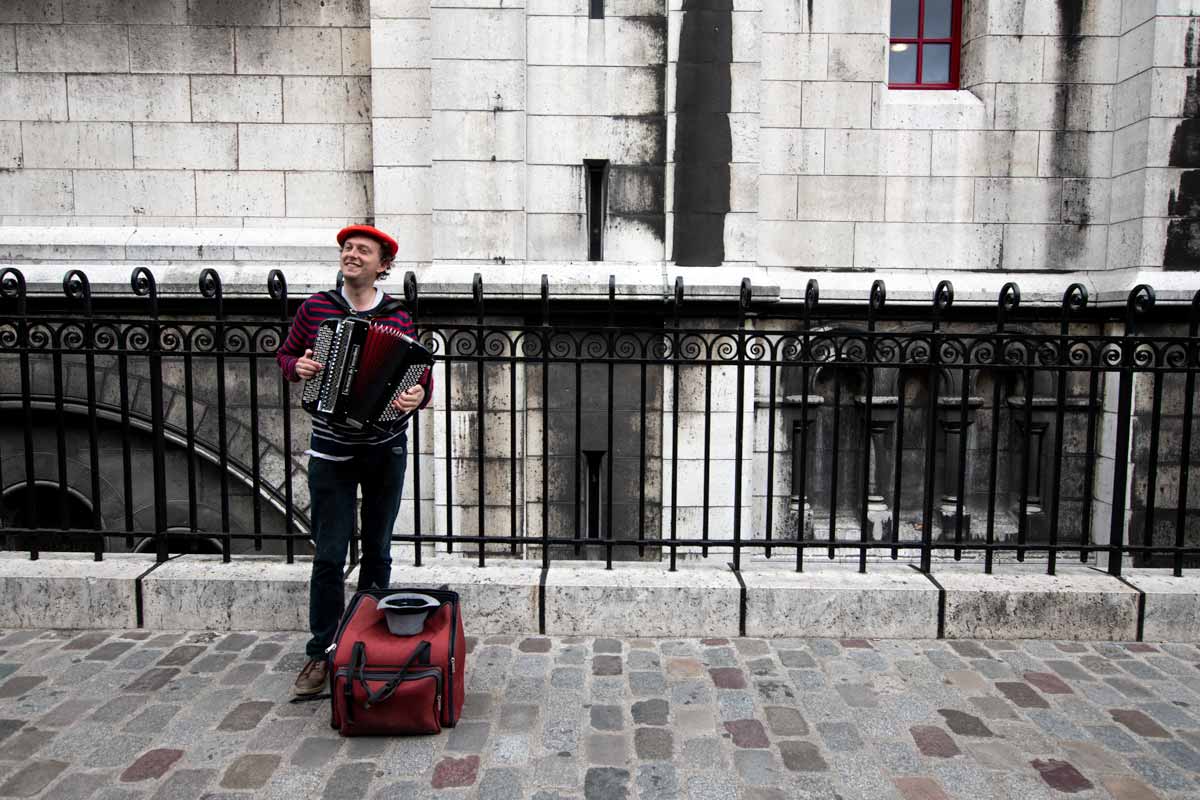 The most charming part of Paris, Montmartre, is located on a small hill in the 18th arrondissement. Famous for its vintage charm, Montmartre used to be the go-to place for every self-respected artist of the 19th and 20th centuries.
And no wonder, the district managed to keep the small village atmosphere that can inspire all sorts of art expressions. Walking around it even nowadays is like stepping inside a postcard. If you want to go to the next level, get yourself a walking tour that will teach more about the history of the district and show you its hidden gems!
Tour or no tour, make sure you visit one of the highlights of Montmartre – the " I Love You Wall". The love-themed wall covers around 40 square meters (430 sq ft) and includes the words I love you in 311 different languages. Try to find it written in your language (it's quite hard!).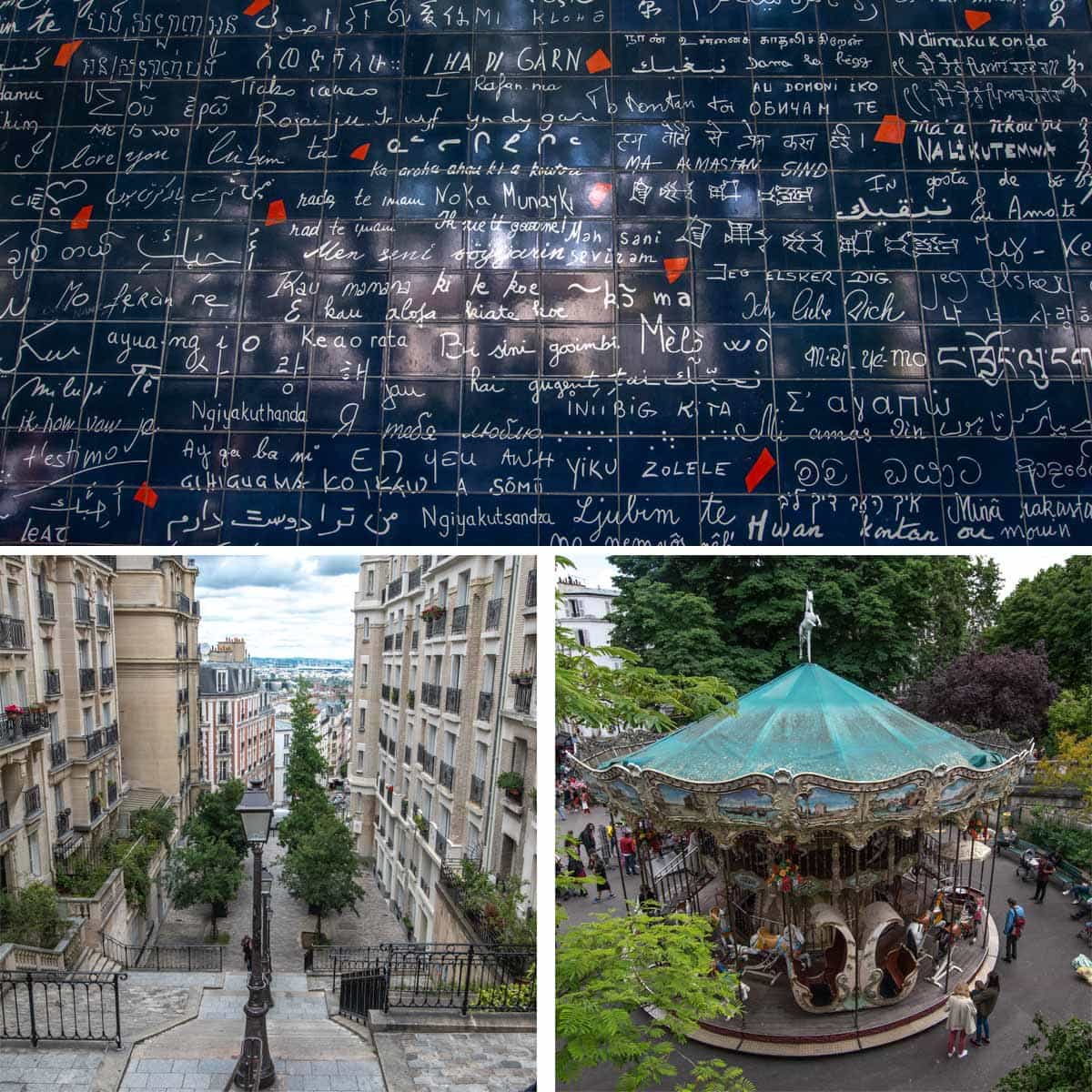 The Sacre Coeur Basilica
The biggest highlight of Montmartre and another iconic symbol of Paris – the Sacre Coeur Basilica is the next stop on our 4 days in Paris.
The entirely white basilica is dedicated to the heart of Jesus, and it's the second most visited church in Paris (at least when Notre Dame is open). It stands at the top of the hill of Montmartre, and it's also the second-highest point of the city (behind the Eiffel Tower).
And while the basilica comes second in those rankings, its architecture is second to none. Built in romano-byzantine style, Sacre Coeur was inspired by Saint Sofia (Istanbul) and San Marco (Venice). The entirely white exterior completes the majestic luminance of this astonishing place.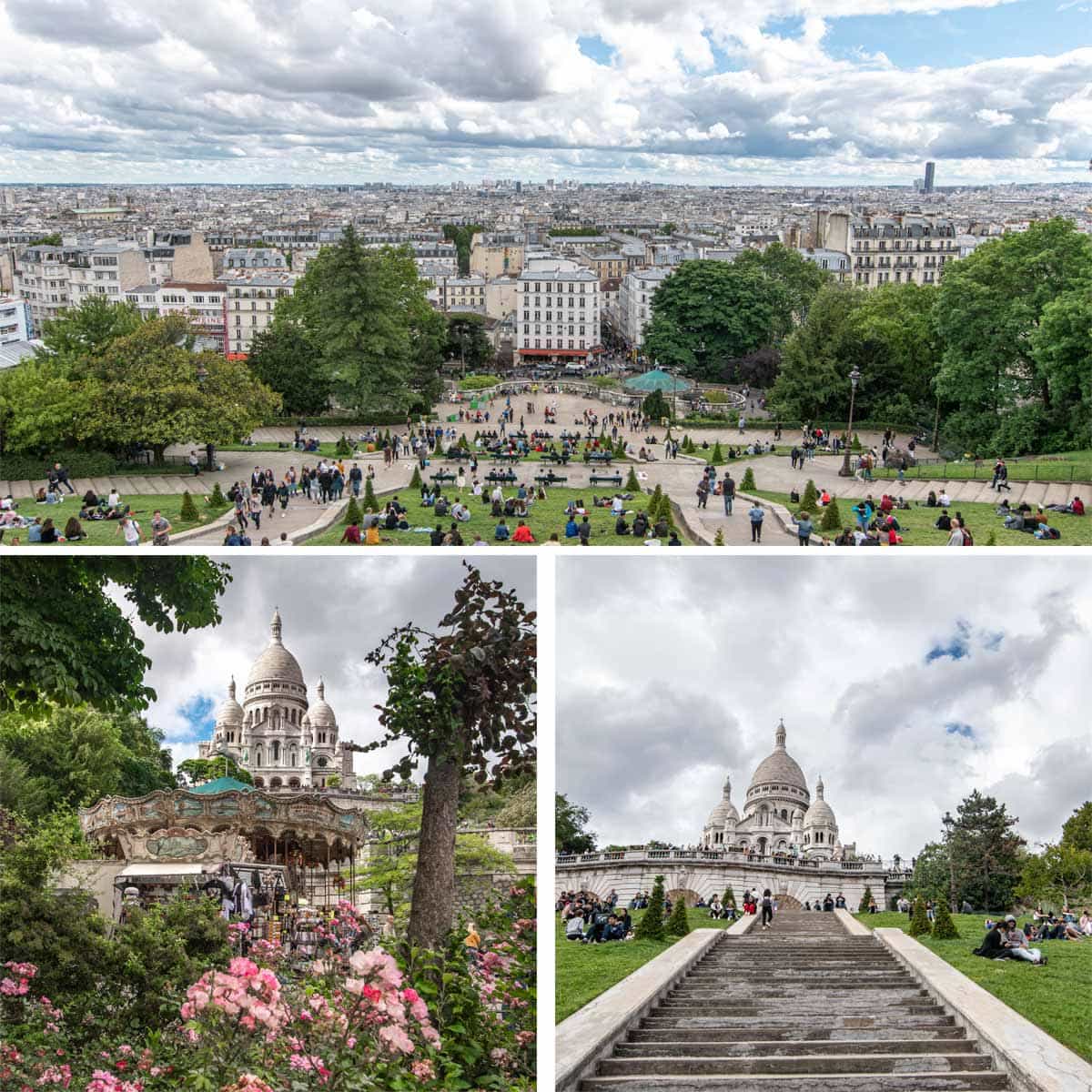 Working Hours:
Church
Mon – Sun: 6:30 AM – 10:30 PM
Dome
Daily from 10:30 AM to 8:30 PM (June to September)
Daily from 10:30 AM to 5:30 PM from November 1st.
Prices:
Church: Free
Dome: 5 EUR (300 steps, no elevator)
Castaway Tip
Honestly, the Basilica is not as glorious from the inside as it's from the outside. If the line is too big, I suggest skipping it. The hill presents a marvelous panoramic view of Paris and this is the main highlight of the place. Yes, the real magic of Sacre Coeur is the steps that lead there. One of the most popular spots to relax and enjoy a bottle of wine.

Moulin Rouge
The last event in our 4 days in Paris would be a memorable one. Famous all over the world, Moulin Rouge was founded in 1889 and went through several transformations before becoming the global symbol that it is today.
The idea behind Moulin Rouge was simple. The creators of the place wanted to attract an audience that just wants to have fun. They served champagne during the shows and allowed people from the audience to go on stage. The whole place had an extravagant design and even an elephant in the garden.
Unfortunately, the place burned out in 1915 just to be replaced ten years later with a theater that later became a dance club.
The legendary cabaret we have today exists thanks to Georges France and Vincent Auriol who decided the renovation of Moulin Rouge should bring back the original idea – to attract people who just want to have fun!
Where to Stay in Paris
Paris has thousands of beautiful hotels. If you're willing to break the bank, it's easy to find a luxurious hotel with perfect conditions. What I'm gonna suggest here are hotels who (in my opinion) have the X factor to excel your Paris experience but won't cost a small fortune to stay.
---
Résidence Charles Floquet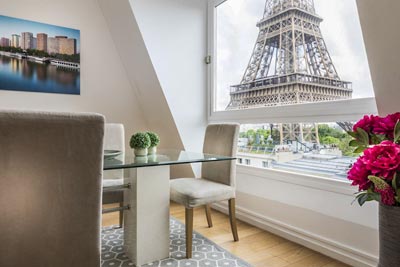 If you are a small group, the Charles Floquet apartments are absolutely the best option in town. Located 50 meters from the Eiffel Tower, the flats offer spacious and modern rooms and a charming rooftop terrace. If you're a group of 8, get the deluxe apartment and have bedrooms with an Eiffel Tower view for around 100 EUR per person!
Check out the latest price
---
Hotel Le Notre Dame Saint Michel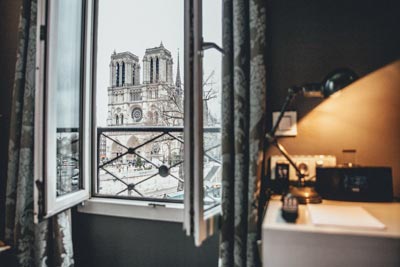 Located next to Notre Dame, this hotel offers not only a perfect location in the center of Paris but also a unique art experience. "Cobblestoned" floors, bright walls, and windows overlooking the more famous church in the world! Count me in!
Check out the latest price
---
Elysées Union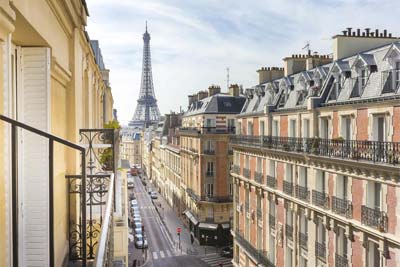 Another amazing place with an Eiffel Tower view, hotel Elysées Union is housed in a typical 19th century Paris building and offers all you need to have a perfect vacation. Soundproofed rooms with classic French decor, delicious continental breakfast, 24-hour reception, and a metro station a hundred meters away make this hotel one of the very best options for your 4 days in Paris.
Check out the latest price
Want to explore more options in Paris?
See the best-located hotels in town
Paris Tours
– The Dark One: Paris may be the "City of Light" but its alleys hold plenty of dark stories. This unique tour will show you the other side of Paris, its myths and legends.
– The Cabaret One: Spend the night at Lido and enjoy one of the best shows in town. The gracious dance of the Bluebell Girls and the Lido Boys is a guarantee for a good time. And there is half a bottle of Champagne to help too.
– The Cemetery One: Explore one of the most famous cemeteries in the world with this one. I didn't put it in the 4-day itinerary because I don't think it's something that should be explored on your own. With a guide tough, the Pere Lachaise cemetery is quite an interesting place to visit.
– The VR One: This is quite a unique experience. Put your VR headset, fuel your jetpack, and explore Paris the way you never imagined possible! Very cool thing to do for a reasonable price.
– The Vintage One: Another unique experience would lead you through off-beaten Paris. Explore Place des Vosges, Marais, Arènes de Lutèce in style with this 2-hour, Citroen 2CV tour.
The Wine One – Paris wines are worldwide famous. So is there a more Parisian tour than a wine tasting tour? I don't think so. This tour is not even a tour but a workshop that will teach you history, aromas, terroir, and the specific ways different wines are made and turn you into a proficient sommelier.
More than Four Days in Paris
You have more than 4 days in Paris, or you want to replace something on the itinerary? Not a problem, Paris has plenty to offer.
Le Centre Pompidou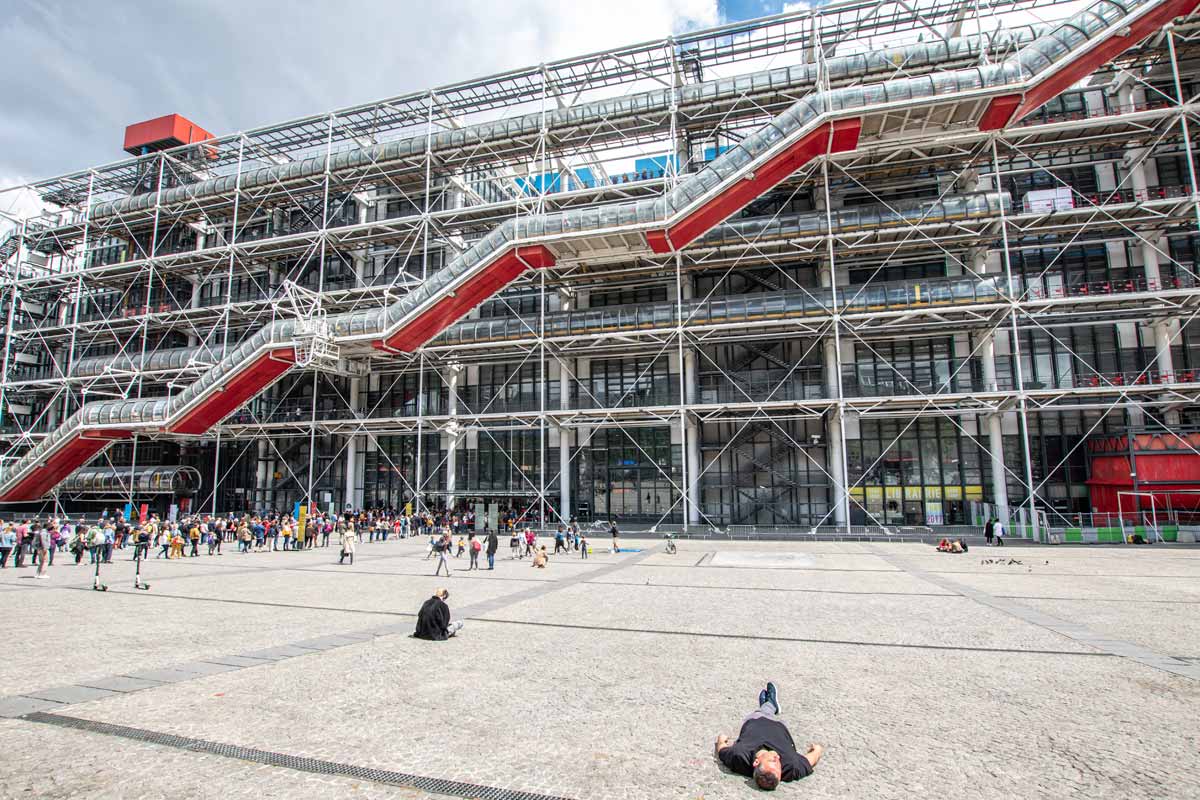 The Pompidou Centre is an odd building located in the 4th arrondissement of Paris that hosts the Public Information Library of Paris and the biggest modern art museum in Europe – Musée National d'Art Moderne. It's also designed to be inside-out.
Described by National Geographic as "love at second sight" Le Centre Pompidou is one of the weirdest constructions in Paris and a must-see for every modern art enthusiast.
Working Hours:
Wed – Mon: 11:00 AM – 9:00 PM (except Thursday when the museum is open until 11:00 PM)
Tuesday – Closed
Prices:
Regular – 14 EUR / Reduced – 11 EUR
Online ticket – 14 EUR
59 Rivoli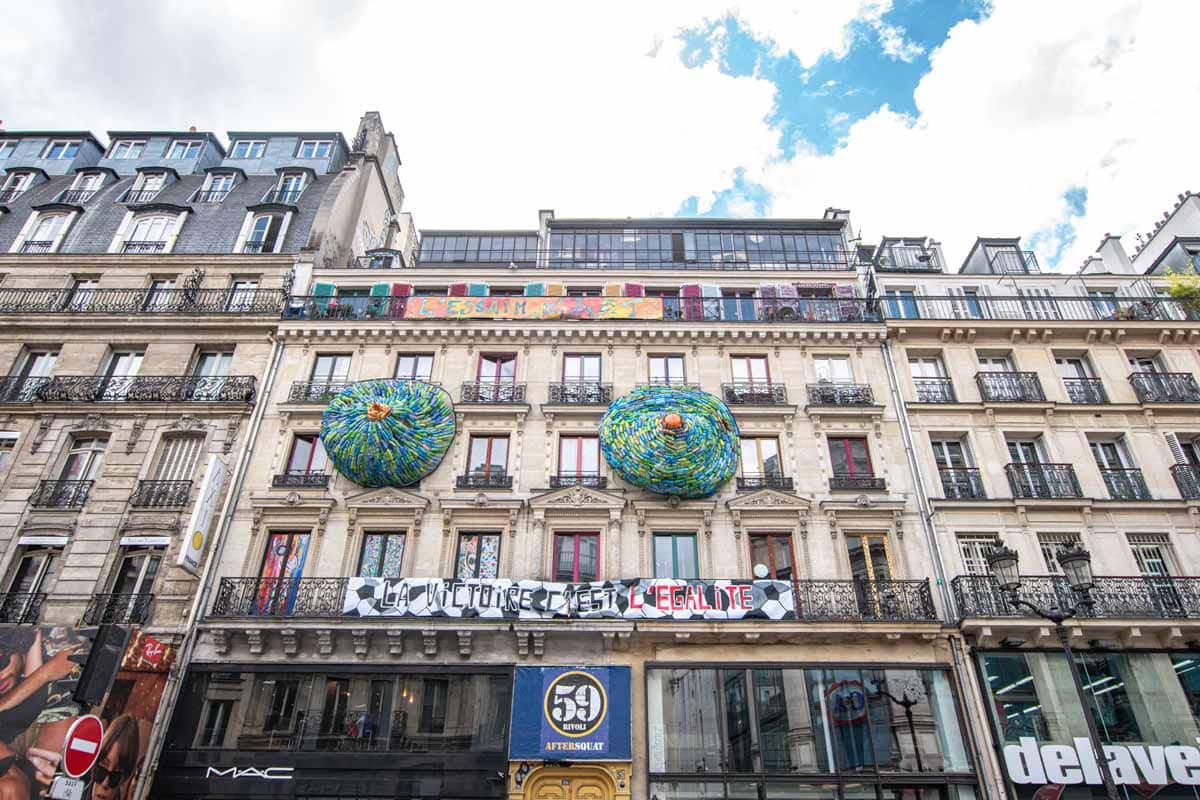 If you stumble upon a mid-1800s Haussmann era building with a snake, face or breasts on its facade, don't be confused. You found 59 Rivoli.
An artist squat of over 30 artists that pay minimum rent to live and create in the heart of Paris. If you need more art for your 4 days in Paris, you're free to go in and explore six floors full of fantasy.
Working Hours:
Tue-Sun: 1:00 PM – 8:00 PM
Monday – Closed
Prices:
Free
Nicholas Flamel House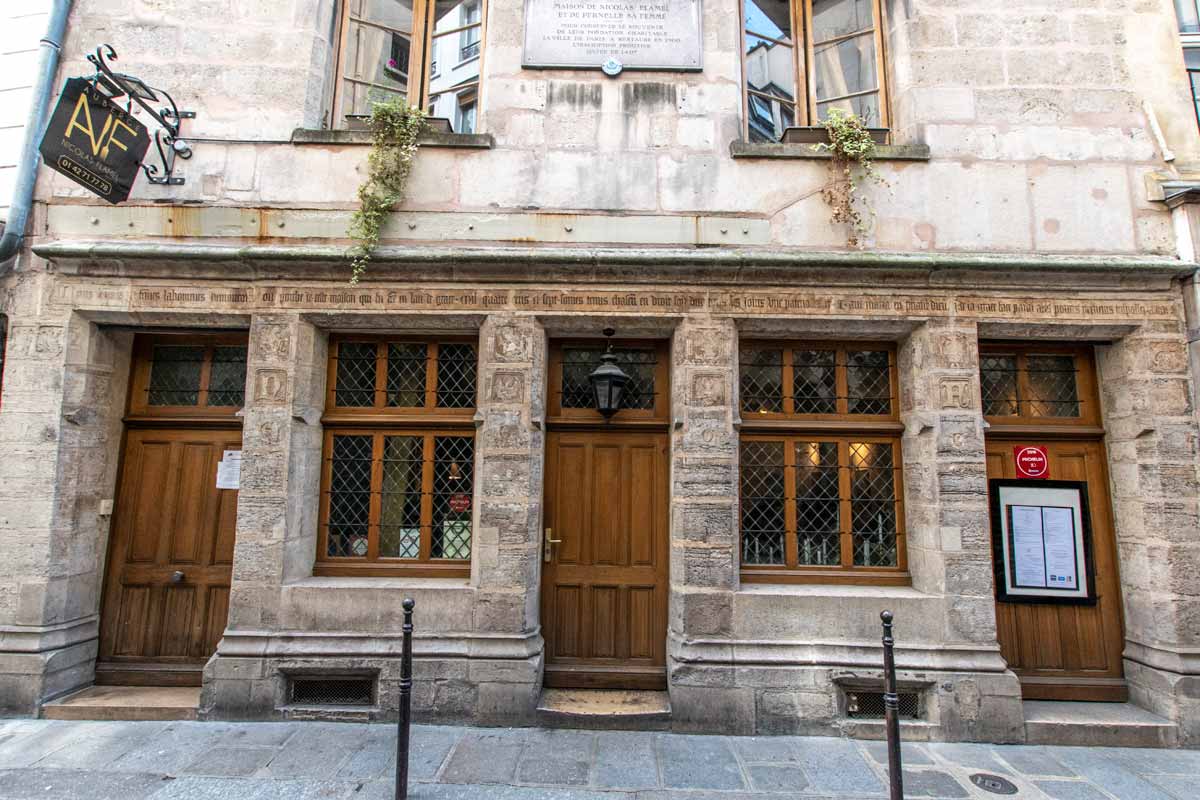 Alchemists were those weird semi-scientist, semi-magician guys from the middle ages who devoted their entire lives to the search of a mythical item that can turn metal into gold and produce an elixir of life (apparently doing just one of those things was not enough).
Nicholas Flamel is the most popular alchemist of all time that was even featured in the Harry Potter series. The legend says (and J.K. Rowling confirms) that he actually managed to find the Philosopher's Stone and he is still alive today.
His house in Paris still stands, and today it's turned into a Micheline star restaurant. If you're a foodie and you fancy a curious dinner in the oldest house known to date in Paris, the home of Nicholas Flamel is your place.
Working Hours:
Lunch – from 12:00 PM to 2:30 PM
Dinner – from 7:00 PM to 10:30 PM
Reservation Info:
Tel: 01 42 71 77 78
mail: flamel@yahoo.fr
Musée Rodin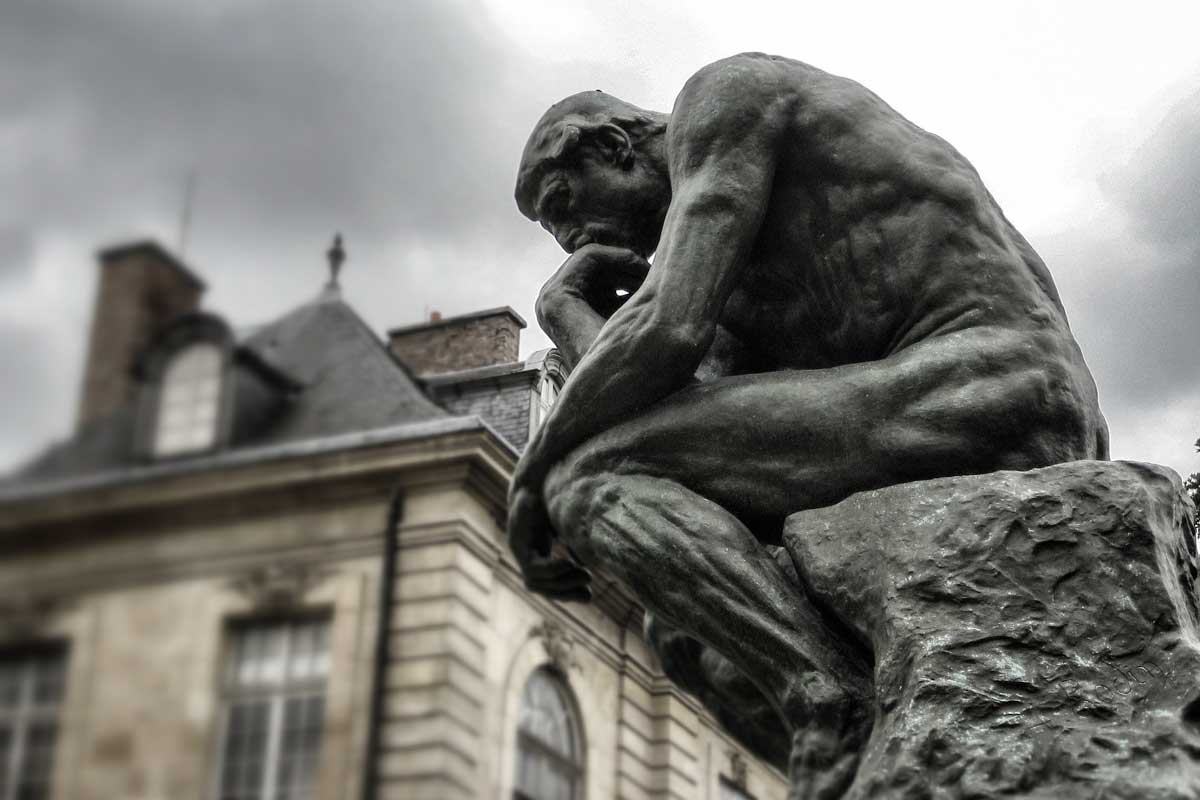 If you prefer sculptures instead of paintings, you can change one of the museums within the 4-day Paris itinerary with one of the very best sculpture museums in the world – the Rodin Museum.
Opened in 1919, the museum is dedicated to the works of the French sculptor Auguste Rodin who is considered among the most prominent sculptors of all times. His most influential masterpieces – The Gates of Hell, The Kiss, and my favorite, The Thinker can all be found in the museum.
Les Invalides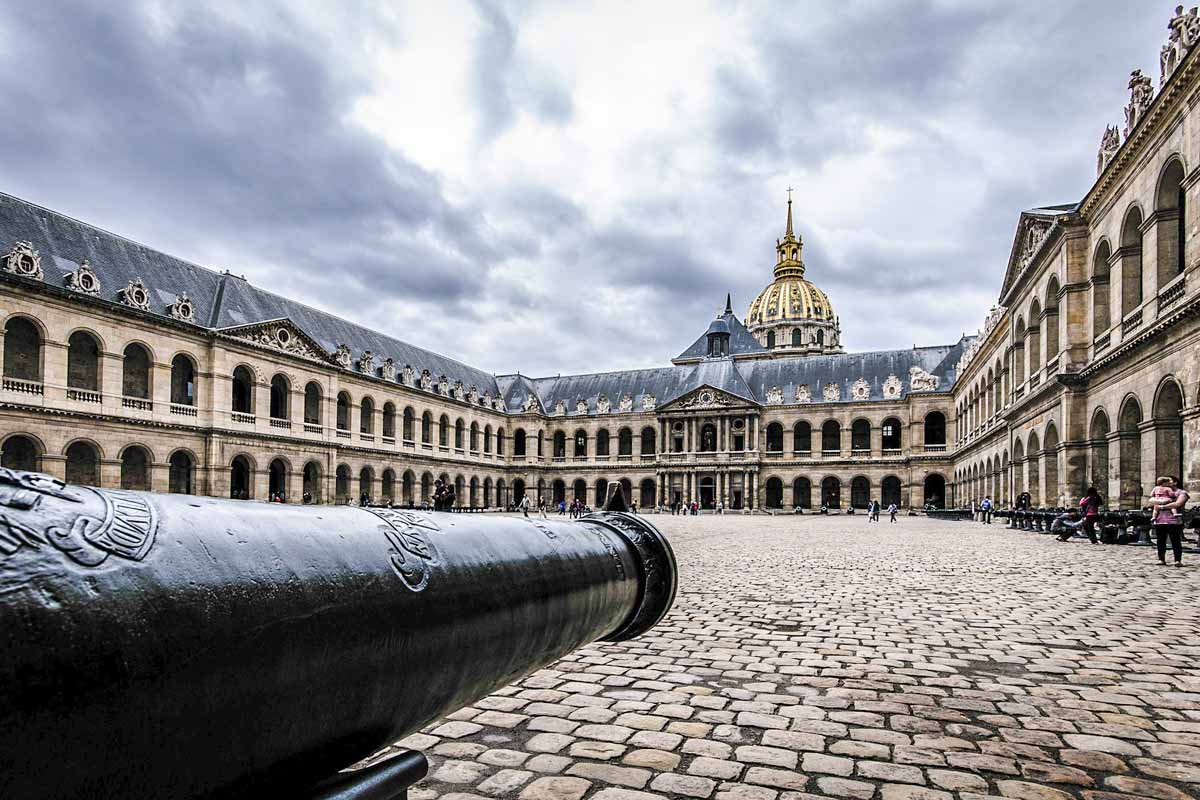 Les Invalides used to be a royal chapel commissioned by Louis XIV and completed in 1677. In 1800, Napoleon turned the place into a pantheon of military glories. Today, the building hosts the Military Museum of Paris, the biggest attraction of which is the tomb of Napoleon himself!
Working Hours:
1 October – 31 March
Mon-Sun from 10:00 AM to 5:00 PM

1 April – 30 September
Mon-Sun from 10:00 AM to 6:00 PM
Closed every first Monday in the month.
Prices:
Regular: 12 EUR / Reduced: 10 EUR
Online priority ticket with a guide: 12 EUR
Paris Pantheon
A monument in the 5th arrondissement, The Pantheon has been a burial ground for notable French figures since the French Revolution. The famous graves you can explore there today include Victor Hugo, Marie Curie, and Alexandre Dumas.
Working Hours:
15 June – 30 September
Mon-Sun from 10:45 AM to 7:00 PM

1 October – 31 March
Mon-Sun from 10:00 AM to 6:00 PM

1 April – 14 June
Mon-Sun from 10:00 AM to 6:30 PM
Prices:
Regular: 11.50 EUR
Free for Under 18 or 18-25 citizens of EU countries
Day-Trips From Paris
If you're ready to sacrifice a whole day in Paris for a day trip, there are plenty of picturesque villages, theme parks, and chateaus around the city. Two of them, however, stand out:
Palace Of Versailles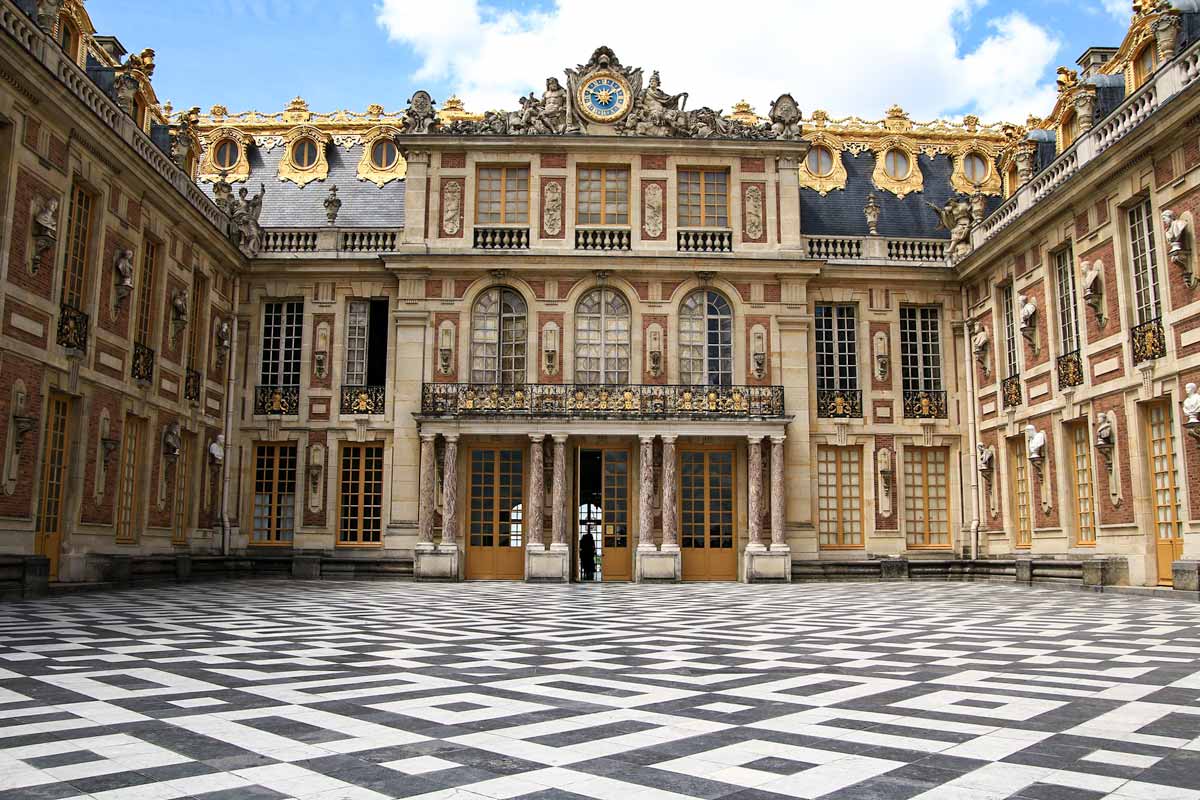 In the 17th century, the Sun King transformed his father's hunting lodge into a palace so beautiful and opulent that nowadays, it's a synonym for a luxurious lifestyle
Explore the lavish rooms and get lost in the exquisite gardens while learning more about the former inhabitants of the palace. Legendary figures like Marie Antoinette and the Sun King all used to call the Versailles Palace home and left their mark on it.

Lines for the Palace Of Versailles are not something to be taken lightly. Just like most of the things in Paris, it's best to get your online ticket beforehand. There are two types of tickets – with a fixed hour and without. Get the fixed-hour ones. If you're in time you go straight in, and if you're not, your ticket is still valid, but you just have to wait in the no-fixed-hours line (the same one you have to wait if you get the other ticket).
And if you want to learn more about all the gorgeous and pompous things you're about to see in the palace, I strongly recommend getting this guided tour. The guides are among the best in Paris and their personal approach to every visitor guarantees a plesant experience.
Working Hours:
Palace
Tue-Sun: 9:00 AM -5:30 PM
Gardens
Tue-Sun: 8:00 AM -6:00 PM
Trianon Estate
Tue-Sun: 12:00 PM -5:30 PM
Monday: Closed
Prices:
There are multiple prices so better find the best one for you on the official site or book yourself a guided tour (you can choose a secret rooms visit here!)
How to get there?
Get the public train from Paris to Versailles-Chteau rive gauche station stop (RER C – the yellow line)
Disneyland Paris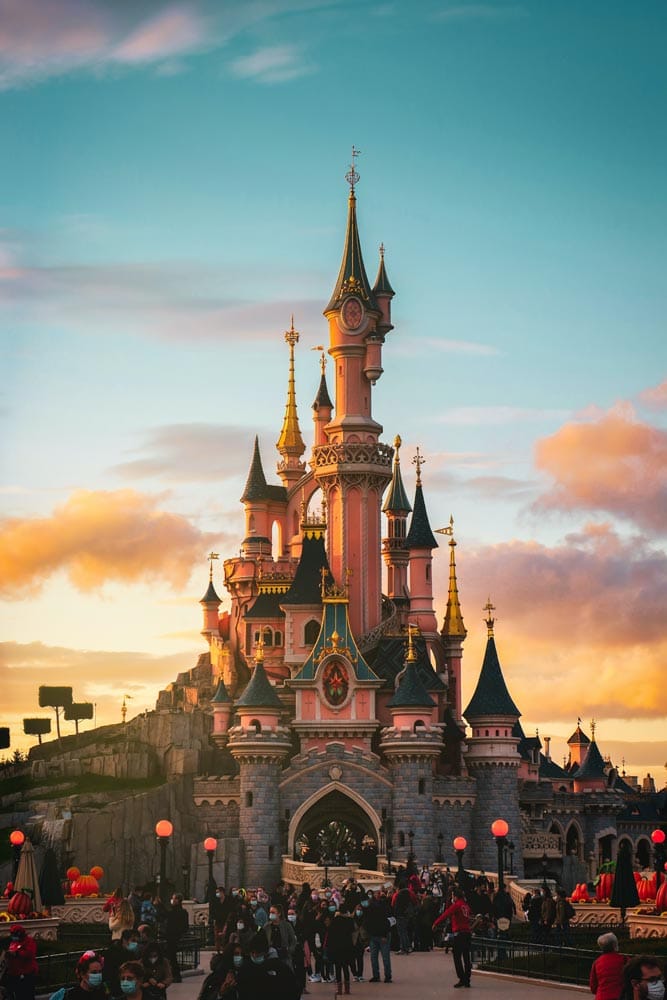 The only Disneyland park in Europe is also the most visited theme park on the continent. No matter your age, the magical land of Mickey Mouse, Donald Duck, Goofy, and friends is a guarantee to have a good time.
Working Hours:
Mon-Sun: 9:30 AM – 8:00 PM (double-check here)
Prices:
There are multiple prices, you better go to the official site to find the best one for you or explore the offers of GetYourGuide (some include private transport from Paris and back)
How to get there?
Get the public train from Paris to the Marne-la-Vallée-Chessy stop (RER A – the red line)
Paris Itinerary Map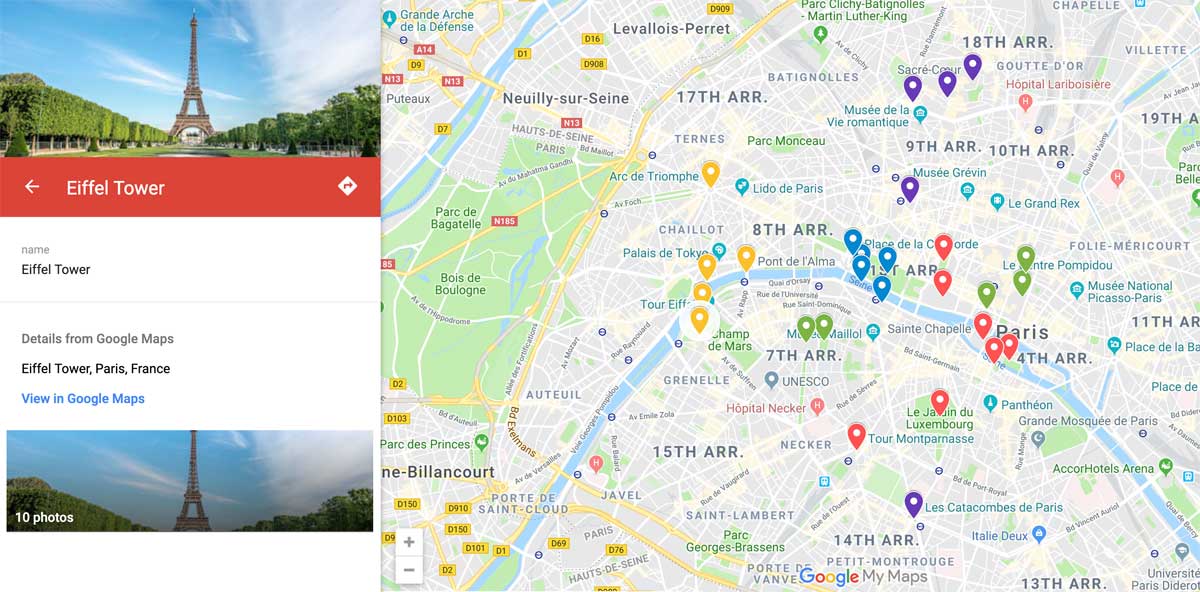 Paris FAQ
Is Paris a safe city to visit?
Absolutely! Paris is one of the safest places you can visit, and you shouldn't let the mainstream media convince you otherwise. The only thing you should be wary about in Paris is the pickpockets. Wherever there are massive tourist crowds, the pickpockets follow. Be especially careful around crowded public spaces like the Eiffel Tower or Sacre Coeur.
No matter how safe it is, it's always good to be prepared for everything and have travel insurance. I use World Nomads who have proven themselves to me more than once but honestly whichever insurance you pick would do the job to set your mind at peace.
Is Paris expensive?
Paris is very expensive. It's even ranked as the world's most expensive city to live in 2019.
But you don't have to break the bank to visit it. There are cheap Ryanair flights to Paris or Brussel (bus from Brussel to Paris is less than 10 EUR), there are Airbnb's with pretty reasonable prices and great cafes offering french sandwiches and breakfast for a few euros.
You can even save money from the museum entries if you get the Paris Museum Pass (not to be mistaken with Paris Pass which sucks). Just make sure you're gonna visit enough places to cover the price (if you follow my 4 day Paris itinerary, you will).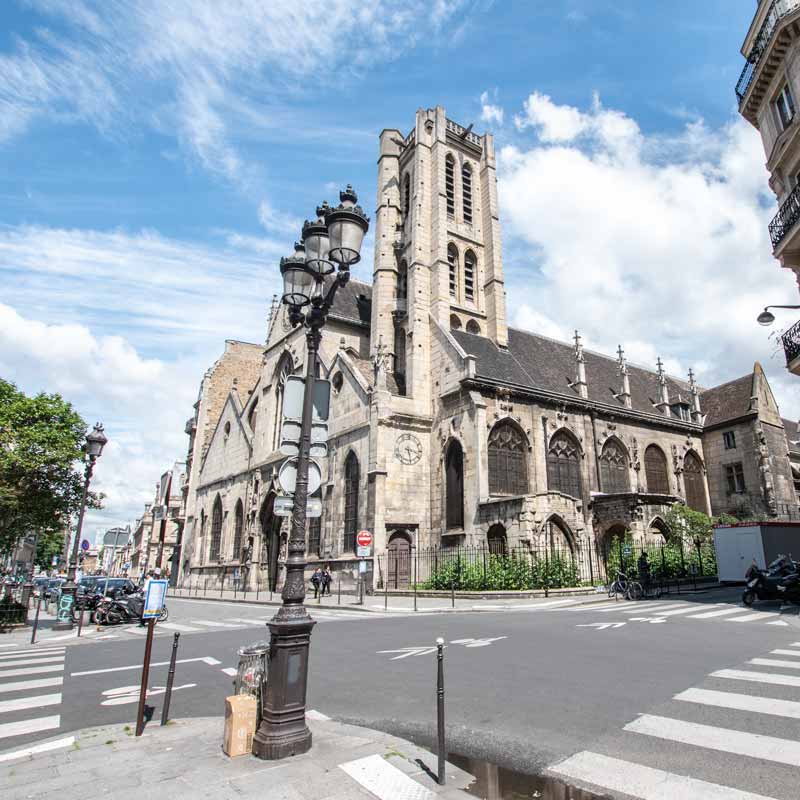 Where to store your bagage in Paris?
You have an early checkout but your flight is late? or maybe you arrive too early and you have some time to kill before check-in. Cases like that happen to me all the time so I had to find a solution to explore without carrying my huge back all the time. If you've seen some of my other guides, I strongly recommend LuggageHero. They are secure, easy to use, inexpensive, and have dozens of locations in Paris!
Check out the location near you here.
Is Paris easy to walk around?
Paris is an extremely walkable city. Big streets combined with little alleys, all designed with the pedestrian in mind. Having said that, Paris is huge, so walking everywhere may not be the best idea. This leads to our next question:
What is the cheapest way to get around Paris?
The cheapest and fastest way to get around Paris is the metro. The "City of Lights" has a very developed metro system that can take you anywhere you want in no time. The problem with the Paris metro is that it's confusing as hell for a first-time visitor. The way I managed to get around was by using Google Maps just to find out what line I need. Select the nearest metro station, zoom out, and you'll see the line color and where it goes.
Something that confused me at the beginning was the RER system. The train system of Paris is perfect for a day-trips but often uses the same stops as the metro and the colors of the lines are identical! When you check out your route, make sure there is no RER next to it.
The price for a single ticket is 1.90 EUR, and you can buy it from the machines positioned on every station. Tickets are also valid for buses, trams, RER trains (within Zone 1), and even for the Montmartre funicular.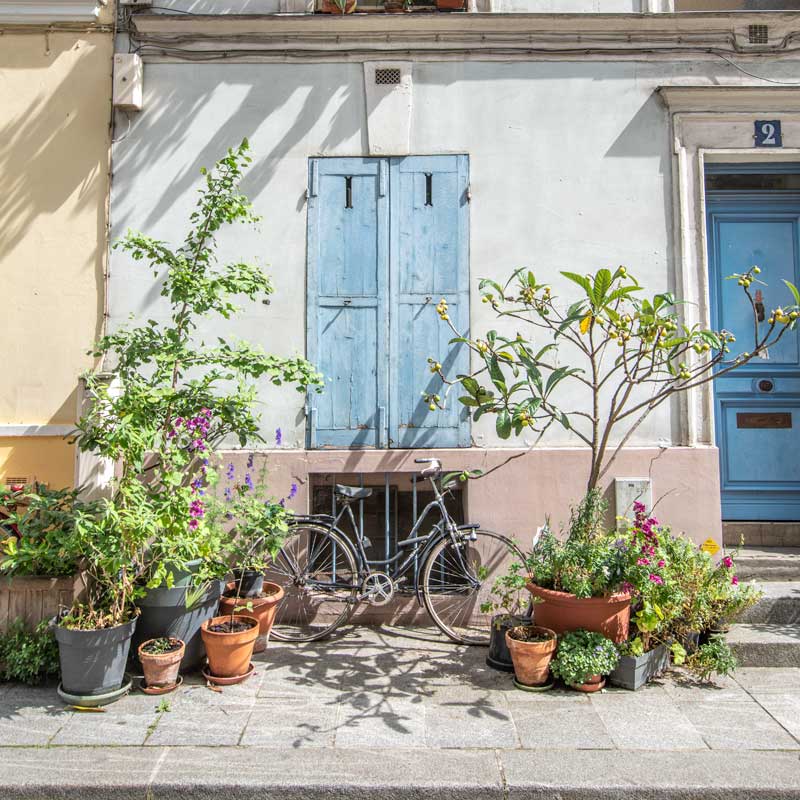 How do I get from Charles de Gaulle Airport to the city center?
The most convenient way is to use one of the RER trains. In this case, you need RER B (blue line) which you can find both on Terminal 2 and 3. Tickets cost 11.40 EUR, and you can get them from the blue ticket machines (not the yellow ones) or a ticket booth. The journey to the center should last around an hour.
Alternatively, you can also use the buses that leave in front of all terminals. They are a bit cheaper, but you risk getting into traffic.
Lastly, if you don't want to stress yourself with public transport on your first day, the best thing you can do is to book either a private or shared transfer straight to your hotel.
What is the currency in France?
France uses the Euro as its official currency.
– Can you use US currency in Paris?
No, you can't. French are very proud people, and there's no way they let you pay in USD. Even if you find a place where they accept dollars, the rate would be abysmal.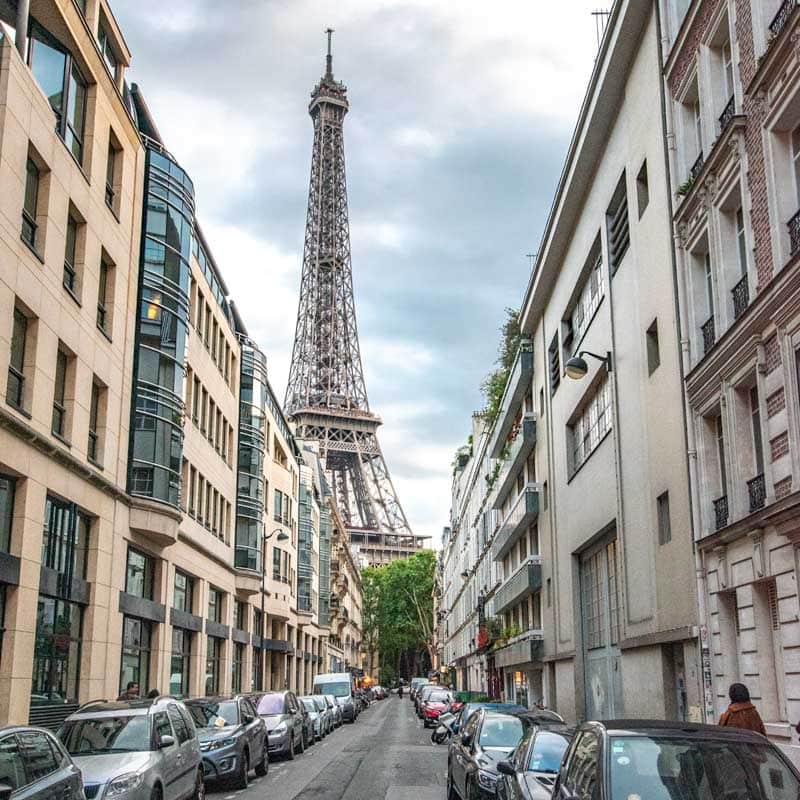 Do they speak English in Paris?
In Paris, people tend to speak French (duh). Not only that but they write everything in French neglecting English completely. Now from my experience, French people do speak English, or at least understand it.
Every time I wanted to order or buy something, I used English, and even though they replied in French, they always understood me. So my conclusion is that most of the people in Paris do know English, however, they don't like to use it.
That's all from me, I hope you enjoy your 4 days in Paris. To get your even more Paris-excited I reccomend checking my awesome Paris quotes collection.
————————————
If you haven't planned your trip there yet, find out how I plan my trips!
————————————
I have 32 bucket list ideas for France. See my impossible bucket list of 1700+ adventures!

Is Paris on your bucket list?
---
Some of the above are affiliate links and I will earn a percentage of the sale if you purchase through them at no extra cost to you. This helps keep my site running – so thanks in advance for your support!