So, you're about to spend 3 days in Vienna – the most aristocratic capital in Europe? An excellent choice. Vienna is the heart of Europe, a city of emperors and geniuses that shaped the history of the continent and left an eternal legacy.
Three days in Vienna is the perfect amount of time to taste the city spirit. You won't be able to see everything, but you'll be able to see just enough to have a wonderful trip and fall in love with the city.
In my 3-day Vienna itinerary, I'll lead you through the very best the Austrian capital has to offer. With a combination of famous sightseeings, recreational areas, and photo spots, we'll learn more about the glorious history of Vienna, will end up with a lot of awesome photos, and most importantly of all, we are going to have tons of fun!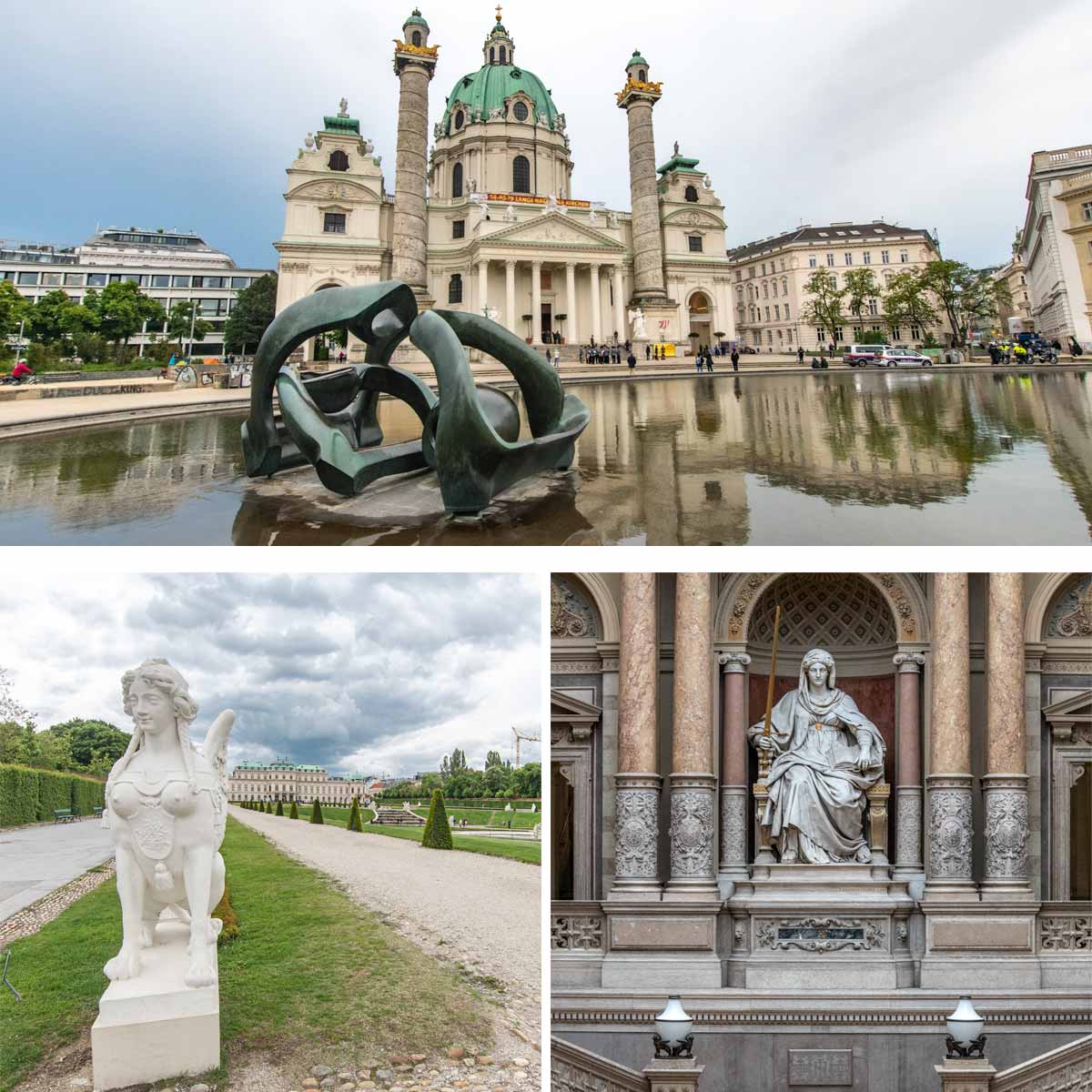 Where to Stay in Vienna
Before we start the itinerary, here are a few accommodation suggestions. In my opinion, every one of these has the X factor to take your Vienna trip to the next level!
---
Hotel Sacher Wien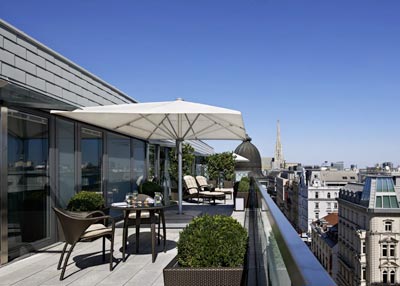 • A legendary hotel where the first Saher pastry was invented
• Still offers the best Saher pastries in the world
• Perfect location in the center of the city – right behind the opera
• Spacious rooms designed for emperors!
• World-class spa
• The hotel interior has world renounce paintings and antiques – basically, you are sleeping in a luxurious museum
Check out the latest price
---
Green Prater Apartments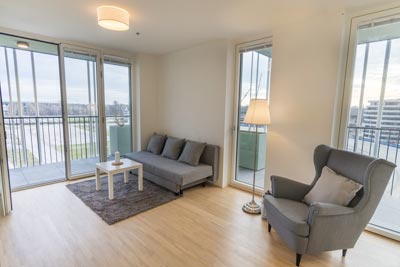 • Quiet neighborhood
• Great location next to Prater park and a metro station
• Very spacious rooms
• Airport transfer (double-check with the host)
• Private terrace with panoramic views
• Probably the best value in Vienna
Check out the latest price
---
Motel One Wien-Staatsoper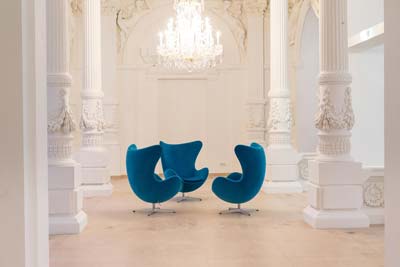 • Perfect location – 50 m from the Ringstraße boulevard and 100 m from the State Opera
• Vintage 19th-century building
• Very stylish interior that makes you feel inside a royal palace
• Highly rated
• 24-hour front desk
• Helpful, well-trained staff
• Fast Wi-Fi
Check out the latest price
Want to explore more options in Vienna?
See the best-located hotels in town
Three Days in Vienna – Day 1- Welcome to Vienna
Kunsthistorisches Museum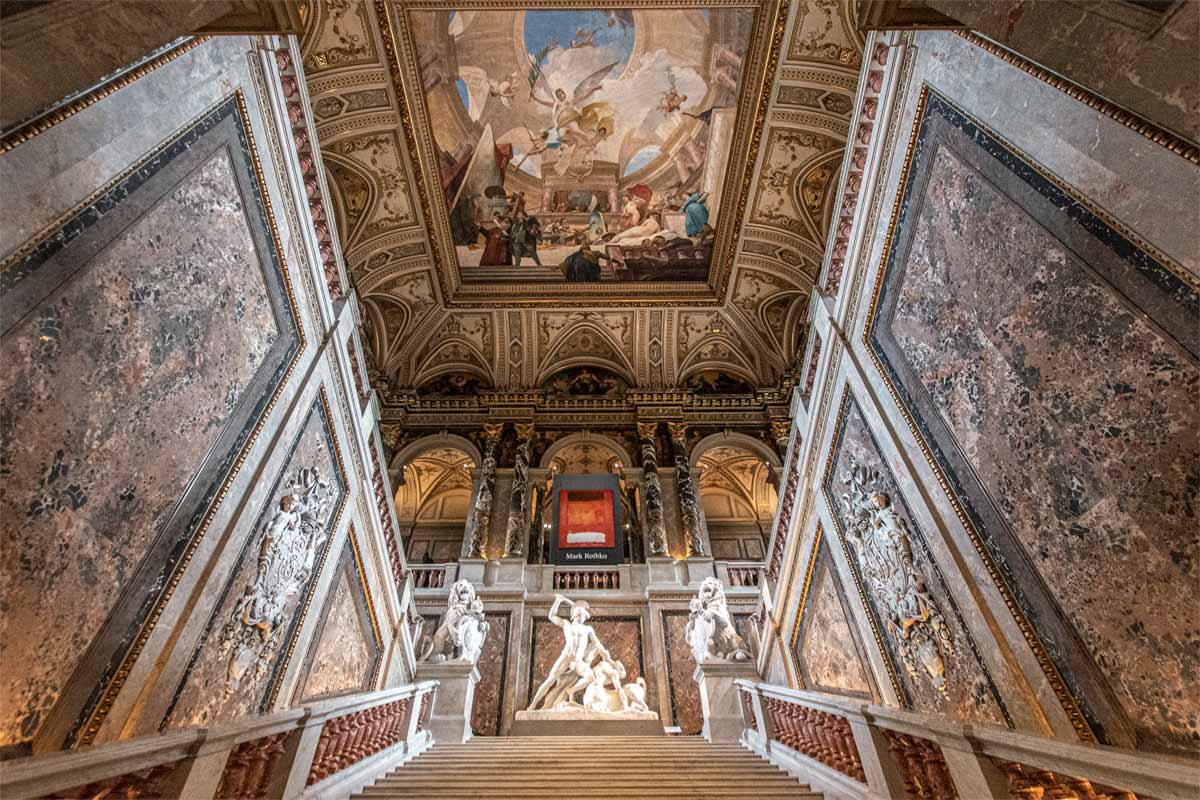 To start our 3-day Vienna itinerary the best way possible, I decided the first attraction should be my favorite one – the Kunsthistorisches Museum. You probably don't know (at least I didn't), but Vienna is full of museums. I'd say they have more museums per sq/m than any other place I've ever been to.
The Kunsthistorisches Museum (which translates to Museum of Art History) is the best one. It's so good that it went straight into my top 3 favorite museums in Europe (alongside The Louvre and The Vatican Museums).
pssst! If you're into museums one of my 10 European itineraries is perfect for you. Don't miss it!
Housed in a gorgeous palace-like building, the Kunsthistorisches Museum displays the formidable art collection of the Habsburgs alongside an impressive exhibition of Roman, Greek, and Egyptian antiquities.
Some of the most notable artists on display are Raphael, Rubens, Velazquez, Vermeer, and Arcimboldo (the guy who painted faces out of fruits).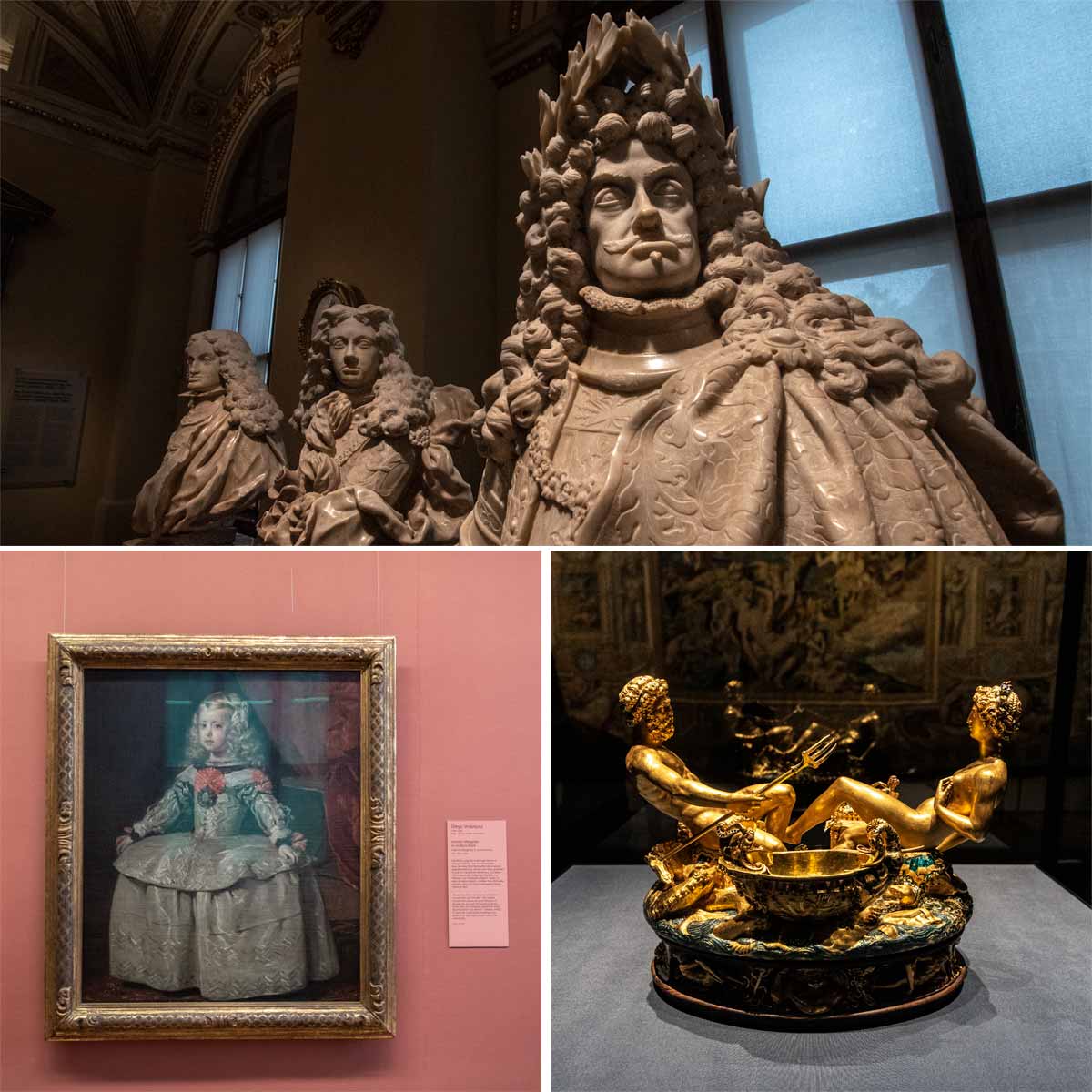 Checking out the museum should take up the most of your morning. Remember, when you start to feel burned out – it's time to leave. No need to push yourself to see it all and ruin the experience.
Working Hours:
Tue – Sun: 10:00 AM – 6:00 PM
Thursday: 10:00 AM – 9:00 PM
Monday – Closed
Prices:
Adult: 18 EUR – Get one here
Combination Ticket (includes Treasures of the Habsburgs): 24 EUR – Get one here
Under 19 – Free
More ticket options here
Stephansdom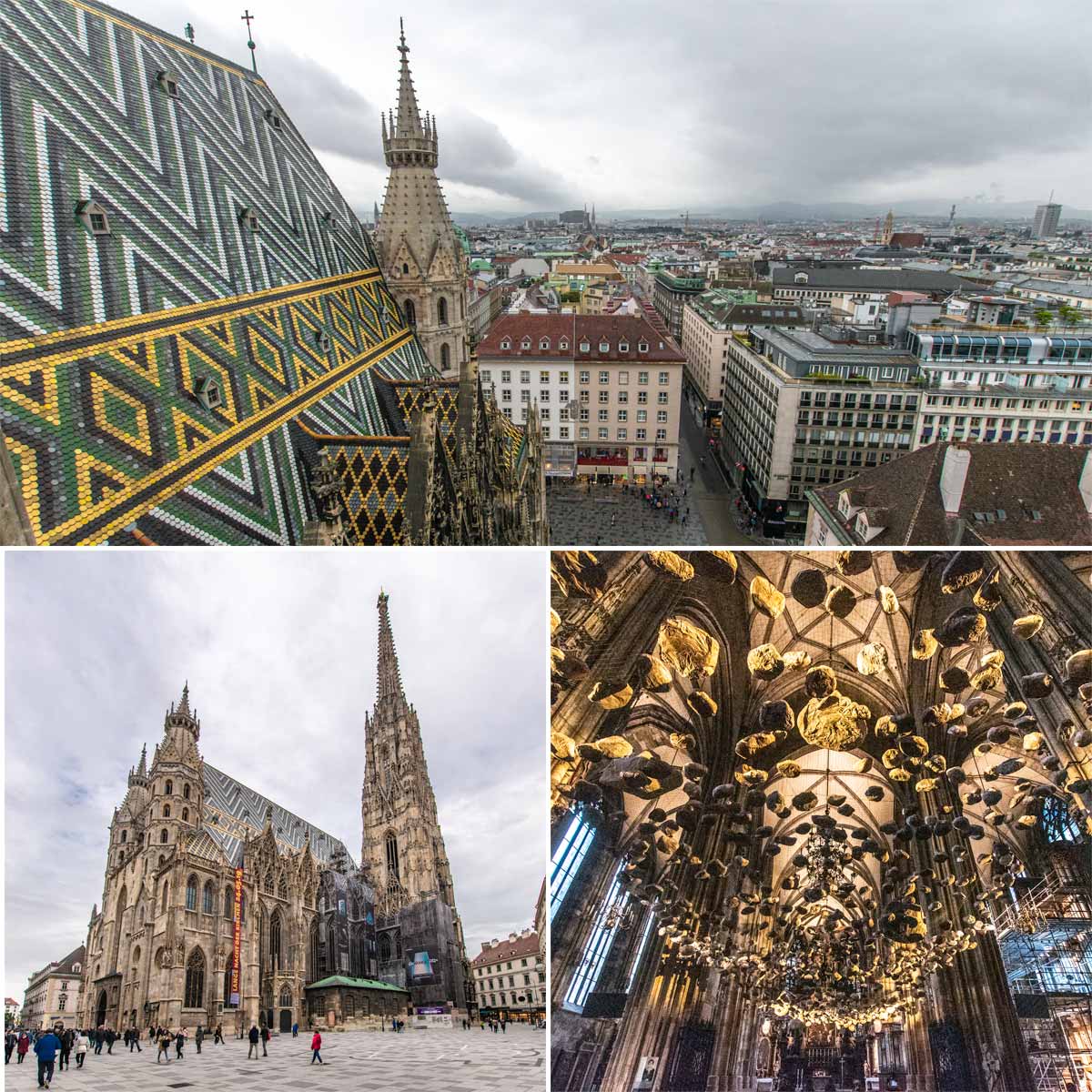 The second stop of the day is the most famous church in Austria and the seat of the Vienna's bishop – Stephansdom (St. Stephen's Cathedral). Built in 1137 the cathedral withstood many tests of time (including WWII) to amaze the visitors today with its stunning gothic design.
There are a few things you can do inside Stephansdom. You can check out the interior, you can visit the catacombs, climb to the North (this one has an elevator) and south (no elevator here) towers.
I recommend the interior walk for sure (there's a very odd art installation of floating stones) and the North tower (which opens a lovely panoramic view of Vienna's center and the iconic multi-colored tile roof).
You can only visit the catacombs on a guided tour, but quite frankly there is nothing exciting to see there. As for the south tower, there are very demanding 343 steps to climb just to find yourself in a closed gift shop area. Yes, there's still a panoramic view, but it's not that impressive behind the window.
Working Hours:
Mon-Sat: 06:00 AM – 10:00 PM
Sunday: 07:00 AM – 10:00 PM
On holidays:, 07:00 AM – 10:00 PM
Prices:
Entrance (with audioguide) – 6 EUR
Catacombs – 6 EUR
South Tower – 5.50 EUR
North Tower – 6 EUR
All in one – 20 EUR
Hundertwasser House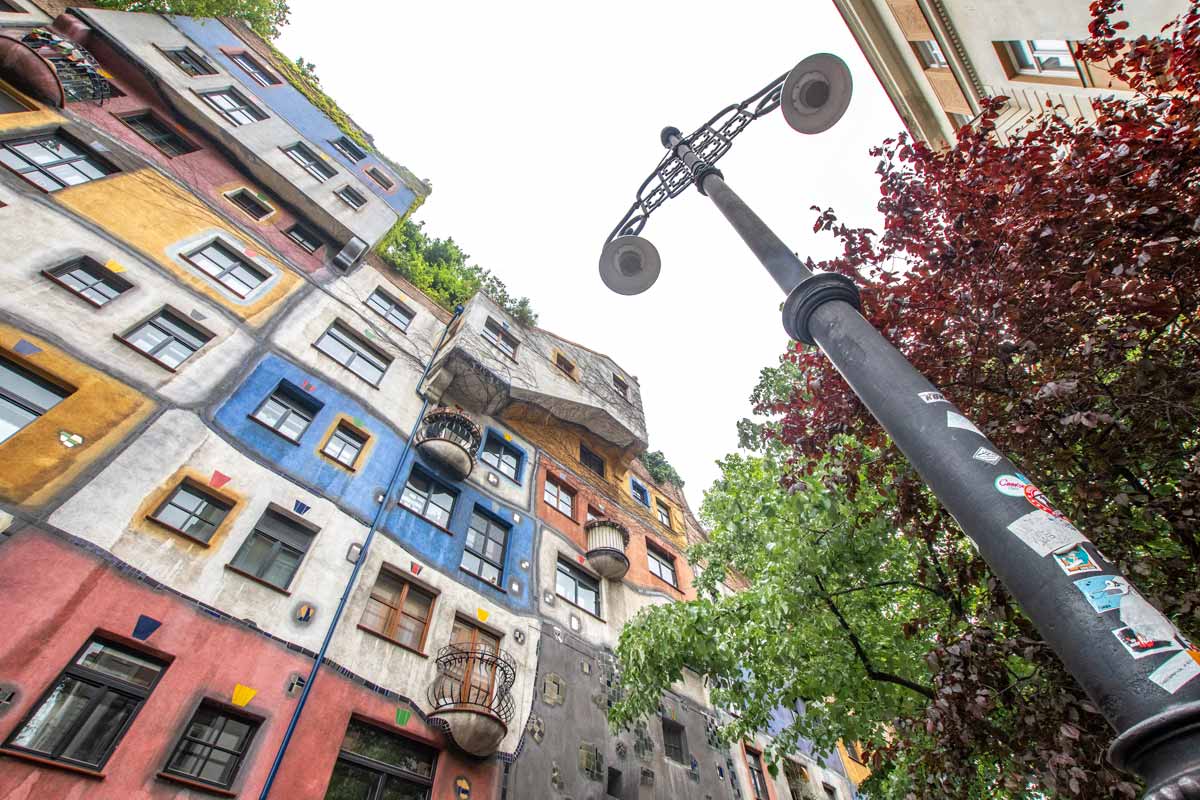 Considered to be one of Austria's architectural highlights, the Hundertwasser House is an art project of an apartment building that combines nature with Friedensreich Hundertwasser's unique expressionist architectural style.
You can't enter the house (unless you know someone who lives there), but right across it, you can find the Hundertwasser village. The village is open 365 days a year, it's free and hosts numerous stores designed in the same style.
Prater Park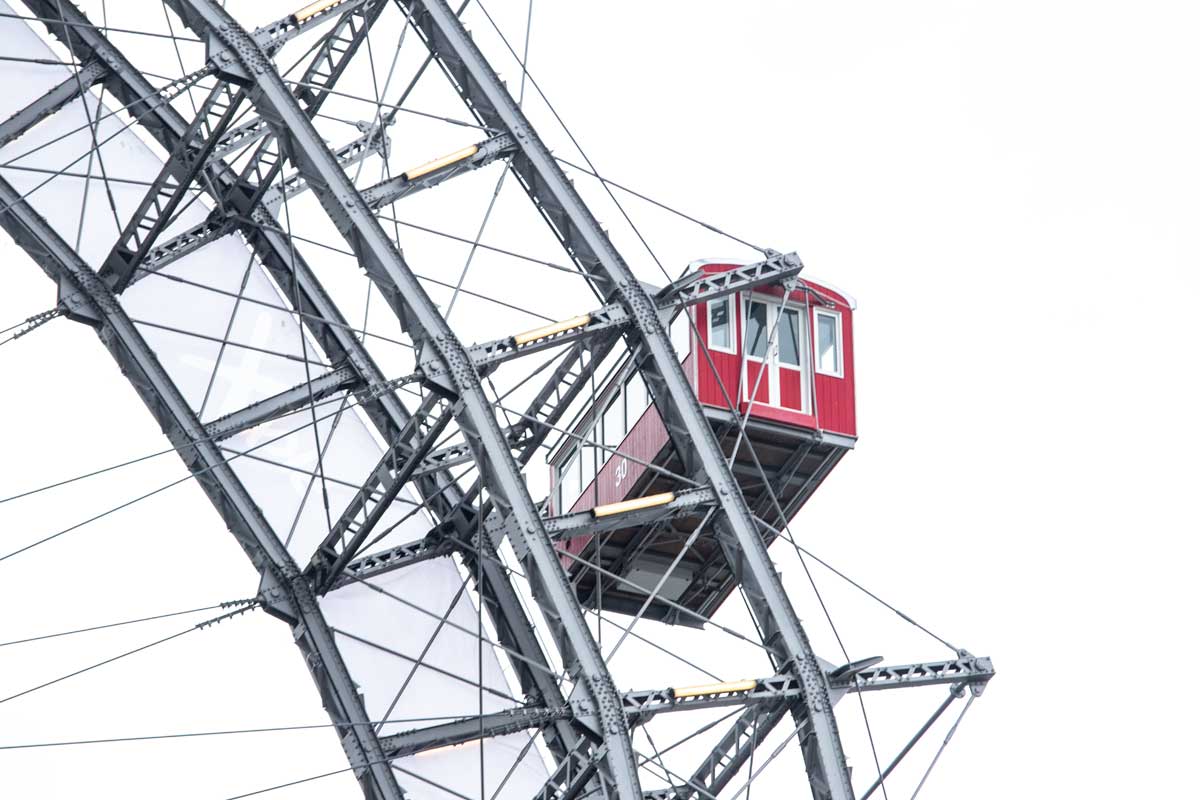 The first of our three days in Vienna would end in a park. But not just an ordinary park. Prater Park is one of the largest parks in Vienna and is also home to Wurstelprater – the oldest amusement park in the world!
It was 1766 when emperor Josef the II gifted the area to the people of Vienna, making the Prater park accessible for everyone. Shortly after Cafés and merry-go-rounds began to emerge.
Nowadays the park is open 24 hours each day, 7 days a week from January to December and is free of charge. Depending on the season some of its attractions are open from 10:00 AM to 1:00 AM with fees from 1.50 EUR to 5 EUR.
While there's a roller coaster, a Madame Tussauds Museum and even a small railway circling the park, there are two absolute must-sees:
The Giant Ferris Wheel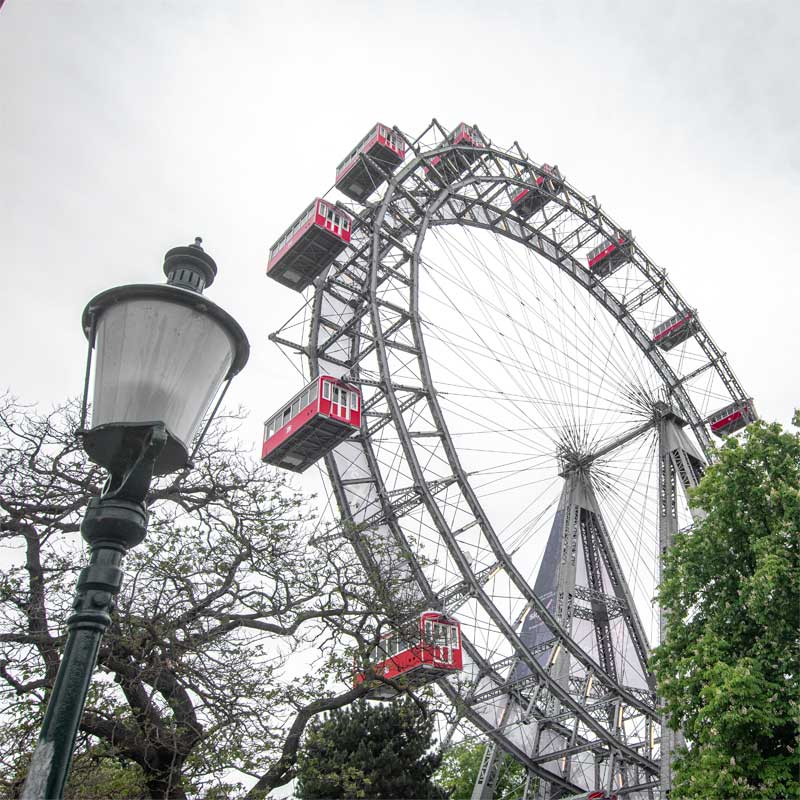 Created back in 1897 the giant Ferris Wheel is one of the biggest attractions of the city. The wheel is so big that instead of wagons – it's wheeling around tiny houses!
– Get your skip-the-line ticket here
Castaway Fact
The Viennese Wheel is so famous that in Bulgaria, all Ferriss Wheels are called Viennese Wheels.

Kugelmugel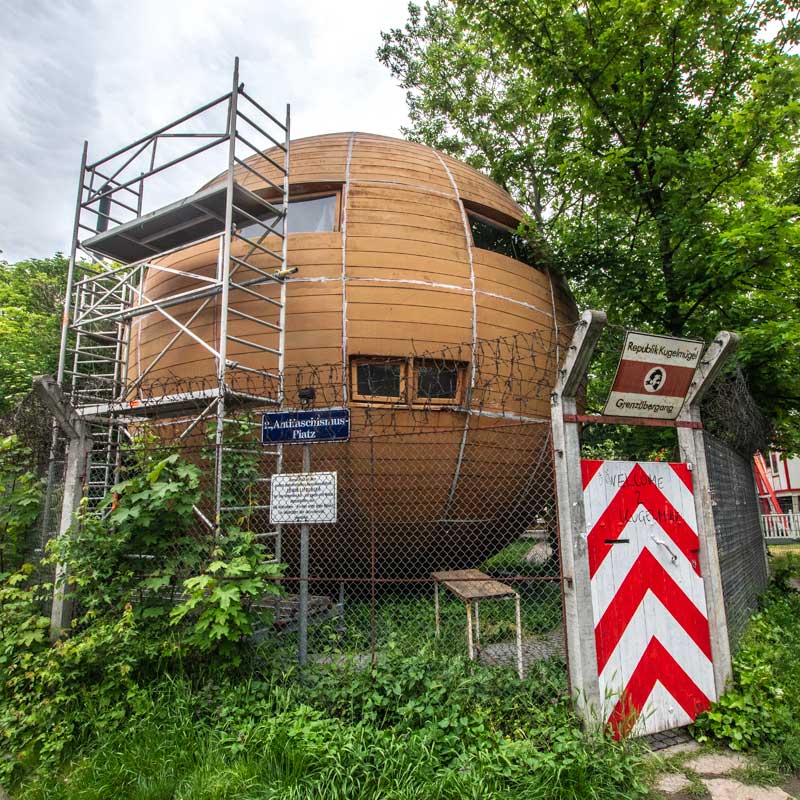 The brown sphere located in the middle of the park and surrounded by 2 meters high barbwire fences is actually another country! No joke here, the micronation declared independence in 1976 after its creator had some disputes with the Austrian government about his desire to build a ball-shaped house.
Even though the founder of Kugelmugel died in 2015, the Republic officially has a population of over 650 non-resident citizens! I wonder what the Kugelmugel passport stamp look like?
Three Days in Vienna – Day 2 – The Empire of Art
Albertina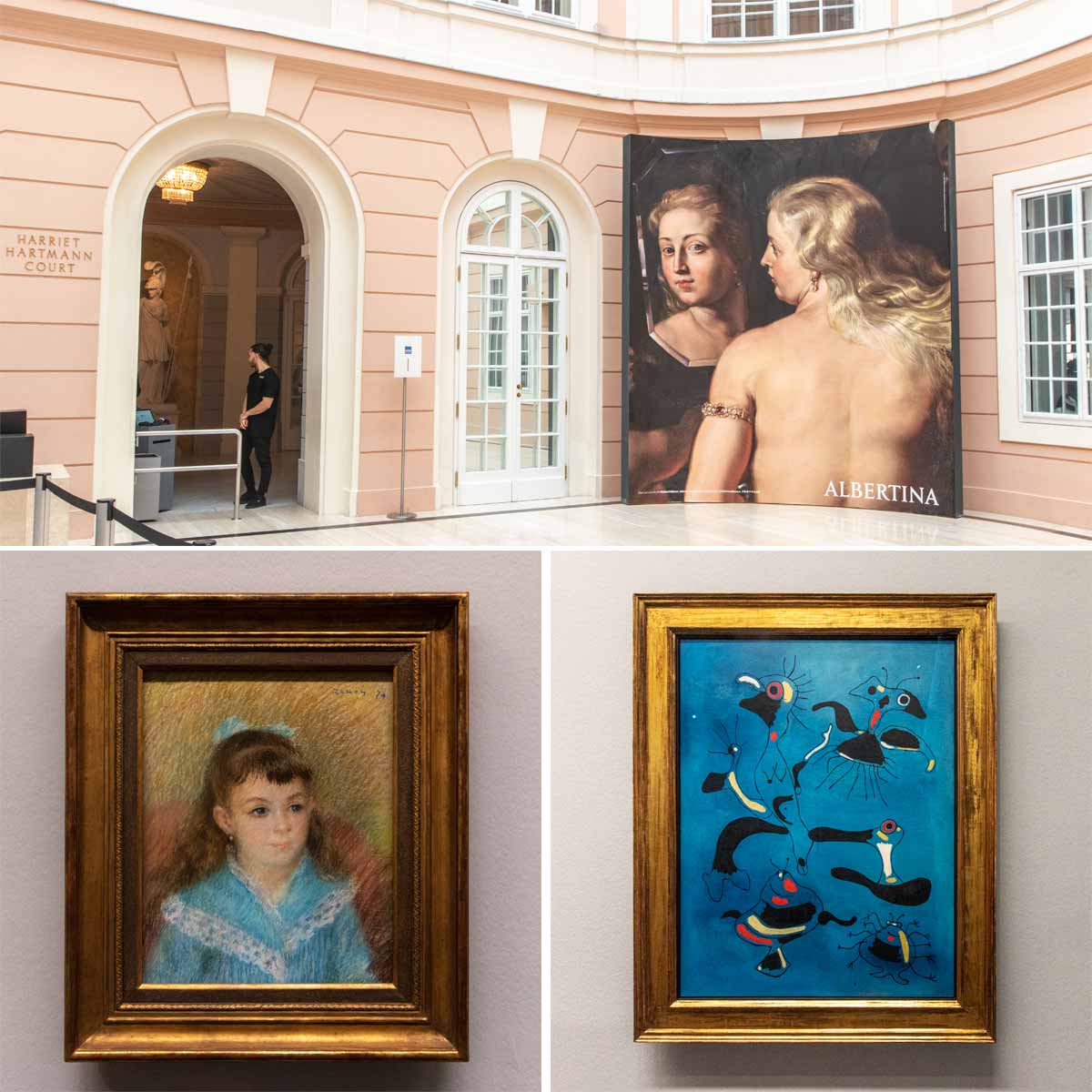 The second day of our Vienna itinerary will start with another museum – Albertina. Yes, I know, but you gotta trust me on this one. The museums I put in my itineraries are among the very best in the world, and their exhibits are simply unmissable.
Albertina was found long ago (1805) by Duke Albert Casimir and displays a beautiful collection featuring some of Monet's Water Lilies, Da Vinci's study for the last supper and the symbol of the museum – Albrecht Dürer's rabbit (Young Hare).
Working Hours:
Daily: 10:00 AM to 6:00 PM
Wednesdays & Fridays: 10:00 AM to 9:00 PM
Prices:
Regular: 18.90 EUR – Get one here

Vienna Operahouse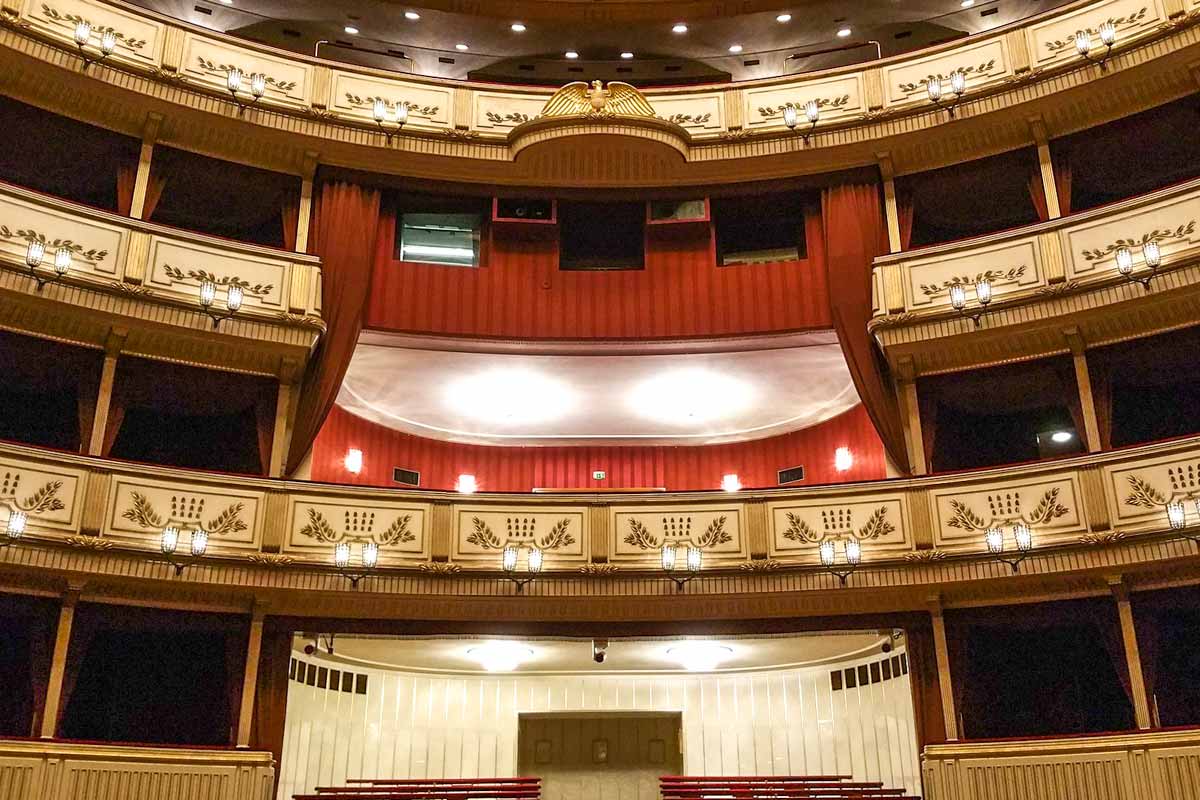 Now if you've checked any of my other European guides, you may have noticed I like to add Opera house's to my itineraries. Well, since we're exploring the city of Mozart, Haydn, and Strauss, there is no way we skip the Vienna Opera! Most of the time, I suggest just a tour around to check the Opera's beautiful interior, but if you want to enjoy a musical show, there is no better place than Vienna to do it.

Enjoying a concert in the Opera is one of the city's most popular activities. Classical music has long-lasting traditions in the Austrian capital, it's not that expensive, and it fits the whole Vienna experience.
Around town, multiple Mozart-dressed vendors would try to sell you a concert ticket. To get the best price and avoid scams, better ignore them and buy from the opera ticket desk.
Hofburg Palace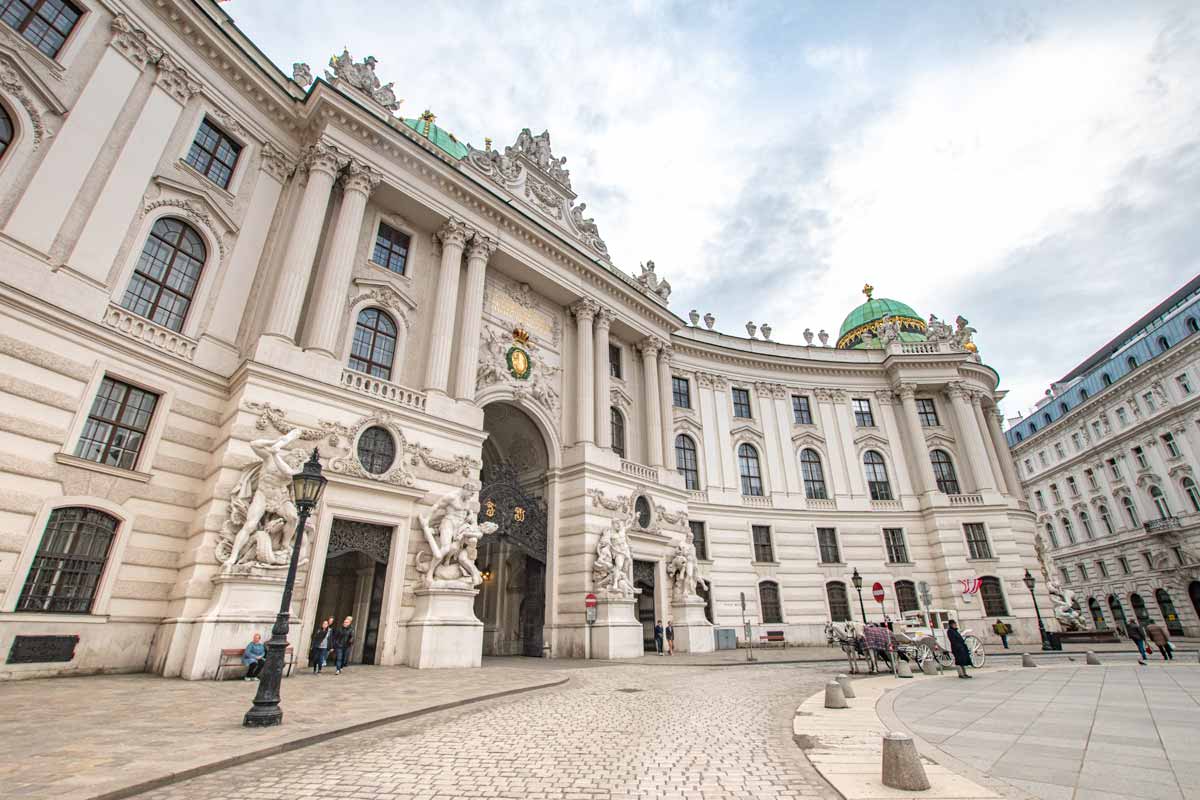 Located in the heart of the city center, the Hofburg palace complex has been THE place of power since the early days of the Austrian Empire. The principal palace of the Habsburg dynasty rulers in the past, today the palace is the official residence of the president of Austria. Being home of the president can't stop Hofburg to be a significant tourist attraction, though.
Offering various highlights, the palace is one of Vienna's biggest must-sees. If you followed my 3-day Vienna itinerary to get there, you should have time to check-out at least two of them.
Austrian National Library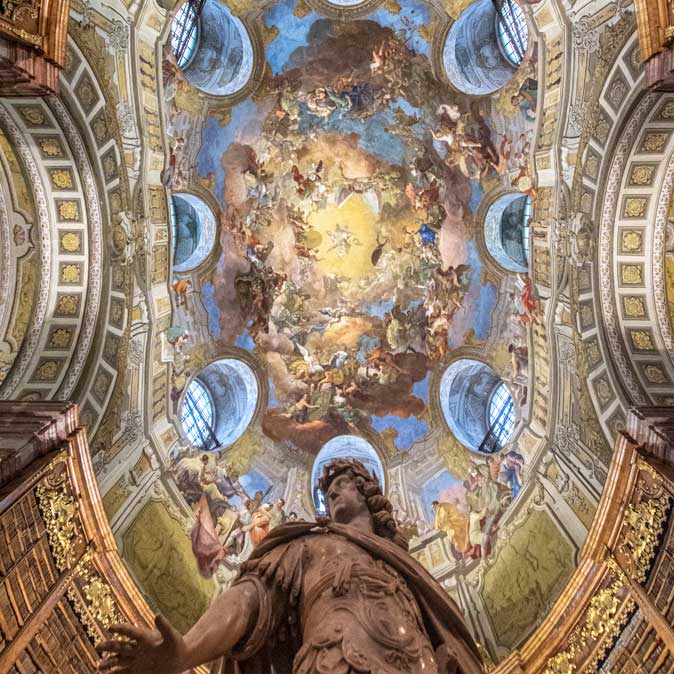 My favorite Hofburg highlight is the National Library. If you've been to central Europe before (and if you haven't you should start planing it immediately!) you probably know the middle age libraries are absolute must-sees. The Vienna one is no exception.
From the glorious cupola fresco, depicting the Habsburg emperor being supported by Apollo and Hercules, to the giant antiquarian globes, the only thing that is missing is a talking candlestick (yup, it was a Beauty and the Beast reference).
Working Hours:
July to September
Mon-Fri: 09:00 AM – 1:00 PM
Weekend: Closed

October to June:
Mon – Wed: 9:00 AM – 4:00 PM
Thur: 12:00 PM – 7:00 PM
Fri: 9:00 AM – 1:00 PM
Weekend: Closed
Prices:
Regular: 8 EUR
Family Ticket (2 adults with at least one child under 19): 13 EUR
Spanish Riding School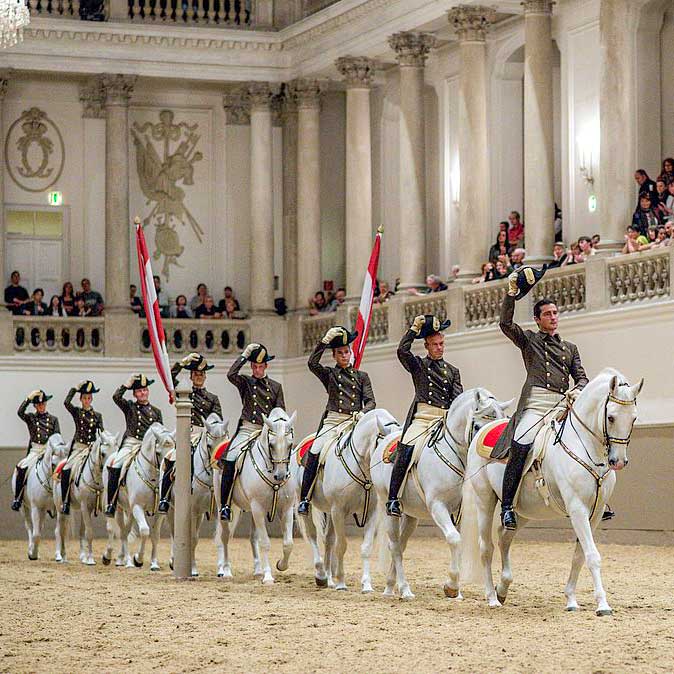 No, that's not a mistake, it really is called Spanish riding school even though it's in Vienna. And it's not even a riding school. It's more of a ballet of gracious white stallions taking place in the Hofburg Palace.
Why is it called Spanish Riding School? Because of the special horses. They were initially imported from Spain to the Lipica village (today in Slovenia) and were selectively bred just for the Royal Riding School. Today it's a famous breed known as Lipizzan.
Schmetterlinghaus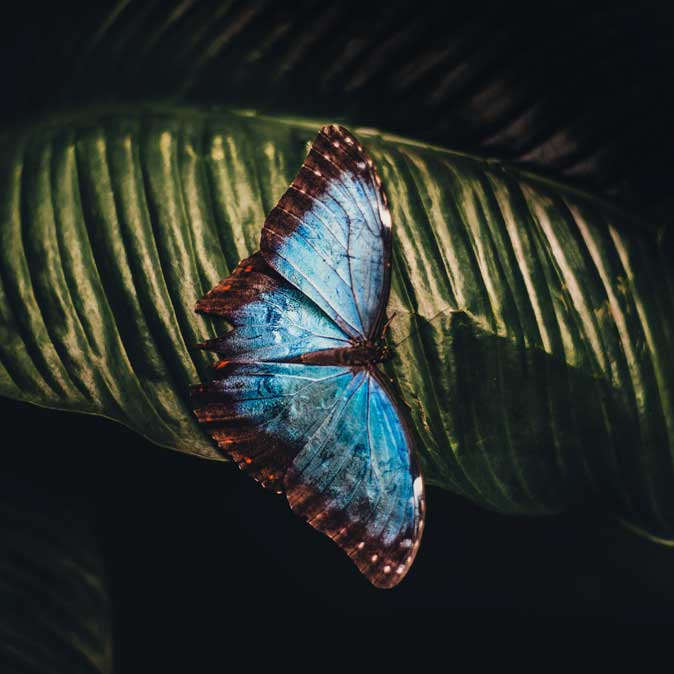 It may sound intimidating, but Schmetterlinghaus actually translates to Butterfly House. This piece of tropical paradise is located in the Hofburg Palace and is home to nearly 400 live, free-flying butterflies from all around the world.
Have in mind, however, that the Butterfly House is not that big and gets crowded very fast. If you want to enjoy the tropical paradise to the max, better get there early.
Working Hours:
April to October: Mon-Fri: 10:00 AM – 5:00 PM
April to October: Sat-Sun: 10:00 AM – 6:30 PM
November to March daily: 10:00 AM – 4:00 PM
Prices:
Regular: 9 EUR
Imperial Treasury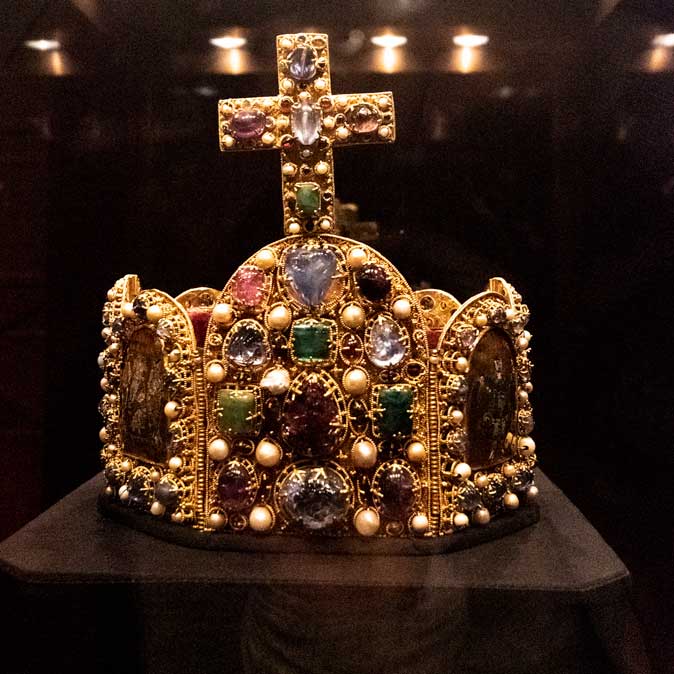 Considered to be the most important treasuries in the world, the Vienna Imperial Treasury displays two imperial crowns, the opulent treasure of the Dukes of Burgundy and the riches of the Order of the Fleece (aka the Habsburg order).
Alongside them, you can find one of the biggest emeralds in the world, the Agate Bowl (which may or may not be the Holy Grail), and a Unicorn horn (which may or may not be a narwhal tusk horn).
Working Hours:
Wed-Mon: 9:00 AM – 5:30 PM
Tuesday: Closed
Prices:
Regular: 14 EUR – Get one here
Combined with Kunsthistorisches Museum: 24 EUR – Get one here

Sisi Museum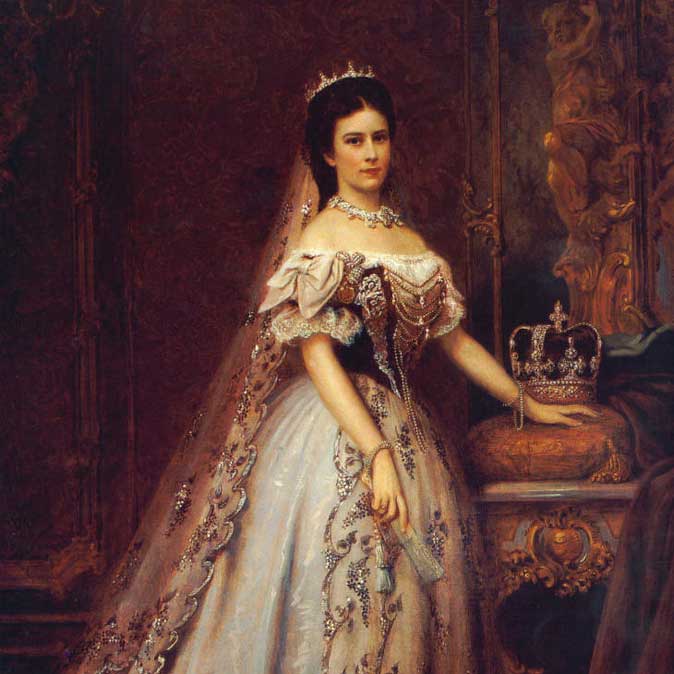 If you're a fan of Austria's most famous empress – Elizabeth (also known as Sisi), the museum hosted inside the Hofburg Palace would show you more about her restless life.
Being very progressive, empress Sisi was way ahead of her time. She kept a regular training schedule and diets. She even had a pull-up bar inside her quarters! Something entirely unheard of at this time, especially for a woman.
Alongside personal belongings of Elizabeth, the museum offers access to the Habsburg's imperial apartments and displays a collection of royal Silverware and kitchenware (not my cup of tea but most of the visitors seemed to enjoy this one).
Working Hours:
Mon – Sun: 9:30 AM to 5:00 PM

Prices:
Regular (with Audioguide): 16 EUR (get from here)
Sisi Ticket (includes Sisi Museum, Schönbrunn Palace, and the Imperial Furniture Collection: 34 EUR
Volsgarten & Burggarten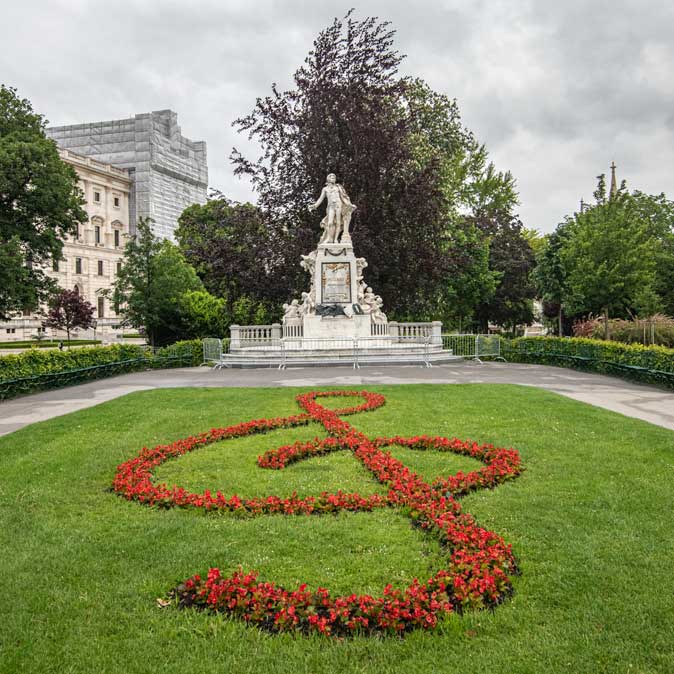 Once you finished the Hofburg attractions, you can take rest a bit and enjoy the beautiful gardens around the castle – Volsgarten & Burggarten. Great recreational areas with magnificent sculptures of Vienna's most famous musicians – Mozart and Strauss.
See Also: Prague Vienna Budapest – The Ultimate Central Europe Route
Kaisergruft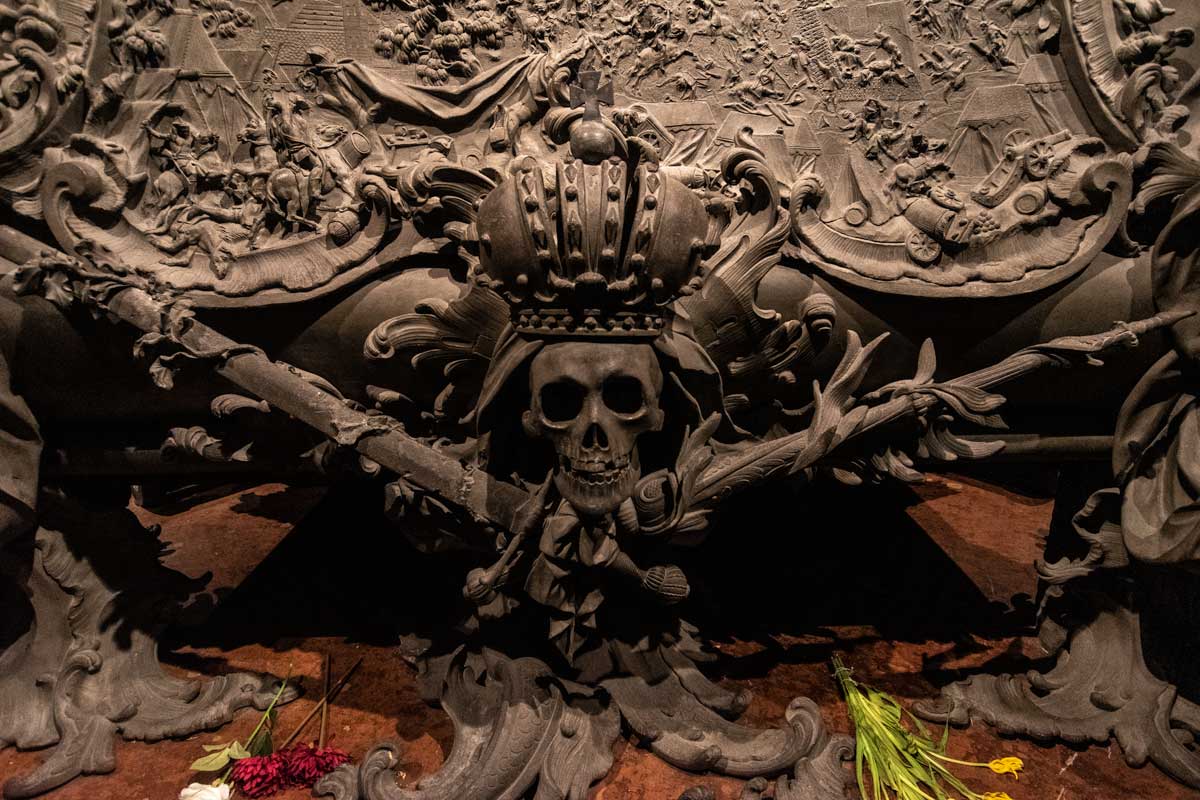 The last stop on the second of our 3 days in Vienna is reserved for an unusual and a little bit creepy attraction – Kaisergruft aka Habsburg's Imperial Crypt.
Habsburg Dynasty ruled over much of Europe before their downfall in Word War I. Austria's most famous emperors were part of the Habsburg dynasty, and every time one of them died, it was a major event. All emperors have their own astonishingly crafted sarcophagus, most impressive of which is Maria Theresia's (the last original Habsburg ruler) one.
The crypt was initially intended to hold only the remains of Emperor Matthias and Empress Anna but was later expanded and today, the remains of 12 emperors, 18 empresses, and 113 other members of the Habsburg family, rest there.
It may sound a bit creepy (and it is), but Kaisergruft really is an impressive sight and seriously underrated Vienna attraction.
Working Hours:
Mon – Sun, 10:00 AM – 6:00 PM
Prices:
Regular: 8.00 EUR
Reduced price: 7.00 EUR
Three Days in Vienna – Day 3 – Feel Like an Emperor
Schönbrunn Palace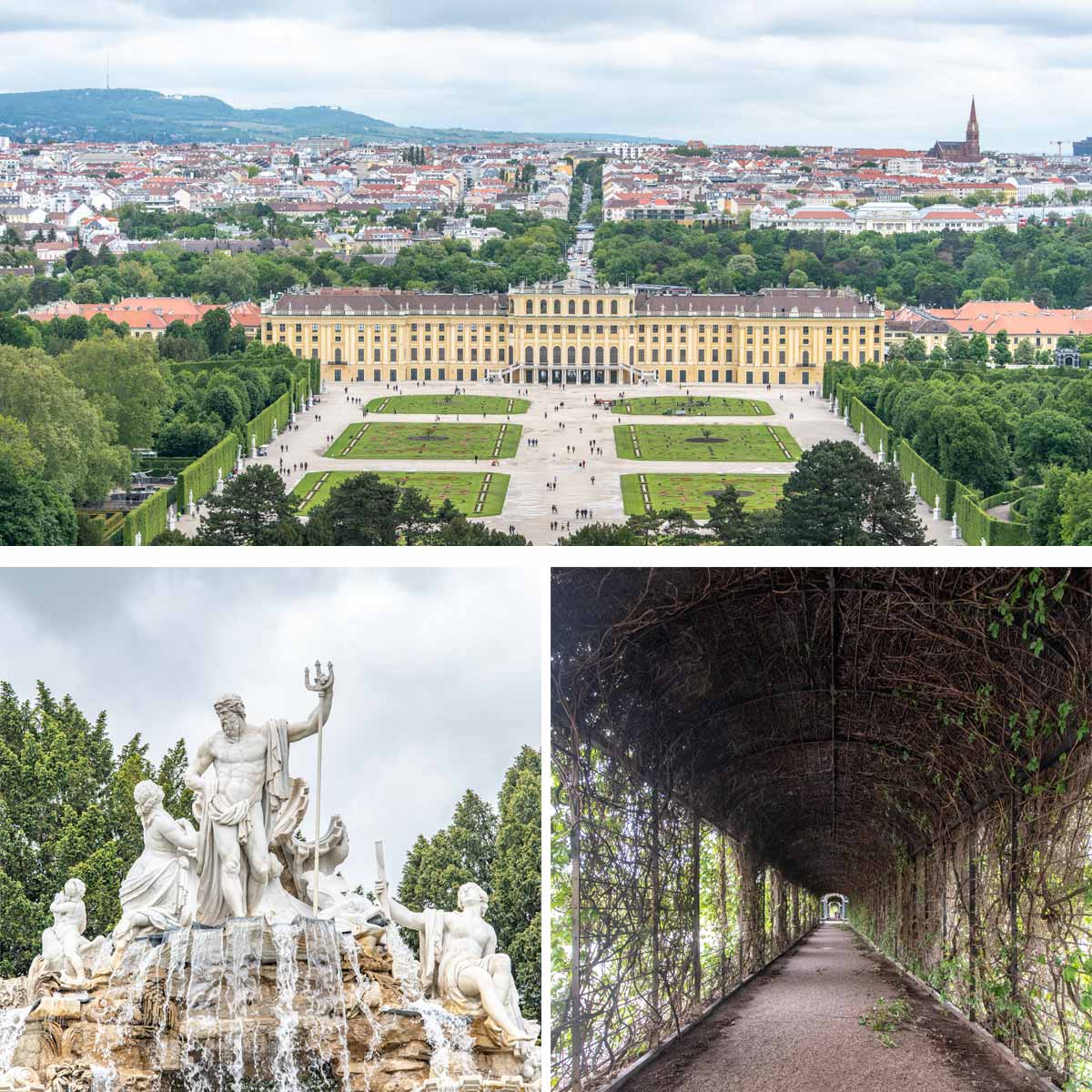 The last of our 3 days in Vienna will start with arguably the biggest highlight of the city – Schonbrunn Palace. The former summer residence of the Habsburg emperors is considered to be among the finest examples of baroque architecture in Europe and is nothing less than glorious.
The Schönbrunn palace offers more than 40 opulent royal apartments that will make your jaw drop to the ground. And that's not all. There are also the 500 acres gardens that feature Roman ruins, an Orangery, a few labyrinths, and a zoo. A top Schönbrunn palace attraction is the Apple strudel show, where you can learn the traditional apple strudel baking techniques and, of course, eat some apple strudels yourself.
Exploring the imperial palace can take half a day (or even more) but skipping it would be like skipping the Eiffel Tower in Paris.
Belvedere Museum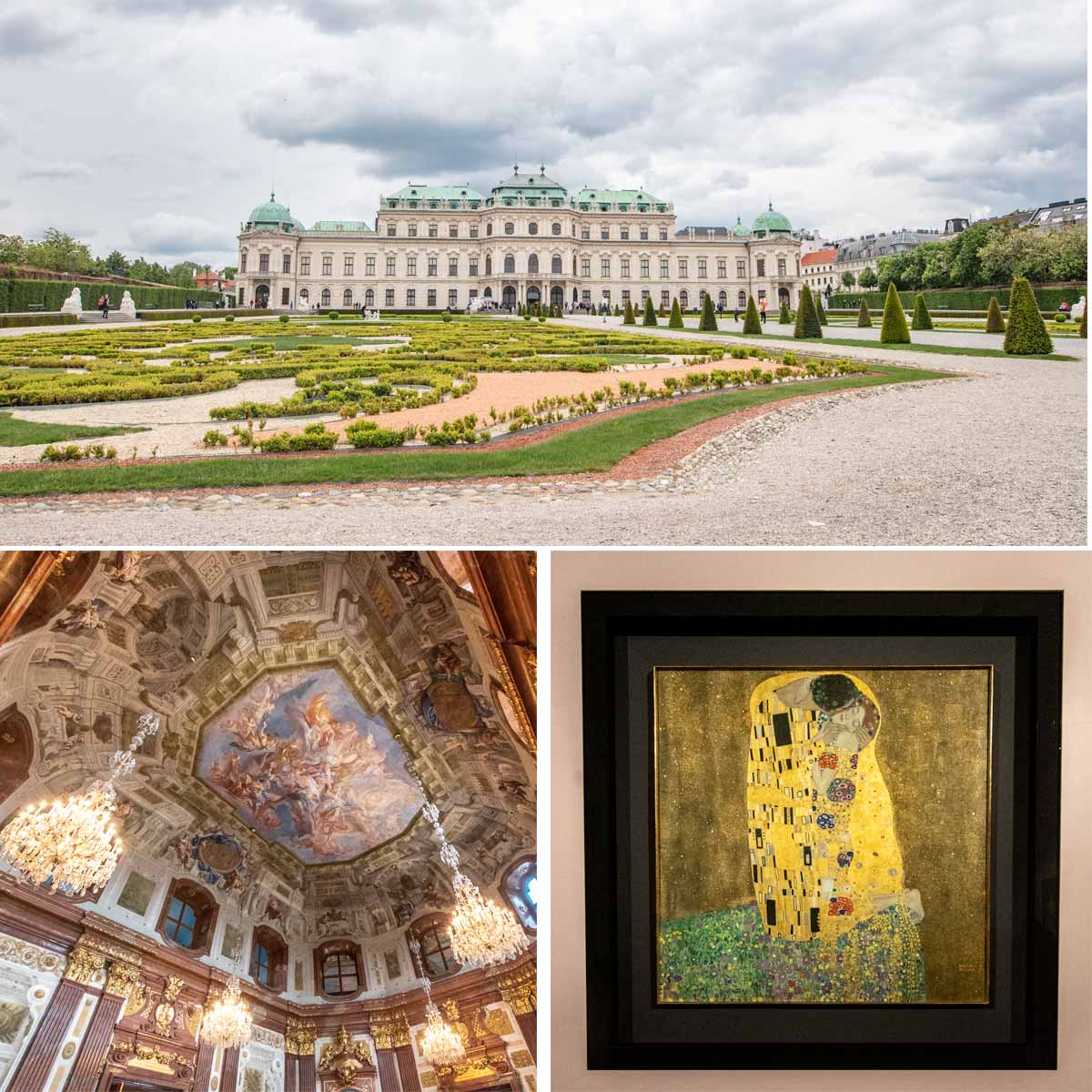 The afternoon of our last day is reserved for another 18th century Vienna classic – the Belvedere Palace. Unlike Schönbrunn you won't find royal apartments or a zoo here. Belvedere Palace used to be the summer residence of Savoy's commander – Prince Eugene, but today it's an art museum.
The upper Belvedere hosts a gorgeous classical art collection and the largest Gustav Klimt collection in the world, the pinnacle of which is the most famous Austrian painting," The Kiss". The other exhibited paintings include Cezanne, Monet, Van Gogh, and Renoir masterpieces.
The lower Belvedere is also an art museum but displays more contemporary art.
Castaway Fact
To acquire "The Kiss" Belvedere paid 25.000 crowns (around 250.000 USD ) before the painting was even finished. Prior to the sale, the record price paid for a painting in Austria was merely 500 crowns.

Karlskirche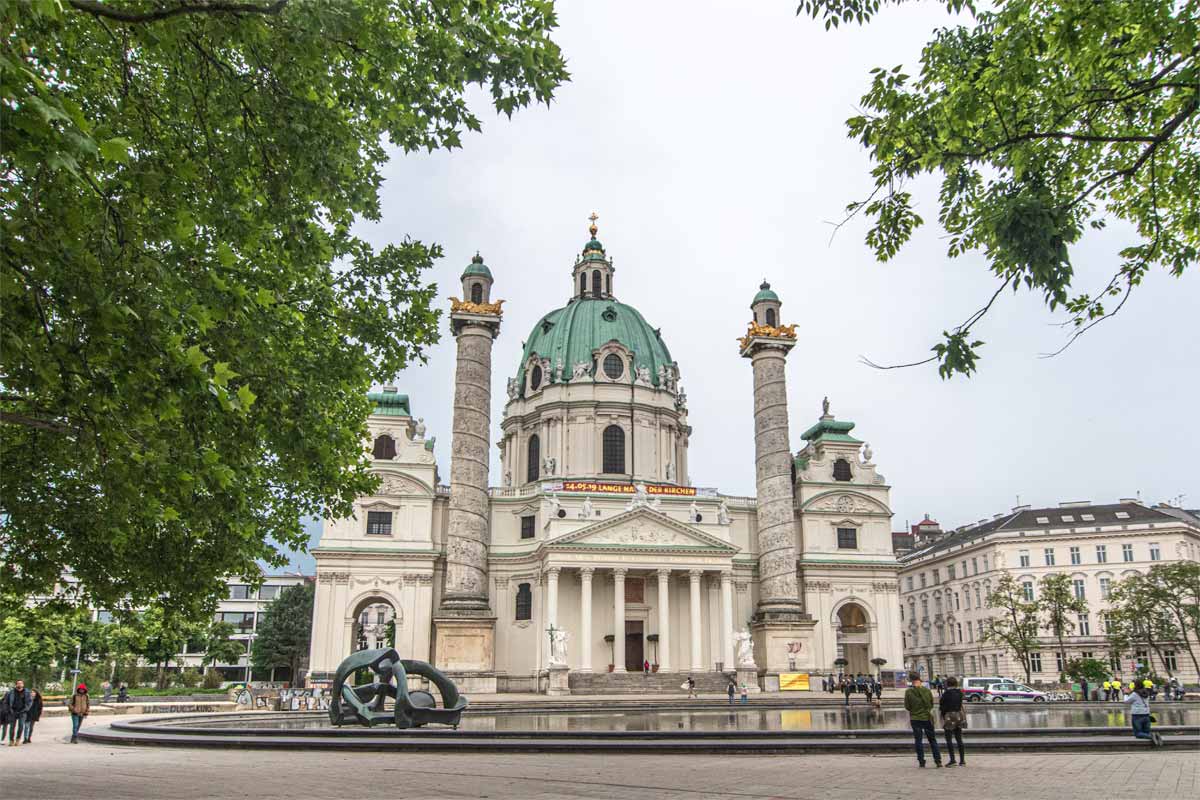 The last spot we're going to visit is…a church. But not just any church.
Karlskirche is considered the most outstanding Baroque style church in Vienna and is an incredible delight for the eye. It was completed in 1737 after a great plague infection. It's named after Charles Borromeo who was considered a great healer.
Karlskirche offers access to its roof (with an elevator) where you can enjoy some panoramic views of the city. If my 3-day Vienna itinerary left you too tired for rooftop trips, you can simply enjoy the evening in the park around the church.
Oh, I almost forgot. Since we're in Vienna, there is one more thing to do in Karlskirche. You can enjoy Vivaldi's Four Seasons played by original Austrian orchestra!
More places to enjoy a classical music concert are Kursalon Viena (Mozart & Strauss Concerts), St. Anne's Church (check the concerts here), and St. Peter's Church (Classic Ensemble Vienna).
See Also: How to Explore Budapest in Just Two Days
Vienna Tours
– The Cemetery One: One of the very best tours in Vienna (it has won a prize!), the Cemetary Tour would guide you around…well, not a big surprise here…Vienna's Central Cemetary. A place where plenty of famous people are buried, on this walk you'll learn more about them and their incredible stories.
– The Vintage One: This tour would get you on a vintage (electric) car and take you around Vienna's biggest highlights. You'll enjoy a ton of interesting stories from your driver and enjoy original Austrian sparkling wine.
– The Multimedia One: A very kid-friendly experience that would teach you about Vienna's glorious past. Enjoy the 5D effects while meeting Mozart, the Habsburgs, etc.
More than Three Days in Vienna
You have more than 3 days in Vienna, or you want to replace something on the itinerary? Not a problem, Vienna has plenty to offer.
Naschmarkt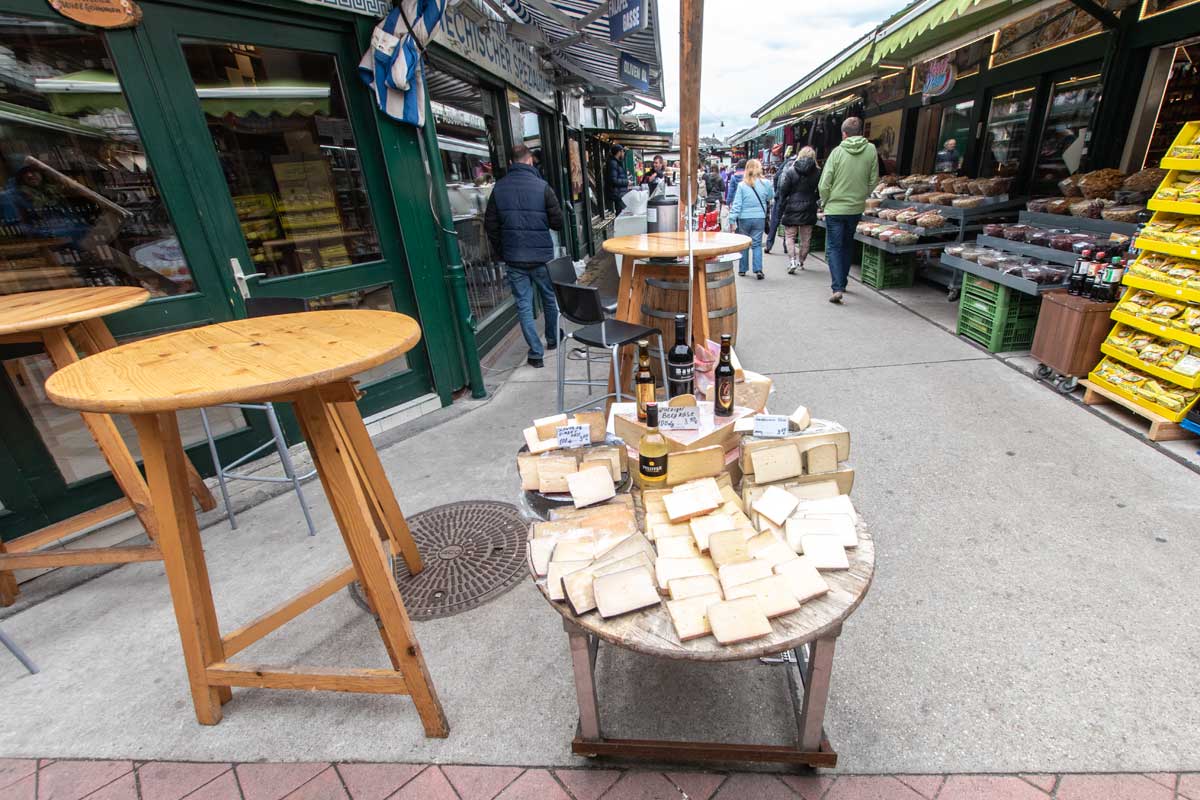 A historical market that operates since 1780. If you want fresh ingredients for your dish or a place to try classical Austrian dishes, this is the place for you. Conveniently located in the center, Naschmarkt is the perfect lunch place.
Working Hours:
Mon-Sat: 6:00 AM – 7:30 PM
Saturday: 6:00 AM – 5:00 PM
Sunday: Most stalls are closed
St Francis Church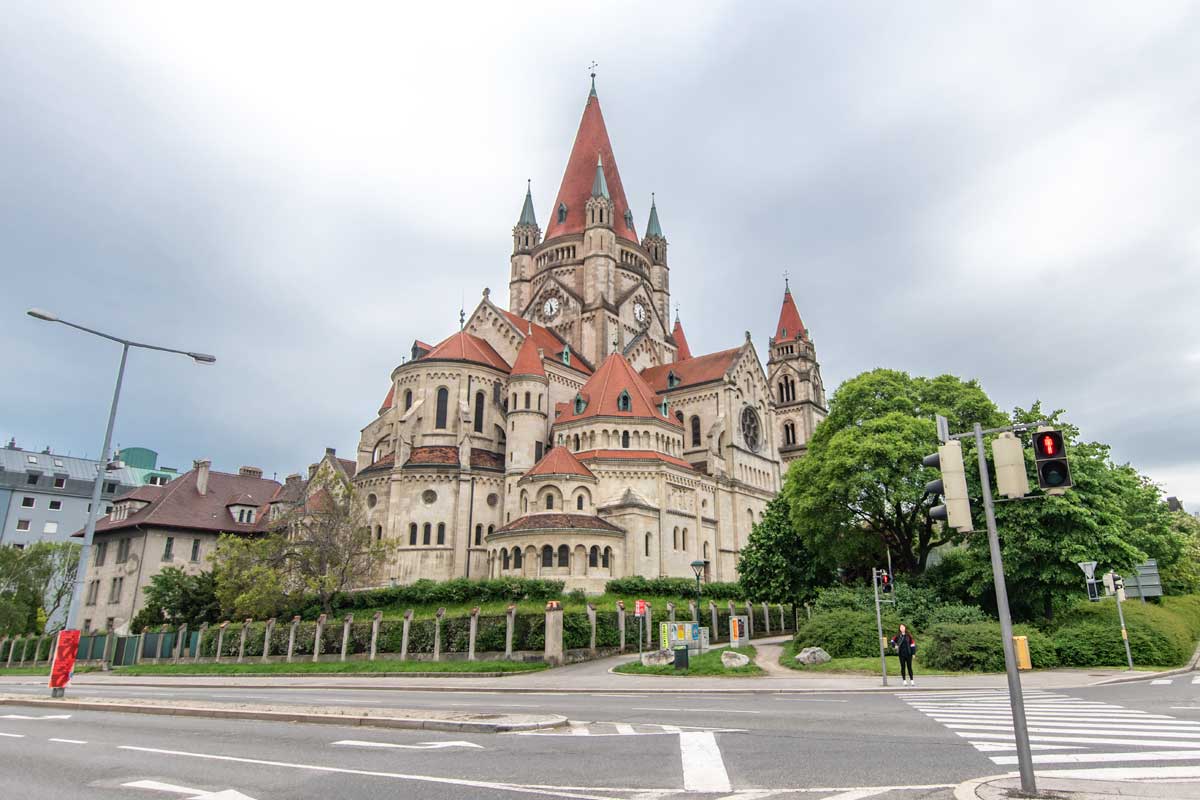 The St. Francis of Assisi Church is not your average church. While most of the temples are twice as impressive from the inside, St. Francis' interior is nothing special.
Why do I put it as a suggested highlight then? Because I believe it's the most picturesque site in Vienna! Seriously, the church looks more like a Disney castle than a religious temple. There is also a pleasant recreational area around it so you can kick back enjoying the view.
Naturhistorisches Museum Wien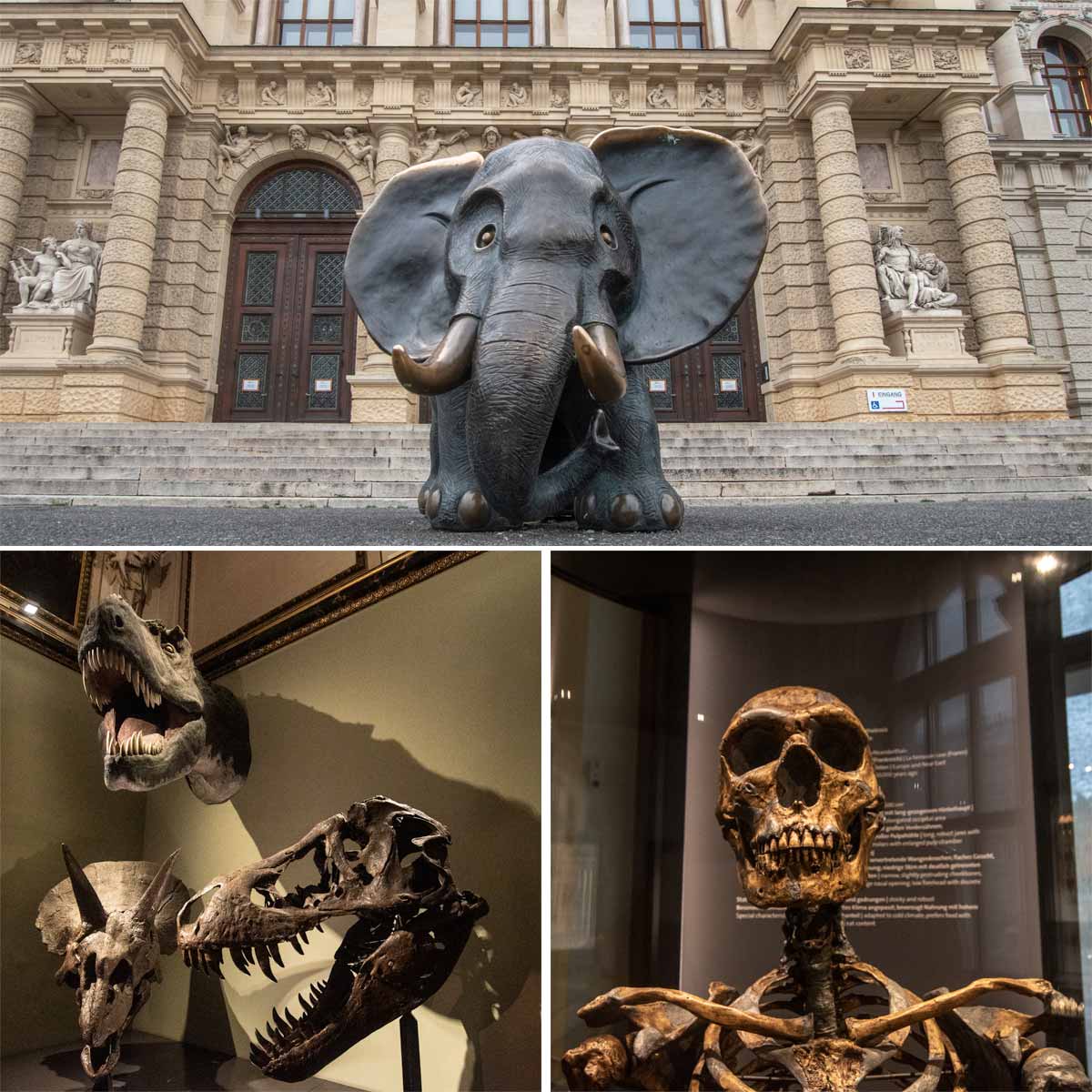 One of the top museums in the world, Vienna's Natural History Museum is a great place to spend a few hours with your family. It's located right in front of another prime Vienna museum – the Kunsthistorisches Museum – and offers the world's largest meteorite collection in the world!
There are also large dinosaur skeletons and one moving dino-robot. Add to that the 30 000 years old statue of Venus of Willendorf, and Natural History Museum starts to sound very tempting.
Working Hours:
Thu-Mon: 9:00 AM – 6:30 PM
Wednesday: 9:00 AM – 9:00 PM
Tuesday – closed
Prices:
Adult – 14 EUR
Children under 19 – Free
Palace of Justice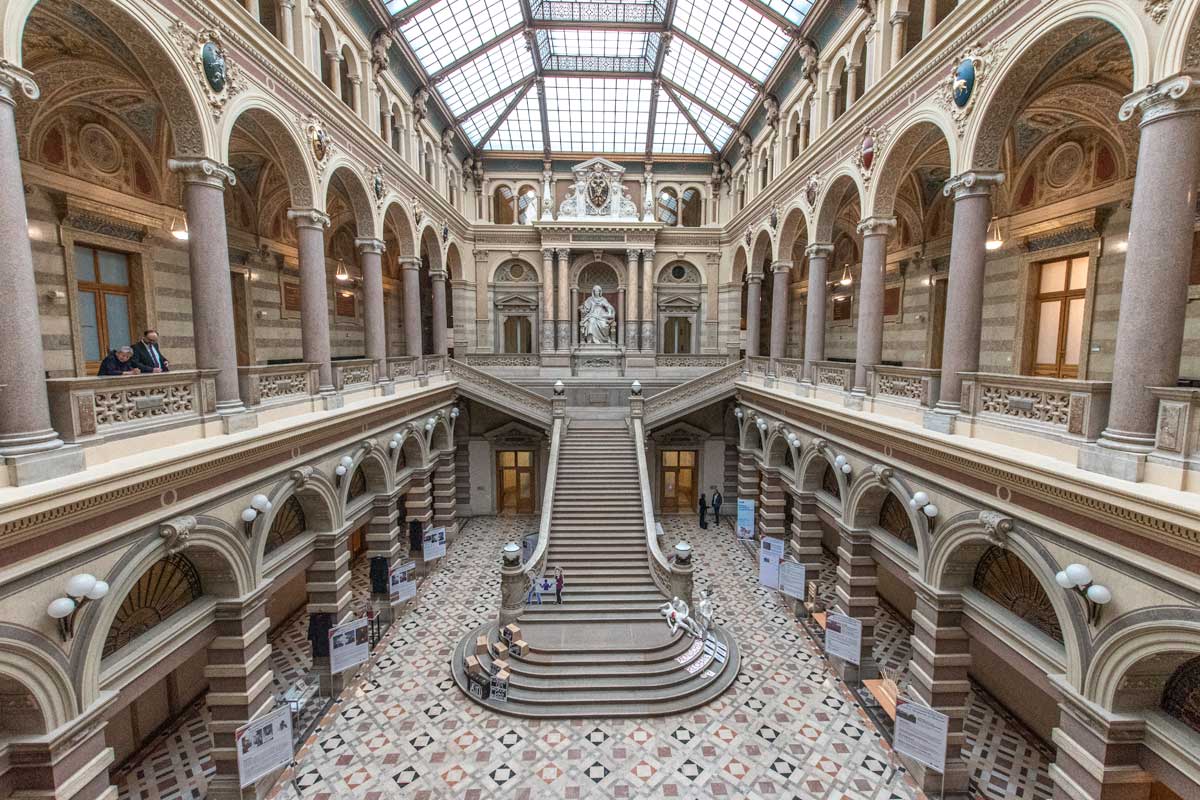 The more popular government building (at least among tourists) would be the Rathaus (aka the City Hall) but I prefer the Justice Palace so much more. The sole reason behind your visit to the Palace of Justice in Vienna is to take an awesome Instagram photo. There is no entry fee, but you need to go through airport-like security to enter. The place is so incredibly beautiful that it makes it totally worth it. Bonus – it's located very conveniently around the other highlights of the city center.
Working Hours:
Mon-Fri: 7:30 AM – 3:30 PM
Sat-Sun: Closed
Mozarthaus Vienna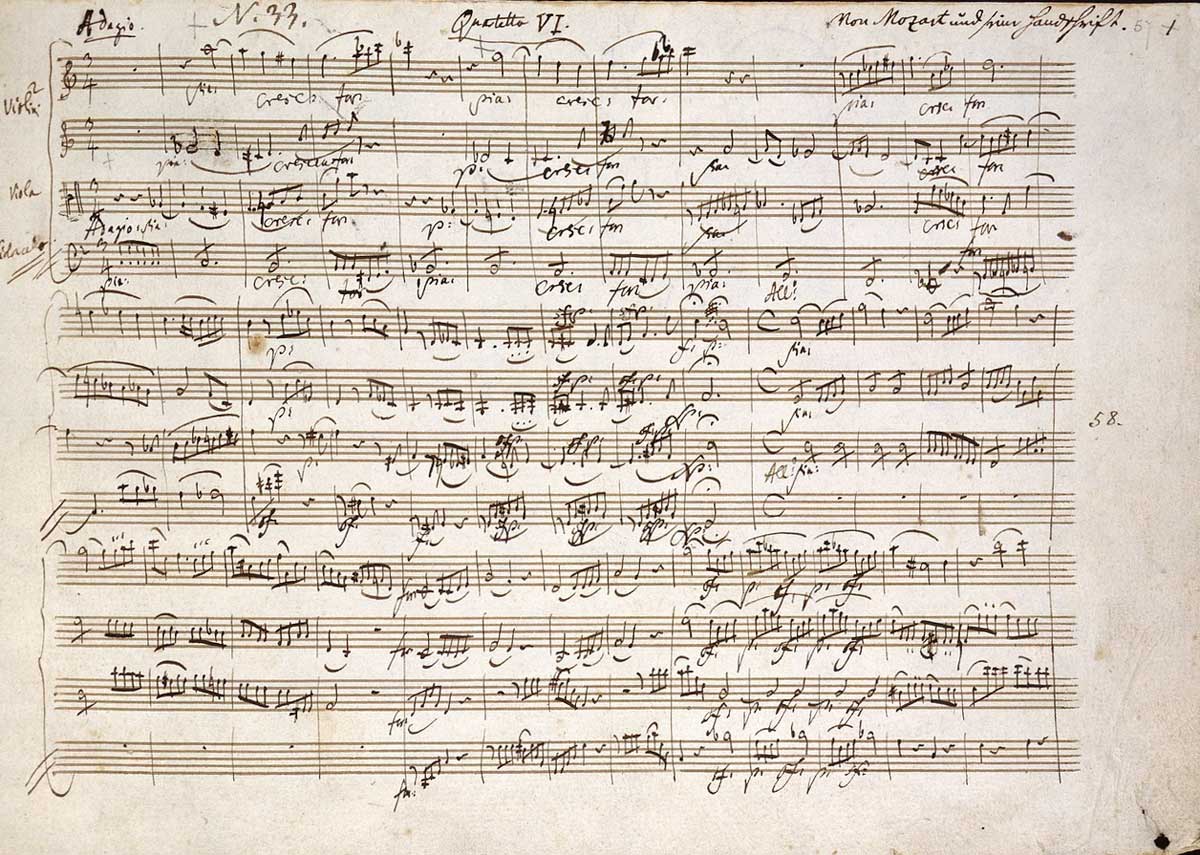 No matter who you are, no matter where you come from, there is no way you've never heard of Mozart. The genius musician, who had written his first composition when he was just five years old, had spent half of his life in Vienna.
Mozarthaus, as the name suggested, was home to the famous artist and his family from 1784 to 1787. It is there where he wrote one of his best works – "Le Nozze di Figaro". Even if you are not a Mozart fan, the house is an excellent representation of Austrian life in the late 18th century.
The whole building is practically a museum curated to show information about the composer in combination with historical exhibits and audio-visual installations.
Working Hours:
Tue – Sun: 10:00 AM to 6:00 PM
Prices:
Regular: 12 EUR – Get one here
Reduced: 10 EUR
Children and teenagers up to 19 years: 4.50 EUR
Family ticket (2 adults + up to 3 children): 24 EUR
Day trip to Hallstatt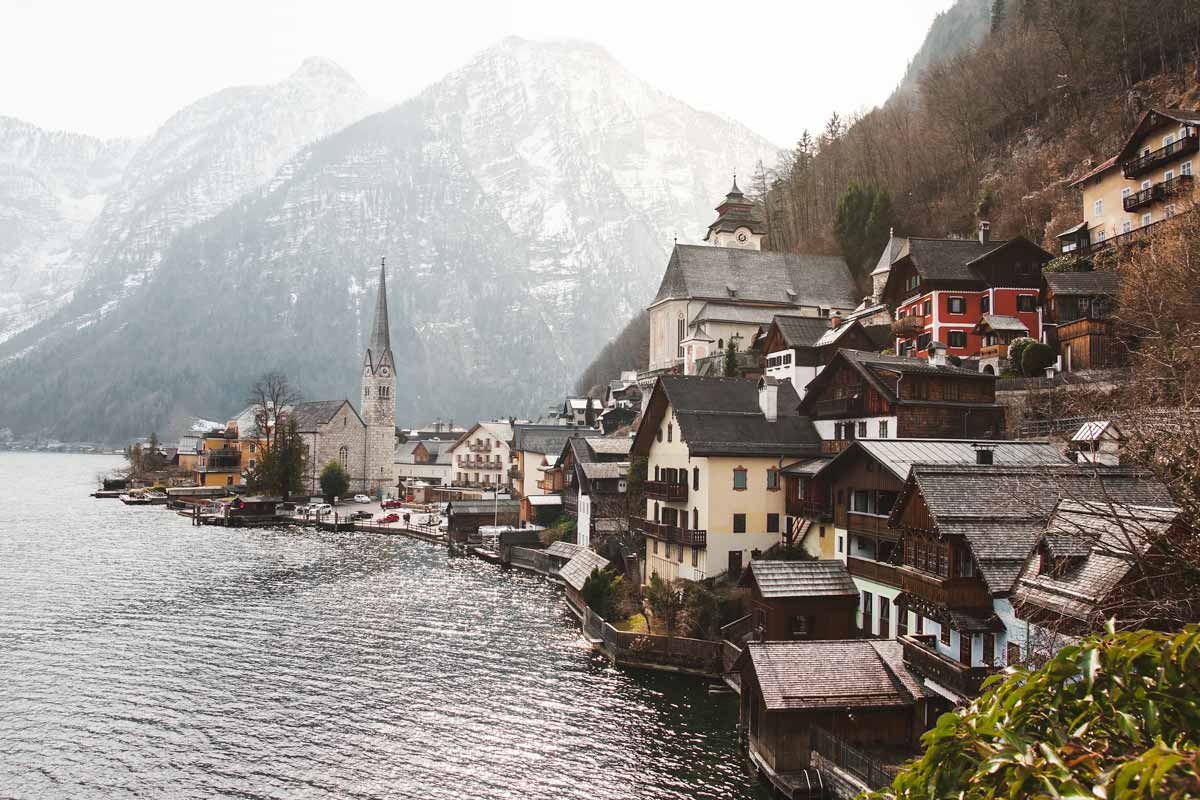 If you have more than 3 days in Vienna or simply want a break away from the city, a day trip to the fairy-tale town of Hallstatt has your name written on it. Surrounded by the Alps, Hallstatt is a UNESCO World Heritage site famous among photographers due to it's unraveled natural beauty.
Organized day trips include a tour around town, a ride with the Salzbergbahn Hallstatt funicular (for some panoramic views of the area), and a visit to Hallstatt ossuary (to see a peculiar collection of decorated skulls).
Prices:
See the latest price of a shared day trip
See the latest price for a private day trip (best option if you are at least 4 people)
3-Day Vienna Itinerary Map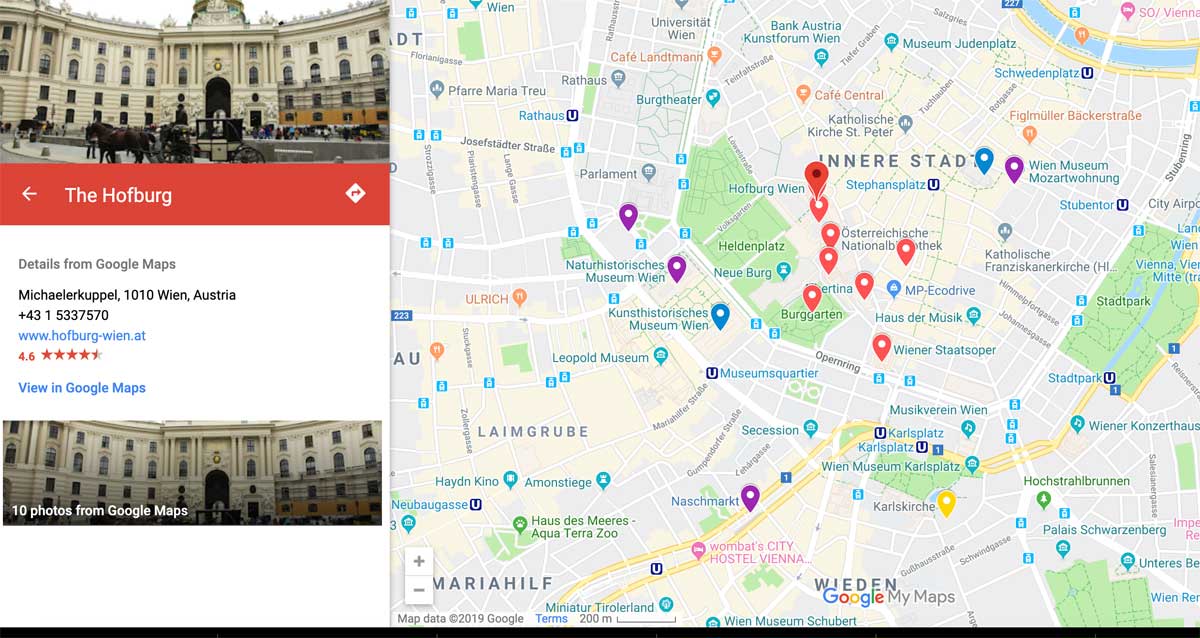 Vienna FAQ
How to get around Vienna?
By foot! Seriously, Vienna is a very walkable city. All main attractions (besides Schönbrunn and the Prater park) are close to each other and if you get tired – there are plenty of parks and gardens to chill out.
If you're not up to that much walking, you can use the very well developed public transport system or the even more convenient hop-on-hop-off bus!

Metro ticket rates:
Single ticket: 2.40 EUR (Children 1.20 EUR)
24-hour Vienna ticket: 8.00 EUR
48-hour Vienna ticket: 14.10 EUR
72-hour Vienna ticket: 17.10 EUR
Vienna weekly ticket (valid from Monday to Monday at 9:00 AM): 17.10 EUR
The most convenient way (most people use) is to rent a car, of course. You can skip all the public transport research and enjoy the picturesque Austrian scenery alongside the road. To find the best offers in the country, check the Discover Cars tool, which will compare all the providers in the country.
Is it safe in Vienna?
Vienna is remarkably safe. It's the safest city I've ever set foot into. I never felt unsafe, even for a moment in the capital of Austria. Not that surprising, because it's ranked number 6 in the world in Mercer's personal safety ranking.
You should still consider getting travel insurance, as I recommend doing for every travel you do. Vienna may be the safest there is, but no matter how safe a place is, there is always a chance to have an incident, to have your luggage lost, etc. I currently use HeyMondo for my travels because they have proven themselves to me more than once over the years. The link above will give you a 5% discount, but If you have another favorite provider, that's ok. Just make sure you have one because you never know what may happen.
Is Vienna expensive to visit?
Since Austria is one of the richest countries in Europe, Vienna can't be a cheap place to visit. The prices, however, are not as high as the ones in London or Paris. Just a little bit over the average for the EU.
Example prices (out of touristic areas):
Water (1.5L in a supermarket) – 0.63 EUR
Bottle of Wine (Mid-Range) – 6.00 EUR
Domestic Beer (0.5-liter draught in a restaurant) – 4.30 EUR
Cappuccino (regular) – 3.63 EUR
More Vienna prices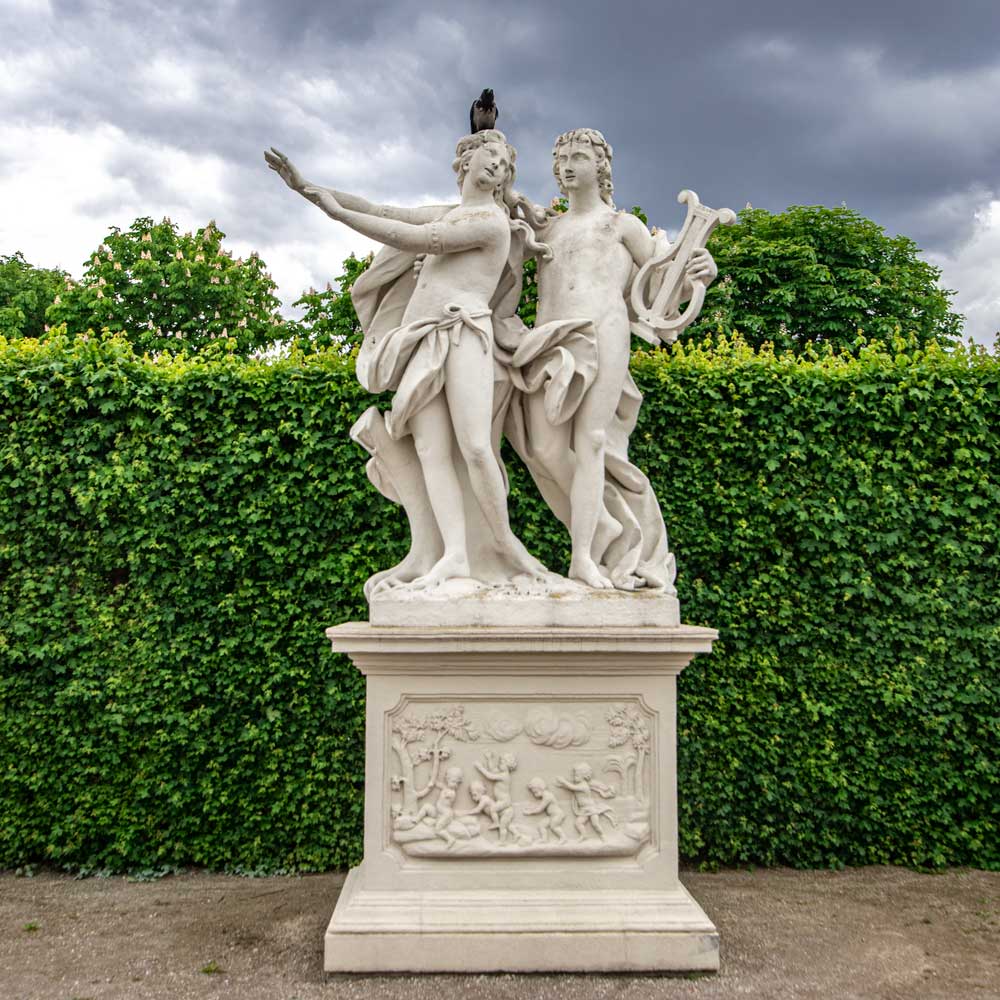 What is the best time to visit Vienna?
Vienna is great to visit all year round.
For the best weather – got there in the summer. Vienna doesn't get too hot during the summer months with average temperatures of 24'C. Summer, however, is also the most popular season so the crowds are massive and the prices are high.
Around November and December, the Christmas markets transform Vienna into a magical place. There are still plenty of tourists, though, and prices would be similar to the summer ones. Traveling in winter also holds a bad-weather risk.
If you want to enjoy the city as cheap as possible and to avoid the crowds – spring and autumn are your seasons. Be prepared, however, for the occasional rainy day.
What language is spoken in Vienna?
In Vienna, they speak German. Most of the people I encountered spoke very well English too, and I didn't have any trouble communicating without knowing a single word in German.
What currency is used in Vienna?
In Austria, the official currency is Euro (EUR). You can't pay in any other currency.
That's all from me, I hope you enjoy your 3 days in Vienna.
————————————
If you haven't planned your trip there yet, find out how I plan my trips!
————————————
I have 524 bucket list ideas for Asia. See my impossible bucket list of 1700+ adventures!

What is your favorite European city?
---
Some of the above are affiliate links and I will earn a percentage of the sale if you purchase through them at no extra cost to you. This helps keep my site running – so thanks in advance for your support!