You're about to spend 2 days in Brussels, and you wonder if there's anything worth to see there? Absolutely! Brussels may not be Paris, but the capital of Belgium surely has enough charm (and waffles) to make your trip a memorable one.
In this 2 day Brussels itinerary we'll see the biggest attractions of the Belgium capital. We'll find the hidden treasures of the old city center, check the best museums in town and spend some quality time in nature.
Did I spark your waffle spirit?
Good!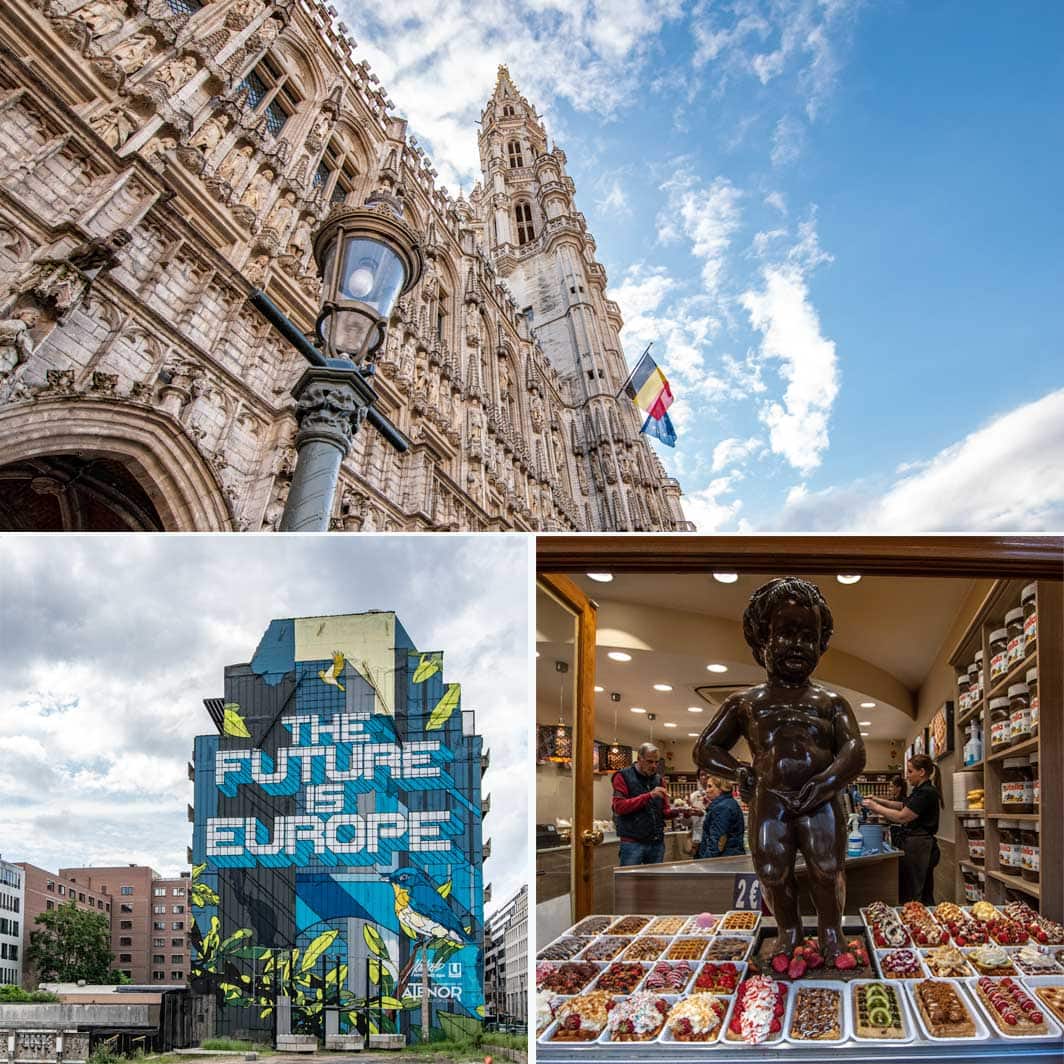 Where to Stay in Brussels
Before we start our 2 days in Brussels, here are some accommodation suggestions. In my opinion, every one of these has the X factor to take your Brussels trip to the next level!
———————————————————————————————–
Warwick Brussels – Grand Place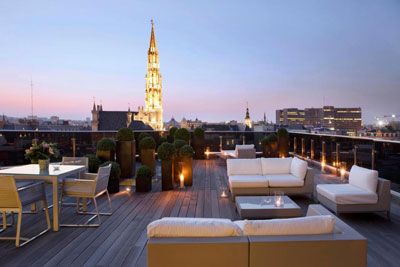 • Best location possible – right next to the Grand Place
• Excellent view
• Modern rooms with marble bathrooms
• Panoramic rooftop bar
• Pet friendly
• Tasty breakfast
Check out the latest price
———————————————————————————————–
FunKey Hotel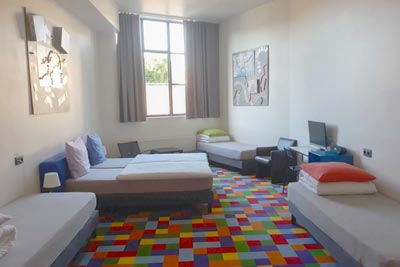 • Situated in a classical Belgium house
• A lot of bed options
• Unusual room design
• Free parking spaces
• Excellent breakfast + free food and drinks available all-day
• Well – equipped kitchen
• Friendly and responsible staff
• Free board and video games
Check out the latest price
———————————————————————————————–
All In One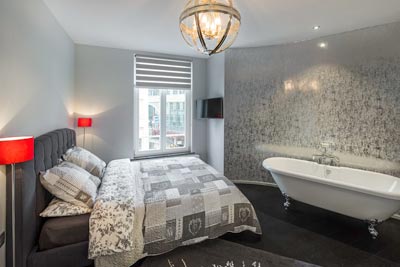 • Original design (some rooms has bathtubs next to the bed)
• Friendly and competent staff
• Great location – in the city center and close to a metro station
• Lovely patio area
• Cozy common areas
• Well – equipped kitchen
• Kick-ass breakfast
• Flexible check-in and out hours
Check out the latest price
Want to explore more options in Brussels?
See the best-located hotels in town
Two Days in Brussels – Day 1- Old Brussels
Our Brussels adventure will start with the exploration of the most famous attractions in my favorite area – the art nouveau-styled center.
Grand Place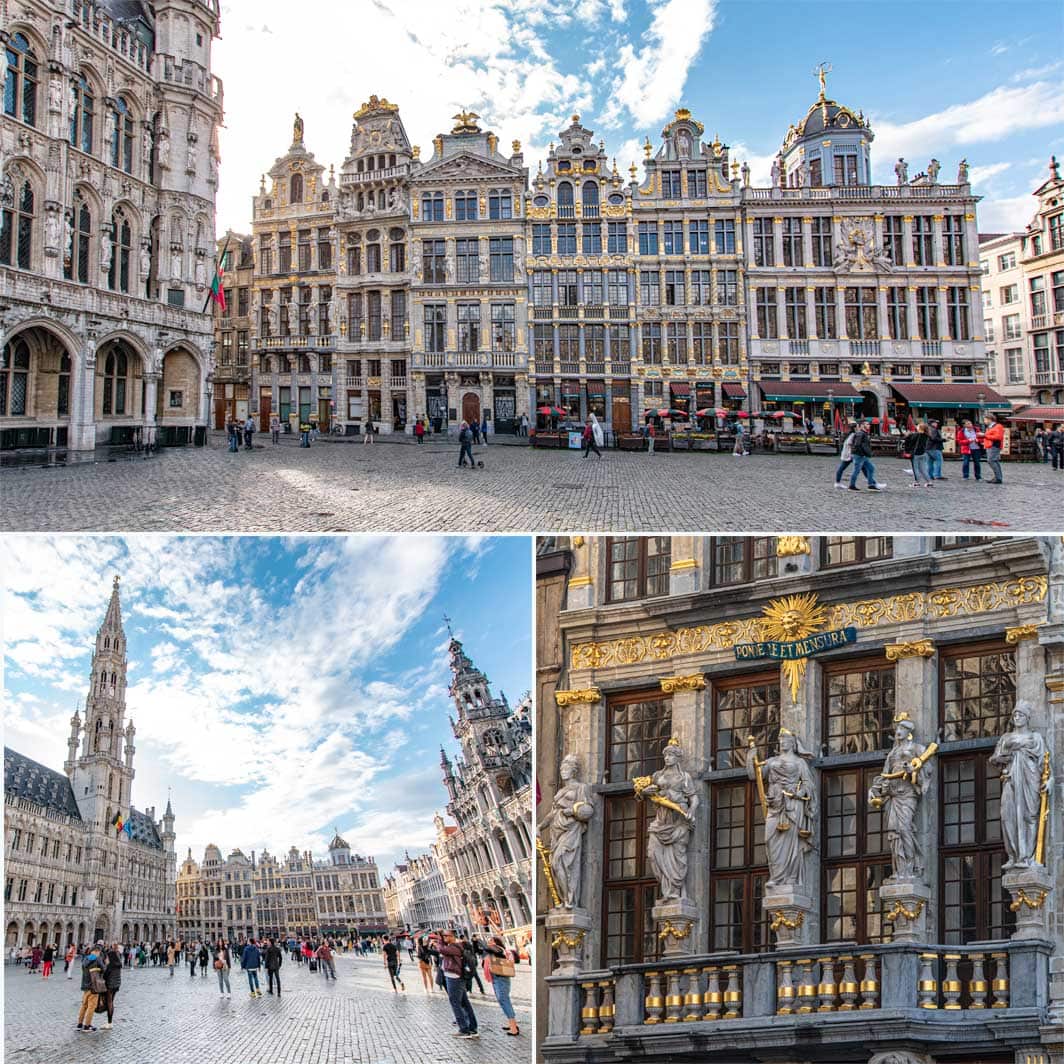 First on our itinerary is the most prominent place in Brussels and undoubtedly the most awe-inspiring. The Grand Place of Brussels is the central square of the city and is surrounded by a few gorgeous buildings dating from the late 17th century.
Being one of the most beautiful squares in Europe, Grand Place will probably stay in your mind as the most memorable landmark in Brussels. Since 1998, It is also recognized by UNESCO for its "Outstanding Universal Value".
Every two years, in August, the square is covered by a carpet of flowers sparkling a little bit extra magic to the already magical Grand Place!
Manneken Pis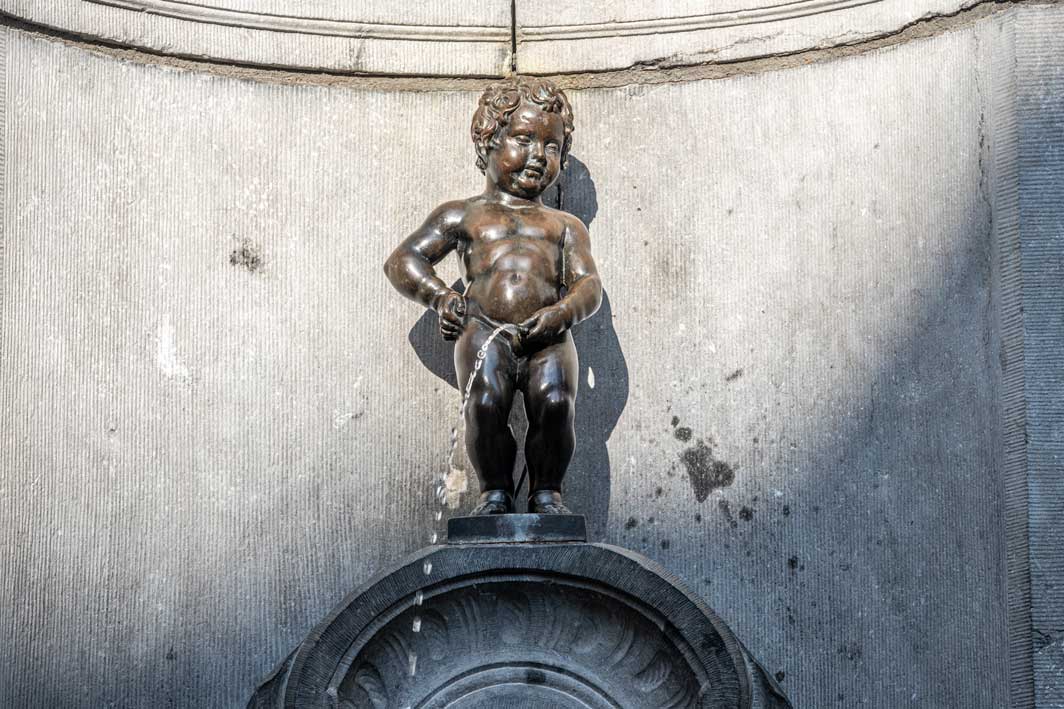 Brussels is known to be the birthplace of the European Union, the engine of the modern world, and one of the most civilized cities there is. Its symbol is… a peeing boy statue. You've probably seen it already in a souvenir shop… or a waffle shop… or a chocolate shop… or maybe even in a grocery store. Yeah, Belgians do love their peeing boy. Taking a photo of Manneken Pis is one of the most famous things to do in Belgium so expect a hefty crowd. It is so famous you'd probably find him in every shop in the center, no matter what it sells.
There are many legends about the origin of the 17th-century bronze fountain statue. The most famous says that when enemies surrounded Brussels, a little boy named Julian found a fuming fuse connected to a pile of gunpowder and put it down by peeing on it hence saving the city.
Castaway Tip
Don't be surprised if you find the little guy dressed in a funky costume. It's a Brussels tradition to dress Manneken Pis on special occasions. His wardrobe contains more than 800 outfits!

Zinneke Pis and Jeanneke Pis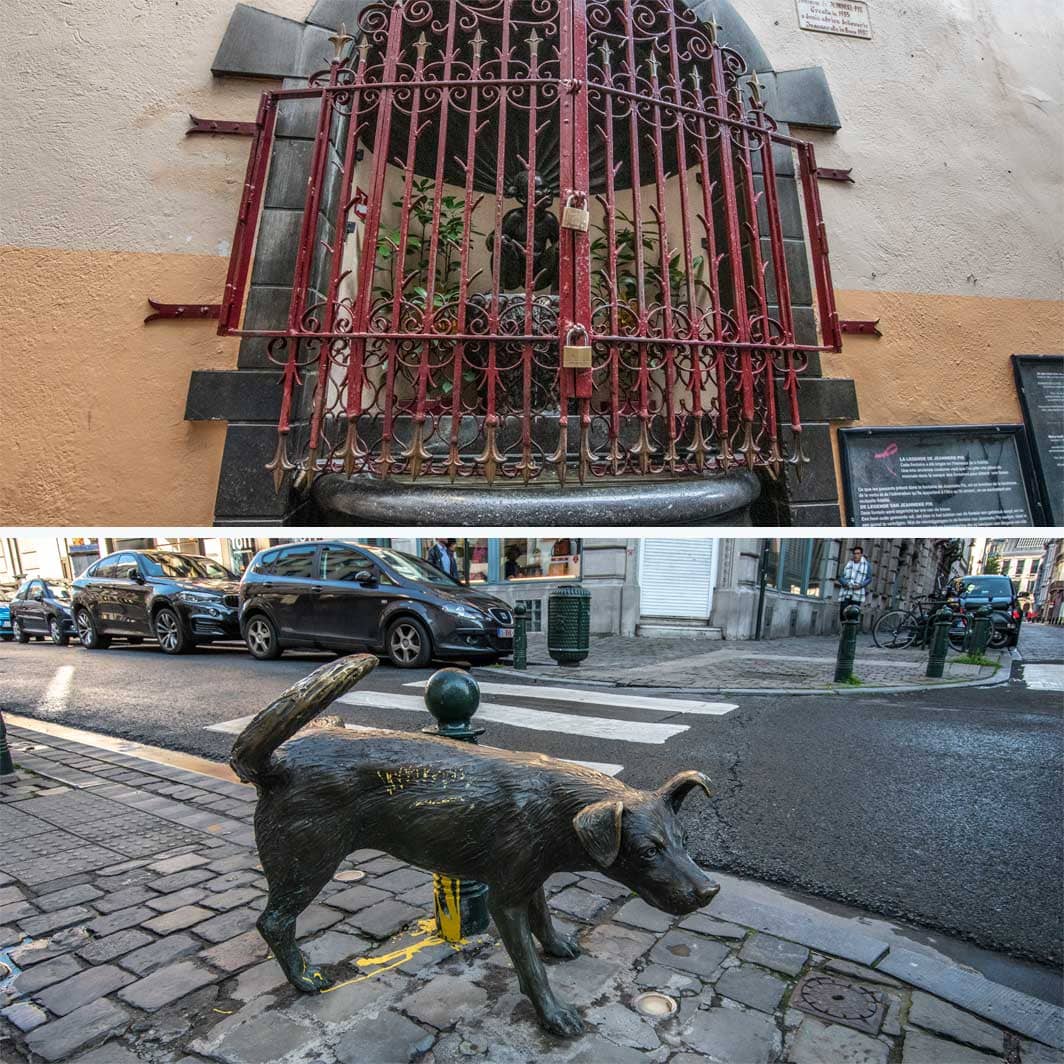 Next, on our 2 day Brussels itinerary, we have… some more pissing statues! Everybody knows about the peeing boy, but few people have heard about his counterparts – Zinneke Pis and Jeanneke Pis, the peeing girl and the peeing dog of Brussels.

The peeing girl was unveiled in 1985 and is hidden in a cage at the bottom of a small back street. Maybe that's the reason it's widely unheard of.
The peeing dog, which has its leg lifted for eternity on a street pole, is the youngest of the three. Built in 1998, Zinneke Pis is also made in life-size but unlike the other two is not a fountain – just a statue.
Searching for them around the winding alleys of the city center is the best way to explore the coolest part of Brussels.
See Also: How to Spend 4 Days in Paris
Chocolate Tasting Tour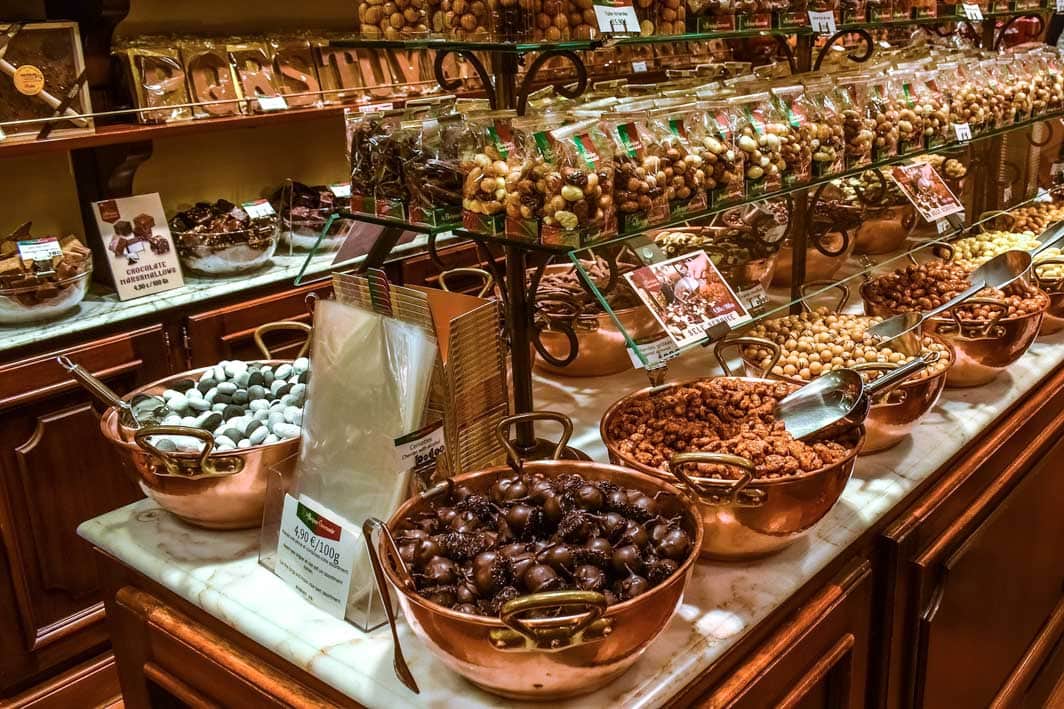 Sweet stop time! Our 2 days in Brussels continues with… a chocolate tour. Belgium chocolate is world-famous, and while walking around the medieval center of the town, you'd inevitably stumble upon various chocolatiers stacked with truffles, ganache and chocolate bars.
They all look heavenly but to find out which are the best ones and to learn more about the origin of the chocolate tradition in Belgium – get a guided chocolate tour. The walk around one of the most picturesque Brussels neighborhoods and the multiple tastings of the very best Belgium chocolate would remain one of your best memories of the Belgian capital.

Comic Strip Lane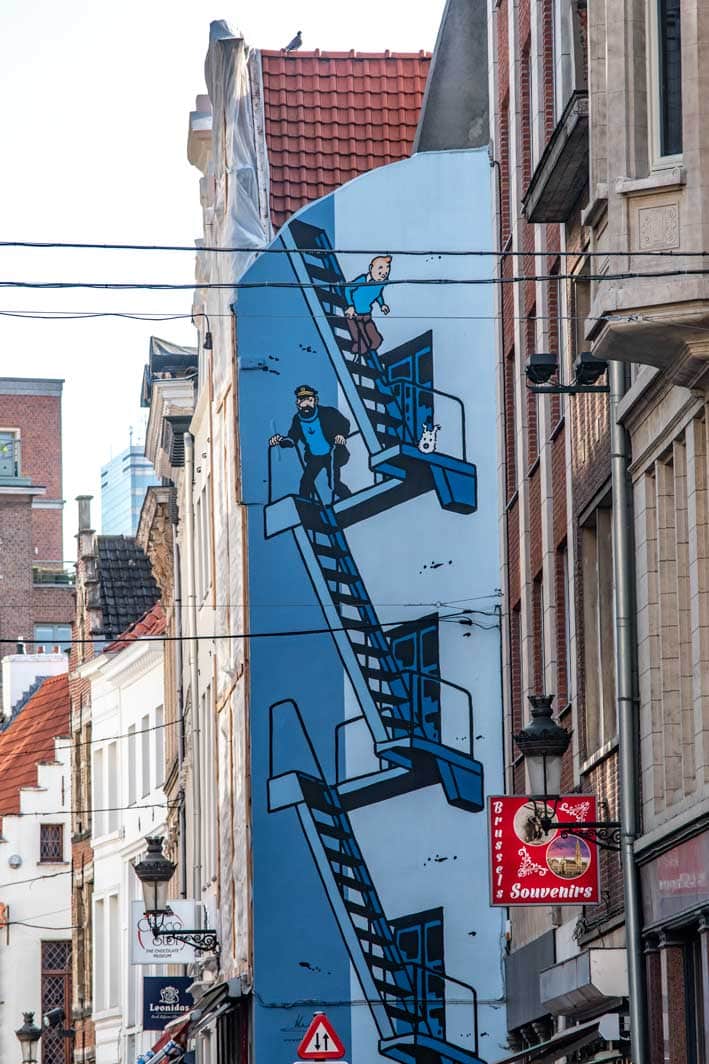 Our next stop is among the best things you can enjoy in Brussels…and is not really a stop. While hunting for the pissing statues around the center or tasting the different chocolate shops, take notice of your surroundings. The center of Brussels is home to the famous Comic strip walls. Over 60 huge paintings on the side of the buildings are depicting scenes from popular comics like Tin Tin, Asterix & Obelix, and The Smurfs. An absolute must-have in your Brussels itinerary.
If you wander enough, you'd see plenty for sure. If you want more info about every different painting, where it is located and which comic hero is representing, you can check here.
Mont des Arts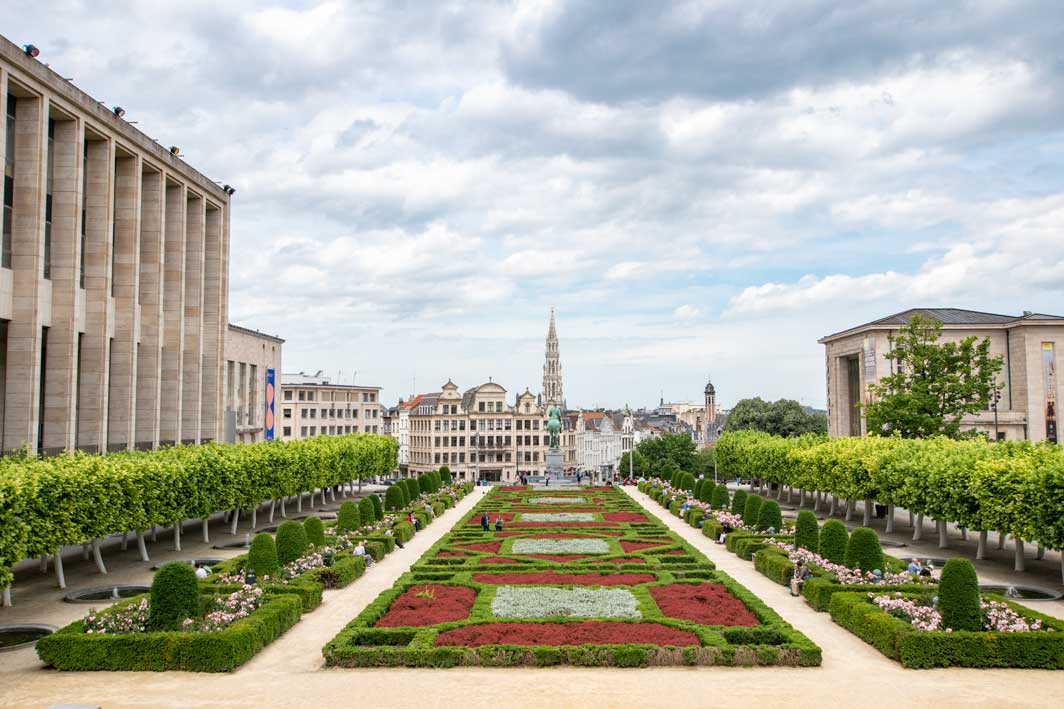 Next on the list is a beautiful garden where you can kick back from the pissing statues and the tons of chocolate you've just eaten.
Mont des arts translates to hill/mount of the arts and is a complex that includes the Royal Library of Belgium, the National Archives of Belgium, a square, and a lovely garden. It's not rare to find an art installation there too. During my visit, there was an awesome bright-yellow arch made out of bicycles!
Royal Museums of Fine Arts of Belgium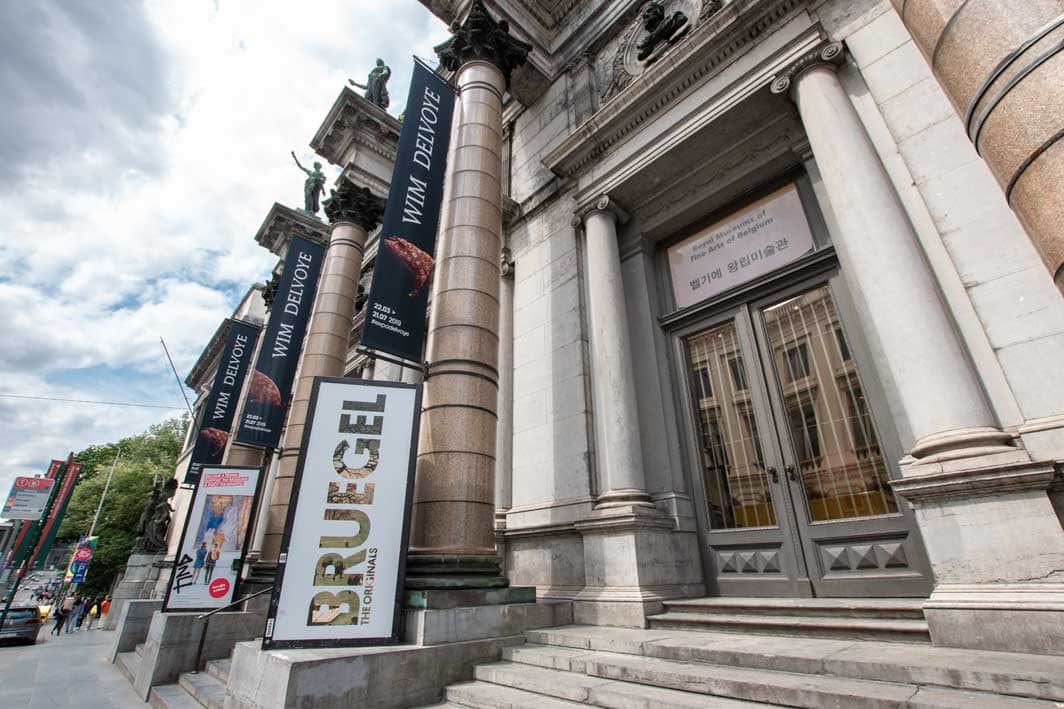 The first of our two days in Brussels will end with a museum. We are in a major European capital, we can't have an ultimate itinerary and not include at least one museum, right (spoiler alert: we have another one tomorrow)?
The Royal Museums of Fine Arts of Belgium are the biggest and most prominent art museums in the country. It's a group of six museums. Two of them – The Oldmasters Museum or Museum of Ancient Art – are located in the main building while the other two – the Magritte Museum and Fin-de-Siècle Museum – are adjacent to the main building.
The last two museums – Constantin Meunier Museum and the Antoine Wiertz Museum – are located a few kilometers away from the center.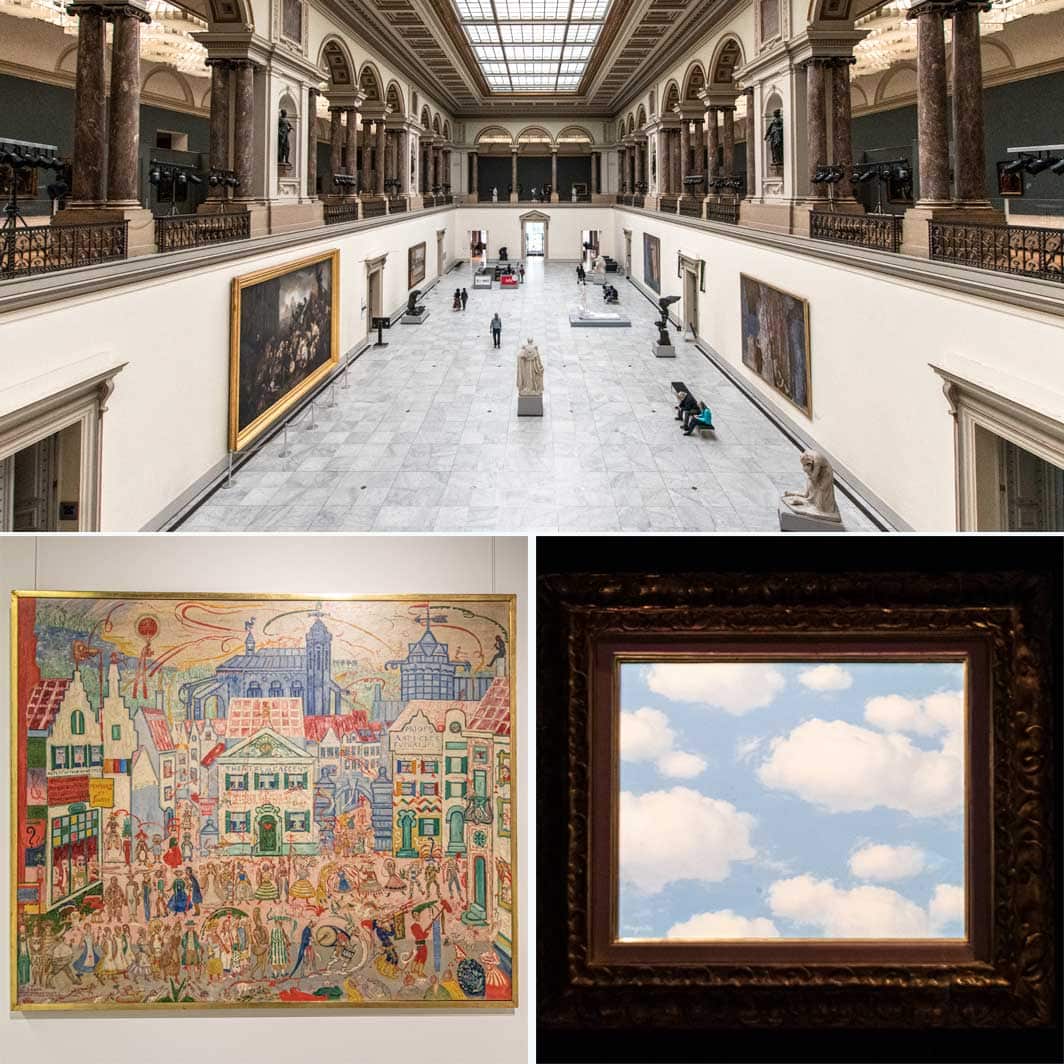 My suggestion is to check the two in the main building (Some world-class masterpieces such as Bruegel's Landscape with the Fall of Icarus and the 20 paintings inside the Rubens Room) and if you're not too tired – see the Magritte Museum. Open just ten years ago, the Magritte Museum displays masterpieces by the Belgian surrealist painter René Magritte.
Working Hours:
MUSÉE OLD MASTERS MUSEUM & MUSÉE FIN-DE-SIÈCLE MUSEUM & MUSÉE MAGRITTE MUSEUM
Tue – Fri: 10:00 AM – 5:00 PM
Weekends: 11:00 AM – 6:00 PM
Monday – Closed
MUSÉE WIERTZ MUSEUM & MUSÉE MEUNIER MUSEUM
Tue – Fri: 10:00 AM – 12:00 AM et 12:45 PM – 5:00 PM
Prices:
Old Masters + Fin-de-Siècle: 10 EUR
Musée Magritte: 10 EUR
Old Masters + Fin-de-Siècle + Musée Magritte: 15 EUR
Musée Wiertz / Musée Meunier: Free
Children under 19: Free
Two Days in Brussels – Day 2 – Nature and Science
The second day of our Brussels itinerary would be all about science and nature. We'll learn more about our planet, more about Europe and we'll combine it with chill-out-time in the best recreational areas in town. And at the end of the day – a surprise featuring my favorite Belgium craft!
Museum of Natural Sciences
We'll start day 2 with a visit to the local Museum of Natural Sciences. While researching for my own Brussels itinerary, I must say I didn't put this one as a must-see. I'm so happy I did visit it though.
Unlike the other big natural history museums I've been to, this one focuses almost exclusively on dinosaurs! T-rex, triceratops, diplodocus, you can find all your favorite dinosaurs (or at least a part of them) here. The museum is so cool that they even display a freshly found species that hasn't been named yet!
Working Hours:
During the Belgium school year
Tue – Fri: 9:30 AM – 5:00 PM
Sat – Sun: 10:00 AM – 6:00 PM
Monday: Closed
During Belgium school holidays
Tue – Sun: 10:00 AM – 6:00 PM
Monday: Closed
Prices:
Regular – 13.00 EUR
Reduced – 10.00 EUR
Under 18 – 5.00 EUR
Parc du Cinquantenaire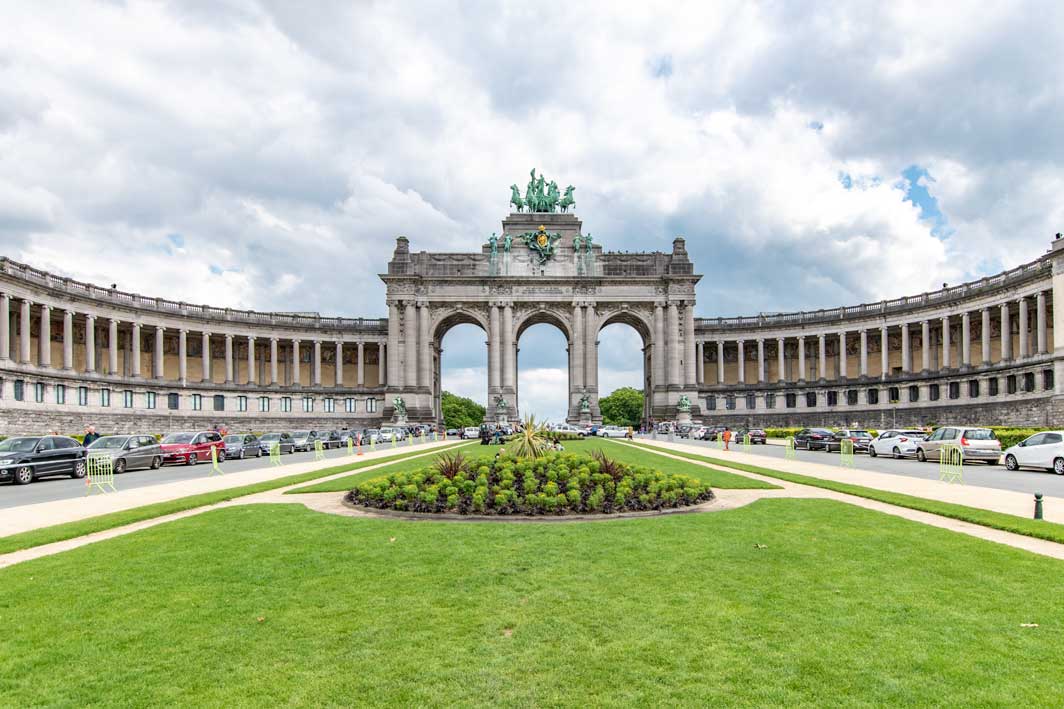 As cool as the Natural Science Museum is, it's still quite tiring, so our next stop is a world-class recreational area – Parc du Cinquantenaire.
Built by King Leopold II, to commemorate fifty years of Belgian independence, the park is not only a great place to catch some sunlight but also a famous landmark of Brussels. Since we're in Europe, you probably won't be surprised to see the giant arch rising from the southeastern point of the park. It seems like every big European city has one of those, right? The Brussels' one is pretty huge though. Don't quote me on this but I believe it's among biggest ones on the continent.
Unlike its counterparts, climbing on top of it is easy (no lines to wait on) and inexpensive (it's free). If you fancy seeing a panoramic view of Brussels European neighborhood, the entrance to the top is through the army museum.
Mini Europe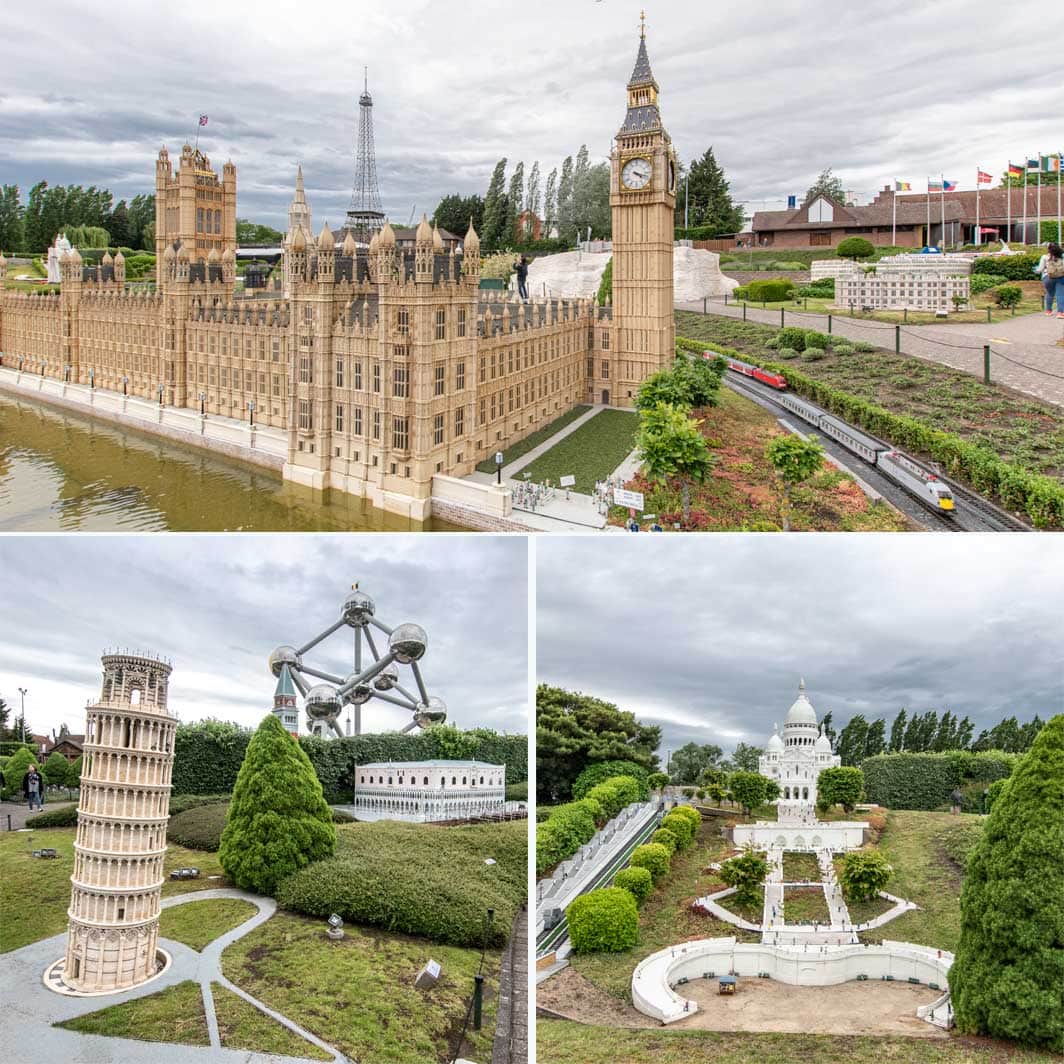 For our next attraction, we need to take the metro to Laeken – a suburb of Brussels famous with its royal park. The park is not our stop though ( it's coming next).
First Laeken attraction we're about to see is the Mini Europe miniature park. Advertised as "the only park where you can visit the whole of Europe in a couple of hours". Mini Europe would take you on a journey through every EU country and its most prominent landmark.
From the Eiffel Tower to Big Ben and Budapest's Thermal Baths ( psst, I've got an awesome Budapest guide too. Check it out! ), the park has more than 300 miniatures, awesome sound ( you can listen to all national hymns) and visual ( like an oil station catching fire) effects and can guarantee a fun experience. Seen most of the landmarks in real, I can honestly say, a lot of them look better as a Mini Europe miniature.
Working Hours:
Mon – Sun: 9:30 AM – 6:00 PM
Working hours tend to change quite often so better double check on the official site
Prices:
Regular: 17.30 EUR
Children under 12yo: 12.30 EUR
Mini Europe + Atomium: 29.40 EUR
Atomium + Laeken Park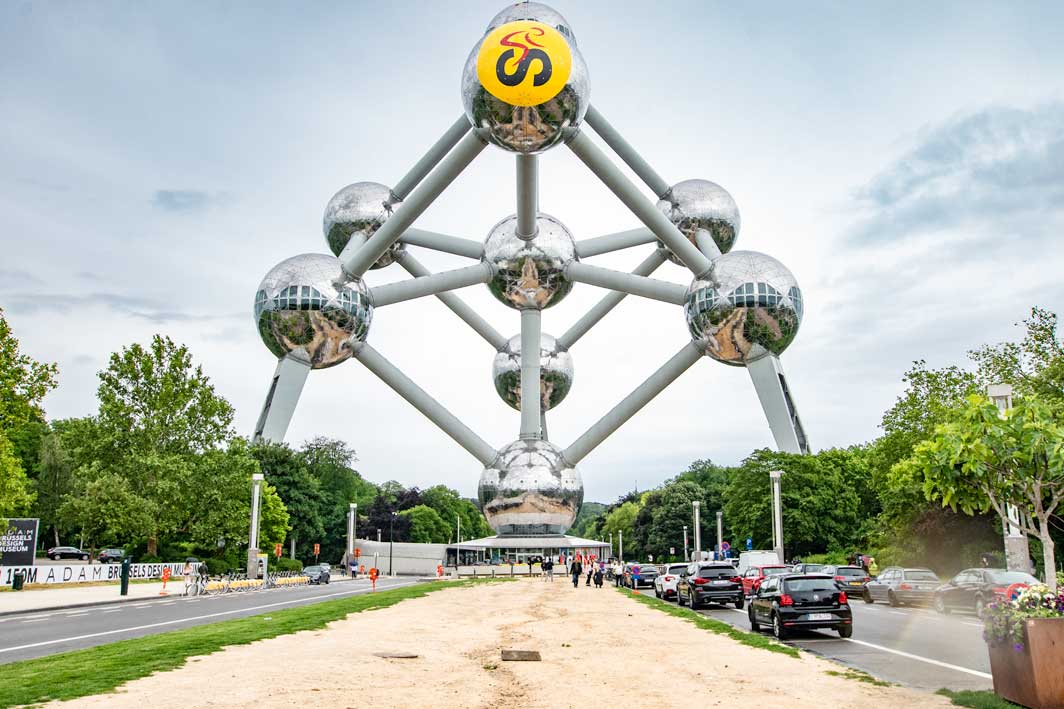 Our 2 days in Brussels will continue with the park I mentioned above – Parc de Laeken. Laid down more than a hundred years ago, the park is quite large and features plenty of attractions. While the Royal Greenhouse and the Asian Pavilion are curious places to visit (if you manage to catch them open), our focus would be on the grandest attraction in Brussels – the Atomium.
The nine connected spheres (that represent an iron crystal magnified 165 billion times) were constructed for the 1958 World fair in Brussels and quickly became an icon of the city. Just like the Eiffel Tower, the Atomium was supposed to be destroyed after the expo, but it became so popular that after few postpones it was decided the Atomium can stay for good.
Castaway Tip
It was forbidden to take a picture of the Atomium and post it anywhere online. The Belgium Society for Collecting Copyrights was so protective that until 2016, when the Freedom of Panorama bill was enacted, all Atomium photos had to be taken down or covered.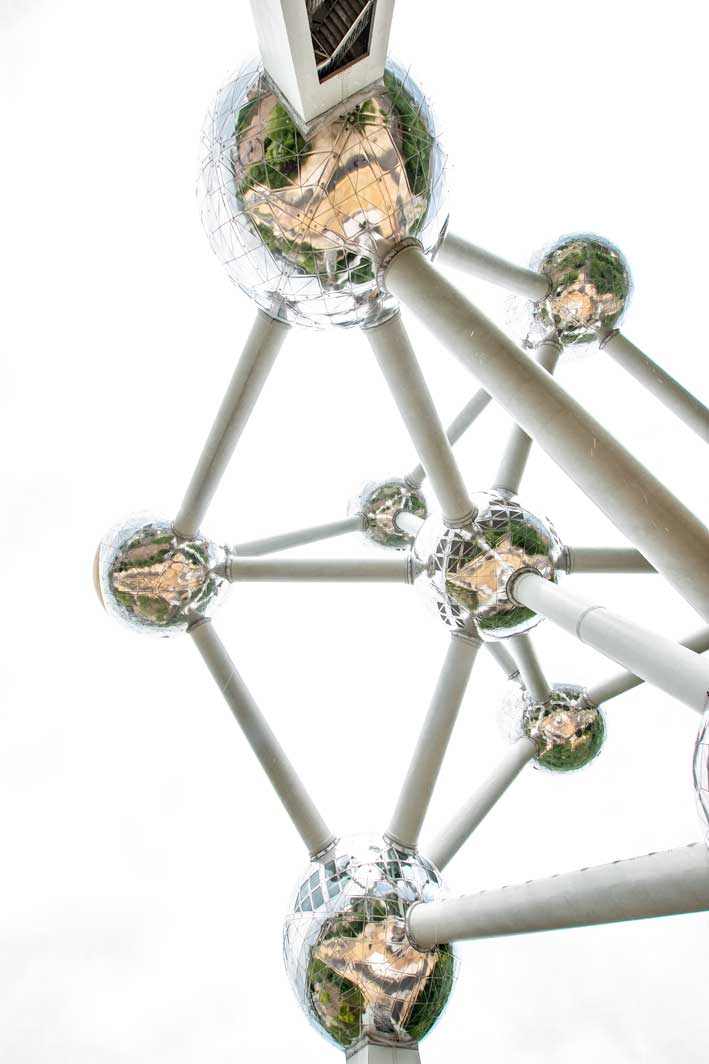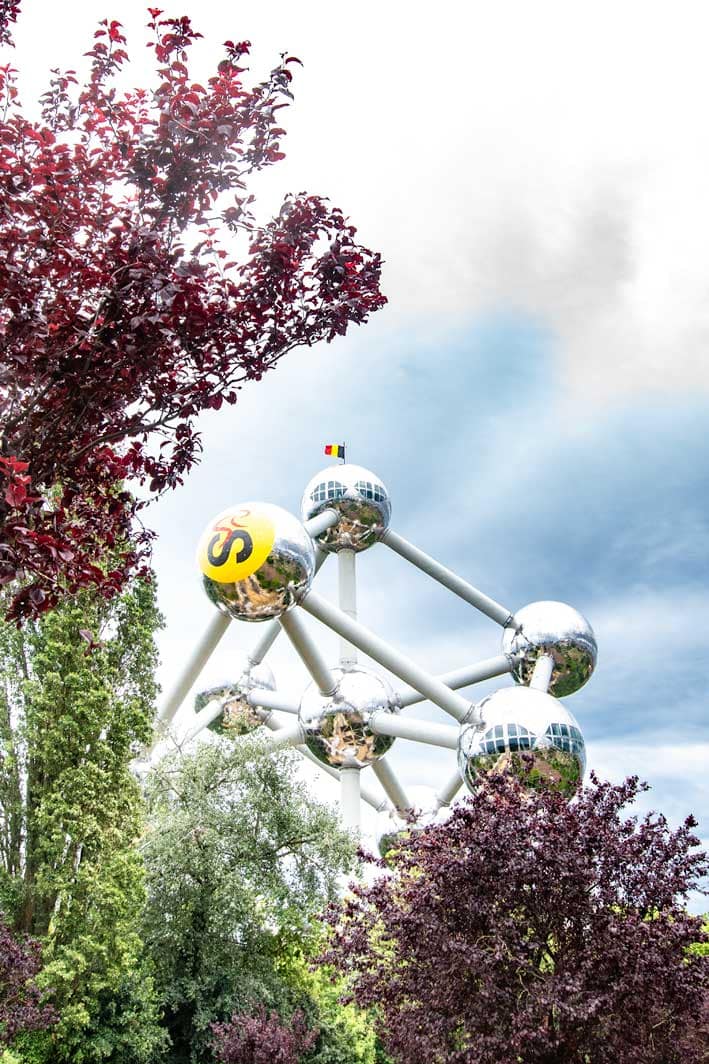 It's possible to go inside the Atomium, however, it's debatable if it's worth it. Beside the surrealistic walk through the tubes and spheres, you can find a permanent collection of the 1958 Expo, a Belgium restaurant, a beautiful panoramic view of the area and a gift shop.
Going inside is a nice experience, but considering the price, I would not suggest it as a must-have. Enjoying the giant spheres from the outside is good enough Atomium experience.
Working Hours:
Mon – Sun: 10:00 AM – 6:00 PM
Prices:
Regular – 16.00 EUR ( pre-book online and avoid the ticket line )
Children under 17 – 8.50 EUR
Children under 115cm – Free
Atomium + Mini Europe – 29.40 EUR
See Also: How to Spend 2 Days in Prague
Beer Tour / Pub Crawl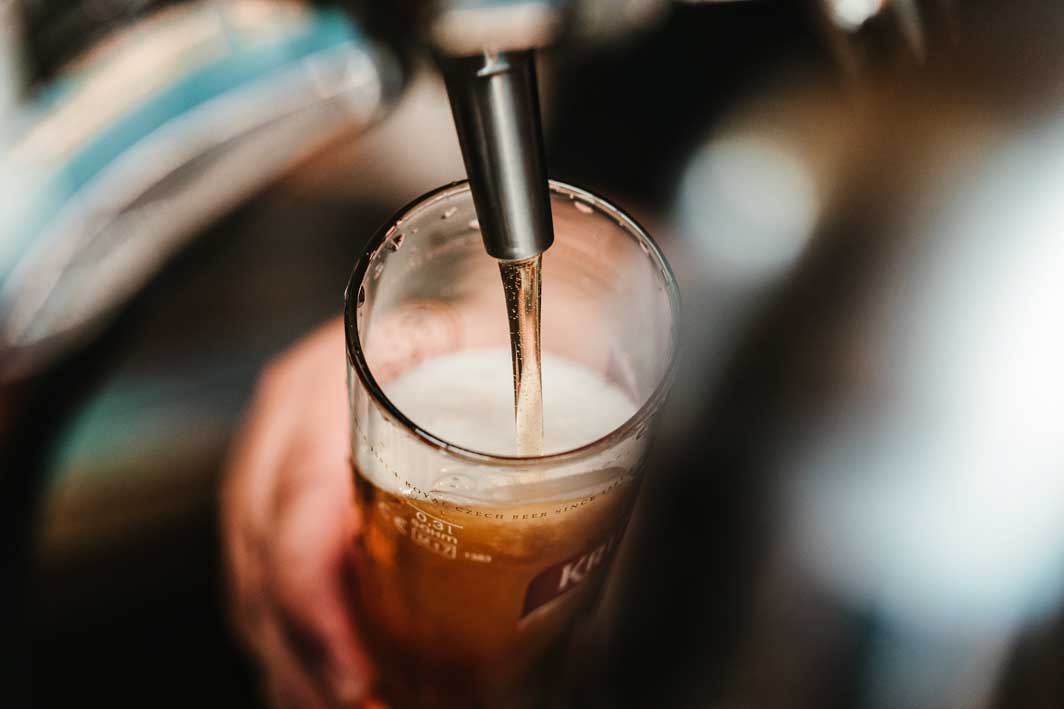 It's the end of our 2 days in Brussels, and I believe we deserve a reward!
Belgium is famous, not only for its fries, waffles, and chocolates, but also for its world-class beer. And what better way to celebrate the end of our adventure than a glass of cold beer?
You can find great brew in Brussels basically everywhere, but if you want to taste the very best, I suggest going on a beer tour. Similar to the chocolate tour from yesterday, you're going to learn the origin and traditions of the drink in Belgium. You'll taste a sample of the very best brews the city has to offer. A bucket-list experience that will emerge you into the world of Belgium beer and show you first-hand why UNESCO included Belgian beer on its intangible cultural heritage list in 2016!

Prefer a pub craw? Check out this one!
Brussels Tours
– The Waffle One: Chocolates and beer are nice but my favorite snack in Belgium are the waffles. I can seriously eat them all the time. This tour would teach you how to cook the waffles in the genuine Belgian way. The best part is, in this 1.5 hour, you can eat all the waffles you can!
– The Chocolate Workshop One: This workshop is the perfect activity for every chocolate lover. You not only gonna eat tons of chocolate, but guided by expert chocolatiers you'll learn how to make amazing handmade chocolates yourself.
– The Architecture One: Brussels has an amazing Art Nouveau buildings. On this 3-hour tour, you'll be taken to the Bailli district to see several of the most important Art Nouveau houses in the city.
More than Two Days in Brussels
You have more than 2 days in Brussels, or you want to replace something on the itinerary? Not a problem, here are my best suggestions:
Belgian Comic Strip Center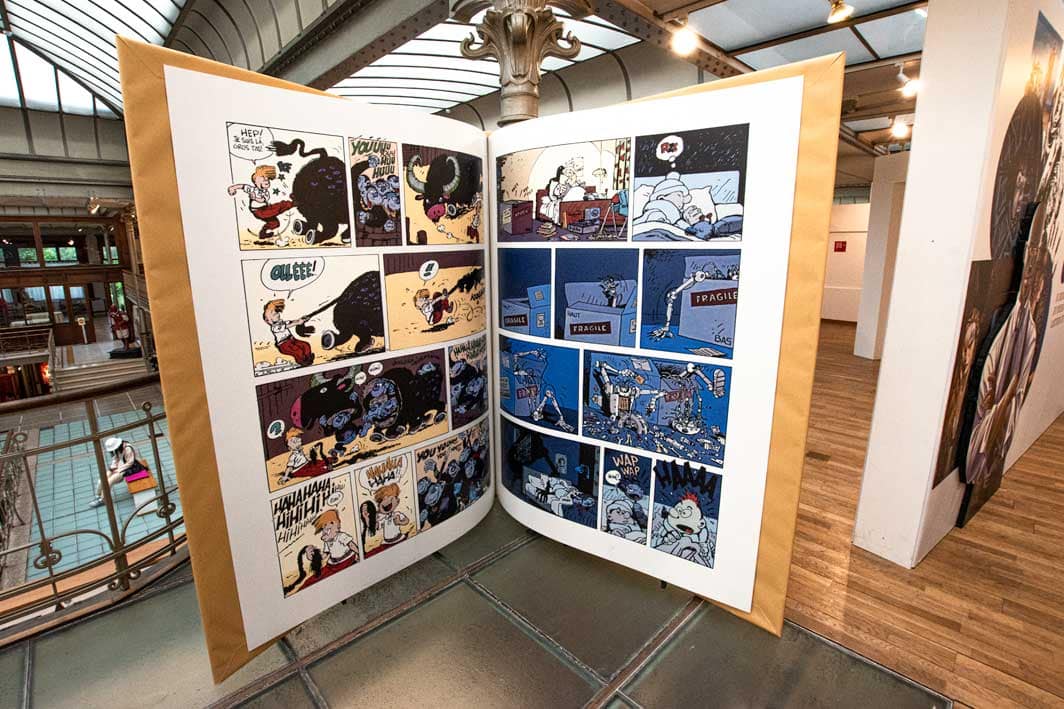 A museum located in the heart of Brussels and dedicated entirely to comics! You won't find Marvel or DC comics there, though – only Belgium comics. So if you want to learn more about Batman or Iron Man, this museum is not for you.
However, if you want to explore the history of the Smurfs or Tintin, see some early sketches and funny stories, you will enjoy your time in the Belgian Comic Strip Center!
Working Hours:
Tue-Sun: 10:30 AM – 5:30 PM
Prices:
Adults: 12.00 EUR
Senior 65+: 9.00 EUR
12-25 years: 9.00 EUR
6-11 years: 5.00 EUR
Children under 12: 5.00 EUR
Royal Palace
The Royal Palace of Brussels is considered to be among the most beautiful buildings in town. Even though the king of Belgium does not live there, it's still used for audiences and administrative purposes hence being closed most of the time.
During your exploration of the city, you'd inevitably stumble upon its majestic doors, but to get inside is a little bit tricky. The Royal Palace is open only for a month during summer, and there is no way to see it at any other time (unless you have an audience with the King of Belgium).
Working Hours:
Open only in July and August (check the exact dates here)
Tue – Sun: 10:30 AM – 5:00 PM
Monday – Closed
Prices:
Free
Centre for Fine Arts
Also known as BOZAR (don't ask me why), the Brussels center of arts can offer a wide variety of shows and exhibitions. Housed in a vintage1929 building, BOZAR includes an exhibition hall, cinema, and a concert hall. If you got too many waffles and you want a place to sit and enjoy some art – BOZAR would be an excellent fit for your 2 day Brussels itinerary.
Royal Greenhouse of Laeken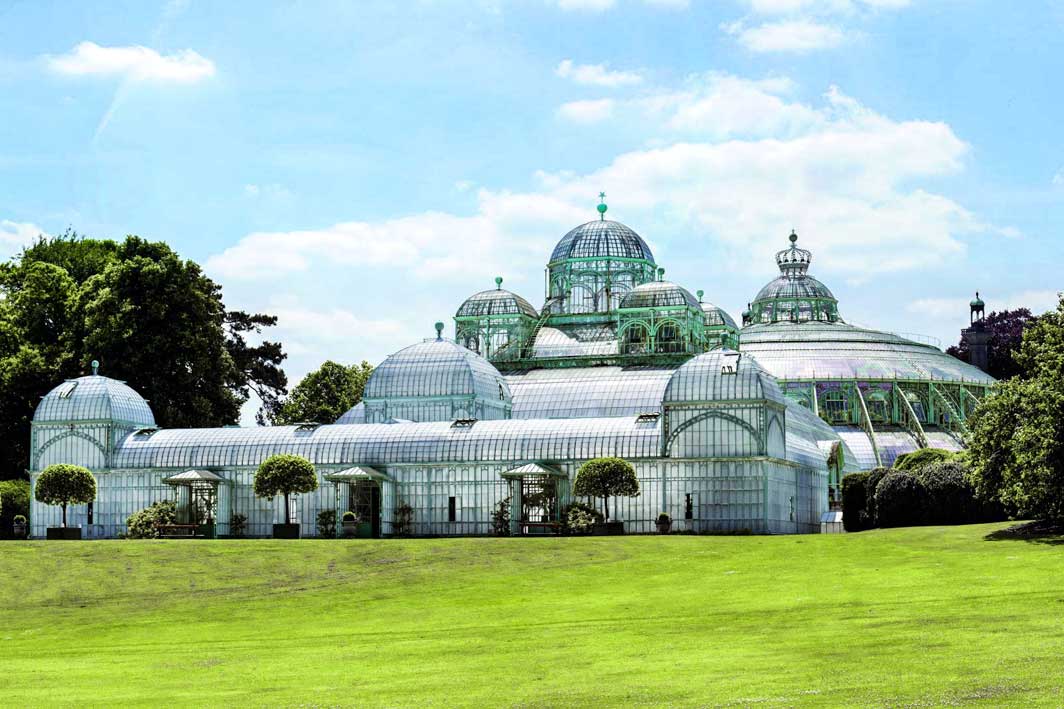 Built in the 18th century, the Royal Greenhouses of Laeken is a vast complex of greenhouses housing the Royal botanical collection of Belgium. The famous collection features some incredibly rare species from around the world and is a joy to explore.
While certainly an intriguing place to visit, the greenhouse is open for public only for two weeks in April and May. That's why it's not part of my main itinerary guide.
Working Hours:
Check here for this year's opening dates and hours
Prices:
Regular: 2.50 EUR
The EU Parliament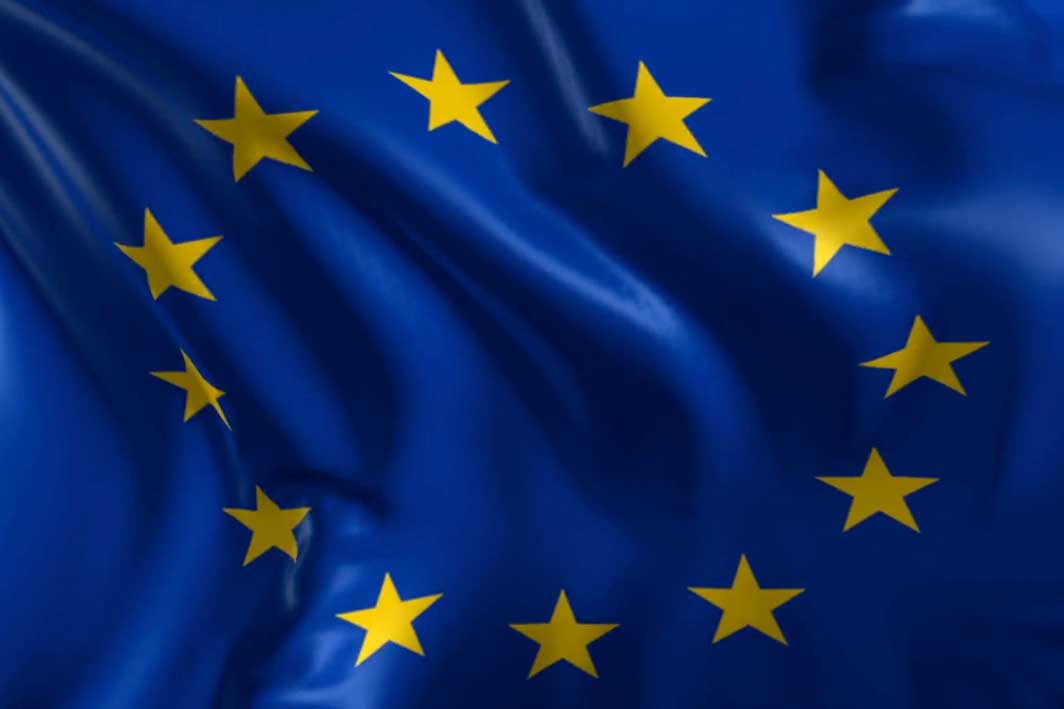 This one is a very specific attraction. As you probably know, Brussels is one of the capitals of the EU and hosts plenty of EU administrative buildings, including the EU parliament. If politics fascinates you, you'd probably enjoy a visit inside the European Parliament Hemicycle and even see a plenary session.
More details about the visit can be found on the official site
Day-trip to Bruges & Ghent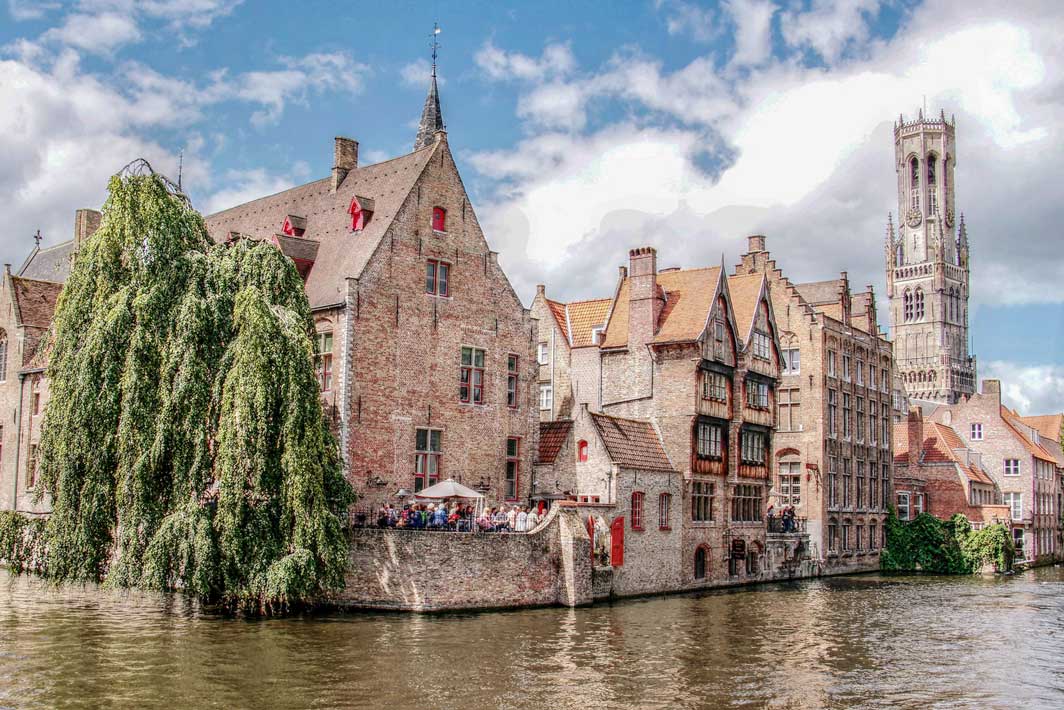 If you got a day to spare, what better way to do it but exploring more of beautiful Belgium. Wander around Bruges – one of the more preserved medieval cities in Europe and see why its nicknamed "Venice of the North".
Visit the old port of Graslei in Ghent and learn more about the astonishing Castle of Gravensteen. Bruges & Ghent are probably the most attractive cities in Belgium, and this inexpensive 10-hour day trip is a perfect way to enjoy their highlights.
Check the latest price
Brussels Itinerary Map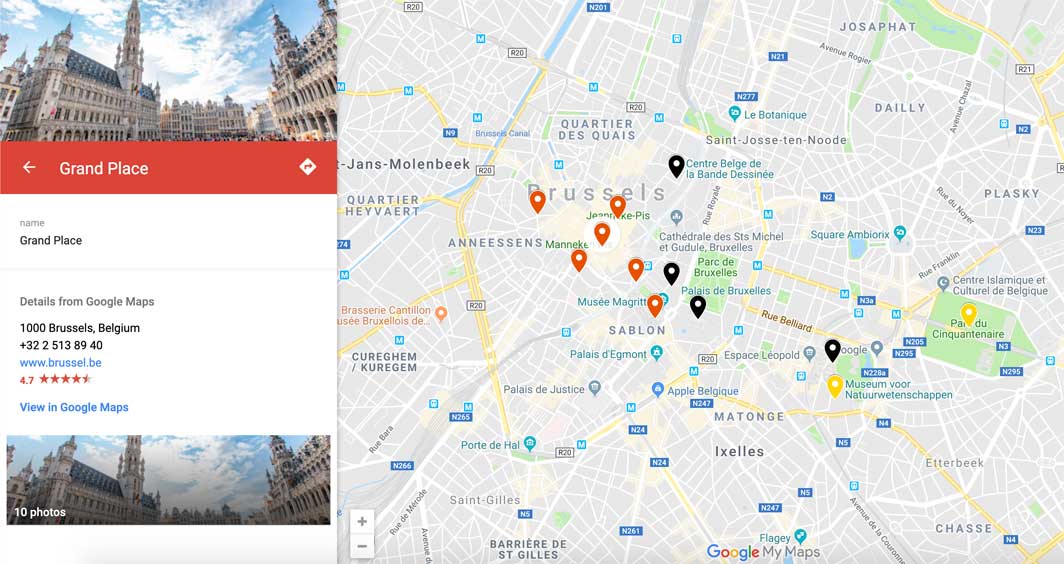 Brussels FAQ
Is it safe to travel to Brussels?
Just like most of the European capitals, Brussels is a relatively safe city. Violent crimes are rare. Same goes for tourist scams. The main danger in Brussels is the pickpockets. Be very vigilant around the major tourist attractions (like the Grand Place and the peeing boy), inside the metro and around Brussels' train station.
The capital of Belgium may be safe, but that doesn't mean you should go there unprepared. On each of my guides, I try to stress how vital travel insurance is. I currently use HeyMondo for my travels because they have proven themselves to me more than once over the years. The link above will give you a 5% discount, but If you have another favorite provider, that's ok. Just make sure you have one because you never know what may happen.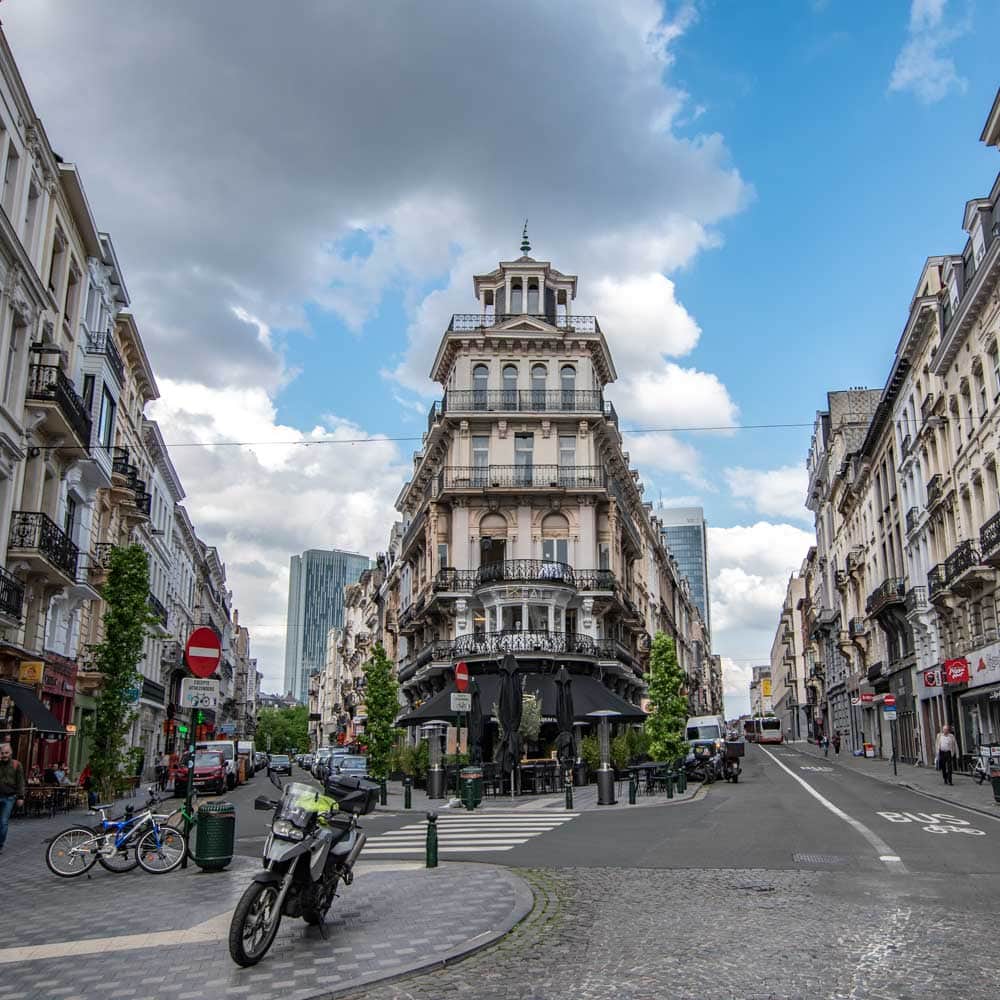 How do I get from Brussels airport to the city center?
Two airports are serving Brussels, the main Zaventem Airport and the remote Charleroi Airport.
——————————
If you land on Zaventem Airport, you've got plenty of options to get to town.
– Rent a car
The most convenient way (most people use) is to rent a car, of course. You can skip all the public transport research and enjoy the scenery alongside the road. To find the best offers in Belgium, check the Discover Cars tool, which will compare all the providers in the country.
– Private transfer
The most convenient way to get straight to your hotel, you can get a private transfer with a driver that will wait for you at the airport. If you are a group of 3-4 people, this would also be the cheapest way.
Check out the price here
– Train
The airport train can take you to Brussels' Central Station for around 20 minutes. It operates between 5 AM and midnight, every day of the week. A single ticket costs around 13.00 EUR.
– Bus
If you stay somewhere close to the European district, the bus may be your best bet. Two buses are serving the Zaventem Airport – 12 and 21.
Line 12 operates from Monday to Friday till 8 PM. Its last stop is Luxemburg station, and its only metro stop is Schuman (EU Headquarters).
Line 21 operates after 8 PM on weekdays and weekends and has way more stops than line 12. The last one is just outside the Royal Palace
– Taxi
If you prefer the traditional way to get to your hotel, it's going to cost you around 50 EUR.
——————————
Charleroi Airport
From Charleroi airport, there is only one way to get to Brussels, and that's the airport shuttle. The journey lasts about an hour and leaves you at the bus stop in front of the Bruxelles-Midi train station. The ticket costs 17 EUR (one way), but if you book it online, you can save a few euros and pay only 14.70 EUR.
How do you get around in Brussels?
Most of Brussels' attractions are situated close to each other, so exploring them is best done on foot. The small windy alleys around the center are my favorite part of Brussels, and there is no better way to get the best of them than your own two legs.
For some of the remote attractions, use the city metro or make the thing most people do – rent a car. The six lines crossing the city can take you anywhere you want in no time. Unlike other European capitals, the subway is quite easy to navigate and won't require staring at the map for ages.
It's important to note that the metro ticket is valid not for just one ride but all lines and means of transportation (like buses or trams) in the space of one hour after validation.
Prices:
One-way ticket: 2.10 EUR (2.50 if bought inside a bus or a tram)
Five-journey ticket: 8.00 EUR
Ten-journey ticket: 14.00 EUR
And if public transportation is just not for you. You can always get a ticket for the awesome Hop-on-Hop-off bus.
Do they use Euros in Brussels?
Since Brussels' is the capital of the EU, it would be odd to use anything else but Euro.
– Can you use US dollars in Brussels?
No, you can't. Even if you find a place that accepts US dollars, the exchange rate would be abysmal.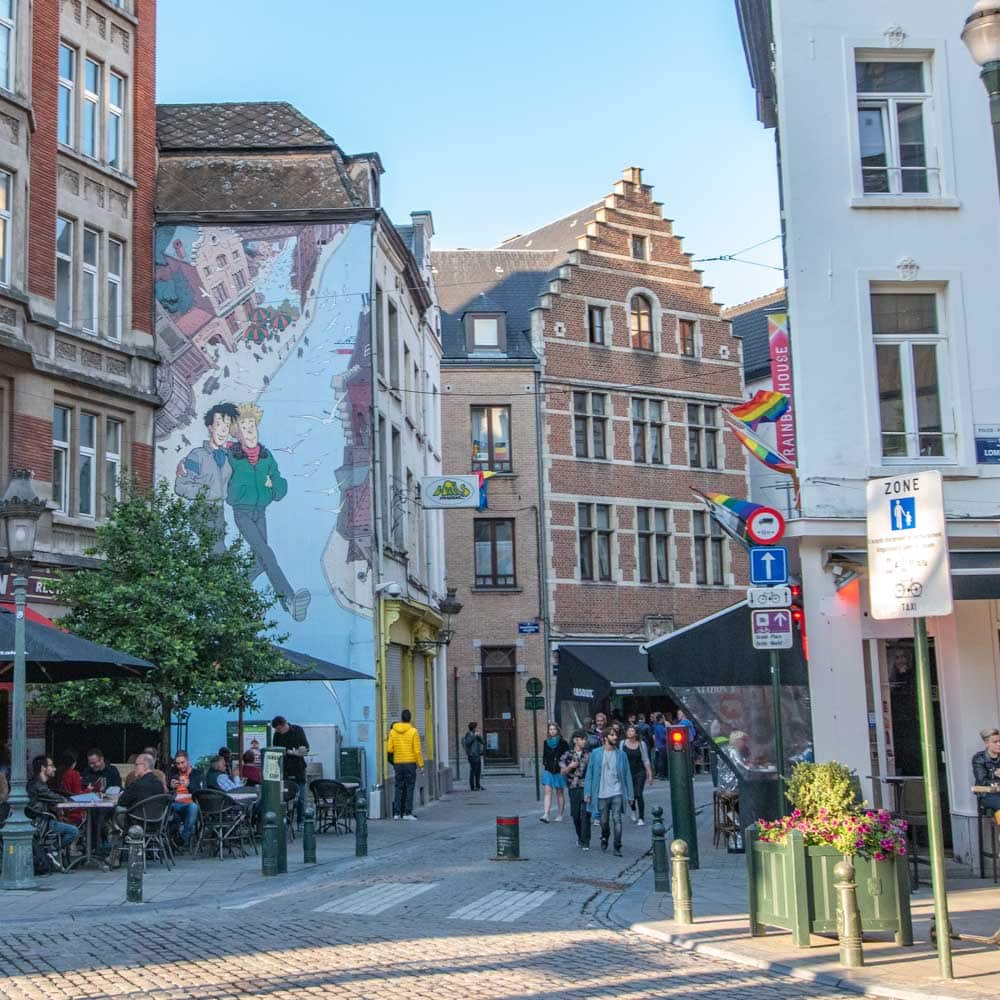 Is Brussels expensive?
Brussels is not the most expensive city in the world, but it's still the capital of a major European country, meaning you would have to spend some money. Some example prices:
Lunch menu in the business district – 15 EUR
Plain waffle – 2 EUR
Basic dinner for two in a pub – around 40 EUR
Dinner in a restaurant – around 60 EUR
A beer in a pub (500ml) – 3.50 EUR
Check for more prices here
What food is Brussels famous for?
The most popular Belgium food is…no, it's not the chocolate, nether is the waffles. The most popular Belgium food is fries. They may be known as French fries all around the world, but you'd never heard someone call them that in Belgium. You can order fries in any restaurant in Brussels with plenty of different sauces.
The second most famous food is waffles. Perfect for breakfast, lunch, or a quick snack, waffles in Brussels are magical. Local's advice – don't get the fancy waffles with millions of toppings sold in the tourist areas. Find one of the yellow trucks around town and get a plain sugar waffle – the best way to enjoy their unique taste!
Last but not least – chocolate. You'd notice a lot of chocolatiers around Brussels, and I'm sure all of them offer heavenly good chocolate. If you want to find the best ones though, get a chocolate tour around town and make your life a little bit sweeter.
That's all from me, I hope you enjoy your 2 days in Brussels!
————————————
If you haven't planned your trip there yet, find out how I plan my trips!
————————————
I have 12 bucket list ideas for the Belgium. See my impossible bucket list of 1700+ adventures!

Is Brussels on your bucket list?
---
Some of the above are affiliate links and I will earn a percentage of the sale if you purchase through them at no extra cost to you. This helps keep my site running – so thanks in advance for your support!