You're daydreaming about a trip to Europe, and you can't help but wonder what's there to do in the capital of France? I'm glad to tell you, there's plenty. In fact, the Paris bucket list is so overstacked that I don't think there's any other city in the world that can rival it.
Paris has been one of the world's most prominent cities for centuries and has contributed so much to our everyday life that I can't even imagine what it would be like if it didn't exist. No Eiffel Tower, no croissants, baguettes, eclairs, and macarons, no Bloody Marry, and no Disneyland Paris. A grim timeline I don't want to live in!
Following the Paris bucket list will guarantee you an adventure of a lifetime. Strolling through the romantic alleys of authentic neighborhoods, enjoying magical moments around world-renounced landmarks, seeing some of the most famous art masterpieces ever made, spectating one-of-a-kind shows, and stuffing your face with some of the tastiest sweets out there.
This is Paris, are you ready?
Climb the Eiffel Tower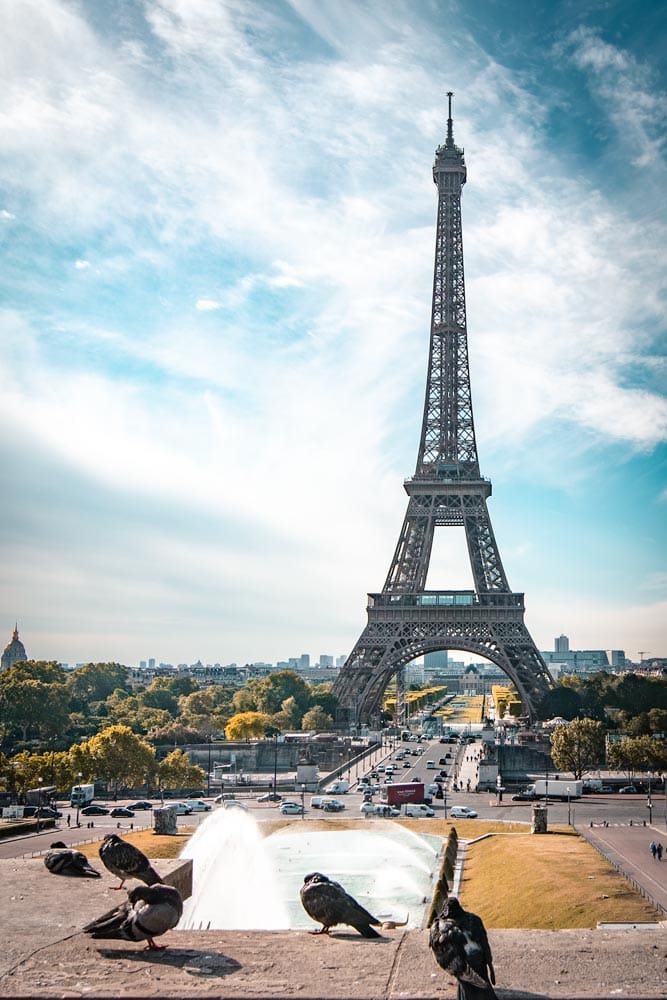 It may sound boring, but it's a Paris bucket list classic. To go to the City of Lights and not to climb the Eiffel Tower is inexcusable. Yes, it's touristy, yes, you have to wait in two long lines, yes it's a cliche, and yes, it's definitely worth it.
My recommendation is to climb not to the top but the second level only. The top area is quite small, reeealy overcrowded, and will ruin the otherwise cool experience. If you're worried you'll miss the best panoramic view in Paris, don't be. The best view is from another Parisian tower, but more on that later.
Oh, one more thing. If you're fit enough, I recommend climbing the tower on foot. It may take some time, but it gives an extra spark to the whole experience, and truth be told, being inside something as great as the Eiffel Tower is pretty awesome.
Walk along Avenue des Champs–Élysées
Champs-Élysées is the famous Paris shopping street. It's quite large and features all premium brands in the world. Like seriously, all of them.
Why did I say walk along and not go shopping? Well, if money means nothing to you, go ahead and shop till you drop. If you're one of us, the mere mortals with reasonable budgets, better stick to window-shopping only.
Get Lost in the Louvre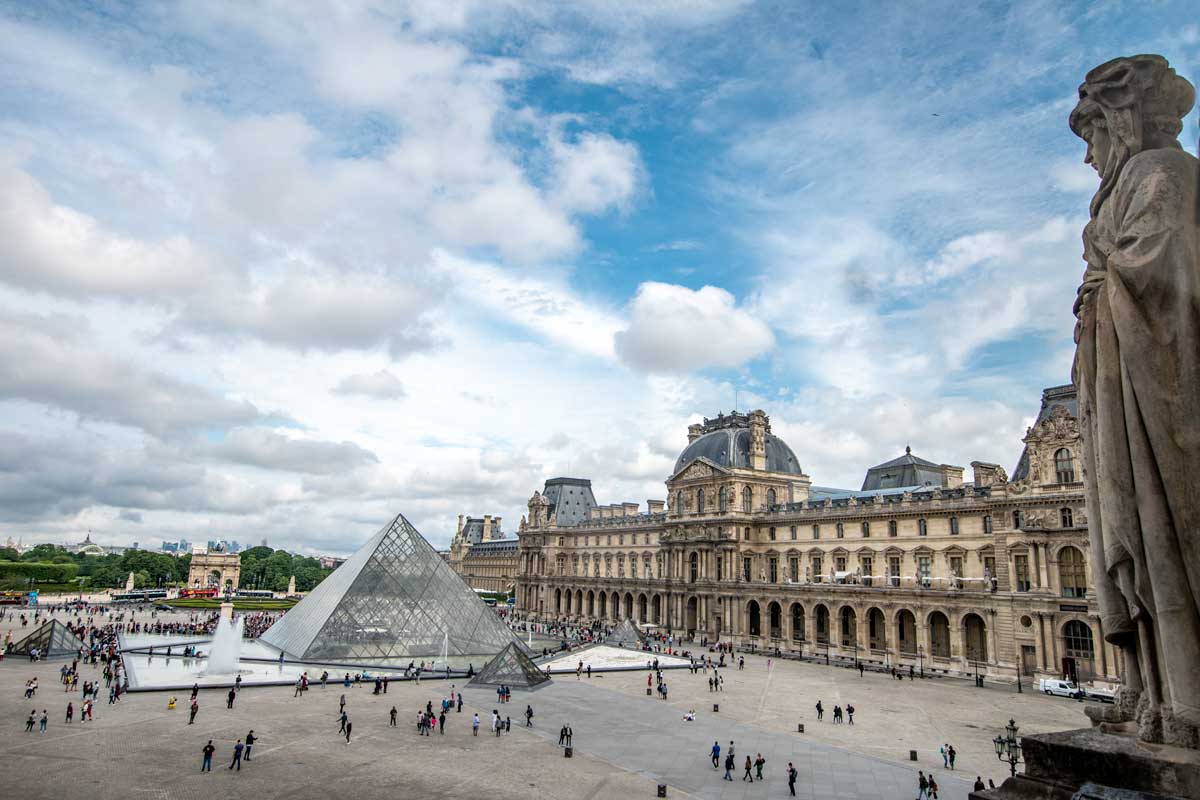 The Louvre is the biggest museum in the world, and getting lost there is quite an easy thing to do. Not getting lost is actually impossible if you ask me, but it's also unnecessary.
Strolling through the halls full of ancient treasures is definitely a Paris bucket list activity you don't want to miss. Make sure to find Mona Lisa and Venus de Milo, though. It would be a shame not to see them.
Enjoy the expressionist paintings in Musee d'Orsay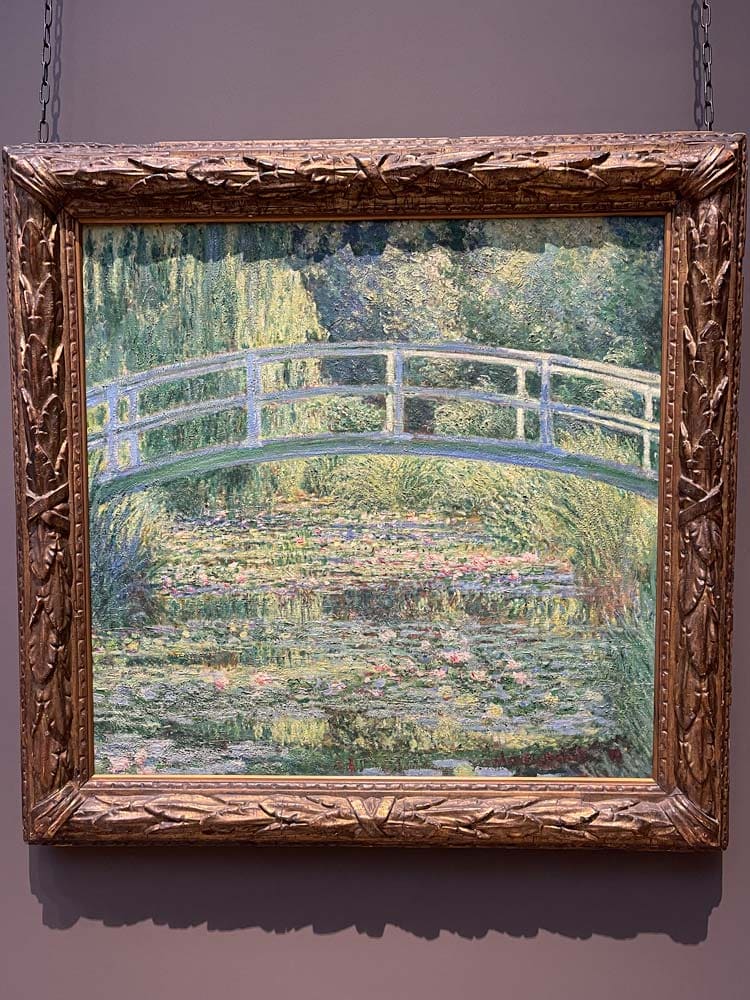 You may have never heard about Musee d'Orsay but let me tell you something – this museum is so incredible that if it were in any other city, any other city in the entire world, it would've been at least ten times more famous. Situated a street across the Louvre, however, doomed Musee d'Orsay to be forever in its shadow.
What is there to see? Just the best impressionist collection in the world. Some of the most highly rated masterpieces of Renoir, Manet, Van-Gogh, Degas, and my personal favorite – Monet, are the biggest highlight of Musee d'Orsay.
Get a selfie with Arc De Triomphe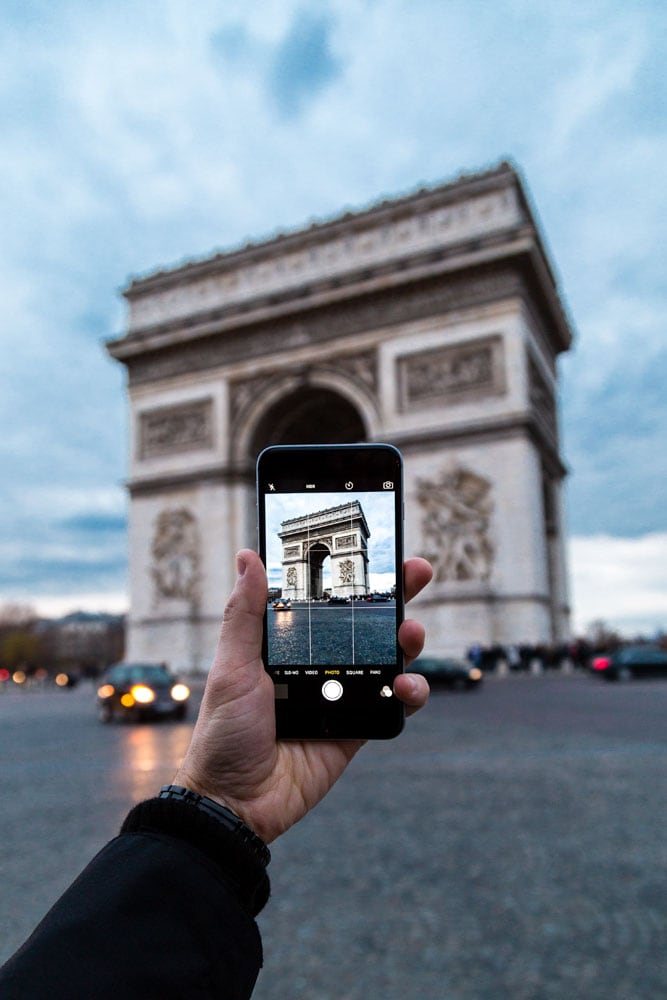 Yet another world-class landmark you can tick of your Paris bucket list, Arc De Triomphe commemorates those who died for France in the French Revolutionary and Napoleonic Wars.
Something most people (including me) didn't know is that you can climb to the top of the 50-meter high arc and check out the city landscape. The line is horrendous, though, so unless you have an online ticket, you better stick to selfies.
Embark on a River Seine cruise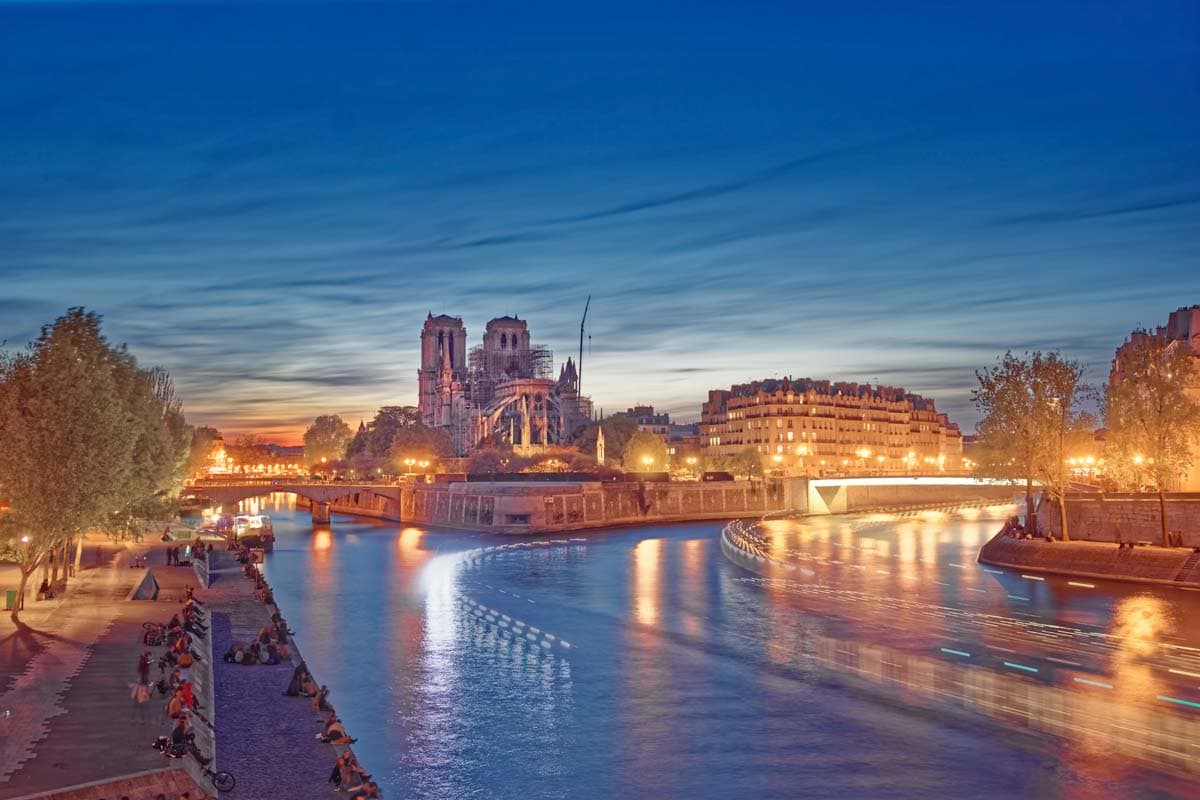 Being one of the most famous rivers in the world and a UNESCO World Heritage Site, it's not surprising that cruising over the Seine River is a popular bucket list activity.
If you have the chance to do it, I strongly suggest taking an evening cruise and seeing why one of Paris' nicknames is the City of Lights (Fun Fact: it's due to the bright minds that lived in the city through the years but the evening Paris lights are quite the spectacle too)!
See Also: The Absolute Rome Bucket List
Have an Instagram photo at Rue Crémieux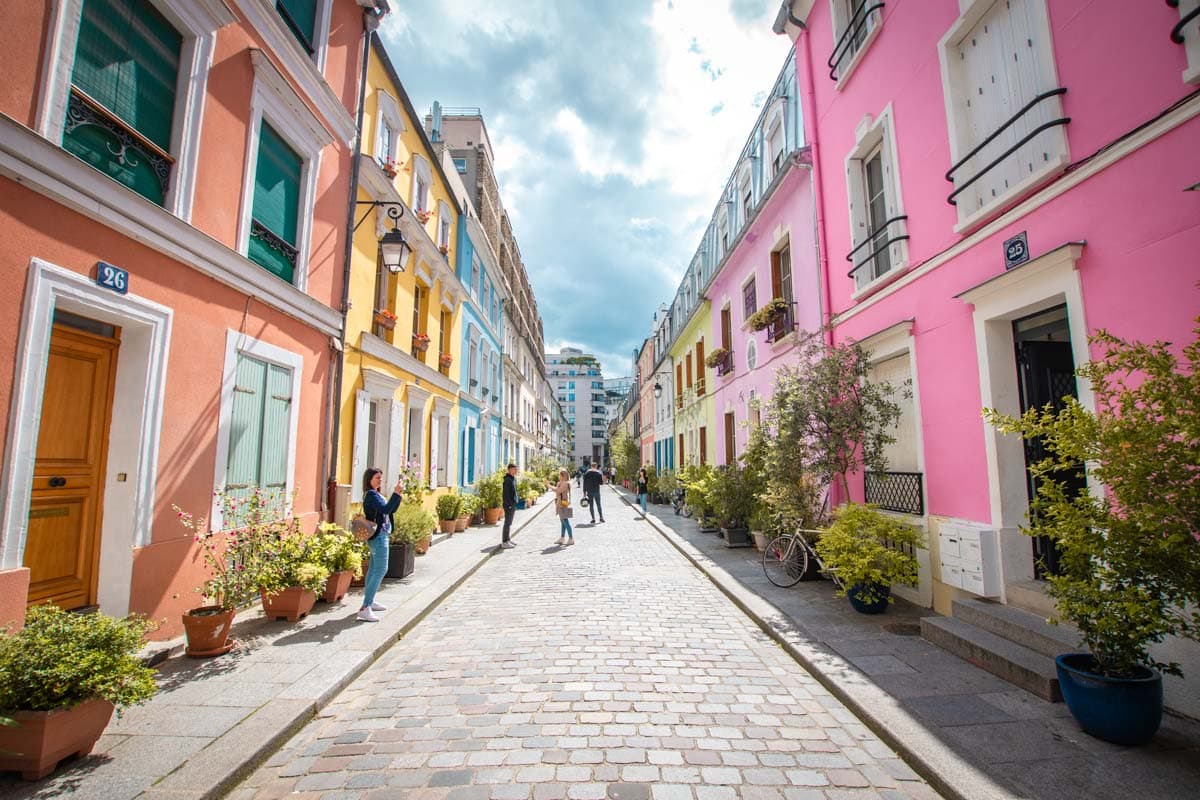 A not-so-famous Paris bucket list activity for all of you who love to take photos. The colorful houses of Rue Crémieux look like just made for pictures! Just make sure you're not bothering the people who live there. I'm sure it's quite annoying to have a home on an alley that famous.
Get creeped out inside the Paris Catacombs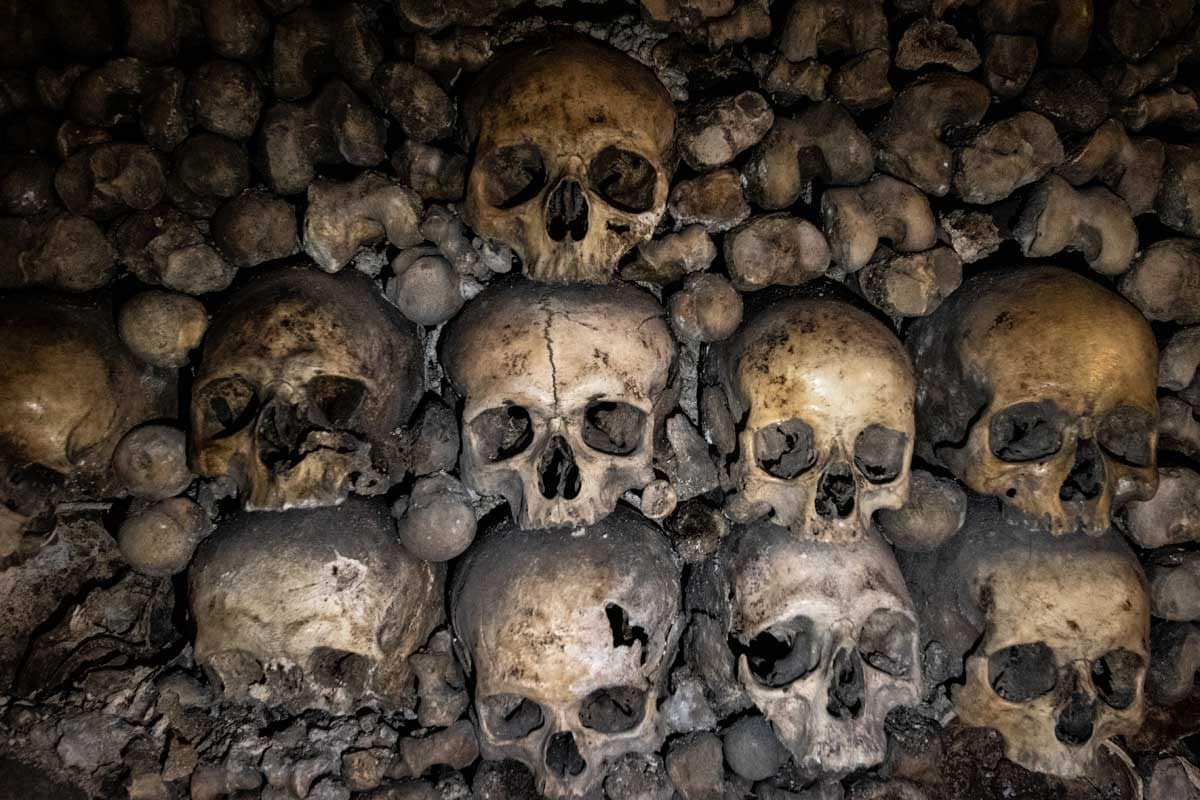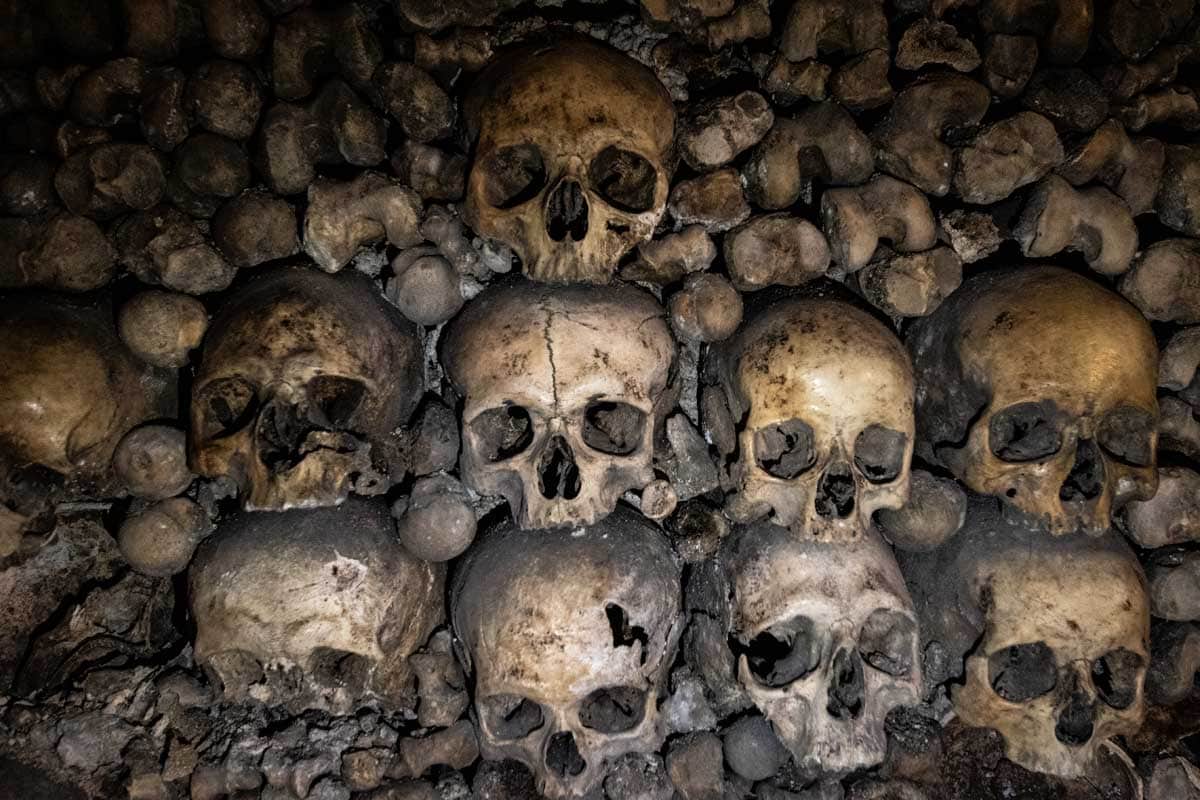 The Paris Catacombs are something out of this world. Seriously, imagine an underground labyrinth built entirely of human skulls and bones! Creepy and at the same time spectacular. It truly makes you appreciate life.
Before you embark on that adventure, though, don't make the same mistake as me, going there without any skip-the-line tickets. The Paris Catacombs line is the slowest one in Paris. It took me around four hours to get inside. I'm not kidding, four freaking hours!
Try the best macarons in Paris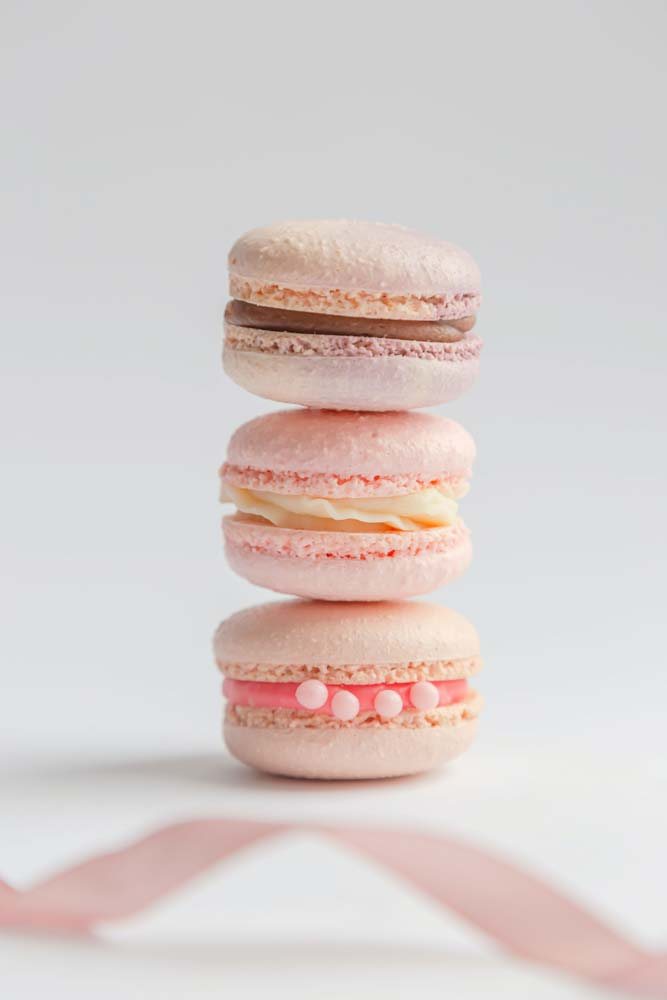 I have something embarrassing to admit – I had never tried French macarons before I visited Paris. Yes, they are colorful and attractive, but somehow they never looked appealing enough for me.
Now, after trying those colorful little pieces of heaven, I can easily say this is my favorite sweet in the world. The highest-rated macaron places in Paris are Ladurée, Pierre Hermé, Sadaharu Aoki, and Carette, but I'm pretty sure that no matter where you get them from, they would taste amazing.
Have breakfast with croissants, baguettes, and French cheese
The most signature french foods are perfect for breakfast. No matter where you get croissants or baguettes from, they should have that premium French quality. It's something required by law there.
As for the cheese, unless you're lactose intolerant, there's no way you wouldn't find one you absolutely love.
Have a picnic at the steps of Sacré-Cœur Basilica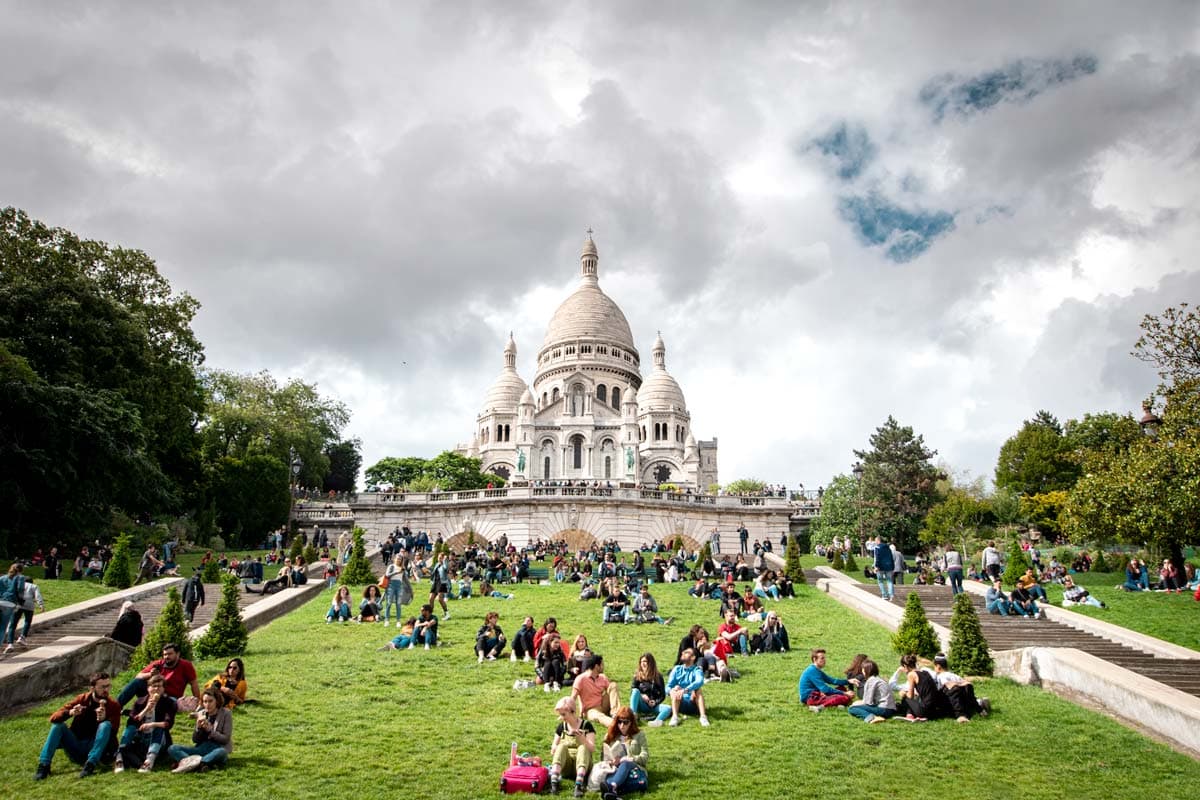 Sacré-Cœur Basilica is one of the signature Paris landmarks and one of the world's most recognizable churches. While getting inside may be the first thing on your mind, I suggest skipping it. The truth is, the church is way more spectacular from the outside, and you don't need to waste another hour in a line.
The real charm of Sacré-Cœur is the area around it. Get yourself a few baguettes and a bottle of fine French wine, and join the dozens of Parisians who enjoy a picnic on Sacré-Cœur's steps. As a bonus, you get a lovely panoramic view of Paris.
See Also: The Magical Bali Bucket List
Get a tiny Eiffel Tower keychain
It may sound tacky, but I love to have little souvenirs from my travels. The Eiffel Tower keychain may cost just a Euro, but its value jumped immensely once I brought it home. Turned out the one-euro keychain is the best way to bring those Paris memories back on a daily basis.
See the gargoyles of Notre-Dame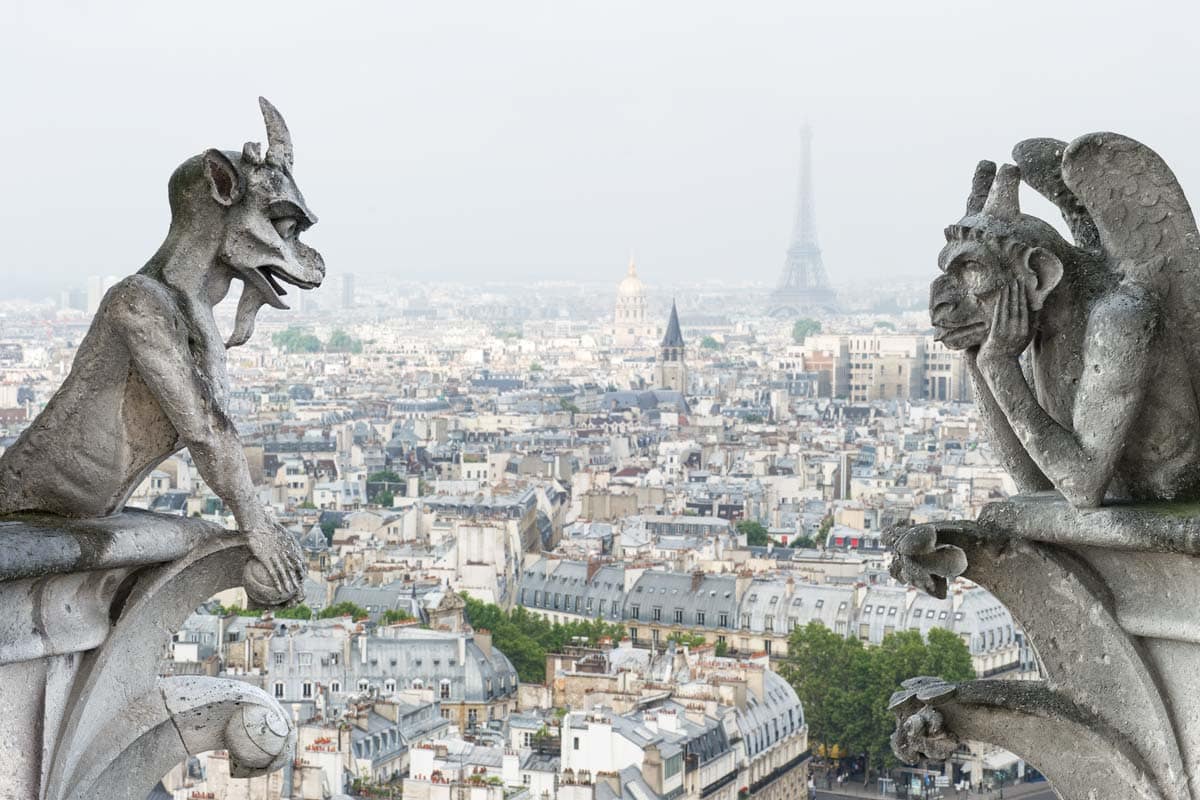 There are many famous temples in Europe, but nothing can rival the global-icon status of the Cathédrale Notre-Dame de Paris.
The first time I heard about it was when I watched Disney's 'The Hunchback of Notre Dame'. They had a few live gargoyles there who used to sing and make jokes. Sooo when I found out that there's a real Notre Dame with real gargoyles, it was natural to have it straight on my Paris bucket list (even though I didn't know what a bucket list was at the time).
Watch a show in Moulin Rouge
Being the most famous cabaret in the world, Moulin Rouge is a Paris must-see. While you may not find Christina Aguilera or Nicole Kidman there, the cabaret has more than a hundred years of performances under its belt and guarantees a great time (you can also brag about it to your friends back home).
Get island vibes in the Quai Branly Museum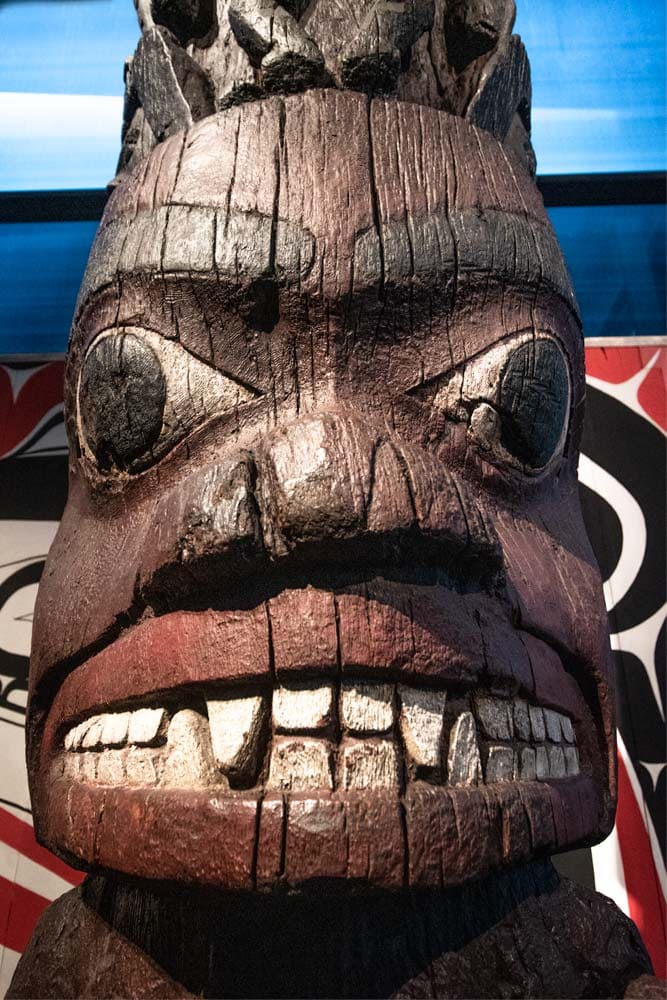 Being one of the most underrated museums in museum-rich Paris, Quai Branly's exposition takes you to the remote parts of the French colonies.
Displaying tribal masks, costumes, tools, and all sorts of cultural treasures from Africa, Polynesia, Asia, and the Americas, this lovely museum deserves a spot on your Paris itinerary.
Have a photo with a barret
Believe it or not, in Paris everybody looks good with a barret. Extra points if you have the Eiffel Tower in the background.
See Also: The Colorful Lisbon Bucket List
Experience a sunset on Trocadero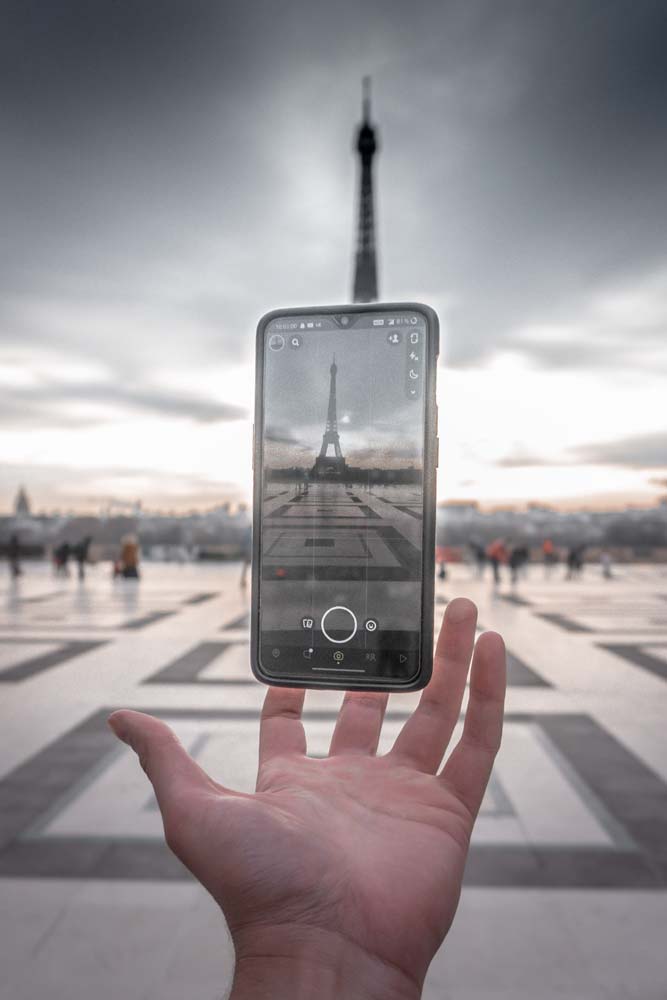 Trocadero is the square situated across the Eiffel Tower, a favorite place for tourists and photographers. The real magic of Trocadero, though, is at sunset.
At dusk, travelers and locals blend into a romantic scene featuring a lot of French wine, street performers, and a golden-lighten Eiffel Tower. Best time and place to catch the spirit of Paris.
Dine at a fancy French restaurant
I have to admit I'm not that much of a foodie. When I travel, I try to spend as little time as possible on food and rarely visit restaurants.
However, even I'm curious what the dining experience in a Michelin star French restaurant is. Yes, it would be expensive and hard to book, but it's definitely something you must try at least once in life.
See the panorama from the top of Montparnasse Tower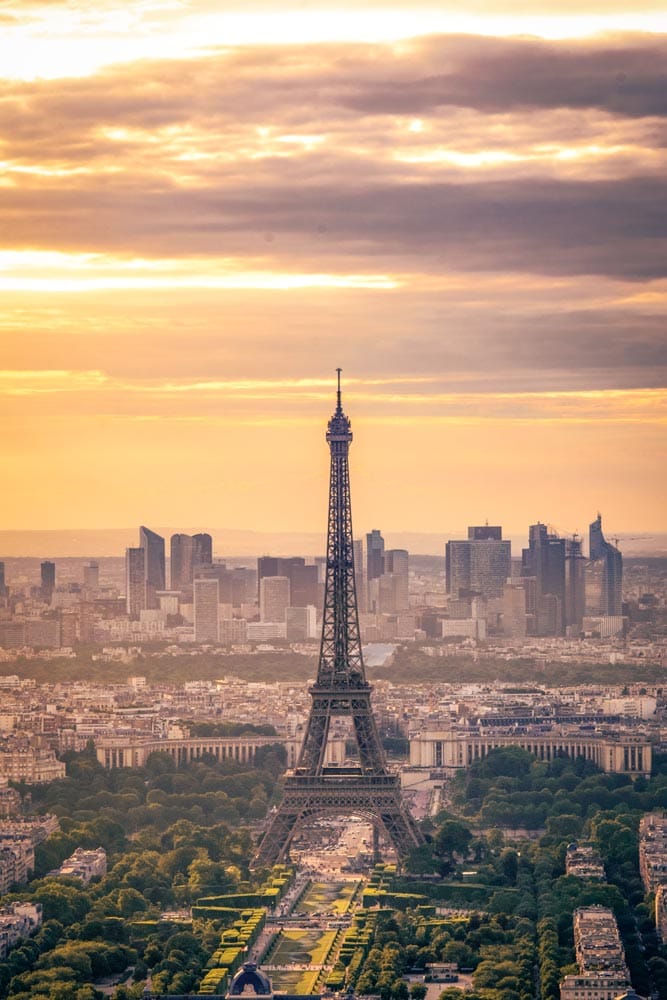 Also known as the Most beautiful view in Paris, the vista from the top of the Montparnasse skyscraper is the best place for landscape photos and golden sunsets.
Wait, I thought the best view in Paris is from the top of the Eiffel Tower?
Of course not. For a view to being considered the best in Paris, it needs to have the Eiffel Tower in it, right? That rules the Eiffel Tower itself from contention. I told you there's no need to get all the way up there.
Have the time of my life in Disneyland Paris
Do I have to explain this one? I'm pretty sure we all shared the Disneyland dream when we were kids. A visit to the magical Kingdom is something that will never leave my bucket list, no matter if I'm 5, 25, or 50 years old.
Pretend to be a King in the Versailles Palace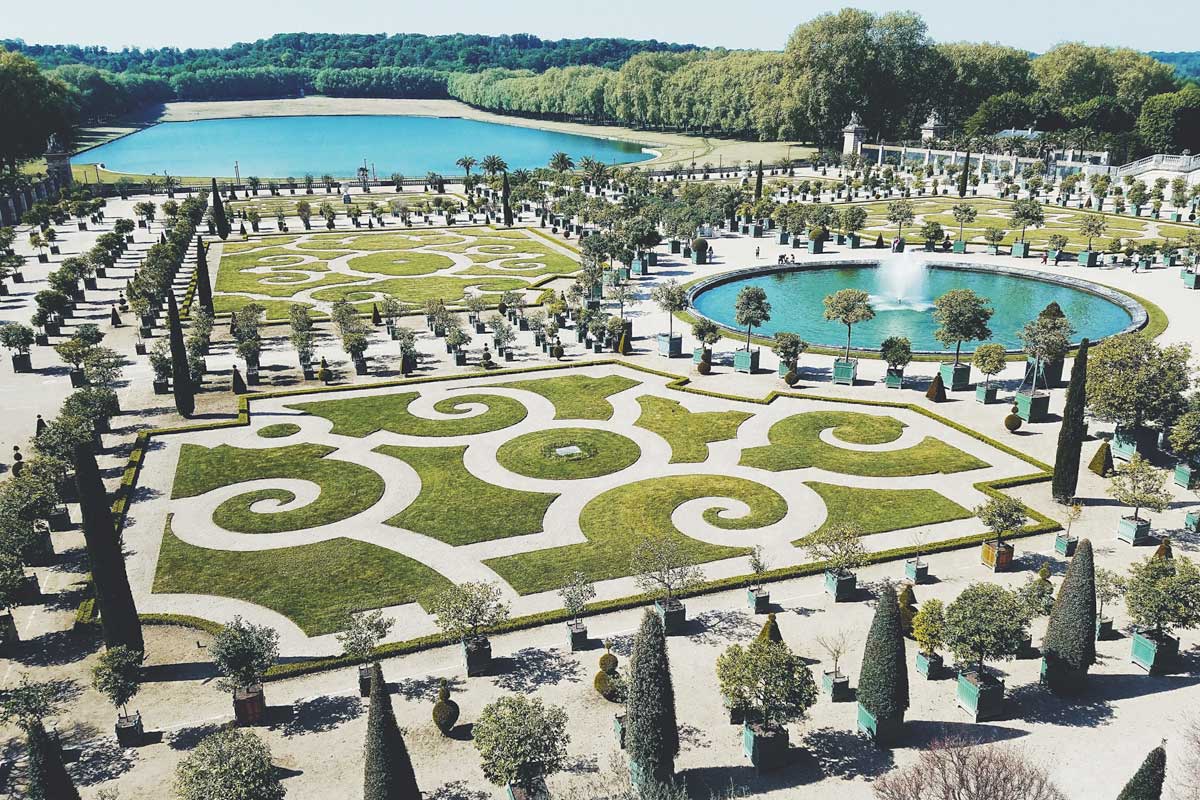 Not exactly in Paris but close enough to be on the Paris bucket list, the Versailles Palace is the most spectacular and opulent palace in the world. As a former home of all French Kings and Queens, that comes hardly as a surprise.
Get yourself a ticket for the gardens too and spend a day walking the steps of the Sun King Louis XIV and Marie Antoinette.
Get a book from Shakespeare and Company
Having the most famous church, tower, museum, and palace in the world is not enough for the City of Light, so it had to add the most famous bookstore too.
Located in the 6th arrondissement, Shakespeare and Company is where many then-aspiring writers such as Ezra Pound, Ernest Hemingway, Djuna Barnes, James Joyce, and Ford Madox Ford used to gather and discuss books and ideas (and also spend the night when they were broke).
See Also: The Peculiar Hanoi Bucket List
Marvel at the beauty of Sainte-Chapelle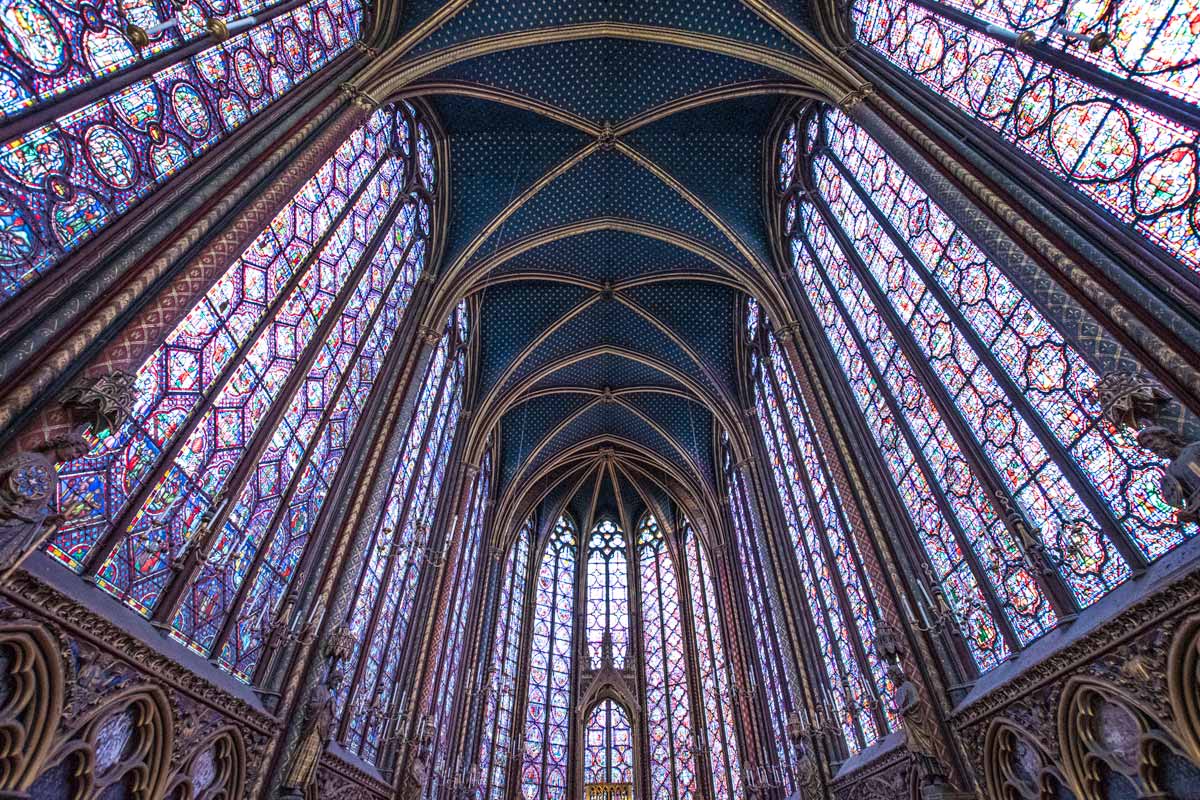 Sainte-Chapelle may not be as famous as Notre Dame, but in my book, it boosts the most impressive interior out of all temples I've been to. And trust me, I've been to quite a few.
Imagine a place where instead of walls, you have gigantic stained-glass French windows as colorful as the most colorful sunset you've ever seen. This is precisely what Sainte-Chapelle is, and it would be a shame if you miss it.
See the tomb of Napoleon
Located in the military museum of Les Invalides, the tomb of the most famous french military and political leader is a sight to be seen.
Being someone who shaped the future of Europe and the world, Napoléon Bonaparte is one of the most significant people ever, and visiting his final resting place is quite curious.
Enjoy Monet's Water Lilies in Musee l'Orangerie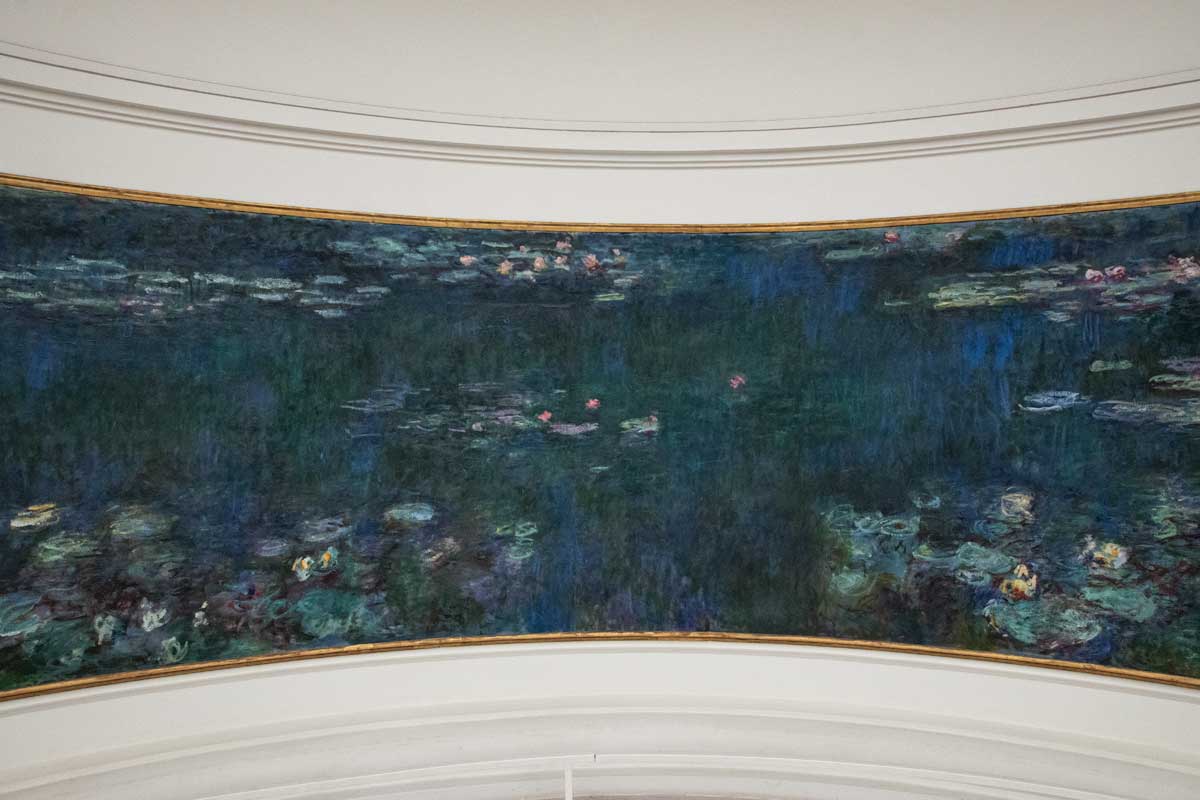 Claude Monet is my favorite impressionist. There's just something in his brushstrokes that makes all his paintings feel like parts of a dream. I can literally stare at them for hours.
The most prominent Monet artwork, the famous Water Lillies, are not just a single painting. It's a series of around 250 paintings the artist made while spending time in his Giverny garden (a garden that should be on your France bucket list).
Along with Starry Night by Vincent van Gogh, Water Lilies are the most iconic images of Impressionism.
In Musee l'Orangerie, you can find the eight giant Water Lilies murals that culminate the series. Wandering around them is a dream come true for every art enthusiast.
Explore les passages couverts
Paris's glorious glass-roofed 'passages couverts' (covered passages) are the forerunners to modern-day malls.
In the 19th century, they were an innovative way to take a shortcut, hide from the rain, get dinner and shop for a new barret at the same time. Today they are the most Frenchy way of shopping and quite fun to hang around.
Stuff myself with eclairs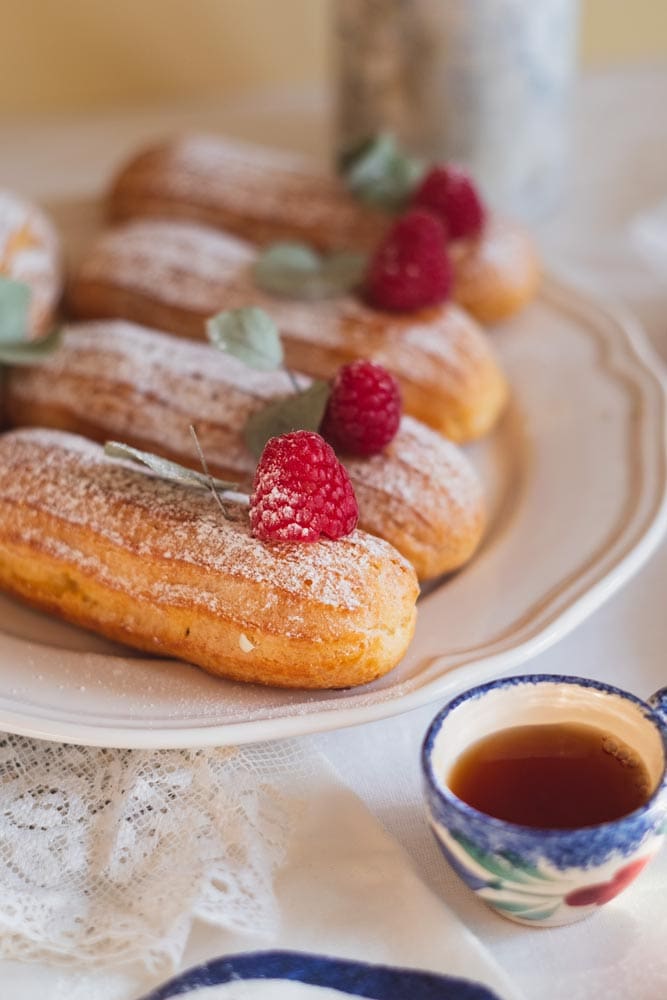 Just because I love éclairs and they are made in France, ok. Here's a handy list of the best bakeries in town where you can enjoy the most high-grade eclairs in the world.
And yes, I do go on a diet every time I'm back from Paris, but I don't regret a single eclair…or macaron…or crepe.
See Also: The Big Bad Italy Bucket List
Enjoy a street crepe
And speaking of crepes, the next item on our Paris bucket list is exactly that. Now, there are plenty of places that make mind-blowing crepes, but I recommend the street ones. How come?
Honestly, the fancy ones just put a heavier topping, and the difference is not that big. Enjoying a Nutella crepe while sitting on the banks of Seine is my preferred Paris crepe experience.
Dare myself to try escargots (snails)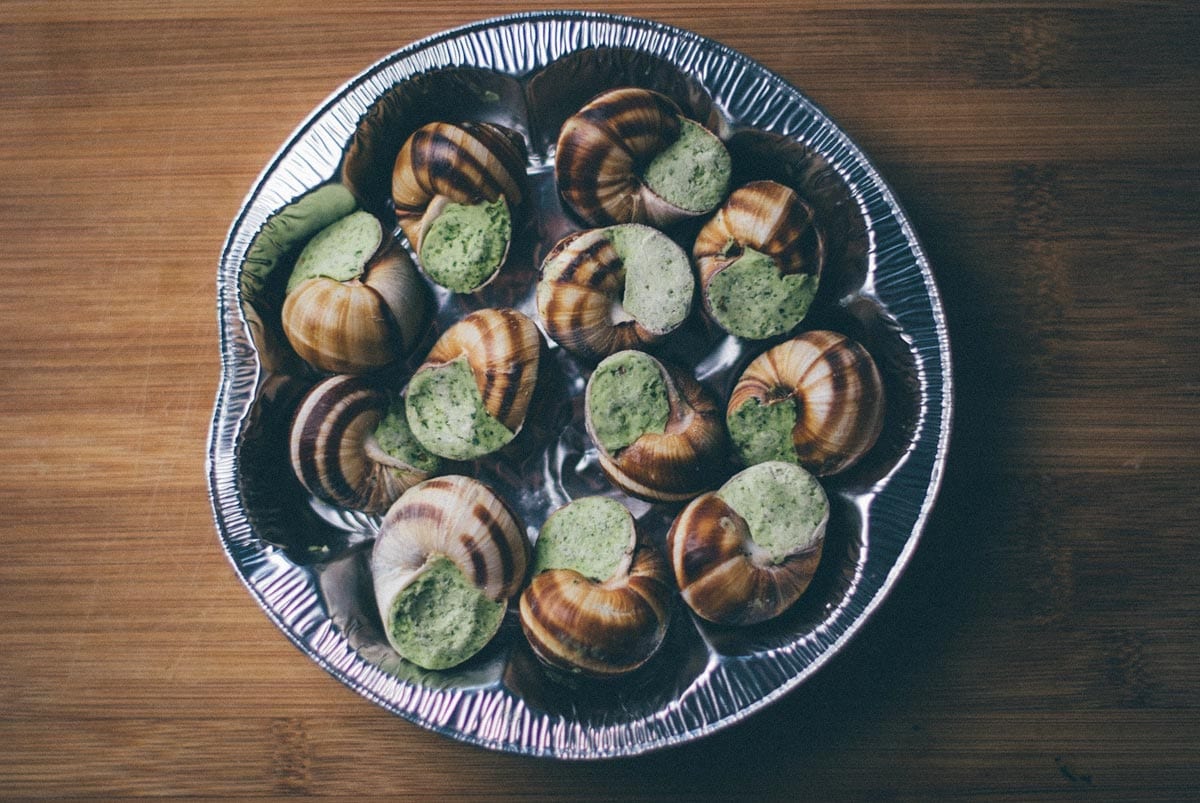 Ok, I don't know if I'll ever do it, but I'm contemplating it every time I visit Paris (or Morocco, for that instance).
I've tried scorpions in Thailand and banana worms in the Philippines, so you'd think a simple snail won't be such a big deal. For some reason, though, I dread it. I dare you to try one before me!
See a show in Palais Garnier
Palais Garnier is the name of the Parisian opera house. It's called a Palais (palace) because it's so opulent and shiny that every French King would've loved to live there.
I'm not that big of an opera fan, but seeing the Phantom of the Opera in the same opera house where it was created (and where the 'real' phantom supposedly used to stir trouble) must be a fascinating experience.
Take a nap in the Luxembourg Gardens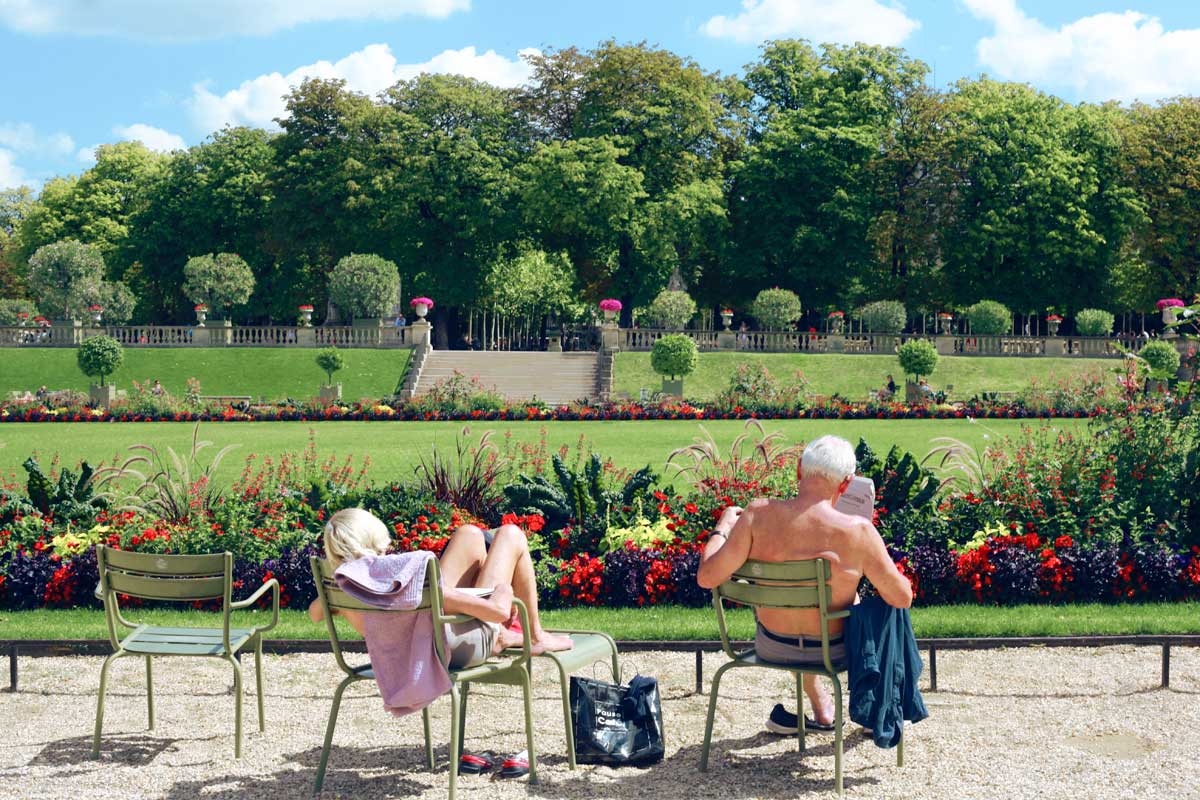 The Luxembourg Gardens or Jardin du Luxembourg is one of the very best parks in Paris. It has neverending green alleys, ponds you can navigate small wooden boats in, and plenty of chairs you can move around and sit virtually anywhere.
The chairs are also perfect for a nap. Situate one under a tree or next to a fountain and recharge your batteries. Perfect if you've spent the morning in the Louvre.
See a Rodin sculpture
Auguste René Rodin is one of the most famous sculptors ever and is considered the founder of modern sculpture. He is also, of course, French. Don't miss the chance to see some of his best masterpieces in Paris' Rodin museum.
Have a sunrise stroll around Jardin des Tuileries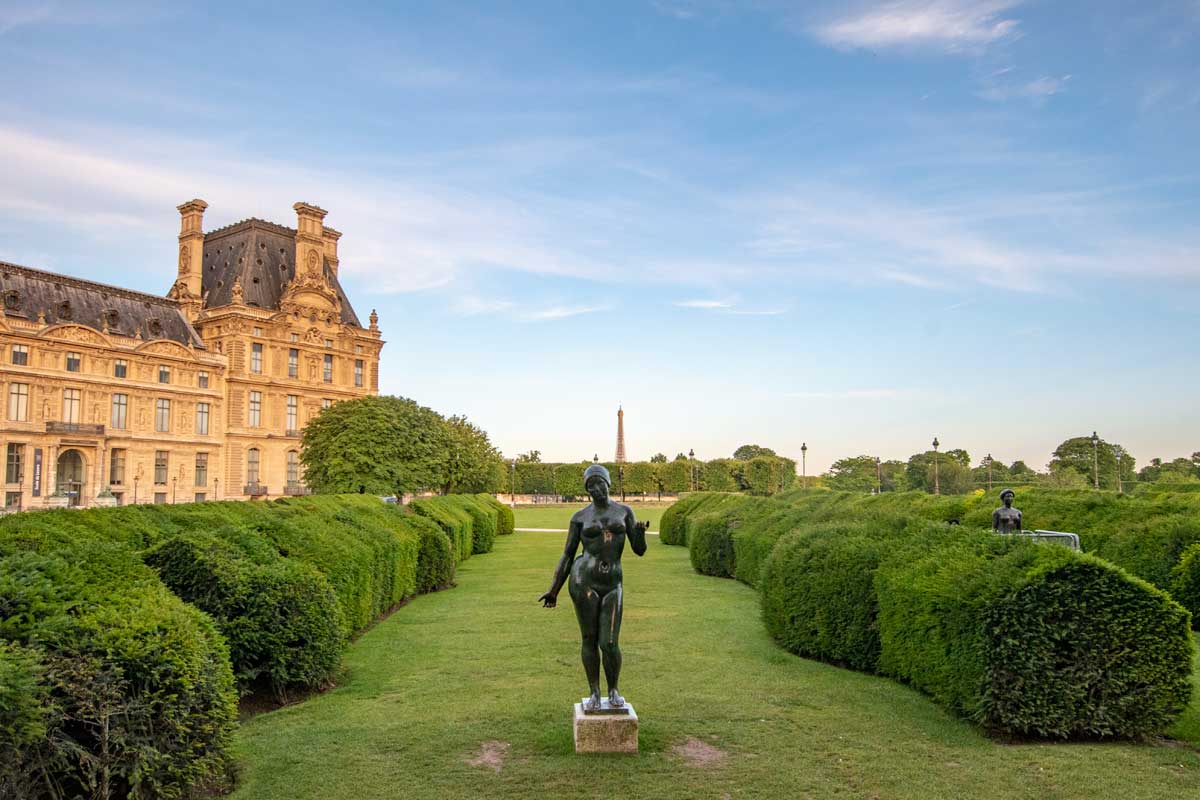 The Tuileries Garden is the green area between the Louvre and Place de la Concorde. It's just an ordinary public park, but since we're in Paris and nothing is just ordinary in Paris, Jardin des Tuileries is also home to some incredible art pieces.
The best time to visit this illustrious park is at dawn. You'll be alone, and you can enjoy the sculptures under the soft golden light of the morning sun. It's best to combine it with an early visit to the Louvre (which is mandatory if you don't want to wait in a 5-hour line).
Explore Centre Pompidou
The Pompidou Centre is a complex building that houses a few libraries and Musée National d'Art Moderne – the largest museum for modern art in Europe.
Named after a former French president, Pompidou is designed 'inside-out' with its structural system, mechanical systems, and circulation exposed on the building's exterior.
Enjoy an afternoon in Montmartre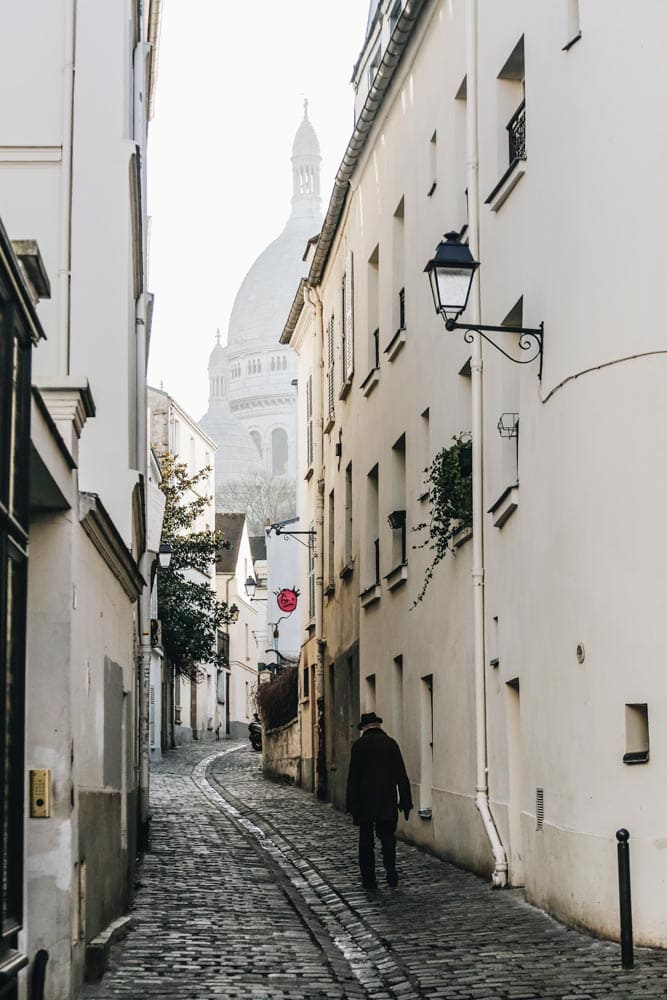 Montmartre is the old-school art district situated in Northern Paris. It's full of authentic charm and landmarks such as the Sacré-Coeur basilica and the Wall of Love.
It's one of the most touristy neighborhoods in Paris and a great place to spend an afternoon searching for vintage souvenirs or hand-made paintings.
Ride the Ferris Wheel at Concord
During the summer, Place de la Concorde is home not only to a giant Egyptian obelisk (that's also a sundial) but also to the biggest Ferris Wheel in town.
Having a round or two, especially at sunset, would reveal unparallel views of Paris' landscape. It combines well with a bag of macarons (and maybe an eclair).
Check out Canal Saint-Martin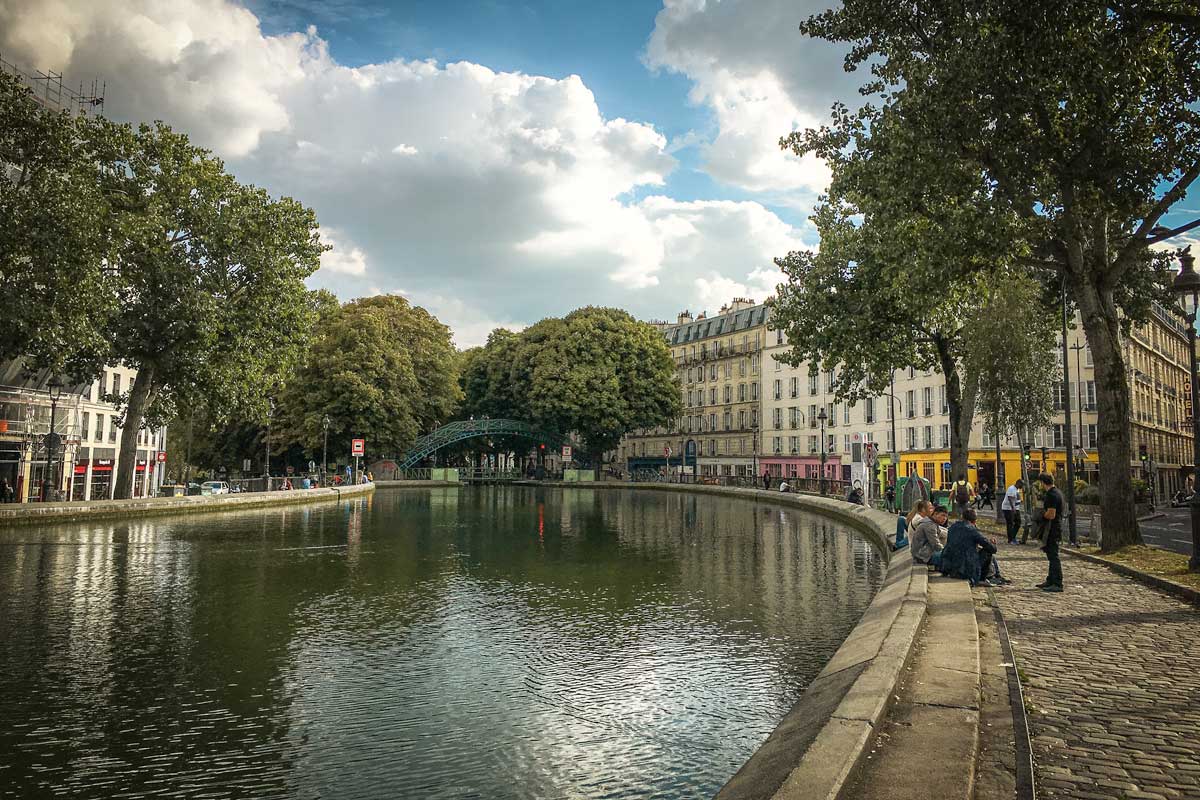 Canal Saint-Martin is a 4.6 km (2.86 mi) long canal that connects Canal de l'Ourcq to the river Seine. It's a bit off-the-beaten-path attraction that is usually not part of most people's itineraries.
In many ways, however, cruising over Saint-Martin is more rewarding than doing it on the Seine. Slowly strolling away from the busy city, this picturesque canal is all about peace, quiet, and seeing Paris in a more authentic way.
Learn some French
French people do know English, but a lot of them refuse to use it. Learning some French will not only make things easier for you in Paris but can also help in plenty of other places around the world (Vietnam or Morocco, for example). It's also cool to say you've learned French in Paris.
Indulge in a morning people-watch at a street cafe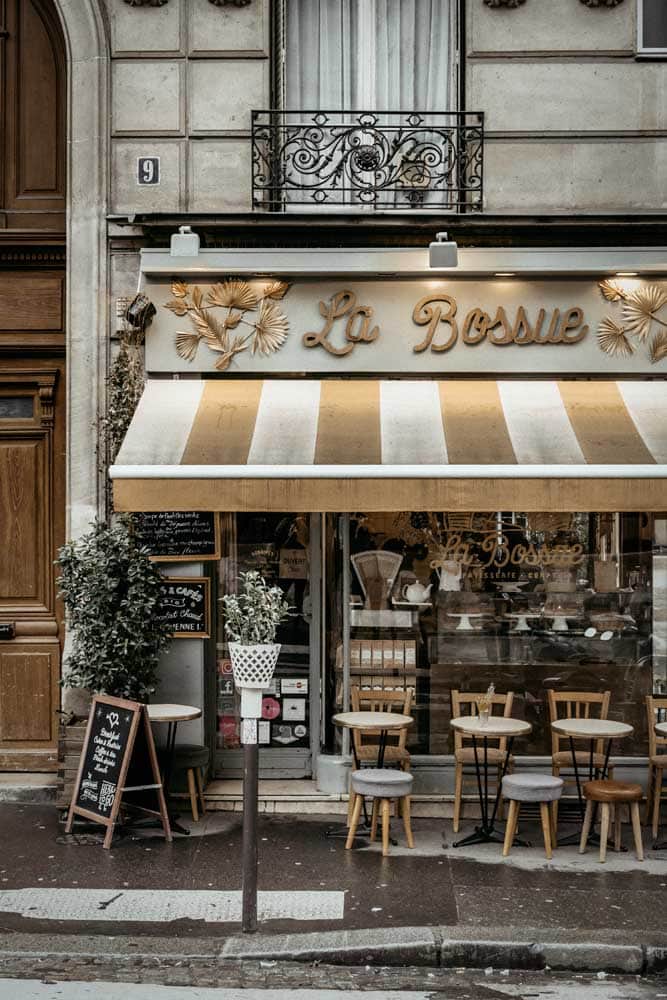 Having your morning coffee while watching the people of Paris going on their business is such an underrated activity. You won't find it in any guide book, but it's seriously among the best ways to start your day.
Combine the activity with the charm of the countless cafes and a plate of croissants, and you have one of the most perfect mornings imaginable.
Go shopping in Galeries Lafayette
The Galeries Lafayette is an upmarket French department store chain, but for the sake of this post, we will focus on its flagship store in Paris' 9th arrondissement.
Now when I say store, don't imagine a tiny shop. Galeries Lafayette is a gigantic 70,000 m2 (750,000 sq ft) complex that looks more like a mall than a store. Even if you're not that much into shopping, I suggest checking it out. The whole interior is ultra French, and a short window-shopping walk is worth it.
Get a cool Instagram photo from Buren's Columns at the Palais-Royal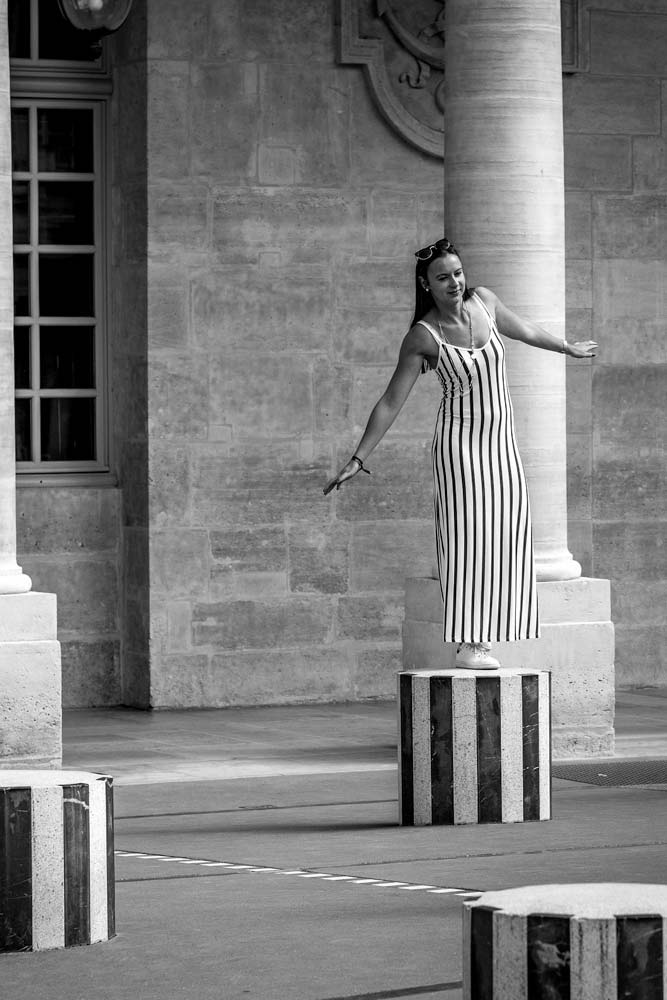 Paris has countless Instagramable spots, but one of the most popular ones is Les Deux Plateaux in Palais-Royal. The peculiar contemporary art installation combined with the sumptuous 17th-century palace turned out to be a great mixture that guarantees a top photo.
Get a Bloody Mary
It's not entirely proven, but the legend says that the famous tomato juice-based cocktail was invented in Paris. And not only that, it was created because Ernest Hemingway requested a cocktail that didn't look or smell like alcohol so his doctor and, more importantly, his wife Mary would not go frenzy on him.
Pay my respects at Père Lachaise Cemetery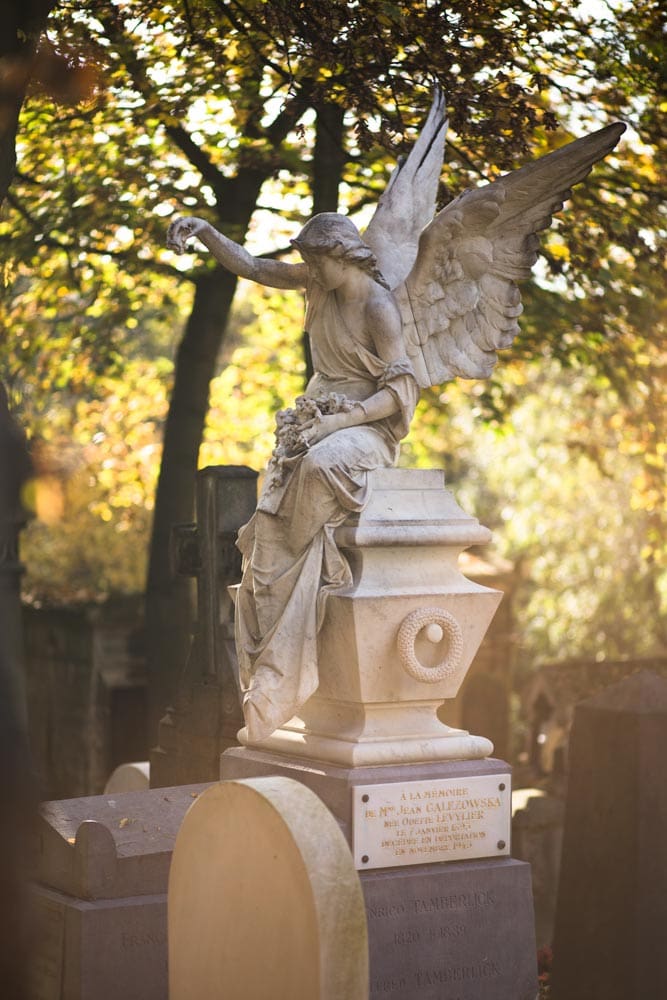 A cemetery is not your usual city attraction, but just like everything else, Paris has the most famous cemetery in the world. Being the final resting place of legends such as Frédéric Chopin, Honoré de Balzac, Oscar Wilde, Edith Piaf, Marcel Marceau, Richard Wright, and Jim Morrison, Père Lachaise is definitely worth a visit.
Learn more about Picasso at Musée Picasso
There are plenty of Picasso Museums worldwide, but just a few can rival the Paris one. Located in Hôtel Salé, Musée Picasso includes more than 5,000 works of art. Most of the exhibition was donated by Picasso's family after his death in 1973.
Have dinner in Nicholas Flamel's house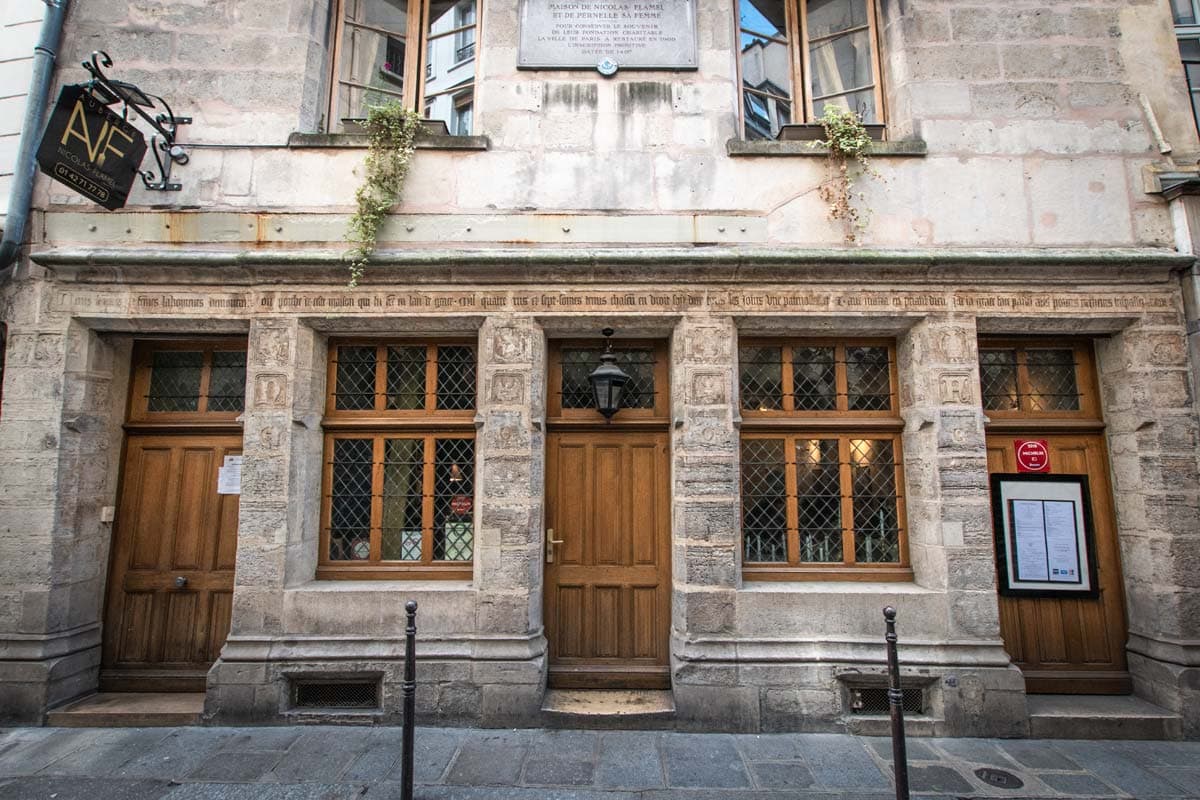 If you're a Harry Potter fan (hello fellow Potterhead!), you already know who Nicholas Flamel is. If not – he was the most prominent alchemist in the middle ages, someone who may have found the Philosopher's Stone and still be alive today.
Legends aside, Nicholas Flamel was a real person who lived in Paris. His house is still there and is, in fact, the oldest house in the City of Light. Today it serves as a Michelin restaurant that offers unique alchemist experiences. It's located at 51 rue de Montmorency.
Check out Victor Hugo's house
Since we're visiting famous houses, we can't leave Victor Hugo's one out of our Paris bucket list. Located at 6 Place des Vosges, Maison de Victor Hugo is a house museum where the famed author spent 16 years of his life.
A visit to the museum will take you through Hugo's life with an exposition of furniture, objects, and works of art that belonged to him or that he created himself.
See the famous graves inside the Pantheon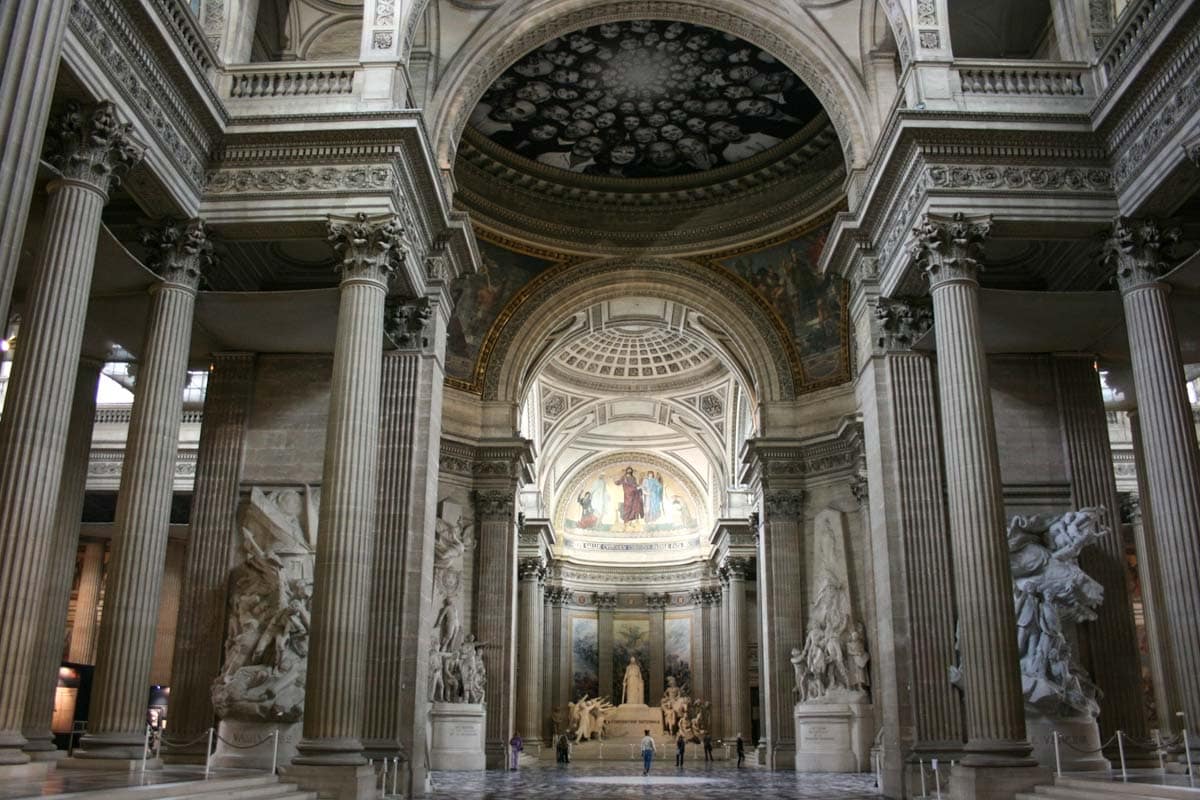 Did you know Paris has a Pantheon? I surely didn't. For some reason, it's not as famous as the Pantheon in Rome, but it's undoubtedly not less enticing.
If you make the effort to visit it, you may pay your respects to the graves of Victor Hugo, Alexandre Dumas, and Marie Curie.
Get an ice cream from Berthillon
Because ice cream is always a good idea and the Berthillon one is even a better one. I'm not sponsored by them or anything; I just love the thing.
If you haven't tried it already, this should be the first item on your Paris bucket list. The primary shop is located on the Seine island of Île Saint-Louis.
Soak the vibe of the Saint-Germain-des-Prés area
Situated around the church of the former Abbey of Saint-Germain-des-Prés, this trendy Paris area used to be the center of the existentialist movement in the 1940s and 1950s.
Today Saint-Germain-des-Prés quarter houses plenty of bookstores, authentic cafes, and universities. It's one of the most magnificent neighborhoods to get lost in and a great area to look for a hotel/Airbnb.
Enjoy the twinkling lights of the Eiffel Tower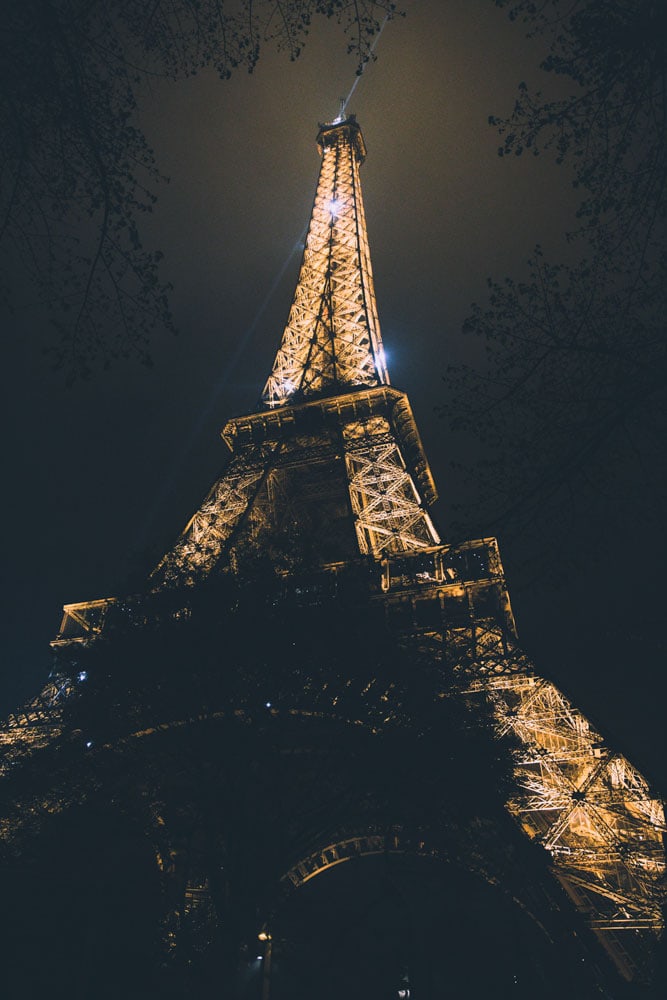 We finish our Paris bucket list at the same spot we started it – The Eiffel Tower. I mean, while the White City is home to the best of the best attractions out there, nothing induces more bucket list dreams than the globally recognized symbol that is the Eiffel Tower.
While incredible during the day, don't miss it after dark too, because for 5 minutes every hour on the hour, it sparkles. Yup, you've read that right; it sparkles like a fairy Christmas tree, and it looks stunning.
A fun fact – it's illegal to take a photo of the Eiffel Tower while sparkling. It's some complicated technicality of the French copyright law and probably the most neglected rule in the country.
That's all from me, I hope you enjoyed the magnificent Paris bucket list.To get your even more Paris-excited I reccomend checking my awesome Paris quotes collection.
————————————
If you haven't planned your trip there yet, find out how I plan my trips!
————————————
I have 33 bucket list ideas for France. See my impossible bucket list of 1700+ adventures!

How many have you completed?
---
Some of the above are affiliate links and I will earn a percentage of the sale if you purchase through them at no extra cost to you. This helps keep my site running – so thanks in advance for your support!