You're about to spend 2 days in Barcelona, and you want to see the best this iconic city has to offer? Well, I won't lie – it's a lot. There's no way to see it all with two days, but I guess you already know that. Let me give you the good news now; I firmly believe that my 2-day Barcelona itinerary can show you the most exciting parts of the city.
Truth be told, you don't need to see everything to get to know the city of Gaudi. Trying to squeeze as many attractions as possible in your limited time, would not only make you underappreciate them but would also go against the siesta-vibe of the city.
No, to get the maximum of your vacation, you need to carefully pick your landmarks and spend as little time as possible waiting on lines. Barcelona is the most touristy town in Spain, and among the most popular ones in Europe, so it's highly advisable to pre-book all of your tickets.
I've been to the Catalan capital a few times, and I've seen pretty much everything there. My 2-day Barcelona itinerary is designed to help you discover the city's soul and enjoy it in a slow and relaxed tempo. I've skipped some of the most prominent Barcelona landmarks, but I promise I have a good reason for that.
Are you ready to explore one of the most exciting cities on Earth?
Here is the best way to spend 2 days in Barcelona.
Two Days in Barcelona – Day 1 – Feel The City
On our first day, we'll take a walk around the city center. We'll visit some of the most picturesque places in town, will enjoy one of the world's biggest artists, and we'll do it in a leisurely manner.
La Rambla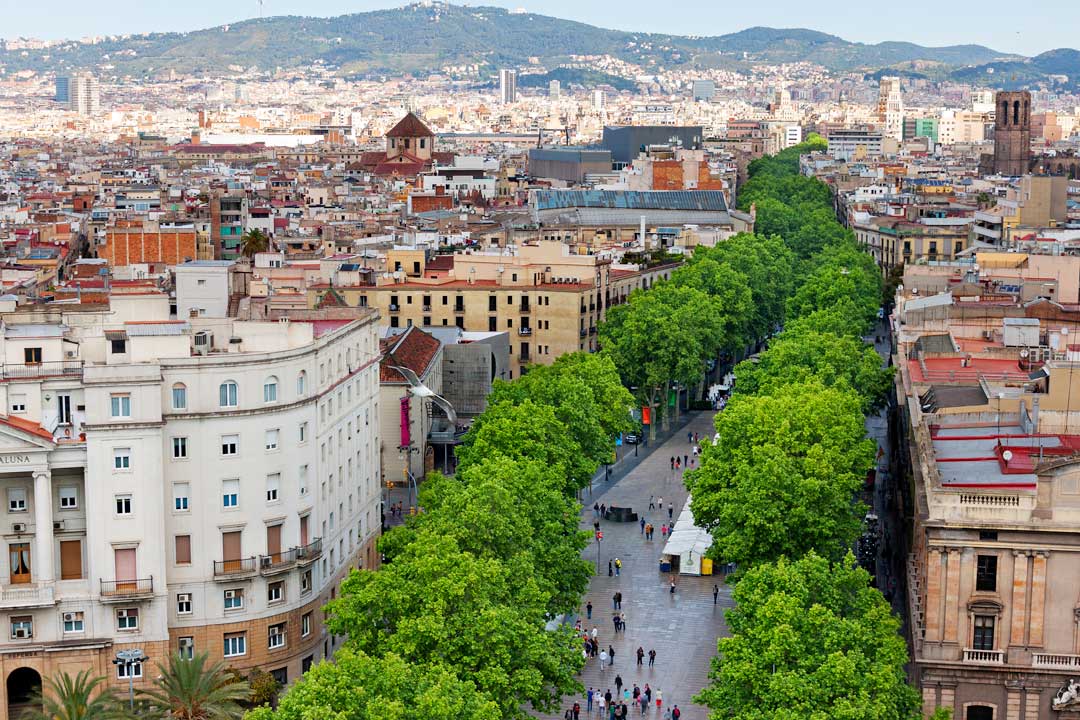 We start our 2 days in Barcelona from the most famous boulevard in town. La Rambla (singular) or Las Ramblas (plural) is named after the Arabic word 'Ramla', meaning 'sandy riverbed'. It refers to the origins of the glorified street as a dried-out stream outside the walls of the Gothic Quarter.
Today the 1,2km long street is far from being dry with thousands of tourists streaming through it every day. The most famous spots on La Rambla are the Christofor Colombus Statue in the southeast end, the Juan Miro mosaic, La Boqueria Market, and Font de Canaletes fountain.
Castaway Tip
La Rambla is infamous for its pickpockets. Make sure you're extra vigilant when you're there.

Placita de la Seu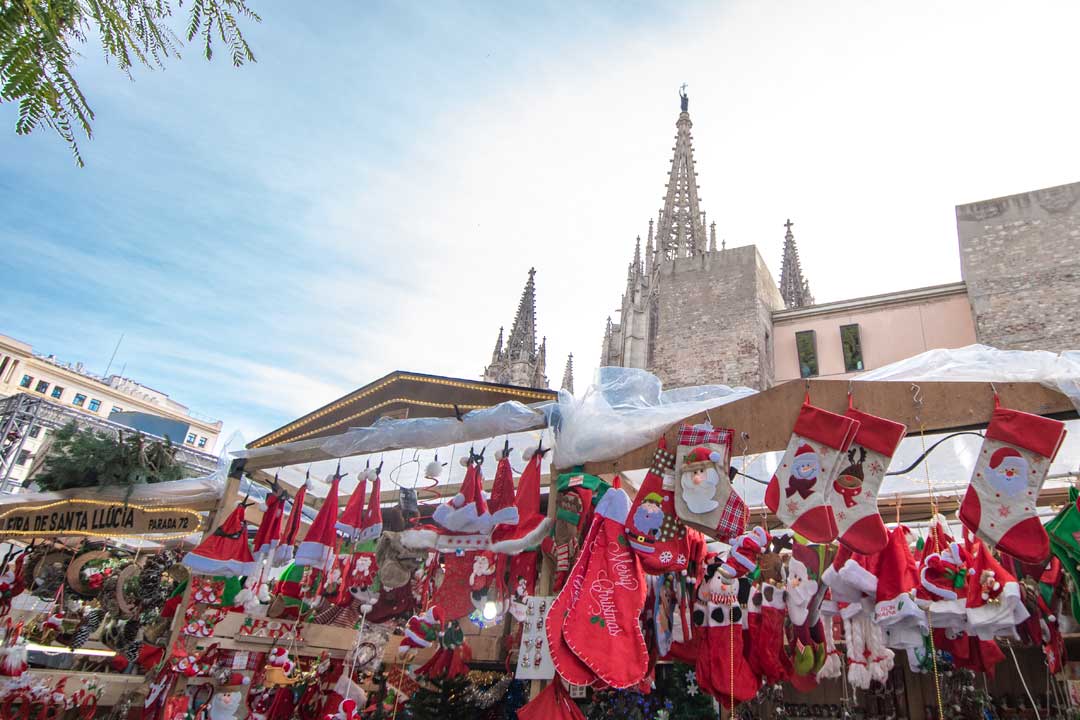 Once you get enough of touristy La Rambla, take one of the northeast exits and make your way to Placita de la Seu. The small square in front of the Barcelona Cathedral is a popular meeting place and a spot where something is always happening.
If you visit it in December, you can also enjoy one of Barcelona's peculiar Christmas markets. Why peculiar? Let's say that a Christmas market combined with palms and parrots is not the most common combination in Europe.
Cathedral of Barcelona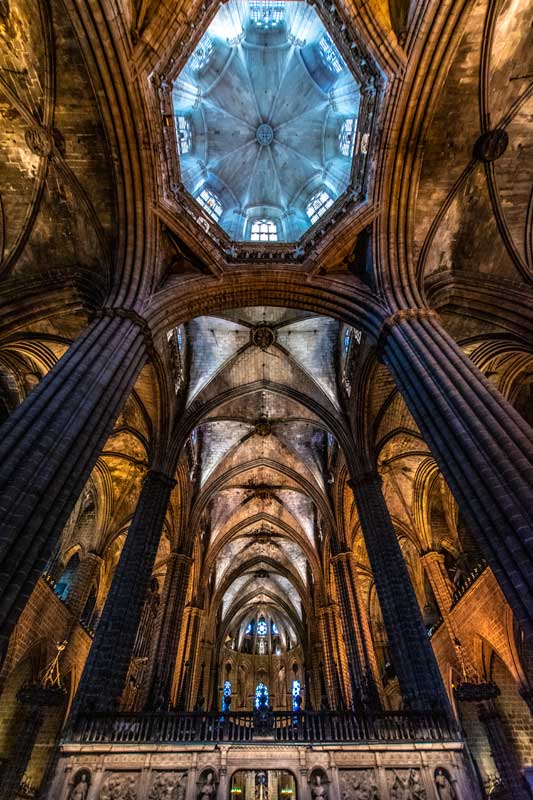 Our next stop is one of the most underrated and picturesque places in town. The Barcelona Cathedral or The Cathedral of the Holy Cross and Saint Eulalia is the seat of Barcelona's Archbishop. It rocks an astonishing Gothic design, has a cloister full of goose, and an incredibly instagramable rooftop.
The cathedral is dedicated to the co-patron saint of the city – Eulalia. According to the legend, the virgin Eulalia denounced the local Roman governor for his persecution of Christians. The Roman punishment was to expose the girl naked on the square, but then a miraculous spring snowfall happened and covered her body.
Tourist Working Hours:
Monday to Friday: 9:30 PM – 6:30 PM
Saturday: 9:30 PM – 5:15 PM
Sunday: 2:00 PM – 5:00 PM
Price:
Regular: 9 EUR single (includes the cathedral, the cloister, the roof, the choir and the museum) – Get one online
Note:
You can visit the cathedral in the praying hours and save some euros, but I recommend not doing it. These hours are reserved for the local people to pray, and disrupting them would be highly disrespectful.
Gothic Quarter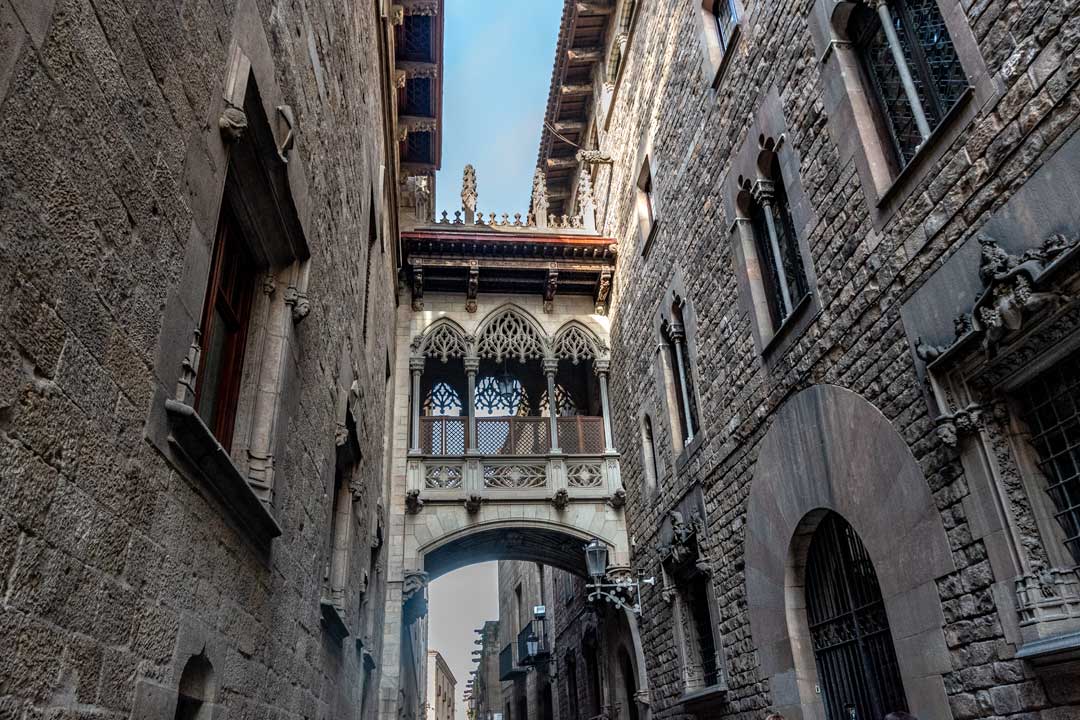 We continue our 2 days in Barcelona with a walk around the famous Gothic Quarter. Dating back over 2000 years, the mysterious alleys of Barri Gòtic are combined with the hip-culture of present Barcelona to create one of the most enchanting neighborhoods in the country.
Offering stunning highlights like Plaça Reial, the Barcelona Cathedral (which we already saw), the Castellers (during late September), and many more, the enchanting labyrinth that is the Gotic Quarter is simply unmissable.
While exploring it on your own is pretty entertaining, going to the next level, and joining a walking tour is undoubtedly an excellent idea. I don't recommend group tours often, but this place is full of awesome stories and spots you'd never notice on your own, so having a guide to show you around is absolutely worth it. This is the one I joined and enjoyed quite a lot.
Picasso Museum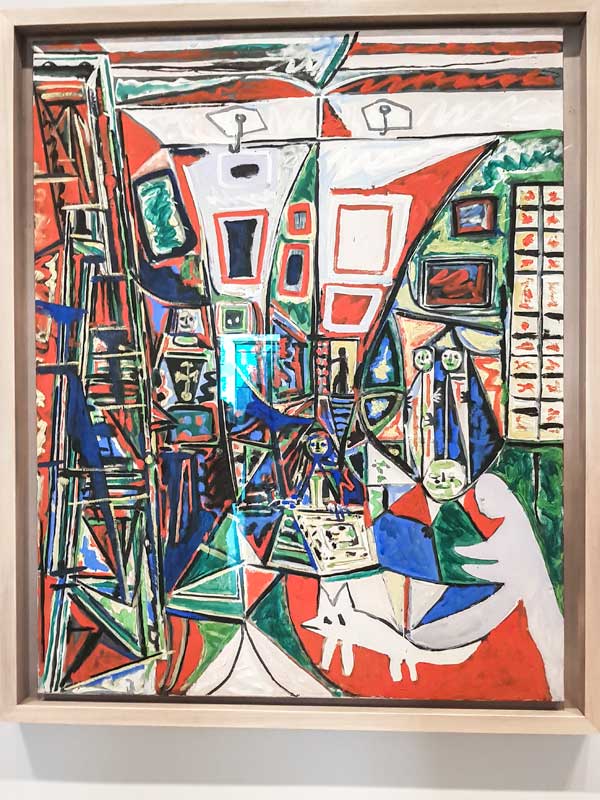 Located barrio La Ribera, Museu Picasso is the next stop on our 2-day Barcelona itinerary. You probably don't know it, but Picasso was a very productive painter, There's hardly a prestigious art museum in the world with no Picasso paintings. The one in Barcelona, however, contains the most significant Picasso collection in the world. Displaying the staggering amount of 4,251 works, including his Blue Period (1901–04) and the entire Las Meninas (1957) series, Museu Picasso is an absolute joy and must-see for every art enthusiast.
Keep in mind that if you're not familiar with his art, you should probably skip the museum. Picasso has a very distinctive art style that is not everybody's cup of tea. I enjoyed the place a lot, but if you're not into art or this type of art, you better swap it with some of the other landmarks listed below.
Parc de la Ciutadella & Arc De Triomf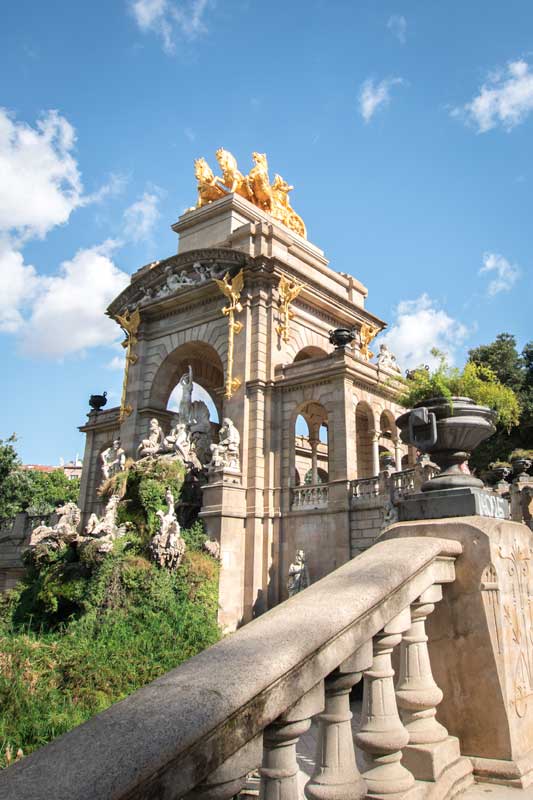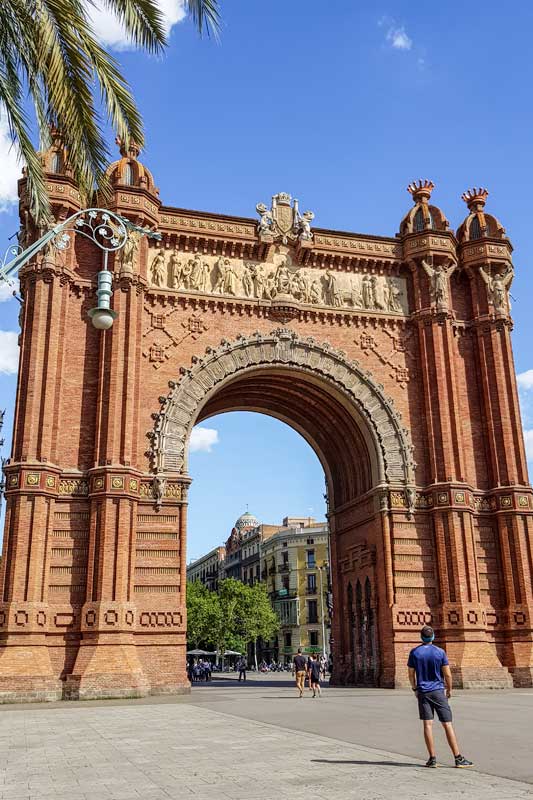 We keep going north to find one of the most idyllic parks in Barcelona. The green oasis that is Parc de la Ciutadella gives you the perfect setting to unwind, surrounded by lush nature, tropical palms, and cute little parrots. If you're not that tired yet, you can check the Museu d'Art Modern, the Catalan Parliament, the city zoo, or go for a lazy boat row in the picturesque lake.
Once your batteries are recharged, go and take a picture with Barcelona's very own triumphal arc. Erected to be the main access gate for the 1888 Barcelona World Fair, Arc De Triomf incorporates Barcelona's signature orange-reddish color and is one of the most picturesque places in the city.
Tapas Time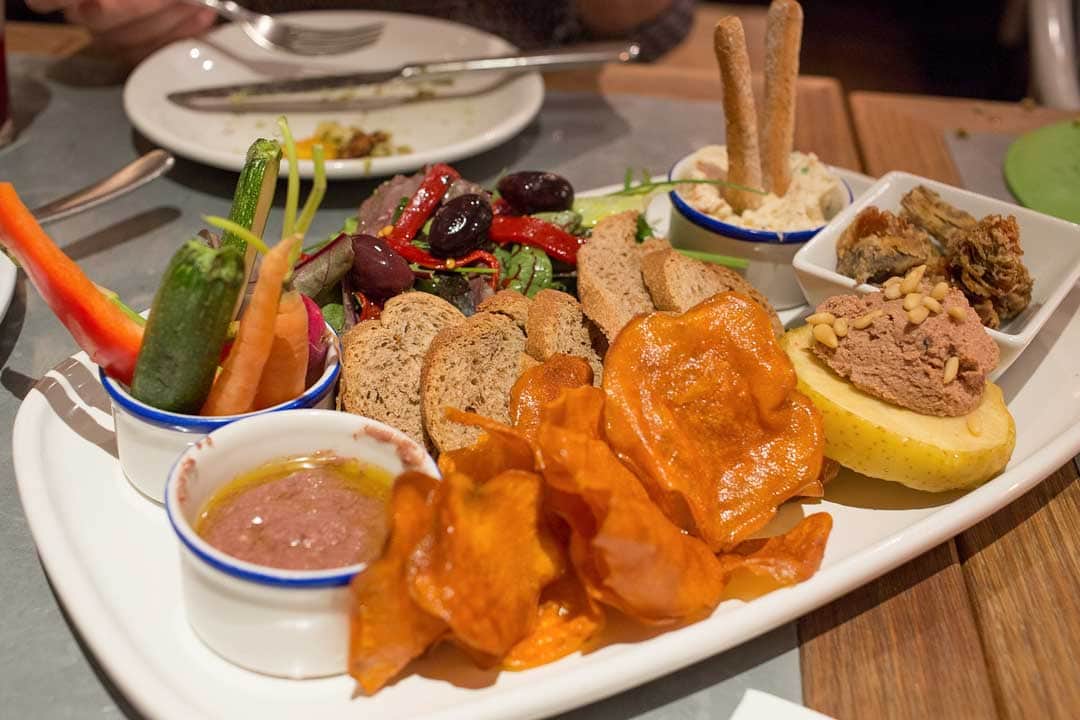 One of the most famous traditions in Barcelona and Spain are the tapas. You don't know what tapas are? Neither did I. It turned out, that every time you order alcohol in Spain, you're also expected to get a small side dish – tapas.
Tapas can be anything from plain olives to balls of mashed potato stuffed with meat and cheese (called La Bomba – a must-try). There are countless of Tapas Bars and experiences in Barcelona. For newbies, I'd suggest joining a tapas-tour and get to know the tradition in detail. Another popular option is to combine the tapas with an authentic Spanish bucket list experience like a Flamenco performance.
Here is a wonderfull and highly-rated tapas and wine tour tour
Here you can find one of the most highly-rated Flamenco shows in Barcelona.
And for those of you who want to taste the best of Barcelona, here is a premium gourmet tapas-tour.
Two Days in Barcelona Day 2 – The Magical World of Gaudi
On our second day, we're about to explore the soul of Barcelona. The attractions that made the city what it is. And we'll do it in the same lazy and slow-paced style we did the first day.
La Sagrada Familia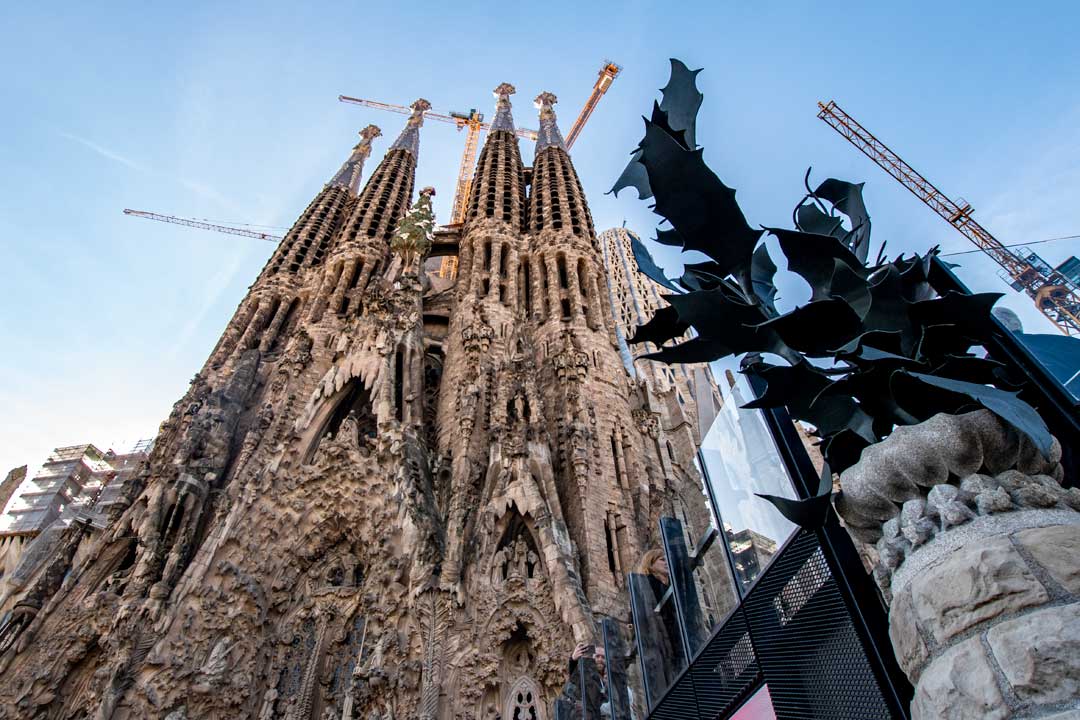 We start the second of our 2 days in Barcelona with the biggest landmark in Spain – Sagrada Familia! The pinnacle of Antonio Gaudi's genius, this glorious basilica, is like nothing else you've seen before.
Promoted 'by the people for the people', the Sagrada construction began more than 135 years ago, and it's expected to finish in 2026. Even though it's still under construction, Sagrada Familia is an impressive sight. The interior feature columns stretched like tree branches toward the ceiling, making you feel inside an extraterrestrial stone forest. At the same time, the exterior is divided into two (soon to be three) distinctive facades.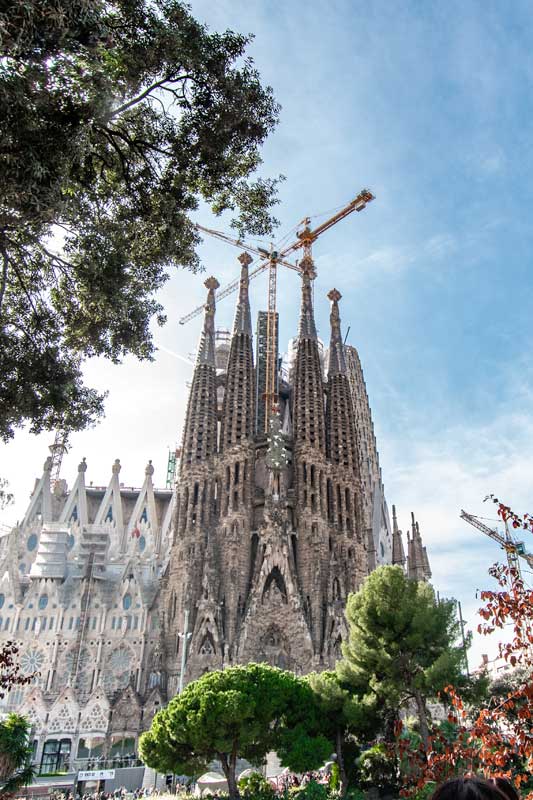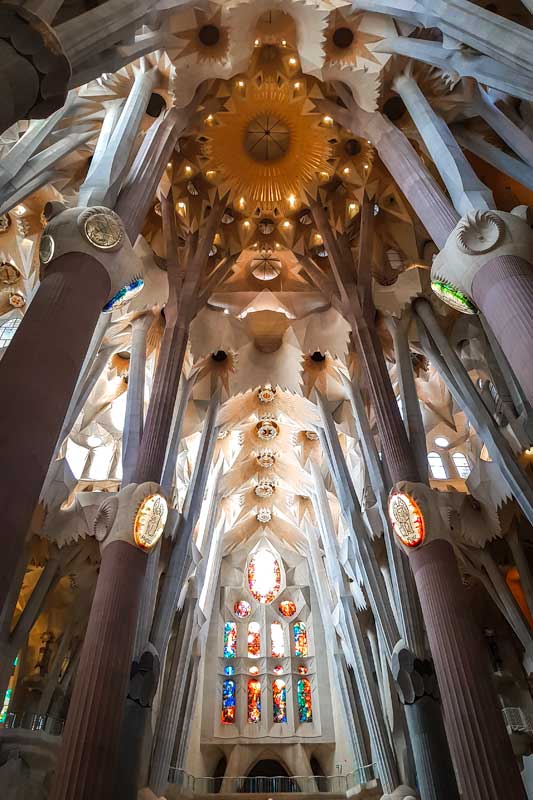 The Nativity Facade (built directly by Gaudi) represents the birth and childhood of Jesus Christ, while the Passion Facade consists of four towers representing the four Apostles – James, Thomas, Philip, and Bartholomew. The third facade that is being constructed right now – the Glory Facade – should be the culmination of Sagrada Familia.
As you can probably guess, Sagrada Familia is swarmed with tourists. There is a limit of the people they let inside, though, so once you're in, it's not that crowded. The limit, however, means you need a ticket with a specific time-stamp. Don't think you can just show in front of Sagrada Familia, get a ticket and go inside. This would be close to impossible. You need an online ticket. For Sagrada Familia, I also recommend getting a guide. The place is full of symbols, curious stories, and hidden places, so the tour is absolutely worth it. If you're not a fan of guided tours, make sure you get at least an audio guide.
Working Hours:
November- February: Mon- Sat from 9:00 AM – 6:00 PM, Sunday from 10:30 AM to 6:00 PM
March: Mon- Sat from 9:00 AM – 7:00 PM; Sunday from 10:30 AM to 7:00 PM
April – September: Mon- Sat from 9:00 AM – 8:00 PM; Sunday from 10:30 AM to 8:00 PM
October: Mon- Sat from 9:00 AM – 7:00 PM; Sunday from 10:30 AM to 7:00 PM
Prices:
Fast-track ticket
Skip-the-line guided tour (recommended for complete experience)
Private Gaudi tour
Note:
It's also possible to climb inside the towers of the Sagrada. As cool as it sounds, though they are still under construction, and the whole experience is kind of meh. Most of the time, you're stuck in a tiny staircase, trying to find one of the few tower windows. If you're adamant you want to do it, this is a great tour that includes tower access.
See Also: The Biggest Landmarks in Europe
Casa Batlló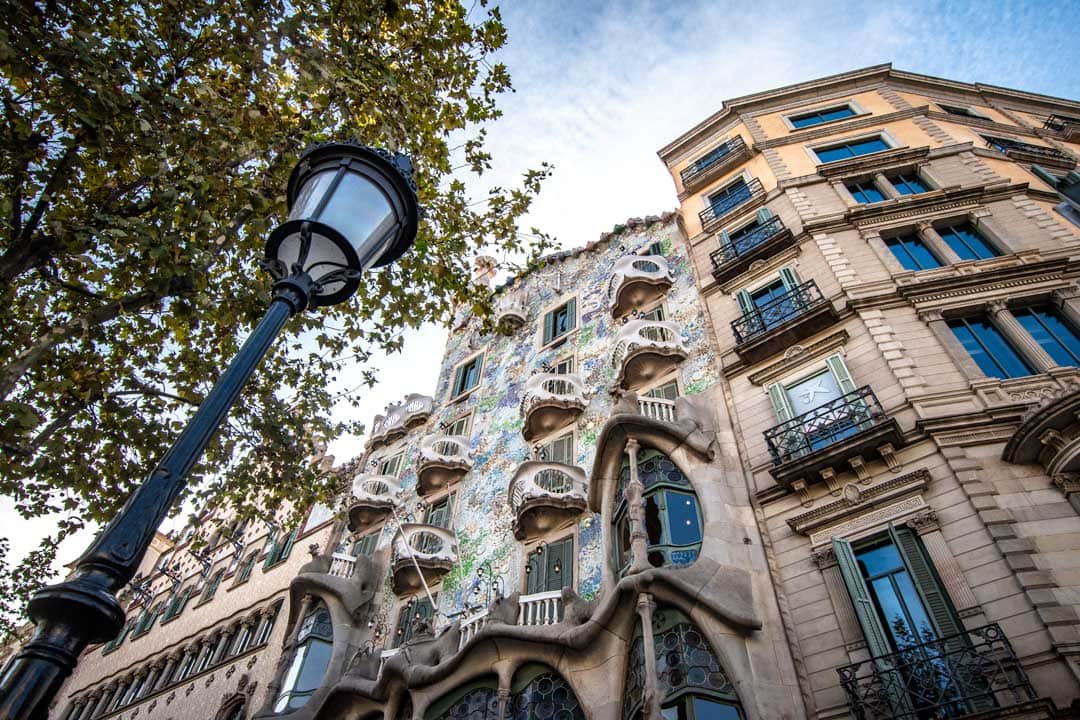 Our journey continues with another Gaudi masterpiece. A UNESCO World Heritage Site since 1984, Casa Batlló is one of the weirdest buildings you'll ever see. Although Gaudi's inspiration was colors and shapes found in marine life, Casa Batlló is popularly referred to as Casa dels Ossos (House of Bones) due to its skeletal profile and skull-reminding balconies.
As unique as it gets, Casa Batlló offers an incredible adventure through a fairy-like home with irregular oval windows, flowing sculpted stonework, colorful mosaic decorations, and…a dragon on the roof. Another cool extra of Casa Batlló is the smart guide that goes along with your ticket: a tablet with AR that complements perfectly the otherwordly journey inside.
Palau Güell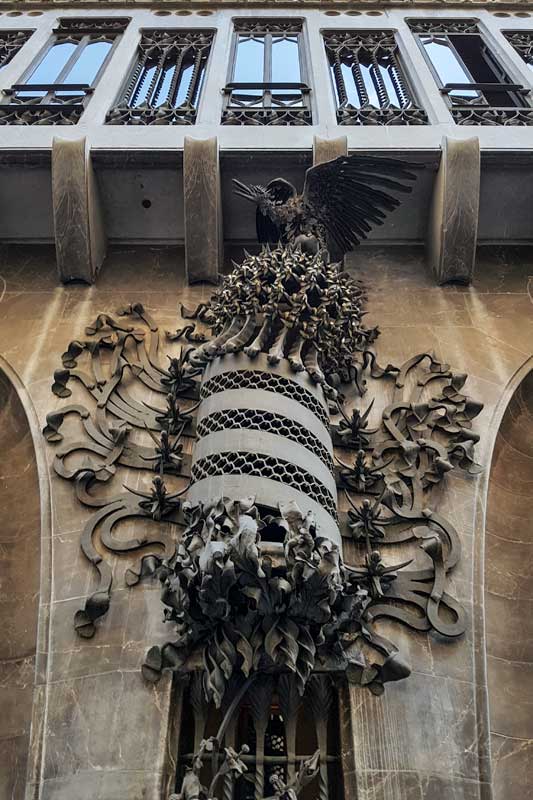 Next on our 2-day Barcelona itinerary is Palau Güell. No, that's not a typo. Palau Güell is not the same thing as Parc Güell. It's a mansion designed by Gaudi (who else) for the industrial tycoon Eusebi Güell. Built between 1886 and 1888, the building was closed for renovation for a few years, but now it's one of the most spectacular and underrated attractions in Barcelona.

A vintage modernist-styled house where everything is handmade and makes you feel like a 19th-century aristocrat. While the interior is not as peculiar as the other Gaudi masterpieces, the rooftop is where the legendary architect left his colorful signature.
Working Hours:
Tuesday-Sunday:
April – September: 10:00 AM – 8:00 PM
October -March: 10:00 AM – 5:30 PM
Mondays: Closed
Prices:
Regular – 12 EUR
See Also: How to spend 3 days in Seville
The Magic Fountain of Montjuic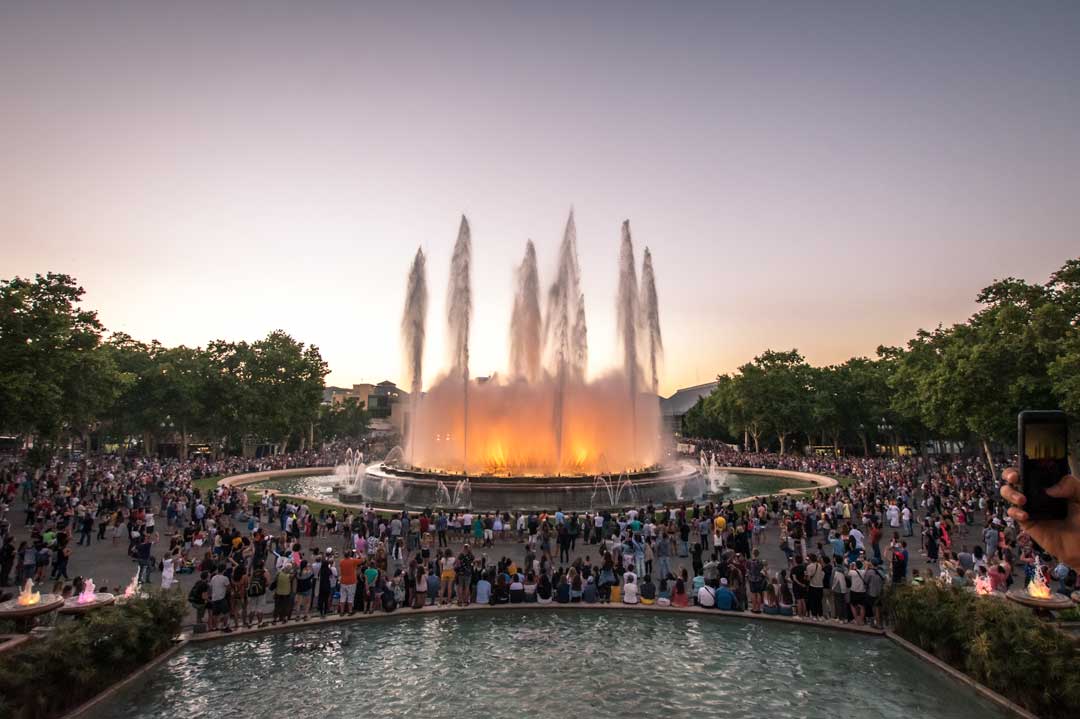 We cap our 2 days in Barcelona with the most incredible show in town – the magic fountain of Montjuic. Built by Carles Buigas for the International Expo in 1929, the Magic Fountain truly deserves its name by offering an incredible visual experience. Imagine a vertical rainbow dancing for half an hour, creating a vibrant fiesta mood all around it. That's what the Magic Fountain is all about. Oh, one more thing, the show is totally free!
Castaway Tip
Make sure you occupy a good watching spot at least one hour before the start of the show. Don't climb on the columns. Once the show starts, the police will take you down immediately.

Working Hours:
Depends on the season – check here
Price:
Free
More Than Two Days in Barcelona
You have more than 2 days in Barcelona, or you want to change something on the itinerary? Not a problem. The Catalan capital is full of unusual places and epic landmarks.
Parc Güell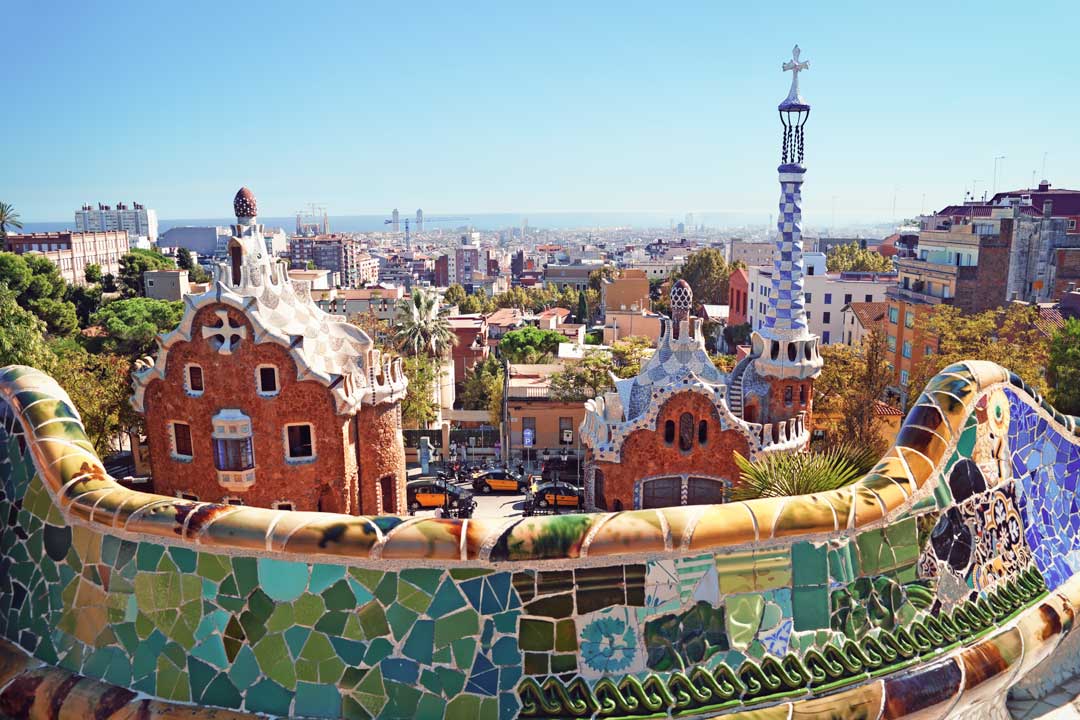 Built between 1900 and 1914 and officially opened to the public in 1926, Parc Güell is one of Barcelona biggest highlights. Pictures from it are often used on posters advertising the city's uniqueness and Gaudi's genius. Although it's not on my itinerary, Parc Güell is not a bad place at all.
What Parc Güell is, however, is overrated. The picturesque part, the one used on the posters and ads, is quite small and always full of people. It's also pretty far away from the other attractions, so you need to adjust your whole itinerary around Parc Güell.
Nevertheless, if you have more than 2 days in Barcelona and want to spend a relaxed day surrounded by green spaces, Parc Güell is the right place for you. Just make sure to get your ticket for the Gaudi part online; otherwise, you'll most likely end up with a late timeslot.
Working Hours:
Free area:
30 October to 11 February: 9:30 AM to 5:30 PM
12 February to 26 March: 9:30 AM to 6 PM
27 March to 29 October: 9:30 AM to 7:30 PM
Double-check here

Prices:
Adults: 10.00 EUR
Children 7 – 12 years: 7.00 EUR
To see the Gaudi part of the park (Dragon Stairway, panoramic terrace, etc.) I highly recommend getting an Online ticket or this skip-the-line guided tour.
Why it's not on my Barcelona itinerary:
It's a little underwhelming; too far from the other attractions
Museu Nacional D'art de Cataluna (MNAC)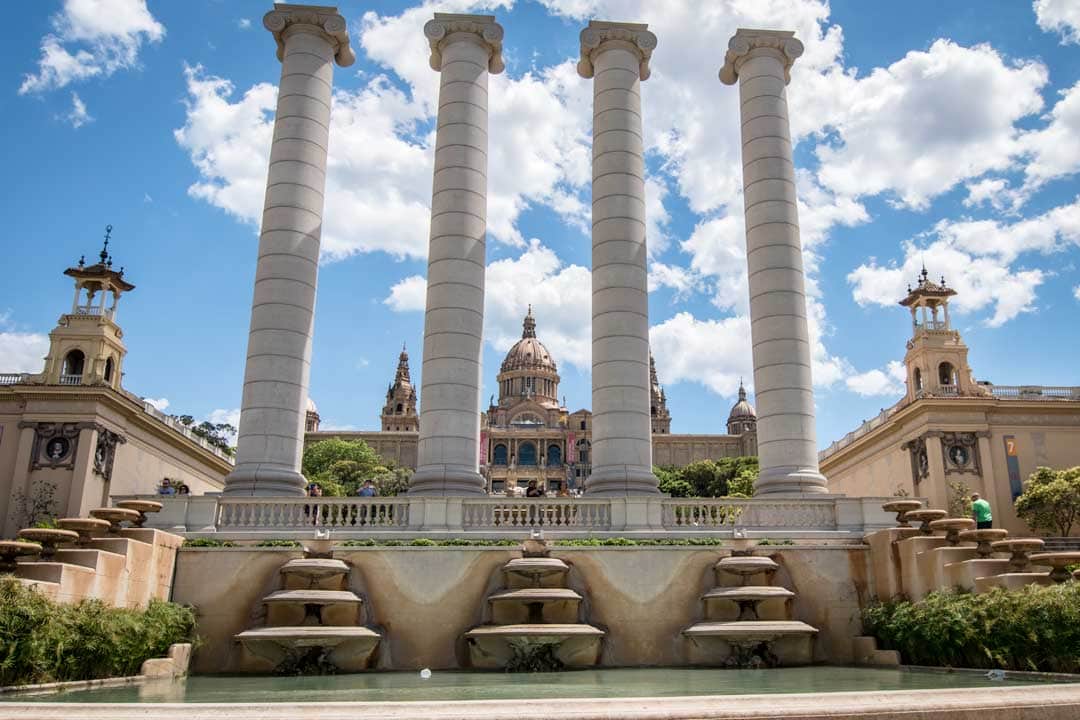 Just like every significant Europan city, Barcelona has a top-notch art museum. The Catalan National Art Museum, established in 1934, displays a humongous collection of 290,000 art pieces! If Romanesque, Gothic, Renaissance, or Baroque art is your thing, you should definitely make MNAC the first stop of your Barcelona itinerary.
Working Hours:
October – April: Tuesday to Saturday, 10:00 AM – 6:00 PM. Sunday and public holidays, from 10:00 AM – 3:00 PM.
May – September: Tuesday to Saturday, 10:00 AM – 8:00 PM Sunday and public holidays, from 10:00 AM – 3:00 PM.
Mondays: Closed
Prices:
Regular: 12.00 EUR
Don't wait on lines and get the online ticket here
Why it's not on my main itinerary:
With only two days in Barcelona, I believe one art museum is enough. The Picasso Museum is smaller and was way more interesting to me.
Castaway Tip
There's no admission fee on Saturdays from 3:00 PM onwards, first Sunday of every month, 18 May, and 11 September.

Casa Milà (La Pedrera)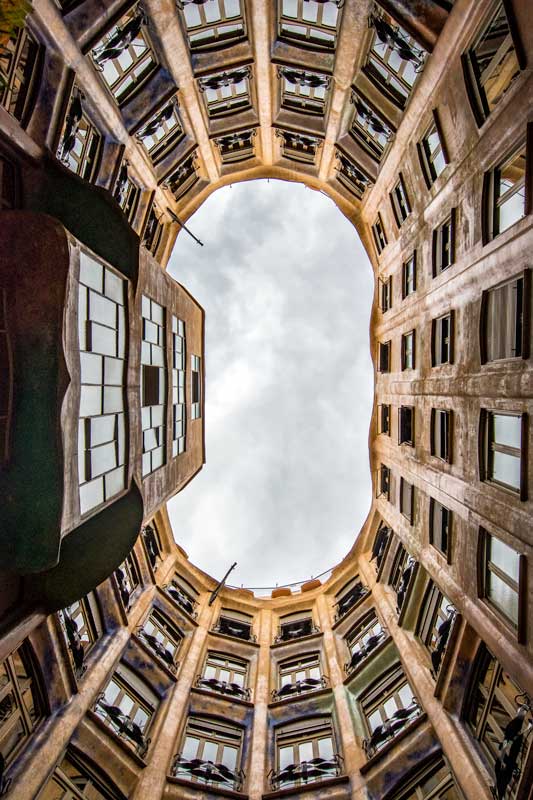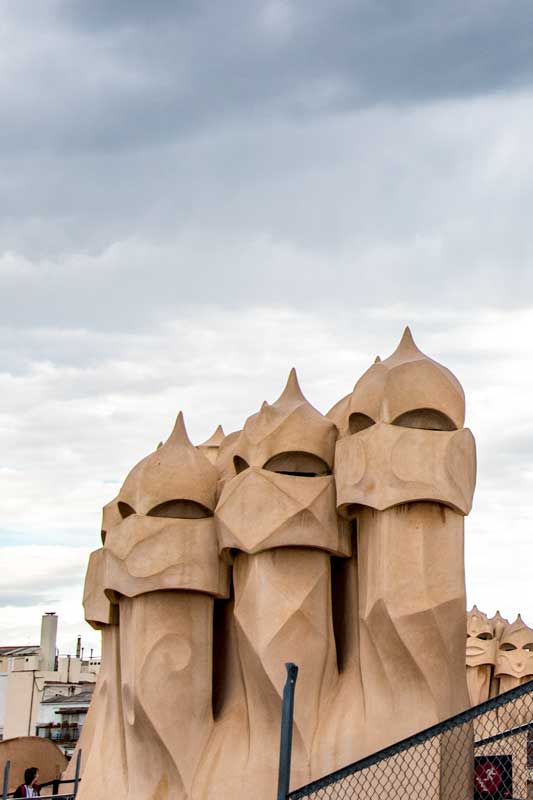 Casa Milà, popularly known as La Pedrera, is another highly-rated Barcelona attraction. Considered one of the most prominent works of Antonio Gaudi, the unusual building will grab your interest from the first moment you see it. With a facade that looks shaped by sea-waves, La Pedrera can easily claim to be one of a kind in the world. It also features a picturesque courtyard and a stunning Gaudi-styled rooftop.
Working Hours:

From Monday to Sunday, and holidays: 9:00 AM – 6:30 PM
Night tour: 7:00 PM – 10:00 PM
Prices:
La Pedrera Essential: 25 EUR (save some time and get your ticket online)
The Unseen Pedrera: 28 EUR – Get here
Full Experience – 35 EUR (extra stuf too see) – Get here
Night Experience – 35 EUR – Get here
Sunrise Experience – 39 EUR – Get here
Note:
Keep in mind that Casa Milà is one of the most popular Barcelona attractions. Unless you travel in the winter, getting an online ticket is essential. If you want the best experience possible, I recommend getting the night experience.
Why La Pedrera is not on my 2-day Barcelona itinerary:
Many people would denounce me for leaving it out, but here it goes. La Pedrera didn't make it because I didn't want you to spend your entire Barcelona trip centered only around the Gaudi sites. We already have a lot of them on the itinerary, and I rate both Casa Batlló and Palau Güell above Casa Milà. While the building is undoubtedly unique and offers some of the best photo ops in Barcelona, It's also one of the most expensive and crowded places in the city. Nonetheless, if you have enough time and want to see the biggest attractions in town, don't hesitate to visit La Pedrera.
Castell de Montjuic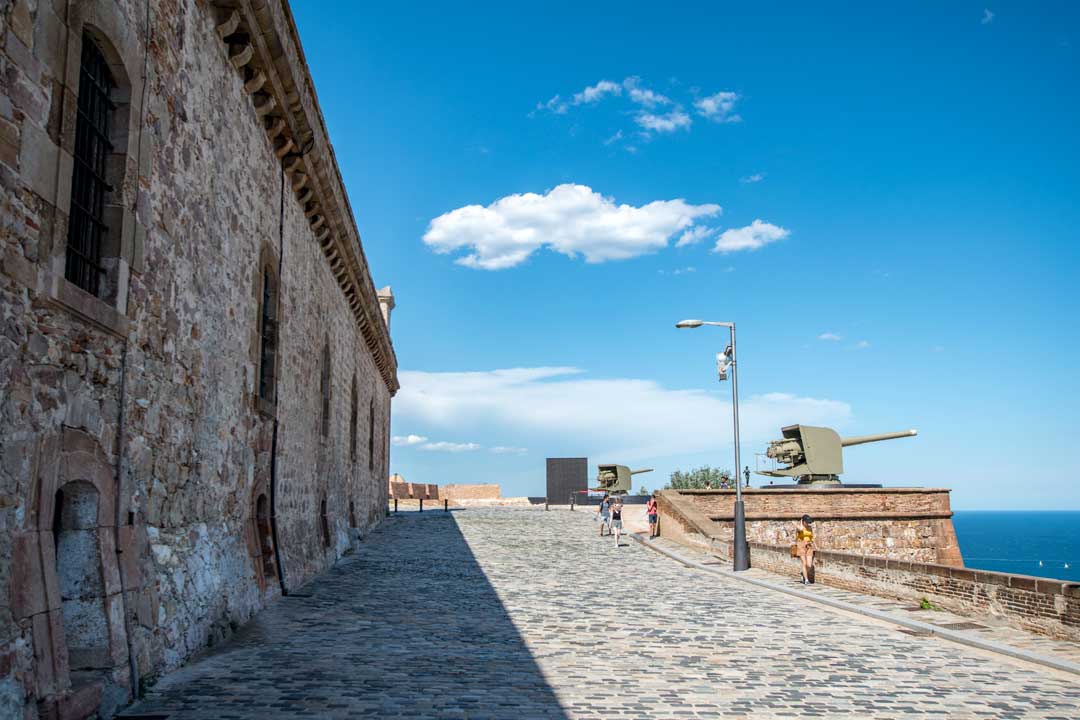 Dating back to 1640 and located on top of Montjuic Hill, Castell de Montjuic is another prominent attraction that didn't make it to my itinerary.
Infamous to the local people, the fort has bombarded Barcelona more than once. For more than 300 years, it was also used as a prison and torture center. If Spanish history is your thing, you'd love Castell de Montjuic. If not, the place is nothing special.
Working Hours:
November – February, 10:00 AM – 6:00 PM.
March – October: 10:00 AM – 8:00 PM.
Prices:
Regular – 9 EUR
Walking Tour – Check here
Segaway Tour – Check here
Montjuic Castle is not that popular, so you should be ok even if you don't get an online ticket. If you're like me and you like everything prepared beforehand, you can get the ticket here.
Free admission: Sundays after 3:00 PM and every first Sunday of the month. People under 16 years old
Why it's not on my Barcelona itinerary:
The castle is nothing special, even the panoramic views are mediocre. It's also a bit far from the other attractions.
Castaway Tip
If you decide to climb to the castle or just want to explore the other stuff on Montjuic Hill, it's best to use the cable car. Yes, you can climb it on foot, but it's a bit challenging, and more often than not, Barcelona is too hot for such activities.

Tibidabo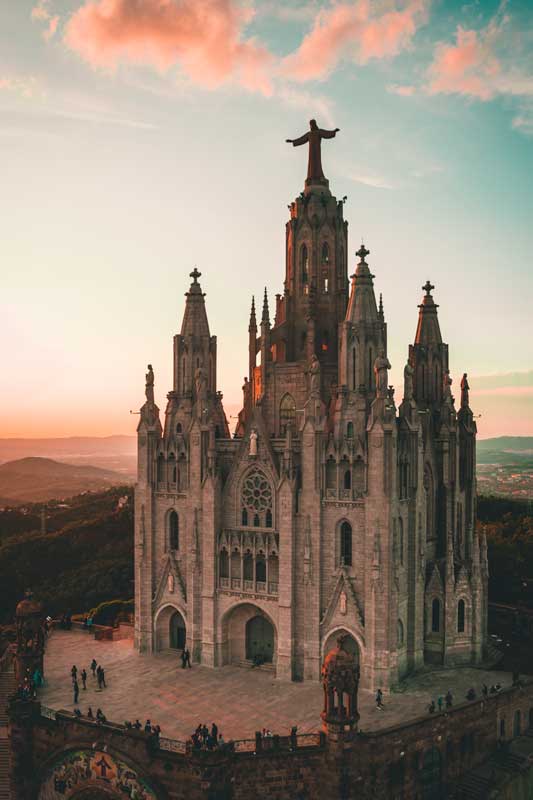 Tibidabo is a 512m tall hill overlooking Barcelona. Its top is occupied by a very picturesque church and large amusement park. Tibidabo park was established all the way back in 1899 and is one of the world's oldest amusement parks. If you're ready to take the long trip there, Tibidabo is an excellent place for a family trip.
Recinte Modernista de Sant Pau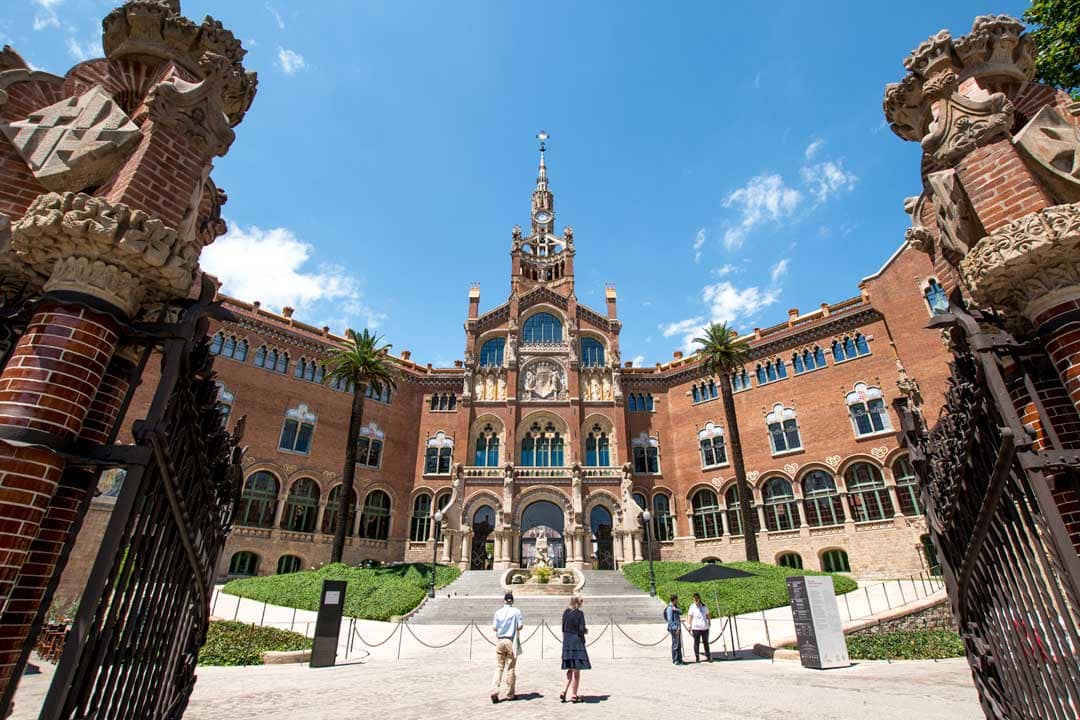 Designed by Lluís Domènech i Montaner, Sant Pau is an off-beaten Barcelona attraction that gains more and more popularity. Built between 1905 and 1930, Sant Pau Recinte Modernista is the largest Art Nouveau complex in the world. Initially intended as a garden city to nurse the sick, the complex served as a hospital for a century before becoming a space for events, meetings, and tours.
Working Hours:
April to October: Daily from 10:00 AM – 6:30 PM
November to March: Daily from 10:00 AM – 5:00 PM
Prices:
Self-guided visit: 16 EUR
Make sure you spend no time in lines by getting the online ticket (same price)
Guided visit: Check here
Audio guide: 4 EUR
Why Sant Pau is not on my 2-day Barcelona itinerary:
As impressive as it looks from the outside, Sant Pau's interior was incredibly disappointing. There's barely anything inside. If architecture is your thing, I'm sure you'll enjoy Recinte Modernista de Sant Pau; if not, however, I don't think it's good enough for your limited Barcelona time.
Palau de Musica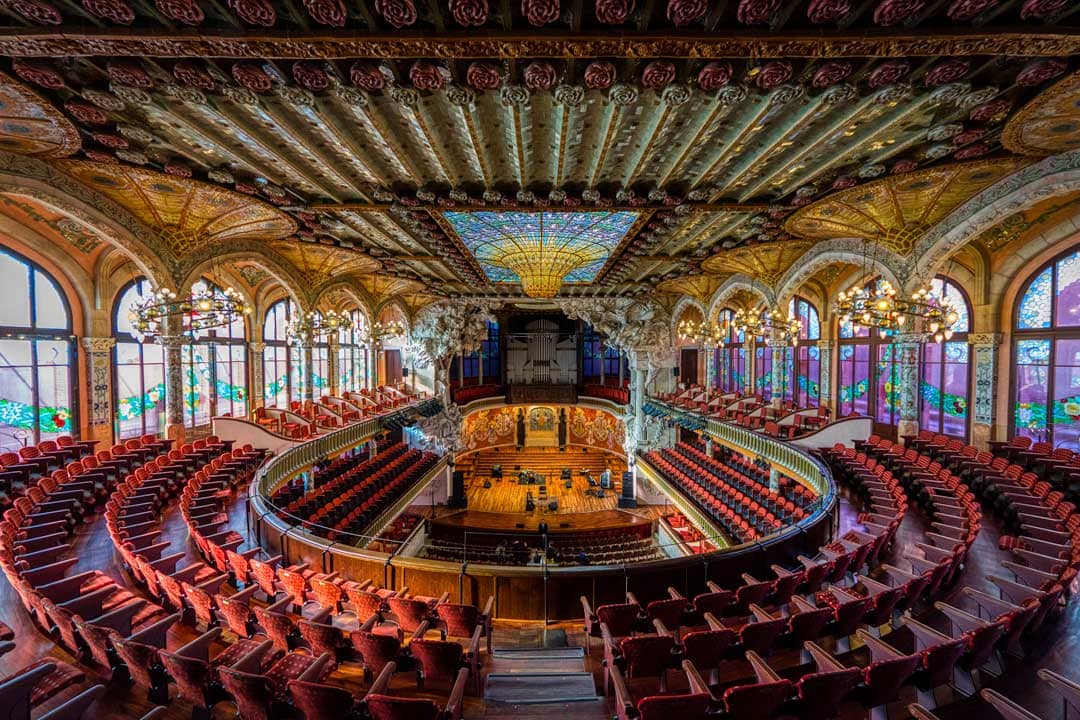 Designed in the signature Catalan modernista style, Palau de Musica is one of the most beautiful and weird concert halls in the world. Dating back more than 100 years, it was designed by the legendary Lluís Domènech i Montaner. Even though Palau de Musica is fully functioning, it's possible to enjoy its marvelous interior without going to a concert.
Working Hours:
Daily: from 10.00 AM to 3.30 PM
Easter and July: from 10.00 AM to 6.00 PM
August: from 9.00 AM. to 6.00 PM
Prices:
Self-guided – 16 EUR (get one here)
Guided – 20 EUR (get one here)
Why it's not on my Barcelona itinerary:
The tickets are time-stamped, so you need to center your itinerary around it; It's a bit expensive for a one-hour visit.
See Also: The Ultimate Madrid Travel Itinerary
Camp Nou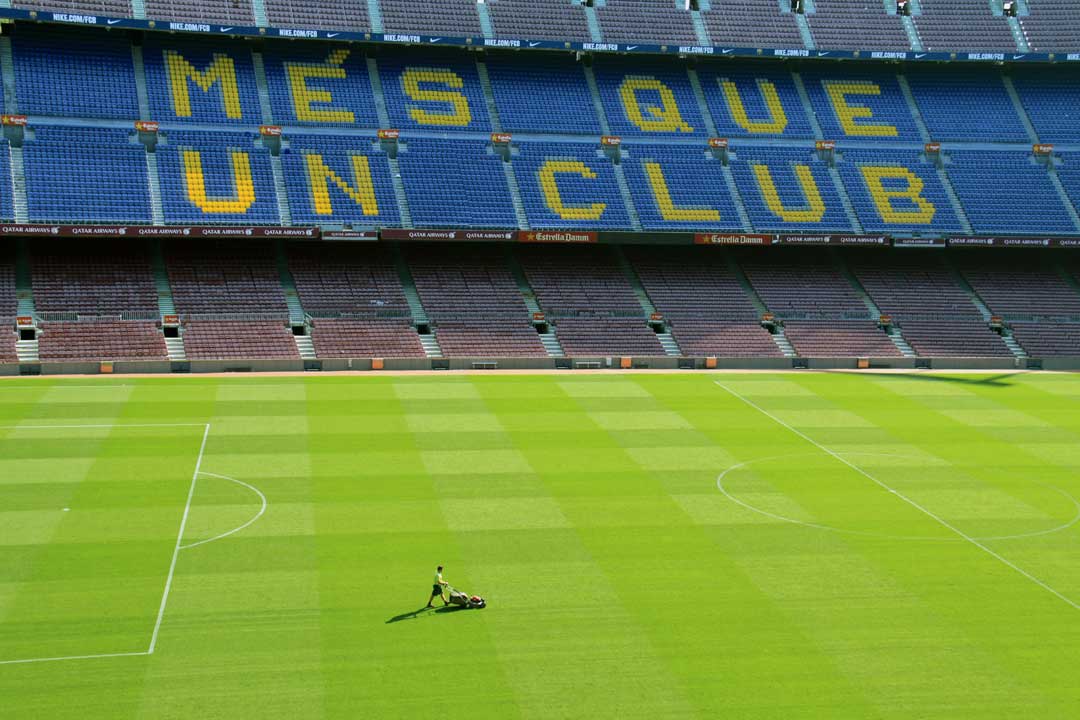 Camp Nou is the home ground of the football club FC Barcelona. Constructed in 1957, the stadium has a capacity of 99,354, making it the largest stadium in Spain and one of the largest in the world.
Working Hours:
Many options depending on the season, check here for latest information.
Prices:
Check the latest prices
If you're a big fan, I recommend this Guided VIP Player tour led by a local specialist
Why it's not on my main itinerary:
Camp Nou is an attraction only if you're an FC Barcelona fan.
La Boqueria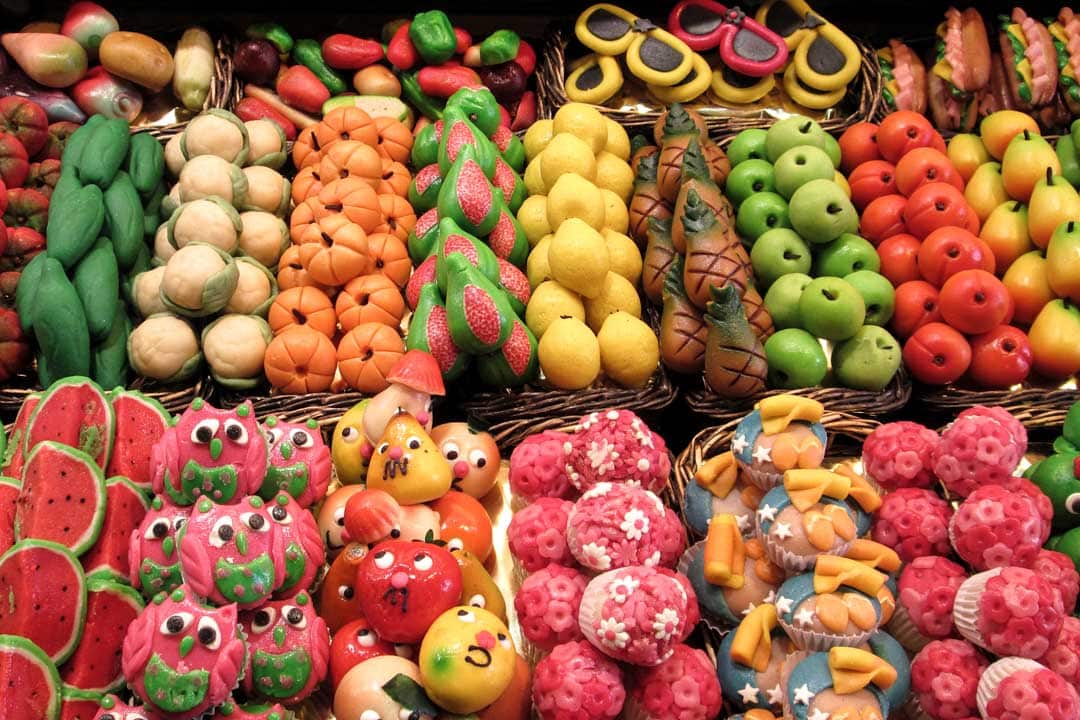 Located on La Rambla, The Mercat de Sant Josep de la Boqueria, simply referred to as La Boqueria, is the most famous market in Barcelona. Known by many names through the years, Boqueria is considered to be more than 800 years old!
Working Hours:
Monday-Saturday: 8:00 AM – 8:30 PM
Prices:
Overpriced
Why La Boqueria is not on my 2-day Barcelona itinerary:
The market is more of an overpriced tourist attraction than an authentic market.
Casa Vicens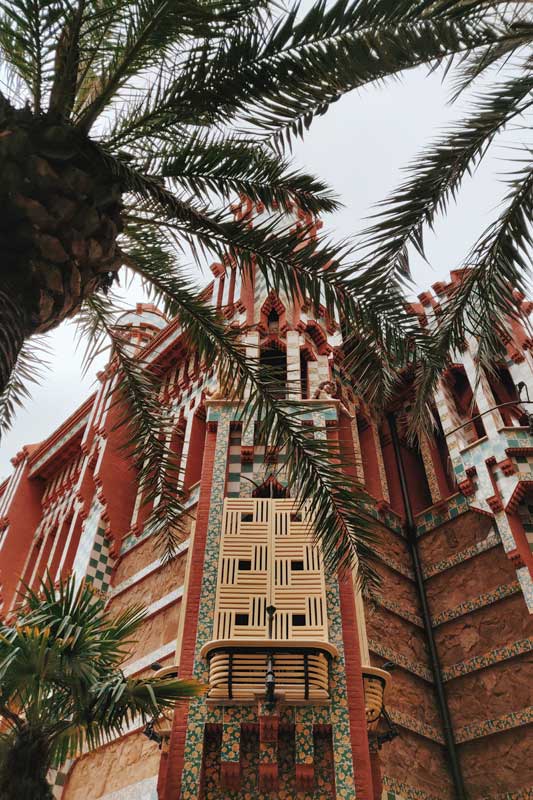 Casa Vicens is the first house designed by Antoni Gaudi. It was built between 1883 and 1885 when the legendary architect was considered to be in his orientalist period. Combining styles and techniques from all around the world with his signature style resulted in one of the most colorful and attractive buildings in Barcelona.
Working Hours:
November – March:
Monday from 10:00 AM to 3:00 PM
Tuesday to Sunday from 10:00 AM to 7:00 PM
April – October:
Monday to Sunday from 10:00 AM to 8:00 PM
Prices:
Regular – 18 EUR
Get skip-the-line online ticket (same price)
Why it's not on my Barcelona itinerary:
As shameful as it is, I didn't even know about Casa Vicens until recently. I don't like recommending things I haven't tested myself, and that's the main reason this lovely house is not on the itinerary.
Where to Stay in Barcelona
High-end: Hotel Barcelona 1882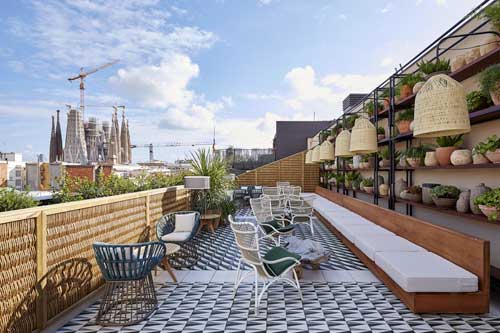 This 4-star hotel is the perfect Barcelona experience. Clean and spacious rooms, rooftop with a Sagrada Familia view, common spaces full of plants, tasty local breakfast, outdoor pool, and complimentary afternoon cheese and wine. Seriously, I can't think of anything else I'd want from a hotel.
Check out the latest prices
Middle Ground: Praktik Èssens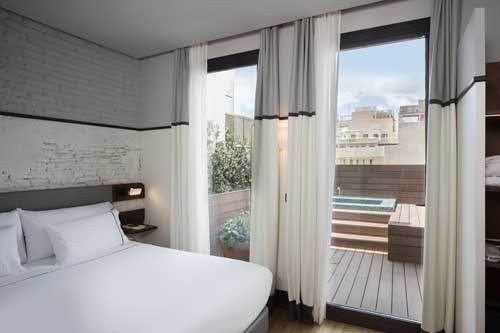 Beautifully designed hotel located right next to a metro station and 350 meters away from Casa Batlló. A very green-orientated place that offers modern rooms with a stunning terrace and a friendly staff that makes you feel at home right from the start. Praktik Èssens is the biggest value option in town.
Check out the latest prices
Budget Option: Hotel Cantón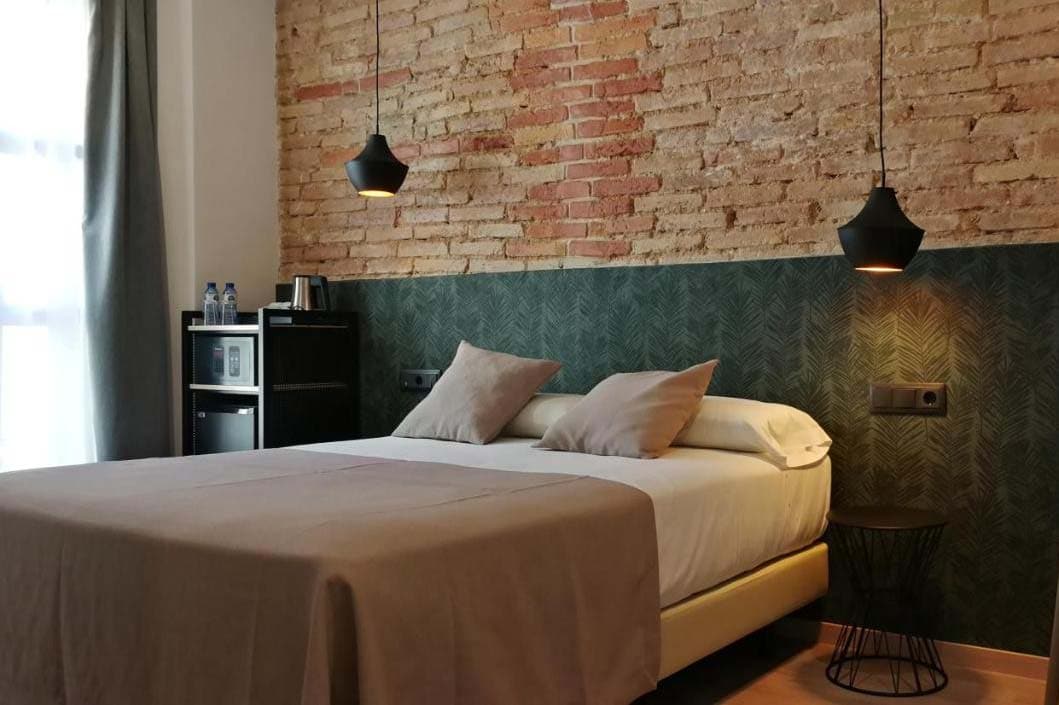 Perfectly located in the heart of Barcelona just 300m away from La Rambla, Hotel Cantón is equiped with every thing you want from a budget hotel – 24-hour reception, satellite TV, AC and a fridge and a metro station a few minutes away. Rooms are impecably clean (get cleaned every day) and the staff is kind and helpful. You can also get a good breakfast but I suggest skipping that and explore the gothic area your hotel is in to find some local bakery.
Check out the latest prices
Barcelona Tours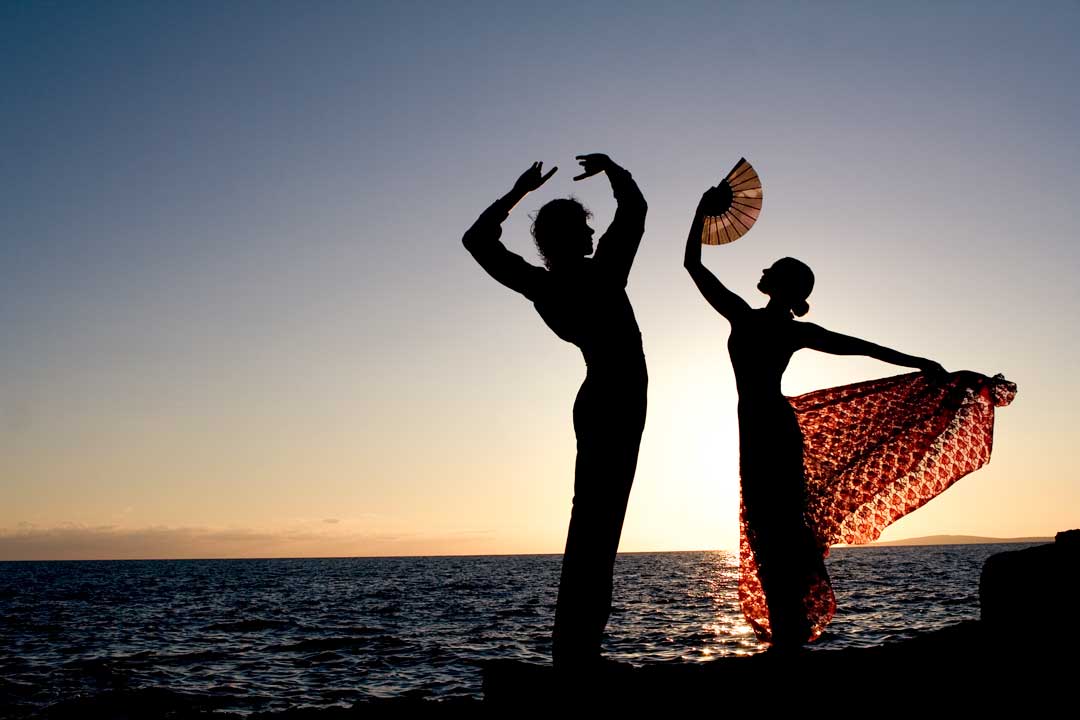 Embark into the Mediterranian on a 12-meter yacht that will show you Barcelona in a whole new angle. Spend 1.5 hours lazily sailing around the crystal clear waters, enjoying a complimentary drinks and snacks. If relaxing is above sightseeing in your book, this is the tour for you!
Check out the latest prices
This one is like the one above, but it's on sunset…and features live jazz music. I don't know about you, but for me, there's hardly anything that can rival the combination of sea, jazz, and sunset.
Check out the latest prices
Do you know Barcelona is Spain's third great capital of Flamenco? One of the main reasons for that is the Los Tarantos tablao (venues for Flamenco). Opened almost 60 years ago, Los Tarantos offers one of the most sensual and characteristic Flamenco performances in town. Rocking a 5-star rating from more than 600 reviews, Los Tarantos is the prime place in Barcelona to enjoy this incredible art-dance.
Check out the latest prices
Barcelona Day-Trips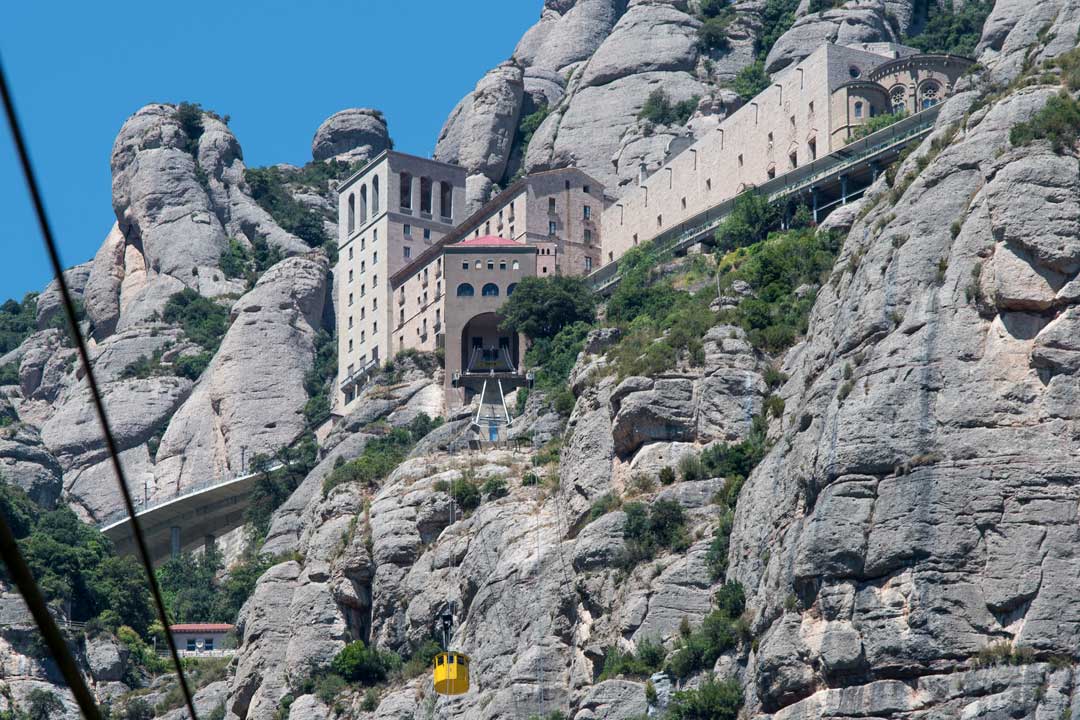 Situated in the Montserrat mountain range just 45km away from Barcelona, this spectacular monastery is one of the biggest attractions in Catalonia. With its stunning panoramic views, impressive architecture, and the chance to see the 12th-century holy statue of the Black Madonna -patron saint of Catalonia, Montserrat is the most-popular Barcelona day-trip.
Check out the latest prices
Montserrat with a farmhouse meal
This lovely day-tour includes everything from the previous one plus a bonus – a visit to lovely local farmhouse where you'll enjoy a three-course menu while enjoying the breathtaking panoramic views of the Montserrat mountain. Truly a premium experience.
Check out the latest prices
Secluded beaches, mystical caves, Mediterranean waters – this tour is the epitome of beach adventure. Including guided snorkeling, private transportation, kayaks, and tasty Catalan lunch, you can't get wrong with this one.
Check out the latest prices
Barcelona FAQ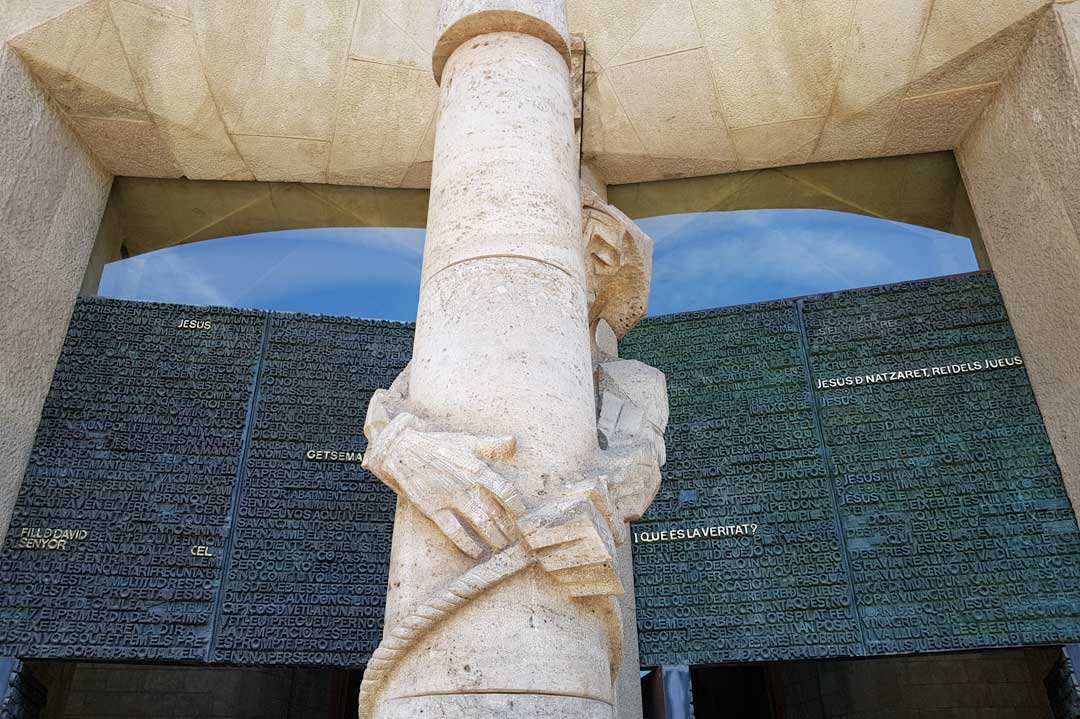 Is Barcelona safe for tourists
Being one of the major cities in the EU, Barcelona is generally safe. According to the Safe Cities Index by the Economic Intelligence Unit, the city ranks 19th under "Personal Security". The biggest danger in Barcelona is the pickpockets. Make sure you're incredibly vigilant, especially around Sagrada Familia and La Rambla.
Barcelona may be one of the safest cities around, but that doesn't mean you should skip on your travel insurance. If anything, the recent events taught us that something terrible can always happen, and you should be prepared for it. I currently use HeyMondo for my travels because they have proven themselves to me more than once over the years. The link above will give you a 5% discount, but If you have another favorite provider, that's ok. Just make sure you have one because you never know what may happen.
See Also: How to Spend 3 Days in Rome
The best times to visit Barcelona are the shoulder seasons. Spring (March-May) and autumn (September-November) offer the best combination of temperatures and tourist crowds. If you want a beach vacation, summer is your season. Keep in mind though that temperatures often reach 40°C (104°F), and summer is the highest tourist season. If you're looking for a good deal, fewer people, and you don't mind a bit colder temperatures ( 5-20°C / 40-68°F), winter is your time.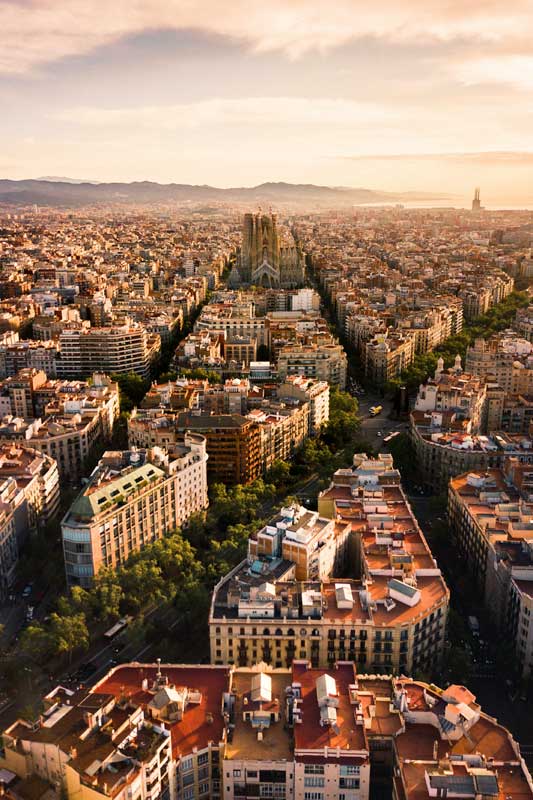 How to get from Barcelona airport to the city center
The easiest option would always be to rent a car that will wait for you at the airport. It takes some extra time to fill out paperwork, but you can drive straight to your hotel without navigating an unfamiliar city's public transportation or paying extra for a driver. Discover Cars is the place to compare all rent-a-car providers in Barcelona and get a sweet offer.
The second best way to reach the city is via airport shuttle bus. Departing every 5-10 mins, the Aerobus is relatively inexpensive (5.90 EUR one-way, 10.20 EUR return), takes around 35 minutes, and can stop at various popular stops, including Plaça España and Plaça de Catalunya (City Centre).

If you're on a budget, you can also use the regular city-bus. It's way slower and a bit trickier to navigate, but the ticket costs just 2.40 EUR. You're looking for number 46 during the day and N16, N17, N18 at night.
If your hotel/Airbnb is not in the city center, you can use the metro (line L9S costing 5.15 EUR). If your flight arrives on Terminal 2 before 10:30 PM, you can also use the airport train, which costs only 4.50 EUR and can take you to Sants Estacio, Passeig de Gracia, or El Clot-Arago neighborhoods.
If you're not into public options and prefer someone waiting and ready to take you straight to your hotel, you can pre-book this highly-rated private transfer or the more luxury version.
How to get around Barcelona
Barcelona is very walk-friendly, but for bigger distances, you better get yourselfa car. And trust me, getting from the Gotic Quarter to Sagrada Familia and then to Park Guell is quite the distance. The best tool for finding rental cars in Barcelona is Discover Cars. They will compare all the local rent-a-car providers and show you the best offers. Some of the deals they manage to get are absolutely stunning (50 EUR total for 4 days in Paris, for example).
Another option si the city's public transport. The Catalan capital has a well-developed metro, bus, and tram lines that can take you anywhere in no time. The easiest way to use them (especially if you have only 2 days in Barcelona) is via Hola Barcelona public transport ticket that gives you free, unlimited access to the transportation networks in the city and its suburbs.
If public transport is not your thing, you can use the Hop-On Hop-Off bus.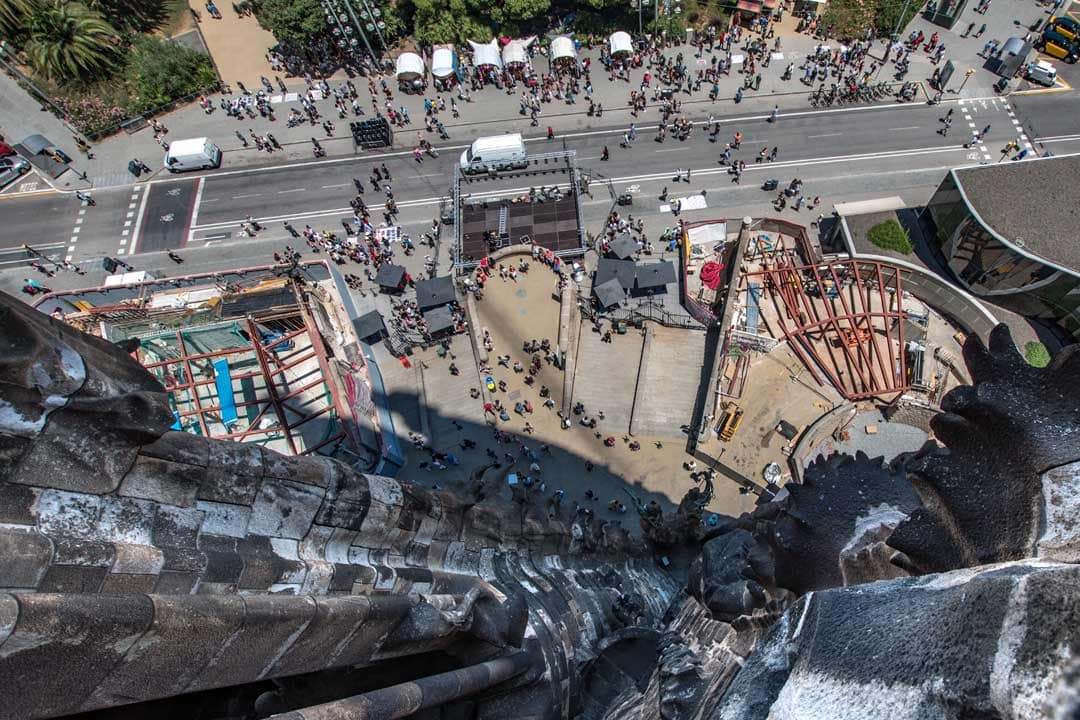 Is it expensive to visit Barcelona
Compared to other EU heavy-weights like London or Paris, Barcelona is relatively inexpensive. It all comes down to your preferences, of course, but an average budget should be something around 100 EUR per day.
Check out some average prices
What language do they speak in Barcelona
The prime language is Catalan, but of course, everybody speaks Spanish too. If you're an English speaker, don't worry. Barcelona is used to accommodating millions of tourists, and even though the average level of English is not very high, it's sufficient.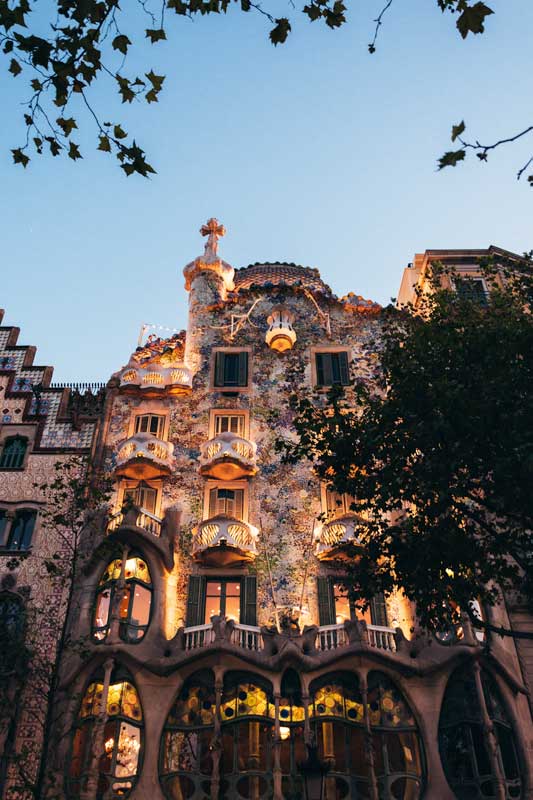 Do I have to tip in Barcelona
Tipping is not mandatory in Barcelona (or anywhere else in Spain). If you feel like you've got an exemplary service, tips are absolutely welcome, but no one would notice if you don't tip.
Two Days in Barcelona Itinerary Map
That's all from me, I hope you enjoy your 2 days in Barcelona.
————————————
If you haven't planned your trip there yet, find out how I plan my trips!
————————————
I have 25 bucket list ideas for Spain. See my impossible bucket list of 1700+ adventures!

Is Barcelona on your bucket list?
---
Some of the above are affiliate links and I will earn a percentage of the sale if you purchase through them at no extra cost to you. This helps keep my site running – so thanks in advance for your support!