You're about to spend 2 days in Prague, and you're wondering if there is anything else to do besides drinking beer? Trust me, there's a lot!
While drinking beer is an integral part of Prague's culture, there are plenty of other amazing things to see and do. Being one of my favorite cities in Europe, I walked the capital of the Czech Republic from end to end and designed the ultimate 2 days in Prague travel itinerary for you!
To make sure you get the best of the Prague itinerary, prepare 2 full days in the city.
Also, have in mind that while the winding alleys are as cute and photogenic as it gets, the city gets hordes of tourists, and you need to get up early to get the maximum out of them.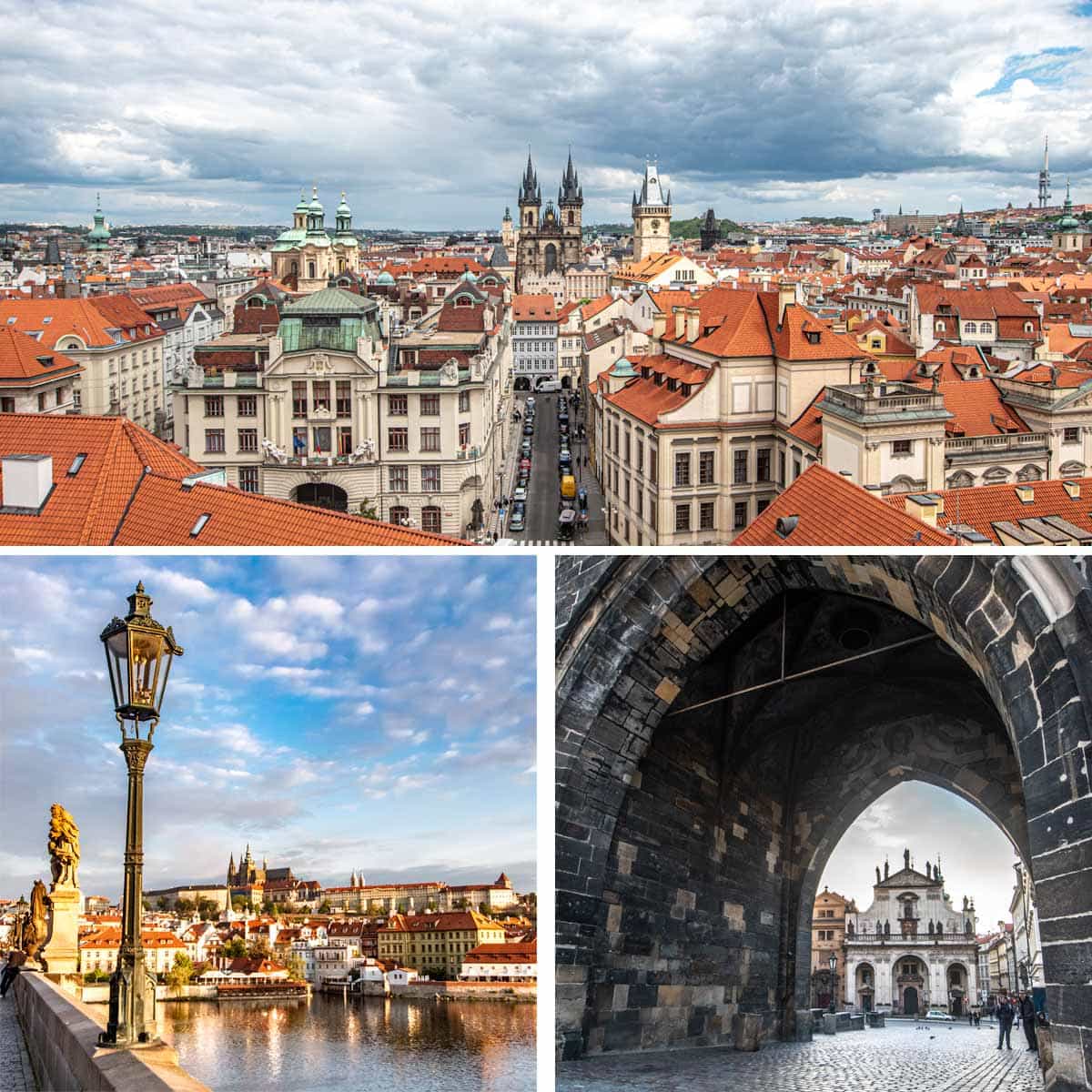 Two Days in Prague – Day 1 – Old Prague
Our first day in the old Bohemian capital will be spent on the east side of the Vltava river. We'll explore the medieval alleys mix of modern art, chic Art Nouveau houses, stunning fairy-tale libraries, and will end the day with a peaceful sunset next to one of the most famous bridges in the world.
Excited yet? So am I!
Time to start our 2 days in Prague!
The Old Town Alleys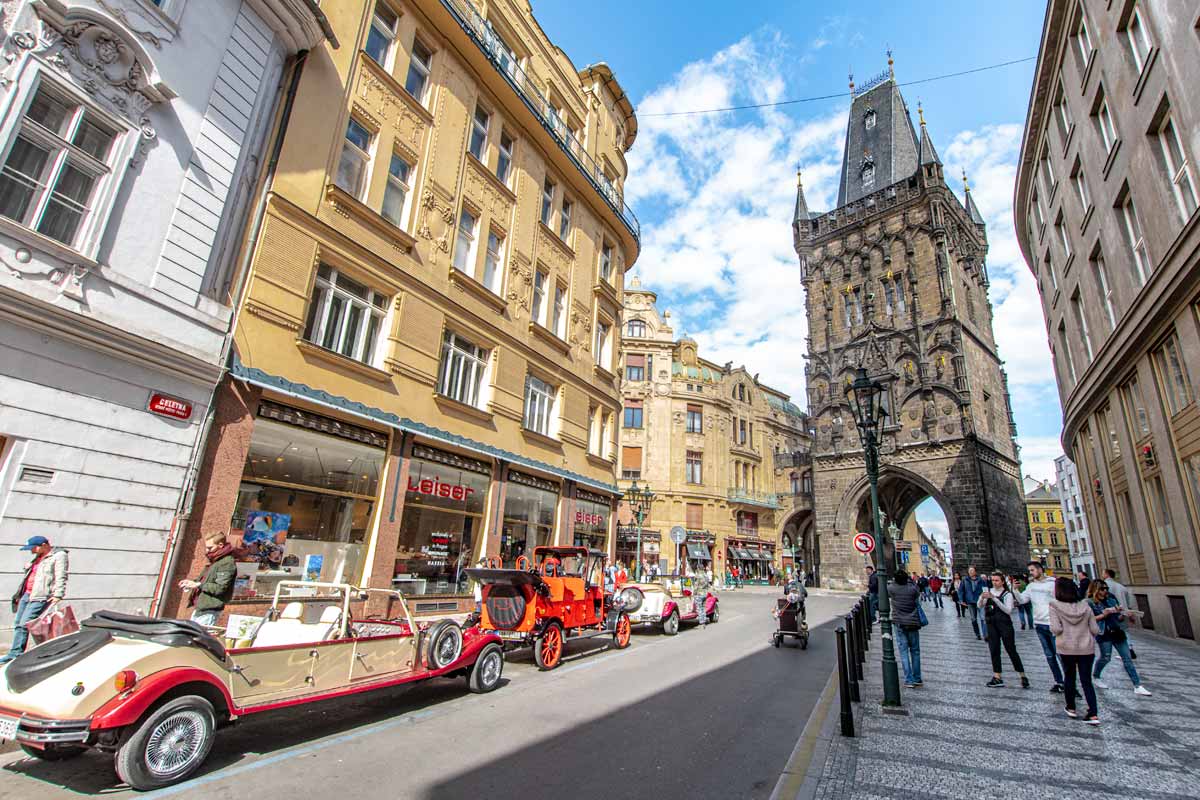 And what better way to start our itinerary than a serene walk around the most famous part of the city – the Old Town.
The medieval settlement of Prague also known as Staré Město Pražské was founded around the 9th century and was instrumental in the development of trade and craftsmanship hence turning Prague into one of the most important Central European metropolises.
Pssst! You wanna to know the other ones? Check out my Ultimate European Travel Guide!
Nowadays, the Old Town of Prague is the epitome of the cliche image that appears in your mind when you're thinking of central Europe. No joke here, old houses kept in their original, antiquated look, tiny cobblestone paved winding alleys and massive medieval towers. Mixed with all of this – modern art installations that give Prague an extra kick of awesomeness!
The Old Town area is not that big and is best explored on foot. What worked for me was to try and find some of the hidden artworks. Go check out the hanging Freud, Frank Kafka's moving head, and the Umbrella Hanging Man. Then make your way to the Municipal House (the most striking Art Nouveau building in town), check out the stunning Powder Tower, and there you are. Your 2 days in Prague have just started, and you've already explored most of the Old Town. Good job!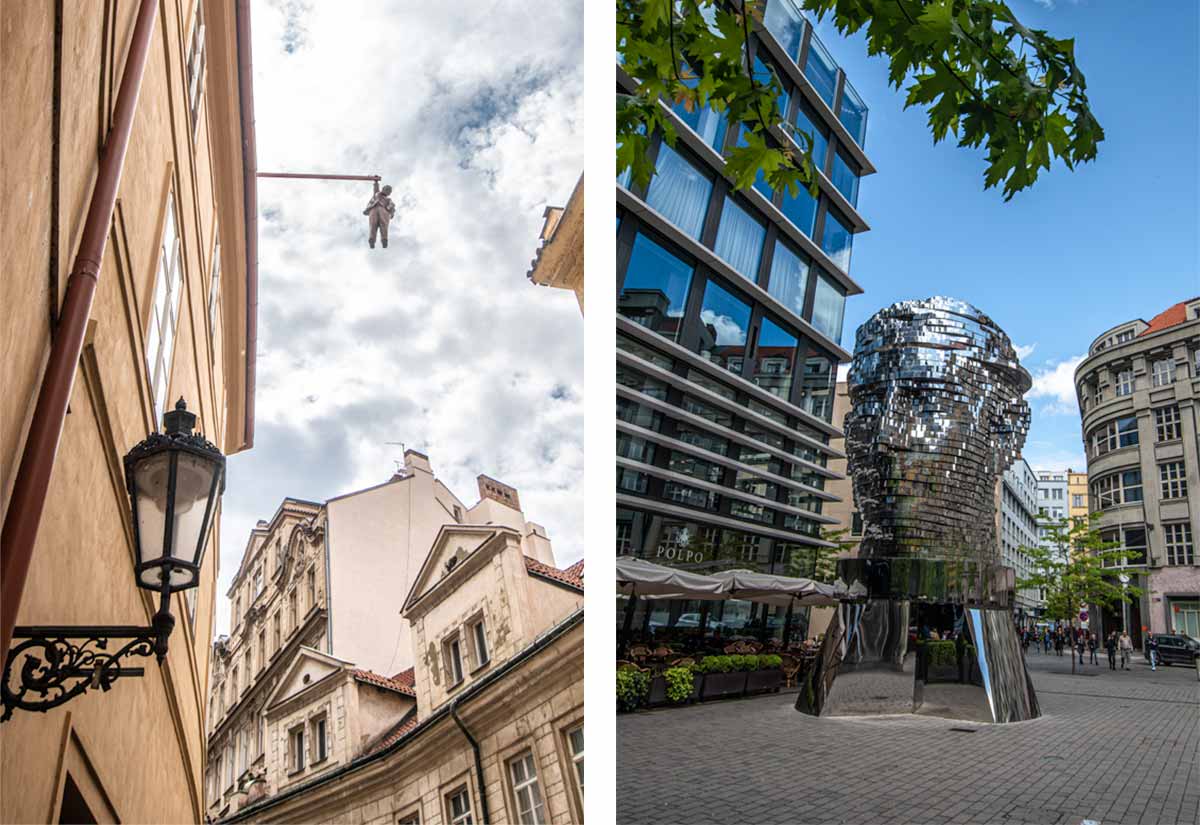 If you're not into exploring on your own, another cool way to enjoy the Old Town is via guided tour.
And since regular tours tend to be boring, I recommend taking the Prague Ghost Tour. You're not only gonna stroll around the cool places of Prague, but you're also going to get seriously spooked. No, this is not some cheap attraction where people with masks jump to scare you.
You'll be guided through less popular places and told dark legends about Prague's gloomy past. I'm not sure which parts are real and which ones are just granny horror stories, but following the footsteps of alchemists, ghosts and monsters is a pretty cool and (surprisingly) cheap experience.
Old Town Square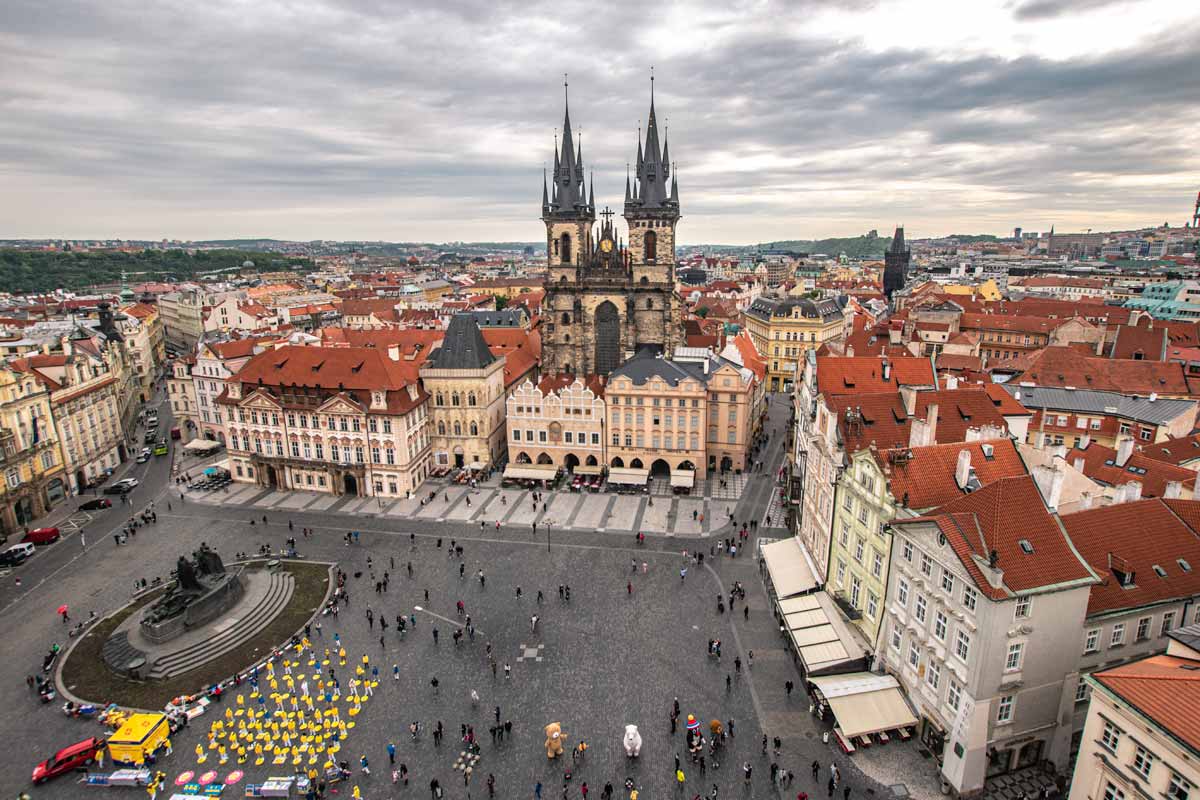 Once you get familiar with the cobbled lanes of Old Prague, it's time to see the heart of the city – the Old Town Square and the famous Prague Astronomical Clock.
Also known as Prague Orloj, the clock is mounted on the southern wall of the Old Town Hall. It was built in 1410 (!) making it oldest clock in the world still operating (while my 21st-century phone can barely make it to 2 years before it has to be replaced…)!
Designed to display the time, date, position of celestial bodies, astronomical cycles, and Christian holidays, Prague's Astronomical Clock is the embodiment of medieval art and craftsmanship.
Castaway Tip
On every hour between 9:00 AM and 11:00 PM, the clock gives you a little show. The skeleton on the right starts pulling the line, opening the two little windows above the clock where the twelve apostles appear.

See Also: Prague, Vienna, Budapest – The Ultimate Central Europe Itinerary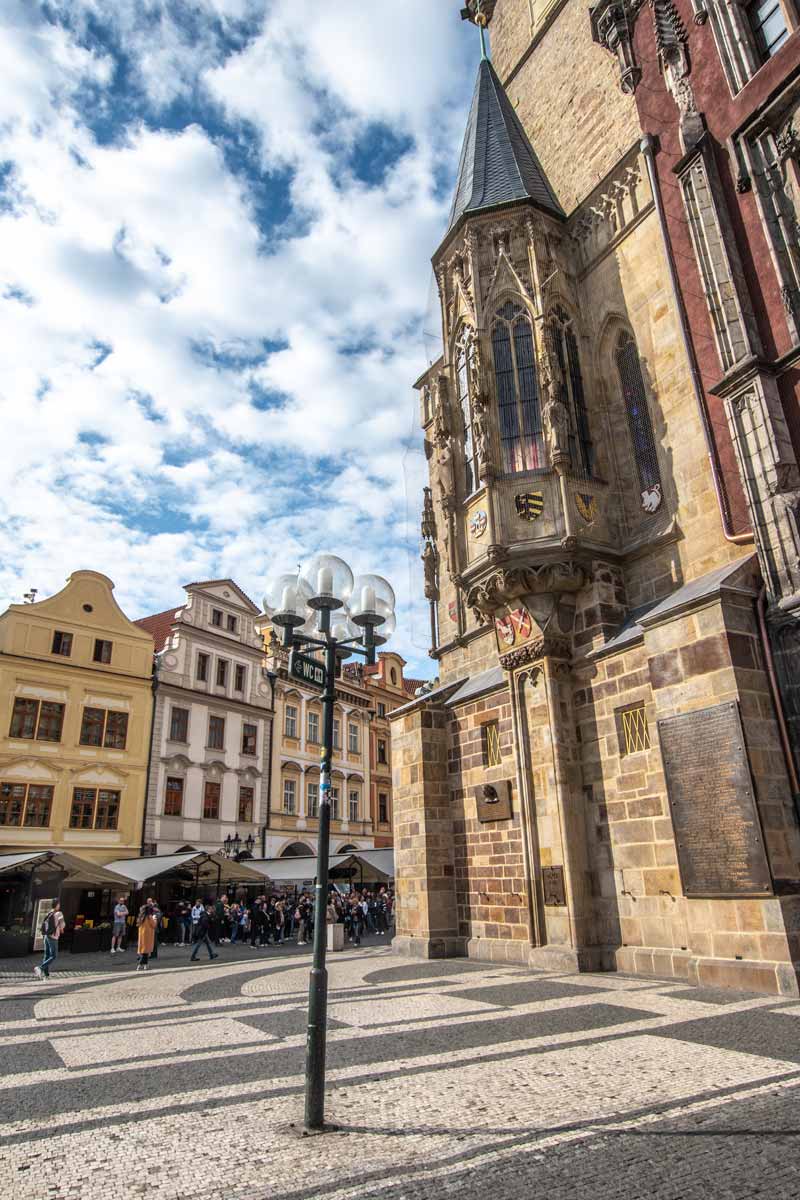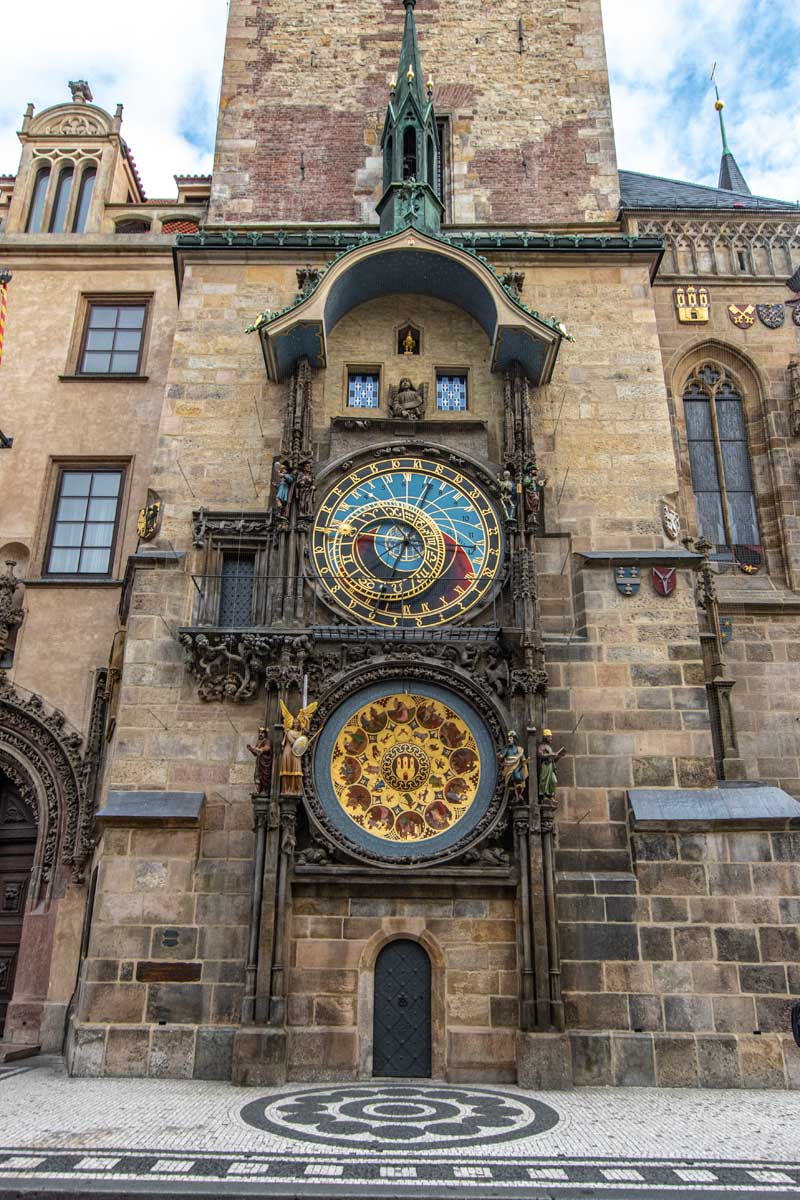 The Old Town Hall is even older than the clock (well duh). The best part of it is the 70 meters-tall gothic tower that overlooks the square, presenting a lovely panoramic view of the square below.
Working Hours
January – March
Mon – 11:00 AM – 8:00 PM
Tue – Sun – 10:00 AM – 8:00 PM
April – December
Mon – 11:00 AM – 9:00 PM
Tue – Sun 9:00 AM – 9:00 PM
Prices
Basic – 250 CZK / 10 EUR
Reduced – 150 CZK / 6 EUR
Family – 600 CZK / 24 EUR
The entrance fee also includes the entry to the Old Town Hall's underground, historical halls and the Chapel of the Virgin Mary.
See Also: The Best Photo Spots in Prague
Museum of Torture Instruments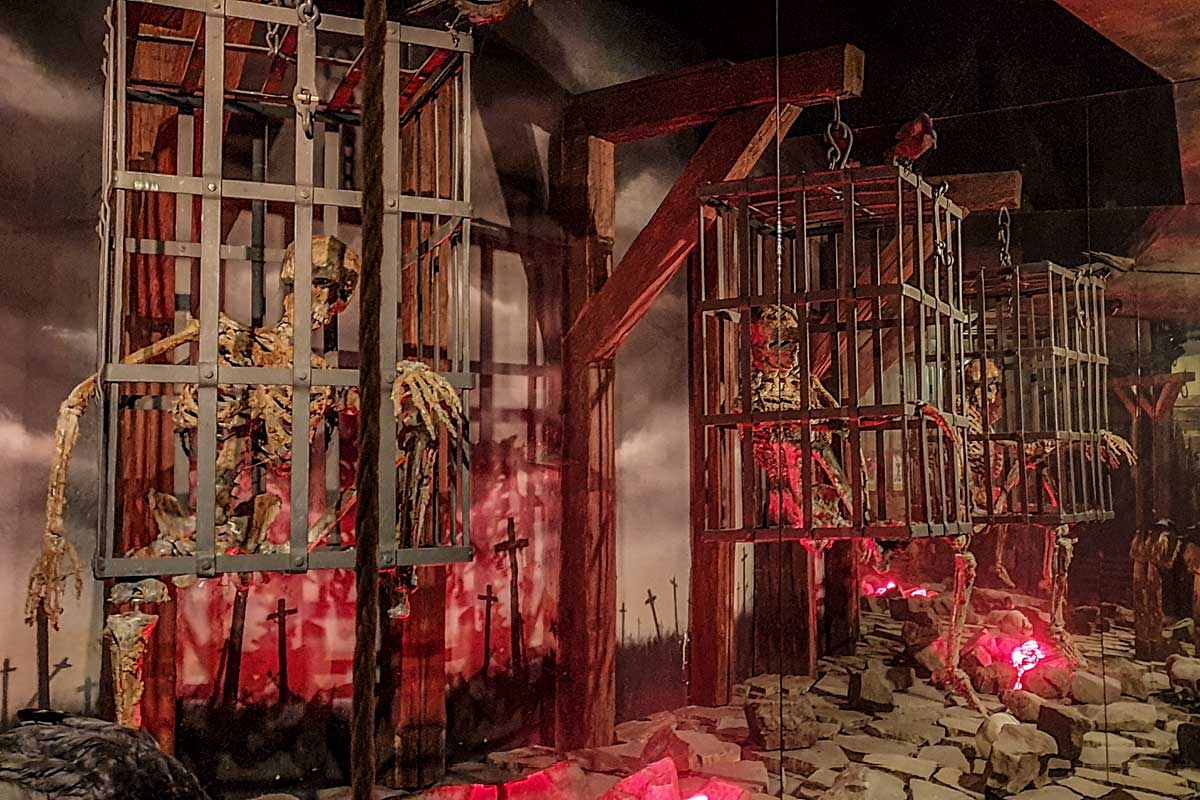 While following your 2 day Prague itinerary, you'd inevitably see a lot of tiny museums. They are everywhere, and you have to visit at least one of them.
For this guide, I picked the Museum of Torture Instruments as something the whole family could enjoy (yes, kids would love it). The museum is located not far away from the Old Town Square and offers a dungeon with…torture instruments.
To show better how they work, there are drawings or even dummies taking one for the science. It's amazing how creative the medieval people were when trying to inflict pain.
Working Hours:
Mon – Sun – 10:00 AM – 8:00 PM
Prices:
Adult 160 CZK / 6 EUR
Children, student, senior 100 CZK / 4 EUR
Family ticket 2+2 (children to 15 years) 420 CZK / 16 EUR
Municipal Library's Idiom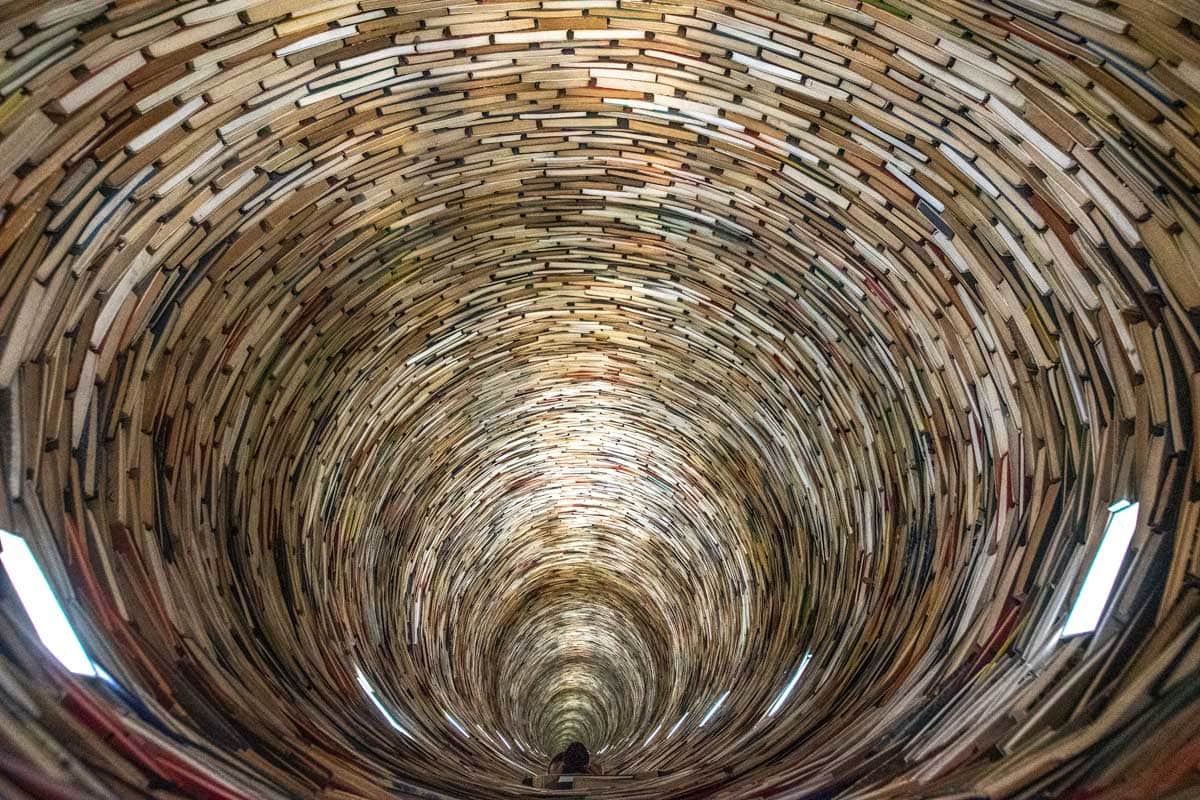 Next on the list is a little known attraction that makes a perfect setting for a new profile picture.
Located In front of the central entrance to the Municipal Library, the "Idiom" is a long term art installation where hundreds of books are built into a vertical tunnel.
If you peek inside the teardrop hole, you will find out the tunnel goes to infinity (mirrors are set in both ends), and, per installation's creator, you'd feel what is like to get drowned in a well of books.
Working Hours
Mon: 1:00 PM – 8:00 PM
Tue – Fri: 9:00 AM – 8:00 PM
Sat: 1:00 PM – 6:00 PM
Sun: Closed
Clementinum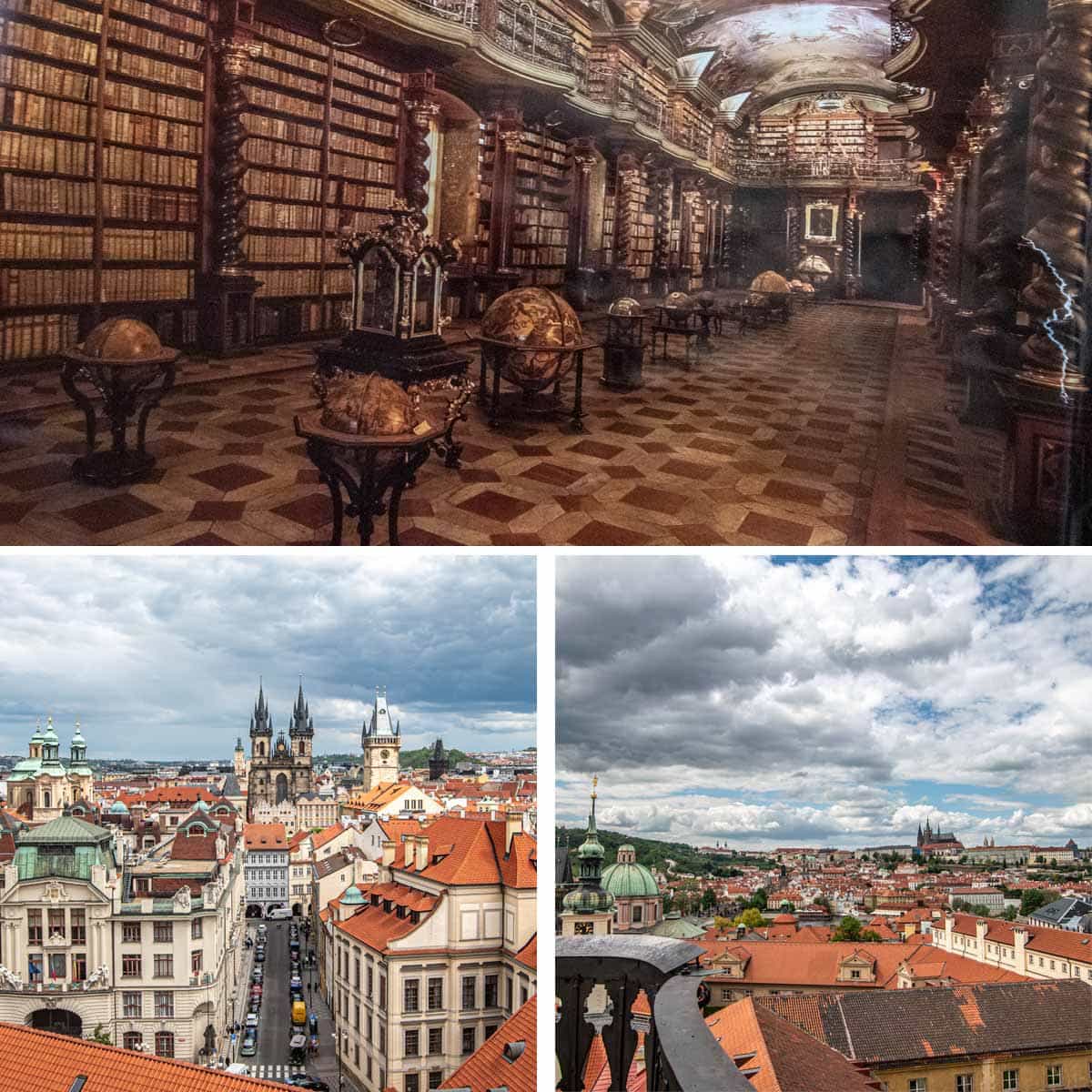 Situated next to Charles Bridge, the Clementium is the next stop on our Prague itinerary.
Covering a ground of 2 hectares, it is one of the largest building complexes in Europe but don't worry. We're not here to explore it all. We're visiting the Clementinum to see the most beautiful library in town and allegedly in the world. The Baroque library hall is a privately owned library (thus forbidden to take photos of) that hosts plenty of rare medieval books (some of them are the only copy in the world) a few massive antique globes and an atmosphere like no other.
Seriously, peeking inside the library instantly transports you to a Harry Potter-world of mystics and wizardry.
Since you can't just visit the library on your own, you need to join a tour that starts every 30 minutes, it's (usually) in English and lasts about an hour.
Besides the library, you'd be shown the Meridian hall (a room they used to determine when it's noon) and taken to the top of the 68 meters high Astronomical Tower to have a better look of the historical center of Prague and the Vltava River.
Charles Bridge on Sunset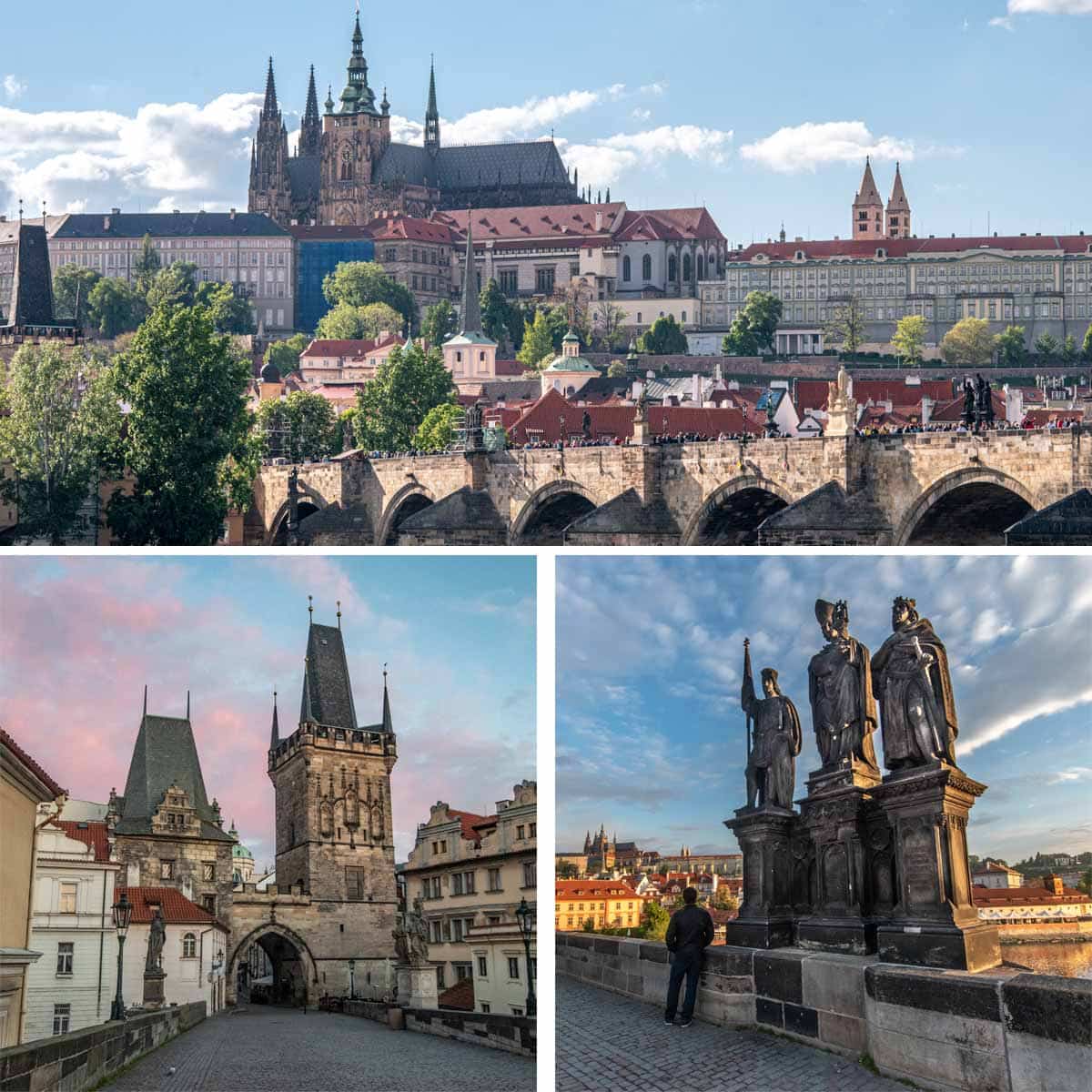 The first day of our journey should be reaching its end by now, and you're probably tired. A perfect way to relax is to watch the sunset falling behind Charles Bridge.
The bridge itself is more than 500 years old and is the most famous bridge in Europe. Built by King Charles IV, the bridge used to be a vital trade route between Eastern and Western Europe. It is guarded by three towers and has a continuous alley of around thirty 18th-century Baroque statues.

A perfect spot to enjoy the bridge (and the Prague Castle behind it) by sunset is from the Old Town side, on the lane going south (google maps coordinates: 50.084667, 14.413350).
Don't hesitate to also take a walk on the bridge and enjoy the local artists and street musicians (it may be a bit overcrowded though) or climb the bridge tower (any of them will do) and take an awesome photo.
Drink Some Beer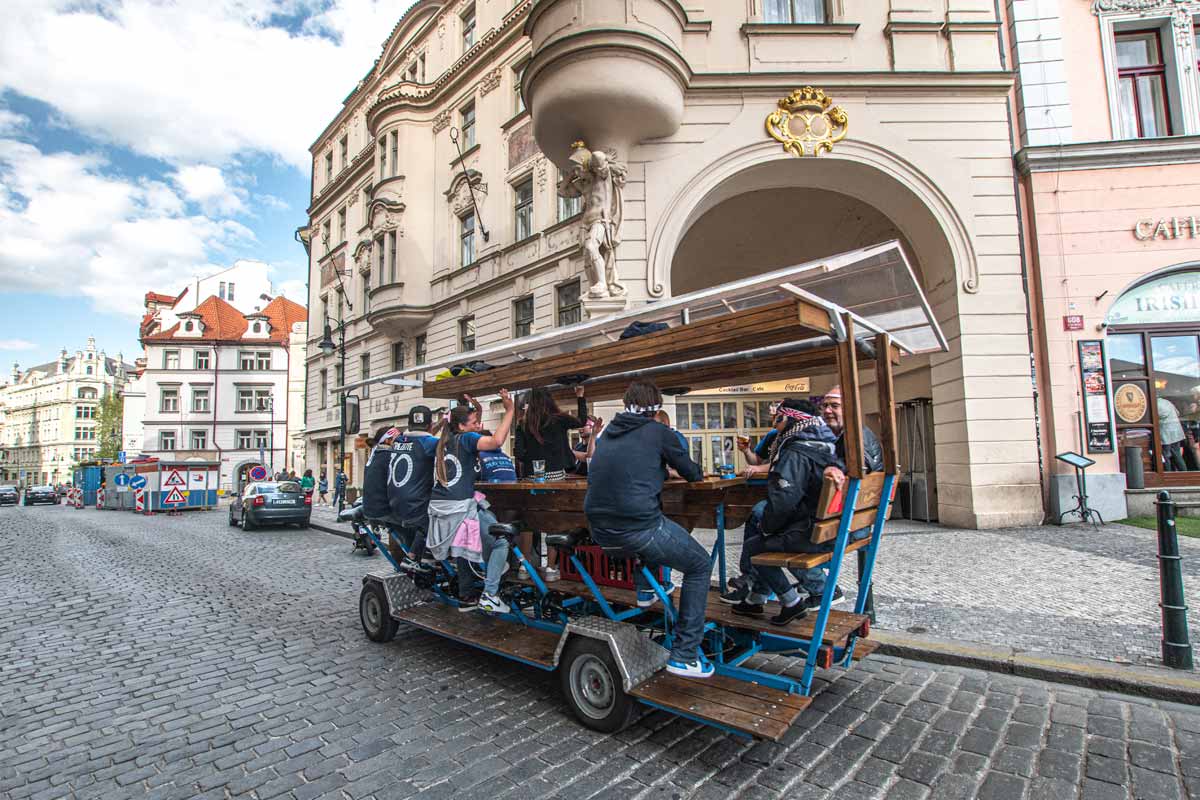 The first of our 2 days in Prague is about to end, and since we had a whole day of walking and exploring, I believe we deserve a little reward. And what better reward in Prague than enjoying some genuine Czech beer!
Your options here are unlimited. You can sit in any of the pubs around the Old Town, or you can get a 1.5 hrs Beer Tasting Tour and drink as much as you can. If 1.5 hours are not enough for you, you can challenge yourself with the 3 hours one or even go to a Beer Bath with unlimited beer (this one probably won't work at night though).
If you have a lot of friends with you, you can try one of the most unusual beer attractions in Prague – the Beer Bike. It may look ridiculous, but it's actually a lot of fun!
See Also: How to Spend 2 Days in Budapest
Two Days in Prague – Day 2 – Mala Strana
In our second day, we're about to explore the west side of the Vltava River – the area known as Mala Strana. The left bank of the river used to be the rich part of town where many nobles had their palaces.
Make your way through Charles Bridge and start climbing (it's an easy climb) to our first attraction of the day:
Prague Castle Complex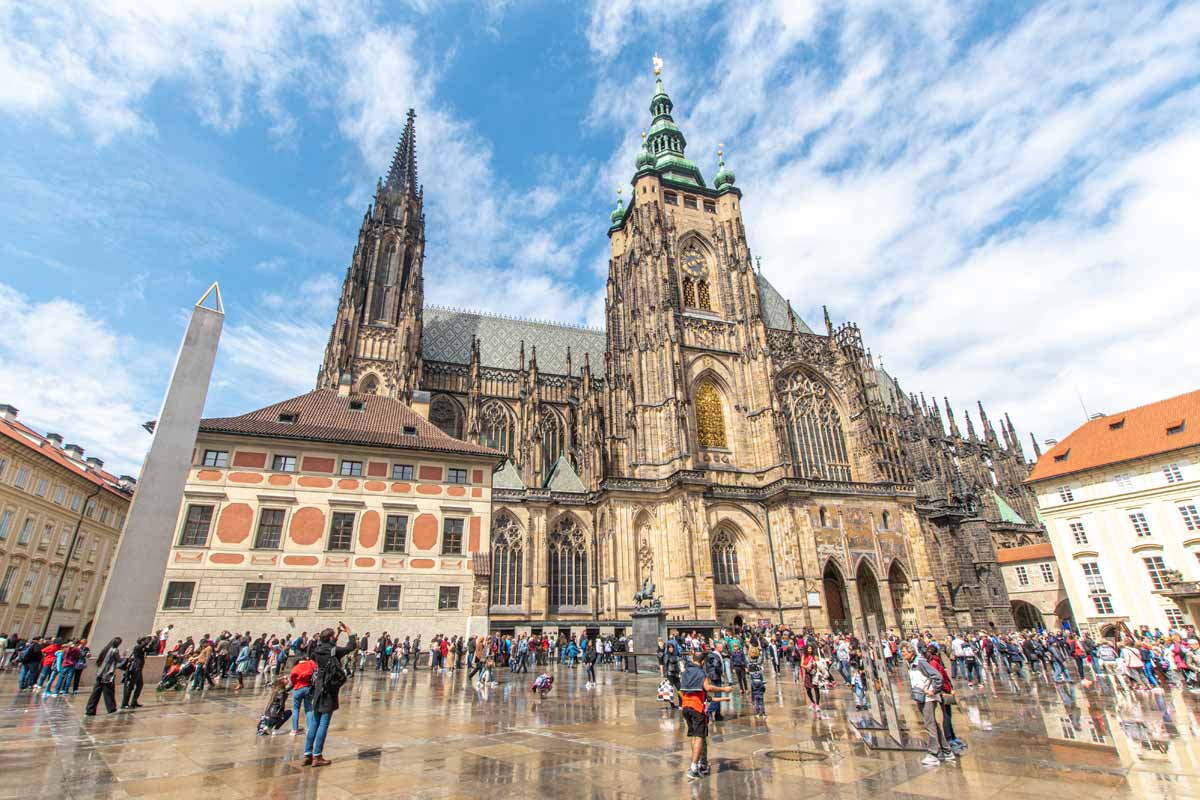 Built in the 9th century, Prague Castle used to be a seat of power for kings of Bohemia, Holy Roman Emperors, and presidents of Czechoslovakia. It's the largest Castle Complex in the world, covering the ground of almost 70,000 square meters (750,000 square feet).
I can sense you're getting a little bit anxious. Don't be. Just like with the Clementinum, we won't try to explore everything around Prague Castle, only the very best of it.
The first (and best) thing to see in Prague Castle complex is the St. Vitus Cathedral. The biggest highlight in the complex and the most important church in the Czech Republic, the cathedral took around 600 years to be fully completed, and it's an absolute architectural masterpiece.
It's also the most popular thing to see in Prague Castle so expect to wait a bit on a line. You can also climb to the top of one of the towers, but you need to buy a separate ticket and wait on another line.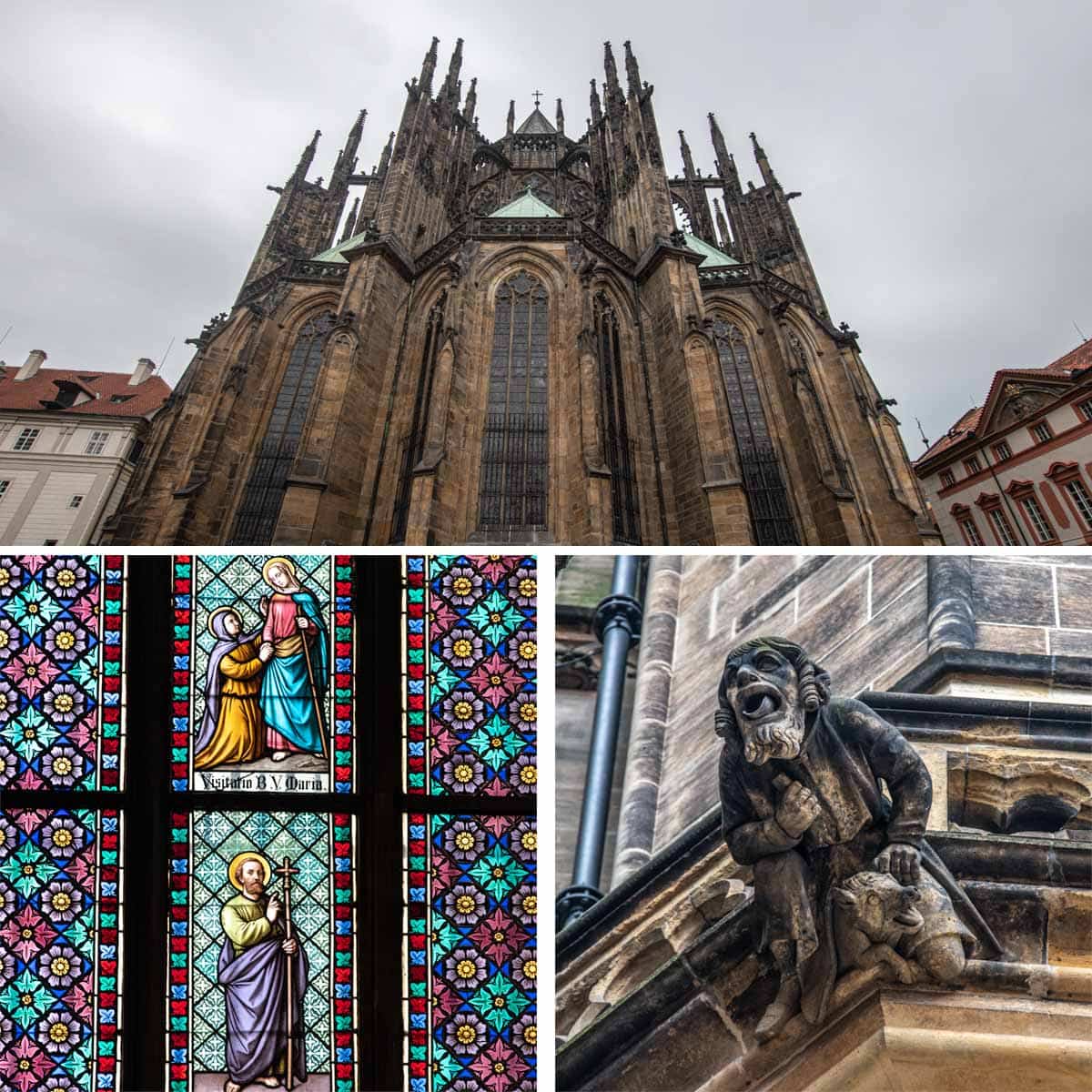 Next to the cathedral is the Old Palace. It's not as impressive as some other palaces, but it's worth to take a look. The must-see part is the gorgeous Vladislav Hall and most accurately its ceiling. Constructed around the 15th century, the 2-domed ceiling has plenty of Gothic elements and Italian Renaissance windows.
If you're lucky, the Bohemian Crown Jewels may be on exhibition in the palace. It's a very rare occasion though (roughly once every five years).
On your way to the next attraction, make a quick stop to the St. George's Basilica. The small church is the oldest in Prague Castle (dating around 920), and it's the final resting place of Prince Vratislav, the father of St. Wenceslas.
RIght behind St. George's Basilica is our next stop – the Golden Lane. A small cobblestone street with colorful middle age styled houses. Nothing unusual for Prague, right. While some of the houses are souvenir shops, the others are reconstructed to showcase the lives of their medieval inhabitants. The lane used to be where the royal alchemists used to live (hence the name) so there are quite a lot curious alchemist artifacts too.
House 22, where Franz Kafka used to live for a year, is another of the lane's highlights.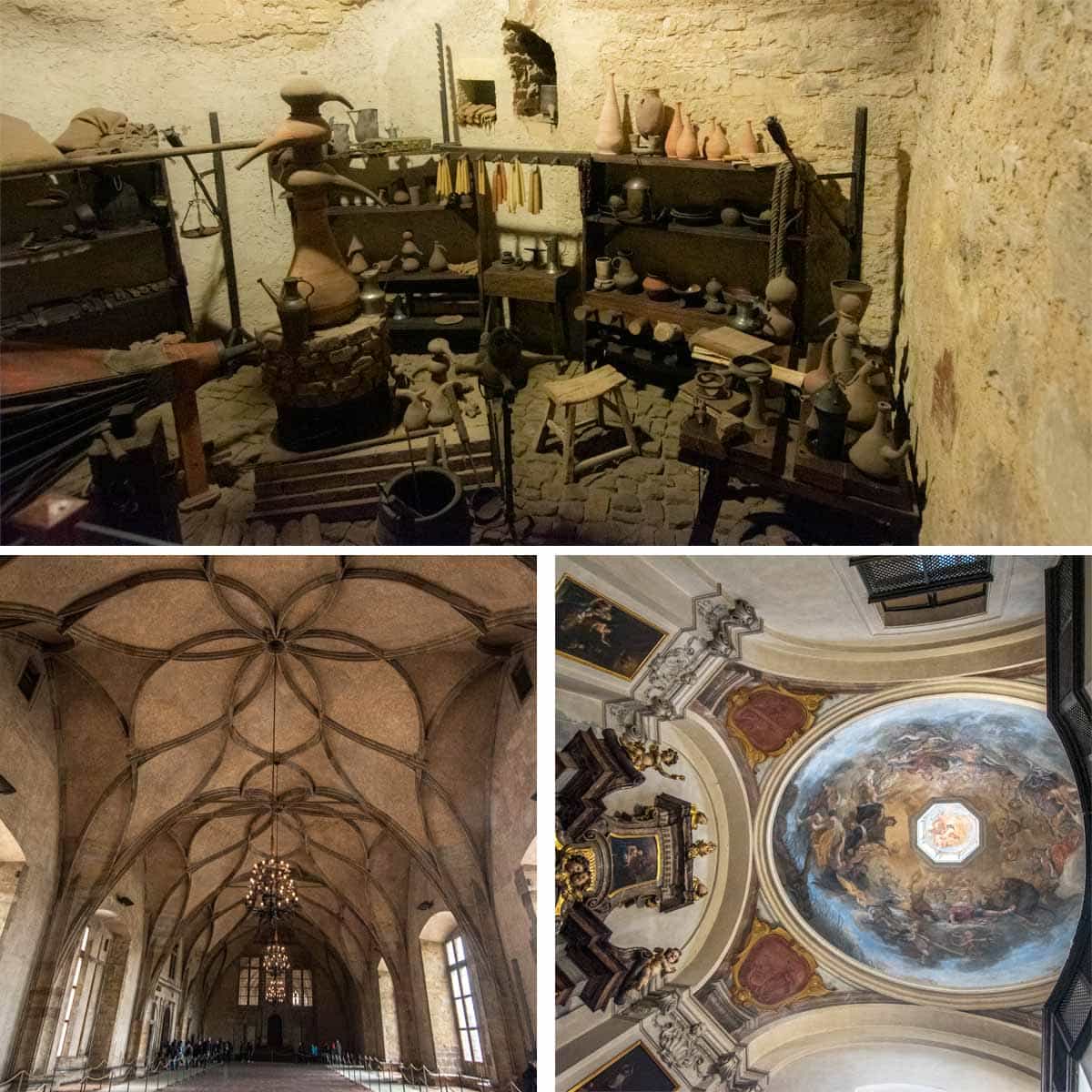 The last thing to see in Prague Castle is the Lobkowitz Palace. A private palace that requires a separate ticket, House of Lobkowitz offers impressive art collection featuring masterpieces of Brueghel, Canaletto, Velázquez alongside, an impressive array of arms and armor. My favorite part (besides the magnificent panoramic view from the balcony) are the hand-annotated manuscripts by Beethoven, Haydn, and Mozart.
Prague Castle Complex Working hours
November – March: 09:00 AM – 4:00 PM
April – October: 09:00 AM – 5:00 PM

Prices:
Basic 250 CZK / 10 EUR
Reduced 125 CZK / 5 EUR
Family 500 CZK / 20 EUR
Strahov Library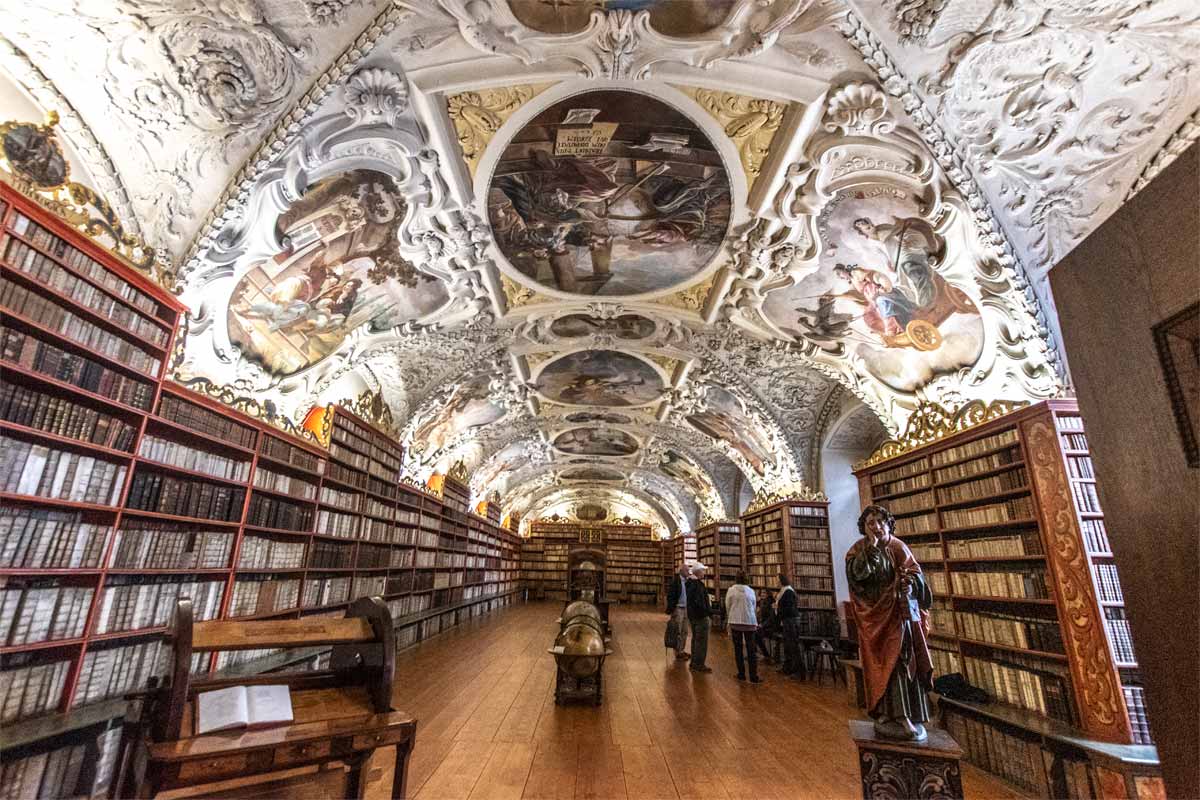 Our 2 days in Prague continue with the Strahov Monastery. We're not going there for the monastery, but for its gorgeous library.
Another contender for the most beautiful library in the world, the Strahov Library is regularly featured in lists of places that are well worth seeing at least once in your life.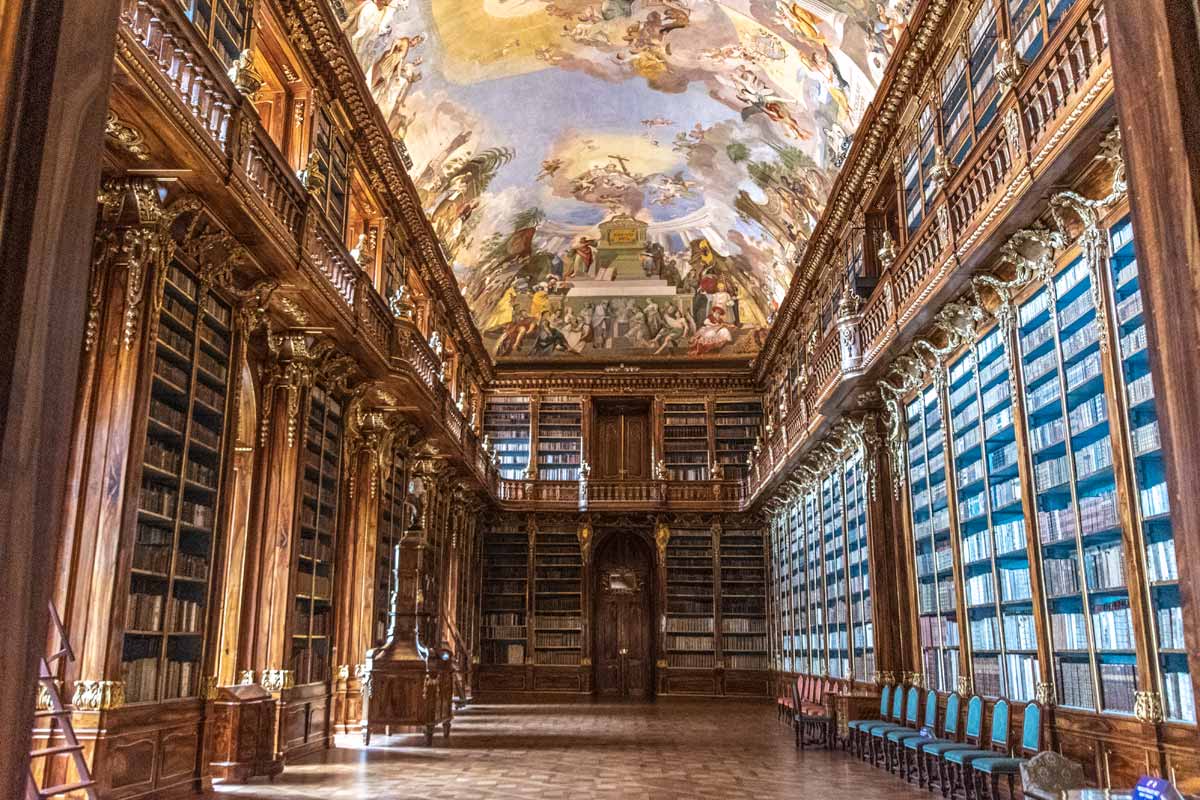 Working Hours
Daily from 9:00 AM to 5:00 PM, lunchtime break 12:00 PM – 1:00 PM
Prices – library
Adults 150 CZK / 6 EUR
Reduced 80 CZK / 3 EUR
Family 300 CZK / 12 EUR (2 adults with max 3 children under 15 years)
Photo permission (no flash) 50 CZK / 2 EUR
Video permission 100 CZK / 4 EUR


Strahov Library and Gallery (only till 4 p.m.)
Adults – 280 CZK/ 11.50 EUR
Reduced – 140 CZK/ 5.75 EUR
Family – 500 CZK / 20 EUR
See Also: The Ultimate 3-Day Vienna Itinerary
Petrin Hill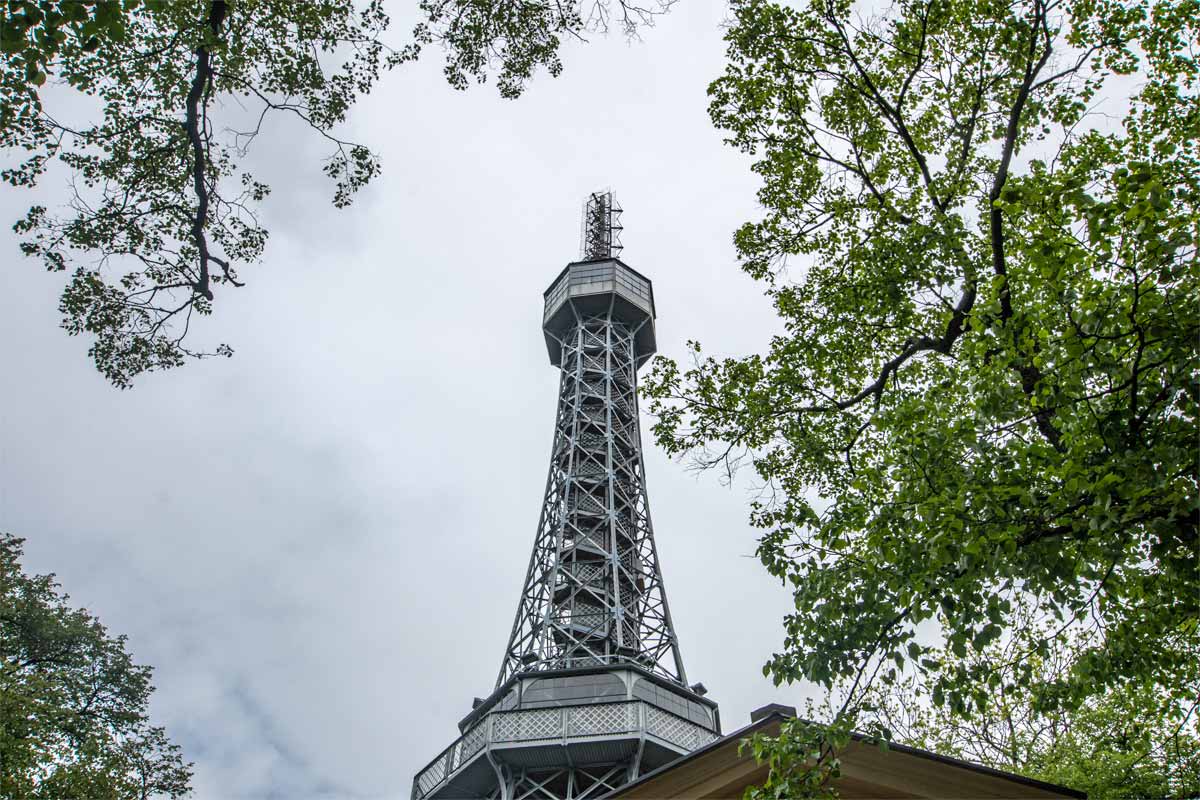 It's time to diverse our 2 day Prague itinerary a bit and replace the cobblestoned lanes and cute little houses with flowers and trees.
Right behind the Strahov Monastery, you can find Petrin Hill – the best outdoor place in Prague.
Especially good for family visits, on the top of the hill you can find the Petrin lookout tower. The 63-meter tall tower resembles a bit the Eiffel Tower and offers the best panoramic views of Prague.
Next to the tower, there's a fun mirror labyrinth and the Prague Observatory.
Once you recharge your batteries and head back to Mala Strana, make sure you also visit the Magical Cavern Museum. One of those small museums I mentioned before, the Magical Caverns offers Fantasy Art by the painter and sculptor, Reon who turned his house into the Magical Kingdom of Argondia.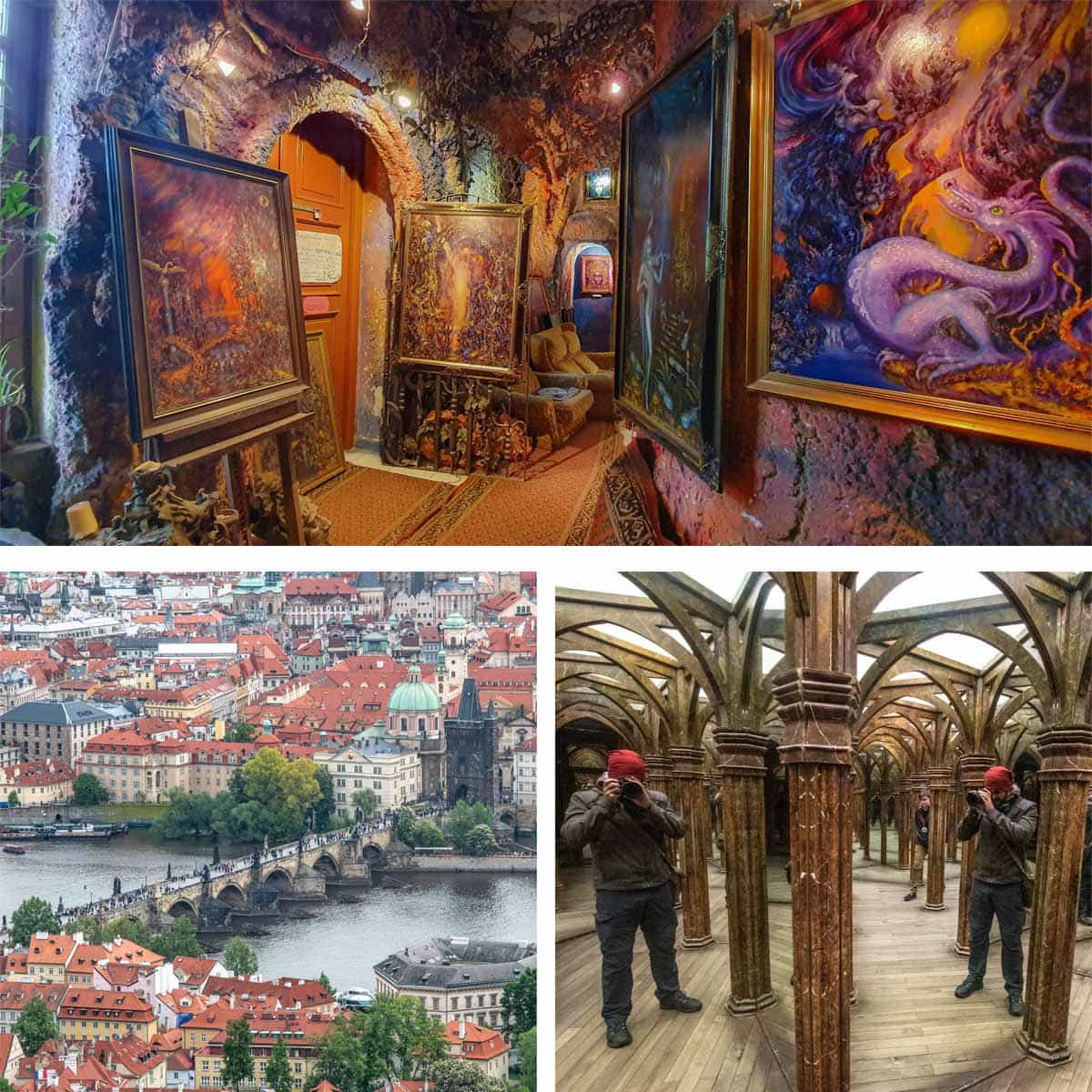 Magical Caverns Opening Hours
Summer: Daily from 10:00 AM to 10:00 PM
Winter: Daily from 12:00 AM to 7:00 PM
Magical Caverns Prices
Basic 100 CZK / 4 EUR
Reduced 50 CZK / 2 EUR
Lookout Tower Opening Hours
January-March: Daily from 10:00 AM to 6:00 PM
April-May: Daily from 9:00 AM to 8:00 PM
June-Spetember: Daily from 9:00 AM to 9:00 PM
October-December: Daily from 10:00 AM to 8:00 PM
Lookout Tower Prices
Basic 150 CZK / 6 EUR
Reduced 100 CZK / 4 EUR
St. Nicholas Church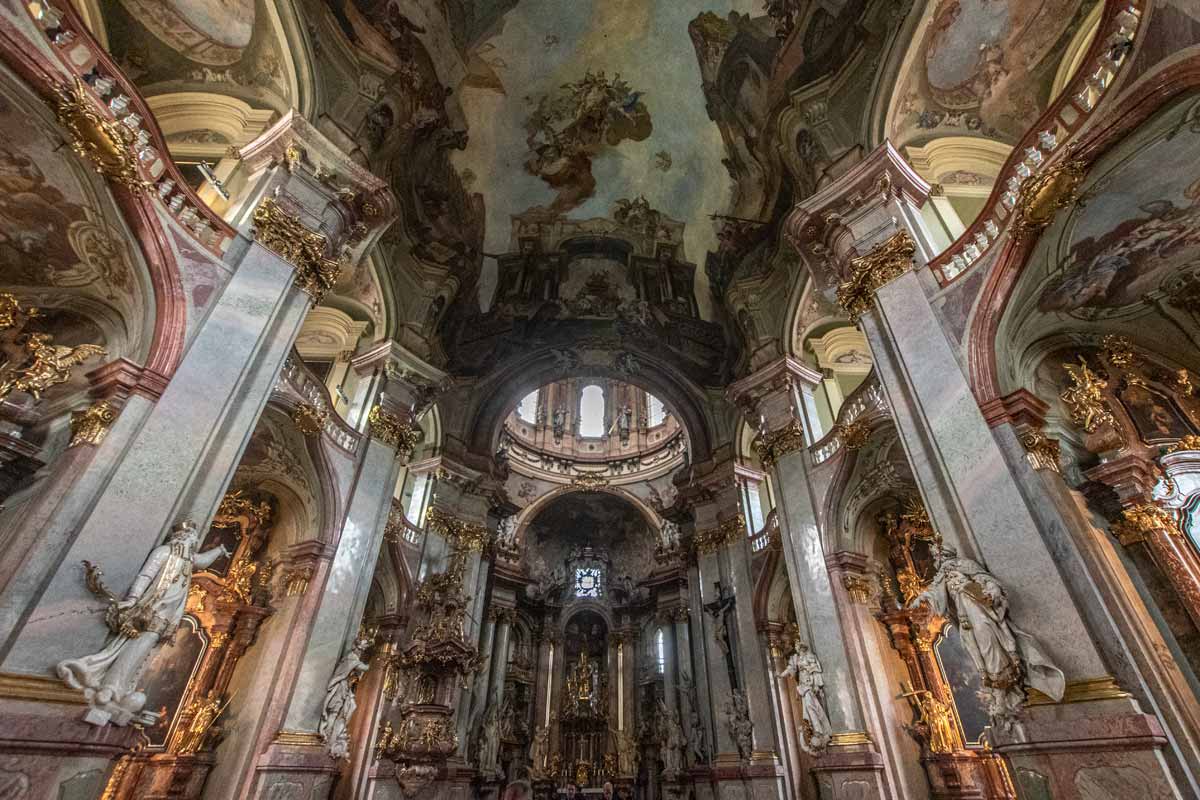 Now back in Mala Strana, we're about to see one of the most beautiful churches in Europe – St. Nicholas Church.
I know we've already visited two churches today, but this one is truly mesmerizing and a definite must-see.
Found in 1704, the basilica is described as "the most impressive example of Prague Baroque". The church excels not only in architecture but in frescos too. With its 4000 pipes, the church organ is another treasure of St. Nicolas that was even played by Mozart back in 1787.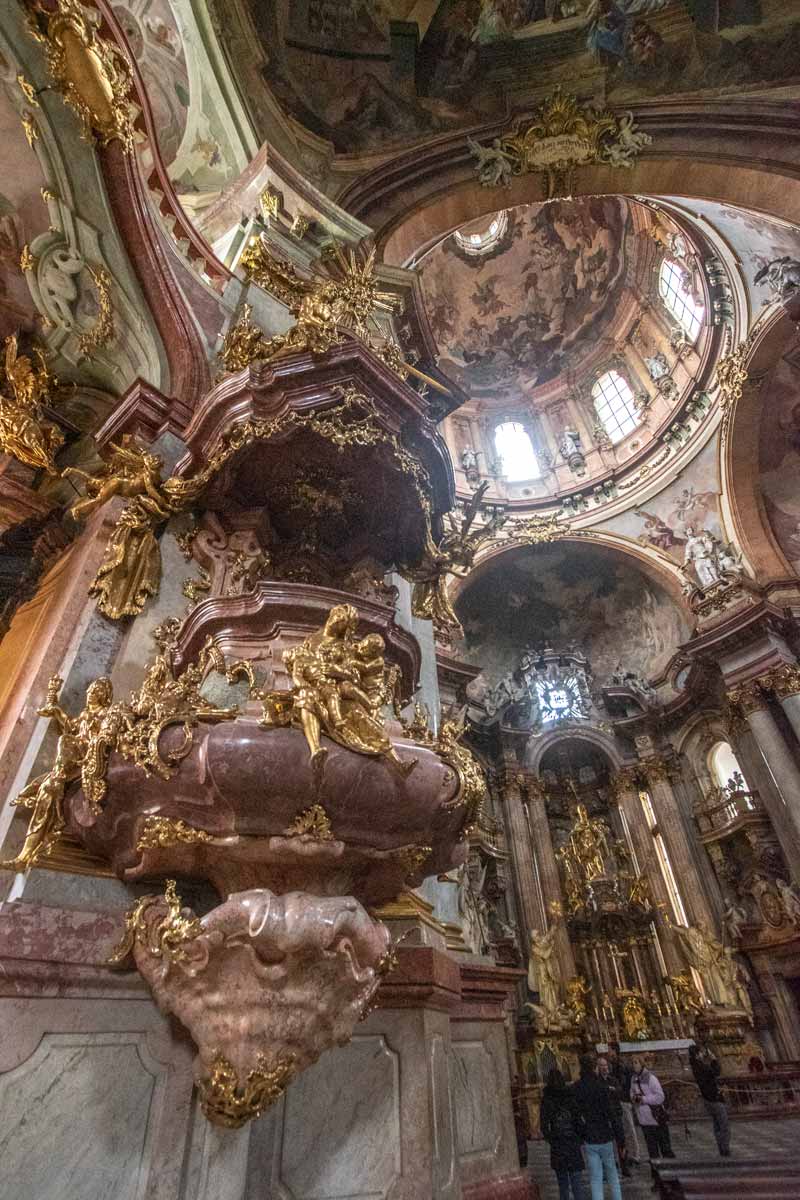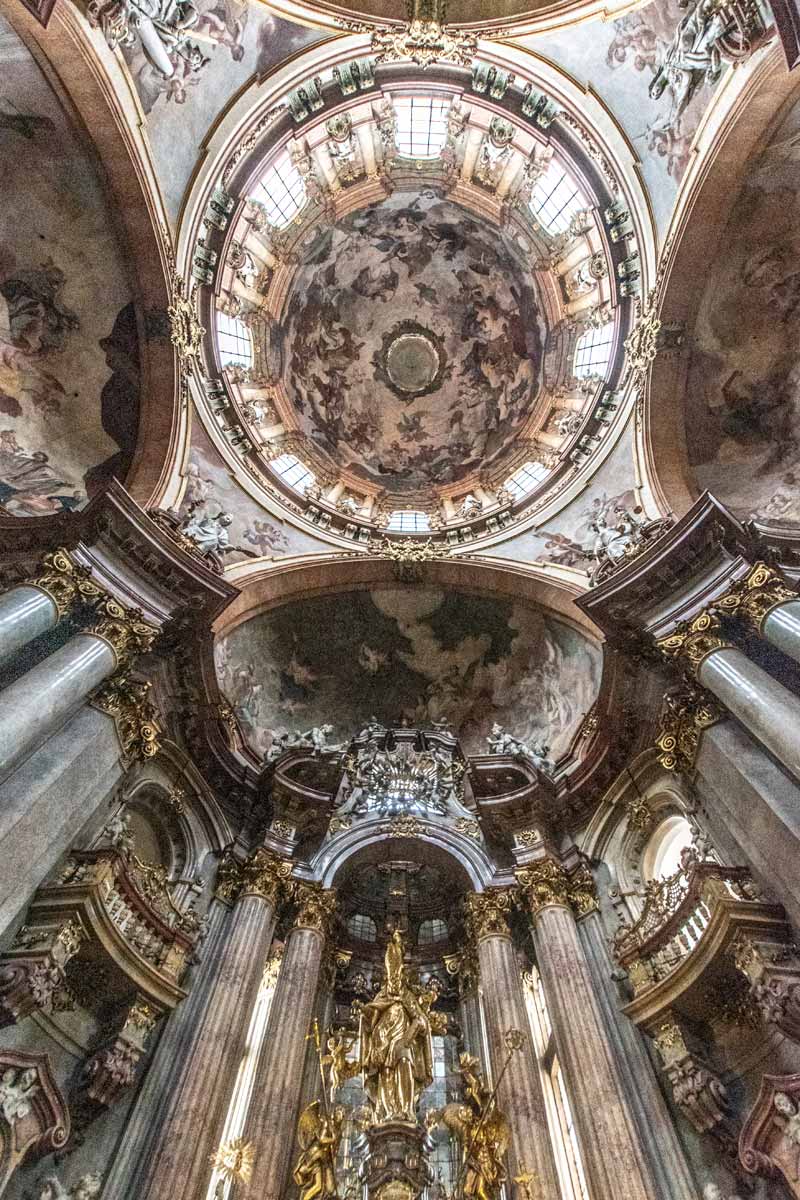 Working Hours
Depends on the month – Check here
Price
Basic – 100 CZK / 4 EUR
Reduced – 60 CZK / 2.50 EUR
It should be evening already, and you're probably exhausted. It's time to sit in a Prague pub and enjoy your last night in town. I'm not going to recommend anything because tastes differ, and cooks tend to change. Just look for a place that's not on any main street and have plenty of people in it.
If you managed to see everything on this 2 day Prague itinerary, kudos to you! If not, well that's a great reason to come back to Prague.
Where to Stay in Prague
Hotel U Prince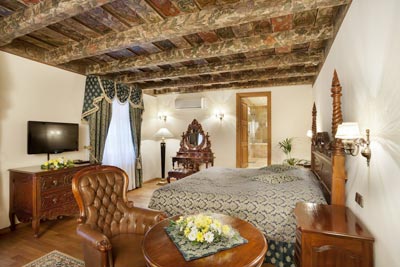 If you're ready to splurge and you're looking for the best Prague experience, this is your place. Located right across the famous astronomical clock, Hotel U Prince offers spacious rooms designed to make you feel like a bohemian royalty and the best rooftop terrace in town.
Check out the latest price
---
Charles Bridge Palace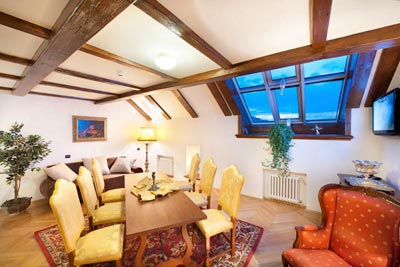 If you want a genuine Czech experience but don't want to spend a fortune, Charles Bridge Palace is your place. Situated 50 meters away from Charles Bridge, you can't get any more central than that. The rooms are also designed with genuine Czech furniture that contributes to the exceptional atmosphere of the hotel.
Check out the latest price
---
Charles Bridge Hostel & Apartments
The best budget option in town, this small boutique guesthouse offers hostel dorms and private apartments right in the heart of historical Prague. Located in a 14th-century building right next to Charles Bridge, this amazing guesthouse has a kitchen on every floor, satellite TV, laundry facilities, Internet café (with free access for guests), free daily tours, and free 24-hour coffee! Value is through the roof on this one!
Check out the latest price
Want to explore more options in Prague?
See the best hotels in town with perfect location and free wi-fi
Prague Tours
– The Classical One: If wandering around Prague on your own looks like too much hassle now, you can get this small-group tour and explore the capital of Czechia by bus, boat and on foot. Accompanied by e knowledgable guide, you'll be sure to see all city attractions.
– The Medieval Dinner One: The medieval vibe is everywhere in Prague. The best thing to do is to embrace it fully. This experience includes 3 or 5-course medieval dinner, unlimited drinks, and a show including swordsmen and jugglers!
– The Boat One: Embark a modern open-top glass boat to see all of Prague's landmarks illuminated at night. Also includes a three hour open buffet!
– The Segway One: A very fun way to explore the city, this segway tour is for all of you who don't like to walk that much. Follow your guide and explore all of Prague's highlights. And just because we're in Prague, this tour also includes a craft beer tasting.
– The Balet One: Tchaikovsky may have not been a Czech but his masterpiece, The Swan Lake, feels so perfect in Prague. It just fits the whole vibe of the city. Enjoy popular scenes of the world-famous ballet presented by some of the best dancers and soloists in the country.
More than Two Days in Prague
You have more than 2 days in Prague or something on the itinerary is not up to your taste? That's ok. Here are some extra attractions to consider:
Kafka Museum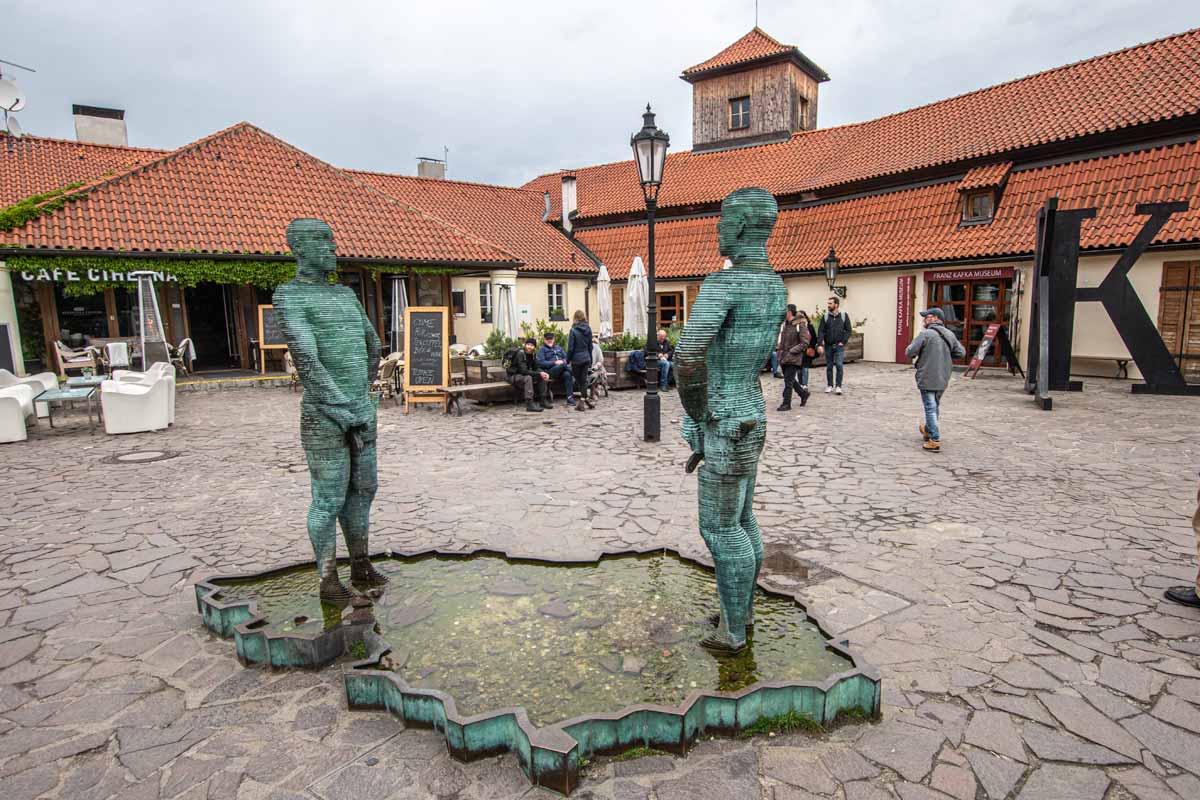 A novelist and a short-story writer, Franz Kafka was one of Prague's most notable authors. His unique style of blending realism with fantasy is so highly rated that today he is considered one of the most prominent literary figures of the 20th century.
There is even a term in the English language – Kafkaesque, created to describe situations like those in his works.
Franz Kafka Museum exhibits a curious collection of Kafka's personal possessions, photographs and journal entries combined with 3D installations and mechanical statues depicting authors' bizarre ideas.
Working Hours
Mon-Sun from 10:00 AM to 6:00 PM
Prices
Basic 240 CZK / 10 EUR
Reduced 160 CZK / 6.50 EUR
Family 620 CZK / 25 EUR
Dancing House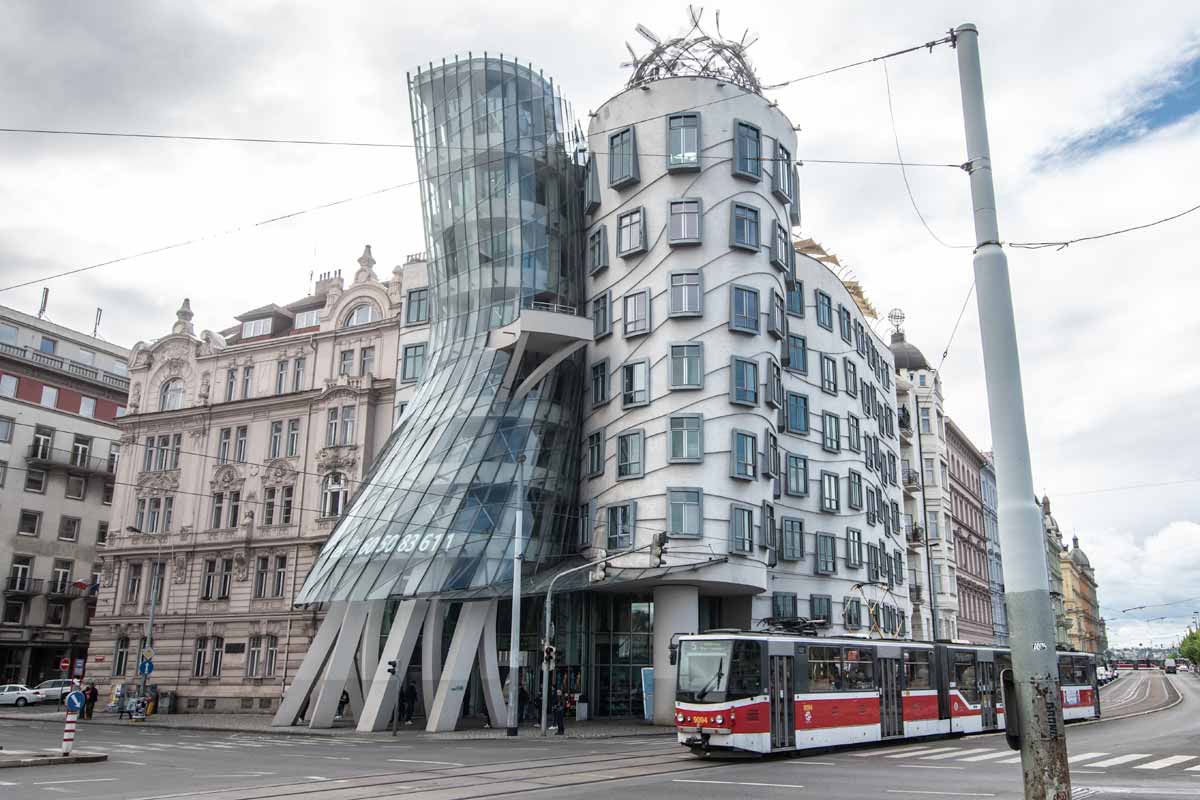 The Dancing House of Prague is this odd-looking modern building that looks like it never recovered from some angry giant's punch. I don't know what was the idea behind this bizarre design, but it's quite amusing to see in person, and it looks great on photos.
Two of Dancing House's nine floors are turned into a hotel, so if you're looking to sleep in one of the weirdest buildings on the planet, this is your chance.
John Lennon Wall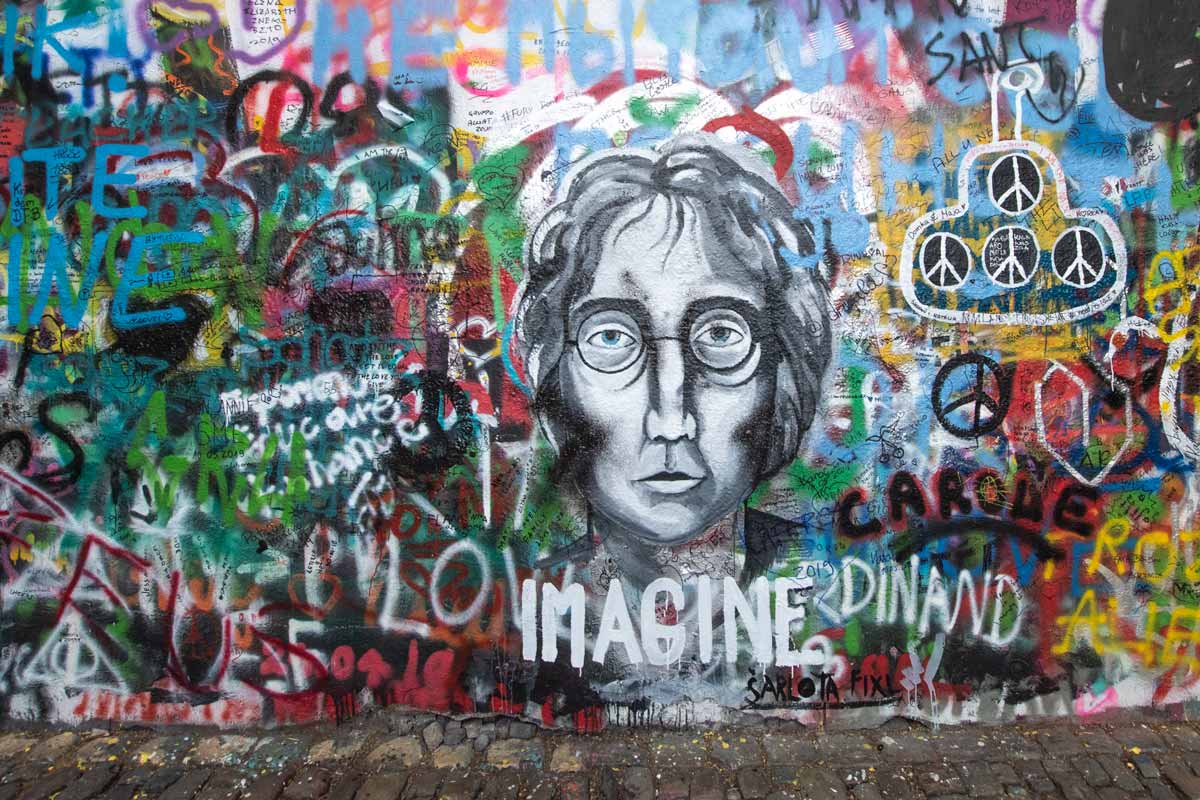 Lennon Wall may look like an ordinary graffiti wall, like something you can find in every big city. This wall, however, has quite a bit of history behind its layers of paint. It was first decorated in 1980, right after John Lennon's assassination. Some unknown artist painted an image of the singer and some of his lyrics.
During the years, the wall continued to receive love and freedom messages, to the point that it became a real irritation to the communist government in the country. In 1988, grievances wrote on the wall lead out to a clash between hundreds of students and security police on the nearby Charles Bridge. The student movement was described as Lennonism.
Today, when John Lennon's lyrics are well embraced, the John Lennon Wall remains as a symbol of a young generation looking to spread some new ideas of love and peace around the world.
Spanish Synagogue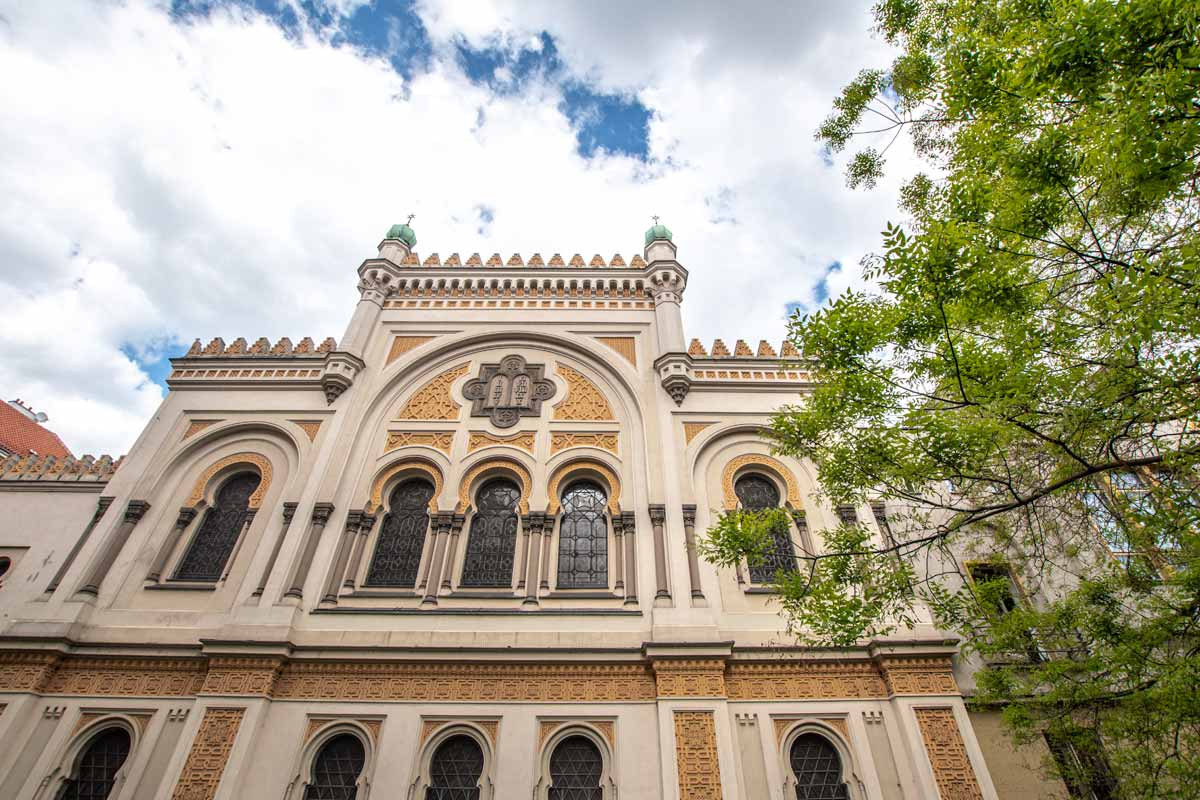 Being completed in 1868, the Spanish Synagogue is the "newest" synagogue in Prague. Designed in Moorish Revival style, the synagogue noticeable stands out among the medieval houses of Prague's Old Town.
While the building looks quite impressive, there is one serious problem with it – you can't get a ticket just to see the Spanish Synagogue! At the ticket desk, you're offered a Prague Jewish Quarter ticket that includes Maisel Synagogue, Pinkas Synagogue, Klausen Synagogue, Spanish Synagogue, Old Jewish Cemetery, Ceremonial Hall, Robert Guttmann Gallery, Old-New Synagogue for the whopping cost of 350 CZK / 15 EUR (used to be 500 CZK).
Prague's Jewish Quarter was one of the most influential communities in Eastern Europe. If you have a whole day to explore it, it's probably worth it but if your time is limited, better spend it on another of Prague's highlights.
Narodni Museum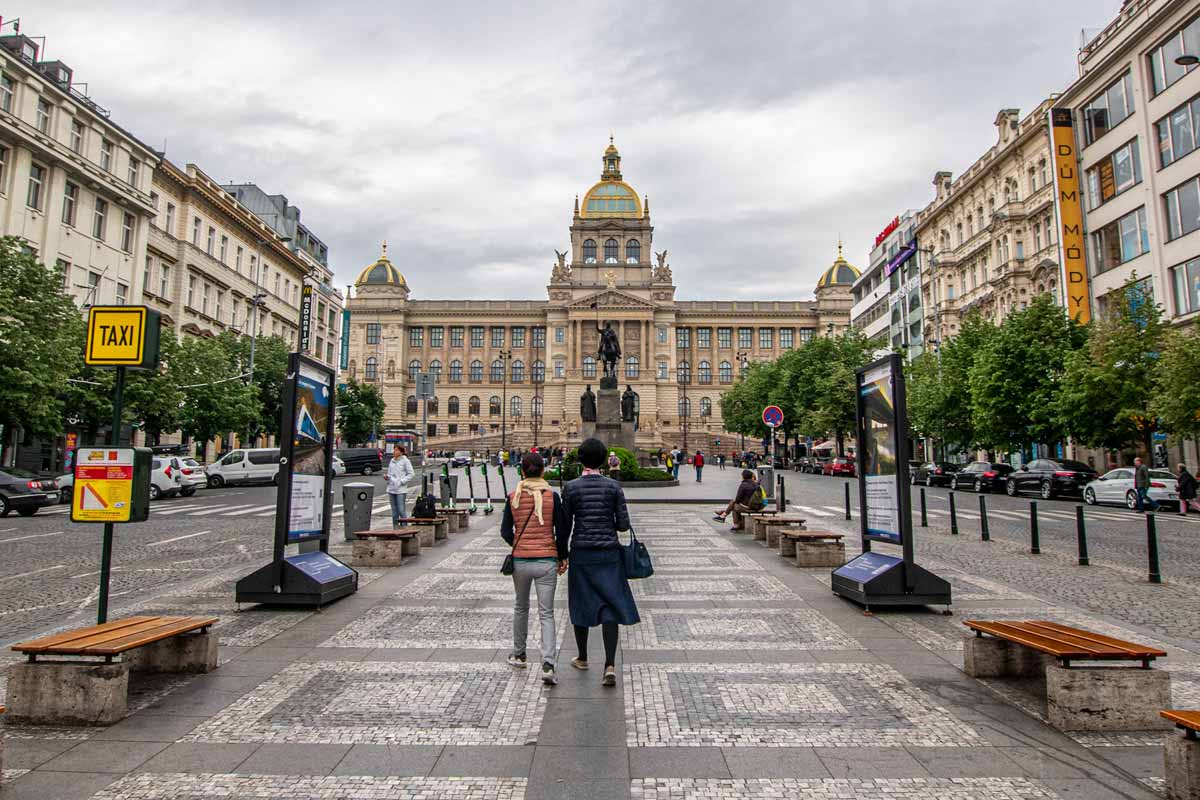 While looking enormous on the outside, Prague's National Museum does not offer that big of a collection. In fact, around an hour would be enough to see everything in the museum.
Before going inside, make sure to notice the square that leads to the museum. It's the originating point of the Velvet Revolution and one of the most historicaly-significant spots in the country.
As weird as it sounds, the most impressive part is… its picture-perfect interior. There is however some interesting stuff on display like dinosaur bones or the blood-stained medals of Franz Ferdinand.
Working Hours
Mon-Sun from 10:00 AM to 6:00 PM
Prices
Basic 250 CZK / 10 EUR
Reduced 150 CZK / 6 EUR
Small Museums of Prague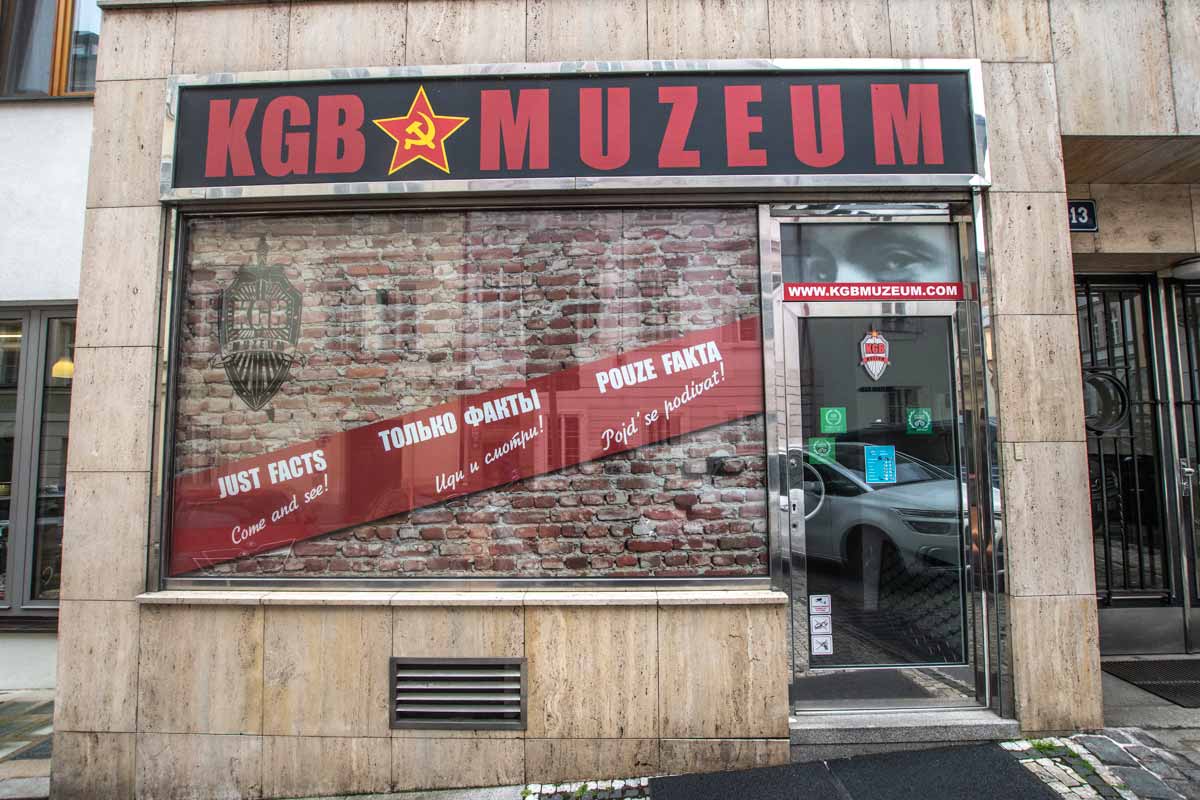 Something I didn't know before I visited the town was that Prague is full of many many small and quirky museums!
I already suggested the Torture Museum for the first day of your Prague itinerary, but honestly, you can add as many as you want and it'd hardly affect your time or budget. Alchemy Museum, Lego Museum, Torture Museum, Toy Museum, Apple (iPhone Apple that is) Museum, and even Sex Instruments Museum.
Prague has a museum for everything!
Prague Itinerary Map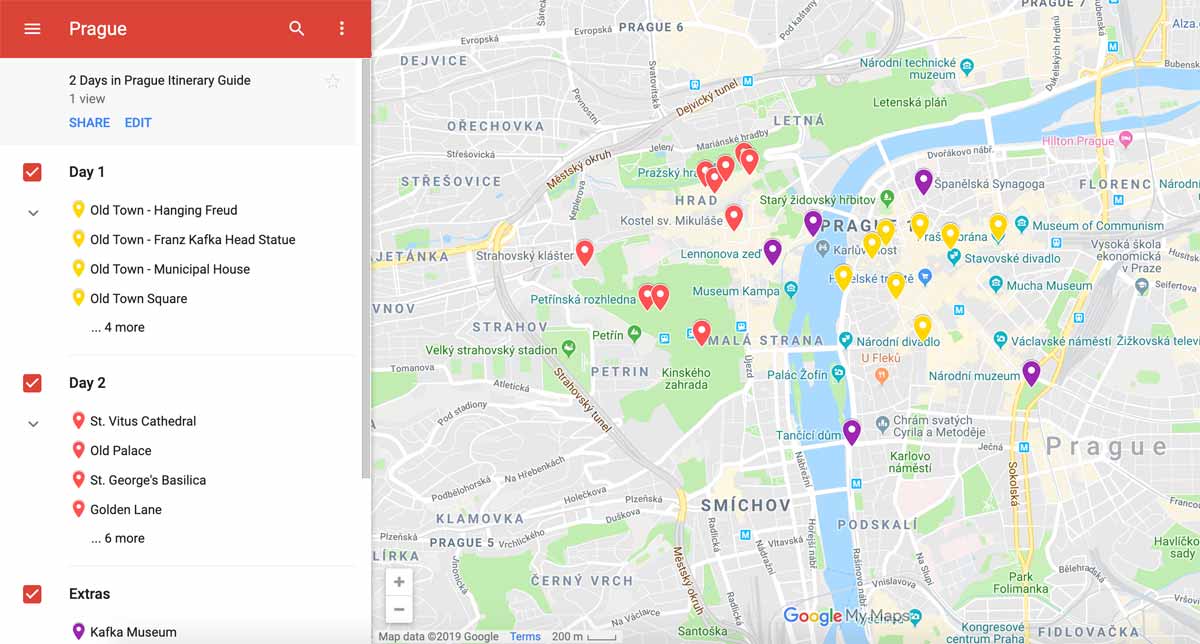 Prague FAQ
Is Prague a safe city to visit?
Being a big touristic city has made Prague a very safe place to visit. Violent crimes are extremely rare, and your biggest worry are the pickpockets. Since my 2 day Prague itinerary would walk you through the most popular places in the city, be extra vigilant, especially around crowded touristic areas like the Old Town Square, the astronomical clock and also on Charles Bridge.
Other places to be careful on are the Wenceslas Square and the park right in front of the train station (called Sherwood Woods by the locals)
I currently use HeyMondo for my travels because they have proven themselves to me more than once over the years. The link above will give you a 5% discount, but If you have another favorite provider, that's ok. Just make sure you have one because you never know what may happen.
Is Prague easy to get around?
Prague is incredibly easy to get around. If you follow my 2 day Prague itinerary, you won't need to use any other transportation than your own feet. Highlights are close to each other, and making the journey through Prague's alleys is an enjoyable experience on its own.

If you want to visit something more remote, there is an excellent public transportation system. The metro can take you anywhere in no time, and unlike other metro systems (looking at you Paris) it's relatively easy to navigate. You can buy the tickets at the station, from any of the yellow machines or the newspaper stands around town.

If public transport is not your thing and you want to check out Prague's outskirts, your best option is to rent a car. The best tool for finding good rent-a-car deals in Czechia is Discover Cars. I've used them in many places, and sometimes the prices they can find are incredible.

An excellent option for short distances around the town center are the trams. They run from 4:30 AM till 00:00 and stops near every major attraction. You can find tickets at the same places as the metro ones + you can get one from the driver of the tram.

A curious thing about the tickets is that the price depends on the time you'll use the transportation. 30 CZK = 30-minute ticket, 40 CZK = 90-minute ticket, 120 CZK = 24-hour ticket, and 330 CZK = 72-hour ticket.
Last but not least, probably the most convenient way to get around Prague is renting electric bike or e-scooter.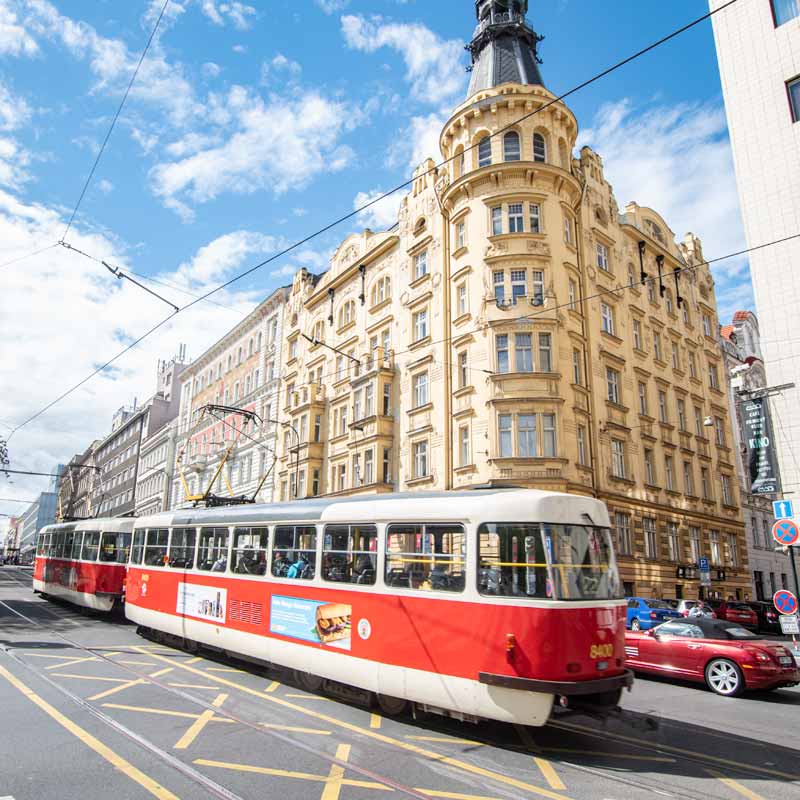 Is Prague expensive to visit?
While not on Paris or London levels, Prague is certainly not the cheapest city in Europe. Especially in the center of the city where you're about to spend most of your 2 days in Prague, prices are massively inflated. The only cheap thing seems to be the beer. It's not that hard to find a half liter of the popular Pilsner Urquell for around 30 CZK / 1.25 EUR.
What is the best time to visit Prague?
Just like most of the European cities, spring (March-May) and autumn (September – November) are the best months to visit Prague. The weather is mild, and the tourist hordes are not that big.
During summer (June – August) Prague becomes way overcrowded, and prices skyrocket. Winter is not a bad time to visit too. You'd have to endure some low temperatures, but the attractions are free of tourists, and accommodation prices are way more affordable.
If you visit in December, you can also enjoy the famous Central Europe Christmas markets!
Weather in Prague in detail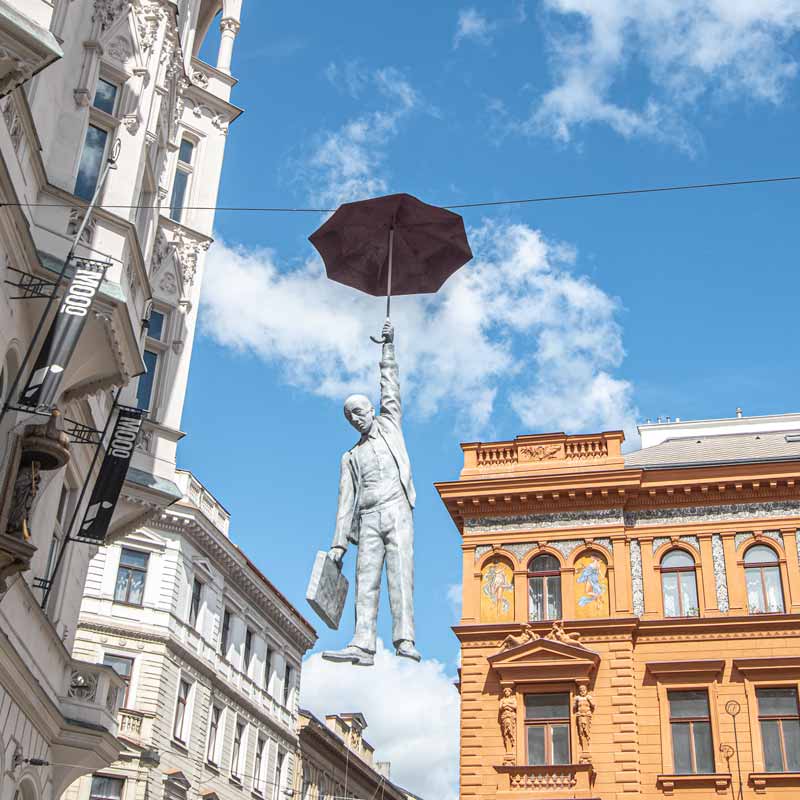 Do they speak English in Prague?
In my 2 days in Prague, everywhere I went to, people spoke very decent English, and I had no problems communicating with them. From the airport to every random city vendor, English is widely spoken in Prague.
What is the best currency to take to Prague?
The best currency to use in Prague is the local Czech Koruna. While being part of the European Union, the Czech Republic does not use the Euro as an official currency yet. Some places allow you to pay in Euros, but the inside rate won't be favorable to you.
If it's hard to prepare Czech Korunas before arriving In Prague, get Euros. The exchange rate for EUR to CZK should be around 25 CZK for 1 EUR. USD should be traded around 22 CZK for 1 USD.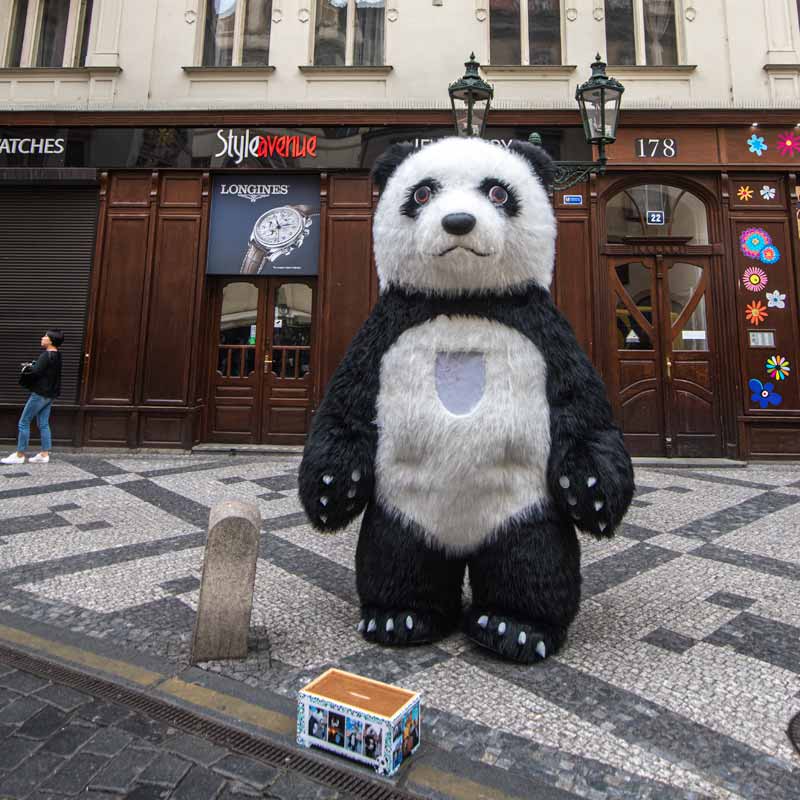 Is beer cheaper than water in Prague?
One of the myths you probably heard of is that beer is cheaper than water in Prague. Unlike most of the myths, however, this one is true! At least in the center of the city, it's easy to find 500ml Pilsner beer for around 300 CZK / 1.20 EUR while the 500ml water (or coke) comes at 500 CZK / 2.50 EUR.
A nice trick I found out is, when you want to buy water, search for the nearest metro station. Most of them have supermarkets where you can get normally priced water.
What is the best way to get from Prague airport to City Centre?
The fastest way is by car, but I don't recommend taking a taxi. Uber is quite popular in the Czech Republic and the price would be around 15 EUR (instead of 25 EUR for a taxi). If you're not a fan of those services, you can always book an airport transfer and have everything sorted out before you arrive.

The cheapest way to get from Prague airport to the City Centre would be by using public transport. The Bus stop is right in front of Terminal 2. Get a ticket for 90mins (32CZK) and take bus 119 to the Nadrazi Veleslavin stop where you can catch the metro. Remember to save your bus ticket and use it for the subway too.
That's all from me, I hope you enjoy your 2 days in Prague!
————————————
If you haven't planned your trip there yet, find out how I plan my trips!
————————————
I have 14 bucket list ideas for the Czech Republic. See my impossible bucket list of 1700+ adventures!

What is your favorite European capital?
---
Some of the above are affiliate links and I will earn a percentage of the sale if you purchase through them at no extra cost to you. This helps keep my site running – so thanks in advance for your support!