You are about to spend 3 days in Rome in one of the most beautiful and romantic cities in the entire world? Congratulations, there's no way you won't enjoy it!
And let me tell you something, I envy you a lot! Rome is my favorite city! It's a risky statement to call a place favorite when there are so many stunning sites around the world, but…yeah… Rome is my favorite city!
The City of the Seven Hills, The Eternal City, or The City of Love, no matter what you call it you already know the road will take you there someday (you know where all roads lead to, right?). If this day is the first out of at least three, you may have enough time to taste the ancient ingredients and the renaissance flavor of Rome.
Enough with the cliches, let's get down to business. To take full advantage of my 3 days in Rome itinerary guide, I recommend arriving there as early as possible (or the night before) and have three full days before you leave. The city is stuffed with things to see and do and it's impossible to check them all in such a small timeframe, but with good time management and some comfortable shoes, you can see enough to fell in love.
Three Days in Rome Itinerary – Day One – City Stroll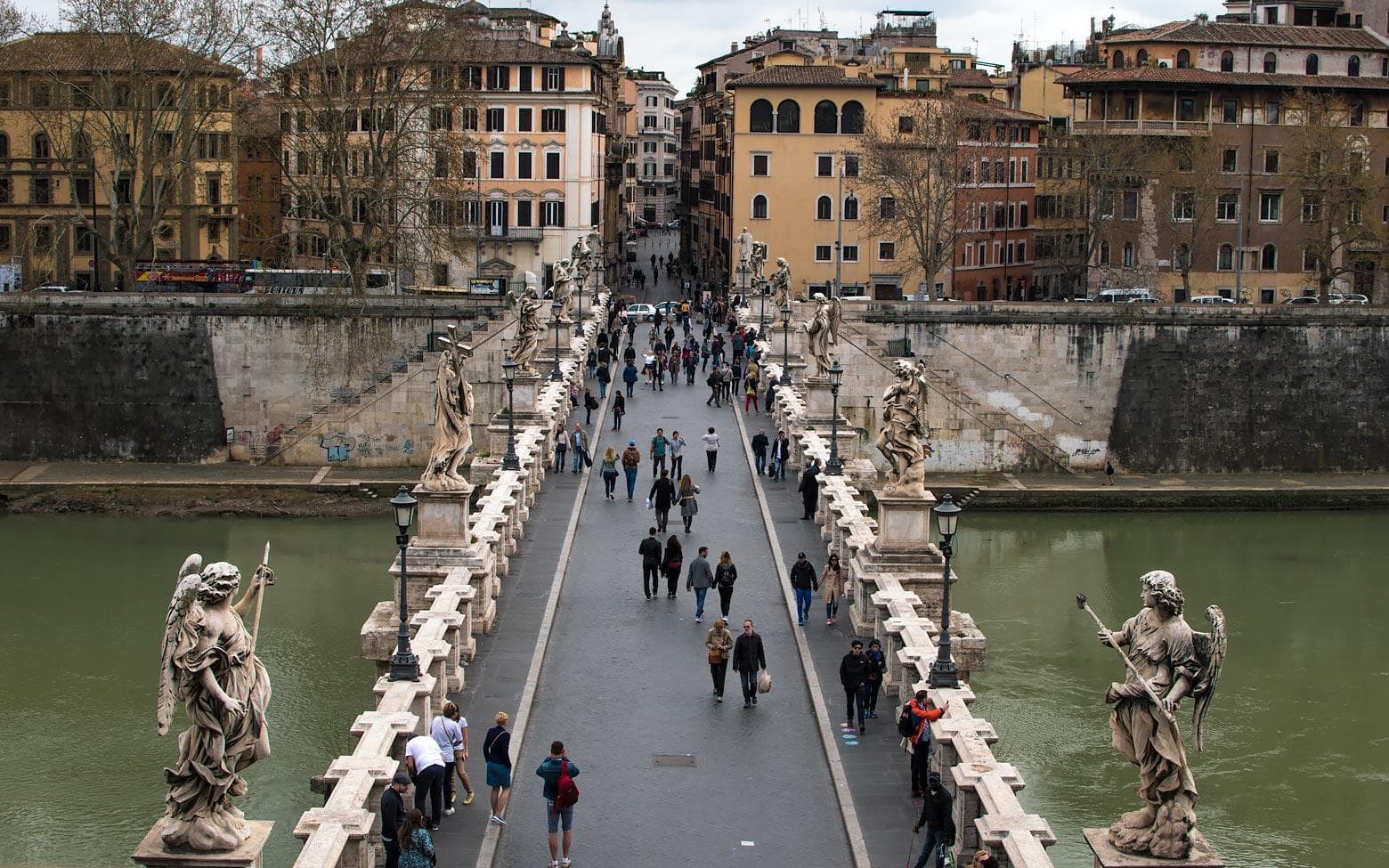 In the first out of our 3 days in Rome, the aim will be to get comfortable with this pastel-colored city and feel what Rome is all about. After breakfast and cappuccino in any of the local cafes we start our day with:
A public place since the 15th century, the plaza is most famous for its three fountains – Fontana del Moro, Fountain of Neptun, and the biggest one – The Fountain of Four Rivers by Bernini. It's also home to various street performers and vendors.
Don't get breakfast there though. As tempting as it is, to have your coffee with some pastry in front of the naked roman gods, the price would be at least double the normal.
The Roman Pantheon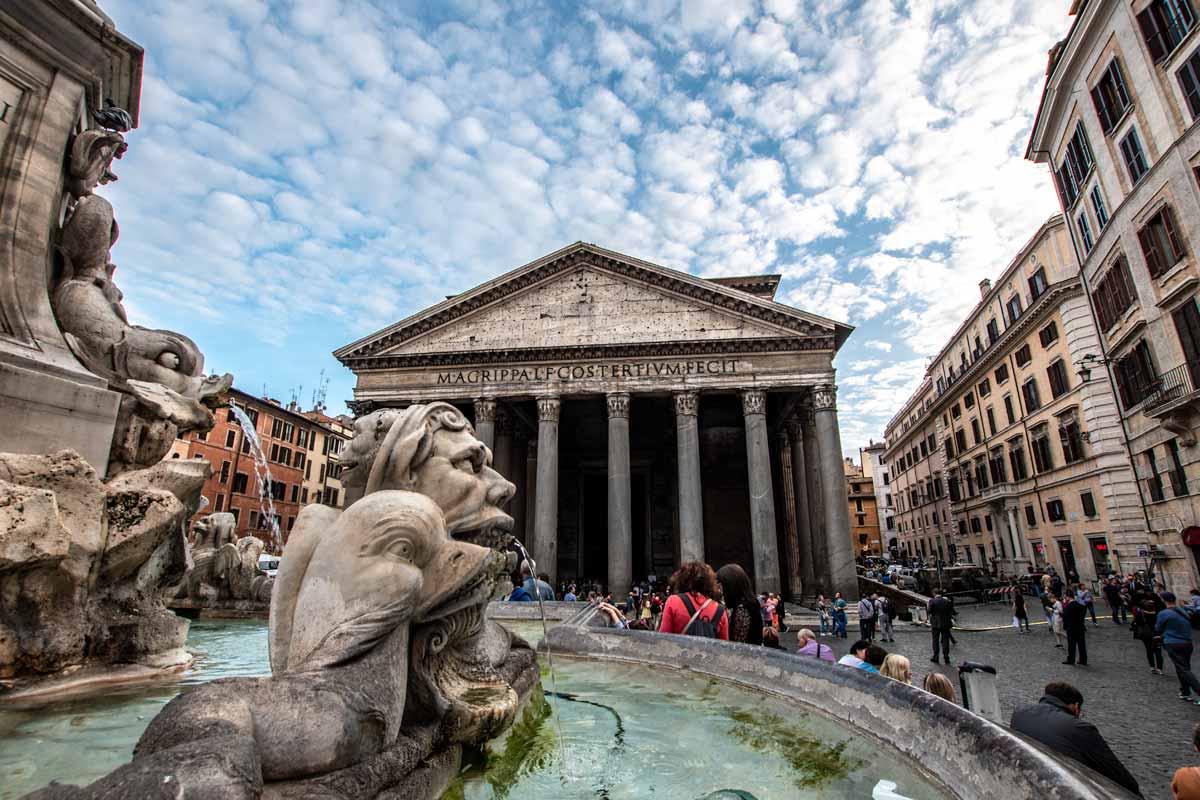 A short walk from the piazza you will find the most preserved ancient building in Rome – the Pantheon. Built between A.D 118 and 125 as a temple to the gods, the Pantheon was converted into a catholic church in 609 and still serves as one today. It's also a mausoleum of famous Italian people such as the first Italian King – Vittorio Emanuele II, and Raphael. There is a catholic mass every Sunday and even weddings from time to time.
The inscription: "M. AGRIPPA.L.F.COSTERTIUM.FECIT" is basically an ancient copyright statement meaning: "Marcus Agrippa son of Lucius, having been consul three times made it".
Working Hours:
Monday – Saturday: 8:30 AM – 7:30 PM
Sunday: 9:00 AM – 6:00 PM

Prices:
Regular – 5 EUR
Trevi Fountain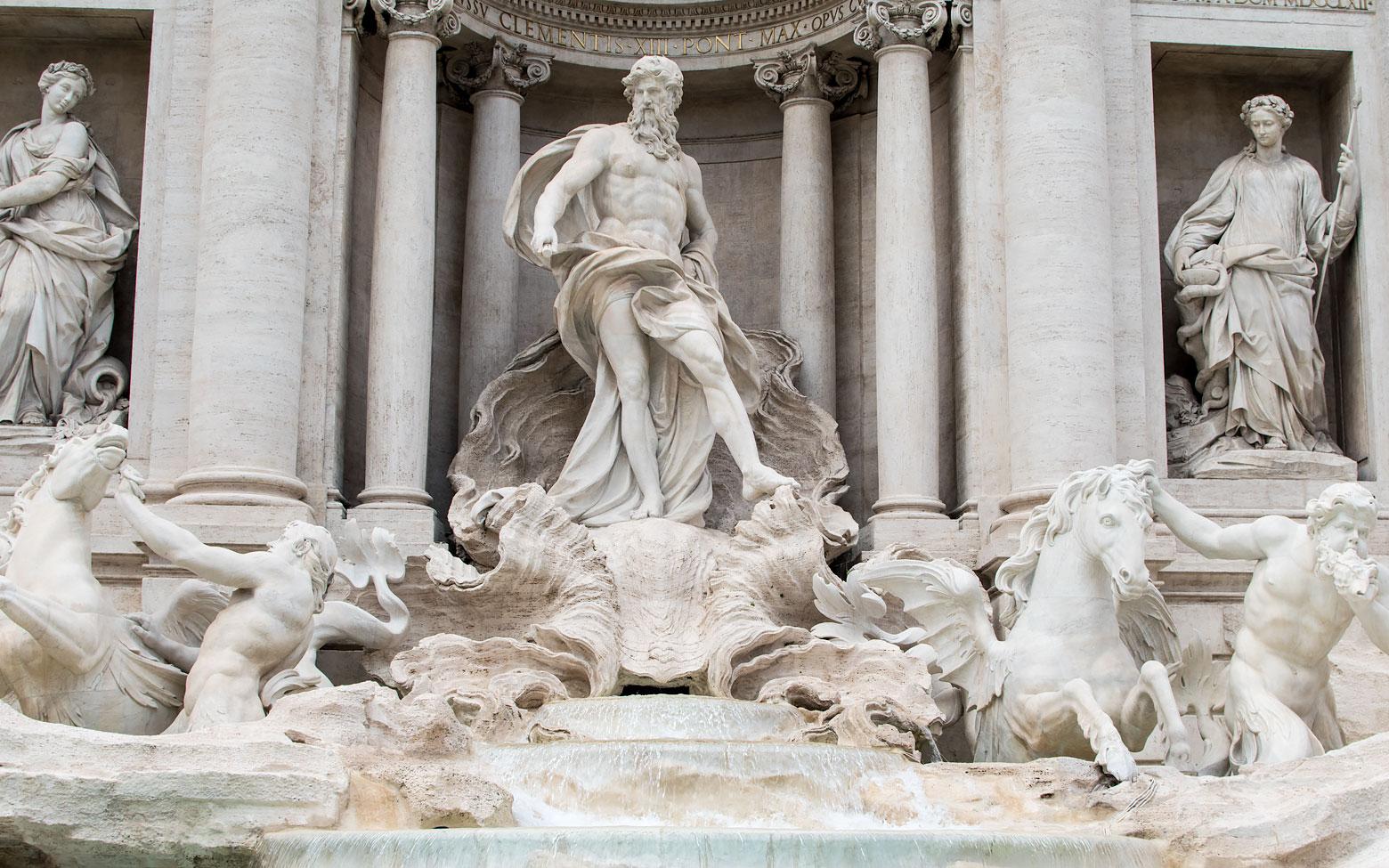 Close to the Pantheon, you will find Trevi Fountain – a serious rival of the Colosseum as a main symbol of Rome. Finished in 1762, Trevi is not only the largest baroque fountain in the city but also the most beautiful fountain in the world! Originally it was said you have to drink a glass of its waters in order to come back to Rome.
Thankfully the legend evolved and now says: you should stand with your back to Trevi and toss a coin over your left shoulder ( i threw two just in case) to ensure your return to the Eternal City. Turned out throwing two coins means you'll fall in love with a Roman girl. Haven't happened yet, but who knows…
It's closed on Monday, Wednesday, and Friday from 8:00 AM – 9:00 AM for coin removal.
Do you want to know how much they get out of it? It's close to 3000 euro (!) per day and it's all donated to the needy.
Spanish Steps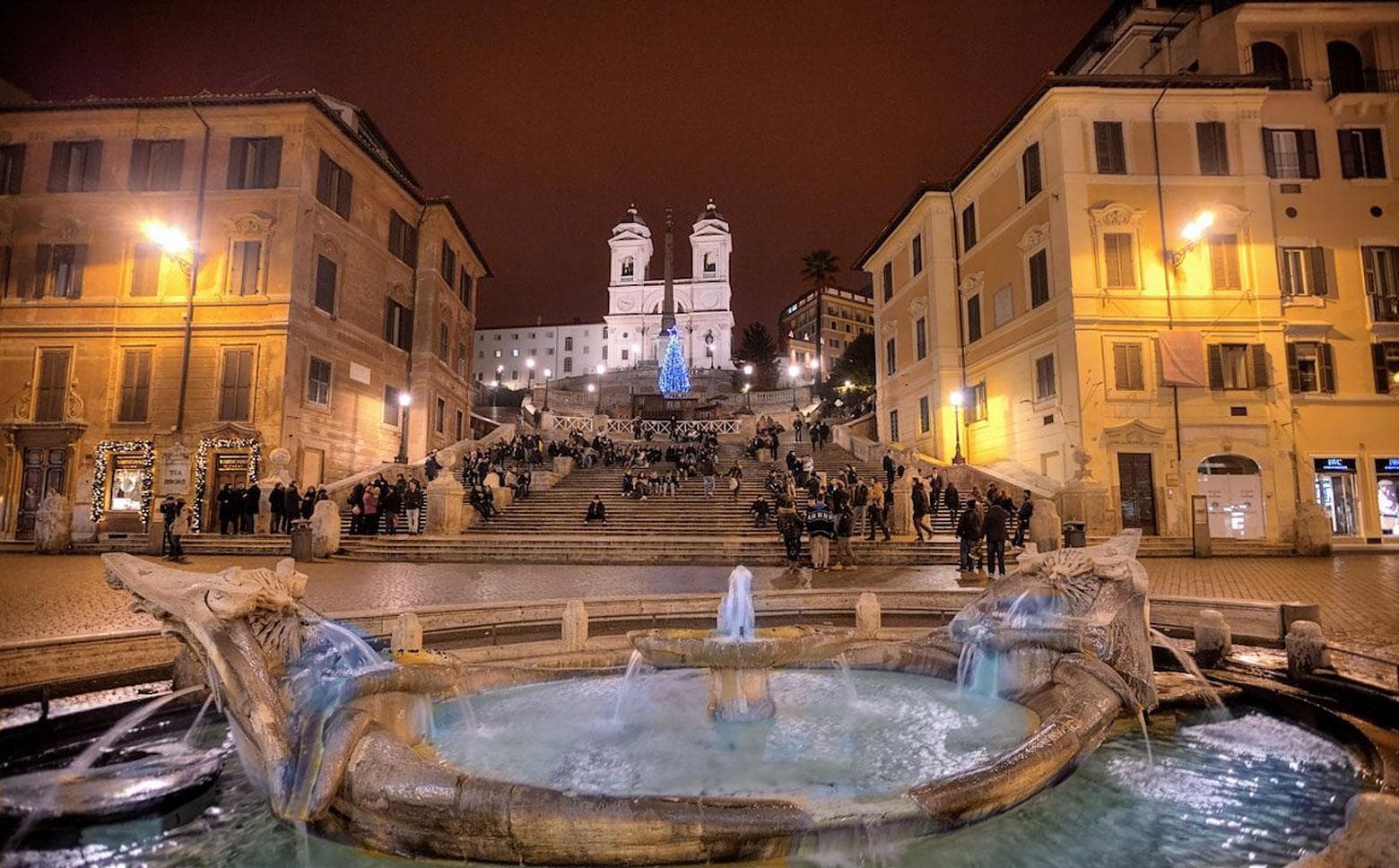 These 18th century steps are a great place to stop, relax a little bit and eat a slice of pizza or gelato. Why are they called The Spanish Steps, tnough?
The stairway was built in 1725 to connect the Spanish embassy with the Trinità dei Monti church. At the base of the steps is Piazza de Spagna and Fontana della Barcaccia ("Fountain of the Ugly Boat"), built by Pietro Bernini (the father of the famous Gian Lorenzo Bernini)
Villa Borghese gardens and Galleria Borghese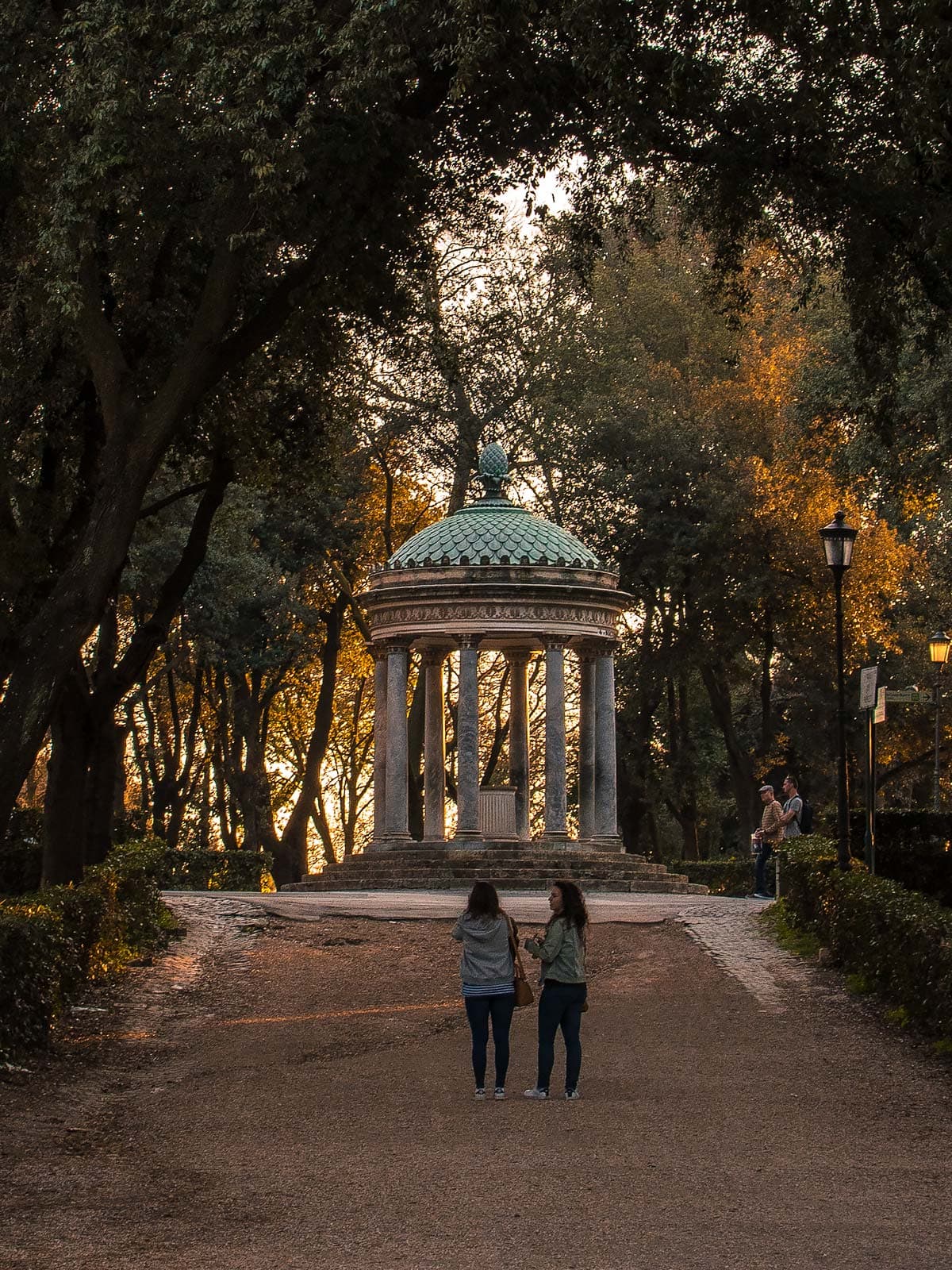 Behind the Spanish Steps is the third largest and most picturesque park in Rome. Villa Borghese is a landscape garden that contains a number of buildings, museums, and even a zoo.
The most famous museum there is Galleria Borghese. It's an art museum featuring masterpieces of many Italian artists, most notable being Raphael and Bernini. Since it's not a big place, they only allow a fixed amount of people inside, and pre-booking is mandatory.
You can buy tickets here, or schedule a guided tour here.
If you plan to use a Roma Pass / Omnia Card, you have to book your entry hour by the phone ( +39 06 32810 ).
Sunset at Pincio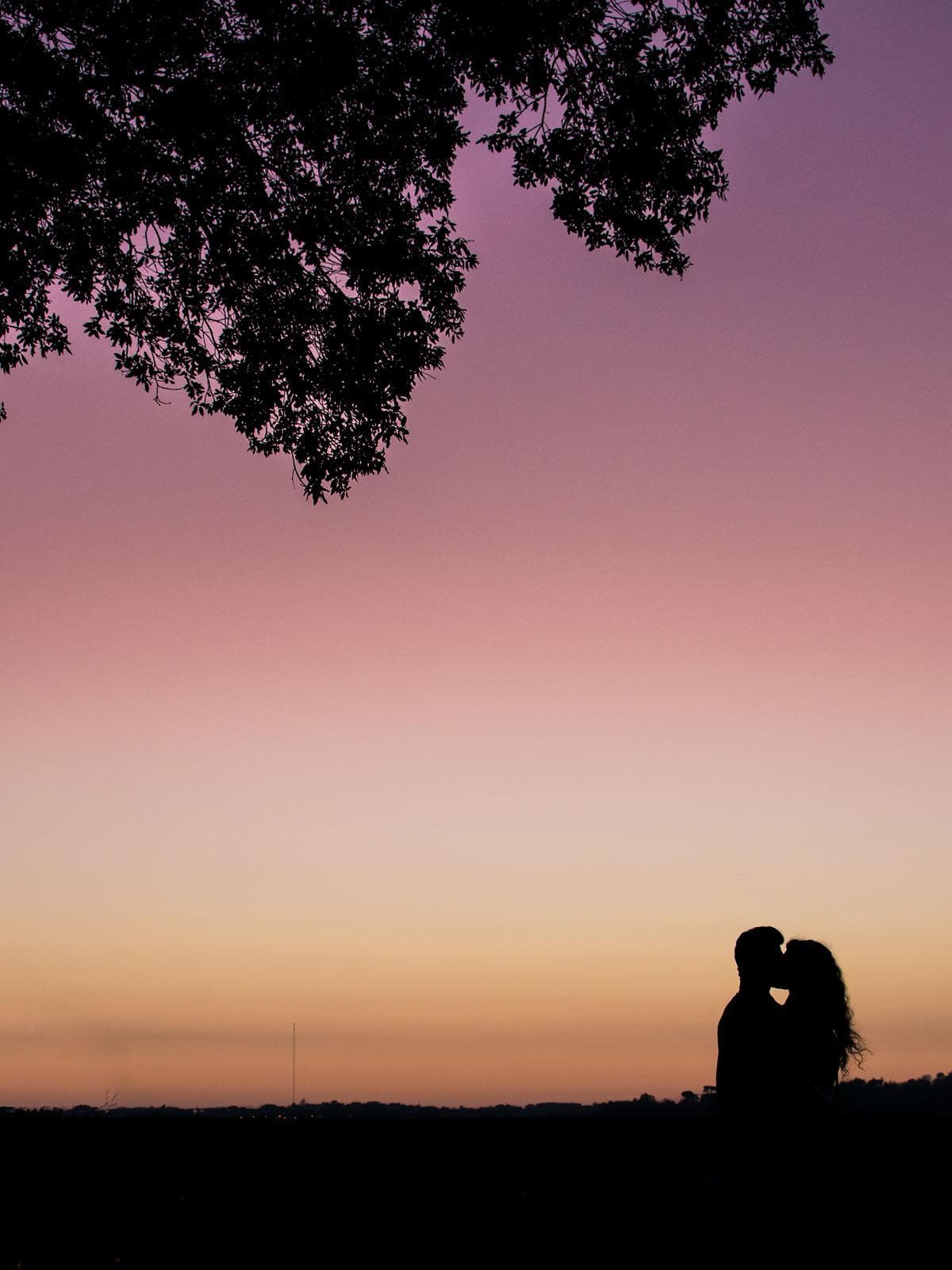 Finish your first out of 3 days in Rome with a stunning sunset on top of Pinicio Hill. It's on the west side of the Borghese gardens and it's one of the most romantic places in the world to enjoy a sunset.
The whole experience is complemented by local musicians playing catchy Italian jingles and all-time classic ballads.
"Rome is the city of echoes, the city of illusions, and the city of yearning."
Three Days in Rome Itinerary -Day Two – Ancient Marvels
In the middle of our 3 days in Rome adventure, we will continue touring the biggest highlights of the city. First thing in the morning, we start with the one thing in Italy that's probably more famous than the Colosseum itself:
Food tour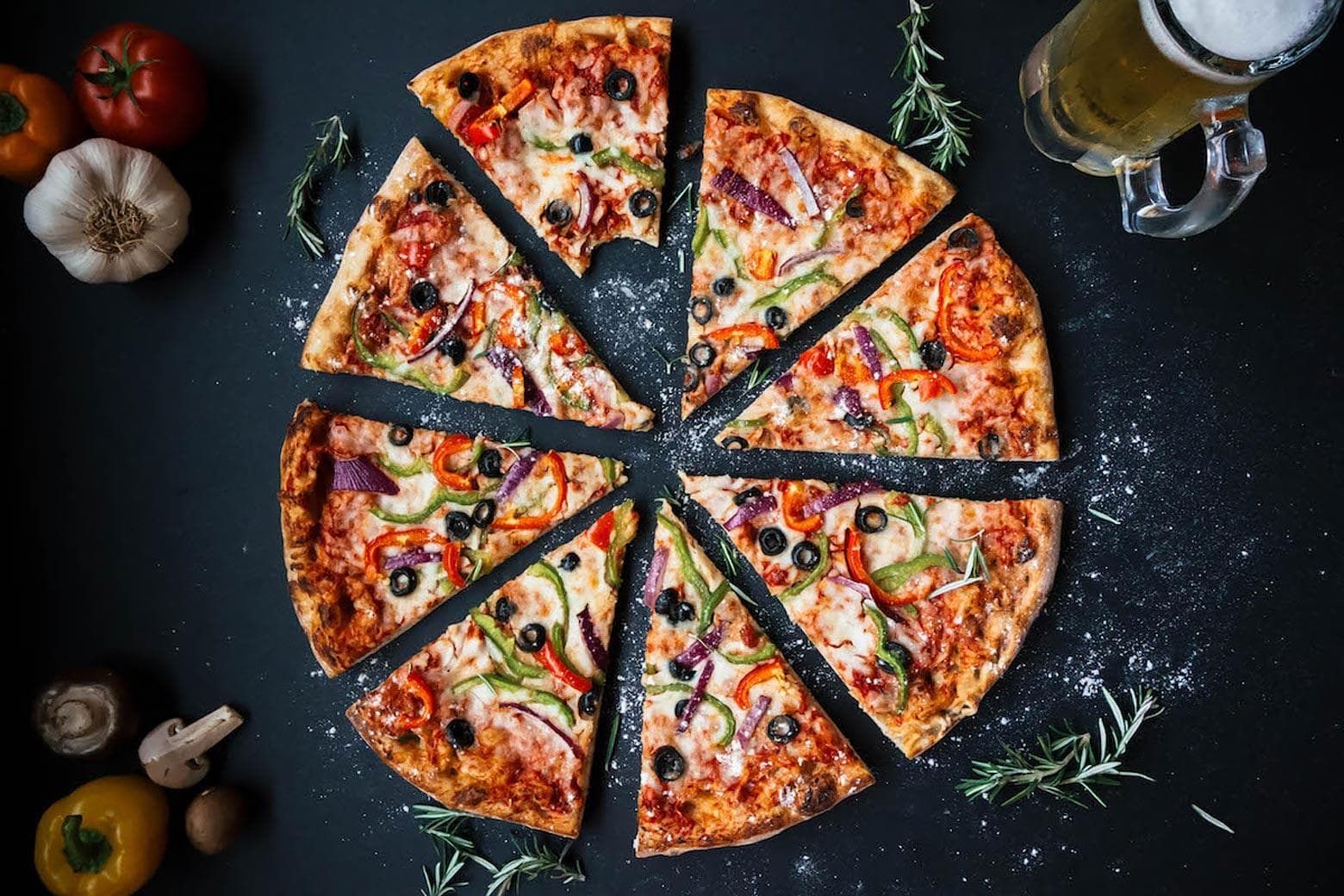 Begin the day with a tour of Rome's best foodie neighborhoods and taste 18 different roman specialties. Led by a local guide you'll start with a cappuccino and handmade Cannolo.
After breakfast, your guide will take you to the oldest market of Rome where you'll get to know the ancient food heritage of the city, talk to some Italian chefs and taste various samples of traditional Italian foods (the baccalà fritto is out of this world).
The end of the tour would be in the best pizzeria in the world (as per Anthony Bourdain). Oh, and there is a wine tasting too!
You can book this incredible food tour here.
If you prefer a more premium food experience, this tour gives you the chance to explore the tastiest hidden gem area in Rome – Testaccio.
And if you just want to taste the local street food, this small-group experience will take you around the famous jewish quarter to let you taste some Supplì (fried mozzarella rice balls),carciofi alla giudìa (deep-fried artichokes) and other typical Roman seasonal dishes
Roman Forum & Palatine Hill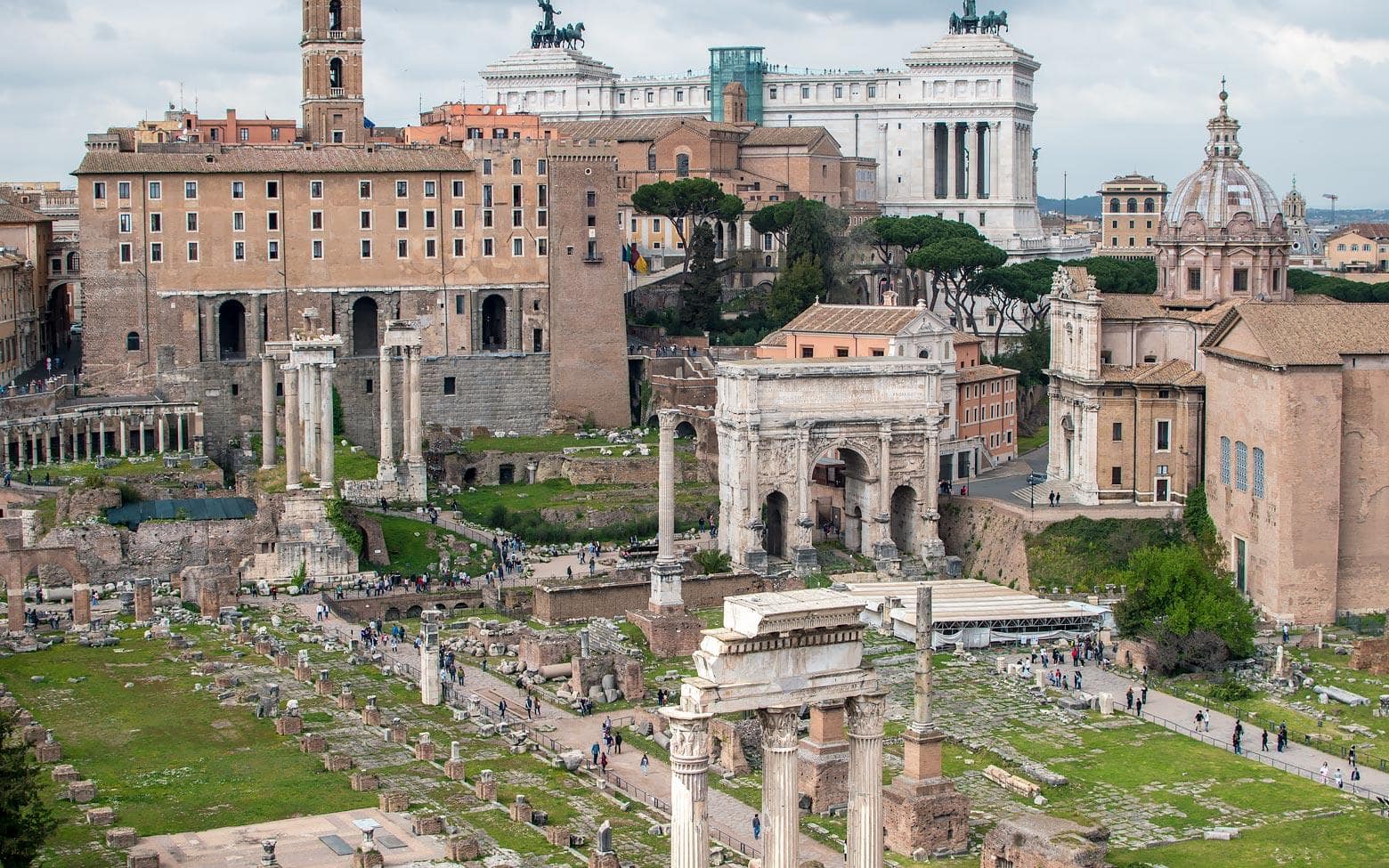 Time to get to the big guys now – the Roman Forum and the Colosseum. They are both situated next to each other and you can visit them both with the same ticket (as long as you visit on the same day).
Why do we start with the forum and not the Colosseum?
Because of the entry lines. Everybody starts from the Colosseum so the line for the tickets is quite long. The line for the forum, on the other hand, is not even close to that and if you use one of the side entries ( go down the street behind the Arc of Constantine – "Via di San Gregorio and it's after the bus stop, to your right) you may get tickets without waiting in a line at all!
The Forum itself is a vast area with ancient ruins of a marketplace, few temples, and political buildings. It is the place ancient Romans used for triumphal processions, public speeches, and even gladiatorial matches.
The Forum is a must-see and the fact it shares the same ticket with the Colosseum makes it inexcusable to miss it even if your time is limited.
Working Hours:
Last Sunday of October until the 15th of February from 8:30 AM until 4:30 PM
16th of February until the 15th of March from 8:30 AM until 5 PM
16th of March until the last Saturday of March from 8:30 AM until 5:30 PM
Last Sunday of March until the 31st of August from 8:30 AM until 7:15 PM
1st until the 30th of September from 8:30 AM until 7 PM
1st of October until the last Saturday of October from 8:30 AM until 6:30 PM
Prices:
Regular: 16.00 EUR (+ 2 EUR if you book it online)
Priority (fast track entrance): 21.50 EUR
Reduced: 2.00 EUR (EU citizens between 18 and 25 years old)
Free: EU and non-EU citizens under 18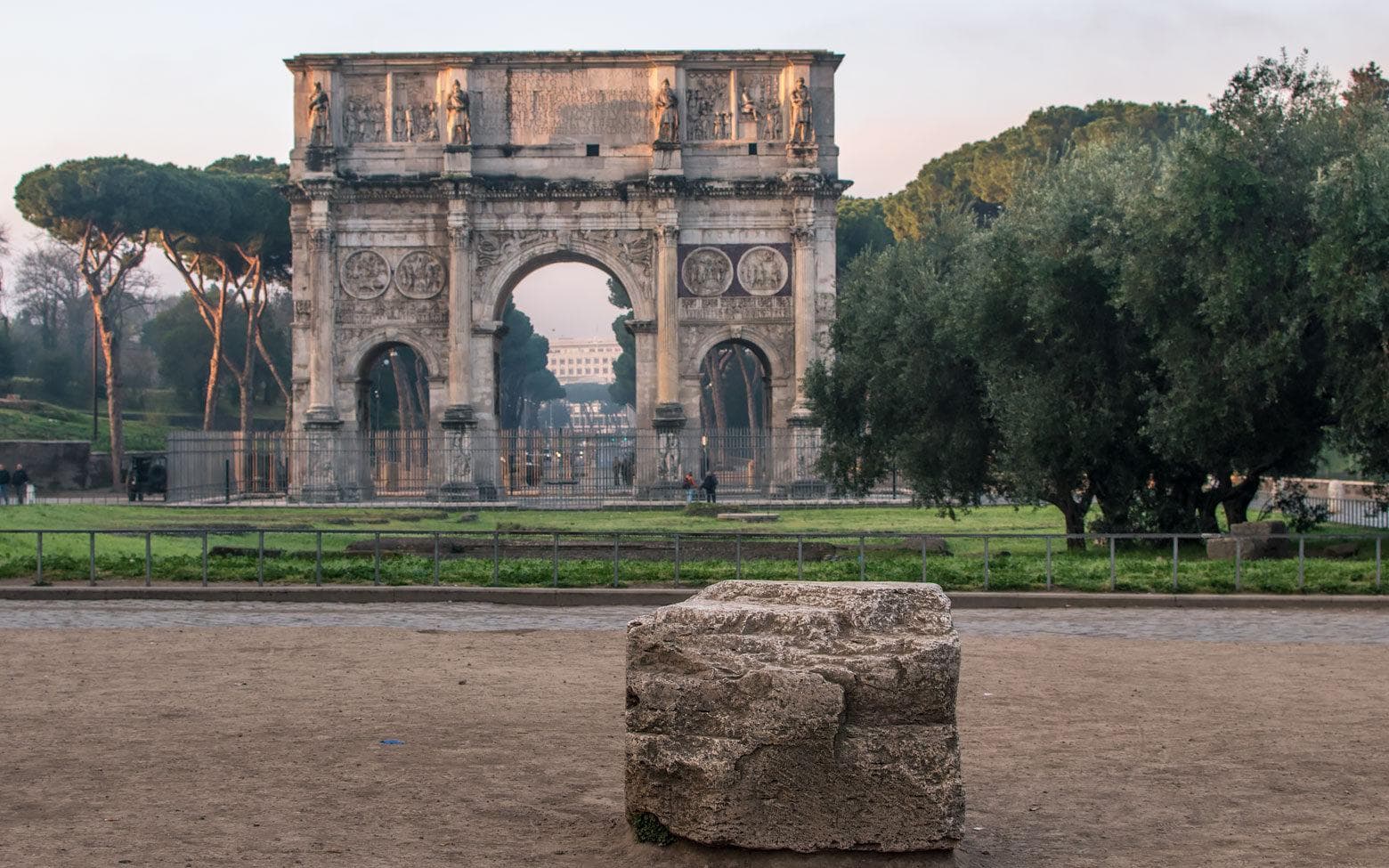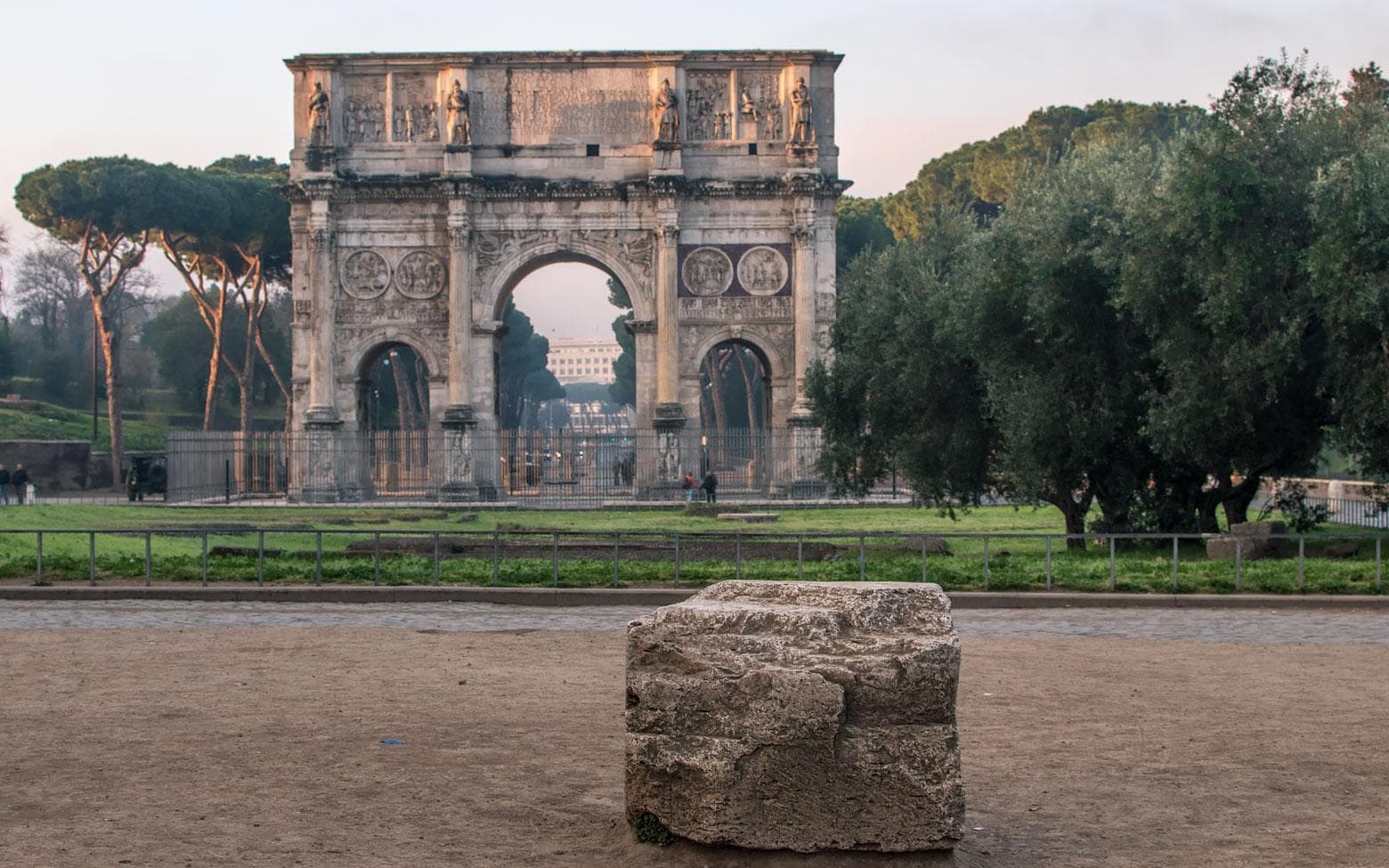 The Colosseum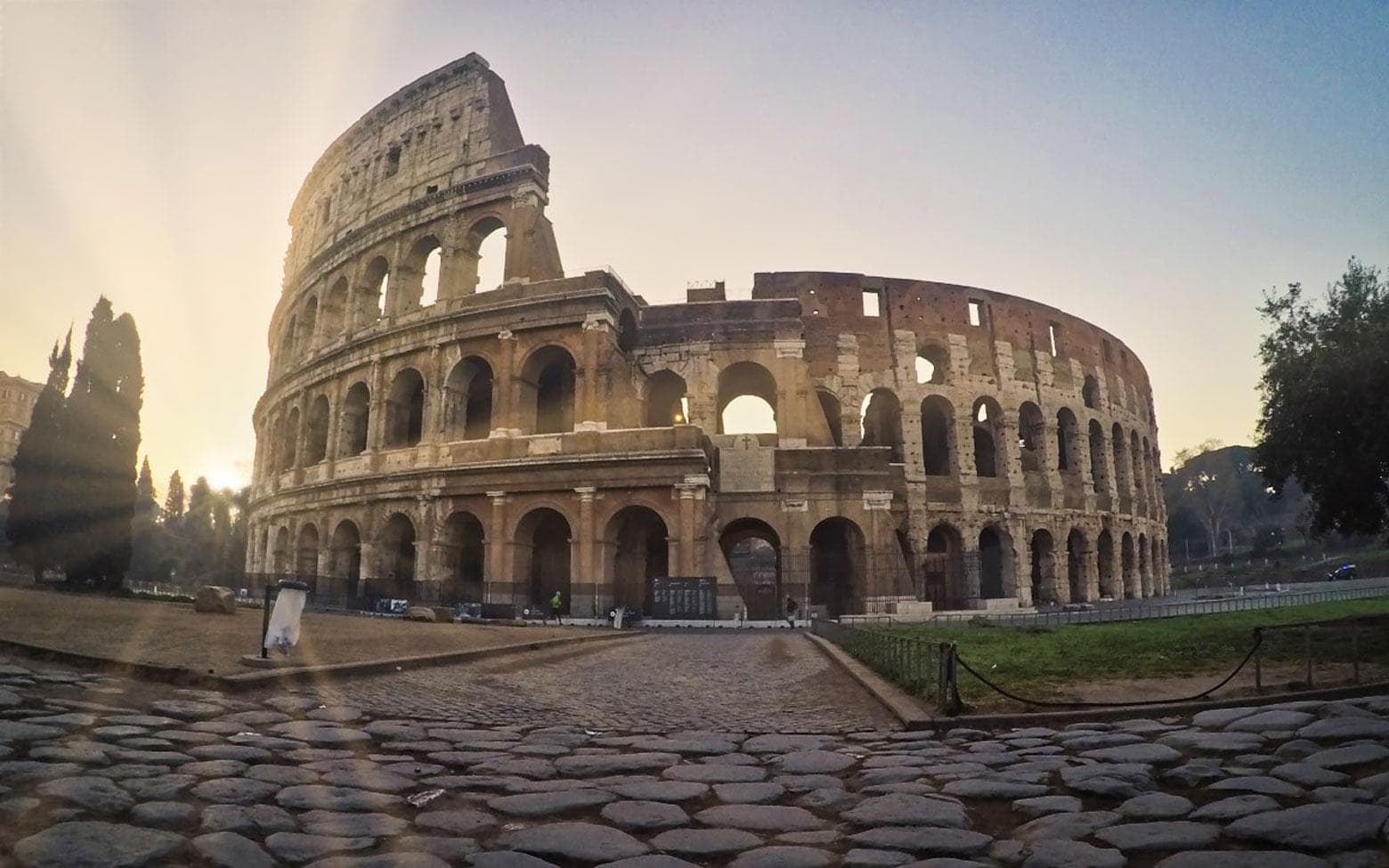 Here it is – the eternal landmark, the symbol of ancient and modern Rome. The Colosseum!
The ancient amphitheater was used mainly for gladiator battles but also for animal hunts, executions, re-enactments of famous battles, and even sea-fight mock-ups! The spectacles often gather more than 80,000 people (the capacity of the biggest stadium in Rome nowadays, Olimpico, is 72,698) and they were divided (of course) by class.
The first tier, called the Podium, was reserved for the Imperator and senators (the VIP area), the second tier was for the noble class – equites and knights. And the worst seats were for the common folk. It's good to see how much humankind has progressed since those barbaric years and how equal we are now (yeah, sure).
Working Hours:
Last Sunday in October until 15 February 8:30 AM -4:30 PM
16 February to 15 March 8:30 AM – 5PM
March 16 to the last Saturday of March 8:30AM -5:30 PM
Last Sunday in March to August 8:30 AM -7:15 PM
1st to 30th September 9:30 AM -7 PM
October 1 to last Saturday in October 8:30 AM-6:30 PM
Prices:
Regular: 16.00 EUR (+ 2 EUR if you book it online)
Priority (fast track entrance): 22.00 EUR
Reduced: 2.00 EUR (EU citizens between 18 and 25 years old)
Free: EU and non-EU citizens under 18
Important!
Since 01.01.2019, the Colosseum has a limit of 3,000 people at the same time making the timeslot online ticket mandatory.
Premium experiences:
The normal Colosseum visit does not include stepping down on the arena or going to the top of the stands. If you really want to see where gladiators and beasts waited for their doom, see the restricted top seats or walk around the arena, you need this premium tour.

If you're after a serene experience or you're chasing the perfect photo, the best option would be the early access tour. You skip all lines, there are hardly any other people and as a bonus, you miss the infamous Roman midday heat. Another serene VIP experience is the night tour.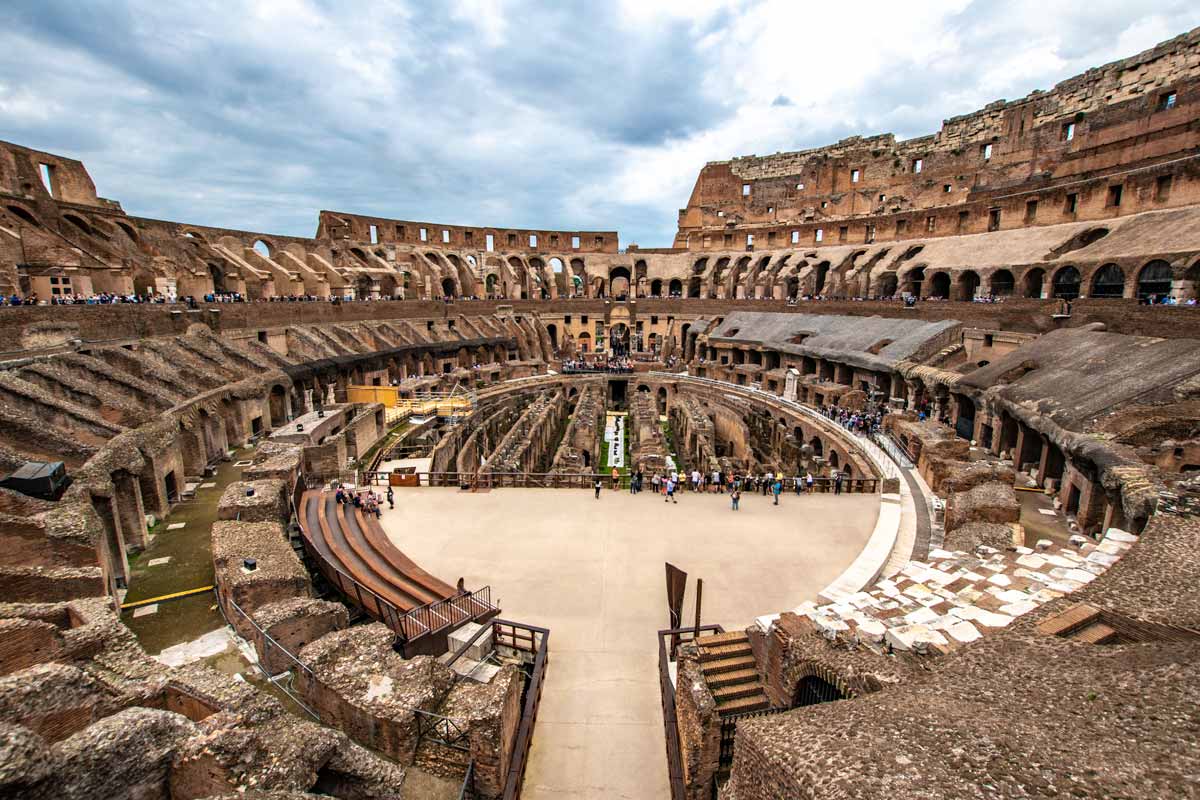 See Also: The Ultimate Madrid Itinerary
The Orange Gardens and the most beautiful view in Rome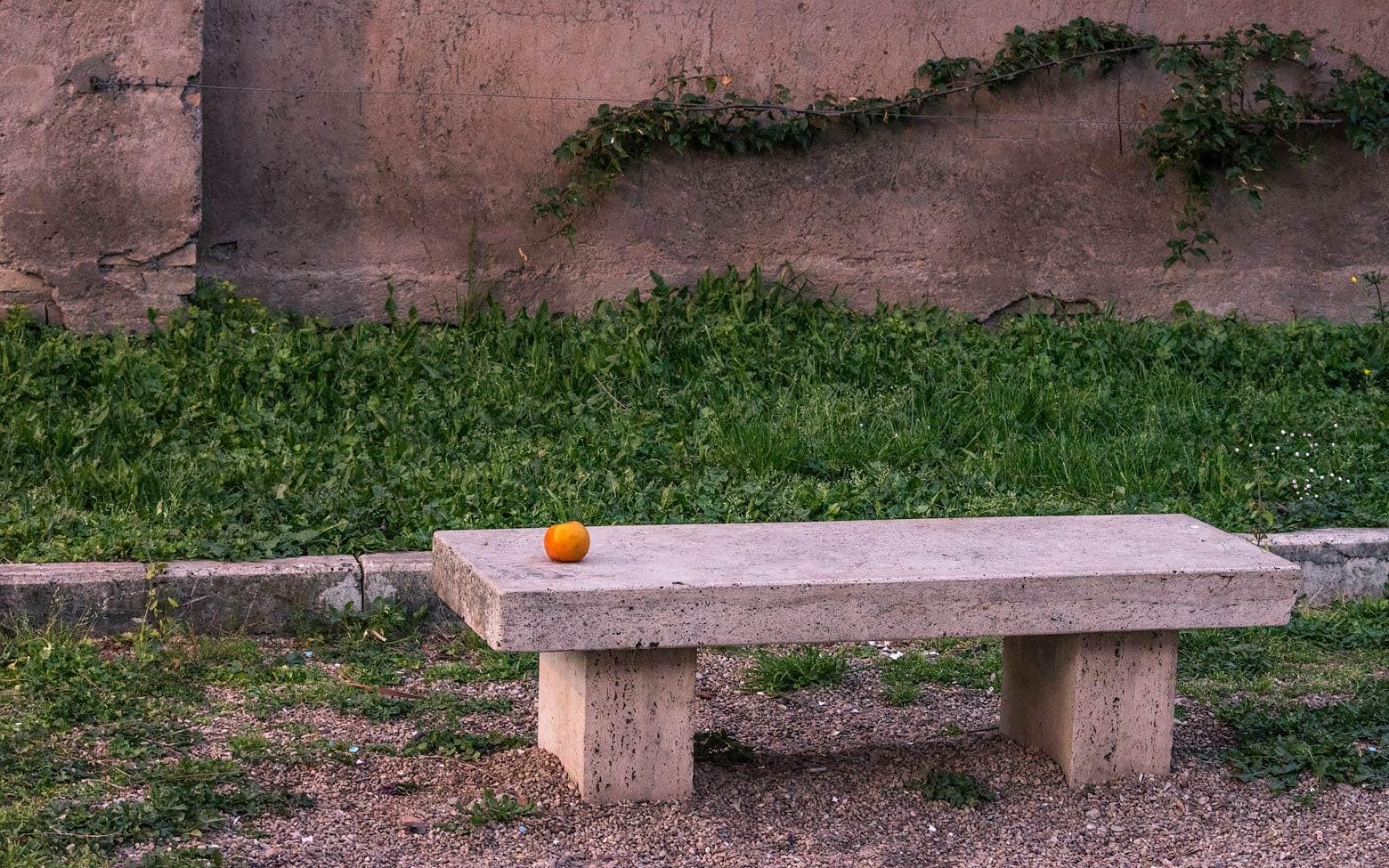 End the long day in Giardino Degli Aranci. A walking distance from the Colosseum it's considered to be one of the most romantic places in The City of Love. The gardens are located on the idyllic Aventine Hill but before we enter, there is another place to check.
Once on Via di Santa Sabina go past the gardens to the end of the street. There you'll notice a queue in front of a green door. People are not waiting for the door to open though, they are waiting for a look through the famous Aventine keyhole – an Italian bucket list experience that is known to offer the most beautiful view in Rome.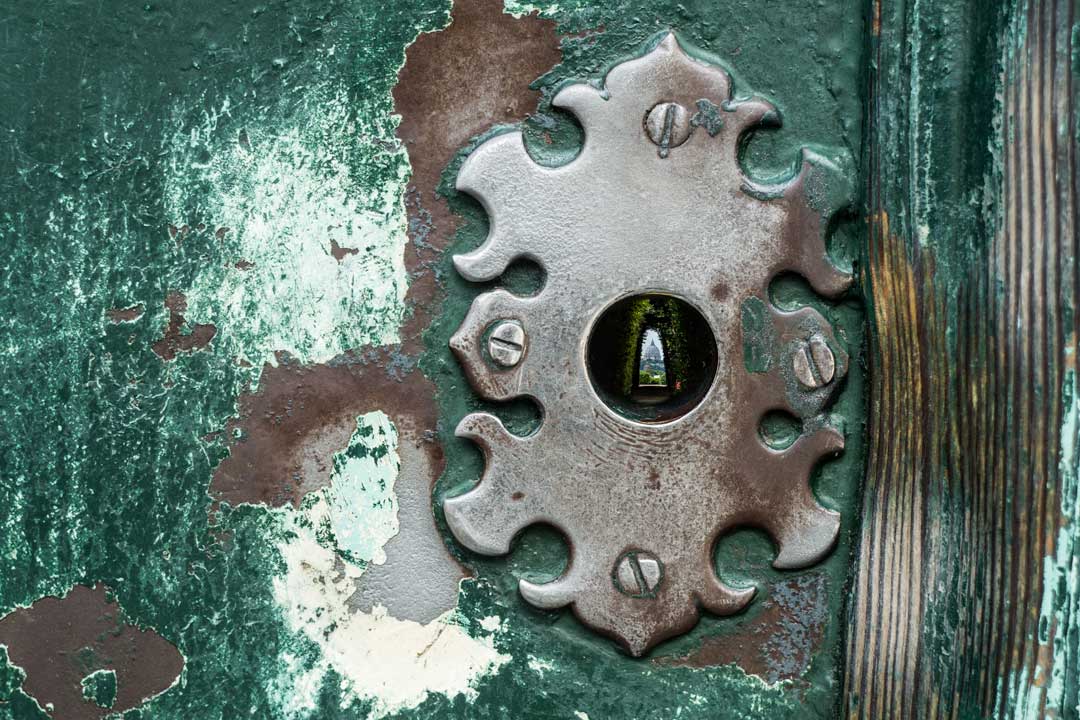 After that, go back to the orange gardens and enjoy the sunset while tasting a freshly picked orange.
Working Hours:
October to February 7:00 AM – 6:00 PM
March and September: 7:00 AM – 8:00 PM
From April to August: 7:00 AM – 9:00 PM
"Rome was a poem pressed into service as a city."
Three Days in Rome Itinerary – Day Three – The Holly City
It's the last of our 3 days in Rome, and it's time to get out of the country and check the home of the Catholic religion – Vatican City.
St. Peter's Basilica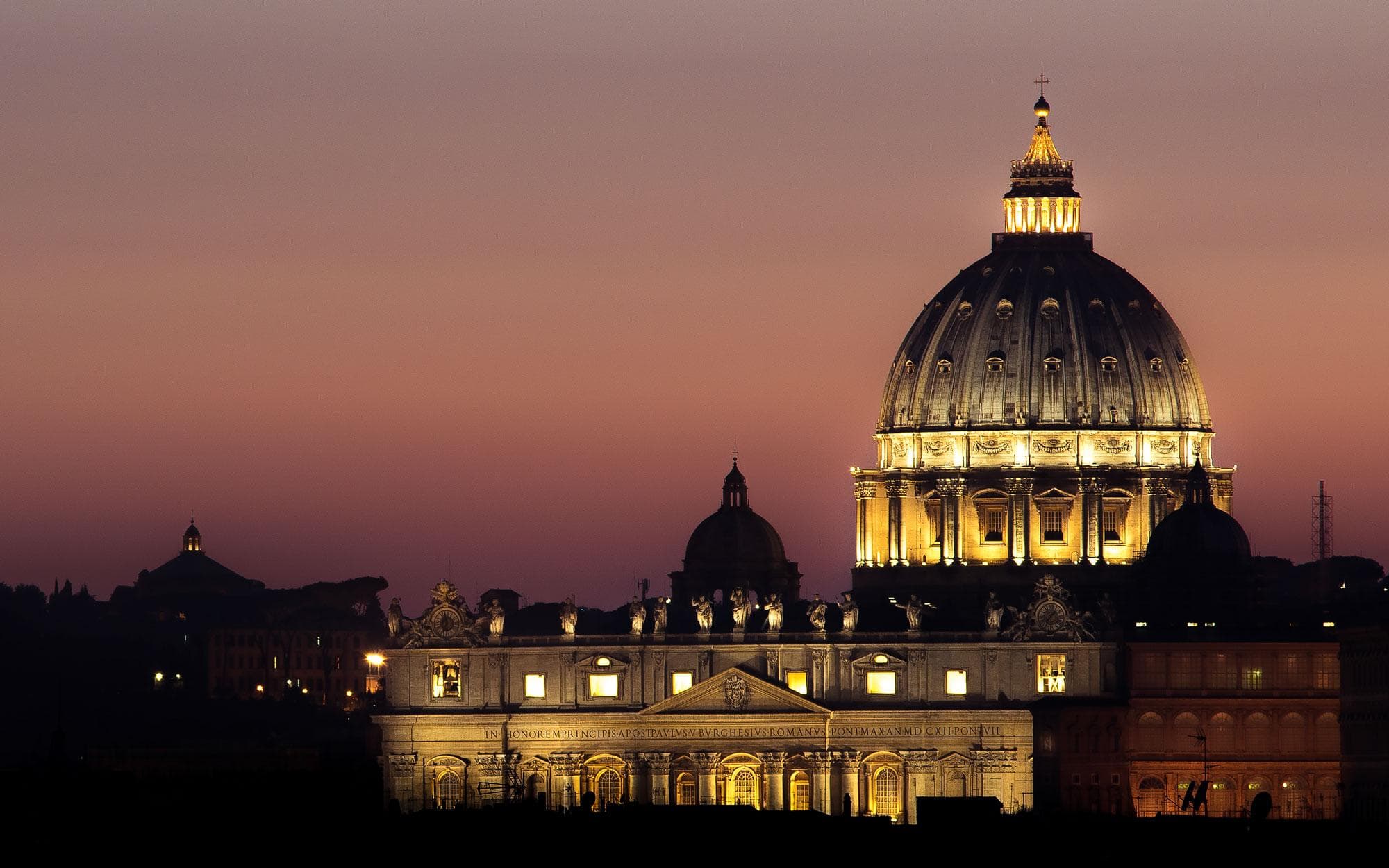 Get early and be on St. Peter's Square at 7:00 AM. There shouldn't be many people there yet, so you can marvel at the white city at peace. Get in line (if there is even a line that early) and go into the largest and most famous church of all churches – St.Peter's Basilica.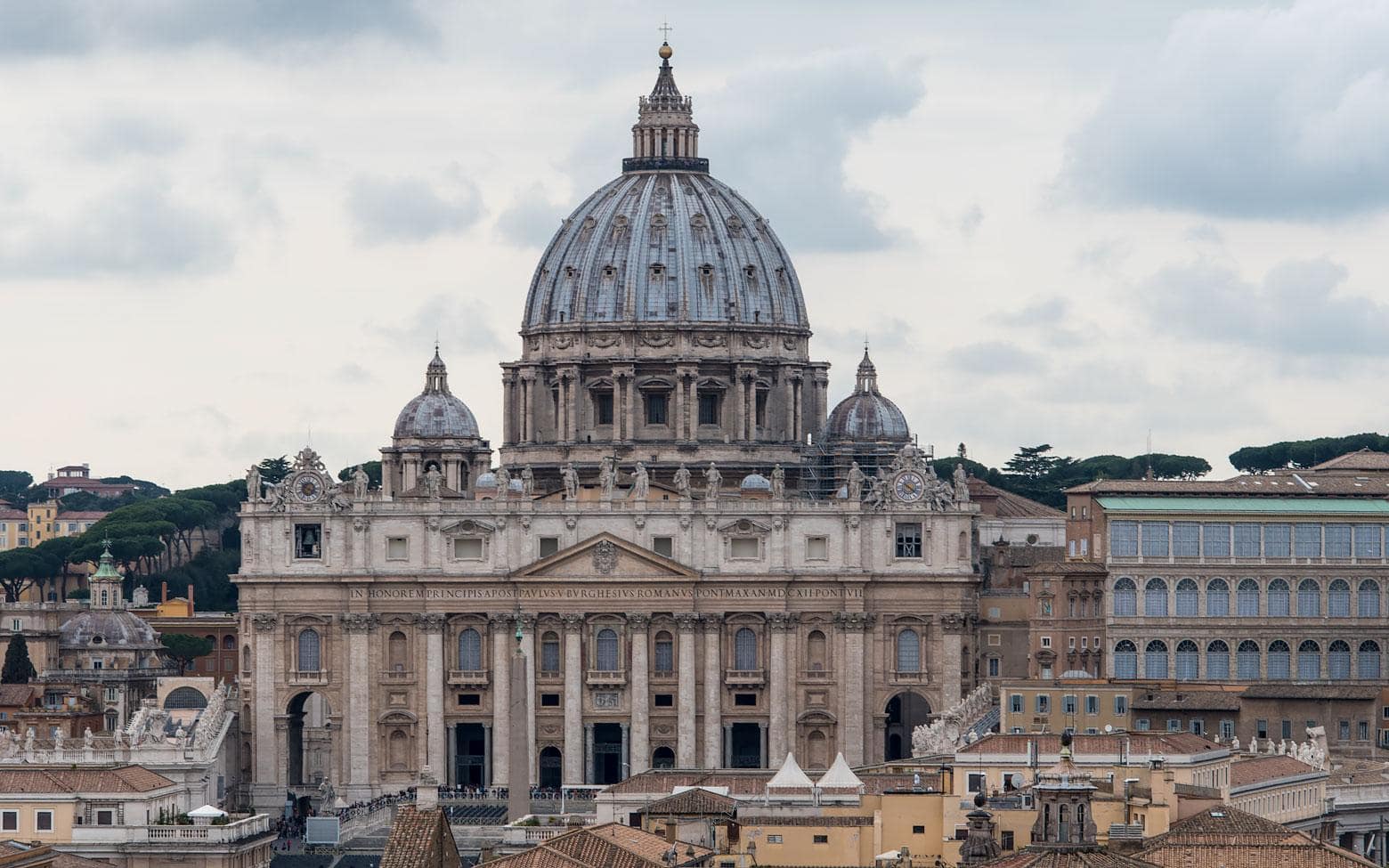 Designed by Bramante, Michelangelo, and Bernini, the most renowned work of Renaissance architecture is one of the holiest Catholic shrines. All popes are buried here including the first one – St. Peter himself!
If you want to go to the top of the dome you better do it before you enter the church. It's a different entrance to the right and there's a line with an entrance fee. The whole climb is 551 steps of various forms and sizes but if you pay a little extra, you can take an elevator for the first 320. The view from the top is heart-stopping and I strongly recommend to push yourself and check it out.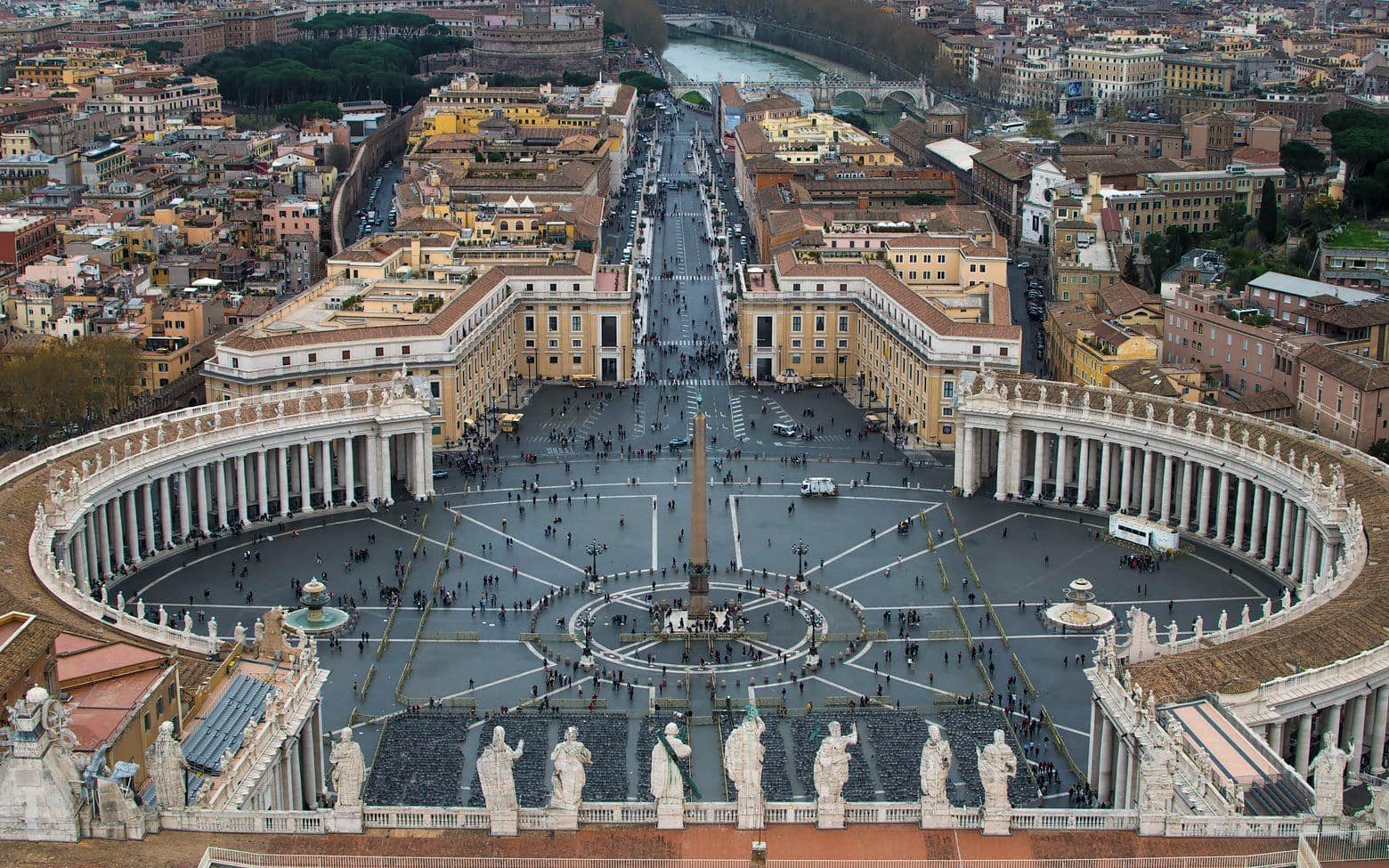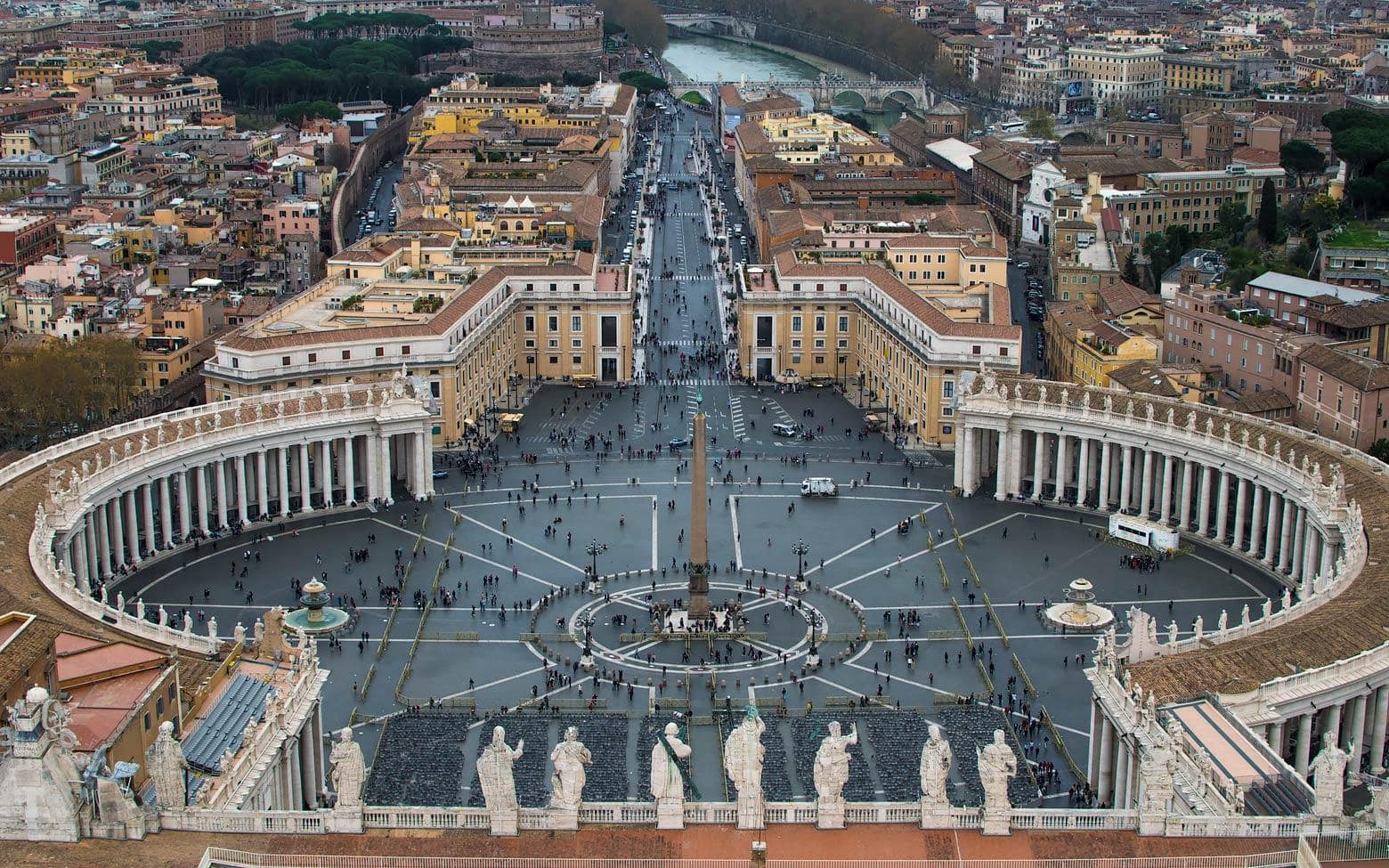 Important!
When you plan your Vatican visit, make sure it's not on Wednesday or Sunday. The Pope has open masses on those days and you will have to wait for him to finish (at least 4 hours) before you are allowed to enter the basilica
They have a strongly enforced dress code in Vatican city. Avoid tank tops or shorts or bring a scarf/shawl to cover yourself.
Working Hours:
October – March: 7:00 AM – 6:30 PM
April – September: 7:00 AM – 7:00 PM
Prices:
St.Peter Basilica – free.
Climbing to the dome: 8 EUR on foot (551 steps) ; 10 EUR with the elevator (stil has a 320 steps climb).
Premium experience: If you want to experience the most significant basilica in the Christian world in the best way possible, this premium guided tour is the thing you need. You'd see everything from top to bottom, including the famous panoramic view from the dome, the the historic grottoes, St. Peter's tomb and of course, you'll skip all the lines and learn tons of new things.
See Also: The Best Florence Itinerary
Vatican Museums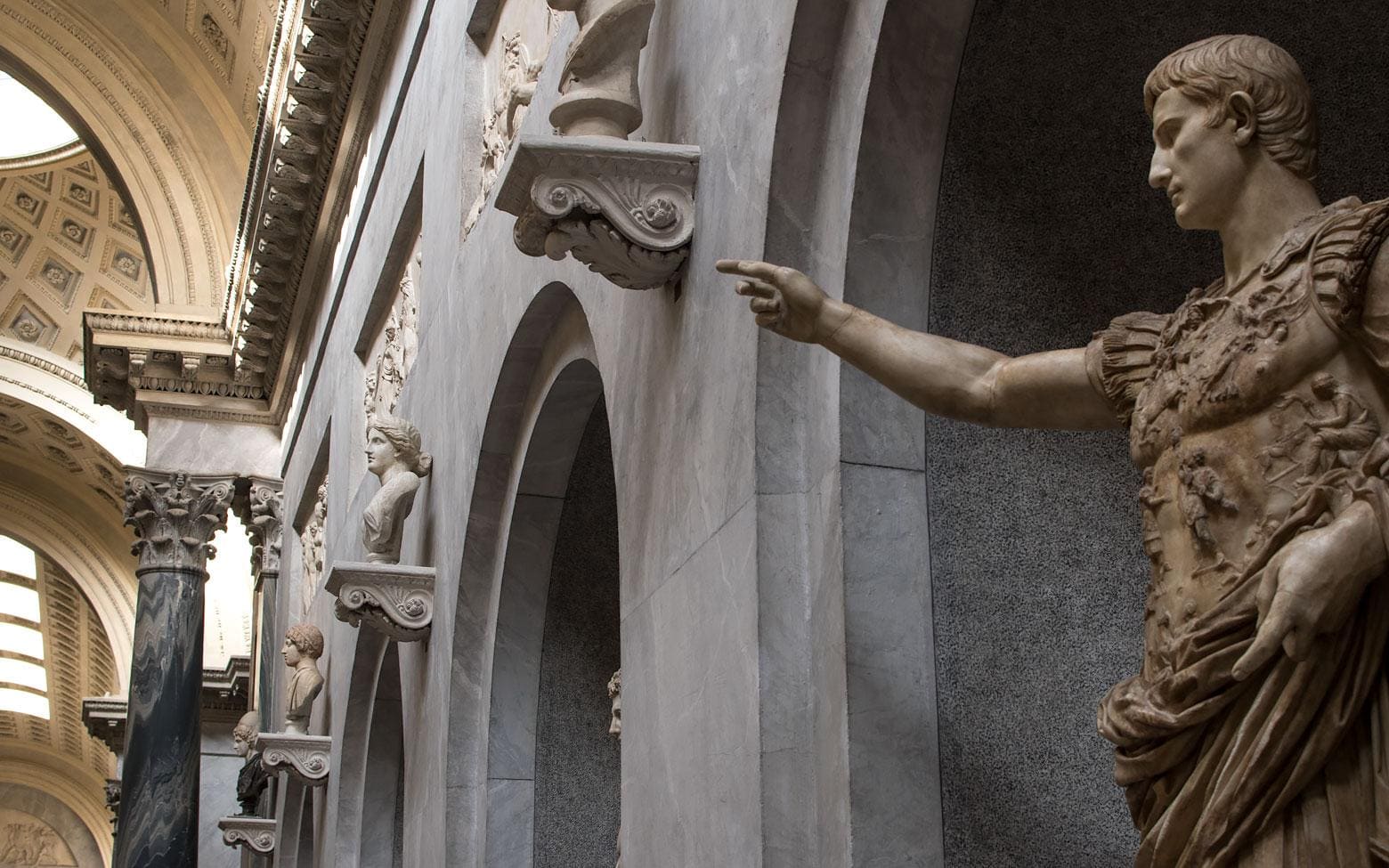 Here's a little info about me – I love museums! Everywhere I go I try to visit at least one.
The Vatican Museums are the 5th largest museum in the world with more than a 43.000m2 gallery space and it's my favorite museum in the world (again with this favorite thing…).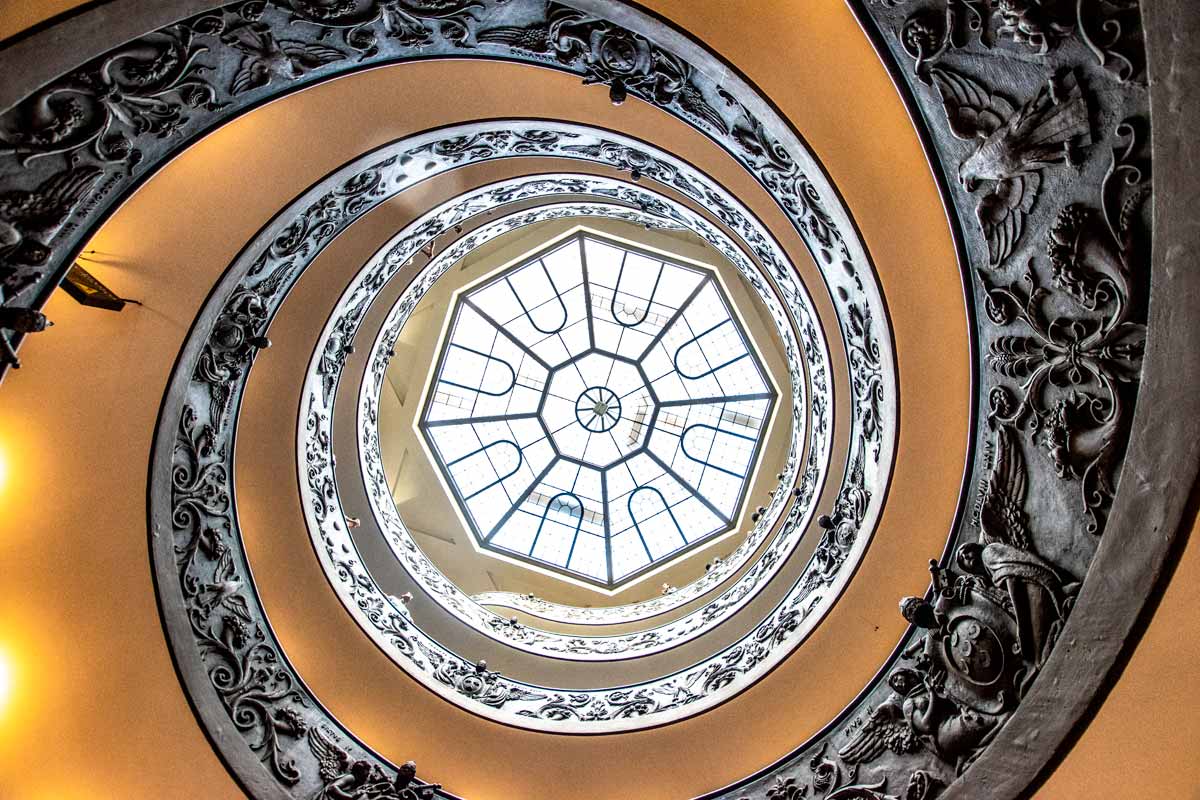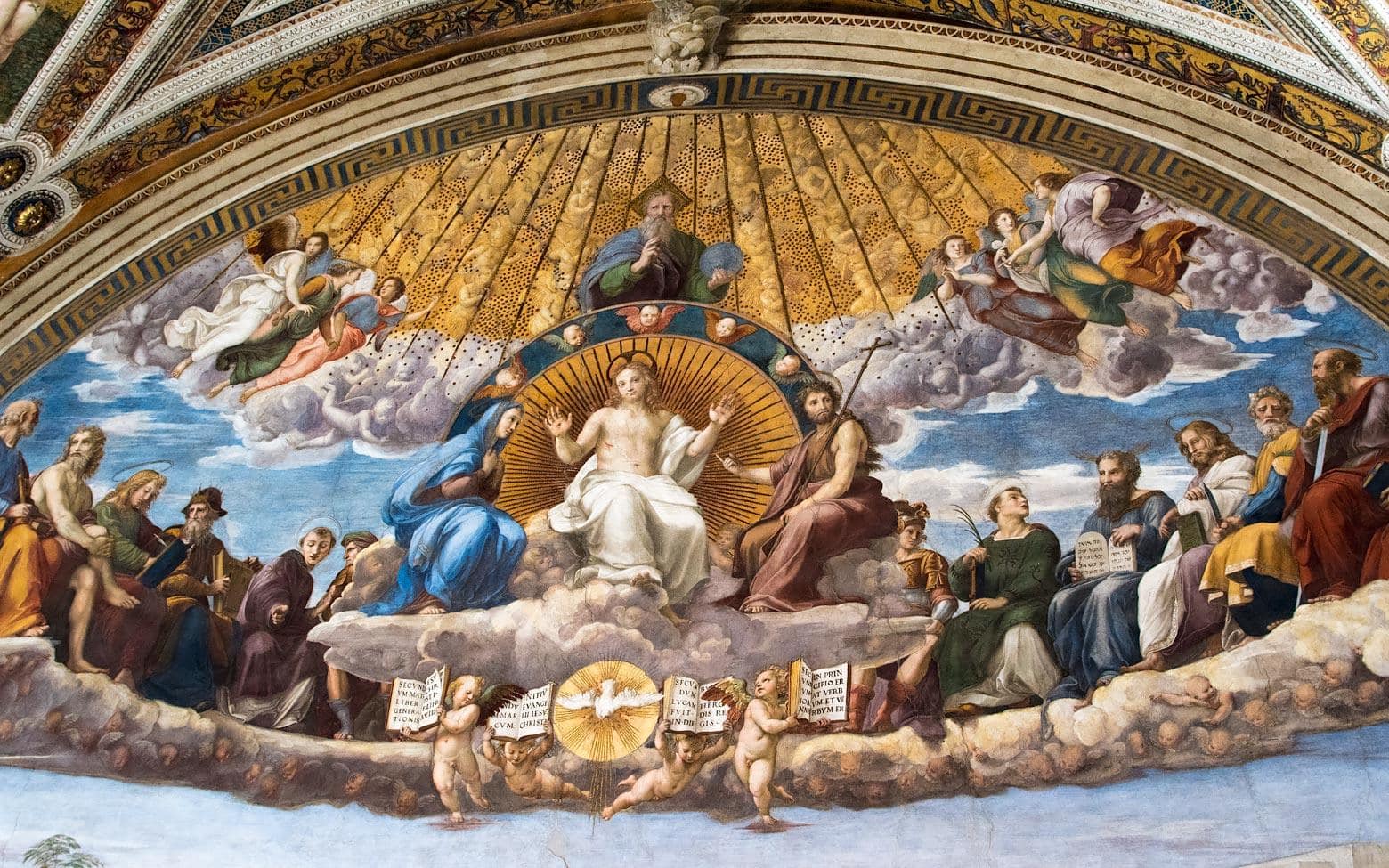 Make sure you got your ticket online thus skipping the enormous line and prepare yourself for 7km (4.3mi) travel through time. It starts with all the things Romans stole from Egypt (there is a real mummy) goes through various Roman epochs, shows you formal papal residences – designed and painted by Raphael (the painter, not the ninja turtle), and ends up in the magical Sistine Chapel.
The Sistine Chapel is one of those places impossible to describe. From the moment you set foot inside, the whole place starts bombarding you with energy. I spent an hour and a half listening to every word my audioguide had to say (twice) and when I got out it felt like walking out of a dream. Absolutely out-of-this-world experience!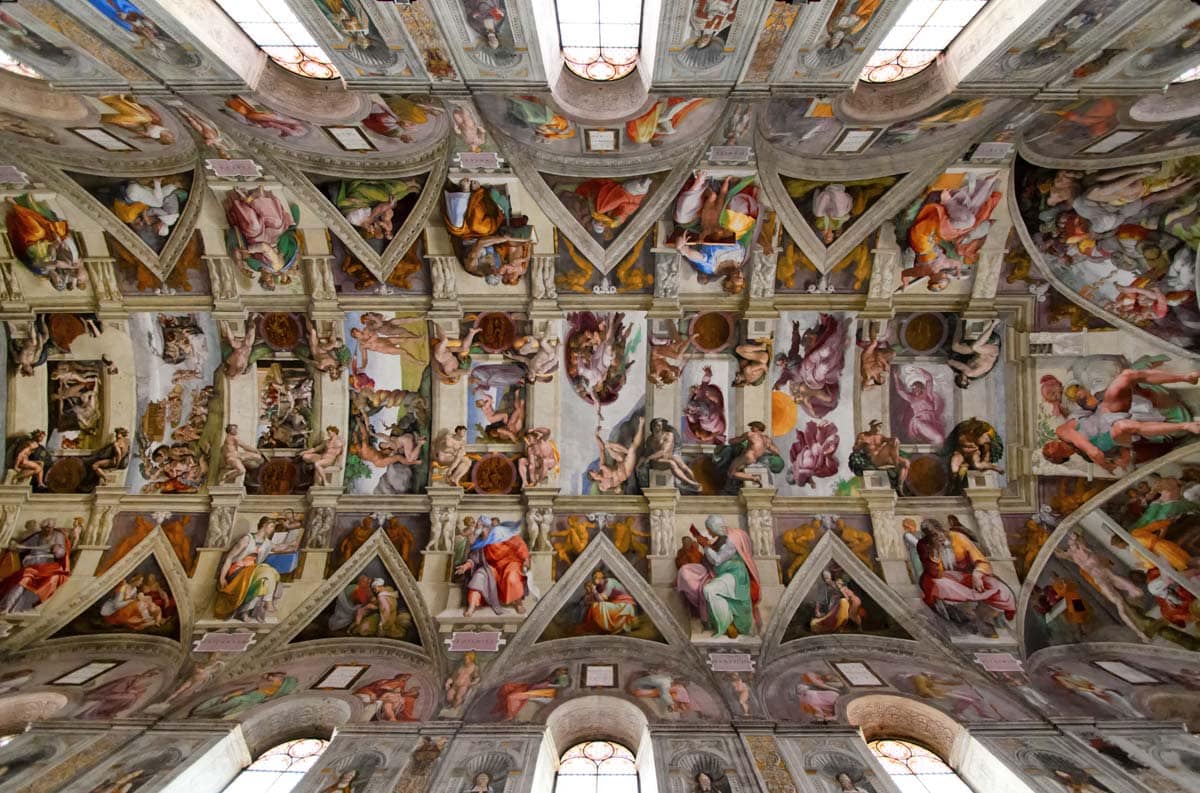 Working Hours:
Monday to Saturday
9.00 AM – 6.00 PM (final entry 4.00 PM)
Every last Sunday of the month – Free entry
(provided this does not coincide with Easter Sunday, 29 June Sts. Peter and Paul, 25 December Christmas Day, and 26 December Feast of St. Stephen)
Check out all opening hours on the official website
Prices:
Adults – 17 EUR –get one here.
Adolescents (6-18 years) – 8 EUR
Students (under 25) – 8 EUR
Children (under 6) – Free

A guided tour can be booked here, but what I'd strongly recommend the night tour. Vatican museums are amazing but there are waaay too many people during the day (yes even in the pandemic times).

Premium Experience:
This is my favorite experience in Rome. Really, I'm in love with the Sistine Chapel, from the very first time I've set my foot inside and got blasted with its energy, this is one of my favorite man-made places anywhere in the world.

There's a big problem there though – it's always full of people. So many people, it's hard to concentrate on the amazing surroundings.
And here comes the premium experience –an early visit before the Sistine Chapel is overcrowded with people! If getting up early is not your thing, you can do it at night too!
Yes, it's possible and it's my favorite thing in Rome (tied with the pizza)!


Important!
Usually you can get tickets at the door of the museum. Currently the only option, however, is online booking.

See Also: How to spend 2 days in London
Castel Sant'Angelo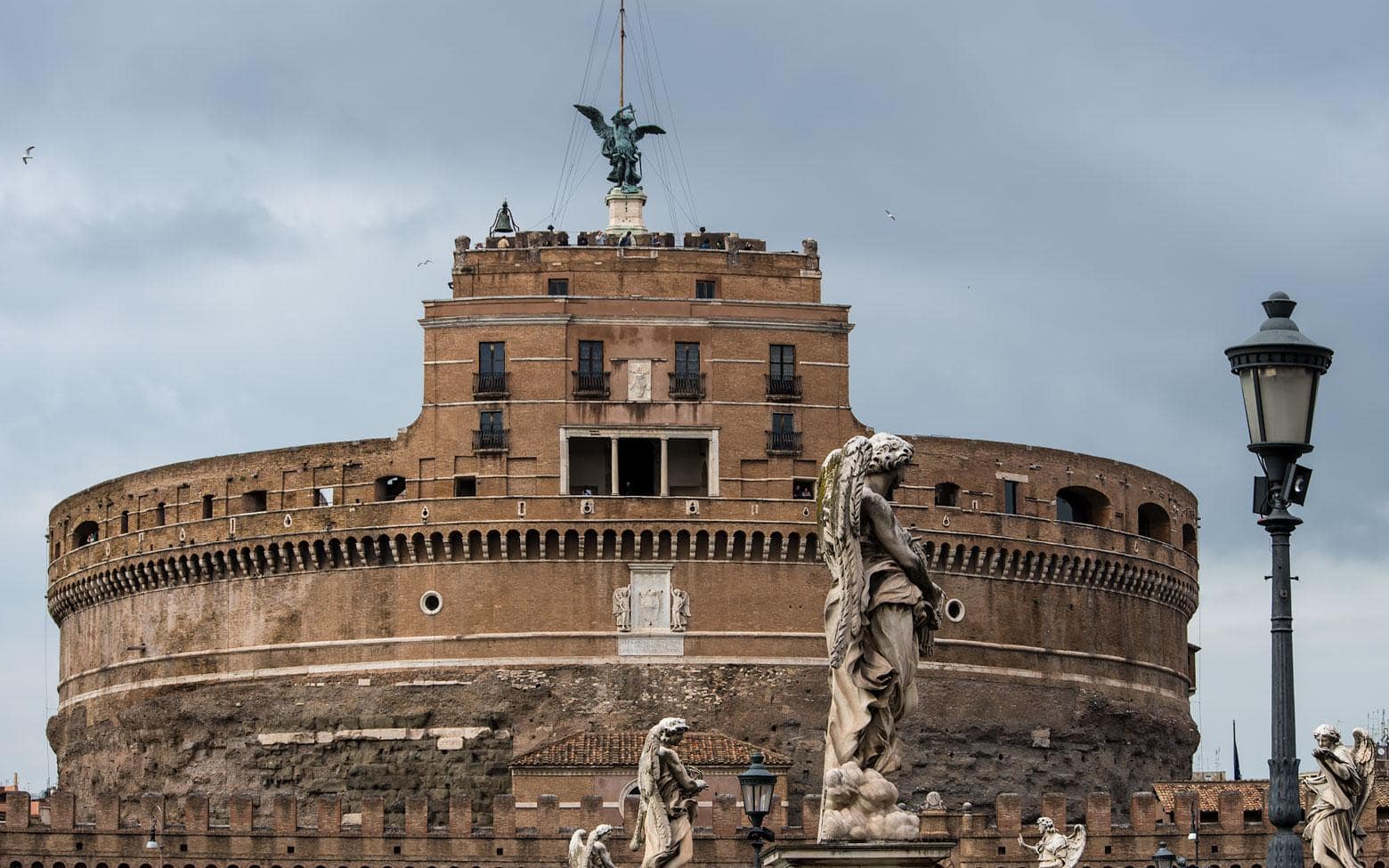 Once out of the Vatican, grab a quick lunch and go alongside the Tiber river until you see the bridges and an old castle. Built in 135 AD by emperor Hadrian it was actively used as a defense structure, but it also used to be home to one of the Popes when there was a deadly epidemy in 590 AD.
It's a lovely museum today where you can see ancient catapults, secret corridors, and the preserved papal residence. The top floor is a balcony displaying a spectacular panoramic view of the city. Perfect for sunset watching or photo hunting (or both).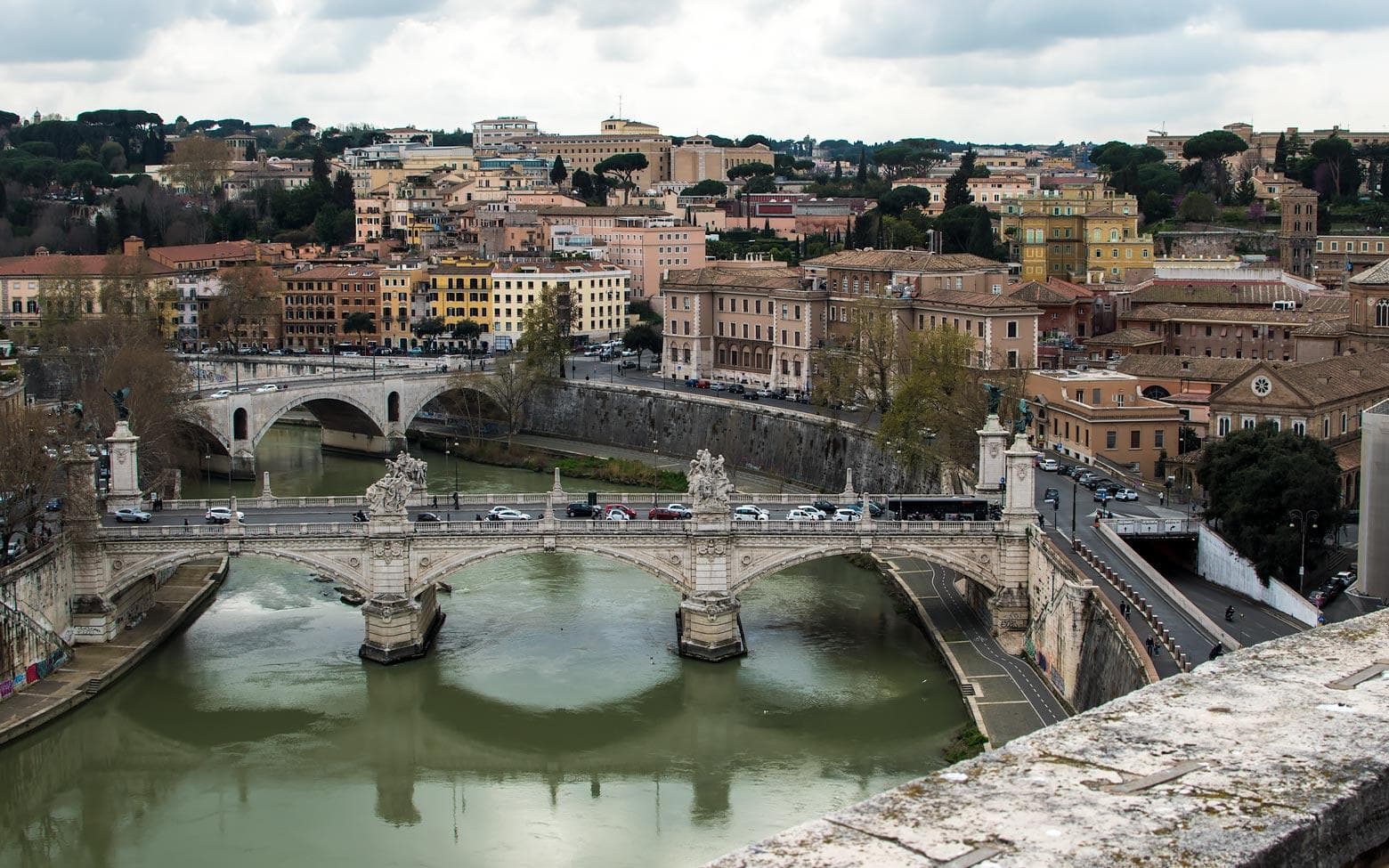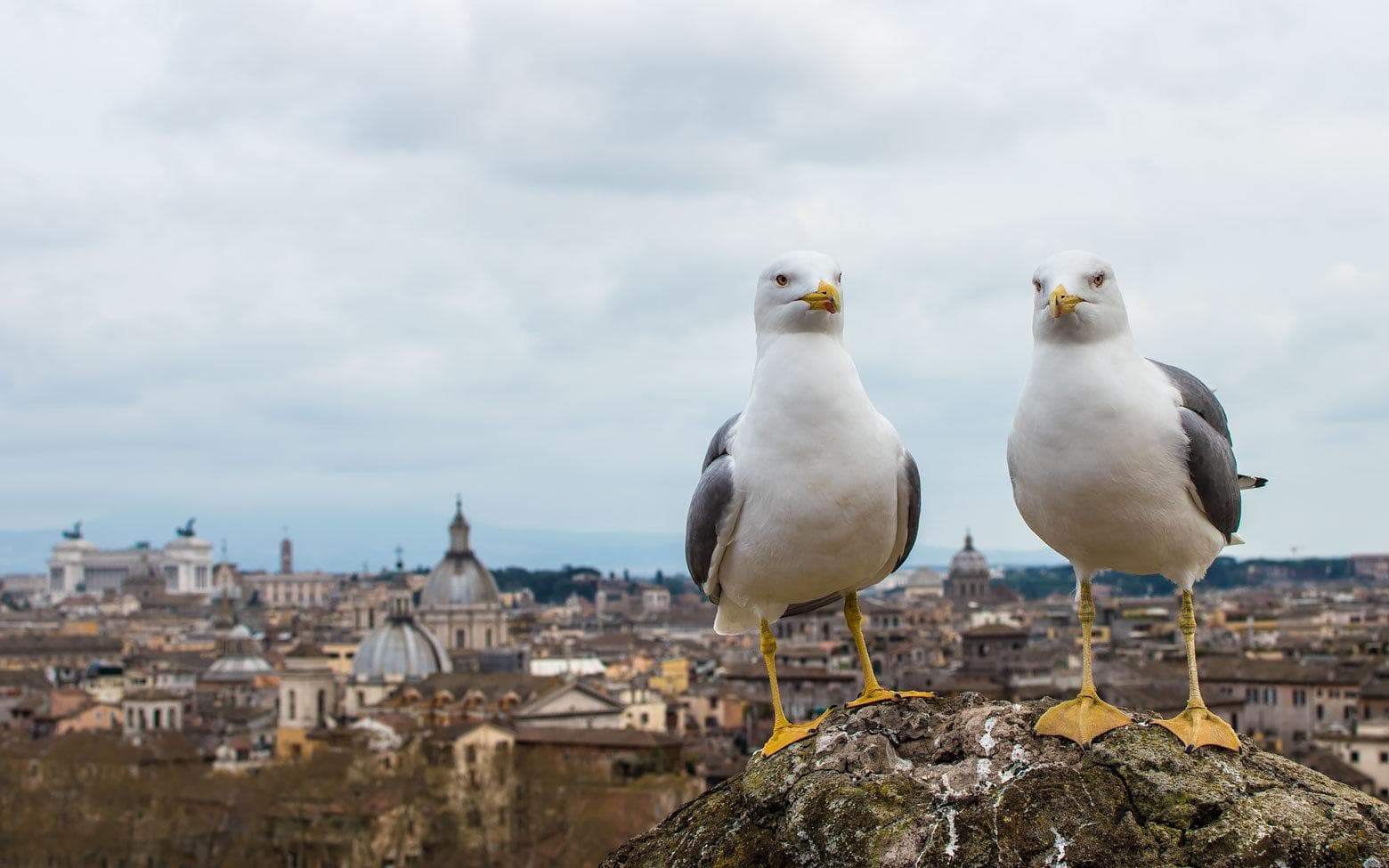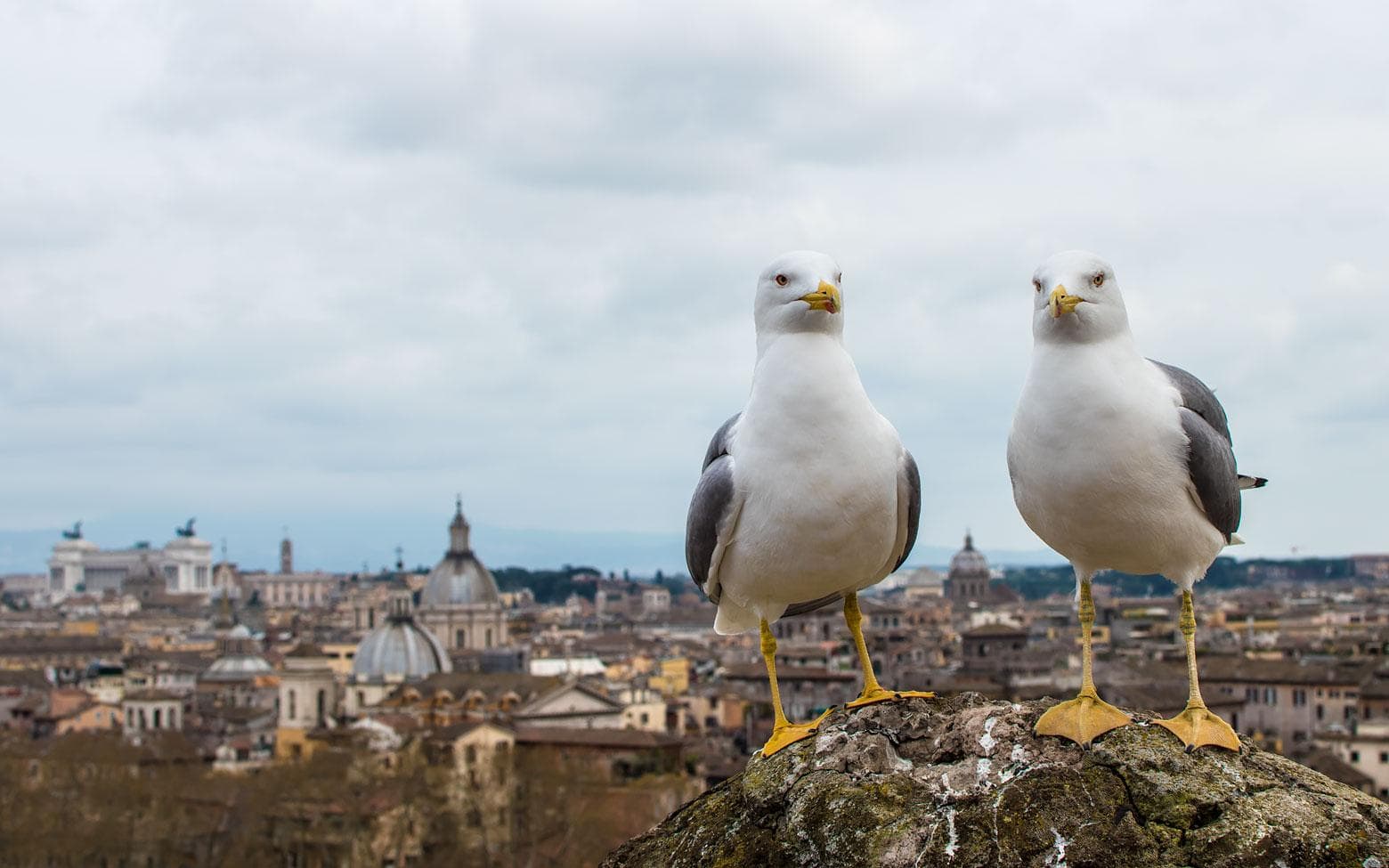 Working Hours:
Daily from 9:00 AM to 7:30 PM.
Prices:
Regular: 17.50 EUR
Skip the line: Check here
Premium experience:
If you're a Dan Brown fan, this Angels & Demons tour is just the one for you. It will mess up the itinerary, but it'll take you around a lot of curious places, Castel Sant'Angelo included
Rome by night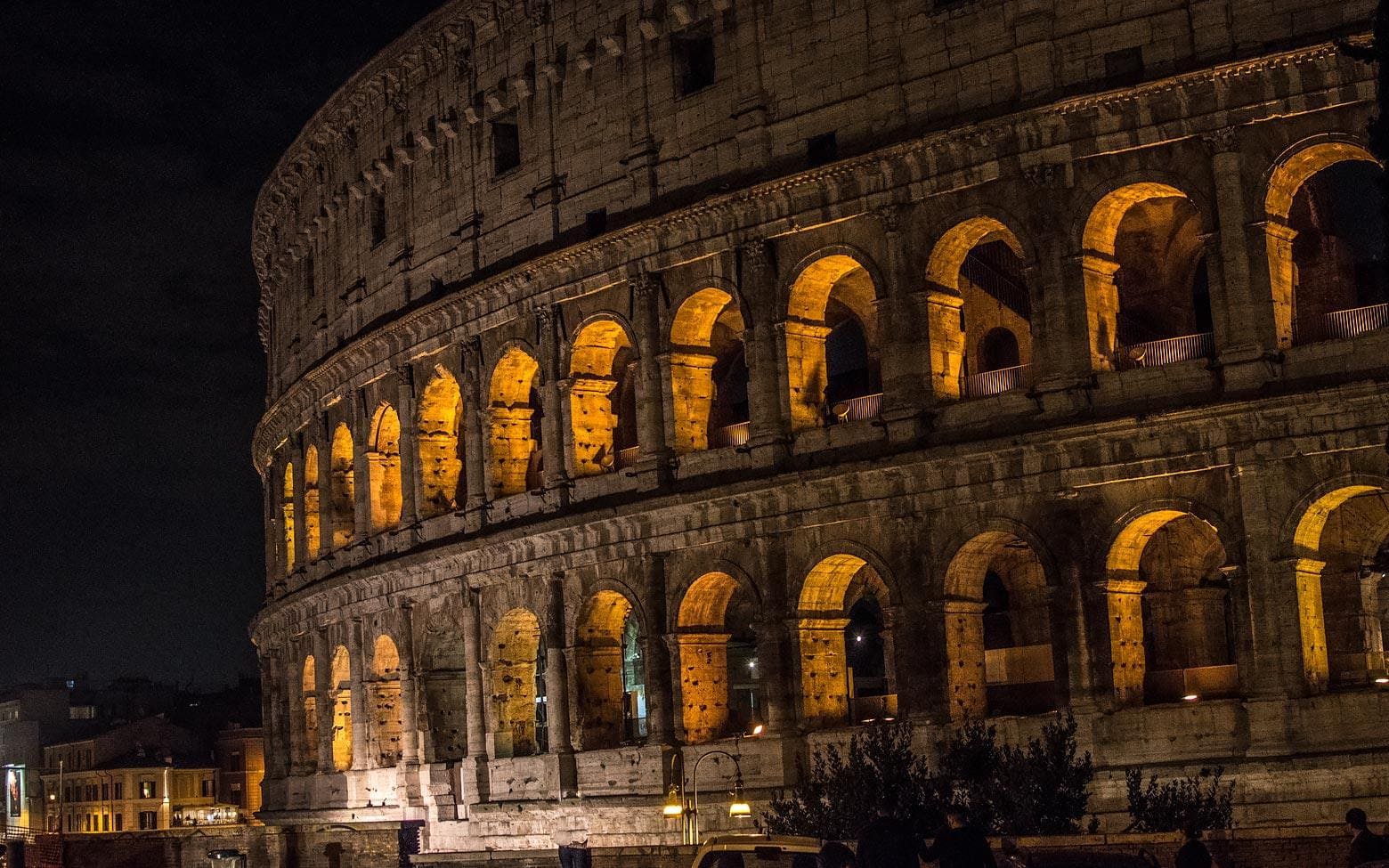 Spent the evening walking around the city center, and enjoy the vibe Rome gets after dark. Have dinner in one of the winding alleys restaurants, get yourself some souvenirs, and savor your last hours in the city.
You can enjoy night Rome part on an e-bike or turn it into an evening food-and-wine tour.
See Also: The Incredible Venice Itinerary
More than 3 days in Rome?
You've got more than 3 days in Rome? You lucky, you! Ok, here are some extra attractions to check out:
The Capitoline Hill and Museums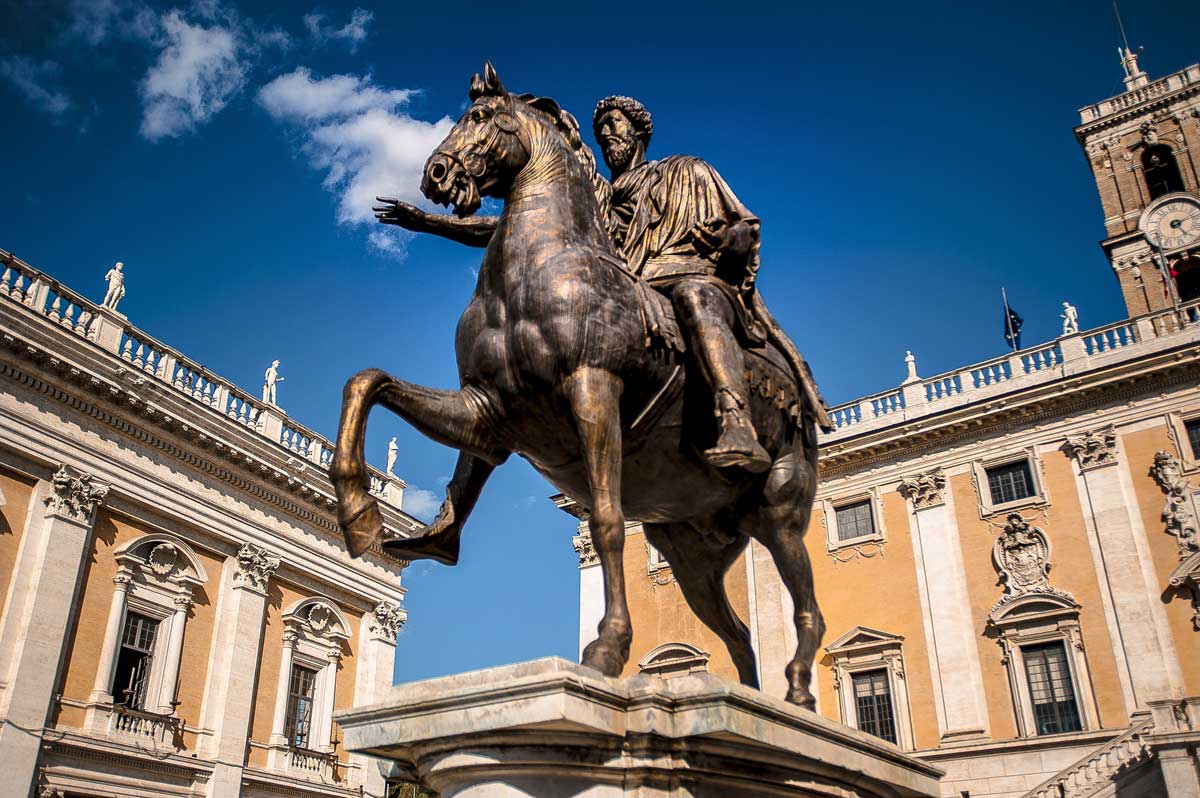 One of the seven hills of Rome, The Capitoline Hill (also known as Campidoglio) is situated right between the Forum and the Campus Martius. Been a temple of Jupiter in ancient times, most of the ruins are covered by Renaissance palaces (that house the Capitoline Museums) that surround a piazza made by non-other but Michelangelo himself!
Why is it not included in the 3 days itinerary?
Too many museums and piazzas can easily lead to burnout.
See Also: What to do in Rome in december
Largo di Torre Argentina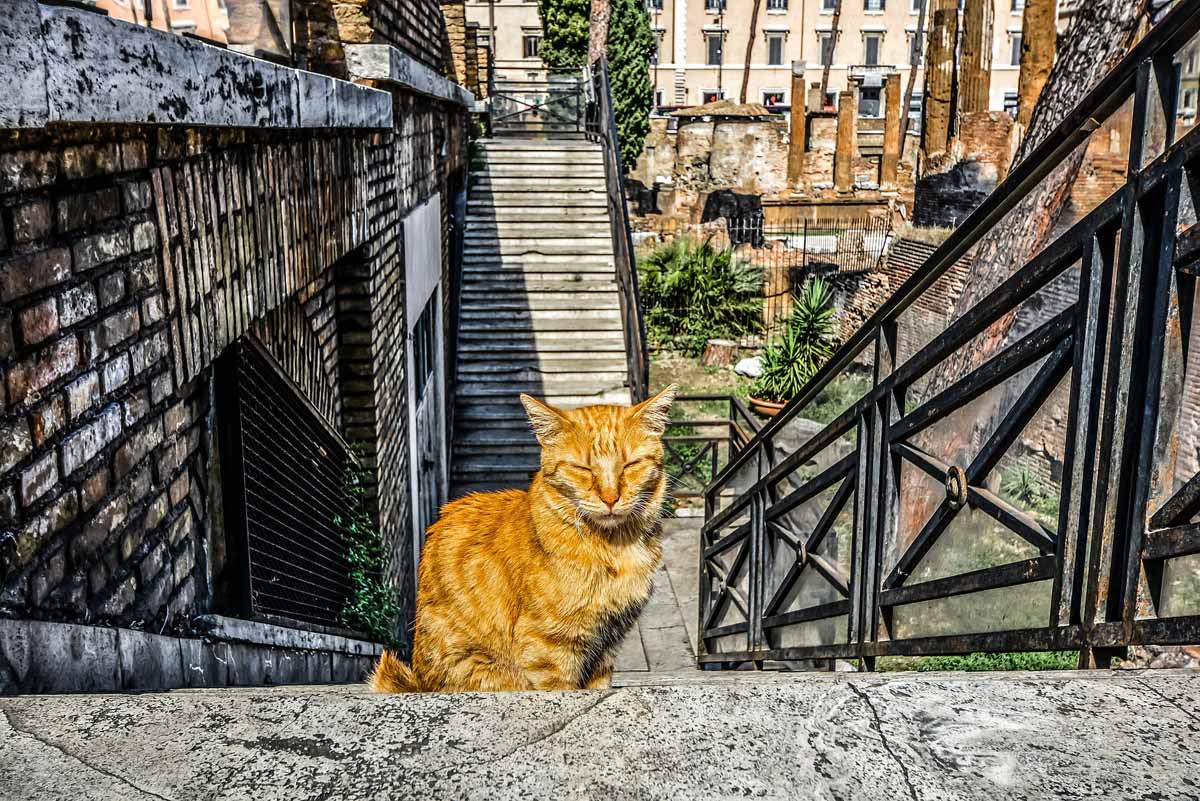 Largo Argentina is a square that houses the ruins of a few temples and Pompey's Theatre. It's most famous about been the place where Julius Caesar was assassinated. The ruins are not that impressive, but it's curious to know that today they also serve as a cat shelter. Torre Argentina Cat Sanctuary is run by a group of volunteers who sterilize stray cats. It even has a small nursing room in one of the temples where the kitties can recover after sterilization!
Why is it not included in the 3 days itinerary?
Ruins are not that impressive and not everybody likes cats.
Piazza del Popolo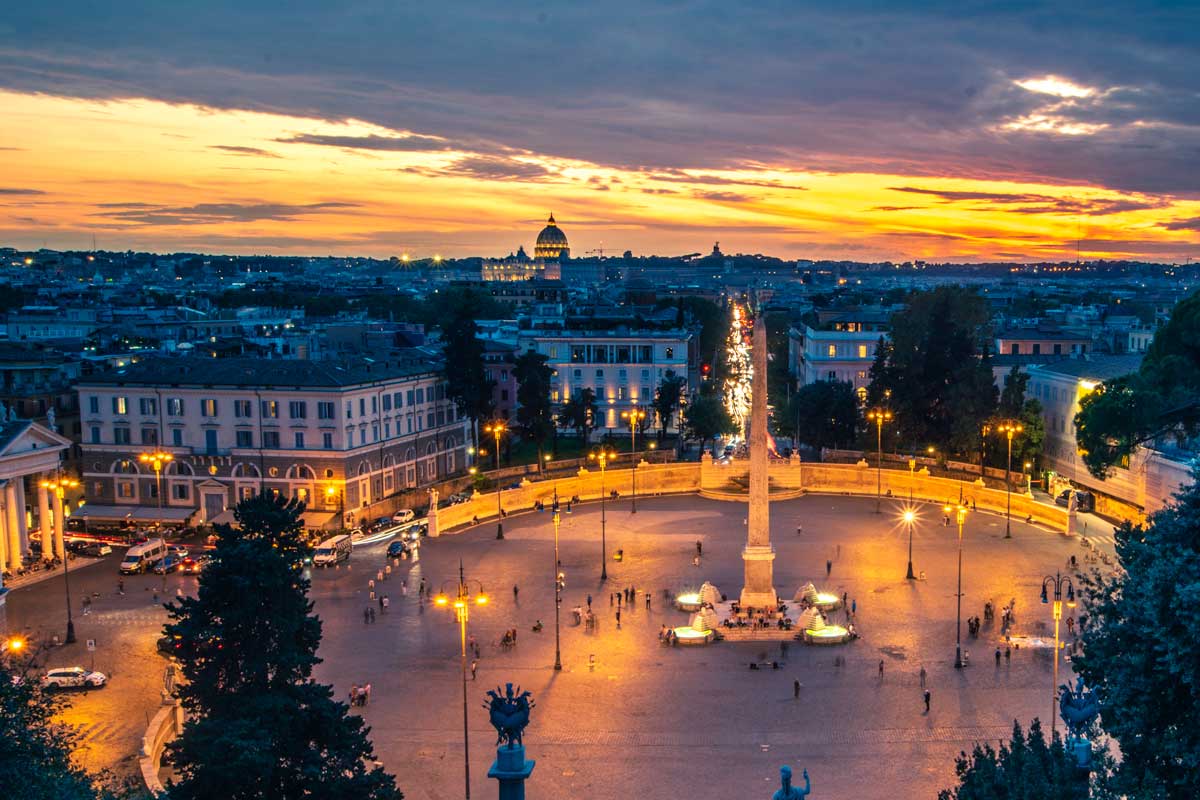 A neoclassical piazza near the Spanish steps, what Popolo is most famous about is the giant Egyptian obelisk in the middle. Brought to Rome more than 2000 years ago, the obelisk of Ramesses II from Heliopolis is the second biggest in the city ( number one is on Piazza di San Giovanni in Laterano).
Why is it not included in the 3 days itinerary?
It kind of is. You enjoy the panoramic view of the piazza from the top of Pinicio Hill on day one.
Campo de' Fiori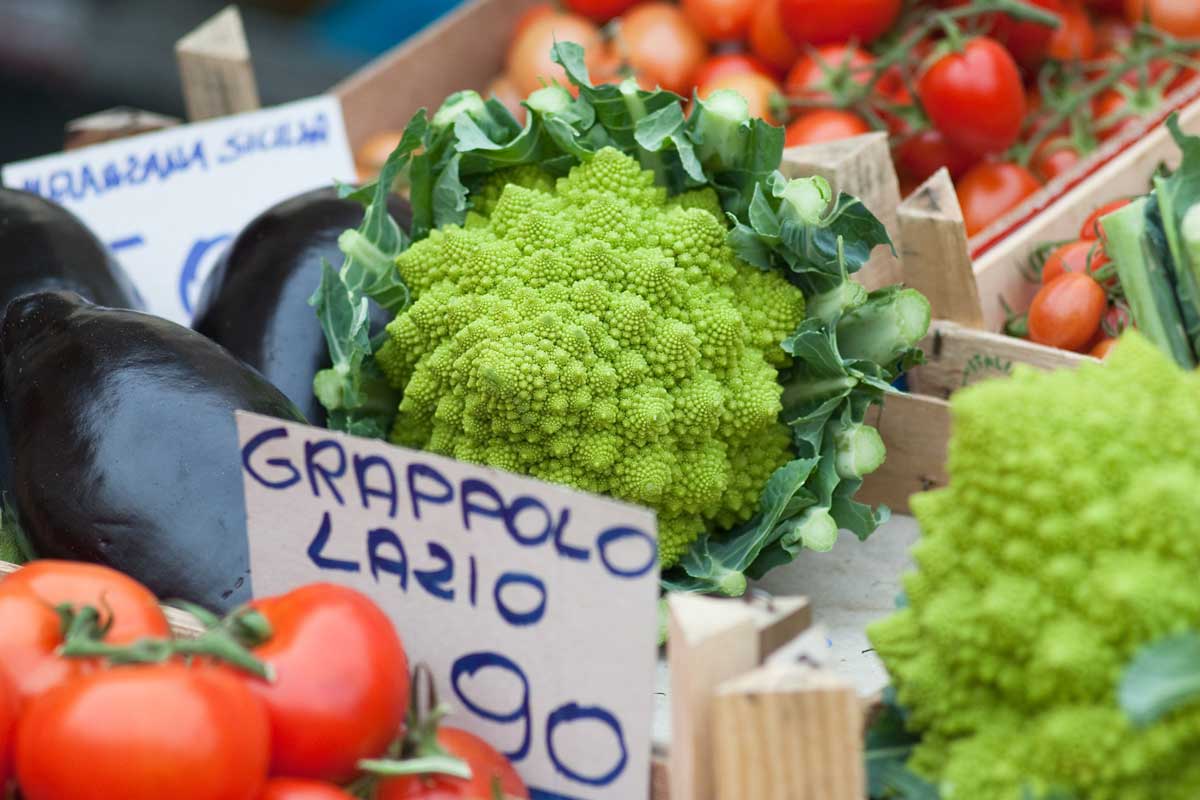 Campo de' Fiori translated from Italian means field of flowers. While the name comes from Middle Ages when the area was a meadow full of flowers, today the piazza is more of a field of vegetables. Unlike other piazzas in Rome, full of statues and obelisks, this one is home to a daily street market, and it's the best place to get fresh ingredients for your Italian dish. There is one statue though – of the philosopher Giordano Bruno who was burned alive on the square for his beliefs the earth was round (yeah, the piazza was also used for executions back in the day).
Why is it not included in the 3 days itinerary?
If you have only 3 days in Rome, you probably won't have the time and desire to cook your own meal.
See Also: How to spend 7 days in Italy
The Complesso Vittoriano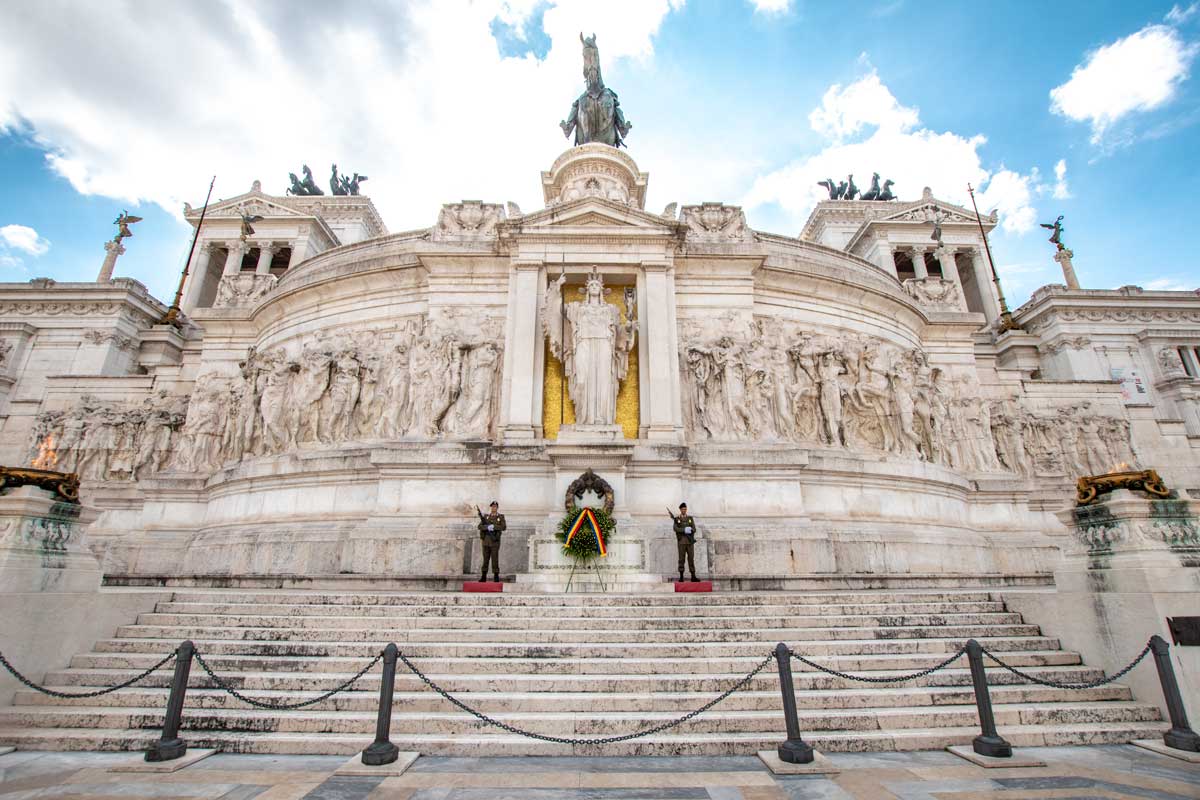 The Complesso Vittoriano located on Piazza Venezia is a giant white building that houses an art museum, a military museum, serves as an Altare della Patria (Altar of the Fatherland), and has an excellent (but expensive – 10 EUR) panoramic viewpoint of Rome.
The colossal monument was inaugurated in 1911 as a tribute to Victor Emmanuel II, the first king of Italy after the country's unification.
Due to its color and design, it's known as The Wedding Cake.
Why is it not included in the 3 days itinerary?
The viewpoint is expensive, and there was no timeslot open to include an art museum.
Trastevere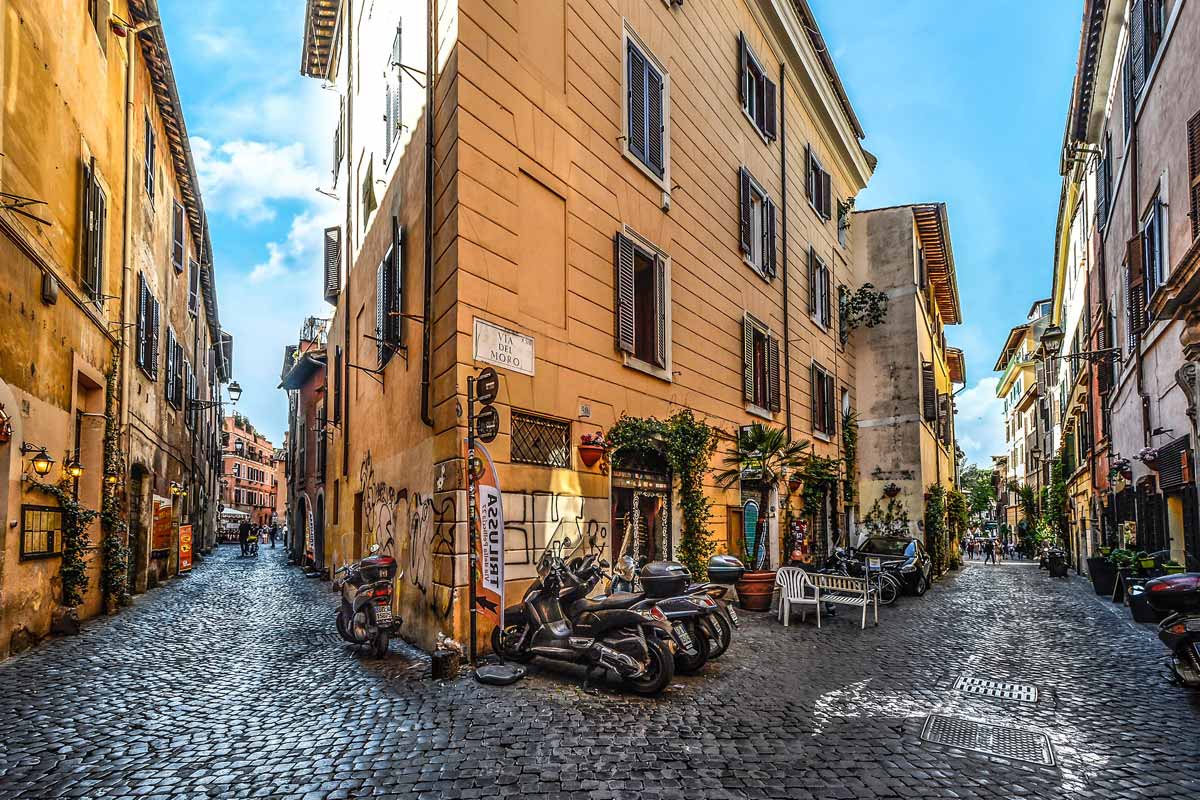 Take a trip across the river Tiber and explore the charming medieval neighborhood of Trastevere. Famous for its restaurants, Trastevere is a bit away from the main Roman attractions making it way less touristy and crowded that the historical center.
Why is it not included in the 3 days itinerary?
You need to make a detour from the other attractions to include Trastevere to the itinerary.
Pyramid of Cestius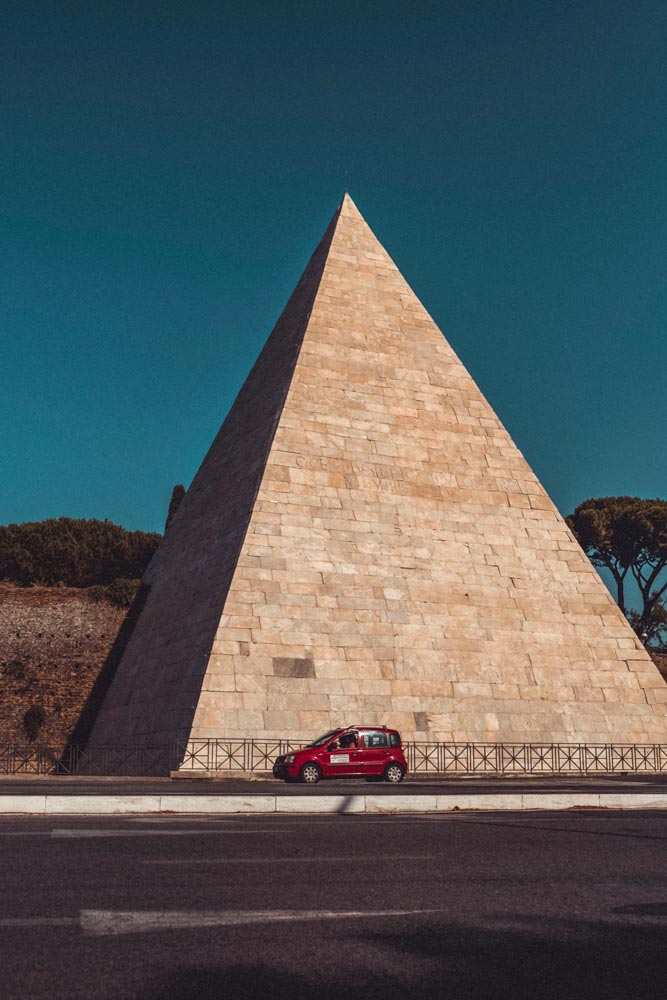 Yes, it's a real pyramid, and no, it's not stolen from Egypt (unlike the obelisks). The pyramid was built around 18–12 BC as a tomb for Gaius Cestius, a magistrate and high member of the society. While not as impressive as it's counterparts in Giza, the Pyramid of Cestius still stands 37 meters high, and it certainly is one of the most curious attractions in Rome.
Why is it not included in the 3 days itinerary?
It's too far away from the other attractions.
Santa Maria della Concezione crypt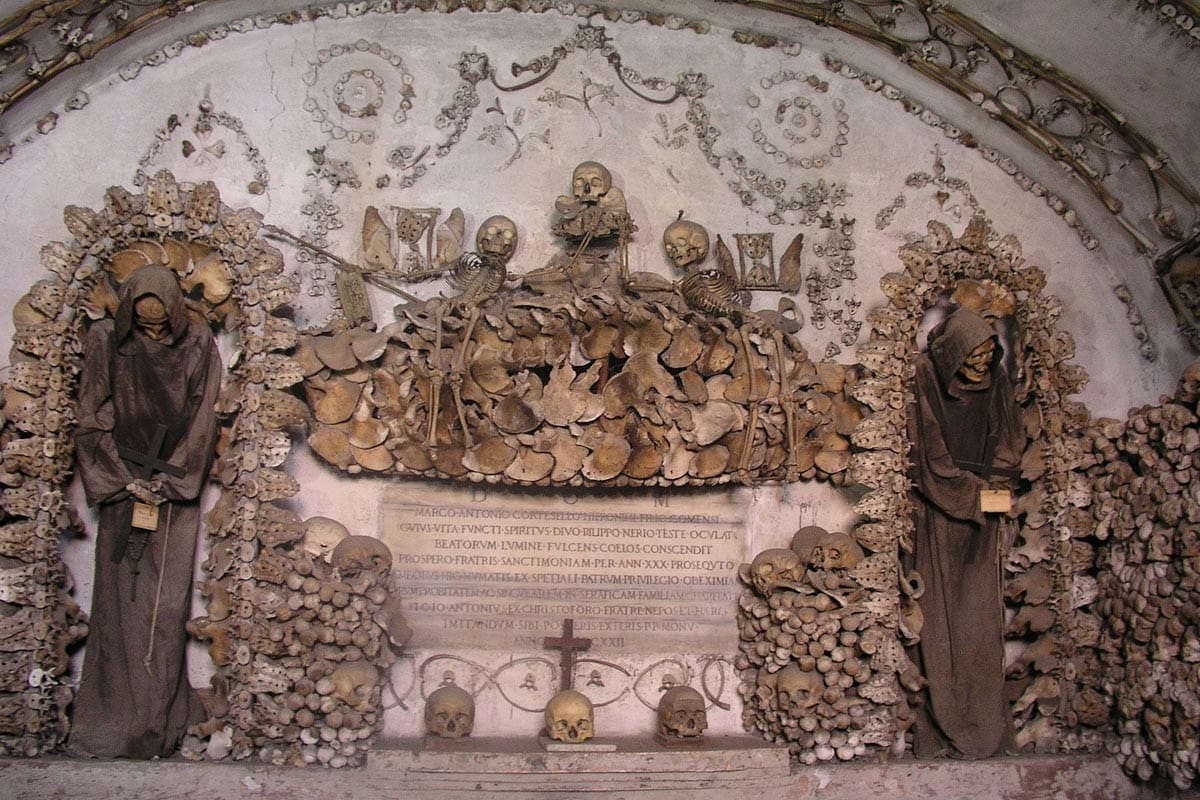 This is a creepy one, but if you enjoy such things, it's easy to add to the first of your 3 days in Rome itinerary. The church of Santa Maria is not like all the others. In 1631, the Capuchin friars made Santa Maria della Concezione their new home and were ordered by the Pope's brother to bring the remains of the deceased friars along with them, so that all the Capuchin friars might be in one place. Instead of burying the remains of their dead brethren, the Capuchin friars decided to decorate the walls of the crypt with their bones as a reminder that death is always waiting behind the corner.
Why is it not included in the 3 days itinerary?
It's not for everybody.
The Mouth of Truth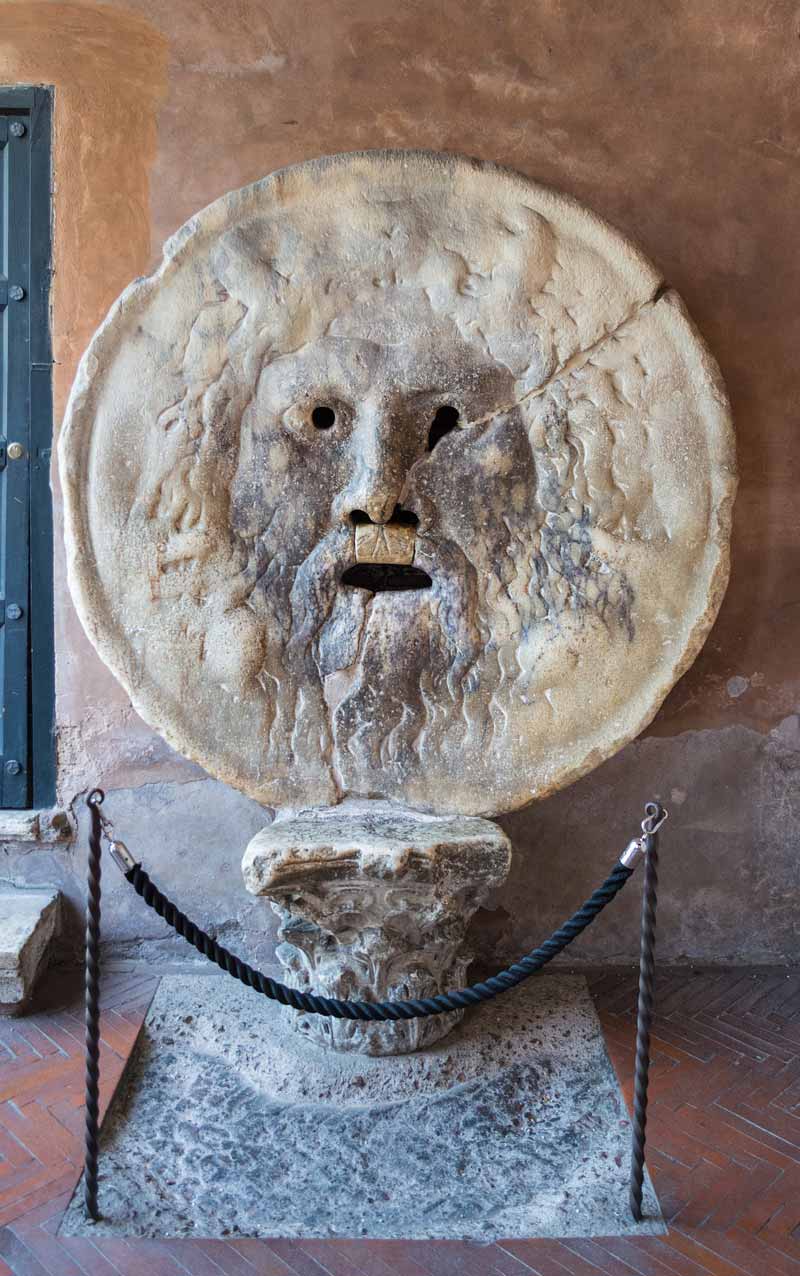 Bocca della Verità or the Mouth of Truth is a 1300 kg marble mask that stands on the portico of the Santa Maria in Cosmedin church. People believed that the mouth of the marble face would close if anyone put his hand in it and tell a lie.
Why is it not included in the 3 days itinerary?
It's a popular photo opportunity in Rome but requires a little detour from the main itinerary.
Baths of Caracalla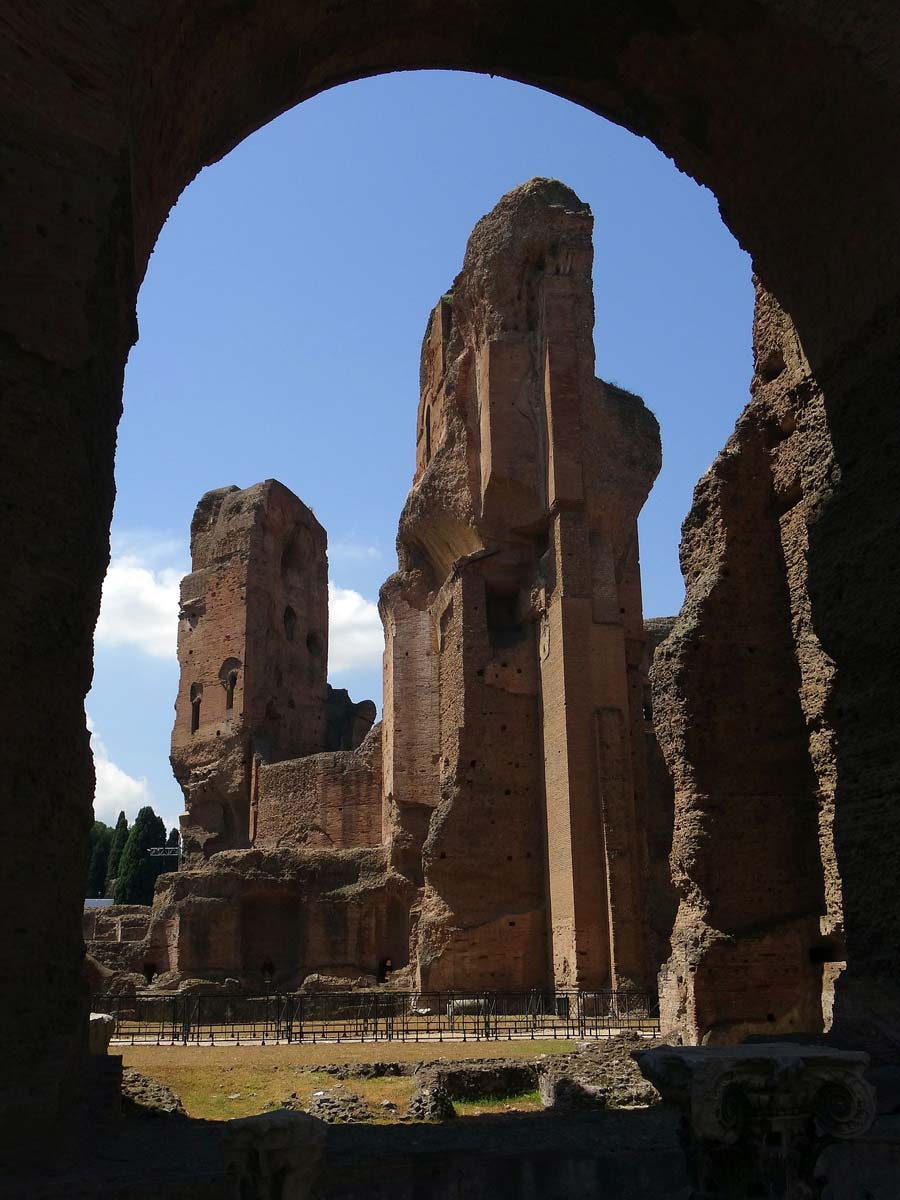 The Baths of Caracalla used to be one of the greatest and most spectacular thermal complexes in ancient times. Built between 212 and 216 the baths are pretty well preserved nowadays. Another big plus is they are not that popular so you may enjoy the glorified ruins in peace.
Why is it not included in the 3 days itinerary?
It's too far away from the main attractions.
Ostia Antica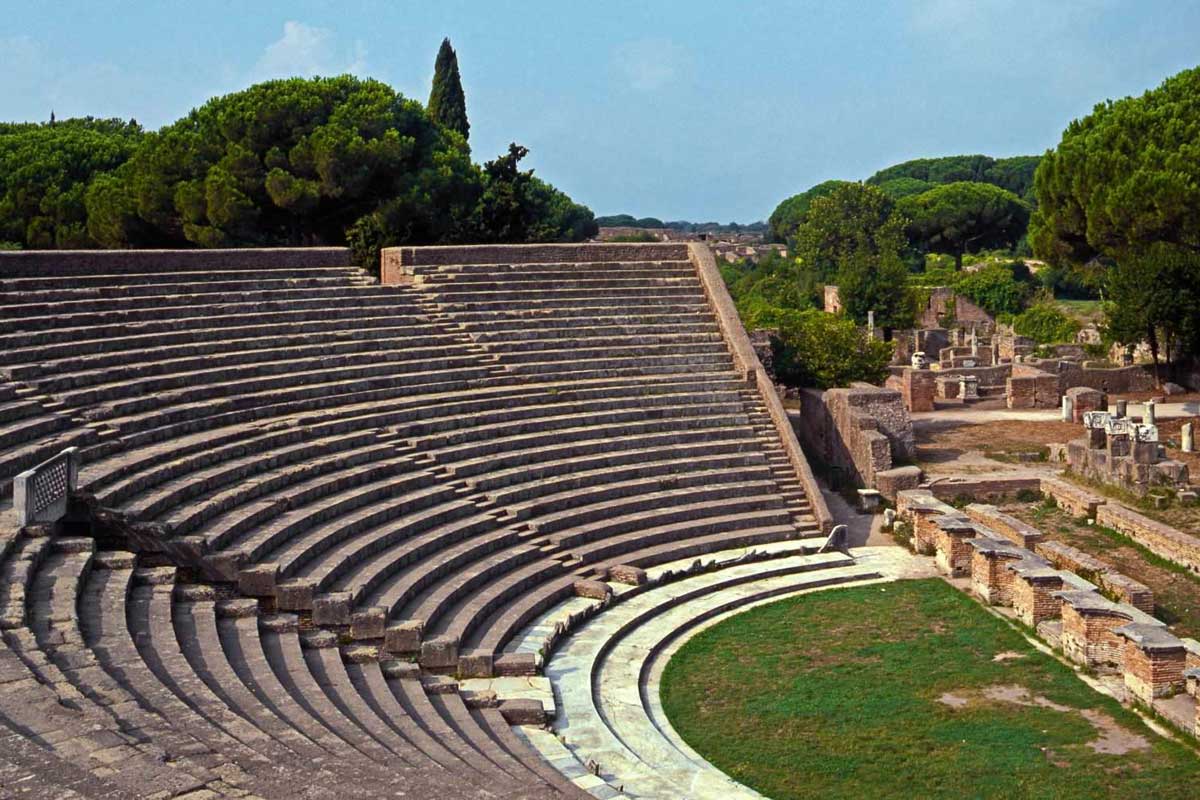 Not exactly in Rome but since it's very close to the biggest Roman airport – Fiumicino, I decided to put it in here. The Ostia Antica s a large archaeological site that is considered to be Rome's first colony. You can walk over the main street of the ancient town – Decumanus Maximus and enjoy the many well-preserved houses, shops, or even the reconstructed amphitheater.
Why is it not included in the 3 days itinerary?
It's in a galaxy far far away.
Rome Day Tours



The Historical Villa's One – Enjoy a day exploring two of the finest Renaissance residences in Italy. See the home of the Italian emperor Hadrian that is considered to be the largest and most luxurious residence ever built in Italy. After a (delicious) lunch, continue the tour with a visit to Villa D'Este and its spectacular gardens.

The Wine One – Yes, I know. One of the many reasons to select Rome for your vacation is the wine. Same thing here. And while the wine you can find in the Eternal City is more than impressive, why not do the extra step and go to a Tuscany wine cellar where a traditional 3-course gourmet lunch with local wine pairings are waiting for you?

The Volcano One – There's no need to be in Naples to visit the UNESCO recognized site of Pompeii and the infamous Mount Vesuvius. This tour will take you from your hotel, drive you there (in a fully air-conditioned private coach), provide skip-the-line tickets for Pompeii. And to top the experience, you get a lunch in a winery on Mount Vesuvius slopes! How awesome is that?
Some extra information about your 3 days in Rome
When to visit Rome?
You can visit Rome at any time of the year but for the best experience, I recommend Spring (March – May) and autumn (September – November). Winters (December -February) are mild but still cold enough to discourage you from exploring the city on foot. Summer (June – August) on the other hand, is extremely hot and also the most active tourist season so it's better to be avoided.
Where to stay in Rome?
Those are my favorite hotels in Rome. They are not the most glamorous and luxurious but they have the X factor that's a vital component of the perfect vacation experience: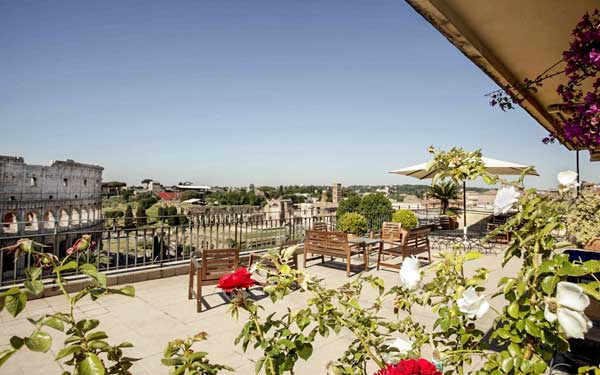 This hotel will give you the once-in-a-lifetime experience to see the Colosseum from your window. Some rooms even offer a Colosseum view from the bathroom. Imagine taking a shower while watching the old beauty. Did I mentioned I love Rome?
Check the prices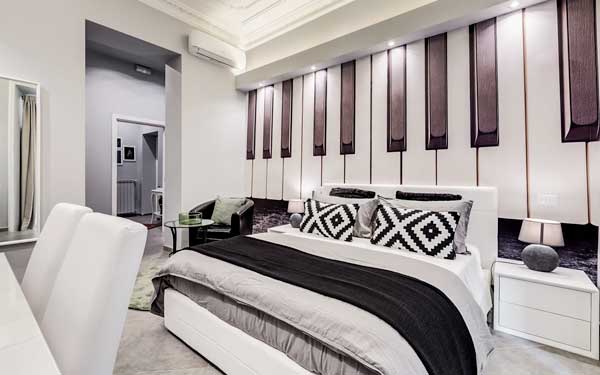 This boutique hotel offers a great location (right next to the Spanish Steps) with a modern art interior. You also have a balcony where you observe the Roman lifestyle buzzing underneath you. If you decide to get this one, I recommend getting the piano room.
Check the latest prices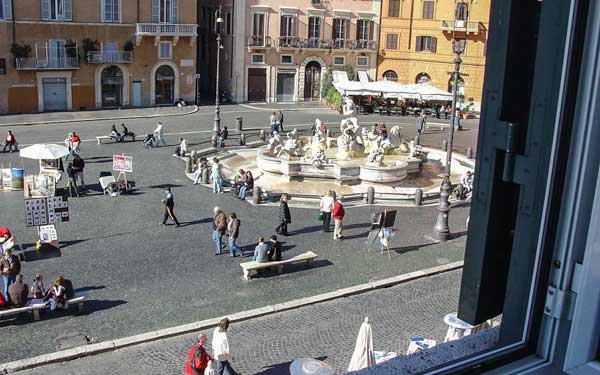 This small hotel is located on another Roman classic – Piazza Navona. If you want to see some classical fountains from your window and to be minutes away from the Parthenon and Castel Sant'Angelo, this is the place for you.
Check the latest prices
Transportation in Rome?
Transportation from the airport can be done by shuttle (from/to Ciampino airport and from/to Fiumicino airport) or a taxi (48 EUR fixed). You can also talk with your hotel/BnB host and check if he can meet you at the airport. The ride to the city center (near Termini station) is around an hour from both roman airports.

For transportation around the city, I suggest to put on your most comfortable shoes and walk around the winding cobblestoned alleys, absorbing the smell of basil and wine. If walking is not your thing, however, you can use public transportation. The ticket (known as B.I.T) costs 1.50 EUR and it's good for 100 minutes of travel since activating ( putting it in a machine on the bus or using the entry barrier of the metro). Bear in mind you can't use it twice for the metro but you can use it for a metro + bus combo. You can find the tickets at all metro stations, convenience stores, and newsagents.
If that seems like too much hassle, The easiest way to travel around Madrid would be to rent a car. I recommend checking out Discover Cars and their tool that will compare all the best rent-a-car providers in the area. The prices they manage to find are sometimes ridiculously low.
Is Rome safe?
All the major attractions are guarded by heavily armed carabiners so you'll feel safe all the time. While Rome is one of the safer cities in the world, you are always just a moment of bad luck away from a disaster. From a twisted ankle to slimy pickpockets, various things may go wrong and ruin your vacation. What I do for all my trips is getting travel insurance from HeyMondo. Once you have a few journeys under your belt, you can easily appreciate its tremendous value and the freedom it gives you.
While I sincerely wish you never have to use it, life happens (even more when you are traveling) and it's always good to be prepared.
What about the water?
Tap water is supposed to be safe but I advise against drinking it. It's just not worth the risk. There are various drinking fountains in the city as well but my advice is to use bottled water and save yourself from unexpected stomach problems.
How is the internet?
Good Wi-Fi can be found everywhere. If you are from the EU you should be able to use your own data plan too.
What Is the Rome Omnia card and is it worth it?
The Omnia Card is a sightseeing pass and discount tourist card valid for 72 hrs.
It includes:
– Free entry to Vatican Museums & Sistine Chapel – plus a free Wi-Fi downloadable audio guide for St Peter's Basilica. | Sistine Chapel is included in the regular ticket anyway. Value – 29 EUR.

– Free entry to your choice of 2 out of 6 top Rome attractions including The Coliseum, Roman Forum & Palatine Hill, Capitolini Museums, Borghese Gallery, and National Museum of Castel Sant'Angelo. | Let's be honest here, you're going to use those for the Colosseum and the Roman Forum which requires just one ticket anyways.
Value – 18.00 EUR (Colosseum and forum ticket price).

– Fast Track Entry to St Peter's Basilica, Sistine Chapel & The Colosseum | Be there early and you won't wait in line for the Basilica. The online tickets for the museums include "skip the line" and if you buy the ticket for the forum, you won't wait for the Colosseum. Value – 0.
– Free hop-on-hop-off bus tour ticket of Rome for 3 days. | it's really hard to spot the stops of these things and even if it wasn't – Rome is all about walking. If you do enjoy this type of activity though, its value is 27 EUR.
– Free travel card for unlimited access to Rome's public transport system. | it's a 1.50 euro ticket and you will use it 4 times at max. Value – 6.00 EUR.

– Free detailed Guidebook to help plan the perfect trip | You've just read a better one here. Value – 0.

– Discounted Entry to another 30 plus sights, attractions, and museums in Rome. You don't have the time and the discounts are around 10% anyway. Let's say random value – 5 EUR.

And they give you a paper map of the city…yeah… you get a paper map in the 21st century.
Sooo the total value of the card is..drum roll..85 EUR. And this is if you use the hop-on-hop-off bus. Without it, it's 58 EUR.
The actual price of the card is..drum rolls again… 113 EUR!
Why is it recommended by so many bloggers then? Simple answer – commission fees (bloggers have to eat too, right ?).
To be fair the card is not all that bad. It's quite convenient to have all your tickets in one place and It also saves you the hassle of buying them separately. If your accommodation is far from the city center you'll end up using public transport quite often so the Omnia card would be useful. Since I spent all my time walking, and I had no problem to go out early and avoid the lines, for me the card wasn't worth it. If you, however, prefer the hassle-free way, you can order the Omnia card from their site.
Three Days in Rome Itinerary Map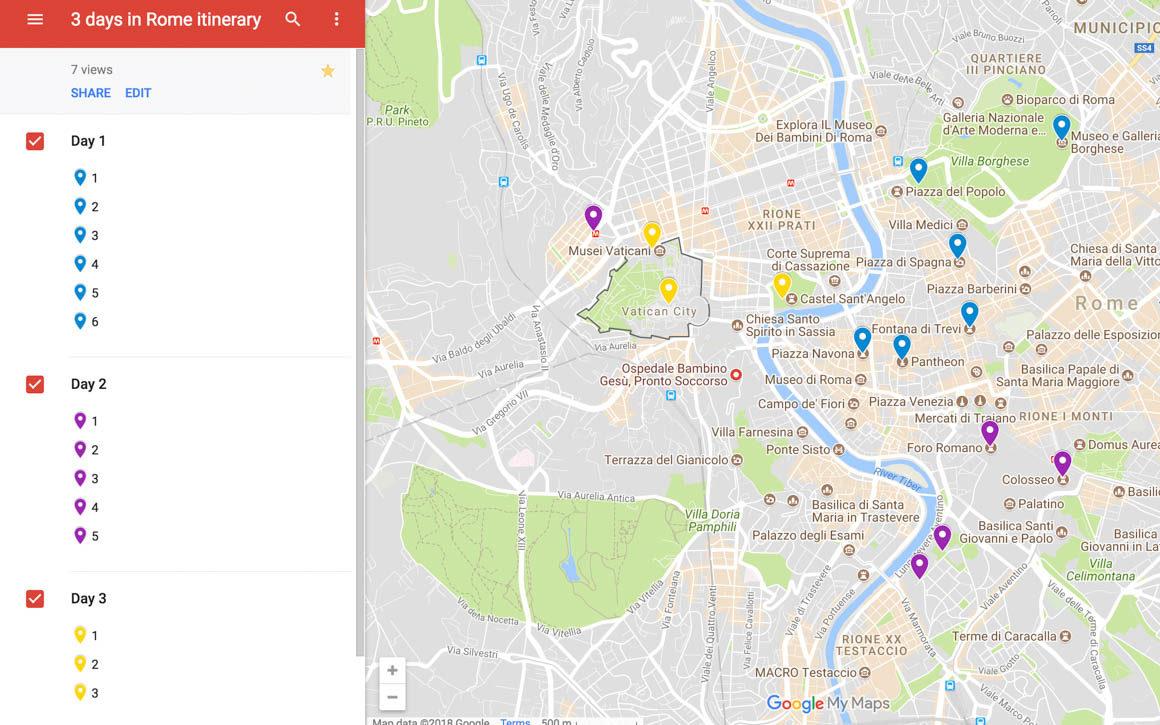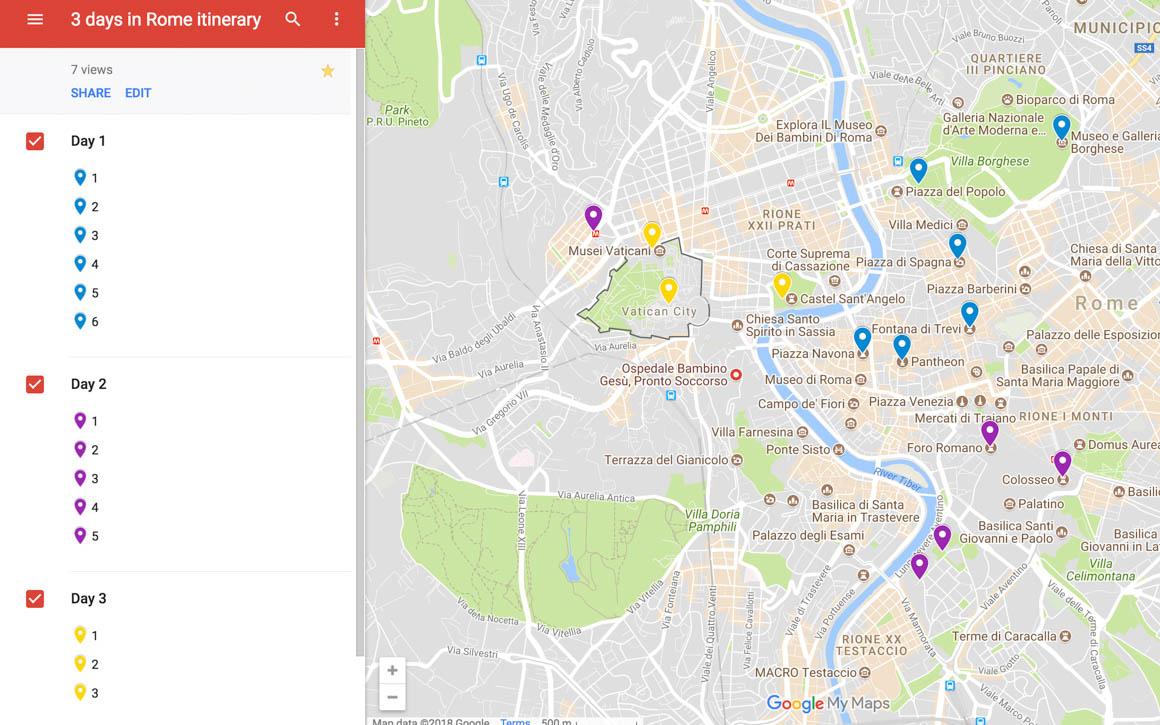 That's all from me, I hope you enjoy your 3 days in Rome! To get your even more Rome-excited I reccomend checking my amazing Rome quotes collection.
————————————
If you haven't planned your trip there yet, find out how I plan my trips!
————————————
I've got 41 bucket list ideas for Italy. See my impossible bucket list of 1700+ adventures!
Is Rome on your bucket list?

Some of the links above are affiliate links, meaning, at NO additional cost to you, I'll earn a commission if you click through and make a purchase. Regardless, I only recommend products or services I use personally and believe will add value to my readers.