Hey there, and congratulations. Why is that? Well, if you're reading this, I assume you're about to spend 3 days in Venice, and this, my friend, is definitely worthy of congratulations.
Venice is pure magic. No, really, as beautiful as it is in pictures, it's nothing compared to when you see it in person. The Italian town is not only distinctively unique from, well, pretty much anything else on the planet, but it also has this vibe floating in the air that makes you fall in love with it immediately.
I had to admit making this 3-day Venice itinerary was not easy. Like always, I had all prominent landmarks marked, but I didn't consider how stunningly gorgeous every little bridge or alley is. On my way to the attractions, I had to stop dozens of times because I kept stumbling upon something amazing.
This itinerary would be a little bit different from the other European ones. After walking nearly 100 km around the Floating City, I believe its most prominent feature is not a square, basilica, or museum. The most fulfilling thing in Venice is to just get lost around its tiny streets.
Are you ready to explore one of the most beautiful cities out there?
Let's go!
Three Days in Venice Day 1 – The Must-See Attractions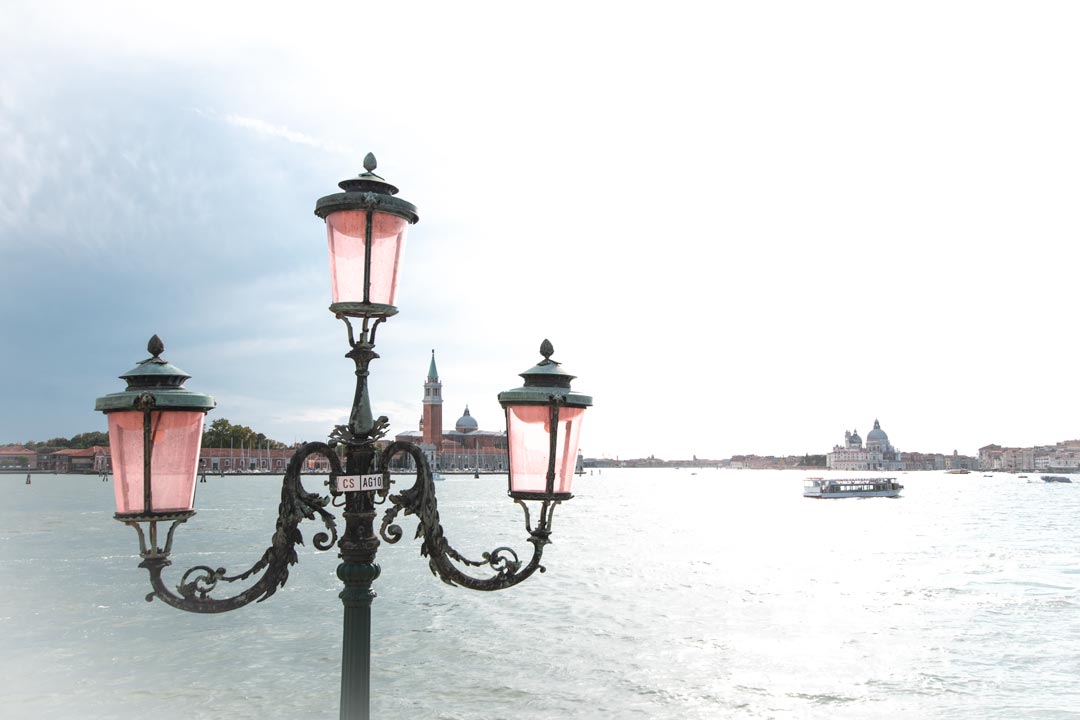 As I said, Venice is more about getting lost than ticking landmarks off your list, but there are still some places that are just unmissable.
Walk Alongside the Grand Canal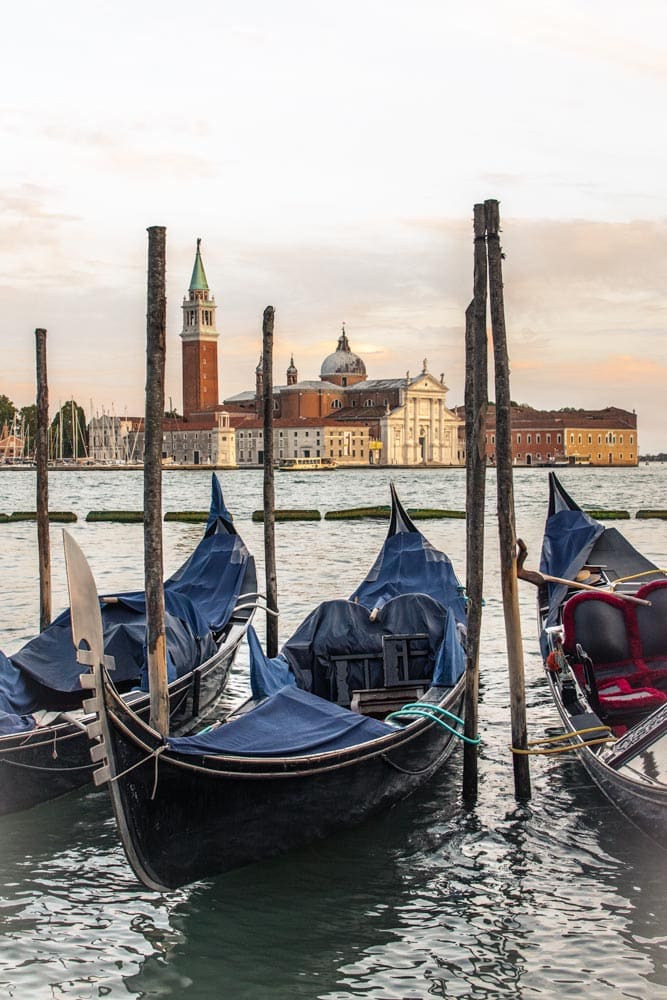 On the first day of our three-day Venice itinerary, we'll have to get up early. Sorry, I know you're on vacation but trust me, it's worth it. So we start our day with a walk alongside Canal Grando.
The most scenic part is the south one, just next to the Doge's Palace. If your hotel is located somewhere far from there, I suggest getting a Vaporetto (basically a boat bus, more on that later) to the Venetian Arsenal stop and have a walk alongside the canal until you reach the palace.
This part of Venice is incredibly picturesque in the morning. You get the parked gondolas, the fresh sea breeze, and the tiny island of San Giorgio in the background. Later in the day, it gets flooded with souvenir stalls and tourists so, as I said, you have to get up early.
The Bridge of Sighs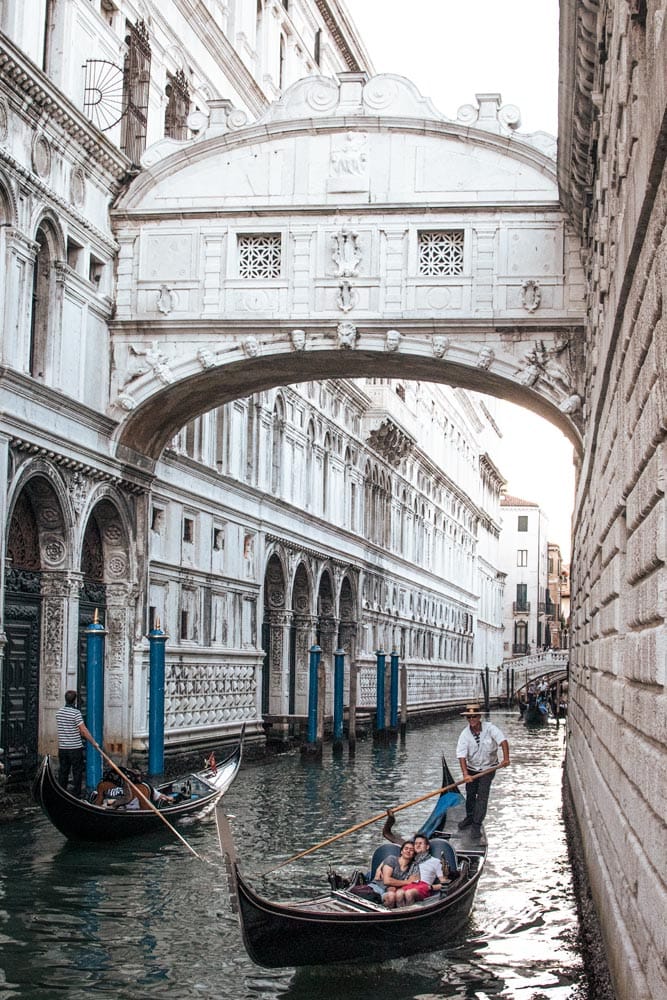 Near the Doge's Palace, you'll see one of Venice's most picturesque spots – the Bridge of Sighs. This historical bridge connects the Doge's Palace with the old Venetian jail, and it's the most photographed thing in town. So why is it called like that?
Because it was the last place, prisoners tasted fresh air before being taken to their cells. They might have even gotten one last glimpse of the lagoon if they were lucky.
Getting there this early has both advantages and disadvantages. If you're looking for a cool Instagram photo, you can get down from the bridge (not the Bridge of Sighs but the one you're spectating it from), and on the right side, you have a pretty neat spot that's usually free of people at this time of the day.
On the other hand, the bridge looks best when there's a gondola passing beneath it, but this early, the gondolas are not out yet. So my suggestion is to enjoy the bridge peacefully in the morning (and get that Instagram shot) and to come back again after your visit to the Doge's Palace to see it with gondolas too.
Piazza San Marco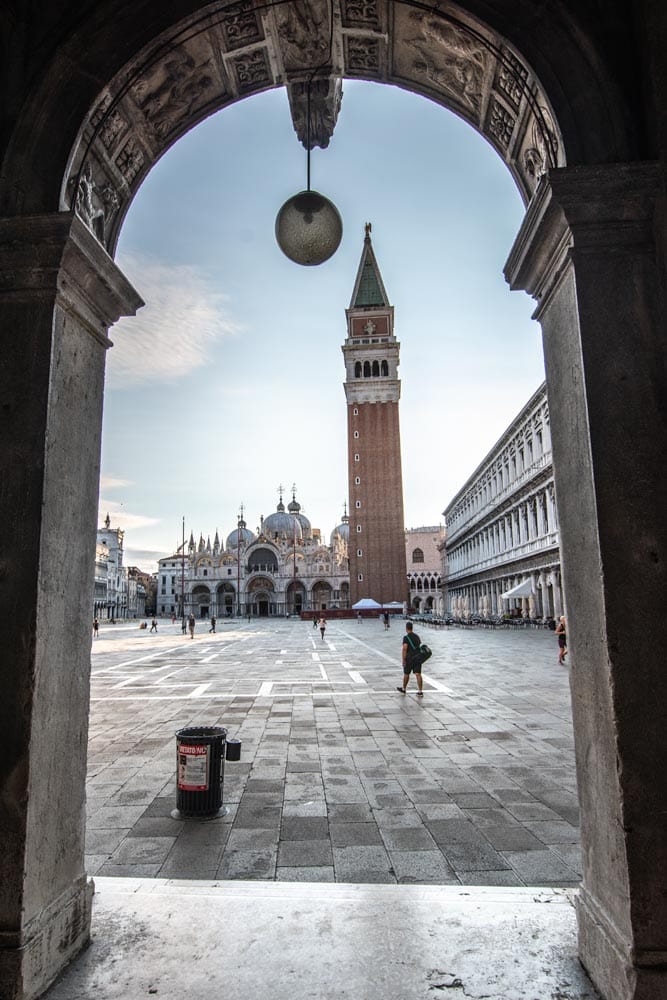 St.Mark's Square is the most emblematic place in Venice, and there's no way we miss it.
Often labeled – the most beautiful square in the world, San Marco is truly a piece of art. Surrounded by the iconic basilica (also named San Marco), the Campanile (watchtower), a few museums, and a gorgeous clock tower, the square has this ambient atmosphere you just have to taste.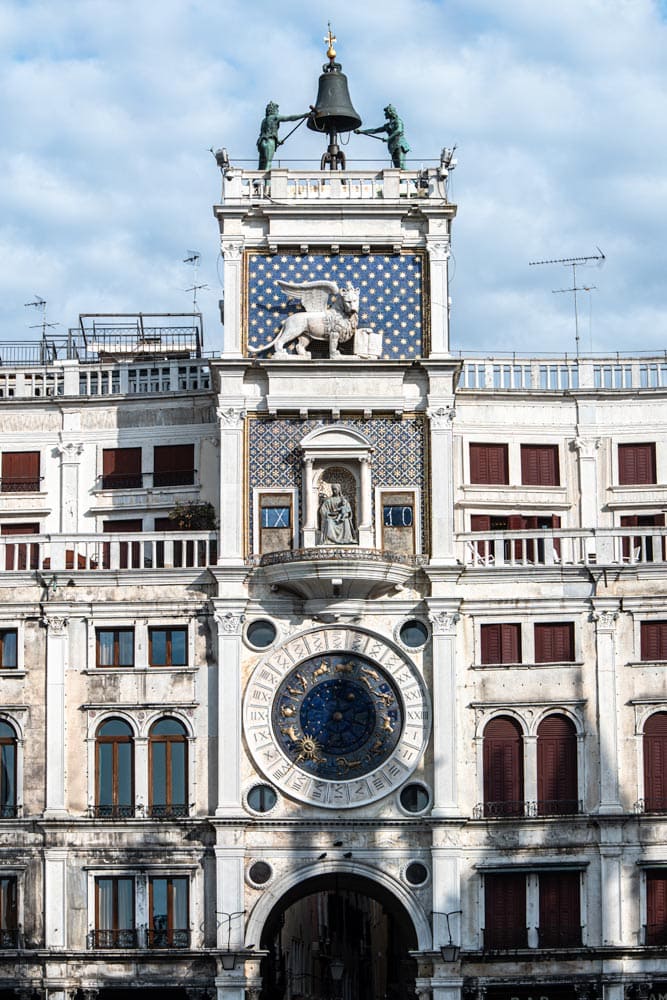 If you get there early enough, it should be relatively free of tourists, which will make the whole experience even better. It's forbidden to sit on the square's steps or have a drink there, but early in the morning, there's no one to stop you. If you get there later and want to enjoy a simple espresso in any of San Marco's cafes, you better be prepared to spend 10 to 15 euros.
St. Mark's Basilica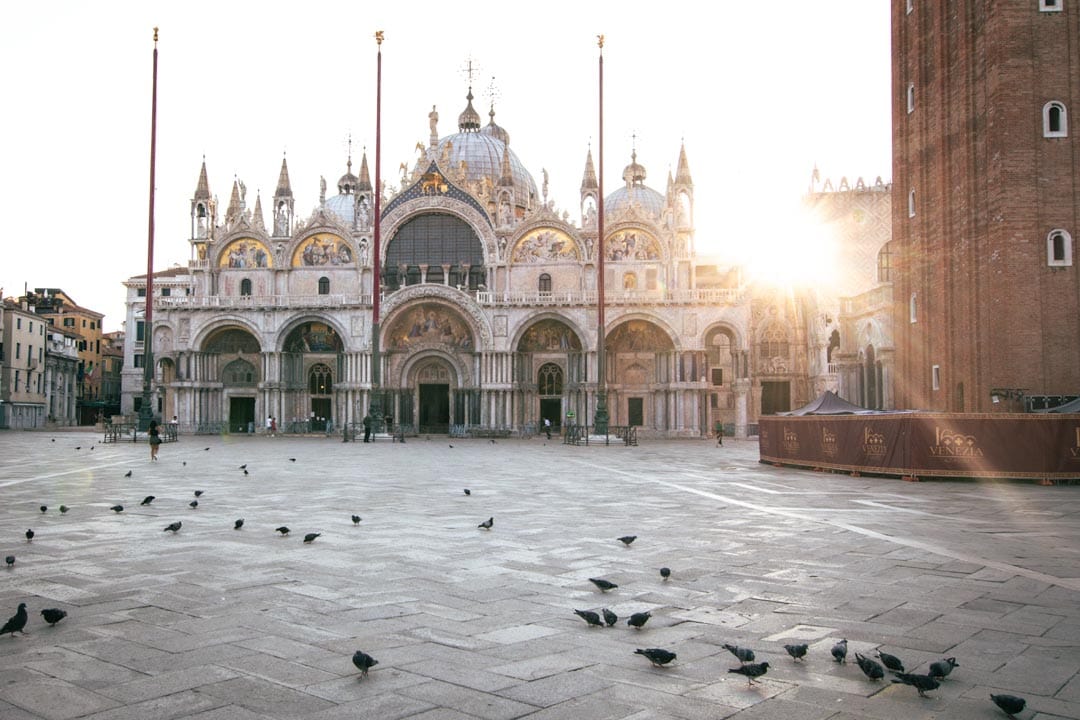 The first of your 3 days in Venice continues with the most prominent basilica in town and one of the most famous religious buildings on the planet – Basilica di San Marco. Situated on one of the square's end, the basilica opens at 9:30 AM, but during the summer, the line starts to build up around 8:00 AM… and it becomes humongous in no time.
To save yourself hours of waiting, my suggestion is to get a coffee and some croissants from any bakery near the square and get in line around 8:30 AM. Yes, it's an hour of waiting, but your only other choice is to book a skip-the-line tour which can be pretty expensive (if this is your choice, this one is pretty neat).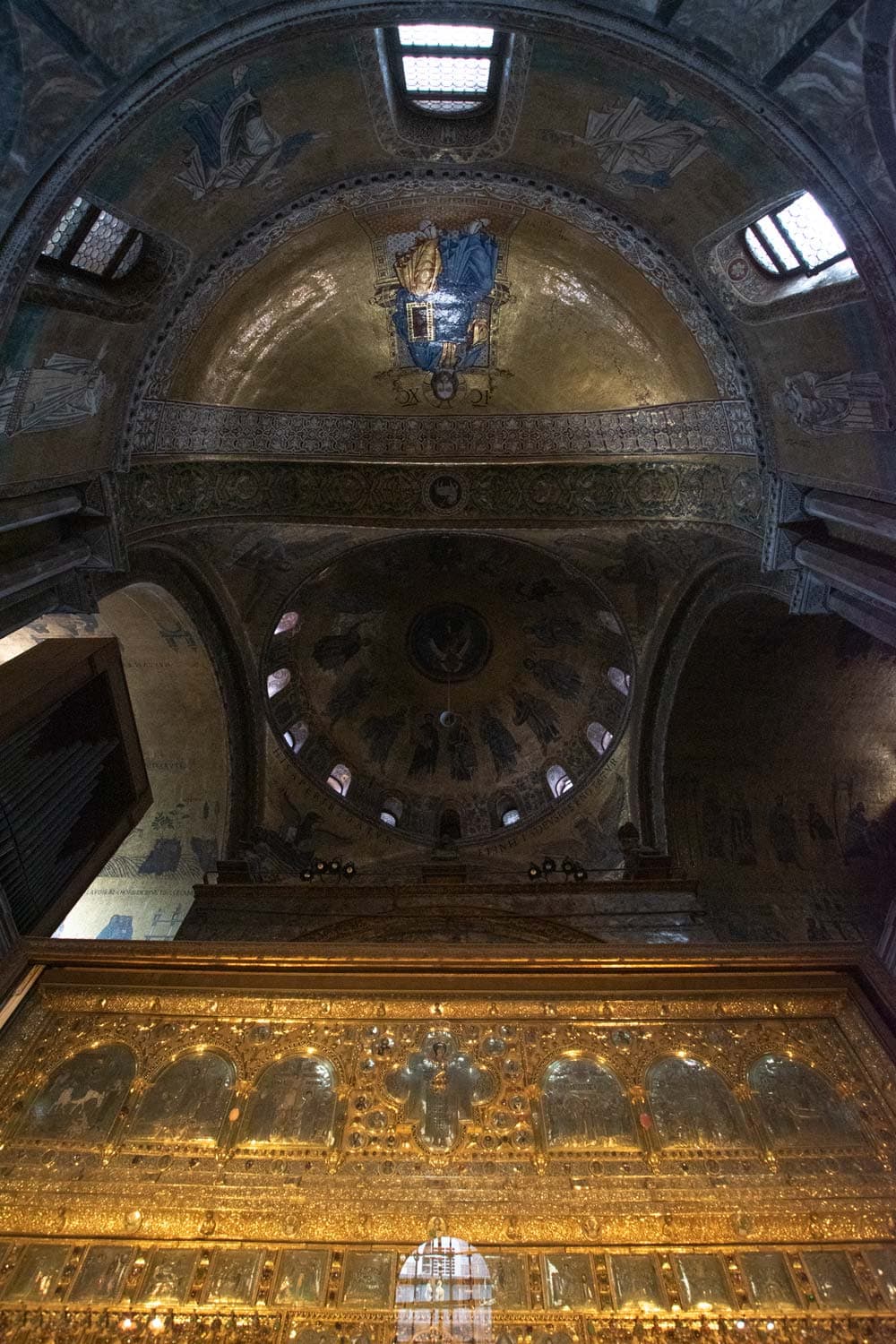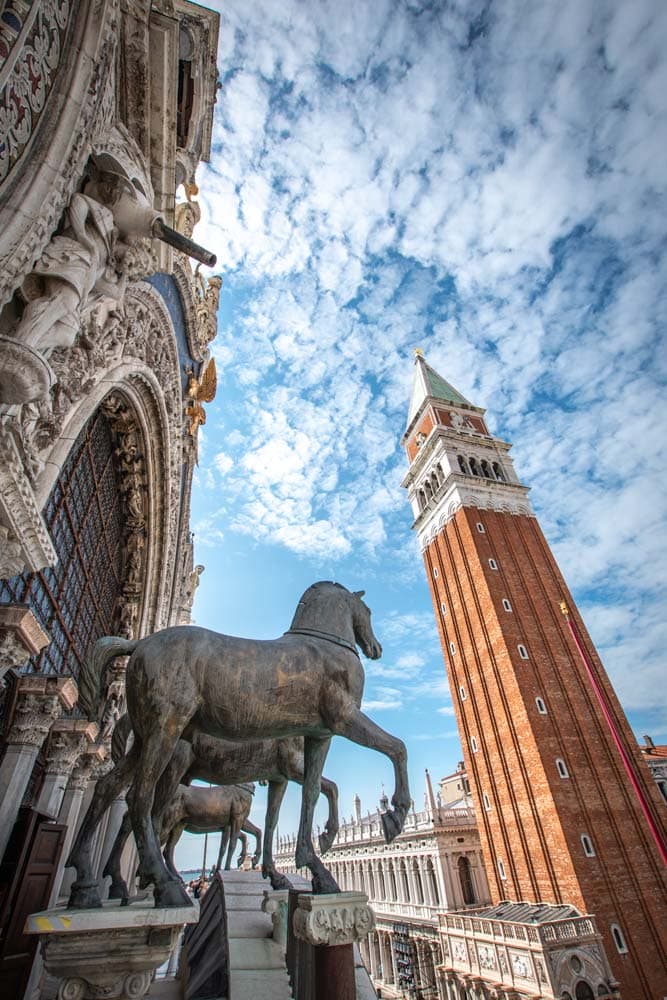 San Marco's ticket is just 3.00 EUR, but if you want to see its top relic – Pala d'Oro, you have to pay 5.00 EUR inside. It's acknowledged as the most refined work of Byzantine enamel, so you should definitely consider it.
Another add-on you should not consider but definitely get is the museum ticket. It costs 7.00 EUR and will take you to the second floor of the basilica, where you can not only see some church relics (not that exciting), but you can also go out on the terraces and enjoy unparalleled views of Piazza di San Marco and the Venetian Lagoon.
Doge's Palace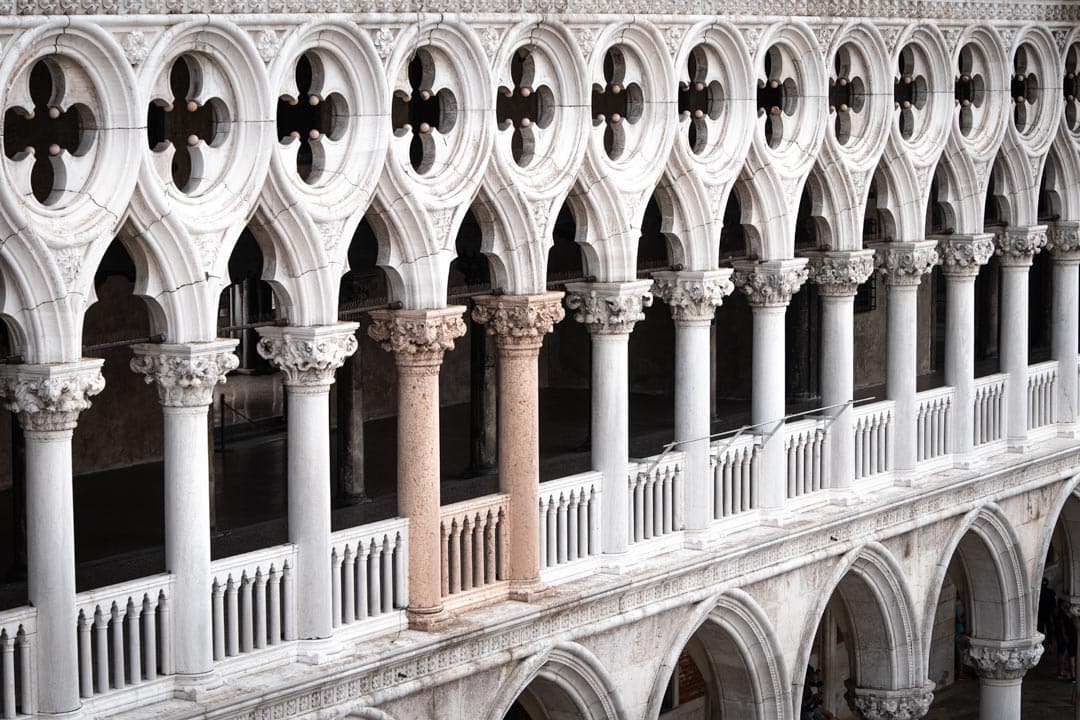 The Doge's Palace, also known as Palazzo Ducale, is the biggest and most lavished indoor attraction in town, and it's the next stop of our 3-day Venice itinerary.
As the name suggests, the palace used to be the headquarters of the Doge of Venice (something like a king), and as a royal residence, you can expect some pretty opulent stuff inside.
The biggest attraction inside the palazzo are the ceilings. I can honestly say I've never seen anything even close to them anywhere else in Italy or the world. Simply mesmerizing.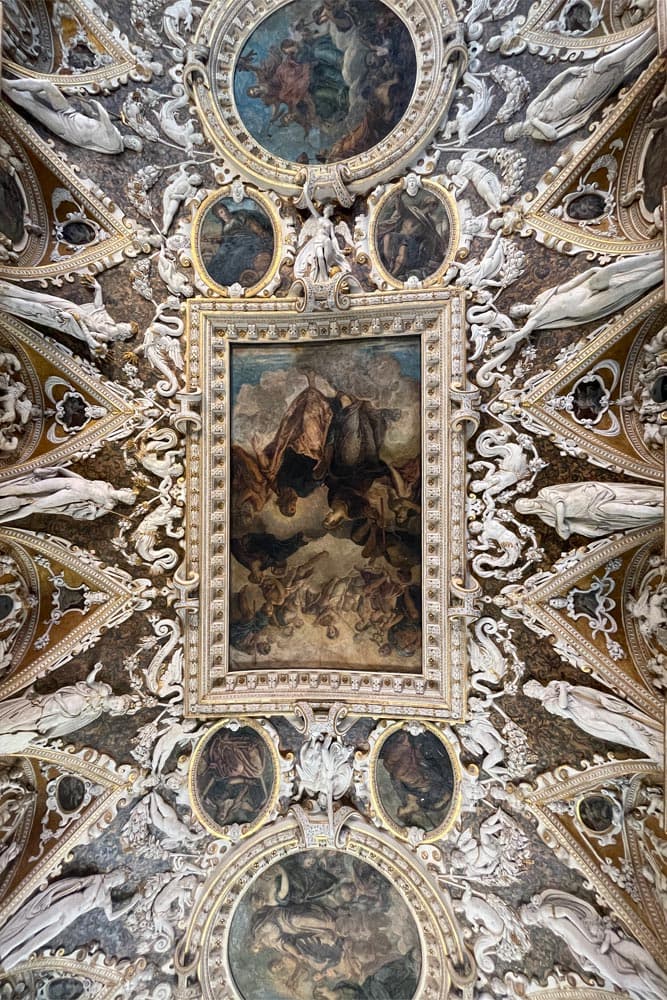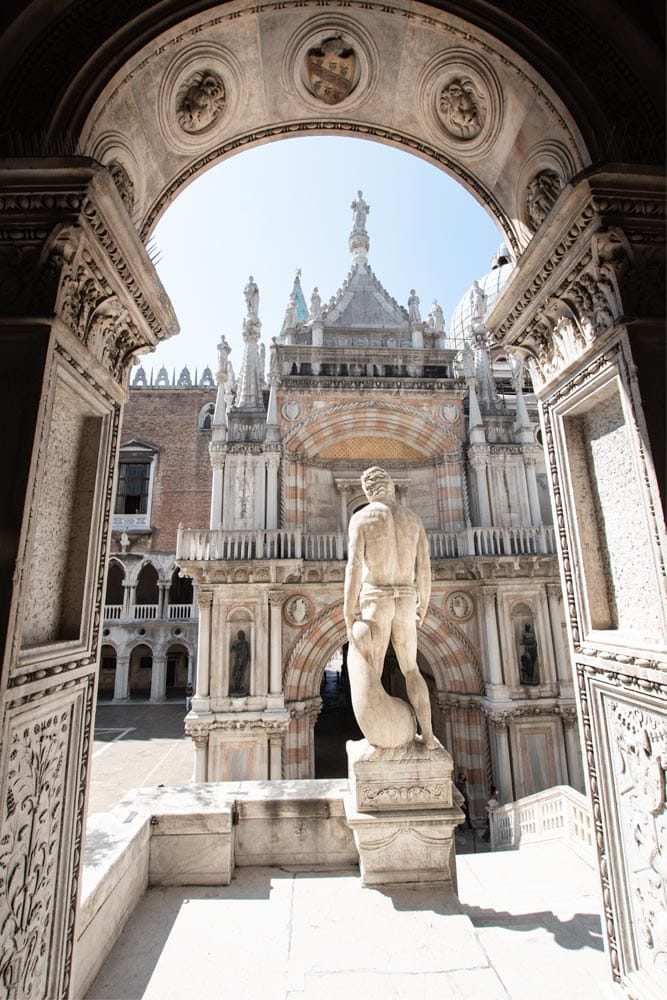 Visiting the palace will also give you the chance to walk over the Bridge of Sighs, see the last view of the prisoners and even explore their cells (which is not that entertaining).
To get inside the Doge's Palace, you need to book your ticket beforehand. There are two giant lines, and if you don't want to spend time on both, you better get that online pass.
Your admission ticket also includes entry to the Correr Museum on St. Mark's Square, but honestly, this museum is not that impressive, and skipping it won't be much of a loss.
Peggy Guggenheim Collection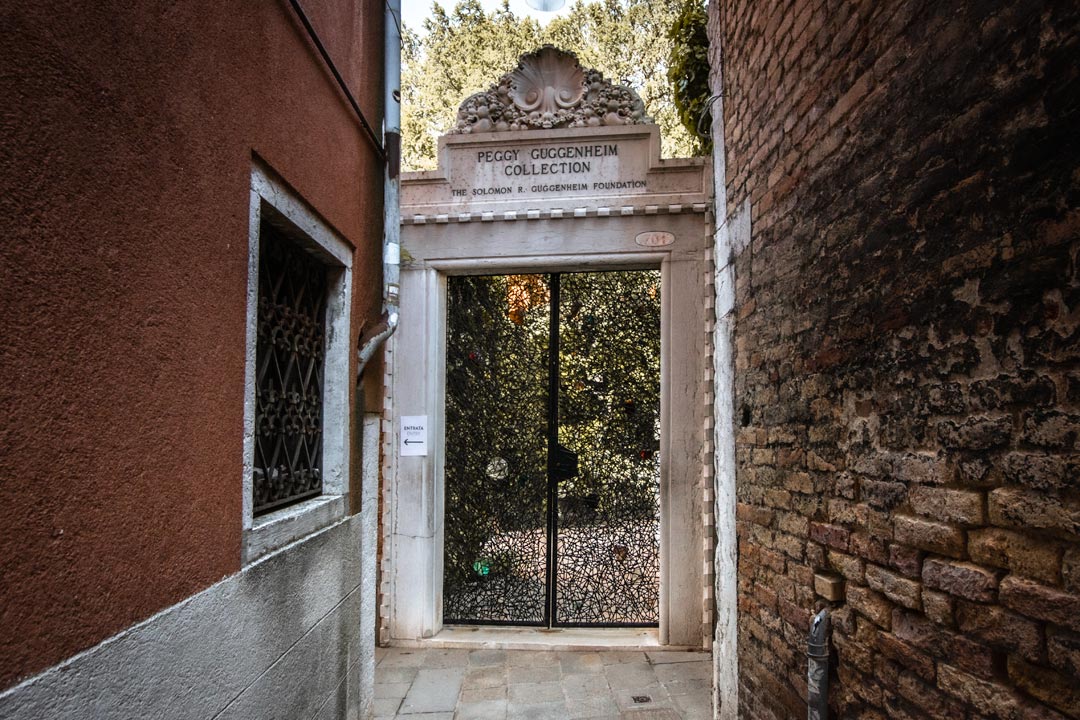 After you're done with the San Marco area (don't go into the tower, I had better timing for it), you're probably tired. It should be still early in the day, so you can go back to your hotel and take a nap or, even better – explore the island of Giudecca.
A bit more laid-back than the main island, Giudecca hosts plenty of eateries and pizzerias – perfect for some relaxation. To get there, you can either cross the Accademia Bridge or get a traghetto gondola. Traghetto means you're not going for a gondola tour but just a canal crossing and costs merely 2.00 EUR. If you don't plan to go on the expensive gondola tour, this is the best way to see what it's like to be in one of those funky boats.
In the afternoon, I suggest exploring my favorite art museum in town – the Peggy Guggenheim Collection. Situated on the Giudecca island, this museum displays the personal collection of the famous art collector Peggy Guggenheim (yeah, the name kinda spoiled it).
Housed in Palazzo Venier dei Leoni, which was Miss Guggenheim's residence for three decades, the museum displays masterpieces from art titans such as Picasso, Dali, Miro, and of course, my favorite – Jackson Pollock.
Due to the pandemic, the museum is working with limited capacity and fixed visiting hours. To get inside without an online ticket is pretty hard these days, so I suggest booking your timeslot days in advance.
Working Hours:
Wednesday – Monday: 10:00 AM to 6:00 PM
Tuesday – closed
Prices:
Regular – 16.00 EUR – book here
Tour with private guide – check here
Sunset at the Accademia Bridge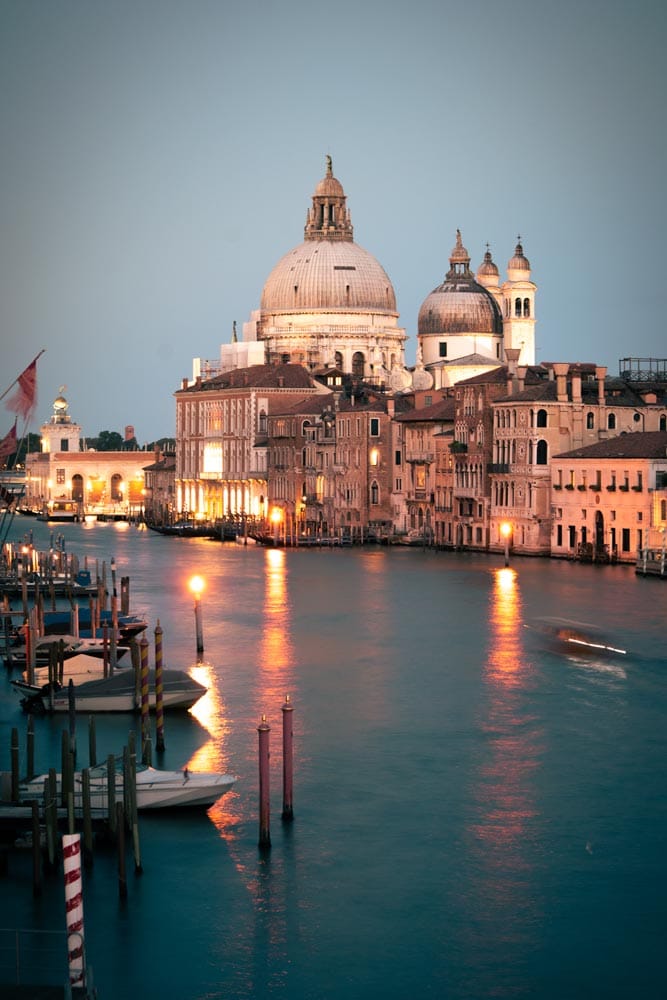 To end the first of our three days in Venice, I'll take you to one of the spots with the most amazing views in town – Ponte dell'Accademia. Perfect for sunset photos or just spectating, it's truly a great way to end the day.
Three Days in Venice – Day 2 – As Unique as it Gets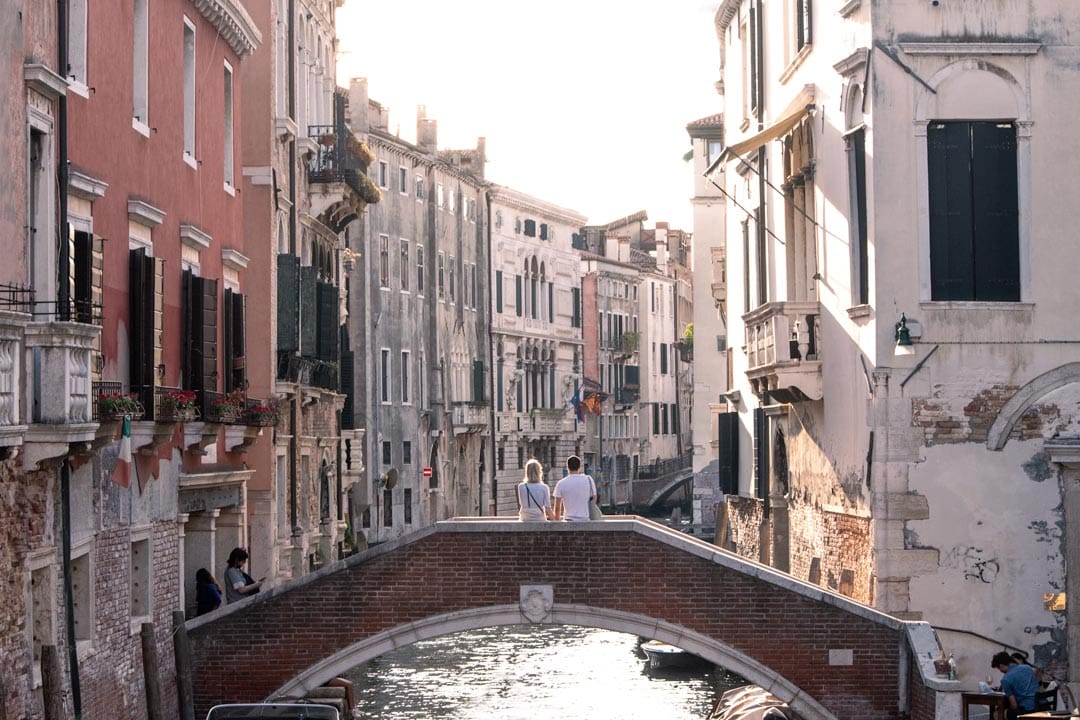 On the second day of our three-day Venice itinerary, we have (almost) no major attractions to explore, but we will focus on the lesser-known gems and get lost a bit more. Oh, I almost forgot, you better get your credit card ready cause we'll also go for a bit of shopping.
Walk around the Castelo area / Have a food tour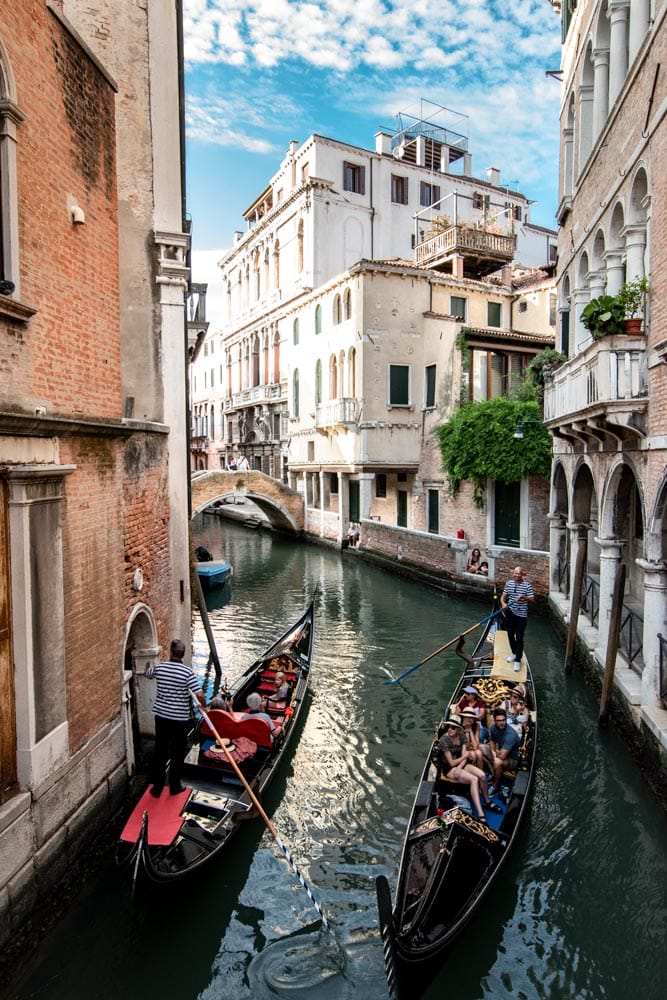 I won't make you get up early today, sleep as much as you want, and start the day with a walk around the Castelo region. This place is a bit touristic (well… it's Venice), but it's also a beautiful maze with tons of stuff to discover. If you're a foodie, you may consider a food tour or even a cooking class. Both are worth it and will teach you a lot about Venetian food (which is not your typical Italian food) and culinary traditions.
Libreria Acqua Alta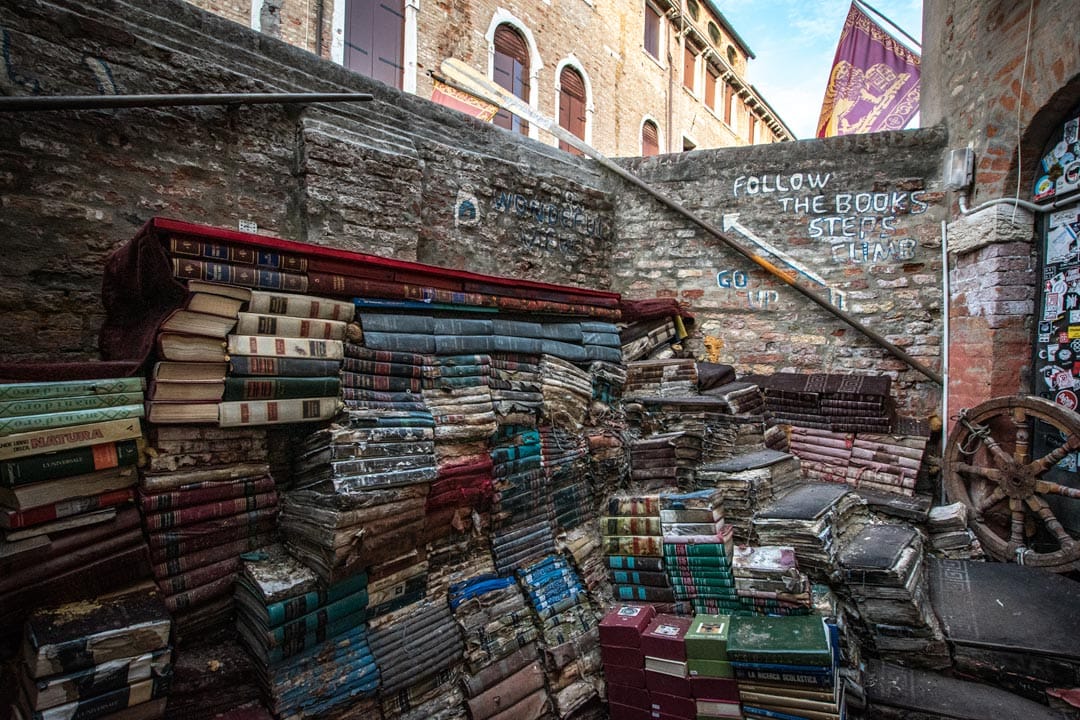 Next on the list, we have a cute little book store. Libreria Acqua Alta
used to be an off-the-beaten-track attraction but kept getting more and more popular and today is a well-known spot in Venice.
Once you're inside, you'll see hundreds of books and vintage magazines, plenty of them stuffed in a gondola in the center of the shop. This is done not only for the looks but also to save the books from the inevitable flooding that happens more than a few times a year.
Another attraction of Libreria Acqua Alta is the staircase of books in the back which surprisingly even leads to a nice view.
Last but not least, the bookstore has a mission of saving and protecting feral cats, so you're guaranteed to see a few of them strolling lazily around, contributing even more to the fantastic atmosphere.
Working Hours:
Everyday 9:15 AM – 7:45 PM
Prices:
Free entry, books, and souvenirs are reasonably priced
The Floating House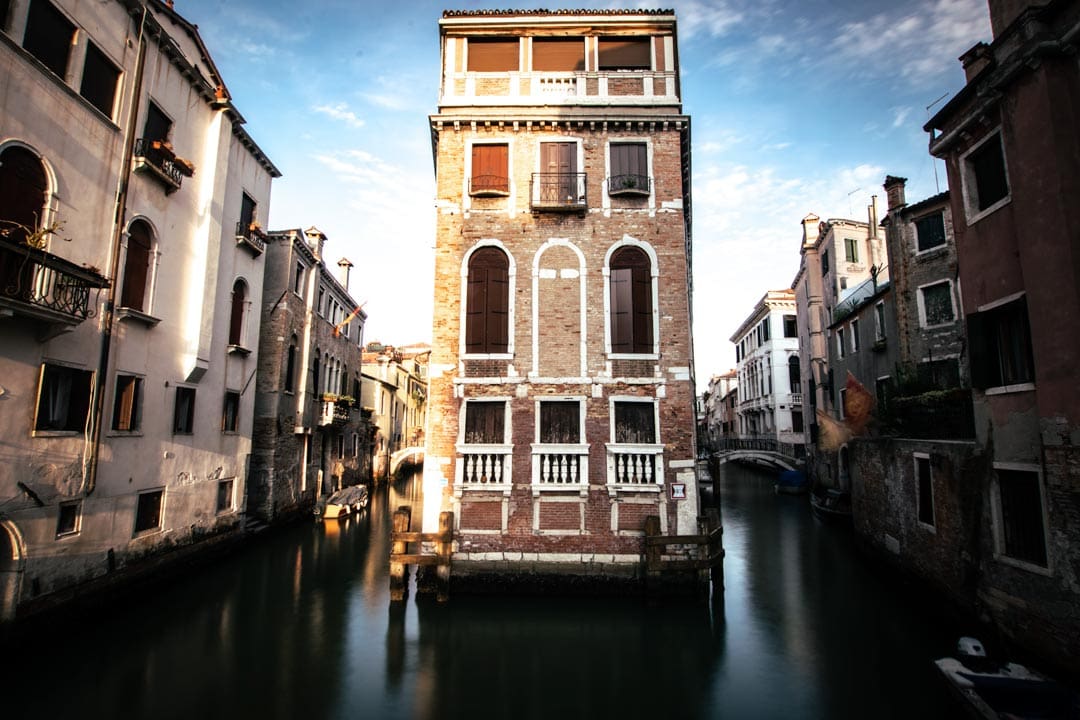 Our three days in Venice continue with a peculiar photo attraction. Located right behind Libreria Acqua Alta, the floating house is…well… exactly what it sounds – a house floating over the canals.
It's one of the most picturesque places in town, though, and still kind of under the radar, so if you've made the effort to find Libreria Acqua Alta, you should definitely check out the floating house too. The best place to see it from is the Ponte dei Conzafelzi bridge.
Rialto Bridge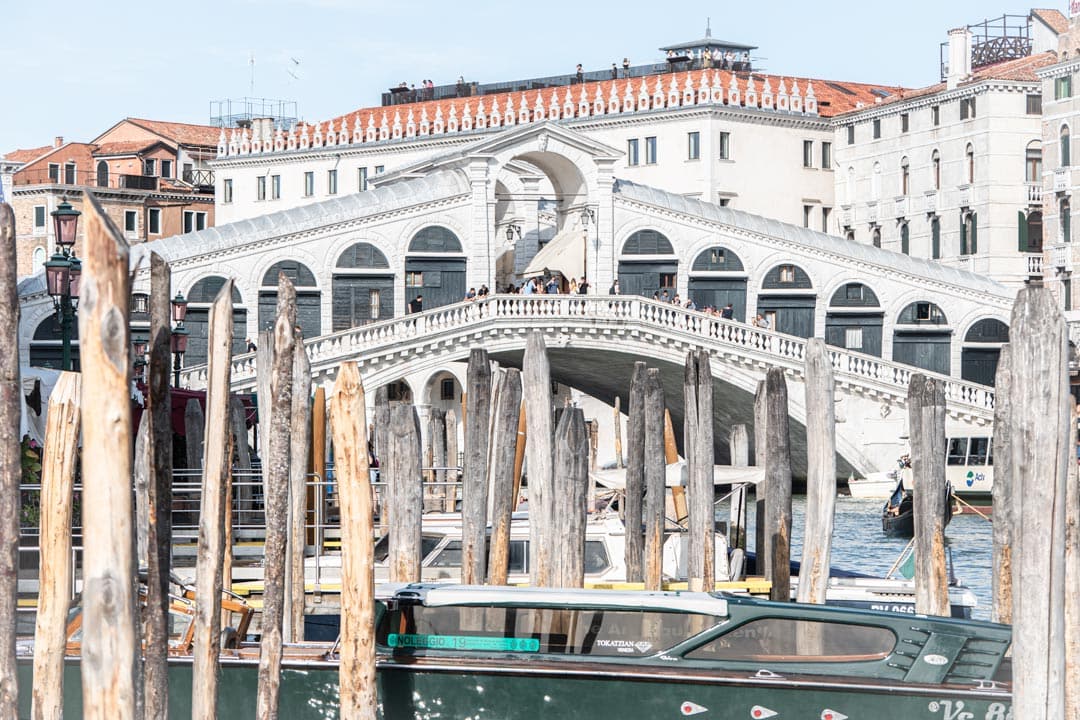 The most famous attraction for the day and the last must-see landmark in town (alongside San Marco Square and Basilica, Doge's Palace, and the Bridge of Sighs), Ponte di Rialto is a 16th century stone bridge that is considered to be one of the architectural icons of Venice.
It's also surrounded by gazillions of stores, so it's perfect for getting some shopping done. However, if you're going for souvenirs, make sure to check the prices around the non-touristy areas first. Usually, the souvenir stalls around significant landmarks have inflated prices.
Fondaco dei Tedeschi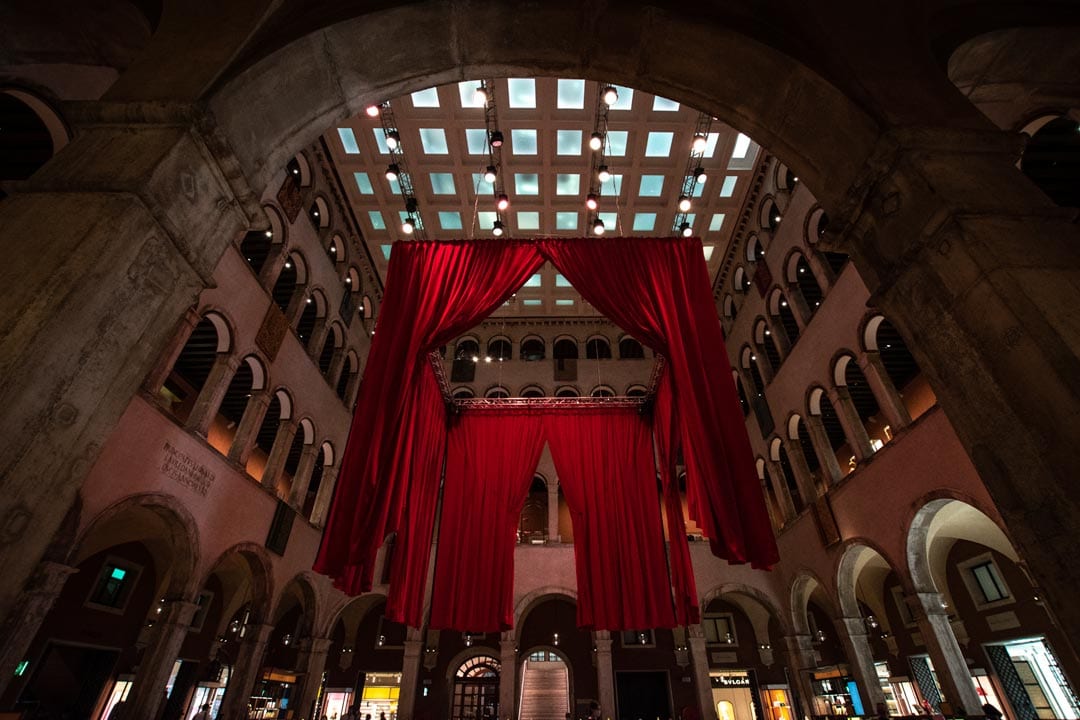 Right next to the eastern side of the bridge, we've got the next stop of our three days in Venice itinerary – a mall.
Wait, what? A mall?
Yes, a mall but quite a picturesque one. You can enjoy the interior, get some more shopping done and…go to the rooftop. Yes, this is not your average mall; Fondaco dei Tedeschi has a panoramic rooftop from which you can enjoy the sunset (don't do it, I've got a better place for today's sunset). Make sure to pre-book your timing slot on their site, though. It's free, but they won't let you there without a booking.
Working Hours:
Everyday 10:15 AM – 7:00 PM
See Also: How to spend 3 days in Rome?
Gondola Ride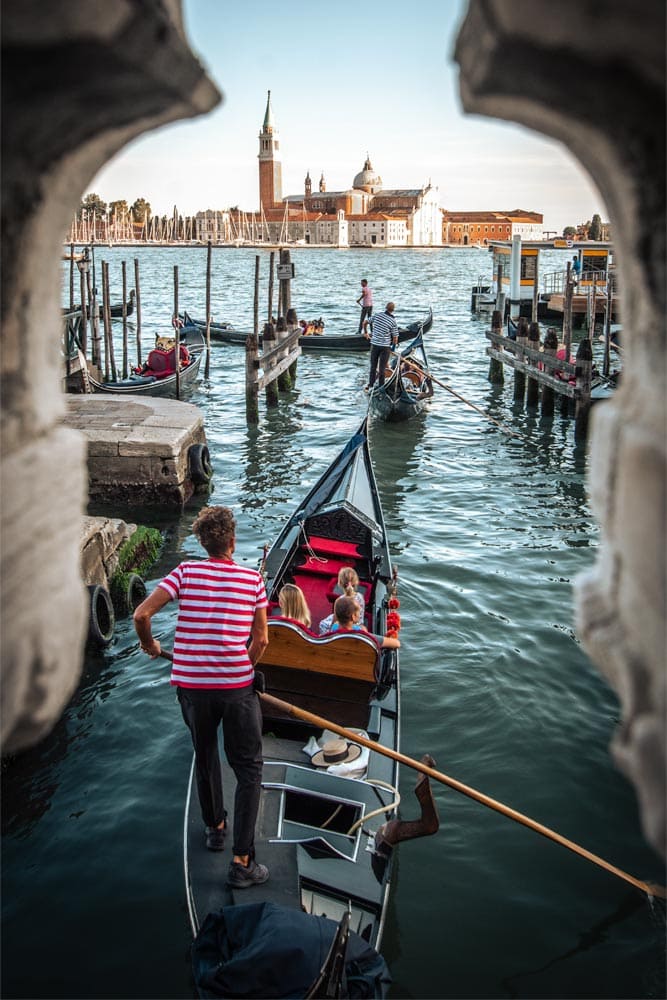 We finish our second day in Venice with the most classical thing to do – a gondola ride. An absolute bucket-list item for millions of people, the gondolas are the most Venetian thing ever and the best way to spend your second dusk in town.
A trip over the canals will show you the Floating City in a new light and will remain engraved in your memory forever. There are plenty of stations where you can haggle for a ride (prices start around 100.00 EUR usually), or you can do the easiest thing and pre-book your ride online where you'll be guaranteed to go beneath the Bridge of Sighs.
A gondola ride is an experience best shared with a loved one. If you're alone or having a buddy with you, you may skip the romantic gondolas and spend the evening in a regular boat or a shared gondola.
Three Days in Venice – Day 3 – Colorful Madness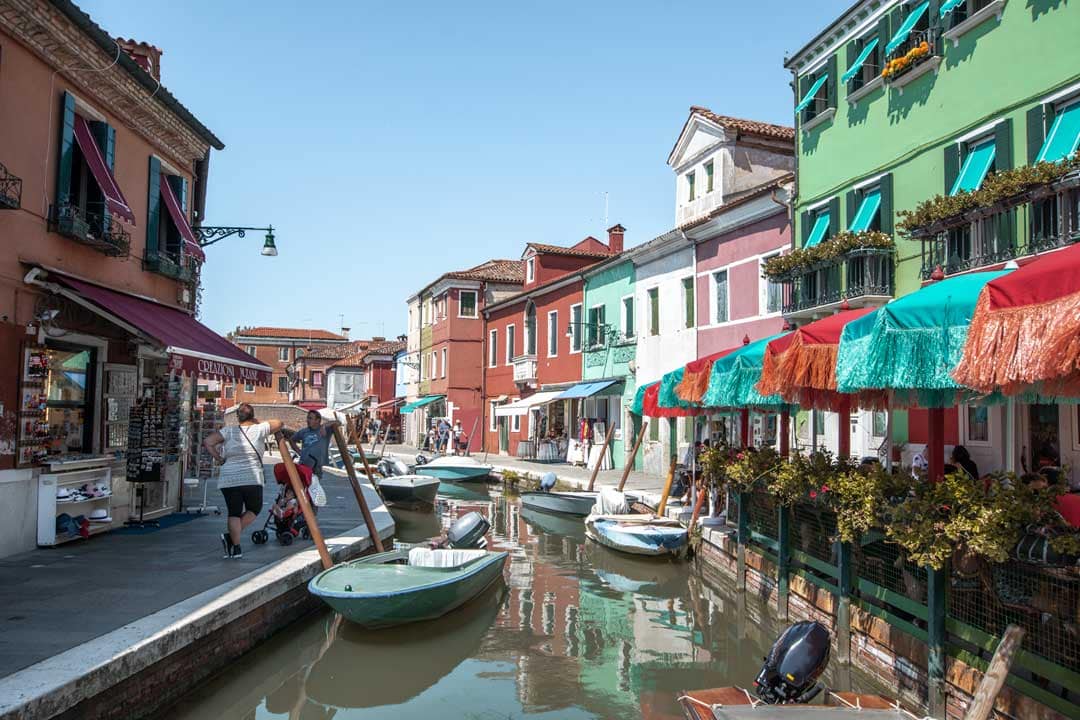 On the last of our 3 days in Venice, we're about to take a day trip to a place that's gonna drop your jaw to the ground and finish the day with the best panorama in town.
Burano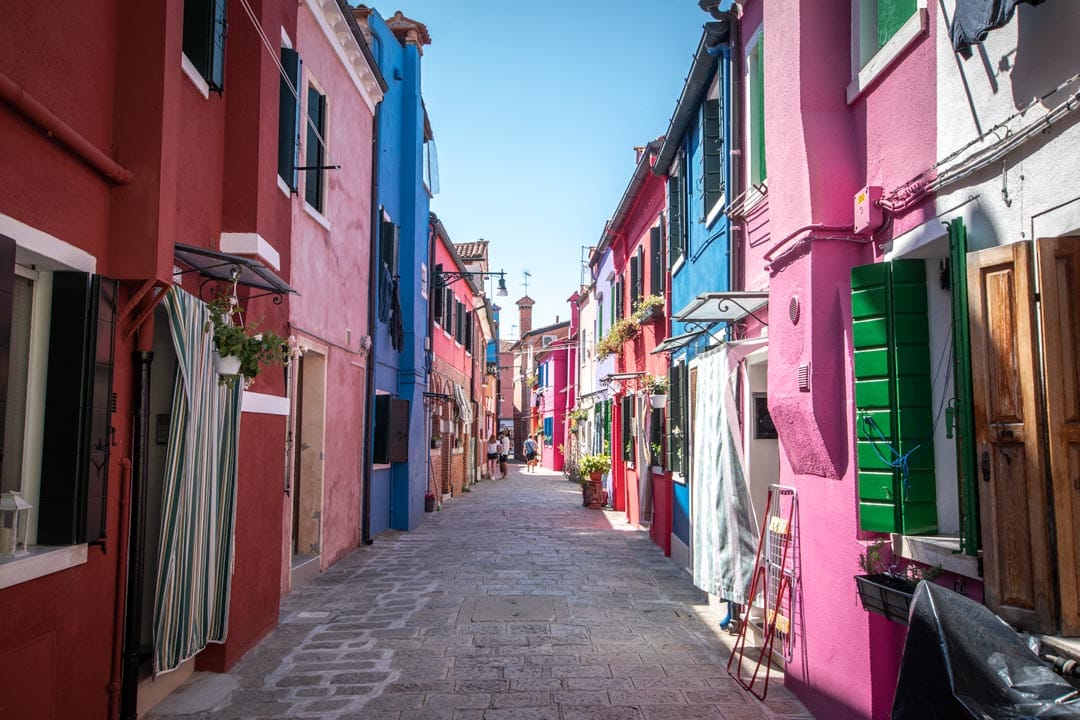 We start with a trip to the nearby island of Burano (not Murano). Earliest you do it, the fewer crowds you gonna have to endure. To get to Burano, you need to go to the Fondamente Nove Vaporetto stop and take boat no 12 (you get the tickets from a booth that's a hundred meters next to the actual stop). In about 40 minutes, you'll reach Burano.
So what's the fuss about this place? Once upon a time, Burano was a small fishing village. The legend says that its residents used to go out in the evening and spend the whole night fishing and drinking. Once back in town, they were too drunk to recognize their own houses, so they painted them various colors.
I have no idea if the legend is true or not, but the colorful houses definitely are. Burano is just something you need to experience. I've never seen colorful mayhem like this anywhere else in Europe. Oh, it's also great for Instagram photos.
Santa Maria Assunta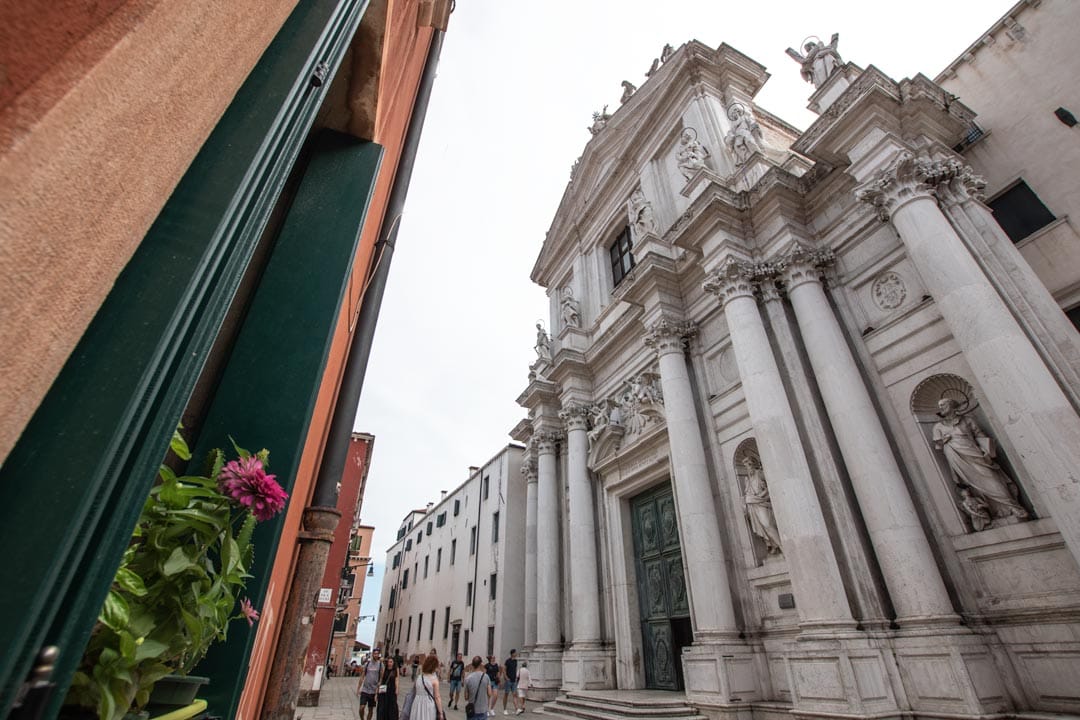 Once back in Venice, you can check out Santa Maria Assunta, which is next to the Vaporetto stop you'll disembark on (you can also see it before going to Burano). Known as I Gesuiti, this 18th-century church has the best (in my opinion) interior in town.
Working Hours:
Every day: 10:00 AM – 12:00 PM ; 4:00 PM – 6:00 PM
Prices:
Usually free but may require a small donation
Walk around the Jewish ghetto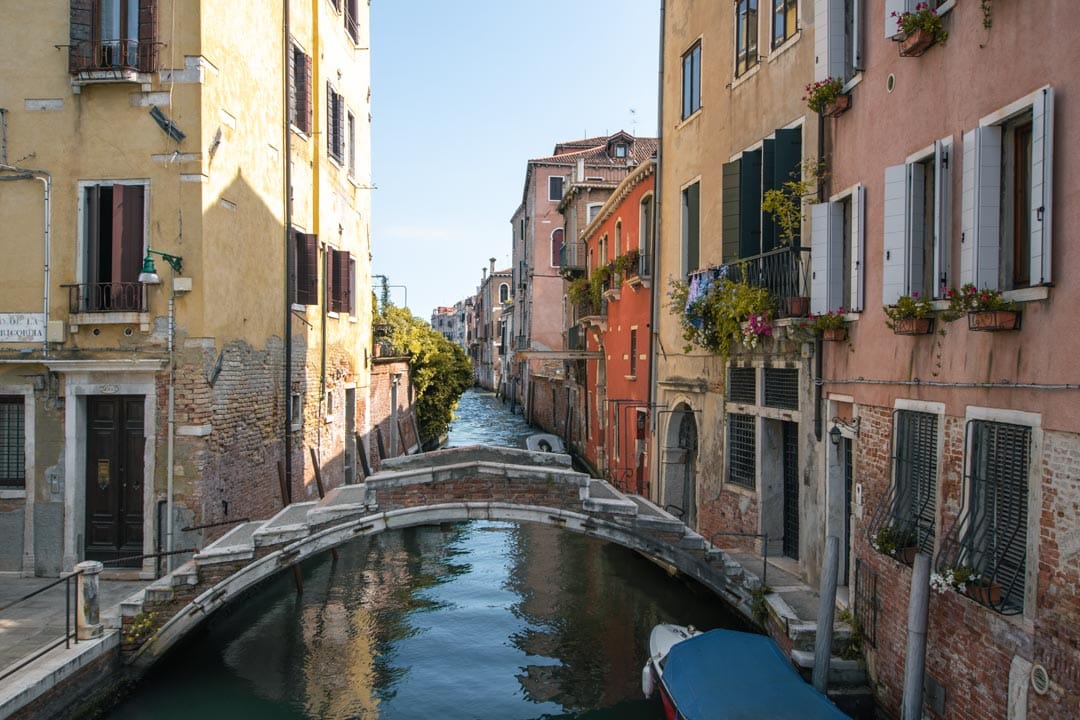 Established in the early 16th-century, this is the first time the word ghetto was used. It derives from the Venetian word ghèto that translates to a foundry. Today the former Jewish ghetto (known as Cannaregio) is a lovely area perfect for an afternoon walk.
On your way there, don't miss Ponte Chiodo. It's a tiny historic bridge, great for photos.
If you're interested to learn more about this historical area, you can also try this organized tour where a knowledgeable guide will show you everything noteworthy about the neighborhood.
See Also: The Ultimate Florence Itinerary
Campanile di San Marco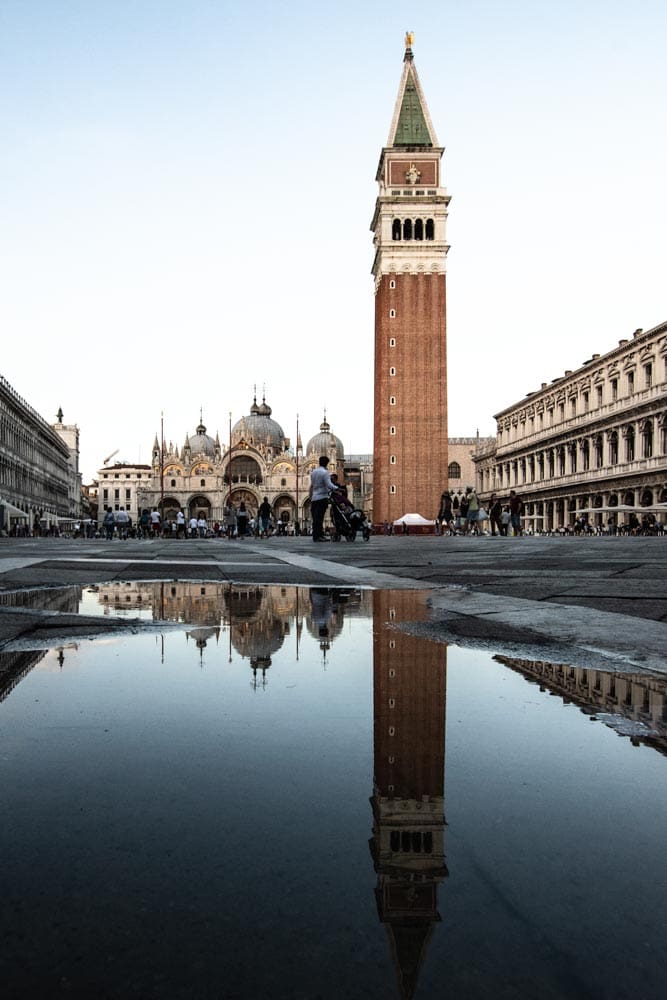 We finish our 3 days in Venice back at the most emblematic place in town – San Marco square. If you remember, I told you not to go to the top of the tower on day one, that's because the tower is the ideal way to end your Venetian journey.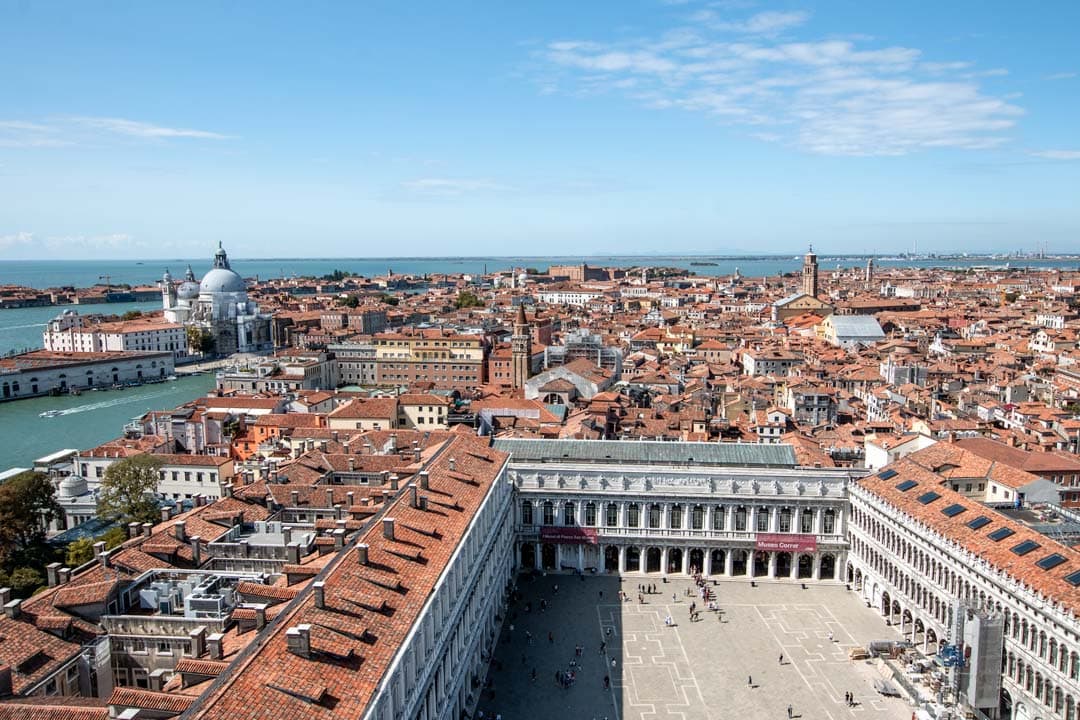 The Campanile reveals a stunning panorama of Venice and the San Marco square, and the best time to enjoy it is right at sunset. Oh, and unlike most other towers in Europe, you won't have to climb hundreds of steps to get to the top. There's an elevator.
Working Hours:
Every day: 9:30 AM – 9:15 PM
Prices:
Regular – 10.00 EUR; free for children up to 6 years of age
More than three days in Venice
If you have more than 3 days in Venice or you want to have more stuff on the itinerary, rest assured, Venice got you covered.
Scuola Grande di San Rocco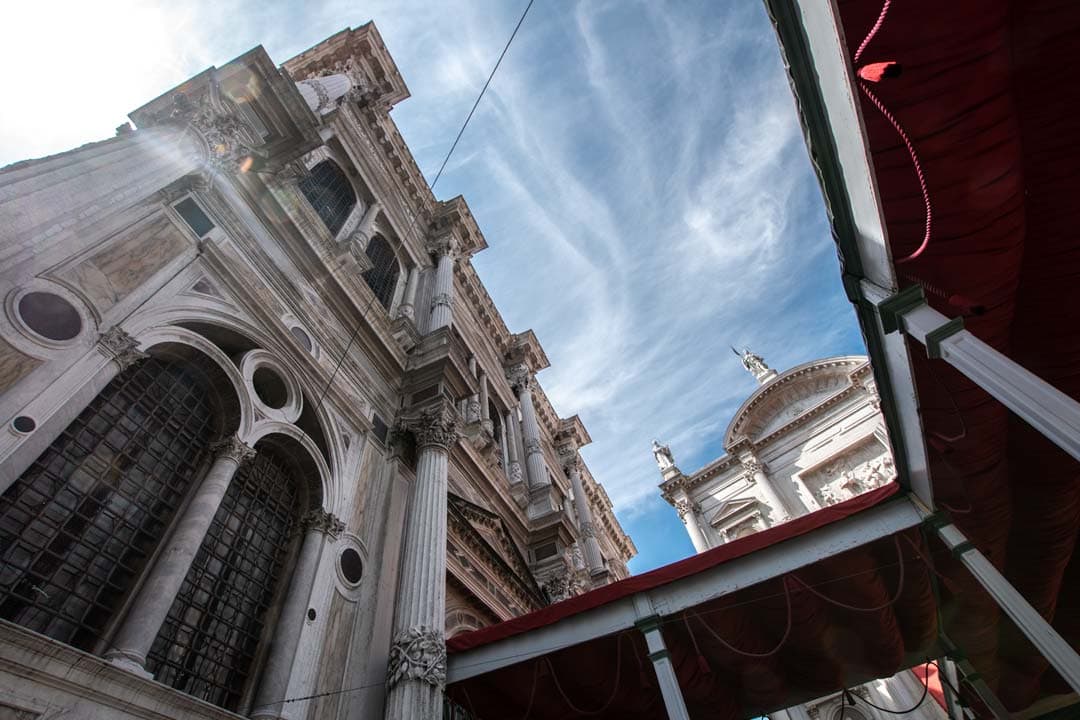 This 15th-century historic building is considered one of Venice's hidden gems. It displays a collection of about 60 Tintoretto paintings and features a jaw-dropping ceiling.
Working Hours:
Every day from 9:30 AM to 5:30 PM (opens at 1:00 PM at Sunday)
Prices:
Regular – 10.00 EUR
Reduced (over 65 and under 26 years) – 8.00 EUR
Why it's not on my 3 day-Venice itinerary: San Rocco requires a bit of a detour, and honestly, if you're not a fan of Tintoretto, all you gonna enjoy there is the ceiling. While it's truly a spectacular sight, the Doge's Palace got you covered in the gorgeous ceilings department.
Gallerie dell'Accademia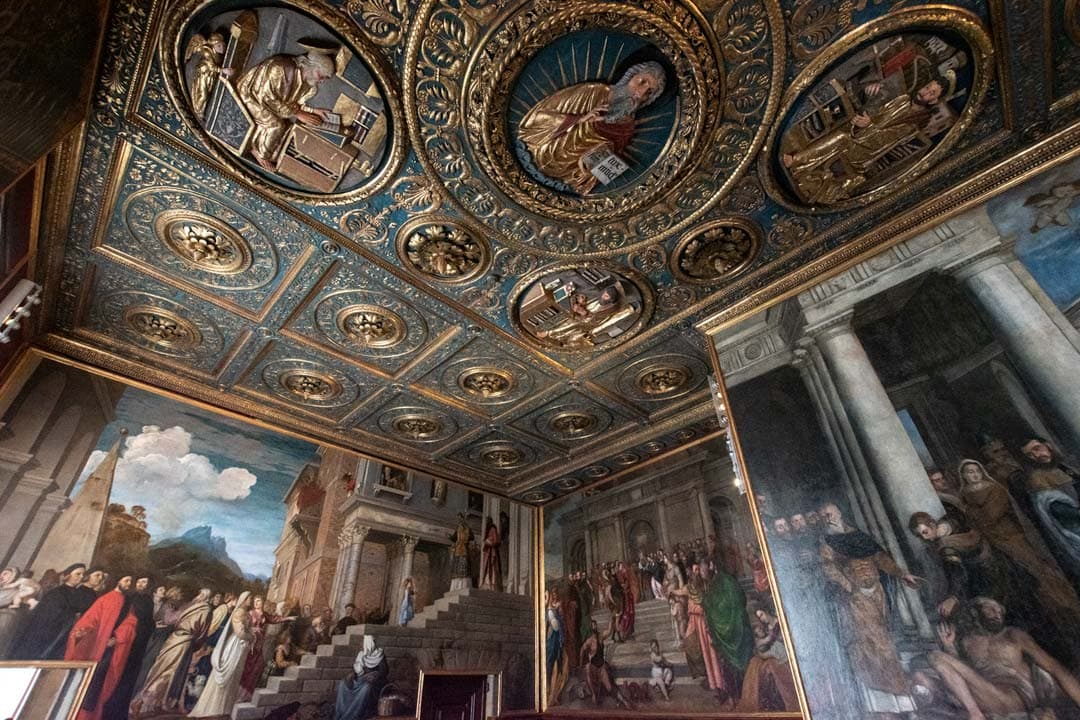 Located on the south bank of the Grand Canal (right in front of the Accademia bridge), Gallerie dell'Accademia is one of the more famous art museums in Venice. Displaying mostly pre 19th-century renaissance art, this museum is home to one of the most famous drawings on the planet – Leonardo Da Vinci's Vitruvian Man.
Now you might think this museum is a must, right? Well, if you're only going for the Vitruvian Man, you'll be disappointed. In order to be preserved, the drawing is displayed only on special occasions.
Working Hours:
Tuesday – Sunday: 8:15 AM – 7:15 PM
Mondays: 8:15 AM – 2:00 PM
Prices:
Regular – 12.00 EUR
Reduced (EU citizens between under 25 years old) – 2.00 EUR
Why it's not on my 3 days in Venice itinerary:
The biggest star in this museum is not on display, and quite frankly, if you're not a fan of this specific form of art, it's not worth spending 12.00 EUR.
Basilica di Santa Maria della Salute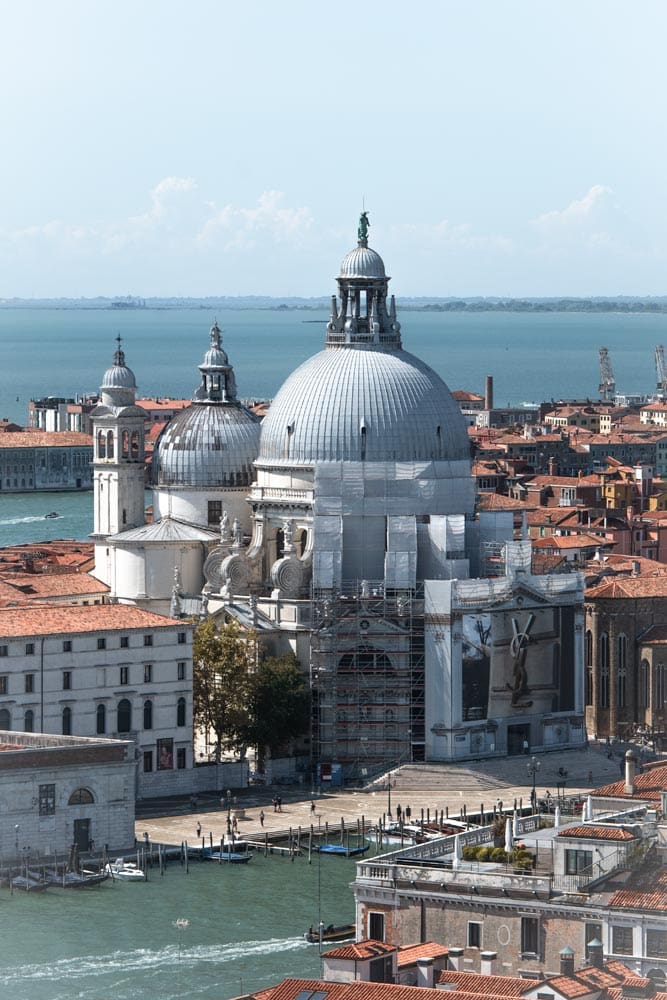 Commonly known as the Salute, this glorious 17th-century church sits on the entrance of the Grand Canal and is probably present in more than half of your Venice photos.
The Salute is known to be the last one of the so-called plague churches. What do I mean? In 1630 a devastating wave of plague hit Venice, and for a year, it killed around a third of its citizens. The decision was made a new church should be built and dedicated not to some mere saint but the grand protector of the republic – the Virgin Mary. The plague wave eventually ended, and the Venetians became even more fond of their protector and their new church.
Working Hours:
April to September:
Daily – 9:30 AM – 12:00 PM ; 3:00 PM – 6:30 PM
October to March:
Daily- 9:30 AM – 12:00 PM ; 3:00 PM – 5:30 PM
Prices:
Regular – 4.00 EUR
Reduced – 3.00 EUR
Why it's not on the main Venice itinerary: It kind of is. On day one, I recommended a walk around the Giudecca island, and let's be honest, if you walk around the island and stumble upon something as grand as the Salute, you'll get inside.
It's not mentioned on the itinerary because if you're not on Giudecca island, it's quite the walk there, and the church interior is not that impressive to be worth it.
Teatro la Fenice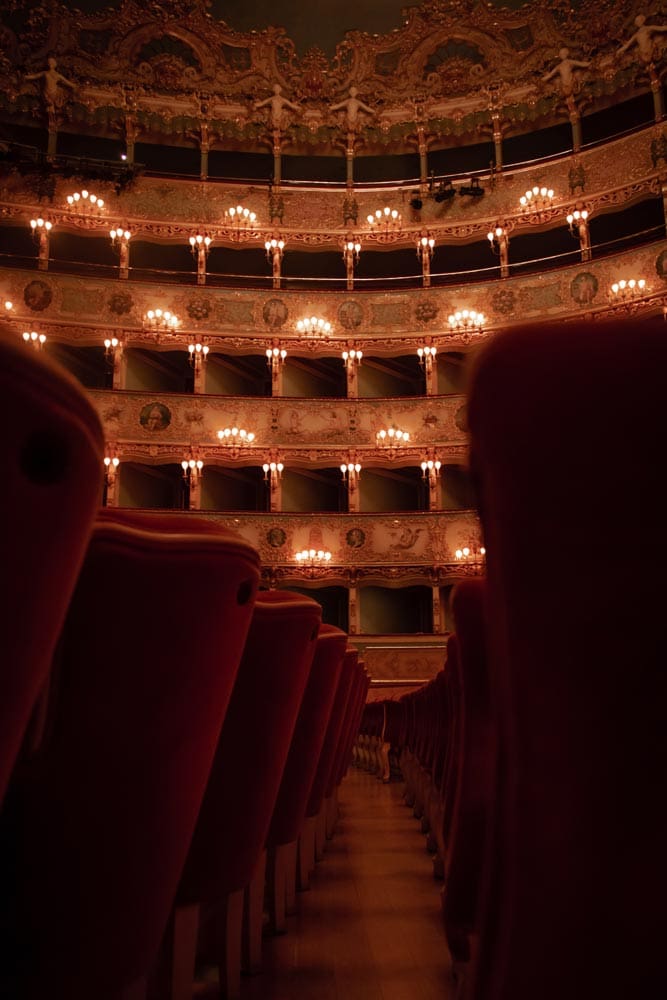 The Venetian opera house is not only one of the most beautiful ones out there but also has a curious history. Its name – la Fenice – translates to The Phoenix. You know, the magical bird that is reborn from its ashes. It's named like that because the opera house also had to be rebuilt twice due to fires.
If operas and classical concerts are not your thing, you can visit when there's no performance and enjoy the magnificent interior.
Working Hours:
Usually from 9:30 AM to 6:00 PM (for tours). Schedule changes due to the shows, so double-check with the timetable.
Prices:
Regular – check here
Guided tour – check here
Why it's not on my 3 day-Venice itinerary: It almost made it, to be honest. Its location makes it suitable for day 1, but we already have two indoor attractions on that day, and as cool as La Fenice is, it's not a must-see like San Marko Basilica or the Doge's Palace. If you're not tired or you enjoy opera houses, it's easy to check it out on your first day in Venice.
Venetian Arsenal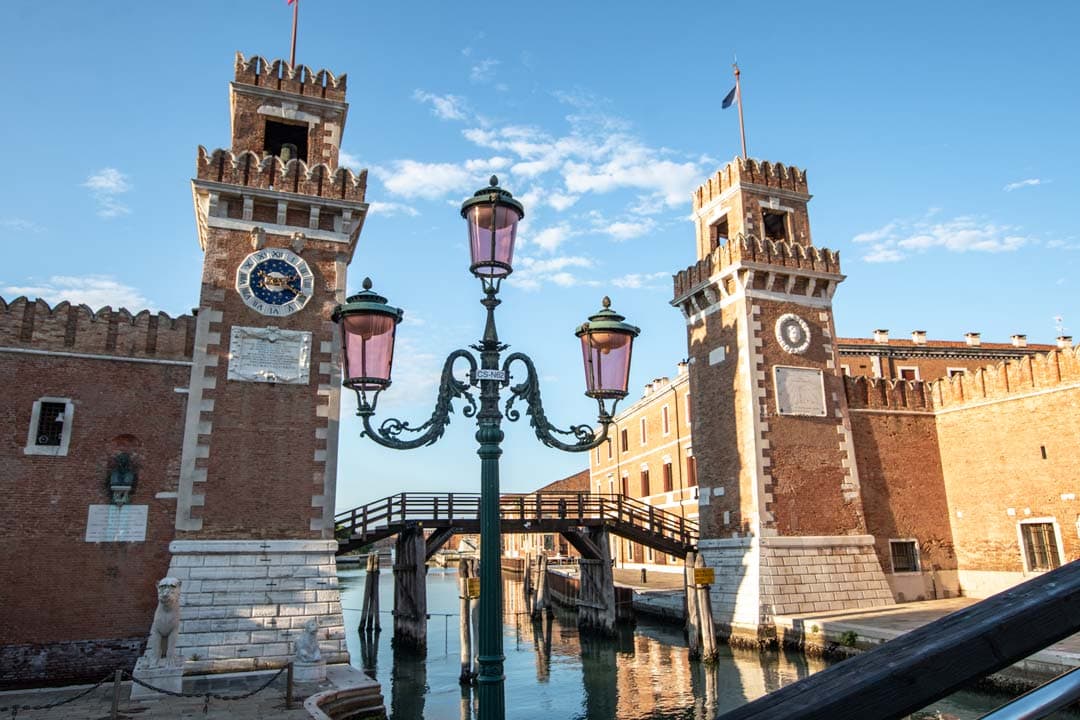 A complex of shipyards and armories, the Venetian Arsenal is genuinely a wonder (especially if you've played Civilization VI). More than 900 years old today, the arsenal was one of the earliest large-scale industrial enterprises ever and was primarily responsible for Venice's naval domination.
Working Hours:
It's something outside so you can enjoy it 24 hrs
Prices:
free
Why it's not on my 3 days in Venice itinerary:
Venetian Arsenal, as cool as it sounds, is not that impressive of a sight. It's nice, but unless your hotel is nearby, it's not really worth the detour.
Palazzo Contarini del Bovolo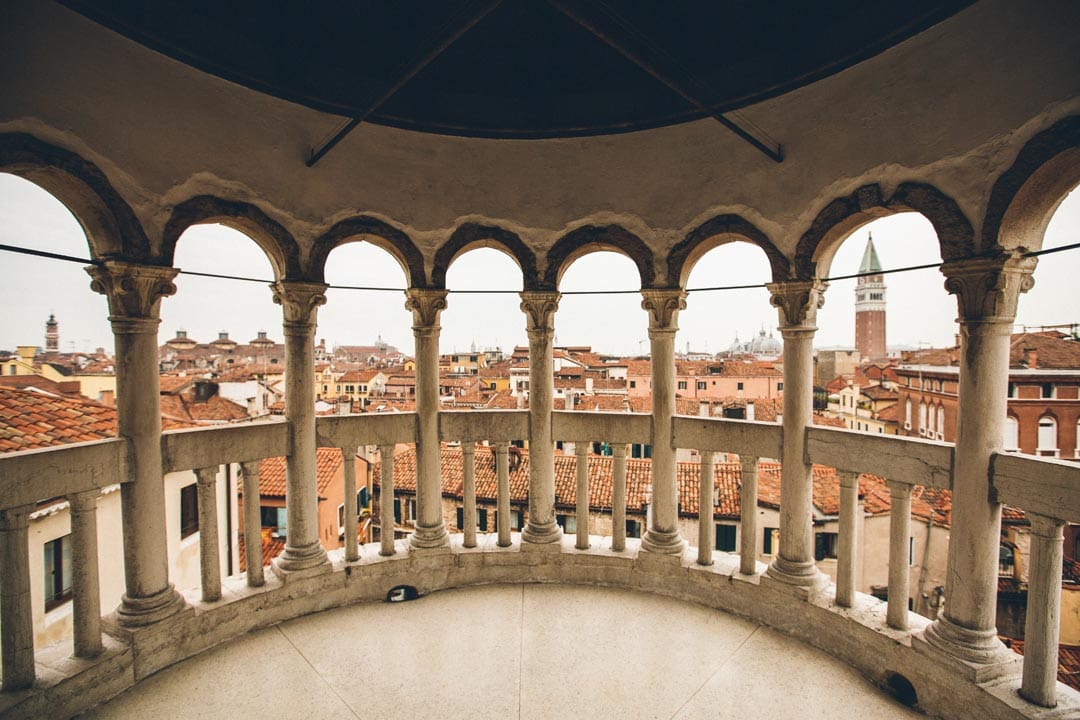 A small palazzo, located pretty close to San Marco, built in a mix of Gothic, Renaissance, and Byzantine styles. It's a bit of a hustle to find it, but once you do, you can climb the unique multi-arc staircase and enjoy a panoramic view over Venice.
Working Hours:
Summer:
Every day: from 10:00 AM to 6:00 PM
Winter:
Every day: from 9:30 AM to 5:00 PM
Prices:
Regular – check here
Important: Admission is limited with a maximum capacity of 12 people every 20 minutes, so you better get an online booking.
Why it's not on the main Venice itinerary: If this were any other city, Palazzo Contarini del Bovolo probably would've been in it. In Venice, however, just strolling the alleys is such a pleasure that unique staircases with panoramic views are not good enough to make it.
Ca' Rezzonico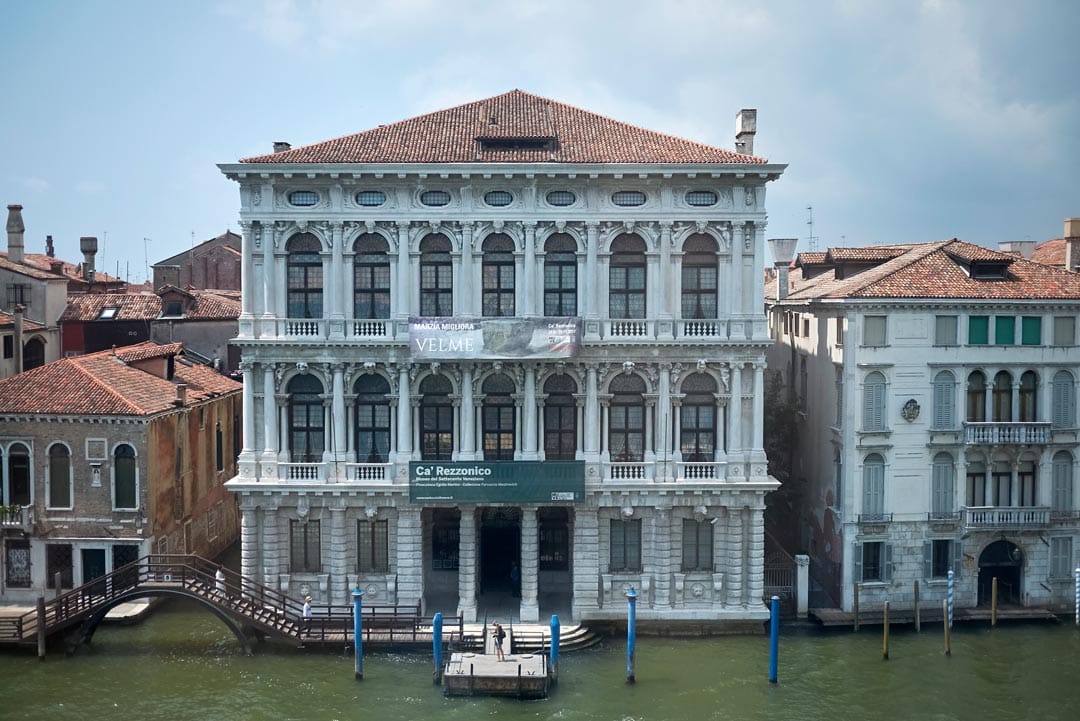 An 18th-century palace located on the grand canal and housing… 18th-century Museum. A remarkable example of Venetian baroque and rococo architecture, Ca' Rezzonico is really a stunning construction frozen in time.
Working Hours:
Check here
Prices:
Regular – 10.00 EUR
Reduced – 7.50 EUR

Why it's not on the main itinerary: It's located too far away from the other attractions on the itinerary, and as stunning as it is, it feels a bit like a smaller version of the Doge's Palace which you've already seen.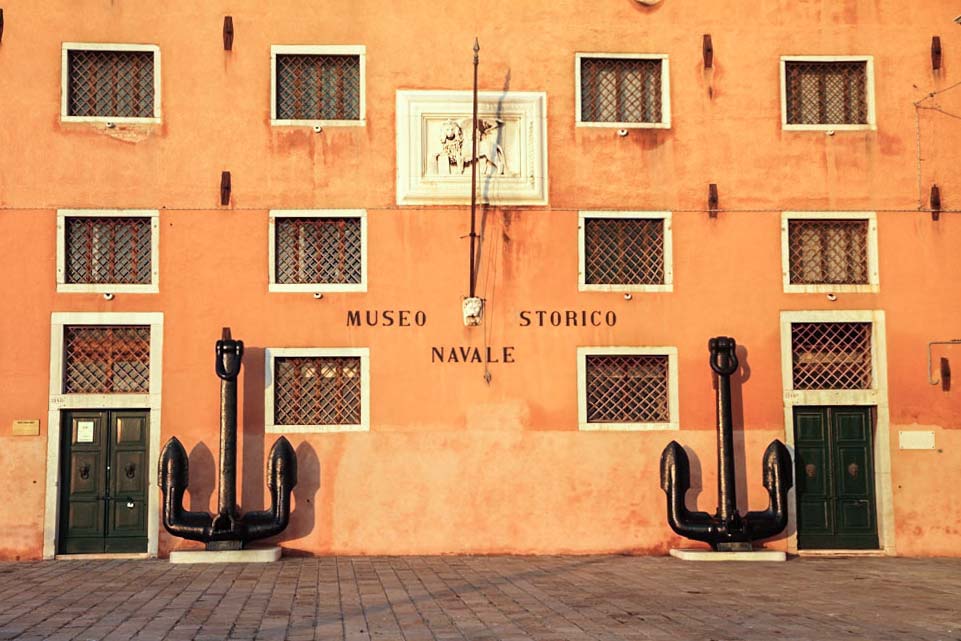 Housed in a 15th-century building, this lovely museum will tell you the history of one of the powerful naval states of the middle ages. Displaying various kinds of ships and weapons, Museo Storico Navale is great fun for the whole family.
Working Hours:
Thursday to Monday, from 11:00 AM to 5.00 PM
Tuesday closed
Prices:
Regular – 10.00 EUR
Reduced – 7.50 EUR
Why it's not on my 3 days in Venice itinerary: Its location (near the Venetian Arsenal) means you have to go way out of your way to visit it. And since not everyone fancies ships as much as I do, I don't think it should be on the main itinerary.
Mercato di Rialto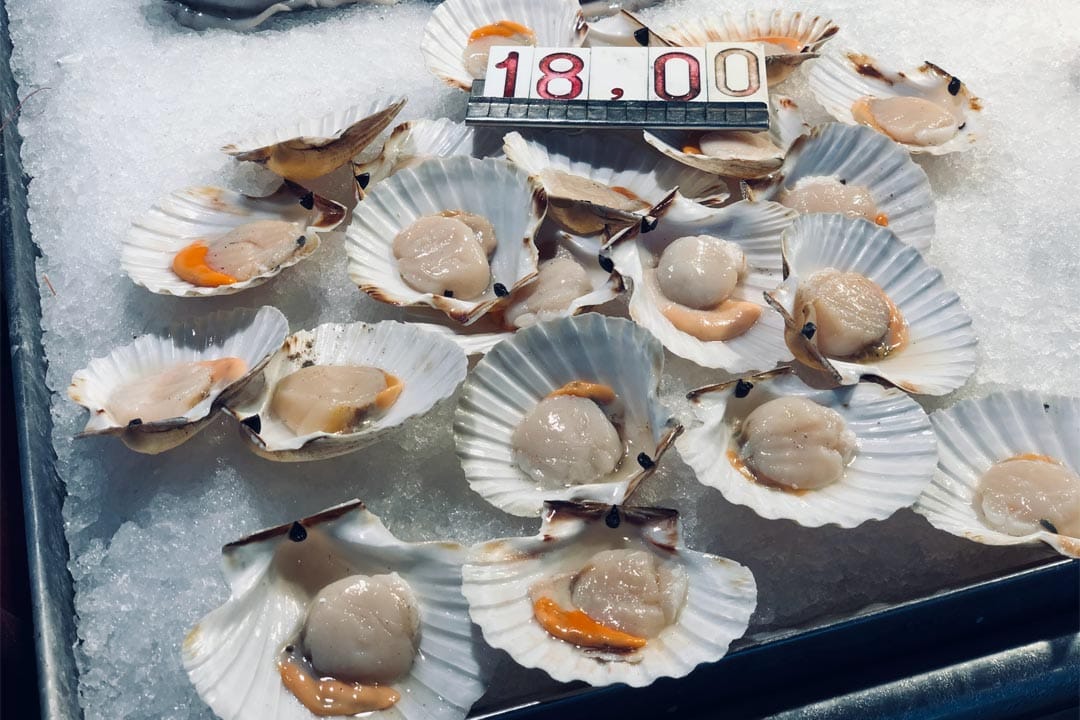 Held in one of the oldest parts of Venice, the Rialto market is situated in the San Polo area and has been a venue for nearly a thousand years now. It was due to the market popularity why the Rialto bridge was constructed. Today the market has two sections – Fresh produce and Peschiera (fish market).
Working Hours:
Fresh produce market – Mon-Sat – 7:30 AM – 1:00 PM
Pescheria market – Tue-Sat – 7:30 AM – 1:00 PM
Prices:
all kind
Why it's not on the main itinerary: Even though it's thousand years old, a market is still a market, and I doubt that with only three days in Venice, you'll have time to go grocery shopping.
Venice Biennale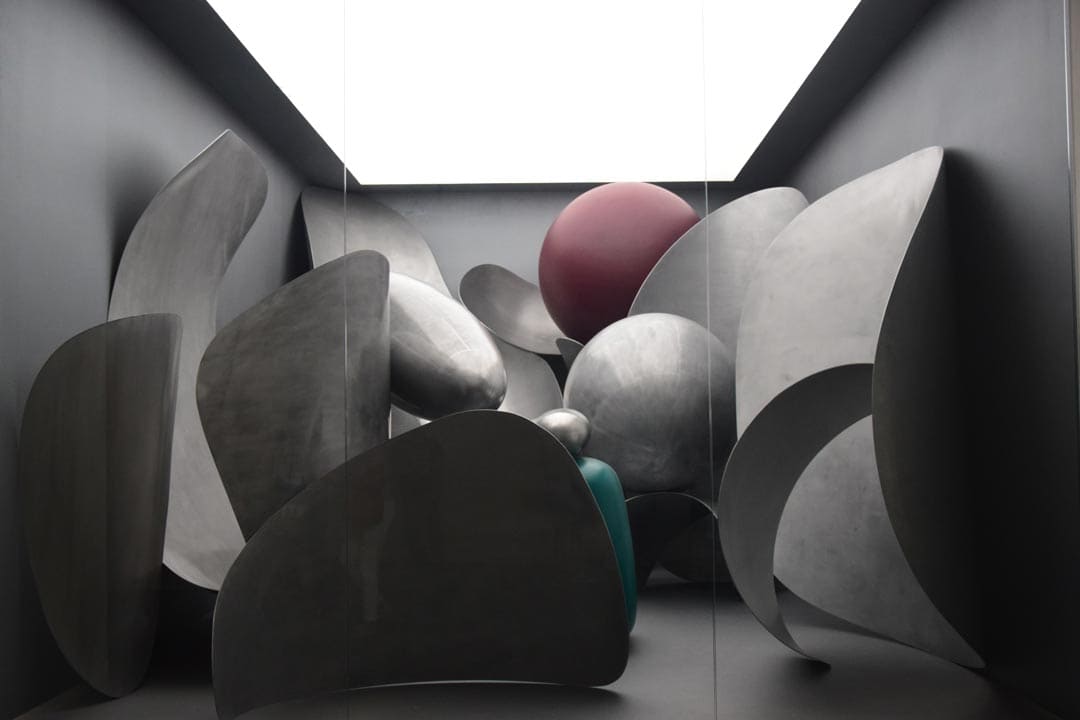 Dating back to 1895, La Biennale di Venezia is one of the most prestigious cultural institutions in the world. The annual exhibition often gathers more than 500,000 art, music, or architecture craving visitors.
Working Hours:
Different times of year for the different venues, check here for more info.
Prices:
All kinds of various prices, check them out
Why it's not on the main Venice itinerary: It's an event that requires a particular interest in either of the venues. It's also not available all year.
Basilica S.Maria Gloriosa dei Frari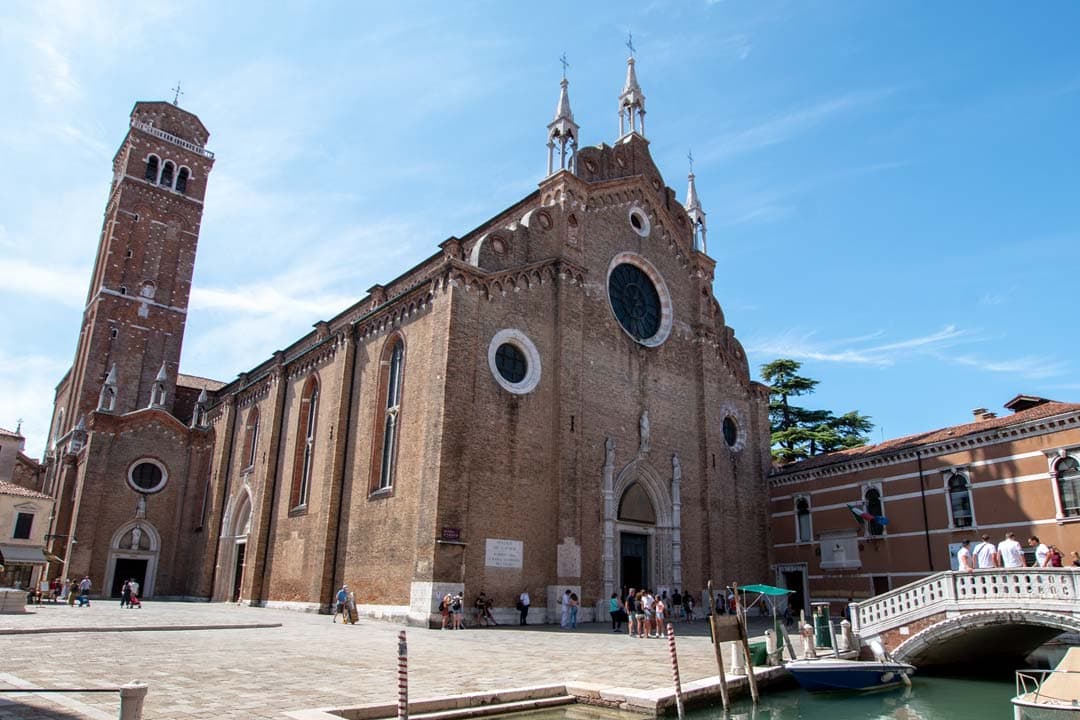 Huge Gothic-styled church dating back to 1330 and considered to be one of the best in Venice. Inside, you can also see two of Titan's masterpieces alongside his tomb.
Working Hours:
Monday to Saturday: 9:00 AM – 6:00 PM
Sunday and festive days: 1:00 PM – 6:00 PM
Prices:
Entrance – 5.00 EUR
Why it's not on my 3 days in Venice itinerary: Church's interior is not that impressive, and if you're not a fan of Titan (let's be honest, he's not that popular), I don't think it's spending 5.00 EUR for entrance.
Basilica of Santi Giovanni e Paolo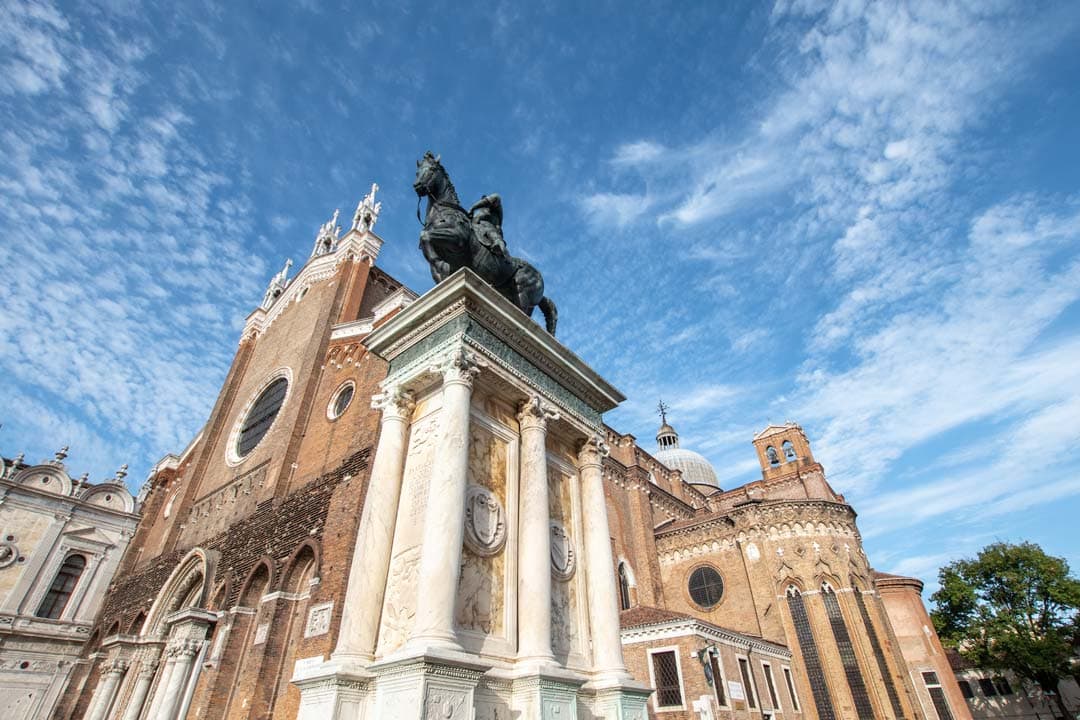 The largest church in Venice that is the final resting place for 27 of the city's doges. Dedicated to John and Paul, the church was designed in the Italian Gothic style and has a lovely small piazza in front of it.
Working Hours:
Monday to Saturday: 9:00 AM – 6:00 PM
Sunday and festive days: 12:00 PM – 6:00 PM
Prices:
Entrance – 3.50 EUR
Why it's not on the main Venice itinerary: Unless you're a history enthusiast, the Doge's tombs won't be of particular interest to you. The interior of the church is impressive but not impressive enough to justify an entrance fee. However, if you are curious about the tombs, it's easy to put the Basilica of Santi Giovanni e Paolo on your day 2 itinerary.
Lido Island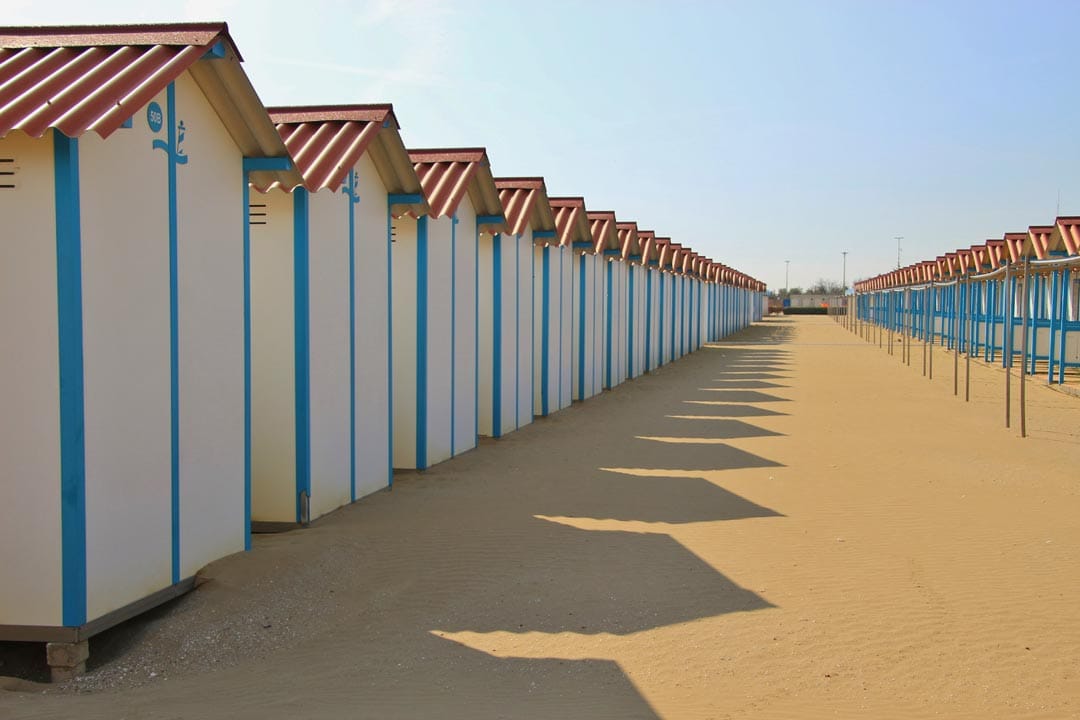 Summer is the ideal time to visit the beach part of Venice. Lido is a narrow island close to the main part of the city and is easy to reach via Vaporetto (you need lines 5.1. and 5.2).
Why it's not on my 3 day-Venice itinerary: Well, Lido is awesome for a beach vacation, but you're not in Venice for that, right?
Murano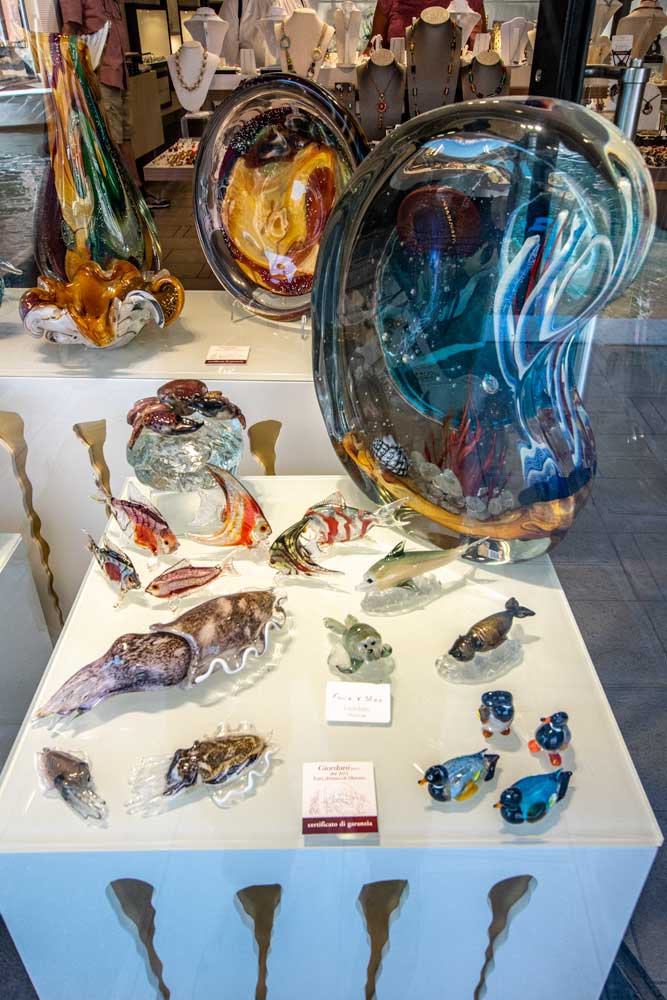 The small island of Murano is the place where the world-famous Venetian glass is made. If you like to know more about the process, there're plenty of workshops happy to show you.
Why it's not on the main Venice itinerary: If you're not that much into Venetian glass, Murano is quite boring.
Where to stay in Venice
Luxury – Hotel ai Cavalieri di Venezia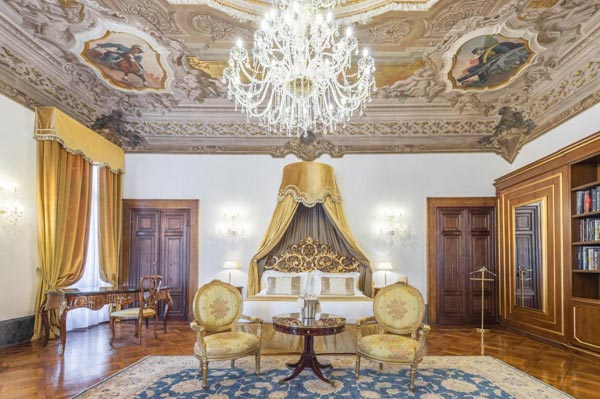 Situated just 450m away from Rialto Bridge, Hotel ai Cavalieri di Venezia is in the center of the city's historical area and will make you feel like royalty. No, really, just see the rooms of this place – it's like a palace. It has windows overlooking the canals and a panoramic terrace. If budget is not an issue, you can hardly find a better place to stay in Venice.
The middle ground – Ca' Dei Dogi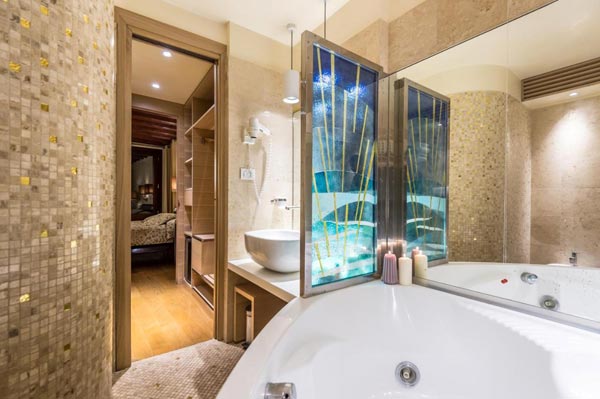 This one is located right behind the Bridge of Sighs. Literally next to it! This means San Marco is also just a few minutes away. And it's run by some of the friendliest hosts in Venice, offers clean and modern rooms with a lovely rooftop terrace.
Budget option – Renato's House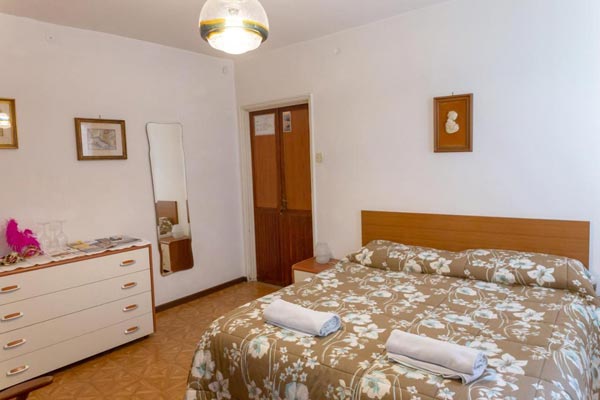 If you're on a budget and you don't spend much time in your room anyway, this little gem is perfect for you. Located near the Venetian Arsenal, Renato's house is just 10 minutes away from San Marco, and the walk there is a scenic one – alongside the Grand Canal.
Renato himself is a lovely host that will give you a ton of information but respect your privacy at all times. Oh, he'll also make sure you have breakfast ready every morning, no matter how early you need to get up. Rooms are nothing fancy but are impeccably clean and have everything you may need.
Venice tours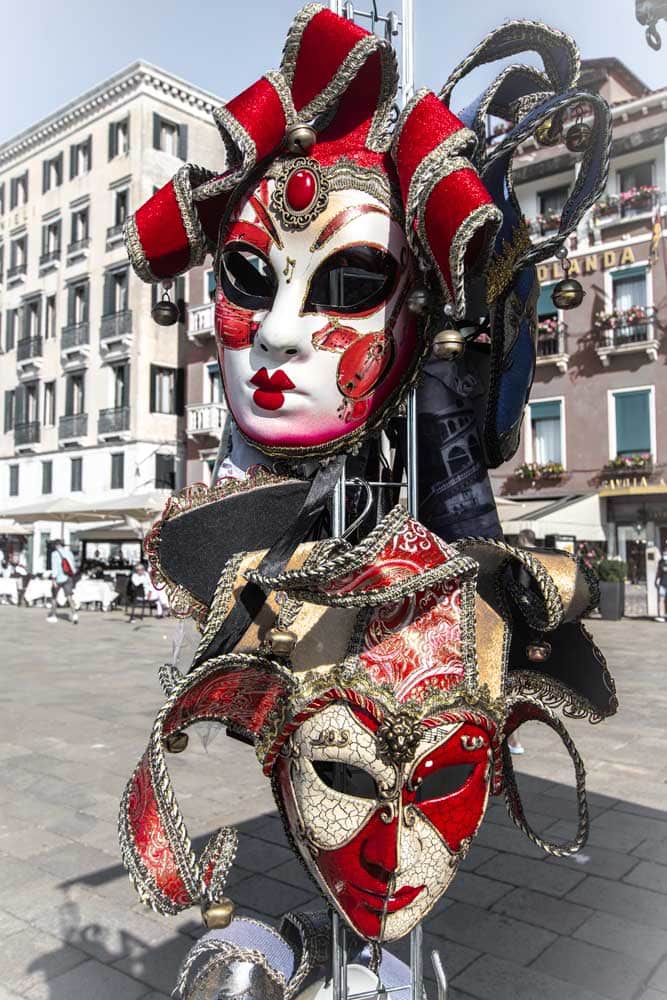 If you think getting lost in Venice is just not for you and you prefer something organized, here are the best tours you can have during your three days in Venice.
This one will walk you around the most prominent landmarks accompanied by an expert guide that will tell you their stories. Since getting from one landmark to the other without getting lost is quite a hard thing to do, this tour will save you plenty of time and will definitely make your 3-day Venice itinerary even more relaxed.
I love going on ghost tours! They took place after dark and show you stuff regular tours don't. Also, all the mysterious legends and stories make you feel like you're in a Dan Brown book.
Since you're in Venice, it would be a shame if you don't go at least once over its canals. If a gondola is not your thing and you want something better, this tour will pair you with an expert guide who will tell you all kinds of stories about the Floating City and its landmarks.
This one may not be a tour but a workshop, but it's an amazingly fun one. Venice is known worldwide for its masks, and this workshop will teach you how to make and paint one yourself. Educational, fun, and leaves you with a top souvenir. What could be better?
Venice day-trips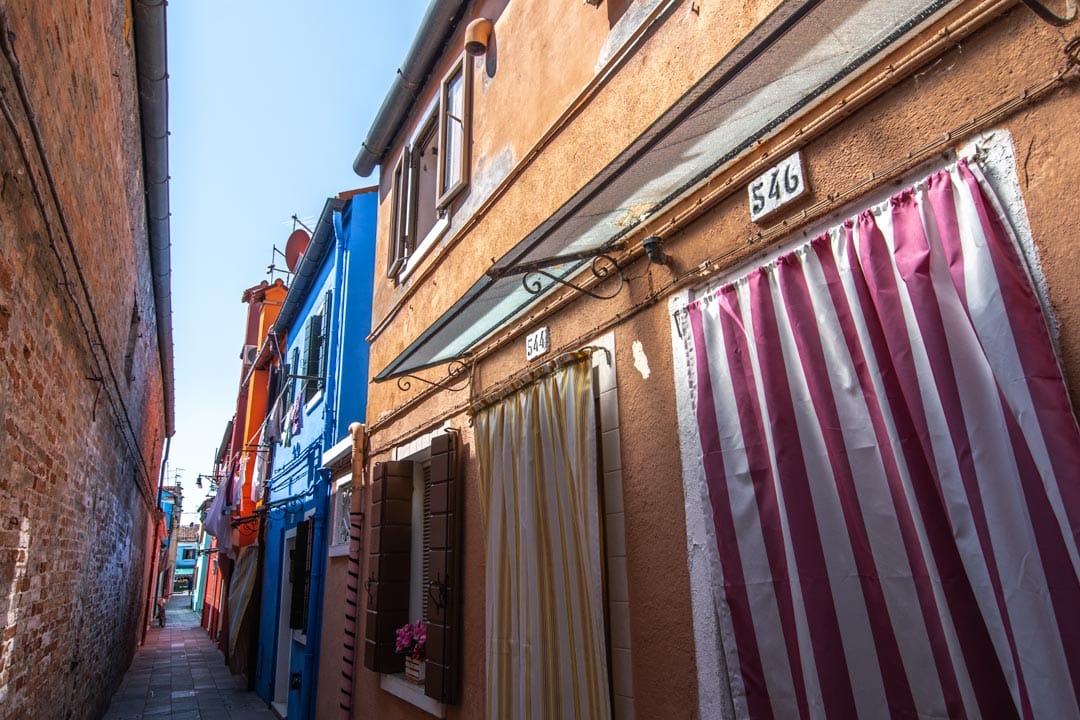 If Burano is not enough for you and you want to see all of Venice's most famous islands, this hassle-free day trip is just for you. You will visit Murano, Burano, and Torcello accompanied by your own private guide, who will take care of everything.
This day trip will take you to the favorite city of Shakespear – Verona. You'll see Juliet's balcony and the city's massive Arena. You'll also enjoy panoramic views of Lake Garda, and last but not least – taste some wines at an Amarone winery.
Three Days in Venice FAQ
When is the best time to visit Venice?
The best months to visit Venice are May and September – the weather is mild, and the tourist crowds are not that fierce. Just like any other town in Europe, June through August are the most tourist-dense months, and the tiny Venice alleys usually get overcrowded. August, in particular, is quite bad since most Italians also use it for their holiday.
Another popular time to visit Venice is in February when the carnival is held. It takes place 40 days before Easter, with events lasting two to three weeks before the actual Carnival Day (Shrove Tuesday – the day before Ash Wednesday).
Winter will present you the city almost empty, but you should expect plenty of rain and casual floodings.
If May or September are not a possibility for you, pick another month from the shoulder seasons. Average temperatures in March are
13°/ 4°C (55°/ 39°F) with only 5 days of rain expected while in April you can expect 17°/ 8°C (62°/ 46°F) with 7 days of rain.
In the autumn October will greet you with 18°/ 10° (64°/ 50°F) and 5 days of rain while in November, you gonna be a bit chilly with 12°/ 5° (53°/ 41°F) and 6 rainy days.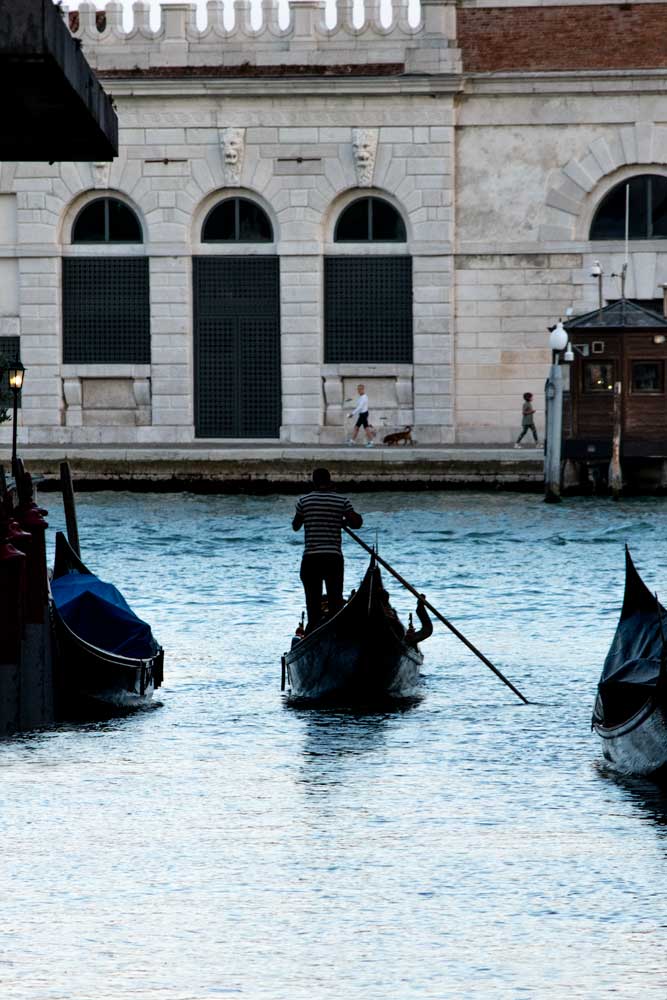 Is Venice safe?
Venice is among the safest cities in Europe. Violent crimes are almost non-existent, and all you have to worry about is pickpockets.
That doesn't mean you should skip travel insurance, though. We live in interesting times, and anything can happen. And who knows, you may slip and fall in the grand canal. So to have your mind at ease and enjoy your travel to the max, you should definitely be insured.
I currently use HeyMondo for my travels because they have proven themselves to me more than once over the years. The link above will give you a 5% discount, but If you have another favorite provider, that's ok. Just make sure you have one because you never know what may happen.
Is Venice flooded all the time?
No, Venice is not flooded all around the year. There are, however, around 100 days where the city is a bit underwater. It happens between mid-October and the end of the year when the tide is often 80 or more centimeters (about 2 feet) above the mean sea level. The phenomenon is known as acqua alta. If you decide to visit during those months, you better prepare a pair of galoshes.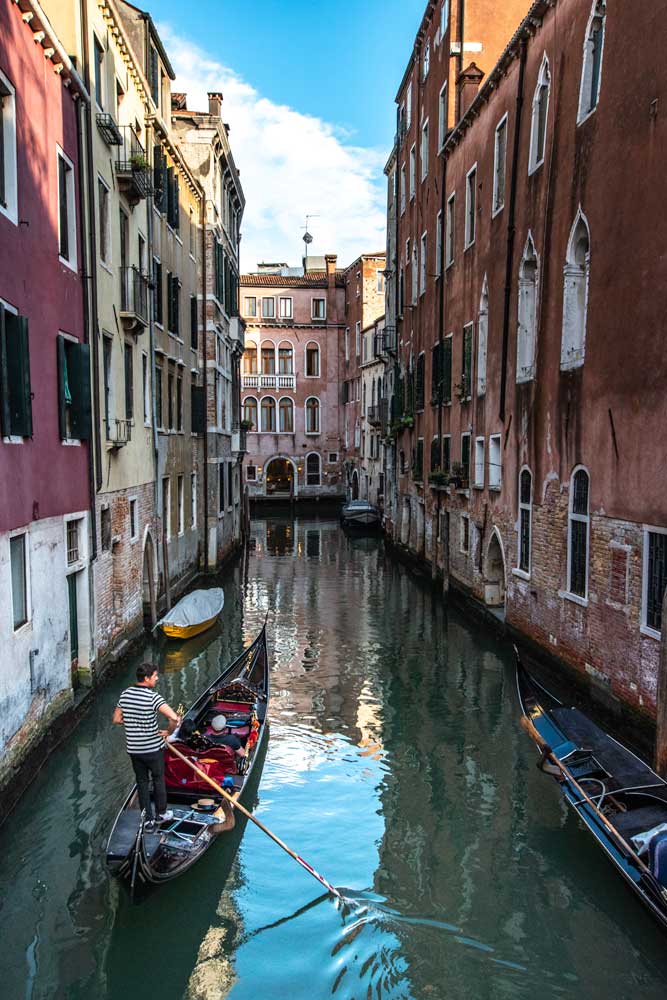 Is Venice expensive?
Being tourist-dense, Venice is one of the more expensive European, but it's not something mind-blowing. You can find plenty of restaurants to dine in for around 13-15 EUR (15-17 USD).
You can check more prices here.
How to get to Venice?
If you are coming from out of Europe, you'll probably land at the Marco Polo airport. While technically in Venice, you still need to get either a shuttle bus (cheap) or a shared water taxi (scenic) to reach the actual city. If you have a group of up to 6, the best way would be to get a private water taxi.
If you're coming from inside Europe and you fly via Ryanair, you'll land in Treviso. Since most of the arrivals there don't care about Treviso and only want to get to Venice, it's pretty easy to do it. In front of the terminal, you can get a bus that will take you straight to the city (you can pre-book it online, just in case).
If you're coming to Venice from anywhere else in Italy, you can do it via train. Trains are the easiest way to travel around Italy – they are inexpensive, fast, and have plenty of departure options. The best place to find the train you need is Omio. It will take you to Venezia Santa Lucia train station, which has a Vaporetto stop in front of it.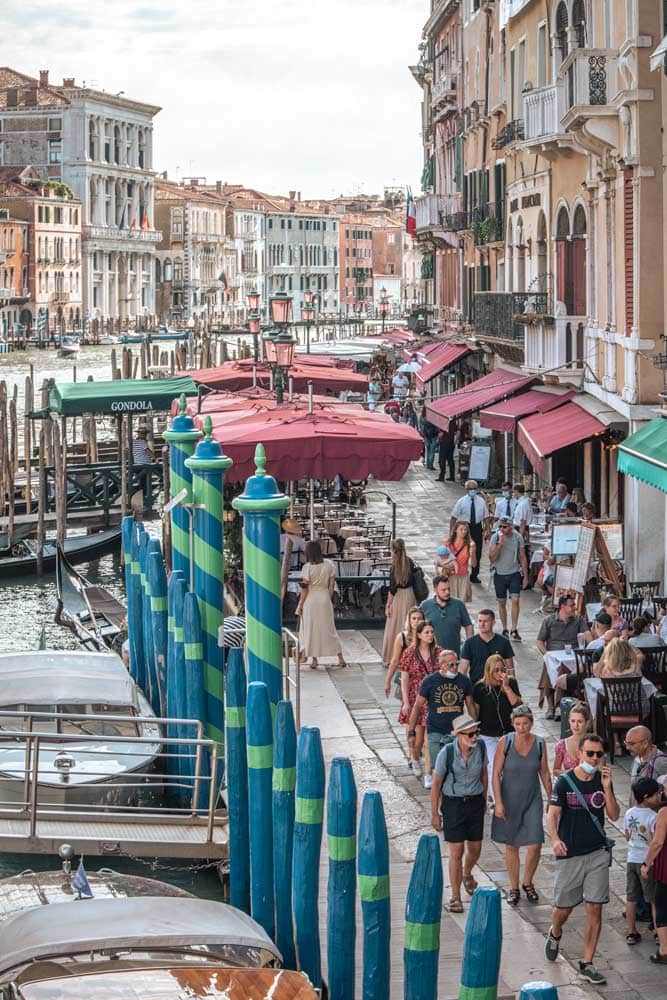 How to move around Venice?
By foot! I give this advice for most of the European cities, but in Venice, you're kinda forced to do it. There are no cars or bikes in the city, and even if there were, there are no streets to drive them on.
Also, if you're wondering if you should use a suitcase or a backpack, pick the latter. You'll most likely be forced to carry it at one time, or another and Venice has a million bridges where suitcases are impossible to roll on.
If you're too tired to walk everywhere, you can use Venetian public transport. As expected, it's neither buses nor a subway but boats. They are called Vaporetto and can get you all around town. Vaporettos are not cheap though, a single ticket costs 7.50 EUR, so if you intend to use them a lot, I suggest getting yourself day passes.
Is Venice worth it?
Venice is absolutely worth it! Quite literally one of the most magical places on Earth that totally deserves all the hype it gets.
Three Days in Venice Itinerary Map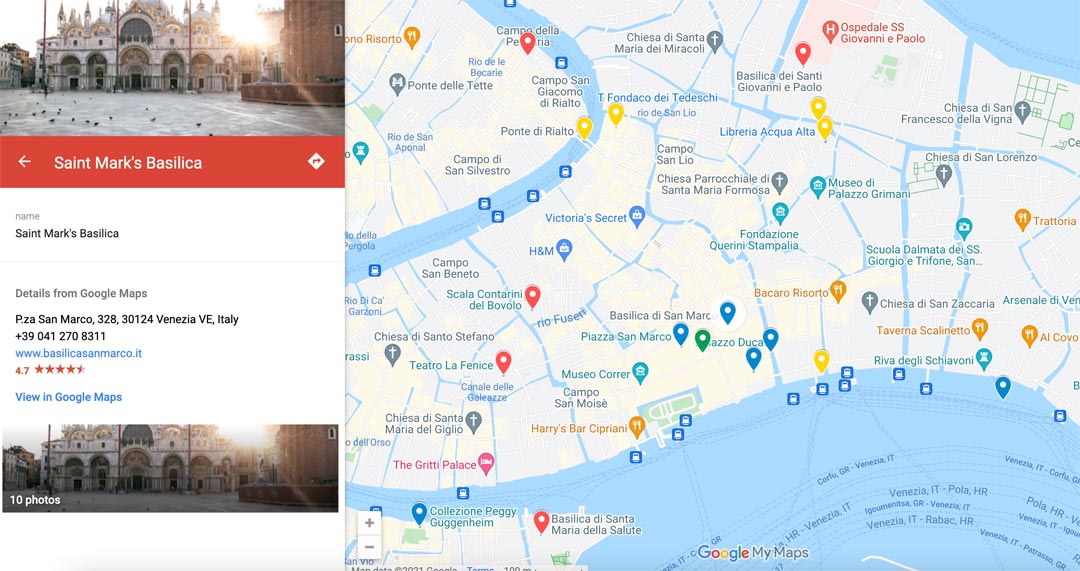 That's all from me, I hope you spend amazing 3 days in Venice!
————————————
If you haven't planned your trip there yet, find out how I plan my trips!
————————————
I have 41 bucket list ideas for Italy. See my impossible bucket list of 1700+ adventures!

Are you excied to visit Venice?
---
Some of the above are affiliate links and I will earn a percentage of the sale if you purchase through them at no extra cost to you. This helps keep my site running – so thanks in advance for your support!