So, you've decided to spend 3 days in Florence, and you wonder what is there to see?
Worry not, my friend! The birthplace of the renaissance has plenty to offer. But before we get to our three-day Florence itinerary, let me congratulate you! Florence is often overlooked in favor of the more touristy Rome, Venice, and Milan, and picking it for your journey really shows class.
From Michelangelo's David to the world-famous Dumo, the capital of Tuscany is one of those places that enchants you so powerfully you simply lose track of time, and just like that, your three days in Florence will be over (but that's a good reason to come back).
Are you ready to embark on a vintage journey to medieval Italy?
Let's go!
Three Days in Florence – Day 1 – Panoramas and Marble
Accademia Gallery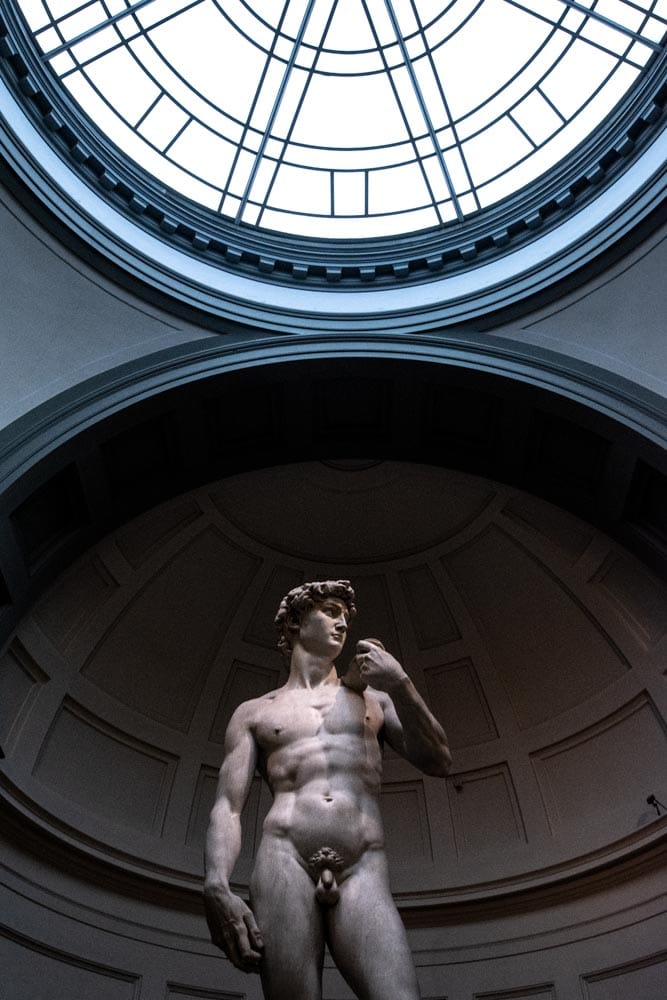 The first stop on our 3-day Florence itinerary is the home of Michelangelo's renowned masterpiece – the sculpture of David.
The small museum is one of the must-see spots in town, and it's the perfect way to start our adventure.
Created in marble between 1501 and 1504, David is a global symbol representing the defense of civil liberties embodied in the Republic of Florence, an independent city-state threatened all the time by its neighbors.
The statue initially stood on Piazza della Signoria but was replaced by a replica to remain preserved for the ages (you can still see the replica there).
As I mentioned, the Accademia Gallery is one of the must-sees for every Florence visitor, so it's jam-packed. If you want to see David, pre-booking a ticket is almost mandatory.
Working Hours:
Tuesday – Sunday – 8:15 AM to 6:50 PM
Monday – closed
Prices:
Regular – 16 EUR (17 USD) – Get one here
Skip-the-line (including Uffizi) – Check here
Combo ticket including Uffizi and option for a Duomo's dome climb – Check here
Guided tour – Check here
VIP option – visit after hours and have David for yourself – Check here
VIP option 2 – visit before the gallery is open and continue with a skip the line Dome climb with exclusive terrace access – Check here
Mercato Centrale + Food Tour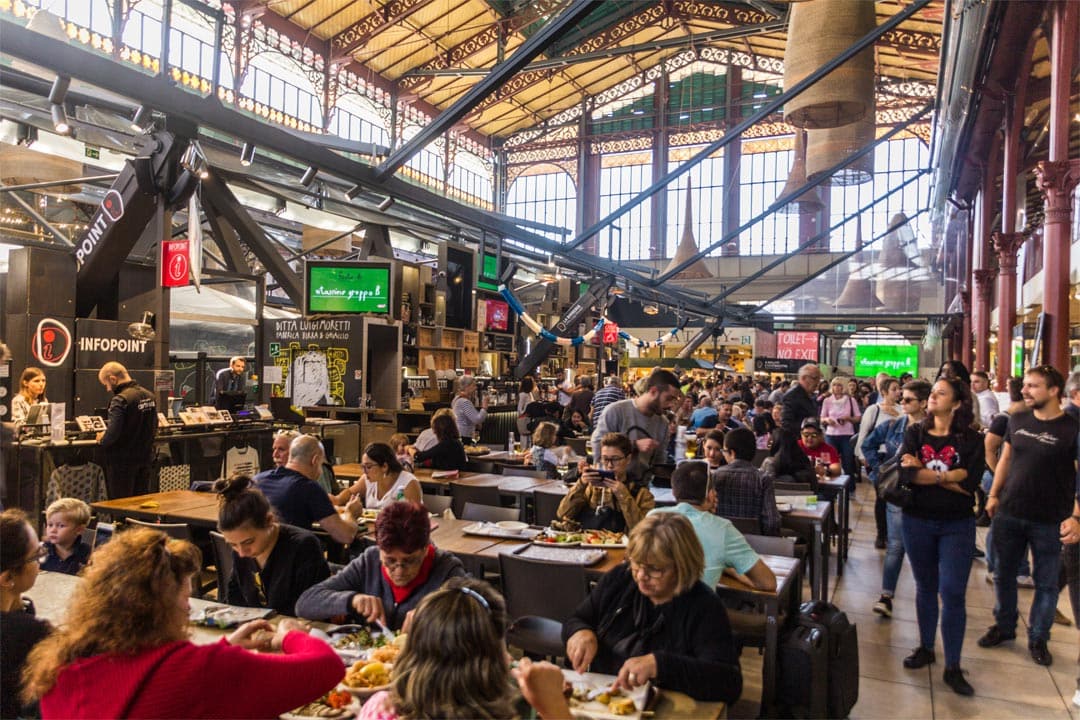 The huge indoor market in the city's center is the perfect place for lunch. Usually, I don't recommend restaurants because a chef change can turn a great restaurant into a poor one, but in Mercato Centrale, you have so many food options that this concern is irrelevant.
I'm pretty sure that no matter how many times you've eaten Italian food, you'll find something you've never heard of there… and it will taste amazing.
If you want to taste the best of Mercato Centrale, I recommend getting a guide. A great way to explore the cuisine of an area is via food tours and the best time to do it is early in your itinerary (so you can use the maximum of the gathered knowledge).
And if you're a big, big foodie, you may skip all the other stops for the day and go for this 5.5-hours cooking class. You'll sample the local food and wines, then learn how to prepare yourself a delicious Tuscan meal.
Working Hours:
Every day from 10:00 AM to 12:00 AM
Prices:
Vary
Cappelle Medicee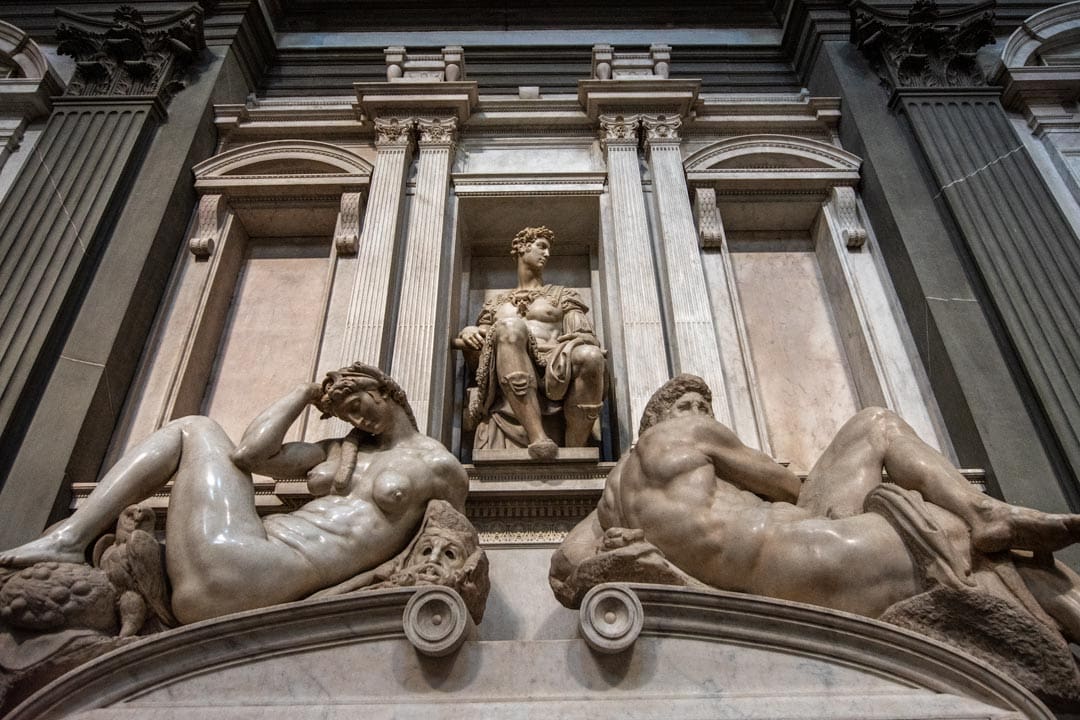 Now that our tummies are full, it's time to explore the first church on our three-day Florence itinerary. Don't be scared; there won't be a gazillion of church visits incoming. Florence is a bastion of the catholic faith and is full of cathedrals and basilicas, but that doesn't mean we will spend all of our time there. The few I picked have something unique and will indulge even people who don't care about such places.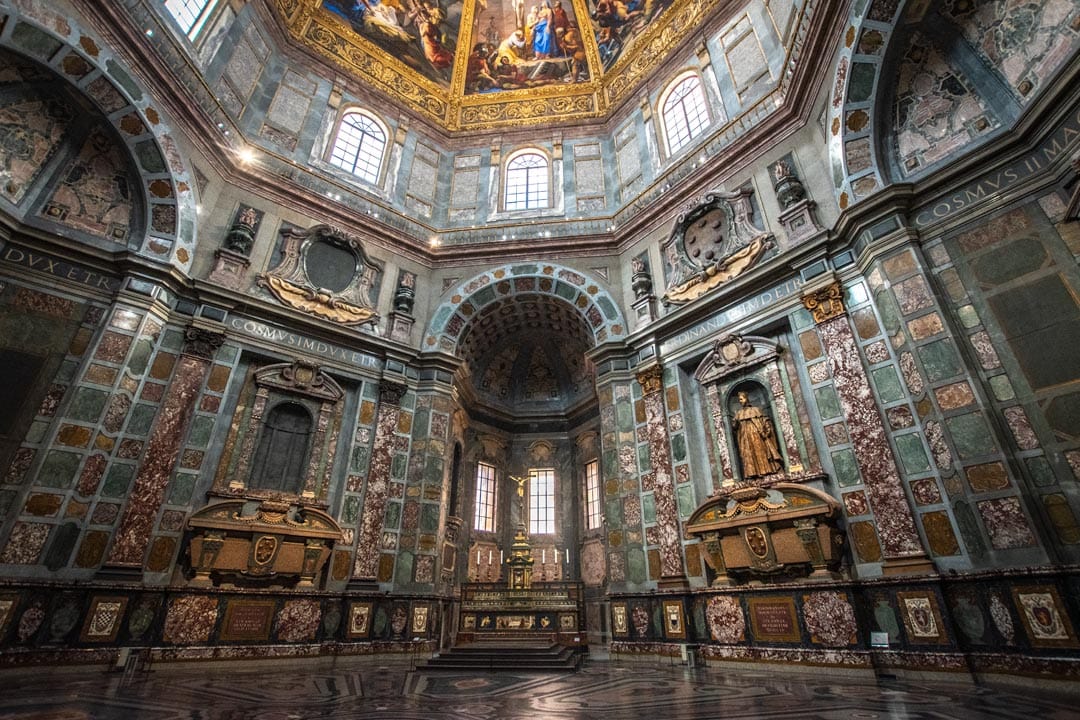 The Medici Chapel is, hands down, the most beautiful church in town. Built as an extension to Brunelleschi's 15th-century basilica, this magnificent chapel's purpose was to celebrate the Grand Dukes of Florence – the Medici family The Sagrestia Nuova ("New Sacristy") was designed by no other than Michelangelo himself, and it was intended as a mausoleum for the Medici family. It also features incredible Michelangelo sculptures.
Another thing you'll see inside is the 59-meter high octagonal Cappella dei Principi. Being an absolute marble wonderland, few chapels in the world can rival this beauty.
Working Hours:
Wednesday – Thursday – Friday: 2:00 PM – 6:30 PM
Saturday and Monday: 8:45 AM – 1:30 PM
Closed every Tuesday and only open occasionally on Sundays
Prices:
Regular – 14 EUR (15 USD) – Get one here
Group Tour – Check here
Private Tour – Check here
Giotto's Belltower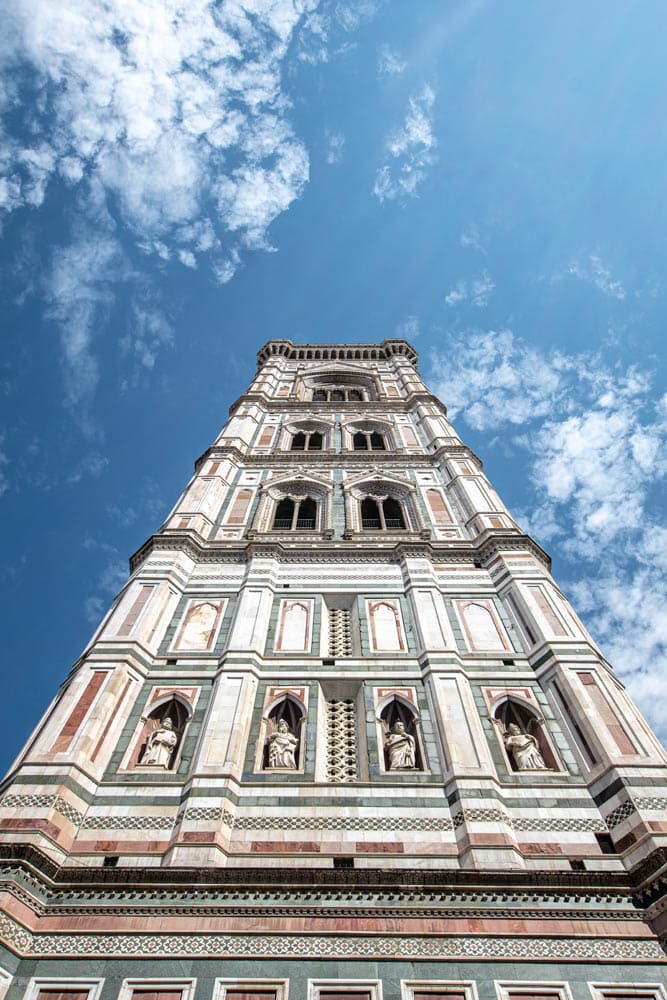 No matter where I am in Europe, I love climbing the belltowers! They always deliver beautiful views, and Florence's one is no different. Attached to the Duomo, there's no way you can miss it. Make sure you climb it all the way to the top to see the Duomo's dome from up close (even though there's a picture-ruining fence, it's still worth it).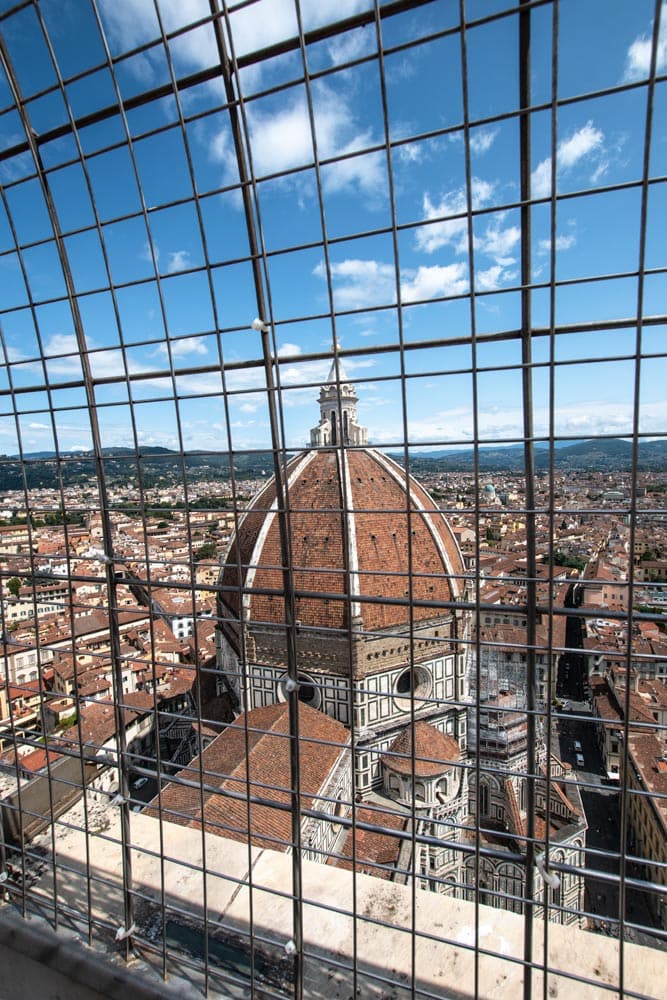 There are plenty of resting spaces on your way up, so don't rush it and take as much time as you need.
Hotel Medici Rooftop Bar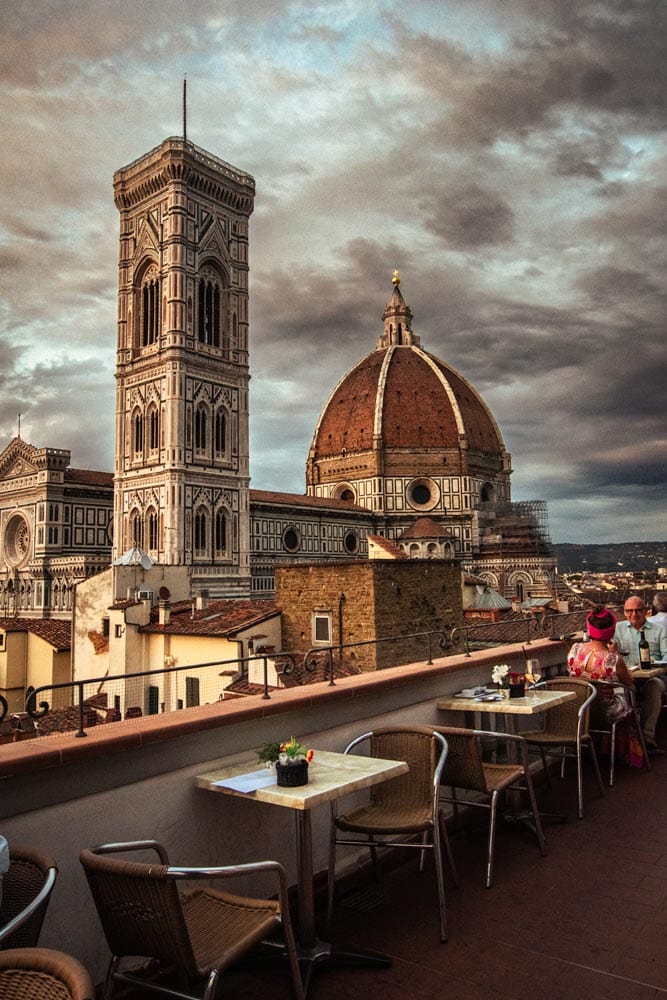 We end the day with a glass of wine (or spritz) and one of the best views in town. The rooftop of hotel Medici overlooks the Duomo and, especially at sunset, creates one of the most magical experiences in town.
Just make sure to have a reservation beforehand and mention you want one of the tables on the Duomo side.
Three Days in Florence – Day 2 – Food and Temples
Santa Maria del Fiore + Dome climb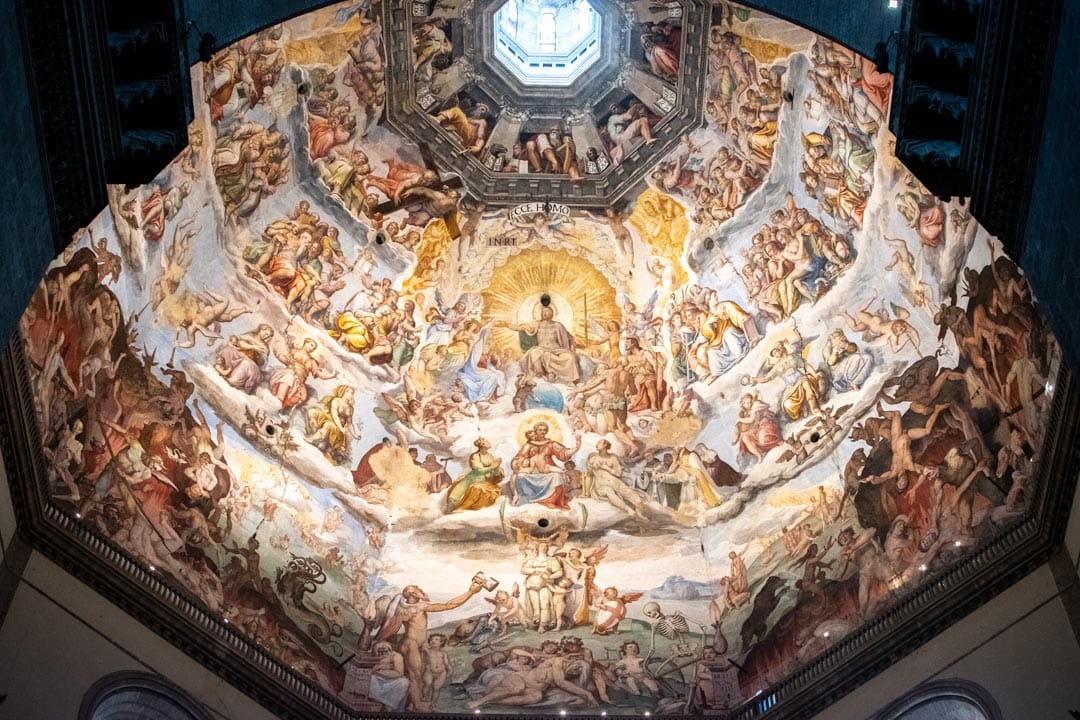 We start the second of our three days in Florence with a bang. It's time to explore the most significant attraction in the city – the incredible Santa Maria del Fiore cathedral, also known as Florence's Duomo.
Built in the 13th century, this Gothic-Renaissance masterpiece is one of the biggest churches on the planet, and you can't go to Florence without checking it out.
Going inside is a bit tricky, though. Florence's Duomo has free entry; therefore, to get inside, you have to endure one of the most monstrous lines I've seen. Once you make it, the interior may disappoint at first but wait until you see the frescoes of the Last Judgement by Giorgio Vasari and Federico Zuccari. Definitely drop-your-jaw-to-the-floor material!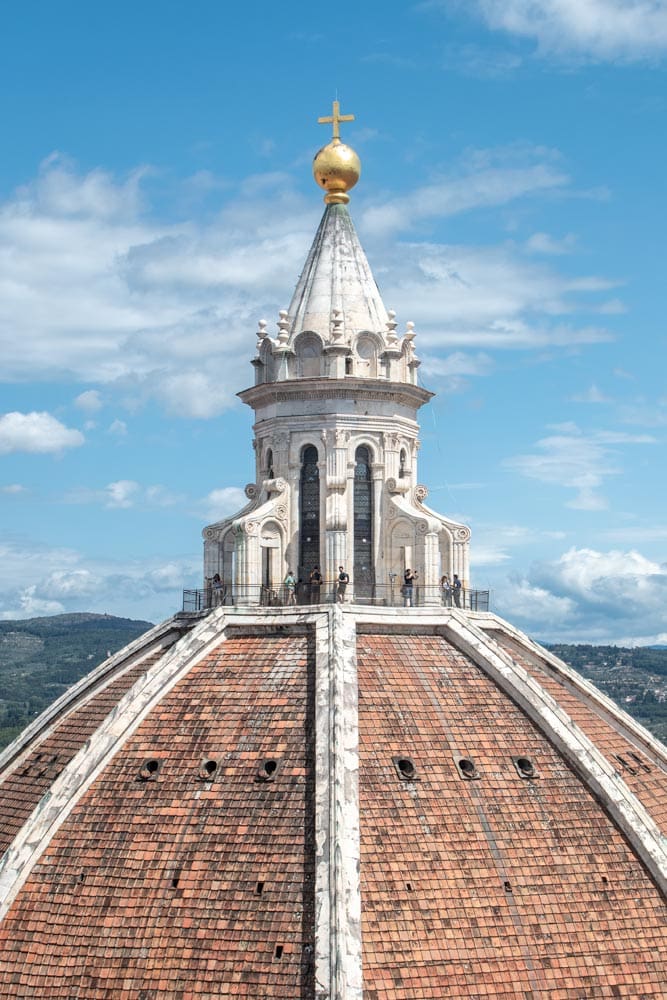 If you want to get inside without spending any buck, your best bet is going on the line around 1.5 hrs before opening. Yes, you still have to wait 1,5 hours, but it's nothing compared to the wait you'll face if you show up later.
The other option is to get a climb-the-dome priority ticket but keep in mind that there are 463 steps on a narrow, crampy staircase, and no, there's no elevator option. The pluses are, you get one of the best panoramic views in Florence, and you skip all lines. For this option, make sure you get the tickets at least a week in advance!
Working Hours:

Cathedral:
Monday – Saturday – 10:15 AM – 4:45 PM
Sunday – closed
Dome:
Monday – Friday – 8:15 AM – 7:30 PM
Saturday – 8:15 AM – 5:15 PM
Sunday – 12:45 PM – 5:15 PM
Prices:
Cathedral:
Regular – Free
Priority entrance tour – Check here
Dome:
Regular passes – Official site
Just the Dome – Check here
Guided tour – Check here
Castaway Tip
TBefore entering the Duomo , check out the gates of the baptistry nearby. The Gates of Paradise ( Porta del Paradiso) was made in the 15th century and praised by generations of artists and historians for their captivating portrayal of scenes from the Old Testament.
The baptistry itself is incredibly dull, so there's no need to go inside.

Artisanal Gelato Vivoli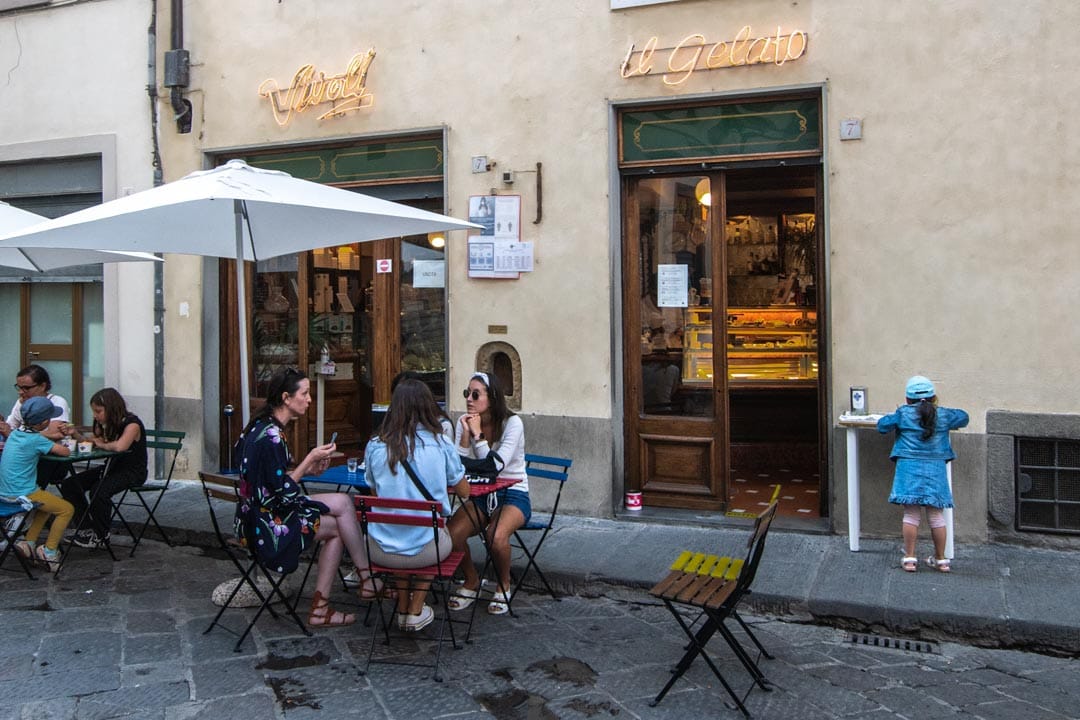 After the long wait (or exhausting climb), I'm pretty sure you need something refreshing. Located in the city's historic center, Vivoli is the first gelato shop in town that, back in 1929, used to make ice cream by bringing ice from the Apennines.
Today, the same family runs the business offering homemade gelato that tastes like heaven. I know it sounds like an ad, but their ice cream is so good I just can't help myself.
Working Hours:
Tuesday – Saturday: 8:30 AM to 6:00 PM
Sunday: 9:30 AM to 6.00 PM
Monday – closed
See Also: How to spend 4 days in Paris
Basilica of Santa Croce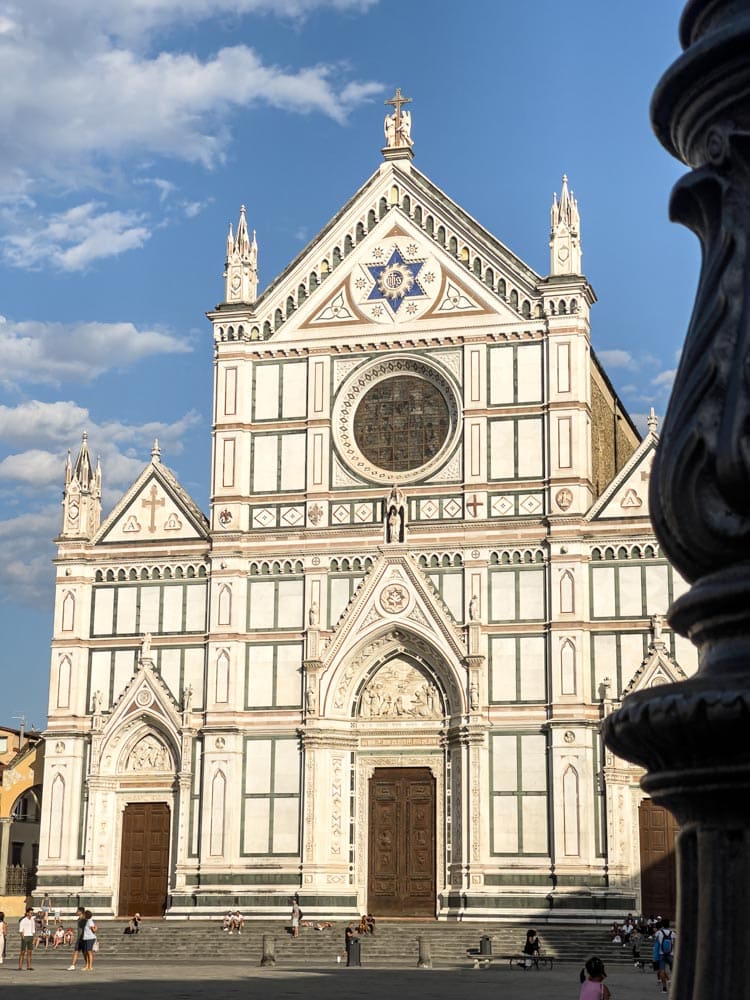 Out 3-day Florence itinerary continues with… another church. I know, two churches in a day seem a little bit excessive, but this one is famous not for its frescoes or panoramic views. The most notable part of the Santa Groce basilica is its residents. The dead ones in particular.
It's one of the few churches in town that have an entry fee, and honestly, in the begging, I didn't understand why. It seemed nothing special on the inside. Then I saw the grave of Michelangelo and figured it out. For the next half an hour, I explored the other illustrious historical personalities buried there.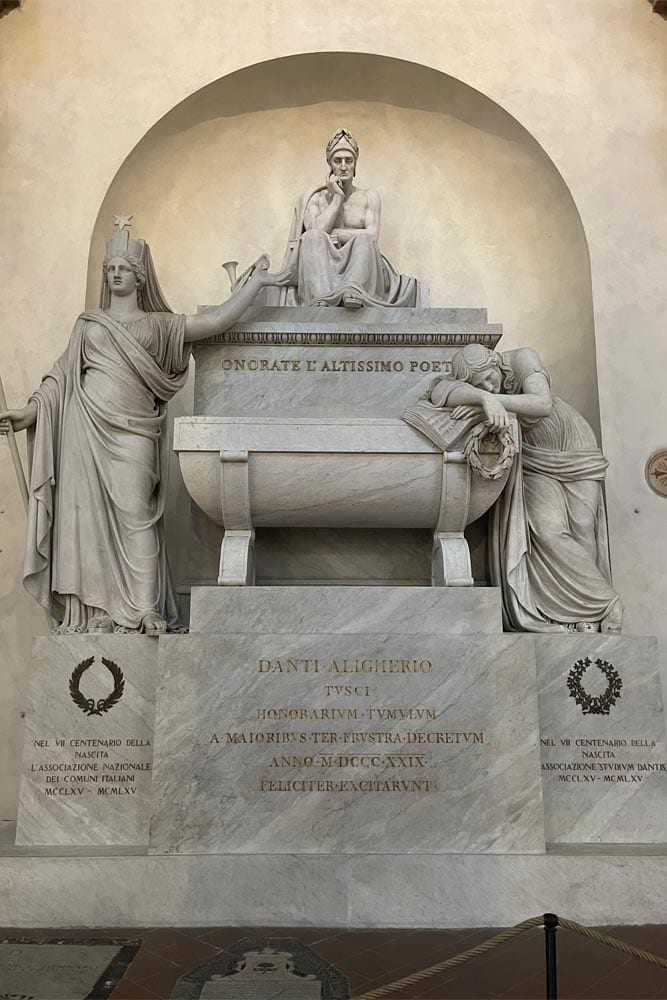 Besides the above-mentioned Michelangelo, there's Galileo Galilei, Gioachino Rossini, Niccolò Machiavelli and commemorative plaques for Leonoardo Da Vinci and Dante Alighieri
Working Hours:
Monday – Saturday: 9:30 AM – 5:30 PM
Sunday – 12:30 PM – 5:45 PM
Prices:
Regular – 8 EUR (9 USD)
Grab a bite at Via del Neri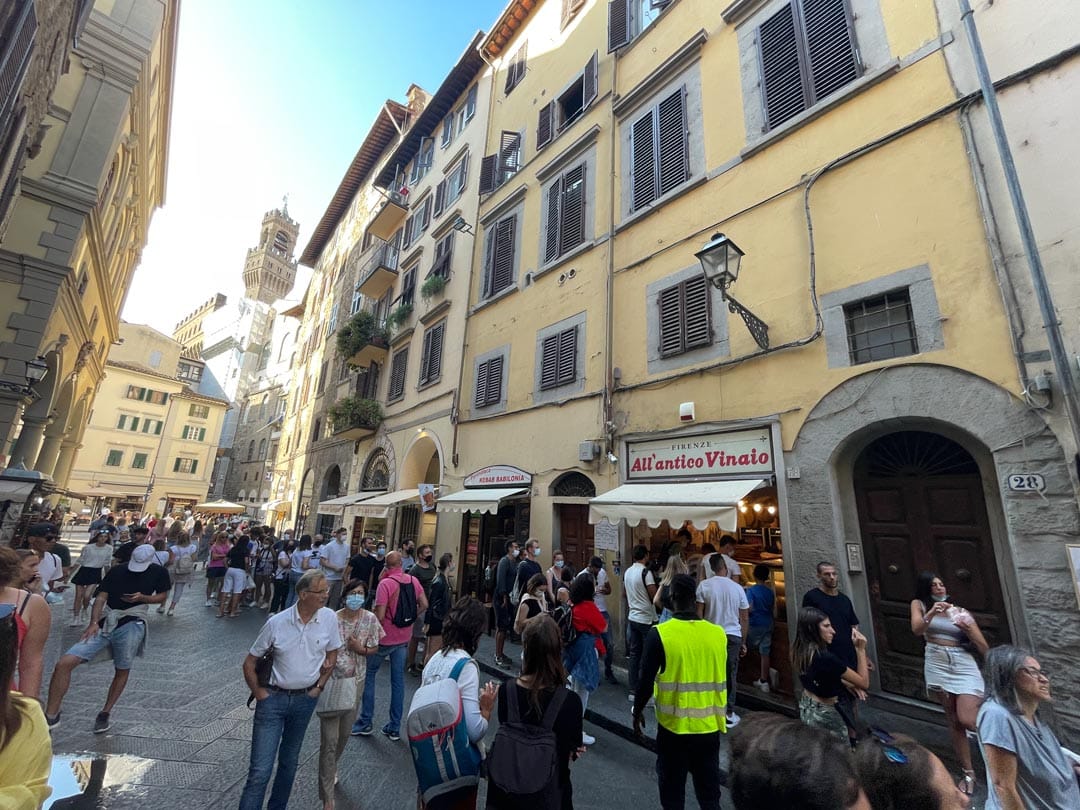 Next on the list is the food street of Florence. Via del Neri is full of restaurants and fast food joints with typical Italian dishes. The most famous ones are the All Antico Vinaio sandwiches. They have two shops standing across eachother and no matter what time of the day you get there; there's going to be a line…a big line.
All Antico Vinaio is so popular they hired a man to navigate the queue and make sure no one cuts in line. I've never seen anything like this anywhere else!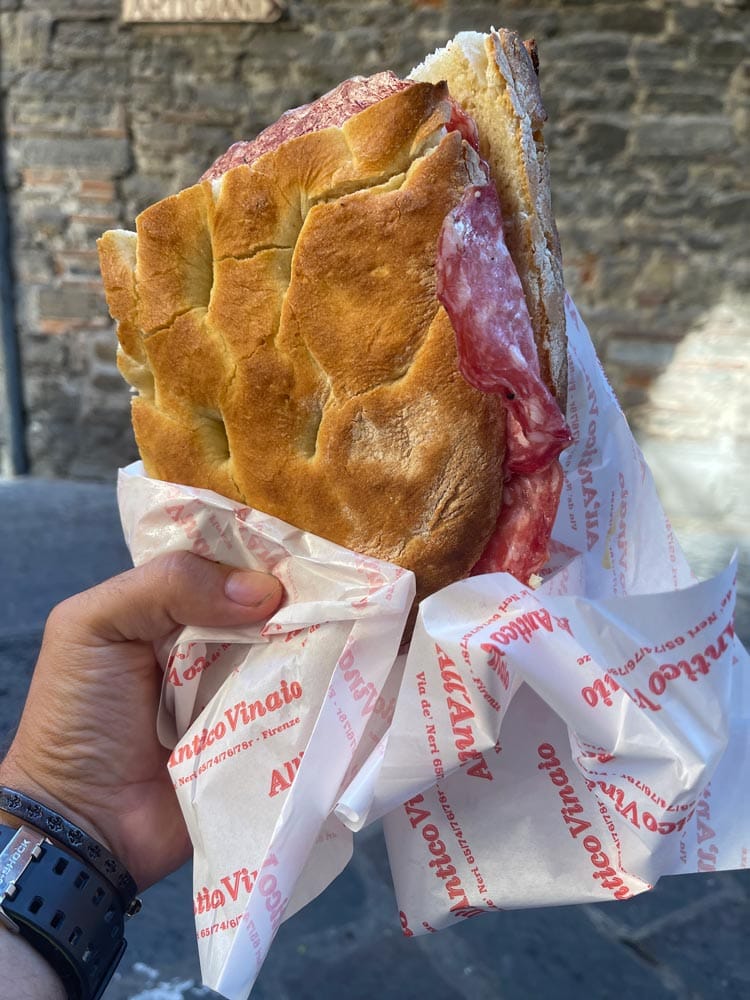 The hype is understandable, though; the sandwiches are not only lick-your-fingers good but also gigantic. The Dante one was my favorite.
Another option is the authentic food and wine experience. This one will cost a bit extra (it's a premium tour) but will guarantee a tasty end of the day!
Walk around Arno River and explore Oltrarno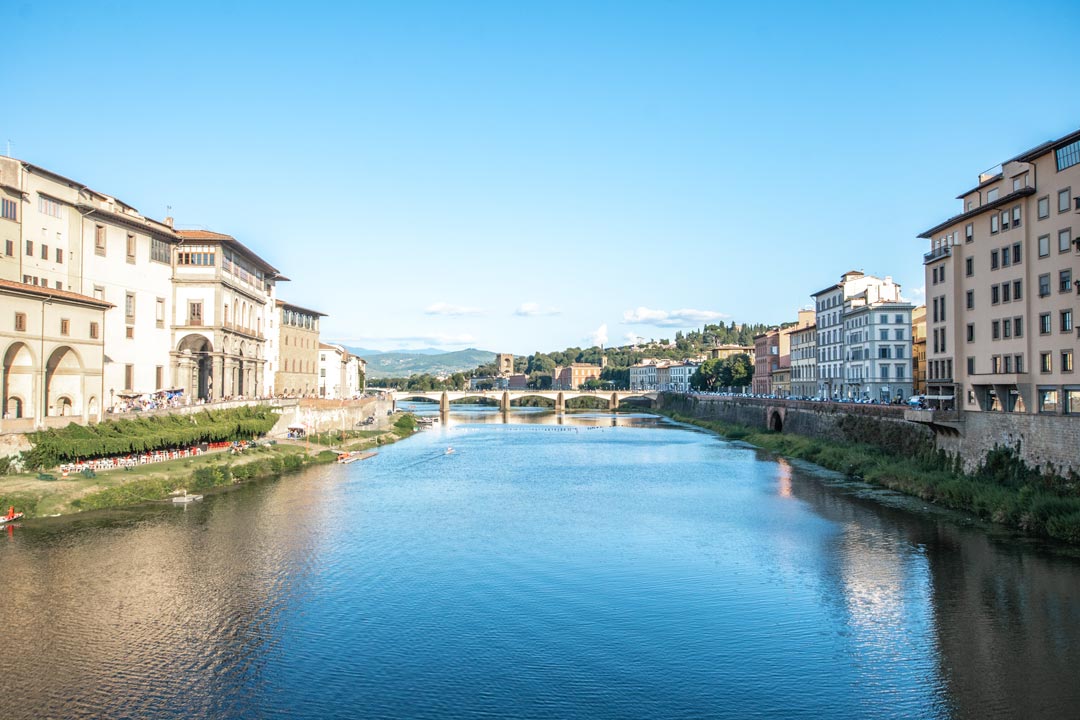 At dusk, I suggest a leisure walk around Arno River's banks. If it's still early or you have a strong wanderlust desire, you may even cross the river and explore the Oltrarno area.
Translating to 'across the Arno', the artisan's quarter of town is way less touristic and offers a more relaxed vibe. It's also full of independent boutiques, small restaurants and bars so you won't be disappointed.
See Also: How to spend 2 days in London
Three Days in Florence – Day 3 – The Must-See Spots
Il Porcellino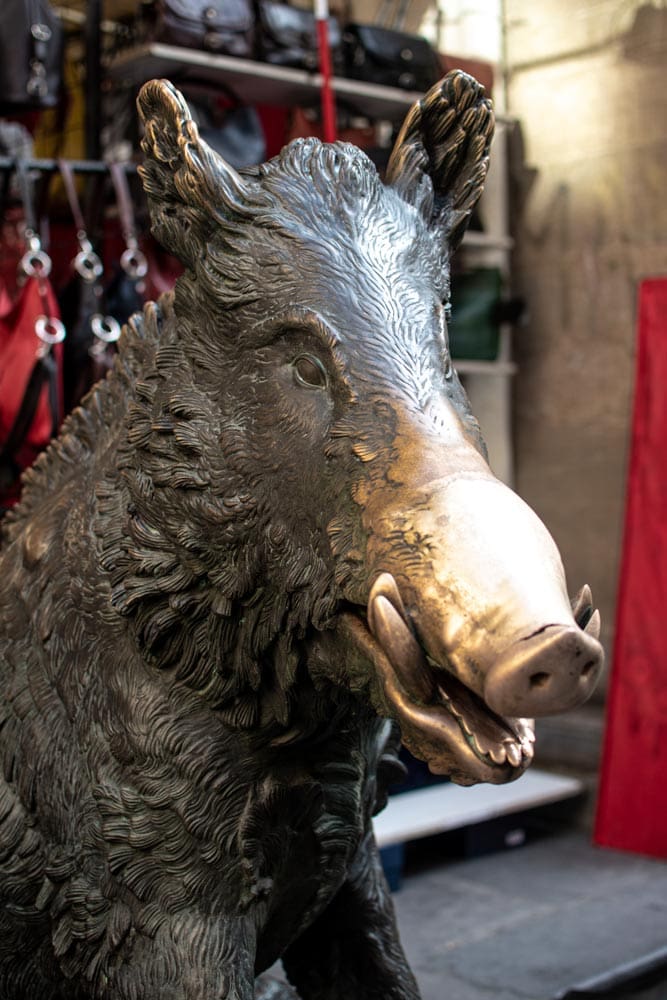 It's the last of our 3 days in Florence, and I'm pretty sure you regret you have to leave so soon. So what we will do is find Il Porcellino (also known as Piglet), rub its snout, and put a coin in its jaws (don't worry when it falls). That way, we ensure our return to Florence and also get a good luck charm.
After you get enough of the Peppa Pig Trevi, you can explore the leather market around it.
Piazza della Signoria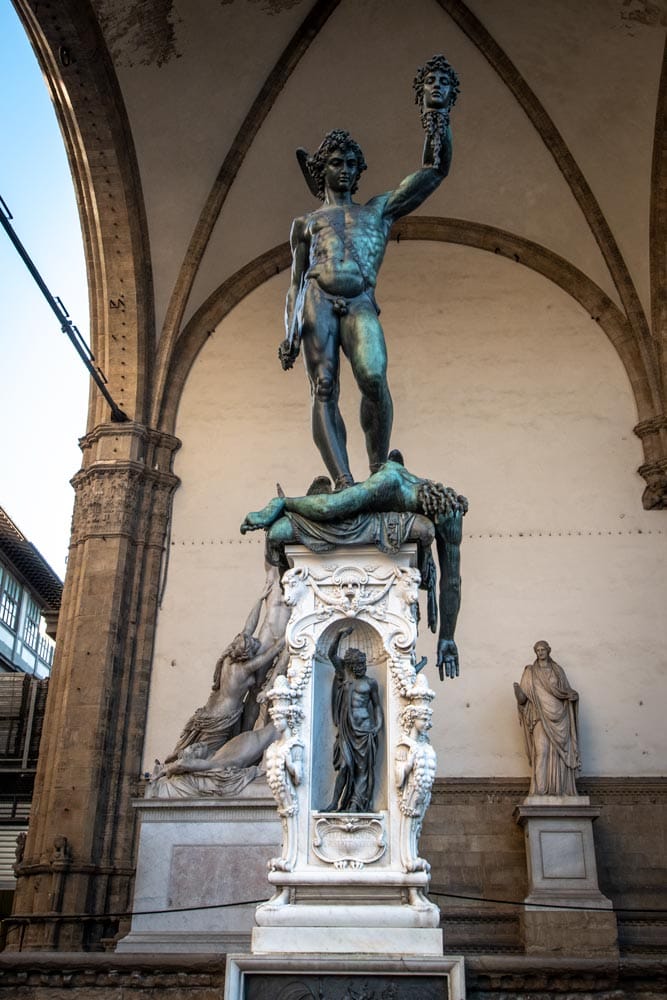 We leave the bronze piggy in peace to find the main piazza in town – Piazza della Signoria – an absolute must-see in my book. Acting more of an open-air gallery than a piazza, this was the original home of Michelangelo's David.
Today there's a replica in its place (we saw the real one on our first day) accompanied by other stunning statues such as the Fountain of Neptune, Hercules and Cacus, Perseus with the Head of Medusa, etc.
Uffizi Gallery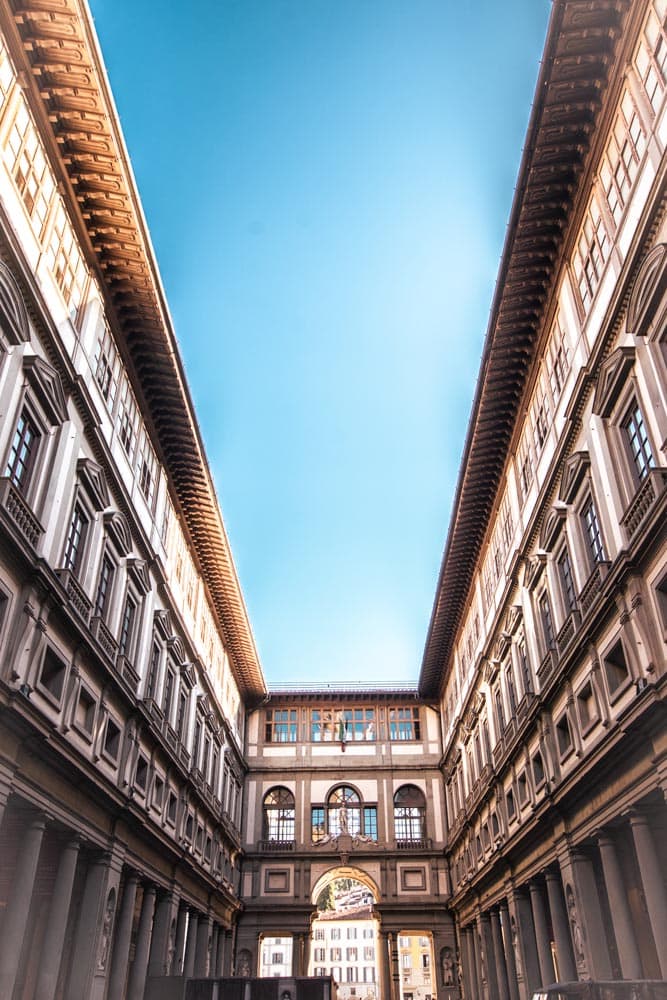 Right next to Piazza della Signoria we find one of the most prominent art museums in the world – the Uffizi Gallery. Displaying art from various periods, including Florence's signature renaissance one, Uffizi's most notable masterpieces are Botticelli's The Birth of Venus, Leonardo da Vinci's Annunciation, and Michelangelo's Doni Tondo.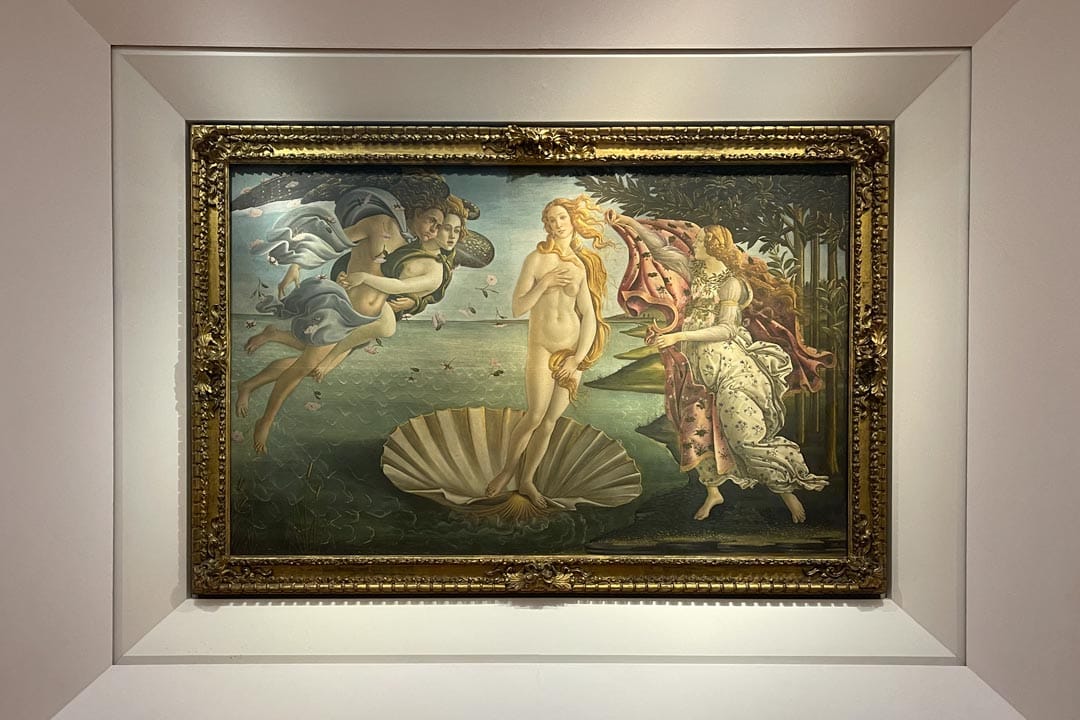 Uffizi Gallery is not a small museum, housing 101 rooms full of treasures. However, if you're not a vivid art enthusiast, you may consider getting a guide showing you the most interesting parts while telling you stories about the masterpieces. The things you're about to see and learn this way are truly incredible.
Working Hours:
Tuesday to Sunday 8:15 AM – 6:50 PM
Monday – closed
Prices:
Regular – 12 EUR + 4 EUR for online booking (17 USD total) Official site
Guided tour – Check here
Skip-the-line ticket – Check here
Combo including Accademia Gallery – Check here
Combo ticket including Accademia Gallery and option for Duomo's dome climb – Check here
Ponte Vecchio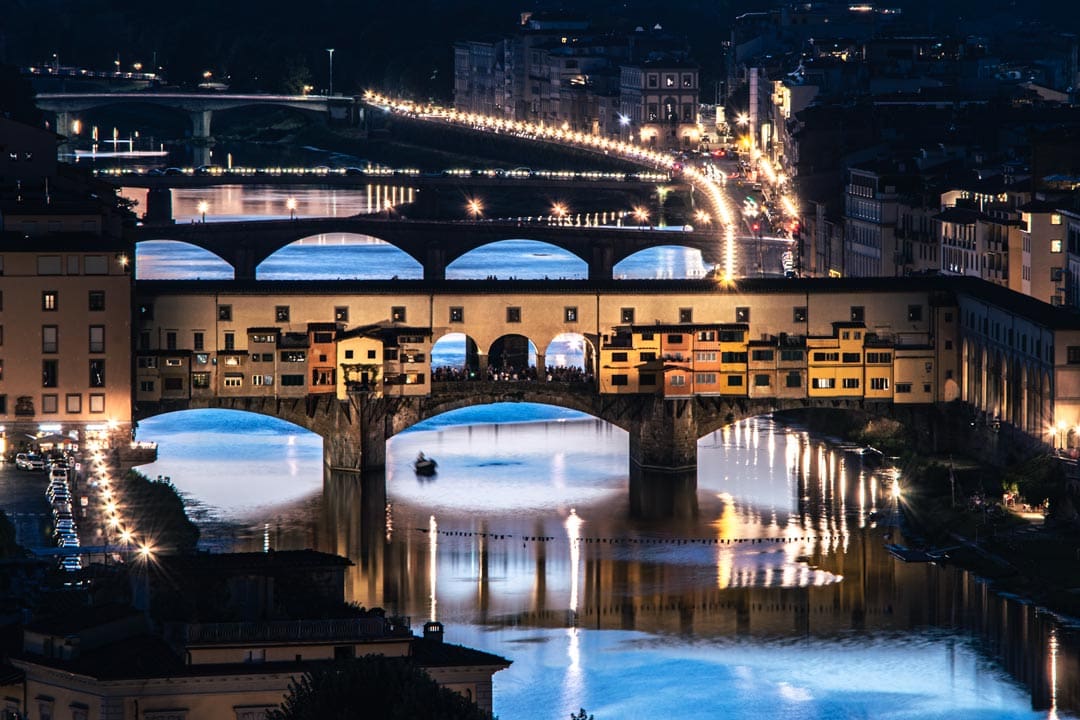 Right next to the Uffizi Galery, we find one of the symbols of Florence. You probably saw Ponte Vecchio the day before, but now it's time to cross it. Translating to Old Bridge, this unusual-looking bridge acts not only as a connection between the two banks of the river but also as a marketplace. And it's been like that for the last 800 years!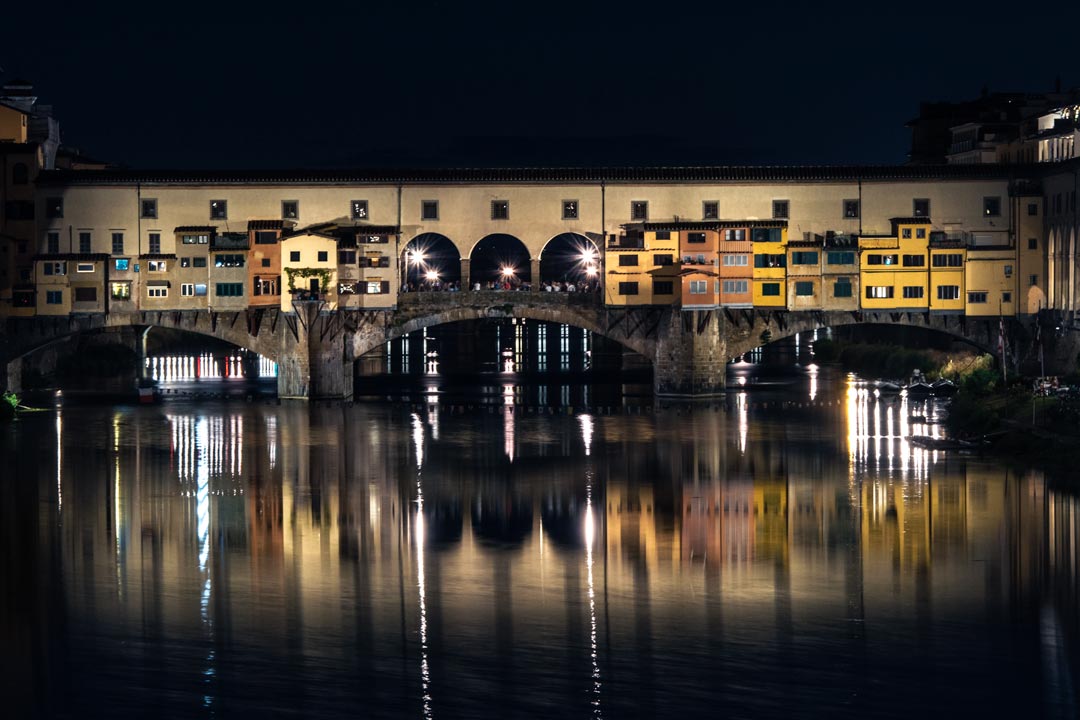 While in the begging, there were all sorts of food and meat on Ponte Vecchio, due to the smell, it was decided only high-end products would be sold on the bridge. The tradition continued through the ages, and today you can find mainly gold and jewelry there.
Quite frankly, crossing the bridge is nothing special, but being one of the city's prime symbols, it's almost mandatory to do it. And it's on the way to our next attraction, anyway.
Boboli Gardens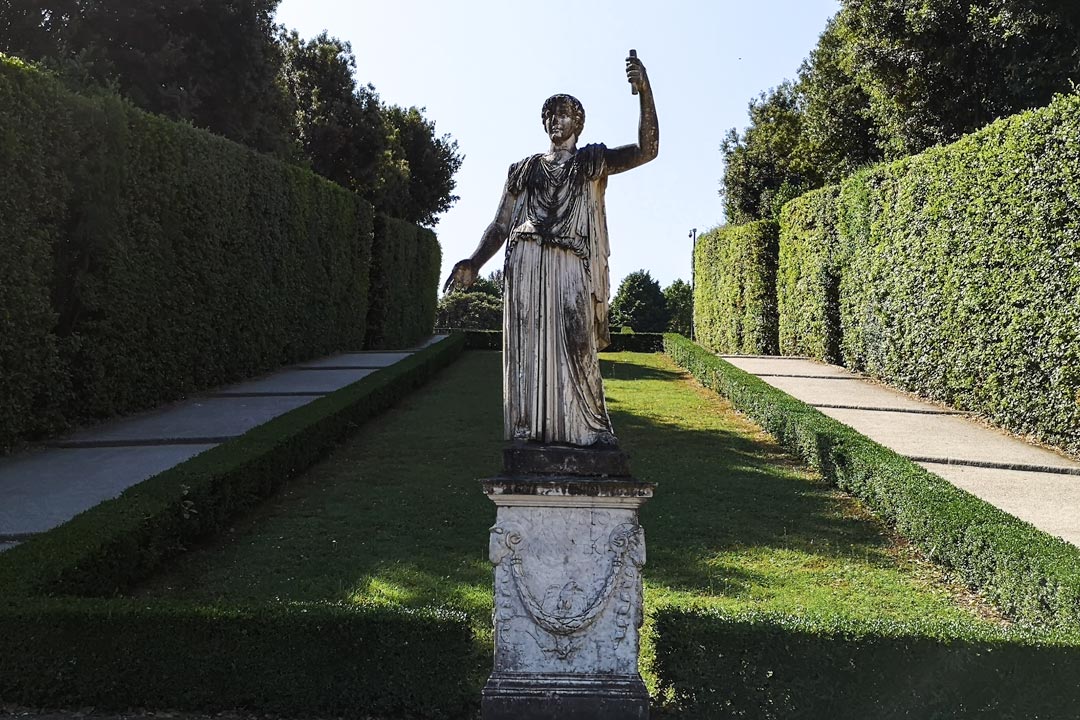 The end of our 3 days in Florence is almost here, and I guess you're pretty exhausted. If you ask me, nothing recharges the mind and body better than a walk around nature. The best place to do that in Florence is the Boboli Gardens.
Spanning over an area of 45,000 square meters (485,000 sq ft), the gardens are the most extensive green area in Florence and a favorite place for couples and tourists. I'm pretty sure it would've been a favorite place for the locals, too, if it didn't require a ticket to enter.
Working Hours:
Monday to Sunday opens at 8:15 AM.
Closing time depends on the month (details here)
Prices:
Regular – 6 EUR + 3 EUR for online reservation (9.50 USD total) Official site
See Also: The Ultimate 3-day Lisbon guide
Piazzale Michelangelo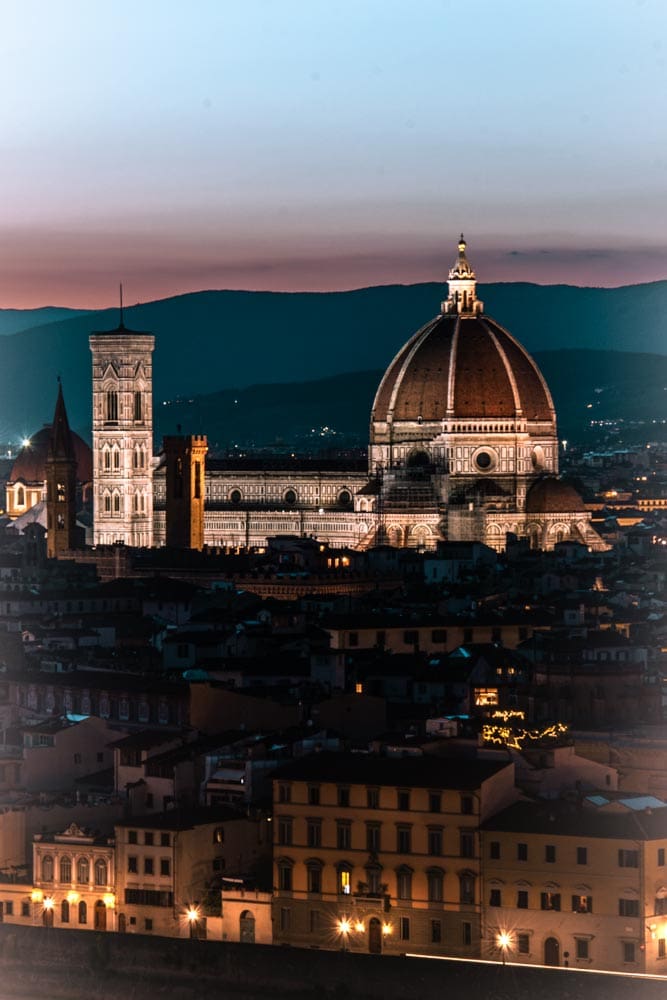 We finish the 3-day Florence itinerary with the most magical spot in the city. Piazzale Michelangelo requires a short climb to reach, but the views from there are… well, magic. Try to get there around sunset and wait to see the city after dark. I promise you it's worth it!
More than 3 days in Florence
You have more than three days in Florence, or you want to change something on the itinerary? No problem. Here are the other places of interest:
Palazzo Vecchio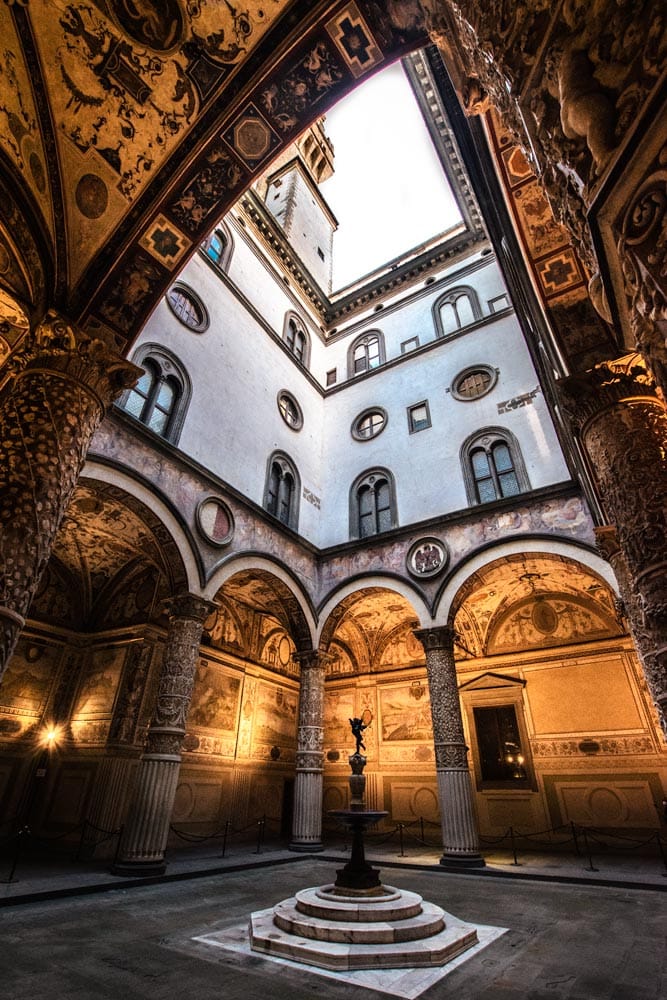 Built in 1299, Palazzo Vecchio (meaning Old Palace) is the medieval town hall of Florence that overlooks the Piazza della Signoria. The biggest attractions in this centuries-old palace are the palace's clock tower and Salone dei Cinquecento (Hall of Five Hundred) that features two giant frescoes on each wall, plus a gold-paneled ceiling.
Bardini Gardens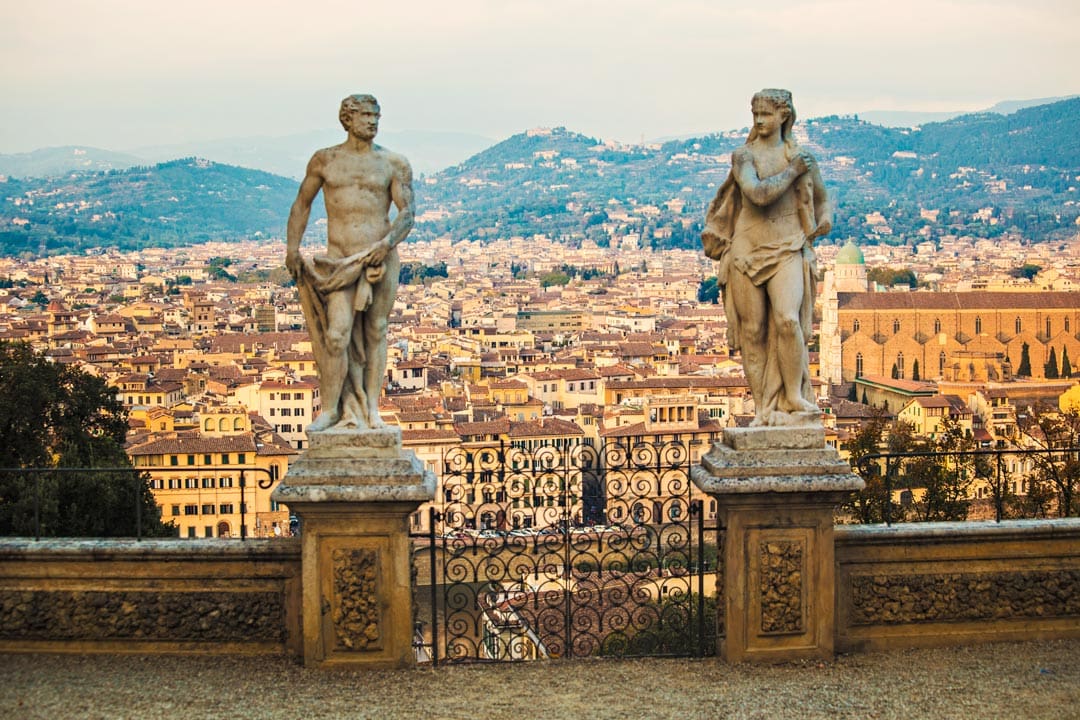 If your favorite activity is walking around green spaces, and the Boboli gardens are not enough for you, you may check out their less-famous cousin – the Bardini Gardens.
Featuring splendid views of the city below and dream-like tranquility due to the lack of tourist crowds, the Bardini Gardens are genuinely an escape from the hustle and bustle of Florence.
Pitti Palace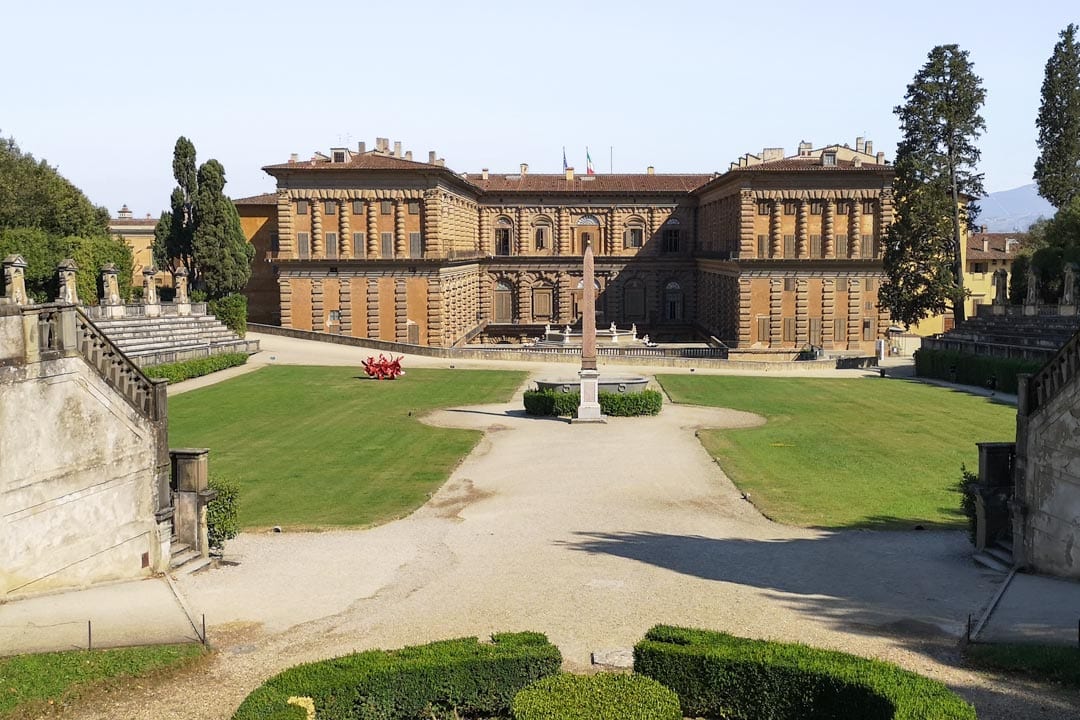 Palazzo Pitti is a group of museums housed inside a giant Renaissance palace. You can explore Palatine Gallery, the Royal Apartments, the Gallery of Modern Art, the Treasury of the Grand Dukes, the Porcelain and Carriages museums, and the costume gallery. Add the endless Boboli gardens to this, and you can easily spend the whole day there.
Abbazia di San Miniato al Monte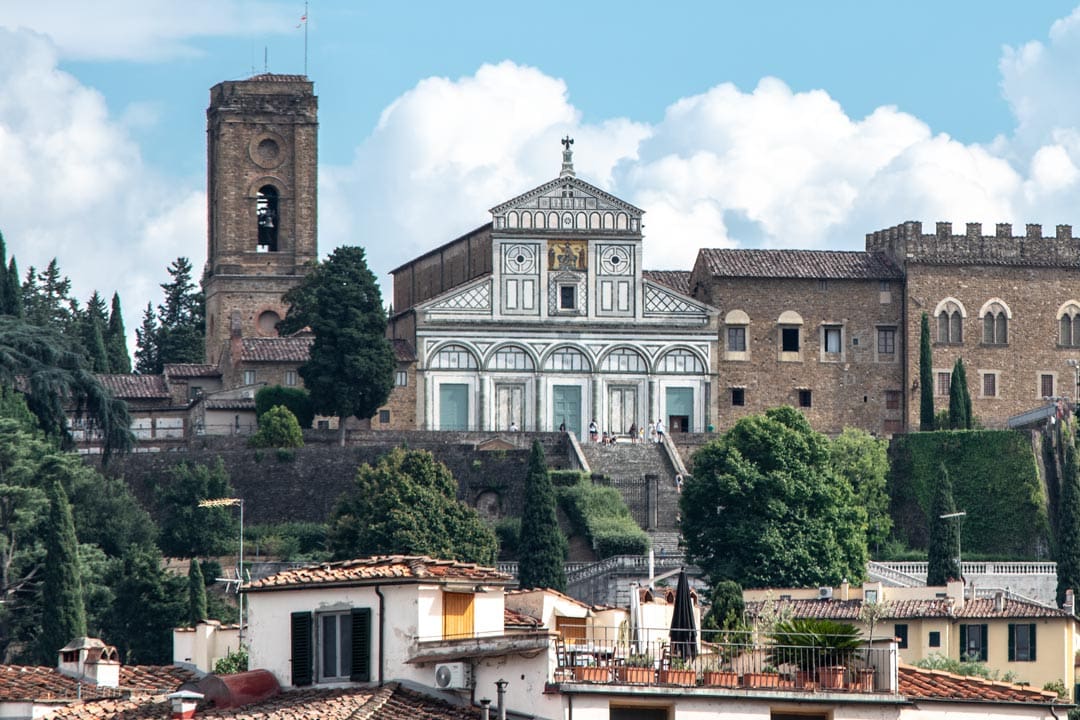 One of the hidden gems of Florence, Abbazia di San Miniato al Monte, is a beautiful romanesque church with a unique perspective over the city. It's located about 10 minutes away from Piazza Michelangelo and is usually free of tourist crowds.
Museo Galileo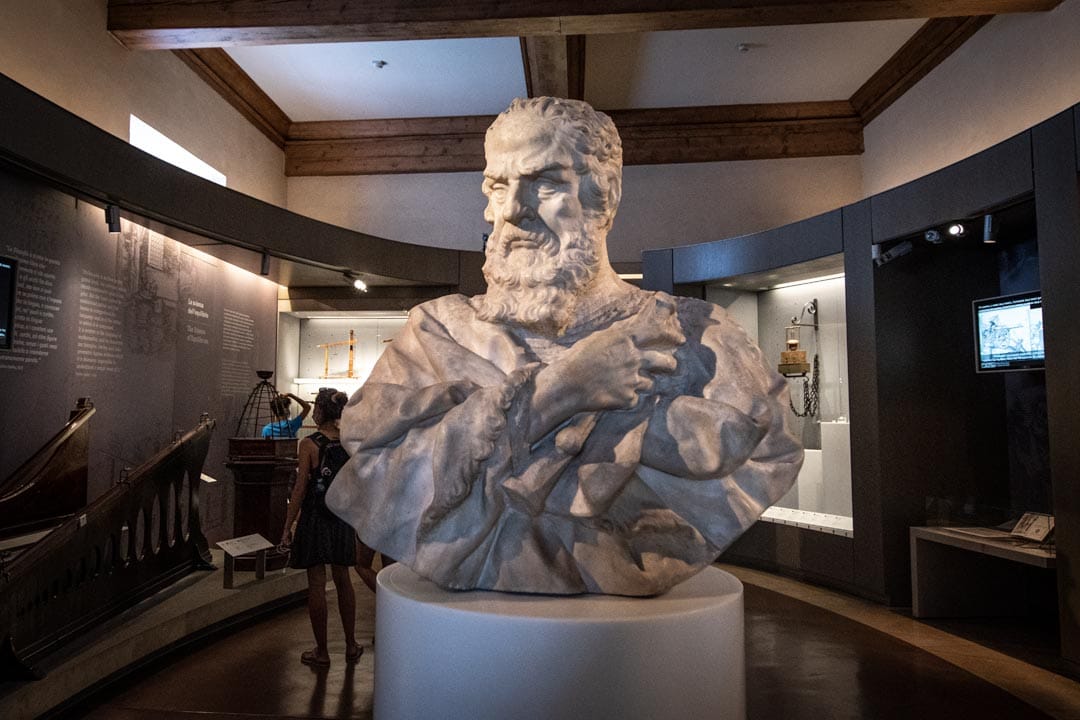 Located near the Uffizi Gallery, Museo Galileo is one of the lesser-known museums in Florence. It displays all sorts of vintage explorer stuff and is perfect for children, history buffs, and aspiring adventurers.
Bargello Museum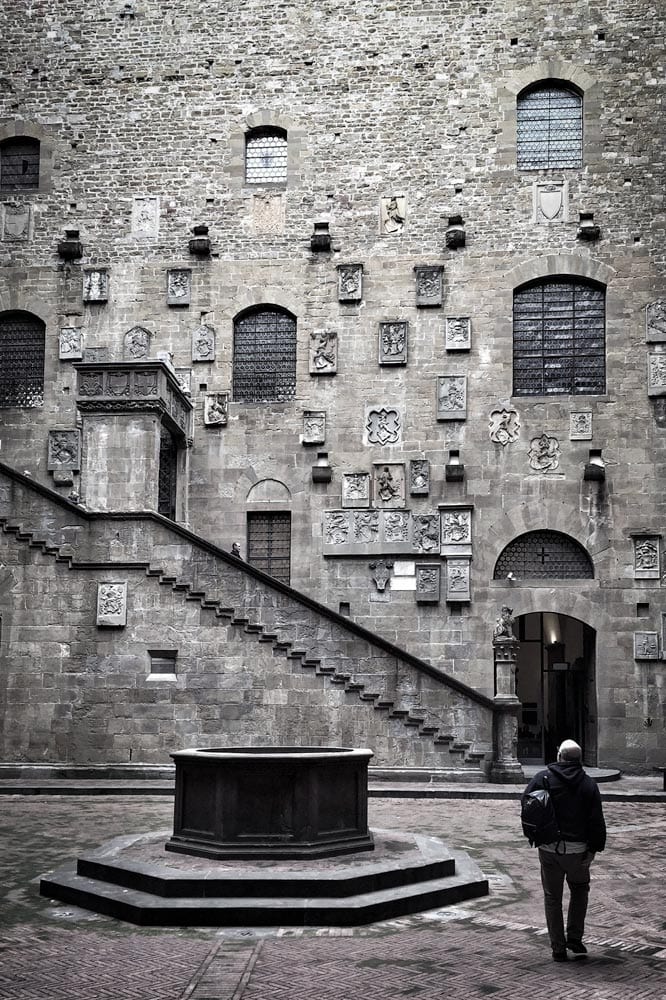 Another hidden gem is Florence's Bargello Museum. Dedicated to Renaissance sculptures, the biggest stars of this museum are the Michelangelo and Donatello rooms that showcase Michelangelo's first major sculpture, Bacchus, Donatello's world-renounced Bronze David and many other masterpieces of the two titans.
House of Dante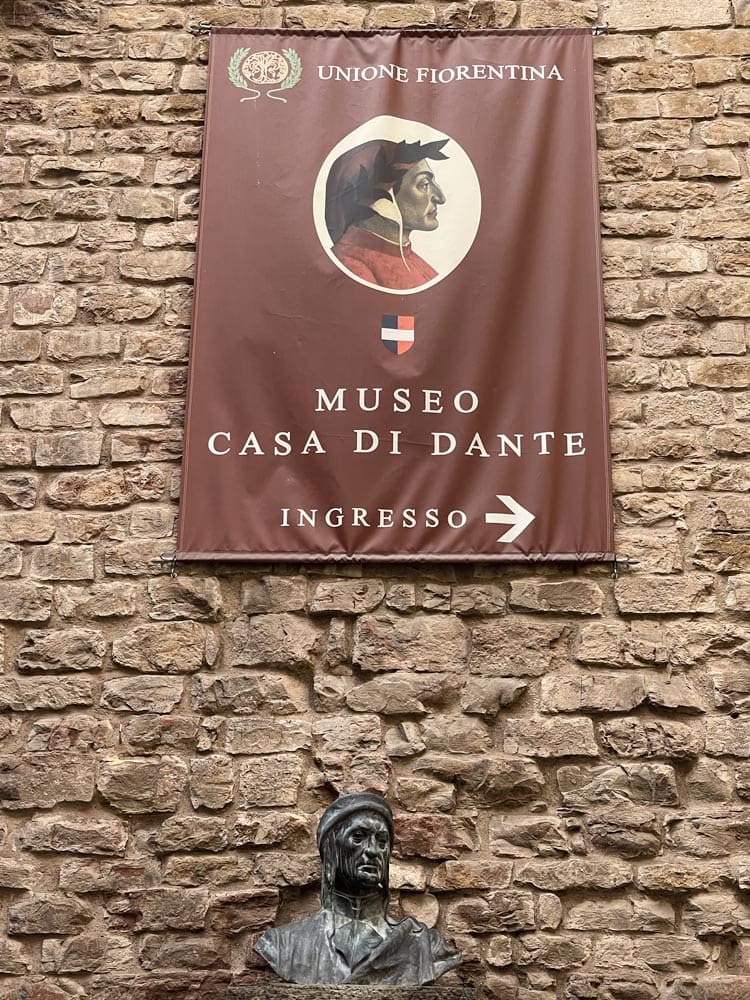 The House-Museum of Dante is arranged on three floors dedicated to the different stages of the author's life. The first floor showcases his youth life, political and military struggles; the second, his exile; while the third displays the iconography and fortune of Dante over the centuries. It's all housed in the original mansion of the Alighieri family.
Basilica di San Lorenzo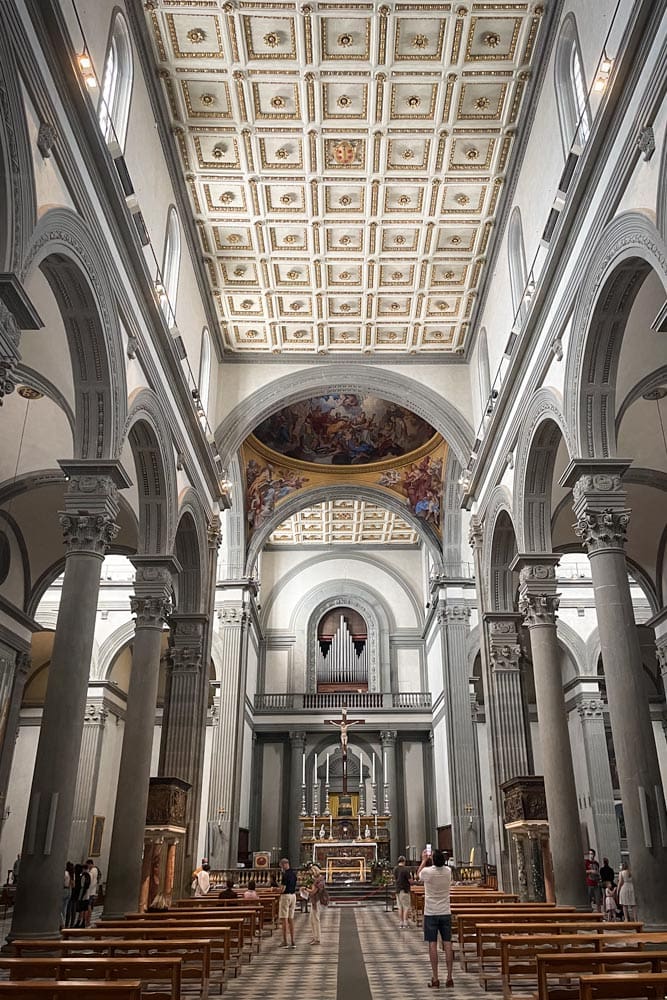 Located in the center of Florence, San Lorenzo Basilica is the final resting place for many members of the Medici family. Part of it was designed by Michelangelo and also features artworks from Donatello.
Basilica of Santa Maria Novella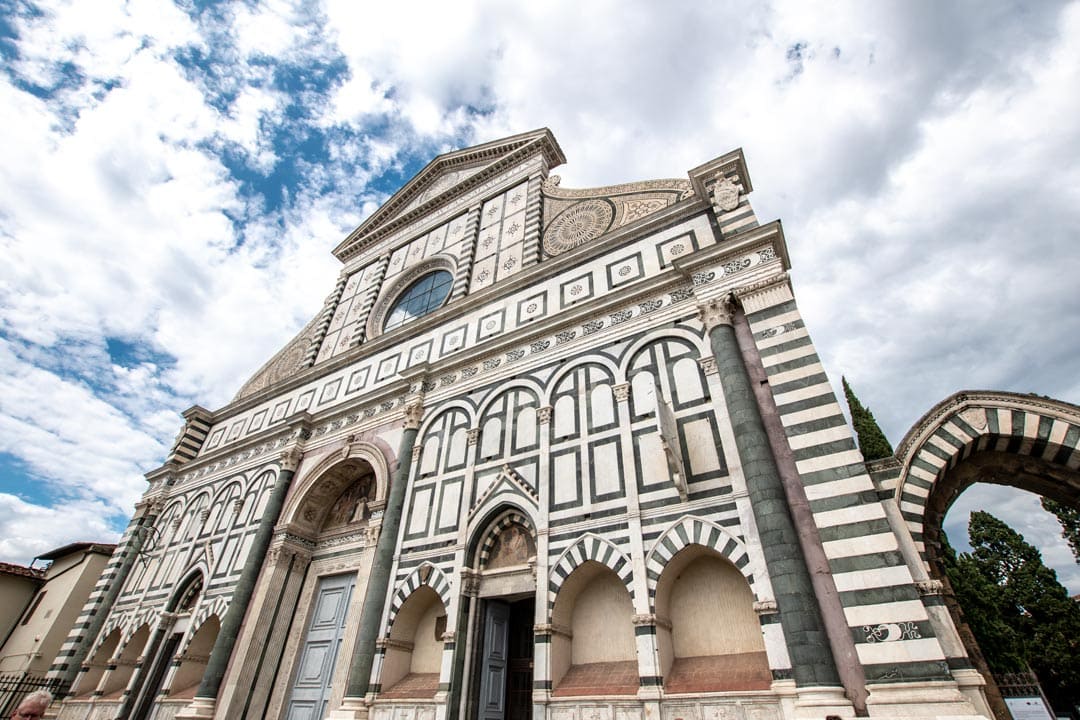 Located right next to Florence's train station, the Santa Maria Novella church was founded in 1279 by a Dominican order. Its facade is very similar to the one of the famous Duomo. Inside, you can find one of the most revered paintings in Italy, the Holy Trinity by Masaccio.
Next to the basilica, you can see the oldest pharmacy in the world. Founded in 1221, its official name is the Farmaceutica di Santa Maria Novella and today acts as a luxury store for beauty products.
Museo Archeologico Nazionale di Firenze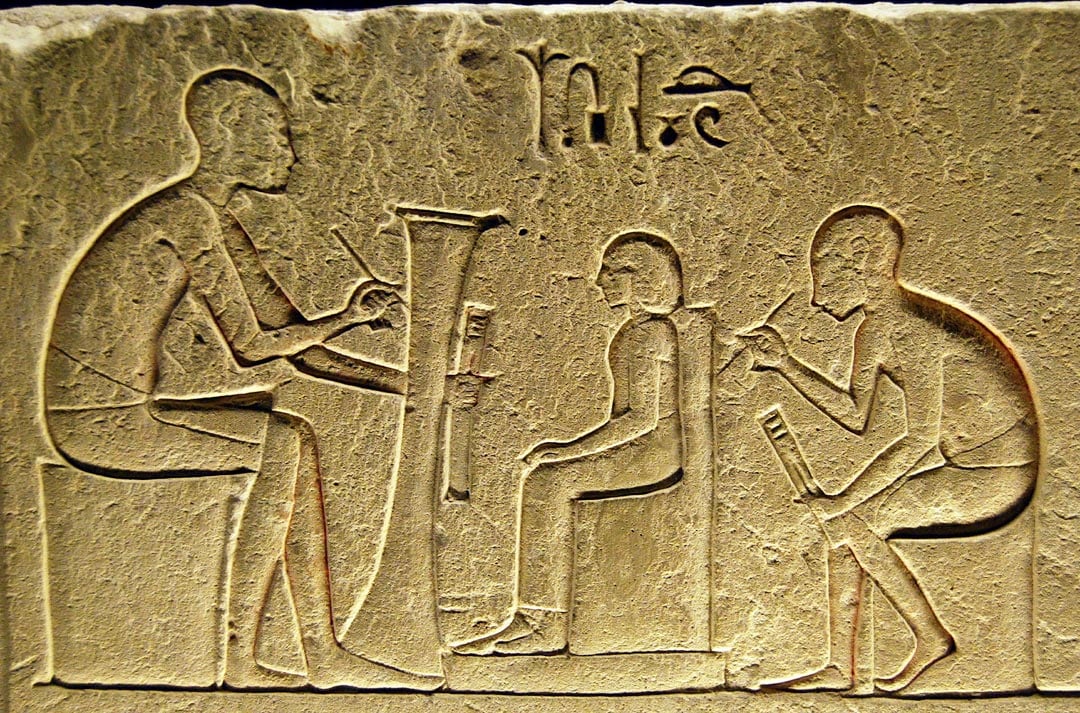 Florence's archeological museum is located inside Palazzo della Crocetta (a palace built in 1620 for princess Maria Maddalena de' Medici). On display, there are extensive collections of Etruscan, Roman, Greek, and Egyptian artifacts, including the Chimera – a bronze votive statue found in Arezzo in 1533 which represents an animal part lion, part goat, and part snake.
Hospital of Innocents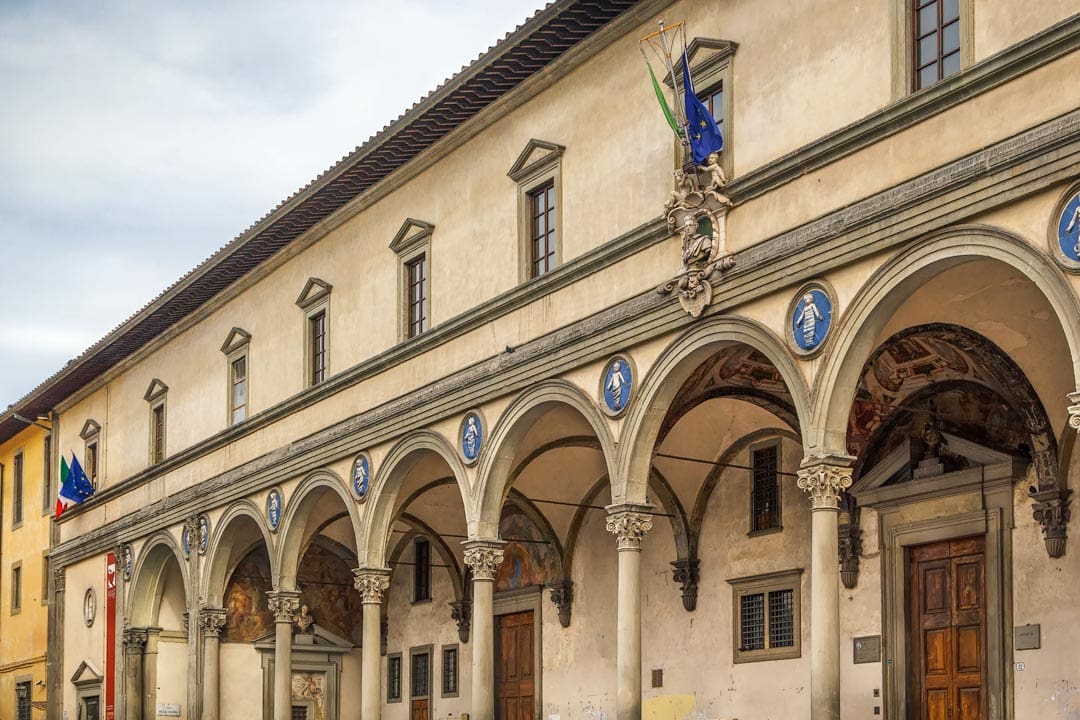 The Ospedale degli Innocenti is a historic building designed by Filippo Brunelleschi that was initially a children's orphanage. It is regarded as a notable example of early Italian Renaissance architecture and houses a small museum of Renaissance art.
Where to Stay in Florence
High-end
B&B Soggiorno Battistero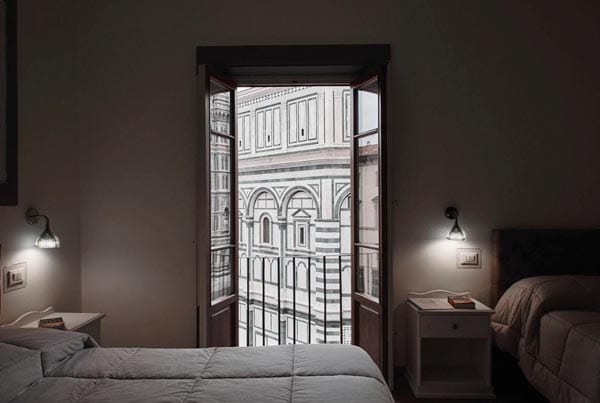 Stylish rooms right across the Duomo? Where do I sign? For me, if you're ready to splurge, you deserve the absolute best, and the very best view in Florence is in this B&B. It's also complemented by a helpful manager who can give you tips about the top places to grab a bite in town!
See the latest prices
Mid-range
Domus Plaza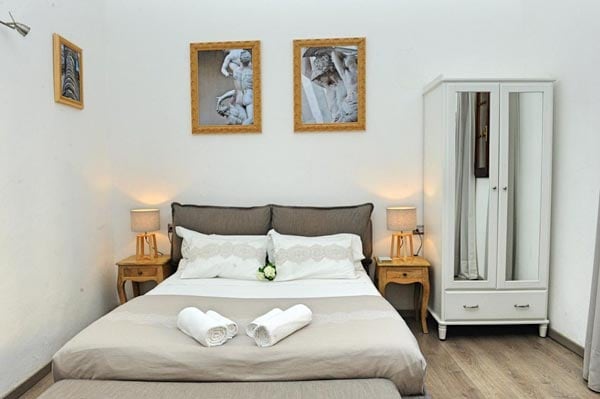 Located 50 meters away from the Duomo, Domus Plaza offers clean, air-conditioned rooms, a great balcony, and even a kitchenette. You also get direct contact with the manager via WhatsUp and can ask them any time you need help with something.
See the latest prices
Budget
Hostel Archi Rossi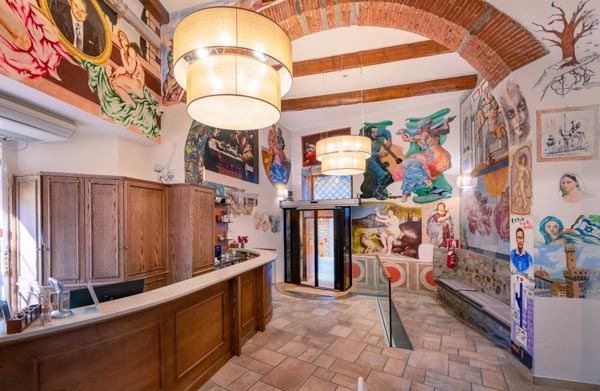 Situated between Santa Maria Novella Train Station and Galleria Accademia, Archi Rossi is one of the highest-rated hostels in Florence. Rooms are clean, the staff is friendly and ready to help with everything, and the breakfast is quite nice. What else do you need in a budget place?
See the latest prices
Florence Tours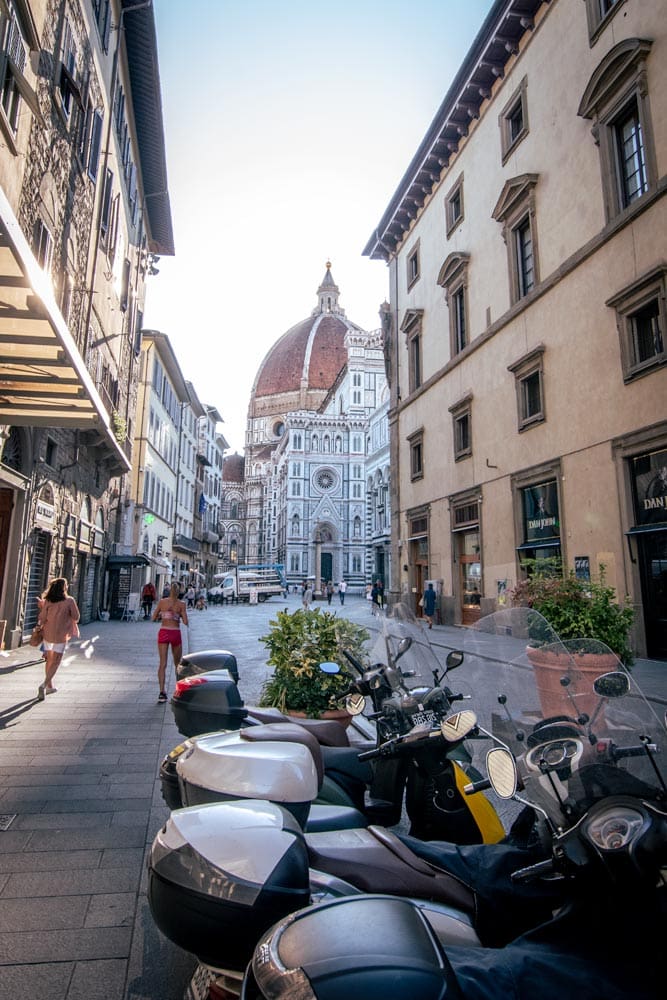 The Eco One – Florence is small, but if you don't fancy walking at all, this electric golf cart tour will show you all the major attractions and leave absolutely 0 carbon footprints.
Check the latest price
The Medici One – Florence used to be one of the strongest city-states, and this was all thanks to the Medici family. Ruling Florence for hundreds of years, the powerful family left an unmissable mark on the city you can explore via this tour. For all history enthusiasts – this is the one for you!
Check the latest price
The Balloon One – Not exactly a tour, but this balloon ride is one of the most premium activities you can enjoy in Florence! Seeing Tuscany from 2,000 feet is an incredible treat that you'll remember for the rest of your life.
Check the latest price
Florence Day Trips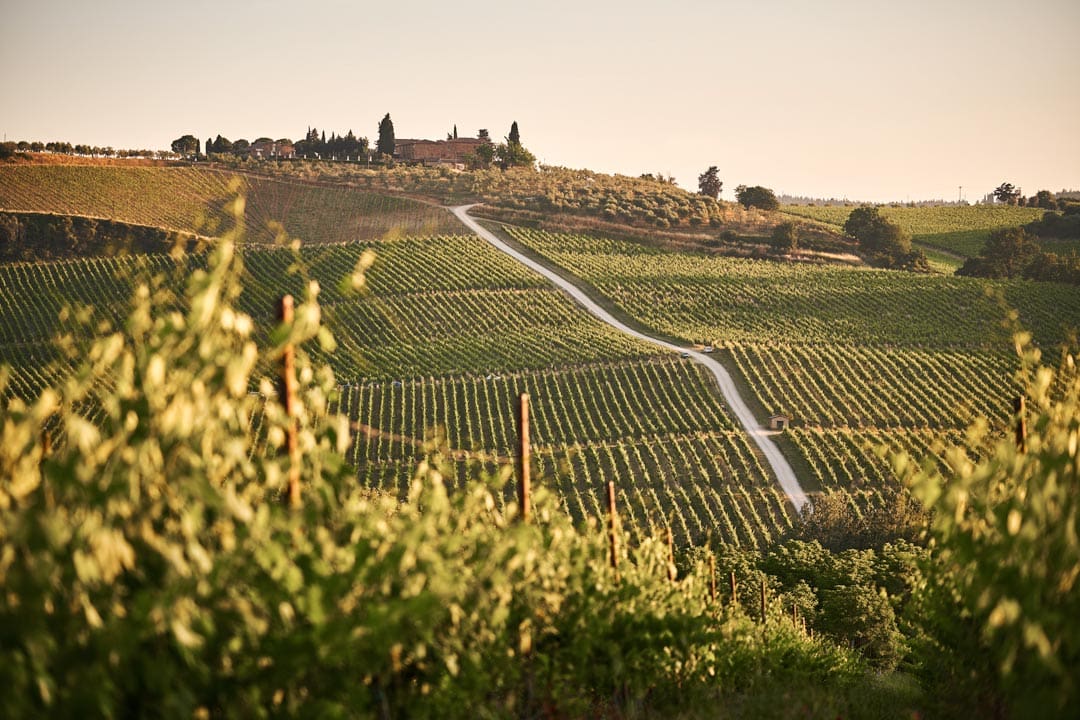 The Chianti Hills – If you're a vivid wine enthusiast, you can disregard the other two options and book this one straight away! The Chianti Hills are the heart of the Tuscan countryside and produce some of the most premium wines in the world!
This day trip will take you to 2 authentic vineyards and let you taste up to 5 wines in each one of them! You'll also sample other local products such as cheese, olive oil, and balsamic vinegar.
I told you it's the one for you!
Check the latest price
Cinque Terre – This day trip will take you to the most picturesque villages in Italy – the famous Cinque Terre. You can opt to enjoy lunch at a beautiful sea-view restaurant terrace, take a hike, swim, or go for a boat ride along the stunning coastline.
Check the latest price
Tuscany – This day trip will take you around the most famous towns in Tuscany. Imagine Siena and the UNESCO recognized San Gimignano + the Chianti Hills (wine country) in a day. Sounds incredible, isn't it?
Check the latest price
More info about your 3 days in Florence
When to visit Florence?
Like most places in Europe, the best months to visit Florence are the shoulder ones – April (45-65°F | 7-18°C), May (52 – 74°F | 11 -23°C), June 58-81°F | 14-27 °C), and September 57-79°F | 14-26°C), October (50-70°F | 10-21°C). Days are long enough to explore everything while the weather is mild and allows open-air dining.
July and August are unpleasantly hot (62-87°F | 17-31°C) and full of tourists. In addition, most Italians like to take 2-week vacations in August, so many smaller stores/restaurants may be closed.
December to March are the cold and least busy months. If you don't care about the low temperatures, this may be your season, but keep in mind that shorter days may stop you from seeing everything the city offers.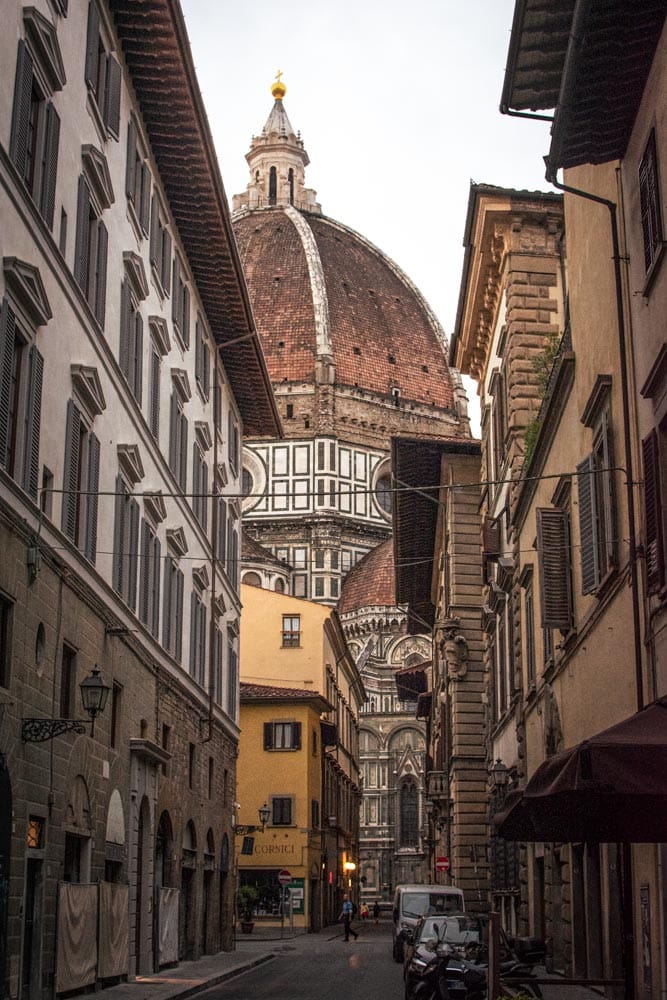 Is Florence safe?
Florence is among the safest cities in Italy, with significant crime risks coming only from pickpockets (just like any tourist city). However, to have your mind at ease and enjoy your vacation to the max, you should definitely get travel insurance.
I currently use HeyMondo for my travels because they have proven themselves to me more than once over the years. The link above will give you a 5% discount, but If you have another favorite provider, that's ok. Just make sure you have one because you never know what may happen.
Is Florence expensive?
While Florence is not crazy expensive, it's not the most budget place in the world either. Since there are plenty of hostels and street food, visiting Florence on a tight budget is possible, but if you want to see everything and try the world-renounced Tuscany wine and cuisine, prepare to spend some bucks.
Here you can find example prices.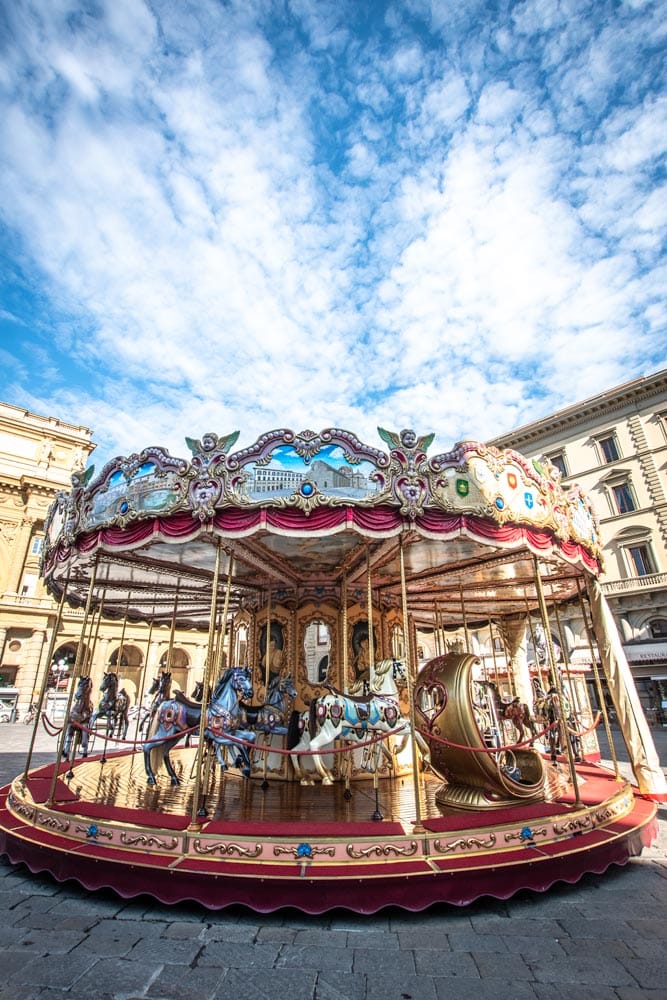 How to get to Florence?
Tuscany has two international airports, the Galileo Galilei International Airport in Pisa and Amerigo Vespucci Airport, also known as Peretola, in Florence.
Since there are rarely cheap flights to those airports, you may want to check flights to Rome or Bologna and get a train/car to Florence. The Italian train system is highly developed, and you won't have any trouble finding one that suits you.

As for cars, the most convenient tool for finding the finest rent-a-car in Italy is definitely Discover Cars. They compare all offers among all rent-a-car providers to help you find the best one. Get yourself a Ferrari (or, more likely, a Fiat) and embrace the Tuscany countryside.

How to get around Florence?
Florence is quite small so getting everywhere by foot is easy. It's so tiny that getting from one side of town to the other will take you about 30 minutes! This way, you save yourself the trouble to search for parking spots (a major problem in Italian cities), and you discover secret alleys you'd have never found via car.
What a car would be useful for is exploring the surroundings of Florence. Tuscany is word-renounced for its amazing countryside and wine cellars. So if you have time to explore it, definitely check Discover Cars, get yourself a cute little Fiat, and adopt the Italian lifestyle.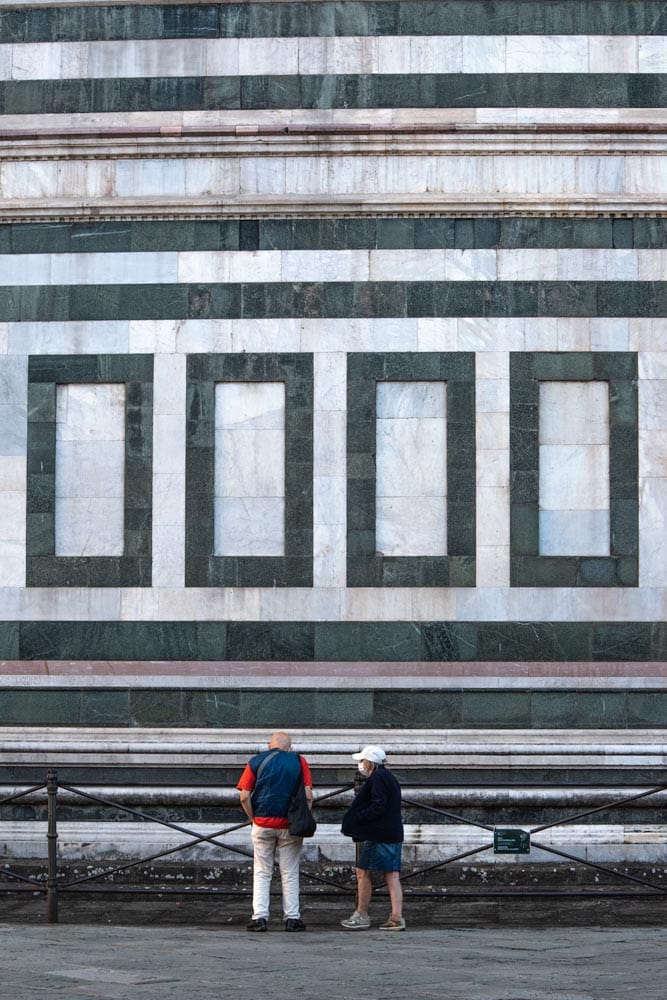 Is Florence worth seeing?
Absolutely yes! Florence is one of the most beautiful cities on the planet, and I can guarantee you'll enjoy your time there.
3 days in Florence itinerary Map
That's all from me, I hope you enjoy a memorable 3 days in Florence.
————————————
If you haven't planned your trip there yet, find out how I plan my trips!
————————————
I have 41 bucket list ideas for Italy. See my impossible bucket list of 1700+ adventures!

Is Florence on your bucket list?
---
Some of the above are affiliate links and I will earn a percentage of the sale if you purchase through them at no extra cost to you. This helps keep my site running – so thanks in advance for your support!