If there's one thing better than a trip to Rome, that's quotes about Rome. No, I'm kidding, of course; nothing beats exploring the winding alleys of the Eternal city, but if you can't do it right now, but you still need to taste its magic, I collected the 77 best Rome quotes that embody the spirit of this incredible city.
I have to warn you, though, going through them may lead to the irresistible desire to buy a plane ticket. Read with caution!
My Favourite Quotes About Rome
If you've seen some of my articles about Rome, you probably know that this is my favorite city on Earth. Yes, I've been to all kinds of places, but the Italian capital has a tight grip on my heart. Being in love with the place, I curated this section very carefully. The next ten quotes about Rome are the phrases that best describe the Eternal city's vibe the way I felt it.

1 – "Italy has changed. But Rome is Rome."
– Robert De Niro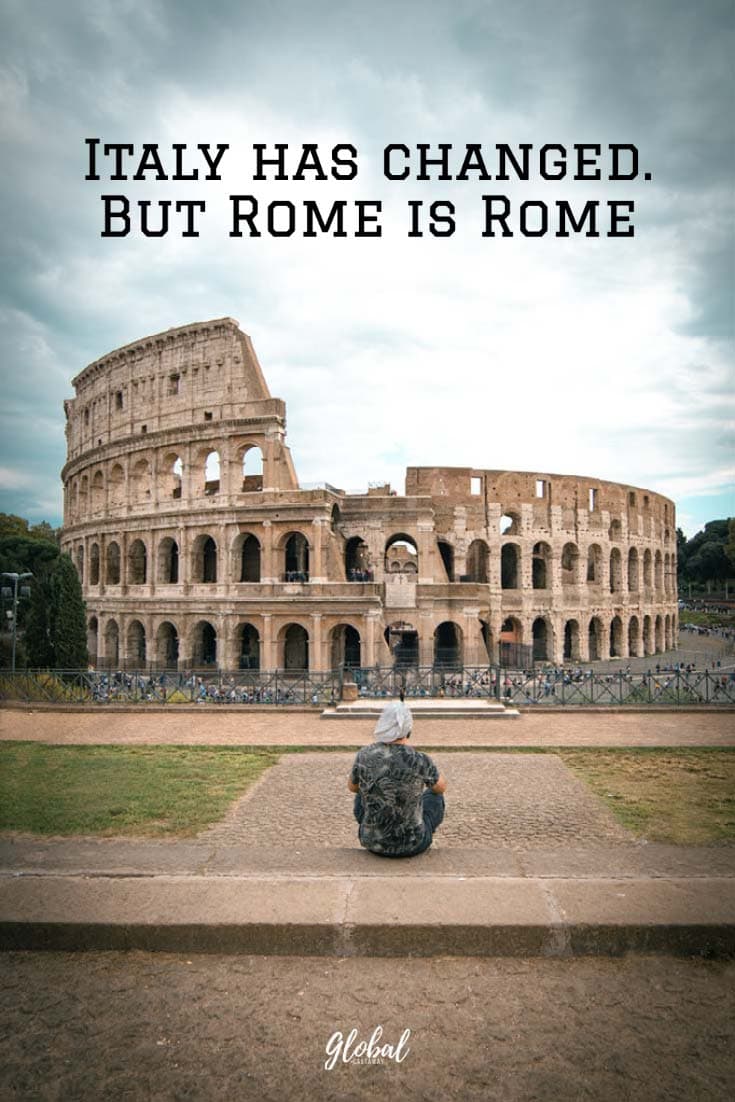 2 – "Rome is the city of echoes, the city of illusions, and the city of yearning."
– Giotto di Bondone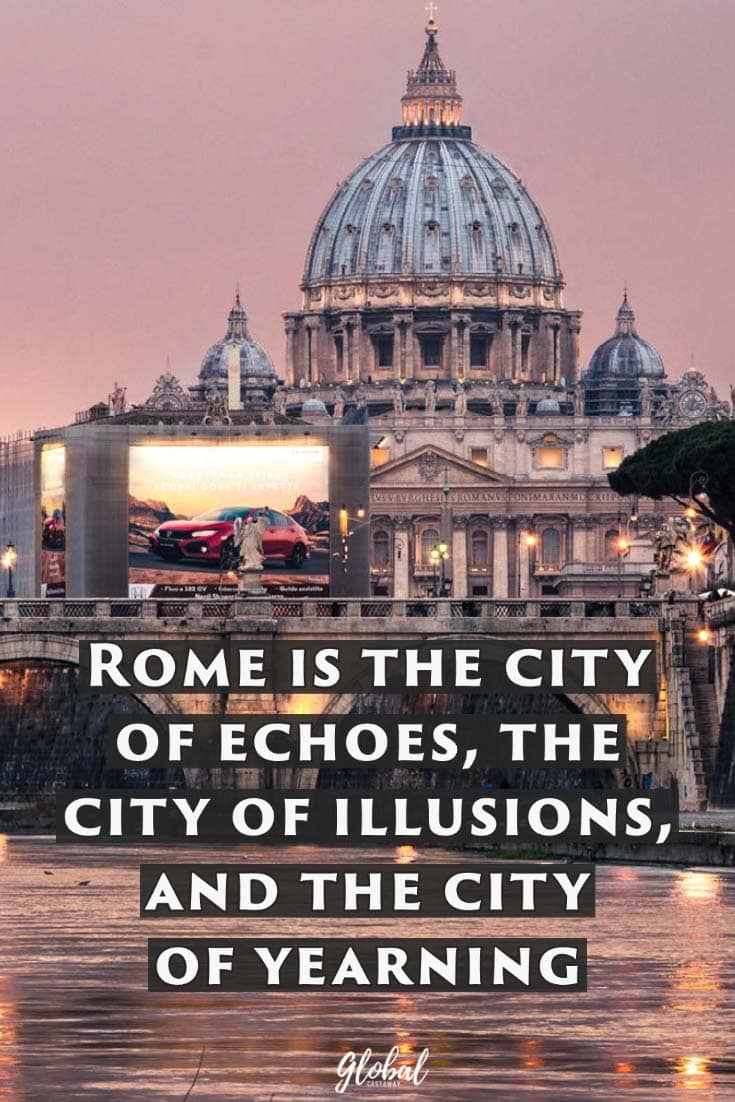 3 – "Only in Rome is it possible to understand Rome."
– Goethe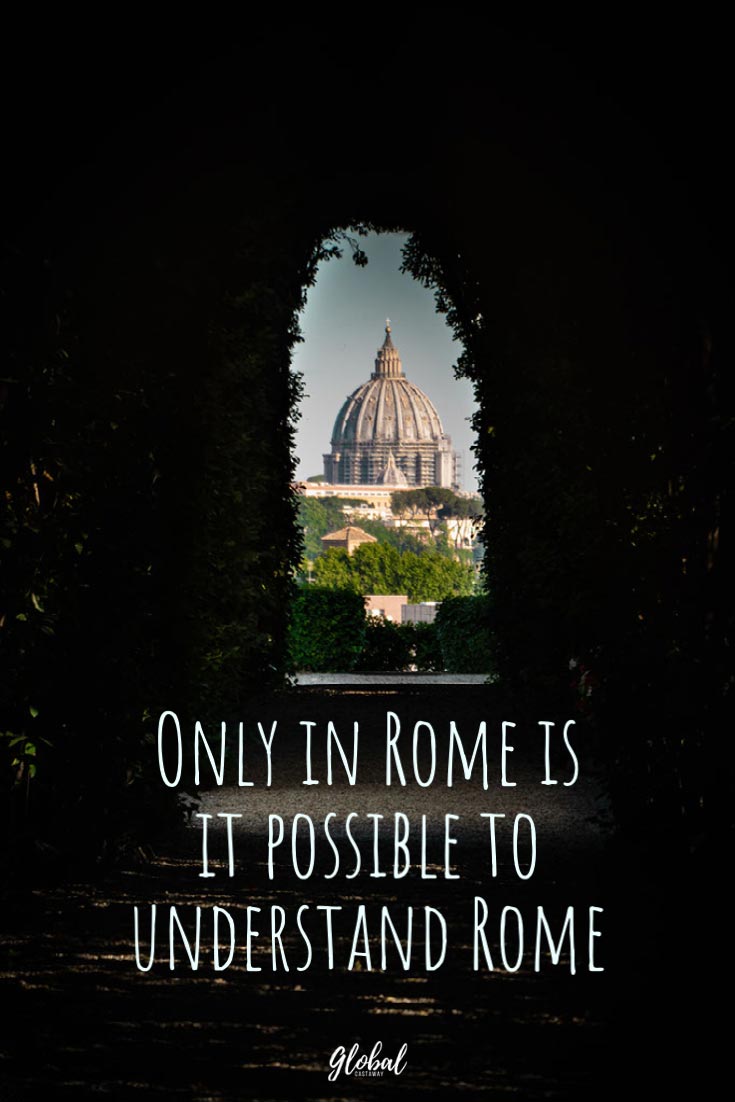 4 – "I thought I knew everything when I came to Rome, but I soon found I had everything to learn."
– Edmonia Lewis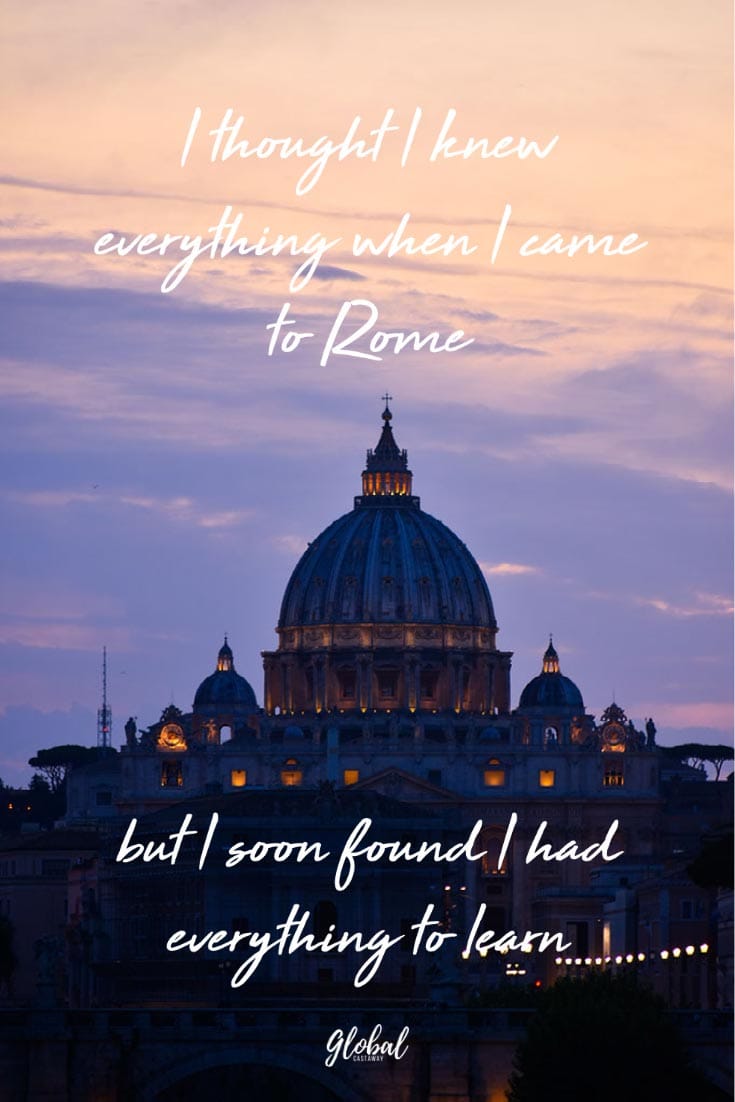 5 – "I sometimes fancy that Rome will crowd everything else out of my heart."
– Nathaniel Hawthorne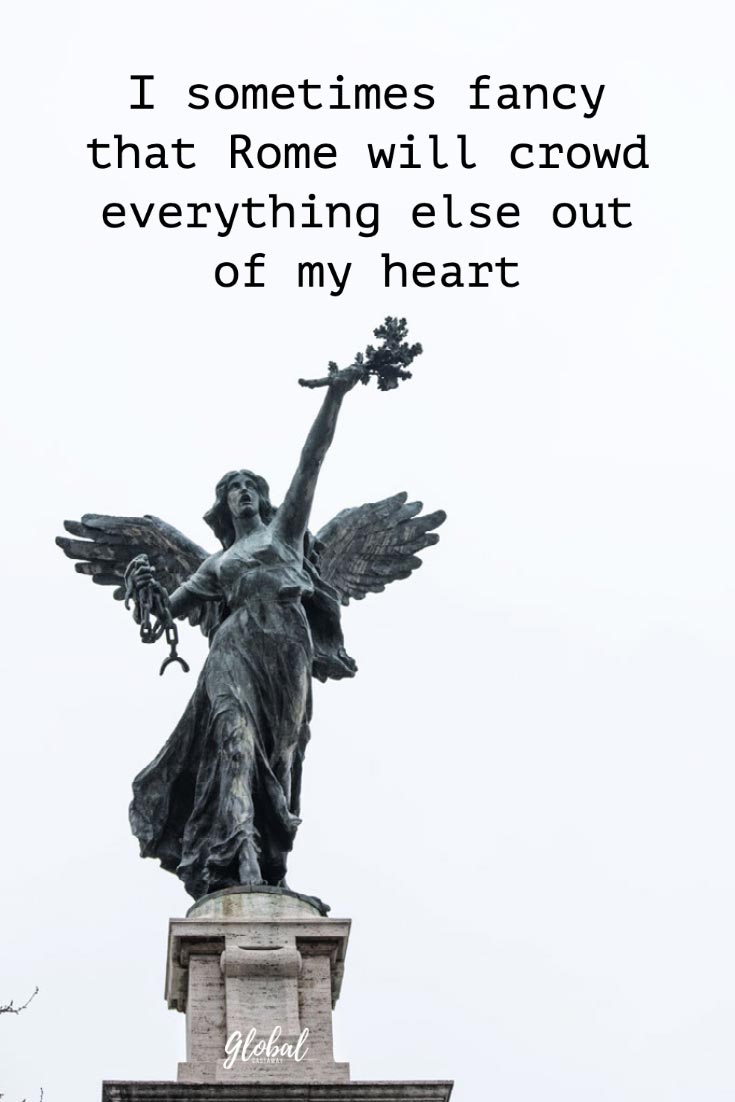 6 – "If we could be reborn wherever we chose, how crowded Rome would be."
– Francine Prose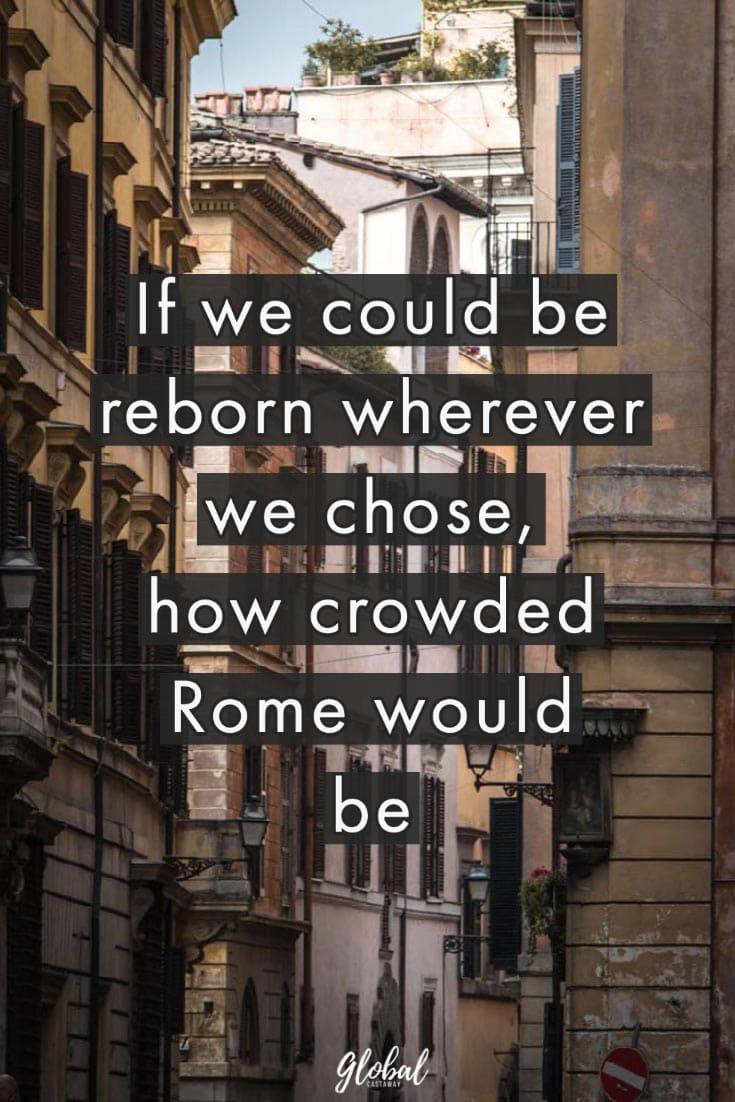 7 – "A fool is one who admires other cities without visiting Rome."
– Francesco Petrarca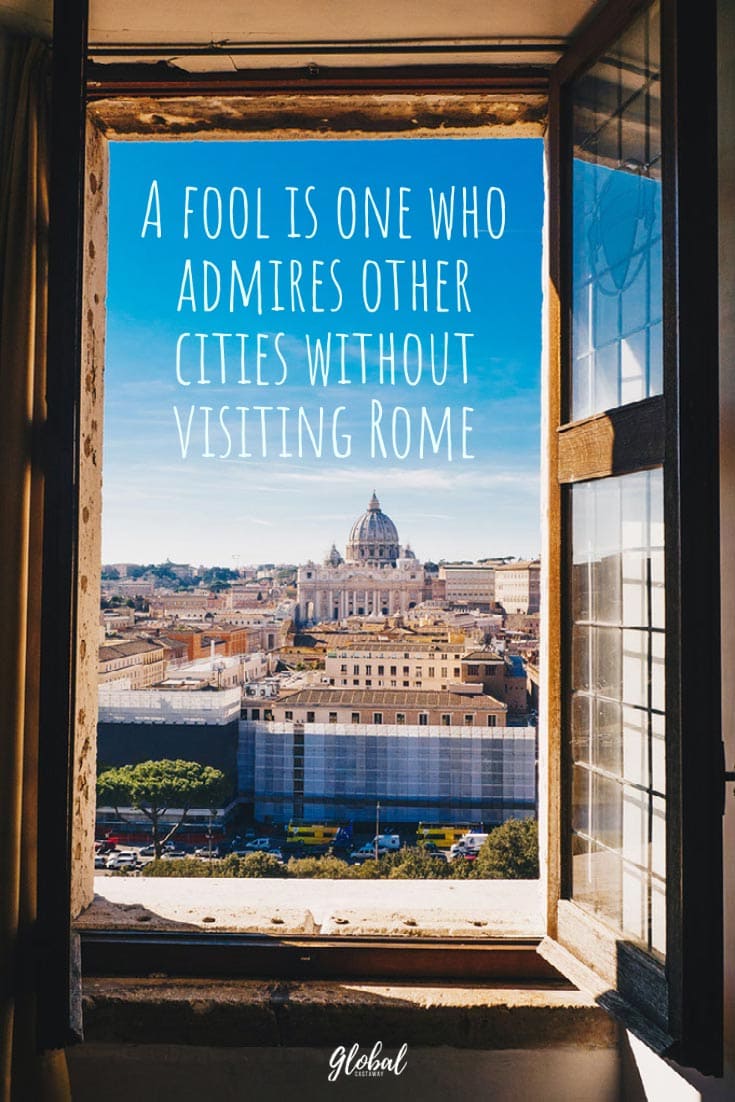 8 – "Rome was a poem pressed into service as a city."
– Anatole Broyard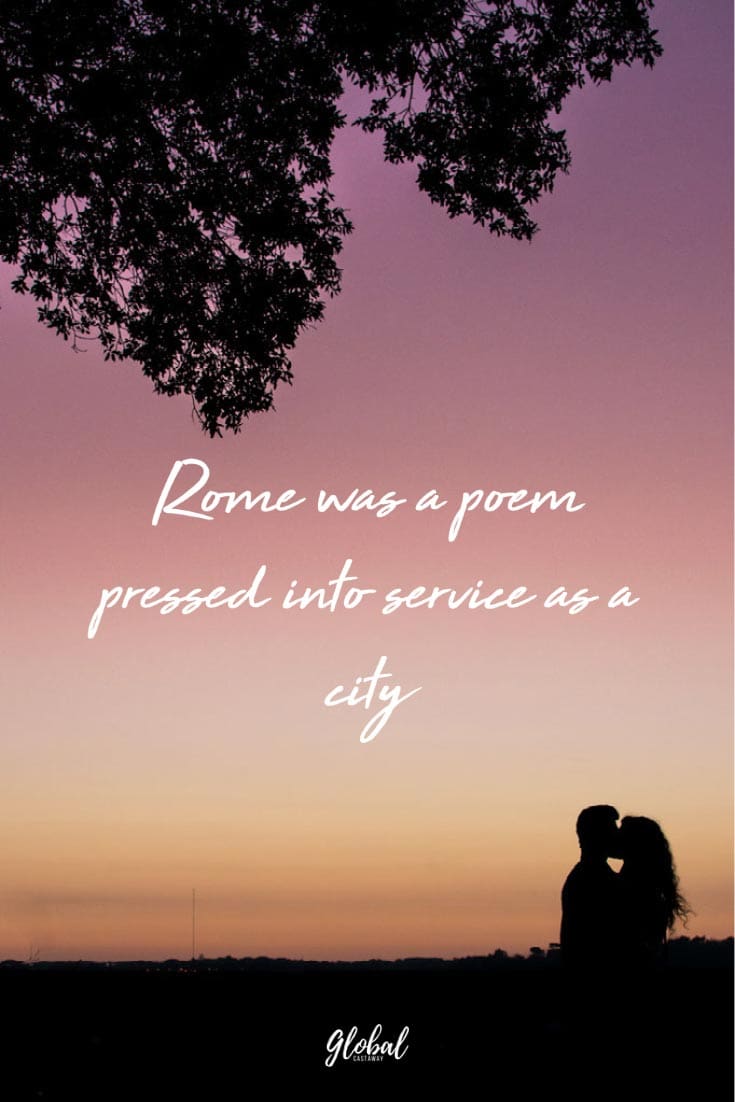 9 – "For someone who has never seen Rome, it is hard to believe how beautiful life can be."
– Unknown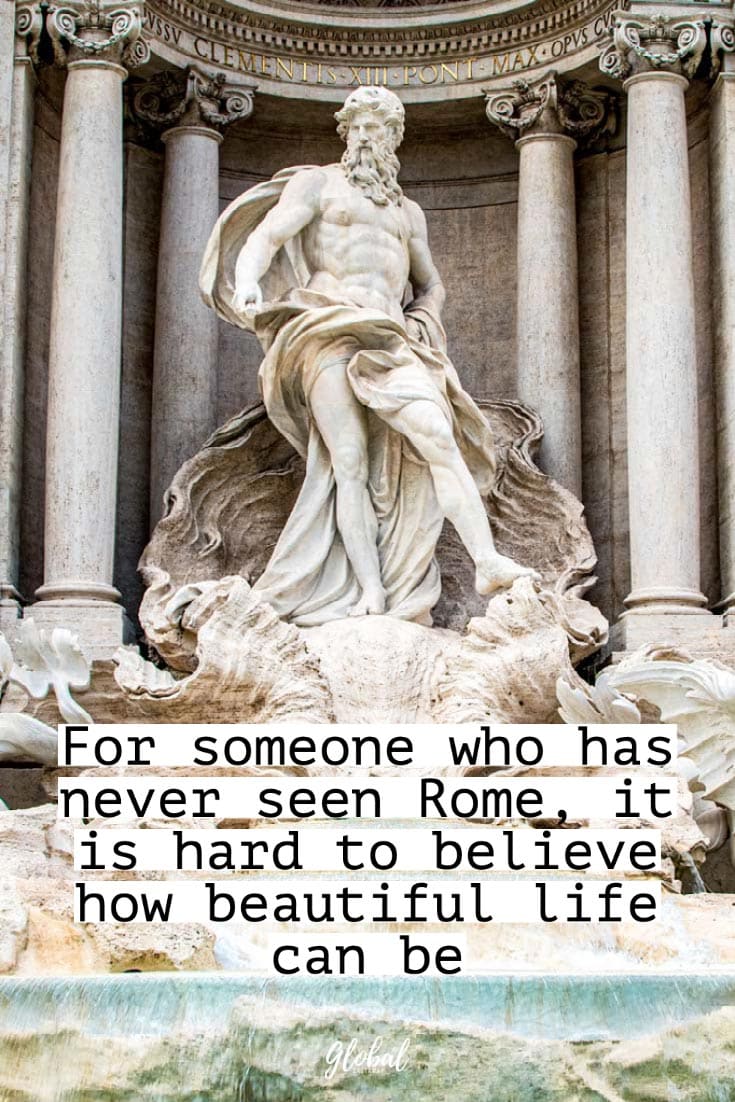 10 – "You look at passers-by in Rome and think, 'Do they know what they have here?"
– Frank McCourt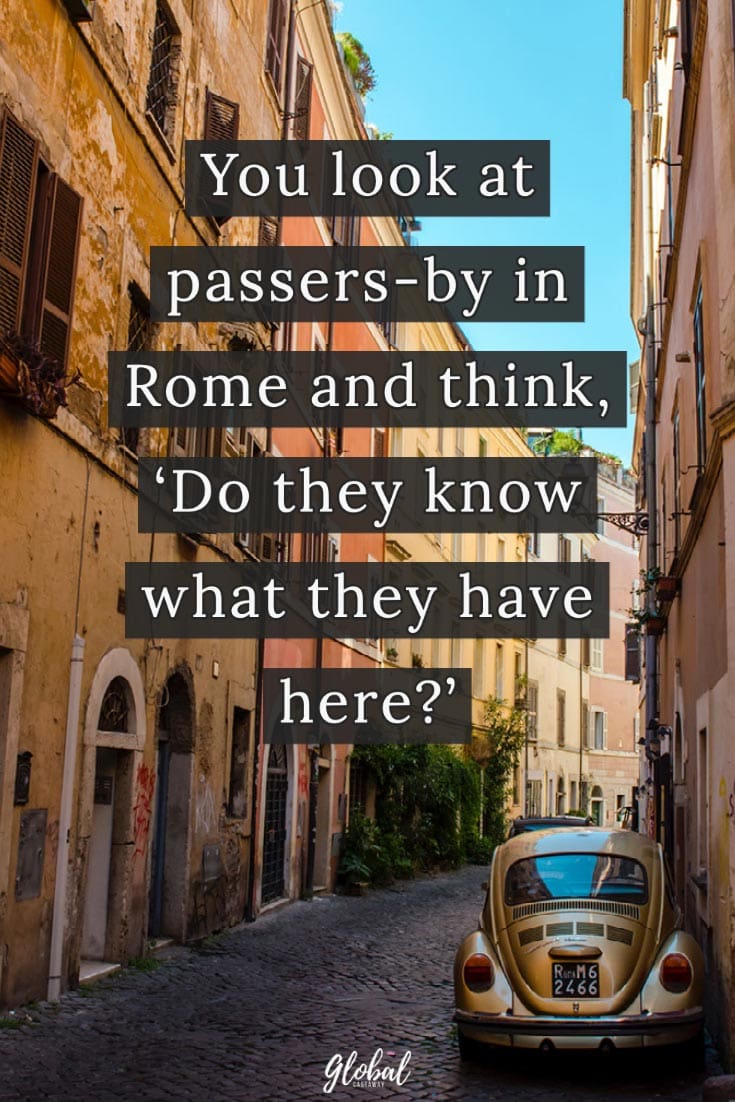 Famous Rome Quotes
There is a reason Rome's nickname is the Eternal City. The Italian capital has been around for ages, and most of the time, it was the center of the world. For so many years, there have been countless Rome quotes, and some of them stayed in time to become well-known sayings all over the planet.

11 – "All roads lead to Rome."
– Roman Proverb

12 – "Rome has grown since its humble beginnings that it is now overwhelmed by its own greatness."
– Livy

13 – "I found Rome a city of bricks and left it a city of marble."
– Augustus, Roman emperor

14 – "Rome wasn't built in a day."
– John Heywood

15 – "Oh Rome! my country! city of the soul!"
– Lord Byron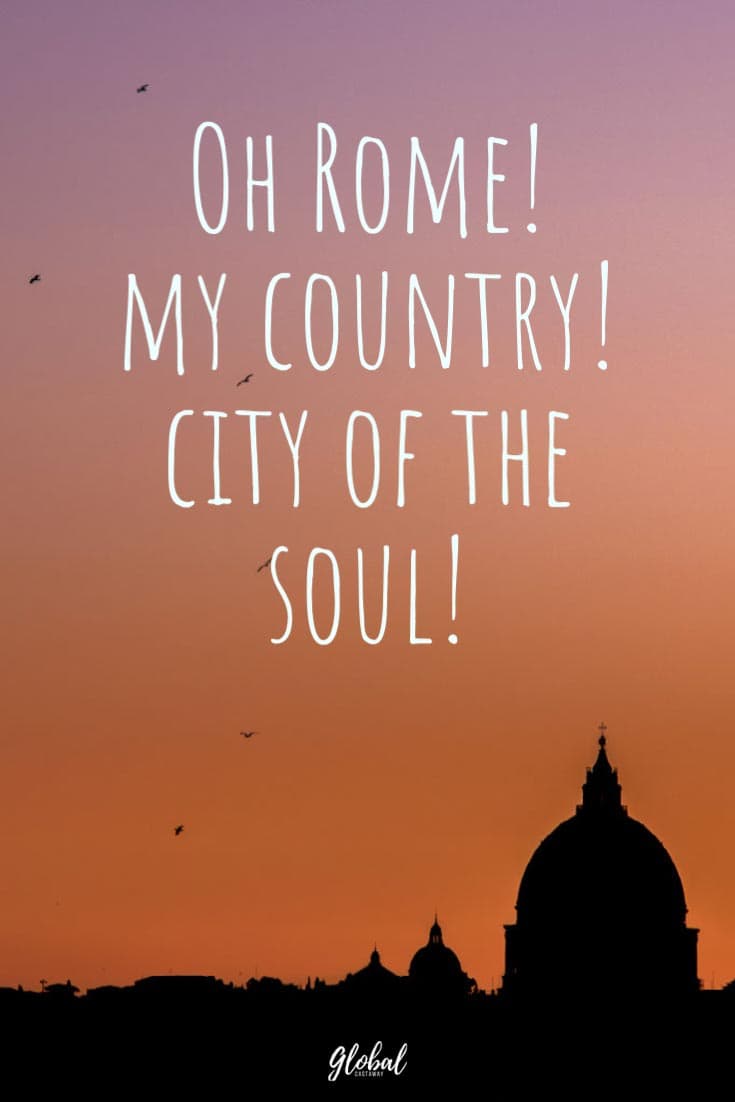 16 – "Rome is a little bit different. There is something in Rome, incredible, like in a Fellini movie. Everybody's screaming and laughing very loud."
– Alessandro Michele

17 – "When in Rome, live as the Romans do; when elsewhere, live as they live elsewhere."
– Saint Ambrose

18 – "Rome will exist as long as the Coliseum does;
when the Coliseum falls, so will Rome;
when Rome falls, so will the world."
– Saint Venerable Bede

19 – "How is it possible to say an unkind or reverential word of Rome? The city of all time, and of all the world!"
– Nathaniel Hawthorne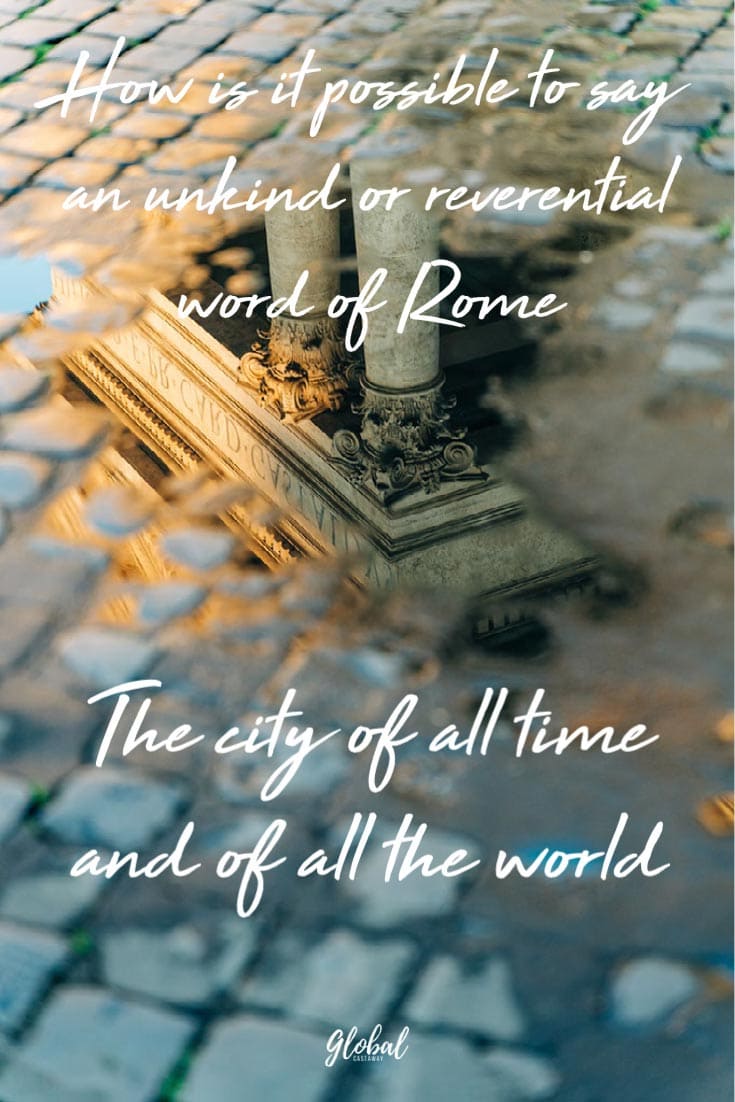 20 – "Rome seems a comfort to those with the ambitious soul of an Artist or a Conqueror."
– Pietros Manos

21 – "Roma locuta, causa finita est. — Rome has spoken, the case is closed."
– Unknown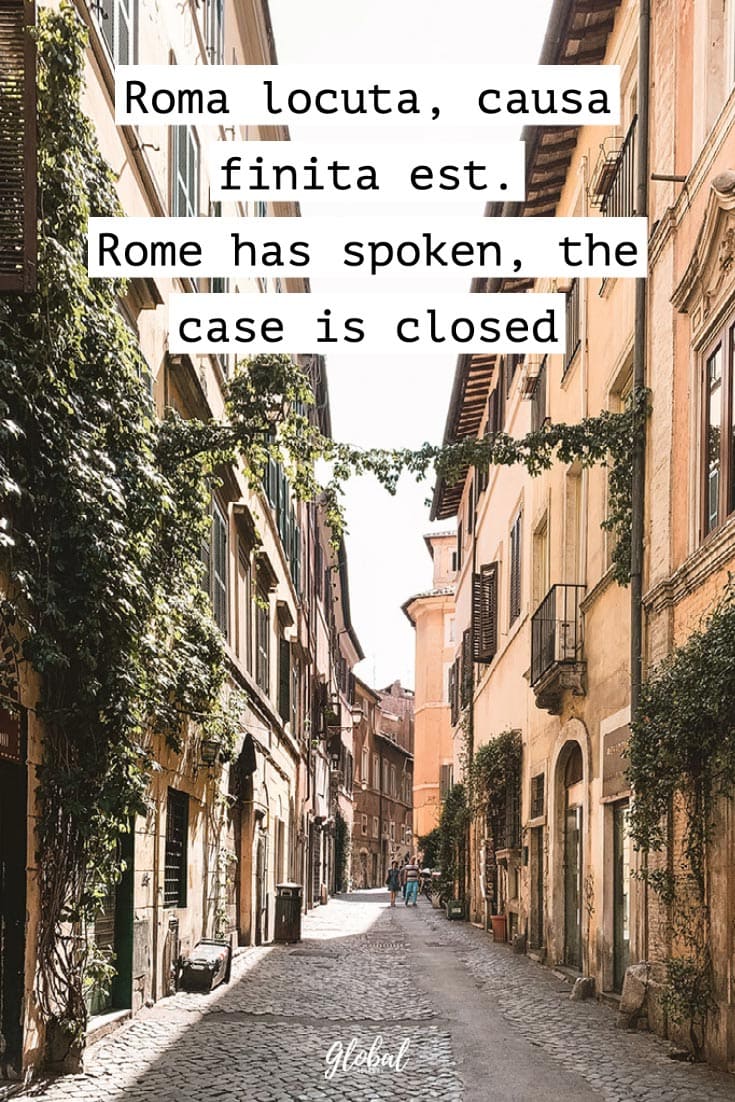 22 – "I had rather be first in a village than second at Rome."
– Julius Caesar

23 – "Chi Roma non vede, nulla crede. — Seeing Rome is believing it."
– Unknown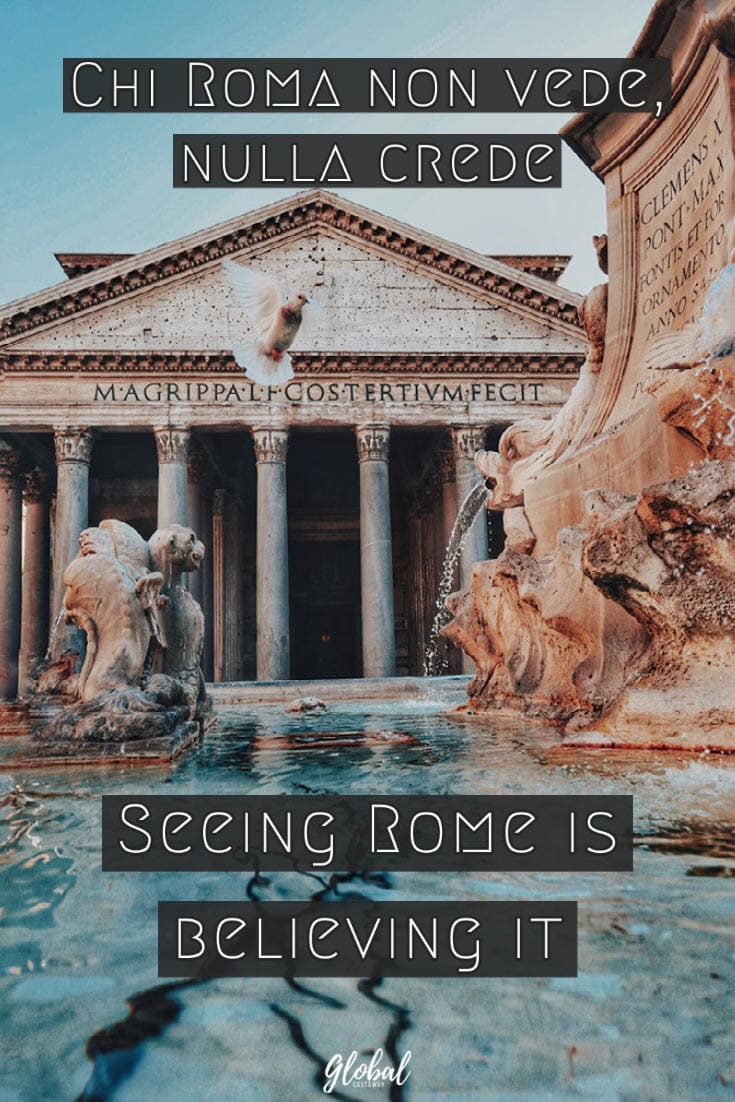 24 – "I've seen Rome, and I shall go to bed a wiser man than I last rose yesterday morning."
– Henry James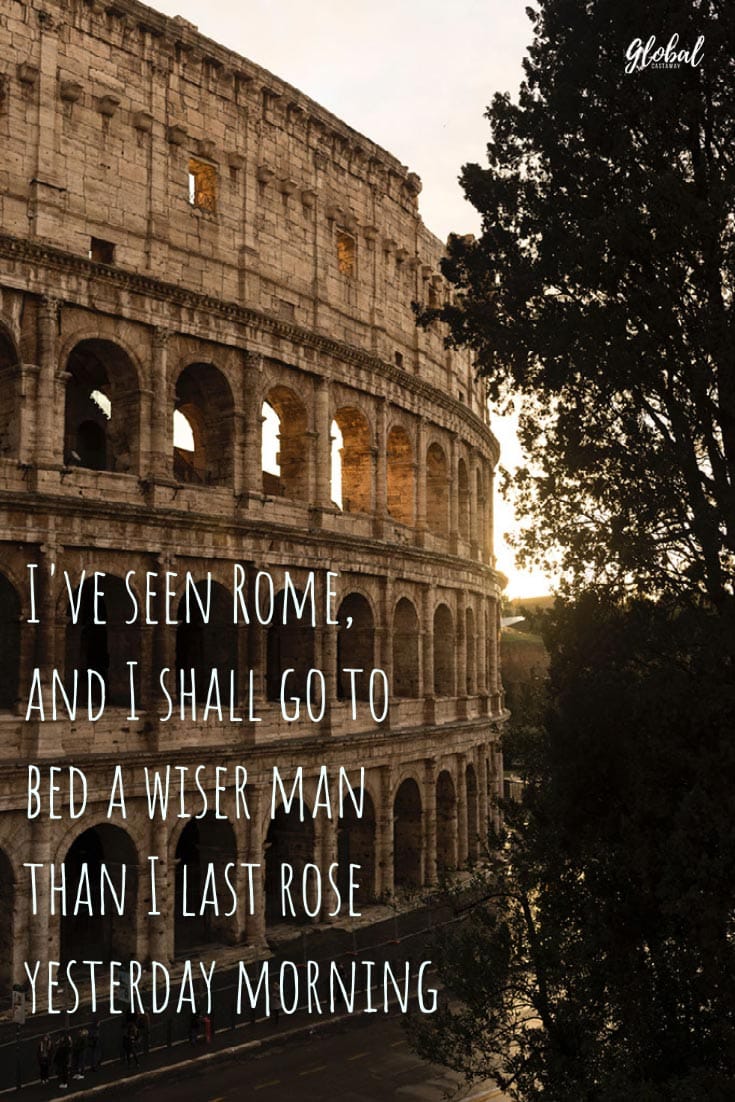 25 – "The only talent worthy of Rome is that of conquering the world."
– Jean-Jacques Rousseau
See Also: December in Rome
Short Quotes About Rome
You've just returned from the Eternal City, and you need some captions for your awesome photos? No worries, the following several quotes about Rome are short but meaningful enough to tell the story of your Roman adventure.

26 – "Every one soon or late comes round by Rome."
– Robert Browning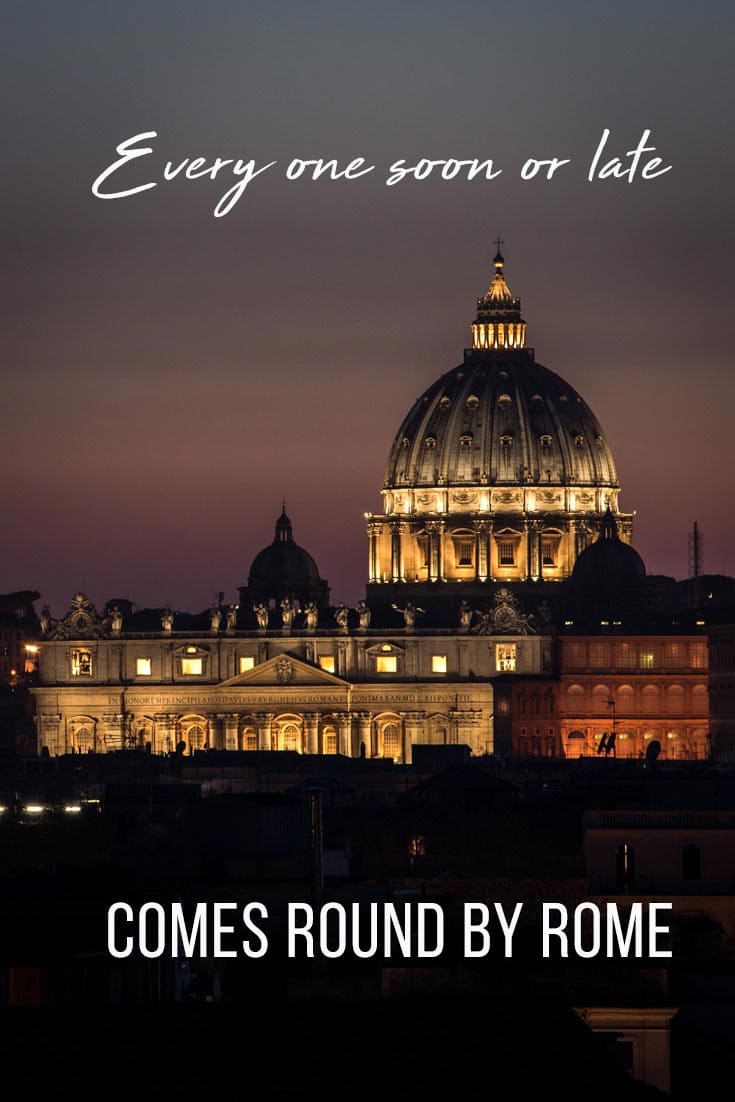 27 – "Rome, a fortunate, invincible and eternal city."
– Livy

28 – "What is better than Rome?"
– Ovid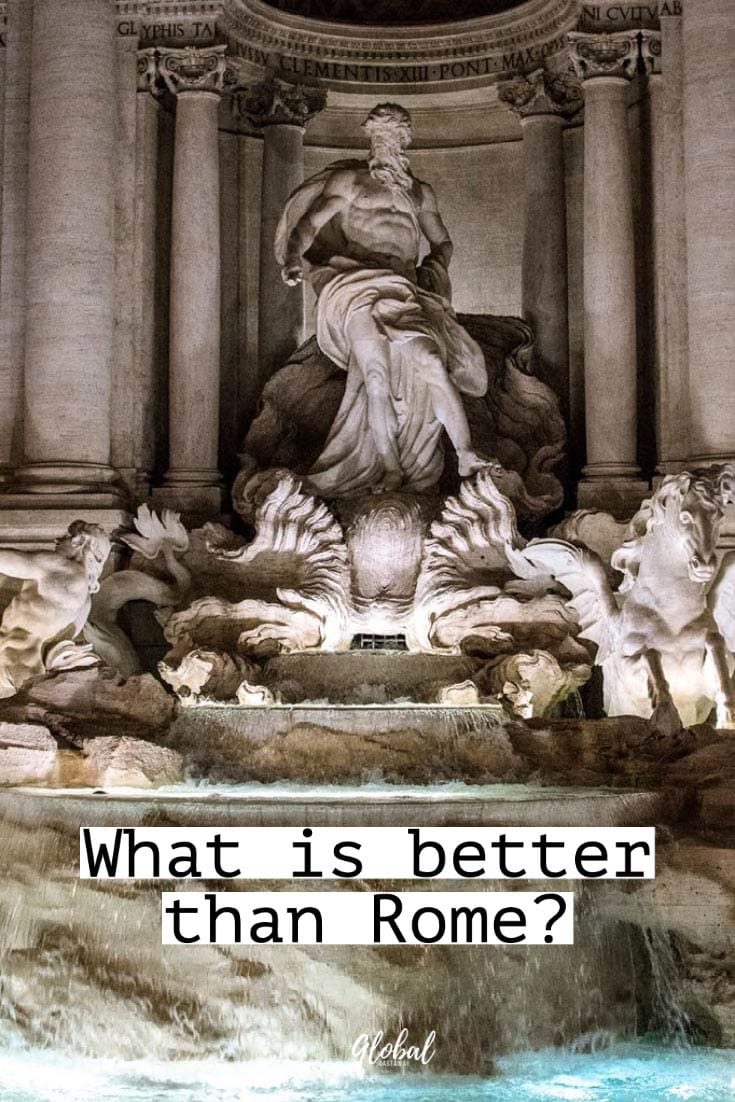 29 – "I think there are two cities in the world – New York and Rome."
– Frank McCourt

30 – "Her smile, I'm sure, burnt Rome to the ground."
– Mark Z. Danielewski

31 – "Rome is a city where in every corner you have a reminder of the sacred world."
– Paolo Sorrentino

32 – "Rome holds my psyche in balance. Whenever I'm there, it's like a holiday."
– Giambattista Valli

33 – "In Rome, one had simply to sit still and feel."
– E.M. Forster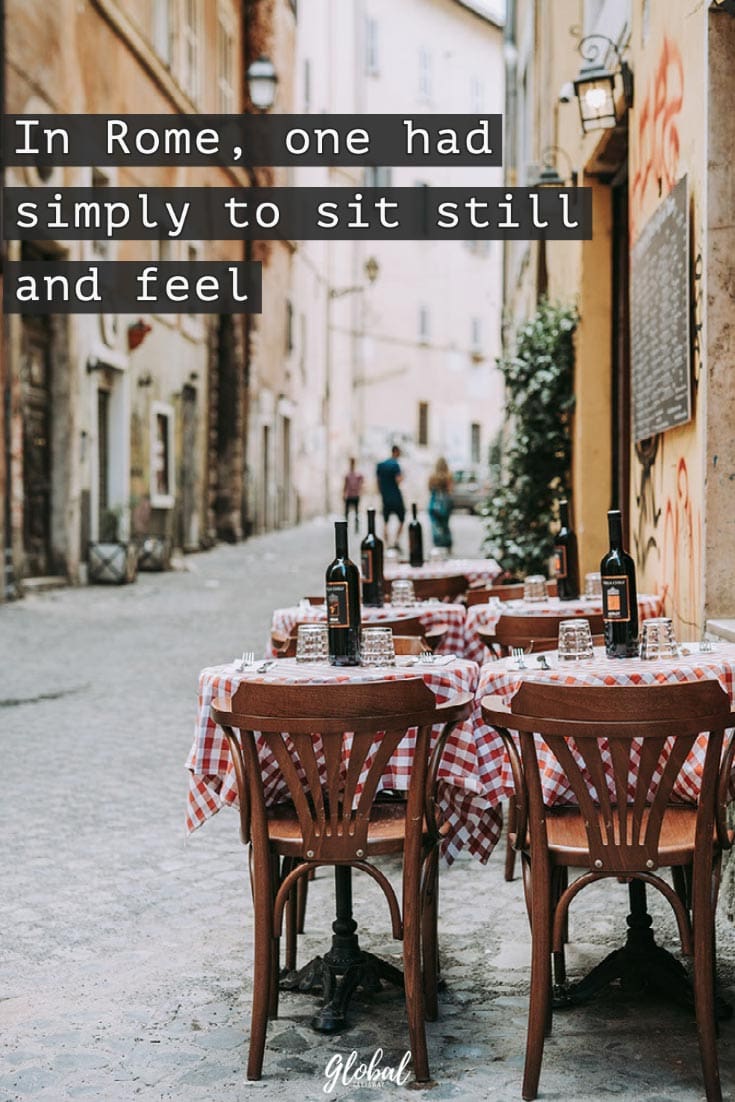 34 – "To Rome, for everything."
– Miguel de Cervantes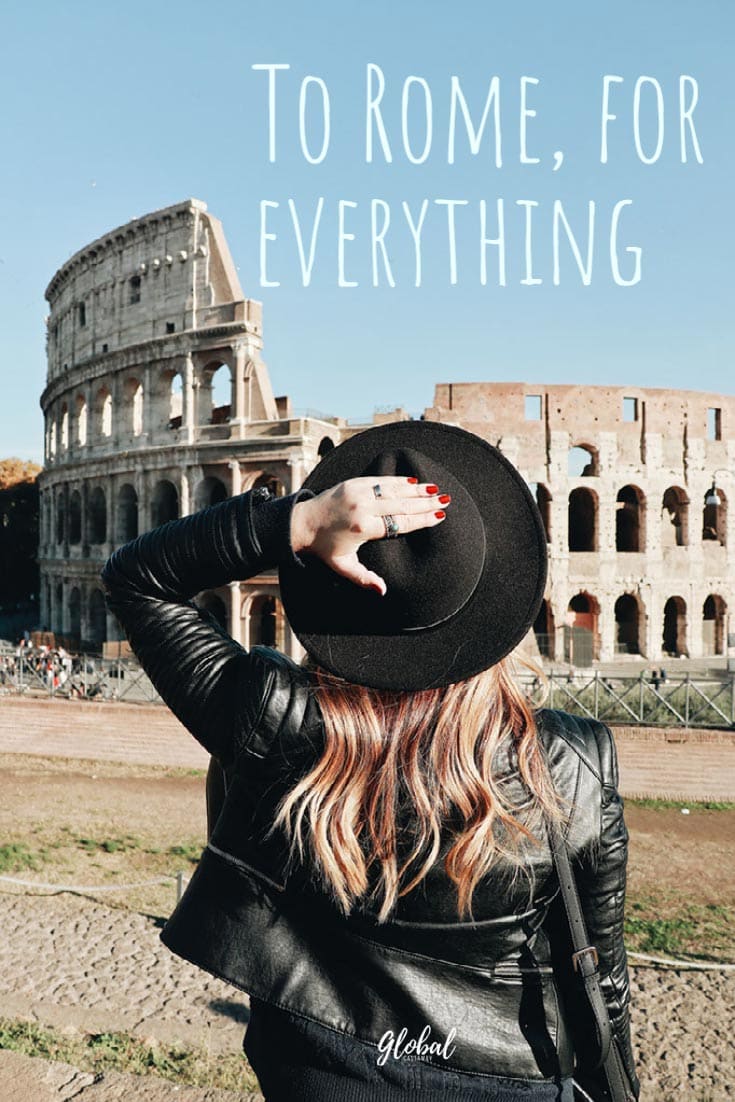 35 – "Living in Rome is a way of losing life.
– Ennio Flaiano

36 – "Rome lifts you up but won't let you settle down – it turns you into a bird without a nest."
– Glenn Haybittle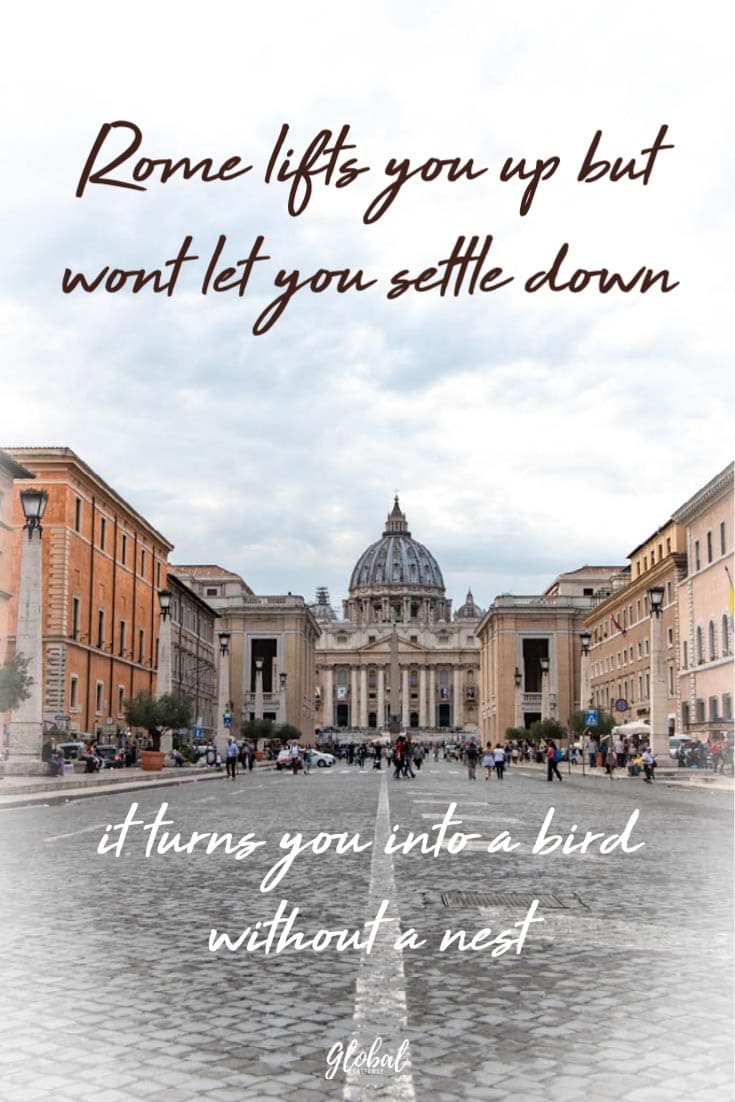 37 – "How great Rome was, its very ruins tell."
– Francesco Albertini

38 – "Rome is the capital of history, culture, religion. Rome is Italy."
– Uto Ughi

39 – "Rome is but a wilderness of tigers."
– Titus

40 – "Rome is magic."
– Maria Grazia Cucinotta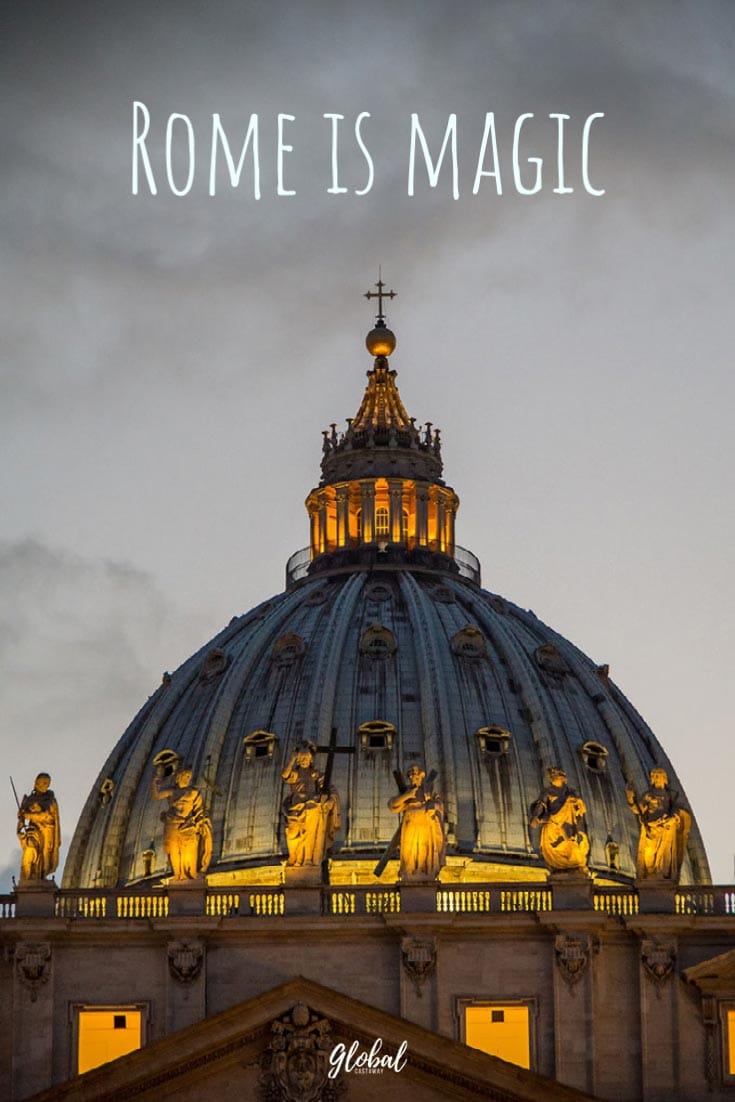 41 – "Rome is a place almost worn out by being looked at, a city collapsing under the weight of reference."
– Graham Joyce

42 – "Rome, the city where memories were chiselled in marble."
– Elif Shafak

43 – "I would like to be like Rome when I am an old lady."
– Elizabeth Gilbert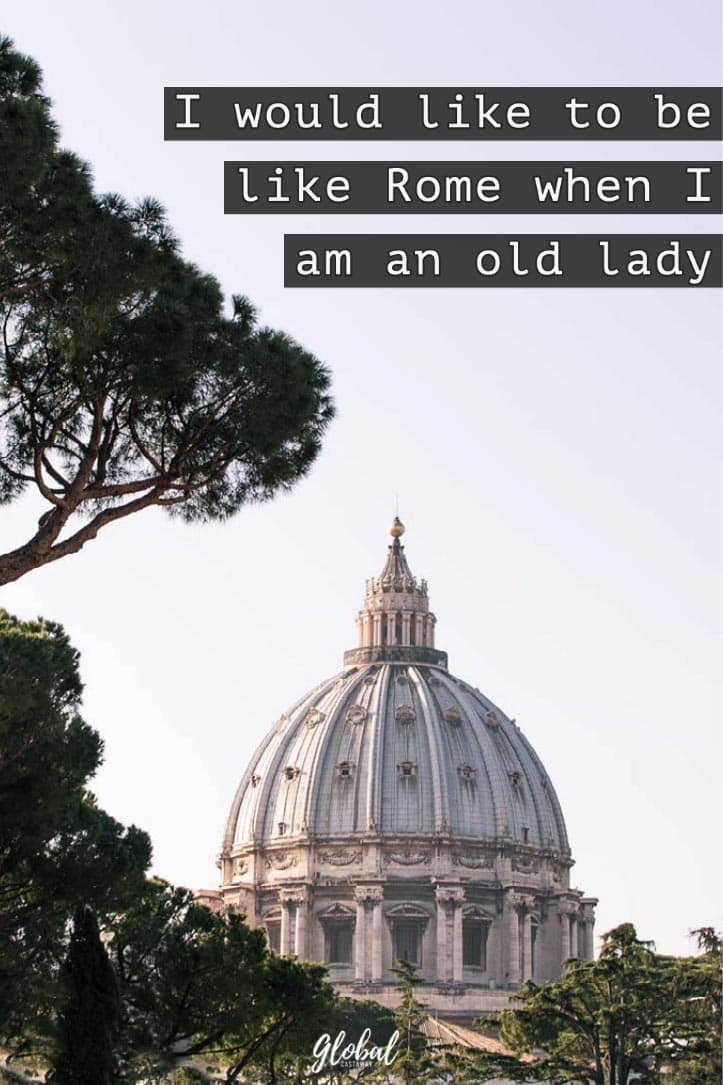 44 – "In the Eternal City, time is elastic, and new discoveries live among the most ancient things."
– Erica Firpo
See Also: The Best 7 Days in Italy itinerary
More Rome Quotes
Since there are many great Rome quotes that just don't fit any category but are too good to be left out.

45 – "Going around Rome, you can find beauty because, quite simply, Rome is very beautiful. But the beauty of the people is sometimes harder to discover."
– Paolo Sorrentino

46 – "From the dome of St. Peter's one can see every notable object in Rome… He can see a panorama that is varied, extensive, beautiful to the eye, and more illustrious in history than any other in Europe."
– Mark Twain

47 – "Living in Rome is either a one or a two, or a nine or ten. Not much in between. And some days it's both."
– Judith Works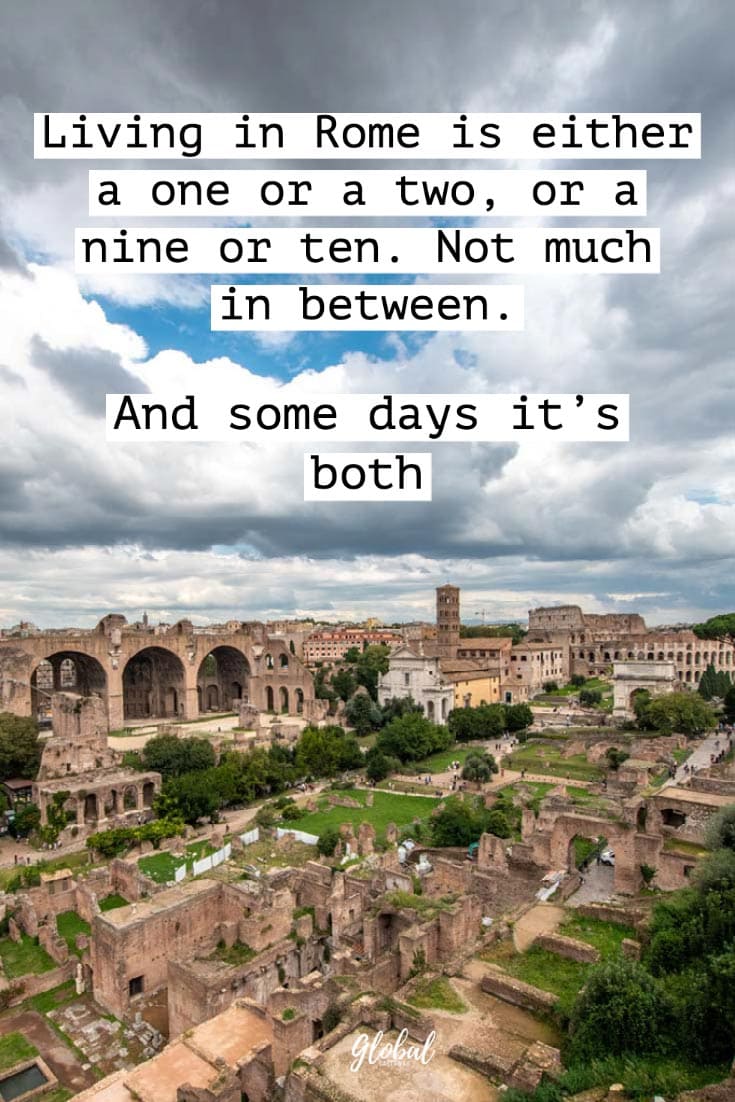 48 – "Italy will never be a normal country. Because Italy is Italy. If we were a normal country, we wouldn't have Rome. We wouldn't have Florence. We wouldn't have the marvel that is Venice."
– Matteo Renzi

49 – "As the old adage goes: When in Rome, do as the Romans do. That means rent a Vespa and rule the road."
– Claire Atkinson

50 – "How wonderful, to walk half-drunk with a Lemonsoda on a muggy night like this around the gleaming slate cobblestones of Rome with someone's arm around me."
– André Aciman

51 – "Rome was mud and smoky skies; the rank smell of the Tiber and the exotically spiced cooking fires of a hundred different nationalities. Rome was white marble and gilding and heady perfumes; the blare of trumpets and the shrieking of market-women and the eternal, sub-aural hum of more people, speaking more languages than Gaius had ever imagined existed, crammed together on seven hills whose contours had long ago disappeared beneath this encrustation if humanity. Rome was the pulsing heart of the world."
– Marion Zimmer Bradley

52 – "She had always been fond of history, and here [in Rome] was history in the stones of the street and the atoms of the sunshine."
– Henry James

53 – "Each, in its own way, was unforgettable. It would be difficult to — Rome! By all means, Rome. I will cherish my visit here in memory as long as I live."
– Audrey Hepburn

54 – "Rome is not like any other city. It's a big museum, a living room that shall be crossed on one's toes."
– Alberto Sordi

55 – "It is no coincidence that, on all four sides, in all four corners, the borders of the Roman Empire stopped where wine could no longer be made."
– Neel Burton

56 – "Men did not love Rome because she was great. She was great because they had loved her."
– G. K. Chesterton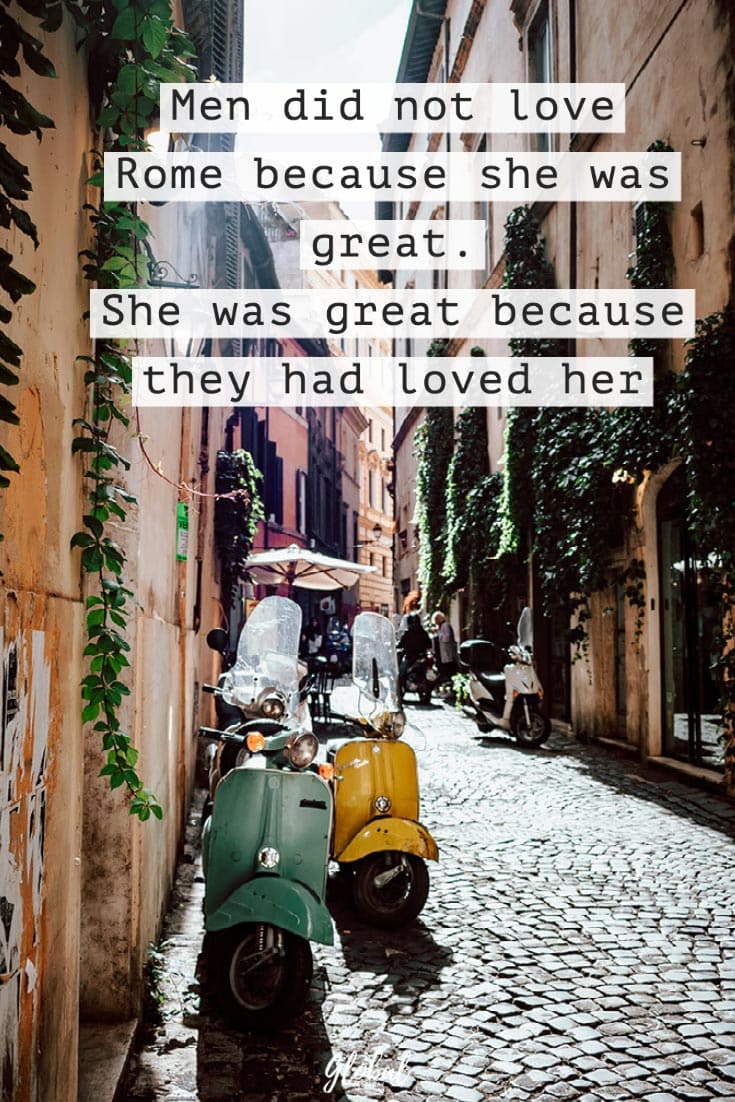 57 – "Rome is a broken mirror, the falling straps of a dress, a puzzle of astonishing complexity. It is an iceberg floating below our terrace, all its ballasts hidden beneath the surface."
– Anthony Doerr

58 – "Rome – the city of visible history, where the past of a whole hemisphere seemoving in funeral procession with strange ancestral images and trophies gathered from afar."
– George Eliot

59 – "In 'Roma,' I wanted to get across the idea that underneath Rome today is ancient Rome. So close. I am always conscious of that, and it thrills me. Imagine being in a traffic jam at the Coliseum! Rome is the most wonderful movie set in the world… As was the case with many of my film ideas, it was inspired by a dream."
– Federico Fellini

60 – "Methinks I will not die quite happy without having seen something of that Rome."
– Walter Scott

61 – "In Rome it seems as if there were so many things which are more wanted in the world than pictures."
– George Eliot

62 – "Rome has not seen a modern building in more than half a century. It is a city frozen in time."
– Richard Meier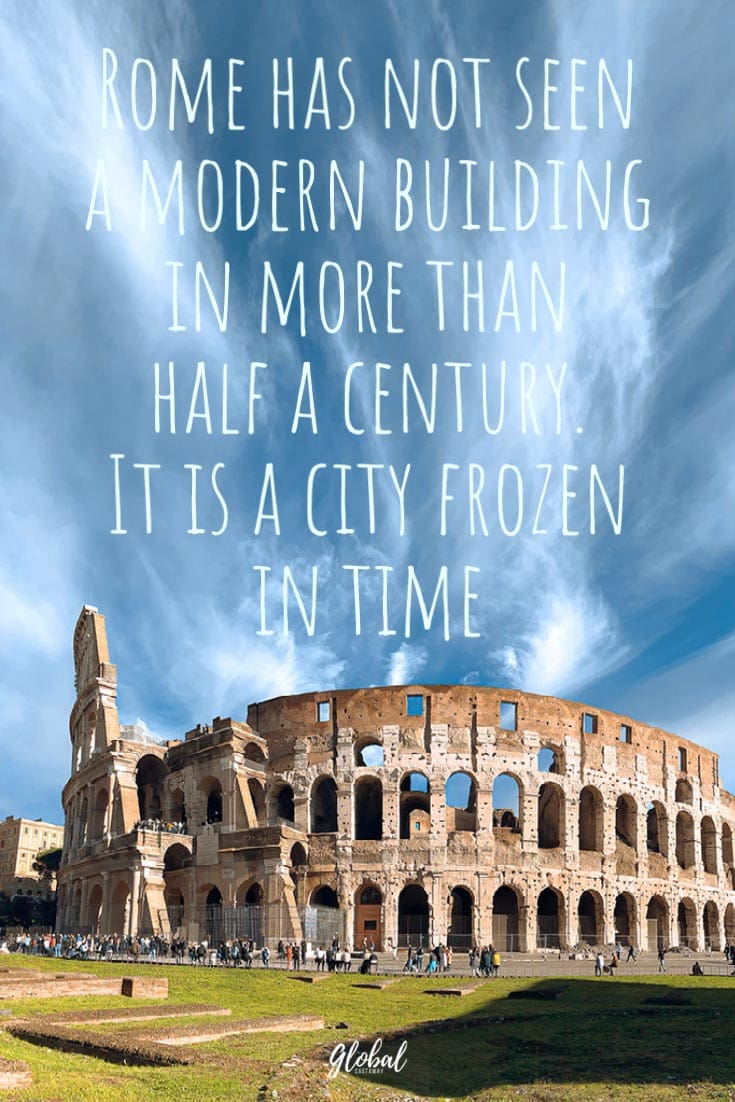 63 – "I am a sucker for those old traditional places, and Rome is as good as it gets, particularly when you throw in Italian food."
– Roger Federer

64 – "In Rome, I particularly love the history, churches, sculptures, and architecture and the fact that you can walk along a tiny cobbled street and turn the corner to find the Trevi Fountain."
– Philip Treacy

65 – "Three days in Rome
I laid my heart out
I laid my soul down
I'll always remember
Three days in Rome."
– Sheryl Crowe

66 – "Personally, I like Rome very much. It's sort of a moderate, tranquil jungle where one can hide…"
– Marcello Mastroianni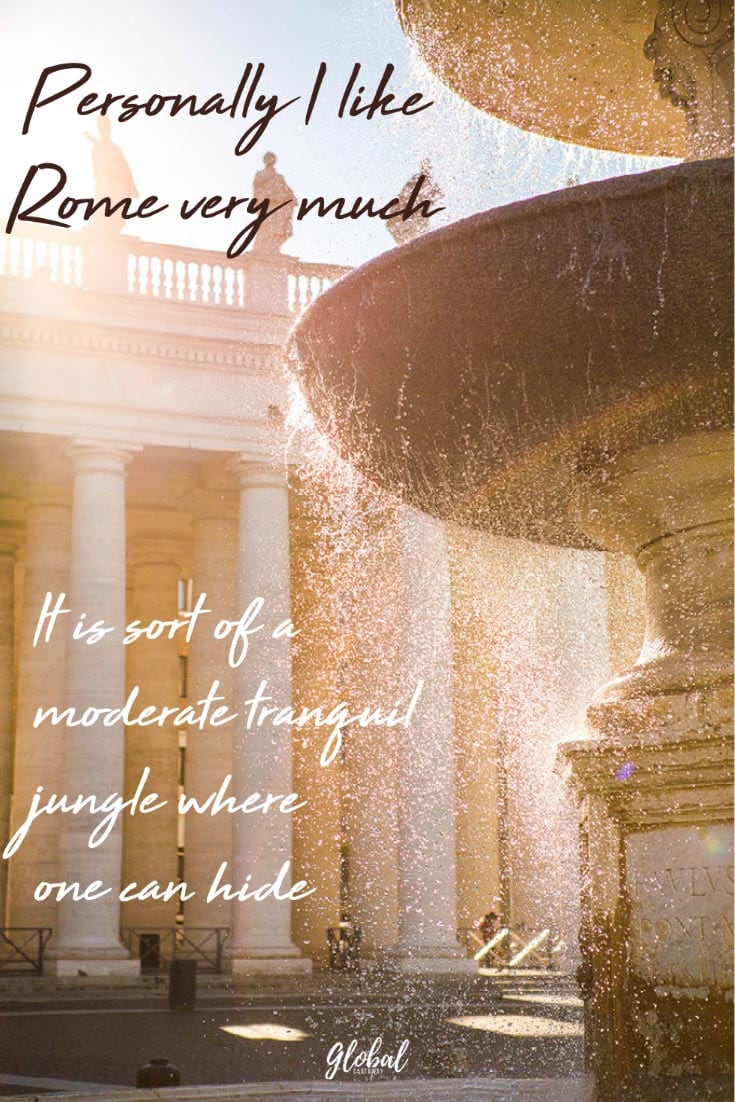 67 – "Rome has New York's formlessness, aimlessness, a kind of hard-boiled sophistication, blasé about everything."
– Paul Morrissey

68 – "You'll fall in love
Your heart is home
When you are young
Among the seven hills of Rome
The world is old, but love is new
And when in Rome, your heart will tell you what to do."
– Mario Lanza

69 – "Here was Rome indeed at last; and such a Rome as no one can image in its full and awful grandeur!"
– Charles Dickens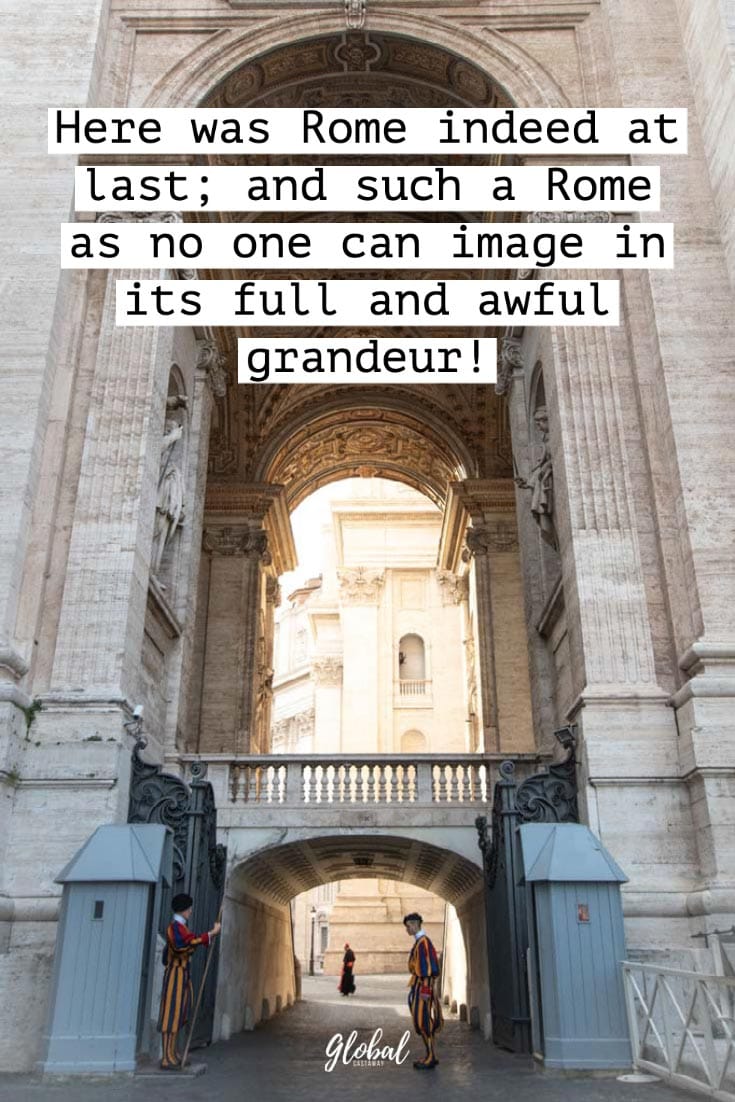 70 – "You sometimes get bored of Rome by the second month of your stay, but never by the sixth, and if you stay until the twelfth month, you are taken by the idea of settling down there."
– Stendhal

71 – "Rome is a broken mirror, the falling straps of a dress, a puzzle of astonishing complexity. It is an iceberg floating below our terrace, all its ballasts hidden beneath the surface."
– Anthony Doerr

72 – "I love Rome and the way that you can wander around and find something interesting around every street corner. You can smell the history."
– Jonathan Agnew

73 – "To my taste, the men in Rome are ridiculously, hurtfully, stupidly beautiful. More beautiful even than Roman women, to be honest. Italian men are beautiful in the same way as French women, which is to say– no detail spared in the quest for perfection. They're like show poodles. Sometimes they look so good I want to applaud."
– Elizabeth Gilbert

74 – "If I'm in Rome for only 48 hours, I would consider it a sin against God to not eat cacio e pepe, the most uniquely Roman of pastas, in some crummy little joint where Romans eat. I'd much rather do that than go to the Vatican. That's Rome to me."
– Anthony Bourdain

75 – "The beauty of Rome is that you can wander into a pizzeria just about anywhere and get a real Italian pizza that's thankfully worlds away from the Super Supreme I used to order at Pizza Hut as a kid."
– Ed Stoppard

76 – "How wonderful, to walk half-drunk with a Lemonsoda on a muggy night like this around the gleaming slate cobblestones of Rome with someone's arm around me."
– André Aciman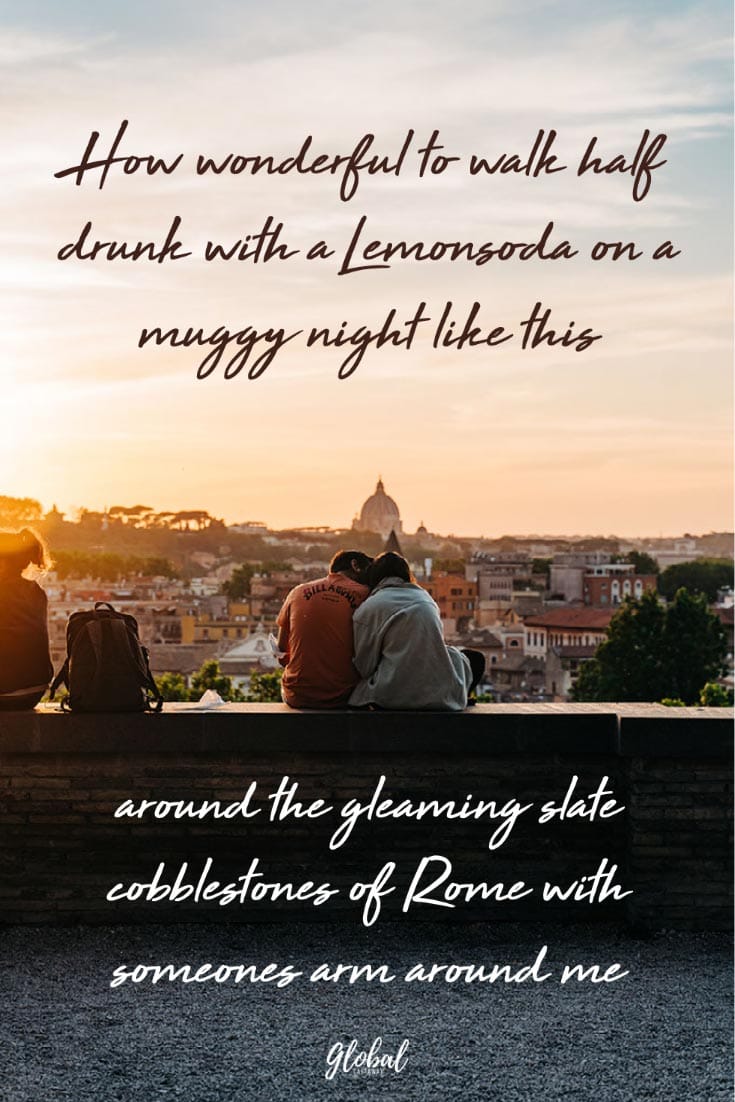 77 – "Rome is one enormous mausoleum. There, the past lies visibly stretched upon his bier. There is no today or tomorrow in Rome; it is perpetual yesterday."
– Thomas Bailey Aldrich
Now I know there are many, many more quotes about Rome, but if I list them all (which I'm not sure it's even possible), we'll have to stay here for days. The 77 quotes here are top picks, but, as always, I'm pretty sure I've missed some good ones. So if you have any suggestions, don't be shy and share them with me.
If you are still planning your trip to Rome, make sure to check my detailed Rome itinerary guide that will save you a ton of time and extra research, and you'll be guaranteed to see everything that's worth it.
If itineraries are not your thing, you can copy my absolute Rome bucket list and see if you can complete it all while in town. Fun is guaranteed with this one (and a lot of food).
And if you need some extra inspiration, you can check my mountain, adventure and travel quotes or even the Paris and London ones or laugh with these 20 interesting facts about Rome.
That's all from me, I hope you enjoyed my collection of cool quotes about Rome!
————————————
If you haven't planned your trip there yet, find out how I plan my trips!
————————————
Those quotes pushed me to embark on a quest around the world. See my impossible bucket list of 1700+ adventures!

What's your favourite travel quote?
---
Some of the above are affiliate links and I will earn a percentage of the sale if you purchase through them at no extra cost to you. This helps keep my site running – so thanks in advance for your support!