I'll be straight here – spending 3 days in Naples will shock your senses. I know this is not the most enticing start to a city guide but bear with me.
There's a local saying, "You cry twice when you visit Naples, once when you arrive, and once when you have to leave". This is the perfect description of what's ahead of you. At first, there'll be a huge culture shock – Naples is dirty, smelly, and chaotic. Incredibly dirty, smelly, and chaotic! I admit I asked myself, why the hell did I come here. But several days later, when it was time to leave, I was genuinely sad.
This messy city is so full of authentic atmosphere that you just can't help getting attached to it. The tiny alleys, the unsurmountable amount of balcony laundry, the pizza, the friendly locals, the Maradona shirts – Naples is one-of-a-kind and loves to show it.
The southern city is truly an Italian gem that will offer plenty of vintage culture, and all you have to do is give it a chance. Following my 3-day Naples itinerary, I promise you are about to see the very best of it.
Are you ready to explore the cobblestoned alleys of Naples?
Let's go!
Three Days in Naples – Day 1 – Neapoalitan Spirit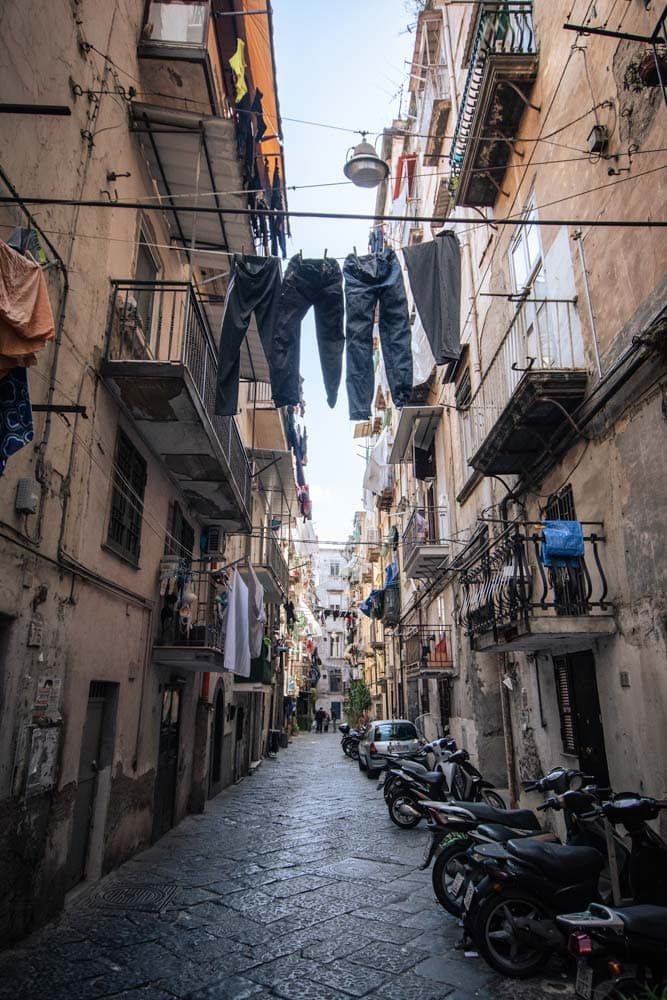 As I mentioned, the charm of Naples is in its authenticity, so on our first day, we're about to discover the most authentic part of town and learn a bit more about the rich history of the region.
National Archeological Museum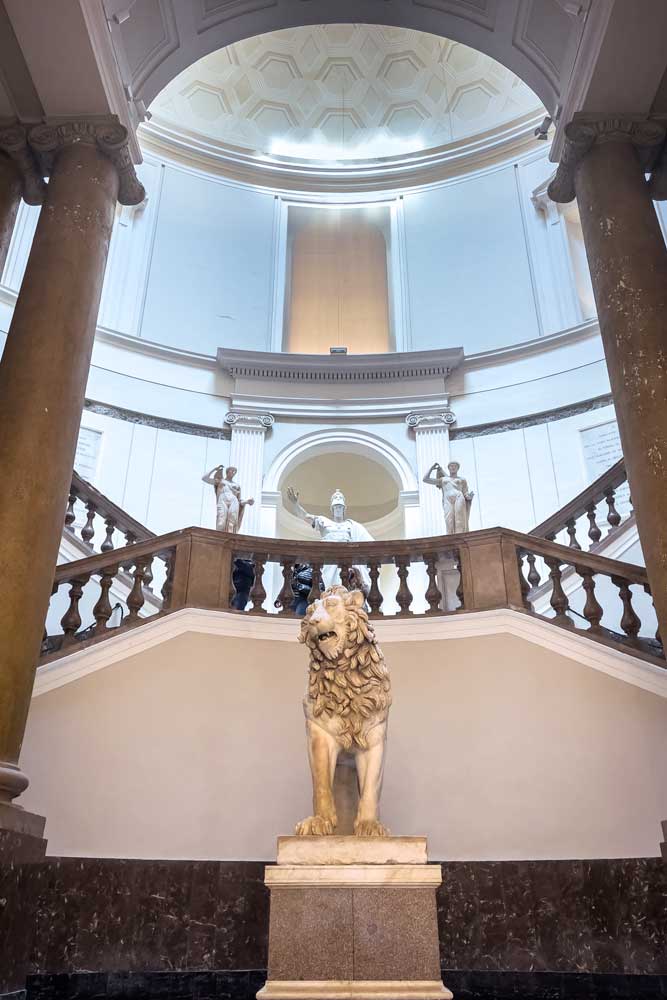 We start the day with a museum. Why? Because let's be honest, if you start exploring the city's countless alleys and pizza places, you won't have enough power or desire for a museum. No, the museums are best seen first thing in the morning.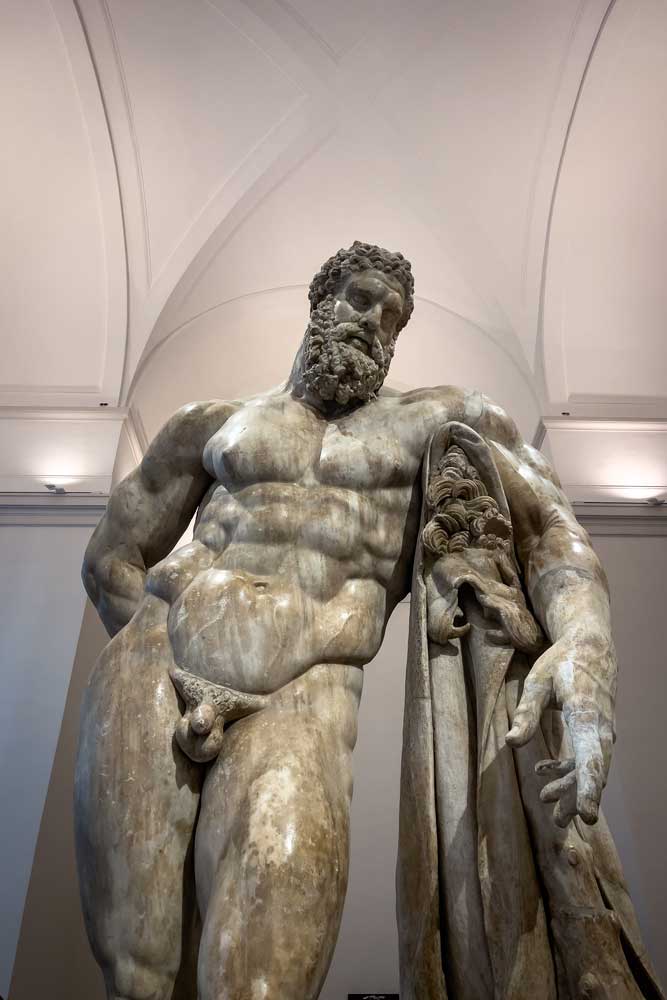 There's only one museum in this 3-day Naples itinerary, but it's an incredible one. Opened in the 18th century, the National Archaeological Museum of Naples showcases the rich history of the entire southern Italy region. On display are some of the most complete collections of Greek and Roman antiquities, including plenty of Pompeii artifacts and sculptures. If this is not enough for you, there's also an Egyptian section with a mummy or two (including a crocodile mummy!).
The museum is not overwhelmingly big, and a couple of hours should be enough to enjoy its collections.
Working Hours:
Wed-Mon: 9:00 AM – 7:30 PM (11:00 PM on Thursdays)
Tue – closed
Prices:
Regular – 18 EUR
Guided tour – Check here
Centro Storico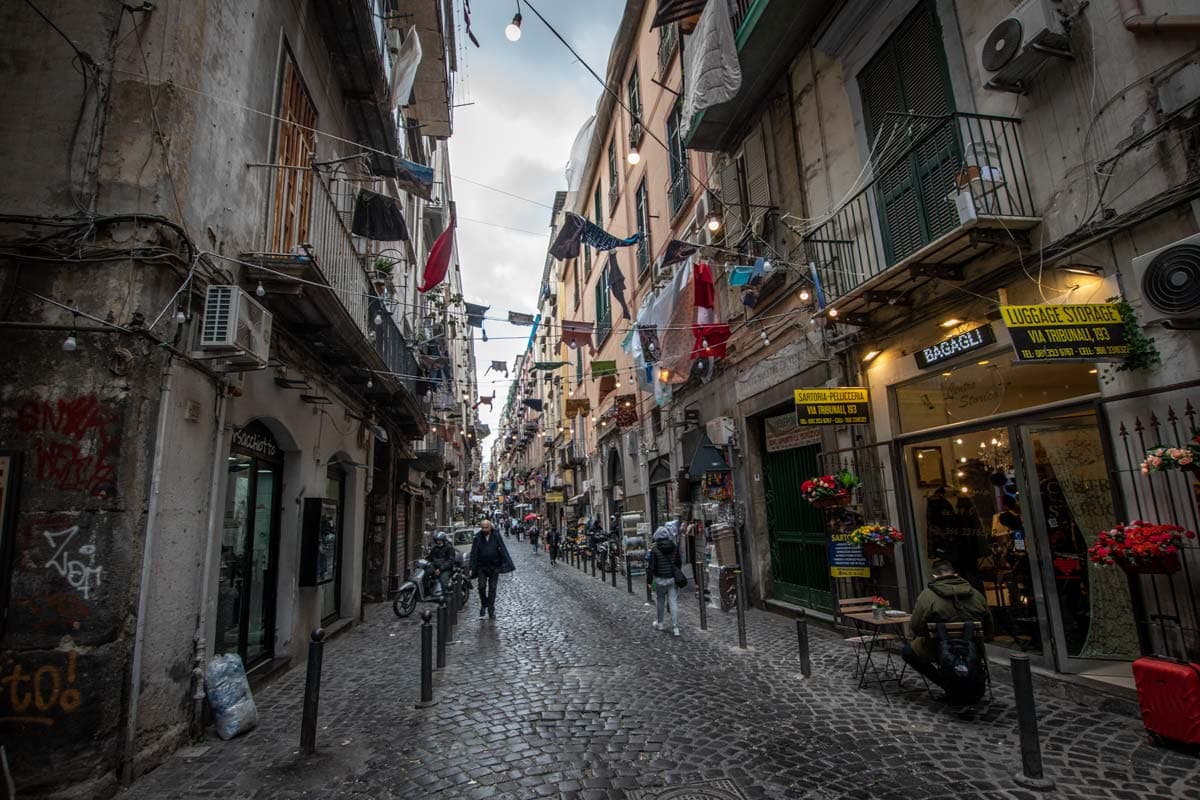 We saw the history of Naples on display, and now it's time to walk in it. The historic center of Naples is a UNESCO World Heritage Site that encapsulates 27 centuries of history. Yeah, you've read that right, 2700 years!
Once a greek harbor, the coastal city has been through many transformations to become what it is today, but the marks of its previous incarnations are still visible in Centro Storico (historic center).
While exploring, there are three streets you'll get familiar with.
The first one is the main street which is actually a few streets combined. Locals call it Spaccanapoli Road (translating to "Naples Splitter" since it breaks the area into two halves), and it's one of the most fun alleys to discover. It's lined with shops, tourist stalls, bars, churches, and restaurants and is always buzzing with people.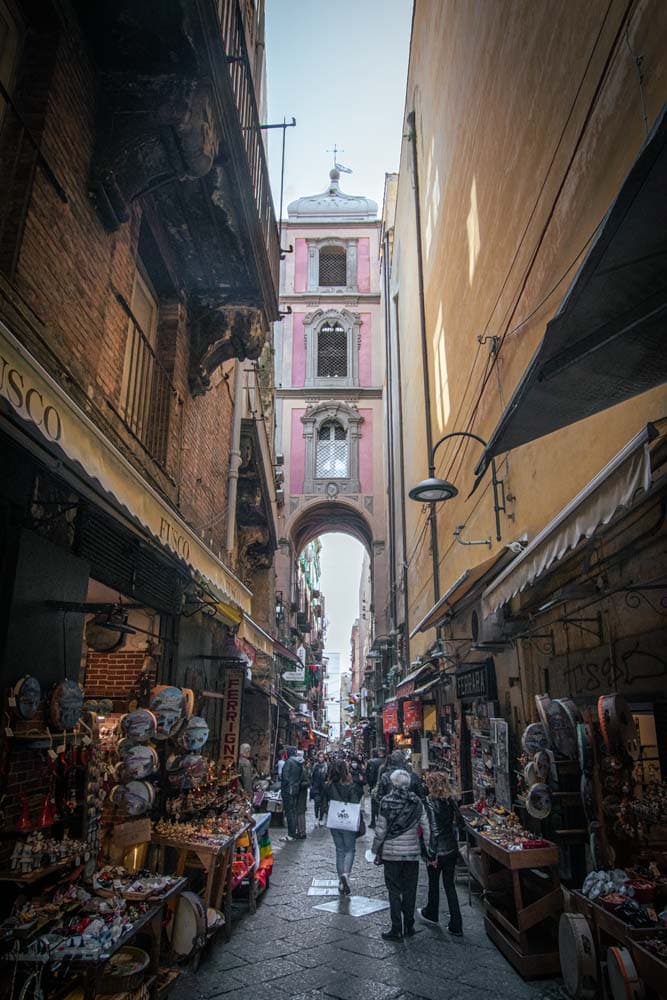 The second one is Via dei Tribunali, similar to Spaccanapoli Road, with more pizzerias, trattorias, and sweet shops.
To get from one Spaccanapoli to Tribunali, you can stroll trough Via San Gregorio Armeno. Also called the Christmas Road, this narrow alley sells authentic Neapolitan ceramic figures that resemble Christmas decorations. It also has all kinds of souvenirs and cool stuff, so you should definitely check it during your 3 days in Naples.
Naples Duomo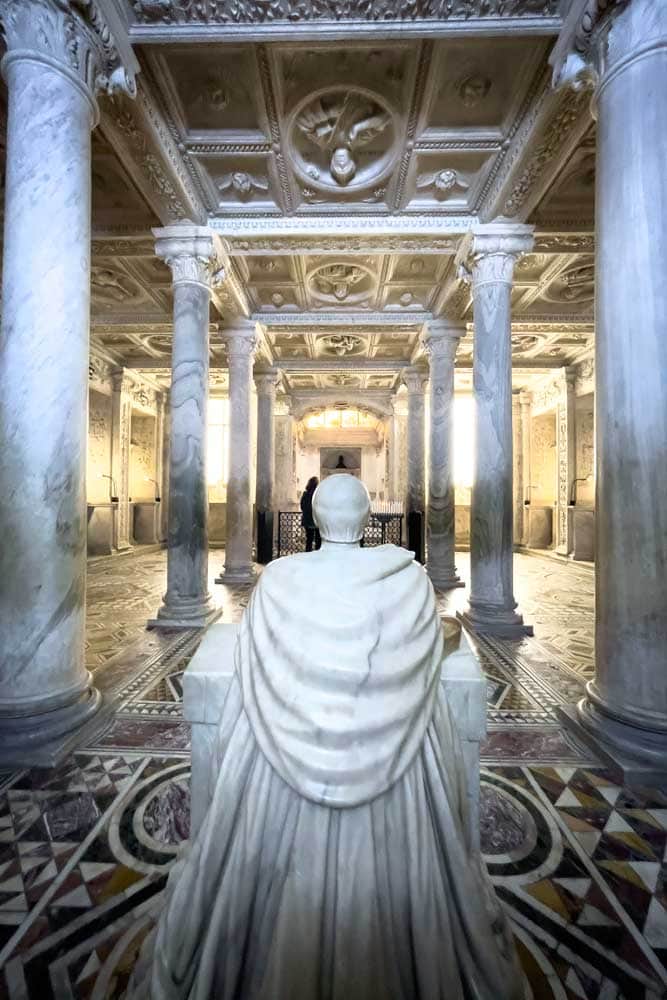 Located inside the historical center, Naples Duomo or Cathedral of the Assumption of Mary is the most important and beautiful church in town.
If you've been to Italy before, you know the marvels inside their churches, and the Naples Duomo is a fine example of that.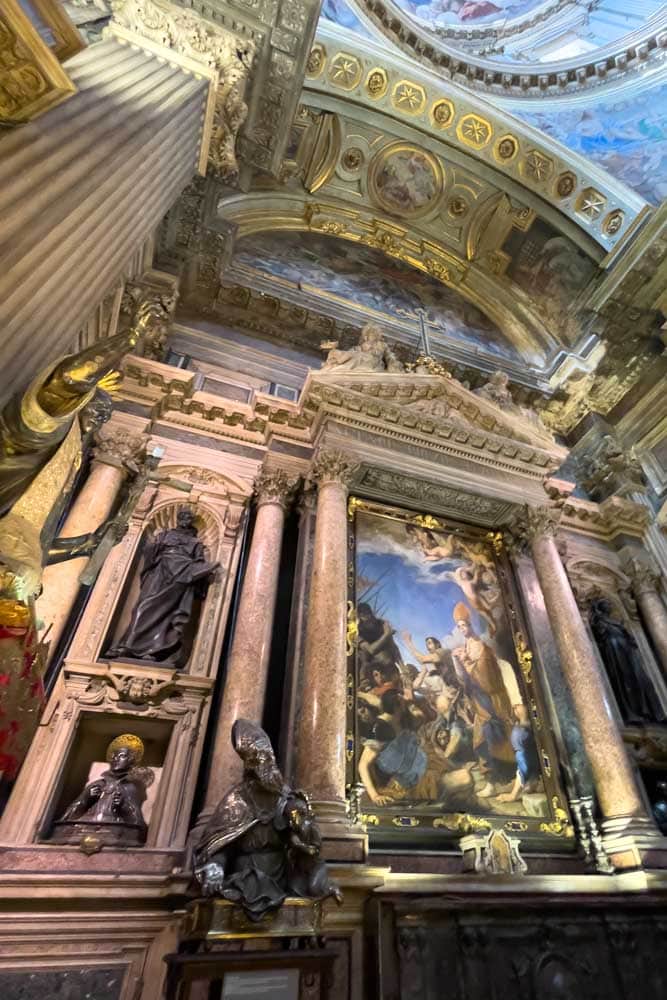 The most impressive part is the Royal Chapel of the Treasure of St. Januarius (San Gennaro). Dedicated to the city's patron, the chapel is decorated with artworks from many premier painters of early 17th century Rome and Naples.
The Duomo safeguards vial of the blood of Saint Januarius, which is brought out three times a year (first Saturday in May, 19th September, and 16th December). It is said that the dry blood liquefies on those days, and if it fails to do so, a great disaster will befall Naples.
Working Hours:
Cathedral:
Mon-Sat: 8:30 AM – 1:00 PM/ 3:30 PM – 7:00 PM
Sunday: 8:30 AM – 1:00 PM/ 4:30 PM – 7:30 PM
San Gennaro chapel:
Mon and Sat: 9:30 AM -1 PM /3:00 PM -6:00 PM
Tue to Fri: 9:30 AM -1 PM /2:30 PM -6:00 PM
Sunday: 9:00 AM -1:00 PM /4:30 PM -6:00 PM
Prices:
Cathedral – free
San Gennaro chappel – Check here
Guided tour – Check here
See Also: Best way to spend 3 days in Rome
Museu Capella Sansevero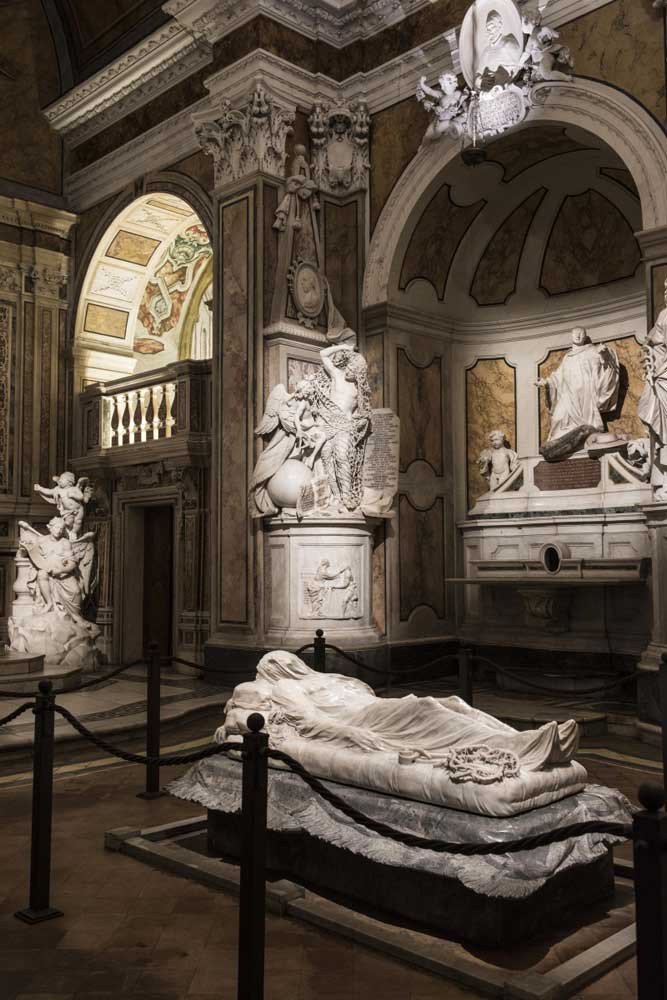 photo credit: museosansevero.it
I know I said there are no more museums today, but this is not exactly one. It's not precisely a chapel, too. It's a fusion of utmost quality.

Museu Capella Sansevero is one of the most impressive sights you will witness during your three days in Naples. The statues collected inside are just marvelous. Veiled Christ by Sanmartino is considered the biggest highlight, but for me, it was a guy with a fishnet I could swear was real (the fishnet, not the guy). It was perfected to the finest detail!
In the basement, there are also two Anatomical exhibits called macchine anatomiche. It's basically skeletons with all their blood vessels replaced by beeswax, iron wire, and silk. I mean all of them. It's bemusing to me (and scientists) that in the 18th century, they managed to get the human blood vessels in such precise detail.
Working Hours:
Wed-Mon: 9:00 AM – 7:00 PM
Tuesday – closed
Prices:
Regular – 8 EUR (online ticket)
Guided tour – check here
Castaway Tip
Since entry to the Capella is on timeslots, booking an online ticket is strongly advisable; otherwise, the next free timeslot may be several hours later.

L'Antica Pizzeria da Michele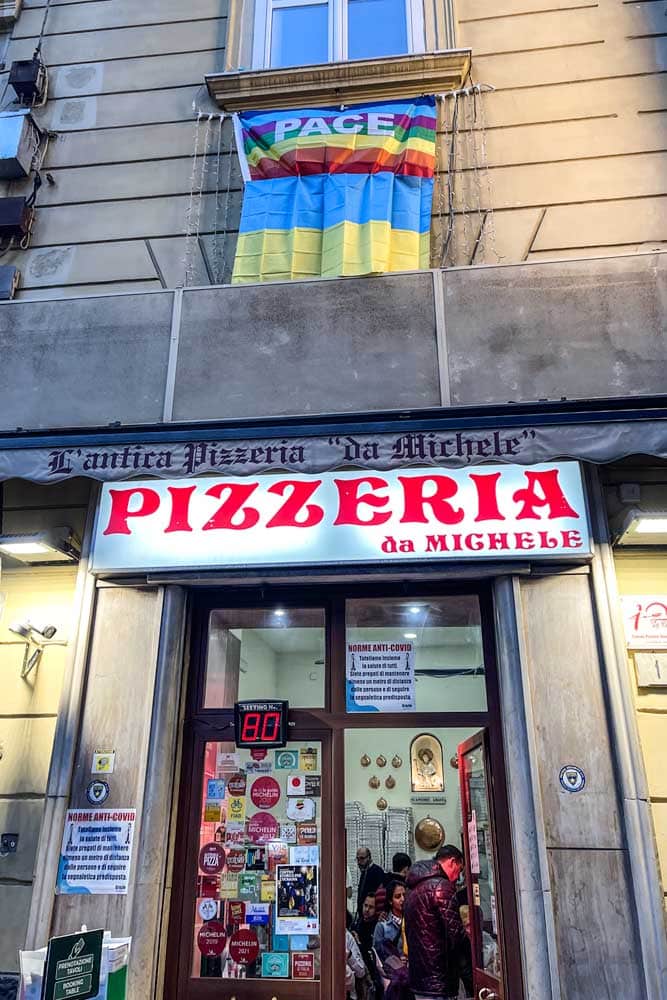 You probably stopped for a pizza a few times already, but we will end the first of our three days in Naples with style. I guess you know that Naples is the birthplace of pizza, right? Sooo what's better for our last stop than the best pizzeria in town – L'Antica Pizzeria da Michele.
Founded in 1870, it's one of the oldest pizza places in Italy. It's praised by Michelin pretty much every year and was even featured in the movie Eat, Pray, Love (Julia Roberts loved to take a bite there).
They offer just four types of pizzas made the authentic Naples way. You can choose between Margaretta, Marinara, Cosaca, and half-Margaretta half- Marinara. There's no meat on them, but I guarantee they are lick-your-fingers good!
Working Hours:
Daily: 11:00 AM – 11:00 PM
Prices:
All four pizzas cost 5 EUR
Castaway Tip
If you want to eat inside, you have to get a number and wait in a line (sometimes a pretty long one). However, if you want your pizza takeaway, order inside, and it will be ready in 5 minutes.

See Also: Best way to spend 3 days in Seville
Three Days in Naples – Day 2 – Royal Day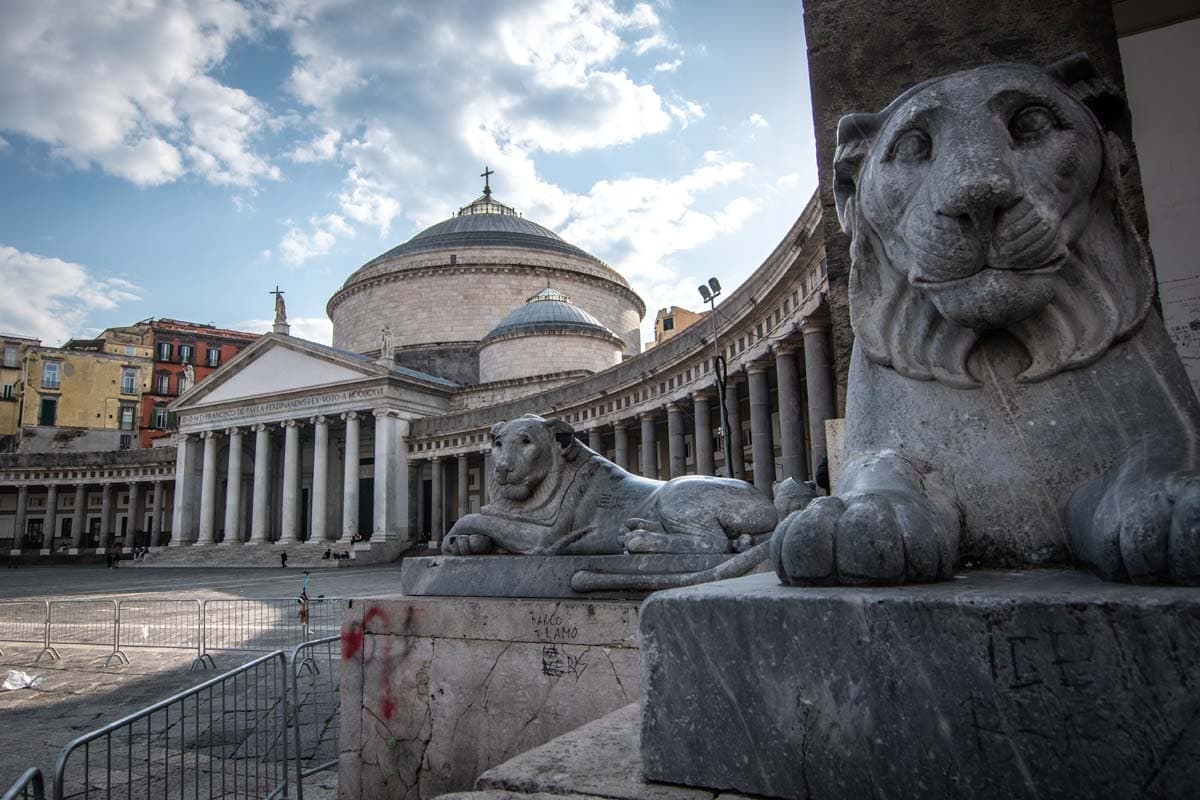 On the second of our 3 days in Naples, we're going to explore the Royal side of the city. Ok, that's not exactly accurate, but we have a couple of castles and a palace.
Toledo metro station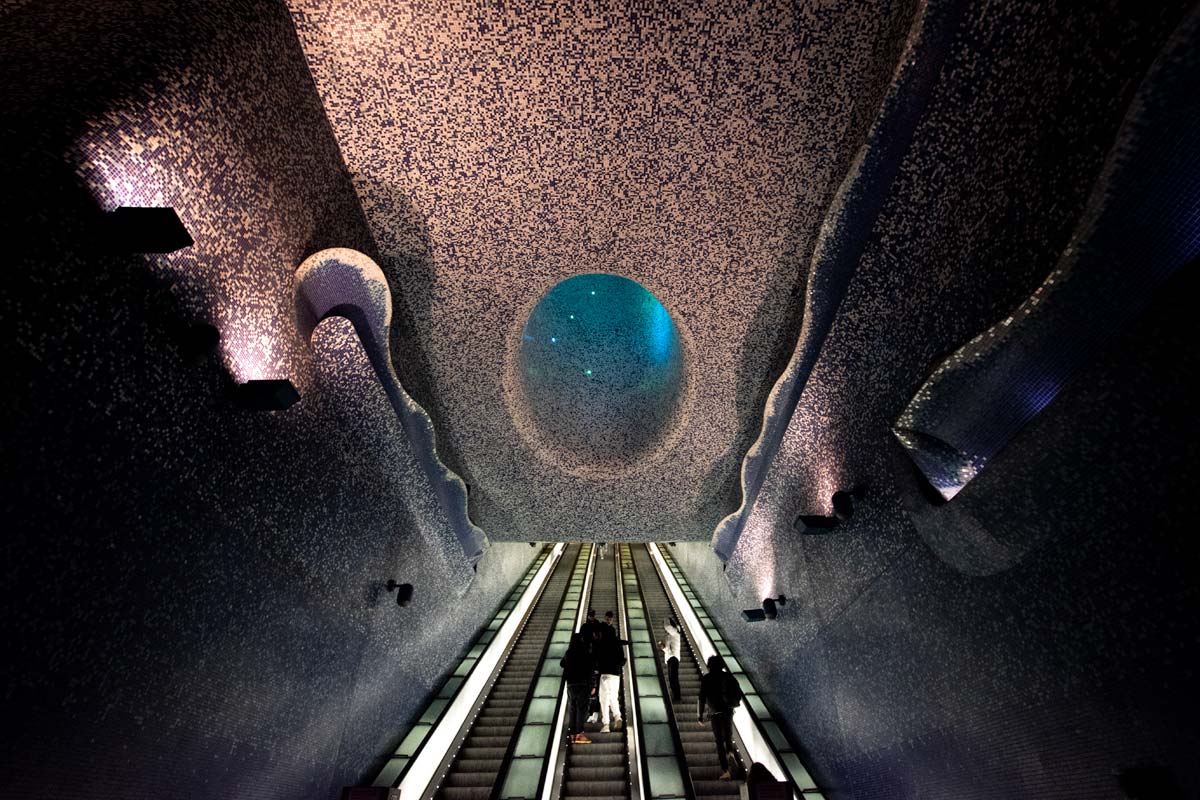 We start the day with a weird attraction. In all my travels, never have a metro station been a city highlight. Well, the Toldeo one certainly is. Considered one of the best-looking metro stations in the world, Toledo was opened in 2012 and in 2013 won a LEAF Award as "Public building of the year".
Although not something mind-blowing, the metro station is worth a visit and is right next to our next stop.
Quartieri Spagnoli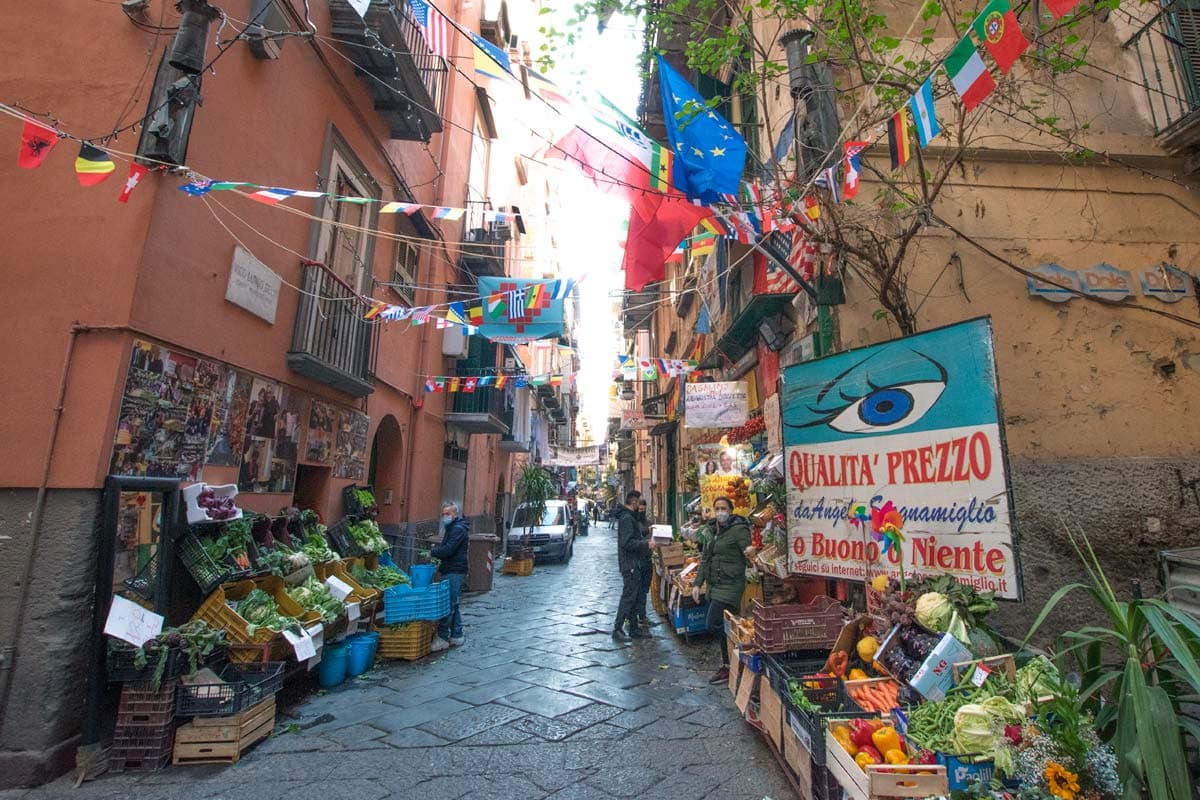 Created in the 16th century to house Spanish garrisons, the Spanish quarter houses approximately 14,000 inhabitants who nowadays are mostly Italians (although they speak the local Neapolitan language more than Italian).
The quarter is similar to the historic center, but it's located on a hill, the alleys are tinier, and there's plenty of street art, so a walk around is quite a pleasant one.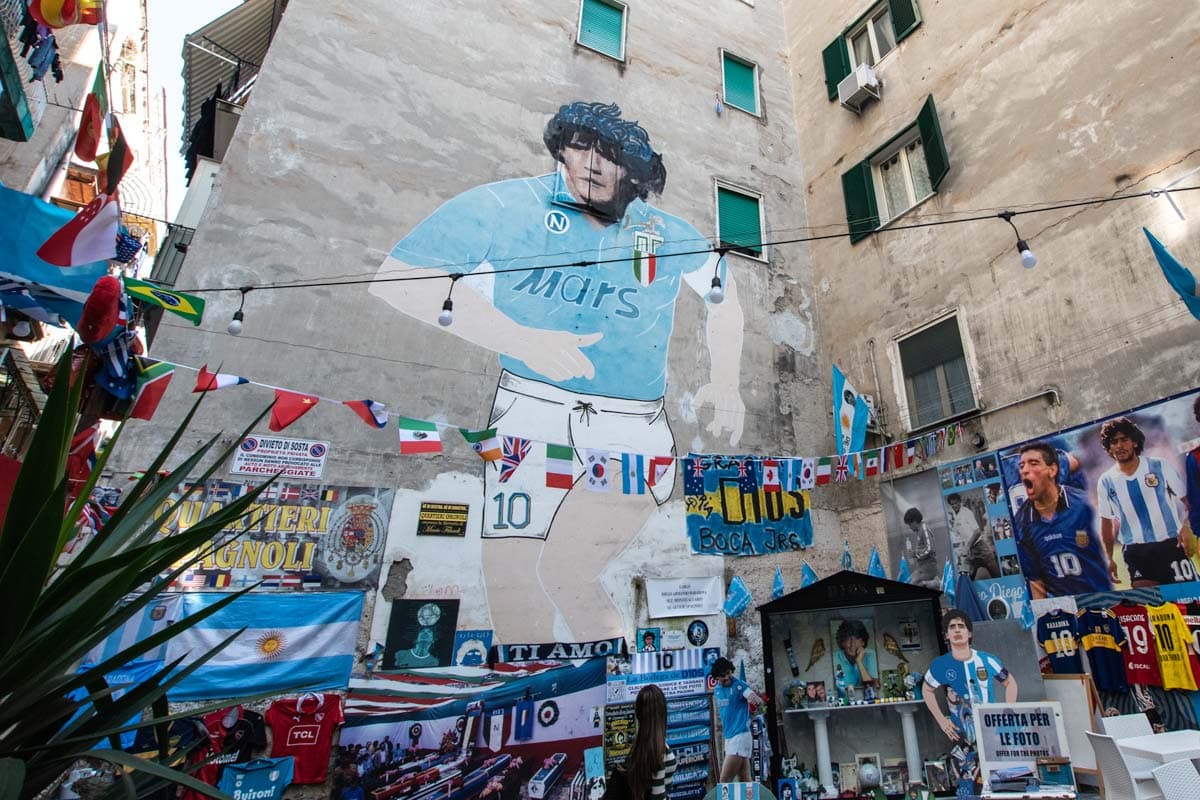 The reason I brought you here, however, is the giant Maradona mural. Maradona is one of the biggest legends in football, and since he spent a large part of his career in Napoli (the local football team), he has the status of a God in the city. I'm not exaggerating. There are plenty of Maradona altars, one of which is in front of the mural. Great way to disvoer everything inside this picturesque quarter is via this tour with a local guide.
Castaway Tip
The Spanish quarter is one of the poorest neighborhoods of Naples, so exploring it after dark is not recommended.

Castel Sant'Elmo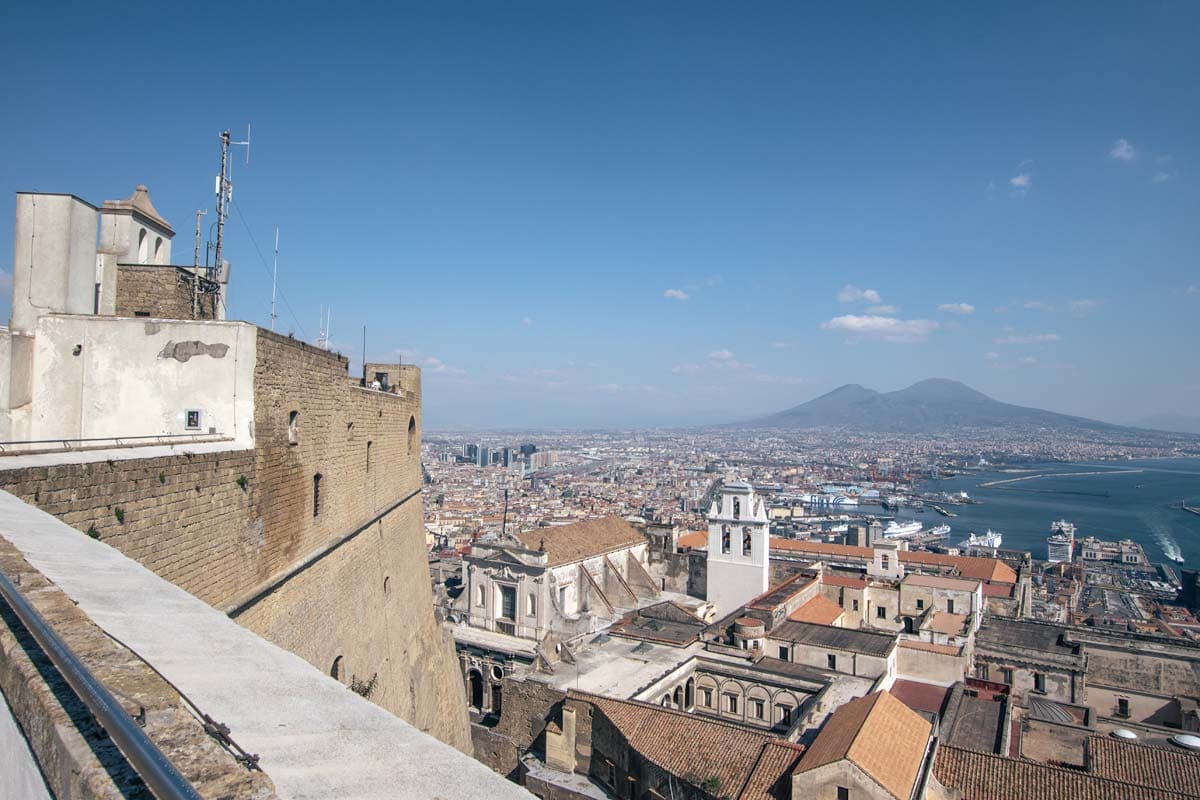 Built in the 13th century, the defensive fortress overlooks the entire city of Naples. It's situated next to the Spanish quarter but requires a tiresome climb to reach.
Although it features a small museum, we visit Sant Elmo for one thing and one thing only – the views! And boy, oh boy, are they spectacular!
Working Hours:
Daily 8:30 AM – 7:30 PM
Prices:
Regular from Wednesday to Monday – 5 EUR
Tuesday (or wed-mon after 4:00 PM) – 2.50 EUR
Antica Pizza Fritta da Zia Esterina Sorbillo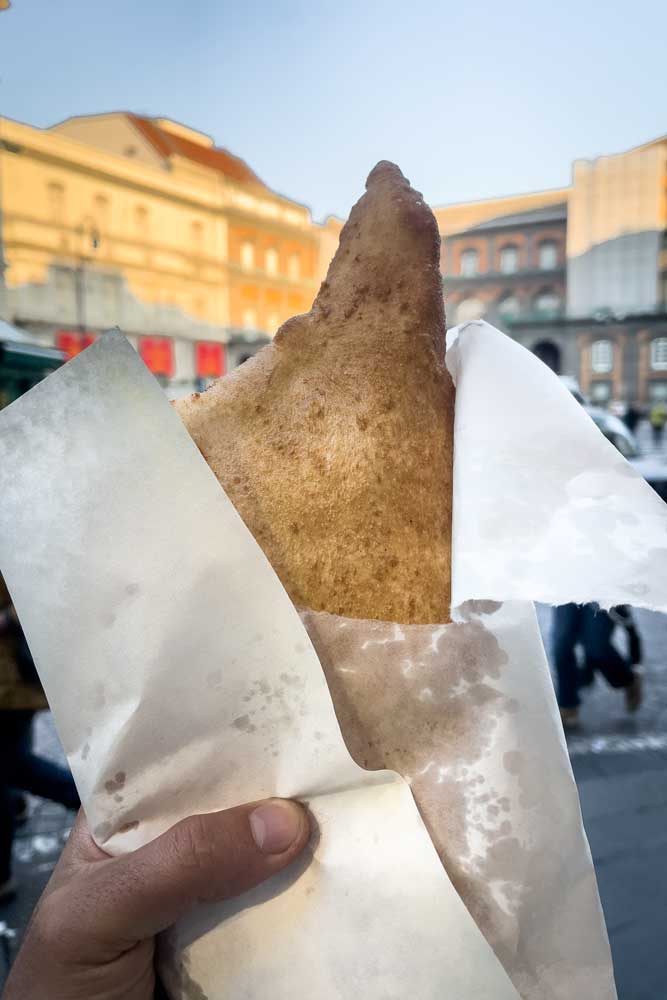 After all that climb, we need to replenish some calories, so our next stop is Sorbillo – one of the legendary pizza establishments in Naples. Their main dish is a pizza like no other – a fried one. Yes, fried pizzas do exist! They may be extra unhealthy, but damn they are good.
Working Hours:
Daily: 11:00 AM – 11:00 PM
Prices:
inexpensive
See Also: See the best of Florence in just 3 days
Galleria Umberto I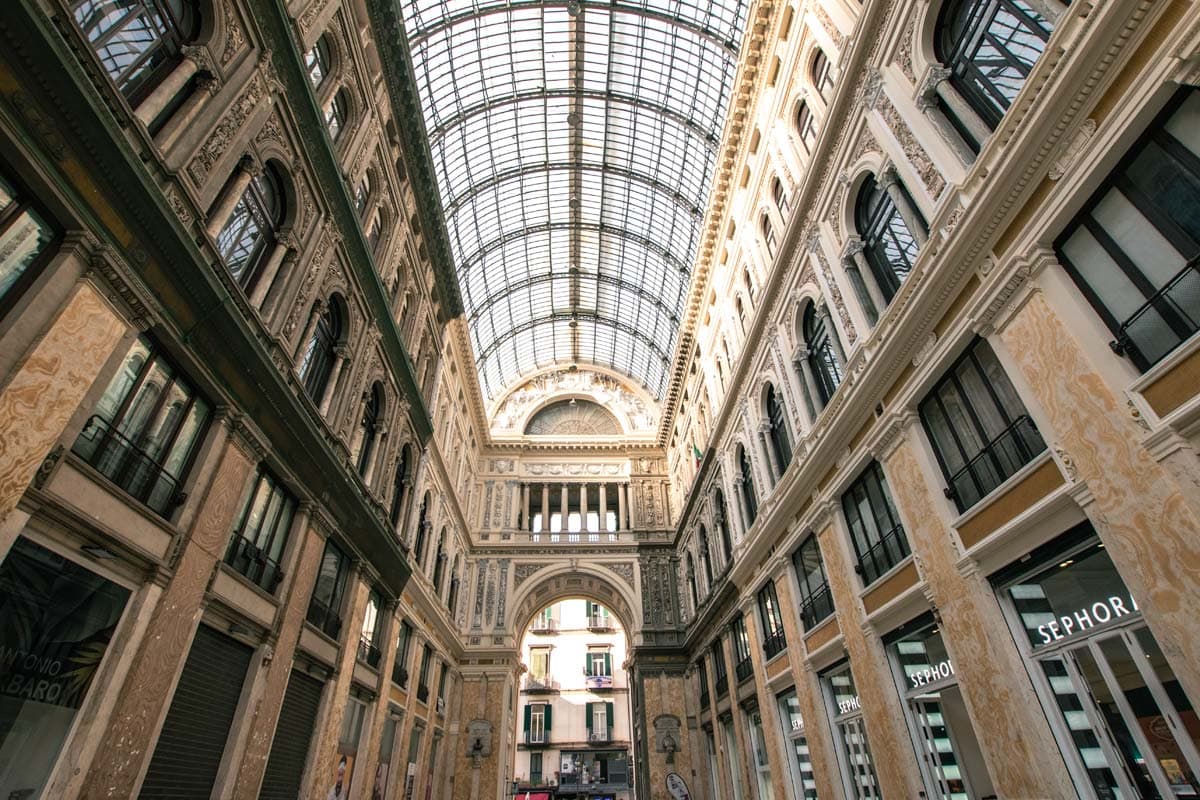 Next on our 3-day Naples itinerary, we have some shopping time. A 100 meters away from the pizzeria, we find the most famous shopping alley in the city – Galleria Umberto I. Built between 1887–1890, the Galleria suspiciously reminds the Galleria Vittorio Emanuele II in Milan, but nonetheless, it's a great place to get some Italian goods or sit for a coffee.
And if you care neither about shopping nor coffee, it's still a great place to take a photo.
Palazzo Reale di Napoli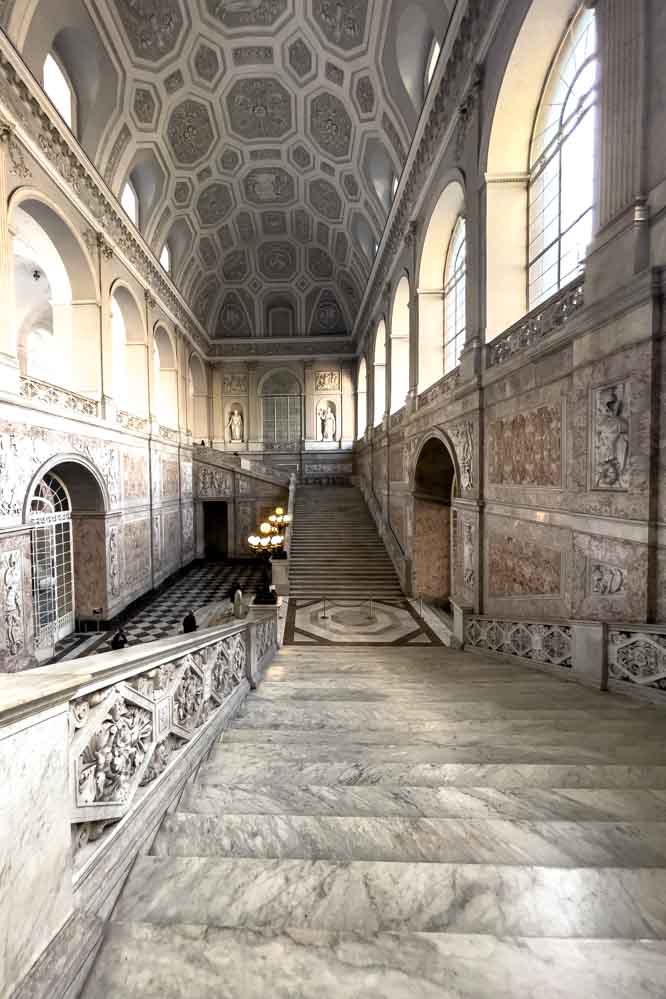 We continue our 3 days in Naples with a palace. Yes, I promised you this in the beginning, and finally, it's time. Before going in, however, take some time to enjoy the beautiful Piazza del Plebiscito in front of it.
Built in the 17th century, the original purpose of the palace was to house the King Philip III of Spain, who never actually came to visit. Later it became the residence of the House of Bourbon during their rule of the Kingdom of Naples (1735–1816).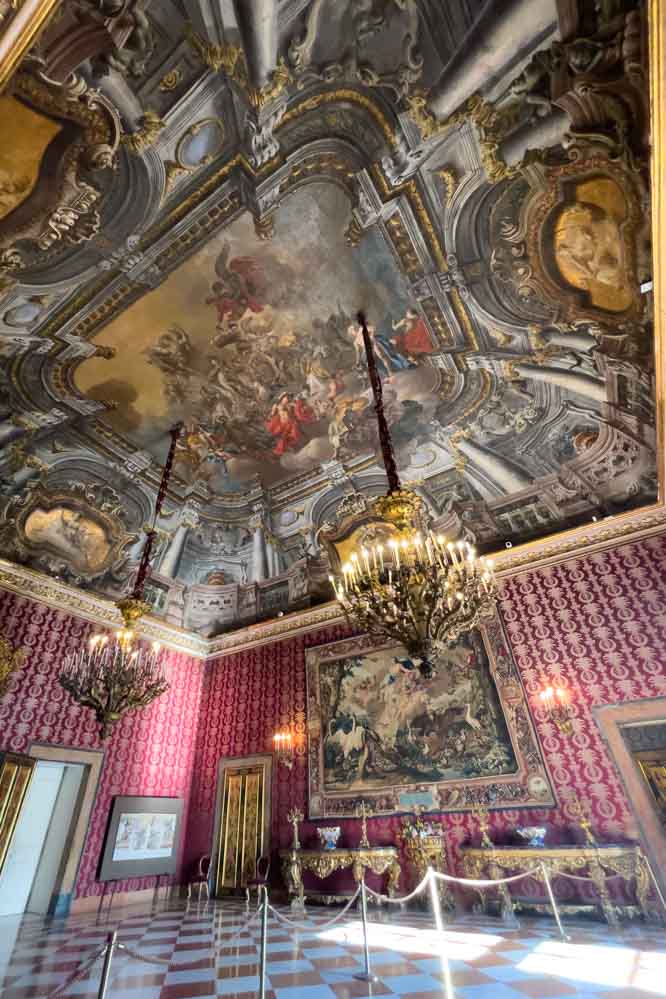 Today you can explore the opulent royal rooms and glimpse into a monarch's life. There's also a Dante gallery showcasing different art pieces dedicated to the famous poet.
Working Hours:
Daily: Check here
Prices:
Regular – 10 EUR
Castel dell'Ovo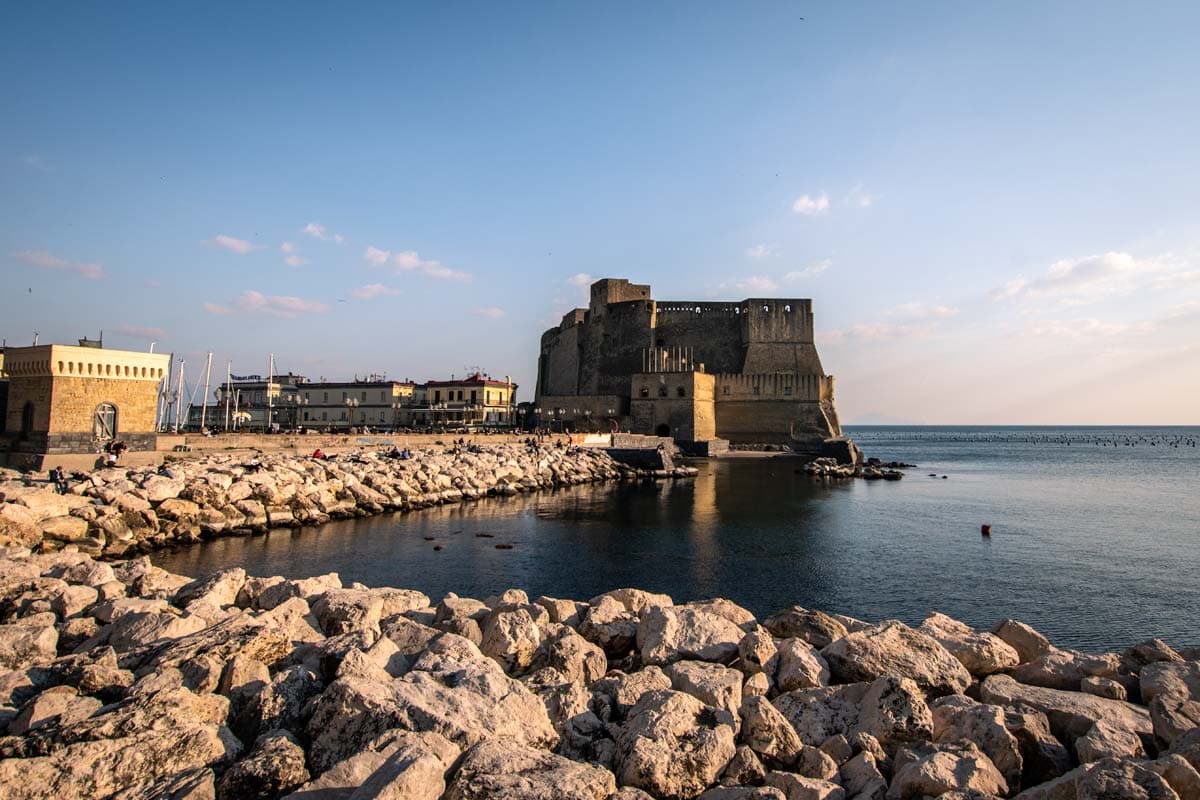 We finish the second of our 3 days in Naples with another castle. Castel dell'Ovo does not require any hefty climbs (thank God) but offers views no less spectacular than the previous fortress we visited.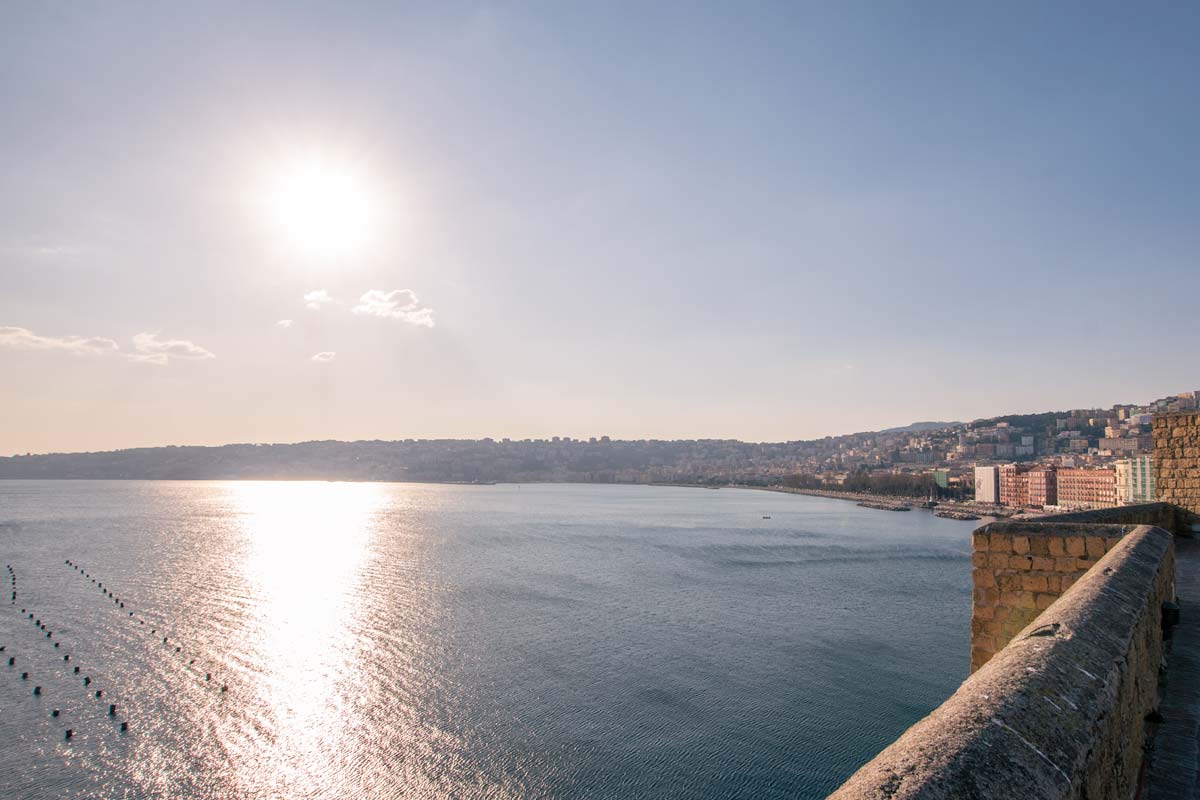 It's not Naples from a birds-eye view but Naples from the sea (where the castle is), making it a perfect spot to watch the sunset. In addition, Castel dell'Ovo is often a venue for all kinds of exhibitions, so you never know what you're going to get (in my case, it was a Tutancamon one).
Working Hours:
Mon-Sat: 8:00 AM – sunset
Sunday: 9:00 AM – early afternoon (around 1:00 PM)
Prices:
Castle – free
Temporary exhibitions – different entry fees
Three Days in Naples – Day 3 – Back in Time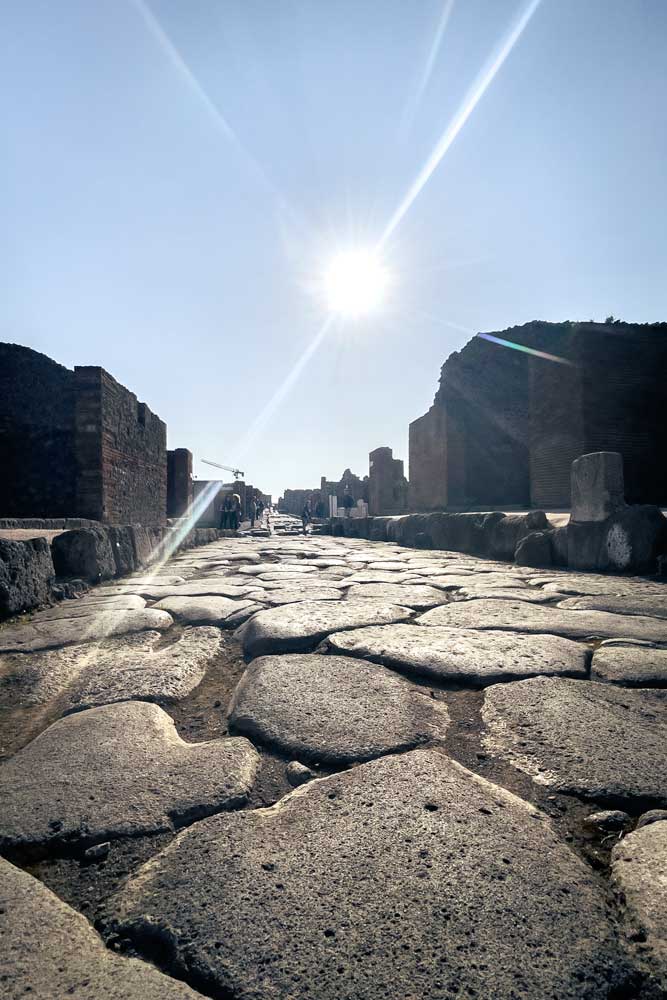 On the last of our 3 days in Naples, we're going outside of town to explore ancient Rome. No, no, we're not going to the actual Rome. Instead, we will see Rome from the past.
I've listed two attractions for the day, but if you don't want to wake too early or think your fitness is not good enough, you may select only one of them.
Mount Vesuvius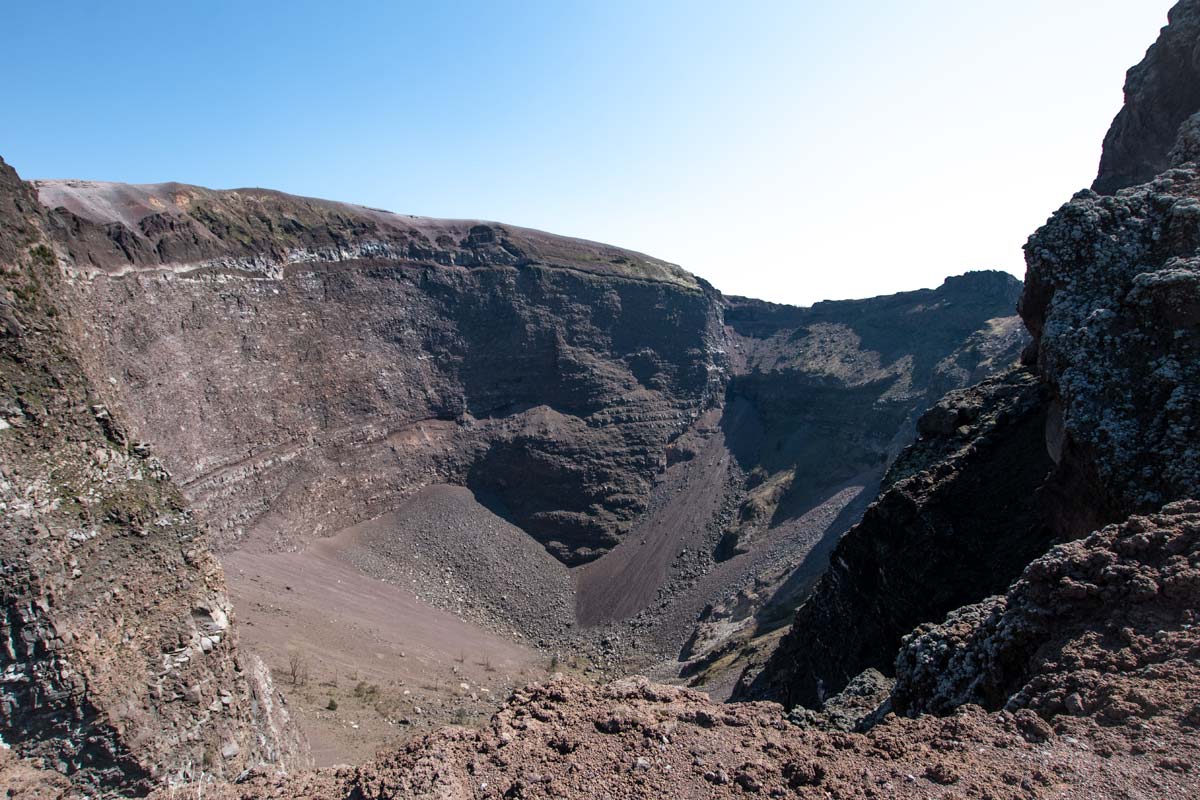 Mount Vesuvius is the only active volcano in mainland Europe. It's famous for its eruption in 79 AD, which is considered one of the most catastrophic eruptions of all time. It's easy to reach from Naples, and all you have to do is walk around 1km upwards to see the crater.
Don't expect any lava or flames, though. Instead, it's primarily black sand and rocks but still quite an impressive sight.
Check out how to visit the infamous volcano on your own.
Working Hours:
January-February-November-December: 09:00 AM to 3:00 PM
March to October: 9:00 AM to 4:00 PM
April-May-June-September: 9:00 AM to 5:00 PM
July August: 9:00 AM to 6:00 PM
Prices:
Regular – 10 EUR (get one from here)
Tour from Naples – Check here
Guided tour including Pompeii – Check here
Important!
You can't buy tickets on the spot; only online ones are accepted. Unfortunately, mobile internet at the top is patchy, so you better purchase them in advance ( I know the link is in Italian, but that's the only place you can get tickets at regular prices).
Pompeii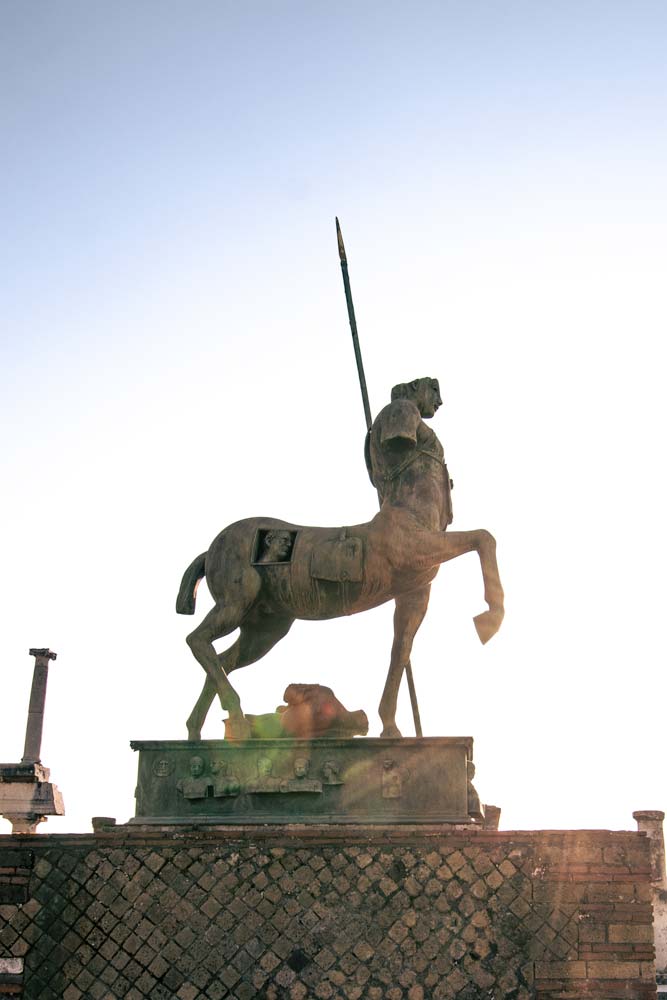 There's no way you're visiting Naples not knowing what Pompeii is but still – Pompeii is an ancient Roman city that was covered by volcanic ash in 79 AD (the catastrophic Vesuvius eruption mentioned above).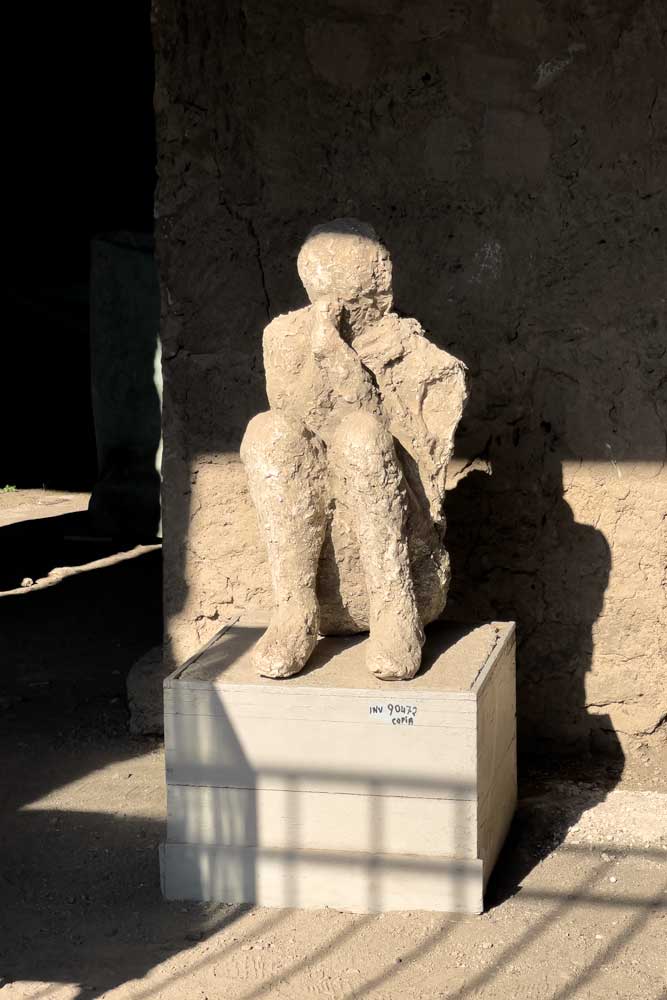 It turns out volcanic ash preserves cities pretty well, and now Pompeii is the closest you can get to walking in an ancient Roman city. You can explore villas, shops, taverns, and even a brothel. Some of the most impressive artifacts are the bodies of around a hundred people preserved as plaster casts in their last moments.
Check out how to visit Pompeii (and Herculaneum) on your own.
Working Hours:
1st November to 31st March – daily from 9:00 AM to 5:00 PM
1st April to 31st October – daily from 9:00 AM to 7:00 PM
Prices:
Regular: 18 EUR (online ticket)
Guided tour with an archeologist – Check here
Guided tour including Mount Vesuvius – Check here
More Than 3 Days in Naples
Galleria Borbonica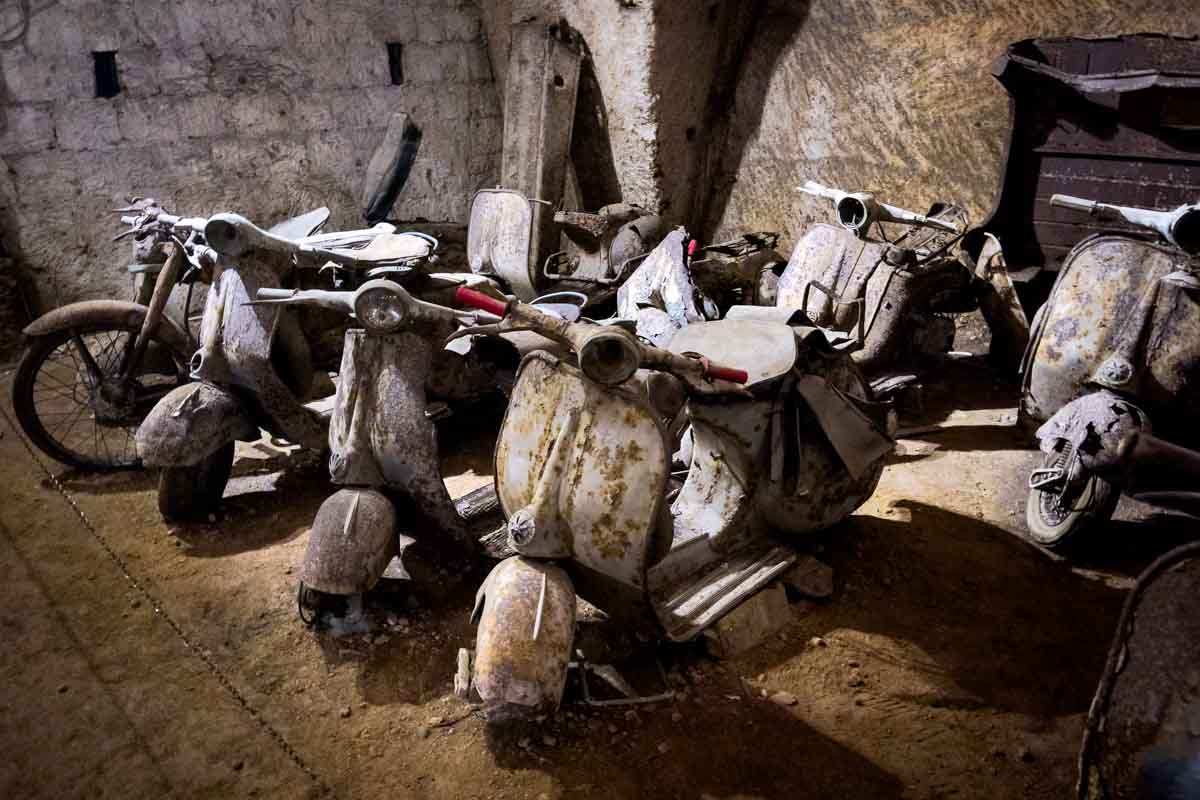 Also known as the Bourbon tunnel, Galleria Borbonica is a journey through a former royal escape tunnel, underground cisterns, and WWII bomb shelter. This underground adventure will teach you plenty of stuff about Naples and will showcase all kinds of vintage artifacts.

Check working hours and prices on their website and book a ticket.
Why it's not in the 3-day Naples itinerary?
While the experience is pretty cool due to its location, the only reasonable day to put it in is day two, and we have a pretty busy program that day. I also didn't like that only guided visits were allowed, and I couldn't spend the time I wanted on the stuff I found most interesting. It also works only 3 (sometimes 4) days a week, making it harder to plan a visit.
Castaway Tip
Galleria Borbonica has two entries, so don't be confused if Google Maps shows it in two different places. It's the same thing. The different tour types require different entries, so double-check the one you need on their website.

Castel Nuovo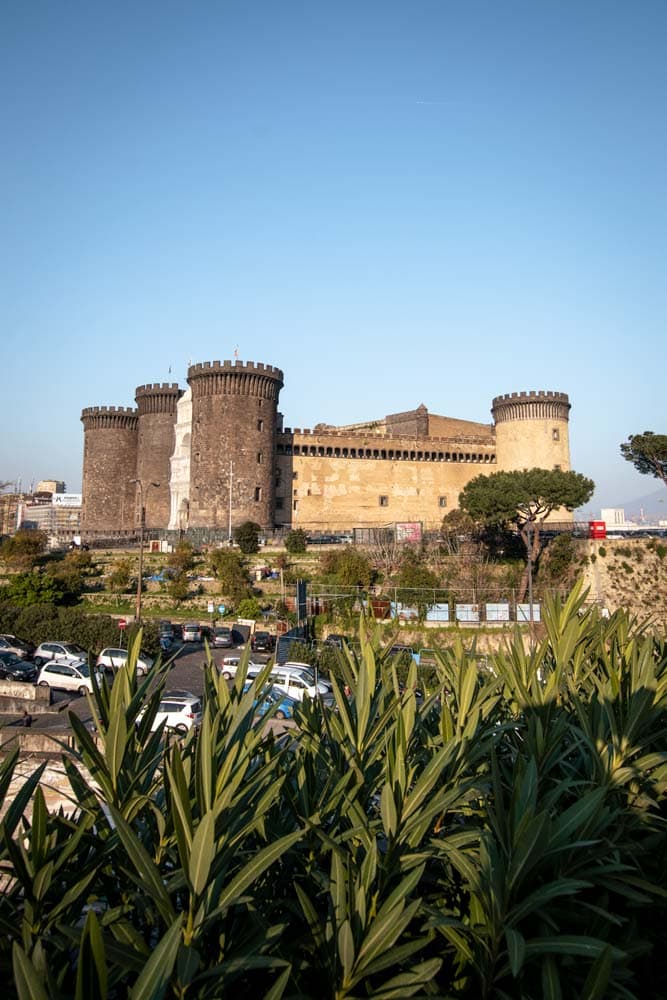 Naples "New Castle" was built between 1279 and 1282 by Charles I (1227-1285) of Anjou as a royal residence to replace the old castle. It's the most significant and impressive castle in the city, and it's located right in front of Piazza Municipio.
Working Hours:
Mon-Sat: 8:30 AM – 5:00 PM
Prices:
Regular – 6 EUR (needs online booking)
So why is Castel Nuovo not on the itinerary?
The most exciting part of the castles for me is mostly the views. Castel Nuovo may be the biggest one, but its position is worse than the other two castles we already have on the itinerary. So go for it if you're a castle enthusiast; otherwise, I suggest Castel dell'Ovo and Castel Sant'Elmo.
Chiostro di Santa Chiara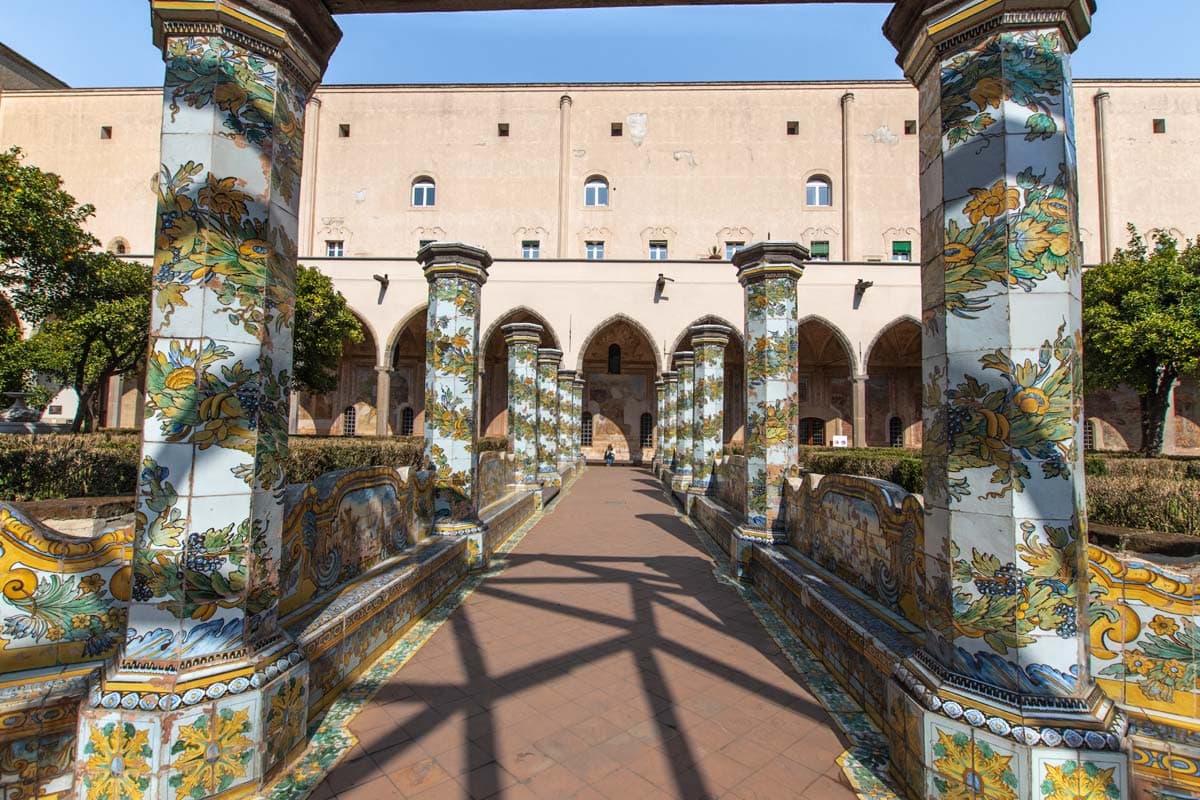 The cloisters of the Santa Chiara church are a TripAdvisor highly rated attraction. The majolica cloister is the one you're visiting for. It's the work of Domenico Antonio Vaccaro and is considered one of the best artistic expressions of the city.
Working Hours:
Mon-Sat: 9:30 AM – 5:30 PM
Sun: 10:00 AM – 2:30 PM
Prices:
Regular – 6 EUR
Why it's not in the three-day Naples itinerary?
While the benches and columns are indeed quite pretty, it's nothing mind-blowing, and quite frankly, I don't think it's worth the entrance fee. If you consider it a good location for an Instagram photo, keep in mind that sitting on the colorful benches is not allowed.
Catacombe di San Gennaro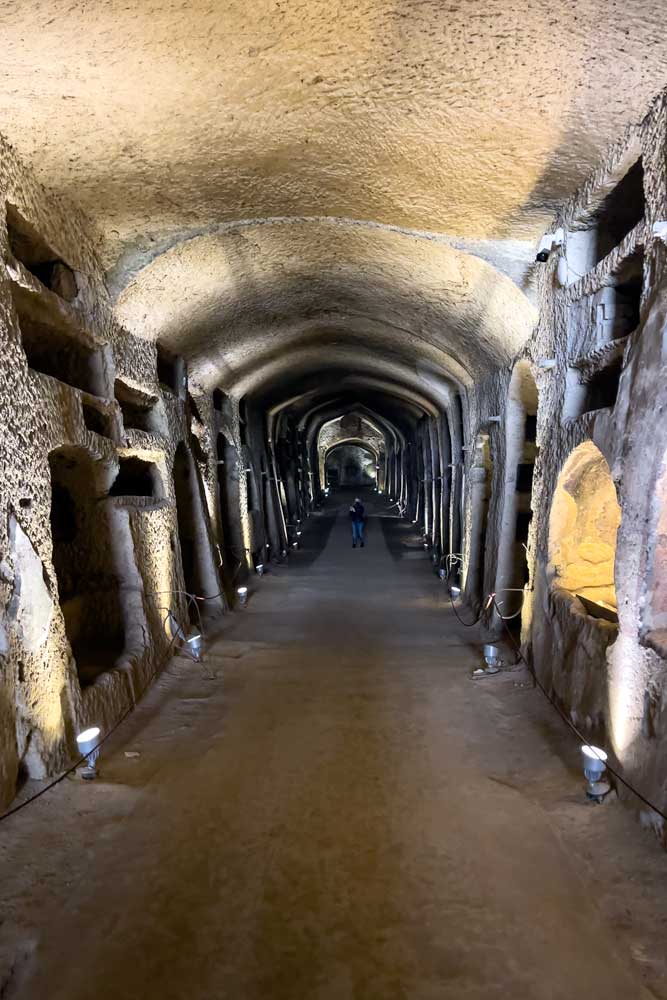 Dating back to the 2nd century AD, the San Genaro catacombs are arranged in two levels, characterized by much larger spaces than most Roman burial grounds. The most famous grave inside the catacombs is the one of the Naples patron saint, San Gennaro.
The catacombs are located in the Sanita neighborhood, which used to be the poorest area of Naples. Today it's another picturesque quarter worth exploring.
Working Hours:
Mon-Sun: 10:00 AM – 5:00 PM (last admission 5 pm)

Prices:
Regular – 11 EUR (online booking)
Why it's not on the three-day Naples itinerary?
It's pretty far from the other attractions, there are no skeletons inside the catacombs (rather disappointing), and the only visit option is a guided tour which is not my favorite.
Donnaregina Contemporary Art Museum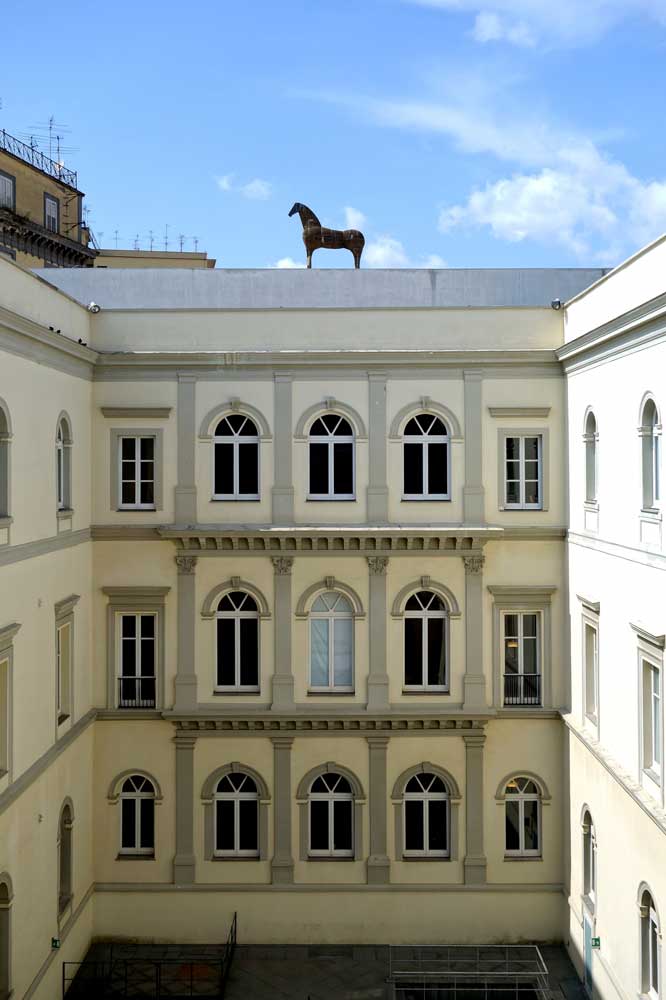 The local contemporary art museum is housed in the Palazzo Donnaregina and features artworks by Andy Warhol, Sol LeWitt, Jeff Koons, and Rebecca Horn. It was opened in 2005 and is one of the most famous museums in town.
Working Hours:
Wed-Mon: 10:00 AM – 7:30 PM (Sunday till 8:00 PM)
Tuesday: Closed
Prices:
Regular – 8 EUR
So why is Donnaregina Contemporary Art Museum not on the itinerary?
Contemporary art is not for everyone, and I rarely suggest visiting such places unless there is some world-renounced masterpiece. However, if you enjoy modern art, definitely put this museum on your itinerary; it's a pretty good one.
MUSA – Museo Universitario delle Scienze e delle Arti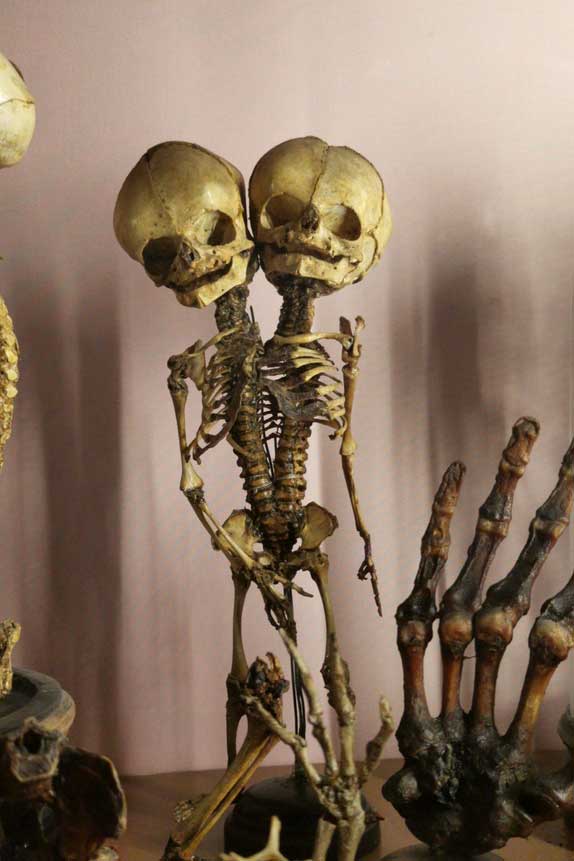 Tucked away in the local university, this weird museum is a bit of a hidden gem. It features plenty of morbid curiosities and bizarre stuff that I'm not sure you can see anywhere else.
Working Hours:
Mon-Fri: 10:00 AM -2:00 PM (Wednesday till 4:00 PM)
Sat-Sun: Closed
Prices:
Free but requires online booking
Why is MUSA not on the itinerary?
Honestly, those types of exhibitions are not for everybody. The only way of visiting is via online booking, and there are limited working hours. On the other hand, the location is quite good (inside the historic center), so if weird things are your thing, go for it!
Pio Monte della Misericordia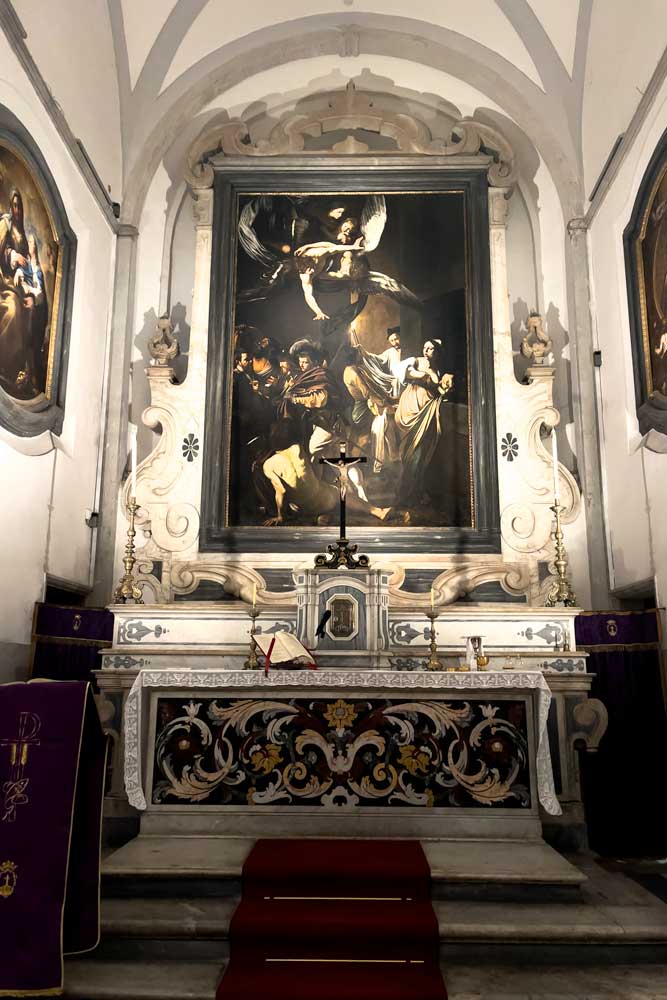 Built in 1602, Pio Monte della Misericordia is a church located in the historic center of Naples. Inside the church, there are a few famous artworks, the most renounced being Caravaggio's masterpiece – Seven Works of Mercy. The church is small, but the entry ticket also covers the museum next to it.
Working Hours:
Mon-Sat: 10:00 AM – 6:00 PM
Sun: 9:00 AM – 2:30 PM
Prices:
Regular – 5 EUR
Why is it not on the itinerary?
It's not the best church in town and requires an entry fee.
San Carlo Theatre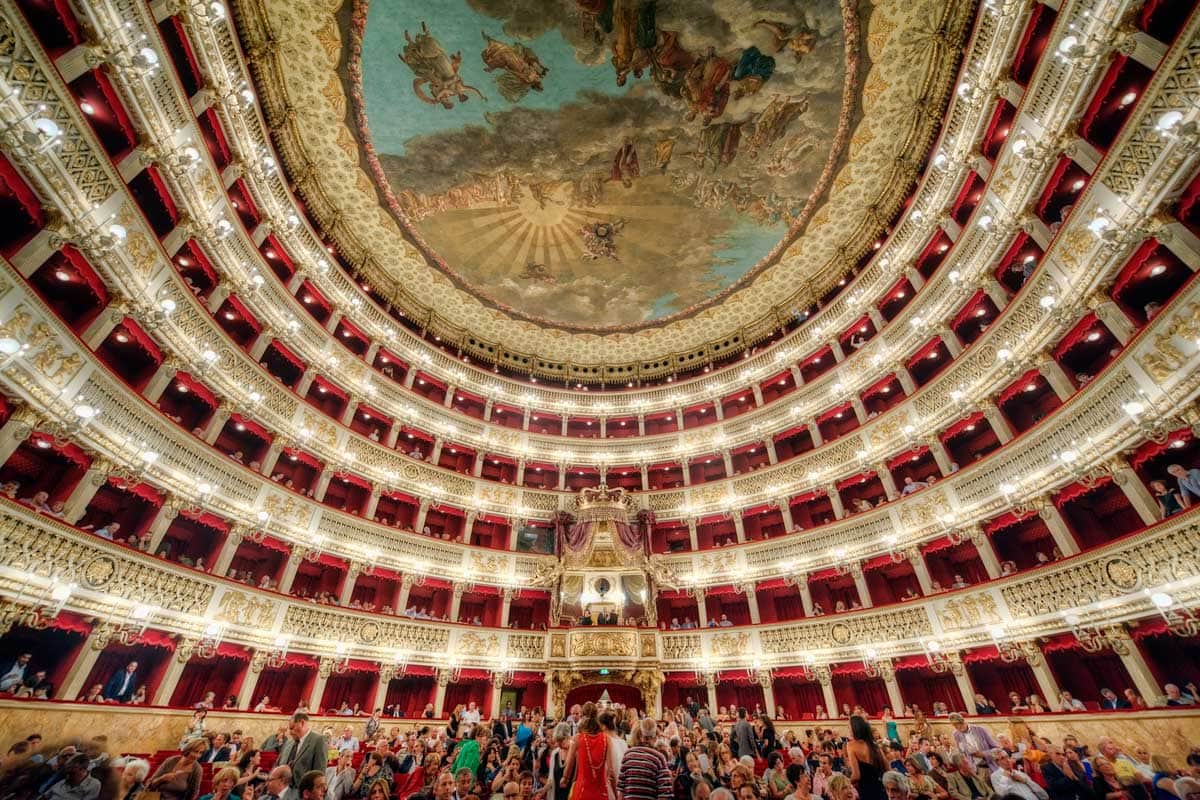 Teatro di San Carlo is not only the local opera house but also one of the most prestigious ones in the world. It's the oldest continuously active opera house, having opened back in 1737. As you can imagine, the interior is more than classy, and watching a show there would undoubtedly be a memorable experience
Working Hours:
Tours:
Mon-Sun: 10:30 AM to 4.30 PM
Prices:
Check the official website for tours and performance tickets.
Why is it not on the itinerary?
Opera houses are not everyone's cup of tea.
Cimitero Delle Fontanelle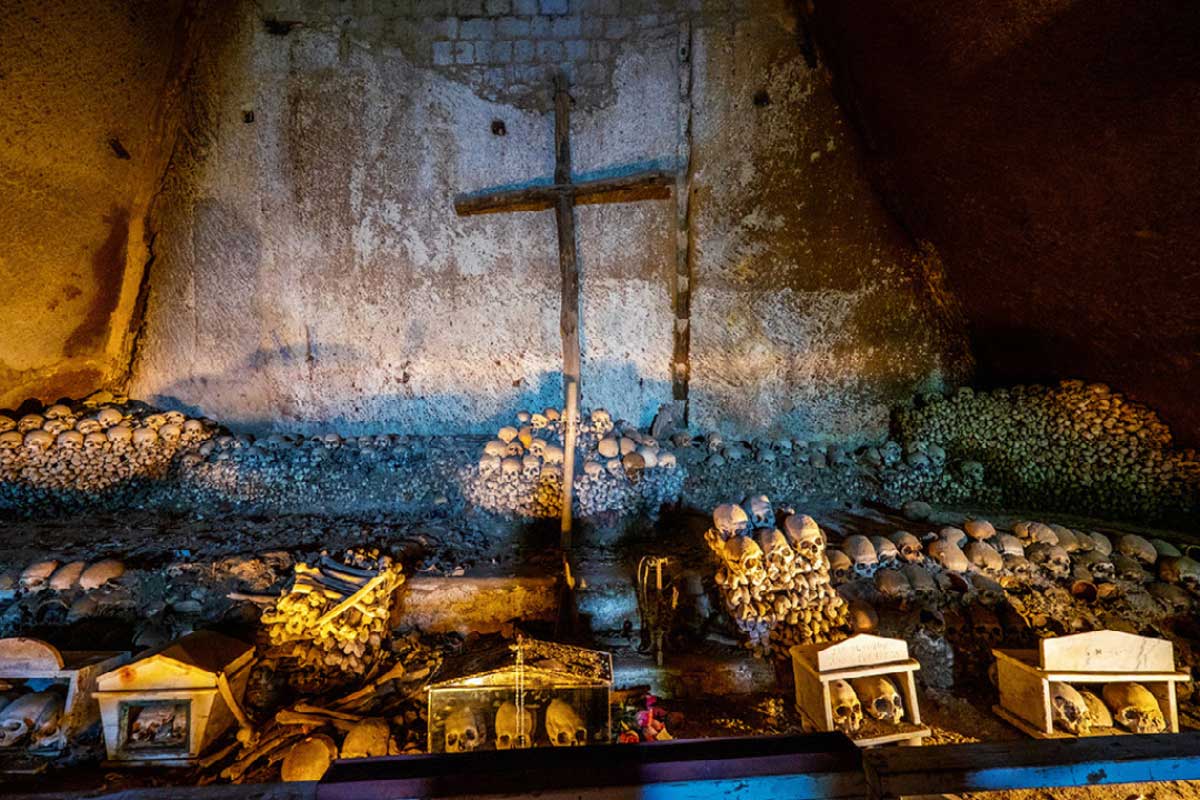 The Fontanelle cemetery is where all the bones from the catacombs were moved to. It's located inside a cave and looks pretty cool, but it's been closed for restoration for a couple of years now.
Why is it not on the itinerary?
It's closed for restoration.
Herculaneum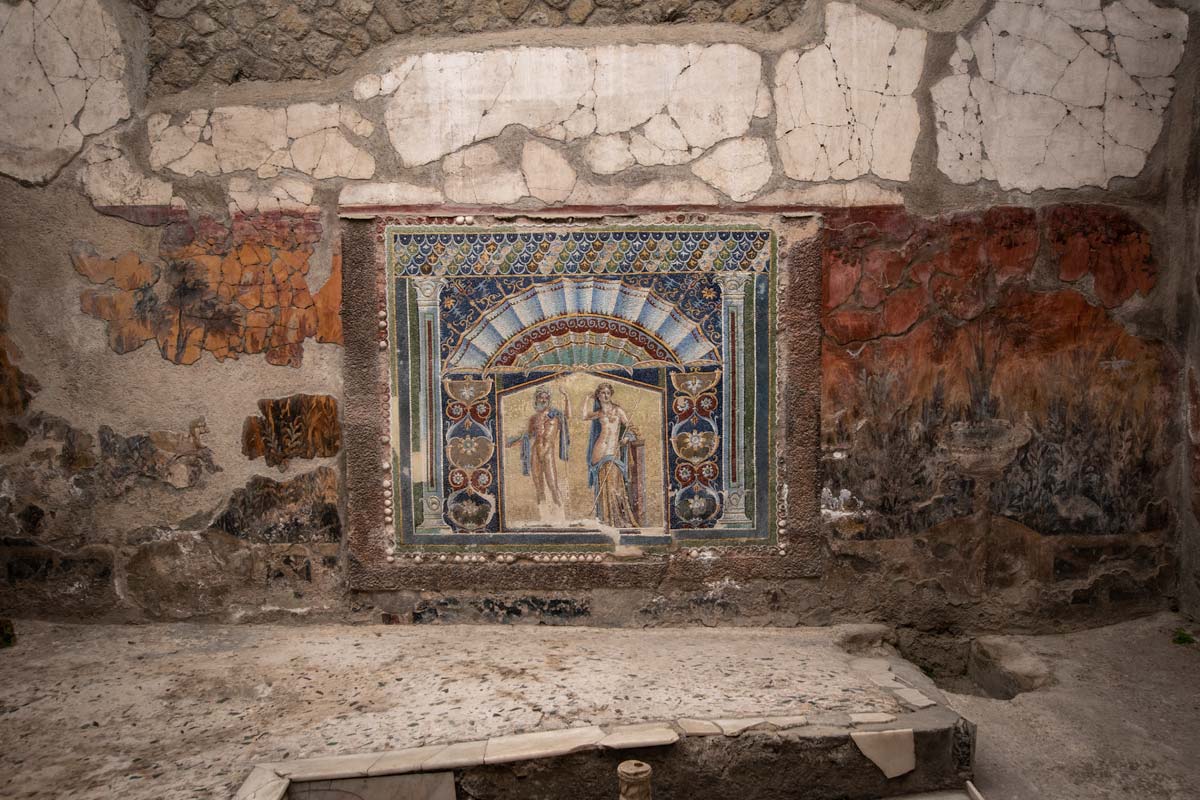 Another ancient Roman city was decimated by the eruption of Vesuvius. However, unlike Pompeii, this is more like a small neighborhood than a town and is much easier to explore.
Working Hours:
16th March to 14th October – daily from 9:30 AM to 7:30 PM
15th October until mid-March – daily from 8:30 AM to 5:00 PM
Prices:
Regular – 13 EUR
Priority – Check here
Guided tour with archeologist – check here
So why is Herculaneum not on the 3-day Naples itinerary?
Pompeii is way better. Herculaneum is closer to Naples and takes less time to explore, but that's its only advantage. If you have time, though, I recommend checking both Herculaneum and Pompeii.
Where to stay in Naples
High-end
Relais Della Porta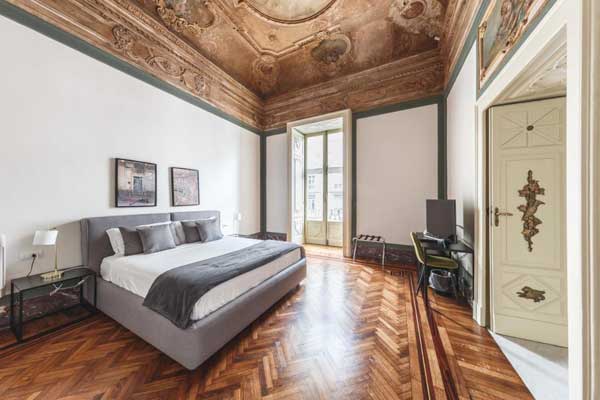 Located on via Toledo, close to the emblematic metro station, this 4-star hotel is close to pretty much everything listed on my 3-day Naples itinerary. The interior is one of a kind that will surely make you feel like you are sleeping in an Italian palace (which you actually are), and the staff is just perfect. The best part is that since Naples is not an expensive city, you get to sleep in this palace for a relatively low price.
See the latest prices
Moderate
Don Raffaele Resort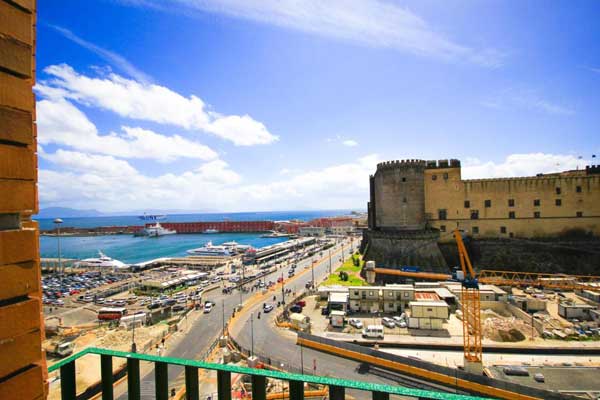 Located next to the port, this hotel offers everything you need for a great stay, including a fridge, safety deposit box, and Italian breakfast. The staff is well trained and ready to help with everything, which contributes to the excellent ratings on booking.com. The best part of the hotel is that you have a sea view complemented by Castel Nuovo!
See the latest prices
Budget
B&B Punto Stella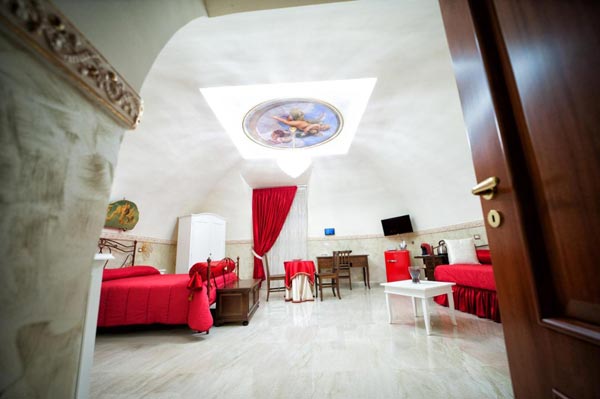 Located next to the Archeological Museum, Historical Centre, and nd Museo Cappella Sansevero, this B&B is an excellent value for money. The room is equiped with AC (something not that common for Naples), a complimentary breakfast, and last but not least – you get a balcony which is rare for a budget place.
See the latest prices
Naples tours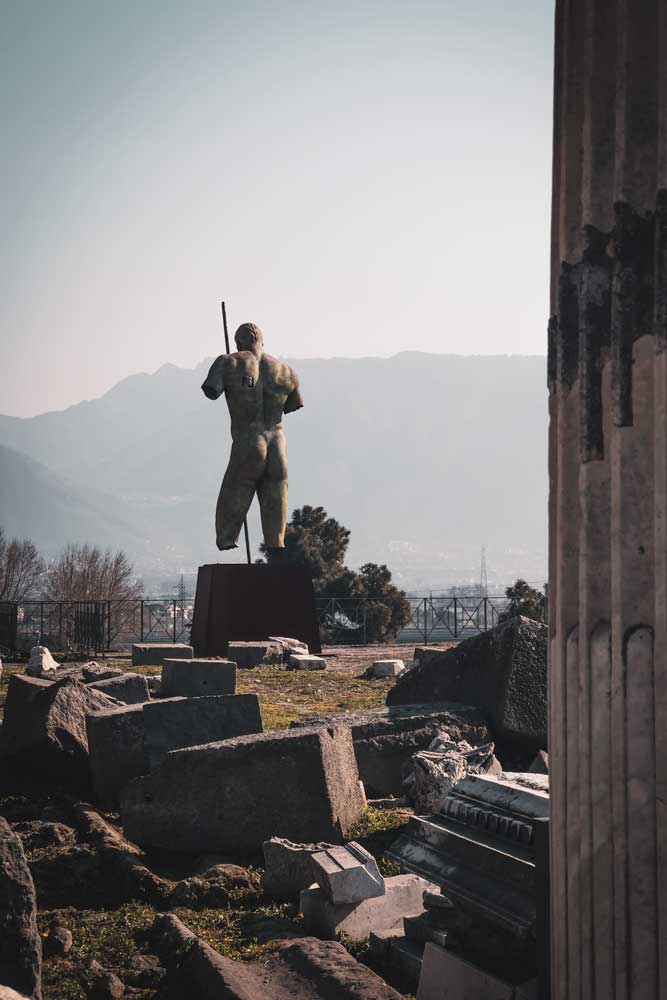 The Old Town One – With this guided tour, you will discover the history of Centro Historico and learn a ton of curious things about it. Later your guide will take you inside Cappella San Severo to explore in detail its magnificent statues.
The Pizza One – Naples is the city of pizza, and there's no better tour than the pizza one. You learn how to make pizza from a professional Neapolitan chef, guys! Do I need to say more?
The Off The Beaten One – Private tours are usually expensive, but this one is quite affordable. Your guide will walk with you around the picturesque bit, not that famous neighborhood of Materdei, and reveal its hidden gems. If you have extra time, this tour is a lovely one.
Naples day trips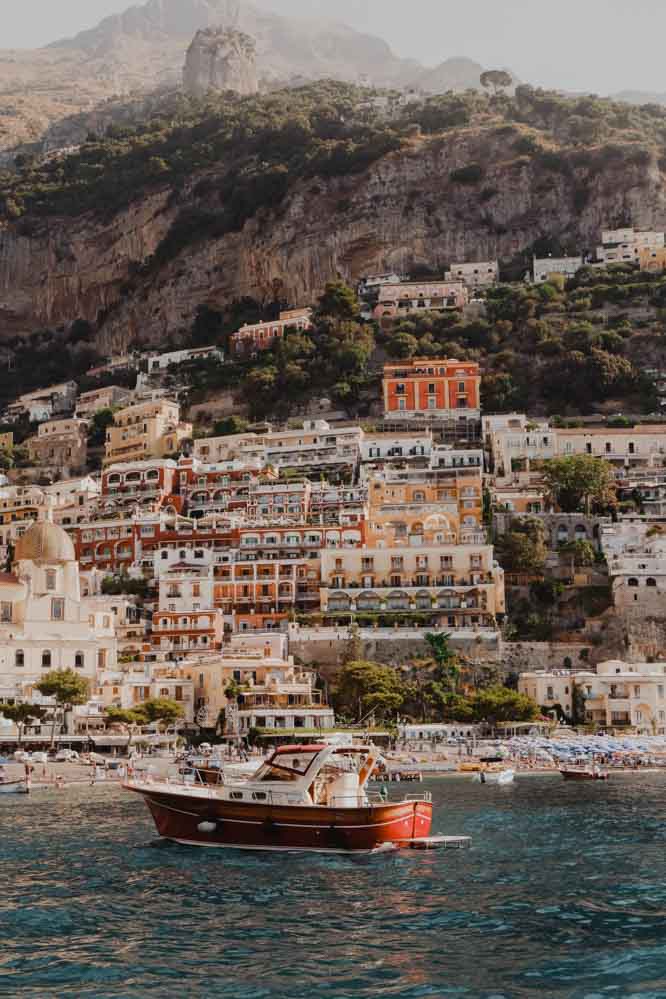 Pompeii and Vesuvius – If you don't want to plan the whole thing yourself or fancy a guide telling you all about these world-famous places, this is the tour that will ease off your mind of any preparations.
Amalfi – The Amalfi Coast is one of the most picturesque and dreamt-about places on the planet. The best way to explore it is by renting a car and spending a few days in the tiny towns, but if you don't have the time, this day trip will let you taste the awesomeness of Positano Amalfi and Ravello.
Capri – This may be my favorite one here. This day trip offers a boat journey (complemented with drinks) around the Capri island. You see the most beautiful part of it, go snorkeling and all the cool things you can do on a boat in the Mediterranian. A dream trip for sure!
All you need to know about your 3 days in Naples trip
When to visit Naples?

The best time to visit Naples would be April or May. Being in southern Italy, the city is usually warm, although the tiny alleys keep you in the shade most of the time. April and May would be warm enough and still relatively tourist-free (except during Easter). Average temperatures are around 22°C /71°F and 12°C /53°F.

Summer (June – August) is the high tourist season, so the prices would be steeper, but Naples is not a tourist heavyweight like Rome or Venice, so the crowds won't be horrendous. Summer also gives you the chance to visit the nearby islands and have a beach day at Capri or somewhere around the Amalfi coast. Average temperatures are around 30°C /86°F and 20°C /68°F.

Winters are mild for a European city. The average daily temperatures are around 14°C /57°F during the day and go down to about 5°C /42°F in the night.
Is Naples safe?

Southern Italy is not the safest place in Europe for sure. Don't get scared, though. If you keep your wits about it, don't talk to shady guys or visit dark alleys at night, you'll be ok. Of course, stay vigilant about pickpockets and petty crimes too.

I'll always recommend having travel insurance, though. No matter how safe a place is, you never know what may happen. I currently use HeyMondo for my travels because they have proven themselves to me more than once over the years. The link above will give you a 5% discount, but If you have another favorite provider, that's ok. Just make sure you have one.
Can you pay with a credit card in Naples?

You can pay for attractions with a card, but most shops and restaurants don't accept card payments, so make sure you have enough cash. In Italy, the official currency is Euro.
How to get around Naples?

The main part of Naples is not that big, and you can get to most places on foot quickly. There's also a developed metro system you should use at least once (to check the beautiful Toledo station). And there's also the hop-on-hop-off bus, of course.

If you can't live without a car, check Discover Cars. They compare all offers among 500 rent-a-car providers to help you find the best one. Get yourself a Ferrari (or even better- Fiat) and submerge into the Italian road adventure.

To go to Pompeii, Herculaneum, and Vesuvius, you can use the Circumvesuviana, a cheap train leaving from Garibaldi station.
How to get from the Naples airport to the center of the city?

Naples airport is close to the city center (about 15 minutes), but I doubt you want to walk the distance, so you have a few options. The easiest one is the shuttle bus (Alibus) which costs 5 EUR and will take you to Garibaldi Square or the port of Naples. The stop is 100 meters in front of the airport, and you can get tickets from the driver or a machine inside the arrivals terminal.

You can also use a public bus numbered 3s for 1.50 EUR, but it's way slower and more crowded, or you can get a taxi for 16 to 20 EUR. If Naples is not your final destination, but you're going straight to Pompeii, Sorrento or Positano, here you can find transfers directly from the airport.

Of course, the easiest way is to have a rent-a-car waiting for you at the airport. You can compare all rent-a-car offers in Naples with Discover Cars.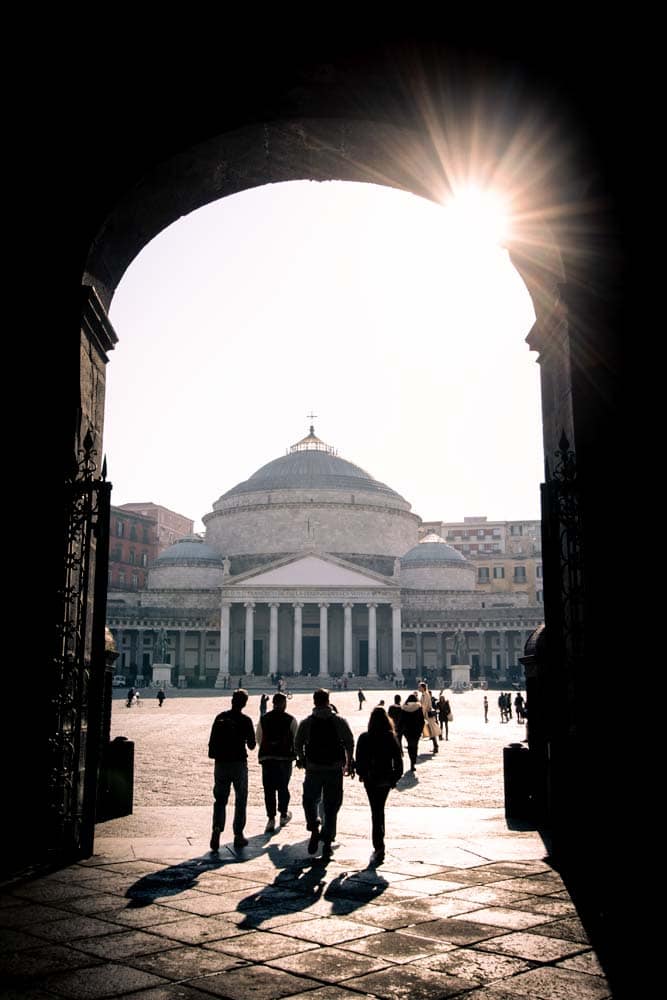 3-Day Naples Itinerary Map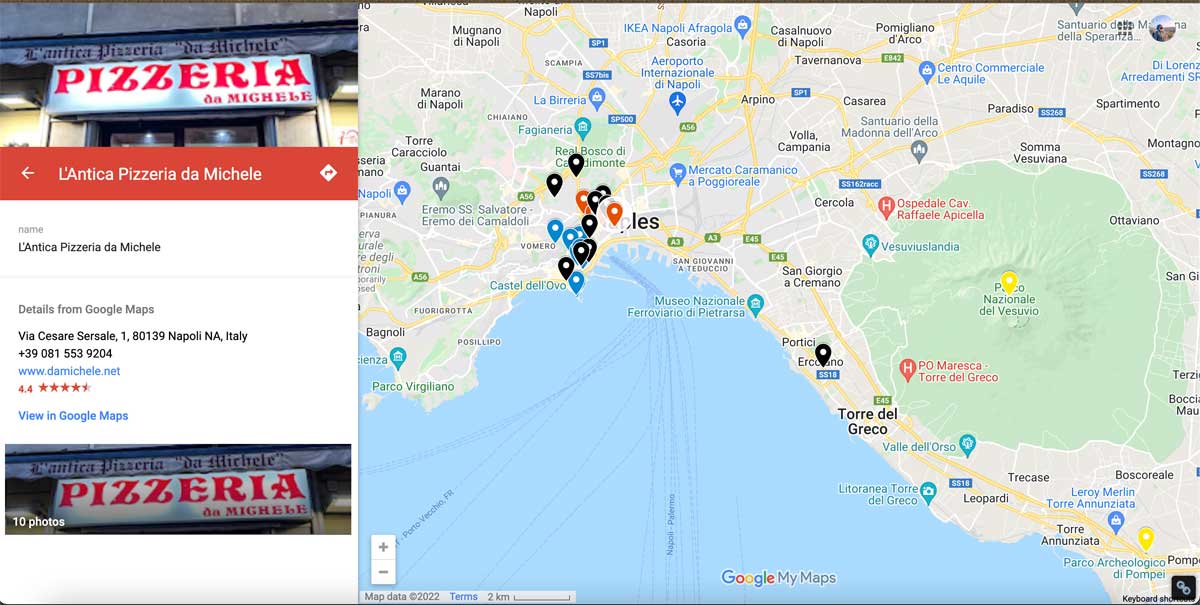 That's all from me, I hope you have incredible 3 days in Naples.
————————————
If you haven't planned your trip there yet, find out how I plan my trips!
————————————
I have 48 bucket list ideas for Italy. See my impossible bucket list of 1700+ adventures!

Is Naples on your bucket list?
---
Some of the above are affiliate links and I will earn a percentage of the sale if you purchase through them at no extra cost to you. This helps keep my site running – so thanks in advance for your support!