Visiting Mount Vesuvius is a hefty task, so before we start, I have to ask you something: Are you sure it's a good idea? I mean, Vesuvius is the only active volcano in continental Europe and is considered among the most dangerous ones on the planet. Are you ready to take that risk?
I'm joking, of course. Not about the active part; it really is an active volcano and a dangerous one nonetheless; however, volcanos don't just erupt out of the blue. There are plenty of signs when something like that is about to happen, so visiting Vesuvius is as safe as possible.
Being in Naples and not making the Vesuvius hike is a blasphemy. It's one of the world's legendary volcanos and a worthy bucket list item – also an excellent way to burn some of those Naples pizza calories.
Why is Mount Vesuvius famous?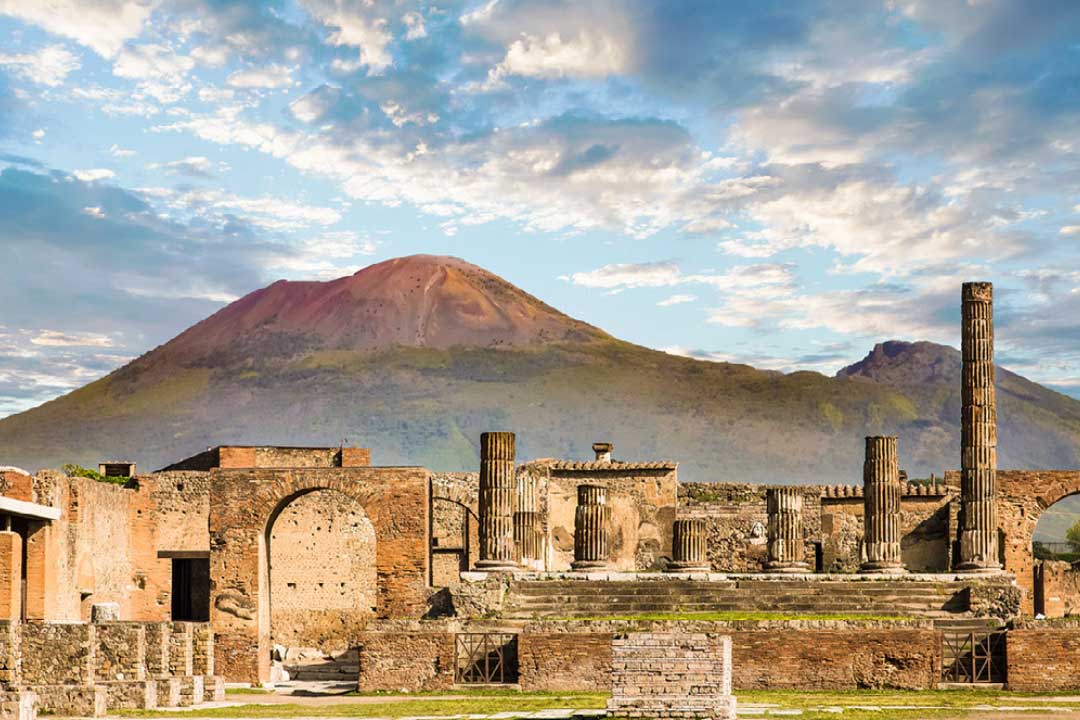 Before we start our journey, let's learn more about the place we are about to explore. Visiting Mount Vesuvius is not only a journey in nature but also a journey back in time.
The infamous volcano is best known for its catastrophic eruption of 79 AD. Considered one of the biggest disasters of the ancient world, the eruption decimated the nearby cities of Pompeii and Herculaneum, freezing them forever in time (they are both worth a visit, but this is another story).
With more than 40 eruptions in the last 2000 years, Mount Vesuvius is destined to spew some lava again (maybe sooner than later), so you better waste no time and visit this natural behemoth while you still can.
How to get to Vesuvius from Naples
Mount Vesuvius is located around 25km (15mi) from Naples and, being one of the area's biggest attractions, is relatively easy to reach.
Train + Bus
The most convenient way to reach the volcano is via the Circumvesuviana train. You catch it from the Garibaldi Square station but keep in mind t's, not the regular train station but the one next to it (there are plenty of signs, so you'll find it easily). Now you have two options (both on the blue line to Sorrento).
If you want to combine Vesuvius with Pompei, get a ticket to Villa dei Misteri (aka Pompei Scavi). The journey lasts around 40 mins and costs 2.80 EUR.
This station is right in front of Pompeii archeological park. You can visit the ancient city first or go to Vesuvius and check it out on your way back (keep in mind that both attractions need around 3hrs each to explore).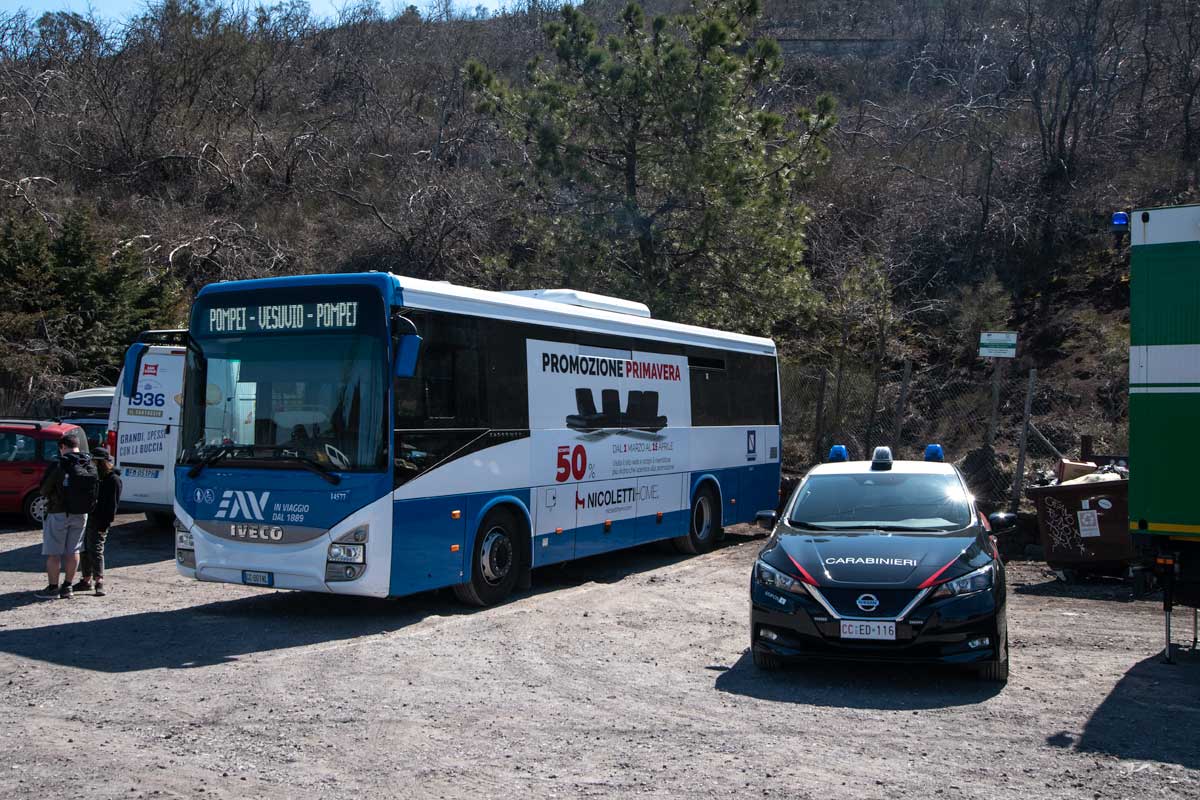 Close to the station, you'll find the EAV bus heading to the top of the volcano (if you can't find it, ask someone from the restaurants around). Yes, visiting Mount Vesuvius is made as easy as possible. The bus ticket cost 3.10 EUR, and the journey lasts about 45 mins. To get back, you need the same bus, so make sure you take a photo of the bus schedule.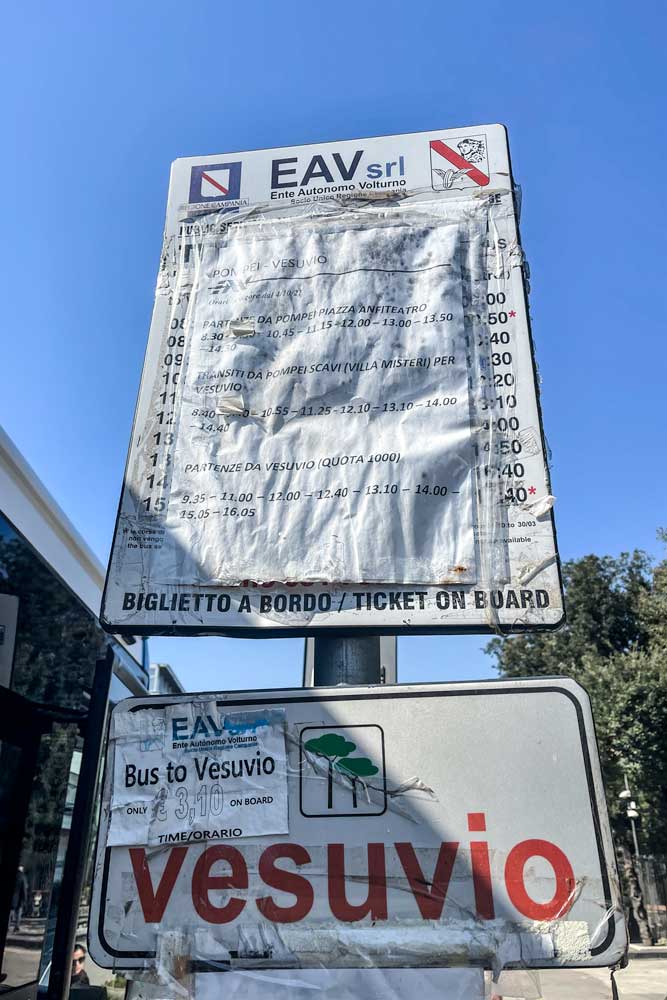 Important!
If you go this route, ensure you have your Vesuvius tickets bought online. Unfortunately, you can't buy tickets at the gate, and the internet at the top is patchy.
Option number 2 takes less time but is a bit more expensive. You get the same train but disembark at Ercolano Scavi station (2.20 EUR, 15 mins). In front of the station (to the left), you have Vesuvio Express. Round trip tickets cost 10 EUR, and you also pay for the entrance tickets there (another 10 EUR). Once at the top, you have 90 minutes to get to the crater, explore it, and return. If you miss your bus, it's possible to get the next one from the same company ( if there are free seats).
Car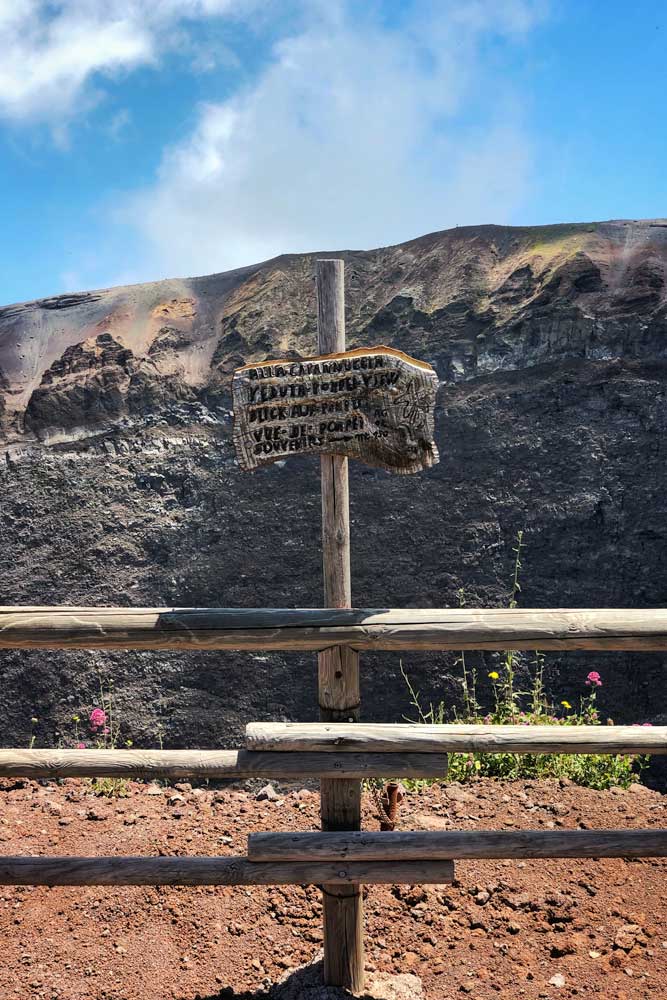 Getting to the top by car is also possible, but you'll have to park in the lower parking (only busses are allowed to the top one), which adds another 30 minutes of hiking.
There's something poetic in driving yourself up to a volcano sounds so cool, right? The most convenient tool for finding the finest rent-a-car in Italy is definitely Discover Cars. They compare all offers among 500 rent-a-car providers to help you find the best one.
Tour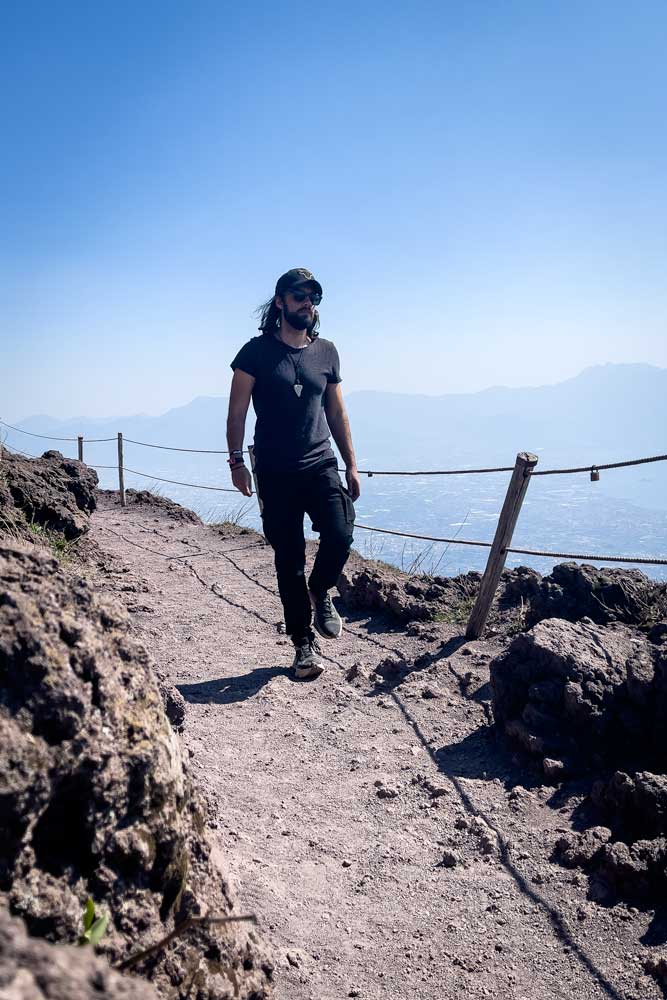 The last option is the most hassle-free one. If getting there on your own seems like too much trouble, you can always book a tour and let professionals deal with everything.
This tour will take you from Naples straight to the top of Mount Vesuvius (top parking, that is, you still need to walk the last part). It will sort out all tickets and transportation and will help you get a guide on the top (they are included in the entry ticket). Keep in mind, though, that since it's a group tour, you have limited time on the volcano.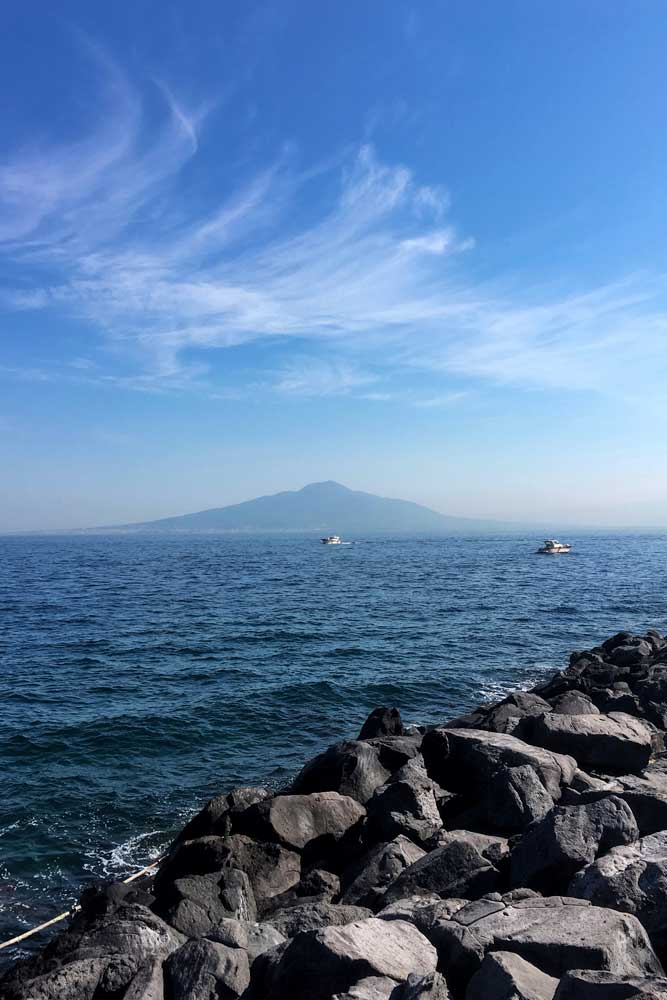 This one will combine the volcano with the ancient city of Pompeii (a must-see!). Since you made the trip, why not check the two attractions linked by history forever? Pompeii is a one-of-a-kind place considered among the country's top UNESCO World Heritage Sites. The tour provides transportation from Naples (or Sorrento), entry tickets, and a knowledgeable guide that is vital in Pompeii (unless you want to roam around aimlessly).
See Also: The best of Florence in just 3 days
What to expect at the top of Mount Vesuvius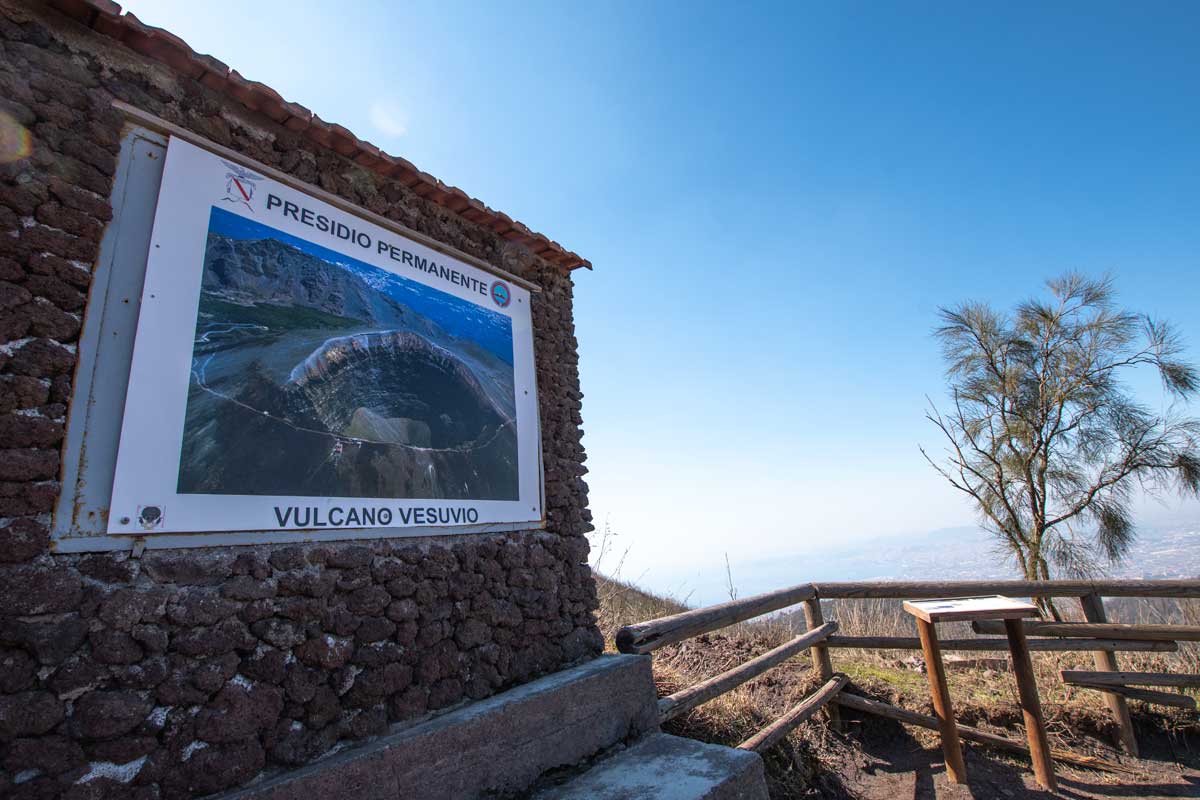 As you see, visiting Mount Vesuvius is not a super easy task (tourless, that is). You already made your way to the entrance (hopefully have online tickets), and now comes the physical part. There's a 1km (0.6mi) hike to reach the crater. Don't worry; it's not an extremely steep or hard hike. It took me around 20 minutes.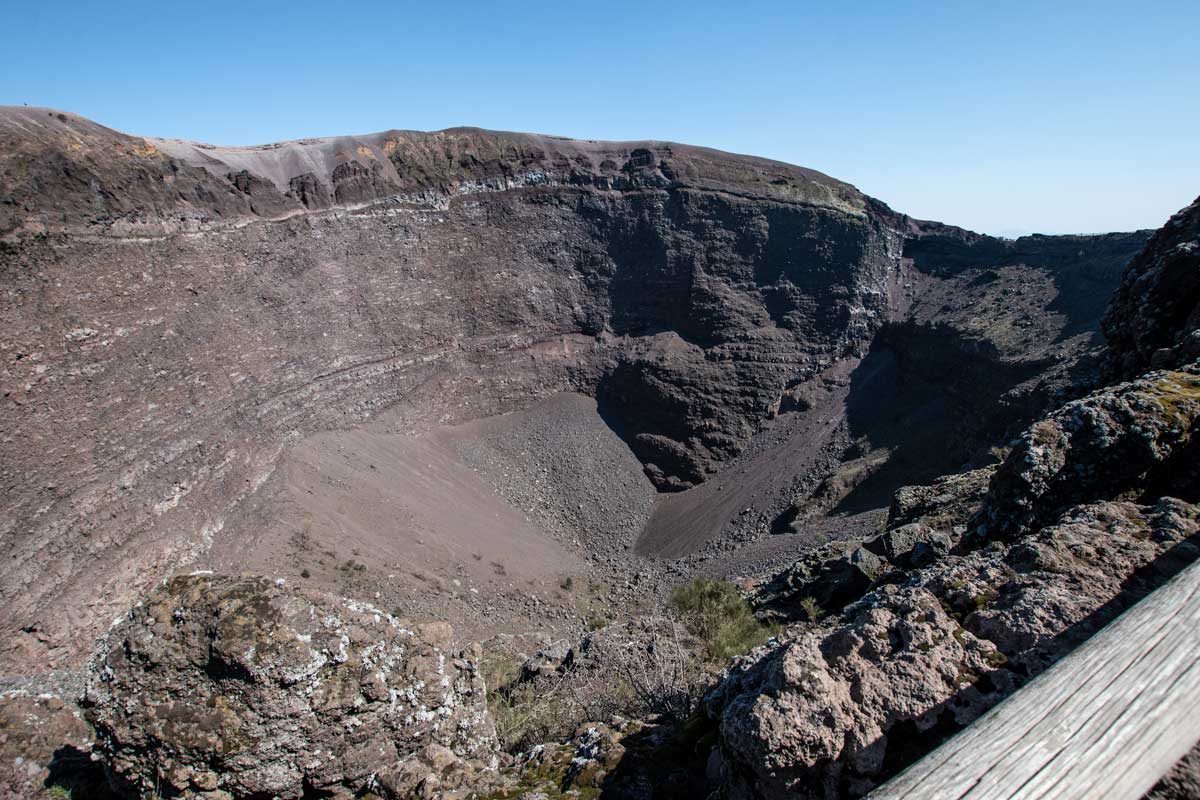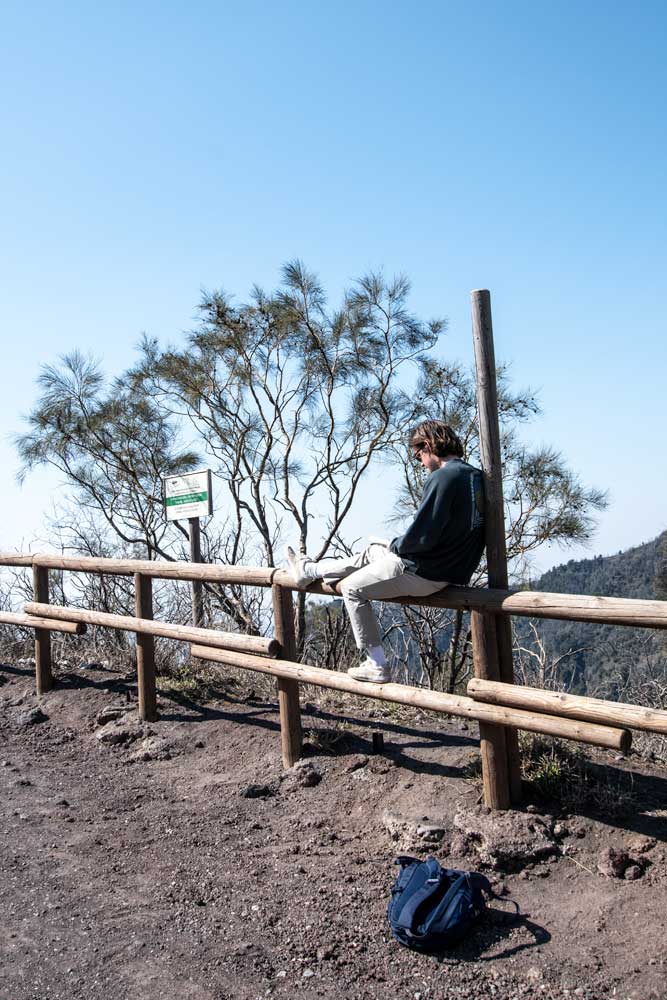 Although my physical levels are slightly over the average ones, I saw plenty of old folks on the way up, so you have no excuse to quit it. After all, you're hiking Mount Vesuvius – there has to be some sweat.
On the way up, there are a few stops where you can get a souvenir or something to drink/eat (overpriced, of course). Once you see the crater, you can continue the path around the lips of the volcano but don't expect to see anything different. The trail ends with a coffee shop, and the views are no better than those at the beginning (even worse if you ask me).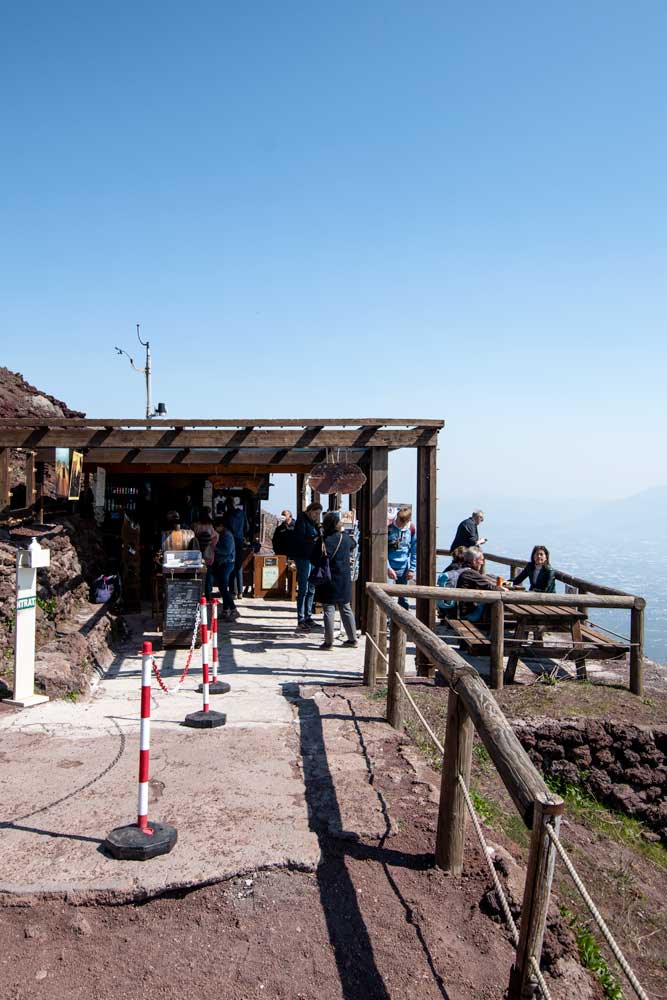 Visiting Mount Vesuvius from other cities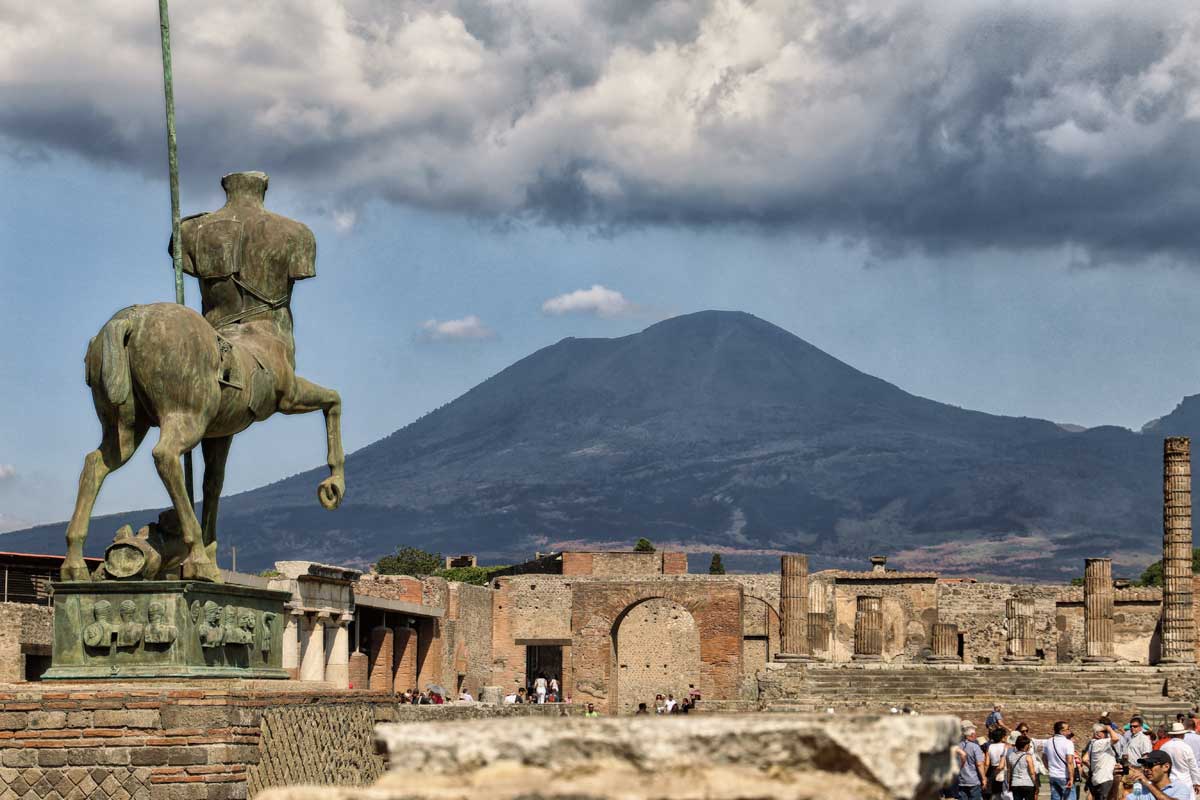 From Sorrento – It's the same as it's from Naples. You get the Circumvesuviana headed to Naples and follow the same directions. You can also use this tour (including Pompeii) and have everything sorted out. Another alluring option is to get a premium package and travel to the ancient sites by boat.
From Rome – Visiting Mount Vesuvius from Rome is too much hassle to do by yourself. If you've rented a car, you need to navigate the insane Italian traffic and park 30 mins away from the entry point of the volcano.
Using trains to get to Naples and then to Vesuvius is possible but would take a lot of time… and you need to get back too.
The only convenient way to make this trip is via a group tour that will handle transportation and tickets. You will explore Pompeii too and have a sure way back to Rome.
From Positano – The only options are via private car or a tour. The car ride takes around 90min. You need to take the SS 145 toward Naples, take the A3 toll highway, exit at Torre del Greco, and follow the brown sign "Parco Nazionale del Vesuvio" (better turn on your GPS).
Online tours to Vesuvius are limited, and they all include Pompeii in their itinerary. This one is a good choice.
Hiking Mount Vesuvius FAQ
Do I need a guide to visit Mount Vesuvius?
You don't need guides to visit Mount Vesuvius. There are guides on the spot, and they can give you a complimentary introduction to the place, but you really don't need them. You are free to roam and explore yourself.
Are there toilets on Mount Vesuvius?
There are a few coffee/souvenir shops on the way up that have toilets.
Is it hard to hike to the crater of Mount Vesuvius?
Absolutely. Mount Vesuvius may be an active volcano, but volcanos don't just spew lava out of the blue. Vesuvius is under constant observation, and you can be sure that if it's close to eruption, you won't be allowed anywhere near it.
As for the hike, it's extremely safe too. The path is wide, and there are high parapets, so I don't see any chance for unfortunate incidents.
How much does it cost to climb Mount Vesuvius?
The entrance ticket costs 10 EUR. If you go the cheapest way, from Naples, it would cost you exactly 21.80 EUR. (2×2.80 EUR Circumvesuviana train + 2x 3.10 EAV bus + 10 EUR entrance fee).
That's all from me, now you know how to hike Mount Vesuvius.
————————————
If you haven't planned your trip there yet, find out how I plan my trips!
————————————
I have 48 bucket list ideas for Italy. See my impossible bucket list of 1700+ adventures!

Is Vesuvius on your bucket list?
---
Some of the above are affiliate links and I will earn a percentage of the sale if you purchase through them at no extra cost to you. This helps keep my site running – so thanks in advance for your support!