You have only 2 days in Madrid? Don't worry about it. While the Spanish capital is home to some of the world's best museums, parks, and even football teams, two days are enough to introduce you to this marvelous city and the enchanting Spanish culture.
So, what's the best way to spend two days in Madrid?
In this itinerary, it is assumed you have two full days in the city. Also, it's best to have a hotel or BnB somewhere around the center area. While transportation in Madrid is quite developed, it's one of those cities that's best explored on foot.
2 Days in Madrid – Day One – City Exploration
Puerta del Sol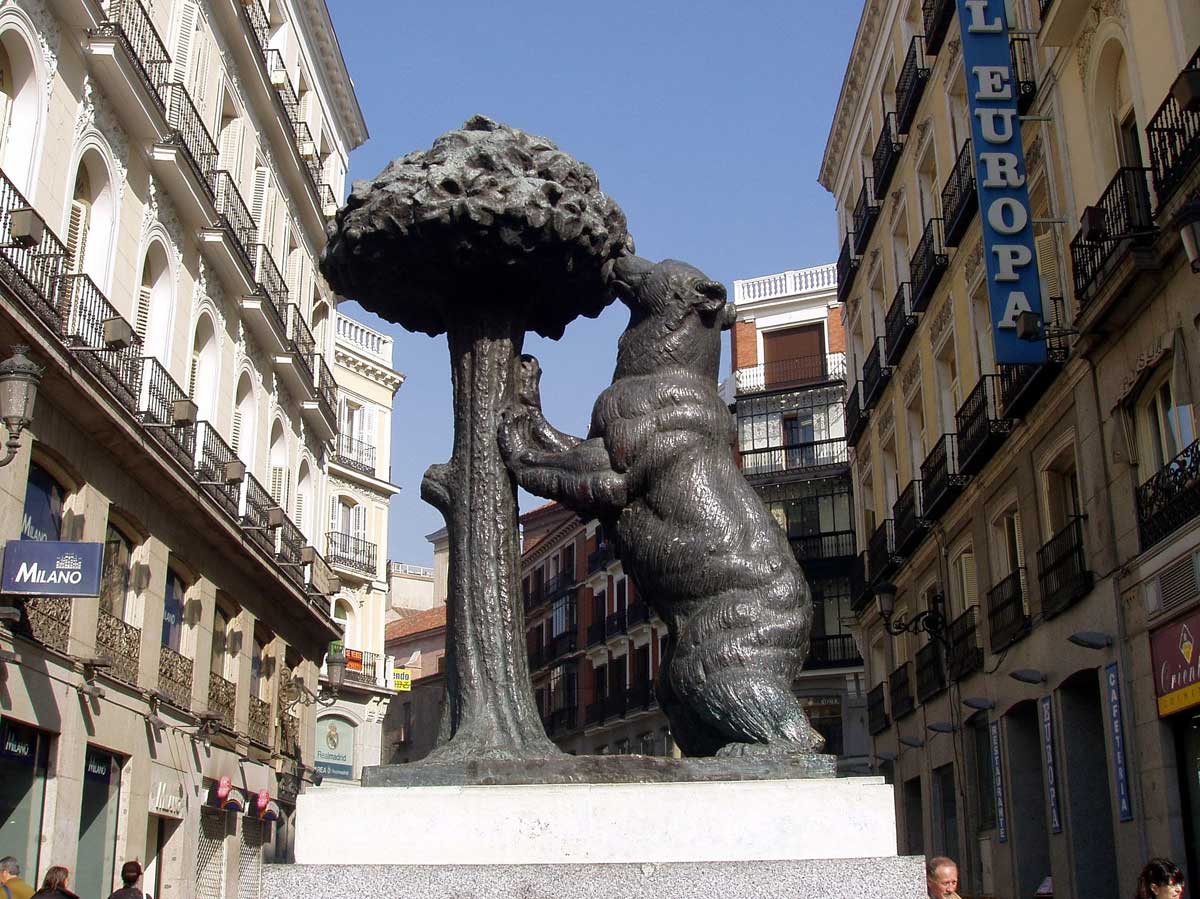 Start your 2 days in Madrid with one of the most emblematic places in the city. Puerta del Sol (The Sun Gate) is the biggest plaza in Madrid. Packed with street performers and tourists, it is home to the most prominent symbol of Madrid – the Bear and the Strawberry tree statue.
Castaway Tip
Don't miss the most peculiar attraction of the square – Kilometer 0, the spot from which all distances in Spain are measured.

Plaza Mayor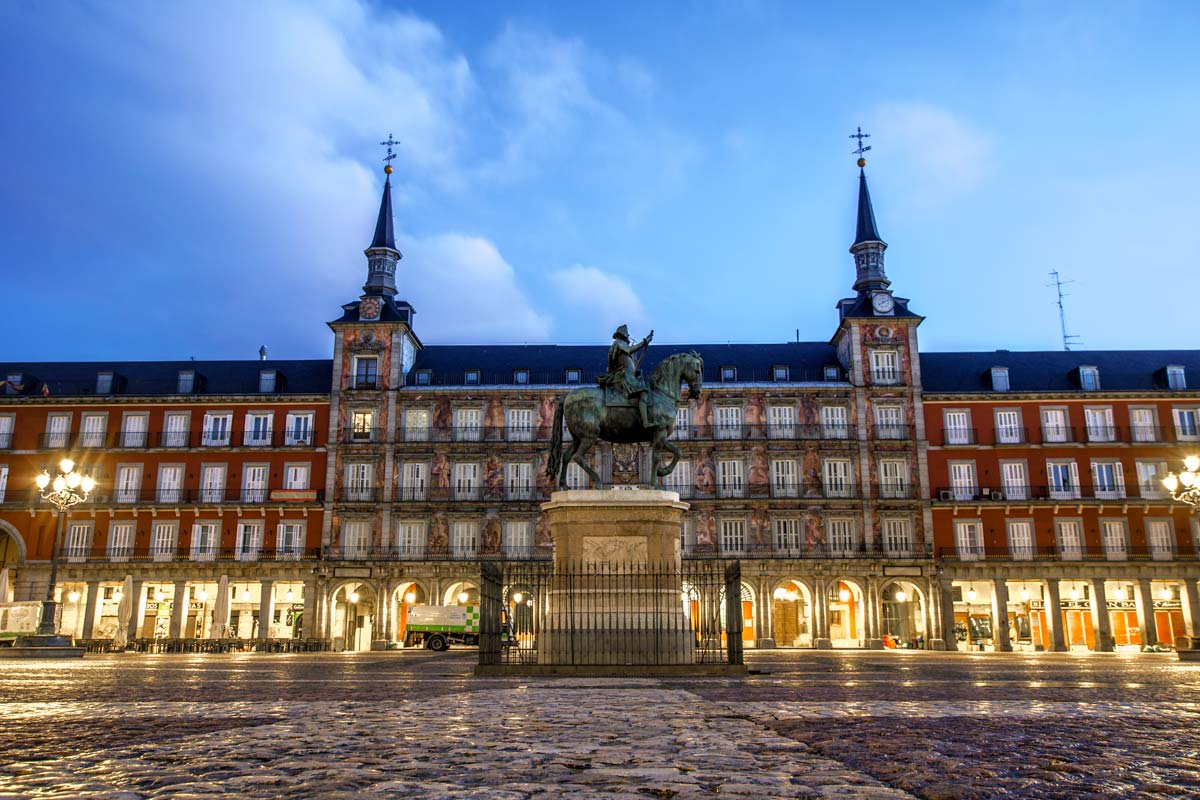 A few blocks from Puerta del Sol, there's another symbolic plaza of Madrid – Plaza Mayor. Built in 1619 during the reign of Phillip III, today this rectangular square is a favorite gathering place for locals and tourists. The typical baroque architecture that surrounds the plaza makes it a perfect spot to sit, get a coffee, and feel the vibe of old classical Europe.
Fun Fact
During the Spanish Inquisition, Plaza Mayor was one of the main places to hold public executions of the supposed heretics. (okay, that wasn't really a fun fact)

The Royal Palace of Madrid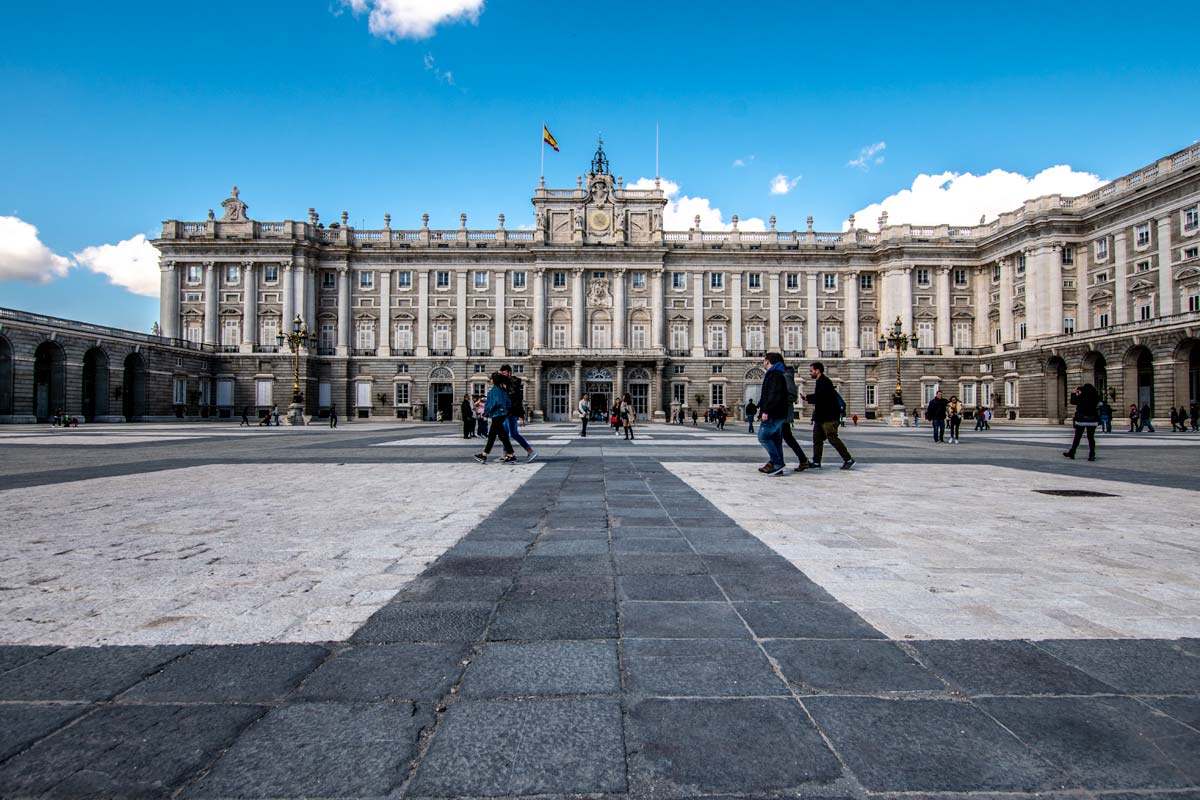 Less than 10 minutes walk from Plaza Mayor is The Royal Palace of Madrid, also known as Palacio Real de Madrid. Built on top of the previous palace (that burned out on Christmas eve of 1734) the royal residence is one of Madrid's biggest attractions.
As impressive as it looks from the outside, it is nothing compared to the interior. Covering an area of 135,000 square meters, it is the largest royal palaces in Europe, and I dare to say – one of the most embellished ones.
Paintings of Goya and Velazquez, Stradivarius fiddles, and the royal crown jewels of Spain are only part of the treasures the palace holds. Also, make sure don't miss the royal armory with its life-size armored knights and fancy imperial weapons.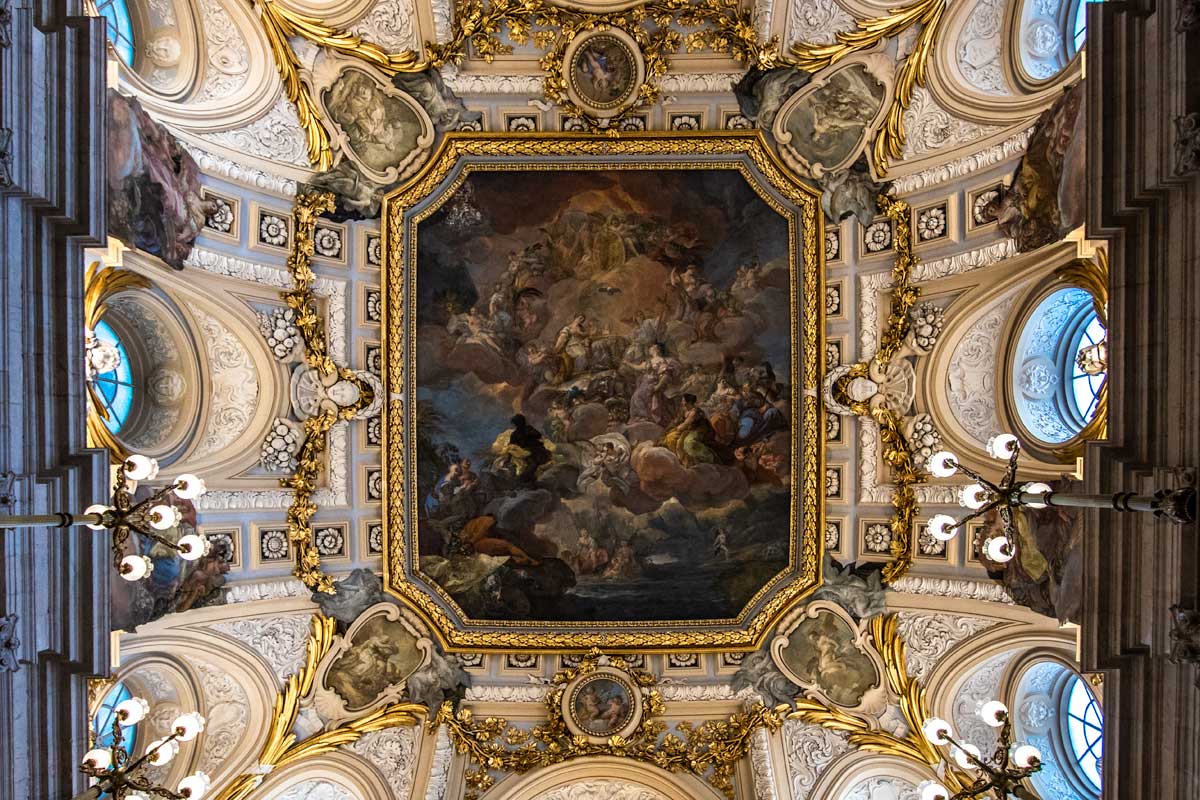 Castaway Tips
– Make sure you check out the Plaza de Oriente next to the palace. The statue of Philipp IV is designed by Velazquez himself with the help of Galileo Galilei (yep, the same Galileo who found out Earth is not flat)!
– If you want a free entry, make sure to get there at least half an hour before it starts, and prepare to wait quite a bit on the line.

Opening Hours:
– Winter (October to March):
Mon – Sat: 10:00 AM – 6:00 PM ; Sun: 10:00 AM – 4:00 PM
– Summer hours (April to September):
Mon – Sat: 10:00 AM – 7:00 PM ; Sun: 10:00 AM – 4:00 PM
Admission to the palace close one hour earlier.
Prices:
– Regular ticket – 12 EUR
– Reduced ticket (children under 16, students and seniors over 65) – 6 EUR
– You can get the tickets online from the official site or book a guided tour (both options include skip the line)
– VIP tour incuding Prado Museum and Churros – Check Here
Free hours:
– From Monday to Thursday, the last 2 hours of the day are free of charge. It's valid only for EU or US citizens, however.
See Also: The Ultimate Barcelona Itinerary Guide
Plaza de España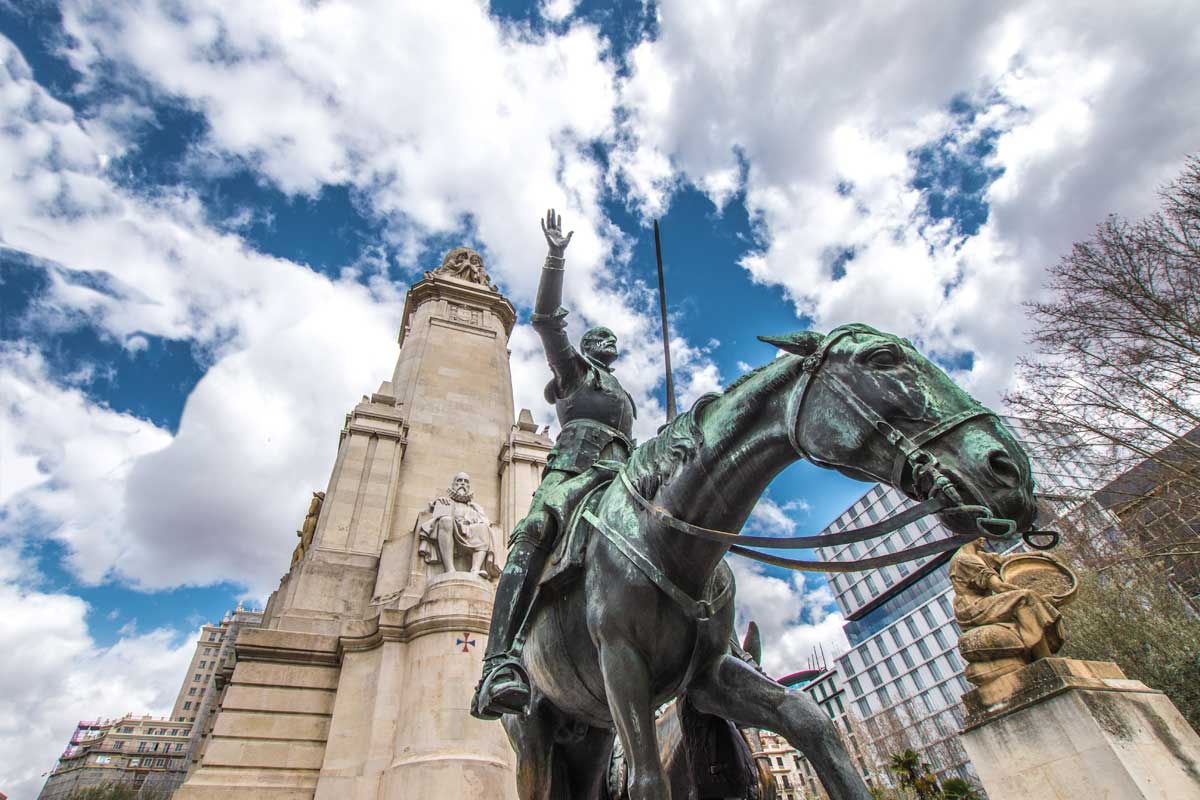 Time for another glorious plaza guys. Plaza de España is a little bit different than the other you saw today. The square part is nothing special; what's special is the grand memorial of the most famous Spanish writer – Miguel de Cervantes.
Beneath the sculpture of Cervantes are his most prominent characters: the most famous knight of Spain – Don-Quixote de la Mancha and his loyal squire- Sancho Panza.
The novel of Don Quixote was published in two volumes – in 1605 and 1615. It's considered the most influential book of Spanish literature and a founding work of modern western literature. It's a book I personally love, and if you haven't read it yet, I strongly recommend you to do it.
Castaway Tip
If you want to visit the grave of Miguel de Cervantes, he is buried in the Trinitarians convent near Plaza Santa Ana.

Fun Fact
On the left side of the Don-Quixote statue is his beloved – Miss Dulcinea del Toboso represented the way he sees her – as the most beautiful woman in the world. On the right of the Sancho Panza statue though, it's the real image of the woman, the way everybody else sees her, as Aldonza Lorenzo, the best pig breeder in town.

Debod Temple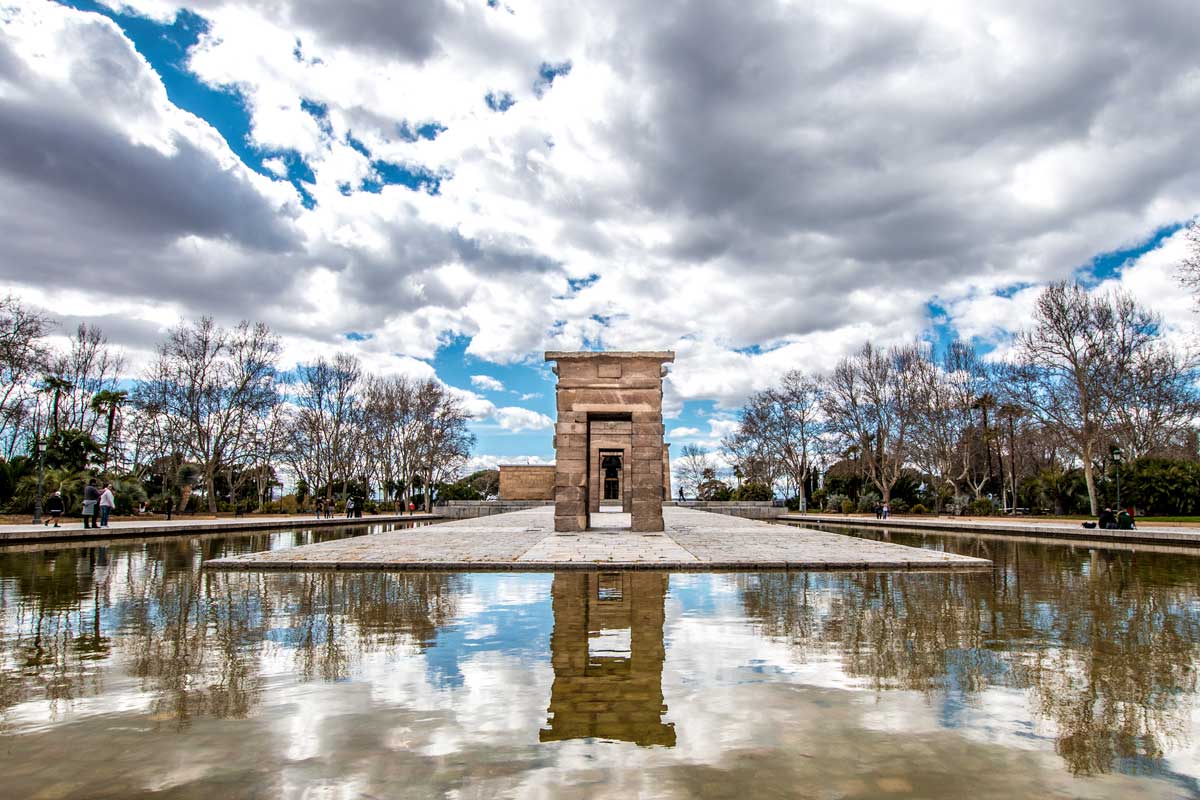 Did you know there is an authentic Egyptian temple in the center of Madrid? Me neither.
The shrine dedicated to the goddess Isis was initially erected next to Aswan, Egypt in the early second century BC. In 1960 however, due to the constructions of the Aswan High Dam, it had to be removed so as a sign of gratitude to Spain for helping with the save of the Abu Simbel temples, the Egyptian government donated the temple to Madrid.
There is no better way to finish the first of your two days in Madrid than with a sunset picnic right next to the Debod temple.
Opening Hours:
Tuesday to Sunday: 10:00 AM to 7:30 PM
Monday: Closed
Prices:
Free
See Also: The Ultimate Paris Itinerary Guide
2 Days in Madrid – Day Two – City of Art
Prado Museum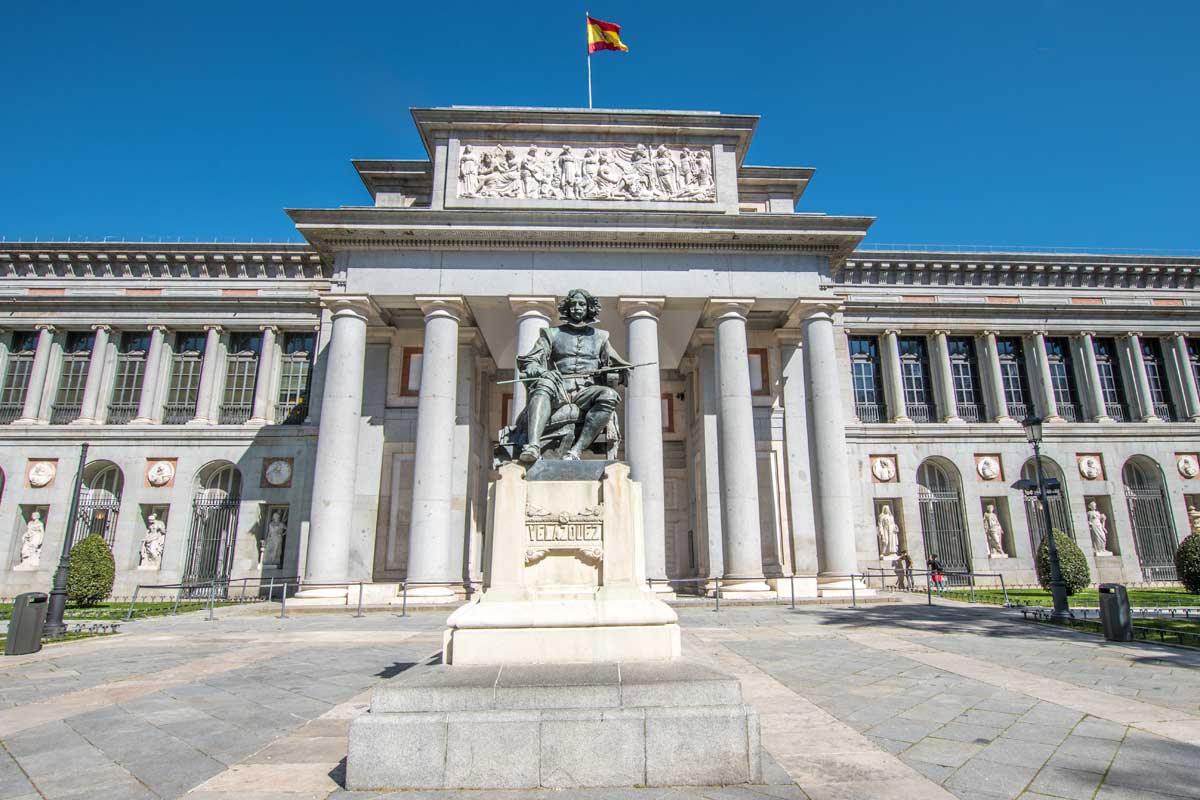 Start your second day with a visit to one of the very best art museums in the world – Museo del Prado.
Found in 1819, the museum displays a collection of more than 1300 masterpieces. You can enjoy some of the very best works of the most recognizable Spanish masters like El Greco, Francisco de Goya, and Diego Velazquez, alongside other art titans like Bosch, Rubens, and Raphael.
The museum is enormous, and you'll need at least 2 hours to circle it. If you are an art lover – twice as much.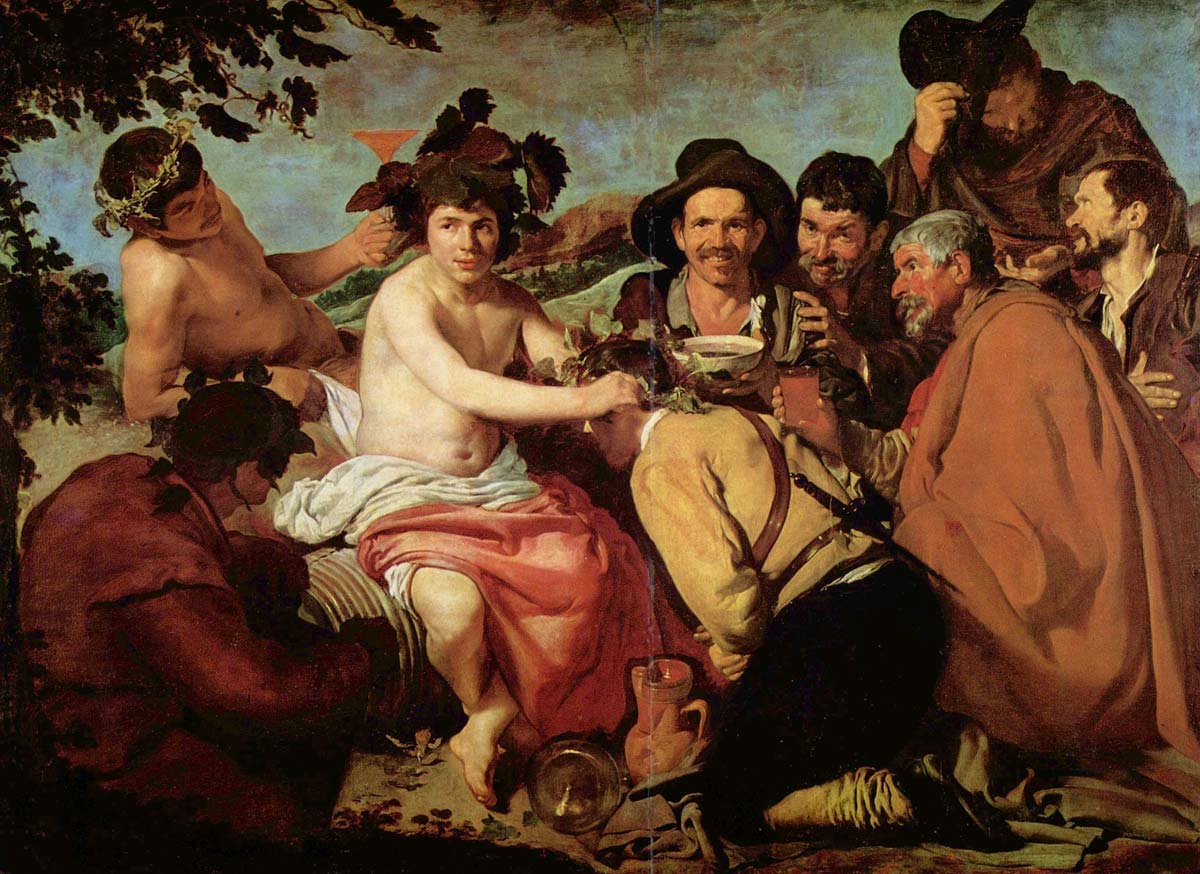 Opening Hours:
– From Monday to Saturday
10:00 AM – 8:00 PM
– Sundays and holidays
10:00 AM – 7:00 PM
Prices:
– General ticket: 15.00 EUR
– Reduced ticket: 7.50 EUR
Online skip the line ticket (It's not rare for Prado can accumulate very long ticket lines so the online ticket is a great option)
VIP Tour including a lunch at Botin (oldest restaurant in the world) – Check Here

Free Ticket:
– The last two hours of the day are free of charge. The queue gets quite long for this one, so make sure you are at the spot at least 30 min before they open the free entry.
El Retiro Park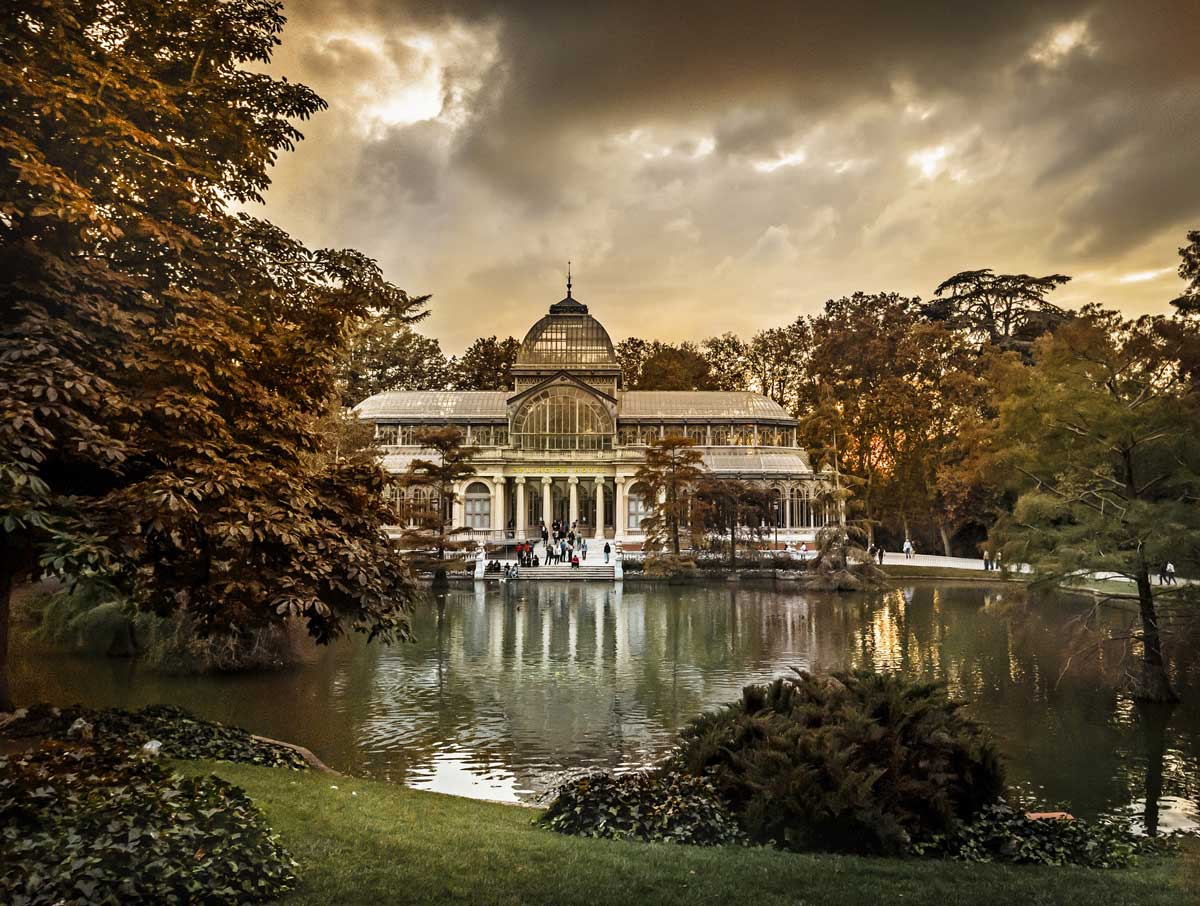 Right next to Prado is one of the most iconic parks in Europe – Retiro Park. Perfect place to give your brain a break from the art explosion you had in the museum.
Take a walk among the many ponds sprinkled around the park, feed some of the ducks, take your Instagram picture in the Crystal Palace or row a boat in front of the Monument to Alfonso XII.
Get some Bread and Jamon and make yourself a picnic. Retiro is the perfect place for you to practice the popular Spanish activity – la siesta (taking a nap).
Castaway Tip
-Every Sunday, at midday, you can enjoy a free concert by the Banda Sinfónica de Madrid.

Reina Sofia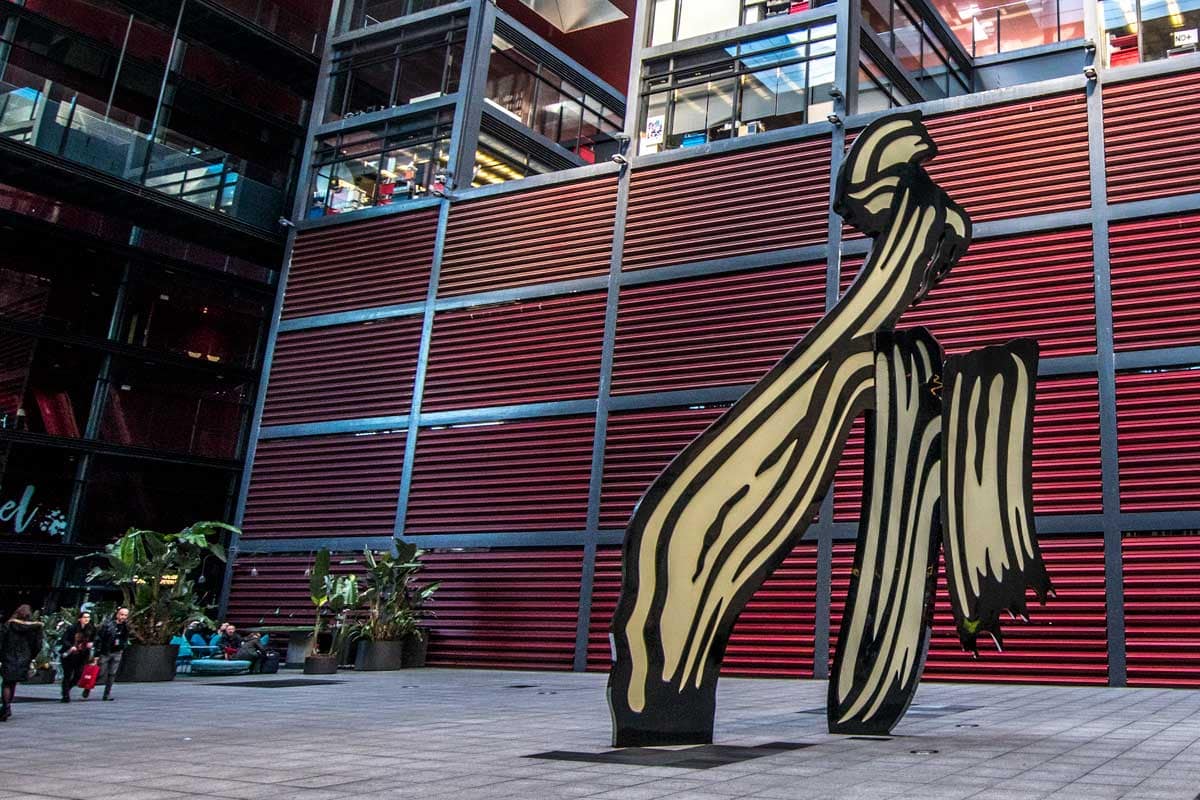 Once your siesta is over, make your way to the other iconic art museum in the city – Reina Sofia.
Now, you probably think: I already saw one of the most significant art museums in the world today. Why should I visit another one? While they are both world-famous, Prado and Reina Sofia have little in common. While Prado's focus is on Renaissance and Baroque art, Reina Sofia is all about Modern art.
Half of the museum offers curios art installation like old TV's, mini cinema projections, light illusions, etc., while the other half will introduce you to some of the most significant masters of the 20th century, the geniuses that shaped today's reality – Salvador Dali and Picasso.
Castaway Tip
Make sure you check out Guernica – the most famous Picasso painting and one of the most significant pieces of art in the world. Glare at the canvass for several minutes and feel the energy it emits. Truly a bucket list experience.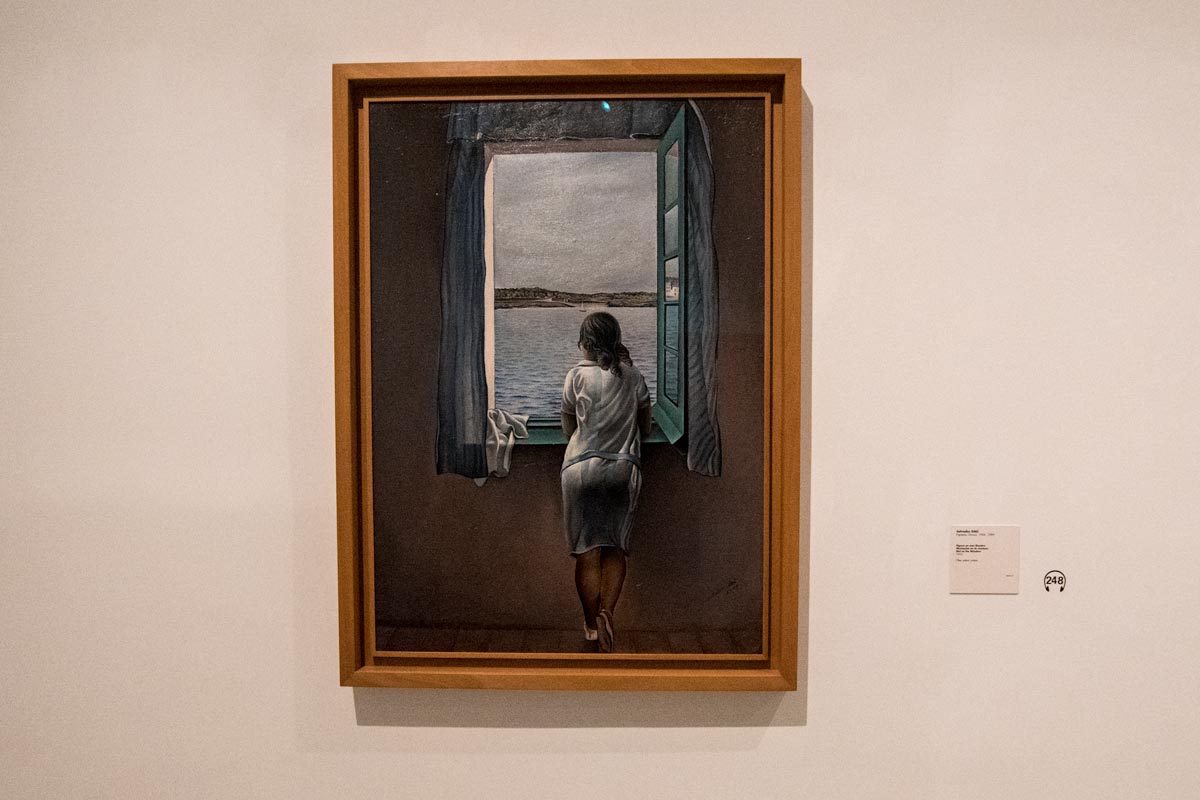 Opening Hours:
– Monday 10:00 AM – 9:00 PM
– Tuesday – Closed
– Wednesday-Saturday 10:00 AM – 9:00 PM
– Sunday 10:00 AM – 2:30 PM
Prices:
– Regular: 12 EUR / Buy online
– Guided tour: See the latest price
Free Hours:
– Monday: 7:00 – 9:00 PM.
– Wednesday-Saturday: 7:00 PM – 9:00 PM
– Sunday 12:30 PM – 2:30 PM
– April 18, December 6, May 18, October 12: Open and free all-day
See Also: The Ultimate Seville Itinerary Guide
Tapas and Wine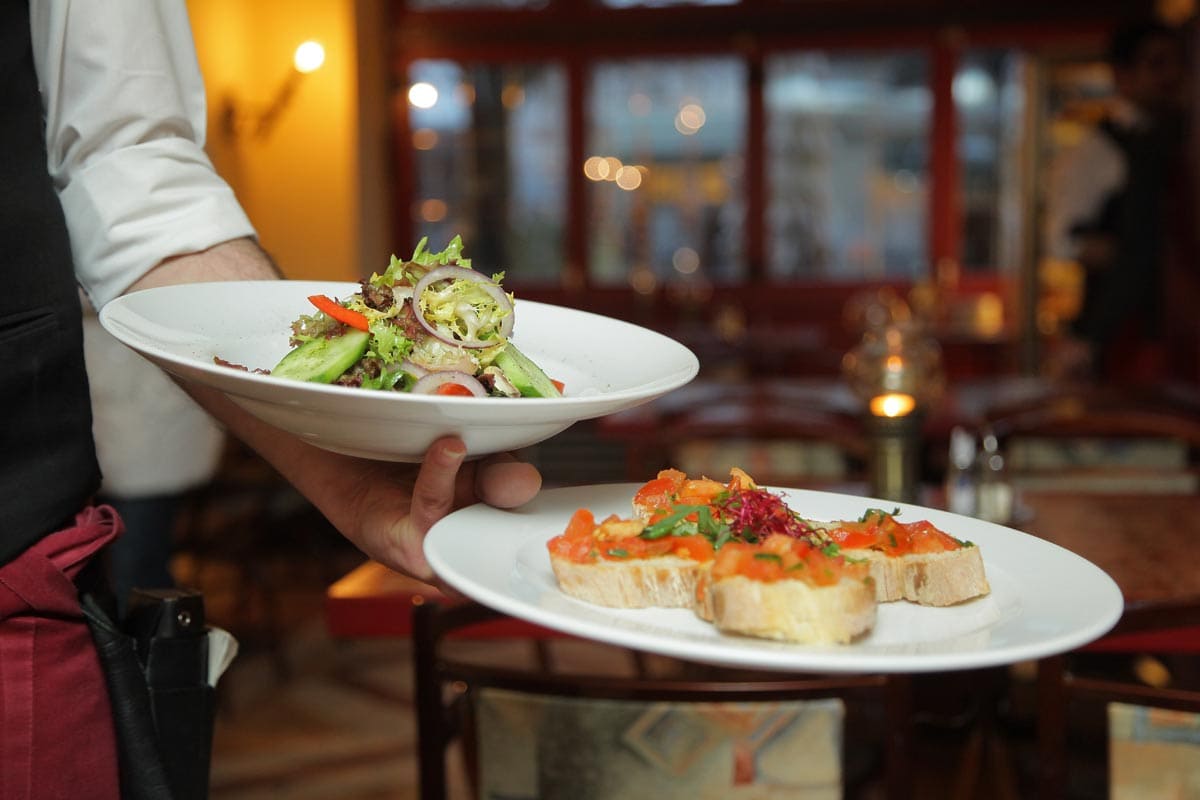 Finish your two days in Madrid like a true Spaniard. Order yourself some wine, and you will be served a plate of savoury dishes with it – Tapas.
Tapas could be everything – from olives and meatballs to Anchovies or Chorizo. What they have in common is that they all taste great with wine. A great place to get some tapas and wine, close to Reina Sofia is Tinto y Tapas.
And the best way to try tapas is to join a tapas tavern tour. Check out the best one in town here.
More things to do in Madrid
You have more than two days in Madrid? Or you don't really care about art that much to visit so many museums? Here are some of the other points of interest in Madrid.
La Almudena Cathedral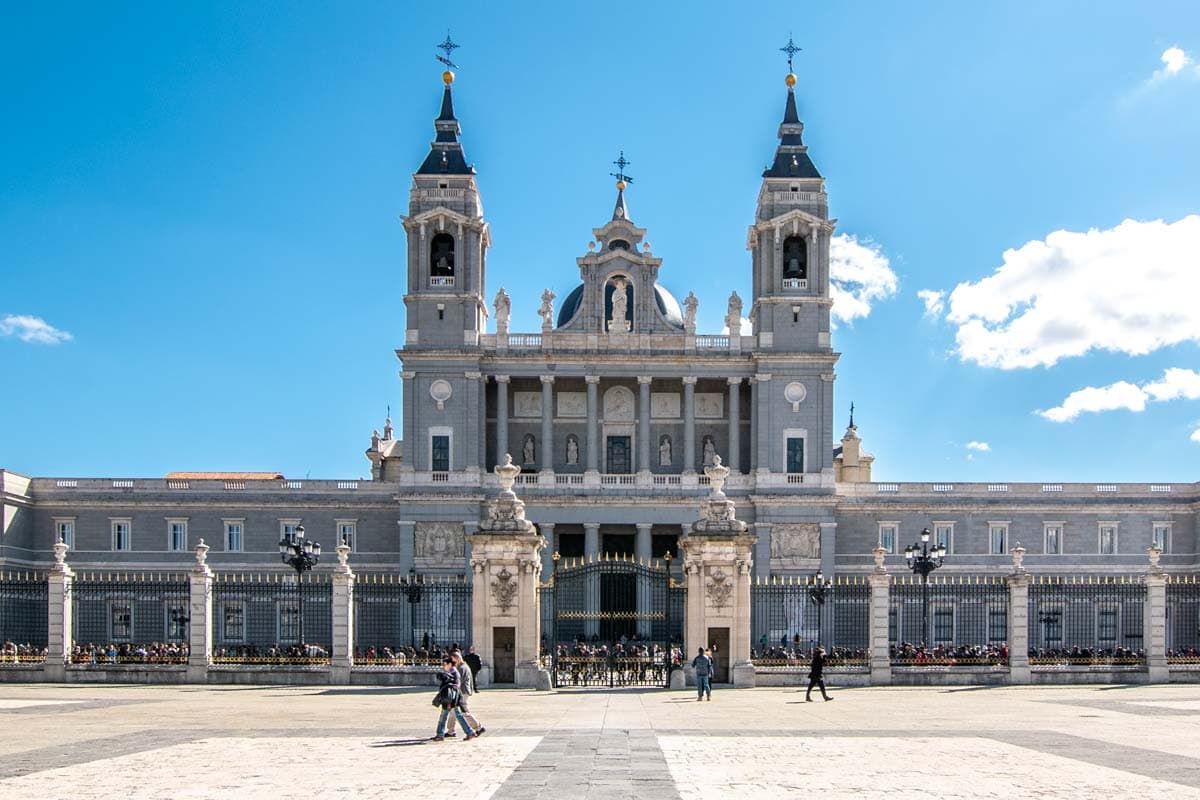 Situated next to the Royal Palace, The cathedral is another free attraction you can do in Madrid. Even though it looks old, it was actually finished in 1993. The interior is nothing special, but if you go into the museum, you can climb to the top of the church and get a beautiful panoramic view of the city.
Opening Hours:
September to June:
– Daily: 10:00 AM – 8:00 PM
July and August:
– Mon – Sun: 10:00 AM – 9:00 PM
The Cathedral cannot be visited during religious services.

Opening Hours (museum):
– Mon-Sat 10:00 AM -2:30 PM
– Sunday: closed
Price:
– Cathedral: 1 EUR donation required
– Museum: 7 EUR
El Rastro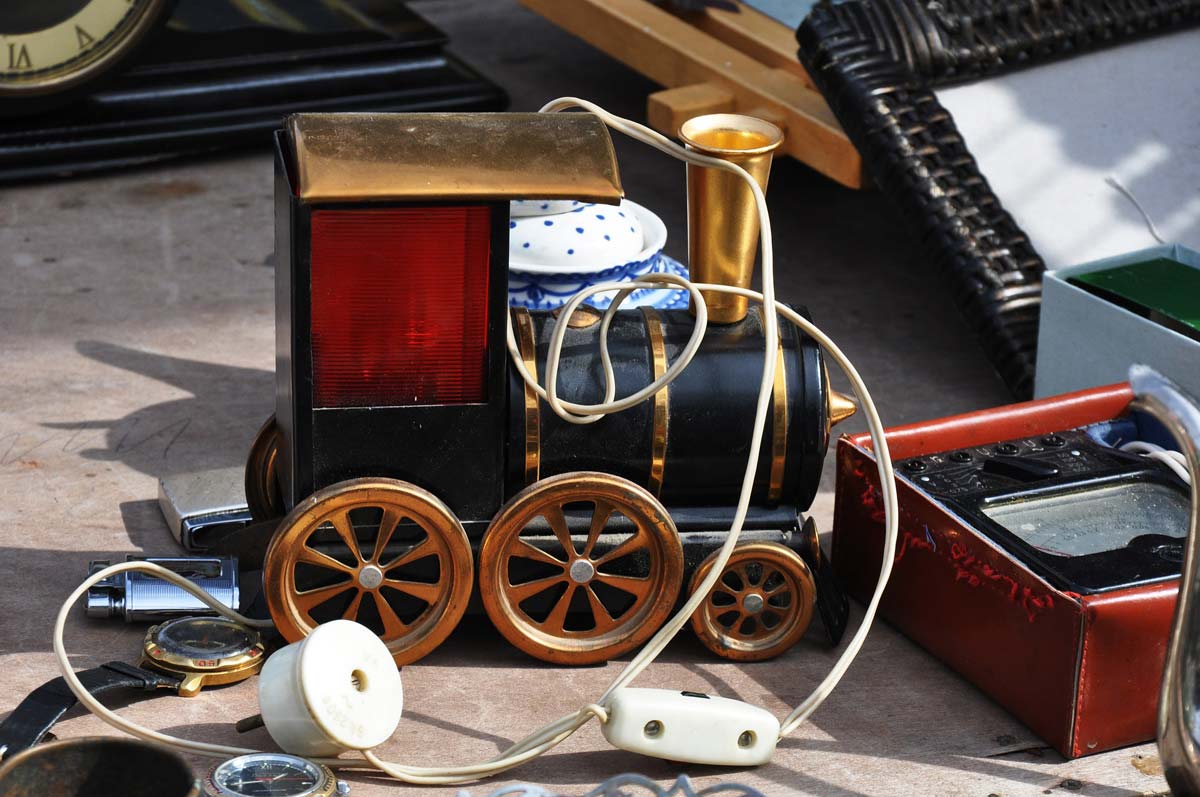 The biggest flea market may have not earned a place in our two days in Madrid itinerary but it's still quite an intriguing place to visit. It's located between Calle Embajadores and the Ronda de Toledo (just south of La Latina metro station and Puerta de Toledo station).
It's open every Sunday and offers you everything .. yup .. absolutely everything. Books, antiques, flamenco dresses, coins, bags, gas masks…whatever you can think of, you can find it in El Rastro.
Opening Hours:
– Every Sunday and public holiday: 9:00 AM – 3:00 PM
Price:
– Depends on your haggling skills
Mercado de San Miguel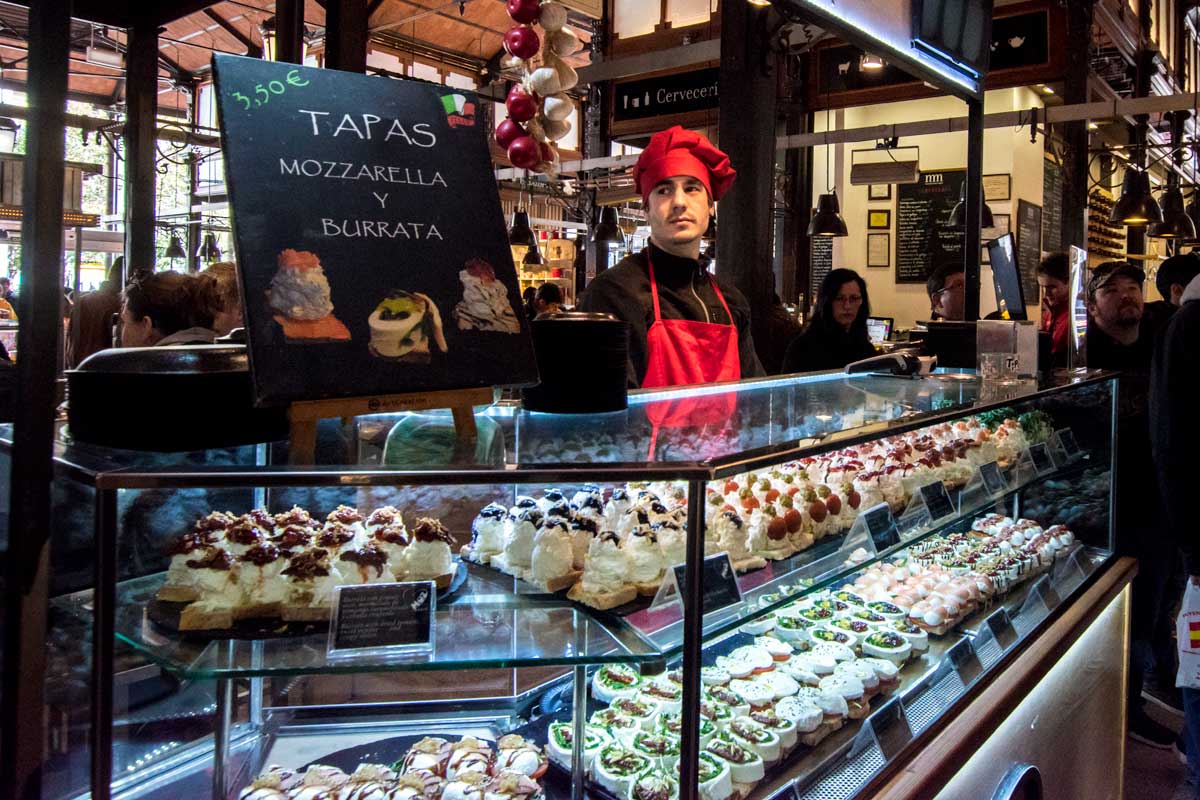 Mercado de San Miguel is a 100 years old covered market, situated right next to Plaza Mayor. It's not your typical fruit and veggie market but more like a tapas market. While everything there is overpriced, a single visit and a few free tastings should not be ignored.
Opening Hours:
– Sunday – Thursday : from 10:00 AM. to 12:00 AM
– Friday – Saturday: from 10:00 AM. to 1:00 AM
Prices:
– Overpriced
Chapel of Obispo de Madrid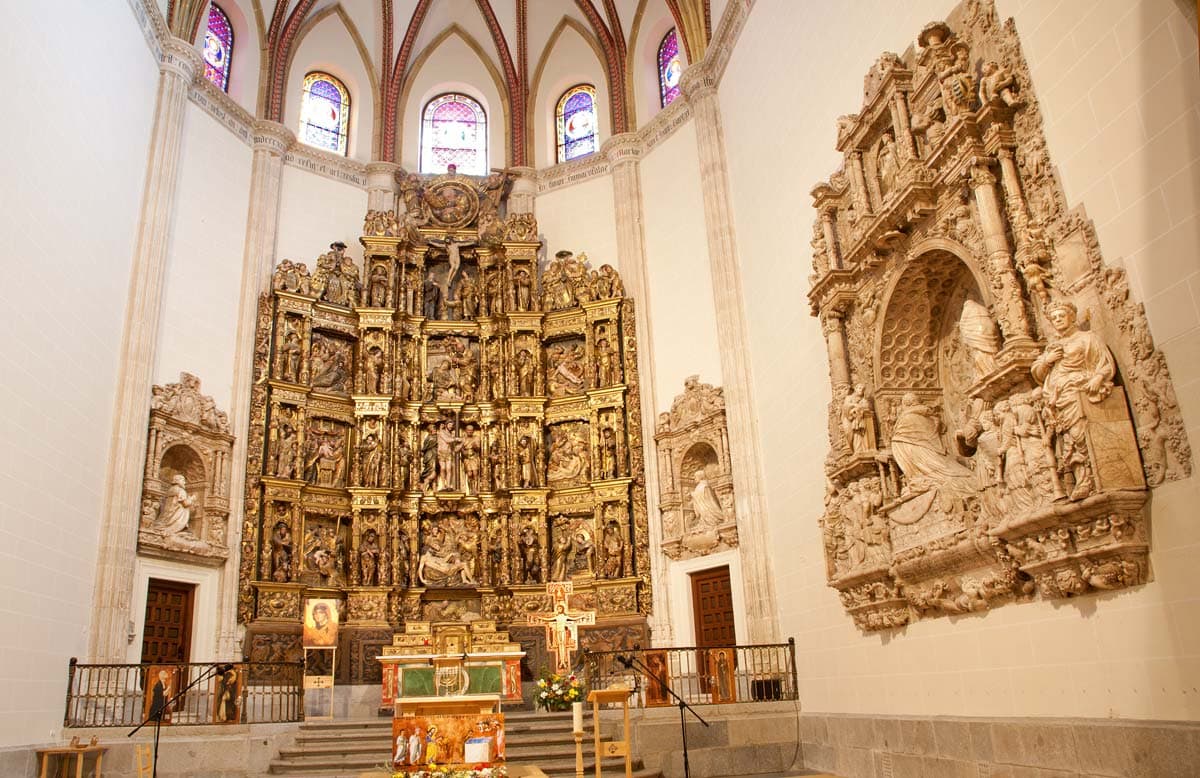 The chapel was built in 1669 as an ark to hold San Isidro Labrado's, the patron saint of Madrid, remains. Today it's the only representative of the Isabelline Gothic architecture style once common throughout the city.
Fun Fact
The church is located on – Plaza de la Paja that translates to Square of the Straw. It's called like that because of a bishop who used to live there (Don Gutierres Carvajal of Plasencia) and sell his surplus straw there.

Prices:
– Entrance is free; guided tours – 4 EUR
Working hours:
– Monday, Wednesday: 6:00 PM – 8:00 PM
– Tuesday, Thursday: 12:00 PM – 1:30 PM ; 6:00 PM – 8:00 PM
– Friday: 12:00 PM – 1:30 PM ; 6:00 PM – 9:30 PM
– Saturday: 12:00 PM – 1:30 PM ; 8:00 PM – 10:00 PM
– Sunday: 12:00 PM – 2:00 PM ; 6:15 PM – 8:00 PM
(double check in the official website)

Guided tours:
– Guided tours:
Tuesday: 10:00 AM ; 10:45 AM and 11:30 AM
Thursday: 4:00 PM and 4:45 PM
(Tickets only sold at the Catedral de la Almudena Museum ticket office)
Thyssen Bornemisza Museum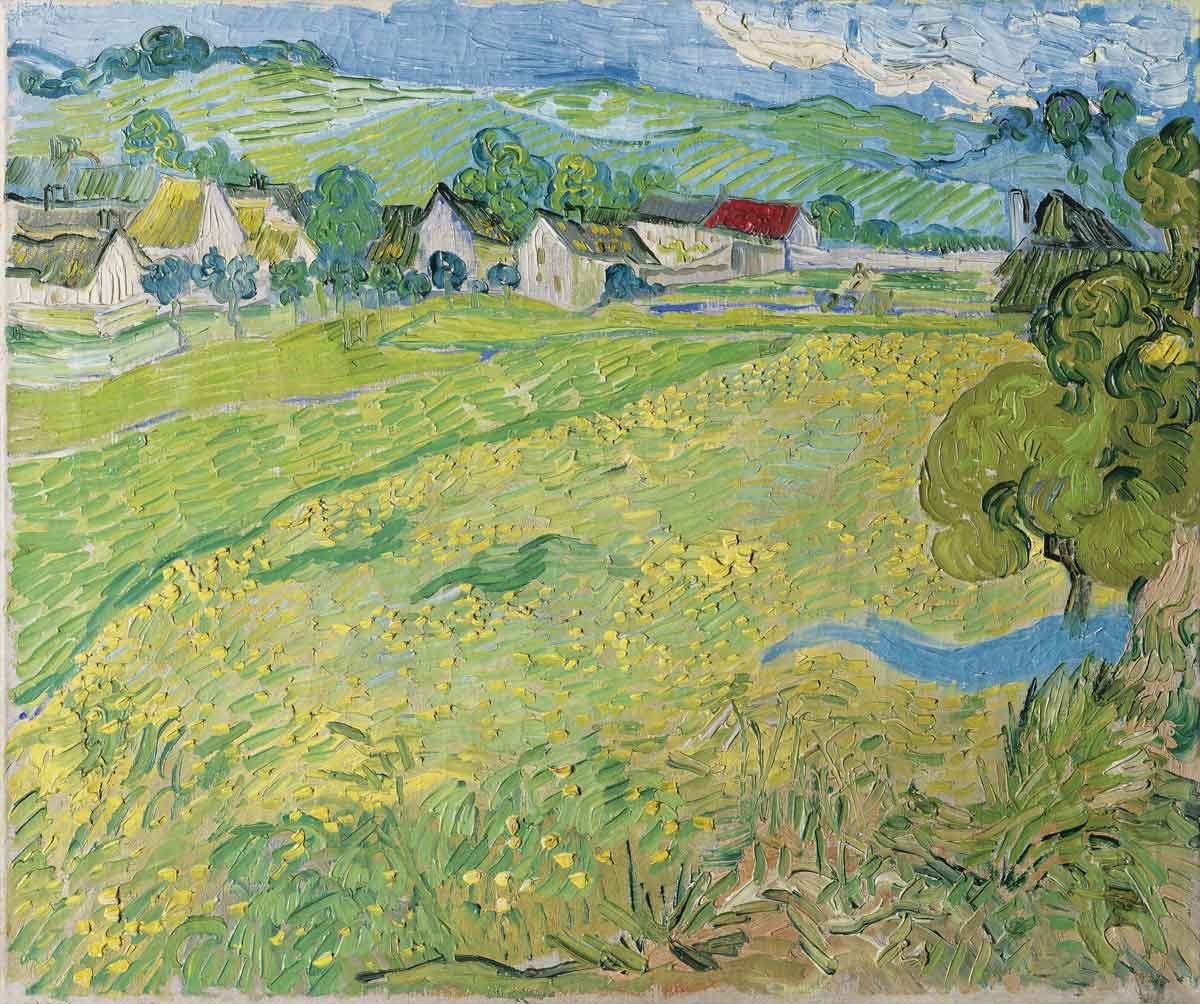 If you have the energy for one more art museum, the Thyssen Borhemisza Museum won't disappoint. Started as a private collection of Heinrich, Baron Thyssen-Bornemisza de Kászon the museum houses an impressive assortment of masterpieces that spans eight centuries of European painting.
Paul Cézanne, Picasso, Dali, Van Gogh, Rembrandt, Monet, Renoir, Degas, Rothko, and Jackson Pollock are just a sample of the masters you can enjoy in the Thyssen Bornemisza.
Price:
– General: 13 EUR / Get an online skip-the-line ticket
– Reduced: 9 EUR
– Guided tour – Check here
Working Hours:
– Check permanent and temporary collection working hours here
Free Entry:
– From 12:00 PM to 4:00 PM: only for the visit to the permanent collection.
Santiago Bernabeu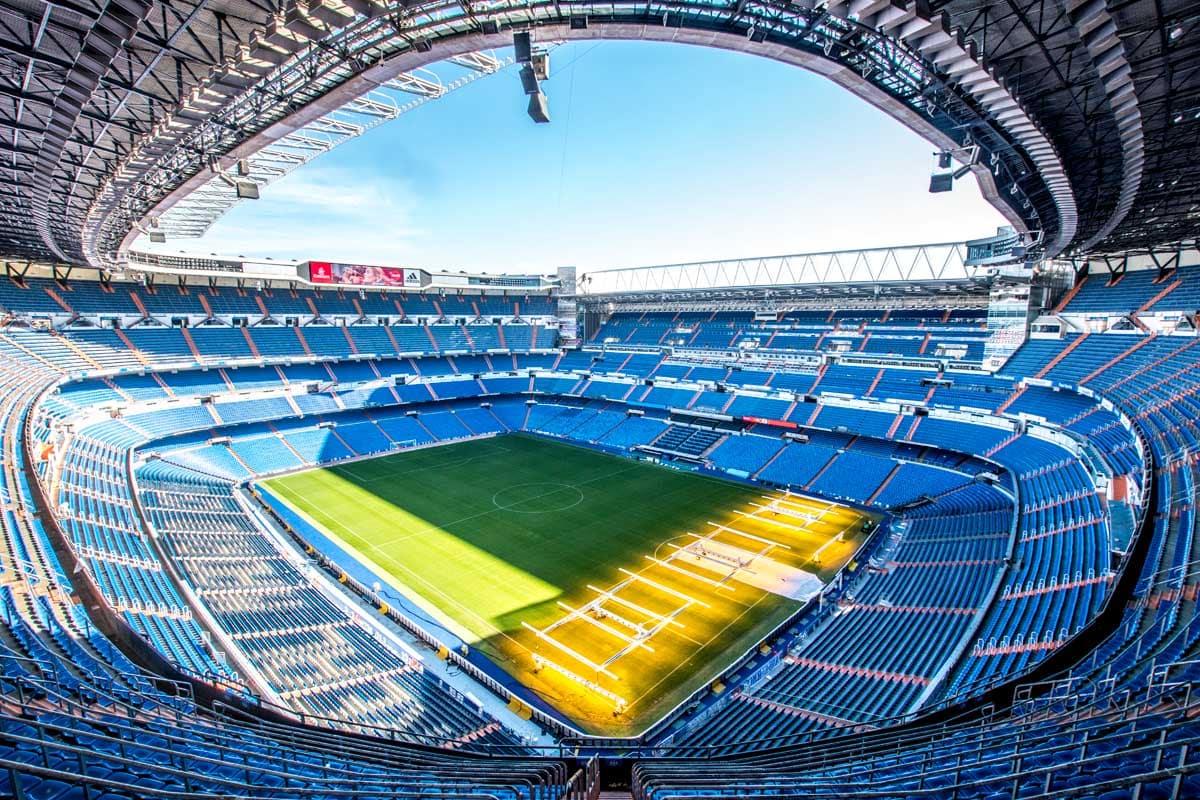 Madrid is not only an art capital but also a football one. If you are a Real Madrid fan or simply a football fan, make sure you visit one of the most legendary stadiums in the world – Santiago Bernabeu.
Get yourself a stadium tour and get familiar with the history of the most decorated football club in the world. Visit the locker rooms where Zinedine Zidane, Christiano Ronaldo, and countless other legendary players got ready before their games. Walk down the tunnel and sit on the bench where Real Madrid's manager sits every home game.
Truly a bucket list experience for every Madridista.
Book a Bernabeu tour
Castaway Tip
Don't get the audio guide. All sections of the tour have a noisy audio background that makes it impossible to hear it.

The oldest restaurant in the world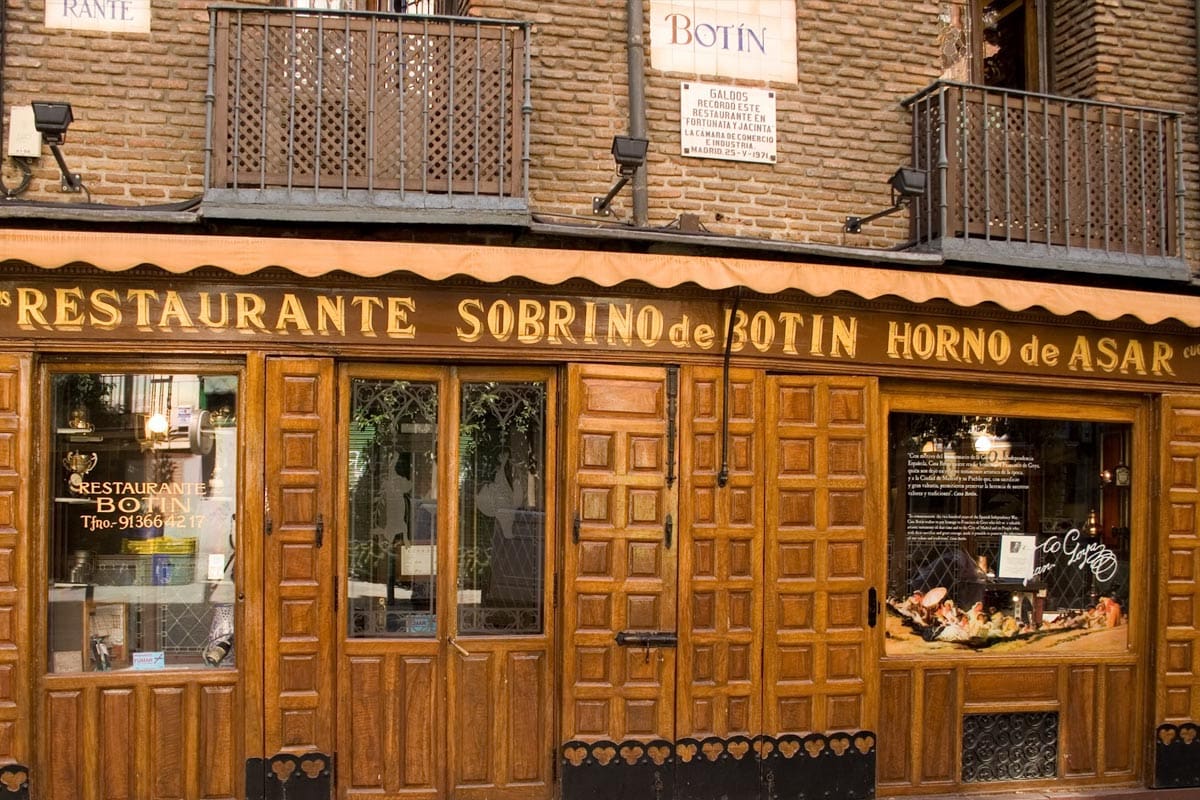 Between Plaza Mayor and Mercado de San Miguel, you can find the Guinness-certified oldest continuously operating restaurant in the world – Sobrino de Botín. It was founded in 1725 by Frenchman Jean Botin and his wife and still serves its original 300 years old recipes.
Fun Facts
– Francisco De Goya used to work here while waiting to get accepted into the Royal Academy of Fine Arts.
– It was one of Ernest Hemingway's favorite restaurants, and it's featured in his novel The Sun Also Rises.

San Francisco el Grande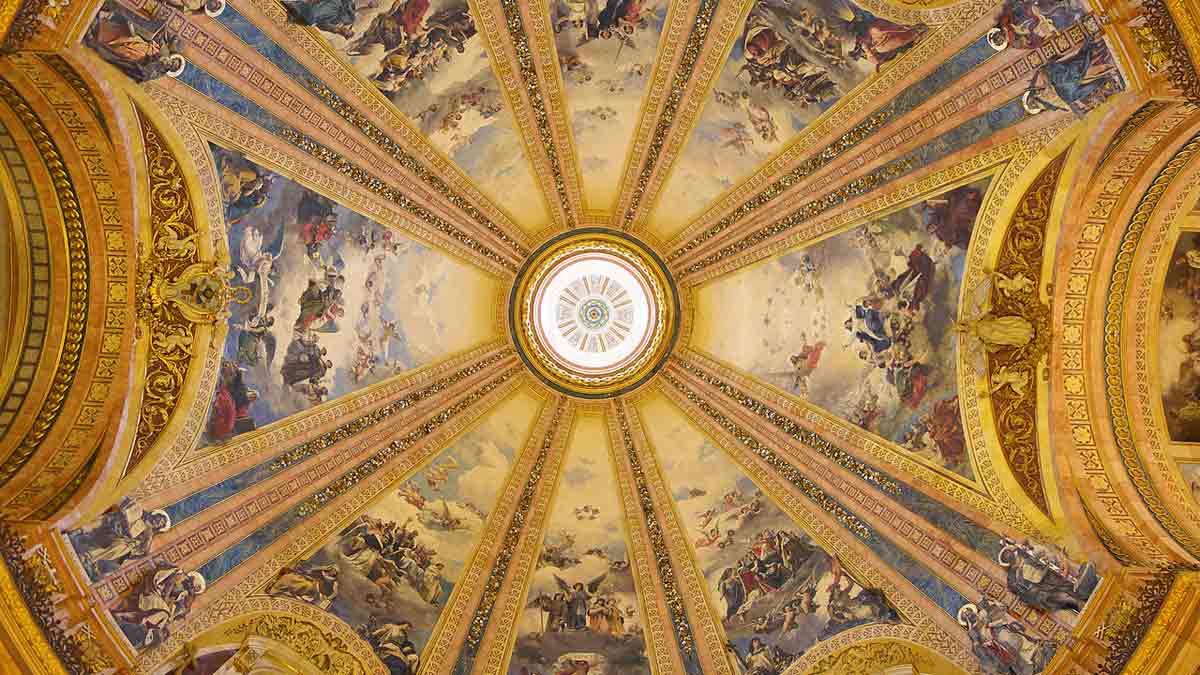 I promise this is the last church on my list. Constructed in the 18th century this roman catholic basilica is the most gorgeous painted churches in Madrid. With its beautifully colored dome and paintings by Zurbarán and Francisco Goya, this basilica is a must-see for art and architecture lovers.
Price: 5 EUR
Saturday – Free
Opening Hours:
Daily: 8:00 AM – 10.30 AM
Sun: 10:00 AM – 1:30 PM / 6:30 PM – 8:00 PM

Museum Visits:
Tue – Sat: 10:30 AM – 12:30 PM / 4:00 PM- 5:30 PM
(summer (July, August and September) – Tuesday to Friday: 10:30 AM – 2:30 PM
Enjoy a flamenco show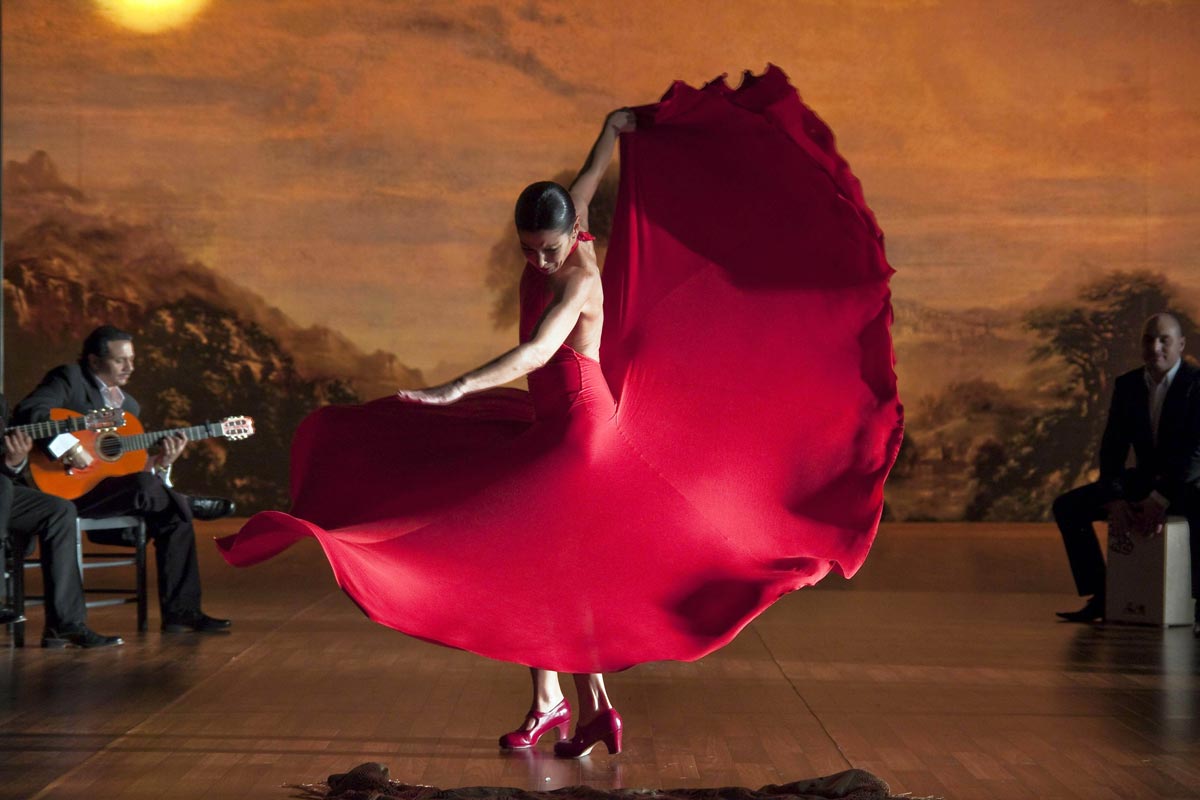 The most famous Spanish dance – flamenco is a combination of art, passion, and color. Visiting a flamenco show in Madrid is a bullet-proof bucket list experience that will remain as one of the fondest Spanish memory you have!
One of the best shows in town is offered by Teatro Flamenco and it's an exciting experience for the whole family. Or you can do one better. Nothing beats tapas craw combined with a Flamenco show from the best dancers in the country! The ultimate Madrid experience!
Explore the Malasana area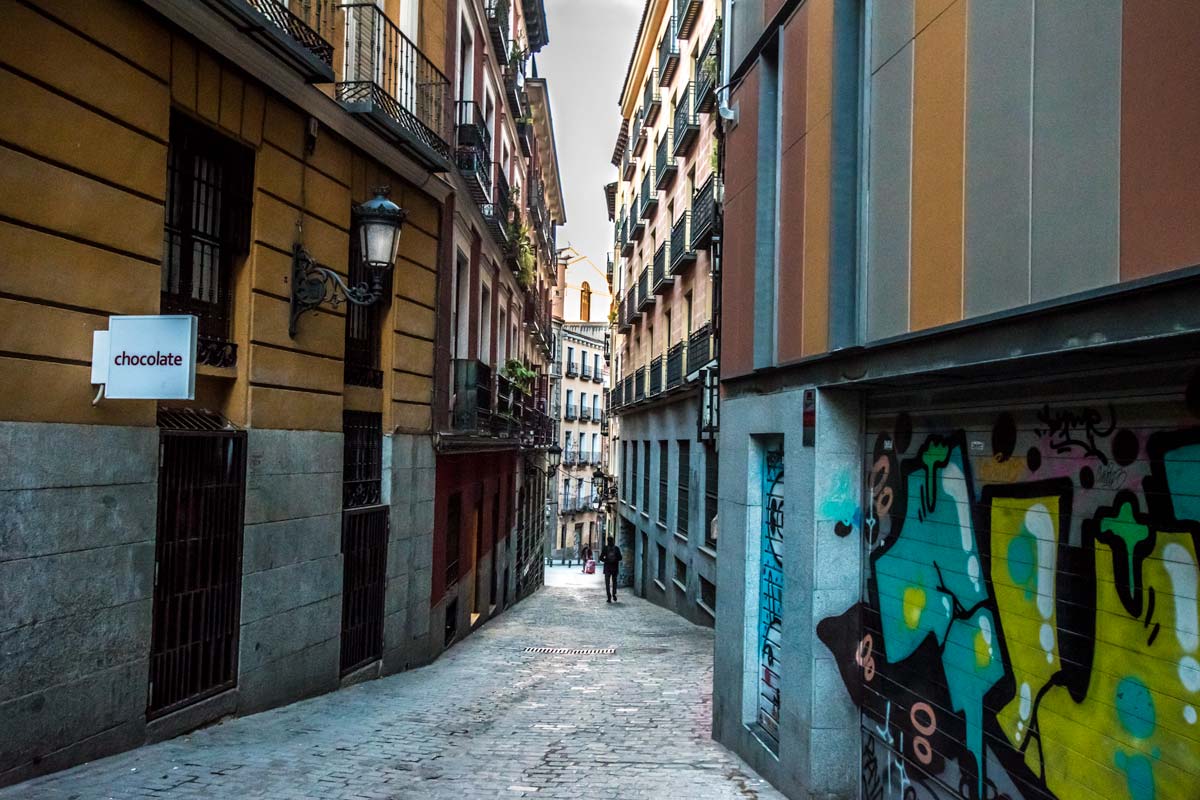 Take a walk around one of Madrid's unique and trendy areas. Malasana combines colorful street art with Gaudi-like houses to give you one of the best Madrid vibes possible. Some of the highlights of the area are the church of Iglesia de San Antonio de Los Alemanes, Madrid's History Museum, and the lively nightlife.
See Also: The Best Lisbon Travel Itinerary
Toledo day-trip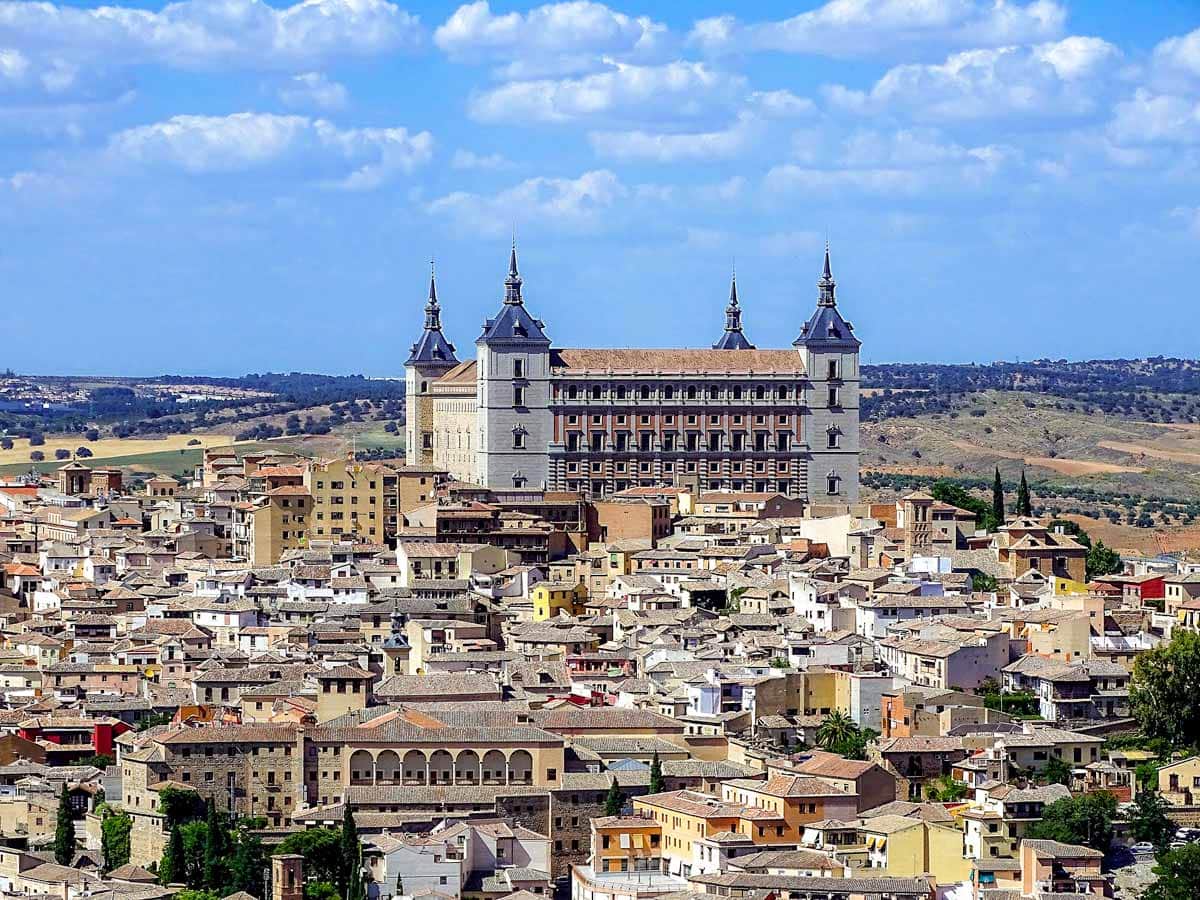 If you really have a lot of days in Madrid, and you want a deep impression of Spanish history, you should make the day-trip to Toledo.
It's only an hour drive – south from Madrid, and due to its extensive monumental and cultural heritage, the former capital of Spain is a UNESCO World Heritage site from 1986.
Since the city was an example of harmony between Christians, Muslims, and Jews, today you can see many synagogues, mosques, and churches there, including the most important Spanish Cathedral – The Primate Cathedral of Saint Mary of Toledo.
Fun Fact
Legend has it that the Ark of Covenant was brought to Toledo in the middle ages by the Templars. It's rumored that even Hitler searched for it there.

Useful Information about Madrid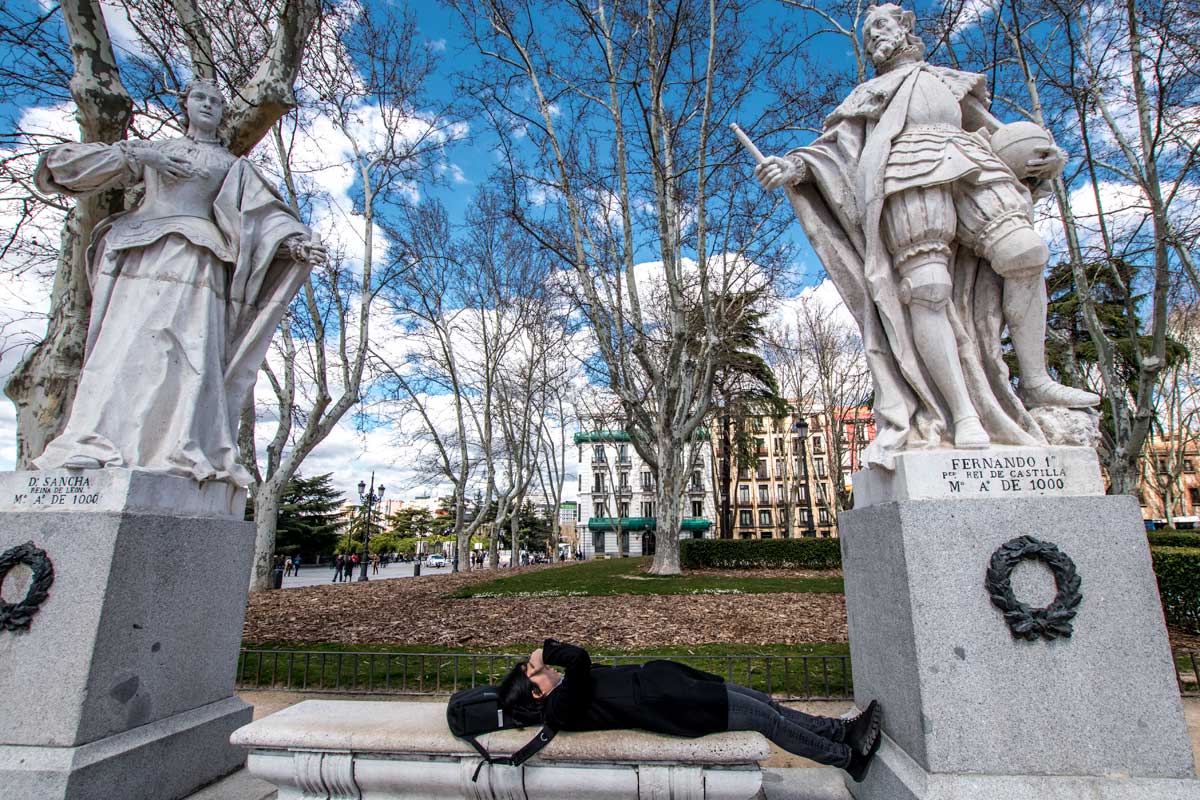 When to go to Madrid?
Madrid is a city best explored on foot, so Spring (March-May) and Autumn (September – November) are the best months to enjoy it.
Is Madrid expensive?
Being the capital of one of the biggest countries in the EU, you'd imagine Madrid would be way more expensive than it is. I find the prices there quite average, though.
You can find a good breakfast for as little as 2-3 EUR, accommodations vary but reasonable price ones are not that hard to find. As for the attractions, they certanly are not among the most expensive in Europe, and plenty of them offer free admission hours.
Here are some basic prices in Madrid
Where to stay in Madrid?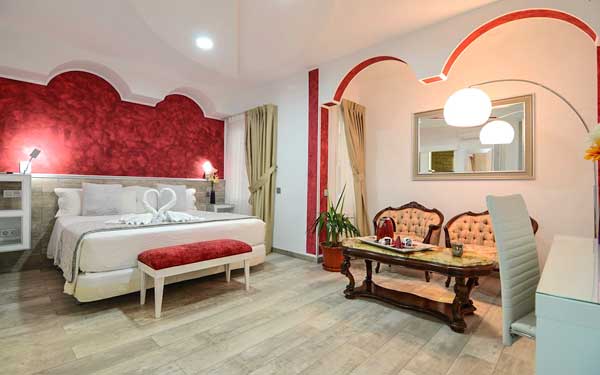 Going to Madrid with your SO? This is the hotel for you. Located really close to the iconic Puerta Del Sol, Hostal Alexis Madrid will give you the romantic atmosphere you need to have one of the best holidays of your life.
See the latest prices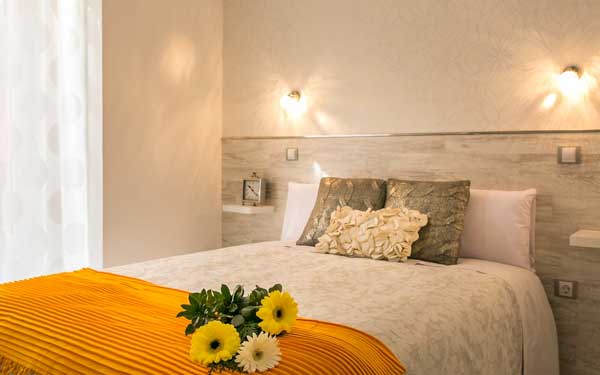 200 meters away from Plaza Mayor and 500m from Puerta del Sol. Minimalistic design and a balcony at a reasonable price. Do I need to say something more?
See the latest prices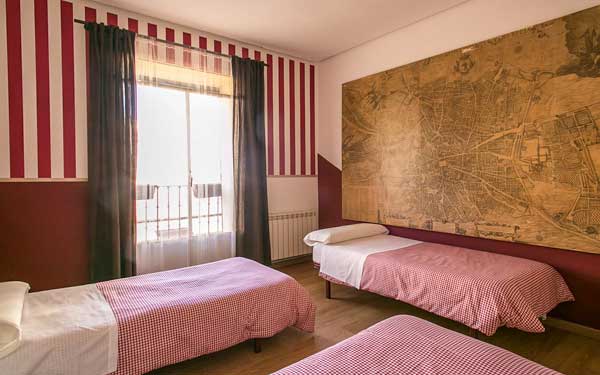 Cheap rooms, on the back alley of Mercado San Miguel, 100 meters away from Plaza Mayor. The best place to stay in if you want to get up early take a photo of the plaza free of people (like the cover of this post)
See the latest prices
Where to store luggage in Madrid?
If you have a few hours to kill before check-in or before your flight, there's no need to carry your luggage with you. LuggageHero is my go-to place in such cases.
They have more than 20 locations scattered all over Madrid, it's safe and easy, and they charge you per hour.
How to get around Madrid?
Madrid is a very pedestrian-friendly city, so my favorite transportation were my own two feet. If you don't fancy the idea of non-stop walking though, you can hire an electric bike from one of the 120 stations spread around the city. For more details, you can check their site.
The public transportation system is also something you can use. Public buses run from approximately 6:00 AM to 11:30 PM. The ticket costs 1.50 EUR (sold from the driver).
The metro system covers the whole city, but the variety of lines can be a little confusing. Always check the metro map before you enter, to make sure you are going to the correct color line. The ticket costs a minimum of 1.50 EUR and the price increases with the number of stations to a maximum of 2 EUR. You can find the latest prices and some combined card options here.
If that seems like too much hassle, The easiest way to travel around Madrid would be to rent a car. I recommend checking out Discover Cars and their tool that will compare all the best rent-a-car providers in the area. The prices they manage to find are sometimes ridiculously low.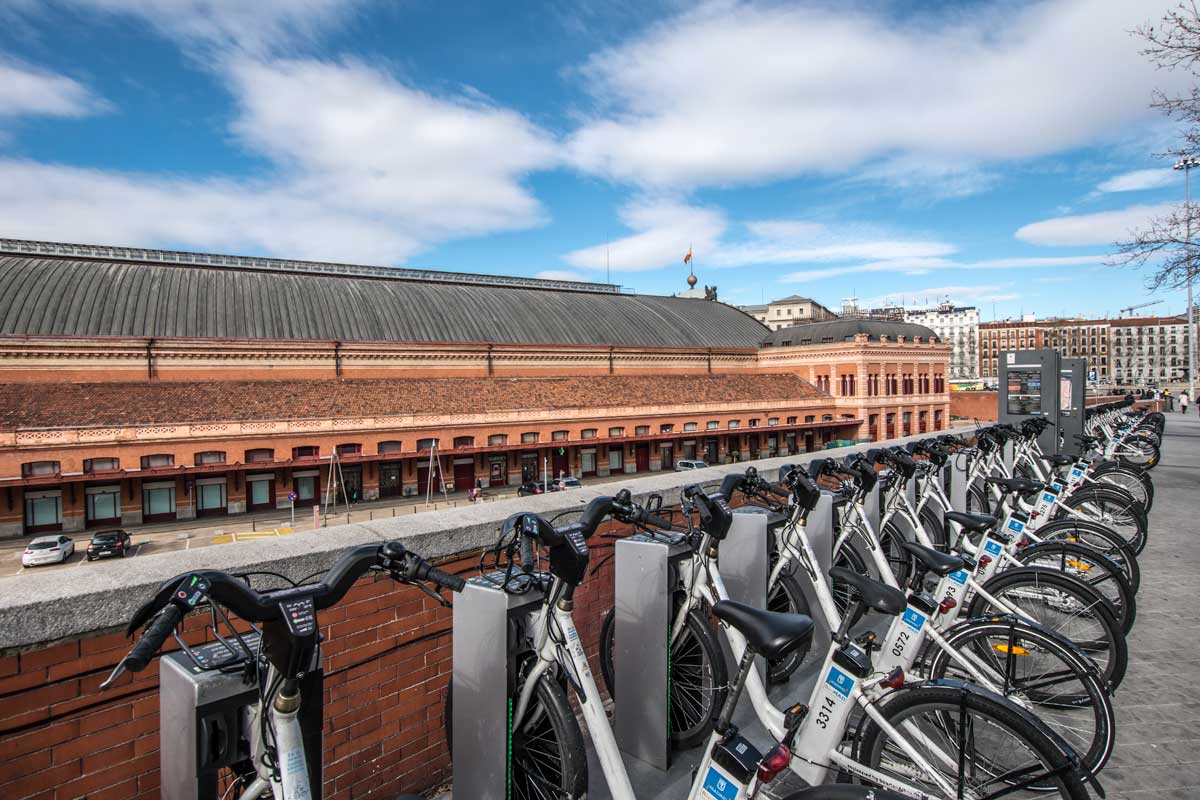 Is Madrid safe?
Absolutely yes. Madrid is one of the safest cities you can visit in the world. Nevertheless, you may be in the safest place and still have a moment of bad fortune that'll ruin your vacation.
What I do for all my trips is getting travel insurance from HeyMondo. Once you have a few journeys under your belt, you can easily appreciate its tremendous value and the freedom it gives you.
While I sincerely wish you never have to use it, life happens (even more when you are traveling) and it's always good to be prepared.
What is the currency in Madrid?
Euro is the currency used in Spain. Dollars are not accepted.
Useful Words and phrases in Spanish:
Holla – Hello
Gracias – Thank you
No Comprende – I don't understand
Ingles por favor – English, please
Vino – wine
Cerveza – Beer
Carne – meat
How to get from the airport to the center of Madrid?
You can use either the metro (pink line) or the airport shuttle buses (cost 5 EUR). If you prefer a taxi, it should cost you around 30 EUR.
The easiest option would always be to rent a car that will wait for you at the airport. It takes some extra time to fill out paperwork, but you can drive straight to your hotel without navigating an unfamiliar city's public transportation or paying extra for a driver. Discover Cars is the place to compare all rent-a-car providers in Madrid and get a sweet offer. The offers they manage to find are often ridiculous (like 50 USD total for 4 days in London).
Madrid Itinerary Map
---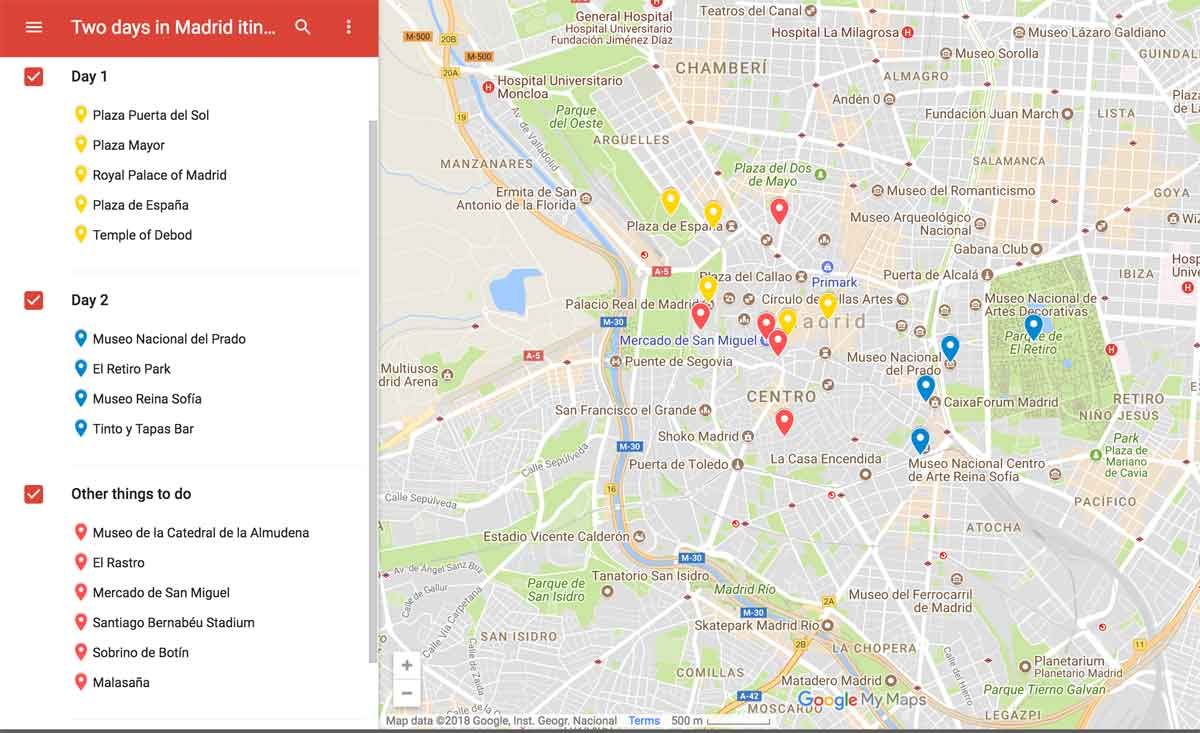 That's all from me, I hope you enjoy your 2 days in Madrid!
————————————
If you haven't planned your trip there yet, find out how I plan my trips!
————————————
I've got 25 bucket list ideas for Spain. See my impossible bucket list of 1700+ adventures!
Have you been to Madrid?


Some of the above are affiliate links and I will earn a percentage of the sale if you purchase through them at no extra cost to you. This helps keep my site running – so thanks in advance for your support!
*Many thanks to Javi Perez who helped me with this guide.