Unlike other guides, to get the inspiration for this Chefchaouen photo guide was as easy as Sunday morning (Sunday morning not in the office and without kids).
Also known as The Blue Pearl of Morocco, The City of Your Dreams or simply Chaouen, this small mountain town gained a lot of (Instagram) popularity in recent years due to its significant blue color.
And for those who are wondering – no, the pictures don't lie, the medina (old town) really is as blue as it looks and it's a perfect playground for all of us photo-hunters!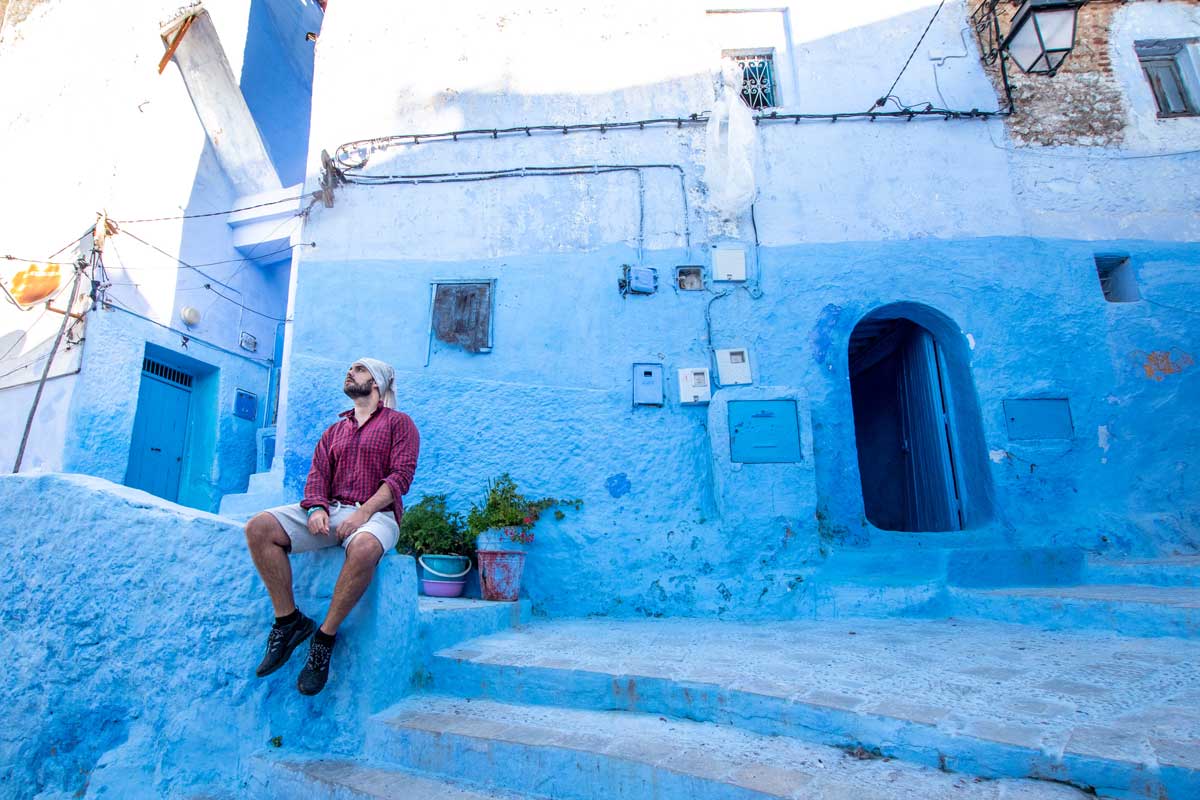 Before we get to the Chefchaouen photo guide, let's get a little bit more acquainted with The Blue Pearl of Morocco.
Founded in 1471 as a small kasbah to fight the Portuguese invasions, Chefchaouen is a favorite local getaway to unwind from the mayhem of the big Moroccan cities and find refuge from the merciless African sun.
Tucked cozily in the Rif Mountains and being a prime example of Berber's rich cultural tapestry, the small town slowly becomes one of Morocco's most popular tourist attractions.
But let not fool ourselves, the main reason people flock to Chaouen is not the mountain views, it's the signature baby-blue color.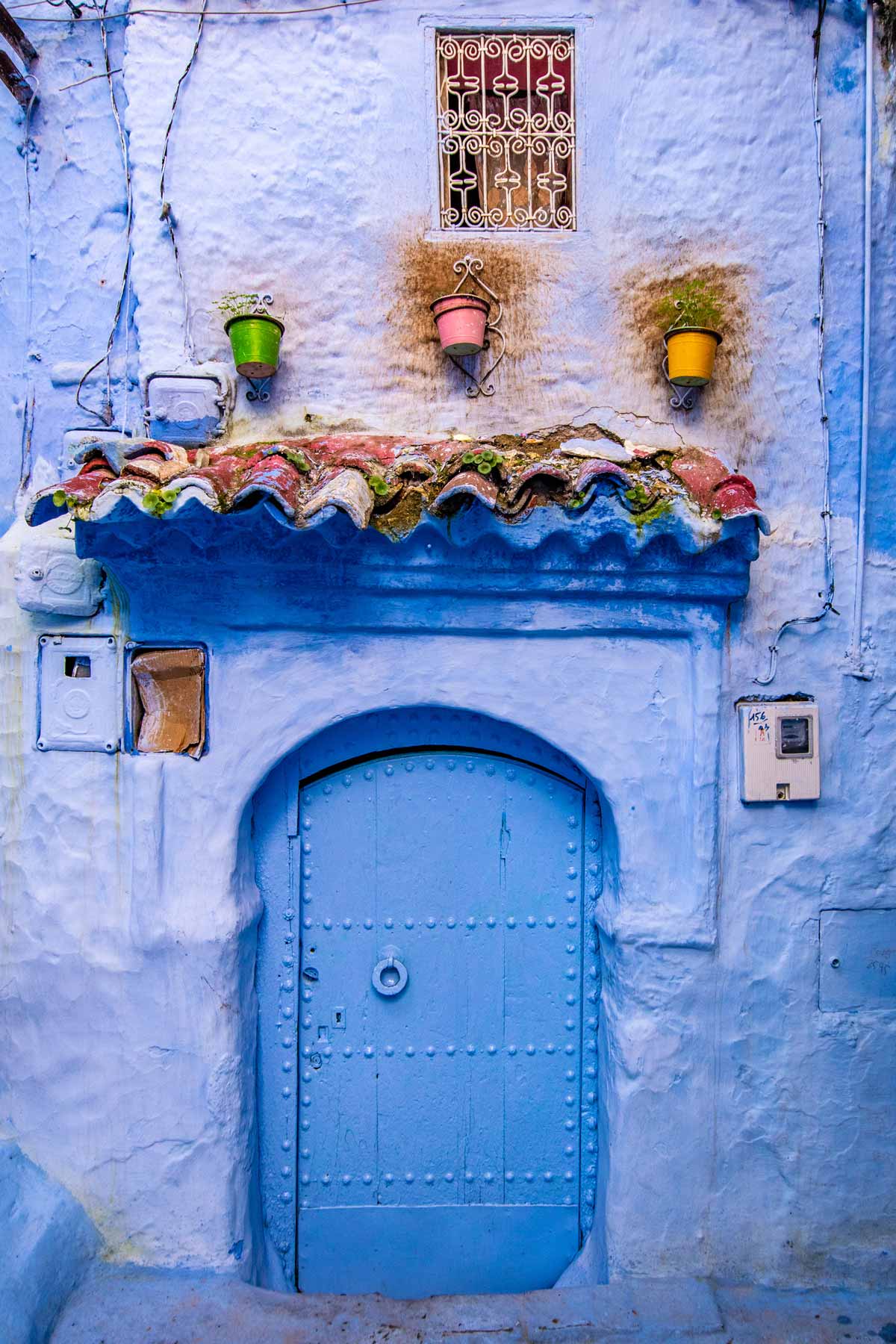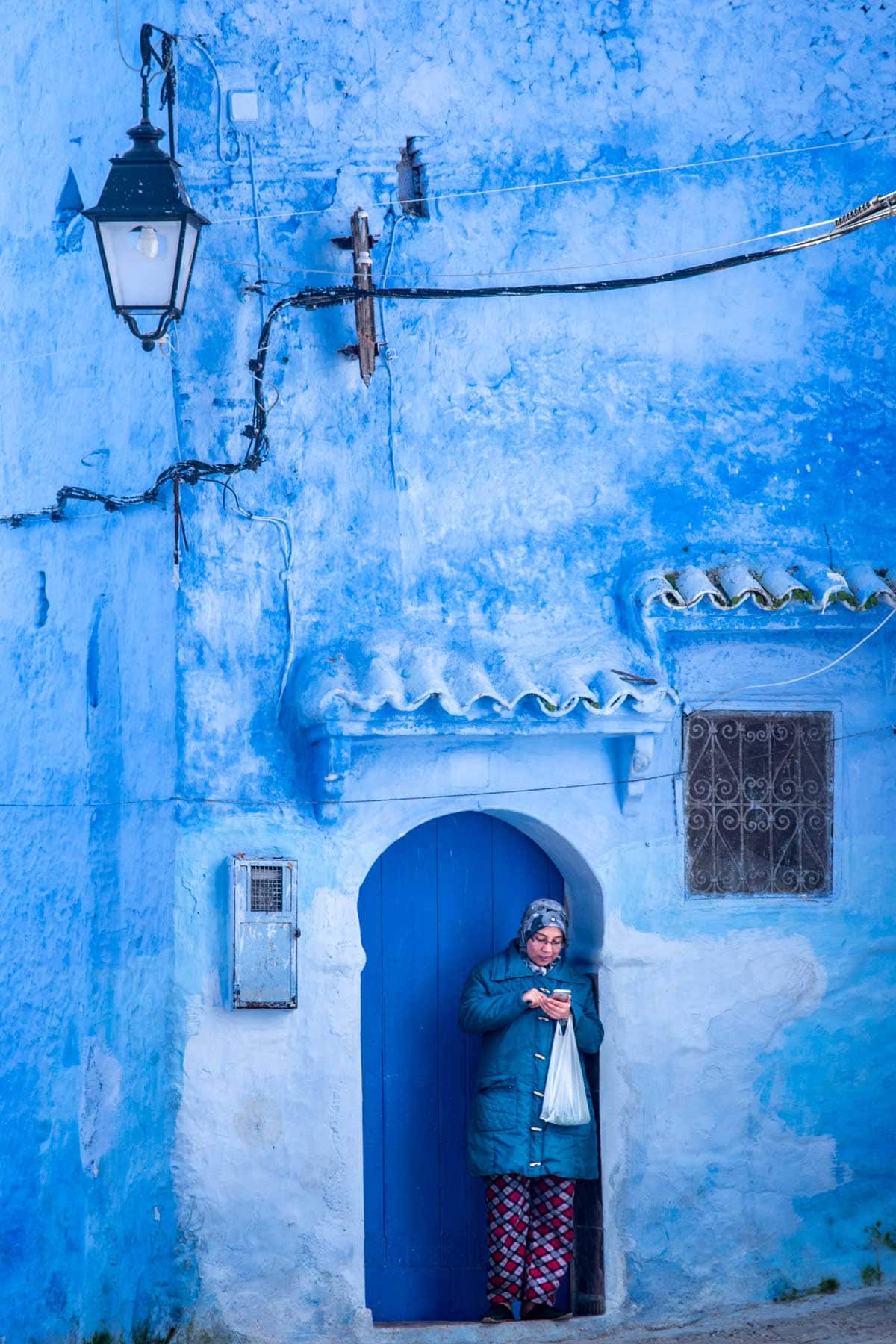 But why is Chefchaouen painted blue?
There are a few theories about it, but the one I found most compelling is that some of the first inhabitants of the town were Jewish. And the Jewish people had this tradition to dye their buildings in tekhelel (an ancient natural blue dye) in order to remind people of God's power.
So the tradition continued over the centuries to this day, when the blue coloring is mostly due to touristic reasons rather than religious ones.
Having a walk around the Jewish neighborhoods in Fez and Marrakech, which were also painted in light blue color, I found this theory reasonable.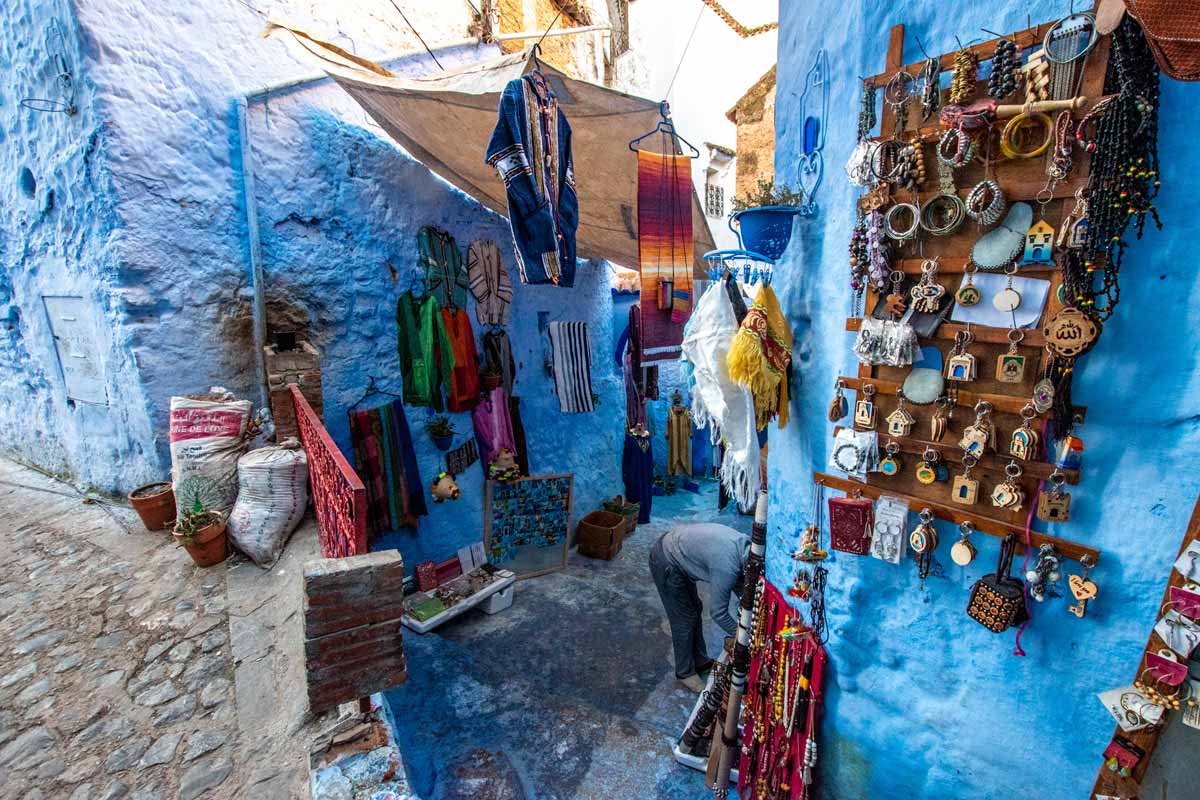 Why do you need a Chefchaouen photo guide?
While I believe the blue pearl of Morocco deserves at least two days of exploration, most people visit it on a day trip from Fez or Tangier and have just a few hours around the blue alleys of Chaouen.
Having a clear idea where are the best photo spots should help a lot when your time is limited and (just like me) you want to see everything!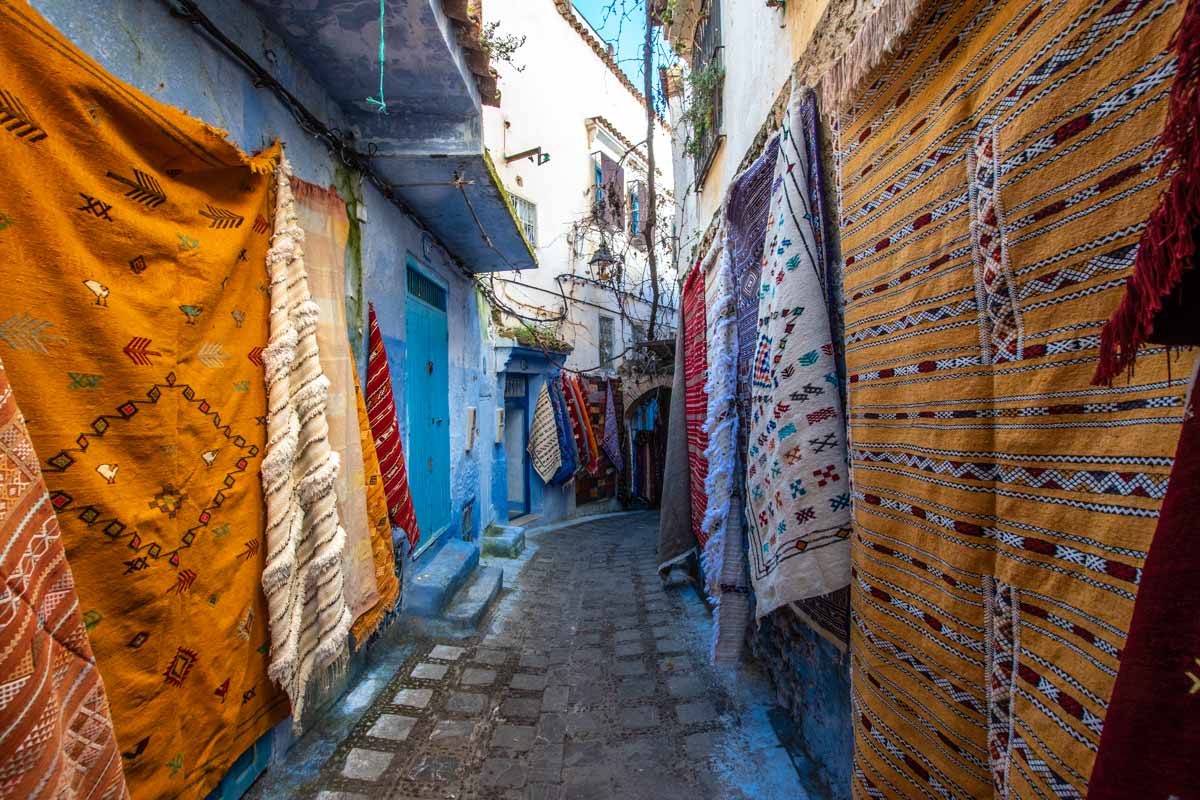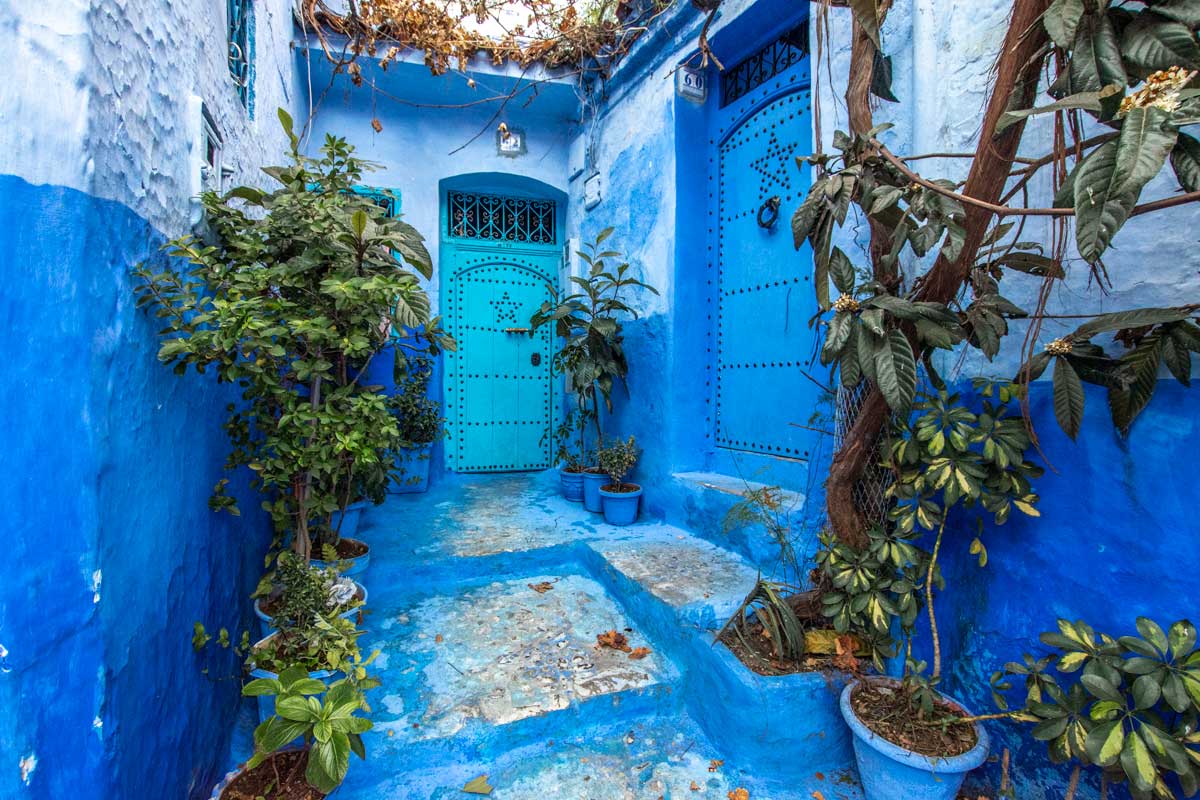 Note: In Chefchaouen (and whole Morocco), google maps would be of little help. Most of the small streets in the medinas are just not mapped. For my Chefchaouen photo guide, I use screenshots from maps.me which is a free app I strongly recommend.
Callejon El Asri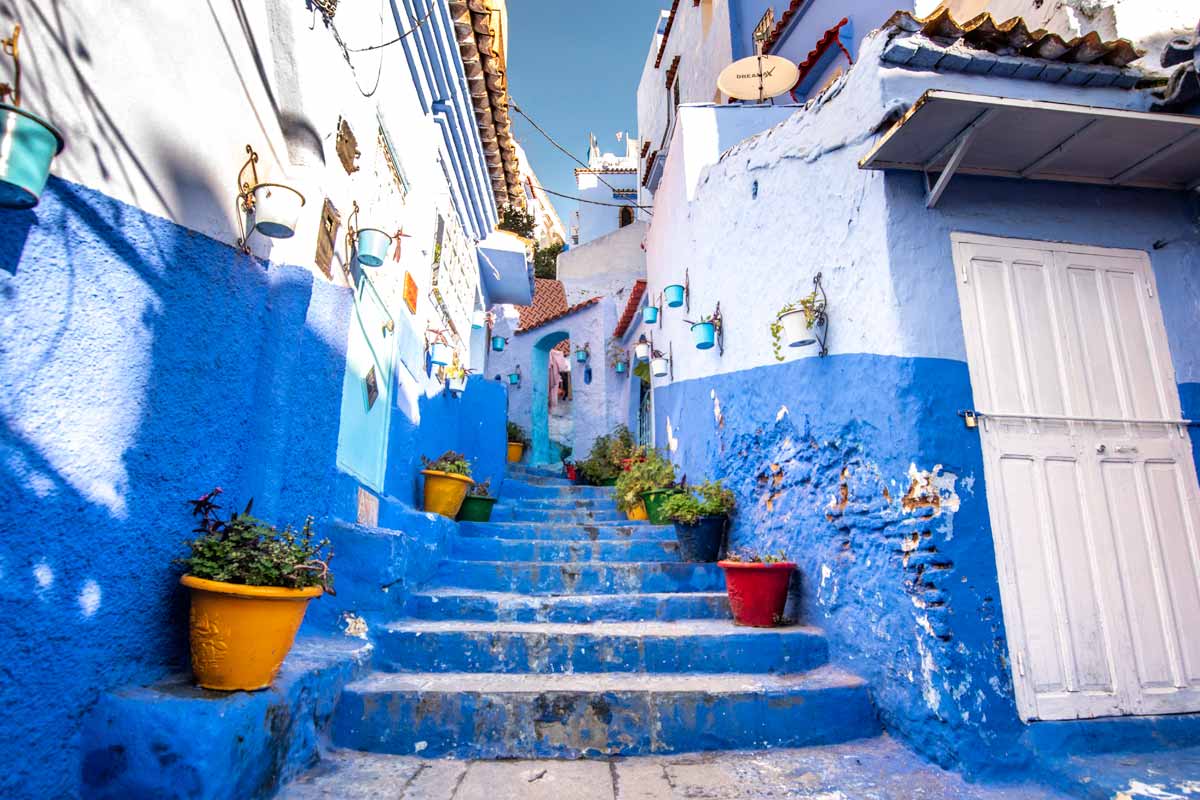 If you've seen photos of the Blue City, chances are high you've seen the El Asri street. Made famous on Instagram by various influencers and bloggers it's the busiest place in town, and if you're on a day trip, you'd have to wait in line to get your photo there.
If you are staying in Chefchaouen, better get there around sunrise since the El Asri alley gets busy with hungry Instagrammers quite early.
It's located on the north side of the town, right next to Dar Aldea.
maps.me coordinates – 35.170049, – 5.263196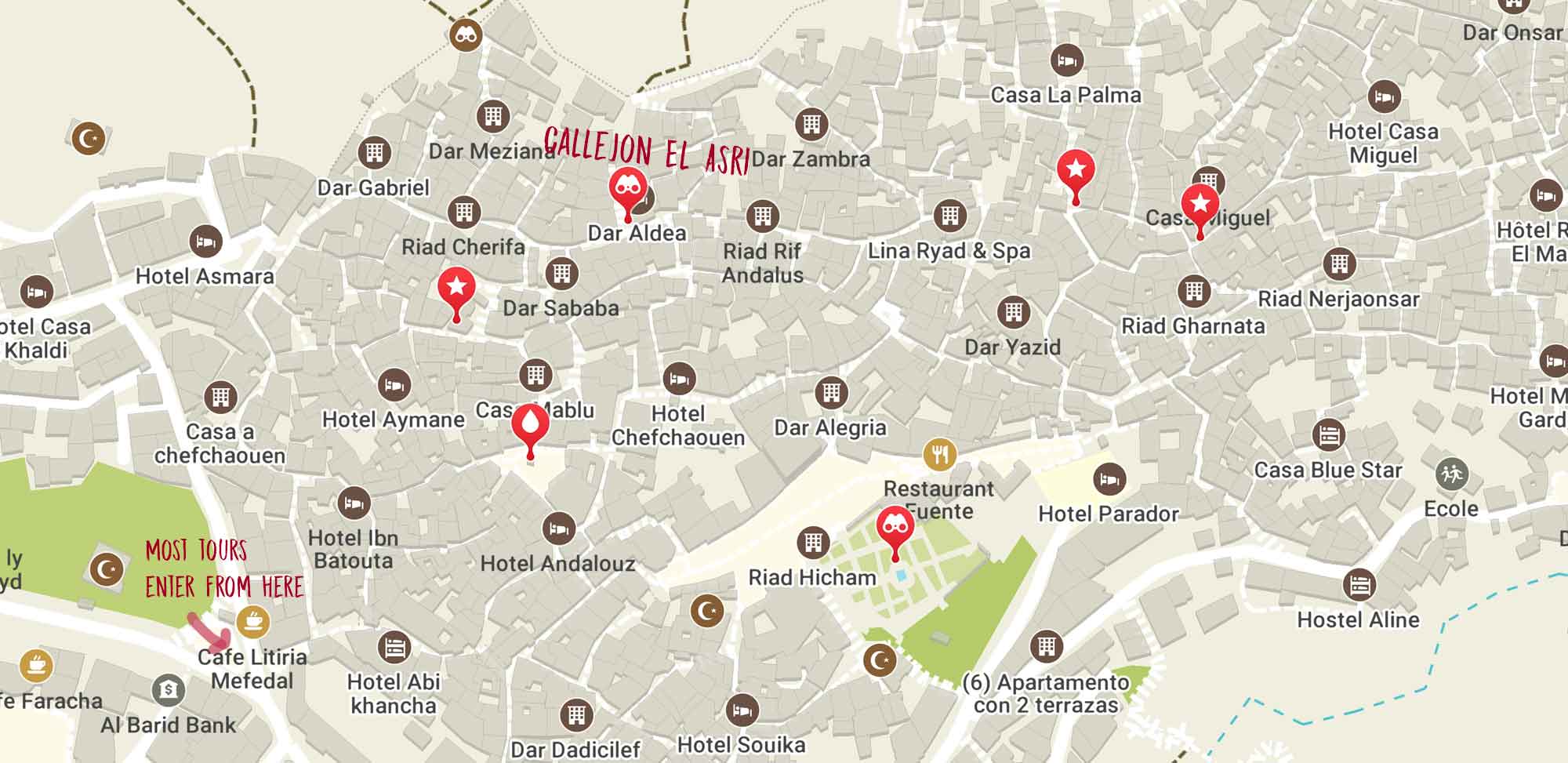 The Blue Street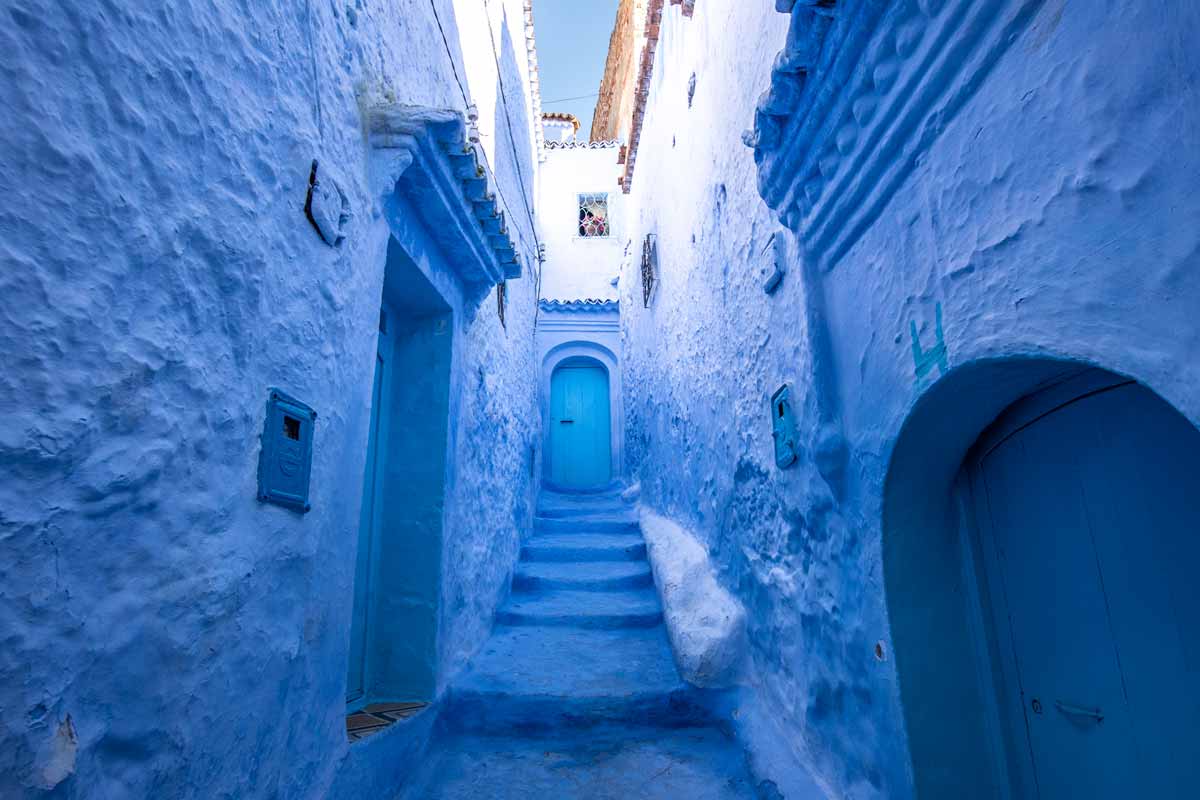 Second on the Chefchaouen photo guide is my favorite alley in town. Just a few minutes away from Callejon El Asri I couldn't find its name (if it even has one), so I decided to call it the Blue Street. I know, it's not the most original name in the world, but it's surely the most fitting one.
The bluest street in the bluest city is an absolute must-see. Doesn't matter if you take your photo with a DSLR or with your phone, the picture is guaranteed to be one of your best. The alley is just so picturesque that a photo can't get wrong.
As a bonus, there is an orange juice stand right next to it, giving you another brilliant photo opportunity (the juice is quite good too).
maps.me coordinates – 35.169623, – 5.26409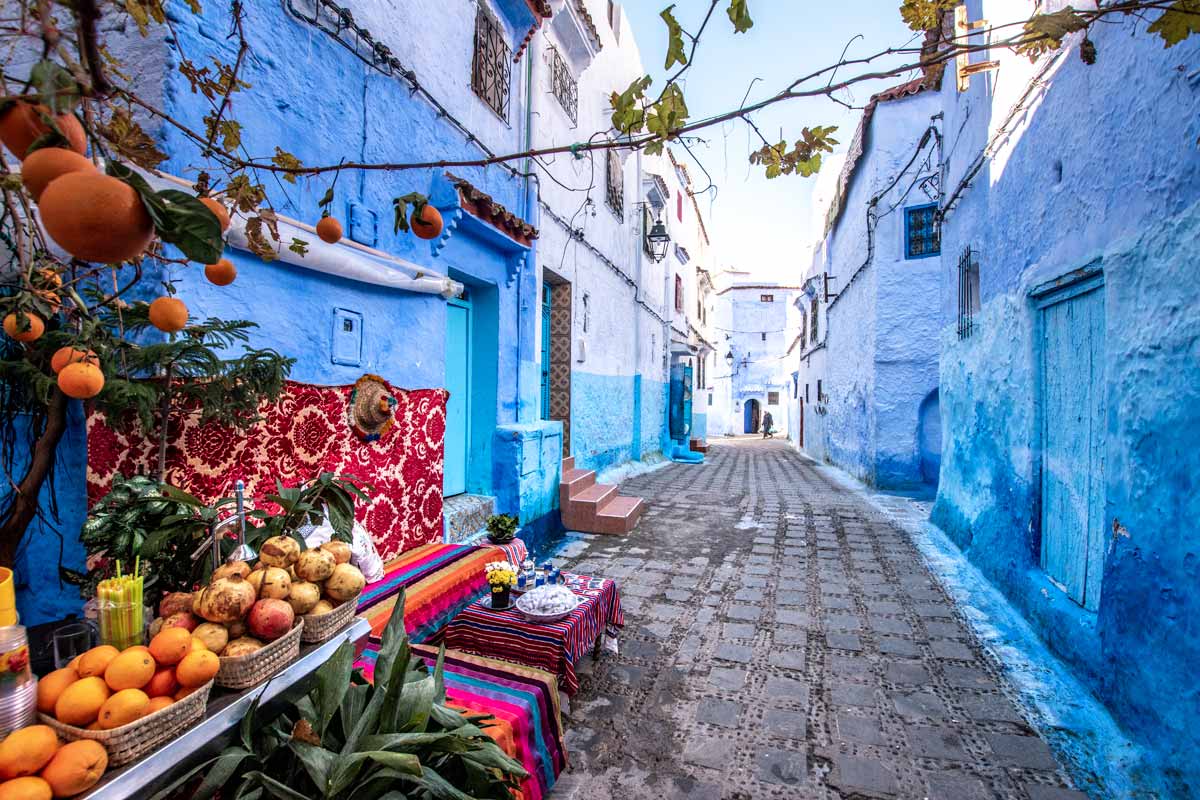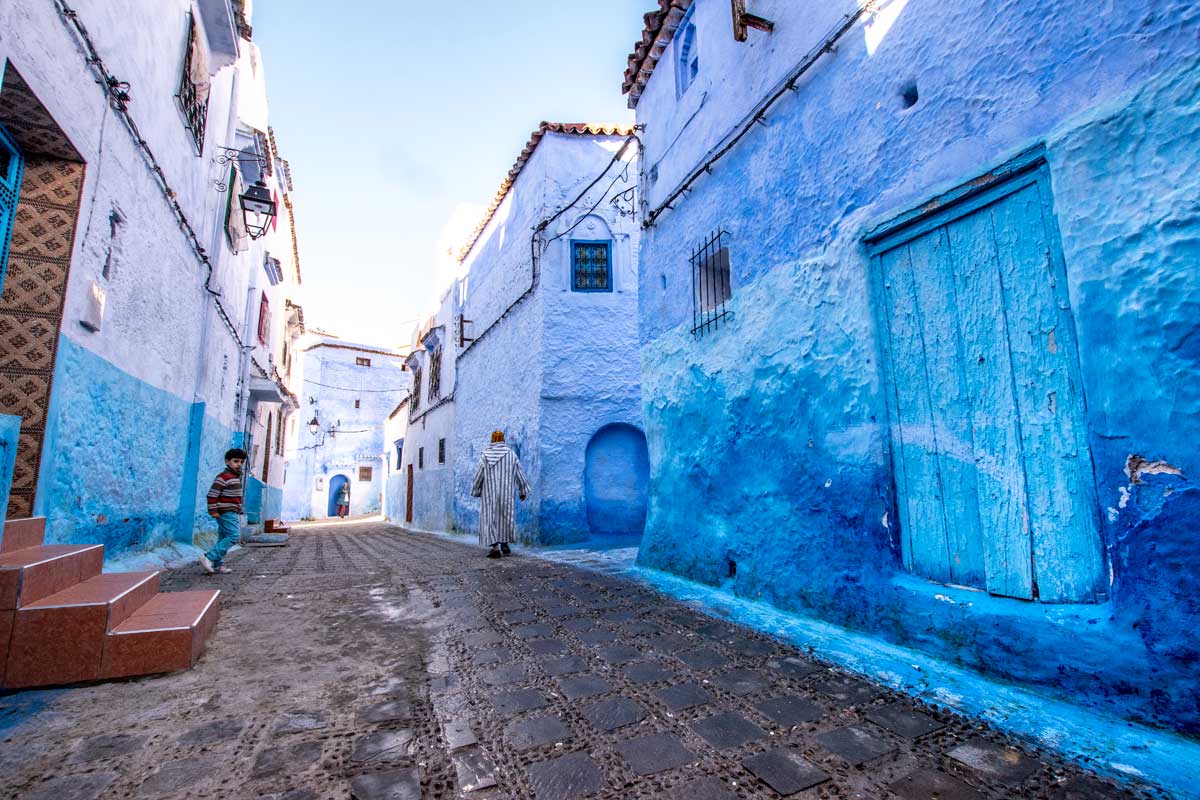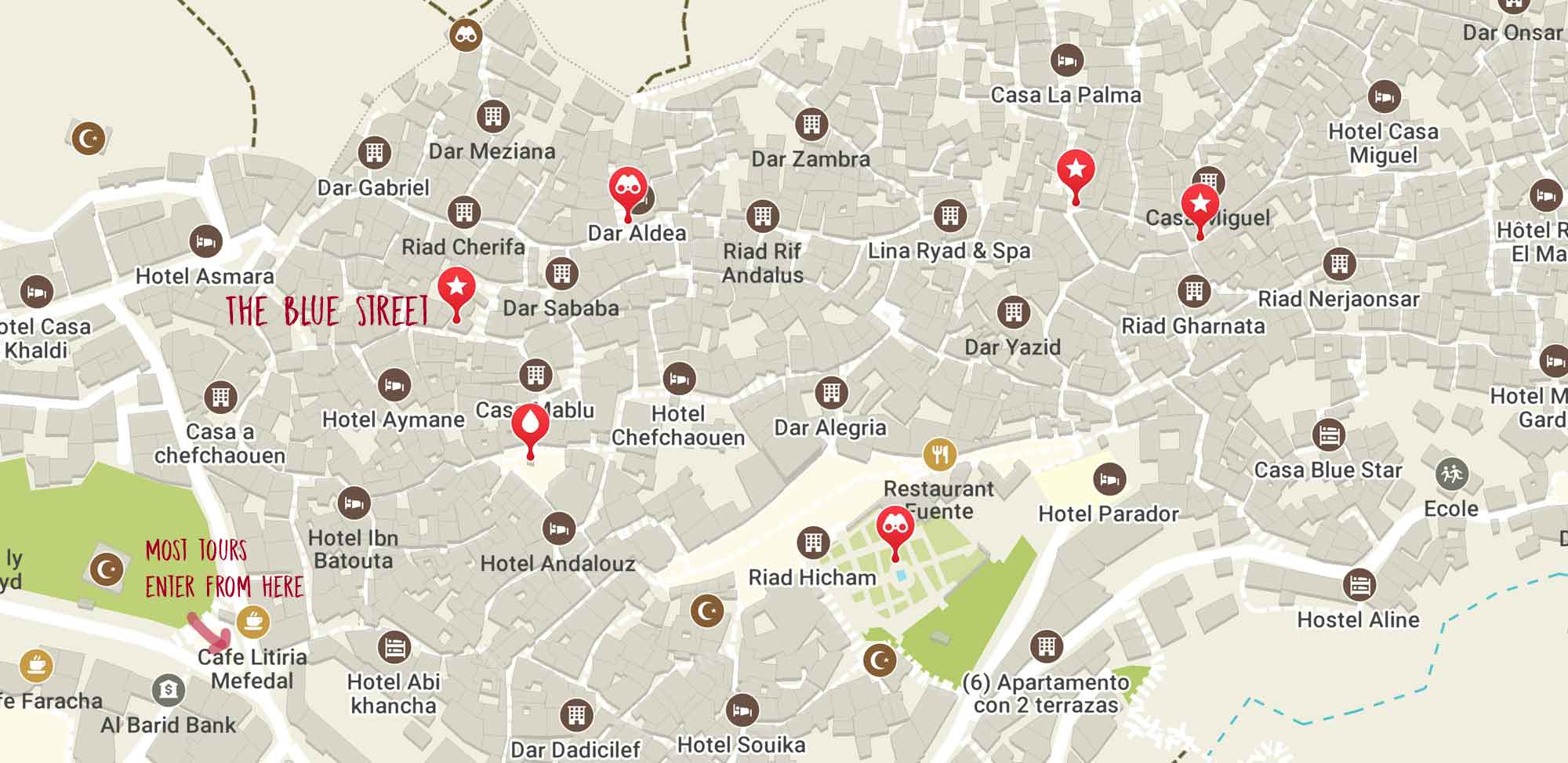 Place El Haouta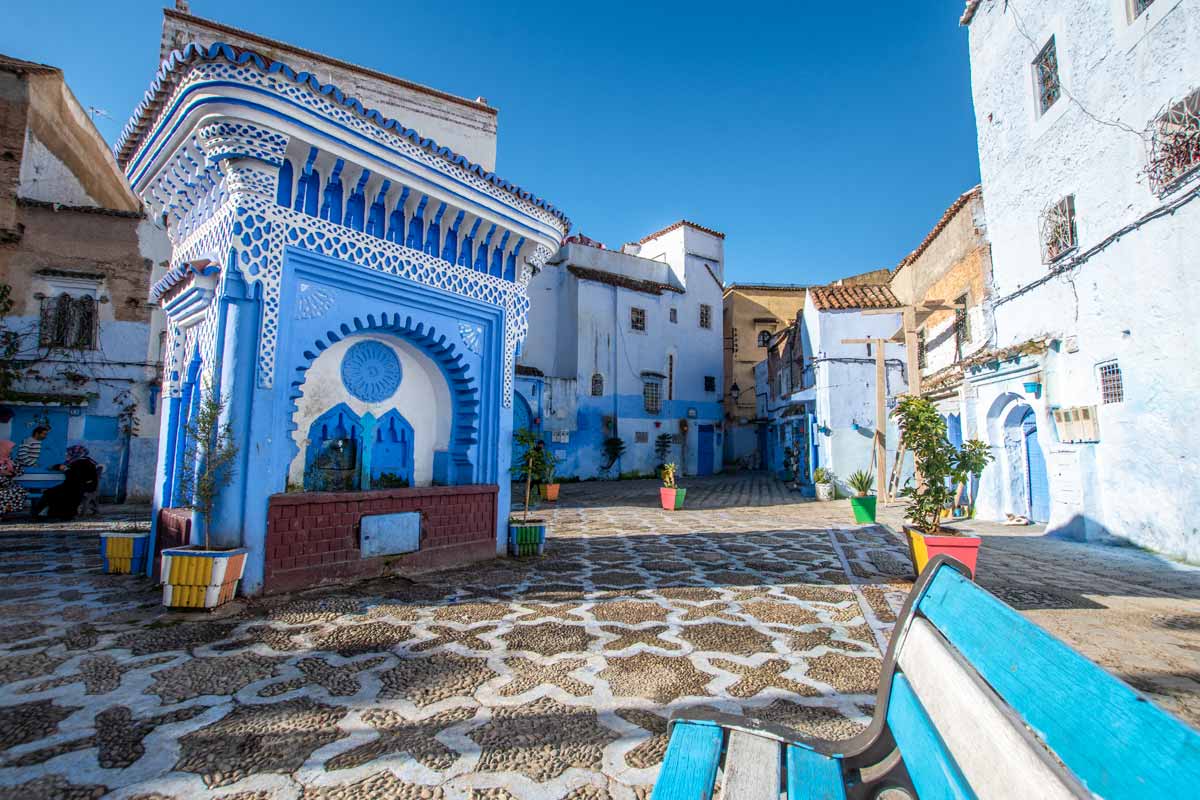 Keep going down the medina, and you'd reach the Haouta square. It's a tiny square with benches and a beautiful water fountain. The houses in the area around the square have some of the prettiest doors I've encountered.
maps.me coordinates – 35.169039, – 5.263705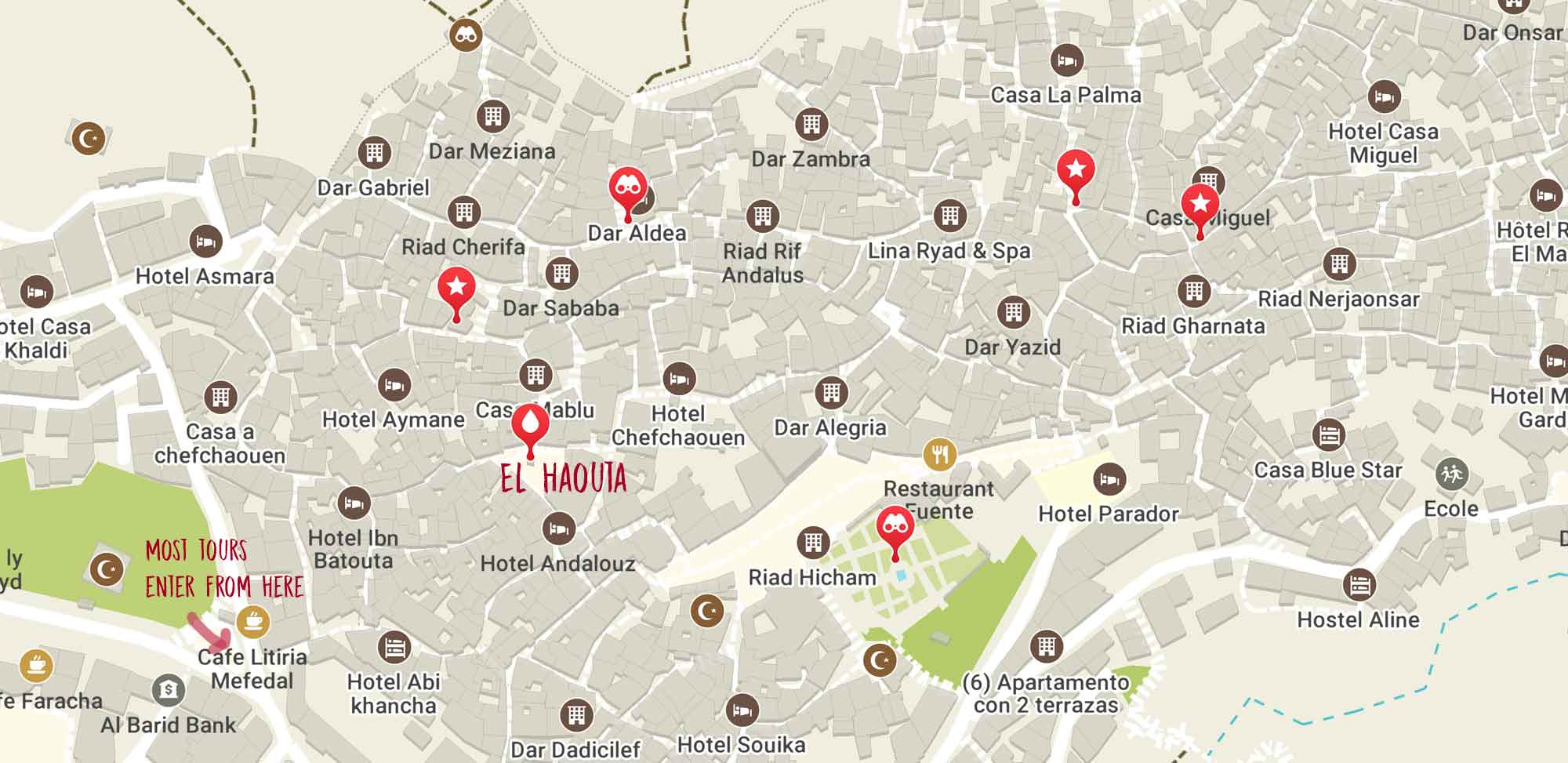 The Arc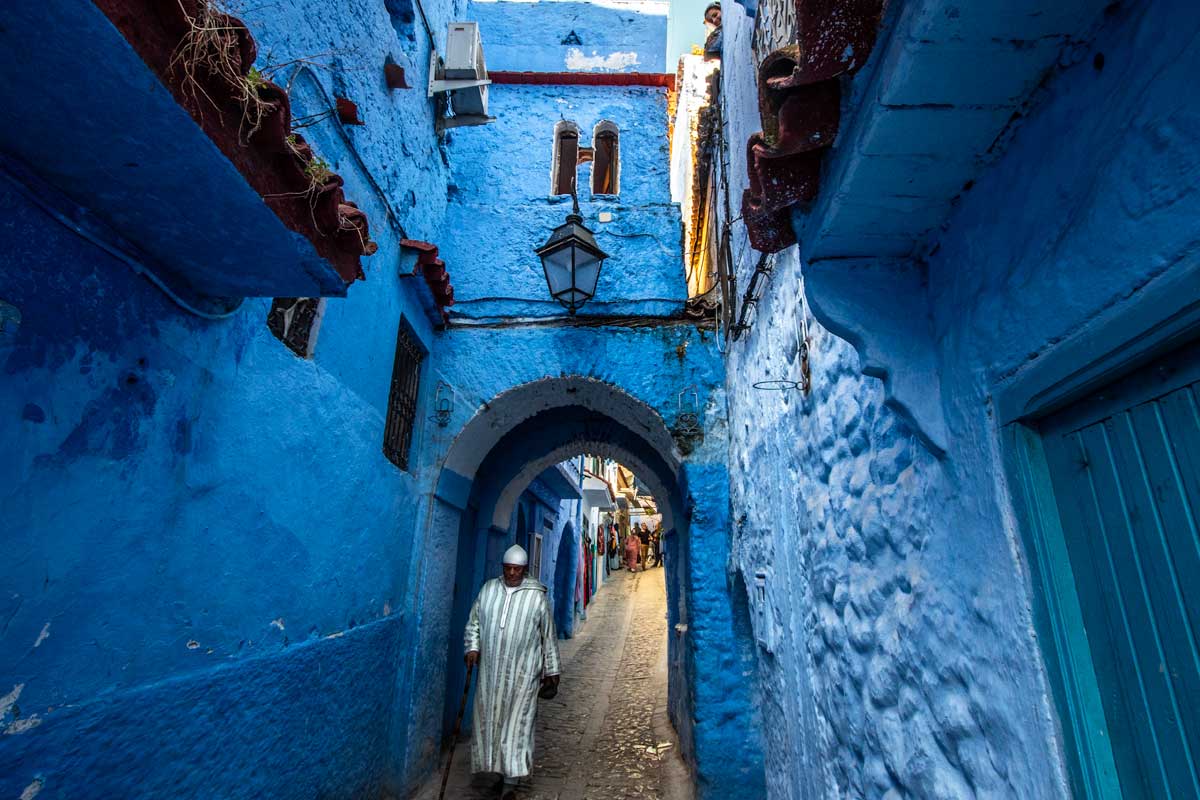 This place is something you can see on a lot of Chefchaouen postcards – a stunning arc over the alley with a person wearing a traditional winter Djellaba.
Well, the arc is situated in the eastern part of town (right next to Riad Zaitouna Chaouen) where there aren't that many tourists, so taking a nice photo shouldn't be a problem. If you want a Moroccan with djellaba on the photo too, better ask him first since a lot of Moroccans don't like being photographed.
maps.me coordinates – 35.169977, – 5.260208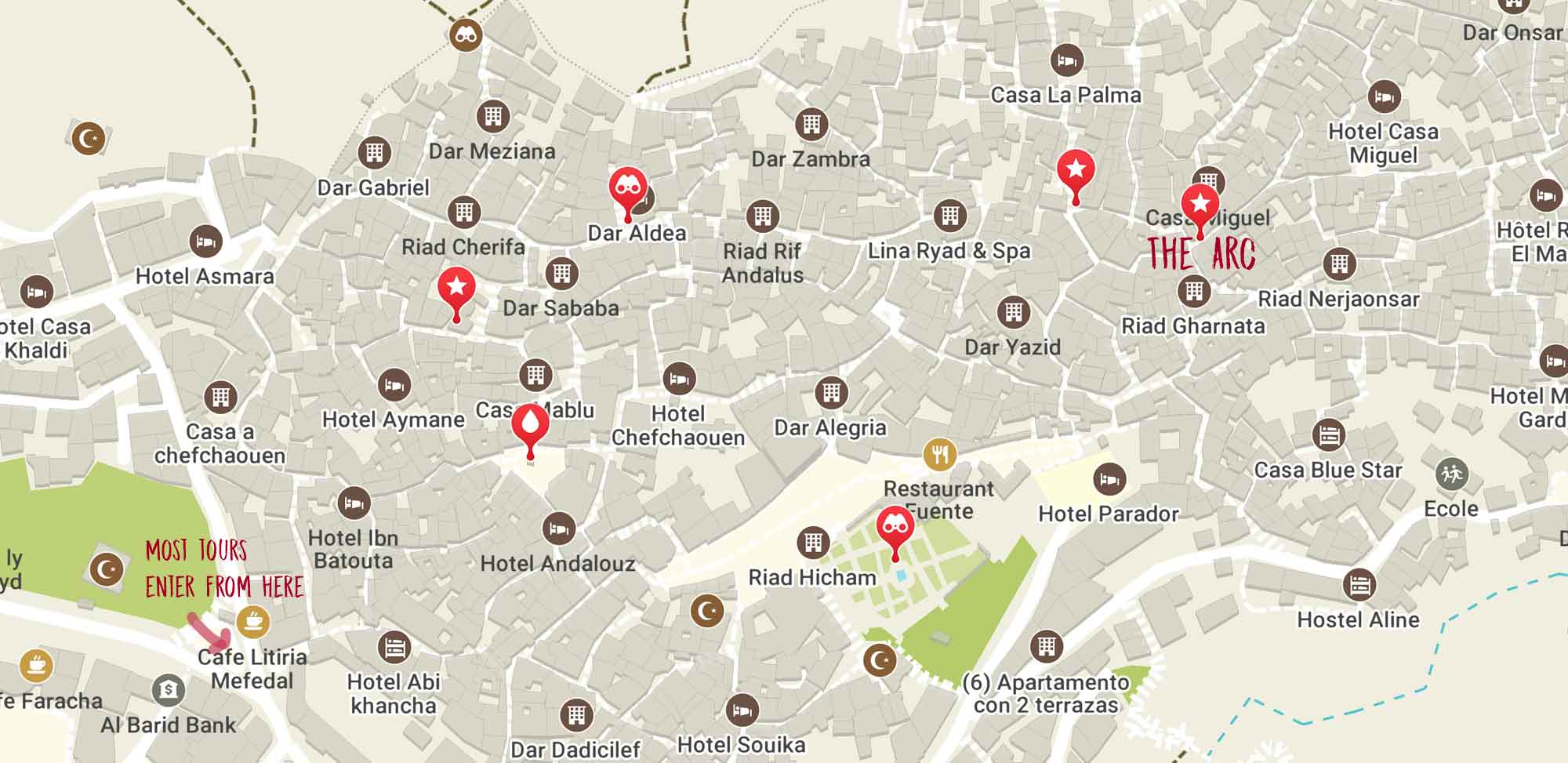 The Paid Set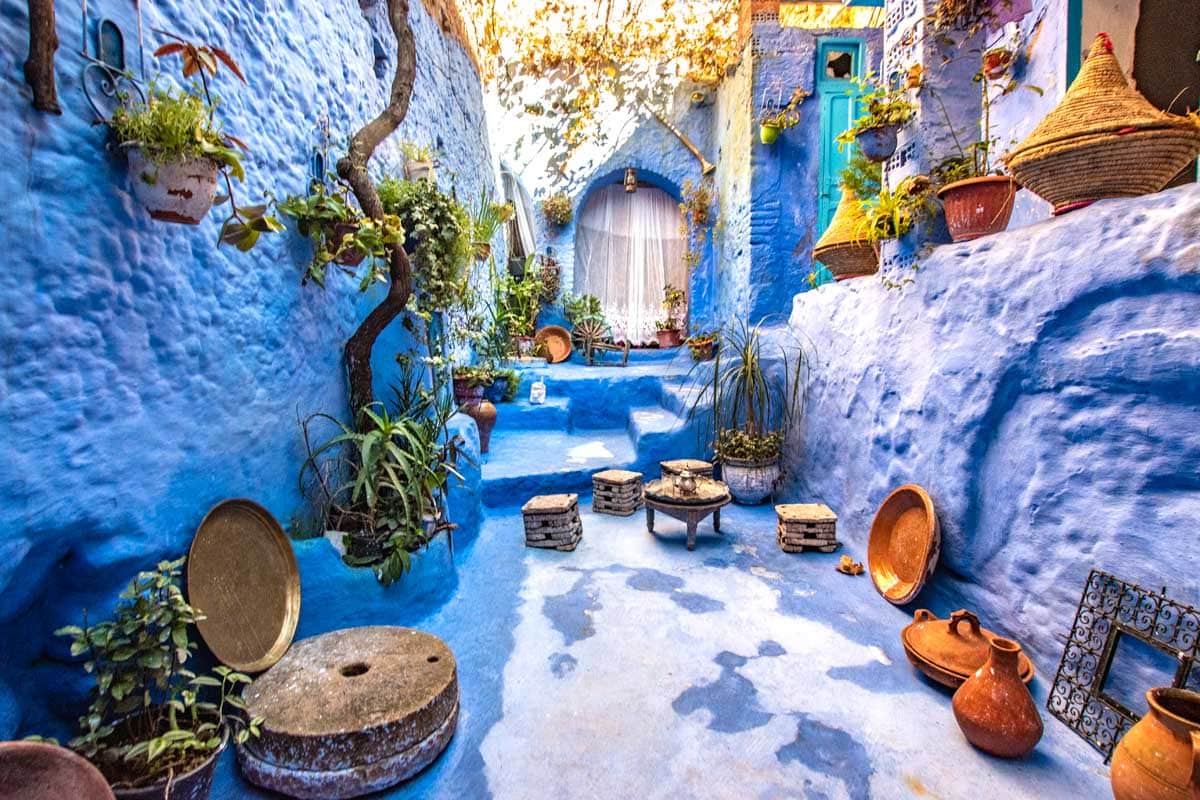 This one is one of the most popular shots on Instagram. The reason why it looks so perfect? it's a set. You pay 5MAD/0.6USD and you have this picturesque setting all to yourself. Everything is well arranged for you to get that perfect photo. And there are no tourists messing with your shot.
If you search the easy Instagram photo – this is your place. It's located right next to a crossroad with a colorful water fountain.
maps.me coordinates – 35.170123, – 5.260857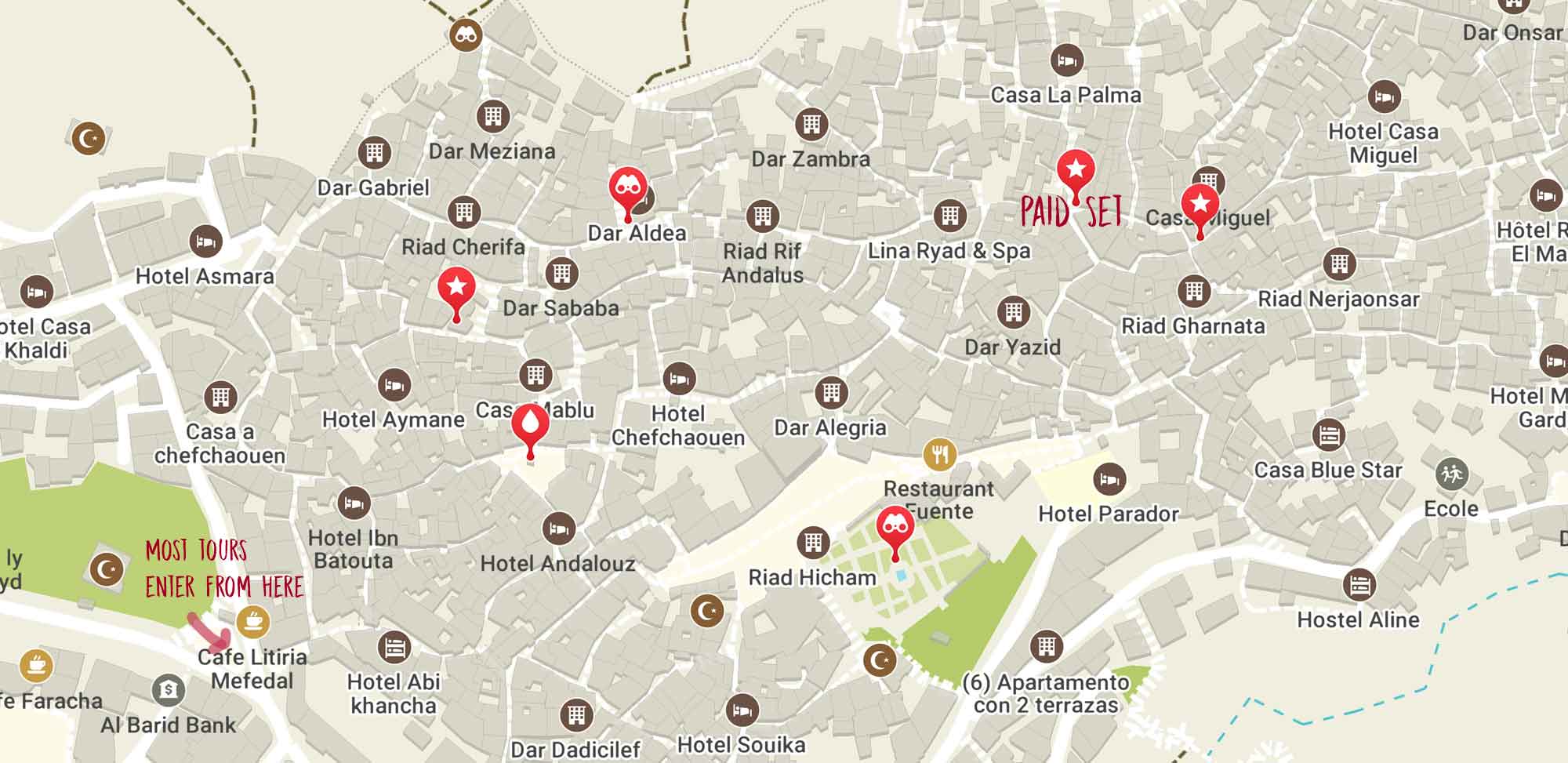 The Kasbah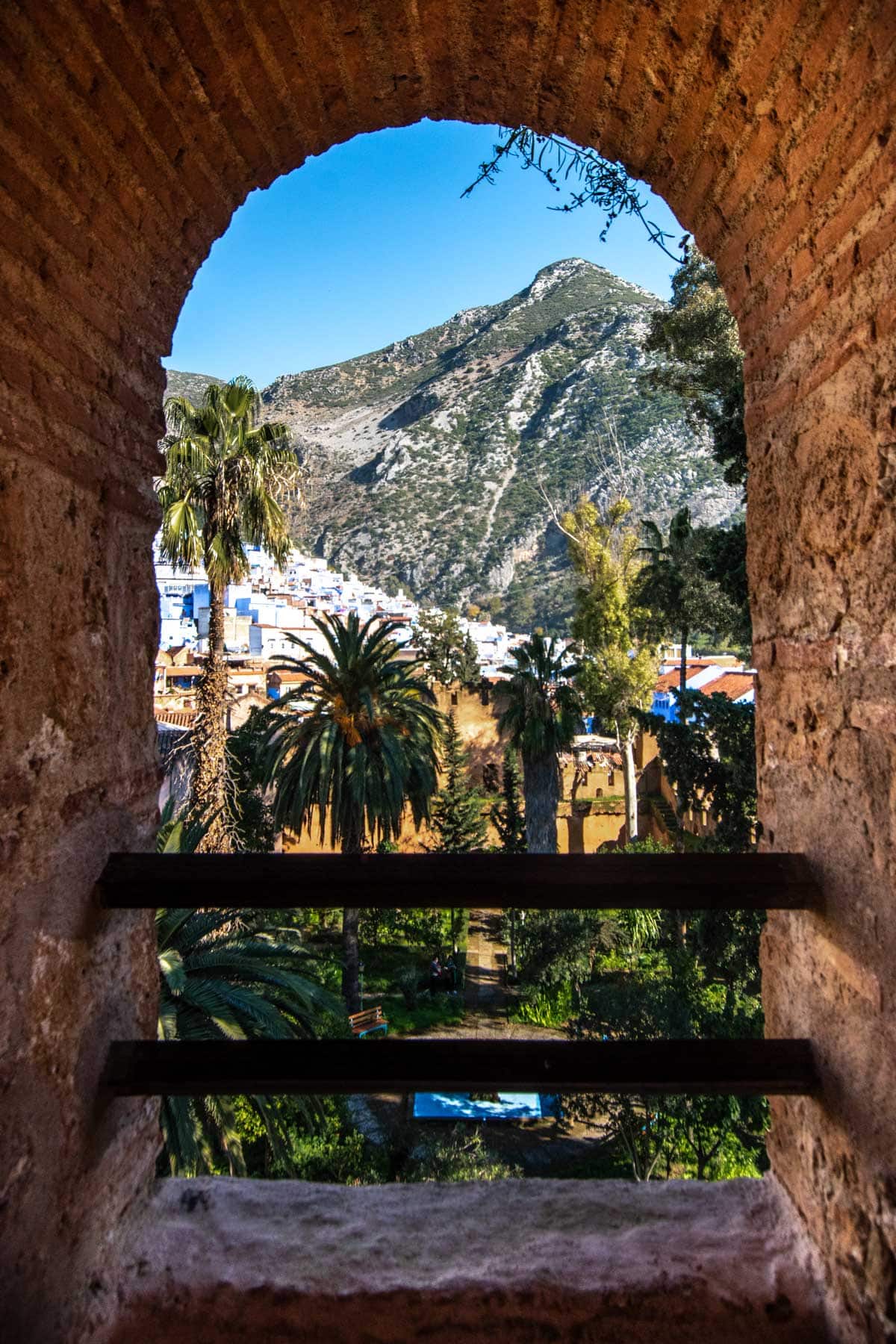 Next on the Chefchaouen photo guide is the Kasbah – the traditional Moroccan castle. The one in Chefchaouen is the center of the medina and has a big square next to it. Skip the square and everything on it (tourist traps alert), and go straight inside the castle (60MAD/6USD entrance).
While the gardens of the Kasbah are a great place to chill a little bit, and there is also a tiny museum (that has no English labels), the place you're looking for is the tower.
By giving you a few floors of panoramic views over the town and some great opportunities to have a window framed mountain photo, the Kasbah's tower most definitely earned its place in my Chefchaouen photo guide.
maps.me coordinates – 35.168602, – 5.261798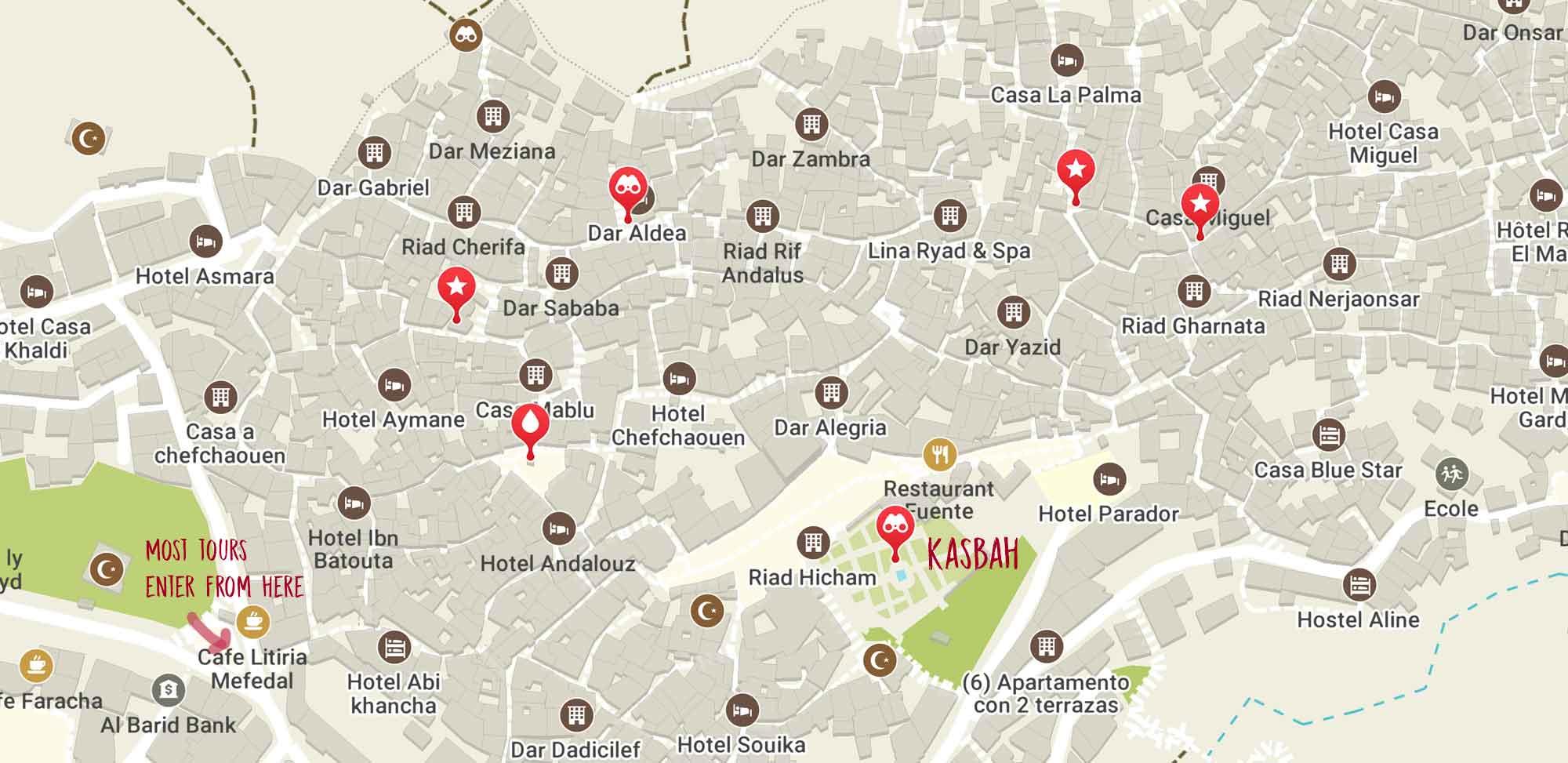 See Also: What NOT to do in Marrakech
The Spanish Mosque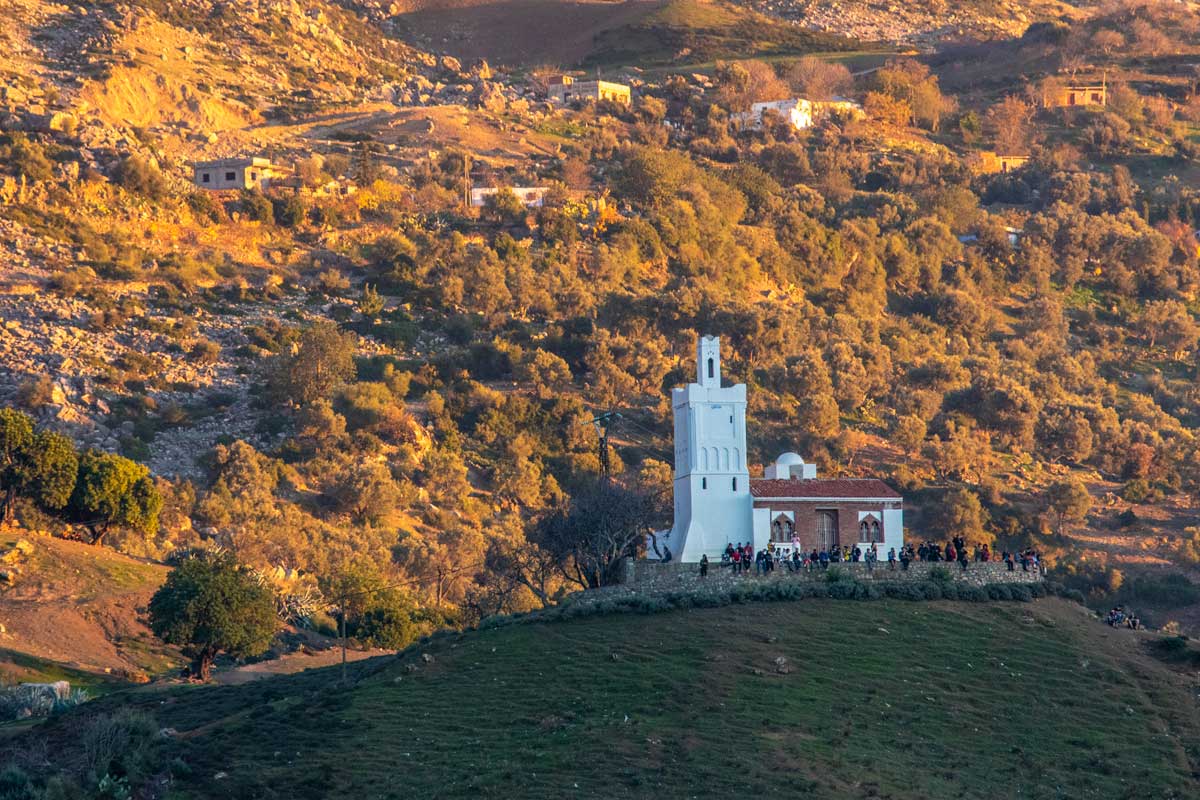 The Spanish Mosque is located a bit outside of town and requires a small hike to reach. Since it's the most popular place to catch the sunset over the city, at the end of the day, the place gets a little crowdy.
maps.me coordinates – 35.165566, – 5.25575


If you're really onto that sunset photo, I suggest you get a riad or AirBnB somewhere in the upper part of the medina.
I booked this lovely house where I had the whole terrace to myself and a view way better than the one from the Spanish Mosque.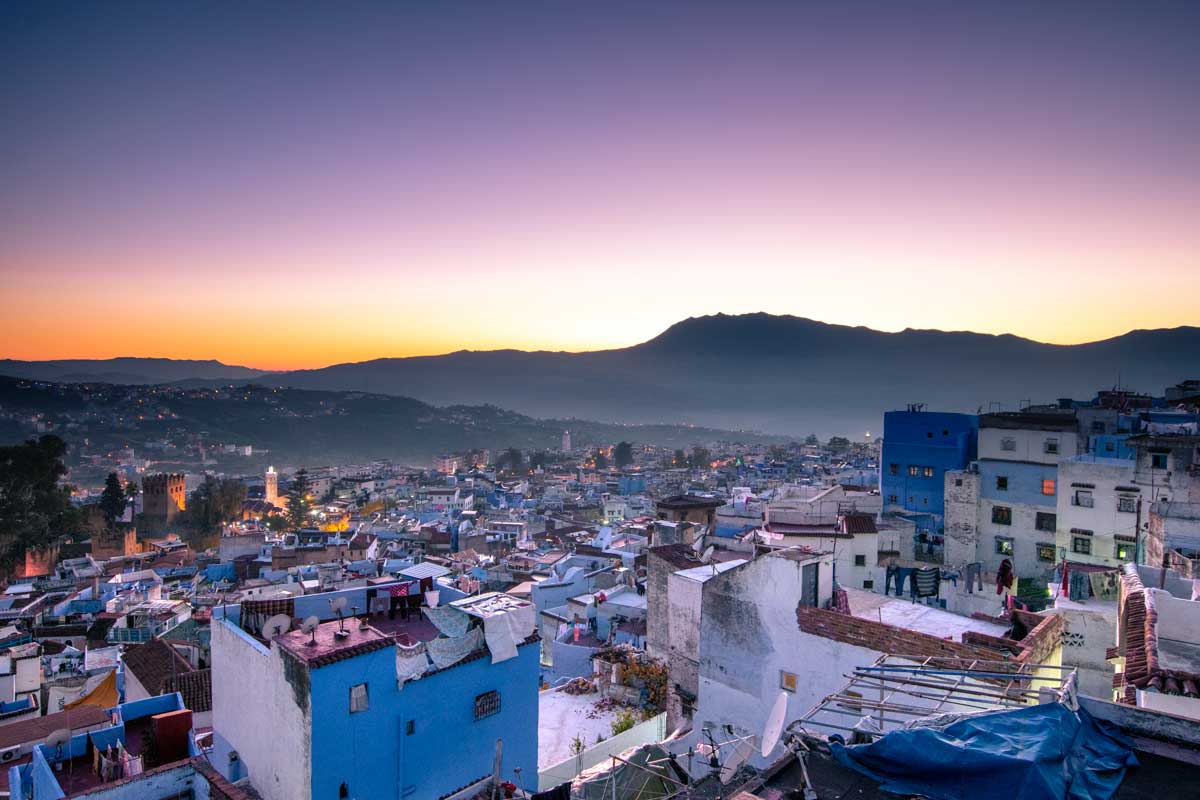 Just Wander Around
Wandering around the blue alleys would present you with endless photo opportunities. Make sure to check not only the main streets but also the small lanes. If a path looks good, go for it!
Don't worry about getting lost, the town is too small for it. Pay special attention to the doors (so beautiful!) and explore all places where you see colorful pots with plants. Those make a great picture!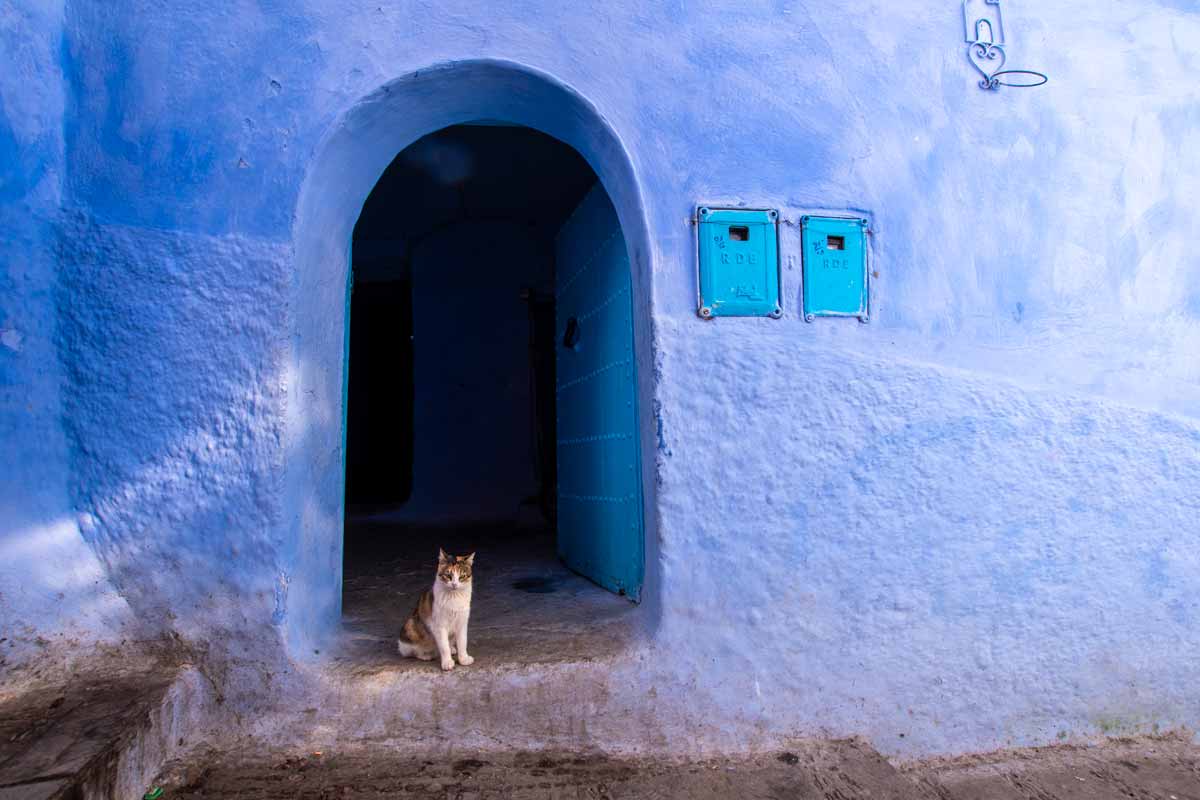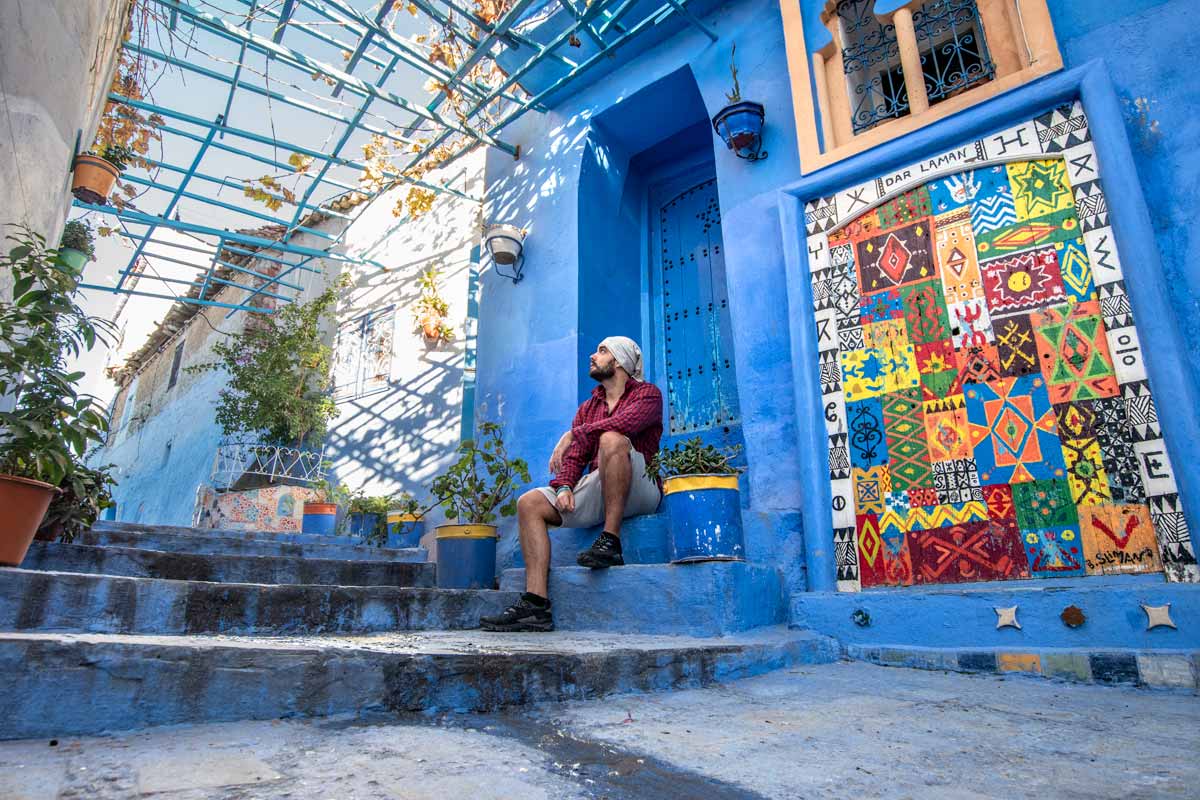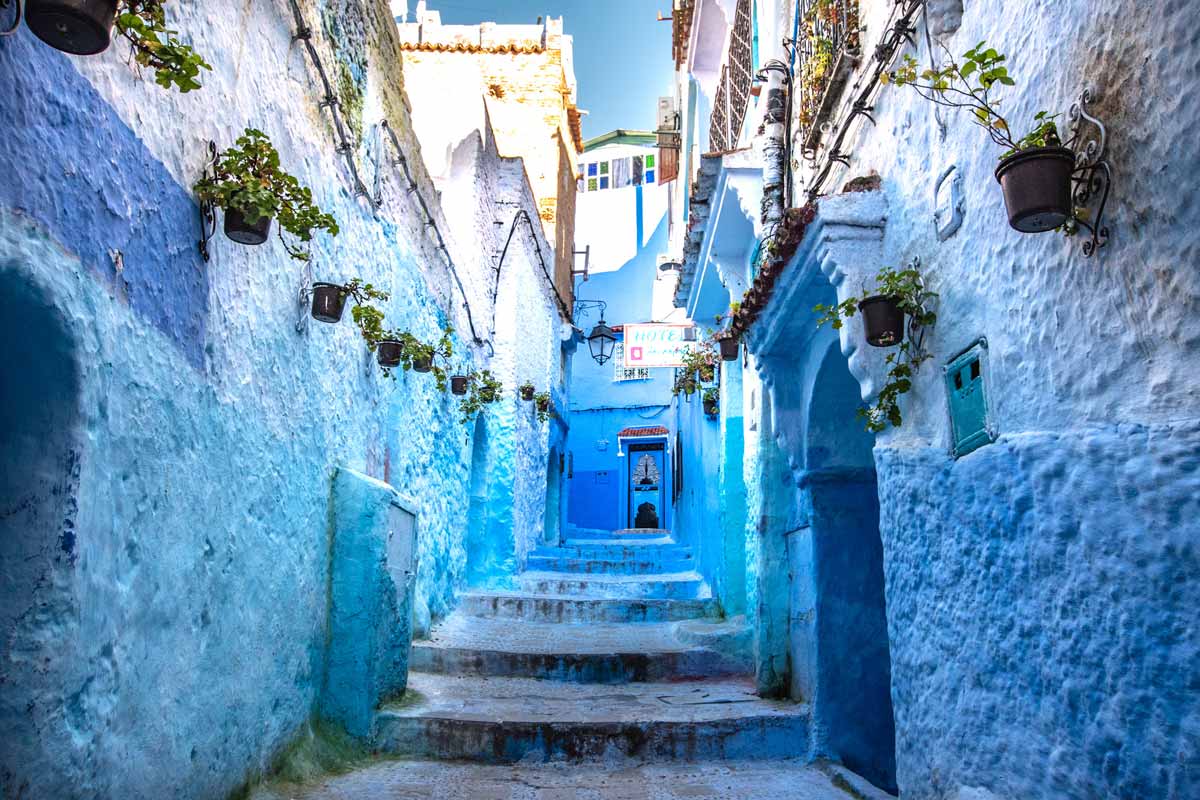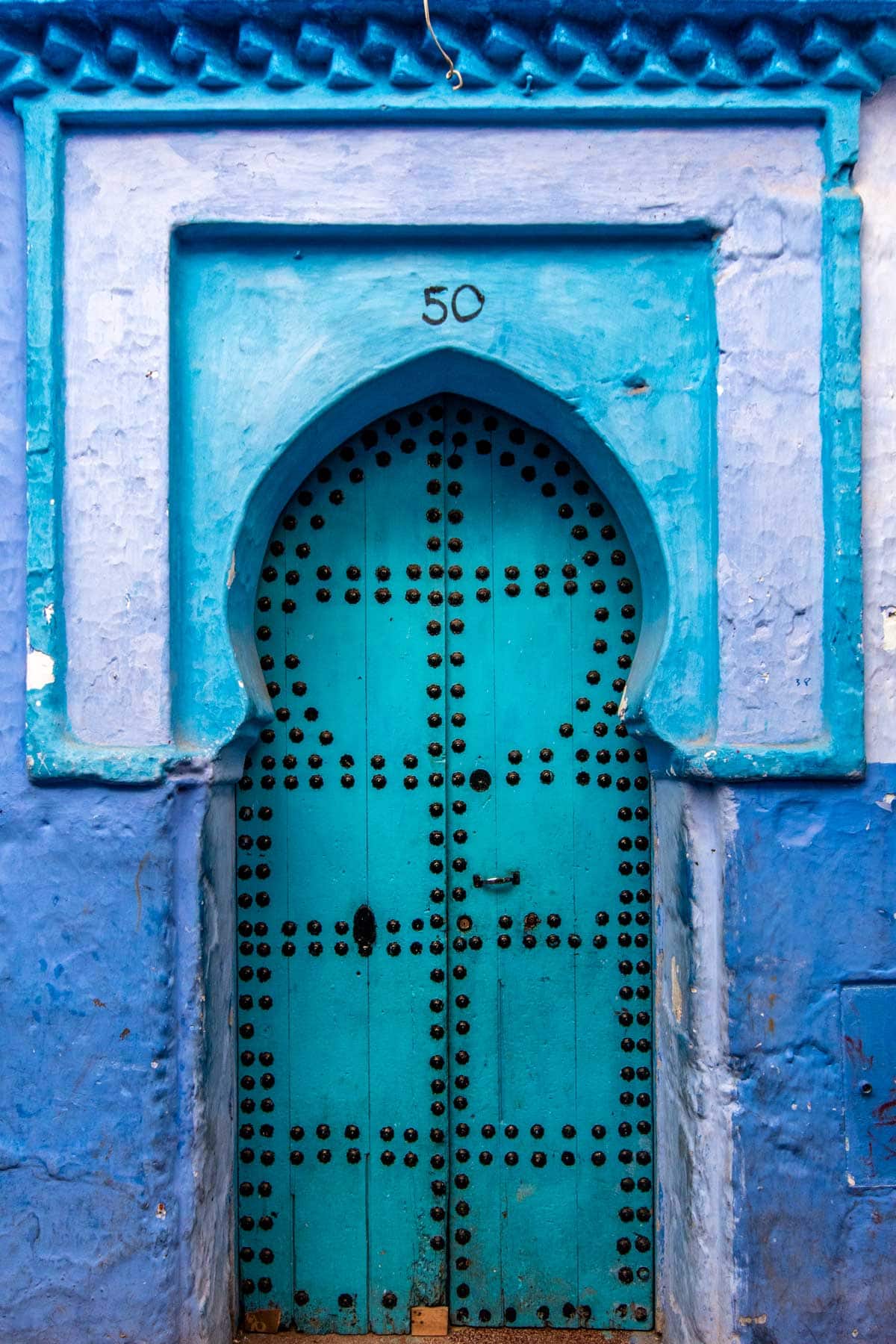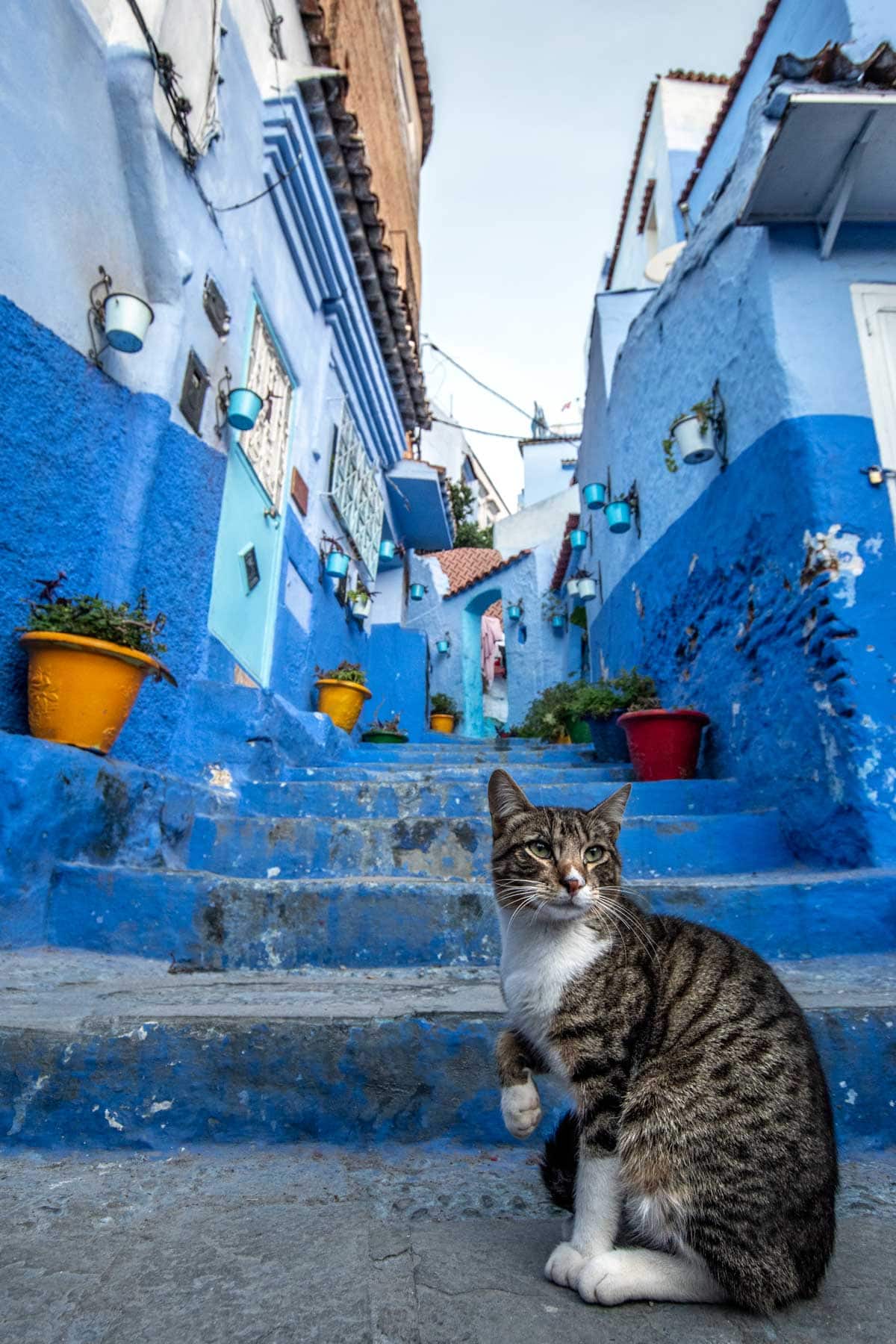 See Also: The Ultimate Morocco Travel Itinerary
Extra Chefchaouen Info
How to get to Chefchaouen?
Even though it's a popular tourist attraction, Chefchaouen is a bit hard to get to.

The most convenient way (most people use) is to rent a car, of course. You can skip all the public transport research and go straight to your hotel. To find the best offers in the country, check the Discover Cars tool, which will compare all the providers in the country.
From Fez, the best way is to take the CTM bus. The journey lasts 4hrs, and the ticket costs around 10-15 USD.
From Tangier, again the best way (again) is to take the CTM bus. It should be less than 3hrs ride and would cost you around 6.50-10 USD. The catch is, there is only one bus per day, leaving at noon. That's why a lot of people use taxis and grand taxis (popular in Morocco, you share them with other passengers and pay only for your seat).
From Casablanca, you can either take the long bus ride (6.5hrs, around 20 USD, leaving at 1:30 PM) or catch the train to any of the nearby towns (Souk el Arbaa or Ksar el-Kebir) and use a bus/taxi after.
From Marrakesh, there is no direct transportation, and you must find a way to any of the other cities mentioned above. Domestic flights are not very expensive in Morocco.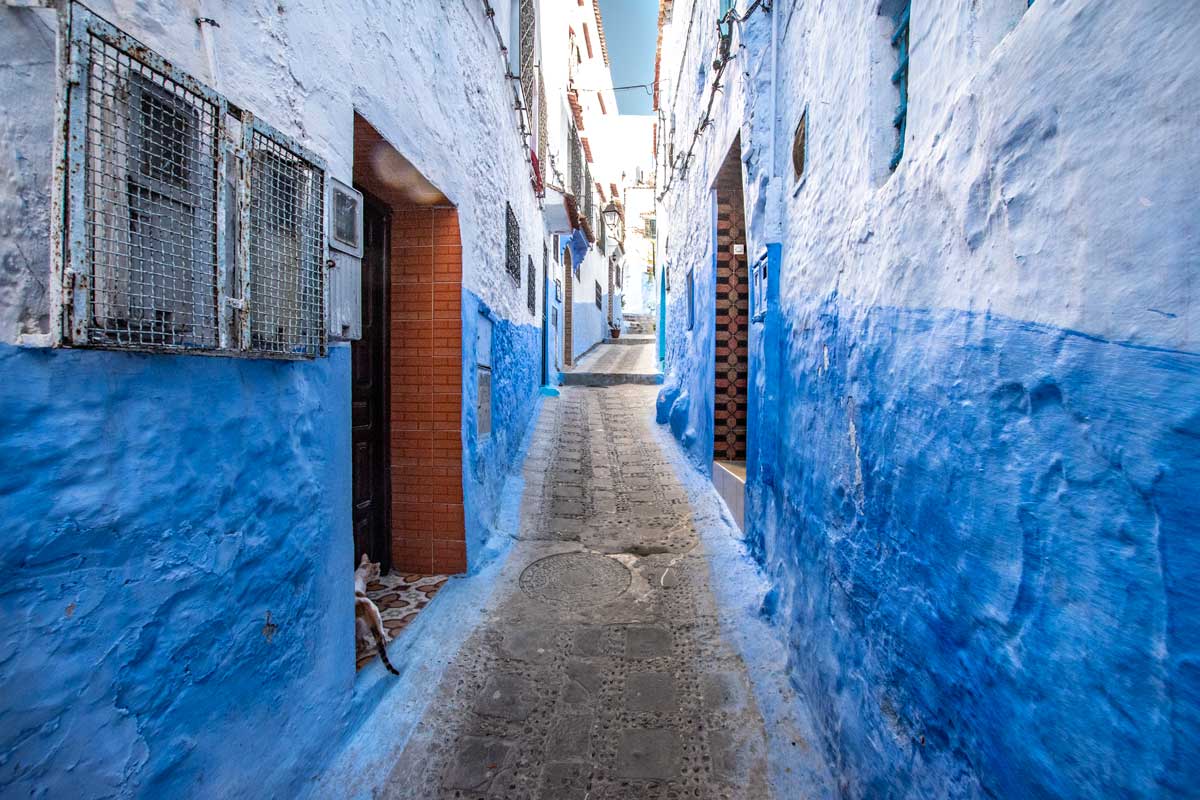 Where to Stay in Chefchaouen?

The Best – Dar Echchaouen Maison d'Hôtes & Riad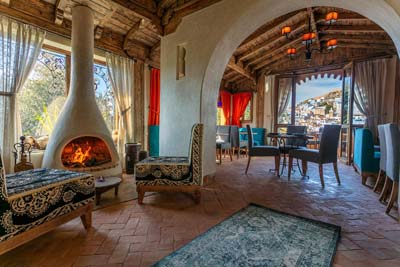 If you want your blue town fairytale to be complete, Dar Echchaouen is the one for you. This incredible riad is opulently decorated to give you the feeling you're part of Scheherazade's greatest stories.
It's situated just a few minutes outside the medina but away from the tourist crowds. It also features an outside pool that is a dream-come-true if your visit happens to be in the summer.
The Hotel – La Petite Chefchaouen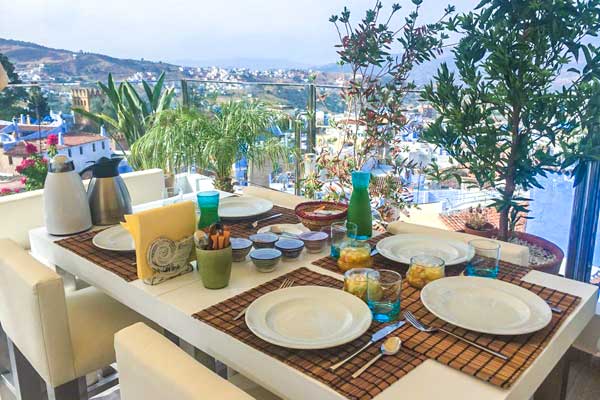 If you're used to hotels and don't want a Bnb or Moroccan riad, La Petite Chefchaouen is probably the best one in town. Located at the very top of the medina, this hotel offers excellent panoramic views and top-notch breakfast!
The Riad – Casa Sabila

If you want to experience what it is like to live in a typical Moroccan home – Casa Sabila is your place. It's located in the east part of town ( the more peaceful one) and only 90 m from Ras Elma Water Source. All rooms are equipped with AC, and there is a great breakfast served on the panoramic terrace.
How to stay safe in Chefchaouen?
Morocco is a developing country, and while I didn't encounter any troubles in Chefchaouen, it's always good to be prepared. From slipping on any of the blue stairs to getting pickpocketed while hunting the perfect photo, various things may go wrong and ruin your vacation.
I currently use HeyMondo for my travels because they have proven themselves to me more than once over the years. The link above will give you a 5% discount, but If you have another favorite provider, that's ok. Just make sure you have one because you never know what may happen.
Chefchaouen Tours
If you haven't get yours yet, here are the top tour options from all over Morocco.
Chefchaouen Photo Guide map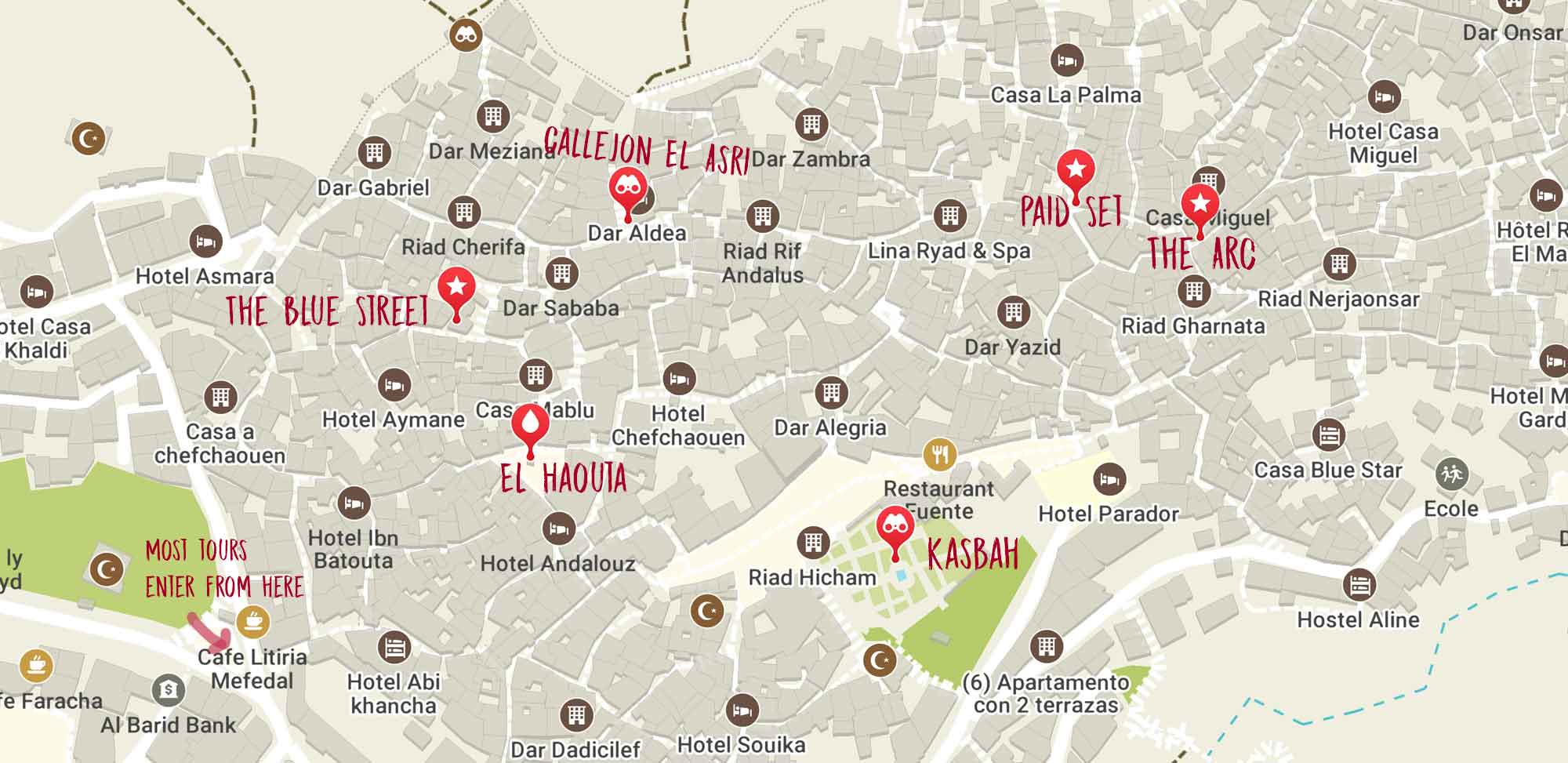 Click the map to enlarge
That's all from me, I hope you find all the best photo spots in Chefchaouen!
————————————
If you haven't planned your trip there yet, find out how I plan my trips!
————————————
I have 14 bucket list ideas for Morocco. See my impossible bucket list of 1700+ adventures!

Is Chefchaouen on your bucket list?
---
Some of the above are affiliate links and I will earn a percentage of the sale if you purchase through them at no extra cost to you. This helps keep my site running – so thanks in advance for your support!