Legendary Marrakech, the "Red City", the "Ochre City", the "Daughter of the Desert" – no matter how you named it, Marrakesh is one of the most iconic places in the world and a definite must-see! 
Dubbed as "a drum that beats an African identity into the complex soul of Morocco", there is plenty of information out there about what to do and see in Marrakech, but after my visit, I wasn't as charmed as I expected. Don't get me wrong, it's still a fantastic place with a unique culture and vibrant soul, but being as famous as it is, Marrakech lost a bit of authenticity and became waay too touristy for my taste.
Having said that, I decided to write about all the things NOT to do in Marrakech and give you the alternatives that will save you time, money and maybe even a food poisoning.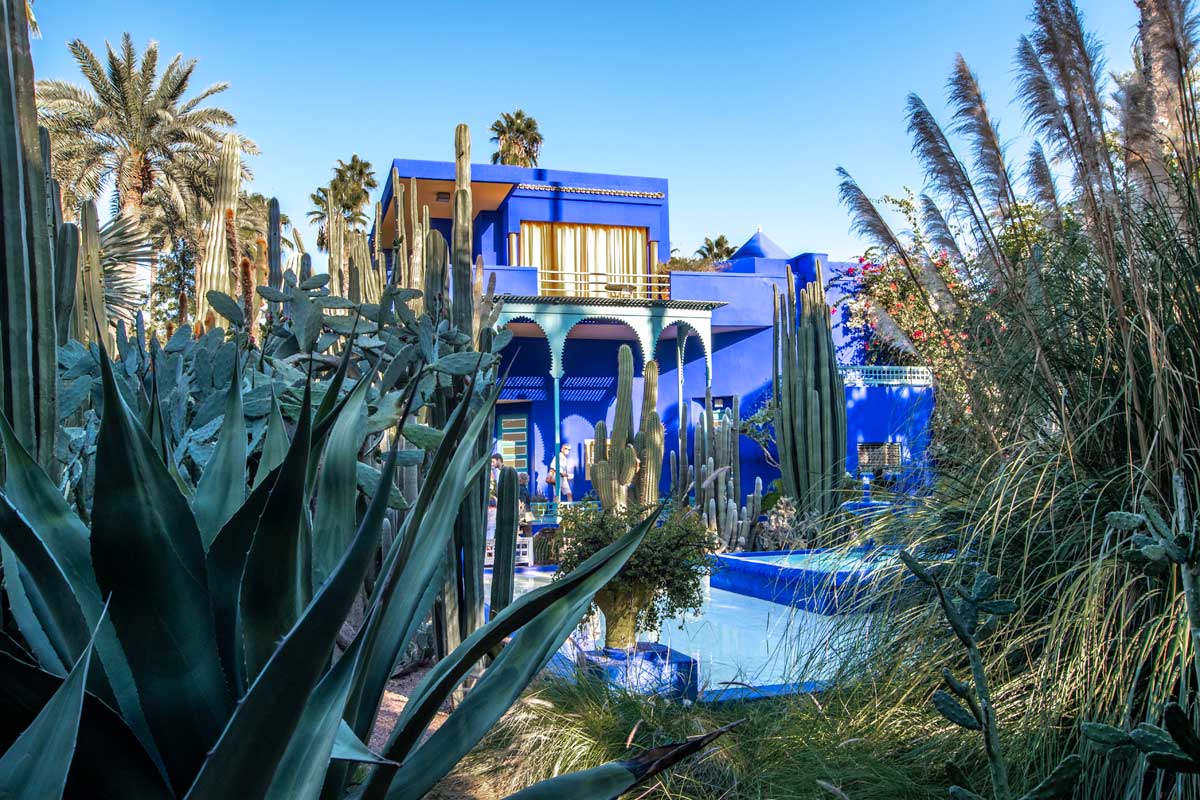 Ranked number one in TripAdvisor about things to do in Marrakech, Jardine Majorelle was the biggest let-down I had in a long time. Years ago, before it became so popular, the garden may have been a nice place to unwind from the overwhelming chaos of the medina. Today, however, the garden is way too overcrowded and overpriced.
Let me share my experience in detail – I went there in December (off season) around 8:30 (it opens at 8 AM) hoping to get some top-notch photos – free of tourists. No such luck, there was already a queue of 10-15 people waiting.
Inside, it was even worse. A few dozen people were already wandering around the not-that-major-garden and ruining every effort for a peaceful experience. The Berber museum hosted inside, while pleasant, is only three rooms big and can be explored in 15. 
The Yves Saint Loran Museum that is located next to Jardine Majorelle, is part of the combined ticket of the gardens so I'll include my impressions here .
I understand it's a specific museum that many girls and fashion enthusiast would fall in love to, but for me, it was an overpriced room full of famous dresses.
Prices
Jardine Majorelle – 70MAD / 7USD
Berber Museum – 30MAD / 3USD
YSL Museum – 100MAD / 10.50 USD
Combined ticket (all 3) – 180MAD / 19USD
Why Skip?
Just meh | Overpriced | Overcrowded | Bad location outside the medina
What to do instead
The Bahia Palace is another famous Marrakech sight (number 2 in TripAdvisor) which is actually worth it. If you go early enough, unlike the gardens, there is a big chance to have the palace to yourself.
There are plenty of rooms and gardens to explore and even enjoy fine Moroccan craftsmanship. The palace itself is a masterpiece of architecture. Built in the late 19th century, intended to be the greatest palace of its time, it completely deserves its name Bahia ( meaning Brilliance ). Palace is located in the medina; just a short walk away from the Jemaa el-Fna square.
Avoid the monkey business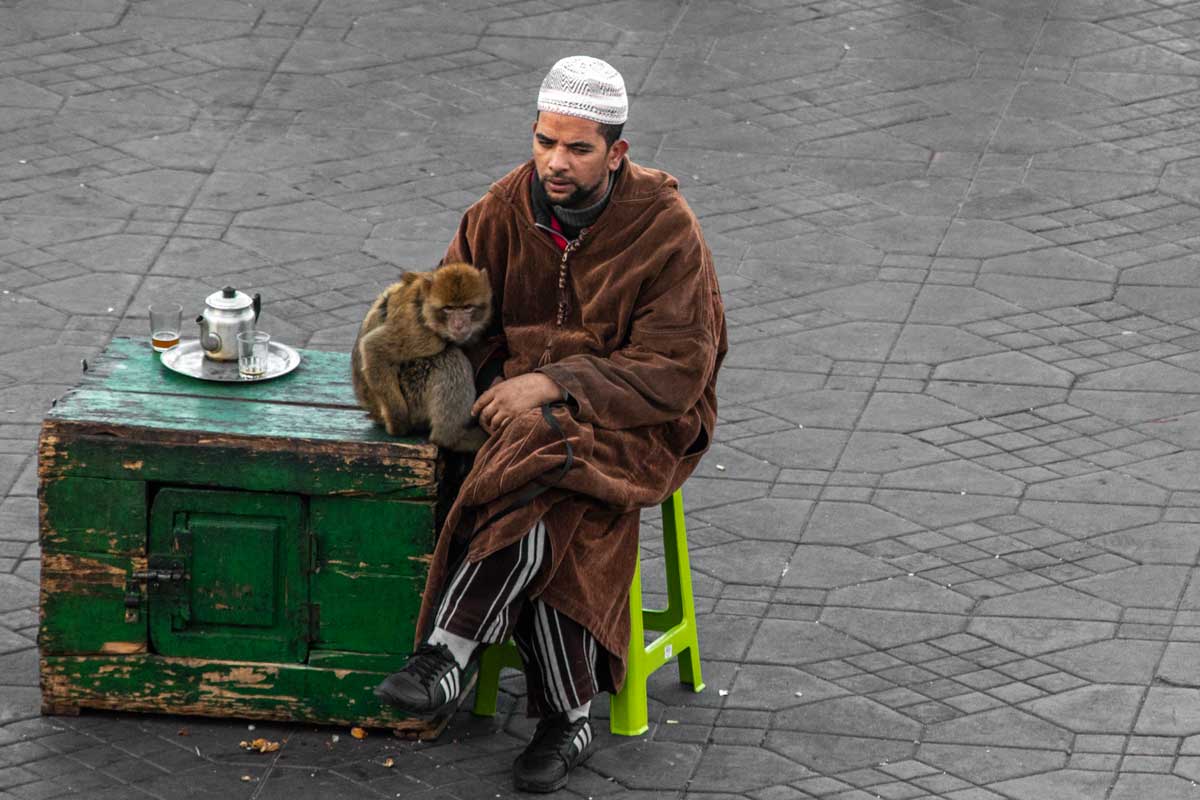 Been in Marrakech, there is no way you'd miss the Jemaa el-Fna square. I call it the Rome of Marrakesh since all roads in the medina lead there ( psst, i got an awesome post about the real Rome here ). The square offers an exotic mishmash of performers, food stalls, fortune tellers, henna artist and all kinds of "typical" Moroccan attractions.
Enjoy the performers, skip the food stalls (more on that later), get your future read or maybe even get a henna masterpiece on your hand. Whatever you do, however, stay away from the monkey tamers and the snake charmers.
They are not only severely mistreating the animals ( wherever you go in the world, please be a responsible traveler and skip any animal mistreating attractions or transportation! ) but they will try to scam you and in some cases – rob you. How does it work? You mind your own business, and someone puts a monkey on your back, encouraging you to take a picture with it. You take the picture, and now you need to either pay a hefty tip or get in a conflict with the tamer and all his friends.
Also, with a monkey on your shoulder, your attention is preoccupied, and just like that, your wallet/watch is gone. Same with the snake charmers. Dare to take a photo of them – you have to pay. Get the snake on your shoulders? You need to pay double to remove it. Even you didn't want it there in the first place.
Why Skip?
Animal abuse | Could be costly | Chance to get pickpocketed
What to do instead
An hour or two before sunset, go into one of the bars/restaurants surrounding the square. Jemaa el-Fna completely transforms when the sun falls and just observing the process is one of the best shows in Marrakesh. I went to Cafe Glacier which has one of the best views. Consumption is required, but you can buy as little as a mint tea and enjoy the show.
The Marrakesh Museum is not worth it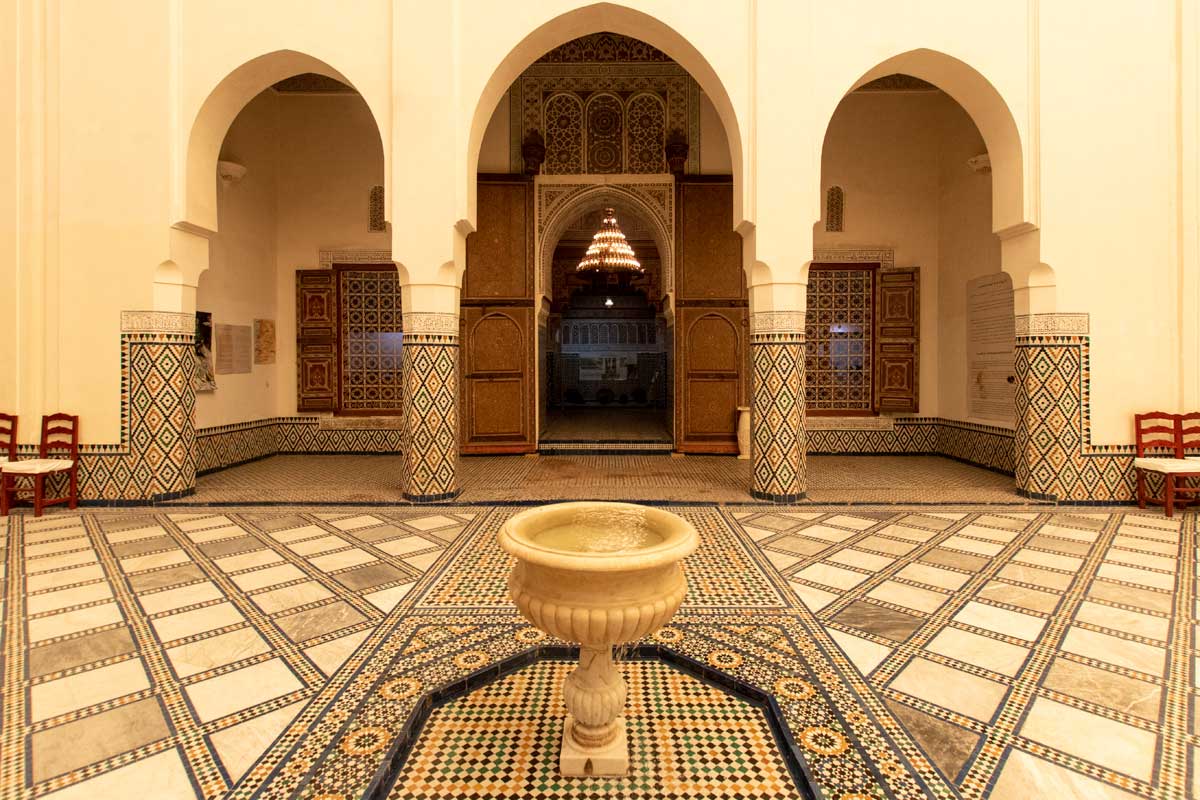 Housed in a 19th-century palace, the Marrakesh museum is a collection of everything that has some connection to Morocco. First two halls are an art museum ( where you can buy the paintings ) followed by a few rooms with weapons and artifacts, even some clothing. With such a diverse collection, you expect to find at least a few intriguing pieces. If you do, please let me know cause I sure as hell didn't.
The architecture is formidable but poorly maintained. There is also this horrible yellow roof covering the inner courtyard that makes the whole room yellowish thus ruining every decent photo opportunity.
Forgot to mention, the entry fee is 50MAD –  totally unjustified by what the museum has to offer.
Note: The museum would be worth a visit in 2020 since the 50MAD ticket also covers the nearby Ben Youssef Madrassa. The most beautiful madrassa in the country is a bucket list must-see but currently under renovation until sometime in 2020. Once open It would be unreasonable to skip the museum.
Prices
Entrance – 50MAD / 5USD
Why Skip?
Just meh | Overpriced
What to do instead
A lovely little museum, located in the heart of the medina, The Photography Museum was one of the most pleasurable places I've stumbled upon in Marrakesh. While the Marrakesh Museum took me less than 30 minutes to explore, the photography one was an extremely enjoyable trip through time that I spent a few hours into.
Besides the world-class pictures, there is a tiny cinema room, where you can learn more about the photo history of the city and relax a little bit. There is also a rooftop café serving pretty good tajine and offering excellent panoramic views.
Price: 50MAD / 5USD – multy-entry ticket
Dont waste your time with the Secret Gardens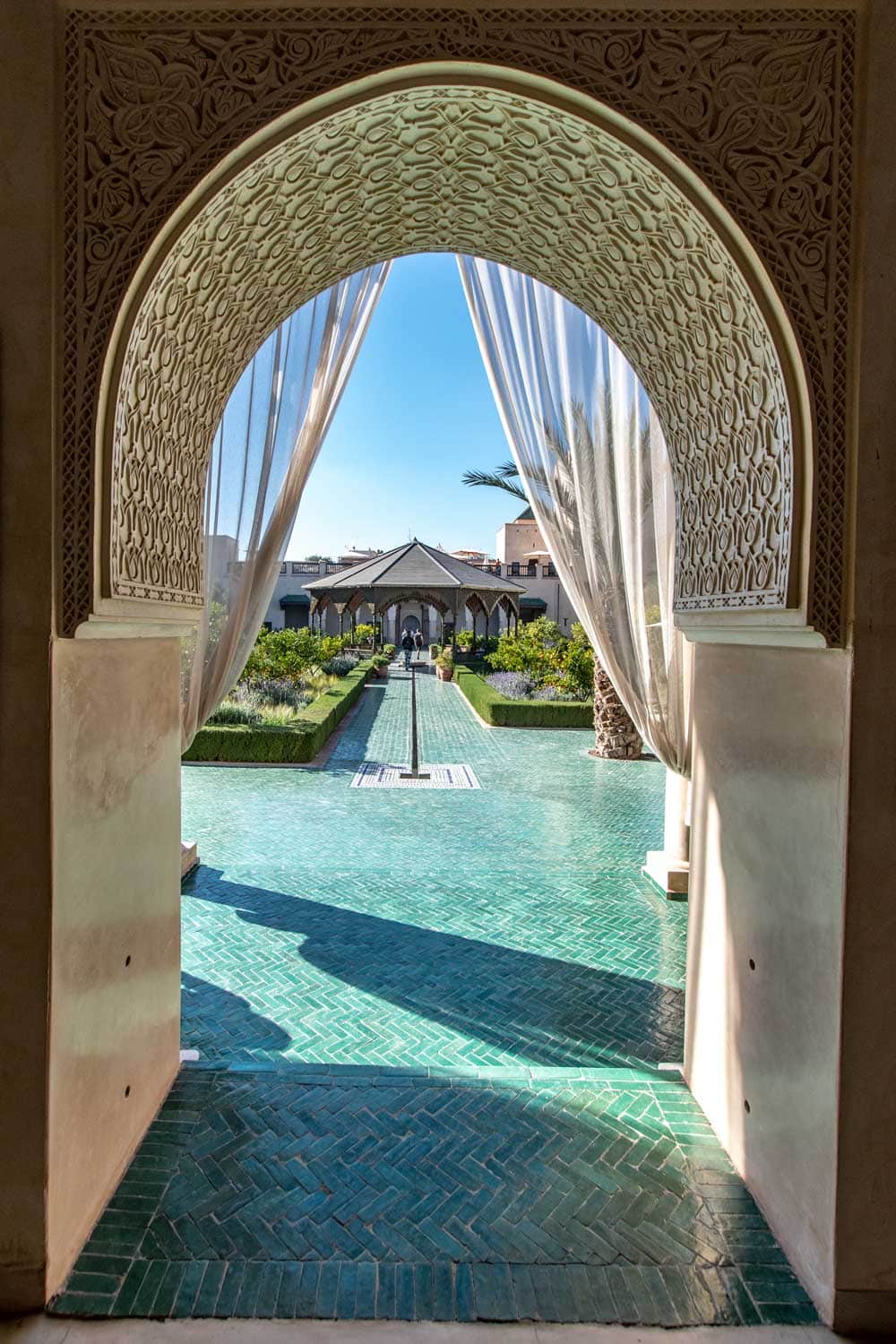 Another garden, another skip. This one is not nearly as famous as Jardine Majorelle and it's way better positioned in the medina. Why skip then? There is an entry fee but absolutely nothing of interest inside. It's supposed to be the oldest riad in Marrakech, but it feels more like a garden coffee shop ( there are a few coffee shops actually ).
There is a tower with some lovely panorama views, but of course, you have to pay extra (30MAD) to get there. If the entry was free, the Secret Gardens wouldn't have been in my Not to do in Marrakesh list. The price of 50MAD, however, cemented its place here.
Prices
Entrance – 50MAD / 5USD
Panoramic Tower – 30MAD / 3USD
Why Skip?
Just meh | Overpriced
What to do instead
For a 10MAD less, you may visit the Saadian Tombs and enjoy one of the most prominent Moroccan architecture examples out there. Located next to the mosque of the Kasbah, the tombs are one of the only remains of the Saadian dynasty that reigned over the golden age of Marrakech between 1524 to 1659.
To see the most famous hall there – the Chamber of the Twelve Columns- you may have to wait on one extra queue. It's one of the most beautiful halls I've seen anywhere in the world (and I've been to plenty of spectacular palaces, temples and architecture wonders ) and it's totally worth the wait
Price: 70MAD / 7USD
Say no to the street food at the medina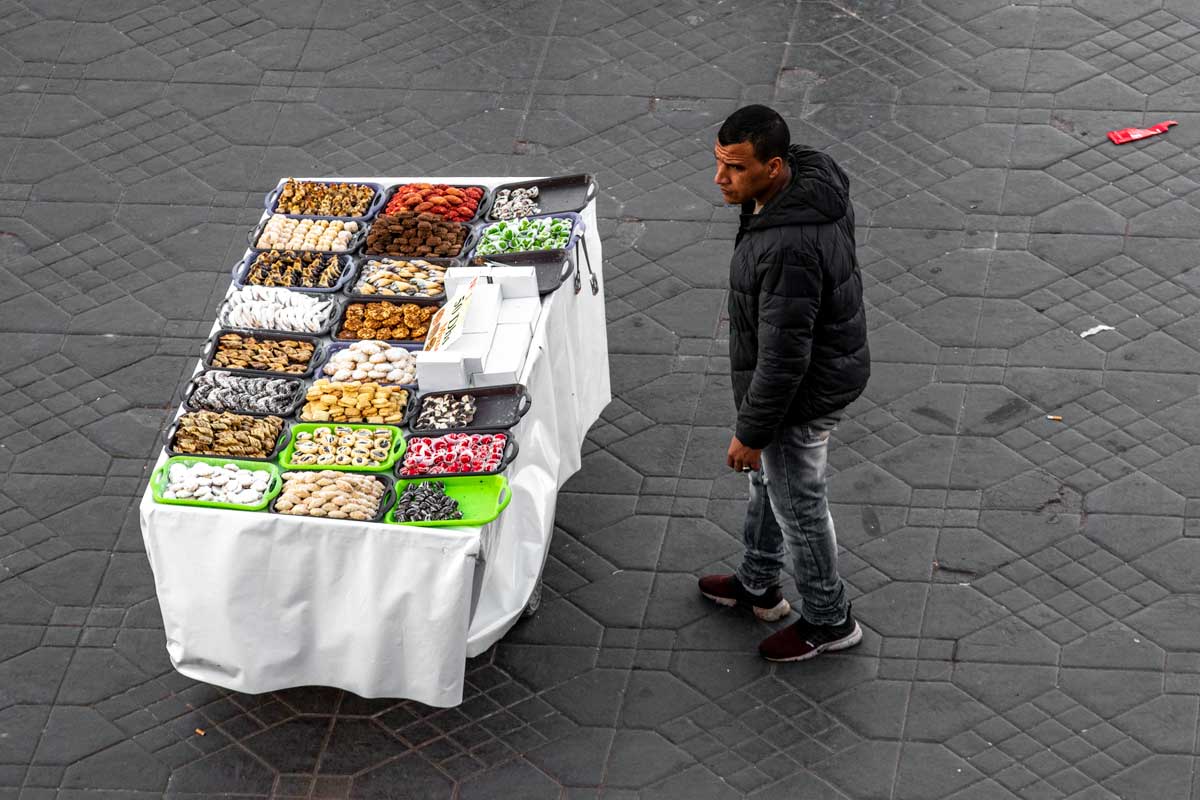 The Marrakech medina is this incredible exotic place that will overwhelm all your senses. Stalls with various typical Moroccan delicacies are a regular view. And I know, getting a cookie from the old man dressed in the quirky traditional red Moroccan robe is an experience by itself. So is grabbing a bite at one of the numerous stalls that pop up every evening on the Jamal el-Fnaa square.
I urge you to reconsider it though. The hygiene of these places is absolutely abysmal and getting a food poisoning there is not a rare case. Actually, 75% of the Moroccan travelers I talked to had some sort of bowel discomfort while visiting Marrakech.
What to do instead
Go to one of the many cafes and restaurants nearby. Always check the reviews before and avoid eating any salads (salads are washed with tap water, and the tap water in Morocco is not safe even for the locals).
Another good idea is booking a cooking class on one of your first days. There you'll be taught how to carefully pick fresh products from the local market and create the stunning dishes Moroccan cuisine is famous for. Nothing safer than a tajine created by yourself!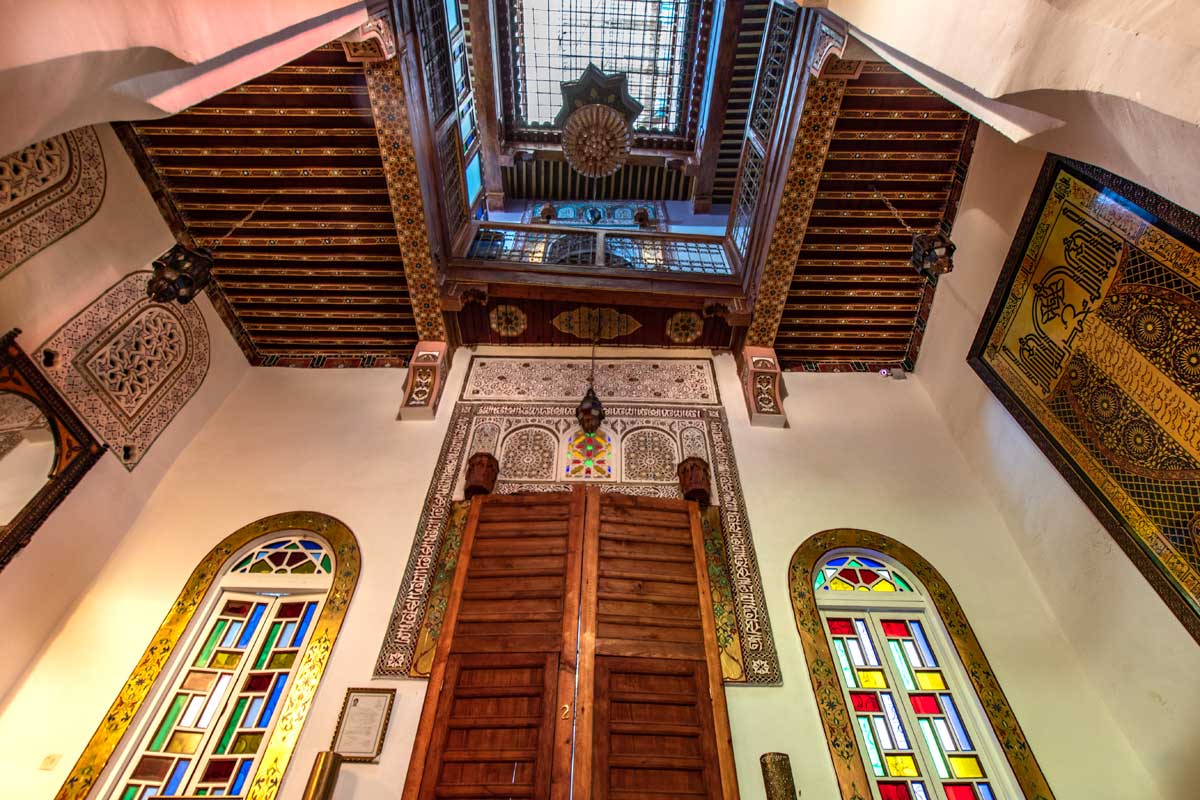 Oh, come on now, what's so wrong with the hotels to be included in the NOT to do in Marrakesh List. Absolutely nothing wrong, there is just a better alternative.
If you want to experience Marrakesh (and Morocco as a whole), there is no better way than staying in a riad inside the medina. What's a riad? The riads are the traditional Moroccan house with two or more stories around an Andalusian-style courtyard that contained a fountain.
It's a weird feeling staying in a riad (one I stayed in had my room right on the entrance, so it felt like I'm sleeping in the reception) but no doubt a very unique experience that will contribute massively to your authentic Moroccan experience.
Castaway Tip
The riads are designed to keep cool so If you travel during the winter, make sure the one you pick has a heater.
Castaway Tip 2
In google maps (or maps.me or any map app) The riads are never shown on the exact place they really are. Try to book a transfer from the airport to avoid the long search in the medina maze, especially if you arrive after dark.
Bonus – Which Sahara day trip is the nice one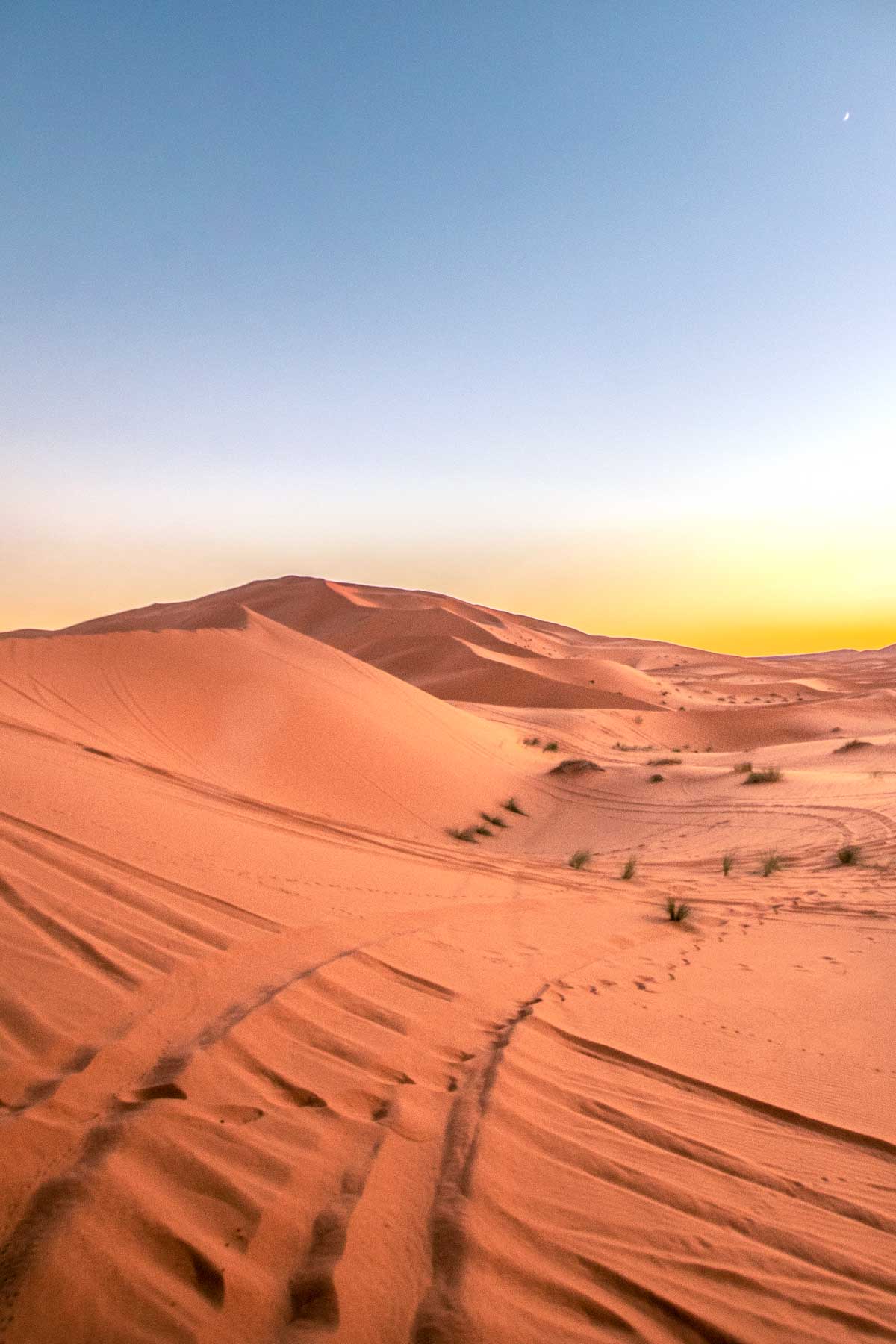 The next tip is about the desert tours offered in Marrakech. They are usually two or three days long, but the difference is larger than just a day. The two days one is going to a place called Zagora.
While it's still a desert, the stunning dunes Sahara is famous for are missing there. The three days one is going to Merzouga which is one of the best places in the world to explore the beauty of the Sahara desert.
That's all from me, I hope you manage to avoid all the things  not to do in Marrakesh.
————————————
If you haven't planned your trip there yet, find out how I plan my trips!
————————————
I have 14 bucket list ideas for Morocco. See my impossible bucket list of 1700+ adventures! 
Is there something i should add to the list?
---
Some of the above are affiliate links and I will earn a percentage of the sale if you purchase through them at no extra cost to you. This helps keep my site running – so thanks in advance for your support!