To travel to Morocco in December is one of those ideas that may seem ludicrous at the beginning, but the more you think of it, the more you convince yourself it's a good idea. I can confirm. Morocco in December is a great idea!
Just a few hours flight from Europe will transport you to this magical land of medinas, camels and exotic scents. Not only that, but you'd replace the grey European sky with the golden African sun.
Sounds great, right?
Here is all you need to know to plan your December in Morocco.
Morocco's Weather in December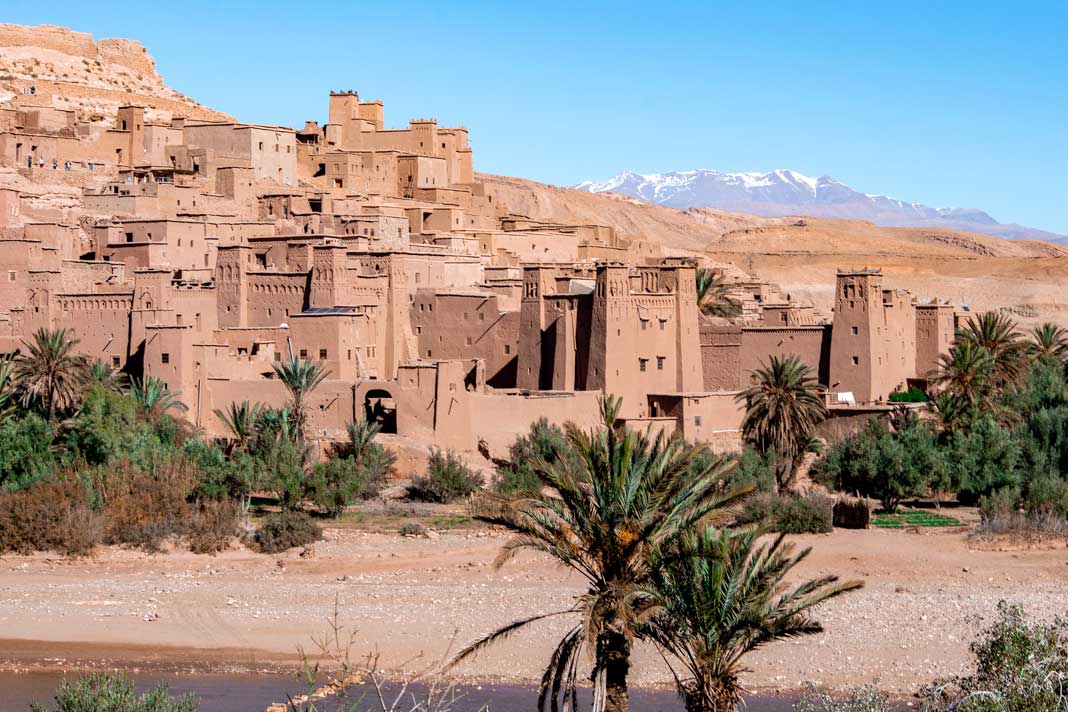 As you already guess, the winters in Morocco are quite mild. The very north of the country enjoys a Mediterranean winter while the Atlantic coast (home to some popular resort towns) gets a bit colder due to the Atlantic winds and the Canary Current. The South of the country is home to the Sahara desert and its colossal temperature contrasts while the inland of Morocco (where Marrakech is) enjoys lovely warm weather.
Generally, Morocco's weather in December offers average temperatures of 20°C/68°F during the day and 8°C/47°F during the night.
Check out the current Morocco weather forecast.
Advantages to Spend December in Morocco
There are many pluses to spend the last month of the year exploring exotic Morocco. Just to clarify, I don't count the last week of the month here. Obviously, during Christmas and New Year's eve, there would be more people and higher prices.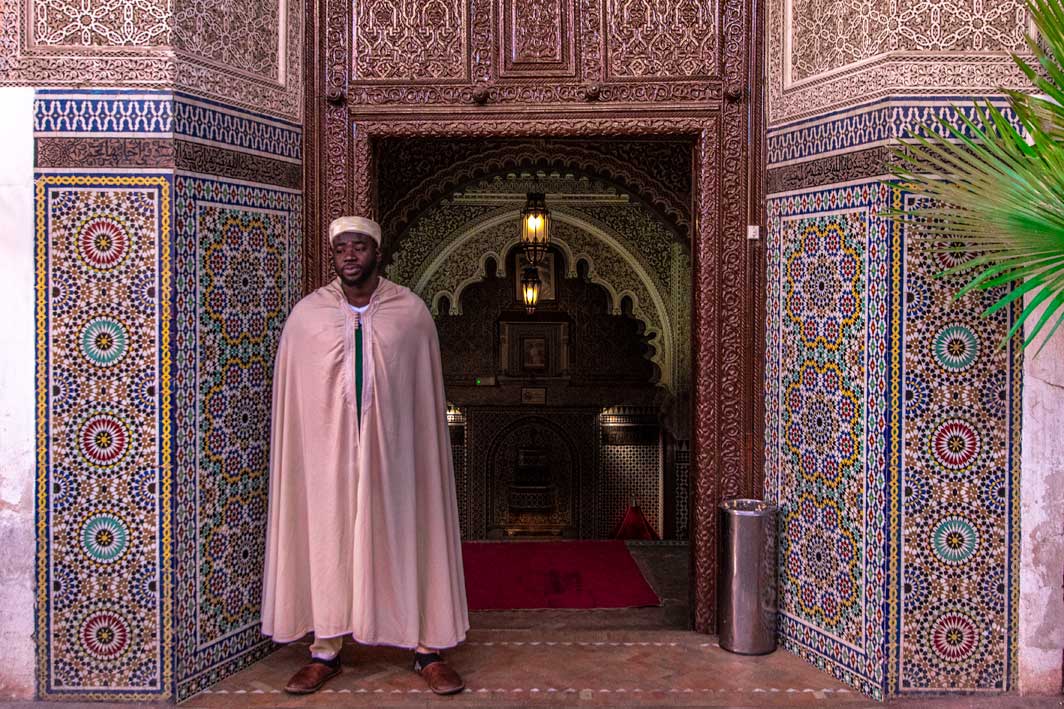 Lower Prices
Morocco is a developing country, so you can find reasonable prices all year round. December, due to being off-season, offers some of the best deals of the year. Fly there for less than 50 EUR (from Europe) and get yourself a fancy riad taken straight out of the Scheherazade tales without having to splurge even a little bit. This is what a journey to Morocco in December is like!
Winter Escape
We all want an endless summer, right? More often than not, December brings the winter to the Northern Hemisphere. The weather gets uncomfortably chilly, the sun disappears, and the days become short, grey, and gloomy. The days in Morocco are short too, but the African sun will make sure you forget what month it is. Beach destinations like Essaouira or Agadir may not be swimming-friendly but they would be ten times better than any place in Europe at the time.
Fewer Tourists
The most significant advantage for me. You're probably aware that Morocco is a top-rated tourist destination. Combine this with the extra-narrow streets of the medina's, and you get a picture from hell. As a photographer, I want to submerge into the local culture (that Morocco has plenty of) and have a peaceful acquaintance with the natural wonders (that Morocco also has plenty of). Now, traveling around the world has taught me how to deal with those problems, but having such a magical place as Morocco all for myself (and few other smart souls decided to travel to Morocco in December) was honestly one of the best travel experiences I've ever had.
Disadvantages to spend December in Morocco
There's no place in the world that is perfect and has no drawbacks. If you're aware of them before you plan your trip, you're guaranteed to have a good time. Here is what you should have in mind before you plan your trip to Morocco in December.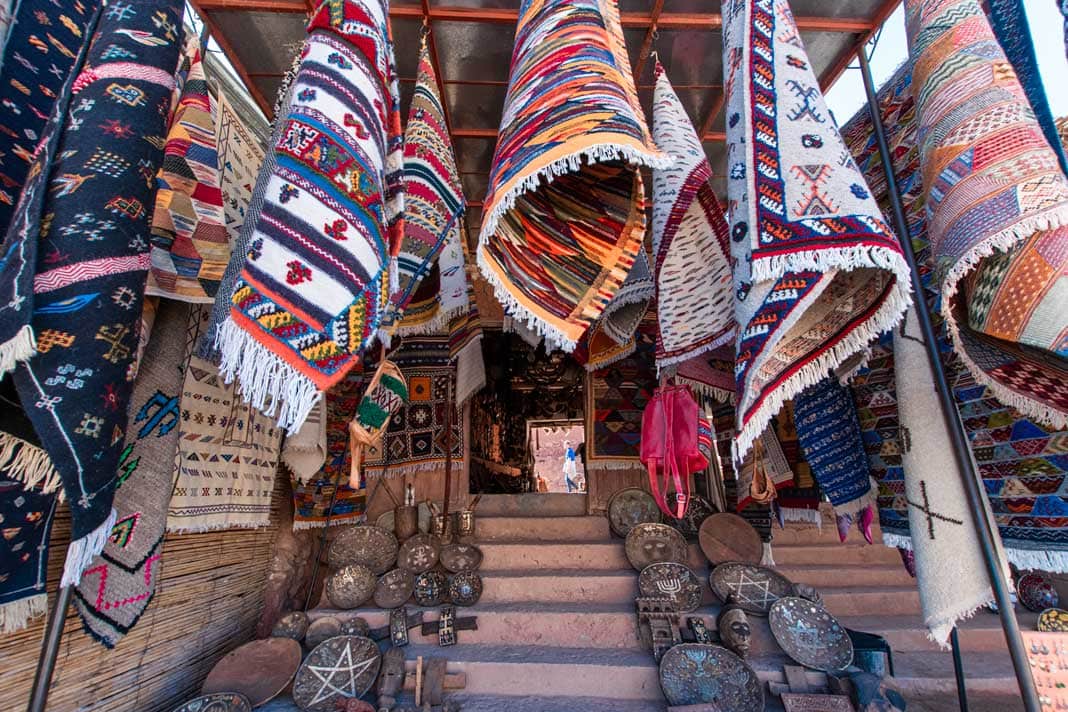 Bigger Baggage
If you travel to Morocco in any of the other seasons, you can get by bringing just your summer clothes. When you travel to Morocco in December, however, you'd have to bring some layers, jeans and maybe even thermal underwear (I always have those in my bag). This means larger baggage which is quite a burden for the budget traveler.
Could be Rainy
No matter where you travel, you are never guaranteed to have a rain-free vacation. December in Morocco gives you higher chances for that. It's officially the rainiest month in the country, and on average you can expect between 5 and 10 days of rain (which is not that bad considering the weather in Europe at the time). Morocco has plenty to do inside so some rain won't be the end of the world but make sure you pack an umbrella and some rain covers for your bag.
Short Days
The December sun shines only about 10 hours. There's nothing you can do about it, but it's worth mentioning.
Heating is a Luxury
Morocco is hot almost the entire year and when it's not – it's off-season. That is why most of the hotels and riads are not equipped with central heating. If you want to stay in a riad (which I totally recommend), it's even worse since they are designed to keep cool. Before you book anything, make sure it has heating included and double-check with the owner. Trust me, a cold room could absolutely ruin your vacation.
Popular Destinations
My guess is you won't travel around all of Morocco, and you already have some specific places in mind. Whatever your itinerary is I'm sure it will include at least one of the following cities:
Marrakech in December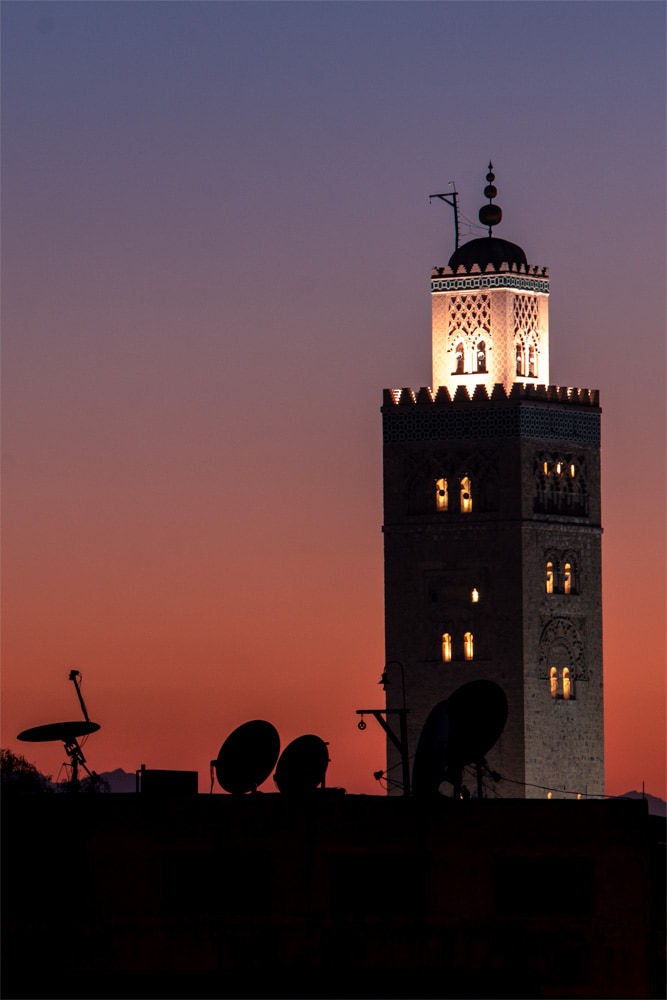 Temperatures – 14°C – 20°C / 56°F – 68°F
Rainy days – 6.5
Marrakech is the most famous city in Morocco, and it's the one that offers the best weather in this period. Its medina is not as narrow as the one in Fes, and it's way more open. The evenings were pretty warm, and I found myself often walking around just in shorts and a t-shirt. If you plan to visit Marrakech only, take your summer clothes and a hoodie or two, you won't need much else.
The best thing about Marrakech in December is that there are plenty of riads, and finding one with heating won't be as hard as the other destination.

The worst thing about Marrakech in December is that since it's extremely popular, there are plenty of tourists even off-season.
More details about the weather in Marrakech
Fes in December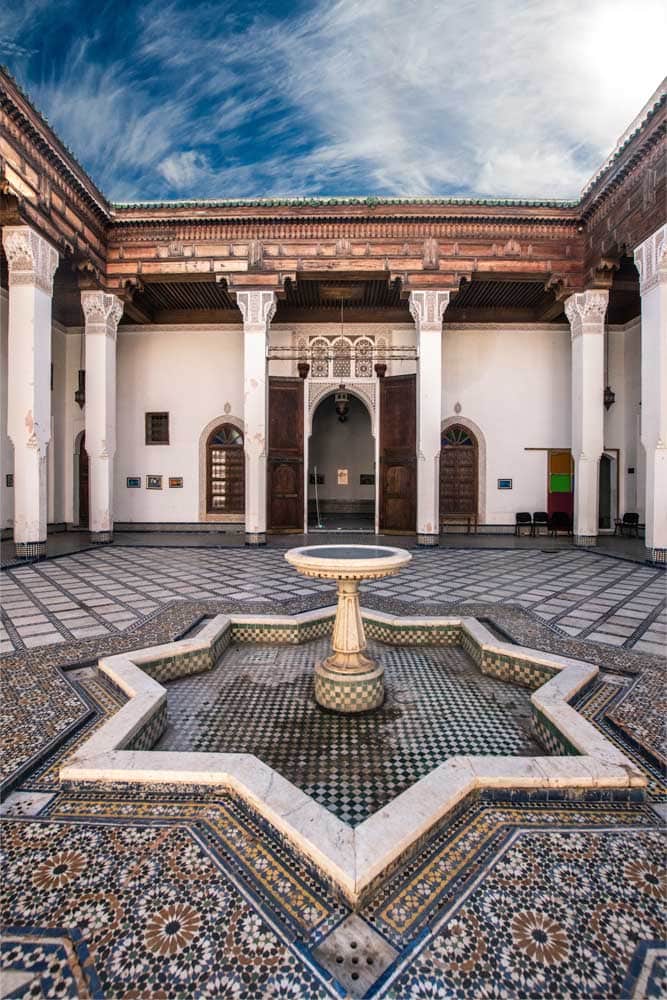 Temperatures: 12°C – 17°C / 53°F – 63°F
Rainy days – 9

On paper, Fes may look just a little bit colder than Marrakech, but in reality, it's way worse. I like to call Fes the most authentic city in Morocco, and once you set your foot in the labyrinth of Fes El Bali (Fes' medina), you'll understand why. It's like you're in Agrabah – Aladin's home town! Very narrow alleys with tall sandstone houses and markets trying to sell you everything there is in the world.
The problem is that the buildings are too tall and most of the markets are covered so you'd hardly see any sun. If you make your way out of the medina, the sun is shining bright, and you are getting hot in no time. I found Fes to be the most annoying weather-wise but since it is such an amazing place I strongly recommend disregarding the weather and include it in your itinerary.
The best thing about Fes in December – it is incredibly cheap. My Ryanair flight was about 16 EUR (from Barcelona), and I got a big room in a centrally placed riad for roughly the same amount. Also, there were hardly any other tourists – perfect for a photo-hunt.
The worst thing about Fes in December – Fes is not as big as Marrakech, and the riad choices are not that much. I ended up staying in one without heating, and while the place was great, I couldn't enjoy it at all. The whole jacket-on and jacket-off exercise was also quite annoying.
More details about the weather in Fes
See Also: Dubai in the winter
Casablanca in December
Temperatures: 14°C – 18°C / 57°F – 64°F
Rainfall days – 11

Casablanca is situated on the Atlantic coast of Morocco and enjoys a mild Mediterranean climate. The proposed 11 rainy days should not scare you. There is rarely a heavy rain pour in Casablanca, more often than not your rainy day would be a slight drizzle. Unlike the other places I was in the country, Casablanca had none of the exotic Moroccan culture. Quite frankly, the Hassan II Mosque is the only thing to see there. The weather in December felt like the weather in Europe in mid-September. It was very windy around the coast (where the mosque is) so have that in mind.
The best thing about Casablanca in December – Casablanca is a big cosmopolitan city so finding a hotel with heating won't be an issue. It also has only one attraction, so it's easy to check-out even if the weather is not that good.
The worst thing about Casablanca in December – I can't find any minuses honestly. Casablanca is not a very exciting city and to check it off-season is by far the best you can do.
More details about the weather in Casablanca
Chefchaouen in December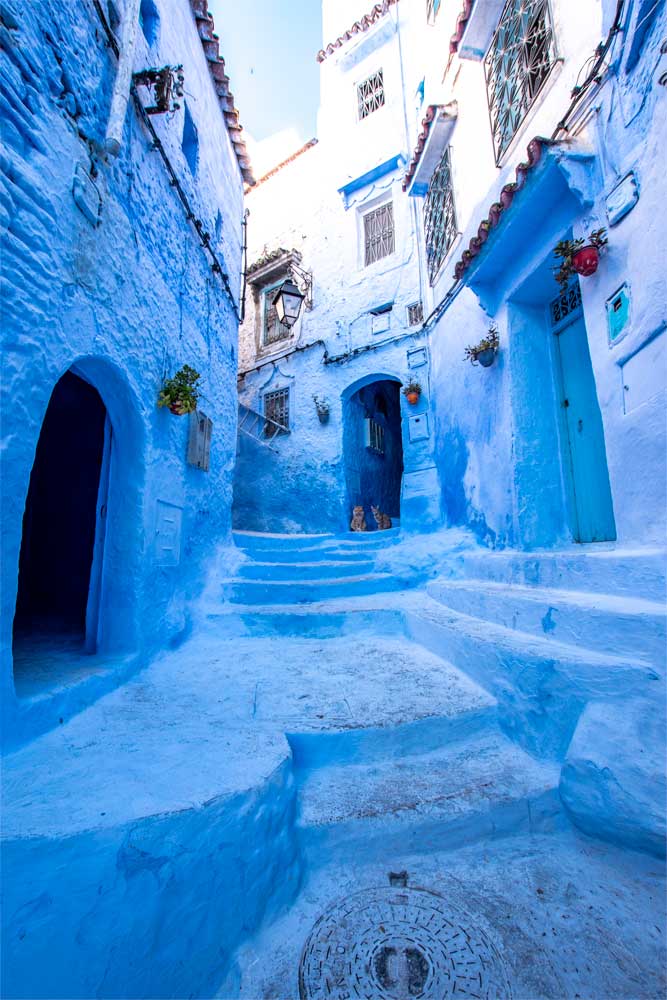 Temperatures: 11°C – 18°C / 52°F – 64°F
Rainfall days – 7

The Blue Pearl of Morocco is tucked in the mountains in the northern part of the country. It can get pretty chilly in the morning, but the good thing is, unlike Fes, you don't need to get your jacket on and off all the time. Put it on and forget about it. It would be a rare occasion to get too hot. Chefchaouen in December feels like early spring in Europe with less rain.
The best thing about Chefchaouen in December – Chefchaouen is one of the most popular Moroccan tourist spots. In every other season, the little town is swarming with tourists, but in December the crowds are manageable.
The worst thing about Chefchaouen in December – it's a bit cold and does not feel much of a winter-escape.
More details about the weather in Chefchaouen
See Also: The Top Photo Spots in Chefchaouen
Sahara Desert / Merzouga in December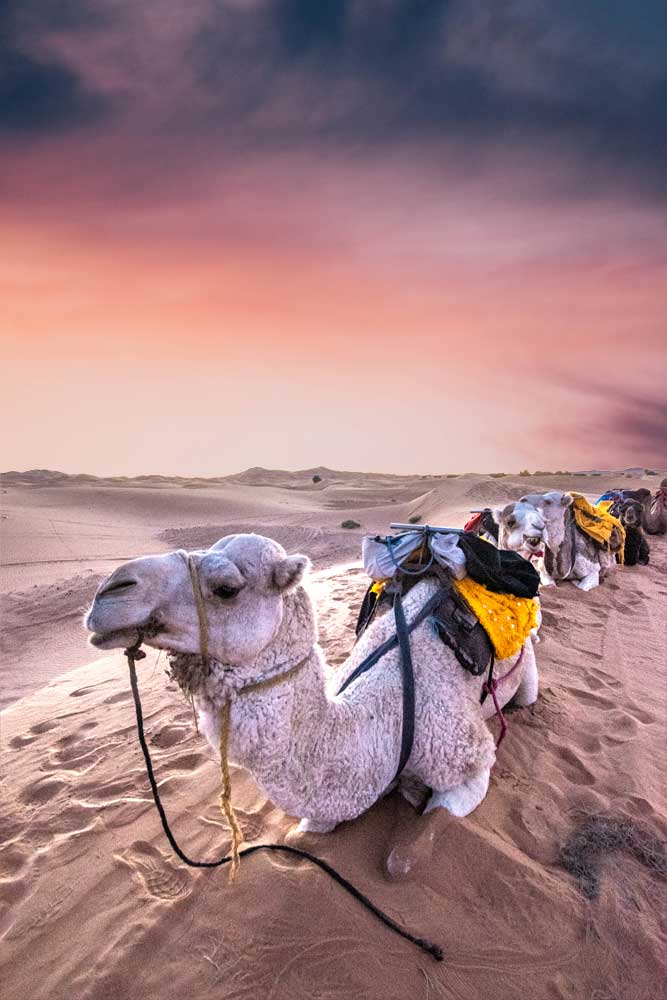 Temperatures: 4°C – 17°C / 39°F – 63°F
Rainfall days – 1

To ride a camel in through the endless dunes of the legendary Sahara Desert is probably the most bucket-listy experience to have in Morocco. Seriously, if there's one thing to do in the country – this is it. You may be surprised though that the usually scorching desert is one of the coldest places you can visit in Morocco in December.
If you decide to do it, make sure you pack winter clothes like thermal underwear, a scarf, and gloves. No joke, the night I spend in the Sahara Desert was one of the coldest nights in my life. The camel ride before sunrise was even worse. The soundless desert and the billion-stars sky were nothing short than magic, but I was literally frozen to my seat at the end of it.
The best thing about the Sahara Desert in December – It's cheaper, the camps have way fewer people giving you that experience of solitude. The sky is absolutely stunning.
The worst thing about the Sahara Desert in December – It feels like the north pole, so you need to bring extra clothes.
More details about the weather in Merzouga
December Events in Morocco
There are a couple events in December. You can plan to visit them or plan your visit around them (the holidays are a pricey season).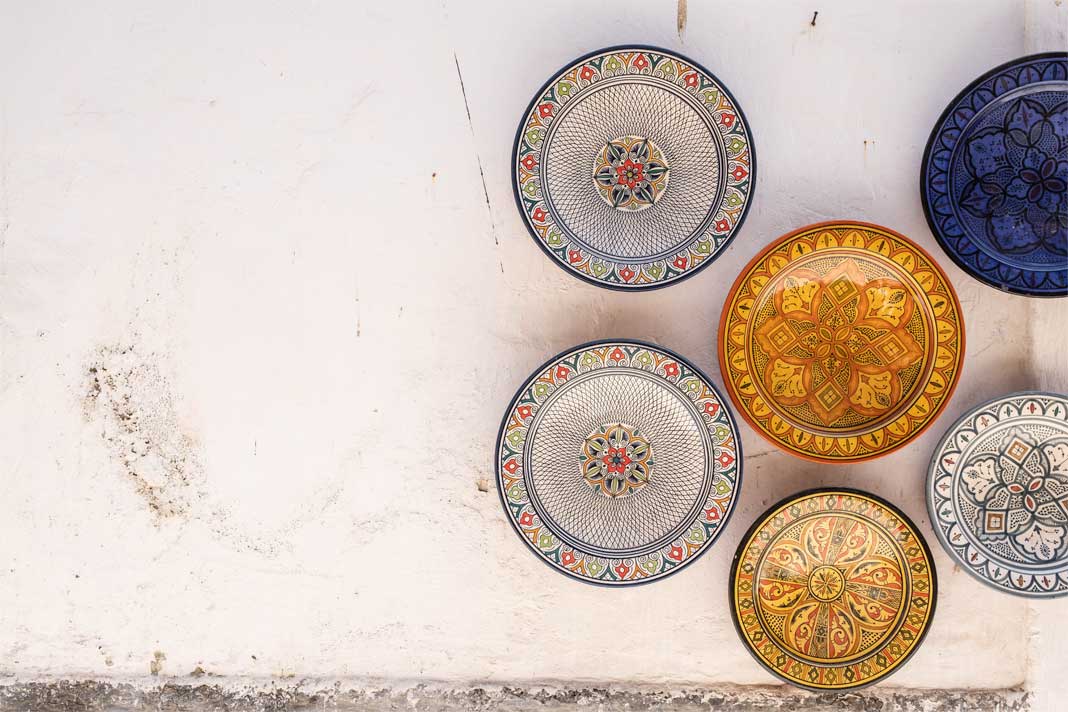 Marrakesh International Film Festival
The International Film Festival in Marrakech is a world renounced cinema event that was established in 2001. Every year local and international film stars, directors producers, and other cinema personalities, gather in Morocco's most famous city. If you're a fan of the seventh art, this festival is a must-go.
More info here.
Christmas and New Year's Eve
Morocco may be an Islamic country but it also a very touristic country so you can bet there're plenty of Christmas programs and packages. The same goes for New Year's Eve. I don't recommend spending those holidays there though. The country gets busy, and the prices go up. The weather, however, only gets colder, so you get the worst of both worlds.
That's all from me, I hope you enjoy your December in Morocco.
————————————
If you haven't planned your trip there yet, find out how I plan my trips!
————————————
I have 524 bucket list ideas for Asia. See my impossible bucket list of 1700+ adventures!

Is Morocco on your bucket list?
---
Some of the above are affiliate links and I will earn a percentage of the sale if you purchase through them at no extra cost to you. This helps keep my site running – so thanks in advance for your support!