I'm sure you're aware that somewhere in the Kingdom of Morocco, there's a mystical city named Marrakech, but have you ever wondered what is Marrakech famous for? Since you're reading this, I guess you did.
The fascinating city in the center of Morocco has been romanticized for decades until it became the synonym of an exotic Arabian town that is today. Marrakech is the tourist hub of the country, a gateway to everything there is in Morroco, and a city that encapsulates the authentic Moroccan spirit and skillfully blends it with western comfort.
From the buzzing Jemaa El-Fnaa to the countless cute little rooftop cafes, here are the top 10 things Marrakech is famous for:
Being a Red City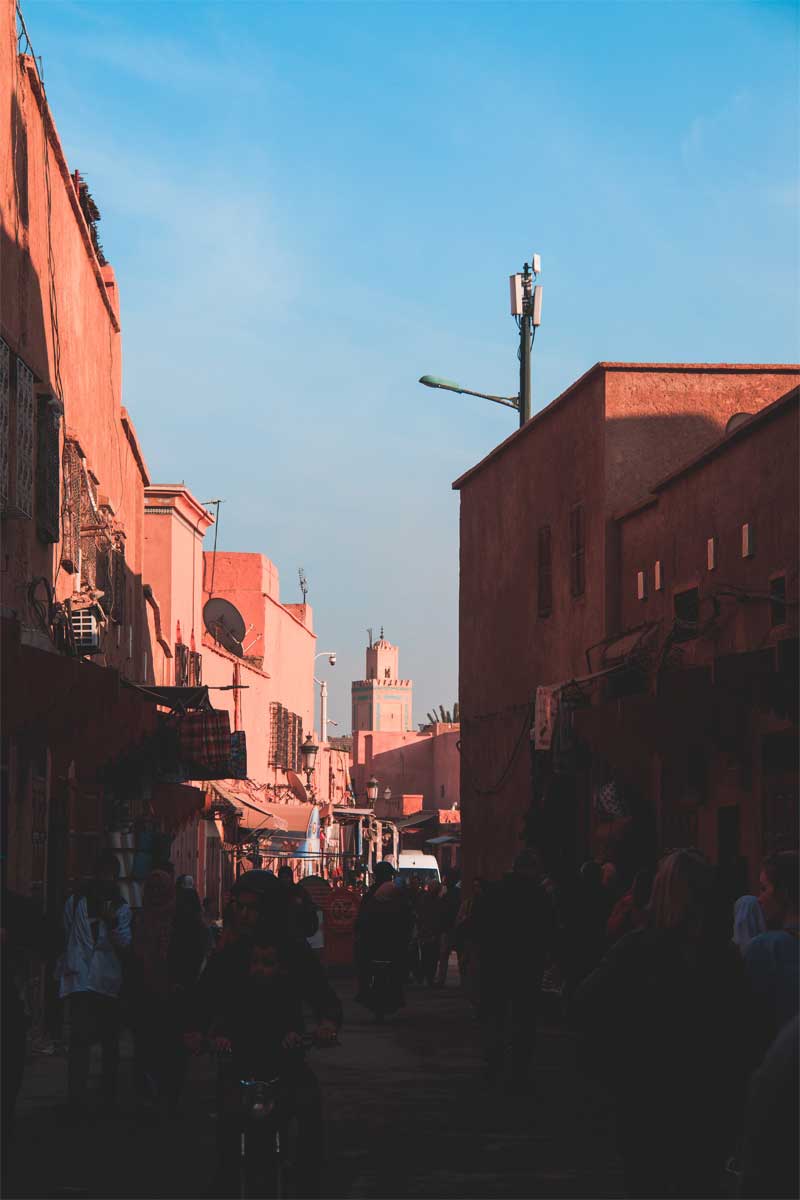 Cities in Morocco often have a color assigned to them. Casablanca is the White City, Chefchaouen is the Blue Pearl, while Marrakech is known for being the Red City. Why is that?
There are a couple of reasons. First, Marrakech really is red. At least its medina (old part of town) is. Constructed between 1070 and 1072, during the rule of the Almoravid dynasty, the buildings and ramparts in the medina were mostly made out of pinkish beaten clay. Years passed away, materials changed, but the local people continued to paint their buildings in the signature pinkish color, thus cementing the Red City (or Rose City) nickname for good.
When I asked some of the locals where the nickname derives from, I got one other answer – the Atlas Mountains. Marrakech is tucked right next to Morocco's most famous mountain range that, as weird as it sounds, is full of red rocks.
Opulent riads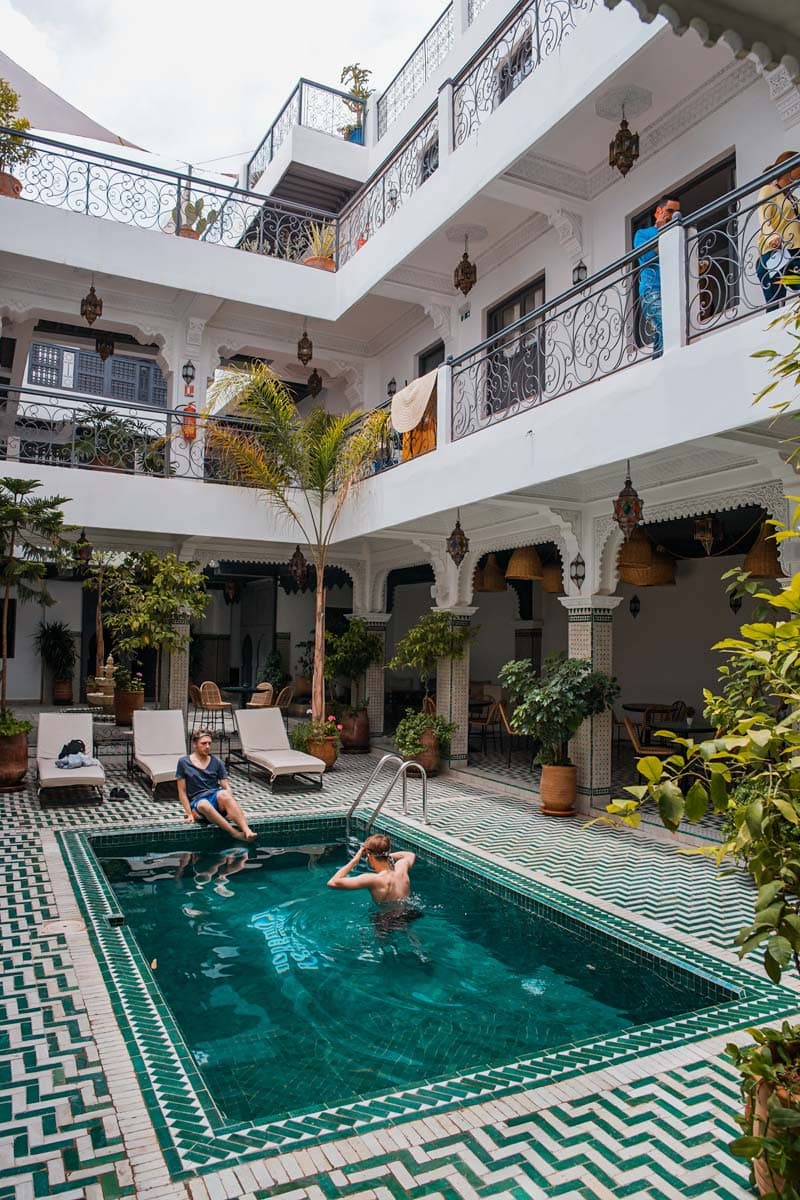 Something you should know if you plan a trip to Marrakech is that you don't need to look for a hotel. To get the best city experience, you need an authentic riad.
While nothing impressive from the outside, once you get in, you're guaranteed to be amazed. Multi-colored mosaics, ornamented wood, bold, bright colors, push cushions, fountain (or even a pool) in the center courtyard, a good Marrakech riad is something straight out of a Scheherazade story.
And don't forget to check out the roof too. All of the riads have (at least I haven't seen one that doesn't) an open roof terrace, giving you a panoramic view of the Red City (also perfect for sunbathing).
There is one downside to riads, though. Since Marrakech is hot most time of the year, riads are designed to keep cool. If you visit during the winter, you better make sure your riad of choice has a heater; otherwise, you're up for some chilly nights.
Marrakech souks and medina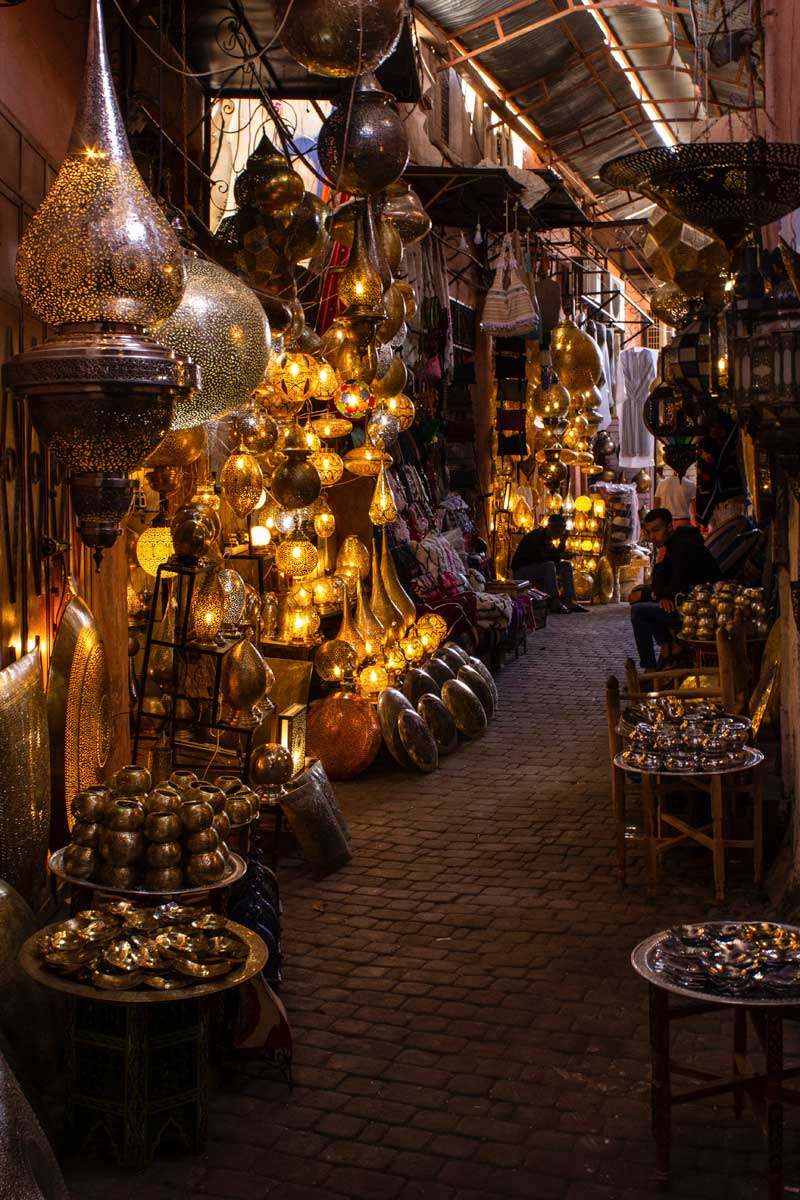 I've already mentioned the medina, but it's time to get more into detail. To say Marrakech is famous for its medina would be an understatement. In most people's eyes, the medina is Marrakech. And the medina is genuinely incredible.
Imagine a maze of tiny chaotic alleys brimming with local life but so tangled and confusing that you're constantly lost there. A thrill that may not be for everyone but a thrill that defines Marrakech for me.
The Marrakech Medina is a UNESCO World Heritage Site since 1985 and the largest one in Northern Africa, so prepared to be lost a lot! The good thing is, eventually, you always end up in the medina's heart – the Jemaa El-Fnaa Square (more on that in a minute).
What makes the medina extra enchanting is the souks. Souks are markets separated by their respective sections. Imagine never-ending stalls offering leather goods, traditional slippers (babouches), olives, colorful spices, and local saffron, hand-made jewelry (and Chinese-made ones), Berber carpets (and Chinese ones), lamps, and all kinds of tourist souvenirs. That's what a souk is.
If you want to get something from a souk, make sure you brush up your haggling skills. You may feel uncomfortable, but haggling is expected in Morocco, therefore the starting price can be up to 10 times higher than the real one.
See Also: What is Morocco Famous For?
Jemaa El-Fnaa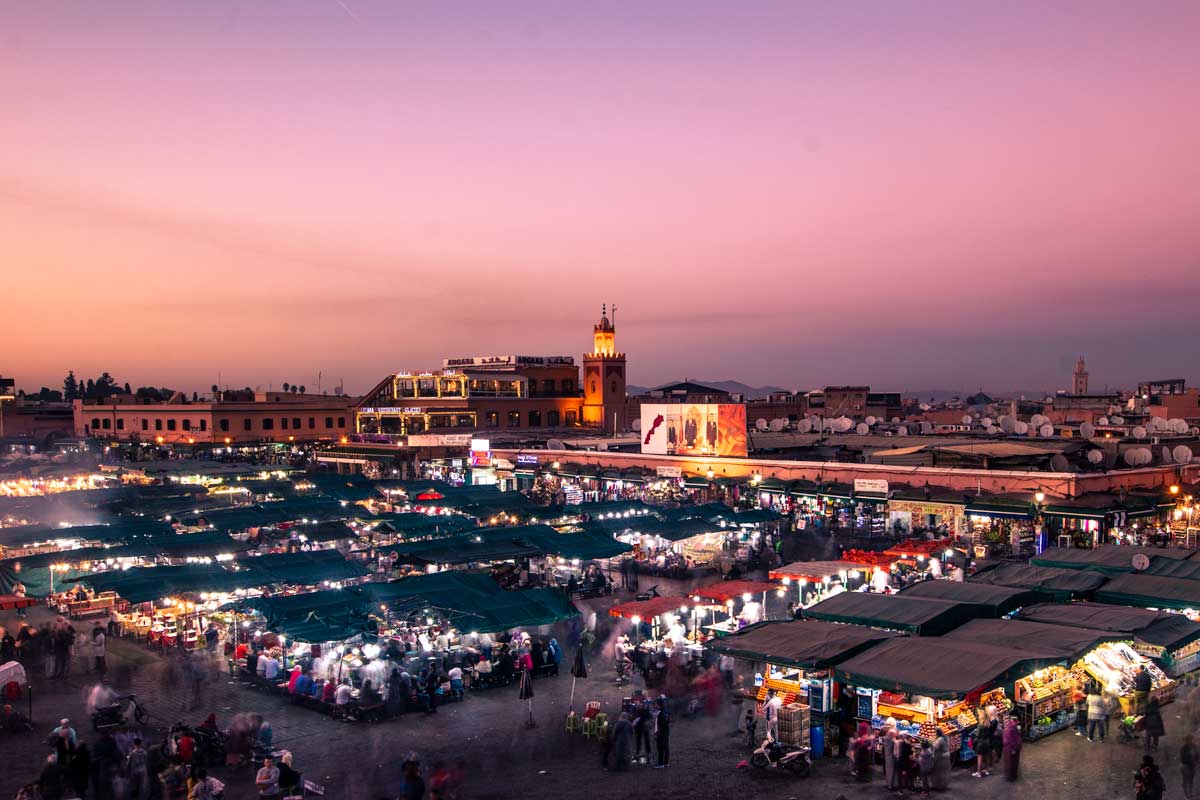 If you ask someone who just got back from Morroco, what is Marrakech famous for, the answer would be Jemaa El-Fnaa. Once you find yourself in the Rose City, everything revolves around the emblematic square.
Being the city's vibrant heart, Jemaa El-Fnaa is one of those places you simply have to experience to truly understand. Full of street performers, storytellers, henna artists, snake charmers (you should stay away from), and authentic dancers during the day, around sunset, the square turns into a giant open restaurant.
My recommendation is to skip the food there (unless you want to risk stomach troubles) and find yourself a spot in one of the square-overlooking cafes. Get yourself a glass of mint tea and enjoy the day-to-night transformation. It's truly one of the best shows in town.
Hammams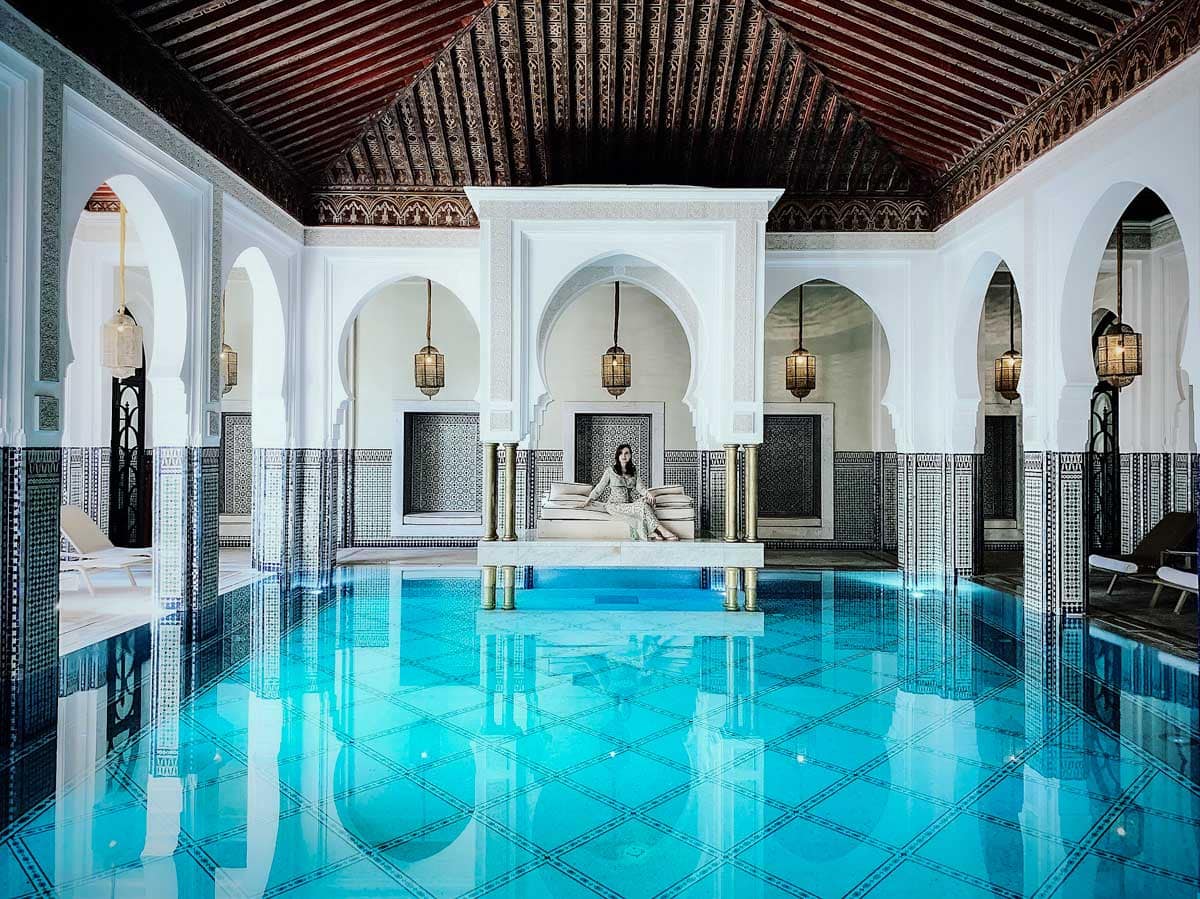 If you love spa pampering, this one is just for you. Marrakech is known all around the world for its world-class hammams.
What's a hammam, you ask?
Hammam is an authentic bathhouse where you get the scrubbing of your lifetime. No, seriously, it's a lot of scrubbing. Every inch of your body is about to be exfoliated… more than once. Hammams are believed to not only clean your body but also clean your mind, purify your soul and help you reconnect with loved ones.
A popular ritual for the locals a hammam visit is an absolutely quintessential experience for tourists. The most popular hammams in Marrakech are Dar el-Bacha, Hammam Rosa Bonheur and Mouassine Hammam (oldest one in town).
See Also: What is Prague Famous For?
The Gardens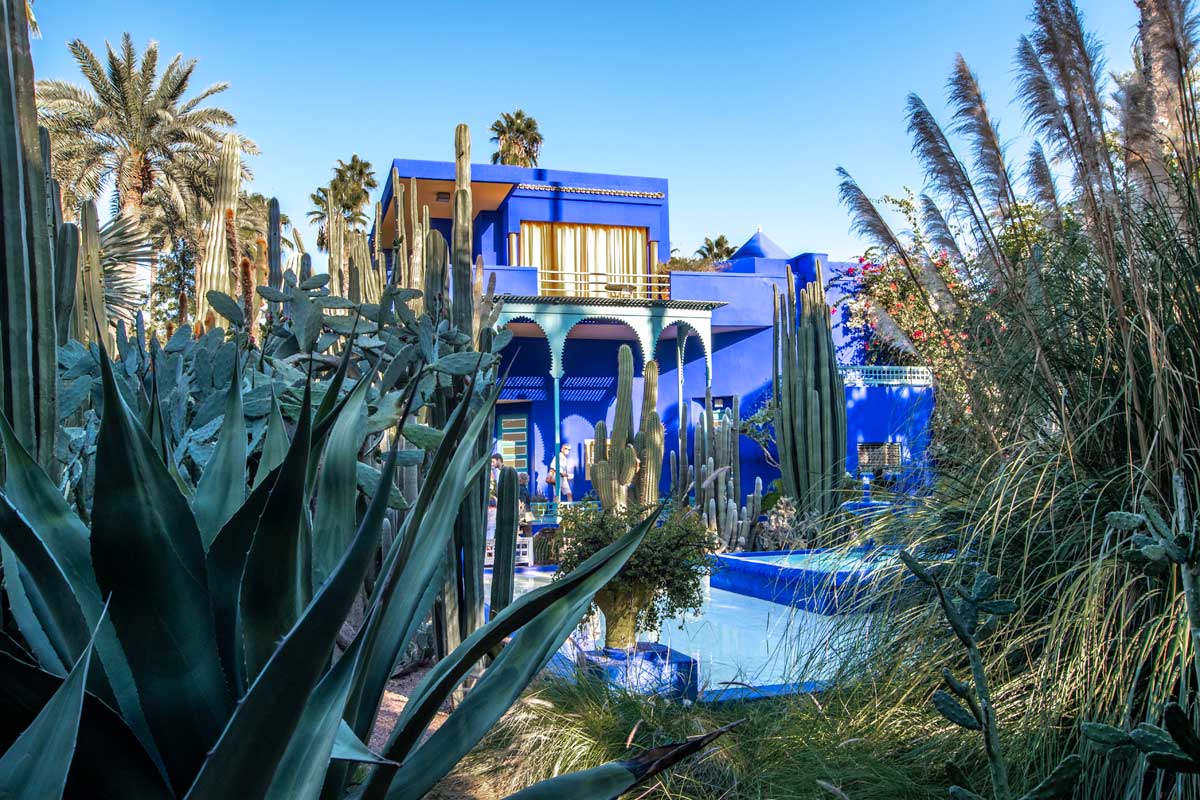 The Red City offers a dusty setting with sandstone buildings and rare palm trees. This is why it's a bit weird to imagine Marrakech is famous for its parks and gardens.
If you think about it, it's not that weird, actually. Finding an escape from the dusty medina in one of those oases would certainly make you appreciate it more.
The most iconic Marrakech garden is Jardine Majorelle.
Built by Jacque Majorelle over almost forty years, starting in 1923, the garden was made famous by the French designer Yves Saint-Laurent who purchased and restored it in the 1980s.
Today the garden features a vast selection of plants, trees, cactuses, and several endemic to Northern Africa bird species. The iconic blue building where Yves Saint-Laurent used to live is now a small museum dedicated to Berber arts.
Right next to Jardine Majorelle, you can find another museum, a much larger one, dedicated to the life and success of Yves Saint-Laurent.
See Also: What is Paris Famous For?
Koutoubia Mosque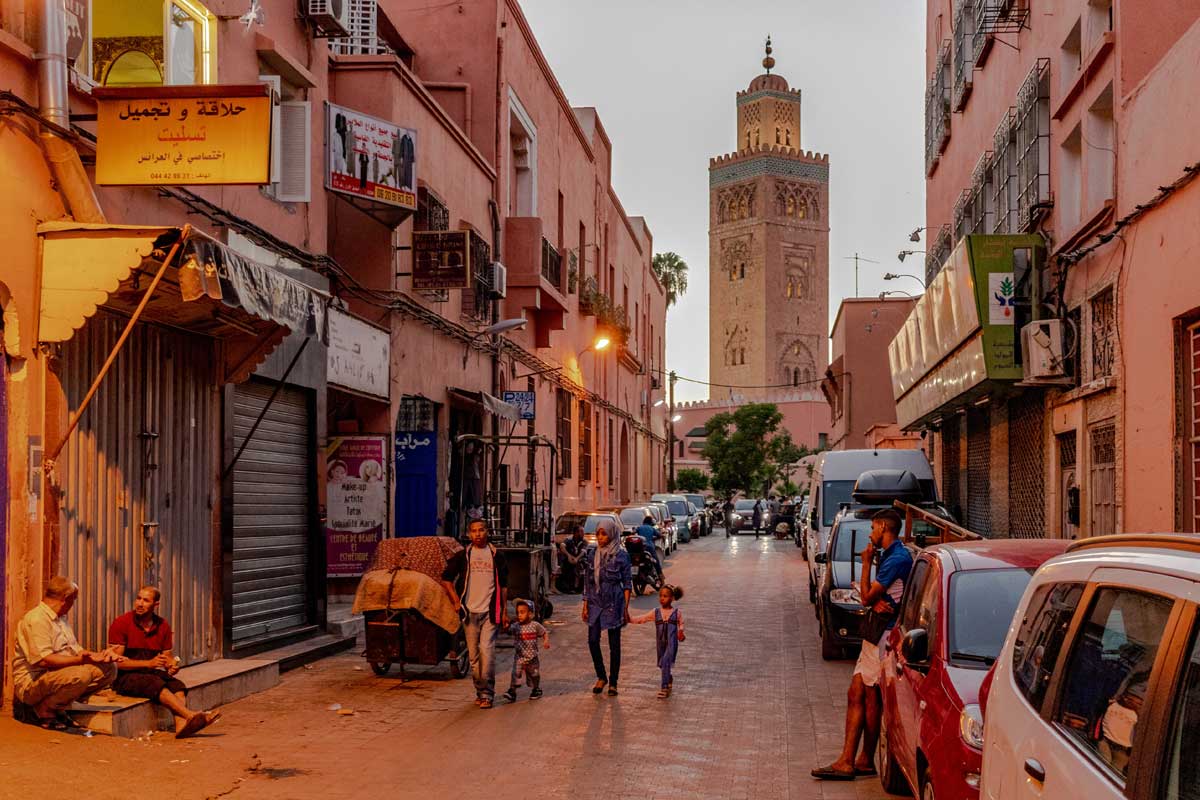 The Koutoubia Mosque is not just something Morocco is known for; it's the most emblematic landmark in town. Featuring a picturesque 70-meter-tall (250 ft) minaret that's easy to spot from miles (pretty useful for a medina orienteer), the mosque was built in 1162 and is considered one of the prime examples of Almohad architecture.
There are few peculiar legends about the mosque. The first one concerns the brass balls on its top. The legend says once the balls were made out of gold gifted by the wife of the Almohad sultan Yacoub Al Mansour. The balls were made out of her jewelry that was melted down as a punishment for eating during Ramadan.
Other legends say the minaret collapsed during its construction because it wasn't aligned correctly with Mecca. Once the mosque was completed, the muezzin (holly man who calls the faithful to prayer) had to be blinded because the minaret was so tall it overlooked the local sultan's harem.
Saadian Tombs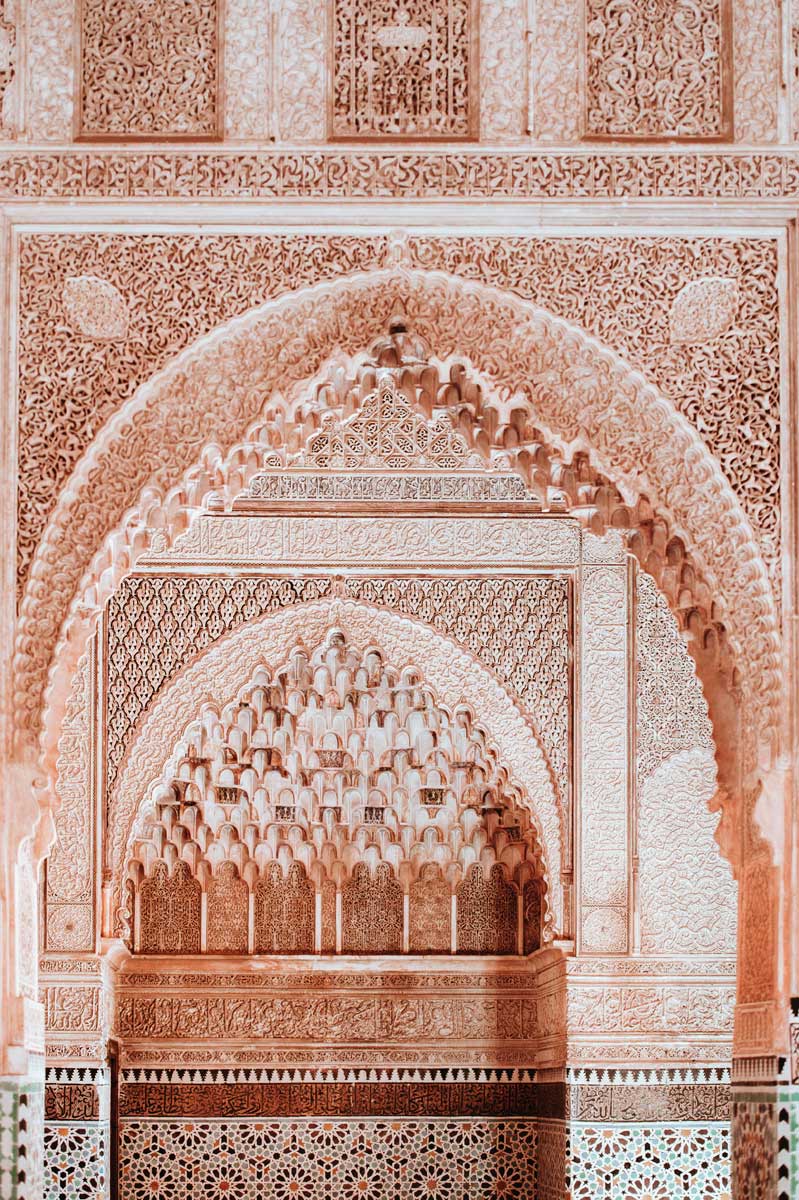 If you're in love with architecture, the answer to what is Marrakech famous for should be only one – the Saadian Tombs. The final resting place of 66 members of the Saadian dynasty, the mausoleums are precisely what you would expect from a royal tomb – a feast for your eyes.
The lavish tomb complex was built sparing no expense. Characterized by imported Italian marble in abundance and golden honeycomb muqarnas (decorative plasterwork), the mausoleum reflects the extravagant life of the Saadian Sultan Ahmed Al Mansour Ed Dhabi.
Although built in the 17th century, the Saadian Tombs are a relatively new attraction. The Alaouite Sultan Moulay Ismail walled up his predecessors' opulent graves in an attempt to destroy their legacy. They were only rediscovered for the world in 1917.
The palaces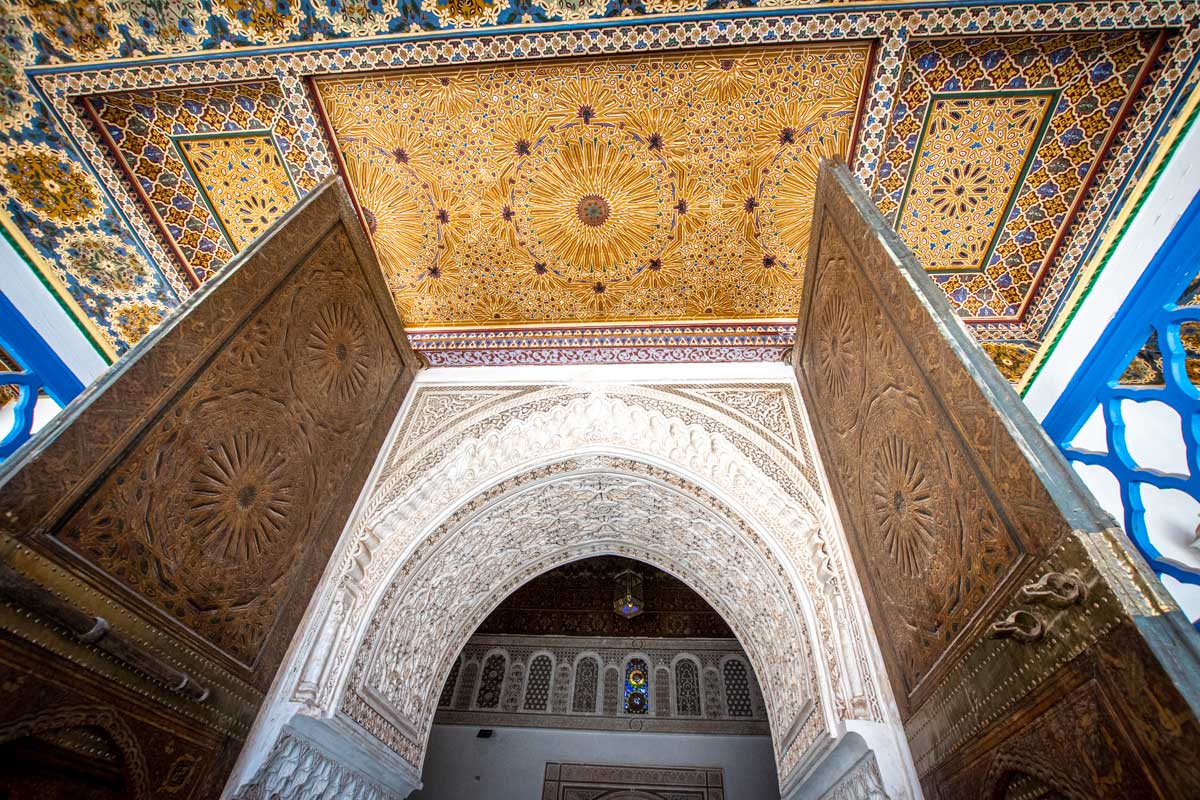 Yup, palaces, because Marrakech is known for more than one of those. And they are quite different from each other.
The Bahia Palace is the new boy in town, built in the late 19th century for the slave-turned-vizier Abu 'Bou' Ahmed. Rocking a dazzling display of zellige tiles and carved stucco, Bahia is nothing short of spectacular.
Displaying about 150 rooms connected by inner gardens and a giant marble courtyard, the palace guarantees at least a few-hour journey through the vizier's abundant life.
El Badi Palace is the old gal. Finished in 1593, all that is left of Al-Mansour's once-grand palace today are ruins. Spectacular ruins, though. El Badi translates to Palace of Wonder/Brilliance, and even though you can't enjoy the mosaic-tiled floors or the shiny golden buildings, a walk around its gardens will make you feel the energy and appreciate the former glory of El Badi.
See Also: What is London Famous For?
Chic cafes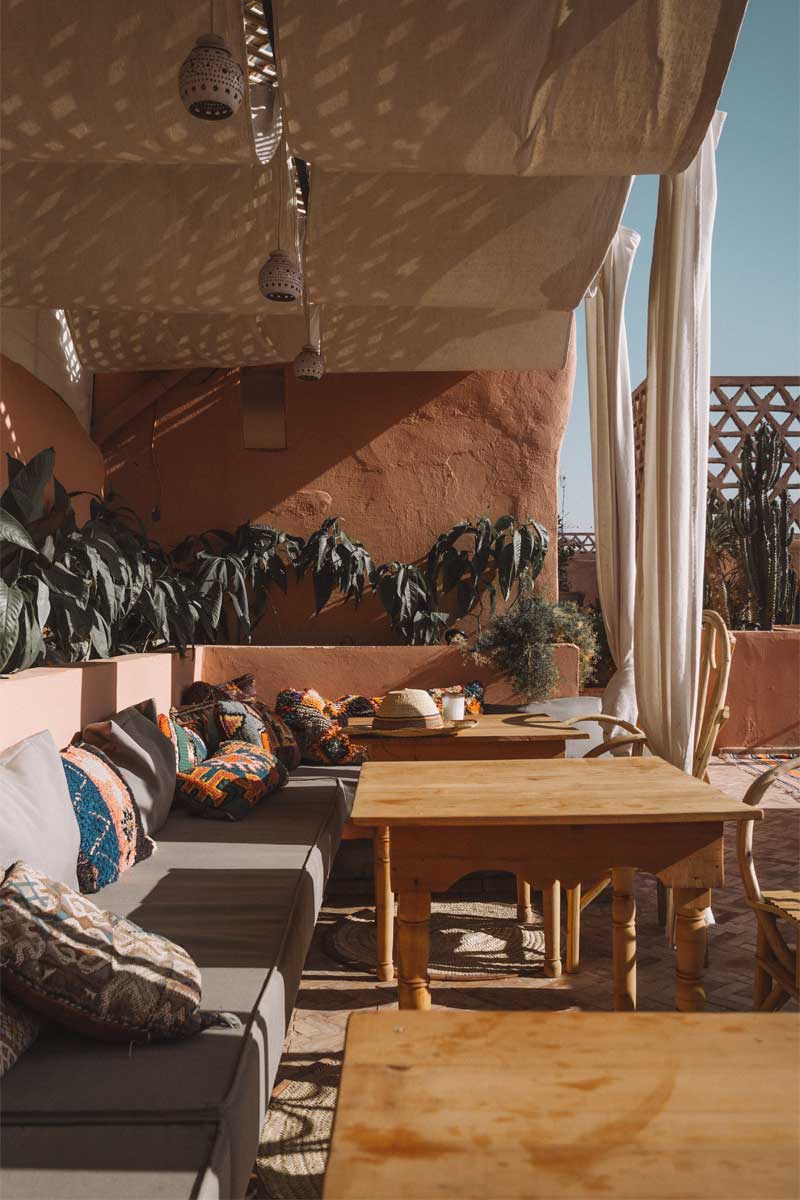 The last thing Marrakesh is famous for is its cafe culture. Although most locals prefer mint tea on the go, Marrakech is full of cute little cafes to sit and kick out a little bit. The most spectacular are the rooftop ones.
I already told you every riad has a rooftop terrace/garden. Well, don't quote me on this one, but I think every building in the medina has turned its roof into something. And plenty of that something are cute little cafes.
No matter where you are, once you get tired, there would be a lovely rooftop cafe next to you. Get up, enjoy a cup of coffee or mint tea or even grab a bite. All of that while enjoying the warm Moroccan weather and the chaotic alleys below.
Some of the best cafes in Marrakech are Cafe Arabe, Cafe Clock, Henna Art Cafe, and Cafe Mama Afrika.
That's all from me, now you know what Marrakech is famous for.
————————————
If you haven't planned your trip there yet, find out how I plan my trips!
————————————
I have 14 bucket list ideas for Morocco. See my impossible bucket list of 1700+ adventures!

Are you planning a trip to the Red City?
---
Some of the above are affiliate links and I will earn a percentage of the sale if you purchase through them at no extra cost to you. This helps keep my site running – so thanks in advance for your support!