Planning a thrilling Asian getaway? Let me tell you something – you've chosen an incredible city to explore. Spending 3 days in Kuala Lumpur can be literally life-changing! Am I hyping it too much? Maybe I am, but Malaysia's vibrant capital is such a wonderful blend of rich culture and modern marvels sprinkled with mouth-watering food scene that I just can't see you not liking it.
Exploring iconic cities in a limited amount of time is not easy, though, so here I come to help. My Kuala Lumpur 3-day itinerary is carefully designed to show you the best of the city in a relaxed tempo. And if the tempo is too easy for you, I'll list everything you can do in this fantastic city to modify it to your liking.
Are you ready?
Let's go!
Three Days in Kuala Lumpur – Day 1 – So Many Attractions
I must clarify here that this is your first full day in the city. If your 3 days in Kuala Lumpur start half a day before, explore the area around your hotel and check out the shops and the restaurants. The first few hours are always best spent leisurely exploring your immediate surroundings and catching the local vibe.
Petronas Twin Towers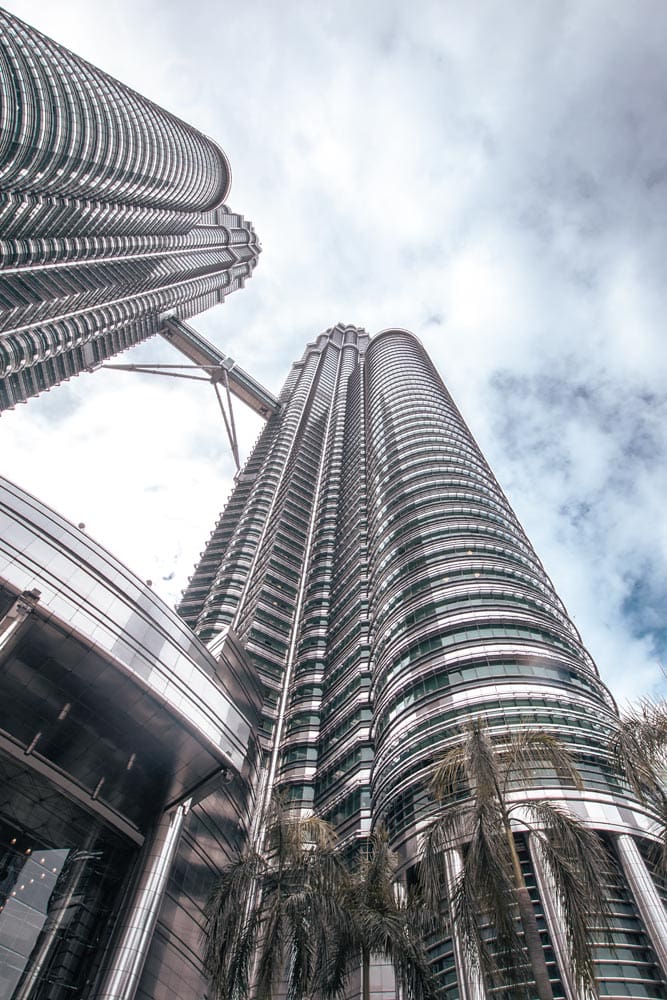 If you've read some of my other guides, you know I seldom start with the biggest attraction in town. Things are a bit different in this 3-day Kuala Lumpur itinerary. Completed in 1996, Petronas Towers used to be the tallest buildings in the world and are still the tallest twin towers in the world. They are one of the most prominent symbols of the country and even the continent.
This architectural wonder is complemented by the world's tallest (170m/558 feet) two-story bridge. Yeah, a lot of record-breaking stuff in there. I've climbed plenty of tall buildings, and honestly, many of them don't live up to the hype. Well, the Petronas Twin Towers are not like that. Going up there is pretty awesome, and it's definitely one of Kuala Lumpur's must-do things.
You may wonder, "Isn't it better to go there at sunset and enjoy the best view in the city during the most beautiful part of the day?". The answer is no because this is not the best view in the city. How come? Well, there's one thing you cannot see well from the top of the Petronas Twin Towers – the Petronas Twin Towers themselves.
Working Hours:
From Tuesday to Sunday – 9.00 AM to 9.00 PM.
Monday – closed
Price:
Regular – 98 RM (21 USD)
Children (3-12yo) – 50 RM (10.50 USD)
Online ticket – check here
Skip the line ticket – check here
KLCC Mall and Park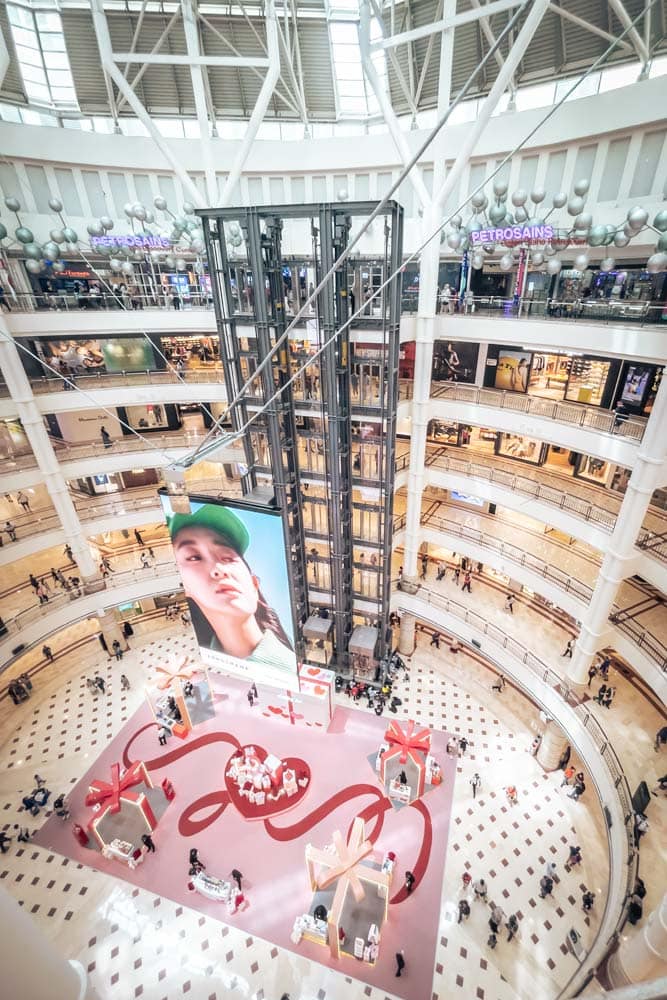 After this incredible experience, our Kuala Lumpur 3-day itinerary continues with… Petronas Twin Towers. No, it's not a mistake; we just won't climb to the top. At the base of the towers, there are countless phone photographers. I strongly recommend getting a photo from them. They are surprisingly good and know all the right angles.
After that, you can go inside the KLCC Mall (inside the towers) for some shopping or go to the KLCC park for extra pictures (photo spots are marked there) and chill out time. If you're with your kids, you can pack some bathing suits for them since the park has a great kids' pool area.
Working Hours:
Both park and mall – Daily from 10:00 AM to 10:00 PM
Bukit Bintang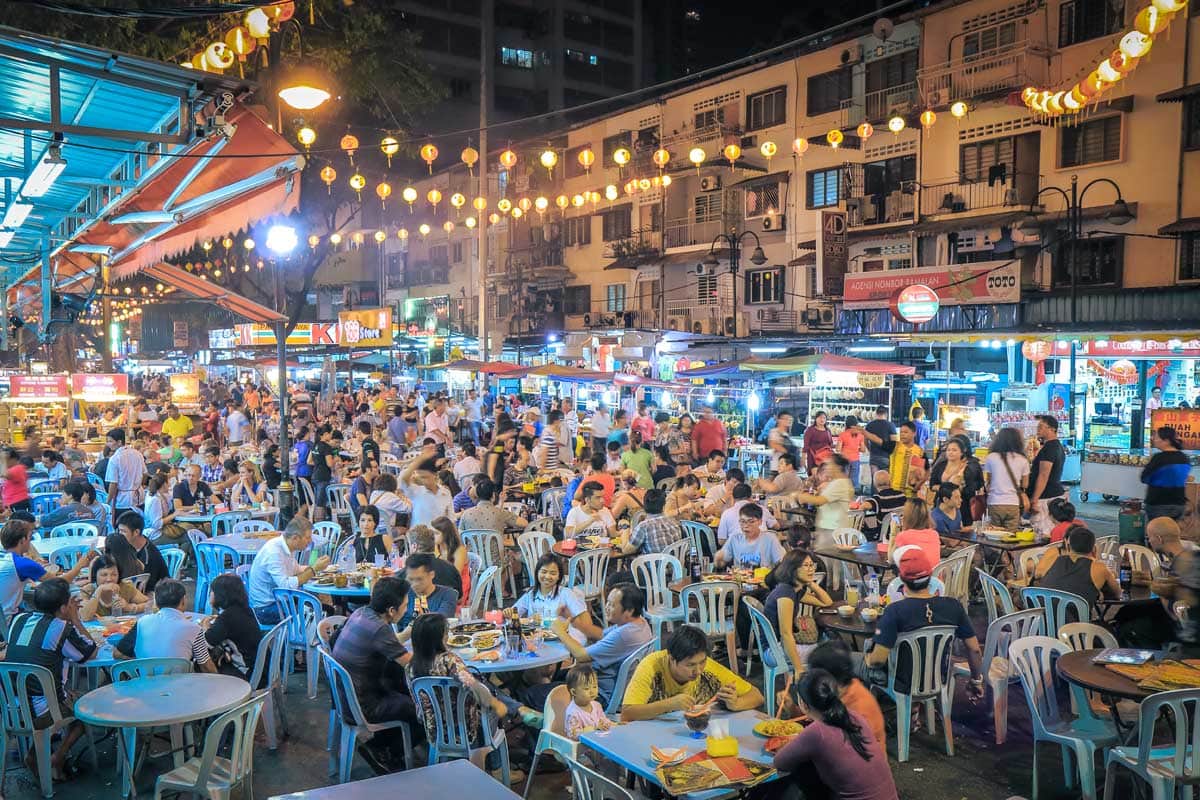 The go-to place for street food, night markets, and nightlife is next on the list. Bukit Bintang is one of the liveliest areas where you can find street food from all over Asia. I kid you not; from Thai Mango Sticky Rice to Turkish Baklava – they have it all. The best foodie place in the area is Jalan Alor Street. (after 5:00 PM)
If you're more into shopping and fine dining – no worries. Bukit Bintang is also home to countless shopping malls. Some of the top ones are The Pavillion (high-end), Low Yat Plaza (gadgets), Starhill Gallery (even more high-end), Lot 10 (mainly clothing), and last but not least – the gigantic Berjaya Times Square, which has a whole theme park inside.
See Also: The Ultimate Phuket Itinerary
Rooftop Bar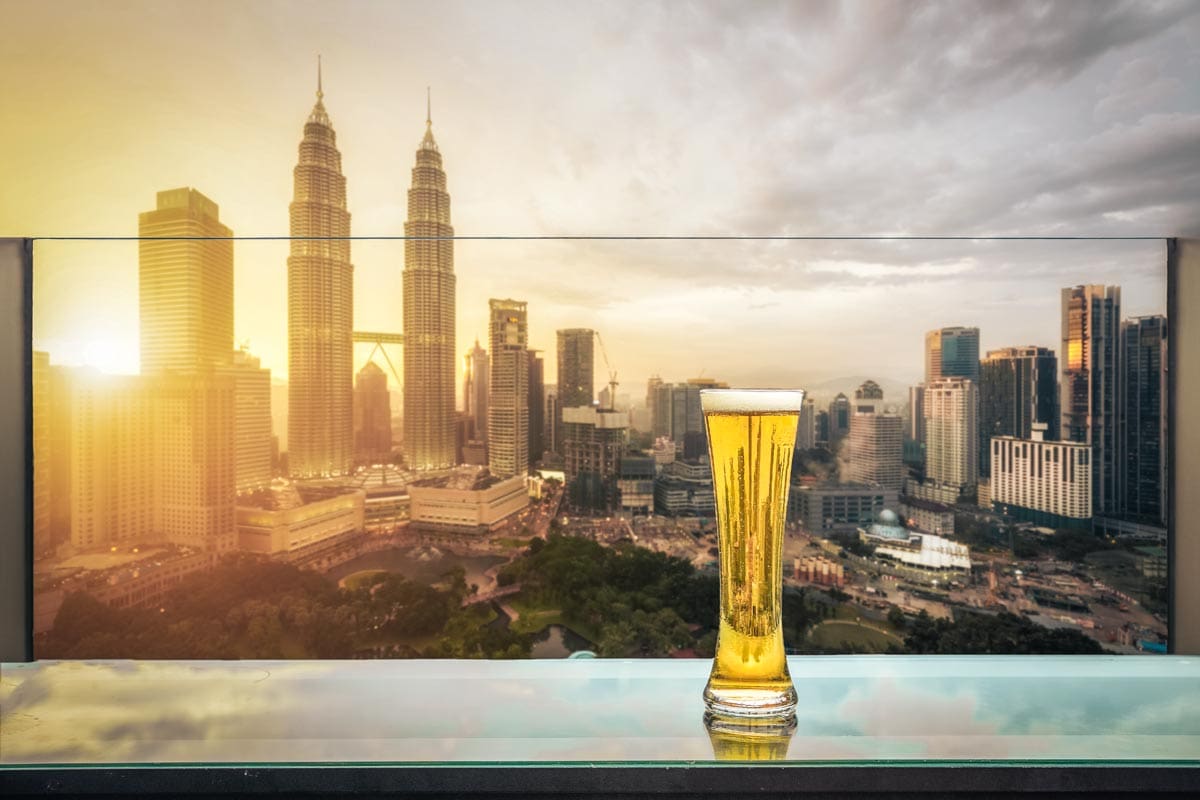 We finish the first of our 3 days in Kuala Lumpur with style – drinking a cocktail in one of the city's popular rooftop bars.
I can't really recommend the best since all of them are pretty goddamn cool, so my suggestion is to pick the one closer to your hotel. The top rooftops in KL are Vertigo, Sky 51, Sky Bar Kuala Lumpur, The Swimming Club at KL Journal, Mantra Rooftop & Lounge, and Canopy Rooftop Bar and Lounge.
See Also: How to spend 2 days in Bangkok
Kuala Lumpur Three-Day Itinerary – Day 2 – Gods and Pandas
Batu Caves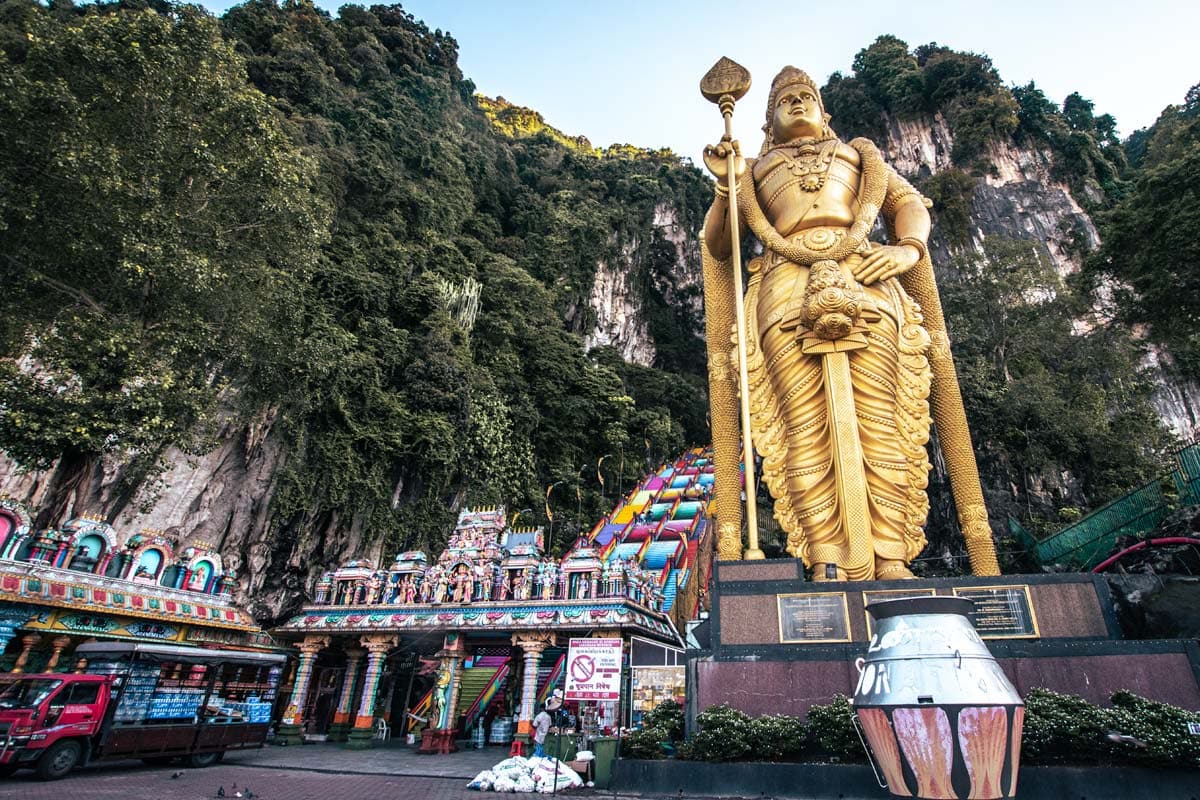 We start the second of our 3 days in Kuala Lumpur with another grand attraction. Located approximately 11 kilometers north of the city center, the Batu Caves are one of the most important Hindu shrines outside India. As the name suggests, the main temple is inside a cave.
To reach the cave, you must cross a gate guarded by a giant (42.7 meters tall) Lord Murugan statue and climb about 272 steps. The place is a major photo attraction, and that's why it's best to visit early in the morning. If you arrive around opening time (7:00 AM), there will be more pigeons and monkeys than people, and you can make a glorious Instagram shot.
Speaking of monkeys, they are in abundance there. My suggestion is not to bother them at all. Even if they seem cute, don't try to pet one, or you risk them stealing your food, bag, or phone. And if they bite you, you need to have a dozen vaccinations or something, soo yeah… better stay away from the monkeys.
Working Hours:
Daily from 7:00 AM to 9:00 PM
Price – Free
Negara National Zoo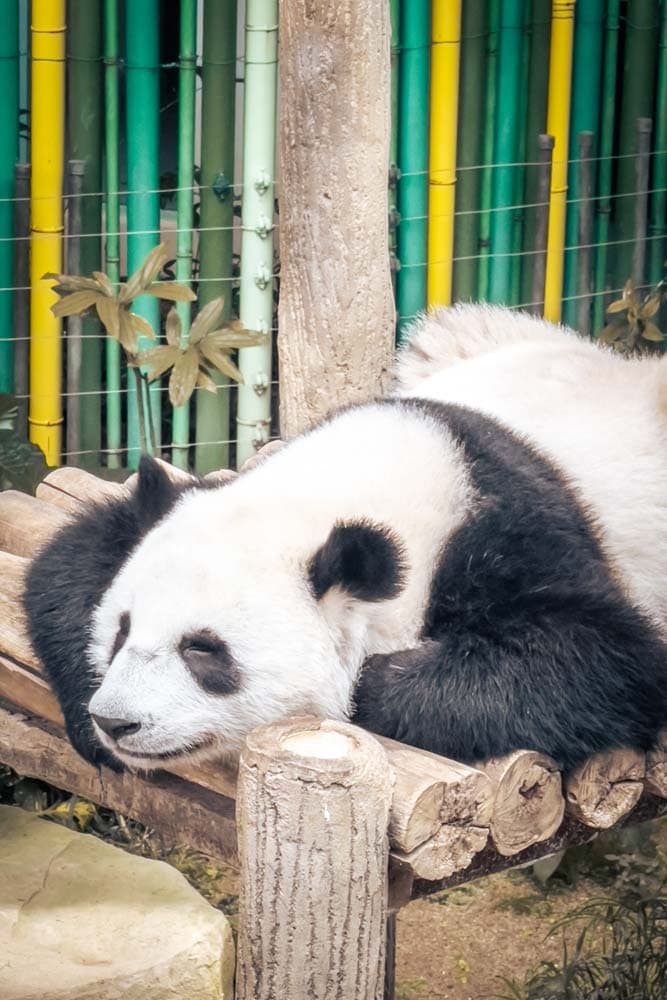 This Kuala Lumpur 3-day itinerary will suggest something none of my other guides have – a visit to the zoo. I'm not a big fan of watching animals behind bars, but worry not – the Negara Zoo keeps its inhabitants not in cages but in open places. That's not the real reason I suggest a visit, though.
The Negara Zoo has one of Earth's rarest and cutest animals – the Panda Bear. Actually, they have a few of them. You are allowed only 30 minutes to enjoy the black-and-white cuties, but if you visit on a weekday, there are usually not that many people, so they let you stay longer.
Working Hours:
Daily from 9:00 AM to 5:00 PM
Price:
Regular – 88 RM (19 USD)
Children (3-12yo) – 43 RM (9 USD)
Online tickets are usually cheaper and offer family tickets – check here
Central Market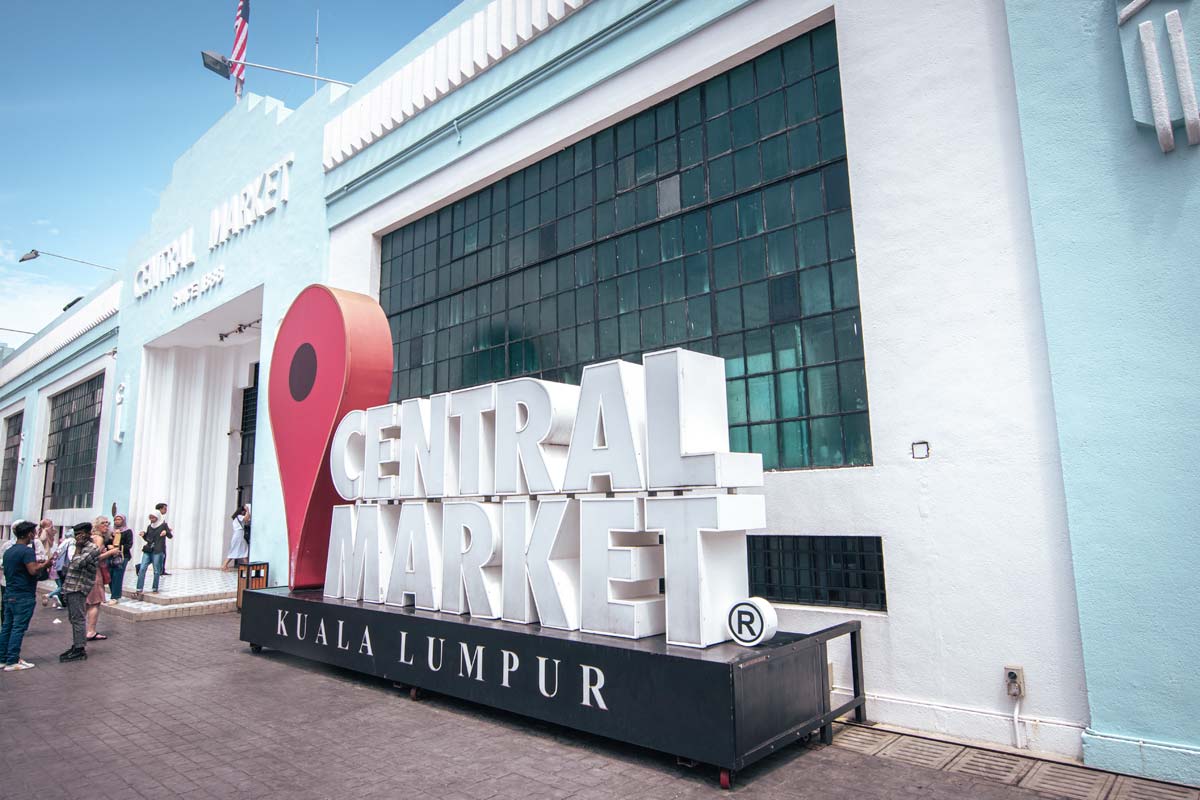 Our itinerary continues with something more relaxed. It's time to get back to the city center and do some shopping. Housed in a beautifully restored Art Deco-style building that dates back to 1928, this charming market is considered a hub for Malaysian culture and arts, where you can find a wide range of shops and stalls that sell traditional Malay clothing, handicrafts, artwork, and souvenirs.
Even if shopping is not your thing, a stroll around the market is quite an awesome experience.
Working Hours:
Daily from 10:00 AM to 8:00 PM
Prices:
Reasonable
Chinatown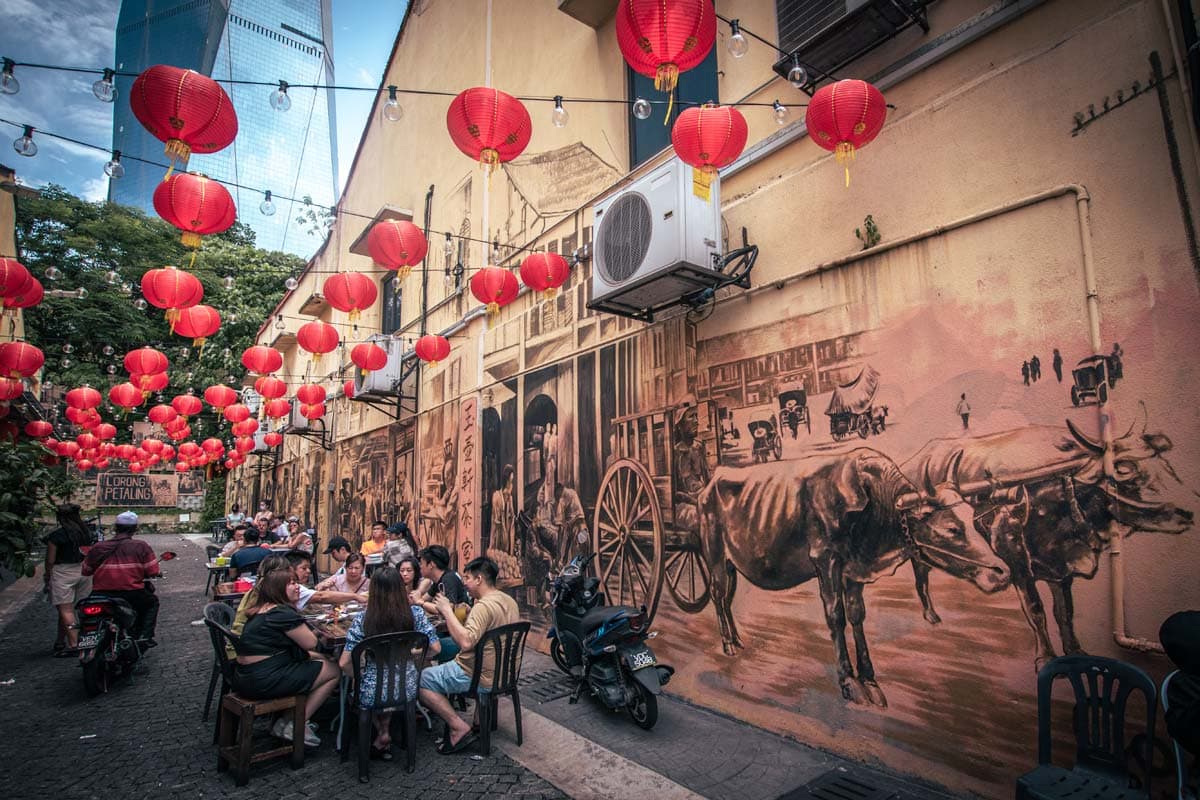 We finish the day in one of the most colorful parts of town – Kuala Lumpur's famous Chinatown. Dating back to the 19th century when Chinese immigrants settled there, the area is best explored in the evening when Petaling Street truly comes alive and the night market opens.
If you arrive earlier, you can check out some of the many temples in the area – the colorful Hindu Sri Mahamariamman or the mystical Buddhist Sin Sze Si Ya Temple. And if you want to sit down for a coffee and observe the chaos around you, there's no better place than the Merchant Lane cafe. Even if there's a line – it's worth it.
See Also: The Ultimate Indonesia Itinerary
Three-Day Kuala Lumpur Itinerary – Day 3 – Jungle and Culture
Thean Hou Temple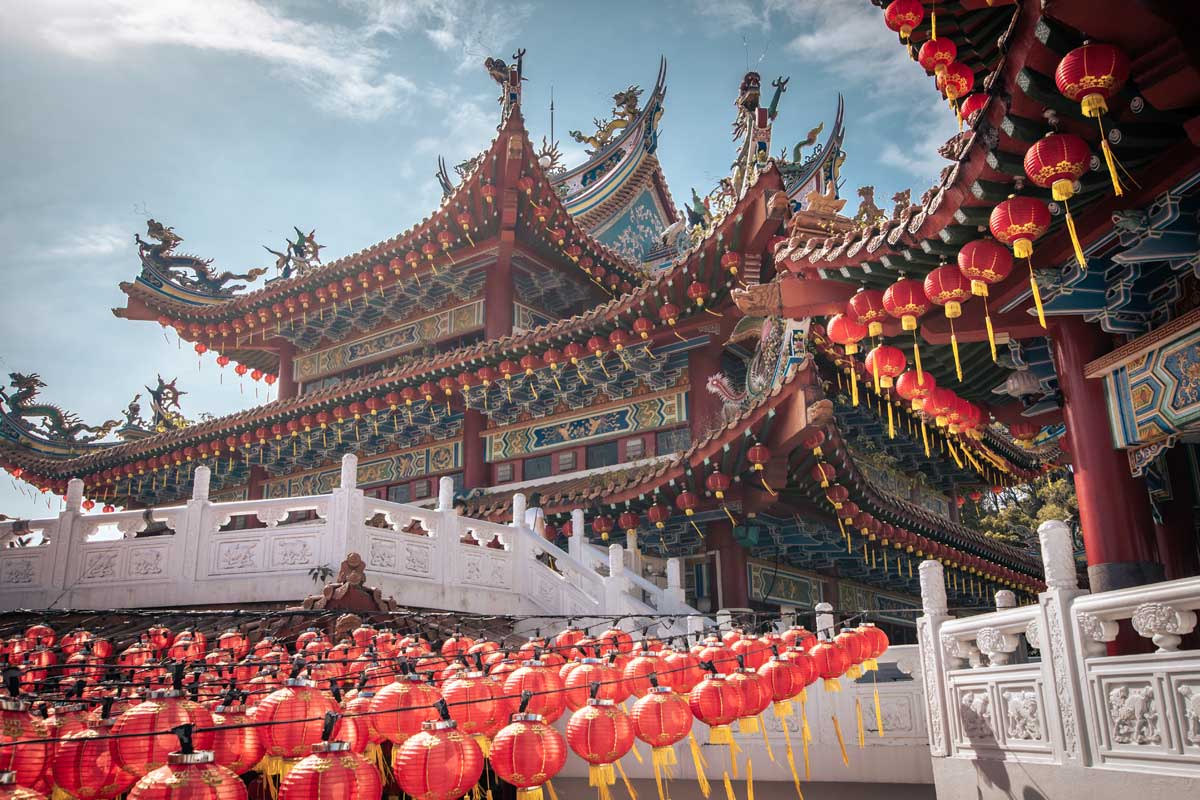 The last of our 3 days in Kuala Lumpur starts with one of Asia's most astonishing Buddhist temples – Thean Hou. Spreading over three levels, the spacious temple complex offers a multi-arched gateway, picturesque red pillars, countless lanterns, and delicate ornaments.
The temple is a favorite place for local weddings and also offers fortune-telling and astrology services. If you're lucky enough to visit during the Lunar New Year, expect a grand celebration with lion dances, dragon dances, and all kinds of dances
Working Hours:
Daily from 8:00 AM to 10:00 PM
Prices:
Free
Islamic Arts Museum
Located in the city's cultural and heritage district, near the National Mosque and the Perdana Botanical Gardens, the Islamic Arts Museum Malaysia (IAMM) was a pleasant surprise. Honestly, I had no expectations for this one and went inside to hide from the heat, but I certainly didn't regret it. The museum was fantastic!
Boasting over 7,000 exhibits spanning over 1,400 years of Islamic history and culture, IAMM is the most impressive museum of this kind in Southeast Asia. Besides the regular exhibition gallery, IAMM's most recognized collection is the caligraphy one. I dare you to check it out and find more beautiful handwriting anywhere else in the world.
And if art is not your thing, the museum is perfect for escaping the midday heat ( pretty good for power naps, too).
Working Hours:
Daily from 9:30 AM to 6:00 PM
Prices:
Regular – 20 RM (4 USD)
Student/Senior – 10 RM (2 USD)
KL Forest Eco Park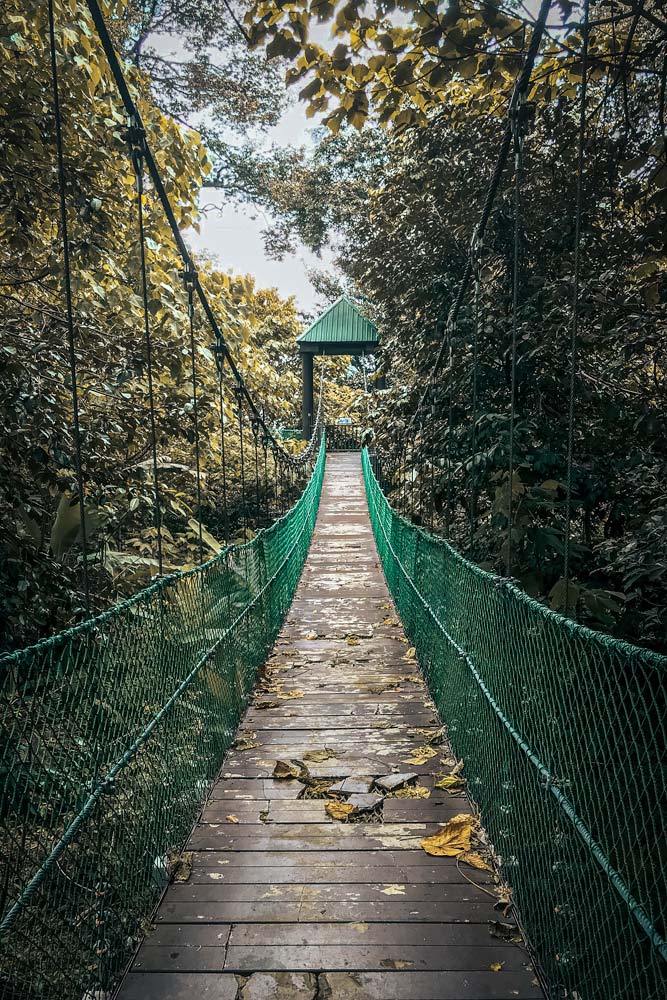 Our ultimate Kuala Lumpur 3-day itinerary continues with another unique attraction – a rainforest in the middle of the city. I kid you not! The Malaysian capital is one of the few cities in the world with a real jungle inside its concrete jungle.
This "Green Lung of Kuala Lumpur" offers a canopy walkway amidst the treetops that give you the chance to see some of the unique biodiversity ( 2,500 species of trees, 200 species of mammals, 600 species of birds, 110 species of snakes, 80 species of lizards and thousands of insects) this tiny park has. There are also several well-maintained trails and a viewpoint with panoramic city views.
Working Hours:
Daily from 8:30 AM to 5:30 PM
Prices:
Regular – 40 RM (8 USD)
Children – 5 RM (1 USD)
Menara KL Tower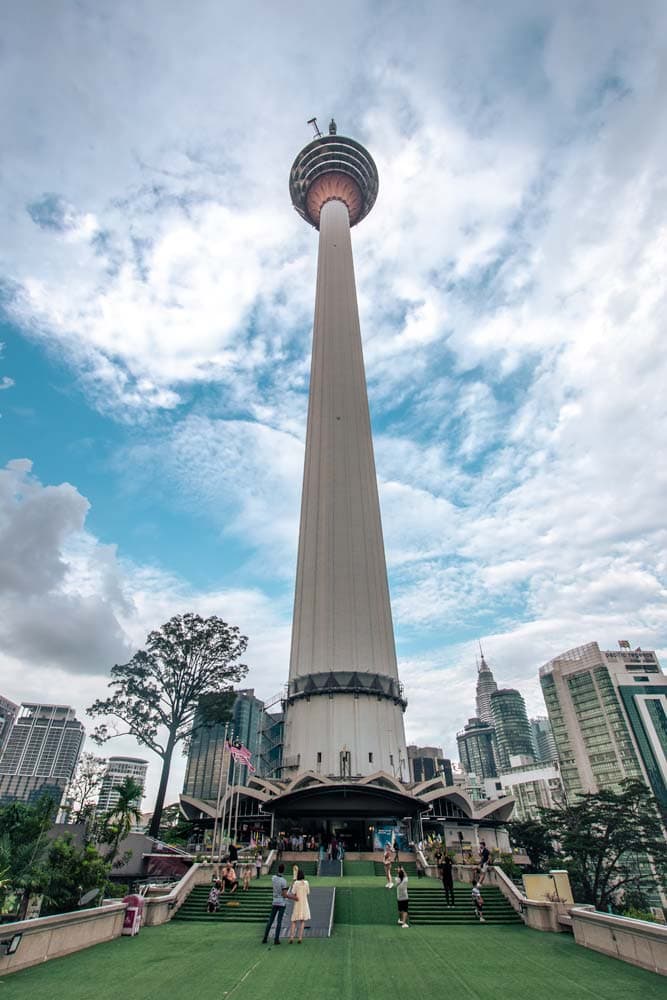 We finish our 3 days in Kuala Lumpur like we started them – with an iconic tower (only one this time). Located right next to the KL Eco Park, the KL Tower rises to 421 meters (1,381 feet), making it one of the tallest telecommunications towers in the world.
The top of the tower offers not only a 360-degree panoramic observation deck but also a wide range of adrenaline-pumping activities such as the Sky Box, a glass-floored observation deck, and the Skywalk, a canopy walkway (yup, on the outside). There are also plenty of dining options, the most famous being The Atmosphere 360 Revolving Restaurant.
Working Hours:
Daily from 9:30 AM to 10:00 PM
Prices:
Multiple options – Check here
See Also: How to Spend 5 Days in Dubai
More Than 3 Days in Kuala Lumpur
Perdana Botanical Garden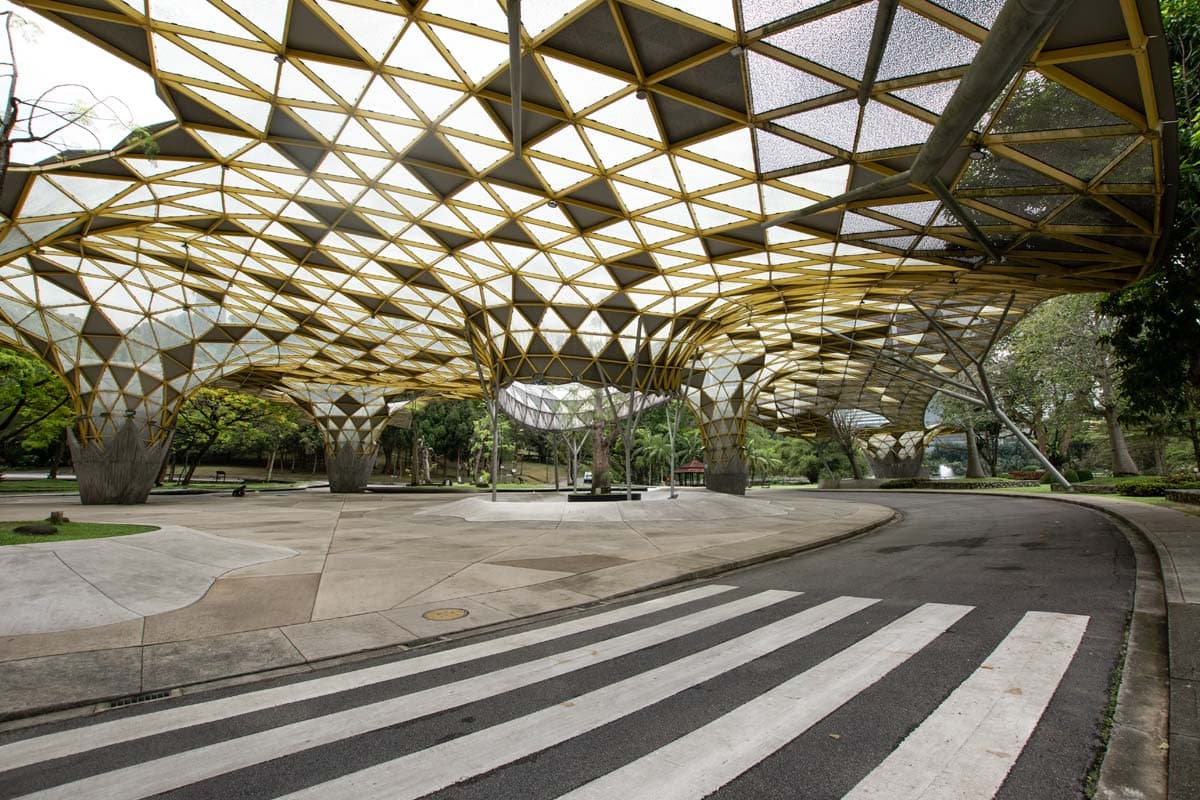 Located in the vicinity of the city center, Perdana Botanical Garden is an expansive green oasis with plenty of things to do. You can lazily stroll around the garden itself, get a boat to explore the lake, visit a butterfly park or the world-renowned KL Bird Park.
Working Hours:
Daily from 7:00 AM to 8:00 PM
Prices:
free

Why is it not on the Kuala Lumpur 3-day itinerary?
If you check attractions at a fast tempo, you may add the garden to day 3 (after the Islamic Museum). I didn't do it cause you have a cooler garden to explore that day.
KL Bird Park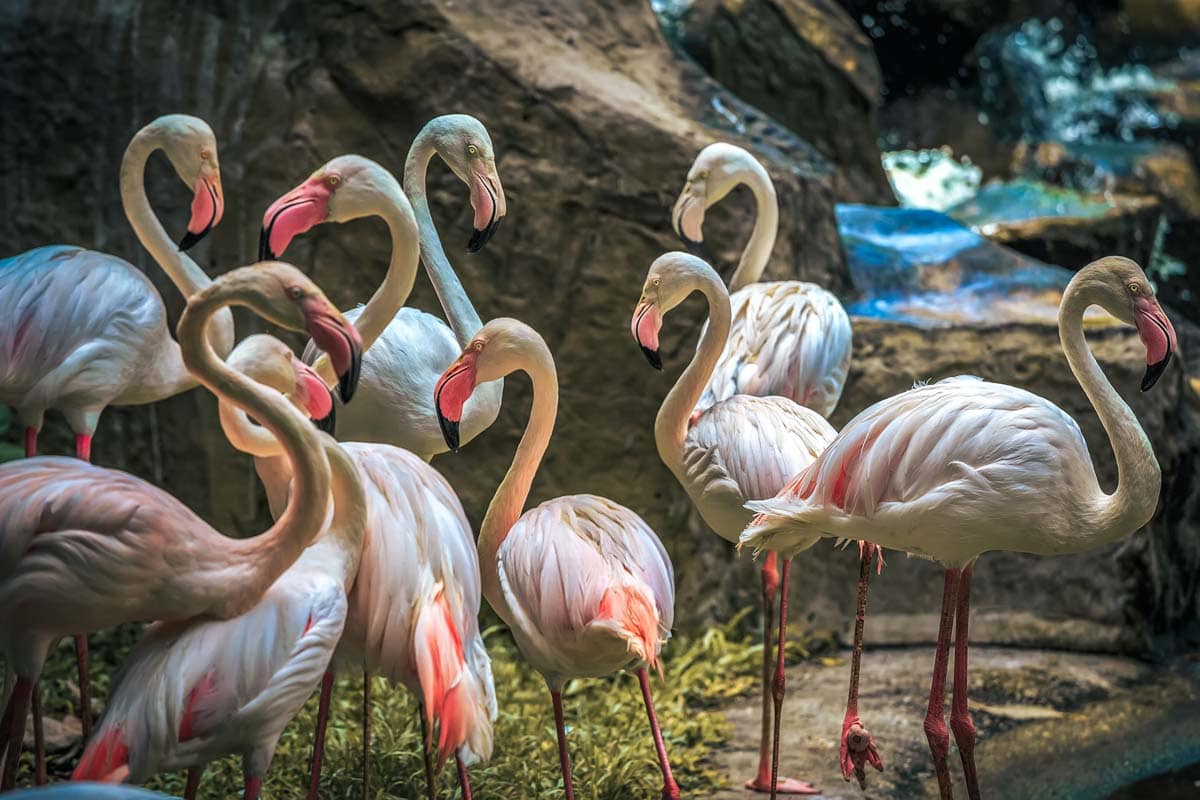 Also known as Taman Burung Kuala Lumpur, KL's Bird Park is one of the largest free-flight walk-in aviaries in the world and allows you to see a wide variety of birds in their natural and open environment. Home to over 3,000 birds from approximately 200 different species, the park is great for a visit with your family.
Working Hours:
Daily from 9:00 AM to 5:30 PM
Prices:
Regular – 85 RM (18 USD)
Children – 60 RM (13 USD)
Online ticket with transfer – check here
Online ticket with Butterfly Park and transfer – check here
Why is it not on the Kuala Lumpur 3-day itinerary?
It's a must for ornithologists, good for families, but overpriced for all others.
KL Butterfly Park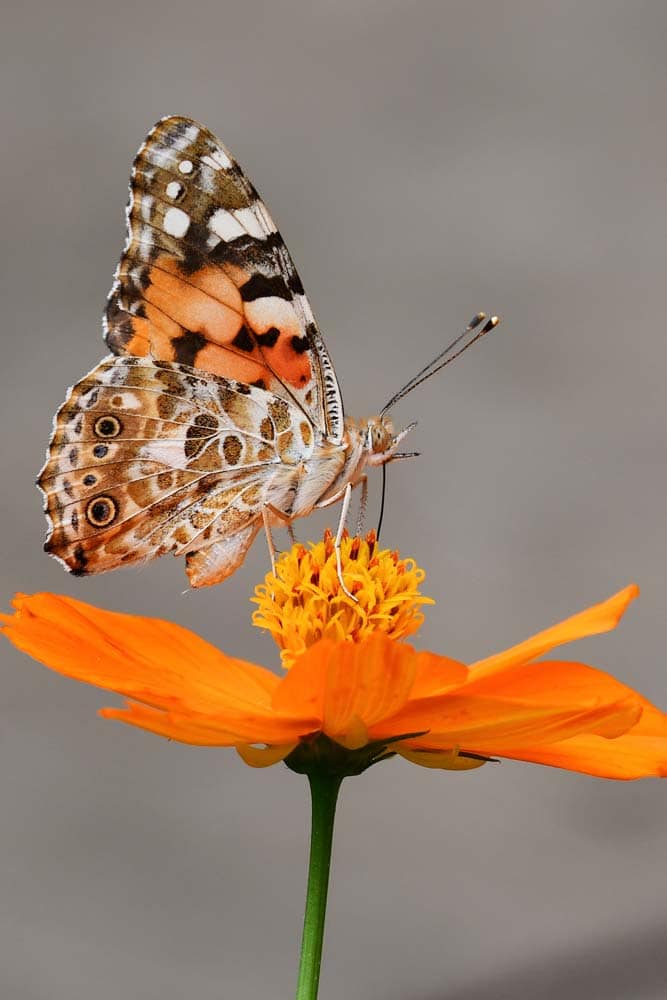 Known as the best butterfly park in the world (as per Discovery Channel), Kuala Lumpur's Butterfly Park is one of the most relaxing experiences in town. The place is exactly as you imagine it – a giant garden inhabited by thousands of beautiful butterflies from all over the world. If you need to relax your brain, and you're already in the Botanical Gardens, you should definitely check this place.
Working Hours:
Daily from 9:00 AM to 4:30 PM
Prices:
Regular – 30 RM (6 USD)
Children (2-11yo) – 18 RM (4 USD)
Online ticket with Bird Park and transfer – check here
Why is it not on the itinerary?
With only 3 days in Kuala Lumpur, you don't have enough time for it. If you're traveling with kids, consider adding it.
Merdeka Square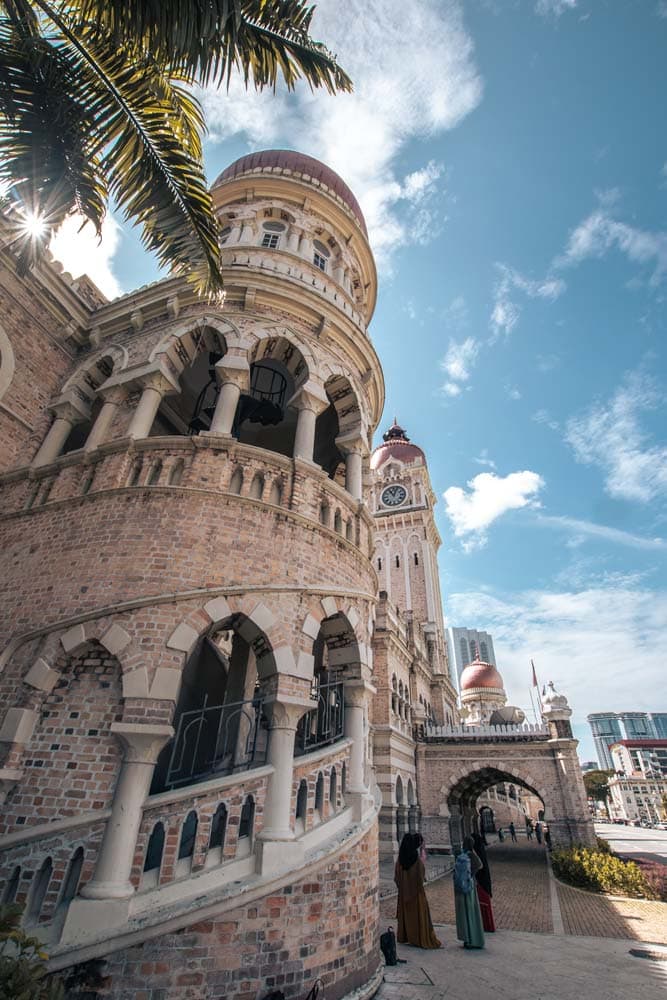 Merdeka Square is the most significant square in the country because it was at this very square that Malaysia's first Prime Minister, Tunku Abdul Rahman, declared independence from British colonial rule on August 31, 1957.
Now, the square is nothing that impressive; there's a giant Malaysian flag and nothing else, but right across it is one of the most beautiful buildings in KL – the Sultan Abdul Samad Building. A beautiful example of Moorish architecture, the former British colonial administration is now a Malaysian government building, but it's still perfect for some Instagram shots.
You can find two other great photo spots in close vicinity – the Sultan Abdul Samad Mosque and the KL City Gallery (with the sign I Love KL in front).
Why is it not on the 3 days in KL itinerary?
While historically significant, the square is not that interesting, and the buildings around it are a must only if Instagram photos are your priority.
Masjid Wilayah Persekutuan (The Federal Territory Mosque)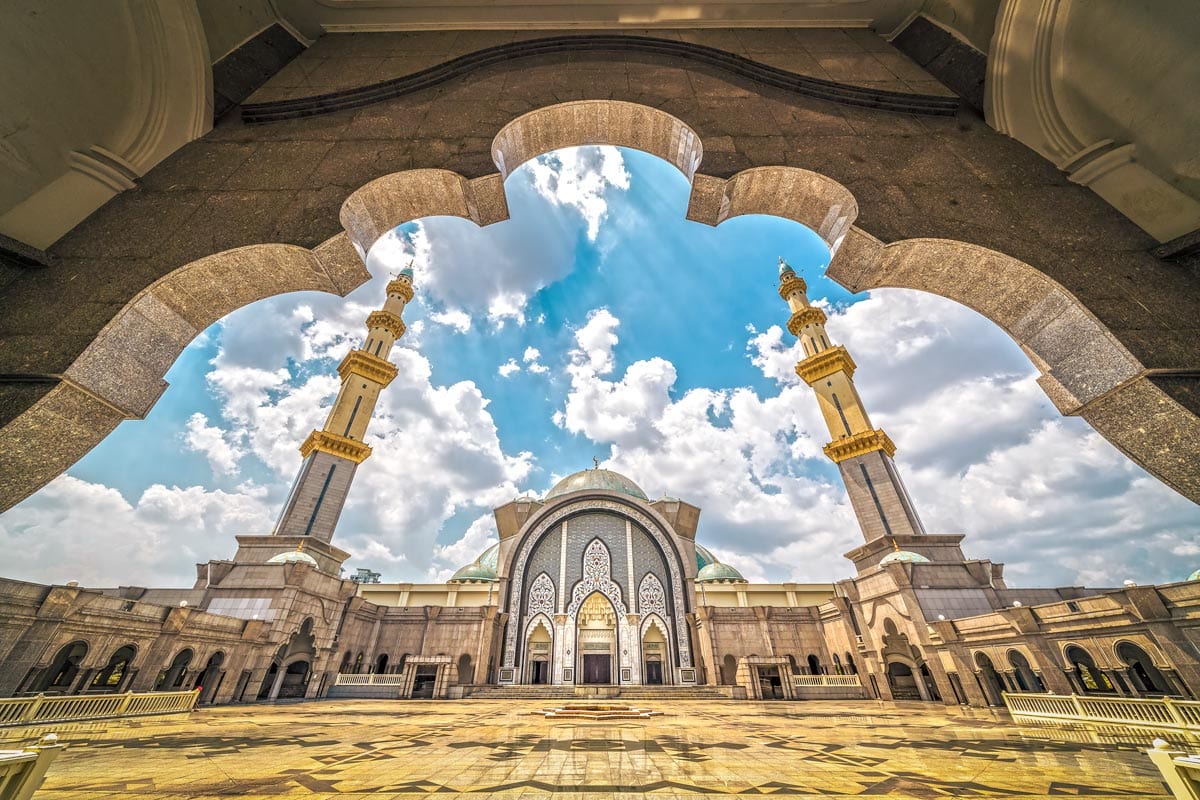 Renowned for its remarkable and modern Islamic architectural design, The Federal Territory Mosque is the most beautiful mosque in Malaysia. It's also the largest, with a main praying hall that can hold up to 17,000 people.
Castaway tip
While both men and women should cover their shoulders, arms, and legs (women should also have scarves over their heads), if you wear improper clothing, you will be given the proper one on the entry (free).

Working Hours:
From Saturday to Thursday – 10:00 AM to 3:30 PM
Friday – 10:00 AM – 11:30 AM and 3:00 to 4:30 PM
Prices:
Free
Why is it not on the Kuala Lumpur 3-day itinerary?
It's too far from the other attractions
National Museum of Malaysia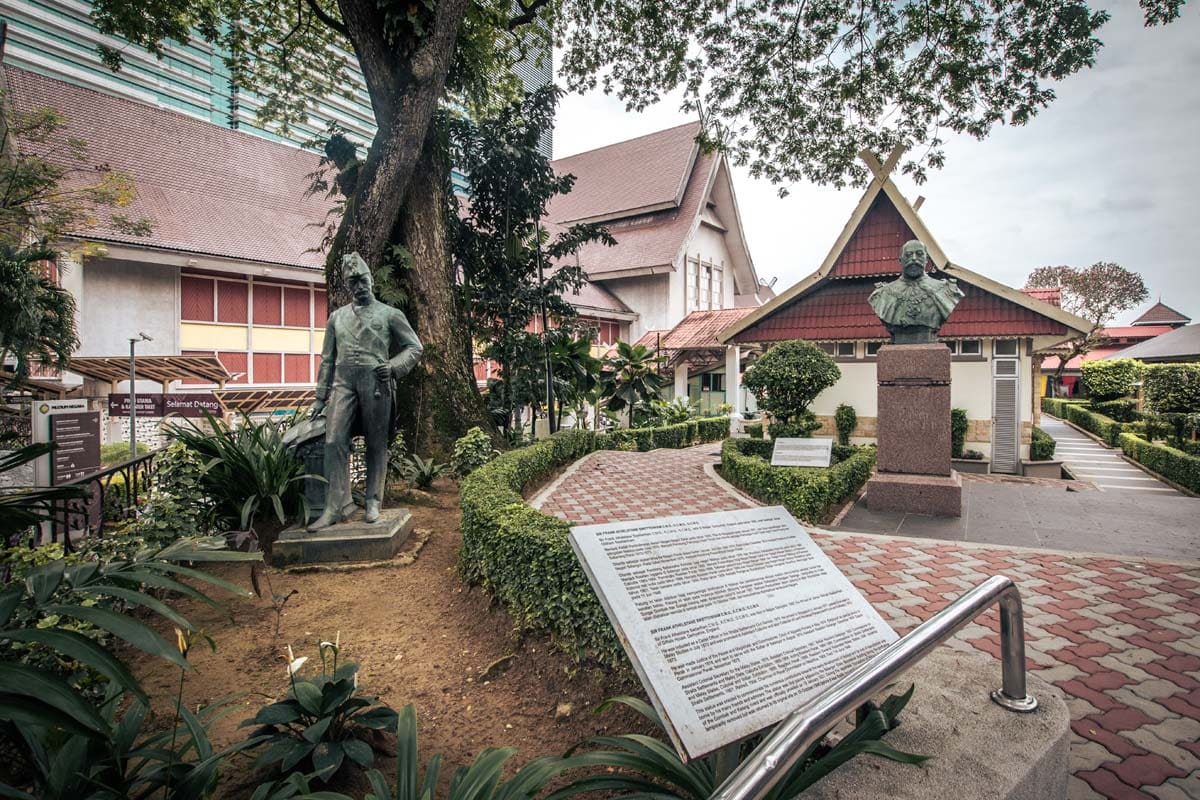 Also known as Muzium Negara, the National Museum of Malaysia is one of the best museums in the country. Showcasing Malaysia's cultural and historical heritage since 1963, the museum is a must for history buffs.
Working Hours:
Daily from 9:00 AM to 5:00 PM
Prices:
Regular – 2 RM (0,40 RM)
Children – Free
Why is it not on the Kuala Lumpur 3-day itinerary?
We don't have enough time for 2 museums, and I enjoyed the Islamic Art one more.
Ilham Gallery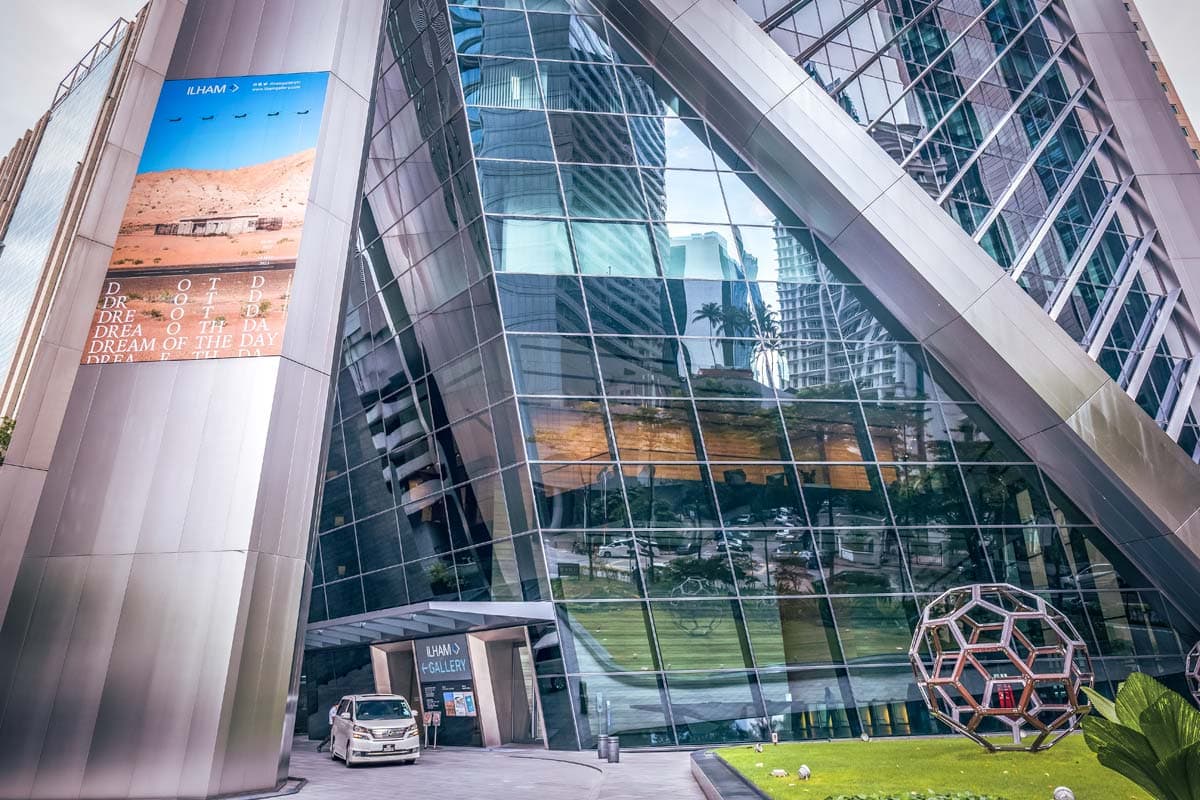 A contemporary gallery focused on promoting and showcasing modern art from local and international artists. Situated close to the Twin Towers, visiting the gallery does not require a considerable detour.
Working Hours:
Tuesday to Saturday from 11:00 AM to 7:00 PM
Sunday from 11:00 AM to 5:00 PM
Monday – Closed
Prices:
Free
Why is it not on the Kuala Lumpur 3-day itinerary?
Modern Art is not everybody's cup of tea.
Little India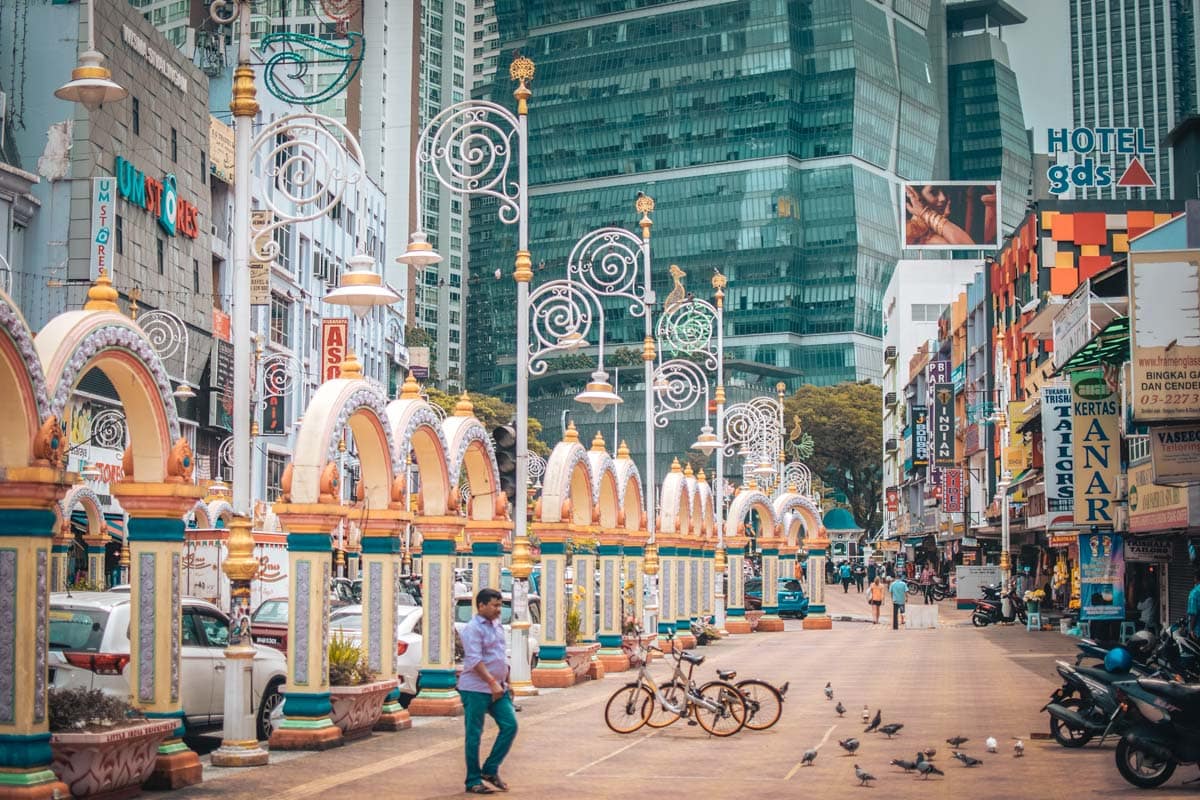 No matter where in the world, Little Indias are always vibrant and culturally rich neighborhoods. The Kuala Lumpur one is no exception. Colorful streets with Hindu temples combined with the typical Indian spices aroma make an excellent combination for an afternoon stroll.
Why is it not on the Kuala Lumpur 3-day itinerary?
Not that many attractions.
See Also: How to Spend 5 Days in Singapore
Where to stay in Kuala Lumpur
High-End
Banyan Tree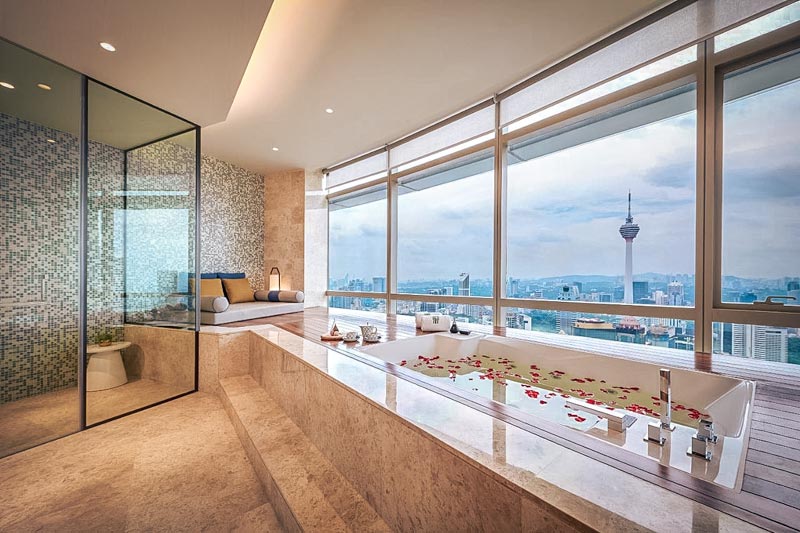 If you're looking for the very best place to stay in KL, Banyan Tree is the one for you. This hotel simply has everything. Luxurious rooms with giant beds, breathtaking panoramic views (Hello Twin Towers), a rooftop bar, and the Pavilion Shopping Mall just 3 minutes away. And for the ultra-luxurious hotel that it is, the prices are not that crazy.
Check the latest prices
Moderate
Paradise Suites at Eaton KLCC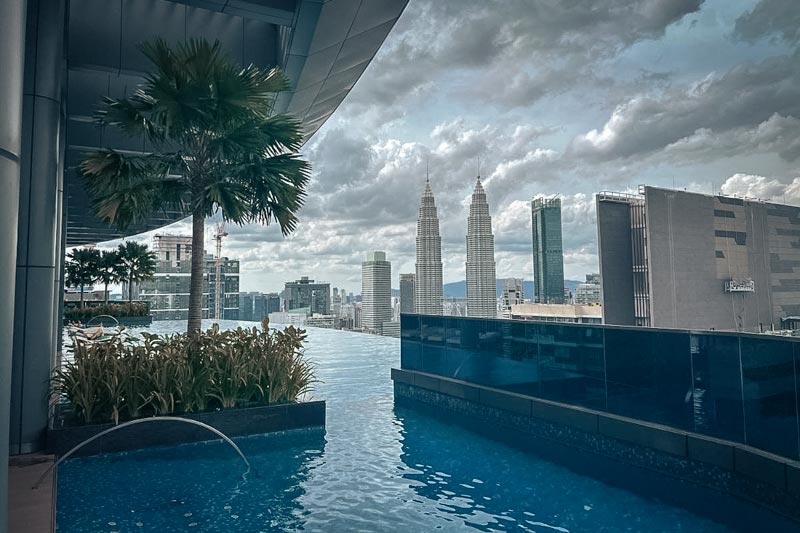 Housed in the Eaton Residence, the Paradise Suites are modern apartments with a perfect location. You are 10 minutes away from the center or the Twin Towers; I mean, it can't get better than that, can it?
You also get spa and wellness facilities, including a hot spring bath, a hammam, and a gym. All of that for a pretty moderate price.
Check the latest prices
Budget
The Bed KLCC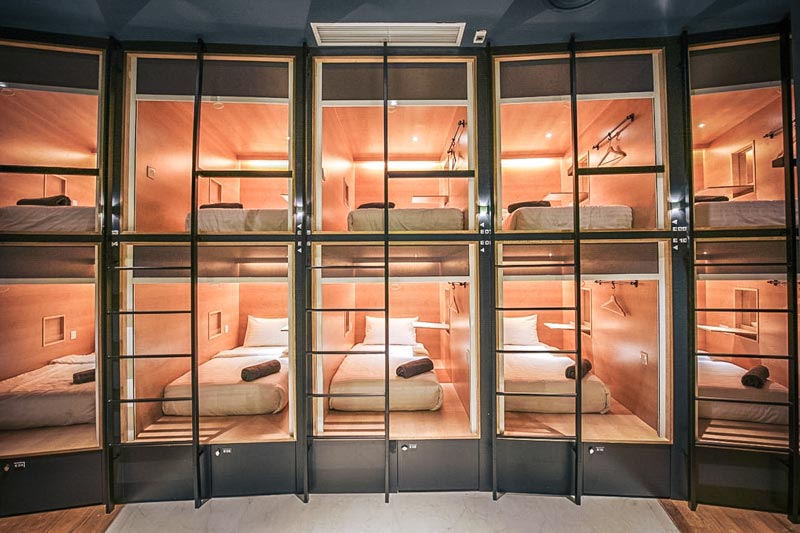 If you have a tight budget, The Bed KLCC is the place for you. The very best hostel in town is centrally located in the Kuala Lumpur commercial district next to the Petronas Towers. The hostel is impeccably clean, the pods are large, and you have a cool common area – the perfect budget place.
Check the latest prices
KL Tours
The Tasty Food Tour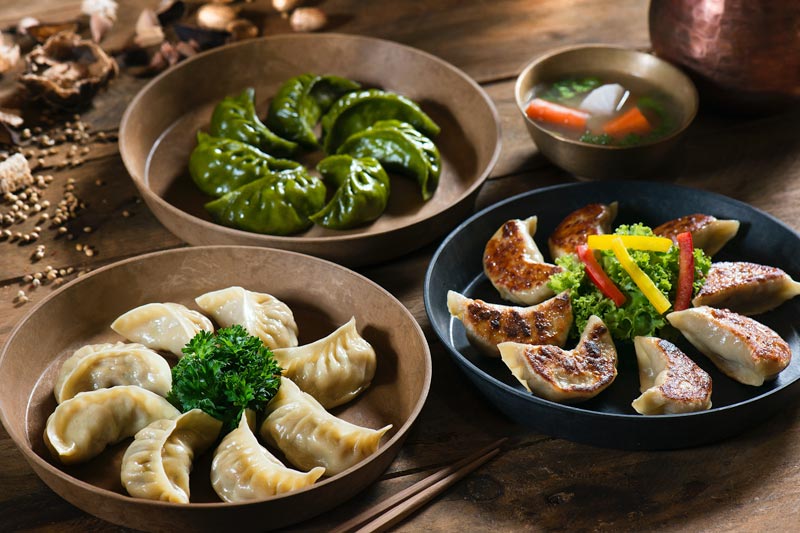 Malaysia is famous for its delicious cuisine, so a food tour in Kuala Lumpur is a no-brainer. If you decide to get this one, I suggest doing it on your first day so you can use the gained knowledge during your whole trip.
Check the latest prices
The Curious Fireflight Tour
Fireflies used to be something ordinary, but today, they are so rare you must go on special tours to see them. This one will take you to the nearby town of Kuala Selangor (famous for its fireflies) for a magical night to remember (a must-have if you've never seen fireflies)
Check the latest prices
The Pinky Putrajaya Tour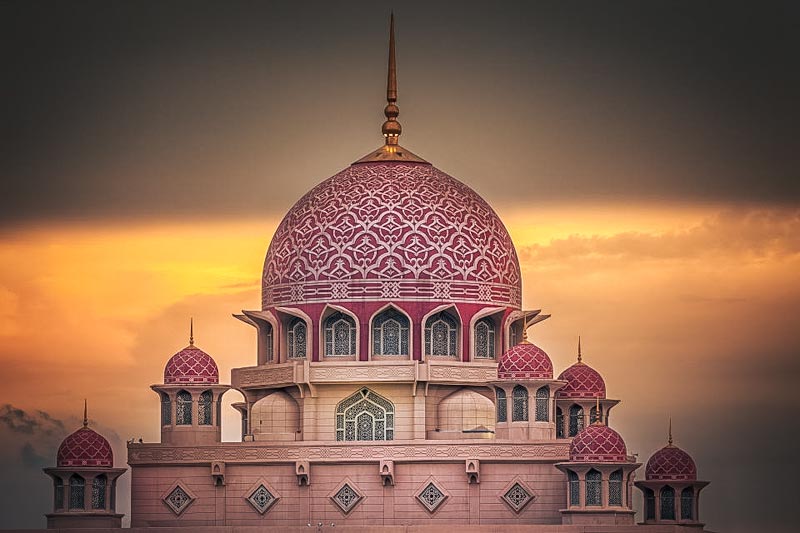 This trip to nearby Putrajaya is a complete package. You will visit the gorgeous pinky Putra Mosque, climb to the top of the Convention Centre (for some sweet panoramic sights), and relax on the Putrajaya Lake.
Check the latest prices
KL Day Trips
Melaka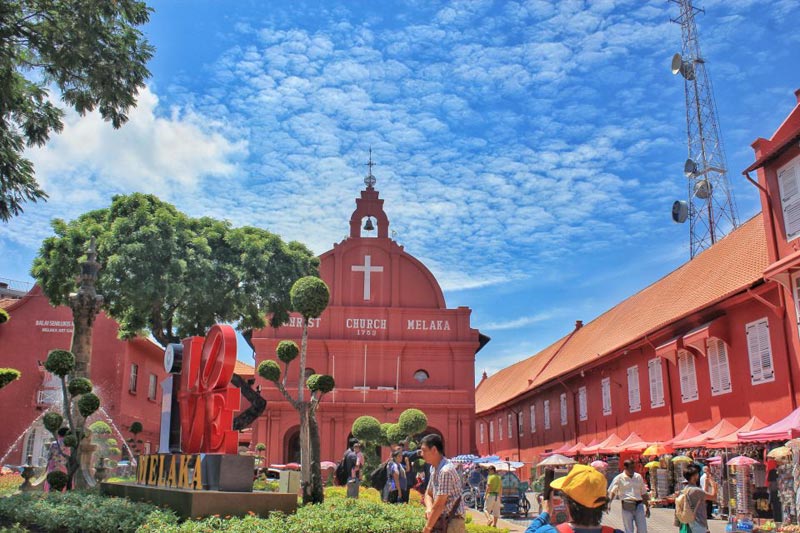 This day trip will take you to the historic coastal city of Malacca – the town where the whole nation of Malaysia began. This UNESCO-listed city offers many wonders, including the 17th-century Chinese Cheng Hoon Teng temple, St. Paul's Church ruins, the Red Square, and the pink Dutch administrative buildings that now house the Malacca Museum and government offices.
Check the latest prices
Taman Negara National Park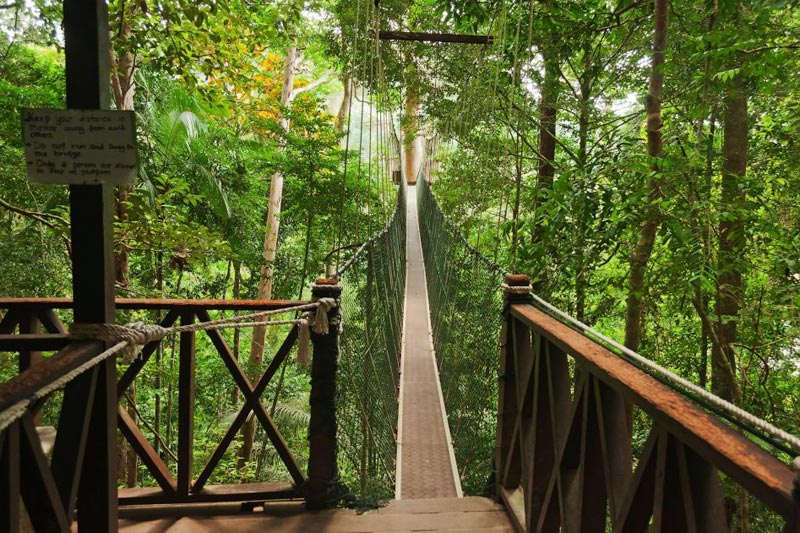 This day trip will take you to one of the oldest and most dense rainforests in Taman Negara. Rainforests are always a pretty cool place to visit, but this one is taking things to the next level with chances to experience orangutans, native tribe members, and the world's longest canopy walk.
Check the latest prices
Cameron Highlands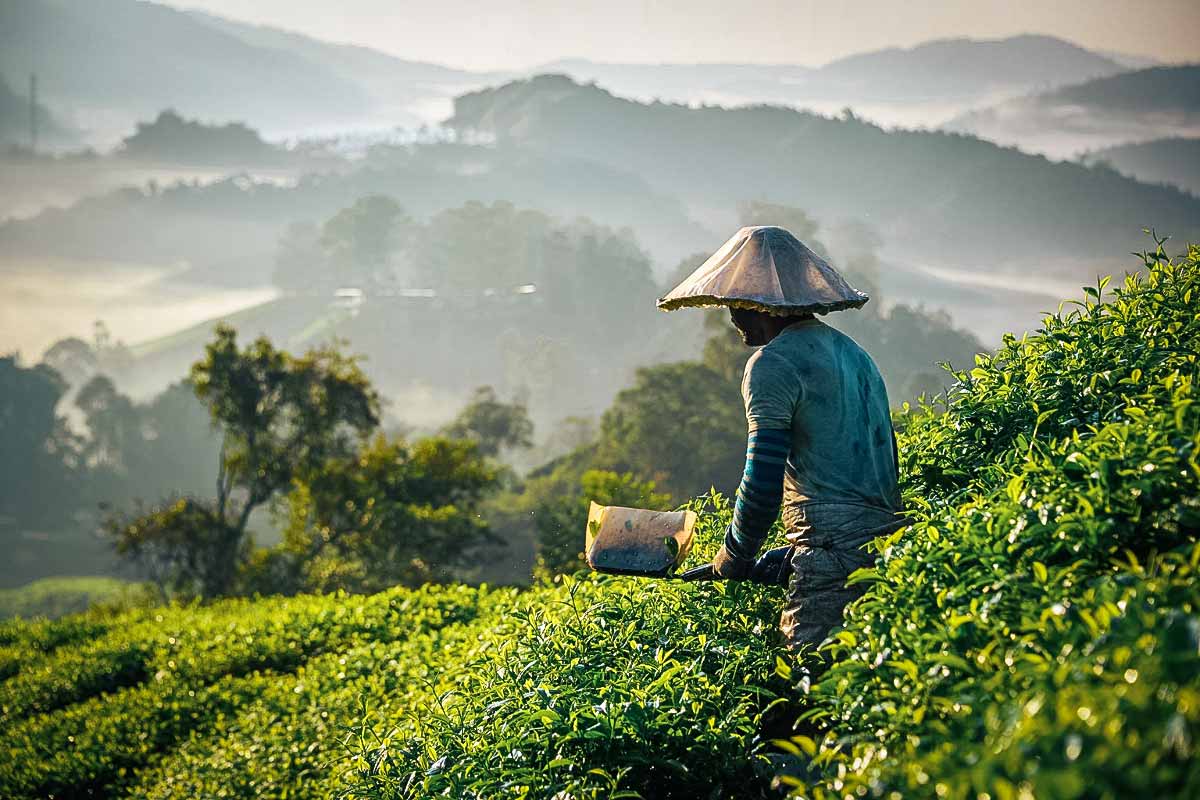 If you don't have the time to spend a few days in the Cameron Highlands, you should definitely take this tour. Exploring the largest tea plantation in Southeast Asia, combined with countless organic strawberry farms, is truly a fantastic experience.
Check the latest prices
Kuala Lumpur 3-day itinerary FAQ
When to visit KL
Being close to the equator, Kuala Lumpur offers similar temperatures year-round. You should pack your umbrella too because KL also offers a lot of rain. Really, a lot of rain! The dry season is from May to September, and even then, you can expect around 15 rainy days per month. The good thing is the rain is usually early in the morning and won't hinder your travel plans. That's why this is the best time to spend 3 days in Kuala Lumpur.
Another great month to visit the capital of Malaysia is December. The city is brightly decorated, and there are only 12 rainy days.
All the other months are rainy seasons. Yes, KL has not one but two rainy seasons – the Eastern Monsoons (March-April) and the Western Monsoons (October – January besides December).
Is Kuala Lumpur safe?
Kuala Lumpur is one of the safest cities in Southeast Asia, ranking number 32 in the world (as per EIU Safe Cities). Of course, there are petty thefts and pickpockets, so stay vigilant in crowded areas.
This doesn't mean you should skip travel insurance, though. Everything can happen, and having one gives you the freedom of the mind to enjoy your vacation to the max. I currently use HeyMondo for my travels because they have proven themselves to me more than once over the years. The link above will give you a 5% discount, but If you have another favorite provider, that's okay. Just make sure you have one because you never know what may happen.
How to get around Kuala Lumpur
The easiest and most popular way to explore KL is via the metro. The city has four lines – LRT (Light Rail Transit), RapidKL, KTM Komuter and KL Monorail. They were quite the same to me and a bit confusing to navigate at first, but it's nothing to worry about.
The metro system covers a large part of the city, but if you want to check something that's not part of the ultimate Kuala Lumpur 3-day Itinerary, you can get the bus. They are relatively inexpensive and pretty well-maintained.
If public transport is not your thing, you can rent a car, download Grab (Asian Uber), or go for a hop-on bus. I recommend getting a taxi only if you feel insecure with modern phones and apps and don't want to learn how to get a Grab (or you don't have a local SIM card). Otherwise, there are no benefits to taxis.
Overall, KL is one of the easiest cities to get around, so you won't have any troubles.
How to get from the airport to the KL center
The fastest way to get to KL city center from the airport is the KLIA Ekspres train. The journey lasts approximately half an hour (to KL central), and the trains arrive every 15-20 minutes.
If you prefer buses (why would you?), you can take the airport shuttle bus; however, prepare for an hour-and-a-half journey for a similar price.
Grab is another option that can leave you at the front of your hotel but requires a local SIM card. If you don't have one, book a private shuttle, get a taxi, or rent a car.
Is KL worth it?
KL is terrific, and I'm sure that if you follow this incredible Kuala Lumpur 3-day itinerary, you'd agree.
Kuala Lumpur 3-day Itinerary Map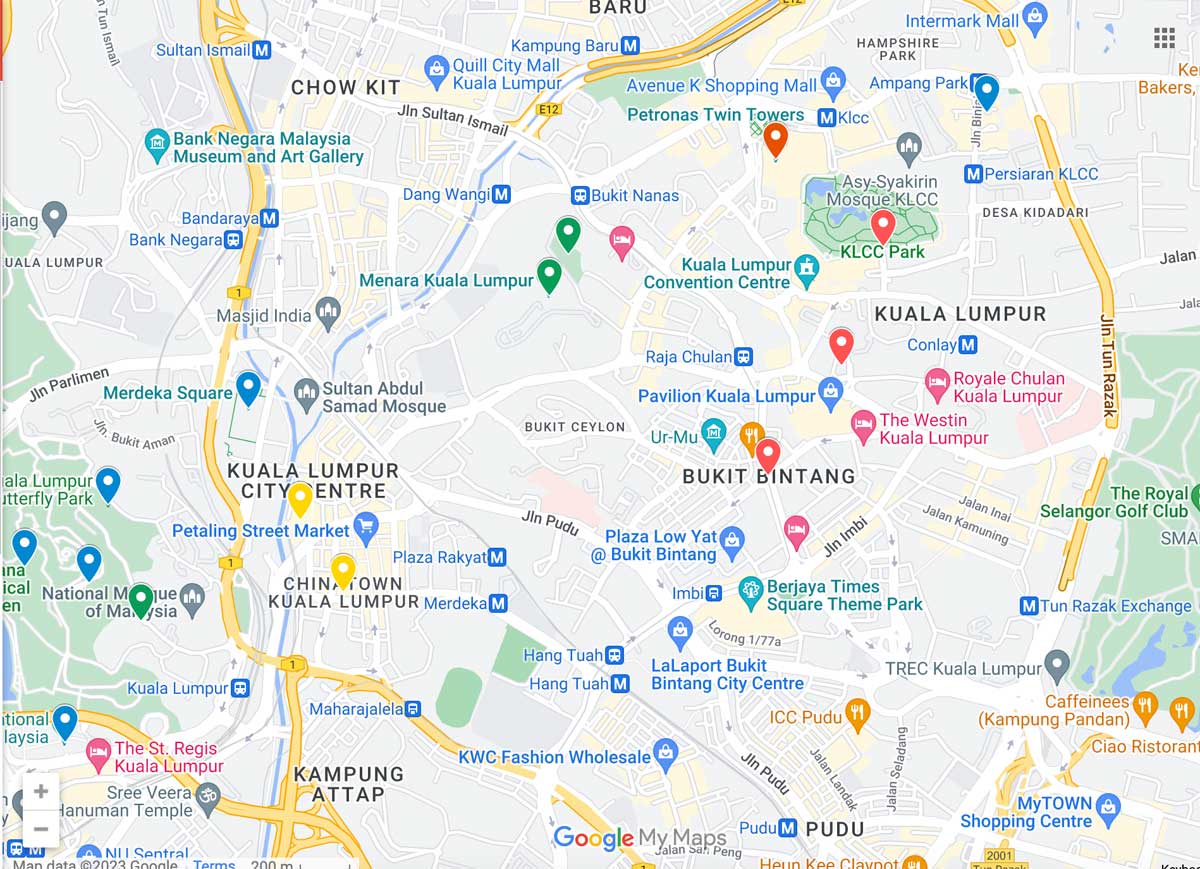 That's all from me, now you have the best 3-day Kuala Lumpur itinerary.
————————————
If you haven't planned your trip there yet, find out how I plan my trips!
————————————
I have 13 bucket list ideas for Malaysia. See my impossible bucket list of 1700+ adventures!

Is Malaysia on your bucket list?
---

Some of the photos in this article were taken from Depositphotos.com – the best place for stock photos out there.
Some of the above are affiliate links and I will earn a percentage of the sale if you purchase through them at no extra cost to you. This helps keep my site running – so thanks in advance for your support!