Nestled in the lush hills of Malaysia's Pahang state, Cameron Highlands is a haven for nature lovers. Known for its tea plantations, rolling hills, cool temperatures, and strawberries, this region is a popular destination for those looking to escape the hustle and bustle of Malaysia and fill their eyes and souls with green tranquility. To do it efficiently, though, you need a great Cameron Highlands itinerary.
Designed to take you around the best of the region in just 2 days, this compact guide will showcase the very best of the region. If you have more time to spend there, no worries. I'll list everything there is to do in the Highlands so you can be prepared for a memorable trip.
Are you ready?
Let's go!
Where is Cameron Highlands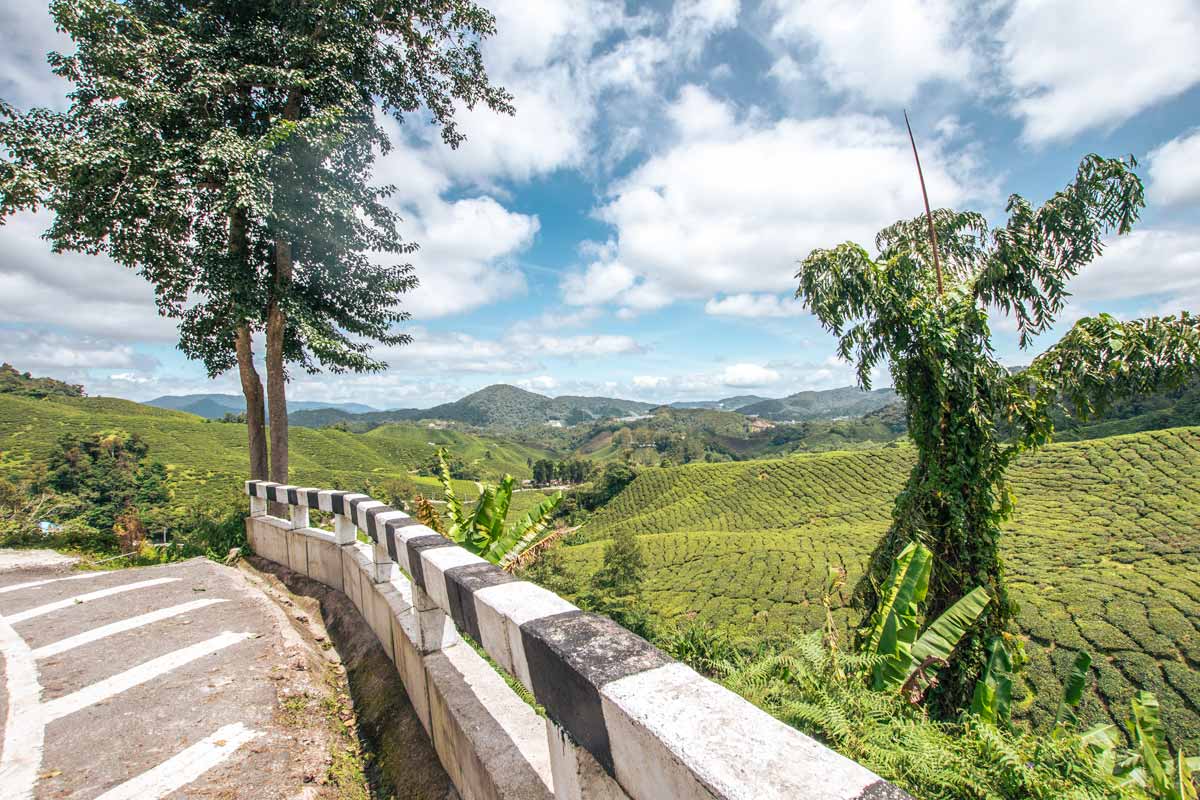 Located in central Malaysia, Cameron Highlands is just 200km from Kuala Lumpur and 250km away from Georgetown. Since those are the two most popular tourist places in Malaysia, Cameron Highlands may act as the perfect stop between them.
How to get to Cameron Highlands
In order to follow the Cameron Highlands itinerary, you have to get there first, right? Located up in the mountains, there are only two ways to reach it.
The most popular one is via rented car. The most significant advantage of this option is that you're also free to explore the area without relying on taxis. Rented cars may be expensive, though, so I recommend checking out Discover Cars. Their tool compares all the prices in the region, and it's not rare to find incredibly cheap offers.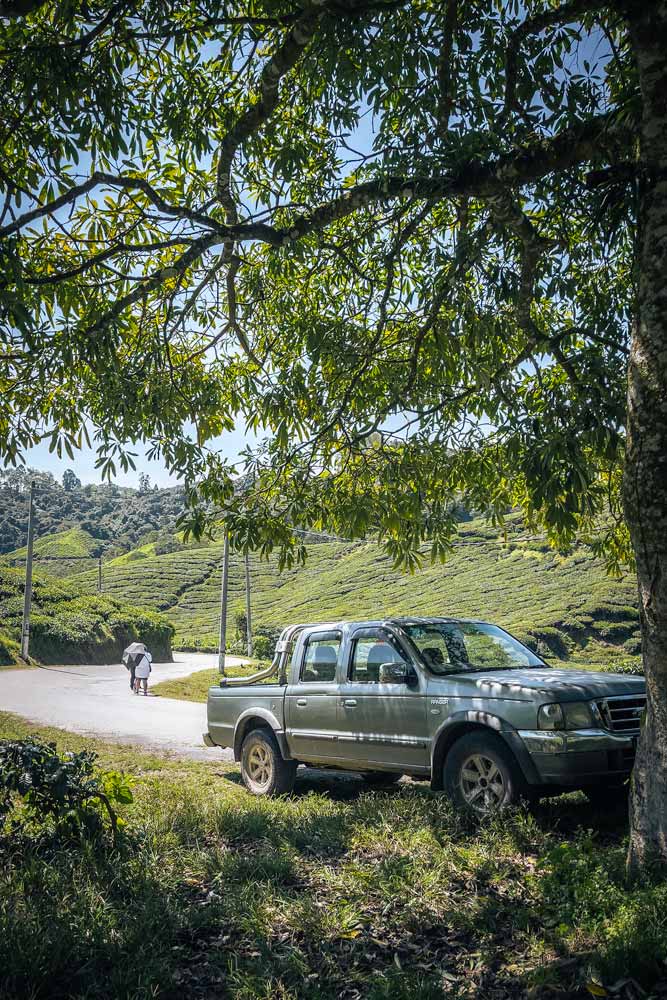 The other way is to get a bus. Plenty of buses depart from Kuala Lumpur, Georgetown, or Ipoh and go to Tanah Rata (the main town in the Highlands). If your accommodation is in Brinchang (the other big town), tell the driver, and they will make a stop there.
If you are a train enthusiast, you may catch a train from Penang or Kuala Lumpur to the nearby city of Ipoh and then take a bus or taxi to Cameron Highlands. The train journey takes about 2-3 hours and is a scenic ride through rural Malaysia.
Cameron Highlands Itinerary – Day 1
BOH Tea Plantation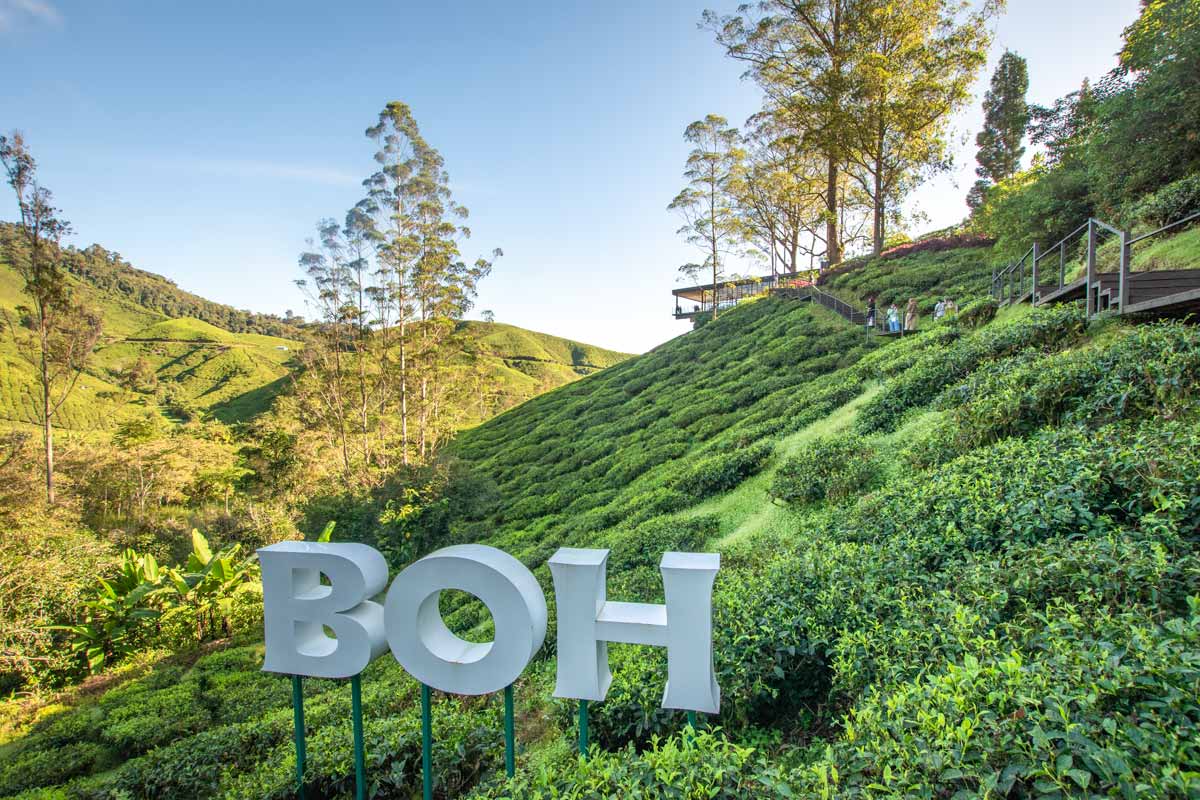 BOH Tea Plantation is the largest tea plantation in South-East Asia that produces more than 5 million tea bags daily. It's also probably the reason you are reading this Cameron Highlands itinerary.
Spanning over 465 hectares of rolling hills and lush greenery as far as the eye can see, the plantation feels otherwordly. The visit is free and includes a small tour of the factory. There's also a tea house (the taxi will drop you there) where you can try their famous products while overlooking the green sea of tea.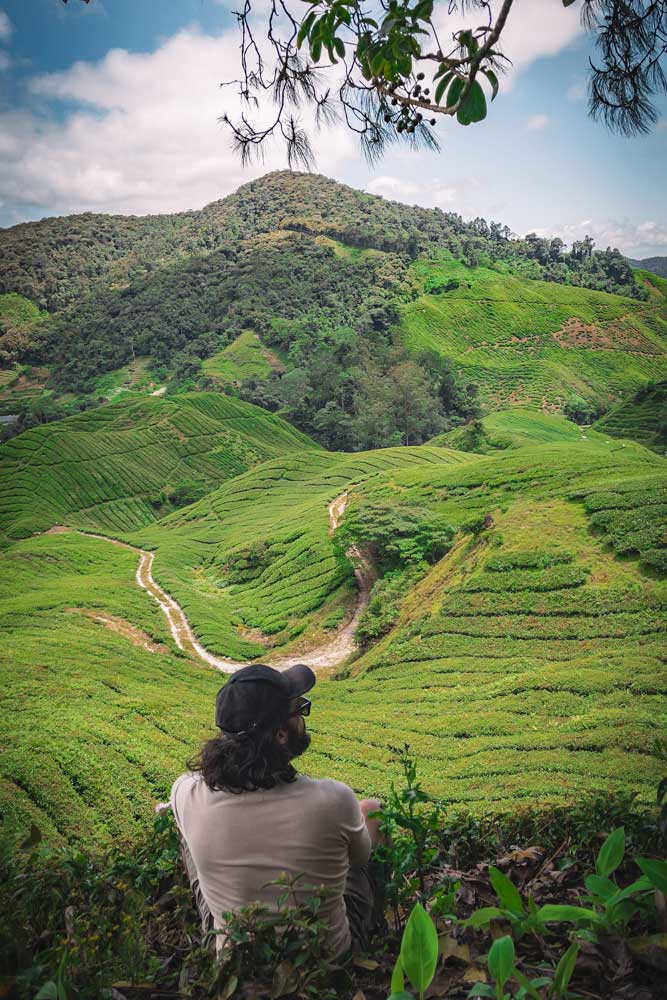 The best part, however, is not the tea house, factory tour, or the gift shop. The best experience at the BOH Tea Plantation can be enjoyed if you go out of the beaten path. Type 4.522034, 101.398218 in Google Maps (or Maps.me), save it, and make sure you don't miss it. This is the most incredible view spot inside the plantation, and – it's free of people! While there are hundreds and hundreds of visitors in the tea house, there's literally no one at the most scenic spot in the area. You can reach it easily by car or even by foot. While there's a slight uphill walk, it shouldn't be a problem.
Tea House Working Hours:
Tuesday to Sunday from 8:30 AM to 4:30 PM
Monday – Closed

Price:
Free

How to reach?
Via rented car/bike or taxi/grab. There's no public bus going there.
Explore your town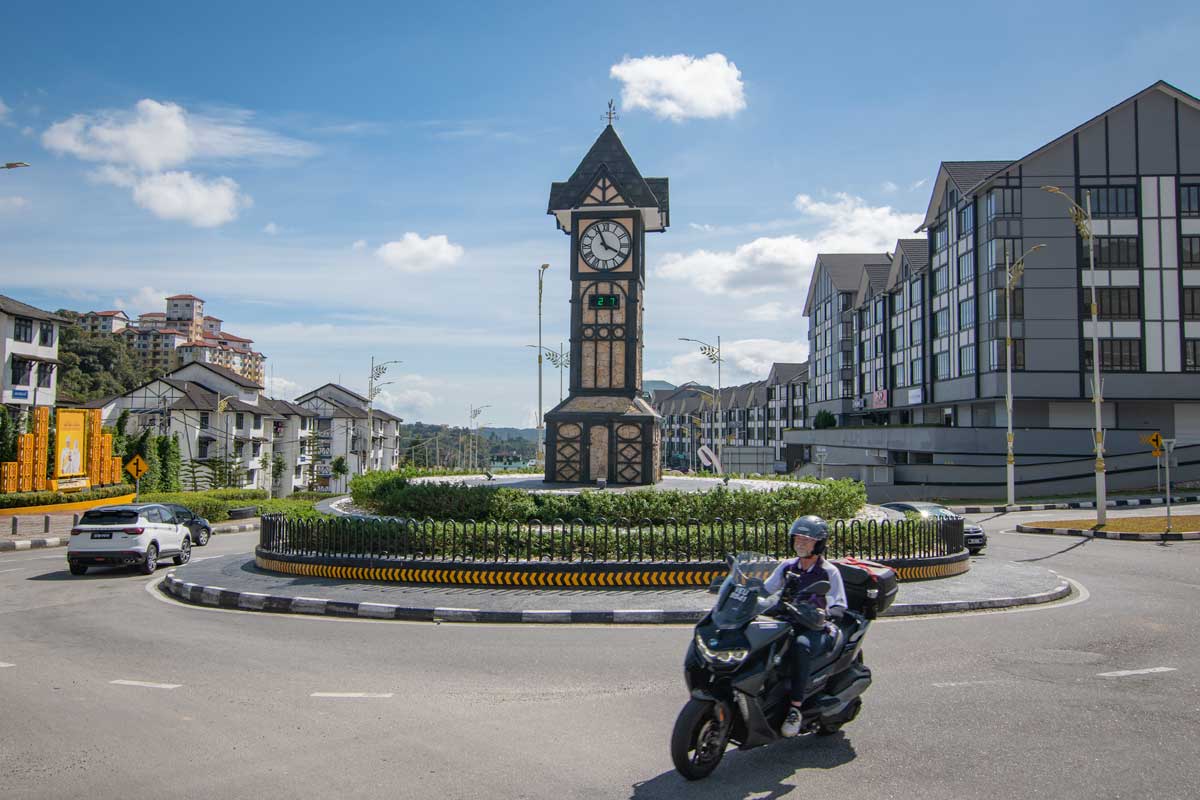 BOH Tea Plantation should take most of the first day of your Cameron Highlands itinerary, so the best you can do in the afternoon is to explore the town you stay in. Both Brinchang and Tanah Rata have plenty of local shops, farms, and restaurants to check out. If it happens to be Friday or Saturday, you can enjoy the famous Brinchang Night Market (from 5:00 PM to 11:00 PM).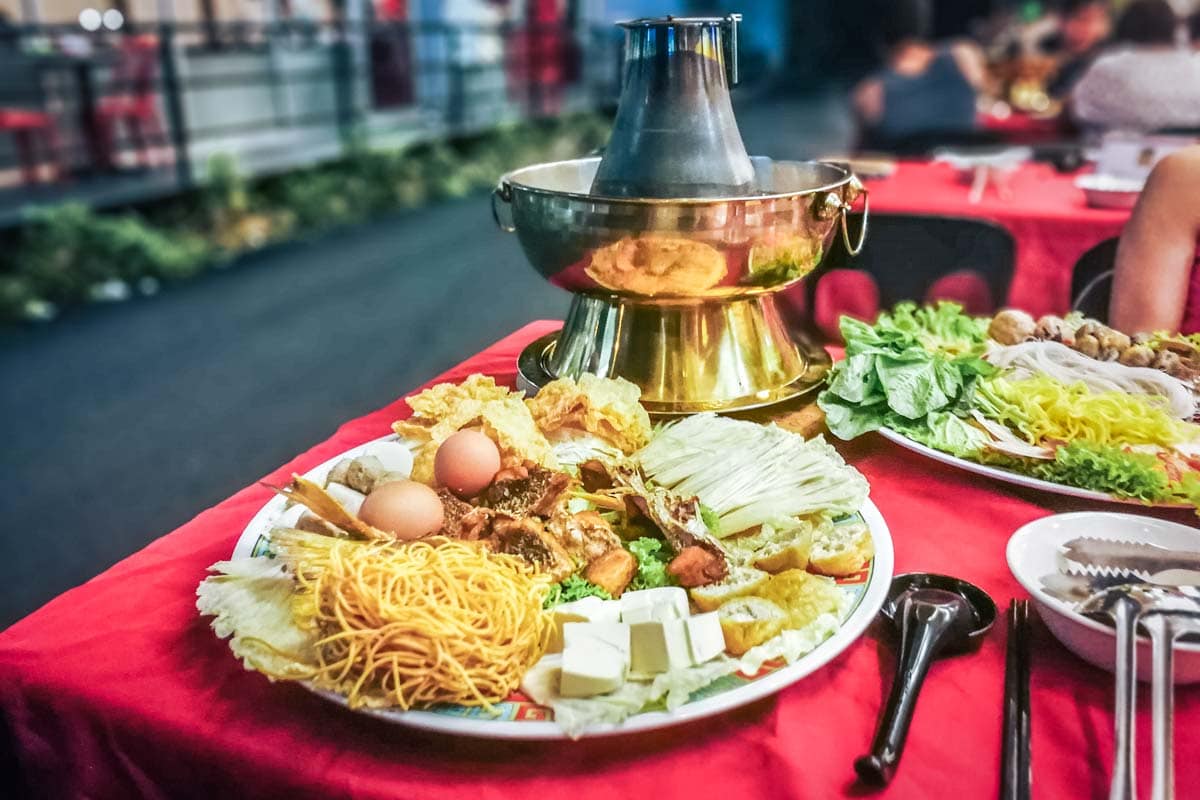 For dinner, I suggest trying the local Steamboat delicacy. Also known as hot pot or shabu-shabu, this dining experience involves cooking various meats, seafood, vegetables, and noodles in a boiling pot of broth. Most restaurants are buffet-style, giving you the freedom to choose your ingredients. Combining Steamboat with the fresh organic food in the region is truly a top-notch experience.
Cameron Highlands Itinerary – Day 2
Go for a hike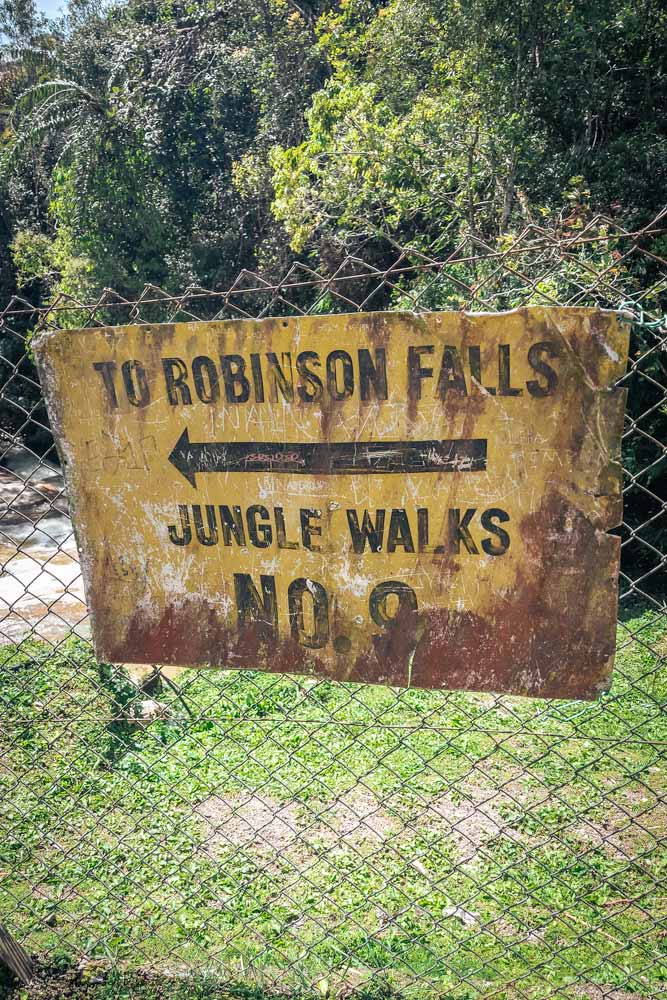 If you're a trekking and hiking enthusiast, Cameron Highlands is the right place for you (if not, you better replace this part). There are more than a dozen paths that go to (or through) Gunung Brinchang (the highest mountain in the region), Mossy Forest (scenic forest), Robinson Falls, Parit Falls, and Mount Irau (famous for its stunning views).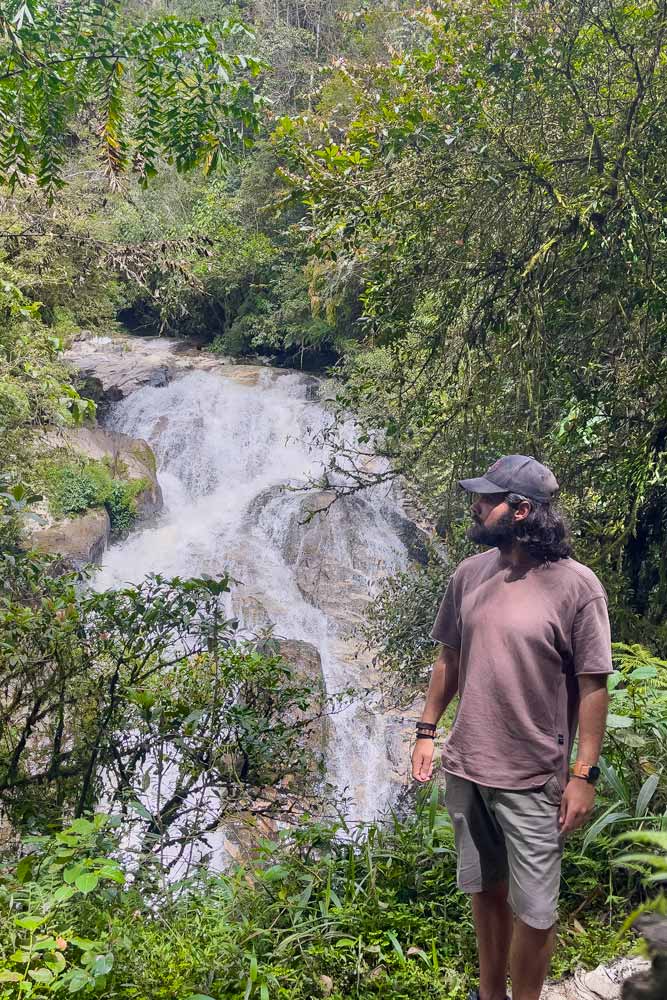 One of the easiest paths is number 9, which leads to Robinson Falls (it continues after that, but not worth it, imo). Here and here, you can find more info about the trails. The best app for navigating them is Maps.me.
Strawberry Farm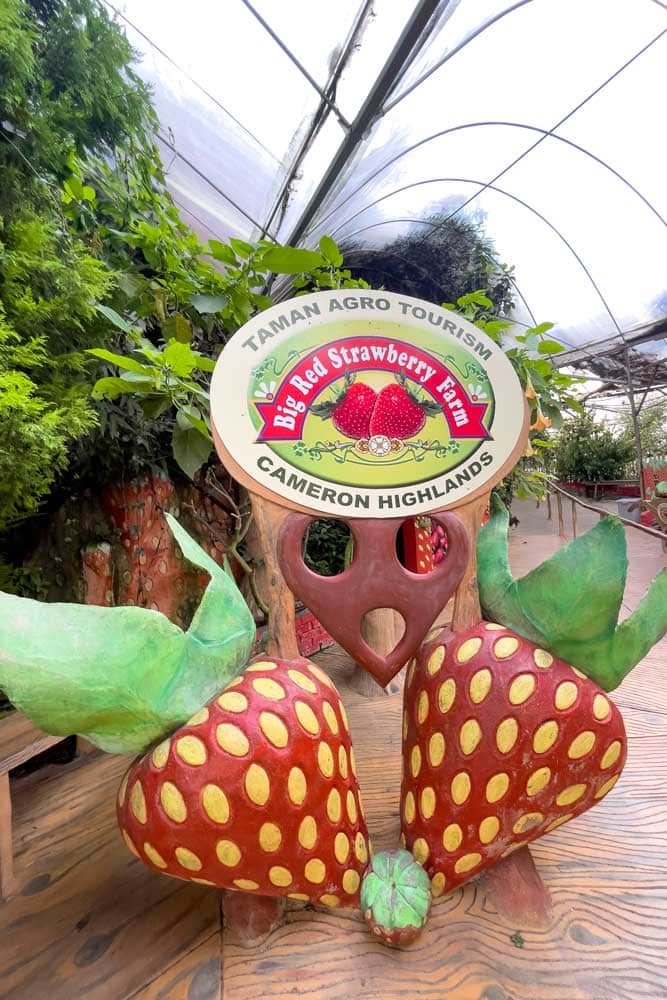 The region is famous for its farms, and I couldn't miss having one on my Cameron Highlands itinerary. My favorite is the Big Red Strawberry in Brinchang. If you visit during the strawberry season, you can pick your own strawberries. If not, there's still plenty of delicious strawberries to try. Actually, not just strawberries. Everything you can imagine that can be made out of strawberries. From ordinary things like jam and ice cream to weird ones like coffee (yup, they sell strawberry coffee there).
Working Hours:
Mon-Fri from 8:30 AM to 6:00 PM
Sat-Sun from 9:00 AM to 6:00 PM

Price:
Free

How to reach?
If you stay in Brinchang – on foot. If you stay in Tanah Rata – by rented car/bike or taxi/grab
More than 2 days in the Cameron Highlands
If you have more time on your Cameron Highlands itinerary or you want to replace something, here are my recommendations:
Mossy Forrest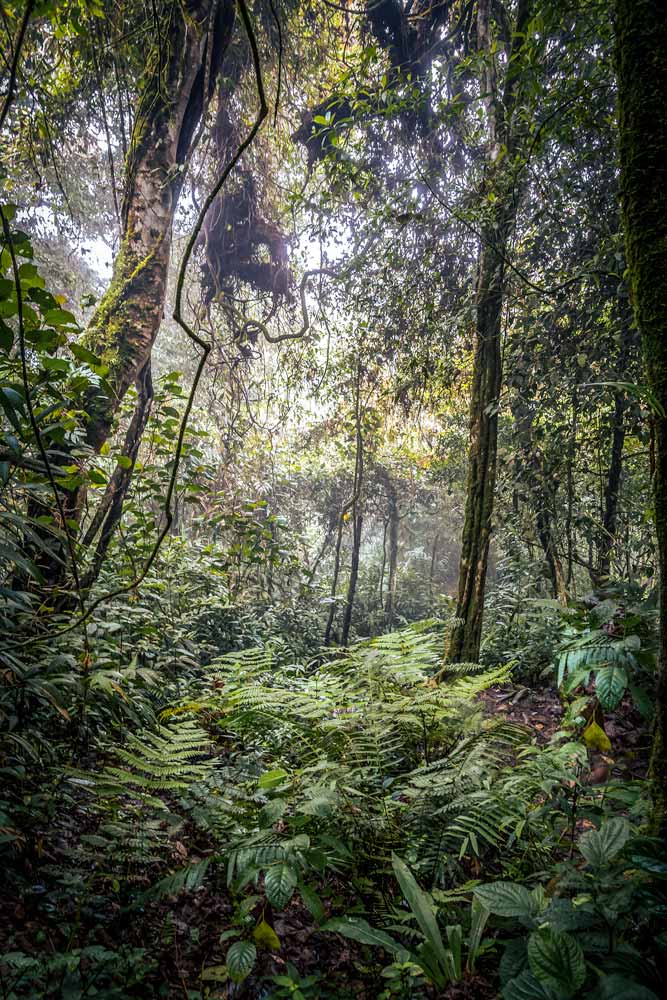 One of the biggest attractions in the area, the Mossy Forest, is a unique and enchanting ecosystem named after…well… the moss that covers pretty much everything there, creating a mystical and otherworldly atmosphere. In addition, it's often shrouded in mist and clouds, which further adds to its mystical atmosphere and creates an incredible photo setting. So why is it not on the main Cameron Highlands itinerary?
Well, getting to the Mossy Forrest is a bit challenging. You can try driving there yourself but may get a bit lost. You can get a taxi midway, then hike the rest of the way up or go on a brutal jungle hike through Jungle Walk number 1, but… yeah. The easiest way would be to get a tour, but that may mess up the other plans of the day.
Check the tour price here
Look for Rafflesia Flower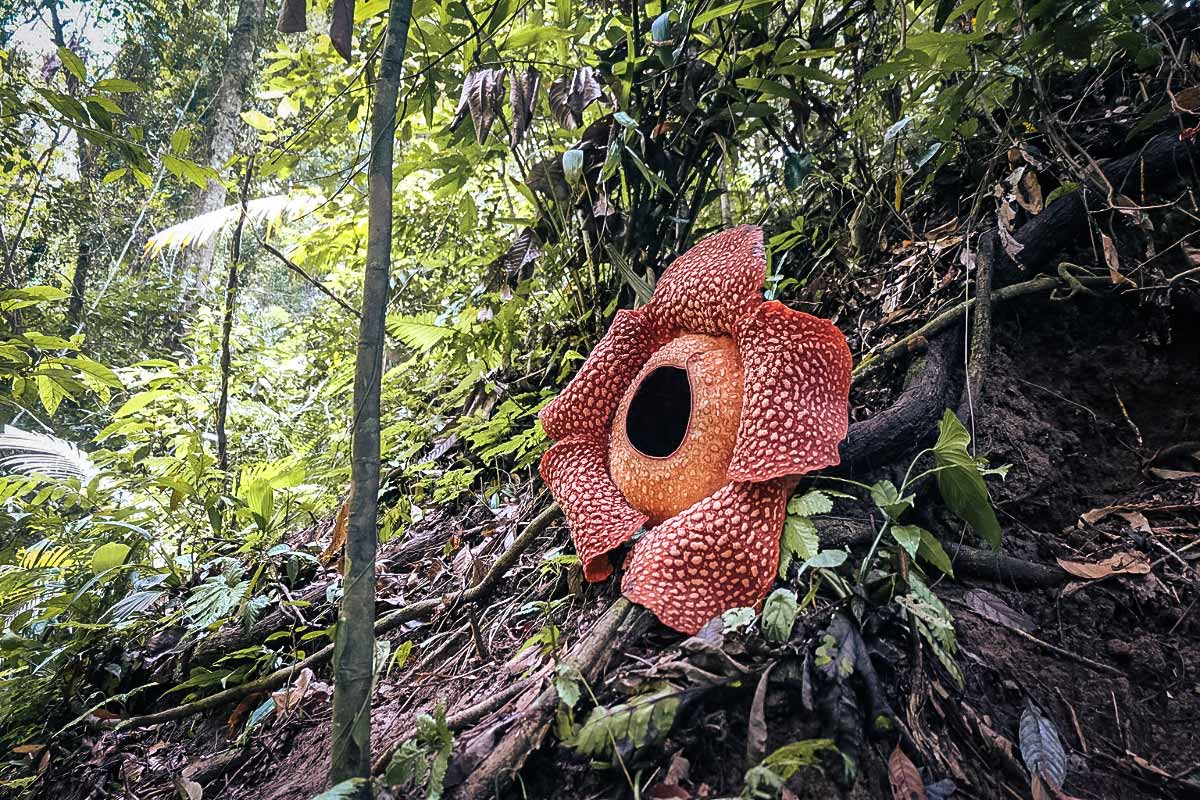 The Rafflesia is the largest flower in the world, known for its pungent odor and striking appearance. It's pretty hard to find, and the Cameron Highlands is one of the best places to search for it. You're not allowed to do it on your own, though. You must get a licensed guide with you.
So why isn't something that unique on the Cameron Highlands itinerary? Well, the trek for the flower may be too much for some people, and you have no guarantees you'll find one.
Check the price here
Flower festival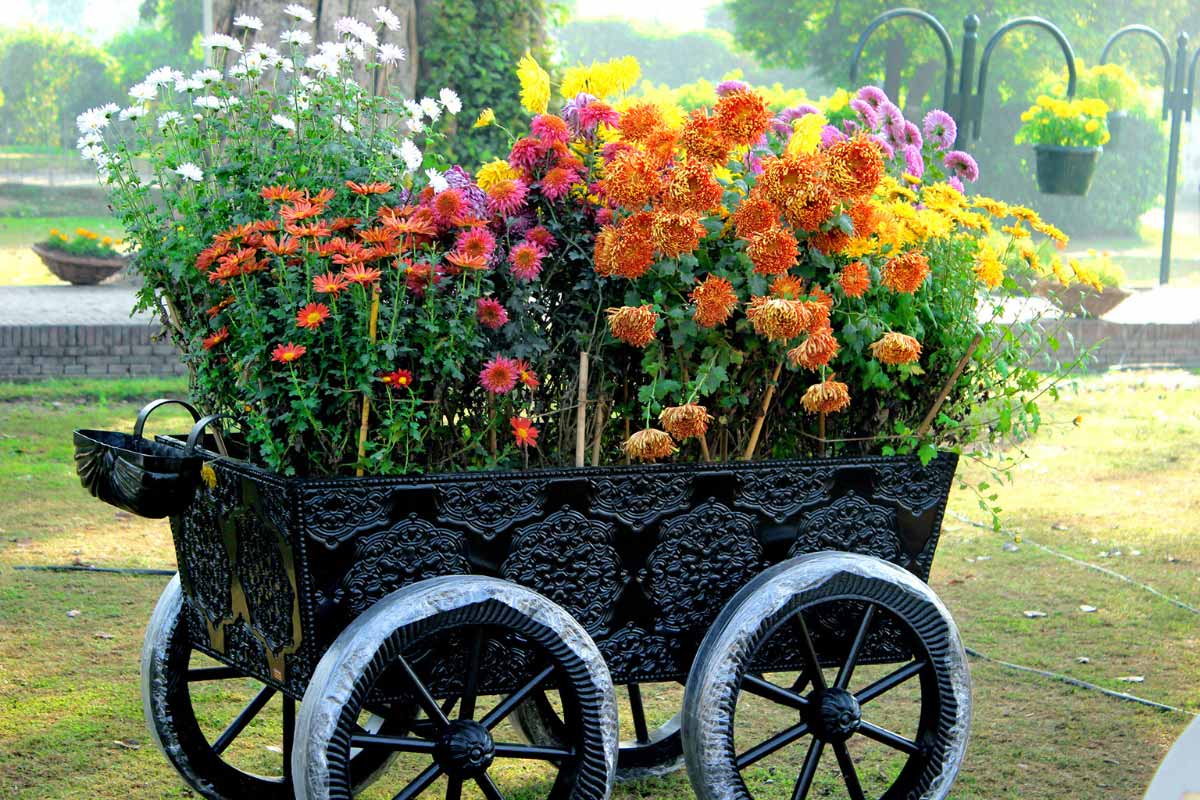 The Cameron Highlands Flower Festival is an annual event celebrating the region's vibrant and colorful floral diversity. The festival usually takes place in August or September. During the festival, you can witness parades and traditional cultural shows, flower exhibitions, and all sorts of competitions. So why not on the itinerary? You have to be in Cameron Highlands on particular dates to catch it.
Farms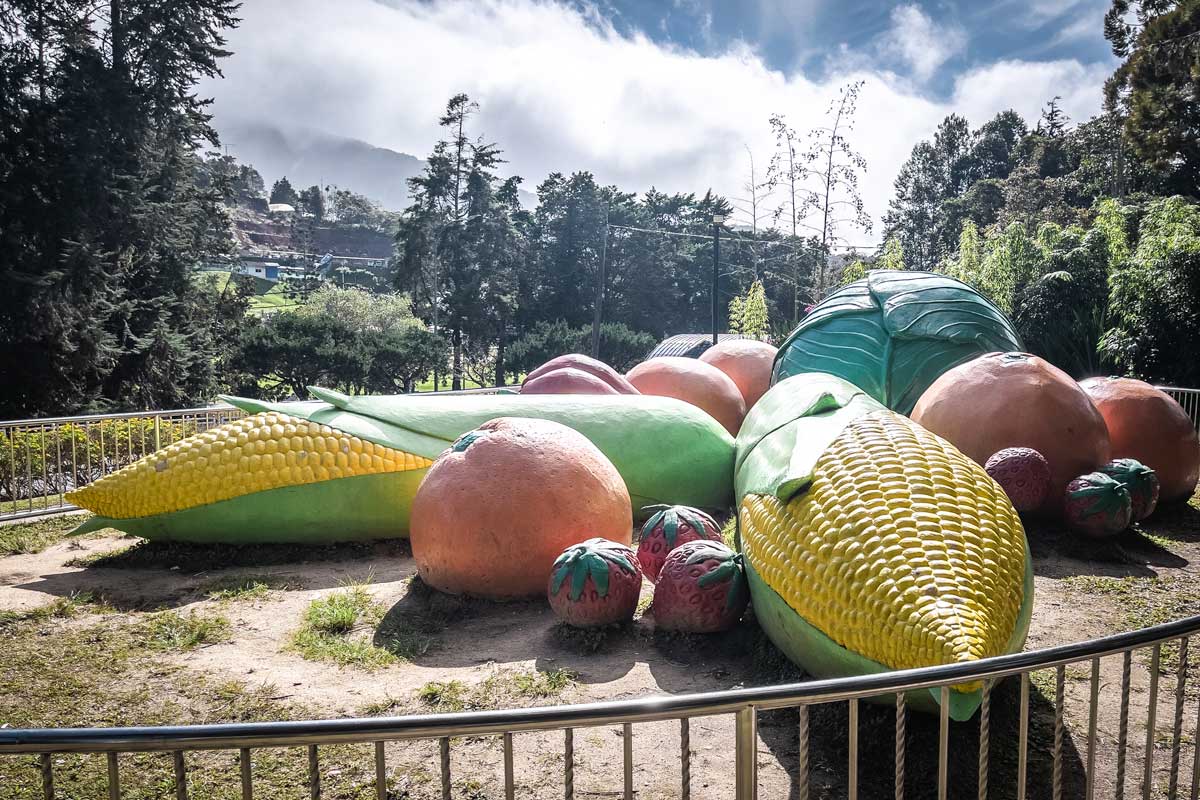 Cameron Highlands is well-known for its various farms. Wait, that's a bit of an understatement. The Highlands are the most public-farm place I've seen anywhere in the world. There are farms to visit literally everywhere.
What do I mean by public farms? Well, it's not a regular farm like in the US but a farm open for visitation where you can pick your own product.
There's a lavender farm, bee farms, cactus farms, lettuce farms, and countless strawberry farms. So why are they not on the Cameron Highlands itinerary? Well, my favorite was a strawberry farm, so it's on the itinerary. You have plenty of options to replace it, though.
Time Tunnel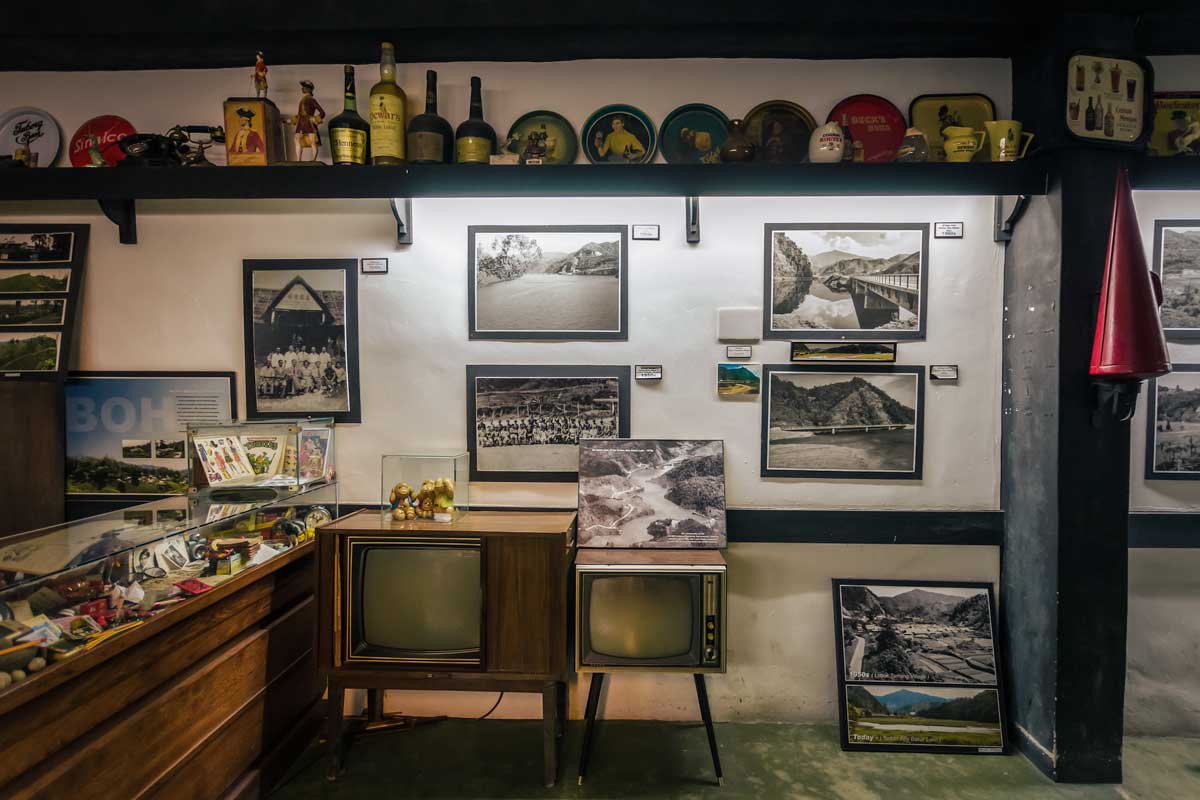 A fascinating tiny museum near Brinchang that showcases more than 4,000 memorabilia and photos from the region's past. Working from 9:00 AM to 6:00 PM with an entrance fee of just 6 MYR (1.3 USD), it's a nice place to spend an hour. So why is it not on the itinerary, then? Well, it's not really in Brinchang but next to it, making it a hassle to reach without a car/bike.
Where to stay in Cameron Highlands
There are two main villages you can stay in Cameron Highlands:
Tanah Rata is the bigger and more popular of the two. It has a few trekking paths and a bus station. There are more restaurant choices and even a Starbucks.
My recommendation for accommodation in Tanah Rata is ATS Cameron Hotel & Apartments.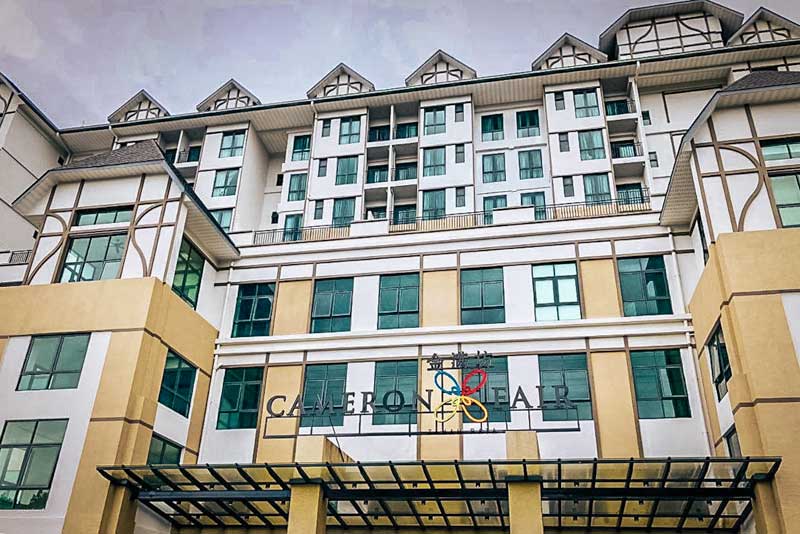 The hotel is close to the bus stop; the apartments are modern and stylish. They feature balconies and a lot of room options. There are plenty of shops, restaurants, and cafes (including my favorite Bake an Cafe) minutes away from your door, and the price is quite reasonable.
Check the latest prices here
Brinchang is smaller than Tanah Rata but is closer to BOH Tea Plantation and is also home to the Big Red Strawberry Farm. It has more local steamboat restaurants, a night market, and a Mcdonald's.
My recommendation for accommodation in Brinchang is Wan Alyasa Hotel.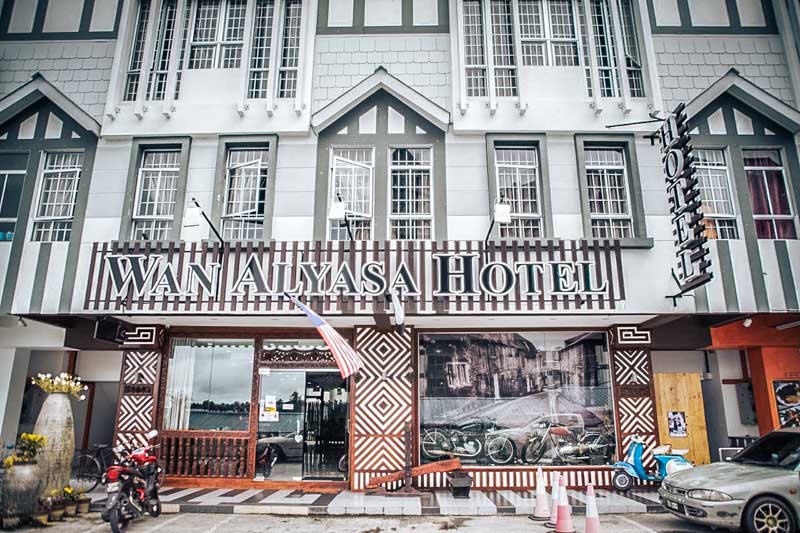 The hotel is situated in the center of the town, close to the Big Red Strawberry Farm, Centrum Mall, and Mcdonald's. It offers 24hrs desk, clean, modern rooms, extra-large beds, and friendly staff. It's also one of the highest-rated accommodation options in the area but still keeps reasonable prices.
Check the latest prices here
See Also: The Ultimate Thailand Itinerary
Cameron Highlands Tours
If the Cameron Highlands itinerary seems like too much hassle for you, you can go the easy way and book a tour around the biggest highlights in the area. Of course, you won't have the freedom you have when you explore independently, but it's pretty convenient.
Check the prices here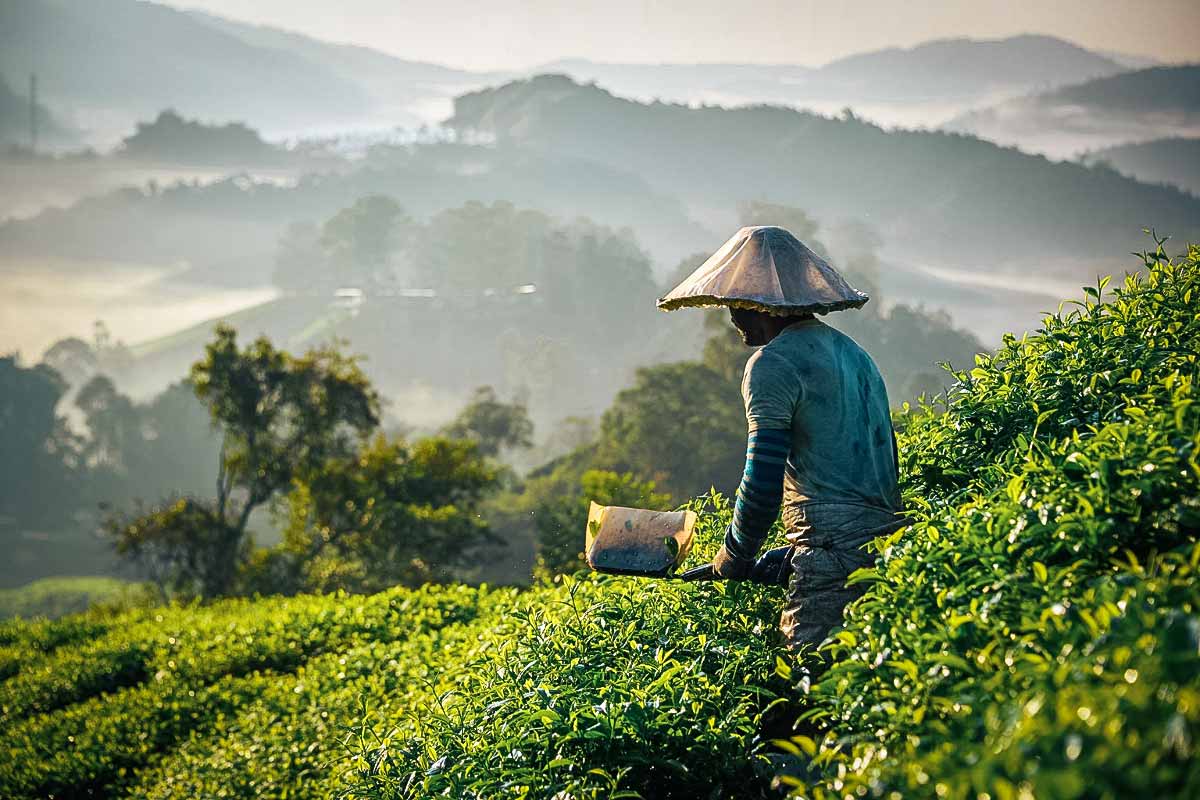 If you want to see the beauty of the area but don't want to add another stop to your Malaysia itinerary, you can go on a day trip from Kuala Lumpur or Penang. Again you won't have the freedom, and you won't see as much as you will see if you stay in the Cameron Highlands, but it's the most convenient and time-saving way to enjoy the area.
Kuala Lumpur Shared Day Trip
Kuala Lumpur Private Day Trip
Penang Day Trip
How to get around Cameron Highlands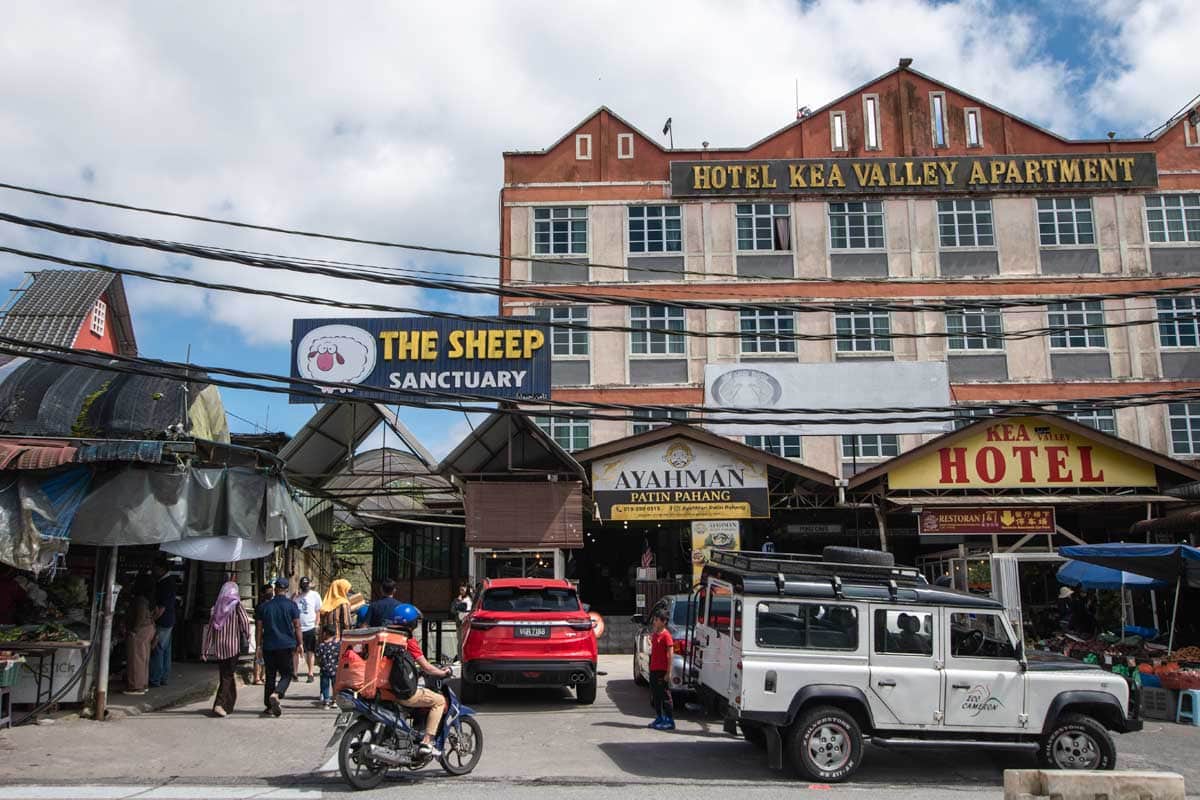 While getting around the towns and trekking can easily be done by foot, getting to all attractions on the Cameron Highlands itinerary would be quite challenging without transportation. If you've rented an inexpensive car from Discover Cars, you are good to go and can skip that section.
If you have no car, you can either rent a motorbike (check with your hotel for the nearest place) or via taxi. Taxis can be rented by the hour (25 RM/5.50 USD) per hour) which is the most cost-efficient way to explore the area. If you want to check just one destination though (BOH Tea plantation, for example) and spend the rest of the day hiking or relaxing, you're better with Grab. Grab is the Uber in Malaysia that shows you the price of your ride before you book it. Way more inexpensive than any taxi. You do have to have a Malaysian SIM with data and keep in mind that in some of the more remote locations, it would be hard to find a car.
There are some legends about a local bus that connects the villages and the attractions, but during my time there, I didn't find or see one. I also asked my hotel, and they had no idea about such a bus.
FAQ
When is the best time to visit Cameron Highlands?
The best time to visit Cameron Highlands is generally February (13 rainy days), June (16 rainy days), and July (15 rainy days). On the contrary, the wettest months are April (24 rainy days), October (27 rainy days), and November (25 rainy days).

The temperatures are pretty much the same throughout the year ranging from 12°C/53°F to 23°C/73°F. The rainy months in Cameron Highlands typically present way fewer tourists and better accommodation prices, but the heavy rain may cause landslides and flooding, making certain activities and roads inaccessible. It does bring the greenery to extra lush levels while presenting breathtaking misty landscapes, but following my Cameron Highlands itinerary may become impossible due to heavy rains. It's up to you to risk it or not. Check out the weather here

Are Cameron Highlands safe?
Cameron Highlands is generally a safe location with a very low crime rate. Of course, you still have to exercise caution, but most likely, you won't have any problems there, no matter the kind of traveler you are. Be careful on the narrow mountain roads, though, especially during the rainy months. Accidents, there is sadly not that uncommon.

Being a safe place doesn't mean you shouldn't get travel insurance. On the contrary, it's one of the most must-do things before you travel. I currently use HeyMondo for my travels because they have proven themselves to me more than once over the years. The link above will give you a 5% discount, but If you have another favorite provider, that's ok. Just make sure you have one because you never know what may happen.
Is there internet in Cameron Highlands?
The Internet quality in Cameron Highlands may not be as fast or reliable as in major cities, but it is generally available in most areas. And while the Wi-Fi mostly sucks, if you have a Malaysian SIM card, you shouldn't have any problems, and you can follow the Cameron Highlands itinerary without worry you may get lost.

Are Cameron Highlands expensive?
Compared to other destinations in Malaysia, Cameron Highlands can be slightly more expensive due to its remote location and the cost of importing goods to the area. However, it's quite an affordable destination, especially if you come from a Western-priced country.
Check some average Cameron Highlands prices here

How Long to stay in Cameron Highlands?
Two full days are enough to enjoy the region. However, if you need a longer break from the heat and hustle of Malaysia, you may consider recharging your batteries with a week of tea and strawberries.

Is Cameron Highlands worth it?
Cameron Highlands is absolutely worth the trip. You escape the Malaysian heat for a moment, relax your soul with the lush green fields and eat the tastiest strawberries in Asia. Combine that with the fact that the crowds there are not too dense, and you have one of the most extraordinary places to visit in Malaysia.
That's all from me, now you have the best Cameron Highlands itinerary.
————————————
If you haven't planned your trip there yet, find out how I plan my trips!
————————————
I have 13 bucket list ideas for Malaysia. See my impossible bucket list of 1700+ adventures!

Is Malaysia on your bucket list?
---

Some of the photos in this article were taken from Depositphotos.com – the best place for stock photos out there.
Some of the above are affiliate links and I will earn a percentage of the sale if you purchase through them at no extra cost to you. This helps keep my site running – so thanks in advance for your support!