You plan to spend 5 days in Dubai, and you don't want to waste your vacation just getting tanned on the beach? Kudos to you! Dubai is so much more than golden beaches and luxury restaurants, and since you managed to find this post, you'll see the very best of it and have a trip to remember!
This 5-day Dubai itinerary is designed to take you around the modern marvels of downtown Dubai, the vintage alleys of Old Dubai, the serenity of the desert, and of course, show you the fun and relaxing parts of the emirate.
Are you ready for a sunny adventure?
Let's go!
Five days in Dubai – Day 1 – Modern Marvels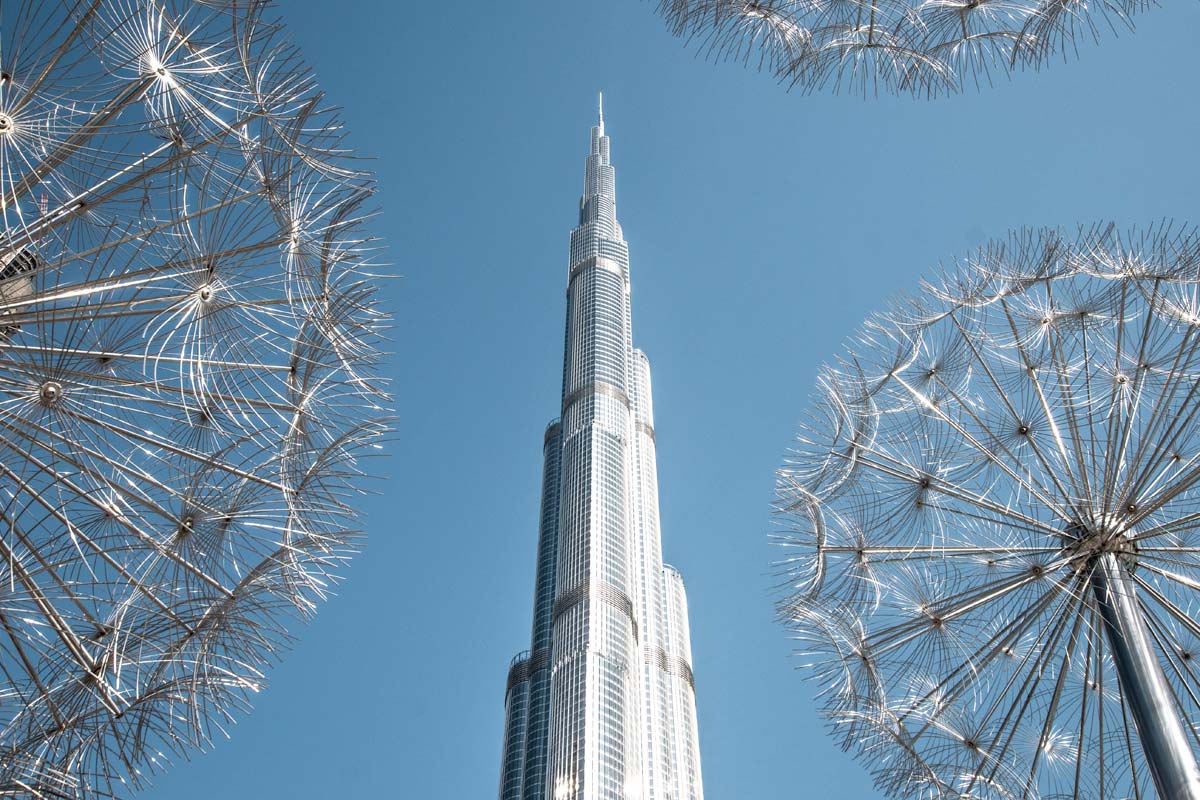 On the first day of our jam-packed 5 days in Dubai itinerary, we will explore the shiny and modern part of the emirate. Built in the last 20 years, downtown Dubai likes to break records and walking around it really feels like teleporting into the future of humanity.
Dubai Mall
Yes, we start our adventure in a mall. Sounds weird, right? It felt strange to me too, but the Dubai Mall is not simply a mall; it's one of the biggest malls on the planet! I'd like to tell you that I explored it all, but honestly, this was beyond my capabilities. The shopping center is as big as a village (12 million square feet – equivalent to more than 50 football fields), and navigating it without a map would be a challenge even for Bear Grylls.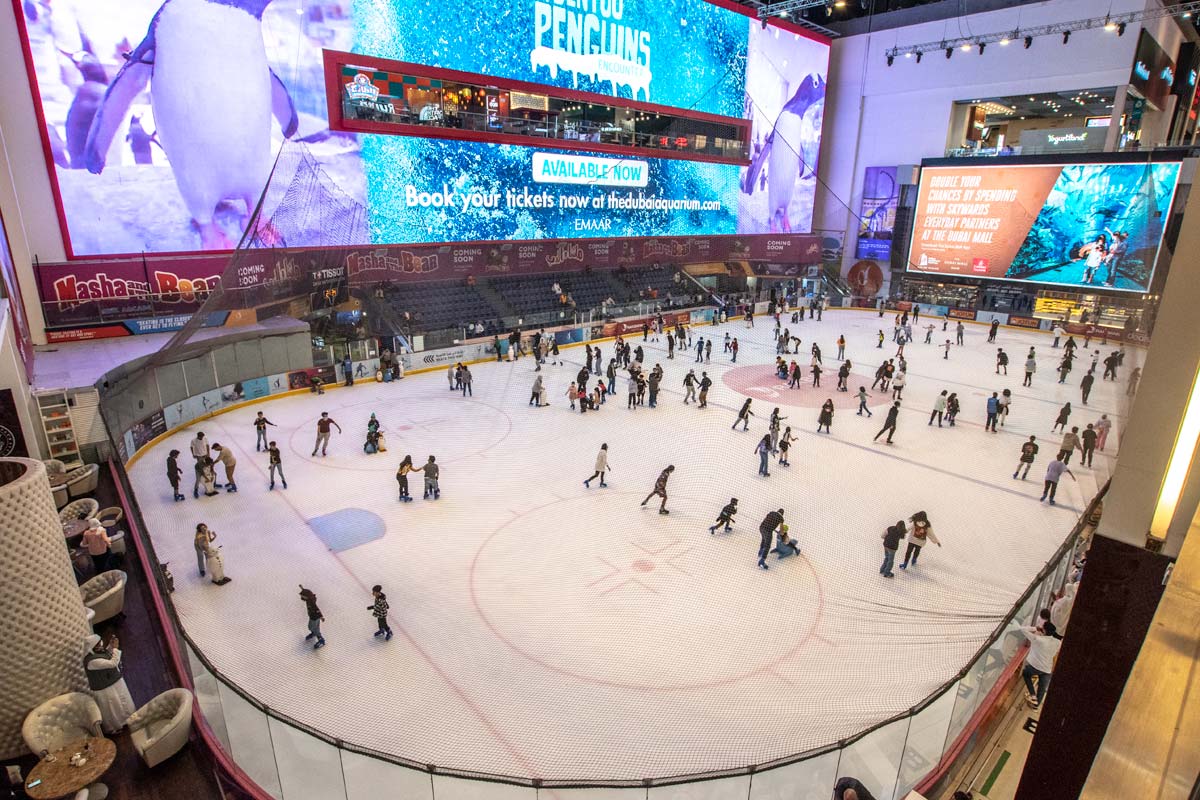 I'm pretty sure every world-famous brand has a store inside the Dubai Mall, but there's more than shopping you can do there. Go check out the Souk area (that is made like an Arabian market), take a selfie with the waterfall (of course they have a waterfall), go skating on the ice rink (that is enormous) and when finished, check out the next iconic Dubai attraction bellow.

Castaway Tip
Dubai Mall has an app that includes a map( Apple Store / Google Store). Seriously, it's like google maps just for the mall and helps tremendously navigating this beast-of-a-shopping center.

Dubai Aquarium and Underwater Zoo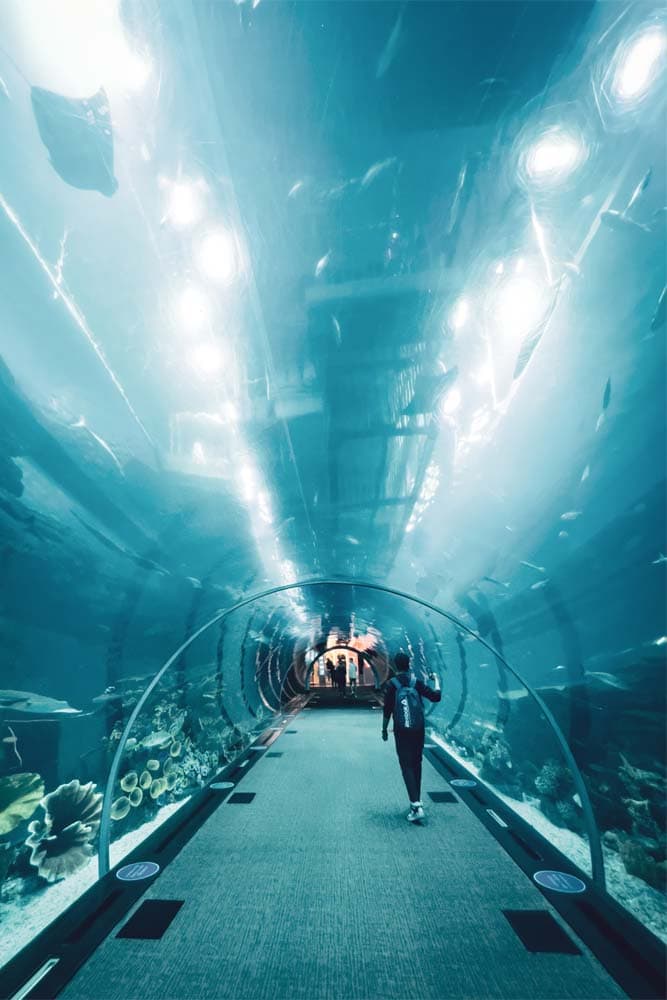 Located inside the Dubai Mall, the Dubai Aquarium is an iconic attraction you shouldn't miss. With a capacity to hold 10 million liters of water, this aquarium is one of the biggest indoor aquariums on Earth (of course it is) and presents a wonderful experience no matter if you're by yourself, with your SO, or with your entire family.
The journey begins with a walk through a glass tunnel surrounded by all sorts of incredible marine creatures. Weird fish, rays, mantas, all kinds of sharks, a swordfish (!), and occasionally a diver (tasked with cleaning the place) all swim around you. I promise you, if you haven't been to such a tunnel before, it's jaw-dropping. If you have – still jaw-dropping.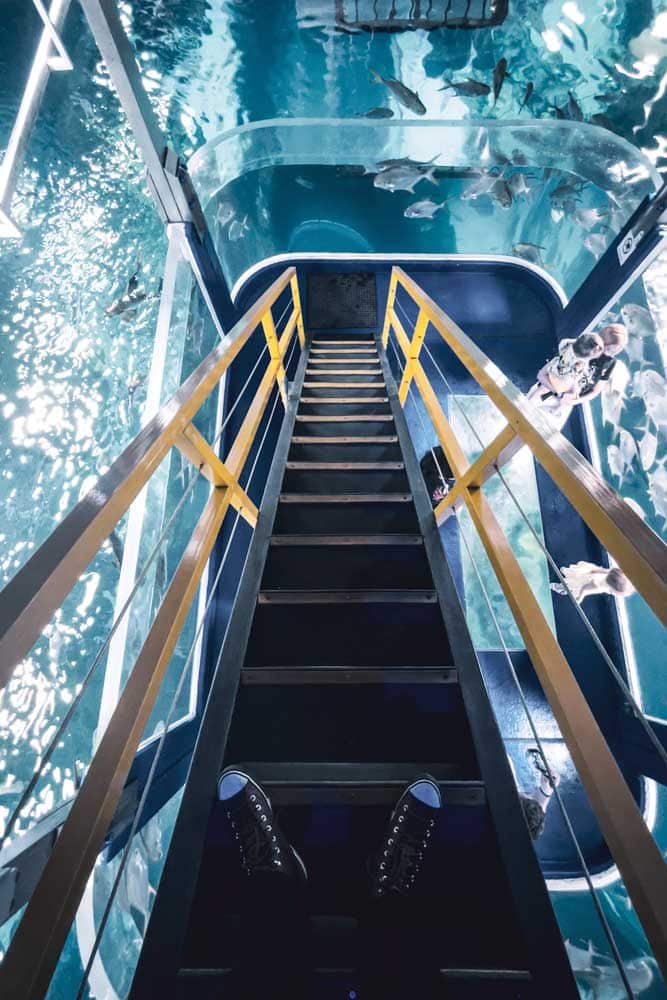 Castaway Tip
If you want to take good photos, go before closing time when there are hardly any people.

Next, you go to the zoo part where you can enjoy otters, a funny water rat, some weird amphibian creatures, several night creepers, a couple of giant crocs, and plenty of fish and turtles while parrots fly freely above you.
If you get the extra package, you'll also go on a glass floor boat above the main tank, feed some of the fish, check out the penguins, and see the working process behind the aquarium.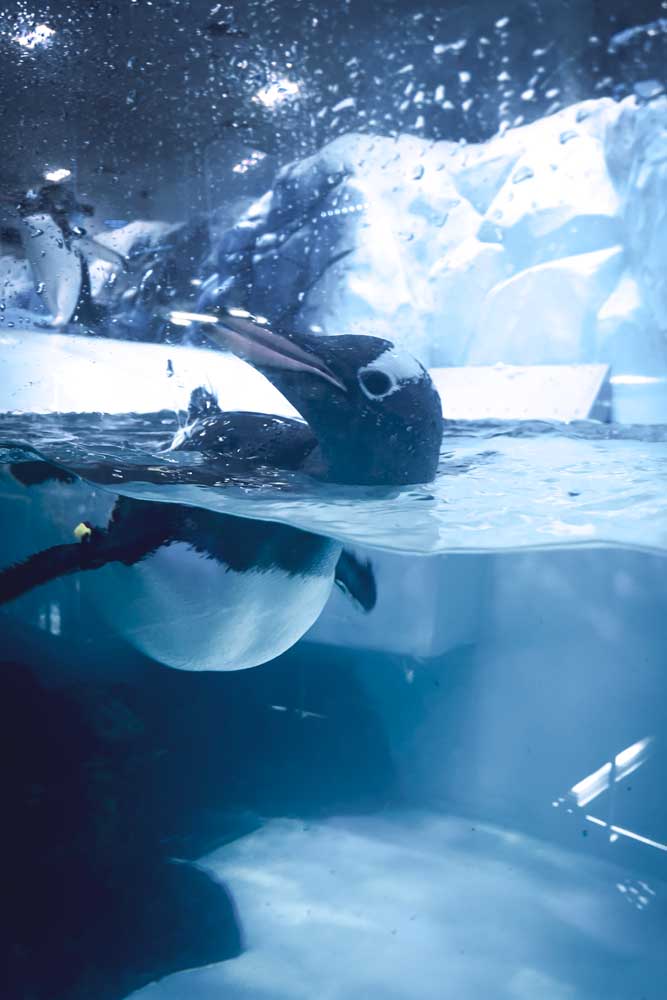 The ultimate experience (which I discovered too late) is diving in the aquarium. Yes, you can go inside with the sharks, but you need to have a diving certificate. If not, you can get a diving course there or just go snorkeling. Diving in an aquarium surely won't be the same as diving in the ocean, but at least the wildlife encounters are guaranteed this way.
Burj Khalifa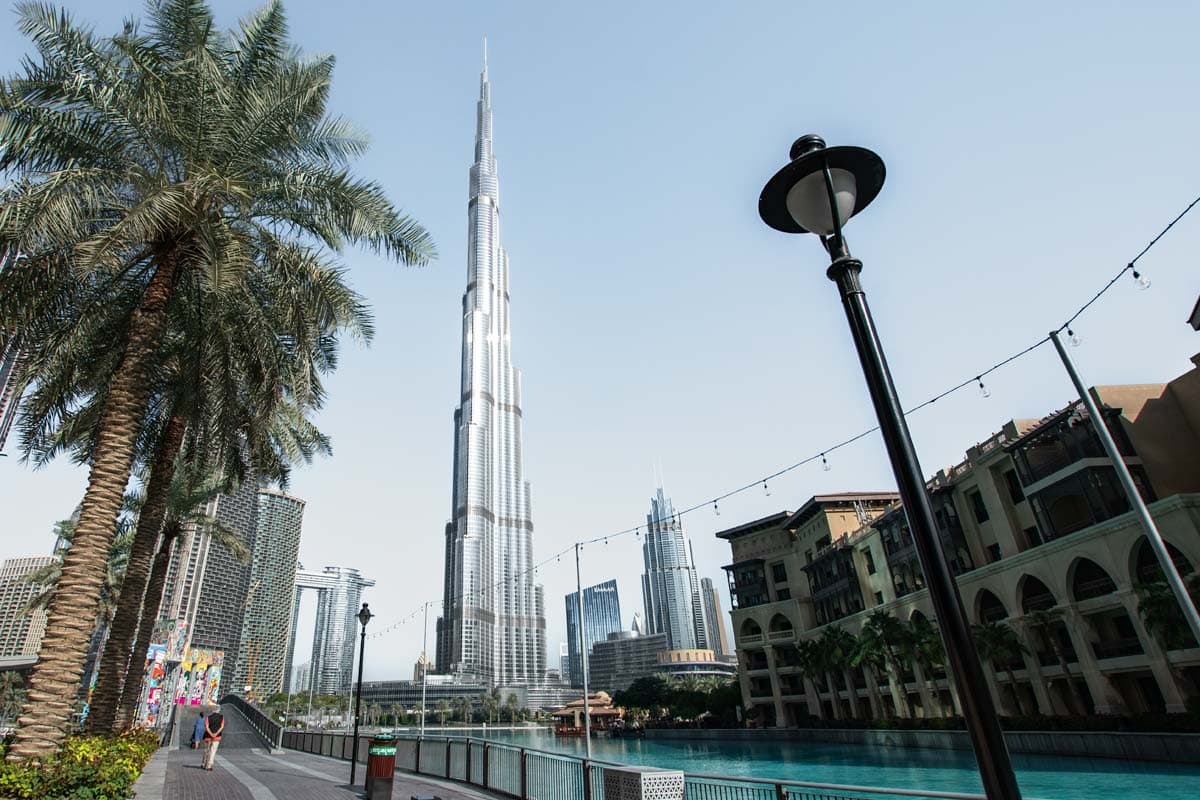 Since 2009, Burj Khalifa has been the symbol of modern Dubai. With a total height of 829.8 m (2,722 ft) (just over half a mile), the skyscraper is the tallest building on the planet and will continue to be like that for at least a few more years (they are already building a taller tower, again in Dubai).
Being one of the most emblematic structures on the planet, Burj Khalifa has tight security, and you can't simply go inside to check out the views. What you can do is, book a ticket and visit a viewing platform. There are a couple of options here:
You can get a regular ticket and see the panorama from the 124th-125th floors.
You can get a premium experience and go even higher on the 148th floor, receive personalized attention and see the world's tallest observation deck.
You also have to choose your visiting hours carefully:
You can go at sunrise, see Dubai both at night and day, and watch the dawn while having not that many people around you (negatives here – you have to wake up at 4:00 AM and you miss the fountain show).
You can go in the middle of the day where crowds are not that fierce ( you won't have to wake up early, but you get the worst light of the day, and you miss the night panorama)
You can go at sunset and see the Dubai panorama during the day and night, enjoy the dusk and even wait to see a fountain show (of course, this is the most popular time, and the deck is swarming with tourists and the ticket is more expensive)
And you can go after dark when again, crowds are not that fierce, and you can see the fountain shows (but you miss the daily views, and you probably won't be able to take good photos with your phone).
All timeslots have advantages and disadvantages, so it's up to you. If you decide to go for the premium 148th floor, I suggest sunset since the crowds there are not that thick.
The Fountain Show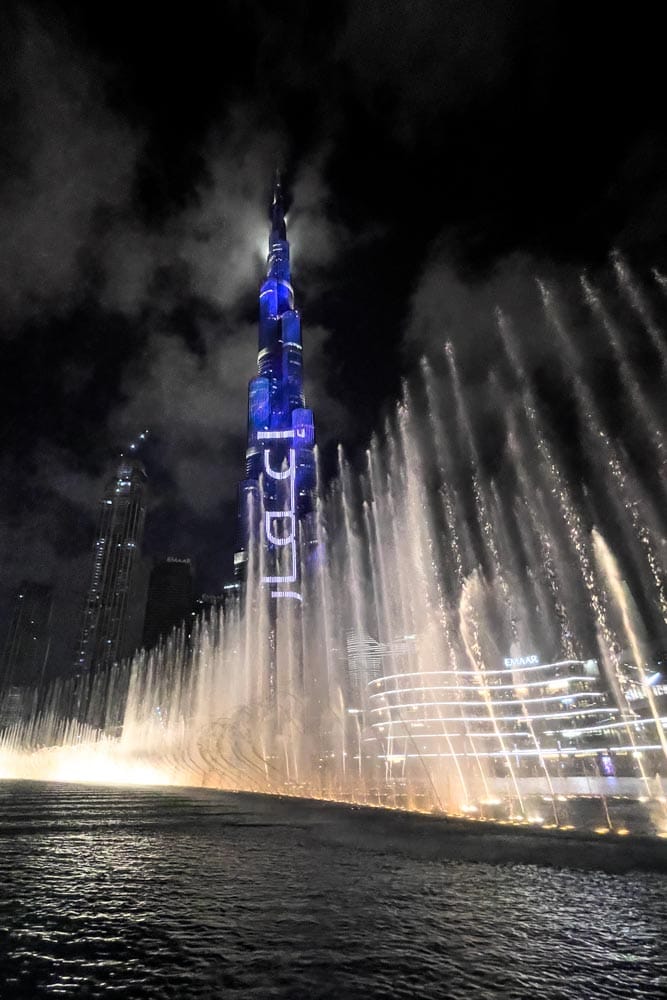 The Burj Khalifa fountain show is precisely what it sounds like… and not. It's a dancing fountain show, something you can see in plenty of other cities in the world, but it's so well-made that it goes on the next level of mesmerizing. I have no idea who the program director (choreographer?) is, but they are a genius! So whatever you do, don't miss the fountain show, it's one of the very best things you can do during your 5 days in Dubai, and it's free.
The fountain show plays every 30 minutes, but on the 15th minute, you get a Burj Khalifa lightning show that, in some cases, is even better. It's a visual show where the skyscraper changes its colors while the fountains complement the music with their dancing. It's one of those things you can't adequately explain in words, but you just have to witness yourself.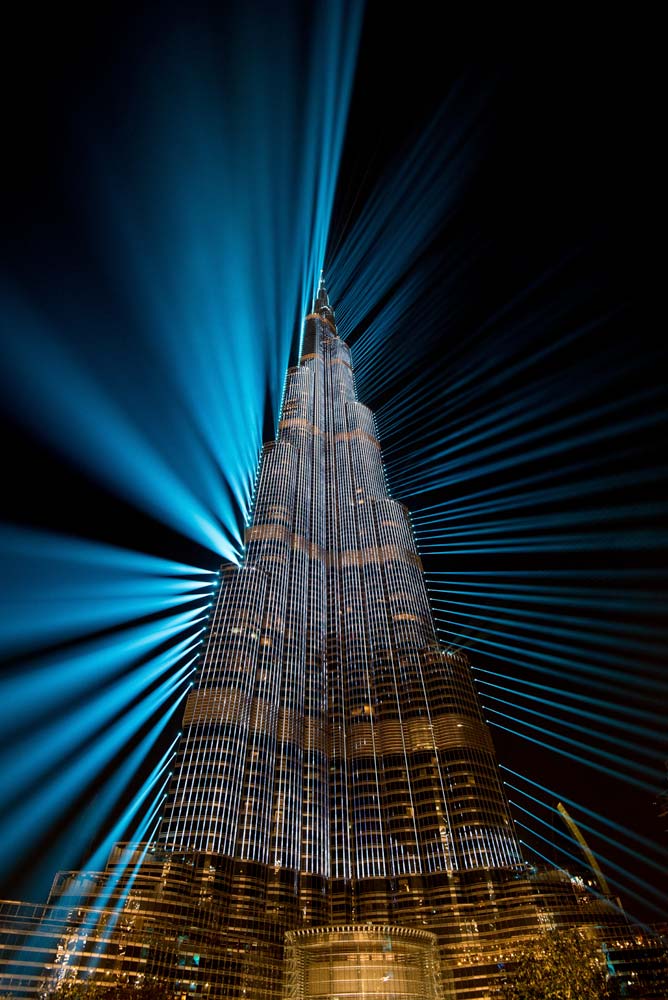 The best place to enjoy the show is on the bridge across the Burj. Of course, you can also get an elevated perspective and see it from the Nike or Apple stores (or a restaurant) inside the Dubai Mall, but while you'll see all of the fountains, Burj Khalifa won't be in sight.
See Also: The Ultimate 5-Day Singapore Itinerary
Five days in Dubai – Day 2 – Desert Adventure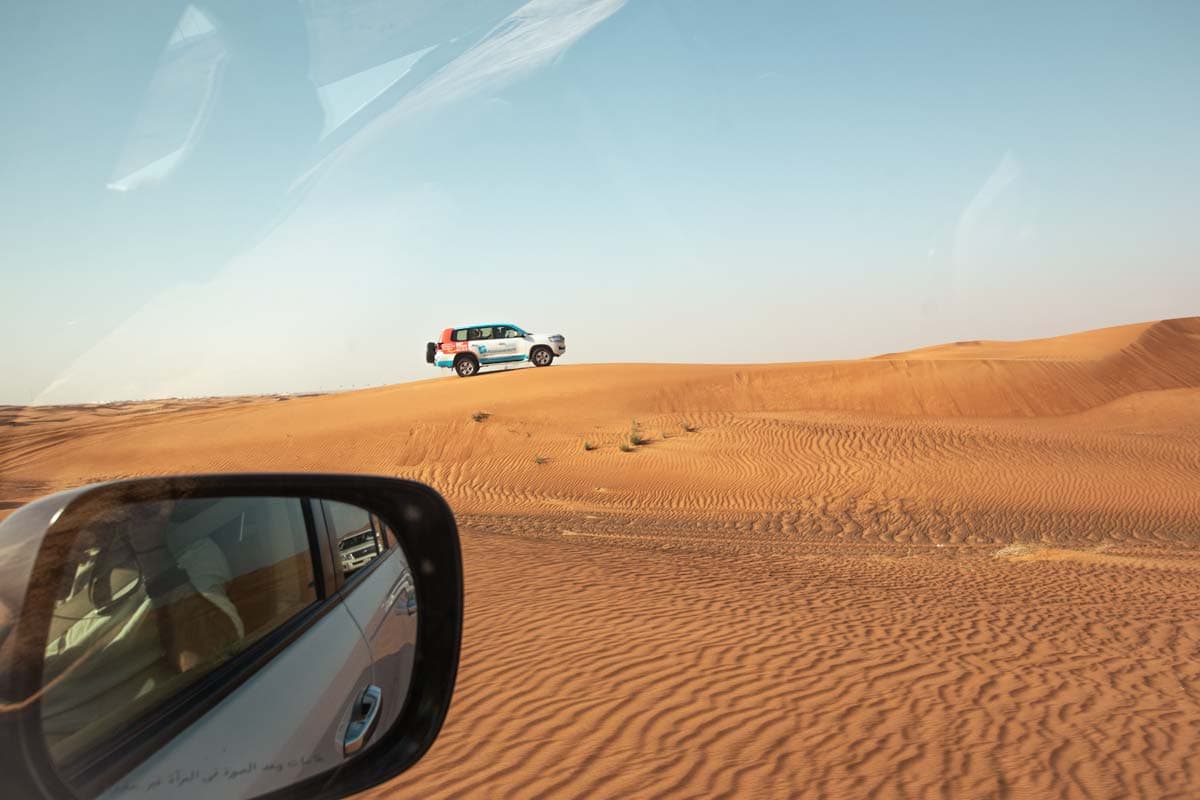 On the second day, our 5-day Dubai itinerary makes a 180′ shift, and from Downtown Dubai, we go into the desert for some sand adventures and an evening camp show.
There are plenty of desert tour options that seemingly offer the same experience, but the quality of the more popular ones is vastly better compared to the cheaper tours.
Here's what a 7-hour desert tour is like:
First, you stop at a mini-camp for a quad-bike ride. This usually is an extra, and you have to pay for it. If you're not into quad-bikes, you can go in the tent and enjoy Arab coffee (with dates) or tea. There's also a gift shop where you can get Arabian scarfs and have one of the staff put it on you the desert-way. They are not that expensive and make up for a good photo.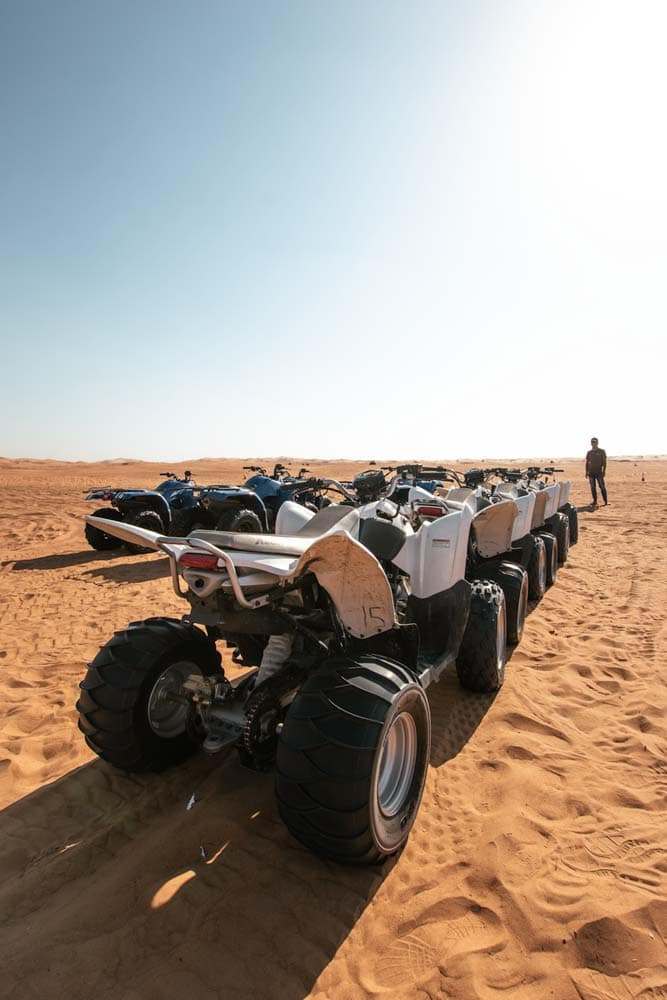 Next, you get in your 4×4 and go for a dune bashing. What's a dune bashing, you ask? I had the same question. This is not my first desert rodeo, but I've never seen this activity offered anywhere else. So the dune bashing is basically drifting around the dunes, and honestly, it was not my cup of tea. It looks great from the outside, but inside the car, it feels like you're just cramped in a crazy-driving taxi. Nevertheless, plenty of the other guests loved it, so I guess you have to try it to see if it's your thing.
Activity no3 is sandboarding. Now, this was pretty cool. If you don't know what sandboarding is – it's the same as snowboarding but on sand. I've never tried it before, but it was tons of fun, although climbing back the dune was exhausting. Even if you fall, the silky sand makes it painless, so there's nothing to worry about. This is also the time to walk around the dunes and breathe in the desert landscape. It's always a mesmerizing feeling.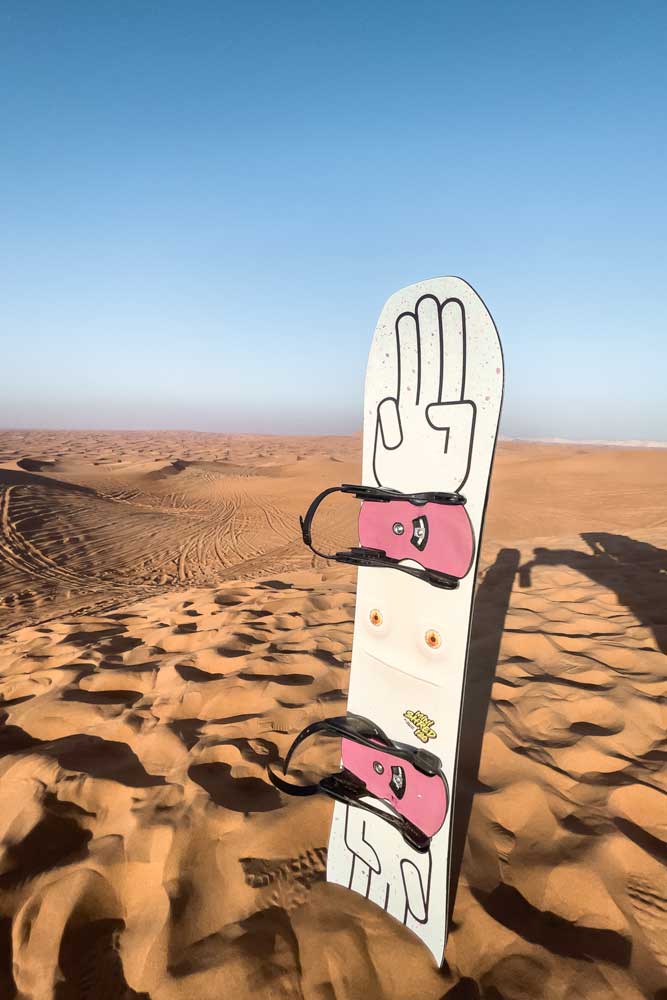 After you're done, you start making your way to the desert camp. If your guide is good, you should arrive there a little before sunset. You get to feed and ride a camel (surprisingly pretty well-behaved ones), and even though it's a short 20-30 meters ride, if you've never done it before, you'll enjoy the experience (and if you've done it, you already know riding camels for a long time is not that pleasurable anyway).
You can spectate the sunset from a dune and then go inside the camp where you get drinks, buffet, shisha, Henna-painting, a falcon to take photos with, traditional Arabian sweets (like mini-donuts), and some incredible performers. Finally, the night ends with stargazing, although this activity wasn't that impressive since some camp lamps couldn't be shut down.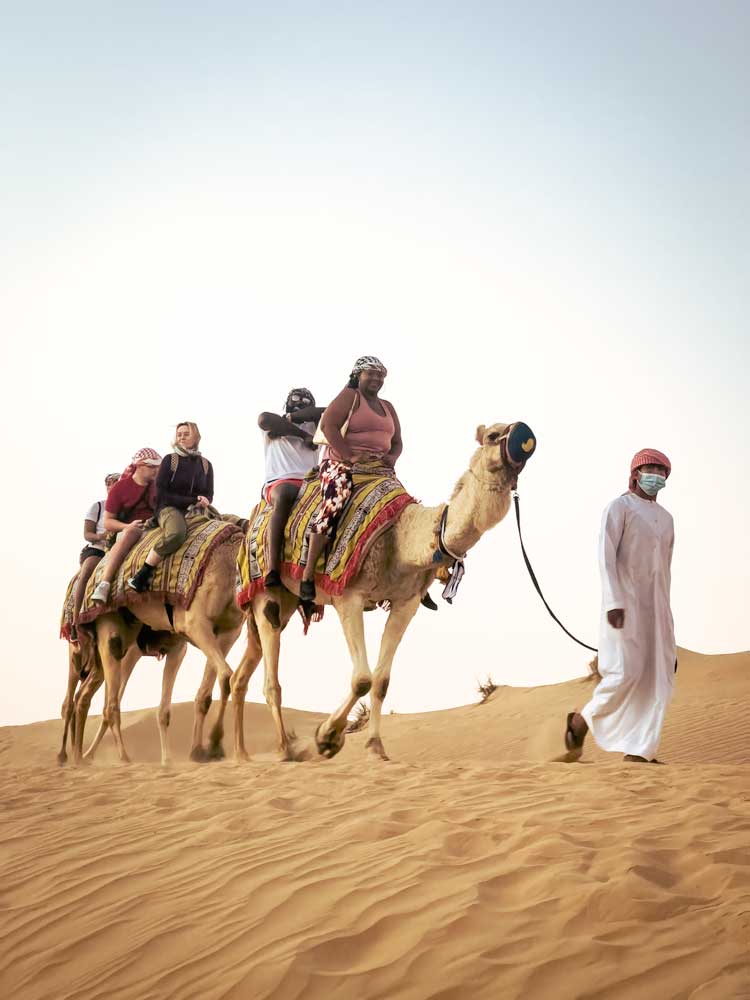 The Dubai desert is not the most authentic desert experience (barely any locals take part in it), but it still gives you a taste of this incredible habitat and is something you shouldn't leave out of your 5-day Dubai itinerary.
See Also: How to spend 10 perfect days in Morocco
Five days in Dubai – Day 3 – Old Dubai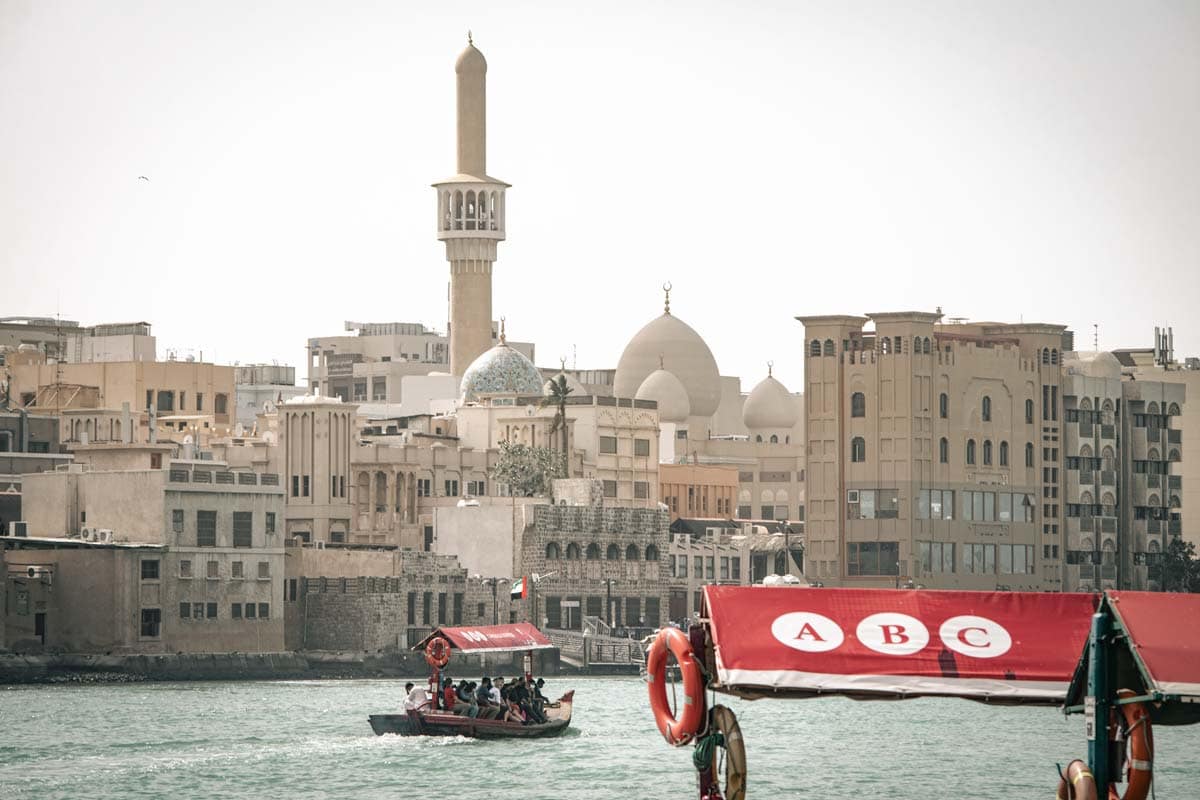 On the third of our 5 days in Dubai adventure, we're about to explore one of the heart-stopping attractions of the city and then spend the day getting familiar with the previous incarnation of this amazing emirate.
Dubai Frame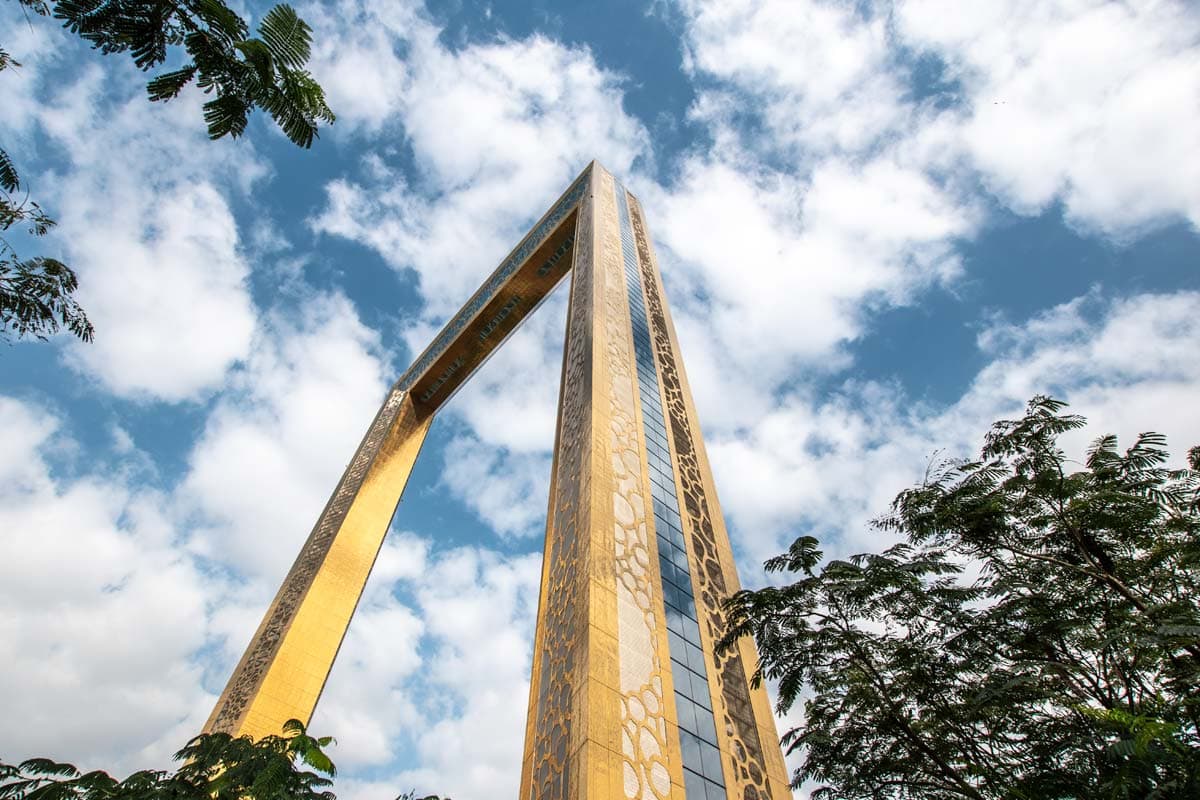 Cоmpleted in 2018, the Dubai Frame is a 3-way exposition of Dubai, although one part vastly overshadows the other two.
Wait, I thought the Dubai Frame is this giant frame you can climb to? Yes, that's precisely what it is, but before you climb to the top, you go through a tiny museum that showcases the emirate's history. This part is named the Old Dubai.
Once up there, you get a 360′ view of the present city logically named Present Dubai. This skydeck, of course, is the main attraction of the frame and the reason most people visit the place. The top stands at 150.24 m (493 ft) and has something called a smart-glass floor that becomes transparent when you step on it. Even though the glass is not crystal-clear, it's so tall that you get this immediate desire to grab something next to you.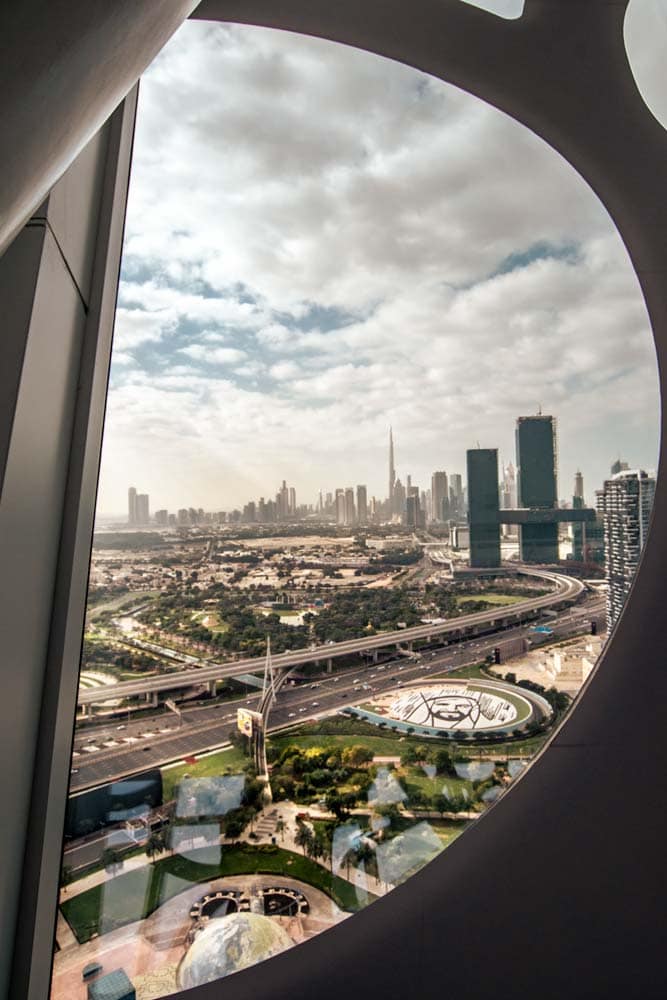 When you go down, you see the third part of the exposition – Future Dubai. It's a 180 degrees projection hall that simulates flying around Dubai in the year 2050. The vision these guys have for the future is straight taken out of a sci-fi movie, and even if they complete half of the things they envision, it's going to be mindblowing.
Castaway Tip
The frame is located inside Zabeel Park that requires an entrance fee. Don't go through the park but use the Dubai Frame separate entrance. On your way out, you can still go through the park (for free).

Old Town Dubai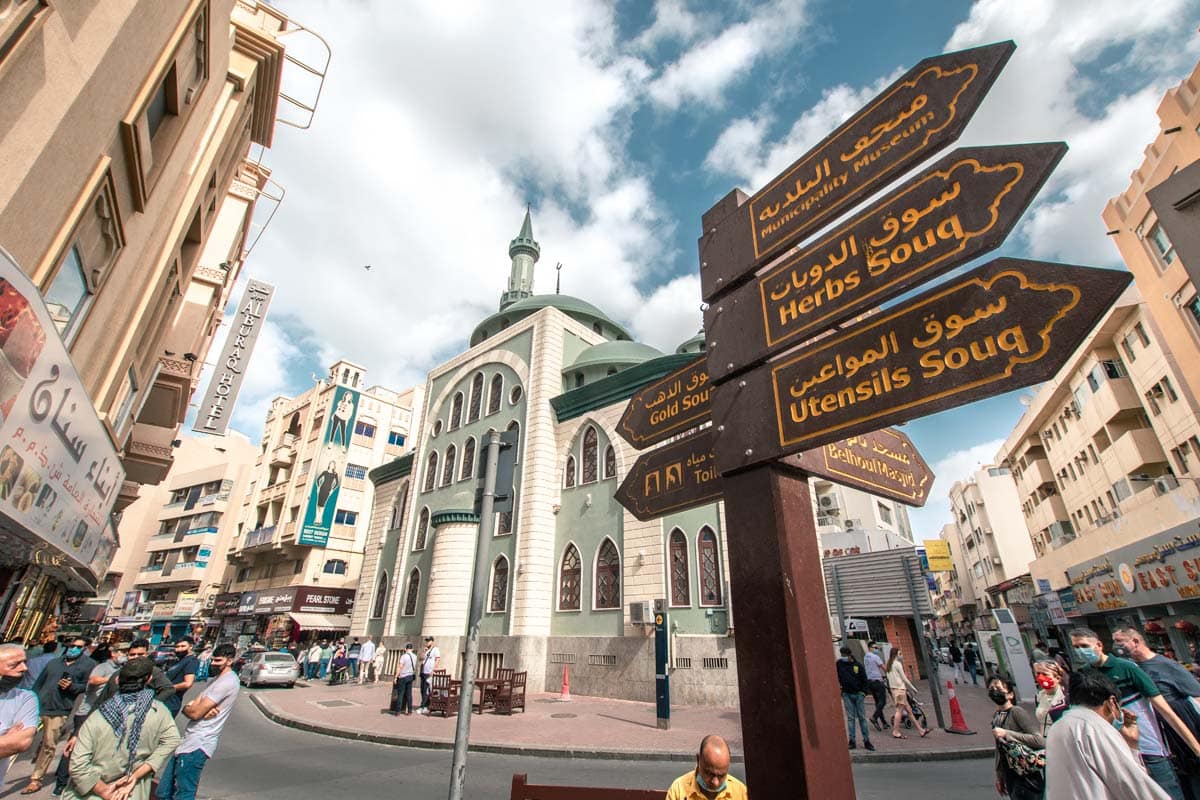 Our 5-day Dubai itinerary continues in the less-visited part of the city – the Old Town of Dubai. Inside the Frame, you got a quick glimpse of what Dubai used to be, but now we're about to see it firsthand.
Travel by metro (or taxi) to the Al Ras station and start your exploration from the Deira souks (Arabian markets). Check out the spice souk and, of course, the world-renounced gold souk. If you want to get some souvenirs, keep in mind that in the Arabian souks, haggling is mandatory and expected by the shopkeepers.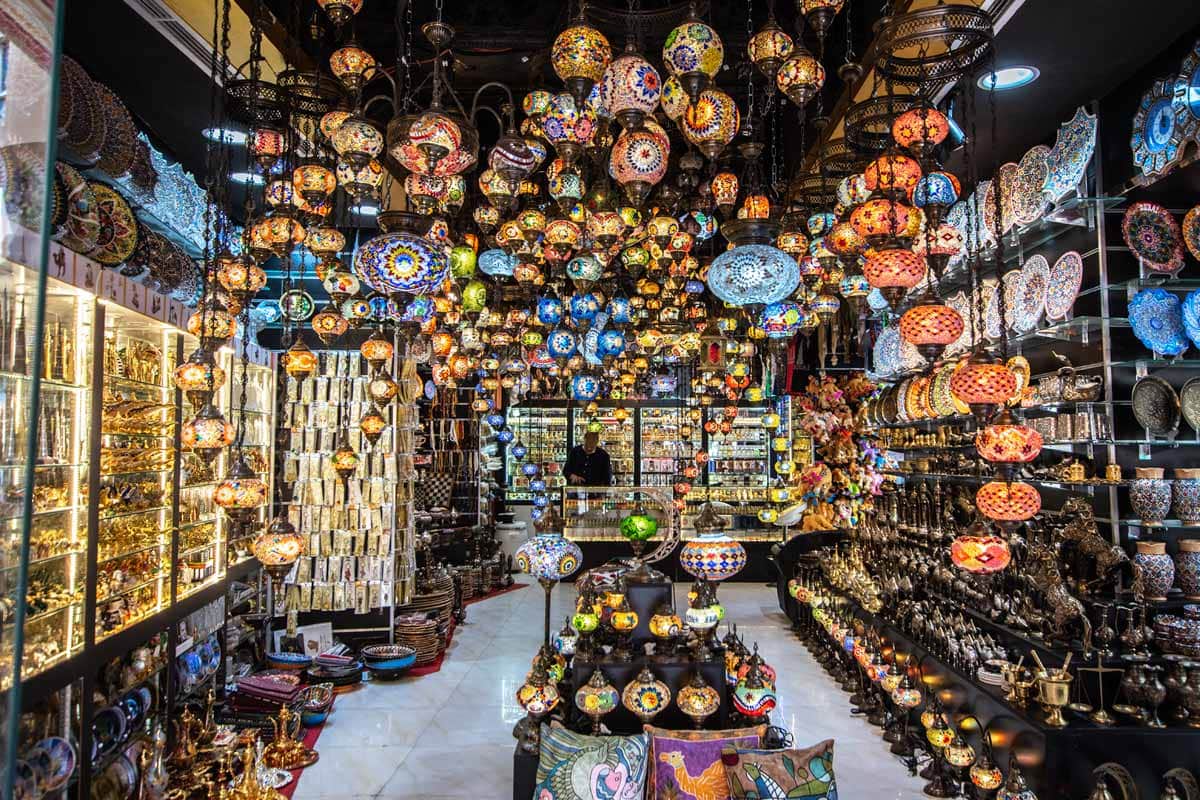 Once finished, take an abra across the river (should cost 1 AED) and make your way to the Heritage Village. Perfectly restored to its former glory, the place looks a bit artificial but wonderfully showcases the past architecture of the city. Make sure also to check the House of Sheikh Saeed Al Maktoum that used to be the home of one of Dubai's previous rulers.
See Also: How to spend 3 perfect days in Istanbul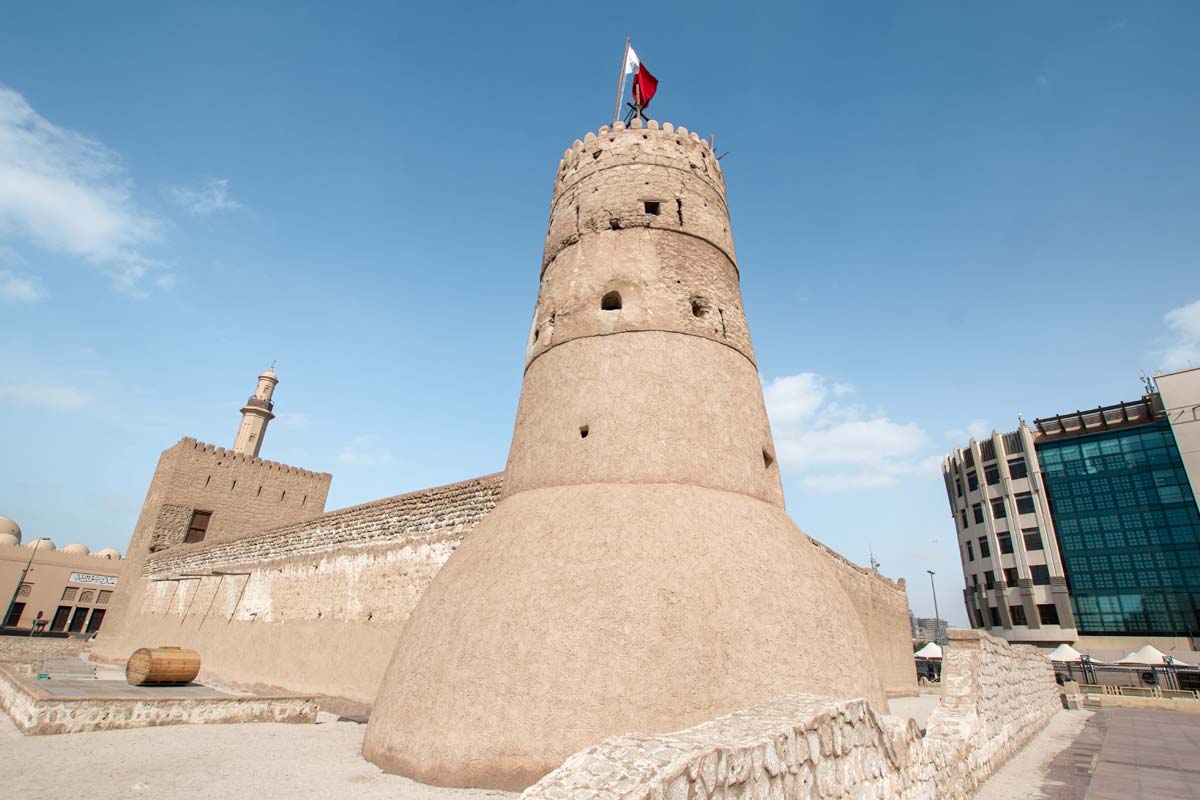 Next, we go to the Dubai Museum (you may get a taxi or Careem if you don't fancy a walk). Dubai museum is housed in an authentic 18th-century fort and has a beautiful multimedia display of Dubai's cultural heritage.
Next to the museum, we have Al Fahidi historic neighborhood, a mid 19th century quarter with much of the original infrastructure preserved and intact. It's turned into somewhat of an art district with plenty of exhibitions around.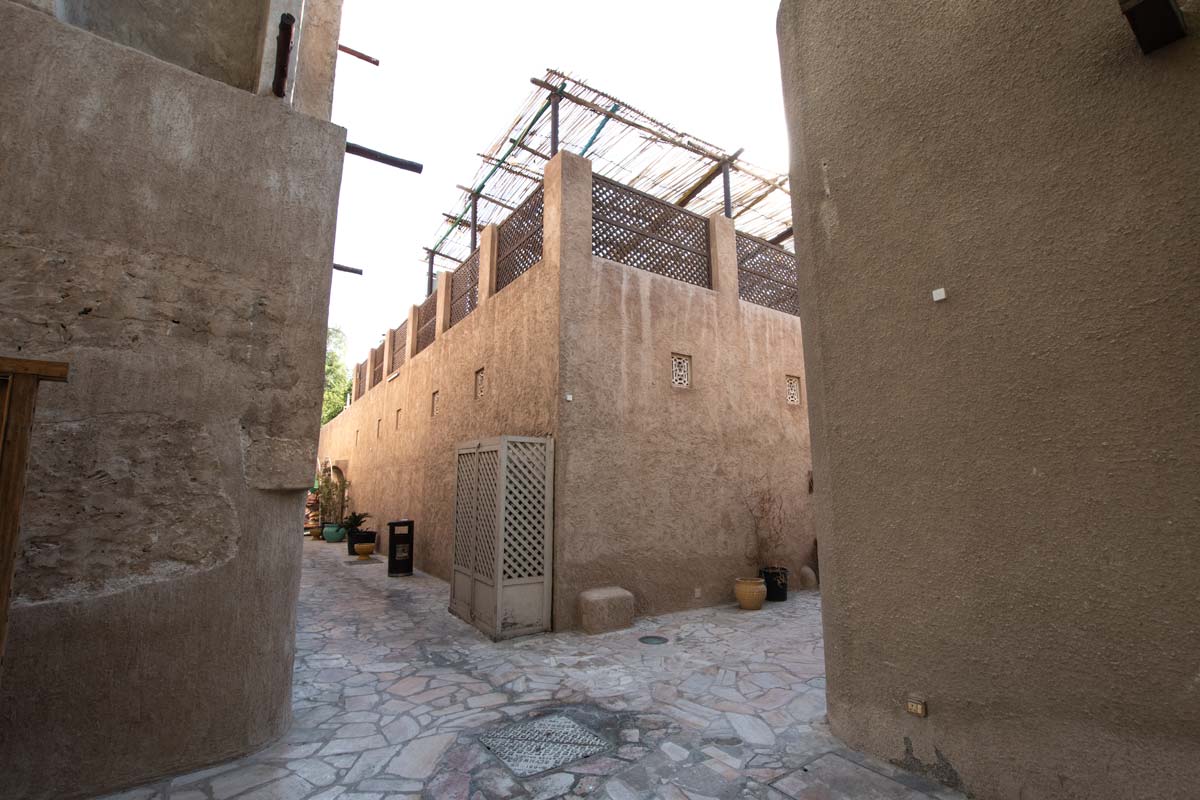 End the third of your 5 days in Dubai, exploring and having dinner on Al Seef Street. Hugging 1.8km (1.1mi) of Dubai Creek's shoreline, the heritage quarter was once the gateway to the Gulf's best pearl diving port and is a perfect blend of traditional and modern Dubai.
And if you want a guide to tell you all the stories behind the buildings, here are two great options:
Old Dubai Walking tour + street food
Old Dubai walking tour + tea
See Also: Best way to spend 7 days in Jordan
Five days in Dubai – Day 4 – Beach Galore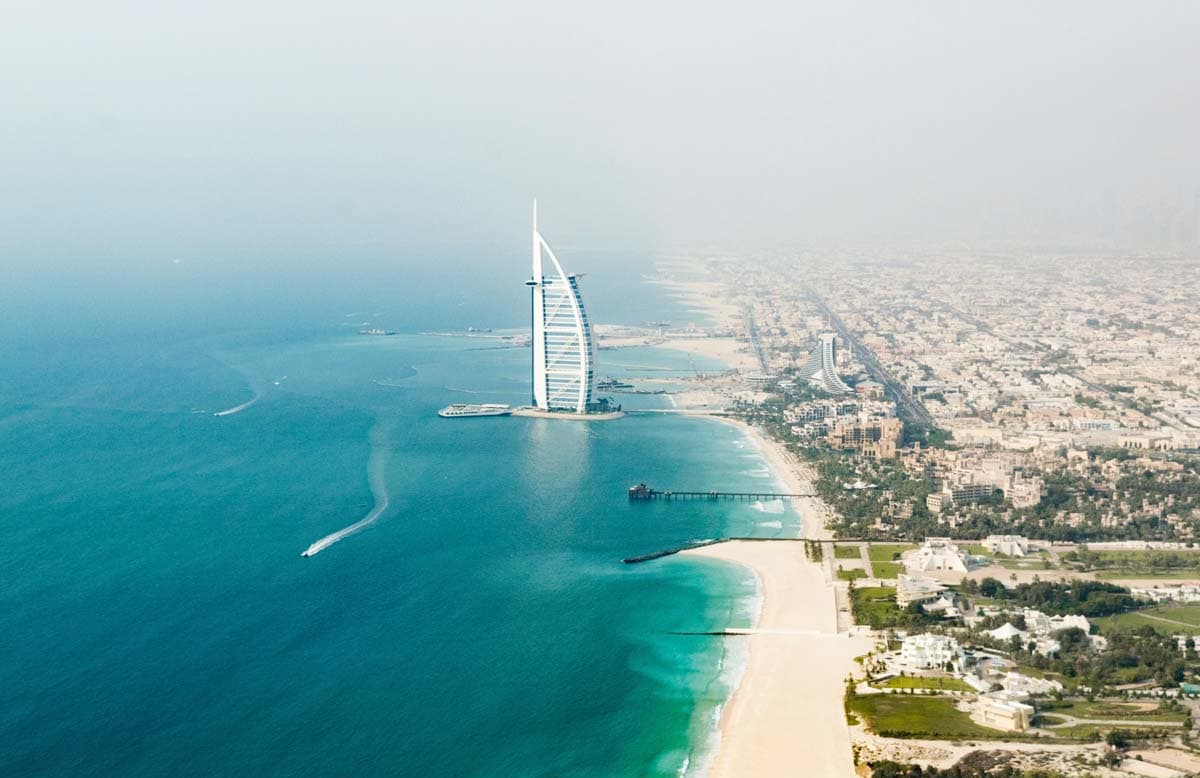 It's the fourth day of our 5-day Dubai itinerary, and the fatigue probably starts to show, so now is the best time to sit back and unwind on one of the city's famous beaches.
Beach day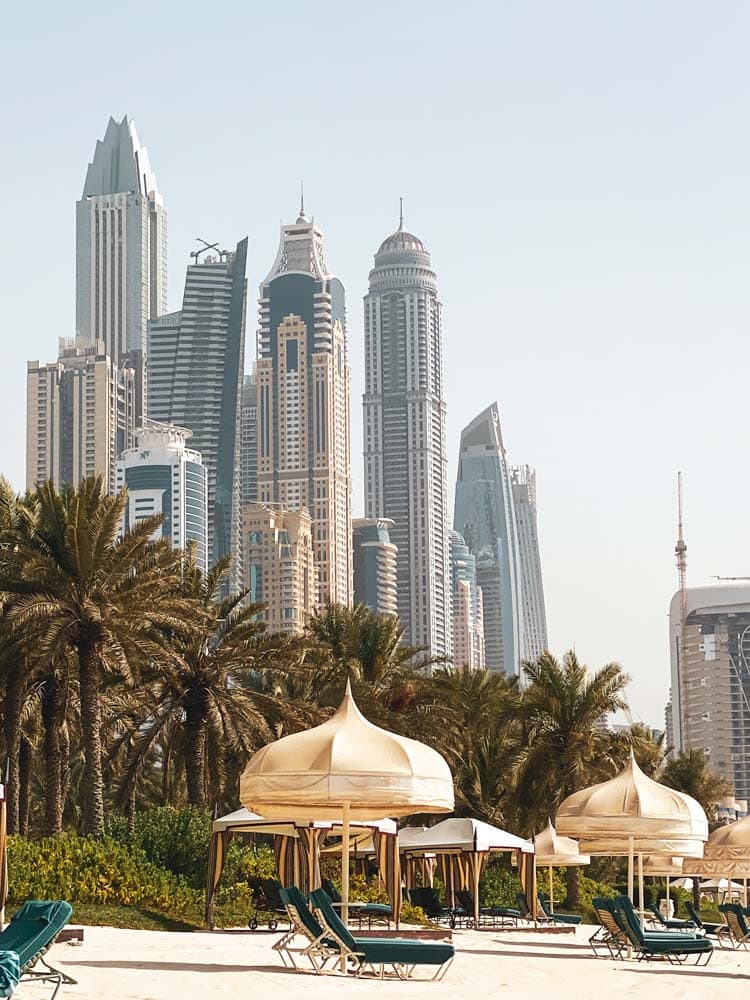 Dubai has plenty of public beaches, and all of them seem incredible. My favorite would be The Beach (original naming alert). It's the beachfront complex at the Jumeirah Beach Residences (known simply as JBR), offers plenty of activities for the whole family, and it's close to a Ferris wheel that is perfect for sunset watching.
If you want the flawless Dubai beach photo, you need to go to Jumeirah Public Beach or Burj Al Arab Beach, where you get the sail-shaped hotel as your background. Umm Suqeim Beach (also known as the sunset beach) is also a great contender in this category.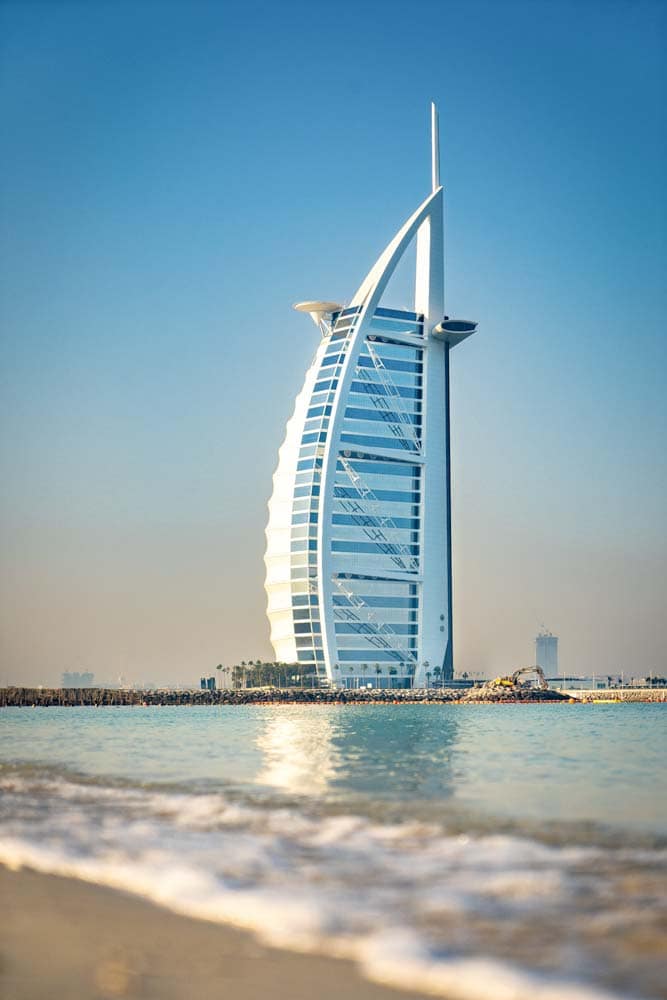 Other popular beaches include Kite Beach (where everybody seems to be flying kites), La Mer (and its vast shopping area), Palm West Beach (if your hotel is on the Palm Island), and Atlantis hotel's WHITE Beach (this one has admission charge which is usually 50 percent redeemable against your food and beverage bill).
If you need more info, here you can see all the best Dubai beaches and pick the right one for you.
Ain Dubai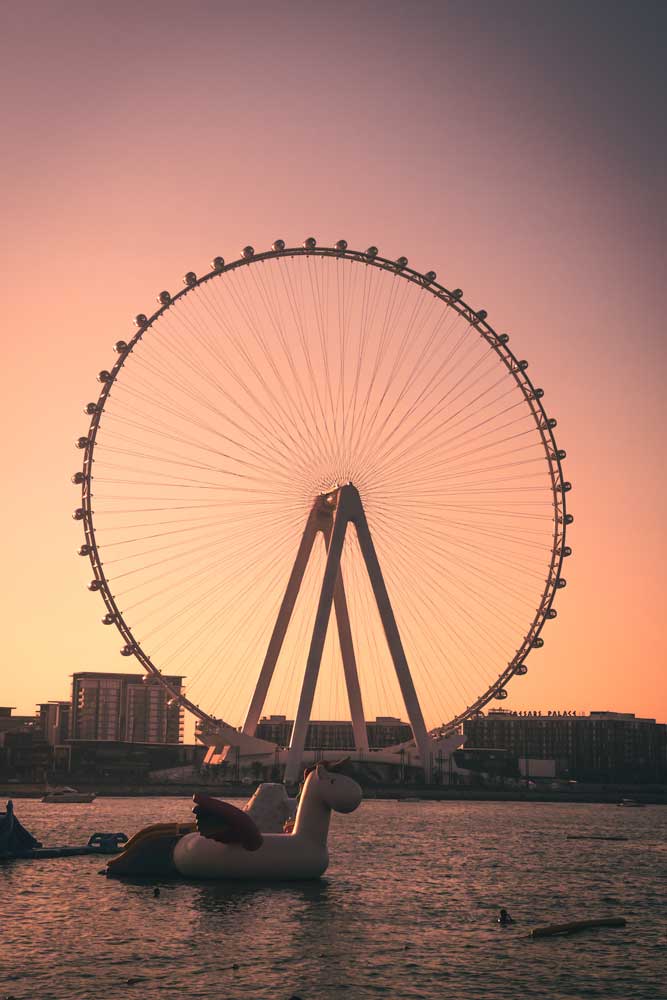 If you've decided to spend the day on The Beach or Marina Beach, Ain Dubai is right next to you and is the perfect place to watch the sunset from.
Rising 250m (820ft) in the sky, the world's largest and tallest observation wheel is a brand new city attraction that's been welcoming visitors since October 2021. One ride is approximately 38 minutes which you spend in glass cabins that give you a 360′ view of seaside Dubai and Palm Jumeirah.
See Also: December in Istanbul
The Walk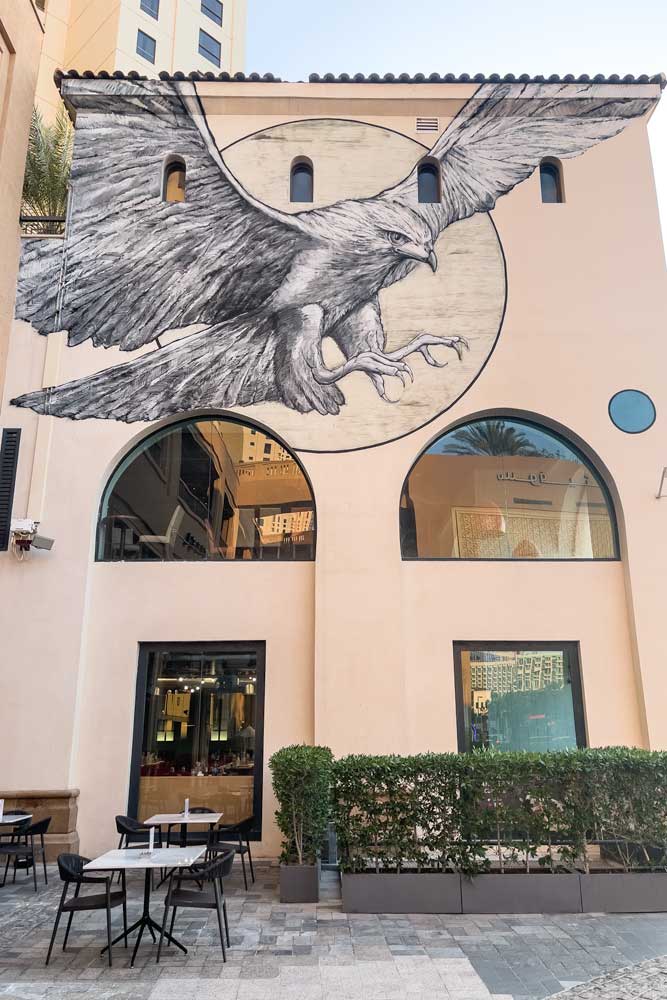 In the evening, you can stroll around JBR's famous promenade named The Walk, sit for dinner at one of its countless restaurants or shop for souvenirs.
Five days in Dubai – Day 5 – Time to Have Some Fun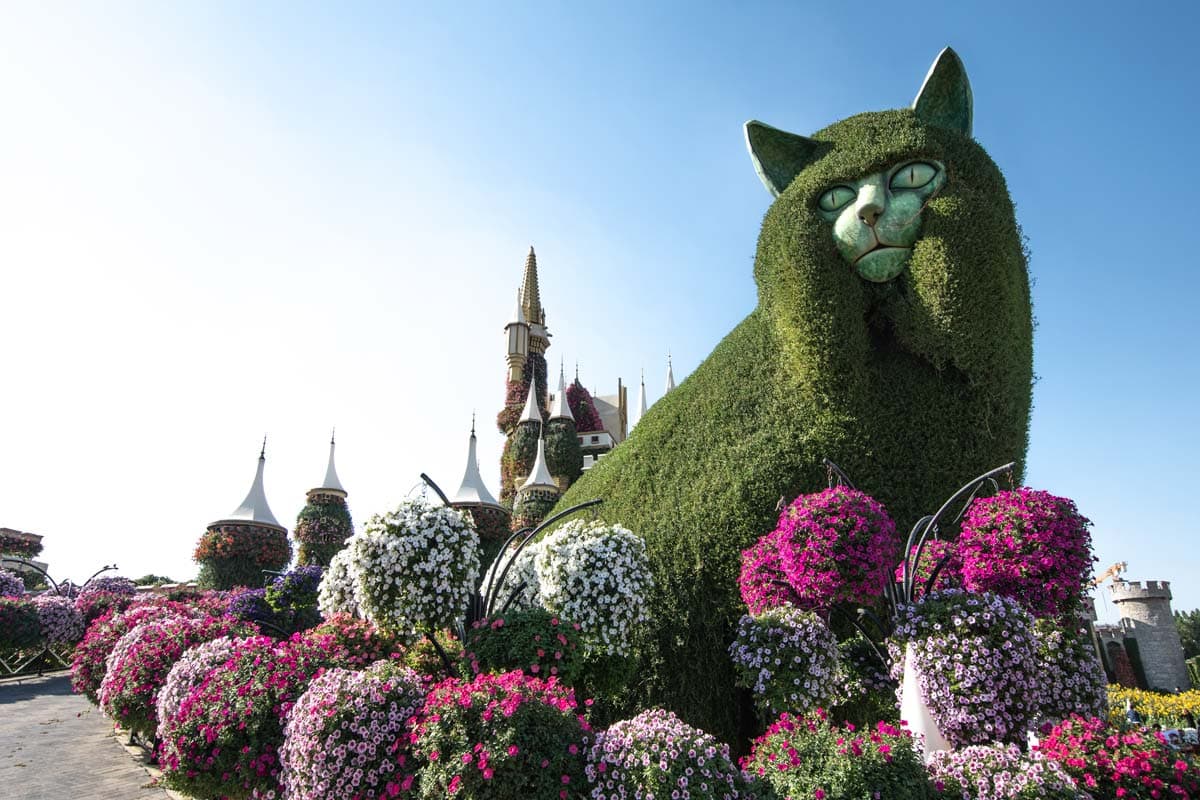 Our 5 days in Dubai are almost over, and it's time to have some fun! On our last day, we will explore the entertainment activities the emirate has to offer. But since fun means different things to different people and Dubai has plenty of attractions in this category, I'm going to list my favorites and let you pick the one that suits you best.
Aquaventure Water Park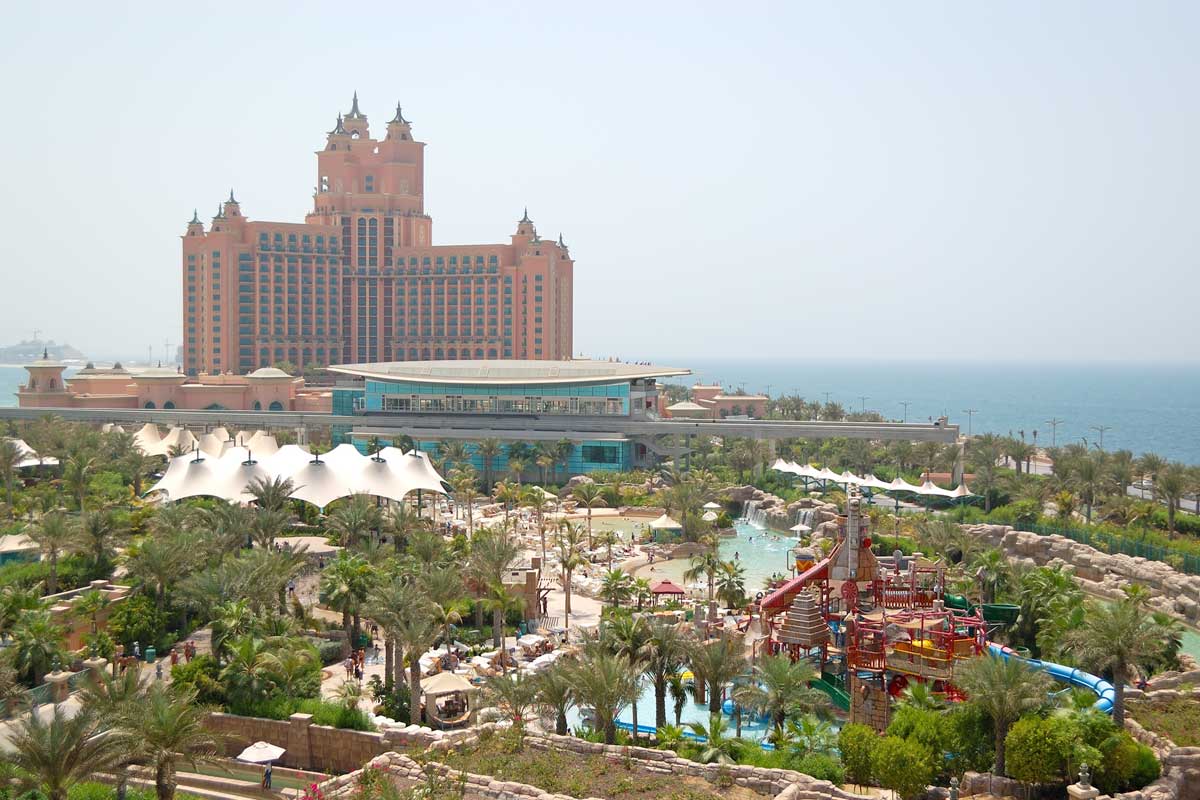 Dubai's Aquaventure is the largest water park in the world (it's a Dubai thing to have the biggest things). It features record-breaking 105 waterslides and attractions, a marine life academy, and a 1km-long private beach. One of the slides even goes under a shark tank! The only negative is it's located at the end of Palm Jumeirah, but it's easily accessible via Dubai's monorail.
The Miracle Garden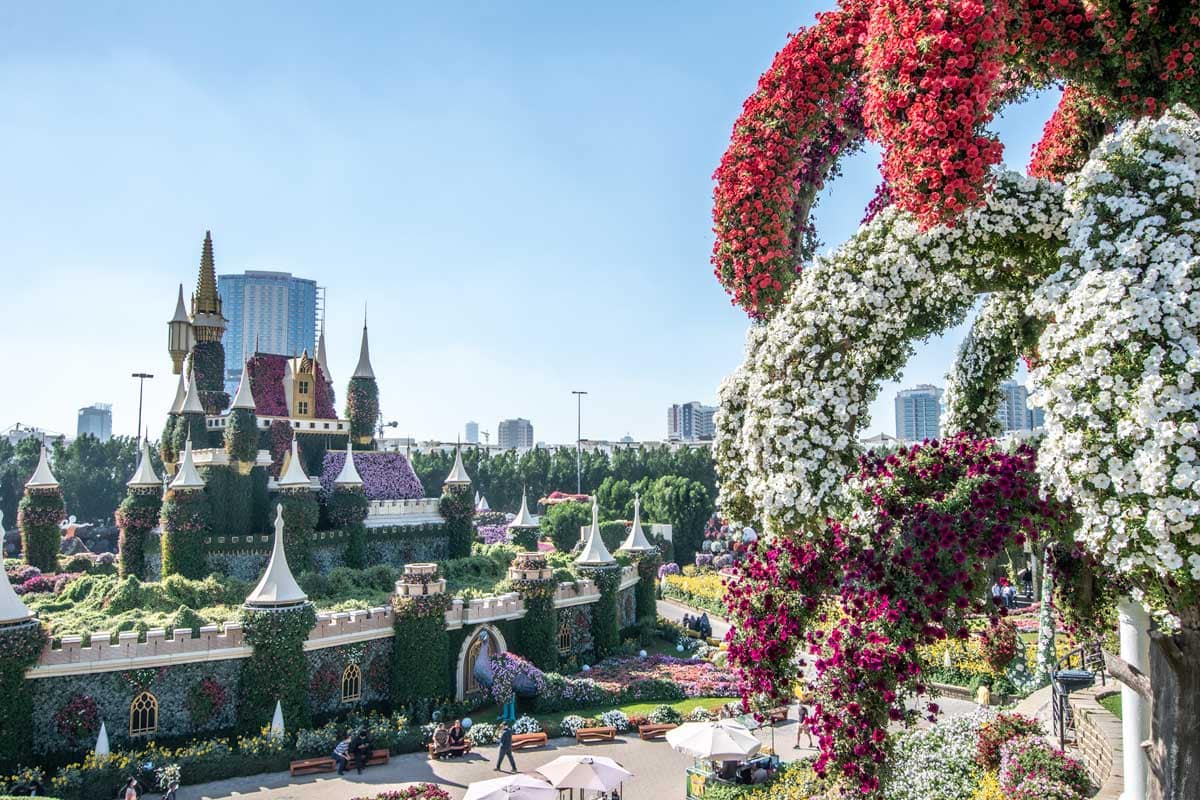 The Miracle Garden are girls' Instagram heaven. Located in the district of Dubailand, the enormous garden features more than 150 million flowers in full bloom and countless flower-made statues, including a real-size Emirates plane! A bit boring if you're a guy but dream-come-true for all the ladies.
Ski Dubai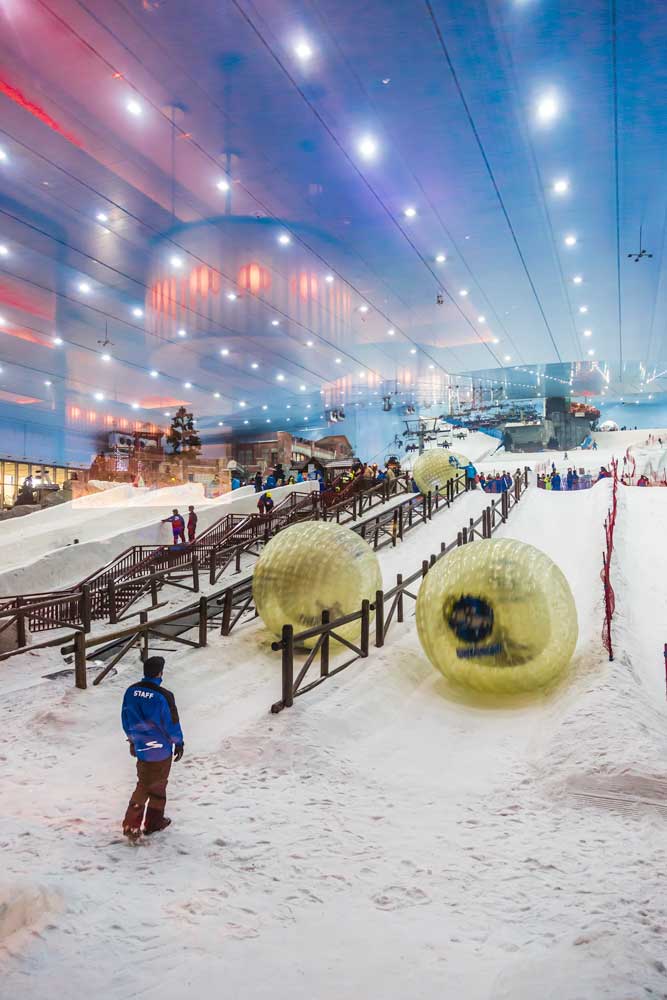 Ski Dubai is one of the most peculiar attractions in the world. It's a ski slope located inside the Emirates Mall. Yes, an entire slope with the chairlifts and stuff! It has everything a typical ski resort has, including bobsledding, tubing, tobogganing, wall climbing, zorbing, and snow bumpers. Oh, there's also a penguin area with King and Gentoo Penguins. Of course, there's no need to bring winter clothes or ski gear to Dubai; you can rent everything on the spot.
Skydive Dubai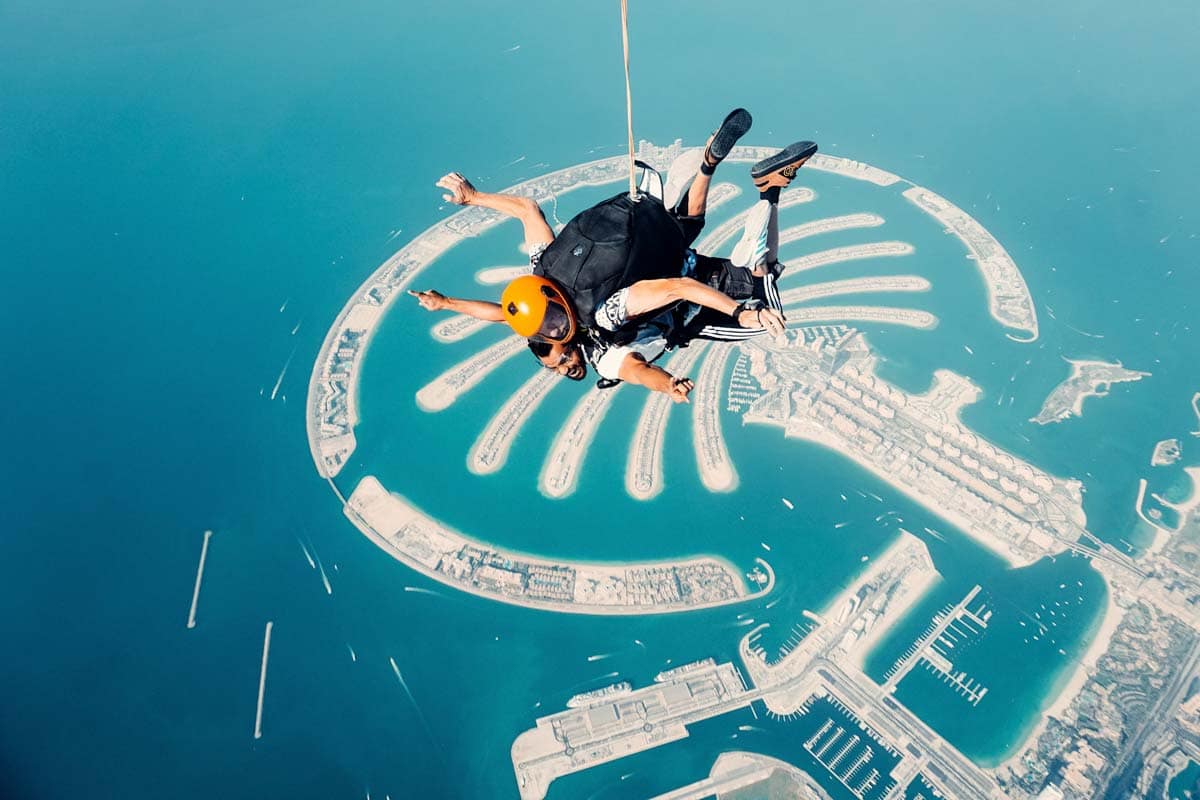 For the adventure seekers, Skydive Dubai offers skydiving over the desert or Palm Jumeirah. I know you can go skydiving in pretty much any country in the world, but I don't think you can get a more impressive view than the one you get in Dubai. That's why the only skydive I have on my impossible bucket list is precisely this one!
IMG Worlds of Adventure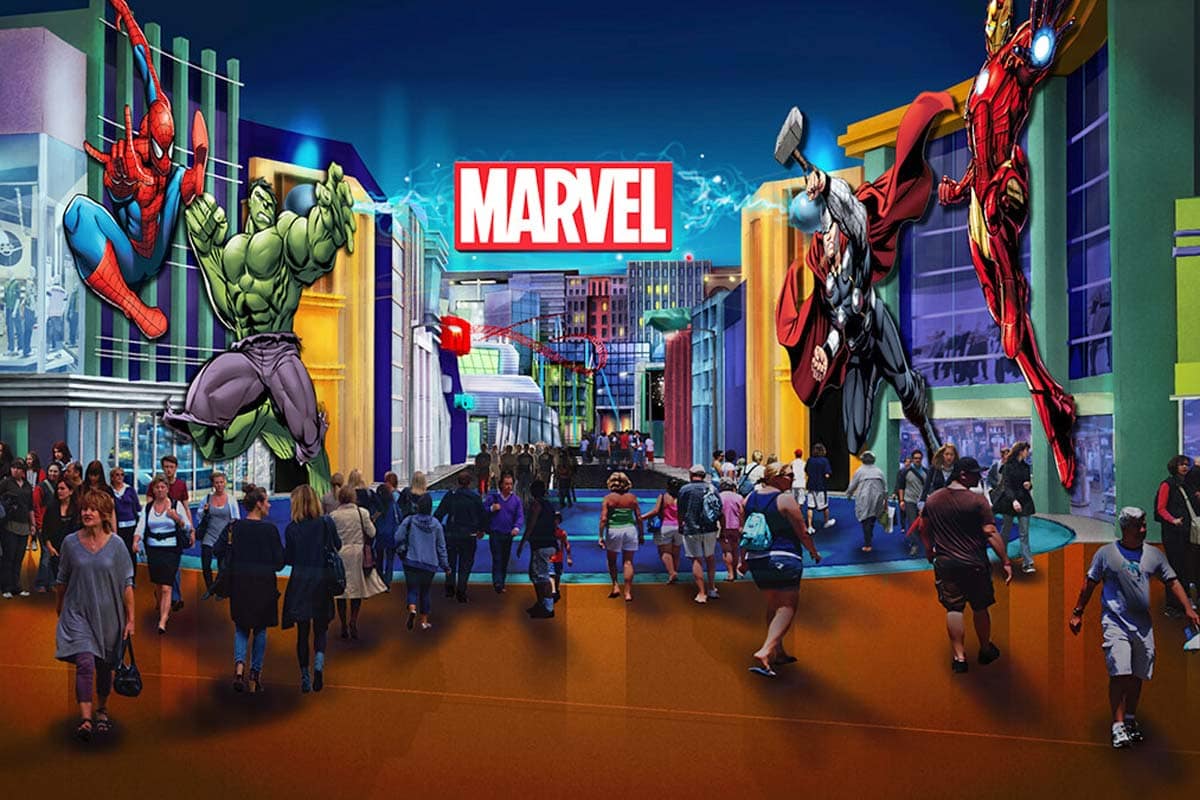 There may not be a Disneyland in Dubai, but there are plenty of other great theme parks to compensate. Worlds of Adventure is the largest indoor theme park on the planet (what a surprise), featuring 5 adventure zones and 22 rides, spread across 1.5 million square feet.
From Marvel heroes to dinosaurs, Worlds of Adventure guarantees fun times and an exciting end to your 5 days in Dubai adventure.
Bollywood Parks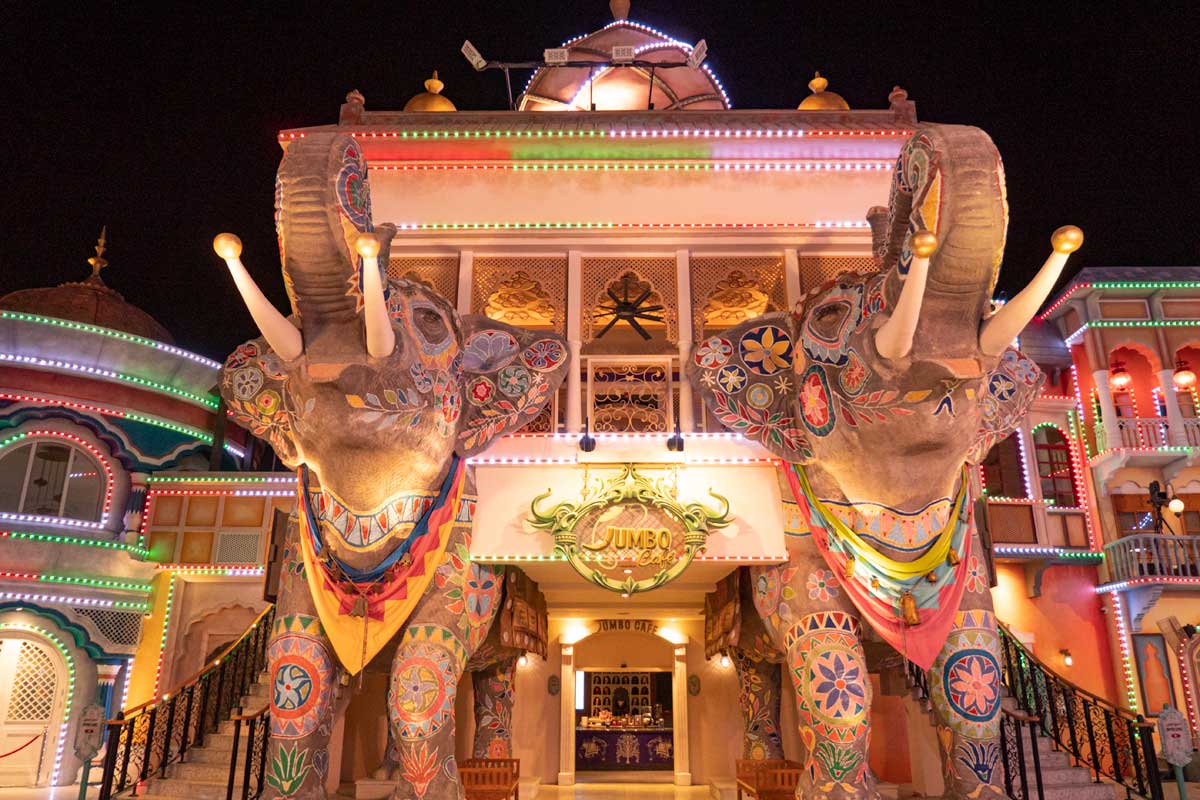 This one is targeted mainly at Indian visitors, but I'm sure that even if you have never watched a Bollywood movie, you're going to enjoy your day there. The world's first Bollywood-themed park offers 5 zones inspired by Bollywood blockbusters, plenty of live performances, and a vibrant display of cafés and restaurants on Bollywood Boulevard.
Motiongate Dubai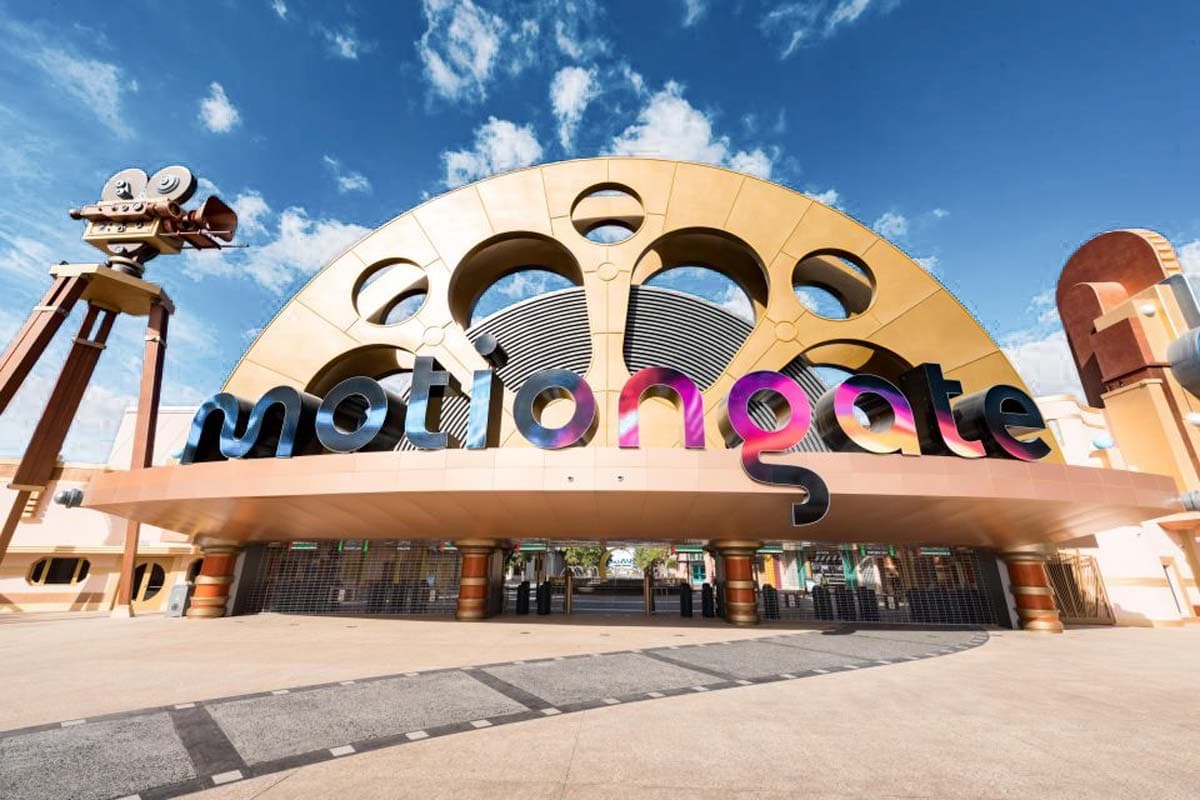 If you're a movie buff, Motiongate is the place for you. Featuring 27 themed rides from Lionsgate, Sony Pictures, and Dreamworks, Motion Gate is one of the most popular parks in the emirate.
Legoland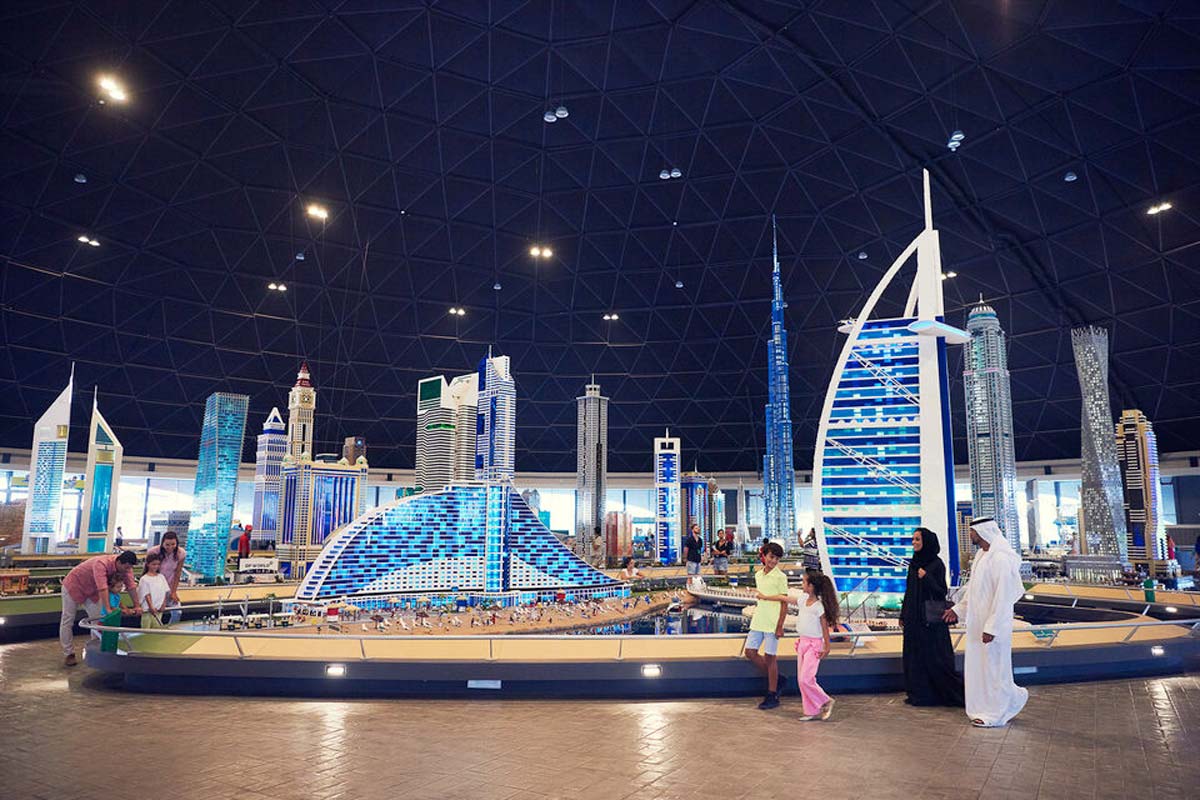 For the fans of the legendary constructor, spending the day here will be one to remember. Legoland Dubai also features a zone called Miniland, where you can see the iconic city landscape + other famous middle eastern attractions made out of Lego.
Global Village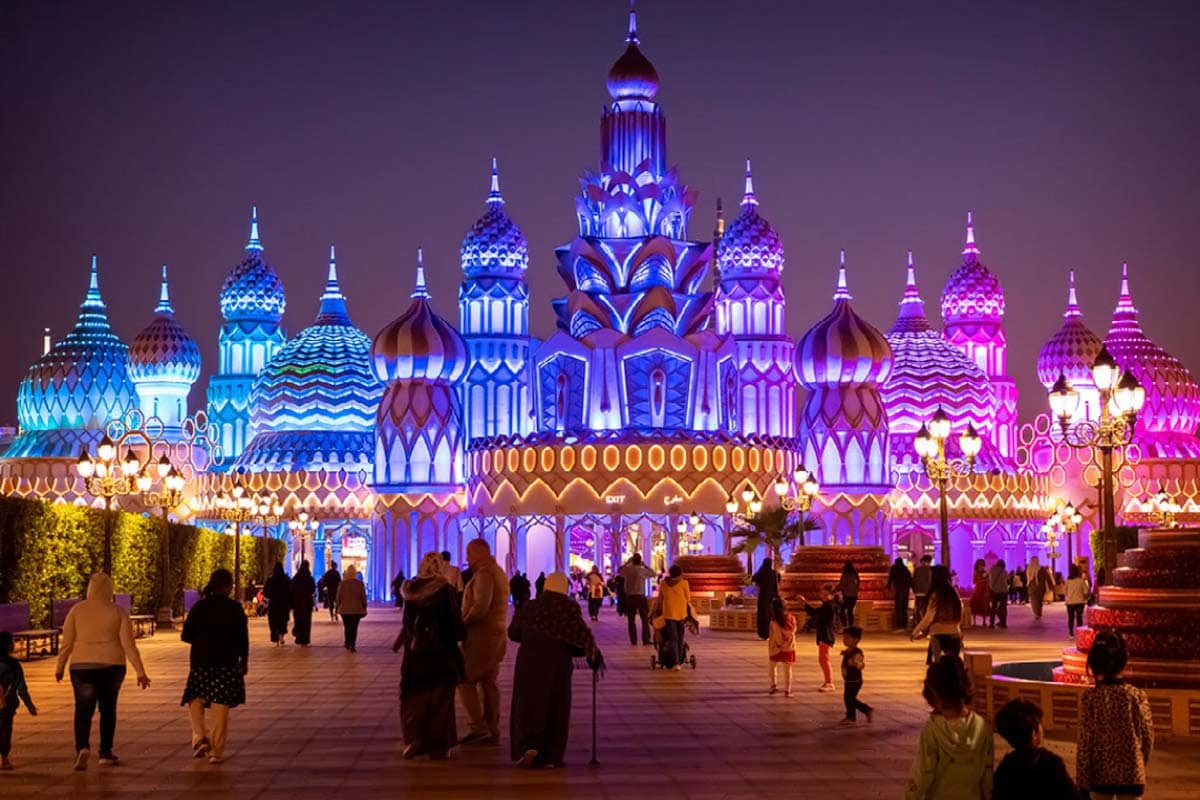 Part theme park, part market, the Global Village open in the afternoon, so it can be combined with one of the other options listed above. Featuring 78 cultures in 26 pavilions with over 3,500 displays from countries from all around the world, this park is a journey around the globe that gives you the chance to take a photo with Big Ben, The Pyramids of Giza, and the Eiffel Tower, all while eating Thai street food.
More than 5 days in Dubai
You have more than five days in Dubai, or you want to switch something on the itinerary? Here are some extra Dubai attractions:
Atlantis the Lost Chamber Aquarium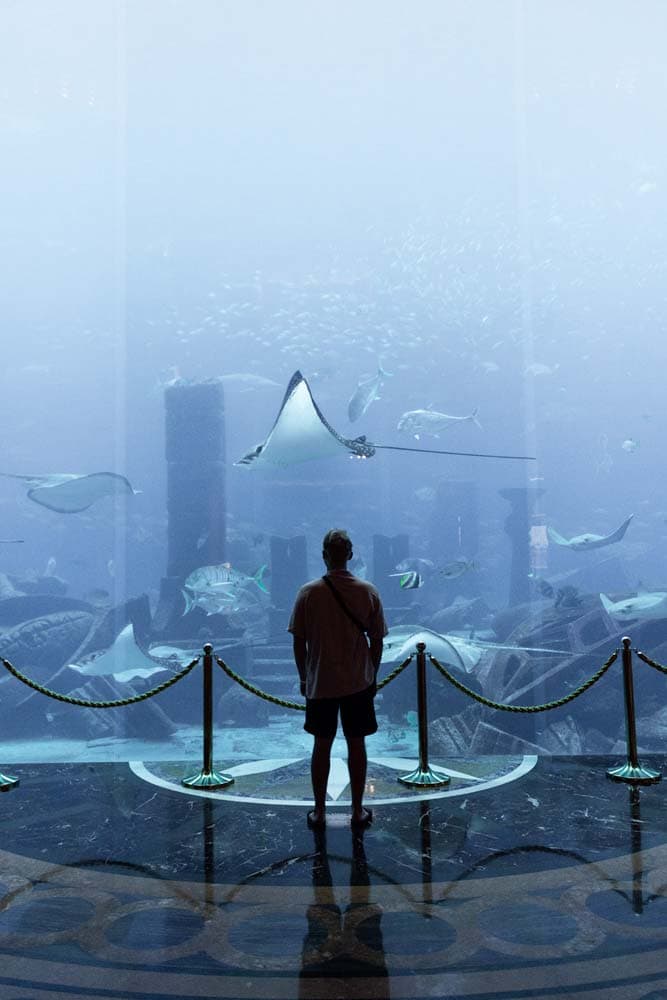 Home to over 65,000 sea creatures, the Lost Chamber is the biggest aquarium in the Middle East and Africa. It's located in the Atlantis hotel at the crest of the Palm Jumeirah island and offers more than 20 marine life exhibits, including a touch tank and an interactive Aquatheatre show. In my opinion, this aquarium is better than the one in the Dubai Mall, but its location makes it harder to put in your 5-day Dubai itinerary.
Museum of the Future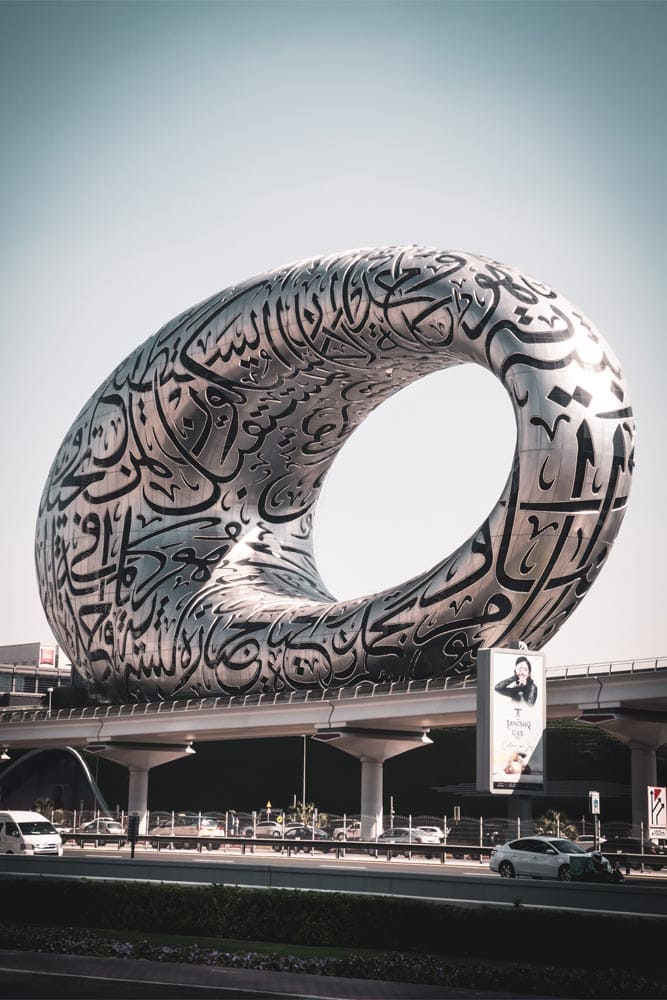 Dubai's latest attraction is the Museum of the Future, and there's no better place on the planet to build a museum like this.
Showcasing UAE's vision for the upcoming years, this curious museum is housed in one of the most visually impressive buildings I've seen anywhere in the world.
Burj al Arab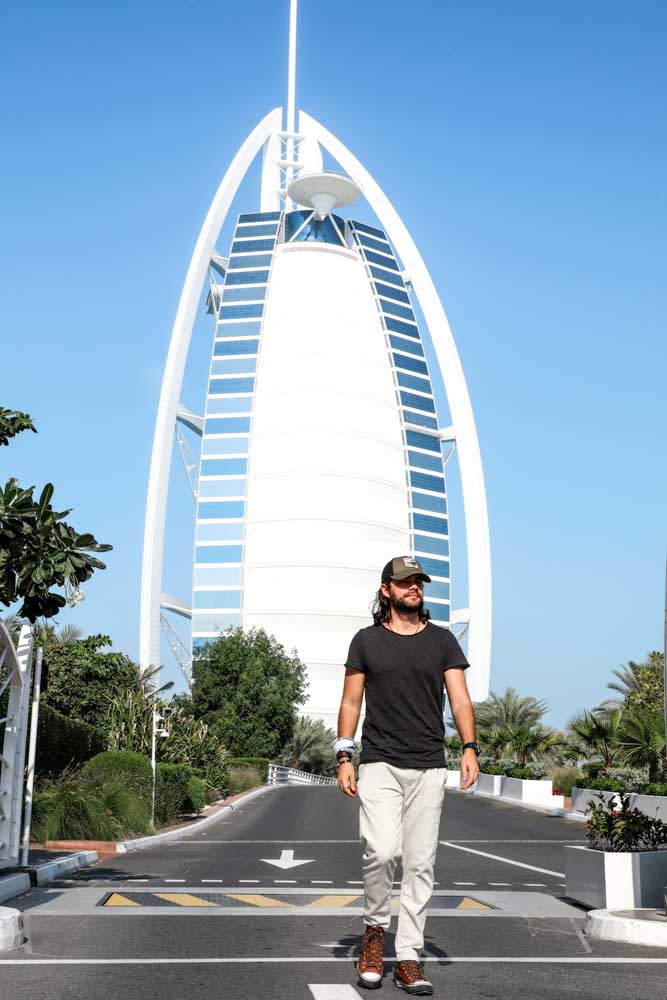 Completed in 1999, Burj Al Arab is the original flagship attraction of modern Dubai and one of the most luxurious hotels on the planet. Since not that many people can afford to spend 3000 USD per night, the hotel is also offering a tour of its opulent grounds. So, if you have the spare time, getting inside the original "home of luxury", learning about its history, and even visiting the Royal Sweet surely sounds like an exciting experience!
Working Hours and prices
View from the Palm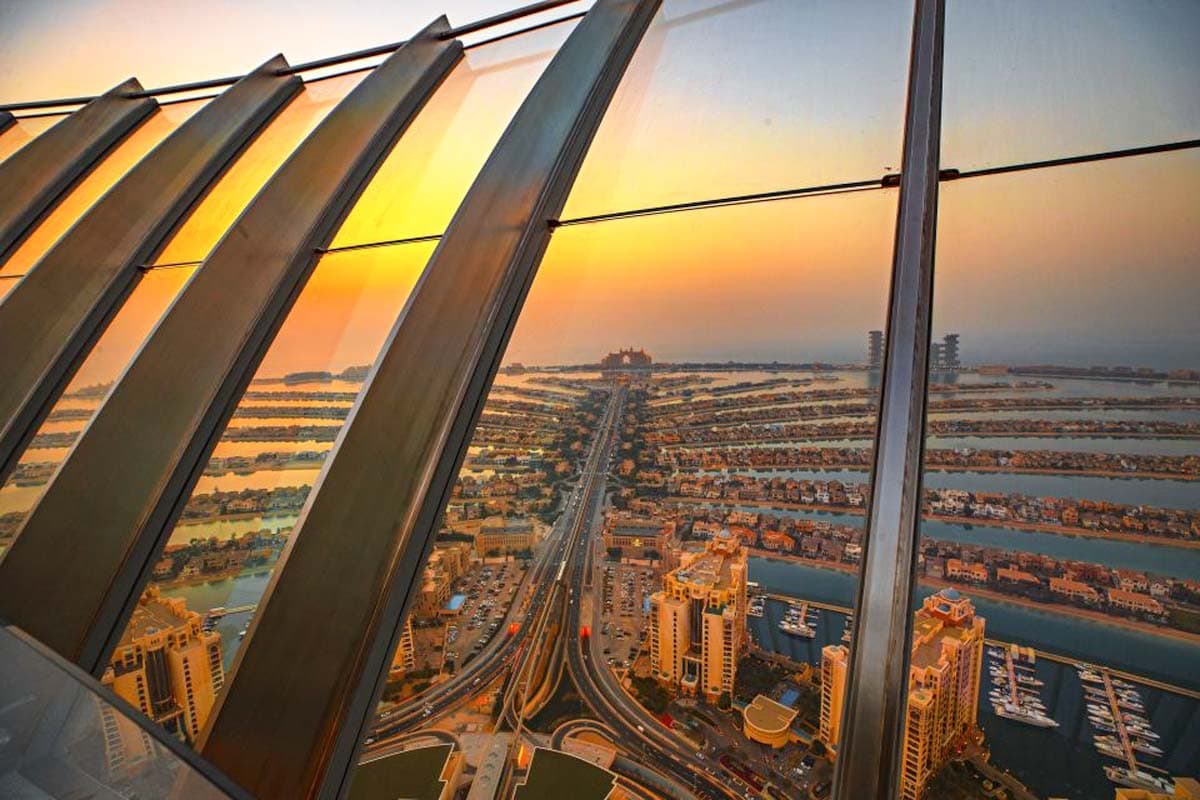 While the world was closed for tourism (including Dubai), the ambitious sheiks didn't waste their time and built another attraction. Burj Khalifa may be as tall as a mountain giving excellent views of pretty much all of the emirate, but there's one thing it cannot see that well – the Palm Jumeirah island.
That's why the 240 meters high Palm Tower hotel was built, featuring a panoramic, 360-degree deck on the roof.
The Palm is a bit tricky to get to, but you should definitely put this experience in your 5-day Dubai itinerary if your hotel is somewhere on the island.
Blue Mosque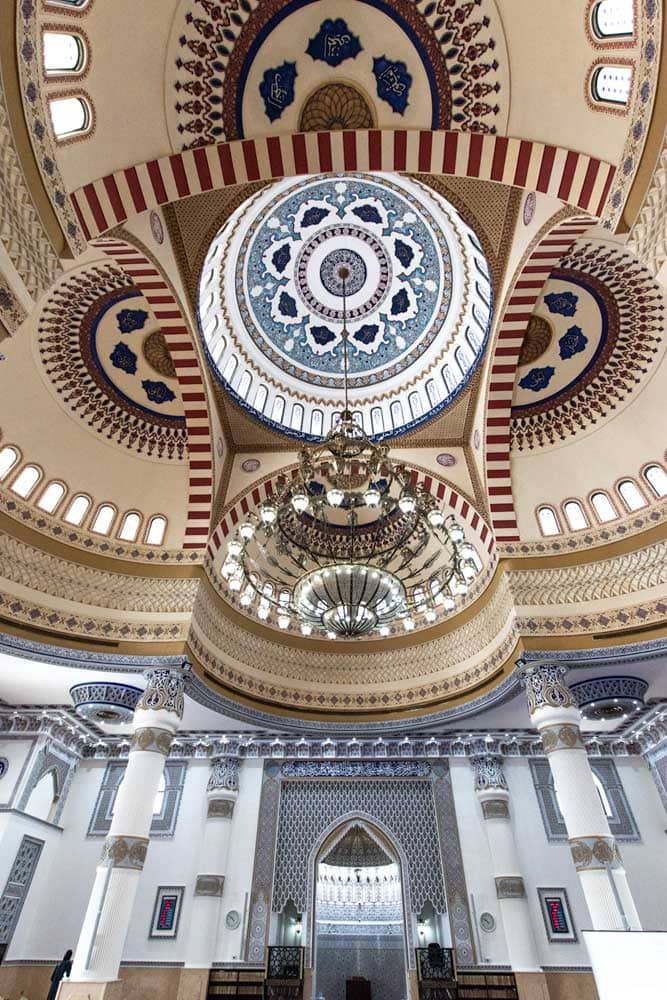 The Al Farooq Omar Bin Al Khattab Mosque is also known as the Blue Mosque due to its resemblance to the original Blue Mosque in Istanbul. It's one of the only three mosques open for tourist visitations in UAE (the other two being Jumeirah Mosque and Sheikh Zayed Grand Mosque in Abu Dhabi).
While small, the Blue Mosque has a lovely interior, and the only reason I didn't put it on the 5-day Dubai itinerary is due to its location (no metro stations or other notable attractions around).
Jumeirah Mosque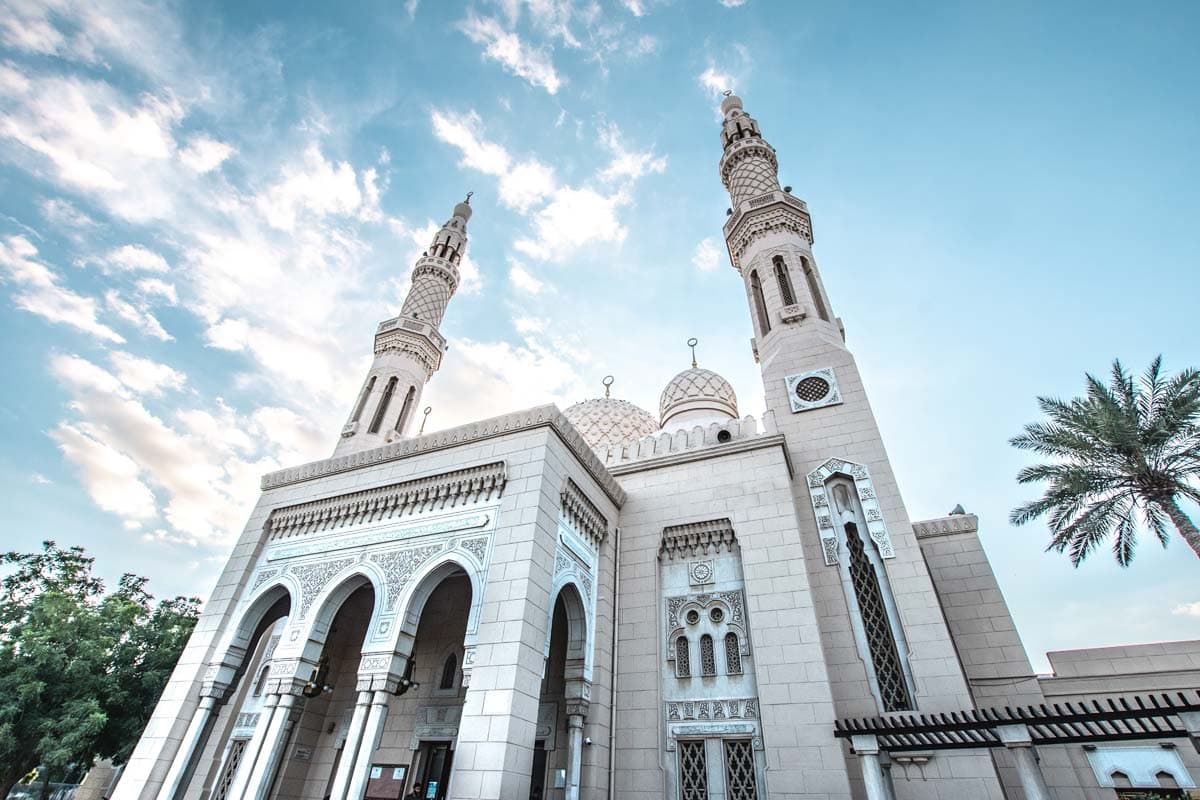 As mentioned above, the Jumeirah Mosque is also open for non-muslim tourist visitations. Built in a traditional Fatimid style that originated from Syria and Egypt, even though a little small, this temple looks stunning, and it's worth checking it out if you are somewhere in the area.
The problem is you probably won't find yourself in that area, and if you want to go inside the mosque, you have to be there at exactly 10:00 AM or 2:00 PM (only guided visits are allowed, no tours on Friday), which makes it too much of a hassle.
Ras al Khor Wildlife Sanctuary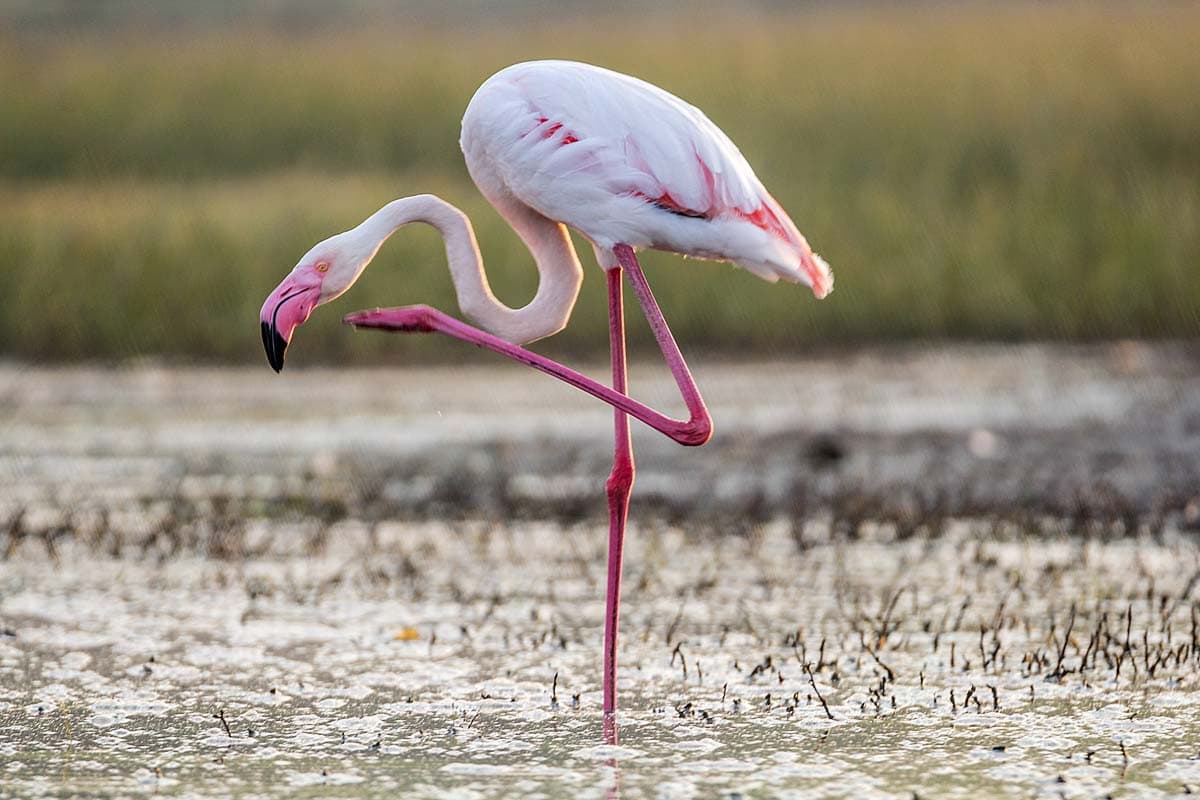 Ras Al Khor is a wetland reserve located a little far from the central part of the city. It's home to mainly birds, fish, and small mammals, but its mascot and most famous inhabitants are the pink flamingoes. So if you want to see these peculiar birds in their natural habitat or bird-watching is a hobby of yours, you should definitely add Ras al Khor to your 5-day Dubai itinerary.
Camel races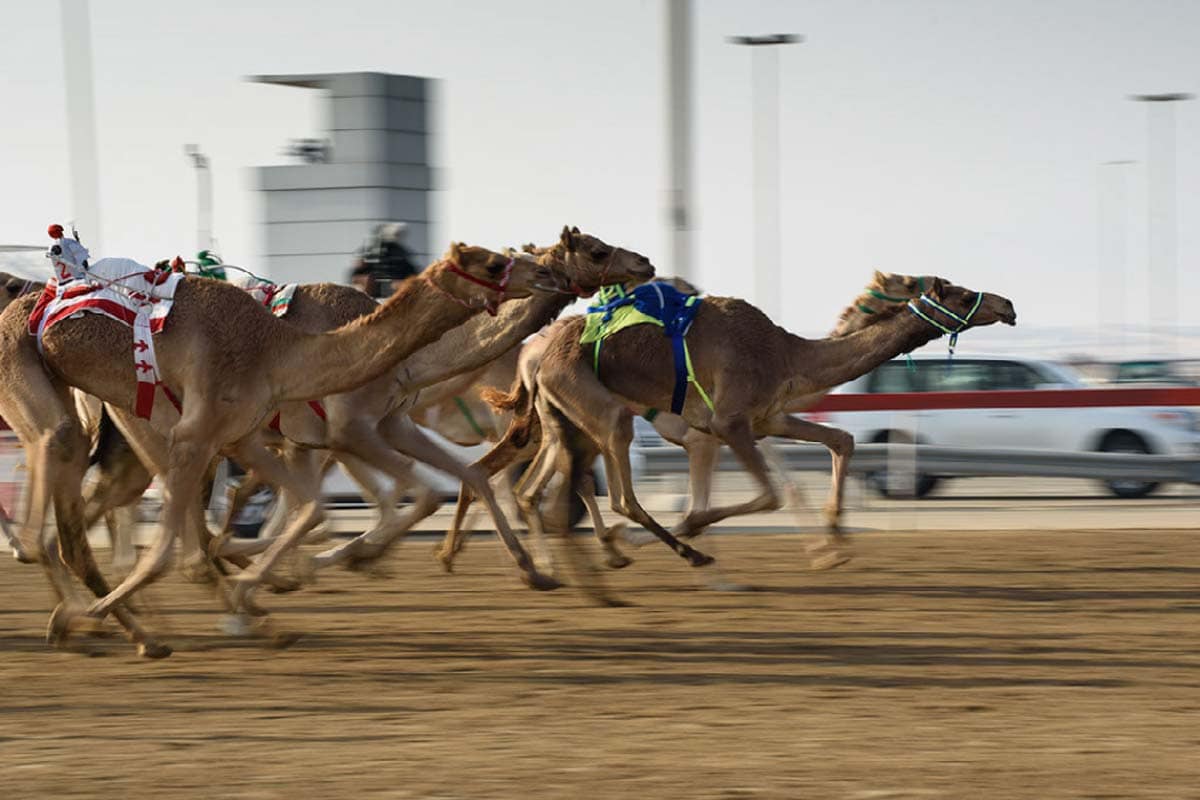 Al Marmoom Camel Race Track is located quite far from the city, and it's not an attraction for everybody, but it's certainly a unique experience. One of the last attractions in Dubai that highlight Arabian culture and heritage, the races are visited mainly by locals and promise a genuine experience.
Fun Fact
There are no jockeys on camel races but tiny robots.

Where to stay in Dubai
High-end
Atlantis, The Palm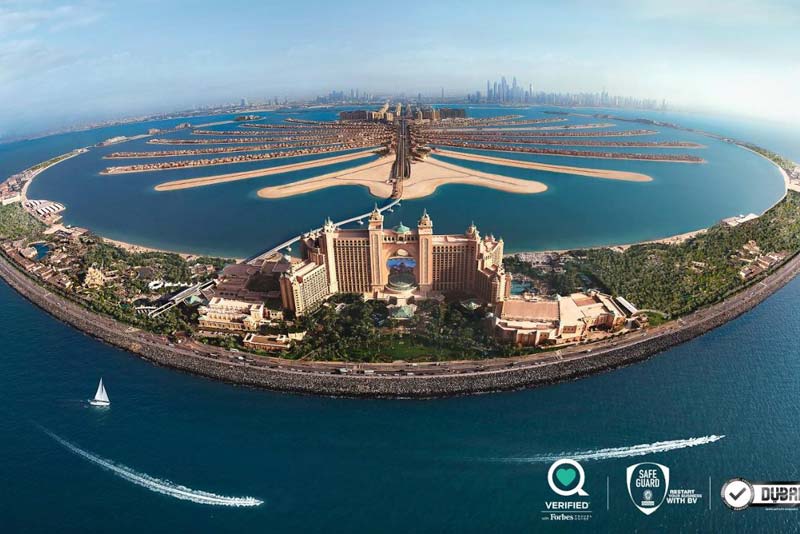 Ok, I know people who can afford to stay in the Atlantis probably won't bother looking for 5-day Dubai itineraries, but being one of the very best hotels on the planet, I just couldn't pick anything else for this category.
Located on the crest of the Palm Jumeirah island, Atlantis has fantastic views of the city skyline, a private beach, a water theme park, an aquarium, and the best of all – underwater rooms!
Check the latest prices
Middle Ground
Taj Dubai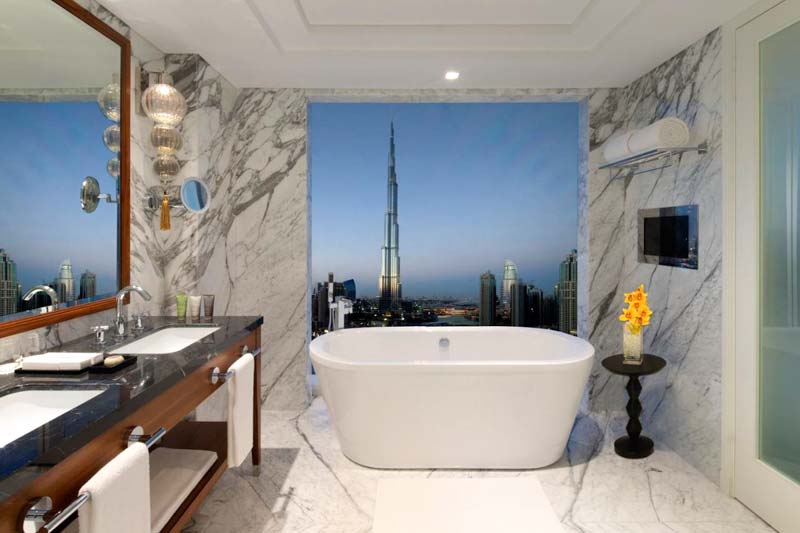 A 5-star hotel located right next to Burj Khalifa should cost a fortune, right? Well, that's not the case with Taj Dubai (especially in the summer). Great locations, more than great staff, spacious modern rooms, and the best of all – views to Burj Khalifa from your window. How cool is that?
Check the latest prices
Budget
Green Sky Holiday Home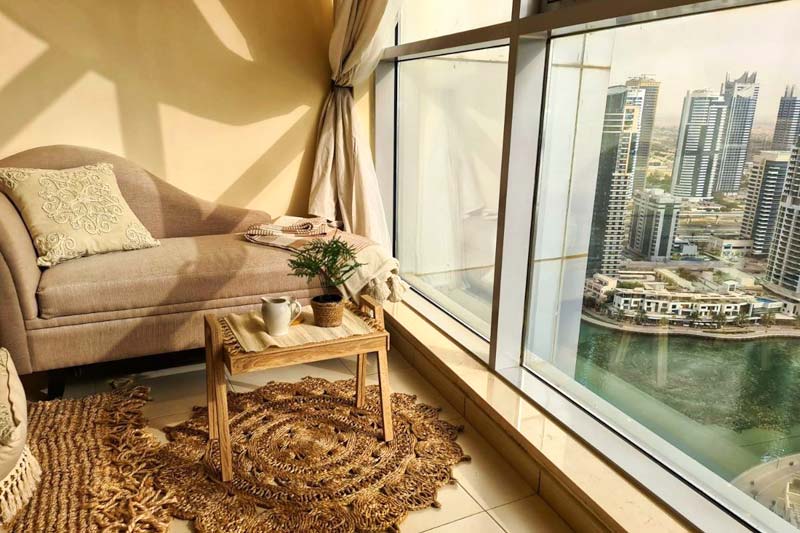 Located in a Dubai Marina skyscraper, Green Sky Holiday Home is just 500m away from Marina Beach. You have access to an indoor swimming pool (useful if you visit in the summer), a shared kitchen (if you are looking to save even more money), a sauna, a washing machine, and a private bathroom with a hot tub. A lot of value in this one!
Check the latest prices
Hostel
Bombay Backpackers DXB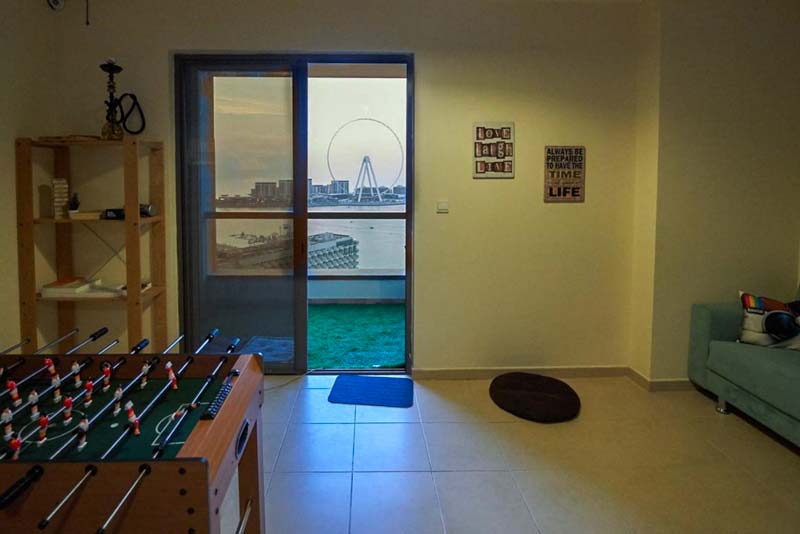 Located just next to The Beach, Bombay backpackers has a lovely staff, cheap beds, and even a room view to AIN Dubai. If you're a hostel-fellow, this is the one for you!
Check the latest prices
Unique stay
Starlight camp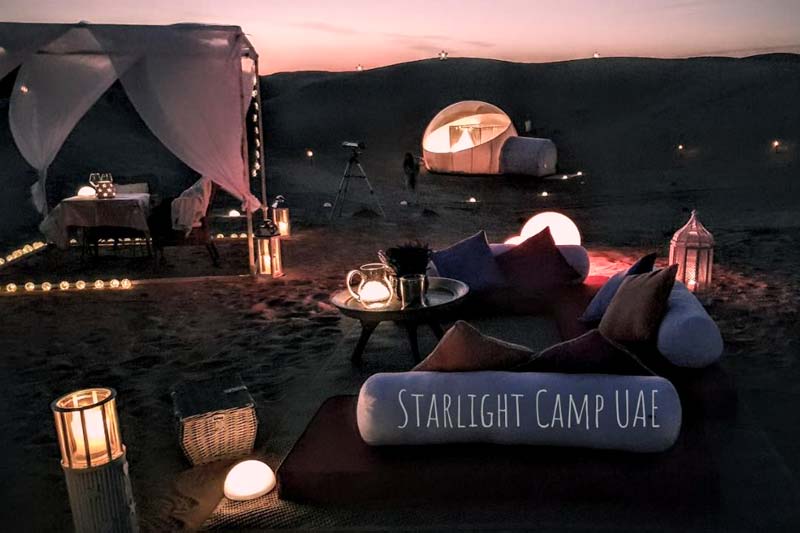 If you want to scrap all Dubai attractions and just stay in the desert, stargazing every night from your tent – there's a way to do it in style. This unique camp offers bubble tents with clear rooftops. Of course, there are also plenty of other luxuries in the camp, but if I stay in one of those, I'm sure I'll spend most of my time just lying on the bed, looking in the sky and disregarding pretty much everything else there.
Check the latest prices
Dubai tours
The weird one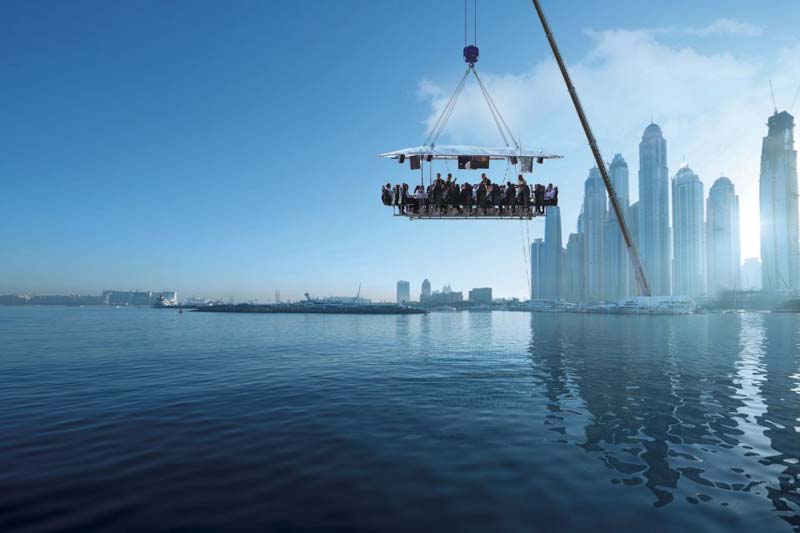 Enjoy a 3-course menu… in the sky. Yes, this tour will give you the opportunity to be lifted via crane on a 50 meters high dinner table above the sea – surely a great story to tell to your friends back home.
Check prices here
The Boat one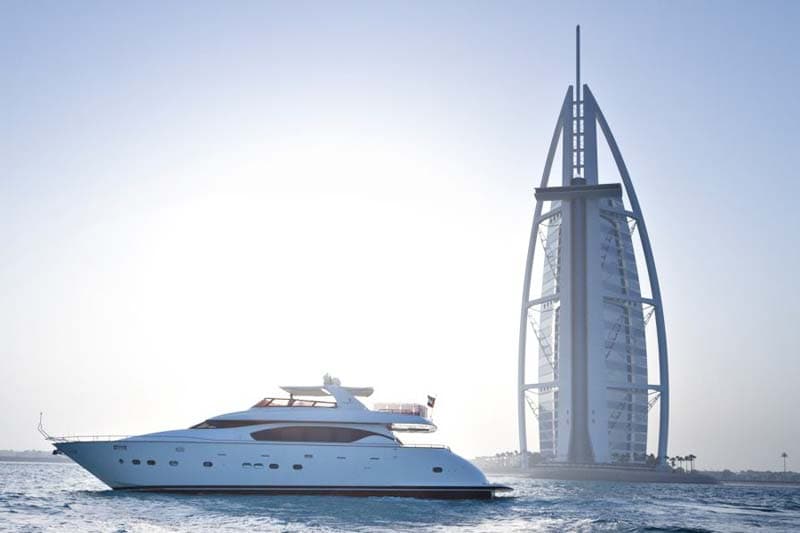 To explore the sea part of Dubai, you can get a yacht tour and have breakfast/BBQ on board. It's a very Dubai-like experience I'm sure you will enjoy. You can also do this at night, pick an ultra-luxurious mega yacht, or, if you think all of these options are dull, explore the seaside on a jet ski tour (yes, jet ski tours are a thing!).
The Helicopter One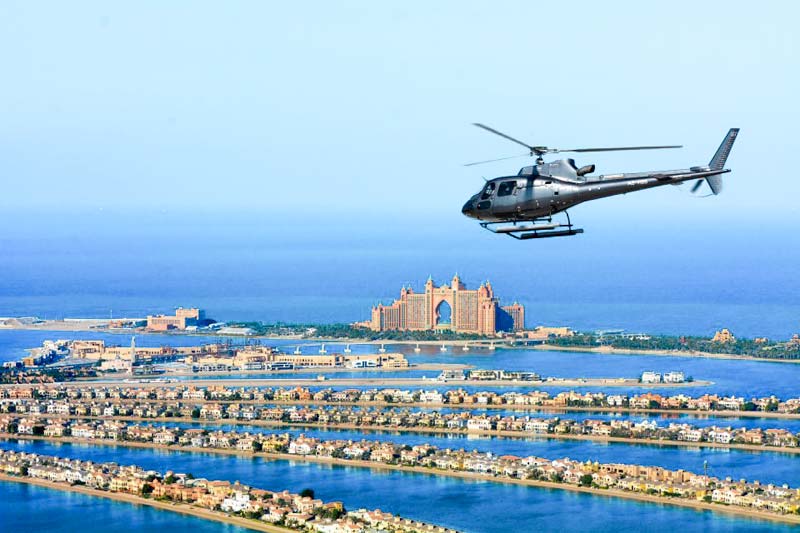 Burj Khalifa is tall, but it can't compare to the views you're about to get from a helicopter. Just riding one of those things is an adventure by itself but doing it over the futuristic landscape of Dubai is a treat like no other.
Short ride
Longer Ride
The Balloon One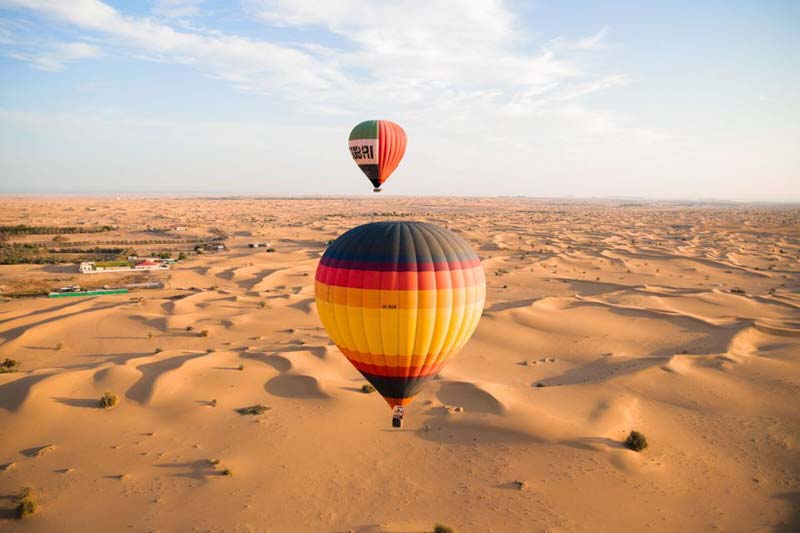 Riding a hot air balloon is always an adventure, but riding one over the desert is even beyond that. This tour will take you on an hour-long balloon flight that also has wi-fi (if you want to start an Instagram live or something). You'd have the endless desert on one side, the city skyline on the other, and camels, gazelles, and wandering Oryxes beneath you!
Check prices here
Dubai day trips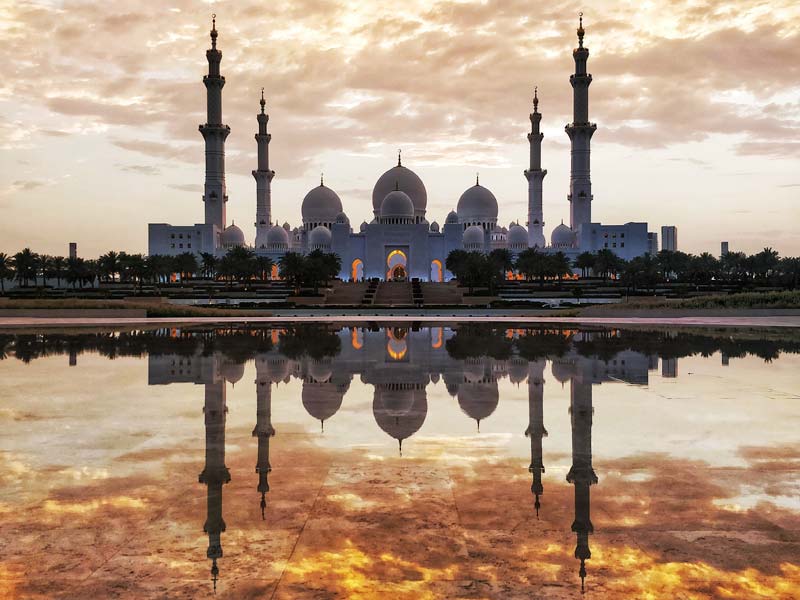 The only day-trip options (if we don't count the desert ones) are to Abu Dhabi, but there are plenty of choices about what to see there. You can go small and just check the Sheikh Zayed Mosque; you can combine the mosque with the Louvre (yes, they also have a Louvre), or go all in and check pretty much all attractions in Abu Dhabi (without the Louvre, though). Finally, if you are looking for a fun day, you may skip everything but the Grand Mosque (I mean, it's grand, you can't just ignore it) and get a trip to Abu Dhabi's Ferrari World.
Extra info
All the extra stuff you need to know to plan the perfect 5-day Dubai itinerary.
When to visit Dubai?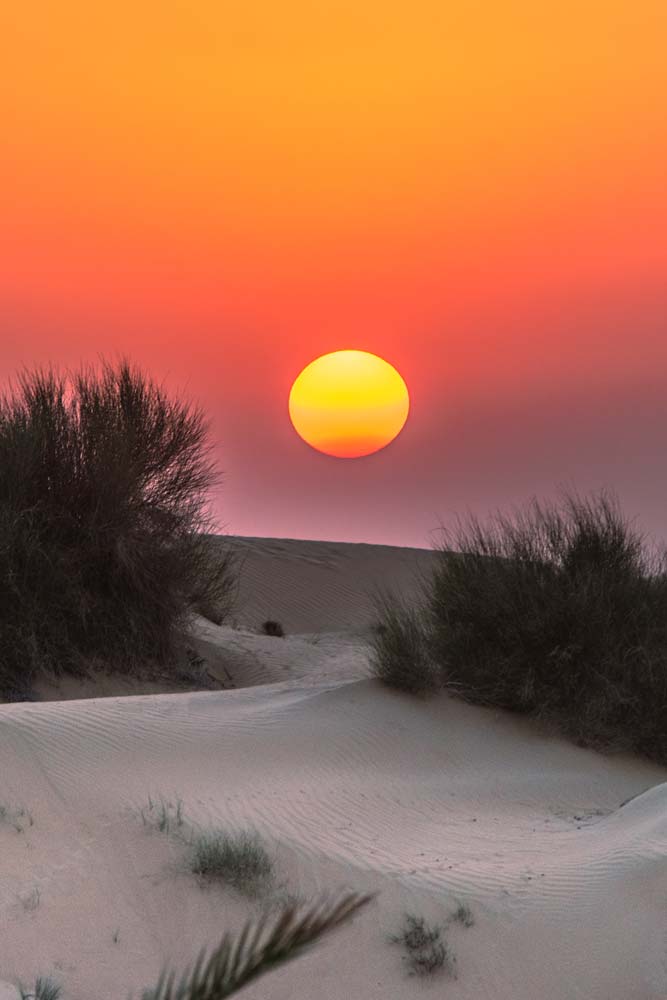 The best months to visit Dubai are definitely the winter ones – November to March. The temperatures are not too hot (17-30°C | 62 -86°F), and all outdoor activities are available. The best month of all winter months is January. The tourist traffic is down (because more people visit around New Year), the weather is neither too hot nor cold, and many tours offer discounts.
Shoulder seasons September/October and April/May are also an option. Since they're considered offseason months, tourist crowds are not too tick, and you also have more daylight hours, but the weather may get uncomfortably hot at times (avg temperatures 25-38°C | 77 -100°F).
The summer months (June – August) are the worst time to visit Dubai. It's hot as hell (even at night) with average temperatures of 33-42°C | 91 -107°F. As a result, most outdoor activities are closed, and plenty of the local expats are back to their home countries (so many shops are closed too). However, the tourist crowds are pretty thin at this time of the year, so if you plan to stay mostly indoors or in the ocean, this may be the best season for you.
Check out the Dubai weather for your trip
Is Dubai safe?
Dubai is heavily monitored and has harsh punishments for crime, so it's pretty much crime-free. Even petty stuff like pickpocketing ard incredibly rare in the emirate.
I'll always recommend having travel insurance, though. No matter how safe a place is, you never know what may happen. I currently use HeyMondo for my travels because they have proven themselves to me more than once over the years. The link above will give you a 5% discount, but If you have another favorite provider, that's ok. Just make sure you have one.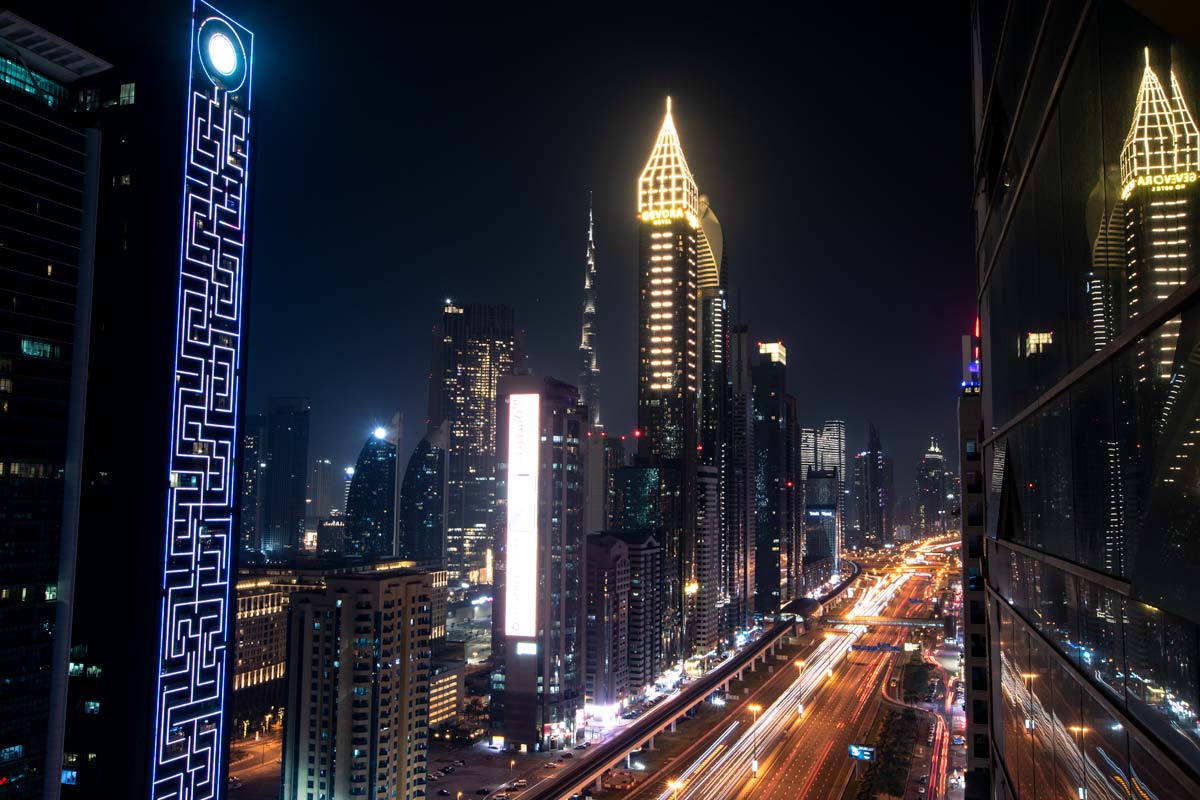 How to get around Dubai?
Public transportation is significantly developed in Dubai. Two metro lines cross a large part of the megapolis, and if you need to go to a place not covered by them, you can get a bus, a tram, or even a monorail.
They all work with a NOL card you can get from any metro station (and some bus ones). If you plan to use public transportation often, I recommend getting day-pass NOL cards; the value in those is incredible (single day pass for all public transport costs only 20 AED / 5.40 USD).
Detailed info about NOL cards
If you want to drive yourself everywhere, I understand entirely. Dubai is one of those cities where having a car is incredibly convenient. The most convenient tool for that is definitely Discover Cars. They compare all offers among 500 rent-a-car providers to help you find the best one. It's seriously such an awesome service!
If you want someone else to drive you around, you can use taxis that are surprisingly very affordable. Here you can calculate the price for your taxi ride. If taxis are still too expensive, you can try the Dubai version of Uber called Careem.
And last but not least, if you're a fan of those things, Dubai also has an open-roof hop-on-hop-off bus.
How to get to Dubai from the airport?
If you arrive at terminal 1 or 3, you have metro stations right there, and it's the easiest and cheapest way to get to downtown Dubai. If you arrive at Terminal 2, you need to get a taxi (or Careem), walk to the nearby metro station (Stadium at roughly 2km/ 1.2mi), or arrange a transfer beforehand.
Of course, the most hassle-free way would be to have a rent-a-car waiting for you at the airport. You can compare all rent-a-car offers in Dubai with Discover Cars.
Is Dubai expensive?
Dubai is certainly not a cheap destination but compared to other modern cities in the world – it's very affordable. It all depends on your choices, really. Flights from Europe (with a low-cost airline like Wizzair or Flydubai) from Europe can go as low as 100 EUR (2-way) / 115 USD.
You can go to ultra-luxurious hotels for 2000 EUR/ 2300 USD per night, but you can also find a good place for as little as 30 EUR/ 35 USD. A lunch or dinner in an average restaurant would be around 50 (57$) – 100 (114$) EUR (for two), but you can also get food from a supermarket or go on a fast-food diet for a fraction of the price.
Can I use USD in Dubai?
The official currency in the United Arabian Emirates is Dirham (AED), and you can only use dirhams to pay in Dubai. Card transactions are accepted pretty much everywhere, though.
Five-Day Dubai Itinerary Map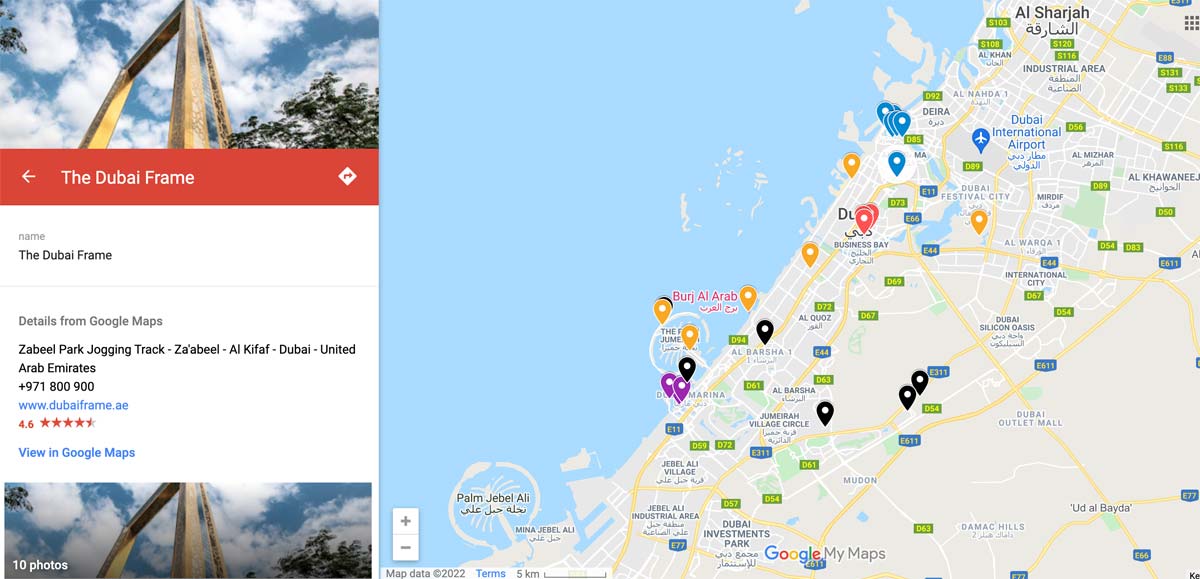 That's all from me, I hope you enjoy memorable 5 days in Dubai.
————————————
If you haven't planned your trip there yet, find out how I plan my trips!
————————————
I have 7 bucket list ideas for UAE. See my impossible bucket list of 1700+ adventures!

Is Dubai on your bucket list?
---
Some of the above are affiliate links and I will earn a percentage of the sale if you purchase through them at no extra cost to you. This helps keep my site running – so thanks in advance for your support!