Embarking on a 5-day Singapore itinerary guarantees a one-of-a-kind experience in a bustling city-state that blends modernity and tradition.

It's hard to describe how unique this city is. You got the ultra-modern center with skyscrapers, world-renounce hotels, Michelin restaurants, and even a mechanical forest, but you also have the heritage areas with Buddhist temples, Hindu shrines, mosques, and all sorts of cultural wonders. And in between them – countless parks!

Whether you're a first-time visitor or a seasoned traveler, with this Singapore itinerary, you can be sure you'll see the best of this wonderland of a city.

Are you ready?
Let's go!
Five Days in Singapore Itinerary – Day 1
Explore your area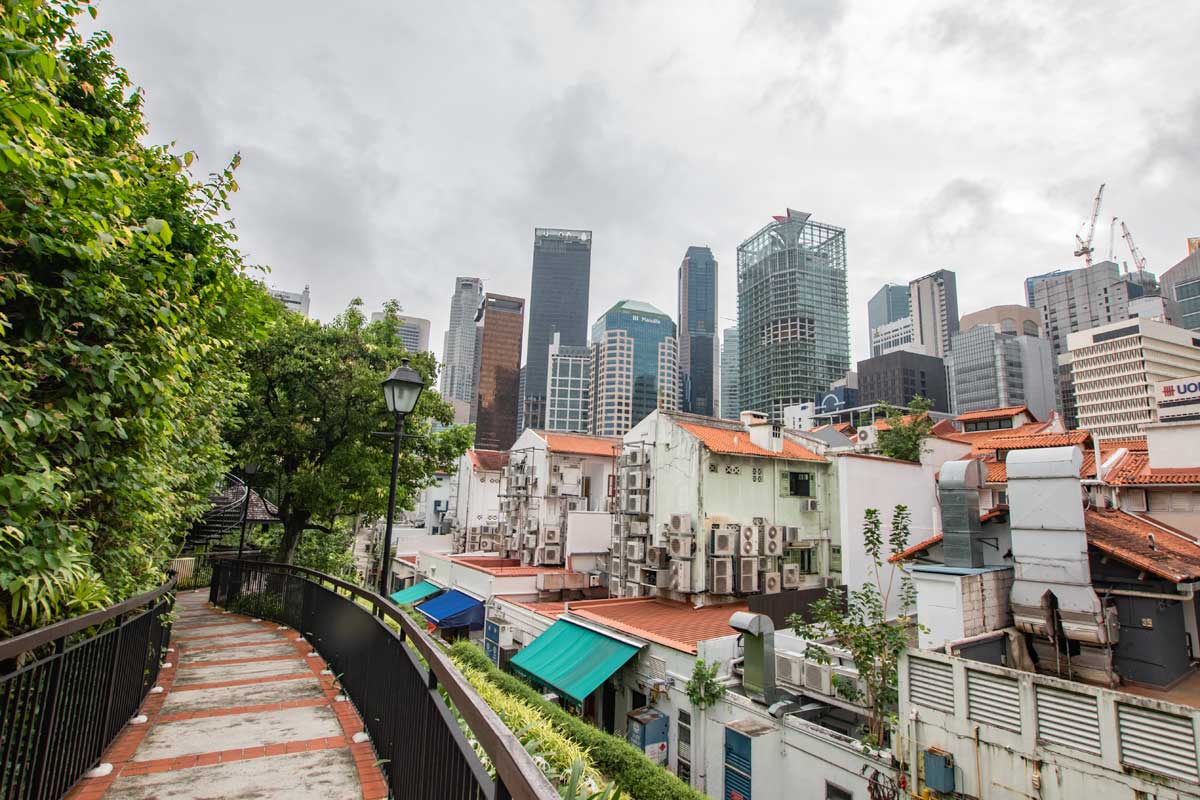 The first thing I do in any city I visit is to explore the area around my hotel. Get to know the cafes, the shops, the food places, and feel the vibe of the city. We have whole 5 days in Singapore; there's no need to rush to the landmarks.
Chinatown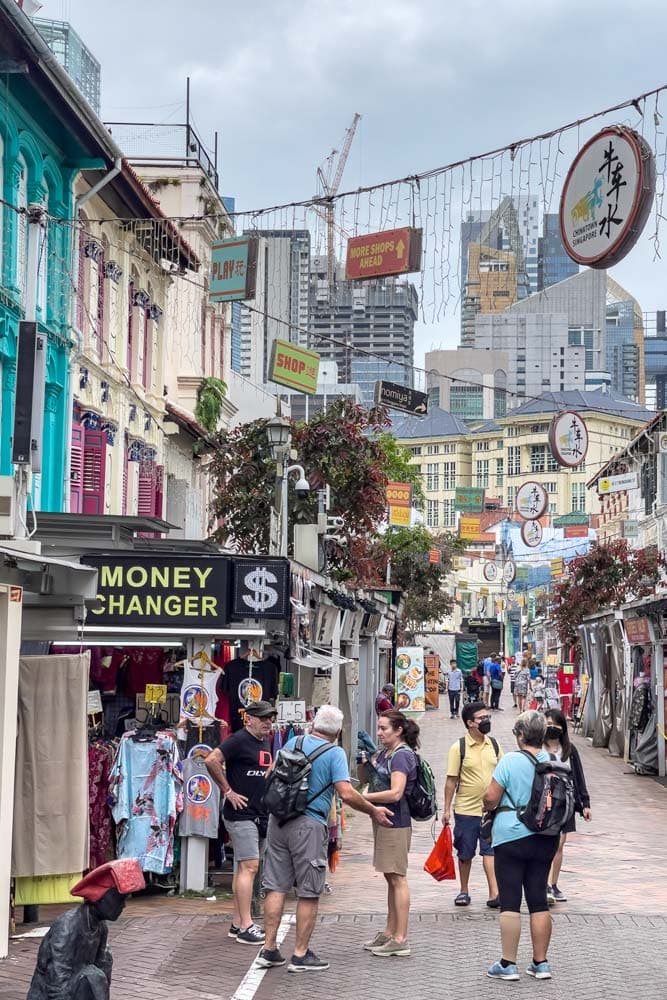 We start our Singapore itinerary with the most vibrant part of town – Chinatown. Renounced for its ornate and colorful shophouses, this is one of the cleanest and most organized Chinatowns I've seen anywhere. It's a great place to shop for inexpensive souvenirs or try some street food.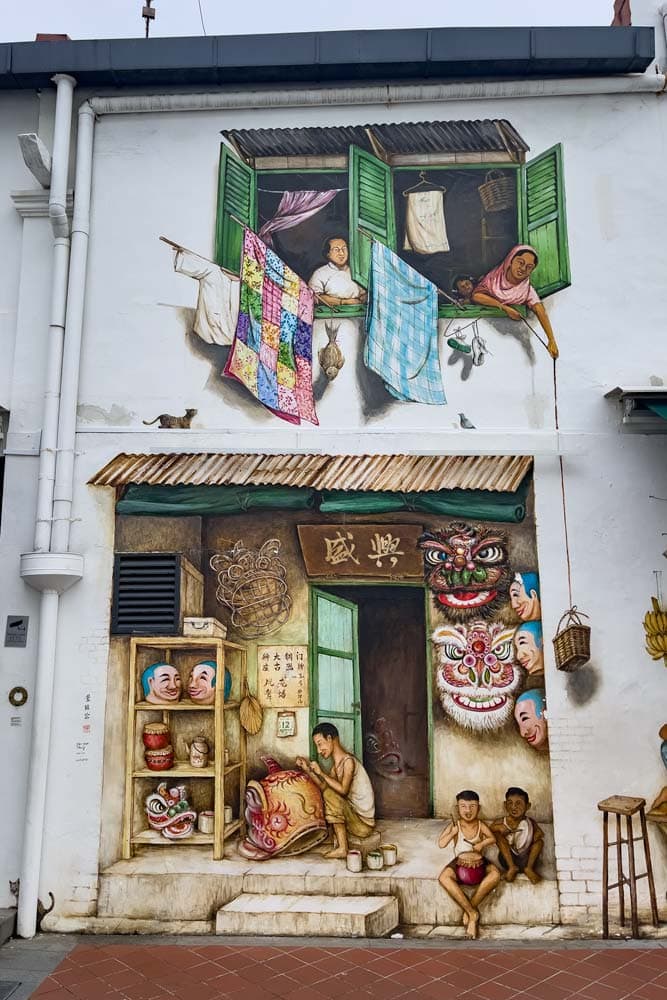 One of the attractions in Singapore's Chinatown is the mural on Mohamed Ali Lane. Inspired by the area's rich history and cultural heritage, the mural showcases (in a comic-style drawing) what the place looked like in the past.
Buddha Tooth Relic Temple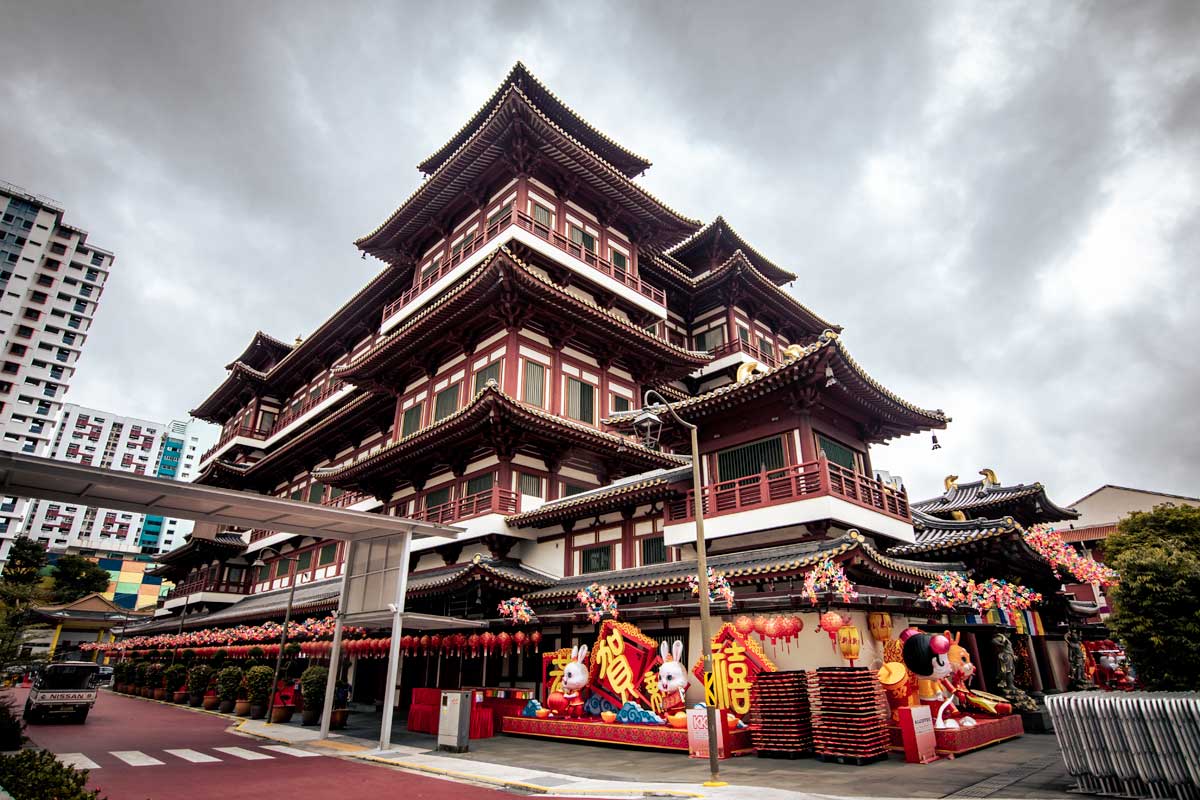 This temple may be relatively new (2007), but it's the most impressive temple I've seen in Singapore. An architectural masterpiece with a vibrant red and gold facade, the temple also acts as a museum. The most-impressive relic on display is the tooth of the Buddha himself (therefore the name)!
To be honest, you can't see the actual tooth. Since it's such a rare and sacred relic, the tooth is enshrined in a stupa made of solid gold that stands over three meters tall. There are plenty of other Buddha images and antiques on display and some crystal artifacts that, according to the labels, are other parts of Buddha's organs.
Working Hours:
Daily from 7:00 AM to 5:00 PM
Price:
Free
Merlion Statue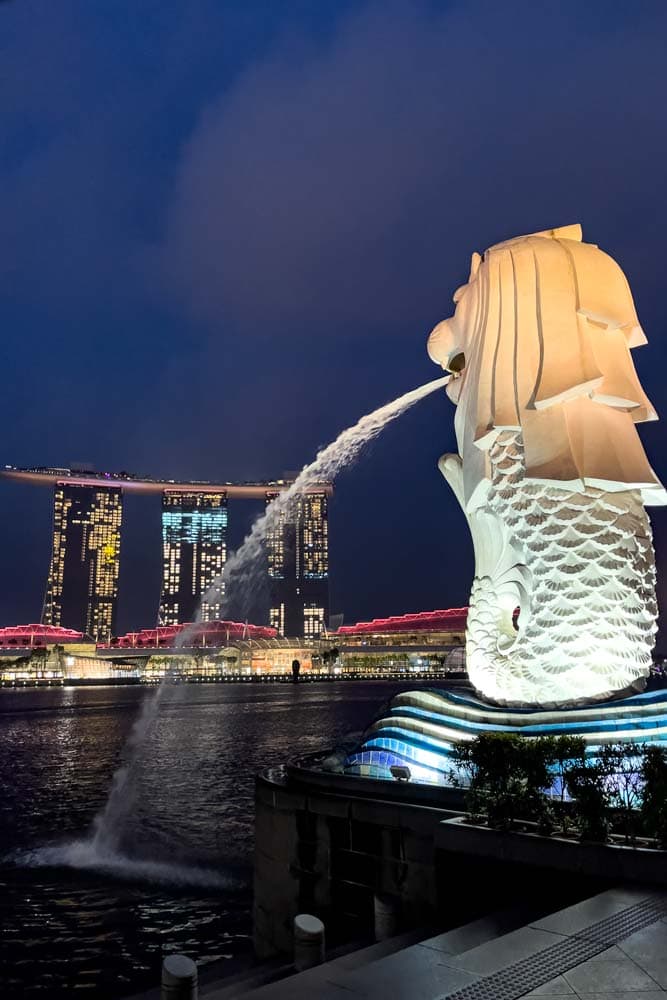 The Merlion is a famous symbol of Singapore, and the Merlion Statue is one of the most popular tourist attractions in the city. Depicting a half lion half fish (like a merman but instead of a man – a lion), the 8.6 meters tall, 70 tons statue is situated at the mouth of the Singapore River, offering stunning views of the city skyline and Marina Bay Sands.
It also has a small platform with a 360′ view for better photos. The statue is best to see around sunrise when there's hardly anyone there, but if taking photos is not the prime reason behind your 5 days in Singapore, sunset would do just fine.
See Also: The Ultimate Thailand Itinerary
Five Days in Singapore Itinerary – Day 2
The second day of our Singapore itinerary is dedicated to only one attraction. But what an attraction it is! An attraction you can easily spend the whole day in. If, however, you want to add something extra to your day two, do it in the morning. Why in the morning? Because our next attraction is extra special in the evenings.
I present to you:
Gardens by the Bay
Spawning over 101-hectare space, this world-renounced park is one of Singapore's biggest (if not the biggest) landmarks. Calling it a park is an understatement. I've been to countless parks all around the world, but I've never seen one as cool as the Gardens by the Bay. So before you ask – yes, I suggest spending the whole day there. And trust me, you won't be bored since there's plenty of stuff to do. Let's start with:
Flower Dome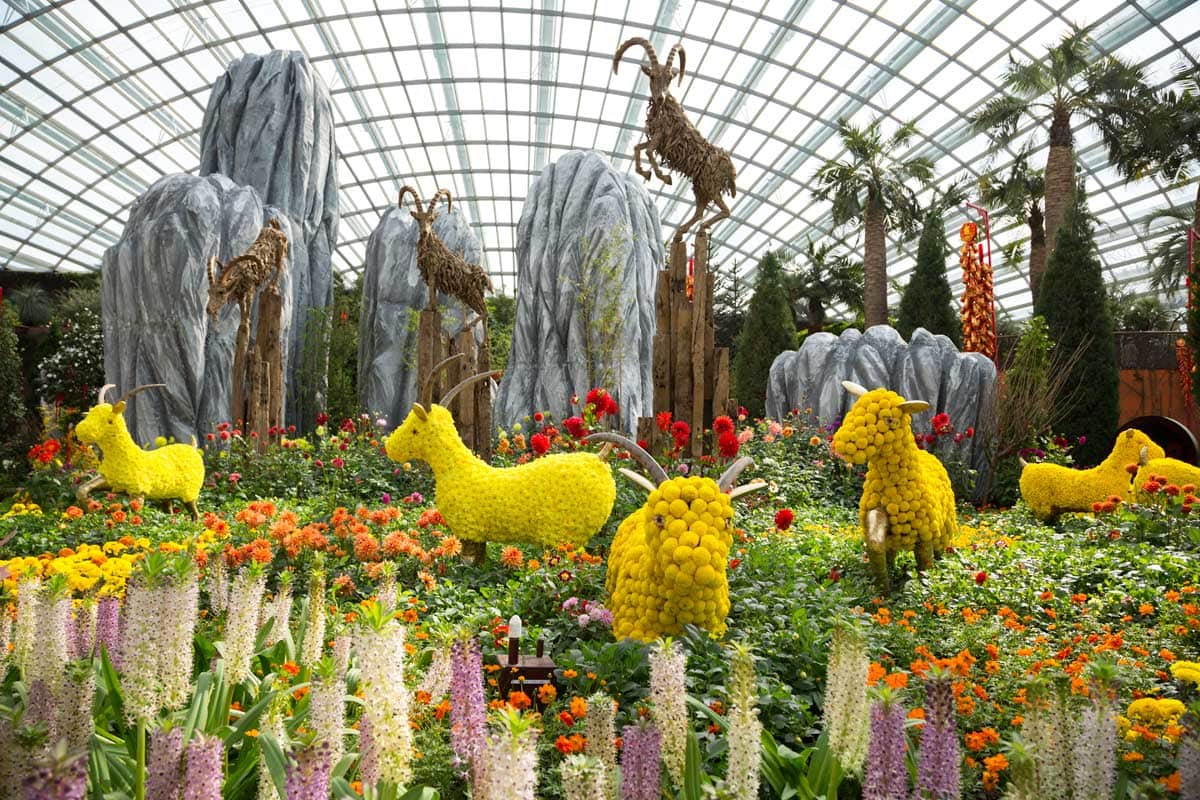 Holding the Guinness record for the largest glass greenhouse in the world, the Flower Dome showcases thousands of exotic plants and flowers from different regions and seasons. There's an Australian garden, a Mediterranean garden, a South African garden, and my favorite – a Baobab (aka Bottle tree) area. Even if you are not a plant enthusiast, a collection of the world's flora under one roof is so cool that you'll have a great time. It's also perfect for photos.
Cloud Forest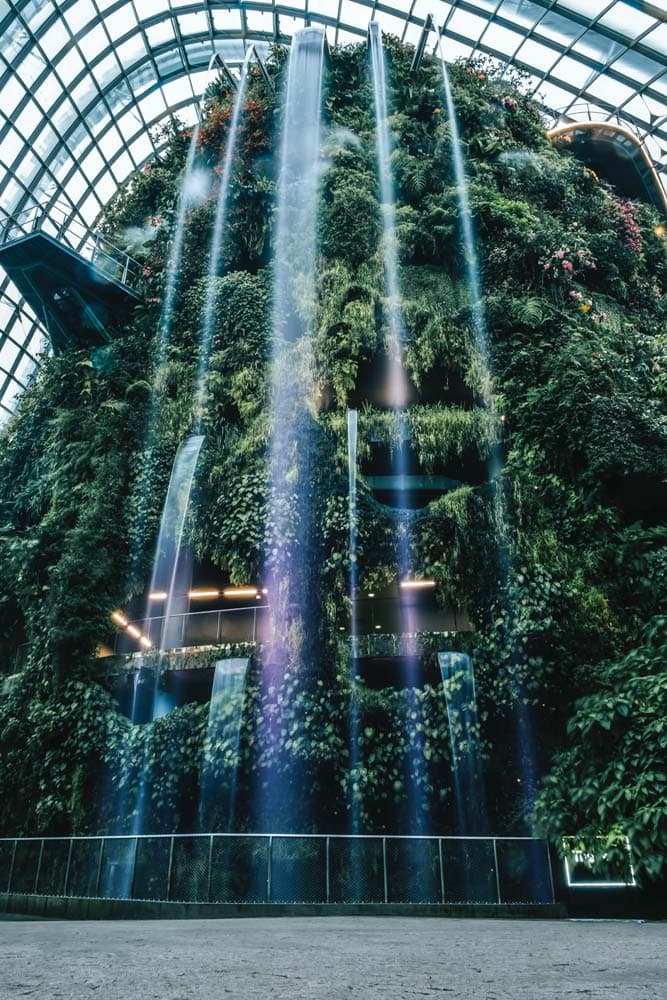 Featuring a 35-meter tall mountain covered in lush vegetation, Cloud Forrest is dedicated to showcasing the biodiversity of tropical highland environments. This sounds a bit like the Flower Dome, but the air walkaways (cloud walks) put it on a whole other level.
Currently, the Cloud Forest is also home to Avatar: The Experience. This immersive experience will take you to the alien world of Pandora and let you enjoy its bioluminescent environments, mystical creatures, alien flora, and some giant blue Na'vi people.
Floral Fantasy
Housed in a climate-controlled glass greenhouse, Floral Fantasy combines artistry, technology, and nature to create a fairytale wonderworld. It's again divided into zones, but unlike the Flower Dome, the plants here are not separated by region but are grouped together to create a different experience. The areas are called Dance, Float, Waltz, and Drift, and each of them is as unique as it gets.
Working Hours:
Monday to Friday from 10:00 AM to 7:00 PM
Weekend – 10:00 AM to 8:00 PM
Price:
Multiple options – Check the lowest prices he
Supertree Grove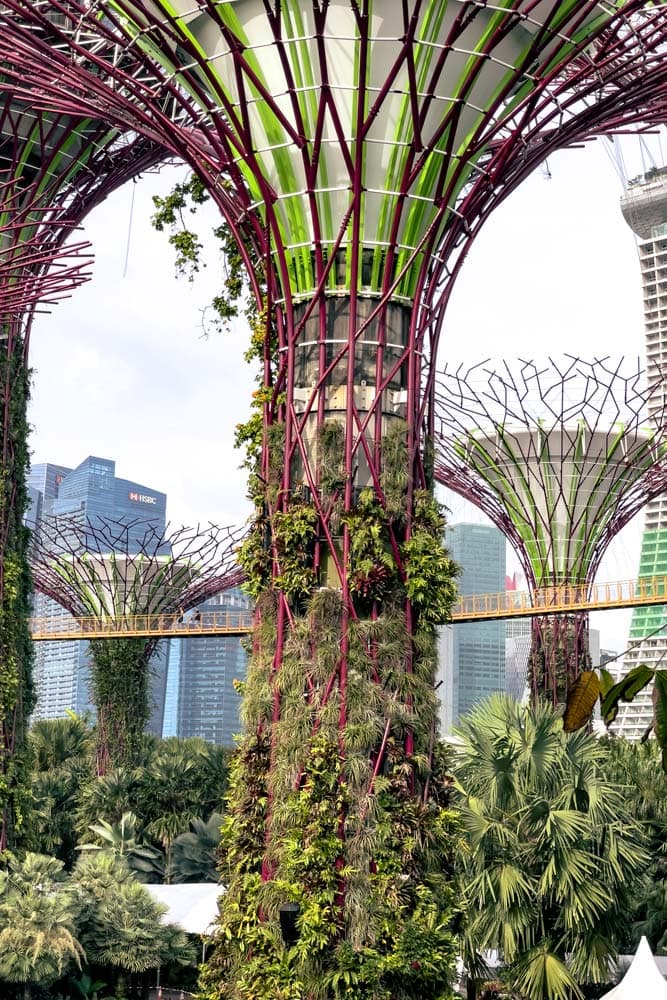 Supertree Grove is the most famous part of the park and also my favorite. Located in the center of the gardens, it's a small forest made of giant (25-50m tall) mechanical trees. Not entirely mechanical, though, the structures are covered in various plants, making them look like a forest from the future. When the sun goes down, the trees lighten up, and between 7:45 and 8:45 PM, they even start dancing in the Garden Rhapsody (dancing with lights, that is, don't expect some Transformers-level show).
The Supertree Grove and the Garden Rhapsody are free, but there are two paid attractions here. The Mothertree (the tallest one in the center) offers an observatory with a cafe on its top. Since it's the tallest tree, it's the best way to see the gardens from above. My favorite, however, is the other one – the OCBC Skyway. Suspended between two Supertrees at 22 meters above ground, this 128m-long bridge gives you a chance to take a walk around the canopies of this futuristic forest. It's a calming experience that is also perfect for photos.
Working Hours:
Monday to Friday from 9:00 AM to 9:00 PM
Price:
Supertree Grove – Free
Observatory – 14 SGD (10.50 USD)
Skywalk – 12 SGD (9 USD)
Lau Pa Sat food court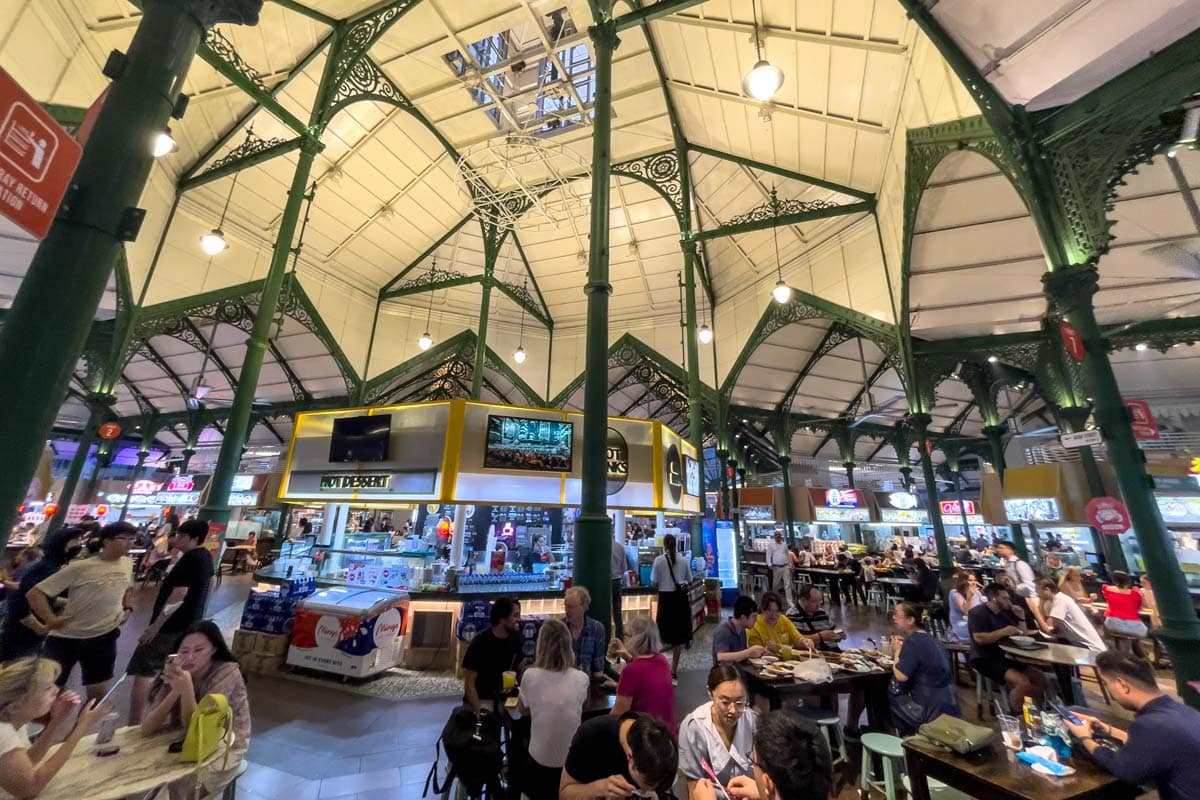 After you enjoy the beautiful light show, head to one of the most incredible food courts in town. Lau Pa Sat is housed in a rebuilt Victorian-covered hawker center and offers a great variety of food choices.
You got traditional Singaporean food prepared by locals, you have a meat-on-a-stick area with countless choices, you have Western food options like pizza and burgers, and you also have dishes from all around Asia. Truly something for everyone.
See Also: The Ultimate Phuket Itinerary
Five Days in Singapore Itinerary – Day 3
The third day of your Singapore itinerary will be spent in the Marina Bay area. And while there's a pretty convenient metro station there, I suggest going through the Helix Bridge. While the bridge is nothing exceptional, it opens a tremendous panoramic view of the stunning Marina Bay area and is perfect for photos. At the end of the bridge, we have the first attraction of the day:
ArtScience Museum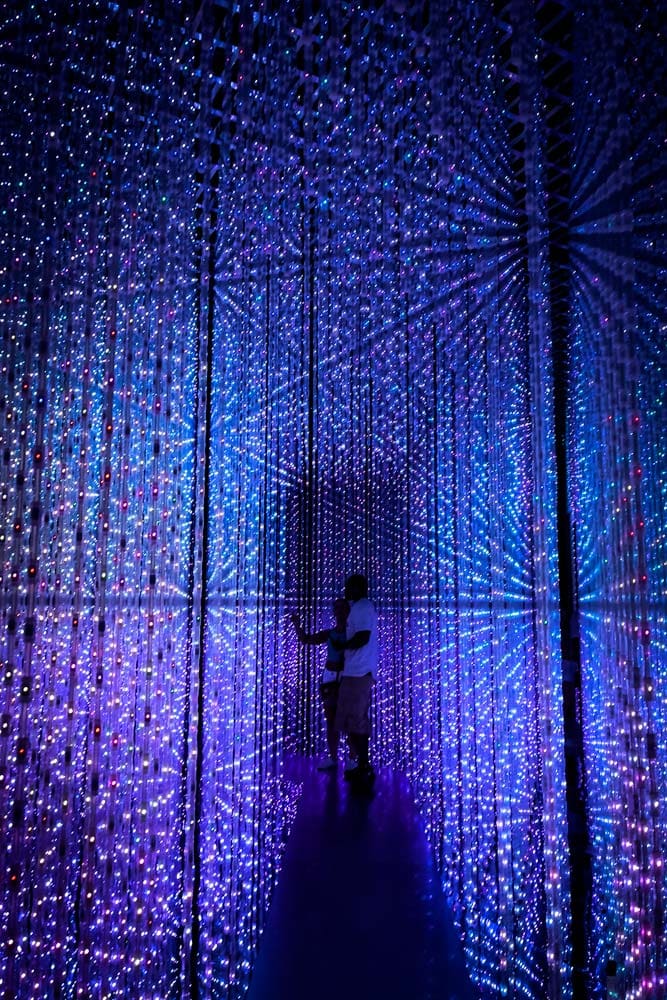 Designed by the world-renowned architect Moshe Safdie, the lotus-shaped ArtScience Museum is one of the most famous Instagram attractions in town and the first stop for the day.
This interactive museum explores the convergence of art, science, technology, and culture through various rotating expositions, so I advise you to check beforehand what exactly is on display. Its most famous exposition (the one that gained the museum its Instagram fame) is Future World: Where Art Meets Science.
Made in collaboration with Japan's teamLab art collective, the exhibition consisted of a few fantastic interactive halls where you can draw on paper planes and fish and see them fly/swim on the hall's walls. The best for me, however, was the mirrored room full of led lights that create this hard-to-explain infinite experience.
Shopping at Marina Bay Sands Mall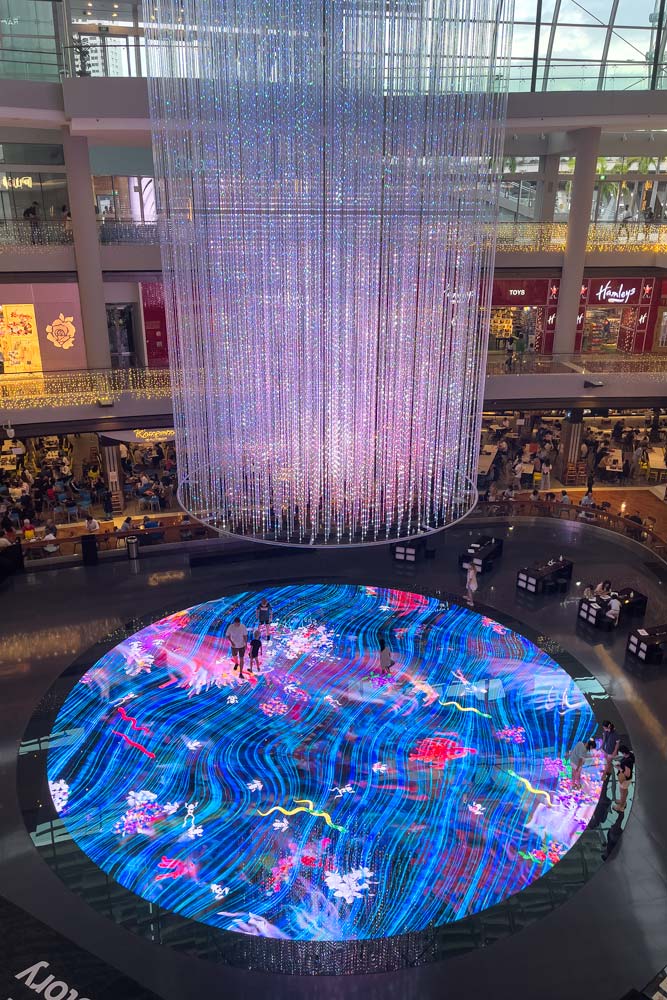 We continue our 5 days in Singapore itinerary with some shopping. Well, it's a bit of high-end shopping, so, depending on your budget, it may be just window shopping.
Marina Bay Sands is home to the biggest upscale shopping mall in the world, and you can easily spend a couple of hours there. While there are uber-expensive stuff like Patek Phillip watches and Louis Vuitton apparel, stuff for hundreds of thousands of dollars, there are plenty of shops with reasonable prices. There is also a gigantic food court and a digital light canvas thingy where you can walk around and create masterpieces (it's not free, though).
You can also go on a boat ride around the mall (yup, you've read that right) or enjoy the artic installation named the Rain Oculus (that looks a bit like a toilet flush).
Marina Bay Sands SkyPark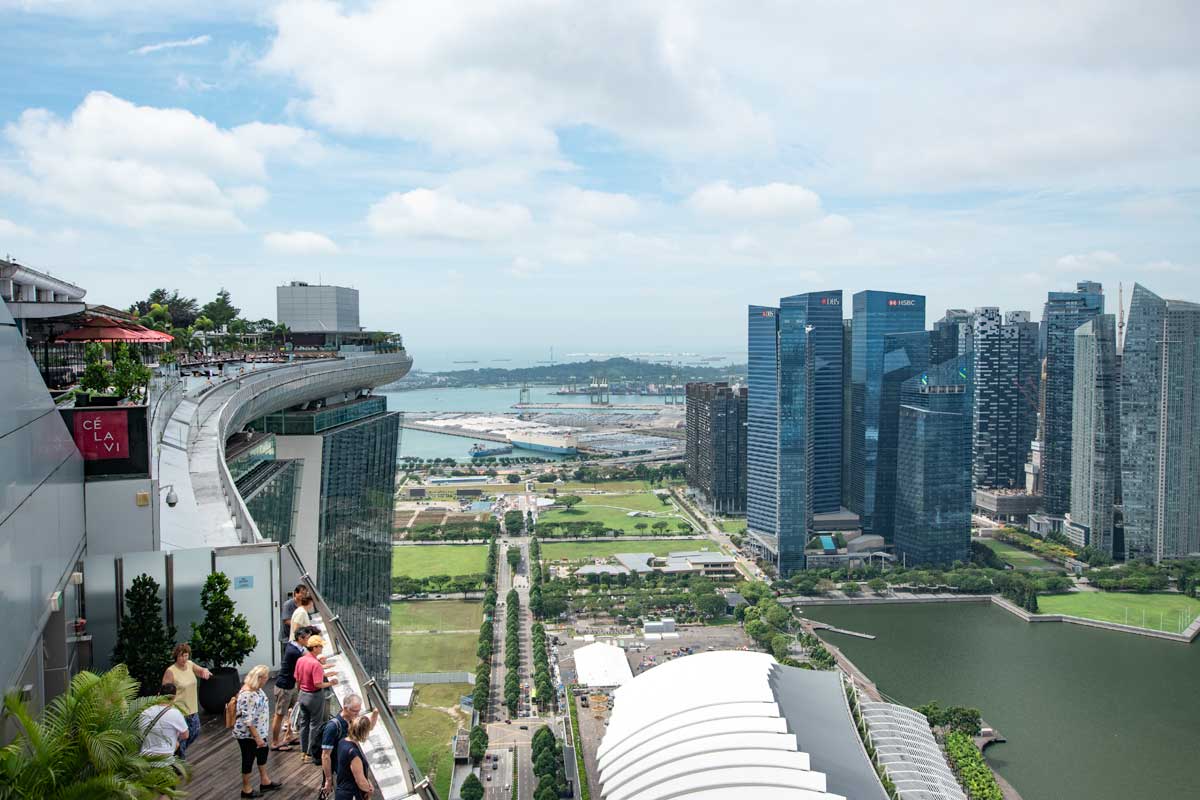 The biggest attraction we're about to see during our 5 days in Singapore is definitely the Marina Bay Sands resort. The ship-shaped hotel is the city-state's signature symbol, and people from all over the world go there just to see it. The rooms, however, are not cheap.
Thankfully there's a way to enjoy the beautiful panoramic views without spending a fortune. Situated on the 57th floor of the Marina Bay Sands hotel (200 meters above the ground), the Marina Bay Sands SkyPark is this vast rooftop terrace that offers panoramic views of the entire Marina Bay area. And trust me, there's no better area to enjoy from a bird-eye perspective.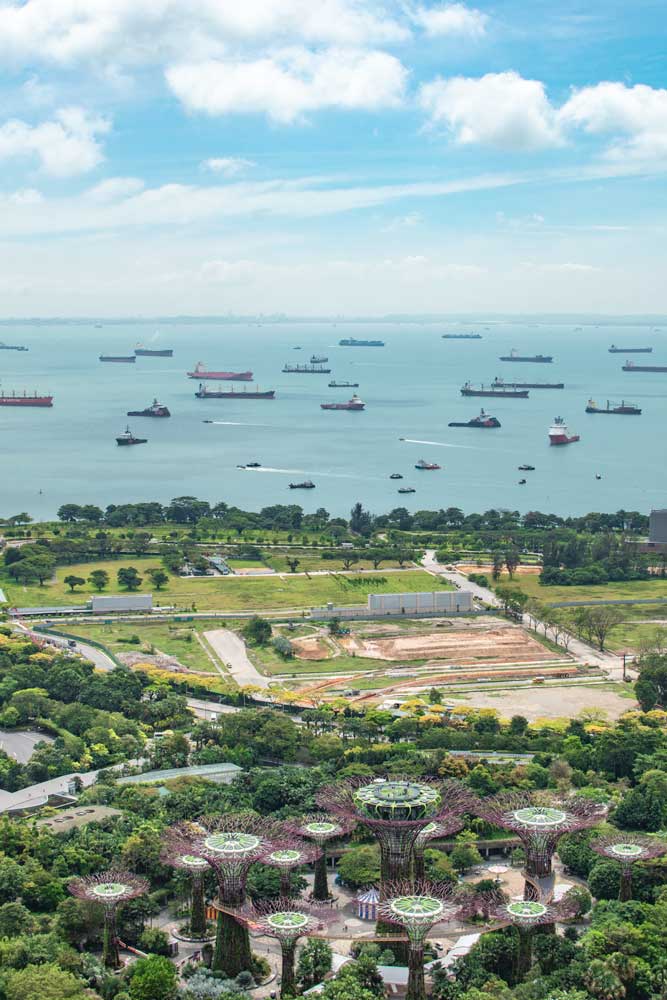 Sadly you can't visit the rooftop infinity pool if you're not a guest of the hotel, but the terrace is cool enough to make Marina Bay Sands a mandatory part of your Singapore itinerary.
Working Hours:
Daily from 11:00 AM to 9:00 PM
Price:
Official price – 32 SGD (24 USD). Best online price – Check here
Castaway tip
Marina Bay Sands SkyPark is an incredibly popular attraction, so booking tickets at least a few days ahead is strongly recommended.

Another Castaway tip
To reach the hotel, go through the underground mall. Going on the surface is a pretty challenging task.

Spectra A Light & Water Show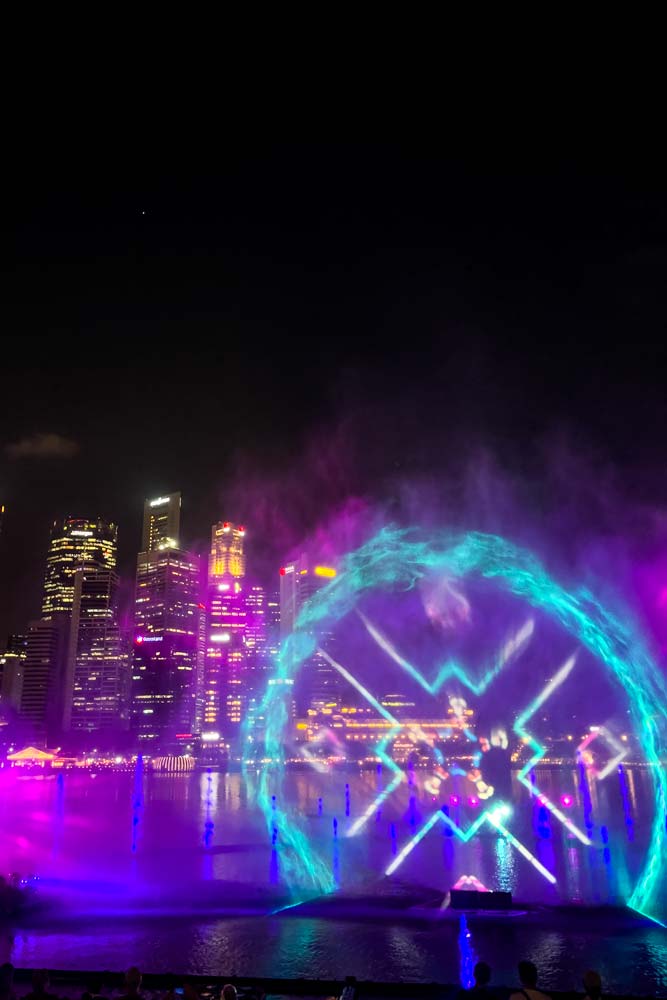 We will finish the day with another unique attraction. Hosted in front of Marina Bay Sands (Marina Bay Sands Event Plaza), Spectra is truly special and extraordinary. I've seen fountain shows in Kuala Lumpur, Barcelona (amazing), and Dubai (stunning), but I've never seen a show like the Singaporean one. Why, you ask?
Well, Spectra is not entirely a fountain show. Imagine a wall made out of mist + a laser that projects a show on it. It's like a hologram suspended in the air above the water. It's hard to describe Spectra with just words, so you have to trust me on this one – it's a must-see!
Working Hours:
From Sunday to Thursday from 8:00 PM and 9:00 PM (15min shows)
Friday and Saturday from 8:00 PM, 9:00 PM, and 10:00 PM (15min shows)
Price:
Free
See Also: How to spend 2 days in Bangkok
Five Days in Singapore Itinerary – Day 4
On the fourth day of our Singapore itinerary, we're about to explore the cultural contrast of the city-state. We start from a place as colorful as the rainbow.
Little India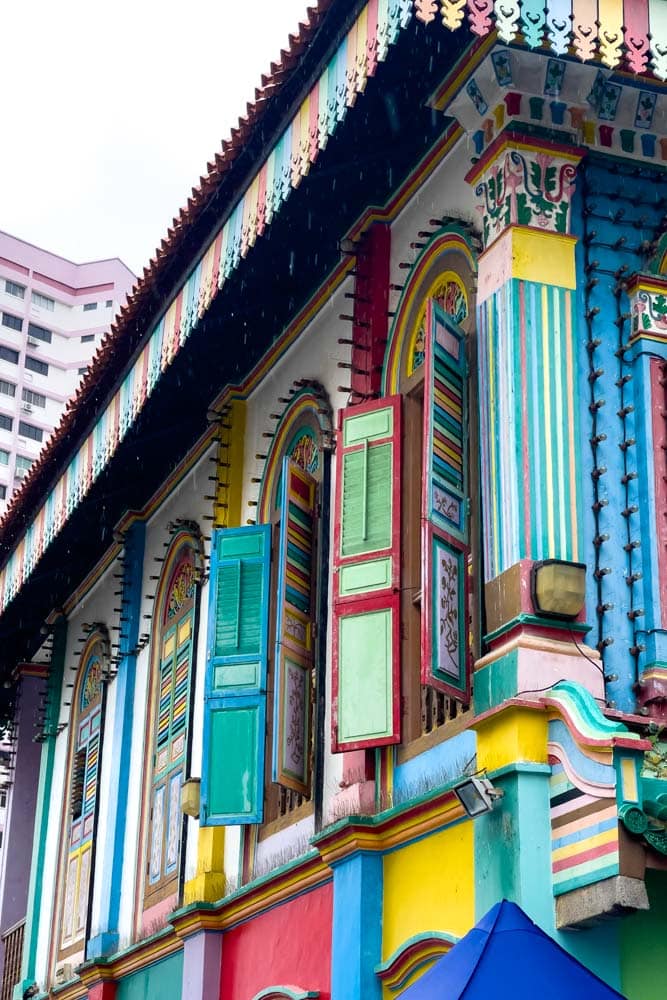 Located in the heart of Singapore, Little India is home to the vast Singaporean Indian community (duh). I'm pretty sure you can imagine what it is like there – vibrant colors, aromatic scents, and a lively atmosphere. The smell of Indian spices, the beauty of their Hindu temples, and, if you have good timing, a joyous festival such as Diwali and Thaipusam on the streets.
Little India is perfect to shop for textiles, spices, and souvenirs. It's also home to one of the top temples in town – Sri Veeramakaliamman Temple.
Kampong Glam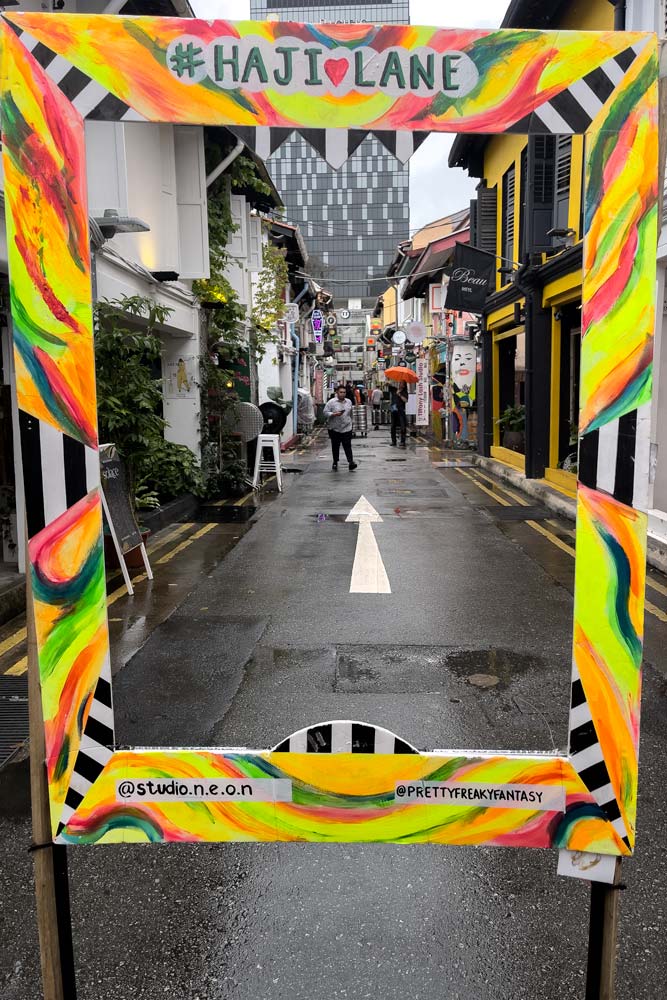 Centered around the busy Arab Street, Kampong Glam is known as Singapore's Muslim Quarter. This, however, is not your regular Muslim Quarter because Kampong Glam is the most trendy hipster area in town. Yes, I'm serious. Of course, you do have the beautiful historic mosque (Sultan Mosque) that overlooks everything but the main attraction of the neighborhood is actually Haji Lane – an alley blending an eclectic mix of shops, boutiques, cafes, and street art.
The place was one of my favorites in Singapore. Restaurants offer mostly middle eastern cuisine (which I love), the street murals create this incredible atmosphere, and the little independent shops offer distinctive handmade stuff.
A Museum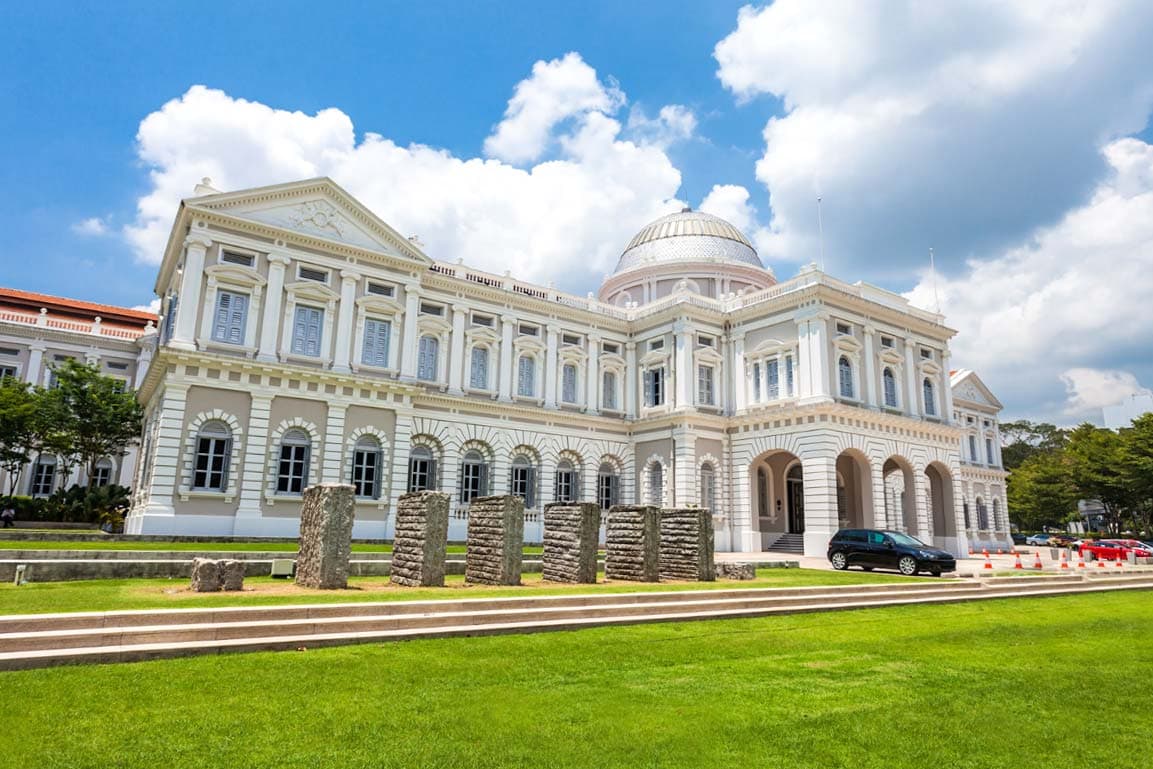 We can't spend 5 days in Singapore and not visit at least one museum. No, the place has too rich a history and culture to do that. There are two museums I can recommend here depending on your tastes:
National Museum
This is the oldest museum in the country that serves as a key institution for preserving and showcasing Singapore's rich history and heritage. So if you're curious about the city-state's past, architecture, and culture, this is the place for you.
Working Hours:
Daily from 10:00 AM to 7:00 PM
Price:
Permanent galleries – 15 SGD (11 USD)
All Access – 27 SGD (20 USD)
National Gallery
This museum houses the most extensive public display of modern art in Singapore and Southeast Asia. Showcasing an extensive collection of over 8,000 artworks that span from the 19th century to the present day, this is the place for you if art is your thing.
Working Hours:
Daily from 10:00 AM to 7:00 PM
Price:
General Addmision – 20 SGD (15 USD)
Special Exhibition – 22 SGD (18.50 USD)
All Access – 30 SGD ( 22 USD)
Fort Canning Park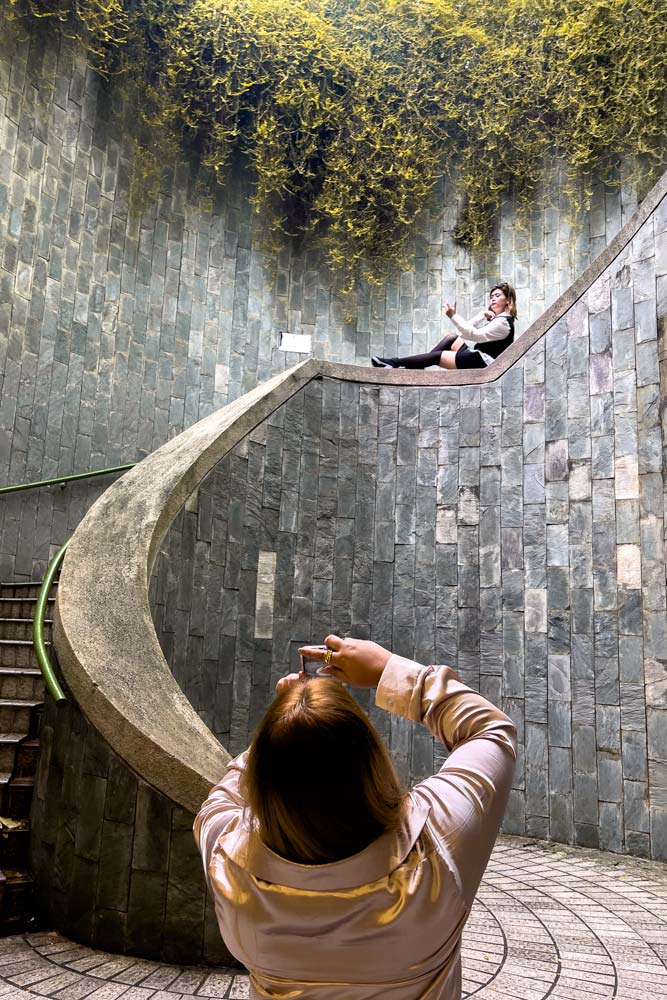 In the afternoon, our 5 days in Singapore itinerary continues with a park. If you've seen some of my other itineraries, you know that I love parks. They are the perfect way to take a break from exploration and still see something new and exciting.
Fort Canning has a rich history that dates back to the 14th century. During the years, it acted as a royal residence, a military stronghold and was even named Bukit Larangan or Forbidden Hill for a while. Today it's a relaxing green place with archeological ruins and a famous photo spot.
Photo tip
In the northern part of the park, you can find the spiral staircase photo spot (marked in google maps). It's one of the best places in town to get a good Instagram photo.

Clarke Quay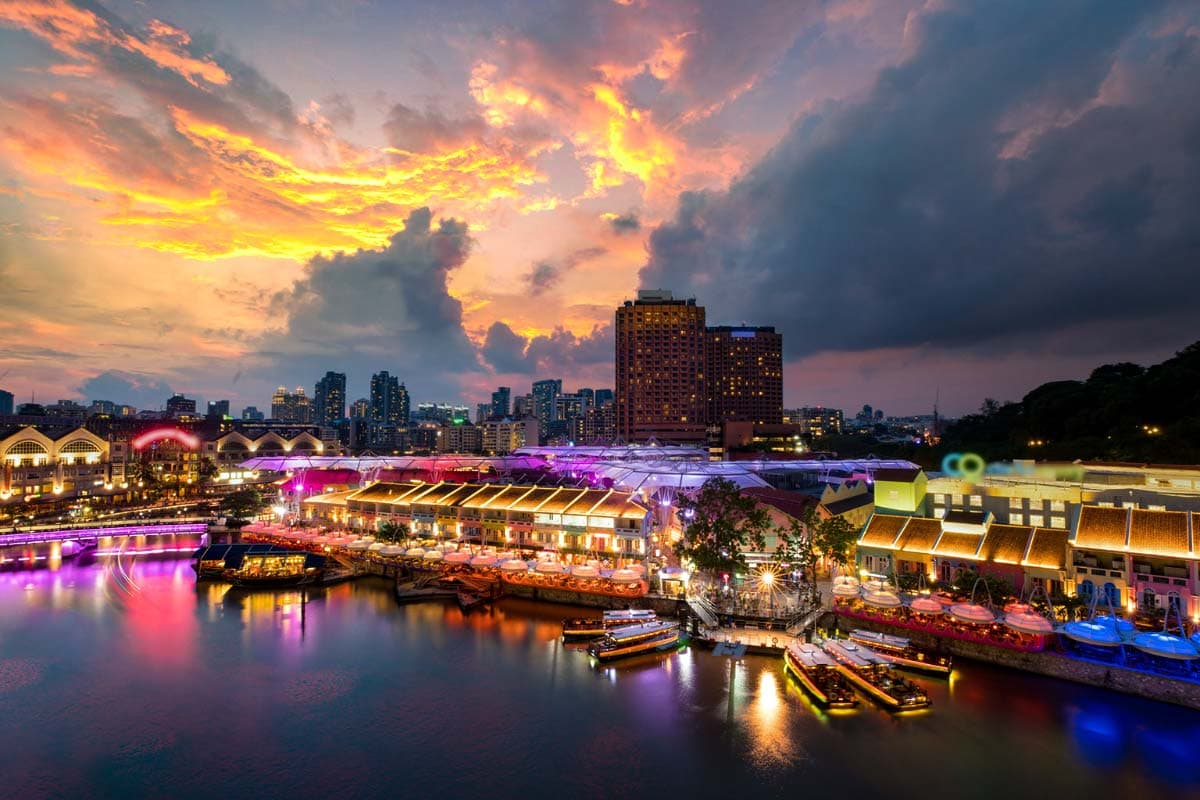 We finish the fourth day of our Singapore itinerary with the trendiest nightlife area in town – Clark Quay. Situated alongside the Singapore River, the quay is renowned for its wide array of restaurants, bars, and cafes that offer a diverse range of cuisines, from local street food to international fine dining. Clarke Quay is also the start of many river cruises that look even better at night.
Photo tip
If you visit Clarke Quay during the day, make sure to check the very colorful and picturesque Old Hill Police Station.

See Also: The Ultimate Indonesia Itinerary
Five Days in Singapore Itinerary – Day 5
The Airport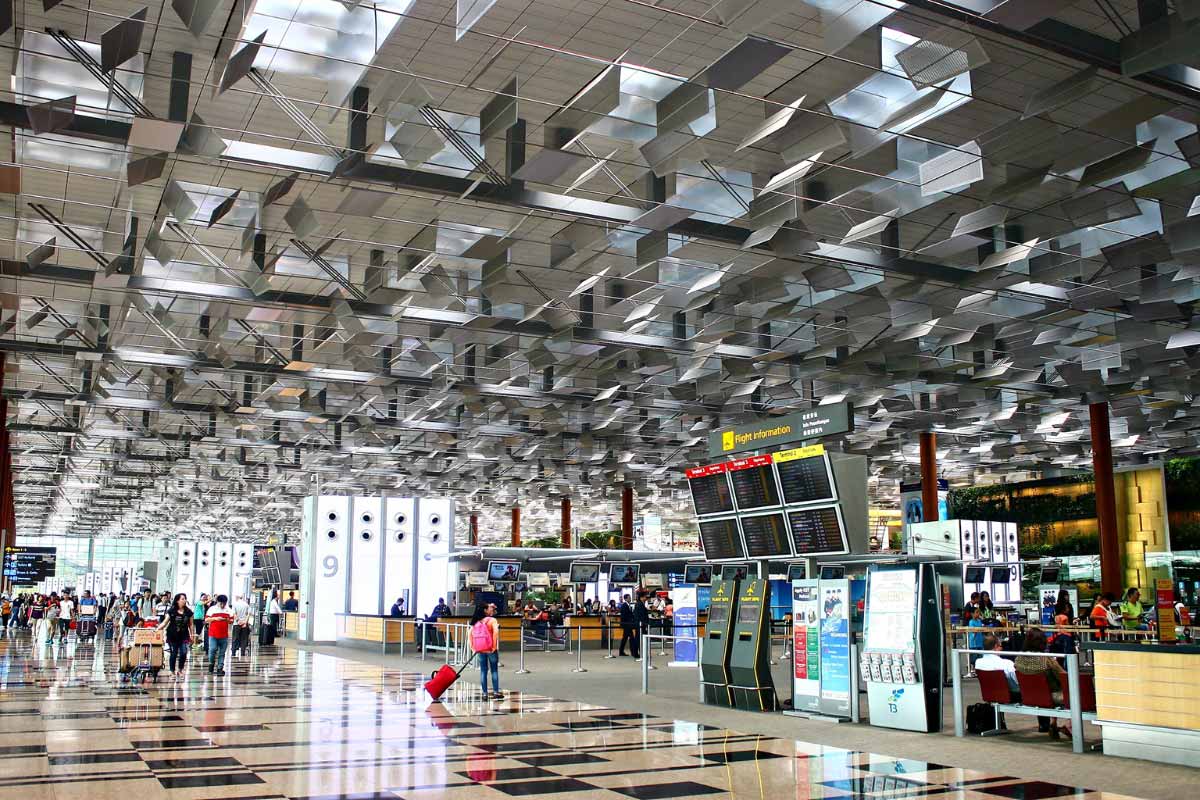 The last of our 5 days in Singapore starts at the airport. No, that's not a mistake, Changi airport is one of the biggest attractions in the country, and you should enjoy it without having to rush for a flight. Doing it on the last day also gives you a sort of practice run for tomorrow. You can see how long it takes to reach it and how to do it most conveniently.
The Jewel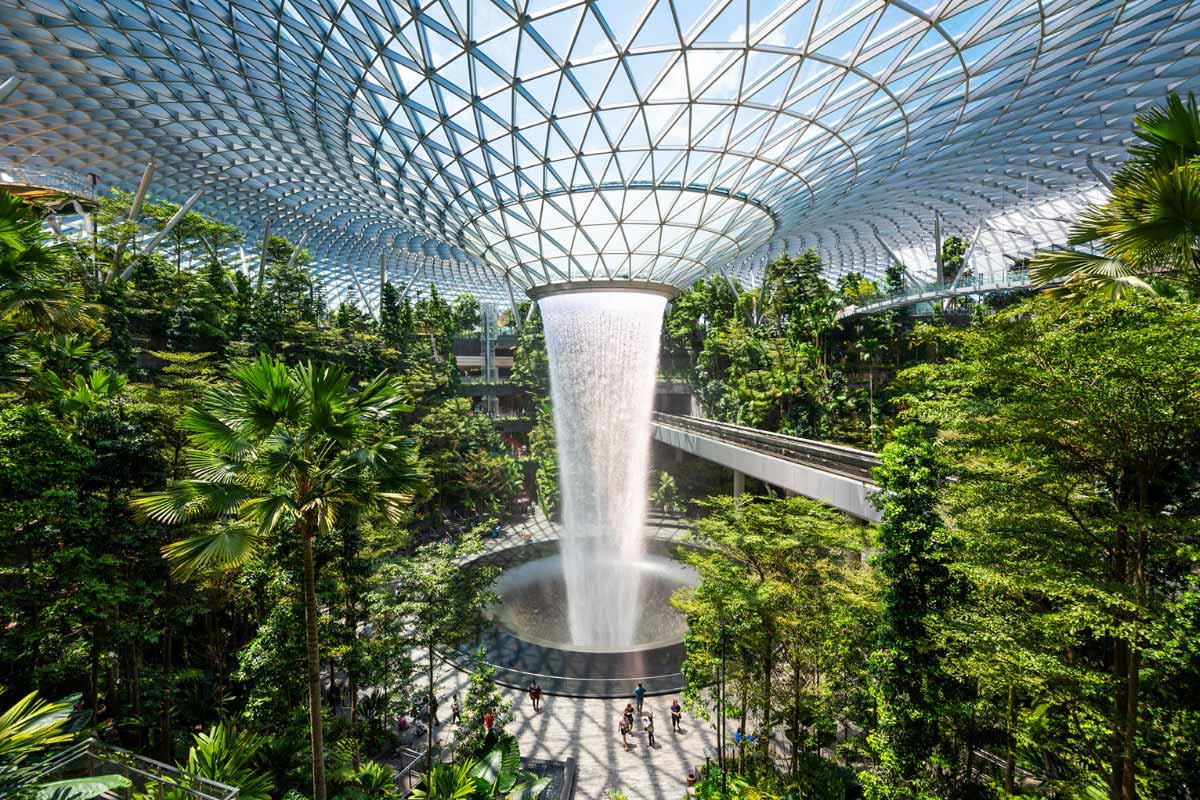 The Jewel is the main reason for the popularity of Changi Airport. Located on Terminal 1, the Jewel is actually a mall with more than 300 shops, cafes, and restaurants. The main attraction, however, is the HSBC Rain Vortex – the world's tallest indoor waterfall (40m/ 130ft high). And to make the whole thing even more picturesque, the waterfall is surrounded by The Shiseido Forest Valley – one of Asia's biggest indoor tropical gardens.
There's no entrance fee for The Jewel, and you don't need to have a plane ticket or go through customs or security to see it. It's just a beautifully designed mall that happens to be at the airport.
Castaway tip
The train that connects terminals 2 and 3 passes right next to the waterfall

Another Castaway tip
If you happen to be at the Jewel in the evening, there's a light and sound show at 7:30 PM, 8:30 PM, 9:30 PM, 10:30 PM, and 11:30 PM

More of the Jewel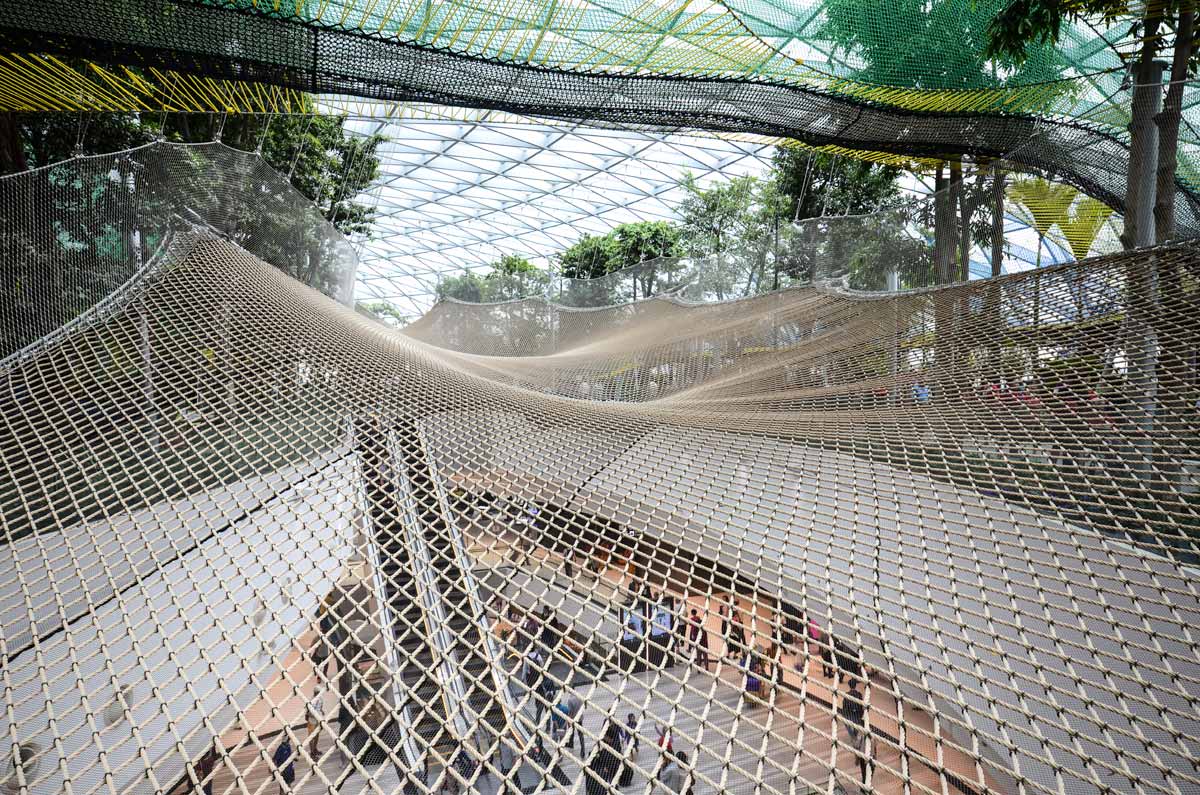 Besides the waterfall, The Jewel has a few paid attractions. The biggest one is Canopy Park. Located at Jewel's topmost level (L5), this park offers Discovery Slides, Foggy Bowls, Petal Garden, and Topiary Walk. Other cool things to explore in the Jewel include a Hedge Maze, Mirror Maze, Canopy Bridge, and Sky Nets. Quite an awesome place to spend the day.
Night Safari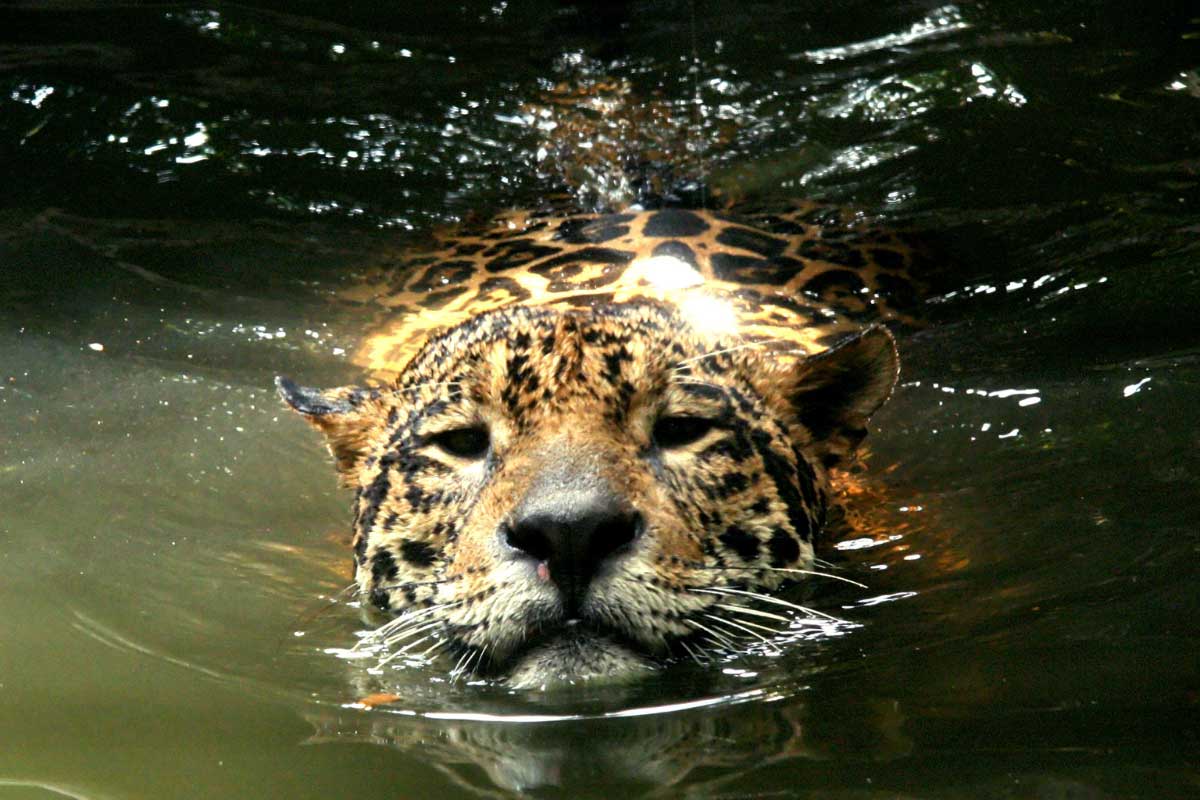 It's time for the last attraction of our Singapore itinerary. And this one is extra awesome. Located in Mandai, we have the world's first nocturnal zoo – the Night Safari. I'm not a big fan of zoos, but this is one of the good ones that don't exploit the animals. The staff interactions will also help you see how much they care about the animals and wildlife conservation.
The place is also as unique as it gets and gives you a chance to see amazing nocturnal animals in their active stage. A tram ride complemented with English commentary will take you around all areas.
Working Hours:
Daily from 7:15 PM to 12:00 AM
Price:
Adult – 55 SGD (41 USD)
Children – 38 SGD (28 USD)
Cheaper online tickets –Check here
Tickets with transfer –Check here
How to get there? –Check here
What About Sentosa?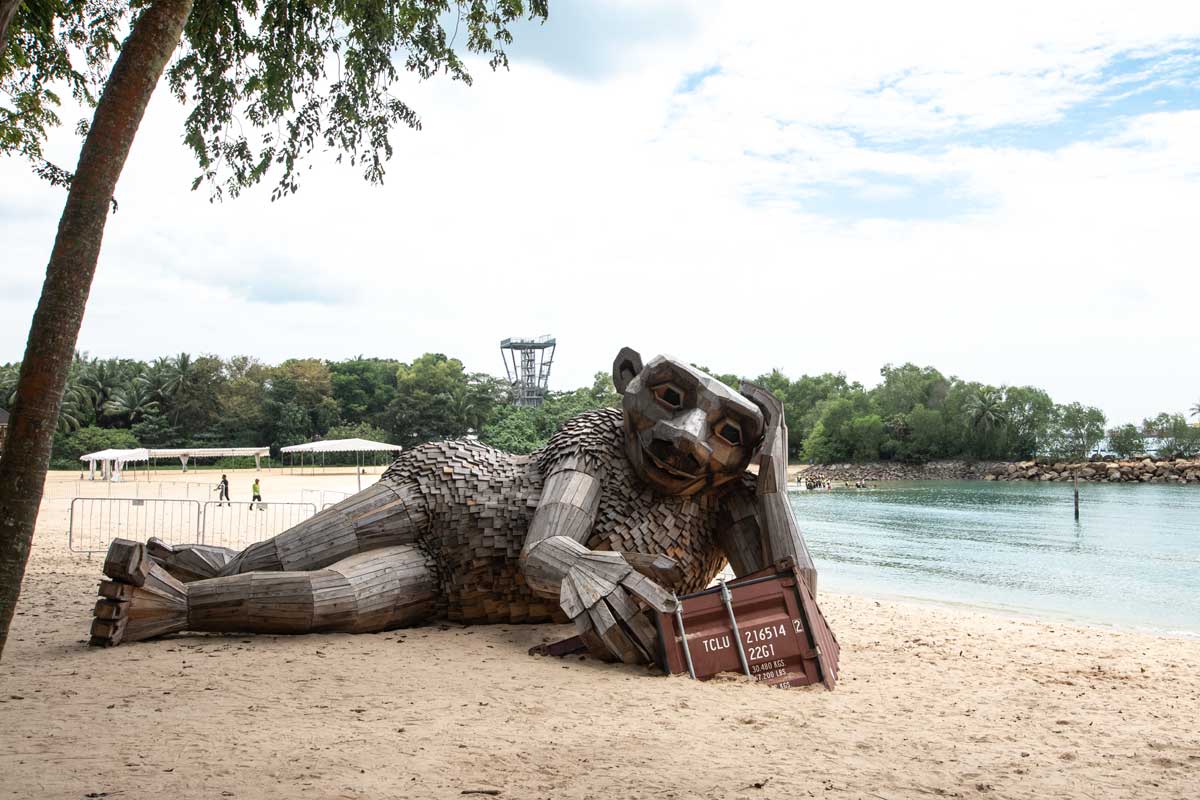 If you've checked other Singapore itineraries, you've probably seen a whole day dedicated to Sentosa Island. The place is labeled one of the biggest tourist attractions in the city-state, and it's supposed to offer a day full of fun. It's not part of my 5 days in Singapore, though, since I didn't see anything that interesting there.
The island features a giant aquarium, a Universal Studios theme park, a waterpark, a few kid-friendly attractions, a few beaches, a few jungle paths, and a resort. It sounds great on paper!
The beaches are not that great, though; the jungle feels incredibly fake, the waterpark is not that impressive, and if you're not with your kids or want to visit Universal Studios specifically, it's a pretty dull place. It's also quite far away and, if you use the cable car system, an expensive one to reach.
If you're in Singapore with your kids, consider spending a day on Sentosa. If not, my recommendation is to skip it.
See Also: How to Spend 5 Days in Dubai
More than 5 days in Singapore
Orchard Road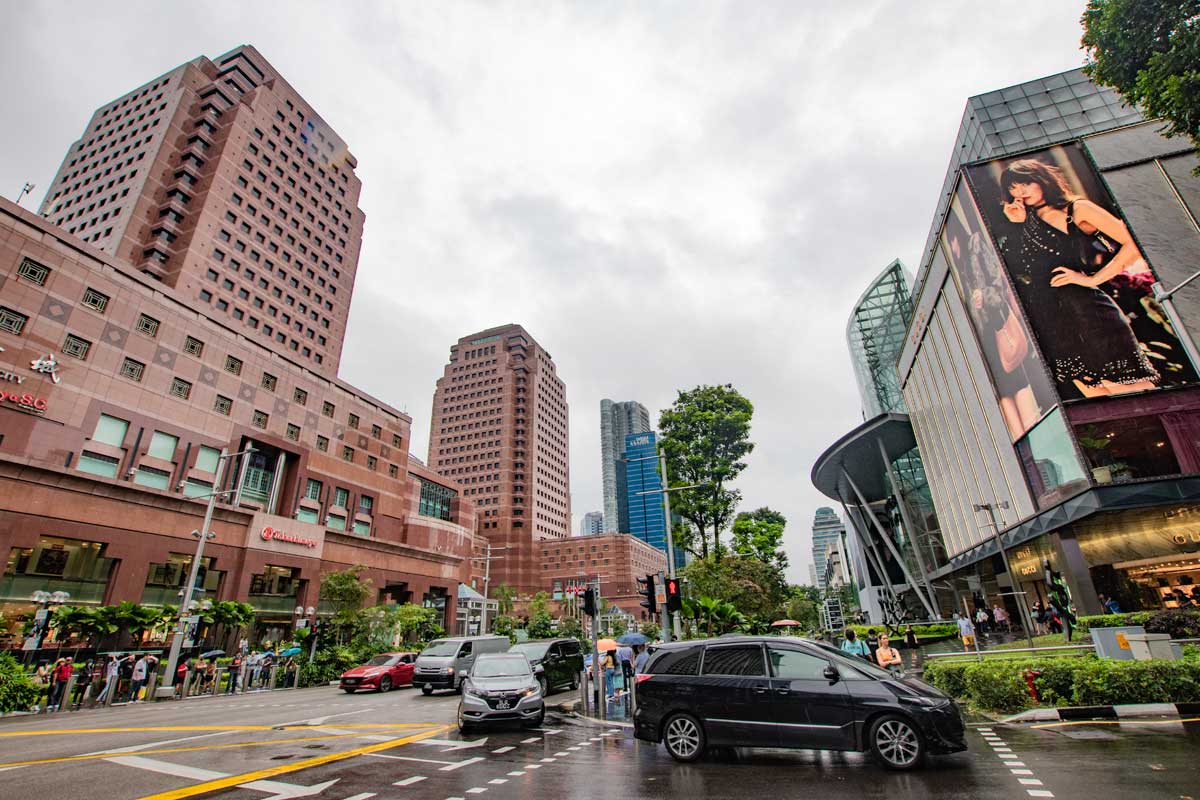 Located in the central part of the city-state, this 2.2-kilometer-long road is THE place to go shopping in Singapore. Lined with over 20 shopping malls, including the famous ION Orchard, Ngee Ann City, and Takashimaya Shopping Centre, you can be sure you'll find everything you're looking for (and stuff you haven't even thought about looking for). The shops are primarily high-end, so be ready to spend a small fortune. If you want to bring back home some top-notch products, though, there's no better place in town.
Why is it not on the main itinerary?
It's an attraction only if you want to shop till you drop.
Singapore Flyer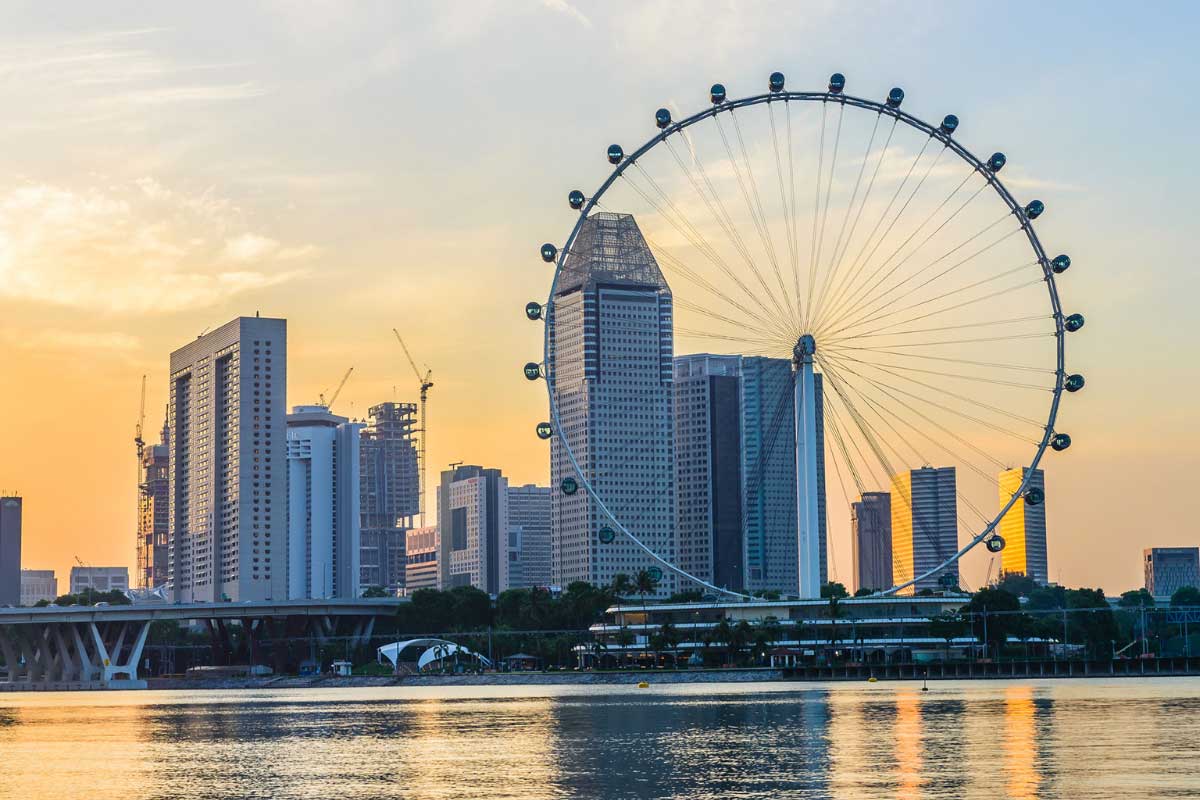 I feel like every major city in the world has its signature Ferris wheel. Singapore is not an exception. Standing at a height of 165 meters, the Singapore Flyer is one of the tallest Ferris wheels in the world, meaning it offers stunning panoramic views of Marina Bay. The thing is so huge that on a clear day, you can actually see Malaysia and Indonesia!
Check the best price
Why is it not on the main Singapore itinerary?
We already have a taller attraction with panoramic views – Marina Bay Sands' viewing deck.
Bumboat Cruise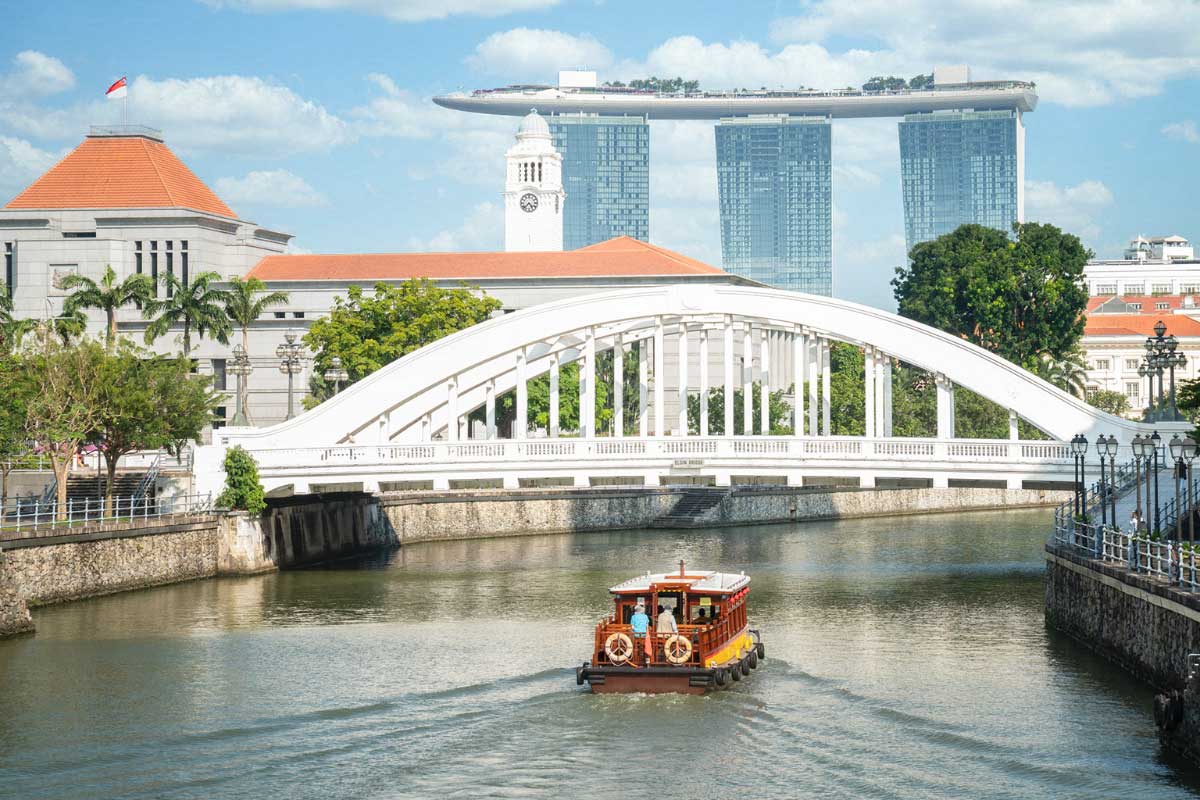 Singapore has been a major trading hub for centuries now. And as a trading hub, you can expect a lot of trading boats to have been used over the years. Those boats were not scraped, though. Those boats are the bumboats that are still active today. The only difference is that now they transport people through the river, showing Singapore's signature attractions from another angle. A bumboat cruise is easy to incorporate into any of your 5 days in Singapore and won't even be that expensive.
Why is it not on the main Singapore itinerary?
It's mentioned in the Clarke Quay part; however, the daylight version may be added to any of your 5 days in Singapore.
Check the latest prices
Jurong Bird Park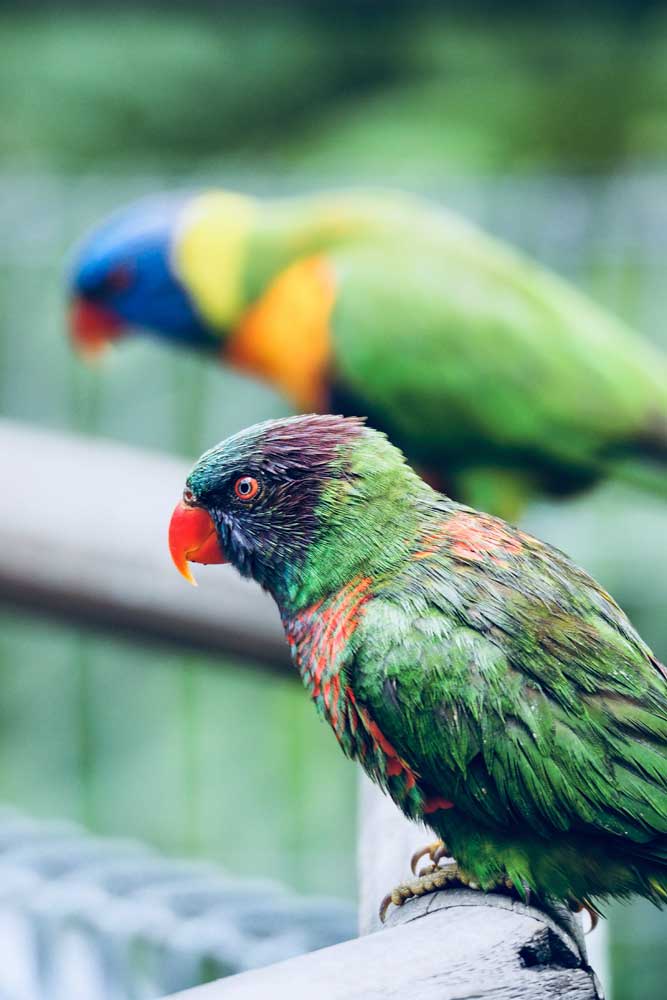 Located in the western part of the city-state Jurong Bird Park is home to over 3,500 birds from 400 different species, making it one of the largest bird parks in the world. Built over 50 years ago, the park is one of the oldest attractions in the city and a great way to enrich your 5 days in Singapore with some wildlife.
Why is it not on the main itinerary?
The park is too far away, and if birdwatching is not your thing, it's not worth the trip
Singapore Zoo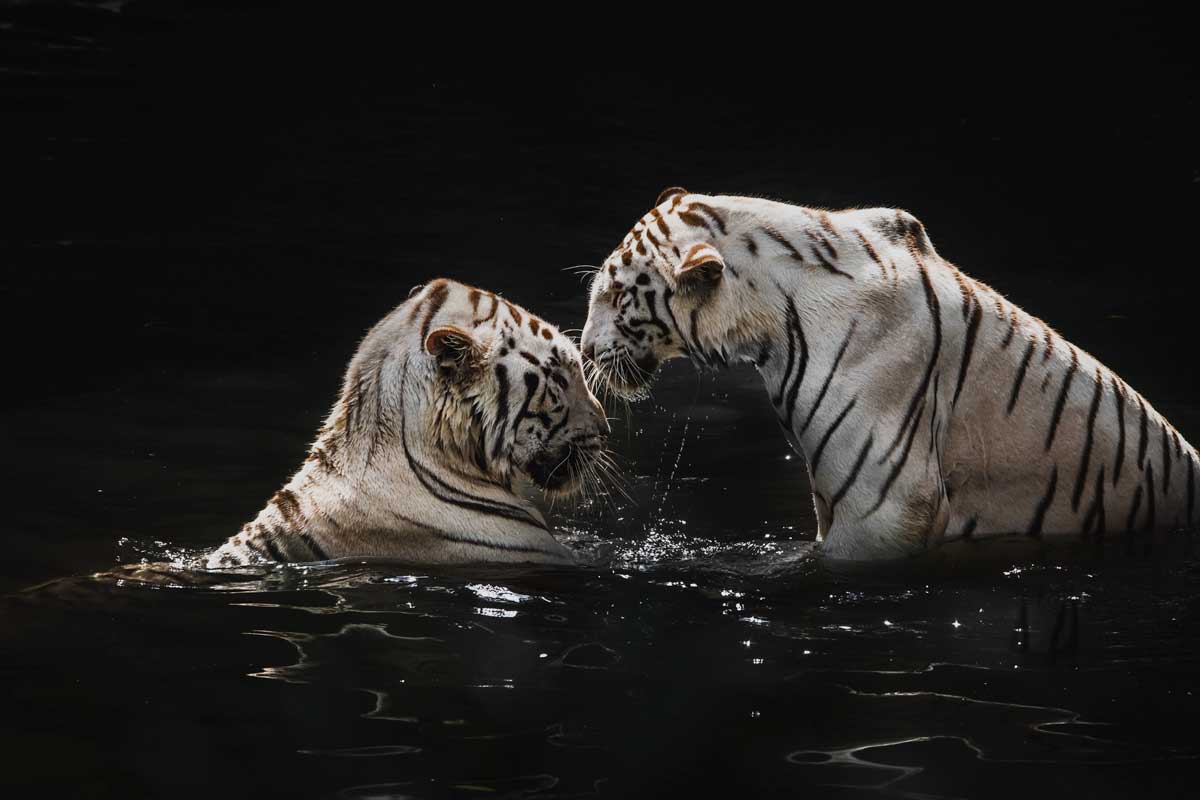 Divided into several zones, each showcasing animals from different parts of the world, the 50-year-old Singapore Zoo is one of the biggest family attractions in the city. Being home to 4,200 animals of over 300 species, of which 34 percent are endangered, you can be sure you'll see something incredible there.
Why is it not on the 5-day Singapore itinerary?
I'm not a big fan of zoos and prefer to see wildlife in its natural habitat. It's also quite far from everything and takes hours to explore. The Night Safari is part of the itinerary, though, due to being too unique to skip.
River Safari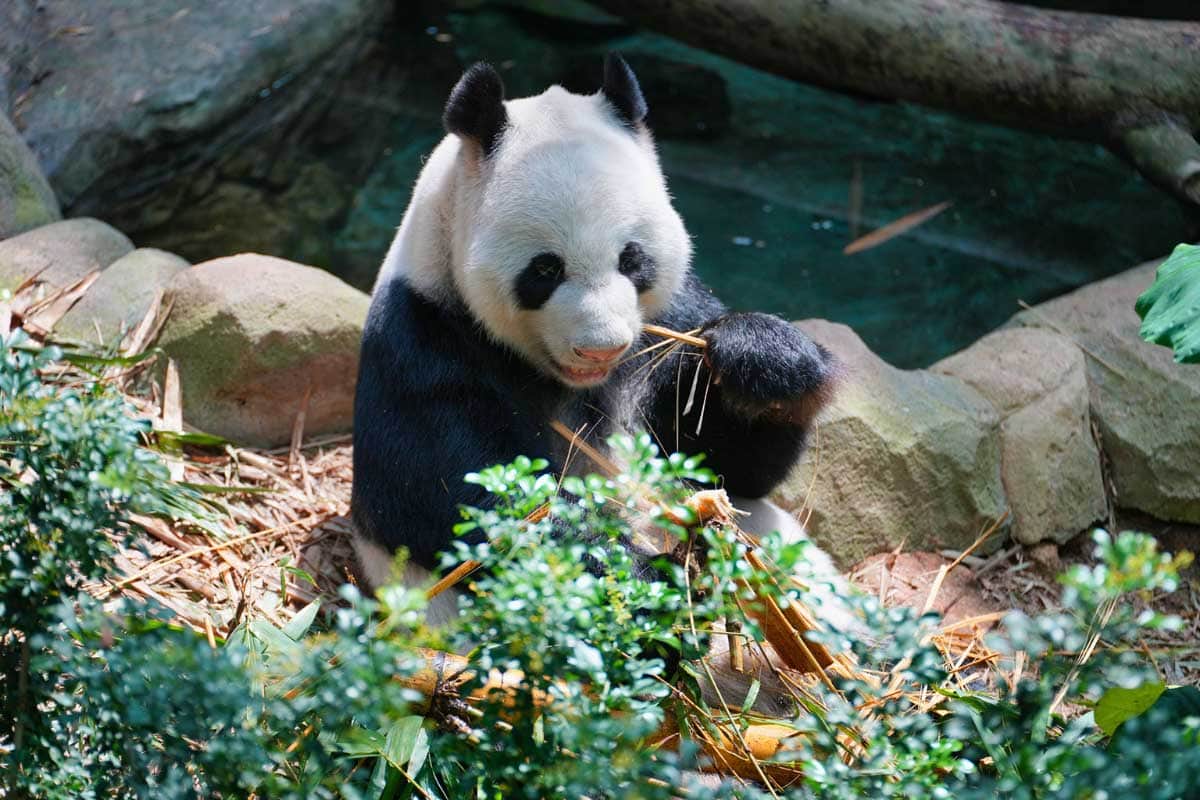 Adjacent to the Singapore Zoo and Night Safari, the River Safari is dedicated to showcasing animals and habitats from various rivers worldwide, including the Amazon, Mississippi, and Yangtze. With over 6,000 animals from 200 different species, you can say they have a pretty good collection to offer. The two giant Pandas gifted by China are also part of the tour.
Why is it not on the main itinerary?
I chose the Night Safari as the most unique and easiest to fit in our 5 days in Singapore. If you want to see pandas, though, you can switch the Night Safari with the river one.
Singapore Botanic Gardens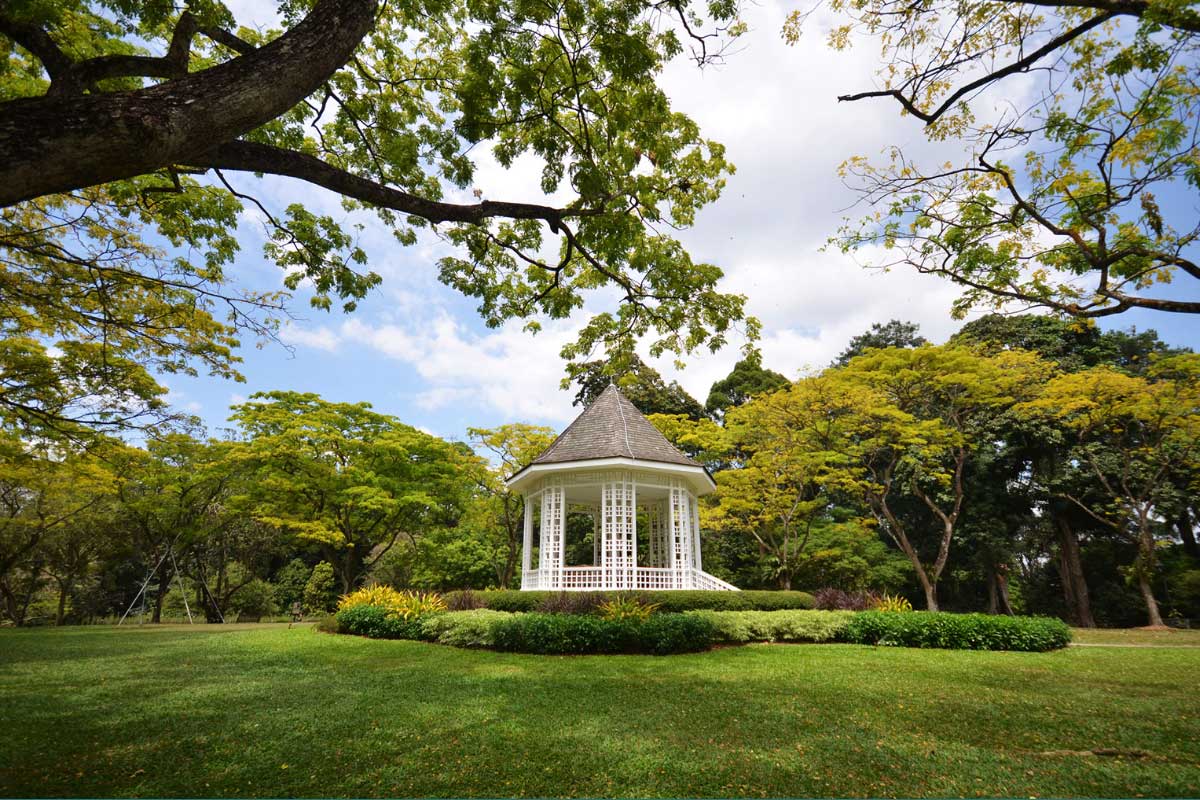 Botanic gardens are not exciting for me, but if there's one garden in the world to visit, it's the Singaporean one. Located in the center of the city, Singapore Botanic Garden is a 160-year-old tropical garden that is also recognized by UNESCO as an important center for science, research, and plant conservation.
Why is it not on the main itinerary?
While pretty cool for a botanical garden, it's still just a garden, and we have no spare timeslot in our 5 days in Singapore for it. If you are into rare plants and flowers, it's a must-see, though.
Changi Jurassic Mile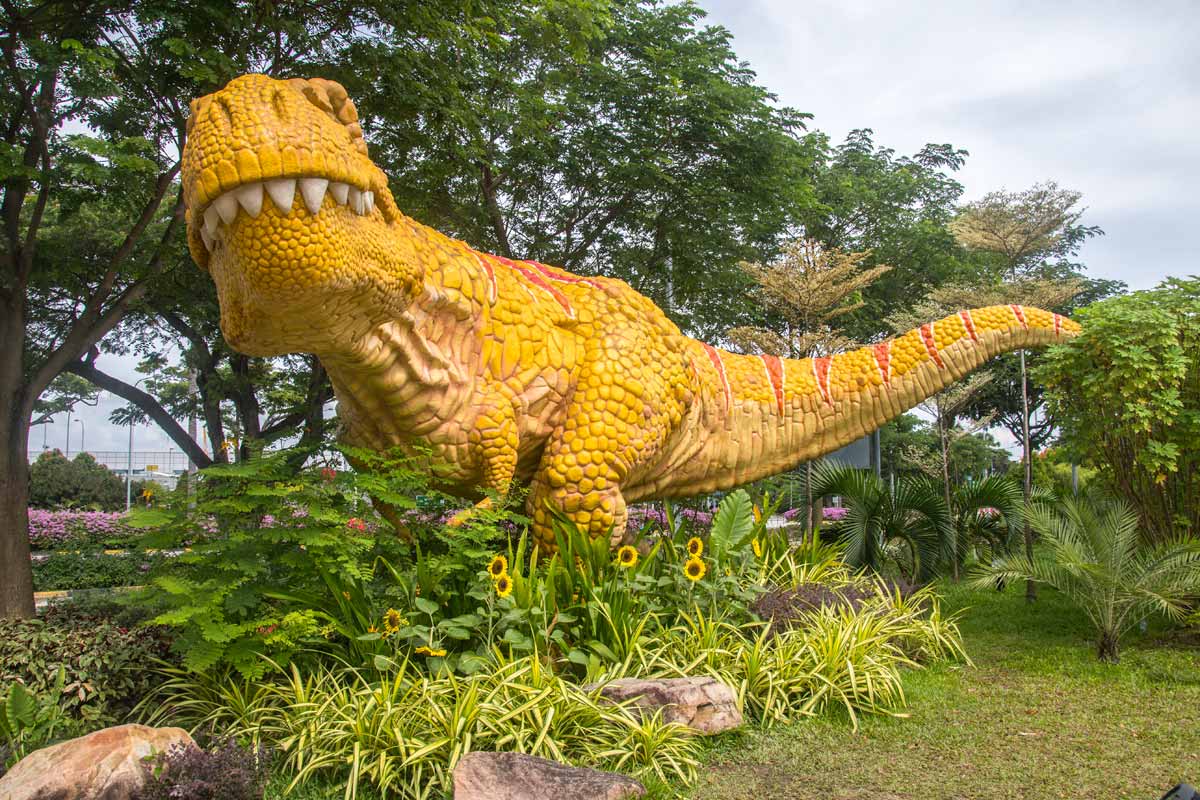 This popular trail is approximately 1 km long and starts from the Changi Airport Terminal 4, leading to the East Coast Park Connector. Its main attraction is the 20 life-sized dinosaur sculptures lined alongside the path.
Why is it not on the main itinerary?
It's quite far away from the central city.
Sri Mariamman Temple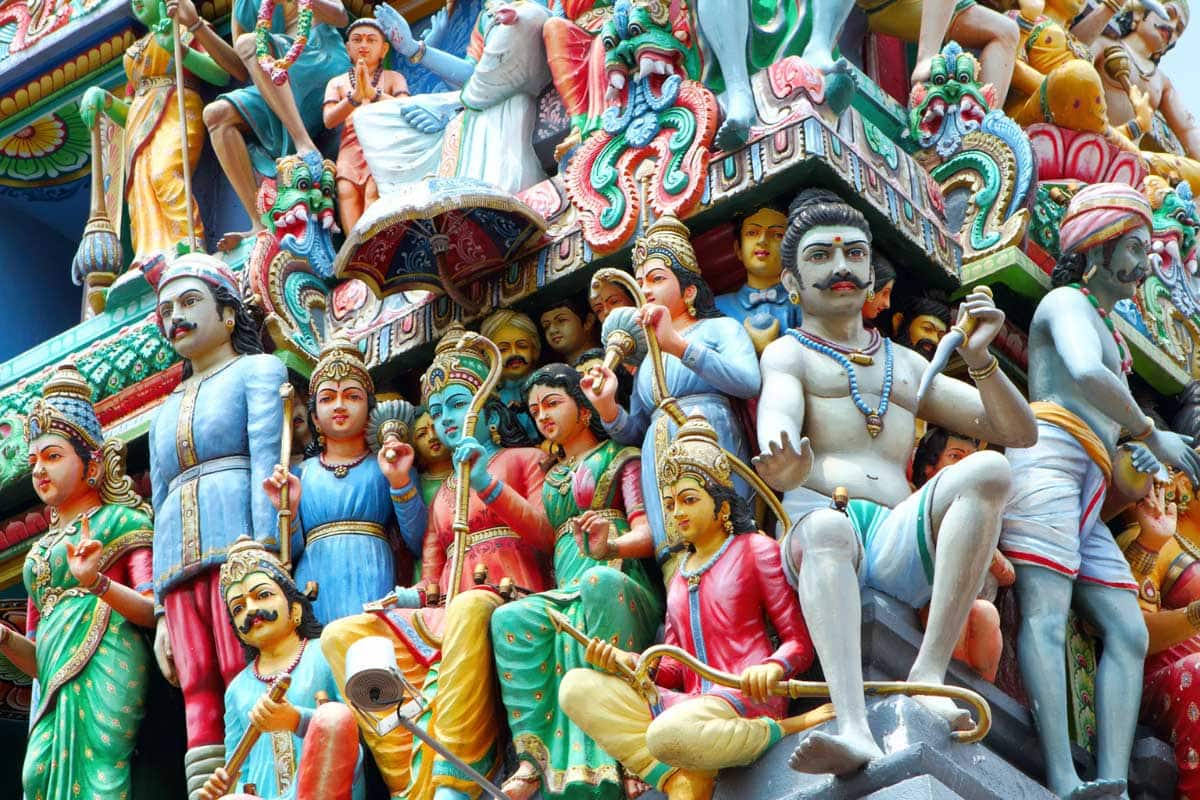 Founded in 1827, Sri Mariamman Temple is the oldest Hindu shrine in Singapore. Located in Chinatown, this temple blends South Indian and Chinese architectural styles and an elaborately decorated central tower.
Why is it not on the 5-day Singapore itinerary?
We have a better temple for Chinatown, but it's easy to add it to the itinerary if you're into religious heritage.
See Also: The Ultimate Angkor Wat Itinerary
Where to Stay in Singapore
High-End
Marina Bay Sands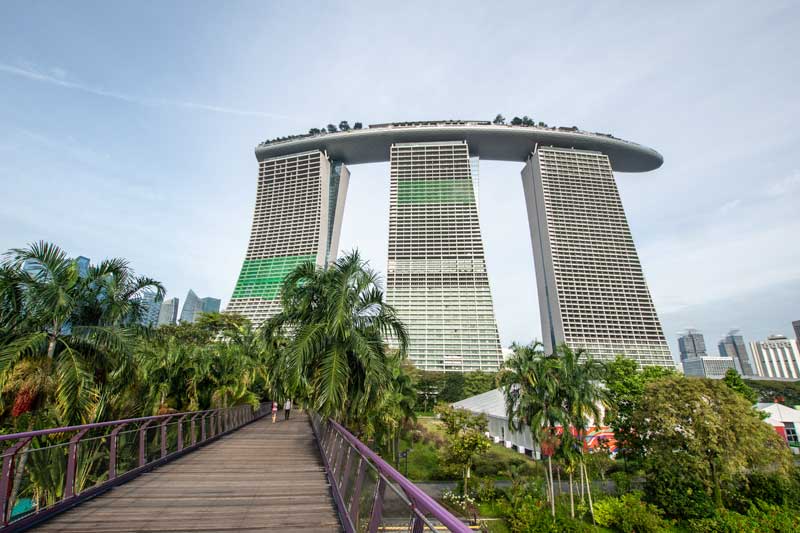 There's no way I give anything else as a first recommendation than Marina Bay Sands. Being one of the most famous hotels in the world, staying there is an attraction in itself. Besides the great rooms with top-notch views, as a guest, you also get access to the world-renounced Infinity Bay pool. It's also surprisingly affordable for something incredibly luxurious in Singapore.
Check the latest prices
Mid-range
Ascott Raffles Place Singapore
Located in the heart of the city, this 5-star hotel is close to most things on the itinerary, plus a metro station. It offers huge modern rooms equiped with kitchenettes, a fancy outdoor pool, a gym, and everything you may need for a perfect vacation.
Check the latest prices
Budget
Wanderloft Capsule Hostel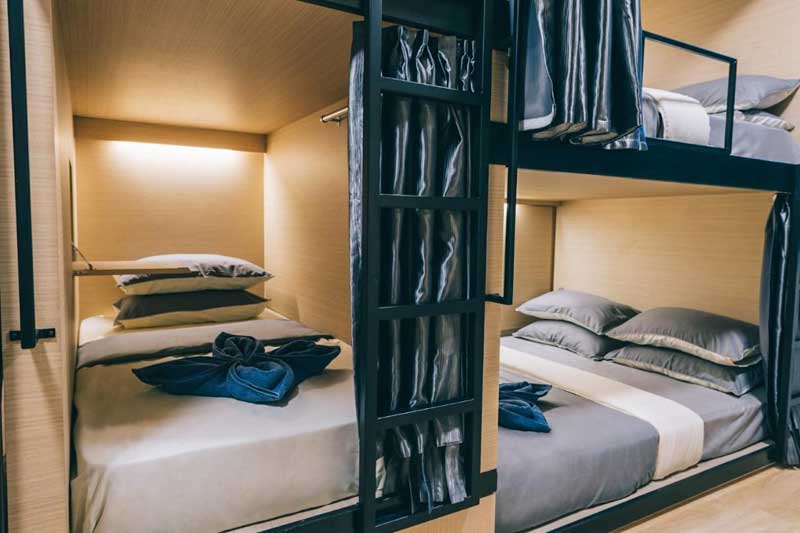 Located next to the Merlion statue, this hostel is one of the best-located properties in town. The rooms and bathrooms are clean; the pods offer some privacy; the staff is incredibly friendly; and, just like most hostels, this capsule hotel is a great place to meet travelers from all over the world. No better budget option in town, for sure.
Check the latest prices
Singapore Tours
The Food One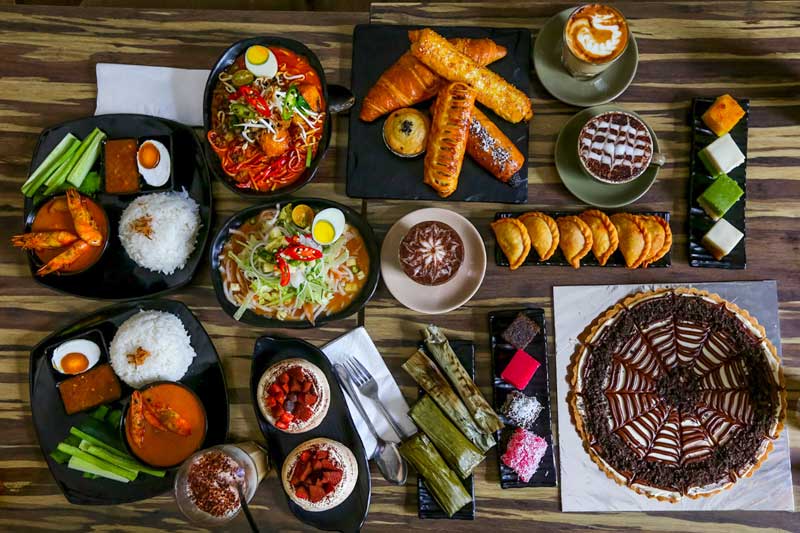 If you consider yourself a foodie, take one of these on your first day in Singapore. Go on a delicious journey as you try 10 of the best food items beloved by the locals. Gather enough knowledge to guarantee yourself a tasty Singapore vacation.
Check the latest price
The Bike One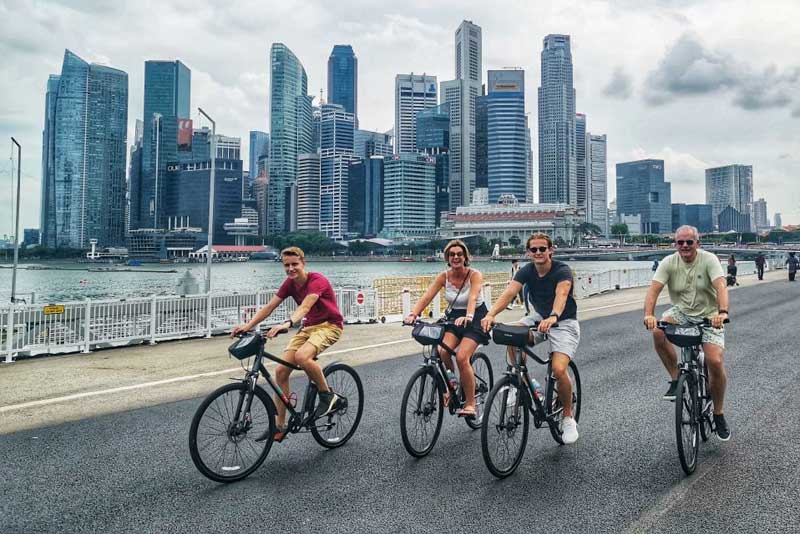 Singapore is incredibly bike-friendly, so bike tours are popular there. Enjoy a 16km ride over gentle terrain to see and learn all there is to see and learn in this fantastic country.
Check the latest price
The DUCK One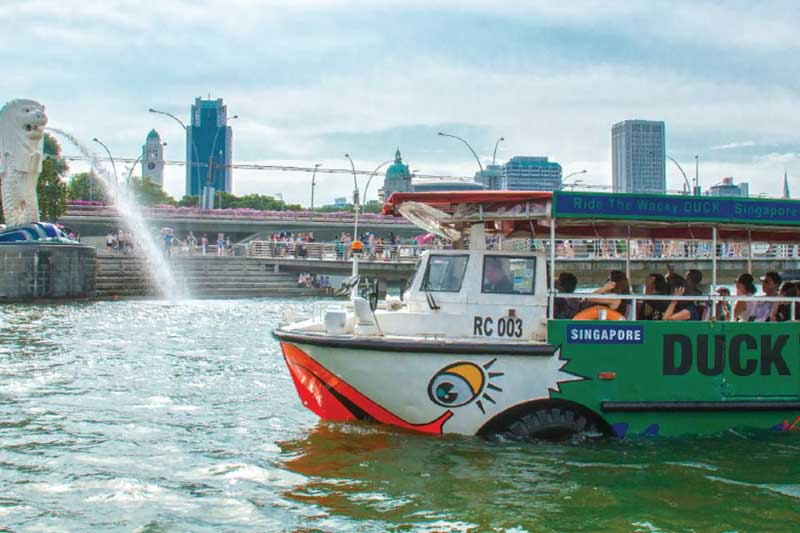 Embark on a refurbished amphibious vehicle from World War II and see Singapore from land and sea. This tour is a little bit short (just one hour long), but it's as unique as it gets!
Check the latest price
FAQ
When to visit Singapore?
Singapore is a year-round destination with temperatures ranging between 25°C (77°F) and 31°C(88°F). Due to its geographical location and maritime exposure, Singapore is a pretty rainy place, with thunderstorms occurring on 40% of all days.

The best months to visit are February through April. Although February is part of the Northeast Monsoon Season, it's still the driest month of the year, and you can expect rainfalls mainly in the afternoon and the evening.
Is Singapore safe?
Singapore is considered the safest destination in Asia and one of the safest in the world (ranking 9th in 2022). While petty crimes such as pickpocketing may occur in crowded tourist places, chances are high that you won't be a victim of such.

This doesn't mean you should skip travel insurance, though. Everything can happen, and having one just gives you the freedom of the mind to enjoy your vacation to the max. I currently use HeyMondo for my travels because they have proven themselves to me more than once over the years. The link above will give you a 5% discount, but If you have another favorite provider, that's ok. Just make sure you have one because you never know what may happen.
Is Singapore expensive?
Yes, Singapore is incredibly expensive. Even if you use the MRT (metro) and buses rather than taking taxis, pick a hostel instead of a hotel, and eat in food courts, you should still expect to burn a hole in your wallet.
Here are some Singapore prices
How to get around Singapore?
Singapore is a pedestrian-friendly city, with many landmarks within walking distance of each other. For longer distances, I recommend the MRT (metro), buses, or e-bikes. If you want to use a car, you can either rent one or download the Asian version of Uber – Grab. Taxis are really expensive, so use them only when there are no other options.
Of course, there's also the hop-on-hop-off bus.
How to get from Changi airport to the city?
The easiest and cheapest way to reach Singapore from Changi Airport is via MRT. The station is located in the basement of Terminals 2 and 3. If you land at Terminal 1, there's a free shuttle that goes around the terminals. If public transport is not your thing, the best way is to book a driver that will take you straight to your hotel (this option is surprisingly inexpensive by Singapore's standards).
Can I use dollars in Singapore?
You can use only Singaporean Dollars in Singapore (SGD). There may be places that accept USD, but the exchange rate won't be in your favor for sure.
Is Singapore worth it?
Singapore is one of the most distinctive cities in the world, and if you can afford a trip there, I can guarantee you won't be disappointed.
Singapore Itinerary Map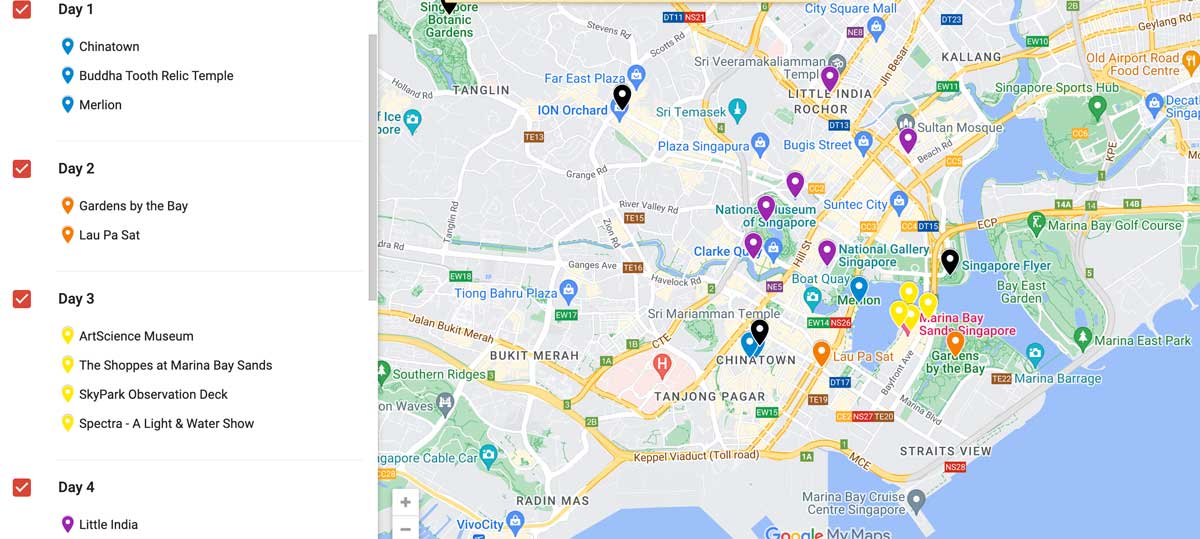 That's all from me, now you have the best 5-day Singapore itinerary.
————————————
If you haven't planned your trip there yet, find out how I plan my trips!
————————————
I have 4 bucket list ideas for Singapore. See my impossible bucket list of 1700+ adventures!

Is Singapore on your bucket list?
---

Some of the photos in this article were taken from Depositphotos.com – the best place for stock photos out there.
Some of the above are affiliate links and I will earn a percentage of the sale if you purchase through them at no extra cost to you. This helps keep my site running – so thanks in advance for your support!