My 2 week Indonesia itinerary is carefully composed to guide you through the most exclusive parts of this spectacular country.
Land of giants, jungles, and volcanos, Indonesia was an old bucket list dream of mine. I mean, how many countries can claim they have easily accessible volcanos, unique (and extremely cute) endemic primates, pristine waters swarming with life, the oldest Buddhist temple in the world, the most instagramable island and even the last living dinosaurs?
Sadly, for such a short visit, we can't see them all. Keep reading to learn which one of those should be part of your 2 week Indonesia itinerary and which can be saved for your second visit.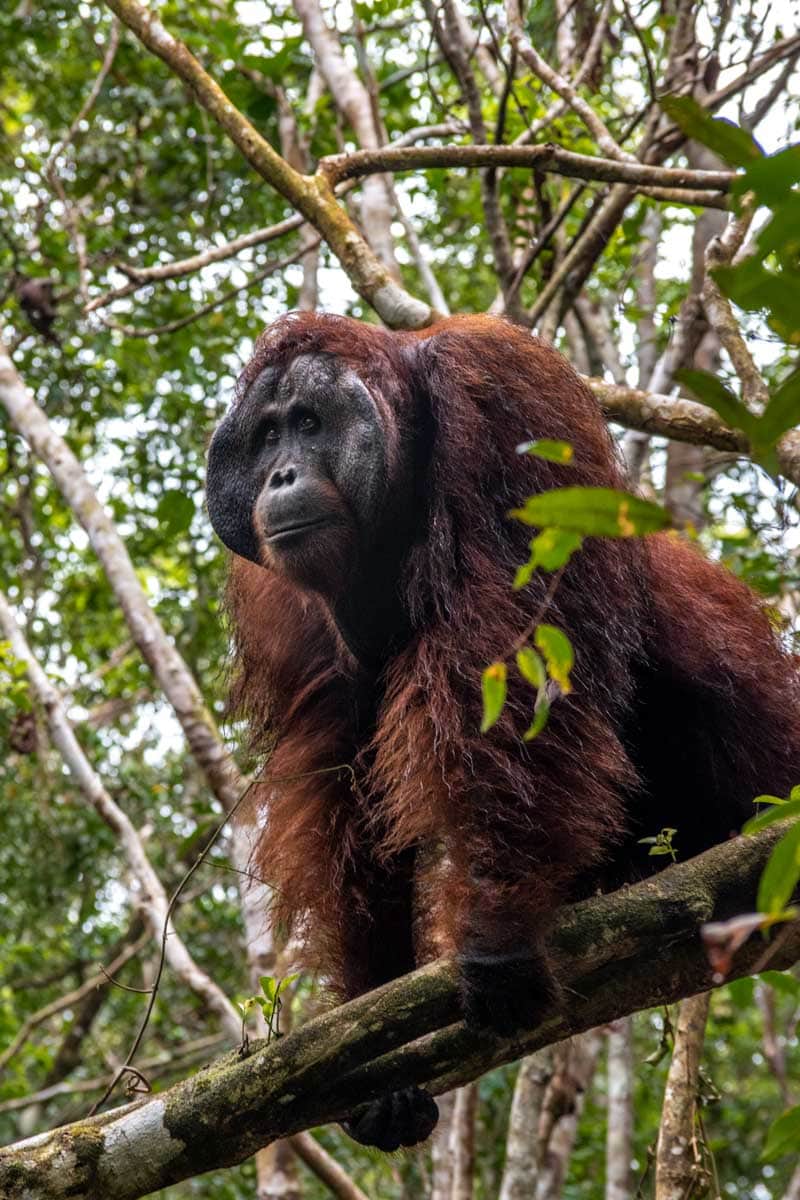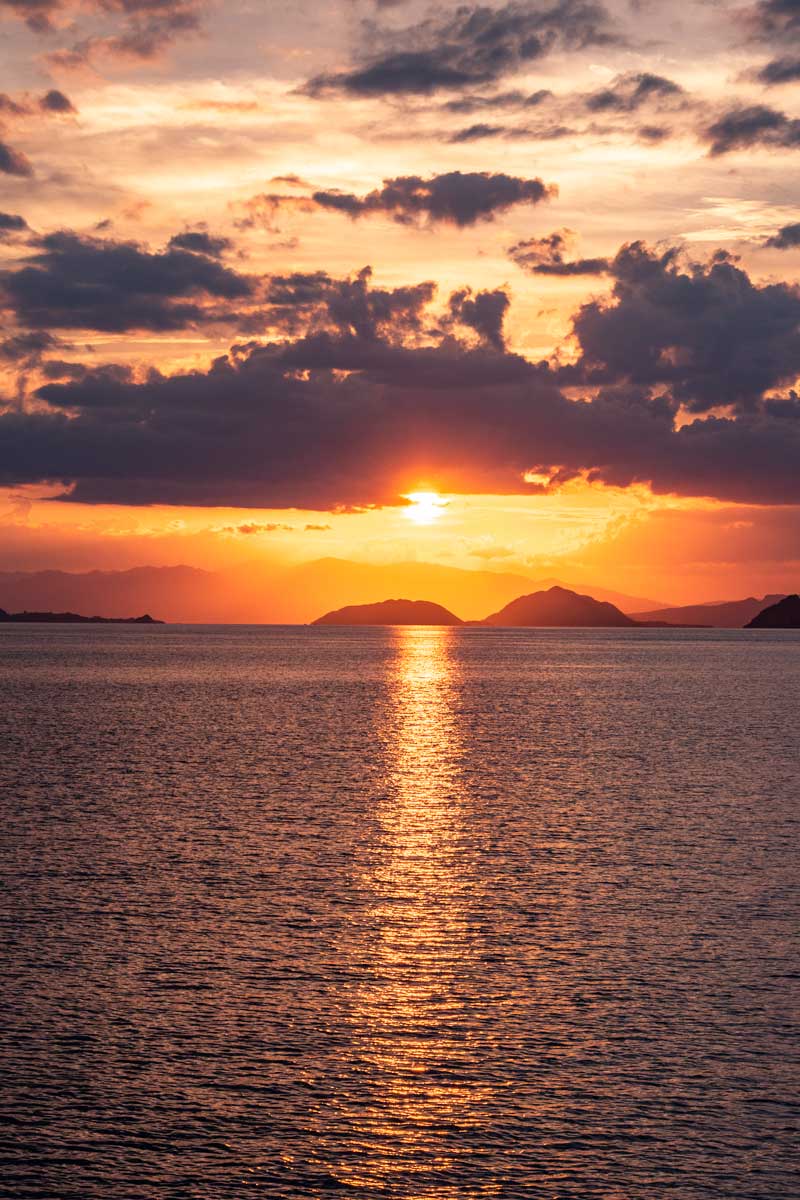 Now, a bit more about Indonesia. The world's largest island country, with more than seventeen thousand islands (!), Indonesia's 261 million inhabitants are spread around 34 different provinces. The provinces are more like the states in the US – every single one of them feels like a different country.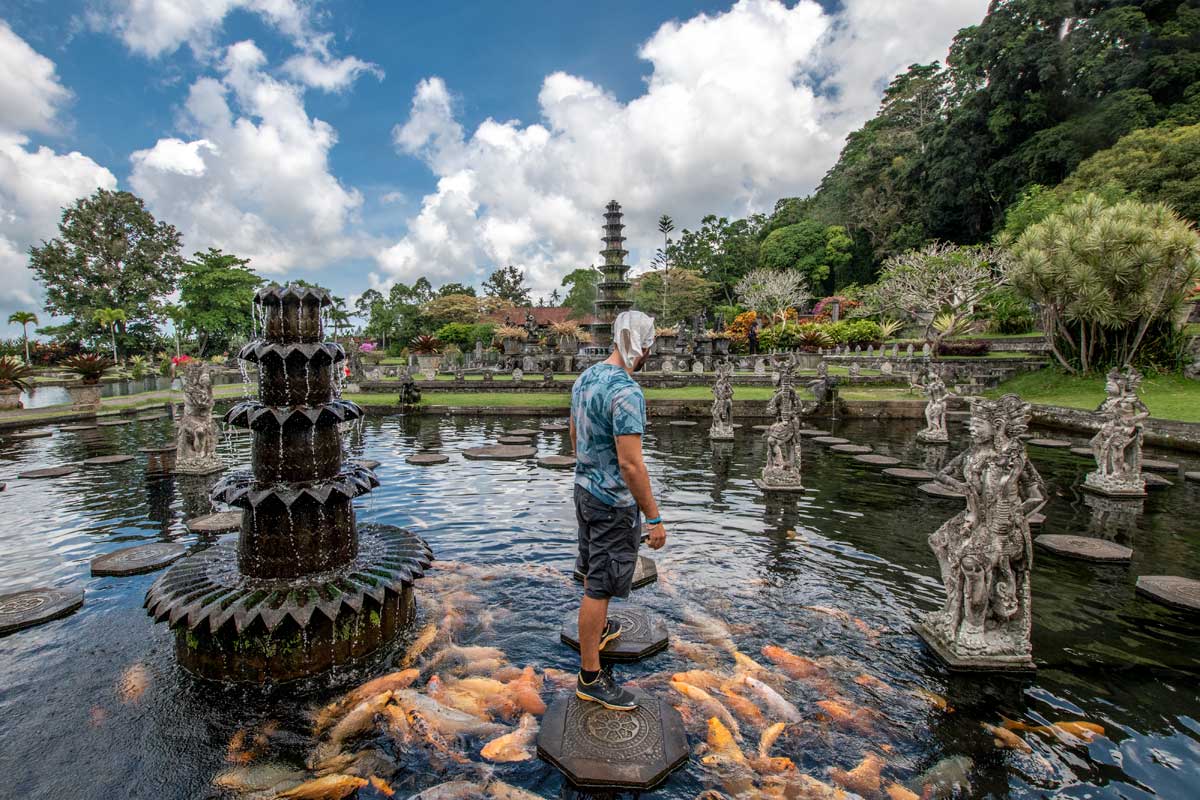 Let me give you an example – people on Bali are Hinduists, they have Hindu temples, Hindu homes, and Hindu holidays. The rest of the country is Muslim, except the Paupa part who are mostly Christians but are often blending Christianity with Animism.
So many different areas, people and customs, makes the 2 week Indonesia itinerary a hard task. I don't want to get you down, but if you're like me and you want to see everything, 2 weeks in Indonesia won't be even close to enough.
In this itinerary guide, I'll try to walk you around the biggest highlights of the country and to expose you to as many of its different cultures as possible. It may sound tiring (and it is), but I design my routes considering all the travel time, jetlag, and airport struggle so you should have enough time to recharge your batteries in between the volcano climb and the orangutan search.
Excited already?
Let's start our 2 weeks in Indonesia!
2 weeks in Indonesia Itinerary Guide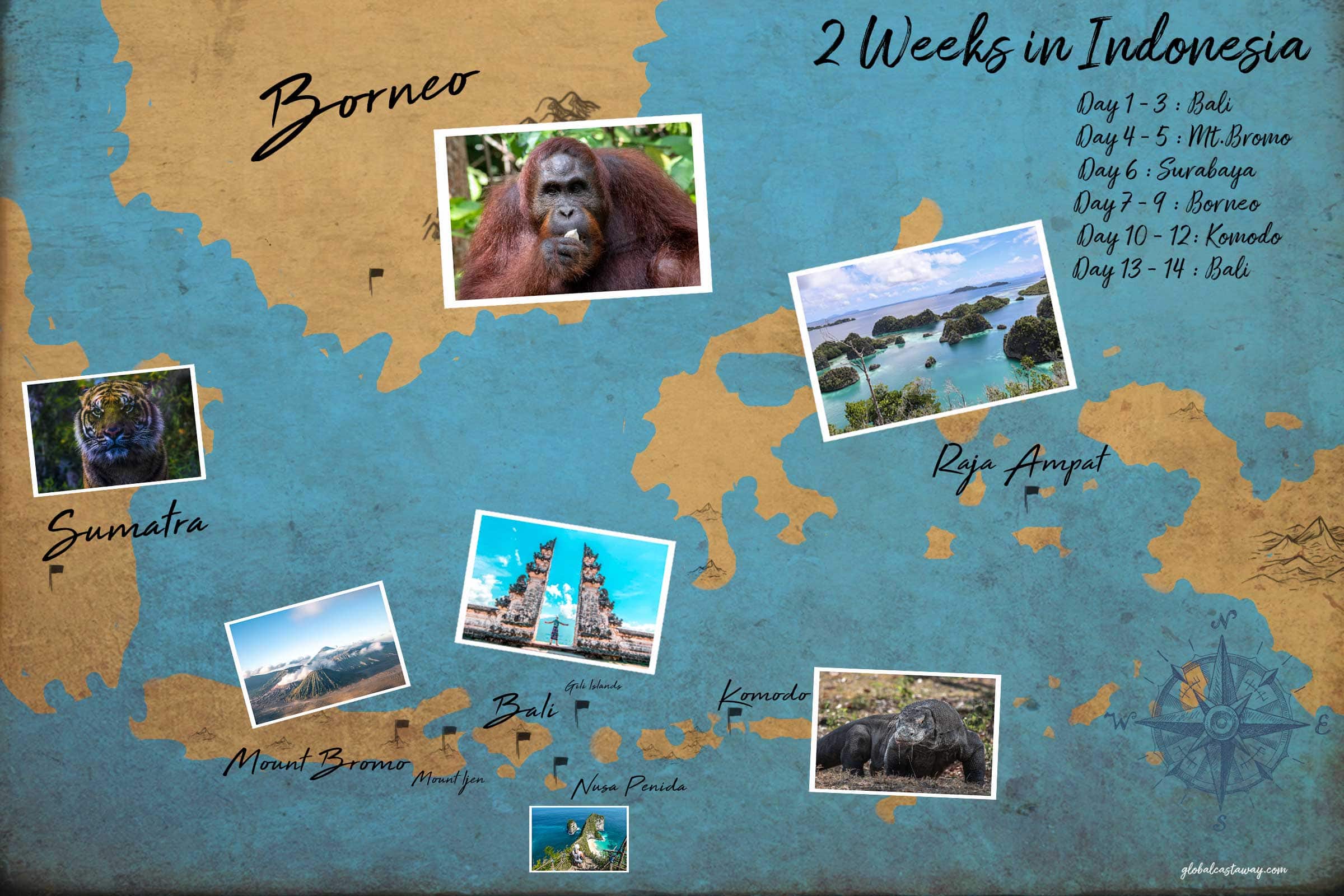 Day 1-3: Bali
The beginning of your journey in Indonesia would start either from the capital – Jakarta or from the most significant tourist hub in the country – Bali.
I recommend doing your best to start in Bali. Jakarta is a big and chaotic city, and you won't miss anything by skipping it. Motorbiking around Bali, on the other hand, is a bucket experience by itself. The island is also one of the very best places to kick back and prepare for the next 2 weeks in Indonesia.
Especially if you are coming from the US or Europe, there is no better way to battle the jetlag than sipping a pineapple cocktail by the pool of a traditional Balinese villa.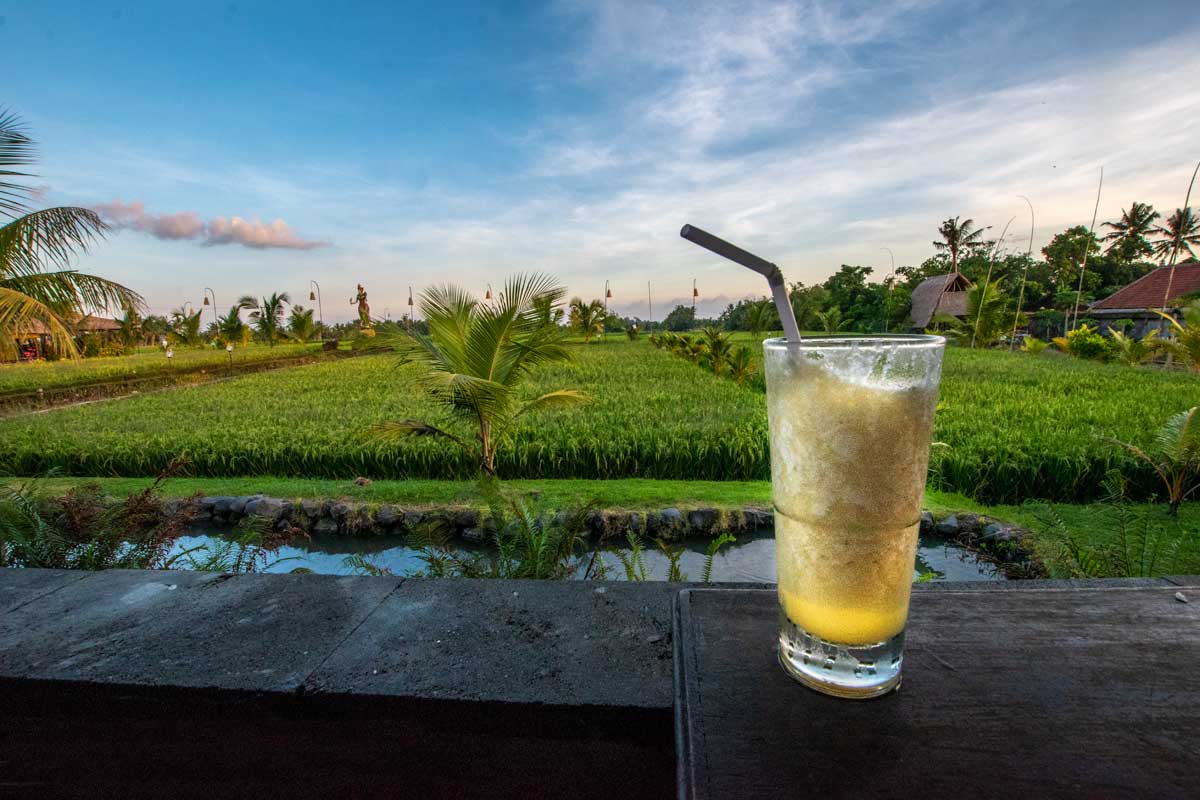 While housing plenty of Hindu temples and numerous picturesque sights, the traffic around the island is a nightmare and if you don't want to spend your first days in Indonesia stuck inside a car, don't plan a lot of sightseeing.
It's best to pick the attractions according to the area your hotel is in.
Seminyak
Seminyak is like the downtown of Bali. Located a bit north from the airport, the area is the number one tourist spot on the island, offering funky cafes, 5-star beach resorts, and trendy bars.
If you're a foodie, Seminyak is famous for having the best restaurants in Bali, most -of them located on the same street (known as Jalan Laksmana or Kayu Aya).
If you decide to stay there, the closest attraction is the Tanah Lot sea temple (just make sure you're not there during the weekend when it's hugely overcrowded). Tanah Lot is a bit far, a bit chaotic and that's why I believe it's best enjoyed via tour. You can also combine it with Taman Ayun temple for a sunset experience like no other or go even further and see Ubud's monkey forest.
Check out the best hotels in Seminyak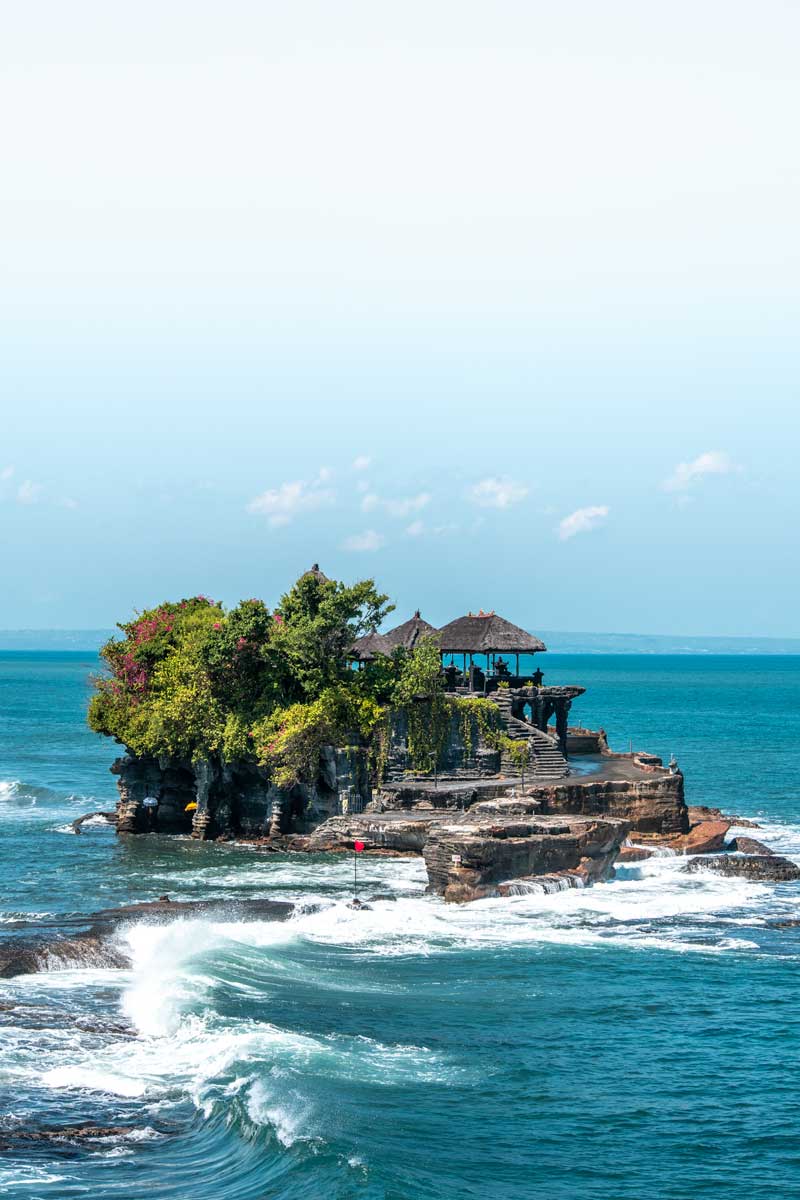 Kuta
Kuta is the area around the airport and is also an area famous for its nightlife and cheap accommodation options. It's basically the backpacking neighborhood of Bali.
If you chose to stay here, I suggest visiting the biggest waterpark in east Asia – Waterbom and the Sea Temple – Tanah Lot.
Check Out the best hotels in Kuta
Jimbaran and Nusa Dua
– Areas south of Kuta, Jimbaran, and Nusa Dua are still close to the airport but don't offer the same cheap hotels and bars like Kuta. If you want a tropical vacation on a private beach without too many parties around you, Jimbaran and Nusa Dua are just for you.
If you choose to stay there, the best attraction is the nearby Uluwatu temple. Uluwatu is a bit tricky, from afar it looks nothing special but it really has plenty to offer. You can reach it easily via a scooter or a taxi.
Uluwatu's biggest attraction is the Kecak Dance. Trust me; it's one of those local cultural things you must see in Bali. If you're more interested in the beach bars there, this bar-hopping tour is your thing.
Check Out the best hotels in Jimbaran and Nusa Dua
Ubud
Made famous by Julia Roberts "Eat, Pray, Love" movie, Ubud is the place that put Bali on the map as one of the best tourist destinations in the world.
The cultural heart of Bali is located in the center of the island and while there are no beaches in Ubud, the calm vibe and the stunning nature of the mountain village makes it among the most popular choices to stay in Bali.
If your desire is to be away from the hustle and bustle of the big city and experience a little bit more of a rural vacation in a typical Balinese villa – Ubud is the place for you! If you choose to stay there, in three days, you can check Ubud's Monkey Forest, the Tegalalang Rice Terraces, and the Pura Gunung Kawi and Pura Tirta Empul temples.
The Monkey Forest is easy to reach and you need neither a scooter nor a tour to check it out. The terraces are a bit farther. Even though they can be reached easily via taxi or scooter I recommend getting a private driver or even rent a car.
Being the most popular part of Bali, Ubud offers plenty of options to fill our day. You can choose a regular Ubud highlights tour, a Secret Waterfalls one (my favorite) or an adventure one
You can also go up north and visit the picturesque Ulun Danu Beratan temple and the waterfalls around it.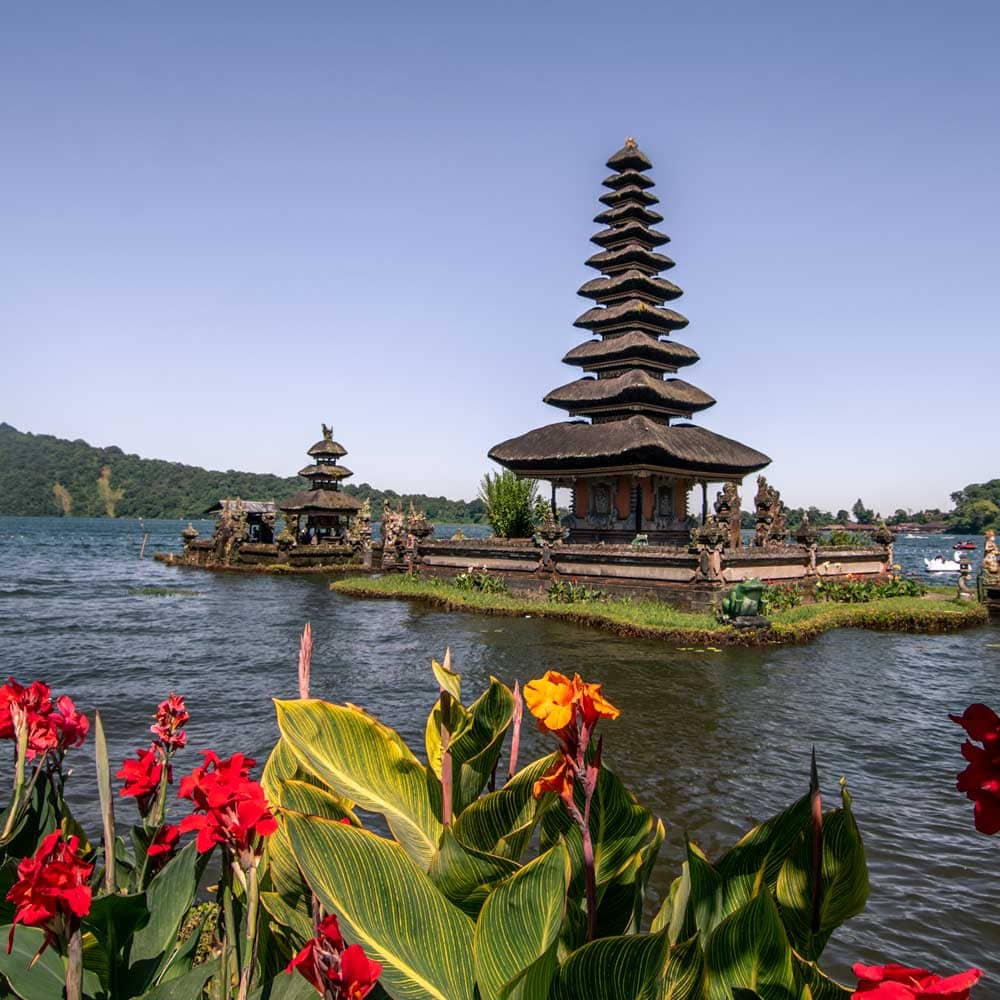 One of the most exciting spots in Bali is the Pura Lempoyang temple. A mountain temple, made famous by thousands of Instagramers, this temple not only offers terrific photo ops but also makes for a great day trip and mountain trekking.
The bad thing about it is that it's located far away from all tourist areas and it takes a whole day to go there, climb it and go back. If you're on a photo hunt, It could be combined with the nearby Tirtagangga natural pool.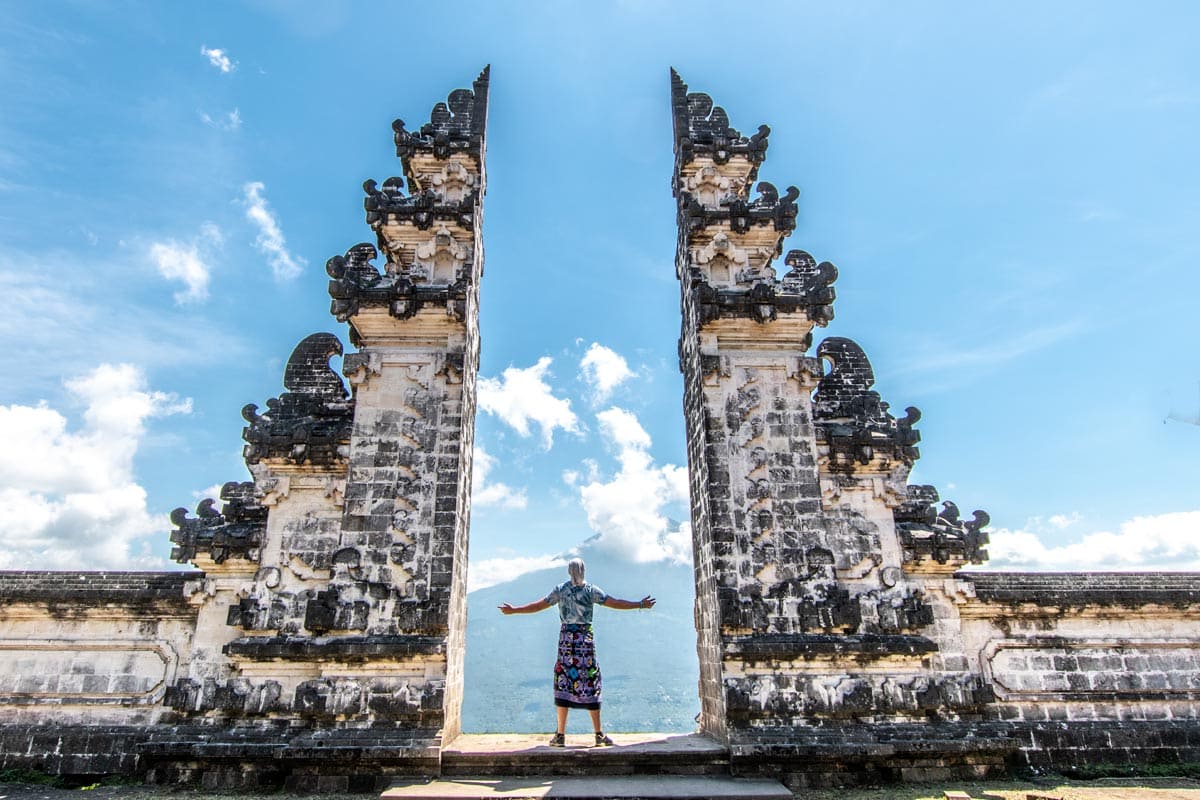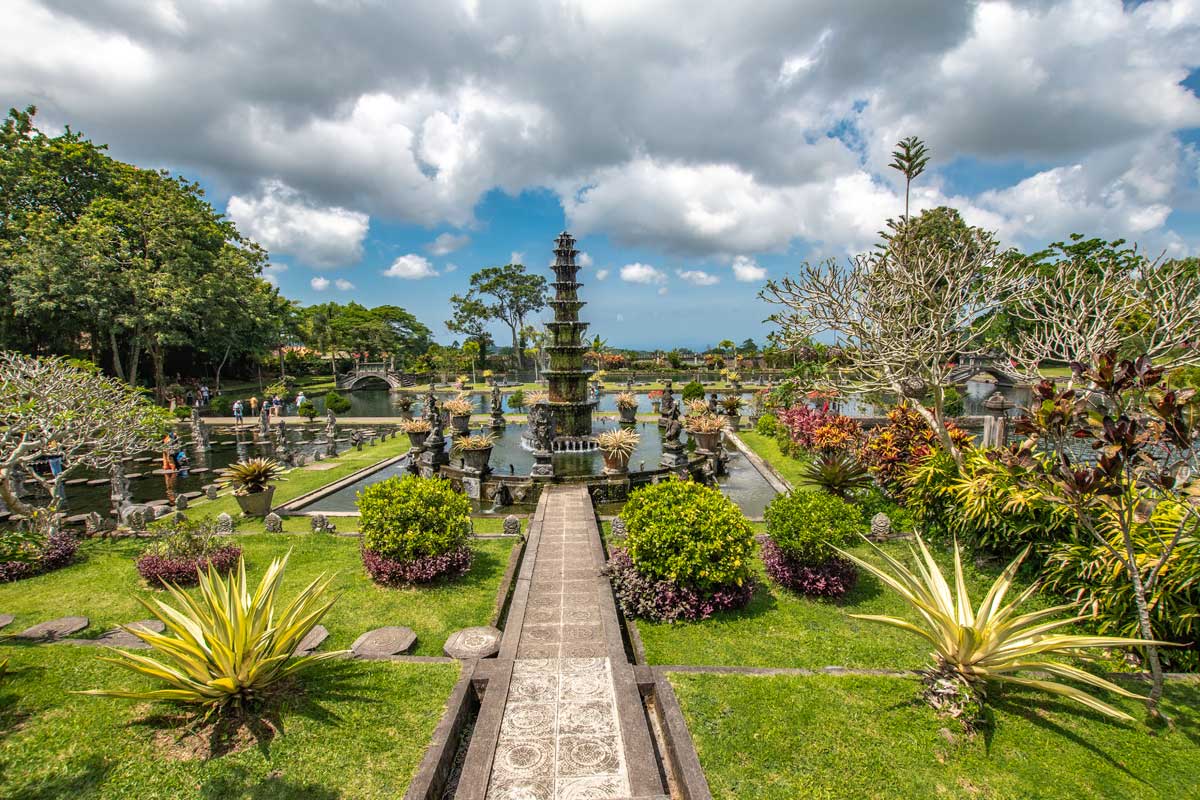 Speaking of photo hunts and Instagramers, Bali is THE place for content creators and digital nomads. The islands offer so many different post-card-perfect spots that it's almost impossible to leave it without making a top-notch photo memory.
If photos are the prime reason to visit Bali, I recommend getting the premium Bali's Instagram tour. The locations are so spread around, that having a knowledgable photographer as a guide would really save you a ton of time. And since you're reading a 2 week Indonesia itinerary post, my guess is time is not on your side.
If you decide to spend more than a day, hunting for photos, there is an Instagram tour that covers the nearby Nusa Penida too. And I won't lie if I tell you that Nusa Penida is among the most photogenic places I have seen anywhere in the world!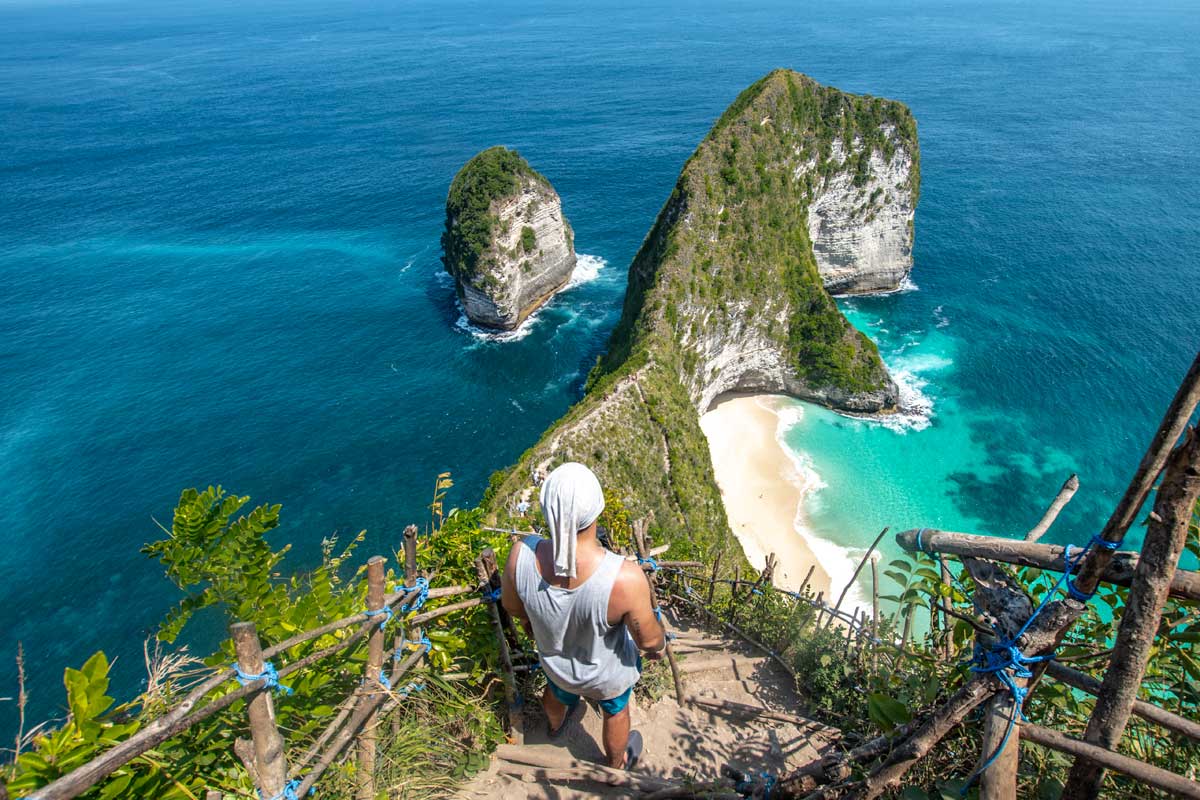 Transportation around Bali
The most popular way of transportation in Bali (just like anywhere else in South-east Asia) are the scooters. I don't rate the Balinese roads a lot though, and the traffic is very chaotic so if you don't have experience riding one of those, better skip it.

If you feel safer in a car, I recommend checking out Discover Cars and their tool that will compare all the best rent-a-car providers in the area. The prices they manage to find are sometimes ridiculously low.
You can book a private car with a dirver that will take you anywhere on the island or if you follow my advice and spend more time relaxing than sightseeing, you'd do just fine with taxis.
It's a good idea to book a transfer from the airport to your hotel. The taxi scams are very annoying and I'm sure you're not looking forward to them right after an exhausting flight.
See Also: Top 20 Biggest Landmarks in Asia
Castaway Tip
Taxis in Bali are heavy scammers and will always try to overcharge you. The most legit ones are the BlueBird taxis. The easiest way to recognize them – they are blue! The others do try to copy them so be careful! To make sure you get a real one, Bluebird recently released a mobile app that apparently lets you book a taxi in advance and gives you a fixed price. I haven't tried it, but it sounds like an excellent option!

Day 4 -5: Mount Bromo
Now that you've reclaimed your strengths back in Bali, you are ready for some adventures! Don't worry, this 2 week Indonesia itinerary got you covered! It's time to climb a volcano and look inside its crater. Later (or earlier) you would go to see it on sunrise for one of the biggest WOW moments of your life!
Sounds fun, right?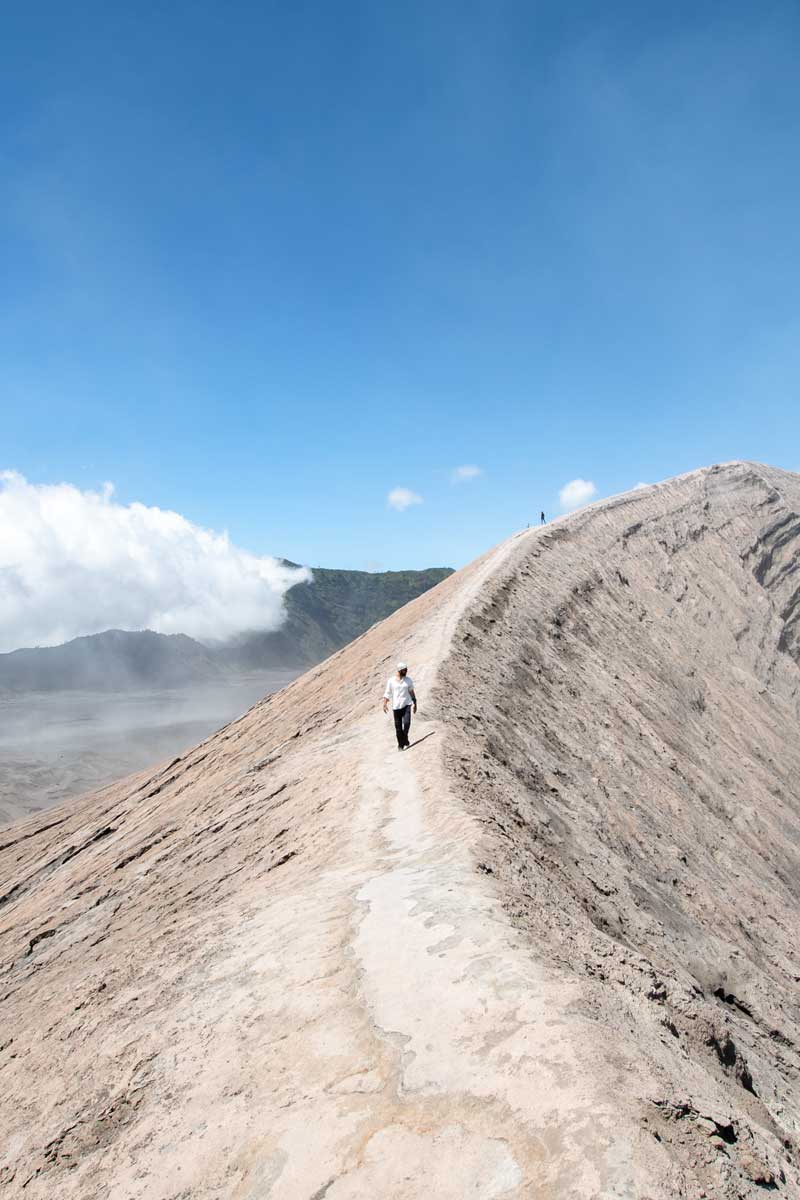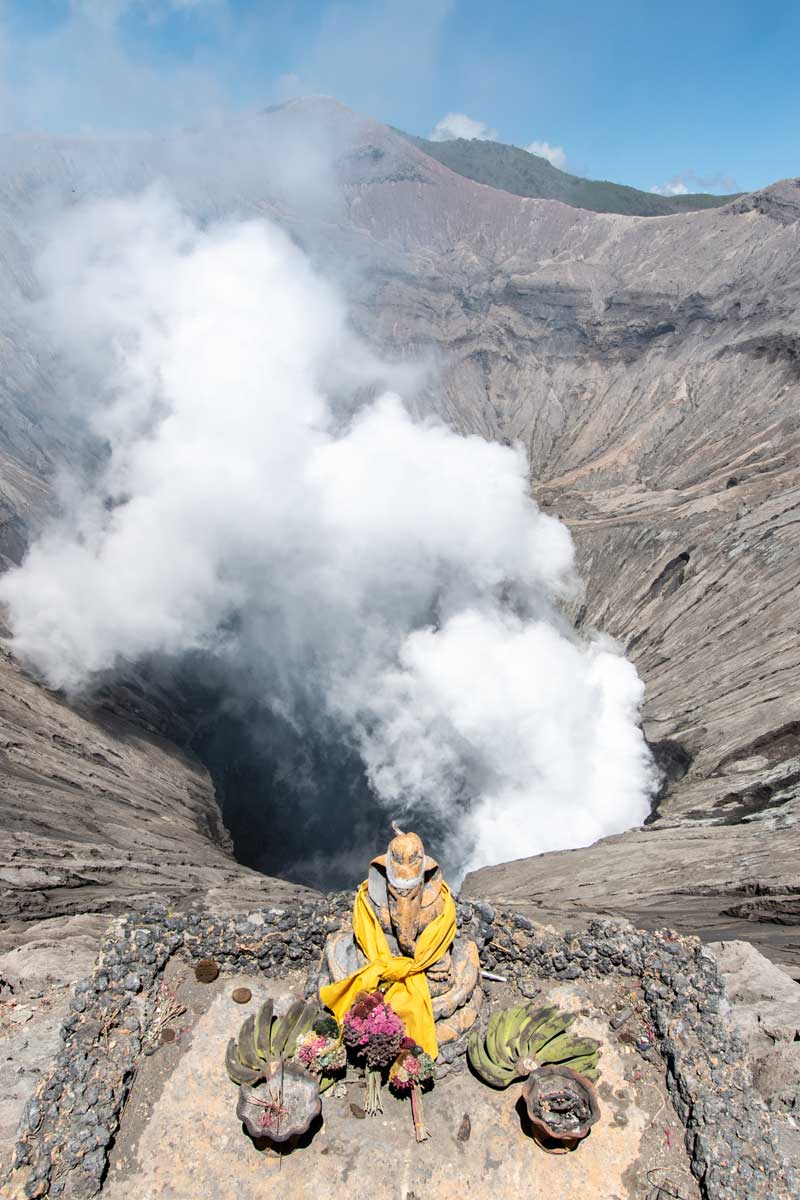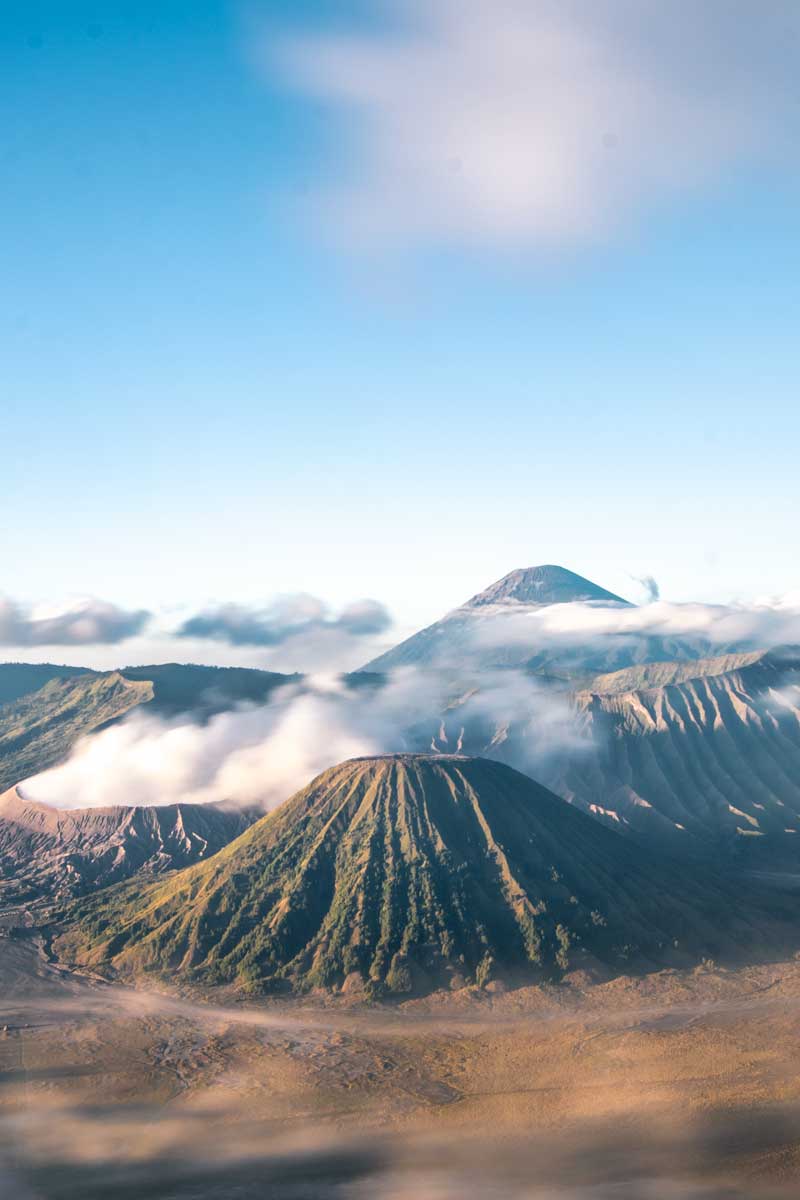 Mount Bromo is a famous Indonesian volcano and a huge tourist attraction. It's among the easiest volcanos to climb (more like a walk than a climb), and it's shaped so beautifully that thousands of people go there every morning to enjoy the sunrise.
While a lot of people use the easy way and book a tour (you can get one even from Bali), having the authentic experience and doing it by yourself is far more rewarding (and would save you a ton of money)!
Getting there and spreading your time correctly is, however, a bit tricky but I got you covered.
Check out my Climbing Mount Bromo for Free guide and learn the easiest way to get there, where to stay, what is the Sea of Sand and even a map for the secret path to the volcano!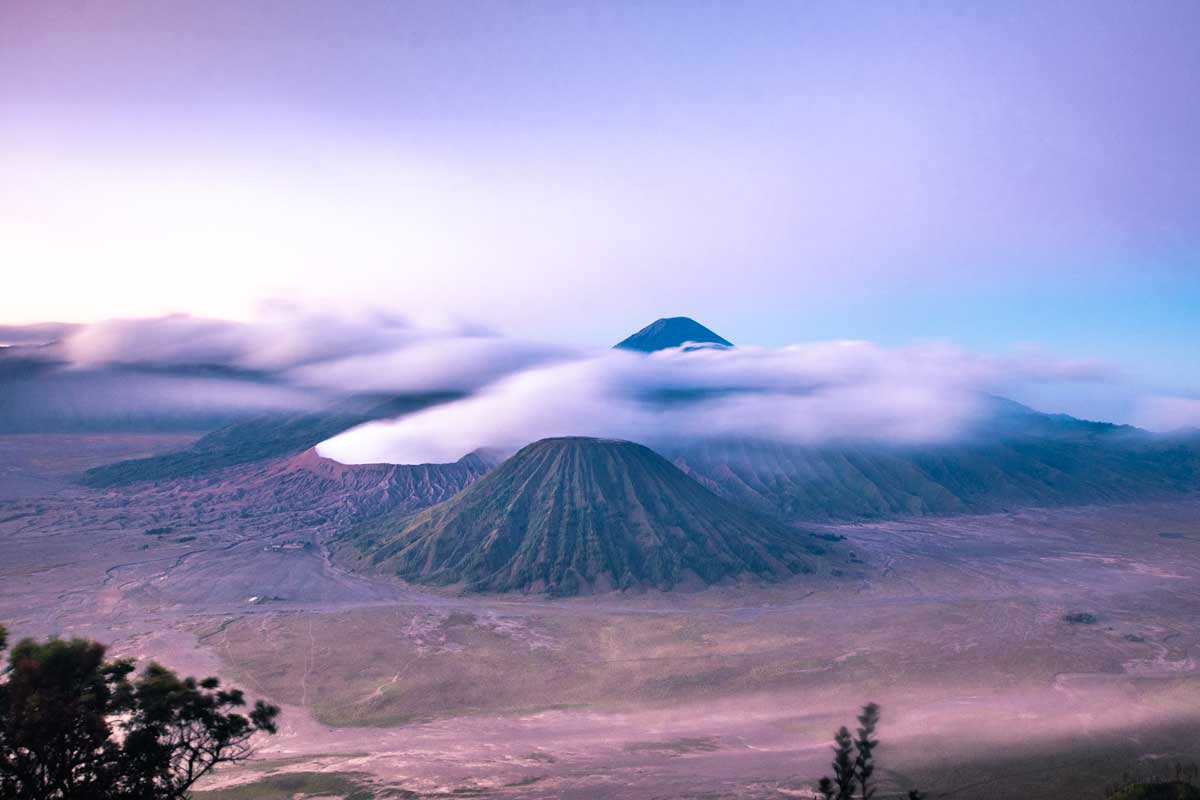 Day 6: Surabaya
Surabaya is one of the most boring places you'd visit during your 2 weeks in Indonesia. If I could skip it, I would but to get to our next location, we need to spend a night in a nearby town, and Surabaya is conveniently located between Mount Bromo and Borneo. No attractions to see there, my only advise is to book a hotel close to the airport and get the first flight to Pangkalan Bun.
If you decide to follow another itinerary, you can also catch a flight from Jakarta, Semarang and few other places in Indonesia.
See all flights to Pangkalan Bun
Day 7-9: Borneo
The most underrated part of the country, Borneo is the crown jewel of my 2 week Indonesia itinerary! While Bali, Bromo, and Komodo are on every traveler's route, Borneo somehow remains off the beaten track. I don't really have an explanation of why. The Malaysian part of the island is well visited, but the Indonesian apparently lacks in the PR department. And what a mistake skipping Borneo would be!
One of the only two places in the world to see Orangutans in the wild (the other is Sumatra), Borneo is covered by lush, 140 million years old rainforest, and it's considered one of the "lungs" of the planet.
Home to thousands of endemic species, Borneo's fantastic biodiversity ranks among the top of the world.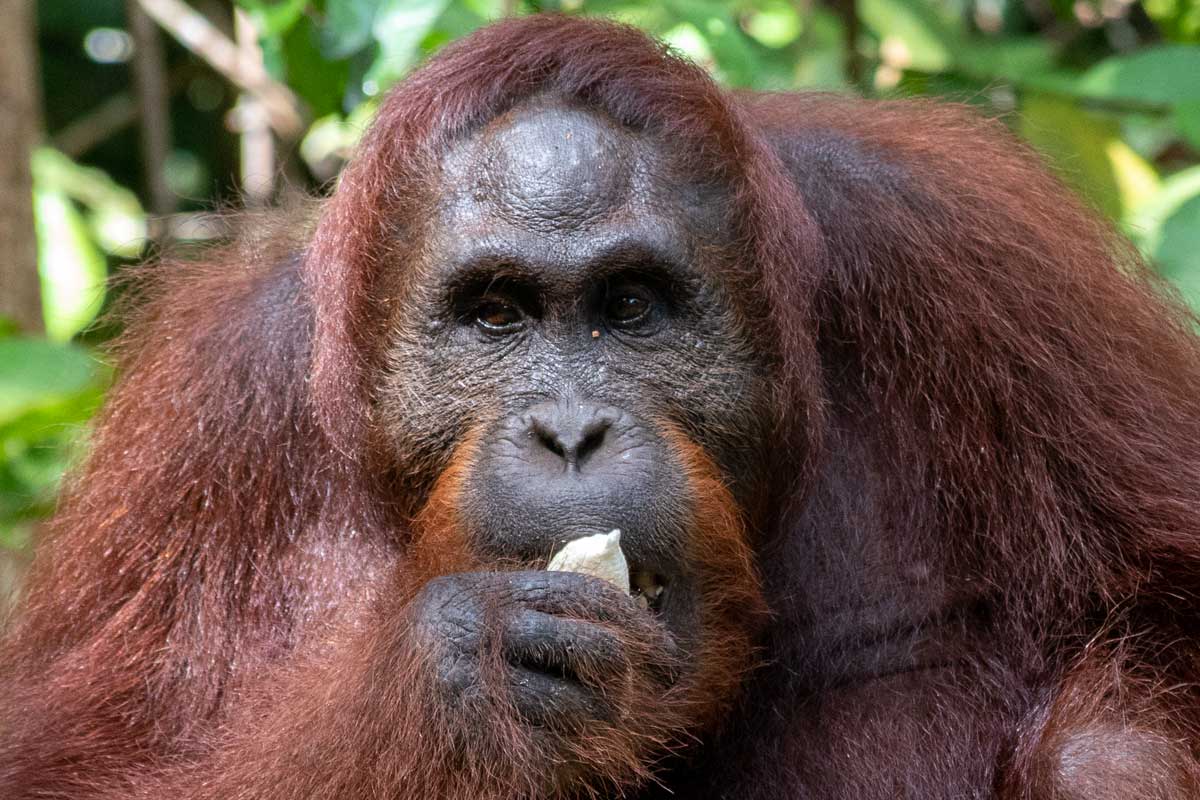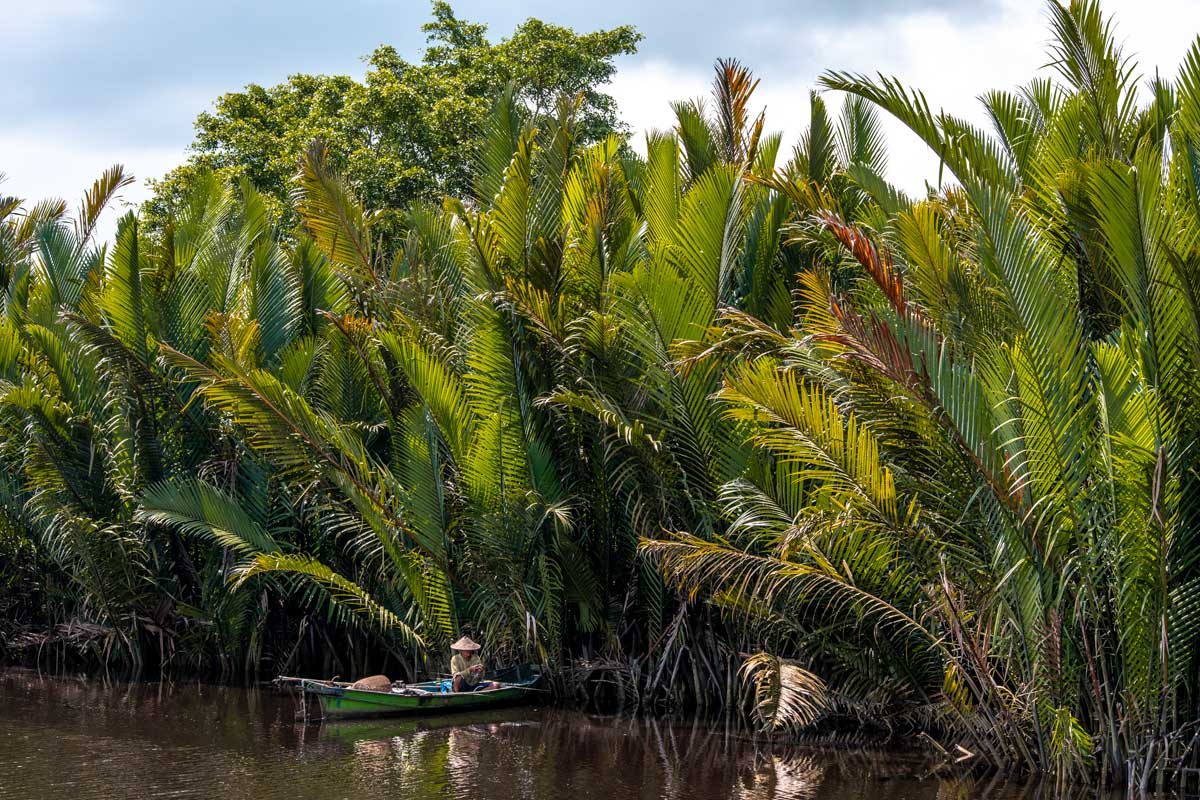 In our itinerary, we'll explore Borneo from one of the most significant natural parks on the planet – Tanjung Puting. The same place where Dr. Birute Galdikas began her career studying the behavior of rescued and orphaned orangutans in 1971 (and doing so to this day!).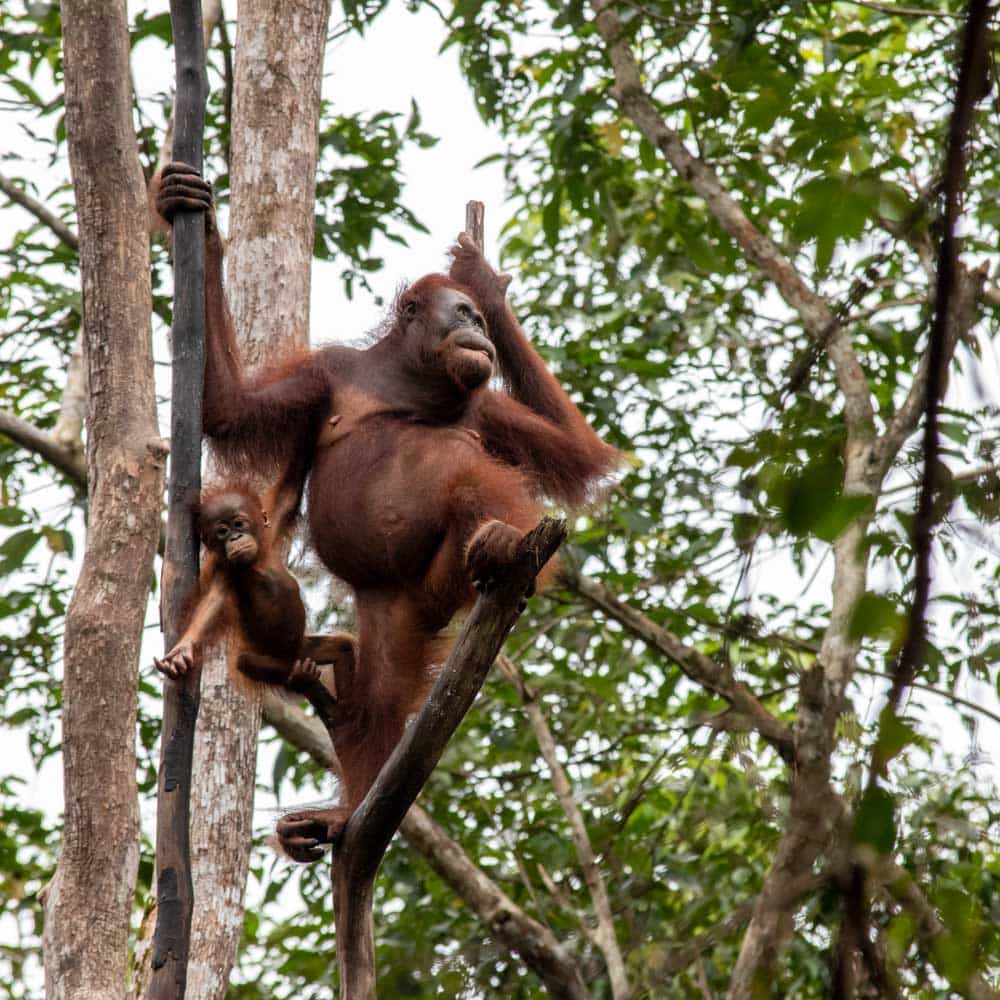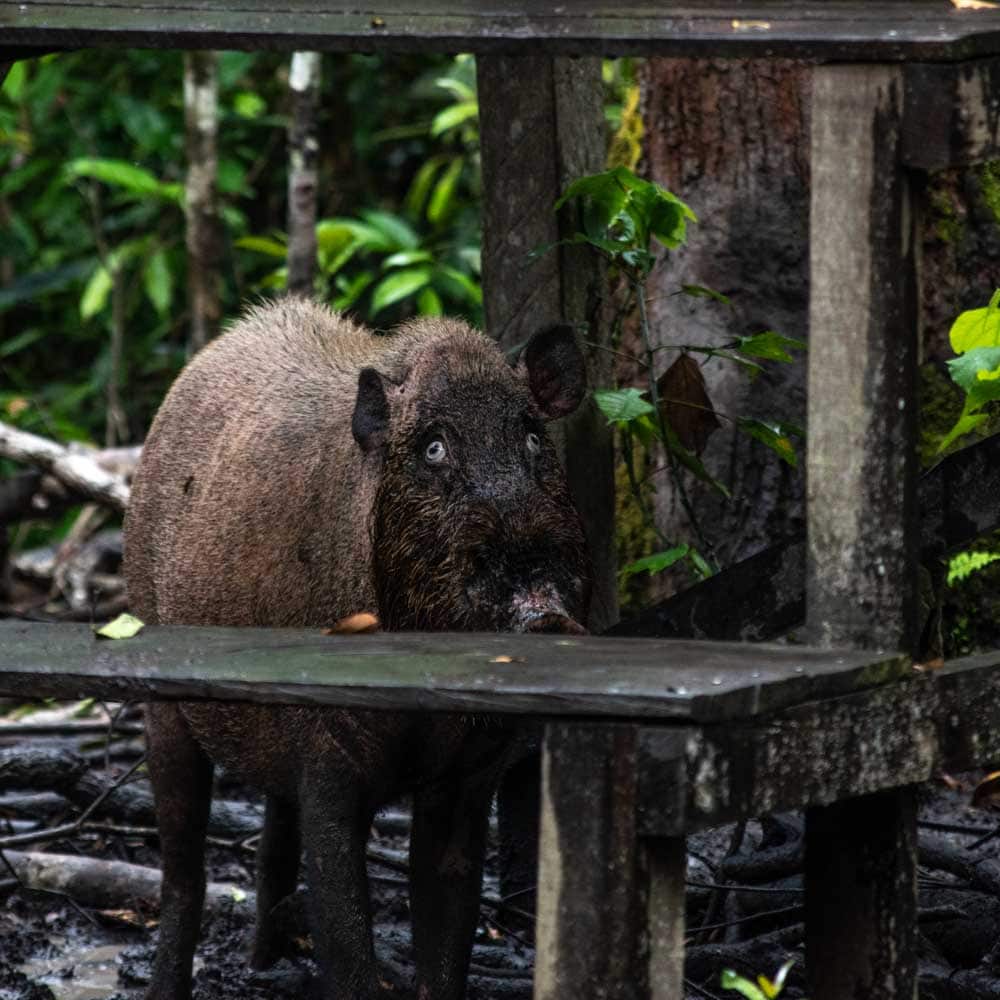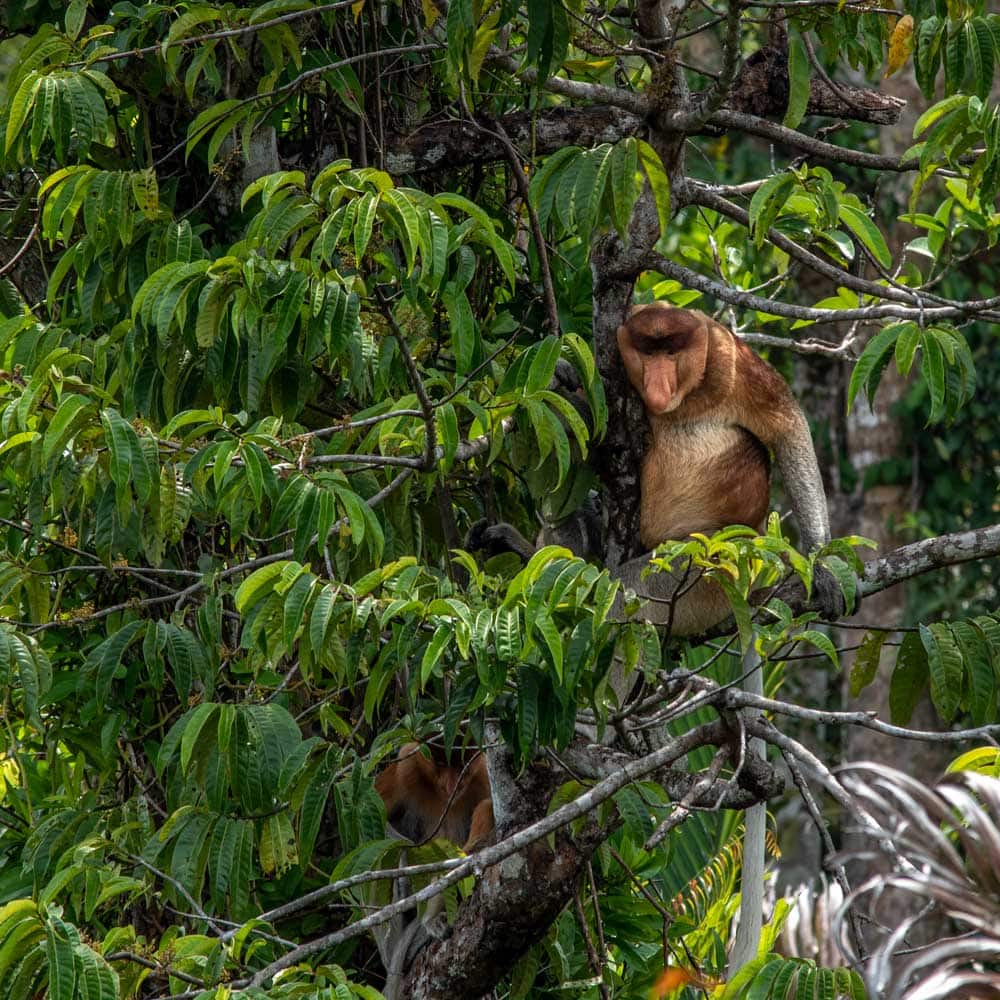 The bad thing about Borneo is that you can't really explore its forests and wildlife without a tour. If you've read anything else on this blog, you probably know I hate organized tours. Having a fixed schedule and being told what to do and see just isn't my thing.
Having said that, the tour I had in Borneo, was the very best I've ever had! The two lazy days spent on the boat in Tanjung Puting is a memory I'd cherish till the rest of my days. If you decide to do just one thing from this 2 week Indonesia itinerary, I strongly suggest Borneo.
The island is simply unparalleled!

Read more about my Borneo adventure and find tour prices, recommendations and day to day review!
Day 10-12: Komodo
As amazing as Borneo is, the tour around Tanjung Puting was missing one thing – beaches. I mean, you're in Indonesia, you need to explore some tropical islands too, right? Next stop on our 2 weeks in Indonesia is the Komodo Islands aka one of the new Seven Wonders of the World!

Your day ten will be spent mostly traveling from Borneo to Labuan Bajo (the gateway village to the Komodo Islands). You'd still have enough time to catch a lovely sunset in the evening.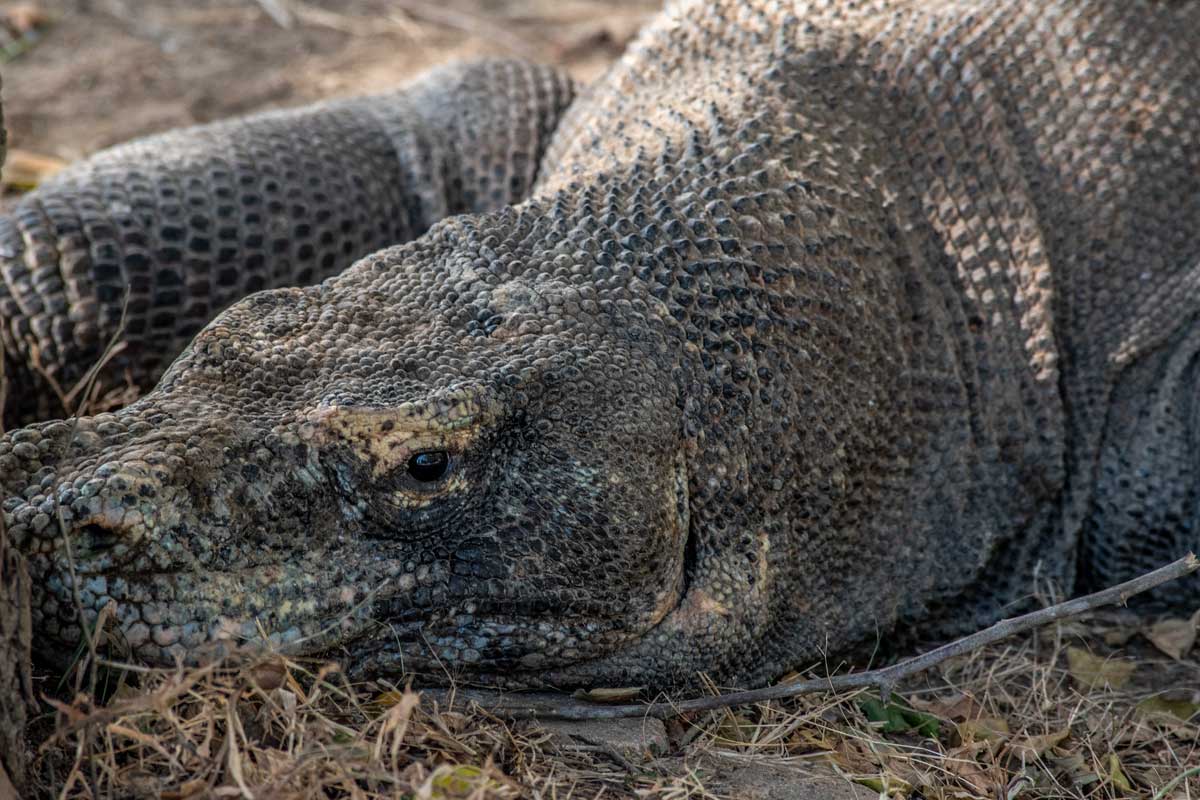 Day 11 and 12, you want to spend exploring beaches (there is a pink one!), spot some marine wildlife (either by snorkeling or diving, Komodo has one of the most biodiverse marine wildlife on the planet) and meeting some Komodo Dragons (huge lizards you can't find anywhere else in the world)! Just like our previous destination, there is no other way to do it without an organized tour.
Read more about my experience of a 2-day boat trip around Komodo Islands with prices, covered spots, and contact information.
Day 13-14: Bali
The last days of your 2 weeks in Indonesia are best spent at the place your flight back home is. Like I said in the begging, there is no better place than Bali for that. Book a hotel close to the airport and just enjoy your last hours in this incredible country, drinking another coconut cocktail by your pool!
More Than 2 Weeks in Indonesia
As mentioned, Indonesia is an incredible land you can spend months and months in and never manage to see everything. If you have more time to spend these are the best places to enrich your Indonesian itinerary.
Nusa Penida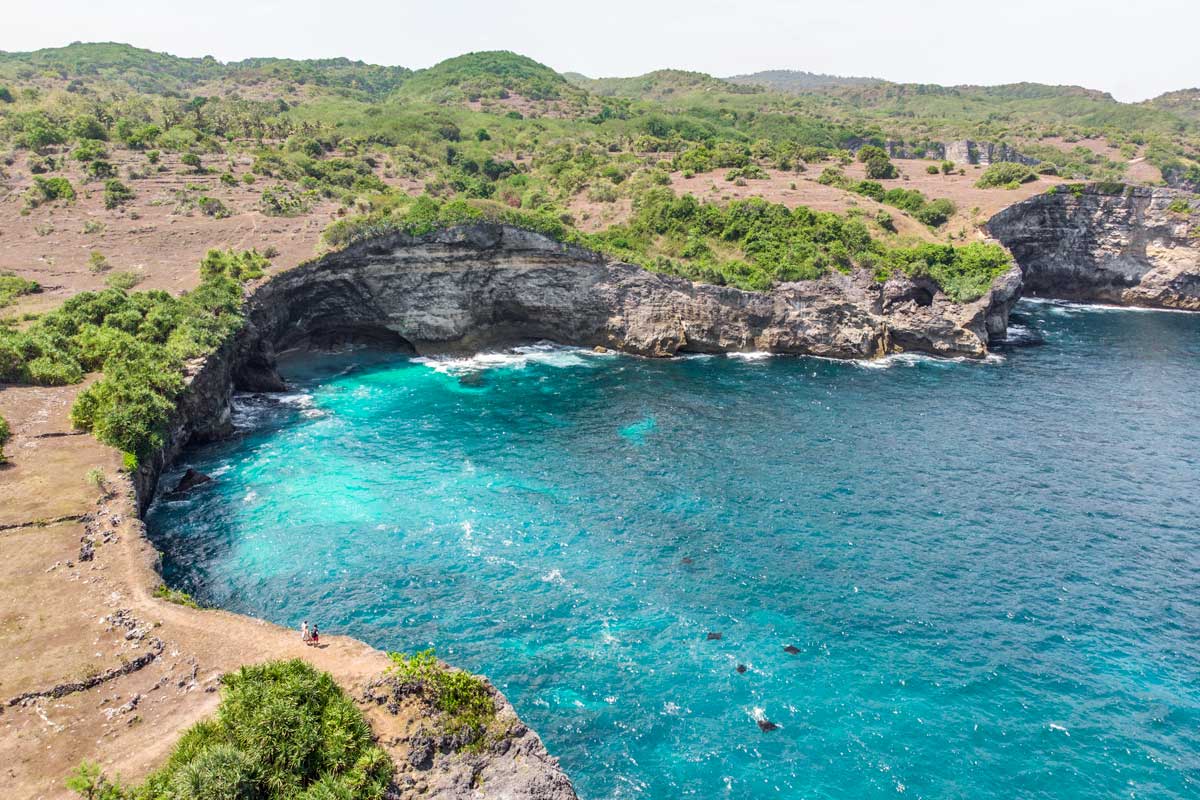 An untamed piece of tropical paradise, Nusa Penida is often described as "what Bali used to be 30 years ago". Due to an increased Instagram popularity, this is about to change soon so its best to see it as soon as possible.
If you want to experience the island thoroughly, you need to spend at least a night on it and get up early to catch the best spots free of people. If you don't have the time to do it, just book a day tour and scroll around the most popular places. Don't expect to have them for your own, though.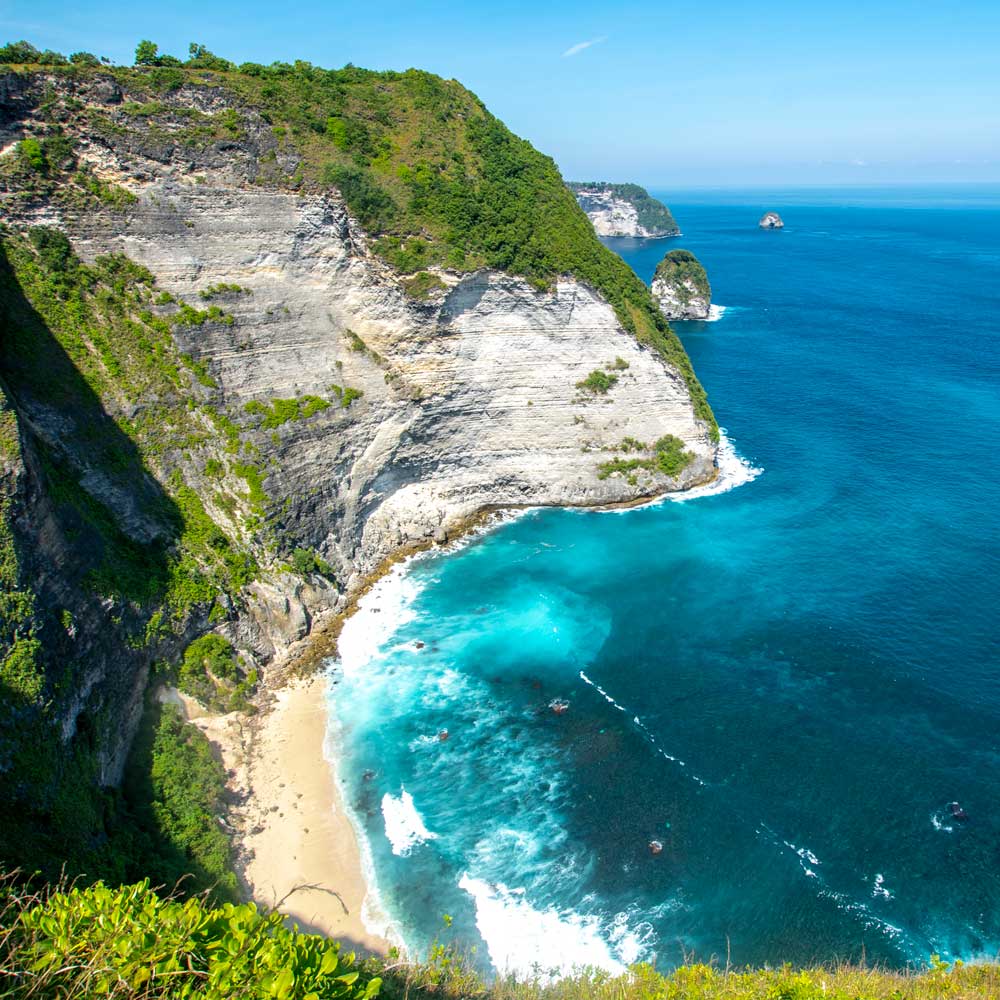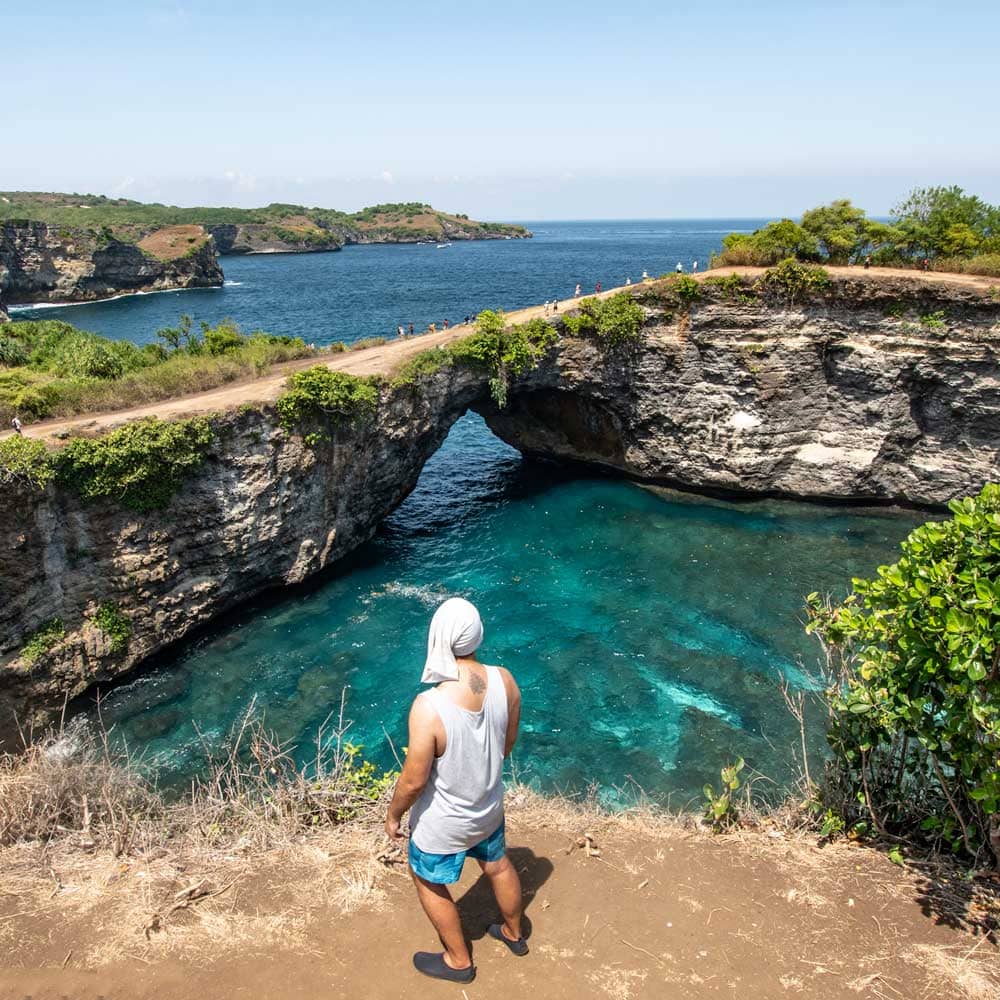 Nusa Penida truly is one of the most picturesque places on earth. The Broken Beach coastal formation and the natural pool of Angel's Billabong seem like taken straight out of a postcard!
And what about the biggest star of the island – Kelingking Beach?
Also known as the T-Rex of Bali, this incredible cliff offers not only an incredible spot for your next profile picture, but also the most beautiful beach in the world (no joke here, Kelingking Beach is the epitome of tropical beaches, and nothing I've seen gets even close to it).
There is a catch though.
To get down the cliff and reach the beach is not an easy task. Just going down can take you up to two hours of dangerous repelling with nothing but loosely spiked sticks for support. And then you have to go up…under the ruthless Indonesian sun. If you don't trust your fitness levels that much, you're better just admiring it from the top.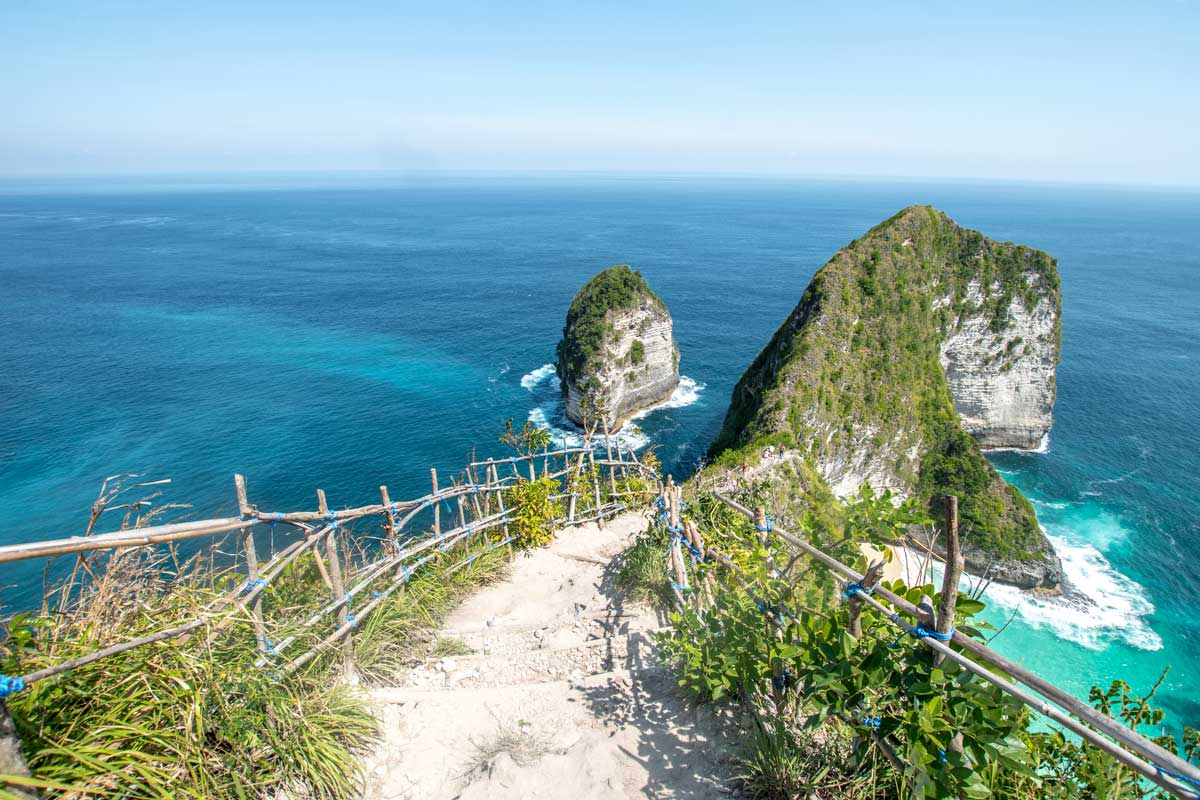 There are plenty of offers about Nusa Penida. If you're going there mostly for the photos, an Instagram Tour is your best option. If you want to enjoy nature, but you don't fancy organizing the trip yourself, this is the regular tour organized by a top-rated operator and this is a premium tour that focuses on less crowded spots. Both of the tours are top-rated and guarantee an effortless adventure.
If you're into snorkeling, Nusa Penida is one of the best places in the country to go under the water with giant Manta Rays!

And if you're not a fan of organized trips, you can simply rent a car + driver (very handy for this island) and explore on your own.
Raja Ampat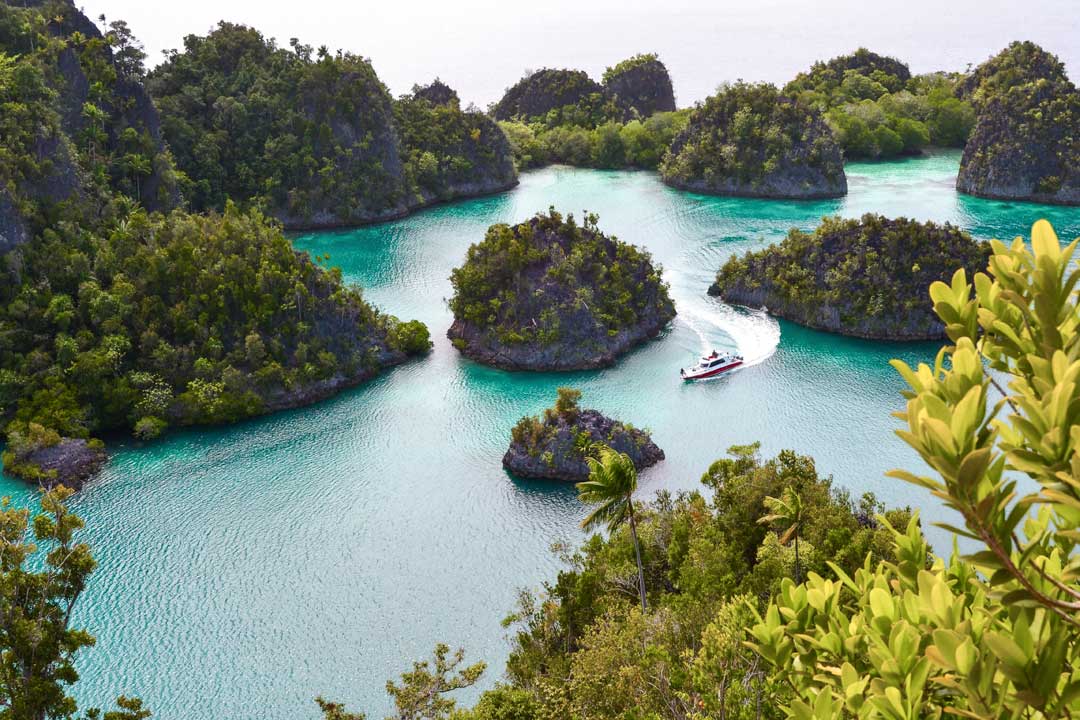 To understand what Raja Ampat is, you better check out its nickname – The Last Paradise on Earth. The out-worldly Indonesia archipelago lies in the Coral Triangle (Philippines, Timor, Papua New Guinea) and it's among the most biodiverse places on earth! Home to numerous endemic species and three-quarters of the world's coral varieties, Raja Ampat, is the Mecca for divers.
Diving is not your thing? No problem! There are over 1,500 wild tropical islands to explore and enjoy.
Now you probably wonder: How come I've never heard of this place? What's the catch?
And you're completely right. There is a catch – the place is quite remote and not that easy to reach. You need to fly to the nearby city of Sorong and coordinate a boat to wait for you and take you to your hotel/homestay. There aren't many hotels, and the homestays truly are homestays. The conditions are often just basic while the prices (including the region Eco tax) are quite steep.
Nevertheless, if you're ready to leave the western comfort behind for a while, Raja Ampat truly is this secret paradise that can take you away from the hustle and bustle of the modern world and immerse you in nature's last Garden of Eden.
Finding a place to stay in Raja Ampat is a bit tricky. While Booking and some other hotel sites do have several offerings, your best bet to find a good accommodation (and a ton of information about the archipelago) is this site.
Yogyakarta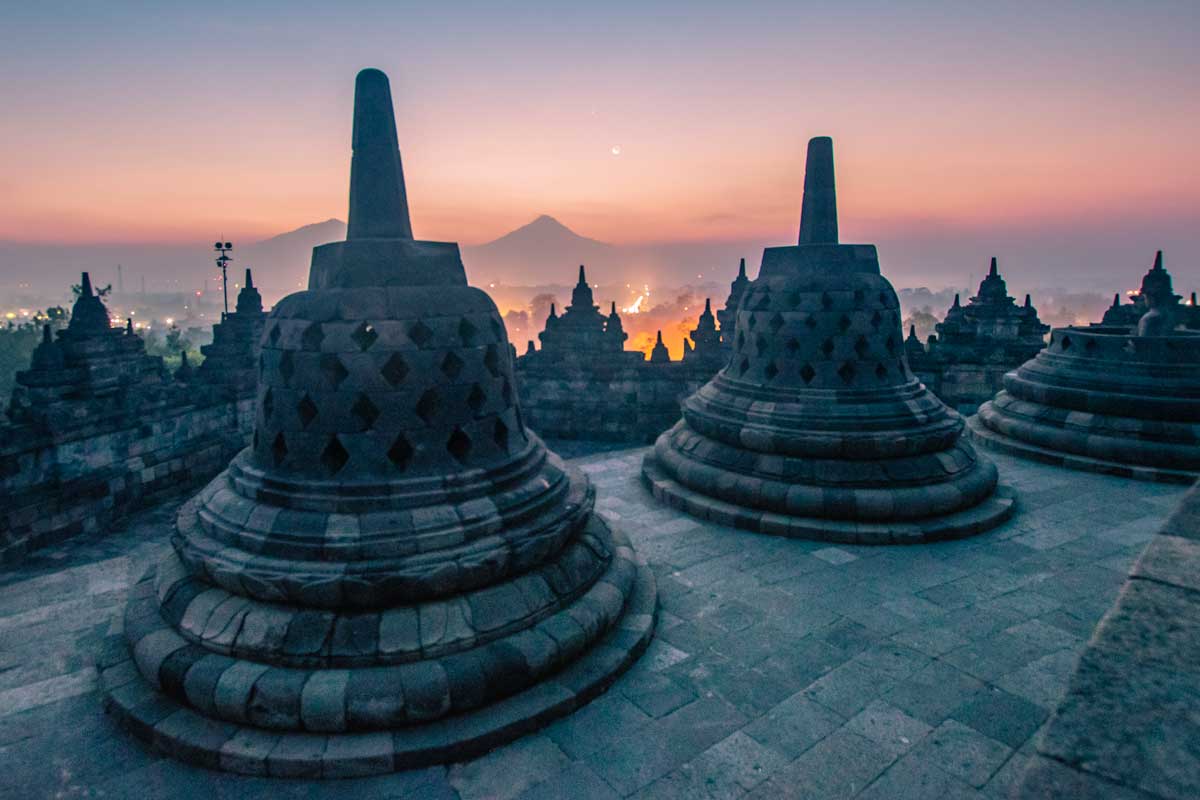 Pronounced 'Jogjakarta' but often called just Yogya, 'Jogja', this metropolitan city is home to over 400 thousand people (4 million in the area).
Yogyakarta, alongside its twin city Surakarta used to be the center of the 8th–10th century's Mataram Kingdom and it's considered to be the birthplace of the civilization on Java. And while there are a few picturesque caves ( Jomblang Cave is a top choice!), an ancient Volcano and even some sandboard-perfect dunes, the main attraction, people flocks to Yogyakarta for, are the Prambanan and Borobudur Temples.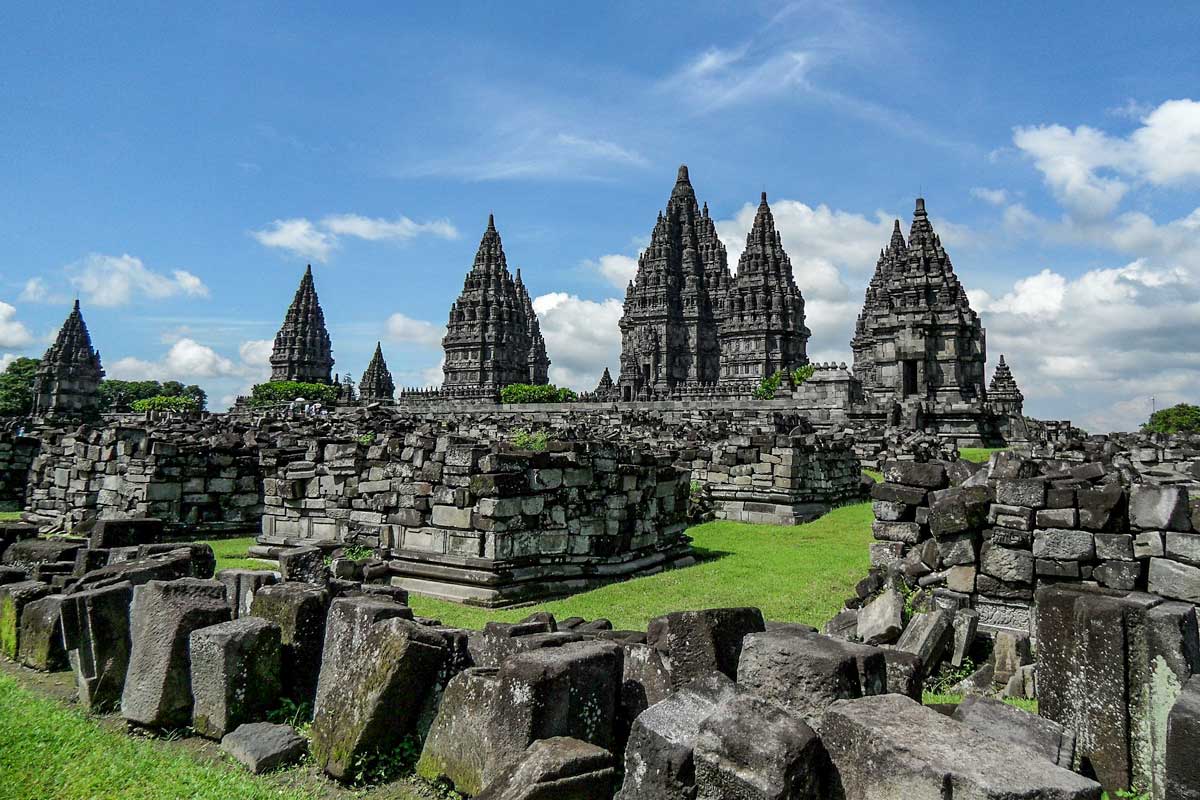 Built in the 9th century, Prambanan is the largest Hindu temple in the country. It's dedicated to the Hindu deity Shiva. The temple is built in ancient Indian style with spiral towers representing Mount Meru – the home of the Gods.
Prambanan is considered to be made by the Hindu Sanjaya Dynasty as an answer to the Buddhist Sailendra Dynasty's temple – Borobudur.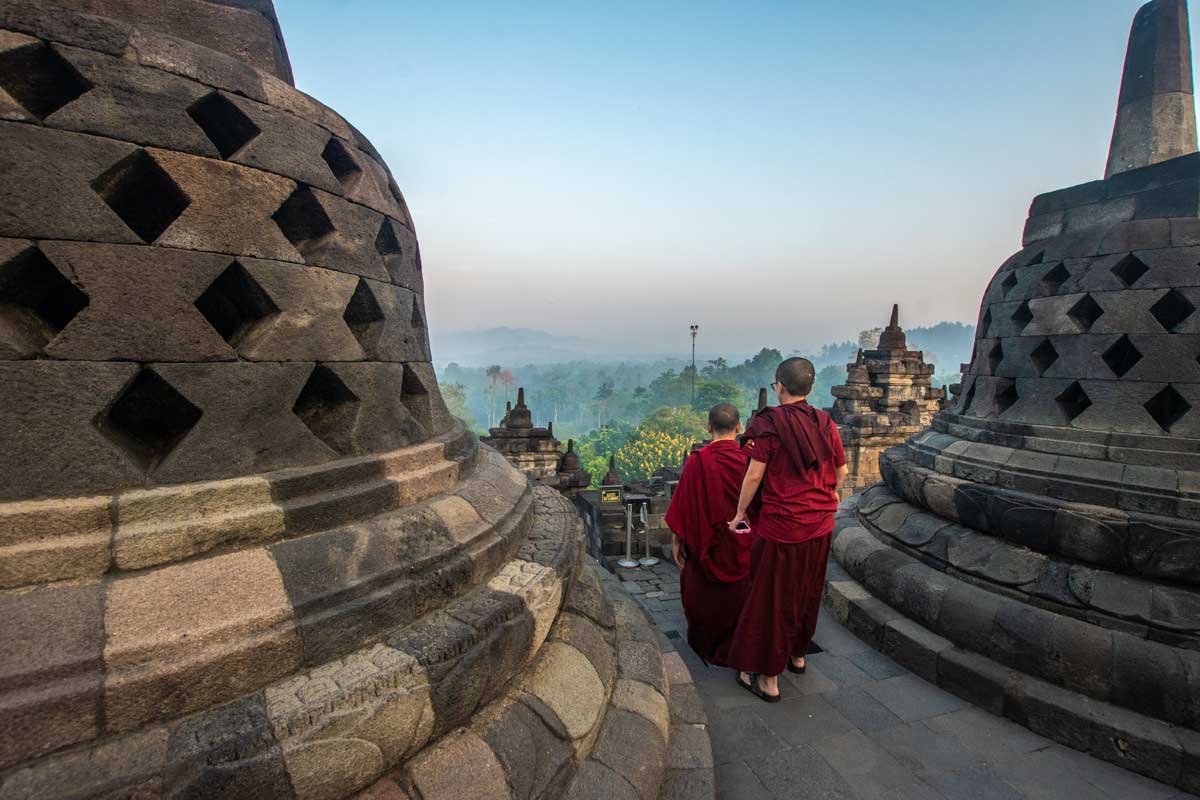 Speaking of Borobudur, this UNESCO Wolrd Heritage Site is the biggest Buddhist temple in the world and also one of the most visited touristic attraction in Indonesia.
The massive temples measuring 123 x 123 meters is decorated 504 Buddha statues and staggering 2,672 relief panels depicting various events from Buddha's life next to important Buddhist scripts. The cherry on the top is literally on the top. 72 Stupas, each containing a Buddha statue inside, surround one massive Stupa that is a symbol of the enlightened mind.
Greeting the sunrise in the temple is one of the most popular attractions in Indonesia.
If you decide to put it in your itinerary, check out everything you need to know about sunrise in Borobudur.
Sumatra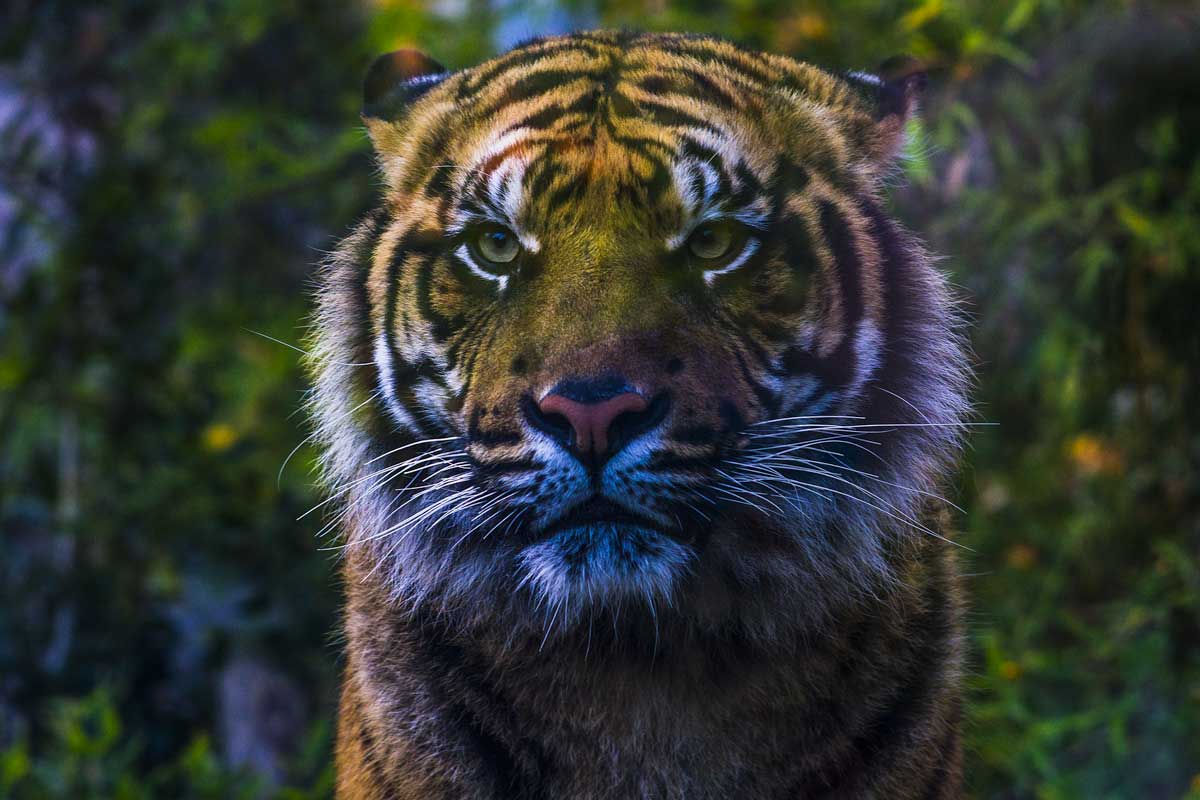 A large island in the western part of the country, just a mention of Sumatra can spark a wanderlust of exotic adventure. A land famous for its wildlife, Sumatra is one of the only two places in the world where you can see Orangutans in the wild (the other is Borneo, which is already part of our 2 week Indonesia itinerary).
It's also a place to see the endangered Sumatran tiger and if you're very very lucky – a Sumatran rhinoceros!
There are also a few small islands in the area, like Nias and Mentawai Islands, perfect for the surf enthusiasts.
How come Sumatra is not on the 2 week Indonesia itinerary? The wildlife is quite hard to spot, and for me, Borneo and Komodo are the superior experiences.
Gili Islands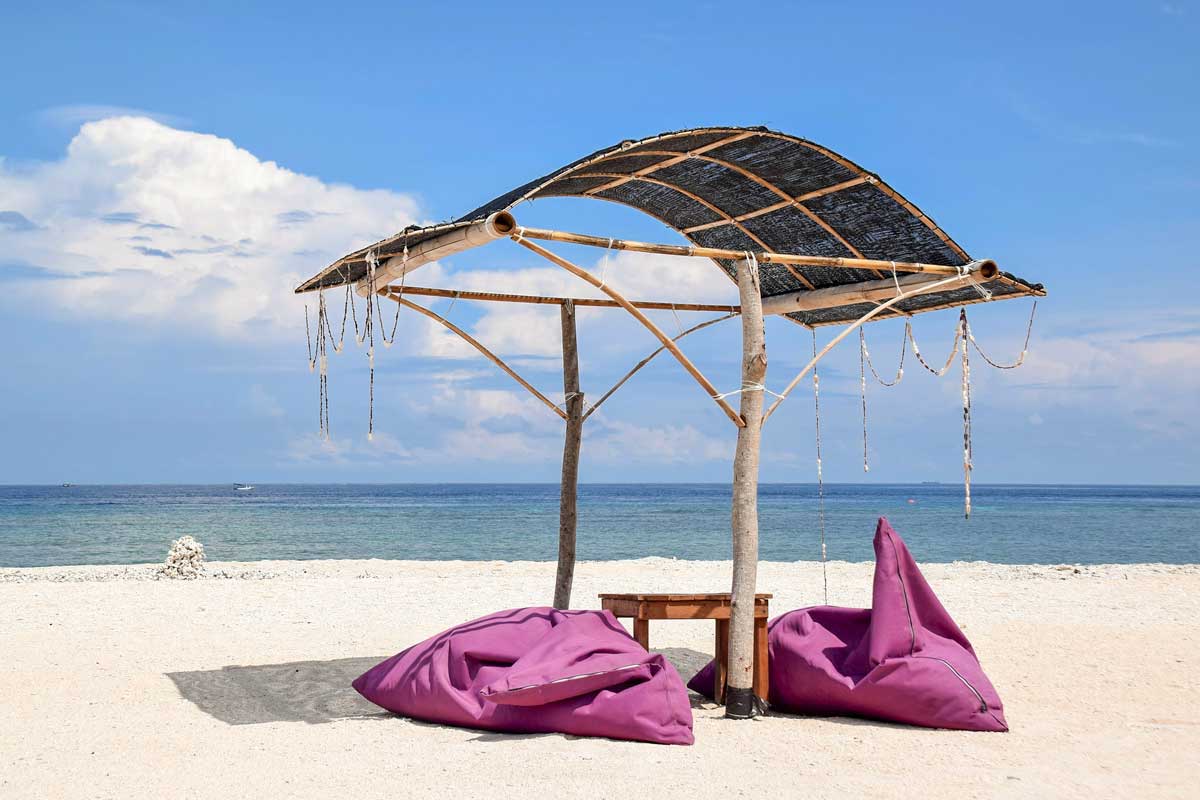 A group of 3 small islands east of Bali, the Gili Islands are considered to be the embodiment of tropical paradise. Turquoise waters fringed by white sands and coconut palms.
Sounds good, right? Here comes the best part, there are no cars and motorbikes on the Gili islands – something impossible to find anywhere else in Sout-East Asia. Gili Islands are just made for relaxation.
Why aren't they in the main itinerary? Well, besides being a beach bum, there are very few things to do there. If, however, you visit Indonesia with the primary intention to catch some sun on a postcard-perfect beach, Gili Islands your place!
You can visit Gili Islands on an organized multi-day trip from Bali or you can simply get speed boat tickets from Sanur pier and explore them on your own.
The Ijen Volcano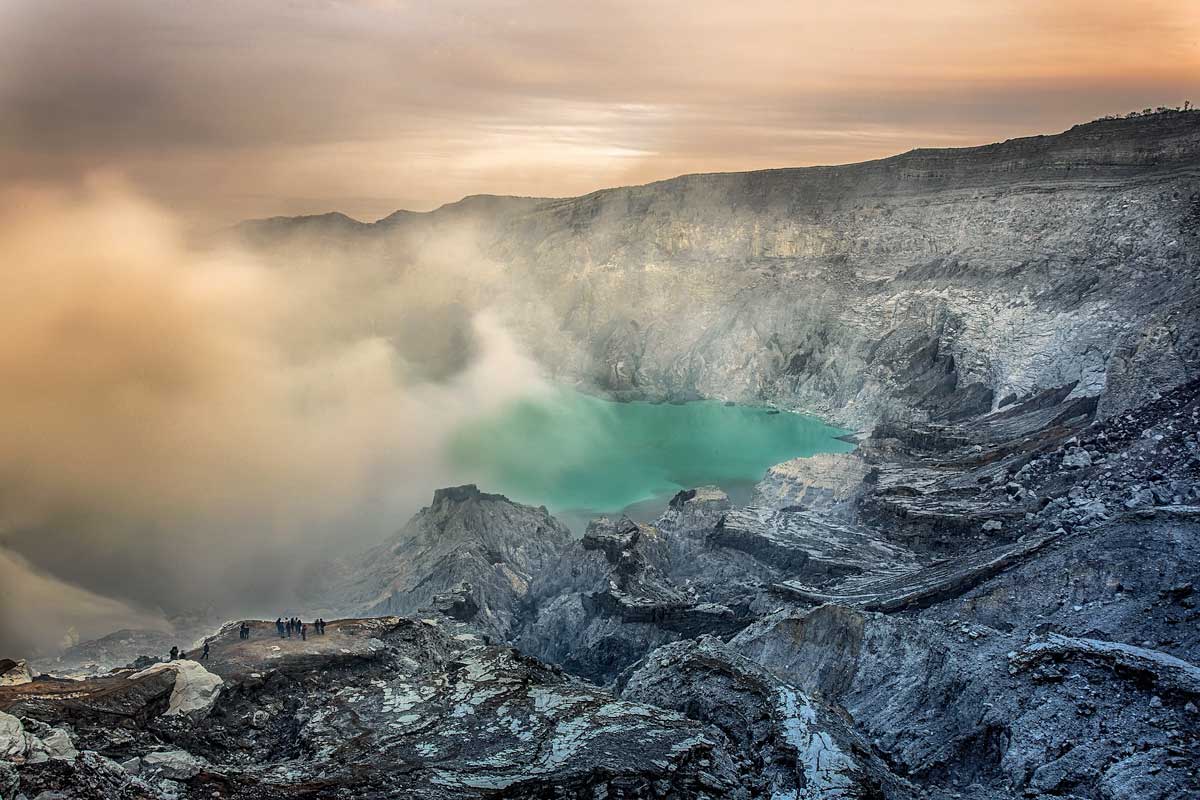 Kawah Ijen is a volcano located in eastern Java, between Mount Bromo and Bali. A lot of tourists that go for Bromo set Ijen in their itinerary too because…if you gonna climb a volcano, why not climb two?
But Ijen is not just another volcano. While it may look regular by day, if you make the effort to climb it at night (and you definitely should!), you'd enjoy a fantastic light show. The high sulfur deposits of the volcano create one of the most extraterrestrial views on the planet – the Blue flames of Ijen!

Why is Ijen not part of the 2 week Indonesia itinerary?
With your limited time, I want to show you every aspect of the country. And while Ijen is definitely an incredible sight, it requires a hefty night trek. Also, I still rate the Bromo experience to be the superior one.
You can visit Ijen, Bromo and still save time is via organized tour but have in mind the experience to either of the volcanos won't be as good as doing it yourself.
Indonesia FAQ
Exploring Indonesia is not hard by any means, however, there are a few things you better know before you set your foot in the land of giants.
What is the best time to visit Indonesia?
There are two seasons in Indonesia – wet and dry. The dry season is between May and October while the wet one goes from November through April (January and February being the worst). The peak tourist season is quite naturally in the dry season, mostly between June and September (the summer months in the northern hemisphere).
However, I would argue those are not the best months to visit. Everything is twice the price, and there are huge crowds everywhere you go.
The wet season in Indonesia is not that bad at all. Unlike other tropical countries, Indonesian rain period consists of short, but intensive pours and the temperatures rarely go under 28 C.
More about the weather inIndonesia
Money in Indonesia
In most of the big cities and Bali, It's easy to pay via card. Some of the more remote places though (like Bromo, Borneo or even around Borobudur) would accept cash only.
When you exchange money, don't do it with significant amounts. 1 USD is more than 15 000 Indonesian Rupiahs. The largest bill currently is of 100 000 Rupiahs. So unless you want to transport your money in a separate suitcase, mind the amounts you're exchanging.
See the latest IDR rates.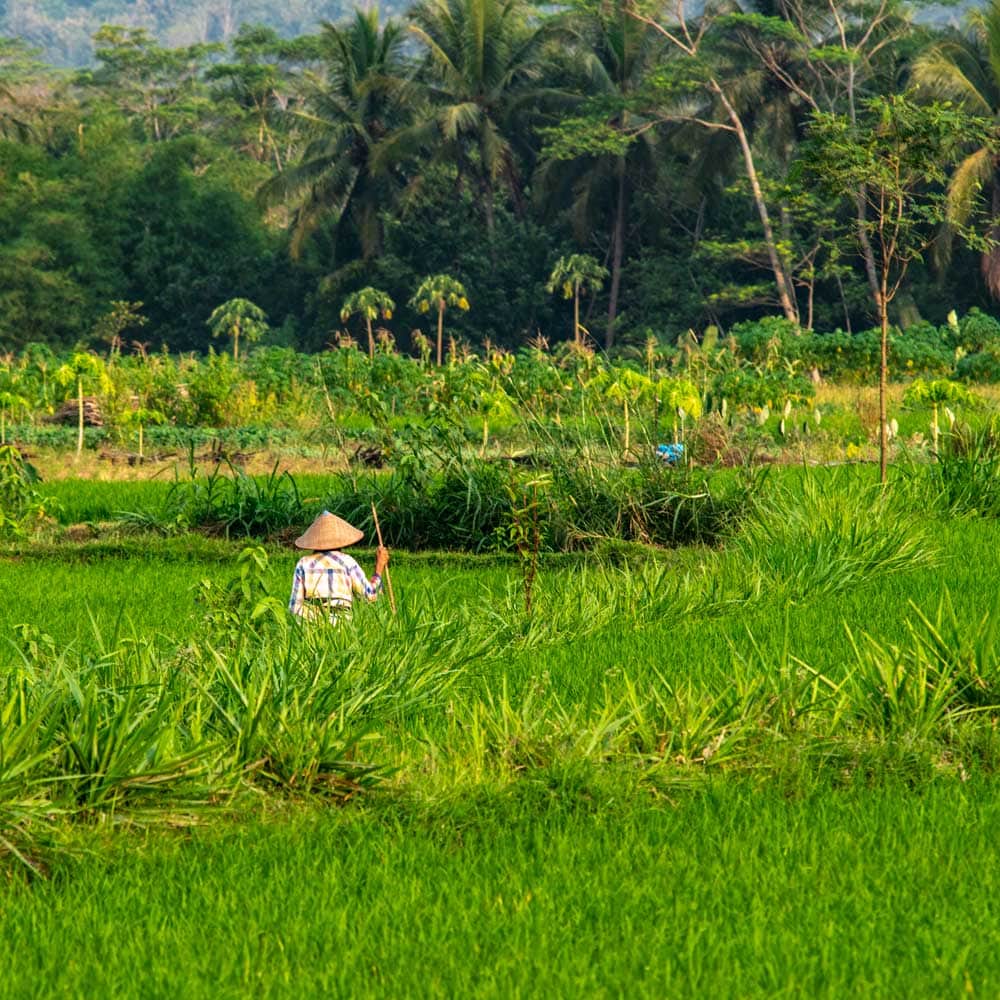 How is the Internet in Indonesia?
The Internet is not Indonesia's strong side. A relatively new communication medium in the country, the speed of download using 4G LTE was only ranked 74th in the world.
In Bali, there won't be any trouble. Bali is the hottest spot for digital nomads and influencers. Other parts of the country though… Even if you get a local SIM card (something you most definitely should do), don't expect a lot of coverage around Mount Bromo, Borneo, the Komodo Islands or Raja Ampat. For me, a few days off the grid was more of a welcome retreat than an inconvenience but it's good to have it in mind.
Back to the local SIM card. Don't buy them at the airport! The price is 3-4 times as high there. Telkomsel offers the best 4G coverage around the country but are more expensive and have very confusing packages (you got youtube MBs, social media MBs and stuff like that). If you get one of their cards, be prepared to run out of internet way before you reach the quota.
XL is the other big operator in the country. They are cheaper and have clear data packages, but their 4G coverage is not as good as Telkomsel.
Probably the best option is to buy the SIM card online and have it waiting for you at the airport. There 're different options to chose from and you're sure you won't be scammed.
Transportation around Indonesia
There are plenty of ways of transportation around Indonesia. With 22 air carriers and 230 airports, taking a domestic flight would be the most convenient option. If you're not that into flying, there is a vast transportation network of buses and trains. Something worth noticing is transportation around Bali. Renting a scooter is the easiest way to get around the island but the traffic is so chaotic I don't recommend getting one unless you're very confident in your skills. This is the reason I've listed plenty of private driver options to help you reach the scattered Bali attractions.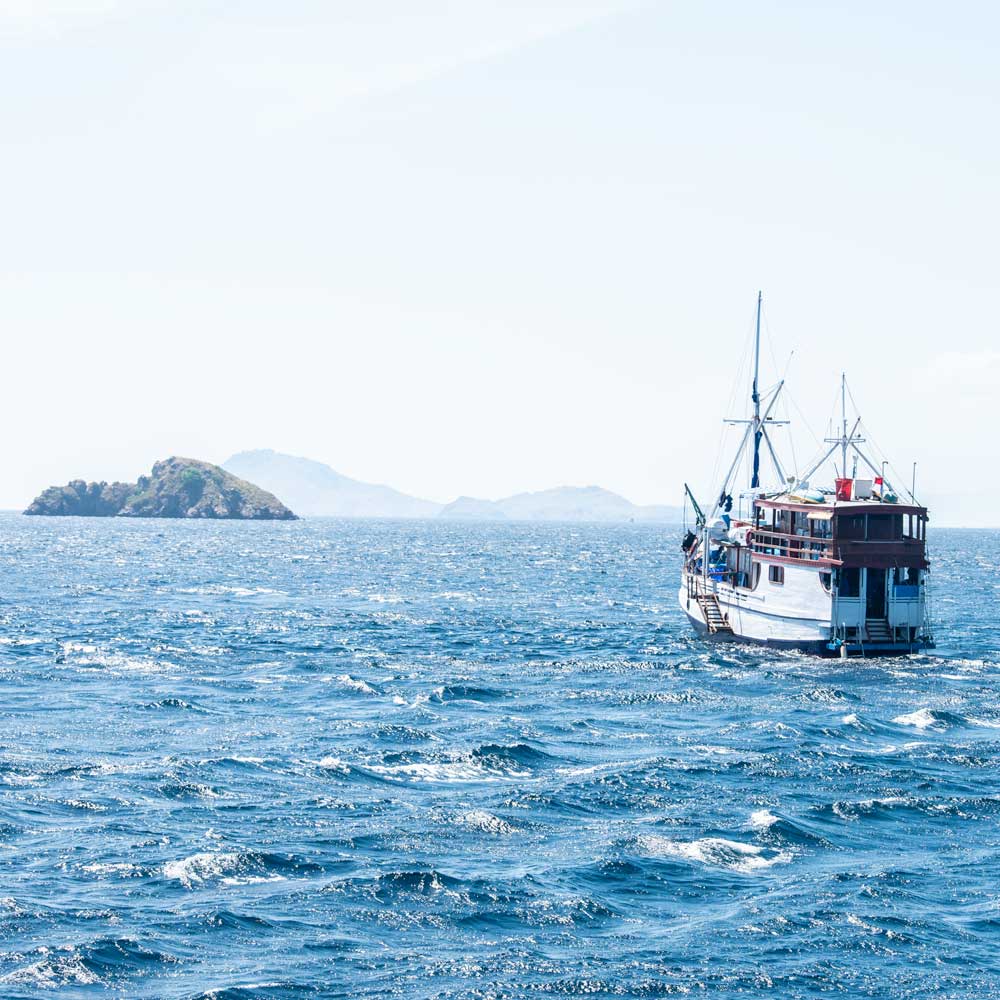 Is Indonesia safe?
Honestly, there wasn't a moment in Indonesia that I felt unsafe. The local people are among the friendliest in the world and are always there to help you. To travel to Indonesia without travel insurance is way big of a risk though.
The Indonesian airlines are not the most reputable in the world, and it's not a rare case to be delayed or to have your luggage lost. Moreover, you're going to Indonesia for an adventure, and travel insurance would certainly set your mind at ease when you are climbing a volcano or trekking around a rain forest.
I currently use HeyMondo for my travels because they have proven themselves to me more than once over the years. The link above will give you a 5% discount, but If you have another favorite provider, that's ok. Just make sure you have one because you never know what may happen.
That's all from me, I hope you found everything you need for your 2 weeks in Indonesia.
————————————
If you haven't planned your trip there yet, find out how I plan my trips!
————————————
I have 22 bucket list ideas for Indonesia. See my impossible bucket list of 1700+ adventures!

Is Indonesia on your bucket list?
---
Some of the above are affiliate links and I will earn a percentage of the sale if you purchase through them at no extra cost to you. This helps keep my site running – so thanks in advance for your support!