The Bangkok souvenirs are colorful, peculiar, oddly smelling, and a guaranteed conversation starter. The capital of Thailand is visited by more than 10 million people each year, and a large portion of them ends up leaving with a Bangkok souvenir or two. Thankfully, the City of Angles is well prepared for this tourist-hunger, and a variety of memorabilia can be found anywhere around town.
In this post, I will mention only items that I find unique for the area. Yes, classy spa products, handmade bags, watches, and cell phone cases are overwhelming the Bangkok markets, but I don't consider them something exclusive enough for my list. If you want to remember your Bangkok adventure, you need some Bangkok souvenirs that literally screams Bangkok. Am I right?
Scarves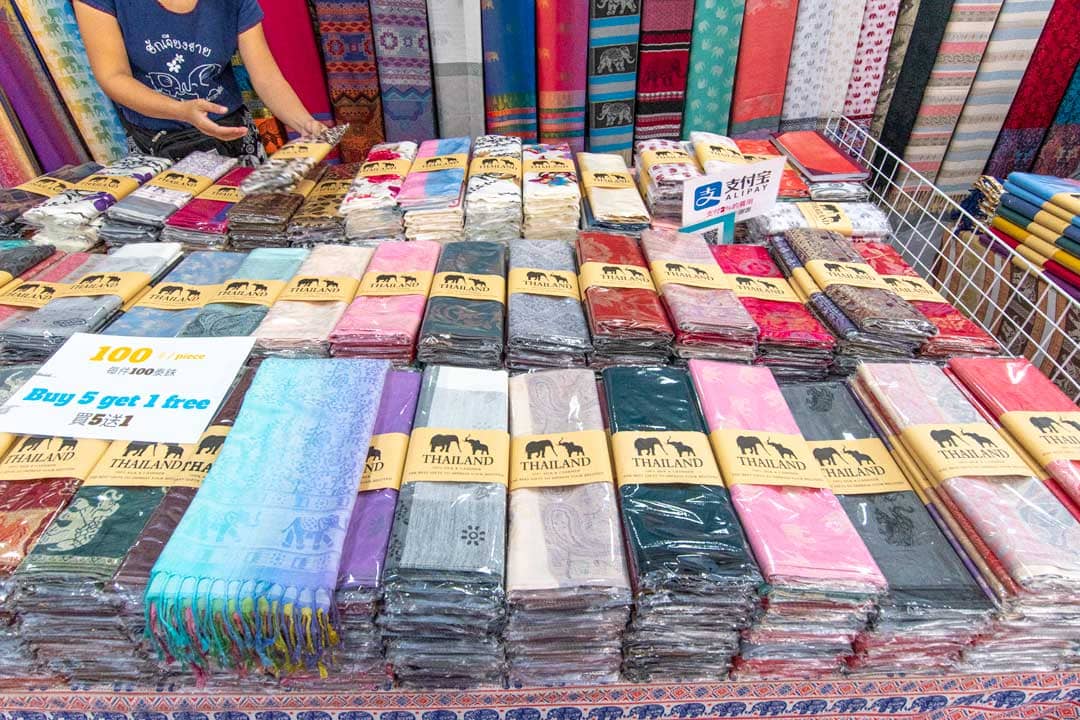 :Sight: Yeah, you got me. I'm bragging about showing you one-of-a-kind Bangkok souvenirs, and the first item on the list is the most common souvenir in the world. Yes, I know you can find touristy scarves in literally any country, but the Thai ones are worth a mention.
Why?
Because the original ones are made from the world-renounced Thai silk.
The way of producing the material is very specialized. The caterpillars that provide the fiber are kept on a strict diet of mulberry leaves, which guarantees the softness of the end product. The result is outstanding. Keep in mind that the original Thai silk products are a bit more expensive and can reach prices up to 6.000 THB. If that's too expensive for you, you can get a regular elephant-printed scarf at any night-market around town for a fraction of the cost. Don't expect the same heavenly softness, though.

Where to find: Jim Thompson stores; Any big mall
Weird carved soaps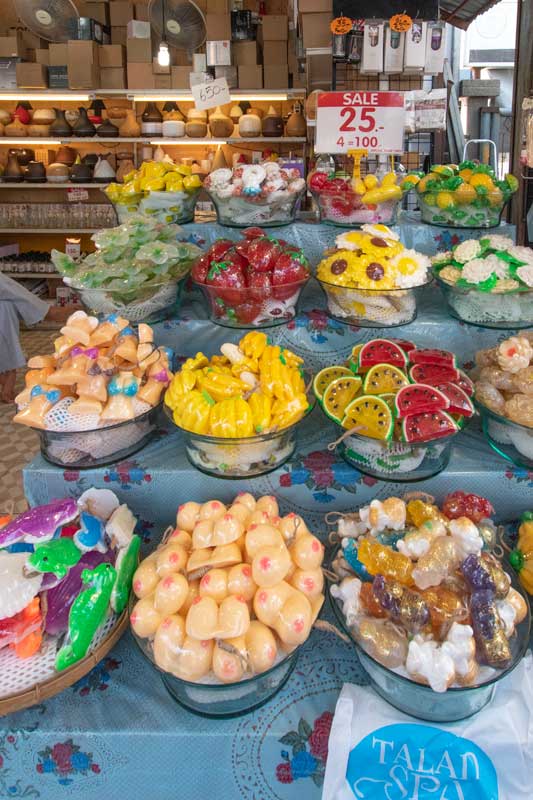 These can be found all around south-east Asia, and they are making their way to Europe too. Tiny soaps with heaven-like aroma crafted like fruits in such detail that you can barely hold yourself from taking a bite.
Bangkok artificers decided to go a step further, though. You can still find the tiny fruit-shaped soaps, but among them, there would be some nasty ones too. From breast-shaped to penis-shaped, if you want to bring someone a cheeky Bangkok souvenir, that's the best option.

Where to find: Chatuchak weekend market; Night markets
See Also: The Ultimate Thailand Travel Guide
Durian treats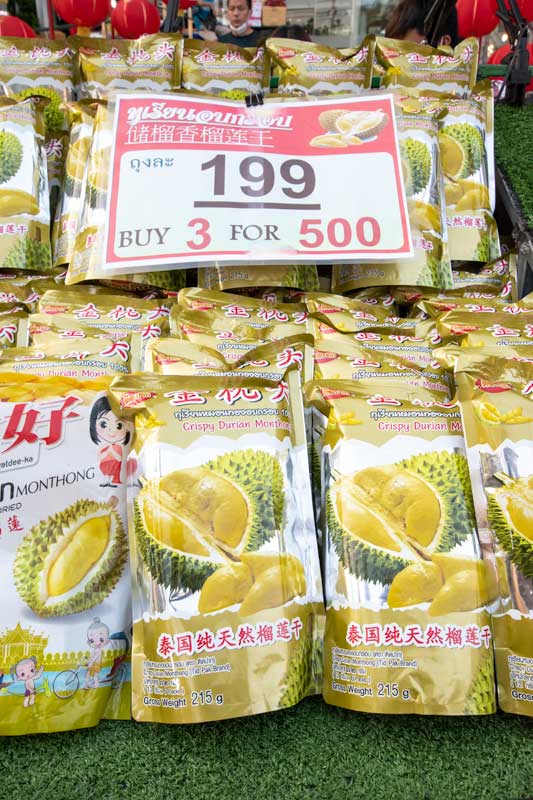 Have you heard of durian? Nicknamed the King of Fruits, this Asian delicacy has a controversial reputation.
Really…a controversial fruit?
I know it sounds weird, but the durian is the epitome of you-either-like-it or-hate-it food. That's because of its unique smell, not only incredibly intense but also perceived differently by everyone. For some, the durian smells like a light bouquet of tropical fruits, while for others, it's like rotten onions or a gas leak. The durian is so controversial that it's banned from eating inside almost anywhere in South-East Asia.
You can't really take the fruit itself (banned on airplanes too), but there are plenty of different treats to compensate for that. Dried durian, durian chips, durian candy, no matter which one you pick, this would be a great Bangkok souvenir to bring to your office colleagues (personally tested).

Where to find: Big supermarkets; Most night markets; Talad Rot Fai Train Night Market
Elephant pants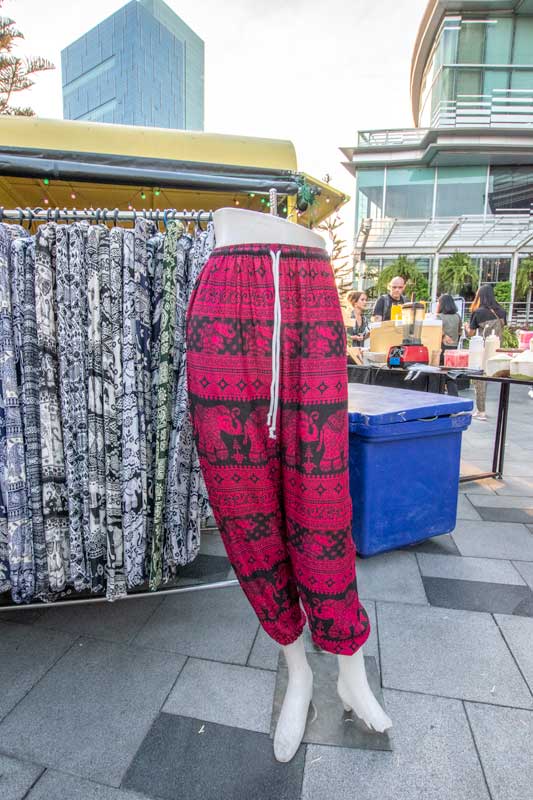 You've probably seen them and maybe even made fun of people having them. The elephant pants are the most touristy clothing to wear in Thailand, but…they are comfy as hell.
Created as cheap clothing for tourists who didn't bring proper attire for a temple visit, today the elephant pants have become some sort of symbol of the backpackers in Asia, and as soon you put one on, you'll find out why. Light and breezy, you feel like you are walking in your underwear, and that's a welcome treat if you're exploring the scorching sois of Bangkok. And they look so funky oriental too. The perfect Bangkok souvenir to take home with you or gift to someone interested in yoga and similar stuff.

Where to find: Night markets, malls, or street stalls, you can find them anywhere.
See Also: The Ultimate Bangkok Shopping Guide
Odd supermarket snacks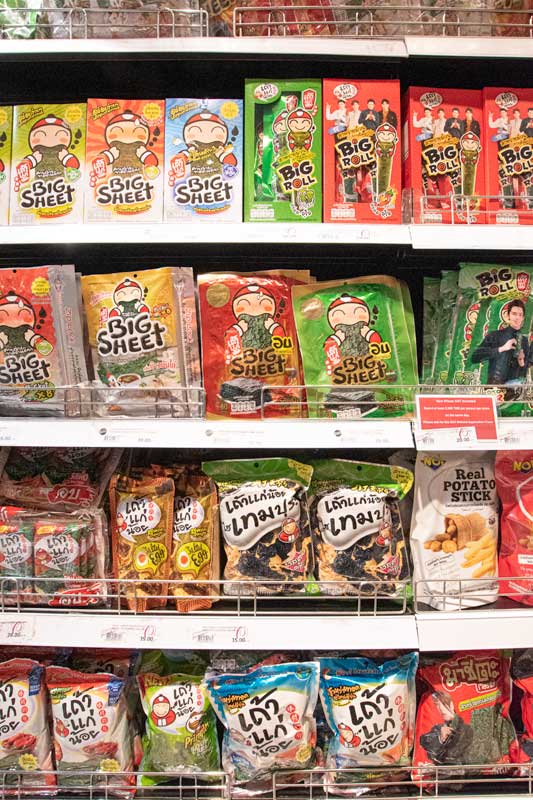 The first time I was in Bangkok, I decided to be adventurous and try one of those exotic looking chips-like products in the supermarket. I ended up with pork feed flavored seaweed. Yes, that's a thing in Bangkok. Needless to say, I got the weirdest (including pork sticks, dried squids, and edible insects) looking ones back home to distribute around the office. People love to try strange things.
You can find odd but tasty treats in the supermarkets too. Coconut candies, dried mango/papaya/banana, and other delicious sweets can help your colleagues like you again.

Where to find: Family Marts; Seven Elevens; All big supermarkets
Muay Thai equipment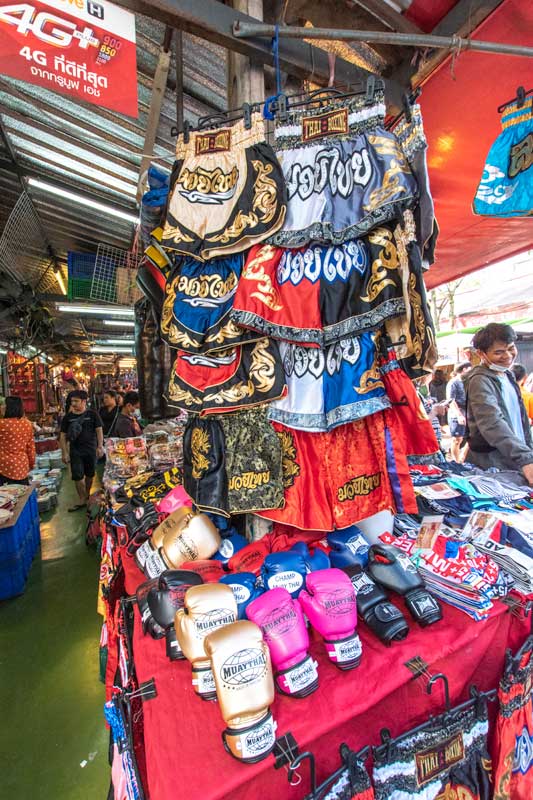 Muay Thai is the traditional Thai martial art. As it grew in popularity all over the world, the Muay Thai equipment became a craved souvenir for many fans.
If you're one of them (or have a friend who is), getting some shorts or gloves from Bangkok is the most perfect gift. The shorts especially are super comfortable, so even if you have no intention to step on the ring, they would come as very usable house/sleep wear.
You can find Muay Thai equipment everywhere in Bangkok, but to add an extra dosage of coolness, go watch a Muay Thai fight and buy your shorts from there.

Where to find: Night markets; Malls; Chatuchak weekend market; Rajadamnern Boxing Stadium
Thai spices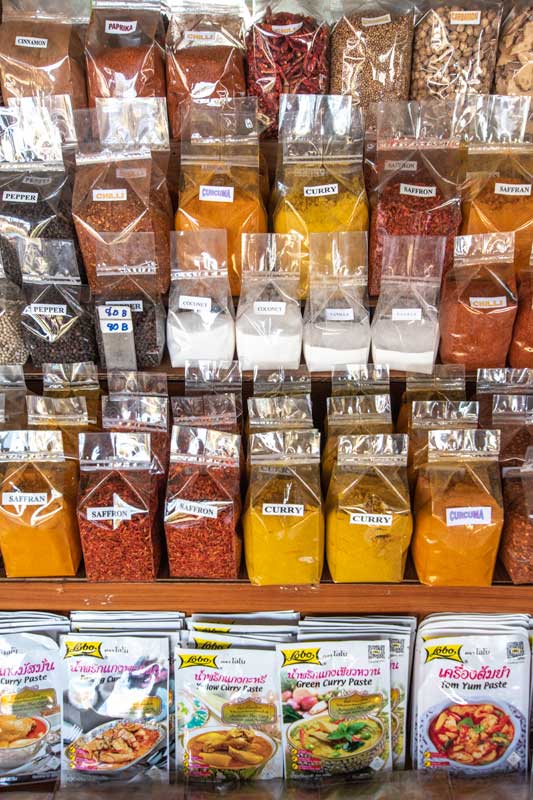 You fell in love with Thai food, and you want to keep enjoying it back home? Then the Thai spices are the souvenir for you. They come dried and vacuum-sealed, so no need to worry about opening inside your bag, giving your clothes a Pad Thai scent for eternity.
Don't buy random spices, though. Research your favorite Thai dish and find out precisely what you need. Even if the spices can be found in your home country, trust me, the Thai ones would be so much better. It's also a perfect gift for a friend who enjoys cooking.

Where to find: Any supermarket; Night markets; Chatuchak weekend market
See Also: Where to Stay in Bangkok
Amulets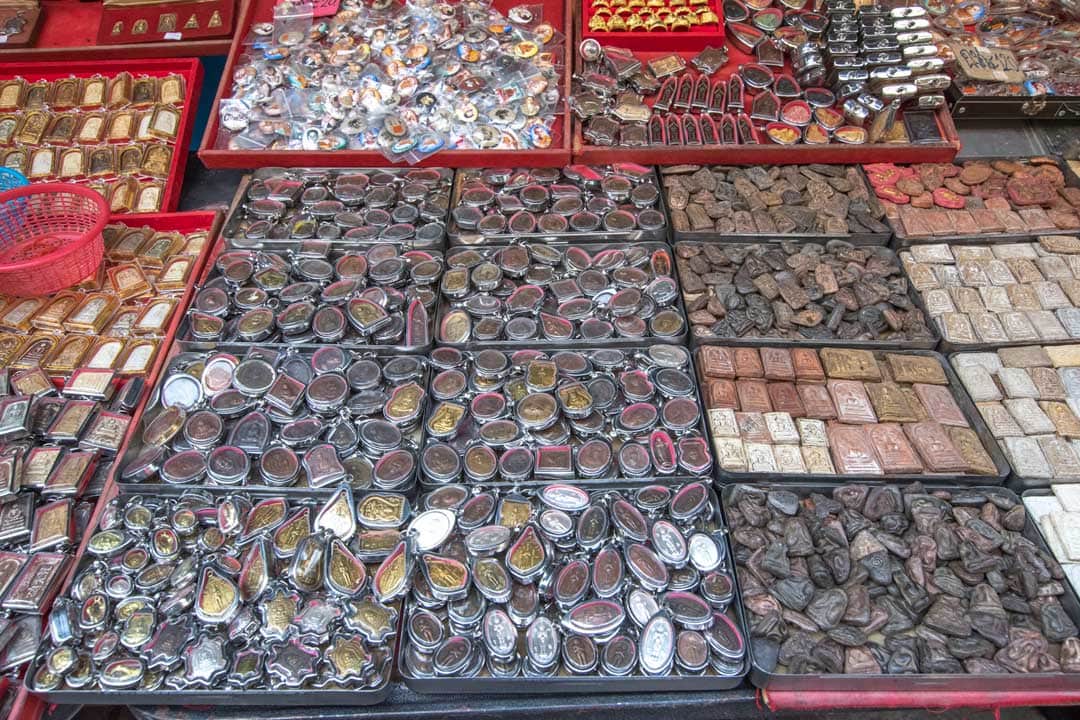 Getting a Buddhist charm won't only be a souvenir but also a tool to help enhance luck in different aspects of life. Yes, the amulets can help with your health, your marriage, your finances, and they make a great souvenir.
The authentic Thai amulets are made using the Buddha image and an image of a famous monk. They vary in size, shape, and material, and their price depends on their scarcity, their maker, their age, and the magic classes they posses.
If you want a genuine amulet, you can get it from any of the major temples in Bangkok. If you don't believe in magick and blessings and you just like the looks of it, you can find plenty of knock-offs at Chatuchak weekend market. At the Amulet market near the Grand Palace, there are both authentic and cheap ones (observe which stalls are monks buying from).
Something vintage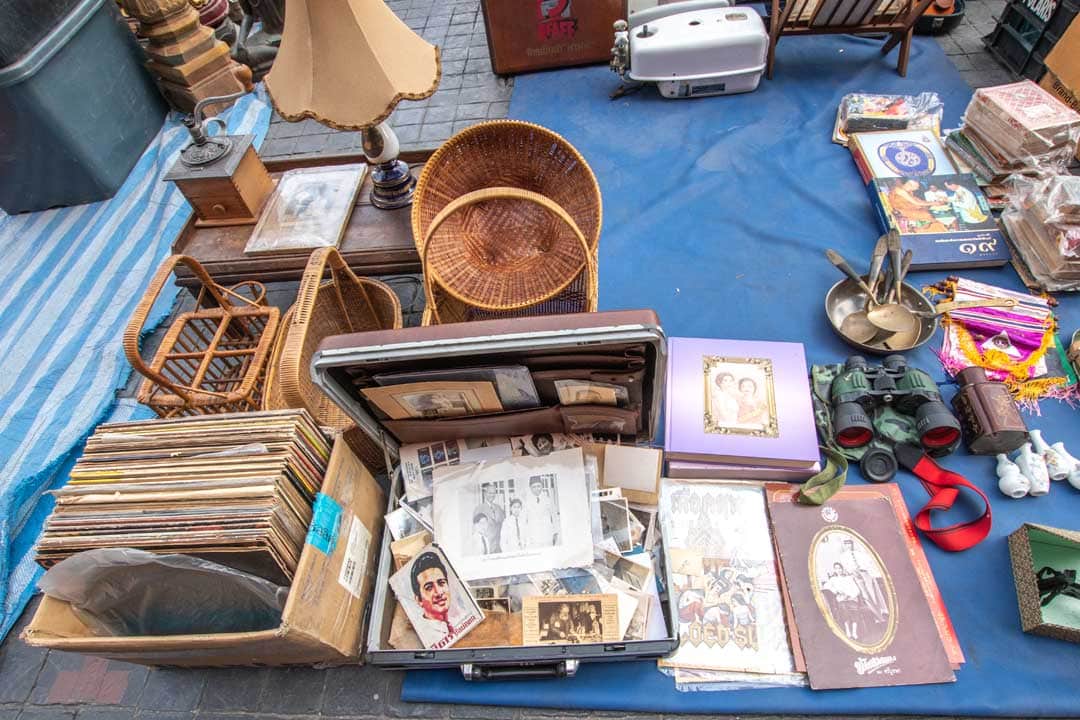 You are after something really unique? Something with history in it that can't be bought at every second market stall?
No, I'm not talking about antiques (although they make a great gift if you have the funds to get one and secure its transportation and permits), I'm talking about vintage Thai memorabilia.
Make your way to The Camp – a classic Bangkok flea market and get amazed by the thousands of vintage goods there. The stuff you can find in such a place is unexplainable. There's literally everything the locals found in their grandparent's attics. From the usual things like lamps and house decoration to the really odd ones like black-and-white family photos, old Thai magazines, or the random Hulk statue, there's truly everything, and it's as authentic as it gets.
See Also: How to Spend 2 Days in Bangkok
Something creepy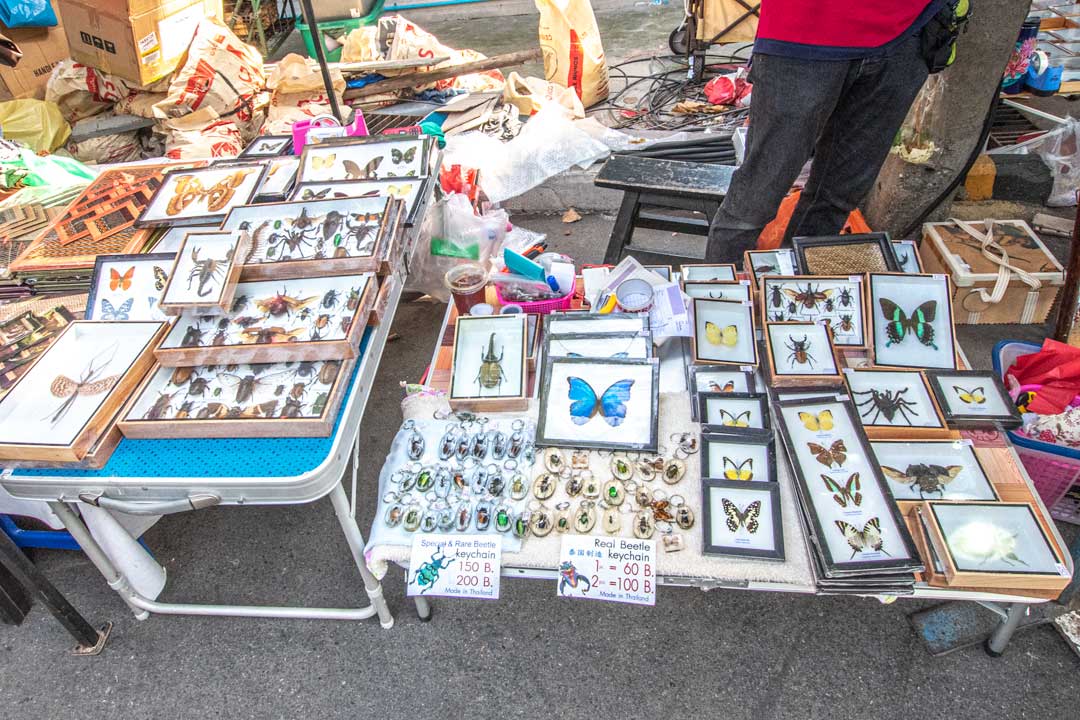 If you want to surprise your friends and show them how exotic your vacation was, get one of the creepy Bangkok souvenirs. I mean, what better way to "wow" someone than giving them a bottle of whiskey with a snake/scorpion inside. Yes, that's a thing. It's a bit hard to find, though. It's not a typical Thai thing, and it's way more common in Laos, but you can usually find in around Khao San Road or at the Chatuchak weekend market.
Other creepy souvenirs would be a framed scorpion, tarantula, or insects. Those are easier to find, especially at Chatuchak.
See Also: The Hidden Gems of Bangkok
Bangkok souvenirs to stay away from
As you see, there're plenty of options for a great Bangkok souvenir. There're a few you should refrain from buying, though. Here are the terrible Bangkok souvenirs:
Buddha statues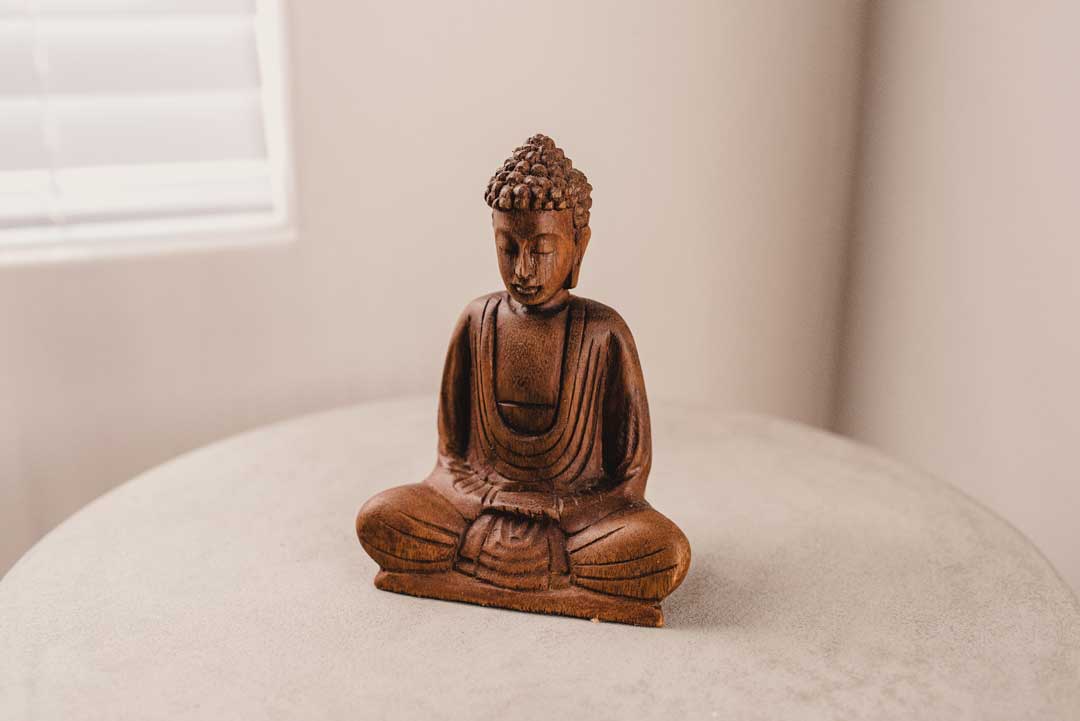 Buddha's image is sacred in Thailand, and even wearing a t-shirt with it would be considered inappropriate. I won't even mention how offensive a Buddha tattoo is. Thais take their religion very seriously.
You'll see plenty of souvenir shops selling Buddha statues, but if you want to take one home with you, have in mind that the country recently passed a law that requires special permission for any Buddha statue bigger than 12cm.
Anything weapon-like
That's not strictly a bad Bangkok souvenir; it's bad no matter the country. Yes, that battle-axe replica may look awesome, and this ornamented sword may look great on your wall, but trying to get this through the airport would be a nightmare, and in most cases, your souvenir would end up confiscated. Have in mind this includes weapon-like toys too.
See Also: Biggest Landmarks in Thailand
Ivory or other animal souvenirs
Contributing to animal mistreatment, hunting, and abuse is plain wrong. Please don't support poaching and stay away from illegal animal products.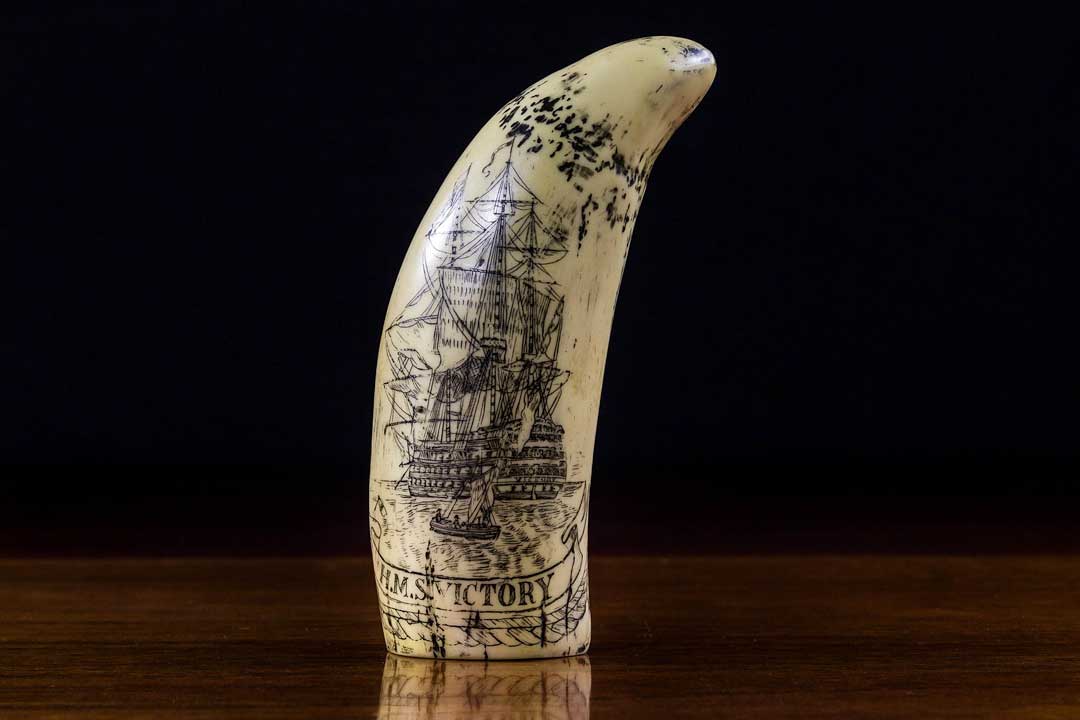 That's all from me, I hope you enjoyed those Bangkok souvenirs and you already know what to get for your friends and family.
————————————
If you haven't planned your trip there yet, find out how I plan my trips!
————————————
I have 32 bucket list ideas for Thailand. See my impossible bucket list of 1700+ adventures!

Have you been to Thailand?
---
Some of the above are affiliate links and I will earn a percentage of the sale if you purchase through them at no extra cost to you. This helps keep my site running – so thanks in advance for your support!