When your job is to travel around the globe, you encounter so many architectural wonders that eventually you start thinking there's nothing in the world that can impress you anymore. Then you stumble upon something as magnificent as the Sanctuary of Truth, Pattaya, and your jaw drops to the ground.
The humongous wooden castle that looks like a building taken out of Alice's wonderland is one of those things you just need to see at least once in your lifetime.
What is the Sanctuary of Truth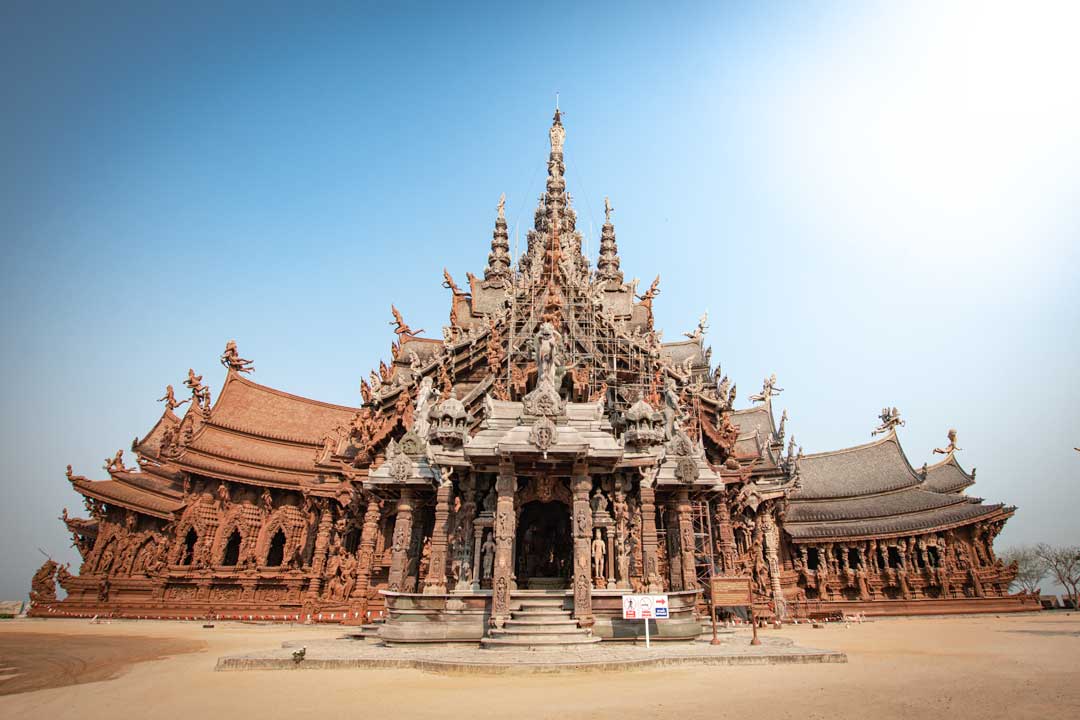 The Sanctuary of Truth is an incredible 105-tall temple/museum made entirely out of wood. Entirely! Not even metal nails are used in its construction. It's the biggest attraction in Pattaya and one of the most significant landmarks in Thailand.
The sanctuary was commissioned by the eccentric millionaire Lek Viriyaphan back in 1981, and it's still being assembled to this day. It's supposed to be finished around 2025, but I wouldn't count on that. Lek Viriyaphan was a known patron of culture who spent a large chunk of his fortune on heritage projects (including two of Bangkok's most picturesque attractions – the Erawan Museum and the Ancient Siam Park). The idea behind the Sanctuary of Truth was to honor Buddhist and Hindu values while simultaneously preserves and support traditional Thai wood-carving techniques.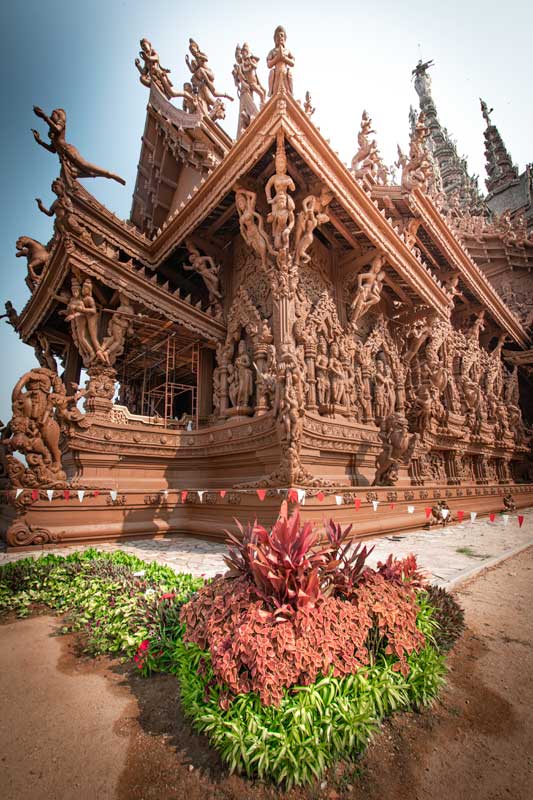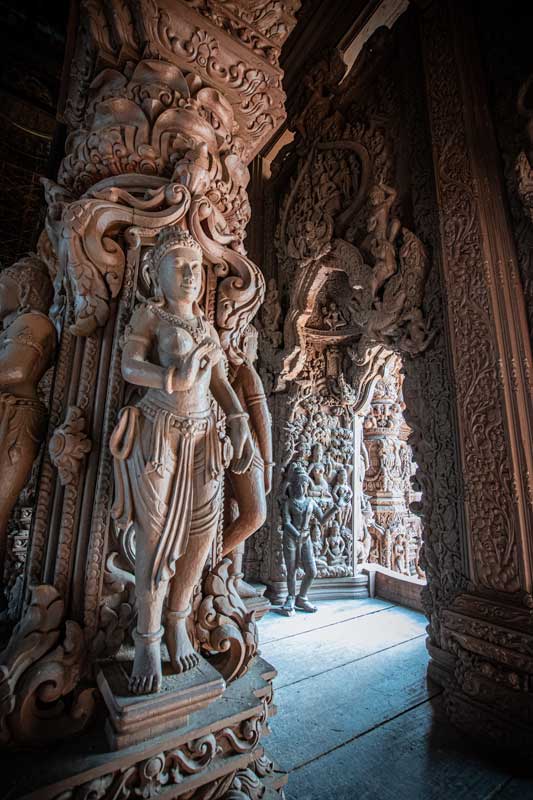 The local legend says that Mr.Viriyaphan decided to build the shrine in response to the growing tension of the cold war. It was his way to try and teach people to behave well, according to Buddhist teachings, so that we can achieve peace around the world.
As mentioned before, the entire structure is made out of coated hardwood such as takien thong, pradu, daeng, teng, and gold teakwood. It's all crafted by local craftsmen (many of which are women) right there on the spot. The whole process is fascinating to observe, and you should definitely check it out when you visit.
See Also: Best Temples in Pattaya
Outside The Sanctuary of Truth, Pattaya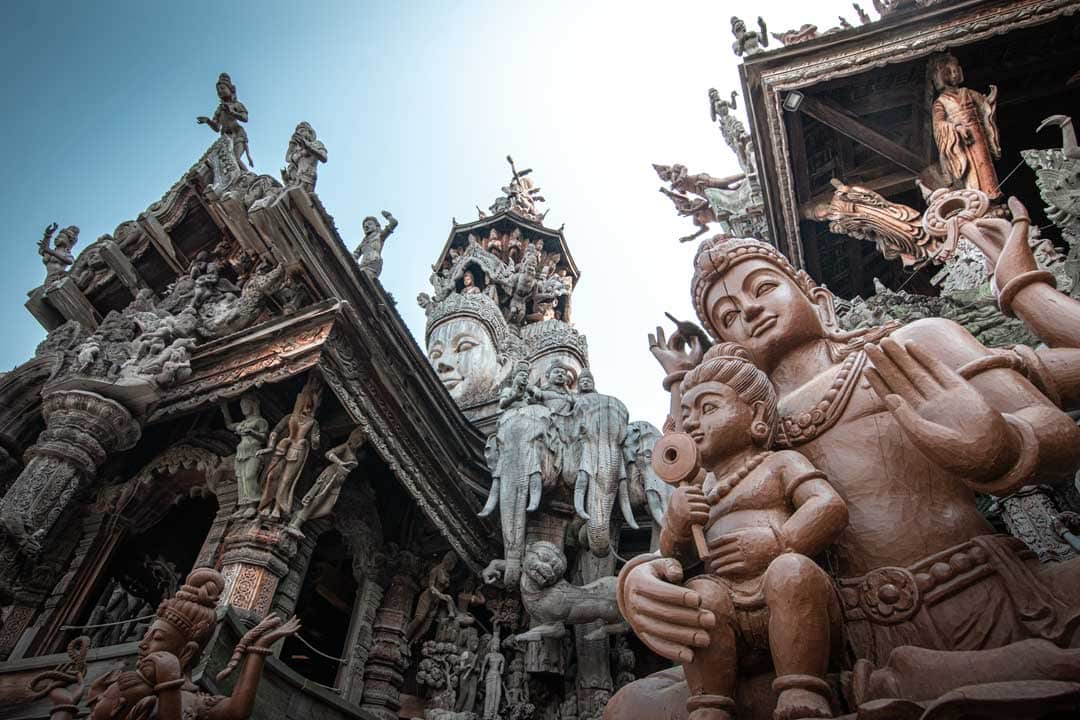 Situated on the beach and commanding an ethereal view of the ocean, the Sanctuary of Truth is the epitome of the phrase awe-inspiring. I can guarantee with utmost certainty that you will be awed when you lay your eyes on its astonishingly-crafted facade. The extra cool thing is that all ornaments and sculptures are not only there to look pretty, but most of them also have a deep, profound significance.
The first sculpture you'll notice is the gigantic 4-faced Brahma. The Hindu deity is there to symbolize "your ruler's morals". No matter if it's your parents, teachers, or the King, they have to follow the four universal virtues – benevolence, compassion, empathetic joy, and equanimity.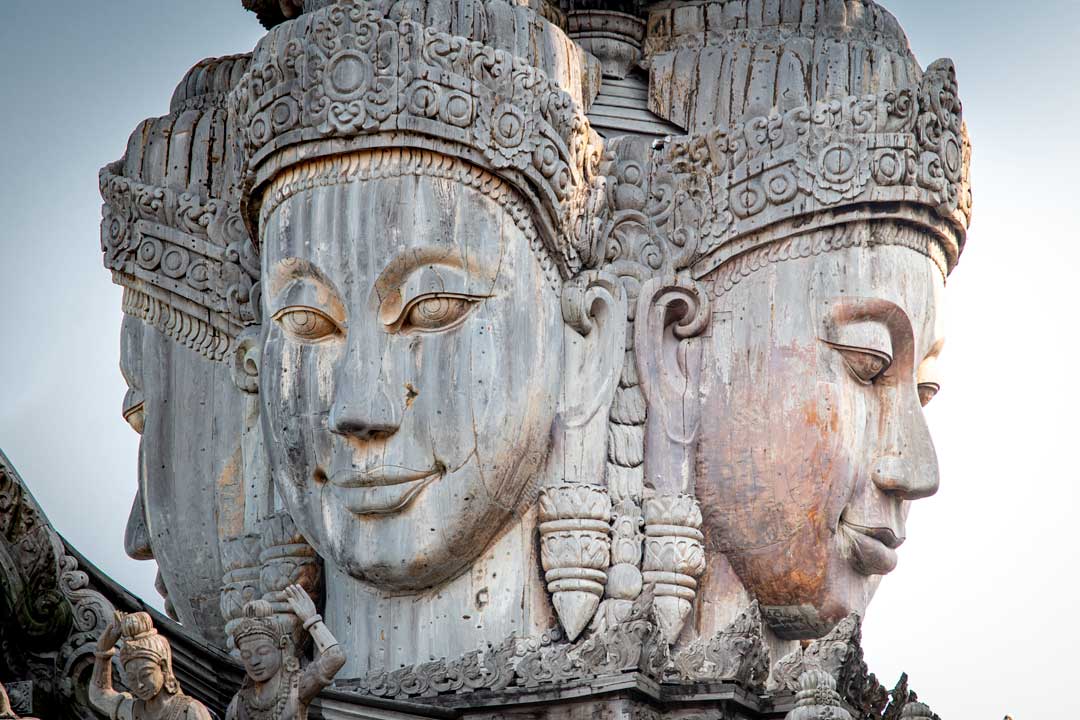 On each of the sanctuary's four rooftops, you can notice beautiful carves of women, each of them carrying an object.

The one on the eastern roof has a scripture symbolizing the need of present-day people to turn back to the old prophets and philosophers and have a proper guide in life.
The western rooftop girl squeezes a rice stalk while carrying a pigeon on her arm. It's a reminder you need to keep the land fertile for the peace of the country and the world.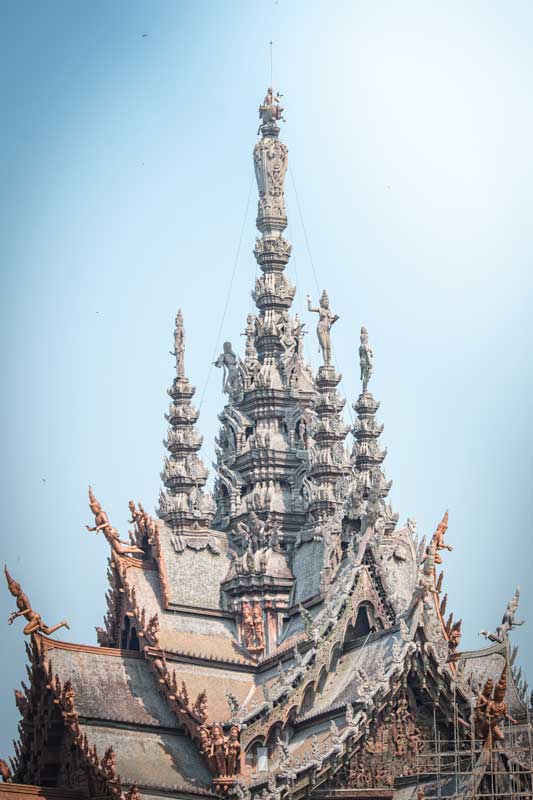 The sculpture sitting on the northern rooftop carries a lotus, urging you to keep practicing your religious teachings. At the same time, her southern rooftop sister is depicted with a child and an elder by her side, showing us the duty we have to look after our family.
In the center of the temple's rooftop, you can see a spirit riding a horse. It combines all the duties and teachings of the other four, moving into the future with the ultimate goal of peace around the world.
Inside The Sanctuary of Truth, Pattaya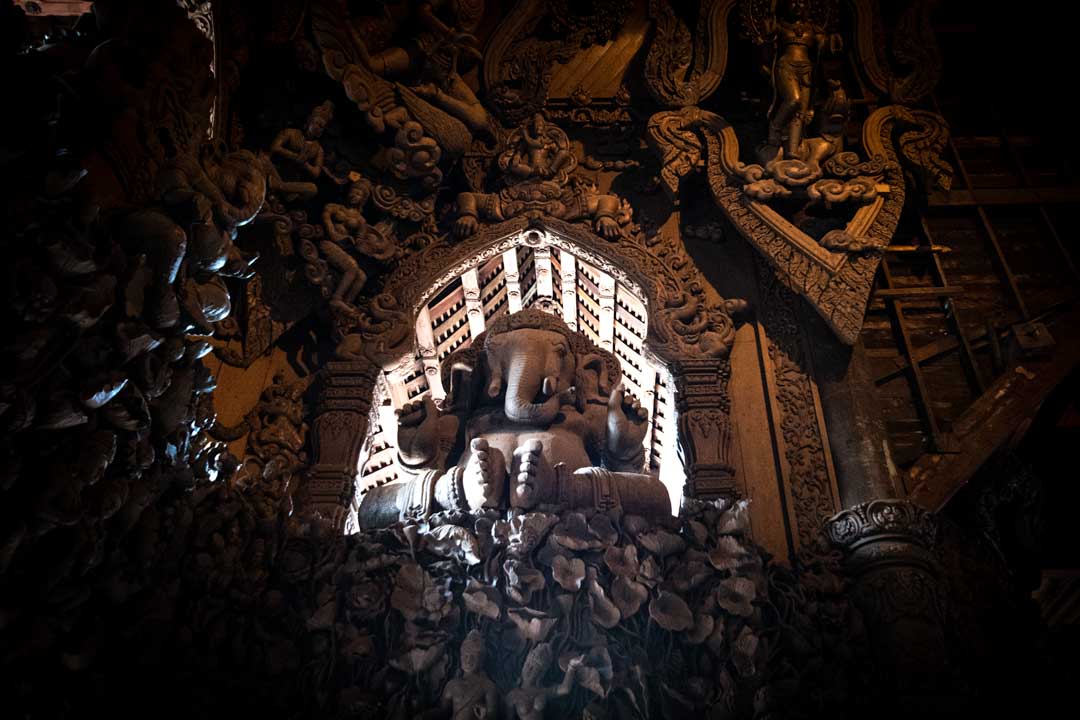 And if the outside impressed you, wait until you get inside. The Sanctuary of Truth may still be under construction, but you are free to explore it (with a hardhat) and be inspired by its magnificence. Just like the roof, the interior it's divided into four halls plus a central section, depicting different myths and deities.
The Western Hall is called "The Origin". Its decorations symbolize the creation of Earth by the four elements of nature – Earth, Wind, Fire, and Water. There you find a depiction of Vishnu, the Hindu god who sleeps on a Naga in the middle of an ocean and represents Water, Brahma, who rides a swan and represents Air, and Shiva who lives on top of a mountain and represents Earth and Fire.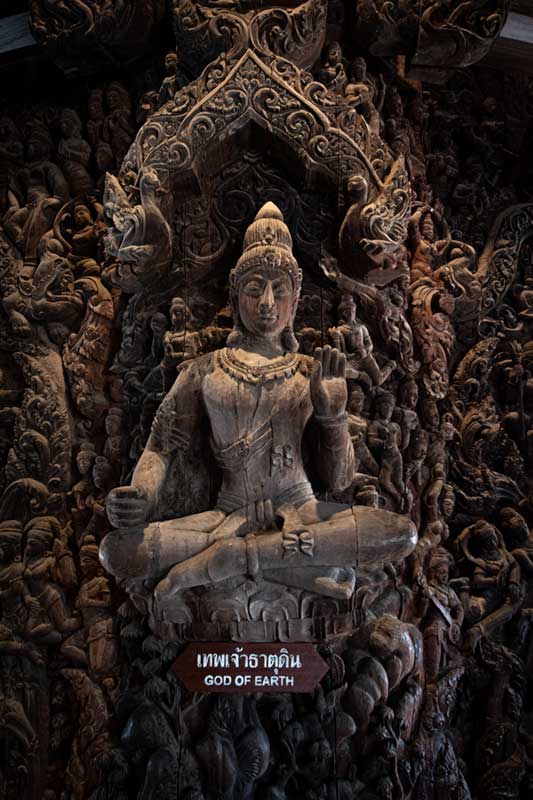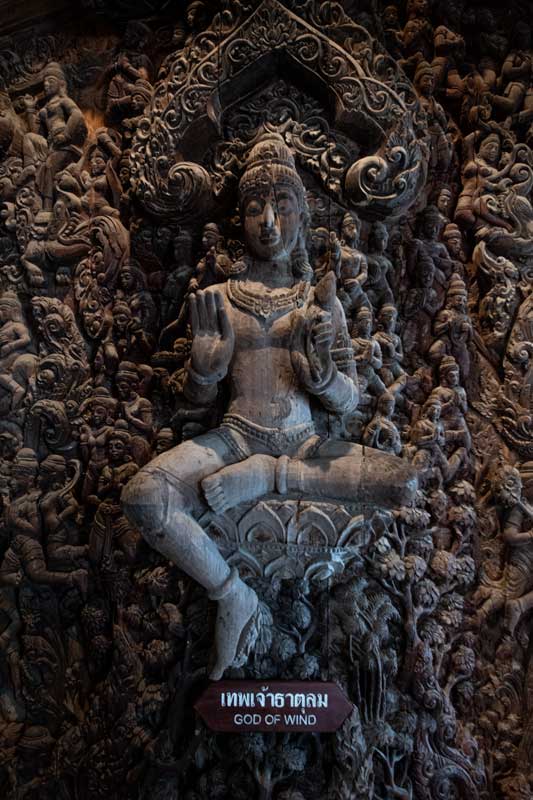 The Southern Hall is centered around the sun, the moon, and the stars – the three creators of life. The sun controls the day and night, the moon controls the tides, while the stars control your destiny. Each star (planet) represents a day of the week, and depending on which day you were born, you are destined to have a specific trait:
Monday – Moon – Beauty and Elegance
Tuesday – Mars – Brave and Industrious
Wednesday – Mercury – Gentle and Polite
Thursday – Jupiter – Wisdom an Intelligence
Friday – Venus – Charm and Wealth
Saturday – Saturn – Activeness and Diligence
Sunday – The Sun – Honorable and Social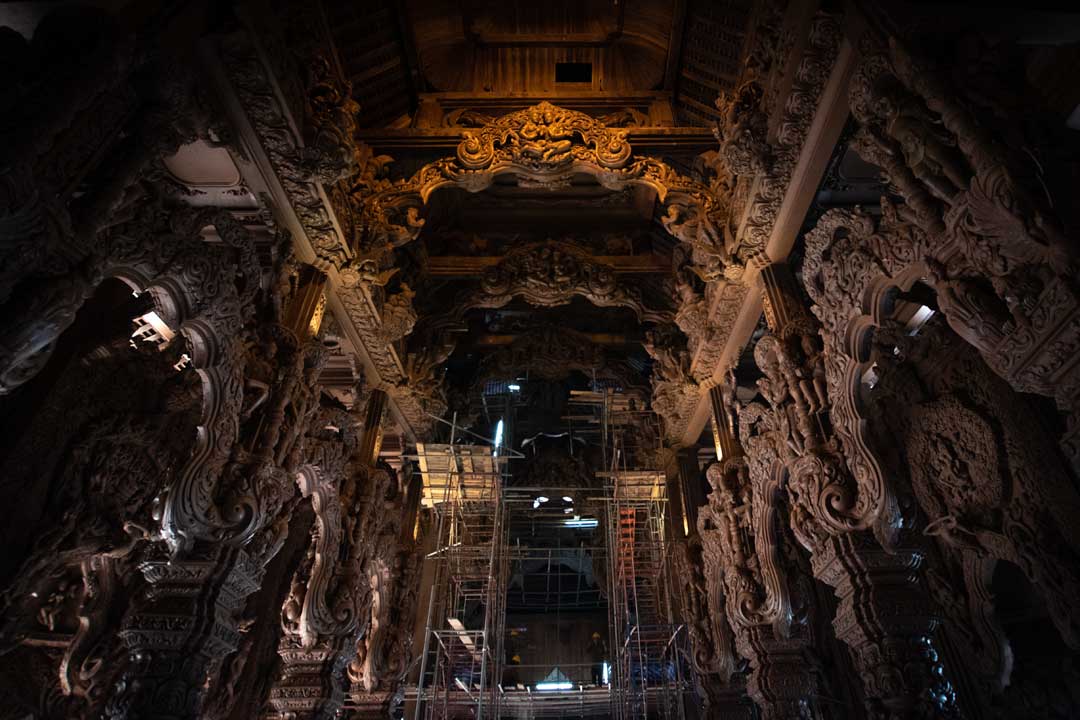 The Northern Hall depicts the teachings of Taoism and Confucianism. It reflects on the Buddhist beliefs that even though the people are born different, if they make merits and do good, they would be liberated from vices, greed, and passion, and reach Nirvana.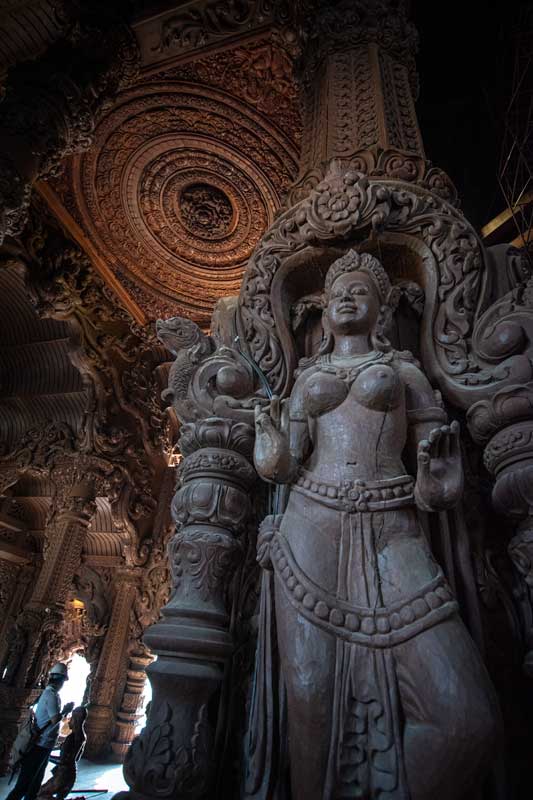 The Southern Hall is all about parental love. It tells us about the last two creators – our mothers and fathers, and their pure, relentless love. It teaches that love is the answer to everything, and love starts in the family first.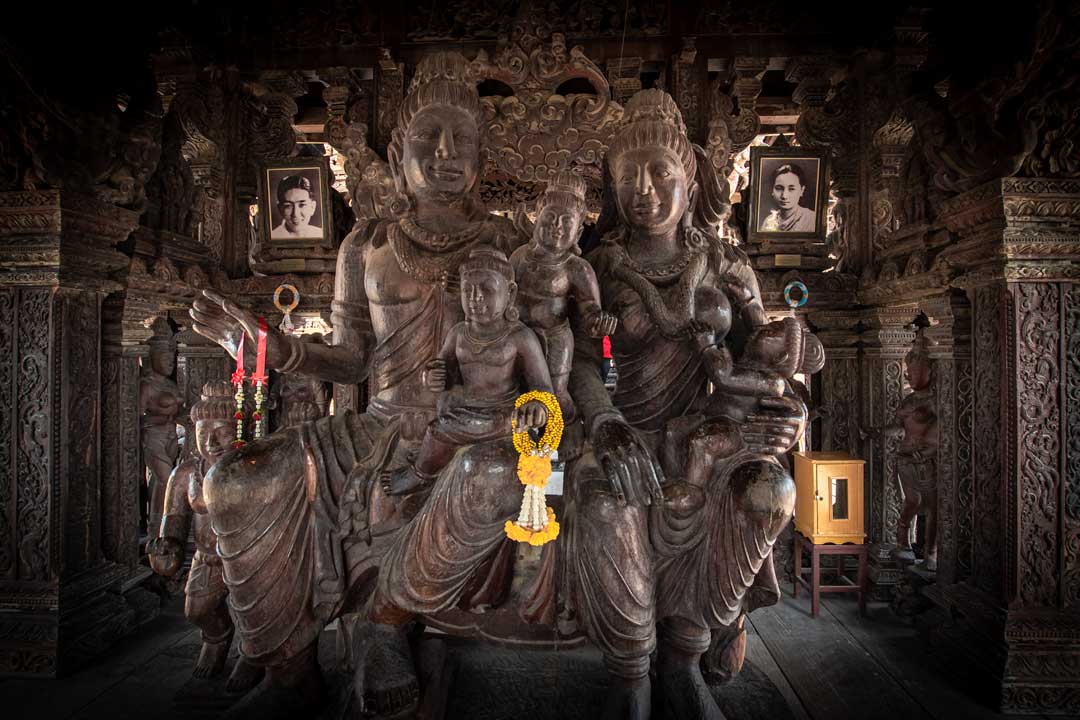 The Central Hall features a magnificent wooden throne. There are no deities at the gates around it, which symbolizes a liberation, timeless truth, and harmony. It also urges us to cleanse our hearts and follow the five precepts of Lord Buddha – to abstain from killing, stealing, adultery, lying, and vices (alcohol, opiates, gambling).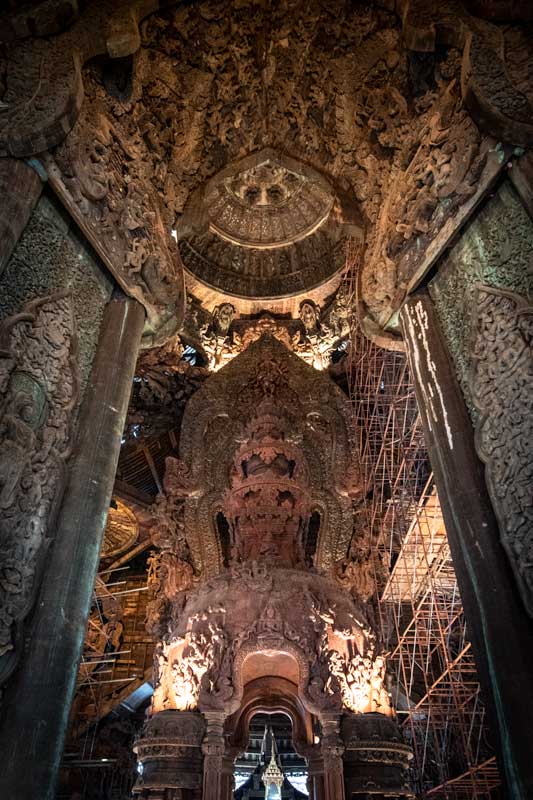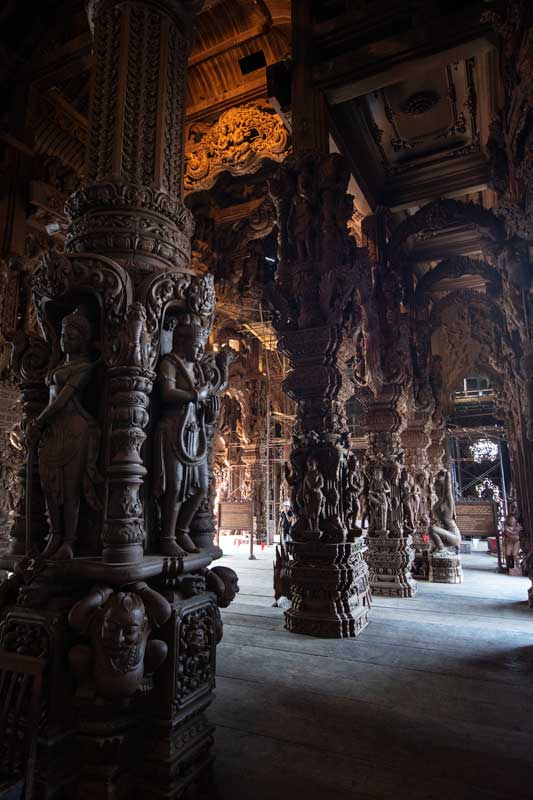 See Also: Best Way to Spend 10 Days in Thailand
Where is the Sanctuary of Truth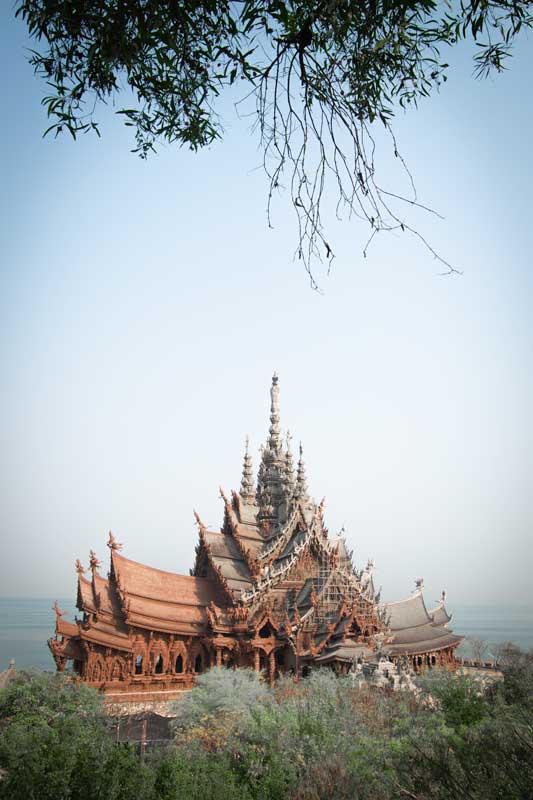 The Sanctuary of Truth is located in Pattaya – a coastal city situated 150km from Bangkok. You can get there via bus or minibus in about 2 hours. If you have no intentions to stay in Bangkok, you can arrange a driver to wait for you on either of the city's airports and take you straight to Pattaya.
Since Pattaya has quite a controversial reputation, you can skip staying there and just go to see the Sanctuary of Truth on a day-tour from Bangkok. You can select an organized group tour or a private driver.
Sanctuary of Truth, Pattaya – Prepare Your Visit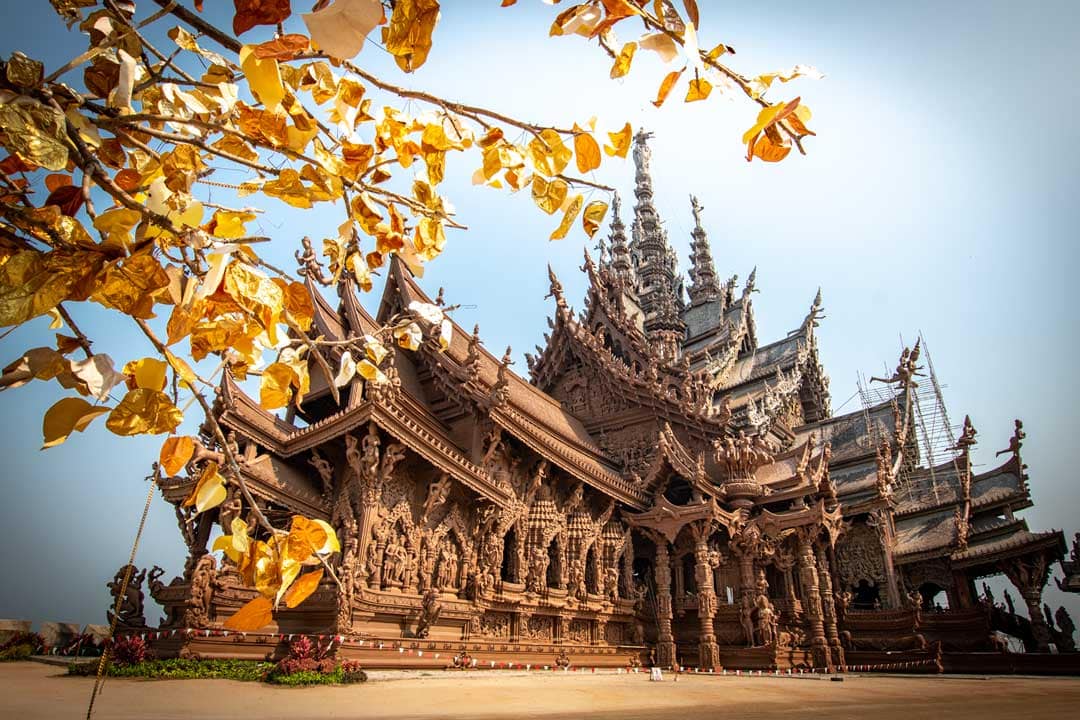 Exploring this magnificent wooden castle is definitely a bucket list activity. Here's all the info you need to plan and have an effortless visit.
How to get to the Sanctuary of Truth from Pattaya's center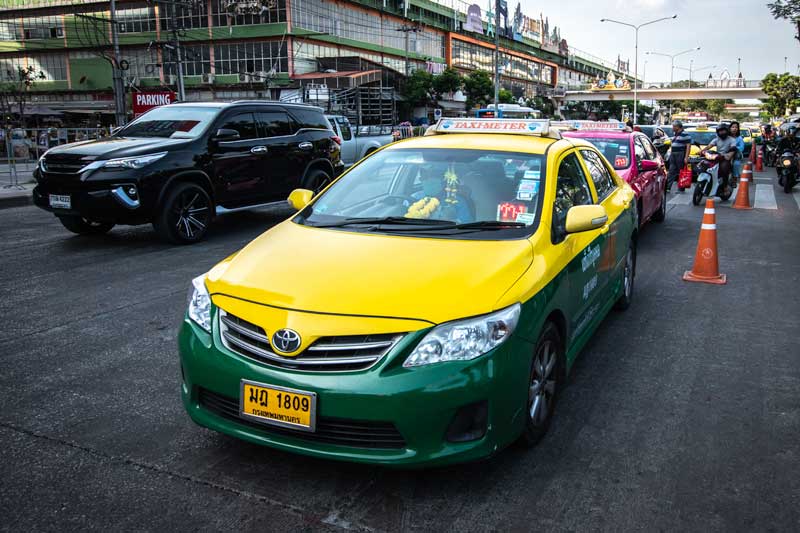 The easiest way would be to take a taxi or motorbike taxi. The sanctuary of truth is the most prominent tourist attraction in Pattaya, and every driver knows where it is.
If you're on a budget, you can use the so-called baht buses. Get one at Pattaya's second road and ride it until you reach the Dolphin roundabout. Take another baht-bus going up on Naklua Rd, but make sure you get off at Soi 12. From there to the temple, it's around 1km. You can either wait and take a third baht-bus, get a quick motorbike taxi ride, or have a walk.
If you've rented a car or a scooter, don't hesitate to use it. The complex has free parking.
Best time to visit the Sanctuary of Truth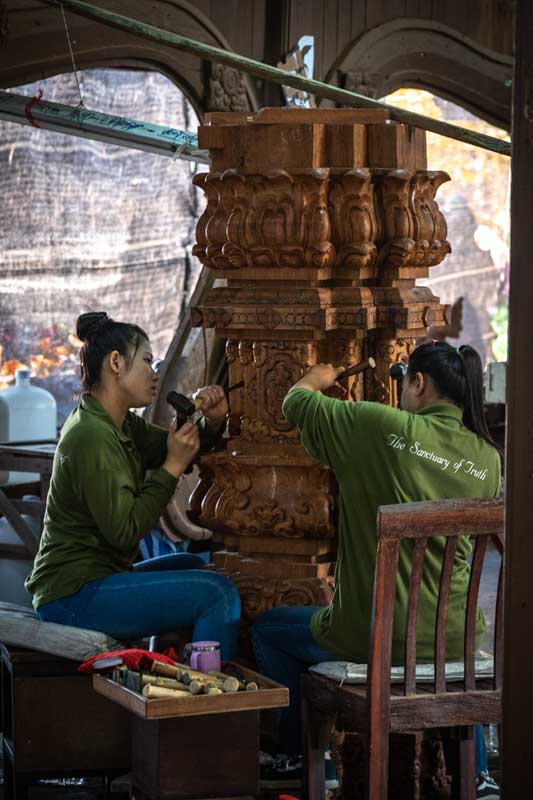 Weatherwise, you are looking for the dry season that is from December to March. If you want to have guaranteed good weather and to combine the temple visit with a trip to the beach, that's your season. April is the month of Songkran, so prepare for extra tick crowds, while September and October are the wettest months of the year.
As for the best time of the day, I recommend going early in the morning. The first people are let inside at 8:00 AM, and if you want to have a peaceful experience and cool weather, I recommend getting the 8:00 AM or the 8:30 AM timeslots (tourist groups start arriving at 9:00 AM).
Another good time is the afternoon. The last timeslot entrance is at 5:00 PM and gives you the chance to enjoy the Sanctuary of Truth at sunset (it closes at 6:00 PM).
Sanctuary of Truth's dress code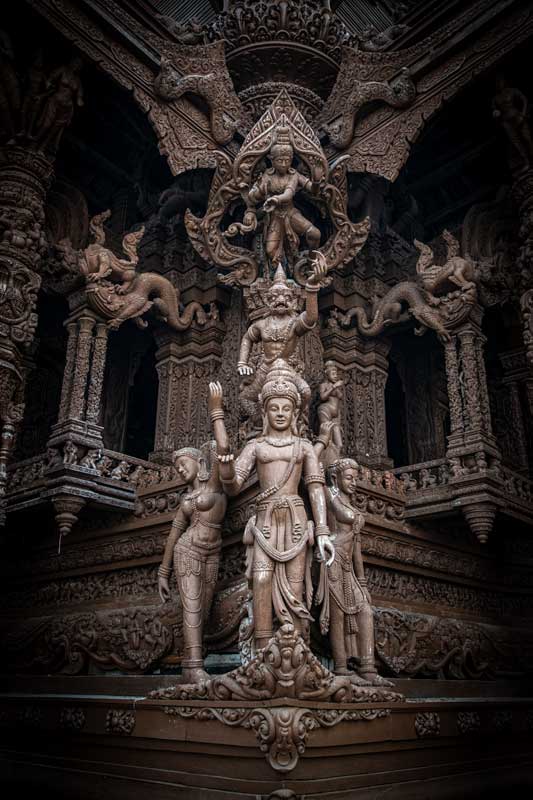 Although the gigantic wooden castle is a museum and an art installation as much as it's a temple, you still need to dress respectfully. While men can get away with pretty much everything (except really short shorts and tank tops), ladies should be more careful. Make sure your knees, shoulders, and mid-drift area are always covered. As for shoes, there are no regulations.
If you forget about the dress code and arrive in something deemed inappropriate, there's a shop that can rent you a shall and other clothing.
Something to stay away from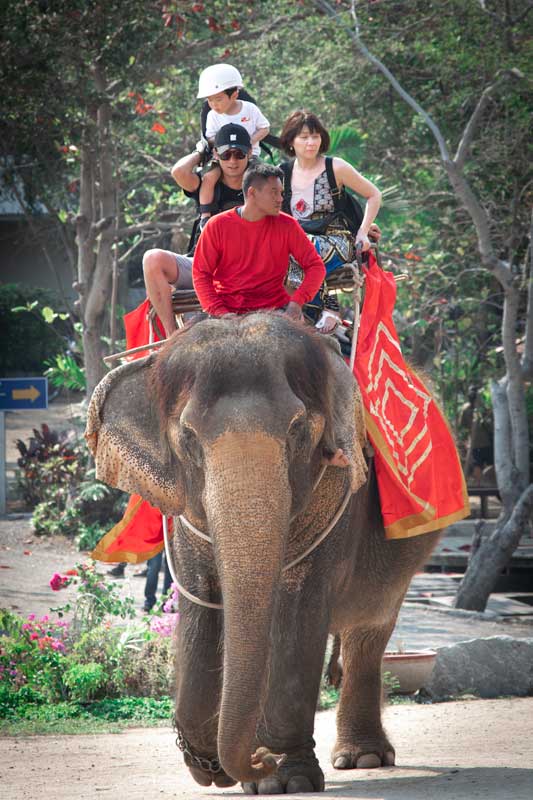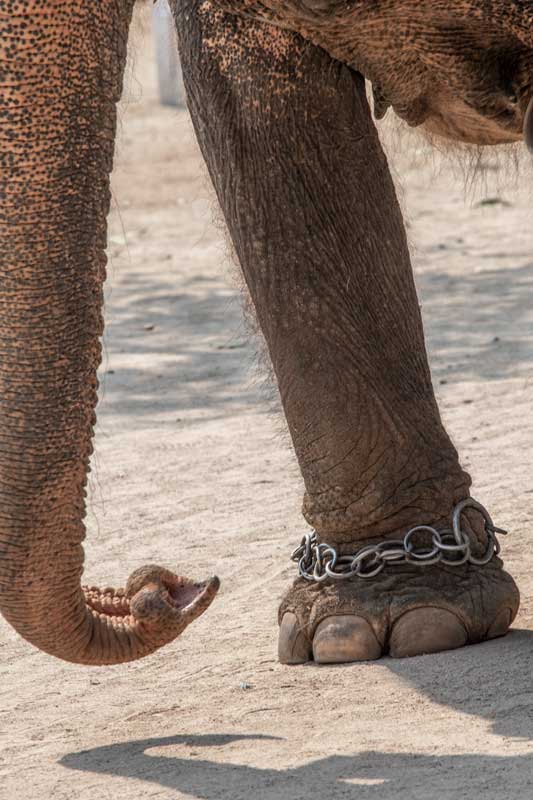 As great a place that it is, I had one major problem with the Sanctuary of Truth, Pattaya – they still offer elephant rides! A practice that becomes more and more outdated, the elephant riding is a horrible, animal-mistreating attraction, you should avoid at any cost. I got so sad, seeing the poor creature in chains with the hook wielding mahout on its back, that I almost left the place.
If someone from the temple's management ever read this, please, guys, remove this barbaric attraction. It's against the spirit the Sanctuary of Truth's preaches and would only give you a better reputation among the western tourists.
Sanctuary of Truth's working hours
The Sanctuary of Truth, Pattaya, works every day from 08.00 AM to 06:00 PM. Keep in mind that the entry to the temple area is every thirty minutes, so if you arrive at 08:10 you won't be able to get inside until 08:30.
There are also Thai dance shows at 11:30 AM and 03:30 PM.
Sanctuary of Truth's entry price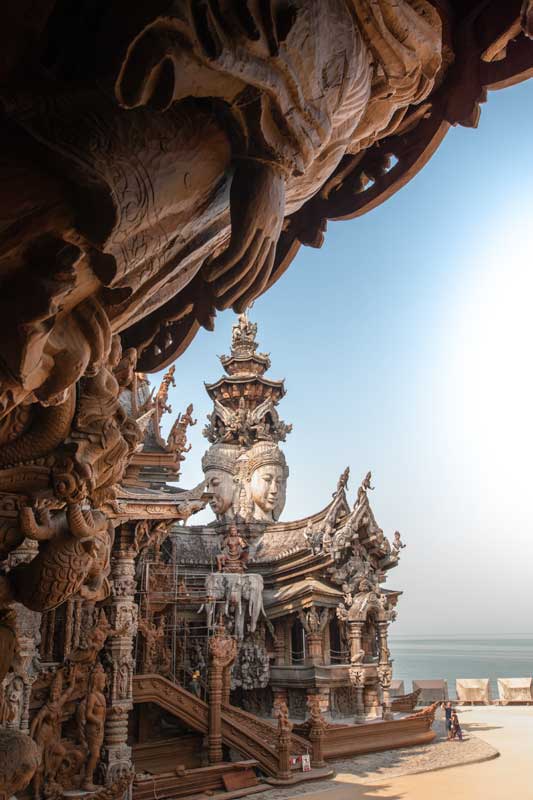 A regular ticket costs 500 THB (14 USD), children's – 250 THB (7 USD), while toddlers go in for free. I strongly recommend getting an online ticket that is always discounted (400 THB).
That's all from me, I hope you enjoyed the Sanctuary of Truth, Pattaya.
————————————
If you haven't planned your trip there yet, find out how I plan my trips!
————————————
I have 32 bucket list ideas for Thailand. See my impossible bucket list of 1700+ adventures!

Is the sanctuary on your bucket list too?
---
Some of the above are affiliate links and I will earn a percentage of the sale if you purchase through them at no extra cost to you. This helps keep my site running – so thanks in advance for your support!