To enjoya sunrise at Borobudur Temple has been on my bucket list for years. Actually, it has been there before I even knew what a bucket list is.
It was maybe 15 years ago when I first saw a picture of the temple. Its bell-shaped stupas surrounded by a misty jungle with the sun half-risen behind a volcano in the background. I had no idea what it was or where it was, but ever since then when someone mentions Asia, adventure, or jungle, this Borobudur sunrise photo comes to my mind.
What is Borobudur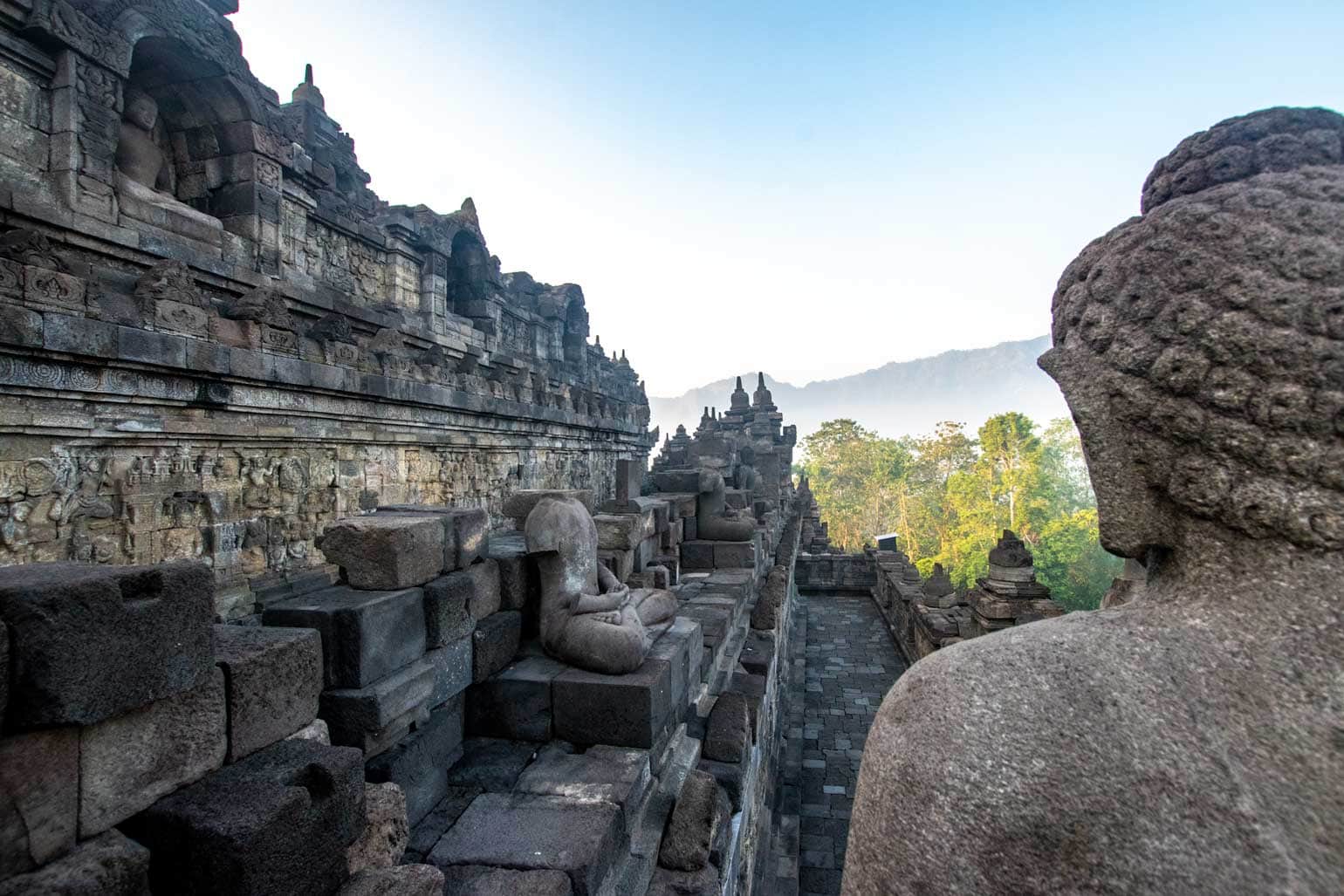 Even if you haven't heard of its weird name, chances are you've already seen a picture of the temple. Indonesia is home to dragons, orangutans, volcanos, and even Bali, but the highlight that is used to promote the country is most often than not Borobudur. It's just that picturesque!
Borobudur is not only the biggest Buddhist temple in the world, but is also considered the oldest one. Built between the 7th and the 8th century it's estimated it took more than a hundred years to be finished.
Temple was abandoned when the country converted to Islam, but in 1814, Sir Thomas Raffles rediscovered it for the world. Multiple restorations have been made; the biggest one handled by the Indonesian Government and UNESCO between 1975 and 1982.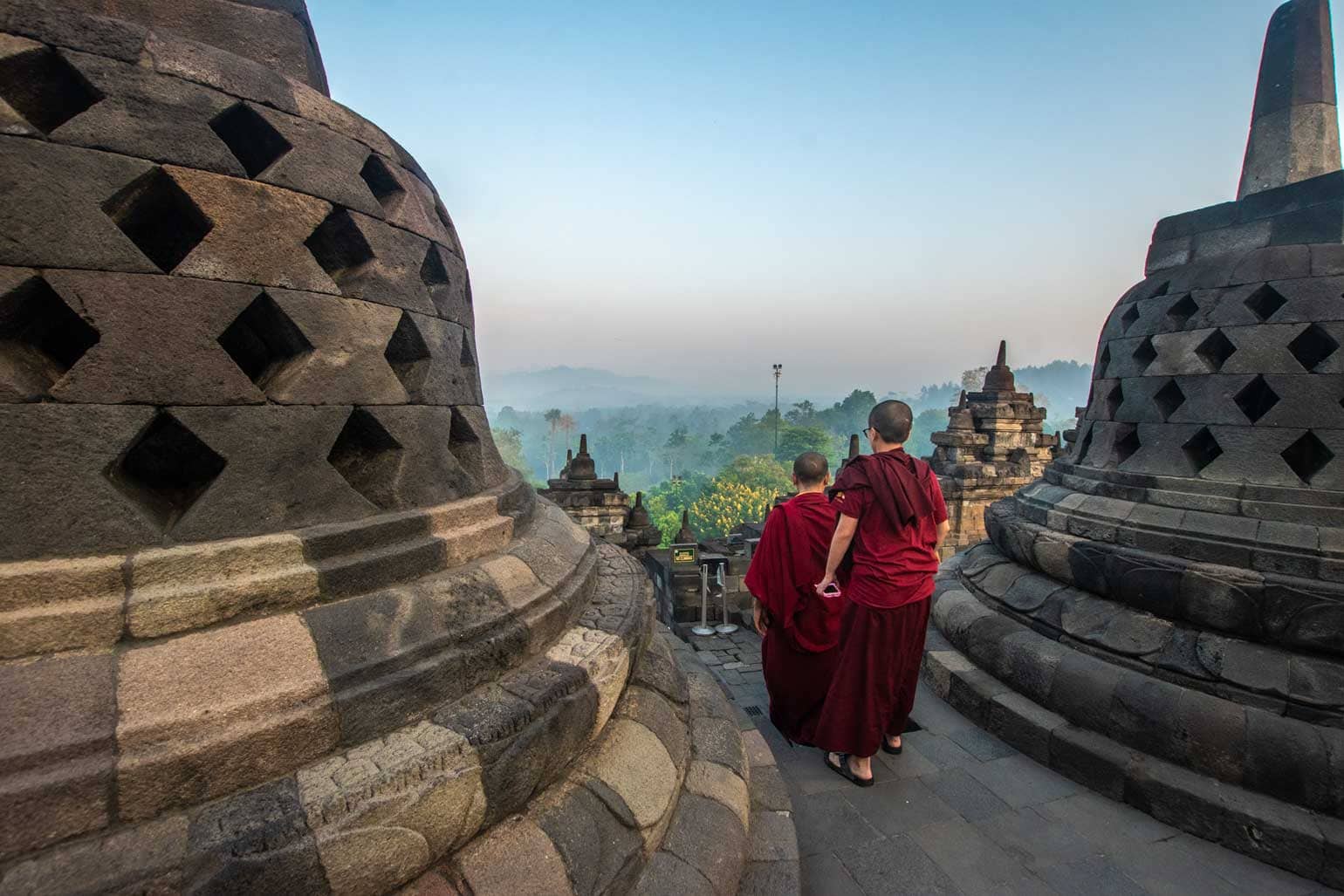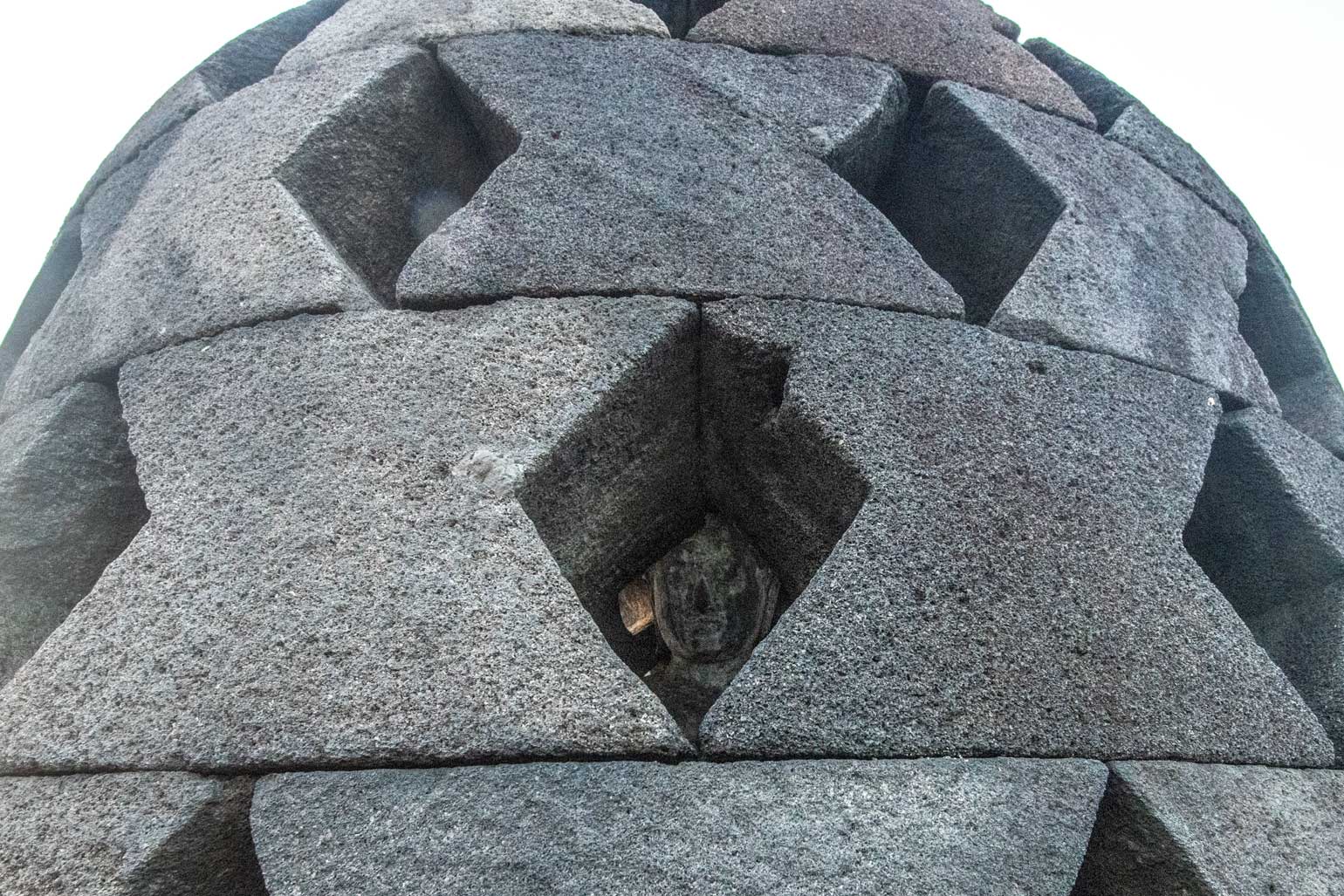 The temple is structured on nine levels with 2,672 wall reliefs. The most famous parts of Borobudur are the top three floors with their bell-shaped stupas. If you look through one of their holes, you can see a Buddha statue sitting comfortably in the lotus position.
The central stupa on the top of the temple signifies Buddha's enlightenment and is a symbol of eternity.
See Also: Top 20 Biggest Landmarks in Asia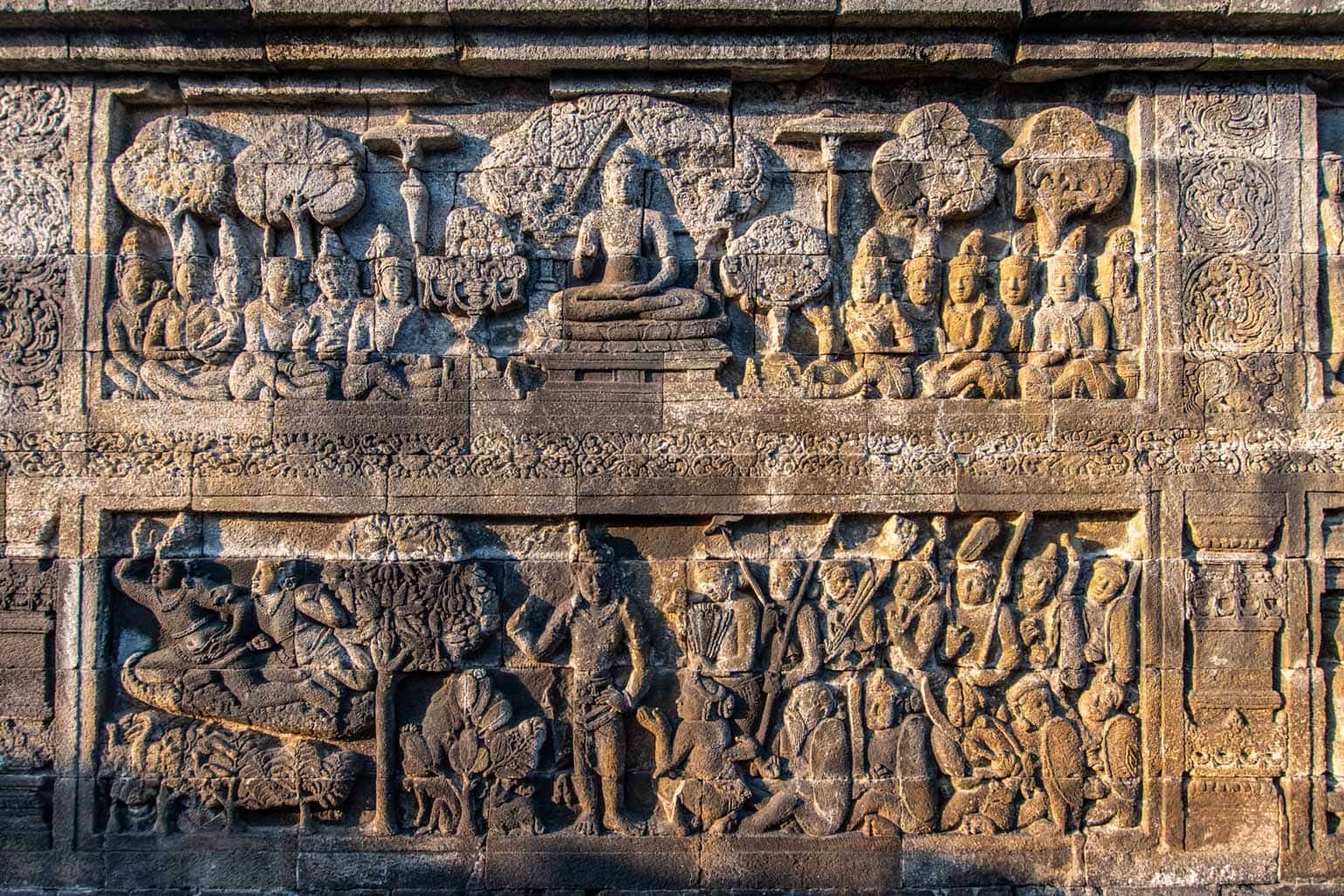 My Sunrise at Borobudur
Although Yogyakarta has a lot to offer, my time in Indonesia was coming to an end, so my sole purpose of visiting the city was to recreate the sunrise at Borobudur I've seen so many years ago.
This adventure stuck in my mind for too long, and even though my expectations were based solely on a 15 years old photo (ok, I did check more recent images too, and they are stunning as well) I was sure it's going to be one to remember.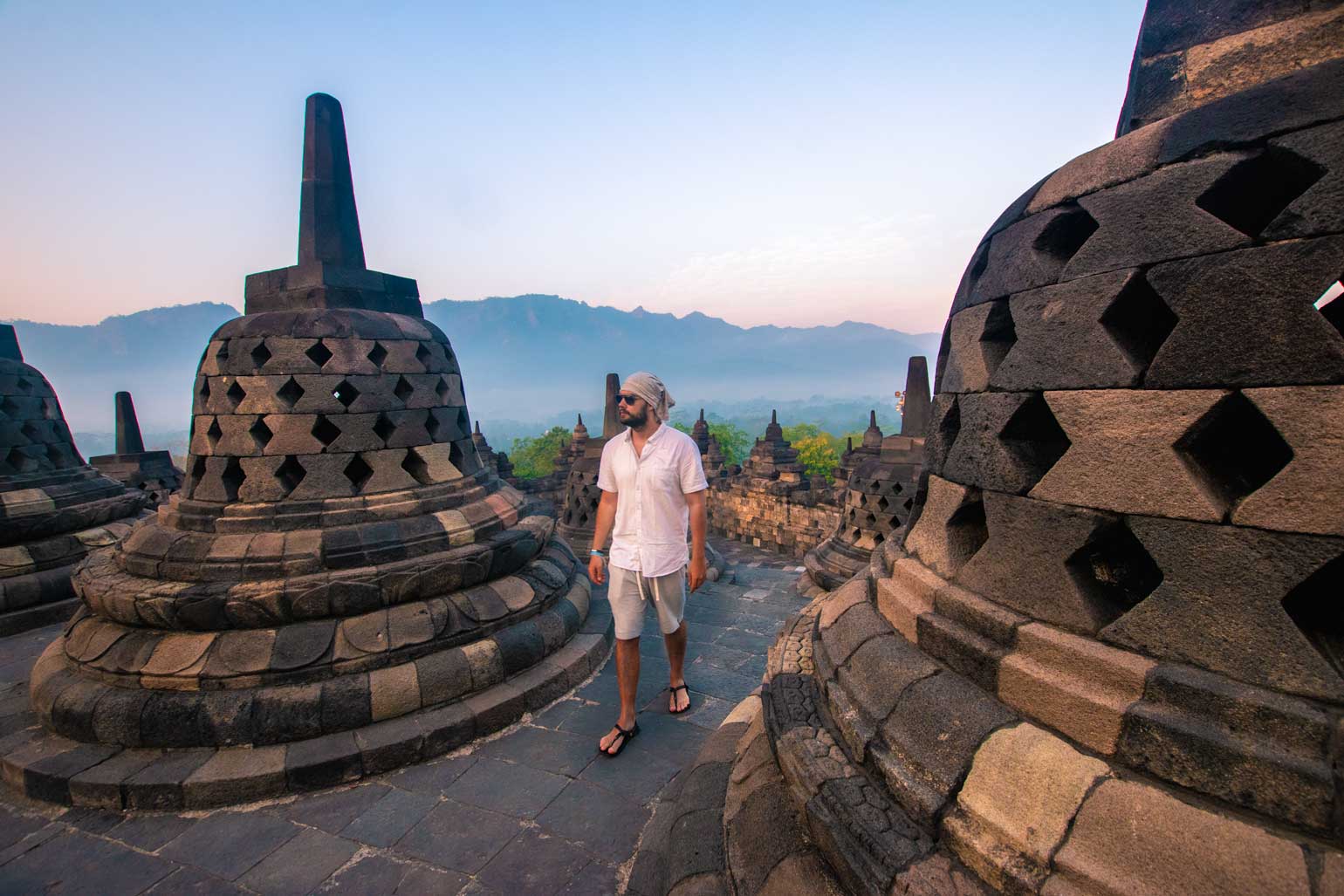 The official temple opening is at 6:00 AM, so I had to go for the "Sunrise at Borobudur Ticket" from the Manhoara resort. Manohara is located on the temple's property and is the only option for early access.
I got a map and a torch, and 5 minutes later I was on my way to the top of the temple.
Now here is something you should know about me – in my daily life I hate getting up early. When I travel, however, I cherish the opportunity to wake up before everyone else and have all the astonishing landmarks to myself. Well in Indonesia my waking-up-early-to-be-alone system failed me. First, it was mount Bromo and its rush hour at 3:00 AM, and now it was happening again at Borobudur.
When I got up to the top, there were already a dozen people there. At the time of the actual sunrise, they were more than a hundred…far away from the secluded nirvana experience I had planned.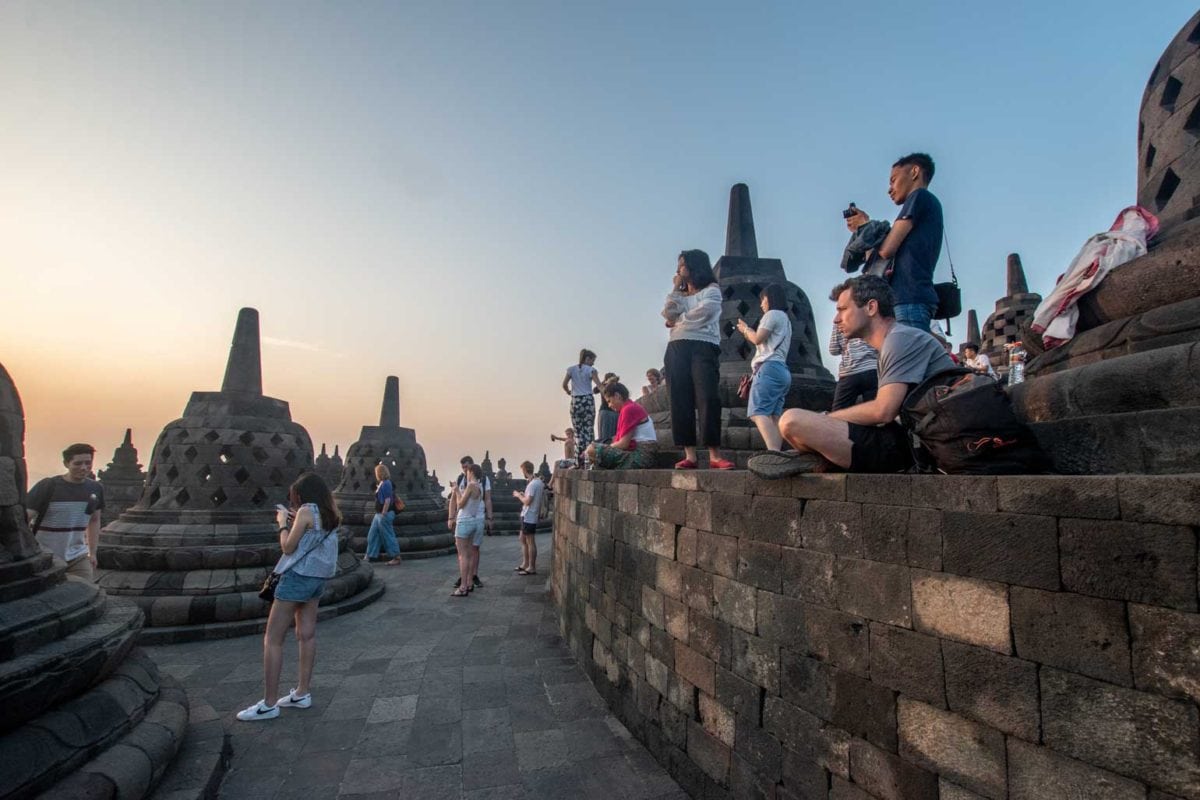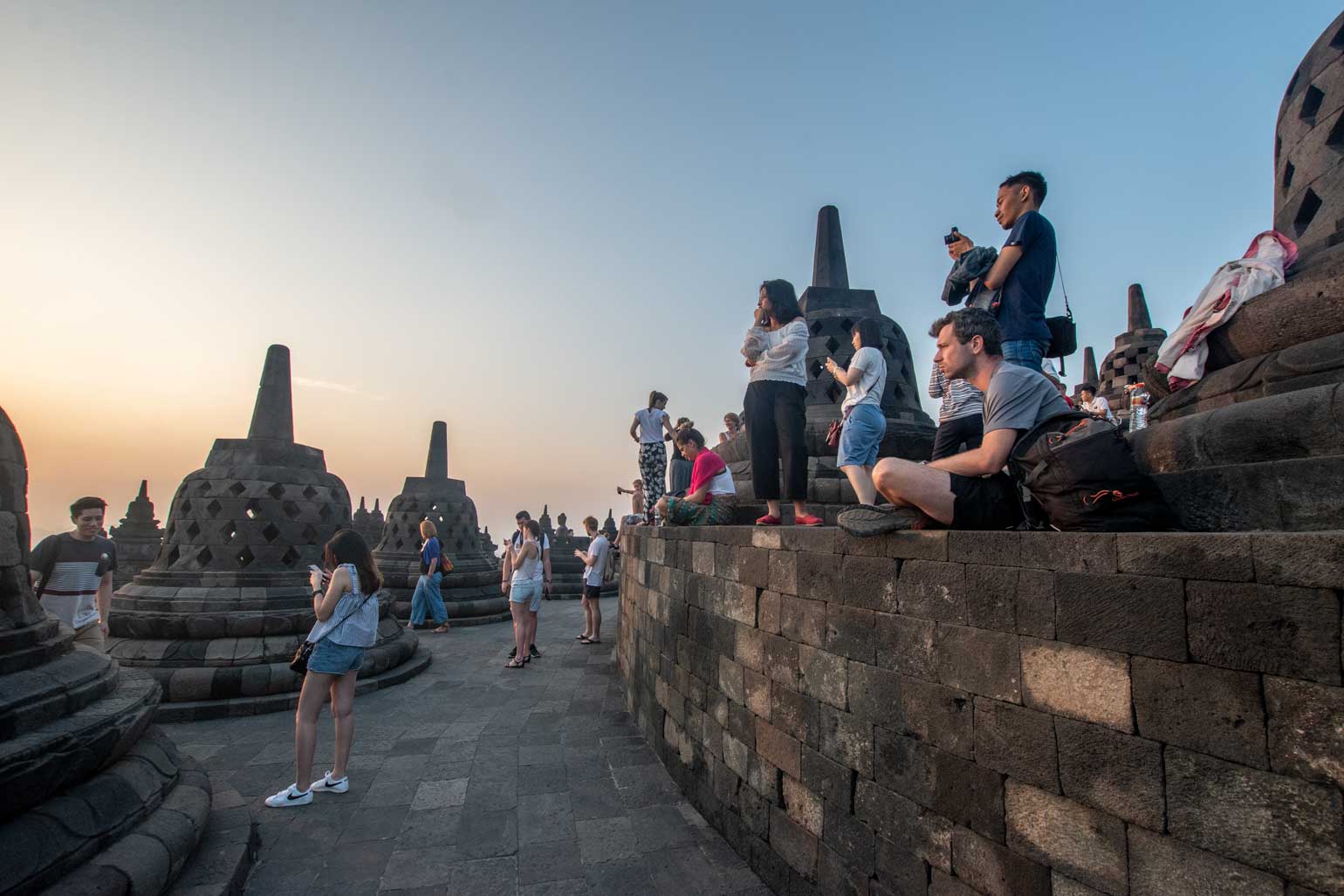 A good thing about the temple is that it has plenty of stupas and levels, so it's not that hard to find a place where people will be out of your sight. And since most of the visitors had the same intent of a peaceful sunrise experience, there wasn't a lot of noise besides the camera shutters and a cranky rooster in the village nearby.
Once the sun was comfortably up in the sky, it was time to explore the other temple levels. Being the biggest Buddhist temple in the world, Borobudur is truly massive consisting of nine pyramid layers. While I had seen the top three, there were still six more to check out.
Surprisingly they were free of people beside the casual monks who were examining antique Buddha statues. The ancient engraves on the walls weren't as colorful as the Egyptian ones in Luxor, but they gave me the same cool feeling of walking through history (if you are really passionate about history, I suggest hiring a guide to explain the stories behind the carvings. I did regret not getting one).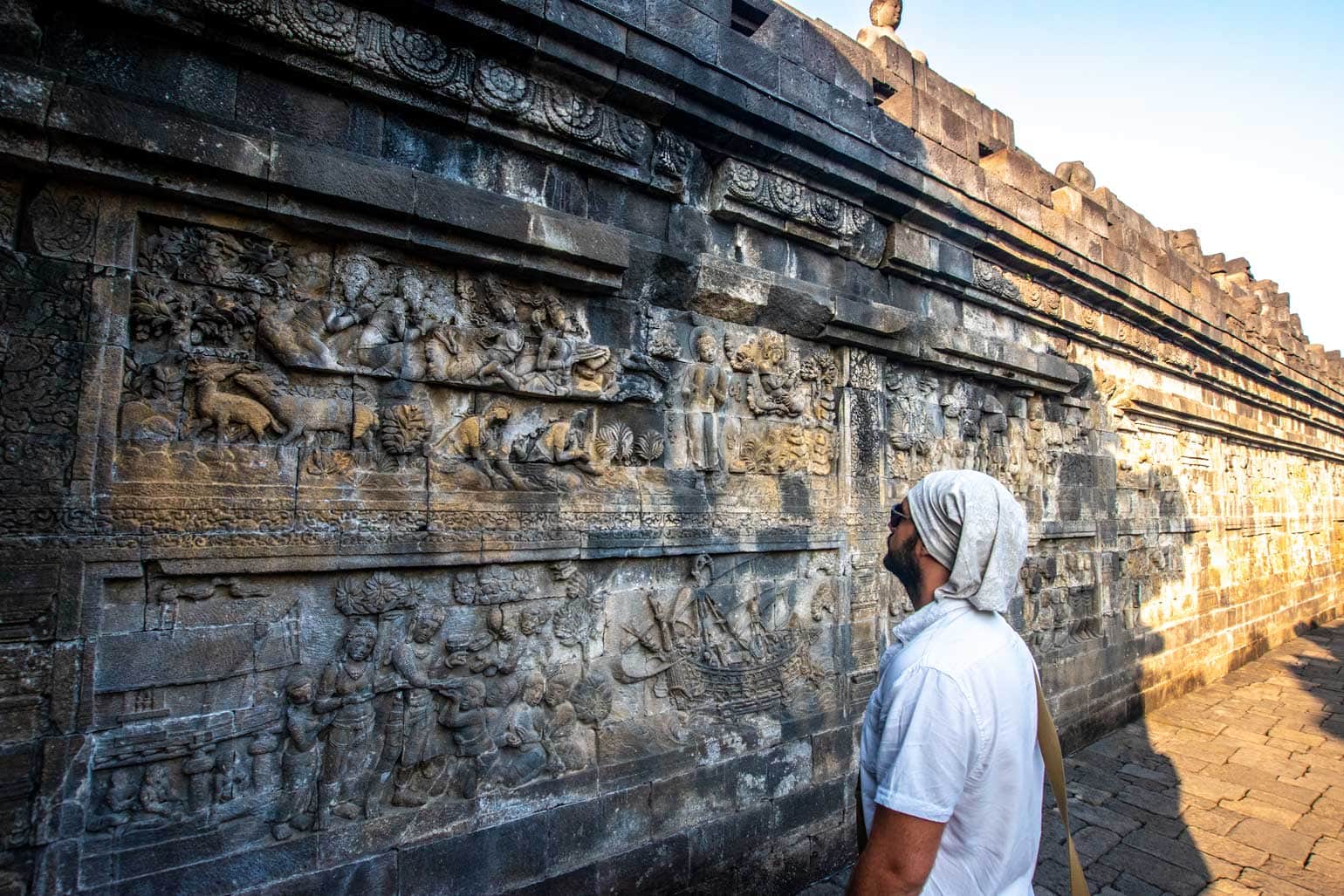 Useful Borobudur Information
How to get to Borobudur?
First, you need to make your way to Yogyakarta. It's a major Indonesian city, so there are plenty of options to chose from. You can fly directly from Bali or Jakarta or if you prefer trains, you can get one from any Java city to Yogyakarta from here.
The next thing you have to choose is the accommodation area. Options are the city or the small village next to the temple.
While Yogyakarta has quite a few things to see, Borobudur is situated way up north and requires 1-2 hours drive from the airport to reach it. So if you want to have the best sunrise at Borobudur experience, it's better to get a hotel next to the temple.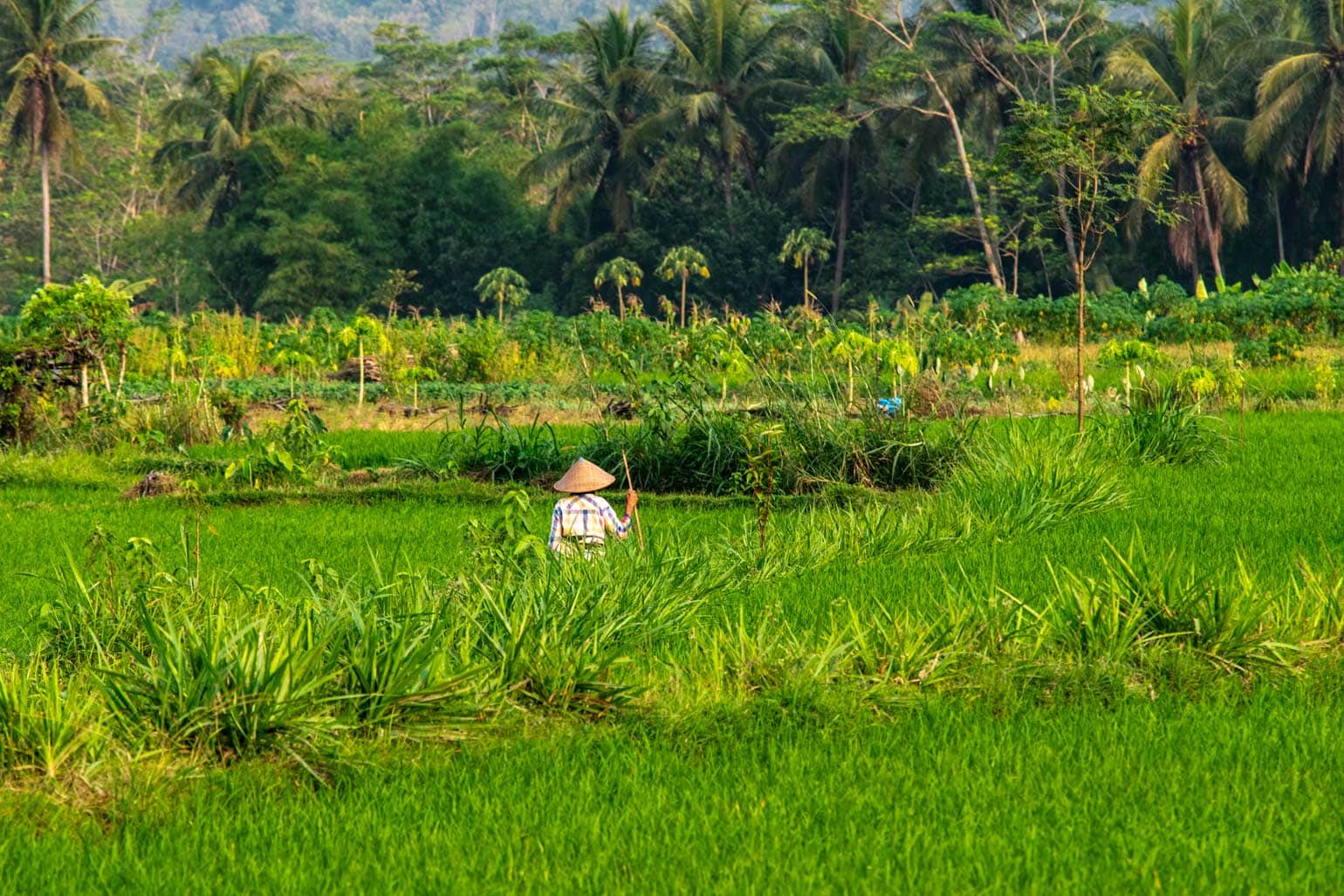 Best hotel for Borobudur sunrise
Due to been situated inside the Borobudur property, the best hotel is the Manohara Resort. Even if you don't stay there, the Manohara is the only way to get to the temple before the sun is up. It's not the cheapest one though, so here are some other suggestions:
Luxury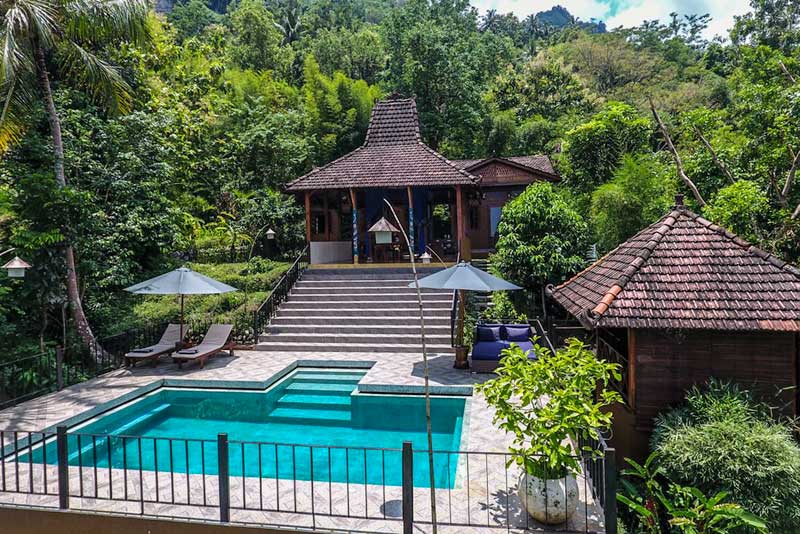 If you like to travel in style, Villa Borobudur Resort is your place. With its spacious verandas, private pools, and panoramic rainforest view, the only downside of the Villa Borobudur Resort, is that you'd love your hotel so much, you may not want to leave to see the temple.
Check out the latest prices
Mid Range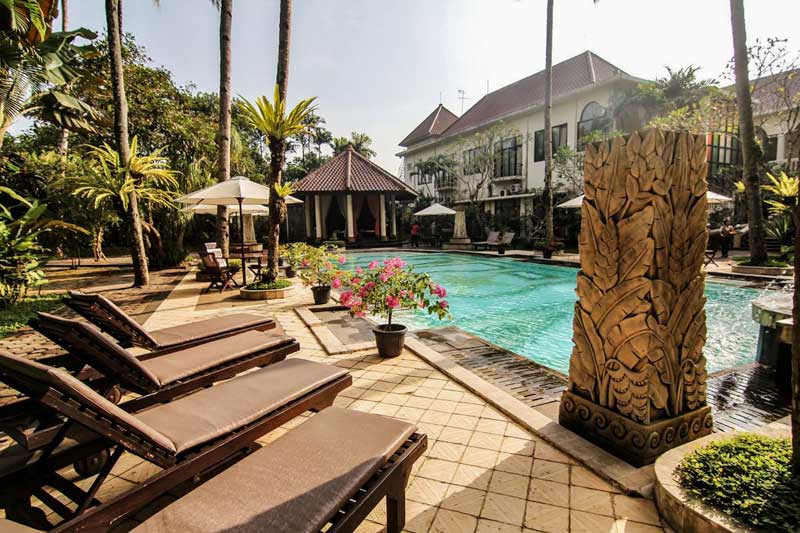 Sarasvati Borobudur got everything you need without having to splurge for it. Cozy rooms, a swimming pool, private parking, and even Javanese art classes are offered. The best thing is that the hotel is situated right next to the temple so that you won't miss the sunrise experience!
Check out the latest prices
Budget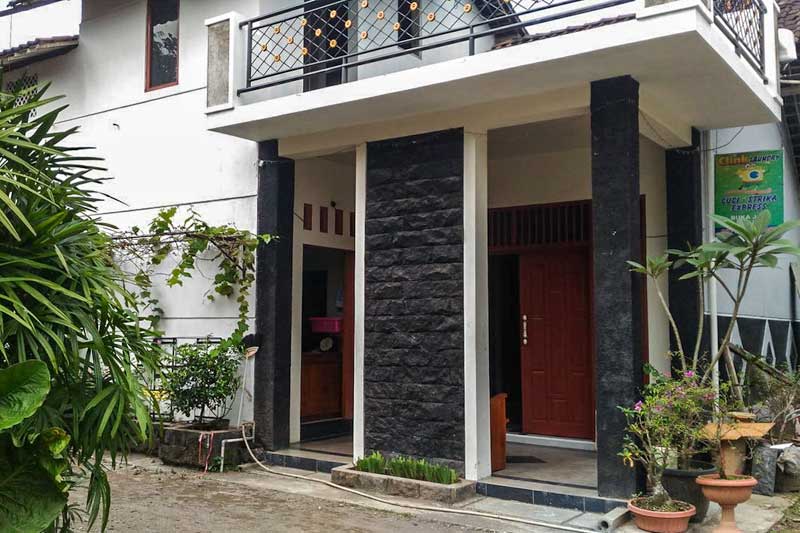 For the budget traveler, there are plenty of homestays in the area. I stayed in the Ada Homestay, and I enjoyed it. Just 10 minutes away from the temple, it has a perfect location and a very helpful host who gave me a map of the area and answered all of my questions.
Check out the latest prices
Borobudur prices and working hours
The regular working hours of Borobudur are from 6:00 AM to 5:00 PM.
Price – 1 day – 25 USD ; 2-day ticket – 40 USD ; 3-day ticket – 60 USD ; 4-7 day ticket – 100 USD
Combo ticket Borobudur + Prambanan – IDR 520K / 36 USD

Sunrise ticket (through Manohara resort) – 4:00 AM to 6:00 AM (won't be a problem to stay after 6:00 AM)
Price – IDR 500K / 35 USD
Sunset ticket (through Manohara resort) 4:00 PM to 6:00 PM (won't be a problem to enter before 4:00 PM)
Price – IDR 500K / 35 USD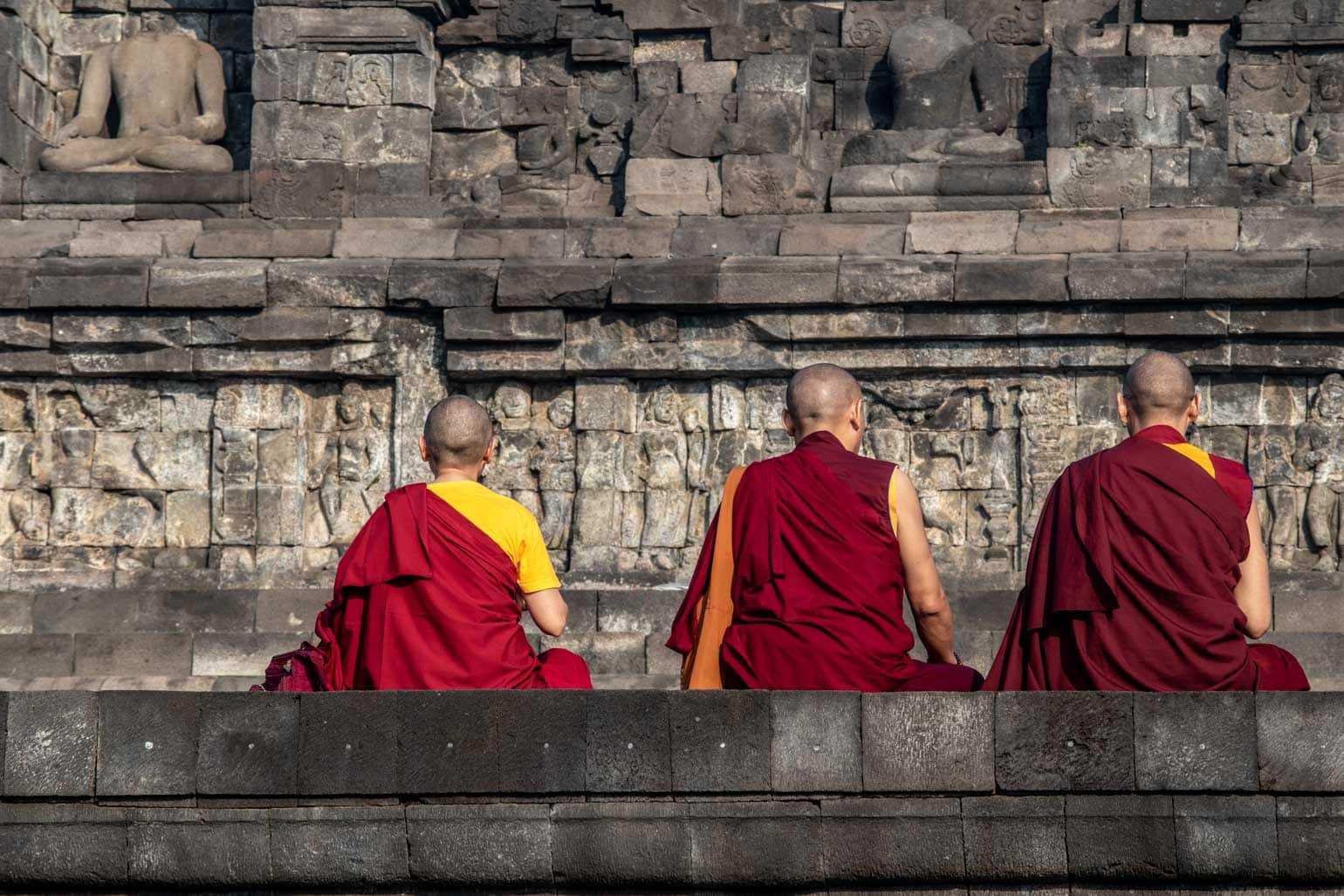 See Also: The Ultimate Indonesia Travel itinerary
How to enjoy the Borobudur sunrise without paying extra?
It's possible, but only at certain times of the year. When the sunrise is around 5:50 AM you can get the standard ticket (not the premium sunrise one) at 6:00 AM and rush to the top. I suggest visiting the Prambanan temple the day before and get the combo ticket, that way you won't waste time at the ticket booth.
Check out the sunrise times in Yogyakarta.

You can also watch it from the Setumbu Hills that oversees Borobudur. It's less crowded and way cheaper( IDR 30K / 2 USD ), but you'd have to walk more, and you won't be able to take photos of the stupas.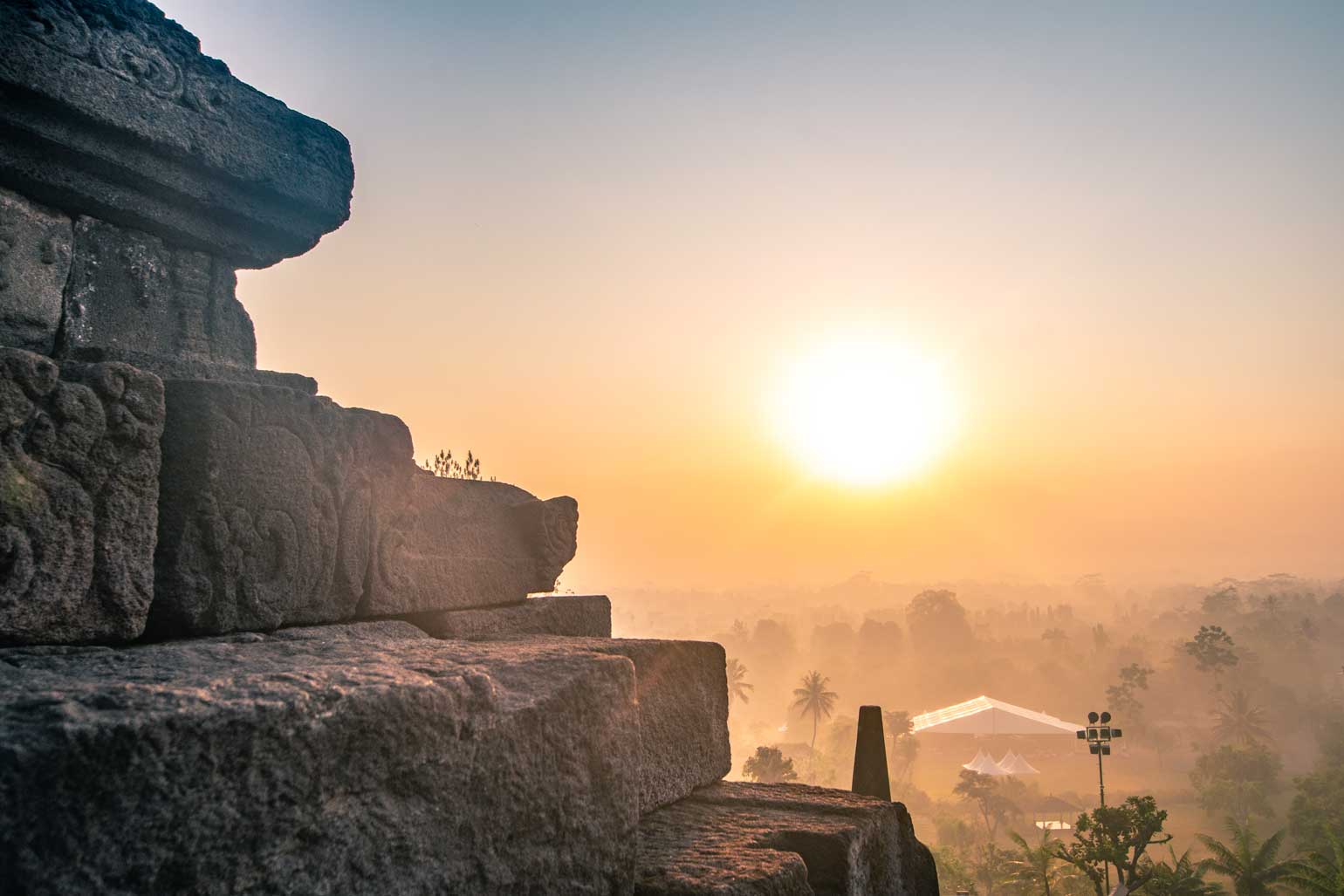 Borobudur Tours
If you decided to stay at Yogyakarta, the easiest way to visit Borobudur is via a tour. Here are some options:
The Regular One – This will take you from your hotel in Yogyakarta and guide you all the way through Borobudur. There're plenty of options to add a private guide or other temple stops to the itinerary.
Borobudur and Mount Merapi – This tour would add some extra adrenaline to your Borobudur experience. Once the sunrise is over, you're gonna go on a jeep and drive around the gorgeous foothills of Mount Merapi and the looming Kaliadem Plateau.
Full-Day – This is the same as the previous one but also includes the other top temple in the area – Prambanan. Prepare a whole day if you pick this one.
Borobudur Map
Kindly provided by the Ada Homestay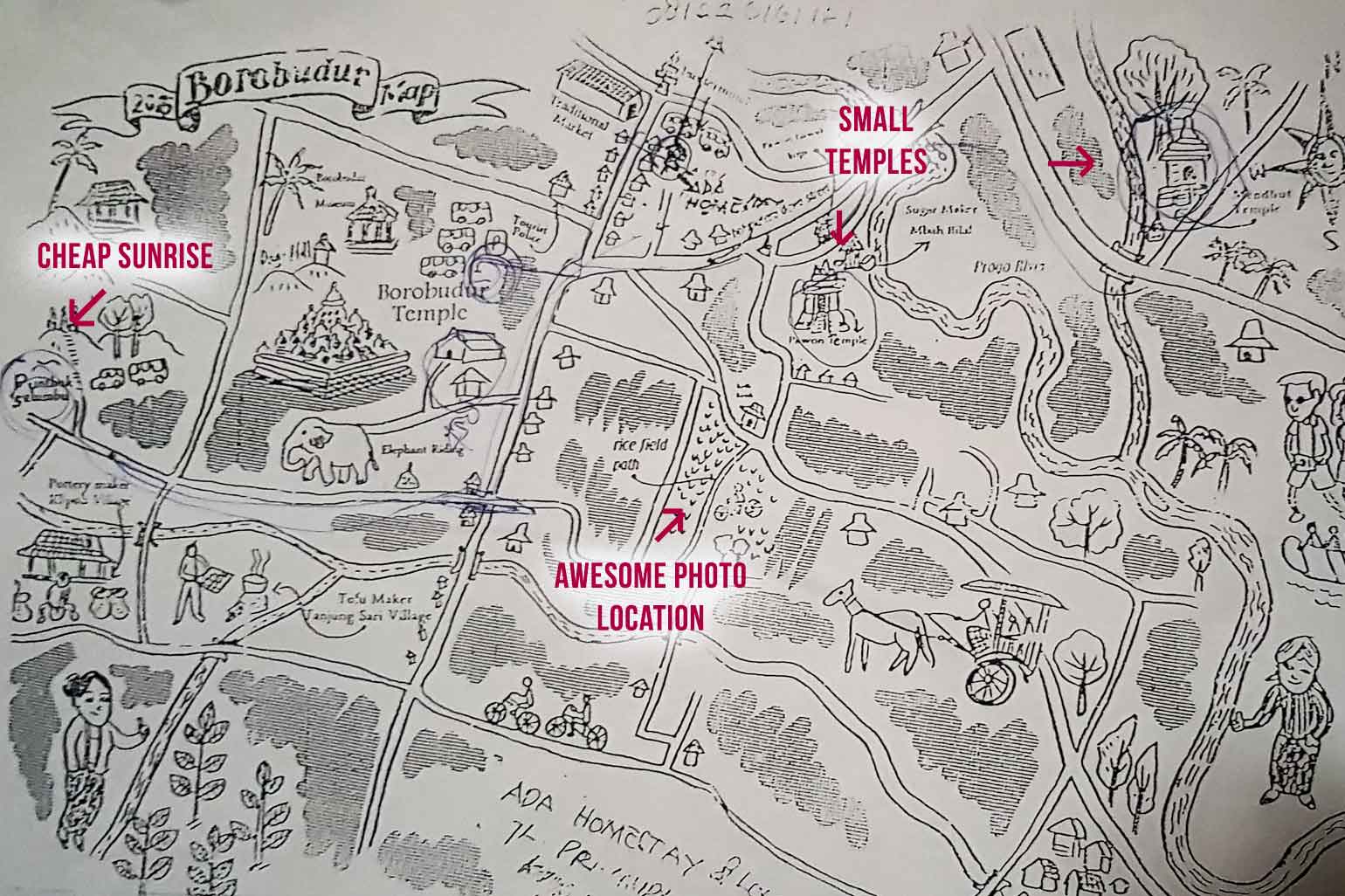 So is the sunrise at Borobudur a bucket list experience or a tourist trap?
While it wasn't exactly what I imagined it to be, I can honestly say I enjoyed the sunrise at Borobudur a lot. I have a slight suspicion the sunset may be the better option though, and next time I'm in Indonesia, I'll try that for sure!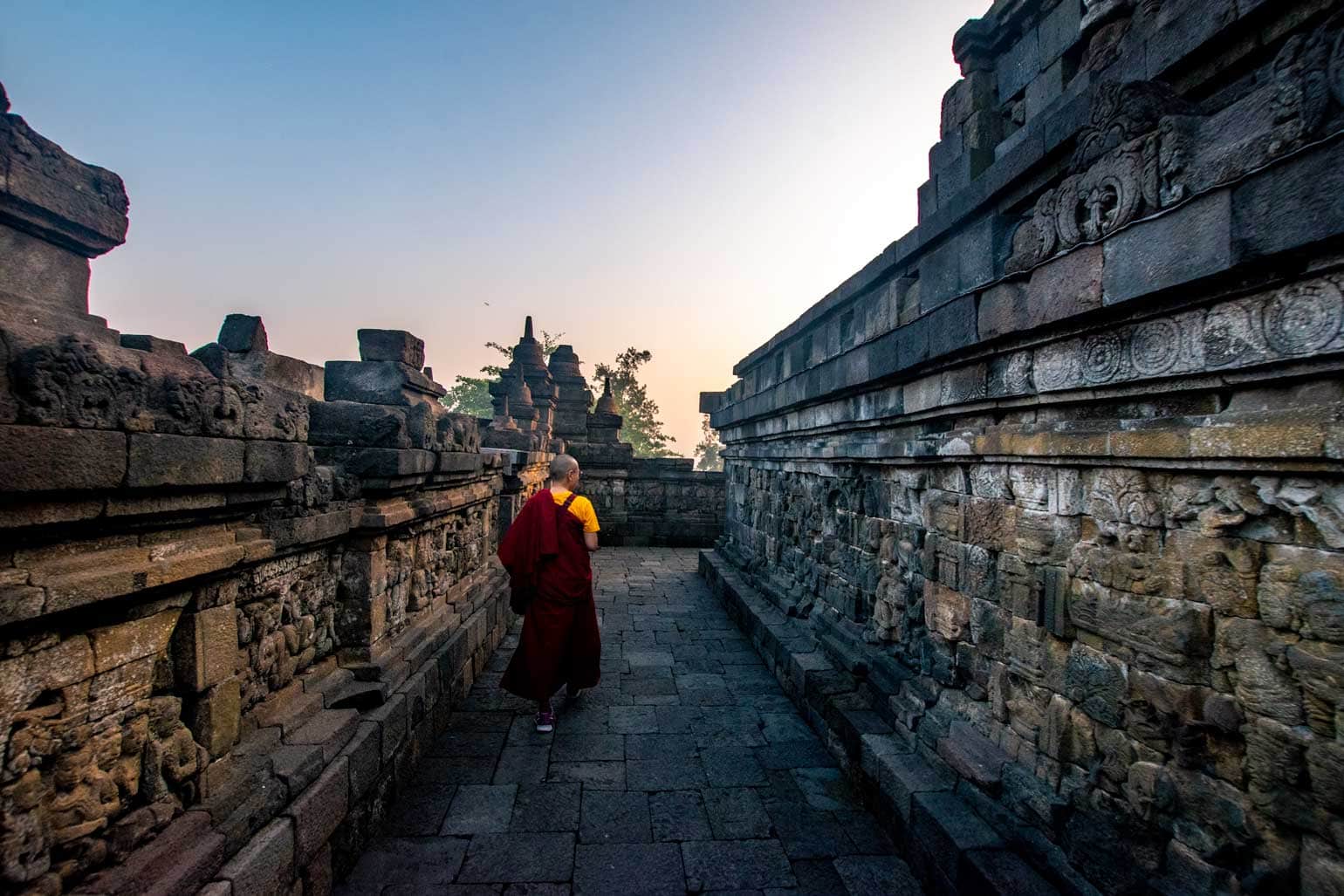 That's all from me, I hope you enjoy the sunrise at Borobudur!
————————————
If you haven't planned your trip there yet, find out how I plan my trips!
————————————
I've got 22 bucket list ideas for Indonesia. See my impossible bucket list of 1700+ adventures!

Is the sunrise at Borobudur on your bucket list too?

Some of the above are affiliate links and I will earn a percentage of the sale if you purchase through them at no extra cost to you. This helps keep my site running – so thanks in advance for your support!