The Angkor Wat sunrise sits comfortably high in many bucket lists, including mine. That's why the prime focus of my latest trip to Asia was to visit the legendary Siem Reap temples and enjoy the most famous sunrise in the world.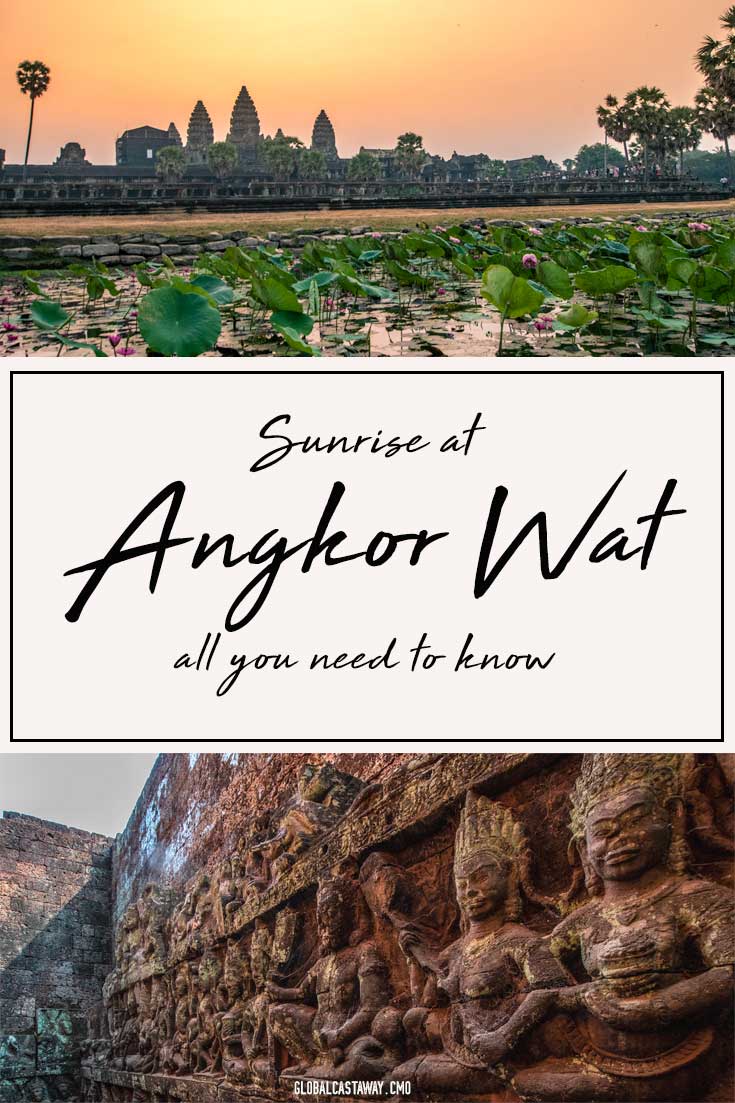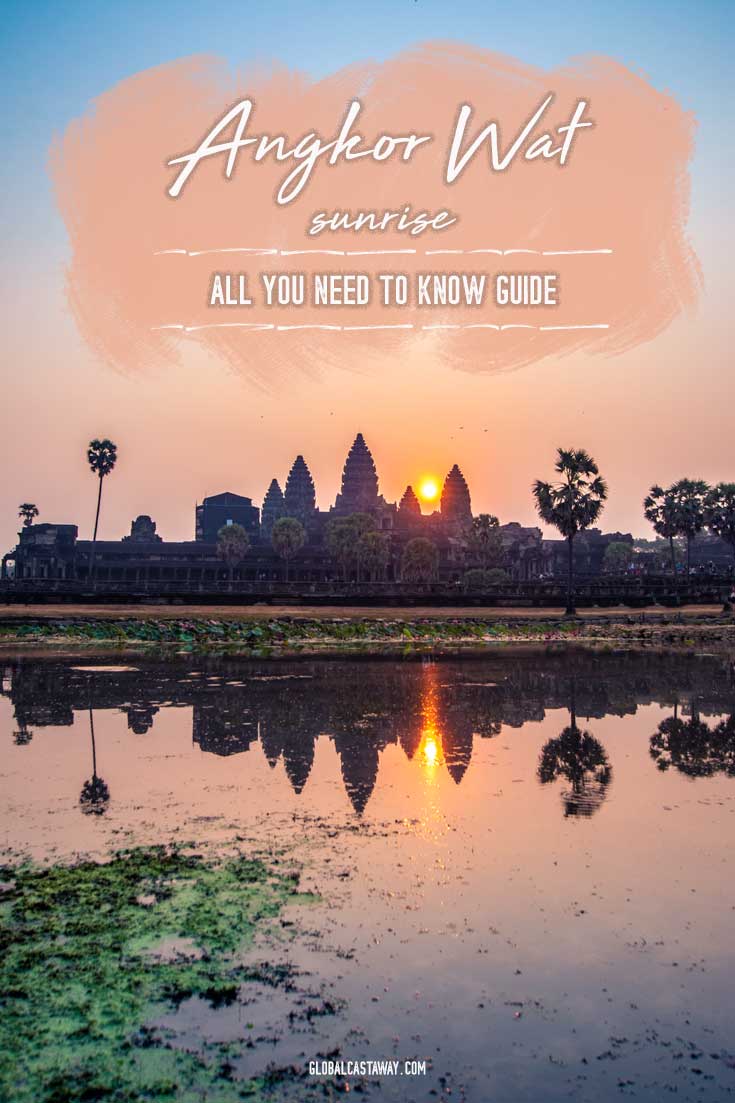 Been that popular, it should be easy to get the perfect Angkor Wat sunrise photo, right? Well, it's not. Even though I had researched the place throughout, I almost missed getting the iconic photo!
After arriving at the wrong pond, setting my tripod on the wrong side, and almost leaving before the actual sun comes out, I was adamant I need to write an Angkor Wat sunrise guide to help every other traveler/photographer to have a smooth Angkor Wat sunrise trip.
Before we get to the details, let's learn a bit more about the place you're about to sacrifice your sleep for.
What is Angkor Wat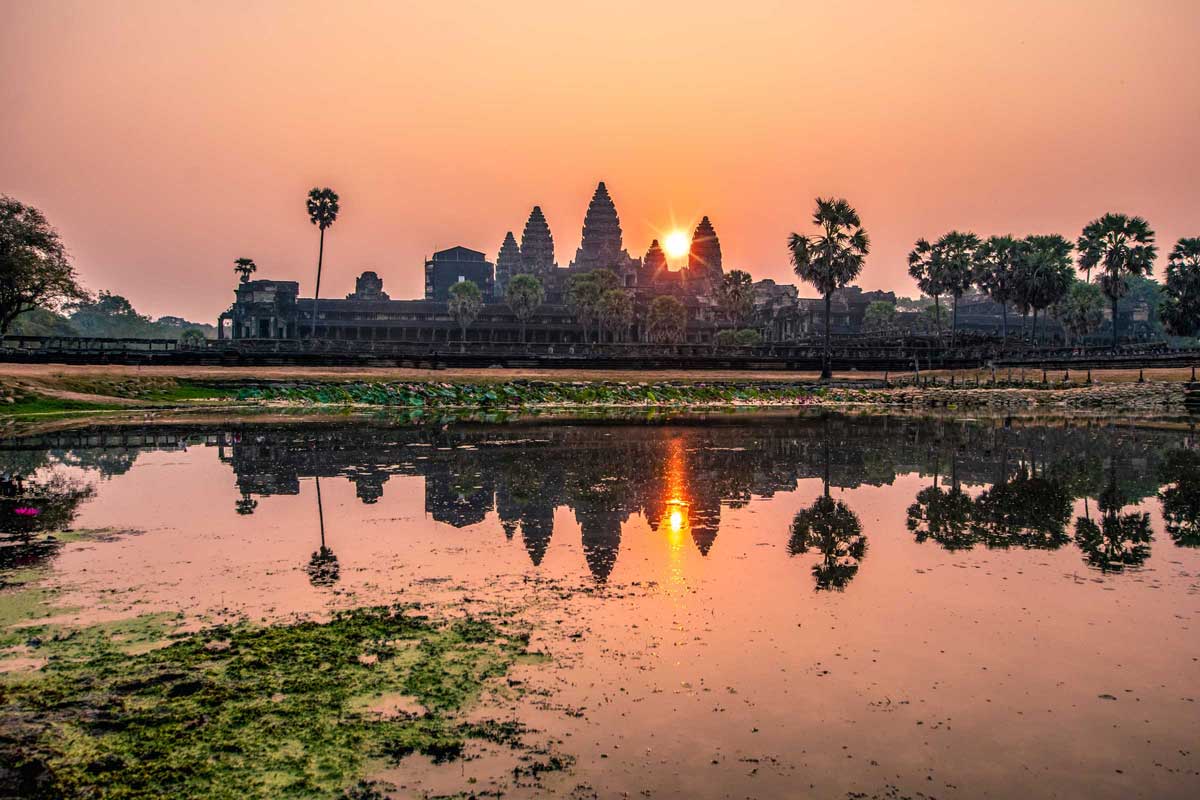 Located about six kilometers (four miles) north of Siem Reap, the Angkor Archeological Complex was home to various capitals of the mighty Khmer Empire.
Thriving from the 9th to the 15th centuries, Khmers ruled over an empire that stretched from Myanmar to Vietnam. Nowadays, the complex covers an area of more than 1000 square kilometers (400 square miles), and it's among the most important and well preserved archeological sites in Asia.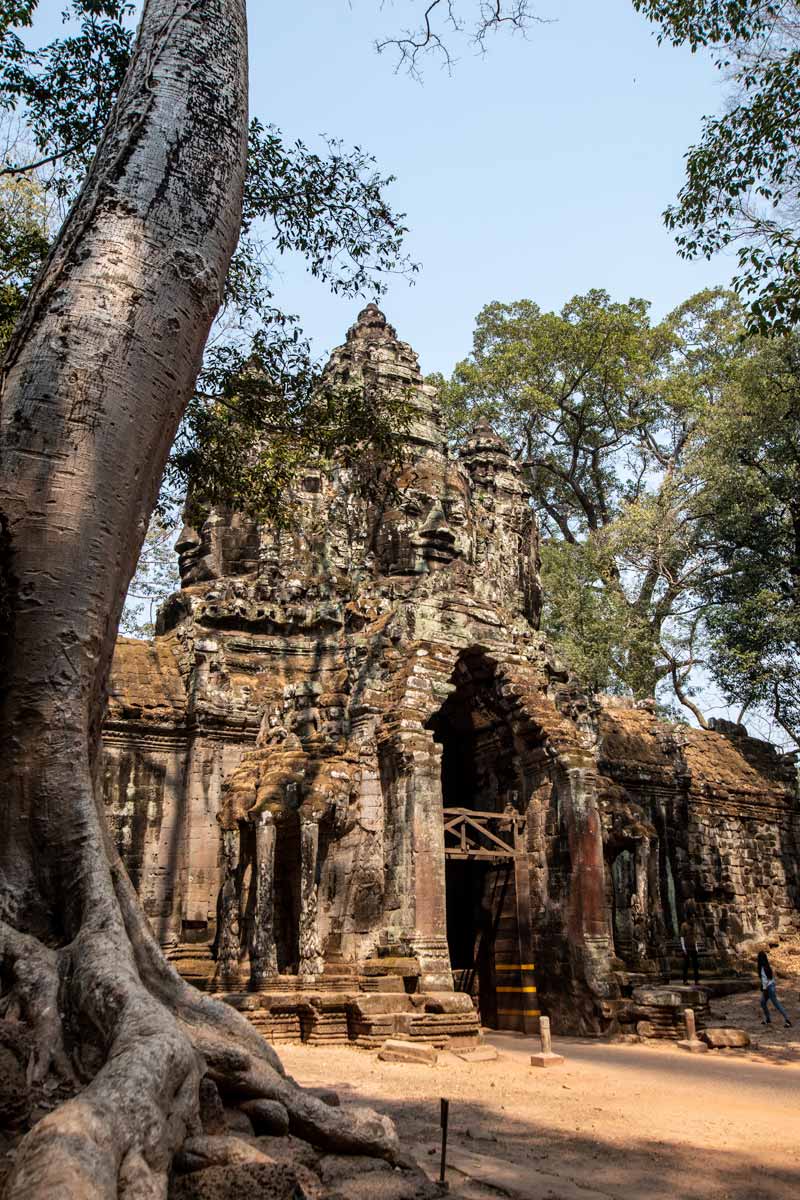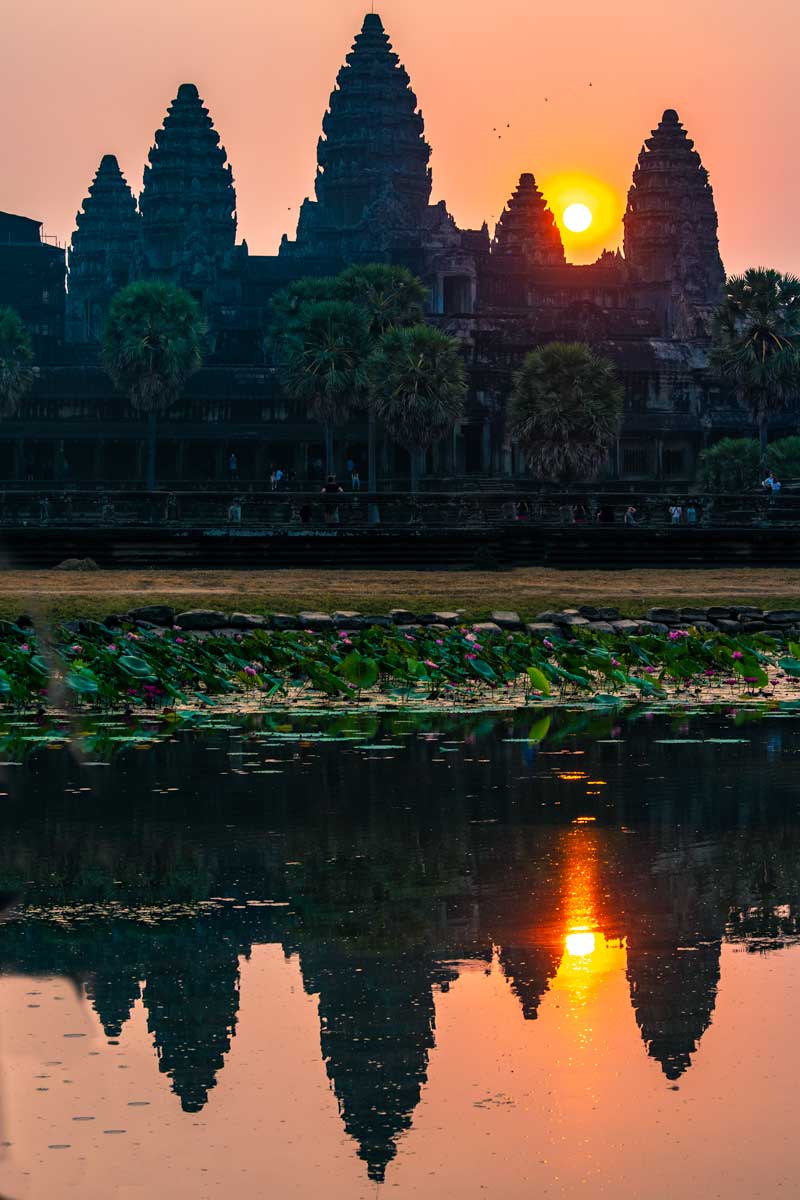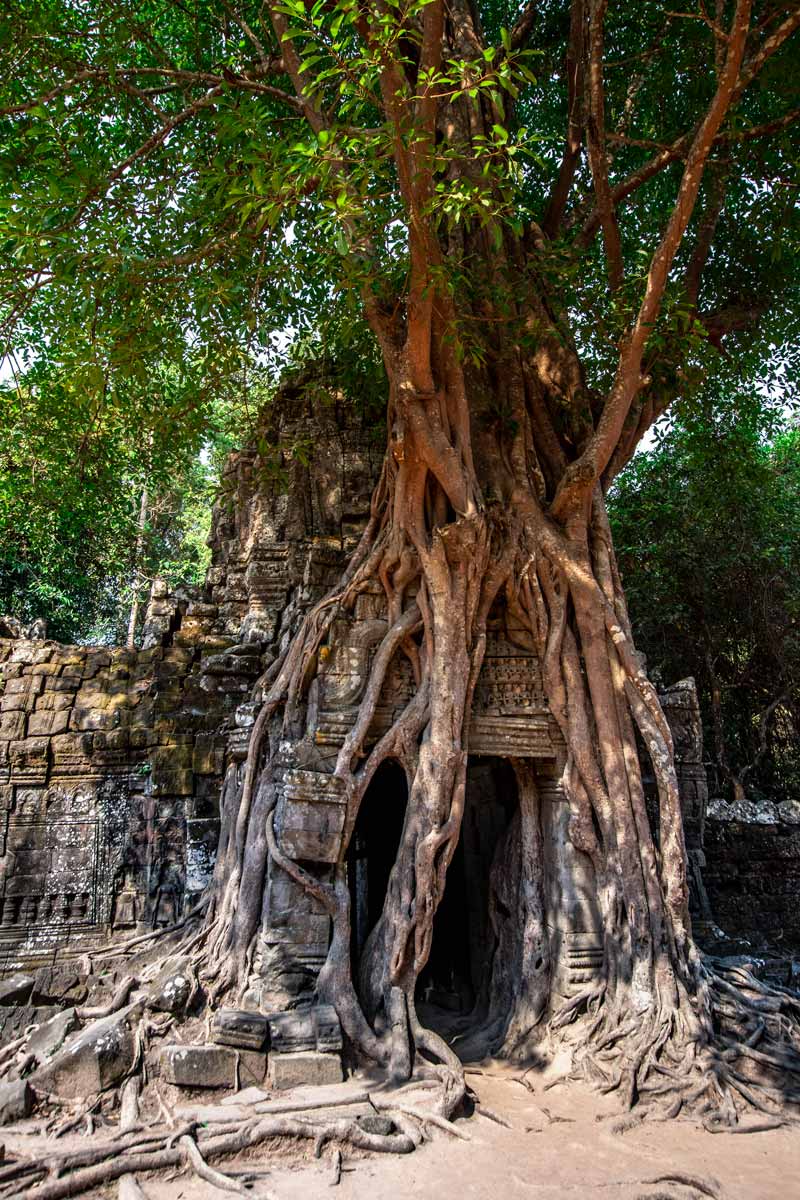 The Grand Temple of the complex – Angkor Wat, was built in the early 12th century initially as a spiritual home for the Hindu god Vishnu but later transformed into a Buddhist temple.
With its magnificent ancient-stone spires, beautiful ornaments, and picturesque silhouette it's no wonder that Angkor Wat is not just one of the hundreds of temples in the area but a masterpiece relic of human history revered strongly enough to be on the national flag of Cambodia and on their money.
Angkor Wat Sunrise Spots
Let's get to the point now. There are a few spots to make a gorgeous photo and one ultimate place where you can take the iconic sunrise photo.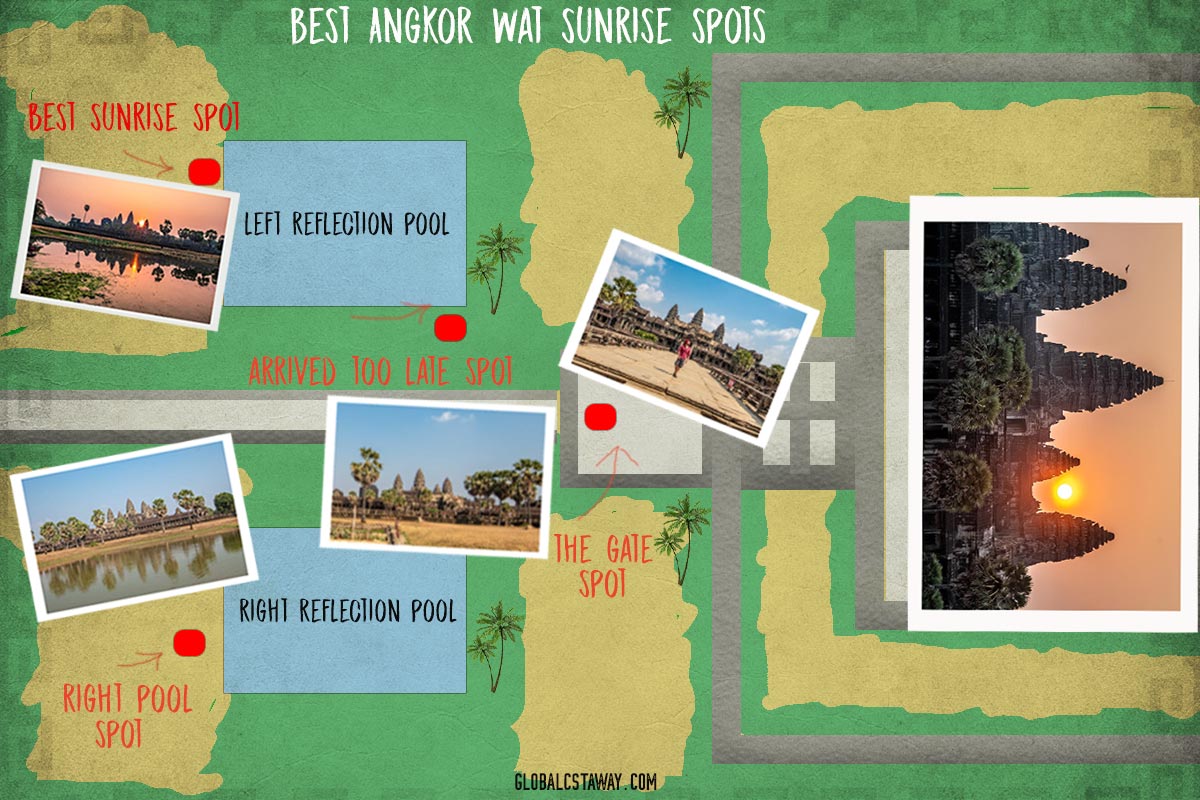 The left reflecting pool (aka the ultimate sunrise spot)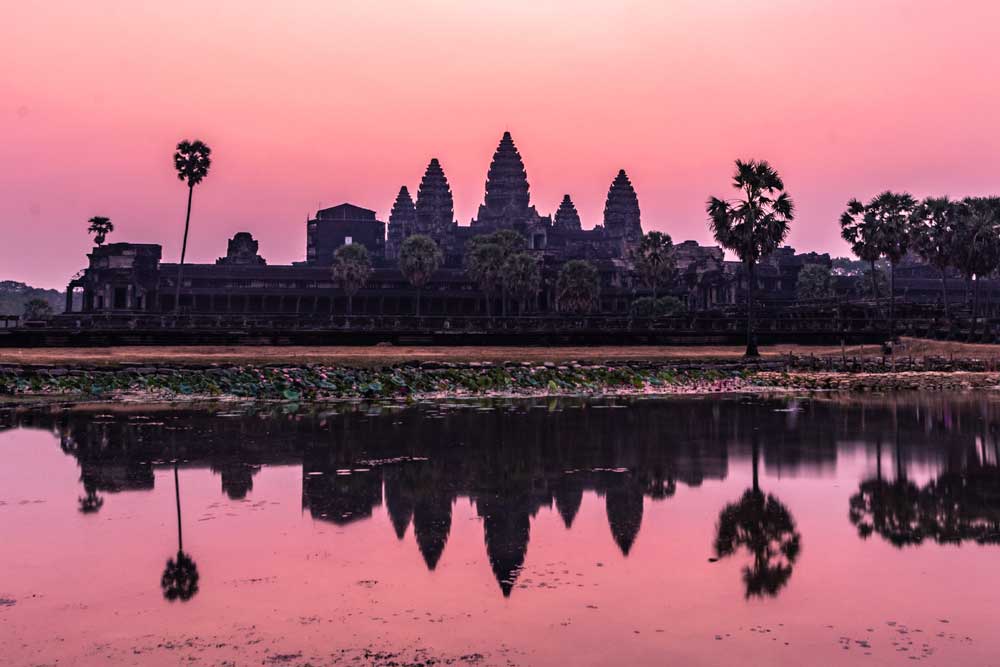 The good news is, the place is picture-perfect with clear reflection and symmetric view of Angkor Wat and its towers. It even has a natural frame of palms.
The bad news is – everybody knows about it, and there is a fight for the front-row spots. There are literally thousands of people on the left pond making it extremely hard to get to the best spots and ruining every chance for a tranquil experience.
The right reflecting pool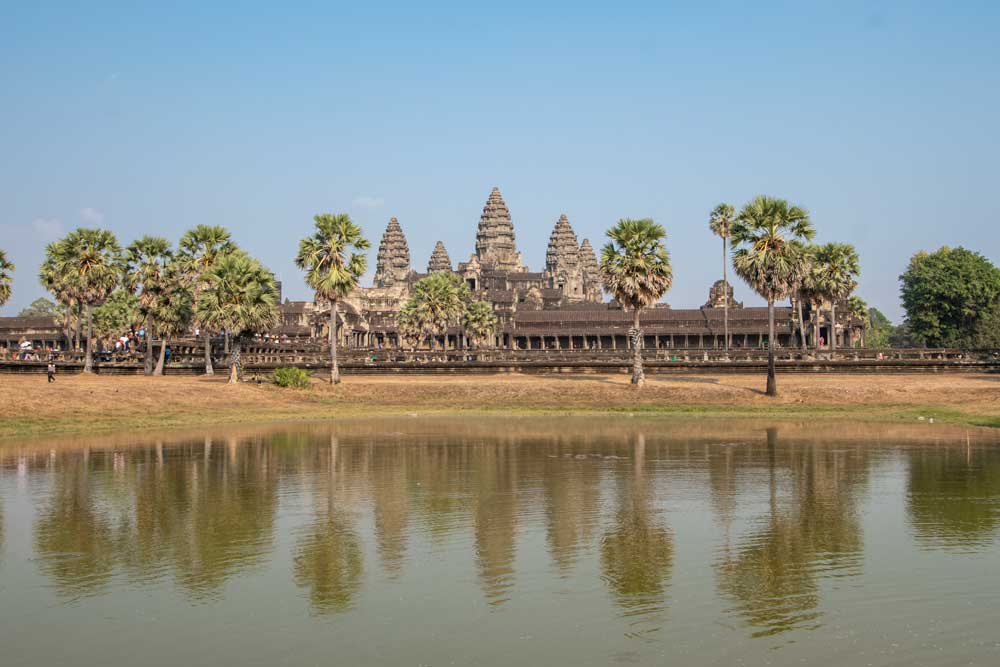 If you arrive late or you don't want to fight the hordes of tourists on the left pool the best alternative is the right pool.
The view won't be as symmetrical as the other one, but since there are way fewer people there, the sunrise experience will be more peaceful and hassle-free. A bonus of the right reflection pool spot is that you can hide the Angkor Wat left tower, which is currently under renovation, behind a palm tree.
See Also: Top 10 Temples in Siem Reap
At the front gate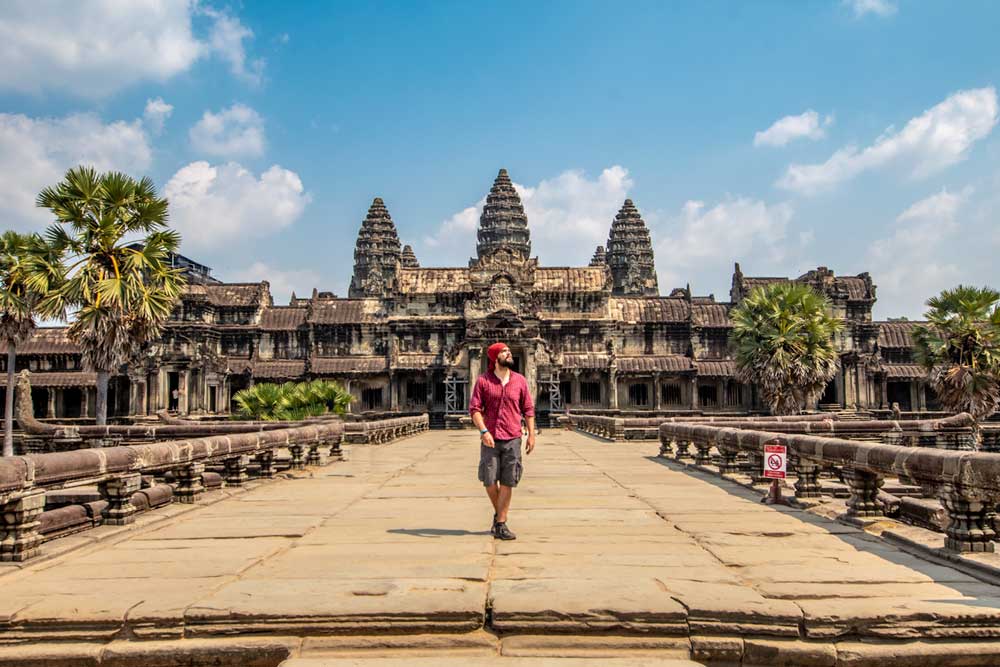 If you want a different perspective, a great photo spot is the bridge in front of the temple gate. During the day, it's incredibly hard to take a photo free of people, so one of the best chances you're gonna get is at sunrise when everybody is at the reflection pools.
On the right side of the left reflection pool (aka arrived too late spot)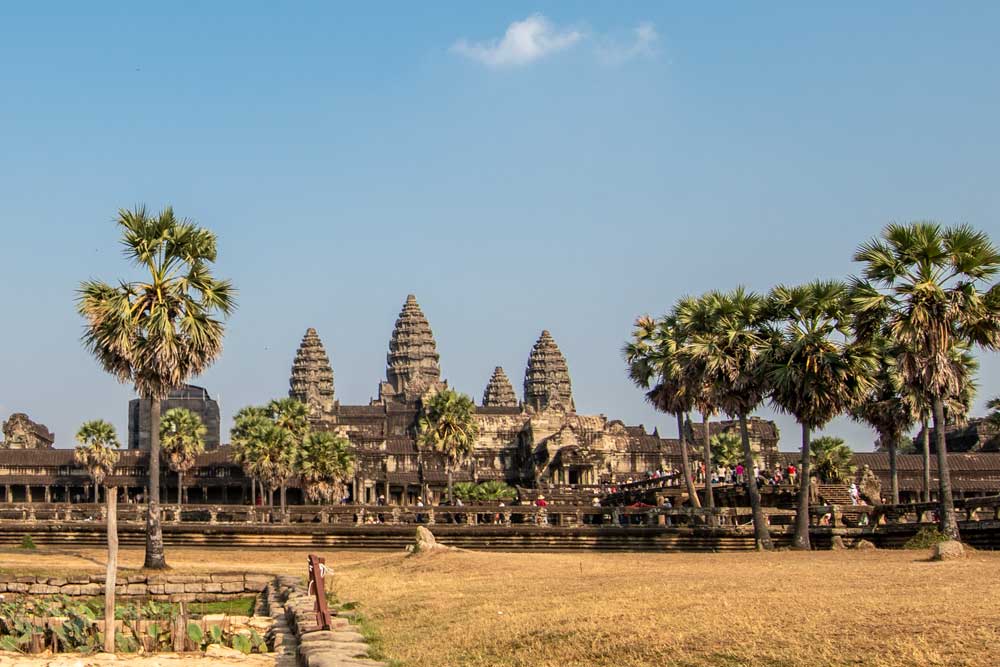 If you're too late for a front-row place on the left reflection pool, you can go in its top-right corner.
You need a wide-angle lens, and you won't have the gorgeous pond reflection, but you'll get a good composition of the spires with some palm trees in the corners.
The Other Angkor Complex Sunrise Spots
Even though there are dozens of temples in the area, all but a few of them opens at 7:30 AM ruling them out as potential sunrise spots.
The few chosen ones beside Angkor Wat are Pre Rup, Phnom Bakheng, and the reservoir that used to be a royal bathing pool – Sras Srang.
Pre Rup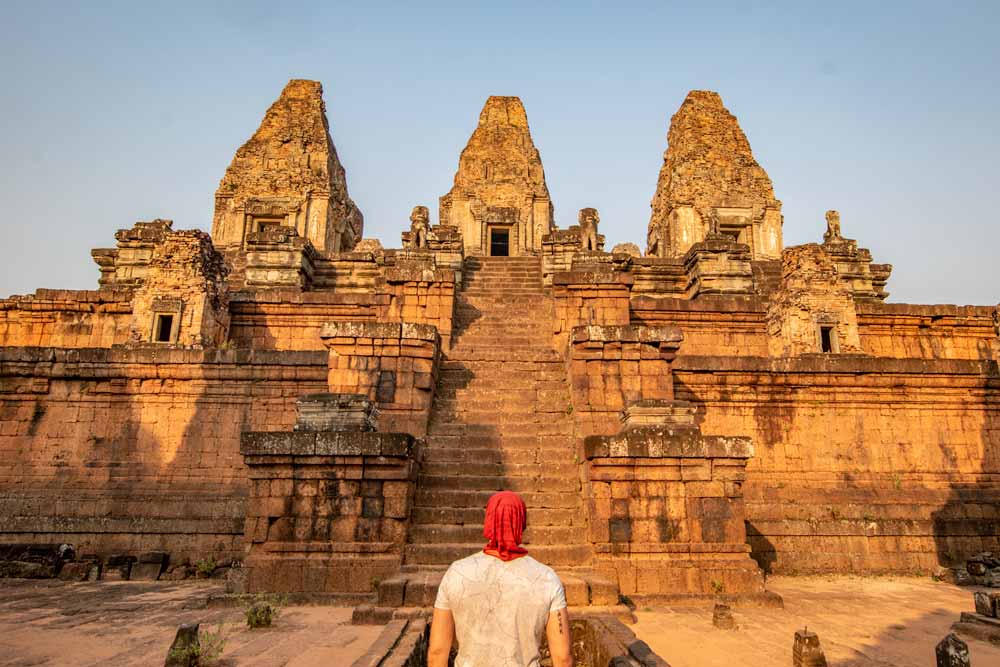 It's a small temple, part of the big circle tuk-tuk route and designed in a similar fashion to Angkor Wat. It's not nearly as impressive as the big guy, but If you decide to go for the sunrise there, it's almost guaranteed you're gonna be the only ones there.
Phnom Bakheng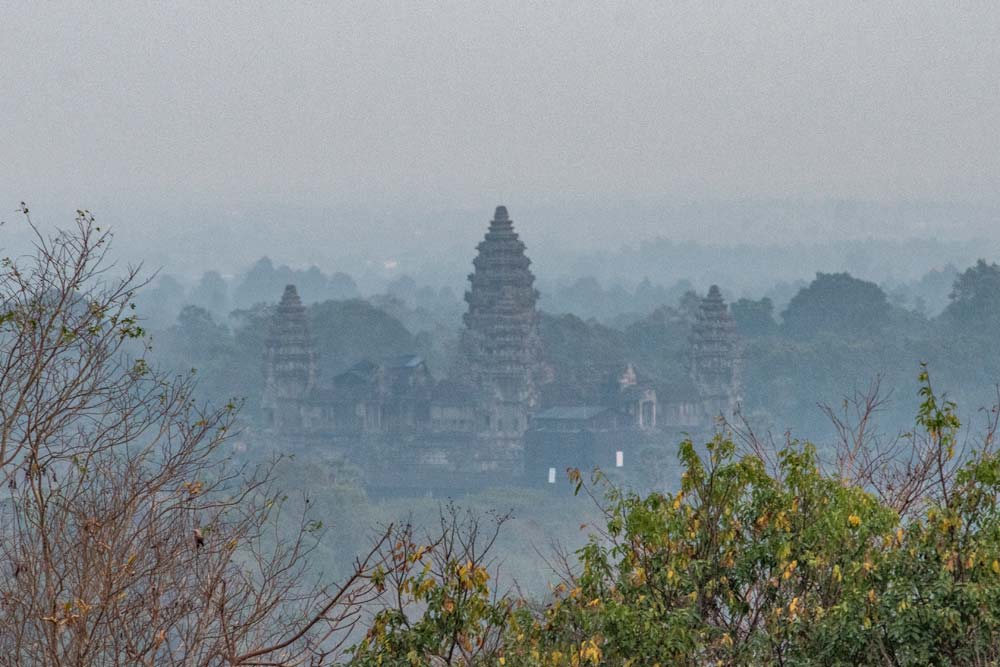 This temple is located on a hill close to the main temple, and it's more popular as a sunset photo spot, but it works for sunrise too.
Since you can see Angkor Wat in the distance, it's not a bad place to catch a mystic photo with morning mist around the temple and the dense jungle around it.
Make sure you bring your best telephoto lenses though, cause Angkor Wat is quite far in the distance. If you intend to take pictures with a phone, Phnom Bakheng is not your place.
Sras Srang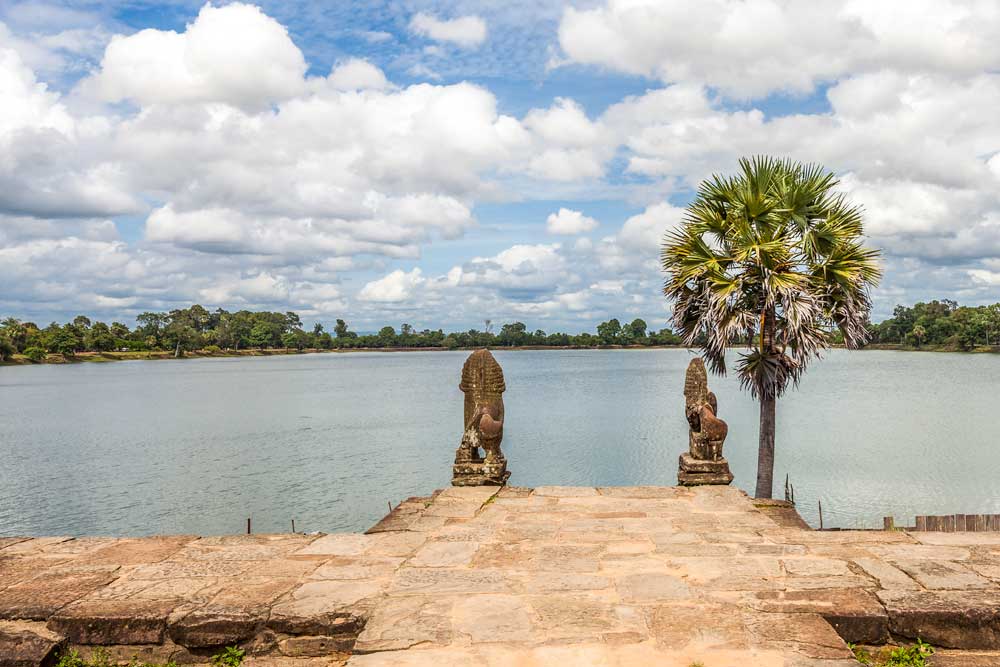 Not really a temple but more like a lake. If you catch a picturesque sky with some interesting clouds, you can make a kick-ass reflection photo there.
If you're a sunrise chaser that's not looking that much into the photo opportunities but more of the peaceful, tranquil experience – this is your spot.
Angkor Wat Sunrise FAQ
How to Get the best Angkor Wat sunrise photo?
– Reserve More Than a Day
If you really really want to have that perfect picture, plan more than one sunrise hunt. Even if you manage to get a top spot from your first try, you can never guess what sky you're gonna get. Having more than one try gives you higher chances for a top-notch photo.
– Don't go on your first day
If you need to get your pass (which is bought at the ticket office and opens at 5:00 AM), you're gonna be too late for the best spots. Get your entry ticket the day before and go for a walk around Angkor Wat to get to know the area.
– Make Sure you're at the correct pond
So, yeah, going to the wrong lake is something I did…in my defense, there are two bigger ponds just outside Angkor Wat that can easily confuse a first-time visitor. Make sure you go to the small reflection pond inside the temple grounds! The one on the left side is the better one.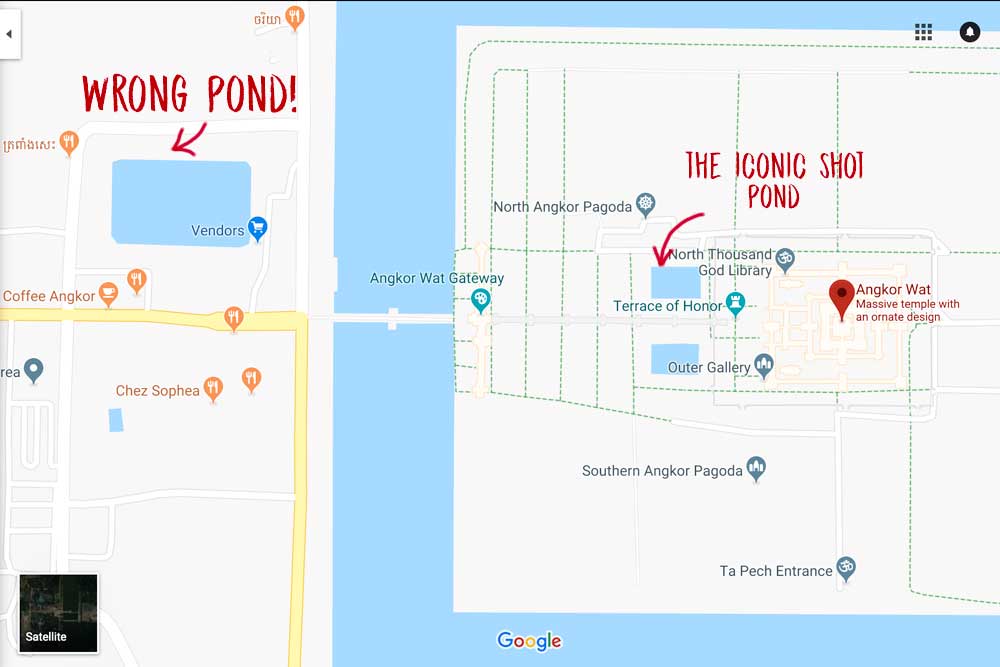 – Go early
Not just early – very early. Leave your hotel at 4:30 AM to make sure you're one of the first people who enter the Angkor Wat area (opens at 5:00 AM)
– Use the correct bridge
This again may seem like an obvious one, but when it's that early in the morning, everything is dark, and you rely solely on Google Maps (or whichever map app you use). And on Google Maps, there is only one distinctive bridge that appears to be the entrance to Angkor Wat.
Well, it may have been, a few hundred years ago, but today it's closed, and there is another, floating one. Make sure to go there before 5:00 AM to be among the first ones inside.
– Find the best position at the pool
You think you get that one covered since you've taken thousands of photos and can easily find the right spot? That's what I thought. But surprise surprise, at 5:00 AM, it's still dark, and you can't see the Angkor towers. The first spot I took was at the center side of the pond and when it got a little brighter, I found out a palm tree is blocking one of the temple spires, so I had to move to the left and lose my hard-earned front-row seat…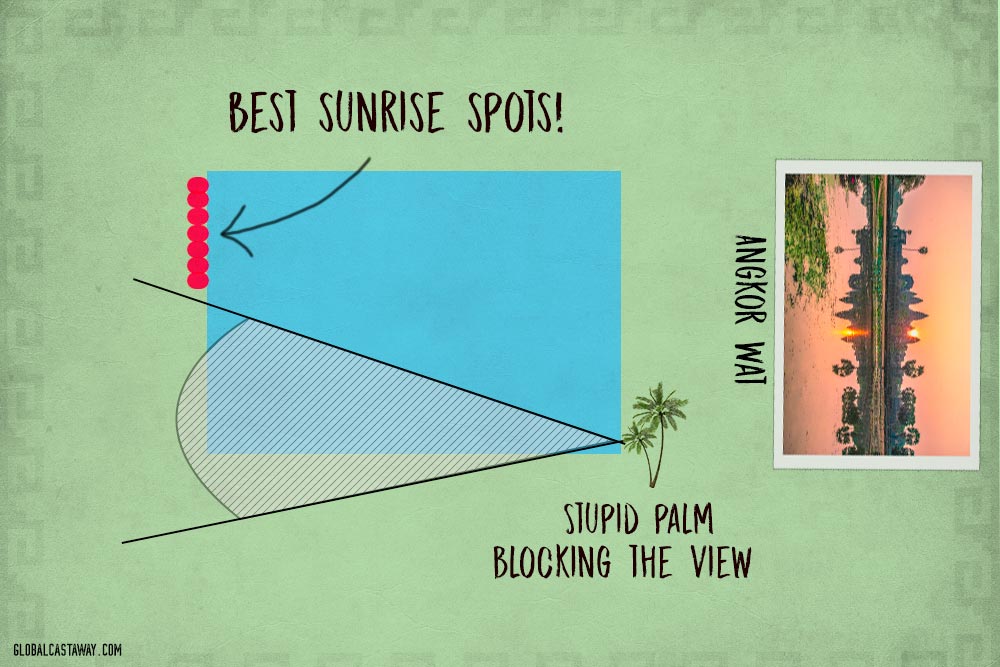 – Use long exposure
To get the very best out of every sunrise or sunset, you need to learn to use the long exposure technique. The idea is that you leave the shutter open for a long time so the camera can catch all the lights around and produce a clearer and brighter photo.
If there are moving clouds or water, it gives them a nice foggy look too. While the shutter is open, every little move or shakes to the camera will result a blurry photo, so a tripod is a must.
Here's a video tutorial that will teach you more about the long exposure technique
– Mind the lilies
When choosing your position consider the position of the lilies in the pool. One of the things that make the Angkor Wat sunrise photo perfect is the beautiful reflection, and you don't want some lilies covering it.
– Take vertical photos too
Taking vertical photos at Angor Wat makes it hard to get all towers inside the frame, but if you plan to post the picture on Facebook or Instagram, the vertical ones look so much better on phone screens!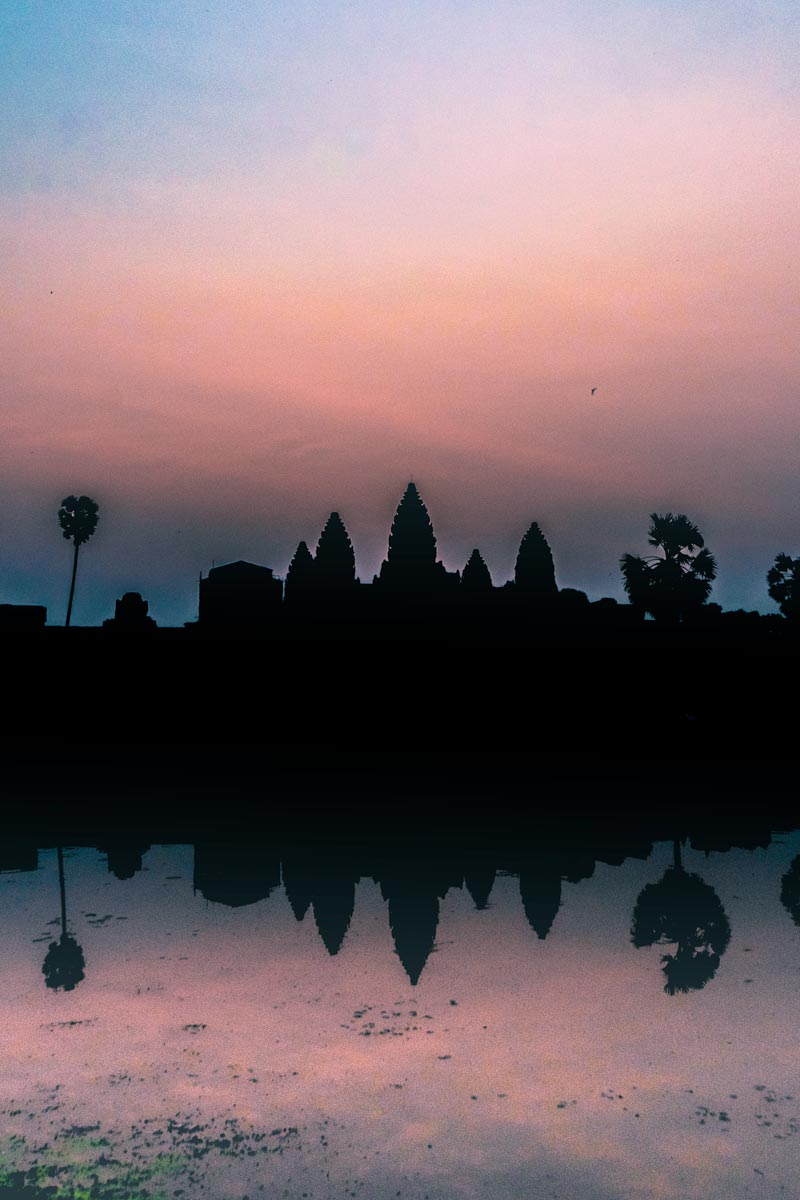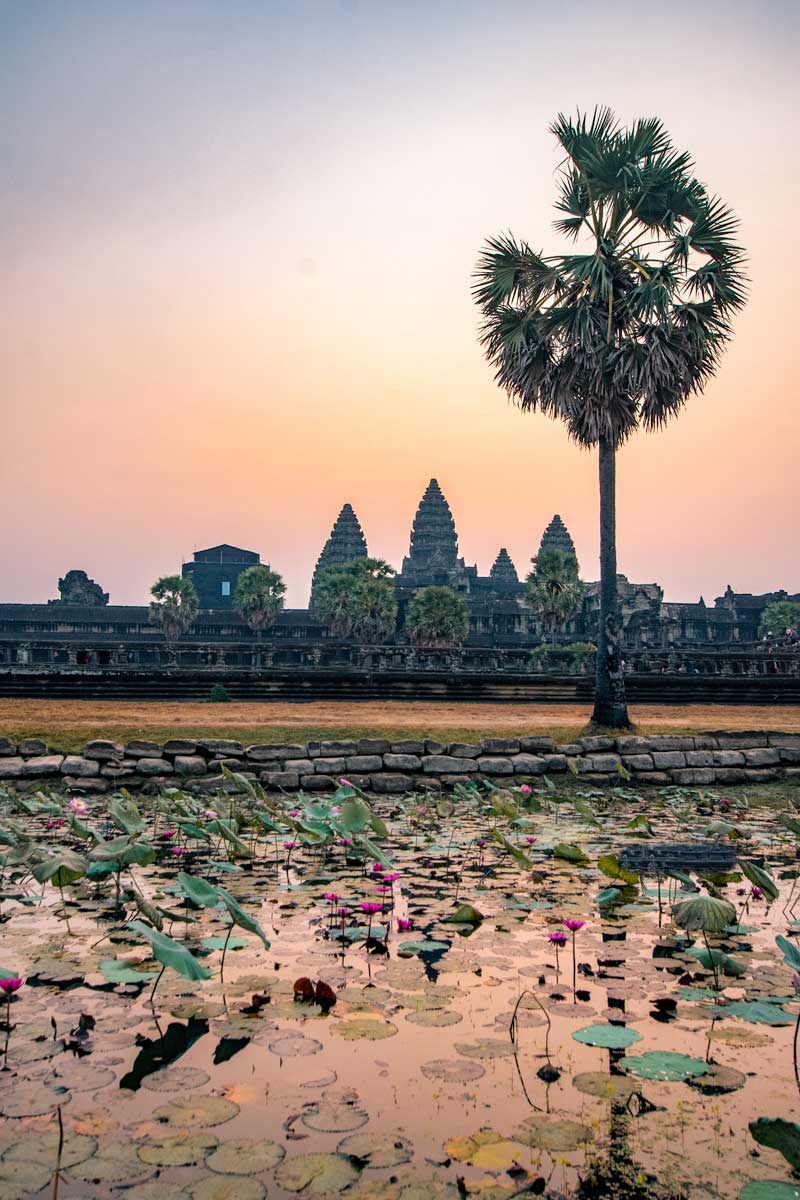 – Wait until the sun comes out
This is an error I saw a lot of people do (I almost did it too). You start your shooting around 5:30 AM when the golden hour starts and the light is soft and warm. At 6:00 – 6:15 AM, the sky becomes full-time lovely pink/purple/orange color, and everybody is like "Wooow".

At 6:30 – 6:45 AM it's already pretty bright, and the sky is not as colorful as before, so the crowds leave the reflection pond to go inside the temple. Don't follow them! Wait around half an hour more, and the sun will slowly peek behind the temple!
Beautiful photo opp that may result in a better picture than the colorful-sky one you took earlier.
Make sure to double check the sunrise time in Siem Reap for the timeframe of your visit.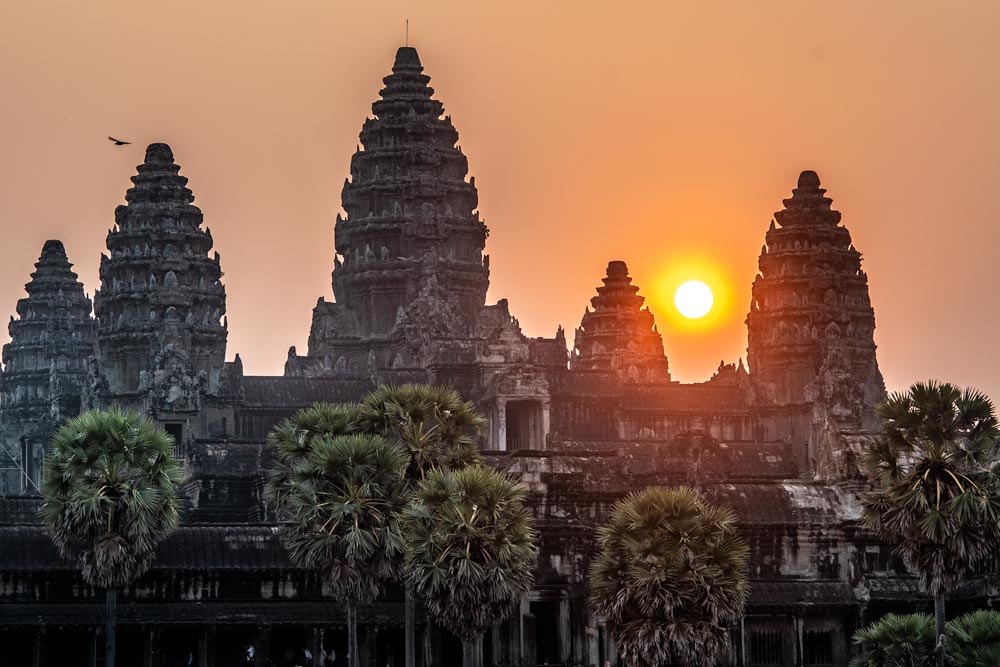 – Post-process
Get yourself Lightroom or other post-processing software and get out all the colors your camera captured. Don't worry, post-processing your photo is not cheating, and it doesn't mean your photo is fake.
What to bring to your sunrise in Angkor Wat?
Make sure you let your hotel knows you're going for the sunrise so they can prepare your breakfast to go. Besides that, you need clothes that cover your shoulders and knees (especially if you're a woman), a tripod (a small gorilla tripod will do, but you need to make sure you get a prime spot), ND filter (to make the long exposure longer) and if you plan to use a phone – a selfie stick. Not to take selfies but to lift your phone above the crowd when taking your Angkor Wat sunrise photo (you can do some selfies later too).
How to visit Angkor Wat?
To visit Angkor Wat, you need to make your way to the town of Siem Reap. You can do it by bus or by plane (the city does have an international airport)
Siem Reap is used to having a large number of tourists, so you won't have trouble finding everything you need including pre-paid travel sim cards and all types of food joints.
How to get around Siem Reap and the Angkor complex?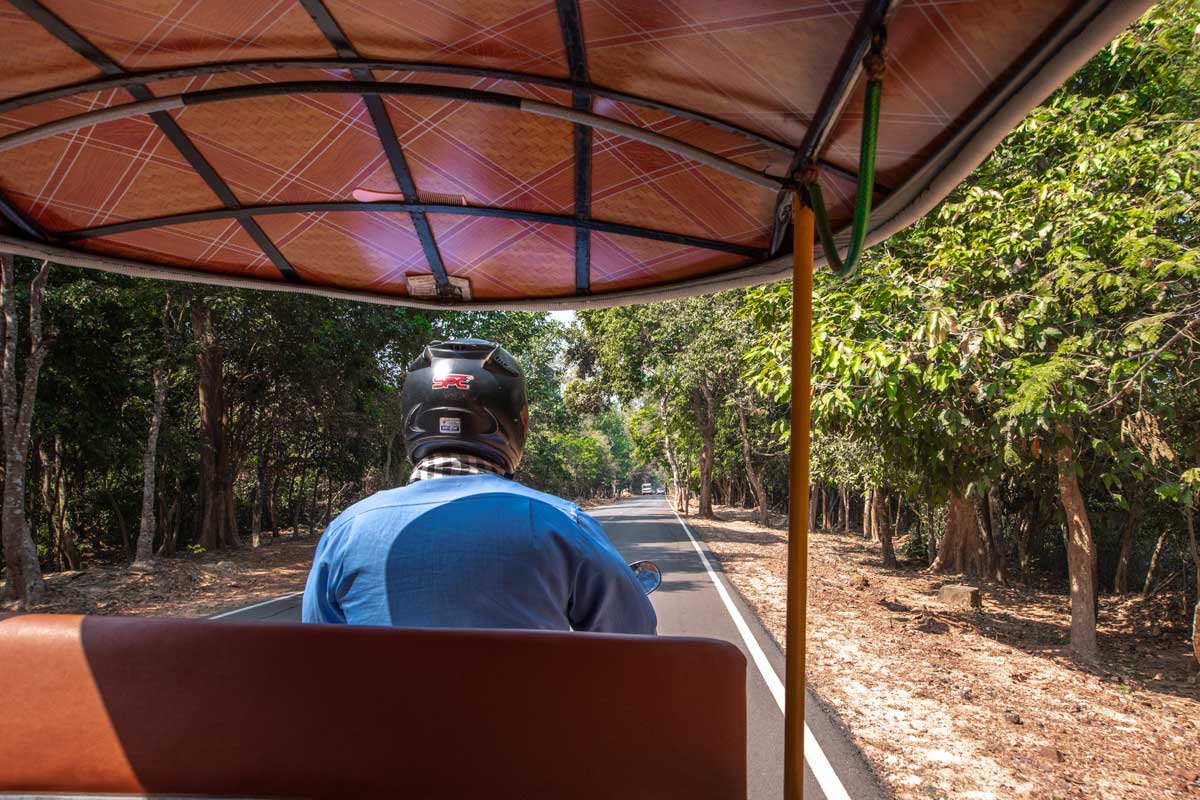 Driving a car inside the complex is forbidden to foreigners, but you may rent a bike if you like. I don't recommend it though since the distances are long and the Cambodian sun is relentless!

The best way to navigate around the city and the Angkor complex is to hire a tuk-tuk for the day. The price is between 20$ and 30$ (per pax) per day, and you can direct your driver to take you anywhere you want. There are thousands of tuk-tuks in Siem Reap, so you won't have a problem finding one.
If you want a nice reliable drive you can communicate with before you even arrive in Cambodia, reach out to Mr. Sok. He speaks excellent English, drives carefully, and will give you insider tips about all the temples you visit. If he is not available, he will send one of his friends. I can personally recommend Mr. Thorn who not only was always on time and drove very carefully but also, after every temple visit, was waiting for us with a bottle of cold water and wipes.

Getting a tuk-tuk this way won't only guarantee your perfect experience but will also ensure your tourist money goes to the local people of Siem Reap and not some mob boss!

To reach Mr.Sok, add him as a friend on Facebook first and then write a message (this way you can be sure the message will be seen and not sent into the "others" inbox that nobody ever checks).
That's all from me, I hope you get the perfect Angkor Wat sunrise photo.
————————————
If you haven't planned your trip there yet, find out how I plan my trips!
————————————
I have 11bucket list ideas for Cambodia. See my impossible bucket list of 1700+ adventures!

Is the Angkor Wat sunrise on your bucket list?
---
Some of the above are affiliate links and I will earn a percentage of the sale if you purchase through them at no extra cost to you. This helps keep my site running – so thanks in advance for your support!