Also known as the Emerald of the Equator, the Indonesian archipelago is one of the most Edenic places on earth. Home to thousands of tropical islands, majestic waterfalls, steaming volcanos, and thick rainforests, it's not surprising that two-thirds of the top Indonesia landmarks are natural.
Add to that the biggest ancient Buddhist temple and the Hindu-dominant Balinese culture, and you get one of the most awe-inspiring lands in Southeast Asia and the world.
Ready to embark on a life-changing, wanderlust-awaking, bucket-listy virtual journey around the most magical landmarks in Indonesia?
Here we go!
Natural Landmarks in Indonesia
As mentioned above, the natural Indonesia landmarks would be dominant in this list. The country has so much to offer in that department; it's just ridiculous. From blue-fire volcanos to endemic species and dinosaur-shaped beaches, here are the very best natural landmarks in Indonesia!
Mount Bromo, Java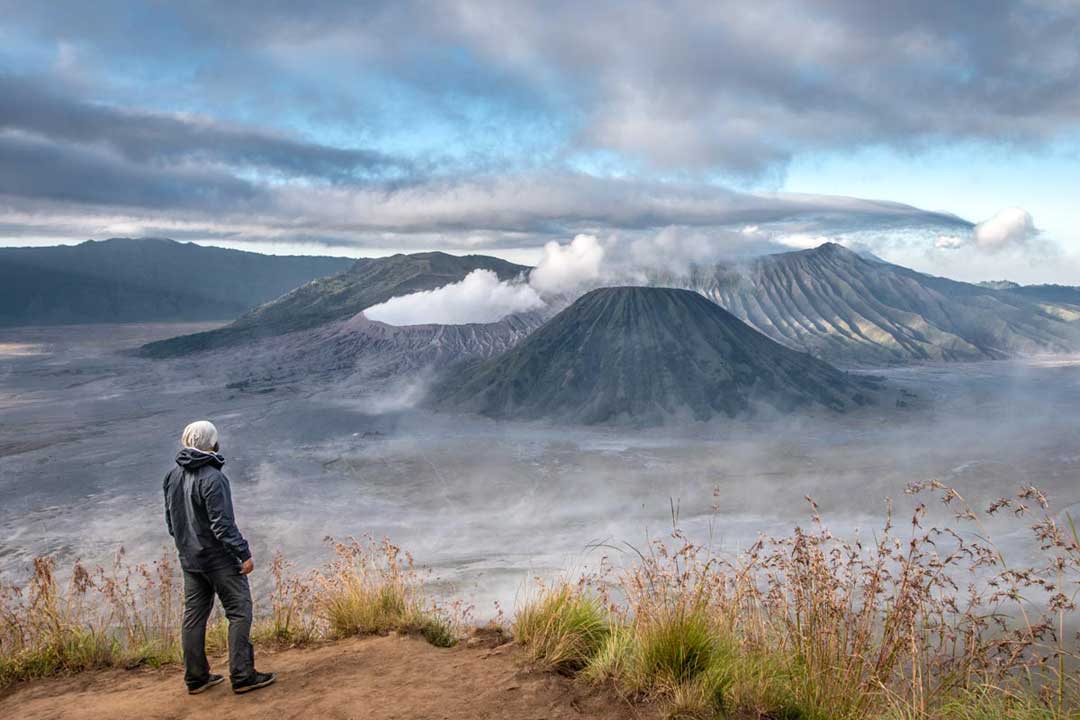 Mount Bromo is part of the Tengger-Semeru National Park situated in the east of the Java island and is one of the most sought-after natural attractions in Indonesia.
The friendly volcano is famous for being extremely easy to climb (it's more of a walk than a climb) and also for being among the most picturesque mounts in the world. Every morning, thousands of people flood the numerous viewpoints scattered across Bromo, trying to find a good spot to enjoy the legendary sunrise. The only place in the world where rush hour is at 3:00 AM.
See Also: How to Climb Mount Bromo Without a Tour
Mount Ijen, Java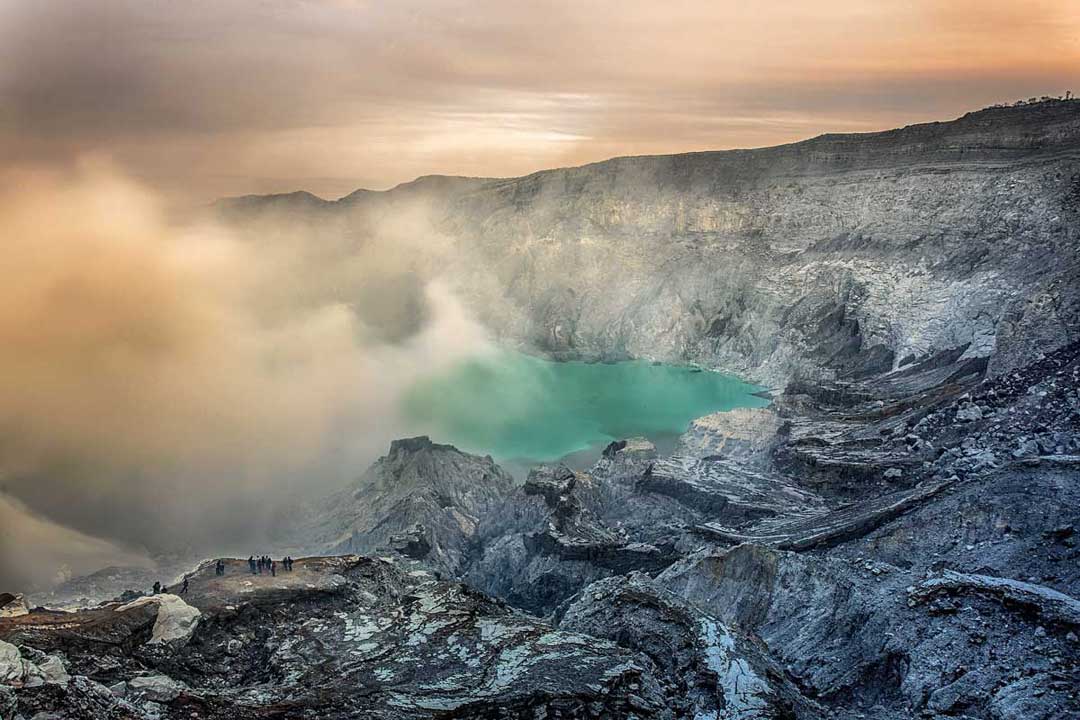 Kawah Ijen is another volcano located in eastern Java. While Bromo is famous for its picturesque sunrise, Ijen has another quirk – blue fires.
Hold on a minute, what?
Yes, Mount Ijen's rich sulfur deposits create one of the most extraterrestrial shows on earth – the blue flames of Ijen. If you want to see them, prepare to wake up at dark and have an exhausting climb, navigating yourself around the local mine workers. Hefty task indeed, but the reward is totally worth the effort.
Komodo National Park, Lesser Sunda Islands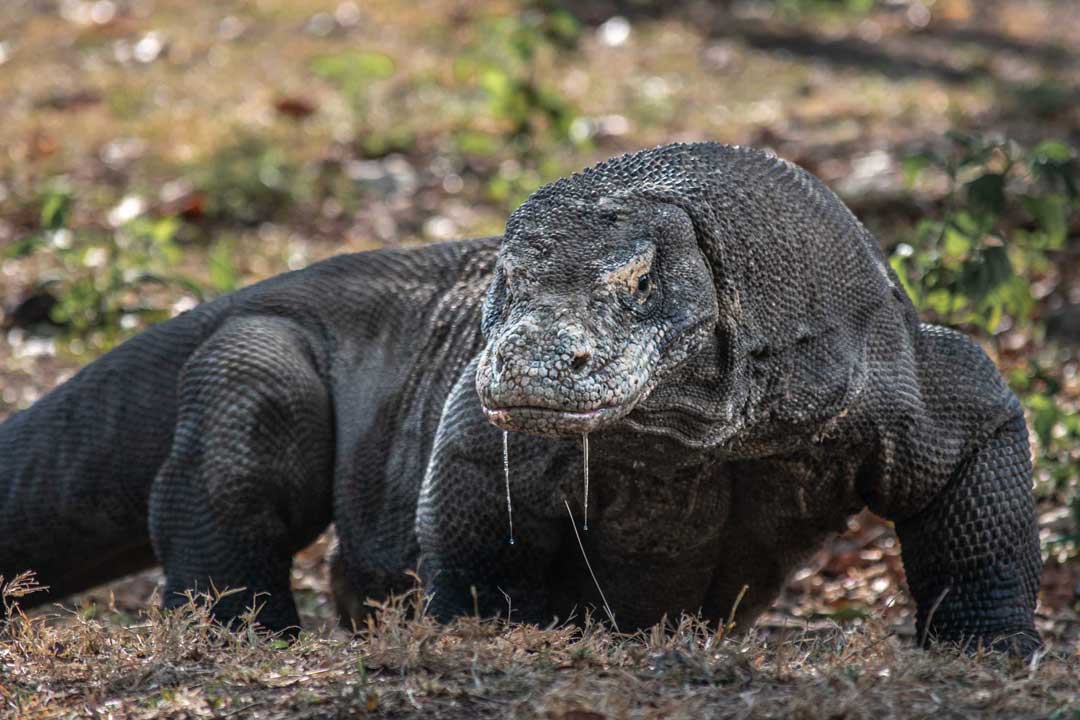 Being part of the new Seven Wonders of the World, Komodo National Park is so outstanding that you can't describe it with words. The plethora of tropical islands features one of the most vibrant marine ecosystems on the planet, making the park a favorite place among divers from all around the world. Couple that with the legendary endemic Komodo Dragons, and you can see why Komodo is one of the top Indonesia landmarks and a must-have on every bucket list!
See Also: A Magical Journey Around Komodo
Raja Ampat, West Papua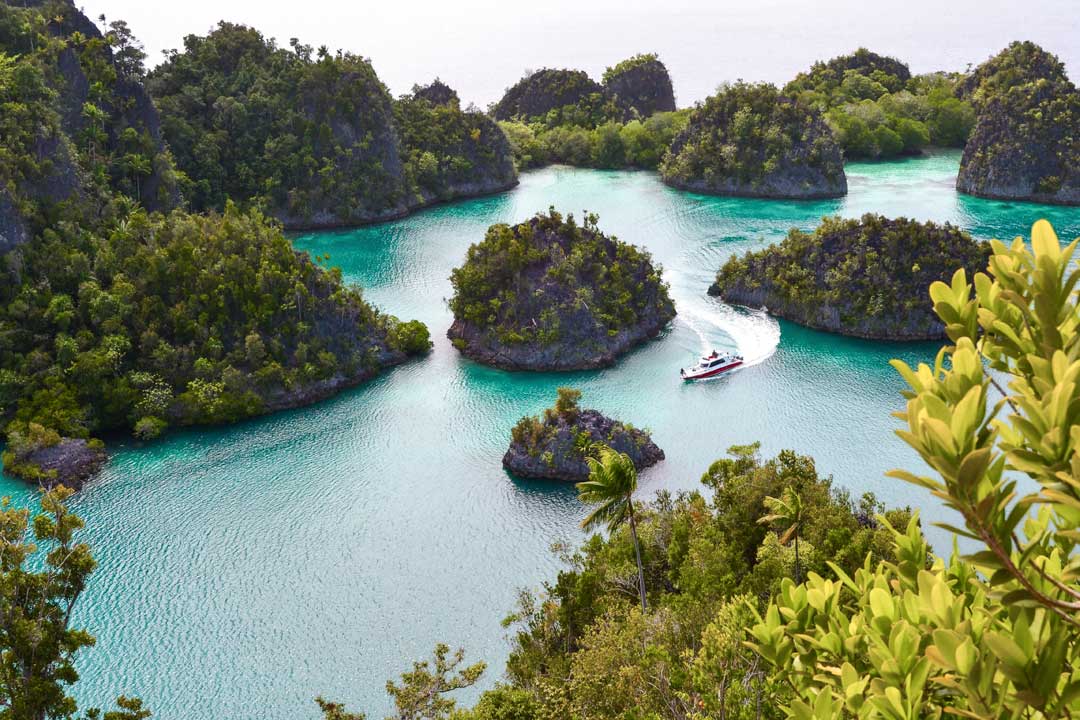 If Komodo has one of the richest marine ecosystems, Raja Ampat posses unquestionably the richest one. Nicknamed 'The Last Paradise on Earth', this idyllic archipelago is home to countless endemic species living in three-quarters of the world's coral varieties. The absolute diving Meca!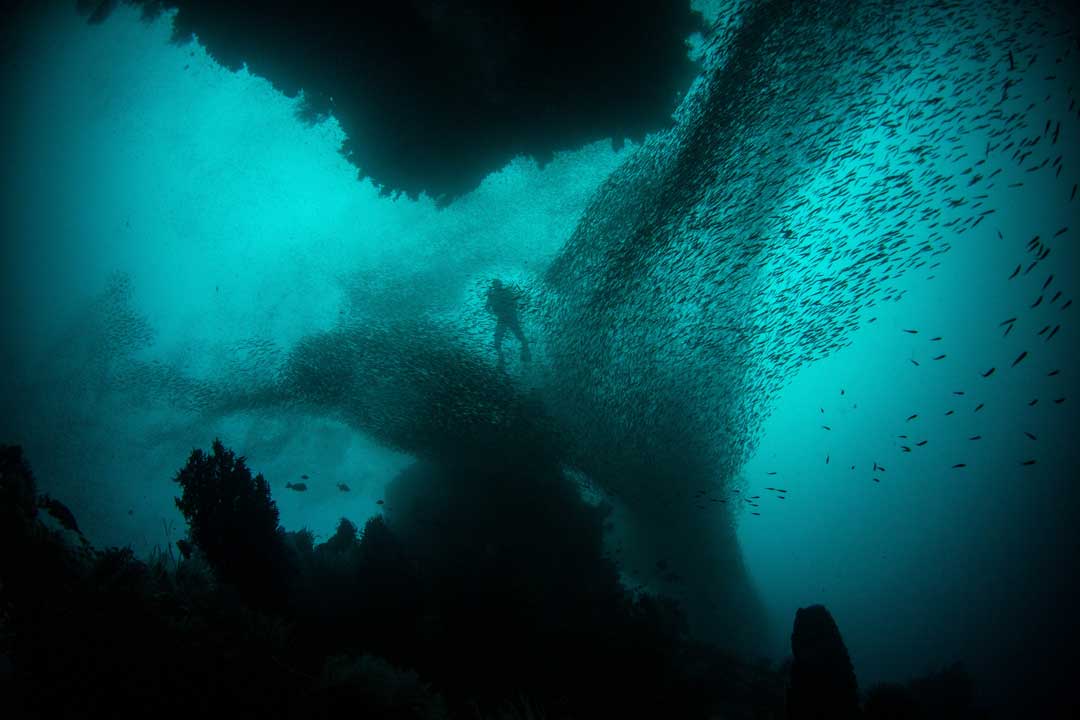 And if diving is not your thing, there are 1,500 jaw-dropping mostly-untouched tropical islands to explore. The only catch is that Raja Ampat is quite remote, not that easy to reach, and offers mostly basic accommodation. A small price to pay for such a natural treasure if you ask me.
See Also: Top 20 Landmarks in Vietnam
Tanjung Puting National Park, Borneo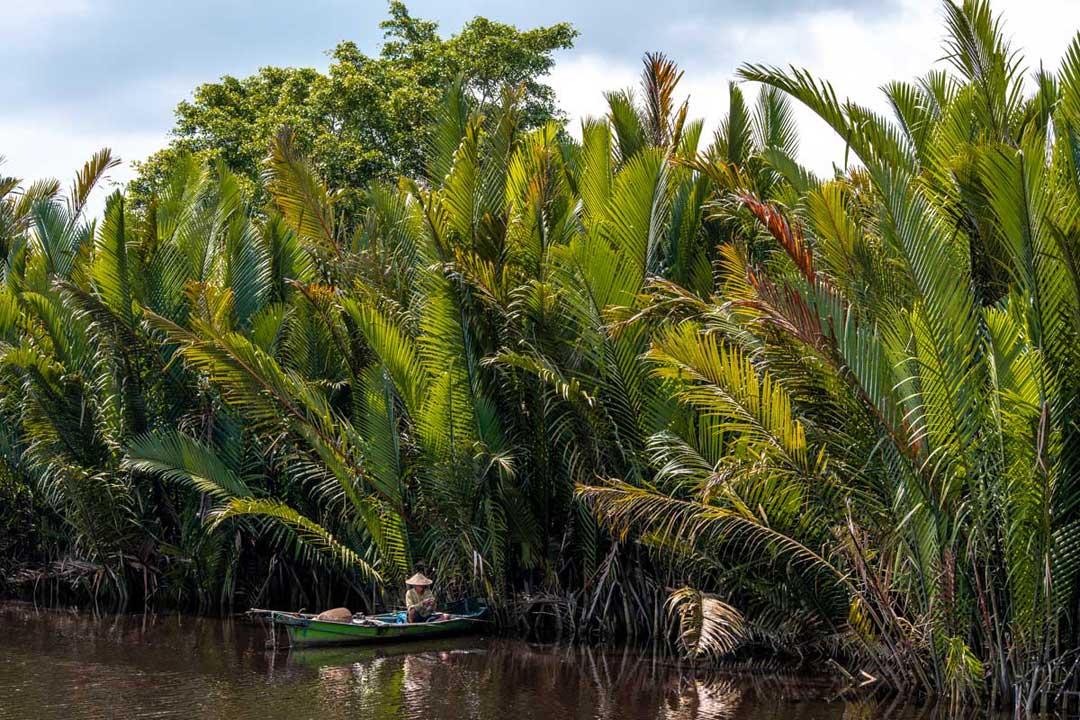 Tanjung Puting is one of my favorite landmarks in Indonesia. Staying somehow off the beaten path, this legendary park is where Dr. Birute Galdikas began her study on rescued and orphaned orangutans. A study that led to almost everything we know about the great apes today.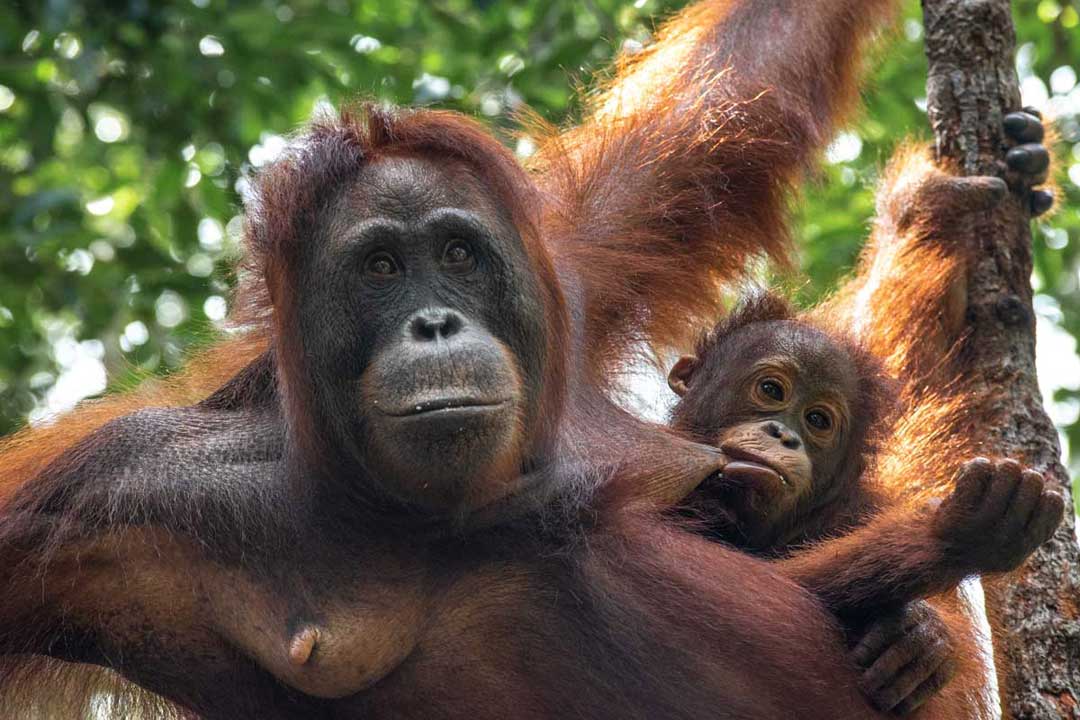 Travel around the park is one of the most relaxed and rewarding experiences in Asia. I've seen plenty of incredible places, but to this day, I consider Tanjung Puting to be the epitome of a bucket list experience. See more photos and stories about my Borneo orangutan meetings!
See Also: How to Meet an Orangutan in Borneo
Kelimutu Lakes, Flores
Part of the Kelimutu National Park, the Kelimutu Lakes, are among the biggest off-beaten Indonesia landmarks and are considered to be one of the country's greatest wonders of nature.
The three volcanic crater-lakes are famous for not only being incredibly picturesque but also for changing their colors. From aqua-blue to chocolate-brown or even red, you never know what you are going to get. A bizarre and highly aesthetic attraction that is totally worth the long journey there.
Kelingking Beach, Nusa Penida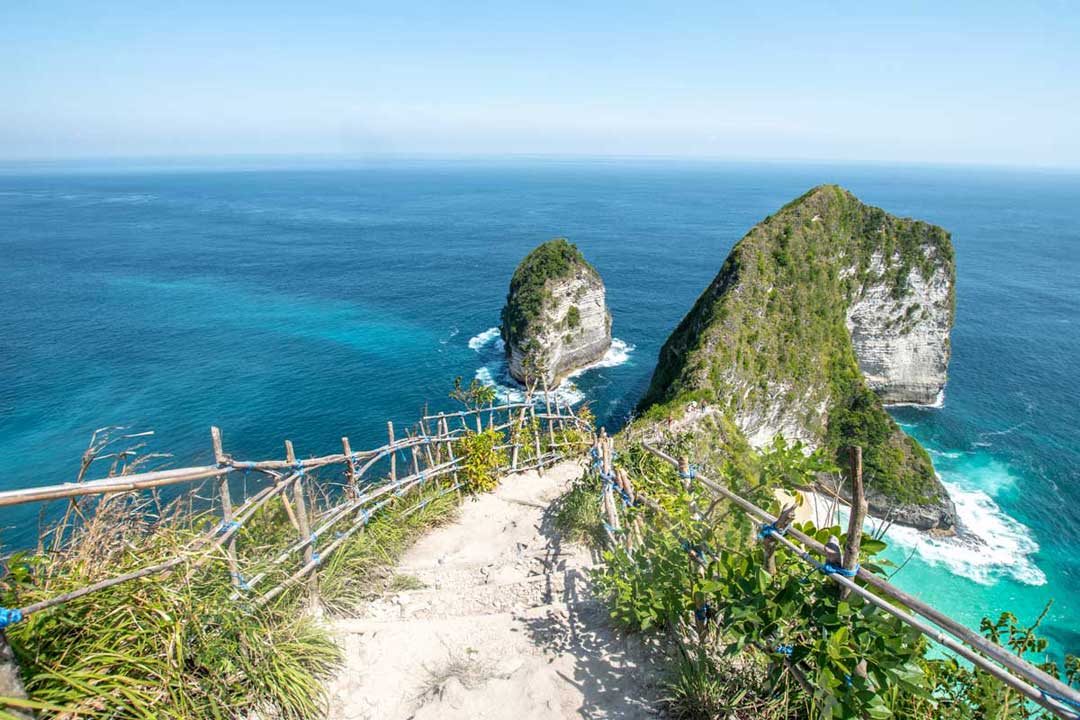 Kelingking may translate to 'Pinky', referencing the emblematic rock formation, but since the idyllic beach became a popular Instagram attraction, the beach was unofficially renamed T-Rex of Bali'.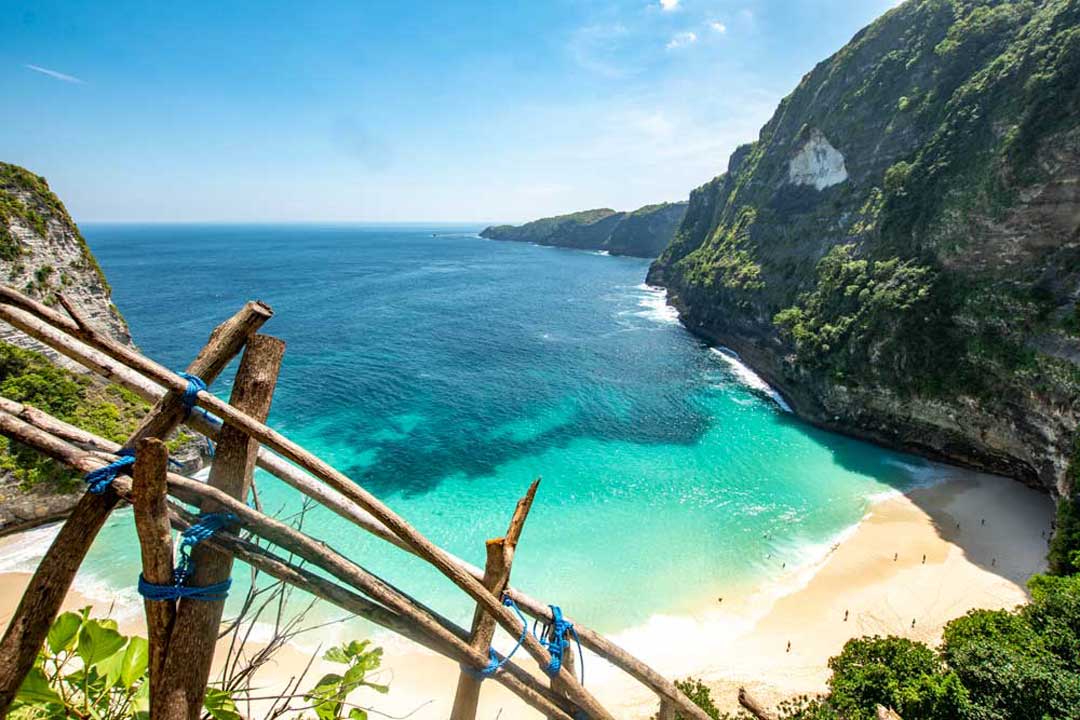 While it's not exactly on Bali (but the neighboring Nusa Penida island), it definitely resembles the infamous dinosaur way more than a finger. If you dare to make the tough descent to the seashore, you'll find a postcard-perfect tropical beach with a relatively small number of people (getting down is too hard for most). The pnly way to explore Nusa Penida in detail requires you to stay on the island for a few days. Here are the best hotels on the island.
Lake Kakaban, Derawan Islands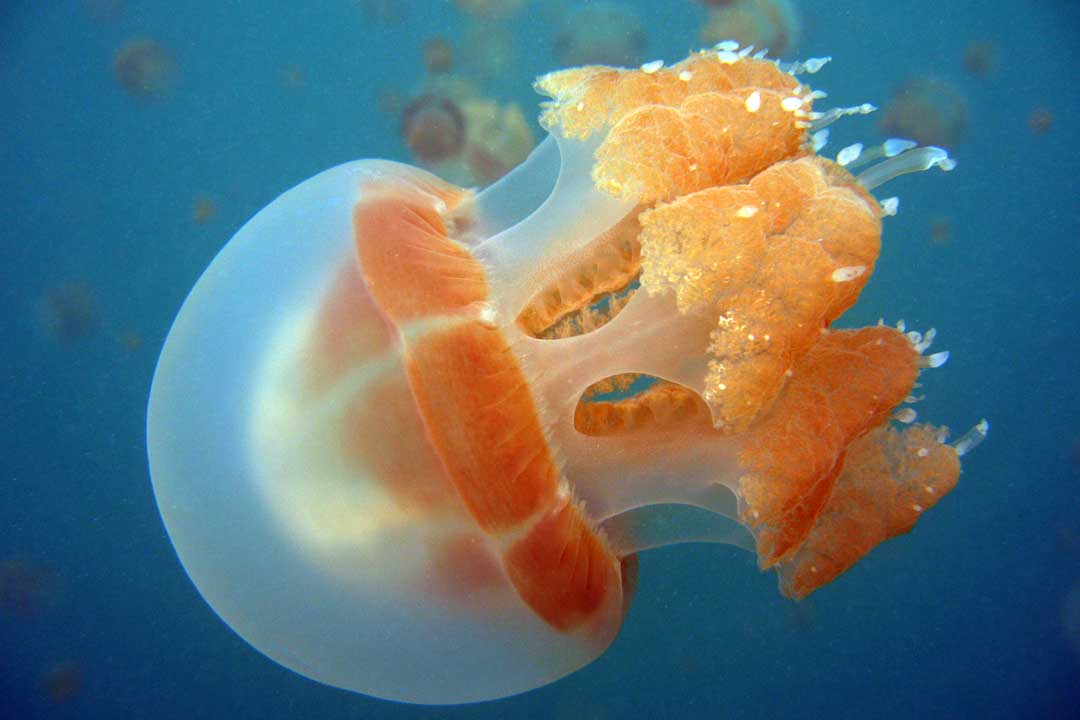 I remember the first time I saw a lake like that. It was a reward on the reality show Survivor that looked more like a 'Fear Factor' challenge. Seriously, what kind of reward is to swim in a pond full of jellyfish. Would you do it? No, me neither, unless it's lake Kakaban where all the jellyfish are stingless!
Situated on the east side of Borneo, lake Kakaban is far from the regular tourist path, but if you have the time, it can guarantee a surreal experience like no other.
Historical Indonesia Landmarks
Indonesia has a troubled history. The country we see today is the unification of many small kingdoms. Through the ages, they were either at war or under colonization leading to most of their historical heritage to be lost forever.
Some of it did manage to survive though, and boy oh boy, what heritage is it! This section of the list may be small, but it's certainly not dull. Here are the top historical landmarks in Indonesia!
Borobudur, Java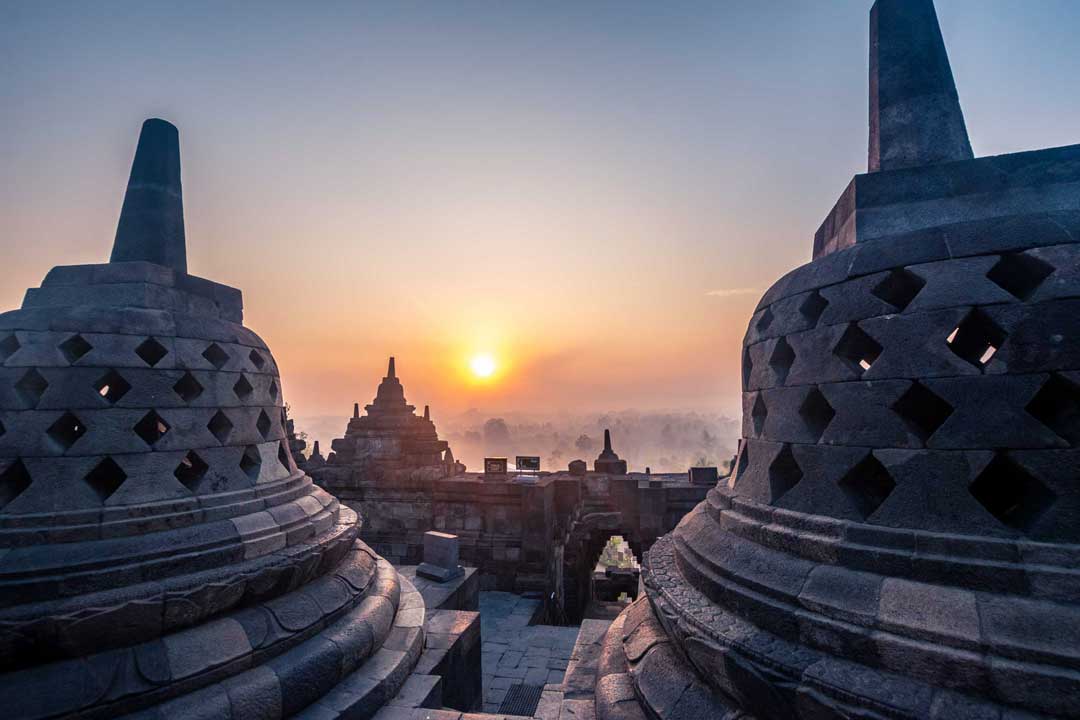 An icon of Indonesia, Borobudur is the world's largest Buddhist temple and a UNESCO World Heritage Site since 1991. Located in central Java, the famous temple dates from the 8th and 9th centuries and consists of three pyramidal layers with a monumental stupa on the top.
The temple proud itself with 73 bell-shaped stupas, all having a Buddha statue inside, and a 2,520 m2 surface area of walls and balustrades decorated with fine reliefs depicting religious beliefs and stories.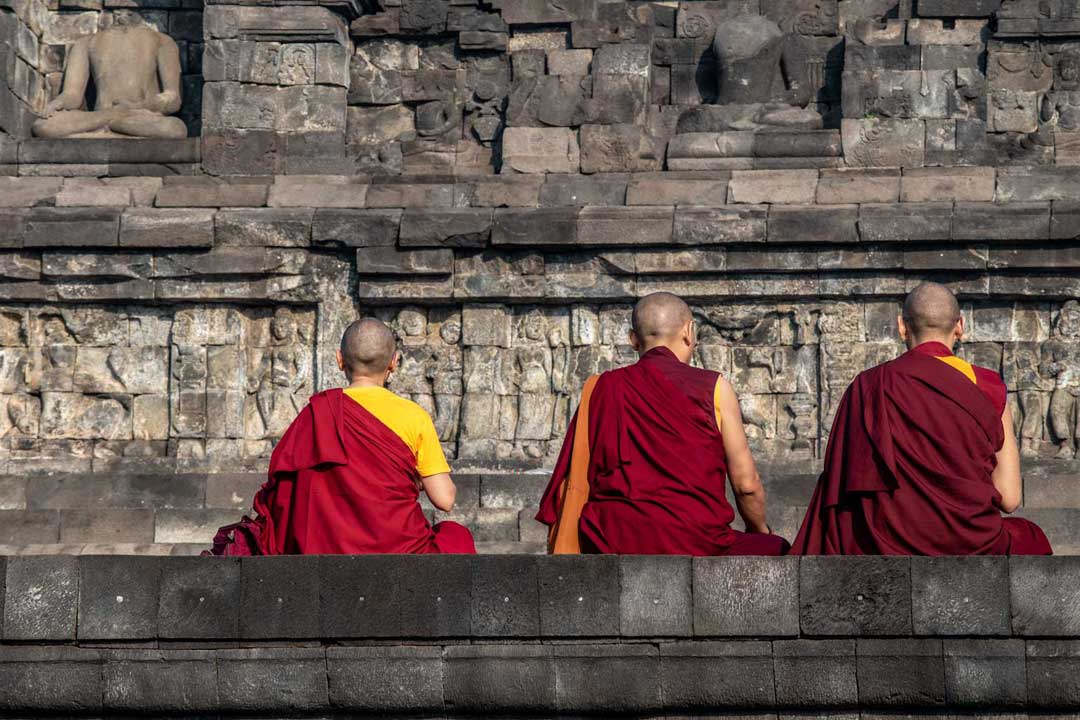 Millions of people have seen the magical Borobudur sunrise photos that evoke nothing but wanderlust yearning and dreams of mystical foreign lands. A true emblem of the country, Borobudur is one of the most prominent landmarks in Indonesia.
Prambanan, Java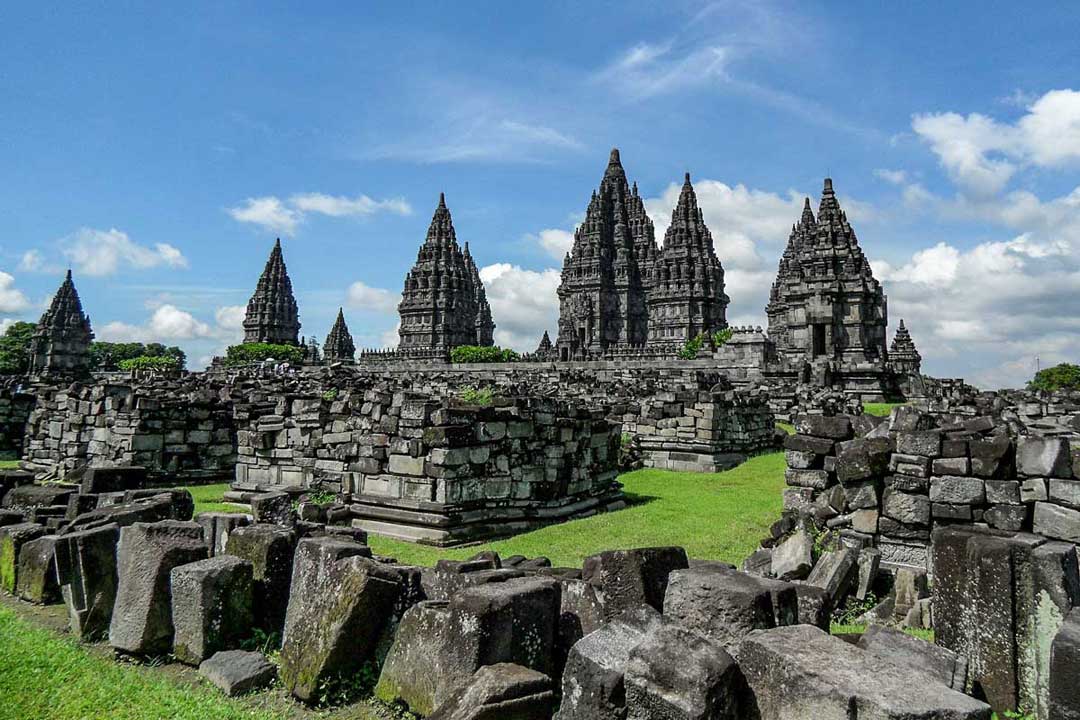 Located just a few kilometers away from Borobudur, Prambanan is a collection of massive Hindu temples dating from the 8th to the 9th century.
The temple complex consists of more than 240 shrines that offer stunning examples of Hindu bas-reliefs. Inscribed by UNESCO as a World Heritage Site, Prambanan is dedicated to the three main Hindu deities – Vishnu, Brahma, and Shiva.
Prambanan and Borobudur, are an excellent representation of how diverse Indonesia is. The largest Buddhist temple and one of the largest Hindu temples are built next to each other in the same time period. They managed to coexist, just like the modern Indonesian people, and their vastly different cultures and beliefs do it today.
Cultural Indonesia Landmarks
There are more than 17,000 islands (8,844 named and 922 permanently inhabited) in the Indonesian archipelago, and each has a different personality.
Ok, ok, I may have exaggerated a little bit here. The islands are grouped into several regions, populated by people of various migrations – a colorful palette of cultures, ethnicities, and languages. Being the most popular touristic destination, Bali may dominate this part of the list, but the two other landmarks are certainly not to be ignored.
Tanah Lot, Bali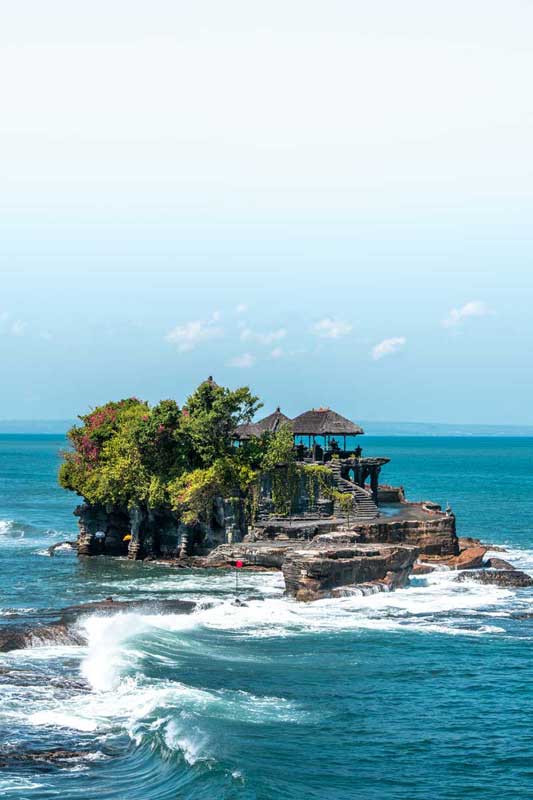 This scenic temple, perched high on a rock and facing the wide-open ocean, emphasizes Bali's romantic nature. It's one of the biggest not-to-be-missed landmarks on the island and a popular tourist and photo destination. Translating to "Land [in the] Sea", the shrine is located in eastern Bali, about 20km away from Kuta.
The legend says that in the 15th century, a high-priest from the Majapahit Kingdom traveled to Bali to spread Hinduism. Stumbling upon this beautiful area, he established the temple to honor the sea god – Baruna. However, the local village chief was not happy with the intruder and his new religion and ordered him to leave the land. The priest resisted by shifting the large rock he was meditating on to the sea while also transforming his sashes into sea-snake guardians.
See Also: The Ultimate Indonesia Itinerary Guide
Sacred Monkey Forest, Bali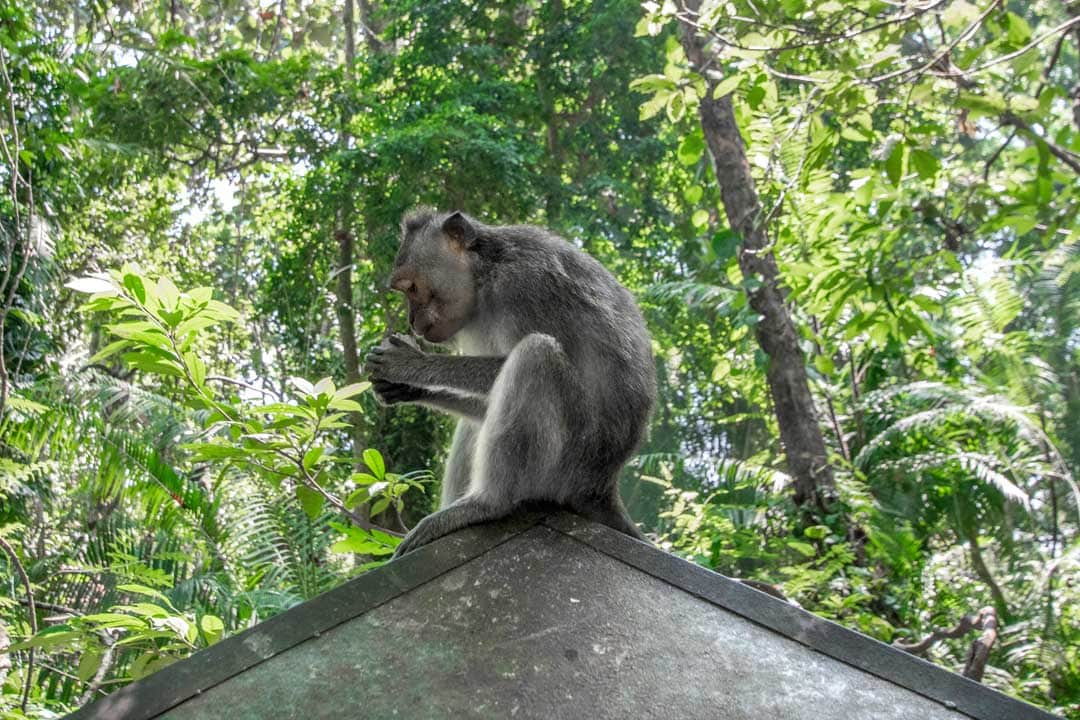 Located in Ubud, the Sacred Monkey Forest Sanctuary is one of the most peculiar landmarks in Indonesia. Home to more than 700 grey long-tailed macaques, this natural wildlife sanctuary has become a symbol of the region and a must-visit spot for every Bali tourist.
Besides the playful primates, the Monkey Forest is home to several temples, relics, and moss-covered ancient statues.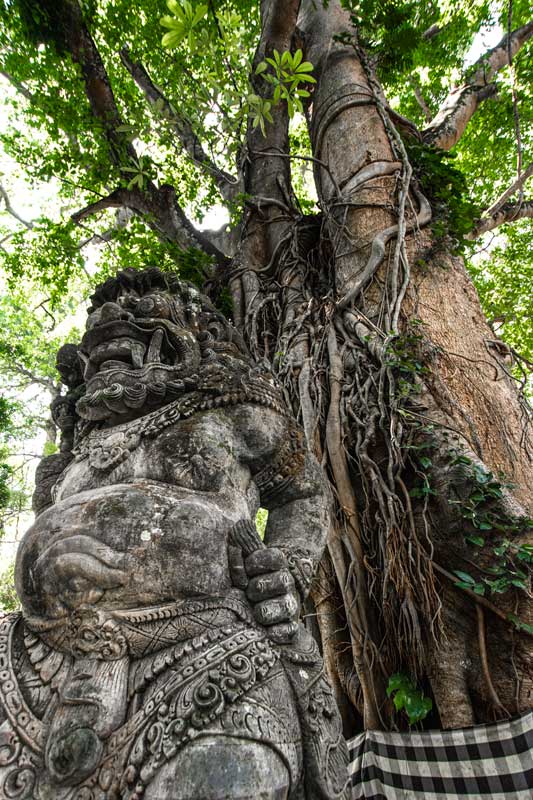 If you ever find yourself in this eccentric park, make sure you have no loose jewelry or clothing on you and that your phone and wallet are always secured. The monkeys are roaming freely, and they are known to be conniving thieves!
See Also: Top 20 Biggest Landmarks in Asia
Tegalalang Rice Terraces, Bali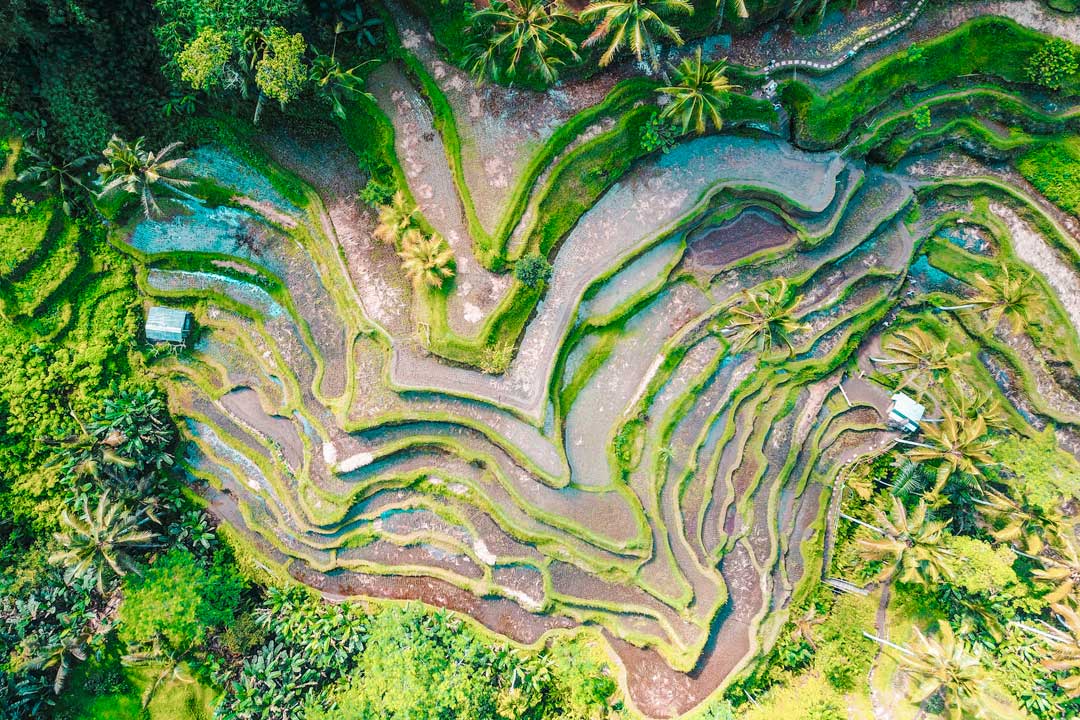 Those lush green terraces are the biggest symbol of Bali and one of the most prominent landmarks in Indonesia. Located in the heart of the island (Ubud), the Tegalalang Rice Terraces are famous for their traditional and once innovative irrigation system – subak and their countless incredible photo spots.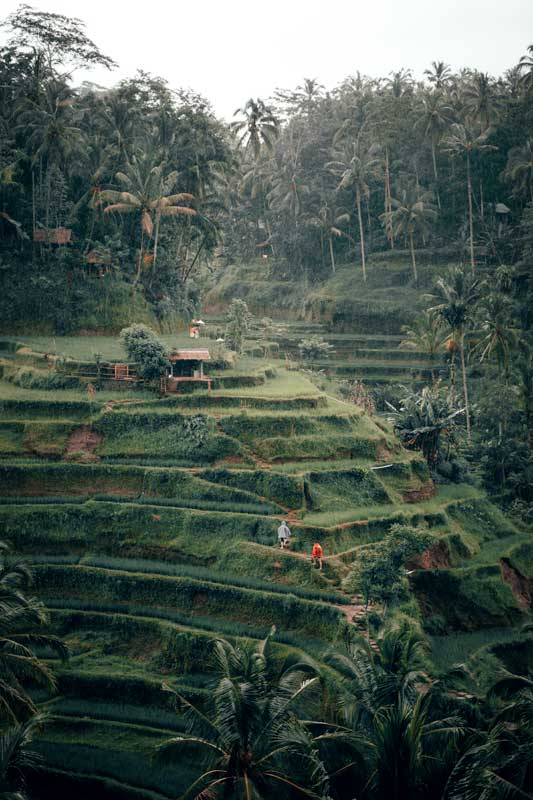 If you are planning to visit the terraces, make sure to go as early in the morning as possible. The iconic status Tegalaland Terraces gained turned them into one of the most visited places in the country, and escaping the crowds later in the day is almost impossible.
Wae Rebo Village, Flores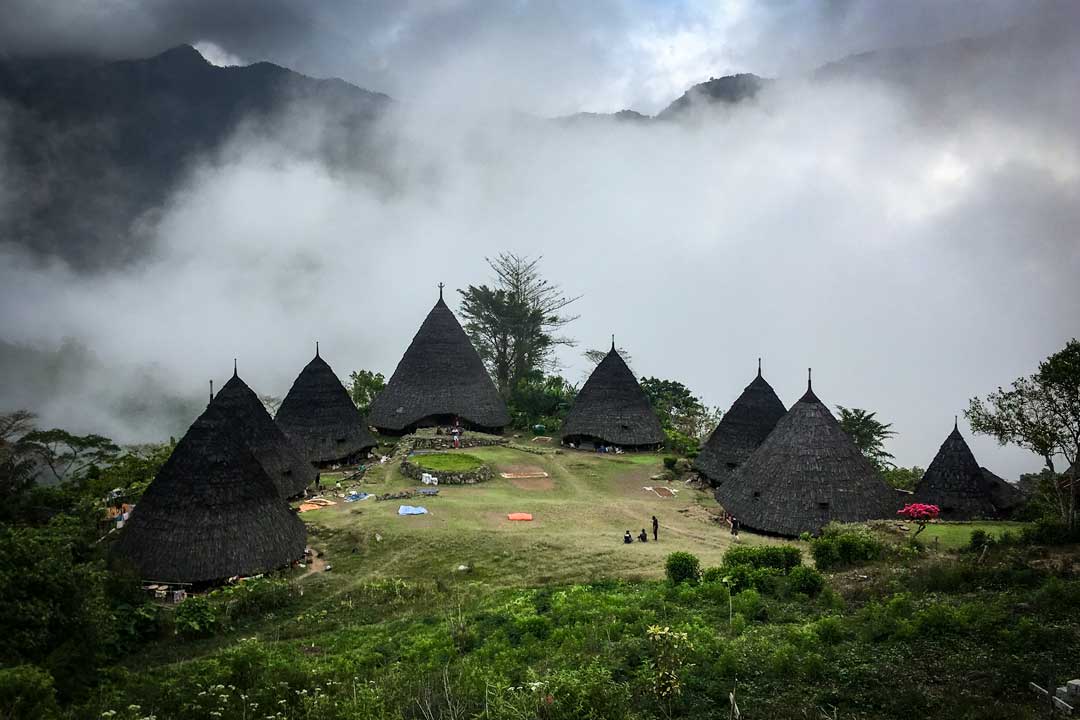 We leave touristy Bali to continue our virtual journey with a small isolated village located on the beautiful island of Flores. Wae Rebo is quite possibly the most picturesque man-made landmark in Indonesia. Known for its traditional Mbaru Niang houses, the settlement is entirely surrounded by lush mountains and the dense Todo forest.
Established just 100 years ago, most of the village's population are the descendants of the founder – Empu Maro. If you want to visit this stunning landmark, prepare for a 3-4 hours hike, no mobile coverage, limited electricity, and cool weather. Truly a journey back in time to an experience as close to nature as possible.
Tana Toraja, South Sulawesi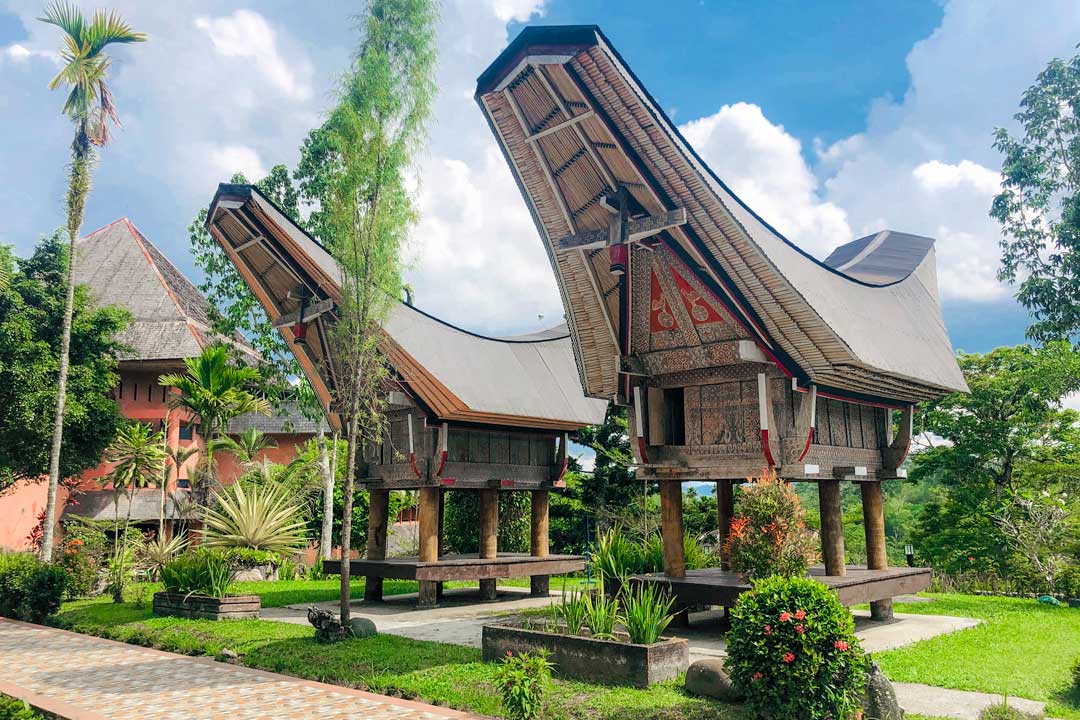 Renowned for their elaborate architecture and unique funeral rituals, the Tana Toraja natives have one of the most well-preserved cultures in Indonesia.
Tucked between the cliffs of the island of Sulawesi, the Toraja land is a place where very little has changed in the last 100 years. Locals live in their traditional boat-shaped houses and perform the same rituals as their ancestors. Most of those rituals revolve around graves and death ceremonies, which Toraja people believe are an integral part of keeping up the energy of the land and its people.
That's all from me, I hope you enjoy the top Indonesia landmarks!
————————————
If you haven't planned your trip there yet, find out how I plan my trips!
————————————
I have 22 bucket list ideas for Indonesia. See my impossible bucket list of 1700+ adventures!

Is Indonesia on your bucket list?
---
Some of the above are affiliate links and I will earn a percentage of the sale if you purchase through them at no extra cost to you. This helps keep my site running – so thanks in advance for your support!