Phuket is a popular tourist destination in Thailand, known for its golden beaches, vibrant nightlife, and delicious cuisine. It is also a great place to shop for unique Phuket souvenirs to commemorate your trip. From handcrafted items to local spices and snacks, Phuket offers plenty of gift options that reflect the island's (and country's) rich culture and traditions.
In this post, we'll explore the best souvenirs from Phuket to bring home so you can share the island's beauty with your friends and loved ones.
Are you ready?
Let's go!
Thai Silk Products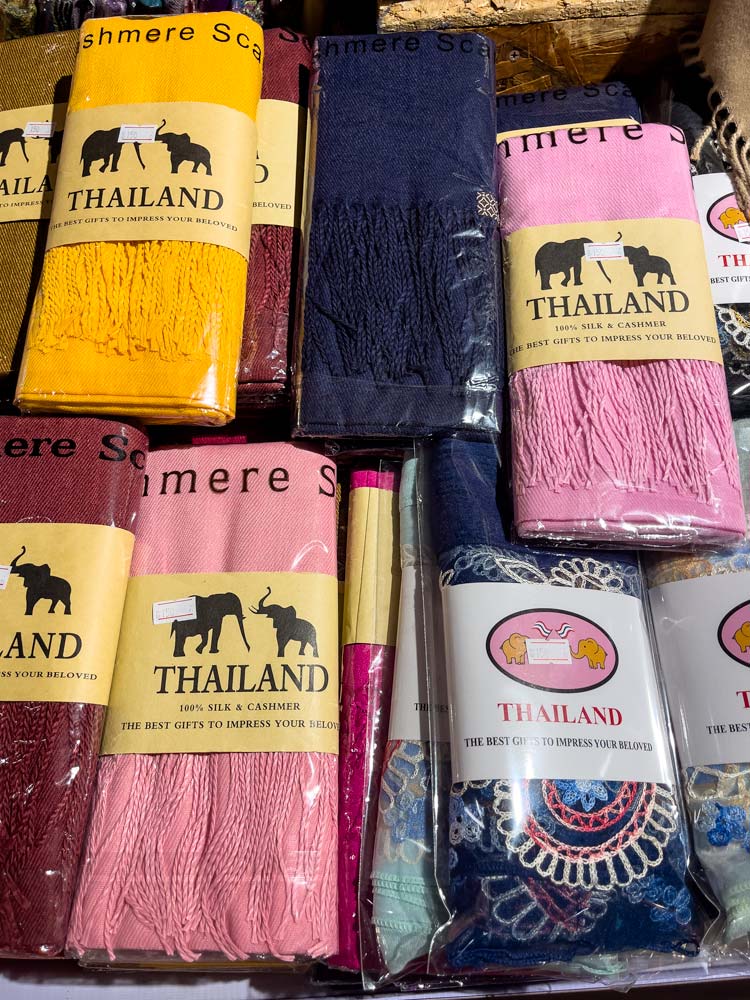 Phuket is known for its high-quality silk products, including scarves, dresses, and shirts. They are pretty much everywhere, and I guarantee you'll be approached to buy some at least 3 times a day. Thai silk is made using traditional techniques passed down through generations. It is known for its high quality and vibrant colors and is highly prized by designers and fashion enthusiasts worldwide.
Thai silk is made from the cocoons of the Bombyx mori moth, which is native to Thailand. The cocoons are harvested, and the silk fibers are extracted by hand. The fibers are then spun into thread dyed using natural colors derived from plants and other organic materials. This is, of course, the high-end Thai silk. You can also buy cheap Thai silk Phuket souvenirs (plenty of them in Phuket Town) from the local shops and markets (your friends back home probably won't tell the difference anyway).
Handicrafts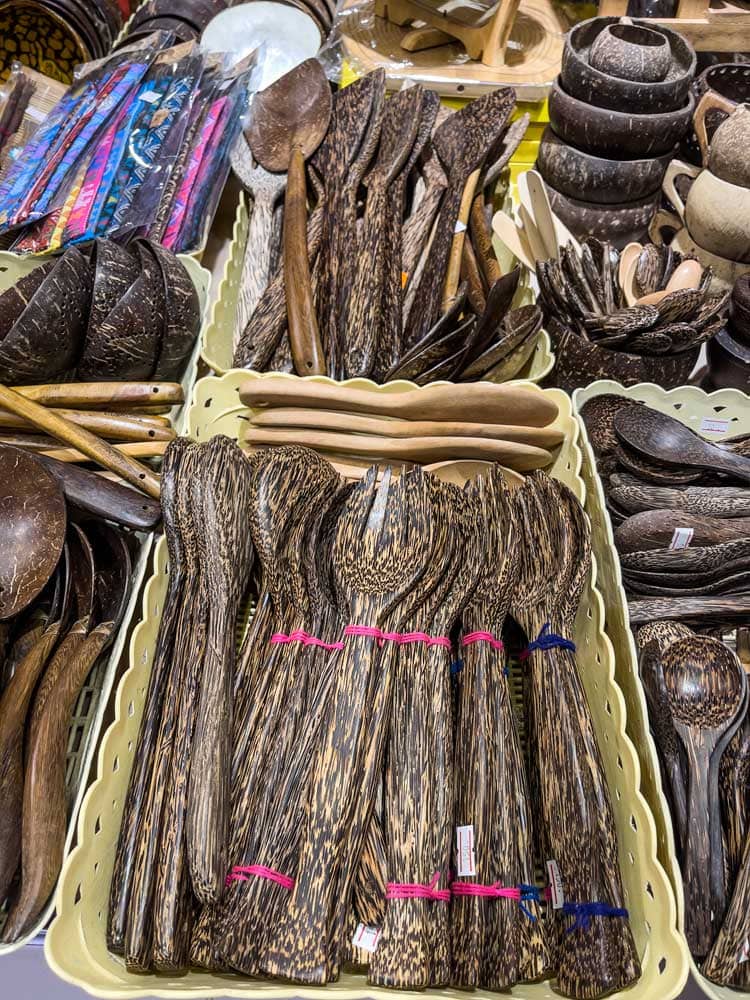 Phuket has a rich tradition of handicrafts, with a wide variety of products that reflect the island's culture and heritage. From pottery to wood carvings, when it comes to the island's handicrafts, there is something for everyone. That's why they are among the very best souvenirs from Phuket. One of the most popular types of Phuket handicrafts is ceramics. Local artisans create a variety of pottery (mainly bowls and plates) inspired by nature and local traditions.
Wood carving is another popular handicraft in Phuket. You can find pretty much everything made of wood, from spoons to giant Buddhas and various pieces of furniture (a cool chair would be a fantastic Phuket souvenir, but it's pretty hard to bring back home). The most awesome thing about Thai wood handicrafts is that they are usually made from high-quality teak wood, which is abundant in the region.
Elephant-themed Souvenirs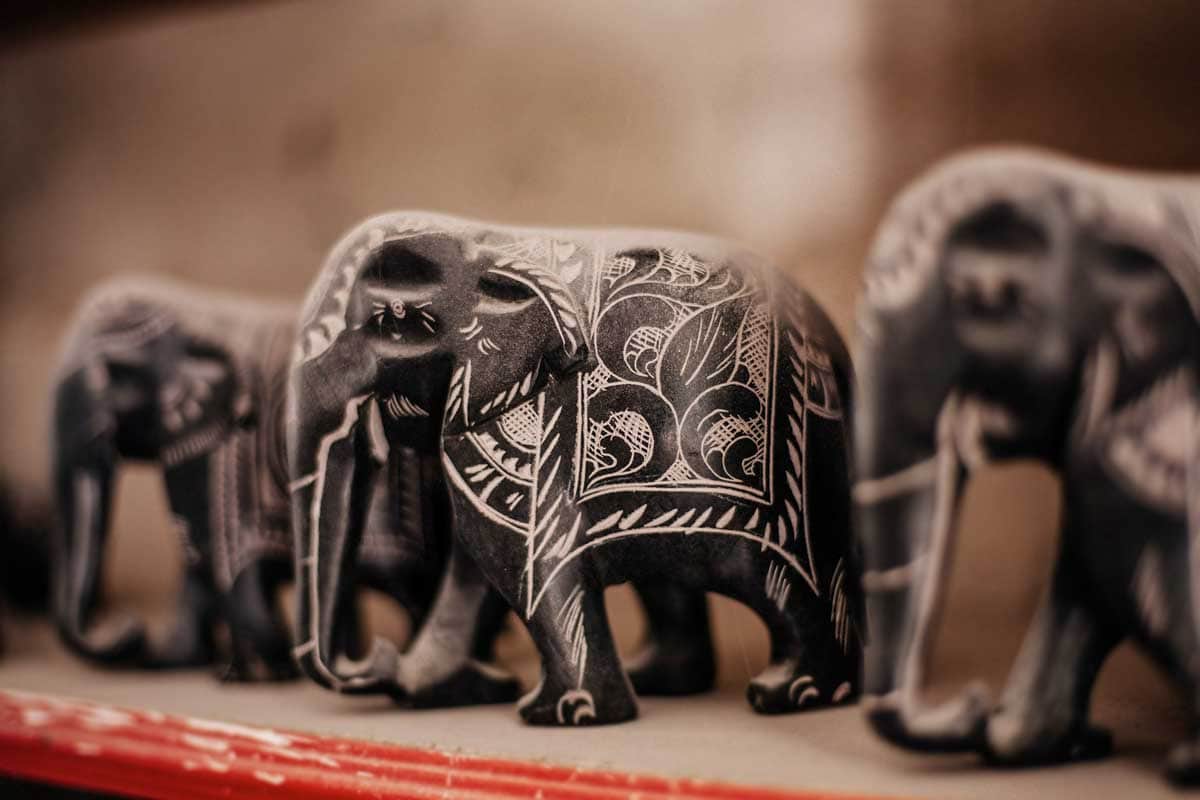 Elephants are an important symbol in Thai culture, and visitors can find a variety of elephant-themed souvenirs, such as keychains, magnets, figurines, toys, and even loafers. Being home to several elephant sanctuaries and conservation centers, the island is a great place to learn about these majestic animals and even interact with them in a responsible and ethical way.
One of the most popular elephant-themed souvenirs in Phuket is the "lucky elephant" statue, which is believed to bring good luck and prosperity to the owner. You can find them made from bronze or other metals, wood, stone, and even glass.
Elephant Pants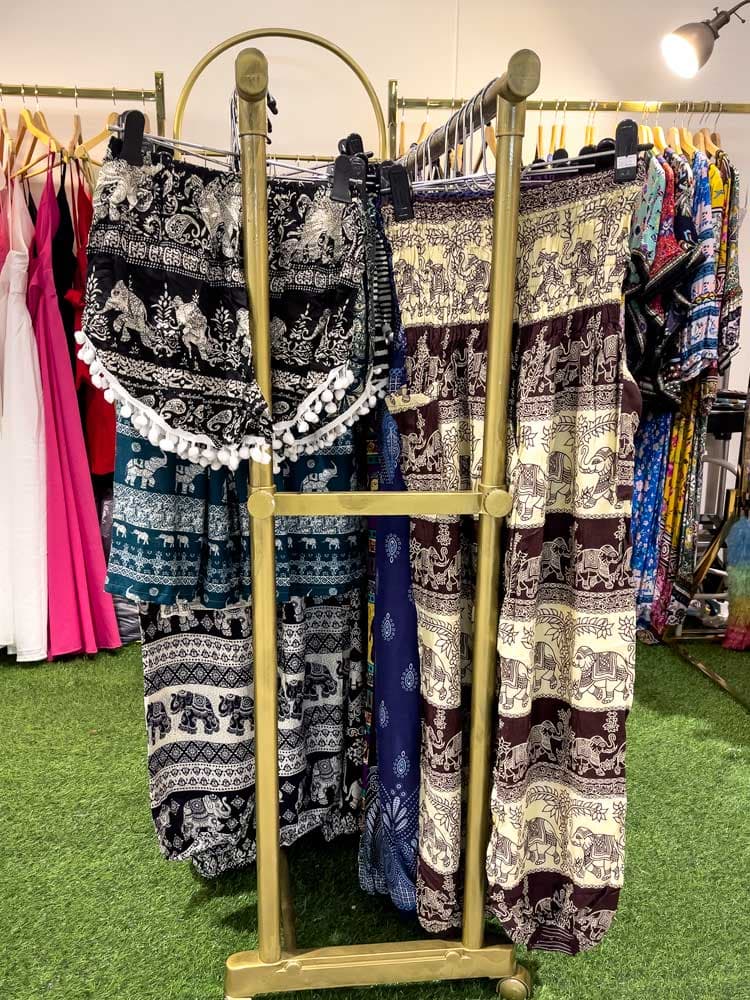 Elephant pants deserve a separate entry from the elephant-themed souvenirs because they are just the most Thai souvenir you can find. Also called fisherman pants, these loose-fitting pants feature vibrant patterns and designs and are one of the most comfortable things to wear. Being a unisex piece of clothing is another reason they are a hugely popular item among tourists and locals alike.
Another great advantage of the elephant pants is that they are so thin you can easily stuff them in your bag and put them on if you decide to go to a temple (shorts are not allowed there).
See Also: The Best Bangkok Souvenirs
Spices and Herbs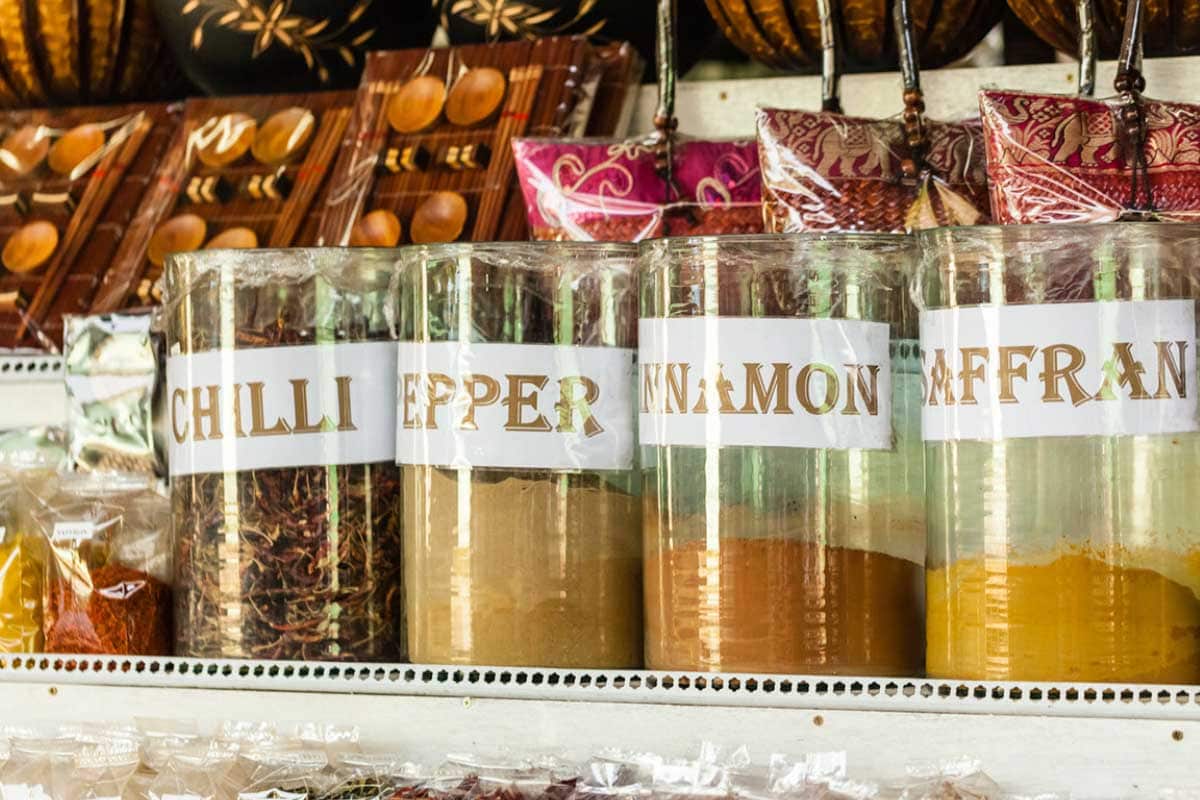 Thailand is known for its delicious and aromatic cuisine, so bringing home a taste of the island is one of the best options for a Phuket souvenir.
You can find all sorts of Thai spices and herbs in local markets and shops throughout Phuket, including popular ingredients like lemongrass, ginger, galangal, kaffir lime leaves, and chili peppers. They are often sold in small packets or jars and are ready to make your chef-wannabe friend back home very happy.
If you want to recreate some of your favorite Thai dishes, get some pre-mixed blends like green curry or tom yum paste. Of course, you'd probably need a Thai cooking lesson too.
Coconut-based Products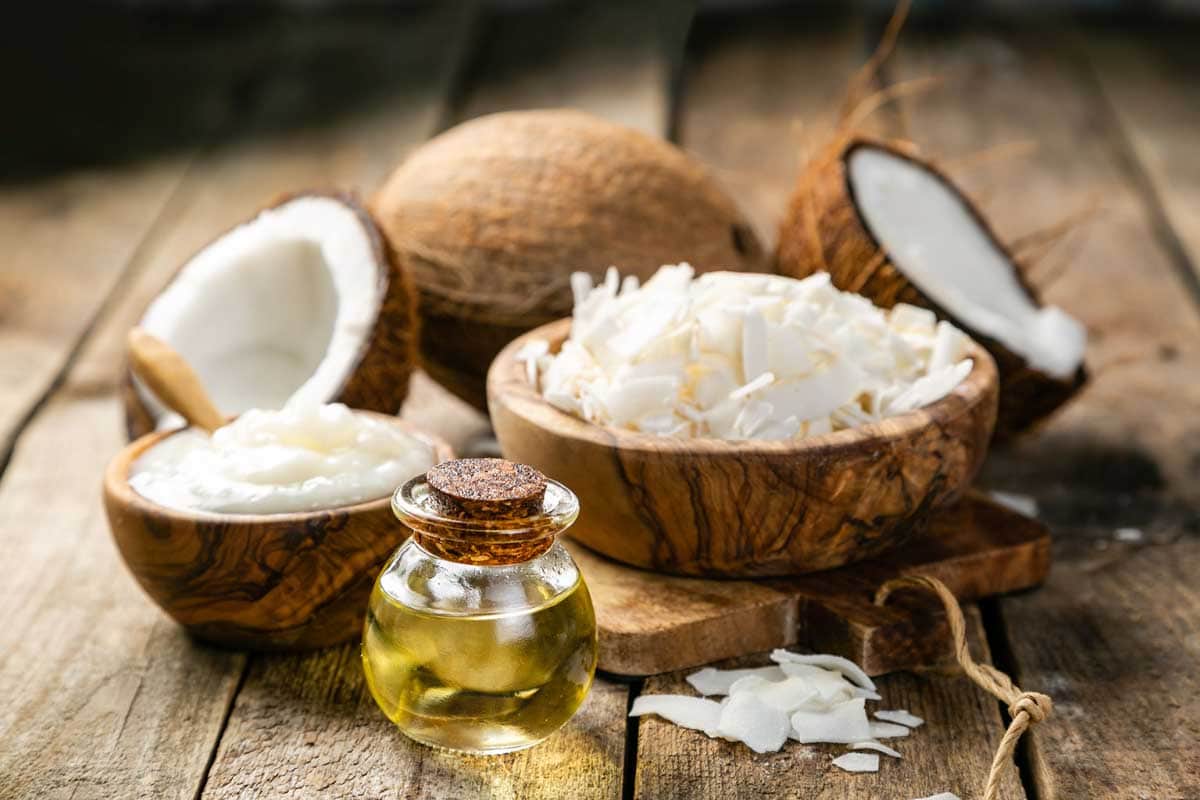 Phuket is surrounded by coconut plantations, and it's quite easy to find various coconut-based products, such as coconut oil, soap, and candles.
Probably the most popular coconut-based product in Phuket is coconut oil. Made by pressing the meat of mature coconuts, it is commonly used in Thai cooking, as well as in a variety of beauty and skincare products (my girlfriend likes to put it on her hair).
Coconut-based snacks like coconut chips and candy are also popular souvenirs, which brings me to our next item:
See Also: The Ultimate Thailand Travel Guide
Thai Snacks and Sweets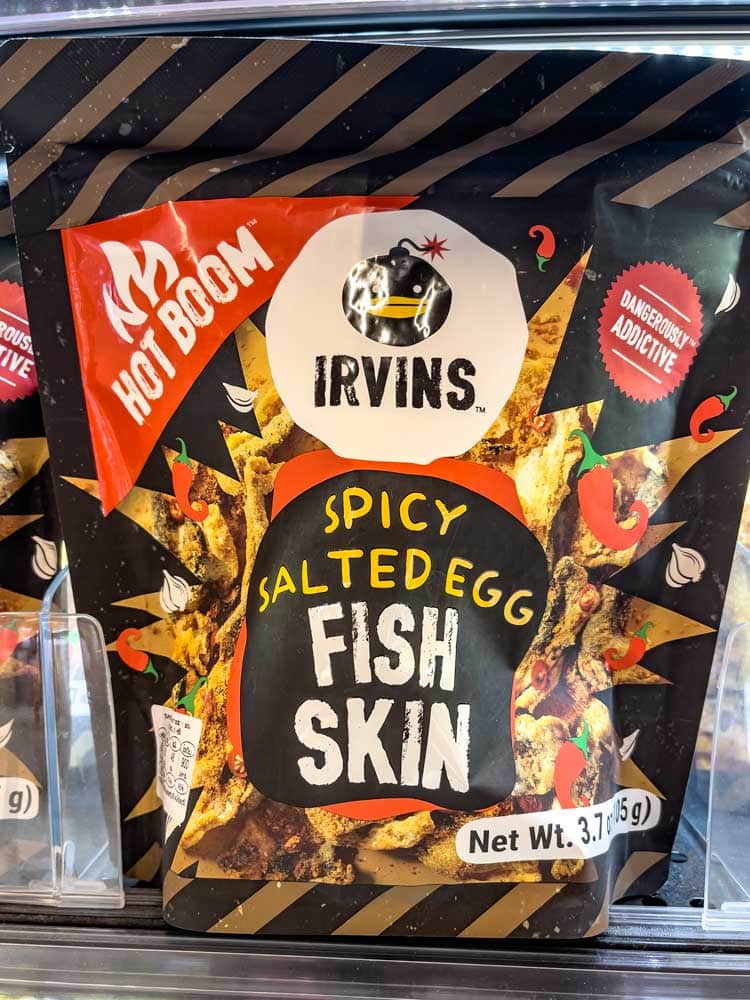 Coconut chips are probably the least weird snack you can bring home from Phuket. Just go inside a 7-11 or, even better, one of the big supermarkets inside the malls, and you'll find a plethora of unique (and weird) snacks and sweets. I'll list a few examples: Dried Fish Skin with salted egg taste, Big Sheet Seaweed, Shrimp Ginger Lime Chili Flavored Lays Potato Chips, and all sorts of durian chips, candy, and sweets.
You've never heard of durian? Nicknamed the King of Fruits, Durian is the weirdest fruit there is. Infamous for its strong and persistent odor, durian is banned from being taken inside hotels, public transport, cars, and pretty much anything indoors. Why?
Because its weird smell is different to people. It smells like a light tropical fruit for some, while others think something died next to them. Since the fruit is banned from planes, the durian treats are the next best weird Phuket souvenir to bring back home and surprise your coworkers.
Carved Soaps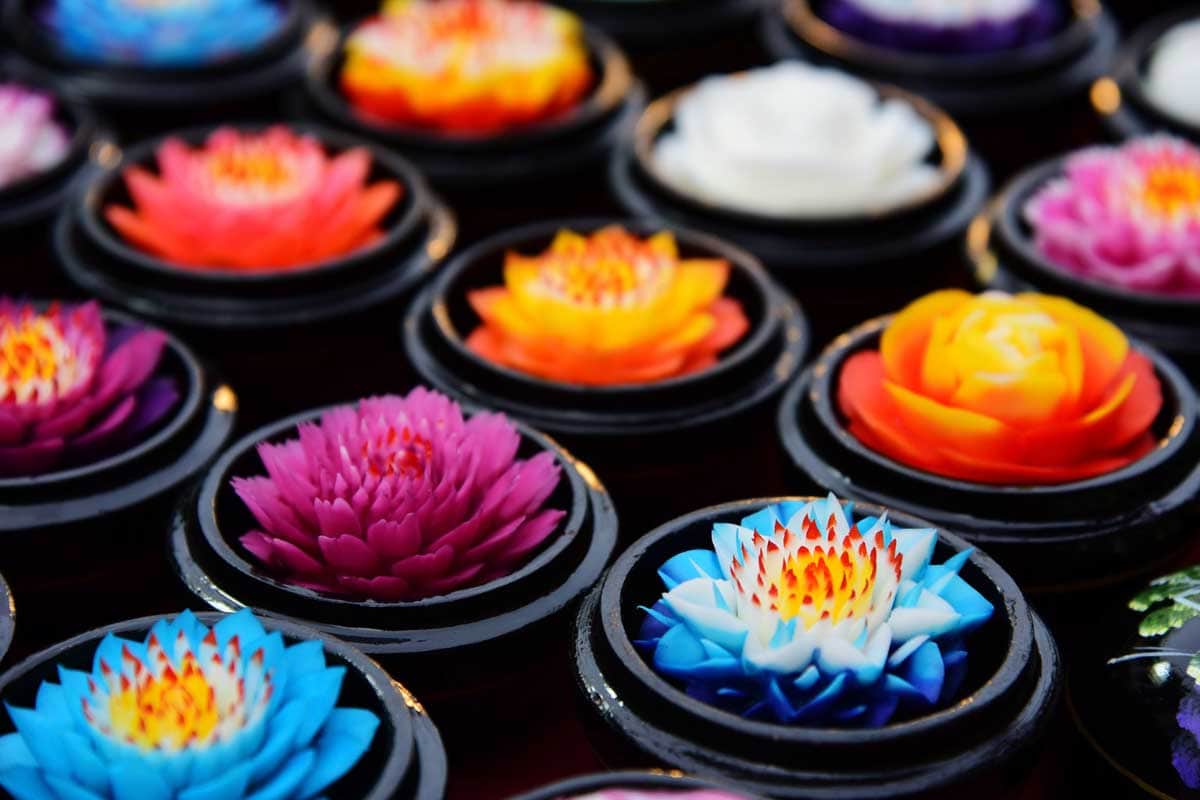 Phuket's carved soaps are a unique and popular Phuket souvenir. These soaps are hand-carved by local artisans into various intricate designs, including flowers, fruits, animals, and traditional Thai symbols. The soaps are typically made from all-natural ingredients, like coconut oil and different herbs and spices, and scented with natural fragrances, like lemongrass or lavender. I'm pretty sure they work great as soaps, but I'm also pretty sure no one uses them as intended because they are just too beautiful for that.
Carved soaps are easy to find around markets and night markets. You'll also find the low-cost version usually shaped like fruit or…mmm…male (and sometimes female) private parts. I guess, for some people, these would make a wonderful Phuket souvenir too.
See Also: The Ultimate Bangkok Shopping Guide
Phuket Pearls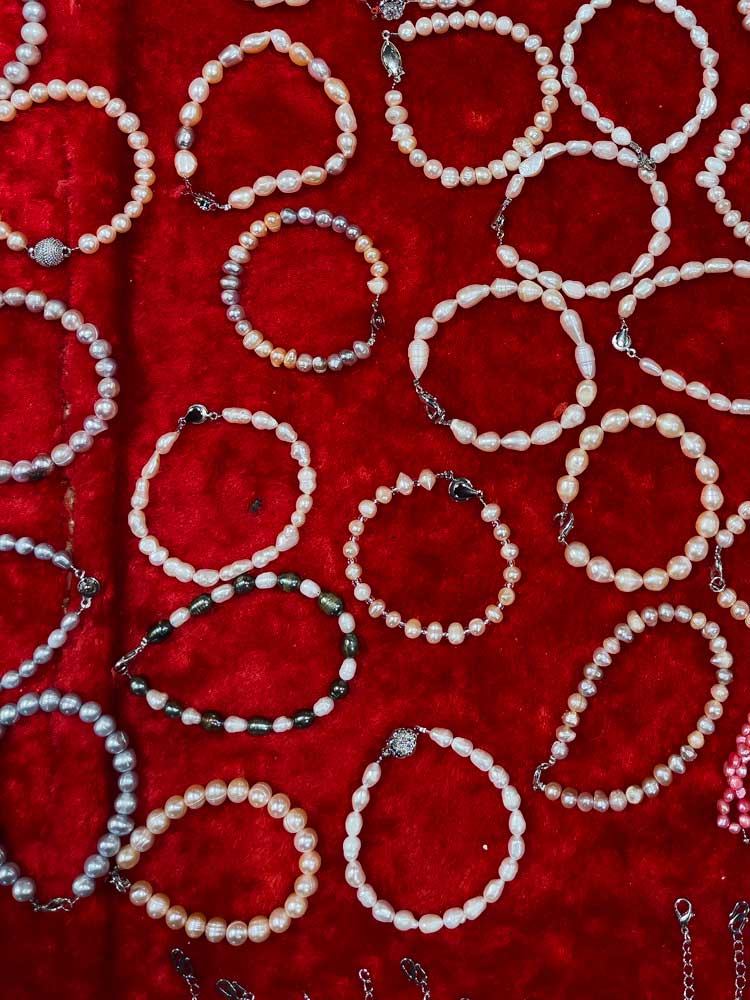 Phuket pearls are one of the most unique Phuket souvenirs you can get. They are known for their high quality and beautiful luster and are cultured, meaning they are grown in oyster farms in the waters around Phuket.
The pearl farms in Phuket use modern and sustainable techniques to produce pearls in various colors and sizes, from classic white pearls to more unique shades like pink and blue. Also, they are not that expensive. Don't know about you, but when I think of pearls, I imagine I have to spend a fortune to get some. That's not the case here. A pair of earrings can be easily found for less than 100 USD.
See Also: What to do in Penang
Batik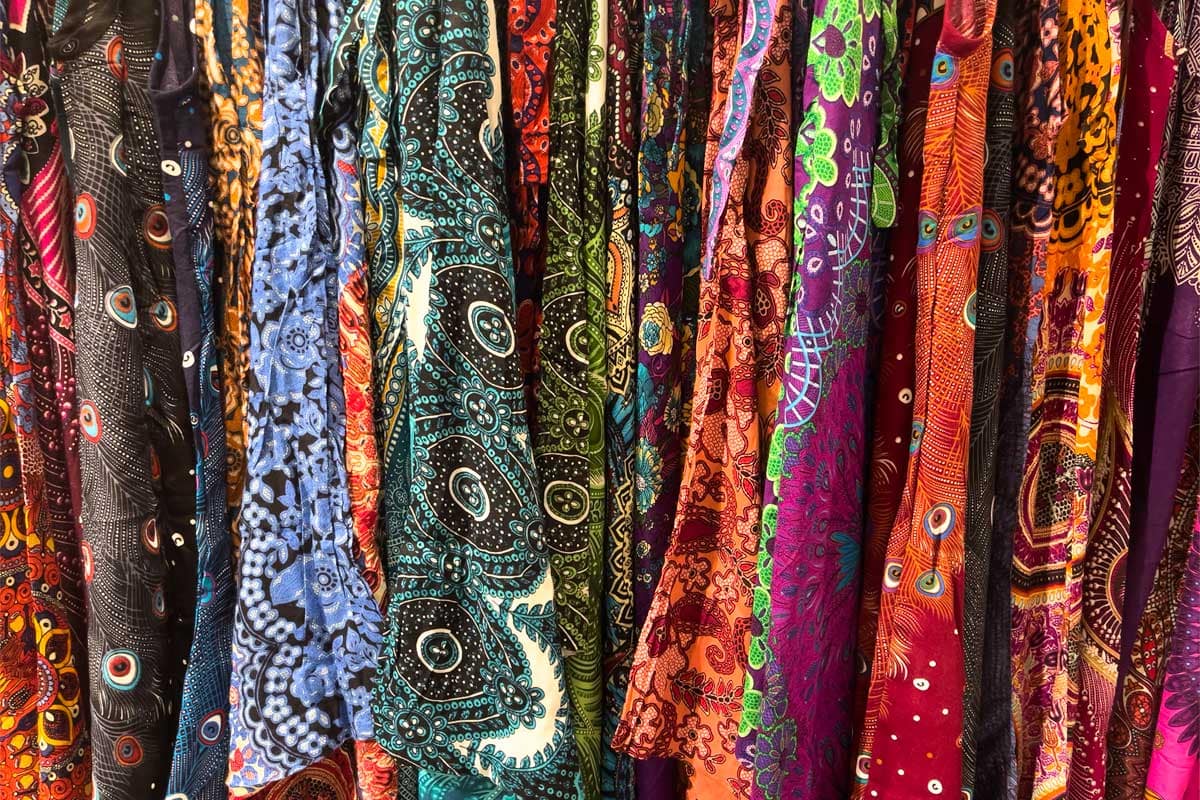 Batik is a traditional fabric art that is popular in many parts of Southeast Asia, including Thailand and Phuket. The technique involves applying wax to fabric in specific patterns and designs, then dyeing the fabric to create a unique and intricate design.
Just like with the silk products, you can find pretty much anything made out of batik, most commonly dresses and scarves. I like to bring a few batik scarves every time I go to Thailand, and I can guarantee they are the Phuket souvenirs that pretty much every girl loves to get.
See Also: How to Spend 2 Days in Bangkok
NBA Jerseys or Fake Nikes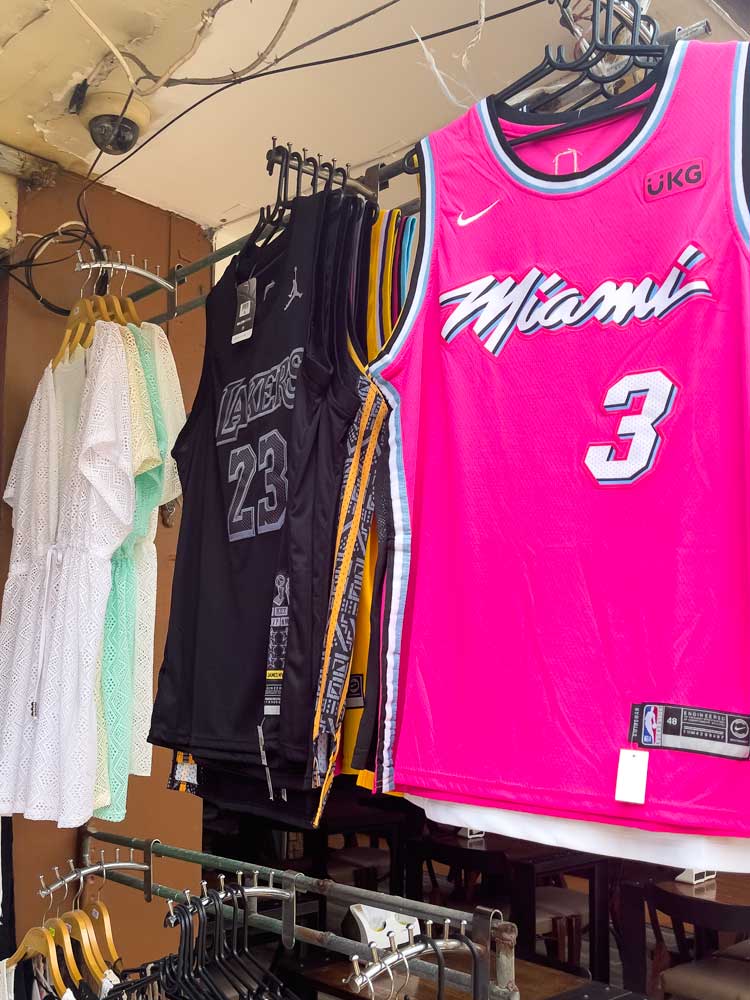 If Thailand is the land of fake apparel, then Phuket is its main stronghold. In just a 10-minute walk in Patong, I got offered a fake Jordan jersey 7 times. I'm not exaggerating; this stuff is everywhere.
And if you need some new Nikes, Yeezys, or whatever brand you love, rest assured you can find them in Phuket. They may not be the best quality, but they are still pretty decent and cost at least 5 times less than the originals (make sure you brush up on your haggling skills, though).
See Also: The Ultimate Cameron Highlands Itinerary
Coconut Bowls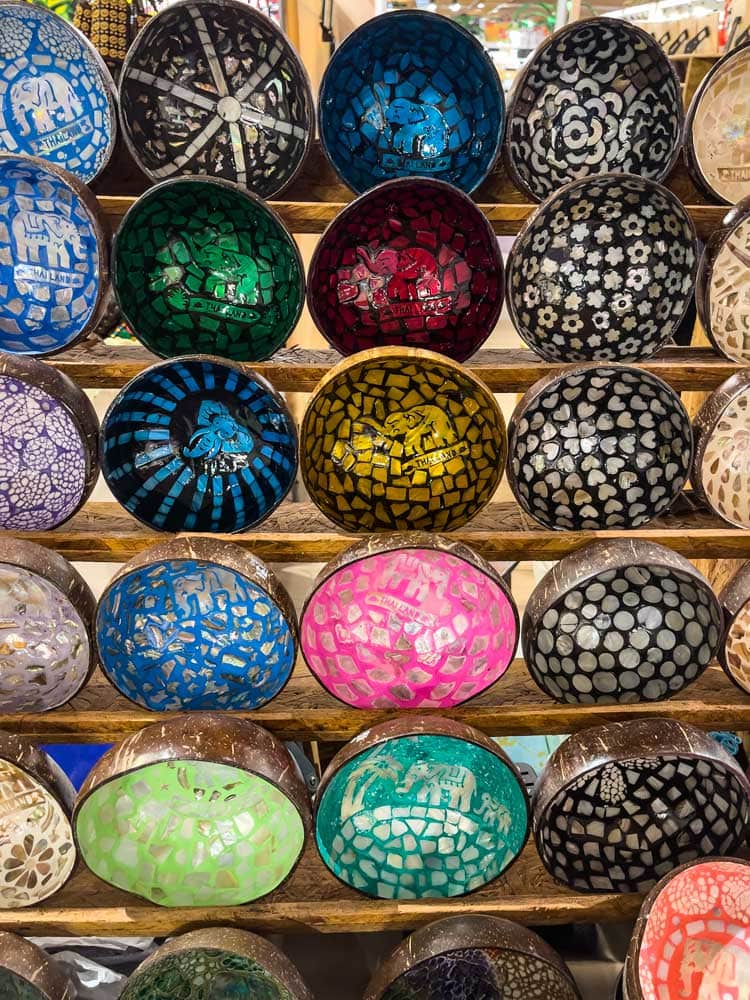 The colorful coconut bowls are a unique and eco-friendly Phuket souvenir people love buying. Made from natural coconut shells that have been cleaned, polished, and shaped into functional bowls, they are not only sustainable and environmentally friendly but also so well-colored that they immediately catch the eye.
I got many souvenirs in my home, and the coconut bowl is always one of the most noticed. The cool thing is that each bowl is one-of-a-kind. I mean, every coconut is different with its natural patterns and textures, and so are the bowls (even though the decoration may be similar).
That's all from me, I hope you enjoyed those Phuket souvenirs and you already know what to get for your friends and family.
————————————
If you haven't planned your trip there yet, find out how I plan my trips!
————————————
I have 32 bucket list ideas for Thailand. See my impossible bucket list of 1700+ adventures!

Have you been to Thailand?
---

Some of the photos in this article were taken from Depositphotos.com – the best place for stock photos out there.
Some of the above are affiliate links and I will earn a percentage of the sale if you purchase through them at no extra cost to you. This helps keep my site running – so thanks in advance for your support!