If you're planning a trip to Phuket in December, you're in for a treat! Known for its stunning beaches, vibrant nightlife, and delicious cuisine, Phuket is a popular destination for travelers from all over the world. And December is one of the best times to visit this gorgeous island for a tropical winter escape.
There are some negatives, of course, but trust me, they are nothing compared to the experience you get from spending your December in Phuket.

Are you ready for some sandy beaches?
Let's go!
Weather in Phuket in December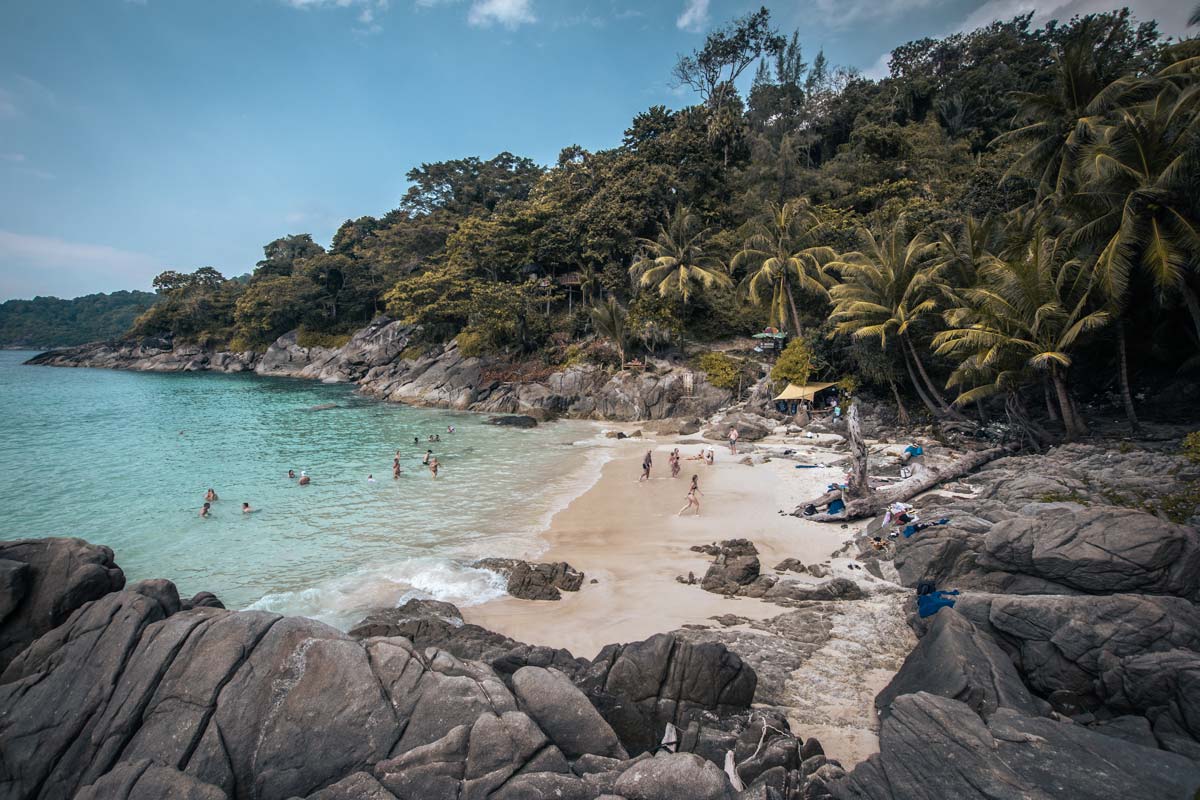 Phuket in December is known for its mild and dry weather conditions, making it an ideal time to visit this tropical island. The temperature in December ranges from an average low of 24°C (75°F) to a high of 31°C (88°F), with low humidity, making it comfortable to explore the island's outdoor attractions and indulge in some water activities. Rainfalls are possible but rare and short, so there's no need to take your umbrella with you.
The sea temperature in Phuket in December is also pleasant, ranging from 27°C (80°F) to 29°C(84°F), perfect for swimming, snorkeling, and diving. The water is calm and clear, with visibility up to 30 meters, allowing you to see Thailand's incredible marine life and coral reefs.
See more about the weather
Pros to Spending December in Phuket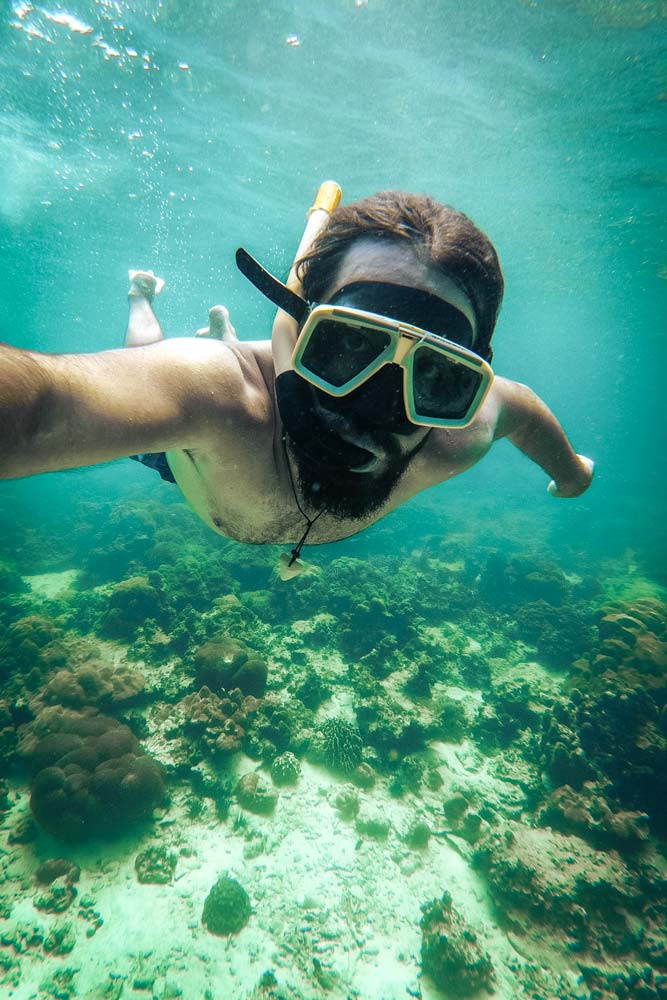 There are several considerable pros to visiting Phuket in December:
Weather
December is one of Phuket's driest and sunniest months, with comfortable temperatures, low humidity, and occasional cool sea breezes. It's literally the most perfect tropical weather you can imagine.
Water activities
The sea temperature is perfect for swimming, snorkeling, and diving or enjoying jet skiing, paragliding, and other Thai water activities (they pretty much offer everything).
Festive season
Phuket is already one of the biggest party hubs in Asia. So imagine combining it with the festive season. That's right; you get some of the world's most amazing and colorful club, bar, or beach parties.
See Also: How to Escape Winter in Dubai
Cons to Spending December in Phuket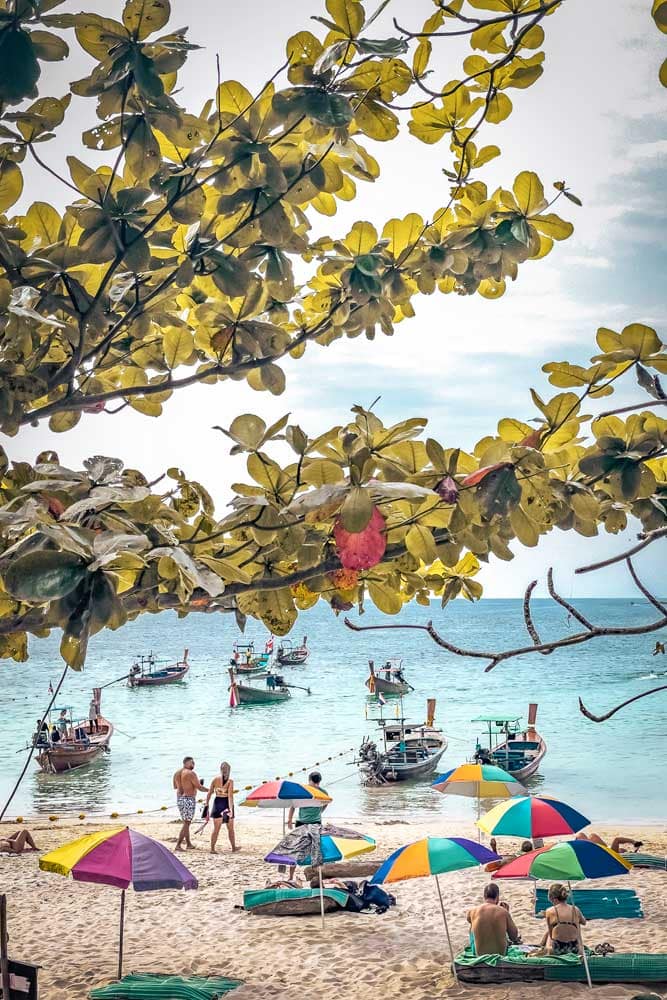 While spending December in Phuket is generally a great idea, there are a few cons you should be aware of:
Crowds
Offering fantastic weather and top-level nightlife, it's not surprising that December sees the island packed with tourists. The good thing is Phuket has countless beaches, so if you search around, you can find a calmer one for you.
Short days
Fewer day hours means less beach time and exploration options. Gives you more time to party, though.
Prices
Big crowds bring higher prices with them. This is higher than the other months, but it's still a Thai price. A dish in a moderate restaurant still costs between 100 and 200 THB ( 3-6 USD)
How to Get Around Phuket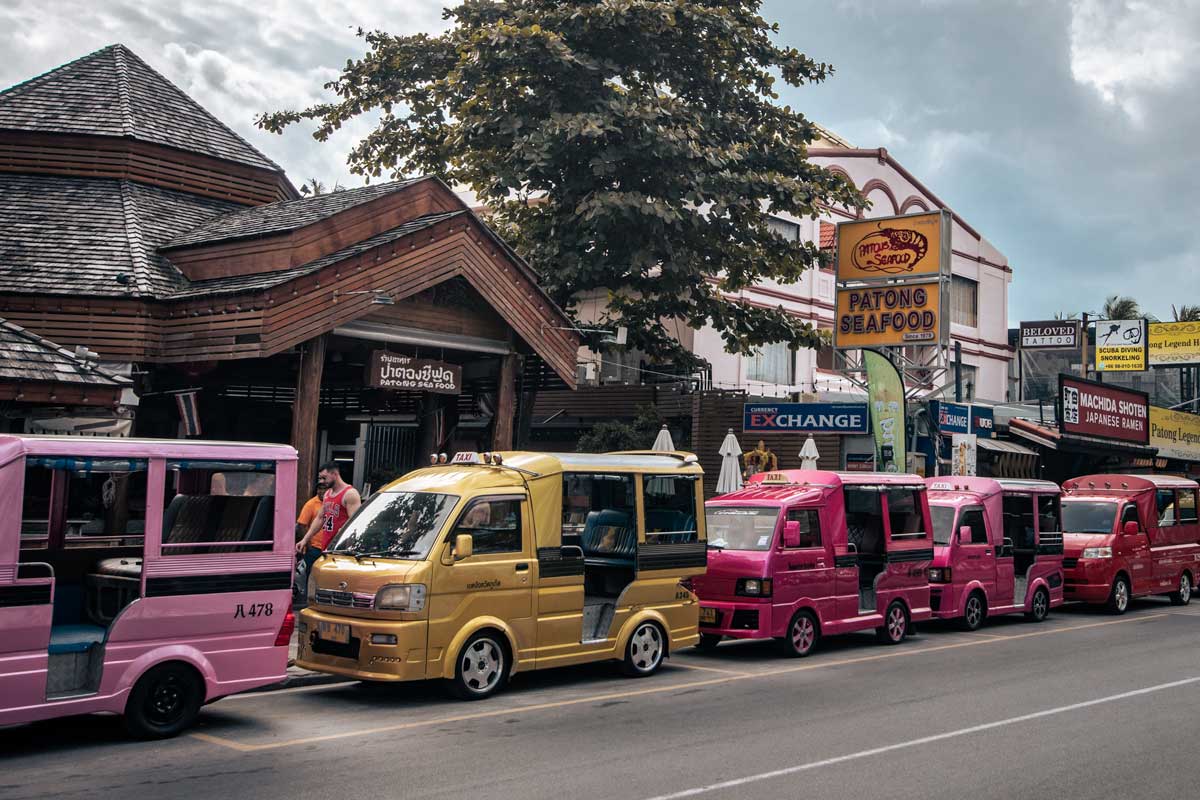 Getting around in Phuket in December is relatively easy, with several options available:
Taxis
Taxis are widely available in Phuket and can be easily hailed on the street. I don't recommend them, though. Thai taxis are famous scammers, and there are plenty of other options.
Tuk-tuks
Tuk-tuks around Phuket are slightly different than the ones in other parts of Thailand. In Phuket, they are not the three-wheeled half-bike-half-car thingies but tiny colorful trucks. However, they are still a tourist trap that overcharges a lot, so use them only in emergencies.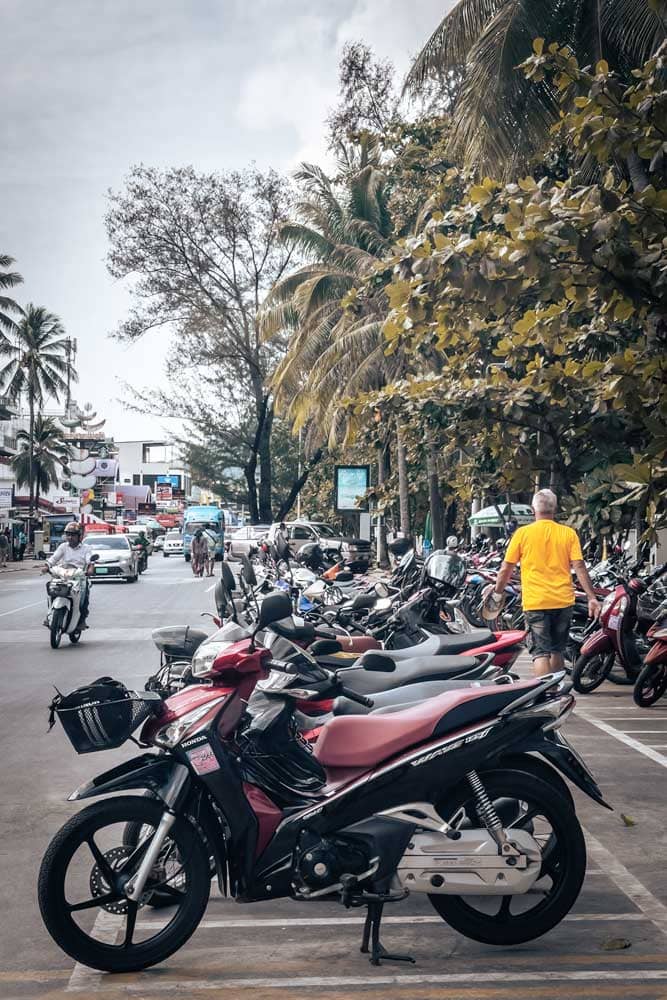 Motorbike rentals
Renting a motorbike is the most popular way to explore Phuket and its surroundings. You can find bikes everywhere around the island, with prices ranging around 150 and 300 THB per day (5-10 USD). However, keep in mind that Thai roads are a bit chaotic, so if you're not confident in your driving skills, you better pick another transportation option.
Car rentals
Renting a car is another popular way to explore the entire island at your own pace. To find the best prices check the Discover Cars tool that compares all the providers in the area.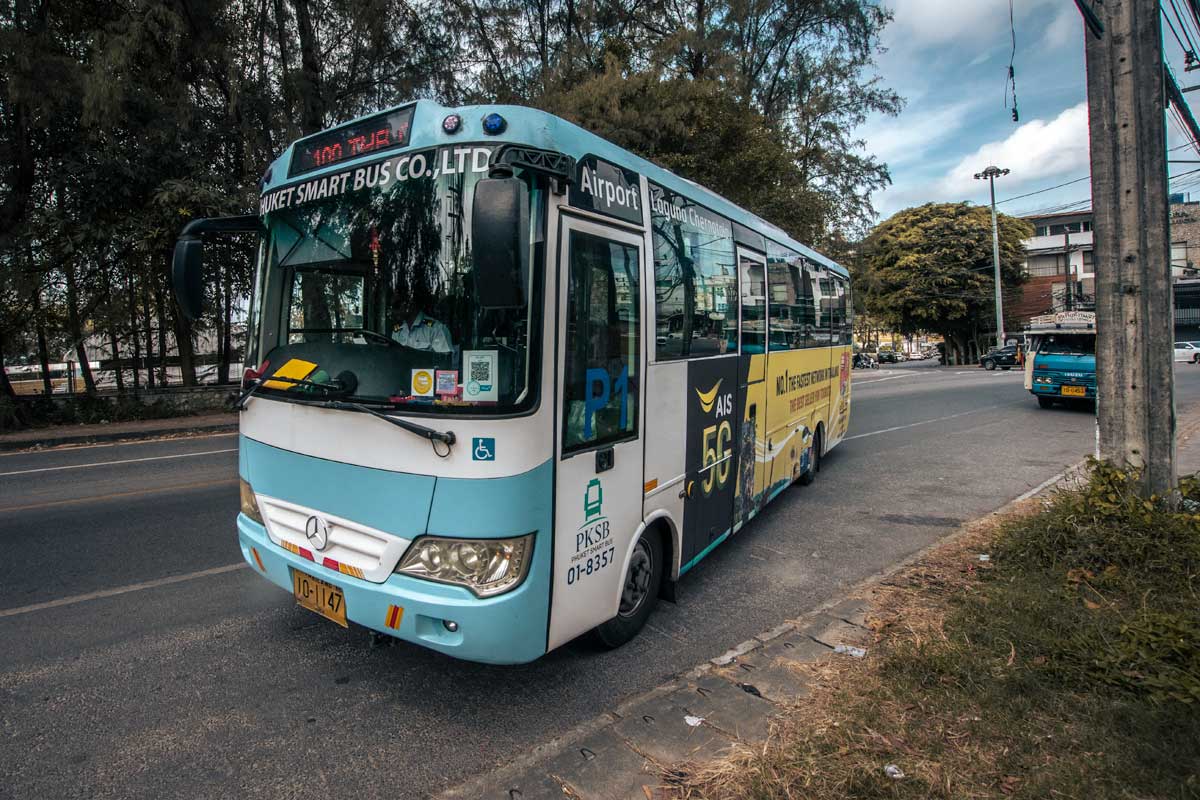 Public transportation
Public buses and songthaews (shared minibusses) are available in Phuket and can be a cost-effective way to get around. For example – you can get one of the blue buses from Patong to Phuket Town for just 20 THB (0.60 USD). They don't cover that much of the island, though, and pass only once per hour.
You can also check Phuket's smart bus. This one is a bit more expensive (100 THB/ 3 USD) but covers the entire west coast (including the airport) and can be tracked online.
See Also: How to Spend December in Morocco
What to do in Phuket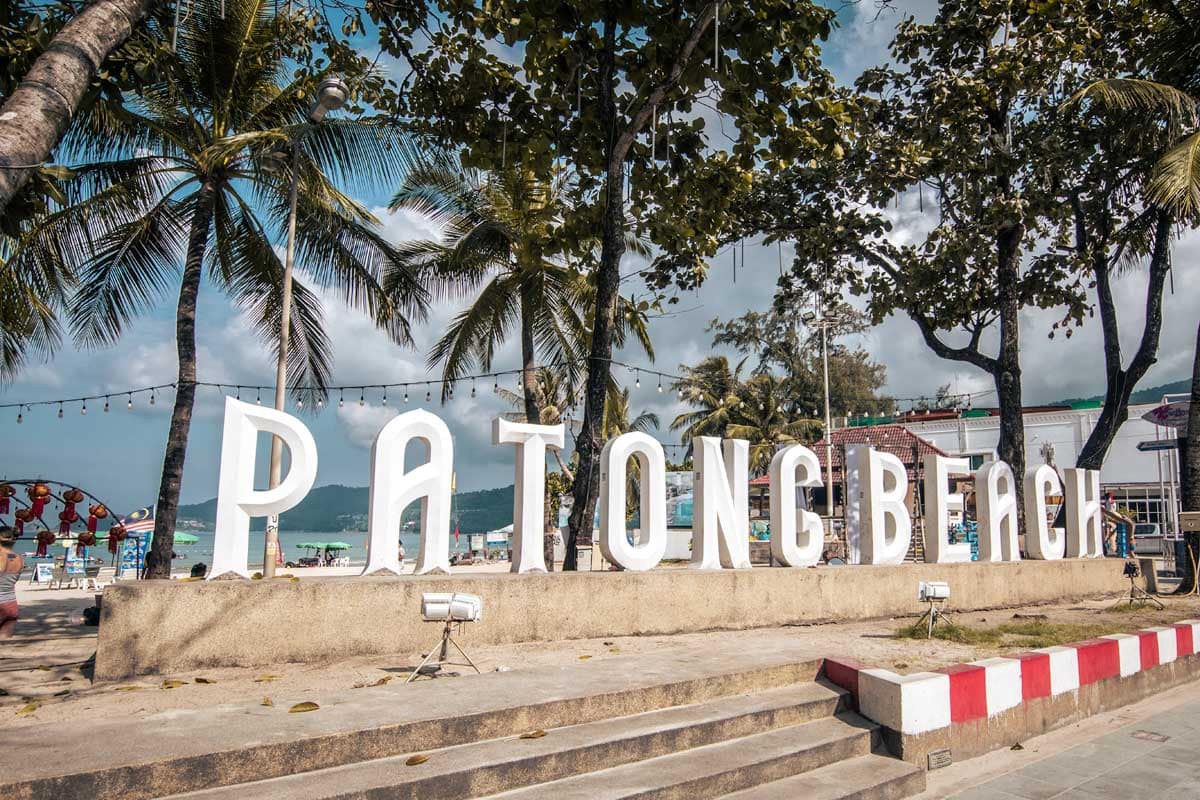 Check out the beaches
Probably the main reason to be in Phuket in December – the beaches. The most popular ones, like Patong, Kata, and Karon, offer clear waters, white sands, and plenty of people. On the other hand, the unpopular ones provide the same clear waters and white sands with just a fraction of the people (Check out Banana Beach and thank me later).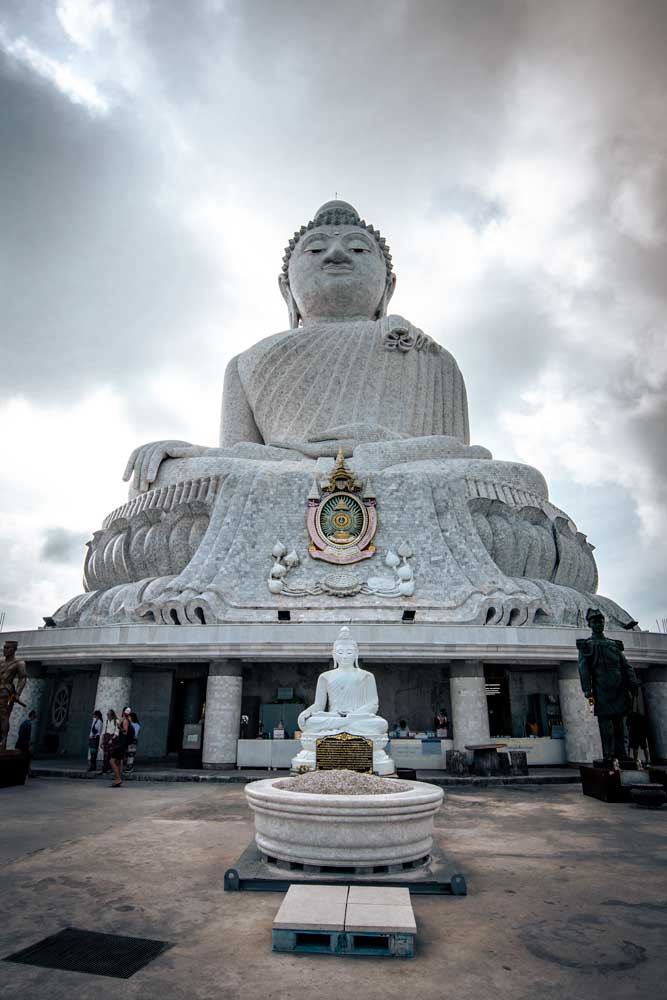 Embrace Thai culture
Phuket has a rich history and culture, and there are many temples and shrines to explore. You can visit Wat Chalong (there's a Budha's tooth there) or, even better – the Big Buddha, a towering statue with panoramic views of the island. I also recommend making the trip to Phuket Town to see the lovely colonial houses in the Old Town (and maybe even the monkeys on Monkey Hill).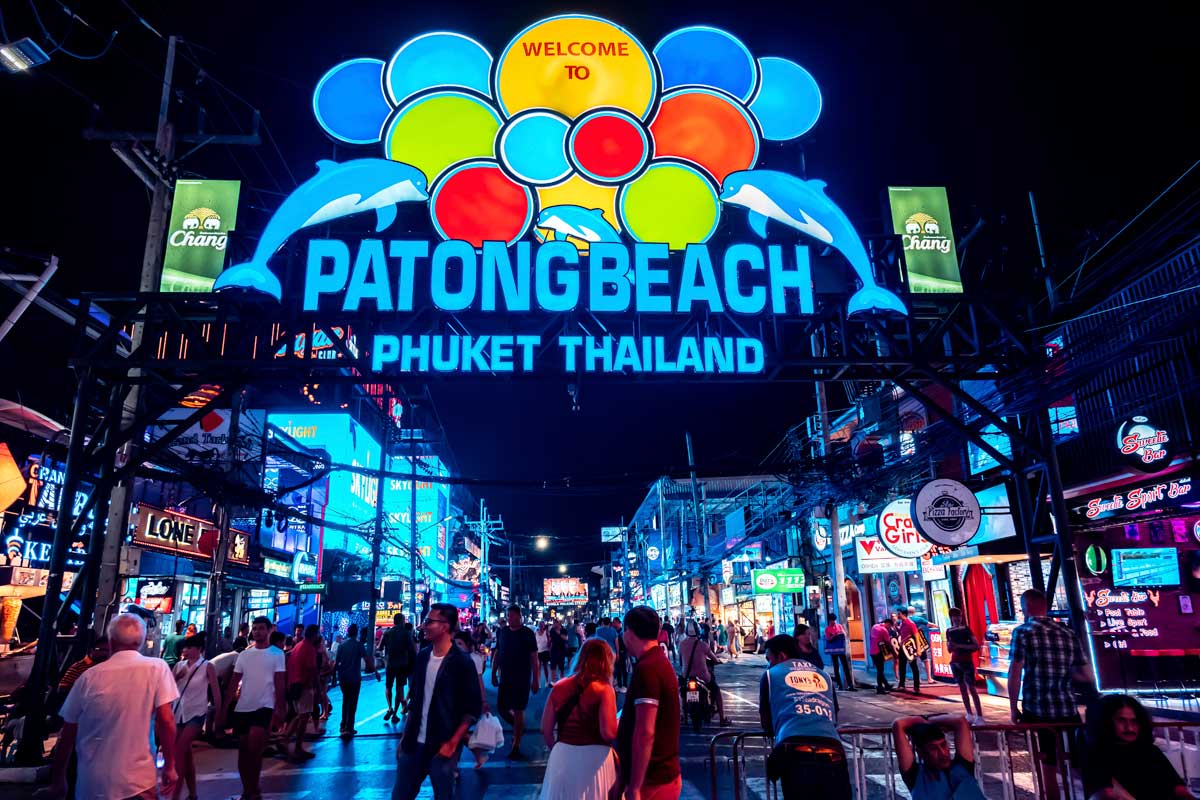 Experience the nightlife
December is the festive season, and Phuket has a vibrant nightlife scene even when it's not the festive season, sooo it's reasonable to expect the wildest party of your life. Bangla Road in Patong is the most popular spot for nightlife, with a wide range of bars, clubs, and restaurants.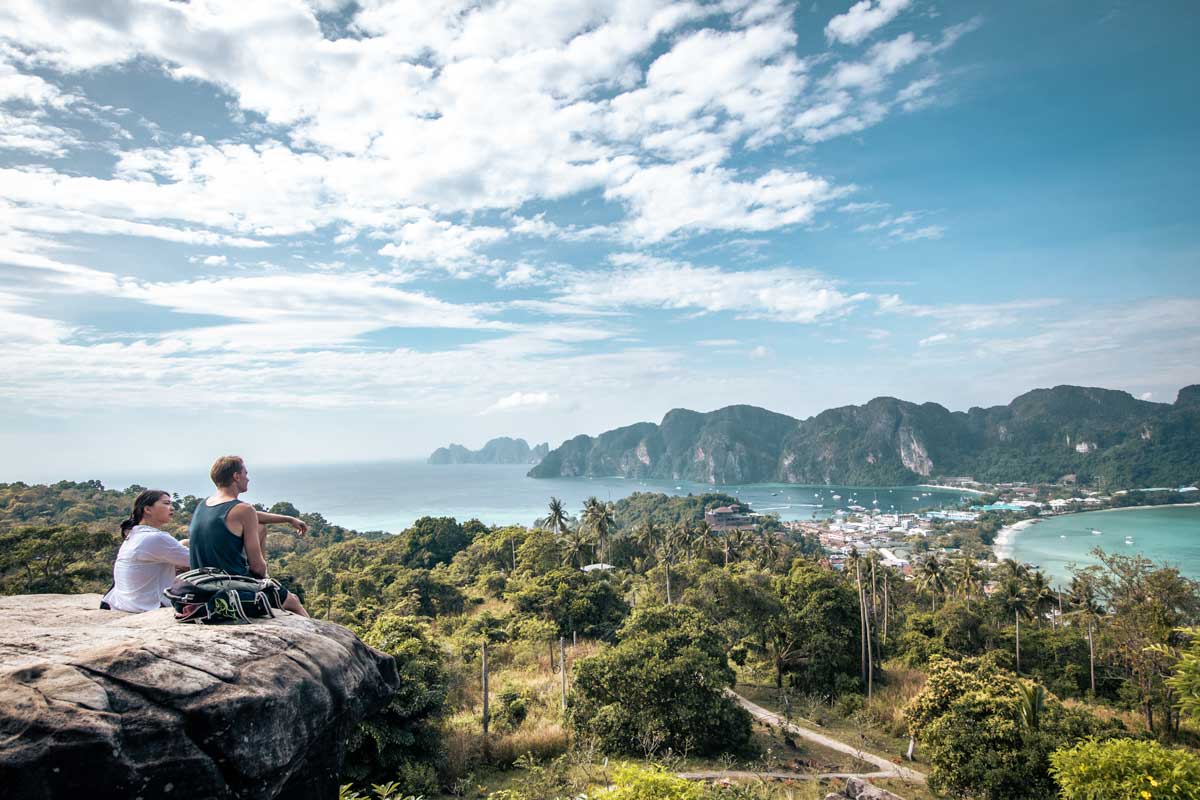 Take a boat tour
Phuket is a gateway to some of the most famous Thai islands, such as Phi Phi, James Bond Island, and Coral Island. I strongly recommend snorkeling tours or even scuba diving ones (if you have certification).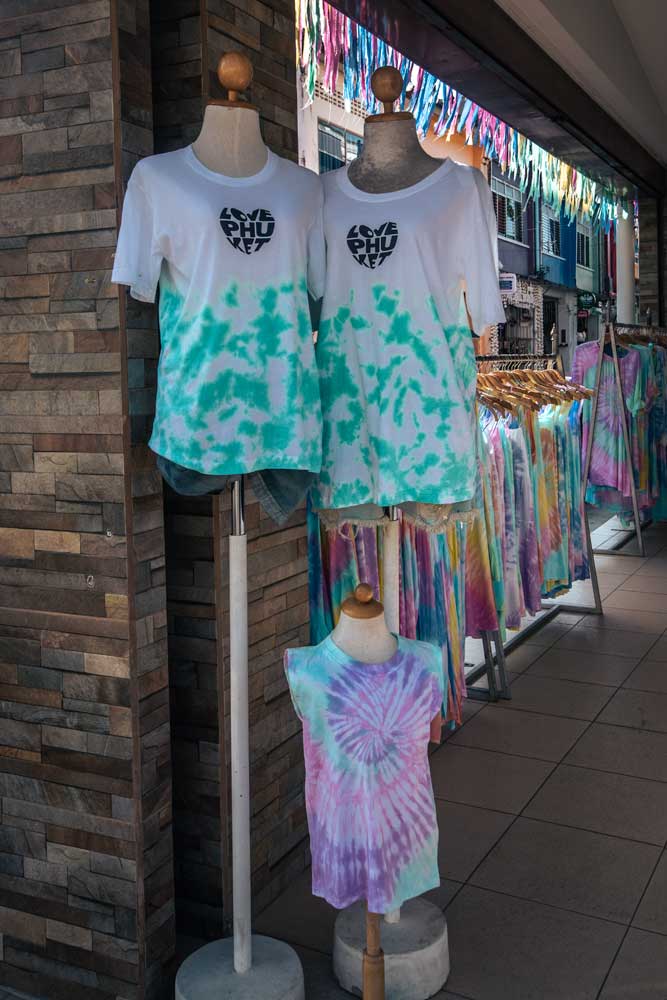 Go shopping
Phuket has various shopping options, from traditional markets to modern malls. You can shop for souvenirs, clothing (original and not so original), and local handicrafts. Phuket Weekend Market (Phuket Town) and Jungceylon Mall (Patong) are two of the most popular shopping destinations. And since you visit Phuket in December, you will probably stumble upon festive wholesales too.
Indulge in local cuisine
Phuket has a diverse and delicious cuisine with a mix of Thai, Chinese, and Malaysian influences. The must-have try local specialties includes tom yum goong (spicy shrimp soup), pad thai (stir-fried noodles), green curry, Mee Sapam (yellow noodles), and, of course, fresh seafood.
Phuket in December FAQ
Is it cold in Phuket in December?
It is definitely not cold in Phuket in December. The average temperature is around 27°C (81°F), with warm and sunny weather.
Is Phuket a good place to visit in December?
Yes, Phuket is the perfect place to visit in December. The weather is warm and sunny, and there are plenty of activities and attractions to enjoy during the festive season.
Is Phuket safe?
Phuket is generally a safe place to visit, but you should exercise caution and take necessary precautions. Petty crimes, such as theft and pickpocketing, can occur in crowded areas and tourist hotspots. You should also be aware of potential scams with tuk-tuks, taxis, and ping-pong shows.

No matter the risk level, I recommend getting travel insurance. I currently use HeyMondo for my travels because they have proven themselves to me more than once over the years. The link above will give you a 5% discount, but If you have another favorite provider, that's ok. Just make sure you have one because you never know what may happen.
Can I use USD in Phuket?
While some places in Phuket may accept USD, the official currency in Thailand is the Thai Baht (THB). Therefore, you should definitely exchange your money for THB for a better exchange rate and easier transactions.
Is Phuket expensive?
Phuket can be both affordable and expensive, depending on your preferences. Accommodations, food, and transportation can be found both dirt cheap and extremely expensive. Overall, Phuket is considered a mid-range destination in terms of cost.
Check out example Phuket prices here
That's all from me, I hope you spend a lovely December in Phuket.
————————————
If you haven't planned your trip there yet, find out how I plan my trips!
————————————
I have 32 bucket list ideas for Thailand. See my impossible bucket list of 1700+ adventures!

Have you been to Thailand?
---

Some of the photos in this article were taken from Depositphotos.com – the best place for stock photos out there.
Some of the above are affiliate links and I will earn a percentage of the sale if you purchase through them at no extra cost to you. This helps keep my site running – so thanks in advance for your support!