A charming and bustling city located in the heart of the island, Phuket Town offers a rich history and a unique blend of Thai, Chinese, and European influences. You've probably seen pictures of the old town, and now you're wondering what to see in Phuket Town ( I mean, that's why you found my post, right), and I'm here to help.
The Old Town is truly a unique place, but there's much more to see in Phuket Town. From a monkey-infested mountain to a gold dragon, we're about to explore everything noteworthy in this cute little island town.
Let's go!
Thalang Road Sunday Market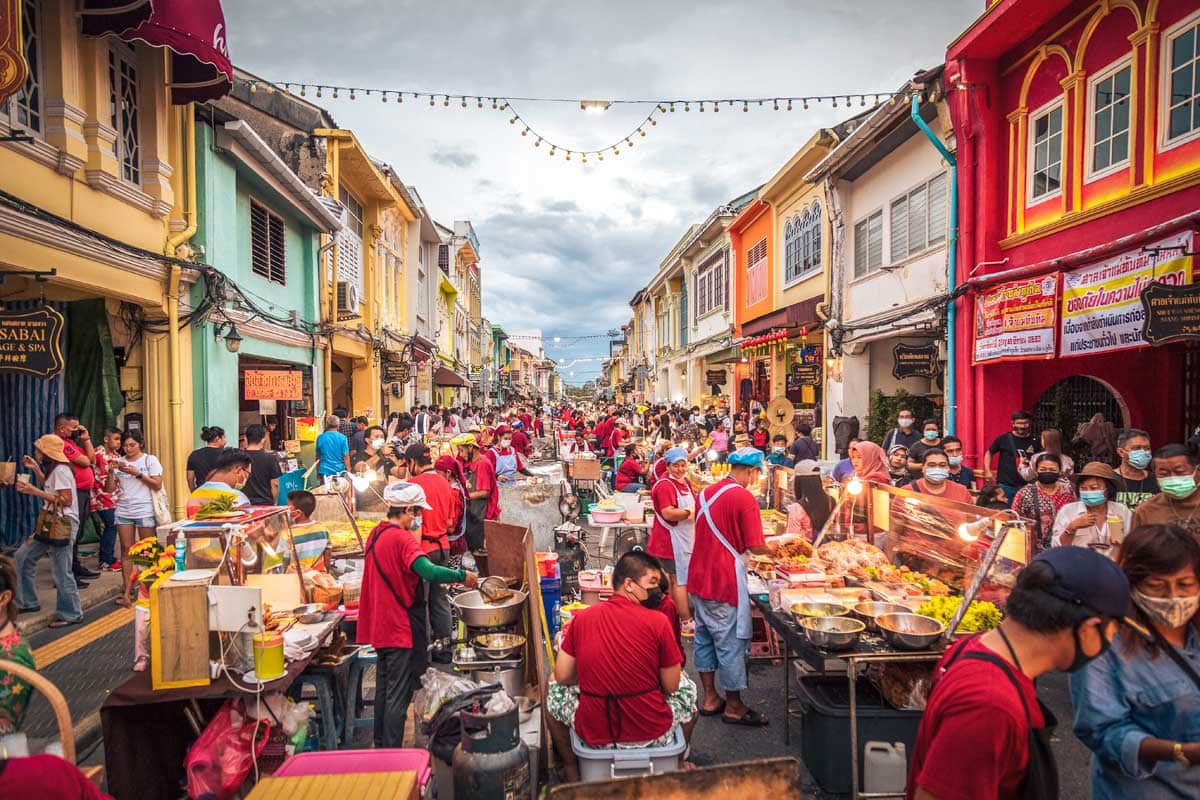 Mainly known for its Sino-Portuguese architecture, which dates back to the early 20th century, the colorful old town is truly one of the best things to see in Phuket Town. The best way to see it, however, is when the whole main street turns into the biggest open market in Phuket.
Taking place every Sunday evening from around 4:00 PM to 10 00 PM, the market is locally referred to as Lard Yai or Talaad Yai, meaning Big Market. And stretching about 350 meters along Thalang Road, it is really a big one. The market is so awesome that it offers pretty much everything. And I mean, really, everything. From clothing and accessories to handicrafts and souvenirs, food stalls with Thai and international food (their durums are a bit weird, though), and surrounded by all kinds of street performers, including musicians and traditional Thai dancers, this market is one of the liveliest places you can find on the island.
Castaway Tip
If you can't be in Phuket Town on Sunday, check out the Indy Night Market, which works from Wednesday to Friday.

Soi Romannee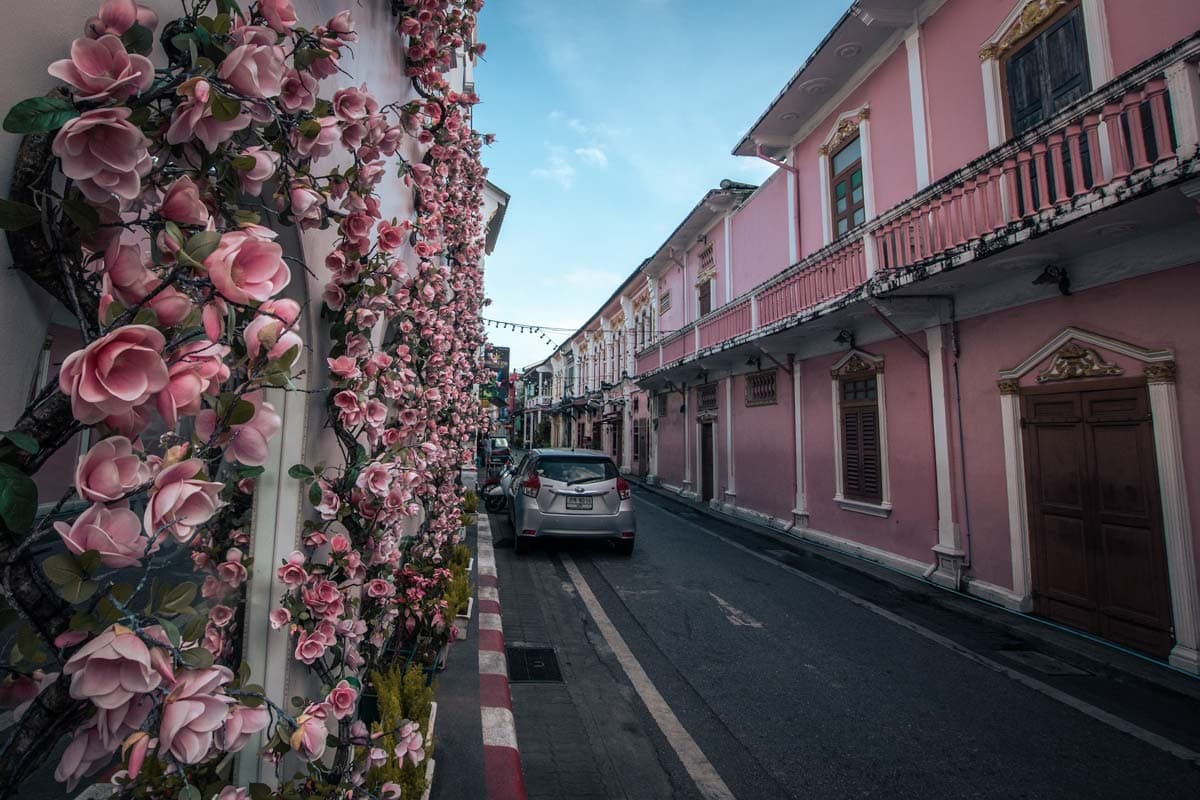 Dating back to the late 19th century when it was a red-light district catering to Chinese tin miners, the Soi Romannee area became a hub for opium dens and gambling houses in the early 20th century. When the government banned opium in the 1930s, however, the area's fortunes declined, and the place became a…well…a dump.
That continued for around 80 years when some ingenious Thai man decided to revitalize one of the classical Sino-Portuguese buildings with tremendous success. All the others in the area followed his example, and just like that, Soi Romannee became the most beautiful alley in town. And since Phuket is a trendy destination for tourists from all over the world, the little dump alley became a top Instagram attraction that continues to entice travelers to Phuket Town.
The Memory at On On Hotel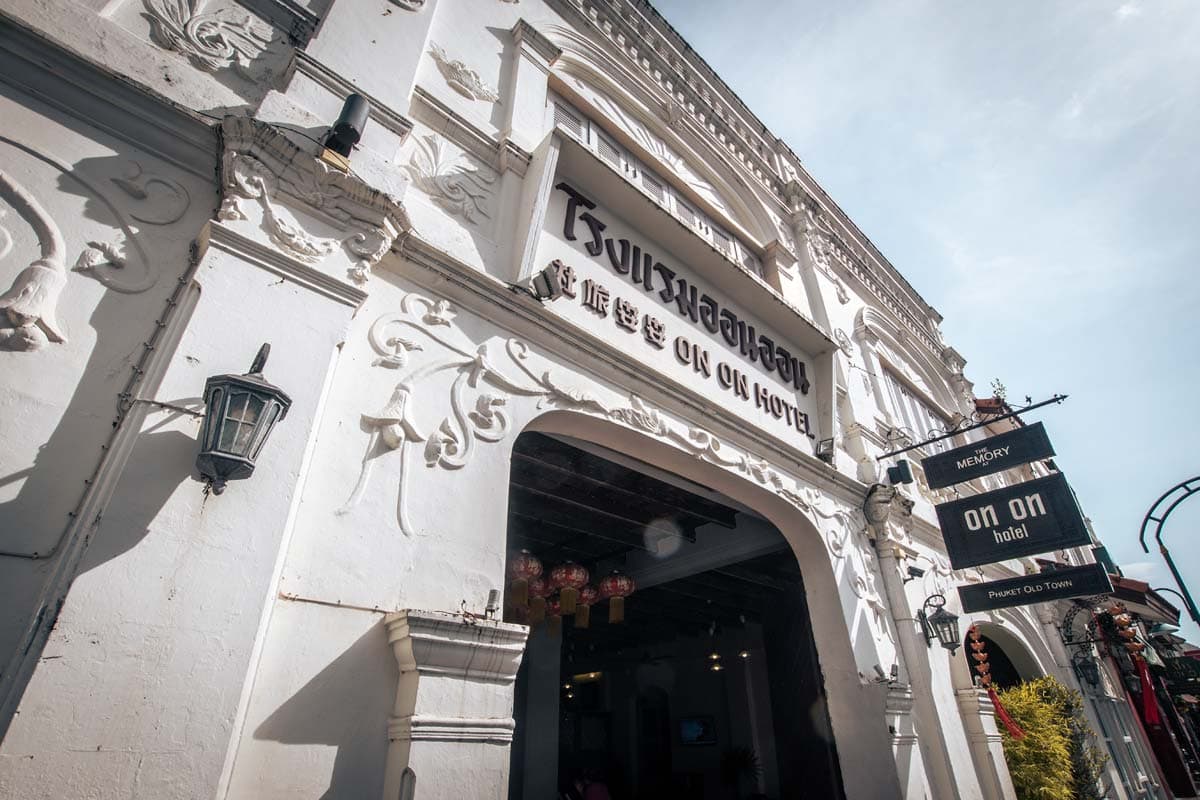 While strolling around wondering what to see in Phuket Town, I saw something familiar. Of course, being a big fan of Leonardo DiCaprio's movie The Beach, I couldn't help but recognize Leo's hotel. But this was supposed to be in Bangkok, right?
Well, it was in Bangkok in the movie, but the actual hotel was right here in Phuket. The Memory at On On won't be an exciting attraction if you haven't seen the movie (you should definitely see it), but for all fans like me, it is pretty much awesome sauce!
See Also: The Ultimate Thailand Itinerary
The Yellow Clock Tower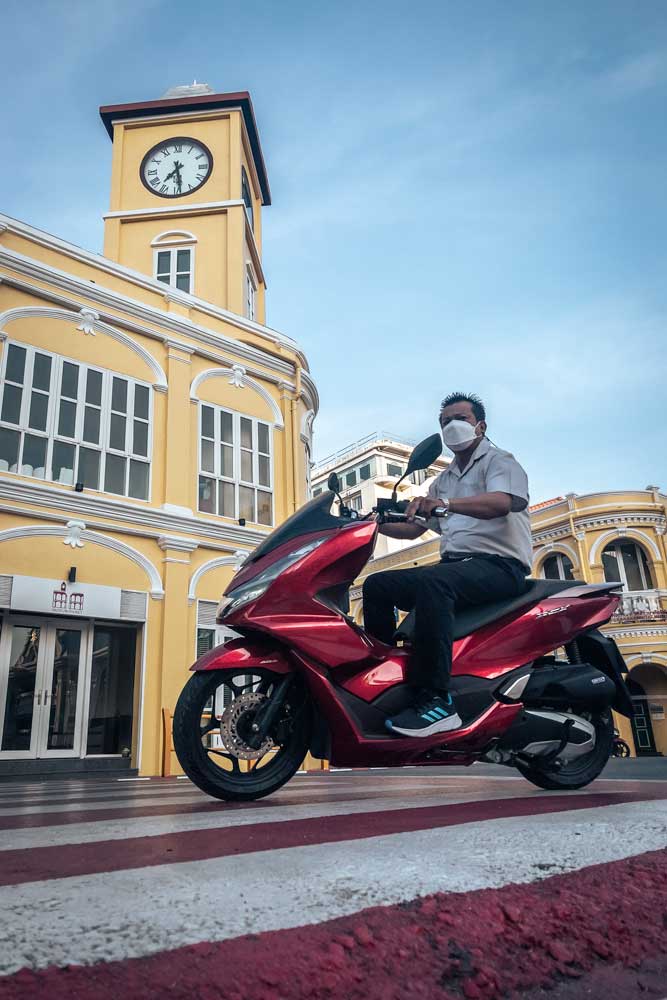 Okay, we need to clarify which clock tower we're talking about here. The one that is the answer to What to See in Phuket Town is the Yellow Clock Tower located at the intersection of Phang Nga Road and Phuket road.
It's actually two classical yellow buildings that used to be a police station and a bank. Today they are museums that are not very enticing, but at least are free. The intersection is one of the most photogenic places in the entire town and is definitely worth a visit.
The other yellow tower is the Surin tower, which is a bit far from everything and not really that impressive, so I don't recommend a visit.
Hog's Head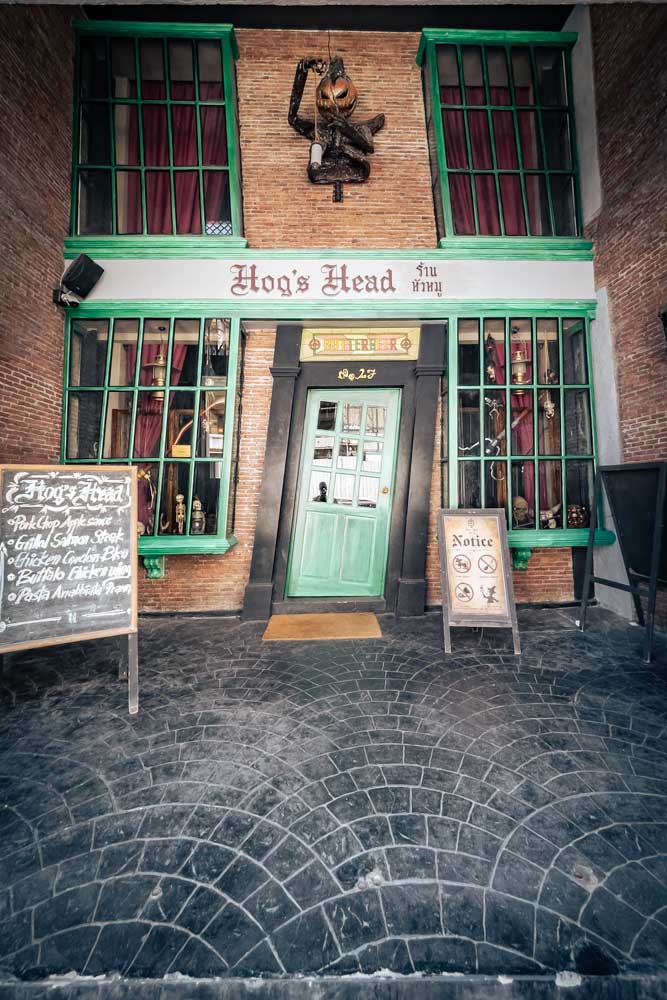 One of the last things I'd expect to stumble upon in Phuket Town was a Harry Potter's styled cafe. Being a huge Potterhead, I couldn't believe my eyes when I saw the Hog's Head.
And while Phuket Town has nothing to do with Hogsmeade, Hog's Head was made in such elaborate detail you could actually believe you're in the real inn from the books. Or at least in the Harry Potter studios near London. Definitely not in Phuket. A menu offering Butterbeer and themed cocktails, gargoyles, and werewolves on the walls, a hog's head behind the counter, a few themed cakes, and, the most impressive of them all, a giant bone dragon suspended from the ceiling — an incredible place.
And their Pad Thai was quite delicious too.
See Also: The Ultimate Phuket Itinerary
Monkey Hill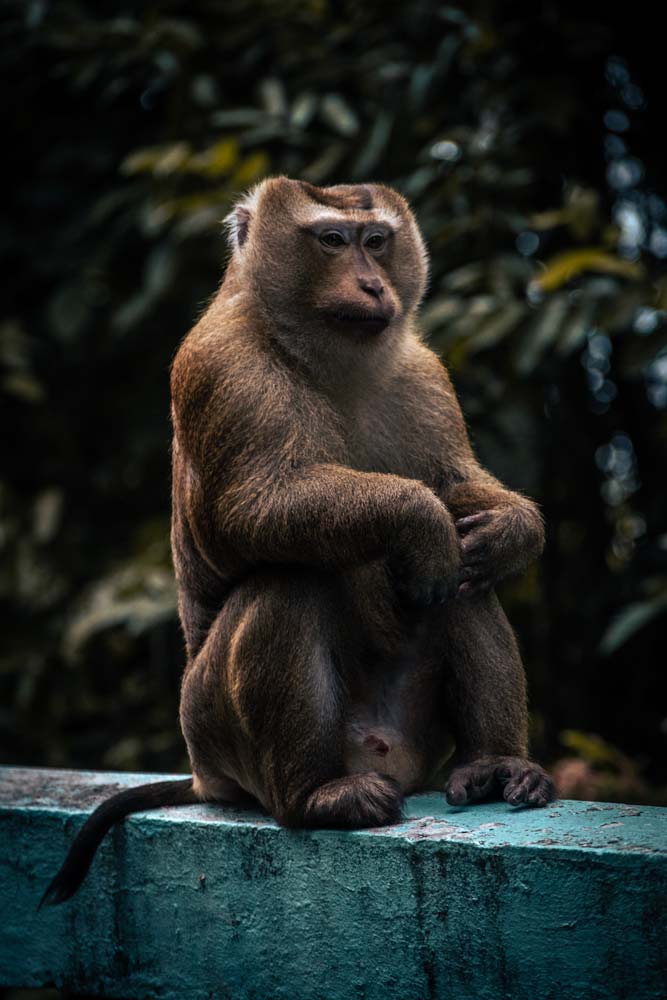 If you're an animal enthusiast and wonder what to see in Phuket Town, this is the attraction for you. Monkey Hill is…well… you can guess by its name – a hill full of monkeys. Seriously full of them. I mean hundreds and hundreds of monkeys everywhere!
If you decide to climb it (easy climb on a paved road), ensure you have no food. Monkeys may look cute but become pretty aggressive when they see food, and the last thing you want is to be bitten by one of them. Trust me, the vaccines afterward are not worth the cute monkey selfie.
If you have no food, you don't try to pet them or annoy them; they won't care about you and are a great way to spend your afternoon.
Thai Hua Museum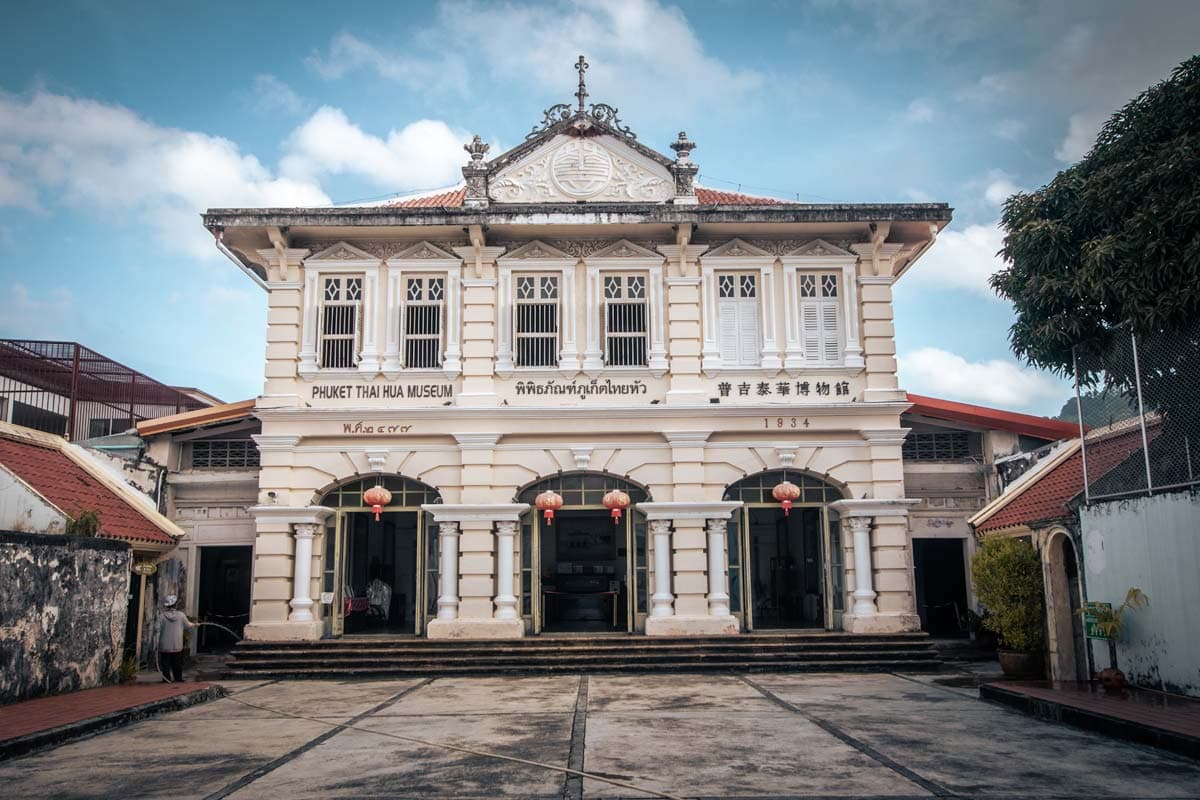 Located in the heart of Old Town in a beautiful Sino-Portuguese building (like pretty much everything there), this lovely museum was built in 1934 as a Chinese language school.
It showcases the history and culture of the Chinese community in Phuket, which played an essential role in developing the island's economy (and cuisine) in the past 2 centuries. You can see a vintage classroom, clothing, musical instruments, household items, and a curious model of a traditional Phuket house with its inhabitants (with a funny surprise in the tiny bathroom).
The Golden Dragon Monument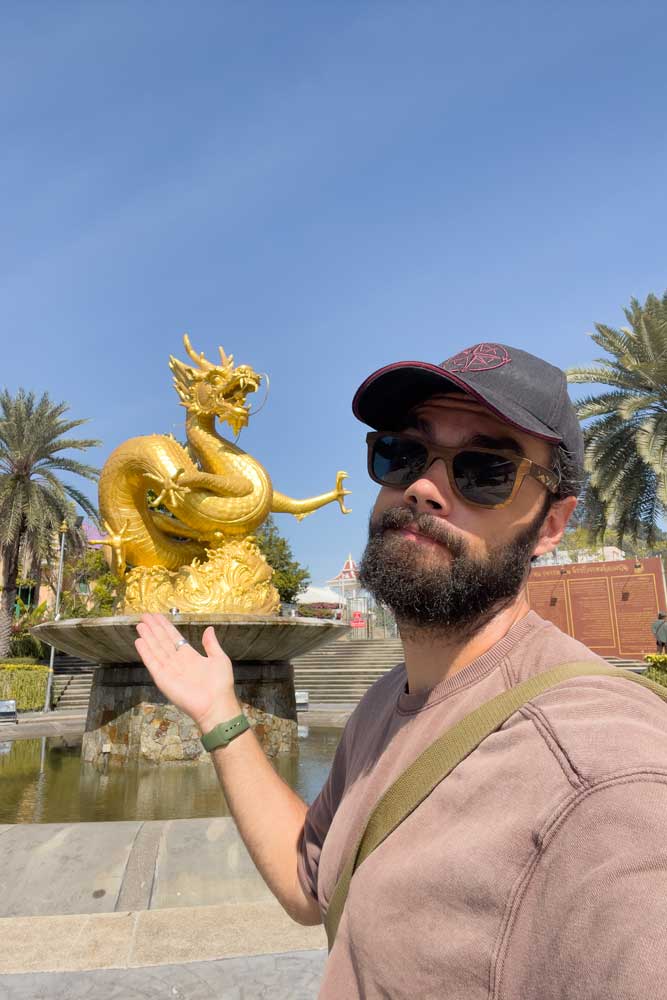 This impressive statue is the go-to meeting place in Phuket Town. It's located in a small park that is pretty easy to find and offers a nice quiet place to relax a little.
The monument depicts the golden sea dragon, Hai Leng Ong, who is considered the protector of Phuket. And no, it's not made of real gold, but it's still pretty good for a selfie.
See Also: The Best Souvenirs to get From Phuket
Amulet Market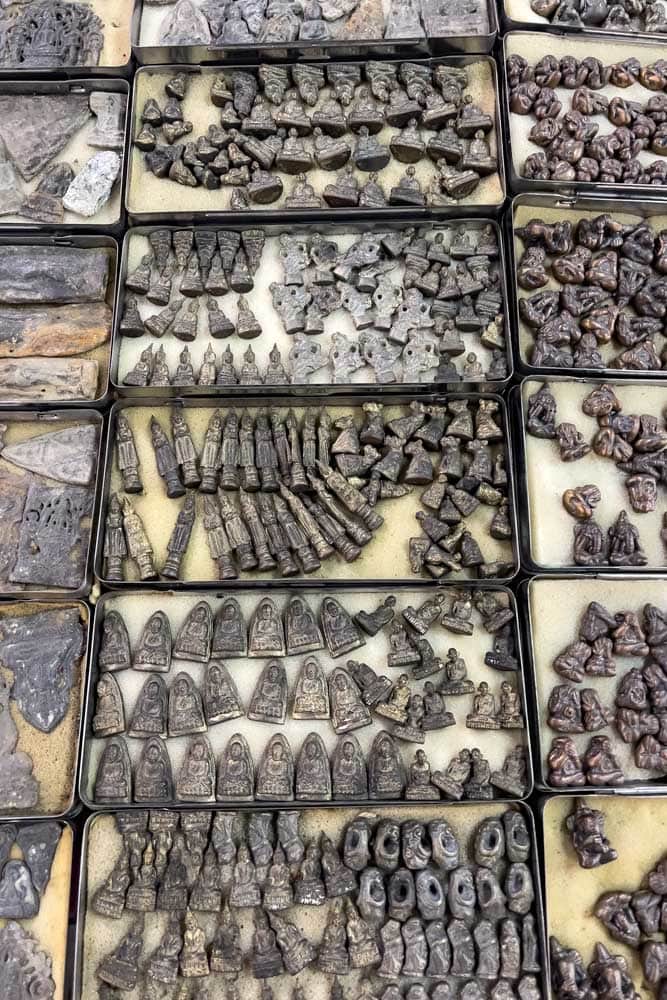 If you wonder what to see in Phuket Town that will make a great story back home, I got you covered. Located across from Jui Tui Shrine (one of the oldest shrines in town), Phuket's amulet market is this tiny street full of traditional Buddhist amulet vendors.
There are amulets for pretty much everything, but keep in mind they are also one of Thai people's favorite collectible items (like baseball cards). That's why I don't recommend shopping from there. There's an entire science behind the amulets, and if you try to buy something from an experienced collector, I'm pretty sure you will get scammed.
Depending on their rarity, materials, and the monks that blessed them, amulets' prices vary from a couple of dollars to thousands. It's still a fantastic place to explore, though.
See Also: The Best Beaches in Phuket
Chinese Shrines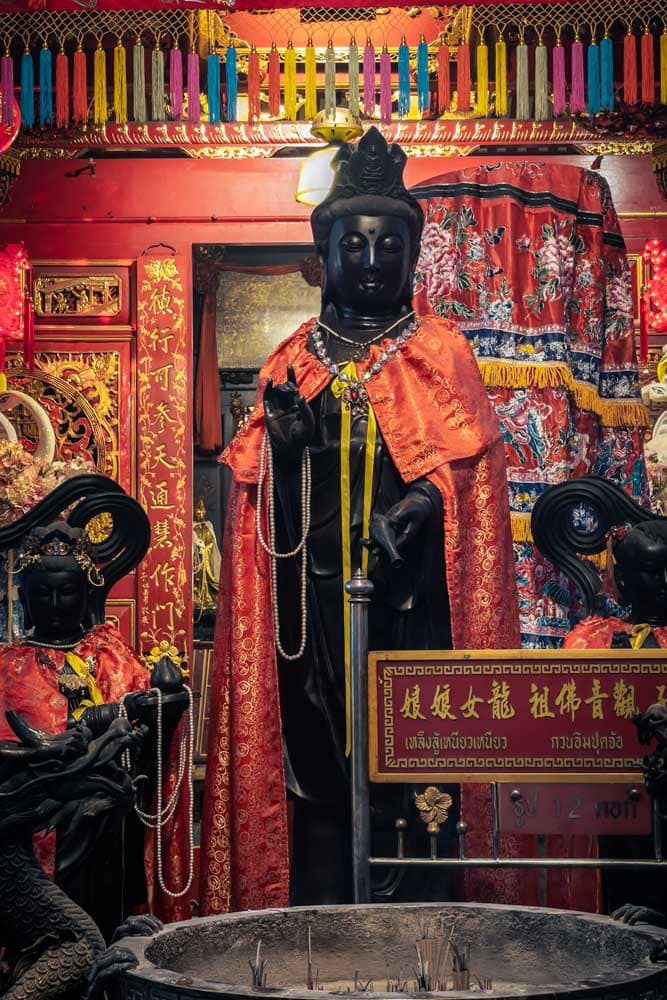 During the 19th and early 20th centuries, there were plenty of Chinese immigrants in Thailand and, therefore, Phuket. They played a crucial role in the local economy and left their mark on the island. Besides the numerous Chinese restaurants, their most considerable heritage is the shrines.
I already mentioned the Jui Tui Shrine, dedicated to the Taoist goddess of mercy, Kuan Yin. The other famous shrines in Phuket Town are Put Jaw Temple, dedicated to the god of fertility and marriage (a popular venue for weddings), Sam Kong Shrine, dedicated to the god of wealth and prosperity, and Bang Neow Shrine, again devoted to the goddess of mercy. All of them are unique places to see in Phuket Town, and I strongly recommend a visit.
What to see in Phuket Town – Bonuses
And since I visited pretty much everything, there are two bonus locations I can give you.
The Giant Lobster Restaurant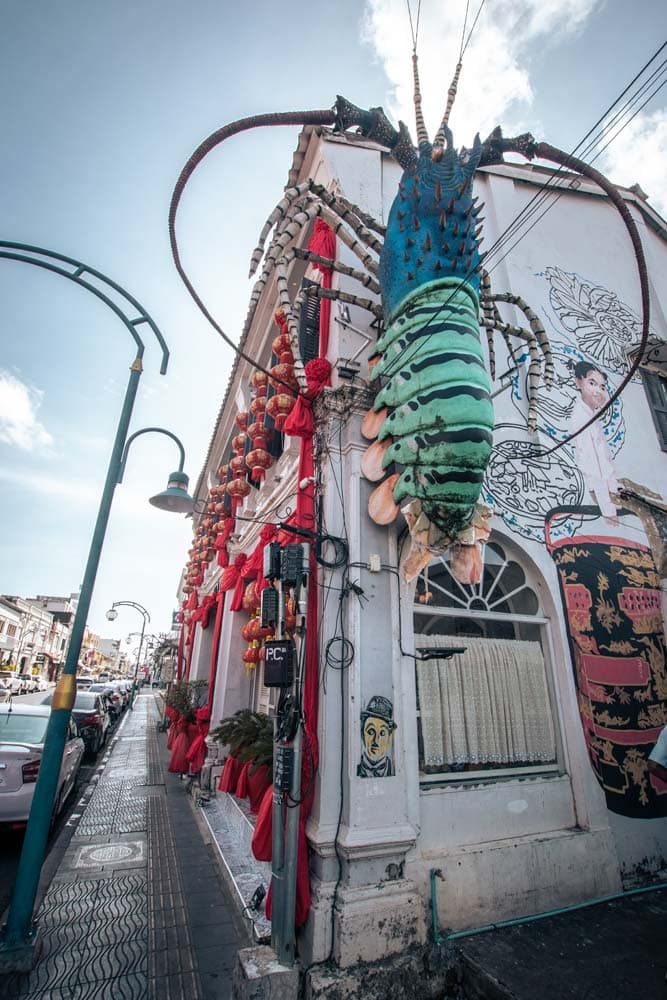 Adorning the side of Tu Kab Khao Restaurant on Phang-Nga Road, a giant colorful lobster statue leads you to an elegant, atmospheric place that offers incredible southern Thailand and seafood delicacies.
Housed in an old heritage house, the place is not as expensive as it looks and, for me, is one of the best restaurants in town (the giant lobster also makes up for a great story back home).
Phi Phi Islands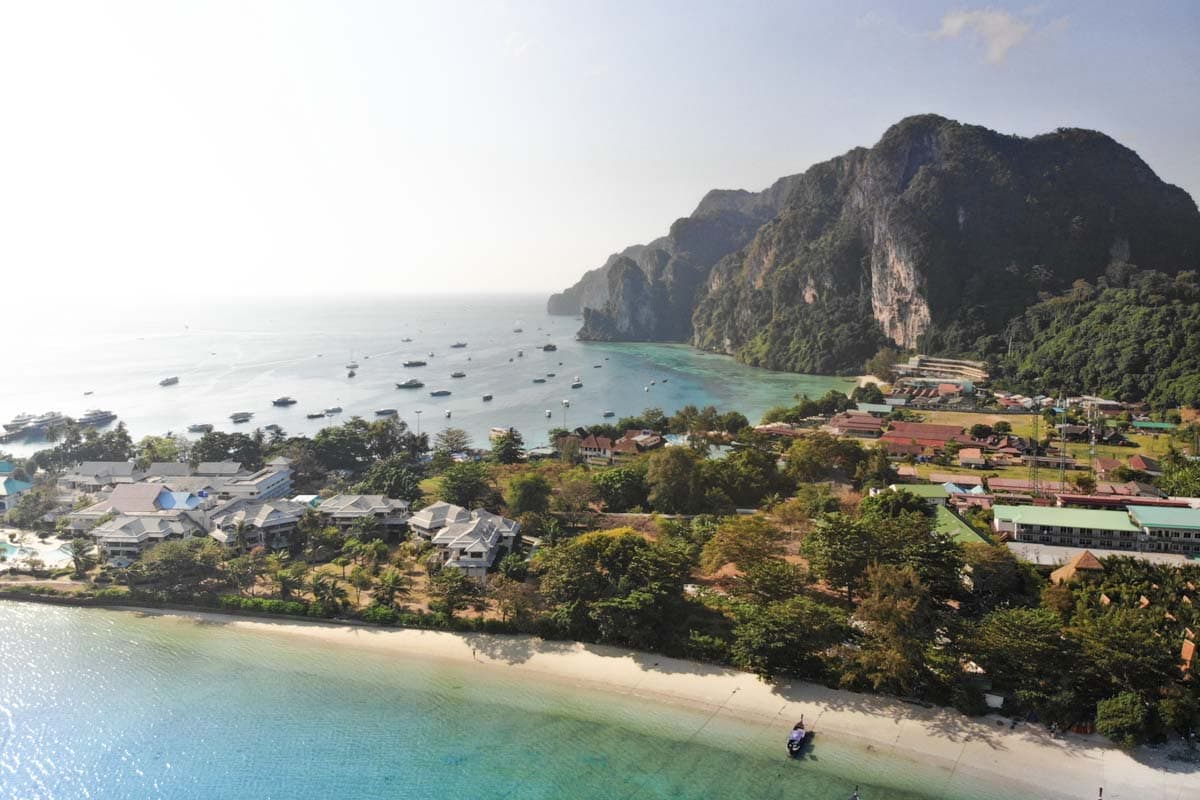 Yeah, the famous Phi Phi islands, home to the most beautiful beach in the world, is the last place I'll offer as the answer to the question of What to see in Phuket Town.
Wait, what??
Yes, Phi Phi is not in Phuket Town (duh), but the pier (Rassada Pier) that goes to Phi Phi is really close, which gives you easy access to day tours that will showcase the best of the islands. So seriously, if you don't have Phi Phi on your itinerary and have a few days in Phuket Town, go to one of the tours. You won't be sorry.
That's all from me, now you know what to see in Phuket Town.
————————————
If you haven't planned your trip there yet, find out how I plan my trips!
————————————
I have 32 bucket list ideas for Thailand. See my impossible bucket list of 1700+ adventures!

Is Thailand on your bucket list?
---

Some of the photos in this article were taken from Depositphotos.com – the best place for stock photos out there.
Some of the above are affiliate links and I will earn a percentage of the sale if you purchase through them at no extra cost to you. This helps keep my site running – so thanks in advance for your support!