Planning a tropical trip of a lifetime? Look no further!
Following my Phi Phi island itinerary will help you escape the crowds and experience the best this incredible destination has to offer. Whether you're a solo traveler, a couple, or traveling with friends, this itinerary got you covered.
A tropical paradise located in the Andaman Sea, Phi Phi is a group of six islands but don't worry; there's only one you can stay on and explore. As for the others – don't worry again; we'll see everything worthy of seeing in the most hassle-free way possible.
So, pack your bags, grab your camera, and get ready for an adventure of a lifetime as I take you on a journey through the ultimate Phi Phi itinerary!
Let's Go!
Where is Phi Phi Island
As I already mentioned, Phi Phi is not one but a group of islands. They are part of Krabi Province, located in southern Thailand, in the Andaman Sea between Phuket and the mainland.
The six islands are: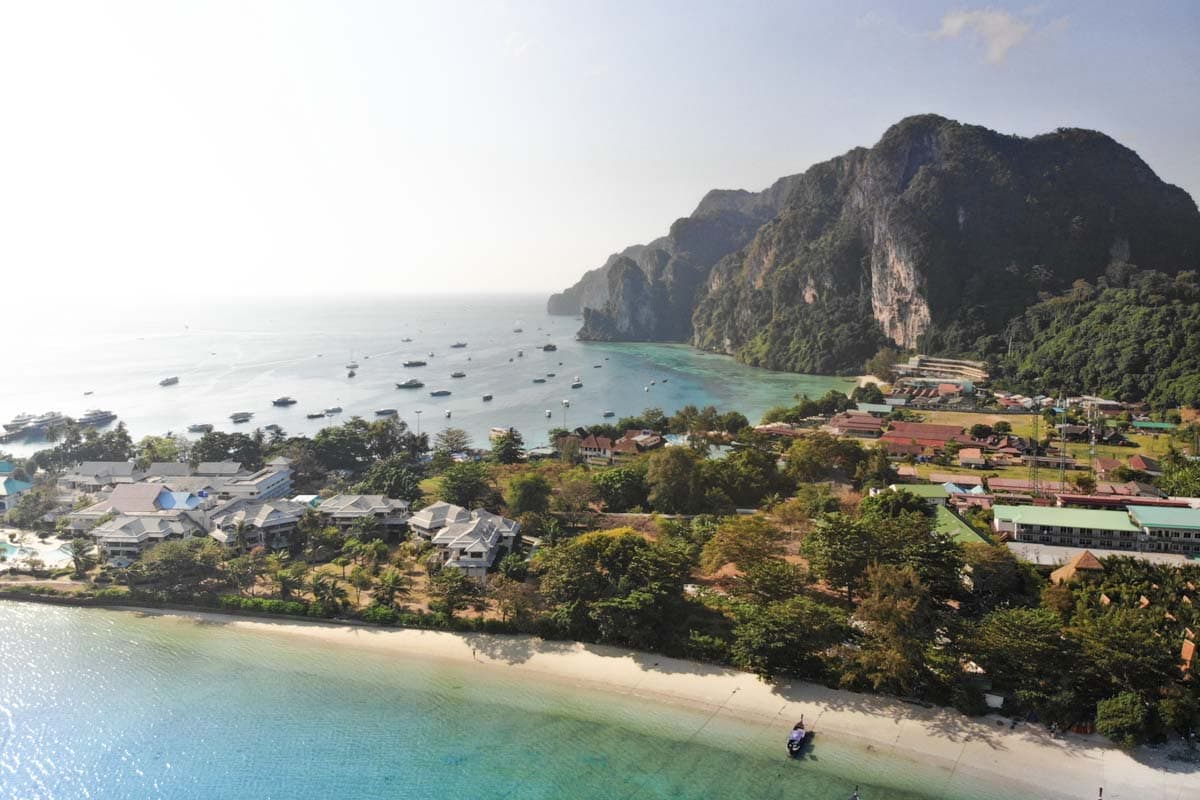 Koh Phi Phi Don – The largest and most populous island in the group. This is the only island you can stay on, and the one this Phi Phi island itinerary is centered around.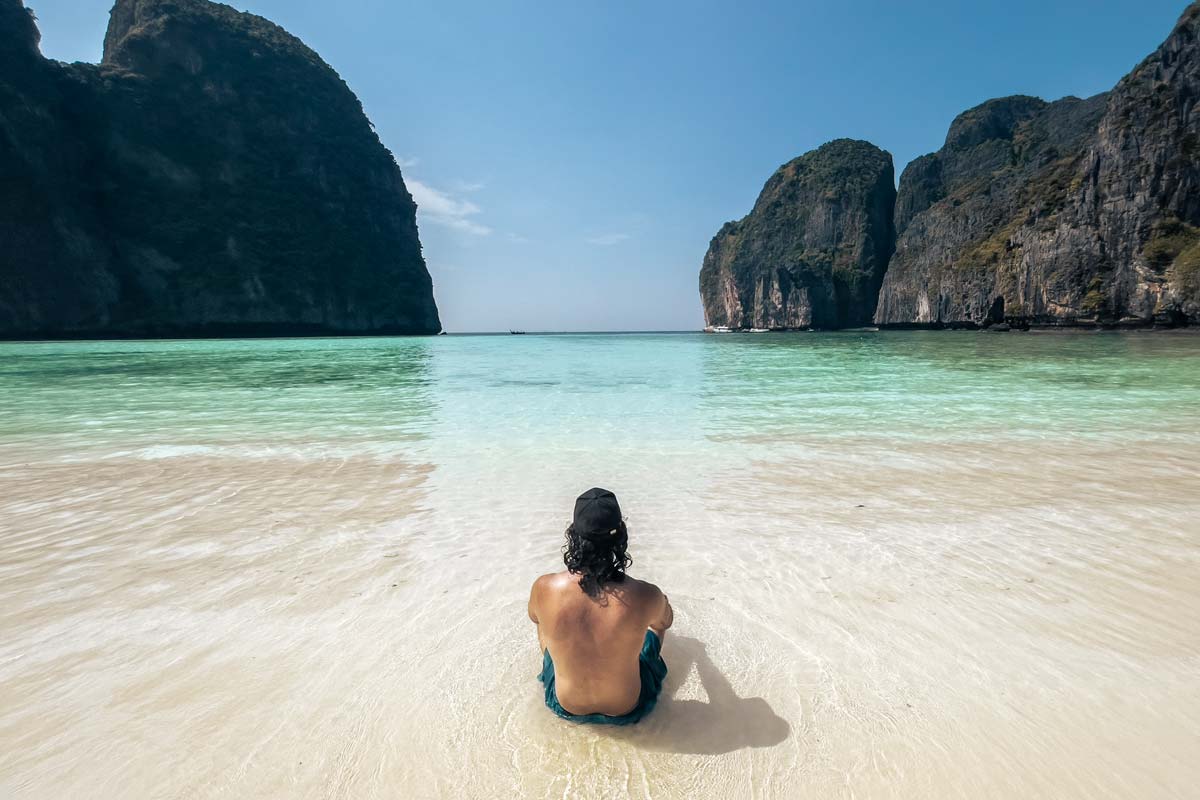 Koh Phi Phi Leh – This island is smaller than Koh Phi Phi Don and is part of a natural park. It's where all those Phi Phi videos on social media are taken.
Koh Bida Nok – A small island located south of Koh Phi Phi Leh. You probably won't visit this one unless you are a diver. On the island, there's nothing spectacular, but the reefs around it offer perfect diving conditions and rich marine life (including plenty of sharks), making it ideal for scuba.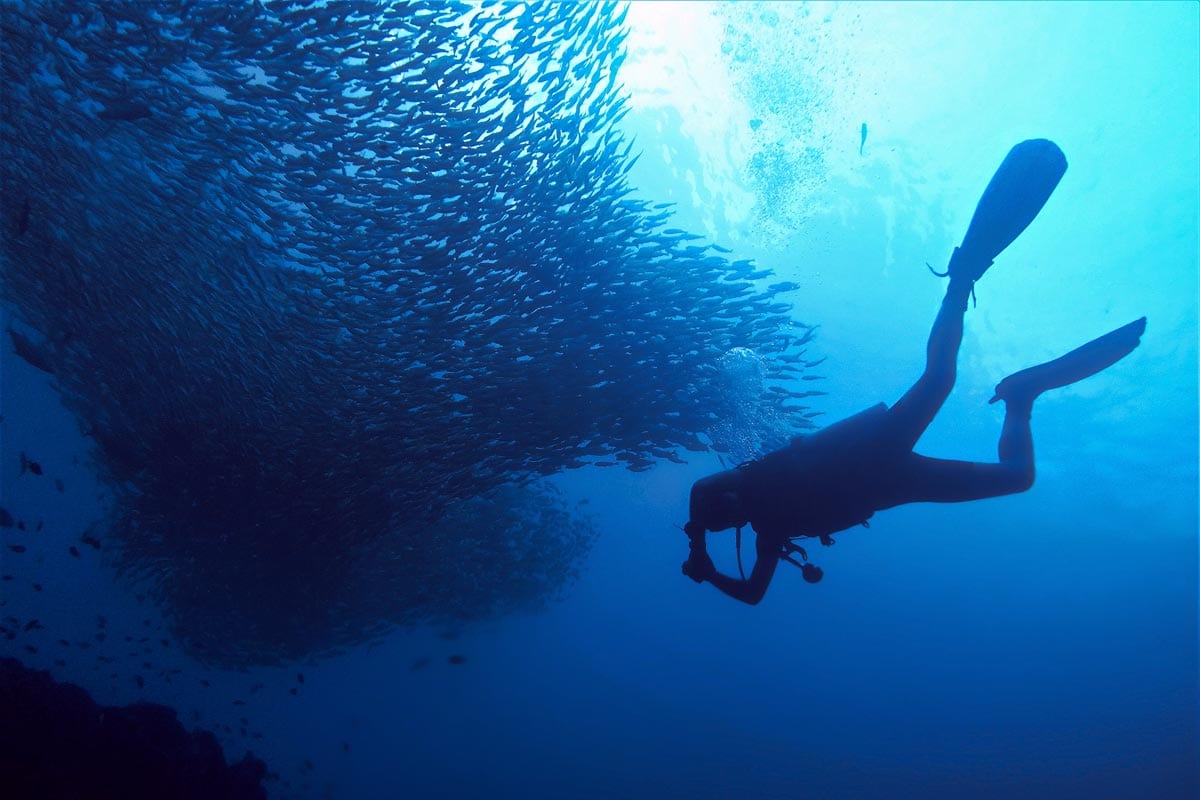 Koh Bida Nai – Another small island near Koh Phi Phi Leh, popular among divers. Fewer sharks here but fantastic coral reef and even an underground cave.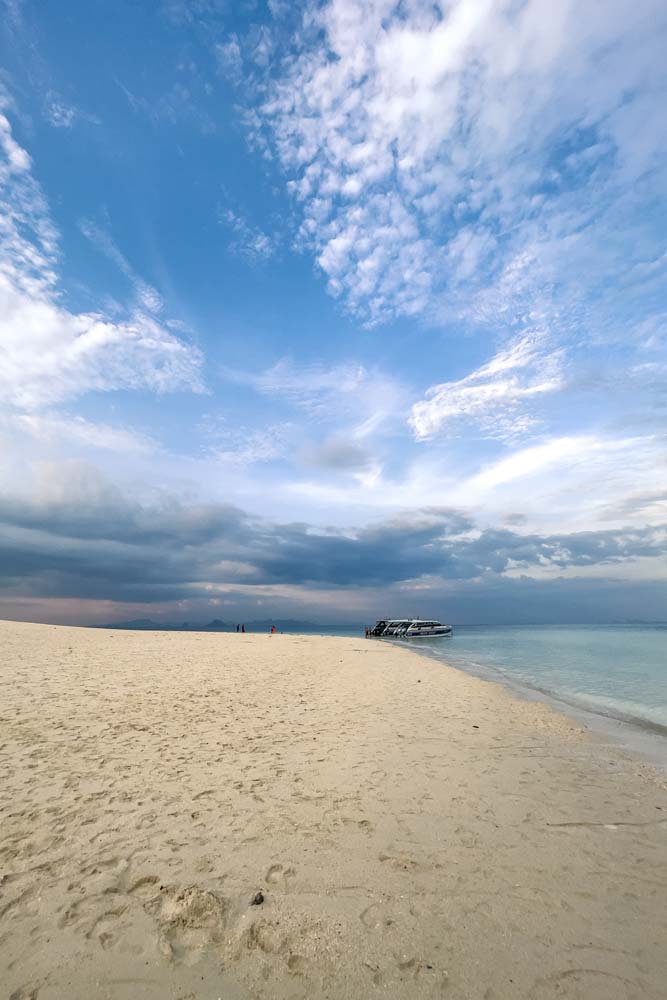 Koh Phai – Also known as Bamboo Island, Koh Phai is a small, picturesque island located northeast of Koh Phi Phi Don. This one is part of pretty much all island tours and is best visited around sunset.
Koh Yung – A small rocky outcrop located northeast of Koh Phi Phi Leh. It's also known as Mosquito Island, and no Phi Phi island itinerary or tour would go there due to…well…legions of mosquitos.
How to get to Phi Phi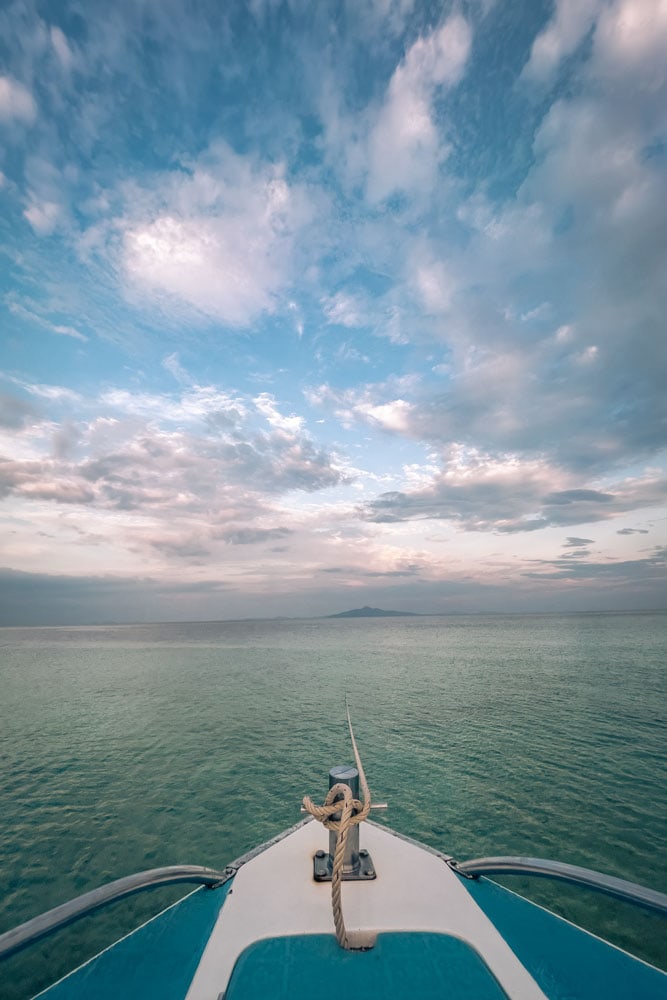 There's only one way to get to Phi Phi, and that's via boat. You can get one from Phuket (Phuket Town), Krabi (and Ao Nang), or Koh Lanta. There are two options here – ferry and speedboat.
Ferries take more time (2 – 2.5 hours) but are cheaper, while the more expensive speed boats reach Phi Phi in half the time. You can get a ticket on the spot or reserve one via 12go.asia.
I always get the online tickets since that way I can guarantee to leave at the exact hour I need (mandatory to catch my flight), and they also have bundle combinations (with taxis) that take you straight from the pier to the airport (or from the airport).
See Also: The Ultimate Thailand Itinerary
The Ultimate Phi Phi Island Itinerary
For this Phi Phi island itinerary, I'll assume you have at least two full days on the island. If it's less than that, I'll suggest how to rearrange your activities. If it's more, you don't need a Phi Phi itinerary since you can easily see and do everything.
Day 1 – Hello, Phi Phi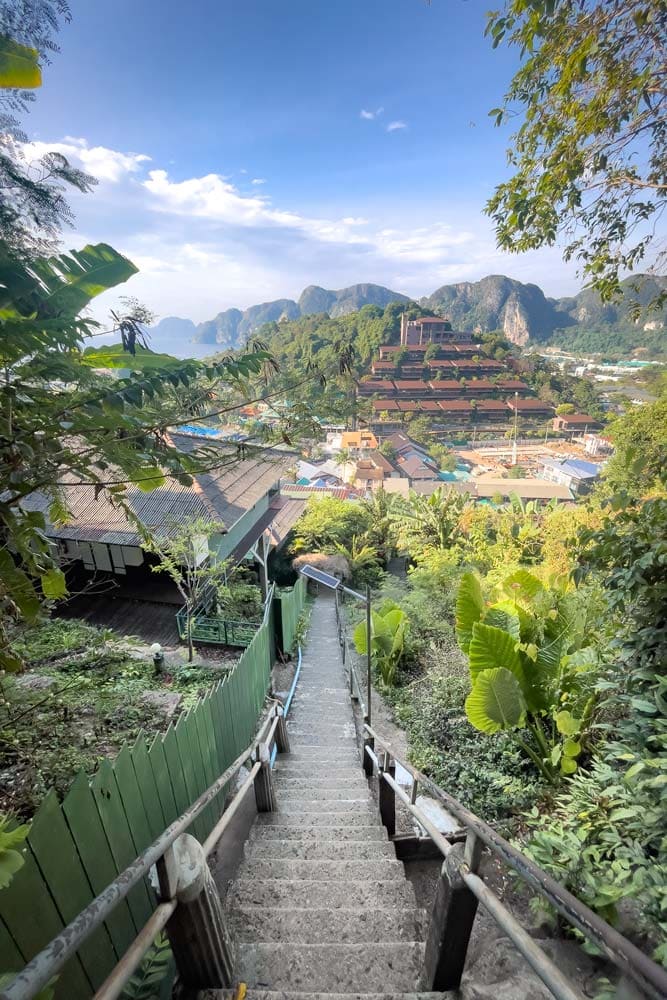 Arrival
Someone from your hotel will most likely greet you at Tonsai Pier. He'll take your luggage and guide you to your accommodation. Try to remember the path through Tonsai Village. I'm usually very good with direction and still managed to get lost there.
Go to the beach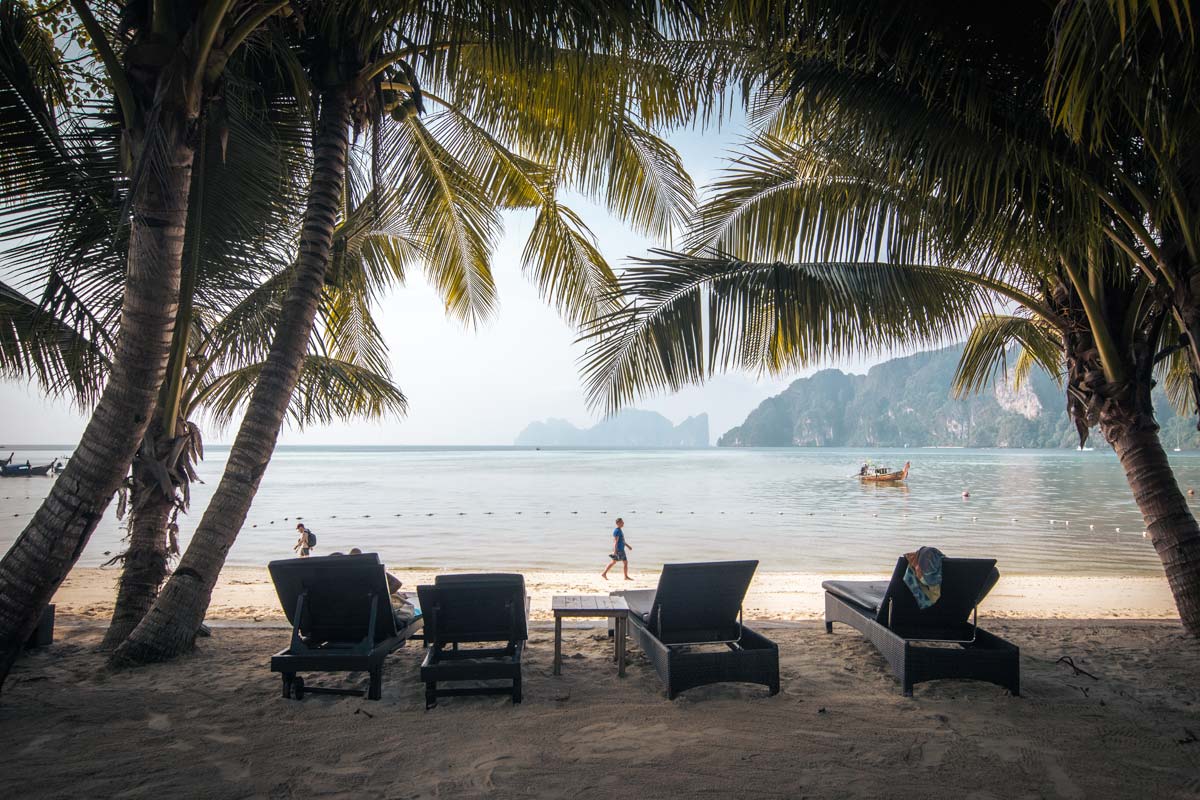 The first thing to do – check out one of the Phi Phi beaches. Loh Dalum Bay is the easiest and most accessible one; however, if it's close to sunset, it may be low tide, meaning there's barely any water in the bay.
Watch the sunset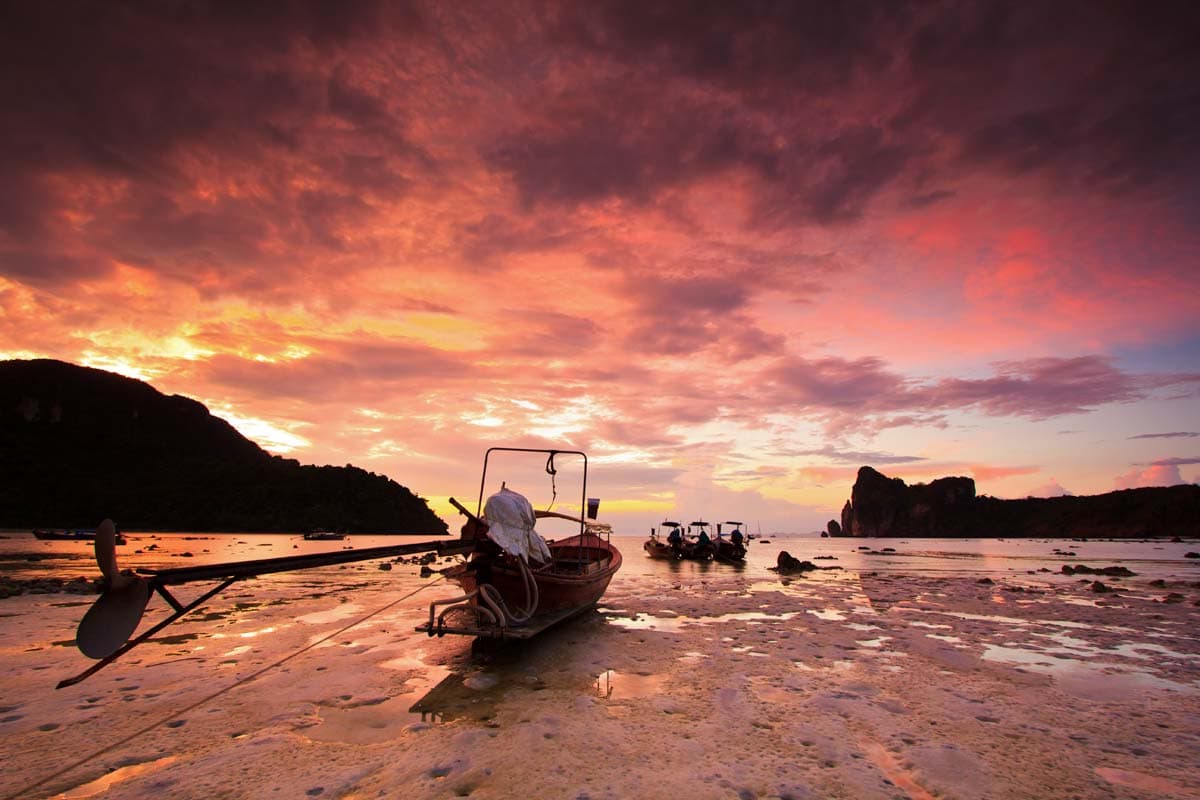 If you have only one full day left on Phi Phi, I suggest enjoying the sunset at Viewpoint 2 (viewpoint one is good too, but 2 is much better).
If you have two full days, you can do it on the beach. Unfortunately, there's no truly western-orientated beach (Loh Dalum would be the closest to that), but you can always hire a boat from Tonsai Pier and enjoy the sunset in the water.
Have Dinner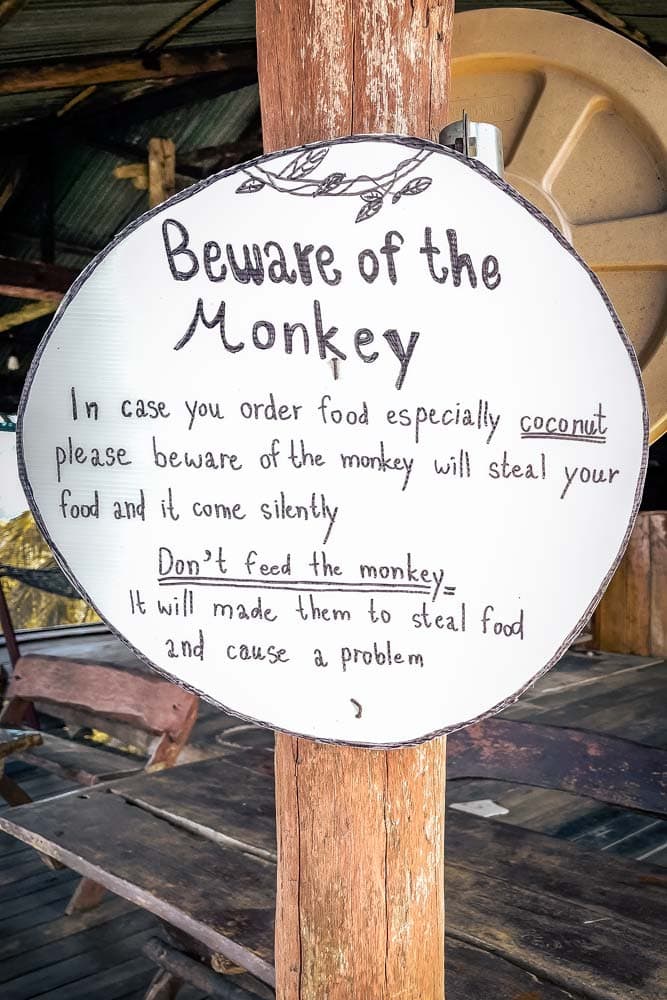 Go have dinner in one of the many restaurants inside Tonsai Village. You can also hunt for souvenirs or wash your clothes there. After dinner, if you are at the island for some parties, go to the northern part of Loh Dalum Beach to enjoy a beach or a pool party.
See Also: The BEST Phuket Itinerary
Day 2 – Exploration
Day two of our Phi Phi itinerary is reserved for exploring the attractions outside Phi Phi Don. Since you stay on the island itself and don't have to go back to Phuket or Krabi, you have access to the really good tours (the Phuket/Krabi ones are kind of rushed, to be honest). Depending on how many days you have left on Phi Phi, there are two options:
The Awesome Sunset Tour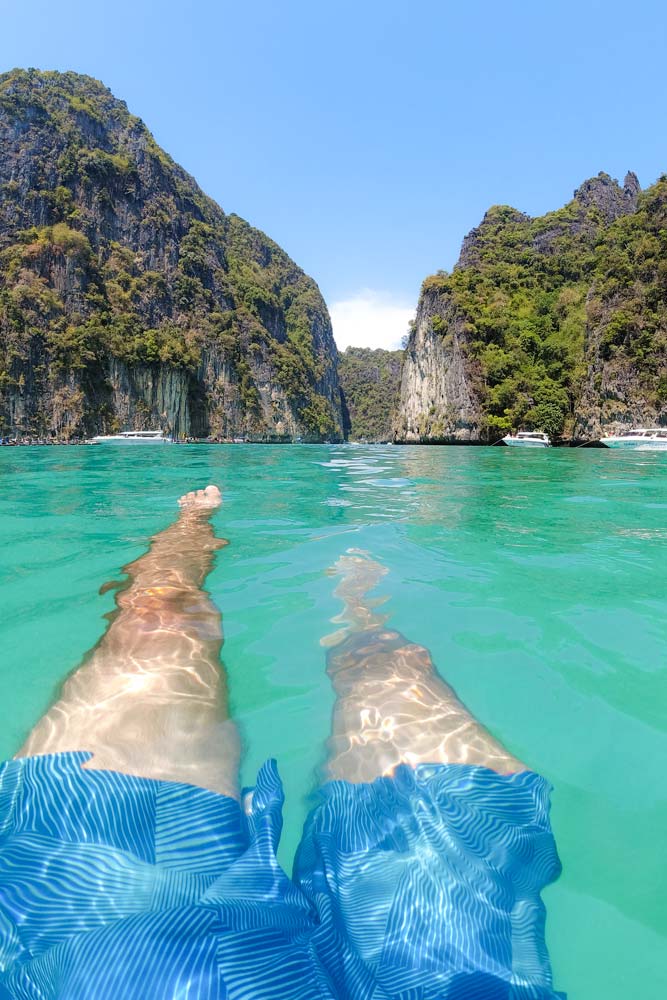 If you have at least one or more days left on your Phi Phi island itinerary, I suggest taking the sunset tour. This is a whole-day tour that starts early in the morning, taking you first to Monkey Beach for some monkey interactions (don't try to pet them), then to Phi Phi Leh lagoon for snorkeling and shark seeing (good type of sharks).
The tour continues with stunning Maya Bay (the most fabulous beach in the world that's also featured in a Leonardo DiCaprio movie called The Beach), Bamboo Island around sunset (when there's no one there but your group, and the place is just magical), sunset watching in open waters, and, cap it all with snorkeling after dark, where you can observe glowing plankton around you. Seriously, guys, this is one of the best tours I've been anywhere.
Check the latest price here
See Also: Thailand in December
The Tranquil Sunrise Tour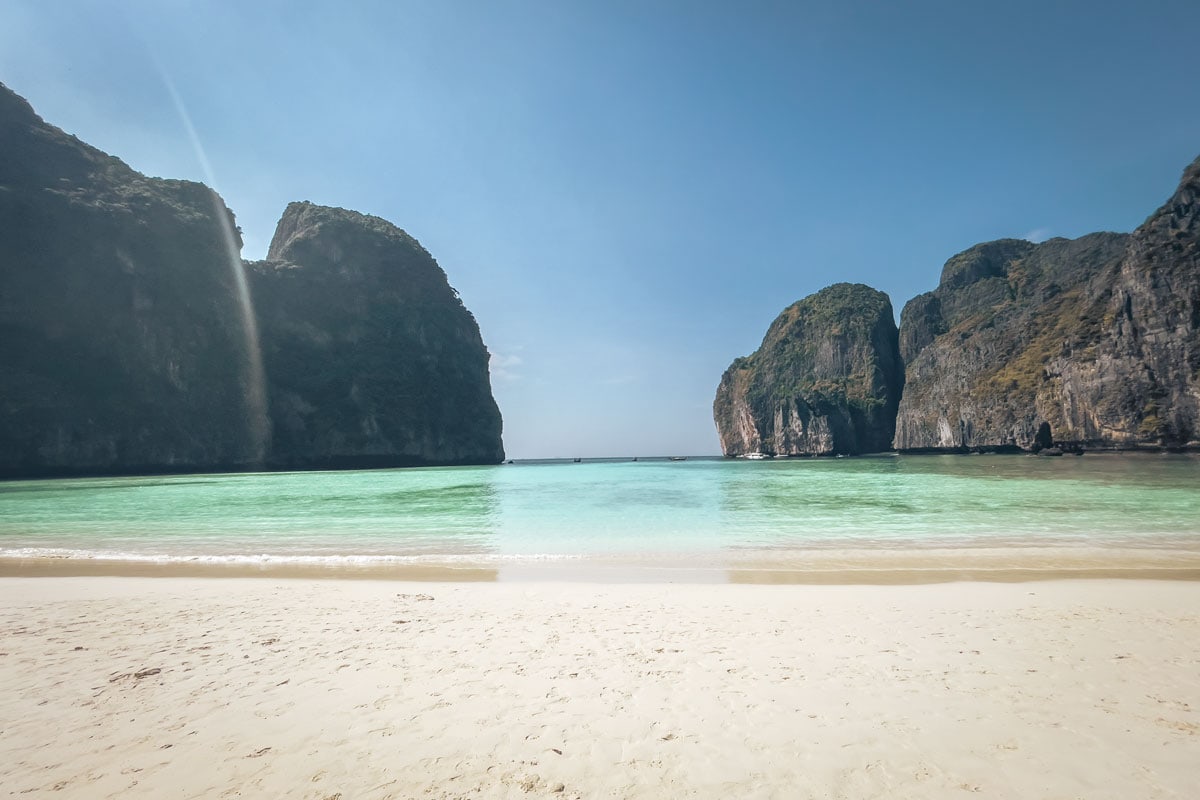 The Sunrise Tour covers only Phi Phil Leh lagoon and Maya Bay, but since it's, well, a sunrise one, you skip all the crowds. And trust me; there are pretty tick crowds there during the regular hours.
I suggest the sunrise tour only if this is your last day on Phi Phi. That way, you have a great experience and also have pretty much the whole day to enjoy Phi Phi Don.
Check the latest price here
Phi Phi Don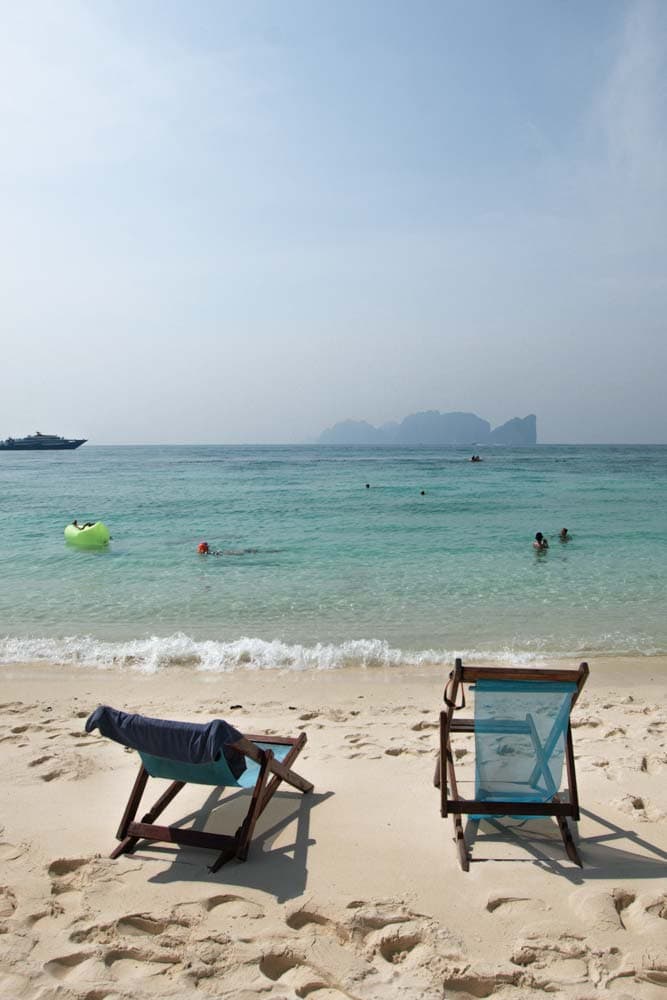 So if you went on the sunrise tour, you have a whole day of relaxation in front of you. I suggest going to Long Beach or one of the hidden small beaches close to it (you can find them in my Phi Phi Beaches post) and spending the day there.
In the evening, enjoy the sunset on Viewpoint 2 and explore the Tonsai village for some souvenirs, dinner, and a drink.
Day 3 – Off the Beaten Path
Viewpoints Hike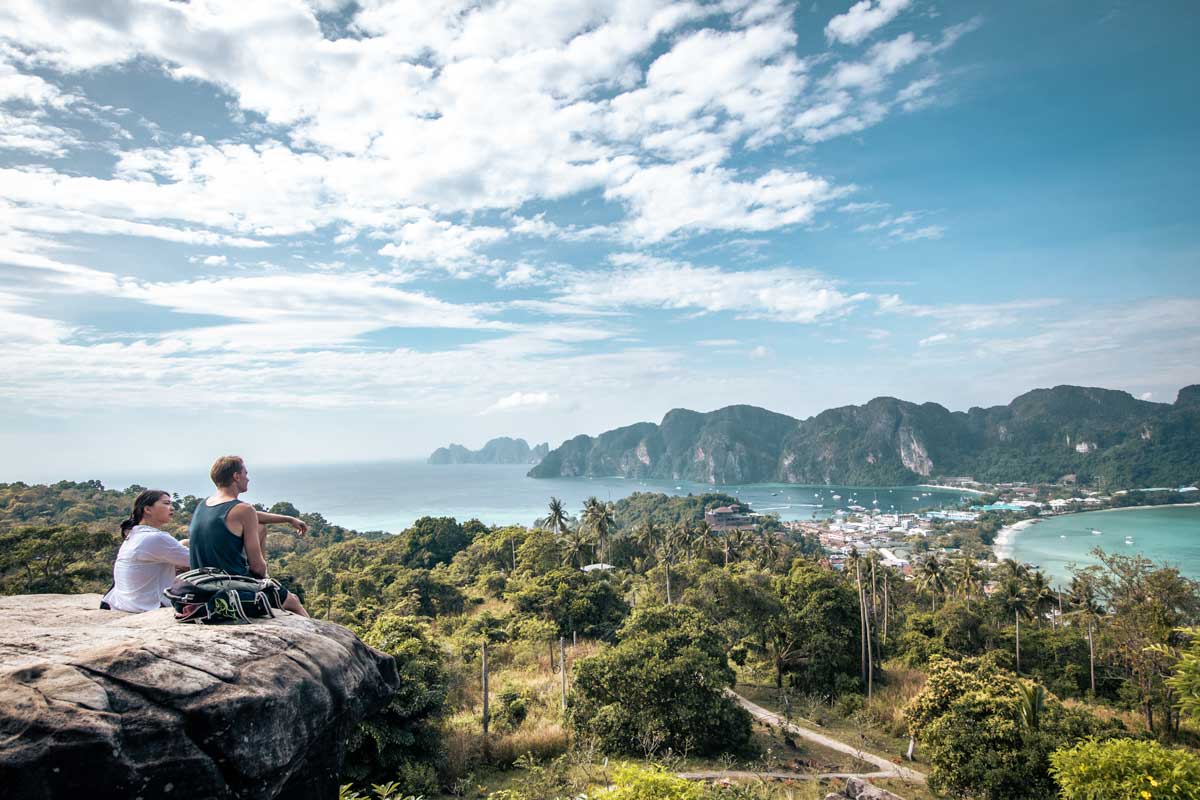 If you have at least 3 days on your Phi Phi itinerary, we can explore the island's hidden parts. In the morning, go for the viewpoints hike. Start at Viewpoint 1, and continue to Viewpoints 2 and 3 (this one is not that good). If you have the energy, you can continue through the jungle all the way to the northern part of the island.
This is sold as a jungle tour, but I really don't think you need a guide to do it. Yes, walking around a tropical jungle sounds scary, but this is a really, really tamed jungle with established paths and no dangerous animals (you may see a monkey or two). However, it's a few-hours-long hike in the heat of Thailand, so make sure you're prepared (with water and snacks). The trek ends at Loh Bakao Beach, where you can take a boat back to Tonsai Pier.
The Empty Beaches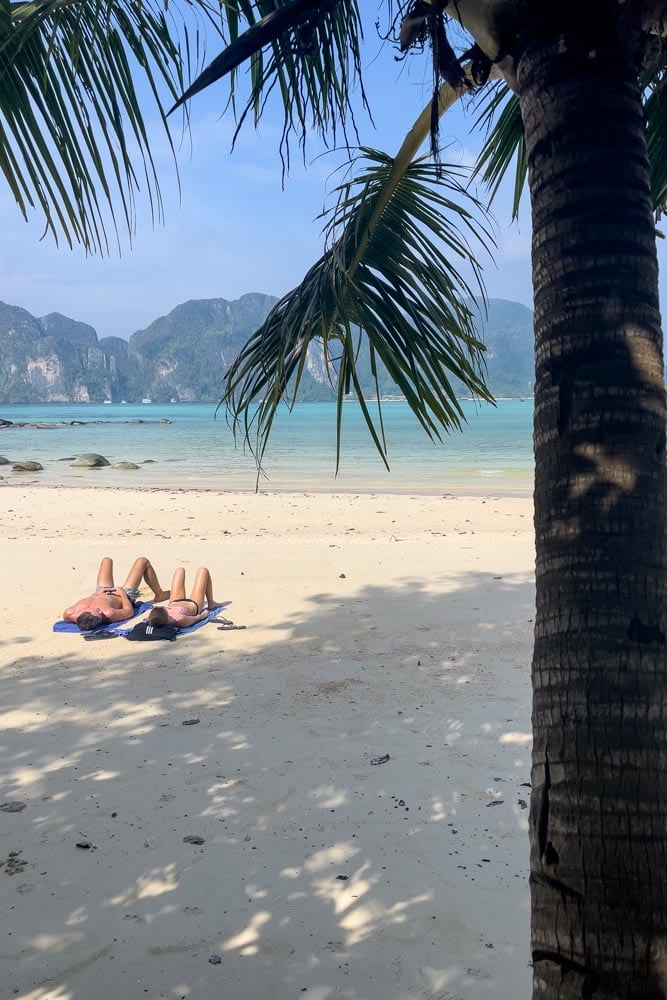 If hiking is not your thing, or you turn back after Viewpoint 2, you have enough time for a beach day. I suggest going to one of Phi Phi's less crowded ones, like Viking Beach Loh Bakao or Phak Nam Bay (check out my Phi Phi Beaches post for more info).
See Also: The Best Souvenirs to get From Phuket
Where to stay on Phi Phi Island
Usually, I give options depending on your budget, but this time, your accommodation should depend on your goals. For example, if you go to Phi Phi for tranquility and stay in a party hostel, you'll hate the whole island. Sooo:
For Parties
The best parties on Phi Phi are hosted in the Ibiza Hostel. Well, in the Ibiza Hostel pool, to be more specific. Staying there can be a bit overwhelming, though. My recommendation for the best party accommodation on Phi Phi is Dee Dee Sea Front. It's located a few minutes from the Ibiza Hostel, but you can actually relax when you need to. The staff is incredible, the rooms are cute, and you're right there on the beach!
Check the latest prices
For the Views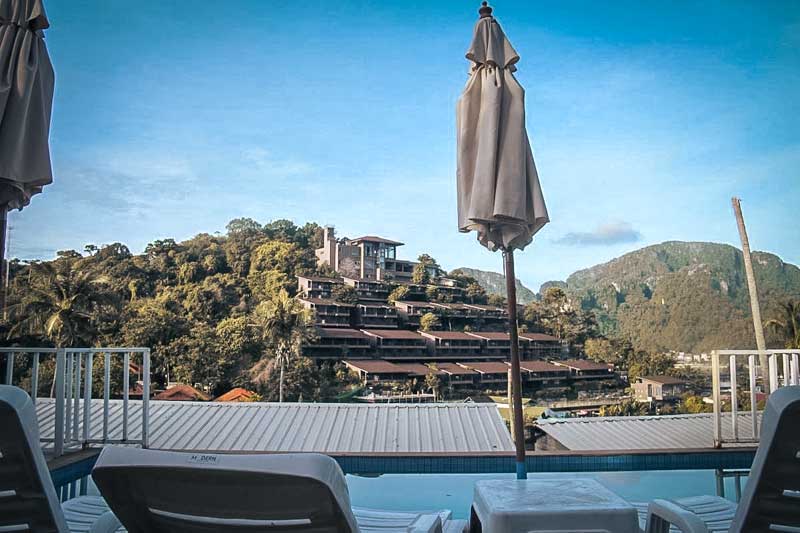 If you want a panoramic accommodation with a view, you must be prepared to climb a hill every time you get back home. It's worth it, though! It keeps you in shape and gives you a calm surrounding away from the parties and the noise. The highest-rated accommodation that offers reasonable prices, clean rooms, and even a pool is the Uphill Cottage. The property is almost perfect, but you have to be careful leaving some stuff on the balcony. Wild monkeys love to come and steal stuff!
Check the latest prices
For the Beach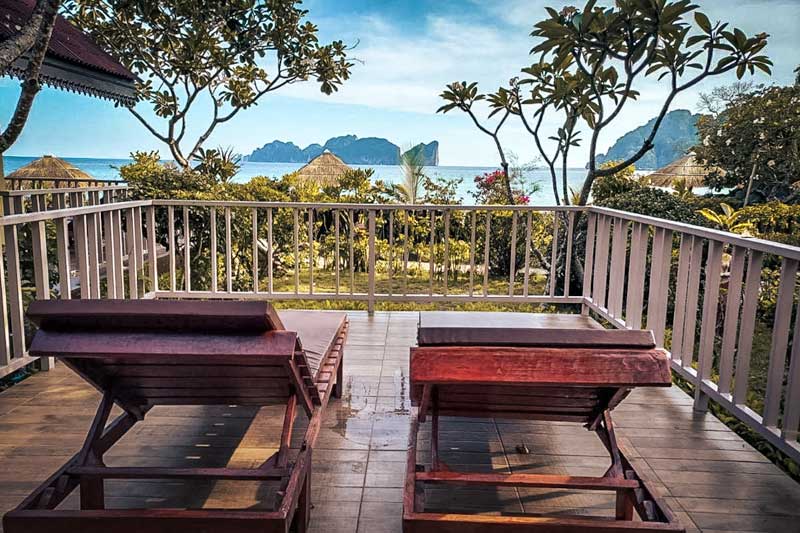 One of the very best Phi Phi beaches is Long Beach. To save yourself the long walk, the best way to enjoy it is to stay there. And thankfully, there's an awesome bungalow complex that will present you with the best experience. Paradise Pearl Bungalows gives you a stay in a cute wooden house on one of the best beaches in the world within walking distance of the main village. It's one of the highest-rated accommodations on Phi Phi and, frankly, one of the most magical places I've ever visited.
Check the latest prices
For Tranquility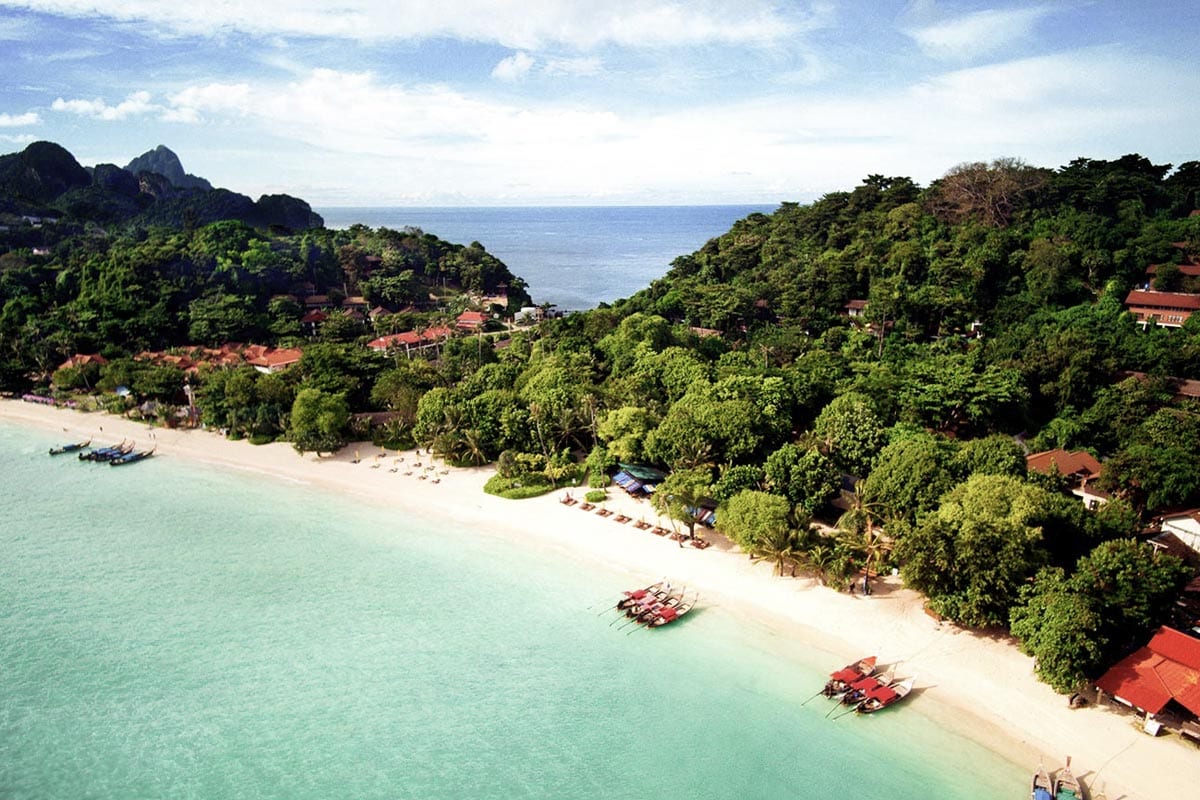 Phi Phi Don is one of the most touristic places in Thailand, meaning there are huge crowds pretty much everywhere. There's a way around that, though. There are a few beaches that can only be reached by boat, and these beaches offer pretty nice accommodation options. It's hard to pick the best here, but my choice would be The Zeavola Resort. The rooms there are incredibly stylish – just like the magical tropical paradise that pops up in your mind when you hear Thai island. Oh yeah, they also have an infinity pool!
Check the latest prices
See Also: The Ultimate Singapore Itinerary
How to get around Phi Phi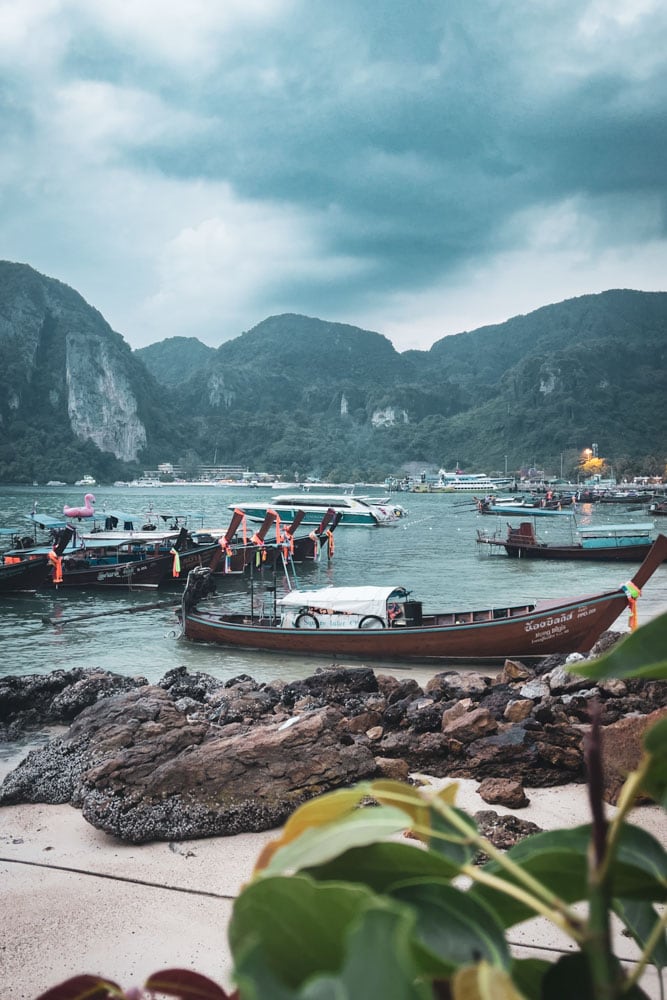 We already know we'll stay on Phi Phi Don. But to follow this Phi Phi Island itinerary, we need a way to get around, right? Being an awesome island as it is, there's no driving on Phi Phi. That's right, no cars or motorbikes. Not even horses! Your options are:
Walking – the most common way to get around Phi Phi Don, as the island is compact although not so easy to navigate. You'll walk mostly around Tonsai village (that's a bit of a labyrinth) and the big beaches, but you shouldn't have a problem (if you have Google Maps).

Bicycle: If you prefer to travel faster, rent a bicycle to explore the island. Bicycle rentals are generally affordable, but honestly, Phi Phi Don is not a very bikeable destination. You'll either have to navigate the heavy human traffic of the village or ride over the sand.

Longtail boats are a popular (and the only) form of transportation for the most remote island beaches. You can hire a longtail boat from the Tonsai pier, but make sure you haggle for the price with the boat owner.
FAQ
When to visit Phi Phi Island?
The best time to visit Phi Phi Islands is during the dry season, which typically runs from November to April. This is when the weather is generally sunny and dry, with low humidity (low for Thailand, that is).

The temperatures during this time range from the mid-20s to low-30s degrees Celsius (68-86°F).
May to October is the monsoon season, and during this time, there can be heavy rainfall and rough seas, making it incredibly risky to visit for just a few days. If you try, chances are high that you won't be able to follow the Phi Phi island itinerary, and you'll be stuck in your hotel. Prices are way cheaper, though, and there are almost no tourists.

December to February is the high tourist season, so the best time to visit would be November or March/April.
More about Phi Phi weather
Is Phi Phi Island expensive?
Phi Phi Island can be considered a bit more expensive than other destinations in Thailand, but there are still options available for budget travelers. But, of course, it's still Thai prices, so if you're coming from a Western country, Phi Phi would feel inexpensive.
Is Phi Phi safe?
Phi Phi Don is as safe as there is. I've never heard of a violent crime on Phi Phi, and even petty crimes like pickpockets are rare. The most significant danger on Phi Phi is… alcohol. Being a party destination, alcohol is easy to find and leads to plenty of accidents, so please drink responsibly.
Being a safe place doesn't mean you shouldn't get travel insurance.

On the contrary, it's one of the most must-do things before you travel. I currently use HeyMondo for my travels because they have proven themselves to me more than once over the years. The link above will give you a 5% discount, but If you have another favorite provider, that's ok. Just make sure you have one because you never know what may happen.
What are the best Phi Phi island beaches?
The most popular beaches of Phi Phi Don areAo Ton Sai Beach, Loh Dalum Bay, and Long Beach. They are certainly not the best, though. In my exploration, I discovered plenty of off-beaten beaches that offer the ultimate serene experience.
Check them all here.
Is Phi Phi Island worth it?
If you follow my Phi Phi Island itinerary, I'm pretty sure you'll enjoy the island a lot. The place is incredibly beautiful, and if you go there prepared, you will have a trip of a lifetime!
That's all from me, now you have the best Phi Phi island itinerary.
————————————
If you haven't planned your trip there yet, find out how I plan my trips!
————————————
I have 32 bucket list ideas for Thailand. See my impossible bucket list of 1700+ adventures!

Is Thailand on your bucket list?
---

Some of the photos in this article were taken from Depositphotos.com – the best place for stock photos out there.
Some of the above are affiliate links and I will earn a percentage of the sale if you purchase through them at no extra cost to you. This helps keep my site running – so thanks in advance for your support!