Phi Phi Islands are one of the most popular tourist destinations in Thailand. I would say it's one of the most famous tropical destinations in the world even. And as a tropical destination, it's pretty apparent what the main attraction is – the Phi Phi beaches, of course.
Phi Phi is a group of six islands, but only the two big ones are worth discussing. Phi Phi Don is where the town and tourist stuff is, while Phi Phi Leh is home to a natural park and the most beautiful lagoon in the world.
While most of the best Phi Phi beaches in this list are pretty well-known, I'll give you a first-hand experience of what they are really like and will reveal a few secret ones that are pretty crowd-free.
Let's go!
Popular Phi Phi Beaches
Ton Sai Beach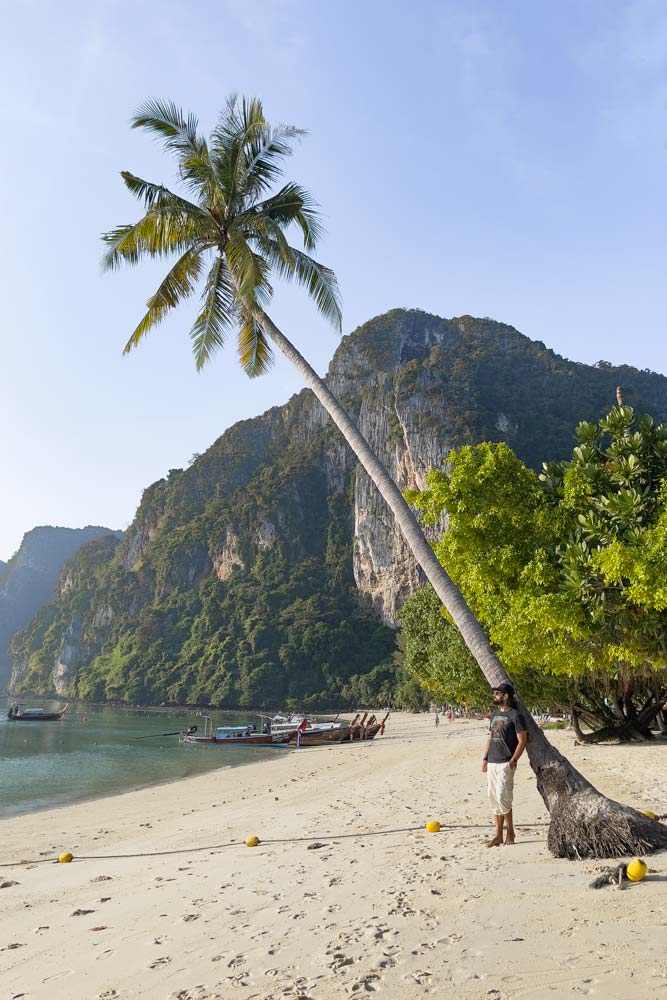 This is the first Phi Phi beach you'll see when you arrive. And you would be underwhelmed. Located behind the pier, this beach is mainly used as a parking lot for longtail boats. In its end, however, there's a nice sandy area with not that many people, a picturesque palm tree, and even a massage place right on the beach.
Loh Dalum Beach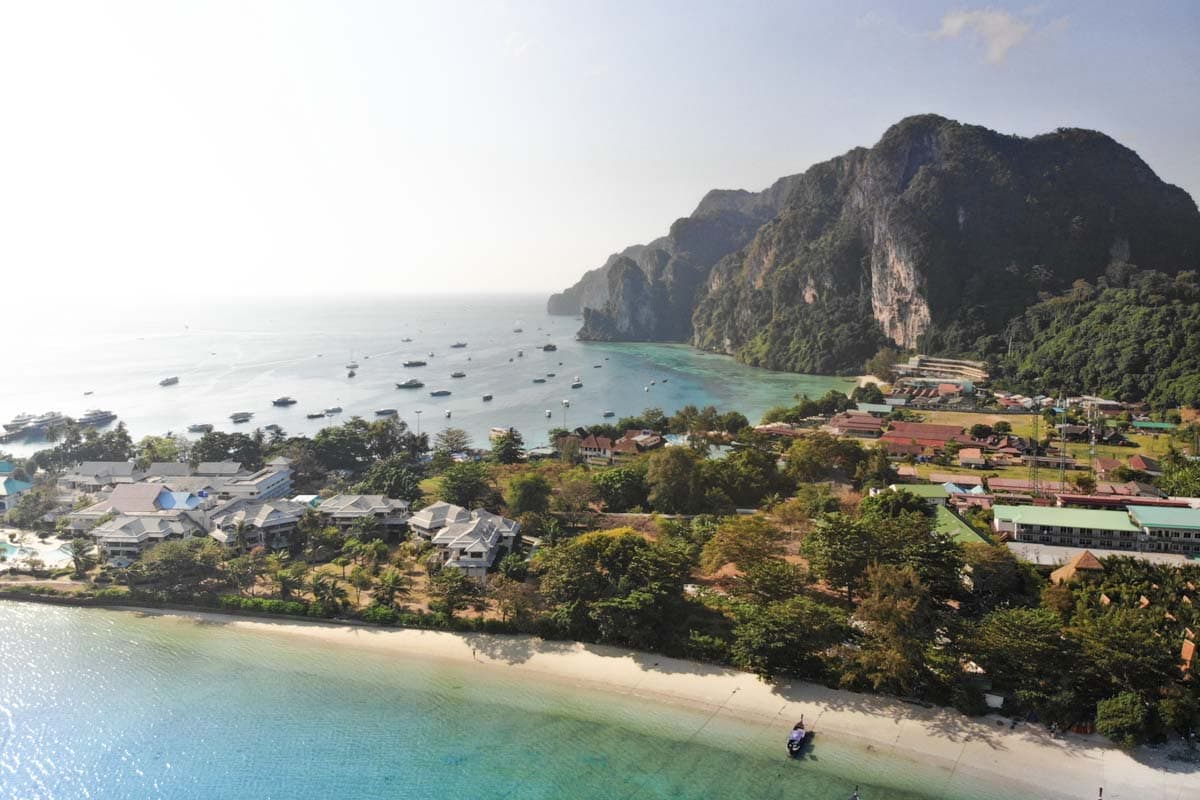 Loh Dalum is the biggest and one of the most popular Phi Phi beaches. The breathtakingly beautiful bay offers water sports activities during the day and vibrant parties at night.
There are never waves there. Absolutely never, which makes it perfect for children. The beach is kind of unusable during mornings and sunsets due to the low tide that turns the entire bay into a swamp.
The eastern part of the Loh Dalum is home to a few bars, the most famous of which is the Ibiza Beach Club. Every Tuesday, Thursday, and Sunday, there's a giant pool party there, so if you're looking for a quiet vacation, pick a hotel far away.
See Also: The Ultimate Thailand Itinerary
Long Beach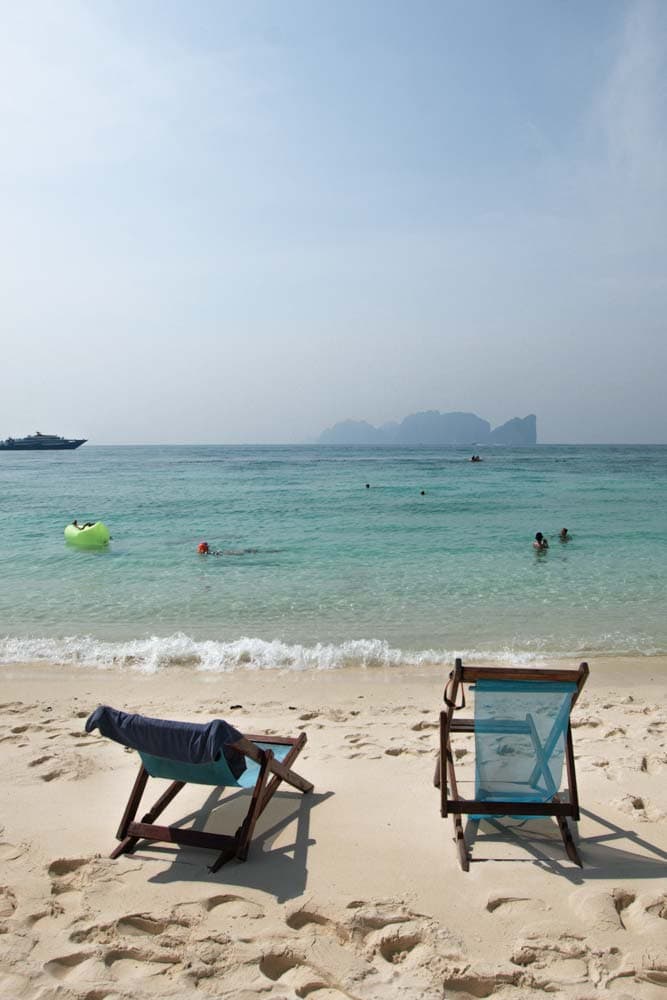 Facing southwest, Long Beach is a bit more inconvenient to reach (compared to the other two) but compensates with views over Phi Phi Leh, the softest white sand on the island, and even a coral reef perfect for snorkeling.
Long Beach is the easiest way to enjoy a serene tropical vacation on Phi Phi. To reach it, however, you'll have to get one of the boats at the Tonsai pier (5min ride) or navigate quite a long foot journey.
My recommendation for a great Long Beach vacation is to get one of the bungalows that are right there on the beach.
Hidden Gems
The Holly Trinity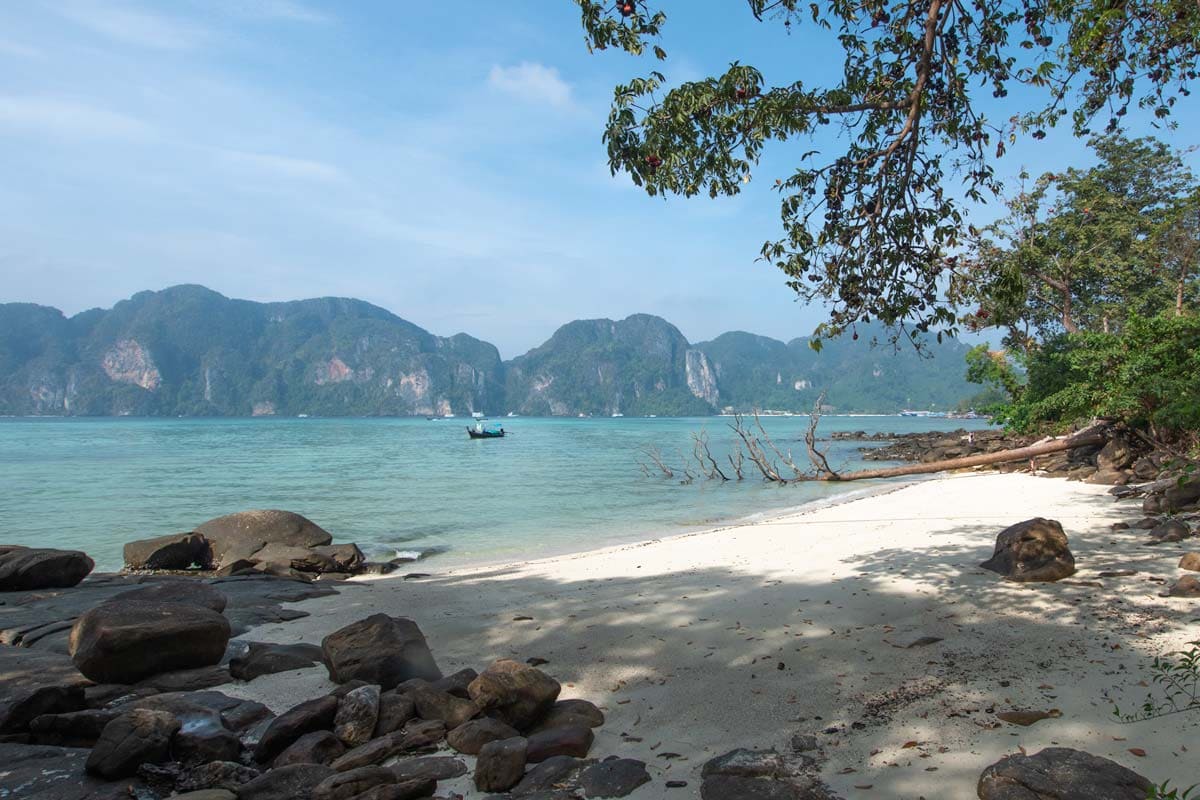 Now, this is the part of the post that would be the most useful for you. During my island exploration, I stumbled upon, frankly, the best Phi Phi beaches I couldn't even believe existed. Yup, there are almost deserted small tropical beaches on this immensely popular island. You find them when you go from Tonsai Village towards Long Beach. You need to pass through Bayview Resort, but you won't have issues with that.
The first one doesn't even have a name. since there was a giant fallen tree, I named it The Fallen Beach. It's a bit rocky but very picturesque and, best of all, free of people. If you go in the morning, there's literally no one! Such a luxury. The google maps coordinates are 7°44'01.6″N 98°46'52.8″E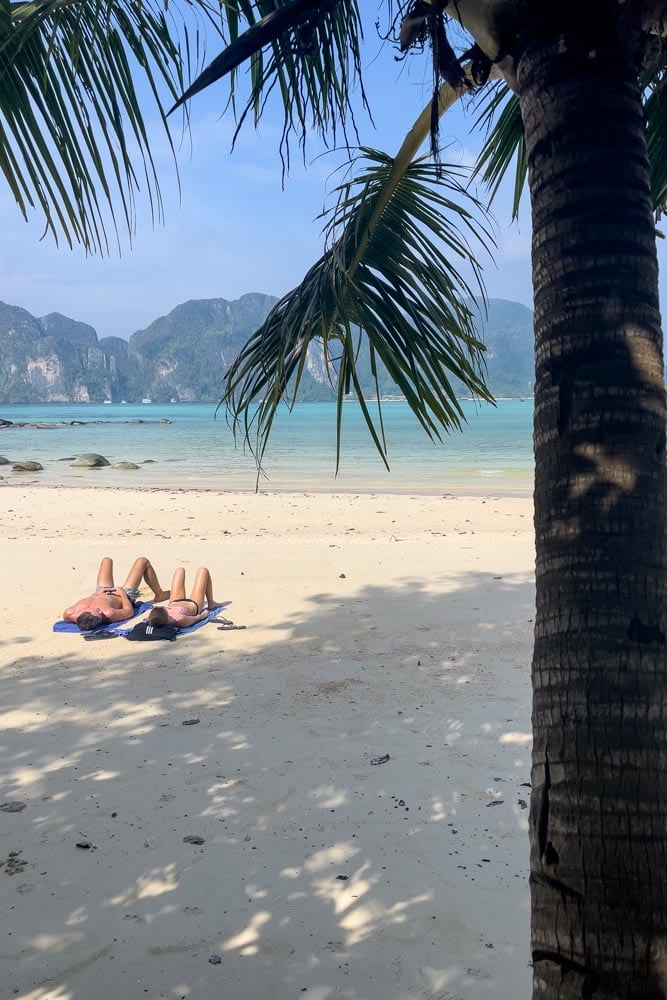 Continue down the path, and you will find another tiny piece of heaven. This one has more sand and a few extra people, but compared to the famous Phi Phi beaches is almost deserted. It's called Love Beach.
The last of the Holy Trinity is Viking Beach. This one is right in front of the Viking Nature Resort, so it may have more people than the other two, but more people mean just 15-20. And the tiny beach is nothing short of gorgeous.
See Also: The Best Beaches in Phuket
Loh Ba Kao Bay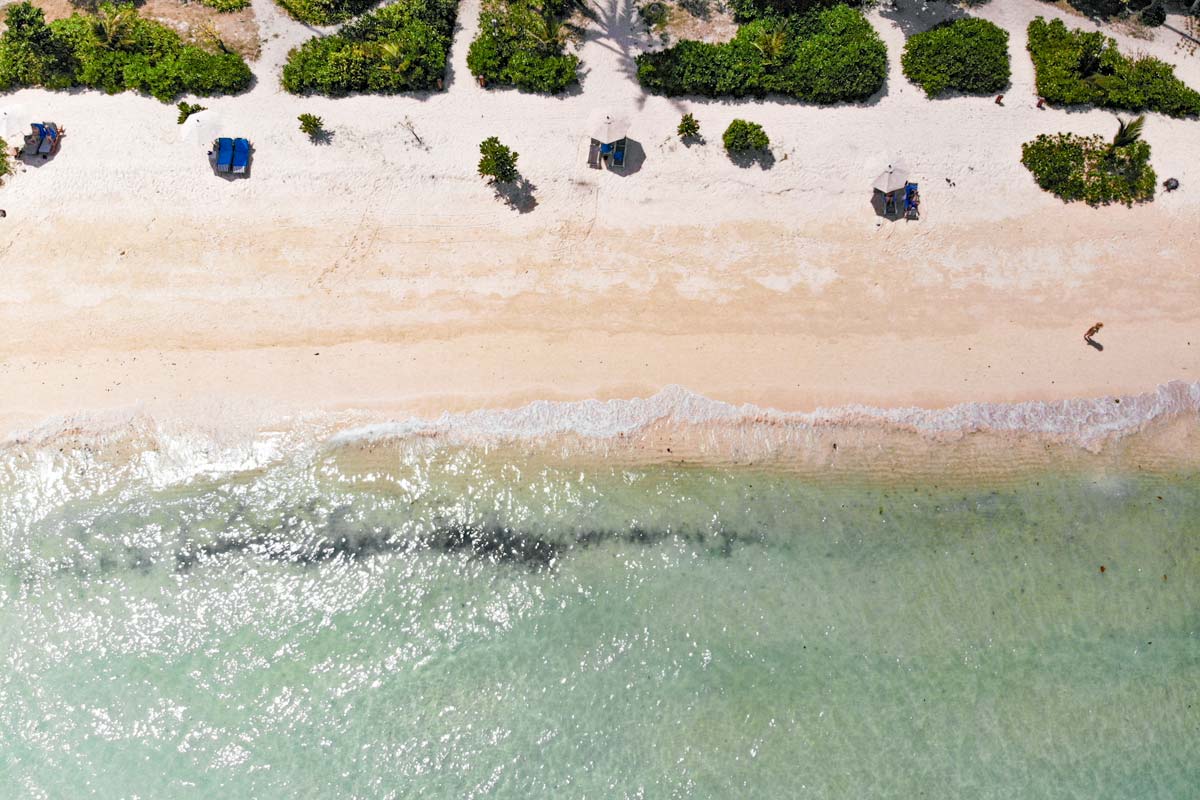 Also known as Lo Bagao, this is the beach of the popular Phi Phi Island Village Beach Resort. It's one of the most beautiful and serene beaches in Phi Phi but quite hard to reach. You can either go for a long jungle hike via the Phi Phi viewpoints path, hire a boat to take you there, or stay in the hotel. Don't worry about the beach being private; there's no such thing as private beaches in Thailand.
Laem Thong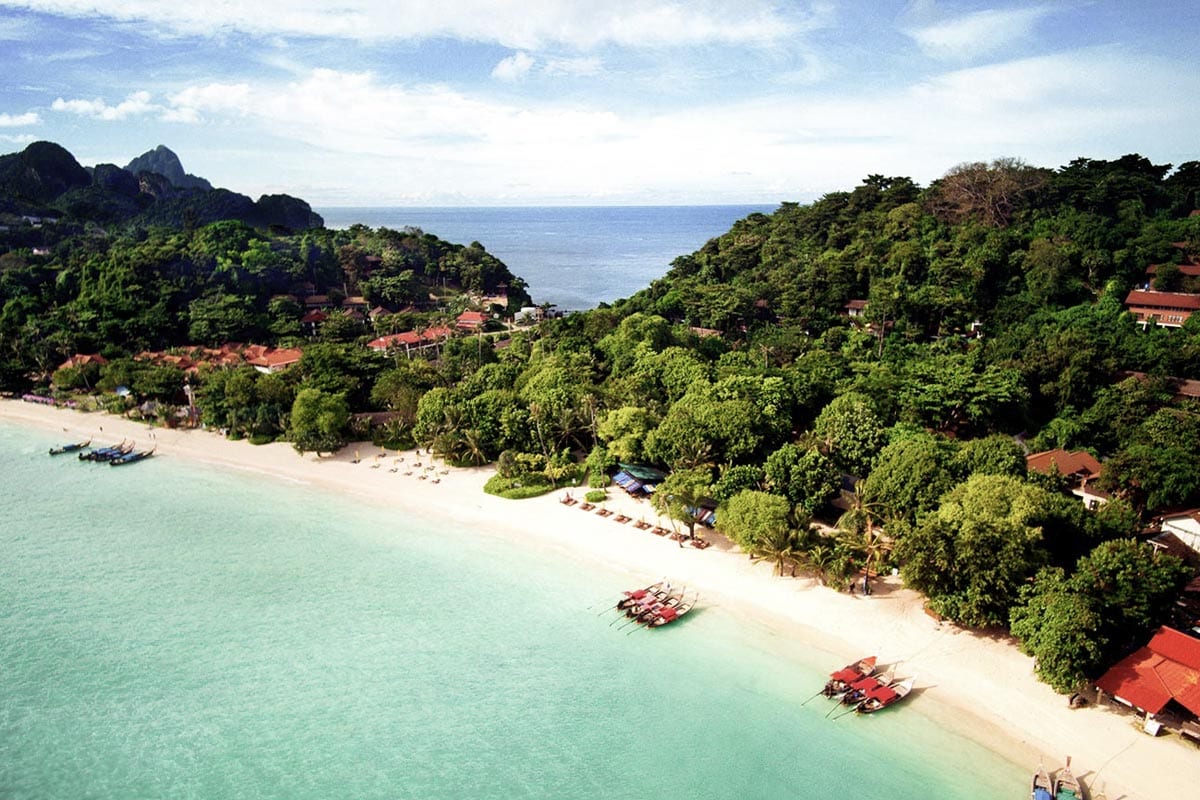 Laem Thong is an almost 1km long white powdery sand beach located in the far north part of Phi Phi Don. It's basically cut off from the other parts of Phi Phi, so your experience would be nothing like the typical Phi Phi visit. No parties, loud music, and not even that many hotels – only peace and serenity. To enjoy this beach, I recommend booking one of the few hotels nearby, specifically The Zeavola Resort.
See Also: The Ultimate Phuket Itinerary
Phak Nam Bay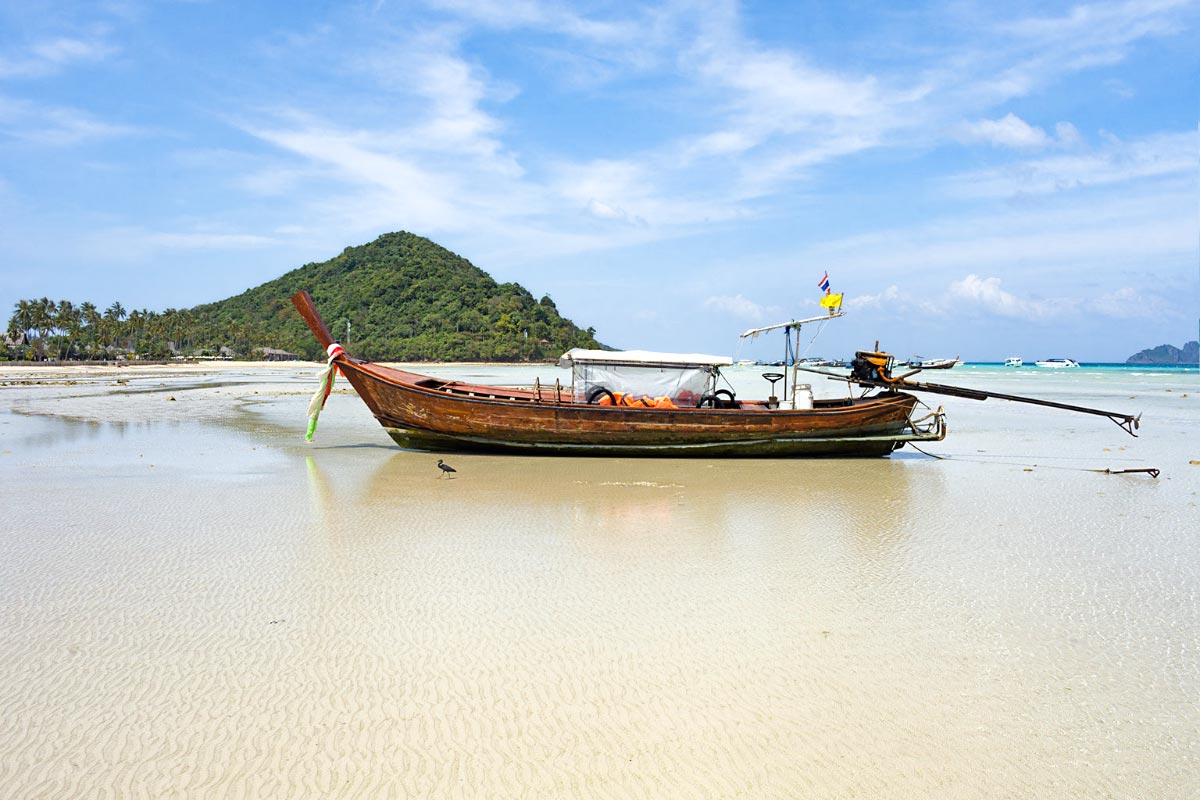 Out of all Phi Phi beaches, Phak Nam is probably the least popular one. Nicknamed Relax Beach, you can already guess what this beach is famous for. The best way to visit is to book one of the Phi Phi Relax Resort bungalows.
Phak Nam may look similar to Laem Thong, but the place is smaller and wilder. Also, it's more isolated with fewer comforts, so prepare for a more natural experience.
Phi Phi Beaches you can visit via tours
Maya Bay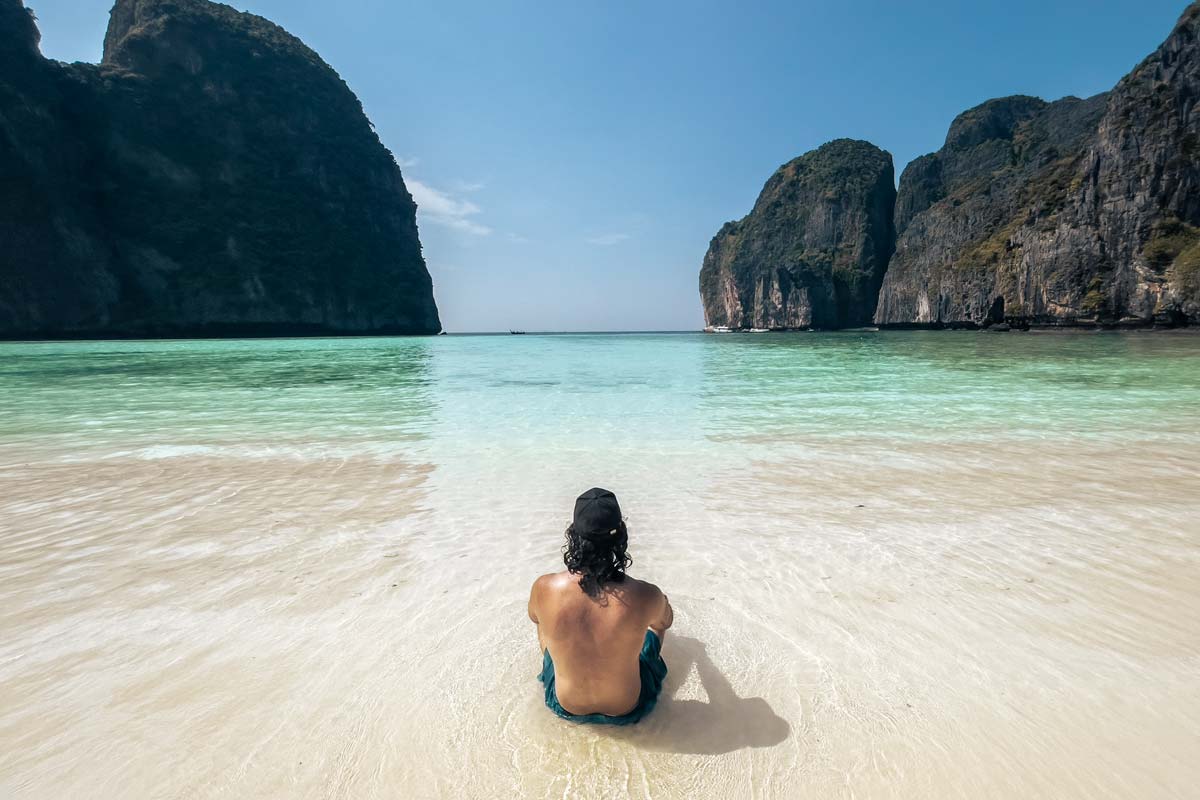 Maya Bay is located on Phi Phi Leh and is not only one of the best beaches in Phi Phi but also one of the most famous beaches in the world. Made famous by Leonardo DiCaprio's movie The Beach, this beautiful place made the entire Phuket region famous and was visited by so many people that it was almost ruined. However, after a few years of closure, the beach is now healthy and open once again for visitation (no swimming, though).
Maya Bay has a hefty entrance fee (400 THB/11 USD) and is open only for a certain amount of visitors per hour. The best way to view Maya Bay is via sunrise tour. This way, you skip the tourist crowds and can enjoy the marvelous serenity of the lagoon.
Monkey Beach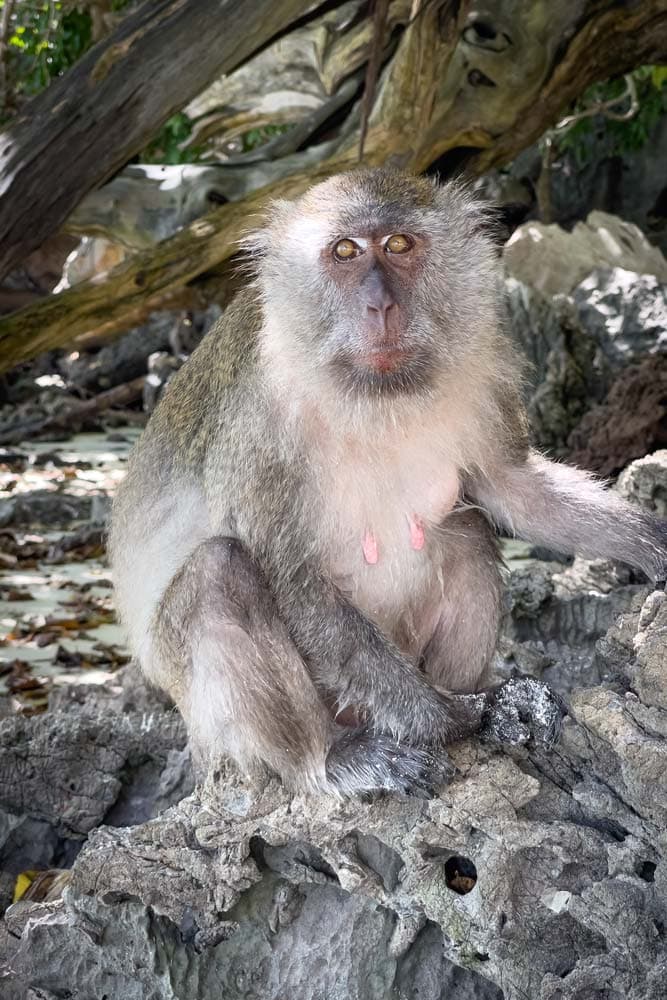 Monkey Beach is definitely not one of the best beaches in Phi Phi, but it's genuinely one of the most visited ones. Located on Phi Phi Don, the only way to reach the beach is via boat – easy to rent from any of the other Phi Phi beaches. Monkey beach is also part of pretty much all Phi Phi tours.
Why is the beach on the list if it's not one of the best? Well, the beach part is no good (there's barely any beach when there's a high tide); however, the place is home to a monkey colony that is a big attraction. Monkeys are used to people and love to pose for pictures but make sure you have no food in you and you're not too intrusive to their personal space, or you may get bitten. And trust me; you don't want to get bitten by a wild monkey!
Bamboo Island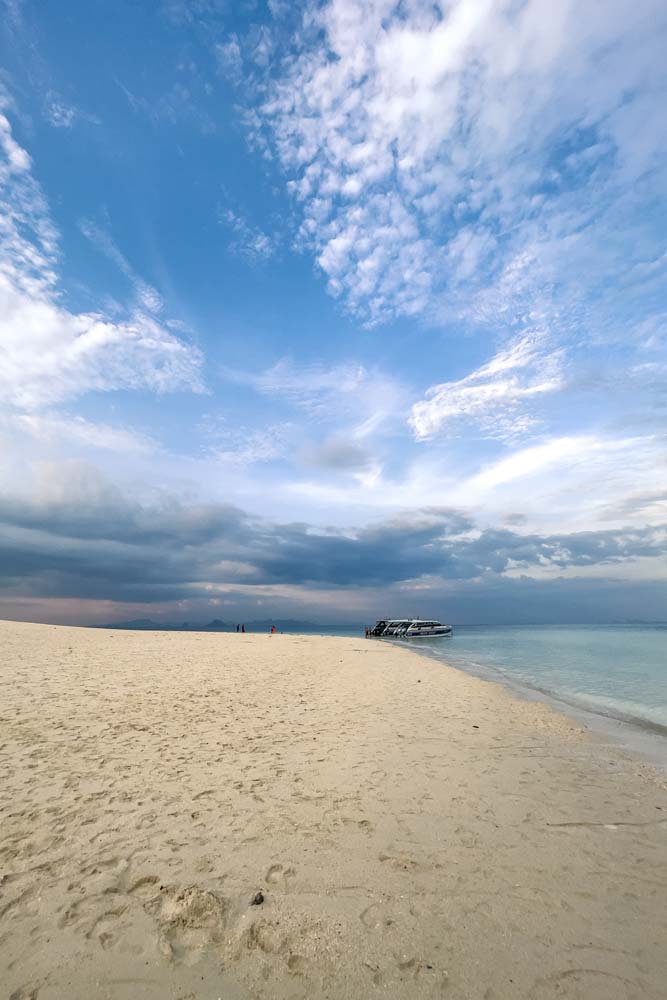 Also known as Koh Pai, Bamboo Island is the most north-easterly island of the Phi Phi archipelago. Just like Monkey Beach, Bamboo island is pretty much part of all Phi Phi tours. Different tours do offer a different experience, though. If you visit via regular tour, you'd be at the island during the day, and you'll have to share it with hundreds of people. Still a good Phi Phi beach destination but nothing extraordinary. If you book a sunset tour, however…
It's truly a magical experience. Having the island just for me changed the perception of it soo much that I couldn't believe I was on Bamboo island. To go on such a tour, you must stay on Phi Phi island overnight, but it's definitely worth it!
That's all from me, I hope you enjoyed the best Phi Phi beaches.
————————————
If you haven't planned your trip there yet, find out how I plan my trips!
————————————
I have 32 bucket list ideas for Thailand. See my impossible bucket list of 1700+ adventures!

Is Thailand on your bucket list?
---

Some of the above are affiliate links and I will earn a percentage of the sale if you purchase through them at no extra cost to you. This helps keep my site running – so thanks in advance for your support!