I'll start this one with a statement – the temples in Pattaya are criminally overlooked. The coastal town, famous for its blend of nightlife and family-friendly activities, is a top tourist destination that gets more and more travelers every year. While most of the people come to lie on the beach at day and party at night, overlooking Pattaya's sanctuaries is a big mistake. I mean, traveling is all about exploring new cultures and seeing things you can't see back home, right? Beaches and bars are nice, but how many Buddhist temples can you check out in your home country?
While the temples in Pattaya are not as grand and opulent as the ones in Bangkok, they are definitely worth a visit. I promise, seeing one of those would add an extra dosage of exotic to your vacation. Here's what Pattaya has to offer:
Sanctuary of Truth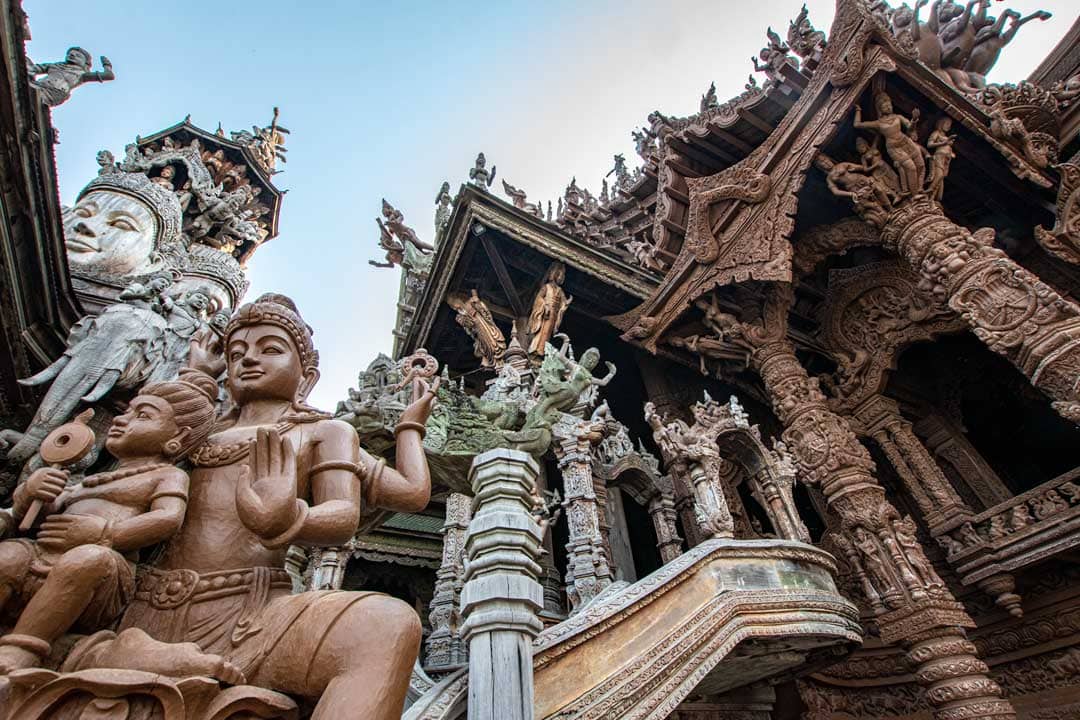 As far as temples in Pattaya goes, nothing can come even close to the Sanctuary of Truth. Not just in Pattaya, actually. A very few temples on the continent can compare to this piece of beauty.
An epitome of Thai craftsmanship, the sanctuary is the brainchild of the eccentric tycoon Lek Viriyapunt. Even though construction began in 1981, the temple is still unfinished, and when you explore it, you're required to wear a hard helmet.
During your visit, you'll see an army of local sculptors creating Hindu and Buddhist images using only aged and seasoned wood. Yes, the entire 105-meters-tall sanctuary is made out of wood!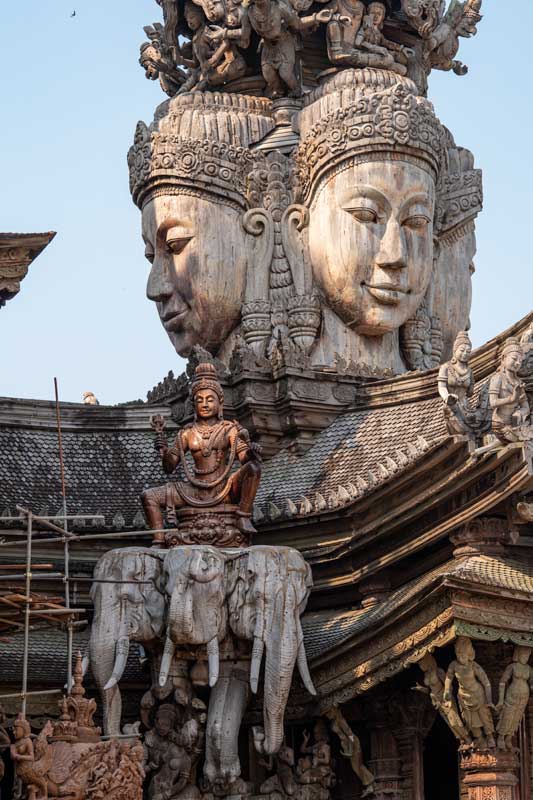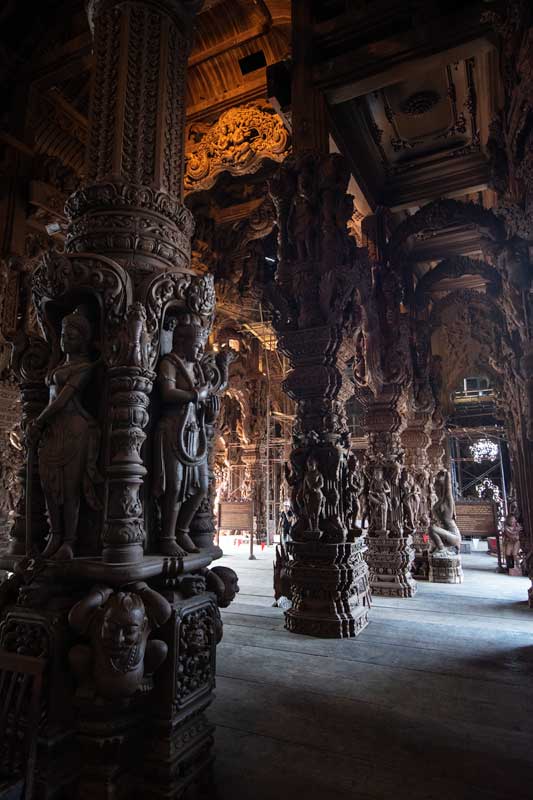 Unlike the other temples in Pattaya, to explore the sanctuary, you need to buy a 500 THB (14 USD) ticket or the cheaper online one (usually 400 THB or less). You can also expect some serious tourist crowds unless you go early in the morning (first people are let in the area at 8:30 AM).
Big Buddha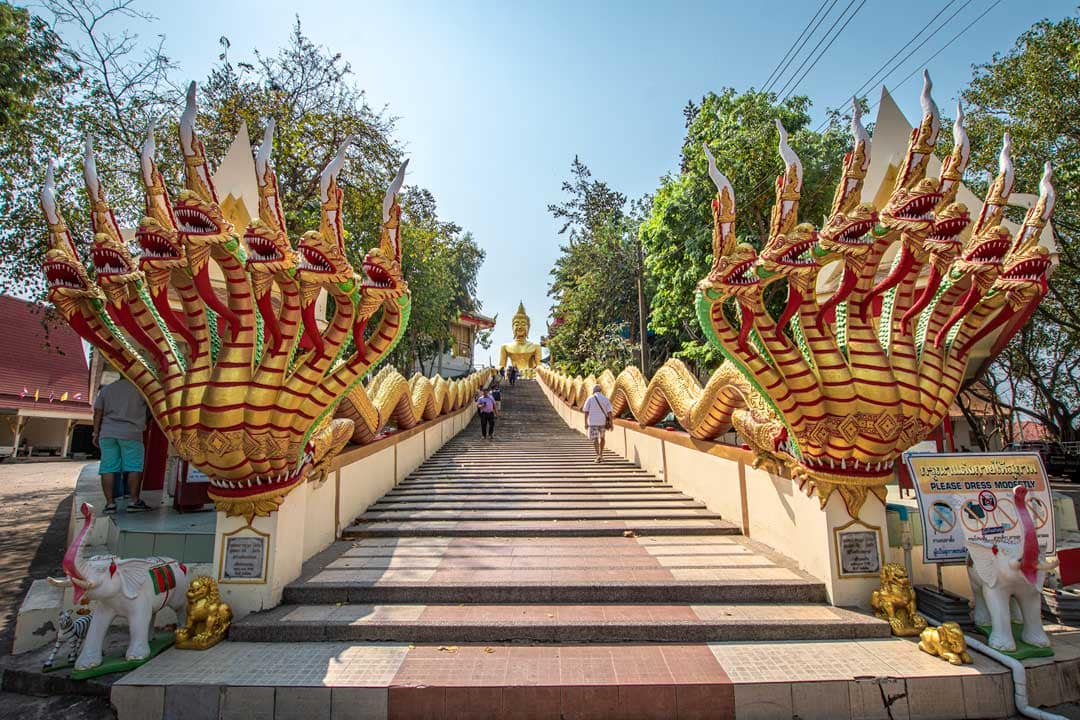 The Big Buddha Temple or Wat Phra Yai is one of the most famous temples in Pattaya. It's located on the very top of Pratumnak Hill and dates back to 1940. The highlight of the Big Budha temple is the incredibly picturesque staircase graced with golden Nagas that run along the entire handrails.
The place is very touristic, so expect plenty of Russian, Chinese, and English tour groups there. It's also quite revered by the locals who climb to the top to perform daily rituals and get a blessing by the monks.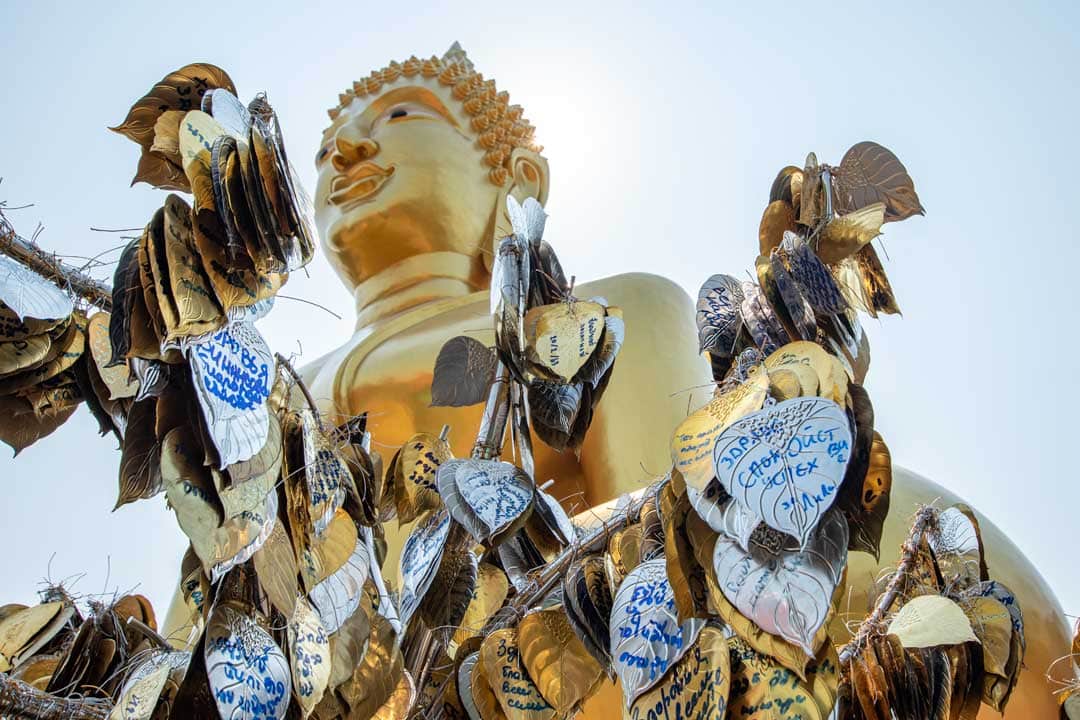 Wang Sam Siem – The Chinese One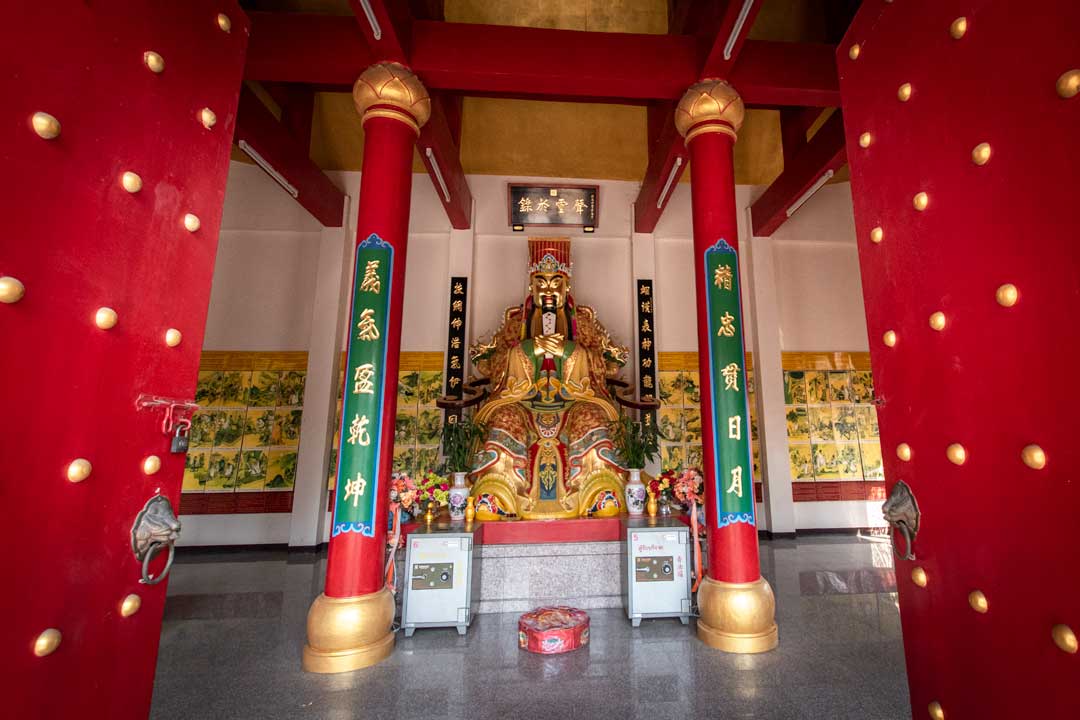 Wang Sam Siem is located right in front of the Big Buddha Temple and is a Chinese Buddhist Temple; hence its architecture is different from the other temples in this post. There are not as many Buddha statues, but there are plenty of other deities, a recreation of an ancient Chinese battle, a dragon, a Lao Tzu statue, and an emperor (of heaven maybe) statue. The place is pretty cool and quite different from the other Thai temples, so make sure to check it out on your way to the Big Buddha.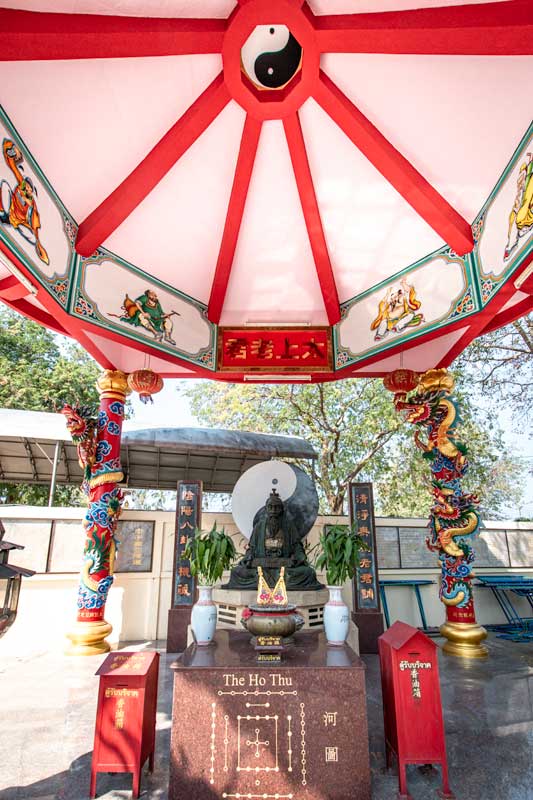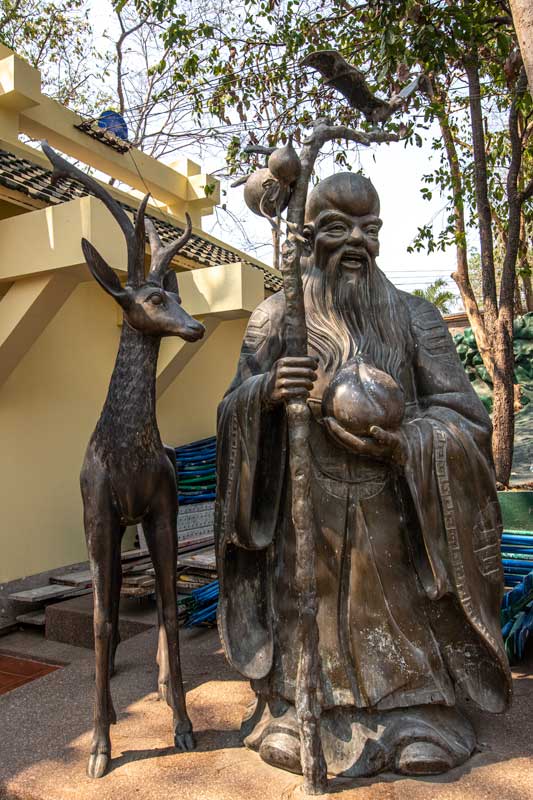 Wat Khao Phra Bat – The Panorama One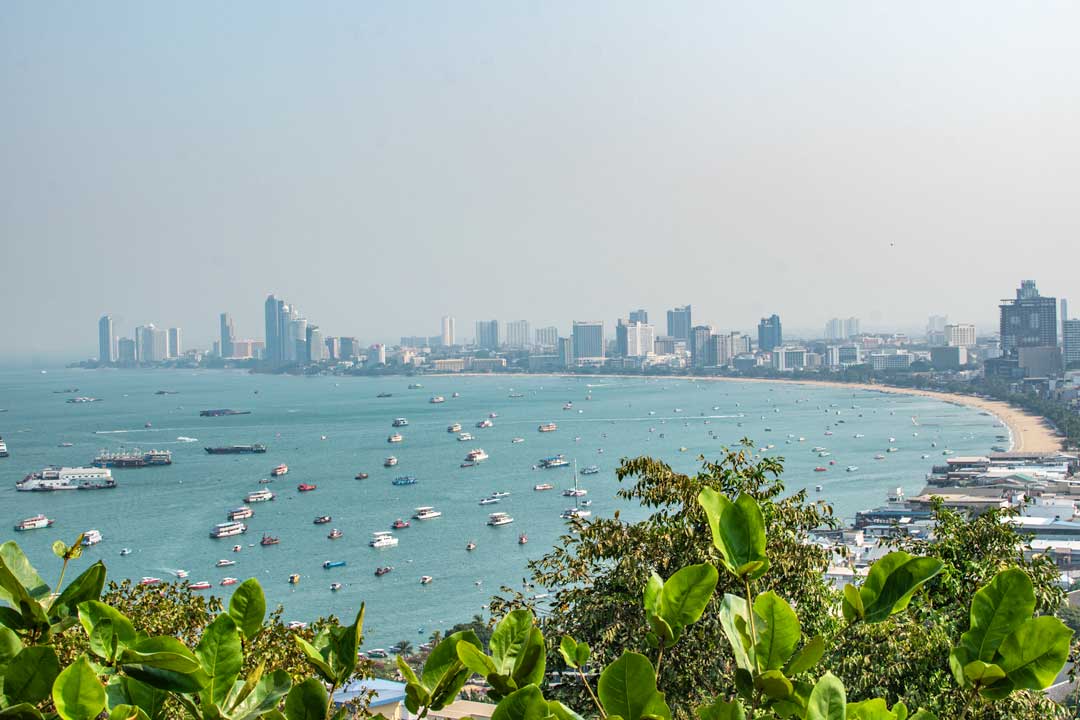 I'll be honest with you – this temple is nothing special. It got a couple of shrines and a small praying area. Why is it on the list then? Because right in front of it, you can find the best panoramic view of Pattaya. No joke, the Pattaya sign, and the Big Buddha do offer some scenic views, but nothing can compare to this one.
See Also: The Best Temples in Bangkok
Wat Nong Ao – The Golden Temple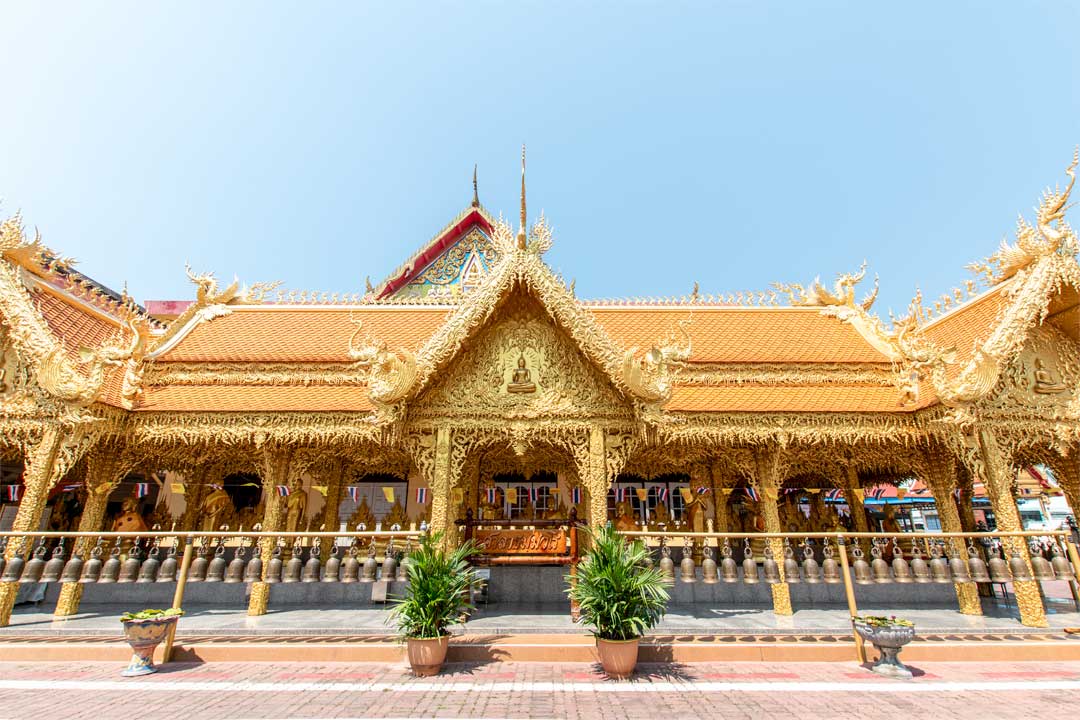 Wat Nong Ao is a small local temple located in central Pattaya. What differentiates it from the other temples in Pattaya is its shiny exterior. It feels like everything in this temple is gilded and shiny. It's like a billionaires private golden temple and exploring it feels pretty cool. There are a couple of zodiac discs, a big reclined Buddha statue, a picturesque Ganesha shrine, and a praying (and moving) skeleton with glasses. Even though it's very easy to reach Wat Nong Ao, there are hardly any tourists in it so you can enjoy an authentic experience there.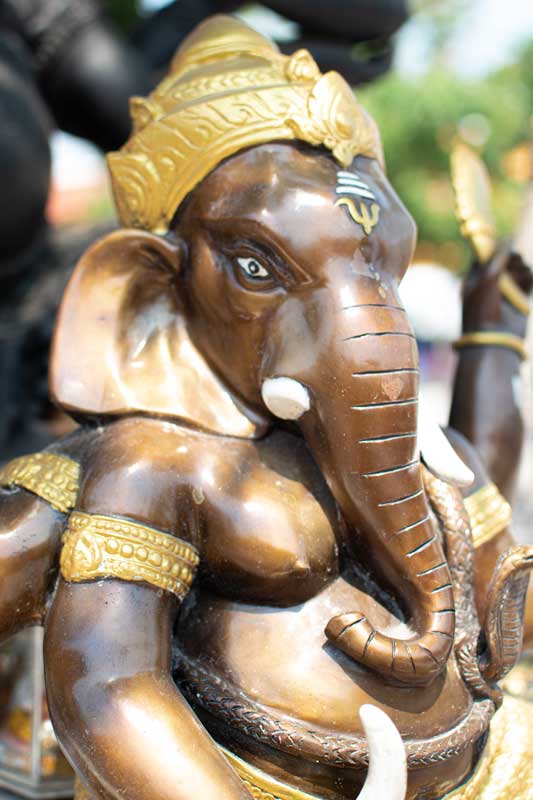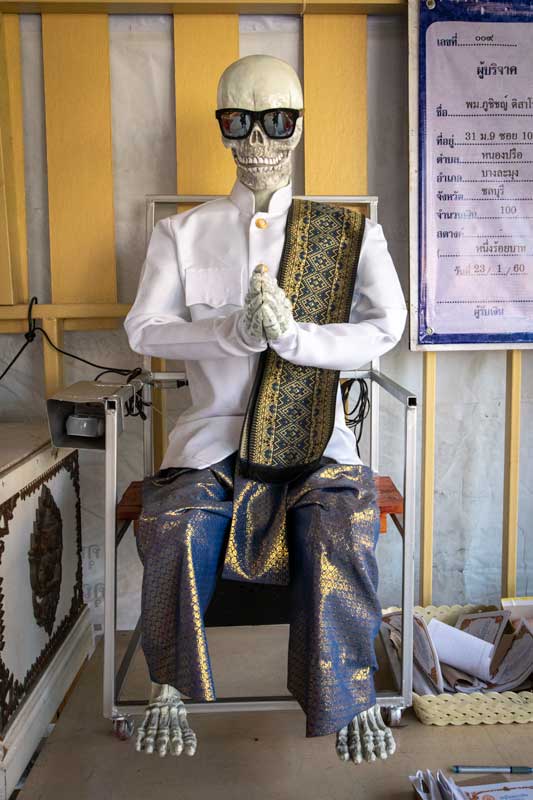 Wat Chai Mongkron – The Central One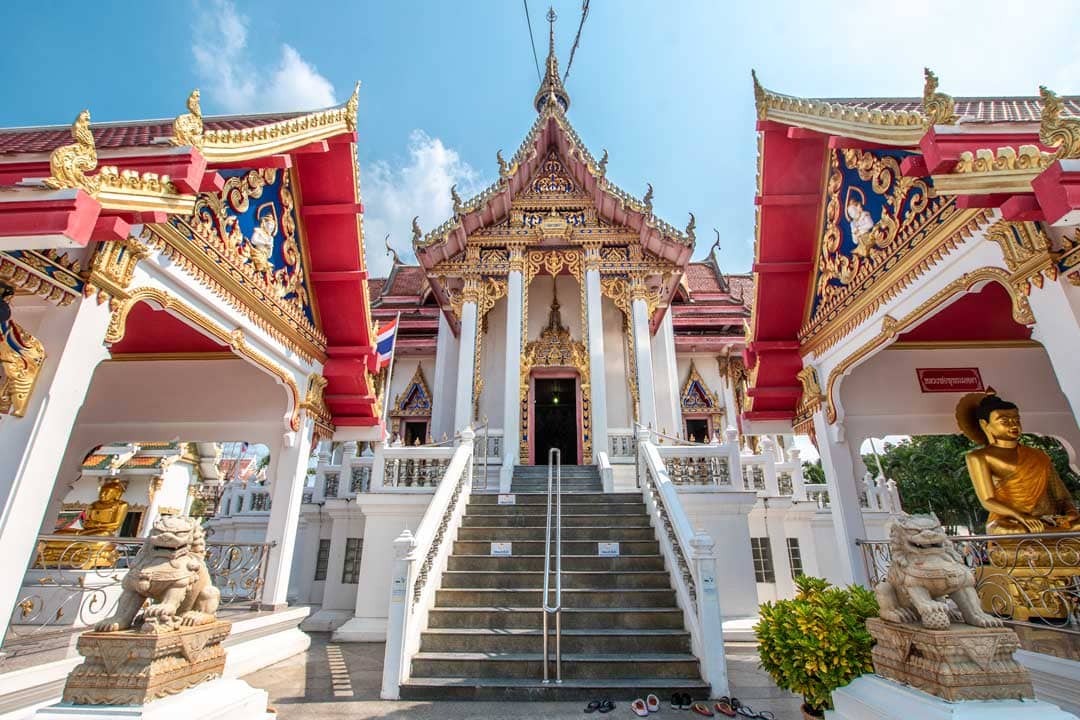 Wat Chai Mongkron is situated on Pattaya's second main road, and it's most likely the temple closest to your hotel. It's not the most magnificent temple in Thailand, but it has all the regular shrines and sanctuaries to suffice the need for some cultural exploring. It has a few sanctums with Buddha altars, a hall with wax figures of monks, a lily pond, and a covered area with multiple gilded deity statues.
Some of the structures could use some renovation, but all and all the place is good enough if you don't want to cut-off your beach time to travel to the more remote temples in Pattaya.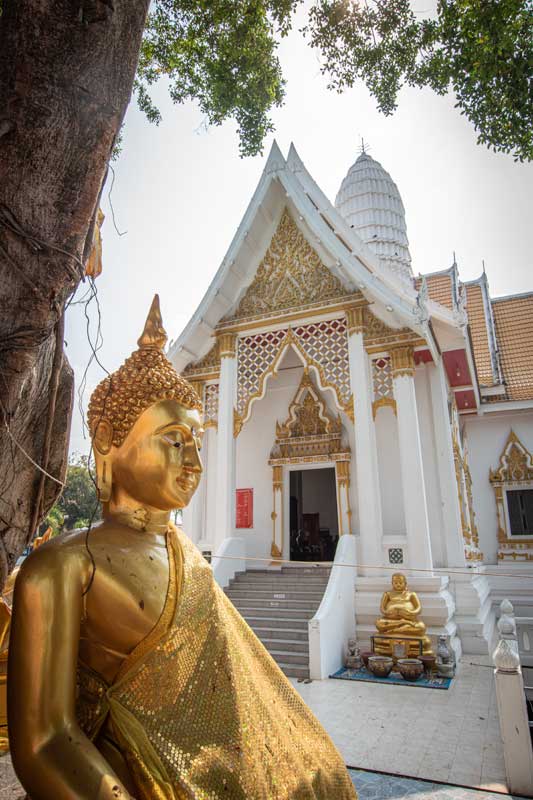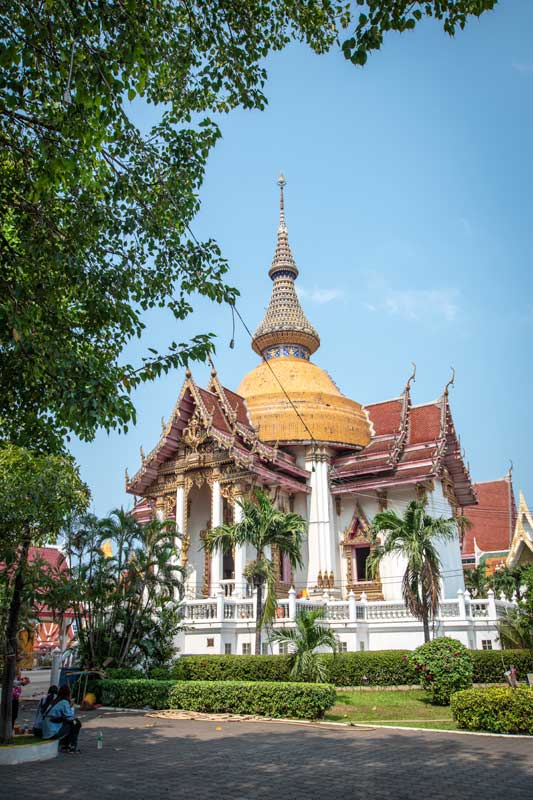 Wat Nong Yai – The Enigma Temple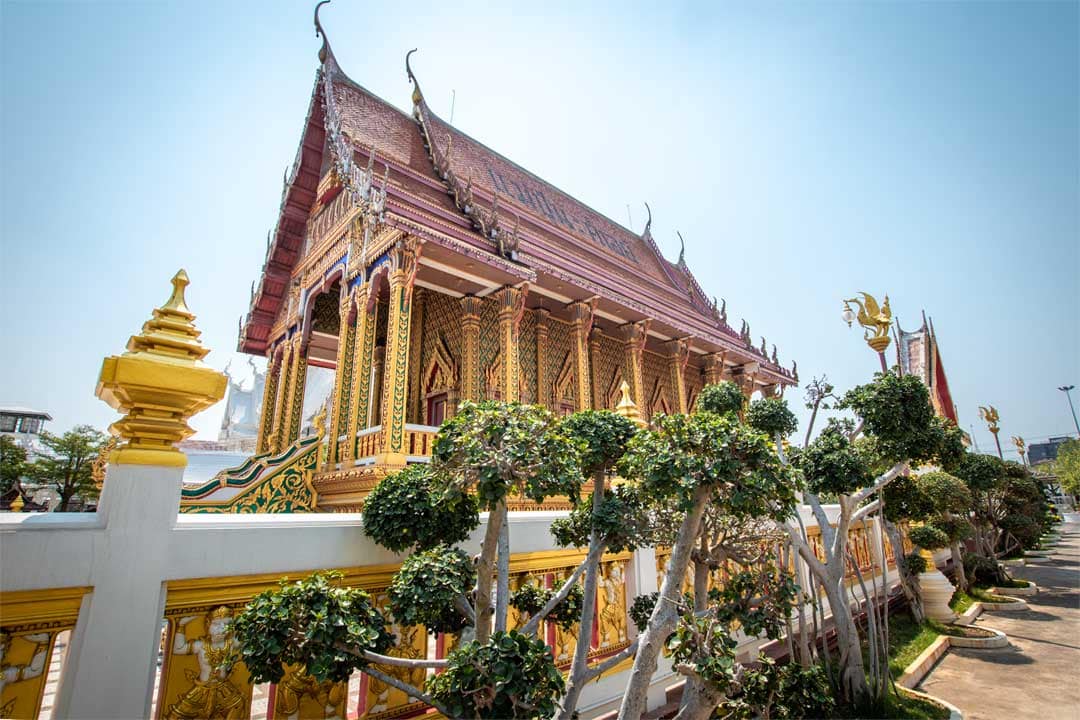 Wat Nong Yai is the hidden temple of Pattaya. It's not on google maps, and there's barely any info about it online. I stumbled upon it by pure luck while exploring the nearby Mini Siam park, and I'm so glad that I did.
The place is absolutely amazing. If this was in Bangkok, I can guarantee it would've been swarming with tourists. Wat Nong Yai temple complex features a giant Buddha (which is like 20-meters tall), a lake with a giant Naga sculpture, a very shiny sanctuary, and a second sanctum that is blindingly white and resembles the famous White Temple of Chiang Rai.
An absolute hidden gem!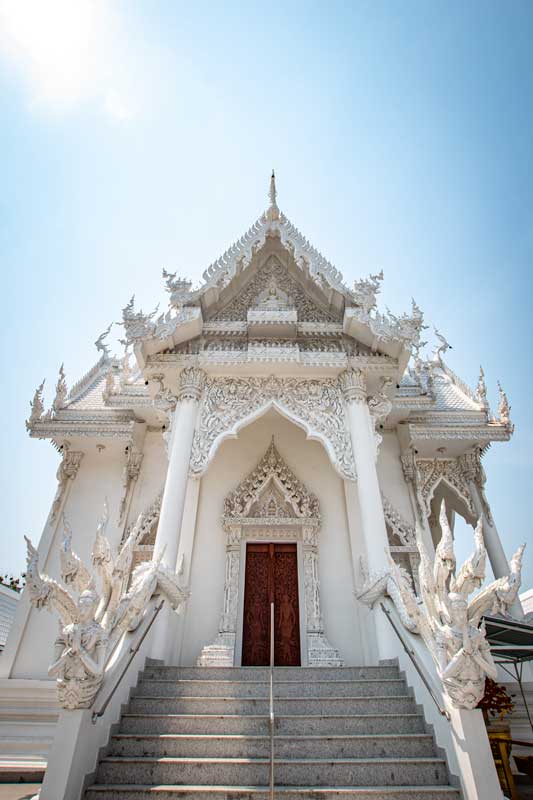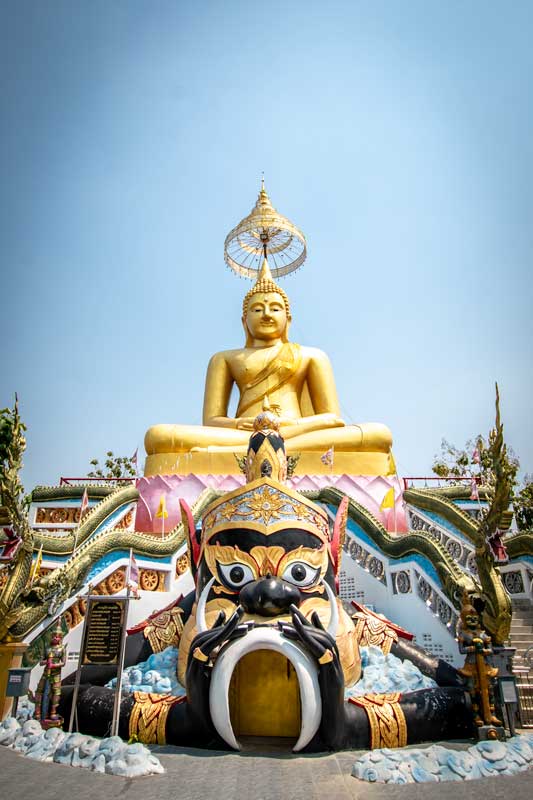 Khao Chi Chan – Budha Mountain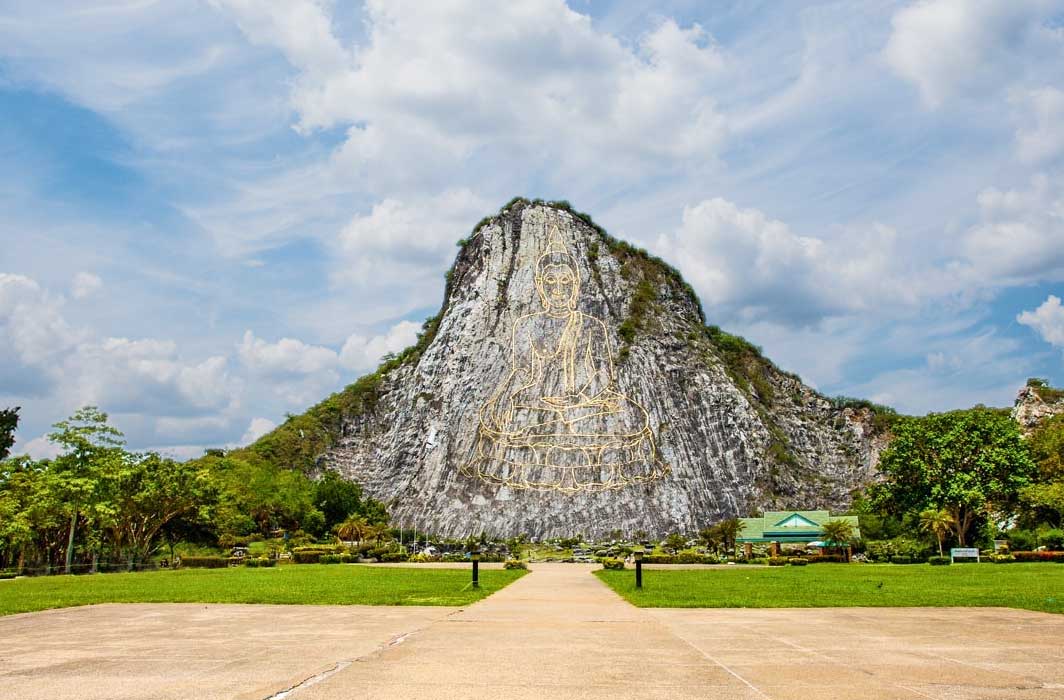 Khao Chi Chan is not really a temple, but a large image of Buddha lasered onto the side of the mountain. It was completed in 1996 to commemorate King Rama's 50th birthday.
Even though the place is a famous tourist attraction in the area, it's located quite far from the main city and getting there would cost you time and money. You need to get a taxi (or hire a private songthaew) and make sure it waits to take you back. If you decide to do it, you can also check the nearby Wat Yannasangwararam Worawiharn (can you pronounce that?). It's a very recognizable temple in the area, famous for its unique design and its Chinese artifact and antique museum.
See Also: How to Spend 10 Days in Thailand
Wat Phothi Samphan + Wat Sawang Fa Pruettaram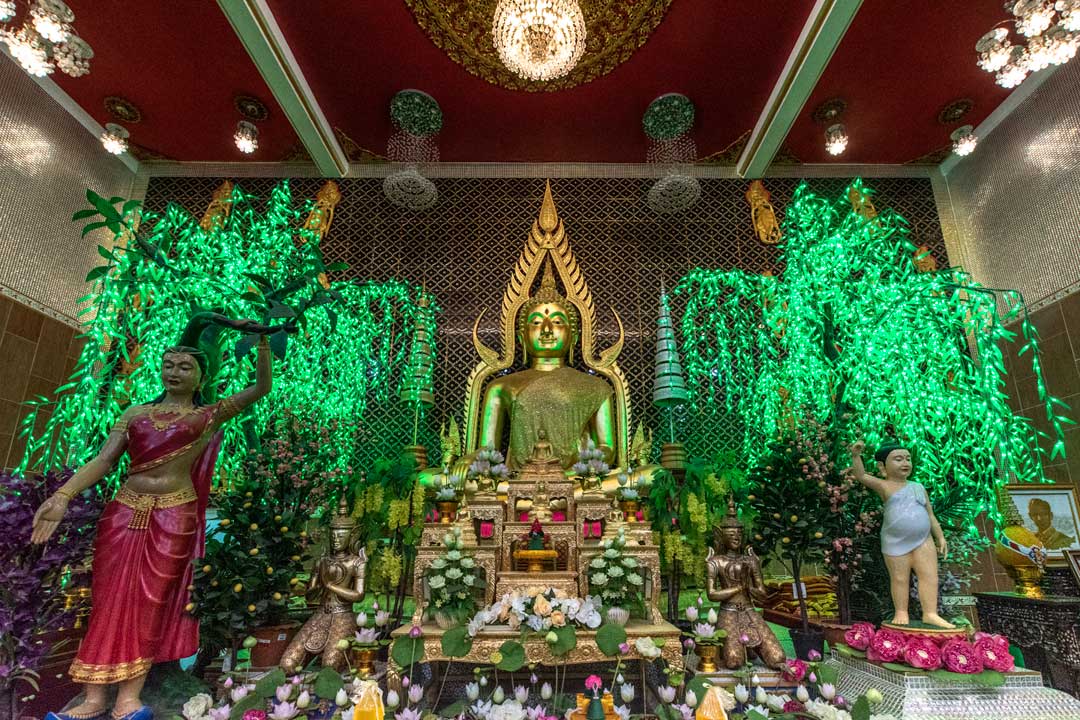 Wat Phothi Samphan and Wat Sawang Fa Pruettaram, or as I call them – the impossible-name pair, are not the most beautiful temples in town. No, they are just the average Thailand temples you can find in every city here. They are on the list because they are relatively close to the Sanctuary of Truth, they are absolutely tourist-free, and they are a great place to experience authentic Thailand.
I listed them as one since both temples are right next to each other and feel more like one temple complex than two separate ones.
They offer a few sanctuaries, one of them having a cool Buddha shrine surrounded by green Christmas lights. There's also a monk hall where you can observe daily praying rituals, mantra chanting, and blessings.
That's all from me, I hope you enjoy the best temples in Pattaya!
————————————
If you haven't planned your trip there yet, find out how I plan my trips!
————————————
I have 32 bucket list ideas for Thailand. See my impossible bucket list of 1700+ adventures!

Which one is your favorite?
---
Some of the above are affiliate links and I will earn a percentage of the sale if you purchase through them at no extra cost to you. This helps keep my site running – so thanks in advance for your support!