The first time I saw a picture of Wat Rong Khun, I couldn't believe such a fairytale temple exists for real. After a quick research, I found out it's a new shrine, still under construction.
'Fake tourist trap pseudo temple' is what I thought, and the Withe Temple of Chiang Rai was out of my bucket list.
It was years later when I found what a mistake I've made…
A White Temple Story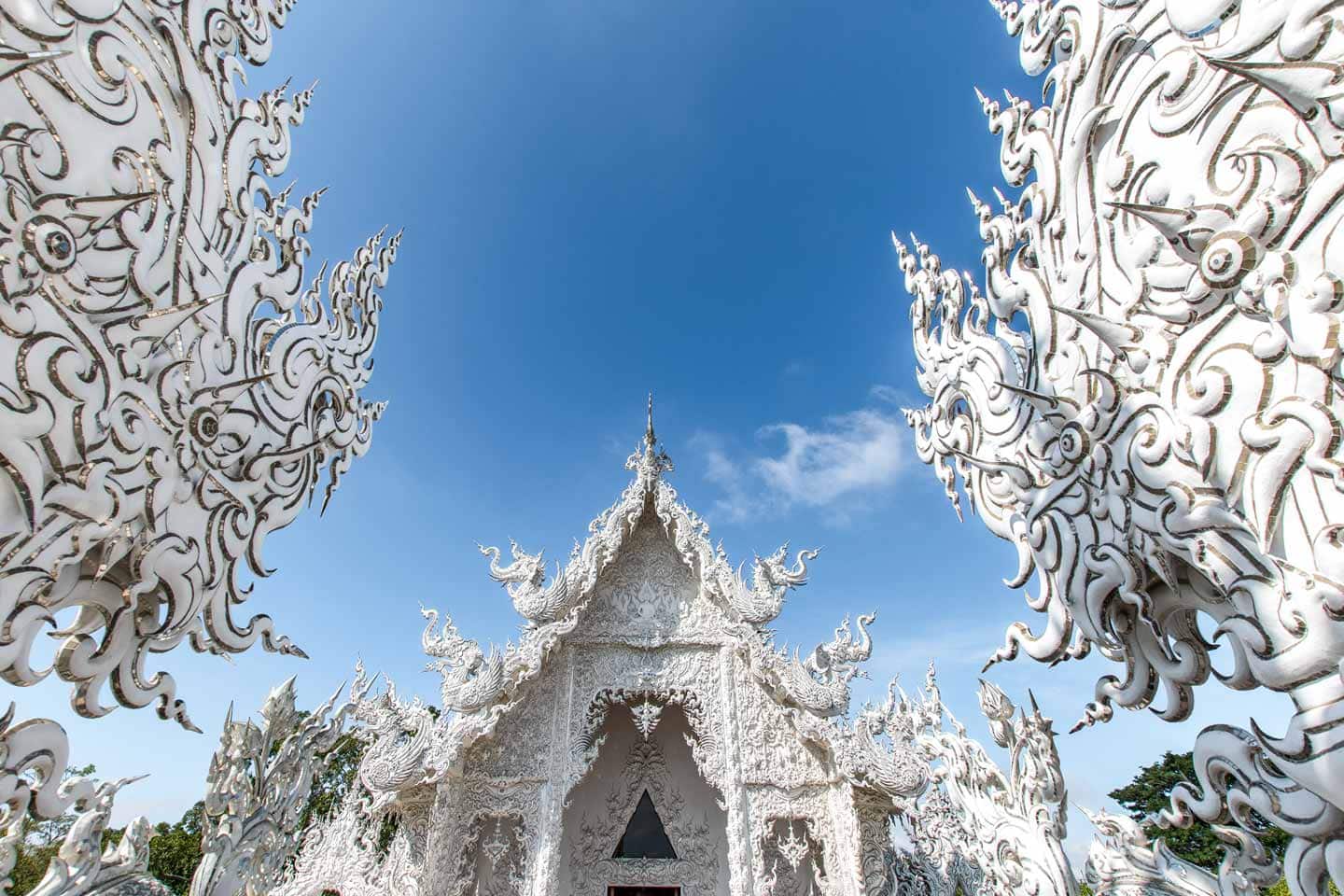 It turned out the temple is not really new. The original Wat Rong Khun, however, was in such a sorry state, that one of Thailand's greatest artists – Chalermchai Kositpipat decided to purchase and renovate the holy building with his own funds.
Since 1997 he has invested more than 40mln THB (1.2mln USD) creating the most unique temple, not only in Thailand or Asia but in the entire world!
Who is Chalermchai Kositpipat?
To understand the idea of the White Temple of Chiang Rai, you have to know its creator. Chalermchai Kositpipat was born in 1955 and is one of the most controversial artist in Thailand. His style is best described as mixing traditional Thai Buddhist temple art with contemporary images.
Now imagine how Budha and Luke Skywalker on the same mural looks from a monks' perspective.
The King of Thailand (Rama IX), however, loved his art style and became his client, and since Thai people adored their king, Chalermchai Kositpipat was accepted as one of the greatest contemporary artists of Thailand.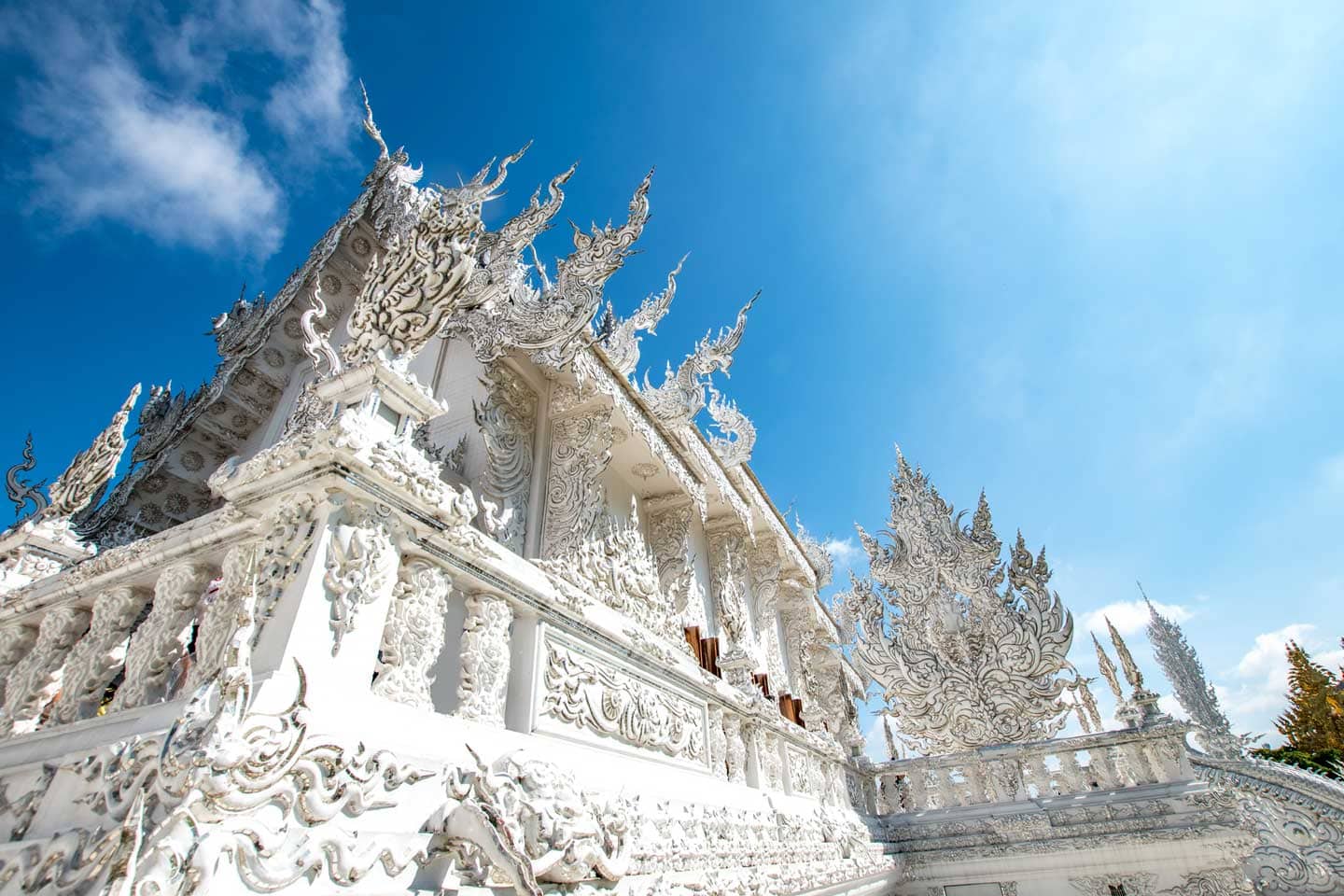 Now that you have some knowledge about its creator, you can guess what Wat Rong Khun really is. The pinnacle of his work, The White temple is all about hidden Buddhist teachings mixed with modern idols. The White color represents the purity of Budha while the mirrored surfaces that are reflecting the light, represents the Buddha's wisdom shining out across the Earth and the Universe.
See Also: What NOT to do in Thailand
The primary message, Wat Rong Khun is sending is that you need to escape desire, greed, and temptation in order to reach Nirvana.
To reach the main temple hall (Nirvana), you have to cross the bridge over a lake of hands reaching up from the cycle of death and rebirth. Then comes another bridge, guarded by demons (and Instagrammers) before you finally enter the most bizarre temple hall in the world.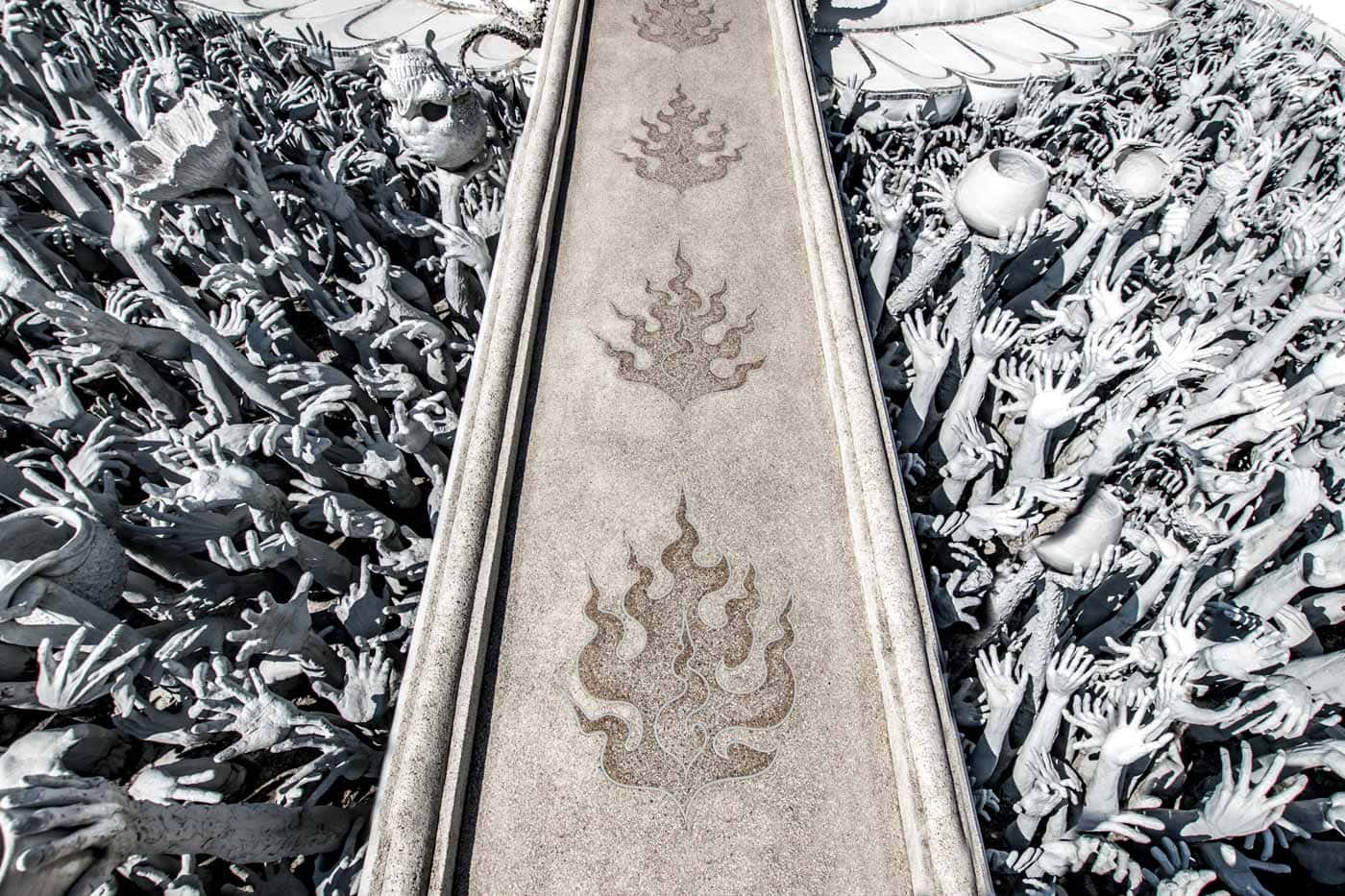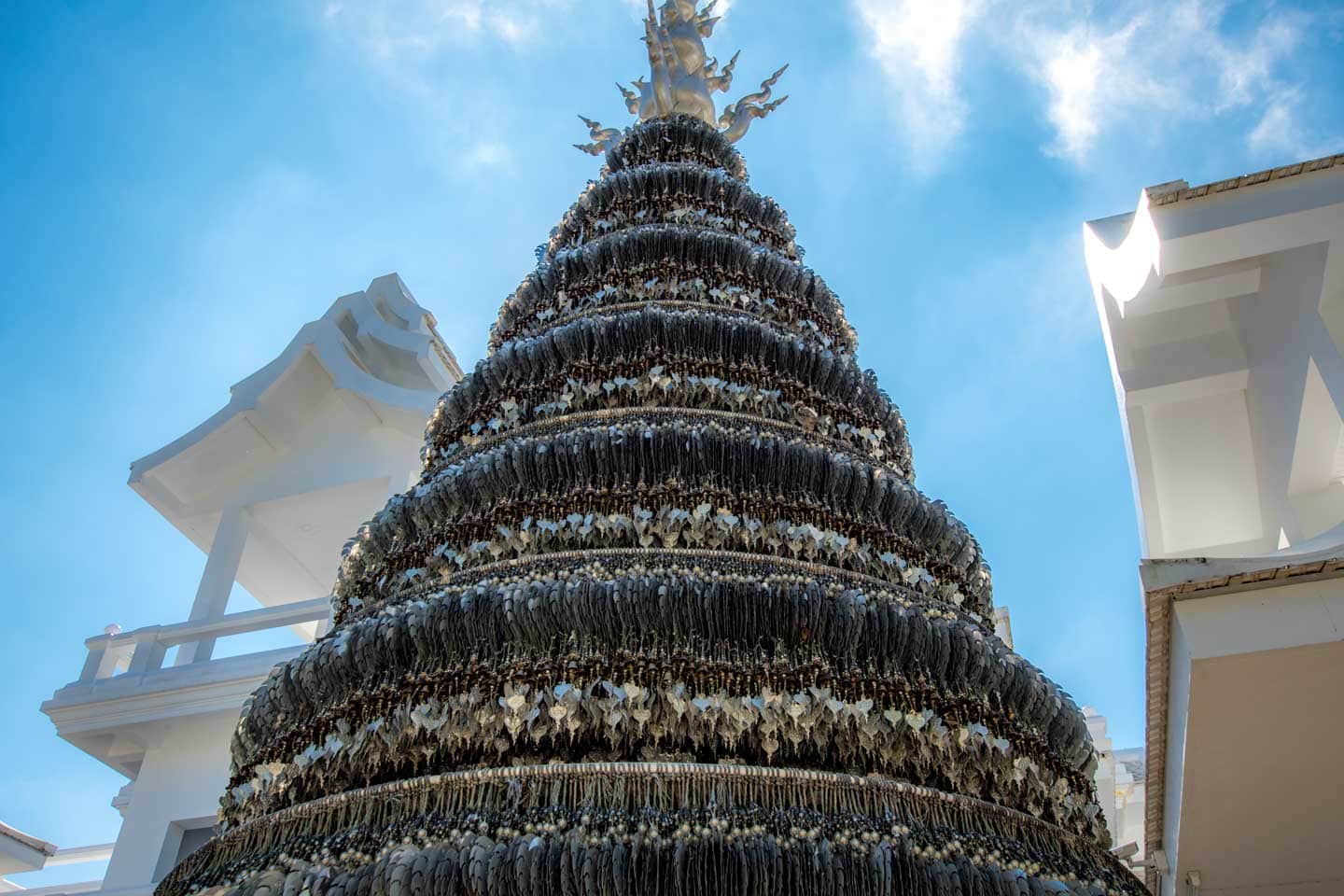 See Also: The Ultimate Thailand Itinerary Guide
The murals on Wat Rong Khun's walls have as much Budha as they have Holywood in them. This enormous painting of a demon's head is covered with all kinds of modern idols (Neo from the Matrix, Pokemon, Hello Kitty, Michael Jackson, etc). All of them represent the distractions humans face in their quest to find true enlightenment.
Taking pictures inside the temple is forbidden, so you'll have to imagine it (the wiki page has an example).
Some of the other weird stuff around the temple include a monkey-king-ironman sitting on a bench like Ronald McDonald, a Predator sinking into the ground, a wishing pond where you have to hit the middle for your wish to come true and the golden toilets where everything is…well…golden.
Why golden? While the snow-white color of Wat Rong Khun represents the purity of the mind, the gold color of the restrooms represents how people focus on worldly desires and money.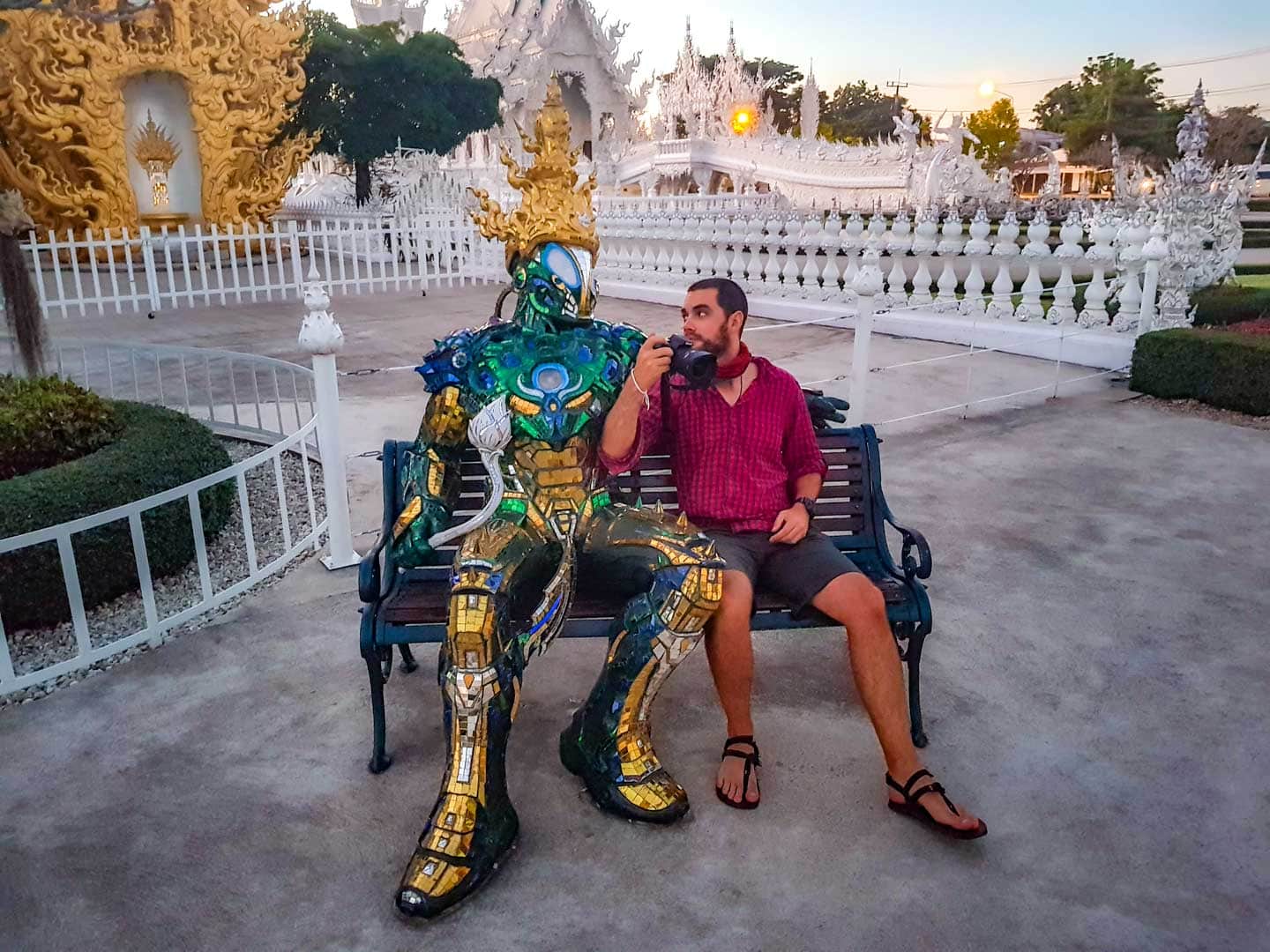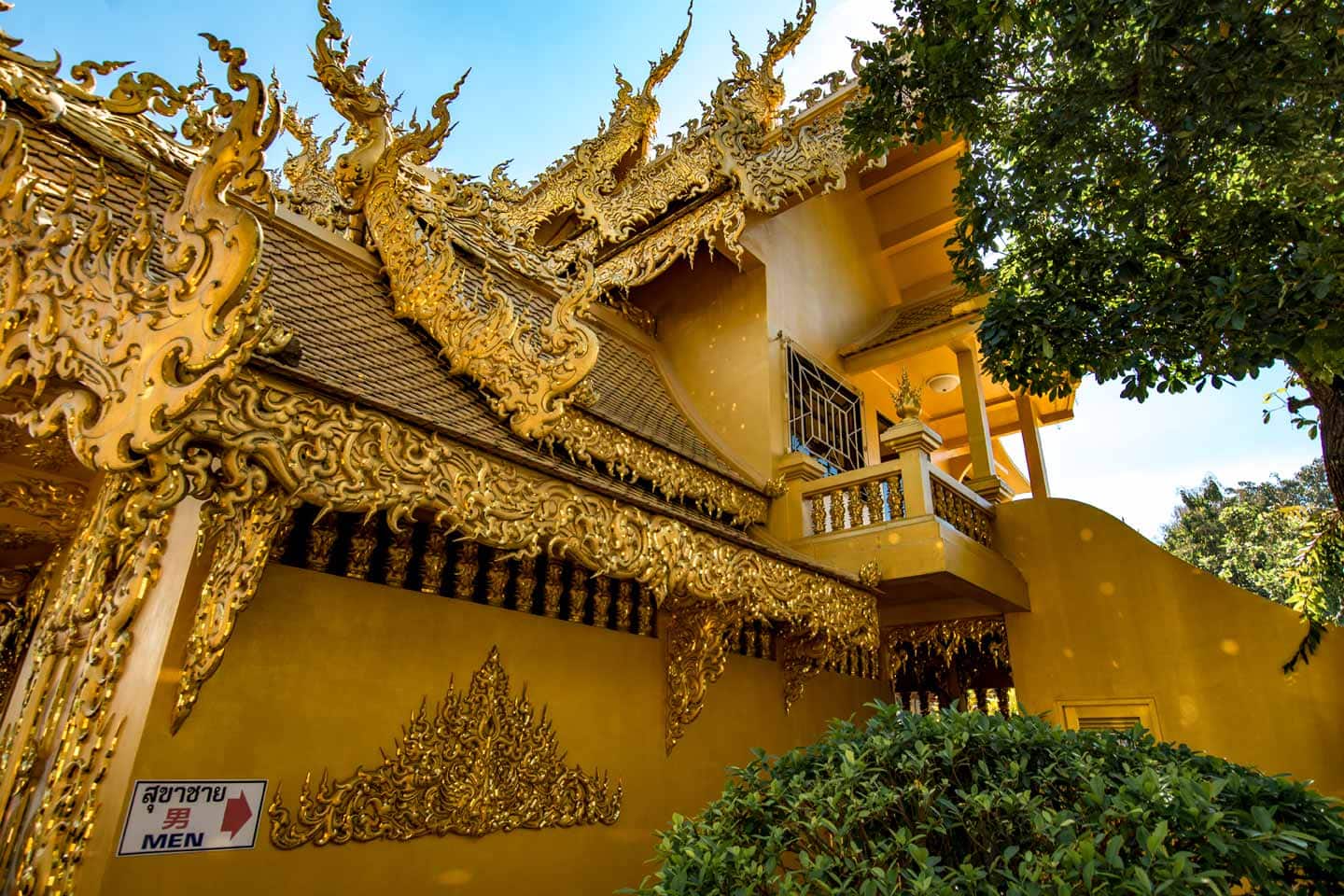 While the main temple is complete, the idea behind the White Temple of Chiang Rai is to be a complex of buildings, and it's expected to be completed somewhere around 2070 (not a typo).
See Also: A Journey to Borobudur – World's Largest Budhist Temple
Wat Rong Khun Useful Information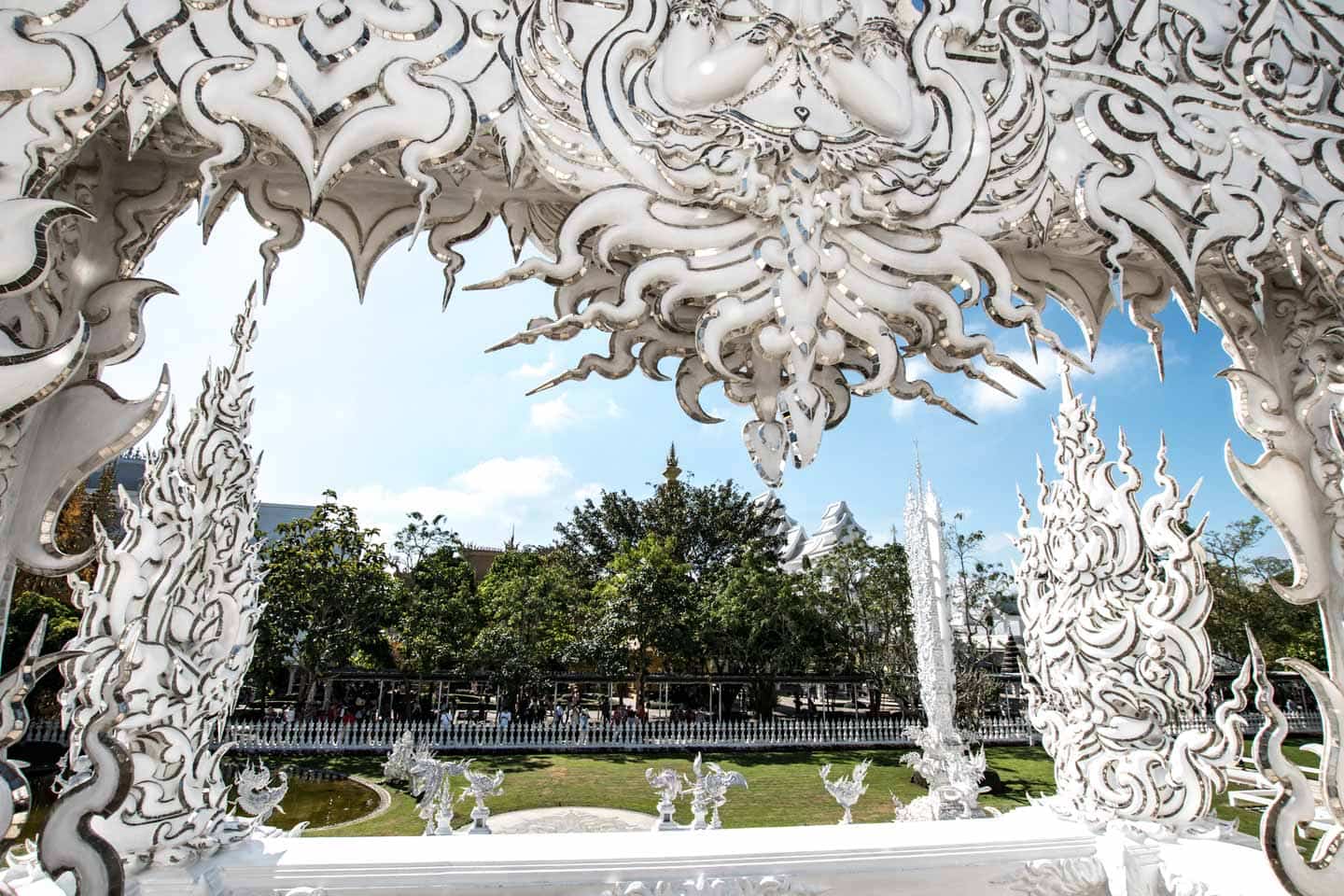 How to get there?
– The White Temple is located around 15 km outside the city of Chiang Rai. The easiest way to reach it is by taxi. The price should be around 300 bahts (9 USD), and the journey should take approximately 20 minutes.
Entrance fee
– Wat Rong Khun is free for Thai citizens while the foreign visitors have to buy a ticket costing 50 baht (1.60 USD).
Wat Rong Khun working hours
– The White Temple of Chiang Rai opens every day at 8:00 AM and closes at 6:00 PM.
– The gallery is open Mon to Friday from 8:00 AM to 5.30 PM
Working hours tend to change so double-check with your hotel.
When should you visit Wat Rong Khun?
Get there first thing in the morning or the late afternoon. First bus tours arrive around 10:00 AM while the last ones should have left by 4:00 PM.
See Also: Chiang Mai Facts & Photos
Best Places to Stay in Chiang Rai

Luxury
Le Patta Hotel
If you like to see more of Chiang Rai while enjoying all of the perks of staying in a 4-star hotel, Le Patta is the place for you.
See the latest prices of Le Patta Hotel
Mid Range
Baan Jaru Guest House
Perfect location, private balconies, free parking, and welcoming staff. They are the most valued hotel in Chiang Rai as per booking, and there is a reason for that.
See the latest prices of Baan Jaru Guest House
Budget
Fun-D Hostel
10 minutes walk from the center of the city, free Wi-Fi, clean bathrooms, and an awesome vibe. If you're on a budget, this is the place for you
See the latest prices of Fun-D Hostel
Close to the White Temple
Latisha House
If you don't care about Chiang Rai and just want to get the best out of Wat Rong Khun, Latisha's house is perfect for you. Situated right next to the temple, you can enjoy all the sunrises and sunsets you want while missing all the crowds.
See the latest prices of Latisha House
White Temple Tours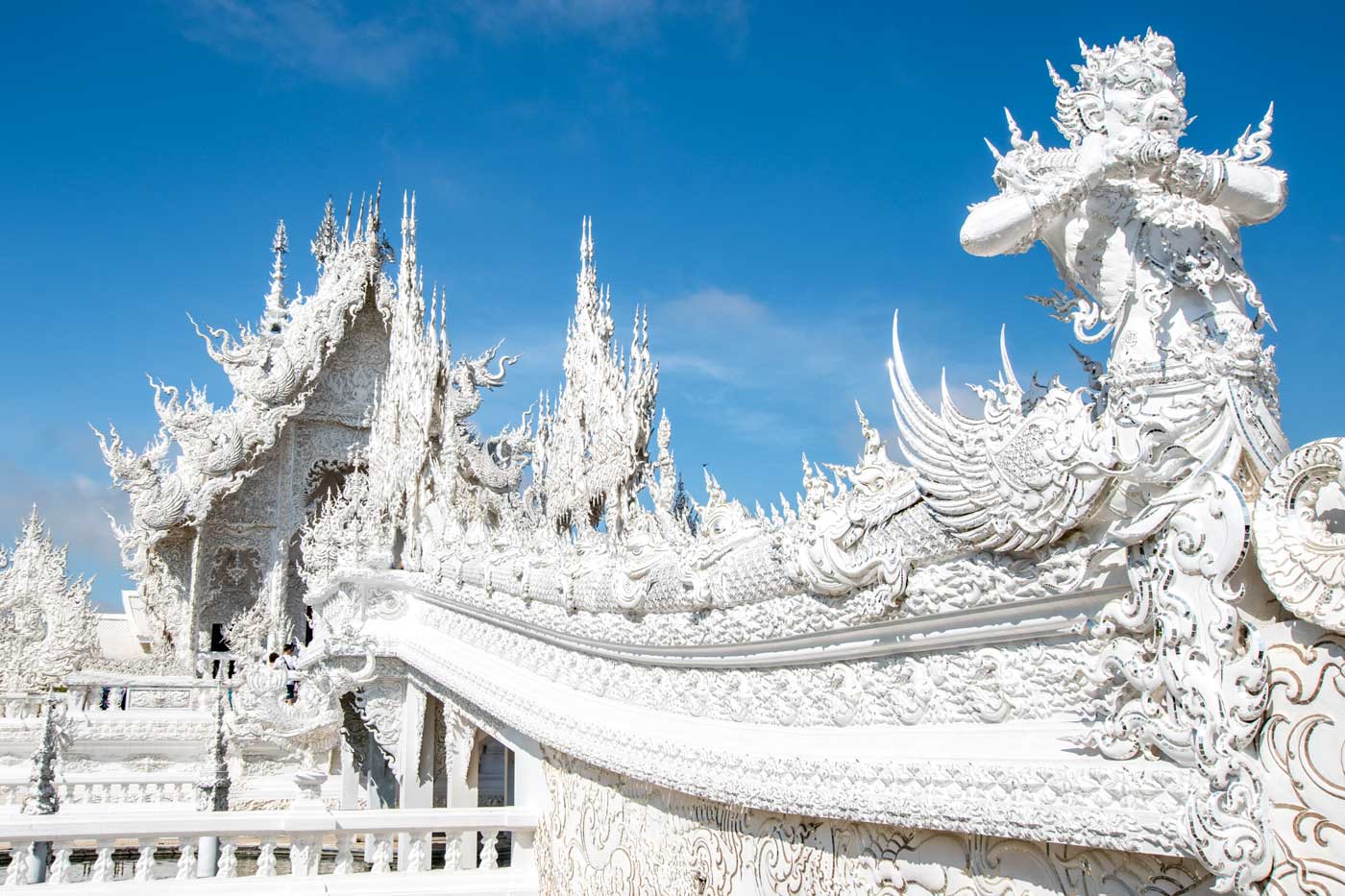 If you can afford to have Chiang Rai in your itinerary, the easiest way to see Wat Rong Khun is by taking a tour from Chiang Mai. There are many tour options in the north of Thailand, some of them will even let you set foot on Laos soil and buy some snake whiskey.
Colorful Temples From Chiang Mai – This one would be a long trip. Chiang Mai is not that close to Chiang Rai so prepare the whole day for this adventure. The good thing is you're not only gonna enjoy the stunning White Temple, but also the Blue Temple and the Black House.
Golden Triangle From Chiang Mai – This one will depart once again from Chiang Mai but will take you all the way up to the triangle border of Thailand, Myanmar, and Laos. There you can board a boat over the Mekong river and even visit Laos for a little bit (there's a chaotic border market). Wat Rong Khun is included in the itinerary.
Colorful Day from Chiang Rai – This one would not be as long and tiring as the other two. Since you've already made your way to Chiang Rai, you don't need to stay for hours in the car. Besides the three colorful highlights (white and blue temples + black house), this tour would take you around the picturesque Singha park too.
That's all from me, I hope you enjoy the incredible White Temple of Chiang Rai!
————————————
If you haven't planned your trip there yet, find out how I plan my trips!
————————————
I've got 29 bucket list ideas for Thailand. See my impossible bucket list of 1700+ adventures!
Is Wat Rong Khun on your bucket list?

Some of the above are affiliate links and I will earn a percentage of the sale if you purchase through them at no extra cost to you. This helps keep my site running – so thanks in advance for your support!