Choosing the best Phuket beaches is not an easy task. I mean, the largest island in Thailand is a well-known beach destination, and there's a good reason why. With so many incredible beaches to choose from, it can be hard to decide where to spend your time in this tropical paradise. That's why I decided to explore Phuket's west coast in search of the best ones.

Now I got to admit; I can't choose THE best Phuket beach. They all have their unique charm and appeal. But, I can give you a little bit of inside about them so you can find the best one for you.

Are you ready to pack your sunscreen and explore the best beaches in Phuket?
Let's go!
Mai Khao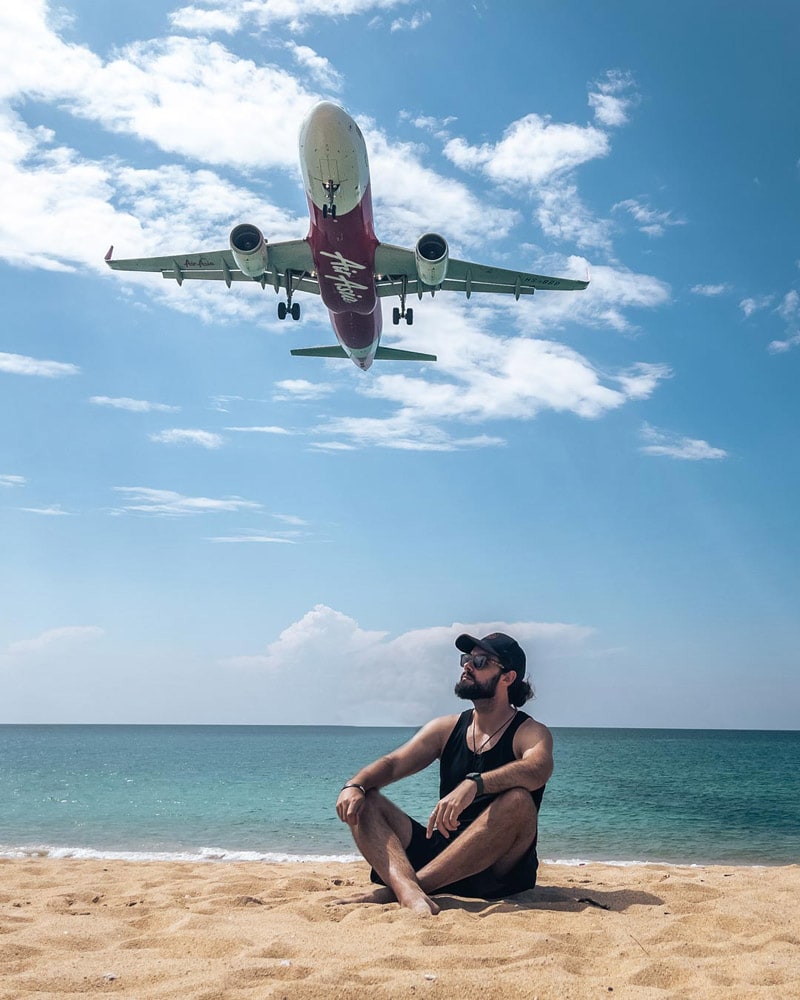 Located on the northwest coast of Phuket Island, Mai Khao is the longest beach on the island, stretching for 11 kilometers along the Andaman Sea.
Since it's located right next to Phuket's international airport, The beach is a well-known photo spot. That's right. This is one of those places where you can get a beach photo with a plane right above you. Before you go, make sure you check the arrival schedule, though. You need planes to be coming from the west.
Mai Khao Beach is part of Sirinat National Park (200 THB/ 6 USD entry fee), which means wildlife is abundant. If you are lucky and visit during the nesting season, you may actually see sea turtles coming ashore to lay their eggs. Offering something for everybody, from wildlife to photo opportunities, Mai Khao is definitely one of the best Phuket beaches.
Nai Yang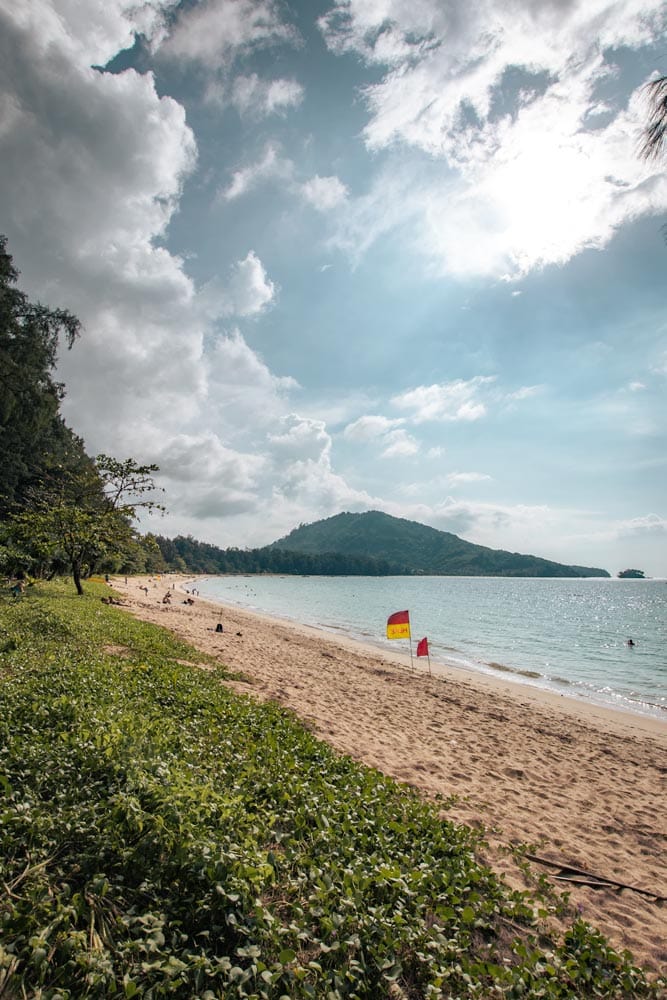 Nai Yang Beach is another picturesque beach on Phuket Island's northwest coast. Just like Mai Khao, it's situated within Sirinat National Park, meaning the beach and its surroundings remain undeveloped and unspoiled, so don't expect to find chairs and umbrellas there.
You won't really need them, though. Surrounding the beach, there's a small forest of casuarina trees that give plenty of shade and excellent picnic opportunities. A significant advantage of Nai Yang is that being that far north, it's not overwhelmed with tourists. Another highlight is the coral reef located just offshore. Home to a variety of colorful fish and marine life, including sea turtles, rays, and even small sharks (harmless), the reef is a great place to go snorkeling.
It's worth mentioning plenty of stray dogs around that beach. They were very friendly to me, but if you are uncomfortable around animals, you better choose some of the other best Phuket beaches.
See Also: The Ultimate Thailand Itinerary
Naithon Beach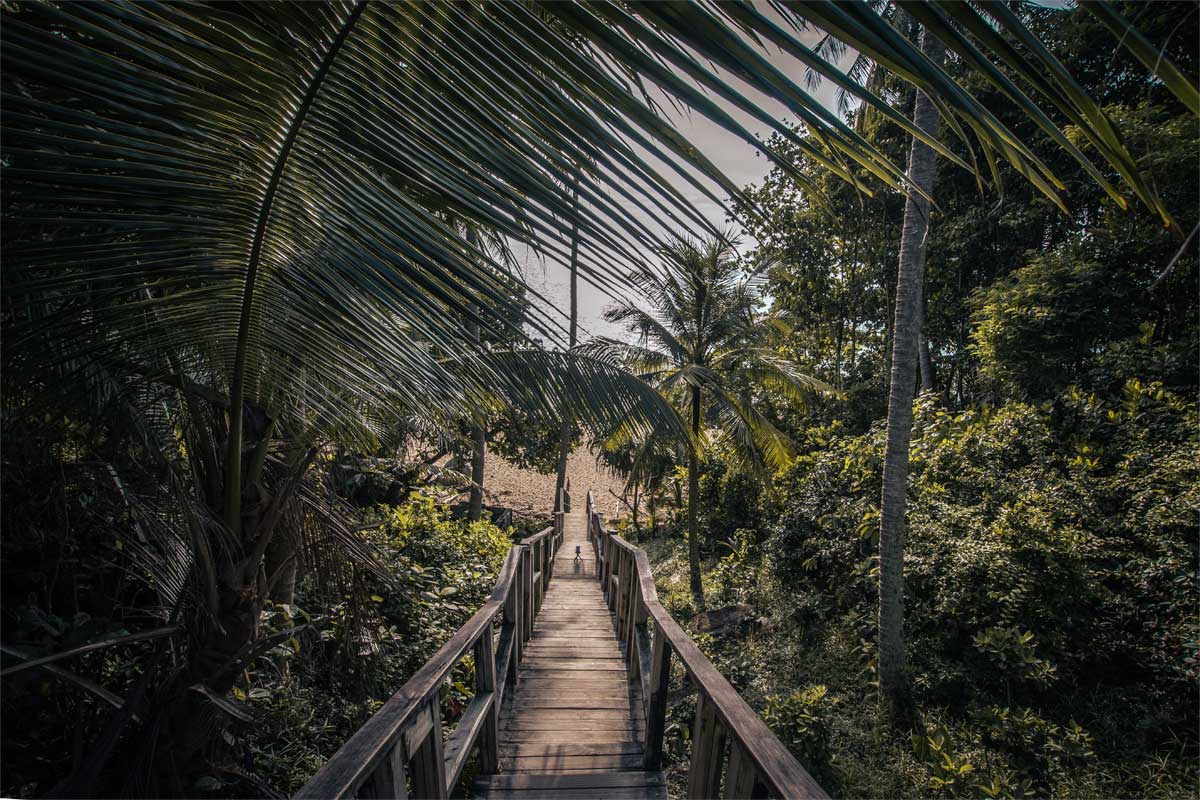 I already mentioned I couldn't pick just one best beach, but as long as the best Phuket beaches go, Naithon Beach is one of my favorites.
A stunning bay located on the northwest coast of Phuket Island, Naithon is, like the previous two, located within Sirinat National Park, so there are no chairs, umbrellas, or beach bars (plenty of food places behind the beach, though). Pretty much as wild as a Phuket beach can be.
Naithon is relatively tiny and free of people compared to the other beaches. One of its hidden gems is the southern beach entrance. A cute wooden bridge gives you a great photo opp there. And, since the beach is not overcrowded, it won't be that hard to take the photo. Seriously, for 15 minutes, only one couple used the bridge beside me (and they used it for photos too).
Banana Beach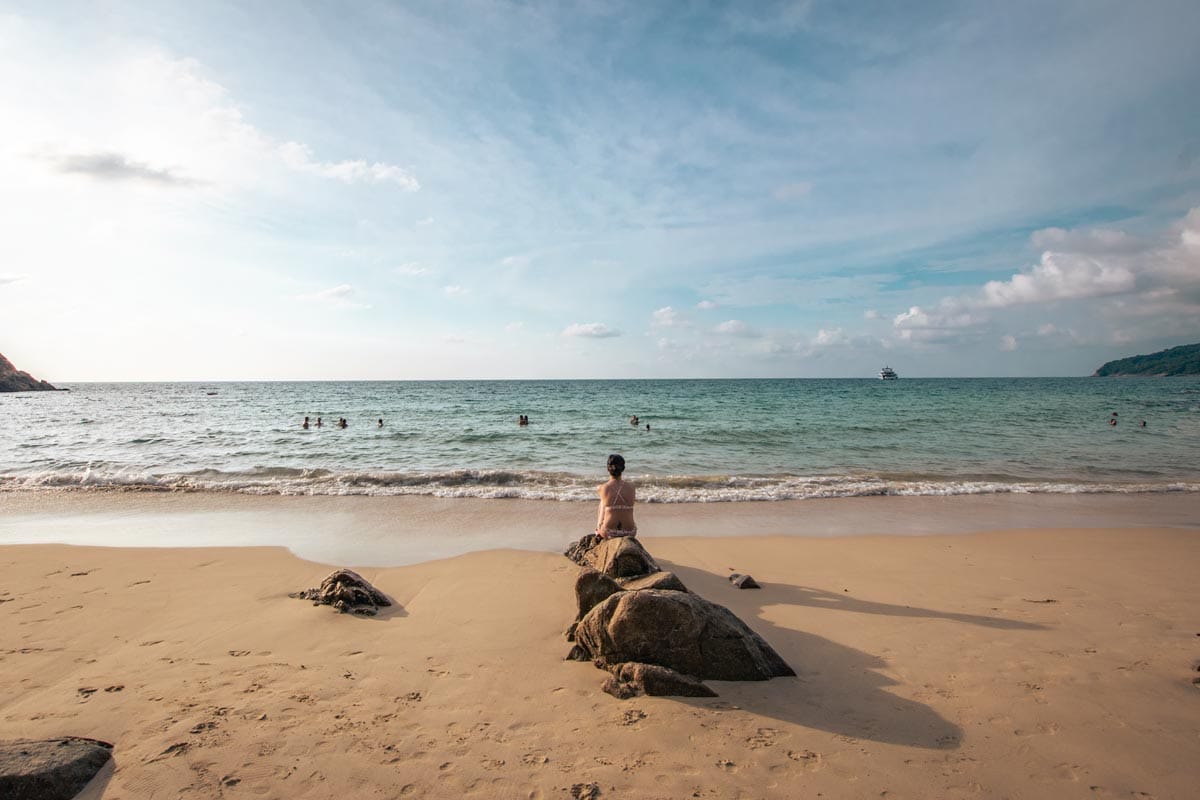 Like Naithon, Banana Beach is one of the last almost wild beaches in Phuket. Imagine a small, picturesque beach with no chairs or umbrellas and just two small wooden food shacks. That's Banana Beach for you.
Once a hidden gem, the beach is well-known now (I mean, it's in a Best Phuket Beaches post on the internet), but since It's hard to reach with anything but a bike or a car, the amount of people would be significantly lower than the other beaches.
Bang Tao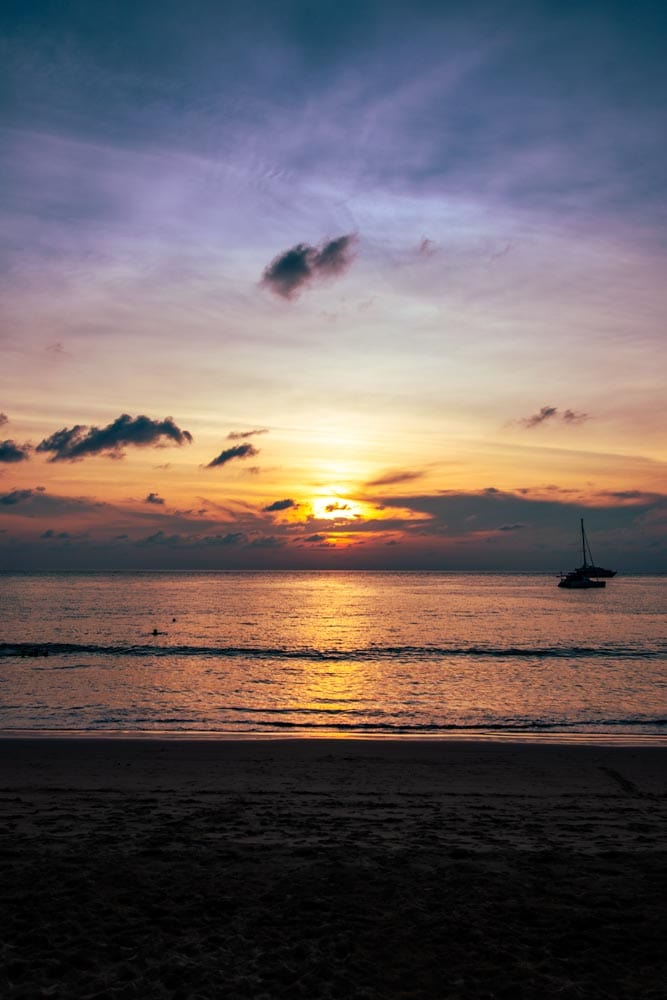 Stretching for over six kilometers along the Andaman Sea, Bang Tao is one of the longest and widest on the island. The beach's northern end is usually less crowded and offers a more peaceful atmosphere, while the southern offers beach restaurants, bars, and all the activities you can find on a popular beach. The area is a popular high-end tourist spot with several luxury resorts and private villas alongside Bang Tao.
Nearby, you can find the Phuket Adventure Mini Golf, Phuket FantaSea theme park, and several shopping centers such as Boat Avenue and Porto de Phuket mall.
Surin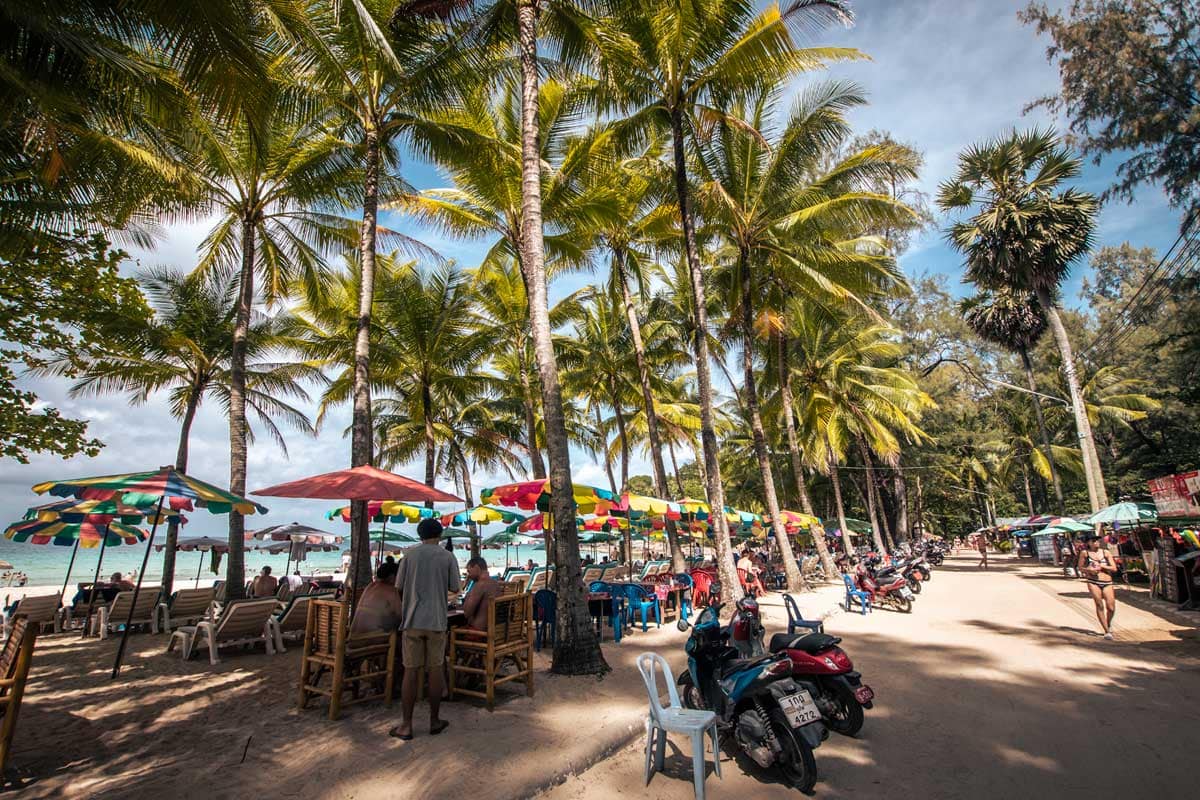 Surin is one of the most popular and picturesque beaches on the island, so don't expect a serene experience here.
Quite a narrow one, Surin is surrounded by a small forest where you can find beach chairs and plenty of restaurants, food, and souvenir stalls. The Surin beach area is also known for its vibrant nightlife scene, with plenty of bars and clubs located nearby.
Laem Singh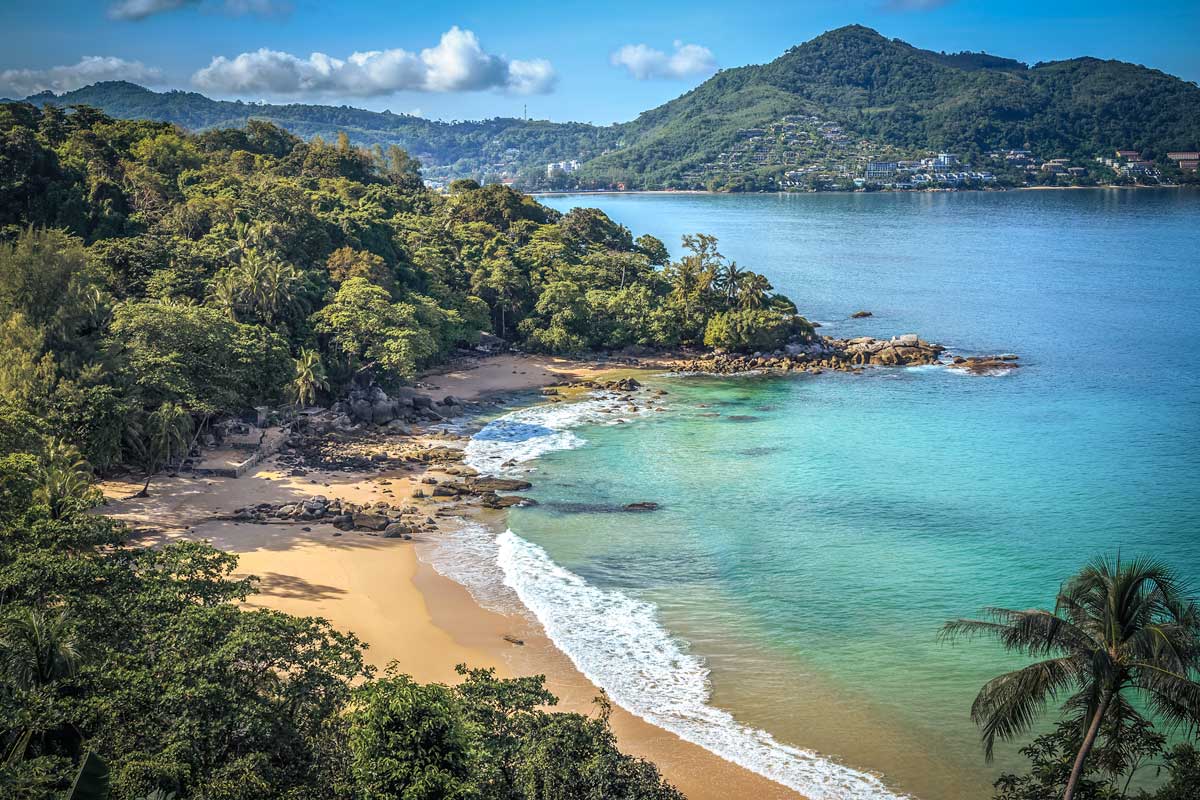 Located between Surin and Kamala, Laem Singh Beach is definitely one of the best Phuket Beaches. It's also the one closest to being called a hidden gem since it's deserted. Wait, what?
A few years ago, Laem Singh was just like the other Phuket beaches, full of people, a couple of restaurants, water sports, etc. Then the owner of the land surrounding the beach decided to close it. And while in Thailand, there's no such thing as private beaches, if you own the area around the beach and you don't let anyone cross, well, you basically have a private beach. That worked out until someone from the nearby Surin beach figured out you could reach Laem Singh via boat too. So now this "private" beach is once again accessible to everyone who is willing to pay 100 THB/ 3 USD (per person) to the boat guy on Surin.
As for the beach, expect the regular golden shores with crystal-clear water, a few people, and a small restaurant with a fantastic view.
See Also: What Souvenirs to get From Phuket
Kamala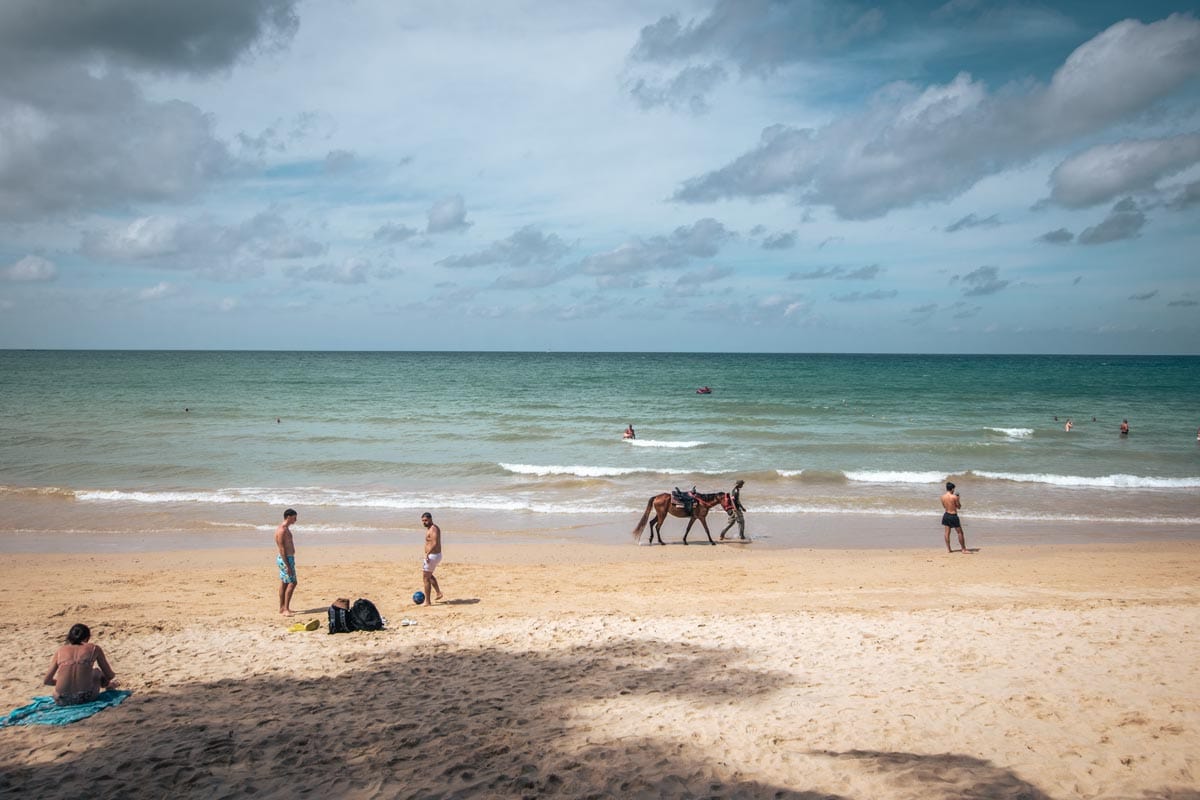 Kamala is one of the island's big beaches and one of the most popular towns to stay in. It's one of the few Phuket beaches without a line of trees behind it but compensates with various water sports activities such as kayaking, snorkeling, parasailing and also horseback riding, and Thai massages right on the beach.
Compared to the other stay-in beach areas Kata, Bang Tao, and Patong), Kamala is the calmest one, usually picked by families. Besides the awesome beach, you can also find Phuket FantaSea Park, the world-renounced Cafe Del Mar, a local market and night market, and a Buddhist temple (Wat Kamala).
Patong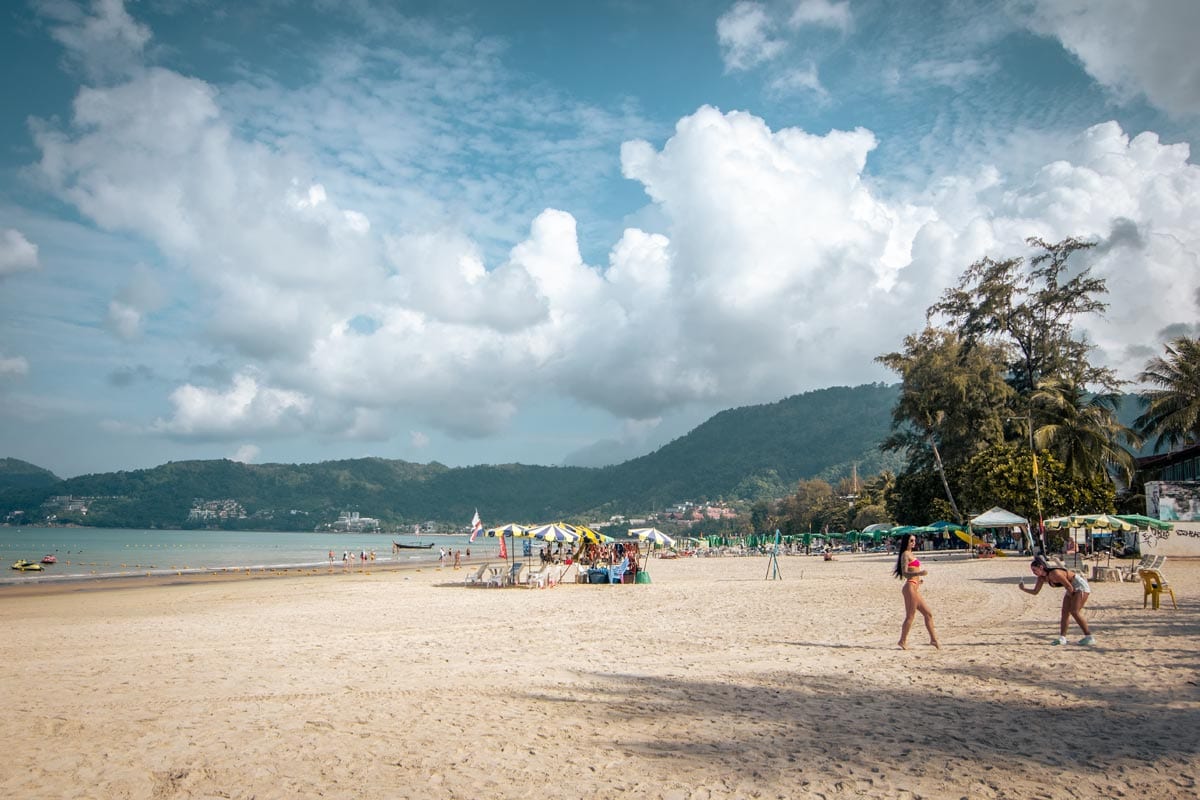 We can't have a Best Phuket Beaches list and not mention Patong. Although many people hate the place, the Patong beach area is the most popular one on the island and is usually bustling with tourists.
Famous for its nightlife, Patong is home to the wildest party street in Thailand (Bangla Road), countless restaurants serving food from all over the world, a couple of malls (Jungceylon and Central Patong), a couple of Mai-Thai boxing stadiums and gazillion Thai massage places (normal and happy ones).
The beach itself offers a large area with paid chairs with umbrellas (100 THB/ 3 USD per person) but also a free area to put your towel and catch some sun for free (south part). It's lined with all kinds of snacks, juice, coconut, and Thai food stalls, and you don't even have to get up your sunchair to get something – you get waitpeople.
Kalim Beach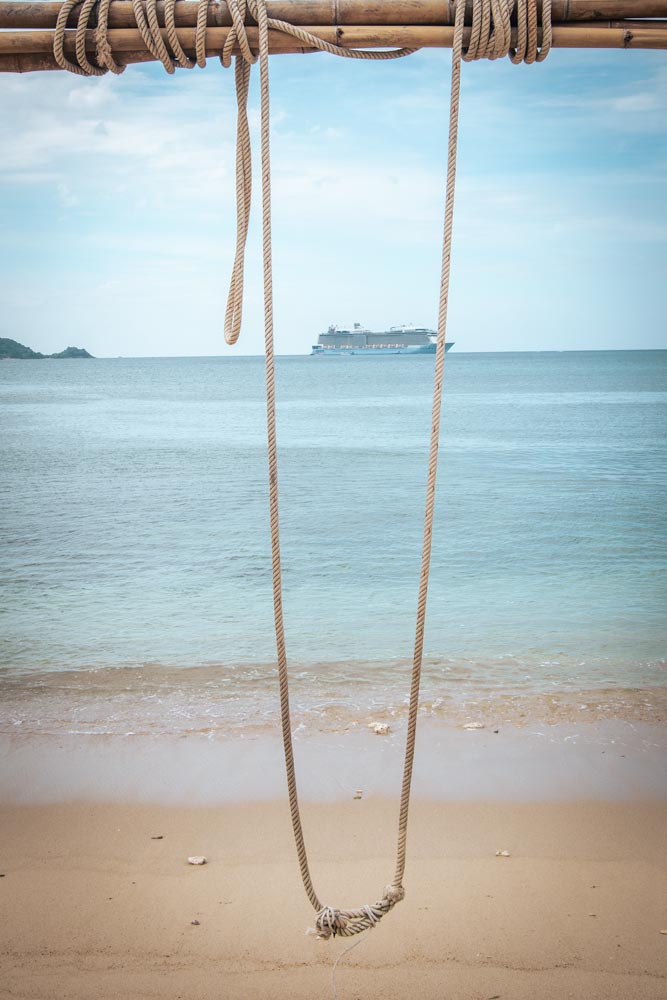 Located right next to Patong, Kalim Beach is a weird one. I wasn't even sure if it should be part of the best Phuket beaches, to be honest.
Why is that?
I went to this beach twice and saw only one person in total. Seriously, the place is that unpopular. But wait, that's awesome, right?
Well yeah, but there's a reason for that, the beach is mainly made up of stones and, at one of its ends, smelled quite suspiciously. There's a nice-looking swing, though, that, coupled with the fact there are no people, makes up a good photo opp. And there's part of the beach, right next to Patong, that was surrounded by rocks and was quite enjoyable, so I believe the beach earned its place on the list. Just don't go for a swim at the stinky part.
Freedom Beach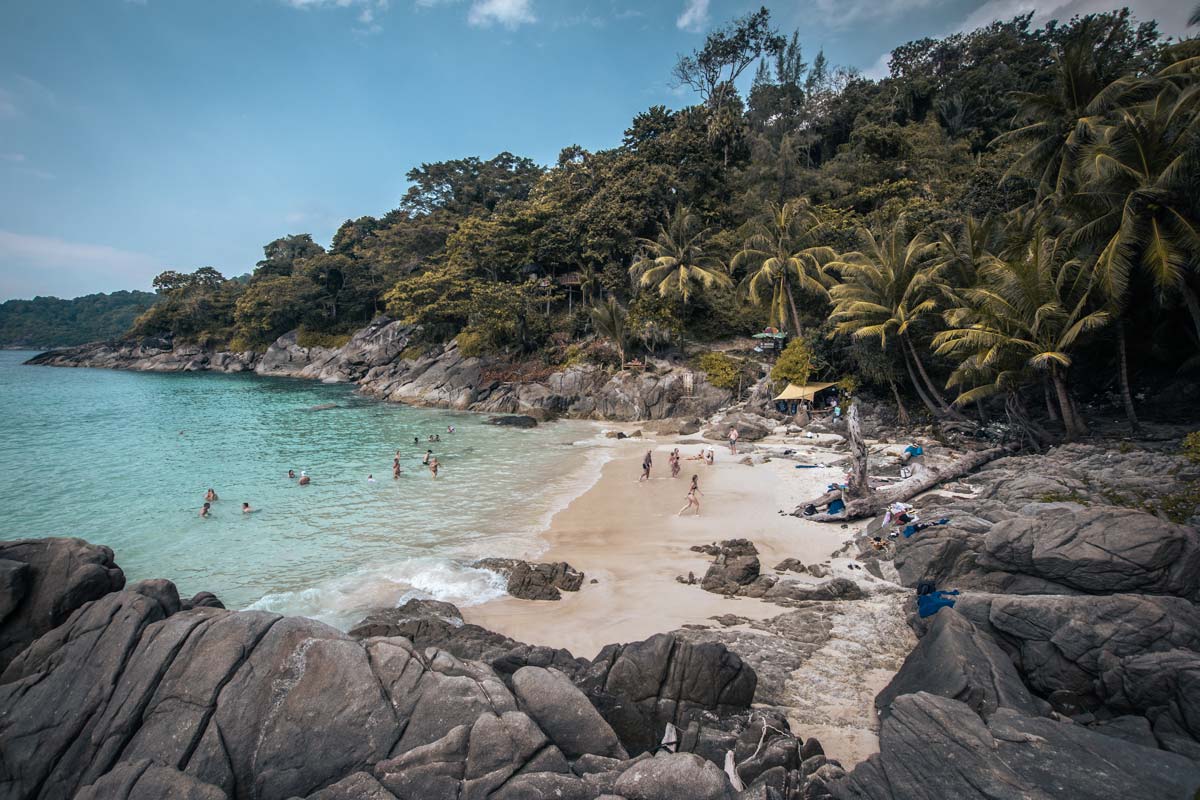 Freedom Beach is considered not only one of the best Phuket beaches but also a hidden gem in southern Thailand. Well, I guess it's not that hidden since it is packed every time I visit it.
Even with all the people, though, the beach is clearly one of the most beautiful on the island. Situated in a small cove surrounded by lush jungle, Freedom Beach is accessible only by boat or a steep trail through the jungle (that sucks a lot on the way back). There are no paid chairs and umbrellas on the beach, but there are a few small restaurants and food stalls. There's also a coral reef meaning you must bring your snorkel.
Last but not least, there's a small hidden part of the beach (the northern part) that is very picturesque. All you need to do is go over a few rocks (or swim).
Paradise Beach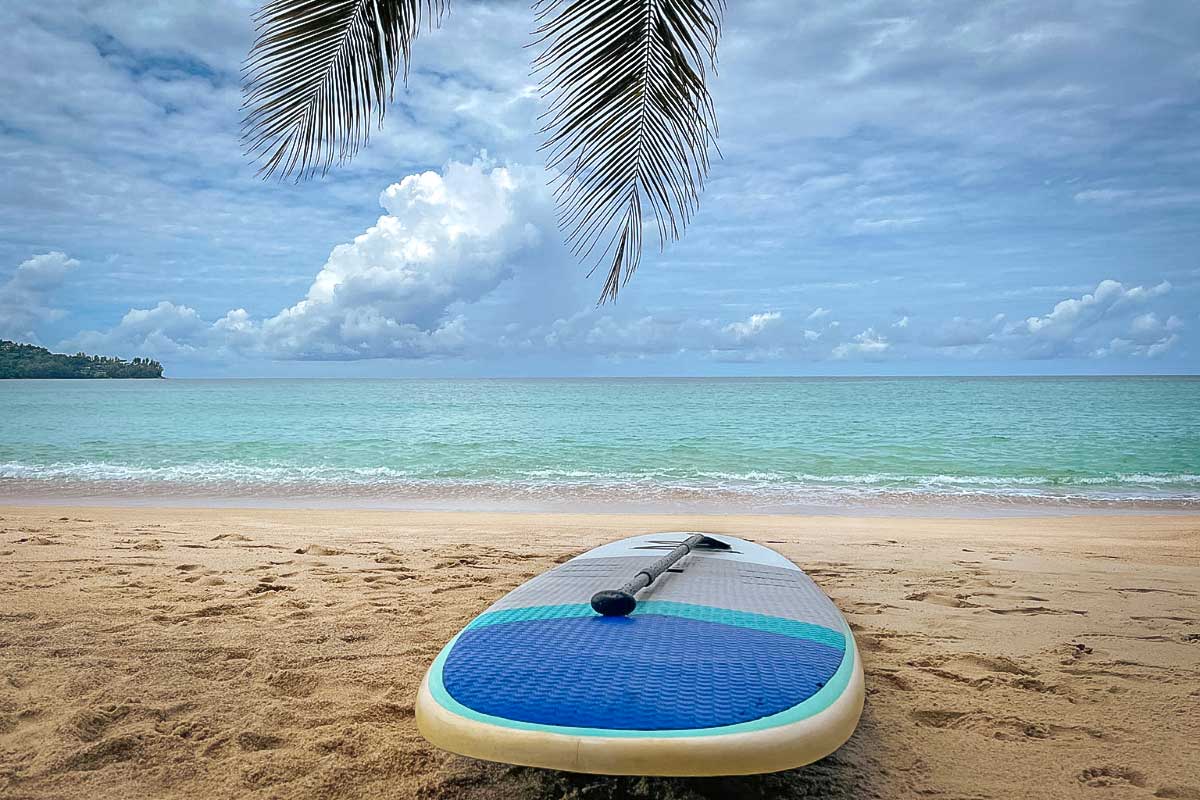 A small isolated bay around 4.5 km west of Patong, Paradise Beach is just 200m long but compensates with plenty of facilities. Home to the Paradise Beach Club, the place is full of restaurants, bars, and all kinds of water sports. As a result, it's a pretty popular place to escape the hustle and bustle of Patong.
Fun fact – Paradise beach is the only Phuket beach with its own website.
Fun fact
Paradise beach is the only Phuket beach with its own website.

Karon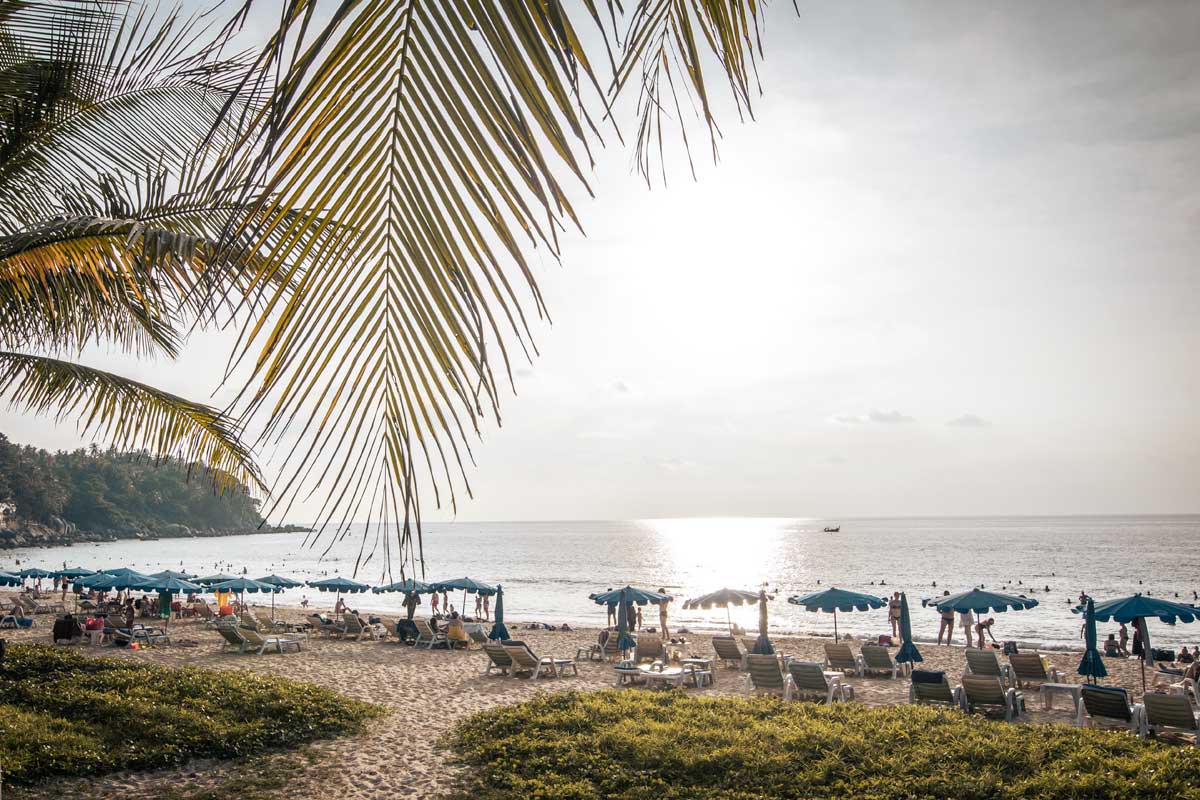 Sterchingfor 3km, Karon is one of Phuket's most popular beaches and towns. Basically, if you want cheaper accommodation but also want to go and enjoy Patong's nightlife, you book accommodation in Karon.
Only one street separates the giant beach from the town, and in town, you can find pretty much everything (from Thai and Chinese food to Starbucks). Karon is also the gateway to one of Phuket's most prominent attractions – the Big Buddha.
Fun fact
The beach's sand makes a weird squick sound when walked on, giving Karon the title of squeakiest beach in Phuket.

Kata Beach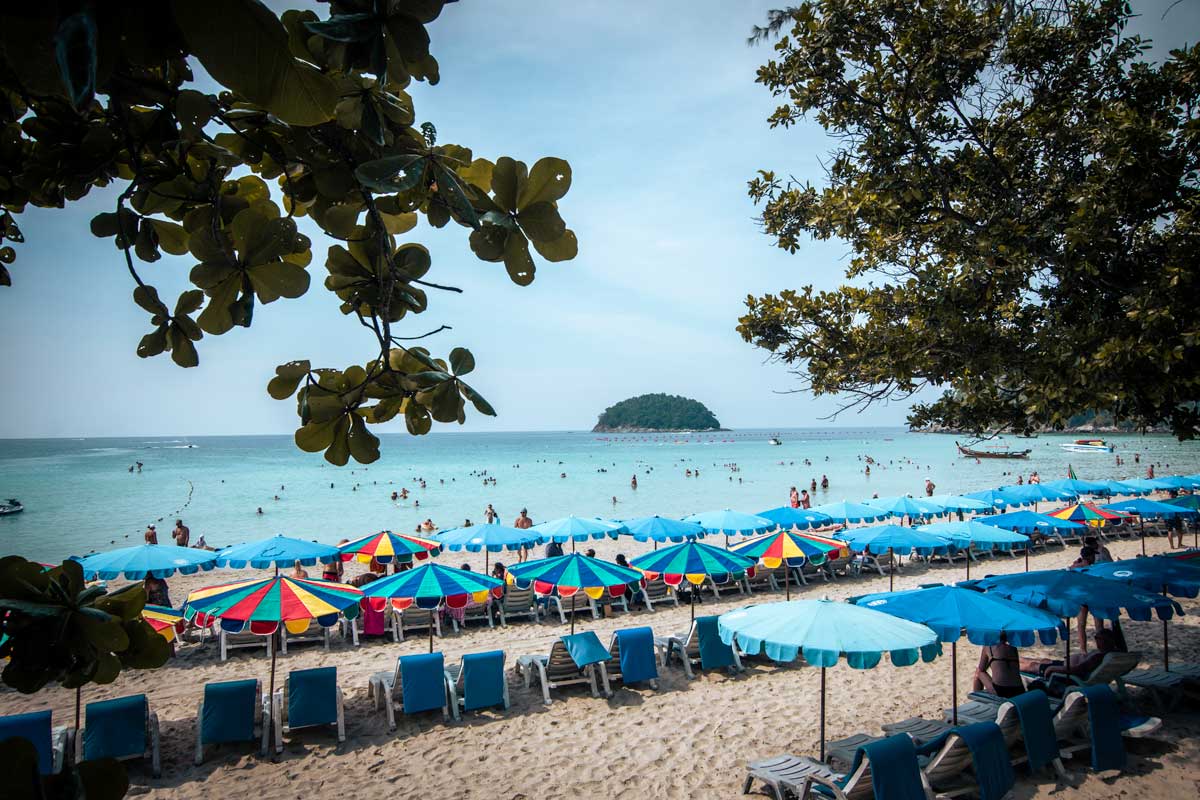 Kata Beach is situated right next to Karon and feels a bit like it, but it has slightly fewer people. It's one of the most picturesque beaches due to having the small island of Koh Pu just in front of the shore (that naturally looks awesome in photos).
Just like Karon, there are plenty of hotels around Kata beach that suits all budgets. Being one of the best beaches in Phuket, Kata also is a gateway to the Big Buddha.
Kata Noi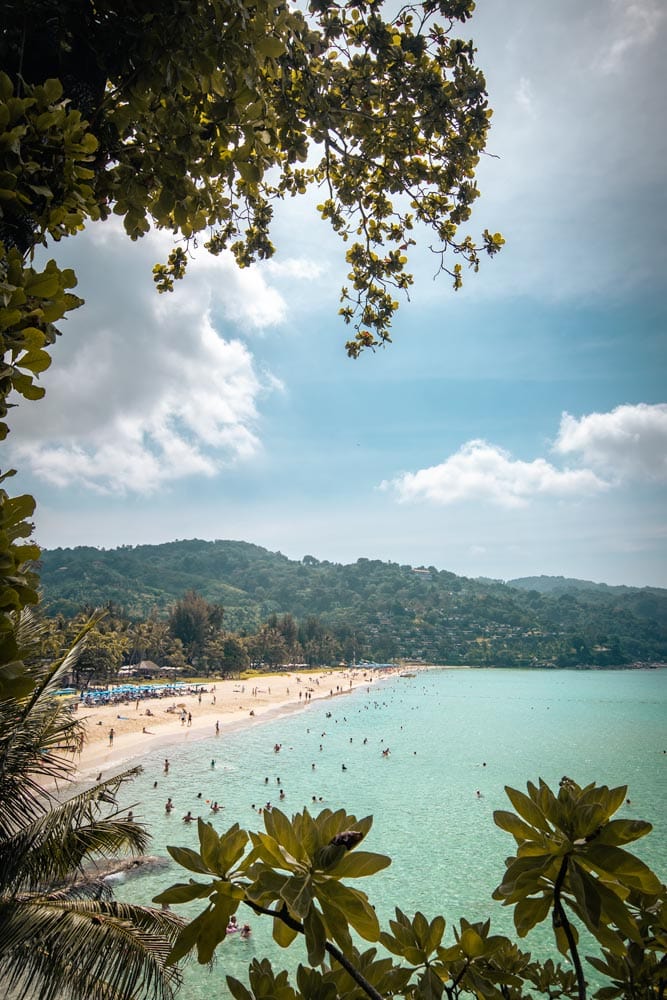 Kata Noi is a small secluded bay located south of Kata that's supposed to offer an escape from the crowds of the most popular beaches. However, in my experience, there are just as many people on Kata Noi as there are on Kata or Karon.
Although Kata Noi is mostly taken over by the luxury Katathani Phuket Beach Resort, there are still plenty of public areas you can enjoy. And even though somehow I said only bad things about this tiny beach, it's one of the most beautiful tropical beaches I've ever seen and undoubtedly one of the best Phuket beaches.
That's all from me, I hope you enjoyed the best Phuket beaches.
————————————
If you haven't planned your trip there yet, find out how I plan my trips!
————————————
I have 32 bucket list ideas for Thailand. See my impossible bucket list of 1700+ adventures!

Have you been to Thailand?
---

Some of the photos in this article were taken from Depositphotos.com – the best place for stock photos out there.
Some of the above are affiliate links and I will earn a percentage of the sale if you purchase through them at no extra cost to you. This helps keep my site running – so thanks in advance for your support!