For years now, Prague constantly ranks among the most visited cities in Europe. In fact, only tourist behemoths like London, Paris, Istanbul, and Rome welcome more tourists than the Golden City. But why is that? I mean, there's no Big Ben, Eiffel Tower, or Colosseum there.
So what is Prague famous for, and how is it attracting so many people year after year?
It's not just one thing. Prague is a mixture of many ingredients blended so well together that no visitor is left underwhelmed. I repeat, not a single visitor is left underwhelmed.
From the most famous bridge in Europe to the abundance of tiny odd museums, prepare for a picturesque cobblestoned journey through the heart of central Europe because we're about to find out the top 10 things Prague is known for!
Beer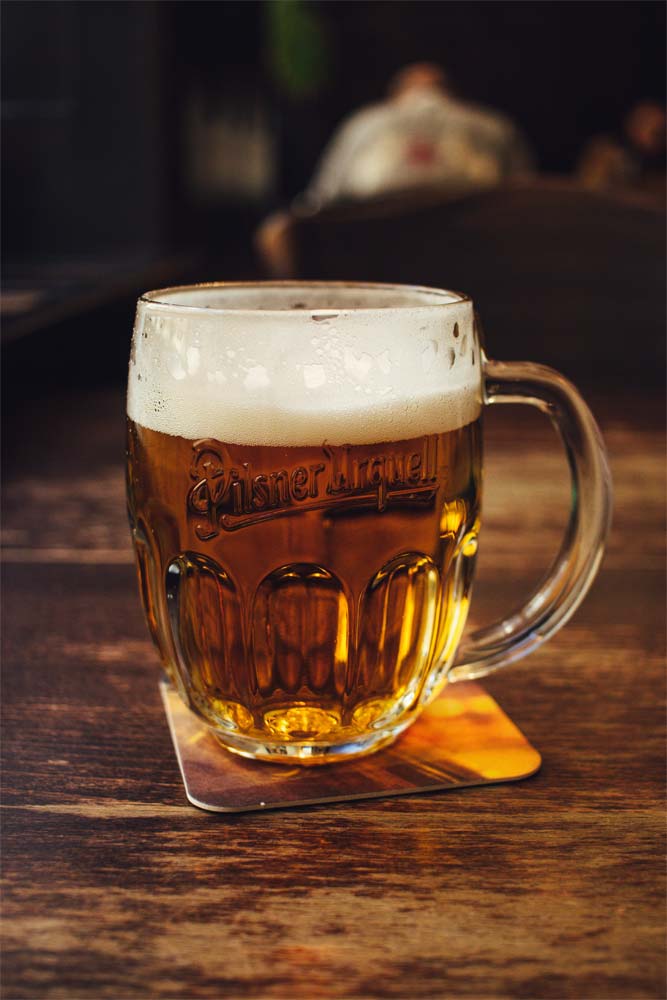 I like to start such posts from the most significant landmark in town. And while Charles Bridge is world-renounced and spectacular (more on that in a minute), the one thing Prague is famous for everywhere, I mean absolutely everywhere, is beer.
The Czech Republic is the number one nation in beer consumption per capita, so it's hardly a surprise that drinking beer in Prague is part of the everyday life. More like everyhour (is this a word?) life, actually.
There are plenty of ways to drink beer in Prague. You can do it on a shared bike or in a spa where you bath in beer while drinking beer! If you prefer the more standard way, every pub, restaurant, and food joint will offer you a pint.
There's a saying that in Prague, beer is cheaper than water. Imagine my surprise when I found the legend to be true. In Prague's center, it's pretty hard to find a bottle of water for under 2 EUR while a pint of beer costs on average 1.50 EUR. I'm pretty sure that's only in the touristic center, but it's still pretty awesome (unless you want to drink water).
Charles Bridge
The most common answer (if we don't count the beer) to what is Prague famous for would undoubtedly be Charles Bridge. Known as Karluv Most to the locals, this masterpiece of a bridge was finished in 1402 and named after King Charles IV.
It's the most recognized bridge in Europe and also one of the most magnificent ones. Decorated by a continuous alley of 30 Baroque statues complemented by giant Gothic towers on both ends, Charles Bridge is every photographer's dream. Sadly it's overcrowded pretty much all the time so getting the perfect photo is not that easy (check for some tips here).
Once seen as a vital land connection between Eastern and Western Europe, today, the bridge connects two of the most popular Prague regions – Old Town (Stare Mesto) and the Lesser Quarter (Mala Strana).
Prague Castle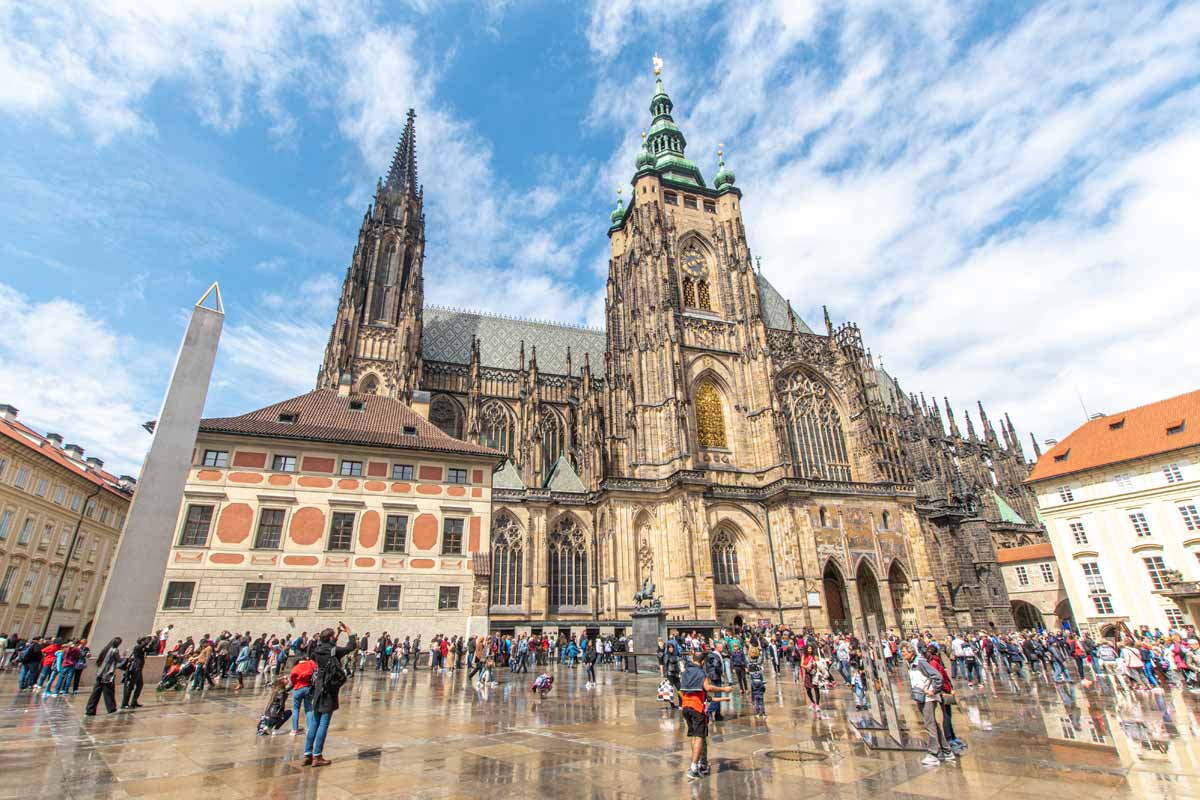 It won't be a trip to Europe if there isn't at least one castle to explore, right? Prague Castle, however, is a bit different from the other castles. To tell you honestly, it's so different it confused me a lot when I made my first visit there.
Dating back a thousand years, Prague Castle has always been the residence of the Bohemian kings and later Czech presidents. Having that info, I expected some grand palace or fortress with lavish rooms and massive towers. It turned out Prague Castle is a complex of buildings… and the castle itself is pretty small and unimpressive.
Covering an area of almost 70,000 m², the Prague Castle complex includes The Old Royal Palace, a few museums, St. Georges Basilica, The Golden Lane (an alley with medieval Czech houses), and the staggering St. Vitus Cathedral.
The first thing I saw was the (underwhelming) palace, but I was sure this couldn't be the famous Prague Castle, so I kept looking for the damn thing for hours. Yeah, seasoned traveler here; always doing my research well…
See Also: What is London Famous For?
Franz Kafka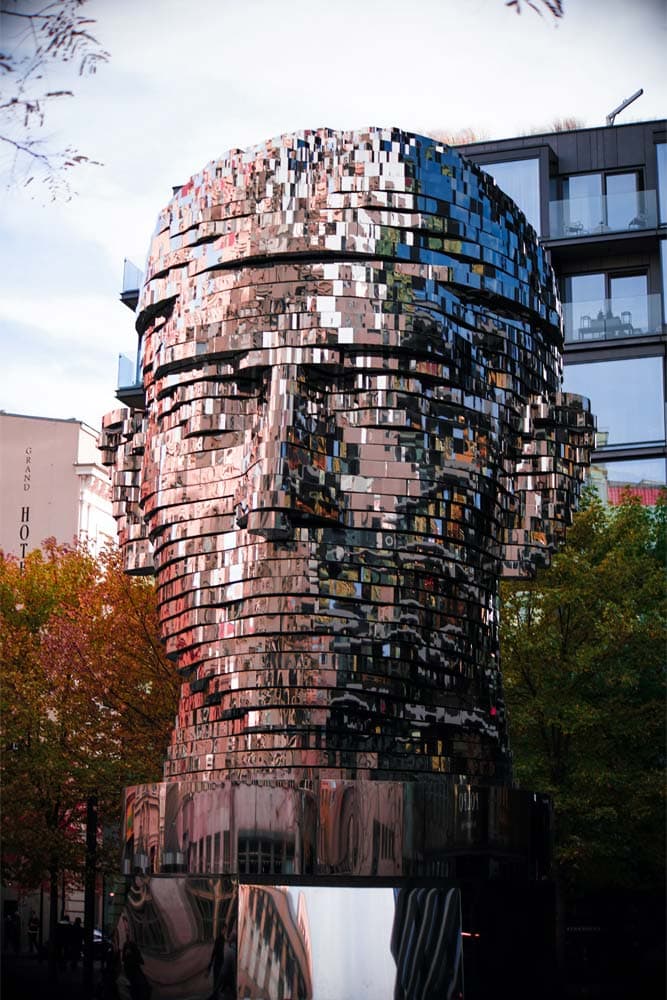 Born in 1883, Franz Kafka is the most prominent person ever born in Prague. Being one of the major German-language fiction writers of the 20th century, Kafka's works are considered to be among the most original ones ever written.
His signature style was creating surreal and suffocating worlds of confusion, and he was so good at it that today there's a word named after him (Kafquesqe meaning living in absurdity).
Prague honors its most renounced citizen with a giant moving art installation of Kafka's head and an awesome Kafka Museum located in Mala Strana. If you ever find yourself in the Golden City, make sure to check them out.
Prague Astronomical Clock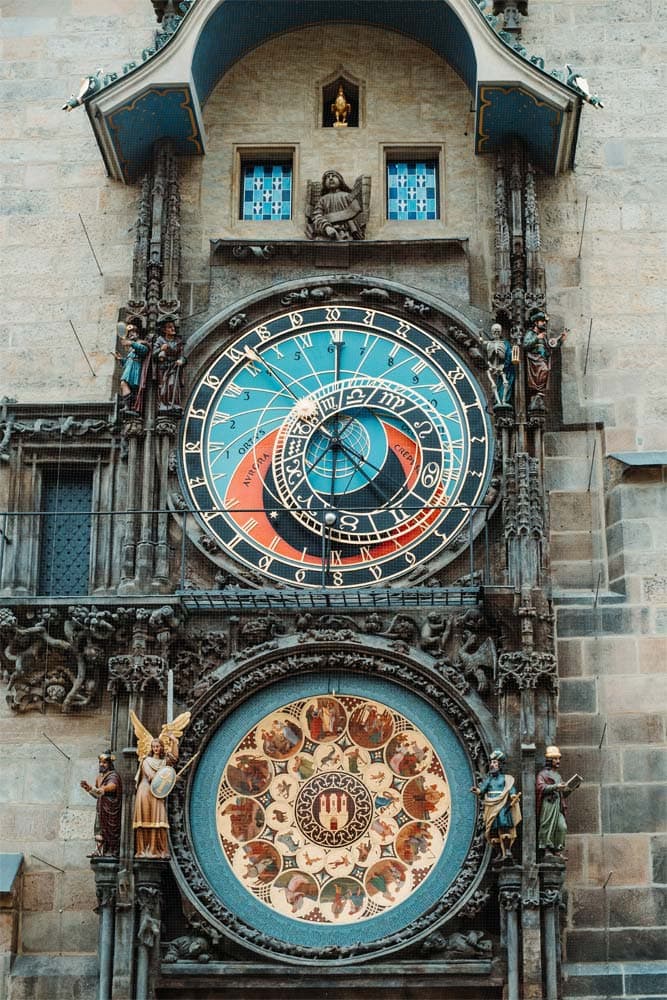 Ask someone who just got back from there what is Prague famous for, and the answer would probably be the Orloj – Prague's Astronomical Clock.
First installed in 1410, The Orloj is the third-oldest astronomical clock in the world and the oldest one still operating. It's also gorgeous.
While at first, it looks just like any other average attraction, once you're in Prague, you're about to see more and more about the clock. On every stall or souvenir shop, there are miniature versions of the clock. Every time you passed by the real thing, there are hordes of tourists there. Seriously, hordes! I've always thought of Charles Bridge as the biggest attraction in town, but once I was actually in town, the Orloj felt like the real superstar.
Every day from 9:00 AM to 11:00 PM, on the hour, the astronomical clock does a little show where the 12 apostles move one after the other in the tower's tiny window. It's not something mind-blowing, but it's still quite fun to see.
See Also: What is Paris Famous For?
Trdelnik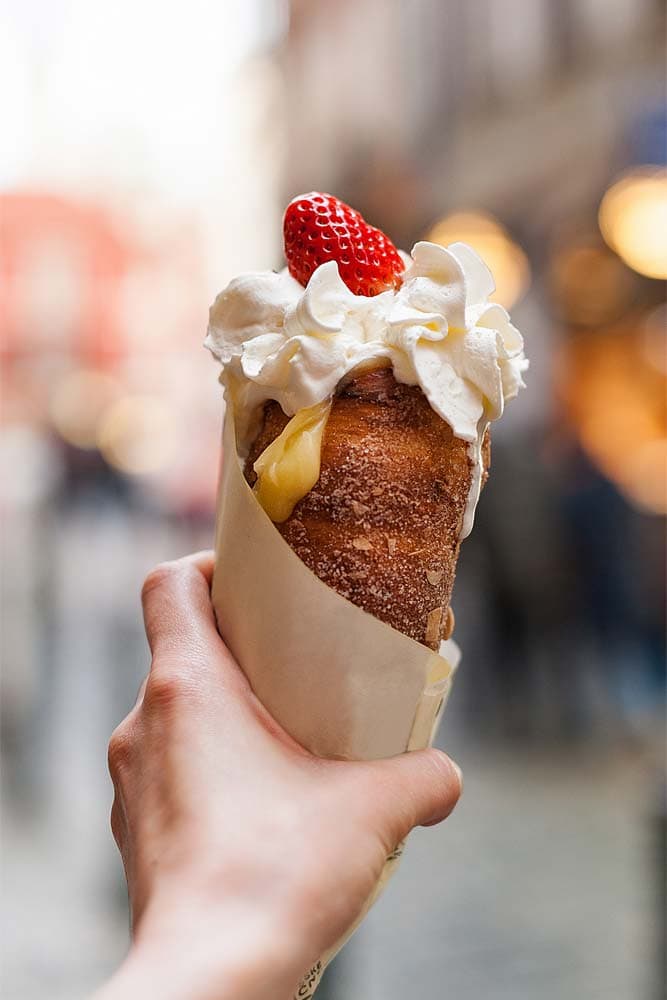 I was told the food is another thing Prague is known for worldwide but to tell you honestly… I disagree. The Czech food I saw was mostly fat meats (with a lot of fat) and some Hungarian dishes (like goulash but with extra meat). And during my travels, I've hardly seen Czech restaurants anywhere. What I've seen a lot, though, is trdelnik.
Trdelnik is a rolled pastry topped with ice cream… or chocolate… or cream and fruits… or pretty much anything sweet. There are countless choices there. It's amazingly good and was my go-to breakfast while in Prague. It's a treat that's pretty popular outside of Czechia, too. I've seen trdelniks in plenty of other European towns and even in a Thai mall.
And for the Instagram lovers, don't miss the chance to get the most colorfully topped trdelnik and take its picture on the old town square. The likes will flow like a Vietnamese street full of bikes!
Old Town Square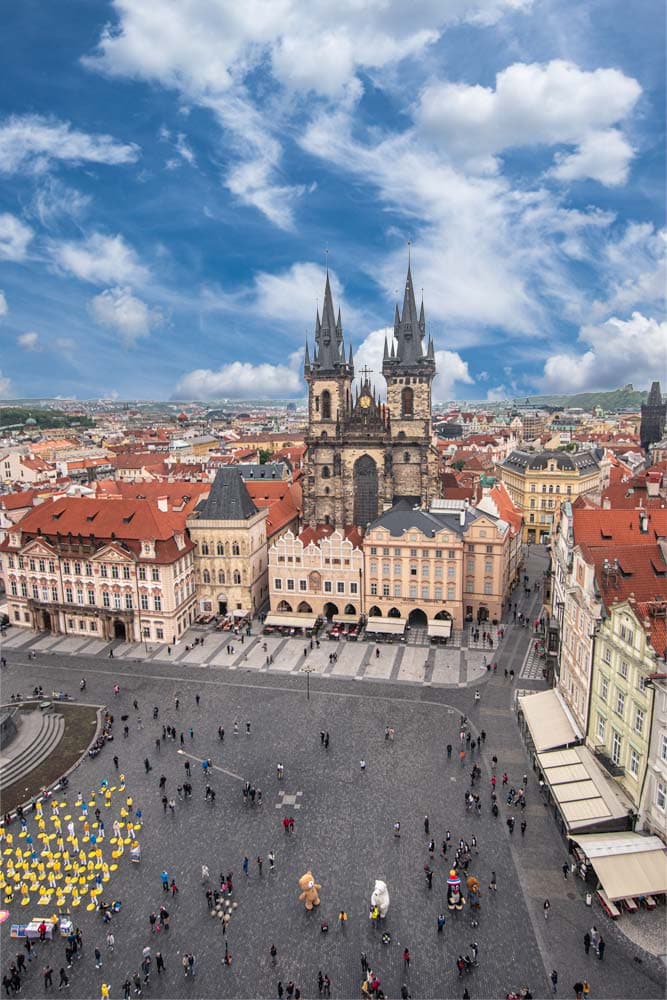 Prague is famous for its squares but primarily for its Old Town Square. The main focal point of the city, the Old Town Square, plays the role of a city center. It's surrounded by famous Bohemian buildings, and it's a joy to explore.
The only downside of the Old Town Square is that it's the focal point not just for you but for the other tourists too. And Prague has a lot of them.
To experience the magic of the place, I suggest getting there as early as possible. Take a photo of the gorgeous pastel houses, explore the Jan Hus Monument and grab a trdelnik with some coffee. At 9:00 AM, check out the Astronomical Clock's 12 Apostol show (it's situated right there) and climb up the old town hall tower for a birds-eye view of the square.
The good thing about Prague is that even though there are hordes of tourists, most of them party all night, so you have this magical city all for yourself in the mornings.
See Also: What is Marrakech Famous For?
The tiny museums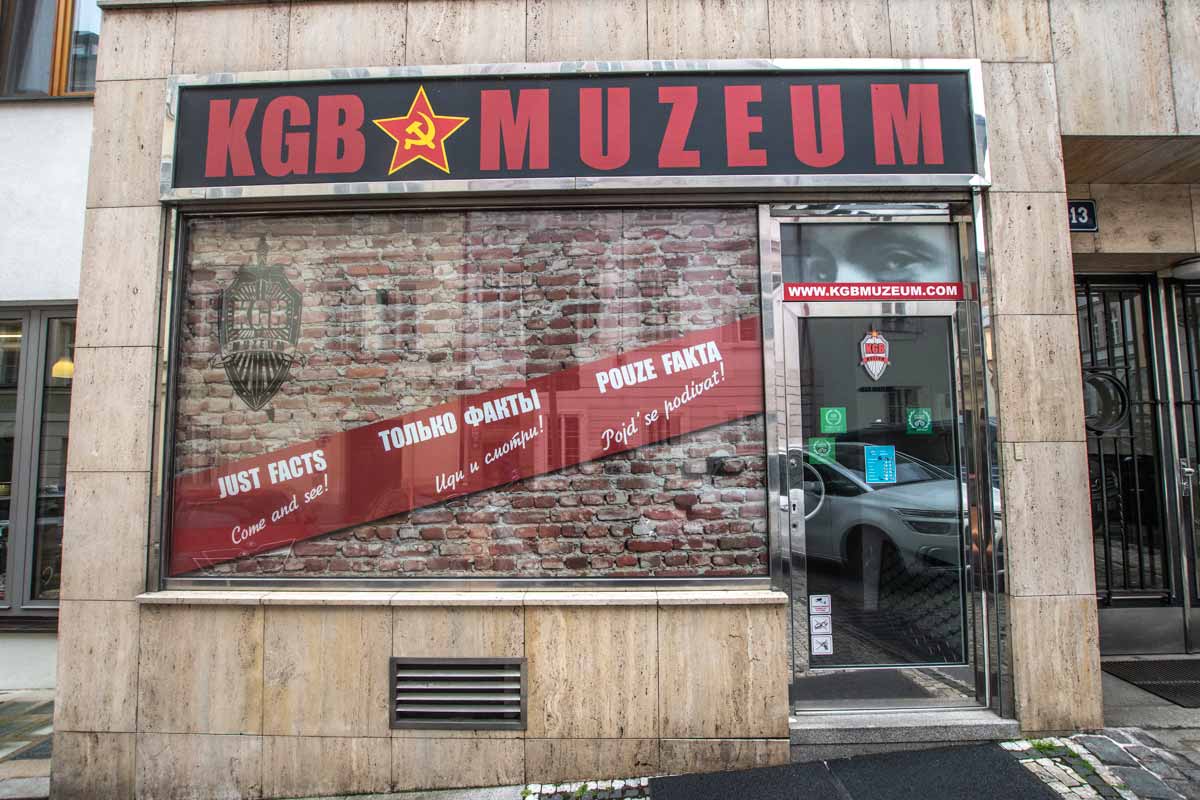 For some reason, I've never seen Prague as a museum city. When I did my research, I didn't found any world-renounced museums there. So I was a bit surprised when I found out that Prague is known for its museums. Was my research really that bad?
It turned out the problem wasn't in me. The museums Prague is famous for are not gigantic art or history museums but tiny fun museums dedicated to… everything you can imagine. There's a torture museum, KGB Museum, Alchemist museum, Museum of public transport, Apple (iPhone Apple, not the fruit) museum and the list goes on indefinitely.
Most of the tiny museums are equipped with dolls and props to give a better representation of their specific subject. Even though they are targeting a much younger audience, I admit I had quite some fun there.
Architecture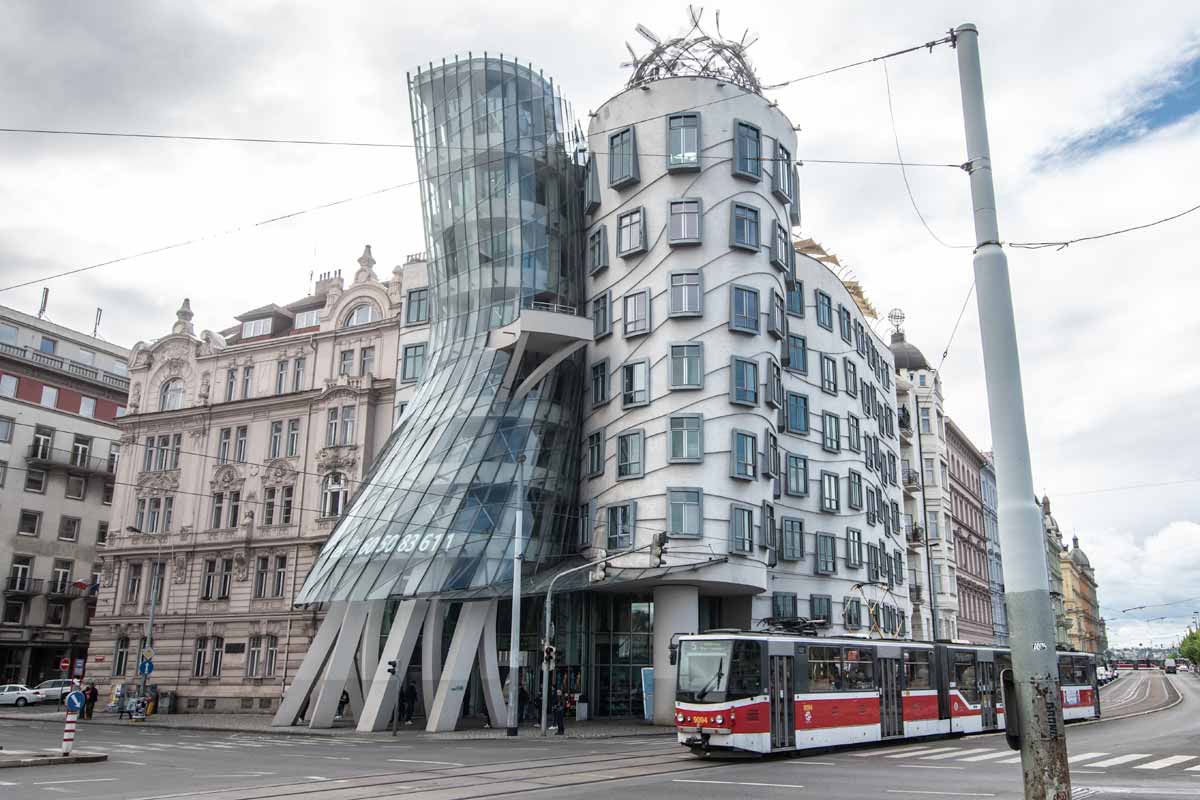 Even without looking at photos from Prague, with a nickname like "City of a Hundred Spires", you can imagine the Czech capital is pretty architecture-rich. It's even more than that. Prague blends so many styles so well that I dare to say it's the architecture's dream.
I can't even imagine what it is like to live there. You get out for your morning run, and all around you, there are gothic cathedrals and towers, Romanesque churches and cellars, baroque palaces right next to art nouveau houses. And if that's not enough, there are even cubist constructions and bizarre art installations all around town.
If it were me, I would stare so much around I'd probably end up in the Vltava River.
Nightlife
We cap the things Prague is famous for with something fun. The Golden City is known all around Europe for its vibrant nightlife. With their ultra beer culture, it's quite easy to see why.
Home to countless bustling bars, trendy nightclubs, and lively pubs, no one seems to sleep in Prague. I'm not a party animal myself, but when I tried to get up early for a nice free-of-people Charles Bridge photoshoot, I stumbled upon a crowd that was just finishing their night. This was around 5:00 AM. Prague just never sleeps.
One of the best places to enjoy Prague's nightlife is Wenceslas Square. Located just 10 minutes away from Old Town Square, Wenceslas is known for its wide variety of nightclubs and bars.
Some of the more peculiar Prague bars worth checking out are Green Devil's Absinth Bar & Shop, L' Fleur Mixology and Champagne, and The Alchemist Bar.
That's all from me, now you know what Prague is famous for.
————————————
If you haven't planned your trip there yet, find out how I plan my trips!
————————————
I have 14 bucket list ideas for the Czech Republic. See my impossible bucket list of 1700+ adventures!

Are you planning a trip to the Golden City?
---
Some of the above are affiliate links and I will earn a percentage of the sale if you purchase through them at no extra cost to you. This helps keep my site running – so thanks in advance for your support!