If there's one word to describe the Bali bucket list, it would be magical. The Island of the Gods is this incredible fairytale-like place where watching the sun rising behind a volcano, diving with manta rays, and surfing on a black-sand beach is just the norm.
I believe the adventures below are the best representation of Bali. I don't think, however, that the Bali bucket list is complete yet. I'll keep on adding things in the future, and if there's something you think deserves a spot, please let me know.
Wander around Tegalalang Rice Terraces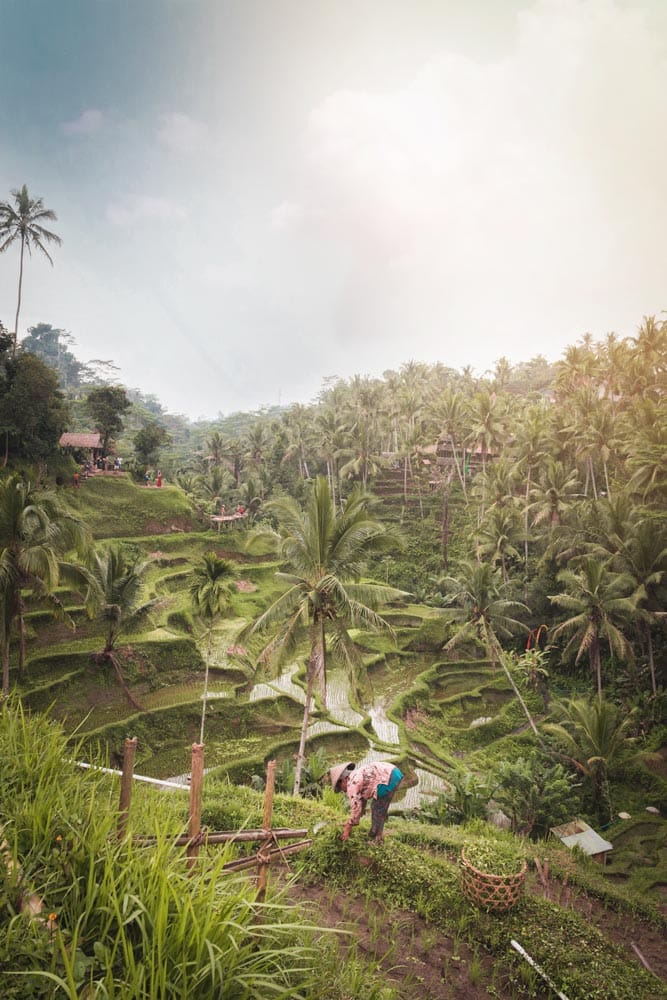 Ubud's Tegalalang Rice Terraces are one of the most picturesque spots in the world. Often used as a Poster Boy for the island, this amazing place is one of Bali's most visited landmarks. If you want to check them out, make sure you do it at sunrise. Not only you'll miss the immense crowds, but you will also enjoy the morning sun rays beaming through the palm trees.
Meet the monkeys of the Sacred Monkey Forest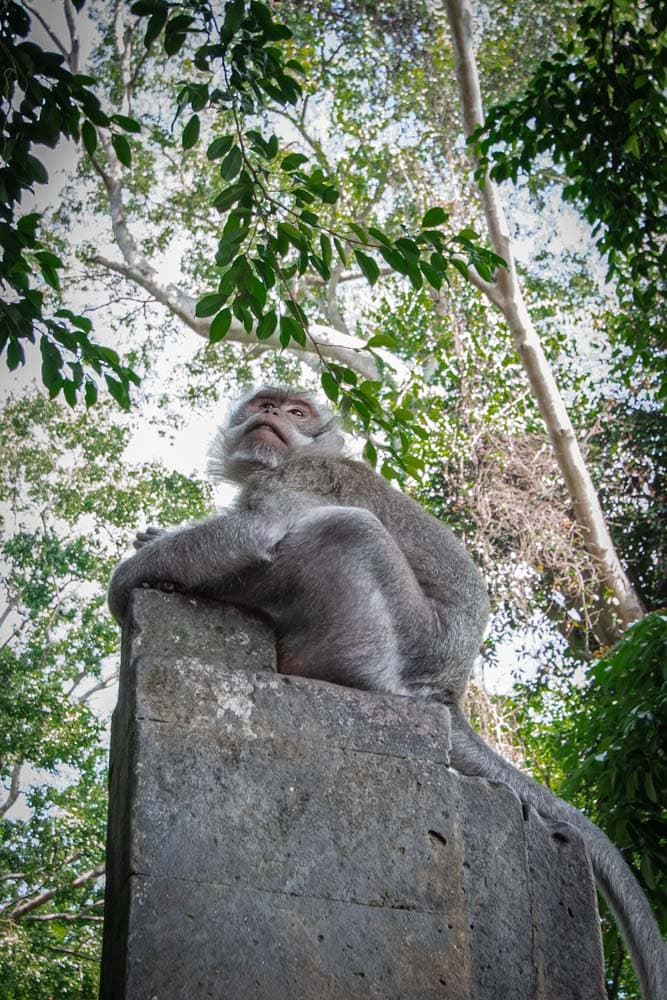 As touristy as it is, the Sacred Monkey Forest is a wonderful experience. Home to hundreds of Balinese long-tailed Monkeys, this place gives you the chance to escape the relentless sun, interact with curious and intelligent animals and even see some ancient ruins. Just make sure your phone and sunglasses are safe deep inside your bag. The Balinese monkeys are notorious thieves!
See the Uluwatu Temple at sunset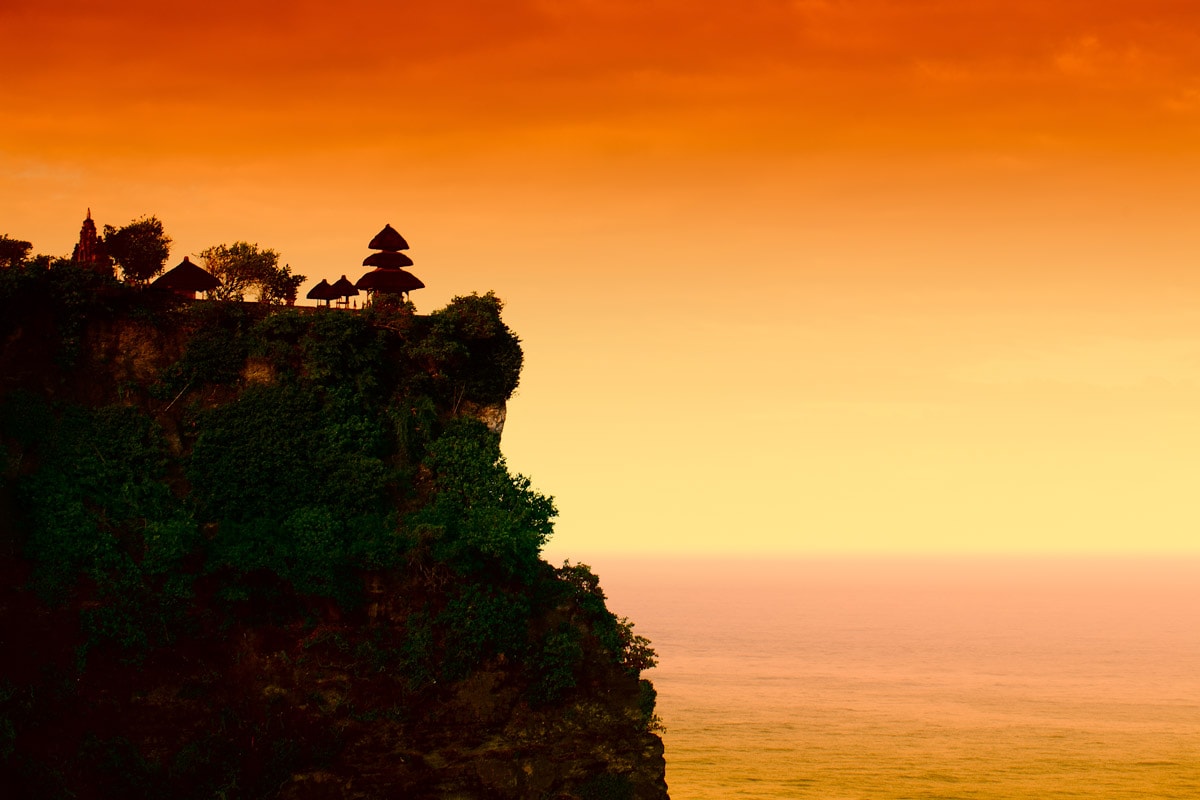 Built on the edge of a 70-meter-high rock, the Uluwatu Temple is one of Bali's most popular spots. Due to its incredible western-orientated panoramic vista, the best time for a visit would be at sunset.
Watch a traditional Kecak Dance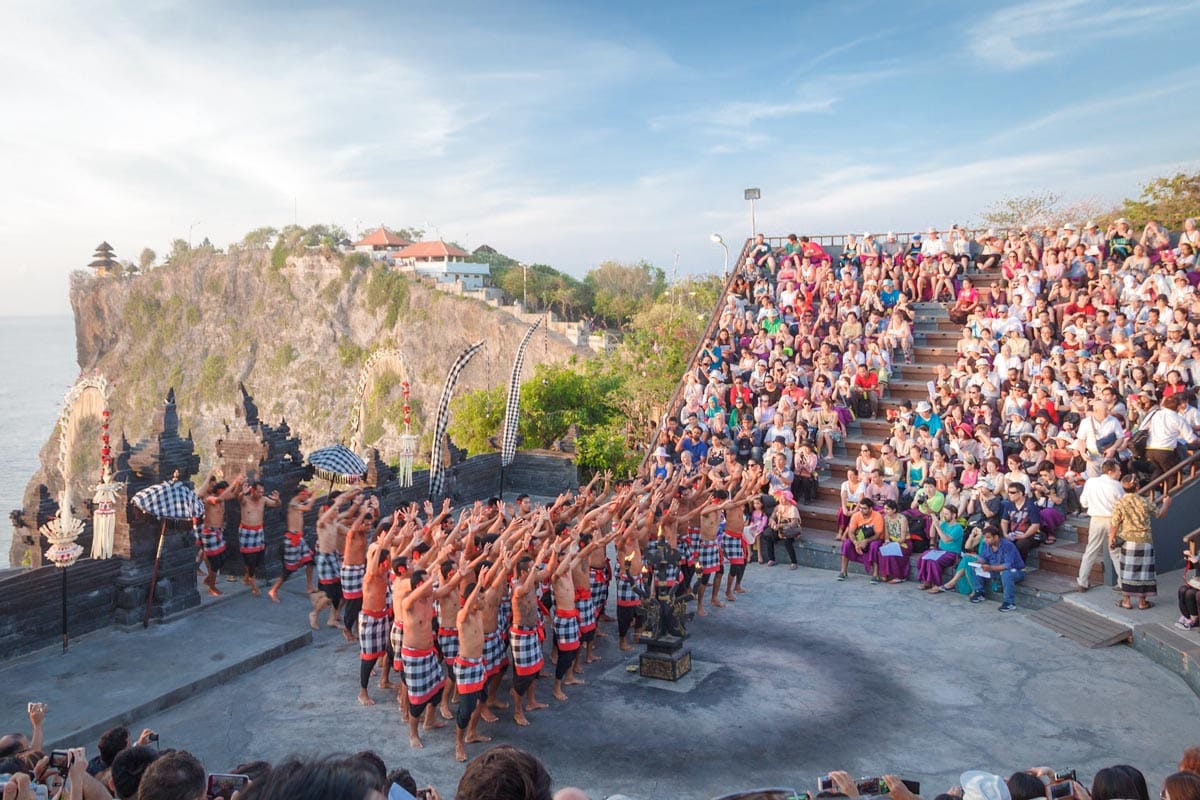 This traditional form of Balinese Hindu dance was developed recently (1930) but quickly became a symbol of Bali. While Kecak is performed in temples all around the island, the show inside Uluwatu Temple is considered the best.
Learn to surf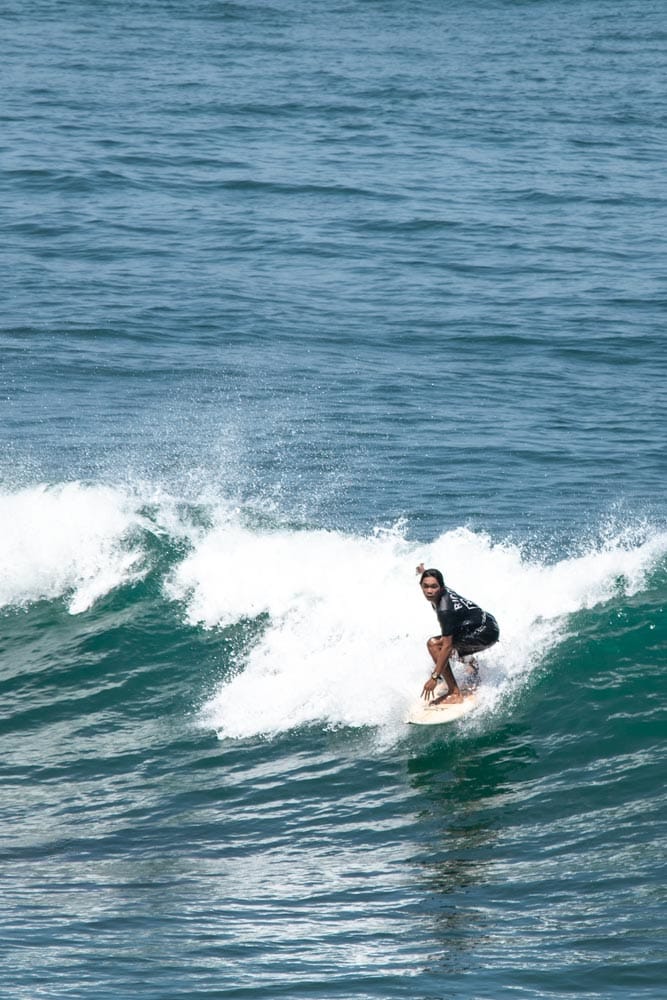 Being one of the most prominent surfing destinations in the world, it would be a shame if you don't add surfing to your Bali bucket list. If you're up to it, the Uluwatu area is considered the center of Bali's surf scene and offers a wide variety of surfing schools.
See Also: The Peculiar Hanoi Bucket List
Take a Balinese cooking class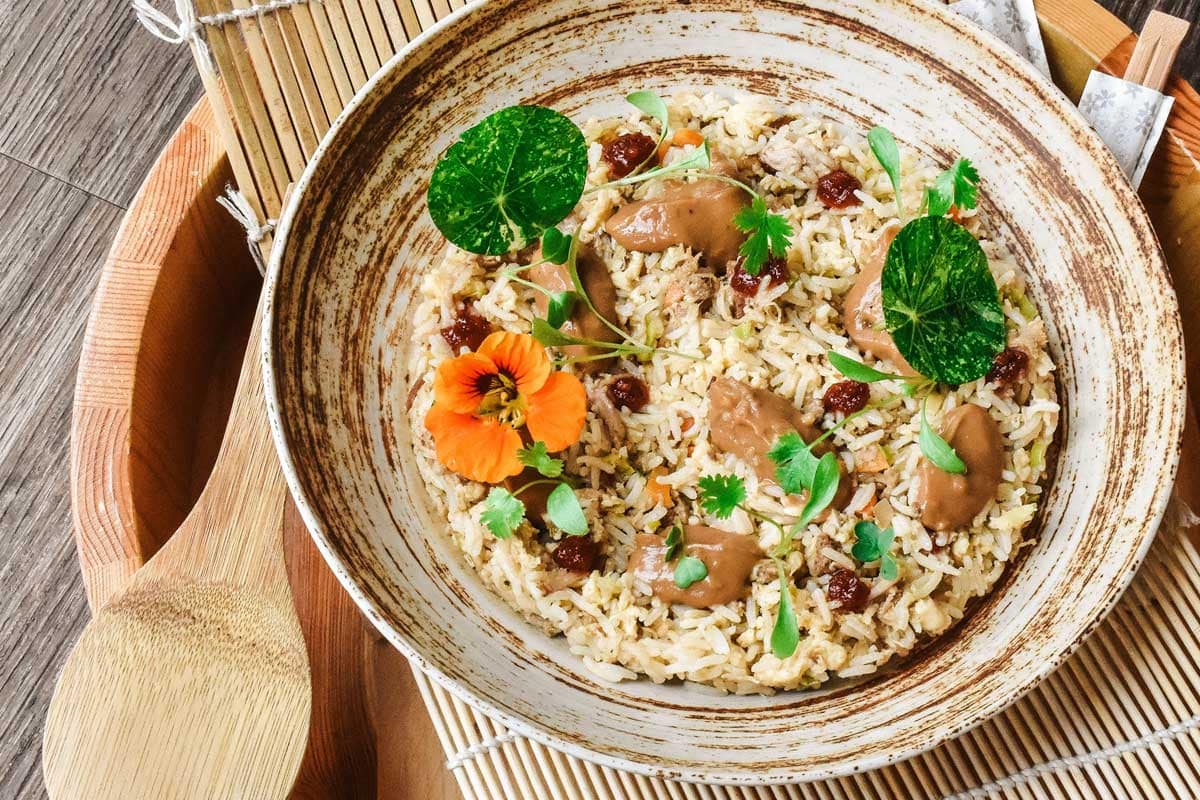 Indonesian cuisine is gaining more and more reputation worldwide, and Bali is the best place to learn its foundations. If you want to go to a cooking class, make sure to do it on one of your first days. The course usually includes a visit to the local market and can teach you how to distinguish the authentic Balinese restaurants from the touristy ones.
The Organic Farm cooking class in Ubud is tried and tested and guarantees a great experience!
Get a Balinese massage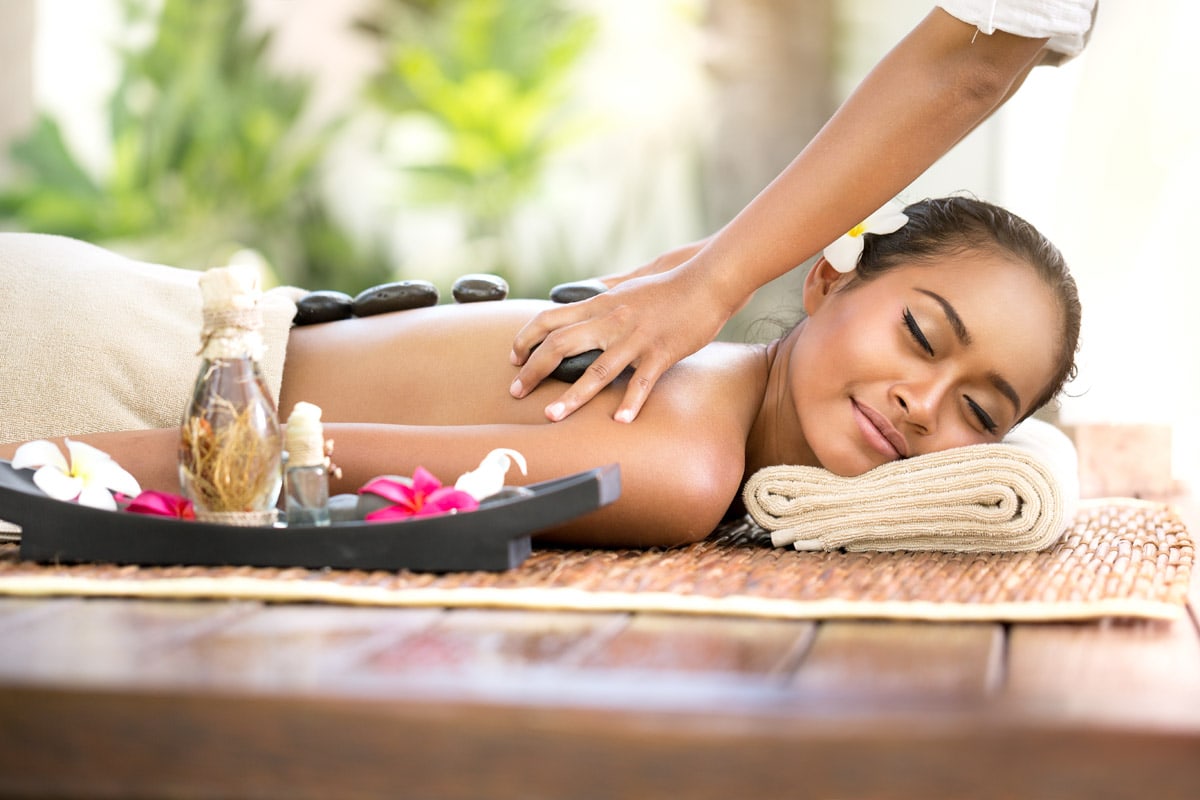 Most of us go to Bali to relax, so massages are a must-have. They can be found everywhere on the island for reasonable prices, and unlike the highly-physical Thai massage, the Balinese one will relax you to your core.
Here's a cool treatment that also includes jungle swing..
Get on a boat and explore Ulun Danu Temple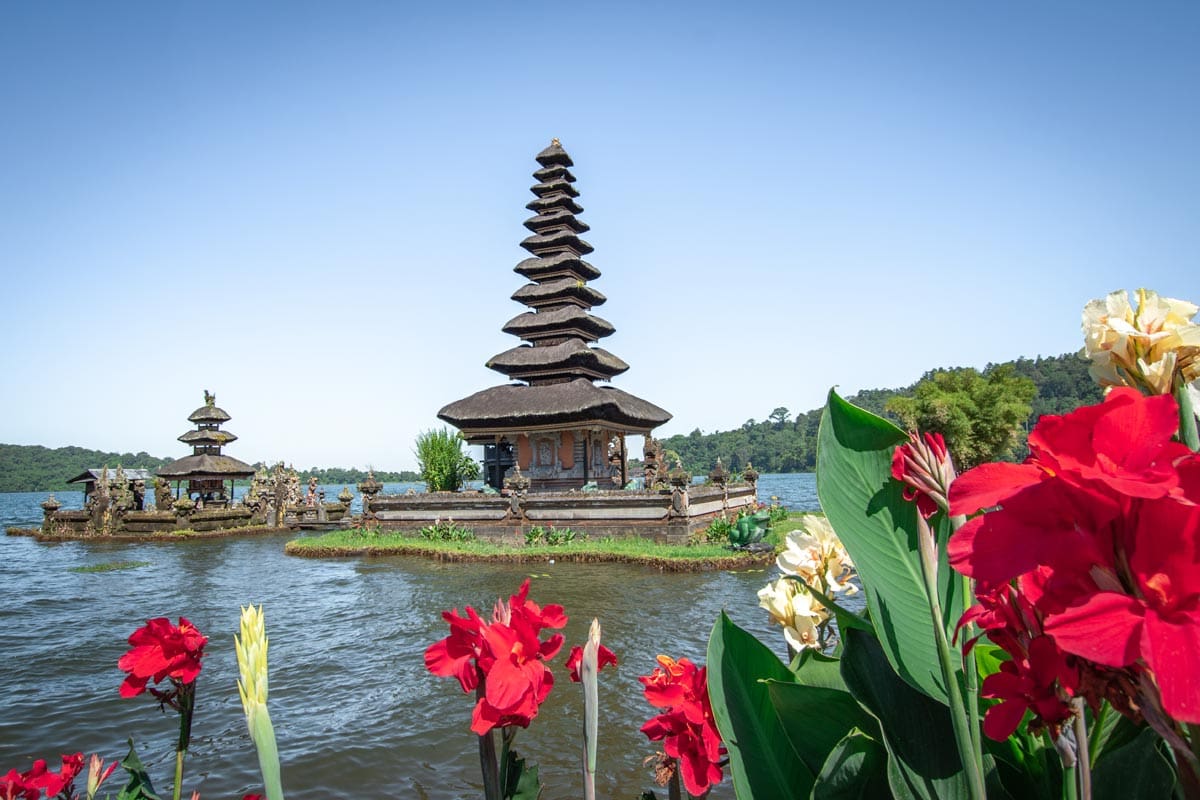 The famous water temple of Bali is best explored via boat. You won't be able to get inside, but you'll be pretty close, and having the boat in the frame creates a great photo composition. When you plan to visit Ulun Danu, try to do it on a weekday. During the weekend, there are plenty of local tourists, which makes the temple quite overcrowded.
See Also: The Great Southeast Asia Bucket List
Try Yoga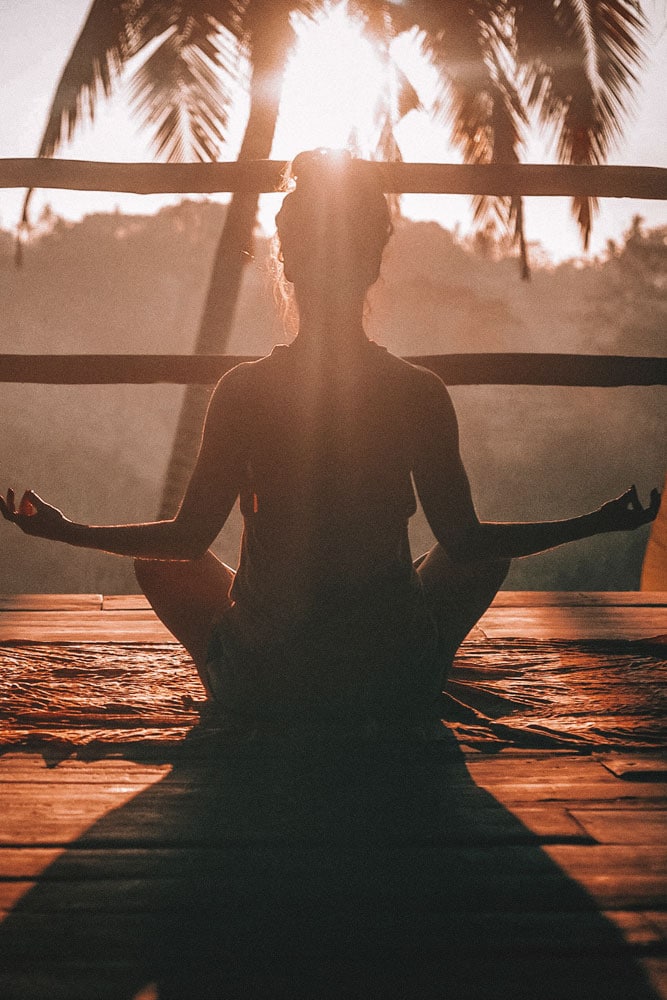 Bali is the top place in the world to learn yoga. With incredible views, hundreds of yoga centers, and some of the most accomplished teachers, the least you can do is give it a try. Who knows, it may become your thing.
Explore the nearby Nusa Penida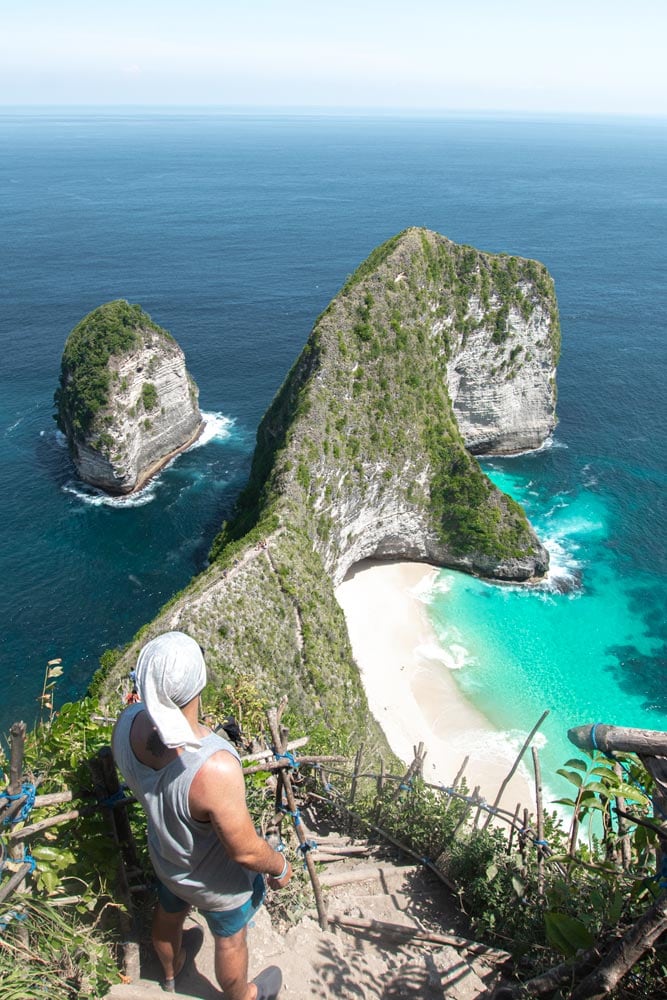 Nusa Penida is an island right next to Bali, and it's more often than not visited on a day-trip. Featuring Instagram stars like the Kelingking Beach, Broken Beach, and Angel's Billabong, there is plenty to see there.
If you are more into timeless Edenic beaches, you may also check the Gili Islands.
Do the original Bali Swing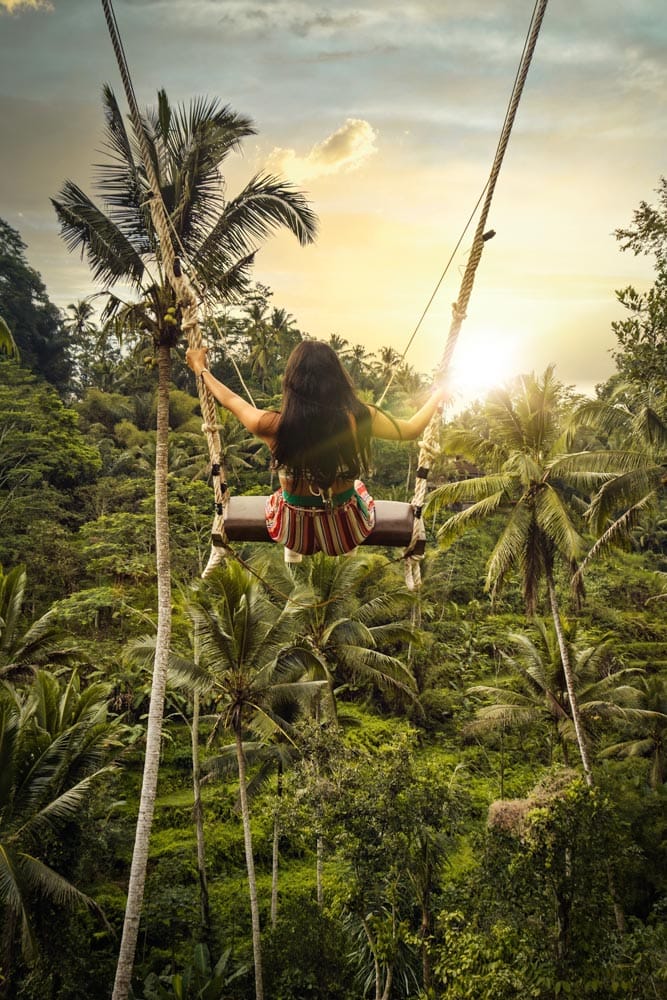 Bali is the most Instagram-hospitable place on the globe. All around the island, you can see photo props preying on up-and-coming influencers. It all started with a giant swing that seems to glide over the lush jungle.
The original Bali Swing is located in Ubud and is something you should definitely check (if you're on a photo hunt).
Have a photo in front of Goa Gajah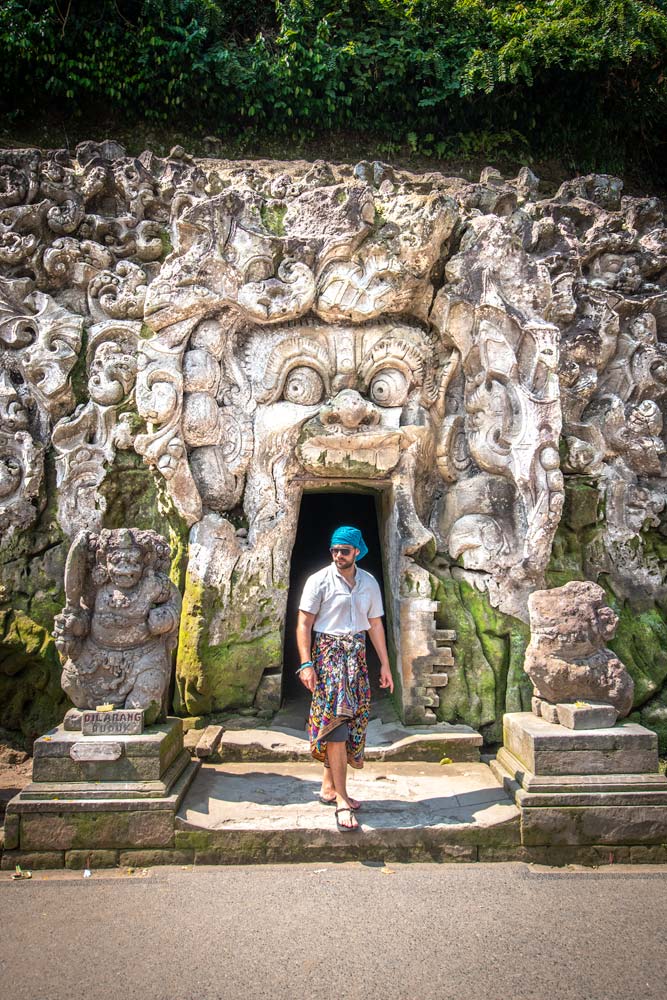 Located in Ubud, Goa Gajah is also known as the Elephant Cave. While I wouldn't recommend drinking from its holy spring water, a photo in front of the cave's mouth is a definite Bali bucket list experience.
Marvel at Tanah Lot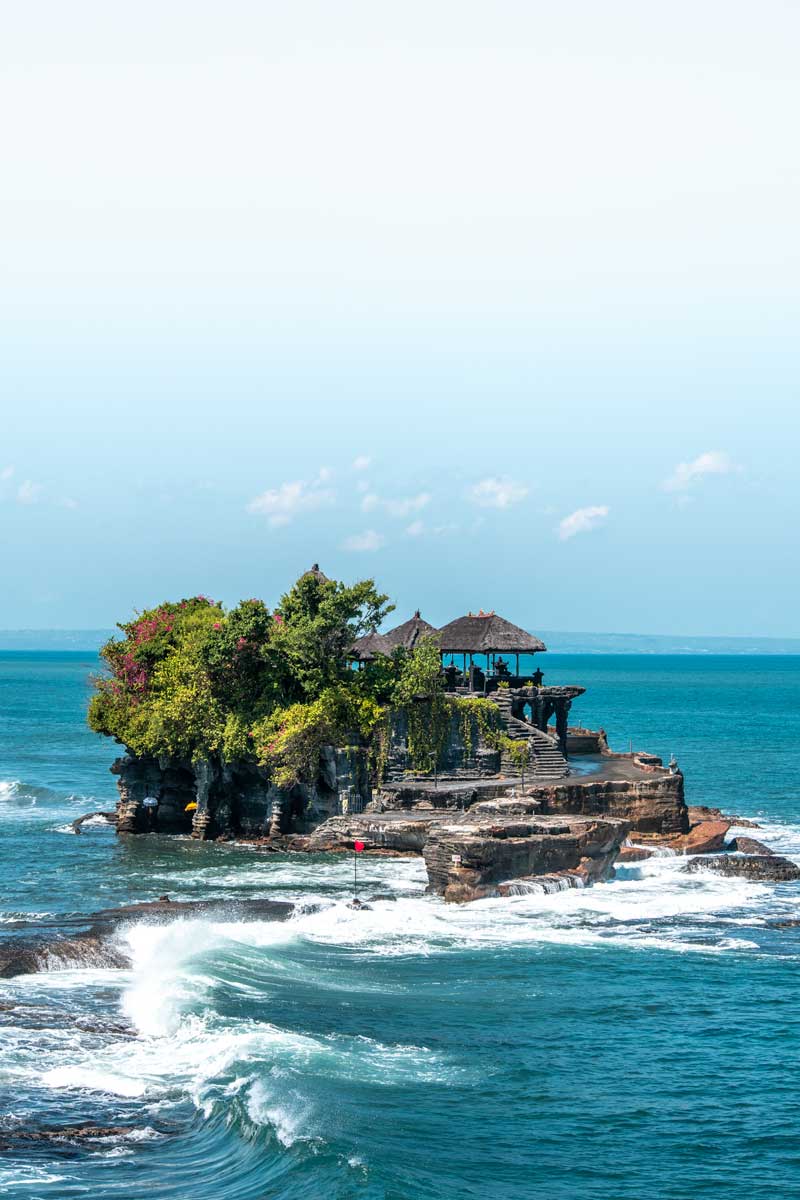 Just a 30-minute scooter drive from Canggu, Tanah Lot is the most picturesque temple on the island. Situated on a rock inside the ocean, this sea temple is among the top attractions of Denpasar. Being part of Balinese mythology for centuries, Tanah Lot is said to be guarded by poisonous sea snakes, so don't try to reach it on your own.
Bath in the holy springs of Tirta Empul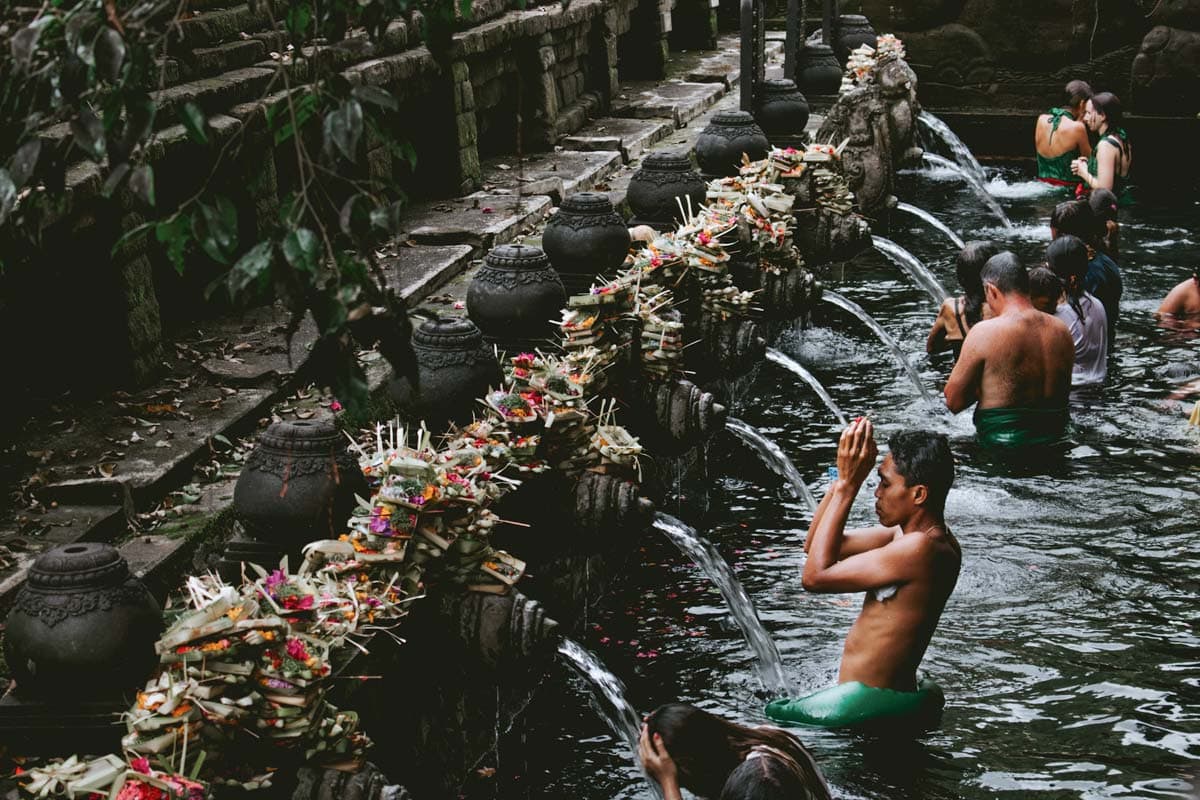 Located near the town of Tampaksiring, this popular Balinese water temple features a giant pool full of holy water, which both locals and tourists use for ritual purification.
If you want to try it, I suggest doing your best to keep your mouth closed. While the water is coming from a natural spring and is considered safe, drinking non-bottled water in Southeast Asia is always an unnecessary risk.
Have an iconic Instagram photo in front of the Hadndara Gate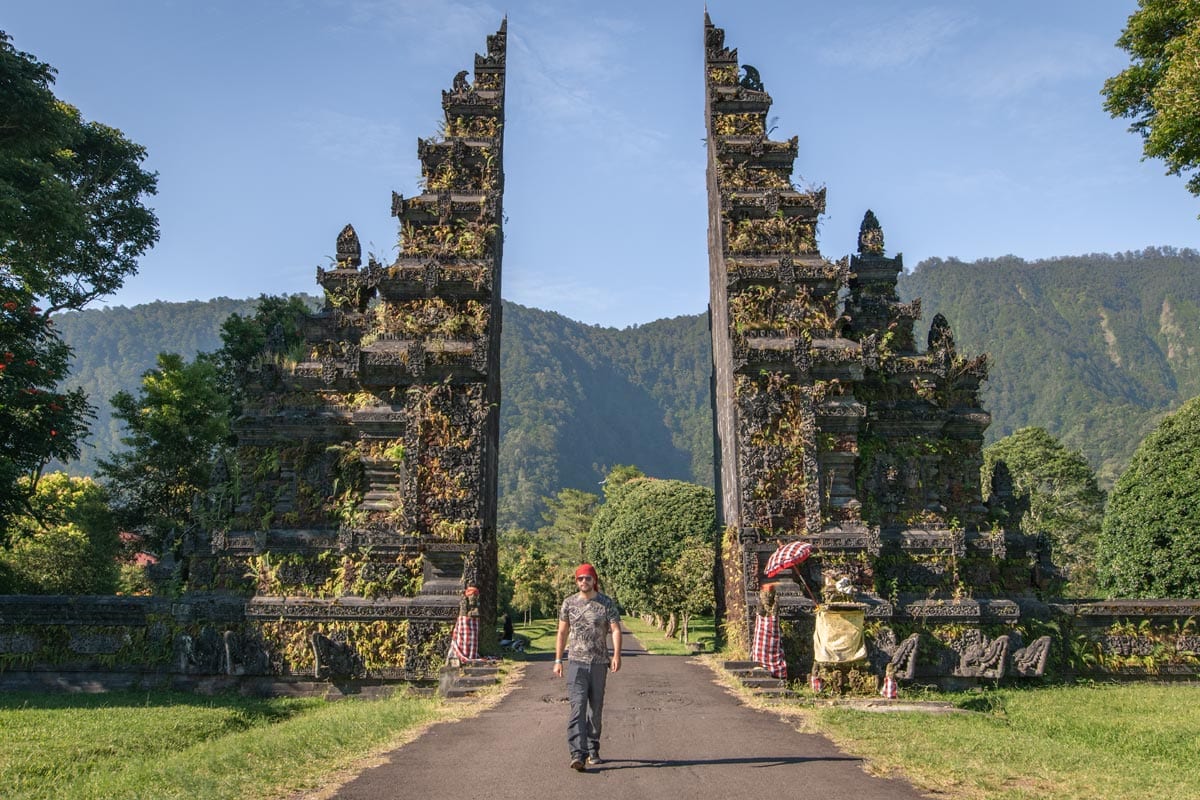 One of the most popular Bali photos is taken in front of the Hadndara Gate. The funny thing is that this gate is not some thousand years old sacred ruin but an entrance to a golf course. Anyways, the spot is incredibly picturesque, and if you're in the area, you should definitely check it out.
Get lost at the Mother Temple – Besakih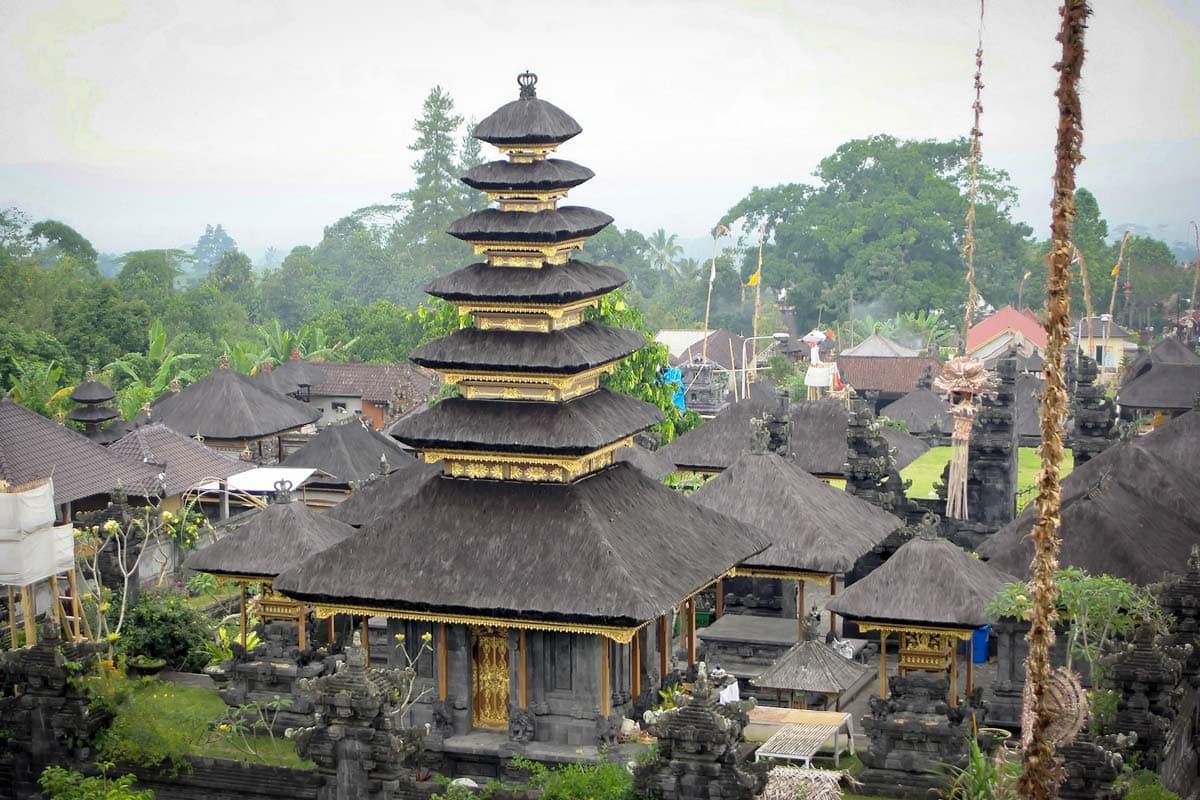 The Besakih Temple complex, also known as Bali's Mother Temple, is the largest and holiest Hindu shrine on the island. It houses 23 separate but related temples, with the most important being Pura Penataran Agung. There are plenty of tourist scams there, so if you visit, you better do it with a local guide.
See Also: The Ultimate Indonesia Travel Itinerary
Learn to ride a scooter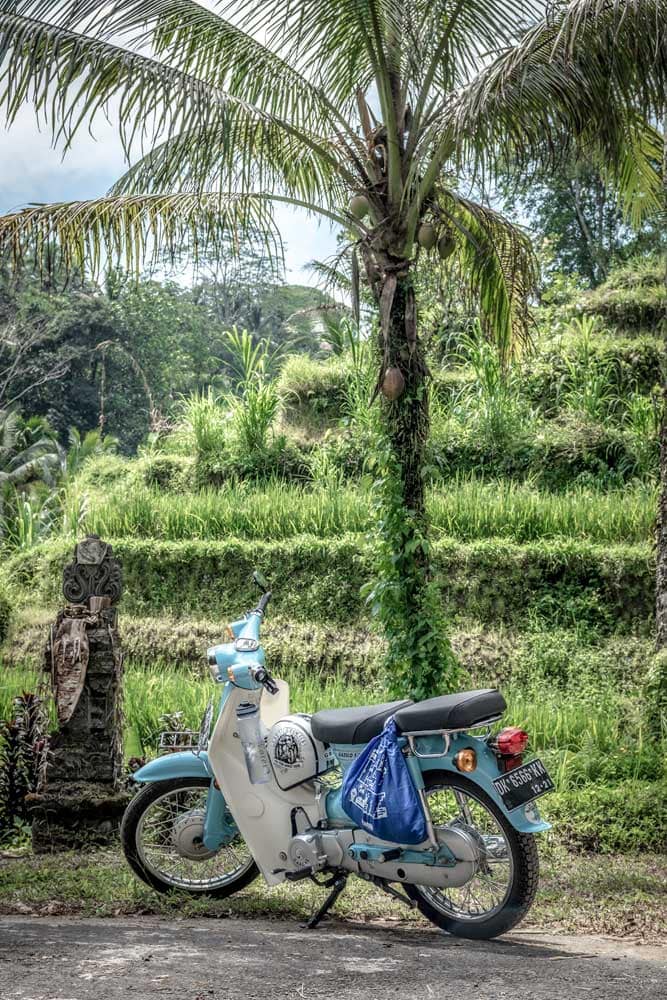 The ultimate way of transportation around Bali gives you the flexibility to go wherever you want and enjoy off-the-beaten-path attractions. It also saves you tons of time waiting in traffic.
Find the waterfalls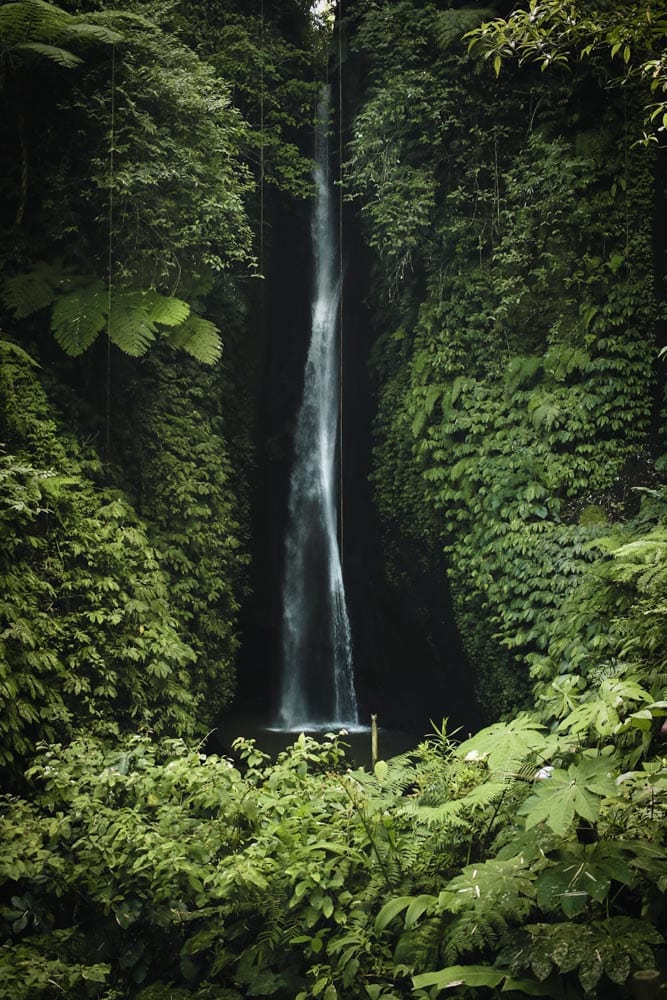 There are so many waterfalls around the Island of the Gods that if I had to add them as a separate Bali bucket list adventures, they would've taken more than half of the list. The most notable ones are NungNung, Tibumana, Tukad Cepung, Tegenungan, Pengempu, Sekumpul, Gitgit, and Aling Aling.
This incredible Waterfall tour will guide you through some of the best waterfalls on the island, but if you want to see them all, you better rent a scooter.
Spend the night in a Balinese Villa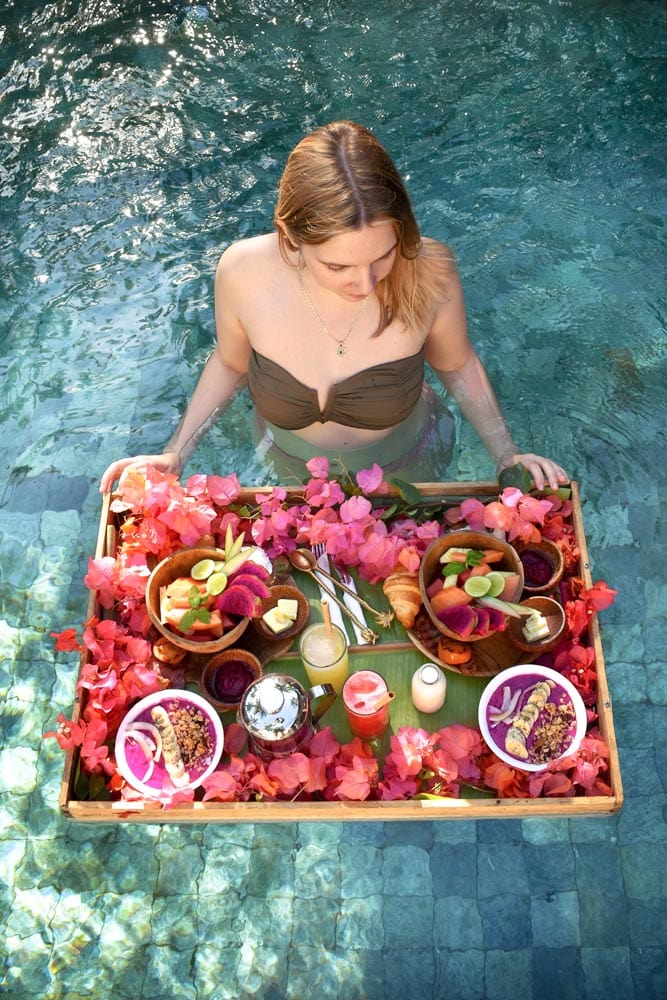 A typical Balinese Villa with an infinity pool and a floating breakfast. Can it get more bucket listy than this?
See Also: The Most Inspirational Travel Quotes
Walk through the Heaven's Gate of Pura Lempuyang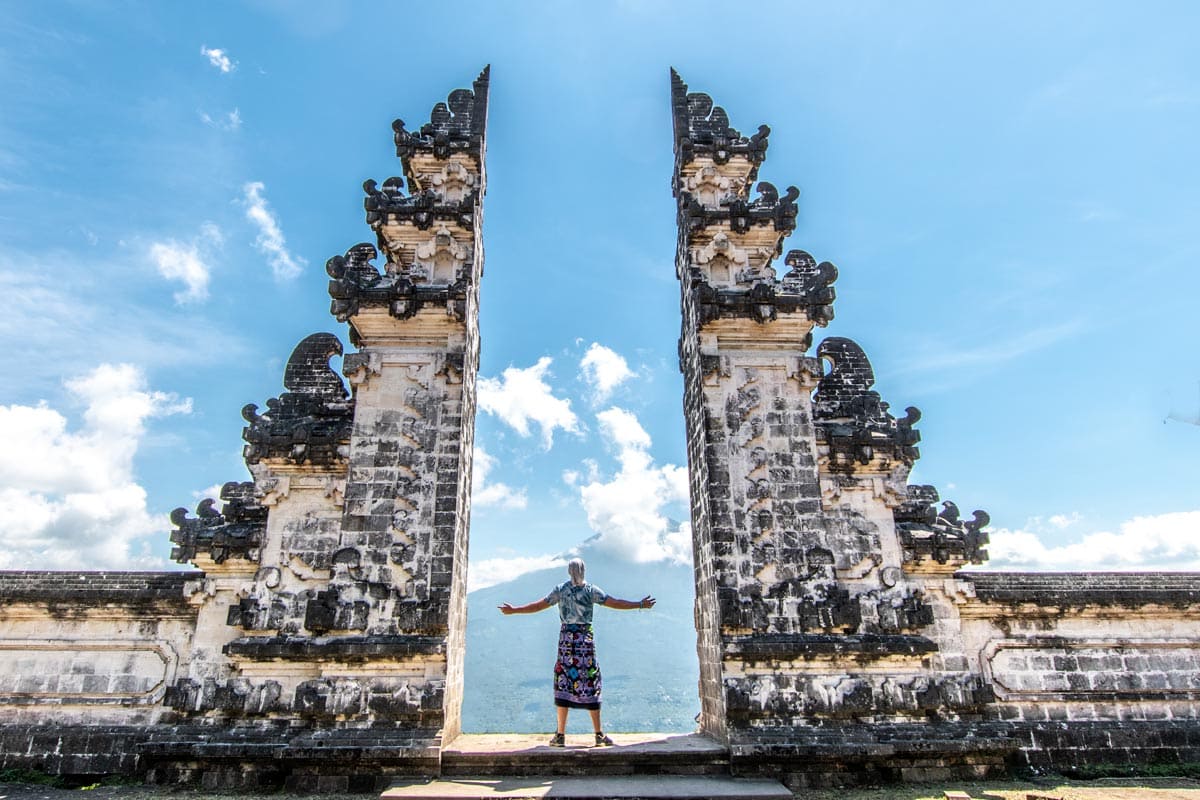 Another spot for a classical Bali photo is the Heaven's Gate of Pura Lempuyang. I suggest going there early; otherwise, you'll have to wait on a line to get your picture. Also, if you decide to check all of Pura Lempuyang's temples, you'll need to climb roughly 1700 steps, and that's way better done early in the morning.
Since Pura Lempuyang is pretty far away, if you want to go just for the photo op, I recommend booking this tour lead by a photographer.
Try authentic (and ethical) Kopi Luwak coffee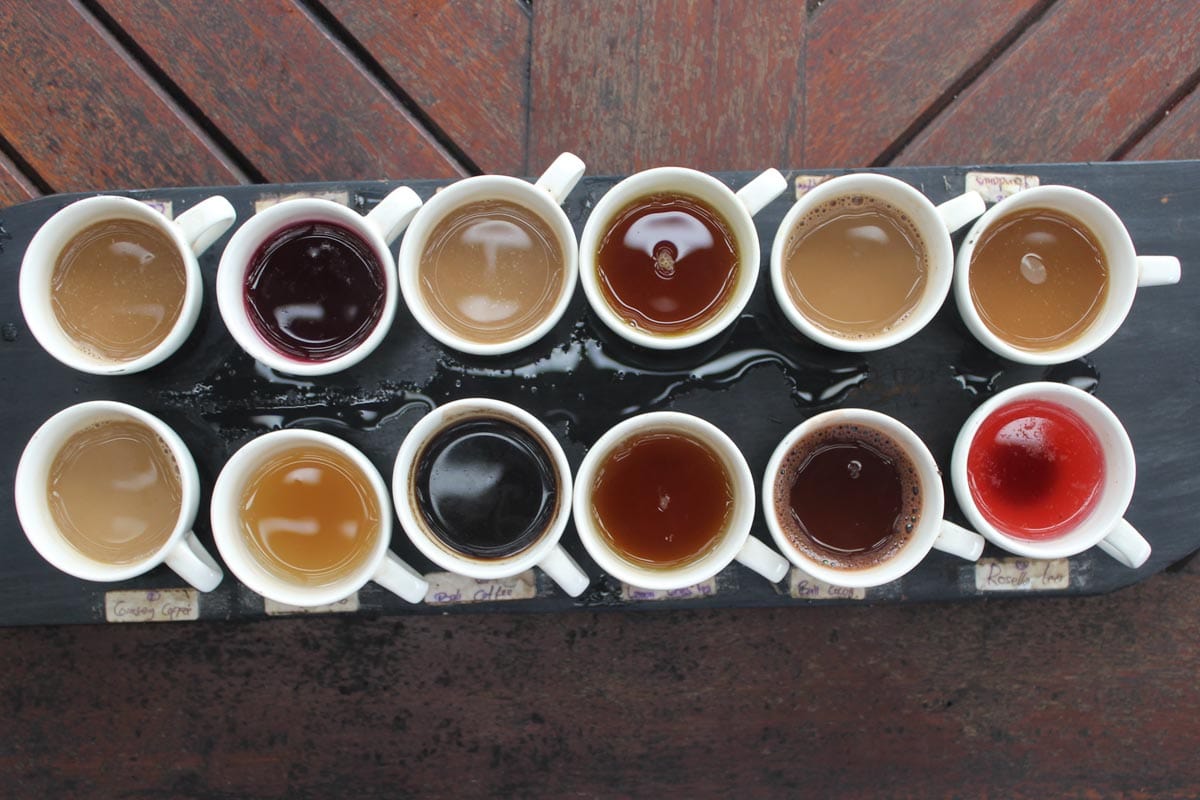 The Kopi Luwak coffee is the most expensive coffee in the world, and it's made by…poo. That's right, the poo of a cat-like creature named civet is collected and made into coffee. It's worth noticing that the civets eat coffee beans, which they can't process entirely, so it's basically not really a poo but a fermented coffee bean.
If you want to try this weird coffee, make sure you find an ethical place to do it. Many farms exploit the civets just to make more Kopi Luwak, and you should do your best to avoid them. Always be an animal friend!
Trek Mount Batur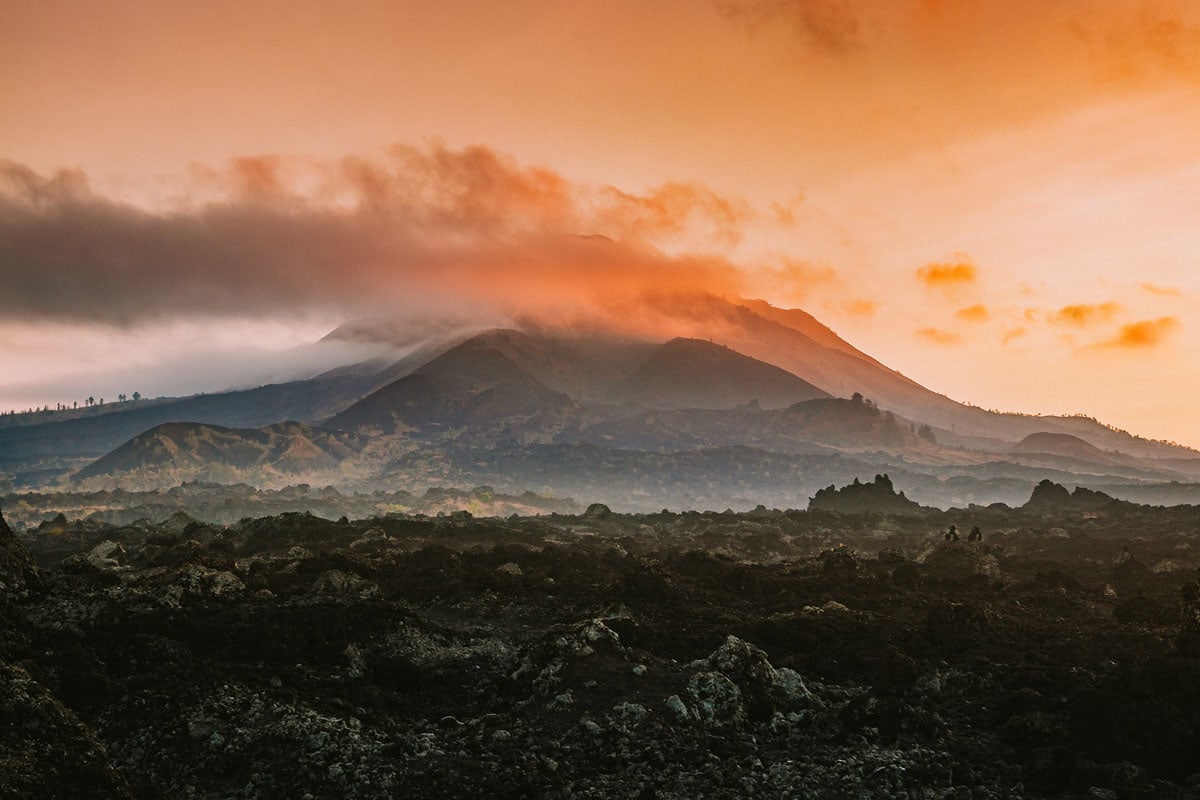 The picturesque Mount Batur is Bali's only active volcano. It's perfect not only as a background of your photos but also for a sunrise trek. Seeing the best of it requires a lot of effort, though, so if your idea of the perfect Bali vacation is centered around relaxation, you may want to leave this one out.
This tour is a great option that even includes breakfast.
Go Dolphin-watching off the coast of Lovina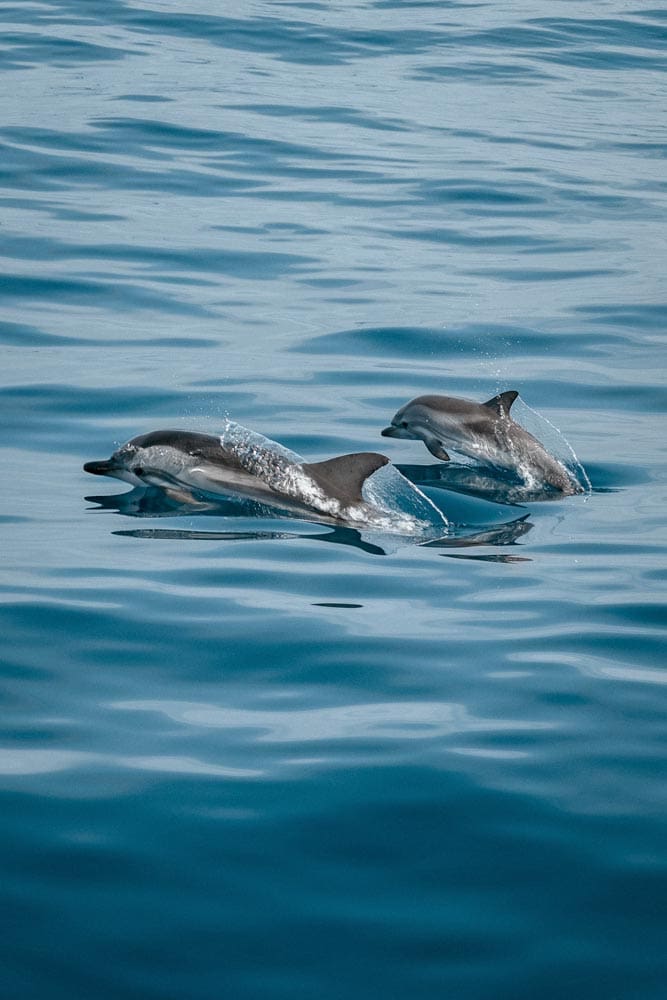 Lovina's dolphin-watching is the most famous activity in North Bali, but it's also a bit of a controversial one.
How come? Watching dolphins at sunrise is a definite Bali bucket list experience, isn't it?
Yes, it is; however, in the past, it became so popular that there was a fleet of boats trying to chase every dolphin pod that dares to show their cute noses above water. This was stressful and dangerous for the animals.
The government of the area, however, claim to have regulated the activity, establishing proper conduct among the local fishermen. If anyone has any recent experiences, please let me know if the Lovina dolphin-watching should remain on the list.
Walk the Campuhan Ridge Walk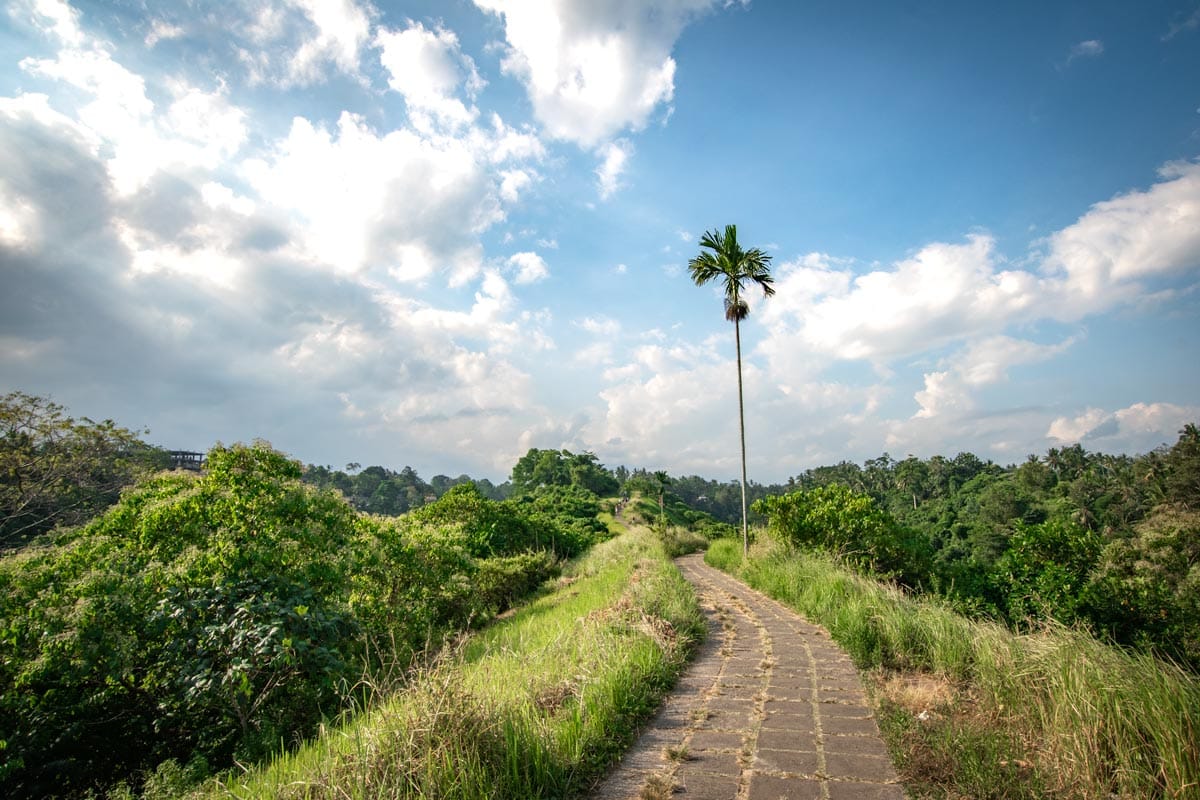 The Campuhan Ridge Walk is a lush scenic walk situated in artsy Ubud, and you should definitely check it out. Once again, I suggest doing this activity at dawn. It's not as hot as hell, and you have the maximum amount of tranquility, which is the essence of the walk. Later in the day, it's full of tourists and drones, so it's hard to enjoy it properly.
See Also: The Biggest Landmarks in Asia
Enjoy Mount Agung sunrise at Bukit Cinta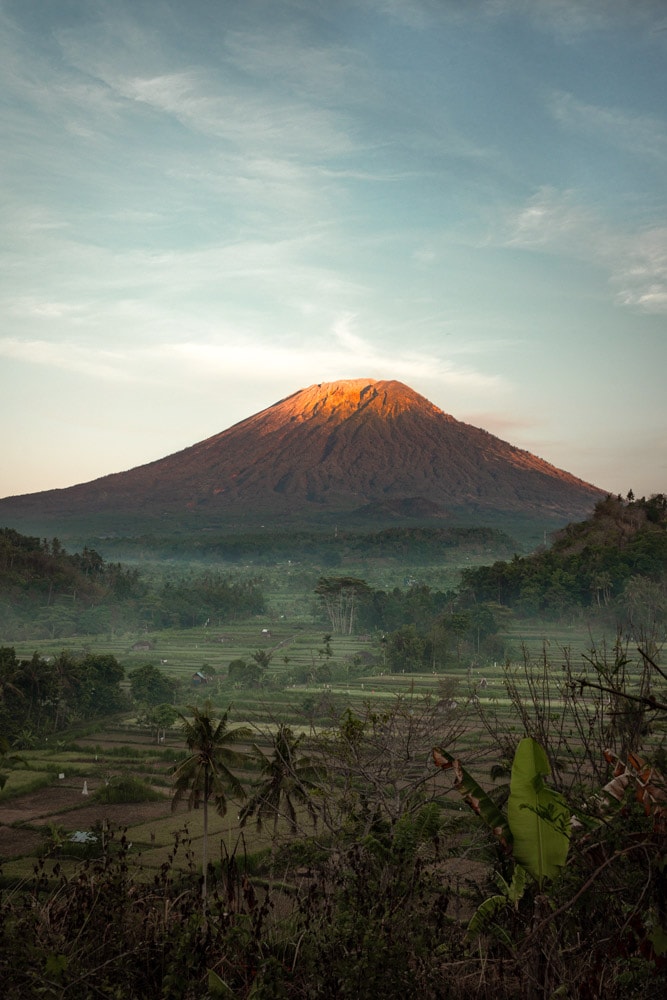 Aaaand one more sunrise activity. Seriously guys, I know most of you think of Bali as the ultimate place for relaxation, but – I mean – you can sleep as much as you want once you're back home. You know what you can't do at home? Watch the sun rising behind a volcano. So set your alarm and complete this once-in-a-lifetime Bali bucket list experience.
Unwind on a black sand beach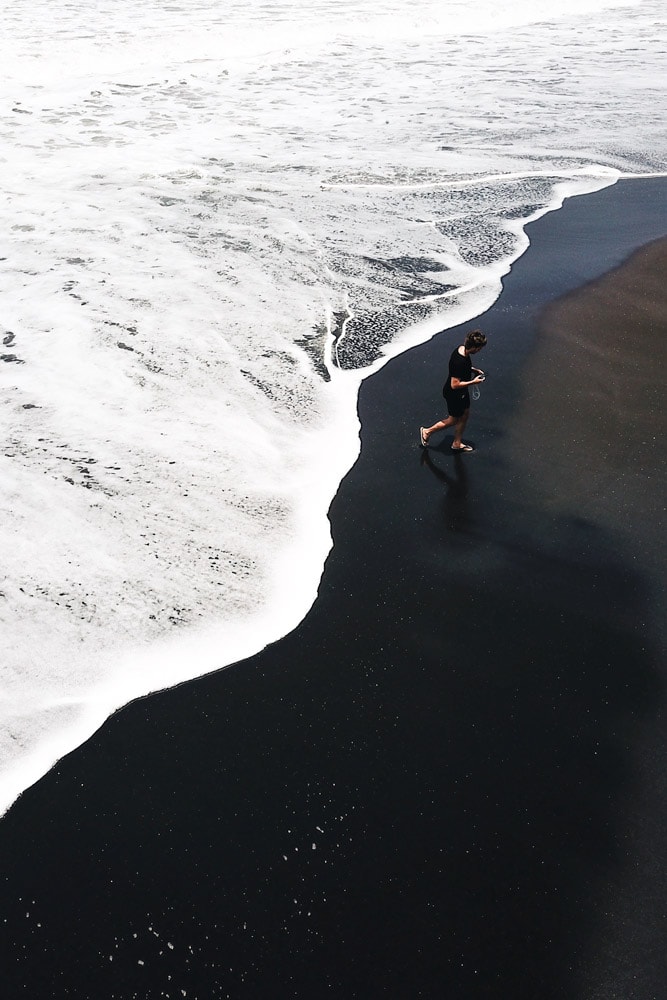 After getting up at dawn, you deserve some chill time. So why not do it on a unique black-sand beach. I'm not sure how rare those beaches are, but I haven't seen one anywhere else than Bali.
Have fun at Waterbom Bali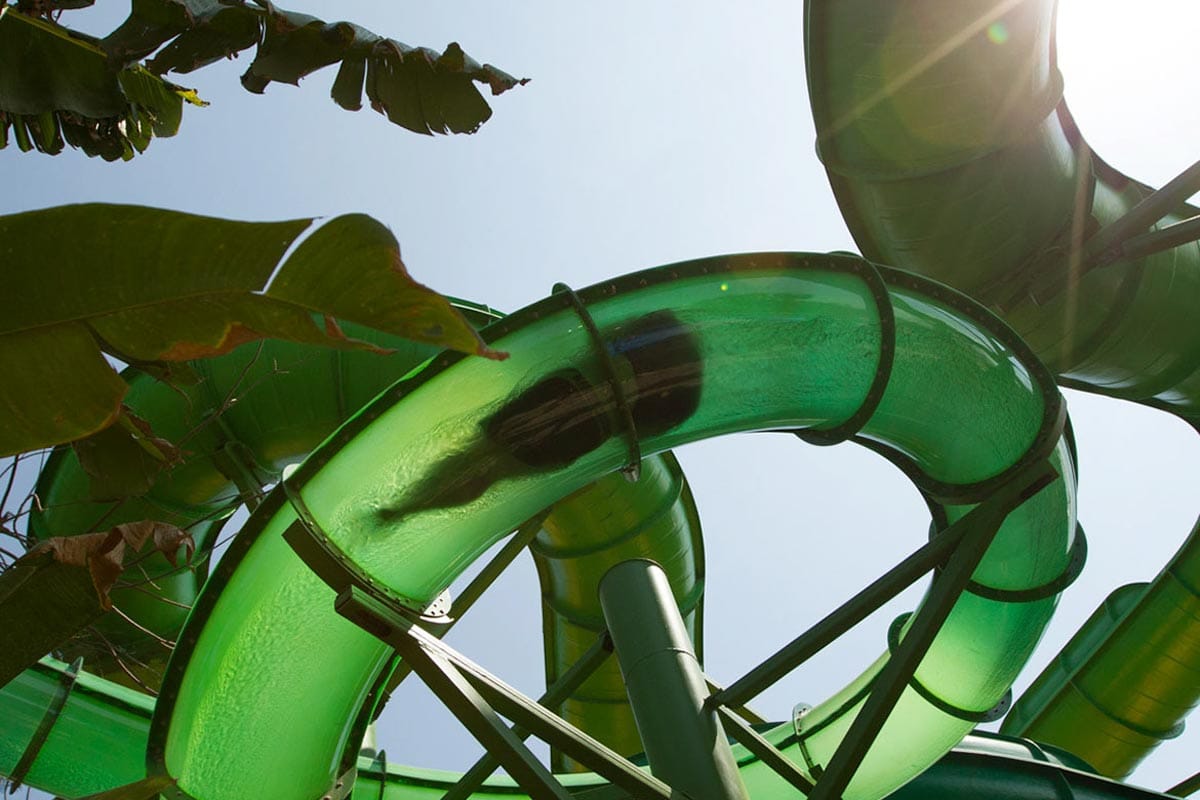 Located in Kuta, Waterbom Bali is regularly voted as one of the world's best aqua parks. A great way to spend the day either relaxing in a private bungalow by the pool or flying through the gigantic waterslide.
Stay in a treehouse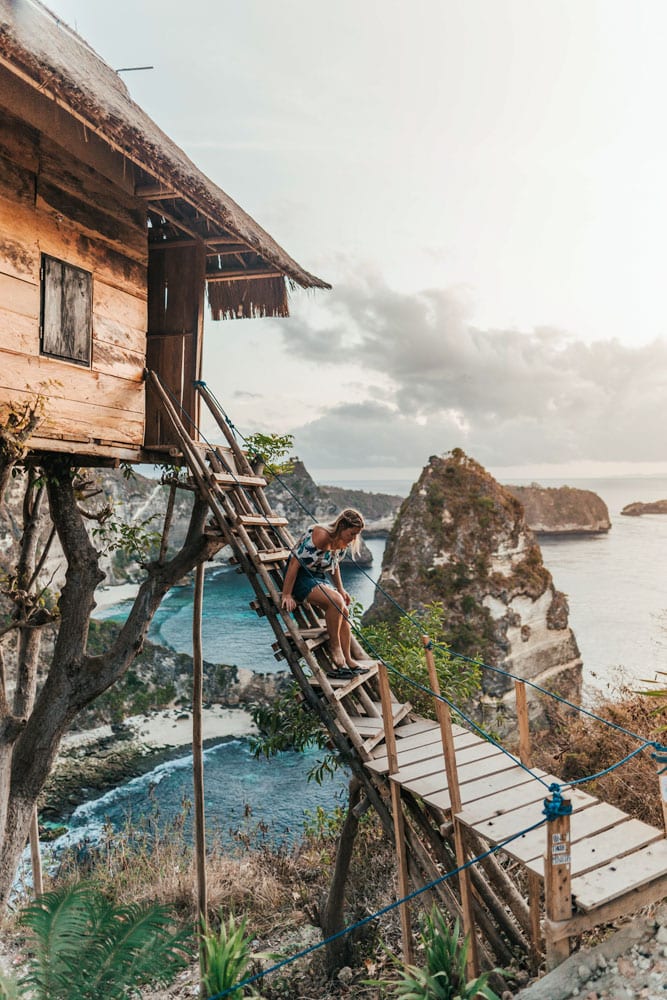 The Airbnbs in Bali are truly on the next level. My favorite ones are the treehouses. Blending comfort with nature, they give such a unique flavor to your vacation that I just couldn't leave them out of my Bali bucket list. The best ones I've found are the Stanley Kubrik House, Veluvana Bali, FireFly Eco Lodge, and Rumah Pohon on Nusa Penida.
Feed the fish in Tirta Gangga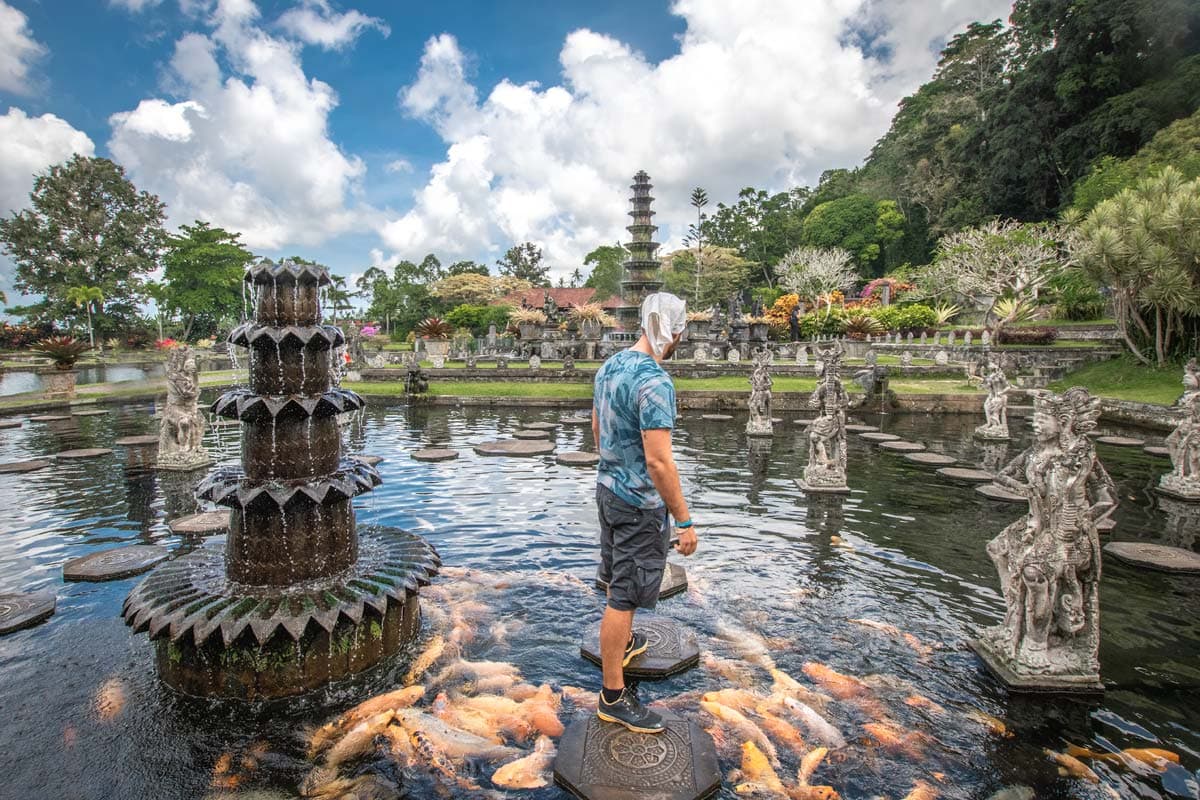 The former Royal Palace, named Tirta Gangga, is located in Eastern Bali and today serves as a garden and a public pool for the locals. The tourists, however, visit only for one reason – to feed the fish and get a colorful exotic photo.
Check out the abandoned plane in Nusa Dua
There are a few abandoned planes in Bali, but the most famous one is the Boing 737 in Nusa Dua. It's not known how or why it's there, but it's there, and it's an Instagram star. Unfortunately, it's not allowed to get down and see it up close, but the view from the top of the shipping containers is still worth the trip.
Visit Charly's Chocolate Factory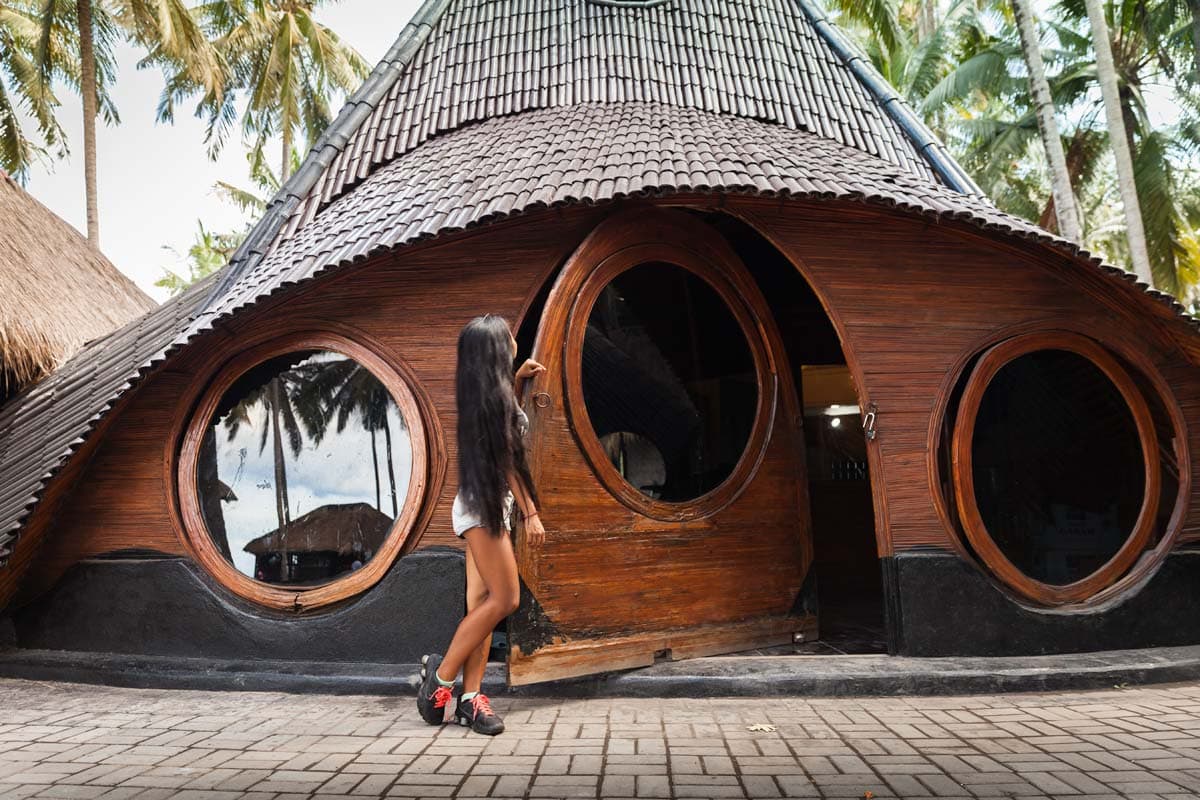 You won't find Willy Wonka or Oompa Loompas there, but if you have a sweet tooth, this is the place for you. While located pretty far from the tourist trail, this authentic chocolate factory is housed in several wacky bamboo structures and (most importantly) offers a lot of sampling sessions.
Celebrate Balinese New Year – Nyepi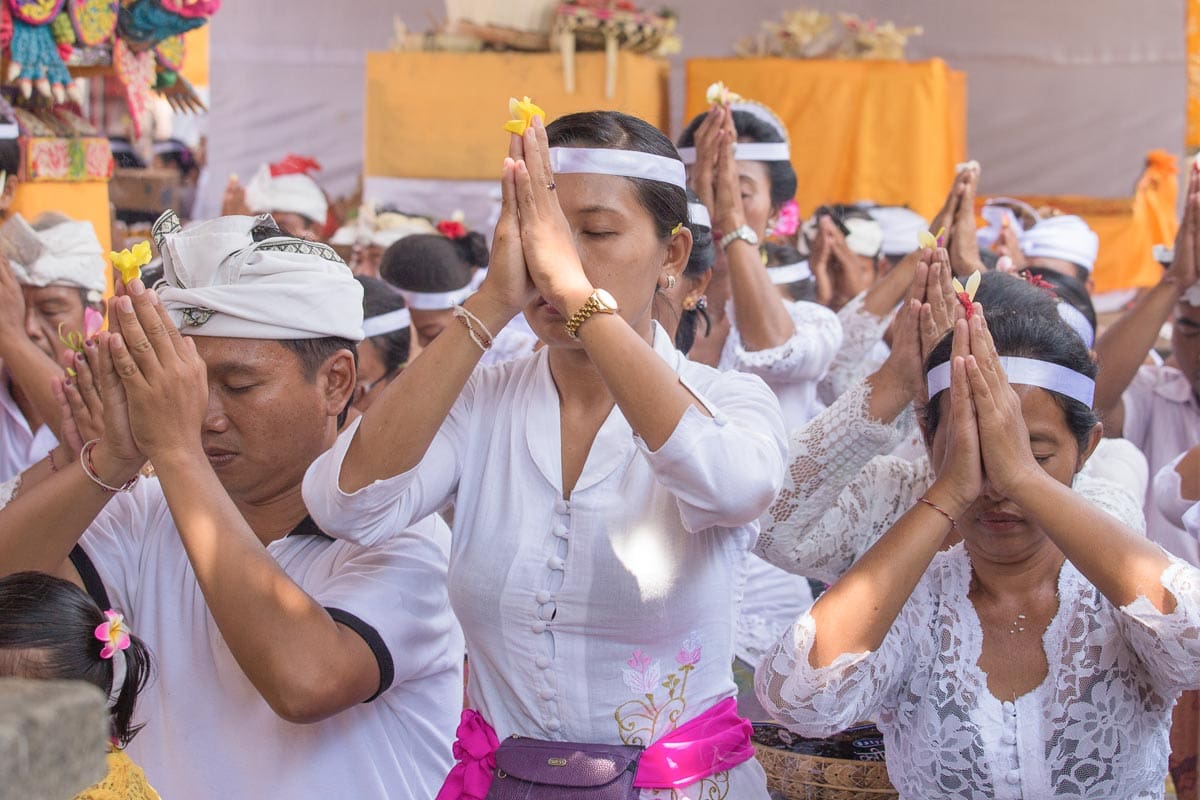 Bali is probably the only place in the world where the New Year is not celebrated by a big loud party but with a day of silence. Being in Bali during Nyepi is truly a surreal experience. Just make sure you have nothing planned for the day since everything is closed.
Go diving with Mantas and Mola Molas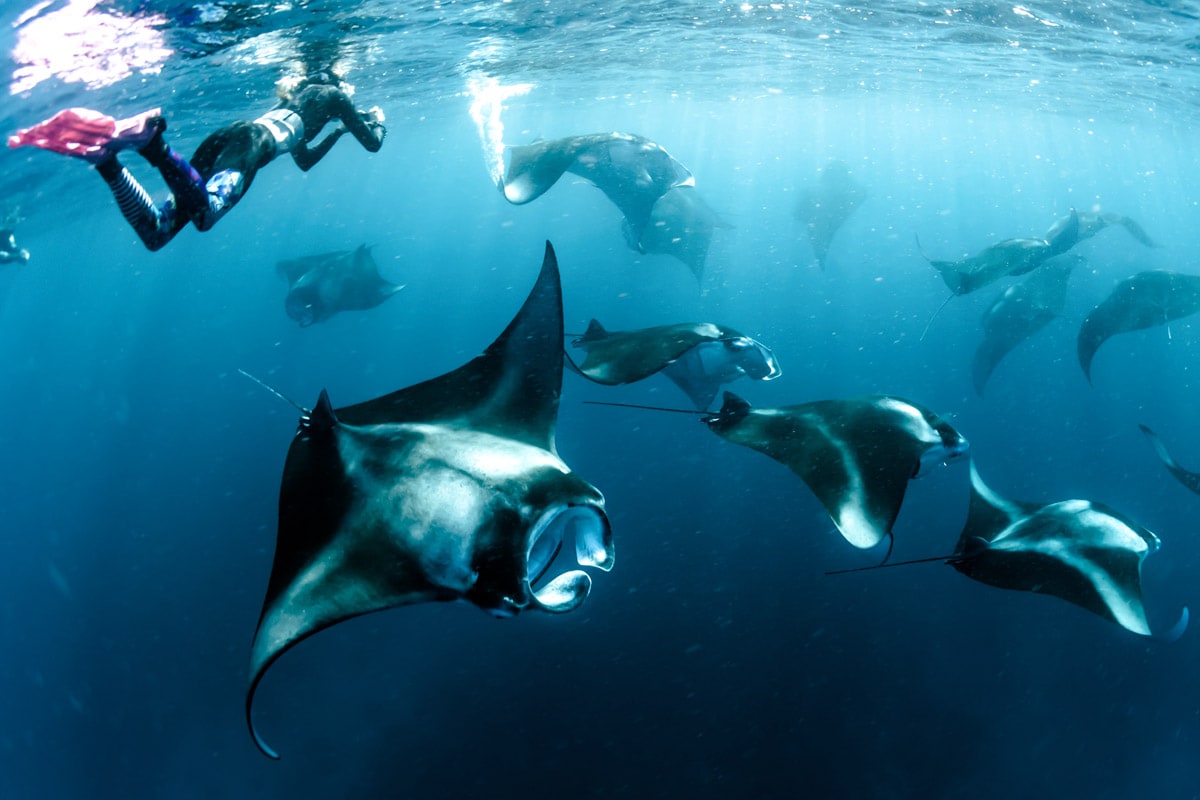 We cap the Bali bucket list with truly a fantastic experience. Scuba diving with giant Manta Rays and Mola Molas (Sunfish) is the epitome of adventure in my book. Don't be afraid of the size of the creatures, though. These gentle giants are harmless and hardly even notice your presence.
That's all from me, I hope you enjoyed the most magical Bali bucket list.
————————————
If you haven't planned your trip there yet, find out how I plan my trips!
————————————
I have 524 bucket list ideas for Asia. See my impossible bucket list of 1700+ adventures!

How many have you completed?
---
Some of the above are affiliate links and I will earn a percentage of the sale if you purchase through them at no extra cost to you. This helps keep my site running – so thanks in advance for your support!