Finding things to do in the Portuguese capital is not a challenge at all, but have you ever wondered what NOT to do in Lisbon?
Overhyped landmarks, unethical animal experiences, and pseudo attractions, this is my list of things you can safely leave out of your Lisbon bucket list.
The Lisbon Cathedral is NOT the best cathedral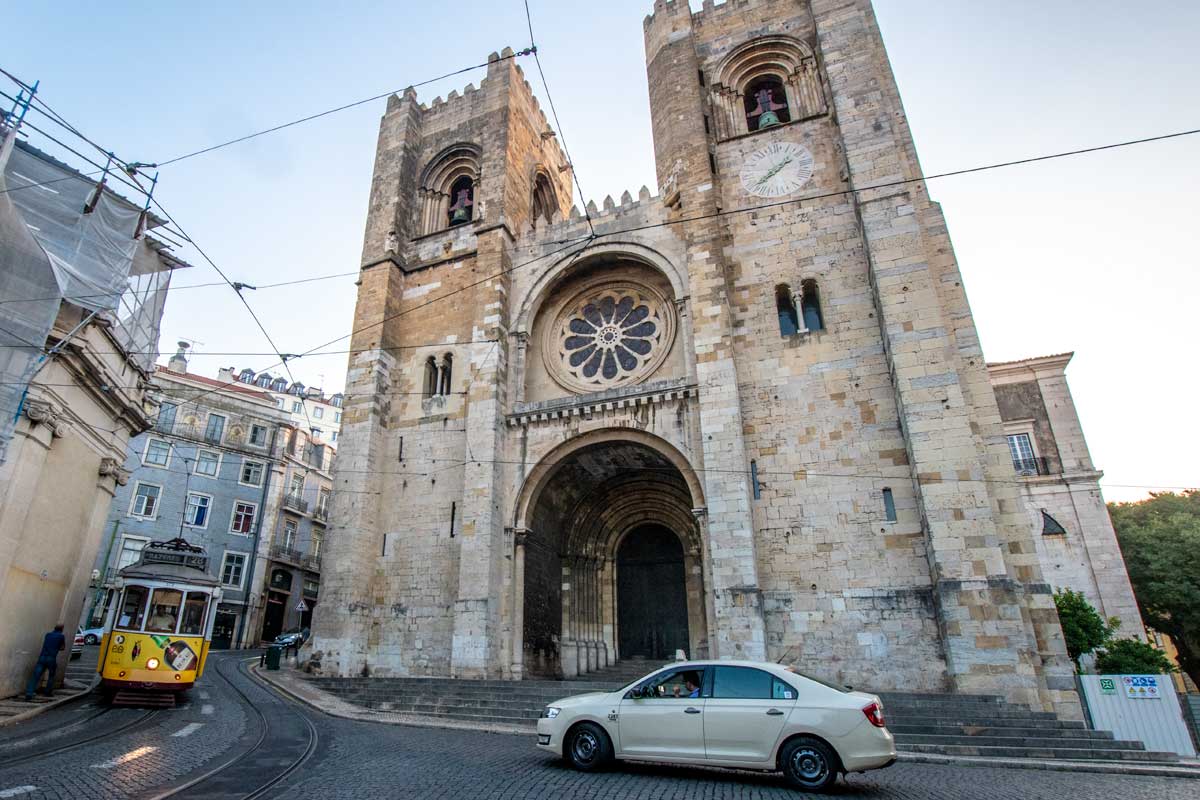 Portugal is one of the countries with the most beautiful churches in the world. The Lisbon Cathedral (often called simply the Sé) is the oldest and most important church in the capital. Naturally, it should be the best one to see, right?
Sadly it's not. While the Romanesque style exterior fits well with the city, the interior is one of the poorest I've seen in Portugal. There is a small cloister that resembles the Jeronimos Monastery one. If the cloister was free, maybe I would've left the Sé out of the list, but unfortunately, it'll set you back 2.50€.
Why skip: Nothing impressive and overcrowded
Price: Cathedral – free, Cloister – 2.50 EUR
Where to go instead: Igreja de São Roque – the most beautiful church in Lisbon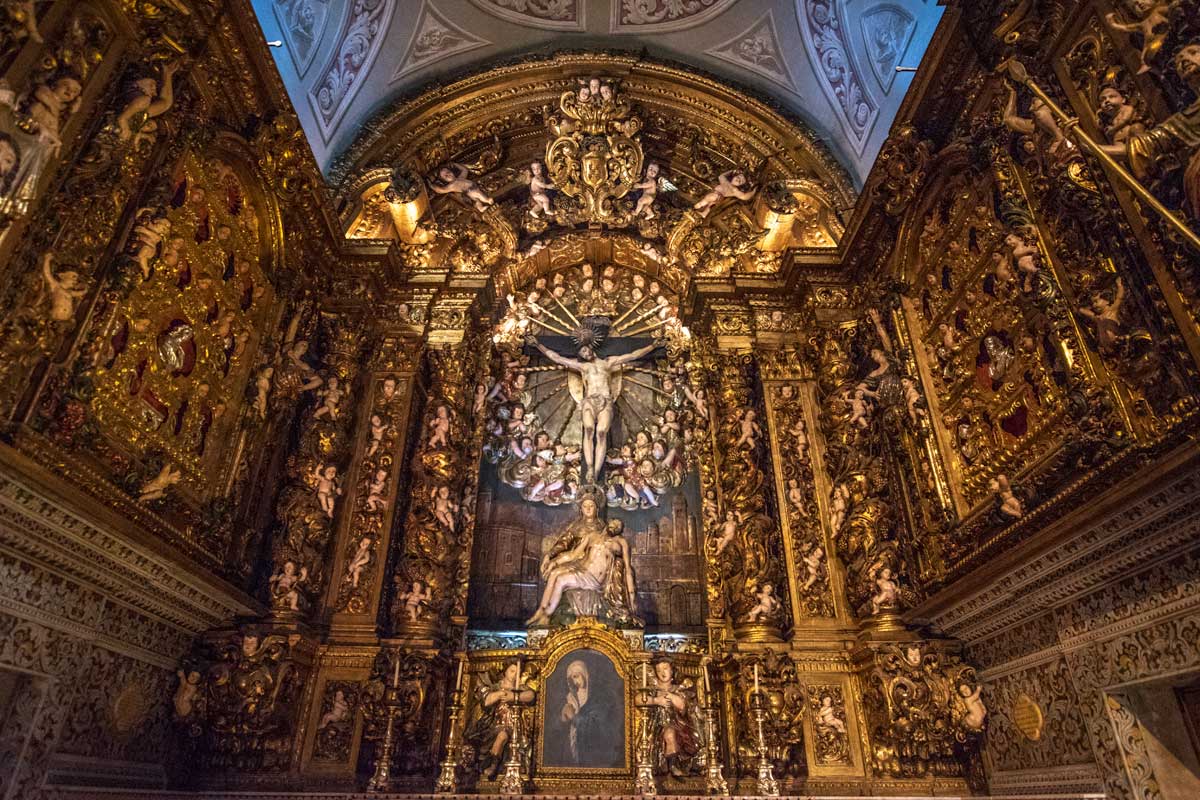 Tram 28 is still in use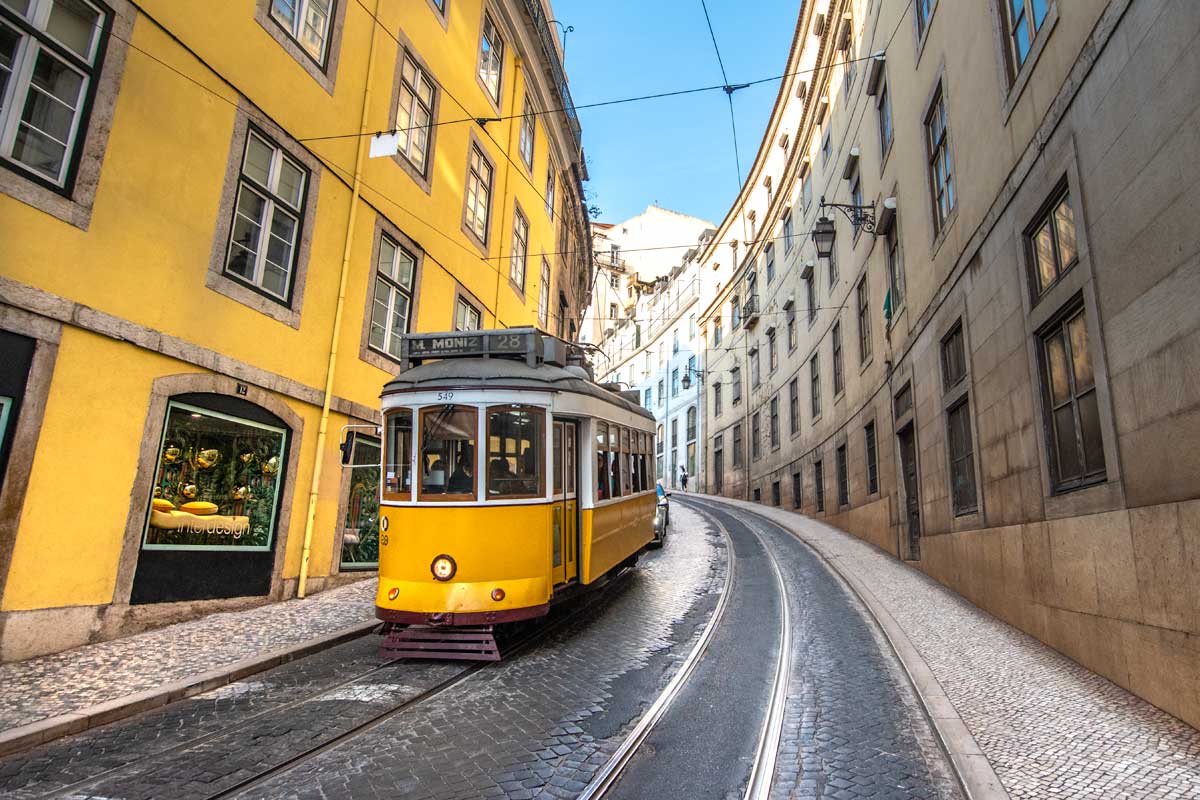 Yep, the iconic tram ride is also part of the things not do in Lisbon. How come? It may surprise you, but the wooden trams are still part of Lisbon's public transportation system. The masses of tourists using them as a cheap equivalent of the Lisbon city tours is an enormous hassle for the local residents. I firmly believe you should always respect the places you go to, and do everything you can to never bother the locals.
While tram 28's route is indeed highly scenic, you'd have to spend quite some time waiting for it to arrive, it will be overcrowded, and it's one of the pickpockets' favorite places.
Why skip: Overcrowded, high risk of pickpocketing, bothering the locals
Price: 3 EUR
Where to go instead: Get one of the official tram tours
The Santa Justa Lift is just a lift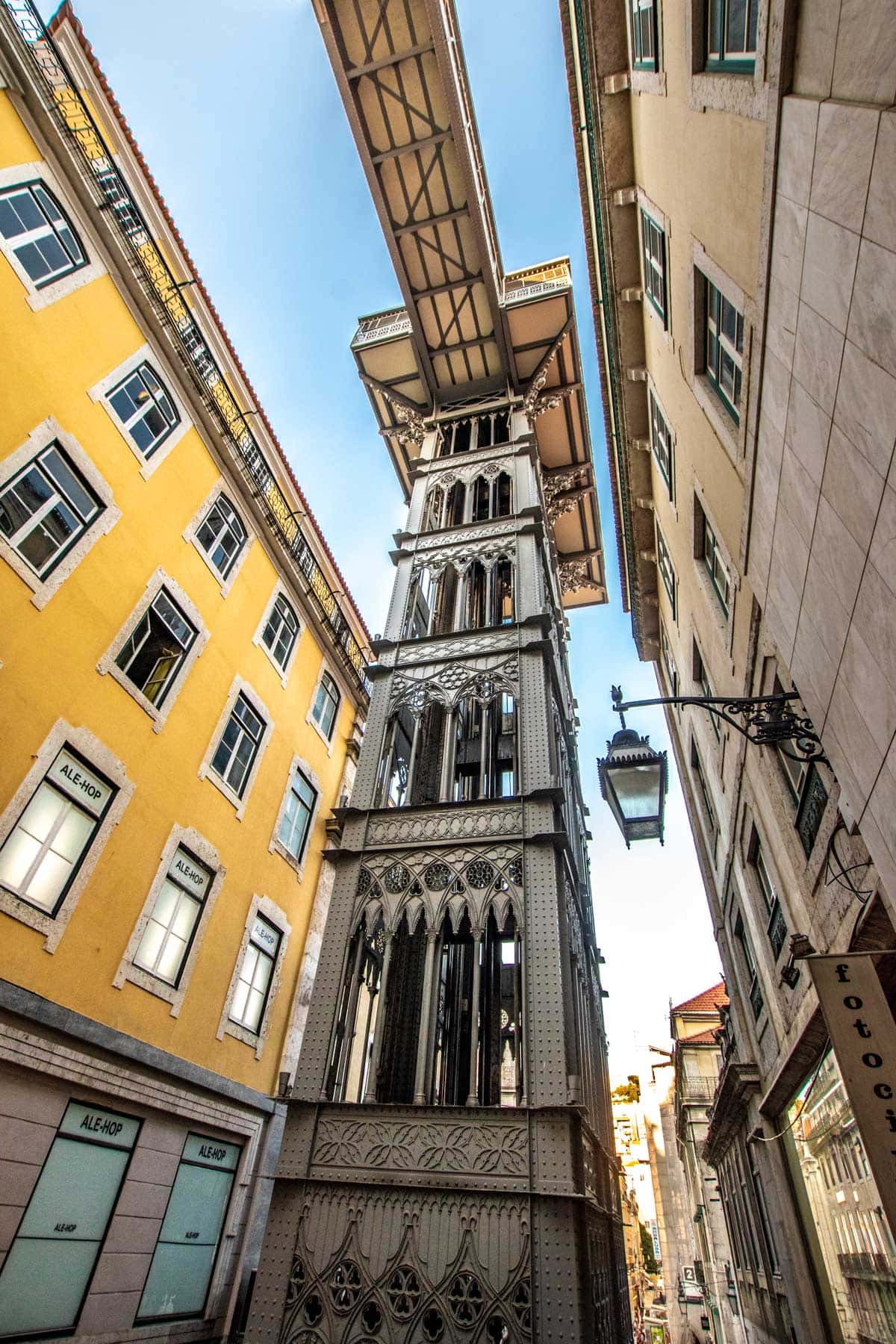 Of all the things NOT to do in Lisbon, this one is my top. A hundred years old lift, built to connect the lower streets of the Baixa with the higher Carmo Square. Designed by a Portuguese engineer (who had worked with Gustav Eiffel) the lift shares the same visual style with the Eiffel Tower thus creating the mass misconception that it was designed by the famous French engineer.
If you want to use it today, it will set you back 5.30 EUR, and you'd have to spend at least an hour on the line. What for? A few minutes ride in a metal box full of people.
If you are interested in the viewpoint on the top (and you should be), you can still check it out by using the regular lift (just behind the line for the Santa Justa, on Rua do Carmo) or simply walk there. The viewpoint ticket is only 1.50 EUR.
Why skip: Long line, Overpriced, Just meh
Price: 5.30 EUR
Where to go instead: Use the free elevator on Rua do Carmo and enjoy the viewpoint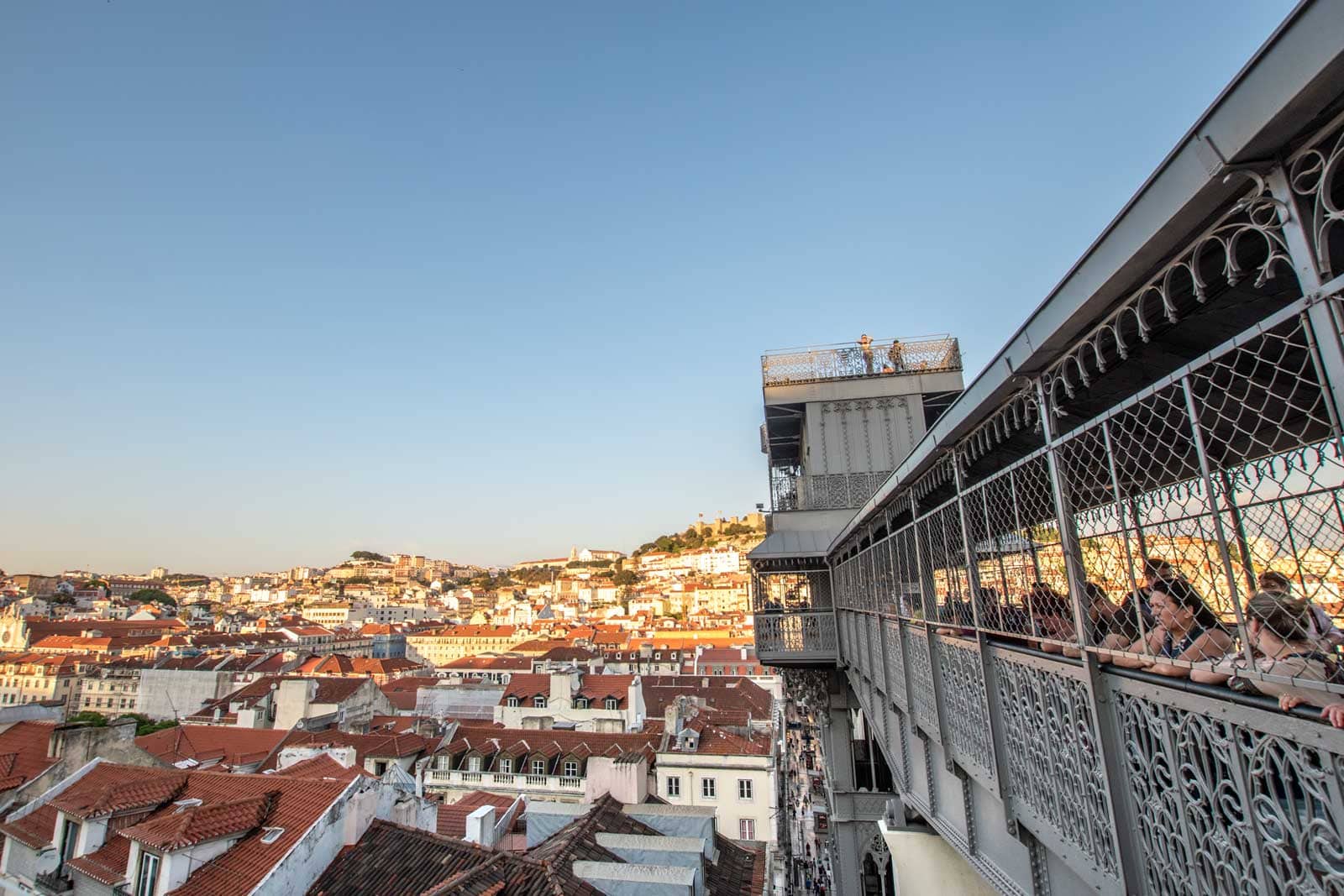 See Also: The Ultimate 10 Day Portugal Itinerary
Jardim Zoológico de Lisboa and Zoo Marine (Algarve)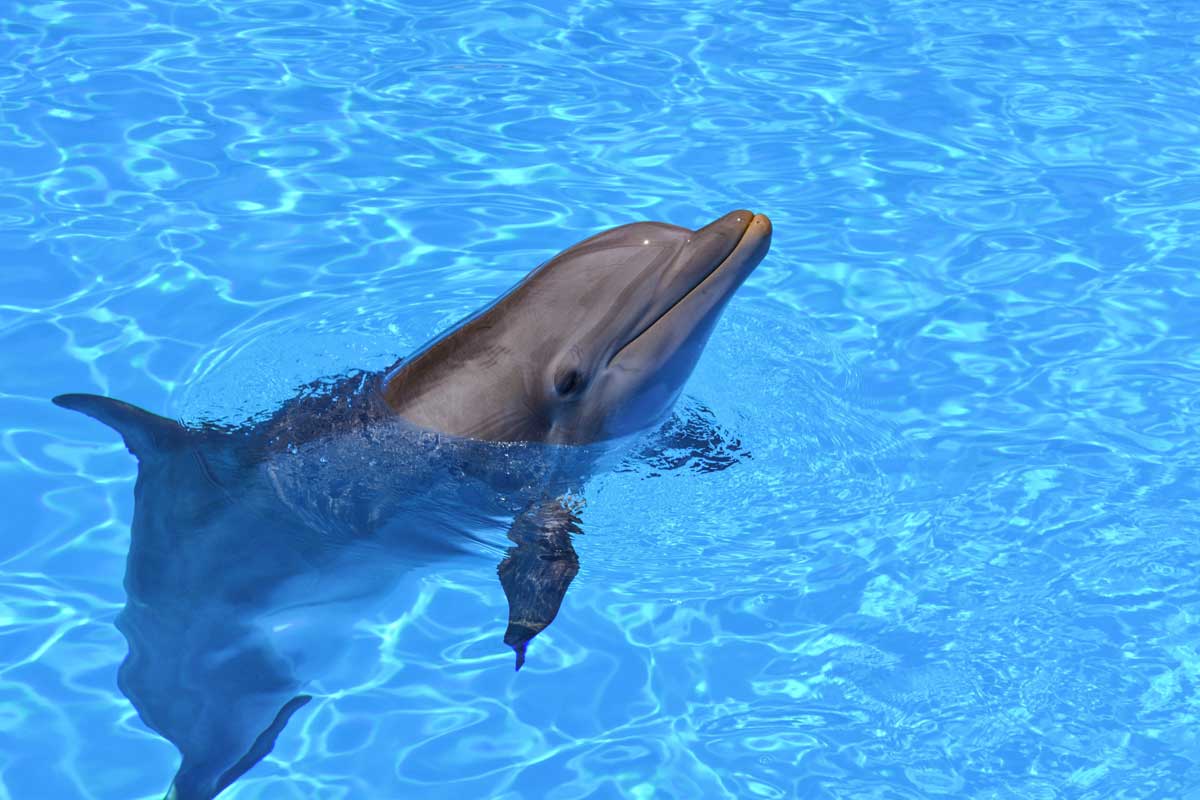 While I didn't go to any of these places, I strongly recommend to put them in your NOT to do in Lisbon list (i know Algarve is not in Lisbon but it's close enough for a day trip). Why? Both of the parks have dolphin shows, holding a total of 25 bottlenose dolphins. Now let me explain why the dolphin shows are wrong and should be avoided.
If you genuinely like dolphins you'd never want them to suffer, right? The ones in the dolphinarium may look happy but are actually hurting badly.
Dolphins are the smartest animals on earth. The one in the wild live in families (pods), have different languages and even different cultures. They and have a life expectancy of 40-50 years. Captive dolphins have life expectancy half of that, at best. And due to been highly-social creatures, getting them out of their pods and throwing them to a new depress them (often for life) and makes the breeding incredibly hard. New ones should be captured all the time to satisfy the need of the marine entertainment parks and dolphinariums.
The process of capture is a stuff of nightmares too. Here it's described by a former dolphin hunter:
"It's violent, it's kind of like rape. You chase them down to exhaustion. You separate mothers and babies. You take the young. We take the very best, incidentally. 80% of the captures are young females taken away from their mothers." (see the whole interview).
Some may say it's educational, but for me, all that people are learning is that it's ok to abuse nature. Please don't contribute to such practices. Neither in Lisbon nor anywhere in the world.
Why skip: Animal exploitation
Where to go instead: The Sado Estuary Natural Reserve (again, not in Lisbon but close enough) where you can see dolphins in the wild
See Also: What not to do in Dubai
Skip going inside the Belem Tower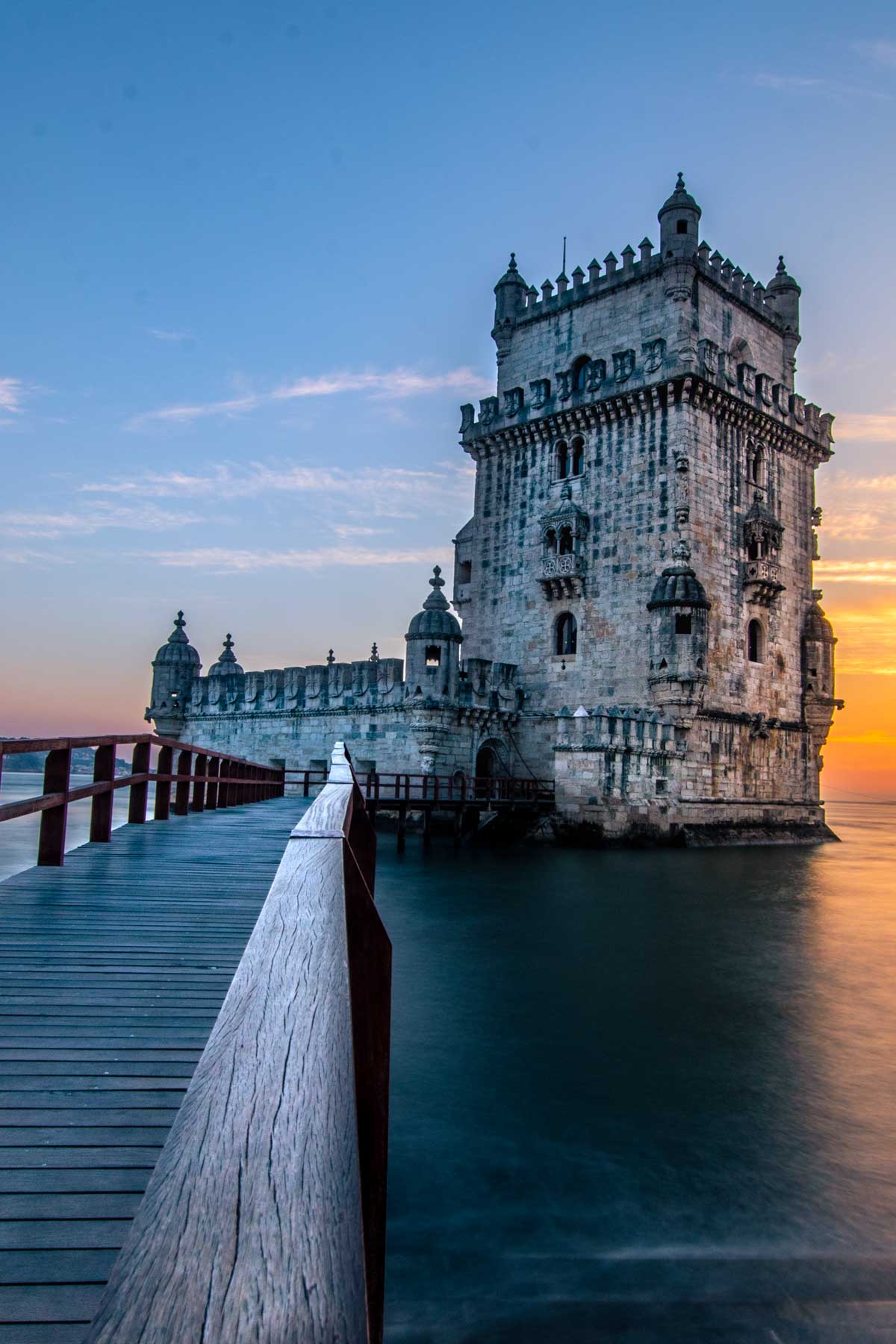 The Belém Tower is a fortified tower that played a significant role in the Portuguese maritime discoveries of the era of the Age of Discoveries. It's a UNESCO World Heritage Site and one of the most significant symbols of Lisbon.
The tower is a must-see attraction (especially on sunset) but going inside the tower…well…it's one of the biggest must-not-sees in the city. Unless you are quite fond of these types of buildings, it's not an experience you'd enjoy.
Seriously, you won't find anything inside. Nada. Even the view from the top is nothing spectacular. Save yourself the long line and just enjoy the tower from the outside.
Why skip: Just meh, long lines
Price: 8.50 EUR
Where to go instead: Enjoy the tower from the outside. If you are looking for a good viewpoint of the Tagus River, go to the top of the nearby Padrão dos Descobrimentos (Monument to the Discoveries)
See Also: How to Spend 3 Days in Lisbon
Pilar 7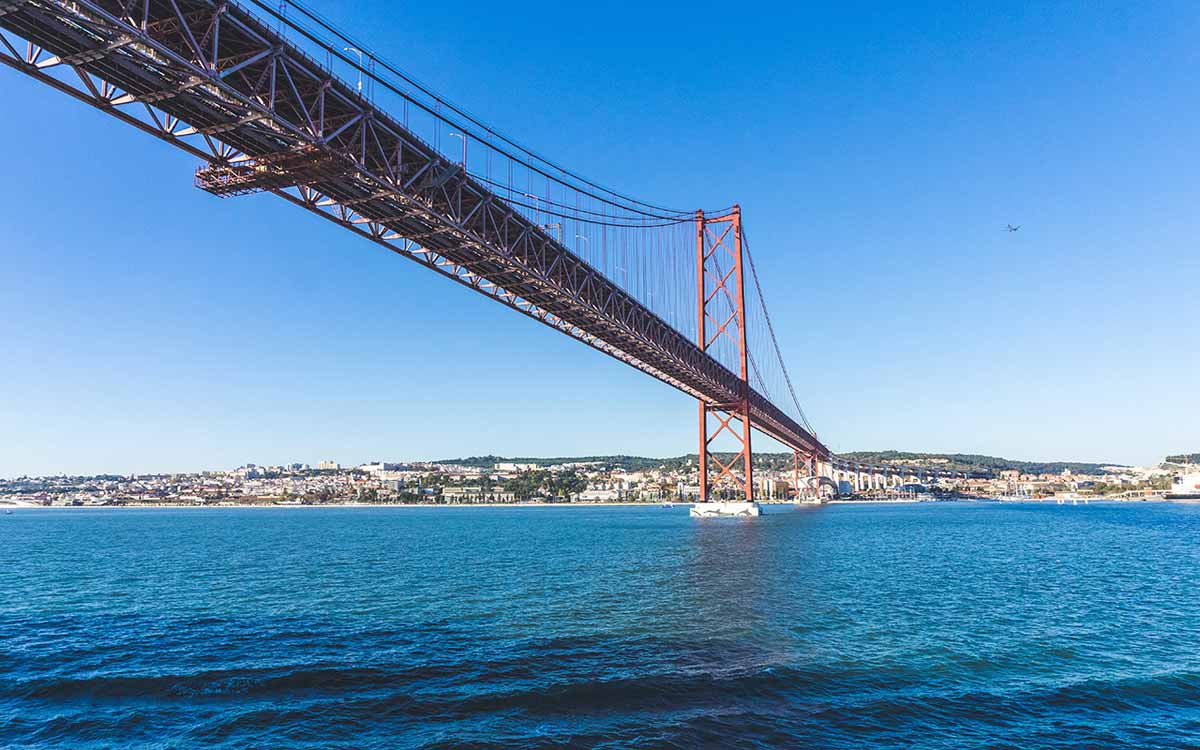 One of the newest attractions in Lisbon, the Pilar 7 bridge experience is an interaction center that teaches you stuff about the 25 de Abril Bridge and ends with a panoramic viewpoint. Now, if you are an engineer or you just happen to love bridges, you're gonna have a blast. If you're a regular guy like me though, this won't be the most exciting experience.
The bridge is situated between the two main tourist areas, so you need to get out of your way to reach it. The viewpoint, that should be the best part of the experience, is just a view from the side of the bridge. If you drive across it, you'd have the same view…maybe even a better one. Combine that with the 6€ ticket, and you can see why Pilar 7 earned its place in my What NOT to do in Lisbon list.
Why skip: Just meh, lousy location
Price: 5.40 EUR
Where to go instead: Any other viewpoint in Lisbon would be a better use of your time
Don't eat on the famous streets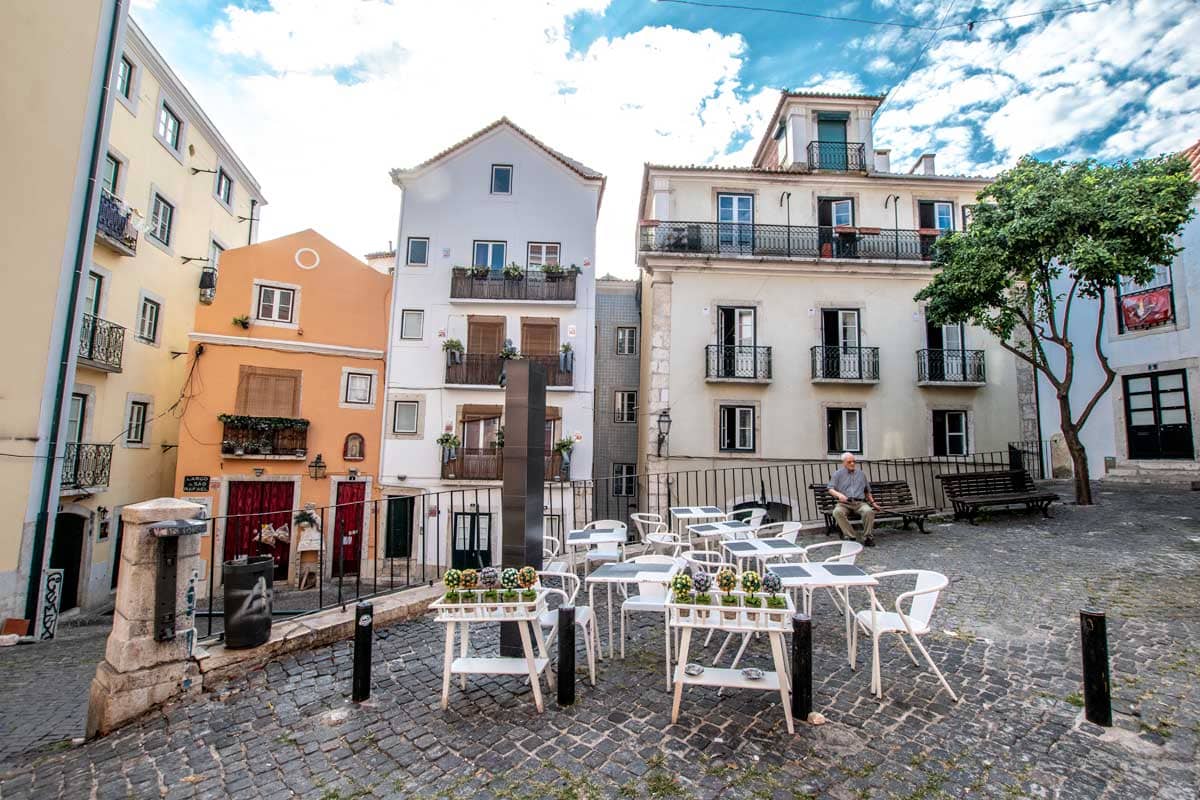 Or lunch, or breakfast. That's an obvious one not only for Lisbon, but surprisingly a lot of people fall victim to it. The restaurants on the top tourist streets are tourist traps in 99% of the time. If you can tolerate your food to be mediocre and overpriced, just so you can brag about having lunch at Portas de Santo Antão Street, go for it. If not, better roam around the small alleys of Lisbon and find a genuine Portuguese restaurant.
Why skip: tourist traps
Price: overpriced
Where to go instead: Either look for reviews online and go to a specific restaurant or scout the small alleys for a place that has more signs in Portuguese than in English
See Also: Fun Facts About Portugal
The Pink Street is overrated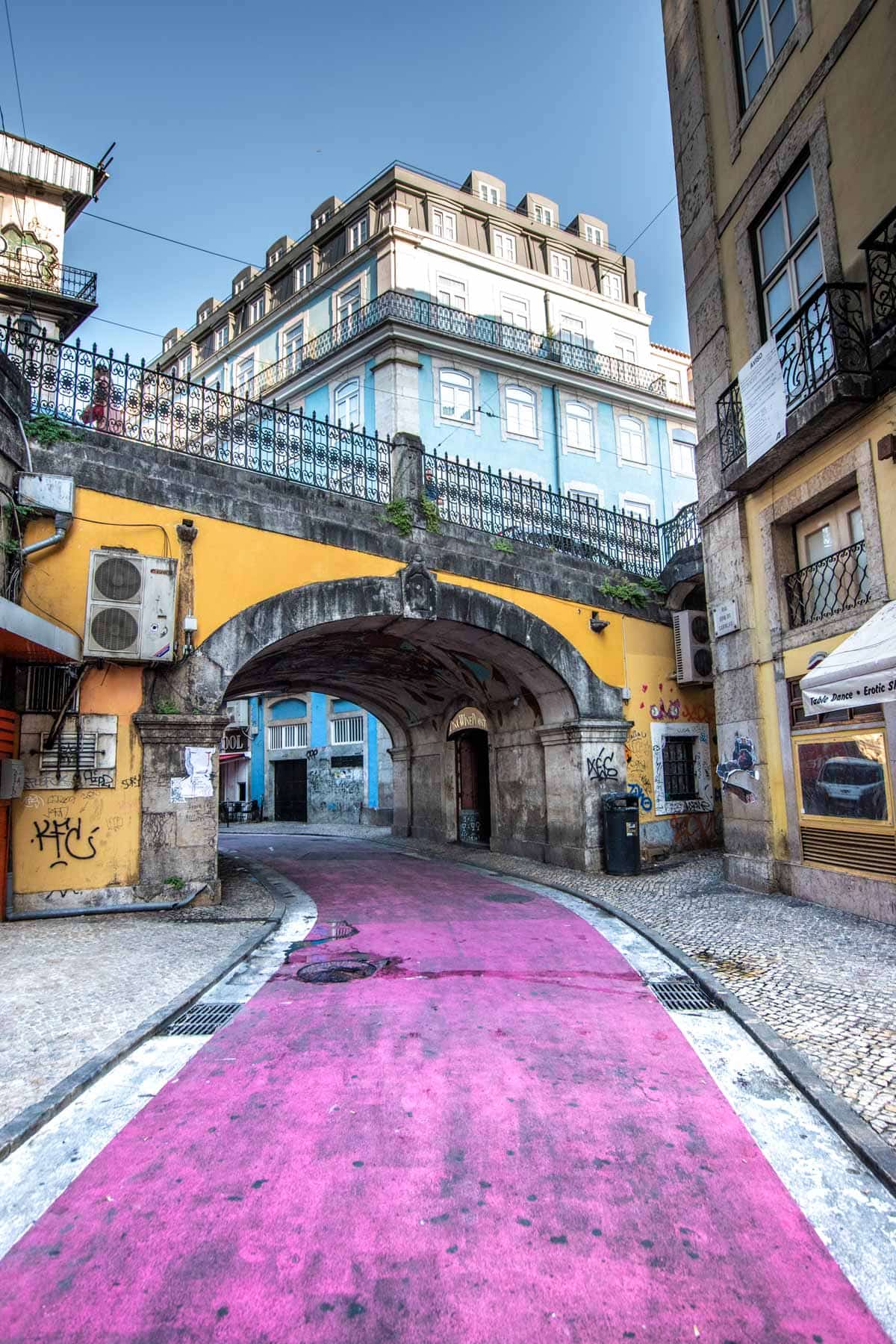 Rua Nova do Carvalho, also known as The Pink Street, is located in Cais do Sodré, one of Lisbon's most popular neighborhoods, and is supposedly a must-see spot. Historically, this area was a place where sailors and prostitutes used to meet and always had a shady reputation.
Back in 2011, the municipality tried to change the reputation of Lisbon's Red Light District by giving the whole area a facelift and a massive PR campaign. So what is it really like? Nothing spectacular. A dirty pink street with a small bridge on it.
Ok for a couple of pictures but most definitely not a must-see place. If it's on your way or if you're looking for a good nightlife area, pay a visit, in all other cases – skip.
Why skip: Just meh
Price: free
Where to go instead: If you want a picturesque street go to R.das Taipas. The alley is surrounded by incredible street art and is also the route for the Ascensor de Gloria. Heavy Lisbon vibes there!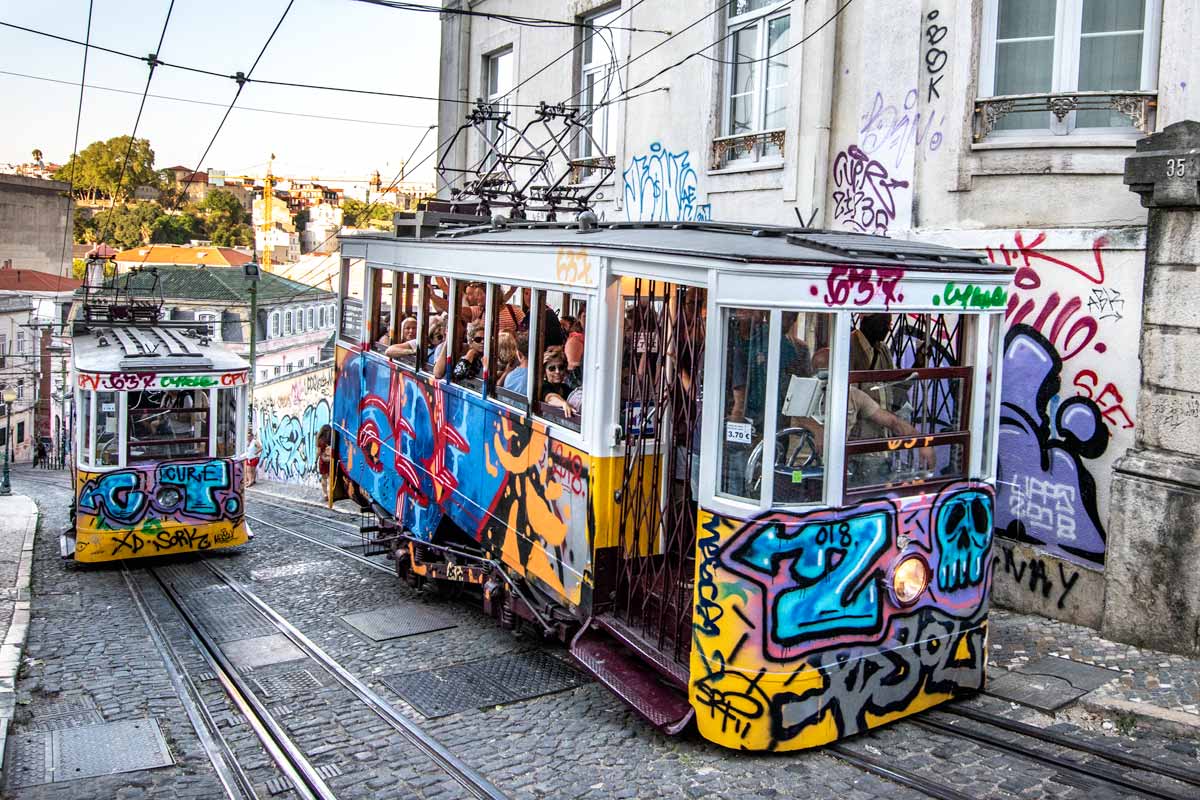 See Also: What is Portugal Famous For?
Jeronimos Monastery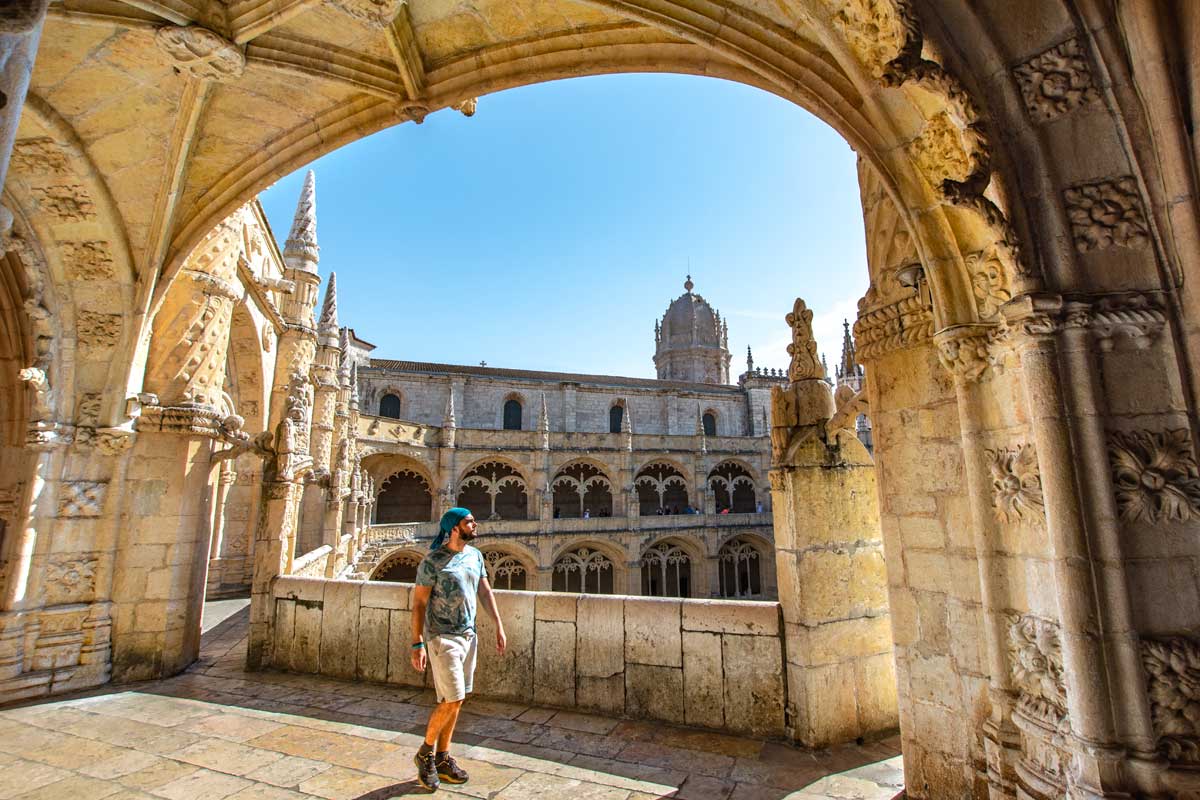 Last on my list of things NOT to do in Lisbon is a place that splits a lot of opinions, mine included. Debating with myself if this is a place to skip or not gave me such a headache that I decided to put it in both my guide and my skip list. Let me explain why.
The Jeronimos Monastery is a UNESCO World Heritage site and one of the most emblematic buildings in the country. Its design is one of the most prominent examples of the Portuguese late Gothic Manueline style of architecture. The place is beautiful and very picturesque, I won't deny that. So where comes the split opinions from?

First, the only thing you can see inside is the cloister (you can also visit the church on the side. It's free and it has no place in this list) which as incredible as it is, it's not that big of a place. Second – there is a long line to enter. Depending on the time you arrive and the season it could be from 30 minutes to an hour and a half. Right there under the merciless Portuguese sun. Not fun at all and even dangerous. Third – it costs 10 EUR which I believe is way too much for such a small place.
Why skip: Expensive, long line under the sun, too small
Why visit: Beautiful architecture, very picturesque
Price: 10 EUR
Castaway Tip: If you're planning a visit to the Archeological Museum too (it's in the same building) go there first and get a combined ticket. Cloister + Museum costs 12 EUR (16 EUR if you want to include Torre de Belém) and it's the best way to skip the lines.
That's all from me, now you know what NOT to do in Lisbon.
————————————
If you haven't planned your trip there yet, find out how I plan my trips!
————————————
I have 17 bucket list ideas for Portugal. See my impossible bucket list of 1700+ adventures!

Tell me which one I got wrong in the comments below
---
Some of the above are affiliate links and I will earn a percentage of the sale if you purchase through them at no extra cost to you. This helps keep my site running – so thanks in advance for your support!