You're on your way to spend 10 days in Portugal, and you're looking for an itinerary to show you the best in the country? Well, you're in the right place. My 10-day Portugal itinerary is carefully structured to submerge you into the local culture, to take you around the most prominent highlights and attractions, but also to leave you enough time to unwind and enjoy your vacation. I mean, if you have to jump to a new place every other day, would you really enjoy the trip in the end? I don't think so.
Portugal is one of the best places in the world for 7-10 day-long trips. The country is small and easy to travel around, the weather is fantastic, and every town is overflowing with a distinctive vibe.
There are three must-see areas in the Iberian country – Porto, Lisbon, and the Algarve coast. In 10 days, you can do all three of them, but you won't be able to enjoy them properly, so one had to be left out of the itinerary. Algarve was the chosen one.
Why Algarve?
While Algarve is a fantastic place with stunningly beautiful shores, its main attraction is… well the beaches. When I travel, my biggest goal is to submerge into the country's identity, to embrace the vibe, and to catch its soul. Porto, Lisbon, and the towns around them express the Portugal way of life more than the golden shores of Algarve (at least for me). If you're looking for a beach vacation, though, don't hesitate to add the scenic Algarve coast and the incredible Praia da Marinha beach to your 10 day Portugal itinerary.
Another noticeable exception is the Douro Valley. While the place is quite impressive, It's mostly for wine lovers and even though pretty much everyone likes wine, I'm not sure many people would like to devote a significant part of their vacation strictly to it. If you're an avid wine enthusiast, make sure you pa a visit to the Douro Valley.
What we'll See in Our Ten Days in Portugal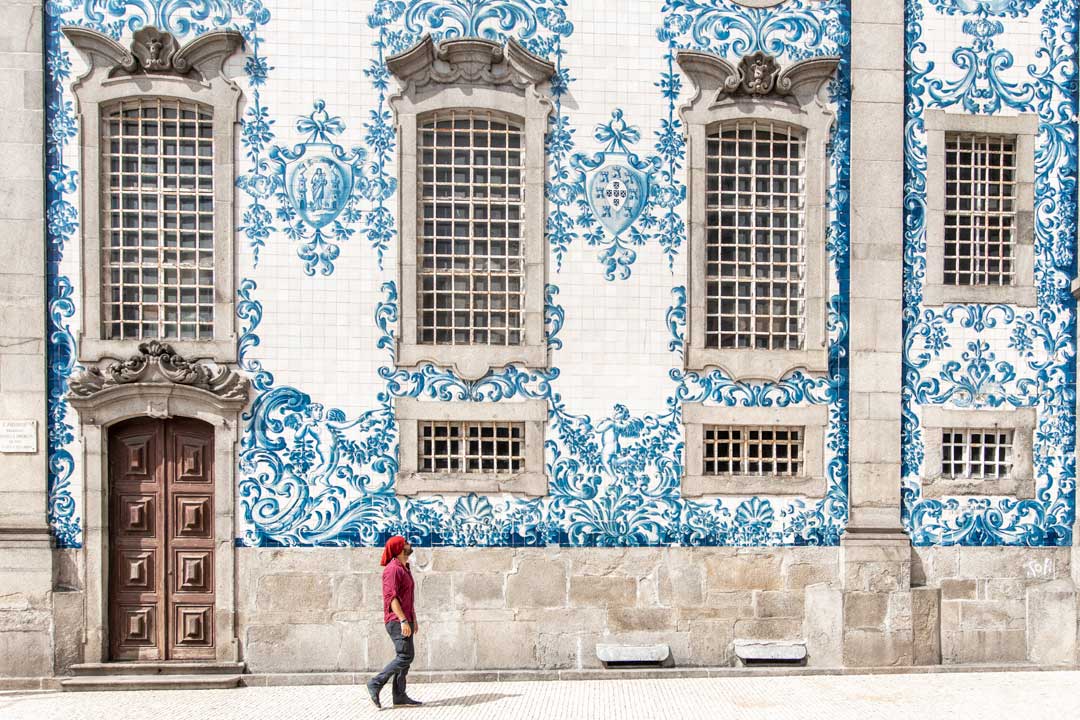 Lisbon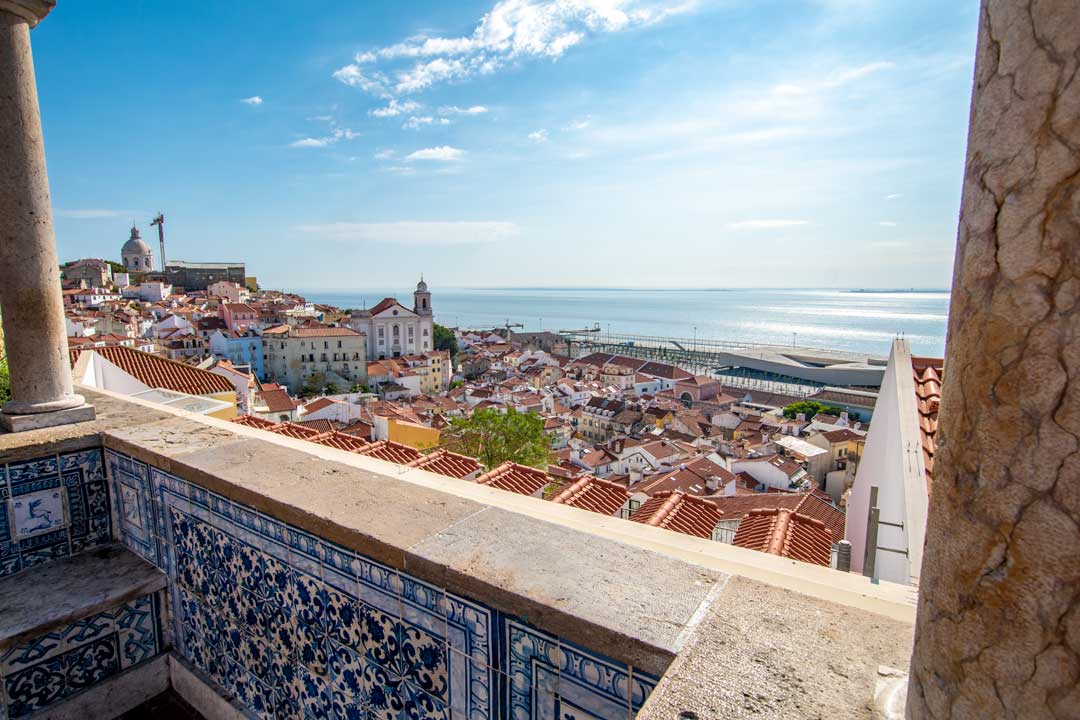 If you're coming from overseas, you'll most likely arrive in Lisbon. Thankfully the capital of Portugal is not just a big business city but a lively metropolis with many historical areas, peculiar attractions, and vibrant nightlife. Lisbon is the cornerstone of this 10 day Portugal itinerary and the place we'll spend most time exploring.
Porto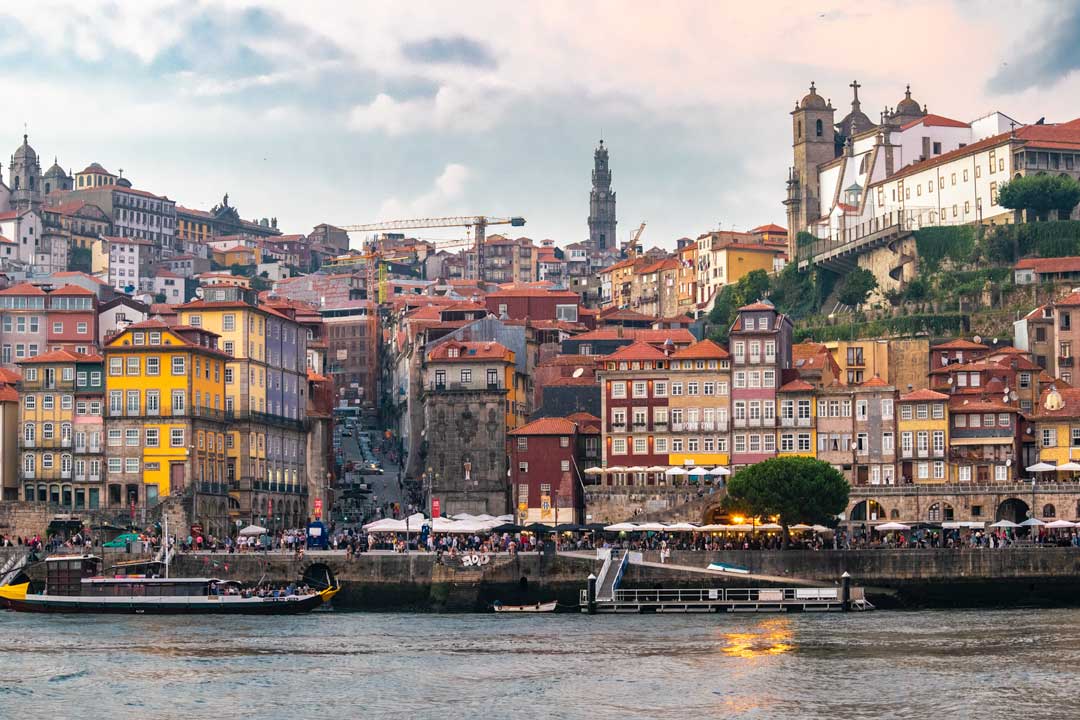 Also known as Oporto, the second-biggest city in the country is an absolute must-see. Relatively still under the radar, Porto offers an incredible atmosphere (that even inspired J.K.Rolling's wizardly world), gorgeous azulejo-tiled buildings (perfect for Instagram enthusiasts), out-worldly views (especially around the Douro River), and some of the best wine on the planet (its the birthplace of Port wine).
Porto is also perfect for a day-trip to the Douro Valley.
Braga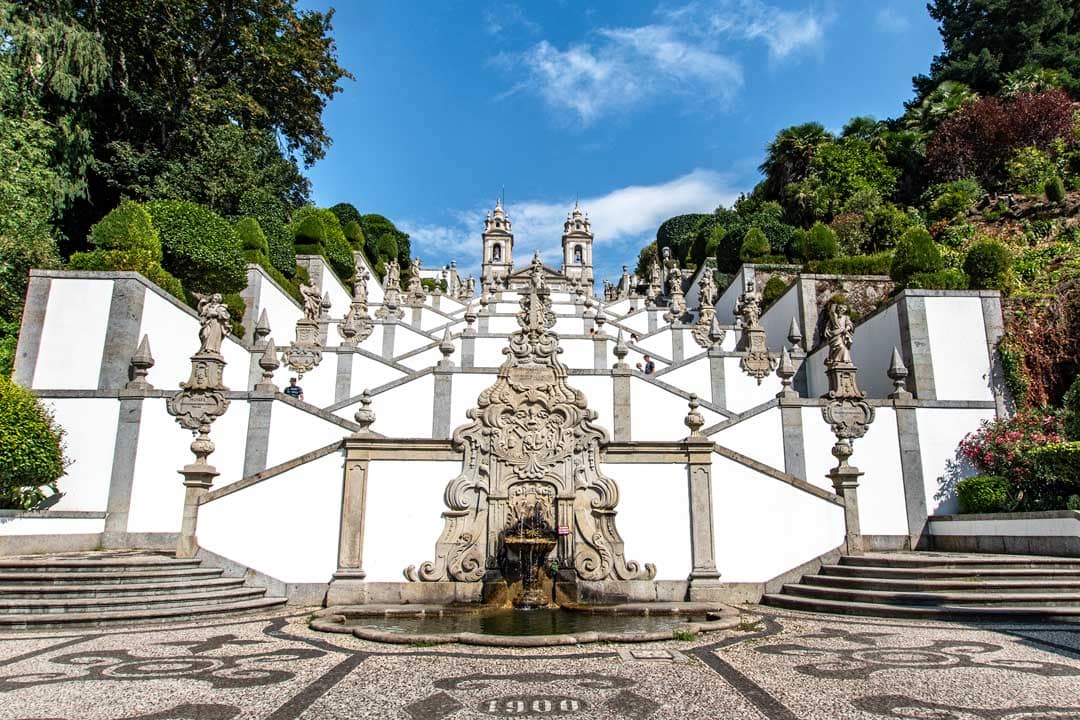 Named the Rome of Portugal, Braga is the third-largest city in the country. Honestly, I was quite confused when I found this out, Walking around Braga does not give you big city-vibe, quite the opposite.
Braga's attractions are its churches (which are everywhere), and the incredible UNESCO recognized Bom Jesus Sanctuary. The city is also located just an hour away (by train) from Porto, thus been perfect for a day-trip.
Sintra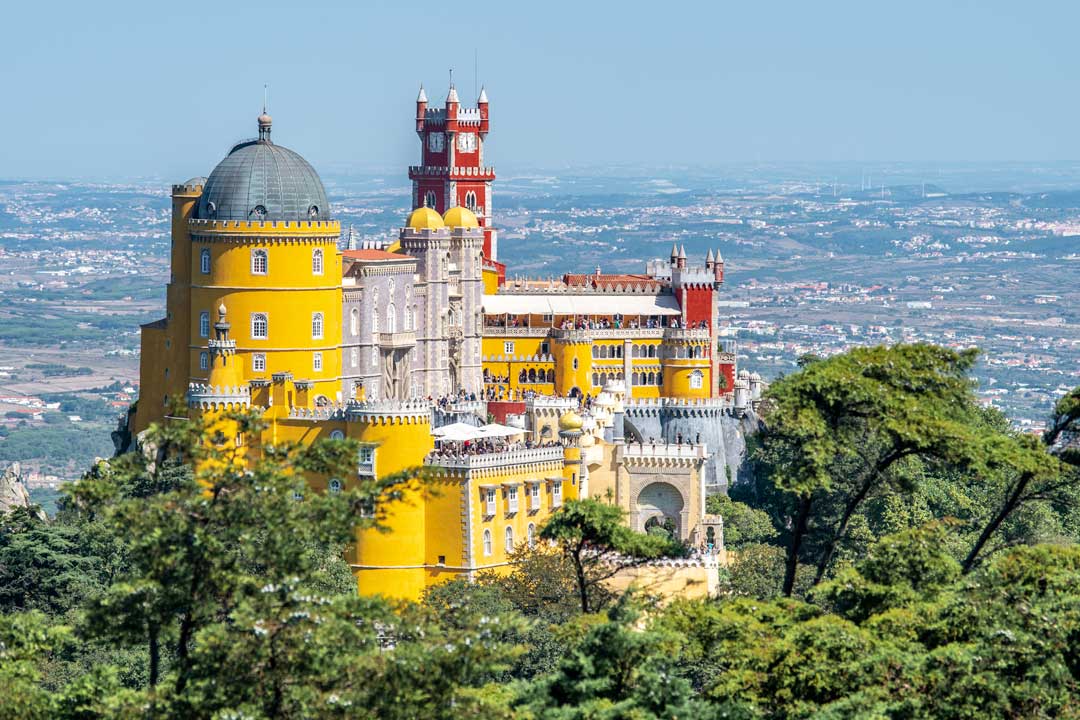 As cliche as it sounds, Sintra is like a page torn out of a fairy-tale. One of the most magical places in Portugal (and Europe), the dewy forests, funky palaces, and eccentric gardens of Sintra are surely sight to be seen. It's also located just an hour (by metro train) from Lisbon. Perfect place to spend a day (or two). A trip to Sintra also gives you the chance to visit the westernmost point of continental Europe – Cabo da Roca.
Évora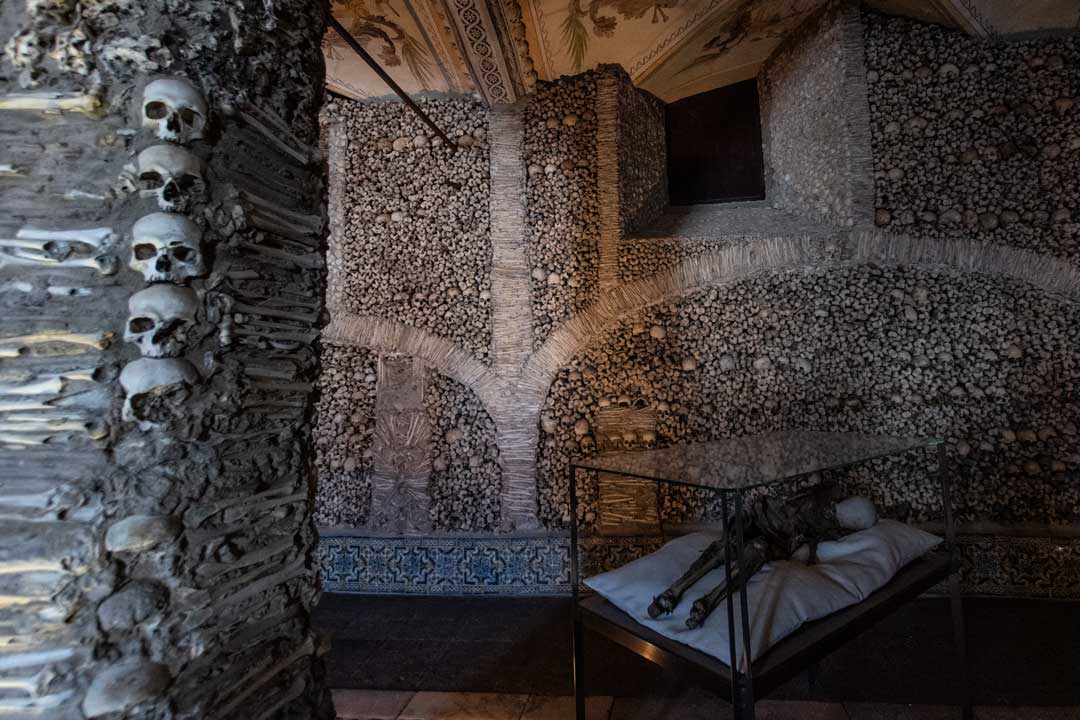 Évora is one of Portugal's most well-preserved medieval towns and an absolute delight to walk around. Imagine a small town with narrow alleys snaking their way around cute white houses. This is Évora. But we won't go there just to take a walk. Evora is home to one of the most unique (and creepy) attractions in Europe – Capela dos Ossos (a chappel made up of human bones).
The Best Ten-Day Portugal Itinerary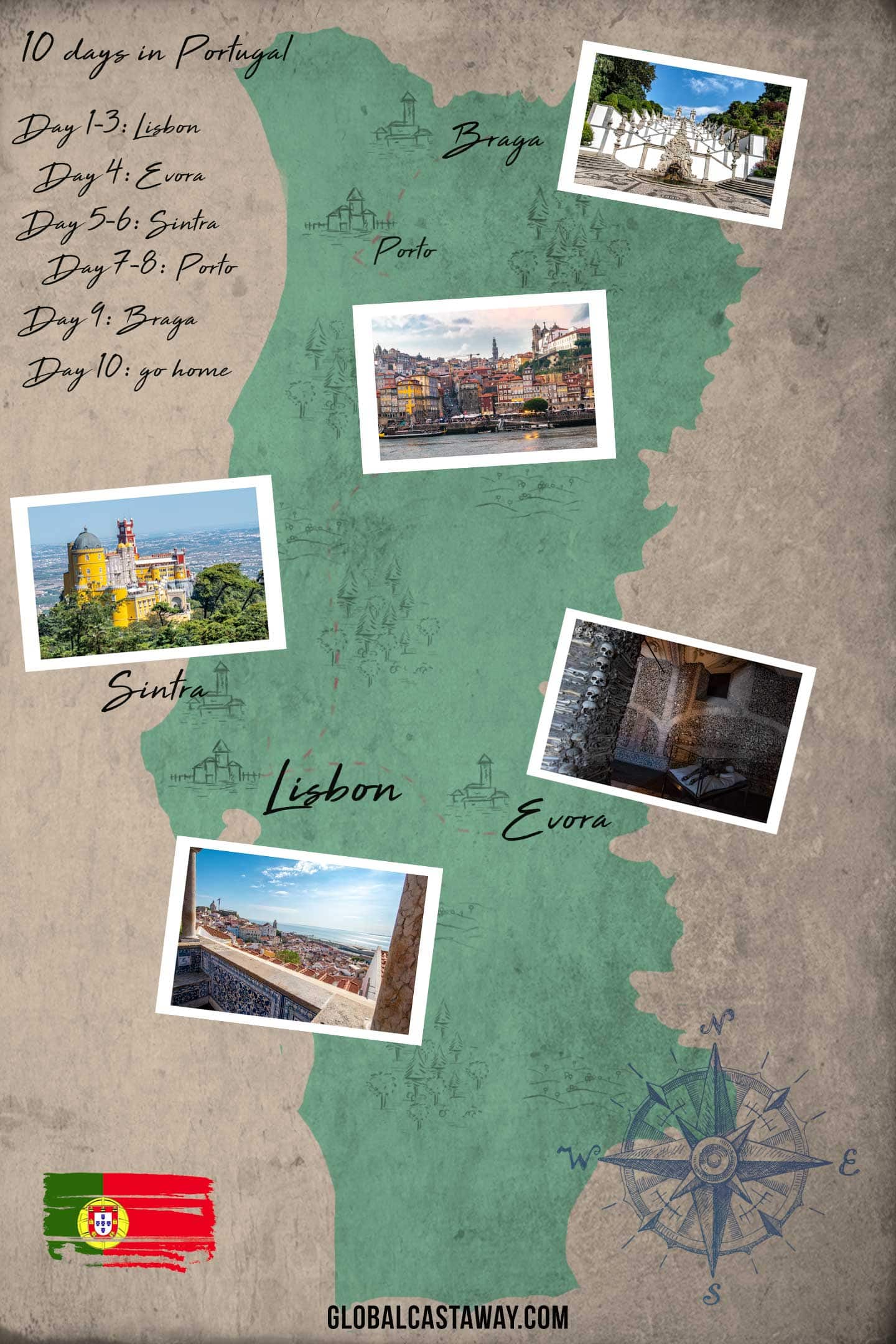 As mentioned above, my 10 days in Portugal itinerary would be focused around the biggest cities in the country – Lisbon, and Porto. Don't be afraid, though. They may be big on paper, but they certainly don't have this big-city vibe in them. And we have plenty of day trips to check out the nearby towns.
Castaway Tip
Try to arrange your flights to arrive in Lisbon but depart from Porto (or the other way around). This way, you'd save almost a whole day!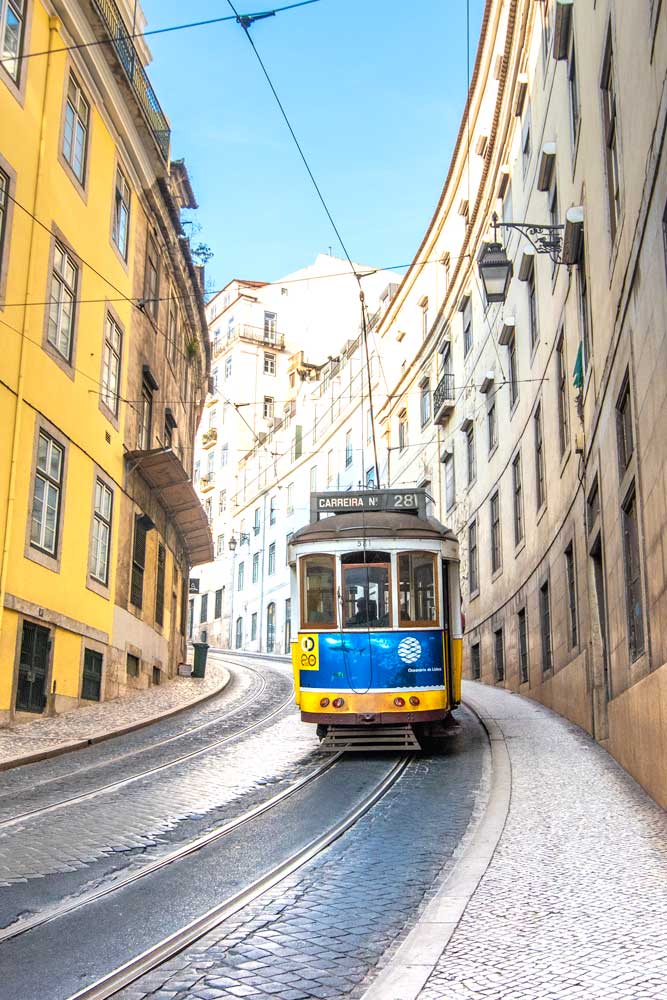 The capital of Portugal welcomed 6mln tourists in 2019 and (most likely) would be the start of your adventure. On my itineraries, I always recommend the arrival day to be left free of tasks. You are tired; you may be even jetlagged, no need to stress yourself extra with a plan for the day.
Just get out and take a walk. Stroll over Rua Augusta, and the vibrant Bairro Alto. No set goal, just wandering around and seizing the city vibe. That's all for day one.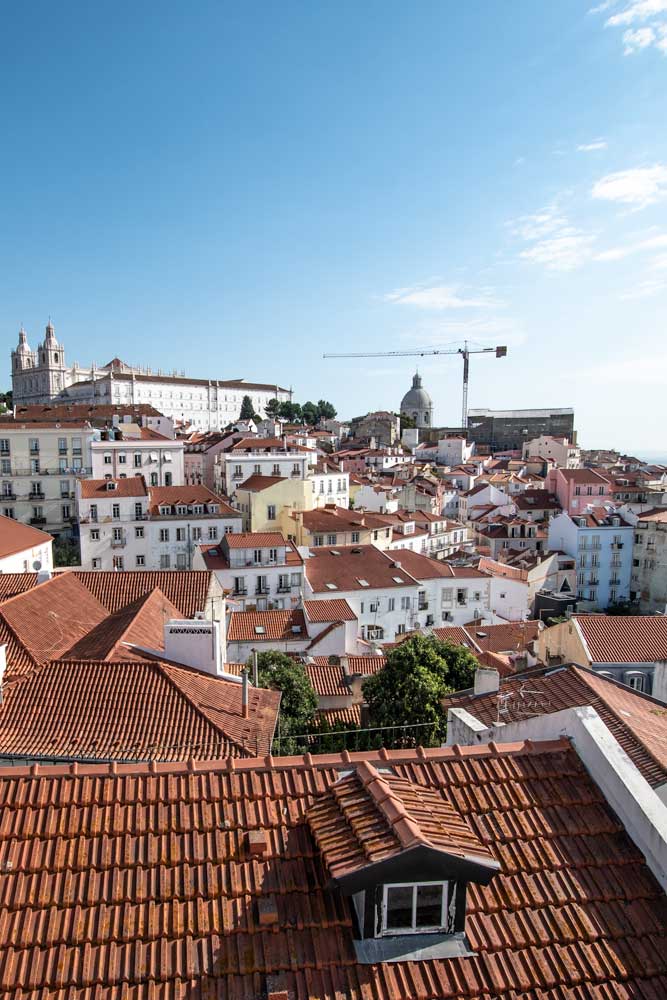 Time to start exploring a bit more seriously. On Day 2, we get to know the east part of the city. Your start-point depends on the location of your hotel, but here's a great route you can adjust according to your needs.
The first thing of the day is the iconic Praça do Comércio, followed by a long walk around the nearby Alfama district. Alfama is the old town of Lisbon and also a great place to have our morning coffee.
Once we see the miradouros (viewpoints), we make our way to the São Jorge Castelo. You can't visit a European capital and not see a castle, right? São Jorge won't only teach you more about the city, but will also reveal incredible panoramic views over Lisbon.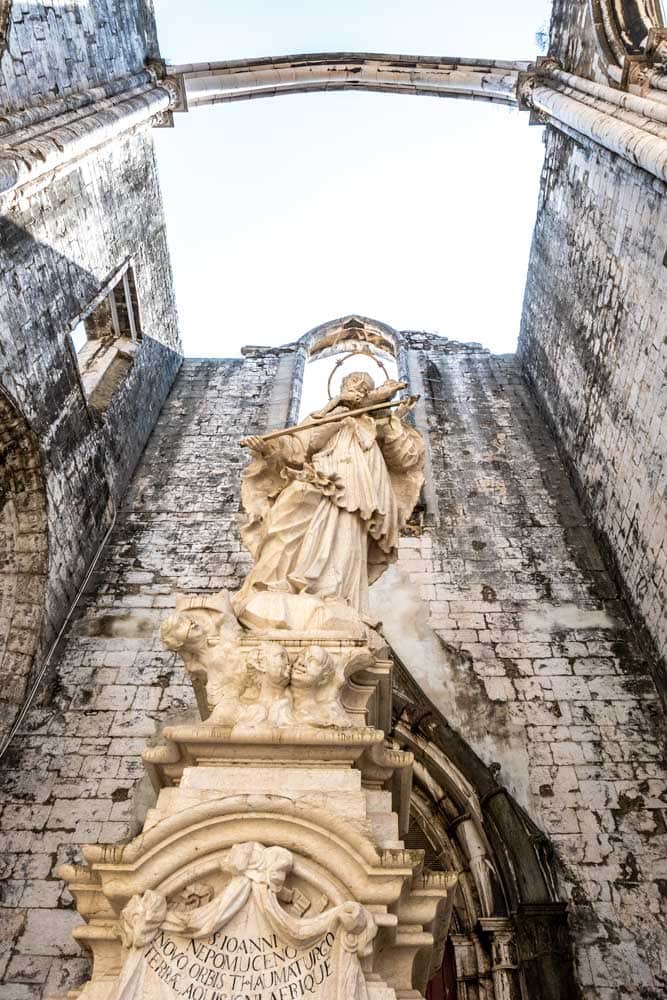 The third major highlight of the day is Carmo Convent. A museum located inside the ruins of Lisbon's great earthquake of 1755, Carmo Convent is a great city attraction in a convenient location. On your way there, make sure you check the Dom Pedro IV square and Santa Justa Miradouro (but don't use the overrated elevator).
In the afternoon, I suggest checking out Igreja de São Roque (the most beautiful church in town) before getting on the Ascensor de Gloria (vintage Lisbon funicular). As for dinner, you may want to check out Mercado da Ribeira.
Now I know this first day of Lisbon sounds like too much. To help with details, I have a 3-day Lisbon guide where you can get more information about each highlight (prices, working hours, pictures) and a map to help you navigate around town.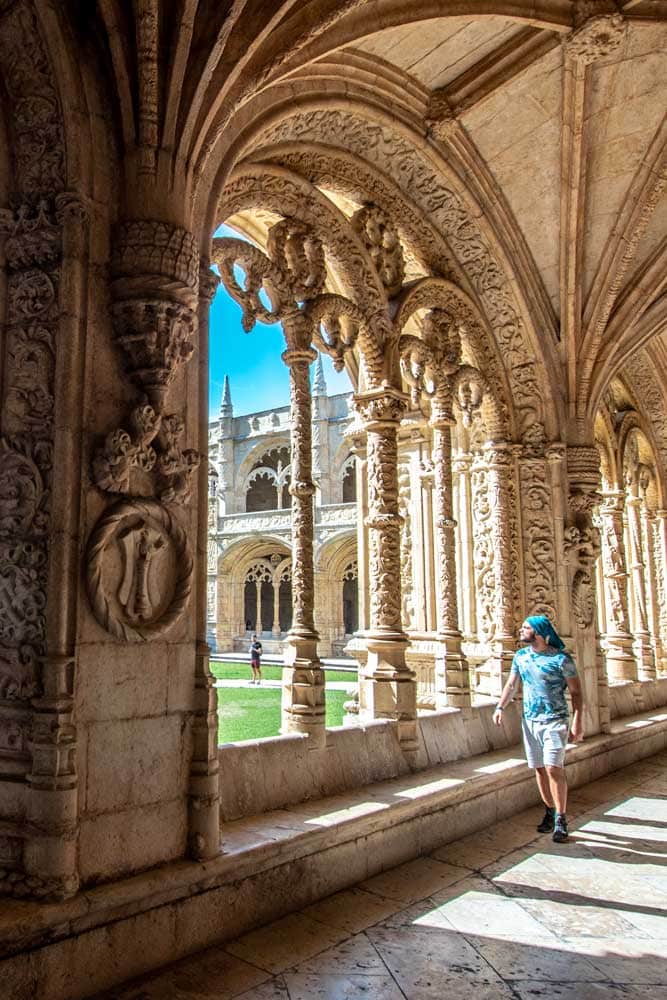 Today we won't explore as much, but we're about to see (and taste) some of Lisbon's most notable attractions. Day 3 would be dedicated to the west side of the city and, more specifically, the neighborhood of Belém.
The first agenda of the day is breakfast at the legendary Pasteis de Belém. At first, they may look like the other Pastel de Natas (popular breakfast pastry you can find everywhere in Lisbon). However, Pasteis de Belém is the place where this delicious dessert was invented, and they still use their own secret formula to make it. If the line is too big, though, you may skip the pastels in the morning and get a pack on your way back.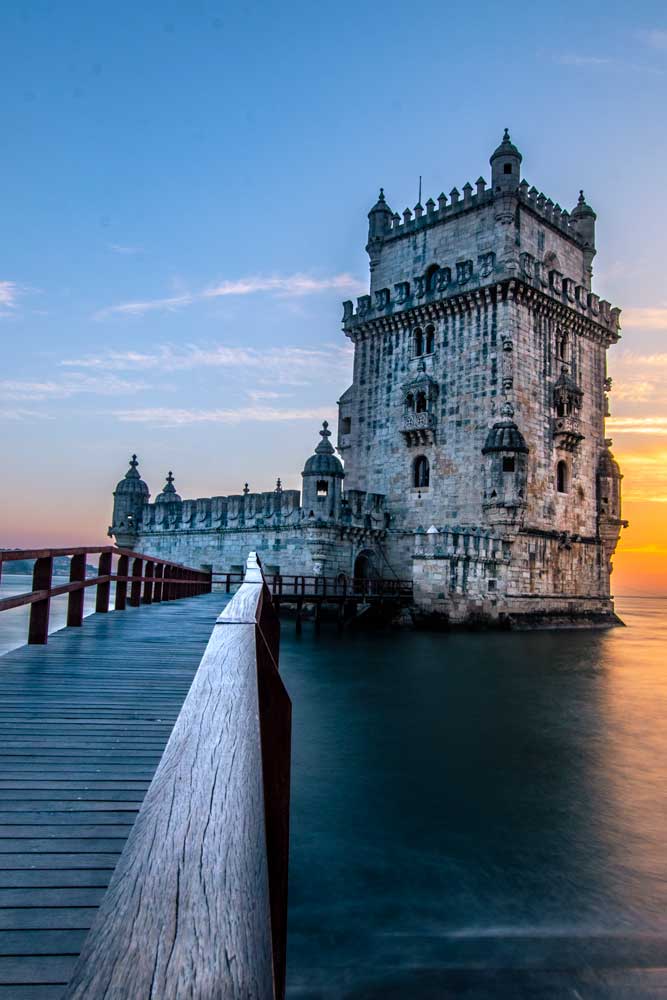 The Belém exploration continues with the UNESCO recognized Mosteiro dos Jerónimos. This one usually has a nasty line, so I suggest booking it online. The monastery is not really big, so we have plenty of time to check the nearby Maritime Museum too and learn more about Portugal's great explorers.
In the afternoon, we see the Monument of Discoveries (you can even climb on top of it) before enjoying a sunset right next to another UNESCO recognized attraction – Torre de Belém.
Psst: Lisbon may look awesome at first glance, but there're plenty of tourist traps there. Check out Lisbon's overrated attractions that you can safely leave out of your itinerary.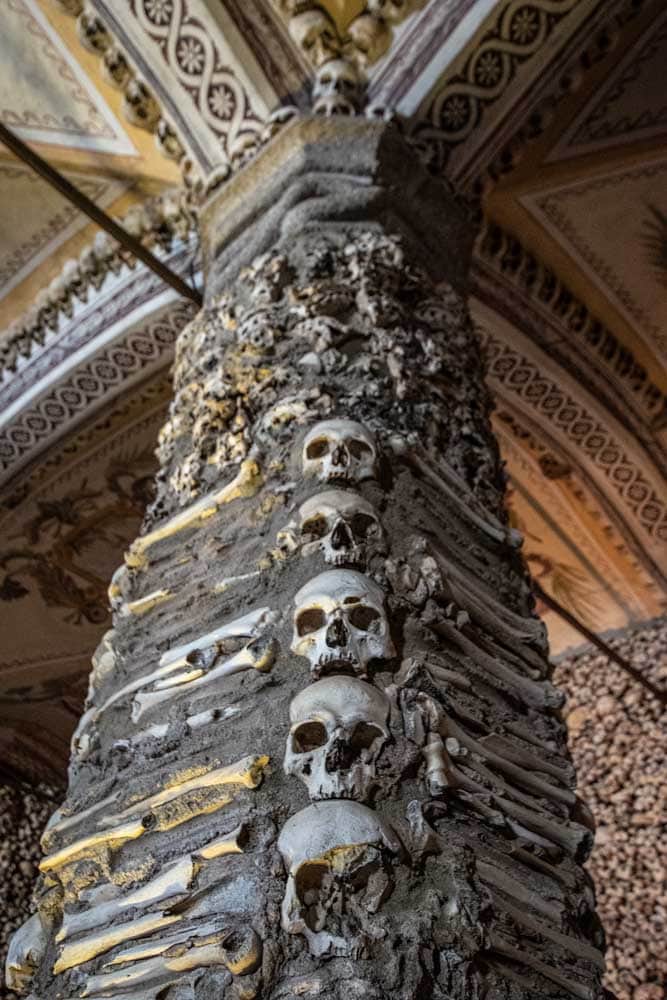 We saw plenty of Lisbon, and It's time for our first day-trip. And what better place to go than the medieval city of Évora. One and a half hours away from Lisbon, the windy alleys of Évora offer just enough highlights to fill our day.
They are all right next to each other so you can do them in any order you want. The Sé of Évora (the cathedral) is a beautiful piece of architecture, blending Romanesque with the Gothic. It also offers rooftop views and a picturesque cloister.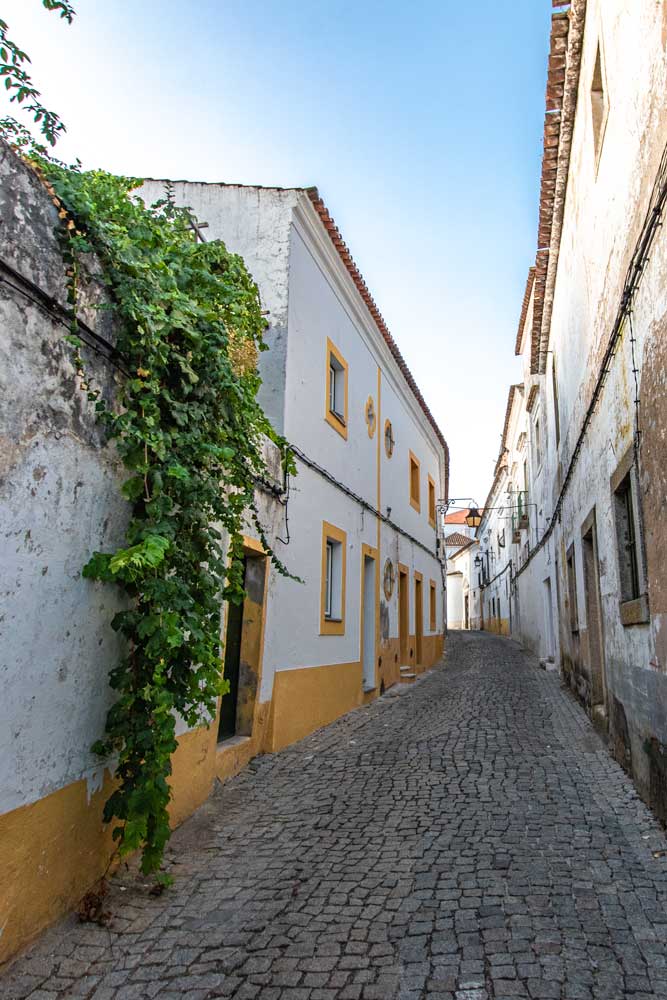 The Roman Temple of Diana is right next to the cathedral, and while it's not out-of-this-world exciting, it's very well-preserved, and there's a lovely park next to it you can unwind in.
The biggest attraction of Évora is the Bone Chappel. Lined with the remains of 5,000 monks, Capela dos Ossos is a bizarre but quite unique place that is an absolute must-see.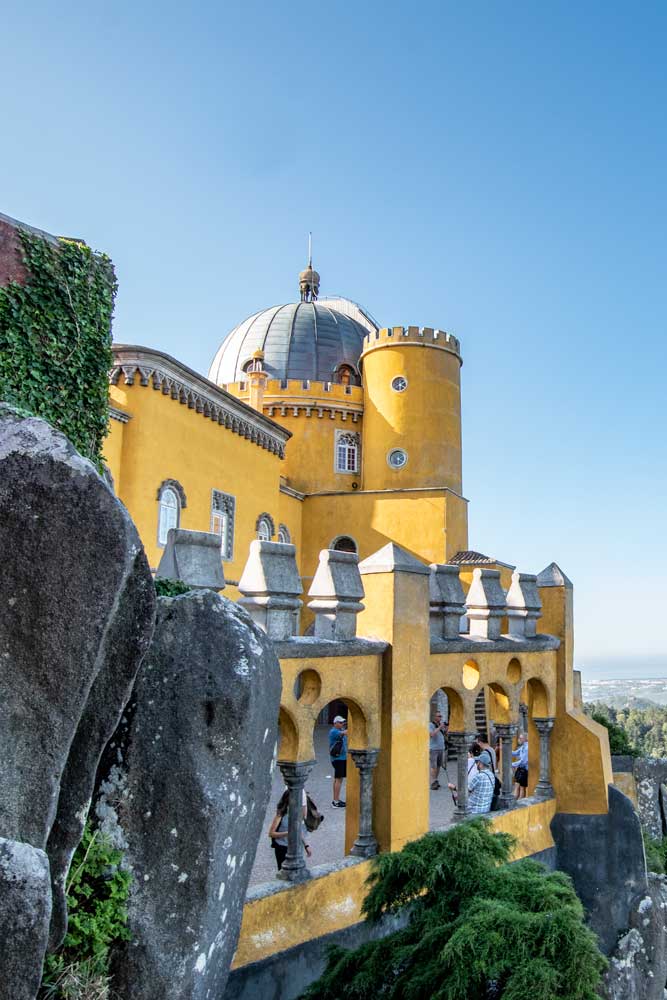 Sintra is usually done on a day-trip from Lisbon, but I strongly suggest spending the night there. There are plenty of castles and palaces to see, but doing more than two in a day would really drain you.
An hour away from Lisbon (by city train), Sintra is incredibly easy to reach. The first thing we see is the colorful Pena Palace. With it's yellow and red towers, the romanticist palace is the biggest superstar of the region and get's crowded quickly. Once finished with the palace, make sure you explore its gardens too.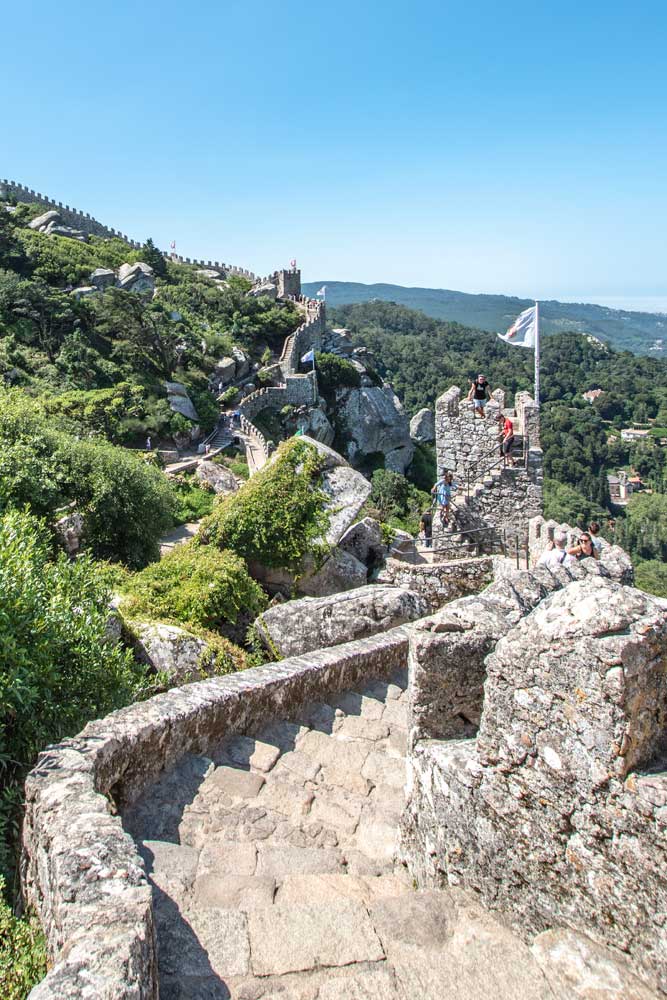 The second castle of the day would be the Castle of the Moors. This one has nothing to do with the Pena Palace. It was a real fort used to defend the area, and today the remains of its walls offer magnificent panoramic views of the area.
If you have enough energy, you may also check Sintra's National Palace – a great museum that used to be a residence of the king of Portugal.
Psst: to plan your Sintra trip in detail, check out my Lisbon to Sintra guide where you can find useful information about prices, working hours, and of course, plenty of pictures.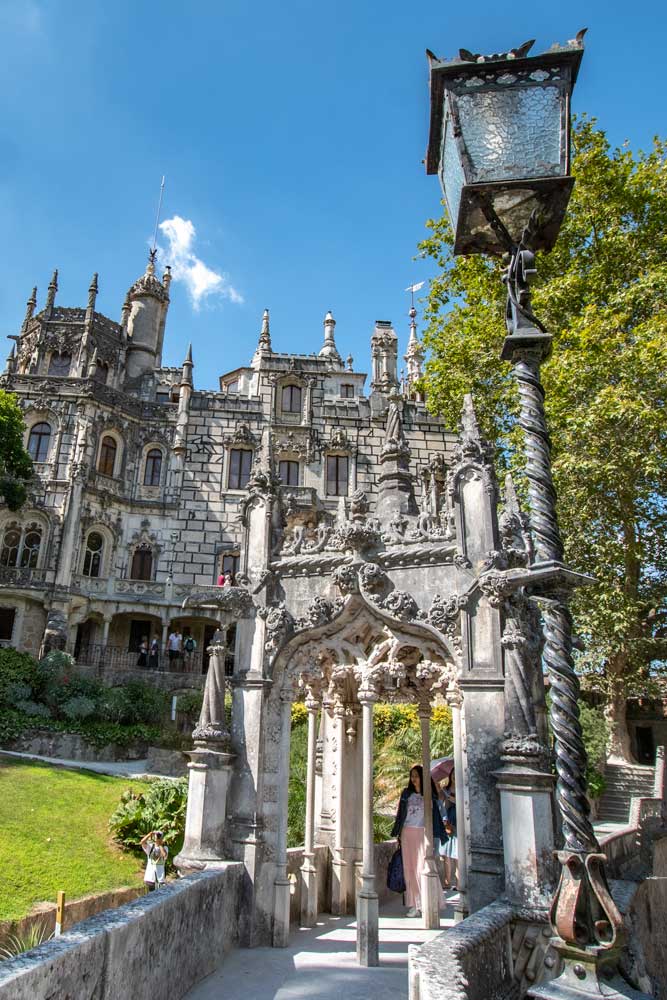 On your second day in Sintra, we're going to check out Quinta da Regaleira in the morning, thus skipping the tourist crowds. The former estate and its quirky gardens are the perfect way to start our day. If you missed Sintra's National Palace yesterday, you may pay a visit now too or even make a trip to the westernmost extent of mainland Portugal and Europe – Cabo da Roca.
In the afternoon, we make our way to Porto.
You can find how here.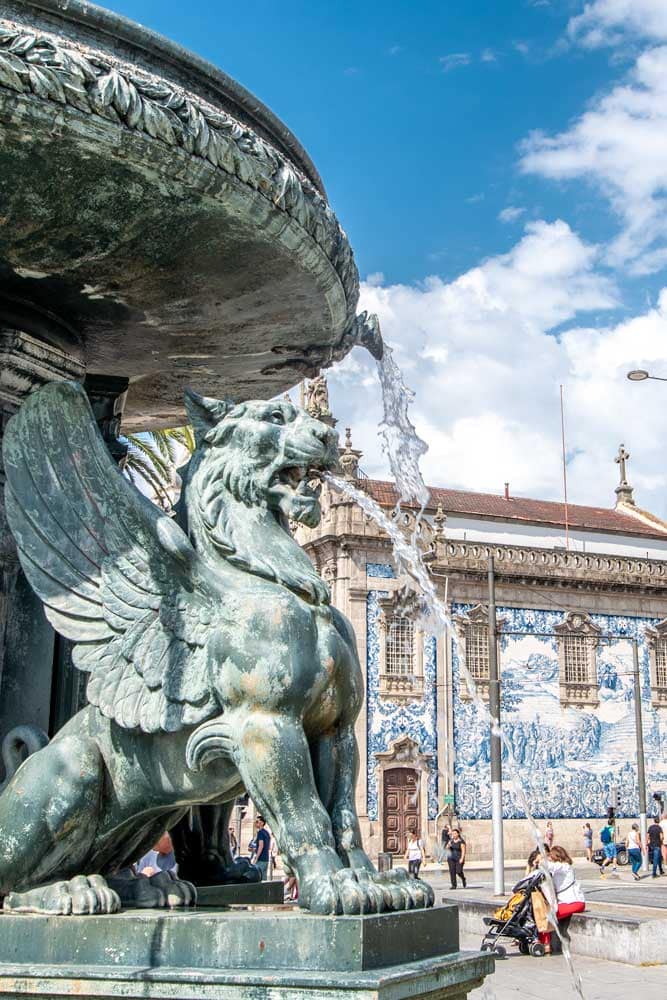 Porto is an incredibly bright and colorful town. It may be the second biggest city in the country, but it's quite easy to explore. On our first day there, we can see the Harry Potter attractions – Livaria Lello (an antique bookstore that managed to preserve an early 19th-century spirit), The Fonte dos Leões ( a fountain that inspired Gryffindor house) and the Majestic Cafe (where J.K.Rollwing supposedly wrote a few Harry Potter chapters).
We also have time to check out some of the most picturesque places in town. Carmo and Carmelita churches with their stunning azulejo-tiled exteriors (something Portugal is pretty famous for) are the perfect place for a new profile picture while the Clerigos Church and its tower offer stunning panoramic views of Porto.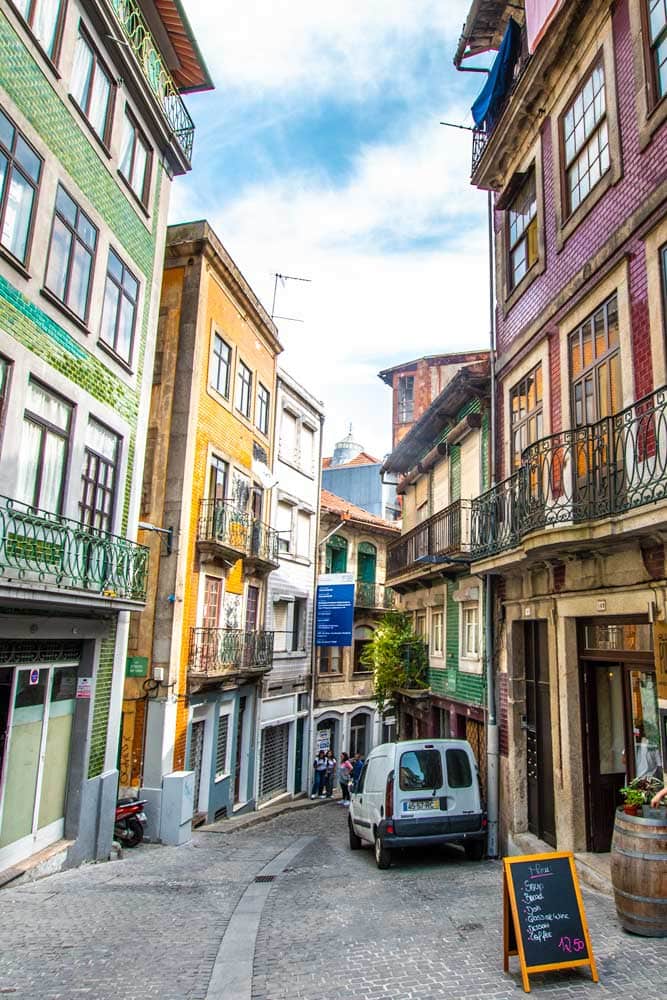 Our second day in Porto will start with a walk around the colorful Ribeira district. After having a coffee next to the river, we continue with two of Porto's most prominent attractions – The Porto Cathedral and the incredibly picturesque church – Igreja de São Francisco.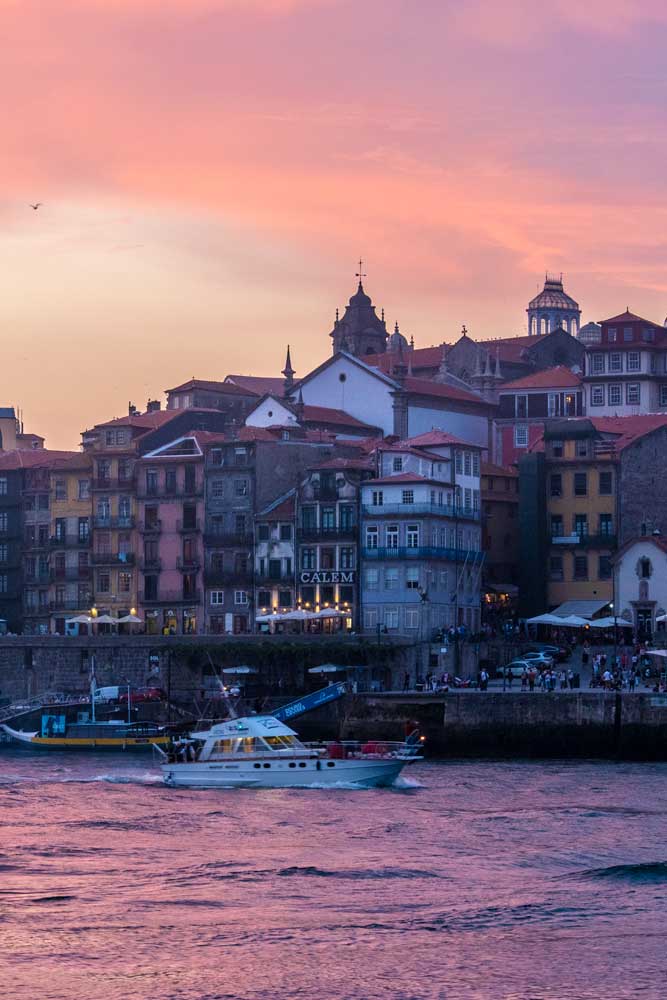 In the afternoon, we discover why Porto is a city of wine by joining a wine tour and exploring some of the city's best cellars. At sunset, find a place somewhere around the Gaia district and enjoy the colorful show over the Douro River.
Hey there! You know what? I have a detailed guide about Porto too. Check it out to find prices, working hours, plenty of pictures, and a map of the itinerary.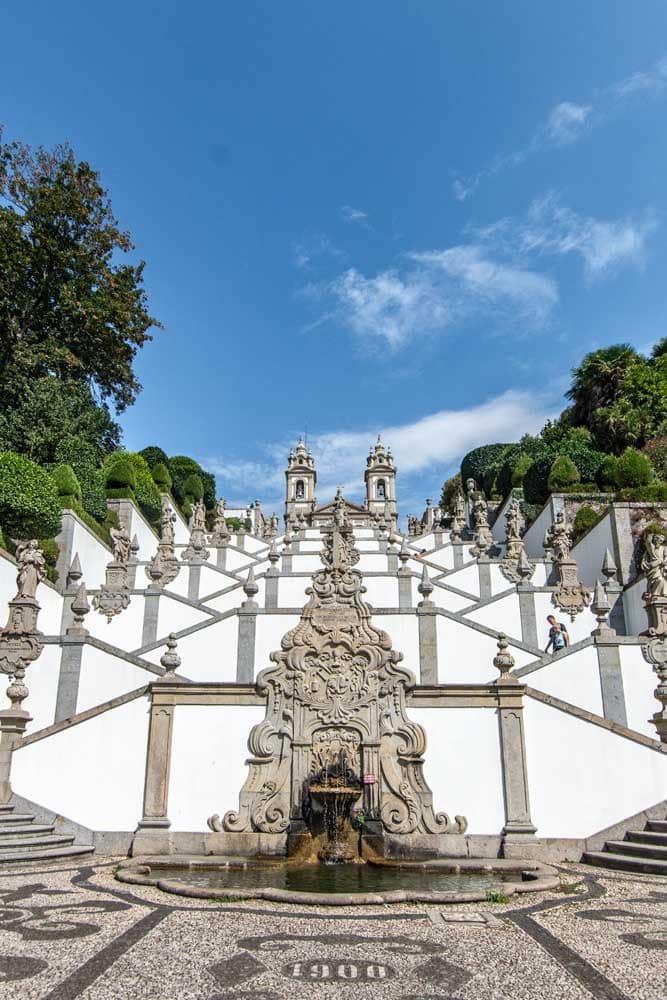 The ninth day of our 10 day Portugal itinerary will be spent on a day-trip. I picked Braga because it's cheaper than the Douro Valley, and it would be interesting for everybody (while the Douro Valley is mainly for wine-lovers).
Braga is just one hour away from Porto and features one of Portugal's most significant highlights – Bom Jesus Do Monte. The sanctuary and its 577 steps Baroque stairway are absolutely gorgeous and would also give you the chance to enjoy some of the refreshing mountain air of Portugal.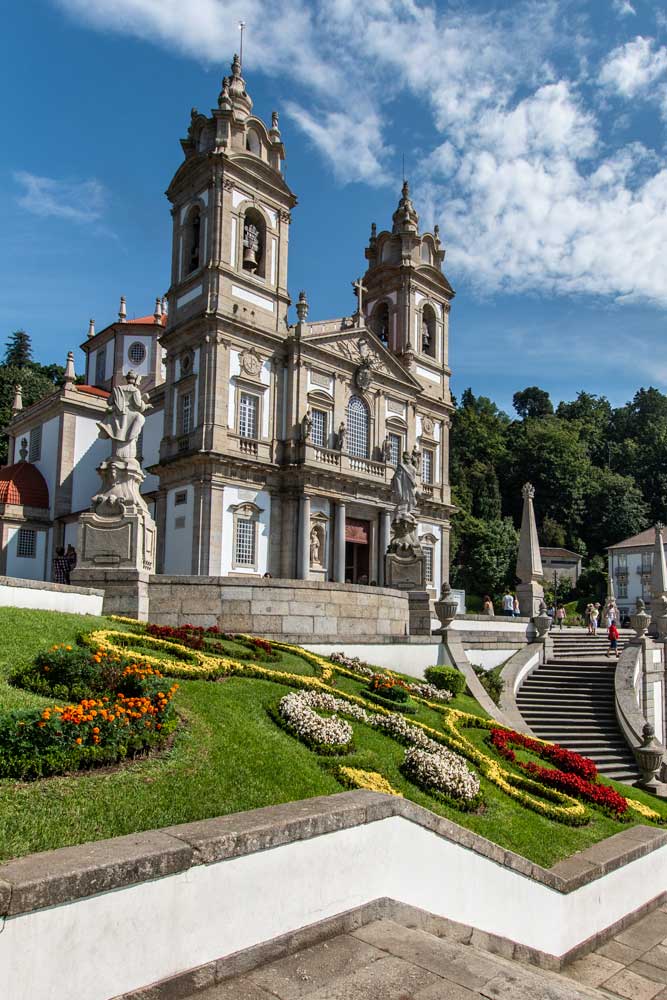 The city is also famous for its churches (which are countless), parks, and theatre.
To find how to reach Bom Jesus Do Monte and what else to do in Braga, you can check out my detailed Porto-to-Braga guide here.
Sadly your 10 days in Portugal are about to end. If your flight home departs from Porto, you can enjoy a leisure day alongside the Douro River. If not, you should have plenty of time to make your way back to Lisbon (around 3 hours by train).
More Than Ten Days in Portugal
You have more time to spend, or you don't fancy something on the itinerary? Not a problem. Portugal may be small, but it has plenty to offer.
Algarve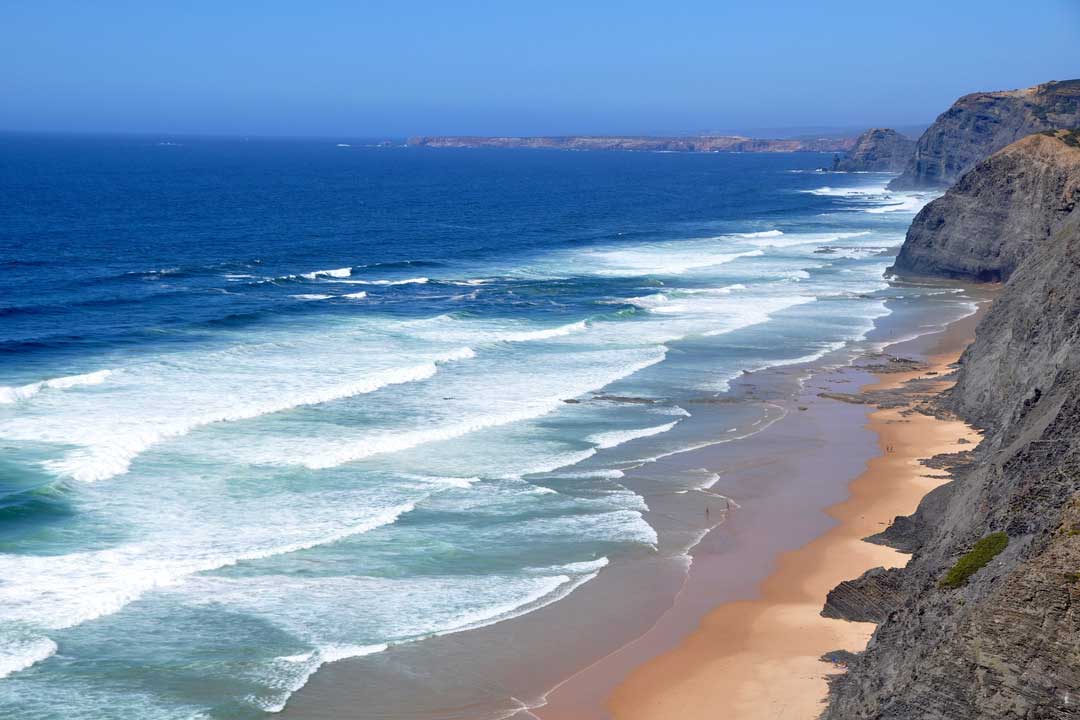 The southern coastline of Portugal is gaining incredible popularity as of late. With its quaint fishing villages, stunning Praia da Marinha beach, family orientated towns, and awe-inspiring landscapes, Algarve is one of the best spots in Europe to go for a beach holiday. If you're looking for a vacation mostly spend lying on a sunbed (or a surfboard), Algarve (and Praia da Marinha) should be the cornerstone of your 10 day Portugal Itinerary.
Coimbra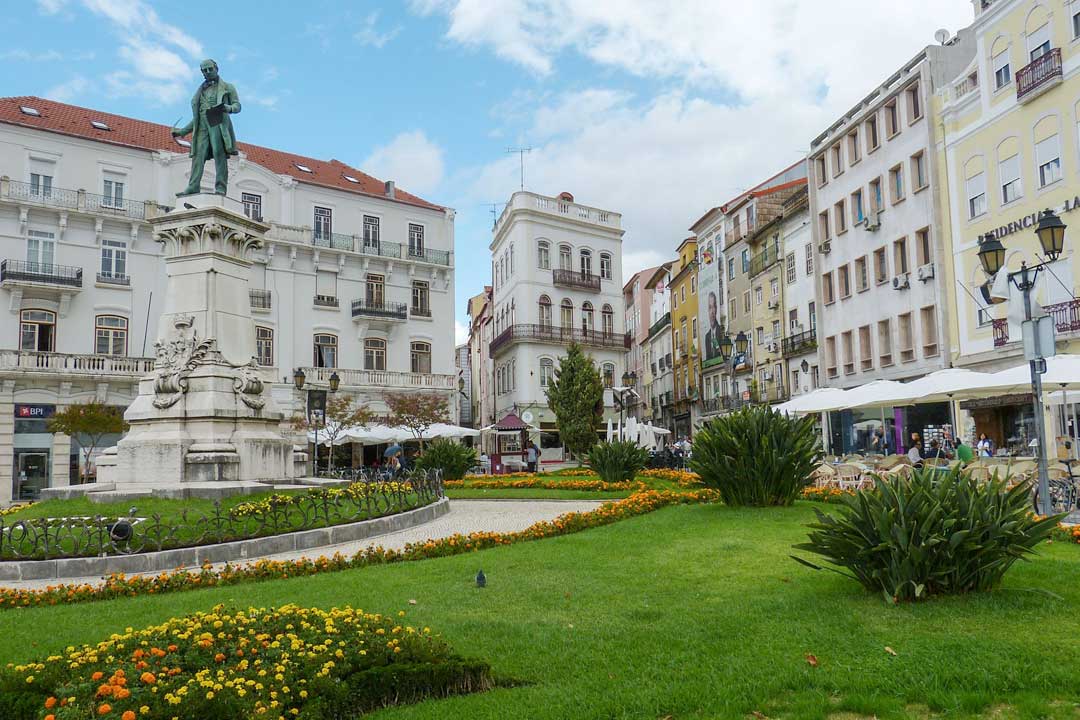 Being Portugal's medieval capital for more than a century, today Coimbra is the university city of Portugal. Combining the youthful student energy of modern Coimbra with the fortifications and gothic buildings of the medieval one, and you got a pretty exciting place to explore.
Nazaré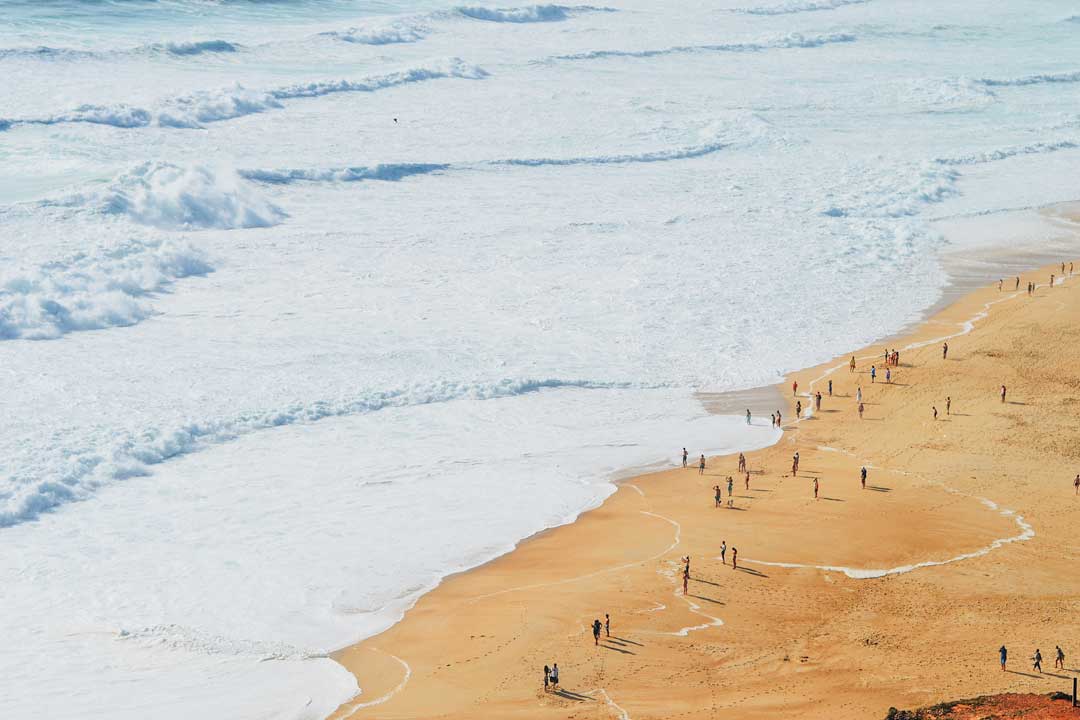 The picturesque seaside village of Nazaré is a famous touristic spot. Considered to have one of the best beaches in the country, the small resort-town is an excellent place for a family vacation.
Due to the "Nazaré Canyon" (a submarine geomorphological phenomenon ), the village is famous for having perfect giant waves, thus becoming legendary in the surfers' world.
Douro Valley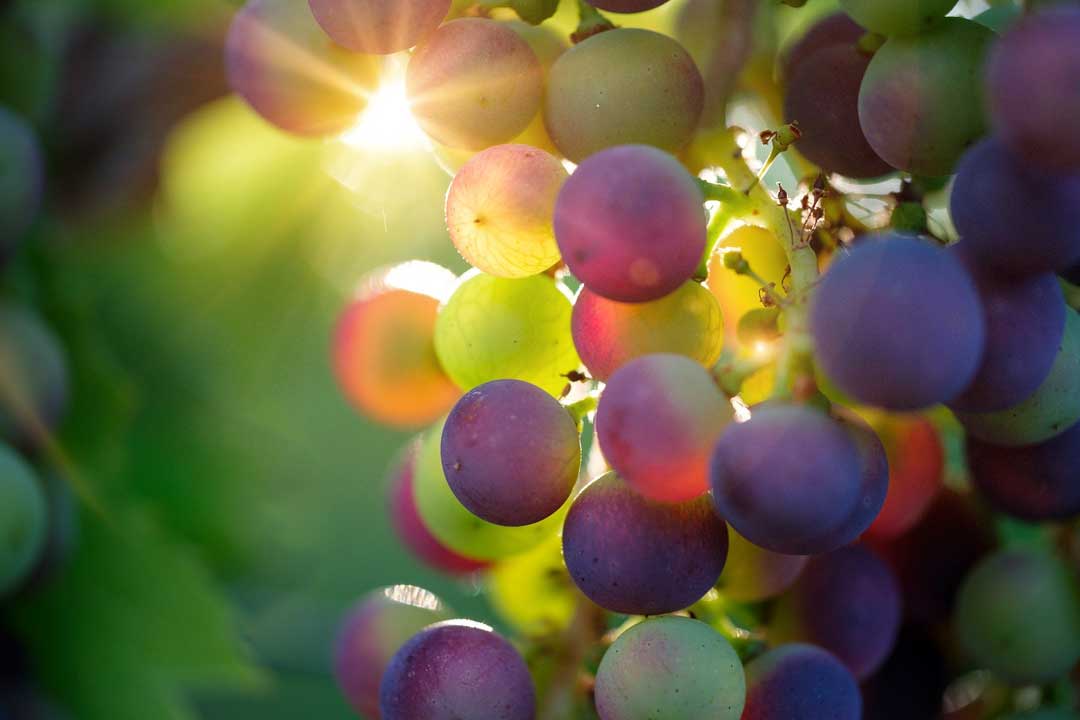 Depending on your love for wine, the Douro Valley may very well be an integral part of your 10 day Portugal itinerary. Located 300km (185 mi) east of Porto, the Majestic valley is a popular day-trip option.
A Unesco World Heritage site since 2001, the Douro Valley is one of the oldest wine regions in the world. Even if you're not that big of a wine enthusiast, the views of the valley and its majestic wilderness are something worth seeing.
Berlenga Grande Island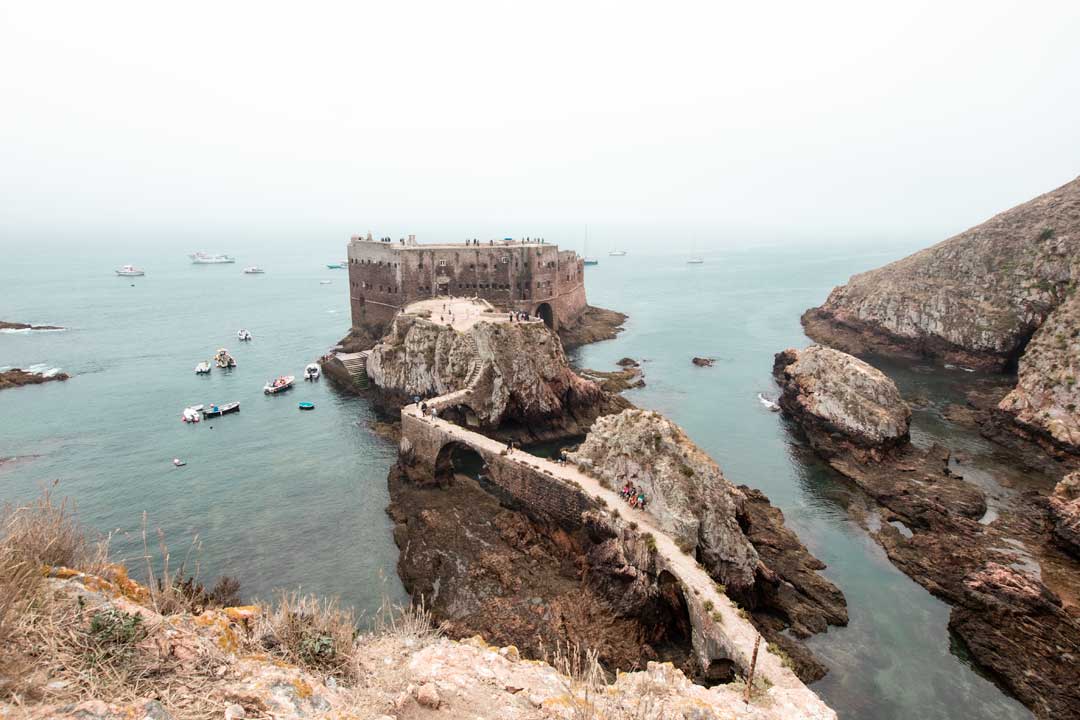 This one I found by surprise. During my 10 days in Portugal, I went for a dive off the coast of the Peniche fishing town. Between dives, my instructor took us to check out the Berlenga Grande, and I was caught by surprise. The rocky landscape of the island is quite a stunning sight on itself but complemented by the São João Baptista fort it becomes a top game-of-thrones-styled place to visit.
Make sure to check the weather forecast before you visit, though. It's not a rare occasion for the island to be covered in fog.
The Village of Monsanto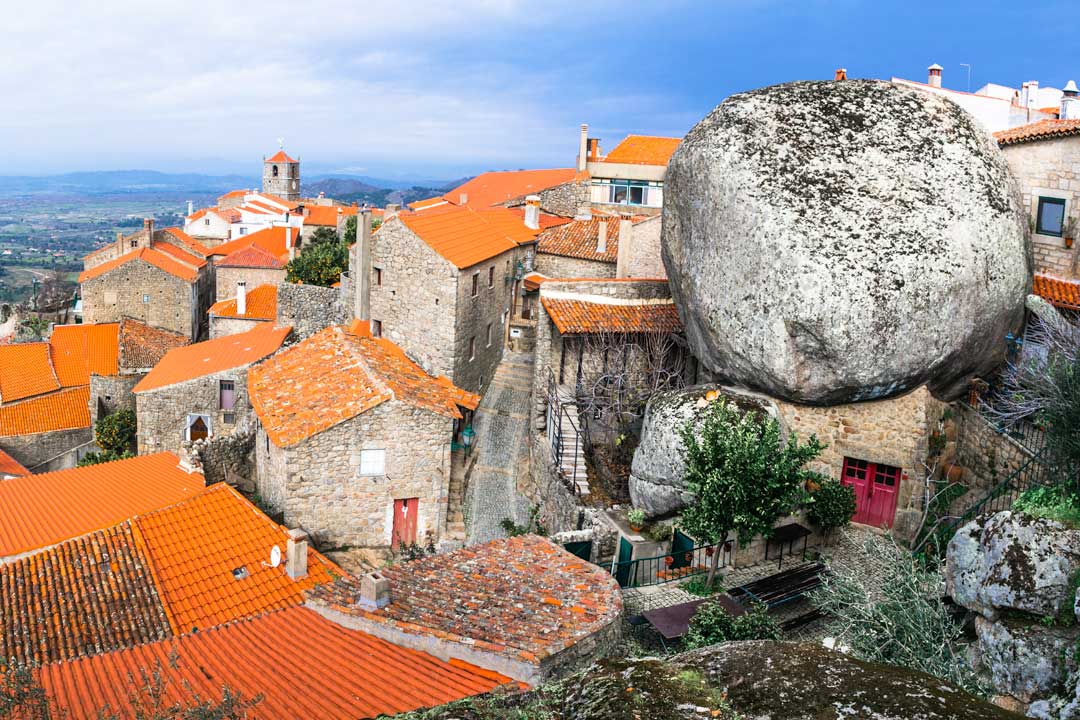 You want something unusual on your 10 day-Portugal itinerary? How about a village where houses are tucked under boulders?
Hanging on a mountaintop overlooking the Portuguese countryside, the village of Monsanto has hardly changed in hundreds of years.
Why are the houses sandwiched by boulders? I have no idea, but I'm pretty sure that's something you can't see anywhere else in the world, and a visit there would make for a good story back home.
It's on my 10 days in Portugal itinerary because it's a little bit away from the other destinations and you need a car to visit it.
The Islands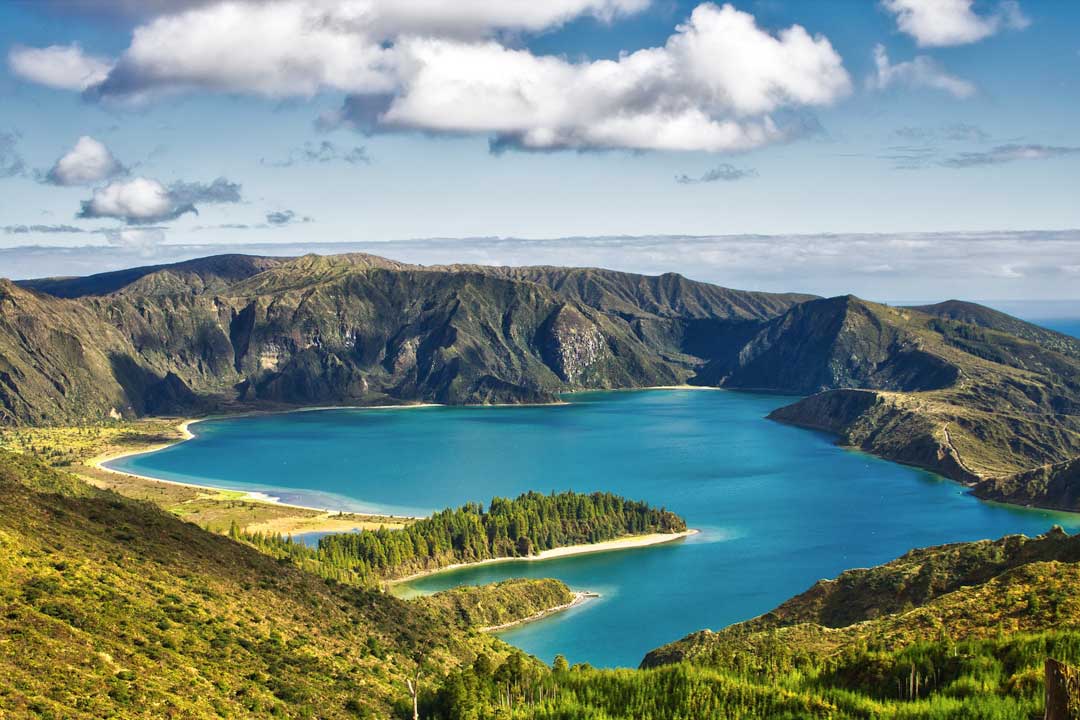 An honorary mention to the Azores and Madeira. Sadly, you need to have a lot more than 10 days in Portugal to check them out properly. They are so distant and different that I don't even consider them part of Portugal. A trip to either of them has nothing to do with anything else in the country.
Are they worth it?
Absolutely! If you enjoy nature and spending time outside, very few places in Europe can compete with Madeira and the Azores.
Portugal Travel FAQ
What is the best time to visit Portugal?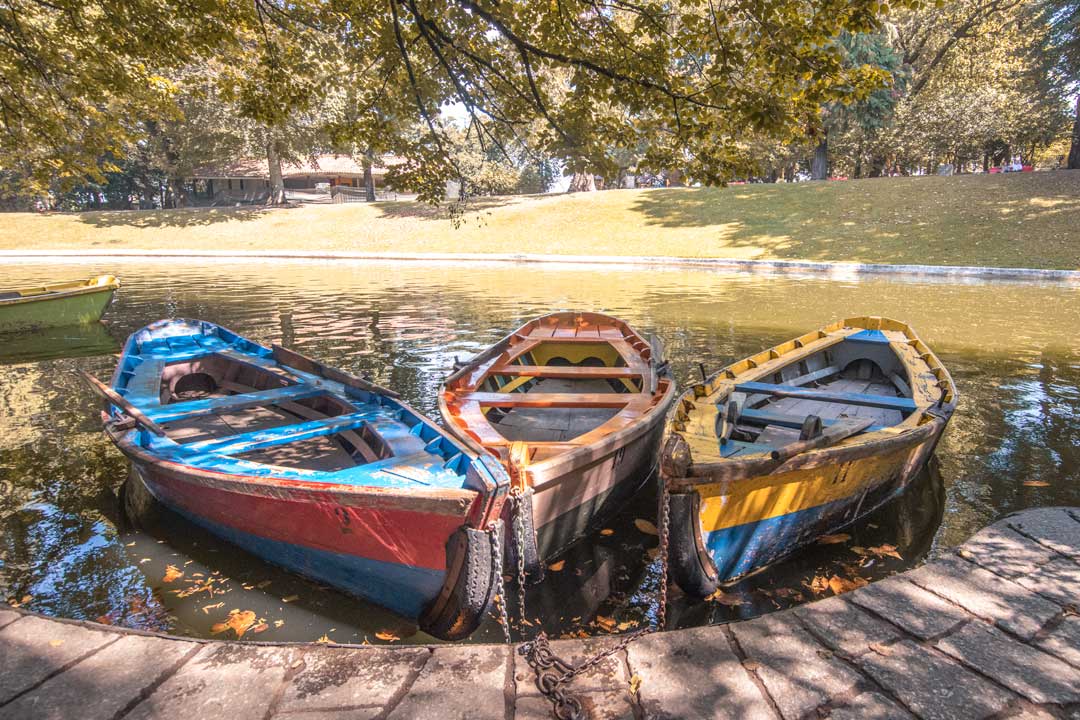 The best time to visit Portugal depends on your traveling style and what exactly you plan to do there. Overall, spring and early autumn offer the best temperatures and moderate crowds.
If you're looking for a beach vacation, those seasons won't cut it, and you better search for flights around the summer months (July-September).
If you're a budget traveler, avoid the summer (August especially) and the holiday months (April, December). The best prices are in January and February.
If you love wine, September – October is the grape-harvesting season, and you can enjoy plenty of activities you won't find during the other seasons.
You can see the average temperatures all around the country here.
Is Portugal safe?
Portugal is an incredibly safe place to visit. It's regularly voted among the safest countries in the world, so chances of having any problems during your 10 days in Portugal are close to nothing.
This doesn't mean you have to skip travel insurance, though. Risking to sound like your mother, anything can happen, and to travel unprepared is an unnecessary hazard. Travel insurance not only covers you if something happened but free your mind of worry, so even if nothing happens, you enjoy your vacation way more. I currently use HeyMondo for my travels because they have proven themselves to me more than once over the years. The link above will give you a 5% discount, but If you have another favorite provider, that's ok. Just make sure you have one because you never know what may happen.
How to get around Portugal?
While you can always rent a car and explore on your own pace, I suggest using public transport. The train system is incredibly well developed in Portugal. Intercity trains are inexpensive and fast, while the metro trains around the city can also be used to go on some day-trips (like Lisbon – Sintra).
The cities are best explored by foot, but you can use the trams that go virtually everywhere. If you're lucky, you may get one of the vintage wooden ones!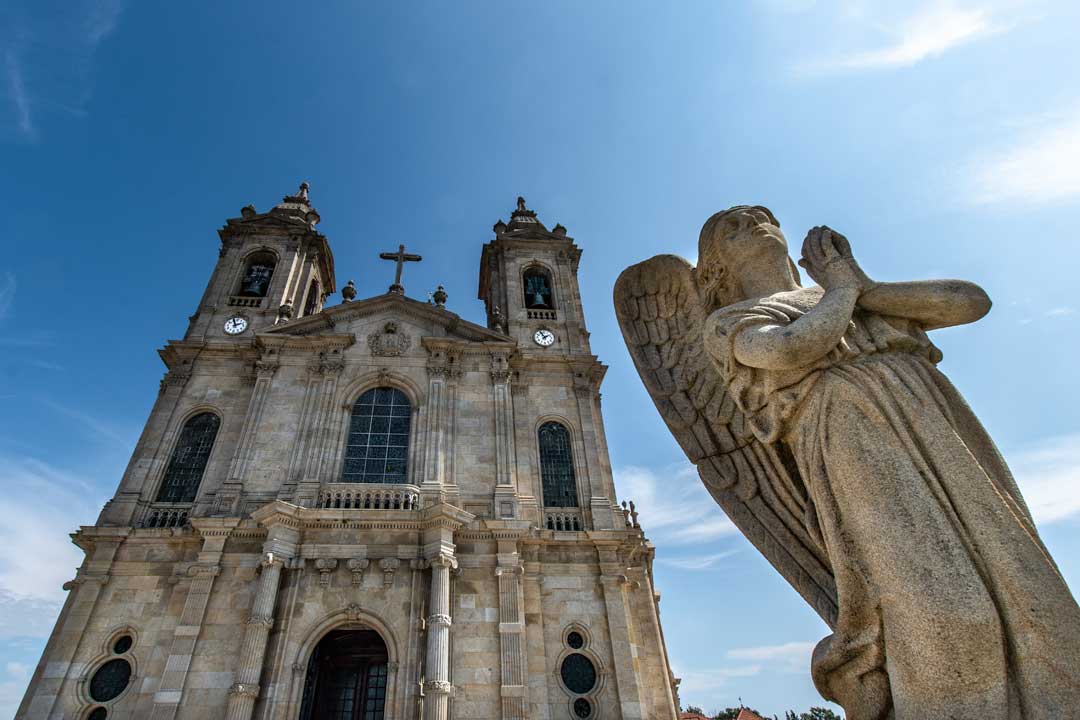 What currency do I need for Portugal?
Euro is the official currency in Portugal, and you can't pay in anything else (including Dollars).
Do they speak English in Portugal?
I was pleasantly surprised by the level of English spoken in Portugal. Unlike nearby Spain, everywhere I went, people spoke English, and they spoke it quite well. Even if you don't speak Portuguese or Spanish, you won't have any trouble with the communication there.
That's all from me, I hope you enjoy your 10 days in Portugal!
————————————
If you haven't planned your trip there yet, find out how I plan my trips!
————————————
I have 17 bucket list ideas for Portugal. See my impossible bucket list of 1700+ adventures!

Is Portugal on your bucket list?
---
Some of the above are affiliate links and I will earn a percentage of the sale if you purchase through them at no extra cost to you. This helps keep my site running – so thanks in advance for your support!