So, you're about to spend 2 days in Budapest? Great idea! No matter if you have the Hungarian capital in your itinerary due to having the utmost desire to explore it or simply because you're on a Central-European trip, I can guarantee that your 2 days in Budapest will exceed your expectations.
A UNESCO World Heritage Site since 1987, Budapest is one of those cities that have a little bit of everything. Started as two different towns – Buda and Pest, the streets of the Hungarian capital have a long and often sad story to tell. Once upon a time, Budapest was a Celtic settlement that got transformed into a Roman town. It was later pillaged by the Mongols and enslaved by the Ottomans. Used to be part of the Austro-Hungarian empire, got invaded by the Nazis and "rescued" by the Soviets. Yeah, Budapest is a treasure trove for any history enthusiast.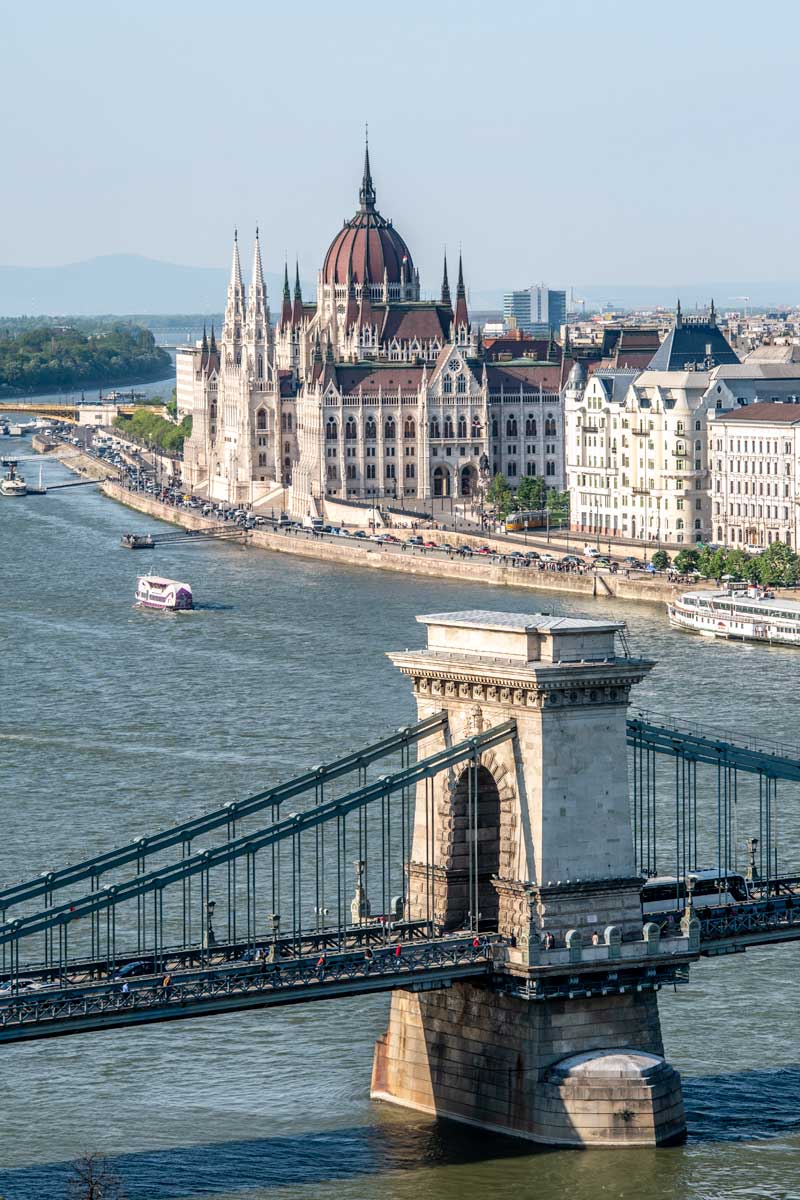 The various Baroque, Neoclassical and Art Nouveau buildings mixed with modern street art and contemporary bars give the city a unique fresh look while also preserving its classical soul.
Speaking of a modern look, Budapest has a vibrant nightlife with one-of-a-kind ruin pubs spread all over town. Not into party? No problem. Take the day off and relax in the famous Budapest thermal baths or take a leisure boat trip on the Danube river.
As I said, this city has something for everyone, so spending 2 days in Budapest could be done in dozens of different ways. In my Budapest itinerary, we'll embark on a journey through the biggest highlights of the city, and we'll learn more about its troubled history. I'll show you my favorite photo spots, and together we'll uncover some of the best-hidden gems in town.
Two Days in Budapest – Day one – Panoramic Views
I have to admit, I was really divided what the best way to start your 2 days in Budapest is. In the end, I decided a nice panoramic walk is the perfect introduction to the city and should be the first thing to start with. If your hotel/BnB is closer to any of the other stops in the route, you may save Buda castle and the Fisherman's Bastion for the evening to enjoy the panoramic hill views after dark.
Buda Castle
We start our itinerary from the Buda side of town. While Pesta is famous for its parties and noisy nightlife, Buda is known to be the more peaceful and tranquil part of Budapest. The Buda Castle is on top of the Buda Castle Hill and could be seen from anywhere around the river.
To get there, you can take a funicular ( I always enjoy riding on those) or simply walk (it's not that big of a hill, and you get a few photo ops on the way). The massive royal palace was built between 1749 and 1769 and used to be a home of the Hungarian Imperator. Sadly the royal apartments are not open for tourists.
The castle house the Hungarian National Gallery and The Budapest History Museum, and if you have more than 2 days in Budapest I would recommend checking them out, but for this itinerary, we're climbing the Buda Castle Hill for one reason only – the panoramic views!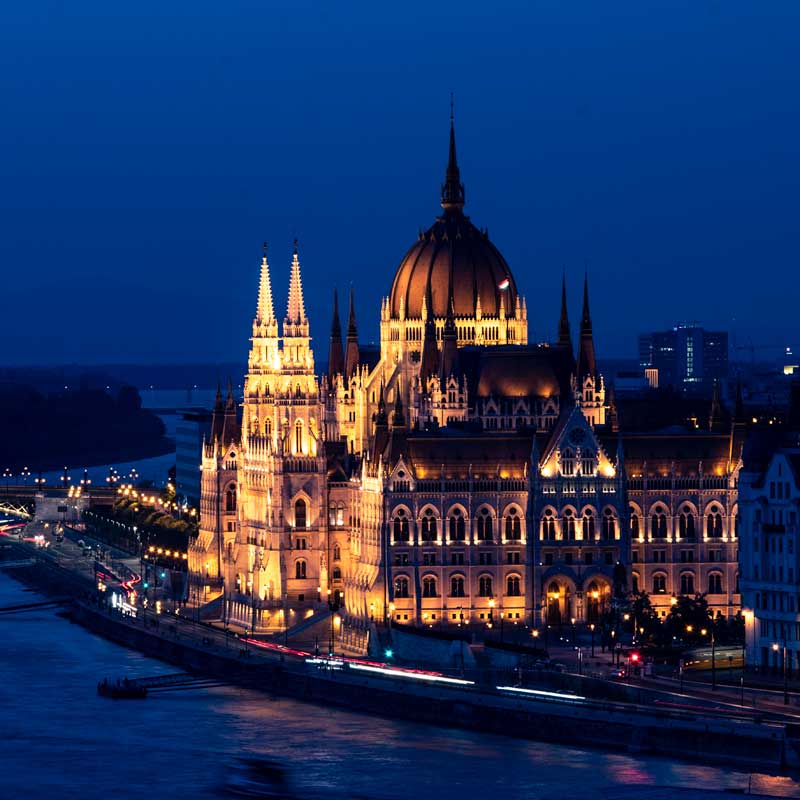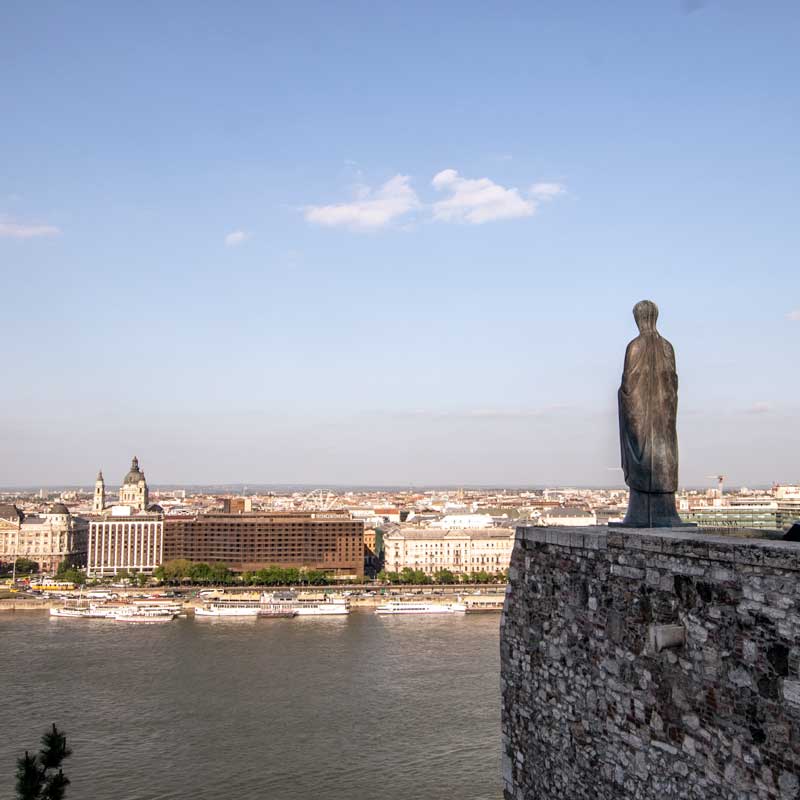 Enjoy a walk around the castle grounds and take amazing photos of some of Budapest's biggest attractions.
If you don't mind the early wake-up, you can get to the Buda Castle Hill around sunrise and enjoy the tranquility of having the whole place for yourself.
If you really want to learn more about the history of the castle and the Austro-Hungarian emperors, you can schedule a walk around with a historian who will be more than glad to answer every question you have.
Fisherman's Bastion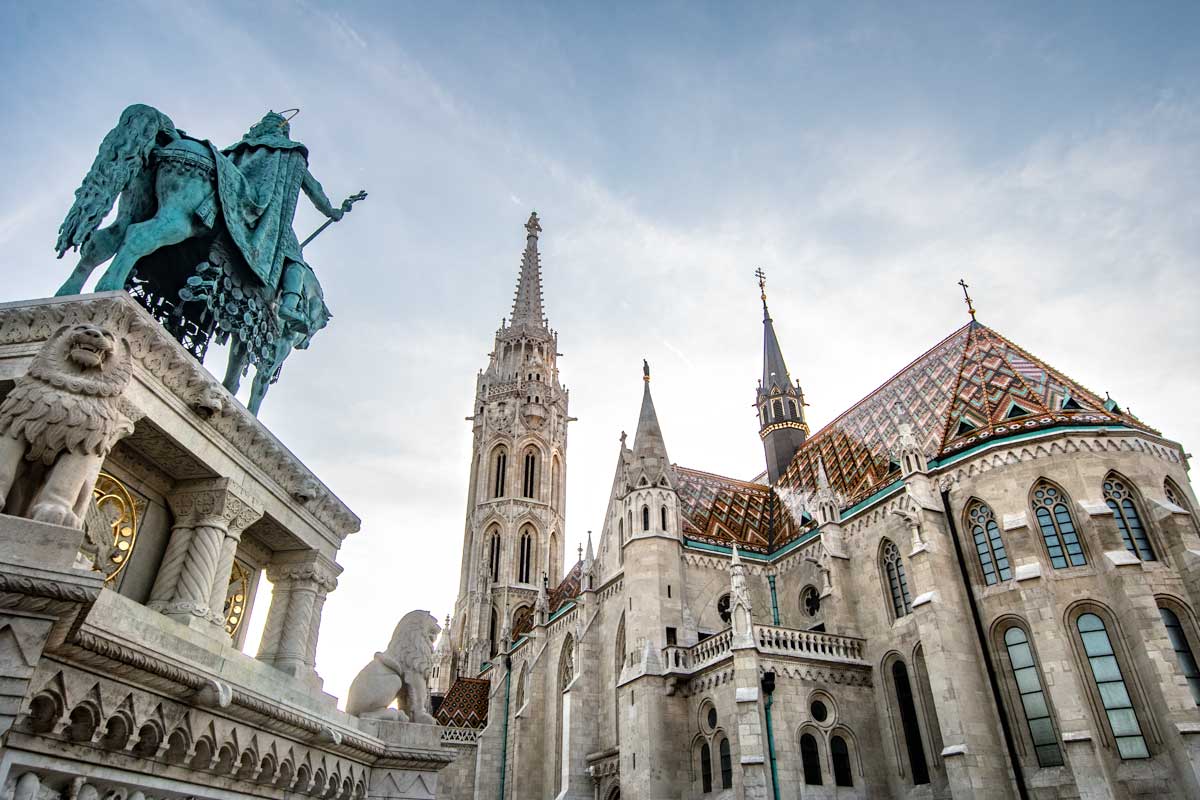 The Fisherman's Bastion is a set of lookout towers situated just 10 minutes away (walking time) from the Buda Castle. Looking like a place where a Disney princess might live, the Bastion is the Instagram superstar of Budapest and one of the most visited places in town.
The terraces and the courtyard are open 24hrs. If you want to go to Matias Church (located in the courtyard) or climb to its bell tower, you need to check out working times and get a ticket.
If you followed my advice and get to the Buda castle at sunrise, you should get the Bastion pretty empty of people and have the whole magical place to yourself.
Castaway Fact
During the Middle Ages, the Bastion was protected by the guild of the fishermen hence the name. The seven towers symbolize the seven Magyar tribes that founded the country in 895.

See Also: The Ultimate Central Europe Itinerary
Photo Tip
My top photo spots around the Fisherman's Bastion:
– The 3 windows between the turrets with the Parliament Building as a background ( right across the church)
– The upper right turret: you can shoot the turret itself, with Pest as a background, or turn around and have a nice shot of the church and the courtyard.
– The entry stairs: you can either go to the middle of the main stair and have the Bastion as a background or go to one of the side stairs and have the other side stair and a turret in the background.
– The main tower: this one is the most Disney-like building in the Bastion, and it's incredibly picturesque.

Bastion Upper Towers:
Prices:
Adults – 1000 HUF / 3 EUR
Seniors/students – 500 HUF / 1.50 EUR

Opening Hours:
March 16 – April 30: 9:00 AM – 7:00 PM
May 1 to October 15: 9:00 AM – 8:00 PM
Free Entry to all parts of the Fisherman's Bastion:
Any day between October 16 and March 15
August 20 – the national holiday
Every day between 8:00 PM and 9:00 AM (night hours)
Mattias Church
Prices:
Adults – 1000 HUF /3 EUR
Seniors/students – 1200 HUF / 4 EUR
Family (2 adults + 1 child) – 4200 HUF / 10 EUR (+200 HUF per child)
Opening Hours:
Mon – Fri: 09:00 AM – 5:00 PM
Sat: 09:00 AM –1:00 AM, (on some Saturdays till 5:00 PM)
Sun: 1:00 PM – 5:00 PM, on religious holidays opening hours vary.
Opening hours may change because of religious ceremonies.
Mattias Church Bell Tower
Prices:
Adults – 1000 HUF / 3 EUR
Seniors/students – 1200 HUF / 4 EUR
Family (2 adults + 1 child) – 4200 HUF / 10 EUR (+200 HUF per child)
Opening hours:
10:00 AM – 5:00 PM every day,
Tours start at every hour; max 15 persons can go up.
Széchenyi Chain Bridge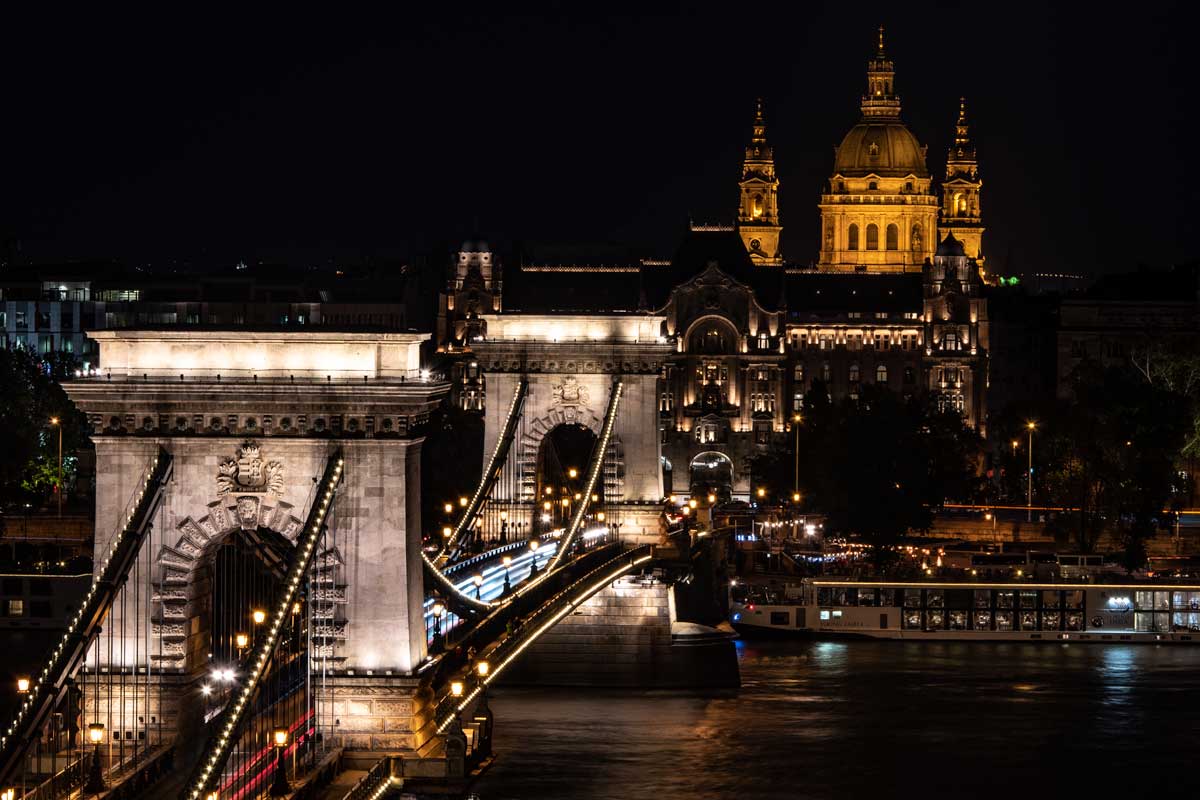 We continue our 2 days in Budapest by going down the Buda Castle Hill (you can use the funicular if you skipped it on the way up) and making our way to the Pest side of the city.
To do that, we're gonna cross the Danube River through the most famous and beautiful bridge in town – Széchenyi Chain Bridge!
Commonly known as just the "Chain Bridge", at the time of its construction, it was regarded as one of the biggest engineering wonders. Guarded by a pair of lions on each side, the bridge offers great photo ops during day and night.
Photo Tip
The best photo spots are:
1) From the Buda side, on the left to the bridge
2) From the Pest side, the right in front of the lions, the road became crossroad leaving a small island you can go and take a front shot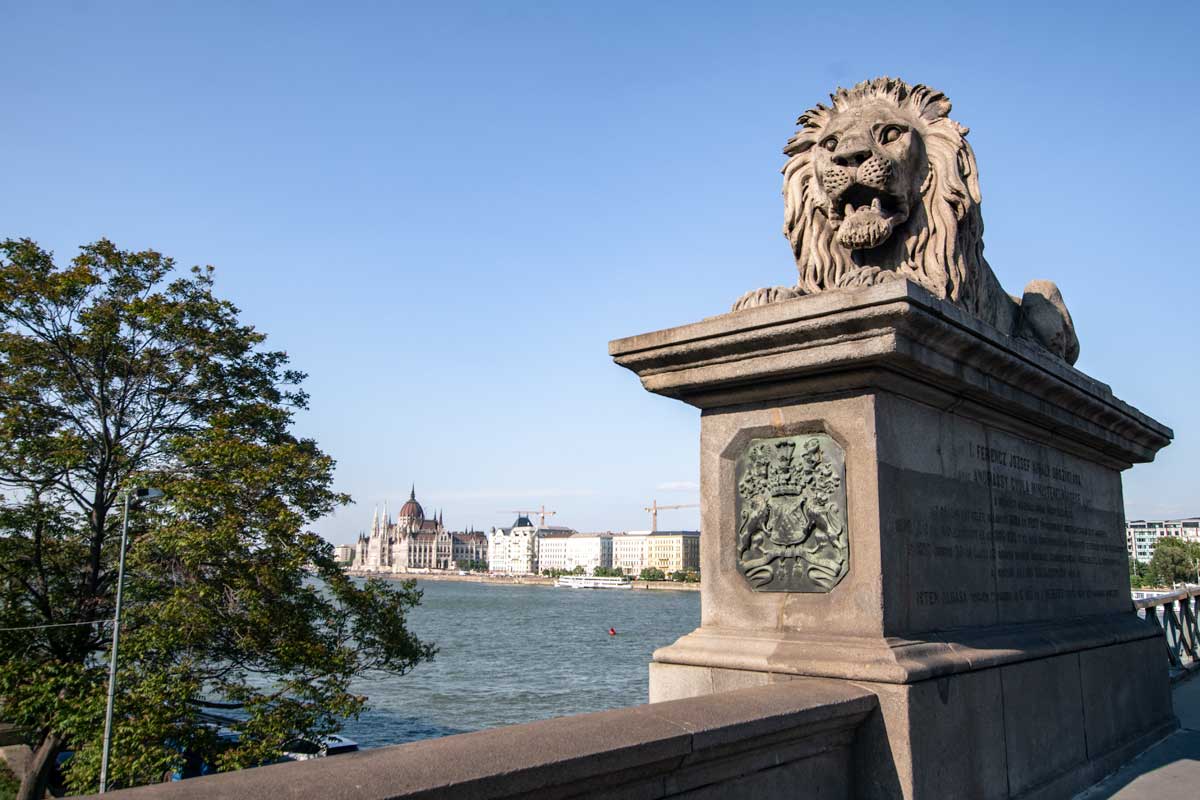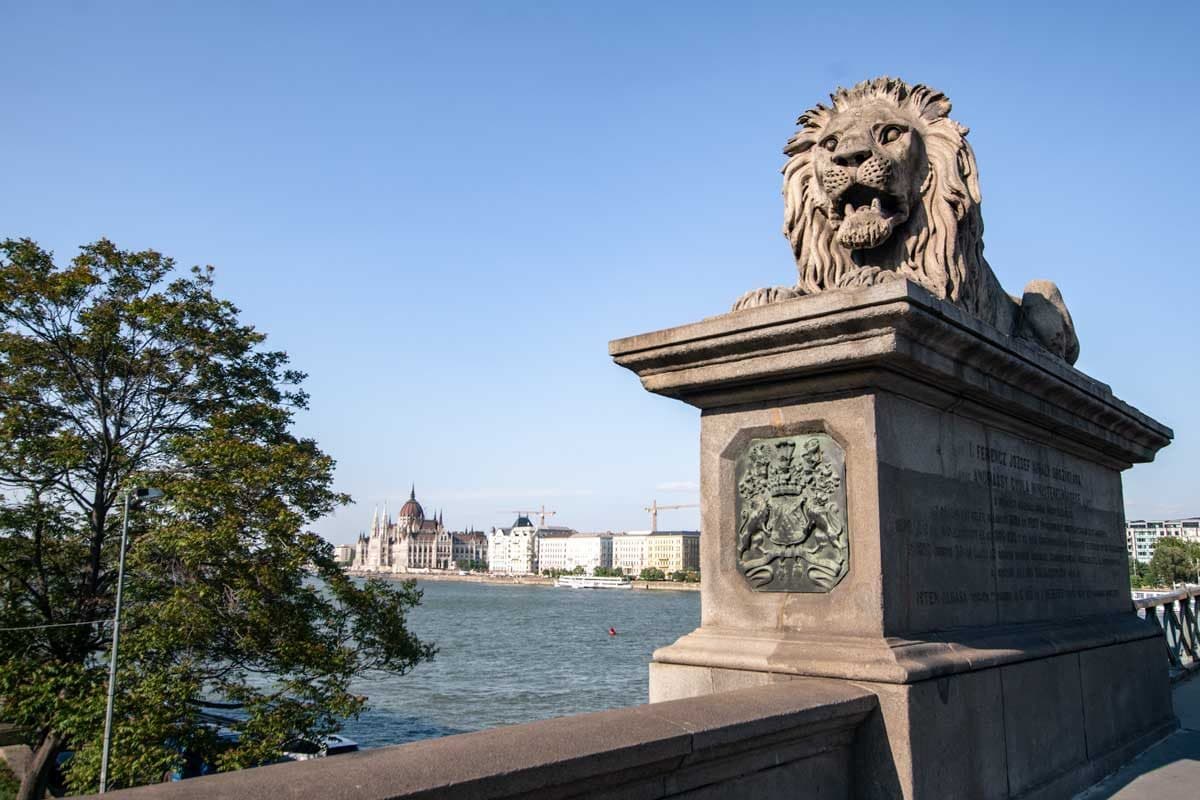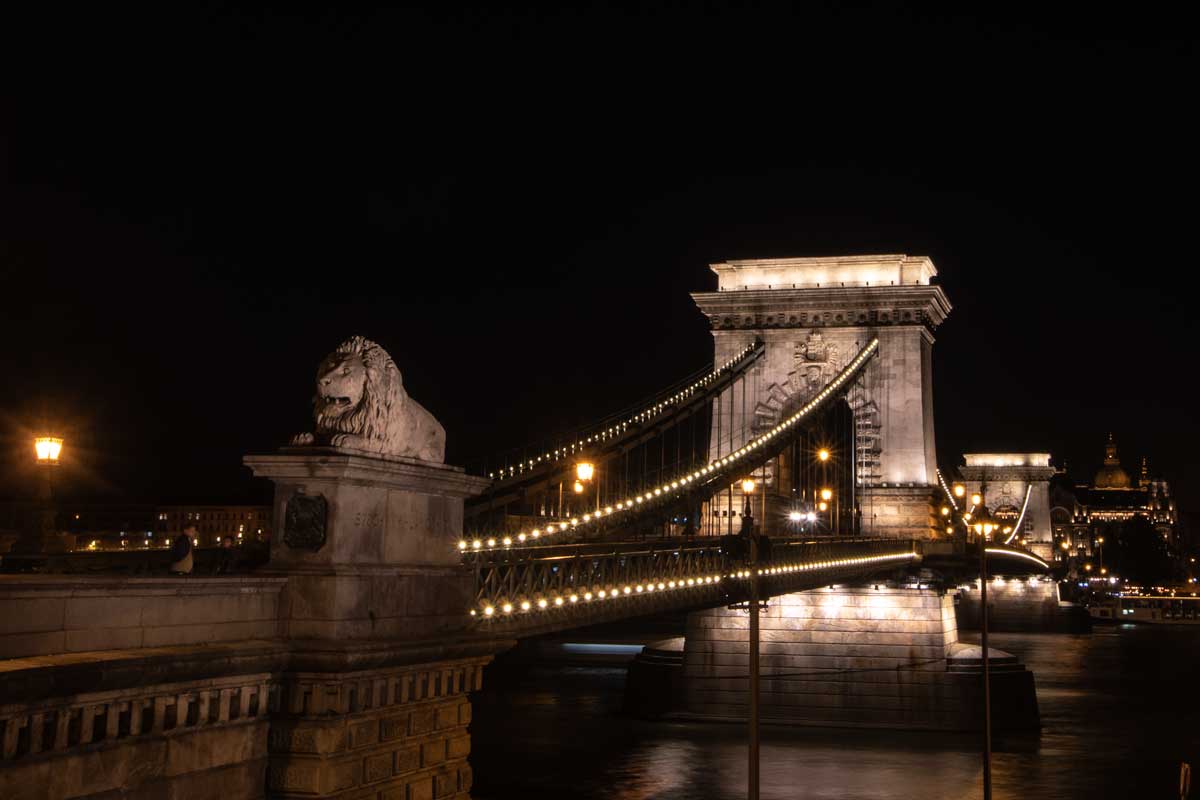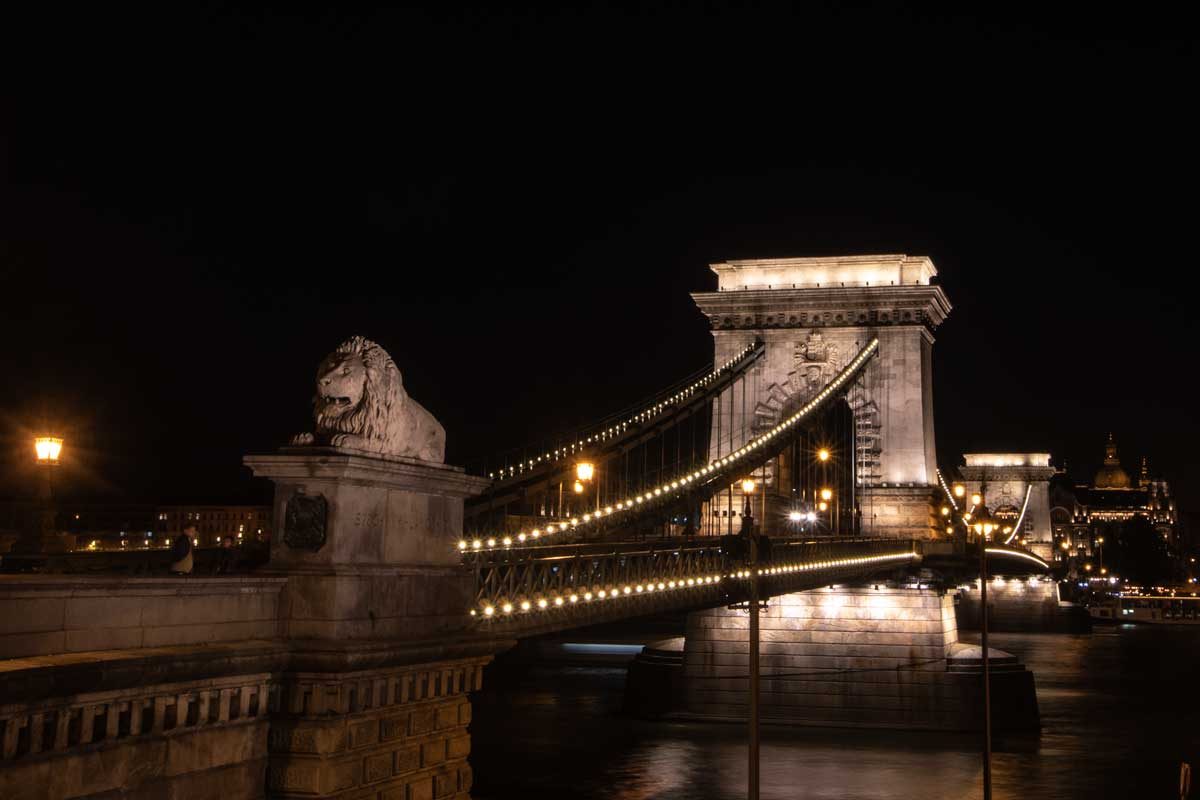 See Also: How to Spend 3 Days in Vienna
Danube Shoes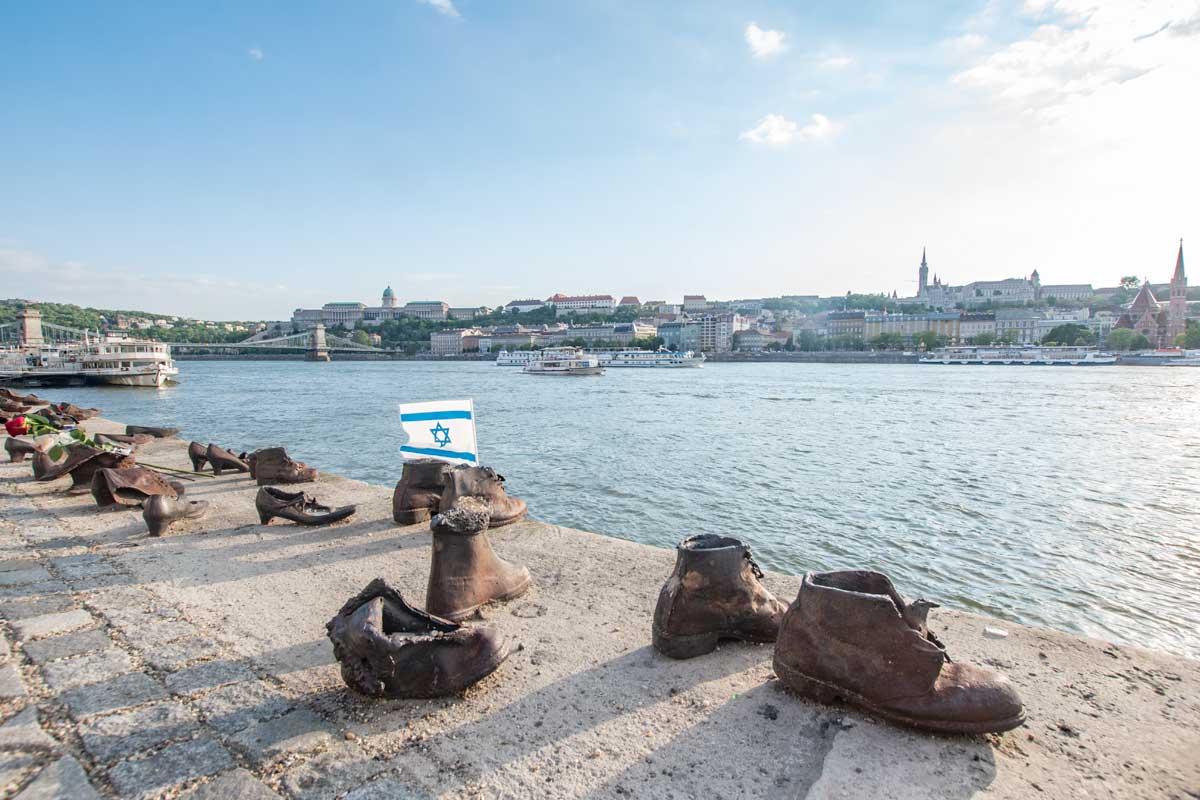 Our 2 day Budapest itinerary continues with one of the saddest monuments in Europe.
On the east side of the Danube river, you'd find 60 pairs of iron shoes created by the sculptor Gyula Pauer to honor the Jews who were killed by fascist Arrow Cross militiamen in Budapest during World War II. The condemned were forced to take off their shoes before being shot at the edge of the river. It's a heartbreaking monument that is a must-see in Budapest.
The Hungarian Parliament Building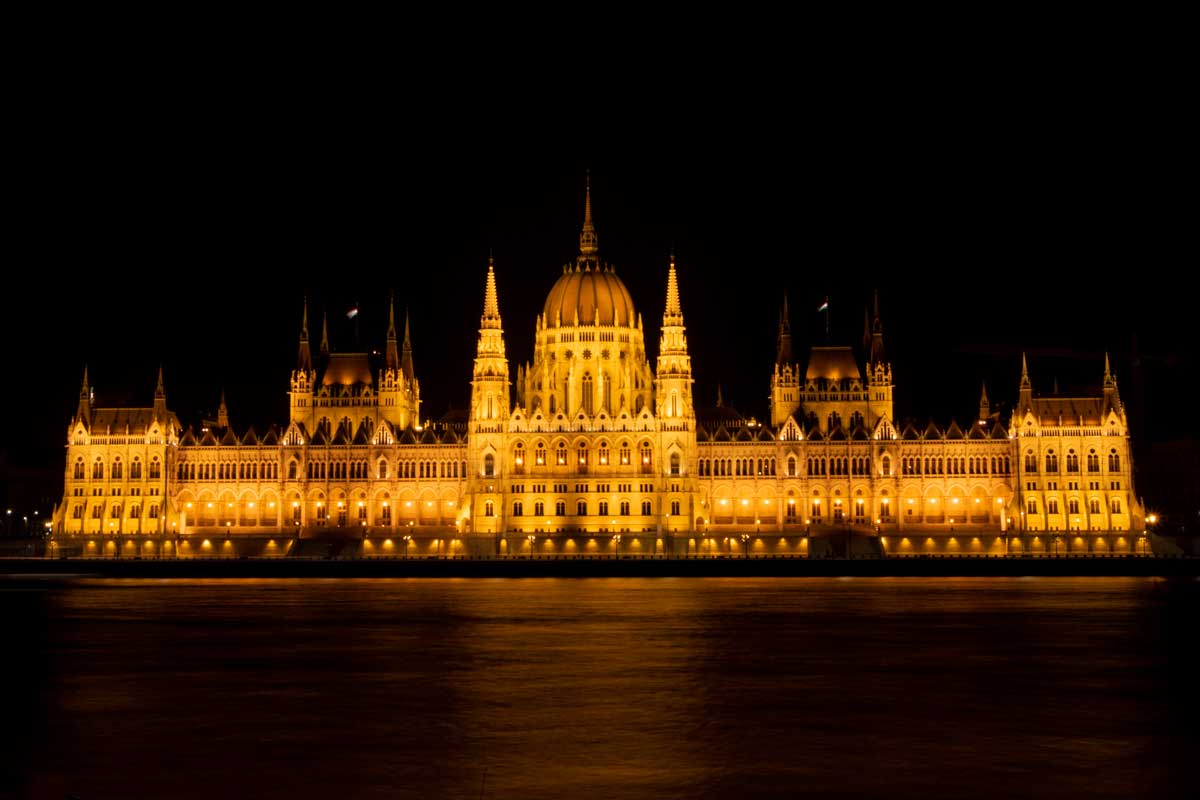 300 meters away from the Danube shoes, we find one of the most famous government buildings in the world – The National Parliament of Hungary.
A symbol of the city, the Parliament Building, was constructed in a neo-gothic style more than a century ago. Since it's a working building, you need to schedule a tour to see it from the inside. And don't expect just a tour around an old government building. The Hungarian Parliament Building tour may be only 45-minutes-long but will show you the incredible great vaulted hall, a one-of-a-kind ornate central staircase, and the cherry on the top – the Hungarian Crown Jewels (including the Hungarian Holy Crown).
Another great way to see the Parliament Building is to go on a Danube river cruise. Would be harder to get a nice photo but the detailes you can see from that close make the journy absolutely worth it.
Photo Tip
The most iconic shot of the Hungarian Parliament Building is from the Buda side of the river. It's hard to do it during the day since a lot of boats are docked right in front of it. If you really want that shot, go after the sun is down. Boats are gone, and the Parliament Building is illuminated in beautiful golden light.

St.Stephen's Basilica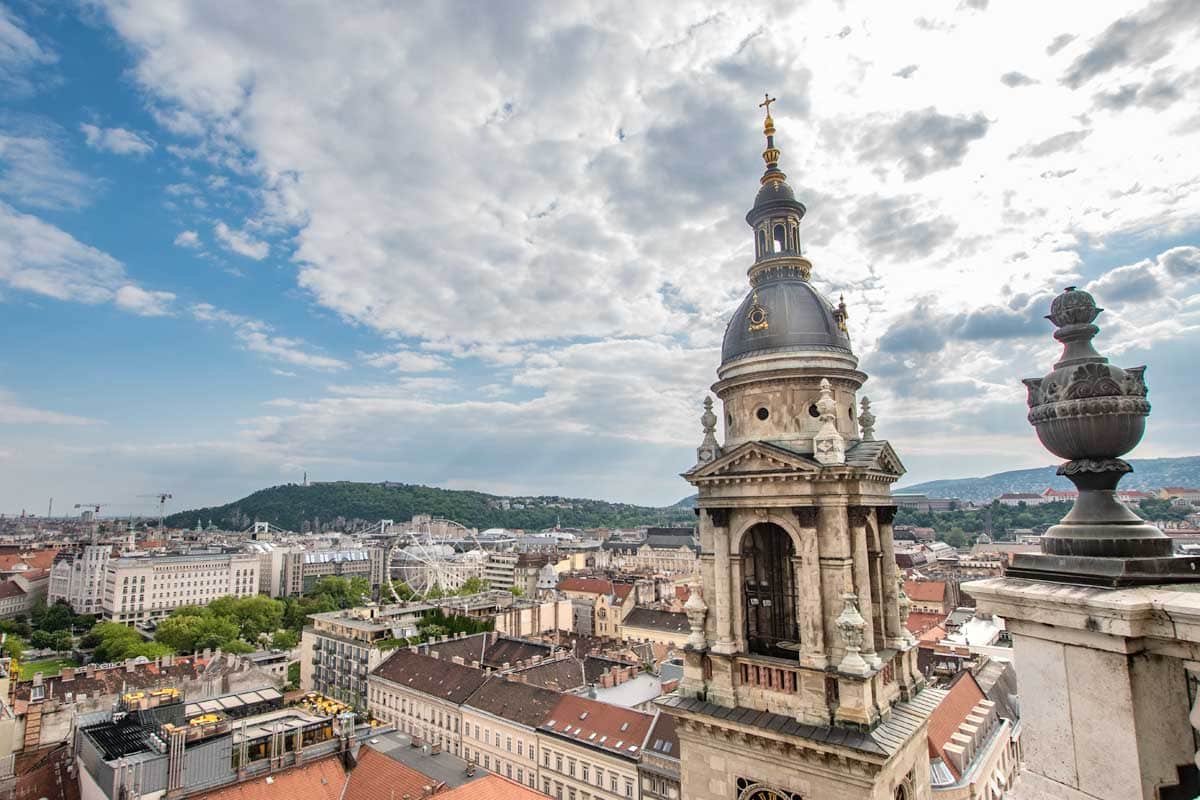 We won't be in Europe if we don't visit at least one gorgeous cathedral, right?
The St.Stephens Basilica used to be a theatre where animal fights were hosted when it was restructured as a church in 1810. It's named after the first Hungarian King – Saint Stephen I and his mummified "incorruptible" right hand is still inside the church.
The interior of the Basilica is impressive, but the real highlight is the bell tower. With its beautiful panoramic views, the tower is one of the best photo spots in town. There are 302 steps to the top, but if you don't trust your fitness levels that much (or you're just a bit lazy today) there is an elevator you can use without extra charges.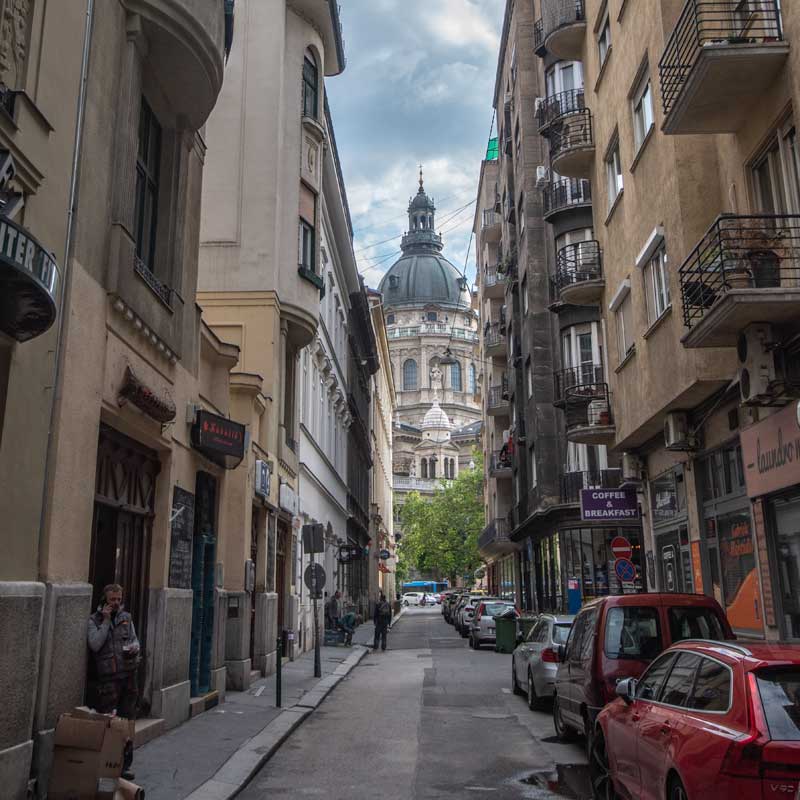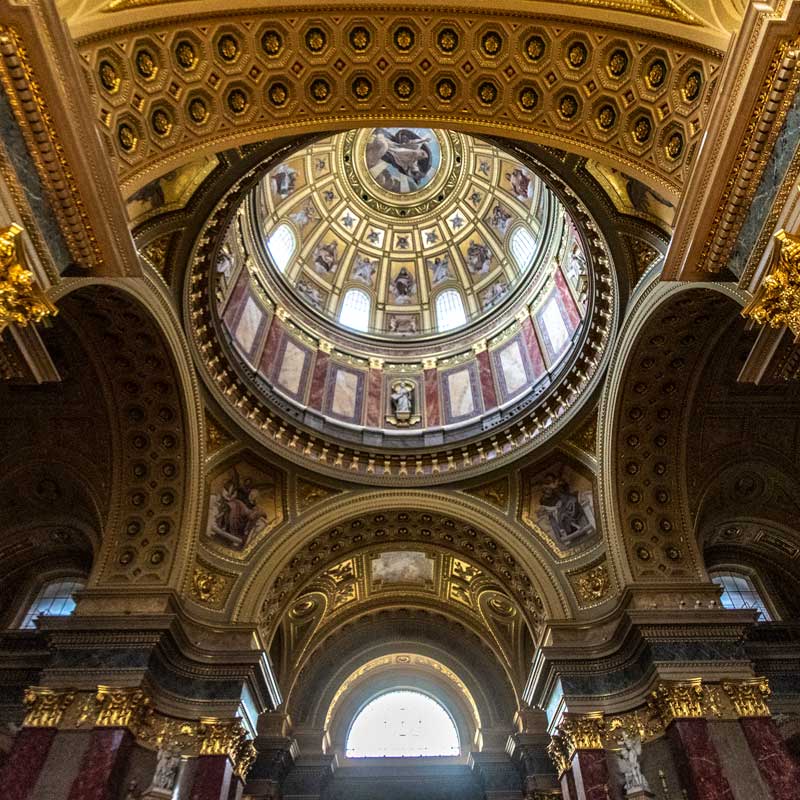 Church
Price:
Free

Opening Hours:
Mon-Fri 9:00 AM – 5:15 PM
Sat 9:00 AM -1:00 PM
Sun 1:00 PM – 5:00 PM
Bell Tower
Price:
Regular – 1000 HUF / 3 EUR
Discount – 800 HUF / 2.5 EUR
Children under 7 – free

Opening Hours:
Mon-Sun – 10:00 AM – 6:00 PM
Bonus: you can go to an organ concert in St.Stephens Basilica
Budapest Eye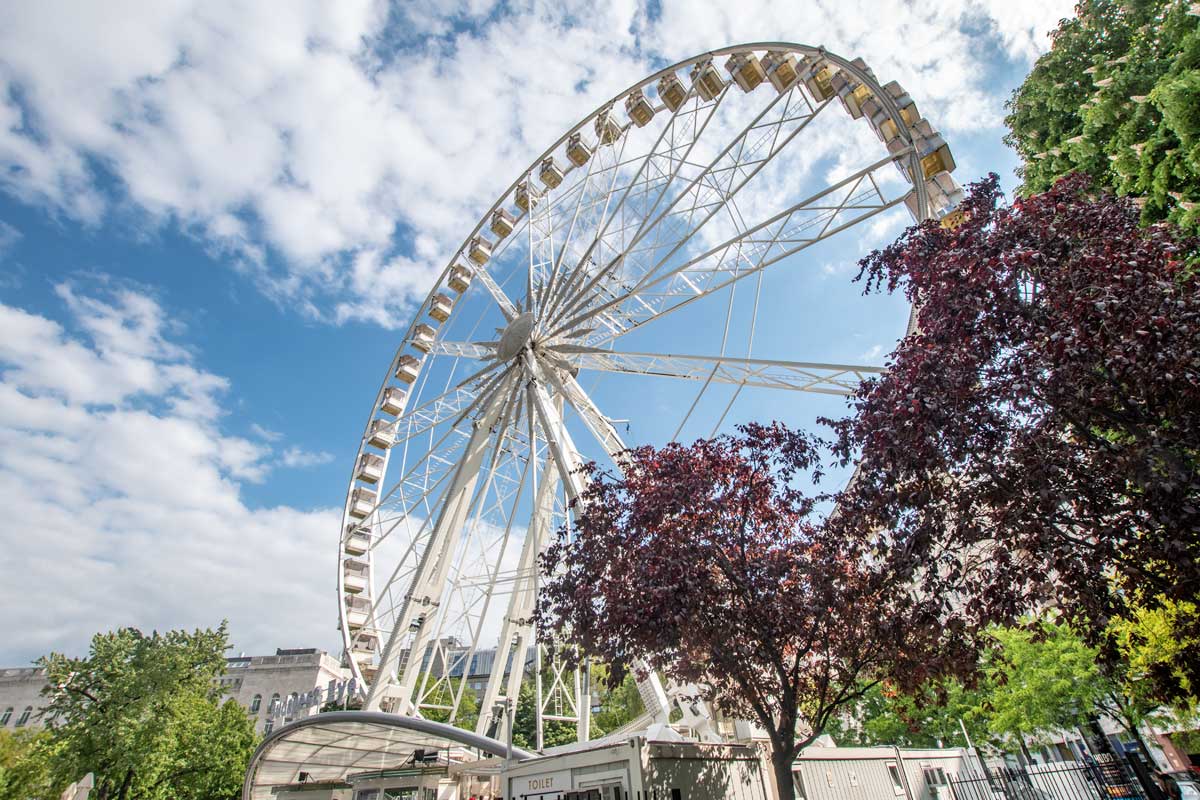 Standing 65 meters tall, the Budapest Eye is the largest mobile Ferris wheel in Europe and the next destination on our 2 day Budapest itinerary guide. The wheel gets you pretty high up, revealing a unique view of the nearby St.Stephen Basilica.
It stays open until late so you can enjoy the evening city lights from it too. One ticket is valid for three full rounds. You can see the latest working hours and prices here.
If you're not into this type of attractions, you can use the lovely park around the wheel to relax a little bit.
Jewish Quarter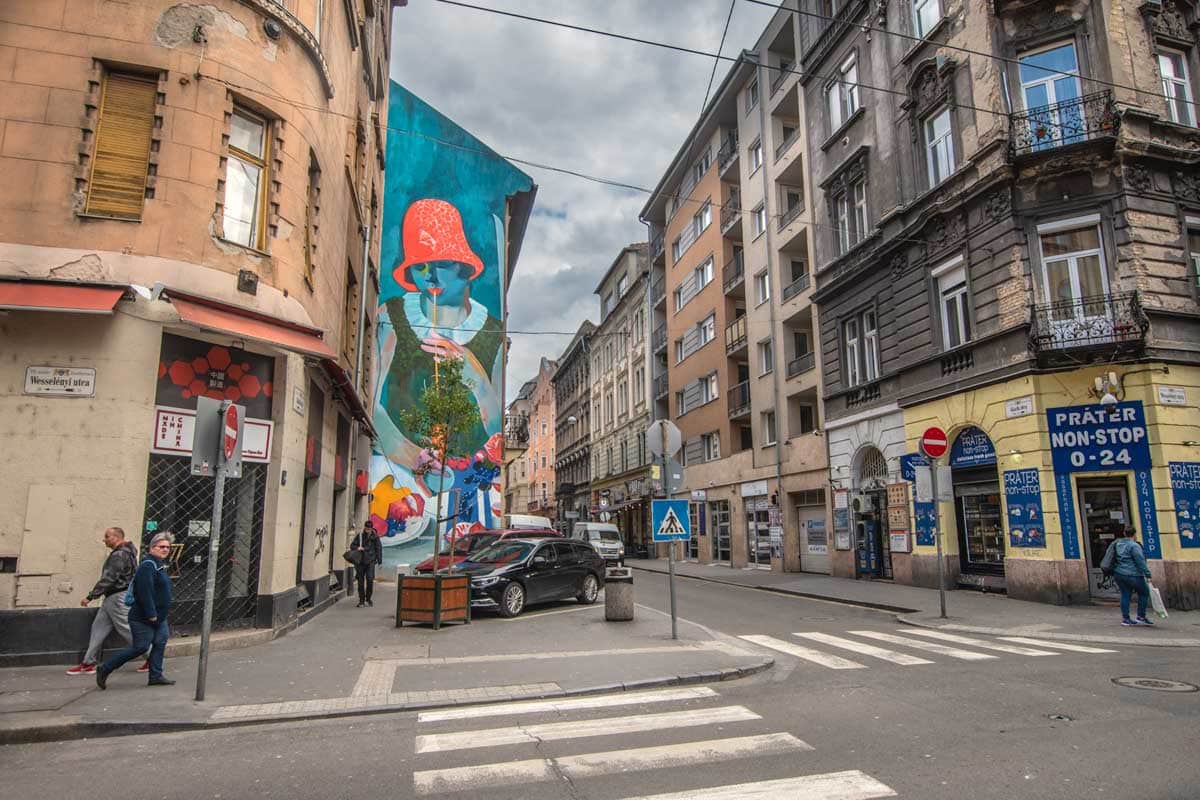 Also known as District 7 or the Party District, the Jewish quarter is an absolute must-see neighborhood in Budapest.
Lying in despair for decades, with crumbling houses and buildings ready to be demolished, today the quarter has embraced the decayed area and mixed it with contemporary street art and one-of-a-kind ruin bars.
It's also the Meca for fast food, giving you options from all around the world (seriously, I think I saw fast food joints from every country I've been to). It's also the town where the first Mcdonald's in Eastern Europe was built in 1988. It was so popular that people from all the other 'Iron Curtain' countries were traveling to Budapest just to taste the 'real' Coke.
Szimpla Kert Ruin Bar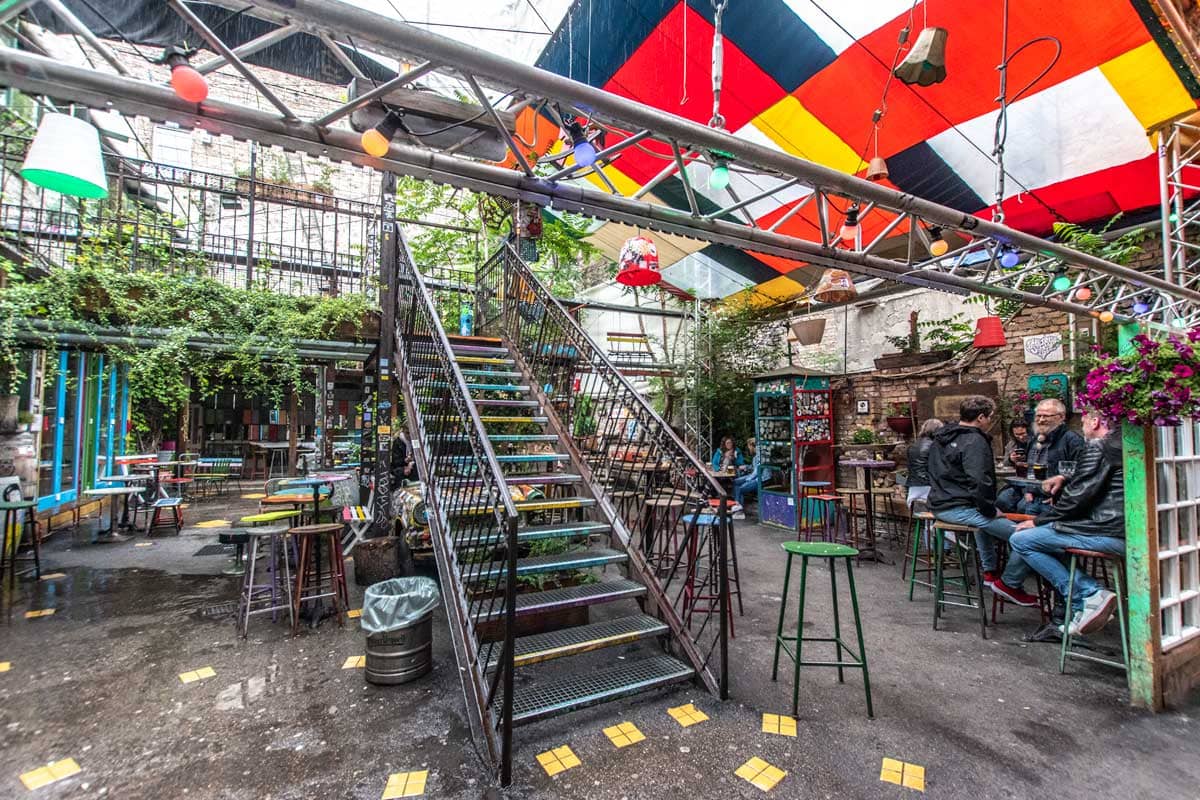 And speaking of ruin bars, what better way to end our first day in Budapest than having a glass of beer in the first ruin bar in town – Szimpla Kert.
Although the bar looks old, the whole concept of ruin bars is relatively new. In the early 2000s, the young people in Budapest decided they want an alternative to the snobbish bars of the city center, so they started buying abandoned buildings, filled them with scavenged furniture, and open the so-called ruin pubs.
With its vibrant art decor and a good selection of craft beers, Szimpla Kert is the best option to end our first day in Budapest.
Other popular ruin bars in Budapest are Mazel Tov, Szatyor Bar, UdvarRom and Instant
Opening Hours:
Monday-Saturday – 10:00 AM to 04:00 AM
Sunday – 9:00 AM to 04:00 AM
See Also: Prague – The Ultimate Travel Guide
Two Days in Budapest – Day Two – City Culture
House of Terror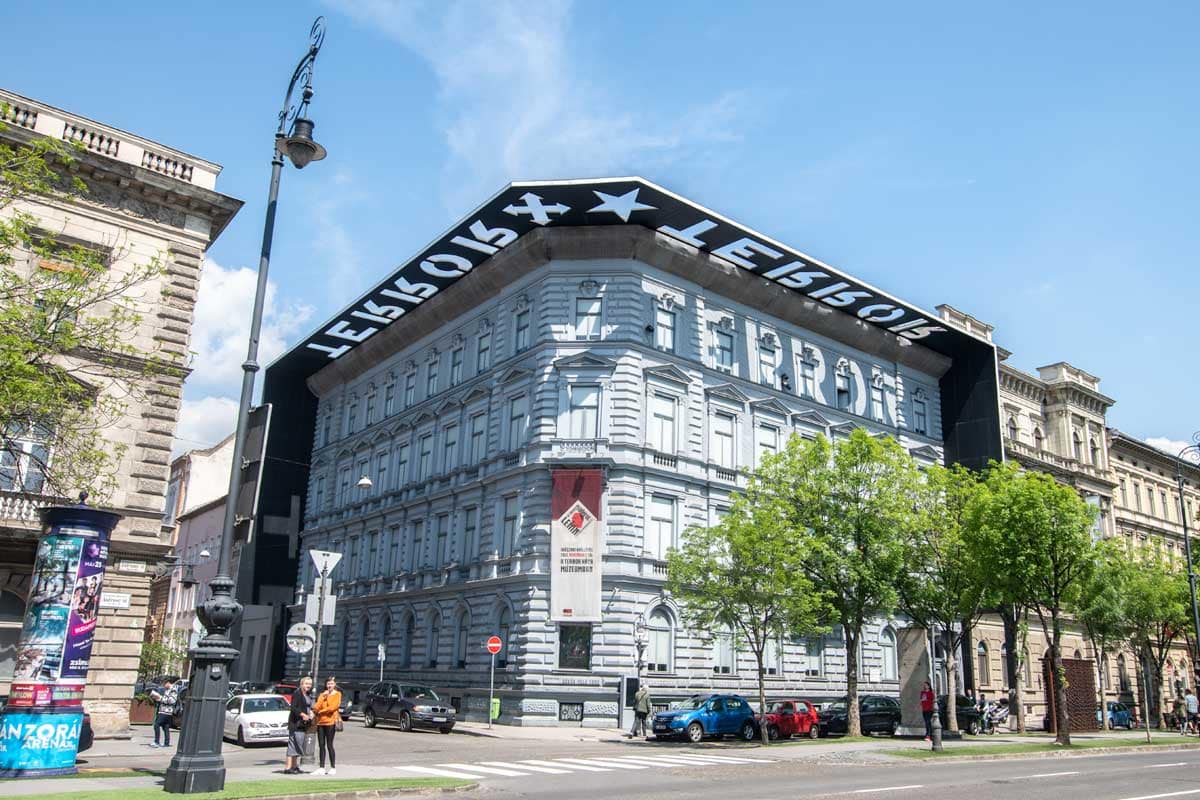 The second day of our Budapest itinerary will start with another glimpse into the grim history of the city.
The House of Terror may sound like a haunted house attraction, but in reality, it's an eye-opening museum commemorating the victims of the communist and fascist regimes in Budapest. It's a very well curated museum that will tell you firsthand stories from a time nobody in Hungary likes to remember.
From the slow-moving elevator narrating the memories of the prisoner charged with cleaning the execution room to the creepy cells in the basement, the House of Terrors may not be a fun place to visit, but it's a definite must-see.
Prices:
Full-price ticket: 3000 HUF /10 EUR
Reduced-price ticket: 1500 HUF / 5 EUR
Working Hours:
Open every day except Monday: 10:00 AM – 6:00 PM
The cash desk closes at 5:30 PM
Important:
House of Terror becomes very attractive on rainy days hence there is a big entrance queue. If the weather forecast is bad, plan an early visit.
Heroes Square (Hősök tere)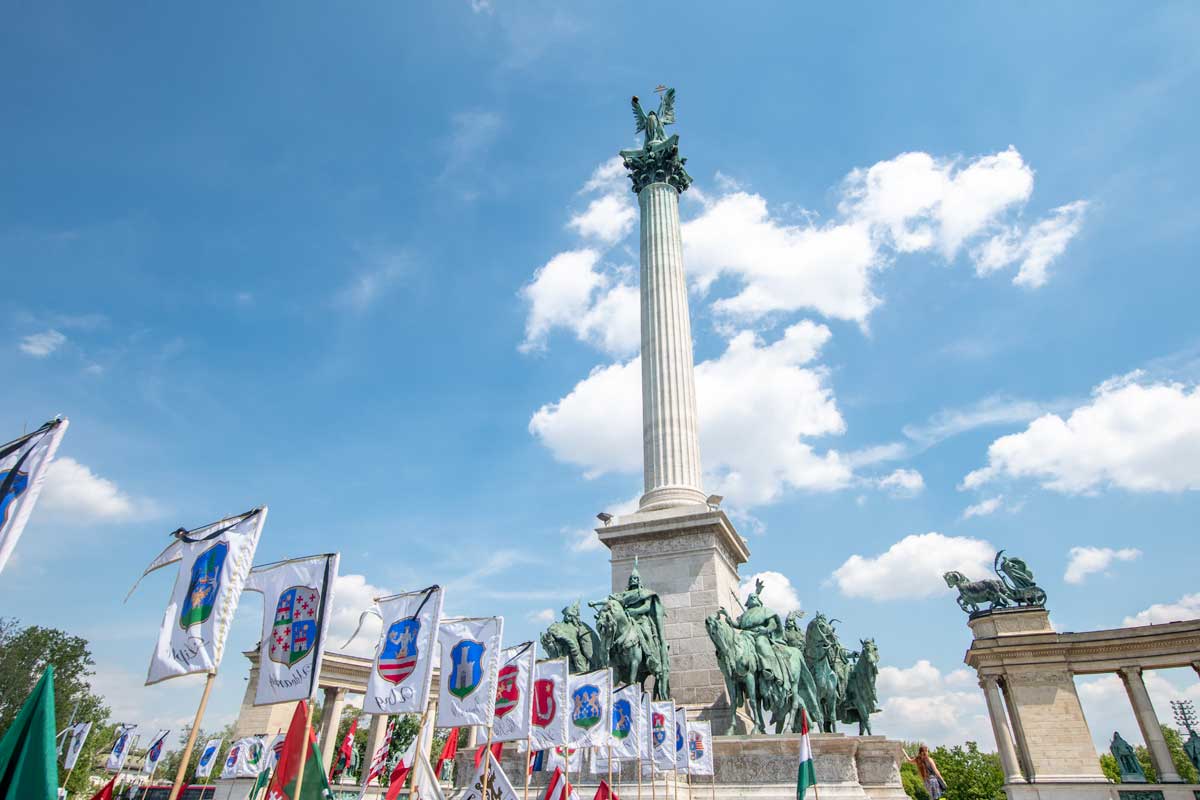 Also known as the Tomb of the Unknown Soldier, the Budapest Heroes Square is one of the major squares in the city. The statue complex features the legendary seven Magyar chieftains (who founded the country) and many other national heroes.
Vajdahunyad Castle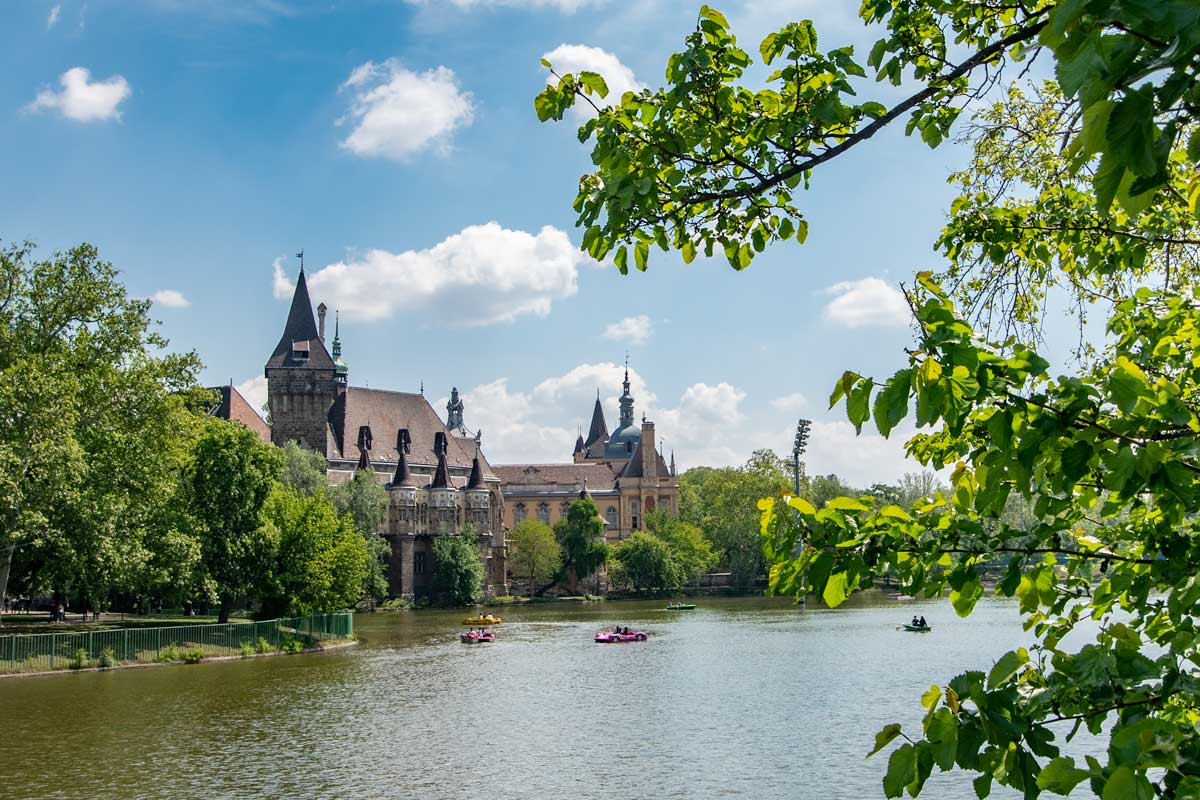 Right behind the Heroes Square, the next stop on our 2 day Budapest itinerary is the Vajdahunyad Castle. The fairy-tale-looking castle may look medieval, but in fact, it's just a bit over 100 years old.
Built in 1896 to celebrate 1000 year birthday of Hungary, the Vajdahunyad Castle was supposed to be a temporary attraction, but the locals loved it so much that it stayed permanently. Inside the castle, there's a museum of agriculture (not really a must-see) however the City Park around it is the perfect place to sit and relax for a couple of hours.
If you find yourself in Budapest during winter, the City Park lake next to the Vajdahunyad Castle becomes the largest ice skating rink in Europe.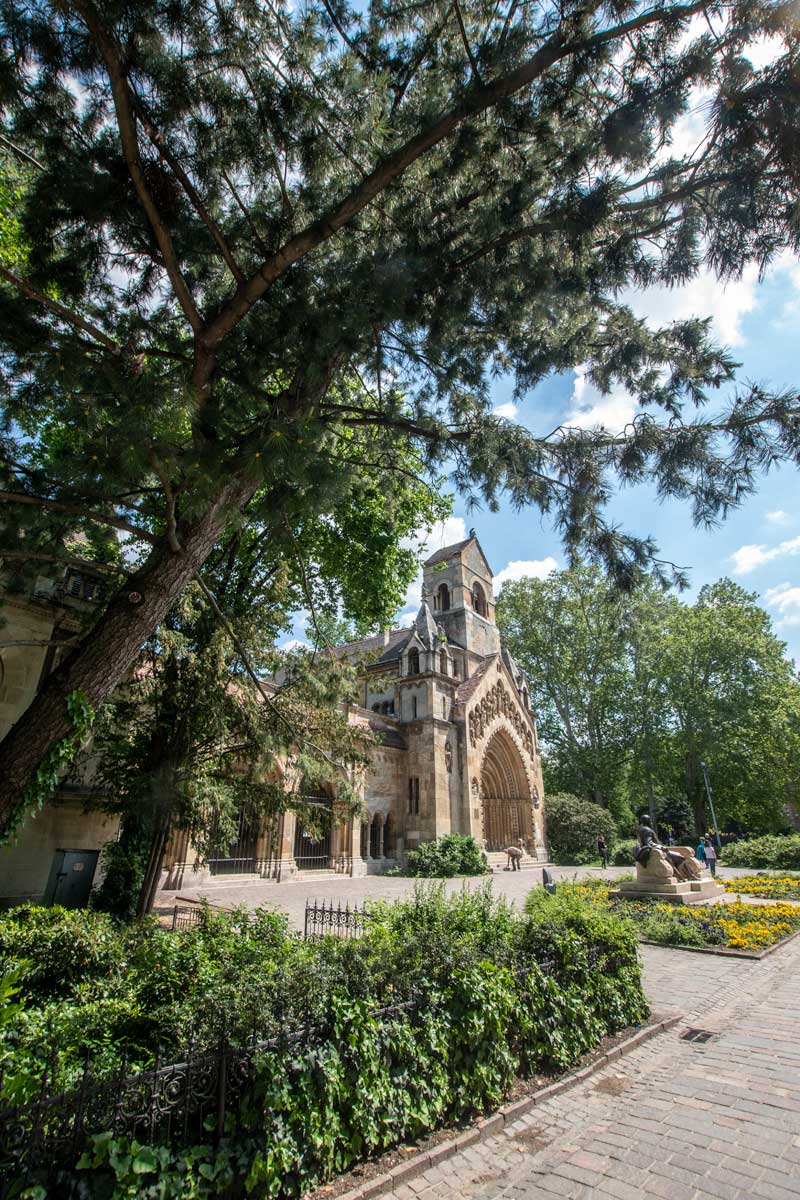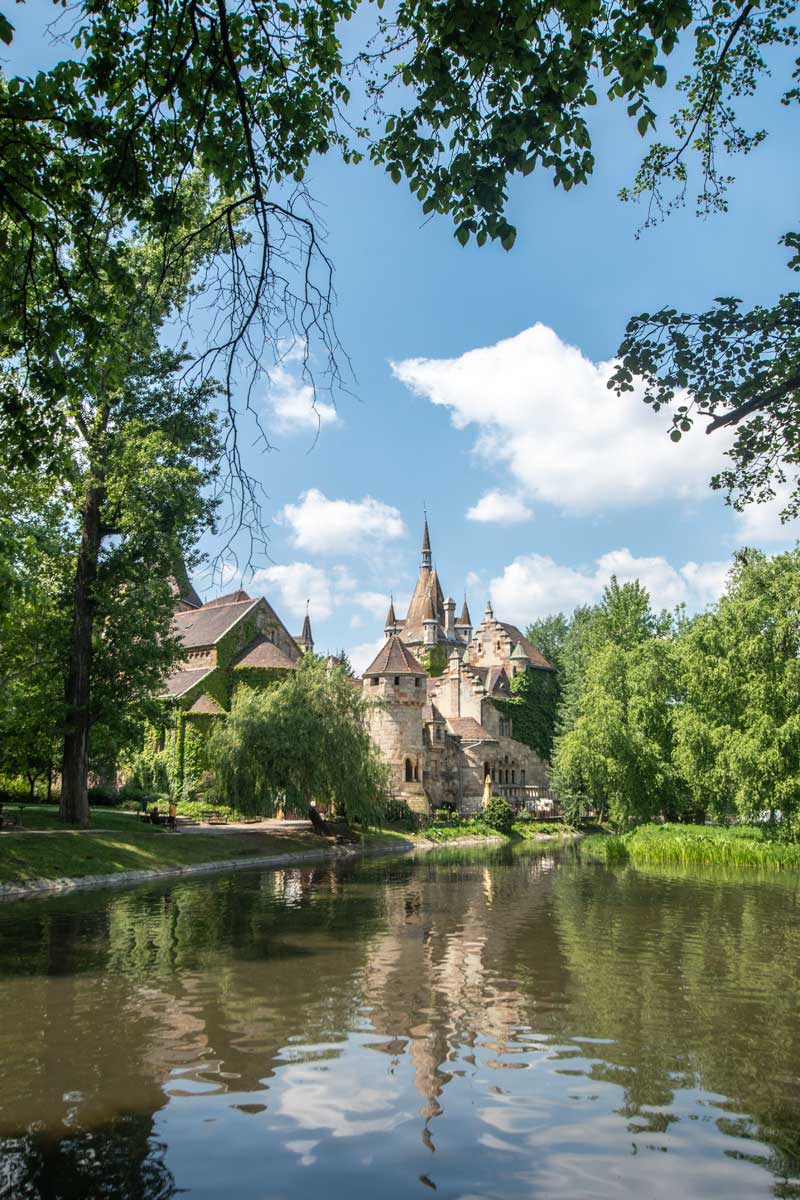 The Museum of Fine Arts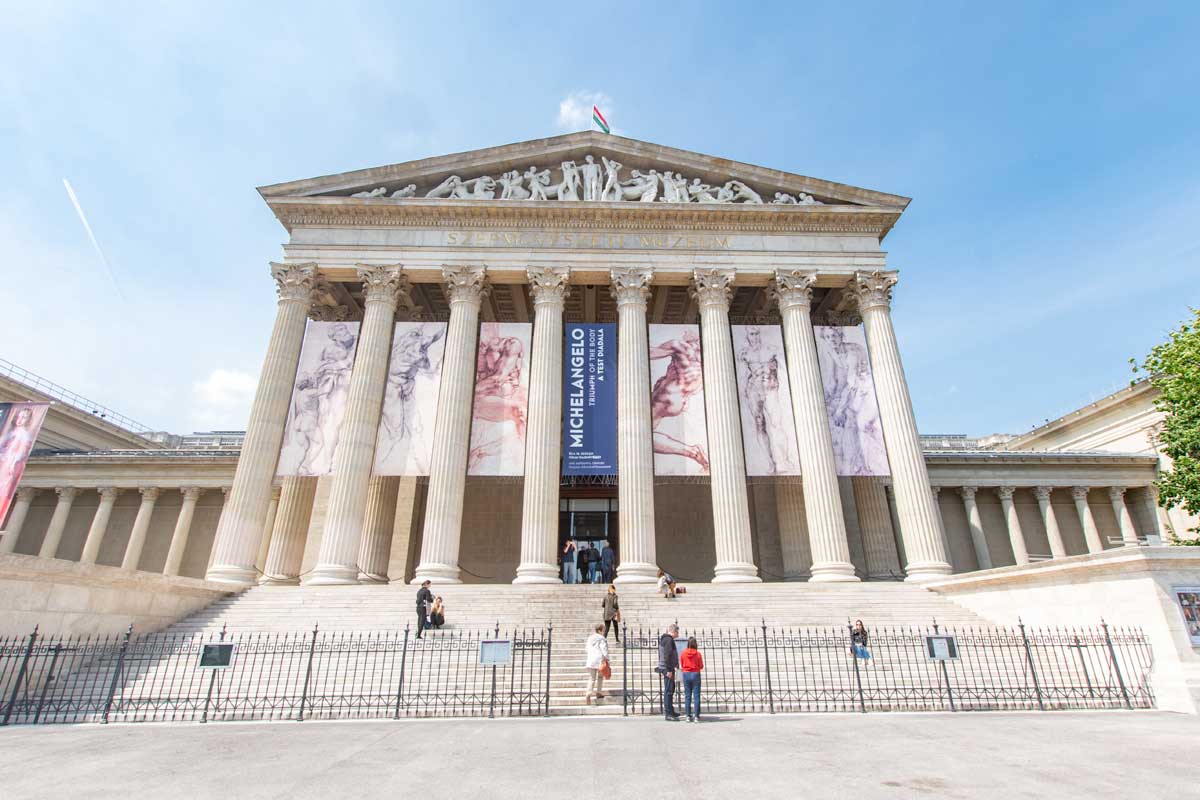 Yes, we can't visit a major European capital and not check out at least one art museum, am I right?
Built more than a hundred years ago, the Museum of Fine Arts Budapest is Hungary's largest and finest art museum. Starting from the bottom to the top, you can enjoy a well-curated ancient Egypt (and a little bit of Greek and Roman) part featuring thousands of antiques, a few mummies, and even a crocodile mummy!
One store up is an impressive collection of old masters exhibiting works from Bellini, Raphael, Rubens, El Greco, Velázquez, and Goya among others. Then there is a sculpture hall devoted to pieces from the Middle Ages to the 17th century and Hungarian art collection on the top floor.
There are often temporary exhibitions of high quality too (i got lucky enough to enjoy drawings from Michelangelo, including some early Sistine Chapel sketches)
Prices:
Regular ticket: 3,200 HUF /9.50 EUR
Discount: 1,600 HUF / 4.75 EUR (only for citizens of the EEA between 6-26,0 and 62-70 years of age, one or two adults accompanying two or more family members under 18.0)
Opening Hours:
Tuesday – Sunday 10:00 AM – 6:00 PM
closed on Mondays
Szabo Ervin Library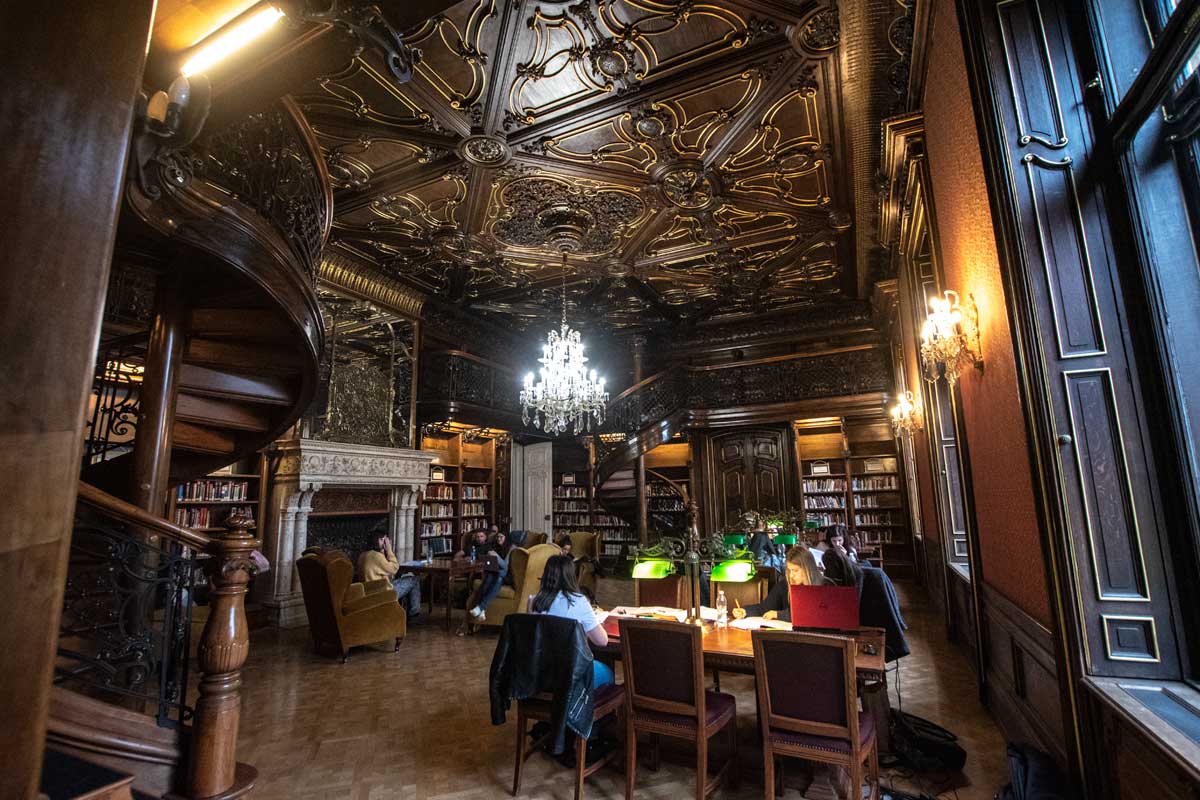 Our 2 days in Budapest continue with an attraction that's a bit off the beaten track – the Szabo Ervin Library.
The main library of the city to this day, at first, walking inside Szabo Ervin may feel like walking inside of a regular university. There are dozens of students writing their projects and studying for their exams, nothing out of the ordinary for a library. That's until you go to the 4th floor.
The library used to be a mansion owned by the Hungarian aristocrat Count Frigyes Wenckheim, and I'm sure you can imagine how a mansion of a count looks like. The gorgeous old Dining room (which is now converted into a long reading room) feels like part of the Palace of Versailles while the old Smoking room with it's wooden spiral staircases may as well be the Gryffindor common room in Hogwarts.
If you have the time, I strongly recommend to get cozy in one of the large leather chairs and catch up with some reading.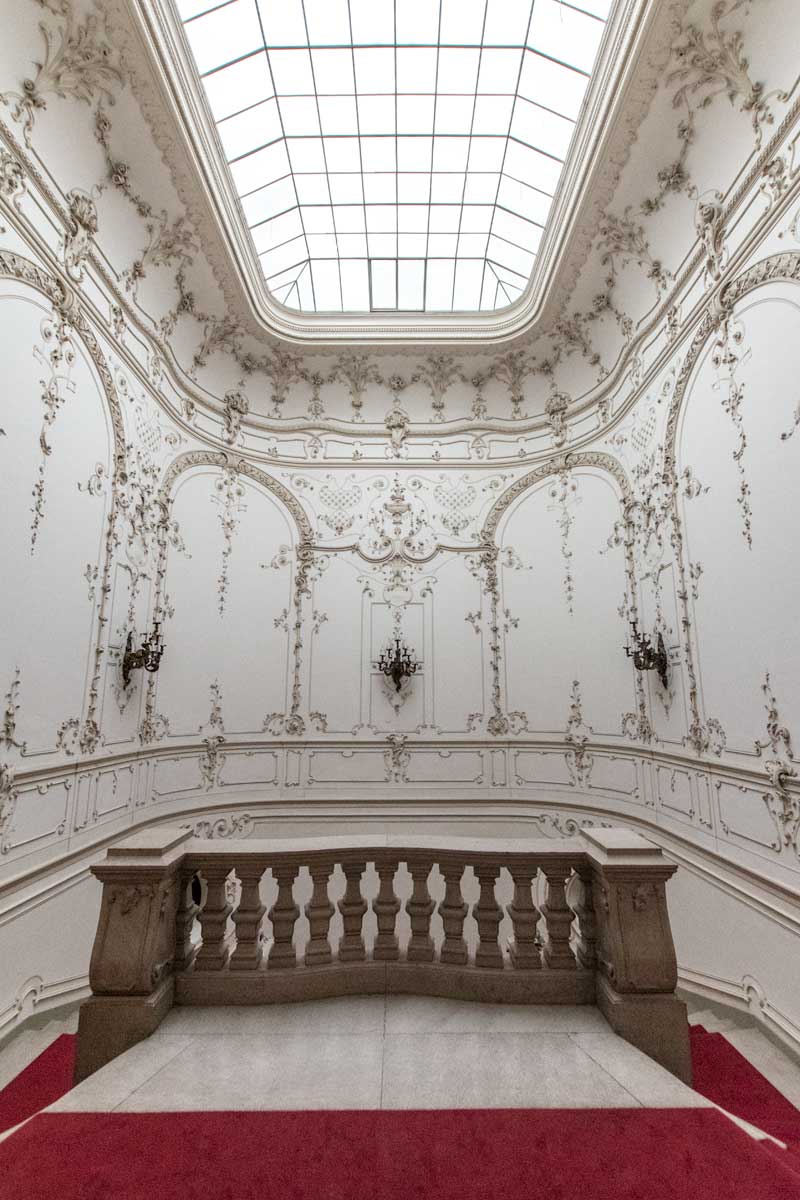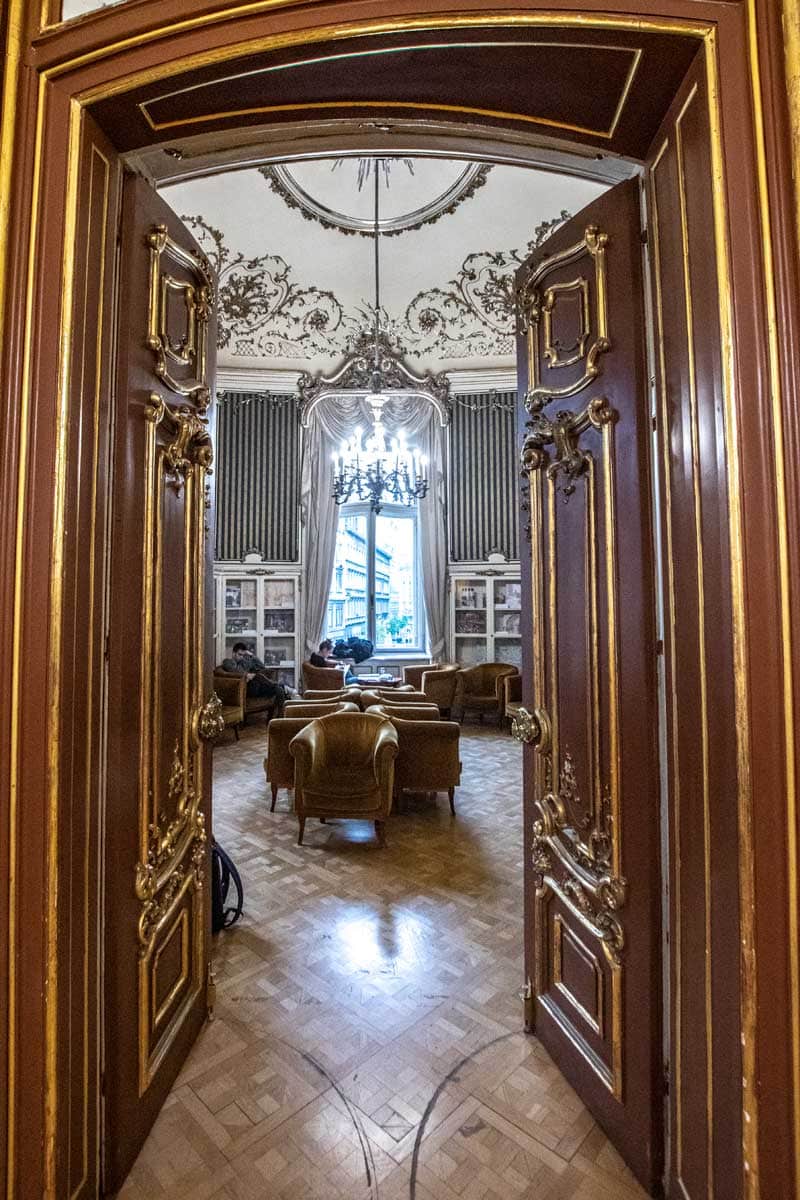 Prices:
Regular visitation ticket: 1000 HUF / 3 EUR
Opening Hours:
Monday – Friday 10:00 AM – 8:00 PM
Saturday 10:00 AM – 4:00 PM
Closed on Sundays
For Sale Pub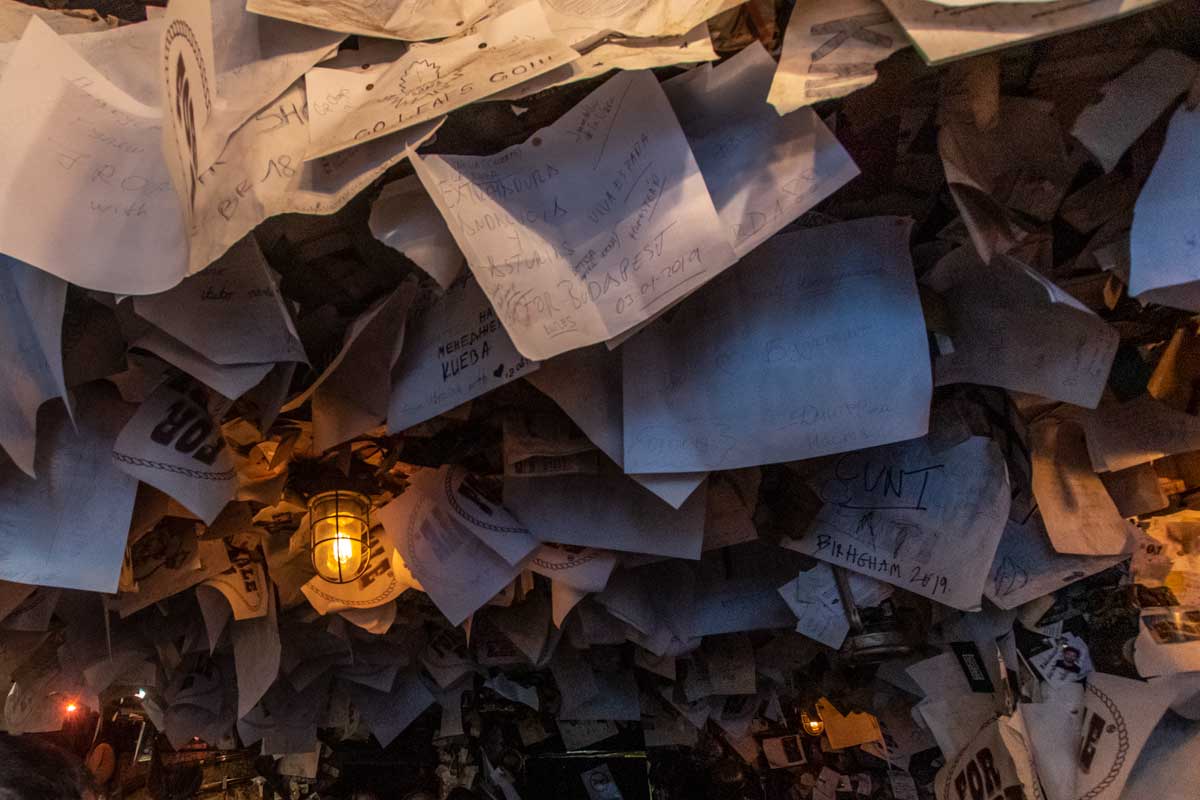 The end of our 2 days in Budapest is saved for one of the most curious pubs I've ever been to.
For Sale Pub, despite the name, is not really for sale. The name comes from the thousands and thousands of sale offers pinned everywhere inside the pub. Although today most people pin business cards or tiny "I was here" notes, the interior of the For Sale pub is genuinely one of a kind, and it's definitely worth a visit.
Another quirky thing is that you get all you can eat peanuts for free and you're encouraged to throw the shells on the straw-covered floor. For Sale Pub is quite popular, so if you go there in the evening, it's a good idea to reserve a table beforehand.
Working Hours: 12:00 PM – 3:00 AM
For Reservations: +36 1267-0276
Important: For Sale Pub does NOT accept credit cards, so make sure you have some cash with you.
Where to Stay in Budapest
Váci Midtown Apartments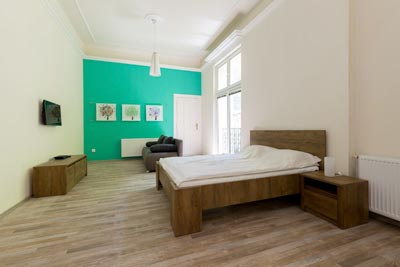 The best possible location, close to the Chain Bridge, Jewish Quarter and within walking distance to Buda Castle Hill, Váci Midtown Apartments offer modern minimalistic rooms in a classical Hungarian building. And you won't even have to break the bank to afford it!
Check out the latest prices
———————————————————————————————–
Where I stayed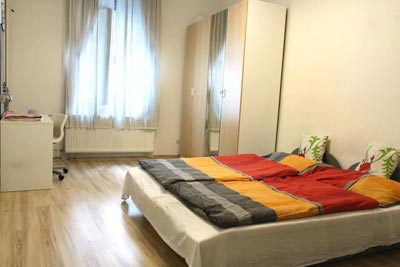 A budget choice in the heart of the Jewish Quarter, this Airbnb is an amazing value for its price. Nice and fast responding host, self-check-in, big clean room, and a private courtyard. If you want to save some money on accommodation, this is the perfect place!
Currently unavailable
Want to explore more options in Budapest?
See the best hotels in town
More Than Two Days in Budapest
You have more than 2 days in Budapest, or you're not fond of something in the itinerary? No problem. Here is what else you can do in the capital of Hungary:
Széchenyi Baths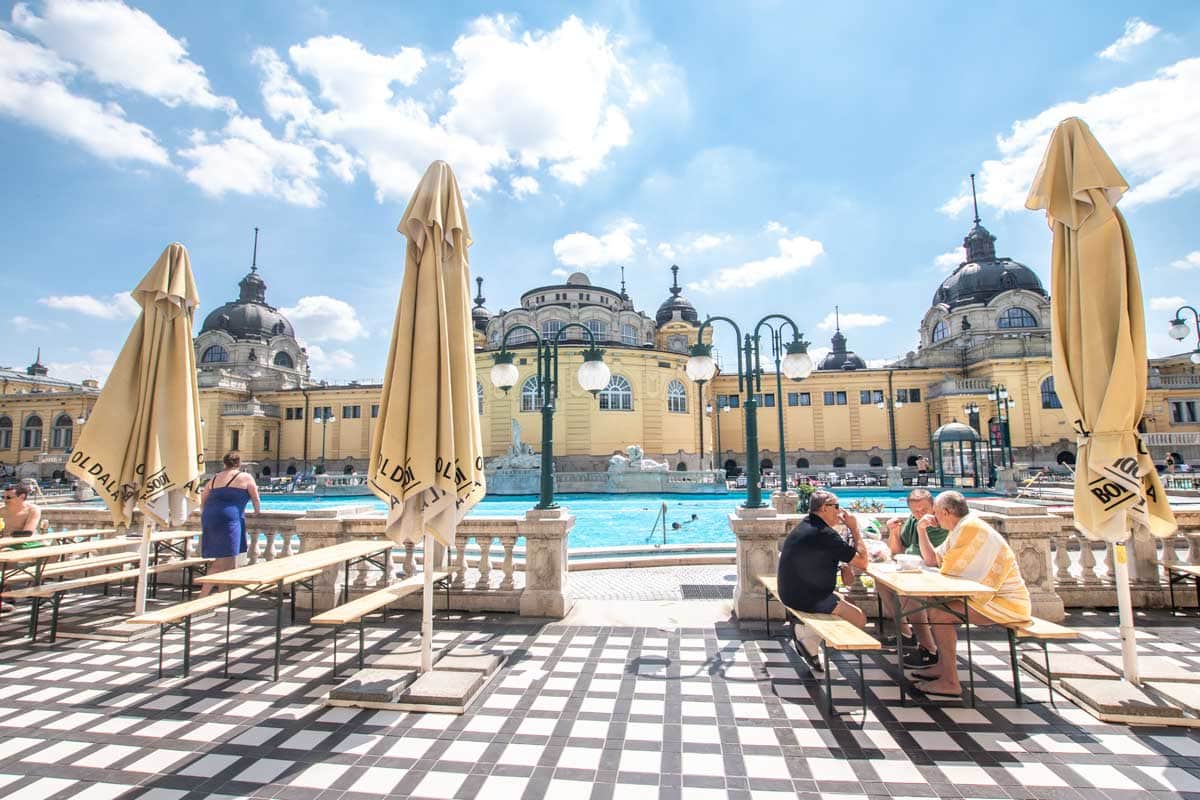 Due to sitting on a patchwork of around 125 thermal springs, Budapest is known as the spa capital of Europe. And there is no better spa than the Széchenyi Baths! Situated in a gorgeous yellow neo-Baroque palace and offering more than 15 indoor baths and three outdoor pools the Széchenyi Baths are the ultimate relaxation place in town.
And since the water is thermal, you can enjoy the pools all year round! Besides the regular pools, there are steam cabins, saunas, massage therapies, and even a beer spa (unlimited craft beer consumption!!!).
How come the Széchenyi Baths are not part of my itinerary?
While the ultimate relaxation place, to fully enjoy the baths you have to sacrifice a whole day, and with only 2 days in Budapest, I want you to visit as much stuff as possible. If you're looking to kick-back on your vacation, however, the Széchenyi Baths are the perfect place for the job.
Opening Hours: Every day, every season – 6:00 AM – 10:00 PM
The Citadel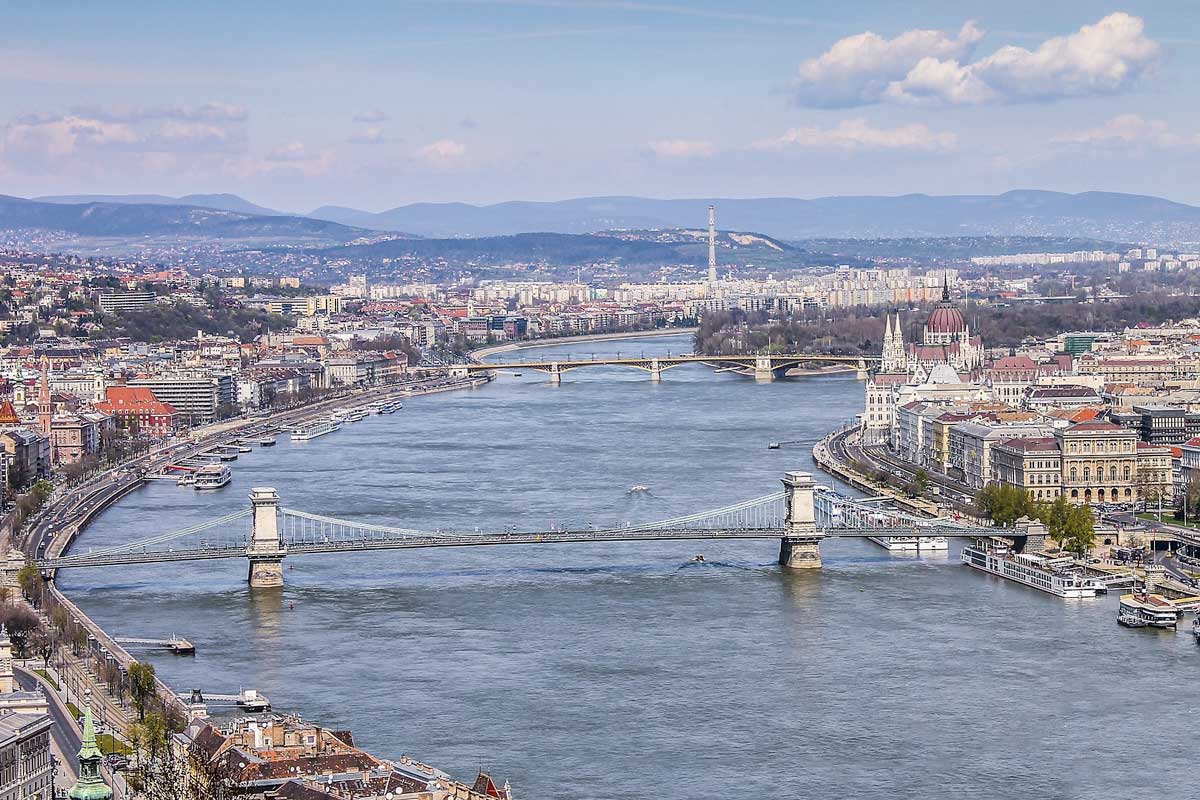 Walking around the Danube, you'd most certainly see a statue in the distance, even higher than the Buda Castle. This is the Citadel.
Built by the Austrian emperors to solidify control over Budapest after the Hungarian Uprising in 1848, the stronghold has been later used by the Nazis and the Red Army. It was always seen as a symbol of oppression, and the locals never liked it. The Citadel offers the broadest panoramic view of the city that gets especially magical after dark.
Why it wasn't included in the 2 days Budapest Itinerary?
Since there are plenty of panoramic views on the itinerary, I decided it's not worth the time to add this one too. It's also tough to get a good photo after dark if you don't have special camera equipment or one of the latest smartphones.
How to get there?
If you don't fancy climbing Gellert Hill, you can take bus 27 from Moricz Zsigmond square on the Buda side that will take you right up to the Citadel.
Central Market Hall
For all the foodies out there, the Budapest Central Market Hall offers traditional Hungarian cuisine, both prepared and raw.
If you want to cook your own meal, get fresh ingredients from the first floor if you're just looking for a well prepared Hungarian dish – the second floor it is. The Market Hall is the oldest market in town, and it's situated in a beautiful neo-gothic building with a distinctive roof which was restored to have colorful Zsolnay tiling from Pécs.
Why it's not included in my itinerary?
The place Market Hall tends to be a bit overpriced.
Opening Hours:
Monday: 6:00 AM – 5:00 PM
Tue – Fri: 6:00 AM – 6:00 PM
Saturday: 6:00 AM – 3:00 PM
Sunday: Closed
Margaret Island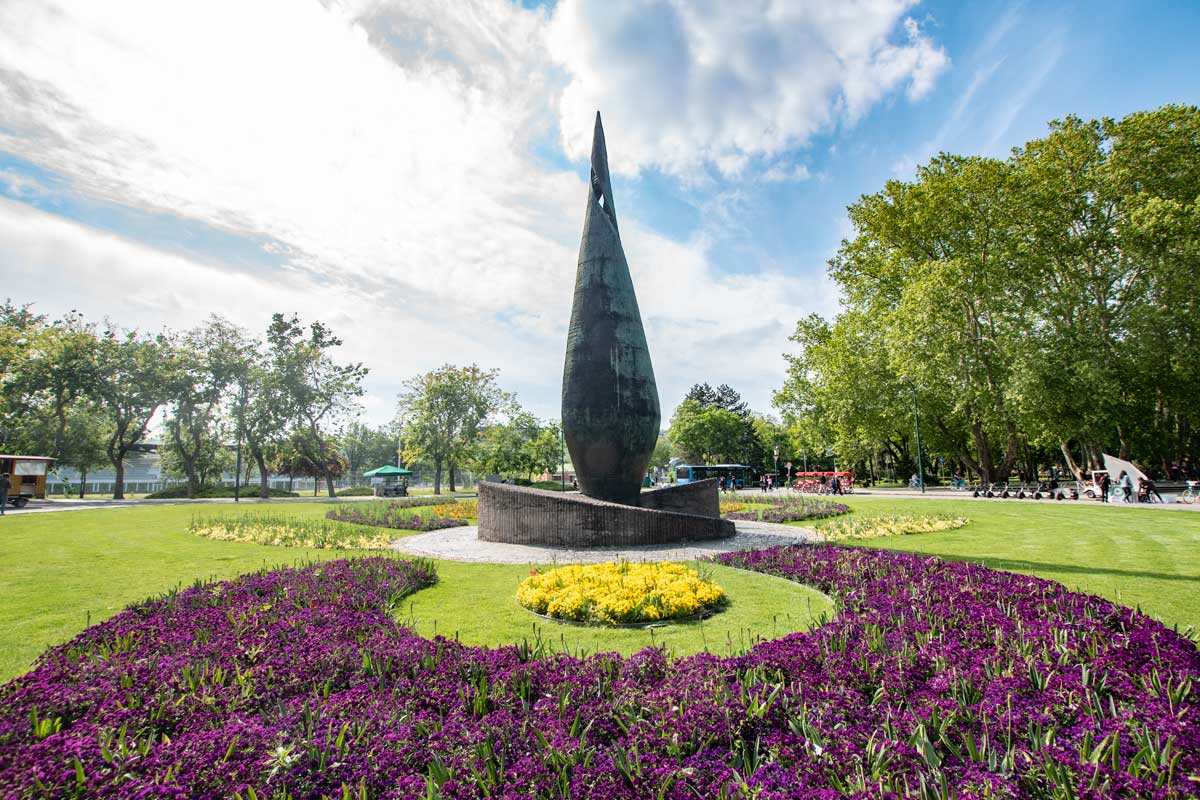 Margaret Island is an island in the Danube river. It's almost entirely covered by parks, and it's a popular recreational area for the locals.
It's named after the 13th-century princess Margaret who according to the legend was forced to live on the island due to her father swearing an oath to give her firstborn daughter to the church if Hungary survives the raging Tatar armies. The beautiful princess demanded to be treated as an average person, dressed in rags, and didn't refuse even the filthiest chores. She consistently helped sick and dying people with her supernatural abilities and became one of Hungary's most loved saints.

Around the island, you can find the ruins of the church Margaret used to live in, the oldest and largest water tower in the country, a Japanese Garden, a musical fountain, and a near century-old Palatinus bathing complex.
How come Margaret Island is not part of the 2 days in Budapest itinerary?
Just like Széchenyi Baths, the island requires a whole day to be enjoyed like it's meant to be. If you have time on your hands and you want a leisure day out in nature, Margaret Island is your place!
Dohány Street Great Synagogue
Conveniently located in the Jewish neighborhood, the Dohány Street Great Synagogue is the largest Synagogue in Europe and an important piece of the Hungarian Jewish history.
A less known fact is that the onion-shaped tower domes that give the synagogues a Moorish look and are widely used around the world originated from this exact synagogue. Beside the temple, there is also a Jewish museum.
Why the Dohány Street Great Synagogue is not part of the 2 days Budapest itinerary?
The hefty entrance fee – 4 000 HUF / 13.50 EUR
Hungarian State Opera House
As a rule of thumb, every time I visit a European capital, I have the Opera in mind. And no, I'm not an opera fan, it's just happened that the city operas are among the most beautiful and heavy decorated buildings in town.
A neo-Renaissance opera house located in central Budapest, the building is considered one of the architect's Miklós Ybl masterpieces.
The best way to enjoy the Opera House is to book a guided tour that will not only take you to the most beautiful parts of the building but also includes a special mini-concert.
Cave Chapel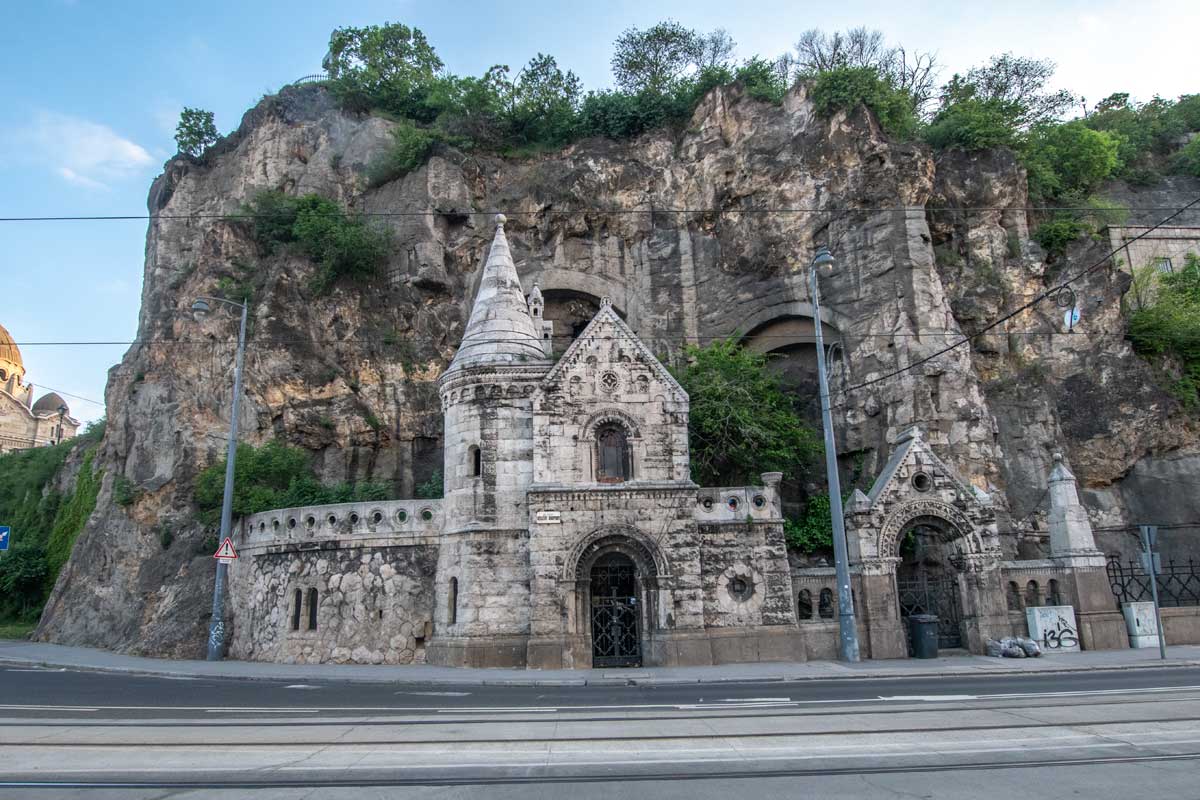 A very unusual attraction and something you can hardly see anywhere else in the world. Located inside Gellért Hill, The Cave Church does not offer a massive ceiling with beautiful organ and gilded interior.
No, the Cave Church is exactly as it sounds – a church inside a natural cave system formed by thermal springs. The legend has it that the Hungarian saint – Saint Ivan used to live in the cave and heal the people from the area.
Opening Hours:
Monday – Saturday: 9:30 AM – 7:30 PM
Important: The entrance is not down on the street but behind the large cross, you see on the hill.
Pálvölgyi-Mátyáshegyi cave system
Do you know there is a whole other underground city beneath the streets of Budapest? I certainly didn't.
As mentioned beforehand, Budapest is situated over more than a hundred thermal springs and apparently, those springs during millions of years have carved out a complex network of tunnels and caves.
Caving is not for everybody but if you want an unusual adventure in the heart of Europe best way to explore the Pálvölgyi-Mátyáshegyi cave system is by booking a tour with expert guides that will keep you safe and teach you more about the underground wonders of Budapest.
Two Days in Budapest Itinerary Map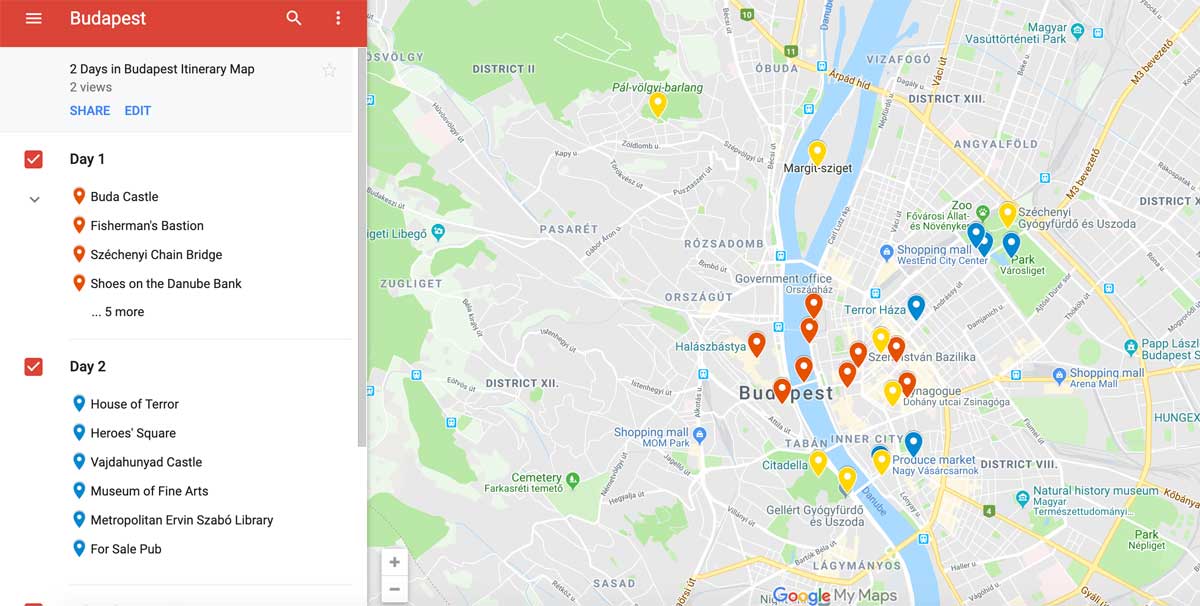 Budapest FAQ
What is the best time to visit Budapest?
Budapest has a mild climate that makes it suitable to visit all year round.
The best months to visit Budapest would be April-May (spring) and September – October (autumn). The temperature in those months averages between 16 and 21C (61-70F), there aren't that many tourists, and the hotel/BnB rates are very affordable.
Summer (June – August) while offering pleasant temperatures (24-26C; 75-79F) is the touristic season, and Budapest may feel a bit overcrowded.
Is Budapest good in winter?
With averaging temperatures between 1 and 8C, (34-46F) Budapest is not that bad of choice for a winter visit. The best month to do it is December, the temperatures are in their winter high (8C/46F), and you can enjoy the magical Budapest Christmas markets alongside the largest ice skating rink in Europe located on the frozen lake next to the fairytale-like Vajdahunyad Castle.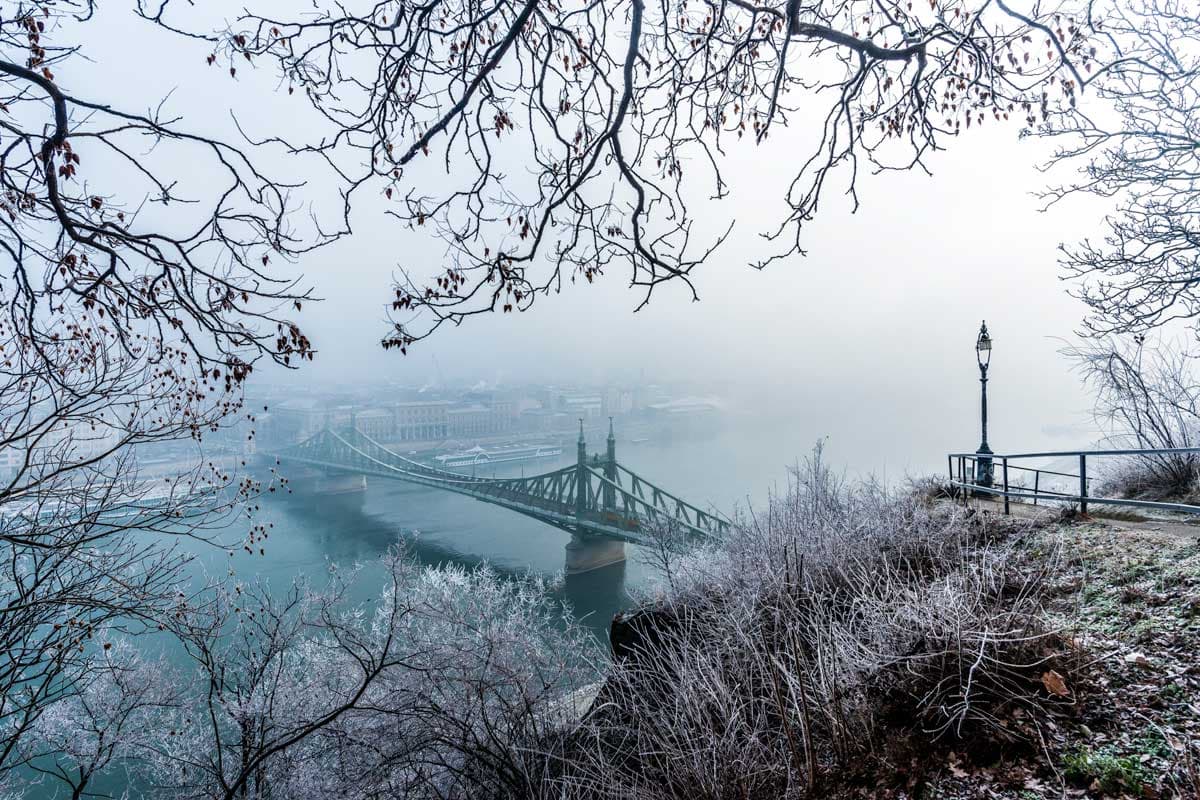 How do I get from Budapest airport to the city centre?
There are three ways to get to from the Budapest airport to the City Centre:
By taxi
Right in front of the arriving terminal, you can see a taxi stand where you can prepay a taxi to your hotel. It should cost you about 8000 HUF to get to most of the city centered hotels.
By bus
There are 2 buses you can take from the airport. 100E will take you straight to the city center for approximately 35 minutes. 200E will take you to the nearby metro station (where you can take a blue line train). There is a ticket machine right in front of the bus stop. If you go for the 100E bus, you need the airport transfer ticket (900 HUF). For 200E you can use a standard ticket (350 HUF)
Important: The M3 metro line is currently under renovation. Check the official site before you decided on the 200E.
By shuttle
Easy and cost-effective way straight to your hotel. You can get a shared minibus or chose a thematic ride via authentic Eastern European Trabant.
Is Budapest expensive to visit?
Compared to other western or central European capitals, Budapest is reasonably affordable. It's not hard to find decent hotels or Airbnb in the 20-50 EUR price range. There are also plenty of fast food joints where you can get your belly full for as little as 3-5 EUR. If you prefer restaurants, you'd have to spend a little bit more of course, but there are plenty of reputable places you can have dinner for 20-30 EUR per person.
Can you use euros in Budapest?
Since Hungary is expected to join the Eurozone around 2020, most of the larger shops, restaurants, and bars in the city center do accept euros. They use their own currency rates that are not very favorable though, so It's best to pay in local currency (Hungarian forint).
How do you get around in Budapest?
Budapest is a charming and walkable city, so I strongly recommend going to most of the highlights in your itinerary on foot. For more considerable distances (or if you're not that much into walking) you can use the vast and well developed public transportation network. Trams, buses, metro, and even Danube boats are all very cost-efficient method that will take you anywhere you need to go.
You can buy a ticket from one of the ticket machines situated around the stops or from a newspaper kiosk.
A single ticket costs 350 HUF / 1.20 EUR (doesn't matter metro, bus, boat, or tram). You can get a set of 10 tickets for 3000 HUF / 10 EUR.
If you plan to use the city transport a lot, there is 24hrs card (1650 HUF / 5.50 EUR), 24hrs group card (up to 5 persons – 3300 HUF / 11 EUR ), 72hrs card (4150 HUF / 14 EUR) or even 7-day travel card (4950 HUF / 16.50 EUR)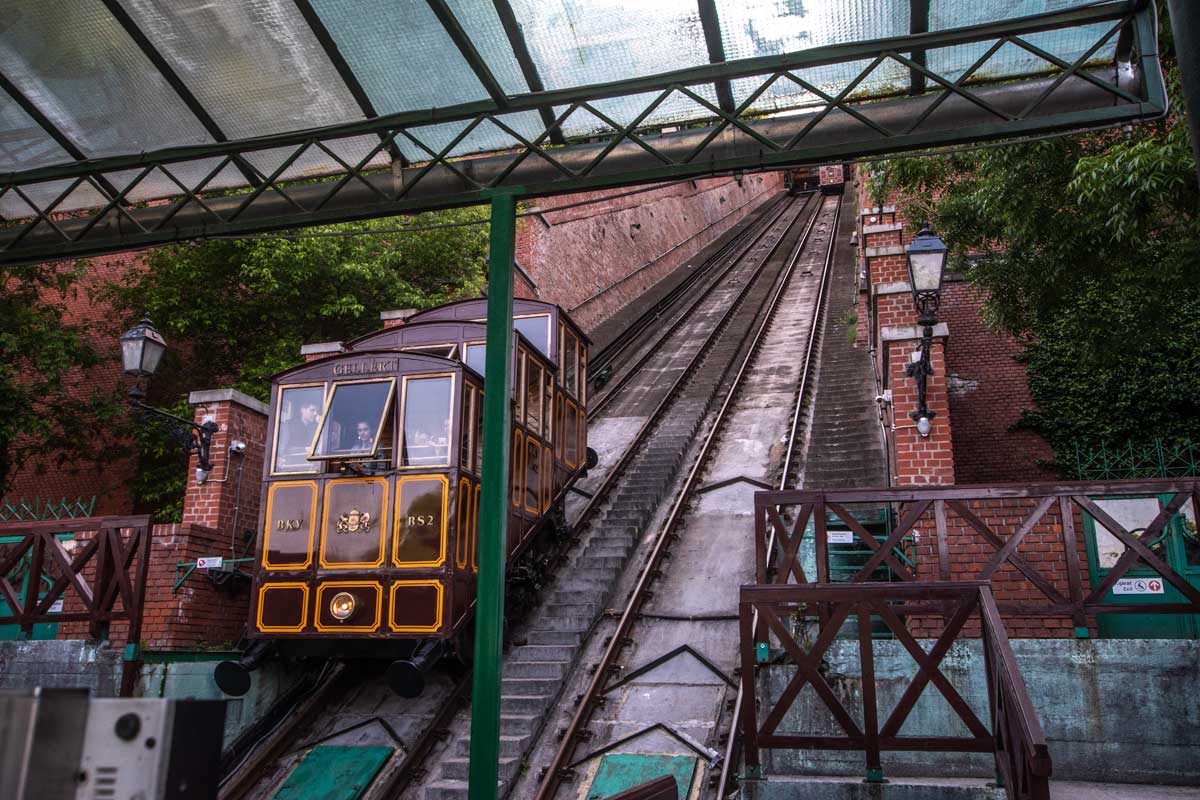 Is English widely spoken in Budapest?
I didn't find even one person who didn't speak English in Budapest. From the bus driver to the kebab shop cashier girl, everyone had a decent level of English skills. Even the homeless person who was asking for smokes seemed to know English! That's good news for us since Hungarian is one of the most complicated languages in the world.
How safe is Budapest for tourists?
Just like most of the big European cities, Budapest is as safe as a big city can be. Violent crimes are extremely rare, however, pickpocketing is a prevalent problem. Have a thing on your mind every time you use crowded public transportation or visit a popular tourist attraction. Although Europe is not the most dangerous place in the world, travel insurance is always a good idea.
If you happened to be a victim of a crime, you can call the Police (107) or English tourist hot-line (438 8080).
That's all from me, I hope you enjoy your 2 days in Budapest!
————————————
If you haven't planned your trip there yet, find out how I plan my trips!
————————————
I have 8 bucket list ideas for Hungary. See my impossible bucket list of 1700+ adventures!

What is your favorite European capital?
---
Some of the above are affiliate links and I will earn a percentage of the sale if you purchase through them at no extra cost to you. This helps keep my site running – so thanks in advance for your support!