Hi, there, fellow Potterhead. Yes, if you're reading this, I know you're one of us, and you're about to fulfill one of your biggest dreams – seeing the wizarding world in person! To do so, however, you need to know how to get to the Harry Potter studio from London, right?
Duh, I wouldn't have found you otherwise…
Ok, ok, I promise I'll give you all the details. Although the Warner Bros studio is quite far from the touristic part of the British capital, getting there is as easy as Sunday morning.
What is the Harry Potter Warner Bros studio tour?
Before we learn how to get to the Warner Bros studio from London, I'll give a little preview of what is waiting for you there. Of course, you probably know this magical place is where they shot all the movies but do you know exactly which parts of the wizarding world you're about to see?
Let's find out!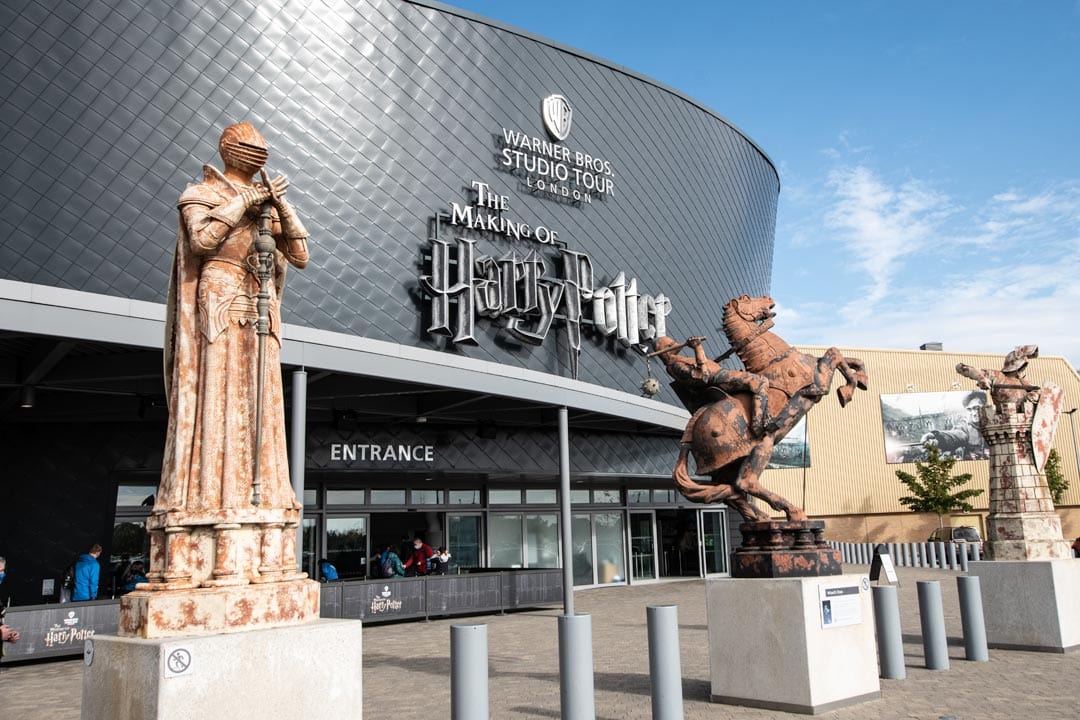 You start the tour with a clever introduction by some staff members (posing as talking portraits) followed by a short welcoming movie featuring Harry, Ron, and Hermione. Once finished, the doors to Hogwarts open, and your magical journey begins!
The Great Hall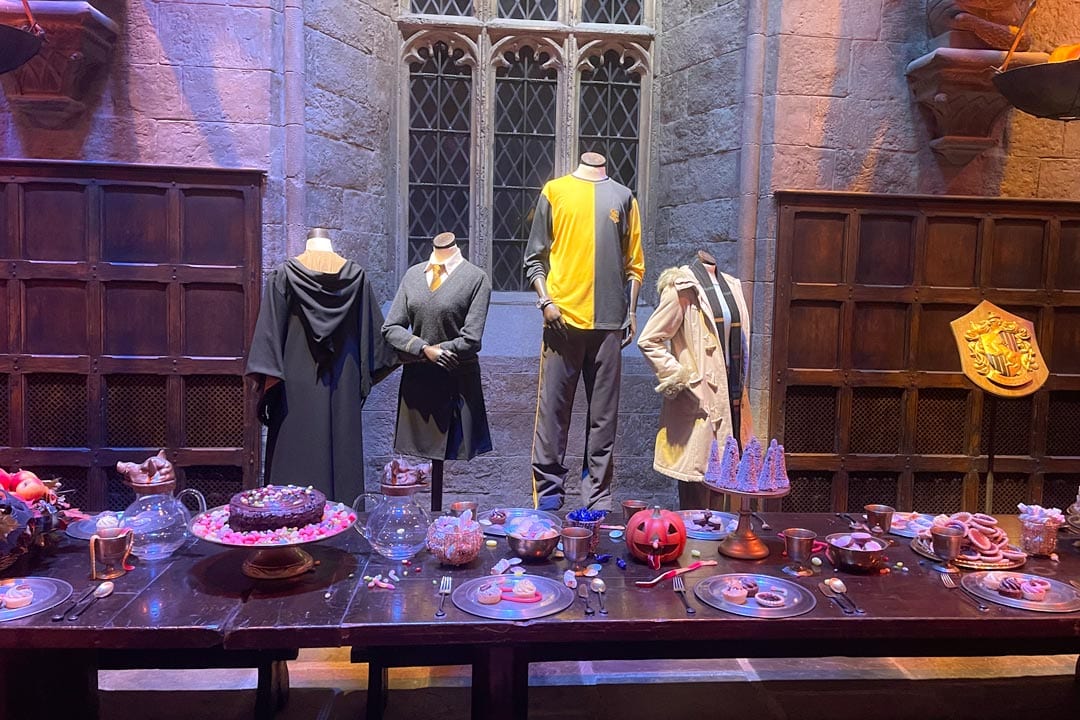 The first set you're about to explore is the Great Hall (if your visit is around Halloween, it's going to be decorated accordingly). Behind each of the respectable house's tables, you can see their signature capes (original props from the movie, of course). In the end, you can find the teacher's table, including the costumes of the faculty.
Mixed Studio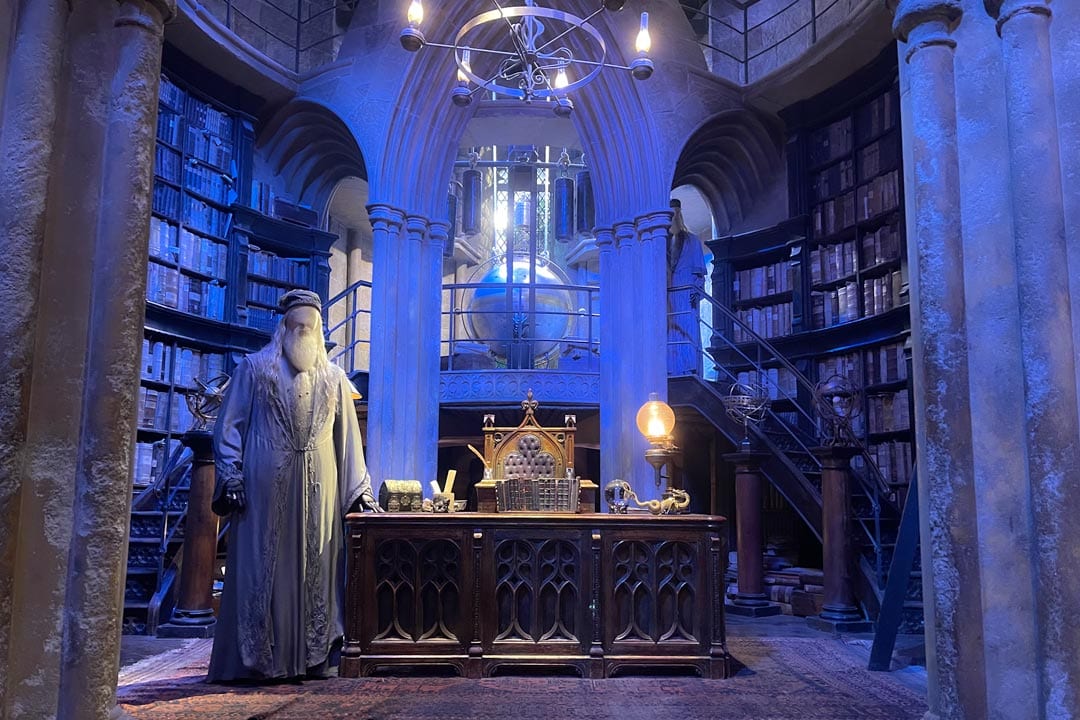 Next, we have a giant studio full of sets such as Gryffindor boys' dormitory room, Slytherin's common room, Snape's potion classroom, Dumbledore's study room, the door to the Chamber of Secrets, and plenty others.
You can go and try to call a broom to your hand or see how the whomping willow and the flying car works. In the end, you have this massive table where Voldemort and his death eaters are torturing Charity Burbage (this one is a bit creepy).
The Forbidden Forest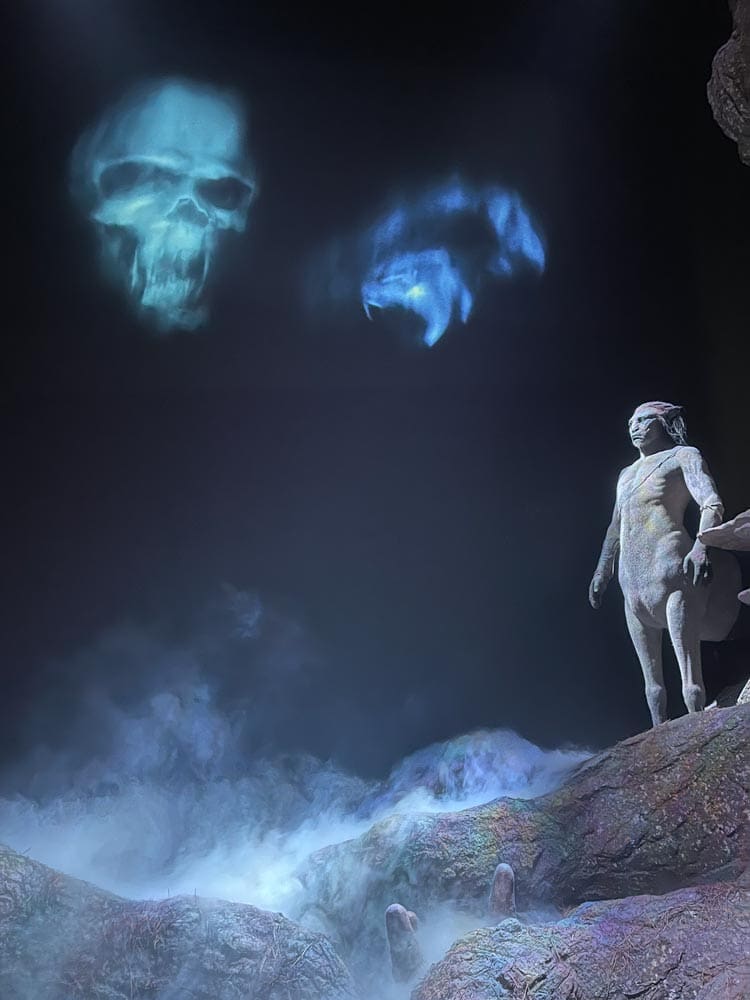 Your journey continues through the Forbidden Forrest. This whole set greets you with mystical ground fog and ominous music. You can see centaurs and meet Buckbeak the hippogriff (pretty realistic moving robot) before you get to Aragog's lair and get creeped out by his family. If you're with kids, have in mind that this part may frighten them a bit.
Platform 9 and 3/4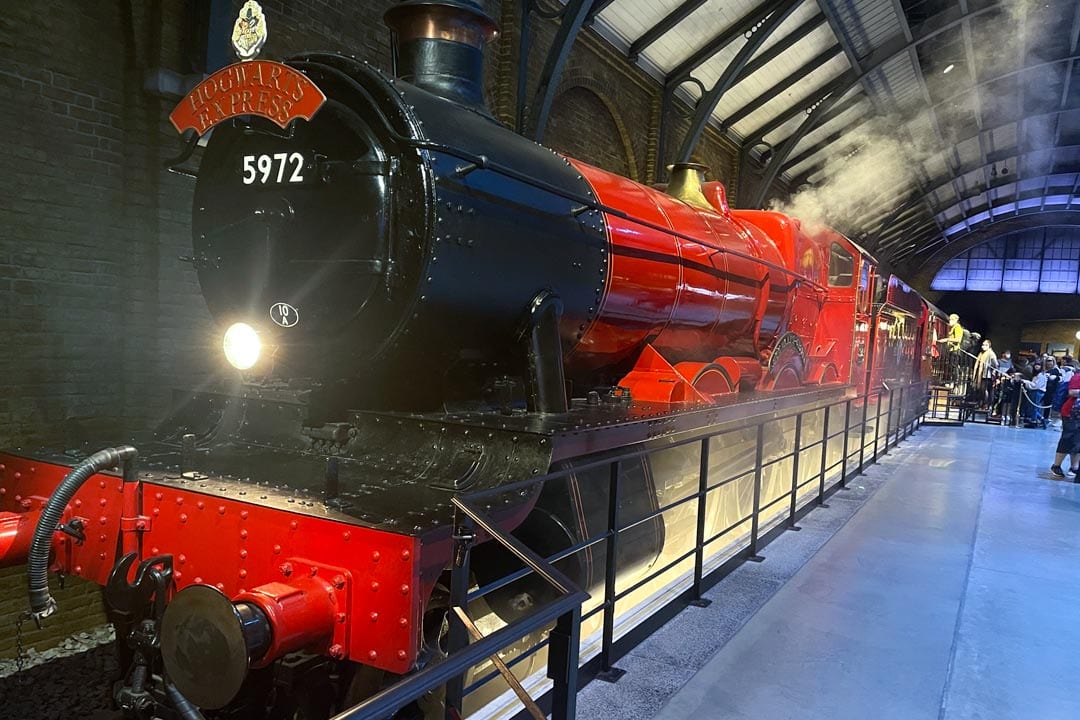 Next, we have Platform 9 and 3/4, including Hogwarts Express and a gift shop (if you like something, better get it there since the merchandise is exclusive).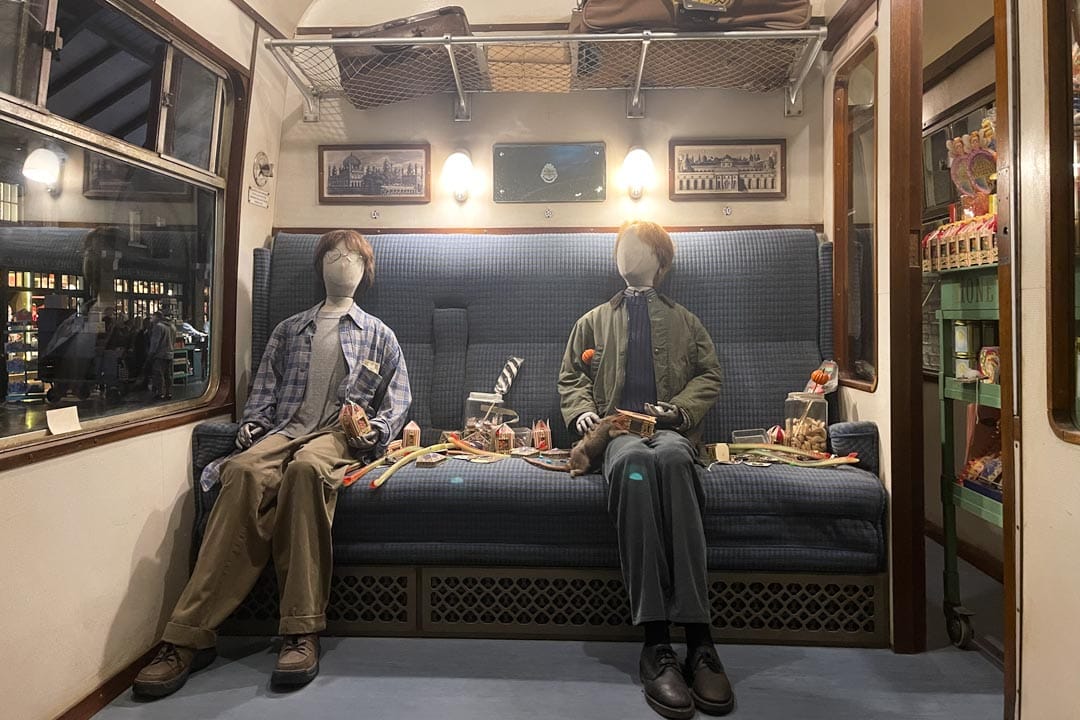 Hogwarts Express is a life-sized train you can go into and see all the different compartments Harry and his friends occupied each year on their journey to the emblematic castle (compartments are labeled according to their respectable movie). You can also take a green-screen photo sitting in a cabin with a dementor coming through the doors.
Cafeteria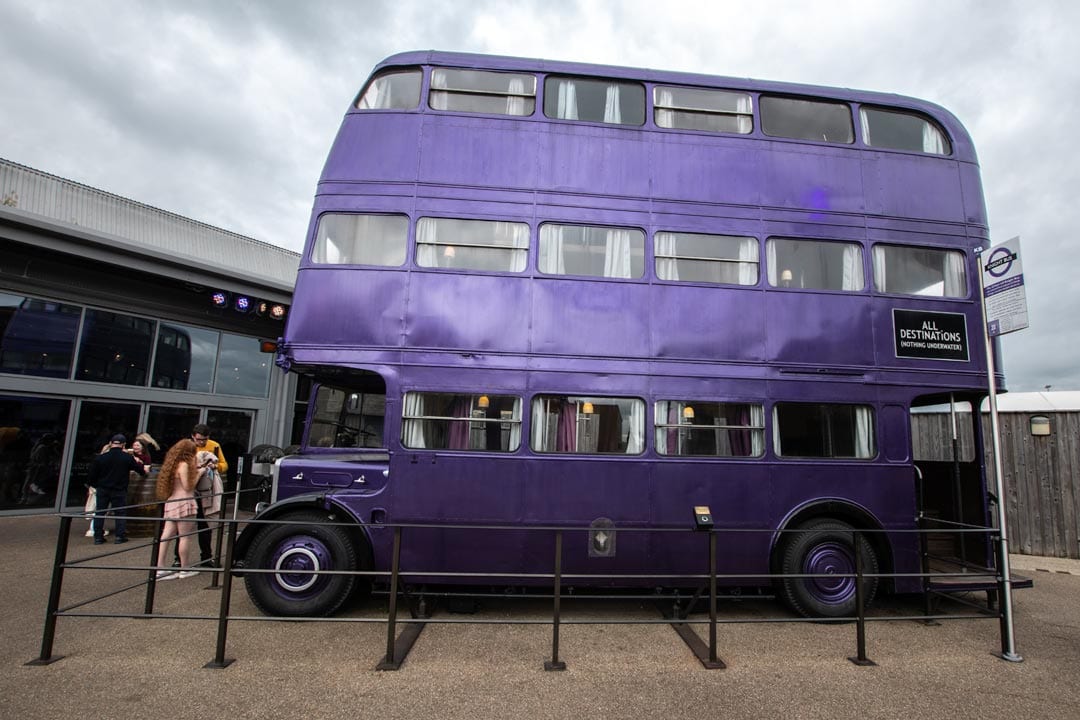 Ok, the cafeteria is not a place I'd usually mention, but this one is unique. You can get Ron Weasley's favorite butterbeer there; it's delicious aaand you get to keep the cup.
If the weather permits, you can drink it in the yard surrounded by the triple-decker Knight Bus, the Privet Drive no 5 set, and the Hogwarts Bridge.
Creature Workshop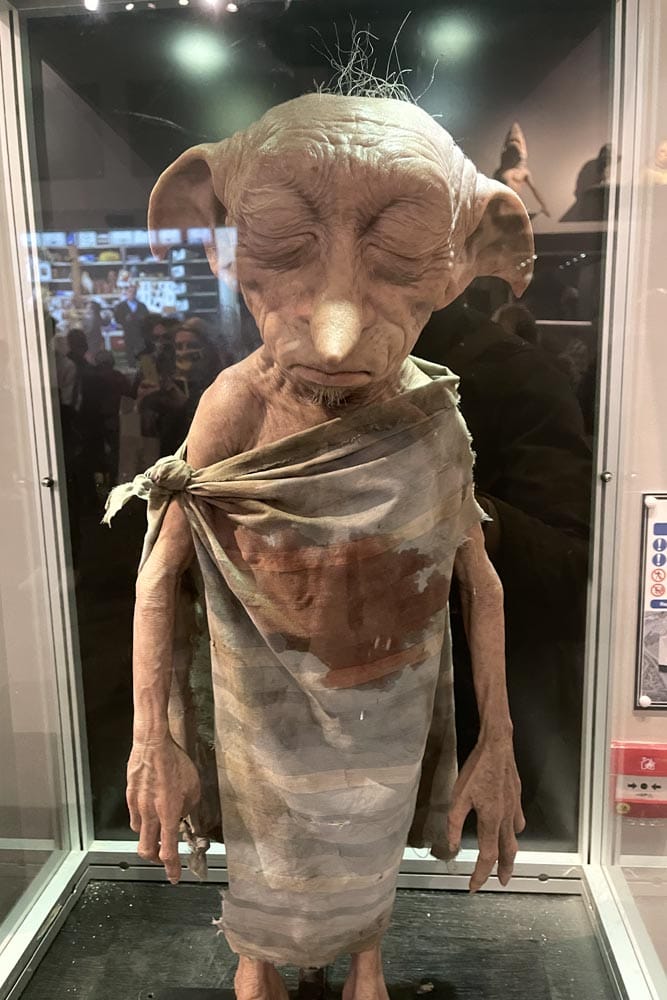 Your journey through the wizarding world continues with a workshop where you find out how the weird creatures were made. You can see some mandragoras, goblins, hippogriffs and of course Dobby the house-elf!
Gringotts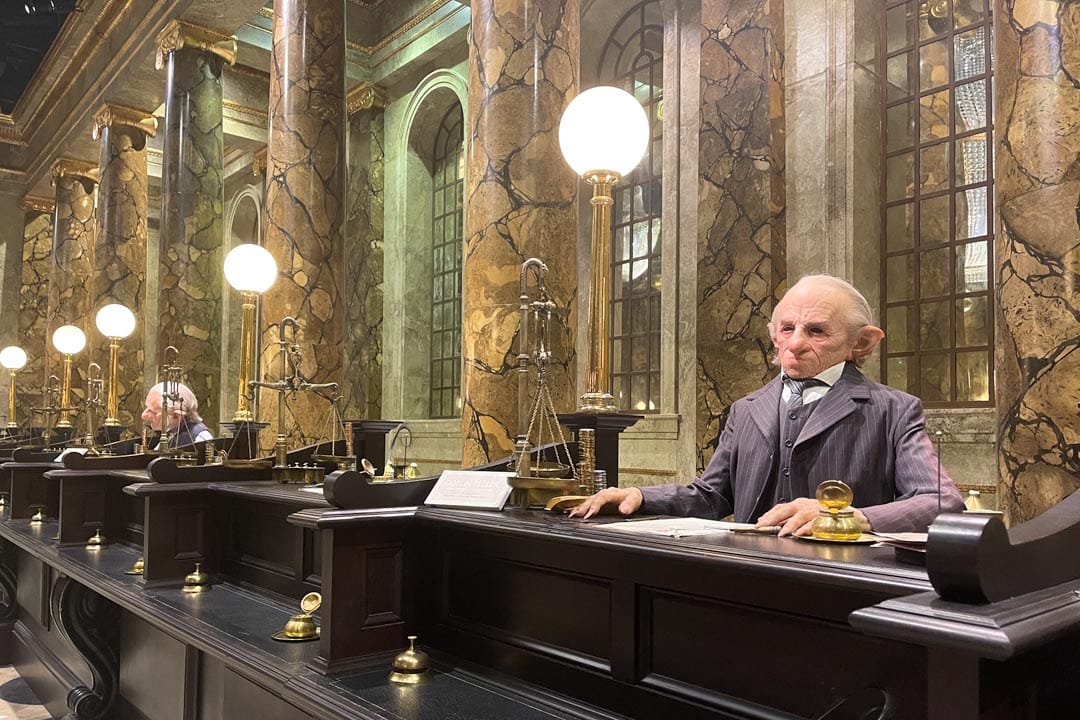 Since the butterbeer and the cafeteria treats are not that cheap, you need to make a trip to the bank, the wizarding bank, that is!
I can guarantee that the first time you set your foot in Gringotts, your jaw will drop to the ground. No, really, the giant golden hall with the goblin cashiers is just so realistically made it's crazy. You even get the feeling you're underground! Absolutely spectacular.
The Lestrange vault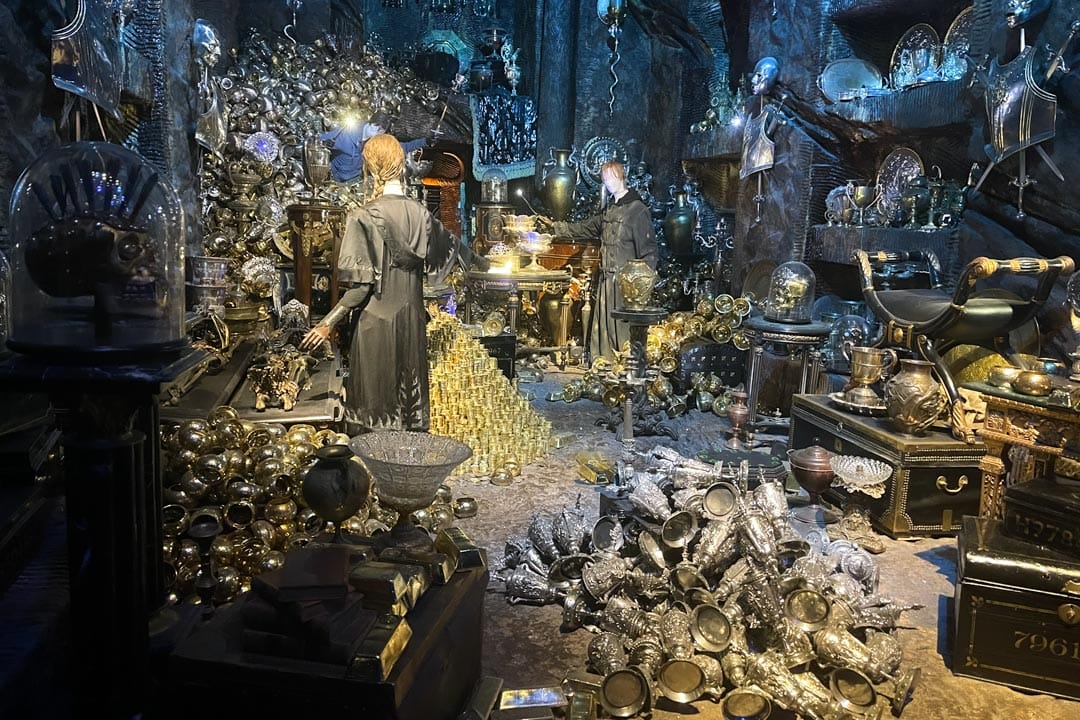 The next room is the treasure-overwhelming Lestrange vault. Sadly you don't take a cart to get there, but you have the option to take a photo holding the Gryffindor sword, which surely compensates.
The Dragon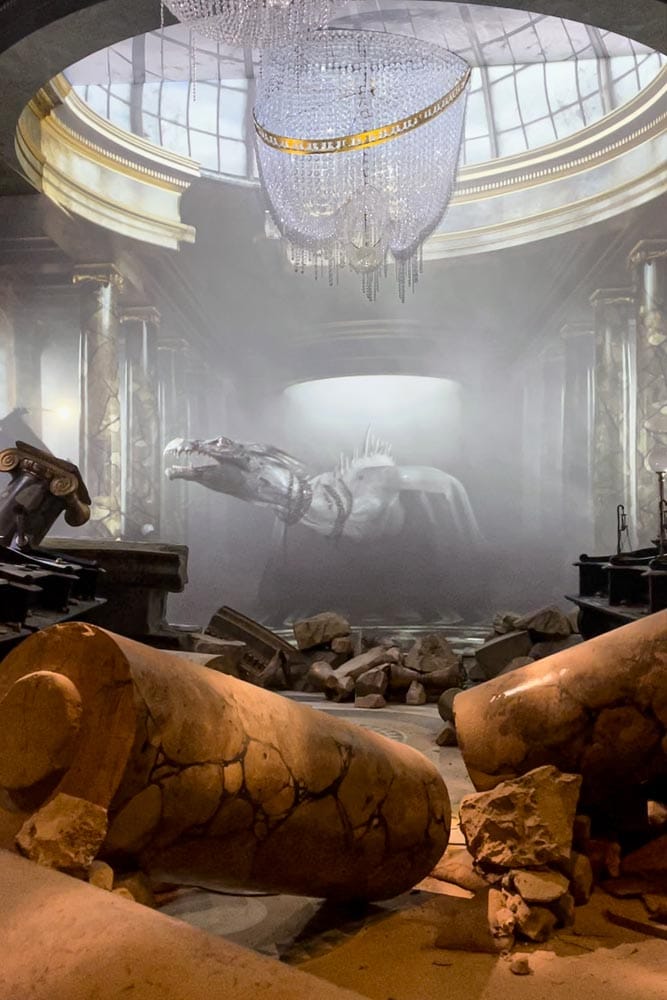 Probably the most mind-blowing part of the whole Harry Potter studios tour is the dragon room. I won't spoil that one for you; just keep in mind the experience is so well-made, your kids may freak out. Even I went a step back when the oversized lizard started spitting fire…
Diagon Alley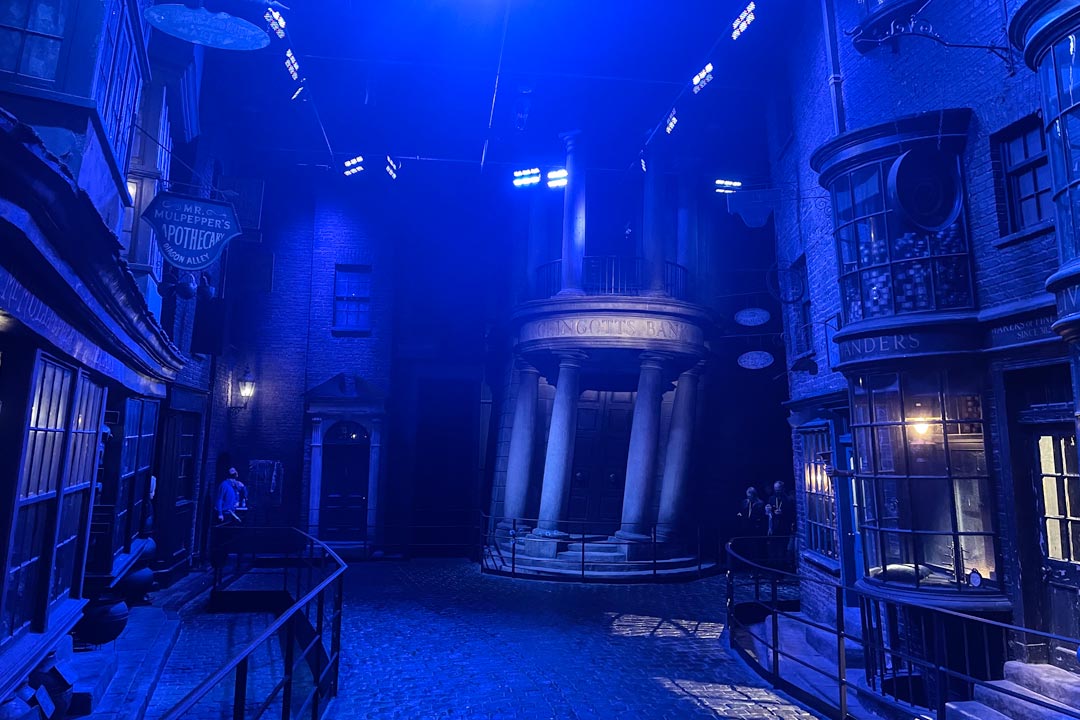 The cobblestoned wizarding alley and shopping area behind the Leaky Cauldron is the last stop of your journey. It's… well… it's exactly as you imagined it would be.
Be prepared to spend quite some time (at least I did) going up and down, checking the shops from the books/movies, including Olivander's, Flourish and Blotts (with Gilderoy Lockhart's books on display), Weasleys' Wizard Wheezes, and all the others. Just like the previous sets, Diagon Alley is incredibly well-made and has this fantastic wizarding-world vibe.
Hogwarts model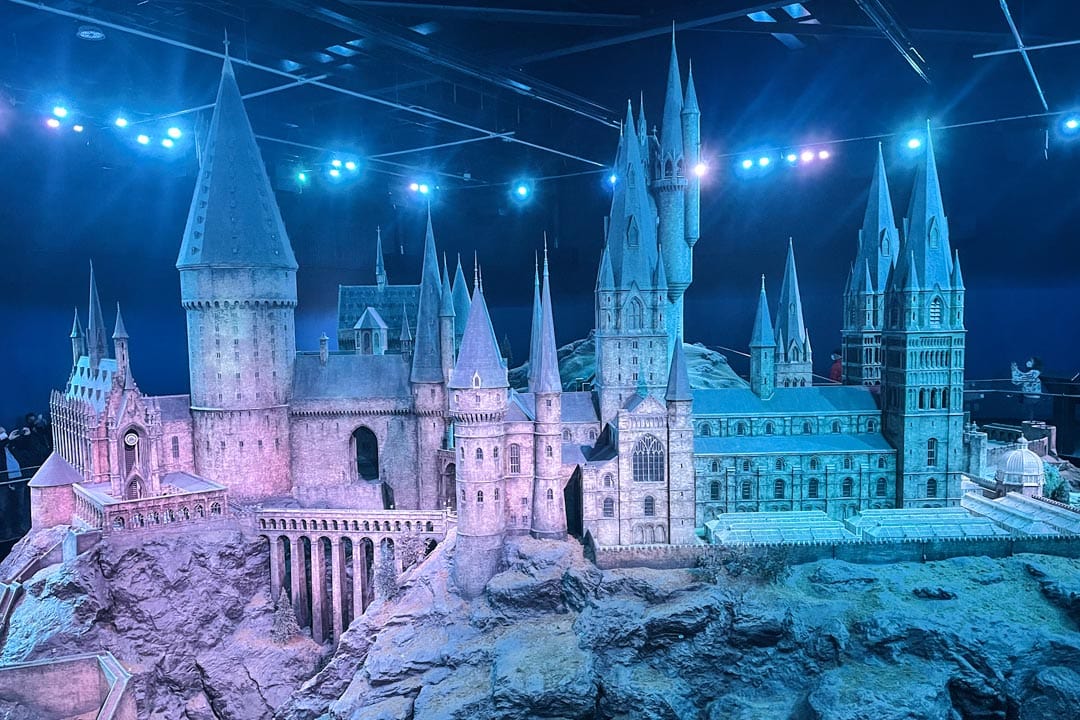 Before you finish your tour and get to the second gift shop, you get to see the gigantic Hogwarts model used in the movies. It's constructed with an incredible eye for detail and is the perfect way to end your trip.
How to get to the Harry Potter studio from London on your own
Now that you know what you're about to see, let's find out exactly how to get to the Harry Potter studio from London.
The cheapest way to do it on your own is to take a train from the London Euston Station (you can reach the station easily on the underground). Once there, take a train to Watford Junction Station.
There's no need to book your ticket in advance. What I do with trains in Europe is to buy the ticket when I'm already at the station using an online app (Omio). If online booking is not your thing, you can also get it from the station. The journey should cost about 12 GBP and last 20-30 mins.
Once you arrive at Watford Junction, right in front of the station's entrance, you get the Hogwarts shuttle bus stop. A staff member will check your ticket and confirm you're at the right place.The shuttle bus ticket costs 3 GBP (return), and you can buy it only via card. Fifteen minutes later, you'll arrive at the Warner Bros studio.
Of course, the most hassle-free way would be to rent a car, open Google Maps and just follow the instructions. The best tool for that in London is Discover Cars. They will compare all the local rent-a-car providers and show you the best offers.
How to get to Warner Bros studio from London via tours
If you're not into searching for and booking trains and buses on your own and you want the most hassle-free way journey, this tour is the answer. Well…it's not exactly a tour, but more like tickets for the Warner Bros studio that includes transport. The meeting point is in the center of London next to the Victoria underground station and, of course, the return trip is included.
If your hotel is closer to the King's Cross station, you may want to get this one while for a family of four, this ticket will save some pounds.
And if you want to combine the most famous wizarding school with the most notable muggle school, this day trip will take you to the Harry Potter Warner Bros studios from London but will also take you to the town of Oxford. If you ask me, including Oxford for just 20 EUR is a no-brainer deal.
Useful tips about your Harry Potter studio visit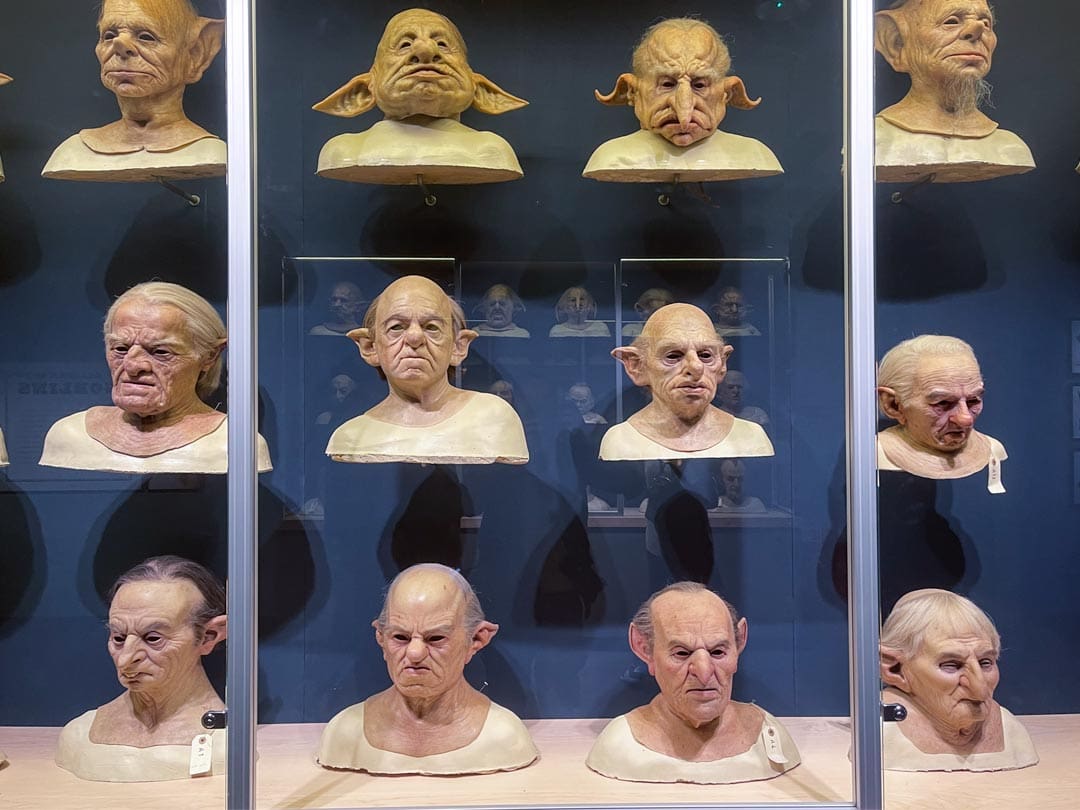 Get your tickets well in advance
That's the most important tip – get the tickets a few weeks in advance cause they run out quickly.
If you're making the trip on your own, the best place to do it is the official site. The price is 51.50 GBP (62.50 USD).
If there are no tickets for your desired time slot, you can check the tour options listed above. Sometimes they have different slots available.
Prepare at least an hour to get there
Train plus shuttle bus take about 45 minutes combined, but to be on the safe side of things, you better prepare an hour to get to the Harry Potter studio from London.
If you're using organized transport, the journey is about 1.5 hrs, and someone else will be responsible for getting you there on time.
Be prepared to spend at least 4 hours in the studio
The Warner Bros studio is humongous so prepare to spend at least 4 hours there. I'm a Potterhead myself and spent about six.
Prepare a lunch
While the butterbeer is a must-try, the other meal options are not that diverse and are pretty expensive, so you may want to pack some lunch.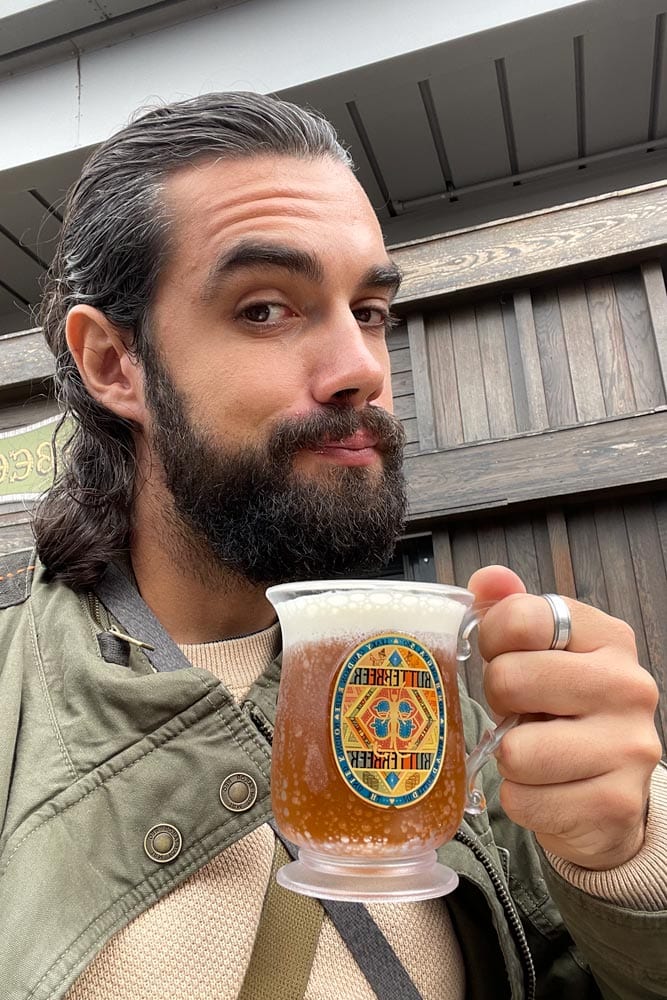 A Harry Potter Passport
At the entry, you'll receive a Harry Potter passport where you can collect stamps from the different sets. You also have hints about hidden snitches. Don't skip it! It's not just for kids and gives another fun dimension to your visit (not to mention what a cool souvenir it is).
Be prepared for the gift shop
Unsurprisingly, the Warner Bros studio has this gigantic gift shop with all kinds of souvenirs, so be prepared to spend quite some time and money there.
If you forget to buy something and you're already back in London, you can visit the Harry Potter shop at the real King's Cross station. It's located on the right from platforms 9 and 10 and you can also take a photo of you pushing a cart through platform 9 and 3/4.
That's all from me, now you know how to get to the Harry Potter studio from London and have great time there! To get your even more London-excited I reccomend checking my incredible London quotes collection.
————————————
If you haven't planned your trip there yet, find out how I plan my trips!
————————————
I have 28 bucket list ideas for England. See my impossible bucket list of 1700+ adventures!

Are you a Potterhead?
---
Some of the above are affiliate links and I will earn a percentage of the sale if you purchase through them at no extra cost to you. This helps keep my site running – so thanks in advance for your support!